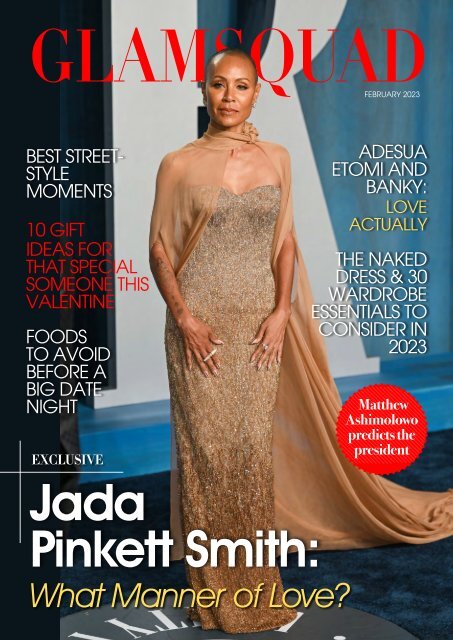 Glamsquad Magazine Feb 2023
Jada Pinkett Smith: What Manner of Love?
Jada Pinkett Smith: What Manner of Love?
SHOW MORE
SHOW LESS
You also want an ePaper? Increase the reach of your titles
YUMPU automatically turns print PDFs into web optimized ePapers that Google loves.
february 2023

Best Street-

Style

Moments

10 Gift

Ideas For

That Special

Someone This

Valentine

Foods

to Avoid

Before a

Big Date

Night

Exclusive

Adesua

Etomi and

Banky:

love

actually

The Naked

Dress & 30

Wardrobe

Essentials to

Consider in

2023

Matthew

Ashimolowo

predicts the

president

Jada

Pinkett Smith:

What Manner of Love?

www.glamsquadmagazine.com 1
---
Inside

Glamsquad

Magazine

February 2023

BEAUTY

66

5 French Girl-Inspired

Make-Up Tricks To

Steal in 2023

FOOD

Jada

Pinkett

Smith:

What Manner of Love?

24

74

Foods to Avoid

Before a Big

Date Night

glamsquadtv glamsquad3 glamsquadTV glamsquadtvmag

2

www.glamsquadmagazine.com
---
Paris Fashion Week S/S 2023:

From Christian Dior to Chanel

56

Editor-In-chief /

Publisher

Remi Diagbare

Editor

Amenna Dayo

Deputy editor

Chioma Esui

Stand-By/Ad-Hoc

Praise David

Grace Effiong

Oyindamola

Staff Writers

Sasha Bokamoso

Contributors

Dr. Nkechi Omoson

Chef Amaka Obiefuna

Kabirat Opoola

Social Media

Yewande Falana

graphics /

Web Manager

Layi Success

MARKETING Director

Tega Diagbare

Imioms Dan Anyiam

Head Office:

Suite B70/71, Ikota Shopping Complex,

By VGC, Lekki , Lagos, Nigeria

Tel: +09150764272, +44 7424 594773

For advert enquiries, please contact

the marketing Director 08115933500 or email,

info@glamsquadmagazine.com,

glamsquad.magazine.tv@gmail.com

We pay for exclusive celebrity stories.

F

ebruary is the month of

love. You know, I thought

of something interesting

today – February is a

unique month of the year.

Not only does it have 28 days

(instead of 30 or 31), it gets

29 days every four years. How

unique is that? It is like the month

is alive and can make changes

to itself – how awesome!

It is not a coincidence that this

is the month dedicated to love.

The fact that it is different from

others and not definite in terms

of the number of days every four

years makes it even more unique.

This, although unconsciously – I

must admit, makes our cover

special.

Our cover – "Jada Pinkett

Smith: What Manner of Love," is a

reflection and refraction of love in

a different light, and there is none

other that fits the bill perfectly like

Jada – want to know how? Then

dive in to find out.

For our sub-feature, we chose

Nigerian celebrity love birds –

Banky W and Adesuwa Etomi, as

we ask the hard questions – Love

actually?

As you know, Glamsquad

remains the most balanced

fashion and lifestyle

magazine – sorry, Vogue!

We have taken that crown,

and I am not just saying this

because I am the editor. So

check out our magazines,

and you be the judge.

This edition also has a full

dose of Fashion, Beauty,

Lifestyle, and other stories –

Health, Food, and others.

Let me leave you to it.

Please do take a minute to

write to me and share your

experience or concerns

with the edition or any

other edition. We are

always happy to read your

feedback – as they are the

only metrics on which our

work is measured.

We love you – and we

know you are aware of this!

Lots of love,

A .

Ameena Dayo

Editor, G.S

FASHION

Accessories

Every Chic

Lady Should

Have in Her

Wardrobe

14

Disclaimer:

Please note that all photos used in this special

digital edition of Glamsquad Magazine were

sourced freely online.

Glamsquad maintains no rights over the images/

photos, while we have tried to give appropriate

credit where due, we are aware some artistes

were not credited.

We remain committed to supporting intellectual

property and creativity.

© 2023 Tegali Communications

www.glamsquadmagazine.com 3
---
FASHION

The Best It Girl

– Approved Looks That

Are Perfect For Valentine's Day

Praise David

Look2

Look1

Given the ubiquity of

Barbiecore and the rise

of pavlova dressing, we

believe this is going to be a big

year for Valentine's Day outfits.

After a few years of low-key

(a.k.a. couch-oriented) date

nights and Valentine's Day gift

exchanges in wrinkly pajamas,

you and your partner may want

to kick things up a notch by

getting dressed up and locking

in a buzzy restaurant reservation

in advance.

Or maybe you're thinking of

reuniting with the girls at a big

bougie brunch—whatever your

plans are, outfit prep is key.

Even if you aren't the biggest

fan of Valentine's Day, it's still

a fun excuse to celebrate

your significant other or your

friends—even if it is a Hallmark

holiday. Let us tell you. Wearing

anything adorned with hearts or

flowers will make you look like a

Valentine's Day enthusiast.

But, in case that's not exactly

the vibe you're going for, we're

here to show you a selection of

outfits that are on the subtler

side.

Check through the beautiful

pictures to see the most stylish

outfits to wear this Valentine's

Day.

4

www.glamsquadmagazine.com
---
FASHION

Look5

Look 3

Look6

Look4

www.glamsquadmagazine.com 5
---
LIFESTYLE

10

Gift Ideas

For That Special

Someone This

Valentine

Chioma Esui

1

Initial Pendant

Necklace

This dainty and modern

initial necklace will soon

become their go-to

accessory. They will think

of you every time she

puts it on.

2

Silk Sleep Mask

Your king or queen deserves

this silk sleep mask to help

them dream about you.

3

Temperature Control

Smart Mug

If his/her coffee or tea is always

getting cold before they are

done with it, this high-tech

temperature-control mug

would be such a thoughtful gift.

4

Alexis Sunglasses

Upgrade his/her frames with these

classically elegant sunglasses that

go with every outfit.

There's so much to love about

Valentine's Day. After all, it's a

day about honouring love in all of

its forms. And there are so many

fun ways to celebrate. Maybe the

centerpiece of your day is a romantic

dinner with your honey, or maybe it's

cocktails and conversation with the

girls for a Galentine's Day bash.

No matter what you do on the big

day — and no matter the special

person in your life — thoughtful

Valentine's Day gifts for them (and

Valentine's Day cards with meaningful

messages, of course) make the day

extra memorable.

Our list of the best Valentine's Day

gifts for that special someone includes

picks anyone who means the world

to you. From timeless classics like

roses and jewelry to personalized,

sentimental gifts created with love

just for that special someone, these

presents are sure to please.

The options on

our list are budgetfriendly,

like beauty

products, self-care gifts, and

chocolate all items you can afford no

matter your budget.

Of course, the most important gift

of all is your love for each other. But

choose a little something from our

list to go with it and you've got all the

makings of a flawless Valentine's Day!

6

www.glamsquadmagazine.com
---
LIFESTYLE

Mini Heart Waffle Maker

Nothing says "I love you" like

a stack of homemade heartshaped

waffles.

6

5

7

Active Noise Cancelling

Bluetooth Headphones

Whether he/she needs to focus

while working from home or likes

listening to podcasts while she's

doing household tasks, these

affordable noise-cancelling

headphones are perfect.

Rose Heart

Bath Bomb

8

Give that special someone the gift

of self-care with this luxe bath bomb

made with organic ingredients

including rose petals and rose

essential oil.

Converse Chuck Taylor

Hidden Heart Low Topa

Sneaker

If they are in need of some new

sneakers, these stylish Converse

with a peekaboo heart are the

perfect upgrade.

9

Heart Linzer Cookies

If you're hopeless when it comes

to baking but still want to get your

person something sweet, these

cookies are here to save the day.

They're spiced almond butter

cookies, sandwiched with

homemade raspberry jam and

dusted with confectioners' sugar,

and they come with this heart

design that's just perfect for V-Day.

10

Chandelier Candle

This champagne, saffron,

and leather-scented candle

is hand-poured signature

coconut and soy wax blend,

and has a 55-hour burn

time. It is subtle, soft and

quiet - the perfect backdrop

scent whether you are home

alone reading a book, or

entertaining family and

friends. It's always my first

choice to light, or to share

with others.

www.glamsquadmagazine.com 7
---
FASHION

The Naked Dress &

30

Wardrobe

Essentials to

Consider in

2023

Kabirat Opoola

The

Naked

Dress

Alongside a new year comes

a new beginning; some

changes either to your

routines or wardrobe.

We have noticed the naked dress

crawling back into the fashion light

and this particular fashion trend is

not for the weak. Giving off sexy,

spicy, and skin, the naked dress is

the go to dress of the season.

The naked dress is a dress often

made from sheer fabric. You know

it when you see it or don't see it. It

is a garment that reveals as many

details as they conceal. The dress

was first worn by burlesque artists

and showgirls before it migrated to

the movie studios and was worn by

famous actresses including Marlene

Dietrich, Mae West, and Theda Bara.

Since then, the runways and red

carpets have been graced by

different shades and designs of

the naked dress. The naked dress

emerged out of the era's neutral

shades and sleek, unembellished

silhouettes that exposed fresh areas

of the female body.

Apart from the naked dress, here

are 30 other wardrobe essentials to

consider in 2023.

Slip Dress

The slip dress is an essential

you should consider

adding to your wardrobe

this year. For summer, the

slip dress gives a chic

appearance. You can also

layer the slip dress over

with knitwear during fall.

8

www.glamsquadmagazine.com
---
FASHION

Black Pants

Black pants would

forever remain a classic

wardrobe piece. For

2023, you should

consider adding classic

black pants that you can

wear for any occasion.

Black pants are versatile

and can be worn with a

white t-shirt, round neck,

denim, and sweaters

Minimalist

Earrings

Always confused

about which jewelry to

wear with your outfits?

Minimalist earrings are

a wardrobe essential

you should consider

embracing this year.

Denim Trousers

No wardrobe is complete without

a pair of denim trousers. Denim

trousers are scared for every

wardrobe and they are a go

to outfit for every season. Tuck

in a white t-shirt or pair with a

crop top, the denim trousers

are an item for a versatile look.

If you don't already have a pair

of denim trousers, you should

consider adding one to your

wardrobe. They come in different

designs including high waisted

jeans, low waisted jeans, and

baggy jeans. Baggy jeans and

low waisted jeans are in trend.

A Classic

Shoulder Bag

Every lady in one way

or another needs a

sophisticated bag to

fit all her belongings

either for a casual

outing or a date.

Silk Dress

Silk fashion is in trend and

one to own in 2023. A mini or

maxi, high-silt silk dress for any

party emergency.

www.glamsquadmagazine.com 9
---
FASHION

Tweed Jacket

Tweed jackets are another outer layer

outfit you can add to your wardrobe.

The tweed jacket has more structure

than a cardigan and would work

wonders for your wardrobe.

Evening Bag

A clutch, pouch, or mini bag is

essential for an evening event,

formal event, or wedding ceremony.

They are little details that give your

dress a glamorous look.

Cardigan

Cardigans are

essential, especially

during fall. You can

style your cardigan

over baggy jeans

or layer it over a

dress.

Timeless

Wristwatch

Adding a timeless

wristwatch to your

wardrobe is never

a bad option.

Something you can

wear and still look

good irrespective of

the recent trend.

10

www.glamsquadmagazine.com

Invisible Underwear

Invisible underwear is comfortable and

lay perfectly flat. You do not have to

worry about your pant line showing.

Neutral-

Colored Blouse

Another essential wardrobe

addition for you this year is

a neutral-colored blouse. A

blouse that has the power

to look good on any color of

trousers. Nude, black, and

white are some options you

can consider for a capsule

wardrobe.
---
Tote Bag

Every lady needs

a tote bag. They

are durable and a

great carry all bag.

Tote bags exist in

different designs

and

sizes.

FASHION

Versatile Belts

Belts are essential to add fittings

and shape to an outfit. When

choosing a belt, consider belts

designed with sleek leather

and elegant buckles. They are

timeless accessories to use

over and over again.

A Black Dress

One of the outfits essential

for every wardrobe is a

black dress. Either as a

mini, maxi, or a little black

dress, a black dress sure

works many wonders.

Oversized Blazer

Oversized blazers are of the

latest fashion trends and are

being rocked in different ways.

An oversized blazer is essential

for every wardrobe this 2023. You

can style your oversized blazer as

a dress or rock it as a jacket.

Elevated

White

T-Shirt

An elevated

white t-shirt is

essential for your

wardrobe. You

can pair them

with a jean, or

joggers and

they can also

be styled as an

inner during fall.

Silk Scarf

Silk scarves are

considered a fashion

statement piece.

Either styled as a

scarf, neckpiece, or

top, they add some

glam to your outfit.

www.glamsquadmagazine.com 11
---
FASHION

Knitwear

Sweater

Knitwear sweaters

can be worn across

different seasons. Pair

it with your jeans for

a casual corporate

look or layer it over

with a coat during

winter.

Black

Leather

Jacket

Leather jackets

are back in trend

and this time

better than ever

before. A leather

jacket creates an

opportunity for a

chic look and also

a baddie look.

Oversized

Shirt

Oversized shirts are

versatile and can

be rocked as a

dress or styled for a

casual look. Belt an

oversized shirt and

there! You have a

chic dress.

Relaxed

Tailored Pants

Soft tailoring outfits were a

highlight of the spring summer

2023 collection. The fashion

world is gearing towards

comfortable fashion. Relaxed

tailored pants make an outfit

looks almost effortless.

Leggings

Like it or not, owning a

legging makes a lot of

things easier. For summer,

you can layer your leggings

over with a light chiffon top

and in winter can be worn

underneath a pant or jean

trousers. They can also be

paired with white t-shirts,

coats, and blazers.

Loafers

Loafers are comfortable

to wear and match

numerous outfit

combinations.

12

www.glamsquadmagazine.com
---
FASHION

Turtleneck Tops

Turtleneck tops can be worn in

different ways. For a corporate

look, you can consider layering a

blazer over it. The turtle neck top

can also be worn with a pair of

jean trousers or pant trousers.

Sleeveless Sweater

Sleeveless sweaters are another

essential you should consider

adding to your wardrobe this

2023. They can be rocked alone

or layered over a white t-shirt.

Tank Top Or

Camisoles

Tank top serves the

function of an inner top

for a blazer, leather jacket,

and denim jacket. A black

tank top would make

fashion easier and less

stressful.

White Button-Up

Shirt

Every wardrobe needs a white

button-up shirt. Whether for a casual

or corporate appearance, the white

button-up shirt is ready to play any role.

For a chic night out, the shirt can also

be styled as a dress. White button-up

shirts will forever remain a classic in

every lady's wardrobe.

White Sneakers

Every wardrobe needs a

pair of white sneakers.

The comfort and

versatility they

give are

captivating.

www.glamsquadmagazine.com 13
---
FASHION

6 Accessories

Every Chic Lady

Should Have in Her

Praise David

Wardrobe

Every stylish woman knows that accessories are her best friend. They

can pull your outfit together in an instant and make even the most

boring everyday outfit look glamorous.

And there are those must-have accessories for women that we just can't

do without and those over-the-top few we save for special occasions.

Here's a list of 6 core accessories that you need to complete your

wardrobe to ensure you always look your best…

Shoes

Just as with handbags, shoes

should be another top pick

in your ultimate accessories'

checklist. Everything else may

be additional, but shoes are

the one accessory that you

can never go without. Since you

have to slip on a pair of shoes

before heading out, why not

match it to your outfit for extra

style points?

Having a few different styles

means complementing each

outfit perfectly. Sneakers or laceups

for your casuals or athleisure,

ballerinas for dressed-up

casuals, heels for evening events

or mules for ethnic wear, find the

styles that fit your wardrobe.

For sneakers, Ginger's Light

Pink pair with lace-up detailing

has a sleek design that can

be paired with everything from

denims to joggers. And for

something dressy? The opentoe

block heels in Black will

complement your western wear

and ethnic wear alike.

Jewellery

From

necklaces

and bracelets

to earrings and rings,

there is so much you can choose

from in this category of

must-have accessories

for women. You don't

have to pick every type

of jewellery to elevate

your outfit; even a

single statement piece

can give it the elegant

touch it needs.

Whether your

jewellery consists of

those everyday earrings

you are always wearing or

that shining layered necklace

you wear with an evening dress,

you can always find what suits your

style and wardrobe. If you're new

to matching jewellery, choosing a

complete set will take the thinking

out of it. Estele has some gorgeous

necklace and earrings sets that can

be paired with anything casual,

formal or even with your ethnic

ensembles.

14

www.glamsquadmagazine.com
---
FASHION

Handbags

Bags come in a variety of

colours, sizes, fabrics and designs

– each with its own purpose and

each adding its own value to your

outfit. That's why they are at the

top of the list of must-have basic

accessories. A large statement tote

to put everything you need into

or a stylish clutch for an evening

out, pick a few handbags that are

versatile enough to go with different

occasions and outfits.

A great everyday choice is the

colour-blocked handheld bag

from Code. The Brown, White and

Mustard Yellow panels make it

easy to match various looks, while

the spacious compartments will

make carrying everything you need

less of a task. You could also add

backpacks to your list of essential

handbags to own – such as the

Navy Blue backpack from Caprese.

The playful floral print and denimlike

texture give it that casual vibe

that will go well with your weekend

looks.

www.glamsquadmagazine.com 15
---
FASHION

Fragrances

A very subtle yet one of the

essential fashion accessories,

perfumes go far beyond just

making you smell good. Unlike

other accessories whose

colour or style needs to suit

your body shape or outfit,

perfume is that one accessory

that is universal. It goes with

every outfit, every body type,

every occasion and definitely,

can enhance every mood.

Finding a signature scent you

can turn to will make it easier

to apply perfume every day,

while you can save a few

fragrances for those special

moments. Choose from floral,

citrus, woody, fruity, oceanic

and the many other aromas

that blend well with the natural

smell of your skin.

If you're picking your

signature scent, you can

opt for some of the biggest

perfume brands like Bvlgari,

Burberry, Hermes, Michael

Kors and more. Bvlgari's

Goldea Eau De Parfum

has a sweet oriental scent

that comes from the Ylang-

Ylang and Orange Blossom,

while My Burberry Blush

from Burberry is more floral

with hints of pomegranate,

lemon, rose petals, jasmine

and wisteria for a delicate

feminine scent.

16

www.glamsquadmagazine.com
---
FASHION

Sunglasses

Regardless of the season,

sunglasses are those

fashionable and functional

must-have accessories for

women. They not only add a

touch of style to your outfits,

but they also protect your

eyes from harmful UV rays and

the glare of the sun that can

cause damage in and around

your eyes. Depending on

your lifestyle, you can choose

different coatings and lens

technologies that can further

protect your eyes.

Apart from sun-blocking

purposes, sunglasses can

also make an edgy fashion

statement. Pick from classic

styles like Aviators, Wayfarers

or round sunglasses, or if you

like to keep up with fashion

trends, you could try something

oversized or micro. For versatile

looks, the oval sunglasses from

Kosch Elemente with Brown

lenses in a metallic Gold frame

will complement any look, while

Kate Spade's square sunglasses

with a translucent Pink frame

will add some colour to pep up

your outfit.

Watches

One of the more classic essential

fashion accessories a woman could

have in her wardrobe, watches have

been around for a long time. Like

sunglasses, what started off as a

functional piece to help you tell time has

become a fashion favourite and a big

part of people's personal style.

You can style a watch that is

beautifully crafted and speaks of your

overall style – a watch you can wear

with every one of your outfits – or go for

a more customised look that is curated

to the event you are attending or the

mood you're in. Suppose you're looking

for a watch that will become a part of

your everyday wardrobe or something

you can style with anything. In that case,

a metallic watch in Silver or Gold with

a minimalistic analogue dial is a good

way to go – like the Kenneth Cole watch

with a Black analogue dial encrusted

with crystal indexes has a stainless-steel

strap. The embellished watch from Titan,

on the other hand, is what you need for

those special events.

The Rose Gold strap is

encrusted with Purple

and Pink crystals,

while the simplistically

designed dial has a

marble-like finish in the

same hues – a luxurious

touch to your outfit.

www.glamsquadmagazine.com 17
---
10 Key Spring /Sum

Fashion Trends

TRENDS

To Watch Out For In 2023

Kabirat Opoola

1

Coco Chanel once said; you

live, but once, you might as

well be amusing. The spring

summer 2023 fashion is almost

upon us. The collection runway

show debuted lots of captivating

styles, which took us quite some

time to digest. The fashion trends

for this year are mesmerizing.

From heavy cargo pants to sheer

dresses, creative denim, and

oversized power blazers, the

spring-summer 2023 collections

brought back nostalgic trends but

with a modern and fresh twist.

The New York, Paris, London,

and Milan fashion week took us

through different amazing fashion

moments to lead a new fashion

trend.

One of the highlights to take

note of is the 80s fashion is back

in trend big time, and leather

jackets are becoming an almost

inevitable option. That being said,

here is a list of 10 key spring/

summer 2023 fashion trends to

watch out for:

Soft Shade Tailoring

It isn't spring if the dressing

isn't relaxed and comfy. Soft

tailoring and relaxed, colored

outfits are among the key

fashion trends to watch out

for. Unlike before, outfits for

spring and summer 2023 are

all about pastel blues, greys,

and greens. Neon-coloured

dressing isn't left out too.

18

www.glamsquadmagazine.com
---
TRENDS

mer

2

Heavy Cargo

Spring and summer fashion is

always geared towards comfortable

fashion. Cargo pants are still in trend

and are getting heavier than ever

before. Cargo pants are spotted in

different colors and are also made

from fabric, including denim cargo

pants. Collections debuted by Dion

Lee, Fendi, and LaQaun Smith, to

name but a few featured highquality

and creative cargo designs.

Fendi silk cargo pants made quite a

statement piece.

3

Shimmering Sequins /High

Octane Sequin

Like it or not, sequins are one of the key

spring summer 2023 fashion trends to

watch out for. And for this year, they are

available in different colors, with lighter

color palettes, nudes, and pastels being

commonly spotted color trends among

designers. Valentino, Michael Kors, and

Tom Ford, to mention but a few kept us

captivated with their shimmering sequin

designs.

www.glamsquadmagazine.com 19
---
TRENDS ESCAPE

4

Brighter Shade Outfits

The world has moved towards a form

of fashion where color has become

very important. Although blackcoloured

outfits remain a classic and

always will, brighter shade and neoncoloured

outfits have become a trend

all over the world. Fashion houses,

including Gucci, Valentino, Bottega

Venetta, Versace, and Chanel,

highlighted this trend in their springsummer

collection for 2023.

5

20

www.glamsquadmagazine.com
---
TRENDS

Belts

Another fashion trend to

adopt in 2023, if you haven't

yet, is the addition of belts to

your outfits. Belts are no longer

only used to give fitting to a

trouser but have nowadays

become a fashion accessory.

Belts help to give style to an

outfit and also do wonders in

highlighting your body shape,

especially when rocking

baggy cloth. Belts can be

used around

Fringes

Fringes always add an interesting

look to an outfit. Whether full-on

fringing or towards the edge,

fringes give an outfit the drama

and creative look it requires.

Different styles of fringes were

spotted on the spring-summer

runway debut. Bottega Venetta

debuted statement color fringe

dresses. Fashion houses, including

Victoria Beckham, Etro, Balmain,

and Jacquemus, were not left out

of the fringe game.

6

www.glamsquadmagazine.com 21
---
TRENDS ESCAPE

Sheer Outfits

What is spring and summer

without a bit of skin? Sheer

fabrics have been spotted in

recent fashion trends but are

at the forefront of the spring/

summer 2023 fashion trend.

From sheer dresses or sheer

tops to sheer everything, these

sheer trends were spotted in

collections debuted by Prada,

Bottega, Chanel, Tom Ford,

and Valentino. The sheer outfits

range across a sheer dress

which can serve as an overlay

over a dress or for a super

sexy look. Sheer outfits are the

perfect way to show a little or

a lot of skin this spring. They

are considered one of the big

key spring and summer 2023

fashion trends to watch out for

7

Creative Denim

While designers have

always featured denim in

their collections, there was

a reported 64% increase

in the spring summer 2023

collection debut. And

apparently, the denim

is not your usual denim

but a more creative and

upgraded version. Denim

mini dresses, denim fulllength

maxi skirts, denim

cargo pants, layered denim

pieces, and co-ord denim

sets were spotted across

different fashion brands,

and they appear to be one

of the spring and summer

trends to watch out for.

8

22

www.glamsquadmagazine.com
---
TRENDS

Super-Sized Blazers/

Oversized Power

Blazers

No doubt, blazers are a real

fashion piece for an elegant and

classy appearance. For the spring

and summer 2023 collection,

blazers are getting oversized and

designed with power-padded

shoulders. Oversized and supersized

blazers are back in trend,

highlighting comfort as an

important aspect of fashion. The

oversized blazer is styled over a

jacket, while some are spotted

being rocked as a dress.

9

Low Rise Waist

The evolution of low rise waist has

been quite an interesting topic.

From being a highly soughtafterafashion

in the early 000s to

declining in the 2010s, low-rise

waisted outfits are back in trend.

We noticed the collection for spring

and summer 2023 has low-waisted

outfits in different designs. Jeans,

maxi skirts, and cargo pants are

becoming sexier than usual. Baggy

jeans are also gaining ground. Hello,

80s fashion!

10

www.glamsquadmagazine.com 23
---
REPORTAGE

Jada

Pinkett Smith:

What Manner of Love?

By Amenna Daayo

With Credits to Amy Francombe & Laura Hampson

From 2Pac to Will Smith, to August

Alsina – and then back to Will Smith,

there is no denying that Jada Pinkett

attracts only the best! Well, with such

a figure and ageless beauty that Jada

adorns, even the toughest of them all will

melt at her presence.

"Here is how I will change my statement...

Will and I BOTH can do WHATEVER we

want, because we TRUST each other to

do so. This does NOT mean we have an

open relationship...this means we have a

GROWN one," this was how Jada Pinkett

Smith addressed the rumours she and

her husband, Will Smith, were in an open

relationship.

This wasn't the only time the two referred

to their marriage in fluid and confusing

terms. In a 2018 episode of TIDAL's Rap

Radar podcast, Smith said they don't

see themselves as married. "We refer to

ourselves as life partners, where you get

into that space where you realise you are

literally with somebody for the rest of your

life. There's no deal breakers. There's nothing

she could do – ever. Nothing that would

break our relationship."

However, in a 2021 GQ cover story, Smith

finally confirmed that "for the large part

of our relationship, monogamy was what

we chose," however, they were now "not

thinking of monogamy as the only relational

perfection."

Later that year, Oprah Winfrey interviewed

the Men in Black star about his relationship

with Jada. "I think the difficulty that people

have and difficulty in discussing it is people

only think in terms of sex," he told the

billionaire talk show host. "People are trying

to put something on it: 'Will and Jada—

what they doing with other people?' Will and

Jada ain't really doing too much of nothin.

Will and Jada are on a spiritual journey to

cleanse the poisonous, unloving parts of our

hearts. And we're doing it together in this

lifetime no matter what.``

24

www.glamsquadmagazine.com
---
REPORTAGE

Glamsquad

Exclusive:

www.glamsquadmagazine.com 25
---
REPORTAGE

The

Entanglement

The year 2018 was termed the year

of 'entanglement' all thanks to Jada

and Will, after their explosive round table

interview where Jada opened up about

her relationship with a 27-year-old R&B

singer named Agustus Alsina.

The two reportedly met in 2015 at her

children Jaden and Willow's concert in

London, and they struck up a friendship.

"He asked me that day, 'Man, I could

really use some help dealing with life,'"

Pinkett Smith said on a 2018 episode of

her Red Table Talk. "And then [I came] to

find out that he was abusing Percocet

[prescription painkiller]."

The friendship eventually turned

romantic, with Alsina revealing that they

had been together for four and a half

years and that he "truly and really, really,

deeply loved" her.

"I just wanted to feel good, it had been

so long since I felt good," Pinket Smith

told viewers on Red Table Talk on July 10.

"And it was really a joy to just help heal

someone. I think that has a lot to do with

my co-dependency."

The romance made several headlines

in the past years, memes surfaced on

the internet, and even the rumours of

the Smiths regarding an open marriage

surfaced.

"I truly and deeply have a ton of love

for [Jada]. I devoted myself to her and

gave myself to her-so much so to the

point that I can die right now and be okay

with knowing that I truly gave myself to

somebody," he said.

During the tell-it-all episode of Red

Table Talks, Smith said, "we decided that

we were going to separate for a period

of time and you go figure out how to

26

www.glamsquadmagazine.com
---
REPORTAGE

make yourself happy and I'll figure out how

to make myself happy." While Pinkett Smith

added, "From there, as time went on, I got

into a different kind of entanglement with

August…Yes, it was a relationship absolutely."

That said, Pinkett Smith denied that Smith

ever gave permission to August, saying,

"One thing I want to clean up…about

you giving 'permission,' which is…the only

person that can give permission in that

circumstance is myself."

The relationship between Pinkett Smith

and Alsina had since ended, and the Smiths

remain happily married. "Me and Jada,

to this day, if we start talking, it's four hours.

It's four hours if we exchange a sentence.

It's the center of why we've been able to

sustain [our relationship] and why we are still

together, not choking the life out of each

other—the ability to work through issues,"

said Smith during his 2021 interview with

Winfrey. "I've never met another person that

I connect with in conversation more blissfully

and productively than Jada."

www.glamsquadmagazine.com 27
---
REPORTAGE

Did Alsina Get

Will's Approval to

Get 'Entangled'

with Jada?

Alsina said Will gave him and Jada

his "blessing", adding: "I actually sat

down with Will and had a conversation

due to the transformation from their

marriage to life partnership that

they've spoken on several times and it

not involving romanticism."

Alsina added he "totally gave

myself to that relationship for years

of my life and I truly and really, really

deeply loved and have a ton of love

for her."

The same day Alsina's claims

surfaced Jada's reps said they were

"absolutely not true".

Less than two weeks later, Jada

and Will appeared on an episode

of Jada's Red Table Talk, where

Jada confirmed that she did have a

relationship with Alsina, saying that she

and Will were separated at the time.

"We decided that we were going

to separate for a period of time and

you go figure out how to make yourself

happy and I'll figure out how to make

myself happy," Jada said at the time.

"From there, as time went on, I got

into a different kind of entanglement

with August...Yes, it was a relationship

absolutely."

Jada also said that Will didn't give

permission as the only person who

could give her permission was herself.

28

www.glamsquadmagazine.com
---
REPORTAGE

The Slap For Jada

True to their vows, Smith and Pinkett Smith have

stayed together through thick and thin. After all, even

following last night's incident, the two held hands

throughout the ceremony, and we're sure they'll

continue to do so for many decades more.

Then just when we thought we had heard it all about

Jada and Will, the pair will grab the headline again in

2022 when Will Smith slapped Chris Rock at the 94th

annual Oscars before he yelled at the comedian to

"keep my wife's name out your f***ing mouth."

It quickly became the most talked-about moment

of the evening, with the pair initially appearing to laugh

off the tense moment.

The altercation came after Rock said: "Jada, I love

you. GI Jane 2, can't wait to see you," referring to

Smith's wife, Jada Pinkett Smith, and her shaved head.

The comment prompted Smith to walk up on stage

and hit the comedian, a reaction that has not been

confirmed to be an act or not.

Will and Jada have had very public ups and downs

during their 28-year relationship, so where do they

stand now?

www.glamsquadmagazine.com 29
---
REPORTAGE

How Did Will Smith

and Jada Pinkett

Smith Meet?

Will and Jada met after she

auditioned for the role of Will's

girlfriend on The Fresh Prince of Bel-

Air. While she did not get the part,

the pair hit it off - despite Will being

married to Sheree Zampino at the

time, with whom he shares a son

Trey.

"I had a realisation I wasn't with

the person I was supposed to be

with," he told Jada's Red Table Talk

in 2018. "I was sitting in a [bathroom]

stall and I was crying and laughing

uncontrollably, and I knew [Jada]

was the woman I was supposed to

be with."

30

www.glamsquadmagazine.com
---
1995: The pair officially begin dating

It wasn't until 1995 that Will and Jada

began seriously dating after Will finalised

his divorce from Zampino.

1997: Will and Jada get engaged

and married

Will popped the question to Jada in

November 1997 before getting married

just one month later in Baltimore.

Jada wasn't initially sold on the idea

of marriage. She told People in 2019:

"I never wanted to get married. But

my mother was like: 'You have to get

married' - she's so old-school - and

Will wanted a family. So I said: 'All right,

maybe it's something I should do.'"

1998: Their first child is born

Jada and Will's first child together, son

Jayden, was born in July 1998.

2000: Their second child was born

Jada and Will welcomed their

daughter Willow in 2000. Willow is now a

singer.

2013: Jada denies open marriage

rumours (sort of)

After a quiet decade and a half

making movies and raising their children,

Jada took to Facebook to address

rumours she and Will were in an open

relationship.

She wrote: "Here is how I will change

my statement...Will and I BOTH can do

WHATEVER we want, because we TRUST

each other to do so. This does NOT

mean we have an open relationship...

this means we have a GROWN one."

2015: Will addresses divorce

rumours

Timeline of the Relationship

Between Will Smith and Jada

Pinkett Smith

REPORTAGE

www.glamsquadmagazine.com 31
---
REPORTAGE

Will addresses persistent

separation rumours by clarifying the

pair were not getting a divorce.

"Under normal circumstances, I

don't usually respond to foolishness.

But, so many people have extended

[to] me their 'deepest condolences'

that I figured – 'What the hell… I

can be foolish, too!' he wrote on

Facebook at the time. "So, in the

interest of redundant, repetitious,

over and over-again-ness…

Jada and I are… NOT GETTING A

DIVORCE!!!!!!!!!!!!!"

2018: Will revealed that he and

Jada don't refer to themselves as

married

In an episode of TIDAL's "Rap

Radar" podcast, Will said he and

Jada "refer to ourselves as life

partners, where you get into that

space where you realise you are

literally with somebody for the rest

of your life. There's no deal breakers.

There's nothing she could do -

ever. Nothing that would break our

relationship. She has my support till

death and it feels so good to get to

that space."

2020: August Alsina claims he

had an affair with Jada

August Alsina and Jada were

introduced in 2015, but it wasn't

until 2020 that he claimed that he

and Jada had dated while she

was married and that she and Will's

marriage was open during that time.

2021: Jada discusses her and

Will's sex life, Will's memoir is

released

In another episode of Red Table

32

www.glamsquadmagazine.com
---
REPORTAGE

Talk in October 2021, Jada said it

"takes work" to maintain a

spark in the bedroom.

"It's hard...The thing Will and I

talk about a lot is the journey. We

started in this [relationship] at a

very young age, 22 years old ...

I think you expect your partner to

know - especially when it comes

to sex. It's like: 'Well, if you love

me, you should know. If you love

me, you should read my mind.'

That's a huge pitfall," she said at

the time.

The next month, Will's memoir

is released, which details several

issues the couple has had over

the years. He wrote they were

"suffering the brutal death of

our romantic fantasies, the

burning away of the idealistic

illusion of the perfect marriage

and the perfect family. Neither

of us wanted a divorce; we

knew we loved each other, and

some aspects of our union were

magical. But the structure of the

life that we had established was

strangling both of us."

2022: No infidelity statement

and Oscars incident

During an interview on CBS

Sunday Morning earlier this

month, Will said he and Jada

had never accused each other

of cheating.

On Oscars night on 27 March,

Will appeared to get riled up by

comments Rock made about

his wife at the Oscars. During his

teary Best Actor acceptance

speech, Will said he was a "fierce

defender of his family."

www.glamsquadmagazine.com 33
---
Jada

Pinkett

1996

Will Smith, Jada Pinkett-Smith (wearing

a monochroamtic black look with

matching booties) and her mother in

Los Angeles on June 28, 1996.

and the Bhad

Girl Fashion

Identity

Amenna Daayo

1997

Jada Pinkett-Smith in all-black with

matching boots and her husband

Will Smith on a red carpet in Los

Angeles on Feb. 01, 1997.

2002

Jada Pinkett-Smith, wearing

a black plungin dress with

matching black pointy pumps,

with Will Smith at the 7th annual

Critics Choice Awards in Beverly

Hills, Calif., on Feb. 03, 2002.

Jada Pinkett loves events

and loves to make bold

fashion statements – this

is so obvious! But she has

this unique fashion touch and a

sort of Bhad Girl Fashion Identity.

Don't you believe it?

Well, we will give you an array of

random photos of Jada on the

red carpet to show you what

we mean.

She always rules the red carpet

in the sleekest outfits. We look

at some of her best fashion

and shoe statements. Let's give

you a sneak peek into what we

mean when we say Jada has a

bhad girl fashion Identity.

Check it out!

34

www.glamsquadmagazine.com
---
2011

Jada Pinkett-Smith

in a gray jacket,

black trousers and

black sandals at the

premiere of 'Justin

Bieber: Never Say

Never' held at Nokia

Theater L.A. Live on

February 8, 2011.

2010

Jada Pinkett-Smith, wearing

a black plungin dress with

matching black pointy pumps,

with Will Smith at the 7th annual

Critics Choice Awards in Beverly

Hills, Calif., on Feb. 03, 2002.

2017

Jada Pinkett-Smith

wearing a gold, high slit

gown with sharp black

pumps at the BET Awards

17 held at the JW Marriot

in Los Angeles, California

on Sunday June 25, 2017.

2017

Jada Pinkett-

Smith in a green

embellished dress

with strappy silver

sandals at the

'Girls Trip' premiere

in Paris, France on

Nov. 20, 2017.

2012

Jada Pinkett-Smith at the

'Men In Black 3' premiere at

La Caja Magica in Madrid,

Spain wearing a minty green

minidress adorned in gold

accents with gold peep-toe

platform sandals on May 13,

2012

www.glamsquadmagazine.com 35
---
2018

Jada Pinkett-Smith in a

white fluffy coat, black

skinny trousers and black

strappy pumps at the

premiere of "Skate Kitchen"

during the Sundance Film

Festival at the Park City

Library in Park City, Utah.

2018

Jada Pinkett-Smith

seen out at dinner

with newly single

actor Duane Martin

and her mother at

'Mastro's Steakhouse'

in Beverly Hills, CA

Jada was wearing

designer above the

knees beige boots

and a fluffy coat with

a matching turban

25 Feb 2018.

2019

Jada Pinkett-Smith

wearing a silver suit

and black pumps at

the 2019 MTV Movie

and TV Awards on

June 15, 2019 in

Santa Monica, Calif.

2019

Jada Pinkett-Smith

in a black midriffbaring

ensemble

embellished with

sparkles coordinated

with black strappy

sandals at the "Angel

Has Fallen" world

premiere in Los

Angeles on August

20, 2019.

2021

Jada Pinkett-Smith

wearing a red high

low gown with red

tights and sparkly

sandal heels at The

Matrix Resurrections

in San Francisco,

Calif., on Dec. 18,

2021.

2021

Actress Jada

Pinkett-Smith

wearing a white

off-the-shoulder

Vivienne

Westwood gown

at the 2021

AFI Fest closing

night premiere

of "King Richard"

in Hollywood,

Calif., on

November 14,

2021.

36

www.glamsquadmagazine.com
---
2019

Jada Pinkett-Smith in a

black leather boxy suit with

a denim shirt and a plaid

top wrapped aound her

waist paired with black

strappy sandals at the

screen of Apple TV+'s

"Hala" in Los Angeles on

Nov. 18, 2019.

2019

Jada Pinkett-Smith

wearing a scarf

wrap top, leather

pants, and black

suede pumps on

'Late Show with

Stephen Colbert' in

New York on Aug.

13, 2019.

2019

Jada Pinkett-Smith in

a monochromatic

orange outfit

consisting of a

cape top and

billowing trosuers

with platform heels

at the "Gemini

Man" premiere in

Los Angeles on Oct.

06, 2019.

2022

Jada Pinkett-Smith

in a green Jean

Paul Gaultier

ruched gown

with matching

peep-toe platform

sandals at the 94th

Academy Awards

on March 27, 2022

in Los Angeles.

2022

Actress Jada

Pinkett-Smith in a

nude crystallized

off-the-shoulder

gown with a

matching train at

the 2022 Vanity

Fair Oscar Party in

Beverly Hills, Calif.,

on March 27,

2022.

www.glamsquadmagazine.com 37
---
FEATURE

Jada Pinkett

and 2Pac

Relationship

Oyinkansola Fatoki

In case you missed

it, the late rapper

Tupac Shakur is now

something of a

permanent figure in

Jada Pinkett Smith's

decades-long marriage

to Will Smith.

Every time there is a

drama involving the

Smiths, internet users

somehow find a way to

link it back to Tupac —

even if it's not actually

related to him at all.

The Surprising Job Teri

Hatcher Had Before She

Got Famous

Take, for instance, the

recent infamous Oscars

slap, where Will stormed

the stage after Chris

Rock made a joke about

Jada's shaved head.

"Will Smith slapped

Chris rock and it was

all Tupac's fault fr," one

person jokingly claimed

on Twitter.

Another user tweeted,

"Will smith put so much

strength behind that slap

he probably pretended

Chris rock was Tupac."

So yes, for every new

Will and Jada headline,

Tupac's name is lurking

just somewhere in the

corner.

That is because, for

many years now, Jada

has seemingly given

people more than

enough reasons to do

38

www.glamsquadmagazine.com
---
FEATURE

www.glamsquadmagazine.com 39
---
FEATURE

just that. Back in 2021, fans went

wild after Jada shared an old

poem Tupac wrote to her.

Per the online reactions, many

seem to believe that Jada and

Tupac were in love at one point.

But is that really the truth to their

relationship? Or is this just yet

another Hollywood rumor that won't

go away?

Jada Pinkett Smith met Tupac

back in high school

Per Insider, Jada Pinkett Smith and

Tupac first met back in the '80s

when they were both students at

the Baltimore School of Arts. "It was

the first day and he came over to

me and introduced himself," she

said of their first meeting.

The two immediately connected,

despite Tupac not being the kind

of guy she would normally roll with.

"And in high school, Pac was a

little funny looking. Definitely from

looking at him, wasn't necessarily

the type of cat that I would even

like, deal with," Jada added.

But none of that seemed to

matter, as the rapper went on to

become one of her best friends.

Even though the pair's bond was

mostly platonic, in 2015, Jada told

Howard Stern that she once forced

Tupac to kiss her — but it was a

total disaster.

"There was a time when I was like,

'Just kiss me! Let's just see how this

goes,' and when I tell you it had

to be the most disgusting kiss for

us both," she said with a laugh.

She explained that it must've not

worked because a "higher power

40

www.glamsquadmagazine.com
---
FEATURE

just did not want that."

This revelation has, of course, not

stopped people from speculating

that Tupac and Jada had

something more than friendship,

with Will Smith once admitting

that he was jealous of the two's

friendship. "He was the image of

perfection, but she was with the

Fresh Prince," Will told "The Breakfast

Club" in 2020. "I was deeply

insecure and I wasn't man enough

to handle that relationship."

Jada Pinkett Smith and Tupac

were estranged when he died

When Jada Pinkett Smith first met

Tupac, she was in a much different

place than she is now. "One of the

things that's very interesting that

I've never really said before is that

when I first met Pac when we first

met, I was a drug dealer," Jada

said during an appearance on

SiriusXM's "Sway In the Morning."

But while Jada was trying to get

out of the drug-dealing business,

Tupac was trying to get in. "As I

was coming out of the life, he was

going more into the life," she said.

With the two friends going in very

opposite directions, their friendship

was put to test and they ended up

having a major falling-out.

Jada revealed to Howard Stern

that she and Tupac were not on

speaking terms at the time of his

death — because she was not

okay with the new life he had

chosen. "We had a very hardcore

disagreement ... I just wasn't in

agreement with the direction that

he was taking," she explained.

Jada battled guilt following Tupac's

death, but she was comforted that

he knew exactly how much she

loved him. "But, I know he knew

that," the "Girls Trip" star said. "It

wasn't the first time that we had a

bad argument and had stopped

speaking. That was kind of a

constant in our relationship."

Even all these years later, it's clear

Jada had a deep level of care for

her former friend.

www.glamsquadmagazine.com 41
---
FEATURE

Model To

Celebrate

42

www.glamsquadmagazine.com
---
FEATURE

Adesuwa

Aighewi

Sasha Bokomoso

Adesuwa Thongpond

Pariyasapat Aighewi is

a Nigerian American

fashion model and

filmmaker. In 2018, she was

chosen as the runner up for

"Breakout Star of the Year" by

models.com. As of January 2019,

Aighewi ranks as one of the "Top

50" models by models.com.

Dubbed by i-D Magazine as

one who has "captured fashion's

imagination." Adesuwa represents

the epitome of a new generation

of models who seek to vocalize

the deep layers of culture, history,

and societal impact embodied

by the fashion industry.

Of Chinese, Nigerian, and

Thai descent, Adesuwa initially

entered the modeling world with

the intention to earn money for

a NASA internship. Her first big

break arrived when she opened

the Coach Spring/Summer 2018

show, a feat that earned her

much momentum from the

who's-who of today's top fashion

houses.

Soon, campaigns for

Alexander Wang, Bottega Veneta,

Chanel, Dior, Marc Jacobs, Vera

Wang, and Versace became part

of her repertoire, alongside covers

for Numero, i-D, New York Times

Style, and editorials for multiple

editions of Vogue, Harper's Bazaar,

CR Fashion Book, AnOther, Dazed,

and many more. As notable

global brands gradually became

significant supporting forces

behind her career, Adesuwa

decided to utilize the new

relationships cultivated within this

field to amplify other pertinent

issues.

As her career ascended,

Adesuwa's creative potential

has also extended to new

heights: since 2017, she has

penned think pieces for The

Guardian on diversity issues within

fashion, directed short films for

LOVE magazine, and became

Contributing Editor for i-D. In

2019, the British Fashion Council

recognized her as one of the

leading Creatives of the "NEW

WAVE."

Currently, Adesuwa works

diligently on preserving African

culture and promoting its

legacy to the world, with

numerous projects in the works

simultaneously to achieve her

vision. As she stated to i-D, "I

want to have a summit with all

the coolest Africans worldwide. I

want people to come together

– everyone thinks they're alone

— but I want to bring everyone

together and make a plan and

help our continent."

www.glamsquadmagazine.com 43
---
FASHION ESCAPE

Best

Street-

Style

Moments

Of Adut Akech, Adesuwa

Aighewi & Nicolas Mayowa

through the Years

Praise David

Adut Akech, Adesuwa Aighewi, and Nicolas

Mayowa have been on the fashion circuit since

they made their runway debuts many years

ago. From that moment, the supermodels

have racked up international covers and become the

faces of premium brands worldwide.

They have made their marks as one of the most indemand

models of the moment and cemented their

status as fashionable street stylers too.

Below, we have shared the best street-style moments

of Adut Akech, Adesuwa Aighewi, and Nicolas Mayowa

throughout the year. Enjoy!

44

www.glamsquadmagazine.com

Nicolas Mayowa
---
FASHION

Adesuwa Aighewi

Adut Akech

www.glamsquadmagazine.com 45
---
FASHION ESCAPE

Adut Akech

46

www.glamsquadmagazine.com
---
FASHION

www.glamsquadmagazine.com 47
---
FASHION ESCAPE

Adesuwa Aighewi

48

www.glamsquadmagazine.com
---
FASHION

www.glamsquadmagazine.com 49
---
FASHION ESCAPE

Nicolas Mayowa

50

www.glamsquadmagazine.com
---
FASHION

www.glamsquadmagazine.com 51
---
FEATURE

Adesua

Etomi and

Banky W

A Union Made

in the Stars?

Chioma Esui

Call them the number

one celebrity couple

in Nollywood, and you

won't be wrong. The question

on the lips of many is whether

this is actually love, or would

it end like the other celebrity

marriages we have been used

to in recent times? We hope it is

not the later – sincerely, we all

do.

Recently, Nigerian singer

Bankole Wellington, popularly

known as Banky W, and his

actress wife, Adesua Etomi, took

to social media to celebrate

their fourth wedding anniversary

with the most amazing pictures.

The amiable couple, who

got married in Cape Town,

South Africa, in 2017, took to

social media to celebrate each

other and say loving words for

each other.

The singer and actor cum

politician described Adesua as his

song, rhymes, heart, light, muse,

melody, and everything. Adesua,

on her part, stated that Banky W

will always be a favourite part of

her, adding that without him, she'd

be living in black and white.

You will recall that this is not the

first time that Banky W has openly

professed his love for his wife. In

November last year, he revealed

that marrying his actress wife,

Adesua Etomi, was the secondbest

decision he has made. The

singer said this while celebrating

his wife's birthday on his Instagram

page.

52

www.glamsquadmagazine.com
---
FEATURE

Sharing a video of himself and

his wife, the father-of-one noted that

his best decision was giving his life to

Christ while marrying Adesua was the

second.

He wrote, "The second best

decision I've ever made was to ask

@adesuaetomi to be my wife (the

best was giving my life to Christ).

"Happy birthday to my crown, my

queen, my everything, my lover, my

baby mama, my partner-in-purposeand-destiny.

"You're my inspiration and support

system, my motivation and source of

encouragement.

"Thank you for loving me and

building with me. Thank you for

looking out for me and praying with

me.

"In Jesus' name, this will be your

best year yet, and the rest of your

years will be the best of them. You

will shine like the star He created you

to be.

"You will never be held back by

the limitations or expectations that

others have of you.

"Your validation will only ever

come from who God is and who He

created you to be. You will increase

in wisdom, grace, strength, and

anointing.

"You will achieve your destiny and

manifest your dreams. The peace of

God will guard your heart and mind

in Christ Jesus, and the purpose of

God will guide your life's journey.

"We will grow old together and

live to see our children's children in

abundance, joy, peace, love, and

contentment.

"Shuga, I will forever be your

biggest fan and cheerleader. I'm so

grateful for you, proud of you, and

thankful that I have the honor of

being your husband. You are light.

You are love. You are beauty. And

you're mine.

"I don't need to win the lotto

because with you, I've clearly won in

life. Until the day we die, it's gonna

be you, me and the Most High."

You will recall that Banky W and

Adesua Etomi tied the knot on

www.glamsquadmagazine.com 53
---
FEATURE

November 19, 2017 in a star-studded

ceremony, and they welcomed their

first son, Hazaiah, in January 2021.

It appears Banky W is really

enjoying his marriage to Etomi and

has found the secret ingredient to

sustain the union. In a recent interview,

the musician cum politician shared

some nuggets on why he believes

couples do not enjoy their marriages.

The 41-year-old singer shared his

thoughts during a radio programme

together with his wife, Adesua Etomi,

hosted by the Nigerian media

personality, Ebuka Obi-Uchendu, in

the series, the Black Box Interview.

The singer, who was responding

to a question on how he had met his

wife, Adesua, revealed that he wasn't

able to pay attention to her after they

had met a number of times because

he wasn't ready to settle down.

He also pointed out that couples

struggled to stay together because

they rushed into marriage when they

were not ready.

He said, "I honestly think that God

blinded my eyes until I was in a place

where I would be working to be the

type of man that would treat his

daughter properly. Until I got to that

place, God didn't let me see her.

"So I saw her, you know, and I was

like, 'nice girl, fine girl, okay nice to

meet you,' and I kept moving. I was in

a different place in my life. And men

know, men always know when we are

ready. And until you're ready, you're

not ready.

"And if you're not ready, it doesn't

matter how great somebody is, if you

as a man, you're not ready to settle

down and be dedicated or whatever,

you're just gonna mess it up or end up

in this miserable situation.

"And that's why I think today that

marriage has turned into this thing we

endure rather than enjoy."

Banky W and Adesua got married

over four years ago on 19 November

2017, and in early 2021, they

announced they had a baby boy.

Recently, Adesua, has for the

"

And if you're not ready, it doesn't

matter how great somebody is, if

you as a man, you're not ready to

settle down and be dedicated or

whatever, you're just gonna mess

it up or end up in this miserable

situation

54

www.glamsquadmagazine.com
---
FEATURE

first time, revealed why she agreed

to marry popular singer, Bankole

Wellington, aka Banky W.

According to her, Banky's first

message to her made her laugh which

guaranteed they were going to get

along.

She noted, "If you can make me

laugh, I can almost guarantee that

we are going to get along and his first

message made me laugh. I wasn't

planning on getting married to anyone

in the industry. And here comes this

one (Banky), and he completely

shattered all my plans. But when he

proposed to me, it was yes. It was an

instant yes. I didn't even think twice

about it."

Mrs. Wellington revealed this in a

documentary titled, 'The Wellingtons'

which aired on DSTV.

In the revealing documentary,

Adesua said that she wasn't looking

out to date or marry anyone in the

entertainment industry until Banky

W came along and changed her

perception.

She added, "We are pretty much

on the same page because we know

what we both want, the kind of family

we want. I keep emphasising about

the importance of memories. It wasn't

just about us getting married; it was

about sharing our experience with

other people. I'm glad it came to pass.

I know without a shadow of doubt he's

for me, I was more excited God gave

me this person after so many months,"

she said

The singer, who had contested for

the House of Representatives seat

representing Lagos' Eti-Osa Federal

Constituency during the 2019 general

elections, recently announced that

he had defected from the Modern

Democratic Party to the Peoples

Democratic Party.

He is seeking the PDP ticket to vie

again for the same seat in the 2023

general elections.

www.glamsquadmagazine.com 55
---
FASHION

Paris Fashion

Week S/S 2023:

From Christian

Dior to Chanel

Jack Moss &

Sasha Bokamoso

Acne Studios

Coperni

Akris

Paris Fashion Week S/S 2023

arrived as energised as

ever. Here are our highlights,

spanning historic houses and

runway debuts.

Paris Fashion Week S/S 2023 looks

set to round out fashion month in

climatic manner – from spectacular

shows courtesy of France's historic

houses (Louis Vuitton, Dior, Chanel,

Saint Laurent and Hermès among

them) to a new wave of emerging

designers showing across the city

(Ester Manas, Ludovic de Saint

Sernin, Ottolinger and more),

Europe's spiritual home of fashion

feels as energised as ever.

New additions to the nine-day

schedule include Victoria Beckham,

in her Paris debut, Ib Kamara,

who reveals his vision as art and

image director of Off-White, and a

contingent of Japanese designers

making their womenswear return

after two years of Covid-19

restrictions, including Comme des

Garçons,

Junya Watanabe and Yohji

Yamamato (Issey Miyake will also

show its first collection since the

eponymous founder's death earlier

this year).

Here is the runway report of

Paris Fashion Week S/S 2023.

Andreas

Kronthaler

for Vivienne

Westwood

Balenciaga

56

www.glamsquadmagazine.com
---
FASHION

Chanel

Courrèges

Hermès

Chloé

Givenchy

Ester Manas

www.glamsquadmagazine.com 57
---
FASHION

Lanvin

Issey Miyake

Ottolinger

Rick Owens

Miu Miu

Loewe

Victoria Beckham

Paul Smith

58

www.glamsquadmagazine.com
---
FASHION

Saint Laurent

Rokh

Thom Browne

Sacai

The Row

Valentino

www.glamsquadmagazine.com 59
---
A Beginner's Guide to Fa

FASHION ESCAPE

Aaron Royce &

Ameena Daayo

No matter who you

are, keeping up with

the ins and outs of

the fashion industry

can be a full-time job in itself.

For example, you might hear

about a designer's amazing

creative work for a brand only

to be ousted and replaced

weeks later.

Or, you may hear about a

namesake label showing in

the present day under the

name of a designer who

passed away years ago ––

who knew Coco Chanel was

still making couture in 2020?

Well, she's not.

Even the best of editors have

confused a Fall versus Spring

collection before, it's nothing

to be ashamed about. But,

we've done our homework on

the need-to-know essentials to

get you started in the industry.

The more you know when

starting out, the more

prepared you'll be to become

the next great editor, stylist

or designer (just to name

a few). Think of this as your

comprehensive, myth-busting

guide to the basics of the

fashion world-from us, to you!

60

www.glamsquadmagazine.com
---
FASHION

shion Industry

Basics that will Change Your

Fashion Mindset in 2023

1. FASHION WEEK

LASTS ONE WEEK

Fashion Week is actually a full

month, believe it or not! Though

many people refer to one of the

'Big Four' fashion capitals, New

York, London, Milan, and Paris,

when attending one Fashion Week,

the back-to-back schedules of

these cities' womenswear shows

and presentations last a full month.

Editors and industry insiders will

often attend all or most Weeks,

though many take a day or two

between each to travel to the next

country, prepare their schedules,

and take in the sights.

Lots of local fashionistas will only

attend one Week due to their

sphere of influence, line of work or

budget. Plus, there's even more

beyond a month: Fashion Month

doesn't include categories like

menswear, pre-fall, resort, couture,

or designers who show outside of

the traditional Fashion Calendar.

2. DESIGNERS

STAY WITH BRANDS

FOREVER.

Many brands still have their

namesake designers at the helm

(Nicole Miller, Cynthia Rowley and

Tom Ford, for example), but most

are no longer at the brand. Though

a brand's original designer may

have a shift in duties yet remain at

the brand, it's important to know

who's the current designer for

certain brands.

Many will even have different

designers for specific facets,

such as separate womenswear

(and/or menswear) and couture

designers. Usually due to sales, a

change of heart in said creative

director or brand owner, brands will

www.glamsquadmagazine.com 61
---
FASHION

change designers every 4-5 years

depending on their contracts;

John Galliano, then Raf Simons,

and now MGC have all designed

for Dior in recent years, and that's

just one example!

3. LOUBOUTIN OR

LOUIS VUITTON?

What's in a name? Similarities in

brand names can be confusing to

decipher as a beginner, especially

when so many brands exist under

the same companies or product

categories. Some might rhyme,

have similar syllables, or even

have the same words in their

names. Here's a quick breakdown:

Louboutin is not Louis Vuitton, Pucci

is not Gucci, Balenciaga is not

Balmain, and Fenty is not Fendi.

If you're unsure of a specific

brand's name or what they're

known for, look them up online

to see what products they make

or which celebrities they dress.

Hearing name mix-ups is often

humorous to industry vets since

brands with similar names can

have vastly different products or

aesthetics.

Of course, nobody's perfect;

mistakes happen! Just don't

say 'Versace' when you mean

'Valentino' in front of Anna Wintour.

4 GLAMOUR IS

THE NAME OF THE

GAME

Glamour isn't everything in the

fashion industry! Though we all wish

we could be running between

fashion shows and red carpets

in six-inch designer stilettos as

interns, that's just not how the

industry works. There's a lot of

grunt work, hard tasks and lastminute

emergencies that happen

to anyone, on any level of the

industry, on any given day.

PR firms will have seating conflicts

for fashion shows, celebrities will

argue at parties, and editors will

need to coordinate a way to

get a dress to set in a seemingly

impossible timeframe.

Lots of influencers and celebrities

borrow clothing from designers or

brands for partnerships only to be

returned afterward. It might look

like lots of editors and influencers

62

www.glamsquadmagazine.com
---
FASHION

are living the glamorous life on

Instagram, but know there's always

more than meets the eye when

it comes to that perfectly-filtered

office #OOTD post.

5. SEASONS ARE S/S

AND F/W

This is a tricky concept for some to

understand if they aren't involved

with fashion, but the two most

popular "seasons" for brands to

release products for are S/S (Spring/

Summer) and F/W (Fall/Winter;

sometimes referred to as A/W for

Autumn/Winter. Pick your poison).

To make it even more confusing,

there's also RE (Resort) and PF (Pre-

Fall).

To make sure editors, buyers, stylists,

and influencers know what's going

to be trending for future

seasons and plan events,

shoots, and respective

schedules, brands will

typically show their fall

collections in February and

their spring collections in

September.

It's a little confusing at first,

and some brands have

switched to a see-nowbuy-now

model, where the

clothes and accessories

they're promoting at a show

are just recently available, or

about to be, for purchase.

Nonetheless, it's important

to know the product you're

seeing on runways usually

won't be shoppable, or

shown in editorials, for

another 5-6 months.

www.glamsquadmagazine.com 63
---
WELLNESS

5 Key Signs

You're Vitamin

D Deficient

and it Can Affect your

Beauty, Health, and

Wellness

Dr Nkechi Juliet

1

We're constantly being told we need

to up our vitamin D intake. But, in fact,

according to multiple medical surveys,

across the population, approximately 1

in 5 people have low vitamin D levels —

a figure which isn't helped by the fact

that we've spent a lot of time cooped up

in our houses this New Year.

Vitamin D is imperative for maintaining

our overall health and well-being, but it's

also needed for healthy, glowing skin.

Here, we have revealed the five skin

signs that you might require some

Vitamin D.

DULL COMPLEXION

Much like all organs, skin needs vital vitamins to

function properly, and vitamin D is one of them,

Vitamin D is primarily synthesised in skin which is

exposed to UV light, if not achieved by diet or

supplements. A dull complexion can be a sign of

a lack of Vitamin D. Your complexion may appear

slightly grey, your skin not as plump or supple as usual,

and you may also have darker under eye circles, this

is because the skin needs Vitamin D for the skin cells

to regenerate properly and remain healthy.

BREAKOUTS

Vitamin D can reduce

inflammation on your skin, which

therefore means fighting against

skin conditions such as acne and

rosacea. Due to its action on

your blood insulin response, your

acne breakouts could be vastly

improved too, this lowering of

inflammation will also help with

your general skin health too. 2

64

www.glamsquadmagazine.com
---
DRY SKIN

WELLNESS

One tell-tale skin sign of a vitamin D deficiency is

dry, itchy skin on the face, which may occur all over

or on areas such as cheeks, chin and forehead. In

some severe cases, those with a deficiency may also

develop eczema, this is thought to be caused by an

immune system dysfunction. Studies have shown that

vitamin D can be effective in its treatment whether the

vitamin comes from direct sunlight, supplement or a

topical skin application.

4

3

5

SWEATING

A deficiency in vitamin D can cause your

skin to sweat and is considered to be one of

the first signs of a problem. You will sweat all

over your body, including your face which

can cause your skin to become dry and

irritated, as well as increasing your chances

of breakouts - so upping your vitamin D could

help.

FINE LINES

Vitamin D acts as an antioxidant, meaning that its able to

help against fine lines and wrinkles. This vitamin helps your

body to fight off free-radicals which are thought to cause

lines on our skin and the general deterioration that comes

with age. A lack of vital vitamin D sources could mean our

wrinkles appear much deeper and more visible, a lack of

vitamin D may also mean that we develop new wrinkles at a

much quicker rate.

www.glamsquadmagazine.com 65
---
BEAUTY

5

French Girl-

Inspired Make-Up

Tricks To Steal in 2023

Sasha Bokamoso

Of course, crafting each character's

make-up look hinges on telling a

larger story about who they are.

A good make-up should translate to

"simple, natural, classy" rosewood tones,

balmy skin, and imperceptible faux lashes.

But for some, it's more extreme, colourful

beauty codes that infiltrate scenes.

To be candid, it is all about balance – a

balance that can be achieved from mixing

up instincts and keeping a finger on the

pulse of new products. Everything is good;

it's just a question of how you use it.

When it comes to beauty and make-up,

you will agree with me that the French girl

is the go-to girl! Here, we have highlighted

5 French-girl make-up tricks to steal from

the typical French girl.

Embrace French

nudes

The key to French girl beauty is

finding and wearing tones that

don't look overtly cosmetic. In

France, the real specificity is the

nude — they love nudes because

it's not that common to have a

lot of make-up on. For the French

look, it's more like minimal makeup

— natural skin, light foundation,

and light concealer — just to hide

tiny things, not to contour. A French

nude isn't necessarily a shade of

tan or brown as one might think,

but a shade that appears naturally

on the face, like a pinky hue of

Chanel's lip and cheek balm

dotted onto cheekbones.

Parisian faux

lashes are

imperceptible

Unlike the heavy lash extensions and

strips that we've come to associate

with American beauty queens and

television stars, the Parisian faux

lash is nearly imperceptible for the

French. To achieve it, apply a thin

line of brown or black pencil and

single eyelashes in different lengths.

Take singles one by one and mix

the longest one with the tiniest one.

The result is an optical illusion that

dramatically enhances the length

and thickness of natural lashes.

66

www.glamsquadmagazine.com
---
BEAUTY

A bold mouth

It's French to have very red lips. One point to note

is that when you're doing a really beautiful red

mouth as a French make-up artist does, the eyes

should be less done. If you get bangs and bold

lips and then something strong in the eyes, your

face would get lost. So instead, a more natural

gaze enhanced with black mascara brought a

level of French-girl balance.

Beautiful skin is always

the priority

Taking care of your skin should be your number one

priority before make-up. Skin prep always consists

of simple but consistent rituals. Start with a mask to

tone down any redness, followed by hydrating eye

patches and a dose of face mist and cream. The

primary lesson is that beauty is natural, a seemingly

bare complexion is the ultimate goal — even when

it's enhanced with cosmetics.

There's always

room to play

Even with the traditional guidelines

of subtlety and balance, French

girls take cues from global trends

and relish statement beauty

moments. You should have the

most fun in terms of make-up

— with really crazy colourful

and graphic eyeliners — you

are always ready for the stage.

French-girl make-up doesn't

always shy away from colour. To

them, it is elegant to play with

make-up and be elegant and

fashionable.

www.glamsquadmagazine.com 67
---
FEATURE

Pastor Mathew Ashimolowo

needs no introduction. The

world-renowned televangelist

and global ambassador for

Christ lead the largest gathering of

the Christian faithful in the United

Kingdom. The head pastor of

Kingsway International Christian

Centre (KICC), headquartered in the

UK, with branches all over the world,

Pastor Mathew is both a motivational

speaker and a preacher of the Word

of God.

As Nig he sheds light on some

doctrinal teachings pitching

Christians on moral opposites,

the elections and the leadership

question in Nigeria. He talks, with

passion, of his yearly celebration

of widows, a charity project he

organises every December, when

over 1,000 widows are given money

and ankara fabrics in an effort to

cushion their sufferings.

I started by asking if this was

not a 'failure of leadership'. He also

gives prophetic insights on 'when

tomorrow dawns' for Nigeria. An

exclusive for Allure. Please, read on.

Is it not a failure of leadership that

people have to line up for this type

68

G

lamView

With Remmy Diagbare

A President shall

arise who will

change Nigeria

- Pastor Mathew

Ashimolowo

www.glamsquadmagazine.com

of charity; and, it takes somebody

like you to show appreciation to

widows in your community?

I think it is a potpourri of many

problems; number one is leadership

(then) lack of vision and lack of

infrastructure to care for people who

have fallen through the crack.

Some children and widows have

fallen through the crack. People who

didn't go through an employment

system that created a pension

scheme have fallen through the

crack. Part of my vision which I am

praying that I will achieve in the next 24

months is to build a place to be called

Ile Awon Agba. They will not live there

but if they are 70 plus and live in the

Odoomu, we will take care of them at

the home.

You are concerned with only those

people around your state of origin

but Nigeria is a big place.

(Laughing)... Let us leave that for

the government. How do you eat an

elephant…? ...Little by little. So, I want

to build this ile awon Agba. If you are

elderly and over 70 years, you go there

once a week. There will be doctors

and nurses to take care of you. They

will give you food, check your health;

you will share fellowship with other old

people like yourself. At a point, I will

have a vehicle for the ile awon agba.

I will even go and pick the ones who

are very, very old. I like to celebrate the

elderly; to make them feel special.

For my yearly widows' charity,

once in a while, I think of a widow to

celebrate and when we are talking

to the widows, I bring this one widow

out and celebrate her the more. Two

years ago, the woman who took me

to church as a young man – I was a

Muslim – my name was Ahmed. My

mother was Aishat, my brother was

Mudashiru, my sister was Hadijaat.

The woman is still alive. She is about

92 years. I brought her and celebrated

her. This year, the person I celebrated is

the woman who follows my mum. She

is 91 years. I told her son to drive and

bring her from Ile-Ife to the event and

celebrated her again in the presence

of everyone.

Let us look at the leadership

question in Nigeria. It is generally

believed that the problem of Nigeria

is a failure of leadership. Do you

agree?

The challenge of Nigeria, like you

said, is leadership but there are two or

three things involved. If you only look

at leadership and you get yourself the

greatest leader on earth, he will still fail

if the system is broken. Nigeria is not

just a failure of leadership but also a

failure of system. This is my opinion.

President Barrack Obama is a

gifted man but he is not exactly the

most unusually gifted person on earth.

However, he found himself running

a water-tight system that has been

perfected over three hundred years.

In fact, if you put a fool in the White

House, he will succeed because the

system of America is on automation.

Everybody knows what to do and no

one is interested in grabbing what

belongs to the government.

I live in the United Kingdom. If you

put anyone as Prime Minister, the

nation is on automation. So, while you

are trying to blame the President or his

acolytes for failure in leadership; even

if you get the smartest, wisest, greatest

Nigerian, until the system is also fixed,

there will be a problem.

In my opinion, I will say that is what

I see in a person like Governor Raji

Fashola who, in his little time, tried to fix

some of the broken system in Lagos.

So haven fixed some of the broken

systems, you find out that some things

now work in Lagos. If Fashola leaves

and you put Joe Block, who is not

as gifted, as long as they keep the

automation he started, it will work.

Another thing is good education
---
FEATURE

of the public; because, you see, a

Nigerian keeps blaming those at the

centre of power. They do not realise

that if election is going to work, 'I am

part of the processes'. Good system,

good government, good citizenship.

What do we do to address this

problem?

If you ask me what we can do, I

think, number one, it seems almost

late but we should stop voting people

because we want to change one

person. We should look at what they

offer us; whether the person we want

to change or the person who wants to

come in can offer a better deal.

Number two, what can he do to

mend the fractured system? Let me

give you an example of places where

they have amended a fractured

system. We all pack our bags every

day and run to Dubai. We want to

Pastor Mathew Ashimolowo

enjoy Dubai. Dubai was a desert. There

was nothing but sand for two hundred

years until suddenly, almost 30 years

ago, the late Sheikh Marktum, the

father of Sheikh Marktum – who just

passed – decided 'I want to turn this

desert land to a play ground of the

world'. He came up with a vision that

was outrageous, even for those around

him.

If your vision does not scare the

people around you, it is not big

enough. He came out with a great

vision. A vision to build a harbour on

the mainland; where the biggest

ship on earth can berth. They dug a

channel to the sea; they did not come

to the sea shore, they dug it on the

mainland so that they can have more

space; more capacity and now dug

the channel to the sea.

Those are the kind of audacious

dreams he had. We need visionaries

who will not only see the things to

be done but will be able to make it

come alive. Nigeria is under a serious

challenge. There is tribal arrest. There

is geographical arrest, forgive me to

say, and I am bold to say it. I am 62

years old and I have nothing to lose

anymore. I will say (that) many of our

people we call leaders are not leaders

but tribal chiefs; because when they

come up, they speak for the region

they came from. They do not speak

with such robust vision that is allencompassing.

They should not just say I am a

Yoruba, I am an Ibo. One of the

presidential candidates, at one point,

just 10 months ago, said an attack

on Boko Haram was an attack on

the North, which is too myopic. That

is what the late Dr. Azikiwe will call

akatakaism.

What Nigeria needs now is a

visionary leader who will have a

marshal plan that covers about five

E's. The E of: Education, Economy,

Environment (which includes

agriculture) and Engineering –

everything in Nigeria is imported.

We don't fabricate anything. South

Africa fabricates most things. Of

course, because of sanctions, they

learnt to produce most things. They

build ships, aircrafts.

So, where are we? There is no

moving forward, is there?

There is moving forward. If you now

want me to speak as a prophet, I will

tell you – I do not know when – but it is

not going to be up to ten years, a man

will rise in Nigeria that will bring this glory.

It is not going to be up to ten years,

a man is coming who will shake the

system. He will be different. I don't know

who it is; I don't think we know him.

Not any of the presidential

contenders?

I am not sure if it's one of them but

before ten years, somebody is going

to rise and restore the glory of this land

So, Nigeria is not going to break?

Nigeria will not break. Nigeria will

keep her prophetic mandate of being

one nation although after the March

elections, twenty percent of a certain

region will not submit to the President.

That is what I saw. And, it will take six

months to one year before he will now

be able to govern that area.

This interview was first

published in Vanguard Allure,

April 5, 2015

www.glamsquadmagazine.com 69
---
ESCAPE

A Trip to

Tenerife

Island

Anyone?

Praise David

70

Tenerife is a place that

should be on everyone's

bucket list. If you haven't heard

of it, and you love exploring

new and unique places, you're

missing out.

The largest island of the

Canaries is not your typical

island destination, and has

something for everyone. It's a

place where you can imagine

yourself in multiple places

around the globe - without even

stepping off the island.

Picture this: the volcanic

landscapes, boardwalks and

resorts of Maui, combined with

the food, wine, port and Spanish

colonial architecture of Barcelona,

and the white/black sand beaches

of Costa Rica - all on one island!

If you're in the process of

choosing where your next trip

should be and you can't decide, here's

why it should be Tenerife.

www.glamsquadmagazine.com

Birdwatching

While many travel to

Tenerife to explore its black

sand beaches, many also

come for birdwatching. The

island is home to some rare

species because of the

various habitats and unusual

geography. One of these birds

is the Blue Chaffinch, which

is easily recognizable with its

blue feathers and is only found

in the mountain forests of the

island. While birdwatching in

Tenerife you'll also probably be

on the lookout for two species

of laurel pigeon that live in the

forests and the mountains of

the island and the Great Grey

Shrike, an uncommon bird

in the UK but one that lives in

Tenerife high on Mt. Teide.
---
ESCAPE

Black and White

Sand Beaches

Featured in CNN, Forbes

as a trending beach

destination and the Active

Times, Tenerife's beaches

live up to the hype. But with

so many Tenerife beaches

(there's 70) how do you

narrow down the options? It's

all about what you're looking

for. If black volcanic sand is

what you're seeking, check

out the El Bollullo beaches

in the north, surrounded by

green cliffs and banana

plantations. If you're looking

for a more traditional beach

- you'll want to be in the

south in Adeje, which is filled

with golden sand beaches.

We teamed up with a

Tenerife expert and listed our

6 favorite beaches here.

Waterpark

Siam Park is one of the biggest and best waterparks in Europe

for those seeking an adrenaline rush. So good in fact that it was

rated as the #1 waterpark in the world by Trip Advisor in 2016 and

2017. Set in a Thai-themed paradise, the lush, green and tranquil

environment makes it great for any age to enjoy. Thrilling rides like

the Tower of Power, The Dragon, and the Mekong Rapids will set

your heart racing. If you're in the mood to relax, visit the bars or

restaurants on the white sandy beach.

Michelin Star Restaurants

And for all you foodies out there, cuisine is another great hallmark

of Tenerife's culture. Traditional food in Tenerife is rustic but simple, and

the favour combinations and rustic ingredients are worth trying. Spain

has 182 Michelin Star restaurants, but Tenerife is the only island in the

Canaries with four Michelin Star restaurants. A Michelin Star is received

after anonymous restaurant reviewers try different restaurant cuisines

and come to a consensus on which restaurants will be awarded the

stars. Forget Yelp and Zagat, as you can see, no consumer reviews are

used in making the Michelin determination.

www.glamsquadmagazine.com 71
---
ESCAPE

The Diving

The crystal-clear

waters of the Atlantic

Ocean around Tenerife

and the Canary Islands

are internationally

known for their quality

and temperatures

of 70 degrees. Filled

with a rich diversity of

marine life, the island is

an undersea paradise

for experienced or first

time divers. Above the

waves, there's plenty to

do too - you can choose

from windsurfing, surfing,

kayaking or deep sea

fishing.

Europe's Largest

Lava Tube

Maybe you want to travel

alone, or maybe you're

looking for an interesting and

informative trip for the family.

Whatever the case, the Wind

Cave is a no-brainer if you're

looking for a unique and

educational activity for the

day. Shaped by lava flows

from Pico Viejo, part of Mount

Teide is The Cueva del Viento.

Also known as the Wind Cave,

this lava cave is Europe's

largest lava tube and the fifth

largest in the world. The top

four largest are all located in

Hawaii.

72

www.glamsquadmagazine.com
---
ESCAPE

Wine

If you're a wine connoisseur, you'll want to add some vineyards to your

trip itinerary to truly experience Tenerife's culture. Luckily for you, Tenerife is

internationally recognized for its wine. The main reason why is because the

island grows nine varieties of ungrafted vines that can't be found anywhere

else in Spain. Listán Blanco, Malvasiaa, Gual, Albillo Criollo, Vijariego, Moscatel,

Marmajuelo and Verdello are the grapes used to make whites, whilst rosés and

wines are made mostly of Listán Negro, Negramoll and Tintilla.

The World's Best Stargazing

While this bustling Spanish island is

widely known for its spectacular beaches

and busy nightlife, Tenerife is also

considered one of the best places to go

stargazing in Europe. In the darkness of

the Atlantic Ocean, Tenerife's Mt. Teide,

Spain's highest peak, is also one of the

few places you can see constellations

and different galaxies because of its

elevation. With no light pollution and cities

vastly spread out, everything is completely

lit up and you'll be able to see thousands

of stars. If you really want an incredibly

unique experience, go up late in the

afternoon to Mt. Teide National Park and

go to the Parador (a hotel/ restaurant

inside the Caldera) to enjoy a memorable

five-star dinner from Michelin-awarded

chefs. Read more about stargazing and

the Sunset and Stars experience here.

www.glamsquadmagazine.com 73
---
FOOD

Foods to Avoid

Before a Big

Date Night

Chef Amaka Ibeme

When it comes to preparing

for a big date or event,

we have so much to think

about. From what we're going to

wear, what perfume or cologne

we'll wear, where we are going

and more can wreak havoc on the

stress-o-meter.

What we don't always think about

is the foods we eat and their

impact they have on us leading

up to the date. If you're preparing

for something important on the

calendar, you'll want to check out

this list of foods that you should

definitely avoid.

From smelly breath, acne, bad gas

and bad body odor we have got

you covered in what to stay clear

from. So let's dig in, oh, and good

luck at that event!

Onions

The anticipation of an

upcoming date can be quite

stressful on its own. For some of us,

this leads to excessive sweating

especially so on the day of the

event. We can also sweat to due

high temperatures in the weather,

and exercise.

If you know you'll be stressed

before the date and believe the

agenda of the date will require

you to be outdoors then you'll

want to stay clear of the foods

that could seep through your

pores.

Just like garlic, onions too can

cause bad breath and body

odor. The high sulfur compounds

can make the odor of onion linger

in your breath and your body odor

days after you have consumed it. It

does add flavor to many dishes but

it might be wise to stay clear of it

leading up to your date.

74

www.glamsquadmagazine.com
---
FOOD

Garlic

Garlic may be an obvious food

to avoid that can ruin your breath

but it can actually make a mark

on more than just in your mouth. It

can also become absorbed into

the bloodstream.

As a result, it can not only linger

in the mouth but it can actually

emit a scent out of our pores

too. Garlic is still really good for

us and shouldn't be eliminated

from the diet completely but

when an important date or event

is approaching it may be best to

stay clear of anything garlicky for

a little while.

Alcohol

Happy hour or innocent patio

drinks with coworkers on a Friday

seems harmless, however, if a

hot date is on your agenda that

weekend you may want to opt

out of the bevvy that day. Most

of the alcohol consumption will

metabolize in our body but some

of it gets released into our sweat

as well as our respiratory system.

We already know that you

can smell alcohol on your breath

after you drink it but if you drink

too many bevvy's it can start to

linger when we sweat too. It could

also cause less saliva production

which could make our mouths

the perfect habitat for bacteria to

thrive. Furthermore, alcohol can

be considered a natural diuretic

which could result in dehydration

in the body. You may not have to

eliminate alcohol before you date

but it is important to be mindful of

your consumption.

Coffee

While a daily cup of joe will

do no harm to your big date

chugging back a cup before the

date is not highly recommended.

Coffee surely tastes good but

the compelling smell can linger

in your mouth which could be

unpleasant to the person you talk

to.

Beware of consuming too

much coffee because it could

give you the jitters. Caffeine is

well known to help boost our

adrenaline levels. Due to this,

too much caffeine could cause

a jittery sensation and excess

sweating which combined with

the nerves you're already feeling

is just a recipe for disaster. A cup

of coffee may, however, give you

the extra energy you need just

make sure to drink it hours before

your date or simply, brush your

teeth and gargle with mouthwash

after.

Dairy

Those who are lactose

intolerant know it is enough of a

reason to avoid dairy products

altogether, especially before

something big planned. For

others, dairy could be an IBS

(irritable bowel syndrome)

trigger which is another reason

to avoid dairy before the big

event, although, we know that

ooey-gooey cheese dish looks

tempting!

Furthermore, many dairy

products have loads of

sugar and as we discovered

www.glamsquadmagazine.com 75
---
FOOD

previously sugar could be the

culprit to bad breath! Lastly,

for some, dairy products can

cause acne breakouts and we

all know we try to avoid those

especially when getting ready for

somewhere you want to make

an impression. You might want to

avoid the dairy and put on a face

mask instead!

Horseradish

Horseradish is known for its

tart and unique flavor. It offers

a lot of nutrition such as a great

supplement of dietary fiber,

folate, vitamin C, potassium,

calcium, and several others. We

shouldn't cut horseradish out of

our diet completely but it may

be wise to stay clear of it on the

day of your date.

Horseradish may add the

Sugar

If you're gearing up for a

big date or event you'll want to

watch your sugar intake leading

up to it. When we eat and drink,

bacteria begins to build up in

our mouths. The bacteria that

causes bad breath specifically will

take advantage of sugar once it

perfect zing to your sandwich

but it can also cause unwanted

bad breath. The reason for this

is due to it's overpowering and

smelly oil. Raw horseradish that

is left intact will have next to no

odor but once you grate it or cut

it, it will emit what some claim to

be the smelliest oils in the world,

mustard oil. This odor can linger

in the mouth and can be a

huge turn off if your date comes

into contact with it, uh oh!

reaches the mouth and uses it as

a super fuel.

While we often reach for gum

and mints when we feel the bad

breath coming on, many of these

gum packets and mints are full

of sugar. It may subside your bad

breath momentarily but the sugar

content could actually cause

the bacteria to become active

long term. Not only can sugar

cause bad breath but it can also

contribute to gum disease and

decay, yikes! Make sure to look for

sugar-free gum and mints to help

keep that bad breath at bay.

Canned Fish

It's amazing how food is so

accessible to us in so many ways

which also means we can enjoy

foods that aren't in season 24/7

all year round. Canning is a great

way to hold onto bulk foods for

long periods of time. However,

when getting ready for your date,

you may want to stay away from

canned fish.

I'm sure we've all been there,

either opening or being present

while a can of fish is being

opened. Immediately you're

bombarded with a wretched fish

smell. The process of canning fish

will cause it to oxidize and due

to this is why it has a strong scent.

76

www.glamsquadmagazine.com
---
FOOD

Cruciferous Vegetables

Broccoli, cauliflower, cabbage, bok

choy and Brussels sprouts are all considered

cruciferous vegetables. They all come from the

same family and each offers their own unique

texture and flavor but they all have one thing

in common, a sulfur compound. This sulfur

compound can be quickly absorbed into the

body and seep back out when we sweat,

resulting in body odor that smells rank.

Furthermore, our bodies sometimes have

a hard time digesting these foods thanks to

an oligosaccharide called raffinose. We don't

have the enzymes in our bodies to digest

this so in result it passes to our large intestine

undigested. This then causes the large intestine

to ferment them. A byproduct of fermentation

in the large intestine would be gas, that

combined with its sulfur compound results in

not just gas, but smelly gas too. Make sure to

stay clear of any of these veggies on the day

of your date and if it's completely unavoidable

make sure not to eat them raw. When these

vegetables are cooked they make the

digestion process easier.

However, this scent can linger on

your breath, giving it a fishy and

unpleasant odor. If you can't cut

the craving of canned fish before

your date make sure to gargol

with mouthwash, once or twice

or 10 times, better safe than sorry,

right?

Refined Grains

Some examples of refined

grains include pasta, cereal,

crackers, desserts and bread

that are made out of white flour.

Refined grains might not give you

bad breath but you'll still want to

avoid them leading up to your hot

date because they could be the

cause of sudden and annoying

breakouts.

As we talked about earlier,

dairy has been shown in several

studies to be the cause of

breakouts and acne and now

many are looking into refined

carbohydrates too. Refined grains

can cause an increase in blood

glucose levels up to 2 hours

after eating said food. It may

be obvious that someone with

diabetes should avoid a diet

with a high glycemic index but

those seeking to avoid acne

and clear acne should be wary

too. Instead, try and reach for

foods that are whole grain and

unrefined.

www.glamsquadmagazine.com 77
---
for more exclusive content please visit

www.glamsquadmagazine.com

Glamsquad Magazine 2.0 is a Women's Fashion, Culture, and Lifestyle Magazine.

Targeted at an upwardly mobile segment of the Nigerian and African market,

Glamsquad seeks to provide inspirational yet attainable fashion, entertainment, and

lifestyle culturing to Women.

Contributing to conversations on contemporary fashion, dining, beauty, wellness, music,

and movies; our goal is to positively shape the conversation on these topics in a way that

Informs, inspires, empowers, and ultimately entertains Nigerian and African women.

Glamsquad is for the sophisticated, tasteful, yet fun-loving woman.

Let's hold you by your hands into the world of fashion. Like and follow us on any of our

social media platforms.

glamsquadtv glamsquad3 glamsquadTV glamsquadtvmag

78

www.glamsquadmagazine.com