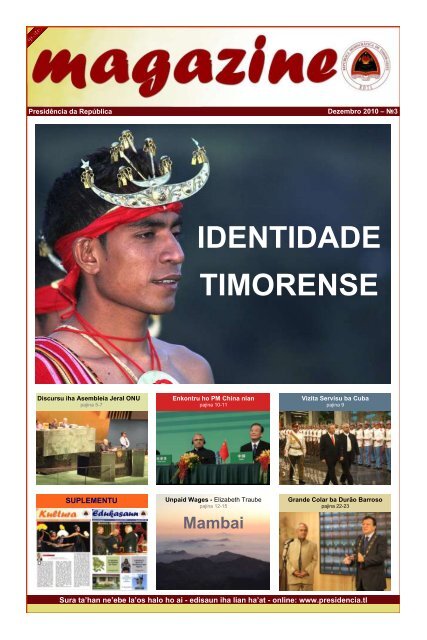 IDENTIDADE TIMORENSE
IDENTIDADE TIMORENSE
IDENTIDADE TIMORENSE
SHOW MORE
SHOW LESS
You also want an ePaper? Increase the reach of your titles
YUMPU automatically turns print PDFs into web optimized ePapers that Google loves.
Presidência da República

Discursu iha Asembleia Jeral ONU

pajina 5-7

SUPLEMENTU

Dezembro 2010 – №3

IDENTIDADE

TIMORENSE

Enkontru ho PM China nian

pajina 10-11

Unpaid Wages - Elizabeth Traube

pajina 12-15

Mambai

Vizita Servisu ba Cuba

pajina 9

Grande Colar ba Durão Barroso

pajina 22-23

Sura ta'han ne'ebe la'os halo ho ai - edisaun iha lian ha'at - online: www.presidencia.tl
---
N

esta época de abundância

e de

consumo desenfreado,

ainda se

morre de fome e de sede,

de doença e de pobreza.

Ainda existe quem é servo,

explorado e ofendido na

sua dignidade; quem é vítima

do ódio racial e religioso,

e é impedido, por intolerâncias

e discriminações,

por intromissões políticas e

coerções físicas e morais,

de professar livremente a

própria fé.

Há quem vê o próprio corpo

e dos seres queridos, especialmente

crianças, destroçado

pelo uso das armas,

pelo terrorismo e por todo o

tipo de violência numa época

em que se invoca e proclama

o progresso, a solidariedade

e a paz para todos.

Ou mais, que dizer daquele

que, privado de esperança,

é obrigado a deixar

a própria casa e a pátria

para encontrar noutra

parte condições de vida dignas

para o homem? Que

fazer para ajudar quem é

enganado pelos falsos profetas

de felicidade, quem é

frágil nas relações e incapaz

de assumir responsabilidades

estáveis para o

próprio presente e para o

2

Papa Bento XVI

Natal

futuro, encontra-se percorrendo

o túnel da solidão e,

com frequência, termina escravo

do álcool e da droga?

Que pensar de quem escolhe

a morte pensando de

exaltar a vida?

"Salvator noster": esta é a

nossa esperança;

Cristo não nos salva da

nossa humanidade, mas através

dela; não nos salva

do mundo, mas veio no

mundo para que o mundo

seja salvo por meio d'Ele

(cf. Jo 3,17).

Caros irmãos e irmãs, onde

quer que estejam, chegue a

vós esta mensagem de alegria

e de esperança: Deus

se fez homem em Jesus

Cristo, nasceu da Virgem

Maria e renasce hoje na

Igreja.

É Ele quem traz para todos

o amor do Pai celestial.

É Ele o Salvador do mundo!

Não temam, abri vosso

coração, acolhei-O, para

que o seu Reino de amor e

de paz se torne herança

comum de todos.

Feliz Natal!

[Tradução do original

italiano distribuída pela

Santa Sé © Copyright -

Libreria Editrice Vaticana]

ZP06122503

indise

INTERNASIONAL - 3/23

3 - Artigu: A Plan for Afghanistan

J. Ramos-Horta

4 - Notisia

5/7 - Diskursu iha ONU

J. Ramos-Horta

8/9 - Espesial Cuba

Artigu: Ramón H.Vázquez

Diskursu: J. Ramos-Horta

10/11 - Espesial China

Diskursu: J. Ramos-Horta

12/15 - Artigu: Mambai

Elizabeth G. Traube

16 - ASEAN

Artigu: Oman Beach Games

Joel Pereira

Notisia: Seminariu Premiu Nobel

J. Ramos-Horta

17/19 - Artigu: Capacity Building

Shepard Forman

20/21 - Artigu: T-L Identity

Jean Berlie

22/23 - Diskursu iha UE

J. Ramos-Horta

DIPLOMASIA - 24/26-31

Artigu: Natália Carrascalão,

Nelson Santos, Abel Guterres,

Hernani Coelho

BIOGRAFIA - 27/30

Prezidente Nicolau Lobato

ESPESIAL PARSEIRU BA

DEZENVOLVIMENTU - 32/42

Artigu: Finn Reske-Nielsen,

Fu Yuancong, Eddy Setiabudhi ,

Judith R. Fergin, José Antonio

Martín Pallín, Ivanildo Quirino do

Nascimento, Norbert Baas,

Philippe Zeller,

Gladcya Félix, Hernani Coelho

LOKAL - 43/45

43 - Notisia

44/45 - Espesial Alola

DEFEZA - 46

Diskursu: J. Ramos-Horta

POLITIKA - 47/48

Artigu: Maria Domingas Alves,

Bendito Freitas

EKONOMIA - 49/51

Artigu: Jorge Serrano

TEKNOLOJIA - 52

Artigu: Partha Sarathi Bhowmick

RELIJIAUN - 53/55

Artigu: Madre Guilhermina Marçal

MEDIA - 56

Artigu: An Appeal for Sakineh

Mohammadie Ashtiani

J. Ramos-Horta

Palasio Nicolau Lobato

suplementu

MEDIA

Dezembro 2010 – №3

SIENSIA - 2/3

Diskursu: J. Ramos-Horta

INVESTIGASAUN - 4/5

Artigu: Sândalo na História de TL

Andrés del Castillo

ENSINU - 6

Artigu: Pedro Mesquita

REFLEKSAUN - 7

Artigu: Pe J. Inocêncio Piedade

APELA - 8

Artigu: J. Ramos-Horta

1 - Notisia: Festival Kultura

Ramelau 2010

Danu Freitas

SOSIEDADE - 2

KULTURA - 3/8

Artigu: Patricia Vickers-Rich,

Francisco López, Juan Carlos

Rey, Nuno Vasco Oliveira ,

Rosalia Soares

SINEMA - 9

TV - 10

Artigu: Juan Carlos Rey

DESPORTU - 11

Artigu: Sean Ferguson-Borrell

KARTOON - 12

Redasaun

Joel Pereira

Ana Mota

Fotografia

Danu Freitas

TV / Video

Nico Amaral

Arkivu

Melita Oliveira

Maria Gonjaga

FIXA TEKNIKA

Diresaun

Xefe Gabinete - Gregório de Sousa

Xefe Gabinete Adj. - Hernani Coelho

Sede - Palacio Nicolau Lobato

Design Grafiku no Planeamento

Asesor Media - José H.Meirelles

Maketajen

Asesor IT - Partha Sarathi Bhowmick

Printed in Timor-Leste
---
Dr.J.Ramos-Horta

Presidente da República

A Plan for Afghanistan

Talking to the Taliban is key for a durable solution

Wall Street Journal

P

resident Barack Obama is

currently wrestling with the

question of troop escalation

in Afghanistan, against an

upsurge of violence in the country

and enormous complexities obscuring

a clear path of action.

In the cacophony of opinions being

circulated, few have mentioned what

would have to be an element of any

plan—bringing all Afghan parties,

including the Taliban, into talks to

figure out how they can live side by

side without killing each other.

As controversial as such negotiations

will be, they're necessary to long-term

stability in the country.

Otherwise the United States and the

Taliban will find themselves in a dangerous

deadlock.

The Taliban is strong enough to

make Afghanistan ungovernable for

the U.S. indefinitely.

Yet the U.S. is strong enough to keep

the Taliban from ever cementing its

hold on the country if Washington

wants to do so.

That deadlock need not continue,

however.

As we learned in East Timor and from

observing similar conflicts, a stalemate

such as this in the political field

or battlefield can open the door to

dialogue and compromise.

The U.S. should use this moment to

explore ways for a transitional arrangement

that allows the Taliban to

share power, brings an end to the

fighting and provides for the timely

exit of U.S. forces.

The goal of negotiations should be a

settlement whereby each side

achieves its main objectives: for the

U.S., depriving al Qaeda of a launching

pad and cementing the democratic

gains in Afghanistan since 2001;

for the Taliban, securing the departure

of the U.S. Washington must

clearly state the conditions for a U.S.

troop withdrawal, including the dismantling

of al Qaeda bases, the detention

or expulsion of all its insurgents

from the country, and the guarantee

of an end to the persecution of

Afghan women and children.

Whoever wins the upcoming secondround

election will be the legitimate

leader of the country. With the support

of the U.S. and the international

community, they should initiate dialogue

with the Taliban to establish a

power-sharing framework.

Such an arrangement could last from

three to five years, until the situation

in the country is stabilized and new

elections are held. In the next elec-

tions the Taliban, like Hamas in Gaza

and Hezbollah in Lebanon, would

participate in the democratic process.

The U.S should communicate that if

the Taliban wishes to participate

peacefully in the government, the

U.S. will support such a desire.

There are reasons to believe all sides

would be amenable to such an arrangement.

Without power sharing, the Taliban

would be immersed in protracted

fighting with Afghanistan's many warlords

and with the U.S. A deal would

also achieve the Taliban's main goal:

to see the exit of the U.S.-led coalition

from the country.

The U.S., on its part, doesn't view the

Taliban as a threat to U.S. interests

and would rather focus on fighting al

Qaeda.

As for other groups in Afghanistan,

acceding to Taliban power sharing

would enable them to enjoy, finally,

the fruits of peace in the country.

This is not to say that U.S.-Taliban

talks should take the place of the

troop surge currently being debated

in Washington.

The two policies complement each

other.

If negotiations are opened as troop

numbers are escalating, the U.S.

would strengthen its bargaining position

and its ability to put in place the

conditions necessary to a successful

phased disengagement down the

road.

Meanwhile if the U.S. launches negotiations

without a surge or amid a

withdrawal, or simply disengages

completely, it would amount to a political-military

defeat.

The implications in Afghanistan and

Dezembro 2010 – №3

Internasional

elsewhere would be severe. Afghans

would risk losing the democratic

gains made since 2001.

Al Qaeda would keep Afghanistan as

a base.

Delaying the decision on a surge, as

has been recently suggested, is not

much better.

By the time a decision is made, two

to three months will pass before

troops are deployed.

In that time the security situation in

the county will deteriorate.

If the decision is delayed, America's

position to start negotiations will be

severely weakened as Washington is

perceived to be vacillating on its commitment

to the country.

Achieving resolution of conflict in any

country requires dialogue and compromise.

It may seem distasteful to Americans

to negotiate with the Taliban.

Yet it should not be more abhorrent

than negotiating with Kim Jong Il of

North Korea, Mahmoud Ahmadinejad

of Iran, Omar al-Bashir of Sudan or

the military junta in Burma.

The U.S. administration has now

opted to pursue diplomatic engagement

with these leaders.

America can take comfort from the

fact that the conditions that allowed

the rise of the pre-2001 Taliban government

no longer exist.

The U.S. has already shown that if

the country were to start moving in

the direction of once again establishing

a base for al Qaeda, they would

pay a heavy price.

There is hope for Afghanistan. Millions

showed their faith in the democratic

process by voting twice since

the 2001 U.S.-led invasion.

Women are largely out of the burqas.

The Afghans are not going back to

the Middle Ages.

They can tame the Taliban and the

warlords, with U.S. help.

It will take time. Many more Afghan

lives will be lost. But the Afghans who

have had a taste of democracy and

freedom since 2001 do not want to

look back.

3
---
4

PR may visit Myanmar in 2011

President Ramos-Horta announced

that he may visit Myanmar in 2011 to

meet with the authorities of the Military

Junta and with the opposition

leader, Aung San Suu Kyi, who was

recently released from house arrest.

During his work visit to Australia recently,

the Timorese Head of State

had the opportunity to speak on the

phone with Mrs. Suu Kyi, who had

spent the last two decades under

house arrest. "It the first instance I

have ever spoken with Mrs. Suu Kyi,

I expressed my satisfaction for her

release and reaffirmed my admiration

for her, for her courage", said

Ramos-Horta. Aung San Suu Kyi,

daughter of the national hero of

Burma's independence (Myanmar),

Aund San, overwhelmingly won the

general election in 1990, but was

placed under house arrest by the

Military Junta, which has ruled the

country since 1962. She was

awarded the Sakharov Prize in 1990

and the Nobel Peace Prize in 1991.

During the phone conversation,

President Ramos-Horta told Mrs.

Suu Kyi that, "knowing the complexity

of Myanmar's problem", he believes

– together with other international

public figures– that "it is time

to establish a certain distance in order

to give space for dialogue between

the ruling regime and opposition,

in the attempt to find a path for

the gradual evolution of the situation

in the country". According to the

Head of State, Mrs. Suu Kyi "asked

him to transmit her gratitude for the

emphatic support" expressed along

the years by the Timorese Nobel

Peace Prize laureate (1996), the

Government and the People of

Timor-Leste.

Also, according to Ramos-Horta,

Mrs. Suu Kyi assured that she wants

to continue hearing the friendly voice

of the Timorese. She also said that

she would like the Nobel Peace

Prize laureate Ramos-Horta to visit

Myanmar soon, in order to learn

from the experience of the world's

youngest nation after 24 years of

agony under the Indonesian regime

which culminated in the restoration

of independence, in 2002.

The President of Timor-Leste said

he expects to be able to visit Myanmar

in 2011, following normal protocol

procedures, in order to talk with

Mrs. Suu Kyi and the Government.

Timor-Leste na OIM

A 99a Sessão da Organização

Internacional para a Migração (OIM)

aprovou por aclamação, a 29 de Novembro,

a adesão do Timor-Leste

como novo membro da organização.

Tendo trabalhado com a OIM e obtendo

importantes benefícios na última

década, Timor-Leste deu início

ao processo adesão no princípio do

ano.

Against North Korea's attack

The Timorese President and Nobel

Peace Prize laureate, Dr. Ramos-

Horta, condemned North Korea's

attack on South Korea, which resulted

in four deaths, including two

civilians and 18 injured, and called

on the international community for

solidarity. The North Korean artillery

attack on the small island of Yeonpyeong,

at the border between the

two countries divided by the 38 th parallel

since 1953, killed two South

Korean marines and two civilians,

according to Seoul's authorities.

"I received the news from the international

press and from the Ambassador

of Timor-Leste to South Korea,

Eng. João Carrascalão, who

has been keeping me informed",

said President Ramos-Horta, calling

the North Korean attack an

"irresponsible provocation, without

any justification and extremely serious"."Fortunately,

there is a lot of

serenity and contention on the side

of the Republic of Korea; otherwise,

a larger crisis could emerge", he

added. The Timorese Head of State

"strongly" condemned "this aggression"

and called on the "international

community for solidarity, to condemn

the act of State terrorism perpetrated

by the North Korean regime". Having

expressed "high concern" over the

impact of the bombardments, the

Nobel Peace Prize laureate insisted

that it is an "illegal, criminal and dangerous

act". During a meeting at the

President's office this afternoon with

the Ambassador of the Republic of

Korea to Timor-Leste, General Seo

Kyung-Suk, Ramos-Horta expressed

solidarity in his own name and in the

name of the Timorese People toward

the South Korean people, "victims of

the aggression of the Stalinist regime"

of Pyongyang.

Dezembro 2010 – №3

Internasional

O Embaixador Joaquim da Fonseca,

durante a alocução, expressou a

gratidão sincera de Timor-Leste para

com a contribuição desta organização

através do apoio dado ao

Governo.

Condolences for Mr. Huang Hua

The Head of State and Nobel Peace

Prize laureate, Dr. Ramos-Horta,

conveyed his condolences to the

Chinese President, Mr. Hu Jinaro,

for the passing away of former Foreign

Minister and Vice Prime Minister

Mr. Huang Hua, 97 year old, on

Tuesday.

The letter says:

I deeply regret the passing away of

former Foreign Minister and Vice

Prime Minister Mr. Huang Hua.

Mr. Huang Hua was an amiable

statesman and a trusted friend.

I had the privilege of knowing very

well Mr. Huang Hua in 1975-1976 as

we had numerous meetings to discuss

the situation in East Timor.

In this sad moment of mourning, I

would like to express my condolences

to the widow, Madam He Liliang,

his three sons and several

grandchildren, as well as to the People's

Republic of China.

Please accept, Your Excellency, the

assurances of my highest consideration.

Backed by Mao Zedong and Deng

Xiaoping, Mr.Huang Hua is the personality

whose efforts helped to set

the stage for the country's spectacular

rise.

As Foreign Minister, he had a relevant

participation in the talks to end

the Korean War and at the Geneva

Conference, in 1954.

Mr. Huang Hua was China's first permanent

representative to the United

Nations, taking up the post shortly

after Beijing gained a seat as Permanent

Member of the organization,

in 1971.

He also held talks that led to the

signing of a peace and friendship

treaty with Japan and he negotiated

with Great Britain regarding the 1997

transfer of Hong Kong to China.
---
Dr.J.Ramos-Horta

Presidente da República

Addressing the 65 th UN General Assembly (extracts)

New York, United Nations, September, 25 th , 2010

I

was not present in this august

room when President Ahmadinejad

of the Islamic Republic of Iran

addressed this Assembly a few

days ago. I was at Columbia University

addressing an equally important

gathering of young students and academics

from many countries, cultures

and religions.

So I did not hear President Ahmadinejad's

latest intellectual concoctions

in this august Assembly. I will not

question the right of anyone to speak

his mind. President Ahmadinejad is

entitled to believe in, and regurgitate,

whatever intellectual, philosophical or

theological concoctions his unique

mind may fabricate.

However, I do not agree that anyone

of us should disregard basic rules

and practices of conduct among leaders

and utter obscenities in this august

Assembly.

What President Ahmadinejad said in

this forum in regard to the terrorist

attacks on World Trade Centre was

an obscenity.

He went too far as he has done many

times before in this Assembly and in

other fora as when he questioned the

facts of the Holocaust.

Otherwise, we fully subscribe to

Iran's legitimate rights to develop nuclear

technology for peaceful purposes

and we caution the powers

that be not to haste in reaching conclusions

that may lead to irreversible

catastrophic decisions. We do have

serious doubts, however, about the

reliability and safety of nuclear energy.

Let's not forget the lessons of the

Three Mile Island accident which occurred

at 4AM 28 th March 1979 in

Harrisburg, Pennsylvania, and the

even worse Chernobyl nuclear meltdown

of April 1986.

The recent catastrophe of the oil spill

in the Gulf of Mexico would pale by

comparison with a blow up of a nuclear

energy facility.

We don't know whether Iranian rulers

do have the desire to be an armed

nuclear power or not.

But what we do know is that the possession

of nuclear weapons is not a

short cut to super-power status as

some in Asia seem to think and does

not insure anyone against 21 st Century

conventional and non –

conventional security threats.

Nuclear weapons were developed as

a result of the tragic experiences of

World War II and of mutual suspicion

and fears pervasive among the powers

at the time.

They have become obsolete .

The Cuban Five

We will now turn to some international

issues. We appeal to President

Barack Obama to sign an executive

order releasing five Cuban citizens

who are languishing in US jails for

over 10 years, denied family visits

and visits by the International Committee

of the Red Cross. The US

should likewise lift the draconian financial

and economic sanctions and

trade embargo against Cuba. The

Cuban people are among the few in

the world who are still suffering the

inequities of the Cold War era. It

seems that for some in the U. S. And

in particular in the State of Florida,

the Cold War is not over. The same

time we commend the Cuban authorities

for releasing some prisoners.

Inspired by the best ideals of the Cuban

humanist tradition, we hope that

all remaining prisoners will be returned

to their homes and families.

Aung San Suu Kjie

The situation in Myanmar is an immensely

complex one.

It is a vast country fragmented along

ethnic lines and plagued by numerous

armed groups fighting with different

agendas, some among them involved

in illicit drug business.

And based on our own experience,

we believe that to manage such complex

challenges, be it in our own

country or Myanmar, we must all

show wisdom and engage in patient

dialogue those who don't agree with

us, so that together we pull our country

out of conflict and poverty.

Mrs Suu Kjie is a pacifist fighter,

whose integrity has been tested un-

Dezembro 2010 – №3

Internasional

der the most difficult circumstances;

she is an advocate of tolerance, inclusion

and reconciliation.

It is not only unjust and illegal her

continuing detention but it is also unwise

as Mrs Suu Kjie is a revered

leader who working with the military

leaders would be able to bring about

gradual peaceful changes in Myanmar.

Israeli-Palestinian conflict

We commend the Israeli and Palestinian

leaders for the renewed dialogue

under the auspices of the U.S.

Administration. To those in Palestine

who in spite of decades of suffering

and humiliation have resisted the

temptation of extremism and violence

I bow to them. To those in Israel who

have championed the cause of peace

and the rights of the Palestinian people

I will say you represent the very

best of the Jewish people, a people

who more than anyone else on earth

should understand the suffering and

desire of others for freedom. We urge

the Hamas to show statesmanship by

recognizing the State of Israel. Extremism,

fanaticism and indiscriminate

violence do harm to the noble

Palestinian quest for dignity and freedom.

Hamas and Hezbollah are genuine

popular movements deeply rooted in

the millions of poor, dispossessed,

alienated and angry. Labelling them

"terrorists" and refusing to engage

and build bridges with such groups, in

our view, is not a sound policy. In

Afghanistan where the Taliban are

labelled "terrorists" there is now a

realization that peace is possible only

via dialogue with that popular movement.

We urge Israel, a country rooted in

5,000 years of history, born of centuries

of persecution and wars, to show

the wisdom and magnanimity of the

Jews by ending the Gaza blockade,

allowing unhindered access for humanitarian

assistance, and ending

the land grabbing and colonization of

the West Bank.

(pajina 6...)

5
---
6

Western Sahara

The aborted decolonization of Western

Sahara and the endless plight of

hundreds of thousands of Saharawis

in camps in Algeria constitute an indictment

of the international community

for its inability to resolve this old

conflict. This is not an issue as complex

as Afghanistan or Palestine. And

how can we believe that there will be

an early resolution of these seemingly

intractable problems when there

seems to be little political will to solve

the Western Sahara problem, a much

less complex issue?

Climate Change

While it is a fact that the rich and the

powerful contributed most to the deteriorating

world's environment, we

acknowledge that the advance of science,

technology and industries in

the last 200 years have brought enormous

benefits to all of us, even if in

an unequal manner.

But we in the developing world

should not put all the blame on the

rich and the powerful for the harm

done to the planet. We must acknowledge

our share of responsibility in the

destruction of our forests, lakes, rivers

and seas.

Asia has no less responsibility than

the US and Europe to reverse the

climate calamity.

We are responsible because we are

almost half of the planet's inhabitants!

This alone means that we put enormous

pressure on the land, our minerals,

forests and water.

To modernise our economies and

improve the lives of the hundreds of

millions of our poor, we use increasingly

more energy extracted from the

Earth.

And like the Americans and the

Europeans have done for the past

200 years, we are now searching for

energy in far away regions like Africa

and South America! Asia of today is a

rich, proud and vibrant Asia holding

collectively the largest reserves of

wealth in the world.

Asians master science and technology

with its thousands of scholars,

scientists, innovators, entrepreneurs.

So we appeal to our fellow Asian

leaders to take centre stage and lead

us with wisdom, mobilize our economists,

planners, managers, scientists

and scholars and design an "Asian

Road Map" to eliminate extreme poverty,

illiteracy - the roots of discontentment

and extremism – and reverse

the degradation of our collective

environment.

Almost one year after the Copenhagen

Climate Change Summit there is

a feeling of déjà vue, that there will

be no progress in Cancun in terms of

meaningful collective action to slow

down the rapid deterioration of planet

Earth.

The gap between the rich and the

poor, the powerful and the weak, has

not being bridged. While some countries

have made tangible efforts in

reducing their own CO2 emissions,

the sum of these individual efforts are

dwarfed by the inexorable deterioration

of the environment.

What can we do collectively to move

forward?

A new nuanced approach, without

confrontation, taking into consideration

the sensitivities and interests of

all parties, in particular the more vulnerable

nations, and the legitimate

demands of the rich industrial powers

and of the emerging industrial powers

like India, China, Brazil?

Asia is home to half of the world's

population, 60% of the world's poor

and yet it has the largest accumulated

wealth in terms of cash reserves.

If we don't act now, in few decades

many hundreds of millions of fellow

Asians will be up-rooted and become

climate refugees exacerbating existing

tensions and conflicts; we will kill

each other over water, land and energy

resources in addition to the dec-

Dezembro 2010 – №3

Internasional

ades old border conflicts, religious

and ethnic tensions and regional rivalries

that have plagued our region.

Hence we call for an Asian common

agenda on sustainable development

anchored on environmental protection

and recovery, on land and water

management, health and education

for all, on poverty and illiteracy elimination.

Asians who have shown ingenuity

and creativity over thousands of

years must today innovate and invest

even more in research in renewable

energy and find ways out of fossil fuel

for our industries and cities; rather

finger pointing and engage in the

blame game, Asians must show

greater wisdom and launch clean cities

campaign everywhere, in every

city, every town.

We must stop commercial logging

and the continuing destruction of our

forests; we must replant, put back the

hundreds of millions of trees that out

of necessity or greed we took away

from the soil and thus cause desertification,

soil erosion, floods, land

slides.

We must stop dumping plastics and

all forms of non-degradable material

into our lakes, rivers and seas that

destroy our rich coral life and fish

stocks.

We must turn waste into clean energy;

we must stop wasting water.
---
Appeal to the rich and powerful

We appeal to the rich and powerful to

ask themselves whether they have

delivered on the promises and

whether past practices have been

adequate.

All too often leaders of the developing

countries are blamed for the lack of

improvements in the lives of our people

in spite of the generous development

assistance we supposedly have

received from the rich.

Past and current leaders are blamed

for mismanagement, waste and in

some instances outright theft.

There is a lot of truth in all these allegations.

But recent scandals in the

U.S. and in some European countries

like the U.K. show that corruption,

bad governance and incompetence

are not monopolies of the Third

World.

Those who lecture us the most are

now harvesting the consequences of

their own colossal mistakes, incompetence

and corruption at every level.

Donors should also do an honest and

critical analysis of their policies.

And we can provide valuable input

with abundant examples of how the

aid money was misspent by the donors

themselves.

We do not wish to sound ungrateful.

We are not. We know there is a

genuine sentiment of solidarity by the

men and women in the streets in the

U.S., Europe, Japan, towards their

fellow human beings in poorer regions

of the world.

But we must be frank in telling the

rich donors that they must change

and change seriously in the way they

approach the whole development

strategy.

Donors must invest more of every

dollar they pledge to rural development,

agriculture and food security,

water and sanitation, on roads, health

and education – and less on themselves.

When we ask a rich "donor" to send

in a group of "experts" to do a study

on poverty and on why we are poor, a

platoon of experts in dark suits and

safari hats, well supplied with mosquito

repellents, descends on us

overnight, talks to us for hours, takes

copious notes, and finally writes up

long reports with laudable recommendations.

Frankly even a seven year old can

easily download such studies from

Google. I confess I am one of those

who rely on my little nieces to search

and download most of the information

and complex studies on issues ranging

from agriculture to city planning to

oil and gas pipelines! And they don't

demand hundreds of thousands of

dollars in fee.

The most they now ask in return is

one of latest gadgets like an Ipad or

an Iphone. Only few years ago I

would pay their work by taking them

to an ice cream parlour and a couple

of chocolate ice cream scoops would

satisfy them.

Now they are asking a bit more like

an Ipad but they are still so much less

demanding than the famous (or infamous)

international consultants.

To strengthen national institutions

and the democratically-elected leaders

donors must provide more direct

budget support to enable them to deliver

services and development to the

people.

The multiple layers of rules, regulations,

procedures and bureaucracy

constitute a real obstacle to aid effectiveness.

Bi-lateral and multilateral

donors must also reform and streamline

their own aid mechanisms. It is

disheartening that only a handful of

rich countries have met the target of

Dezembro 2010 – №3

Internasional

0,7% of gross national product for

development assistance.

Generous pledges made in the spotlight

of international conferences,

side by side with movie stars and

rock singers, are largely forgotten the

moment the Hollywood curtains fall

and the flood lights are turned off.

It is even more disheartening to see

how quickly tens of billions of dollars

were easily found to rescue failed

banks, insurance companies, fraudulent

real state agencies, obsolete

auto industries; how tens of millions

of dollars in bonuses are paid to incompetents

and crooks responsible

for the financial debacle – and yet

decades of appeals to the rich to increase

foreign development assistance

have met with much resistance.

We believe that one wise and fair

way to assist countries suffering from

the consequences of the financial

meltdown is to write off all the debt

owed by the LDCs and Small Island

Developing States, and to restructure

the debt of other debtor countries.

Timor-Leste is in the unique privileged

situation of not having a single

cent in foreign debt. So what we are

proposing is not motivated by selfinterests.

We believe it is a question

of decency and morality that the rich

countries that acted so quickly and

decisively to rescue failed banks, insurance

companies and bogus real

state agencies, should write off the

debt that entraps hundreds of million

in the developing world.

Timor-Leste and other post-conflict,

fragile nations, number 300 million

people are struggling to consolidate

peace and our State institutions.

We appeal to the international donor

community to expand and enhance

support in a timely manner in support

of our efforts to put conflict and extreme

poverty behind.

7
---
L

a República de Cuba y la República

Democrática de Timor

Leste acordaron establecer

relaciones diplomáticas a nivel

de Embajada el 25 de mayo de

2002. Desde entonces las relaciones

bilaterales se han fortalecido y ampliado

de manera sostenida.

Un momento decisivo resultó el encuentro

del Comandante en Jefe Fidel

Castro Ruz, Presidente de los

Consejos de Estado y de Ministros

de Cuba y el entonces Presidente de

la República de Timor-Leste, Kay

Rala Xanana Gusmão, en Kuala

Lumpur, Malasia, en febrero de 2003,

en ocasión de la Cumbre del Movimiento

No Alineado, en la cual Cuba

asumiría la Presidencia del NOAL y

Timor Leste se incorporaba como

miembro activo del movimiento.

En ese encuentro se sellaron aun

mas las relaciones históricas forjadas

en la lucha común de nuestros

dos pueblos por alcanzar y preservar

la independencia y soberanía nacional,

concretó en los nuevos tiempos

en acciones efectivas de amistad y

cooperación que recibirían un impulso

importante en visitas posteriores

que realizaron a La Habana el entonces

Canciller de Timor-Leste, Dr.

José Ramos Horta, en junio de 2005

y el entonces Primer Ministro, Dr.

Mari Alkatiri, en diciembre del mismo

año.

La presencia durante mas de 7 años

en Timor de 700 médicos y profesionales

cubanos de la salud prestando

valiosos servicios en toda la geografía

timorense, quienes han ofrecido-5

848 040 consultas médicas y salvado

15, 826 vidas, a la vez que alrededor

de 900 jóvenes timorenses se

forman como médicos en Cuba y en

los 13 distritos de Timor, donde radican

extensiones de la Facultad de

Medicina de la Universidad Nacional,

creada el 5 de diciembre de 2005 , a

cargo de profesores cubanos de

medicina, quienes simultáneamente

realizan labores asistenciales y de

prevención de salud, junto a sus

alumnos timorenses.

Ello constituye efectiva contribución

al fortalecimiento del sistema de salud

de Timor Leste, que en breve

tiempo dispondrá de un numeroso

continente de médicos con alto nivel

profesional, científico y ético, cuyos

primeros 18 ya trabajan en las comunidades

de su país.

Como reconocimiento a la obra

humana y solidaria practicada por los

abnegados profesionales cubanos

que han prestado servicios de salud

en Timor, el 30 de agosto de 2009 el

8

Ramón H.Vázquez

Embaixador de Cuba

Excelentes relaciones

de cooperación y solidaridad

Presidente de la República condecoró

a la Brigada Médica Cubana con

la Medalla Honorífica del Estado de

Timor-Leste.

De igual manera, con el apoyo de

78 profesores- asesores cubanos,

80, 798 ciudadanos timorenses, o

sea el 35,4 % de los analfabetos

adultos existentes al inicio de la campaña,

ya han sido alfabetizados y la

Isla de Atauro y el Distrito enclave de

Oe-cusse, declarados Libre de ese

flagelo, con el novedoso y probado

método cubano ¨Yo Si Puedo ¨

En noviembre del 2008, en Dili, se

realizaría la Primera Sesión de la

Comisión Intergubernamental Timor-

Leste Cuba, donde se pasó balance

al estado de las relaciones bilaterales

y se firmaron importantes acuerdos

de cooperación en Salud y Educación

y sentaron las bases para extender

la cooperación a otras áreas

del desarrollo económico y social.

Cuba le agradece al pueblo de Timor

-Leste y a sus dirigentes históricos, el

apoyo que siempre ha recibido en

solidaridad con sus causas nacionales.

Nunca olvidaremos que apenas a

seis meses de haber ingresado a la

ONU, Timor-Leste votó a favor del

levantamiento incondicional del bloqueo

de los EEUU contra Cuba en la

Asamblea General de las Naciones

Unidas, y desde entonces ha votado,

año tras año, a favor de la Resolución

que exige al Gobierno de Estados

Unidos de América el cese incondicional

e inmediato de tan fragrante

injusticia y violación de los

derechos humanos, a la vez que ha

denunciado en tribunas internacionales

y exigido la liberación de los Cinco

luchadores cubanos antiterroristas,

injustamente presos en cárceles

norteamericanas. El pueblo cubano

jamás olvidará el noble gesto de gobierno

timorense al donar 500 mil

dólares para ayudar a restaurar los

daños ocasionados por los desbastadores

huracanes que nos afectaron

en septiembre de 2008. Tampoco

Dezembro 2010 – №3

Internasional

olvidará el gesto del Dr. José Ramos

Horta, en su condición de Premio

Nóbel, al adherirse al Amicus Curiae

presentado por diez Premios Nóbel a

la Corte Suprema de los Estados

Unidos en 2009, favoreciendo una

solución justa para el caso de los

Cinco luchadores antiterroristas.

El 14 de junio de 2008 fue fundada la

Asociación de Amistad Timor-Leste

Cuba y el 26 de agosto del 2009 se

creó el Grupo Parlamentario de

Amistad con Cuba por acuerdo del

Parlamento Nacional de Timor-Leste,

el cual tuvo su efecto inmediato con

la constitución del Grupo Parlamentario

de Amistad con Timor-Leste en

la Asamblea Nacional del Poder Popular

de Cuba. El 11 de mayo del

presente año 2010, el Plenario del

Parlamento Nacional de Timor Leste

aprobó una resolución de solidaridad

y apoyo con el pueblo cubano, devenida

en alentador estimulo a favor

de nuestras justas causas.

Adicionalmente, se ha ofrecido asesoramiento

técnico, a solicitud del

gobierno timorense al Ministerio de

Agricultura y Pescas y a la Secretaria

de Estado para la Política Energética.

Altos funcionarios del Ministerio de

Salud Pública y del Ministerio de Relaciones

Exteriores cubano han visitado

Timor-Leste, resultando su momento

culminante la visita del Canciller

cubano, Bruno Rodríguez Parrilla,

en junio de 2010, quien tuvo

fructíferos encuentros con las más

altas autoridades del país. Por otra

parte, el pueblo cubano ha tenido el

inmenso honor de recibir las visitas

del Presidente de la República, Dr.

José Ramos Horta, como Jefe de

Estado, la del Presidente del Parlamento

Nacional, Fernando Lasama

de Araújo, del primer Vicepresidente

del PN, Vicente Guterres, del Canciller

Zacarías Albano da Costa y de

varios Ministros, Secretarios de Estado,

Viceministros, líderes de partidos

políticos, diputados, miembros del

Consejo Consultivo del Fondo de

Petróleo, de la Asociación de Amistad

TL-CU y otras personalidades,

para encuentros de trabajo o para

participar en eventos internacionales

en la Habana sobre diversos temas.

El próximo mes de diciembre, tendremos

el inmenso honor de recibir nuevamente

en Cuba a su Excelencia

el Presidente de la República Democrática

de Timor-Leste, Dr. José

Ramos Horta, la que será oportunidad

excepcional para reafirmar las

excelentes relaciones que existen

entre nuestros dos pueblos Estados y

Gobiernos.
---
Dr.J.Ramos-Horta

Presidente da República

Visita de Trabajo a Cuba

T

iene para mi un gran simbolismo

haber arribado a Cuba

ayer 2 de Diciembre, aniversario

54 del desembarco del

Granma y día en que nacieron las

Fuerzas Armadas Revolucionarias,

acontecimiento histórico que condujo

años después a la definitiva liberación

e independencia de Cuba.

Expreso mi mas profundo agradecimiento

al General de Ejercito Raúl

Castro, Presidente de los Consejos

de Estado y de Ministros de la República

de Cuba por otorgarme la

Orden Nacional "José Marti", la que

recibo con gran humildad y honor,

pues ella es expresión de los grandes

sentimientos de solidaridad y

amistad históricos que existen entre

los pueblos de Cuba y Timor-Leste, y

de las fraternales y excelentes relaciones

forjadas entre nuestros dos

pueblos y gobiernos.

Como Presidente de la República de

Timor-Leste, me siento honrado de

conferir la condecoración del Gran

Collar de la Orden de Timor-Leste al

Comandante en Jefe Fidel de Castro

Ruz.

Esta merecida condecoración expresa

todo el agradecimiento y reconocimiento

hacia al Líder de la Revolución

Cubana y su solidario pueblo,

que ha apoyado desde siempre la

causa de independencia y liberación

de Timor-Leste y practicado su solidaridad

y humanismo a favor del

bienestar y la paz del pueblo de Timor,

cuya ayuda ha sido esencial y

permitido grandes progresos, especialmente

en materia de salud y educación.

La cooperación entre los dos países

iniciada en 2005, en particular con

la Campaña Nacional de Alfabetización,

con el método "Yo Sí Puedo",

ha permitido la posibilidad a mas tardar

erradicar el analfabetismo en el

año 2015 y ya 82,668 timorenses se

han beneficiado con este programa y

la Isla de Atauro y el distrito de Oecussi

han sido declarados libres del

analfabetismo. Igualmente, la Facultad

de Medicina de Timor-Leste, establecida

por la Brigada Médica Cubana

se encuentra realizando una

labor ejemplar al educar a nuestros

futuros médicos. Actualmente, 246

alumnos estudian con regularidad

del primero al sexto año de la carrera

de medicina, que con el retorno

próximo a Timor de 453 estudiantes

de medicina para realizar el quinto y

sexto año de la carrera alcanzara la

cifra de 718 alumnos. Y en el 2012

ya contaremos con 581 médicos de

este programa y continuaran sucesivamente

las nuevas graduaciones,

hasta completar la cifra comprometida

de 1000 médicos en el 2016. Ello

será base sólida que permitirá responder

dignamente a las necesidades

de nuestra población. El programa

ha demostrado ser eficaz en la

formación ética profesional de los

nuevos médicos timorenses que Cuba

forma, cuyos primeros 18 se graduaron

este año y ya trabajan el las

comunidades del interior del país.

Estos grandes apoyos han contribuido

significativamente al establecimiento

de una red pública nacional

de cuidados primarios médicos generales

y especialistas básicos y ejecutar

labor de prevención de salud.

Destacamos de modo especial, la

magnifica labor profesional y entrega

que han desarrollado durante seis

anos, los 712 médicos y especialistas

Cubanos de la Brigada Medica en

todo el territorio de Timor, lo que ha

contribuido ha diminuir de manera

significativa la mortalidad infantil y

materna y enfermedades como la

malaria y la tuberculosis entre otras.

Ellos han salvados mas de 15,826

vidas, realizado mas de 5 millones de

Dezembro 2010 – №3

Internasional

Discurso por ocasión del otorgamiento del Gran Collar de la Orden de Timor-Leste

al Líder de la Revolución Cubana, Comandante Fidel Castro Ruz

Havana, 03 de Diciembre del 2010

consultas y 5,845 cirugías. En reconocimiento

a tan meritoria labor, el 30

de agosto del 2009, en el acto por el

Décimo Aniversario del Referéndum

Popular, entregué a la Brigada Médica

Cubana la orden honorífica de

Timor-Leste. Precisamente hoy felicitamos

a todos ellos, que tan dignamente

han representado a su patria y

a los trabajadores de la salud de Cuba,

por el día de la medicina latino

americana que hoy celebran. He querido

resumir y resaltar la importancia

del valioso apoyo que hemos recibido

de Cuba, remarcar y agradecer el

entusiasmo, responsabilidad y disponibilidad

mostrado por los hermanos

Cubanos que de forma desinteresada

nos han apoyado incondicionalmente.

Han sido ellos quienes han sabido

convertir en acciones las indicaciones

afectuosas del Comandante Fidel

Castro de ayudar a nuestro pueblo

y nuestra causa, para construir

una sociedad justa a través de la solidaridad

internacional. Esto brinda

más y mejores oportunidades a nuestros

ciudadanos.

Esta condecoración reconoce los

destacados meritos del Comandante

Fidel Castro Ruz y los esfuerzos solidarios

colectivos del pueblo Cubano,

piedra angular que impulsa y sostiene

la gran fraternidad y amistad Cubanotimorense,

que perdurará por

siempre.

9
---
para mim uma honra partici-

É

par nesta III Conferência Ministerial

do Fórum para a

Cooperação Económica e Comercial

entre a China e os Países de

Língua Portuguesa e ter a oportunidade

de rever e conversar com tantos

amigos de Timor-Leste.

Quero manifestar, em primeiro lugar,

aos governos da República Popular

da China e da Região Administrativa

Especial de Macau o reconhecimento

pelo acolhimento caloroso que proporcionam

à delegação da República

Democrática de Timor-Leste.

Timor-Leste regista, nos últimos três

anos, um crescimento económico robusto

e uma situação social e política

marcadas pela estabilidade. O crescimento

económico tem atingido os

12% ao ano. Os níveis de pobreza

reduziram-se em 9% por cento nos

últimos dois anos.

Tomando como referência os Objectivos

de Desenvolvimento do Milénio,

estabelecidos em 2000, antes da

restauração da nossa independência,

realizamos progressos satisfatórios

em todos eles. Nalguns, como a

mortalidade no primeiro ano de vida

e a mortalidade de crianças com menos

de 5 anos de idade, já alcançamos

as metas estabelecidas para

2015.

O mesmo acontece com as metas

para detecção e tratamento da Tuberculose.

Nestes campos estamos a estabelecer

já metas mais exigentes.

A taxa de escolaridade cresceu de

65%, em 2007, para 83% em 2009-

2010. O analfabetismo de adultos

está a ser eliminado e antecipamos a

sua completa erradicação em dois a

três anos.

10

Dr.J.Ramos-Horta

Presidente da República

Discurso na abertura da III Conferência Ministerial do

Fórum para a Cooperação Económica e Comercialentre a China a os

Países de Língua Portuguesa - PLP

Macau, 13.NOV-10

30% do nosso Orçamento do Estado

são dirigidos à Saúde Pública e à

Educação. A política de transferências

sociais que iniciámos, apesar de

modesta, está a contribuir significativamente

para reduzir a intensidade

da pobreza e melhorar a situação de

grupos sociais vulneráveis – idosos,

viúvas, deficientes e veteranos.

Estamos a fazer um esforço para

expansão das áreas de cultivo e

incremento da produção de bens alimentares,

que é também um contributo

para melhoria dos rendimentos

dos mais pobres.

Esta viragem clara da nossa situação

económica e social deve-se, em primeiro

lugar, ao ambiente de paz e

estabilidade.

Estas constituem, presentemente,

prioridades partilhadas por todas as

forças partidárias e pela sociedade

civil, aumentando a confiança dos

agentes económicos e da população.

O comércio e, em geral, a iniciativa

económica, desenvolveram-se e assistimos

a uma verdadeira "explosão"

benéfica de investimento – na hotelaria,

restauração, materiais de construção,

electrodomésticos, mobiliário,

pequeno comércio.

(Faço um parên-tesis para lembrar

que para esta evolução contribui a

intensificação das relações empresariais

entre Timor-Leste e a República

Popular da China, que estão a marcar

positivamente a nossa economia,

como referirei mais adiante).

Relativamente à gestão dos nossos

recursos petrolíferos, é uma satisfação

notar que a Iniciativa de Transparência

nas Indústrias Extractivas,

ou seja, Extractive Industries Transparency

Initiative (EITI), classificou

Timor-Leste, no seu relatório de 1 de

Dezembro 2010 – №3

Internasional

Julho de 2010, como primeiro país na

Ásia e terceiro no mundo no que respeita

à solidez, transparência e efectividade

na gestão dos lucros provenientes

do gás e do petróleo.

O nosso progresso só é possível

devido ao apoio da comunidade internacional

e dos parceiros bilaterais.

A ajuda amiga de Portugal e da

União Europeia contribuem decisivamente

para o nosso desenvolvimento

institucional e a realização de

muitas outras prioridades nacionais.

A cooperação entre Timor-Leste e o

Brasil está em franca expansão, em

várias áreas. Temos relações estreitas

de cooperação com Cabo Verde,

Moçambique.

Na verdade, posso dizer que temos

tido a contribuição positiva de quadros

qualificados de todos os países

da CPLP, enquadrados em mecanismos

de cooperação multilateral, no

funcionamento do nosso sistema judicial,

como noutras áreas.

Quero manifestar a todos os

presentes o nosso grande apreço por

essa contribuição. Quero destacar

também as manifestações de solidariedade

com que nos têm beneficiado

o governo da República Popular da

China e o governo da Região Administrativa

Especial de Macau.

Macau expressou das mais diversas

formas, desde 2000, o seu apoio a

Timor-Leste – na compra de equipamentos,

no financiamento de quadros

timorenses, no acolhimento de jovens

estudantes.

Universitários timorenses têm tido os

estudos – na Universidade de Macau

e noutras universidades – financiados

com a atribuição de 25 bolsas

de estudo pelo governo da China e o

Executivo de Macau.
---
O Fórum para a Cooperação beneficou

com acções de formação 400

quadros técnicos e profissionais de

Timor-Leste.

Desde 2003, ano em que teve lugar

a 1ª Conferência Ministerial, Timor-

Leste tem beneficiado da actividade

do Fórum, na Cooperação Económica

e Empresarial, Cooperação na área

dos Recursos Humanos, Cooperação

Intergovernamental e Agrícola,

e construção de Infra-Estruturas e

captação de investimento directo estrangeiro.

As excelentes relações com o governo

central da República Popular da

China têm-se aprofundado, quer no

plano da ajuda ao desenvolvimento,

quer no das relações comerciais.

As trocas comerciais entre a China e

Timor-Leste aumentaram significativamente,

desde 2008, e ascendem

já, no corrente ano, a 24 milhões de

dólares.

O meu apreço ao Ministério do Comércio

da China, pelo fomento do

intercâmbio empresarial, designadamente,

com a organização de even-

tos internacionais que têm tido a participação

interessada de empresários

de Timor-Leste. As relações comerciais

alargam-se a sectores de relevo.

A componente naval das forças de

Defesa de Timor-Leste foi, ainda recentemente,

enriquecida pela aquisição

à República Popular da China de

dois barcos novos, no montante de

quase 30 milhões de dólares.

No sector da energia, estamos a

construir, em parceria com uma empresa

chinesa, uma central e uma

rede nacional de distribuição eléctrica

-- um projecto integrado, no valor de

quase 400 milhões de dólares, que

vai garantir o fornecimnto de electricidade

a 80% por cento do país, 24

sobre 24 horas, e vai permitir o arranque

da industrialização e modernização

da economia de Timor-Leste,

para os próximos 20 anos.

As relações de cooperação bi-lateral

com a China são também relevantes

e vão da construção de infra-estruturas,

para sediar instituições do Esta-

do de Timor-Leste, até à agricultura,

com o desenvolvimento de um projecto

inovador de introdução de arroz

híbrido, que está a revelar resultados

positivos.

Timor-Leste é um jovem país que se

sente confortável ao integrar-se gradualmente

na comunidade das nações

e que deseja dar a sua contribuição

para a estabilidade e a paz.

Por convicção, estabelecemos o

objectivo de desenvolver as nossas

relações com todos os países do

Mundo e contribuir, na medida dos

nossos meios e das circunstâncias,

para uma ordem internacional as-

Dezembro 2010 – №3

Internasional

sente na Segurança, na liberdade e

no direito de todos ao desenvolvimento

sustentado e à prosperidade.

No desenvolvimento destes valores,

logo após a restauração da independência,

em 2002, tomámos a decisão

de aderir à ASEAN, como forma de

nos integrarmos na vida da nossa região

natural e contribuirmos para as

responsabilidades comuns de desenvolver

e aprofundar a estabilidade e a

segurança regionais.

O nosso pedido de adesão foi apresentado

em 2003 e o processo iniciado

tem uma evolução muito positiva.

Estamos reconhecidos ao Secretariado

da ASEAN pelo apoio que dá

para desenvolvermos as condições

para aceder ao estatuto de membro.

No plano internacional, estamos todos

perante novos desafios, fruto de

tempos marcados por alguma volatilidade

que o mundo atravessa.

Mas os desafios são sempre

oportunidades para ultrapassar

dificuldades e impul-sionar os nossos

objectivos.

O Fórum de Macau é uma estrutura

dinâmica, flexível e empreendedora

com condições para continuar a dar

contributos muito positivos aos nossos

objectivos comuns de estabilidade,

progresso e desenvolvimento.

Acredito que o Plano de Acção para

a Cooperação Económica e Comercial

que sairá desta III Conferência

Ministerial irá aprofundar e enriquecer

a cooperação entre a China e os

Países de Língua Portuguesa, com

vantagens para todas as partes.

Desejo que esta Conferência assinale

o início de um triénio de grande

prosperidade para todos.

11
---
F

retilin leaders represented

the East Timorese as the

Maubere people: they effectively

took Mambai ethnic

identity as a trope for the imagined

nation. Maubere or Mau Bere. This is

a common Mambai masculine name

that was used during the Portuguese

colonial period as a demeaning term

of address for indigenous men; it became

an ethnic label for the Mambai,

evoking their reputation among East

Timor's diverse ethnic groups as both

especially backward and faithful to

indigenous traditions, the archetype

of what East Timorese call kaladi or

Westerners. In using the Mau Bere

symbol to articulate the idea of 'the

people', Fretilin imagined the nation

as a poor and oppressed but culturally

vital community about to emerge

into history under the party's leadership.

Nationalist visions of 'the people'

constructed from above are actively

appropriated and remade from

below. This paper is about one such

process of remaking; it explores the

local imagination of a national identity.

In Aileu, the Maubere symbol

evokes a capacity to suffer and endure

that is central to popular nation-

12

Elizabeth G. Traube

Ph.D Anthropologist

Unpaid Wages: Local Narratives

and the Imagination of the Nation (extracts)

Mambai

alism. It is a Mambai commonplace

that the nation was won through suffering

and sacrifice; it was

'purchased', the saying goes, 'not

with silver or gold, but with the blood

of the people' (ba los nor os-butin nor

os-meran fe al, mas nor povu ni laran).

Suffering is often associated

with nationhood in official nationalist

discourses, while the notion of its

'purchasing' power resonates with the

Christian economy of salvation. For

Mambai, the agonistic idiom also

evokes a cultural code of reciprocity

in which those who suffer to bring

something forth must be repaid; whoever

benefited from or caused their

suffering owes them 'payment for

their fatigue' or 'wages' (seul kolen).

In Aileu, popular suffering in the nationalist

struggle has been interwoven

with a pre-independence local narrative

tradition about a martyred

prophet. The name most commonly

attributed to the protagonist is Felis

Marindo. Most people refer to him as

Tat Felis, from tata, 'grandfather, ancestor,

old man'. He goes by a variety

of names over the course of his adventures,

such as Mau Kiak (Poor

Fellow) or Mau Terus (Suffering Fel-

Dezembro 2010 – №3

Internasional

low). And in the climax of a version of

the narrative tradition that I first collected

in 1973, he assumes the name

Mau Bere. Fretilin's subsequent use

of this name was no mere coincidence

in local estimation, but it was

not the name alone that activated the

tradition. The Tat Felis tradition

shares a number of features with the

so-called 'cargo myths' of New

Guinea, such as a Christ-like hero

who would have brought prosperity

and justice to the people had foolish

ancestors not driven him away. Also

reminiscent of cargo is the idea that

the rejected hero may return some

day to establish a utopian order. In

Aileu the nationalist struggle created

conditions in which many people

longed for that return and were receptive

to claims that it had occurred.

According to others, Tat Felis is gone

for good, but the wrong that was

done to him remains unexpiated and

is entangled with more recent crimes.

The idea of the prophet who suffered

for the people has been interwoven

with that of the people who suffered

for the nation and gives meaning and

force to popular demands upon the

new state.
---
The Tat Felis Tradition

(…) Hohul and Raimaus are two ritually

important origin villages. Their

reputations, especially Hohul's, extend

through much of the Mambai

area, including Dili. Their formal relation

is that of elder brother (Raimaus)

to younger brother (Hohul). Origin

narratives preserved in both villages

depict their common ancestor as the

original founder of order who once

combined ritual and political functions.

Later, in what is a recurrent

Austronesian theme, his descendants

renounce political power in favour of

newcomers from outside but retain

ritual authority. They 'sit down to look

after the rock and watch over the

tree', the ubiquitous icons of Mambai

ritual life, while responsibility for regulating

human affairs passes to the

chiefs of Aileun, the 'kingdom' (reinu)

from which the administrative district

of Aileu takes its name. Precedence

is pre-eminence in the ritually centred

view of origin structures, and the water

buffalos that Aileun chiefs are expected

to bring to Hohul and Raimaus

ceremonies mark the superior

status of the original lords.

The man who first recounted the Tat

Felis story to me was Mau Balen, a

resident of suku (sub-district) Seloi,

whose ancestral house was in Raimaus.

It was the very first tradition

that Mau Balen entrusted to me, the

way that he chose to initiate what

was to be an extended relationship.

Over one long night in Seloi, where

we met during the annual census, he

narrated the tale. More interesting to

me at the time, however, were the

fragments of poetic origin narratives

about Hohul and Raimaus that he

went on to recount over the following

nights. Whereas the latter events

took place in a remote, mythical period

that Mambai call the

'night' (hoda), Tat Felis's adventures

belonged to the more recent period of

the 'day' (namada). Over the course

of our relationship, Mau Balen would

often instruct me to pursue affairs 'of

the night' or 'the trunk' (fun) and not

to let myself be distracted by the

branching 'tips' (laun) of 'daylight'

events. That orientation was reinforced

after I recruited the second

member of my team, Mau Bere,

whom I met a few months later in Hohul,

his ancestral village. Under their

tutelage I became fixated on the

mythic 'night' and almost impatient

with such 'daylight' matters as the

story of Tat Felis, despite the importance

Mau Balen, in particular, accorded

it.

When I returned to Aileu in November

2000, for the first time in twenty-six

years, the Tat Felis tradition was impossible

to avoid.

For Mau Balen, it mediated a distinctive

vision of the independence struggle

and his own experience in it.

Mau Bere, to my sorrow, was dead,

having passed away in Dili less than

two years previously. But when his

younger brother accompanied me

back to Hohul to meet with one of

their senior kinsmen, the latter's

agenda turned out to involve Tat Felis.

Almost every interview that I conducted

included references to Tat

Felis, and the story came up repeatedly

in casual conversations. In a

variety of ways the suffering endured

by the people over the course of the

nationalist struggle was connected to

the injustice done to Tat Felis.

Dezembro 2010 – №3

Internasional

The Felis tradition purports to describe

the arrival of the first missionaries

to Aileu, an event which took

place in the late nineteenth century.

At least one of the protagonists is

derived from a historical figure, Father

Jacob dos Reis e Cunha, a

Timorese who was educated and ordained

abroad and returned to Timor

in the 1860s. When Father Jacob

visited Aileu his missionising activities

aroused the hostility of local chiefs,

and he was forced to withdraw. The

Catholic cult he had introduced devolved

into a syncretic movement, to

which René Pélissier gives the name

'Hoho-Hulu'; Pélissier also suggests

that Father Jacob himself later reverted

to animism.

If there was an historical Felis, I have

so far been unable to identify him, but

features attributed to the character

suggest Father Jacob himself or one

of his converts.

This much is clear: the historical encounter

between missionisers and

indigenous sacral leaders gave rise

to an enduring narrative tradition.

The outlines of the story are as follows.

(pajina 14...)

13
---
Two priests, Father Diakobi and Father

Xakob (Jacob), come from overseas

to Timor, with their servants. In

some accounts Felis Marindo accompanies

them as one of the servants,

while in others he precedes and

awaits them, or even summons them

to Timor.

His own origins are represented as

unknown.

Although he is Christian (sarani), he

is not a priest, and tellers and commentators

alike were adamant that he

was not a Malaia (a white foreigner)

but 'black, like us'.Either together or

separately, he and the missionaries

arrive at Bandeira Fun (Base of the

Flag), which is the ancestral origin

village of the Aileun chiefs.

There the priests begin to build a

chapel and to baptise members of the

population, including the chief's wife.

This antagonises the chief, who in

most accounts (with the notable exception

of a version narrated by one

of his descendants) orders the priests

to be killed.

Diakobi and his servant are killed.

To hide the crime, the priest's body is

buried in the chapel, in a standing

position, his hands extended upward,

as if in prayer.

Xakob departs for Soibada, which

later became the seat of a seminary

14

and a centre of learning, whereas in

Aileu, several tellers observed, the

population remains ignorant to this

day.

Tat Felis, who witnessed the murder,

strikes out alone. He settles in a variety

of places, but, after a few years in

each, he moves on.

He leaves behind a trail of houses,

stone altars and other material remains

that residents now represent

as the traces of his passage.

Many of these are located in sukus

Rai Laku and Seloi, to the north west

of Aileu villa.

Eventually, his path turns southward,

into the mountainous interior, and all

tellings converge on one destination:

Tat Felis arrives at Hohul, where he

is well received by the people.

He becomes the patron of one of the

Hohul houses, Fad Liurai, which he

divides into pagan (sentiua) and

Christian (sarani) halves, as it remains

to this day.

He establishes his own village just

below Hohul, at the place called

Tutreda (probably from uma-kreda,

house of worship or church), where

an apparition of the Virgin had previously

appeared.

Here he performs a variety of

'miracles' (milagre) centred on productivity

and wealth. Although he

Dezembro 2010 – №3

Internasional

never seems to toil, his gardens

thrive and he always has good things

to eat, including such delicacies as

bread and eggs.

One teller attributed to him an inexhaustible

cooking pot that was always

full, no matter how much he served to

his guest.

Suspicions of sorcery begin to circulate,

on the grounds that he makes

things 'appear out of nowhere and

materialise (from thin air)' (mous nor

dleus).

Liurai, the Hohul house he visits, is

the place of justice within the ritual

sphere, where Hohul leaders settle

disputes related to ritual duties.

One day, when the chief responsible

for such matters is away, Felis offers

to settle a dispute between two villages

regarding their respective

prestation obligations.

The chief's wife overhears him and

tells her husband that Tat Felis has

'usurped his right' (and thus his manhood).

A complex chain of command is set

in motion that begins with a complaint

against Tat Felis lodged by the Hohul

chief and leads to his arrest and delivery

to the Aileun chiefs on charges

of sorcery. The chiefs want to turn the

matter over to the Portuguese administrator,

but the latter is impressed by

Felis's spiritual powers and becomes

the Pilate figure in the drama that

now unfolds.

He hands Felis back to the Aileun

chiefs, who send him to the kingdom

of Motain, near Dili, to be execu ted.

A large part of the story consists of

graphic descriptions of the various

execution attempts: he is buried alive,

starved, doused with oil and locked in

an oven, but after each attempt he

emerges unscathed.

Felis's punishment figures in all versions,

but the narrative resolutions

vary.

In versions narrated by Hohul people,

Felis eventually either escapes or is

released from his captivity.

After this, he periodically reappears

and disappears (mous nor lakon). At

length, he returns to the villa of Aileu

and rides into the church.

Passers-by observe the horse's footprints

going into the church, but neither

horse nor rider re-emerges.
---
Mau Balen dismissed the disappearance

in the church as a story fabricated

by Hohul priests, with whom his

own relationship had clearly deteriorated

over the years.

He told me and my assistant, Maria

Fatima, that the trouble had begun in

November 1975 when, he claimed,

Xavier (do Amaral, the first head of

Fretilin and president of the nation

declared just before the Indonesian

invasion) had entrusted him with the

'national flag'.

Hohul priests, according to Mau

Balen, were jealous of this honour

and accused him of seeking to usurp

their ritual prerogatives (hau kuka).

He said that he had been arrested in

1976 for conspiring to 'steal the presidency'

and sent to Turiscai, where

Xavier had indeed set up a base.

At this point, the tale of his own adventures

would fold back into a version

of the Tat Felis tradition almost

identical with what he had recounted

in 1973.

In all Mau Balen's tellings, a lengthy

prologue and a shorter epilogue

frame the central narrative events

and give the whole the effect of what

Mambai classify as maer or 'tales'. In

the prologue he identifies Tat Felis's

father as God (Maromak) who takes

the form of an old man with a twisted

foot, begets a son with a Timorese

Mary and then disappears.

Raised as a poor goatherd, the precocious

orphan provides for his

mother through a series of victorious

cockfights and then sets out in search

of his father. The quest eventually

leads him to Bandeira Fun, where he

encounters the priests, and then, by

way of a sojourn in Seloi and Rai

Laku, to his betrayal in Hohul.

Mau Balen always described Felis's

arrest and punishment at great

length.

The series of executions reaches a

climax in which Tat Felis teaches his

captors how to dispose of him once

and for all: they are to nail him to a

cross, place the cross in a casket,

and toss the casket into the sea,

where Grandfather Crocodile, the

Lord of the Sea, will devour the body.

After that, Tat Felis promises, he will

not return.

They do as he instructs, but, when

Grandfather Crocodile opens the casket,

he recognises Tat Felis and

cures him. Felis then returns to land,

where he seizes a young boy named

Mau Bere, takes him back to the undersea

world, and gives him to

Grandfather Crocodile in return for

having cured him. Tat Felis assumes

Mau Bere's appearance, name and

identity and returns to land in this

new guise.

(…) Acting through Xavier (who unknowingly

assumed his name), he

Dezembro 2010 – №3

Internasional

made political parties; and the parties

brought the war, in which 'hairless'

human beings died to make up the

difference. Bi Bere and Mau Bere, the

suffering women and men who purchased

the nation with their blood,

were substitutes for the unpaid animal

sacrifices.

(…)In Mambai cosmology Mt. Ramelau,

which Mambai call Tat Mai Lau,

Grandfather Summit, is the centre of

ordered space, where the first ancestors

of humanity are born.

According to Mambai origin myths,

the youngest of the ancestors

'washed himself white and clean' (luk

buti nor mo), gathered up the regalia

of office (including the flag) and

passed through the 'mountain door' to

Portugal, across the sea, where he

founded a new realm. That the overseas

foreigners or Malaia are their kin

is a common premise among Mambai.

Moreover, the mythic path charted by

the Malaia ancestor is activated in

Mambai mortuary rituals, when the

spirits of the long dead, after a sojourn

on Tat Mai Lau, are sent away

across the sea, where 'their faces

become different, their ears become

different' (ahe selu, kika selu).

Mambai will say that what happens

overseas is beyond their knowledge,

but there is an idea, if not precisely a

belief, that the dead become Malaia.

15
---
E

kipa volley da praia Timor-

Leste iha loron Domingo, 5

Dezembru 2010, husik hela

Timor-Leste hodi hakat-an

ba nasaun Oman, hodi partisipa iha

torneio "ASEAN BEACH GAMES

2010" ne'ebe hala'o iha nasaun ne'ebe

refere hahu husi loron 7 to'o 17

Dezembru 2010.

Ekipa ne'e kompostu husi jogadores

mane na'in 4 no feto na'in 4 husi

kategoria idade sub 19 ba jogadores

feto, no sub 22 ba mane, ne'ebe

durante ne'e hala'o ona treinamentu

insentivu iha Dili iha fulan balun nia

laran.

Alende jogadores sira, ekipa refere

kompostu mos husi treinadores no

ofisiais balun, inklui Prezidente Federasaun

Volley Ball de Timor-Leste

(FVTL), Jaime Pinto Madeira

Entertantu partisipasaun Timor-Leste

iha eventu refere iha tinan ida ne'e,

nudar partisipasaun daruak nian.

Molok ne'e, iha tinan 2008, Timor-

Leste partisipa mos iha eventu

ne'ebe hanesan, ne'ebe hala'o iha

Bali, Indonezia. Iha tempu ne'eba,

Ekipa Timor-Leste konsege tama iha

rangking 19 husi nasaun 45 ne'ebe

partisipa iha eventu ne'e.

Ba tinan ida ne'e, Federasaun Volley

16

Joel Pereira

Media / PR

Ekipa Volley de Praia Timor-Leste

ba Partisipa Iha "ASEAN Beach Games 2010 - Oman"

U

m discurso sobre se "Será

o século XXI o século da

Ásia? - Oportunidades e

Desafios futuros" marcou a

intervenção do Presidente timorense

e Nobel da Paz, Dr. José Ramos-

Horta, no V Seminário de Prémios

Nobel, quinta-feira em Viena.

O líder timorense chegou a Viena na

manhã de terça-feira e antes do

almoço foi convidado de honra numa

recepção oferecida pelo Chanceler

Federal da República da Áustria,

Werner Faymann, que proferiu as

palavras de boas-vindas.

O Dr. Ramos-Horta teve aí ocasião

de se encontrar com o egípcio Mohamed

ElBaradei, laureado com o Prémio

Nobel da Paz em 2005, em reconhecimento

pela actividade desenvolvida

ao serviço da Agência Internacional

de Energia Atómica (AIEA).

A seguir, no Palácio Presidencial o

Chefe de Estado timorense teve uma

reunião com o homólogo austríaco,

Heinz Fischer, que manifestou ao Dr.

Ramos-Horta apreço pelo apoio recebido

de Timor-Leste para a candidatura

da Áustria – como membro não-

Ball de Timor-Leste konsege partisipa

iha eventu internasional ne'e depois

de hetan suporta maksimu husi

Prezidente Republika, Dr José Ramos-Horta.

Alende fo suporta ba ekipa ida ne'e,

iha tinan 2008 no 2009, Xefe Estadu

mos fo apoiu ba FVTL hodi hala'o

torneio balun iha rai laran, hanesan

torneio "Tasa Dili Sidade Dame" ne'e-

permanente - ao Conselho de Segurança

das Nações Unidas (ONU), garantindo

em reciprocidade o apoio do

seu país – através da União Europeia

– para a candidatura de Timor-Leste

à Associação dos Países do Sudeste

Asiático (ASEAN).

O Dr. Ramos-Horta aproveitou a ocasião

para fazer uma síntese dos

progressos registados em Timor-

Dezembro 2010 – №3

Internasional

be hala'o iha fulan Dezembru 2008,

no torneio "Tasa Prezidente Republika"

ne'ebe hala'o iha fulan Outubru

tinan ida ne'e.

Apoiu Gabinete Prezidensia Republika

nian ba inisiativa ida ne'e, nudar

pakote ida husi aktividades bar-barak

ne'ebe Xefe Estadu, Dr. Ramos-Horta

inisia iha tinan ida ne'e iha programa

"Dili Sidade Dame".

V Seminário de Prémios Nobel - Viena

Presidente Ramos-Horta fala sobre oportunidades e desafios para Ásia no século XXI

Leste nos planos sociopolítico e económico,

ouvindo palavras de reconhecimento

pela visão e capacidade

de liderança das autoridades locais,

reveladoras de grande maturidade e

determinação na reconciliação nacional.

Um almoço oficial culminou este

encontro, que decorreu num espírito

de amizade.
---
Shepard Forman

Director Center on International Cooperation

Building Civilian Capacity

for Conflict Management and Sustainable Peace (extracts)

* photo UNMIT Mertine Perret

S

ince the early 1990s, the UN

system, the World Bank

Group, and bilateral donors

have been involved in a

broad array of state-support and

peace-building functions in the aftermath

of conflicts – many of them protracted

– that have either severely

weakened or largely decimated the

institutions of governance.

Designated variably as post-conflict

reconstruction or peace-building,

these activities have included a wide

variety of administrative and public

management tasks, ranging from political

observation and negotiation in

El Salvador, to technical assistance

and advisory services in Mozambique,

to the "light [but extensive]

footprint" in Afghanistan and the fullfledged

governing authority assumed

by UNTAET in East Timor and UN-

MIK in Kosovo.

These political and civilian administration

tasks take place alongside

vital security and humanitarian operations,

but have not received the same

recognition of their importance.

Increasingly over the last decade, the

UN System, including the Bretton

Woods Institutions, has developed its

capacity to deal with a range of crises

from conflict prevention to peacebuilding.

(… ) Peacebuilding is "… the development

of the conditions, attitude and

behavior that foster and sustain social

and economic development that

is peaceful, stable and prosperous."

And, "Peacebuilding attempts to encourage

the development of the

structural conditions, attitudes and

modes of political behavior that may

permit peaceful, stable an ultimately

prosperous social and economic development",

acute human suffering

and violent conflict, resulting in significantly

improved capacity for the

planning and implementation of

peacekeeping operations and humanitarian

relief in complex emergencies.

These improvements reflect the need

for international actors to accord primacy

to peace implementation and to

deal with security challenges to local

authorities until such time as the latter

are able to establish their own

defense and public order capabilities.

Failure to perform this vital transition

function creates a high risk of relapse

into conflict.

It is also the case, however, that failure

to build adequate state capacity –

Dezembro 2010 – №3

Internasional

to help local authorities put in place

or resuscitate effective public institutions

for law and order and the provision

of social services – can also

doom post-conflict peace-building

efforts.

In response, peacekeeping mandates

have become ever more multidimensional,

and a broader array of

UN entities and NGOs has become

engaged in post-conflict operations

and assistance programs.

These have involved inter alia: drafting

and implementing peace accords;

demobilizing and reintegrating combatants;

drafting new constitutions;

conducting elections; designing and

enforcing civil and criminal legal systems;

training local police; jumpstarting

and managing local and national

economies; fashioning, staffing

and training for civil services; reconstructing

and operating public utilities;

establishing banking, tax and customs

systems; and supervising the

reconstruction of education and

health systems.

In the most developed of these missions,

the UN has had a full-array of

civil responsibilities.

(pajina 18...)

17
---
Far from being mere technical tasks,

these undertakings require strong

leadership, political and interpersonal

skills, as well as knowledge

of local languages, politics, culture

and norms. Success depends on the

skills and talents of the civilian actors

in these missions, and on the legitimacy

derived from close consultation

and involvement of local actors and

the breadth and coherence of international

participation.

Unfortunately, while there is general

acceptance of the broad guidelines

governing international action in postconflict

reconstruction and peacebuilding,

relatively little has been

done to create the institutional and

human resource capacities necessary

to effectively plan and implement

the civilian components of multidimensional

peace operations.

Each peacebuilding mission scrambles

anew to design and organize the

appropriate administrative structure,

assess needs, recruit staff, match

skills to tasks, mobilize resources and

coordinate effectively.

Differential capacities (and cultures)

in the civilian peacebuilding, military,

humanitarian, and developmental

components of multidimensional

peace operations also impede integrated

planning and mission execution.

Moreover, although the UN System

has paid increasing rhetorical attention

to the need for conflict assess-

ment, early alert, strategic planning,

and mission design, the civilian components

of crisis management continue

to be impeded by lack of shared

strategic objectives, authoritative coordination

mechanisms, effective human

resource strategy and implementation,

and adequate financing

arrangements.

These institutional and financial

shortcomings are compounded by the

18

fact that within the UN system there

is no locus for inter-governmental

decision-making relating to postconflict

peace-building.

In the absence of such a mechanism,

the Security Council has extended its

writ, both in terms of duration of mandates

and the range of economic and

developmental issues tackled within

multi-dimensional peace operations.

While this has had the net effect of

focusing greater attention on mission

integration, it is nevertheless characterized

by a Security Council that attempts

to shape policy for UN agencies,

funds and programs that do not

report to it, and to provide guidance

on political and economic development

issues over which it has neither

authority nor competence; and vests

responsibility with SRSGs for coordinating

UN actors over which they

have no authority.

The UN's institutional mechanisms to

support conflict prevention and good

offices are even more constrained.

The Department for Political Affairs is

widely recognized to be inadequately

staffed to provide effective strategic

analysis for conflict prevention and

political support for good offices.

For their part, the inter-agency

mechanisms formally tasked with developing

conflict prevention strategy

are neither appropriately staffed nor

do they have the authority to ensure

program coherence in the field.

Moreover, they have limited policy

impact even within the UN let alone

among the wider set of bilateral and

international actors whose engagement

in a conflict prevention strategy

would likely be required for success.

It is important to note that the UN

System does not suffer these shortcomings

alone.

The European Union is struggling to

build its own rapid-deployment civilian

capacity, with appropriate over-

Dezembro 2010 – №3

Internasional

sight and financing, to provide more

timely and effective peacebuilding

assistance.

A number of Member States are

seeking either to ensure greater coordination

among their own government

agencies in situation monitoring, crisis

analysis, intervention assessment,

and program planning and implemen-

tation, or to adjust their funding procedures

to provide more flexibility in

addressing the critical needs for early

recovery and reconstruction.

And, while there is considerable discussion

of potential regional contributions

to peacebuilding, especially in

Africa, there is in fact no capacity in

the regional and sub-regional organizations

at present to respond in any

effective way.
---
Considering the ad hoc and largely

improvisational means by which the

international community has undertaken

conflict prevention and peacebuilding

missions to date, and the

debilitating lack of qualified personnel

available for rapid deployment, the

rate of success --however relative it is

deemed to be -- is nothing short of

remarkable.

It is, however, also tenuous, with little

in the way of assurance that the end

result will be viable, effective and legitimate

states able to govern on their

own with the confidence of their people

and the likelihood of sustainability.

To be more certain of these outcomes,

thereby establishing the basis

for a secure exit on the part of international

actors, it is critical that the

UN System's planning and implementation

capacity for the civilian components

of multidimensional peacebuilding

be accorded the same attention

as has been devoted to military and

humanitarian capacity-building.

Given the number of current and

looming crises and their risks to international

peace and security, both regionally

and globally, there is a pressing

need to reassess their policies

and programs, as well as the institutional

and financing mechanisms, that

under-gird the civilian components of

peace operations.

(…) A substantial number of reform

proposals for improving the UN System's

response capabilities in postconflict

situations have followed from

the initial promulgation of the Agenda

for Peace (l992). These have been

undertaken by the UN Secretariat

and Specialized Agencies, UNDP,

the World Bank, and by Member

States.

As a result, over the last decade, a

number of internal reforms have been

instituted, principally in the areas of

military planning and backstopping

and in improving standards of conduct,

delivery and coordination in humanitarian

relief. Further, through a

process of self-examination and ex-

perimentation, the UN also has

achieved some incremental successes

in the civilian management of

more extensive peacebuilding operations.

These include, inter alia, improvements:

in integrated planning and oversight

through the various Executive Com-

mittees (ECPS / ECHA / UNDG); in

management of field operations, as

through the designations of Humanitarian/Resident

Coordinators as Deputy

SRSGs; in recruitment; in training;

in learning and its application through

DPKOs Best Practices Unit; and in

recent coordination between the UN

Dezembro 2010 – №3

Internasional

and the World Bank on needs assessment

and poverty reduction programs.

There also have been further

advances in Demobilization, Disarmament

and Rehabilitation (DDR).

As well as in demining, in harmonizing

administrative and budget procedures,

and -- to a degree -- in atten-

tion to gender issues.

Yet, as many case studies have now

demonstrated, much remains to be

done to ensure that the international

system is better prepared to prevent,

manage and resolve violent conflict

and lay the basis for sustainable

peace and development.

19
---
E

ast Timorese identity is

complex. A multi-disciplinary

approach is necessary to try

to grasp it. History, geography,

linguistics and religion are disciplines

necessary to have a clearer

definition. Languages are key markers

of identity; this is also true in East

Timor. To upgrade the national identity,

education always comes out on

top.

Timor was a part of an Asian trading

network long before the arrival of the

Portuguese in 1515. The Dutch took

the island"s western part in 1653. Except

for a short British period, the

Netherlands occupied West Timor

and like other Dutch-held territories, it

became Indonesian at independence.

East Timor was occupied by force by

Japan (1942-45) and by Indonesia

between 7 December 1975 and 22

September 1999. The country has

been independent since 20 May

2002.

Luiz Gonçalves and Jacinto José do

Nascimento Moura, in a pioneering

work have paved the way to define

the different forms of Timorese laws

encompassing the Timorese psychology.

Each former Timorese kingdom

had its own particularities based on

ethnic characteristics.

The Portuguese identity is not a problem.

Portuguese is an official language,

even if the youth in

Dili prefer English or Bahasa Indonesia

when they speak to outsiders. It is

difficult to establish what might be

Timor-Leste heritage from the ancient

Indonesian culture and what may

have been imported later from Java

or other parts of Indonesia. However,

the Makasai have some cultural and

linguistic relationship with Sulawesi.

It is sure that there is a strong will to

be part of the East and not the West

among the Atoni of Oecussi. However,

more than in Los Palos, the

Atoni who have their brothers on the

other side of the border know that

Bahasa Indonesia is an important

language. Some families send their

children to study in Kupang, hoping

that they have a foot in the stirrup to

join later an Indonesian university.

There are also geographical differences

between the mountains and

the coast. The identity of the Makasai

living near the Matebian, a sacred

20

Jean Berlie

PhD. EHESS, France

East Timorese

Identity

History

Geography

mountain, is strong. This is why during

the 1959 period of events there

was a strong anti-colonial resistance

around Viqueque. This "geographical"

character may be more or less

marked but is worth mentioning.

The sociological or anthropological

character is probably more preeminent.

We will insist here on the linguistic

characteristic of this identity,

which is easier to define than a purely

sociological study. This is also probably

true because between 1975 and

1999, despite the importance of the

Bahasa Indonesia which became the

language of education, the linguistic

mosaic of Timor-Leste remained alive

and colorful. However, many traditions

disappeared, but the United Nations

was rather surprised to find a

country different to many others.

Linguistics

Southeast Asian Timorese culture is

related to the Pacific Ocean, and

Austronesian civilization and languages.

Timorese culture is also

deeply linked to Portuguese colonial

history and linguistic influence, with

approximately forty percent of the

Tetum Prasa (from praça, "the city" in

Portuguese) which is originally Portuguese.

In the most part of the 20 th

century, despite the importance of

Tetum and Makasai, Mambai seemed

to have more speakers. Tetum is the

national language, so after 1975,

partly thanks to Catholic Church, it

became the main language of communication.

This does not mean that the Dagada,

or Fatalucu speakers, were really

fluent in Tetum. Between 2000 and

2002, many UNTAET staff could not

understand why everybody in Los

Palos was not familiar with what they

thought evident. However, Tetum is

currently the necessary language of

communication.

Portuguese is one of the main languages,

if not the island"s main literary

language, and is also an official

language (Constitution of the Democratic

Republic of East Timor, Section

13). This promotion of Tetum by the

Portuguese was partly successful,

but languages such as Mambai,

Makasai and Meto have always had a

significant number of speakers. The

cultural and political Timorese elites

are educated in Portuguese, and this

is precisely why there currently is a

great cultural gap between them and

Dezembro 2010 – №3

Internasional

the youth educated in Indonesian

(Bahasa Indonesia). However,

Tetum, the national language, has

another advantage; it is the liturgical

medium of the East Timorese Catholic

Church (at present, thanks to Indonesia

which obliged the Timorese to

choose among five religions, more

than ninety percent of the population

is Catholic). But Timor, in fact, has

many languages, meaning many

chiefdoms and different customary

laws. The Bible is completely translated

into Meto, but not in Tetum. So

for the State, as well for the Church,

Portuguese and Tetum continue to be

essential for the construction of the

State. The main question is the people

(Povo) speaking local languages

and not the political elite who are

generally fluent in Portuguese. To

understand the island"s complex customary

system, it is necessary to

classify its languages. Each ethnic

group in Timor is called according to

the language spoken, except groups

such as the Atoni (meaning "man" in

their own language) or Meto speakers

in Oecussi and West Timor.

There are more than fourteen languages

and many dialects. In Atauro

Island three dialects are currently

spoken: Makili, Rahesuk (Adabe) and

Makadede.

Galole spoken in Manatuto is close to

these dialects of this island called

Pulau Kambing by the Indonesian. All

these languages are Austronesian

(formerly Malayo-Polynesian) except

three non-Austronesian or Western

Papuan languages: Bunak, Fataluco

(including Lovaia in Tutuala) and

Makasai (including Maklere). These

Timorese languages are spoken in

different districts as follows:
---
1. Tetum is spoken in Dili, Batugade

(Batugadé), Suai (Tetum Terik), and

Viqueque but also in Atambua, West

Timor; 2. Mambai (Mambae) is used

in Aileu (North dialect), (Samé) and

Ainaro; 3. Fataluco, or Fataluku, is

spoken in Lautem (Lautenu is one of

the four dialects) and Los Palos

(Lospala in Fataluco); 4. Meto

(incorrectly called Vaikenu, Baikenu,

or Dawan) in Oecussi; 5. Tokodede

(Tokode or simply Tokod) in Liquica

and Maubara; 6. Makasai (Makasae)

in Baucau (Maklere is probably related);

7. Galole (Galoli) in Manatuto;

8. Bunak in Bobonaro; 9. Ema,

Emak, or Kemak in Kailaku; 10.

Idate (Idaté, Idalaka) in Laclubar; 11.

Kairui in Aitalo (Kawaimina?); 12.

Nauete (Nauoti) (Hull classifies it

with Kawaimina); 13. Midik (Midiki)

(Kawaimina?); 14. Naumik (part of

Nauete for Hull or Lere?)

East Timor and Indonesia are Southeast

Asian nations, and following the

ethics of the President Dr Ramos-

Horta and the PM Xanana Gusmão it

is time to look at a sincere reconciliation

between the two nations. Reconciliation

could not be achieved if

the East Timor government does

not recognize the positive actions

of Indonesia in Dili. For example,

the creation of a university for the first

time in East Timor's history in 1981 is

remarkable. Negative aspects cannot

be forgotten but are no longer significant

in the current globalized economy

of the twenty-first century.

The industrialization of East Timor,

without forgetting to mention the huge

offshore investment to put the new

country's economy and politics on

track, is not yet a reality. East Timor

is currently an independent country,

holding its independence ceremony

on 20 May 2002. It is the result of

hopes, needs, nostalgia, and, above

all, the strong will of the Timorese

people. With respect to international

laws, the question of the total independence

of East Timor has to be

raised. For the majority of the

Timorese, East Timor must be an

independent country, and to achieve

this aim, laws are necessary. Without

speaking of Portuguese or Indonesian

laws, the Timorese also

have their own "laws." To understand

their culture and how they vote,

it is necessary to consider the island's

cultural and linguistic complexity.

Local culture is certainly linked to the

geographic territory, an island, but it

sometimes takes into account preexisting

cultures and transforms them

into nationalism. More precisely, for

the German encyclopedist Johann

Zedler (1740), quoted by Hobsbawm

(1991), a nation in its original meaning

includes a certain number of

"citizens who share a series of cus-

toms, habits, and laws". Popular

Timorese cultural identity related to

ancient warring kingdoms, finally

colonized, and traditional laws, part of

Timorese nationalism, have always

played and continue to play a significant

role on the island. The crucial

role of customary laws lisan in

Tetum (adat in Indonesian and Malay)

in Timorese society shows the

importance of "local beliefs and

practices."

Religion and beliefs

It is necessary to say that the present

Catholic identity of the East Timorese

is a relatively recent social phenomenon.

Only thirty percent of them were

converted before 1975. According to

the President Dr José Ramos-Horta,

the Portuguese gave the Bible to the

Timorese, but in exchange took their

land. In 2010, the Catholic identity of

a majority of the East Timorese cannot

be denied. The ethics of philosophy

and religion is taught in public

schools and it is not possible to find

another way to teach moral principles.

There is no Teachers College or

university specialized in training professors

and educators. I will not develop

the question of Islamic faith, but

it cannot be ignored concerning the

identity of a minority of the East

Timorese. Another point is the primary

civilization of the Timorese

which is worthy of our comprehension.

All the great inventions of humanity

were there before the arrival

of the Dominican priests in Lifau.

This study, we hope, may help the

people of East Timor in incorporating

harmoniously the culture given by

their ancestors. Ancestors are the

basis of the local beliefs in Timor but

also the basis of local power, alliance,

and justice. For the Bunak, the

parents of the "ancestors" are twins

whose mythical sons are the five ancestors.

Political power and status

is based not on landownership but

on the patrimony of noble families.

Things are changing in the country,

as it becomes part of a more global

Dezembro 2010 – №3

Internasional

world. This partly explains the legal

question of who owns the land. Formerly

in Timor private possession

was virtually impossible. This also

shapes the identity. However, in a

time of globalization, the development

of languages and education are

becoming sine qua non conditions of

harmonization.

Languages and education

East Timorese students do not succeed

everywhere in tertiary education.

Some have success in Indonesian

universities and few of them in

Australia and Portugal, but nowhere

is their ability to speak many languages

praised, as in Cuba. Languages

and education go hand in

hand. All languages are useful, but it

is necessary to find which language

is important. Mother tongue is fundamental,

and in particular the national

language, Tetum. However, the history

of languages in neighboring

Southeast Asian countries, for example

the Philippines, shows that constructing

a national language (Tagalog

or Filipino) takes many decades.

The Commission on the Filipino Language

is an essential body regulating

the national language. This long process

to regulate and supervise the

national language is also true for

Tetum. We stress the importance, as

an educational tool, of Portuguese or

another language, in the teaching of

mathematics in East Timor - a topic

where the local students are not

among the best of Asia. So, for other

disciplines also, the future of the

identity of new generations of East

Timorese will be shaped in the right

direction for the common interest of

the nation and the youth.

How to conclude?

Every Timorese has his own identity.

Could we say there is a unique "East

Timorese identity" or that are there

many identities in Timor Leste? A

survivor of the "black period", between

1942 and 1945, will certainly

claim some differences to define his/

her identity compared to a younger

grand-son or a grand-daughter who is

certainly much more modern. There

are in fact different approaches to the

Timorese identity according to generations.

However, being independent

was a common goal since the

1960s and this continues to influence

the Timorese identity. After 1975, this

idea of independence became the

common national identity which successfully

mobilized all the East

Timorese. A new practical and constructive

national identity, elaborated

by the people of Timor-Leste themselves,

will help the country to succeed

in a global and complex 21 st

century world.

21
---
M

r. President, ladies and

gentlemen, I will start by

remarks in English, and

then I will switch to Portuguese,

and then back to English.

I would be able to address you in five

of the European languages, but I will

not do that because I will get confused

myself, so I will stick to two:

English and Portuguese.

I am grateful for the privilege to address

this august institution, the embodiment

of Europe's rich cultural

diversity and its democratic political

culture and institutions. My admiration

for Europe and for the institutions

you have created, for the road you

have walked from disunity, rivalries

and wars to unity, partnership and

peace, democracy, inclusion and

prosperity, as well as for your deep

belief in solidarity among peoples, led

me as a Nobel Peace Prize Laureate

in 2008 to nominate the European

Union and the European Commission

for the Nobel Peace Prize.

At one end of the globe, there is the

overwhelming influence and shadow

of the only surviving superpower. At

the other end, there is Asia with the

shadow of two emerging Asian giants

looming over the rest of the region. In

between, there can be the European

bridge – a bridge that could connect

all in a new partnership for peace and

prosperity.

This Europe of inclusion extends from

the beautiful Atlantic coast that

bathes Portugal to the edges of the

old continent where Asia begins. As I

speak here, I am particularly grateful

to this august institution, to many of

its esteemed Members, to the European

Commission and in particular to

its President, our friend José Manuel

Durão Barroso, who has stood behind

us for over three decades in our

long quest for freedom. As a young

politician and diplomat, first as Secretary

of State, then as Foreign Minister

and later as Prime Minister of Portugal,

he was a wise and passionate

advocate for Timor-Leste, as he was

also for Africa, Asia and Latin America.But

I would fail in my duty if I were

not to thank the many other Members

of the European Parliament, some of

whom are no longer here because of

the irreversible ageing process from

which none of us can escape.

22

Dr.J.Ramos-Horta

Presidente da República

Address to the European Parliament

Brussels, 6 th October 2010

What we found in this institution from

all spectrums, from left and from

right, was that you gave us a forum

when nowhere else gave us a voice

to speak.

It was, for instance, the Portuguese

Members of the European Parliament

from all parties who, in the 1990s,

gave a portion of their own salaries to

the person who is today our Foreign

Minister, Dr. Zacarias da Costa. He

was here for five years as a representative

of the Timorese resistance,

and it was the Portuguese Members

of the European Parliament from left

and right who every month would

give us some financial assistance to

keep an office going here in Brussels.

It was also this institution that gave

us for the first time anywhere in the

world a pass, an identity card, representing

Timor-Leste in Parliament to

advocate the cause of Timor-Leste.

So, in coming back here, I come with

an immense sense of gratitude to all

of you.

Allow me to turn now to Portuguese,

and I will address the issue of the

Millennium Development Goals, how

we are doing in my country, and what

we expect the international community

to do to assist us and others.

Timor-Leste não era um país independente

em 2000 e só na apresentação

do nosso primeiro relatório

sobre os ODM em 2004 é que estabelecemos

as primeiras metas a

atingir.

Durante os últimos três anos, Timor-

Leste tem vivido uma verdadeira paz,

que possibilitou um crescimento

económico robusto de mais de 12% /

ano, a redução dos níveis de pobreza

em 9% durante os últimos dois anos,

a queda da mortalidade infantil e das

crianças com menos de 5 anos de

idade, atingindo já as metas estabelecidas

para o ano 2015, a inscrição

nas escolas aumentou de 65% em

2007 para 83% em 2009-2010, e o

analfabetismo dos adultos tem sido

gradualmente eliminado graças a um

programa conjunto entre Timor Leste

e Cuba.

Antecipamos, a erradicação do analfabetismo

em Timor-Leste dentro de

dois a três anos. Por volta de 30% do

Orçamento Geral do Estado está a

ser afectado à Saúde Pública e à

Educação.

Esta reviravolta foi possível graças a

um determinado financiamento público

de programas sociais como o da

transferência directa em dinheiro para

idosos, viúvas, deficientes e veteranos,

bem como aos esforços para

Dezembro 2010 – №3

Internasional

a expansão das áreas de cultivo e incremento

da produção de bens

alimentares. Estamos a finalizar o

roadmap do nosso Plano de Desenvolvimento

Estratégico 2010-2030,

que possibilitará libertar o nosso povo

de séculos de pobreza e elevar o

seu nível de vida para o da classe

média-alta em 2030.

Relativamente à gestão dos nossos

recursos petrolíferos, é uma satisfação

poder notar que a Iniciativa de

Transparência nas Indústrias Extractivas,

ou seja, Extractive Industries

Transparency Initiative (EITI), classificou

Timor-Leste, no seu relatório de

1 de Julho de 2010, como o primeiro

país na Ásia e terceiro no mundo no

que diz respeito à solidez, transparência

e efectividade na gestão dos

lucros provenientes do gás e do

petróleo.

Cerca de 30% dos deputados no

nosso Parlamento Nacional são

mulheres. No executivo, ministérioschave

como Finanças, Justiça e

Solidariedade Social, a Procuradoria-

Geral da República, etc., são liderados

por mulheres. Temos um Parlamento

da Juventude com 130 membros,

acabado de ser eleito em todo

o país.

Os jovens eleitos para esse

Parlamento da Juventude têm idades

compreendidas entre 12 e 17 anos.

Foi sempre nosso desejo que houvesse

equilíbrio do género no Parlamento

da Juventude.

No entanto, a nossa expectativa foi

ultrapassada. O parlamento jovem é

constituído por 68 jovens deputadas

do sexo feminino e 62 rapazes

deputados.

Timor-Leste tem o orgulho de ter

adoptado uma das constituições mais

humanistas do mundo, onde a pena

de morte é proibida, sendo a

sentença de prisão máxima de 25

anos, e não temos prisão perpétua.
---
Ratificámos todos os principais tratados

internacionais de direitos humanos.

Já apresentámos dois relatórios

dos tratados às instituições relevantes

e continuaremos a investir esforços

no sentido de reforçar ainda mais

o respeito pelos direitos humanos,

pela liberdade e pela dignidade para

todos.

A nossa Constituição reconhece o

primado do direito internacional sobre

as leis nacionais, isto é, todas as

nossas leis devem conformar-se com

o direito internacional. E agora, com

permissão, mudo para inglês.

I will now address the issue of climate

change – obviously very superficially

because of the time constraints here.

While it is a fact that the rich and

powerful contributed most to the deteriorating

world environment, we

acknowledge that the advance of science,

technology and industries in

the last 200 years has brought enormous

benefits to all, even if those

benefits have been distributed in an

unequal manner.

But we in the developing world

should not put all the blame on the

rich and powerful for the harm done

to the planet. We must acknowledge

our share of responsibility in the destruction

of our forests, lakes, rivers

and seas. Asia has no less responsibility

than the US and Europe to reverse

the climate calamity. We are

almost half of the planet's inhabitants.

This alone means that we put enormous

pressure on the land, minerals,

forests and water. To modernise our

economies and improve the lives of

hundreds of millions of the poor in

Asia, we are using increasingly more

energy extracted from planet Earth.

Many of the emerging powers of Asia

are also now crossing oceans,

searching for energy elsewhere – in

Africa and Latin America.

Therefore Timor-Leste – working together

with the Maldives, two of the

smallest countries in Asia – calls for

an Asian common agenda on sustainable

development anchored on

environmental protection and recovery,

on land and water management,

health and education for all, and on

the elimination of poverty and illiteracy.

I have an appeal to the rich and the

powerful. The rich and the powerful

should ask themselves whether they

have delivered on the pledges made

in front of TV cameras and whether

past policies have been effective in

addressing under-development and

extreme poverty.

All too often, leaders of the developing

countries are blamed for the lack

of improvements in the lives of our

people, in spite of the generous development

assistance we supposedly

have received from the rich.

But donors should also make an honest

and critical analysis of the poli-

cies. We know there is a genuine

sentiment of solidarity from men and

women in the streets – in the US,

Europe and Japan – towards their

fellow human beings in poorer regions

of the world, but donors must

also streamline the lengthy, onerous,

superfluous, wasteful, redundant and

bureaucratic paperwork that drowns

and discourages anyone in our countries.

(Applause)

Donors must invest more of every

dollar they pledge in rural development,

agriculture, food security, water

and sanitation, roads, health and

education. To strengthen national

institutions and the democratically

elected leaders, donors must provide

more direct sector budget support to

enable them to deliver services and

development to the people.

It is disheartening that only a handful

of rich countries have met the target

of 0.7% of gross national product for

development assistance. At the same

time, generous pledges made in the

spotlight of international conferences

– side by side with movie stars and

rock singers – are largely forgotten

the moment the Hollywood curtains

fall and the floodlights are turned off.

It is even more disheartening to see

how quickly tens of billions of dollars

are easily found to rescue failed

banks, insurance companies, fraudulent

real estate agencies and obsolete

auto industries, and how tens of

millions of dollars in bonuses are paid

to incompetents and crooks responsible

for the financial debacle – and yet

decades of appeals to the rich to increase

foreign development assistance

have been met with much resistance.

We believe that one wise and fair

way to assist countries suffering from

the consequences of the financial

meltdown is to write off the debt owed

by the LDCs and Small Island Developing

States and to restructure the

debt of the debtor countries that are

facing enormous internal and external

challenges – such as instability, climate

change and extremism – in

many parts of the world, particularly

in South Asia and the region of the

Great Lakes of Africa.

Timor Leste is privileged in that we

do not have a single cent in foreign

debt, so our appeal to you is not motivated

by self-interest. Actually if you

Dezembro 2010 – №3

Internasional

open the economies yearbook of

2010 – the pocketbook version – you

will find some interesting data there.

Timor-Leste today has the highest

surplus in the world as a percentage

of its GDP and not a single cent in

foreign debt. Nevertheless, we feel in

solidarity with those countries that for

decades have incurred debt which

they are today unable to pay and

which entraps hundreds of millions of

people in the world. If it has been

possible to mobilise billions of dollars

almost overnight to rescue failed

banks and insurance companies,

then there must also be the moral

obligation and political wisdom to find

the much smaller amount to meet the

obligations of the developed countries

towards the poor in the third

world, to ratify some of the imbalances

that are pervasive in the world

today.

As I speak here today with a deep

sense of gratitude to you – to the

European Parliament, to European

leaders and to all our development

partners – I wish with humility also to

acknowledge our own failings and our

limitations. We in Timor-Leste, and in

much of the developing world, should

not reverse roles by lecturing the

West – in retribution for the West

having lectured us for decades – but

should also look at ourselves in the

mirror and answer our own questions

from our conscience. What have we

ourselves done to lift the hundreds of

millions of our people from extreme

poverty? We can do that. We can all

do better, in Timor-Leste and elsewhere.

We have made tremendous progress

in the last three years. Our country

has only been independent for eight

years. I have shared some of the figures

with you, but there are many

other areas of achievement that are

not quantifiable. They are not measurable,

but they are equally important.

We have been able to heal the

wounds of our society, reconcile

separate communities and heal the

wounds between us and Indonesia

with which we share a tragic history

of 24 years. Today Timor-Leste and

Indonesia enjoy the best possible

relationship of any two neighbours.

We have been able to build bridges

with the entire region. We have established

diplomatic relations with

more than 100 countries. These are

non-quantifiable, non-measurable

achievements. Our people, in spite of

the profound wounds of 24 years of

occupation, do not harbour resentment

towards anyone.

These are our beliefs and our convictions.

We are determined to live up to

the expectations of our people and

lead them towards a peaceful and

prosperous future.

May God, the Almighty and the merciful,

bless us all.

23
---
T

imor-Leste, o novíssimo Estado

do 3º Milénio é uma Nação

antiga, entidade moral

constituída por um conjunto

de pessoas que se sentem unidas

pela origem, ideais, aspirações e

interesses comuns geradores da

consciência nacional de Timor Leste.

Naturalmente que o epíteto que lhe é

apenso de Estado pós-conflito sugere

de imediato a ideia de que Timor-

Leste é, em resultado de experimentado

e longo conflito, um Estado

cuja sociedade se encontra em

transformação e, em simultâneo, em

necessária construção e reconstrução.

Mas, nem por isso, daí transcorre

a ideia de que a identidade

nacional timorense apenas despontou

com a independência do país.

Em boa verdade se deve considerar

que essa identidade operou como

mola impulsionadora da luta dos

timorenses e contribuiu definitivamente

para o alcance da independência

conseguida pela lúcida e

racional utilização do sentimento de

pertença comum da terra Timor e de

irmandade entre todos os timorenses,

numa manifestação positiva e

coerente do nacionalismo timorense.

São factores determinantes e necessários

para a existência da Nação a

história e a tradição, um passado comum,

uma cultura própria, costumes

e tradições ancestrais, a língua e a

religião; a identidade nacional constrói-se,

aprofunda-se e desenvolvese

ajustando-se à forma como o Estado

nos percebe enquanto cidadãos,

de como o Estado nos transmite a

ideia de que todos fazemos parte do

Estado, todos somos parte da Nação;

urge do Estado a declaração de

vontade de fazer de todos os

timorenses cidadãos e filhos dilectos

da sua terra, estimulando o sentimento

de pertença ao país, em

cumprimento claro e inequívoco da

Constituição da República no que

respeita ao preceituado sobre a

igualdade entre as pessoas e a igualdade

entre estas e o Estado.

Por outro lado, para além da vertente

interna da afirmação da identidade

nacional, é fundamental que Timor-

Leste se afirme internacionalmente

como Estado soberano difundindo a

sua cultura, os seus costumes, a sua

História, as suas tradições.

Contribuímos para a construção e

afirmação da Identidade Nacional

através da nossa participação na

reafirmação da Nação, pelas nossas

decisões, pela forma como moldamos

a sociedade, como educamos,

24

Natália Carrascalão

Embaixadora em Portugal

A Afirmação da Identidade Timorense

Contribuições

como fazemos cultura, como nos

unimos, como nos manifestamos,

com, rezamos e nos damos a conhecer,

como respeitamos as nossas

crenças, os valores, as minorias, as

diversidades culturais e linguísticas

e, finalmente, como nos comunicamos!

Tendo em atenção o contexto

sociocultural e linguístico a que não é

alheia a situação geográfica de Timor

-Leste, não será de somenos

importância referir a importância da

língua como símbolo identitário nacional

por excelência, devendo, por

isso mesmo, realçar a escolha lúcida

pelos deputados à Assembleia Constituinte

do tétum e do português

como línguas nacional e oficial de

Timor-Leste! Em conclusão, Timor-

Leste é diferente, tem direito a um

Dezembro 2010 – №3

Diplomasia

lugar próprio no Mundo porque,

mercê da sua identidade nacional, se

diferencia dos demais países. A

essência do Estado-Nação Timor-

Leste reside em nós próprios: é aquilo

que nós somos, que valorizamos,

sentimos, experimentamos e construímos,

do que apreendemos pela

educação.

A nossa especificidade cultural e a

nossa realidade histórica traçaram o

nosso destino comum. Somos uma

Nação multicultural, multi-linguística,

enaltecemos os nossos costumes e

as nossas tradições, respeitamos os

nossos símbolos, os nossos anciãos,

criamos a nossa literatura, a nossa

música, difundimos a nossa terra,

idealizamos - à nossa maneira - o

nosso futuro enquanto Estado independente

e soberano, pugnamos

pela defesa e segurança do Estado

soberano de Timor-Leste, interiorizamos

o duplo valor da Religião Católica

e do animismo e neles coabitamos

pacificamente; soubemos reverter

a nosso favor alguns aspectos

herdados de séculos de ocupação

estrangeira. Pertencemos a um lugar,

comungamos orgulhosamente do

sentimento de pertença à terra timorense,

somos timorenses: Somos o

elemento e a essência, somos a

alma de Timor-Leste, de Timor-Leste

nos imbuímos e daqui afirmamos e

construímos a identidade nacional

timorense.
---
Nelson Santos

Embaixador ba UE

U

niaun Europeia (UE) hari

nudar konsequencia Segunda

Guerra munidal nebe

baseia ba prinsipiu parseria

social, enkonomika no politika

hodi bele promove dame, demokrasia

no prosperidade iha Europa. Parseria

estadu membru hahu iha 1951, ho

membru fundador nem.

Ohin, sekulu 21, UE iha membru 27

inkluindo Portugal, nebe representa

poder ekonomikuu no politiku bot

tebes iha mundo.

Tan ne'e UE, iha papel importante

tebes iha political internasional, liu liu

ba area governansaun diak, seguransa,

desenvolvimento ho hari dame.

UE hanesan bloku politiku no

ekonomiku hahu nia apoiu ba Timor-

Leste desde 1999.

Husi tempu transisaun 1999-2002 fo

apoiu bot ba estabelizasaun, rekonstrusaun,

dialogo, luta hatun kiak no

mos fo apoiu humanitariu liu ba

refugiados sira fila mai fali Timor-

Leste. Para alem de, UE mos fo

apoiu politiku makas iha forum multilateral

seluk, liu-liu atraves de nia

membru sira iha Konselho de Seguranca

ho orgaun seluk importante

Nacoes Unidas nian.

Ohin loron, UE kontinua fo apoiu no

kooperar makas nafatin ho Timor-

Leste. Para alem de apoiu politiku,

UE representa 5 dos maiores parseiros

de desenvolvimento iha Timor-

Leste. UE nia prioridade nebe servisu

besik ho governu maka hanesan

sektor: sekuransa alimentar, demokrasai,

governasaun no kapasitasaun,

desenvolvimento rural no sektor

saude.

Iha 2005, Timor-Leste nia Parlamentu

Nasional ratifika Akordu Cotonou.

Akordu ida neh, reforsa liu tan

kooperasaun Timor-Leste ho UE. Liu

husi akordu ne'e, Timor-Leste mos

tama iha grupo ACP (Afrika, Karaibas

no Pasifiku) nebe iha membru 78 ke

bele hetan benefisiu husi fundu

Europeu no mos bele hetan acesso

favoravel ba produtu hotu excepto

armamentus tama ba merkadu Europa.

Akurdu Cotonou hanesan akordu

parseria ACP-UE ho durasaun husi

2000-2020. Akordu neh define parseria

kompletu nebe baseia ba ai-rin/

pilar nebe kaer ba malu: kooperasaun

ba desenvolvimentu, kooperasaun

ekonomika ho komersiu no promosaun

iha area politika nebe efekti-

Relasaun Timor-Leste ho Uniao Europeia

vu liu. Atu hatudo importansia no reforsa

nafatin relasuan UE ho Timor-

Leste maka ita hari kedas ita nia

Embaixada hamutuk ho UE desde

hahu ita nia restauransaun independensia,

Maio 2002.

Ohin loron, Embaixada/Missao Timor

-Leste kontinua servisu makas atu

hametin nafatin relasaun diak entre

UE ho Timor-Leste.

UE mos atu hametin liu tan relasaun,

hari nia delegasaun permanente iha

Timor-Leste.

Iha 2007 atraves de assinatura MoU,

governo Timor-Leste fo "Casa Europa"

ba Komisaun Europeia.

Iha 2008, EU ho TL assina addenda

dokumen-to estratejiku ba pais no

Dezembro 2010 – №3

Diplomasia

programa indikativu (2008-2013)

nebe aumenta tan apoiu Euro 18

miliaun.

Hanesan, futuro Embaixador Timor-

Leste ba UE, hau nia prioridade bot

maka atu hametin nafatin amizade no

valores nebe existe iha entre TL ho

UE, liu-liu halo buat hotu para TL

naran bele diak nafatin entre estadus

membrus.

Katak ita bele nasaun kik, kiak no

estratejikamente dok husi poltika

internasional mai be ita mos iha fatin

iha politika internasional. Timor-Leste

labele sente isolado husi rai seluk.

Prioridade ita tan maka kuda nafatin

amizade diak ho estadu membrus

hanesan Portugal, Irlanda, nebe desde

uluk tempu resistensia sempre hatudu

sira nia preokupasaun, solidadiredade

no fo apoiu ba ita.

Atraves de amigos sira, ita tende servisu

makas atu bele hametin nafatin

ita nia interesse iha orgaun 3 importante

hanesan Parlamentu Europeu,

Komisaun no Koselhu Europeu.

Timor-Leste hanesan rai kik tende

aproveita fatin hanesan UE atu bele

nafatin avansa nia interesse nacional.

Atu bele kuda iha estadu membros

no mos ho amigo sira, consolidasasaun

ita nia independensia no halo

Timor-Leste nia presensa diak iha

UE.

Ikus liu, Timor-Leste ho UE (membros),

apesar de geograficamente

dok malu, ita iha valores fundamentais

nebe hanesan no proteje iha

Constituicao.

Valores sira ne maka ita nia fiar metin

ba democracia, direitos humanos,

justica, dame no prosperidade iha

mundo tomak.

25
---
R

elasaun entre Timor-Leste

ho Australia hahu kedas iha

bei ala sira nia tempo nebe

ema husi Timor no rai kiik

sira haleu Timor hanessan Makassar

halu contrato no ligasaun amizade ho

ema rain na'in Aborigene iha rai

Australia. Ligasaun iha tempo ikus

maka iha funo Mundial 2 iha 1942

nebe tropa Australia halo funo hasoru

tropa Japones Iha Timor-Leste. Fotografia

iha sorin hatudo katuas na'in

rua Senhor Paddy Kenneally ho Senhor

Rufino Correia halu belun no

hametin sira nia amizade iha funo

laran. Iha funo Mundial 2 ne'e Tropa

Australia ema 500 nune maka halo

funo hasoru tropa Japones besik

20.000. Tropa Australia la dun lakon

ema. Timor oan lakun ema 40.000

resin, retaliasaun husi tropa Japones

tan ba deit fo tulun ba belun Australiano

sira.

Povo Australia la haluha sacrificio

nebe Timor oan halo ba Australia

maibe iha 1975 historia lau oin seluk.

Sentimento povo nia la sura bain hira

governo halo decisaun geo-politica

tuir politica mundial iha tempo neba

(guerra fria) funo malirin. Iha 1999,

ONU halo referendum, povo Timor-

Leste hili independencia. Milicia tuir

kedas ho violencia o'ho ema no halo

destruisaun ba infra-estruturas. Povo

Australia rihun ba rihun sai ba

estrada hanessan mos povo husi rai

barak hanessan Portugal halu manifestasaun

huso intervensaun militar

hodi atu hapara violencia. Resultado,

INTERFET lidera husi Australia tama

iha Timor-Leste hodi hapara violencia

hametin paz no seguransa. Relasaun

entre Timor-Leste ho Austalia ohin

26

Abel Guterres

Embaixador ba Australia

Relasaun Timor-Leste ho Australia

loron lau diak tetebes. Iha coperasaun

Seguransa, Economico no Socio

Cultural. Iha Maio 2002 hafoin

restaurasaun ba Independencia Timor-Leste

oficialmente estabelece

relações diplomáticas ho Australia.

Iha 2003 Timor-Leste loke Embaixada

iha Canberra no Consulado Geral

iha Sydney. Comunidade Timor

oan hela iha Australia besik 20.000,

barak liu hela iha cidades Melbourne

no Sydney. Copersaun económico

boot liu maka Timor-Leste ho Australia

fahe receitas husi explorasaun

mina no gas iha tasi Timor JPDA tuir

tratado bolu Timor Sea Treaty. Horas

ne'e daudaun Timor-Leste simu ona

receitas husi Bayu Undan nebe pipe

line ba iha Darwin. Explorasaun gas

husi Greater Sunrise Timor-Leste

hakarak pipeline ba iha Timor-Leste.

Negociasaun lau hela atu hetan

acordo ba assunto ne'e. Timor-Leste

além de halo coperasaun ho Governo

Federal husi agencia ajuda ba desenvolvimento

AusAid, TL halo mos

coperasaun ho Estados sira hanessan

Victoria, South Australia, New

South Wales, Western Australia, Tasmania,

Queensland, Australian Capi-

Dezembro 2010 – №3

Diplomasia

tal Territory no Northern Territory.

Timor-Leste halo mos relasaun amizade

ho Governos Locais nebe bolu

Friendship Cities. Autarquias no

comunidades 50 resin iha Australia

maka halo ona ligasaun amizade ho

Distrito 13 iha Timor-Leste. Relasaun

amizade ne'e Distrito sira simu tulun

buat barak incluindo halibur iha conferencia

ida Iha 2008 iha Dili no

Workshop iha Maubisse iha tinan ida

ne'e 2010. S.E. Presidente da Republica

ba kua lian iha halibur rua

ne'e. Relasaun amizade entre escolas,

bolu Friendship Schools. Escolas

100 resin iha Australia laran maka

halo amizade ho escolas sira iha

Timor laran nebe estudantes sira

hakerek surat ba malu no mos fo tulun

ruma, fotografia iha okos hatudo.

Organizações barak husi ONGs Igrejas,

Sindicatos, Rotarios, Leões, ema

individual no instituições educasaun,

saude no seluk tan fo tulun mos.

Consolidasaun iha Seguransa no

Paz, Democracia no Prosperidade

Económica sei fo esperansa no futuro

nabilan ba povo Timor-Leste.

Husi Australia, TL sei simu turista

barak no investimento.
---
N

icolau dos Reis Lobato

moris-mai loron-24, fulan-

Maiu, tinan-1946, iha

Sasatan-Oan, Aitara-Hun,

Soibada, Postu Laklubar, Distritu

Manatuto. Ninia aman maka Narciso

Manuel Lobato, hosi Leorema, Postu

Bazartete, Distritu Liquisá, no inan

maka Felismina Alves Lobato, hosi

Malurukumu / Makadike, Postu

Uatolari, Distritu Vikeke. Ninia abómane

hosi inan maka Domingos da

Costa Alves, hosi Samoro, Soibada,

uluk katekista iha Uatolari no tan ne'e

maka ninia inan moris-mai iha

Malurukumu / Makadike.

Ninia aman no inan hetan oan sanulu

-resin-tolu: 1º Nicolau dos Reis

Lobato nu'udar oan-boot, no, tatuir,

2º António Bosco Lobato, 3º Rogério

Tiago de Fátima Lobato, 4º Maria

Cesaltina Francisca Alves Lobato, 5º

Januário do Carmo Alves Lobato, 6º

Domingos Cassiano Maria da Silva

Lobato, 7º Luis Francisco de

Assunção Alves Lobato, 8º Silvestre

Lobato, 9º Madalena de Canossa

Alves Lobato, 10º Elga Maria do

Rosário Alves Lobato, 11º Jose

Bernardo Alves Lobato, 12º Silvestre

Agostinho Alves Lobato no 13º Elisa

Maria Lobato.

Hosi oan lubun hirak ne'e Rogério

Tiago de Fátima Lobato de'it maka

sei moris hela. Sira-nia aman hetan

moras no mate loron-26, fulan-Abril,

tinan-1976, iha Leorema. Sira-nia

inan hetan mate hosi ema mahohok

iha foho Maubere, Laklubar, fulan-

Jullu, tinan-1979. Oan Silvestre

Lobato maka mate iha inan nia kabun

-laran no oan sira seluk hetan mate

iha okupasaun nia laran bainhira sira

funu hodi timór hetan nia ukun-rasikan.

Nicolau dos Reis Lobato sai-boot to'o

tinan 13 iha Soibada, no iha ne'ebá

maka nia hala'o ninia eskola primária

iha Colégio Nuno Alvares Pereira,

hamutuk ho kolega balu hanesan

Amo-Bispo Alberto da Silva Ricardo

no sira-rua sei hala'o eskola hamutuk

iha Seminário Menor de Nossa

Senhora de Fátima, iha Dare, no ihane'ebá

nia ramata kursu tinan-lima

hodi haksa'e matenek iha eskola ho

rohan di'ak iha dixiplina oioin liuliu iha

lian portugés no matemátika.

Horiuluk kedas nia la'o sorin metin ho

nia alin António no Rogério maibé,

iha tempu ne'ebá, nia mós la'o sorinsorin

ho maluk António Cesaltino

Osório Soares, Abílio Osório Soares,

Luís Viana do Carmo no João Bosco

Prezidente

Nicolau dos Reis Lobato-I

Knananuk ne'ebé hasa'e ba

Prezidente

Nicolau dos Reis Lobato

Hakerek hosi: Mali Leto

Dadolin hosi: Mau Bais

Hakerek tiha iha Moçambique

iha tinan-1979

Prezidente, Prezidente

Kamarada Nicolau

Ó-nia mate malorek mai ami

Tan ó hasoru sira-ne'ebé

hanehan ita

Ho aten-barani ó mate

Ó monu iha funu no ó-nia

naran boot ona

Ó husik mai ami hotu ó-nia banati

Nu'udar matadalan no loron ida ami sei

manán

Prezidente, Prezidente

Kamarada Nicolau

Ó-nia banati hanesan fini ida

Mai hosi ita-nia revolusaun

Maske ó laiha ona ami sei la'o

ba oin nafatin

Ami sei la'o to'o rohan ne'ebé de'it

Ó-nia hala'ok ami sei ramata

Ami sei halo ita-nia mehi hamosu

do Carmo, nu'udar viziñu no oan hosi

Mestre Fernando Soares no José do

Carmo.

Nicolau dos Reis Lobato simu

batizmu iha Paróquia da Imaculada

Conceição iha Soibada, Misaun

Katólica ho naran hanesan, hosi Amo

Januário Coelho da Silva. Fulgêncio

dos Reis Ornay, Liurai hosi Fehuc

Rin, Barike, no ninia aman nia kolega

rasik, maka sai nu'udar aman-sarani.

Bainhira nia sei ki'ikoan nia hetan

hahilik hodi sai hanesan anju ida iha

peregrinasaun estátua de Nossa

Senhora de Fátima nian mai Timór,

iha tinan-1951. Nia simu ninia

formasaun tomak, tuir fiar kreda

katóliku nian, iha Soibada no tatuir

iha Dare. Nia hakfila ba nu'udar

devotu Nossa Senhora Aitara no lori

subar estátua Na'i-Feto nian iha fatin

ida naran Anin Kuak, iha Soibada,

atu ema aat labele estraga. Iha funu

nia laran nia sori Na'i Lulik katóliku

sira no hakbesik Amo Francisco

Tavares, ohin-loron Pároku iha

Ainaru.

Dezembro 2010 – №3

Biografia

Atu hatebes nia fiar kreda katóliku

nian, ita hanoin de'it katak, bainhira

hamosu invazaun militár indonézia no

sira tenke hakiduk no halai ba foho,

nia hakat liu dare no husu ba Amo

Ricardo Alberto da Silva atu harohan

missa ida lai hodi hanoin Timor-

Leste. Hafoin ramata missa ne'ebá,

molok halai tama ai-laran, nia dehan

ba nia kolega nune'e: " ha'u mate

karik, harohan missa ida ba ha'u

".Bainhira rona nia mate, ninia kolega

harohan duni missa ida hodi husu tuir

rohan di'ak ba nia klamar.

Tan nia lakohi haktuir moris nu'udar

na'i-lulik nia sai hosi Semináriu iha

tinan-1965. Iha Semináriu nia hetan

hahilik hosi Reitór hodi sa'e nu'udar

xefe kolega seminarista sira-nian ba

tinan tolu no iha tempu ne'ebá maka

nia hatudu ninia kbiit nu'udar ema,

xefe no desportista. Hafoin sai hosi

Semináriu, Nicolau Lobato iha mehi

boot ida atu bá estuda iha Eskola

Direitu iha Universidade Coimbra, iha

Portugal. Maibé, nia aman hetan

moras no nia tenke hela hodi tau

matan ba alin kiik sira no nia mós la

simu tulun hosi governu Portugal nian

atu bá eskola iha rai ne'ebá. Maske

nune'e, nia buka hetan matenek

liután no tama iha Liceu hodi haklean

iha dixiplina Filosofia nian, OPAN –

Organizasaun Polítika no Administrativa

Nasaun nian no lian-portugés,

ho di'ak no natoon atubele tama

iha Universidade.

Bainhira nia mai Díli, hafoin sai hosi

Semináriu, nia bá hela iha nia tio

Arlindo da Costa Tilman no tia Lídia

Boavida nia uma iha Bidau no tio sira

-ne'e simu no kuidadu nia hanesan

oan ida. Tan Bidau ne'ebá besik hela

Amo Bispo nia uma iha Lesidere

maka, domingo-domingo, nia la falta

misa ne'ebé Amo Bispo Dom Jaime

Garcia Goulart rasik maka selebra.

Iha tinan-1966 nia tama ba servisu

militár portugés no hala'o treinamentu

liuhosi kursu sarjentu milisianu nian

no hetan klasifikasaun ho di'akliu,

nu'udar dahuluk, tatuir maka João

Carrascalão nu'udar daruak no

Moisés da Costa Sarmento nu'udar

datoluk. Ikusmai Sarmento kaben tiha

ho nia alin-feto Maria Cesaltina

Franscisca Alves Lobato no sira-rua

hetan mate hosi ema mahohok iha

Ratahu, Vikeke, tinan-1979.Nia

hala'o ninia misaun militár dahuluk

iha Bazartete.

Hafoin, nia hakat aas liu ba pozisaun

Furiel Milisianu no fila fali ba Dili atu

hala'o servisu militár iha Companhia

27
---
Presidência da República

Dezembro 2010 – №3

Poster
---
Presidência da República

Dezembro 2010 – №3

Poster
---
de Caçadores nº15 iha Kaikoli. Ninia

knaar maka nu'udar responsável ba

sosa no kontrola hahán ba kuartel

tomak. Iha kuartel ne'ebá maka nia

hasoru ho ema ida hosi Moçambique,

primeiru-sarjentu ida ho naran

Timane, ne'ebé ko'alia-sai ba Nicolau

kona-ba sira-nia luta hodi buka ukunrasik-an

ba Moçambique. Liutiha

tempu servisu militár nia fila fali ba

vida sivil no iha tinan-1968 nia hetan

servisu iha Missão Agronómica de

Timor.

Iha fatin-ne'e nia hasoru ho ema

tékniku ida hosi Cabo Verde ho naran

Marcelino no sira-rua ko'alia barak

kona-ba luta libertasaun nasionál ba

Guiné-Bisau no Cabo Verde. Ho

nune'e maka nia hahú lee subarsubar

livru balu kona-ba luta

libertasaun ba kolónia Portugal nian

iha Afrika.

Hosi Missão Agronómica de Timor

nia hakat to'o Repartição das

Finanças liuhosi konkursu, hodi hetan

knaar nu'udar 3º Ofisiál.

Ho knaar ne'e nia tau matan no

haree tuir lala'ok kona-ba selu

funsionáriu sira-nia saláriu fulanfulan.

Nicolau Lobato hetan moris foun

bainhira servisu iha Repartição das

Finanças tan iha servisu-fatin ne'ebá

nia haree-hetan Isabel Barreto no

sira-rua kaben iha tinan-1972 iha

kapela Bazartete no halo festa iha

Laulema, iha noiva nia uma.

Amo Simplício do Menino Jesus, n'ailulik

ida hosi Goa no iha tempu

ne'ebá nu'udar Pároko Likisá, maka

fó sakramentu kaben ba sira-rua.

Hosi relasaun-kaben ne'e maka sira

hetan oan-mane ida naran José

Maria Barreto Lobato.

Tuirfalimai, José Gonçalves no

Olímpia Barreto hakiak sira-nia oan

ne'e ne'ebé hanaran foun hanesan

José Maria Barreto Lobato

Gonçalves.

Nicolau nia kaben, Isabel Barreto

30

Prezidente

Nicolau dos Reis Lobato-II

Lobato, hetan mate hosi mahohok

indonéziu sira iha ponte-kais Dili iha

loron-7, fulan-dezembru, tinan-1975,

loron ne'ebé indonézia hahú tama rai

-timór.

Nu'udar desportista nia hala'o jogu

voleiból, basketból no futeból maibé

iha futeból maka nia hala'o diak liután

ba dala uluk iha Clube Desportivo da

União no, liutiha, iha Associação

Académica de Timor.

Iha tinan-1974 nia klaran, tatuir

Revolução dos Cravos de 25 de Abril

iha Portugal, Nicolau dos Reis Lobato

soe nia servisu atubele fó-an tomak

ba harii ASDT / FRETILIN hodi

hanoin oinsá atu hetan libertasaun

nasionál ba Timor-Leste.

Bainhira hafila ASDT ba FRETILIN

iha loron-11, fulan-setembru, tinan-

1974, nia simu knaar nu'udar Vise-

Prezidente.

Nu'udar Vise-Prezidente, bainhira

Prezidente Xavier do Amaral laiha,

Nicolau Lobato maka komanda

FRETILIN hodi hasoru UDT ataka iha

loron-11, fulan-agostu, tinan-1975.

Ne'e be, hala'ok balu mós tuirfilamai

hanesan :

1. Iha kalan 11-agostu-1975, ho tulun

hosi Marí Alkatiri, Alarico Fernandes

no Mau Lear, hamutuk ho membru

hosi CCF, nia komanda grupu ne'e

atu sai hosi Díli.

2. Iha loron 13-agostu-1975, tama tán

foho laran bá Aileu no Ai-Sirimou.

3. Iha Ai-Sirimou, iha CCF nia oin, nia

bá to'o Kuartel Aileu hodi ko'alia ho

soldadu timóroan sira hodi hato'o ba

sira kona-ba situasaun polítika no

militár iha tempu ne'ebá.

4. Iha loron 15-agostu-1975, tan

Dezembro 2010 – №3

Biografia

Prezidente FRETILIN la iha, Nicolau

ho Marí Alkatiri hamutuk ho membru

sira hosi CCF, foti-sa'e povu atu tama

iha revolta popular nu'udar planu

estratéjiku ida no, iha loron hanesan,

nafatin ho Mari Alkatiri, Alarico

Fernandes no membru sira hosi

CCF, harii no hatuur tiha FALINTIL.

5. Iha loron 17-agostu-1975, liuhosi

hala'ok ida-ne'ebé hametin tiha ona

uluk kedas ho soldadu no sarjentu

timóroan sira, nia hale'u Companhia

de Aileu no militár portugés sira

entrega komando kompañia ne'ebá

ba timóroan sira (Sargento José

Silva);

6. Hosi loron ne'ebá ba oin Nicolau

Lobato maka komanda prosesu

operasionál polítiku no militár hodi

hasoru UDT ataka.

7. Hosi fulan-setembru to'o fulannovembru

Nicolau Lobato hasa'e-an

hodi hatudu ninia hala'ok kona-ba

estratéjia polítika no militár.

Maibé, nia temi nafatin no beibeik

de'it katak Portugal tenke fila hodi

ramata prosesu deskolonizasaun

nian no buka hetan mós dalan ida

ne'ebé halo timóroan sira hotu

hasoru malu iha dalan klaran atubele

hadi'ak konflitu polítiku.

8. Maske haka'as-an maka'as sei la

biban hetan rohan di'ak maka halo

Nicolau Lobato haklalak iha loron-28,

fulan-novembru, tinan-1975, Proklamasaun

Unilaterál Independénsia

Timor-Leste nian.

9. Iha Governu ne'ebé hamosu hosi

Proklamasaun ne'ebá Nicolau simu

knaar nu'udar Primeiru Ministru.

10. Iha tinan-1977, tanba problema

hirak ne'ebé buras tiha iha Fretilin nia

leet, Nicolau hetan hahilik atu hala'o

knaar nu'udar Prezidente Fretilin

nian, hamutuk ho knaar Prezidente

Repúblika nian no Komandante-Xefe

FALINTIL nian.

11. Iha loron-31, fulan-Dezembru,

tinan-1978, iha funu nia laran,

bainhira tiru bá tiru mai, nia mate iha

foho-leet ida naran Mindelo, besik

Maubisi, Turiskai no Manufahi.
---
Hernani Coelho

Xefe Gabinete Adjunto - PR

I

ha Fulan Setembru liu ba, Presidente

Timor-Leste lidera delegasauan

Timor-Leste nian ba

partisipa iha encontro dala 65

Asembleia Geral Nasoen Unidas nebe

halao iha Nova Yorke, nudar base

Nasoens Unidas nian.

Asembleia Geral Nasoen Unidas (AG

-ONU) hahu iha 1945 tuir Charter of

the United Nations nudar orgaun

deliberativu Organizasaun Nasoens

Unidas (ONU).

Desizaun importante hanesan iha

area paz no seguransa, simu

membru foun, orsamentu, presi-za

iha aprovasaun husi dois tersus

membrus sira nian ba asuntu seluk

maioria simples sufisiente onan.

Kada membru ida iha direitu ba voto

ida, la hare ba rai kik e ka bo'ot. ONU

iha hamutuk 192 membrus, Timor-

Leste ofisialmente tama nudar membru

iha 27 Setembru 2002.

AG-ONU iha komite prinsipal nen: komite

desarmamentu non seguransa

internasional, komite ekonomia non

finansa, komite asuntus sosiais, kulturais

non humanitarius, komite deskolonizasaun

non politika espesial, ko

-mite adminsitrasaun non orsamentu,

komite ba asuntus legais.

Iha sesaun tinan 2010 ne'e iha "High

Level Segment" hat nebe halo revisaun

ba Objektivus Desenvolvimentu

Mileniun nian, Biodiversidade, implementasaun

Mauritius Strategy - programa

aksaun ba desenvolvimentu

sustentavel iha Small Island Developing

States non Debate Geral.

Iha nia intervensaun, Presidente Dr.

José Ramos-Horta koalian konan ba

toleransia religiosa, konan ba desenvolvimentu

ekonomiku no hamenus

kiak, governasaun diak, direitus hu-

Prezidente Republika

iha Oganizasaun Nasoens Unidas

manus, feto no jovens, justisa no

kompaixaun, konan ba nesesidade

atu liberta Kubanu nain lima nabe sei

prezo hela iha Amerika, konan ba situasaun

iha Myanmar no prizaun

domisiliaria Senhora Daw Aung Suu

Kjie, konflitu Israel-Palestina, Western

Sahara non mudansa klimatika

iha mundu.

Presidente mos hato katak la konkorda

ho konklusaun nebe Presi-

dente Iran nian halo konan ba atake

terorista ba World Trade Center.

Intersante atu hare katak mesmu ke

pais barak maka la konkorda ho lia

fuan Presidente Iran nian, sira ida la

foti lian iha plenaria, so Timor deit

maka koalia sai.

Presidente reknohese katak meta

balun husi objektivu desenvolvimentu

mileniun nian karik Timor se la atinji,

tamba Timor foin maka hetan hikas

nia independensia iha tinan 2002,

maibe balun, hanesan mortalidade

Dezembro 2010 – №3

Diplomasia

infantil, Timor atinji tiha onan.

Timor konsegue buat barak iha tinan

walu nian laran liu husi programas

nebe agresivu iha finansiamentu

publiku non programas de asistensia

ba ema katuas non ferik sira.

Ba rai riku sira Presidente apela atu

sira bele hare hikas dalan nebe sira

uza lori fo asistensia ba rai kiak sira,

tamba to agora ajudas hirak ne ladun

fo resultadu nebe diak.

Premiu Nobel da Paz ne mos husu

ba rai riku sira atu kasu tiha tusan rai

kiak sira nian.

Konan ba reforma iha ONU, ita nia

Presidente hateten katak to tempu

ona atu ONU hare hikas fali nia a'an

atu halu nian bele representativu no

efektivu liu ta'an, ba Konselhu

Seguransa Presidente hanoin katak

laiha razaun ba ONU atu la akomoda

forsa regional non global foun nebe

komesa mosu hanesan India ho

Brazil.

31
---
P

eacebuilding is a topic that

has been the focus of much

discussion by the United

Nations and Governments in

recent years and it is particularly relevant

for Timor-Leste at this stage of

its history. Peacebuilding involves a

range of measures targeted to reduce

the risk of relapsing into conflict by

strengthening national capacities at

all levels for conflict management,

and to lay the foundations for sustainable

peace and development. Peacebuilding

is a partnership between the

national authorities and the international

community; the roles are different

depending on the situation in a

given country and they evolve over

time, but in order to be sustainable

the process requires strong national

leadership and buy-in. Over the past

few years, we have seen strong leadership

by the Timorese Government

and the international partners, such

as the UN, have aligned behind the

Government's priorities and initiatives

– and great progress has been

achieved on all fronts.

I am glad to have the opportunity to

use this space to reflect on some of

the concepts that in my view are crucial

for all those involved in peacebuilding,

national and international

actors alike: institutions, capacitybuilding,

ownership, values and principles,

and a long-term perspective.

Building effective and resilient state

institutions is the single most necessary

(although not sufficient) condition

for long-lasting, sustainable

peace in a post-conflict situation.

National leaders dedicated to the

common good are of course essential;

however it is only one of the

foundations upon which to build a

successful State. For their long-term

stability, states must be founded on

relatively permanent institutions, to

ensure systematic problem-solving

and policy development, so that functioning

mechanisms and channels will

be in place in the long-term. In Timor-

Leste, the crisis of 2006 that gave

rise to a new peacekeeping mandate

was essentially a failure of state institutions.

One of the greatest successes

in the post-crisis period is that

the population and political parties

alike have shown a willingness to reinvest

their confidence in those institutions:

the 2007 elections had a very

high participation, barely a year after

violence in the streets; those elections

led to the peaceful transfer of

power; and the political opposition

has participated fully and actively in

32

Finn Reske-Nielsen

Deputy SRSG

Post-conflict Peacebuilding:

contemporary challenges and the way forward

* photo UNMIT Mertine Perret

the Parliament, has turned to the

courts to resolve disputes and has

cooperated with national and local

administration.

Institutions are not formed merely of

bricks and mortar, organization charts

and payrolls; they are made up of

human beings, and therefore institution-building

is essentially capacitybuilding.

The key to capacity-building,

I believe, is being realistic, no matter

how daunting the task may be.

If it is going to take 20 years, realistically,

before a reliable national judicial

capacity can be developed, there

is no point in giving it five years and

hoping for the best, contenting ourselves

with short-term measure because

that is all that seems "doable".

Another aspect of being realistic, of

course, is to conduct and accept an

honest assessment of existing capacity,

and not shy away from outsourcing

where it is required; however, as

soon as possible, activities need to

be carried out by national actors to

ensure national leadership and sustainability.

Ownership is the key to all

post-conflict peacebuilding, not only

in terms of short-term buy-in and legitimacy,

but also in terms of longterm

sustainability. Very often the

biggest constraint to ownership is

limited capacity and the primary objective

of capacity-building must

therefore be to develop the capacity

for ownership, at every level.

But the most important aspect of capacity

building is more difficult to address:

values and principles. Skills

Dezembro 2010 – №3

Parseiru ba Dezenvolvimentu

training in the absence of buy-in for

the fundamental principles of responsive,

accountable and transparent

governance, rule of law, human

rights, is not self-sustaining. In the

face of a serious challenge, where

there is pressure to deviate from institutional

values or a need to improvise

something new, only true internalization

of those values can provide the

members of an institution with the

means to be effective. The response

to the crisis in February 2008, which

was fully in line with the constitutional

and legislative framework, was a very

positive sign.

Finally, the establishment of sustainable

peace is a long-term goal. Of

course, there is a need to act quickly

and effectively in the immediate aftermath

of conflict, to take advantage of

a narrow window of opportunity. In

this regard, the statistics are daunting:

around 30 percent of countries

emerging from conflict relapse within

five years. Delivering quick and tangible

results is important in building

confidence and support for the efforts

to move a country ahead after a conflict.

However, it is important to balance

the need for quick impact and

dividends with the need to keep the

long-term capacity-building on the

front burner.

In Timor-Leste, the UN has been

working alongside the Government

and other partners for a number of

years; the time is approaching for UN

peacekeeping to scale down and

eventually exit. I believe that strong

foundations for durable peace and

prosperity have been laid and we

must spend the anticipated remaining

two years of peacekeeping constructively

to help ensure that, under the

leadership of the Government and

with the support of the international

community, peacebuilding in Timor-

Leste will indeed confirm to be a successful

endeavour.
---
Fu Yuancong

China Ambassador

Long Standing Relationship China and Timor-Leste

T

he well-established relationship

between China and

Timor-Leste has a long history.

China sided with the

Timorese people with sympathy and

support during their struggle for national

independence. China is proud

to be the first country establishing

diplomatic ties with Timor-Leste after

its founding.

The past 8 years have witnessed a

closer bilateral relationship in all

fields, evidenced by China's assistance,

for Timor's nation building and

social developmental. Good cooperation

between our two countries can

be found in fields of infrastructure,

agriculture, public health, education,

capacity building, social solidarity and

public security.

As a matter of fact, we are helping

Timor to the best of our capability.

The Foreign Ministry's Office Building

and the Presidential Palace are

standing there, over 700 Timorese

civil servants and technical personnel

have received occasional training in

China so far, and up to 21 students

enjoyed the Chinese Government

Scholarship. The hybrid rice project in

Manatuto has yielded bumper harvest

for several seasons.

As for public health, has four medical

teams dispatched from China have

successively offered treatment to local

patients for more than 150,000

person-times. Over 320 Chinese police

officers, men and women alike,

have served in 15 batches under the

UN Peacekeeping Mission.

The Chinese Government also provided

Timor-Leste with a number of

material supplies, including food, edible

oil, farm machinery, seeds, pesti-

cides, fishing gears, medicine, mosquito

nets, wheelchairs, sporting

goods, police uniforms, communication

equipment, etc..

The year 2010 is a fruitful year for our

deepened bilateral relationship characterized

by frequent high-level visits.

In April, H.E. Vice Prime Minister

Guterres attended the Boao Forum

for Asia. In July, H.E. President Horta

hosted the National Pavilion Day for

Timor-Leste in Shanghai Expo, the

first time ever for Timor-Leste to be

represented in the World Expo as an

independent nation, and to show its

socio-economic progress, beautiful

landscape and unique cultural heritage.

The Timorese Parliamentary delegation

composed of two committees,

and PNTL Commissioner Mr. Monteiro

paid a friendly visit to China in

July as well. Furthermore, the Chinese

Government announced a gradual

zero tariff treatment for Timorese

goods exported to China as from 1 st

July, an important step to promote

mutual trade and economic cooperation.

The Residential Quarter for F-

FDTL officers, the Office Building for

Defense Ministry and the primary

school under Chinese Aid have been

inaugurated throughout the year. In

October, H.E. Prime Minister Xanana

Gusmao attended the closing ceremony

of Shanghai Expo and held

talks with Chinese Premier Wen Jiabao.

In November, H.E. Vice Prime Minister

Guterres led the Timorese athletes

for the 16 th Asian Games held in

Guangzhou and attended the opening

ceremony; Prosecutor General

Madame Anna Pessoa participated in

Dezembro 2010 – №3

Parseiru ba Dezenvolvimentu

the 4 th Annual Conference and General

Meeting of the International Association

of Anti-corruption Authorities

(IAACA) in Macau; General Secretary

of the CNRT Dr. Babo Soares

has headed an AMP delegation to

China for study and visit; H.E. President

Horta, accompanied by Foreign

Minister Dr. da Costa and Minister for

Economy & Development Mr. Goncalves,

will soon go to Macau for the

3 rd Ministerial Meeting of the Forum

of Economic and Commercial Cooperation

between China and Portuguese-speaking

Countries.

By unswervingly pursuing the foreign

policy of "building a good neighbourly

relationship and partnership with all

neighbouring countries", China develops

friendship and partnership with

its neighboring countries in Asia,

Timor-Leste included. Both as developing

countries in Asian region and

with similar experience in history,

China and Timor-Leste had long

been sympathizing with, supporting,

respecting and trusting each other

throughout the national liberation,

nation building and social development.

At the same time, we enjoy

good communication and coordination

in international and regional affairs.

China is grateful for the valuable

support of the Timorese government

over the years towards issues

of China's core interests.

China, as always, will share with

Timorese people the opportunities

brought by China's economic development,

and do whatever in our capability

to help Timor enhance its

ability of independent and sustainable

development. Stronger cooperation

and mutual benefit are conducive to

our common development, not only

benefiting the two peoples but also

contributing to peace, stability and

prosperity of Asia and the world at

large.

I am convinced that thanks to the

joint efforts and fostering of the Chinese

and Timorese leadership, the

Sino-Timorese relationship would be

shaped into an exemplary one between

countries of different sizes.

33
---
A

nation's identity is certainly

not forged in one day; an

identity of a nation takes

time and goes through a

process. The identity of the Timor-

Leste as a nation starts with the identity

of its people. Timor-Leste has a

rich cultural and historical background

that can also be associated

with the culture and history of Indonesia,

especially of those in the Province

of East Nusa Tenggara. Culturally

the people of East Nusa Tenggara

and Timor-Leste share a rich

history, shown is the similarity of the

usage of the Tetum and Dawan language,

traditional attire and social

traits. Strong family ties and strong

sense of community are also similar;

there are also many family ties between

Timorese and Indonesians.

The rich cultural heritage between

Indonesians and Timorese shall be

the basis for stronger bilateral relationships

between the two nations.

In the context of friendly relations and

cooperation between the two nations,

people to people contact has a profound

and important meaning. Relations

and cooperation in the socioeconomic-culture

field is strategic and

must be further developed and promoted.

Especially remembering that

there are cultural and social similarities,

as mentioned above, between

the people of Indonesia and Timor-

Leste, bearing that in mind and with

the addition of geographical location

of both countries, the authorities in

the Province of East Nusa Tenggara

shall be the first line in the improvements

of cooperation between the

two nations. As an example, on August

2009, the Indonesian Embassy

in Dili organized a cultural night in the

District of Oecusse, Timor-Leste by

inviting performers from Kefamenanu,

East Nusa Tenggara Province and

Oecusse District. Timorese old and

young alike, in Oecusse enjoyed

such an event.

There have been other efforts by both

communities to continue to build amicable

relations, emphasizing on the

34

Eddy Setiabudhi

Indonesia Ambassador

Share for Cultural

Benefit

cultural similarities of the Province of

East Nusa Tenggara and the Democratic

Republic of Timor-Leste. In may

2009, in association with the commemoration

of the Democratic Republic

of Timor-Leste's Independence

Restoration Day and invitation by the

Timor-Leste Football Federation, 3

(three) teams, amounting to 103 (one

hundred and three) members, including

senior government officials, from

the Province of East Nusa Tenggara

participated in a friendly football

match against the teams from Timor-

Leste. As expected, the match went

off without a hitch and was conducted

with great enthusiasm by the players,

supporters and even senior officials

from both countries.

Both events referred to above were

great successes. The cultural night in

Oecusse was successful as one of

the reasons being the usage of the

Dawan language by Timorese in

Oecusse and Indonesians in Kefamenanu.

In addition to the usage of

Tetum and Dawan language, the Indonesian

language or Bahasa Indonesia

is also used throughout Timor-

Leste. Aware of this fact the Government

of the Democratic Republic of

Timor-Leste has made Bahasa Indonesia

one of two working languages.

In addition to the socio-cultural aspect

that has been greatly aided by

the usage of similar or common understanding

of each others' language,

the economic relations have also

greatly progressed. Indonesia is

Timor-Leste's largest trading partner,

with trade figures reaching millions of

US Dollars, which steadily increases

over the years. Indonesia also considers

the Timorese important in the

field of tourism as Indonesia is still

considered as a major tourist destination

by many Timorese.

It is only natural that the ties and relations

between Timor-Leste and Indonesia

grow stronger in the future.

With the aspect of the similarity in

culture and language, Indonesia can

share its experience with Timor-Leste

Dezembro 2010 – №3

Parseiru ba Dezenvolvimentu

in building its national identity as an

Independent and free nation that promotes

democracy and equality. Indonesia,

through the 1998 reform movement,

has stepped up its role in the

international stage, being the world's

largest muslim populated country,

and third largest democracy is an

advocate for democracy itself, as

shown in the Bali Democracy Forum.

Economically Indonesia has made

major strides in reaching sustainable

development in order to build the nation

for the prosperity of the Indonesian

people. In ASEAN as a founding

member, Indonesia is a strong supporter

of Timor-Leste's efforts of becoming

a full pledge ASEAN member.

Indonesia currently shares its experiences

with Timor-Leste in the area of

capacity building and development of

human resources. Many Timorese

that have been educated in Indonesia

have important roles in the development

of various fields in Timor-

Leste's government, private sector,

and also in international organizations.

In addition to those having been educated

in Indonesia, there are yet a

significant number of scholars that

are currently studying in Indonesia,

and may one day be the future of the

development of Timor-Leste.
---
Judith R. Fergin

US Ambassador

T

hank you for this opportunity

to contribute to the third edition

of the Presidential Magazine.

I would like to honor

the theme of the edition -- "The Affirmation

of Timorese Identity -- Contributions"

-- by celebrating the deep

and long-standing friendship between

Timor-Leste and the United States.

As Timor-Leste enters the second

decade of sovereign independence,

so our two countries are marking the

dawn of the second decade of the

21 st century -- the century of the Asia

Pacific. President Barack Obama

spent his childhood in Southeast Asia

-- he is our first Pacific President.

Secretary of State Hillary Clinton

keeps her focus firmly on the region -

- in her words, "we know that much of

the history of the 21st century will be

written in Asia."

We have stood side by side throughout

the first momentous decade of

your independence; we will remain

the closest of friends through the decades

ahead. The United States is not

just ready and willing, we are eager

to do so. As Timor-Leste's committed

friend, we look forward to continuing

to work together to support the goals

of human freedom, dignity, and prosperity

here in Timor-Leste and to promote

our shared interests in those

same goals around the world.

When I first visited Timor-Leste

twenty years ago, I witnessed the

courage of students demonstrating

for independence. Throughout the

following years, I joined other Ameri-

A Celebration of the Friendship

between Timor-Leste and the United States

cans in observing with intense interest

Timor-Leste's travel along the

road to independence, from the exhilarating

popular consultation and its

tragic aftermath in 1999 to the joyous

assumption of sovereignty in 2002.

The government and people of Timor

-Leste have met the manifold and

Recently departed Ambassador Klemm, with the secretary of State for Culture, Virgilio Smith,

celebrates the renovation of an Uma Lulik in Hatobuilico; the Ambassador's Fund for Cultural

Preservation supported this important renewal

complex challenges of establishing

an entirely new country from the

ground up with courage and dedication.

Even as a young nation, Timor-

Leste has exhibited a tremendous

Dezembro 2010 – №3

Parseiru ba Dezenvolvimentu

Timorese students participating in the United States-Timor-Leste Scholarship Program interact

with Ambassador Fergin at the East-West Center in Honolulu, Hawaii in October

commitment to the principles of democracy

and human rights.

The result is a country that counts, in

the Asia-Pacific and around the

globe.

The United States is proud to be

Timor-Leste's partner in this nationbuilding

endeavor.

We strive to contribute to the

achievement of your aspirations.

Together, Timor-Leste and the United

States have established a rich set of

activities that we hope will make a

difference -- to stability via professionalization

of the police and military

forces; to a vibrant population

through better maternal and child

health; to liberty and fairness through

support for an impartial system of

justice and corruption eradication;

and to prosperity through programs to

advance economic and agricultural

development, reduce poverty, and

create jobs.

We congratulate the government and

people of Timor-Leste upon your

great achievements. We are grateful

for your friendship and look forward

to deepening the relations between

us.

As we both benefit from our membership

in the Asia-Pacific region, let us

seize the opportunities of the Asia-

Pacific century together.

Obrigada barak ba oportunidade

nebe fo mai hau atu fo kontribuisaun

ba revista ida ne'e no mos tamba

amizade nebe buras entre povu rua

ne'e.

35
---
O

único modelo de bom governo

que se pode admitir

na Comunidade Internacional

é um governo democrático.

As regras de ouro da

democracia consistem na soberania

popular e no controlo dos poderes

públicos por parte dos cidadãos e

das instituições que a Constituição

incumbe destas funções. Os textos

constitucionais são instrumentos

inertes que há que activar mediante o

bom funcionamento das instituições.

Não podem ser estabelecidas com

carácter geral, normas universais de

boa governação e de funcionamento

democrático das instituições.

Tem-se dito uma ou outra vez que o

terrorismo é o inimigo número um

das democracias. Eu sempre discordei

desta afirmação. Nenhuma força

terrorista foi capaz de derrubar uma

democracia. O inimigo principal e

mais destrutivo da democracia é a

corrupção.

Isto é, antepor os interesses pessoais

tratando de tirar proveito para

si próprio dos dinheiros públicos ou

da corrupção privada, ignorando os

interesses gerais.

Este tipo de delitos é normalmente

cometido por funcionários públicos

de todos os níveis (governantes,

parlamentares, juízes e funcionários

administrativos de todos os escalões),

mas não podemos descartar a

importância e a relevância que adquiriram

no mundo globalizado as grandes

empresas que satisfazem os

seus interesses corrompendo os funcionários

e os indivíduos que têm, de

alguma forma, capacidade de decisão

nos assuntos públicos.

A resposta está no Código Penal,

mas nem sempre o Código Penal é

suficientemente rigoroso na sanção

destes comportamentos, e, mesmo

quando o é, o Poder Judicial encontra

sérias dificuldades na aplicação

da lei a estes indivíduos. O caminho

correcto e certo é incrementar as

penas para os autores destes delitos,

pondo em relevo a gravidade destes

36

José Antonio Martín Pallín

Magistrado do Tribunal Supremo Español

O Conceito do Bom Governo

e a Construção Nacional

comportamentos. Mas isto não é

suficiente e não podemos esquecer

que a internacionalização e a criação

de determinados organismos torna

necessário punir igualmente a corrupção

dos funcionários públicos estrangeiros

que influenciem de alguma

forma o funcionamento das instituições.

São muitas as variedades

delituosas através das quais podem

manifestar-se actividades de corrupção.

Uma actividade e fiscalização

diligentes do funcionamento dos

poderes e serviços públicos, pode

detectar a existência de práticas corruptas

e dar início à sua investigação,

mas numa sociedade democrática

só são possíveis de levar a

cabo no seio de um Poder Judicial

independente e com procedimentos

que respeitem as garantias fundamentais.

Verifica-se em todo o mundo a

dificuldade de levar adiante estas

investigações já que os recursos do

poder opõem resistência à sua implicação

e colocam todo o género de

obstáculos à tarefa dos polícias e dos

juízes. Por vezes o caminho é mais

simples.

Corrompem-se as entidades policiais

e os juízes e assim se facilita o caminho

para a impunidade.

Supondo que as entidades policiais e

os juízes actuam dentro da legalidade,

confrontar-se-ão com sérias

dificuldades para chegar às provas

que, na maioria dos casos, se encontram

nos expedientes administrativos

e que, ou são ocultados à investigação

ou, inclusivamente, se fazem desaparecer.

Naturalmente que os implicados

resistirão a colaborar, o que obriga a

reclamar provas que sirvam para

implicá-los, acusá-los e, consoante o

caso, condená-los.

Para lá das imunidades e privilégios

de alguns representantes do povo

perante os juízes, não podemos

descartar o facto de os meios de comunicação

do governo ou, inclusivamente,

particulares, iniciarem uma

campanha de desprestígio e, nomeadamente,

de imputações delituosas

contra o juiz que se atreveu a inves-

Dezembro 2010 – №3

Parseiru ba Dezenvolvimentu

tigar a corrupção. Nestes casos, o

único instrumento eficaz é aquele

que possa garantir, defender e

reforçar a independência judicial.

Mas nenhum instrumento seria eficaz

se a opinião pública não se mobilizar

contra os corruptos e exigir o castigo

dos responsáveis.

Nós, que nos movemos na base do

Direito Penal, estamos convencidos

de que uma boa prática de governo

plasmada na transparência e na

participação popular, é o melhor antídoto

contra a corrupção.

Em definitivo, como sempre, prevenir

é melhor que castigar.

Transparência e boas práticas de

governo são os eixos sobre os quais

deve girar o funcionamento de uma

sociedade democrática. Até agora

não se nos deparou uma melhor

solução para prevenir o inexorável

aparecimento de condutas delituosas

relacionadas com a corrupção. Não

creio que qualquer país esteja livre

deste estigma, mas a sua força

democrática será tanto maior quanto

mais eficaz for a sua luta para

erradicá-lo.

A participação democrática na tomada

de decisões deve exceder o âmbito

de uma mera ida às urnas de

tantos em tantos anos.

A democracia, sem prejuízo da tarefa

específica dos representantes do

povo, constrói-se dia a dia fazendo

ver aos cidadãos que estes são considerados

seres livres e responsáveis.

Quanto maior for a participação

dos cidadãos na tomada de

decisões, tanto maiores serão os

obstáculos a encontrar pelos corruptos

na execução das suas actividades.

A participação cidadã tem de ser

aberta e igualitária, sem discriminações

nem dificuldades de facto devidas

a uma situação social ou de

género.
---
Ivanildo do Nascimento

Cônsul Honorário do México

Relações México-Timor-Leste

A

s relações do México com

Timor-Leste remontam-se

ao período colonial, quando

a Ilha de Timor foi colónia

portuguesa e manteve um comércio

e contacto directo com a cidade de

Manila, em Filipinas. Na altura, Manila

era administrativamente dependente

do Vice-reino da Nova Espanha

(México) e unida com o porto

mexicano de Acapulco pela rota comercial

do Galeão de Manila, conhecido

também como Nau da China,

uma das rotas comerciais mais longas

da história em térmos geográficos

e temporais: 1521-1821.

Durante esse período, as moedas de

prata mexicana entraram na região

da Ásia-Pacífico, incluindo a ilha de

Timor, onde circularam como moeda

de uso corrente até a década de

1950. Ainda hoje em dia, o termo

"mexicanas" em Timor se refere a

estas moedas de prata mexicanas. E,

ainda na actualidade, são usadas por

muitas famílias timorenses para

estabelecer o dote (berlake) nas celebrações

tradicionais por motivo dos

matrimónios. Durante os séculos XVI

ao XIX o comércio indirecto entre

Timor e o México através de Macau e

Manila permitiu um grande intercâmbio

de produtos incluindo, madeiras

de sândalo (tradicional produto

de exportação de Timor), prata mexicana,

como também outros produtos

mexicanos hoje incorporados à

cultura timorense como o milho, a

abóbora, o feijão, o chocolate e o

chile.

Durante o século XX, México foi um

dos 51 países fundadores das

Nações Unidas e é membro da organização

desde 7 de Novembro de

1945.

Desde então, sempre tem mantido

um firme compromisso com os propósitos

e princípios da Organização.

México sempre tem se caracterizado

por sua vocação multilateral que reconhece

as possibilidades de

fomentar a comunicação e a aproximação

entre as nações. Também

tem defendido seus interesses oportunamente,

mostrando clara vontade

de negociação e forte confiança na

cooperação internacional.

Desde a invasão pela Indonésia em

1975, o México apoiou os desejos de

auto-determinação do povo de Timor

na Assembleia da Organização das

Nações Unidas.

Em 1999, com a realização da consulta

popular para decidir a autodeterminação

do povo de Timor-

Leste, o México por meio do Instituto

Federal Eleitoral apoiou a organização

da consulta popular onde o povo

timorense optou pela independência.

Através dos especialistas mexicanos

da área eleitoral a presença mexicana

no país se tem mantido

constante.

Em 2002, o México reconheceu a

nova República Democrática de

Timor-Leste e foram estabelecidas

relações diplomáticas.

Desde então, o México tem apoiado

no seio dos organismos da ONU as

gestões que estão a se realizar para

ajudarem ao governo e povo de

Timor–Leste, em seus esforços para

avançar no alcance dos seus objectivos

e para facilitar a assistência para

o desenvolvimento, e, em particular,

aqueles programas orientados

à redução da pobreza, o fomento do

bom governo, a administração de

gastos, a gestão de políticas, o

desenvolvimento do sector privado e

sector da energia.

Dezembro 2010 – №3

Parseiru ba Dezenvolvimentu

Durante a Intervenção do Embaixador

Claude Heller, Representante

Permanente do México junto `as

Nações Unidas, durante o debate do

Conselho de Segurança sobre a

Missão Integrada das Nações Unidas

em Timor-Leste, em Nova York, no

passado 19 de Outubro de 2010,

novamente se destacou o interesse

do México em apoiar a consolidação

de Timor-Leste e se destacou ainda

a necessidade de que a comunidade

internacional continue a apoiar a

consolidação dos programas nacionais

de Timor-Leste.

Como parte deste crescente intercâmbio,

no dia 26 de Agosto deste

ano, o Presidente da República Democrática

de Timor-Leste e Prémio

Nobel da Paz, Dr. José Ramos-

Horta, e a Embaixadora do México

para Indonésia e Timor-Leste, Dra.

Melba Pria, inauguraram a sede do

Consulado Honorário do México na

Cidade de Dili.

O Consulado tem a circunscrição do

território da República Democrática

de Timor-Leste, de acordo com o

estabelecido na carta patente assinada

pela Secretária de Relações

Exteriores do México, Embaixadora.

Patricia Espinosa Cantellano.

37
---
G

ermans have long been

associated with the virtues

of punctuality, discipline

and other values reflecting

a hard working society. And our inclination

to philosophical depth has often

made us look pessimistic when

there was hardly any reason for it.

But surprisingly, in the midst of the

recent economic and financial crisis

Germans turned out to enjoy life

more than other European Nations

even though unemployment reached

a worrisome peak. Most of the urban

opinion makers appeared relaxed

and not gloomy at all in spite of sluggish

growth rates and a tumbling

value of the Euro. Now, after economic

growth picked up, the mood

could not be better. What is behind

this change of attitudes? I believe

that to a great degree European Integration

and the globalized economies

have profoundly changed our value

systems.

It is ever more difficult to figure out

what is typically German or French or

Dutch or Portuguese when we speak

English with each other and all cherish

Italian cuisine. Our national identities

have long been opening up to the

wide horizons of international standards

and tastes. New layers of preferences

are entering national consumer

habits once we feel at ease

with the global society.

But the benefits of globalization are

neither a panacea for happiness nor

do they incorporate all citizens. Millions

of people are still suffering from

poverty and are lacking the opportunities

for a decent living, for mobility

and for internet communication. They

have no choice other than to adhere

to traditional values and they may

prefer these even when they are

faced with the breeze of competitive

business and technology-driven market

penetration. The stage of globalization

has long been set for transgressing

the more narrow-looking

values of the nation states, but these

were neither abolished nor would the

greater part of the world like this to

happen. Perhaps we will be more and

more shaped by at least two identi-

38

Dr. Norbert Baas

Germany Ambassador

Timor-Leste from a German Perspective

Growing Opportunities in a Globalized World

ties: global citizenship and a national

one. The challenge is to avoid conflicts

and reconcile between them.

Regional identities could gain in importance.

Hegel and Marx, no longer

fashionable authors though, would

certainly see that as a dialectic process.

Since two years, the G20 is making

headlines as a group of countries

representing the vast majority of the

world's population, ready to tackle the

necessary decisions to pull us out of

the crisis. In addition, it is to give

new momentum to the reform of international

financial institutions like the

IMF and to overcome global distortions

in trade and capital flows. The

G20 did not replace the G8, which

comprises the seven highly developed

western democracies plus Russia.

It took on board the huge threshold

countries including China, India,

Indonesia, and Brazil.

They entered the "old" big economic

players' club and they are able to

contribute enormously to economic

growth, justice and social progress. It

is noteworthy that through the EU,

which has its own place at the table

Dezembro 2010 – №3

Parseiru ba Dezenvolvimentu

alongside Germany, France, Italy and

the UK, all other member states are

included in the consultations prior to

the Summit. ASEAN is equally linked

to the G20 through its chair and Indonesia,

the one permanent member.

ASEAN's Secretary General is also

invited to attend the summits. In addition,

Singapore was a participant this

year.

By this enlarged institutional setting,

the smaller countries are increasingly

tied to the G20 and to its decisionmaking.

When I first visited Timor-Leste in

January 2010, I was struck by the

beauty of the landscape and by the

opportunities this country may well

offer its citizens in the future.

Timor-Leste is taking pride in its

struggle against colonialism, from

which it has emerged, in spite of the

injuries, violence and bloodshed, as a

country embracing peace and good

neighborhood.
---
The identity of its elites and the larger

part of its population may thus be

described as equ ally post -

revolutionary and forward-looking,

carried further by a growingly modern

spirit, by the curiosity of its young

generation to look beyond and all this

in a relaxed and open-minded way.

To satisfy the future-oriented interests

will be of great relevance to

avoid disappointments.

It is difficult to imagine that any temptation

to breed new violent impatience

could again upset the balance

between measurement and common

responsibility for a stable Timor-

Leste. Once the risks are becoming

negligible and the own security forces

are strong enough, time will come for

the UN Mission to rethink its size.

Timor-Leste's political leadership,

above all President Ramos-Horta,

who was awarded the Peace Nobel

Prize, impressed the world commu-

nity with their successful stabilization

policy and their endeavours to implant

democracy. This has become a

success-story. Germany will continue

to be supportive and closely cooperate

with the European Union.

Among the major German projects

implemented by the GTZ is the rural

development programme which is

enlarging the range of domestic products

and is building on participatory

village development planning. We are

also involved in a maritime support

programme. Another focus is on enriching

vocational training to enhance

employment opportunities for the

young generation. Our contribution to

transitional justice renders support to

the use of an interesting instrument

already practiced in Timor-Leste. In

Covalima, Manatuto and Viqueque

Germany supports the Timorese government

in the creation of a mediation

law as well as the definition of

educational standards for mediators.

Based on Timorese culture and tradition

this unique handling of conflict

management with the goal to eventually

build a law-governed state looks

very promising.

Timor-Leste is now preparing its accession

to ASEAN. Membership will

offer unique possibilities to connect

with the infrastructure of Southeast

Asia and to become a partner in the

global arena.

With its abundant natural resources

Timor-Leste is well placed to influ-

ence the further destiny of Southeast

Asia. Its voice will be heard. Similar

to the smaller EU member states,

Dezembro 2010 – №3

Parseiru ba Dezenvolvimentu

whose leaders were crucial to our

European success story, Timor-Leste

may soon find itself in the frontrunner

group for the promotion of a balanced

development model.

It would also benefit more from foreign

investment since ASEAN is determined

to implement the ASEAN

Economic Community by 2015. Last

but not least, I am hopeful that

through Timor-Leste's ASEAN membership

relations with Germany may

take an even more dynamic turn. Cooperation

projects between our business

communities may benefit from

Timor-Leste's share in the large

ASEAN community. Above all, membership

will provide the young generation

of Timor-Leste with new perspectives

and growing j ob -

orientations.

Probably, it will then gradually contribute

to changing Timor-Leste's

identity towards the acceptance of a

more competitive economic environment,

which in turn will generate

fresh inspiration for the future. I am

convinced that this will suit the

Timorese very well.

39
---
Philippe Zeller

40

Philippe Zeller

France Ambassador

Strengthening the Timorese Identity

T

he term "Timorese identity"

refers to the common elements

that bind individuals

who identify themselves as

being citizens of the Democratic Republic

of Timor-Leste. These common

elements include a shared history

and geography, a shared culture,

such as the belief in the myth of the

crocodile ancestor, the weaving of

tais, the pride in one's Uma Lulik, or

the respect for religious and traditional

beliefs and authorities, the

shared democratic values enshrined

in the constitution of the RDTL, such

as social solidarity and human rights.

Like all identities, the Timorese identity

is not set in stone. It is based on

myths and representations that

evolve through time and through interactions

with the rest of the world.

Indeed, the Timorese identity is the

product of social interactions during

the pre-colonial days, but mostly during

the period of Portuguese colonial

rule, and during the 25 years of Indonesian

occupation. Nowadays, the

Timorese identity continues to evolve,

through peaceful social and cultural

exchanges with Timor-Leste's

neighbors in the Asia-Pacific region

and beyond.

Strengthening Timorese identity

to build a strong nation

Enthusiastic young readers at the 2010

Dili book fair

All countries around the world have

gone through nation-building processes

that aimed at better defining

and strengthening their "national

identity". In Timor-Leste, belonging to

family, village, and districts remain

the strongest elements marking one's

identity. It is therefore important for

the Timor-Leste Government to support

policies aimed at strengthening

national identity and unity in order to

consolidate peace, and to foster a

relation of trust and mutual respect

between the citizens and the State.

Schools, the media, civil society and

the church, all have a role to play to

strengthen the Timorese identity.

While education is central to mold a

society's identity (particularly through

the teaching of national languages,

history and civic education), recreational

activities, sports, and the celebration

of public holidays and ceremonies

are also means used to

strengthen national unity.

Support from the

French cooperation

The French Cooperation is keen to

support the Government and the people

of Timor-Leste in areas related to

cultural preservation and the

strengthening of the Timorese identity.

Here are a few examples of collaborations:

"Istoria Timor-Leste Nian"

«42 000 d'histoire de Timor-Est»

or «Istoria Timor-Leste Nian»

The French cooperation supported

the publication in 2010 of a concise

bilingual Tetun/Portuguese book on

the 42 000 years of history of Timor-

Leste, written by Dr. Frédéric Durand.

The objective book is to provide the

Timorese public, young people in particular,

with a tool to better know and

understand their country's history.

This book also aims at supporting the

Government of Timor-Leste in developing

teaching resources, adapted to

the local context and needs, and written

in the national languages, that

can be used by teachers around the

country.

Preserving audiovisual archives

of historical value

As part of collaboration between the

Institut National de l'Audiovisuel and

the Centro Audiovisual Max Stahl

Timor-Leste, The French cooperation

is supporting the preservation of

audiovisual archives that record important

recent historical moments,

such as the Santa Cruz massacre,

the resistance to the occupation, independence,

peace and reconciliation,

reconstruction and development

of Timor-Leste. The aim of this project

is to ensure that this documen-

Dezembro 2010 – №3

Parseiru ba Dezenvolvimentu

tary heritage is preserved so that it

can be seen by future generations

and used for education and research.

This collaboration aims at making

these images accessible to viewers

around the world so that they can

learn about Timor-Leste's history and

culture.

Preservation of audiovisual footage

by the CAAMSTL's team © Max Stahl

Remembering the sacrifice of the

national liberation veterans

In his famous essay "What is a Nation",

the French theorist Ernest

Renan explained that "the nation, like

the individual, is the culmination of a

long past of endeavours, sacrifice,

and devotion...To have common glories

in the past and to have a common

will in the present; to have performed

great deeds together, to wish

to perform still more-these are the

essential conditions for being a people."

Paying homage to those who

sacrificed their lives for the struggle

for national liberation is also important

to strengthen national identity.

The French cooperation supported

the State Secretariat for Veterans in

developing a policy on memory preservation

and valorization of the contri-

Group of Falintil fighters

in 1994 © DRT- AMRT

bution of national liberation veterans.

The above mentioned projects illustrate

some modest contributions by

the French Cooperation to the very

important process of strengthening

the Timorese identity.

Viva Timor-Leste.
---
Philippe Zeller

Gladcya Félix

Prof. Cooperação Brasileira

Timor, país,

tem muitas línguas

U

ma economia crescente a

olhos vistos como a de Timor-Leste

periga a logo,

logo perder parte relevante

de seu patrimônio cultural.

Segundo a Unesco, metade das línguas

do mundo desaparecerá até o

final deste século.

Diversos países desenvolvidos passaram

a reconhecer o "extermínio

lingüístico" praticado ao longo dos

séculos.

Timor-Leste, jovem país que passa

pela terceira reconstrução, também

desperta para a importância das

línguas na cultura de seu povo.

O concurso nacional de poesias, histórias

e cantigas Ha'u nia Lian, Ha'u

nia Rai apoiado pelo Presidente da

República, Sr. José Ramos Horta, e

pela Embaixadora da Boa Vontade

para a Educação, Sra. Kirsty Sword

Gusmão, é o primeiro passo rumo a

autêntica expressão da diversidade

timorense.

Mais de 20 línguas e dialetos de Timor-Leste

estão hoje ameaçados

pelo sistema econômico desregrado.

No mundo, 96% das línguas são faladas

por menos de 5% de seus habitantes.

Inseridas em um capitalismo veloz e

massificador, não é difícil perceber

que as muitas minorias de Timor-

Leste estão correndo o risco de serem

silenciadas.

Os países têm a necessidade de estabelecer

línguas como oficiais, contudo

não é este caráter que determina

a existência ou não de um

idioma.

Como patrimônio cultural, todas precisam,

sendo este o desejo das comunidades

de falantes, ser apoiadas

pelo Estado enquanto símbolo identitário.

Todas as línguas precisam ser respeitadas,

porque os seus falantes

têm direito a liberdade.

Dezembro 2010 – №3

Parseiru ba Dezenvolvimentu

Quando se fala em sustentabilidade, o que vem primeiro à cabeça são assuntos do meio

ambiente, mas o termo também é aplicável à política de preservação das línguas mundiais.

Através da prática da oralidade e da

escrita, nenhuma língua é esquecida,

e a cultura da terra natal, com todo o

seu imaginário e ciência transformados

em palavra, poderá expressar

a visão de mundo que tem cada

povo. Para um Timor-Leste linguisticamente

sustentável, os seus precisam

gostar de koalia português, tétum,

mambae, makasai, bunak, baiqueno,

kêmak, fataluku, tocodede,

uaimoa, tétum teric, galóli...

41
---
P

alavra ASEAN ita ronan beik

-beik, e wainhira ita koalia

konan ba rai sira nebe besik

Timor ba iha tasi feto nian,

hanesan Indonesia, Malasia, Singapura,

nst, povu iha rai hirak ne sei

familiar ho termu ida ne'e, tam ba sira

maka sai nudar knua ba organizasaun

regional ne'e.

Ba Timor-Leste, ASEAN ofisialmente

tama iha vokabuklariu politku iha

2002/2003, wainhira Dr. José Ramos

-Horta nudar Ministro Negosios Estrangeirus

hahu prosesu Timor-Leste

atu tama ASEAN.

Ikus mai ita estabelese Sekretariadu

ASEAN iha Ministeriu Negosius

Estrangeirus atu trata asuntu ida

ne'e. Iha 2006 Timor-Leste tama iha

Asean Regional Forum no iha 2007

asina Treaty of Amity and Cooperationin

Souteast Asia. Pasus hirak

ne'e hatudu interse estrategiku nebe

Timor-Leste iha atu bele sai membru

ASEAN, maibe ita nia interesse estrategiku

ne'e seidauk traduz ba iha

enquadramento sistematiku iha ita

nia planeamento nasional, buat nebe

ita tenki rezolve lalais atu bele lori

agenda ne ba oin.

Karik ita dalan barak maka husu,

saida maka ASEAN, tamba sa maka

Timor-Leste presiza konsidera ou ka

fo importansia ba organizasaun ne'e?

ASEAN ne nudar organizasaun ida

nebe rai lima, hanesan Indonesia,

Singapura, Malasia, Thailandia non

Filipinas hari iha 08 Agostu 1967 liu

husi deklarasaun ida nebe sira bolu

"Bangkok Deklaration". Iha tempu

nebe ukun nain husi rai lima ne'e ha-

42

Hernani Coelho

Xefe Gabinete Adjunto - PR

re katak iha nesesidade ida atu sira

servisu hamutuk lori atinji sira nia

objektivu komum iha areas hanesan

desenvolvimentu ekonomiku sosial,

paz no estabilidade, komersiu no koperasaun

teknika, buat nebe sira fiar

katak sei hetan resultadu diak se sira

servisu hamutuk lori fo forsa ba malu

atu nune bele servisu hikas ho organizasaun

regional seluk nudar bloku

ida. Husi ne'e ita bele hare importansia

estrategiku ida nebe sira hili liu

husi koperasaun mutuo entre paises

vizinhus atu atinji objektivu komum

nebe rai sira ne iha. Konseitu halibur

hamutuk no servisu hamutuk husi rai

sira nebe lokaliza iha area gegraifika

ida, hetan forma makas depois de

segunda guera mundial, no mos ho

impaktu husi Guerra Fria nebe fahe

mundu ba bloku leste non oeste.

Ikus mai paises seluk nebe iha

regiauan nebe ema bolu Souteast

Asia hanesan Vietnam, Laos Kanbodja,

Brunei non Myanmar mos adere

ta'an hodi forma grupu rai 10 nian.

Paises sanulu ne hamutuk sai nudar

bloku ida ho ema besik 600 milhoens

ho GDP mais ou menos US$ 1,500

bilioens (presu korente 2009) tuir

dadus statistika ASEAN nian.

Kompara ho Timor-Leste nebe iha

pupulasaun mais ou menos 1

milhaun ho GDP US$ 0,6 bilioens.

Ne'e sai nudar potensia ekonomika

regional ho estrutura no karateristikas

teknikas nebe besik atu hanesan ho

Timor i iha kedas Timor nia odamatan

oin.

Buat ida ke importante ba ita atu

hatene mo'os katak ASEAN funsiona

iha prinsipiu de respeito mútuo, resolusaun

disputa liu husu meios

pasifikus, respeitu integridade nasional

no atu hakotun lian sei liu husi

kosulta non konsensu, buat nebe importante

ba membrus sira nebe kiik

eh ka ekonomikamente ladun forte.

Dezembro 2010 – №3

Parseiru ba Dezenvolvimentu

Nudar organizasaun ida nebe lokaliza

iha regiaun ho kresimentu ekonomiku

no demografiku nebe bo'ot, rai sira

husi europa, amerika no oseania iha

interese makas atu bele kopera ho

organizasaun ida ne'e, laos deit

tamba nia potensialidade merkadu

non rekursus maibe mo'os ba oportunidade

atu mobiliza sira nia partisipasaun

atu promove paz, estabilidade,

luta hasoru terorismu, luta hasoru

krimes transnasionais no buat seluk

ta'an.

Timor-Leste nudar pais foun nebe

geografikamente tama iha radius

geografiku ASEAN nian hetan aseitasaun

diak husi membru ASEAN tomak

atu bele tama iha organizasaun

ne. Paises membros sira mos loke

dalan ba atu simu membru foun ho

revisaun ASEAN Charter iha 2007

nebe iha Artigo-6 koalia konan ba

admisaun membru foun nefe fo interpretasaun

katak ASEAN laos limitado

ba membrus nain 10 deit onan. Iha

okasiaun barak nebe membru

ASEAN sira hatudu sira nia vontadae

atu simu Timor nudar membru, membru

balun, hanesan Indonesia, até

involve onan iha aktividades pratikus

lori fo tulun ba Timor atu bele sai

membru ASEAN.

Agora disizaun iha ita nia liman se ita

hakarak lao ba oin lalais e ka lae.

Timor-Leste tenki hatene aproveita

oportunidade no meios sira nebe iha

atu bele konso-lida no desenvolve

aan. Konan ba ASEAN ita presiza

toma em konsi-derasaun visaun

estrategiku nebe ASEAN iha, liu-liu

ho desizaun ASEAN atu estabelese

Komunidade ASEAN iha tinan 2015

ho pilares tolu nebe kobre area

hanesan politka non seguransa, ekonomia

no sosio-kultural. Area sira ne

hotu, wainhira halao tuir plano nebe

iha sei iha im-paktu bo'ot ba Timor-

Leste nia futuru.
---
O

Presidente da República,

Dr. José Ramos-Horta, distinguiu

os nomeados para

a categoria de Direitos Sociais,

Económicos de Culturais da III

Edição do Prémio Direitos Humanos

"Sérgio Vieira de Mello" 2010.

No 19/o aniversário do Massacre de Sta.

Cruz o PR exortou a juventude a estudar e

contribuir para desenvolver o país

GRADUASAUN

BA ESTUDANTES TLBSPT

T ersa

feira loron 9 fulan Novembru

2010, iha Kolegio

Fatumaka, Prezidente Republika

Dr. Jose Ramos-Horta

intrega sertifikadu ba graduantes nain

97 husi eskola Tekniku Profesional

(ETP) Don Bosco Fatumaka

no Komoro, iha seremonia graduasaun

ne'ebe halao iha Kolegio Salesiano

Fatumaka , Baucau liu husi

programa Timor Leste Basic Skills

Training Program (TLBSTP).

III Edição do Prémio Direitos Humanos "Sérgio Vieira de Mello"

Foram os seguintes: Simone Barbosa

de Assis/Projecto Casa Vida, HIAM-

Health, Hope Family Community, Escola

Primária e Jardim de Infância

Maria Auxiliadora, Orfanato Santa

Bakhita e Soraya Vieira Nepomuceno/Escola

Pré-Primária Arca Infantil.

O Dr.Ramos-Horta abriu o Festival da

Cultura, iniciativa da S.E. da Cultura

realizada entre 25 e 28 de Novembro

Xefe Estadu iha nia intervensaun molok

fahe sertifikadu ba garaduadu

sira, hato'o parabens no husu ba

graduadu sira atu hatudu abilidade)

ne'ebe hetan ona durante iha kursu

laran hodi uja di-diak ba iha servisu

fatin ho badinas, labele baruk

servisu, muda mentalidade, nune'e

bele halo konkorensia ho trabalhadores

husi rai seluk, tamba se lae

tinan ba tinan tarabalhadores husi liur

maka domina iha area konstruksaun

hotu-hotu.

Lauradu Nobel da Paz hatutan, Timor

oan tenki halakon ona mentalidade

baruk, hanesan servisu oituan tur

mak barak, tamba kompania sira

wainhira atu uja trabalhador dala uluk

sira sei hare trabalhador nia abilidade

no komitimentu ba servisu iha ka lae.

Maske nune'e Xefe Estadu senti haksolok

ho seremonia graduasaun refere

tamba bele aumenta Timor oan

sira nia abilidade, no nudar Xefe Estadu

nia fo apoiu maxima ba programa

vocasional ne'e, ne'ebe organiza

husi misaun Salesiano sira i husu

atu kontinua lao.

Iha biban ne'e mos Xefe Estadu husu

Dezembro 2010 – №3

Lokal

Na edição deste ano não foi atribuído

o prémio na categoria de Direitos Civis

e Políticos por falta de candidatura.

George Junus Aditjondro (Indonesia)

foi agraciado com a Insígnia da

Ordem de Timor-Leste.

No 35/o aniversário da Independência o

PR atribuiu Insígnias ao Grupo Esperança,

NRC e Cooperação Espanhola

ba doadores sira atu kontinua apoiu

ba inisiativa ne'ebe mai husi Salesiano

sira atu nune'e bele aumenta

numeru Timor oan sira iha parte abilidade

baziku ba area konstrusaun.

Ramos-Horta hodi Estadu nia naran

agardese ba governu Australianu liuliu

governu Australia do Sul ne'ebe fo

apoia makas ba programa refere inklui

mos agensia programa espanhola

iha Timor Leste.

Estudantes nai'n 97 ne'ebe simu graduasaun,

sira durante fulan 6 hetan

treinamentu abilidade baziku ba area

konstrusaun iha ETP Dom Bosco

Fatumaka no Komoro, ne'ebe hetan

terinu husi programa Treinamentu

Abilidade Baziku ka T-L Ba-sic Skills

Training Program (TLBSTP), ho hetan

tulun husi Governu Australianu

liu husi governu Australia do sul, Austraining,

ETP Don Bosco no

SEFOPE. Iha seremonia agraduasaun

ne hetan mos prezensa husi

SEFOPE Bendito Feritas.

Reprezentante governu Australia do

Sul, Padre Pronvincial Salesiano Timor

no Indonesia, Treinadores no

graduantes sira.

43
---
44

Kirsty Sword-Gusmão

Prezidente Fundasaun Alola

World Breastfeeding

Alola Foundation's Maternal and

Child Health Program, in partnership

with the Ministry of Health, celebrated

World Breastfeeding Day for an entire

month from August 2 – 31 across 10

districts in Timor-Leste.

Maria Imaculada Guterres, coordinator

of the overall program activities

said that upon the advice of the Ministry

of Health, breastfeeding day was

celebrated throughout the month with

the theme: 'Only Mothers' breast milk

– milk can protect children from illness

and supports good development

and growth.'

Alola Foundation implemented the

program activities in 10 districts: Dili,

Ainaro, Aileu, Bauca, Viqueque,

Manatutu, Ermera, Liquisa, Oecusse

and Lautem and conducted the following

activities: a health quiz, a

healthy baby contest, community discussions

and a film about breastfeeding.

During the celebration, the Alola

foundation distributed prizes to the

winners of the quiz and the competition

for healthy babies aged from 6

months to two years. In order to win,

Macu Guterres said, 'babies should

Alola's Most Recent Activities

meet the following criteria: the baby

should exclusively breastfeed for the

first 6 months, ad continue to breastfeed

up to two years or more, should

complete immunization according to

the age of the baby, the baby should

be weighed every month and consistently

increased weight, should have

good personal hygiene and lastly, the

baby should be born in one of the

health facilities. Macu Guterres said

the promotional activities for breastfeeding

were headed by Alola Foundation,

and would soon be extended

from 10 districts to 13 districts. The

week-long World Breastfeeding Celebrations

in Dili District were held in 4

areas – Aituri Laran, Beto Bebonuk,

Aimutin and Becora. A DHS study

undertaken in 2010 indicated that

babies who are exclusively breastfed

until the age of 6 months has increased

to 52%.

Workshop on Sexual and

Reproductive Health

Alola Foundation worked together

with Marie Stopes International (MSI)

to organise a workshop sexual and

reproductive health rights in the Maliana,

Baucau and Dili districts.

Joanica Olivieira, District Support

Program Coordinator said the objective

of the workshops is to increase

the capacity of, and raise awareness

Dezembro 2010 – №3

Lokal

Here are the most recent activities for Fundasaun Alola's on Education, Advocacy,

Economic Development, and Maternal and Child Health Programs

The babies who won the

health baby competition during

breastfeeding week receive their prizes

Competition judges consider the

applicants in the

healthy baby competition

among, the staff of Alola Foundation

and MSI, their partners, and women's

organisations who are actively promoting

reproductive and sexual

health.

Facilitator explaining sexual reproductive

health rights to participants

He said that international human

rights laws relating to access to information

and health facilities were discussed,

as well as those relating to

sexual and reproductive health, the

International Convention on the Elimination

of All Forms of Discrimination

Against Women (CEDAW). The International

Conference on Population

and Development (ICPD), the Universal

Declaration on Human Rights ad

Millennium Development Goals 3, 4,

5 and 6. Moreover, the workshops

also talked about the national strategies

and Timor Leste policies on sexual

and reproductive health for youth,

reproductive health options, and maternal

health.

The workshops had the full participation

of staff from Alola Foundation,

Marie Stopes International, CEDAW

Committee Members, members of

Rede Feto, FONGTIL and others.

Eileen Kelly and Mario de Araujo cofacilitated

the workshop with Alola

Advocacy Staff.

Joanica said the joint program with

MSI would continue in the Ainaro and

Viqueque districts to promote sexual

and reproductive rights through dissemination

of information and community

discussion.
---
Savings and Credit

Alola Foundation's Economic Development

Program facilitated Capacity

Building to Alola groups in the districts

on how to save and provide

credit.

Jorge explains how to complete an income

form while participants practice bookkeeping

procedures during Alola's training

The Alola group that took part in the

training was comprised of people that

come from 9 districts – Viqueque,

Lospalos, Baucau, Manatuto, Ermera,

Liquica, Maliana, Suai and Oecusse.

Jaquelina Maria de Fatima Ximenes,

activity coordinator, said the training

was organised for Alola groups in the

districts with the objective to assist

these groups on how to manage and

undertake budget planning.

"We organised the training to provide

knowledge for members on how to

give credit to group members and

how the group can make use of that

money the donors have given", said

Jaquelina.

The districts that already organised

this program on savings and credit

are Viqueque, Lospalos, Baucau,

Manatuto, Ermera and Liquisa.

The districts of Suai, Maliana and

Oecusse will soon be organised.

Each district has three groups.

A total of 30 group members from

each district participated in the train-

ing. The groups that attended were

given a small amount of money.

This money serves to continue their

saving activities and granting of credit

in order to keep their program activities

alive and generate profit in the

future.

Pre-Primary Teachers undertake numeracy

activities using platicine during Alola's

Pre-Primary Teacher Training

Eva, on of the participants, acknowledged

Alola Foundation for its effort

to facilitate this kind of training and

sustain groups' activities.

Teachers Training

Alola Foundation's Education and

Literacy Program provided training

to21 pre-primary teachers on Unit

107: Professionalism for Teachers

and 109: Developing Arts in the

Classroom. Ema Freitas, coordinator

for this activity said the training was

based on education programs from

Alola Foundation in collaboration with

the Ministry of Education and supported

by Conoco Phillips. Alola undertook

an assessment of 15 new

teachers from the districts from 12

different schools. This is the third

time the training has been implemented.

The Education Team substitute

teachers for those who could not

otherwise participate in the week of

training without interrupting their

teaching schedule. Alola's teams pre-

Dezembro 2010 – №3

Lokal

pare the lesson plans according to

the training themes and in line with

pre-primary school curriculum. The

training was formally opened and

closed by Mr. Alfonso, delegate of the

Director of Region II, and who also

distributed certificates to participants.

Teachers prepare lesson plans based on

the new skills acquired

during their training

Mr Alfonso said the objective of the

training is to increase the capacity of

teachers to become more professional

educators in schools and

within the community. He said it is

important that teachers consider

which roles are effective at creating

better learning nd that they follow the

instructions given n good learning

processes.

The training prompted teachers on

the importance of lesson-planning,

allowed them to share experiences

with other teachers including the

challenges they face and management

strategies.

The training also provides an opportunity

to consider the traditional learning

processes of the past, and the

current learning processes in which

we do not use violence against children.

The teachers were happy with

and appreciative of the training provided

by Alola Foundation, which allowed

them to reflect on their responsibilities

as teachers and role models

for students.

45
---
com um sentimento de justi-

É

ficado orgulho que me junto a

vós esta manhã para presidir

à imposição das boinas aos

militares do 1º Destacamento de Fuzileiros

Navais do país e à graduação

do 2º Curso de Especialidade de

Marinha da componente naval das F-

FDTL.

Ver erguer a nossa componente

naval e assistir à formação, gradual

mas segura, dos seus recursos humanos

– os homens e mulheres

preparados para servir na protecção

do nosso vasto território marítimo –

enche-me de satisfação. É um sinal

positivo da capacidade de planear e

realizar do país, do Estado e das F-

FDTL.

A entrada em funções, pela primeira

vez, de um corpo nacional de tropas

especiais, como os fuzileiros navais,

é também motivo de satisfação. Num

mundo moderno e globalizado caracterizado

por ameaças às vezes difíceis

de prever, corpos de tropas com

preparação especial, como os fuzileiros

navais, são uma capacidade

importante das forças de Defesa.

O mar é um factor cada vez mais importante

na formulação da nossa

estratégia como país.

Em primeiro lugar, porque uma grande

parte do nosso território está no

mar.

Em segundo lugar porque no mar

está uma grande parte da riqueza do

país. Todos temos presente o petróleo

ou o gás.

Mas devemos recordar igualmente a

beleza coralífera, com o seu potencial

turístico, a riqueza piscícola, com

o potencial de melhoria da vida dos

nossos pescadores, e a abundância

de nódulos polimetálicos, com o seu

potencial exportador de minerais.

Esta riqueza tem também os seus

custos, para garantir a segurança e

prevenir o risco da sua perturbação.

O mar é uma enorme fronteira que

nos liga aos nossos vizinhos, nos

aproxima dos outros povos e nos faculta

uma importante via de comunicação

com o resto do mundo e, em

particular, com a nossa região.

Os estreitos de grande profundidade

que aqui existem conferem adicional

relevância estratégica ao nosso mar.

O nosso país – como país pacífico e

defensor da estabilidade e harmonia

regional e internacional – assumiu

compromissos internacionais importantes

para a segurança regional e

para a nossa segurança como Nação.

Destes compromissos nascem

várias prioridades, quanto à protec-

46

Dr.J.Ramos-Horta

Presidente da República

ção do nosso mar. Por exemplo, prevenir

e, se necessário, reprimir a sua

utilização pela criminalidade internacional,

em particular impedir a sua

utilização por redes de tráfico de mulheres

ou outros imigrantes ilegais;

impedir a sua utilização pela pirataria

ou o terrorismo; prevenir a pilhagem

dos nossos recursos e promover a

protecção ambiental e a utilização

sustentada dos recursos do mar. As

actividades de pesca ilegal, por

exemplo, retiram presentemente ao

nosso país receitas no valor de 35

milhões de dólares por ano.

São responsabilidades importantes,

estas, que em parte assentam também

nos ombros dos militares da

Componente Naval.

É necessário grande profissionalismo,

formação técnica, rigor, disciplina

e vontade de servir para estar à

altura de cumprir estas responsabilidades

que o país vos pede.

Apelo ao vosso sentido de honra e

ao vosso espírito de militares, para

desempenharem sempre as vossas

missões com disciplina, profissionalismo,

e espírito de serviço à comunidade,

ao povo e ao país.

A Componente Naval só foi possível,

no seu início, em 2001, devido à

assistência amiga e desinteressada

de Portugal. Foi também com o apoio

de Portugal que formámos os seus

efectivos, incluindo o seu quadro de

oficiais superiores, que beneficiaram

de formação altamente especializada,

própria de uma marinha moderna

e avançada.

E hoje é com a importante participação

de militares da Armada Portuguesa

que a vossa formação foi realizada.

A amizade desinteressada de Portugal

e a importância atribuída às nossas

relações fraternais é testemunhada

pela visita que, nesta data,

fazem ao nosso país o senhor Almirante

Fernando Melo Gomes, Chefe

de Estado Maior da Armada Portuguesa

e o senhor Contra Almirante

Silva Ribeiro, Subchefe do mesmo

Estado Maior, bem como pela visita

que nos faz o navio-escola Sagres,

navio-emblema e embaixador de

Portugal nos mares.

Através do Senhor Almirante Melo

Gomes quero agradecer a toda a

Armada Portuguesa a dedicação que

nos tem manifestado. Saúdo em

especial os oficiais que nos ajudam a

realizar o plano de formação das F-

FDTL.

Saúdo também o senhor Capitão de

Fragata, Proença Mendes, comandante

do navio Sagres, a quem dou

as boas vindas.

Através do senhor Embaixador de

Portugal, Luís Barreira de Sousa,

transmito ao Governo e ao Povo de

Portugal o reconhecimento reiterado

de Timor-Leste pelo apoio amigo que

nos têm dado.

Ao Senhor Genaral Taur Matan

Ruak, Chefe do Estado Maior General

das F-FDTL dou os meus parabéns

e o meu abraço fraterno, pelo

grande trabalho de renovação e desenvolvimento

das F-FDTL, de que

estas unidades da componente naval

são exemplo. Peço ao irmão Taur

que transmita a todos os militares

das F-FDTL o reconhecimento e o

apreço do Comandante-Chefe das

Forças Armadas.

A todos Muito Obrigado.

Dezembro 2010 – №3

Defeza

Discurso por ocasião da imposição das boinas aos militares do 1º Destacamento de Fuzileiros Navais

e da graduação do 2º Curso de Especialidade de Marinha da Componente Naval das F-FDTL

Porto de Díli, 17 de Setembro de 2010
---
Maria Domingas Alves

Ministra da Solidariedade Social

A Solidariedade Social

na Identidade Timorense

A

solidariedade social enquanto

dimensão da identidade

timorense foi sendo

transmitida de geração em

geração e veiculada nos hábitos e

costumes rústicos do Povo de Timor-

Leste. Grandes marcos na história timorense

contribuíram para este Valor,

desde as relíquias da Monarquia

dos chamados "Liurais", à presença

secular dos portugueses trazendo

consigo a cristianização e com ela

uma espiritualidade e moralidade assente

no amor pelo próximo, o saber

perdoar e pagar o bem pelo mal.

Mais recentemente, todo o processo

da Resistência Timorense vem denunciar

a importância decisiva da

mobilização de redes de entreajuda

na concretização do grande objectivo

da independência de Timor-Leste.

Todas essas travessias cimentaram

profundamente os valores de solidariedade

entre os timorenses contribuindo

para a coesão social.

Nos dias de hoje, na nossa sociedade

continuamos a observar a importância

da solidariedade e reciprocidade

assente nos laços de parentesco,

na produção de bem-estar das

famílias, quer na vivência do nosso

dia-a-dia quer na celebração dos

momentos importantes e ritualizados

do ciclo da vida do timorense -

nascimento, casamento e morte.

Timor-Leste enquanto Nação independente

continua a preconizar o

valor da solidariedade em todas as

esferas da vida social, reflectindo-o

na edificação do Estado. É neste

sentido que faz uma opção política,

clara, por um Estado Social, onde as

politicas sociais são autónomas e

estão mobilizadas para a promoção

da cidadania, indo a par, e não a

reboque, das politicas económicas.

Esta determinação, mais uma vez,

coloca Timor-Leste numa posição de

destaque no contexto regional do

sudeste asiático. Não será isto

também uma forma de identidade?

Enformado na doutrina da Constituição

da República Democrática de Timor-Leste

que determina que todos

os cidadãos têm direito à segurança

e à assistência social, o IV Governo

Constitucional criou, através do Decreto-Lei

no 7/2007, de 5 de Setembro,

o Ministério da Solidariedade Social

(MSS). O MSS é a instituição governamental

que tem a responsabilidade

da concepção, execução, coordenação

e avaliação da política definida

e aprovada pelo Conselho de

Ministros nas áreas de segurança

social, assistência social, gestão de

desastres e dos combatentes da

libertação nacional.

Na prossecução desta missão o MSS

tem vindo a desenvolver um conjunto

de medidas de politica social no

quadro da Protecção Social, no

sentido de promover e garantir os

direitos de cidadania da população

timorense. Alguns exemplos destas

medidas são o subsídio universal de

apoio a idosos e pessoas com

invalidez, programa "bolsa mãe" e,

com uma componente de reconheci-

Dezembro 2010 – №3

Politika

mento e valorização, as pensões dos

veteranos. Estas politicas e programas

assentam, entre outros, em princípios

de universalidade, igualdade,

equidade, solidariedade e complementaridade

social.

O princípio da solidariedade materializa-se

na criação de mecanismos de

responsabilização colectiva das pessoas

entre si na promoção do bemestar

social e, o principio da complementaridade

na articulação das diferentes

formas de protecção social

promovidas pelo estado e pela sociedade,

promovendo a co-responsabilização

social e fundando a matriz das

politicas sociais como politicas públicas.

O principal desafio que se coloca ao

MSS é o de, simultaneamente, evitar

a situação de extrema pobreza promovendo

a protecção social face à

vulnerabilidade, ao mesmo tempo em

que progressivamente, dentro das

capacidades do Estado, amplia seus

objectivos para a promoção da igualdade

e das oportunidades – princípio

máximo sobre o qual se organizam

as democracias modernas.

E é neste contexto que gostaríamos

de ver envolvida toda a ajuda internacional

de cooperação com Timor-

Leste, ancorada em valores de participação,

"empowerment" e cidadania

dos timorenses.

Para finalizar gostaria de destacar a

importância da memória colectiva

comum de solidariedade que experimentamos

ao longo da nossa história,

como uma componente importante

da identidade nacional timorense.

47
---
D

esemprego sai hanesan

factor principal nebe critiku

teb-tebes iha mercado trabalho

timorense. Realidade

hatudu taxa de desemprego nebe

a'as, afecta ba sociedade husi categoria

diferente, particularmente jovens.

Cada tinan cerca de 15.000 jovens

timorenses buka atu insere iha

mercado de trabalho. Obstaculo relevante

aponta ba limitação de campo

de trabalho ho dificuldades atu responde

necessidades hot-hotu.

Barreira seluk nebe ita hasoru mak

falta de mecanismo eficaz atu facilita

jovens hirak ne'e ba mercado de trabalho.

Problema seluk nebe joven sira defronta

hatudu ba falta de expriência

profissional atu actua iha qualquer ramo

de actividades económicas. Iha

mercado de trabalho competitivo ohin

loron, oferta emprego direciona fundamentalmente

ba trabalhadores

qualificados.

Qualificação timorense sei fraco iha

aspecto ida ne'e. Mosu críticas no lamentos

oi-oin husi parte empregadores

ba forma serviço timor oan sira

nebe la profissional, obriga empregadores

fo preferência ba mão-de-obra

estrangeira.

Saida mak precisa atu Timor-Leste,

nebe foin tama iha fase de construção

nasaun nian, bele compete, liuliu

iha domínio estrageiros husi rain

avançado no experiente?

Realidade hirak ne'e sai motivo ba

preocupação governo nebe, liu husi

Secretaria de Estado da Formação

Profissional e Emprego (SEFOPE),

buka realiza actuação concertada,

consistente no relevante atu responde

ba problemas ne'e.

Formação capital humano orientada

ba mercado trabalho constitui factor

fundamentalmente indispensável no

exigência incondicional atu apoia jovens

sira hetan conhecimentos técnicos

nebe serve nudar fundamento no

aposta sira ba tama iha mercado de

trabalho.

Maibe, de facto, nia implementação

apresenta carácter complexo nebe

precisa resolve desafios hot-hotu simultâneamente.

Estabelecimento no promoção Politica

de Formação Profissional sai hanesan

base ida nebe articula visão

ba sistema formação profissional,

responde ba desenvolvimento com-

48

Bendito Freitas

Sekretariu Estadu

Relevância Formação Profissional no

Acesso ba Emprego iha Timor – Leste

petências atu bele contribui ba empregabilidade.

Criação de Estratégia Nacional de

Emprego (ENE) sai mos chave indispensável,

nebe enquadra iha acções

conducentes ba criação emprego iha

política de recursos nia laran no

condições socioeconómicas.

Realização política ne'e envolve fundamentalmente

entidades hot-hotu,

públicas no privadas, atu contribui ba

geração de emprego no rendimento.

Implementação política no estratégia

ne'e hala'o liu husi programas no

actividades SEFOPE: Intensifica redes

parcerias iha area formação profissional

ho sociedade civil, ONGs,

intituições religiosas nebe fornece

formação profissional, centros de formação

no fo apoia iha nivel financeira

atu reforça no hasae qualidade

sira nia instituições.

Qualidade nebe temi sei determina

liu husi acreditação nebe realiza husi

Instituto de Desenvolvimento de Mão

-de-Obra (INDMO), instituição autónoma

iha sob-tutela SEFOPE nian.

Aspecto seluk foca ba elevação

qualidade formadores nebe bele mos

fo garantia ba qualidade formandos

nian. Ba questão ne'e, importante teb

-tebes consolida negociações ho

parceiros iha rai laran no rai liur atu

realiza formação ida específica tuir

necessidades.

Medida seluk nebe mos essencial no

promoção ba empregabilidade mak

realização estágios profissionais iha

contexto real do trabalho, nebe concentra

ba melhoria competencias técnicas,

conhecimentos no experiências

ba recém-formados husi centros

de formação iha serviço fatin, nebe

facilita no promove articulação entre

Dezembro 2010 – №3

Politika

Durante ocupação estrangeira, jovens barak lakon oportunidades atu adquire estudos adequados, tan

compromissos ba participação inegociável iha luta ba libertação Pátria. Hafoin atinge mehi liberdade iha

1999, sira tama iha situações incertas konaba paragens ou postos nebe pretende depois de luta

prolongada. Medida saida mak bele resolve?

'wainhira sai husi sitema formativo'

no 'contacto ho mundo trabalho nian'.

Necessário teb-tebes criação parceria

diak ho sectores públicos no privados

existentes, atu bele halo

processo canalização ba formandos

sira.

Iha contexto emprego, indispensável

estabelece medidas atu acesso ba

emprego hanesan realização programa

mediação entre candidatos

trabalhadores ho empresas, ONGs

no Instituições.

Forma ida diak atu empregadores

sira envolve ba resolução problemas

desemprego iha rai laran.

Alein serviço iha rai laran, promoção

mão-de-obra iha estrangeiro constitui

medida ida diak nebe apoia ba empregabilidade

jovens, elevação capacidade

no experiências serviço no

amento ba rendimento familia nian.

To'o oras ne'e, 424 jovens, inclui feto

45, serviço iha corea do Sul iha

sector fábricas, agricultura no pescas.

Maibe iha parte seluk, governo continua

insentiva ba comunidade no jovens

desempregados sira ba criação

serviço rasik, liu husi conjunto medidas

disponibilizados hanesan conjugação

esforços entre instituição

micro-crédito, fornecedores de formação

no formação empresarial.

Sei precisa nafatin criação de medidas

oi-oin atu resolve problemas.

Governo, liu husi SEFOPE, la husik

atu reflete konaba realidade nebe envolve

timor oan tomak no tenta ho

esforços atu responde necessidades

ho objectivo fo apoio ba comunidade,

liu-liu jovens, ba concretização sira

nia mehi no tau sira iha situação

nebe certo.
---
Jorge Serrano

Emprezáriu

Konsolidasaun ba Kreximentu Ekonomia Sosiál

N

u'udar paíz emerjente ne'ebé

foin moris-buras, maka

Timor-Leste hamosu interese

ba investimentu. Orasne'e

daudaun, liuliu iha tinan-rua ikus

liubá-ne'e, sai tebes atrativu hodi

hamoris kuriozidade no dada broker

mundiál balun ne'ebé hakarak aproveita

oportunidade ne'e atu bele espande

sira-nia negósiu, liuhusi modu

parseria hirak-ne'ebé dala-ruma la

justu. Sekundarizasaun halo ba emprezariadu

nasionál ( a secundarização

do empresariado nacional ) –

kaer ba razaun ladauk iha esperiénsia

atu bele kaer obras boot no

mós alegasaun ka'ít-ho defisiénsia

téknika ( alegadas deficiências técnicas

) - ne'e mak erru aliás sala ne'ebé

ita haree halo beibeik husi parte

sira-ne'ebé mai vizita ita ho pretestu

atu jera parserias. Maibé, iha area

sektor obras-públikas no konstrusaun,Timor

oan barak mak iha ona

esperiencia mai husi tempu okupasaun

Indonésia.

Maske krize 2006, hamosu tiha imajem

negativa kona-ba ita-nia paíz idane'e,

maibé lori mós aspetus pozitivus

iha klarifikasaun ba kapasidade

emprezariál nasionál (clarificação da

capacidade empresarial nacional).

Inklui iha ne'e, lori dezafius foun ba

Estadu, tanba nesesidade evidente

atu avansa ba oin liu husi dezenvolvimentu

nasionál, toó iha momentu

ne'ebá sei estagnadu hela.

Hatuur mós iha klima igualdade laran,

paz polítika no partidária ba ema

hotu-hotu ne'ebé mak partisipa iha

Estadu nia konstrusaun. No, hasoru

difikuldades ne'ebé sente tebes duni

no mós hasoru dezafius ne'ebé lansa

hodi koko duni kapasidade emprezarius

nasionais, maka sira-nia resposta

afirmativa hodi hakarak tebes

korresponde. Emprezarius nasionais

simu ona oportunidade ne'ebé mak

Estadu no sidadaun tomak sai nu'udar

sasin.

Ho kualidade diák é kuran(ladun diak),

obras ida-ida sira hala'o duni

ona; ne'e korresponde ba kreximentu

-du-investimentu iha makinaria no iha

rekursus umanus:ema profisionais

espesializadus (profissionais altamente

especializados).

Maske-nune'e, iha investimentu balun

mak la hala'o tuir fluksu prátiku

(nem todo o investimento gerou fluxos

práticos).

Iha kazus oioin ka'it-ho mau-dezempeñu

hodi prejudika ninia rezultadu

finál.

Maibé ninia persentajem kiik hela.

Resposta maka ne'e : ita bele hateten

katak Governu berani taruh ka

dezafia, i Governu manan ka hetan

tebes duni êzitu, tanba husi ne'e bele

hatene duni ona kona-ba ida-idak (sira-ne'e

no sira-ne'ebá ) ninia kapasidade.

Estabelese tiha ona parserias saudáveis

iha nível nasionál entre emprezáriu

sira, hodi multiplika kapasidade

resposta ba dezafius boot no

boot liu-tán iha obras boot tebetebes

Dezembro 2010 – №3

Ekonomia

nu'udar prevista iha Planu Estratéjiku

Dezenvolvimentu Nasionál, ne'ebé

Primeiro-Ministro / maun Bot Komandante

Kay Rala Xanana Gusmão

rasik mak dezeňa hanesan prova hatudu

duni ninia sabedoria.

Se karik oras-ne'e ita hatene didiák

ona sé-de'it mak iha kapasidade no

sé-de'it mak laiha, loos-duni ita bele

afirma katak haktuir prosesu ida-hanesan

de'it, Estadu rasik mós sei liu

husi prosesu amaduresimentu (o processo

de amadurecimento) kona-ba

kumprimentu ba ninia kompromisu tomak

iha kalendárius previstus laran

(o cumprimento dos seus compromissos

dentro dos calendários previstos).

Emprezaáriu sira atu bele korresponde

hasoru nesesidades tenke avansa

ho ninia kapitál rasik (capital próprio),

ne'ebé bele rekorre sistematikamente

ba instituisaun bankária no

kontratu-de-jurus (à banca e ao contrato

de juros).

Tempu to'o ona atu Estadu adjudika

no selu prestasaun prevista (as tranches

previstas) haktuir prazu ne'ebé

estabelese iha akordu. Atrazu iha

pagamentu, sai faktor demolidór ne'ebé

bele prejudika empreza sira-nia

likidêz funsionál (liquidez funcional

das empresas).

Jurus ka banku nia funan aas-liu, no

atrazu hamosu husi parte Estadu,

bele sai fali hanesan monstru-boot

ida ba hamate empreza (tornam-se

monstros de aniquilamento empresarial

).

(pajina 50...)

49
---
Motor ba dezenvolvimentu ekonomia

nasionál mak empréstimu bankáriu,

maibé banku estranjeiru sira-ne"ebé

prezente iha Timor-Leste ninia partisipasaun

laek ka uitoan de"it. Uluk-ba

sira partisipa, maibé oras-neé la"e

ona, Iha inkumprimentu endémiku,

husi parte emprezárius balu, hodi

hamenus konfiansa ba emprezariadu.

Maske-nune"e, hotu-hotu la hanesan.

Ita labele haree de"it parte kiik oanida

ba buat tomak-ida (não se pode

olhar "a parte pelo todo"), tanba ne"e

mós labele iha ema balun selu fali erru

é sala ema-seluk halo-ba.

Interese ba ita, tenke lailais define

kritériu hala"o banku iha Timor-Leste,

hamutuk ho regulamentu kona-ba ninia

funsionamentu. Paíz ka nasaun

ne"ebé mak laiha banku ba hala"o investimentu

maka ninia dezenvolvimentu

sei la"o tuir ritimu ida-neineik

loos. Rítimu neineik prosesu dezenvolvimentu

iha nasoens / paízes frájeis,

iha ne"ebé buat hotu-hotu la"o

sabaraut de"it, sei la ajuda aliás sei

laiha proveitu ruma.

Dezenvolvimentu nasionál tenke hala"o

didi"ak ho kuidadus-akrexidus

ne"ebé adekuadu, maibé tenke hala'o

beibeik ba nafatin (nunca sem se

deixar de fazer).

Se karik, iha tinan-tinan ikus liubáne"e,

tuir kedan krize 2006, ita hetan

tiha ona esperiénsia razoável, maka

iha tinan-tinan tuirmai-ne"e ita sei

hetan prestasaun no konfiansa efektiva,

iha empreza sira-ne"ebé mak

aprezenta ona ninia kapasidade ezekutiva

no obra kualitativa. Ita bele

haree, pur ezemplu, Pacote Referendo,

ne"e fó partisipasaun ativa atu

bele estimula ekonomia nasionál no

hamosu kapasidades foun (no surgimento

de novas capacidades).

Nune"e-mós hatudu ninia frajilidades

ne"ebé serve nu"udar back-up ba

polítika futura atu bele utiliza di"akliután

fundus.

Ho Pacote Referendo (PR) ita-nia

paíz hatudu no komprova tiha ona

sinal-vitál balun katak tebes duni iha

esperansa é fiar-métin, hodi hamosu

klase-média emerjente husi pulveri-

50

zasaun osan públiku ne"e ( com a

pulverização de dinheiros públicos ),

uitoan ba paíz tomak liu husi inisiativa

emprezariál – no define loloos

kedan sé-de"it mak serbi nu"udar aktor

ba dezenvolvimentu ( quem é

quem no desenvolvimento ).

Oras-ne"e la"o daudaun ona "Pacote

de Desenvolvimento Descentrali-

zado" (PDD), ne"ebé inside loloos iha

distritu ida-idak no pratika fahe responsabilidade

ba rejiaun no distritu

hotu-hotu (põe em prática a responsabilidade

regional e distrital) liuhusi

administradór sira husi Distritu, Sub-

Distritu to"o ba Xefes-de-Suco no Aldeia

sira-hotu.

Ne"e esperiénsia di"ak mak rezulta

husi obras ne"ebé reali-za, hanesanmós

kriasaun fokalizada ba empregu

(criação focalizada de emprego).

Inevitável duni nesesidade ba banku

nasionál ka kapitál partisipadu (capitais

participados) iha ita-nia paíz

ne"e; banku-de-investimentu sira-ne"ebé

hetan estimulu hodi suporta dezenvolvimentu

nasionál Timor-Leste

(estimulados ao suporte do desenvolvimento

nacional de Timor-Leste) labele

kontinua nafatin hein-de"it ba

boa-vontade ka bainhira laiha karik

Dezembro 2010 – №3

Ekonomia

ba de"it instituisoens bankárias ho

ninia identidade la"os nasionál (falta

dela de instituições bancárias de

identidade não nacional).

Risku atu sai-de"it hanesan unidadede-kréditu

(unidade de crédito) ihane"e

tenke sai hanesan-de"it ho iha

paízes sira-seluk. Timor-Leste, labele

serve hodi kapta de"it "mais-valias"

ne"ebé mak la sai aplikável ba

dezenvolvimentu nasionál.

Jera didi"ak rikusoin iha Timor-Leste,

ne"e signifika katak bele partilla liu

husi empreendedorizmu (poder partilhar

através do empreen-dedorismo).

Tanba ne"e maka atu normaliza merkadu

(normalizar os mercados) no

kredibiliza ka hamosu fiar-metin husi

paízes seluk (credi-bilizar além-fronteiras),

presiza kedan ona halo konsagrasaun

leis série-ida ( consagração

de uma série de leis ) no ninia

implementasaun hodi bele hetan konfiansa

ne"e ( a realização de levantamentos

que levem à realização da

confiança ).

Hateten urjente no presiza tebetebes

atu paíz ne"e bele hatene didi"ak

sáida mak nu"udar ninian iha nível

patrimóniu no bele hatene didi"ak

mós sá-loos mak nuúdar domíniu

Estadu nian no sá-loos mak nu"udar

domíniu privadu nian (consiga

descortinar o que é do domínio do

Estado e do domínio pri-vado).

Lei kona-ba Rai (a Lei da Ter-ra)

tenke akompaňa kedas hamu-tuk ho

levantamentu kadastrál (levantamento

cadastral imediato), servisu

ida-ne"ebé presiza kedan tinan barak

atu bele realiza. Hala"o tiha ona

levantamentu ida-ne"e mak foin bele

avansa ho garan-tia reál ba banku

investimentu nian, no hala"o hamutuk

ho parseirus es-tratéjikus rejionais no

supra-rejionais. Seidauk bele avansa

iha investi-mentu nasionál bainhira

seidauk halo regularizasaun ba informasaun

ka-dastrál aktualizada (a regularização

da informação cadastral

estar actualizada).
---
Paíz ida-ne'e iha "mais-valias" ne'ebé

ita-hotu hatene.

Iha modelu-de-dezenvolvimentu emprezariál

balun mak tenke fó apoiu no

estimula emprezárius nasionais.

Iha área telekomunikasaun, ezemplu

ne'ebé Estadu hala'o hodi hatuur Timor

Telecom, tenke da'it ba sektorde-atividade

seluseluk - iha dezenvolvimentu

infra-estruturas no jestaun

aeroportuária, iha portu marítimu, iha

eletrisidade, iha peskas no tranzformasaun

ba peskadu, iha fatuk-ornamentál,

iha estradas no auto-estradas,

iha armazenamentu no refinasaun

ba produtus petrolíferus, iha

transportes no komunikasoens, iha

teknolojias-de-informasaun, iha boasprátikas

agríkolas no meiu-ambientál,

no seluseluk-tán.

Parserias ne'ebé envolve emprezárius

nasionais sei fortalese no hametin-liután

sosiedade em-jerál, hodi hadi'a

kondisoens-de-vida di'akliu (melhoria

das condições de vida) ba timoroan-sira,

ne'ebé hamosu-mai husi

kreximentu efetivu iha ekonomia

nasionál.

Timor-Leste hetan kreximentu aasliután

média, mezmu-ke enfrenta hela

mós krize internasionál globalizada.

Maske-nune'e, ita labele matan-dukur

beibeik tan-de'it númeru kreximentu

ne'e, tanba ida-ne'e foin bele sai efetivu

bainhira bele funsiona nu'udar

multiplikador (só poderão ser efectivos

se forem multiplicadores). Nune'e,

signifika katak presiza no urjente

tebes ba ita-hotu atu hanoin konaba

oinsá mak estradas sai di'akliu, ita

iha telekomunikasaun di'ak, eskola

di'ak, no ospitál di'ak hodi atende

didi'ak ema-nia saúde; hirak-ne'e foin

sai efetivu bainhira hala'o ofensiva ba

kriasaun indústria nível nasionál

(lançar uma ofensiva na criação de

indústria a nível naciona).

Jera empregu, hodibele hamosu marka

Timor-Leste iha merkadu rejionál

no internasionál. La'ós atu sai-de'it

hanesan paíz importadór-masivu,

maibé tenke sai nu'udar paíz ne'ebé

hetan ekilibriu iha ninia balansa-ko-

mersiál (um país de equilíbrio na sua

balança comercial). Esportasaun iha

áreas espesífikas no auto-sufisiênsia

iha kampu alimentar, ne'e nu'udar

aposta ka dezafiu mak ita tenke tetudidi'ak.

Timor-Leste, la hetan kondenasaun

atu sai hanesan illa-sorin balu ne'ebé

hamosu laran-moras no inveja hosi

parte seluk, ka nu'udar mordasa

ekonómika tanba iha loos dependénsia

boot ba esterior; maibé tenke sai

nu'udar paíz ho naran-di'ak tanba ninia

korajem atubele hatudu ninia anrasik

iha kontestu internasionál (pela

sua coragem em se afirmar no contexto

internacional).

Timor-Leste, ohin-loron hatuur ambiente

emprezarial ne'ebé obriga iha

kuidadus espesífikus, maibé iha

lisaun-ida mak ita-hotu aprende ona :

hahú oras-ne'e ba oin bele krexe

buras de'it iha ita-nia laran bainhira

haree ba liur (só se pode crescer cá

dentro olhando para fora) no ba

ezemplus di'ak ne'ebé rejista iha

mundu rai-klaran.

Emprezariadu nasional kapasitadu

ona no prontu atu responde ba dezafius

dezenvolvimentu nian. Interese

ba ita, katak kreximentu, iha nível

infra-estruturas no em-jeral, tenke

halo haktuir prinsípiu respeitu ba emprezárius

nasionais, husi parte sirane'ebé

mak hatene no investe iha

dezempeňu ba kualidade no justisa

sosial, ba dezenvolvimentu paíz no

ba ninia povu (em nome do desenvolvimento

do país e do seu povo).

Oras-ne'e, ita-hotu hatene didi'ak

katak, iha tebes vontade nasionál ida

-de'it atu halo pasus-konkretus iha

dalan ba dezenvolvimentu estrutural

ho umanu (no caminho do desenvolvimento

estrutural e humano).

Iha Timor-Leste, bele asegura katak

iha duni kapasidade no kualidade,

hetan respeitu husi ema hotu-hotu,

hodi bele hala'o kontrusaun ba Nasaun

ida-ne'e, hanesan-mós hametin

ambiente propísiu ba halo konsolidasaun

iha kreximentu ekonomia sosial

(consolidação do crescimento da

economia social).

Bem-hajam!

À bem da Nação!

Dezembro 2010 – №3

Ekonomia

51
---
I

n June 2010, a Belarus based

computer security firm identified a

new computer malware program,

Stuxnet, which was repeatedly

crashing the computers of one of its

clients. In August , a German security

researcher suggested that the program's

real target might be the Iranian

nuclear program and that clues

suggested that Israel was the creator.

Since then, there has been growing

alarm about the worm. The code has

appeared in many countries, notably,

China, India, Indonesia and Iran. It

appears to design to attack a certain

type of Siemens Industrial control

computer, used widely to manage oil

pipelines, electrical power grids and

many kinds of nuclear plants.

A 2007 Federal Bureau of Investigation

report asserted that 108 countries

had at least some offensive cyberwarfare

capabilities. And there

has been widespread speculation

that a secret cyberwar "arms race" is

underway as countries build sophisticated

software and hardware attack

capabilities. Most recent military engagements,

like Russia's quarrel with

Georgia in 2008, have been accompanied

by "cyberwar" in which Government

and Financial websites have

been targeted.

In his book "At the Abyss", Thomas

C. Reed, a former secretary of the

United States Air force, described a

Trojan Horse, in which industrial control

software was covertly added by

52

Partha Sarathi Bhowmick

IT-Manager-Webmaster / PR

On the Edge of Cyber

Warfare

the United States to equipment being

shipped to the Soviet union. When

the equipment was installed in a trans

- Siberian gas pipeline in June 1982,

it malfunctioned, touching off a huge

explosion.

Stuxnet is the first widely analyzed

malware program that is intended to

jump from windows- based computers

to a specialized system used

for controlling industrial equipment.

Previously, most high profile cyberattacks

have focused on websites and

corporate or military networks.

There has also been speculation

about episodes that could have been

caused by sabotage. For example,

The Los Angeles Times reported in

2001 that intrusions into the network

that controlled the electrical grid were

traced to someone in China. Later

reports of other electric grid attacks

have often included allegations that

the break-ins were orchestrated by

the Chinese, although no proof has

been produced.

Several hints in the code suggest

Israel authorship, including a possible

allusion to the book of Esther, which

describes Jewish retaliation against a

Persian threat, and a number –

Dezembro 2010 – №3

Teknolojia

19790509- that appears to refer to

the date of execution of an Iranian

Jew.

But many military and intelligence

analysts, including several with direct

knowledge of Israeli intelligence operations,

have said it is unlikely that it

is either an Israeli or United States

operation would leave such blatant

clues. That leaves the possibility that

someone wanted to plant evidence

pointing to Israeli involvement.

There has been widespread fear

about attacks that jam or damage

large financial networks, transportation

systems or any of the modern

infrastructure underlying industrial

economies.

The first step in securing these systems

has been to ensure that they

are entirely separated from the internet.

However, even if they are separated,

in many cases they used internal

networks based on the internet

protocol, as well as common computing

equipment, like Microsoft and Intel-based

computers. That means

they remain potentially vulnerable to

a "sneaker net" attack, in which a malicious

program is physically carried

into an isolated network.

In the case of Stuxnet, computer security

specialists generally agree that

it was not the work of one person but

rather a team of sophisticated programmers.

Certainly nations with cyberwar

capabilities are potential suspects,

but they are not the only possible

creators.
---
Madre Guilhermina Marçal

Premiu Direitus Umanus 2009

D

ecreto Concíliar Gravissimum

Educationis considera

Eduacação mak base fundamental

no importante teb

-tebes iha ema nia moris, nebe influência

makas iha progresso social

tempo hot-hotu nian.

Igreja desempenha-an tomak ho dedicação

ba capacitação integral pessoa

humana nian hodi alcance objectivo

ultimo ne'e rasik. Tan ne'e wainhira

ita contempla kna'ar no contribução

Igreja Católica iha Timor-

Leste ba formação no confirmação

Timor-Leste nian, ita la se'es hosi

hanorin Igreja nian nebe hatudu

mai ita iha documentos conci-liares

no iha Evangelho rasik. Cristo lia tun

dehan dehan: " Imi ba mundo tomak

hodi hanorin no sarani ema hotu."

Igreja Timor-Leste, fiel nafatim ba

mandato missíanica ida ne'e hodi

hala'o nia kna'ar iha tempo hot-hotu,

hodi forma, educa ema atu sai ema

lolo'os iha sector hot-hotu liuliu

"Educação mak sai nudar índole

importante ba Povo hodi transforma

mentalidade no llori impacto [postivo

ba desenvolvimento ninia moris rasik.

Forma ema sai ema matenek nebe

integrado no apacitado iha n"ivel hothotu,

liu-liu iha nível moral social no

cultural. Basa, ema mak sai centro

primo iha universo ida ne'e.

Objectivo primário Igreja Católica

iha setor educação mak:

Formação Integral Pessoa Humana

nian" hodi orienta ba fim ultimo no

simultaneamente ba diak ema hotu

nian iha nação tomak no liu-liu ita

rain. Hosi educação mak religioso/a

sacerdote sira lori Timor oan sira desenvolve

sira nia dotes físicos, morais,

intelectuais hodi adquire sentido

responsabilidade ba vida, liberdade

ho rectidão, nune'e tulun no lori sira

hola parte activamente iha vida social

-política durante luta naruk, to'o

hetan ninia autodeterminação, nudar

"Povo Soberano no Independente."

Ita ida-idak consciente nafatin katak

Igreja Católica nudar Inan, nia hala'o

kna'ar hodi defende ema nian moris,

foti sa'e existência ema nian nudar

valor a'as liu hot-hotu, hodi sensibiliza

no hamahan Timor oan tomak

iha tempo hot-hotu, liu-liu iha tempo

ocupação Indonésia nian. Nia la hakfodak,

la tauk, nia metin nafatin iha

ninia princípio sira, hodi hala'o ninia

missão promária mak educa, forma

consciência moral no Social hodi

salva Povo iha terus nian laran. Igreja

sai única força nebe habrani-an tuir

Moral Social-Educacional

Evangelho Cristo nian hodi halian lian

netik lian laek sira nian ba mundo

tomak. Igreja tau ba kotuk buat hothotu,

consentra deit iha promoção integral

humanidade nian liu hosi

educação, no kna'ar social, hodi

habiban Timor oan tomak hola parte

efetiva iha decisão política " UKUN

RASIK-AN."

Igreja Católica consciente teb-tebes

iha ninia kna'ar hot-hotu; katak liu

hosi sector Educação mak bele forma,

educa, hodi transforma mentalidade

Povo nian ba autodeteminação

nebe responsável no coerente; tamba

ida ne'e sai direito prioritário no

único ba Povo Timor-Leste hanesan

mo'os ba humanidade tomak iha

universo ida ne'e.

Ho espírito inan, mestra Nia educa

ema ida-idak atu hola consciência

ba nia moris hodi respeita, hadomi

niaan nudar ema criatura Nai

Maromak nian.

Fo'o valor ba ninia existência nudar

ser humano ida, la husik niaan sai

instrumento ba política malgorada

ida.

Maibe hatene niaan nudar ida nebe

iha capacidade intelectual, moral

social cultural no política.

História Igreja Católica, marka história

existência, Povo Timor-Leste

nian, basa iha tempo susar no terus,

ksolok no tanis, Nia hola parte iha

terus Povo nian hodi loke fuan

hamahan maun-alin kbi'it laek sira ho

dalan oi-oin no oin sa, mak bele salva

Povo hosi kroat no terus nia laran.

Igreja nudar inan, mestra, medianeira

fo'o apoio moral educacional hodi

Dezembro 2010 – №3

Relijiaun

sensibiliza , motiva Timor-oan sira

luta ba justiça no verdade to'o hetan

Libertação Nascional. Iha documento

Igreja Católica nian dehan:

Ksolok, esperança, tristezas, no

angústias ema ohin loron nian, liu-liu

kiak no mukit sira no ba sira hotu

nebe terus, sira mo'os koko duni

esperiência ksolok, esperança, tristezas,

no angústias apostólos Cristo

Jesus nian iha tempo neba.

Gaudium Et Spes no.1. Esperiência

ida ne'e sai fio conductor ba ema fiar

nain no apostolos Cristo nian.

Ami halo ida sai nudar ami nia esperiência

rasik hodi moris hamutuk ho

Povo Timor-Leste iha tempo crucial

nia laran to'o rai-hun mutin.

Esperiência ida ne'e la hela deit

nudar servico caritativo, social no

humani-tário deit maibe terus-susar

no fakar ran Povo Timor-Leste

nian taka ho "Martírio Missionário:,

Padres, Ma-dres, Seminaristas, Acólitos

Jovens no Jornalista hanesan P.

Albreth Ka-ren, SJ, P.Dewanto, SJ,

P. Hilário Madeira diocesano, P.

Francisco dio-cesano, madre Erminia

Cazzaniga, FdCC missionária Italiana,

madre Celeste de Carvalho,

FdCC Timoroan, Fraters: Jacinto,

Valério, Fernando, Agus Muliawan

jornalista, Rudy acólito, Titisandora.

Sira ne'e sai nudar previlégio bo'ot ba

Igreja Católica no ba Povo tomak iha

Timor-Leste basa sira hola parte iha

Martírio Cristo nian hodi hakmanek

liu tan Idependência no Soberania

Povo nian.

(pajina 54...)

53
---
Esperiências Mártires Timor-oan rihun

ba rihun bo'ok nafatin Povo

tomak atu moris iha integridade hodi

hametin liu tan unidade nascional nebe

naruk no klean liu tan.

Contribuição Igreja Católica la'os deit

iha sector educação, moral social

maibe iha sectores hot-hotu. Hanesan

iha crise política 2006, padres,

madres loke odamata conventos, paroquias

no escolas atu protégé Timor

-oan rihun ba rihun nebe dala ida tan

enfrenta ca'os política iha Timor

laran. Durante evento drátmatico ida

ne'e, Igreja la hela nono'ok deit

maibe fo'o segurança 24 horas, buka

ai-han, sanitação, saúde, atende chamada

emergenciais hosi grupo hothotu

atu acude sira nebe la se'es

hosi klo'ot no mate nia laran.

Missão ida ne'e lori mo'os risquio ba

ami nia vida rasik, maibe buka habrani-an

hodi fiar iha Maromak bele hothotu

atu salva deit povo iha klo'ot no

mate nia laran.

Igreja Católica iha arte serbi nian ba

ema hot-hotu. La fihir no la hili, se'e

deit mak precisa nia tulun nia pronto

atu fo'o apoio tuir posibilidade nebe

iha atu habiban maluk sira bele hetan

netik lahan mahan ruma, paz no harmonia

iha nia situação moris nebe

deit. Hamaluk ki'ik no kiak oan sira

hanesan hamaluk Cristo Jesus rasik.

54

Educação no promoção

ba Jovem sira

Foin sa'e sira mak futuro Timor-Leste

nian. Atu hakmanek liu tan Timor

iha futura, Igreja-Estado no Institituições

hot-hotu precisa investe maka'as

iha recursos humanos liu-liu labarik

no jovem sira nebe sei sai ai-rin

dolen Timor-Leste nian iha futuro. Ita

precisa Educa no promove sira hodi

facilita sira nia moris, liu hosi educação

nebe integrada. Nune'e bele produz

oanfeto no mane nebe iha

capacidade intellectual moral, social

cultural política ba futura nebe nabilan

liu tuir ita rai doben nian naran

Timor-Lorosa'e.

Ita hot-hotu precisa hola consciência

colectiva ida oin sa mak ita serbisu

hamuuk hodi hadia qualidade educação

iha ita nia rain no liu-liu produz

deit matenek nain nebe hatene distingue

valores culturais morais no religiosas

atu bele sai construtores e

pensadores potenetes ba edificação

Povo Timor-Leste tuir ema sira nebe

fiar iha Nai Maromak.

Iha tempo luta nian ita hotu tau ita

nia fragmento de contribuição ba

UKUN RAIK-AN; ohin loron ita precisa

luta nafatin hodi hadia Povo nia

moris atu bele halakon mukit, kiak iha

rai laran nune'e Povo bele sente duni

katak nia Povo ida be Independente

no Soberano. Reconhece-an hanesan

ema livre no independente.

Social- Cultural -Moral

Timor-Leste precisa ema professional,

responsável, constante veritiero,

honesto hodi bele salva Povo hosi

coloniazação foun nebe ha'u rasik

hanaran: "Nova Coloniazação Cultural

e Econômica." Tan sa ha'u dehan

ida ne'e? Tamba ita hare ba realidade

Timor-Leste nian, hau preocupa

teb-tebes , keta halo ba, Independência

sai deit proveito sorin ki'ik-oan

ida no ba ema mundo seluk deit.

Ha'u pessoalmente la kohi buat hanesan

ne'e mosu ba ha'u nia compa-

Dezembro 2010 – №3

Relijiaun

triota sira. Hakarak Timor ida nebe livre

hosi pluralidade social política

nebe la fo'o vantagem ba Povo rasik.

Povo Timor-oan tomak iha direito atu

moris iha lia lo'os no justiça nia laran

atu bele tane a'as nafatin vitória

triunfante ita nian. Basa ida ne'e sai

nudar causa primária ba Timor oan

hotu.

Ó iha rai liur eh laran, ó duni mak

precisa tau iha ó nia laran valores

vitais sira ne'e hodi foti nafatin ita

DOBEM TIMOR-LESTE.

Timor-oan hotu precisa sai matenek

liu tan iha ita nia fiar nebe sai roman

ba ita nia moris nudar Povo Ukun

Rasik-an. Consciente ba valores morais

no culturais- sociais. Hatene distingue

ida nebe los no la lo'os diak no

a'at Sai ema socia nebe inteligente

no responsável ba hahalok no lian

fuan. Sai ema nebe Madura iha ninia

política rasik, la sai ema prasita

maibe iha ninia personalidade rasik

hodi contribui ba Desenvolvimento

Nascional. Moris iha vid social nebe

metin, wainhira ita hatene hakna'ar

hamotuk, tau ba kotuk ida-idak nia

ideologia política hodi hare ba bem

estar comum.

Ne'e katak sai ema social nebe iha

base fundamental moral-religiosa.

Nudar São Tomas de Mora, Patrono

politicos no governan-te sira nian

dehan: Político no gover-nante nebe

diak katak : Ema la bele haketaak

malu hosi Maromak nem política

haketak-an hosi moral. Hano-in ida

ne'e urge ema hot-hotu liu-liu politicos

no nai-ulun sira atu la bele

haketak-an hosi Maromak no moral.

Basa dala ruma mo'os mosu ida

ne'e mai ita.

Dala ruma bele aconte-ce katak, ita

moris iha era gloalização nian nebe

valores mo'os la relevante ona mai

ita. La iha ona sasukat ida hodi orienta

ita nia moris nudar Povo Soberano

no Independente.

Quando buat hirak ne'e la iha, ne'e

mak ita hamenos ita nia soberania

hanesan Povo no Nação Independente

ida.
---
Timor-oan precisa tane a'as ninia valores

culturais, morais e sociais.

Timor-oan ema ida nebe hatene respeita

nia maluk sira, hadomi, batinas

tulun nain, no hamtauk Nai Maromak.

Nia ema ida nebe social teb-tebes,

katak intuitivo; hatene si'ik ema seluk

nia precisa. Nia la precisa ema tenki

husu eh dehan mak nia foin halo

maibe nia ema idabe flexívle, laran

responsável no coerente teb-tebes

iha oras no fatin nebe deit. Tambane'e

ita precisa recopera fali riku soin

sira ne'e liu hosi educação no mo'os

liu hosi formação educação moral,

social, cultural eh Educação Cívica

no Moral Religião, atu bele hadia no

hametin liu tan valores vitais moris

Timor-oan nian.

Familia mak viveiro moris Nação

no Igreja nian

Nação nebe mak forte wainhira abut

familia nian metin no forte. Família

mak motor desenvolvimento humano

iha sosciedade tomak. Basa iha neba

mak membro família tomak buka simu

no fó atu luta hodi atinge ninia

ideias eh metas. Desenvolvimento fa-

milia liga nafatin ho ninia experiências,

processo sira hotu sujeita ba

família. Nune'e mo'os oin sa mak ita

bele serbisu maka'as liu tan atu sasukat

ida nebe mak sai configuração

familiar nebe contribui ba bem-estar

membros família nian; nune'e deit

mak ita bele hein hodi elabora capacidades

familia iha sociedade no

Igreja Católica iha Timor-Leste. Família

nebe abut iha Evangelho nudar

sarani nia buka moris tuir ninia charisma

no fiar sarani nian hodi educa

no forma nia oan sira tuir sira nia fiar

sarani; atu oin sa mak bele lori oan

siar tane vida nudar moris Nai Maromak

nian rasik tau hela iha familia

ne'e nia moris. Familia diak buka respeita

moris ki'ik oan sira nian, buka

bali di-diak to'o moris ne'e nia rohan.

Basa nação precisa ema no moris

nebe saudável ba edificação Nação

no Kreda iha mundo rai klaran.

Papa João Paulo II, papa ida nebe

tau neon metin no atenção tomak ba

familia, hodi fo'o sai document importante

tebes ida konba Familia

( Familiares Consosrtio.) hadomi no

respeita moris família nian sai nudar

direito universal no decreto divino Nai

Dezembro 2010 – №3

Relijiaun

Maromak nian ba mundo.

Familia mak sai origem primário

moris sociedade-kreda no nação

nian.

Família saudável no sustentável ho

valore mak bele hakmanek liu tan

Kreda no Nação.

Ohin loron Igreja Católica Timor-Leste

tama iha era foun nebe nakonu ho

desafios no dificuladades liu-liu iha

era globalização no modernização.

Ita hare no hatene tamba esperiência

arasik, lala'ok moris Povo Timor-

Leste nian sai oin seluk, no dala ruma

hado'ok-an hosi valores morais,

culturais no religiosos.

Dificuldades no problemas foun sirane'e

mak hanesan: tráfico humano,

mudança cli-mática, pobreza, crise

de identidade no liu-liu ema fo'o prioridade

liu ba ecosistema liu fali ema

ne'e rasik. Caso sira hanesan desafia

teb-tebes Igreja Católica iha Timor-

Leste.

Ita hare katak espírito individualismo

no grupismo sai mahar dau-daun iha

rai laran.

La'aok sira hanesan ne'e lori mo'os

ema hado'ok-an hosi Nai Maromak.

Basa sira considera, moris fiar sarani

nian eh ema fiar nain nian sai moda

antiga nebe ala iha revância ba moris

ohin loron nian.

Prepara feto no mane nebe matenek

iha ulun fuan no neon atu serbi no

desenvolve Povo Timor-Leste tomak.

Ne'e precisa buka estratégia política

foun nebe metin nafatin iha hanorin

Cristo no Santa Kreda nian atu tane

nafatin moris Povo nian nebe livre no

responsável ba futuro ida nebe

saudável no próspero no interagado.

Inan santa Kreda buka nafatin hodi

banati tuir Inan Virgem nian atu sai

educadora, formadora ideial ba Povo

Timor-oan tomak.

Futuro Timor-Leste depende ba quali

-dade educação no esforçoa nebe ita

fo'o ba labarik no foin sa'e sira.

Loron matan sa'e lori naroman foun,

hakmanek Povo ho kbi'it Espírito

Santo no tulun Virgem Maria nian.

55
---
It is time to leave stoning as a form of capital punishment behind us as a race, to relegate it to the same place we

have put stringing heretics on racks -- in a chapter of our past that we are not proud of

The Huffington Post, July 8, 2010

I

am aware, as I am writing this,

that I come from a country far

from Iran, and a religious and

political culture that are different

in many ways.

But there are elements that tie all religions

together. Compassion and

love are two of those elements.

Any person who has studied the

words of God or felt Allah's blessings

has been privileged to know His

mercy and forgiveness.

So how could it be that He would approve

of our treating our fellow men

and women -- our brothers and sisters

in his family -- with anything

less?

Sakineh Mohammadie Ashtiani and

her children are His creations as

surely as you and I are.

We do not always do well at interpreting

the will of our God in this world.

My Church, the Catholic Church,

does not stand above reproach in

this.

We will always have the stain of the

Spanish Inquisition and the torture of

innocents assumed to be heretics in

our history.

Today the Church is dealing with

shortfalls in its treatment of those

who have abused children, God's

precious young ones.

But we must remember that these

acts are the acts of Man, not acts of

God.

As individuals, and citizens of this

planet, can only say that we will continually

strive to do better and to better

reflect God's wisdom and mercy in

our lives and in the communities and

civilizations we build.

As we strive to do this, we must at

times recognize that barbarities that

were a part of past cultures in our

religious history no longer have a

place in our lives.

In the case of stoning, its roots are

not in the Quran but are in the Torah,

believe to have been written in 500

BC -- a world that has little in com-

56

Dr.J.Ramos-Horta

Presidente da República

An Appeal for Sakineh Mohammadie Ashtiani

mon with our world today.

It is time to leave stoning as a form of

capital punishment behind us as a

race, to relegate it to the same place

we have put stringing heretics on

racks -- in a chapter of our past that

we are not proud of.

The case of Sakineh Mohammadie

Ashtiani -- a terrified woman who

does not even speak the language of

her accusers -- is an opportunity for

us to show God's wisdom and mercy

to another.

I do not pretend to be a religious

scholar and I do not pretend to be

Dezembro 2010 – №3

Media

able to comment on the legal proceedings

or details of her case. It is

as a fellow human being that I appeal

to those who are the Supreme Leaders

of Islamic Justice, the interpreters

of the will of Allah on Earth, to show

His compassion and love, if not to the

mother than at least to the two young

children whose lives will be destroyed

by this event, to touch their heads

with the understanding that Allah

would not want his innocent young

children to be exposed to such extreme

suffering at the hands of Man.

We can do better than this.