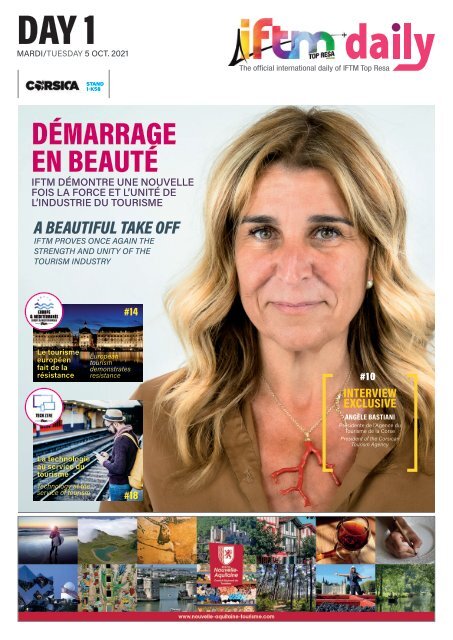 You also want an ePaper? Increase the reach of your titles
YUMPU automatically turns print PDFs into web optimized ePapers that Google loves.
DAY 1

MARDI/TUESDAY 5 OCT. 2021

The official international daily of IFTM Top Resa

STAND

1-K58

DÉMARRAGE

EN BEAUTÉ

IFTM DÉMONTRE UNE NOUVELLE

FOIS LA FORCE ET L'UNITÉ DE

L'INDUSTRIE DU TOURISME

A BEAUTIFUL TAKE OFF

IFTM PROVES ONCE AGAIN THE

STRENGTH AND UNITY OF THE

TOURISM INDUSTRY

#14

Le tourisme

européen

fait de la

résistance

European

tourism

demonstrates

resistance

#10

INTERVIEW

EXCLUSIVE

ANGÈLE BASTIANI

Présidente de l'Agence du

Tourisme de la Corse

President of the Corsican

Tourism Agency

La technologie

au service du

tourisme

Technology at the

service of tourism

#18
---
HALL PLAN

STAND 1-K58 STAND 1-K61

2 IFTM DAILY • MARDI/TUESDAY 5 OCT. 2021

www.iftmdaily.com
---
DAY 1

MARDI 5

OCTOBRE

2021

DÉPASSEZ VOS CONCURRENTS SUR GOOGLE EN

EXPLOITANT SON ALGORITHME À VOTRE

AVANTAGE !

En partenariat avec netlinking.fr

10:00 - 11:30 Salle C+F, espace 2000

10 IDÉES POUR RÉVEILLER VOTRE INSPIRATION

SUR LES RÉSEAUX SOCIAUX

En partenariat avec Travel Pro Formation

10:30 - 11:15 Forum

DIGITAL DAY / L'IMMERSION, UNE NOUVELLE

FAÇON DE VIVRE UNE EXPÉRIENCE

En partenariat avec WAVESTONE

10:30 - 11:15 Salle AGORA

FAE / SANTA MONICA : LA BELLE,

DOUCE ET COOL CALIFORNIE

10:30 - 11:00 Tokyo

"STARTUPS DANS LE BUSINESS TRAVEL :

AUTONOMES OU FORCÉES À LA

COCONSTRUCTION ?"

En partenariat avec AFTM

11:00 - 12:00 Club Affaires

FAE / FORMATION SUR LA DESTINATION CORSE

par Groupe Corsicatours

11:30 - 12:00 Tokyo

DIGITAL DAY / QUELLES SOLUTIONS CONCRÈTES

POUR RÉDUIRE L'EMPREINTE CARBONE DU

TRANSPORT AÉRIEN ?

En partenariat avec Wavestone

11:45 - 12:30 Salle AGORA

PROFESSIONNELS DU VOYAGE :

COMMENT AGIR POUR UN TOURISME

RESPONSABLE ?

En partenariat avec Travel Pro Formation

11:45 - 12:30 Forum

FAE / AIRTAHITI : CROISIÈRE PRIVÉE

EN CATAMARAN

12:30 - 13:00 Tokyo

DIGITAL DAY / PANORAMA DES STARTUPS

DISRUPTIVES

En partenariat avec Travel Pro Formation

13:00 - 13:45 Salle AGORA

ON N'A PAS TOUS LA MÊME VISION DU MONDE !

En partenariat avec Wavestone

13:00 - 13:45 Forum

FAE / REPUBLIQUE DOMINICAINE

- QUOI DE NEUF ?

13:30 - 14:00 Tokyo

INITIER UNE DÉMARCHE RSE DANS SON

ENTREPRISE

En partenariat avec ESCAET

14:00 - 15:00 Forum

DIGITAL DAY / LES RÉALITÉS ÉTENDUES

AU SERVICE DU TOURISME

En partenariat avec Wavestone

14:15 - 15:00 Salle AGORA

FAE / COSTA CROISIERES : DES NOUVEAUTÉS

ESSENTIELLES ET TRÈS IMPORTANTES À

DÉCOUVRIR ABSOLUMENT !

14:30 - 15:00 Tokyo

COMMENT DIGITALISER LES ACTIVITÉS

DU TOURISME LOCAL ?

En partenariat avec Regiondo

15:00 - 16:00 Salle New York

LE FORFAIT ET LE CRÉDIT MOBILITÉ,

ÉPIPHÉNOMÈNE CONTEXTUEL ET

"CITADIN" OU RÉVOLUTION DES MOBILITÉS

PROFESSIONNELLES URBAINES ?

En partenariat avec AFTM

15:00 - 16:00 Club Affaires

CONFÉRENCE APECA – MEDIATEUR DES

ENTREPRISES (RÔLE ET PANORAMA DES

ACTIVITÉS)

En partenariat avec APECA

15:30 - 16:15 AGORA

FAE / SAVOIE MONT BLANC, DESTINATION

LEADER DE LA MONTAGNE FRANÇAISE L'HIVER

En partenariat avec Auvergne Rhône Alpes

15:30 - 16:00 Tokyo

INTÉGRER LES NOUVELLES TECHNOLOGIES

DANS LES MÉTIERS DU TOURISME

En partenariat avec ESCAET

15:30 - 16:30 Forum

FAE / LOS ANGELES :

YOUR COME BACK STARTS HERE!

16:30 - 17:00 Tokyo

LANCEMENT DU CAHIER DES TENDANCES

BY WELCOME CITY LAB, EN PARTENARIAT AVEC

ATOUT FRANCE

En partenariat avec Welcome City Lab

16:30 - 17:15 AGORA

LES FREELANCE, AU SERVICE DE LA REPRISE

DU TOURISME

En partenariat avec AwayWeGo

16:30 - 18:00 New York

FAE / CALIFORNIE, DREAM BIG !

17:30 - 18:00 Tokyo

START-UP CONTEST FINALE

François Xavier Izenic

17:30 - 19:00 AGORA

4 IFTM DAILY • MARDI/TUESDAY 5 OCT. 2021

www.iftmdaily.com
---
DAY 1

TUESDAY 5

OCTOBER

2021

SURPASS YOUR COMPETITORS ON GOOGLE BY EXPLOITING

ITS ALGORITHM TO YOUR ADVANTAGE!

In partnership with netlinking.fr

10:00 - 11:30 Room C+F, space 2000

10 IDEAS TO AWAKEN YOUR INSPIRATION

ON SOCIAL NETWORKS

In partnership with Travel Pro Formation

10:30 - 11:15 Forum

DIGITAL DAY / IMMERSION, A NEW WAY

TO LIVE AN EXPERIENCE

In partnership with WAVESTONE

10:30 - 11:15 Agora Room

FAE / SANTA MONICA : THE BEAUTIFUL,

SOFT AND COOL SIDE OF CALIFORNIE

10:30 - 11:00 Tokyo

"STARTUPS IN BUSINESS TRAVEL:

AUTONOMOUS OR FORCED INTO CO-CONSTRUCTION?"

In partnership with AFTM

11:00 - 12:00 Business Club

FAE / TRAINING ABOUT DESTINATION CORSICA

BY GROUPE CORSICATOURS

11:30 - 12:00 Tokyo

DIGITAL DAY/ WHAT CONCRETE SOLUTIONS

TO REDUCE THE CARBON FOOTPRINT OF AIR TRAVEL?

In partnership with Wavestone

11:45 - 12:30 Agora Room

TRAVEL PROFESSIONALS: HOW TO ACT

FOR RESPONSIBLE TOURISM?

In partnership with Travel Pro Formation

11:45 - 12:30 Forum

FAE / AIRTAHITI : PRIVATE CRUISES WITH A CATAMARAN

12:30 - 13:00 Tokyo

DIGITAL DAY/ PANORAMA OF DISRUPTIVE STARTUPS

In partnership with Travel Pro Formation

13:00 - 13:45 Agora Room

WE DON'T ALL HAVE THE SAME VISION OF THE WORLD!

In partnership with Wavestone

13:00 - 13:45 Forum

FAE / DOMINICAN REPUBLIC - WHAT'S UP ?

13:30 - 14:00 Tokyo

INITIATE A CSR APPROACH IN YOUR COMPANY

In partnership with ESCAET

14:00 - 15:00 Forum

DIGITAL DAY/ EXTENDED REALITY

AT THE SERVICE OF TOURISM

In partnership with Wavestone

14:15 - 15:00 Room AGORA

FAE / COSTA CROISIERES : ESSENTIAL AND VERY

IMPORTANT NEWS TO DISCOVER!

14:30 - 15:00 Tokyo

HOW TO DIGITALISE LOCAL TOURISM ACTIVITIES?

In partnership with Regiondo

15:00 - 16:00 New York

THE FIXED PRICE AND MOBILITY CREDIT, A CONTEXTUAL

AND 'URBAN' EPIPHENOMENON OR A REVOLUTION

IN URBAN PROFESSIONAL MOBILITY?

In partnership with AFTM

15:00 - 16:00 Business Club

APECA CONFERENCE - BUSINESS MEDIATOR

(ROLE AND OVERVIEW OF ACTIVITIES)

In partnership with APECA

15:30 - 16:15 AGORA

FAE / SAVOIE MONT BLANC,

THE LEADING FRENCH MOUNTAIN DESTINATION

IN WINTER

In partnership with Auvergne Rhône Alpes

15:30 - 16:00 Tokyo

INTEGRATING NEW TECHNOLOGIES

IN THE TOURISM INDUSTRY

In partnership with ESCAET

15:30 - 16:30 Forum

FAE / LOS ANGELES : YOUR COME BACK STARTS HERE!

16:30 - 17:00 Tokyo

LAUNCH OF THE CAHIER DES TENDANCES

BY WELCOME CITY LAB,

In partnership with Atout France

16:30 - 17:15 AGORA

FREELANCE WORKERS, IN THE SERVICE

OF THE RECOVERY OF TOURISM

In partnership with AwayWeGo

16:30 - 18:00 New York

FAE / CALIFORNIA, DREAM BIG !

17:30 - 18:00 Tokyo

START-UP CONTEST FINAL

François Xavier Izenic

17:30 - 19:00 AGORA

IFTM DAILY • MARDI/TUESDAY 5 OCT. 2021 5
---
The official international daily of IFTM Top Resa

I ACTUALITÉS I NEWS

I

© Maya Angelse

Frédéric Lorin

Directeur IFTM Top Resa

et Directeur de la Division Tourisme RX France

Director IFTM Top Resa

and Director, Tourism Division, RX France

Le briefing

matinal

de Frédéric

Lorin

Morning

Briefing

by Frédéric

Lorin

Je suis sûr que nous partageons ce

même sentiment : l'immense plaisir de

se retrouver ensemble, de pouvoir enfin

discuter, rire, échanger des idées et... les

yeux dans les yeux ! IFTM Top Resa est

de nouveau présent, une présence qui me

semble d'autant plus importante à plusieurs

égards. Le retour d'IFTM démontre d'abord

notre confiance dans l'industrie touristique,

sa capacité de rebondir et de se réinventer.

Et nous savons tous que cela arrive.

Les relatives bonnes performances du

tourisme français et européen cet été l'ont

prouvées.

Le retour d'IFTM, c'est aussi notre

engagement à justement accompagner ces

transformations, à permettre aux agents

de voyage, tour opérateurs, producteurs, à

tous ceux qui ont traversé cette crise, de

désormais penser au futur.

Le programme des quatre prochains jours

est riche, très riche. Chacun retrouvera les

grands événements qui ont fait IFTM Top

Resa, comme la Travel Agents Cup et Travel

Agents Cup Junior, le Hackathon et le Startup

Contest. Mais aussi les conférences sur

le voyage d'affaires, le tourisme durable ou

encore le digital. Je vous invite d'ailleurs

à assister aujourd'hui au Digital Day qui

aborde cinq différentes thématiques.

Je vous recommande aussi la journée

spéciale «Envies de France» en partenariat

avec Eventiz. Une journée complète ce

mardi pour tout savoir des évolutions de

la destination. Un vrai coup de projecteur

pour notre pays, plébiscité cet été par les

touristes nationaux.

Excellent salon à tous !

I am sure we share the same feeling:

the immense pleasure of being together,

of finally being able to discuss, laugh,

exchange ideas and... see each other

eye-to-eye. IFTM Top Resa is again

present; a presence that seems to me all

the more important in several respects.

The return of IFTM demonstrates first

of all our confidence in the tourism

industry, its ability to bounce back

and reinvent itself. And we all know

this is happening. The relative good

performance of French and European

tourism this summer has proved it.

The return of IFTM is also our

commitment to accompany these

transformations, to allow travel agents,

tour operators, producers, all those who

have gone through this crisis, to now

think about the future.

The programme for the next four days

is rich… Very rich. Everyone will find

the great events that have always made

IFTM Top Resa, such as the Travel

Agents Cup and Travel Agents Cup

Junior, the Hackathon and the Startup

Contest. But also, conferences on

business travel, sustainable tourism or

digital solutions. I invite you to attend

today's Digital Day, which covers five

different themes.

I also recommend the special day

«Envies de France» in partnership with

Eventiz. A full day this Tuesday to learn

all about the evolution of the destination.

A real spotlight for our country, popular

this summer for domestic tourists.

Excellent show to all!

NEUF ZONES

D'EXPOSITION

POUR L'ÉDITION

2021

L'édition 2021 d'IFTM Top Resa

offre de nouveau un panorama

complet de l'industrie du

tourisme, à travers les 11 villages

qui déclinent une thématique

ou une activité particulière

mais aussi à travers neuf zones

d'exposition. On retrouve

sept zones géographiques

traditionnelles : Afrique,

Amériques, Asie-Pacifique,

Caraïbes, Europe, Moyen-

Orient et Océan Indien. Outre

un espace Généralistes et un

espace Partenaire. Et surtout,

entre deux zones visitées,

n'oubliez pas, si vous êtes agent

de voyages, de profiter du tout

nouveau Lounge VIP by MSC

Croisières dédié, pour un café.

NINE

EXHIBITION

AREAS FOR THE

2021 EDITION

The 2021 edition of IFTM Top

Resa again offers a complete

panorama of the tourism

industry, through the 11 villages

that offer a particular theme

or activity, but also through

nine exhibition areas. There are

seven traditional geographical

areas: Africa, the Americas,

Asia-Pacific, the Caribbean,

Europe, the Middle East and

the Indian Ocean, in addition

to a Generalist space and a

Partner space. And above all,

between two visited areas, do

not forget, if you are a travel

agent, to enjoy the brand-new

dedicated VIP Lounge by MSC

Croisières, for a coffee.

IFTM Daily is a CLEVERDIS Publication

439 Route de la Seds, 13127 Vitrolles, France • Tel: + 33 442 77 46 00

• SAS capitalised at €155,750 • VAT FR 95413604471

• RCS Salon de Provence 413 604 471 • info@cleverdis.com • www.cleverdis.com

• www.iftmdaily.com

• Publisher: Jean-François Pieri • Senior Account Manager: Bettina Badon

• Head of Editorial Team : Emiliana Van Der Eng • Editorial team: Richard Barnes, Luc Citrinot,

Fabrice Lamperti

• Art Director: Hélène Beunat • Web Designer: Guillaume Vinrich

• With the participation of: Benjamin Klene , Yimei Li, Veronika Verzhak

>>> To contact them: first name.last name@iftmdaily.com

Cover: Crédit Photo : © Agence du Tourisme de la Corse (ATC)

© CLEVERDIS 2021 - Registration of Copyright September 2021. Information presented in this publication is purely indicative in order to illustrate subjects contained

therein. No guarantee can be given as to the accuracy of data or content at time of printing and thus the latter should not be used for professional or commercial ends.

While all efforts have been made as to accuracy and pertinence of content and data contained in this publication, CLEVERDIS may in no case be held responsible for

the consequences, whatever their nature may be, that may result from the interpretation of this data or content, or any eventual errors therein. Any reproduction of the

content of this publication, even partial, by any means whatsoever, is strictly prohibited without the prior autorisation of the publisher. Any copy, whether by photography,

photography film, magnetic tape, disc or other means constitutes a forgery, liable to punishment under French law according to the legislation of 11 th March 1957 covering

copyright. All brands cited in this publication are registered trade marks and/or belong to companies which are their respective proprietors. The publishers and editorial

staff decline all responsibility as to opinions formulated in this publication by those interviewed or cited therein. Their opinions are entirely their own, and are included

with the understanding that they contain, to our knowledge, no malicious intent. The inclusion of all texts, photographs and other documents supplied by those included in

this publication imply the acceptance by their authors of their free publication therein. Documents and photographs will not be returned. It should be understood that this

publication contains forward-looking statements that involve risks, uncertainties and assumptions. All statements other than statements of historical fact are statements

that could be deemed forward-looking statements. Risks, uncertainties and assumptions include assumptions relating to the timing of the recorded date. If any of these

risks or uncertainties materialises or any of these assumptions proves incorrect, actual results could differ materially from the expectations outlined in these statements.

Cleverdis assumes no obligation and does not intend to update these forward-looking statements during the period of publication. Photo Credits and Copyright: All Rights

Reserved.

6 IFTM DAILY • MARDI/TUESDAY 5 OCT. 2021

www.iftmdaily.com
---
I ACTUALITÉS I NEWS

I

© Bernard Niess

Auvergne-Rhône-Alpes présente

une nouvelle dynamique

puissante

L'Auvergne-Rhône-Alpes se présente à l'IFTM Top Resa

avec une très forte présence dans la zone « Destination

France ». La première destination mondiale pour les sports

d'hiver, le deuxième lieu le plus visité de France, sera

représentée par une très grande délégation régionale.

« En cette année sans

précédent, où 85 % des Français

ont passé leurs vacances en

France, nous avons décidé de

participer à cette 42ème édition

du salon avec un stand de 120

m² situé au cœur de la zone

« Destination France », déclare

Lionel Flasseur, Directeur

Général d'Auvergne-Rhône-

Alpes Tourisme, ajoutant :

« Nous réunissons une vingtaine

de partenaires emblématiques

de notre région qui auront tous

les arguments pour séduire les

acheteurs. »

Avec 160,9 millions de nuitées

touristiques réservées en

2019 pour une consommation

touristique estimée à

21 milliards d'euros, l'Auvergne-

Rhône-Alpes est la deuxième

région touristique de France

après l'Ile-de-France. Le

stand Auvergne-Rhône-Alpes

réunit les destinations les plus

emblématiques des Alpes, de

l'Auvergne, du Lyonnais ou

encore de l'Ardèche et de la

Drôme provençale, représentées

par les agences réceptives, DMC

et DMO.

Egalement présentés sur le

stand - la nouvelle « Vallée de

la Gastronomie » - un itinéraire

gastronomique, entre Dijon et

Marseille, qui recense plus de

300 offres gastronomiques et

remarquables. Quatre séances

de formation sur l'itinéraire

auront lieu à 15h30, du mardi

au vendredi, en ligne et en

personne.

STAND 1 - K42

TEMPS FORTS ET

ANIMATIONS ORGANISÉS

PAR L'AGENCE SAVOIE-

MONT-BLANC

Mardi 5 octobre

10h30 – 11h30 : Dégustation Gâteau de Savoie

12h00 – 13h30 : Fondue Savoyarde sur Arbre à

Fondue

Temps fort de 17h00 à 19h00 : After work Folie

Douce en présence de Luc Reversade + DJ musique

ambiance

Mercredi 6 octobre

Temps fort de 10h30 à 11h30 : Gâteau de Savoie

revisité

12h00 – 14h00 : Fondue Savoyarde sur Arbre à

Fondue

15h30 - 16h30 : Fondue chocolat avec fruits de

Savoie

Jeudi 7 octobre

10h30 – 11h30 : Dégustation Gâteau de Savoie

Temps fort de 12h00 à 14h00 : Fondue Savoyarde

avec Pierre Gay (Meilleur ouvrier de France –

Fromager à Annecy)

15h30 - 16h30 : Fondue chocolat avec fruits de

Savoie

Vendredi 8 octobre

10h30 – 11h30 : Dégustation Gâteau de Savoie

Journée avec plateau de fromages, charcuteries et

pommes de Savoie

HIGHLIGHTS AND

ACTIVITIES ORGANISED

BY THE SAVOIE-MONT-

BLANC TOURIST BOARD

Auvergne-Rhône-Alpes presents

powerful new dynamic

Auvergne-Rhône-Alpes is stepping out at IFTM Top Resa

with a very strong presence in the "Destination France"

zone. The world's number one destination for winter

sports – France's second most popular place to visit, will

be represented by a very large regional delegation at the

show.

"In this unprecedented year,

where 85% of French holidaymakers

have spent their

holidays in France, we decided

to take part in this 42nd edition

of the show with a 120 sq m

stand located in the heart of

the 'Destination France' zone,"

said Lionel Flasseur – General

Manager of Auvergne-Rhône-

Alpes Tourisme, adding, "We

bring together about twenty

emblematic partners of our

region who will have all the

arguments to seduce buyers."

With 160.9 million tourist

nights booked in 2019 for an

estimated €21 billion in tourism

consumption, Auvergne-Rhône-

Alpes is the second-largest

tourism region in France after

Ile-de-France. The Auvergne-

Rhône-Alpes stand brings

together the most emblematic

destinations of the Alps,

Auvergne, Lyonnais or even

Ardèche and Drôme provençale,

represented by the receptive

agencies, DMCs and DMOs.

Also being presented at the

stand will be the new "Valley

of Gastronomy" - a gourmet

itinerary, between Dijon and

Marseille, listing more than 300

gourmet and remarkable offers.

Four training sessions on the

itinerary are being run at 15:30

from Tuesday to Friday, in virtual

and face-to-face.

STAND 1 - K42

Tuesday, October 5

10h30 – 11h30: Savoy Cake Tasting

12h00 – 13h30 : Fondue Savoyarde sur Arbre à

Fondue

Highlights from 17:00 to 19:00: After work Folie

Douce in the presence of Luc Reversade + DJ music

ambiance

Wednesday, October 6

From 10h30 to 11h30: Savoy cake revisited

12h00 – 14h00 : Fondue Savoyarde sur Arbre à

Fondue

15h30 - 16h30: Chocolate fondue with Savoy fruit

Thursday, October 7

10h30 – 11h30: Savoy Cake Tasting

Highlights from 12:00 pm to 2:00 pm: Fondue

Savoyarde with Pierre Gay (Meilleur ouvrier de

France – Fromager à Annecy)

15h30 - 16h30: Chocolate fondue with Savoy fruit

Friday, October 8

10h30 – 11h30: Savoy Cake Tasting

Day with cheese platter, charcuteries and Savoy

apples

IFTM DAILY • MARDI/TUESDAY 5 OCT. 2021 7
---
I ACTUALITÉS I NEWS

I

Aux portes de la réactivation touristique avec les marchés

européens, l'Argentine apporte à Top Resa son offre nature

exceptionnelle et diversifiée : dès le Bout du Monde en Patagonie

jusqu'au Nord Ouest magique.

Qu'est-ce que l'Argentine présente

à l'IFTM Top Resa de cette année ?

Dans cette édition, l'Argentine

présentera sa riche offre en

tourisme de nature. On sait que les

touristes français aiment la culture,

les grands espaces et l'aventure.

Et qu'au-delà de s'intéresser à la

Patagonie, ils ont aussi une grande

faiblesse et préférence pour le nord

ouest argentin : des lieux comme

la Quebrada de Humahuaca et

les Vallées Calchaquíes sont des

enjeux tout à fait particuliers pour

les touristes français, car ils les

connaissent déjà. De plus, la ville

de Bariloche sera présente au

A vast array of destinations in

each corner of the country

Exclusive interview: Ricardo Sosa, Secretary

General - INPROTUR

Une immensité de

destinations dans

chaque coin du pays

Interview exclusive: Ricardo

Sosa, Secrétaire Général -

INPROTUR

salon, révélant l'importance que

la destination accorde au salon et

son intention de rivaliser et de se

positionner comme une marque liée

au tourisme de nature et, surtout,

de neige.

Quelles sont les tendances du

tourisme en ce moment?

La principale tendance est le

tourisme de nature. Le tourisme

gastronomique, qui va de pair avec

le vin, garde toujours son intérêt.

Progressivement, d'autres produits

touristiques commenceront à se

rétablir ainsi que les attentes et

les goûts que les touristes avaient

On the dawn of reopening to European markets, Argentina brings

to Top Resa its exceptional and diversified nature offer: from the

World's End in Patagonia to the magical North West. We asked

Ricardo Sosa, Secretary General - INPROTUR what Argentina is

presenting at this year's IFTM Top Resa.

In this edition, Argentina will present

its rich offer in nature tourism. We

know that French tourists love

culture, the great outdoors and

adventure, and that besides being

interested in Patagonia, they also

have a great softness and preference

for North West Argentina: places like

the Quebrada de Humahuaca and

the Vallées Calchaquíes are very

special places for French tourists,

because they already know them. In

addition, the City of Bariloche will

be present at the show, revealing

the importance that the destination

attaches to the show and its intention

to compete and position itself as a

brand related to nature and, above

all, snow tourism.

What are the current tourism

trends?

The main trend is nature

tourism. Gastronomic tourism, which

goes hand in hand with wine, always

retains its interest. Gradually, other

tourism products will begin to recover,

and the expectations and tastes

tourists had before the pandemic

will return, such as visiting major

avant la pandémie reviendront

tel que visiter les grandes villes,

comme Buenos Aires. L'Argentine

a, aujourd'hui, un taux de change

favorable pour les Européens, elle

est trois fois moins chère que les

autres pays de la région. Cela va

générer une grande attraction car

les touristes étrangers viendront

non seulement pour profiter de

la ville mais aussi pour faire leurs

achats et accéder à des services de

haut niveau.

STAND 1 - D063

cities like Buenos Aires. Argentina

today has a favourable exchange

rate for Europeans, it is three times

cheaper than other countries in the

region. This will generate a great

attraction as foreign tourists will

come not only to enjoy the city but

also to make their purchases and

access to high level services.

STAND 1 - D063

Cafayate, Salta, Argentina

© Ignacio Aguilar / Unsplash

RICARDO

SOSA :

« NOUS

ROUVRONS

AU MONDE »

"A partir de novembre

nous prévoyons d'ouvrir

les frontières avec le

monde entier. La France

est l'un de nos quinze

marchés prioritaires et le

deuxième marché émetteur

en Europe, raisons pour

lesquelles nous avons une

représentant de l'INPROTUR

qui travaille constamment

à renforcer notre présence

là-bas. Pendant ces derniers

mois, nous nous sommes

également préparés à la

reprise du secteur : nous

avons obtenu le label Safe

Travels décerné par la WTTC.

Ce label reconnaît le travail

sérieux que nous avons fait

avec 3 500 entreprises, 35

000 travailleurs du tourisme,

plus de 250 municipalités

et toutes les provinces de la

République Argentine. Il

apporte aussi de la confiance

aux touristes européen à

son retour dans notre pays."

RICARDO

SOSA: "WE ARE

REOPENING TO

THE WORLD"

"From November, we plan

to open borders with the

whole world. France is one

of our 15 priority markets

and the second largest

issuer market in Europe,

which is why we have an

INPROTUR representative

who is constantly working

to strengthen our presence

there. In recent months,

we have also prepared for

the recovery of the sector:

we have obtained the Safe

Travels label awarded by

WTTC. This label recognizes

the serious work we have

done with 3,500 companies,

35,000 tourism workers,

more than 250 municipalities

and all the provinces of

the Argentine Republic. It

also brings confidence to

European tourists upon their

return to our country."

8 IFTM DAILY • MARDI/TUESDAY 5 OCT. 2021

www.iftmdaily.com
---
I ACTUALITÉS I NEWS

I

The London West Hollywood

La Californie arrive à IFTM

Top Resa - avec 62 nouveaux

hôtels – et de nouvelles

attractions fabuleuses

Visit California a un portefeuille de 7500

nouvelles chambres d'hôtel à présenter à l'IFTM

Top Resa de cette année. C'est une bonne chose,

car de nombreux nouveaux voyageurs voudront

visiter les nouvelles attractions promues par

l'organisation de marketing de destination de

l'État.

© Amanda Friedman

California arrives at IFTM Top Resa - boasting

62 new hotels – and fabulous new attractions

Visit California has a portfolio of 7,500 new hotel

rooms to present at this year's IFTM Top Resa. It's

a good thing, as swathes of new travellers will be

keen to visit the numerous new attractions being

promoted by the state's destination marketing

organisation.

The most highly awaited

opening is that of the

Academy Museum of Motion

Pictures, the gates of which

swung open at the end

of September. Designed

by Pritzker Prize-winning

architect Renzo Piano, the

L'ouverture la plus attendue

est celle de l'Academy

Museum of Motion Pictures,

dont les portes se sont

ouvertes fin septembre.

Conçu par l'architecte

lauréat du prix Pritzker Renzo

Piano, le nouveau musée est

la plus grande institution

aux États-Unis consacrée

aux arts, aux sciences et aux

new museum is the largest

institution in the United

States devoted to the arts,

sciences and artists of

moviemaking, featuring over

4,500 sq m of gallery space

filled with highly immersive

exhibitions.

artistes du cinéma, avec plus

de 4500 m 2 d'espaces de

galerie remplis d'expositions

hautement immersives.

Mais ce n'est pas tout.

Parmi les autres grandes

ouvertures, mentionnons

le musée culturel Agua

Caliente à Palm Springs et

des attractions comme le

But that's not all. Other

major openings include

The Agua Caliente Cultural

Museum in Palm Springs,

and attractions such as the

Avengers Campus at Disney

California Adventure, Lego

Movie World @ Legoland,

and the Secret Life of Pets at

Universal Studios.

During IFTM 2021, Visit

California is sponsoring

the AfterTO Night, and will

animate 3 expert agent

workshops at the fair.

campus Avengers de Disney

California Adventure, Lego

Movie World @ Legoland et

la vie secrète des animaux

de compagnie à Universal

Studios.

Pendant IFTM 2021, Visit

California est sponsor de la

Soirée AfterTO, et animera

aussi des formations agents

experts pendant le salon.

IFTM DAILY • MARDI/TUESDAY 5 OCT. 2021 9
---
I INTERVIEW EXCLUSIVE I EXCLUSIVE INTERVIEW

I

Vers une nouvelle

stratégie

La Corse profite de son statut de "Région à l'Honneur" à IFTM Top Resa

pour dévoiler les premières initiatives pour un tourisme plus diversifié

© Sylvain Alessandri

Avec la Corse nommée comme "Région à l'Honneur" du salon IFTM

Top Resa, Angèle Bastiani, nouvelle présidente de l'Agence du

Tourisme de la Corse (ATC), explique en exclusivité pour IFTM Daily

comment sa destination souhaite se diversifier et s'éloigner de son

hyper-saisonnalité.

Parallèlement, l'avant-saison a été

très décevante. Aussi, il faut chercher

un nouveau souffle. Dans les années à

venir, la destination Corse peut et doit

rompre avec l'hyper-saisonnalité. Elle

a également les atouts nécessaires

pour renouveler son offre. C'est ce à

quoi je vais m'employer dans cette

mandature qui s'ouvre.

les 5 régions transfrontalières Corse-

Ligurie-Toscane-Sardaigne-PACA.

Le trait d'union entre ces régions

est la mise à l'honneur de sites

emblématiques sur fond de tourisme

patrimonial et historique. La partie

Corse de l'itinéraire est composée

de la tour de Miomu, des Sentiers du

Patrimoine, du sentier de Guidellu et

enfin du parcours Napoléonien. De

quoi braquer les projecteurs sur notre

île et ses richesses. Ce sera d'ailleurs

l'Agence du Tourisme de la Corse

qui va assurer la promotion de cet

itinéraire à l'échelle Européenne.

Angèle Bastiani

Présidente, Agence du

Tourisme de la Corse

(ATC)

Quel est le premier bilan de la saison

touristique ?

En Corse, les signaux de la reprise

sont là. Notre île a su se montrer

attractive tout au long de la période

estivale. Là est sans doute l'essentiel.

Les professionnels du secteur relèvent

enfin la tête et entrevoient le bout

du tunnel. Avec en corollaire, notre

économie - fortement dépendante

du tourisme - sauvegardée. Côté

fréquentation, on s'achemine pour

l'instant vers des chiffres équivalents

à ceux de la saison 2019. Voilà pour

un premier bilan. Que nous enseignet-il

? Que des marges de manœuvres

existent. Car cette année, si la clientèle

française a été au rendez-vous, nous

avons perdu beaucoup d'étrangers.

Quelles sont les initiatives pour

diversifier la clientèle ?

Des activités de nature au tourisme d'

hs en passant par la mise en valeur de

nouveaux itinéraires patrimoniaux ou

de produits destinés au télétravailleurs

urbains : des projets sont à l'étude afin

de changer de paradigme. L'objectif

est d'accueillir différents types de

touristes, du sportif à l'hédoniste, de

l'étudiant aux familles. On réfléchit à

la conquête de nouveaux marchés et

de renforcer et fidéliser nos clientèles

européennes : italienne, allemande,

suisse, belge, et Europe du Nord. Le

cap est fixé. Mais cet aggiornamento

que chacun appelle de ses vœux ne

se décrète pas. Il se construit avec

toute une série d'acteurs qui incluent

professionnels et transporteurs car

l'accessibilité de l'île et la question

des transports demeurent un

paramètre fondamental. Aujourd'hui,

il est impératif de bâtir un front

commun autour de la destination

Corse. L'excellence et le renouveau

en dépendent. C'est la raison pour

laquelle les offices de tourisme auront

aussi un rôle à jouer.

Quels sont les grands axes mis en

œuvre pour étaler la saison ?

Un tourisme à l'année : c'est le cœur

de ma doctrine. Je porte par exemple

un intérêt particulier au projet

« GRITACCESS » - Grand Itinéraire

Tyrrhénien accessible au patrimoine

qui vient d'être inauguré en Corse. Ce

parcours patrimonial thématique unit

" UN

TOURISME

À L'ANNÉE :

C'EST LE

COEUR

DE MA

DOCTRINE "

Le tourisme en Méditerranée n'est

plus uniquement balnéaire. La

Corse doit donc se réinventer afin

de demeurer compétitive. Nos

partenariats européens sont un

premier pas vers la mise en place

d'un « nouveau logiciel ». Mais je

sais aussi que c'est à l'échelle du

territoire, en travaillant main dans la

main avec les différents acteurs du

tourisme, en écoutant leurs attentes

et leurs besoins que nous réussirons

à façonner une destination Corse

attractive à l'année.

10 IFTM DAILY • MARDI/TUESDAY 5 OCT. 2021

www.iftmdaily.com
---
I INTERVIEW EXCLUSIVE I EXCLUSIVE INTERVIEW I

Corsica:

Towards a new strategy

As IFTM Top Resa "Region of Honour", Corsica unveils its initiatives for more

diversified tourism

With Corsica named as "Region of Honour" at IFTM Top Resa,

Angèle Bastiani, new president of the Corsican Tourism Agency

(ATC), explains in exclusivity for IFTM Daily how tourism on the

island needs to diversify and move away from its hyper-seasonality.

We asked her how the tourist season has gone.

In Corsica, the signs of recovery are

there. Our island has been attractive

throughout the summer period.

This is undoubtedly the main factor.

Professionals in the sector are finally

raising their heads and seeing the

end of the tunnel. As a corollary,

our economy - heavily dependent

on tourism – has been preserved. In

terms of numbers, we are currently

moving towards figures equivalent

to those for the 2019 season. That

is a first assessment. What does

it teach us? That there is room for

manoeuvre. Because this year, while

the French clientele were there, we

lost a large number of foreigners. At

the same time, the pre-season was

very disappointing. So, we have to

look for a new breath of air. In the

coming years, the destination Corsica

can and must break with hyperseasonality.

It also has the necessary

assets to renew its offer. That is what

I will be focusing on in this mandate.

What are the initiatives to diversify

the clientele?

From nature-based activities

to business tourism and the

development of new heritage

itineraries and products for urban

teleworkers, projects are being

studied to change the paradigm.

The aim is to welcome different

types of tourists, from sportsmen to

hedonists, from students to families.

We are thinking about conquering

new markets and strengthening and

retaining our European customers:

Italian, German, Swiss, Belgian, and

Northern European. The course

is set. But this aggiornamento

which everyone refers is not a

foregone conclusion. It is built with

a whole series of actors that include

professionals and carriers because

the accessibility of the island

and the issue of transport remain

fundamental parameters. Today, it is

imperative to build a common front

around the destination Corsica.

Excellence and renewal depend on

it. That's why the tourism boards will

also have a role to play.

What are you doing to enlarge the

season?

Year-round tourism: this is the

heart of my doctrine. For example,

I have a particular interest in the

"GRITACCESS" project - Grand

Itinéraire Tyrrhénien accessible

to heritage that has just been

inaugurated in Corsica. This

heritage thematic route unites the

five cross-border regions Corsica-

Liguria-Tuscany-Sardinia-PACA. The

link between these regions is the

celebration of emblematic sites based

on heritage and historical tourism.

The Corsican part of the itinerary is

composed of the Miomu tower, the

Heritage Trails, the Guidellu trail

and finally the Napoleonic trail. It's

enough to put the spotlight on our

island and its riches. It will also be

the Corsican Tourism Agency that

will promote this route on a European

scale.

Tourism in the Mediterranean

is no longer just centred on the

" YEAR-

ROUND

TOURISM:

THIS IS

THE HEART

OF MY

DOCTRINE "

seaside. Corsica must therefore

reinvent itself in order to remain

competitive. Our European

partnerships are a first step towards

the implementation of "new

programme". But I also know that it

is at the level of the territory, working

hand in hand with the different

actors of tourism, listening to their

expectations and their needs, that we

will succeed in shaping an attractive

destination Corsica all-year-round.

NE PAS MANQUER…

Petit Déjeuner - 6 octobre - 10h - Espace AGV

Conférence de Presse - 6 octobre - 11h30 - Espace presse

(La conférence de presse sera suivie d'un cocktail déjeunatoire)

Cocktail - 6 octobre - à 17h - cocktail animé avec chants corses - Village TO

Cocktail déjeunatoire - 7 octobre à 12h à l'espace Influenceurs

Il y aura également tous les jours à 11h30 une formation AGV tenue

par les partenaires corses - Salle Tokyo.

Et dans le cadre de la journée "Envies de France", l'ATC Corse participera à la conférence

"Les destinations françaises sous pression environnementales",

5 octobre - 14h30 - Salle Arena.

NOT TO BE MISSED

Breakfast - 6 October - 10h - Espace AGV

Press conference - October 6 - 11:30 - Press room - Paris Porte de Versailles (The

press conference will be followed by a luncheon cocktail)

Cocktail - October 6 - at 5 pm - Lively cocktail with Corsican songs - Village TO

Luncheon Cocktail - October 7 at 12 pm at the Influencers Space

There will also be an AGV training held by Corsican partners

every day at 11:30 - Room Tokyo.

And ATC Corsica will be participating in the conference "French Destinations

under environmental pressure", in the framework of the "Envies de France" day,

5 octobre - 2:30 pm - Room Arena.

IFTM DAILY • MARDI/TUESDAY 5 OCT. 2021 11
---
Corsica Linea

se prépare

à lancer son

premier navire

propulsé au gaz

naturel liquéfié

C'est sur le chantier naval de Visentini en Italie que

se poursuit la construction du futur navire ropax

de Corsica Linea, qui sera propulsé au Gaz Naturel

Liquéfié (GNL). Ce sera selon l'entreprise le premier

navire propulsé au GNL à desservir la Corse.

Un ropax est un navire mixte

dans son utilisation car il peut

transporter, tel un cargo, des

conteneurs, des camions

et des marchandises, ou,

à l'image d'un ferry, des

passagers et leurs véhicules.

La mise à l'eau du navire a

été effectuée le 19 septembre

2021 afin de vérifier de

nombreux points techniques

essentiels à son bon

fonctionnement.

Les prochaines étapes,

indique Corsica Linea, est

d'achever les réseaux d'eau,

de câblage, de ventilation, et

de poursuivre l'agencement

des espaces publics, des

cabines et des locaux

équipage.

Commandé en juillet 2019

et livré fin 2022, le navire

pourra accueillir plus de

900 passagers. Disposant

de 2 560 mètres linéaires

de fret et de plus 150 places

de voitures sur un car-deck,

ce navire de 206 mètres

naviguera à la vitesse de 23

nœuds.

STAND 1 - K58

Corsica Linea prepares to

launch first liquefied natural

gas ship

The construction of the future "ropax" ship of Corsica linea continues at

the Visentini shipyard in Italy. According to the company, it will be the

first LNG-powered vessel to serve Corsica.

A ropax is a mixed-use ship that can carry

cargo, containers, trucks and goods, or

passengers and their vehicles.

The launching of the vessel took place

on 19 September 2021 to verify numerous

technical points essential to its proper

operation.

The next steps, says Corsica Linea, are

to complete the water piping, wiring,

ventilation networks, and continue the

layout of public spaces, cabins and crew

rooms.

Ordered in July 2019 and set to be

delivered at the end of 2022, the ship will

be able to accommodate more than 900

passengers. With 2,560 linear metres of

cargo and more than 150 cars on a single

deck, this 206-metre ship will sail at 23

knots.

STAND 1 - K58

12 IFTM DAILY • MARDI/TUESDAY 5 OCT. 2021

www.iftmdaily.com
---
PUBLIREPORTAGE

Air Corsica anticipe un

bon cru en 2022

Pour Luc Bereni, président du Directoire d'Air

Corsica, le succès de la Corse durant l'été 2021

permet à Air Corsica de regarder l'avenir avec

sérénité.

Comment s'est comporté le trafic cet été 2021 ?

Je suis heureux que la Corse ait été plébiscitée cet été par les

Français. Le trafic aura donc été au rendez-vous sur toutes

nos lignes et nous avons ainsi réalisé 100% du programme

prévu de la saison 2021.

ADVERTORIAL

Air Corsica anticipates

a good 2022

For Luc Bereni, Chairman of the Air Corsica

Management Board, the success of Corsica

during the summer of 2021 has allowed Air

Corsica to look to the future with serenity.

How did the traffic behave this summer 2021?

I am glad that Corsica has been a popular destination for

French tourists this summer. The traffic was there on all our

lines and we have thus maintained 100% of the planned

programme for 2021 season.

Quelles sont les perspectives pour 2022 ?

Tout ce que nous avons mis en place cette année va perdurer

en 2022 et est déjà en vente. Nous avons de fait une visibilité

de 13 mois sur notre programmation.

© Air Corsica

What are the prospects for 2022?

Everything we have put in place this year will continue in

2022 and is already on sale. We actually have 13 months of

visibility on our programming.

Réfléchissez-vous à une plus grande expansion internationale ?

Notre actionnaire est à 70% la Collectivité de Corse. Nous travaillons

donc avec elle sur notre stratégie. L'un des axes est d'inscrire la Corse

dans un périmètre de connectivité accrue avec l'Europe et le Bassin

Méditerranéen. Ce sera le chantier de l'année 2022.

STAND 1 - K58

Are you considering greater international expansion?

Our shareholder is 70% the Collectivity of Corsica. We are working

with them on our strategy. One of the axes is to include Corsica in a

perimeter of increased connectivity with Europe and the Mediterranean

Basin. This will be worked on for the year 2022.

STAND 1 - K58

IFTM DAILY • MARDI/TUESDAY 5 OCT. 2021 13
---
Le tourisme européen

fait de la résistance

Le secteur du tourisme a ses

meilleures chances de reprise en

Europe grâce au pragmatisme de

l'Union Européenne.

"L'Europe du tourisme a perdu une

bataille mais n'a pas perdu la guerre".

Pour paraphraser le Général de Gaulle,

le tourisme en Europe a certes mis un

genou à terre face à la pandémie de

covid. Mais il a fait preuve de résistance

comparé aux autres continents. Une

situation due au pragmatisme de

l'Union Européenne et de ses Etats

membres, conscients de l'importance

économique du tourisme. En 2020 et

plus encore en 2021, l'Union Européenne

a poussé les Etats-membres à rouvrir

leurs frontières aux voyageurs, selon

la règle "VGN" (Vaccinés, Guéris ou

Négatifs). Une stratégie qui a payé...

il ne serait plus que de 50% par rapport

à 2019 comparé à 75% il y a quelques

mois. Certains pays font même

d'excellents résultats dans le contexte

actuel comme la Bulgarie, la Turquie

et le Luxembourg dont les baisses

de fréquentation sont désormais

inférieures à 40 %.

La réouverture des frontières en

juin 2021 s'est de fait traduite par de

bons mois d'été en Europe. Avec des

répercussions favorables pour le

continent car, selon les prévisions de la

Commission Européenne, les voyages

intra-européens représenteront 83 %

des arrivées en Europe en 2021, contre

77 % en 2019 et 77 % en 2019.

© Mstyslav Chernov

© Arben Llapashtica

ZOOM SUR

LA FRANCE

L'incroyable diversité

géographique de la France a

permis en 2020 de garder le

marché domestique à défaut

de l'international. Si le nombre

des étrangers a été divisé par

plus de deux l'an passé (de 90

à 40 millions de voyageurs),

les recettes touristiques du

pays ont reculé de 61 milliards

d'euros en 2020, passées

de 150 milliards en 2019 à

89 milliards l'an dernier. La

manne domestique a

été réelle : les recettes

domestiques sont en recul

de « seulement » 31%, à 64

milliards d'euros en 2020,

contre 93 milliards d'euros

en 2019. L'été 2020 a en effet

été sauvé par les Français.

53% sont en effet partis en

juillet et août, 94%

restant dans

l'Hexagone.

© James Southorn

© Oskar Bakke

© Nadyanm

Après le recul de 70% des arrivées

internationales en Europe en 2020, la

European Travel Commission (ETC)

fait montre d'optimisme pour 2021. Elle

pointe certes sur un recul des arrivées

en Europe dans ces pronostiques. Mais

© Priotography

© Mikko Paananen

European tourism

demonstrates resistance

FOCUS

ON

FRANCE

© Sergey Ashmarin

The incredible geographical

diversity of France made it

possible in 2020 to keep the

domestic market despite the

drop in international visitors.

While the number of foreigners

was more than halved last year

(from 90 to 40 million travellers),

the country's tourism receipts

fell from €61bn in 2020, from

€150bn in

2019 to €89bn

last year. The

domestic windfall

was real: domestic

revenues fell by 31% to €64bn

in 2020, compared to €93bn in

2019. The summer of 2020 was

indeed saved by the French

visitors. 53% travelled in July

and August, 94% remaining in

France.

The tourism sector has its

best chance of recovery

in Europe thanks to the

pragmatism of the European

Union.

"The Europe of tourism lost a

battle but did not lose the war".

To paraphrase General de Gaulle,

tourism in Europe has certainly

put a knee on the ground in the

face of the Covid pandemic. But it

has shown resistance compared

to other continents - a situation

due to the pragmatism of the

European Union and its member

states, aware of the economic

importance of tourism. In 2020 and

even more in 2021, the European

Union pushed member states to

reopen their borders to travellers,

according to the "VHN" rule

(Vaccinated, Healed or Negative).

A strategy that paid off.

After a 70% drop in international

arrivals to Europe in 2020, the

European Travel Commission (ETC)

is optimistic for 2021. It certainly

points to a decline in arrivals to

Europe in these forecasts. But

it would be only 50% compared

to 2019 compared to 75% a few

months ago. Some countries are

even doing very well in the current

context, such as Bulgaria, Turkey

and Luxembourg, where the

decline in inbound tourists is

now less than 40%.

The reopening of the

borders in June 2021

has in fact resulted in

good summer months in

Europe, with a positive

impact for the continent

as, according to the

forecasts of the European

Commission, intra-European

travel will represent 83% of

arrivals in Europe in 2021, as

against 77% in 2019 and 77% in

2019.

© Fabien1309

14 IFTM DAILY • MARDI/TUESDAY 5 OCT. 2021

www.iftmdaily.com
---
PUBLIREPORTAGE

Un tramway

nommé espoir

Après tout le stress enduré par l'industrie du tourisme, il

est temps de revivre, d'innover et de créer de nouvelles

opportunités dans le secteur du tourisme. C'est avec cette

conviction et cet espoir que le tram jaune de Dtravel est à

nouveau garé à l'IFTM Top Resa.

Dtravel DMC Portugal est une

agence de tourisme réceptif

qui opère dans tout le Portugal

continental, Madère et les

Açores. Avec des professionnels

hautement qualifiés et

expérimentés, elle est le

partenaire idéal pour planifier

des visites pour tout type de

voyageur.

A l'heure où le tourisme " renaît ",

l'équipe de Dtravel est présente

pour garantir la plus grande

ADVERTORIAL

qualité, la sécurité absolue,

la flexibilité et la créativité

nécessaires pour développer

toutes sortes de nouveaux

programmes, et présenter ses

nouveautés.

Le tramway jaune symbolise

ainsi un élan vers l'avant et

l'enthousiasme jamais démenti

de cette industrie résiliente.

STAND 1 - K78

A tram named hope

After all the stress the industry has endured, it is time

to revive, innovate and create new opportunities in the

tourism sector. It is with this conviction and hope that the

yellow tram of Dtravel is again parked at IFTM Top Resa.

Dtravel DMC Portugal is a

receptive tourism agency that

operates throughout continental

Portugal, Madeira and the

Azores. With highly qualified

and experienced professionals,

they are the ideal partner when

planning visits for any kind of

traveller.

Now that tourism is being

"reborn" the Dtravel team

is present to guarantee the

highest quality, absolute

security, flexibility and creativity

necessary to develop all kinds of

new programs, and present its

novelties.

The yellow tram therefore

symbolizes the continuous

forward impulse and enthusiasm

of this resilient industry.

STAND 1 - K78

Popularité croissante

de la Croatie pour les

Français

La Croatie a fait le plein de

touristes français durant la

saison d'été.

La moisson touristique estivale a été

bonne en Croatie. Le pays a enregistré

plus de 60 millions de nuitées de

janvier à août, soit plus que toute

l'année 2020. Le marché français a

généré 1,1 million de nuitées, dont

700 000 pour le seul mois d'août.

Les arrivées sont en hausse de 150%

comparées à 2020. Pour la première

fois, les Français figurent dans le top

10 des voyageurs étrangers se rendant

en Croatie en nombre d'arrivées.

« Les chiffres enregistrés sont

très satisfaisants. Nos principaux

partenaires ont donc décidé de

Croatia has had an excellent

summer "tourist harvest".

The country recorded more than 60

million overnight stays from January

to August, more than all of 2020. The

French market generated 1.1 million

overnight stays, including 700,000 for

the month of August alone. Arrivals

are up 150% compared to 2020. For

the first time, the French are among

the top 10 foreign travellers to Croatia

in terms of arrivals.

"The figures recorded are highly

satisfactory. Our main partners

have decided to continue and even

increase their production regarding

continuer et même d'accroître leur

production sur la destination comme

Fram/Promovacances, Top of Travel,

Travel Europe, Volotea, Voyamar

et Transavia, nous pouvons nous

attendre à une arrière-saison très

positive », estime Daniela Mihalic

Durica, Directrice de l'Office National

de Tourisme Croate. Les destinations

préférées des Français restent Split,

Dubrovnik et l'Istrie.

STAND 1 - M87

INVITATION

COCKTAIL DÉJEUNATOIRE

Mercredi 6 octobre,

12-14h Village TO

Croatia grows in popularity

for French tourists

the destination, such as Fram/

Promovacances, Top of Travel,

Travel Europe, Volotea, Voyamar

and Transavia. We can expect a very

positive late season," says Daniela

Mihalic Durica, Director of the

Croatian National Tourism Office.

Split, Dubrovnik and Istria remain

the favourite destinations for French

travellers.

STAND 1 - M87

INVITATION

LUNCHEON COCKTAIL

Wednesday - October 6,

12-14h , Village TO

Pula - Croatie / Croatia

IFTM DAILY • MARDI/TUESDAY 5 OCT. 2021 15
---
I DOSSIER SPECIAL I

I SPECIAL FEATURE I

Bruxelles, de nouveaux

musées pour un

nouveau public

Bruxelles se positionne toujours

plus comme une destination

culturelle. La pandémie avait

forcé l'annulation de nombreux

festivals qui reviennent en masse

dans les prochains mois : Bright

Festival, Europalia Train & Tracks

ou encore Plaisirs d'Hiver. Ils

constituent autant de motifs de

visite. D'autant plus que la ville

est une destination sûre avec

des protocoles d'hygiène stricts

comme le Covid Safe Ticket (pass

sanitaire).

De plus, plusieurs nouveaux

musées verront le jour dans un

futur proche. Sont notamment

prévus le Belgian Beer World

(2023) et le Musée du Chat et du

dessin d'humour avec Philippe

Geluck (2024). Le très grand projet

qui soulève l'enthousiasme est la

transformation de l'ancien garage

Citroën en style art déco en un

grand musée d'art contemporain,

le Kanal Centre Pompidou. Le

musée ouvrira en 2024.

Avec ces nouvelles

institutions, Bruxelles

souhaite conquérir

une nouvelle

clientèle, plus jeune.

Et montrer son esprit

cosmopolite.

Visit.Brussels est

présent à IFTM 2021

avec 5 partenaires,

et fait partie des

parcours de visite Culture &

Patrimoine, Gastronomie &

Œnologie et Voyage en Groupe.

STAND 1 - M53

Brussels, new museums

for a new audience

Brussels is increasingly positioning

itself as a cultural destination. The

pandemic forced the cancellation of

many festivals, but they're coming

back en masse in the coming

months: Bright Festival, Europalia

Train & Tracks or Plaisirs d'Hiver.

Le Kanal Centre

Pompidou ouvrira

ses portes en 2024

They are all a good reason to come

to the city, especially as it is a safe

destination with strict hygiene

protocols like the Covid Safe Ticket.

Furthermore, several new museums

will see the light of day in the near

future. The Belgian Beer World

(2023) and the Musée du Chat et

du dessin d'humour with Philippe

Geluck (2024) are planned. The

major project arousing a great deal

of enthusiasm is the transformation

of the former Citroën garage into

a large art deco style museum of

contemporary art - the Kanal Centre

Pompidou. The museum will open

in 2024.

With these new institutions, Brussels

aims to conquer a new, younger

clientele, and show its cosmopolitan

spirit.

Visit.Brussels brings 5 partners to

IFTM 2021, and is part of the Culture

& Heritage, Gastronomy & Oenology

and Group Travel visit tours.

STAND 1 - M53

Trois villes

thermales de

Tchéquie au

patrimoine mondial

de l'UNESCO

De retour à l'IFTM Top Resa, et dans le cadre des parcours

visite "Culture & Patrimoine", "MICE" et "Bien-être et santé"

du salon, l'ONT de la République Tchèque met en avant

les villes thermales de Karlovy Vary, Marianske Lazne et

Frantiskovy Lazne, récemment entrées au patrimoine mondial

de l'UNESCO

Ces trois stations thermales en

Bohême Orientale ont rejoint

en juillet dernier la prestigieuse

liste du patrimoine mondial

de l'UNESCO. Elles séduisent

ainsi leurs visiteurs par leur

ambiance surannée évoquant

l'ancien empire austro-hongrois.

Une atmosphère faîte de grands

immeubles néo-gothiques ou

néo-renaissance, de kiosques

à musique ou d'établissements

thermaux, enfouis au plus profond

des forêts de Bohême.

Outre leur architecture

exceptionnelle, leurs attractions

culturelles, leurs hôtels de luxe, il

y a bien sûr les sources. La seule

Karlovy Vary en compte plus de

80, Marianske Lazne plus de 40 et

Frantiskovy Lazne 24. A explorer

en complément d'un séjour à

Prague.

STAND 1 - K79

Three Czech spa towns on

UNESCO World Heritage List

Back at the IFTM Top Resa, and as part of the "Culture &

Heritage", "MICE" and "Wellness & Health" tours of the show,

Czech Tourism is highlighting the spa towns of Karlovy Vary,

Marianske Lazne and Frantiskovy Lazne, which recently joined

the UNESCO World Heritage List.

These three spas in Eastern

Bohemia joined the prestigious list

last July. They seduce visitors with

their old-world atmosphere evoking

the ancient Austro-Hungarian

empire - an atmosphere resulting

from the large neo-Gothic or neo-

Renaissance buildings, music

stands or thermal baths, buried

deep in the forests of Bohemia.

In addition to their exceptional

architecture, cultural attractions,

and luxury hotels, there are of

course the springs. In Karlovy Vary

alone, for example, there are more

than 80… Not to be missed, in

addition to a stay in Prague.

STAND 1 - K79

Marianske Lazne

16 IFTM DAILY • MARDI/TUESDAY 5 OCT. 2021

www.iftmdaily.com
---
I DOSSIER SPECIAL I

I SPECIAL FEATURE I

Le Chèque-Vacances

sur application mobile

The Chèque-Vacances

enters the digital era

Le Chèque-Vacances entre à

son tour dans l'ère du digital.

La nouvelle application digitale du

Chèque-Vacances va aider à la fois les

utilisateurs et les prestataires affiliés

à ce mode de paiement de l'ANCV.

Les clients ayant choisi cette solution

n'auront plus besoin de présenter

leurs carnets au prestataire puisque le

Chèque-Vacances Connect est 100%

digital !

Grâce à cette application mobile

dédiée, les bénéficiaires du Chèque-

Vacances Connect peuvent désormais :

• Accéder à l'ensemble des offres du

réseau

• Effectuer des paiements directement

depuis l'application. Une facilité

proposée dès 20€ d'achat

• Accéder à au solde

en temps réel, 24

heures sur 24 et 7

jours sur 7.

Pour les prestataires,

le Chèque-Vacances

Connect offre aussi une grande

flexibilité. Le paiement de l'utilisateur

est immédiat de même que la préréservation

et la confirmation.

L'ANCV indique également que les

transactions en Chèque-Vacances

Connect apparaissent directement

dans l'Espace personnel du prestataire

et que tout remboursement est

effectué en cinq jours ouvrés à dater

de la transaction.

STAND 1 - H52

The new digital app launched by ANCV

"Chèque-Vacances" will make life easier for

both users and providers affiliated with this

payment method. Customers who have chosen

this solution will no longer need to present their

papers to the service provider since the Connect

Holiday Voucher is 100% digital.

Thanks to this dedicated mobile application, beneficiaries of the

"Chèque-Vacances Connect" can now:

• Access all offers of the network;

• Make payments directly from the application - a facility offered

for payments over €20;

• Access to balance in real time, 24/7.

For service providers, the Chèque-Vacances Connect also offers

great flexibility. The user's payment is immediate as well as the

pre-booking and confirmation. The ANCV also indicates that

the transactions in Cheque-Vacances Connect appear directly

in the service provider's Personal Space and that any refund is

made within five business days from the date of the transaction.

STAND 1 - H52

Vite vite, le

bus va partir

!

Prochain

arrêt : Stand

Saybus, ligne

www.saybus.fr Le 1 er réseau d'autocaristes

indépendants en France

IFTM DAILY • MARDI/TUESDAY 5 OCT. 2021 17
---
I DOSSIER SPECIAL I

I SPECIAL FEATURE I

La technologie au service du tourisme

- plus indispensable que jamais

La Tech Zone de l'IFTM Top Resa de cette année compte 15

exposants couvrant un large éventail d'applications allant des

éditeurs de logiciels aux systèmes de traduction en passant par

les solutions de distribution.

Amadeus France est l'une des

"stars" du salon, offrant des

perspectives d'avenir optimistes.

Selon Luis Maroto, Président &

CEO d'Amadeus, "en prolongement

des tendances déjà observées au

premier trimestre, les réservations

aériennes et les passagers

embarqués se sont progressivement

améliorés chaque mois et se sont

accélérés en juin, le mois le plus

performant depuis le début de

la pandémie. Parallèlement à

cette reprise progressive, nous

restons engagés dans nos efforts

d'optimisation des coûts et de

soutien à nos clients.

"Au cours du premier semestre,

nous avons maintenu notre

dynamique commerciale, en

signant 37 nouveaux contrats

ou renouvellements dans la

distribution, et en progressant dans

notre stratégie NDC. Nous avons

également signé de nouveaux

accords de solutions informatiques

avec des compagnies aériennes

majeures. Dans notre activité

Hospitalité, nous avons élargi notre

portefeuille de clients et constaté

une demande continue pour des

développements de partenariats.

"Dans les mois à venir, nous

sommes optimistes, car les

Technology at the service

of tourism – more essential

than ever

The Tech Zone at this year's IFTM Top Resa boasts 15 exhibitors

covering a broad range of applications from software editors,

through distribution solutions to translation systems.

Amadeus France is one of the

"stars" of the show, arriving in Paris

with a bullish outlook for the future.

According to Luis Maroto, President

& CEO of Amadeus, "Building on

the trends already seen in the first

quarter, air bookings and passengers

boarded have gradually improved

each month and accelerated in June,

which has been the best performing

month since the start of the

pandemic. In parallel to this gradual

recovery, we remain committed to

our cost optimization efforts and

supporting our customers.

"During the first half of the year

we have maintained commercial

momentum, signing 37 new contracts

or renewals in our Distribution

business, and progressing with our

NDC strategy. We have also signed

programmes de vaccination

continuent de progresser, les

restrictions de voyage sont levées

et le sentiment des voyageurs

continue de s'améliorer, ce qui

devrait se traduire par une reprise

plus cohérente et plus forte au fil du

temps."

Amadeus a récemment annoncé

qu'Etihad Airways, la compagnie

aérienne nationale des EAU,

était prête à se lancer dans

une transformation numérique

majeure après la signature d'un

accord pluriannuel historique avec

Amadeus.

STAND 1 - F10

new Airline IT solution agreements

with major airlines, while in our

Hospitality business, we expanded

our portfolio of customers and saw

continued demand for partnership

developments.

"In the coming months, we are

optimistic that, as vaccination

programmes keep progressing,

travel restrictions are lifted, and

traveller sentiment continues to

improve, this should translate into

a more consistent and stronger

recovery over time."

In their most recent news from

Amadeus, it was announced that

Etihad Airways, the national airline of

the UAE, is set to embark on a major

digital transformation following the

signing of a landmark multi-year

deal with Amadeus.

STAND 1 - F10

© Clem Onojeghuo / Uns

ORCHESTRA

SE RENFORCE

EN EUROPE

DU SUD ET DE

L'OUEST

Cette année, Orchestra

(stand 1-F24) a fait l'actualité

en France, puisque son

système a été intégré par

Mondoramas afin d'aider ce

dernier à développer son

offre via les agences.

Spécialisé dans la

distribution automatisée

de voyages de loisirs,

Orchestra a généré un

volume d'affaires de plus de

2 milliards d'euros en 2019.

Les équipes d'Orchestra

possèdent une expertise

unique dans les nouvelles

technologies appliquées à

l'industrie du tourisme. Ces

dernières années, Orchestra

est devenu un leader sur le

marché français. Présent

également en Espagne et en

Grande-Bretagne, Orchestra

poursuit sa croissance en

Europe du Sud et de l'Ouest.

STAND 1 - F24

ORCHESTRA

GAINS

STRENGTH IN

SOUTHERN

& WESTERN

EUROPE

This year, Orchestra (stand

1-F24) made news in France,

as its system was integrated

by Mondoramas in order to

assist the latter in expanding

its offering via agencies.

Specialised in automated

distribution of leisure travel,

Orchestra generated a

business volume of more

than 2 billion euros in 2019.

Orchestra teams have

unique expertise in new

technologies applied to the

tourism industry. In recent

years, Orchestra became a

leader in the French market.

Present also in Spain and

Britain, Orchestra continues

its growth in Southern and

Western Europe.

STAND 1 - F24

18 IFTM DAILY • MARDI/TUESDAY 5 OCT. 2021

www.iftmdaily.com