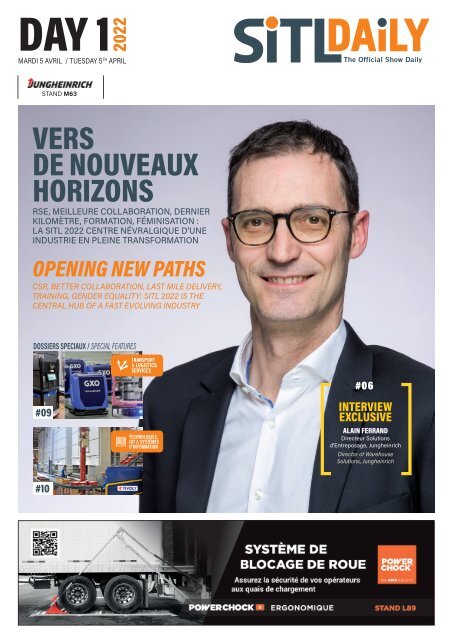 SITL DAILY 2022 - DAY 1 Edition
Create successful ePaper yourself
Turn your PDF publications into a flip-book with our unique Google optimized e-Paper software.
DAY 1

MARDI 5 AVRIL / TUESDAY 5 TH APRIL

2022

STAND M63

VERS

DE NOUVEAUX

HORIZONS

RSE, MEILLEURE COLLABORATION, DERNIER

KILOMÈTRE, FORMATION, FÉMINISATION :

LA SITL 2022 CENTRE NÉVRALGIQUE D'UNE

INDUSTRIE EN PLEINE TRANSFORMATION

OPENING NEW PATHS

CSR, BETTER COLLABORATION, LAST MILE DELIVERY,

TRAINING, GENDER EQUALITY: SITL 2022 IS THE

CENTRAL HUB OF A FAST EVOLVING INDUSTRY

DOSSIERS SPECIAUX / SPECIAL FEATURES

#09

#06

INTERVIEW

EXCLUSIVE

ALAIN FERRAND

Directeur Solutions

d'Entreposage, Jungheinrich

Director of Warehouse

Solutions, Jungheinrich

#10
---
HALL PLAN

Bienvenue !

"Toute l'équipe de la SITL est ravie de vous retrouver pour

créer, ensemble, les nouvelles connexions logistiques !"

Welcome!

"The entire SITL team is delighted to meet with you again

to create, together, new logistic connections!"
---
PROGRAMME

JOUR 1 / DAY 1

Mardi 5 avril / Tuesday 5 th April

En partenariat avec

In partnership with

> Conférence inaugurale

ÉLECTIONS PRÉSIDENTIELLES : QUELLES PROPOSITIONS DES CANDIDATS

POUR DES TRANSPORTS DE MARCHANDISES ET LOGISTIQUE AU SERVICE

D'UNE FRANCE PERFORMANTE ?

Laurence Gaborieau, Jean-Marc Vittori, Anne-Marie Idrac, Olivier Jacquin, Jean-

Marc Zulesi, Franck Briffaut

10:00 - 11:45 Salle Atrium

> Import-export

COMMENT LES SUPPLY CHAIN DOIVENT-ELLES S'ADAPTER AUX

NOUVELLES EXIGENCES DES ÉCHANGES INTERNATIONAUX EN LIGNE ?

Thierry Grumiaux, Jérôme Lapree, Guillaume Vanderheyden

10:00 - 11:00 Salle Mercure

> Fret routier / Logistique urbaine / Services transport et logistique

QUELS SONT LES ENJEUX ET DÉFIS DERRIÈRE LA LIVRAISON DU DERNIER

KILOMÈTRE ?

Frédéric Aziron

10:00 - 11:00 Salle Neptune

> Drones

DRONE PARADE

10:30 - 11:00 Drone Valley

> Chaîne du froid

LE RÔLE DE L'IOT POUR UNE LOGISTIQUE FIABLE ET PERFORMANTE

Yohann Caboni

10:45 - 11:15 Ateliers 1

> Douanes

ATELIER DES DOUANES

11:00 - 11:45 Ateliers 2

> Marchandises dangereuses

DÉCHETS DANGEREUX, LES NOUVELLES RÈGLES 2022

Alain Goarant, Rémy Vandroux

11:15 - 12:15 Salle Neptune

> Logistique urbaine / Supply chain

MAGASINS, DRIVES, DARKSTORES : LES RÉPONSES AUX ENJEUX

D'UNE LOGISTIQUE OMNICANALE

Isabel Rocher, Jérôme Pedreno, Guillaume Mullier

11:15 - 12:15 Salle Mercure

> Fret ferroviaire

POURQUOI LE SIMPLE DÉPLACEMENT DE MARCHANDISES

EST UNE NOUVELLE D'HIER ?

Tristan Ziegler

11:30 - 12:00 Ateliers 1

> Opening conference

THE FRENCH PRESIDENTIAL ELECTION: WHAT PROPOSALS DO

THE CANDIDATES HAVE TO KEEP FRANCE COMPETITIVE IN FREIGHT

TRANSPORT?

Laurence Gaborieau, Jean-Marc Vittori, Anne-Marie Idrac, Olivier Jacquin,

Jean-Marc Zulesi, Franck Briffaut

10:00 - 11:45 Atrium Room

> Import-export

HOW SHOULD SUPPLY CHAINS ADAPT TO THE NEW REQUIREMENTS

OF INTERNATIONAL ONLINE TRADE?

Thierry Grumiaux, Jérôme Lapree, Guillaume Vanderheyden

10:00 - 11:00 Mercure Room

> Road freight / Urban logistics / Transport and logistics services

WHAT ARE THE STAKES AND CHALLENGES BEHIND

LAST MILE DELIVERY?

Frédéric Aziron

10:00 - 11:00 Nepture Room

> Drones

DRONE PARADE

10:30 - 11:00 Drone Valley

> Cold chain

A MORE RELIABLE AND EFFICIENT LOGISTICS WITH IOT

Yohann Caboni

10:45 - 11:15 Workshops 1

> Customs

CUSTOMS WORKSHOP

11:00 - 11:45 Workshops 2

> Dangerous goods

DANGEROUS WASTE, NEW RULES FOR 2022

Alain Goarant, Rémy Vandroux

11:15 - 12:15 Nepture Room

> Urban logistics / Supply chain

SHOPS, DRIVES, DARKSTORES: WAYS TO ANSWER

TO THE OMNICHANNEL LOGISTICS CHALLENGES

Isabel Rocher, Jérôme Pedreno, Guillaume Mullier

11:15 - 12:15 Mercure Room

> Rail freight

WHY JUST MOVING CARGO IS YESTERDAY'S NEWS?

Tristan Ziegler

11:30 - 12:00 Workshops 1

Suite du programme du jour :

Scannez-moi

Rest of the day programme:

Scan-me

SITL Daily is a CLEVERDIS Publication 439 Route de la Seds, 13127 Vitrolles, France

• Tel: + 33 442 77 46 00

• SAS capitalised at €155,750 • VAT FR 95413604471

• RCS Salon de Provence 413 604 471 • info@cleverdis.com • www.cleverdis.com

• www.sitldaily.com

• Publisher: Jean-François Pieri • Project Manager: Bettina Badon

• Senior Account Manager: Benjamin Klene • Head of Editorial Team : Emiliana Van Der Eng

• Editorial team: Thomas Campbell, Hervé Chervy, Luc Citrinot, Fabrice Lamperti,

Frédéric Roba, Reuben Tasker

• Art Director: Hélène Beunat • Web Designer: Guillaume Vinrich

• With the participation of: Zineb Elhabiri, Sara Hirache, Veronika Verzhak

>>> To contact them: first name.last name@sitldaily.com

Cover: Crédit Photo : © Jungheinrich /

Printer: Imprimerie Frazier - Paris

© CLEVERDIS 2022 - Registration of Copyright March 2022. Information presented in this publication is purely indicative in order to illustrate subjects contained therein. No

guarantee can be given as to the accuracy of data or content at time of printing and thus the latter should not be used for professional or commercial ends. While all efforts

have been made as to accuracy and pertinence of content and data contained in this publication, CLEVERDIS may in no case be held responsible for the consequences,

whatever their nature may be, that may result from the interpretation of this data or content, or any eventual errors therein. Any reproduction of the content of this publication,

even partial, by any means whatsoever, is strictly prohibited without the prior autorisation of the publisher. Any copy, whether by photography, photography film, magnetic

tape, disc or other means constitutes a forgery, liable to punishment under French law according to the legislation of 11 th March 1957 covering copyright. All brands cited in this

publication are registered trade marks and/or belong to companies which are their respective proprietors. The publishers and editorial staff decline all responsibility as to

opinions formulated in this publication by those interviewed or cited therein. Their opinions are entirely their own, and are included with the understanding that they contain,

to our knowledge, no malicious intent. The inclusion of all texts, photographs and other documents supplied by those included in this publication imply the acceptance

by their authors of their free publication therein. Documents and photographs will not be returned. It should be understood that this publication contains forward-looking

statements that involve risks, uncertainties and assumptions. All statements other than statements of historical fact are statements that could be deemed forward-looking

statements. Risks, uncertainties and assumptions include assumptions relating to the timing of the recorded date. If any of these risks or uncertainties materialises or any of

these assumptions proves incorrect, actual results could differ materially from the expectations outlined in these statements. Cleverdis assumes no obligation and does not

intend to update these forward-looking statements during the period of publication. Photo Credits and Copyright: All Rights Reserved.

SITL DAILY • MARDI 5 AVRIL 2022 / TUESDAY 5 TH APRIL 2022 3
---
I ACTUALITÉS I NEWS

I

By Laurence Gaborieau

Directrice de la Division Transport & Logistique, Tourisme et Sport

RX France, organisatrice de la SITL

Division Director Transport & Logistics Tourism & Fitness Healthcare

of RX France, the company organising SITL

Stop aux paroles et

place à l'action

Enough talk, it's time

to take action

La SITL 2022 prend place, en ce

début de printemps, dans une

période bien singulière.

Le secteur de la logistique et des

transports, déjà affecté par deux

ans de pandémie, est désormais

confronté à cette guerre, à nos

portes, en Ukraine. Ce conflit, d'une

ampleur sans précédent et véritable

drame humain au cœur de l'Europe,

bouscule l'ensemble de notre

secteur, tant le transport routier,

ferroviaire, aérien que maritime, au

niveau européen et mondial. Cette

situation nous oblige d'autant plus

à réfléchir à notre futur.

La SITL est avant tout un salon de

l'innovation, un laboratoire de la

logistique. L'ADN de la SITL fait dès

lors encore plus sens !

Face aux enjeux climatiques et

environnementaux et à notre

dépendance aux énergies

fossiles, nous devons aujourd'hui

concrétiser les promesses tenues.

Notre industrie doit parler d'une

seule et même voix et se fédérer

autour d'innovations qu'il est urgent

de mettre en place.

La pandémie a montré la nécessité

de nous adapter et innover. Soyons

maintenant acteur de notre futur.

Résilience et RSE - Responsabilité

Sociale et Environnementale

doivent devenir les maîtres mots de

notre quotidien

C'est le fil rouge que la SITL 2022

vous propose.

Place à l'action et aux concrétisations

innovantes ! Vivons

pleinement ce premier jour de la

SITL en conséquence !

SITL 2022 is taking place at such

a strange time this spring. The

transport and logistics sector,

having already been affected

by two years of pandemic, is

now confronted by a war on our

doorstep in Ukraine. This conflict,

on an unprecedented scale and a

real human tragedy in the heart of

Europe, is shaking up our entire

sector, including road, rail, air and

maritime transport, at European

and global level. This situation is

also forcing us to reflect on our

future.

The SITL is above all an innovation

fair, a logistics laboratory. The DNA

of the SITL therefore makes even

more sense! Faced with climate

and environmental challenges and

our dependence on fossil fuels,

we must now fulfill the promises

made.

Our industry must speak with one

voice and be united as innovations

are urgently needed.

The pandemic has shown the need

to adapt and innovate. Let's now

be an actor of our future.

Resilience and CSR - Social and

Environmental Responsibility

must become the watchwords

of our daily lives. This is the

common theme that SITL 2022 is

highlighting.

Make way for action and innovative

solutions! Let's make this first day

of the SITL a success!

4 SITL DAILY • MARDI 5 AVRIL 2022 / TUESDAY 5 TH APRIL 2022

www.sitldaily.com
---
I PAROLES DE PROFESSIONNELS I TRADE TALK I

La SITL au cœur des

innovations sur la sécurité

Arnaud Impinna, Responsable maintenance et sécurité

des entrepôts chez Leroy Merlin

Warehouse Maintenance and Safety Manager at Leroy Merlin

Arnaud Impinna, Responsable maintenance et sécurité des

entrepôts chez Leroy Merlin, est un fidèle de la SITL. Avec

un objectif précis : la recherche d'innovations en matière de

sécurité.

Depuis combien d'années

participez-vous à la SITL ?

Arnaud Impinna : Cela fait

maintenant 10 ans que je fréquente

le salon.

Quelle est l'importance de ce salon

dans votre processus d'achats ?

Le salon nous permet de

rencontrer physiquement nos

fournisseurs et leurs nouveautés.

Cela reste indispensable

pour nous de tester et voir les

produits pour avancer dans notre

démarche. Nous entretenons un

lien fort avec nos fournisseurs,

que nous considérons comme des

partenaires.

Quels types de produits ou de

services venez vous chercher au

salon ?

Nous recherchons principalement

des nouveaux systèmes de

sécurité ou d'ergonomie.

En quoi la sécurité est un axe

majeur chez Leroy Merlin?

Nous menons une politique

forte en terme de sécurité chez

Leroy Merlin, la priorité numéro

un, et nous investissons en

conséquence. Nous avons par

exemple équipé nos quais avec

les cales "GMR". Ils empêchent

les départs intempestifs, qui

pouvaient être mortels.

Quelle place accordez-vous à

l'innovation?

Nous sommes sans cesse en

recherche d'améliorations et de

solutions pour nos collaborateurs.

Nous voulons fidéliser nos

collaborateurs en leur offrant un

environnement de travail "safe".

Quelles sont les grandes

tendances dans votre domaine

d'activités?

Aujourd'hui principalement

l'automatisation des entrepôts,

les exosquelettes et les robots

collaboratifs.

Quels conseils prodigueriez-vous

à un visiteur pour la première fois

à la SITL?

De bien préparer sa venue

en repérant les stands et les

conférences intéressantes.

SITL is at the heart

of safety innovation

Arnaud Impinna, Warehouse Maintenance and Safety Manager at

Leroy Merlin, a regular at SITL, has a specific objective: looking for

innovation in warehouse safety.

How many years have you been

coming to SITL?

Arnaud Impinna: I've been attending

the trade show for the past 10 years.

How important is this trade show for

your procurement process?

The show allows us to meet with

our suppliers face-to-face and see

what's new. It is essential for us to

test and see the products before we

can move forward in our process. We

maintain a strong relationship with

our providers, who we consider to be

partners.

What types of products and services

are you looking for at SITL?

We are mainly looking for new safety

systems or ergonomics.

Why is safety a major focus at Leroy

Merlin?

We have a strong policy when it

comes to safety at Leroy Merlin. It's

a number one priority and we invest

accordingly. For example, we have

equipped our loading docks with

GMR chocks. These prevent untimely

departures which can prove fatal.

How much space do you have for

innovation?

We are constantly looking at ways to

improve and new solutions for our

employees. We want to retain our

employees by offering them a safe

work environment.

What are the latest trends in your

field?

Today, mainly warehouse automation,

exoskeletons and collaborative

robots.

What advise would you give firsttime

visitors at SITL?

To prepare for your visit by identifying

stands and interesting conferences

in advance.

2022

LA SÉCURITÉ DES COLLABORATEURS

FACE AUX DÉCHETS DANGEREUX

EMPLOYEE SAFETY IN THE FACE

OF HAZARDOUS WASTE

Marchandises dangereuses / Dangerous goods

> Mardi 5 Avril / Tuesday 5 April

Déchets dangereux, les nouvelles règles 2022

Hazardous waste, new rules for 2022

11:15 - 12:15 Salle Neptune

Ce mardi 5 avril a lieu une

conférence sur une thématique

importante dans la sécurité des

collaborateurs. Marchandises

dangereuses : "Déchets

dangereux, les nouvelles règles

2022". Lors de cette conférence,

Alain Goarant, Dirigeant

Fondateur AGMS, parlera avec

Rémy Vandroux, animateur

du débat, mais aussi DG de

Securidis Solutions, des solutions

Trackdéchets (dématérialisation

du BSD), des responsabilités du

producteur et du collecteur et de

la classification des déchets.

This Tuesday, April 5, a

conference covering an important

theme with regards to employee

safety is taking place. Dangerous

goods: "Hazardous waste, the

new rules of 2022". During the

conference, Alain Goarant, the

founder and director of AGMS

will be with Rémy Vandroux,

moderating the debate, and the

CEO of Securidis Solutions to

discuss waste tracking systems

(replacing waste tracking slips),

the responsibility of producers

and collectors, as well as waste

classification.

SITL DAILY • MARDI 5 AVRIL 2022 / TUESDAY 5 TH APRIL 2022 5
---
I INTERVIEW EXCLUSIVE I

Alain Ferrand

Directeur Solutions d'Entreposage,

Jungheinrich

Director of Warehouse Solutions,

Jungheinrich

" L'AUTOMATISATION

NE DOIT PLUS ÊTRE

RÉSERVÉE QU'AUX

PLUS GRANDES

ENTREPRISES. "

JUNGHEINRICH :

L'AUTOMATISATION,

UNE TRANSITION

PLUS QU'UNE

RUPTURE

Face au défi environnemental,

le passage à l'automatisation

est-il vraiment bénéfique pour

l'environnement ? Alain Ferrand de

Jungheinrich estime pour sa part que

le passage à l'automatisation ne doit

pas être imaginé comme une rupture,

mais plutôt comme une transition. "En

cherchant des solutions pour lisser les

flux, nous parvenons à concevoir des

installations mieux dimensionnées avec

un meilleur taux d'utilisation, permettant

ainsi d'éviter le surdimensionnement,

qui constitue une sorte de gaspillage.

Et donc, c'est un bénéfice pour

l'environnement", explique-t-il.

Ne ratez pas l'atelier animé par

Jungheinrich demain :

Green logistics

2022

> Mercredi 6 Avril

Logistique : comment améliorer

la performance de votre entrepôt

tout en réduisant votre impact

environnemental avec le

lithium-ion

Jonathan Marraud Des Grottes,

Lucas Toussaint

16:00 - 16:45 Atelier 2

Automatisation, efficacité

énergétique et développement

durable, des thèmes clés pour

Jungheinrich

Jungheinrich profite de la SITL pour présenter ses

nouveautés et ses solutions à un développement durable.

Alain Ferrand, Directeur Solutions d'Entreposage,

explique

Que souhaite promouvoir

Jungheinrich cette année à la

SITL ?

L'automatisation, l'efficacité

énergétique et le développement

durable sont des thèmes clés pour

Jungheinrich. Nous les mettons

en avant à travers nos deux

nouveaux modèles de chariots

au design conçu avec la batterie

Lithium-ion qui en améliore les

fonctionnalités logistiques. Pour

nos solutions automatisées, nous

présentons deux robots mobiles :

notre nouvel EKS (préparateur de

commandes plus compact), et en

première mondiale, notre AMR

articulé.

Quels sont les défis de

l'automatisation pour

Jungheinrich ?

Il y a trois défis : le premier est

de proposer des solutions à tous

nos clients, quelle que soit leur

taille ou leur secteur d'activité.

L'automatisation ne doit plus être

réservée qu'aux très grandes

entreprises. Nous proposons

des solutions flexibles, pour

accompagner la croissance de

nos clients : c'est le second défi.

Le troisième est de proposer des

solutions concernant les petites

charges, car c'est une demande

forte des clients aujourd'hui. Nous

répondons à ces défis avec

nos AMR, AGV, miniloads et

transtockeurs.

Quelles solutions les fabricants

et les distributeurs peuventils

adopter pour rendre leurs

chaînes d'approvisionnement

plus flexibles ?

Rendre les chaînes d'approvisionnement

plus flexibles demande

d'analyser leur activité et d'automatiser

à bon escient, selon la

typologie des produits, la classe

de rotation, la saisonnalité. C'est le

travail de nos équipes.

" LA SITL EST UN

MOMENT CLÉ

D'ÉCHANGES... "

Pourquoi des événements comme

la SITL sont-ils si importants pour

des entreprises comme la vôtre ?

Ces dernières années ont

démontré que la digitalisation

des échanges était indispensable

à la continuité d'activité. Mais

elles ont aussi mis en évidence

l'importance des moments de

convivialité dans les échanges

professionnels. La SITL est

un moment clé d'échanges et

l'occasion de présenter nos

nouveautés en avant-première.

STAND M63

6 SITL DAILY • MARDI 5 AVRIL 2022 / TUESDAY 5 TH APRIL 2022

www.sitldaily.com
---
I INTERVIEW EXCLUSIVE I

Automation, energy

efficiency and sustainabile

development are key themes

for Jungheinrich

Jungheinrich has seized the opportunity to present their latest

products and sustainable development solutions at SITL. Alain

Ferrand, Director of Warehouse Solutions, explains.

JUNGHEINRICH:

AUTOMATION IS

A TRANSITION NOT

A SPLIT

Is the move towards automation

really beneficial for the environment?

For Alain Ferrand of Jungheinrich

the move to automation should not

be viewed as a clean break, but

rather as a transition. "By looking for

solutions to ease the flow of goods,

we are coming up with devices

which are more suitably sized and

have a higher usage rate. Avoiding

oversizing is beneficial for the

environment," he explains.

What is Jungheinrich looking to

promote this year at SITL?

Automation, energy efficiency

and sustainability are key

topics for Jungheinrich. These

are highlighted through our

two new models of forklift,

designed with a lithium-ion

battery to improve its logistics

functionality. In terms of

automated solutions, we are

presenting two mobile robots,

our new EKS (more compact

order picker) and our articulated

AMR - a world premiere.

What are the main challenges

of automation?

There are three challenges: The

first is providing solutions to all

our customers no matter their

size or industry. Automation

should not be reserved only for

big companies. We offer flexible

solutions which accompany

our customers as they continue

to grow - that's the second

challenge. The third is coming

up with solutions for small loads

which are in high demand. We

are meeting these challenges

with our AMR, AGV, miniloads

et stackers.

" AUTOMATION

MUST NOT BE

RESERVED

ONLY FOR

THE BIGGEST

COMPANIES "

What solutions can

manufacturers and distributors

adopt to make their supply

chains more flexible?

Making supply chains more

flexible is about analysing

and automating them in the

best possible way according to

product typology, rotation class

and seasonality. This is what

our teams are working on.

Why are events like SITL so

important to companies such

as yours?

The last few years have

shown that the digitalisation

of trade is essential for

business continuity. But

they also highlighted the

importance of having

moments of togetherness in

professional settings. SITL

is such a key moment of

professional exchange and

a chance to present our new

products in preview.

STAND M63

Don't miss Jungheinrich's

workshop tomorrow:

Green logistics

2022

> Wednesday 6 April

Logistics: How to improve

warehouse performance while

reducing environmental impact

with lithium-ion

Jonathan Marraud Des Grottes,

Lucas Toussaint

16:00 - 16:45 Workshop 2

SITL DAILY • MARDI 5 AVRIL 2022 / TUESDAY 5 TH APRIL 2022 7
---
DOSSIER SPECIAL

SPECIAL FEATURE

"MON MESSAGE : C'EST LE

MOMENT DE SE RETROUSSER

LES MANCHES ! "

Arnaud Sohier

Directeur commercial

SNCF Réseau

Commercial Director,

SNCF Réseau

"MY MESSAGE: IT'S TIME TO

ROLL UP YOUR SLEEVES!"

PUBLIREPORTAGE

L'optimisme d'Arnaud

Sohier, directeur

commercial SNCF Réseau

Arnaud Sohier, directeur commercial de SNCF Réseau, est

optimiste face à l'appétence de la logistique pour le ferroviaire.

Quelle est la raison de votre

présence cette année à la SITL ?

La SITL est incontournable et

il est essentiel durant le salon

d'aller à la rencontre des clients et

utilisateurs de notre réseau -

logisticiens, entreprises, chargeurs,

industriels, commissionnaires

de transport. Nous échangeons

sur l'offre de SNCF Réseau et

écoutons les besoins auxquels

nous devrons répondre. C'est un

rendez-vous très stimulant qui nous

permet d'échanger de manière très

condensée sur une période courte

avec nos clients.

En tant qu'acteur historique du

transport et de la logistique, avezvous

un message pour la filière ?

Depuis peu, l'appétence pour

le transport ferroviaire est plus

importante. En témoigne la stratégie

nationale pour le développement

du fret portée par l'État avec

l'ensemble des professionnels, tous

engagés pour le développement de

ce mode de transport décarboné,

respectueux de l'environnement.

Mon message est donc très positif :

c'est le moment de se retrousser les

manches !

Ces derniers mois sont marqués

par des crises à répétition. Quelle

est votre vision de l'avenir ?

On connaît les menaces qui

pèsent de manière globale sur

l'économie mondiale, observées

d'ailleurs depuis le début du

confinement. On constate depuis

2020 que la demande ferroviaire

est extrêmement élevée. Dans

cette période de crise, le ferroviaire

retrouve sa place et celle à laquelle

il aspire demain : celui d'être au

premier plan dans la circulation

des marchandises et l'organisation

logistique d'approvisionnement des

cités et régions.

DES INVESTISSEMENTS CONSÉQUENTS

DANS LE FERROVIAIRE

STAND F41

Selon Arnaud Sohier, le transport ferroviaire, pendant toute la

période de confinement l'année dernière, est resté à un niveau

extrêmement élevé. Il était pratiquement à 10 % près des chiffres

avant covid, pratiquement identique à celui de 2019 . "Ce qui est

tout de même très bien dans le contexte que l'on a connu", décrit le

Directeur Commercial de SNCF Réseau. "Les perspectives restent

favorables avec un financement d'un milliard d'euros dont les 3/4

portent sur des investissements dont SNCF Réseau est le maître

d'ouvrage".

ADVERTORIAL

Arnaud Sohier, SNCF

Réseau's commercial

director, is full of

optimism

Arnaud Sohier, commercial director of SNCF Réseau, is

optimistic when faced with the rail industry's growing demand

for logistics.

What is the reason for your

attendance at SITL this year?

SITL is unmissable and it is essential

to meet the clients and users of our

network during the trade show –

logisticians, companies, shippers,

manufacturers, freight forwarders.

We will discuss what SNCF Réseau

has to offer and listen to the

needs we must meet. It is a very

inspiring meeting which allows us

to collaborate effectively with our

clients in a short period of time.

As a seasoned player in transport

and logistics, do you have a

message for the sector?

Recently, the demand for rail

travel has increased. As seen by

the National Freight Development

Master Plan, backed by the state

and industry professionals, all are

committed to the development

of this low carbon mode of

transport which is respectful of

MASSIVE INVESTMENT

IN FRENCH RAIL

According to Arnaud Sohier, rail

travel remained at an extremely

high level throughout lockdown

last year. Usage was within 10%

of pre-Covid levels and virtually

the same as 2019. "Which is all

very positive, given the context,"

the environment. My message is

therefore very positive – it's time to

roll up your sleeves!

These last few months have been

marked by repeated crises. What

is your vision for the future?

We know the global threats that are

weighing on the world economy

and in fact, we have been observing

these since the start of lockdown.

Since 2020, demand for rail travel

has been extremely high. During this

crisis period, rail travel has regained

its place and that which it aspires

to – being at the forefront of the

circulation of goods and logistics,

supplying cities and regions.

STAND F41

commented the commercial

director of SNCF Réseau. "The

outlook remains promising with

one billion euros of investment,

of which three quarters is

earmarked for SNCF Réseau

contracts."

8 SITL DAILY • MARDI 5 AVRIL 2022 / TUESDAY 5 TH APRIL 2022

www.sitldaily.com
---
DOSSIER SPECIAL

SPECIAL FEATURE

GXO : une flotte de

robots autonomes

au Royaume-Uni et

aux Pays-Bas

GXO Logistics développe sa flotte de

robots autonomes pour de nouveaux

clients au Royaume-Uni et aux Pays-

Bas.

GXO utilise des flottes de robots mobiles

autonomes, ou AMR, dans 28 pays. Après

l'intégration de robots mobiles dans les

secteurs du e-commerce et du retail, GXO

les déploie maintenant dans la distribution

alimentaire et les produits volumineux.

Une flotte d'AMR sera introduite au

Royaume-Uni et aux Pays-Bas au cours

des prochains mois.

« Au cours des 18 derniers mois, nous

avons accéléré notre déploiement de

technologies modulaires », explique

Phil Shaw, Vice-Président Centre of

Excellence, GXO. « Comme ces AMR

sont petits et mobiles, ils présentent des

avantages significatifs par rapport aux

installations fixes plus lourdes ».

Selon GXO, les AMR sont capables

d'augmenter la productivité jusqu'à 60 % et

améliorent l'expérience du consommateur

final. Ils réduisent par exemple le

temps nécessaire au traitement d'une

commande et accroissent également la

sécurité en réduisant les manipulations

de matériel de manutention. En 2021,

GXO a ainsi déployé plus de 2 000

nouveaux équipements technologiques

sur ses sites.

STAND H22

GXO: a fleet of autonomous robots in the

United Kingdom and the Netherlands

GXO Logistics is expanding its fleet of autonomous robots for new

customers in the UK and the Netherlands.

GXO uses autonomous mobile robots,

or AMRs, in 28 countries. After the

integration of mobile robots in the retail

and e-commerce sectors, GXO is now

deploying them in food distribution and

for heavy goods. A fleet of AMRs will be

deployed in the UK and the Netherlands

over the coming months.

"Over the past 18 months we have

accelerated the deployment of our

modular devices", explains Phil Shaw, Vice

President of the Centre of Excellence at

GXO. "Because these AMRs are small and

mobile, they offer significant advantages

over heavier, fixed installations."

According to GXO, the AMRs are capable

of boosting productivity up to 60% and

improving the end customer's experience.

For example, they reduce the time it takes

to process an order, while also increasing

security by reducing material handling.

Thus in 2021 GXO deployed more than

2,000 new technological devices on their

sites.

STAND H22

Rhenus met en place des chariots

autonomes collaboratifs

21 chariots autonomes collaboratifs ont récemment

été mis en service chez Rhenus pour améliorer les

opérations de préparation de commandes.

Pour Rhenus et son client

Bjorg et Compagnie,

l'amélioration conjointe

des opérations logistiques

s'est traduite par la mise en

service en ce début d'année

de chariots autonomes

collaboratifs pour la

préparation des commandes.

Rhenus a ainsi choisi

Effidence pour des chariots

autonomes permettant aux

préparateurs de commandes

de moins se déplacer dans

l'entrepôt, d'augmenter leur

temps de travail effectif et de

réduire les risques de TMS.

Rhenus sets up

collaborative

autonomous pickers

Pour Mercedes Ortiz

Garcia, Directrice Business

Développement chez

Rhenus, « l'appui des chariots

autonomes optimise le

temps de travail effectif des

préparateurs avec plus de

flexibilité pour absorber des

fluctuations de volumes ».

STAND H26

21 collaborative autonomous forklifts were recently

put in operation at Rhenus to improve its order picking

processes.

The recent deployment of

these machines which help

prepare orders is the results

of ongoing efforts between

Rhenus and its clients Bjorg

and Compagnie to constantly

improve their logistics

operation. Rhenus has

therefore selected Effidence

to provide autonomous

pickers, meaning that the

staff preparing the orders

do not need to move around

the warehouse as much. It

also increases their effective

working time while reducing

the risk of MSDs.

As Mercedes Ortiz Garcia,

Rhenus' Director of Business

Development says: "With the

support of the autonomous

trolleys, the staff's effective

working time is optimised,

allowing for more flexibility to

absorb volume fluctuations".

STAND H26

SITL DAILY • MARDI 5 AVRIL 2022 / TUESDAY 5 TH APRIL 2022 9
---
DOSSIER SPECIAL

SPECIAL FEATURE

TDI prend la gestion

transport du groupe industriel

Tivoly

TDI gère le transport du groupe Tivoly, expert dans la conception,

la production et la commercialisation d'outils coupants.

Depuis 1917, Tivoly conçoit et

commercialise des outils de coupe

et des produits associés. Soit plus

de 12 000 références depuis sa

plateforme logistique centrale

d'Albertville en Savoie.

En 2019, désireuse de répondre aux

exigences croissantes de ses clients,

Tivoly décide de se doter d'un

nouveau TMS. « Nous souhaitions

optimiser nos coûts de transport

à chaque expédition, gagner du

temps sur l'intégration de nouveaux

transporteurs et assurer la traçabilité

de nos opérations. Le TMS Expedito

de TDI s'est avéré l'outil le plus

complet et le plus intuitif », raconte

Sébastien Chevrier-Gros, Adjoint

Responsable Site du Groupe Tivoly.

Les bénéfices sont multiples pour

Tivoly : intégration plus rapide de

nouveaux transporteurs, souplesse

accrue dans l'élaboration des plans

de transport et facilitation d'édition

pour 6 000 étiquettes mensuelles.

Tivoly dispose d'un portail unique de

suivi de ses expéditions domestiques

ou internationales. Et elle sert

d'entreprise pilote du module

Exwarning de TDI qui repère toute

anomalie selon différents niveaux de

risques.

STAND E81

TDI takes over management

of the Tivoly group's

transport

TDI manages the Tivoly group's transport, experts in the design,

production and commercialisation of cutting tools.

Since 1917, the company has been

creating and commercialising

cutting tools and associated

products, so that's more than

12,000 references from its central

logistics hub in Albertville, Savoie.

In 2019, looking to meet their

customers' demands, Tivoly

decided to adopt a new Transport

Management System. "We wanted

to optimise our transport costs

with each shipment, to save time

on the integration of new carriers

and ensure the traceability of our

operations. TDI's TMS Expedito

proved to be the most complete

and intuitive tool," says Sébastien

Chevrier-Gros, Deputy Manager of

the Tivoly group.

There are multiple benefits for the

group: the faster integration of

new carriers, increased flexibility

when developing transport

plans and making edits to 6,000

monthly labels easier. Tivoly now

has a single portal for tracking

its domestic and international

shipments. It also serves as a pilot

for TDI's Exwarning module which

detects any anomalies based on

their different risk levels.

STAND E81

B2P Optim labélisé par la fondation

Solar Impulse dans sa protection de

l'environnement

Solar Impulse a récompensé la solution

B2P Optim pour sa recherche de solutions

résilientes dans un but de protection de

l'environnement.

B2PWeb a reçu le label

"Solar Impulse Efficient

Solution" (solution

efficace de la fondation

Solar Impulse) pour

sa solution B2POptim.

Il s'agit d'un logiciel

utilisant un algorithme

permettant d'optimiser le

chargement des camions

en réduisant le taux de

vide d'une part et les

kilomètres parasites

d'autre part.

Grâce à cet algorithme

complexe intégré à

l'application, l'opérateur

-ou le conducteur luimême-

peuvent effectuer

rapidement et facilement

une recherche efficace

qui prend en compte le

coût du péage, la distance

de détour, le poids et la

taille disponibles dans le

véhicule.

Les avantages de la

solution B2P Optim pour

l'environnement :

• la réduction de CO 2

est

d'environ 7,5% par offre

de transport grâce à une

diminution moyenne de

33,5km parasitaires.

• La réduction de la

consommation de

carburant permet

une réduction de 16,6

grammes de Nox pour

chaque offre.

STAND G82

STAND G82

B2P Optim has

been credited

by the Solar Impulse foundation for

its environmental protection

Solar Impulse has rewarded B2P

Optim for exploring resilient solutions

with the purpose of protecting the

environment.

B2PWeb was named "Solar Impulse Efficient

Solution" for its B2P Optim software, which

uses algorithms to optimise the loading of

trucks, by reducing the number of empties

and also the number of extra unnecessary

kilometres.

Thanks to its complex algorithm, which is

integrated into the application, the operator

- or drivers themselves - can quickly and

easily carry out a search taking into account

the cost of tolls, detour distances and the

vehicle's weight and size availability.

Advantages of B2P Optim for the

environment:

• The reduction of CO 2

emissions is around

7.5% per journey thanks to an average

decrease of 33.5 unnecessary kilometres

• The reduction in fuel consumption also

cuts nitrogen oxides by 16.6 grammes for

each journey

10 SITL DAILY • MARDI 5 AVRIL 2022 / TUESDAY 5 TH APRIL 2022

www.sitldaily.com
---
DOSSIER SPECIAL

SPECIAL FEATURE

2022 signe l'essor

international de Scallog,

une start up "made in france"

Porté par un contexte favorable

- accélération de l'e-commerce,

optimisation des process

logistiques omnicanaux, nouvelles

préoccupations RSE des 3PL, 4PL

et logisticiens de l'Industrie, du

Retail et de la Grande Distribution,

Scallog est de retour à la SITL

2022 en confirmant ses ambitions

internationales.

Déjà connue avec les solutions

Goods to Man Scallog – des étagères

de stockage transportées par des

robots, 2022 marque une nouvelle

étape clé dans l'essor international

de Scallog. Au Canada, l'entreprise

lance en collaboration avec son

partenaire Bastian Solutions, le 3PL

WIPTEC, expert des préparations

de commandes Pick-Pack-Ship

BtoB et BtoC. En Europe, c'est le

déploiement de 3PL Geodis en Italie

et au Danemark, pour L'Oréal.

En France, Scallog a ajouté à son

portefeuille de nouvelles références

prestigieuses comme Leroy Merlin,

KNCO, lunetier français, ou le

Groupe Sebbin, fabricant d'implants

chirurgicaux. Ces succès résultent

des atouts de Scallog, qui souhaite

démocratiser la robotisation dans

les entrepôts. Avec sa solution

robotique Goods To Man, Scallog

apporte ainsi agilité et flexibilité.

STAND M49

2022 marks the international

expansion of Scallog, a start-up

"made in France"

Scallog is back at SITL 2022,

underlining its international

ambitions, helped by a favourable

climate. This includes the

acceleration of e-commerce,

optimisation of omnichannel

logistics processes and new

CSR concerns for 3PL, 4PL and

logisticians in industry, retail and

mass distribution.

Already known for its Goods to

Man Scallog solutions, rack-moving

mobile robots 2022 marks a new

key stage in Scallog's international

expansion. In collaboration with

its partner Bastian Solutions, the

company has launched the 3PL

WIPTEC in Canada – an expert in

Pick-Pack-Ship BtoB and BtoC.

While in Europe, it has deployed

3PL Geodis in Italy and Denmark

for L'Oréal.

Scallog has also added some

important names to its client

portfolio in France, including

Leroy Merlin, KNCO, the French

eyewear company, and the Sebbin

Group, manufacturers of surgical

implants. This success is a result of

Scallog's strengths, as the company

aims to make the robotisation of

warehouses more accessible. The

company's Goods to Man robotic

solution therefore brings both

agility and flexibility to the table.

STAND M49

Hai Robotics présente son équipe

Europe et son ACR à la SITL

Une formidable opportunité. C'est ainsi que le groupe Hai

Robotics considère sa présence à la SITL 2022, où les visiteurs

pourront pour la première fois rencontrer sa nouvelle équipe

européenne.

Basée aux Pays-Bas, elle est

dirigée par Peter Guan, Directeur

Général Europe. Une équipe qui

compte de nombreux experts :

"Hai Robotics s'attache à recruter

les meilleurs talents locaux

dans chacune des régions clés

d'Europe", explique Peter Guan.

Il est ainsi présent sur la SITL

accompagné de Kai Ramadhin,

vice-président ventes et marketing

Europe, et Thierry Hennebiq,

Country Manager France.

La firme d'origine chinoise a

sélectionné la SITL avec une

double première : la présentation

de son équipe Europe et la

démonstration de ses systèmes de

robots autonomes de manutention

de caisses (ACR).

Hai Robotics est le fer de lance

de l'automatisation des entrepôts,

avec une solution flexible, facile

à déployer et rentable pour la

chaîne d'approvisionnement en

Europe. Sa démonstration de ses

systèmes de robots autonomes

de manutention de caisses (ACR)

à la SITL constitue une première

européenne. Selon Kai Ramadhin,

les systèmes ACR de Hai Robotics

sont parfaitement adaptés aux

besoins européens et "augmentent

de manière exponentielle

l'efficacité opérationnelle", tout

en nécessitant moins de temps

de mise en œuvre et en étant plus

rentables que l'automatisation

traditionnelle.

STAND K81

Hai Robotics presents its

European team and ACR at SITL

Hai Robotics, a leading Chinese player, has chosen SITL for

two major launches: the presentation of its autonomous casehandling

robots (ACR) and its new European team.

SITL 2022 is an exceptional

opportunity for visitors to meet for

the first time with Hai Robotics'

new European team, headed

by Peter Guan, General Director

for Europe. He is accompanied

at SITL by Kai Ramadhin, Vice-

President of Sales and Marketing

for Europe, and Thierry Hennebiq,

Country Manager France.

Hai Robotics aims to become a

leader in warehouse automation,

with a flexible, easy to deploy,

cost-effective and more efficient

solution for Europe's supply chain.

The company is putting forward

their ACR systems, locally deemed

to be the best suited for the job.

According to Kai Ramadhin,

the ACR systems are perfectly

adapted to the specific European

requirements and "exponentially

increase operational efficiency",

while cutting down the time it takes

to implement and being more

cost-effective than traditional

automation. Hai Robotics is

targeting industries including 3PL,

retail and e-commerce, as well as

fashion and consumer goods.

STAND K81