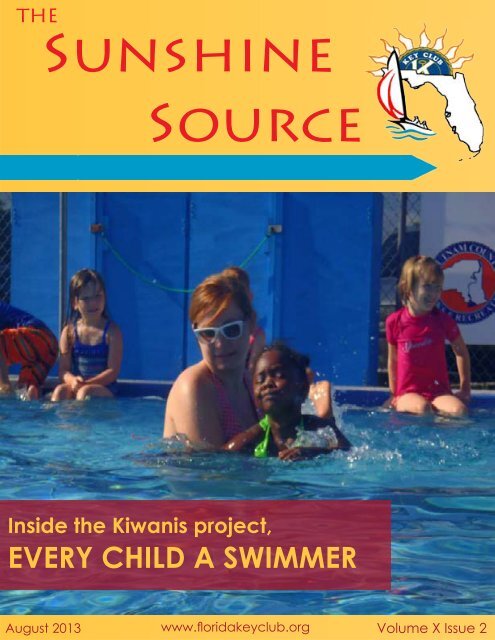 Florida Key Club's Sunshine Source Vol IX No 2 August 2013
Create successful ePaper yourself
Turn your PDF publications into a flip-book with our unique Google optimized e-Paper software.
THE

Sunshine

Source

Inside the Kiwanis project,

EVERY CHILD A SWIMMER

August 2013 www.floridakeyclub.org

Volume X Issue 2
---
Meet a Key Clubber... Page 3

Governor's Message... Page 4

KCKC... Page 6

KCKC Schedule by Zone... Page 7

Children's Miracle Network... Page 8

IN THIS ISSUE

Greetings, Florida District!

It has been an exciting pleasure seeing all of the efforts every single

member of our organization is making toward service during this season! Recently,

Key Clubber's from across the globe were set to meet one another

at the International Convention this past month. Seeing everyone gathered

together - especially during the extraordinary service project "Kids Against

Hunger" - really reflected how strong of an organization our club truly is.

I hope everyone has been having a wonderful summer, but never forget

your Key Club values of service, leadership, character building, and

inclusiveness, no matter the vacation. Serving has no vacation!

At the Washington Monument

With Spongebob at ICON

Recapping ICON... Page 10

Trustee's Message... Page 14

Every Child's A Swimmer... Page 16

Tips for Meetings... Page 18

FLOF vs. YOF ...Page 20

Yours in service,

District Editor Sabrina Moore

editor@floridakeyclub.com

MEET A KEY CLUBBER: ZACH ZAYAS, BLAKE HIGH SCHOOL

1) Why did you join Key Club?

My father was in Key Club in High School.One

of my best friends at the time was in Jesuit's Key

Club. He told me about it and I was hooked.I always

wanted to do volunteer work, but never found

a way to do it until I joined Key Club.

2) What's your favorite way to serve your

community?

Anything that has to do with kids. We once volunteered

at a local elementary school and helped with their after

school program. We played games with the kids, helped

them with homework, or colored with them.

3) How has Key Club changed your life?

It helped me discover who I am as a person and

I now want to devote my life to helping others.

Also, I've made some great friendships through

Key Club.

1 • District District • 2
---
GOVERNOR'S MESSAGE

Leaders,

I hope everyone had a great summer, full of fun and service! School is

starting, which means it's time to do membership recruitment! This is the

best time of year to recruit for the 2013-2014 year. The larger your club

is, the more service you can do. I challenge each member of your club

to invite one person to their first Key Club meeting. When advertising

your Key Club, make sure you are targeting different groups of students.

You should try to make your meetings fit as many member's schedule as

possible. Key Club's should be diverse in membership and attract a wide

range of students. One of our core values is inclusiveness, so make sure

you are taking that into consideration when inviting potential members

to the meeting.

After recruiting your members, you need to make sure they are educated

about Key Club! Key Club is not just a service club; it has a mission,

values, and objects that serve as its foundation. Key Club is an international

student-led organization that provides its 265,000 members with

opportunities to provide community service, build character, and develop

leadership skills.

It's important that your members know all the facts; we want them to

understand why they should stay in Key Club. Being a Key Club member

is a special thing and it's your job to make sure they feel like they are just

as important as the other 265,000 members. That is the key to membership

retention.

If you have any questions about membership recruitment, retention,

or would like to know more about what it means to be a Key Club

member, contact your Lt. Governor. If you have any questions about my

Governor's Project, or you don't know how to get in contact with your Lt.

Governor, email me at governortrina@floridakeyclub.com!

Yours in service,

District Governor Trina Sessions

Protect the connection.

3 • District District • 4
---
It's time for

KCKC!

(Key Club Kick Off Conference)

With the school year just beginning, the excitement of new

members and officers is most likely at its highest point. Luckily,

there is a place where all of this enthusiasm can be put to great

use: your Zone Key Club Kickoff Conference!

KCKC is the first big opportunity of the year to see a whole

new level of Key Club International. It proves that Key Club is

more than just a club at any school; it is an organization, with

people all around the world supporting it!

Alongside members from all over your Zone, you can attend

workshops to build your leadership knowledge and gain ideas

and experiences to use toward a productive year of service.

New officers will discover exactly what their roles in their clubs

are and how they can make a lasting impact.

As if it is not already enough, KCKC will also provide a small

glimpse of what to expect at this year's District Education and

Leadership Conference! A formal "Call to DCON" will be given,

revealing this year's theme and other thrilling details.

Your KCKC is coming up soon! Contact your LTG for specific

details, and be sure to advertise to your members and officers.

Attending the Key Club Kickoff Conference is the only way to

ensure that your club is ready for a brand new year of service.

See you there!

~DCON Chair Devon Mims

Zone G: Saturday, September 7, Jensen Beach HS,

2875 Goldenrod Road, Jensen Beach, FL, 34957, time TBA

Zone J: Saturday, September 7, Nova Southeastern University,

Health Professional Division Terry Building, 3200 S. University Drive,

Ft. Lauderdale, 33328 9:00 a.m. – 2:30 p.m.

Zone D: Saturday, September 14, University of Central Florida,

4000 Central Florida Blvd. Orlando, Florida, 32816, 9:00 a.m. -

1:00 p.m.

Zone C: Sunday, September 15, 8am start registration,

8:30 program starts, location TBA

Zone B: Saturday, September 28, location and time TBA

Zone E: Saturday, September 28, Keiser University,

5002 W. Waters Ave, Tampa, FL, 33634 9:30 a.m. – 2:00p.m.

Zone F: Saturday, September 28, Mulberry HS,

1 Panther Place, Mulberry, FL, 33860, 2:00 p.m. - TBA

Division 2A/2B: Saturday, October 12, location and time TBA

Zone I: Saturday, October 12, Hodges University, 4501 Colonial

Blvd., Fort Myers, 9:00 a.m. – 2:00 p.m.

Zone K: Saturday, October 12, La Salle High School, 3601 S

Miami Ave Coconut Grove, FL 33133 from 8:30am-1:00pm.

Division 1A/1B: Saturday, October 19, Gulf Breeze High School,

675 Gulf Breeze Pkwy, Gulf Breeze, FL 32561, 8:30 a.m. - 1 pm

Zone H: Saturday, October 19, Sarasota HS, 1000 S. School Ave,

Sarasota, FL, 34237, 10:00 a.m. – 2:00 p.m.

5 • District District • 6
---
What is the Children's Miracle Network?

The Children's Miracle Network's mission is to create healthy tomorrows for all children

of all ages. Children's Miracle Network Hospitals are celebrating their 30th

anniversary this year and have raised more than 4.7 billion dollars to support Children's

Hospitals who treat over 17 million patients a year. They also provide

support for children who need it most that are admitted to these hospitals. Not

only does Children's Miracle Network help families financially but they also help

provide education to families about children safety, seatbelts, bike safety etc.

However the most important thing about Children's Miracle Network is that they

are the only national children's charity committed to having 100% of the funds

raised stay local to support local kids. That is amazing and that means even more

children are helped every day because of the great works of Children's Miracle

Network.

Did you know?

Children's Miracle Network Hospitals...

• treat over 17 million patients each year.

• treat 98% of all children needing heart or lung transplants.

• treat 88% of all children with cancer.

• treat 76% of all children with cystic fibrosis

• treat 90% of all children with sickle cell anemia.

• treat 72% of all children with pediatric AIDS.

• train 60% of all pediatricians and 80% of all pediatric specialists.

How can Key Clubbers help?

Key Clubbers can Donate- online, by check, in honor/memory of a loved one; we

can even donate vehicles etc.

Key Clubbers can Volunteer- At your local All Children's Hospital and truly make

the day of a child who needs it the most.

Key Clubbers can fundraise - dance-a-thons, telethons, radiothons, participating in

IHOP National Pancake Day, Miracle Jean day, or Miracle Treat day.

However, the most important thing that we as Key Clubbers can do is to educate

others about this great organization. Educate yourself even more by visiting www.

Children'sMiracleNetworkHospitals.org!

~ Service and Major Emphasis Committee

8 • Service and Major Emphasis Service and Major Emphasis• 9
---
HERE WE COME TO SERVE THE WORLD

A note from your 2013 ICON Chair

Few of us who attended the 2013

International Convention this year

cannot forget the insightful workshops,

famous sites, Lieutenant

Governor Michael Risola dressed

up as Wonder Woman, or the

homemade ice cream at Larry's

Ice cream shop. Bottom line? This

year's International Convention

was a blast, and next year's in

Anaheim, California should be no

exception!

The trip began on July 3rd

when tons of Key Clubbers from

all parts of the country, and the

world for that matter, filled up

Ronald Reagan International

Airport. Gathering up into Super

Shuttles, we eventually settled

into one of the most popular and

highly renowned hotels in all of

Washington DC, the Washington

Hilton! It did not take long for us

to feel comfortable and get excited;

right after the opening ceremony,

it became clear that where

you came from did not matter to

us Key Clubbers! Every inch of

open space became filled with Key

Clubbers chatting, laughing, eating,

smiling, and discussing International

Candidates! By Friday, July

5th, International Convention was

fully up and running! Everyone

was revitalized and stunned by the

gorgeous fireworks we saw right

outside of our windows the night

before, and we were geared up for

a jam-packed day! It started with

some great workshops and a special

Eliminate Project Luncheon; it

ended with awards and a speech

given by none other than Elizabeth

Smart! It is my absolute pleasure

more than anything, though, to

share how much the Mighty Mighty

Florida District was recognized that

day! At the Eliminate Luncheon,

our very own District Governor, Trina

Sessions, was even commended

for her work with The Eliminate

Project and gave a rousing speech

about ways to work towards

reaching The Eliminate Project's

goals!

Saturday, though, proved to

be bittersweet. ICON 2013 was

slowly coming to an end, and so

many of us had just experienced

it for the first time! At the House

of Delegates, delegates voted on

our next International President,

Raeford Penny from the Capital

District, and our next International

Vice President, Rachel Benoit from

the LA-MISS-TENN District, as well

as 13 new International Trustees!

By night's end, the Closing Ceremony

had us listen to an unbelievable

speech by our outgoing

International President, Rebecca

Riley, see the Florida District receive,

literally, countless Robert

F. Lucas Awards for our Immediate

Past Lieutenant Governors,

and witness the induction of the

brand new International Board!

Even though International Convention

was all it could ever be

and more, the Florida District had

another amazing journey in store

for its delegation, a 3 day Florida

District Tour of all of Washington

DC's greatest sites! Florida attendees

were given the freedom to

see nearly every nook and cranny

of nation's capital, and with Metro

passes paid for by the

Florida District, On Tuesday, July

9th, the Florida District Tour ended.

On an even on a more sentimental

10 • International International • 11
---
note; all of the Florida District gathered

together to visit the grounds of

Mount Vernon, the home of George

Washington! Walking through the

tranquil gardens and touring the

historic manor, not one attendee

could avoid being overcome by the

beauty, preparing him or herself for

our departure from Washington DC

the very next morning!

Despite the grand sites, ICON

2013 was not a life-changing experience

because of the places we

saw or the city we were in; it was

life-changing because of the people

who were there! The Florida

District had over 100 people at this

year's International Convention, 78

on the Florida District Tour! This

year saw the second largest Florida

delegation to International Convention

in history, and all of our

attendees represented our district

admirably! That pride we discovered

within ourselves as District

and that newfound family we made

with people all over the world are

the two things that should be most

remembered about ICON this year.

I would dare anyone to look on the

Facebook pages, Twitter feeds, or

Instagram photos of anyone who

was at International Convention

this year and not find any pictures,

posts, or videos from Washington

DC! Please remember that ICON is

not a once-in-a-lifetime experience.

Next year, the Florida District will

be travelling to Anaheim, California

for ICON 2014, and we want you

there! If the laughter, tears, and

memories that were built at this

year's International Convention are

any indicator, ICON should be an

event that every Key Clubber goes

to at least once in their high school

careers! As a proud Lieutenant

Governor in the Mighty Mighty

Florida District, I am so overjoyed

with having played a role during

this year's International Convention!

Quite simply, I just cannot wait to

see everyone again next year, in

Disneyland's backyard!

~Dillon Perez

ICON Chair

A special "thank you!" to Dillon

Perez, our 2013 International

Convention Chair. He assisted

District Adiministrators in

planning and served the Florida

District as as a "tour guide". His

hard work and dedication

toward ICON

is reflected in

the smiles of

the attendees.

Thank

you, Dillon!

congrats, florida!

CONGRATS, FLORIDA!

The following immediate-past board members of the Florida District won an award at ICON!

Robert F. Lucas

Outstanding Lieutenant Governors

Morgan Bechtle, Division 10B

Lauren McAllister, Division 14A

Courtney Crump, Division 7

Shane Meyers, Division 20

Sean Valdivieso, Division 24A

Alexandra Franklin, Division 25B

Chizoba Ezenwa, Division 24B

Avery Smith, Division 3

Freddy Jimenez, Division 14C

Sarah Brickman, Division 18

Kimberly Santos, Division 25C

Lena Ho, Division 10C

Emily Hughes, Division 22

Rashon Murph, Division 19

Tyler Johnson, Division 11

Alexis Berry, Division 26B

Distinguished Secretary

Robert Brown

Distinguished Treasurer

Krtisten Ho

Distinguished Bullletin Editor

Micheala Oglesby

12 • International International • 13
---
MEET YOUR

INTERNATIONAL TRUSTEE

ERIC YOON

CAPITOL DISTRICT

Hello, everyone!

My name is Eric Yoon, and I am absolutely honored and

privileged to have the opportunity to serve as your 2013-14

International Trustee! I have been in Key Club since my freshmen

year and I enjoyed every moment of it through service,

friendships, and the experience. I consider Key Club my family

where we can share the passion and vision to serve our homes,

schools, and communities.

To briefly introduce myself, I will be a senior at Oakton High

School in Virginia. I love playing the piano and listening to

classical music. Two interesting facts are that I moved to the

U.S. three years ago from South Korea and I have a naturally

spiked hair. It defies gravity!

As your liaison to the international, I will do my very best to

keep you updated on the workings of international through

personal calls and email updates. And by providing the necessary

resources, I hope to make your leadership experience rich

and fun. I will be serving on the communications committee to

bridge the gap between various levels of our organization by

examining the content and practicality of resources, Key Club

App, webinars, monthly updates to members, and more.

But above all, I cannot wait to start working with you all.

Should you have any questions or concerns throughout the

year, do not hesitate to contact me at any time. I am here to

serve you!

Together, let's have an amazing year!

International Trustee

Eric Yoon

571.346.0745

trusteeyoon@gmail.com

14 • International International • 15
---
Palatka High School Key Clubber's

instructing children the arm motions

of swimming during their session of

Every Child A Swimmer.

"Every Child A Swimmer

is precisely that. Learning to swim is a very

important skill, and, [if it's] taught at a young

age, can be life saving—especially living in

Florida. This project teaches children of all

ages how to conquer their fear of water and

how to swim, safely. The purpose is to give

these children the experience of swimming

lessons completely free of charge."

~Kimmy Beers, Seminole High School President

Annually, nearly 8,000 people are victims of drowning within the

United States, alone, and more than 80,000 near-drownings occur every

year in which victims are severely injured. In an attempt to prevent any

more of these senseless incidents from occurring, a program known as

"Every Child A Swimmer", which focuses on instructing children to swim

in order to save lives. This program is a "learn-to-swim and water safety"

project sponsored by Kiwanis International and its two sponsored youth

organizations, Key Club International and Circle K International, that utilizes

a station method to teach groups of children how to swim, be safe

around large bodies of water, and have fun all the while.

How can us Key Clubber's help out? "Key Club members", explains

Palatka High School Key Club President Katelyn Vogt, "actively participate

and interact with some great kids. Members help lifeguards supervise

and instruct the swimmers during classes. Key Clubbers get to help

the kids with their front and back crawl, bobbing, floating, and even

jumping in the pool."

The steps to starting a program are simple and few: first, select a

person or persons to meet with local school officials, to discuss making

ECAS a part of their elementary school curriculum. Kiwanians then

become liaisons between private and public educational sectors, and

various other certified programs in the area; second, find a pool that

is available for the lessons; if not one located on school property, then

possibly a city or county owned pool (If you coordinate the program

with your local Red Cross, Y Club or Boys' Club, you might be allowed to

use their facilities). You will need to acquire a certified swimming instructor

and then, finally, you will advertise for financial and volunteer support

in the schools and in local media. The costs for this exceptional program

are merely those for the swim instructor, pool rental, swimsuits and caps,

ear plugs, towels, sunscreen, pool safety equipment, transportation, and

certificates for achievement awards. ECAS would even be willing to help

by providing public service announcements for local television; ideas for

merit awards, decals, and patches; literature to help trainers and guide

your swim instructor; and ECAS will put you in touch with other

organizations that can help coordinate and support your program.

~District Editor Sabrina Moore

16 • Club Highlights Club Highlights • 17
---
YOU ARE THE KEY

TO SUCCESSFUL MEETINGS

It is that time of year, again! School is just around the corner, and Key

Club meetings are officially back in session! Hosting successful meetings

is vital to any club. Therefore, implementing the tips below will

help every meeting run smoothly.

Have an Agenda

Making a clear, full agenda for each meeting allows both officers and

members to stay focused. It is not recommended to have the

agenda on a phone - instead, it is beneficial to instead make copies

and pass them out at the door!

Graphic Presentations

One way to keep meetings more enjoyable, and ultimatly successful,

is to use graphic presentations such as PowerPoints, videos, and

photos. Keep in mind that both Key Club International and the Florida

District have YouTube channels filled with great videos to share.

Make meetings fun

Having icebreakers, energizers, and games at the start of meetings

can really help form a Key Club family. It is essential that a welcoming

environment is created. When an officer walks in tired and stressed, it

definitely sets the mood for the meeting, so always be sure that your

officers exude excitement and pride in the work that they do. One

of the best ways to energize everyone at a meeting is to invite guest

speakers!

Professional is Key

Try to keep the meeting as professional as possible. Having items such

as the Key Club Pledge, Pledge of Allegiance, ringing the bell, etc.

can reinforce the fact that every member is part of a larger, more

impactful organization - Key Club International.

Have Scheduled Meetings

Consistent meetings are vital to having strong attendance and high

membership. At the beginning of the year, have a plan, and stick to it.

Try to avoid moving or cancelling meetings out of respect for

members' time.

Recognize Members

Recognizing members for their hard work lets them know that people

are taking notice of their good deeds! Giving a member a compliment

or birthday wish can make him or her feel important to Key Club.

Additionally, by giving out awards such as Member of the Month or

Year, a member can be officially recognized for their dedication and

commitment to their Key Club Family.

Incorporate a Service Project into Meetings

What's the primary goal of a Key Club anyway? The purpose, of

course, is to serve its home, school and community! Not only does

having a service project at each meeting accomplish this goal, but

it also draws in members and is a sure fire way to have a successful

meeting.

~Club Advisory Council

18 • Club Highlights Club Highlights• 19
---
FLOF vs. YOF: What grant is right for your service project?

The Florida Opportunity Fund

(FLOF) and Youth Opportunity

Fund (YOF) can seem daunting

and complicated. However,

upon closer examination clubs

find that these grants aren't so

scary and can be very helpful

when executing large projects.

"How do the grants differ, how

much can you get from these

grants, what are the restrictions

of these grants, and where can

I find applications" are some of

the most commonly asked

questions.

So what differentiates FLOF

and YOF? The Florida District has

an account for FLOF managed

by the FLOF Committee and

District Treasurer. About $1 from

every member is put into this

account. YOF is managed by a

committee of International Officers

who receive guidance from

Kiwanians.

Both YOF and FLOF have

different amounts of money

that can be awarded. The FLOF

grant will award up to two-thirds

of the cost of a project with a

maximum award amount of up to

$1000 and a minimum of $100

With YOF, you can be awarded

from $100 - $2000 with no

stipulations on the percentage of

the cost that must be paid by the

club.

Both grants have limitations

and restrictions. For the FLOF

grant, absolutely no funds will be

awarded for a fundraiser of any

kind. In addition to the initial application,

clubs must also submit

a follow-up report on the project

that they did. If the project cost

was lower than anticipated, then

clubs are asked to return any

money that was not used. If these

follow up reports are not done

within the specified timeframe,

all money must be returned to

the District. For the YOF grant, all

applications must be emailed,

mailed, or faxed into the

appropriate offices no later than October 15th. If your club has

been approved for YOF, you will pay the expenses of the project

out-of-pocket and will then later be reimbursed for their expenses.

Your expenses are determined by receipts, so be sure to save them!

Clubs can apply for both FLOF and YOF in the same year since they

are independent of one another. Applications for FLOF and YOF

can both be found on the Florida Key Club website under "FLOF

and YOF." If you need help with these applications, you are highly

encouraged to either contact your Lieutenant Governor or District

Treasurer Shane Meyers.

~Chris Komorov

Liuetent Governor Division 17

20 • Youth Opprotunities Fund Youth Opprotunities Fund • 21
---
Official Publication of the

Florida District of Key Club International