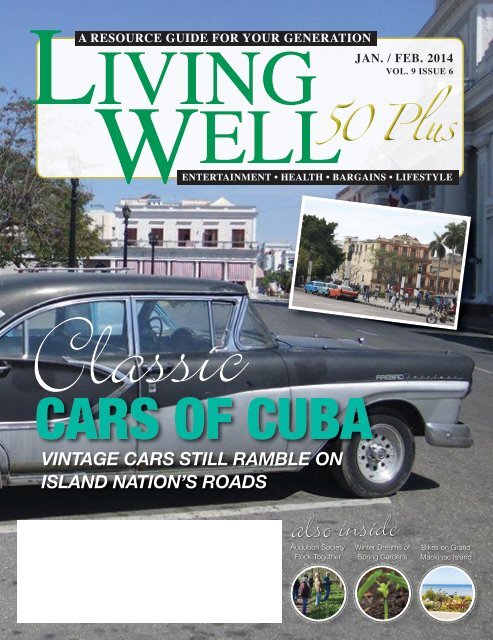 Living Well 60+ January-February 2014
You also want an ePaper? Increase the reach of your titles
YUMPU automatically turns print PDFs into web optimized ePapers that Google loves.
A RESOURCE GUIDE FOR YOUR GENERATION

Living

W ell

JAN. / FEB. 2014

VOL. 9 ISSUE 6

50 Plus

ENTERTAINMENT • HEALTH • BARGAINS • LIFESTYLE

Classic

CARS OF CUBA

VINTAGE CARS STILL RAMBLE ON

ISLAND NATION'S ROADS

also inside

Audubon Society

Flock Together

Winter Dreams of

Spring Gardens

Bikes on Grand

Mackinac Island
---
®

2 JAN/FEB 2 0 1 4

NOW

$30/month

OPEN in Lexington Green Mall

HealthwoRx Fitness & Wellness Center provides a highly personalized approach to health

and wellness with individual fitness assessments, personalized exercise programming and

guided exercise designed to help people of all ages and levels of health.

Affordable rates! No contract or hidden fees!

Hours of Operation:

Monday - Thursday, 5:30 am – 9 pm • Friday, 5:30 am – 8 pm

Saturday, 8 am- 5 pm • Sunday, 12 NooN - 5 pm

To learn more, call 859-260-4354

NOW ACCEPTING

New Patients!

12/16/09 9:41:17 AM

NO contract!

A highly personalized approach to health and

wellness. Fun NOW and invigorating ACCEPTING

group fitness for

ALL fitness levels!

CLASSES INCLUDE:

Spinning • Zumba • Pilates

Yoga • PiYo • Boot Camp

We offer a variety of specialty

programs for seniors!

www.facebook.com/HealthwoRx

Conveniently located at the Lexington Green Mall

Stop by or call 859-260-4354 for more information

NOW ACCEPTING

New Patients!

Beautiful Smiles

FULL SERVICE DENTISTRY

NOW ACCEPTING

New Patients!

New Patients!

Beautiful Smiles

Beautiful Smiles

. . .so close to home.

WHITENING SPECIAL:

$

199 Offer expires 2/28/14

Beautiful Smiles Convenient Location

Convenient Location

Convenient Location

859.263.5755

859.263.5755

121 Prosperous Place Suite 3

Lexington, KY 40509

Lexington,

Patient Satisfaction

KY 40509

Convenient Location

FULL SERVICE DENTISTRY

Visit us on the web at

Visit us on the web at

. . .so close to home.

www.wilkinsdental.com

Hours Kimberly by F. appointment Wilkins DMD, PLLC

859.263.5755

121 Prosperous Place, Suite 3

Patient Satisfaction

Patient Satisfaction

Kimberly F. Wilkins DMD,

PLLC

121 Prosperous Place, Suite 3

www.wilkinsdental.com

Mon - Thurs, 8:00-5:30, Fri 9:30-2:00, Sat. by
---
JAN/FEB 2 0 1 4

3

300 Stocker Dr

Richmond, KY 40475

(859) 625-1400

www standrewsplace www.standrewsplace.org

When you need the best in Urologic care, isn't

it nice to know you don't need to leave home?

Lexington • DanviLLe • FrankFort • Mount SterLing • richMonD • SoMerSet • WincheSter

With convenient locations throughout

Central Kentucky, Commonwealth

Urology offers patients a full range of

urologic services:

• Adult and Pediatric Urology

• Vasectomy and Vasectomy Reversal

• Male and Female Sexual Dysfunction

• Incontinence

• Prostate Cancer

• Kidney Stones - Lithotripsy

For more information, visit LexingtonClinic.com/urology

A Part of Lexington Clinic
---
5

7

9

10

11

12

14

15

16

18

23

24

25

26

28

29

30

4 JAN/FEB 2 0 1 4

Contents

Jan./Feb. 2014

Birdwatchers Flock Together

Winter Dreams of Spring Gardens

The Best Friends Approach to Dimentia Care

FOOD DUDE

Coq au Vin Makes an Elegant, Hearty Winter Dish

Aging with Asthma

TRAVEL

Break out the Bikes

Cars are not allowed on Grand Mackinac Island

Winter Safety Reminders

It Isn't Too Late to Save for Retirement

Calendar

LivingWell50+ is now DIGITAL:

Senior Services Directory

The Bourbon Trail Leads All to Kentucky

Late Life Success

A Salute to Col. Sanders

Cafe and Museum Showcase Birthplace of KFC

50 YEARS AGO…

Beatles Appeared on Ed Sullivan Show

Through the Eye of the Artist

Understanding Your Credit Score

PERSON OF INTEREST

Charisse Gillett

FROM THE

COVER

PAGE 13

Living Well 50+ is

a proud product of

Classic

CARS OF CUBA

WRITERS

STAFF WRITERS:

Angela S. Hoover

Frank Kourt

Jamie Lober

Abby Malik

Thomas W. Miller Ph.D. ABPP

Sandra W. Plant

Jan Ross

Martha Evans Sparks

Guest Article Provided by

Chrysantha Clark, CFP, Keystone Financial

STAFF

Tanya Tyler

editor/staff writer

John Brokamp

publisher

Janet Roy

director of creative services

Brian Lord

sales manager

Kim Blackburn

sales representative

John Hoffeld

sales representative

FROM THE

EDITOR

Dear Friends,

It's 2014! What are you

planning to do with this new

year?

A Facebook friend posted

an article that encouraged

adopting a theme for the new year, rather than

making resolutions. "The theme should be a word

that resonates with you and embodies something

that has been missing from your daily life," the article

Tanya Tyler • tanya@samplerpublications.com

said. "Instead of defining specific behaviors that you

want to do [like losing weight or quitting smoking],

simply keep your theme in mind and allow your days

to unfold from there."

I like that idea. I'm going to choose "quirkiness" as

my theme for 2014. This will encourage me to do

things I might not normally do, such as participating

in one of those 5K races where they throw "color

bombs" at you. Or going to a music concert by a

group I've never heard of. Or trying a restaurant that

features food I've not eaten before. It will definitely

include traveling to places I've never been but have

long wanted to visit. (Vienna, anyone?) It might even

mean finally going skydiving – something that's been

on my bucket list for a few years now.

Whatever theme you choose for 2014, make sure it

enhances your overall goal of Living Well 50 Plus.

Live life like you mean it!

Tanya
---
JAN/FEB 2 0 1 4

5

Members of the Audubon Society of Kentucky go on a bird walk

at The Arboretum in Lexington. Photo credit: David Lang.

Birdwatchers Flock Together

Audubon Society of Kentucky welcomes

novice birders

by Abby Malik, Staff Writer

Even when leaves fall from the trees

and temperatures drop below freezing,

nature is still happening all

around us. The Audubon Society

of Kentucky (ASK) provides those

who have a desire to get outdoors

any time of year the opportunity to

explore Central Kentucky's diverse

bird community, whether you're

a bird expert, a casual observer

or just starting out as a nature

explorer.

ASK, which is not affiliated with

the National Audubon Society,

organizes bird-watching field trips

throughout the Bluegrass region

that are open to all age groups;

membership in ASK isn't required.

David Lang, co-secretary of the

organization, says ASK has a membership

of around 70 nature lovers.

"We have a lot of retirees and older

people in the group," Lang said.

They are also joined by young

professionals, college students and

middle agers.

The group bird walks take place in

diverse areas such as the Lexington

Cemetery, Shaker Village in

Harrodsburg, Minor Clark Fish

Hatchery and Cave Run Lake near

Morehead, Maine Chance Farm in

Lexington and several others. The

group has even traveled as far as

Cumberland Falls State Park on its

expeditions.

Lang says exploring different locations

is important for successful

bird searches.

"Habitat is the key for finding

different species of birds, thus we

offer the range of locations to include

as many habitats as possible,"

he said.

The outings are a wonderful way

for older adults to meet other

people, spend time in nature, visit

different areas of the state and, of

course, learn about Kentucky's

birds. Nearly all of the bird walks

and other activities, which include

bird-seed sales and potluck dinners,

are scheduled on weekends,

making participation easy for those

who are busy during the week.

If you're interested in going on an

ASK outings, you don't have worry

that your bird education isn't up

to par. In fact, Lang said, "We love

novice birders. For those of us that

hardly ever see anything new, it is

great to see other people experience

seeing new species for the first

time. It makes us appreciate these

'old friends' with fresh eyes."

Lang offers assurance for those

who think they might not be mobile

enough to join ASK's outdoor

adventures.

"Birders typically do not move at

a very fast pace," he said. "We are

always stopping to look at stuff, not

just birds."

During nature walks, a group, usually

averaging around a dozen participants,

typically covers not more

than a couple of miles on foot, and

everyone goes at their own pace.

The walks, Lang says, are as much

about socializing as they are about

the nature experience.

Walk participants should bring

along some type of magnification,

preferably binoculars, but a camera

with a large zoom will also do. For

those who don't own binoculars,

ASK group members have extra

pairs. A bird guidebook is also a

good item to have on hand.

THIS IS MY LEGACY.

OVERWHELMED

Legacy Lane is a special neighborhood at Cedar Ridge designed for individuals with memory challenges.

Features:

• Specially selected and trained

MAKING A DECISION

caregivers

ABOUT MOM OR DAD

• Multi-faceted daily programs to

maintain health energy patterns WHO HAS DEMENTIA?

• Memory-friendly environment that

encourages reminiscence

• Family-style meal service

• A secured outdoor courtyard that

encourages interaction with nature

• Monthly Alzheimer's/dementia

support groups for family

members

ASK has several bird walks and

other events scheduled from

January through March. Details

are available at www.audubonsocietyofky.org

under the "Activities"

tab. While membership is not

required to participate in ASK

nature walks, those interested in

joining can visit the website for a

membership form. Membership

dues are $10 for an individual and

$15 for a family.

The walks are

as much about

socializing as

they are about

the nature

experience.

Cedar Ridge Health Campus staff understands.

There are many choices to make when caring for a loved one. Our

specially selected, compassionate and caring staff hope to

make the decision easier.

• 13 bed suites

Cedar Ridge Health Campus is pleased to

• Family-style dining

introduce our new Legacy Lane Memory Care

Neighborhood • Sunday offering brunch special services and

support in • Harrison Secured County outdoor for individuals courtyardliving

with Alzheimer's Disease and other memory

Cedar Ridge Health Campus challenges. For more information please contact

1217 US HWY 62 E

us today! For more information,

Cynthiana, KY 41031

(859) 234-2702 Also offering Short-Term please Rehab and contact Long-Term us Care today! in our Health Center.
---
Helping Others

Hear Better

Come see why our patients love us! We are proud to provide

the Central and Eastern Kentucky communities with

outstanding hearing health care service.

AudigyCertified Providers

We have been recognized within the private-practice audiology community

for offering the highest-quality hearing care available anywhere.

HEARING

PATIENTS

FOR

AGX Hearing

Only the most up-to-date technology is offered with AGX

hearing aids. All models are custom fit and specifically

selected to suit your listening habits and lifestyle.

Patients for Life®

Our highly acclaimed patient relationship program was created

to help hearing care professionals establish a consistent, friendly,

and exemplary approach with every one of their patients.

AGX Protection Plan

Our hearing technology is backed by the strongest warranty protection in

the business: 75-day risk-free trial, 3-year warranty, 3 years free batteries.

Dr. Robert Manning,

Doctor of Audiology

Dr. Brooke Dinsmore, Au.D.,

Doctor of Audiology

Call today to learn how Audiology

Associates can help you hear better!

859.963.2958

Lexington, KY • 259 Southland Dr

Prestonsburg, KY • 1428 N Lake Dr

Pikeville, KY • 5425 N Mayo Trail, Ste 201

www.kyhearing.com
---
y Frank Kourt,

Staff Writer

Despite the wintry

breezes, icy bushes

and the cold, hard

ground that dominate these days,

we gardeners can dream … can't

we?

Sure, we're dealing with a frozen

landscape, but this is the time

of year that most of us get those

glorious gardening catalogues in

the mail, promising us the wonders

that will bloom in spring.

Be the best that you can be with

fitness studio

Yes, of course, those folks are preying

upon the innate optimism that

is second nature to every triedand-true

gardener. No matter what

Providing Private and Partner Training

and Classes

• Kettle Bell

• Boot Camp

• Yoga

• Pilates

• Zumba

Be the best that you can be with

• Kettle Bell

• Boot Camp

• Yoga

Be the best that you can be with

fitness studio

and Classes

Partner Training

and Private Providing

Personal Best

• Boot Camp

Bell Kettle •

fitness studio

• Pilates

Yoga •

(859) 523-2378

www.personalbestlex.com

• Zumba

250 Walton Avenue • Lexington, KY 40502

Providing Private

and Partner Training

and Classes

www.personalbestlex.com

523-2378

(859)

• Pilates

• Zumba

250 Walton Avenue • Lexington, KY 40502

JAN/FEB 2 0 1 4

Winter Dreams of Spring Gardens

While awaiting thaw, perusing gardening catalogues

can be therapeutic and inspiring

mistakes, miscalculations and outright

disasters may have occurred

last growing season, we gardeners

can take a page from the book

of legendary die-hard Chicago

Cubs fans and chant their mantra:

"There's always next year!"

Thus, perusing the many catalogues

that are likely to be stuffing

our mailboxes this time of year

can be not only be a therapeutic

form of escapism, but can actually

benefit our future gardening

endeavors.

I always look for varieties of either

vegetables or plants that have been

improved over time. Good examples

of this are newly developed

bush varieties of things such as

squash plants that take up so much

less space in our plots than did

their old-fashioned vining cousins.

You should also look for varieties

of plants that have been improved

in the areas of disease resistance

and hardiness to weather conditions.

There are plants that we can

grow as perennials in our particular

climatic zone these days that could

never have thrived here years ago.

For my money, one of the most

remarkable developments in plant

improvement is the Knockout

rose, which has given us a plant

that not only blooms throughout

the entire growing season but

doesn't need deadheading and is

disease-resistant and hardy as well.

Speaking of Knockout roses, if

7

you're contemplating putting some

in come spring, consider planting

three separate bushes relatively

closely to each other so that they

grow together to make an impressive

display.

This "planting in threes" technique

of landscaping is something I first

noticed after moving to Kentucky,

and it's a great one. When we

bought our property here nearly a

decade ago, we found the landscapers

had planted our burning

bushes in clumps of three on various

spots on the lawn. The result

is a spectacular display of crimson

each fall.

By looking through gardening

catalogues, you can study the available

plants and their properties,

such as height, length of growing

season, need for sun and other

qualities that will help you decide

if you want them and what the

optimal location will be when it

comes time to plant them.

One of the great things about

ordering from many of these

catalogues is that you don't have to

worry about having your merchandise

arrive too early for planting

in your climate. Many of these

companies will take your order

now and time the plants to arrive

at your house at the optimal planting

time for your area.

So don't let the snow, ice and north

winds deter you from dreaming

about the gardening season to

come. Open up those catalogues

and start planning for spring.

www.personalbestlex.com • 250 Walton Avenue • Lexington, KY 40502

(859) 523-2378

Eastland Shopping Center 1020 Industry Rd. Ste 10 Lexington, KY 40505

859-253-0012 Mon 9-7, Tues-Sat 9-6
---
8 JAN/FEB 2 0 1 4

mental ability, this loss is not all

that defines him or her, Bell said.

"We are dealing with an adult

who has had a rich life experience

and still has a lot of skills

underneath the dementia," she

said. "A person with dementia is

very perceptive about not being

valued, not being respected. It is

just amazing to me what a person

still perceives even though they

have lost a lot in some areas."

The Best Friends Approach

Pioneers Dementia Care

Learning and caring about participants make a big difference

by Martha Evans

Sparks,

Staff Writer

Best Friends, a

pioneering method

for dealing with people with

Alzheimer's and other types of

dementia, is showing great success.

"The Best Friends approach has

really gone around the world,"

said Virginia Bell, the Lexington

social worker who began it. She

believes the reason it has prospered

is simple: It works.

The Best Friends concept occurred

to Bell 30 years ago when,

at the age of 60, she went back

to school at the University of

Kentucky to get a master's degree

in social work. She was hired

as the first family counselor at

UK's Sanders-Brown Center on

Aging. In working with persons

with dementia, Bell was surprised

to learn that the more she knew

about them, the better she got

along with them.

The medical professionals at

Sanders-Brown at the time did

not immediately think the Best

Friends approach would work. Especially

they did not think volunteers

could manage persons with

dementia. That opinion – and the

language – have both changed.

The term is no longer "caregiver"

but "care partner." It's no longer

"day care"; participants (not "patients")

attend a "day center."

"'Day care' sounds too much like

child care," Bell said. "We want

it to be far removed from child

care."

The newer approach is about

being the person's friend. "It's

amazing what a difference it

makes," Bell said. "We try to find

out as many things as we can

about the person." Care partners

use the information gleaned to

let the participant know they are

interested in him and care about

what he did and who he is.

The principle applied with Best

Friends is remembering that,

while the person has lost some

One program that utilizes Best

Friends is The Christian Care

Community with Best Friends,

located at Second Presbyterian

Church on East Main Street in

Lexington. Some participants

come just one afternoon a week

to give care partners some respite

time. The family member is better

off because of the socialization

with people who know about

his or her life story and care

about him or her. Families, for

their part, learn not to argue or

confront a person with dementia

and to understand that their

family member does not like to

always be on the receiving end of

everything with no choice about

anything.

Early in 2014, Best Friends, still

under the umbrella organization

of Christian Care Communities,

will move to a new, larger

building in Brannon Crossing.

Although Second Presbyterian

has provided a happy home all

these years, the facility is now

bursting at the seams, with a

waiting list. Other Christian Care

Communities using the Best

Friends approach are in Bowling

Green, Corbin, Louisville and

other places in Kentucky.

Bell says several big nursing

home chains are switching to the

Best Friends approach, where

every staffer knows the preferred

name of every patient. "It is such

a simple thing, but it makes such

a difference. If the patients are

happier, it is better for the staff,

families, patients, everybody," she

said.

Now 91, Bell doesn't take credit

for the change in focus in caring
---
JAN/FEB 2 0 1 4

9

We are dealing with an adult who has

had a rich life experience and still has a

lot of skills underneath the dementia."

—Virginia Bell, co-author, Best Friends Approach to

Alzheimer's Care

for people with dementia. "This

has taken all of us," she said. "I

had the idea more than 30 years

ago. But an idea cannot go anywhere

without everyone. It has

taken volunteers, families, professional

staff."

Bell and David Troxel, who was

formerly with the Alzheimer's

Disease Research Center at Sanders-Brown,

published the first of

their five coauthored books in

1996. The second edition of their

first book, Best Friends Approach

to Alzheimer's Care, is now available

in seven languages.

Best Friends always needs volunteers.

Each volunteer receives 16

hours of training before starting,

plus one hour of continuing

education every month. Training

sessions are held twice a year.

Anyone who is interested in

volunteering is encouraged to

visit Best Friends and sit in with

another volunteer. To become

a volunteer, call Bobby Potts at

(859) 258-2226. Learn more

about Best Friends at www.bestfriendsapproach.com.

P

ILATES

PLACE

PILATES

PLACE

Dementia Bill of Rights

Every person diagnosed with

Alzheimer's disease or other

dementia deserves:

• To be informed of one's

diagnosis

• To have appropriate,

ongoing medical care

• To be treated as an adult,

listened to, and afforded

respect for one's feelings

and point of view

• To be with individuals

who know one's life story,

including cultural and

spiritual traditions

• To experience meaningful

engagement throughout

the day

• To live in a safe and

stimulating environment

• To be outdoors on a

regular basis

• To be free from

psychotropic medications

whenever possible

• To have welcomed

physical contact, including

hugging, caressing, and

handholding

• To be an advocate for

oneself and for others

• To be part of a local,

global, or online

community

• To have care partners well

trained in dementia care

Our team is

here for you!

Start your

2014

Resolutions TODAY

Gift Certificates Available

859-266-3810

365 Duke Rd.

Lexington

studio@pilatesplaceky.com

follow us on:

Photos courtey of Best Friends Center and show

participants and volunteers together.

Suffering from Chronic Pain?

Trouble Sleeping? Stressed?

Stop suffering. Let us help.

17 years experience with proven results.

Learn how to relieve pain at home.

Robert Fueston,

Master Acupuncturist and Reiki Instructor

Lexington Center for Acupuncture, Massage & Reiki

Call 859-595-2164 or email info@acupunctureky.com

www.robertfueston.com
---
1 0 JAN/FEB 2 0 1 4

Coq au Vin Makes an Elegant, Hearty Winter Dish

Break some conventional culinary rules with this French classic

Cooks who are looking for an

elegant yet earthy and hearty dish

for winter cooking need look no

further than the classic French

provincial dish, coq au vin.

Coq au vin literally means "chicken with

wine." It is a close cousin to that other

French bistro dish, boeuf bourguignon, or

"beef in burgundy." Coq au vin breaks some

conventional culinary rules by marrying

chicken with a robust red wine.

Indeed, coq au vin and boeuf bourguignon

are so close that in concocting my personal

coq au vin recipe over the years, I find it's

virtually the same as my beef dish, with the

obvious substitution of chicken for the beef.

You're certain to find many variations of

coq au vin. Many will not include carrots. In

some there will be a dash or two of cognac;

others will add celery; and the spices

will vary widely. Most coq au vin recipes

have onions, garlic, mushrooms, bacon, a

number of spices and, of course, chicken

and wine. There's even a variation called coq

au vin blanc, in which a white wine is used.

food

dude

Frank

Kourt

the

The variations are understandable, since

the French housewives who first made it

were apt to use the ingredients they had on

hand. Any salt pork today? If not, substitute

bacon. If there are three or four carrots to be

had, so much the better. If not, skip them.

The important thing to keep in mind is to

use fresh ingredients. Equally important is

the slow cooking that allows the flavors of

this wonderful dish to marry. (Some people

make coq au vin, refrigerate it and heat and

serve it the next day in order to give this

marrying of flavors a better chance to take

place).

When making coq au vin, make sure you

use a drinkable full-bodied red wine, such

as burgundy, and plan to drink the same

vintage with your meal. A good rule is never

to cook with a wine you wouldn't drink –

and never use those salt-enhanced "cooking

wines" that are sold in grocery stores.

Serve your coq au vin with rice or noodles

and accompany it with a good, crusty bread.

A simple salad completes a full meal. In

addition to being an elegant dinner, a good

coq au vin warms body and spirit on a cold,

frosty night.

Coq Au Vin

• 3 lbs. chicken pieces

• Salt and pepper

• Flour

• 1/4 cup butter or margarine

• 1/4 cup olive oil

• 8 slices of bacon, chopped

• 2 cloves garlic, minced

• 2 large onions, chopped

• 3-4 large carrots, peeled and cut

into 1-inch pieces

• 1/4 cup chopped fresh parsley

• 2 cups burgundy wine

• 1/2 lb. fresh mushrooms, sliced

• 1/2 bag frozen pearl onions

• 2 bay leaves

• 1/2 tsp. each thyme, rosemary,

marjoram

Heat the butter and oil in a large frying

pan. Salt and pepper the chicken, coat

with flour and sauté the pieces until

golden, then place in an oven-proof

casserole. Pour off the liquid from the

skillet and sauté the bacon until the fat

is rendered. Remove the bacon and set

aside. Pour off all but about a tablespoon

of the fat. Add the onion, garlic, carrot,

and parsley and sauté until the onion

starts to turn golden. Arrange the

contents of the pan over the chicken.

Add the herbs and spices and pour the

wine over all. Cover the casserole and

bake in a 325-degree oven for one hour.

While the chicken is cooking, sauté the

pearl onions and mushrooms in a little

butter until the onions begin to turn

golden. Drain and add to the casserole.

Cook for another 10-15 minutes, or

until the chicken is tender. Skim any fat

off the top of the dish before serving.

A good coq au

vin warms body

and spirit on

a cold, frosty

night.
---
Aging With Asthma

JAN/FEB 2 0 1 4

Though there's no cure, it's possible to

live well with the condition

by Jamie Lober, Staff Writer

Asthma is a condition that

changes during different ages and

stages of your life.

"Usually it is recognized early

in children because they have

allergic components, like watery

eyes, runny nose and persistent

chest colds, whereas in adults it

is manifested differently," said

Kurt Hohenecker, who works in

respiratory care at Central Baptist

Hospital in Lexington.

Some people are more susceptible

to asthma than others. "Sometimes

people are so sensitive that

strong fumes like colognes can set

their breathing problems off and

set asthma into overdrive," said

Hohenecker.

By understanding what is happening,

you can get a better

grasp of just what asthma is and

what it does. "The body releases

histamines in response to allergic

components," said Hohenecker.

"Sometimes the patient will inhale

cold air, and the airways are sensitive,

which causes bronchospasms.

Or nothing may set it off and it

just happens."

Diagnosing asthma can be

complex; it involves a physical

exam and a checking of breathing

sounds. "The physician would

want to do spirometry testing,"

said Hohenecker. "It involves the

patient blowing out as hard and

fast as they can [into a] device

[that] measures airway obstruction,

which is how much of the

airways are collapsing due to

allergic components."

As with any condition, some

people do better with asthma than

others. "A lot depends on how severe

your attacks are and how well

you do with the regimen," said

Hohenecker. "For some people it

does not get them down, and others

it seems to wipe out."

There is no surefire prevention for

asthma, but some tips work for all

ages. "Be aware of your surroundings,"

said Hohenecker. "You

might have something setting off

your asthma, like in spring when

things are in bloom or in winter

where you forget to change the

furnace filters often enough and

there is dust in your home."

Some new medications are now

available to treat asthma. "There

are some pill-form medications

that a patient can take now," said

1 1

Hohenecker. "There is always

a new blood thinner or cholesterol

medication coming out, but

asthma seems to lag behind all the

time."

People need to know that asthma

can become more severe at any

time, which makes it critical to

take medications as they are

prescribed. "If you cannot afford

them as prescribed, you need to

check into some of the programs

that a lot of companies have where

there are medications at a reduced

fee," said Hohenecker.

Asthma is a lifelong challenge.

"As you get older, you become

less sensitized and do better as

an adult," said Hohenecker. To

combat asthma, adults use rescue

inhalers and some type of maintenance

inhaler, such as corticosteroid.

While it can be hard work, it

is possible to live well even with

asthma.

L

IBERTYR

Senior Living Community

IDGE

A Non-Profit Faith-Based Community

WE OFFER:

• Independent Garden Homes

• Assisted Living Apartments

• Memory Care Neighborhood Apartments

Final Phase of Garden Homes

currently under construction.

CALL TODAY TO SCHEDULE A COMPLIMENTARY

LUNCH AND TOUR. LOCATED IN LEXINGTON NEAR HAMBURG PLACE

859.543.9449

www.libertyridge.com

701 Liberty Ridge Lane Lexington Ky 40509
---
1 2 JAN/FEB 2 0 1 4

TRAVEL

Break Out the Bikes

Cars are not allowed on Grand Mackinac

Island

This is one of the few places

in the world where the only

transportation allowed is by

bike, horses or foot.

by Jan Ross,

Staff Writer

The first thing

you need to know

about friendly little

Mackinac Island is that no matter

whether you spell it Mackinac or

Mackinaw, it is pronounced with

an "awe" at the end, not an "ack."

Blame the British, the French

or the local Native Americans

who called the island Michinnimakinong,

which the British and

French of course immediately

shortened to Mackinac (British)

or Mackinaw (French). But

however it is spelled, it is still

pronounced Mackinaw.

There are only two ways to get

to Mackinac Island, which is

perched comfortably in the

middle of expansive Lake Michigan,

and neither involves driving

because there are no bridges to

the island. And even if there were,

cars are not allowed anywhere

on the island. This is one of the

few places in the world where the

only transportation allowed is by

bike, horses or foot. This makes

Mackinac one of the most pleasant

places you can imagine. You

can arrive by ferry, cruise line or

plane – there is a small airport on

the island.

You step off that ship or plane

and arrive at a place where the

pace of life slows down and your

only decision will be choosing

the best way to leisurely find you

way around the island. Take a

bike ride along the seven-mile

trail that is placed right beside

the lake – an absolutely gorgeous

and scenic way to get some

exercise – and then bike around

the small downtown area, at least

long enough to pop into one

of the many fudge shops – you

can afford it after you burned all

those calories.

If you prefer to be chauffeured

around the island, book a tour

with Mackinac Island Carriage

Tours and relax as the horses do

all the work. You'll see historic

Fort Mackinac and Mackinac

Island State Park, two locations

with beautiful butterflies, and the

incredible Grand Hotel.

Leave plenty of time to see the

Grand Hotel. Made famous by

the movie Somewhere in Time,

it is a sprawling resort located

high atop the island with an

amazing view of the lake. If you

are not staying at the hotel, be

prepared to pay for the privilege

of strolling around inside the

Grand: The proprietors prefer

not to have hundreds

of tourists milling

about and disturbing

their guests. That is

entirely reasonable.

We were on a

weeklong cruise of

the lake with Blount

Small Ship Adventures,

and we were

lucky enough to be

invited for lunch and

a tour of the hotel

as members of the

press. We took full

advantage of the

invitation, sampling

as much of the great

array of food available

as possible, then

enjoying our tour as

we tried to figure out just which

parts of the hotel had been featured

in the movie.

The Fourth of July was the perfect

time to visit the island. We

enjoyed fireworks from the deck

of our cruise ship and made plans

to return as soon as possible to

this idyllic location.
---
JAN/FEB 2 0 1 4

1 3

See Classics Up

Close in Kentucky

In the United States, many

people think a 10-year-old car is

old. That's usually the age when

we start thinking about trading

it in and getting a new car.

Don Battles, 64, of Kirksville,

said, "Classic cars represent an

era when we were young. They

bring back moments in our lives

when the world was young, safe

and happy."

Classic Cars of Cuba

Vintage cars still ramble on island nation's roads

by Sandra W. Plant, Staff Writer

Visiting Cuba is like going to a

classic car show. The streets and

highways are filled with vintage

cars that bring back fond memories

to those who loved the cars

that took us on first dates or

circled the drive-in restaurants

back in the 1950s and early 1960s.

With its wide streets and everyone

on the go, Cuba's capital city

of Havana is filled with beautiful

Detroit-made cars that date

back 55 years or more. It is not

uncommon to see a sleek 1953

Buick Roadmaster used as a taxi to

transport delighted tourists.

Outside the former Presidential

Palace in Havana, the taxis that

line the plaza waiting for a fare are

an amazing array of American cars

of the past. They would be worth

a fortune if they could be shipped

to the United States. But a U.S.

embargo on trade with Cuba, in

place since the Cuban revolution

of 1959, has stopped two-way

trade. Nevertheless, these cars are

a magnet for tourists, especially

senior citizens who can't seem to

snap enough photos. Very few of

the classic cars are factory original,

but they are still beautiful on the

outside.

Vintage cars such as 1955 Fords or

1957 Chevrolets are not limited

to Havana. They are also seen in

cities such Cienfuegos or Trinidad

de Cuba. You might even see a

Studebaker or an Edsel that has

been preserved in time.

The newer cars in Cuba are largely

from China or Russia. A few

Japanese cars are now appearing

on Cuban roadways; they have

reached Cuba through countries

friendly to the Castro regime.

A-near perfect 1953 Buick sits

near a portion of the old City Wall

in Havana. The former Presidential

Palace is in background.

So how do they keep those 55- or

60-year-old cars running? Yadi Salinas,

a guide with the Cuban tourist

agency, said proudly, "In Cuba

we call our mechanics magicians.

They make parts from empty cans,

wire, anything they can get their

hands on."

Some of those "magicians" use

rundown cars for parts or lift complete

engines from newer cars. For

instance, a classic car might have a

Russian-made diesel engine.

If you want to be dazzled by the

array of classic cars in Cuba, U.S.

citizens can travel to the island

nation for educational purposes

through a university or on a

people-to-people tour offered by

several licensed non-profit groups.

The Roads Scholars program,

popular among U.S. seniors, offers

Cuban trips. Another licensed

group is the Grand Circle Foundation.

For more information, visit

its Web site at www.grandcirclefoundation.org.

Battles recalls days in his youth

when new cars would arrive by

train for dealers in Richmond.

He and his friends would hurry

to the station to see the new

models as soon as they rolled

into town. He has owned a

series of classic Chevrolets,

starting with a 1949 Chevrolet

pickup truck.

What does he consider to be

the best of the now-classic

cars? His favorites are the

1956 Chevrolet Bel Air, which

he calls "the most perfect of

the Chevrolet Tri-Five series."

This series includes models

manufactured in 1955, 1956

and 1957. A newer favorite is

the 1970 Chevelle SS, which

Battles considers the "ultimate

muscle car."

For those who want to see

classic cars without going

to Cuba, you can visit the

many car shows in the Central

Kentucky area. For locations,

dates and times, visit the Web

site Kentuckycarshows.com.

Battles and his wife, Billie,

have a special interest in the

annual classic car show held

at the Kirksville Community

Center, 664 Kirksville Road,

near Richmond. The 2014 event

is set for Saturday, April 19,

beginning at 9 a.m. For more

information, contact Mike Estes

at (859) 328-4339 or Battles

at (859) 358-3905. Or email

kirksvillecommunitycenter@

gmail.com.
---
1 4 JAN/FEB 2 0 1 4

Winter Safety Reminders

Tips for shoveling and treating frostbite

and hypothermia

by Angela S. Hoover, Staff Writer

Love it or hate it, cold weather

is here. And with it comes extra

precautions to consider when

shoveling snow, driving or just

getting out and about.

Snow Shoveling

It's not only a necessary task, it's a

great workout. But don't let it put

you out. Anyone older than 40

or with a history of heart trouble

should use extreme caution while

shoveling snow. Dress with extra

care to keep your hands and feet

warm and dry. Warm up and

stretch before beginning; stretch

again when you're done. Go

slowly and take breaks. If possible,

only shovel fresh snow since wet,

packed snow is more difficult.

Pick up only small amounts.

Remember to use your legs, not

your back. Bend and "sit" into the

movement while keeping your

back straight. Don't work to the

point of exhaustion. Stop immediately

if your chest feels tight,

regardless of your age or health.

Frostbite

Frostbite is when skin and extremities

freeze. The nose, cheeks,

fingers and toes are most commonly

affected. Frostbite starts

with burning, numbness, tingling,

itching or cold sensations in the

affected areas. The skin appears

white, gray, yellow or blue and is

cold to the touch. The area is hard

and may even appear blackened

and dead. Left unchecked, there

will be a decrease in sensation

until it is completely lost.

At the first sign of frostbite, get to

a warm place and seek medical attention.

Softly handle the affected

area; never rub it. If possible,

slowly warm it up by soaking it in

lukewarm water (100-105 degrees

Fahrenheit) until it appears red

and feels warm. Do not expose it

directly or close to a fire. If fingers

or toes are affected, place dry, sterile

gauze between them to keep

them separated. Avoid breaking

blisters. Do not allow the affected

area to refreeze.

Hypothermia

Hypothermia occurs when the

body loses heat faster than it

can produce it. This abnormally

low body temperature can make

a person sleepy, confused and

clumsy. It may not be immediately

recognized because it happens

gradually. A body temperature

below 95 degrees Fahrenheit is a

medical emergency that can lead

to death if not treated immediately.

It's easy for anyone spending

a lot of time in cold weather to

get hypothermia, but being wet

makes it more likely. Infants and

the elderly are also at an increased

risk. Visible symptoms begin

with shivering, numbness, apathy,

weakness, impaired judgment,

incoherent speech and loss of consciousness.

Get to a warm place

and seek medical help. Remove

wet clothing and dry off. Warm up

slowly by wrapping in blankets or

putting on dry clothes. Apply hot

water bottles and chemical hot

packs wrapped in a towel or blanket.

Use your own body heat on

someone else if necessary. Do not

warm the person too quickly, such

as immersing him or her in warm

water or placing him or her close

to a fire. Rapid warming can cause

heart arrhythmias. Warm the core

– trunk and abdomen – first, not

the hands and feet. Warming the

hands or feet first can cause shock.

Monitor breathing and circulation

SAFETY Continued on Page 31

• Auto Accident Injuries

• Motorcycle Accidents

Are You Injured? Are You Disabled?

WE CAN HELP

• Nursing Home Neglect/Abuse

• Social Security Disability

• Long-Term Disability

Insurance Claims

Hablamos

Español

SPENCER

LS

G

LAW GROUP

• Work Related Injuries/

Workers' Compensation

• Tractor & Trailer Accidents

• All Wrongful Death Cases

• All Personal Injury Cases

• Immigration

FREE

CONSULTATION

Fee Deducted From Settlement

Kelly P. Spencer & Associates

252-HELP (4357) • 1.800.980.0207

535 Wellington Way / 3rd Floor • www.kellyspencerlaw.com
---
It Isn't Too

Late to Save

for Retirement

If you're 40 or 50

and haven't begun,

you must make the

effort.

by Chrysantha

Clark, CFP®

Some people start

saving for retirement

at 20, 25, or 30. Others

start later, and while their accumulated

assets will have fewer years

of compounding to benefit from,

that shouldn't discourage them to

the point of doing nothing.

If you need to play catch-up,

here are some retirement savings

principles to keep in mind. First of

all, keep a positive outlook. Believe

in the validity of your effort. Know

that you are doing something good

for yourself and your future, and

keep at it.

Starting later means saving more

– much more. That's reality; that's

math. When you have 15 or 20

years until your envisioned retirement

instead of 30 or 40, you've got

to sock away money for retirement

in comparatively greater proportions.

The good news is that you

won't be retiring strictly on those

contributions; in large part, you will

be retiring on the potential earnings

generated by that pool of invested

assets.

How much more do you need to

save? A ballpark example: Marisa, a

pre-retiree, has zero retirement savings

at age 45 and dedicates herself

to doing something about it. She

decides to save $500 each month

for retirement. After 20 years of

doing that month after month, and

with her retirement account yielding

6% a year, Marisa winds up with

about $225,000 at age 65. 1

After 65, Marisa would probably

realize about $10,000 a year

JAN/FEB 2 0 1 4

in inflation-adjusted retirement

income from that $225,000 in

invested retirement savings. Would

that and Social Security be enough?

Probably not. Admittedly, this is

better than nothing. Moreover, her

retirement account(s) might average

better than a 6% return across

20 years.1,*

The math doesn't lie, and the

message is clear: Marisa needs to

save more than $6,000 a year for

retirement. Practically speaking,

that means she should also exploit

vehicles which allow her to do that.

In 2014, you can put up to $5,500

in an IRA, $6,500 if you are 50 or

older – but you can sock away up

to $17,500 next year in a 401(k),

403(b), Thrift Savings Plan and

most 457 plans, which all have a

maximum contribution limit of

$23,000 for those 50 and older. 2

If Marisa is self-employed (and

a sole proprietor), she can establish

a solo 401(k) or a SEP-IRA.

The yearly contribution limits are

much higher for these plans. If

Marisa's 2013 net earnings from

self-employment (after earnings

are reduced by one-half of self-employment

tax) work out to $50,000,

she can put an employer contribution

of up to $10,000 in a SEP-

IRA. (She must also make similar

percentage contributions for all

"covered" employees, excepting her

spouse, under the SEP IRA plan.)

As a sole proprietor, Marisa may

also make a combined employeremployee

contribution of up to

$33,000 to a solo 401(k) this year,

and if she combines a defined

benefit plan with a solo 401(k), the

limit rises to $47,400. If her 2013

net earnings from self-employment

come out to $150,000, she can

make an employer contribution

of as much as $30,000 to a SEP-

IRA, a combined employee salary

deferral contribution and employer

profit sharing contribution of up

to $53,000 to a solo 401(k), and

contribute up to $96,300 toward

her retirement through via the

combination of the solo 401(k)

and defined benefit plan. 3

How do you save more? As you are

likely nearing your peak earnings

years, it may be easier than you

initially assume. One helpful step

is to reduce some of the lifestyle

costs you incur: cable TV, lease

payments, and so forth. Reducing

debt helps: every reduced credit

card balance or paid-off loan frees

up more cash. Selling things helps

– a car, a boat, a house, collectibles.

Whatever money they generate for

you can be assigned to your retirement

savings effort.

Consistency is more important

than yield. When you get a late

start on retirement saving, you

naturally want solid returns on your

investments every year – yet you

shouldn't become fixated on the

return alone. A dogged pursuit of

double-digit returns may expose

you to considerable market risk

(and the potential for big losses

in a downturn). Diversification is

always important, increasingly so

when you can't afford to lose a big

portion of what you have saved. So

is tax efficiency. You will also want

to watch account fees.

Where is your financial plan

leading you?

Do you know...

• Options for living expenses during retirement?

• The best time to start collecting Social Security?

• How to secure your finances through a life transition?

Learn these lessons and more...

Seminars offered by Chrysantha Clark, CFP ® at the Beaumont Library

at 6:30pm.

FEB 4 – Building a Strong Financial Future: Strategies for Age 45 to Retirement

FEB 6 – Social Security: Seven Ways to Optimize Benefits

FEB 17 – 21st Century Retirement: Strategies for Managing Retirement Income

MARCH 6 – Financial Strategies for Women in Transition

1 5

What if you amass a big nest

egg & still face a shortfall? Maybe

you can reduce expenses in retirement

by moving to another city

or state (or even another country).

Maybe you can broaden your skill

set and make yourself employable

in another way (which also might

help you before you reach traditional

retirement age if you find yourself

in a declining industry).

If you haven't begun to save for

retirement by your mid-40s, you

have probably heard a few warnings

and wake-up calls. Unless you are

independently wealthy or anticipate

being so someday, the truth of the

matter is...

If you haven't started saving for retirement,

you need to do something

to save your retirement.

That may sound harsh or scary, but

without a nest egg, your vision of

a comfortable future is in jeopardy.

You can't retire on hope and

SAVE Continued on Page 31

Seating is limited.

Contact chrysantha.clark@keystoneky.com or

859.317.8316 ext. 116

www.keystoneky.com

Securities offered through LPL Financial, Member FINRA/SIPC
---
1 6 JAN/FEB 2 0 1 4

Events

Calendar

JAN. 2014 FEB. 2014

Sun Mon Tue Wed Thu Fri Sat

1 2 3 4 1

5 6 7 8 9 10 11 2 3 4 5 6 7 8

12 13 14 15 16 17 18 9 10 11 12 13 14 15

19 20 21 22 23 24 25 16 17 18 19 20 21 22

26 27 28 29 30 31 23 24 25 26 27 28

Ongoing

Yoga Health & Therapy

Center Classes

Our Yoga Classes feature slow

stretch with gentle breathing,

and relaxation techniques.

Class size is small, to provide

careful instruction. Yoga classes

are offered Mon through Thurs

(daytime and evening), and Sat

mornings. Our Meditation Starter

Course teaches simple ways

to focus and quiet the mind;

5-week sessions are offered on

Sundays at 5:30 pm. A nonprofit

organization operating

since 1981, The Yoga Health &

Therapy Center is located at 322

W. 2nd St. Free private parking

is provided for most classes. For

more information on fees and

scheduled dates and times, call

us at 859-254-9529, or email us

at info@yogahealthcenter.org

Sun Mon Tue Wed Thu Fri Sat

Send us your event listings

List your event for FREE if it's free to the public*.

E-mail your event information to graphics@samplerpublications.com

(*$35 fee for events that are not free to the public)

Reiki Introduction &

Practice

6:30pm- 8:30pm, 4th Tuesday

each month. 1403 E. Breckinridge

Street, Louisville, KY. Free.

Those who do have not Reiki

training—come for an introduction

& to experience it. No experience

required. Those with Reiki come

to practice on others & receive

the Reiki energy. Everyone will

get 15 -20 minute Reiki treatment.

Free reattunement to your last

level of Usui or Karuna Reiki® if

you have your certificate. Contact

JoAnn Utley at 502-777-3865

or jutley5122@bellsouth.net to

register. More info at http://

joannutley.byregion.net

Sit and Get Fit

Mondays and Fridays, 9:30am-

10:30am. FREE! This event is

a seated controlled exercise/

movement class to improve

strength, flexibility, balance

and coordination. It is taught

by Anne Graff, MS, OTR/L,

Occupational Therapist certified

by the American Senior Fitness

Association as a Senior Fitness

Instructor and trained in Body

Recall. Also included are: Fall

Prevention and Recovery, Fun

Movements to Strengthen

Body and Mind, Improve

Posture and Core Conditioning,

Wellness Education, Relaxation

Techniques, and Music.

The Charles Young Center is

located at 540 E. Third Street.

Parking is available on Shropshire

Avenue or Lewis Street,

Lexington, KY. Ages 60 and older.

For more information, please

contact Alexis Edge at 859-246-

0281 or aedge@lexingtonky.gov.

Wellness Wednesday

On the first Wednesday of the

month, all Good Foods Market

and Café customers will receive

5% off all supplements, body

care, and bulk herb & spice

items. Customers can special

order Wellness Wednesday items

ahead of time and pick them up

on Wellness Wednesday. When:

Wednesday, July 3, 8 am – 10

pm. held at Good Foods Market

& Café, 455 Southland Drive.

January 9

Stop Smoking Class

Series

6 - 7 pm (Weekly until April 3), at

the Nathaniel Mission Free clinic,

616 DeRoode Street. Based on

the Cooper-Clayton method,

$10/week for 10 weeks covers

the cost of nicotine replacement

(patches, gum, etc). For more

information or to pre-register,

288-2457. Sponsored by the

Lexington-Fayette Co. Health

Dept.

January 9

Low-Impact Zumba

Classes

6 - 7pm, 7-8 pm, William Wells

Brown Community Center, 548

East Sixth Street. Weekly until

May. Second hour offers a variety

of other movement classes,

including boot camp and Yoga.

Free and for adults age 18 and

above. Sponsored in part by the

Lexington-Fayette Co. Health

Dept. and Lexington Parks and

Recreation. For more information,

contact Jill Chenault-Wilson at

389-6678.

January 11

Free Group Training

Classes

9-10am. Every Saturday morning

during the month of January,

Body Structure Medical Fitness,

2600 Gribbon Drive, Lexington.

Saturday morning Power Hour is

designed to mix interval training

with steady state cardio exercises

to burn calories and increase

metabolism. Workouts will focus

on resistance training to increase

muscle tone and reduce body fat!

jfoglesong@bodystructure.com,

859-268-8190.

January 13

Diabetes Support

Group

10-11 am, Senior Citizens Center,

1530 Nicholasville Road, Free.

Sponsored by the Lexington-

Fayette Co. Health Dept. For

more information, call (859) 288-

2352.

January 14

Low-Impact Aerobics

Classes

6-7 pm, various fitness classes

7-8 pm, William Wells Brown
---
Community Center, 548 East

Sixth Street. Weekly through May.

Weight room also open 5 – 9 pm.

Free and for adults age 18 and

above. Sponsored in part by the

Lexington-Fayette Co. Health

Dept. and Lexington Parks and

Recreation. For more information,

contact Jill Chenault-Wilson at

389-6678.

January 14

Health Chats about

Diabetes

6:15-7:30, UK Polk Dalton

Clinic, 217 Elm Tree Lane, Free.

Sponsored by the Lexington-

Fayette Co. Health Dept. and UK

Healthcare. For more information,

call (859) 288-2352.

January 14

Stop Smoking Class

Series

6–7 pm (Weekly until April 8), at

the St. Joseph Cancer Center,

701 Bob-O-Link Dr., Suite 250,

Lexington. Based on the Cooper-

Clayton method, $10/week for 10

weeks covers the cost of nicotine

replacement (patches, gum, etc).

For more information or to preregister,

288-2457. Sponsored by

the Lexington-Fayette Co. Health

Dept.

January 16

"A New You" Weight

Loss Class

6:30-8 pm, at the Beaumont

Library, 3080 Fieldstone Way,

Lexington. Learn healthy weight

loss strategies, including meal

planning and eating healthy on

a budget at this FREE class.

Presented by the Lexington-

Fayette County Health

Department. Pre-registration

required: call (859) 231-5500 or

859-288-2352.

January 18

Free Group Training

Classes

9-10am. Every Saturday morning

during the month of January,

Body Structure Medical Fitness,

2600 Gribbon Drive, Lexington.

Saturday morning Power Hour

is designed to mix interval

training with steady state cardio

exercises to burn calories and

increase metabolism. Workouts

will focus on resistance training

to increase muscle tone and

reduce body fat! jfoglesong@

bodystructure.com, 859-268-

8190.

JAN/FEB 2 0 1 4

January 19

The Mindful Way to

Stress Reduction

Everyday life is full of stressful

events. Mindfulness is a way

to manage stress. This age old

practice of cultivating awareness

through meditation and gentle

movement is about being present

in the fullness of our lives with

balance and joy. Learn about

powerful ways mindfulness

can enhance your physical and

emotional health by reducing

stress. Experience the benefits

of a mindful practice with MBSR

instructor Toni Reiss. Toni will

teach a free class on the world

acclaimed 8-week Mindfulness-

Based Stress Reduction (MBSR)

program on January 19 from

3:00 – 4:00 p.m. This class is

recommended for those who

plan to enroll in the 8-week

MBSR class starting January

26. All classes will be held at

Lexington Healing Arts Academy,

272 Southland Drive, Lexington.)

Register for this free class by

calling 859-252-5656 or email

mindfulnessmatters2us@gmail.

com

January 21

Eat, Move, Lose

Weight Support Group

12 – 1 pm, Lexington-Fayette

Co. Health Department PH Clinic

South, 2433 Regency Road.

Free weight-loss support group

appropriate for anyone wishing

to lose weight or maintain weight

loss. Share struggles and ideas

with others. Held first and third

Tuesdays most months. For more

information or to pre-register, call

288-2352.

January 22

Infant CPR

1 pm and 1:45 pm, Babies R Us,

Hamburg Pavilion, Lexington.

1001 Crossfield Drive

Versailles, KY 40383

Learn the ABC's of infant CPR

as this 45-minute class prepares

you with important basic CPR

techniques. $3 for instructional

materials. Co-sponsored by

the Lexington Fire Department.

Registration required: call Babies

R Us Baby Registry at 859-263-

8598.

January 22

Know the 10 Signs:

Alzheimer's Disease

If you or someone you know is

experiencing memory loss or

behavioral changes, it's time to

learn the facts. Early detection

of Alzheimer's disease gives

you a chance to begin drug

therapy, enroll in clinical studies

and plan for the future. The

program will take place at the

Jessamine County Cooperative

Extension Office located at

95 Park Drive, Nicholasville

on Wednesday, January 22nd

from 1-2pm. To register for

this program, please call 1-800-

272-3900 or e-mail infoky-in@alz.

org. Registration is preferred.

January 25

Free Group Training

Classes

9-10am. Every Saturday morning

during the month of January,

Body Structure Medical Fitness,

2600 Gribbon Drive, Lexington.

Saturday morning Power Hour is

designed to mix interval training

with steady state cardio exercises

to burn calories and increase

metabolism. Workouts will focus

on resistance training to increase

muscle tone and reduce body fat!

jfoglesong@bodystructure.com,

859-268-8190.

January 28

Reiki Introduction &

Practice

6:30pm- 8:30pm. Call for

Take a tour and join us for lunch, on us!

Make your reservation today for our

complimentary lunch and tour.

daisyhillseniorliving.com and

859.753.2000

us on Facebook

1 7

address, Louisville, KY.

Free. Those who do have not

Reiki training—come for an

introduction & to experience

it. No experience required. Those

with Reiki come to receive the

Reiki energy & practice on others.

Free reattunement to your last

level of Usui or Karuna Reiki®

upon request if you have your

certificate. Contact JoAnn Utley

at 502-777-3865 or jutley5122@

bellsouth.net to register. More

info at http://joannutley.byregion.

net.

February 25

Reiki Introduction &

Practice

6:30pm- 8:30pm. 2508

Wallace Avenue, Louisville, KY

40205. Free. Those who do

have not Reiki training—come for

an introduction & to experience it.

No experience required. Those

with Reiki come to receive

the Reiki energy & practice on

others. Free reattunement to

your last level of Usui or Karuna

Reiki® upon request if you

have your certificate. Contact

JoAnn Utley at 502-777-3865

or jutley5122@bellsouth.net to

register. More info at http://

joannutley.byregion.net.

February 6

KY Sport, Boat and

Recreation Show

Huge off-season savings on

latest models and equipment,

daily fishing demonstrations and

much more! Time: Thursday-

Friday 1-9 p.m.; Saturday 9

a.m.-9 p.m.; Sunday 10 a.m.-5

p.m. Admission TBA 430 West

Vine Street. (859) 233-4567 www.

rupparena.com. Location: Rupp

Arena & Heritage Hall

Nature lovers, hikers, cliff climbers

RENT THIS CABIN

Near Natural Bridge State Park and

Red River Gorge.

Call or visit website for reservations.

Ken & Sheila Brown

www.VRBO.com/361686

(606) 668-2599

(606) 643-6044

ksbrown@mrtc.com
---
1 8 JAN/FEB 2 0 1 4

Senior Services

DIRECTORY

About the Directory

Living Well 50+ is striving to make your search for local

senior services a bit easier. We know there are many

companies available to assist seniors in central Kentucky

– so many that beginning a search to fit your need can

seem like a daunting task.

That's why our directory features a collection of local

companies and organizations who have a solid track

record of providing exceptional assistance. We hope it

becomes a useful starting point in your search for quality

senior services.

Category Key

County Offices & Meal Programs

Health Care Systems & Hospitals

Transportation, Personal Shopping, Errands

Does your

business

provide

excellent

senior

services?

call us for a spot

in the directory

859.225.4466

Senior Day Centers, Adult Day Centers &

Respite Care

In Home Care (Non-Medical)

In Home Medical Care

Mental Health, Family & Caregiver Support, Advice

Disability & Rehabilitation

Medical Equipment, Supplies & Monitoring Systems

Finances & Estate Planning, Trusts/Wills,

Reverse Mortgage

Funeral Arrangement & Pre-Planning

Legal Services

Home Repair & Maintenance

Skilled Nursing Facilities, Personal Care Homes,

Long-Term Care

Senior Independent Living & Retirement Housing

(Non-Medical)

Real Estate / Rent- Subsidized Housing For Independent

Living

Moving, Estate Sales, Downsizing Services

Fitness, Healthy Eating & Healthy Living

Healthcare, Medicare Help and Insurance

Vision Care
---
JAN/FEB 2 0 1 4

1 9

HEALTH CARE SYSTEMS

& HOSPITALS

Lexington Clinic

1221 S. Broadway

Lexington, KY 40504

859-258-4000

IN HOME CARE

(NON-MEDICAL)

Accessible Home

Health Care

366 Waller Ave. Ste. 112

Lexington, KY 40504

859-313-5167

www.accessiblebluegrass.com

Assisting Hands

1795 Alysheba Way, Ste. 7105

Lexington, KY 40509

859-264-0646

www.assistinghands.com/lexington

Senior Helpers of the

Bluegrass

3070 Harrodsburg Rd. Ste. 240

Lexington, KY 40503

859-296-2525

www.seniorhelpers.com

IN HOME

MEDICAL CARE

Medi-Calls

1055 Wellington Way #215

Lexington, KY 40513

859-422-4369

Saint Joseph Home Health

2464 Fortune Dr. Ste. 110

Lexington, KY 40509

859-277-5111

www.saintjosephanchomecare.com

DISABILITY &

REHABILITATION

YMCA of Central Kentucky

239 E. High St.

Lexington, KY 40502

859-254-9622

ymcaofcentralky.org

Drayer Physical Therapy

Institute: Winchester Center

160 Pedro Way

859-745-2152

www.drayerpt.com

Drayer Physical Therapy

Institute: Richmond Center

1054 Center Drive, Ste. 1

859-625-0600

www.drayerpt.com

Drayer Physical Therapy

Institute: Lexington Perimeter

Center

600 Perimeter Drive, Ste. 175

859-268-1201

www.drayerpt.com

Drayer Physical Therapy

Institute: Lexington Beaumont

Center

1010 Monarch Street, Ste. 150

859-219-0211

www.drayerpt.com

MEDICAL EQUIPMENT,

SUPPLIES &

MONITORING SYSTEMS

Central Baptist Lifeline

859-260-6217

www.centralbap.com

FINANCES & ESTATE

PLANNING, TRUSTS/

WILLS, REVERSE

MORTGAGE

Attorney Walter C. Cox, Jr

& Assoc. LLC

2333 Alexandria Dr.

859-514-6033

www.waltercoxlaw.com

info@waltercoxlaw.com

LEGAL SERVICES

Bluegrass Elder Law

120 North Mill Street, Ste 300

859-281-0048

www.bgelderlaw.com

HOME REPAIR &

MAINTENANCE

Mountain Waterfalls

Award-Winning Water Features

859-684-0642

www.mountainwaterfalls.net

SENIOR INDEPENDENT

LIVING & RETIREMENT

HOUSING (NON-MEDICAL)

Mayfair Village

3310 Tates Creek Rd.

Lexington, KY 40502

859-266-2129

www.mayfairseniors.com

Windsor Gardens of

Georgetown Assisted Living

100 Windsor Path

Georgetown, KY 40324

502-570-0540

marsha@goodworksunlimited.com

Rose Mary C. Brooks Place

200 Rose Mary Dr.

Winchester, KY 40391

859-745-4904

www.brooksplace.org

The Lafayette

690 Mason Headley Rd.

859-278-9080

www.lafayettelexington.com

Ashland Terrace

475 S. Ashland Ave.

Lexington, KY 40502

859-266-2581

www.ashlandterrace.org

Hometown Manor Assisted

Living Community

Georgetown, Lawrenceburg,

Shelbyville

859-229-5914

www.hometownmanor.com

St Andrews Retirement

Community

300 Stocker Dr.

859-625-1400

www.standrewsplace.org

MORE

LISTINGS

ON NEXT

PAGE

Bluegrass

www.bgelderlaw.com

ElderlawPLLC

Take control of your future

Carolyn L. Kenton

Amy E. Dougherty

120 N. Mill St., Ste. 300

Lexington, KY 40507

Phone: 859.281.0048

Wealth Preservation

Powers of Attorney

Guardianship

Medicaid Planning

Probate
---
2 0 JAN/FEB 2 0 1 4

We have what no other

homecare company has...

Our People

The quality of life you enjoy depends on the

quality of care your receive. Our caregivers

go beyond caring for patients to

...caring about them.

●

RNs & LPNs

●

Home Health Aides

●

Homemakers

●

Therapists

(Physical, Speech

& Occupational)

Medicare/Medicaid/Commercial Insurance/Private Pay

Joint Commission accredited

No matter when you call you will speak

with an experienced associate who can

help you with all your home care needs.

For more information call:

SERVICE DIRECTORY, CONTINUED

REAL ESTATE /

RENT-SUBSIDIZED

HOUSING FOR

INDEPENDENT LIVING

Turf Town Properties, Inc.

124 Kentucky Ave.

Lexington, KY 40502

859-268-4663

www.turftown.com

Briarwood Apartments

1349 Centre Parkway

Lexington, KY 40517

859-272-3421

glickco.com

MOVING, ESTATE SALES,

DOWNSIZING SERVICES

Caring Transitions

1411 Delaware Ave.

859-543-9848

www.CTLex.net

Lexington Life Services

859-797-8157

lexingtonlifeservices.com

FITNESS, HEALTHY

EATING & HEALTHY

LIVING

Yoga Health & Therapy

Center

322 West Second Street

Lexington, KY 40507

859-254-9529

www.yogahealthcenter.org

Well Fed Meals

1301 Winchester Rd. #17

Lexington, KY 40505

859-539-5863

www.wellfedmeals.com

HEALTHCARE,

MEDICARE HELP &

INSURANCE

Bluegrass Insurance

Solutions

859-312-9646

www.PeteAlberti.com

VISION CARE

Medical Vision

3288 Eagle View Ln. Ste. 300

Lexington, KY

859-278-9486

www.medicalvision.com

TRANSPORTATION,

PERSONAL SHOPPING,

ERRANDS

Superior Van & Mobility

4734 Rockford Plaza

Louisville, KY 40216

1-800-458-8267

www.superiorvan.com

Saint Joseph-ANC

Home Care

859-277-5111

2464 fortune drive,suite 110

lexington, ky 40509

www.saintjosephanchomecare.com

Proudly serving Central Kentucky since 1985
---
JAN/FEB 2 0 1 4

THIS IS AN ADVERTISEMENT.

Have you appointed a trusted person

to manage your affairs?

We can help you designate powers of attorney,

healthcare surrogacy, and guardianship.

Shopping for your best

healthcare value?

2 1

Do you want to be confident

about your asset transfers

to the next generation?

Let us help you with wills, testamentary trusts,

special needs trusts, and estate settlements.

Have you planned for later life care?

We can help you protect your assets for

Medicaid eligibility, handle your crisis

planning and VA pension planning.

Providing personal legal advice to the Central Kentucky region.

SAVE

HUNDREDS

COMPARED TO OTHERS!

?

Carolyn L. Kenton

Amy E. Dougherty

BLUEGRASS ELDERLAW

120 North Mill Street, Suite 300

Lexington, KY 40507

859.281.0048

www.bgelderlaw.com

BLUEGRASS

REGIONAL IMAGING, LLC

859.276.2157

CT and PET/CT Imaging

Bluegrass Regional Imaging is an independent testing facility and, therefore,

can offer pricing far below that of many other diagnostic facilities.

Feel free to contact us for a complete list of our very competitive pricing!
---
®

2 2

2 JAN/FEB 2 0 1 4

JAN/FEB 2 0 1 4

Can A Living Revocable Trust Benefit Your Estate?

by Walter C. Cox, Jr. Attorney at Law

Property Passes Free of

Probate Costs

Your living revocable trust agreement

can do just about anything

a will could do. It can provide

that a specific property be paid

to a designated beneficiary; that

a specified dollar amount be paid

to the American Institute for

Cancer Research to support its

ongoing war against cancer; or

that the trust be continued for

the benefit of designated beneficiaries.

And the living revocable trust

has this advantage over a will:

properties you transfer to the

trust will pass to your designated

beneficiaries free of the costs and

delays of probate.

For some people, another

important advantage of the living

revocable trust is privacy. Unlike

a will, which is always open to

the public, your living revocable

trust will be a private document

the public need never see.

Can A Living Revocable

Trust Benefit Your

Estate?

Like thousand of other friends

and supporters of the American

Institute for Cancer Research,

you have probably asked yourself

whether you should consider

a living revocable trust as the

cornerstone of your personal

estate plan.

In most cases, a living revocable

trust can avoid or minimize

probate costs and delays in the

distribution of property at your

death. And depending on the

size and nature of your estate,

this can be a sound reason for

creating a living revocable trust.

But there are other advantages,

disadvantages and alternative

arrangements you may want to

consider.

A Living Revocable

Trust Can Be Complex

The first step in creating a living

revocable trust is to plan and

execute a rather lengthy written

trust agreement - commonly

called a Declaration of Trust.

This agreement will establish

your trust as a separate legal entity

capable of owning property

in its own name. It will provide

detailed directions for the distribution

of trust properties at your

death and contain provisions

designed to give you full and a

complete control over the trust

properties during your life.

The second essential step is to

transfer the legal ownership of

certain properties to the trust.

You can generally transfer stocks,

bonds, and mutual fund shares

by having them reissued in the

name of the trust. Real property

can be transferred to the trust by

a deed that is properly recorded.

Business interests, bank accounts

or other properties can also be

transferred to the trust.

Some Questions

and Answers - Living

(Revocable) Trust

I. What is an Estate Plan?

An Estate Plan is the creation of

a definite plan for managing your

wealth while you are alive and

distribution it after your death.

Your Estate is defined as all the

wealth accumulated during your

lifetime. Example of property

may include the following.

1. Real property (residence)

and (rental property)

2. Business interests (partner

TRUST Continued on Page 31

Why a Living Trust is the Best Option

Have a Will (Probate)

Probate is the system that removes the name of a

deceased person from the assets.

• All claims, real or imagined, must be settled to

the court's satisfaction

• Probate takes time . . . many months or even

years

• Probate costs money . . . 4% to 8% of the

estate value is not uncommon

• Probate is public record

• A will is of no help if you become

incapacitated

Please call 859-514-6033 or fill out this form for a consultation in our office:

Name

Address

City, State, Zip

Phone

Age

WILL vs. TRUST

County

Spouse's Age

(aarp) endorses LIVING TRUSTS • (smart money magazine) endorses LIVING TRUSTS

Have a Trust (No Probate)

A Living Trust is the fail proof way to pass

along your estate to your heirs without

lawyers, courts or the probate system.

• Be in total control for as long as you

live and are competent

• Eliminate court interference if you

become incapacitated

• Administer your estate yourself before

you die.

• Let your children do final settlement

without cost or delay

• Keep everything private and reduce

excess taxes

There is no charge nor obligation to see if a

Living Trust is right for you!

Please fill out form (left) and mail to address below:

Atty. Walter C. Cox, Jr.

The Law Offices of Attorney Walter C. Cox Jr.

2333 Alexandria Dr., Lexington, KY 40504

www.waltercoxlaw.com

info@waltercoxlaw.com

Rated AV by Martindale Hubbell for 30 years.
---
JAN/FEB 2 0 1 4

2 3

More than an industry, bourbon is a

culture, a history and a heritage built by

generations of Kentuckians.

The Bourbon Trail

Leads All to Kentucky

Signature libation is a proud part

of state's history

by Thomas W.

Miller Ph.D.

ABPP, Staff Writer

Bourbon whiskey

is an integral part

of Kentucky history. Bourbon

distilling probably arrived in the

state when Scottish, Scots-Irish

and other settlers began to farm

Kentucky fields in the late 18th

century. Their distilleries created a

unique spirit that became known as

bourbon in the early 19th century

due to its historical association with

the geographic area known as Old

Bourbon country, which itself was

named after the French royal house

of Bourbon.

History and Tradition

James Crow and Jason Amburgey

are credited with developing the

process referred to as sour mash.

This process utilized fermentation.

Sour mashing mixed wet solids

strained from a previous batch

of fermented mash, which still

contained live yeast. Spent mash is

known as spent beer, distillers' spent

grain and stillage. It is also called

slop or feed mash because it is used

as animal feed. The acid introduced

by using the sour mash controls the

growth of bacteria that could taint

the whiskey. It creates a proper pH

balance for the yeast to work. Since

around 2005, all straight bourbons

use a sour-mash process. Crow and

Lexington Branch Now Hiring!

Lexington Branch Now Hiring!

Home health aides

Customized, affordable care

Home 24 hours a

Certified

health day, 7 days aides a week

Nurses aides

or 1 hour a day, 1 day a week

Certified Nurses aides

• Personal Care Competitive & Support pay

• Transportation

Competitive pay

• Homemaking Flexible hours

Compassionate, affordable care you can trust

Flexible hours

• Medication Reminders

• 859.543.CARE Respite Care (2273)

• Colostomy/Incontinence Care

We accept long-term care policies, private pay

ResCareHomeCare.com

via check, bank draft or major credit cards. No

additional charge for nights and weekends.

859.543.CARE (2273)

Apply online!

Apply online!

ResCareHomeCare.com1-859-263-7780.

(859) 543-CARE (2273) for a FREE personal consultation

www.rescarehomecare.com

Amburgey developed this refinement

while working at the Old

Oscar Pepper Distillery, now the

Woodford Reserve Distillery in

Woodford County.

Kentucky's Bourbon

Trail

The unique nature of bourbon can

be derived from the iron-free water

used in the distillation process.

Since 95 percent of this corn-based,

barrel-aged, caramel-colored

sipping icon is distilled, aged and

bottled right here in Kentucky's

bourbon country, it's big business

for the Bluegrass State. But more

than an industry, bourbon is a culture,

a history and a heritage built by

generations of Kentuckians.

The legendary Kentucky Bourbon

Trail that winds through the heart of

bourbon country features some of

the Commonwealth's top distilleries,

including Maker's Mark, Jim

Beam and Woodford Reserve. The

Urban Bourbon Trail in Louisville

features bourbon bars, each of

which is required to serve at least

50 different kinds of bourbon and

hold at least one bourbon-related

event each month of the year. Most

of these establishments also have

bourbon-related food dishes on

their menus.

ARE YOU DISABLED?

HAVE YOU APPLIED FOR SOCIAL SECURITY DISABILITY?

ARE YOU CAUGHT UP IN RED TAPE?

An experienced Social Security Claims Advocate can help you:

• By assisting you in filing your initial application.

• Filling out and filing your appeals.

• Gather medical and other important information to submit to Social Security.

• Contact your doctors to obtain a report of your medical condition.

• By obtaining documents from your Social Security file and review them.

• By presenting opening and closing statements at your hearing that

will state how you meet the Social Security listing of being disabled.

For a FREE CONSULTATION of your claim call

Patsy R. Hughes, Disability Claims Advocate,

NO FEE IS PAID UNLESS YOU WIN

Bourbon Distilleries

Operating in Kentucky

Here is a listing of some

distilleries that are in

operation in Kentucky. Many

of them offer tours. Visit the

distilleries' Web sites for

more information.

• Barrel House Distilling

Company

• Barton Distillery

• Bernheim Distillery

• Boulevard Distillery

• Buffalo Trace Distillery

• Bulleit Distilling Company

• Charles Medley Distillery

• Clarke's Distilling

Company

• Corsair Artisan Distillery

• Early Times Distillery

• Four Roses Distillery

• Heaven Hill Distillery

• Jamieson Distillery

• Jim Beam Distillery

• Josiah Thedford & Sons

• Kentucky Bourbon

Distillers, Ltd.

• Maker's Mark Distillery

• McLain & Kyne Distillery

• Old Rip Van Winkle

• Small Batch Distillery

• The Old Pogue Distillery

• The Woodford Reserve

Distillery
---
2 4 JAN/FEB 2 0 1 4

Late Life Success

Col. Harland Sanders, founder of

Kentucky Fried Chicken

by Angela S. Hoover, Staff Writer

Harland Sanders began Kentucky

Fried Chicken out of sheer desperation

at the age of 65.

This venture was not his first try as

a business owner, but it was by far

his most successful. As a gas station

operator in Corbin, Ky., Sanders at

age 40 began cooking for hungry

travelers. They ate from his own

table in the station's living quarters.

People began coming for the

food instead of the fuel, so Sanders

moved across the street and

opened a restaurant, the Sanders

Café. By July 1940, after 10 years

of experimenting, he had perfected

his secret blend of 11 herbs and

spices and the pressure-cooking

technique and started selling fried

chicken.

When a new interstate highway

diverted traffic away from

his Corbin restaurant, Sanders

devoted himself to fully developing

his franchising business. His

startup capital was money from

his first Social Security check. He

used it to go on the road looking

for restaurant owners who would

buy his fried chicken recipe. In less

than 10 years, he had more than

600 franchises. His first franchise

agreement was with Pete Harman

of South Salt Lake, Utah in 1952.

Harman's restaurant sales tripled

the first year, with 75 percent of the

increase coming from fried chicken

sales. The Kentucky Fried Chicken

name came from Don Anderson, a

sign painter Harman hired.

Sanders sold his interest in the

business in 1964 for $2 million to

a group of investors led by John Y.

Brown, Jr., who later became the

governor of Kentucky, and Jack

C. Massey. Today the chain, now

known as KFC, has more than

15,000 restaurants in 109 countries.

Sanders was born in 1890 three

miles east of Henryville, Ind. He

was the oldest of Wilbur David

and Margaret Ann Dunlevy Sanders'

three children. Wilbur died

of a fever in the summer of 1895.

Margaret went to work in a tomato

canning factory, leaving Harland in

charge of cooking and taking care

of his younger siblings. He began

working as a farmhand at age 10.

In 1902, Margaret remarried and

the family moved to Greenwood,

Ind. Sanders argued with his stepfather

and moved out in 1903. He

dropped out of school and went to

live and work on a nearby farm.

Sanders falsified his birth date to

enlist in the U.S. Army in November

1906 and was honorably

discharged after three months.

He worked various railroads jobs

and became a fireman at age 16.

In 1909 he married Josephine

King and started a family – a son,

Harland Jr. (who died in 1932

from infected tonsils), and two

daughters, Margaret and Mildred.

He divorced Josephine in 1947 and

married Claudia Price in 1949.

Sanders studied law by correspondence

through the La Salle Extension

University. He began practicing

law in Little Rock, Arkansas,

but his legal career ended after he

got into a courtroom brawl with his

own client. He also sold life insurance

for Prudential until he was

fired for

insubordination.

In 1920,

Sanders

began a

successful

ferry boat

company

on the

Ohio River

between

Jeffersonville

and

Louisville.

He sold his

company

shares for

$22,000

and used the money to start a

company manufacturing acetylene

lamps. This venture failed after

Delco introduced a line of electric

lamps sold on credit.

By 1930, Sanders was working at

the Corbin gas station where he

opened his first restaurant. He was

commissioned as a Kentucky Colonel

in 1935 by Gov. Ruby Laffoon

for his contributions to the state's

cuisine. He was again commissioned

as a Kentucky Colonel in

1949 by his friend, Gov. Lawrence

Wetherby, and he began donning

his signature white suit and black

tie.

Sanders remained publicly active

even in his 80s. He died of leukemia

at the age of 90 in Shelbyville.

His secret recipe – written in pencil

on notebook paper – is kept in a

vault inside KFC's corporate headquarters

in Louisville.

You can sit beside a life-size statute

of Col. Harland Sanders at the

Harland Sanders Café and Museum

in Corbin.

Yellow/ Wildcat Cab

Now offering

wheelchair accessible vans

Since 1934 Yellow/Wildcat Cab has been growing with the community

As always we are looking forward to serving you
---
JAN/FEB 2 0 1 4

2 5

Located off U.S. 25 in Corbin, Ky.,

the Sanders Café is where Col.

Harland Sanders began cooking and

serving his world-famous Kentucky

Fried Chicken.

The kitchen at the Harland Sanders Café and Museum in

Corbin is set up as it was during the café's heyday.

A Salute to Col.

Sanders

Café and Museum Showcase

Birthplace of KFC

by Tanya J. Tyler, Living Well 50 Plus Editor

Located off U.S. 25 in Corbin, Ky., the

Sanders Café and Museum is the birthplace

of Kentucky Fried Chicken, the

world-famous restaurant started by Col.

Harland Sanders.

The café is on the site of the motor court

that Sanders built for travelers who were

headed south. The museum is full of

memorabilia, including menus, photos,

dinnerware and other items. The kitchen

is set up just as it might have been during

the time Sanders experimented with and

perfected his secret recipe of 11 herbs and

spices. There is a replica of his office in the

museum, as well as one of the rooms built

right in the café to entice travelers to spend

the night at Sanders Motor Court. And

there is a life-size statue of Col. Sanders,

complete with white suit, black tie and

cane, sitting on a bench, a popular photo

op for visitors.

The Harland Sanders Café is on the National

Register of Historic Places. It has a

restaurant that still serves up original-recipe

fried chicken, as well as today's modern

KFC takes, such as grilled chicken and

extra crispy chicken. The museum is open

daily from 10 a.m. to 10 p.m.

After 10 years of

experimenting, Sanders

perfected his secret blend of

11 herbs and spices.

CALL 231-TAXI

and ask for a wheelchair van

D.B.A. Yellow Cab Company of Lexington

799 Enterprise Drive • Lexington, KY 40510 • 859-233-4890
---
2 6 JAN/FEB 2 0 1 4

50 Years Ago...

Beatles Appear on Ed

Sullivan Show

English band sparks musical revolution

by Jamie Lober, Staff Writer

Feb. 9, 1964 turned out to be a

historic day. More than 73 million

people across the country

were glued to their TV sets that

evening. They had been waiting

all week for this moment. It was a

phenomenon that had to be seen

to be believed.

The Beatles – John Lennon, Ringo

Starr, George Harrison and Paul

McCartney –were going to be on

the popular music-variety program,

The Ed Sullivan Show.

During the time leading up to

their performance, the Beatles,

hailing from England, had a few

records that hit No. 1 on the U.S.

music charts, and radios across the

country were blaring their tunes.

Suddenly everyone had a case of

"Beatlemania." The excitement for

and interest in the Beatles' appearance

had not been seen since Elvis

Presley went on the same show in

1956.

How did Sullivan get the group

on his show? He and his wife were

at Heathrow Airport in London

when they noticed throngs of

youth standing in the rain. When

they asked the young people why

they were so patiently waiting

in grey weather conditions, they

learned the Beatles were returning

home from a tour in Sweden.

When he got back to his hotel

room that night, Sullivan immediately

proceeded to book the band

for his show.

Dressed in suits and sporting mop

top haircuts, the Beatles played

"All My Loving," "Till There Was

You" and "She Loves You." After

a break, they encored with "I Saw

Her Standing There" and "I Want

to Hold Your Hand." But they

could hardly be heard over the

screams from the live audience. It

was reported that 45.3 percent of

all households in the United States

watched the show. The program

helped raise awareness of the

group and fostered a rabid hunger

for their music. A week later,

the Beatles were on the cover of

Newsweek magazine They would

subsequently appear on The Ed

Sullivan Show three more times.

The Beatles' arrival was game

changing for the music industry.

They paved the way for

other bands, including the Rolling

Stones and The Animals. Their

revolution still impacts musical

culture to this day.

Living here has its advantages.

"Thanks to The Willows at Hamburg, my son, Lowell, and I are able to

remain under one roof. I can maintain an independent lifestyle, while

my son receives the care he needs. This is the nicest place we have

ever lived in. It has been a joy, and I have not one negative thing to

say. Only loving, caring people are found here. I prayed and prayed

for Lowell and I to find a place where we could both live together, and

the good Lord brought us here."

Liz and Lowell Pennington

Residents of The Willows at Hamburg

Come and see how good life can be at The Willows at Hamburg

– stop by or call to schedule a personal tour.

Assisted Living • Memory Care • Long-Term Care • Skilled Nursing

Short-Term Rehab • Outpatient Therapy • Transitional Care • Respite Care

859-543-0337 • 2531 Old Rosebud • Lexington, KY 40509 • willowsathamburg.com
---
JAN/FEB 2 0 1 4

Do You Have...

LOOSE DENTURES or

MISSING TEETH?

2 7

If you answered "YES" to the question above, then we have

the solution for you! The Intra-Lock Mini Implant is a

revolutionary new type of implant which makes it possible

to replace anything from a single tooth to a full mouth

restoration in only a few short visits. These Mini Implants

are also great for stabilizing and supporting loose dentures.

Made from titanium, Mini Implants are strong, durable and

Stabilize YOUR EXISTING UPPER DENTURE

with Six (6) MDI Implants

Stabilize YOUR EXISTING LOWER DENTURE

with Four (4) MDI Implants

Replace a SINGLE MISSING TOOTH with

One (1) MDI Implant and MDI Implant Supported Crowns

Replace MULTIPLE MISSING TEETH with several MDI

Implants and MDI Implant Supported Crowns

Holiday Savin

Dr. Morgan offers FREE CONSULTATIONS

CALL TODAY for YOUR APPOINTMENT!

for smile make

long-lasting. Plus, they require minimal bone density,

which makes them perfect for denture wearers. And when

compared to traditional types of implants, Intra-Lock Mini

Implants are significantly more affordable, less invasive and

have minimal recovery time.

Join Us On Our Lumiday

November 19 9:00am-5:00pm

Dr. Ballard Morgan, DMD

General Dentistry

859-233-7700

800-467-7535 toll free

1510 Newtown Pike, Suite 201

Lexington (GRIFFIN GATE PLAZA)

www.ballardmorgandmd.com

bmorgandmd@gmail.com

Give Yourself a Gift of a Lifetime!

Lumineers Smile $6,399

(Includes 8 Lumineers Reg. Price $7,999)

Snap-On Smile $1,500 (Reg. Price $2,400)

Dr. Ballard Morgan, DMD

Join us for our Holiday event and

For a limited time. Bring your coupon to the office to redeem.

Cannot be combined with another coupon. Expires 2/28/14

Date an
---
2 8 JAN/FEB 2 0 1 4

Through the Eye of the Artist

Shapes and symmetry motivate local artist

by Thomas W. Miller Ph.D.

ABPP, Staff Writer

Seasoned artists create paintings

that capture natural beauty in their

art. At a recent art show here in

Lexington, I was drawn to a work

that encompassed the realism and

depth of flowers.

Elaine Hiatt, a local artist, says as

a child she never had an opportunity

for expressing her love of art.

She developed a feeling for art and

painting through the Osher Lifelong

Learning Institute (OLLI)

at the University of Kentucky, a

program that offers a variety of

programs for Kentucky residents

age 50 and older.

Hiatt first studied under Jennifer

Bacon. Several aspects of art

that are appealing to her include

repeating shapes, patterns and

symmetry. Colors are realized in

floral arrangements, particularly

colors that complement and enhance

each other. She also enjoys

textures, as well as presentation

and framing. Hiatt's favorite objects

are flowers and landscapes.

She says she likes to "capture the

natural beauty of the flower." She

often paints fresh flowers provided

and arrangements made by Mary

Neely at Artist's Attic in Lexington.

Hiatt notes that she is still learning

and seeks eagerly workshops that

will add to her tool kit of skills.

She says she continues to search

and search for "the new and the

exceptional" and "loves learning

something new." She appreciates

sharing ideas with other artists

through critiquing each other's

work. She also enjoys sharing

her skills with other artists and

especially with her granddaughter,

Katie. When Katie was just 5

years old, she began painting with

Hiatt and is now a graduate of the

prestigious Savannah School of

Art and Design.

Art is powerful, not just for its

beauty or the talent needed for its

creation, but because it can cause

emotion, make social statements

and challenge preconceived ideas.

Of course, not all works of art are

intended to be so thought-provoking.

Hiatt's artwork on display

does just that, though. Hiatt says

not only talent but tenacity lead

her to create the exact object of

her painting. She says many artists

don't complete some of their

ARTIST Continued on Page 31
---
JAN/FEB 2 0 1 4

Understanding Your Credit

Score

It's more than just one number

by Angela S. Hoover,

Staff Writer

A credit score is

a number that

summarizes your

credit risk, based on your credit

report at a particular point in time.

Potential lenders use this score

to evaluate the risk of extending

credit to someone.

There are three major reporting

bureaus where all credit and

payment histories are reported

and stored: Equifax, Experian and

TransUnion. All three agencies

will have a different credit score

based on the information of its

credit report. Everyone has more

than 40 different credit scores,

not a single credit score as is often

stated in advertisements.

There are so many different credit

scores because banks and other

lenders use several different lenses

to evaluate people's ability to

manage credit. A particular lender

may use one or a combination of

several credit scores to make a determination

about an application.

These scores come from the three

bureaus and in-house models. The

two most popular scores are the

FICO and VantageScore.

FICO, the oldest model, was established

in 1956 by the Fair Isaac

Corporation. Its primary business

is selling proprietary scoring systems

to lenders and credit bureaus

to evaluate lending risk. Originally

used to calculate mortgage default

risk, FICO has evolved to apply

to many different types of credit.

Today, people have six FICO

scores: generic, mortgage, auto,

bankcard, installment loan and

personal finance. Additionally,

each of the three bureaus has their

own models to change the FICO

scores, each with distinct variations

for the six categories. This

means everyone has a minimum

of 16 separate FICO credit scores.

The general weighted components

of a FICO score are:

• 35 percent – payment history

• 30 percent – amounts owed

• 15 percent – length of credit

history

• 10 percent – types of credit in

use

• 10 percent – new credit

The VantageScore was launched in

2006 as a collaboration between

the three credit bureaus to help

them compete with FICO. Just as

with the FICO scores, a Vantage-

Score can be tailored for particular

lenders and types of credit.

In addition to these 20 or so

FICO and VantageScores, there

about 10 to 20 other direct-toconsumer,

application risk and

customer risk scores (also called

behavior scores). Higher scores

are better. This is the breakdown:

• 760-850: Excellent

• 700-759: Very Good

• 660-699: Good

• 620-659: Fair

• 619 or less: Bad

Each lender will have their own

parameters from which to judge

your credit scores. And with the

flexibility to customize the FICO

and VantageScore models for specific

purposes, hundreds of credit

scores are possible.

Checking and

Improving Your

Credit Scores

Everyone is entitled to one free

credit report a year at www.annualcreditreport.com.

You can

also buy your report directly from

each of the bureaus or all three at

www.myfico.com. Widely advertised

third-party companies also

offer free credit reports. Read the

details to see which agency and

score the company is providing.

For instance, if the company uses

Experian, you will either receive

the FICO Experian Risk Score or

the VantageScore.

Here are some ways

to improve your

credit score:

• Always pay in full and on time.

• Increase your credit limit if

possible.

• Pay off balances and don't carry

revolving debt if you can avoid

it.

• If you have bad or no credit,

don't apply everywhere for

credit; an inquiry deducts about

five points off your score. To

lenders, six or more inquiries

indicates a likelihood of filing

bankruptcy.

• Don't close old accounts; this

could lower your score, and if

you had a late payment it will

not disappear from your credit

2 HAMBURG JOURNAL WWW.HAMBURGJOURNAL.COM

JANUARY 2O12

NOW LEASING

1 & 2 bedroom apartments.

Includes assistance with

activities of daily living.

Three meals a day, weekly

housekeeping, concierge

service and much more!

Our rates are competitive

and all inclusive.

Enjoy 24/7 emergency

response by our

well trained staff.

Guardian Life Alert System

is included for all

new residents at no

additional cost.

Daily care is tailored to

meet the unique needs

of individual.

We invite you

to come

be a part of

our family!

2 9

Senior Retirement Community

Rose Mary C. C. Brooks Place Place

We're not Not almost Almost home. Home. We We are are home. Home.

NOW LEASING!

Assisted Living

Now Renting Gracious Independent Studio and& Assisted Retirement Living

One Bedroom Apartments

Conveniently located on the Bypass The in Winchester. Cottages

Only minutes from Hamburg with easy access to Interstates 64 75.

Buy now and choose

For more information contact Linda or Rick at 859-745-4904

your options!

Enjoy your independence and let us do the work! We'll

take care of snow removal, mowing, trimming and will

even make sure your air fi lters are changed regularly.

Our fifth and final cul-de-sac is almost completed. Call

today for floor plan and available options.

No Maintenance Fees. No Association Fees.

24/7 Emergency Response System

Prices starting at $155,000

Average Daily Caregiver Cost $240

Average Daily Brooks Place Cost $75

Gracious Independent & Assisted Retirement Living

Conveniently located on the Bypass in Winchester.

Only minutes from Hamburg with easy access to

Interstates 64 and 75.

For more information contact

Linda Winburn at 859-737-6406

www.brooksplace.org

report just from closing the

account.

• If you must close accounts,

close newer ones because longestablished

credit relationships

score well.

• Avoid opening a lot of new accounts

at once, especially if you

don't have a long credit history.

A good rule of thumb is to have

no more than five credit cards.

• Fix bad credit. Work to have

inaccurate information removed.

For more serious issues,

such as judgments, foreclosures

or bankruptcies, seek a credit

repair specialist for help.

Schedule Your Free

Tour Today!
---
3 0 JAN/FEB 2 0 1 4

Person of Interest

Charisse Gillett

Seminary President Stresses Power of

Lifelong Learning

by Jamie Lober, Staff Writer

Lexington Theological Seminary

(LTS) is a graduate institution

accredited for the Master of Divinity,

Master of Arts, Master of Arts

in Pastoral Studies and Doctor

of Ministry degrees. Founded in

1865, it is not new, but the growing

percentage of older students

coming to the seminary is a new

phenomenon.

Charisse Gillett, President of LTS,

has welcomed the surge of mature

students with open arms. She

feels strongly about the power of

lifelong learning.

"In our student population, the

average age is 46, so many would

be considered second-career

students," Gillett said. "They had

a career as a teacher or doctor and

are responding to wanting to be a

minister or pastor a church."

Gillett feels there is a connection

among everyone at the seminary.

"Whether they are second career,

raising families or married, when I

think about them, I actually identify

with them and the idea that

God has called them at this point

in their life to pursue an education

and to pastor a church," said Gillett.

It is not always an easy journey.

"There are challenges that come

along with going back to school,"

Gillett said. "You have to find a

way to manage your time so you

are able to care for your children

and spouse and still do justice to

your studies. Finding time to be

reflective about your own place in

life and time management can be a

huge challenge."

LTS offers students the chance to

pursue various interests. "Students

study the history of the Bible,

Greek and scripture. They learn

how God helps people and how

they can help the members of their

congregations understand why

faith is important to them today,"

said Gillett.

Becoming the seminary's President

was a clear course for Gillett.

"I had been working in higher

education for about 28 years and

had always been committed to

it," she said. "My undergraduate

degree is in social work and I have

two graduate degrees in higher

education."

She utilized her skills to the greatest

capacity. "I worked as a trustee

of the seminary for about six or

seven years, and then I became the

main employee responsible for

admission and recruitment," she

said. "Then I became President."

Gillett, who is married to a minister,

Rev. Dr. Donald Gillett III,

describes herself as a Christian and

an educator. "The work that I do as

President is a good combination

of what I care about in terms of

education and what I care about

in terms of faith," she said. "I hope

it is obvious that I care about the

opportunity for every person to

achieve their goals through education.

One of the things I get to do

as President is I have a chance to

meet with people who care about

the same things that I do, and an

obvious benefit is to talk to people

who care about education, faith

and community."

Gillett is thankful she chose this

course. "I am hopeful for the future

and pray for a long tenure at the

seminary," she said. "We are a place

where both clergy and laypeople

can come and study and be encouraged

to grow in their faith."

It is never too late

to get involved,

whether you want

to take classes towards

a degree or

just enroll in continuing

education

classes. "We have

classes that start

year round," Gillett

said. "If someone

is interested in the

seminary or learning

more about

us, they can either

call us or go to our

Web site [www.

lextheo.edu] and

our director of

admissions would

be happy to guide

them through the

process."

I hope it is obvious that I care about the

opportunity for every person to achieve

their goals through education."

Kentucky's Leading

Hair Replacement

Facility

• Genetic Hair Loss

• Chemotherapy

• Alopecia

• Cosmetic Hair Replacement

Hair Institute offers several surgical and non-surgical hair

restoration options, including Virtual Reality®, full and partial

prostheses, hand-knotted wigs, and human hair extensions.

- Laser Light Hair Therapy

- Surgical Hair Restoration Options

1795 Alysheba Way Suite 7101

Lexington, Kentucky 40509

- Full Cranial Vacuum Prostheses

- Enhancements and Integrations

HAIR REPLACEMENT • HAIR RESTORATION • HAIR EXTENSIONS

Professional • Confidential • Meticulous

®

www.hairinstitutelexington.com

AMERICAN

HAIR LOSS

COUNCIL

Charisse Gillet

Photo courtesy Lexington

Theological Seminary

—Charisse Gillett, President, Lexington Theological Seminary

859.263.9811
---
SAFETY continued from Page 14

and be prepared to give CPR if

necessary.

Driving Safety

Braking time can be up to nine

times longer in snowy or icy conditions.

If your vehicle begins to

skid, let off the gas and brakes and

use a quick hand-over-hand steering

technique to turn the front

tires in the direction you want to

go. Keep your gas tank half full to

prevent the fuel line from freezing.

Make sure your tires have

adequate air and routinely check

the tire pressure during winter.

Keep wiper fluid full and replace

shoddy wiper blades. Keep a

long-handled windshield scraper

handy. Store an emergency kit

in your vehicle. Good things to

include in it are: blankets, extra

clothing, water, flashlight, batteries,

battery-operated radio, phone

charger, chemical heaters, jumper

cables, written list of emergency

contacts and any relevant medical

information (conditions, blood

type, allergies, medications), cat

litter or sand for tire traction, a

small shovel, flares, first-aid kit

and non-perishable, high-energy

foods such as nuts and granola

bars. Don't leave your vehicle

if you're stranded; wait in it. If

1. Enjoy carefree retirement

living every day

2. Find more time for the

things you love to do –

leave the cooking and

cleaning to us!

3. Nurture your health –

mind, body and spirit

4. Enjoy the peace-of-mind

and security 24 hour

staffing, security systems

and people who care

about you

5. ENJOY FIVE STAR SENIOR

LIVING TODAY!

JAN/FEB 2 0 1 4

Kindly RSVP Dinner 4:30-7:00pm to 859-278-9080 Call today with Violinist to Dinner Bryce schedule by Farrar 4:30-7:00pm May a tour. 6th with Violinist – Seating Bryce Farrar is limited

Carriage Rides by Lexington Livery Carriage 5:00-7:00pm Rides by Lexington Livery 5:00-7:00pm

Dixieland Band 5:30-7:30pm Dixieland Band 5:30-7:30pm

Kindly RSVP to 859-278-9080 Kindly by May RSVP 6th to 859-278-9080 – Seating is limited by May 6th – Seating is limited

Pet

Friendly

Pet

Friendly

SAVE continued from Page 15 Personnel effects

II. Why do you need estate

you don't want to rely on Social planning?

Security, relatives or social services Planning is your strategy to overcome

obstacles in preserving your

agencies for your well-being when

you are elderly.

wealth during life and transferring it

after death. The principal obstacle all

Chrysantha Clark, CFP® may be of us face in planning our estates are:

reached at Keystone Financial 1. SUCCESSION

Group, 859.317.8316 or chrysantha.clark@keystoneky.com.

2. DEATH TAX (Federal Estate

Tax)

www.keystoneky.com

3. CONSERVATORSHIP

4. IT IS A PUBLIC PROCESS

* This is a hypothetical example and is not representative

of any specific situation. Your results will

5. LONG DELAYS, UP TO 2

vary. The hypothetical rates of return used do not

YEARS OR MORE

reflect the deduction of fees and charges inherent to 6. VERY COSTLY

investing.

7. AGGRAVATION and STRESS

There is no guarantee that a diversified portfolio III. What methods are used to

will enhance overall returns or outperform a nondiversified

plan an estate?

portfolio. Diversification does not protect

against market risk.

There are three basic methods we

can use to plan an estate?

This material was prepared by MarketingLibrary.Net

Inc., and does not necessarily represent the views of

1. Do nothing

the presenting party, nor their affiliates. All information

2. Create a Will

is believed to be from reliable sources; however

3. Establish a Revocable Living

we make no representation as to its completeness or

accuracy. Please note - investing involves risk, and

Trust

past performance is no guarantee of future results. IV. What happens if I do

The publisher is not engaged in rendering legal,

Nothing?

accounting or other professional services. If assistance

is needed, the reader is advised to engage the services Believe it or not, a majority of

of a competent professional. This information should Americans choose to do nothing.

not be construed as investment, tax or legal advice

and may not be relied on for the purpose of avoiding It has been reported that 70% of all

any Federal tax penalty. This is neither a solicitation Americans have no estate plan. As

nor recommendation to purchase or sell any investment

or insurance product or service, and should not

a consequence, upon their death,

be relied upon as such. All indices are unmanaged and state law dictates how their Estate

are not illustrative of any particular investment.

is distributed. Unfortunately, the

government's plan has no particular

concern for the best interest in your

family.

V. Is creating a Will a good

THE YEAR WAS 1985… idea?

Many people plan their Estates by

creating a document called a Last

Citations.

1 - money.cnn.com/2012/08/15/pf/expert/latestart-retirement.moneymag/

[8/15/13]

2 - irs.gov/uac/IRS-Announces-2014-Pension-

Plan-Limitations;-Taxpayers-May-Contribute-upto-$17,500-to-their-401%28k%29-plans-in-2014

[11/4/13]

3 - forbes.com/sites/ashleaebeling/2013/11/01/retirement-savings-for-the-self-employed/

Girls" were fast becoming friends [11/1/13] on their first season on TV.

Ronald Reagan was the 40th president.

"The Golden

A gallon of gas cost one dollar and twenty cents.

the vehicle is still running, keep

the exhaust pipe clear to prevent

carbon monoxide poisoning. Tie

Will and Testament. A Will is legal

TRUST continued from Page 22

something brightly colored to And

declaration of how someone wants

your antennae or outside mirror. The Lafayette

ships, corporations, sole proprietorships)

death. Unfortunately, a Will is avery

his or her assets distributed after

Run the engine no more than

10 minutes every hour, leaving a opened 3. Investments (stocks, bonds,

THE YEAR WAS THE 1985… YEAR WAS 1985… poor Estate Planning document

Ronald annuities, Reagan was the 40th tax president. shelters, Ronald Reagan CDS) was the 40th president.

downwind window slightly open

in many cases. A Will guarantees

"The its Golden doors.

Girls" were fast becoming "The friends Golden on their Girls" first were season fast becoming on TV. friends on their first season on TV.

A 4. gallon of Insurance gas cost one dollar proceeds

and twenty A gallon cents. of gas cost one dollar and twenty cents.

for ventilation.

probate.

And And

These New Year's The Resolutions Lafayette Are The Easy Lafayette to Keep!

opened opened Join us for

Do your

its doors.

Senior

THE its

living

LAFAYETTE'S

doors.

at The Lafayette makes

it easy to keep your resolutions.

28TH ANNIVERSARY With Five Star dining, a full CELEBRATION

calendar ears ring?

of activities and social events, a

Thursday, community May 9th • 4:00-7:00 pm

Join us for

of friends to share

Join us

the

for

Dinner 4:30-7:00pm with Violinist Bryce Farrar

Have you been told

THE day LAFAYETTE'S

with, and support THE and LAFAYETTE'S

care

28TH ANNIVERSARY Carriage available Rides 28TH by when

CELEBRATION

Lexington needed,

ANNIVERSARY Livery you'll 5:00-7:00pm feel

CELEBRATION there is nothing you

like every

Thursday, May

Dixieland

day

9th • 4:00-7:00 Thursday,

Band

is a holiday!

5:30-7:30pm

May pm 9th • 4:00-7:00 pm can do? There is!

690 Mason Headley Road • Lexington, KY 40504

690 Mason Headley Road • Lexington, 859-278-9080

KY 690 40504 Mason Headley Road • Lexington, KY 40504

859-278-9080 www.LafayetteLexington.com 859-278-9080

www.LafayetteLexington.com ©2013 Five Star Quality Care, www.LafayetteLexington.com

Inc.

Pet

©2013 Friendly Five Star Quality Care, Inc.

©2013 Five Star Quality Care, Inc.

ASK ASK ABOUT ABOUT OUR ANNIVERSARY OUR ASK ANNIVERSARY ABOUT MOVE-IN OUR SPECIALS! ANNIVERSARY MOVE-IN MOVE-IN SPECIALS! SPECIALS!

INDEPENDENT LIVING

Call for more info

(859) 554-5384

Dr. Ann Rhoten, Audiologist

1517 Nicholasville Rd. #202

Lexington, KY 40503

www.kytinnitustreatment.com

3 1

VI. What is Probate?

Succession is the mandatory court

proceeding which completes all

the legal and financial matters of

the decedent. If there is a Will, the

Probate Court reviews it and rules

on it validity. It pays off all creditors

and inventories all assets. Finally,

it changes the title of all the assets

from the name of the decedent to

the names of the beneficiaries name

in the Will. This procedure usually

takes one to three years.

VII. What are the disadvantages

of Probate?

For benefits of court supervision in

Probate, your family will pay a heavy

price.

Excessive fees: Attorney's fees, Executor's

fees, Appraisal fees, Court

filing fees and Bond Premiums are

in some circumstances, astronomical.

Excessive delays: Probate averages

between six months and three years

to complete, depending on the

complexity of the Estate. It has been

reported that the national average is

almost two-year delay.

VIII. Have a Revocable Trust;

Make an Easy Transition without

Courts.

ARTIST continued from Page 28

paintings, but it is her determination

that leads her to complete her

efforts.

Hiatt credits Ann Pass and Mary

Neely of Artist's Attic in Lexington

with the artistic progress she

has made in her paintings. For

the artist, art often tells a story or

evokes a specific emotion.

"Painting is so satisfying that it

allows me to cope with stress and

understand the realness in my

life," Hiatt said.

Lexington Center for

Acupuncture,

Massage & Reiki

Acupuncture, Reiki

Treatments & Classes

CALL

859.595.2164

3175 Custer Dr. Suite 303

Lexington, KY. 40517

www.acupunctureky.com
---
Living Life

We haven't opened yet, but you can

already start enjoying some of the benefits.

The Willows at Citation believes in living life with

no boundaries or limitations! Experience life to

its fullest at our campus filled with friendly smiles

and a dedicated staff. We offer a variety of assisted

living , skilled nursing and short-term rehab options.

We provide our residents with activities, a funfilled

environment, comforts of home, community

involvement and personalized service.

Begin Living Life Today!

You're invited to our Town Meeting!

The Willows at Citation

859-277-0320

willowsatcitation.com

December 3 rd , 6:00 p.m.

The Willows at Hamburg

2531 Old Rosebud, Lexington, KY 40509

Light Refreshments Served & Door Prizes!

For more information please call 859-277-0320.