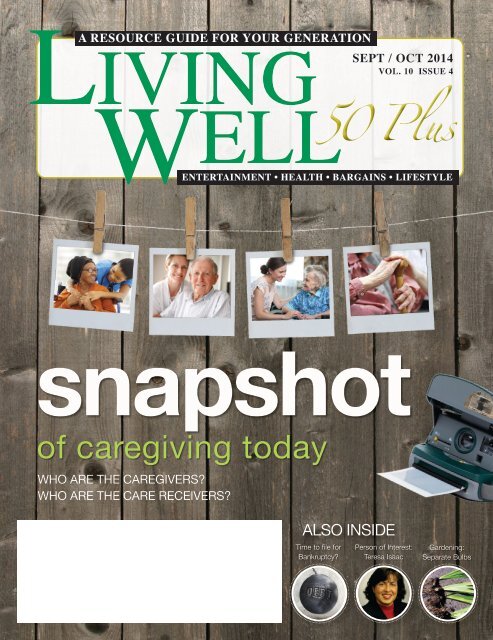 Living Well 60+ September-October 2014
Create successful ePaper yourself
Turn your PDF publications into a flip-book with our unique Google optimized e-Paper software.
A RESOURCE GUIDE FOR YOUR GENERATION

Living

W ell

SEPT / OCT 2014

VOL. 10 ISSUE 4

50 Plus

ENTERTAINMENT • HEALTH • BARGAINS • LIFESTYLE

snapshot

of caregiving today

WHO ARE THE CAREGIVERS?

WHO ARE THE CARE RECEIVERS?

ALSO INSIDE

Time to file for

Bankruptcy?

Person of Interest:

Teresa Isaac

Gardening:

Separate Bulbs
---
2 SEPT/OCT 2 0 1 4

SPINNING

Just one of many group fitness classes

THE workout facility you've been looking for!

Only $30 a month. No contracts.

HealthwoRx is operated by Baptist Health Lexington, but is NOT a rehab center or a clinic.

It's a full-service fitness center OPEN to the PUBLIC and staffed by exercise physiologists,

certified fitness practitioners, registered dietitians and nurse health educators.

Fun and invigorating group fitness:

Spinning • Total Strength • PiYo • Yoga • Zumba • Kettlebells

Mat Pilates • Cardio & Strength • Pilates for Athletes • Barre Fit

Prenatal Yoga • Boot Camp • Silver Sneakers ® • Qigong • Tai Chi

Happy Baby Yoga • Legion Fitness Classes

Conveniently located at The Mall at Lexington Green

161 Lexington Green Circle, Suite B2

Lexington, KY 40503

859.260.4354

www.facebook.com/HealthwoRx

Stop by

or call

for more

info!
---
SEPT/OCT 2 0 1 4

3

Your new

home is

waiting just

moments

away from

downtown

Richmond,

Kentucky.

St. Andrews

Place

Retirement

Community

offer

quality

residential

homes since

1992.

St. Andrews

Place offers

a friendly,

peaceful,

serene

and secure

neighborhood

for retirees.

300 Stocker Dr

Richmond, KY 40475

(859) 625-1400

www standrewsplace www.standrewsplace.org
---
05

08

09

10

11

12

14

15

16

17

18

21

22

23

24

25

26

28

29

30

31

4 SEPT/OCT 2 0 1 4

Contents

Sept/Oct 2014

All Aboard!

Transportation Garden at the Arboretum

Relief for Chronic Migraines May Come in the Form of Injections

Is it Time to File Bankruptcy?

PERSON OF INTEREST: Teresa Isaac Has 'Lots of Energy'

Unearthing the Histories of Kentucky's Black Families

Fall Prevention Awareness Day

TRAVEL: Summer Getaway to Wisconsin's Door County

GARDENING

Conquering Separation Anxiety in the Fall Garden

CALENDAR

CMS Issues Revised Guidance on Medicare

Part D for Hospice Patients

SENIOR SERVICES DIRECTORY

The Pros and Cons of Downsizing

Headaches Can Change As You Age

LATE-LIFE SUCCESS: Grandma Moses

Local Agency Helps Refugees Pursue the 'American Dream'

Kentucky Senior Games Promote Health and Fitness for Persons

50+

FOOD DUDE: Old-Fashioned Casseroles

SENIOR CARE:

When Living Alone is No Longer an Option

50 YEARS AGO

Warren Commission report delivered to president;

King awarded Nobel Peace Prize

A Prosthetics Primer

Read LivingWell50+ Digital:

How to Choose a Mortgage

FROM THE

COVER

PAGE 13

Living Well 50+ is

a proud product of

A RESOURCE GUIDE FOR YOUR GENERATION

Living

W ell

SEPT / OCT 2014

VOL. 10 ISSUE 4

50 Plus

ENTERTAINMENT • HEALTH • BARGAINS • LIFESTYLE

snapshot

of caregiving today

WHO ARE THE CAREGIVERS?

WHO ARE THE CARE RECEIVERS?

WRITERS

STAFF WRITERS:

Donald Hoffman

Angela S. Hoover

Frank Kourt

Jamie Lober

Abby Malik

Lisa M. Petsche

Jan Ross

Charles Sebastian

Doris Settles

Martha Evans Sparks

GUEST WRITERS:

Sarah Wilder, Lexington Clinic

Kentucky Association of Hospice & Palliative Care

STAFF

Tanya Tyler

editor/staff writer

John Brokamp

publisher

Janet Roy

director of creative services

Kim Blackburn

sales representative

John Hoffeld

sales representative

Dea Baker

sales representative

FROM THE

EDITOR

Dear Friends,

A friend of mine posted a

question on Facebook: What's

your favorite thing about being

a half century? (Or, as we like

to say it, Living Well 50 Plus.)

The replies were interesting:

• No longer being asked when I'm going to have

children.

• Not really caring what people think.

• I'm guilty of a lack of insecurity. Through my

Tanya Tyler • tanya@samplerpublications.com

illness and hospital stays, I let a lot of stuff fall by

the wayside.

• I'm loving my salt and pepper hair.

• I made it this far.

• When a young punk gets out of line I can tell

him, "I'm old enough to be your father – show

me some respect!"

• Embracing spirituality and feeling okay about

saying no.

• And someone else wrote: Being 50 beats the

alternative.

My reply? I don't have to explain anything I do –

or don't do – to anyone. I do what I want to do and I

really don't need or seek anybody's approval.

I'd be interested in hearing how you answer this

question. Email me! There's still lots for us to do as

we're Living Well 50 Plus. Go to it!

Live life like you mean it!

Tanya

P.S. Deep apologies for the glaring grammatical error in last

month's article about Sam Dick. He is AN award-winning

broadcast journalist and a pretty nice guy to boot.
---
SEPT/OCT 2 0 1 4

All Aboard!

Transportation Garden at

the Arboretum features

mini railroad for children

by Dr. Tom Miller,

Staff Writer

Parents and

grandparents often

search for new or

unique places to take their children

and grandchildren. Among the

treasures in Lexington is the

Transportation Garden at the Arboretum,

the official state botanical

garden of Kentucky.

This unique garden was developed

by Paul Busse of Applied

Imagination of Alexandria, Ky.

Applied Imagination has created

charming gardens around the United

States that have trains traveling

through magical natural environments,

including recent displays at

Cincinnati's Krohn Conservatory

and at the U.S. Botanical Garden in

Washington, D.C.

The Transportation Garden

features a whimsical miniature railroad

where children can learn how

plants and plant products travel

both naturally by air and water and

by varieties of mechanical transportation.

The railroad has a diesel

freight train and Thomas the Tank

Engine, to the delight of many

youngsters. The trains run on two

levels. One is at the ground level

and offers easy viewing for the very

young. The other rides high atop a

beautiful naturally scenic railroad

that traverses both mountain tops

and trestles.

The Kentucky Children's Garden

is a safe, 1.85-acre outdoor learning

center designed to help children

ages 2 to 10 years discover plants

and their environment. There

is an integrated combination of

various child-scaled theme gardens

and garden-like elements for

experiential play. There are also

gardens planted and maintained by

children; a small amphitheater for

presentations; interactive educational

exhibits; and interconnecting

paths. Children (and parents

and grandparents as well) should

wear clothes that can get wet and

dirty when they visit the Kentucky

Children's Garden. Admission is

2 HAMBURG JOURNAL WWW.HAMBURGJOURNAL.COM

JANUARY 2O12

5

$3 (under 2 free). A ticket for $10 a

day (for up to five people) and $60

for a season household membership

(good for five people on one

pass) are also available.

The Arboretum began in 1991 as

a joint effort between the University

of Kentucky and the Lexington-

Fayette Urban County Government.

It has 100 acres of plants.

The mission of the Arboretum is

to showcase Kentucky landscapes

and serve as a resource center for

environmental and horticultural

education, research and conservation.

There are year-round activities

for the entire family. It was named

the state botanical garden in March

2011. For more information, visit

the Arboretum's Web site at www.

ca.uky.edu/Arboretum.

Senior Retirement Community

Rose Mary C. Brooks Place

Rose Mary C. Brooks Place

We're not Not almost Almost home. Home. We We are are home. Home.

NOW LEASING

Celebrating Mother's Day with

brunch and great friends

1 & 2 bedroom apartments.

Includes assistance with

activities of daily living.

Three meals a day, weekly

housekeeping, concierge

service and much more!

Our rates are competitive

and all inclusive.

Enjoying the view from the patio. The Cottages (below)

offer more independent retirement living.

Enjoy 24/7 emergency

response by our

well trained staff.

Guardian Life Alert System

is included for all

new residents at no

additional cost.

Daily care is tailored to

meet the unique needs

of individual.

NOW LEASING!

Gracious Independent & Assisted Retirement Living

Conveniently located on the Bypass in Winchester.

Only minutes from Hamburg with easy access to Interstates 64 and 75.

We invite you Only minutes For more from information Hamburg contact Linda or Rick at 859-745-4904

to come

with easy access to Interstates 64 and 75.

be a part of

Average Daily Caregiver Cost $240

our family!

Average Daily Brooks Place Cost $75

Enjoy your independence and let us do the work! We'll

take care of snow removal, mowing, trimming and will

even make sure your air fi lters are changed regularly.

Our fi fth and fi nal cul-de-sac is almost completed. Call

Assisted Living (above) available in

Studio and One-Bedroom Apartments

Conveniently located on the Bypass in Winchester.

859-737-6406

www.brooksplace.org
---
Alone, I'm just a hearing aid.

But in the hands of an expert,

I'm the key to a better way of life.

AUDIOLOGY ASSOCIATES PROVIDES:

• Precise and comprehensive hearing and balance testing by a doctor of audiology

• Cutting-edge hearing devices tailored to fit your lifestyle and budget

• Painless earwax removal

• Tinnitus treatment

• Invisible and near-invisible hearing instruments

Lexington • 259 Southland Dr

Pikeville • 5425 N Mayo Trail, Ste 201

Prestonsburg • 1428 N Lake Dr

859.963.2958

www.kyhearing.com

Dr. Brooke

Dinsmore, Au.D.

Doctor of Audiology

Dr. Robert

Manning, Au.D.

Doctor of Audiology

Jake Manning, HIS

Hearing Instrument

Specialist

Emma Lackey, HIS

Hearing Instrument

Specialist

Dedicated to making you a patient for life.

Call today to hear what you've been missing.
---
SEPT/OCT 2 0 1 4

7

PRESENTED BY:

White, Greer and Maggard Orthodontics

SPONSORED IN

PART BY:

Health&Wellness

Magazine

PLEASE TAKE ONE

&

Vol.

Breast

Cancer

Pink ribbons and

marathon walks

abound – October

is Breast Cancer

Awareness month

m a g a z i n e

10 • Issue 2 • October 2012

ALSO INSIDE

Breast Cancer Symptoms

Mastectomy

Dense Breast Tissue

TARGETED JOB FAIRS AD 14-017 - SAMPLER PUBLICATIONS

OCTOBER 2014 - 1/2 PAGE COLOR

Monday, October 6th • 10AM to 2PM

The Signature Club of Lansdowne • 3256 Lansdowne Dr. • Lexington, KY 40502

FREE ADMISSION - Mark Your Calendars - Plan to attend

There will be Door Prizes, Drawings/Giveaways, Health Screenings ... Blood Pressure, Hearing, Vision and more ...

Light refreshments and entertainment by Senior Dance Teams are all part of this fun and exciting event.

•Abbvie Hepatitis C Community Educator

•Alliance Medical & Home Care

•Bluegrass Hearing Clinic will be

offering FREE hearing screenings

•Bridgepointe at Ashgrove Woods

•CaptionCall

•Cardinal Hill Rehabilitation

Hospital will be offering

FREE stroke screnings

•Caretenders of the

Bluegrass

www.komenlexington.org

ROBERT STEPHENS COURTHOUSE • DOWNTOWN LEXINGTON

Baby Boomer/Senior Expo

Meet face to face with these and other seniors service providers:

•Central Kentucky Research Associates

•C.O.R.E. Health Centers

•ExactCare Pharmacy

•Hartland Hills Independent Retirement

Living

•Health & Wellness Magazine

•Kerr Brothers Funeral Home

•Let Us Do That

•Liberty Ridge Senior Living

•Lifeline Homecare

•Mayfair Village

SAVE THE

DATE

10.4.14

9:00am

•McClelland & Associates, PLLC

•Meijer will be offering FLU SHOTS as

well as FREE BP & BMI screenings

•Morning Pointe

•Providence Homestead

•Providence Pine Meadows

•Richmond Place

•Sayre Christian Village

•Signature HealthCARE

•The Lafayette at Lexington Country

Place

•The Willows at Citation

Showcase your company/organization's benefits and features. Meet face to face with hundreds of seniors and/or caregivers

in a pleasant and informal atmosphere ... at a per client cost to you which beats any other venue.

Media Sponsor:

Sponsor:

For additional information go to www.expo4seniors.com

or call Bill Westerkamp at: 513-518-5523 or email: bill@expo4seniors.com

or call Jen Kammerer at: 513-709-3332 or email: jen@expo4seniors.com
---
8 SEPT/OCT 2 0 1 4

Relief for Chronic

Migraines May Come in

the Form of Injections

by Sarah Wilder, Lexington Clinic

Public Relations Specialist

For those who suffer from

chronic migraines, the pain is not

only stressful and inconvenient,

it can be debilitating. The good

news is, there is a treatment option

that can reduce the number

of and intensity of migraines

suffered.

Botox brand botulinum toxin

was approved as a treatment

for chronic migraines in 2010.

A trial released earlier that year

demonstrated the positive effect

of botulinum toxin within a large

population of chronic migraine

sufferers. After six months, or

two cycles of treatments, patients

experienced eight fewer migraines

per month, on average.

After one year, the study showed

even greater success with the

treatment; 70 percent of patients

regularly treated experienced at

least 50% reduction in migraines.

Since the publication of the

trial, the use of botulinum toxin

for migraine has become a popular

topic among physicians who

treat chronic migraines. Although

the specific reasons for why these

injections reduce the occurrences

and intensity of chronic

migraines is not currently known,

Eliza E. Robertson, M.D., Ph.D.,

a Lexington Clinic neurologist,

provided some insight into the

matter.

"We know that the toxin

decreases the contraction of the

muscles in which we inject," Dr.

Robertson said. "However, we

think there may be an additional

effect targeting pain-mediating

neurotransmitters that are associated

with migraines."

This treatment is currently only

recommended for patients who

suffer from chronic migraines, defined

with specific criteria, which

includes at least 15 headache

days per month. According to Dr.

Robertson, the data from clinical

trials only applies to this population,

and not to those who suffer

from occasional migraines. She

did add, however, that studies

have been promising for chronic

daily headaches.

For patients with chronic

migraines who would like to

explore the option of botulinum

toxin injections as treatment, Dr.

Robertson advises that they first

consult with a physician who currently

performs this procedure to

verify their diagnosis of chronic

migraine and that their insurance

will cover the injections.

"Interested patients will not

only need to discuss with their

doctor if these injections are right

for them, they should also verify

with their physician that they

Not Aging Well?

NEED FLEXIBILITY?

STRENGTH? BALANCE?

Sessions with Pamela Bolin, Aging Specialist

Master of Science, Kinesiology, with years of experience can help!

1 FREE

INTRO SESSION

With this ad. To schedule,

call 859-508-8827 today.

PAMSFITNESS.COM

Ultimate

Fitness,

Inc.

Pamela Bolin MS

NSCA-CPT

Aging Specialist

will receive the FDA-approved

injection site protocol, which is

31 injections in seven muscles

around the head, neck and shoulders,"

Dr. Robertson said about

the process. "The protocol can

be modified, if necessary, to each

patient's needs with subsequent

injections based on tolerability

and symptoms," she added.

"While Botox, just one of the

three types of botulinum toxin,

funded the trials and obtained

FDA approval for the treatment

of chronic migraines, there are

three forms of botulinum toxin

type A: Botox, Dysport and Xeomin.

Within my clinical experience,

all three brands of the toxin

work equally well in the treatment

of chronic migraine."

Regardless of which form of

botulinum toxin is used, Dr.

Robertson recommends the

injections as a treatment option

to chronic migraine patients

because the positive effects of the

treatment greatly outweigh the

costs.

"The potential benefits of

this type of treatment include a

reduced number of migraines,

increased hours of productivity,

huge savings in cost, ER visits,

Eliza E. Robertson, M.D., Ph.D.,

Lexington Clinic neurologist

and the avoidance of side effects

from previously or too frequently

used migraine medications. Given

the potential overall improvement

in well-being and quality of

life, botulinum toxin for chronic

migraine is often the best option

available," Dr. Roberston said.

"Besides, the procedure goes

relatively fast and, for most, is

well tolerated."

Please call 859.258.4DOC

(4362) or visit LexingtonClinic.

com
---
y Doris Settles, Staff Writer

A fixed income with escalating

medical, utility, housing, food and

drug bills is a very real problem

for the over-50 population, causing

more and more seniors to face

some harsh realities about their

ability to continue to pay their

bills. Filing bankruptcy becomes

a possibility. Each situation is

highly individual, and no decision

or action should be taken without

checking first with your CPA and

then with a lawyer specializing in

bankruptcy law.

Simply put, bankruptcy is when

you owe more than you can possibly

afford to pay. Seniors may

be in a position to benefit from

certain protections.

"Federal law protects certain

benefits from garnishment by

creditors, including veterans'

payments, Social Security, disability

payments, most retirement

assets and more," said Scott Dick,

a Lexington CPA. "Also, a senior

who has little or no income beyond

protected benefits could be

deemed 'judgment proof,' meaning

that creditors could not collect

even if they made the effort."

The first step in determining a

course of action is to find out how

much you have and how much

you owe. To determine where you

SEPT/OCT 2 0 1 4

Is It Time to File Bankruptcy?

And

The Lafayette

opened

its doors.

are financially, inventory all your

liquid assets. Include retirement

funds, stocks, bonds, real estate,

vehicles, college savings accounts

and other non-bank account

funds. Decide on a rough estimate

for each item, then sum up your

total assets.

Next, collect and add up your

bills and credit statements. If the

total value of your assets is less

than the total amount of debt you

owe, declaring bankruptcy may be

one way out of a sticky financial

situation. However, bankruptcy

shouldn't be approached casually.

And it's not a simple, easy cure-all

for out-of-control spending.

"Going bankrupt" can happen

And And

The Lafayette The Lafayette

opened opened

its doors. its doors.

Pet

Pet

Friendly Friendly

Ronald Reagan was the 40th Ronald president. Reagan was the 40th president.

"The Golden Girls" were fast "The becoming Golden friends Girls" were on their fast first becoming season on friends TV. on their first season on TV.

5 STAR QUALITY FOR OVER 29 YEARS!

A gallon of gas cost one dollar A gallon and of twenty gas cost cents. one dollar and twenty cents.

Join us for

THE LAFAYETTE'S

Enjoy CARE-FREE

28TH ANNIVERSARY CELEBRATION

one of two ways. Either you may

voluntarily claim bankruptcy

under Chapter 7 or Chapter 13,

or creditors can petition the court

to declare a person bankrupt. A

Chapter 7 bankruptcy liquidates

your assets to pay off as much of

your debt as possible. The cash

from your assets is distributed to

creditors such as banks and credit

card companies. For many, this

option offers a quick, fresh start.

But if a debtor owns a company,

a family home or any other personal

assets that he or she wants

to keep, Chapter 7 may not be the

best option.

A Chapter 13 bankruptcy is

THE predictable YEAR annual THE WAS income, YEAR 1985…

Chap-

WAS 1985…

ter 13 offers a grace period. Any

debts remaining at the end of the

grace period are discharged.

Be aware, however, that filing

bankruptcy has a dark side.

Except in rare instances, it doesn't

discharge debts from mortgages,

student loans, taxes, alimony

or child support. You can file

for bankruptcy for about $300

without a lawyer, but the laws are

complicated.

"In considering bankruptcy,

it's important to understand the

Homestead Exemptions applicable

to your state, as those laws

may protect your home and your

THE YEAR WAS

equity

1985…

from creditors in a bankruptcy

filing," said Dick. "It's a

Ronald Reagan was the 40th good president. idea to consult a lawyer specializing

on their in first bankruptcy season to on be TV. sure

"The Golden Girls" were fast becoming friends

A gallon of gas cost one dollar and that twenty the decision cents. to file will indeed

Consult lawyer or CPA before taking action

also known as a reorganization

bankruptcy. Chapter13 enables

people to pay off their debts over

a period of three to five years. For

individuals who have consistent,

Thursday, May Join us for 9th • 4:00-7:00 EVERY DAY!

Join us for pm

Dinner THE 4:30-7:00pm LAFAYETTE'S THE with Violinist LAFAYETTE'S Bryce Farrar

28TH ANNIVERSARY Carriage 28TH Rides by ANNIVERSARY Lexington CELEBRATION

Livery 5:00-7:00pm CELEBRATION

Thursday, May Dixieland Thursday, 9th • 4:00-7:00 Band May 5:30-7:30pm 9th • 4:00-7:00 pm

Kindly RSVP to 859-278-9080 by May 6th – Seating is limited

690 Mason Headley Road • Lexington, KY 40504

activities,

690 Mason Headley Road • Lexington, 690 Mason KY 40504 Headley Road • Lexington, KY 40504

859-278-9080

Offering Independent Living, Personal Care, Skilled Nursing Care

9

give you the help you want."

With a good lawyer and the

right information, filing bankruptcy

could give you the financial

footing you need to move forward.

Retirement Living

Dinner 4:30-7:00pm with Dinner Violinist 4:30-7:00pm Bryce Farrarwith Violinist Bryce Farrar

Carriage Rides by Lexington Carriage Livery Rides 5:00-7:00pm by Lexington Livery 5:00-7:00pm

Dixieland Band 5:30-7:30pm Dixieland Band 5:30-7:30pm Chef-prepared

dining,

Kindly RSVP to 859-278-9080 Kindly RSVP by to May 859-278-9080 6th – Seating by is May limited 6th – Seating is limited

worry-free

housekeeping,

limo service,

scheduled

cocktail lounge,

859-278-9080

www.LafayetteLexington.com

www.LafayetteLexington.com

859-278-9080

library and

www.LafayetteLexington.com

Pet

Friendly

©2013 Five Star Quality Care, ©2013 Inc. Five Star Quality Care, ©2013 Inc.

more!

Five Star Quality Care, Inc.

ASK ABOUT OUR OUR ANNIVERSARY ASK ANNIVERSARY ABOUT OUR MOVE-IN ANNIVERSARY SPECIALS! MOVE-IN MOVE-IN SPECIALS!
---
1 0 SEPT/OCT 2 0 1 4

Person of Interest

Teresa Isaac Has

'Lots of Energy'

Serving on boards, teaching, mulling

another run for office keeps former

mayor busy

by Martha Evans

Sparks,

Staff Writer

Teresa Ann

Isaac was mayor of

Lexington from 2002-2006. The

second woman to serve in that

office – the first was Pam Miller –

she has not rested on her laurels

since her tenure ended.

In 2013, she was in the Middle

East's West Bank, where she completed

her most recent sessions of

training mayors from around the

world for the U.S. Department of

State. In the years between 2007

and the present, she has taught

mayors of cities in Namibia,

Pakistan and Uganda. She meets

with anywhere from 50 to 300

mayors, teaching them about

social justice, economic development,

infrastructure, establishing

trust with their constituents and

youth empowerment. She tries

to help them find ways to use the

resources they have at their local

level. Each country usually has an

agenda about two weeks long. In

2004 and 2005, the State Department

sent her to train mayors in

Argentina and Chile as part of a

democracy project.

Isaac is a native of Harlan

County. Her father, Sam Isaac, was

mayor of Cumberland, Ky. After

he finished his stint as mayor,

the family moved to Lexington.

Isaac graduated from Transylvania

University in 1976 and from the

University of Kentucky College

of Law in 1979. In a remarkable

display of self-confidence, she

opened a solo law practice in Lexington

right out of law school.

"It worked out great," she said.

"I loved it."

In 1988, she was elected to the

Lexington-Fayette Urban County

Government as an at-large member.

In 1992, she was reelected to

the Urban County Council and

became vice mayor, serving in

that capacity from 1993-1999,

still the record for longest-serving

vice mayor. She practiced law for

20 years until 1999, when she

became executive director of the

Lexington Fair Housing Council.

Following her time as mayor,

she returned to the Fair Housing

Council and was promoted to

board chair of the organization

in 2007, a position she still holds.

She lost her bid for a second term

as mayor to Lexington attorney

Jim Newberry in 2006.

Undaunted, Isaac was employed

in May 2007 as a campaign staffer

for Kentucky businessman Bruce

Lunsford, who was bidding for the

Democratic nomination as Kentucky

governor. While she was involved

in that effort, Isaac taught a

course at Transylvania called "The

Governor's Race: See How They

Run." Through the years, her alma

mater has honored her twice, with

an Outstanding Alumni award

and Transylvania's Service Award.

She has served on the university's

alumni board.

"I've been on a million boards,"

she said. She currently chairs

the Volunteers of America board

in Lexington; she is also on the

board of Emerge Kentucky, which

trains women to run for political

office. She has taught as an adjunct

professor at several Kentucky

colleges.

In the past six months, family

affairs have taken precedence.

Both her children married in one

month. Her daughter, Alicyn

Isaac-Lowry, is a graduate of

Columbia University College of

Law and is with New York City

law firm Davis Polk. Isaac's son,

Jacob Isaac-Lowry, lives and works

in Hawaii. He earned a degree

in mechanical engineering from

the University of Michigan Ann

Arbor.

"I'm at a crossroads, watching

both of my kids marry. I feel it is

a real accomplishment. I am very

proud of both of my kids," said

Isaac.

Would she consider running

for political office again? "I always

have in the back of my mind running

for office again. That is a real

possibility," she said. "I always

want to encourage more young

women to run for office."

Can she do all of this? "Oh, yes,"

she said. "I have lots of energy."

"I always want to encourage more

young women to run for office."

—Teresa Isaac
---
Unearthing the Histories

of Kentucky's Black

Families

SEPT/OCT 2 0 1 4

Persistence is critical when traditional

resources are lacking

by Doris Settles, Staff Writer

Frequently, African Americans

encounter a frustrating dearth of

information when researching

their family histories. The African

American Genealogy Group

of Kentucky (AAGGKY) was

formed out of that frustration.

Unique methodology, persistence

and sharing of information

is critical in the face of the lack of

traditional resources. AAGGKY

members say they've found information

on family members filed

under A for African, B for black,

C for colored or N for Negro,

as well as in the backs of books,

totally unindexed and more often

nonexistent. But if you happen

to find that missing piece of your

family puzzle, which fits in so

many others' puzzles as well, how

might you be able to share that

resource?

Enter 11 researchers who

gathered in January 2011 to form

AAGGKY.

The group meets every month

on the third Saturday at easily accessible

places throughout Central

Kentucky. Rotating meeting

locations allows for a higher level

of participation and availability

of those resources that do exist.

Meetings are free and open to anyone.

They feature speakers, roundtables

or panel discussions and

hands-on workshops. AAGGKY

members share research successes

and disappointments and

offer tips and techniques unique

to conducting black genealogical

research in Kentucky.

"We have never had a meeting

where somebody didn't make a

connection with someone else,"

said group president Sharyn

Mitchell. "Several times a year

we have one-on-one workshops

where we work together to break

through those brick walls and find

those connections."

With a mailing list of more than

500 people, both African American

and Caucasian, a membership

nearing 100 and between 25-75

people attending each meeting,

AAGGKY encourages both blacks

and whites to work together to

ferret out their histories.

"We encourage descendants of

slave owners to share their deeds,

ledgers and Bibles that document

the stories of slaves so intermingled

stories may be found,"

Mitchell said. "With every passing

1 1

minute, we are losing our histories

to death, memory loss and record

destruction." The AAGGKY attempts

to minimize this loss.

Anyone interested in researching,

preserving and sharing the

stories of Kentucky's African

American generations is invited

to join AAGGKY. "We are accountants

and plumbers, janitors

and teachers, preachers and

presidents, housewives and truck

drivers," Mitchell said.

For more information, visit the

organization's Web site at www.

aaggky.org.

With every

passing minute,

we are losing

our histories to

death, memory

loss and record

destruction."

—Sharyn Mitchell,

President, African

American Genealogy

Group of Kentucky

L

IBERTYR

Senior Living Community

IDGE

A Non-Profit Faith-Based Community

WE OFFER:

• Independent Garden Homes

• Assisted Living Apartments

• Memory Care Neighborhood Apartments

859.543.9449

www.libertyridge.com

Final Phase of Garden Homes

currently under construction.

CALL TODAY TO SCHEDULE A COMPLIMENTARY

LUNCH AND TOUR. LOCATED IN LEXINGTON NEAR HAMBURG PLACE

701 Liberty Ridge Lane Lexington Ky 40509
---
1 2 SEPT/OCT 2 0 1 4

Fall Prevention

Awareness Day

Tips help reduce falls

among older adults

by Martha Evans

Sparks, Staff Writer

Fall Prevention

Awareness Day is

Sept. 23 – the first

day of autumn. Since 2008, this day

has been set aside to promote and

increase public awareness about

how to prevent and reduce falls

among older adults. Six years ago,

11 states observed FPAD. By 2013,

the number had grown to 47.

Falls are not just an older person's

problem. But falling is more likely

to result in disastrous consequences

for those 65 and above. Most falls

happen in the home and are a leading

cause of death from unintentional

injuries in older adults. Every

15 seconds an older adult is seen

in an emergency department for a

fall-related injury.

In Kentucky, how FPAD is

observed depends on what the

local people want to do, said Hannah

Keeler, Kentucky Safe Aging

Coalition coordinator. Funding for

the events is through local and state

health departments, Keeler said.

"We don't charge for the events. All

are free," she said. "The state health

department

PILATES

has funds for this, plus

the individual health departments

PLACE

PILATES

PLACE

have some funds."

Activities marking the day will

range from distributing literature

about fall prevention to hosting

full-blown events with speakers and

even one-on-one interviews, where

an individual can talk with a knowledgeable

person who can give

advice on how various medications

may affect balance and increase

the risk of falling. Vision screening,

balance tests and education on

home safety are among other topics

addressed on FPAD.

"Every year we [have] a governor's

proclamation on that day saying

this is Kentucky Fall Prevention

Awareness Day," said Keeler. FPAD

events are scheduled to take place in

Pilates is designed

to strengthen the

body's core muscles

through low-impact

fitness techniques.

Franklin County, including Frankfort,

the state capital. Other events

are already planned for the Barren

River District Health Department

in Warren County (Bowling Green)

and the seven counties comprising

the Green River District Health

Department (Hancock, Daviess,

Henderson, Ohio, McLean,

Webster and Union). Bullitt and

Oldham counties also plan to mark

the day. Others will no doubt join

as the date approaches.

The 14 member organizations of

the Kentucky Safe Aging Coalition

partner to promote FPAD. Coalition

members include the Kentucky

Injury Prevention and Research

Center, the Kentucky Department

of Public Health, the University of

Kentucky College of Public Health

and UK's Cooperative Extension

Service. The National Council on

Aging advocates for FPAD.

To learn more about FPAD or

this year's schedule, Keeler suggests

calling the coalition's office in

Lexington at (859) 323-4747 for

up-to-the-minute information. You

can also visit www.nofalls.org.

10 Tips for

Preventing

Falls

1. Find a good balance

and exercise program.

Build balance,

strength and flexibility.

2. Regularly review

your medications

with your doctor or

pharmacist. Do any of

them have side effects

that are increasing

your risk of falling?

3. Have vision and

hearing checked regularly.

Your eyes and

ears can help keep

you on your feet.

4. Get rid of clutter

you can fall over in

your home, including

small rugs.

5. If you keep small

area rugs, put grippers

on the underside so

they will not slide.

6. Be sure all stairways

have hand rails.

7. Install grab bars in

bathtubs and showers.

8. Don't be too proud

to use a cane or even

a walker if such assistive

devices help you

maintain balance.

9. Keep a night light

on so you can see

where you are going if

you must get up during

the night.

10. Be sure your entire

home is well lit.

All sessions taught by

Stott Pilates trained

health professionals.

859-266-3810

365 Duke Rd.

Lexingtotn

studio@pilatesplaceky.com

follow us on:

Eastland Shopping Center 1020 Industry Rd. Ste 10 Lexington, KY 40505

859-253-0012 Mon 9-7, Tues-Sat 9-6
---
SEPT/OCT 2 0 1 4

A Snapshot of

Caregiving Today

Who are the caregivers?

Who are the care receivers?

1 3

by Lisa M. Petsche, Staff Writer

In approximately 30 percent of

American households, unpaid care

is regularly provided to someone

who is chronically ill, disabled or

aged and whose ability to carry out

activities of everyday life is compromised.

It's not necessary to live under the

same roof as the person one is helping

or to provide assistance with

personal or medical care in order to

be considered a caregiver.

Here is some information about

the nature of caregiving today.

• Who are the caregivers?

The typical caregiver is an adult

child providing help to a parent or

parent-in-law. But a caregiver may

also be a friend or neighbor, grandchild,

sibling or other extended

family member, spouse or parent.

The majority of caregivers are

female and married. A significant

proportion are young seniors caring

for older seniors, and they may have

health issues of their own. Most often,

though, caregivers are in the 45-

65 age group. Those at the younger

end are likely to have children still at

home and consequently have been

labeled "the sandwich generation."

Close to two-thirds of family caregivers

are employed. They juggle

caregiving with paid work and other

responsibilities such as maintaining

their own households and attending

to other family members. It's no

surprise self-care is a low priority for

caregivers, given the demands on

their time.

Who are the care

receivers?

The typical care recipient is

female, over 70, widowed and living

alone. The older the care receiver,

the more likely she is to require personal

care; 50 percent of those over

age 85 years fall into this category.

The 85-plus age group is, of course,

a rapidly growing demographic.

The most common types of

health conditions associated with

care needs are age-related – for

example, osteoporosis, arthritis and

vision loss. Other common medical

diagnoses of care receivers are

cancer, heart disease, neurological

disease (such as Parkinson's disease),

dementia and mental illness

(such as depression).

What do caregivers

do?

Caregiving tasks fall into two

categories: basic activities of daily

living (known as ADLs) and instrumental

activities of daily living

(IADLs). ADLs are daily self-care

tasks such as feeding, toileting,

dressing, grooming, bathing and

mobilizing. Fewer than 25 percent

of caregiving situations involve helping

with these needs.

Typically, care receivers need help

with IADLs before they require help

with ADLs. IADLs are the more

complex skills involved in living

independently – skills normally

learned during adolescence and

early adulthood. They include using

the telephone, way finding, managing

transportation (whether it's

driving or using public transportation),

handling finances, shopping,

preparing meals, managing medications

and performing housework

and basic indoor and outdoor home

maintenance.

To help ensure informal caregiving

is sustainable and remains a

rewarding experience over time,

it's important for care providers to

use available help. This includes

obtaining assistance from family

members and friends as well as

taking advantage of community

services that can help maximize the

care receiver's functioning and assist

the caregiver with necessary tasks.

Doing so improves the quality of life

of not only the caregiver but also the

care receiver.

Note: Statistics were obtained

from the National Alliance for

Caregiving, the Family Caregiver

Alliance and the Caregiver Action

Network.

Take a tour and join us for lunch, on us!

Make your reservation today for our

complimentary lunch and tour.

ARE YOU DISABLED?

HAVE YOU APPLIED FOR SOCIAL SECURITY DISABILITY?

ARE YOU CAUGHT UP IN RED TAPE?

An experienced Social Security Claims Advocate can help you:

• By assisting you in filing your initial application.

• Filling out and filing your appeals.

• Gather medical and other important information to submit to Social Security.

• Contact your doctors to obtain a report of your medical condition.

• By obtaining documents from your Social Security file and review them.

• By presenting opening and closing statements at your hearing that

will state how you meet the Social Security listing of being disabled.

1001 Crossfield Drive

Versailles, KY 40383

daisyhillseniorliving.com and

859.753.2000

us on Facebook

For a FREE CONSULTATION of your claim call

Patsy R. Hughes, Disability Claims Advocate,

1-859-263-7780.

NO FEE IS PAID UNLESS YOU WIN
---
1 4 SEPT/OCT 2 0 1 4

TRAVEL

Summer Getaway

to Wisconsin's Door

County

"Cape Cod of the Midwest" is popular

tourist destination

by Jan Ross,

Staff Writer

The last time we

were in Wisconsin's

Door County, the

powdery snow was up to our knees

and we learned to snowshoe. This

trip was a little different.

Since Door County is often

advertised as "the Cape Cod of the

Midwest" because of its lovely 300

miles of coastline, it seemed like the

perfect summertime escape. It was,

in many ways, an idyllic trip. The

fact that some days were cloudy,

cool and foggy and the mosquitos

had a field day feasting on my legs

(bring bug spray!) did not detract

from our enjoyment.

Because Door County has

become a very popular tourist

destination, you will have your

choice of lodgings, but I highly

recommend the Little Sister Resort.

With a variety of cottages, chalets

and rental homes, its location

right on the shores of Little Sister

Bay, a hot breakfast included for

every member of your family and

a restaurant, it's a great choice. Our

two-bedroom chalet was perfect

for two adults and a child and we

enjoyed our full kitchen. The resort

is adjacent to the Bay Ridge Golf

Course for the golfers in your group

and also has a playground, basketball

court, bikes to ride and plenty

of non-motorized watersports such

as paddle boards available at no extra

charge. If you pay a visit to Fred

and Fuzzy's, the restaurant on the

shore of the bay, be sure to order the

fried cheese curds. A local specialty,

they are delicious.

When you're ready to try some

local eateries, head to the famous Al

John's Swedish Restaurant, where

you can check out the goats grazing

on the unique grass roof and sample

some delicious Swedish meatballs.

Or try The Cookery in nearby

Fish Creek. Family

owned and run, this

lovely and friendly

location serves some

fabulous gourmet food. We had the

best meal of our trip here.

For a view of Door County from

the water along with a fascinating

historical tour of the area, book

a cruise with Shoreline Charters.

We took the "Coastline, Cliffs, and

Caves" tour, which leaves right from

the marina in Sister Bay, only about

10 minutes from the Little Sister

Resort.

Several villages comprise the

Peninsula of Door County, and we

checked out a number of them during

our visit. Each has plenty of local

shops and restaurants, and many

have beaches on the beautiful, clear

water of the bays as well. One of our

favorites was Egg Harbor, where

we stumbled on Eggstravaganza, a

celebration of the town's 50th anniversary.

Scattered throughout the

village

were 50 magnificently decorated

large eggs, each more extravagant

than the last.

We had to pay a visit to White

Fish Dunes State Park to check out

the beach that was covered with a

deep layer of snow during our winter

visit. It certainly looked different

on this visit!

Winter or summer, you should

open up to beautiful Door County.

Door County is often

advertised as "the Cape

Cod of the Midwest"

because of its lovely

300 miles of coastline.
---
SEPT/OCT 2 0 1 4

1 5

GARDENING

Conquering Separation

Anxiety in the Fall Garden

Keep your summer bulbs at their

bloomin' best

by Frank Kourt,

Staff Writer

You may not want

to hear about spring

and summer blooming

plants right now.

It is, after all, nearly fall, and aren't

we done with all that?

Well, not really. Not, that is, if

you want your summer bulbs to

be happy and healthy and at their

bloomin' best.

It may seem like the simplest

thing in the world to plant bulbs,

but over the years, you may well find

your efforts have been too successful.

By that I mean the bulbs tend to

multiply, and when that happens,

they have to be dug up, separated

and re-planted elsewhere if you

expect them to bloom the next year.

A good case in point is the

venerable iris. For several years, we

planted irises in half whiskey barrels,

and they've rewarded us with

beautiful, delicate blooms. This year,

though, not so much. The trouble is

the rhizomes have grown too close

together, resulting in no blooms.

This means they have to be dug up,

separated and re-planted before

the cold conditions of October and

November hold sway.

In order to do this, it's best to lift

the crowded irises out of the ground

in a clump, if possible. If that's not

going to work, you're going to

Iris bulbs separated and

ready to plant.

have to break the giant clump into

smaller ones.

Next, brush as much dirt away

from the rhizomes as you can and

break the clumps apart into pieces

about 4 inches long. Each rhizome

should have at least one fan of leaves

on it. Those that have no leaves can

be discarded. Make sure you keep

the roots in each rhizome intact.

Once you have your separate rhizomes,

you can trim the leaves back

to about 6 inches.

Now find a sunny spot with

well-drained soil and dig your hole

and plant the rhizome just below

ground level, spreading the roots

and spacing them about a foot and a

half apart. Cover the rhizomes with

loose, rich soil, allowing the leaf fans

to protrude from the ground, and

water them well.

Daffodils may experience similar

problems, while tulips seem less

likely to crowd. If you noticed your

daffodil blooms underperforming

last spring, it may well be that, like

iris rhizomes, the bulbs have multiplied

to the point where blooming is

impeded.

If you know where your daffodils

are buried, you should have no

problem digging them up and separating

the bulbs for re-planting. Unfortunately,

at this time of year, the

foliage may have died back to the

point where you can no longer find

their resting place. Don't despair;

you'll just have to wait until spring,

when the foliage comes back, and

mark the spot for easy identification

next fall.

Assuming you do know where

your daffs are buried, just dig them

up and separate the bulbs. Replant

the largest bulbs in well-drained

soil in a sunny spot about 5 inches

below the soil's surface, making sure

the pointed end is facing up. Space

them about 4 to 5 inches apart.

Here's an example of iris crowding that needs to be remedied.

Water thoroughly, then cover with

about 3 inches of mulch to protect

the bulbs from the cold and keep

them moist.

In the less likely event you have a

tulip-crowding problem, dig up the

bed and separate the bulbs, leaving

some in the original spot. Plant your

Quaint Sophistication...

Retirement Living

at its Finest!

3310 Tates Creek Rd.,

Lexington, KY 40502

(Across from Lansdowne Shoppes)

tulip bulbs about 8 inches deep,

drop in a generous amount of peat

moss and add some bulb fertilizer.

Cover them up with soil and water

well.

If all goes well, you'll be greeted

by a whole new set of blooms next

summer!

• INDEPENDENT LIVING AND LICENSED PERSONAL CARE

APARTMENT HOMES

• SUPERIOR SERVICES AND AMENTITIES

• MADE FROM SCRATCH KENTUCKY PROUD DINING

• DAILY TRANSPORTATION SERVICES

• BRIMMING SOCIAL CALENDAR

• SAFETY, SECURITY, AND PEACE OF MIND

Come Explore The Next Chapter in Your Life!

(859) 266-2129

www.mayfairseniors.com
---
1 6 SEPT/OCT 2 0 1 4

Events

Calendar

SEPT. 2014 OCT. 2014

Sun Mon Tue Wed Thu Fri Sat

1 2 3 4 5 6 1 2 3 4

7 8 9 10 11 12 13 5 6 7 8 9 10 11

14 15 16 17 18 19 20 12 13 14 15 16 17 18

21 22 23 24 25 26 27 19 20 21 22 23 24 25

28 29 30 26 27 28 29 30 31

Ongoing

Yoga Health & Therapy

Center Classes

Our Yoga Classes feature slow

stretch with gentle breathing,

and relaxation techniques.

Class size is small, to provide

careful instruction. Yoga classes

are offered Mon through Thurs

(daytime and evening), and Sat

mornings. Our Meditation Starter

Course teaches simple ways

to focus and quiet the mind;

5-week sessions are offered on

Sundays at 5:30 pm. A nonprofit

organization operating

since 1981, The Yoga Health &

Therapy Center is located at 322

W. 2nd St. Free private parking

is provided for most classes. For

more information on fees and

scheduled dates and times, call

us at 859-254-9529, or email us

at info@yogahealthcenter.org

Sun Mon Tue Wed Thu Fri Sat

Send us your event listings

List your event for FREE if it's free to the public*.

E-mail your event information to graphics@samplerpublications.com

(*$35 fee for events that are not free to the public)

Reiki Introduction &

Practice

6:30pm- 8:30pm, 4th Tuesday

each month. 1403 E. Breckinridge

Street, Louisville, KY. Free.

Those who do have not Reiki

training—come for an introduction

& to experience it. No experience

required. Those with Reiki come

to practice on others & receive

the Reiki energy. Everyone will

get 15 -20 minute Reiki treatment.

Free reattunement to your last

level of Usui or Karuna Reiki® if

you have your certificate. Contact

JoAnn Utley at 502-777-3865

or jutley5122@bellsouth.net to

register. More info at http://

joannutley.byregion.net

Sit and Get Fit

Mondays and Fridays, 9:30am-

10:30am. FREE! This event is

a seated controlled exercise/

movement class to improve

strength, flexibility, balance

and coordination. It is taught

by Anne Graff, MS, OTR/L,

Occupational Therapist certified

by the American Senior Fitness

Association as a Senior Fitness

Instructor and trained in Body

Recall. Also included are: Fall

Prevention and Recovery, Fun

Movements to Strengthen

Body and Mind, Improve

Posture and Core Conditioning,

Wellness Education, Relaxation

Techniques, and Music.

The Charles Young Center is

located at 540 E. Third Street.

Parking is available on Shropshire

Avenue or Lewis Street,

Lexington, KY. Ages 60 and older.

For more information, please

contact Alexis Edge at 859-246-

0281 or aedge@lexingtonky.gov.

Wellness Wednesday

On the first Wednesday of the

month, all Good Foods Market

and Café customers will receive

5% off all supplements, body

care, and bulk herb & spice

items. Customers can special

order Wellness Wednesday items

ahead of time and pick them up

on Wellness Wednesday. When:

Wednesday, July 3, 8 am – 10

pm. held at Good Foods Market

& Café, 455 Southland Drive.

Ric's Garden, the

public cutting garden

at Ashland Terrace,

475 S. Ashland

Avenue, is open for

business

This year Lexington's oldest

retirement community offers

alstroemeria, iris, ageratum,

gooseneck loosestrife, goldenrod,

purple coneflowers, Joe Pye

weed, lisianthus, snapdragons,

zinnias, salvia, black-eyed susans

and marigolds. The following

varieties of herbs are available:

oregano, nasturtium, rosemary,

lemon grass,

sweet marjoram,

lemon thyme, basil,

parsley, fennel,

Italian parsley,

sorrel, garlic

chives, mint, winter savory, lemon

verbena, dill, French tarragon

and sage. Large blooms are .50,

small blooms are .25. Herbs

are .25 a small bunch. Roses

and vegetables are reserved for

residents only. The donation box

and scissors are located at the

start of the main garden walkway;

water and containers are available

near the shed. Don't miss the

smaller cutting garden behind

the shed. All proceeds are used

to maintain the garden and feed

the critters. Call Kelly or Michelle

at 266-2581 for additional

information.

Swing Lessons

Tuesdays, starting September 30,

2014. From 8pm–10pm at Tates

Creek Recreation Center, 1400

Gainesway Dr. $5 per person per

lesson. Call for more information:

Glenn and Rosalee Kelley 859-

233-9947 or Peter and Robin

Young 859-224-3388.

September 19

Family Caregiver

Workshop

This program is specialized for

family caregivers and will offer

information about Alzheimer's

disease and caregiving, and

will also provide an opportunity

to reflect, regenerate, and gain

a new perspective on your

caregiving issues. Local and

statewide experts who specialize

in aging and Alzheimer's care will

present topics that are valuable

to family caregivers of persons

with dementia. This training is

designed specifically for family

caregivers and is therefore
---
SEPT/OCT 2 0 1 4

1 7

Nature lovers, hikers, cliff climbers

RENT THIS CABIN

Near Natural Bridge State Park and

Red River Gorge.

Call or visit website for reservations.

Ken & Sheila Brown

www.VRBO.com/361686

(606) 668-2599

(606) 643-6044

ksbrown@mrtc.com

not open to those who are

professional caregivers. Jointly

sponsored by the Bluegrass

Area Agency on Aging and

Independent Living, the UK

Sanders Brown Center on Aging,

Baptist Health - Lexington and

the Alzheimer's Association.

Workshop registration fee: $10

(includes lunch). Registration is

required; to register, call 1-800-

272-3900 or email infoky-in@alz.

org. From 9:00 a.m. – 4:00p.m.

at Bluegrass Area Development

District, 1st Floor conference

room, 699 Perimeter Drive,

Lexington, KY.

September 20

A Day of Mindfulness

for Body, Mind and

Spirit

This mini-retreat will help you

promote resilience, positive

psychology and emotional

intelligence. Mobilize your inner

resources for healing, practice

self-care approaches for

promoting health, learn mindbody

skills for managing stressrelated

chronic conditions, relax

your body, quiet your mind and

open your heart and cultivate your

innate happiness, peacefulness

and compassion. You will learn:

CLASSES OFFERED:

• Yoga for Golfres, TM

• Beginners and Basic Yoga

• Yin and Restorative Yoga

• Gentle Yoga and Restorative Yoga

for Cancer

• Chair Yoga for Recovery

• Heated (80-85) Degree Slow Flow Yoga

Class Schedule at

agelessyogastudio.com

skilled relaxation, body scan,

guided imagery, journaling,

self massage, mindfulness

meditation and mindful gentle

yoga. Instucted by John A.

Patterson MD, MSPH, FAAFP,

Board certified- Family Practice

and Integrative Holistic Medicine,

Faculty member- UK College

of Medicine, U of L School of

Medicine, Saybrook Graduate

School of Mind Body Medicine.

Cost $95 includes food and drink

(discount available for financial

need). Pre-registration required:

9AM-4PM @ Mind Body Studio,

517 Southland Drive Lexington

KY 40503. www.mindbodystudio.

org. 859-373-0033.

October 4

Sound Healing

Workshop

11:00-12:30, Centered Lexington,

309 North Ashland Avenue Suite

180. This workshop will explore

the use of sound, vibration, and

mantra for yoga, meditation,

and relaxation practices through

gong, kirtan and chanting!

$15.00 donation will go toward

supporting the mission and

services of the Centered

community. See http://www.

centeredlex.com/ for the calendar.

October 11

NAMI Walk

www.namiwalks.org/Lexington

Saturday October 11, 2014 at

Masterson Station Park. Walker

check-in time: 10am. Walk starts:

11am. No registration fee but

walkers are encouraged to collect

donations. All proceeds fund

NAMI local programs. For more

info, call Marcie Timmerman, 859-

317-2792.

• Private 1-on-1 Yoga Sessions

• Reiki Sessions

New Student Introductory Offer:

30 days for $30

UNLIMITED yoga

(Offer good only if you have not been to

Ageless Yoga before)

FREE CLASS*

When you sign up a friend!

611 Winchester Rd, Suite 200

Lexington, KY 40505

859-303-6225

info@agelessyogastudio.com

agelessyogastudio.com

*on your next package deal

CMS Issues Revised

Guidance on Medicare

Part D for Hospice Patients

KAHPC & Several Members of the

Kentucky Congressional Delegation Played

Crucial Role in Advocating for Revisions

Provided by Kentucky Association

of Hospice & Palliative Care

Several members of the Kentucky

Congressional Delegation joined

the Kentucky Association of Hospice

and Palliative Care (KAHPC)

in calling for a temporary halt in

recent Part D Payment Reform

Guidance issued by CMS. Specifically,

Senator Mitch McConnell,

Representatives Ed Whitfield, Brett

Guthrie, John Yarmuth, and Andy

Barr co-signed letters sent by the

United States House and United

States Senate to CMS Administrator

Marilyn Tavenner requesting

that CMS suspend the current Part

D payment policy and instead bring

together all relevant stakeholders to

work together on a policy that does

not jeopardize Medicare beneficiaries'

access to medication. The joint

efforts of Congressional leaders and

hospice advocates have paid off and

now hospice patients everywhere

will have timely access to needed

prescription medications.

On March 10, 2014, the Centers

for Medicare & Medicaid Services

(CMS) issued a memorandum to

Part D Plan Sponsors and Medicare

Hospice Providers entitled, "Part D

Payment for Drugs for Beneficiaries

Enrolled in Hospice – Final 2014

Guidance" (Guidance). The Guidance,

which became effective May 1,

2014, set forth a prior authorization

process aimed at limiting instances

in which a Part D plan inappropriately

covered prescription medications

related to a hospice beneficiary's

terminal condition.

When a beneficiary elects hospice

under Medicare, the hospice is

required to pay for drugs associated

with terminal illness or related conditions.

Part D processes the medications

for conditions unrelated to

the terminal illness. This framework

means that medications that should

be covered by the Medicare hospice

benefit are sometimes incorrectly

paid for by Part D plans. Under the

prior Guidance, whenever a beneficiary

or family caregiver attempted

to fill a prescription at a pharmacy,

the pharmacy was required contact

the prescriber to determine whether

the medication was related to the

terminal illness. If it was not or if the

determination of relatedness was

unclear, the pharmacy could not fill

the prescription. Instead, the pharmacy

had to notify the beneficiary

of his or her appeal rights – thus

placing the burden on the beneficiary

to request a formal coverage

determination from their Part D

plan to access their prescribed

medication.

In effect, the Guidance placed

terminally ill patients at the center

of disagreements between hospice

providers and Part D plans, leaving

them to navigate payer disputes on

their own – a battle for which they

had neither the time nor strength.

Recognizing this problem,

KAHPC joined forces with hospice

providers across the nation and

went to Washington, D.C. to rally

for change. Specifically, KAHPC

met with the Kentucky Congressional

delegation and informed

them about the hugely detrimental

impact the Guidance was having on

hospice patients and their families.

The united front was successful.

On July 18, 2014, CMS issued a

new memorandum, which now limits

prior authorization by hospices

to four classes of drugs: analgesics,

antinauseants, laxatives, and antianxiety

medications. According to

the HHS Inspector General, these

CMS Continued on Page 31
---
1 8 SEPT/OCT 2 0 1 4

Senior Services

DIRECTORY

About the Directory

Living Well 50+ is striving to make your search for local

senior services a bit easier. We know there are many

companies available to assist seniors in central Kentucky

– so many that beginning a search to fit your need can

seem like a daunting task.

That's why our directory features a collection of local

companies and organizations who have a solid track

record of providing exceptional assistance. We hope it

becomes a useful starting point in your search for quality

senior services.

Category Key

County Offices & Meal Programs

Health Care Systems & Hospitals

Transportation, Personal Shopping, Errands

Does your

business

provide

excellent

senior

services?

call us for a spot

in the directory

859.225.4466

Senior Day Centers, Adult Day Centers &

Respite Care

In Home Care (Non-Medical)

In Home Medical Care

Mental Health, Family & Caregiver Support, Advice

Disability & Rehabilitation

Medical Equipment, Supplies & Monitoring Systems

Finances & Estate Planning, Trusts/Wills,

Reverse Mortgage

Funeral Arrangement & Pre-Planning

Legal Services

Home Repair & Maintenance

Skilled Nursing Facilities, Personal Care Homes,

Long-Term Care

Senior Independent Living & Retirement Housing

(Non-Medical)

Real Estate / Rent- Subsidized Housing For Independent

Living

Moving, Estate Sales, Downsizing Services

Fitness, Healthy Eating & Healthy Living

Healthcare, Medicare Help and Insurance

Vision Care
---
SEPT/OCT 2 0 1 4

1 9

HEALTH CARE SYSTEMS

& HOSPITALS

Lexington Clinic

1221 S. Broadway

Lexington, KY 40504

859-258-4000

IN HOME CARE

(NON-MEDICAL)

Accessible Home

Health Care

366 Waller Ave. Ste. 112

Lexington, KY 40504

859-313-5167

www.accessiblebluegrass.com

Assisting Hands

1795 Alysheba Way, Ste. 7105

Lexington, KY 40509

859-264-0646

www.assistinghands.com/lexington

Senior Helpers of the

Bluegrass

3070 Harrodsburg Rd. Ste. 240

Lexington, KY 40503

859-296-2525

www.seniorhelpers.com

IN HOME

MEDICAL CARE

Medi-Calls

1055 Wellington Way #215

Lexington, KY 40513

859-422-4369

Saint Joseph Home Health

2464 Fortune Dr. Ste. 110

Lexington, KY 40509

859-277-5111

www.saintjosephanchomecare.com

DISABILITY &

REHABILITATION

YMCA of Central Kentucky

239 E. High St.

Lexington, KY 40502

859-254-9622

ymcaofcentralky.org

Drayer Physical Therapy

Institute: Winchester Center

160 Pedro Way

859-745-2152

www.drayerpt.com

Drayer Physical Therapy

Institute: Richmond Center

1054 Center Drive, Ste. 1

859-625-0600

www.drayerpt.com

Drayer Physical Therapy

Institute: Lexington Perimeter

Center

600 Perimeter Drive, Ste. 175

859-268-1201

www.drayerpt.com

Drayer Physical Therapy

Institute: Lexington Beaumont

Center

1010 Monarch Street, Ste. 150

859-219-0211

www.drayerpt.com

MEDICAL EQUIPMENT,

SUPPLIES &

MONITORING SYSTEMS

Central Baptist Lifeline

859-260-6217

www.centralbap.com

FINANCES & ESTATE

PLANNING, TRUSTS/

WILLS, REVERSE

MORTGAGE

Attorney Walter C. Cox, Jr

& Assoc. LLC

2333 Alexandria Dr.

859-514-6033

www.waltercoxlaw.com

info@waltercoxlaw.com

LEGAL SERVICES

Bluegrass Elder Law

120 North Mill Street, Ste 300

859-281-0048

www.bgelderlaw.com

HOME REPAIR &

MAINTENANCE

Mountain Waterfalls

Award-Winning Water Features

859-684-0642

www.mountainwaterfalls.net

SENIOR INDEPENDENT

LIVING & RETIREMENT

HOUSING (NON-MEDICAL)

Mayfair Village

3310 Tates Creek Rd.

Lexington, KY 40502

859-266-2129

www.mayfairseniors.com

Windsor Gardens of

Georgetown Assisted Living

100 Windsor Path

Georgetown, KY 40324

502-570-0540

marsha@goodworksunlimited.com

Rose Mary C. Brooks Place

200 Rose Mary Dr.

Winchester, KY 40391

859-745-4904

www.brooksplace.org

The Lafayette

690 Mason Headley Rd.

859-278-9080

www.lafayettelexington.com

Ashland Terrace

475 S. Ashland Ave.

Lexington, KY 40502

859-266-2581

www.ashlandterrace.org

Hometown Manor Assisted

Living Community

Georgetown, Lawrenceburg,

Shelbyville

859-229-5914

www.hometownmanor.com

St Andrews Retirement

Community

300 Stocker Dr.

859-625-1400

www.standrewsplace.org

Hometown Manor Assisted

Living Communities

2141 Executive Drive, Lexington

(859) 317-8439

www.hometownmanor.com

MORE

LISTINGS ON

NEXT PAGE

Bluegrass

www.bgelderlaw.com

ElderlawPLLC

Take control of your future

Carolyn L. Kenton

Amy E. Dougherty

120 N. Mill St., Ste. 300

Lexington, KY 40507

Phone: 859.281.0048

Wealth Preservation

Powers of Attorney

Guardianship

Medicaid Planning

Probate
---
2 0 SEPT/OCT 2 0 1 4

THIS IS AN ADVERTISEMENT.

Have you appointed a trusted person

to manage your affairs?

We can help you designate powers of attorney,

healthcare surrogacy, and guardianship.

Do you want to be confident

about your asset transfers

to the next generation?

Let us help you with wills, testamentary trusts,

special needs trusts, and estate settlements.

Have you planned for later life care?

We can help you protect your assets for

Medicaid eligibility, handle your crisis

planning and VA pension planning.

Providing personal legal advice to the Central Kentucky region.

SERVICE DIRECTORY, CONTINUED

REAL ESTATE /

RENT-SUBSIDIZED

HOUSING FOR

INDEPENDENT LIVING

Turf Town Properties, Inc.

124 Kentucky Ave.

Lexington, KY 40502

859-268-4663

www.turftown.com

Briarwood Apartments

1349 Centre Parkway

Lexington, KY 40517

859-272-3421

glickco.com

MOVING, ESTATE SALES,

DOWNSIZING SERVICES

Caring Transitions

1411 Delaware Ave.

859-543-9848

www.CTLex.net

Lexington Life Services

859-797-8157

lexingtonlifeservices.com

FITNESS, HEALTHY

EATING & HEALTHY

LIVING

Yoga Health & Therapy

Center

322 West Second Street

Lexington, KY 40507

859-254-9529

www.yogahealthcenter.org

Well Fed Meals

1301 Winchester Rd. #17

Lexington, KY 40505

859-539-5863

www.wellfedmeals.com

HEALTHCARE,

MEDICARE HELP &

INSURANCE

Bluegrass Insurance

Solutions

859-312-9646

www.PeteAlberti.com

VISION CARE

Medical Vision

3288 Eagle View Ln. Ste. 300

Lexington, KY

859-278-9486

www.medicalvision.com

TRANSPORTATION,

PERSONAL SHOPPING,

ERRANDS

Superior Van & Mobility

4734 Rockford Plaza

Louisville, KY 40216

1-800-458-8267

www.superiorvan.com

Carolyn L. Kenton

Amy E. Dougherty

BLUEGRASS ELDERLAW

120 North Mill Street, Suite 300

Lexington, KY 40507

859.281.0048

www.bgelderlaw.com
---
®

SEPT/OCT 2 0 1 4

NOW ACCEPTING

New Patients!

2 1

The Pros and Cons

of Downsizing

Daunting task can be made

easier with preparation

Beautiful Smiles

OW ACCEPTING

New Patients!

Beautiful Smiles

FULL SERVICE DENTISTRY

EPTING

tients!

Beautiful Smiles

Beautiful Smiles

. . .so close to home.

WHITENING SPECIAL:

Beautiful Smiles Convenient Location

$

199 Limited Time Offer – Call Today!

Convenient Location

Convenient Location

859.263.5755

859.263.5755

121 Prosperous Place Suite 3

Lexington, KY 40509

Lexington,

Patient Satisfaction

KY 40509

Convenient Location

ULL SERVICE DENTISTRY

Visit us on the web at

Visit us on the web at

. . .so close to home.

www.wilkinsdental.com

Hours Kimberly by F. appointment Wilkins DMD, PLLC

859.263.5755

121 Prosperous Place, Suite 3

Patient Satisfaction

Patient Satisfaction

Kimberly F. Wilkins DMD,

PLLC

121 Prosperous Place, Suite 3

www.wilkinsdental.com

Mon - Thurs, 8:00-5:30, Fri 9:30-2:00, Sat. by

by Donald Hoffman

Downsizing is daunting and inevitable,

especially if you have had

a life-altering experience. It may

have taken one of many forms:

Loss of Convenient spouse or serious Location illness

are among the most traumatic

reasons for downsizing. However,

there are several other reasons to

downsize, such as:

1. Your neighborhood has

changed and you no longer

feel safe in your home.

2. You no longer are able to keep

up Patient your home Satisfaction as you once

did.

3. You want a different retirement

lifestyle.

4. You want to move closer to

Kimberly your children F. Wilkins DMD, PLLC

and grandchildren.

859.263.5755

Many older people are able to

121 Prosperous Place, Suite 3

"age in place." Lexington, Staying KY 40509 in one's

home can be a valid and important

decision. If you do decide

to downsize, Visit us only the after web you at have

chosen www.wilkinsdental.com

a lifestyle you would enjoy,

Mon - Thurs, 8:00-5:30, Fri 9:30-2:00, Sat. by

a neighborhood you want to live in

and the type of housing you desire

(single story, senior apartment,

independent living, continuing

care retirement community or assisted

living or senior community)

should you proceed.

There are several ways to downsize.

Three simple ways are:

• Donate your items to a worthy

charity.

• Send your items to auction.

• Give items over time to family

and friends.

All these techniques have both

pros and cons. For example, giving

items away or donating to a worthy

charity makes you feel good. You

are helping family, friends and

others within the community, a

definite plus. But if you donate or

give your belongings away, you

will not receive cash for them.

Your furniture and household

items have value and that investment

can be turned into cash.

Selling your items at auction is

a quick way to rid yourself of extra

personal property. While it is fast

(a pro), there are no guarantees

the items will sell for what you

expect them to (a con). There are

never any guarantees when you

sell at auction. Items bring what

they will bring on any given day.

Auction contracts, terms, conditions

or commissions vary, as will

the cost of moving items to the

showroom. If you do choose this

route, make sure the auctioneer is

properly licensed. Attend an auction

before you hire an auctioneer

or sign a contract.

Many people decide to hold

their own estate or garage sale or

hire a company to do it for them.

Both of these techniques are fine

to pursue, but do so with reservations.

Carefully check out the

company you are hiring. Will they

sell your items on the Internet,

at the house or on consignment?

Check out their references, their

reputation and their knowledge of

the items to be sold. Be sure you

show the consignment shop owner

your items first and check both

terms and commission.

If you decide to hold your own

garage sale, follow these guidelines:

• Never do a sale alone. Ask

friends to help watch customers

and to serve as cashiers. Be

sure they circulate and are visible

to discourage shoplifting.

• Hold the sale outside or in a

garage. Never let anyone in

your house and keep the doors

DOWNSIZE Continued on Page 31
---
2 2 SEPT/OCT 2 0 1 4

Headaches Can

Change As You Age

New research being

conducted on common

health complaint

by Jamie Lober, Staff Writer

Headaches tend to be one of the

most common health complaints

to hit doctors' offices. You may

wonder if headaches get worse as

you age and when you should be

concerned about their intensity

and frequency. Many people are

surprised to learn headaches affect

the entire lifespan.

"Typically, we see headaches are

a problem that starts in the young

teenage years," said Dr. Siddharth

Kapoor, director of the headache

program at University of Kentucky

HealthCare.

If you are struggling with headaches,

you are not alone. "Twelve

percent of the world's population

suffers from migraine-type headache,

the most common type of

headache disorder," said Kapoor.

Some people are at greater risk

than others. "Usually for the most

common types of headaches,

there is a genetic predisposition or

susceptibility," Kapoor said. "There

are occasionally triggers, but nothing

can prevent them entirely for

someone who is susceptible."

Everyone's prognosis is different.

"Some people get tremendous

benefit as they age and the headaches

tend to go away, especially

for women who had a hormonal

influence on their headaches," said

Kapoor. "But for many others, the

headaches tend to persist and occasionally

can change their form."

It is important to communicate

with your doctor about how you

are feeling. "Patients who have a

significant change in their headache

type need to talk to their doctor

about it because it may require

attention," said Kapoor.

The key is to first understand

the type of headache you have.

"I recommend the patient bring

to the doctor's office a detailed

description and good notes about

the headaches," Kapoor said. This

includes:

• the headache's location;

• what brings it on;

• what makes it better or worse;

• how it is affected by sleep or alcohol

or caffeine consumption;

• what medications help it or

make it worse;

• what medications or incidents

in their life may have led to the

start of the headache; and

• if there is anyone else in the

family who has headaches.

The more information you

Are You Injured?

Are You Disabled?

provide, the easier it is for the

doctor to arrive at a good diagnosis

and effective treatment. "We have

a good history of the patient, their

patterns and then an evaluation

and sometimes detailed testing

like MRI of the brain or imaging,

although that is not necessary for

everybody," said Kapoor.

New research into headaches is

constantly underway, Kapoor said,

and treatments are getting creative.

"There is increased emphasis on

electrical or magnetic therapy or

medical devices to help, especially

for those with a lot of co-morbidities

or other conditions like heart

conditions who sometimes cannot

take the medications that are commonly

prescribed," said Kapoor.

"Sometimes we use nerve-block

injections. Botox, which is used

for cosmetic reasons or stroke

victims, can be effective for a small

group that has frequent migraine

headaches. It is an FDA-approved

therapy."

It is possible to gain control over

HEADACHE Continued on Page 31

WE CAN HELP

Auto Accident Injuries

Motorcycle Accidents

Nursing Home Neglect

Social Security Disability

Work Injuries / Comp.

Tractor Trailer Accidents

Wrongful Death Cases

Personal Injury Cases

Long-Term Disability

Immigration
---
Late-Life Success:

Grandma Moses

Folk artist is consummate example

of starting a new career at

advanced age

by Angela S. Hoover,

Staff Writer

Renowned

American folk artist

Grandma Moses is

one of the most noted and oft-cited

examples of someone embarking on

new career at an advanced age. Yet,

unlike other late-life success stories,

Anna Mary Robertson Moses didn't

plan to start a new career.

Born Sept. 7, 1860 in Greenwich,

N.Y., Moses grew up in a rural farm

community with sporadic education.

As a child, she drew pictures

and colored them with berry and

grape juices. At age 12, she left her

SEPT/OCT 2 0 1 4

parent's farm to work as a hired girl

until she married Thomas Moses

in 1887. The two farmed in the

Shenandoah Valley near Staunton,

Va., until 1905, when they moved to

a farm at Eagle Bridge, N.Y., not far

from her birthplace. Thomas died in

1927 and Moses continued farming

until 1936.

Moses tried doing worsted

embroidery but arthritis made it too

difficult, so she switched to painting

at age 76. Initially, she copied illustrated

postcards and Currier and

Ives prints. Later she began recreating

scenes from her childhood. She

gave her early paintings away or sold

them for $2 to $5.

In 1939, Louis Caldor, an

engineer and art collector, was

impressed by several of her paintings

he saw hanging in a drugstore

window in Hoosick Falls, N.Y. He

bought them, then went to her farm

and bought her remaining paintings.

In October of that year, three of the

paintings were exhibited at the Museum

of Modern Art in New York

in a show titled "Contemporary,

Unknown Painters."

Moses' paintings immediately

garnered favorable criticism. Art

historians labeled her painting style

American Primitive, described as

naïve yet acclaimed for its purity of

color, attention to detail and vigor.

Throughout her life, Moses produced

more than 1,600 paintings. In

November 2006, her 1943 painting

"Sugaring Off " sold for $1.2 million.

In October 1940, Moses had a

one-woman show of 35 paintings

under the name Mrs. Moses at Galerie

St. Etienne in New York. The

press dubbed her Grandma Moses

and the nickname stuck. Grandma

Moses exhibitions were so popular

they broke attendance records all

over the world. From 1946, her

2 3

paintings were reproduced in prints

and on Christmas cards, as well as

curtains, dresses, cookie jars and

dinner ware. They were used to sell

cigarettes, cameras, lipstick and

instant coffee.

Moses' paintings were shown

throughout the United States and

Europe in about 150 solo shows and

100 group exhibits. In 1949, President

Harry Truman presented her

with the Women's National Press

Club Trophy Award for outstanding

accomplishment in art. In 1950

the National Press Club cited her

as one of the five most newsworthy

women, and the National Association

of House Dress Manufacturers

named her their 1951 Woman of

the Year. Moore College of Art in

Philadelphia awarded her its first

honorary doctorate degree. Mademoiselle

magazine named Grandma

Moses "Young Woman of the Year"

when she was 88.

A little more than a year and a half

after being featured on the cover of

Life magazine, Robertson died at

the age of 101. A U.S. commemorative

stamp was issued in her honor

in 1969.

FREE

CONSULTATION

Fee Deducted From Settlement

SPENCER

LS

G

LAW GROUP

Hablamos

Español

Kelly P. Spencer & Associates

252-HELP (4357) • 1.800.980.0207

535 Wellington Way / 3rd Floor • www.kellyspencerlaw.com

THIS IS AN ADVERTISEMENT
---
2 4 SEPT/OCT 2 0 1 4

Local Agency Helps Refugees Pursue the 'American Dream'

Kentucky Refugee Ministries provides comprehensive resettlement services

by Tanya J. Tyler,

Editor

Started in Louisville

21 years ago,

Kentucky Refugee

Ministries (KRM)

is a resettlement agency dedicated

to helping refugees become selfsufficient,

contributing members of

the community.

What is a refugee?

"By definition, refugees have

to be out of their home country;

they've been forced to flee for fear

of their lives. They cross a border

and then they apply to get into the

refugee resettlement program," said

KRM resource coordinator Dabney

Parker, who works in the Lexington

affiliate office that opened in 1998.

The refugees may be fleeing from

religious, ethnic or political persecution.

Most stay in the resettlement

process for years and years and

years, Parker said. Some Congolese

have been in camps in Africa for up

to 15 years. Some Bhutanese have

been in camps in Nepal for 22 years.

The holdup is mostly due to red

tape.

"When they cross the border and

find a refugee camp, there are folks

on the ground in those places that

are interviewing, but they have to

first of all prove that they qualify as

a refugee," Parker said. "They have

to prove identification, and they

don't have documents a lot of times.

If you're fleeing, you don't stop and

pack a suitcase. So with the lack of

documentation, just identifying

them takes a very long time."

After going through the screening

process, the refugees come to the

United States, some of them right to

the heart of the Bluegrass.

"Kentucky is very different," Parker

said. "All of our folks are coming

from very warm climates. One

family came from the Congo. They

landed in February at midnight and

there were three inches of snow on

the ground."

Once the refugees arrive in Kentucky,

KRM's goal is to help them

settle into their new life. The agency

provides new arrivals with furnished

apartments.

"After being in Africa or another

location for 10 to 15 years in a tent

or hut, a hardscape apartment –

furnished! – is overwhelming, seen

straight from an airport arrival

after 48 hours of traveling halfway

around the world," Parker said.

Volunteers help set up the apartments,

greet the new arrivals at the

airport and take them to various

social service and medical appointments.

"They come alongside and help

them adjust to this new culture, this

new land they're in," Parker said.

Clients begin to take English as

a Second Language classes and an

eight-week course called World

of Work that helps with résumé

writing, online applications and

interviewing skills. Within a year,

generally, the former refugees are

working and pursuing their own

version of the "American dream."

"There will be some that have a

more difficult time adjusting just

as there would be with any population,"

said Parker. "We stay with

them. If we don't see them, that

means things are fine and they're off

and running and doing what they're

supposed to do: building a new life."

One year KRM helped resettled

282 people, and it is on target to do

the same this year. Parker said the

work is personally very rewarding.

"I think refugees are the most

courageous, resilient population of

people I know," she said. "They have

left everything that's familiar and

they're coming to a whole new place

and having to start all over. I have

the greatest admiration for them.

"What we do here is really what

America is all about," she added.

"We are a nation of immigrants and

these are our newest new American

families."

To learn more about KRM, visit

its Web site at www. kyrm.org or call

(859) 226-5661.

Pictured: WOW Graduation:

Refugees who have attended the

eight-week prep class World of

Work show off their certificates.

World of Work helps them with

résumé writing and interviewing

skills. Photo credit: Kentucky

Refugee Ministries

Yellow/ Wildcat Cab

Now offering

wheelchair accessible vans

Since 1934 Yellow/Wildcat Cab has been growing with the community

As always we are looking forward to serving you
---
y Dr. Tom Miller,

Staff Writer

If you still long

to feel the "thrill

of victory" in an

Olympic challenge, the 2014

Kentucky Senior Games could be

your chance.

From Sept. 2-7 in Frankfort,

seniors will compete in 23 different

events, including basketball,

golf, tennis (singles and doubles),

cross country, cycling and swimming.

Sports you won't find at the

official Olympics but are staples

at these Games include corn hole

and pickle ball. The Games are

open to Kentuckians age 50 years

and older.

The goal of the Kentucky Senior

SEPT/OCT 2 0 1 4

Kentucky Senior

Games Promote

Health and Fitness

for Persons 50+

Games is to maintain or improve

the physical, mental and emotional

health of all senior Kentuckians.

Its purpose is to implement a

year-round program of fitness and

health promotion for Kentuckians

who are Living Well 50 Plus.

"There was a gentleman last year

who was in his 90s," said Al Gordon,

chair of the Kentucky Senior

Games board. "He's participated

in the Games for over 30 years.

He's an exciting young man."

Gordon has competed in the

Games for the past eight years.

His wife started competing five

years ago. She participates in

cross country, but his sport of

choice is golf. He enjoys seeing all

the people who come out to the

Games.

Take on an Olympic

challenge in a variety

of events

"It's been an inspiration for me

to see the seniors involved," he

said.

Seniors from all over Kentucky

participate, as well as people from

bordering states who want to

qualify for the National Senior

Games, to be held in Minneapolis

this year. "Last year we had over

300 participants and this year

we could get over 500 people,"

Gordon said.

The athletes may be amateurs,

but they are dedicated to and

focused on their chosen events.

"One of the biggest sports is

track and field," Gordon said.

"Most participants are still walking

or running and doing those

events. There's a huge horseshoe

group in Frankfort, and last year

2 5

that was one of the bigger events."

While a main focus is the

competition, many of the athletes

come out for the camaraderie.

"It's an exciting time for a lot of

seniors," Gordon said. "One of

the things is the friendships that

they develop from competing

in the Kentucky Senior Games.

They come back every year to see

their friends and to celebrate and

continue to participate."

While many of the sporting

events in the Kentucky Senior

Games are familiar, pickle ball is

something new.

"It's growing really fast in Lexington,"

said Gordon. "It's huge in

Florida."

According to Gordon, pickle

ball uses a badminton court, a low

net, a whiffle ball and a wooden

paddle. Singles or doubles can

play.

The Kentucky Senior Games

encourages older adults to stay active

and fit and revive past fitness

and recreational skills or learn new

ones. Volunteers with expertise in

sports officiating or administration

are needed for the Games.

"That's a big part of being able

to host state games, to have people

who are willing to work the event,"

Gordon said. "We invite younger

people to come and help."

For more information about the

Games or to register, go to www.

kentuckyseniorgames.com.

"Get involved for your personal

health and wellness," Gordon said.

"That's why I do it."

Additional reporting by Tanya

J. Tyler, Living Well 50 Plus

editor

CALL 231-TAXI

and ask for a wheelchair van

D.B.A. Yellow Cab Company of Lexington

799 Enterprise Drive • Lexington, KY 40510 • 859-233-4890
---
2 6 SEPT/OCT 2 0 1 4

For a Hearty Fall Supper, Try an

Old-Fashioned Casserole

Ever-popular comfort foods help make winter bearable

As autumn chills become the

rule, it's time to batten down the

hatches and face the fact that

winter is just around the corner.

We hunker down to our favorite stews

and soups, but in the back of our minds are

those old favorites of our childhoods: the

ever-popular casseroles.

Oh, sure, they're not what we'd ordinarily

consider "company food," but that's just the

beauty of these treasures. They're just for us;

they're comfort foods and they speak to us

of the winter days of our youth.

Make no mistake, though, many

casseroles are good enough to share with

company. In fact, we can create a special

kind of intimacy with friends by sharing our

own special favorites. In our house, we've

had some of the best times with best friends

sharing one of these "one-dish wonders" that

were so popular in the 1950s and early '60s.

When you resurrect the recipes, it actually

makes you wonder why they ever fell out of

favor.

So don't think of a casserole as an

"everyday" dish or something that's brewed

up from leftovers. One-dish preparations are,

in fact, part of a respected culinary tradition.

What would France be without its cassoulet?

Here are a trio of recipes to try.

BAKED PASTA

CASSEROLE

No doubt you've gone to an Italian

restaurant and ordered baked ziti, baked

mostaccioli or some other rich, hearty Italian

specialty from the oven. Served piping hot,

with plenty of cheese, it's a hearty, stick-to-

food

dude

Frank

Kourt

the

your-ribs dish and also surprisingly easy

to make.

• 1/2 cup dry red wine

• 1 lb. Italian sausage, hot or sweet

• 1 lb. mostaccioli or other pasta

cooked al dente (slightly chewy)

• 1 lb. mozzarella cheese, sliced or

shredded

• Grated Parmesan or Romano cheese

• 1.5 quarts thick spaghetti sauce*

In a large frying pan, simmer the

sausage in the wine until done (after the

wine has boiled away and the sausage

browns). Cut the sausage into 2-inch

sections. Cook and drain pasta. Arrange

some of the pasta on the bottom of an

ovenproof casserole, add some sausage

pieces, cover with mozzarella, then sauce.

Layer on more pasta, meat, cheese and

sauce until casserole is full. Finish with

sauce covering the top and sprinkle with

grated cheese. Bake, covered, for one

hour in a 325-degree oven. Serve piping

hot with a good Italian bread and, if

desired, a salad.

*Use you own sauce or try the bottled

variety, which you may want to "jazz

up" by mixing in some sautéed onions,

green peppers and mushrooms and some

additional Italian spices.

CURRIED CHICKEN

CASSEROLE

This is a family favorite with a hint of

the mysterious East to it, thanks to a dash

of curry powder.

• 3 boned, skinless chicken breasts or 6

boned, skinless chicken thighs

• 2 sliced carrots

• 1 onion, chopped

• 1 tsp. salt

• 1 bunch fresh broccoli, cut into spears

• 1 can cream of chicken soup

• 2/3 cup mayonnaise or salad dressing

• 1/3 cup evaporated milk

• 1 cup grated Cheddar

• 1 tsp. lemon juice

• 1 tsp. curry powder

• 1 T melted butter/margarine

• 3/4 cup bread crumbs

Place the meat, carrots, onion and

salt in a pot. Cover with hot water and

simmer until chicken is tender, 35-45

minutes. Cool the chicken and cut

each breast into quarters or cut thighs

in half. Steam the broccoli until almost

tender and arrange it lengthwise in a

casserole, topping with the chicken. Mix

the soup, mayonnaise, evaporated milk,

cheese, lemon juice and curry together

well and use it to top the chicken and

broccoli. Blend the melted butter and

bread crumbs and sprinkle on top of

the casserole. Bake in a pre-heated

350-degree oven, uncovered, for 30-45

minutes until heated through.

TATER TOPPED BEEF

CASSEROLE

This one's so easy to make (it uses

canned and "instant" ingredients) that

you're not going to believe it's fit for

company. It is, though. It makes a hearty,

yet attractively presented all-in-one meal.

• 2 T butter or margarine

• 1 large onion, chopped

• 3 stalks thinly sliced celery

• 2 cans roast beef and gravy

• 1 pkg. frozen peas, thawed

• 1 tsp. Worcestershire

• 2 cups hot mashed potatoes (instant

is okay)

• 1 T dried parsley

Sauté the onion and celery in the

margarine until onion is transparent.

Add roast beef with gravy and peas and

Worcestershire. Mix well and place in

casserole. Mix the parsley in with the

mashed potatoes and drop rounded

tablespoonsful around the edges of the

casserole to make a border. Bake at 325

degrees for about 30 minutes, until the

tops of the potatoes are turning a golden

brown.
---
LET'S COMPARE

A Simple,

Cost Effective

Alternative to

All-On-4*

All-on-4

Fixed Detachable Solution to

Replace Loose Dentures

Minimally Invasive Procedure

Short Healing Time

Lab Components Included

Immediate Final Restoration

# of Implants Used

6-8 Shatkin F.I.R.S.T.

Mini Dental Implants

X

X

X

X

(4-6 Months)

Final Restoration

in 4-6 Months)

4-6 Large Diameter

Implants

Total Patient Costs

$12,500 $35,000–$50,000

Dr. Ballard Morgan, DMD

General Dentistry

859-233-7700 www.ballardmorgandmd.com

1510 Newtown Pike, Ste 201, Lexington (Griffin Gate Plaza)

You'll

love

your

new

smile.
---
M A G A Z I N E

2 8 SEPT/OCT 2 0 1 4

Senior Care:

When Living Alone Is No

Longer an Option

Consider different programs available

by Angela S. Hoover,

Staff Writer

Life expectancy

has increased dramatically,

but so

have the challenges of living with

an aged body and mind. For many

seniors, living alone is no longer

an option, be it due to a physical

condition or a neurological one

such as Alzheimer's disease. When

this time comes for a family member

or even for yourself, there are

plenty of options.

The first thing to consider

doing is contacting the Kentucky

Department of Aging and

Presenting Sponsor

&

Independent Living (DAIL). Staff

and/or the Web site can provide

information about all services or

programs you and your family

qualify for. DAIL can also provide

listings of in-home caregivers,

home-health caregivers, assisted

independent living communities,

senior housing and full-facility

(nursing) homes. DAIL can also

connect you with caregiver respite

and counseling services. Call

1-800-372-2973 or visit http://

chfs.ky.gov/dail/default.htm for

more information.

About 70 million families opt

for family caregiving, where a

relative takes care of the elderly

Thursday, October 2, 2014

Registration: 5:30 pm

Hot Seat Event: 6:00-9:00 pm

Ticket Price: $100 (includes dinner)

Marriott Griffin Gate Ballroom

1800 Newtown Pike Lexington, KY 40511

Join us for our 3rd annual Hot Seat for HOPE

event! It is an honor to have Coach Joe B.

Hall in the "Hot Seat" this year! Proceeds

will benefit Kentucky CancerLink. The

mission of Kentucky CancerLinkis to provide

support to Kentuckians by removing and/

or reducing barriers to screening, diagnosis

and treatment of cancer. Visit our website:

www.kycancerlink.org for more information

and ticket purchase.

Hear former UK players, colleagues and

friends share their best stories and insights

about Coach Hall while supporting a great

cause! Roasters/Toasters will include Coach

Denny Crum, Terry McBrayer, Ben Chandler

and other special guests! We are pleased to

have Jack "Goose" Givens as emcee for the

event!

person in one of their homes. Oftentimes

the caregiver is unable to

work full or part time at an outside

job due to the time and energy demands

of caregiving. There is relief

for those families who are not able

to shoulder this economic burden.

Medicaid offers Cash and Counseling

grants in Kentucky that pay

a small stipend to the caregiver.

Visit www.cashandcounseling.org

or www.cms.hhs.gov/home/medicaid.asp

for more information.

In-home care and home-health

care allow someone to remain in

his or her own residence while

receiving varying degrees of assistance.

Home-health care requires

a physician to deem it medically

necessary; in-home care does

not. Medicaid may cover some or

all in-home care costs. Medicaid

waivers may be received through

DAIL.

Numerous national franchises,

private companies, volunteer and

free programs and individuals offer

in-home and home-health care

locally. In-home care providers

offer personal care services such

as bathing, meal preparation, laundry,

light housekeeping, errand

services, grocery shopping and

companionship. They also provide

live-in services with 24-hour care,

respite care, health monitoring

technology and private-duty nursing

care. Pricing varies according

to the level of service needed with

a median of $18-$19 an hour.

Home-health care is more expensive

because it requires a medical

healthcare professional who can

dispense medications.

The assisted living community

is the bridge between in-home

care and a full-service facility.

These campuses or apartment

complexes offer studios and oneand

two-bedroom private residences

with kitchens or kitchenettes

for independent living with

the safety net of care staff. The

care staff tends to housekeeping,

scheduled transportation, medical

and memory-loss services. Health

professionals are available 24/7 to

all residents. These communities

offer various amenities and entertainment

events. Some offer both

independent assisted living and

full-facility care options. Longterm

care insurance, Medicare,

Medicaid and sometimes Section

8 are available financing options.

On average, expect to pay a little

more than $2,000 a month for

minimal care at independent assisted

living communities.

Paying For Care

Government Programs

Medicare, eligible for those age

65 years and older, can help with

costs but will not cover everything.

It will not pay for most

long-term care; it does not pay for

custodial or personal care, which

accounts for most of the cost of

long-term care. However, Medicare

will pay for some nursing

home, hospice and home-health

care under certain conditions.

Medicaid is available for elderly

or disabled people with low incomes.

It generally covers most

types of long-term care, including

nursing-home care, home-health

care, personal care and hospice

care for those who qualify.

Be sure to check with DAIL

for other qualifying options and

resources.

Insurance

Check with your or your family

member's insurance provider

about accelerated or living benefits

(to cash out a policy at about

50 percent to 75 percent of its face

value). If the issuing insurance

company won't cash in the policy,

it can be sold to a third-party

company in return for a life settlement

or senior settlement for the

same payout rate. The third-party

company receives any benefits

after the insured's death instead of

the original beneficiaries.

The assisted

living community

is the bridge

between in-home

care and a fullservice

facility.
---
SEPT/OCT 2 0 1 4

50 YEARS AGO:

Warren Commission report

delivered to president; King

awarded Nobel Peace Prize

by Tanya J. Tyler,

Editor

After President

John F. Kennedy

was killed on Nov.

22, 1963, his successor, Lyndon B.

Johnson, created a commission to

glean out the facts behind the assassination.

The seven-man commission

was named after its reluctant

chair, Supreme Court Chief

Justice Earl Warren. In its 888-

page report, delivered to Johnson

on Sept. 24, 1964, the commission

concluded Lee Harvey Oswald

had acted alone in the shooting,

but never gave an explanation

for why he did it. The report did

not put to rest the questions and

speculations about the assassination

that continue to this day.

Some say Warren suppressed key

evidence, such as not allowing the

other members of the commission

to view the autopsy photos or to

interview other possible witnesses

to the slaying. Some members of

the commission had doubts about

the report, especially the so-called

"single bullet" theory. Approximately

1,100 records that have

been kept from the public will be

available in 2017.

On Oct. 15, 1964, Rev. Dr.

Martin Luther King Jr. received

the Nobel Peace Prize for his work

in the struggle for civil rights.

Gunnar Jahn, chair of the Nobel

Committee, said in his presentation

speech: "[King] is the first

person in the Western world to

have shown us that a struggle can

be waged without violence. He

is the first to make the message

of brotherly love a reality in the

course of his struggle, and he has

brought this message to all men,

to all nations and races." He called

King "an undaunted champion

of peace." At age 35, King was

the youngest man to receive the

Nobel Peace Prize.

King said he would give the

prize money of $54,123 to the

civil rights movement to ensure it

would continue. His Nobel lecture

was on "The Quest for Peace and

Justice." In his acceptance speech

made on Dec. 10 of that same

year, he said, "I accept this award

on behalf of a civil rights movement

which is moving with determination

and a majestic scorn for

risk and danger to establish a reign

of freedom and a rule of justice."

He said he was mindful of the

2 9

struggles going on at the time

in Philadelphia, Miss. and in

Birmingham, Ala. "I must ask

why this prize is awarded to a

movement which is beleaguered

and committed to unrelenting

struggle, to a movement which has

not won the very peace and brotherhood

which is the essence of the

Nobel Prize," he said. "After contemplation,

I conclude that this

award which I receive on behalf

of that movement is a profound

recognition that nonviolence is

the answer to the crucial political

and moral question of our time

– the need for man to overcome

oppression and violence without

resorting to violence and oppression.

I accept this award today

with an abiding faith in America

and an audacious faith in the future

of mankind. I still believe that

we shall overcome."

On April 4, 1968, King was assassinated

in Memphis, Tenn.

ENCORE! ENCORE!

Wesley Village is Kentucky's First CCRC (Continuing Care

Retirement Community), offering all levels of independent

living, licensed health care and memory care in a wide variety

of attractive home and apartment settings.

The Encore Centre will feature:

• Independent Living Apartments

• Garden Terrace Suites

• Indoor Warm Salt Water Exercise Pool

• Café

• Movie Theatre

• Beauty Salon and Spa

1125 Lexington Road, Wilmore, KY 40390

www.wvillage.org facebook.com/wvinfo

Susan Blankenship, Marketing Dir. 859-858-3865 ext. 227
---
3 0 SEPT/OCT 2 0 1 4

A Prosthetics Primer

Modern technology

improves outlook for people

living with limb loss

by Abby Malik, Staff Writer

According to statistics, nearly

2 million people in the United

States live with limb loss. Using

modern technology, prosthetics

have provided many of these

individuals with new outlooks

on the future after a life-changing

accident or illness. More than 500

people in America lose a limb

each day, according to the national

organization Amputee Coalition

(www.amputee-coalition.org).

This organization works to ensure

amputees don't go through their

journeys alone.

During Limb Loss Awareness

Month this past spring, Shayne

Adkins, clinical director and vice

president of Hi-Tech Artificial

Limbs in Lexington, discussed on

WKYT the fact that 60 percent of

limb loss is preventable.

"With limb loss awareness, you

want to take into account what's

the main source or cause of most

amputations, and that's diabetes,"

Adkins said. "It's important to

realize that there are ways you can

take care of yourself. It becomes

that much more important to take

care of your feet as a diabetic. We

want to make people aware there

are things you should be doing on

a daily basis."

There's no place like

Home!

Personal Care

Respite Care

Light Housekeeping

Errands / Transportation

Medication Reminders

Meal Preparation

Companionship

Companies such as Hi-Tech

Artificial Limbs provide comprehensive

prosthetic technology for

an array of individuals who need

a device for a lower limb, upper

limb or specialized area. While a

doctor's prescription is required

before a prosthetic device can be

created, Hi-Tech can provide an

initial consultation without one.

One question Hi-Tech frequently

receives is, "Will I be able

to do all the things I did before

I lost my limb?" According to

the company's Website (www.

hi-techartlimbs.com), the majority

of people who lose a limb can

get back to normal within several

months. How well an individual

functions depends primarily

on his or her personal goals, a

comfortable prosthetic fitting,

good follow-up care and a positive

attitude from everyone involved in

the person's recovery.

Learning to use a new prosthesis

isn't a simple task. The process

takes patience, strength, time and

perseverance. Patients should

work with a therapist to get the

most out of using a new device. A

therapist can help an individual

learn to do many things, including

taking care of the prosthetic limb,

properly taking it on and off, moving

on different types of surfaces

including stairs, being prepared

for emergencies, performing normal

work, home and car activities

and getting back into recreational

activities.

More than

500 people

in America

lose a limb

each day.

According to the

Amputee Coalition,

250 adults lose a leg

each day because of

diabetes. Seven out of

10 of those amputations

could have been

prevented.

Since diabetes lowers

blood flow and sensation

to a person's feet,

the coalition offers

a guide called "Take

a Seat, Check Your

Feet" for diabetics to

follow in order to maximize

foot health. Here

are some tips from the

guide:

• After a shower or

bath is the best time

to do a foot examination.

Use both hands

to check for sores,

scratches or lumps

on the bottom of the

foot because even the

smallest cracks can

get infected.

• Check for temperature

changes from one

part of the foot to

another. A temperature

change might indicate

low circulation or

infection.

• Look out for sores,

bruises and thin, shiny

or hairless skin on top

of the foot.

• Look between toes

for redness, blisters or

sores.

• Check for ingrown

toenails with puffy and

red skin along the nail

and tenderness or

pain.

ALLIANCE

Medical Home Care

3716 Willow Ridge Rd. Lexington KY

859-296-9525
---
How to Choose a

Mortgage

Reaching out to right

lender is important

by Jamie Lober, Staff Writer

Choosing a mortgage is no

simple task.

"Having a mortgage is an

emotional process," said Lashonda

Moore, mortgage loan officer at

PNC East Main Street in Lexington.

"Reaching out to the right

lender is the key."

Some people find the process

easier than others. "It depends on

what the customer's needs are,

how complex the property [they

want to buy] is and what type of

loan you are doing," said Moore.

SEPT/OCT 2 0 1 4

Prequalification is the best way

to start. "Getting a pre-qualification

is always the first step into

purchasing a home," Moore said.

"It lets you know exactly how

much money you qualified for."

There are several different types

of loans. "You have rural housing

loans, conventional mortgages,

FHA mortgages, VA loans,"

Moore said. "They are personalized

for the customer's needs."

The duration of the mortgageprocuring

process varies with

every scenario and every person.

"The majority of the time it takes

30 days to close a mortgage,"

Moore said. "If you are looking at

government loans and rural housing

loans, it can be up to 60 days

to close. The VA loans can possibly

be around 45 days to close."

If you have the correct information

at hand when you begin, you

can make things go smoothly.

"You want to make sure you are

prepared as far as the documentation

you might need," said Moore.

"You always want have your last

two years of tax returns, your last

two years of W2s, 30 days' worth

of pay stubs and two months of

bank statements." Most people

want to know up front how much

house they can afford to buy.

With this documentation, a credit

report and an examination of

liabilities and debt, a qualified

mortgage banker can determine

that information.

Everyone is their own best

judge of when they are ready to

purchase a home. "As a mortgage

lender, you never want to put

3 1

someone in the position where

they cannot afford to make a

house payment, so you have to

sit down and have a conversation

with them," said Moore. "Knowing

how to save and what to do to

be qualified for a house is important,

and sitting down with a

mortgage banker will help you get

on the right track. Find someone

that you work well with."

A competent mortgage lender

will usually talk about expenses,

including the amount of the down

payment you will need. "A down

payment of 5 percent conventional

usually is the route that most

people will go," said Moore. The

best strategy is to start saving as

soon as possible.

The benefits of homeownership

are enormous. There are no disadvantages.

"You are building equity

in a home, and having a house is

the American dream," said Moore.

CMS continued from Page 17

drugs are nearly always covered under the Medicare hospice benefit.

On behalf of the hospice providers across Kentucky and the patients they

serve, KAHPC would like to sincerely thank the Kentucky Members of

Congress who co-signed the letters to Administrator Tavenner. Because of

your support, hospice patients can now rest a little easier.

DOWNSIZE continued from P. 21

locked during the sale. If it is an estate sale and items you wish to

keep have been removed, then holding the sale in house would be an

exception.

• Price every item. If you do not know prices, ask a professional.

• Keep your cell phone handy in case of trouble.

• Check with the city or your homeowners' association to see if a

license is needed and for signage regulations.

• If you are undecided about selling a particular item, don't. Once an

item is gone, it can never be recovered. So go slow – no quick decisions

here. Decide well before the sale what you will need to keep or

want to sell. Put a tag on keepers. It is easy to forget which items you

decided to keep, give away or sell.

HEADACHE continued from P. 22

your headaches. "The main focus is to reduce the intensity, the strength or

the duration of the headache such that it does not affect the patient," said

Kapoor. "If you do not respond to medications or the headaches come on

suddenly and are associated with changes in vision or you are not feeling

well, you should get a prompt evaluation."

The best thing you can do is take good care of yourself. "Consider a

good, healthy lifestyle [and] dietary factors," said Kapoor. "Exercise generally

does tend to help people."

Kentucky's Leading

Hair Replacement

Facility

• Genetic Hair Loss

• Chemotherapy

• Alopecia

• Cosmetic Hair Replacement

Hair Institute offers several surgical and non-surgical hair

restoration options, including Virtual Reality®, full and partial

prostheses, hand-knotted wigs, and human hair extensions.

- Laser Light Hair Therapy

- Surgical Hair Restoration Options

1795 Alysheba Way Suite 7101

Lexington, Kentucky 40509

- Full Cranial Vacuum Prostheses

- Enhancements and Integrations

HAIR REPLACEMENT • HAIR RESTORATION • HAIR EXTENSIONS

Professional • Confidential • Meticulous

®

www.hairinstitutelexington.com

AMERICAN

HAIR LOSS

COUNCIL

859.263.9811
---
chef

Today I discovered I am a .

At The Willows at Citation, it's never too late to try

something new!

At The Willows, we offer a variety of onsite resident activity programs tailored to our

residents' interests and abilities, ranging from cooking classes to painting workshops

and more. Our residents' beautifully designed private suites are only steps away from

our array of five-star amenities. Our programs and services are designed with one

thing in mind: exceeding the expectations of our guests and their families.

Call or stop by today to schedule a personal tour!

Personal Care • Short-Term Rehab

Long-Term Care • Skilled Nursing

Respite Care

A Trilogy Health

Services Community

859-277-0320

1376 Silver Springs Drive

Lexington, KY 40511

willowsatcitation.com

Meet Jane. Her favorite pastime is gardening.

Her legacy continues at The Willows.

Tending to flowers; singing hymns; enjoying a cup of coffee with friends...

These simple, enjoyable pastimes are sometimes lost when an individual enters an Alzheimer's/

dementia journey. However, in our specialized memory care neighborhood, The Legacy at The

Willows, you will find our residents engaging in these activities and more.

Our homelike setting is designed to reduce anxiety, allowing our residents to feel at

peace. As part of our family support efforts, we offer programs such as Family Forum

and Caregiver's Day Off.

Contact us today for more information.

Assisted Living • Personal Care

Short-Term Rehab • Long-Term Care

Skilled Nursing • Memory Care

Respite Care

A Trilogy Health

Services Community

859-543-0337

2531 Old Rosebud

Lexington, KY 40509

willowsathamburg.com