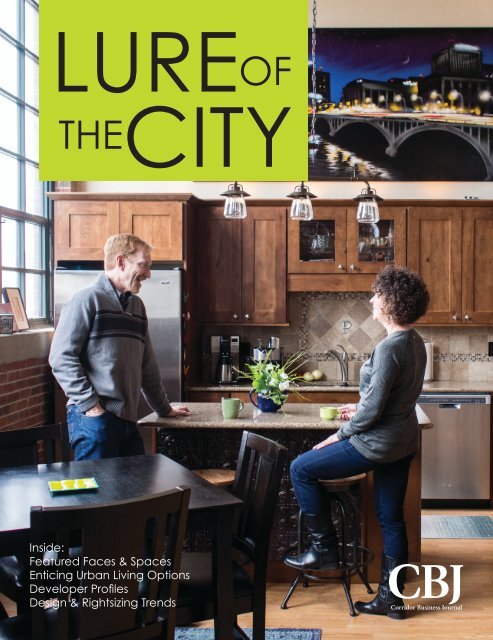 Create successful ePaper yourself
Turn your PDF publications into a flip-book with our unique Google optimized e-Paper software.
LUREOF

THE CITY

Inside:

Featured Faces & Spaces

Enticing Urban Living Options

Developer Profiles

Design & Rightsizing Trends
---
Riverview Plaza

COMING SPRING 2018

(319) 338-4100 425 E. OAKDALE BLVD., SUITE 101, CORALVILLE

WATTSGROUP.COM
---
The Landing II

COMING SPRING 2018

Riverview Plaza

Urban living at its finest, in the heart of

Coralville. This vibrant Old Town neighborhood

has all the lifestyle and community amenities

you want with unique character and charm and

offers commercial/retail space on the first floor.

The Landing II

Luxury condos and penthouses for lease or

sale located above commercial/retail space

in the up-and-coming Iowa River Landing.

Be a part of this walkable urban experience

with convenient transportation options.
---
FROM THE PUBLISHER

Revisiting downtown

It has been a year since we published our inaugural Lure of the City magazine on urban

living in Iowa's Creative Corridor, and it's impressive to see just how much progress our

cities have made since then.

Major developments from the Depot in Cedar Rapids' New Bohemia district to 808 on

Fifth in Coralville are attracting tenants, the long-delayed Chauncey tower in Iowa City is

finally underway, and new concepts proposed in downtown Cedar Rapids promise even

more options in the coming years. Meanwhile, new restaurants, retail shops and cultural

amenities in our core districts are making a truly walkable

existence possible in the Creative Corridor.

This progress is crucial to our future as a competitive,

attractive region, and the main reason behind this publication.

We here at the CBJ have set out to spotlight the best urban

living our region has to offer and celebrate the people who are

working hard to make it happen. At the same time, we hope to

offer a counterpoint to those who say our region does not have

enough to keep young professionals and retiring baby boomers

in our communities.

This year's publication doubles down on many of the most

popular features from last year's edition, including glossy

photo essays featuring local spaces, insightful interviews with

developers and a look at emerging interior design trends, as

curated by the Corridor's leading design talents. We've also added a glimpse into a local

developer's adaptive reuse of the historic Mott Building in Cedar Rapids, and speak with a

national expert on minimalism about "rightsizing" – a goal of many now moving downtown.

We are confident this guide will continue to evolve and grow into an important

resource for those interested in living the city life right here in Eastern Iowa. There are

certainly plenty of developments to cover, and we hope you'll follow us throughout the

year ahead to keep track of them all.

We are also excited to announce the launch of a spin-off magazine, called Lure of the

Country, which will be published this fall. That concept will take the opposite approach of

this magazine, spotlighting the Corridor's more rustic and rural living options for those

who gravitate to open spaces, as opposed to open shops.

Whatever your inclination, we invite you to share your images and perspectives on

life in the Corridor through our social media pages. Find us on Twitter, Facebook and

Instagram, and add your voice to the conversation.

APRIL 2017

Chief Executive Officer

& Publisher

John F. Lohman

Vice President

Aspen N. Lohman

Chief Operating Officer

& Associate Publisher

Andrea Rhoades

Editor & Chief Content Officer

Adam Moore

Writers

Chase Castle

Dave DeWitte

Cindy Hadish

Angela Holmes

Ruth Paarmann

Photographers

Emily Bettridge

Brian Draeger

Ben Kaplan

Shuva Rahim

Graphic Design Manager

Becky Lyons

Graphic Designer

Julia Druckmiller

Media Consultants

Kris Lacina

Kelly Meyer

John F. Lohman

Chief Executive Officer & Publisher

Corridor Business Journal

Event Media Consultant

Rhonda Roskos

Marketing & Distribution Manager

Jean Suckow

Event Marketing Coordinator

Ashley Levitt

LUREOF

THE CITY

ON THE COVER

Two years ago, Cedar Rapidians Tom and Cathy Petersen

made the move from Crescent Street to the NewBo district.

Read their perspective and those of three other diverse

urban residents starting on page 6.

Contents are registered to Corridor Media

Group. Reproductions or other use, in whole

or in part, of the contents of the publication

without permission is strictly prohibited.

2345 Landon Road, Ste. 100

North Liberty, IA 52317

319.665.NEWS

www.corridorbusiness.com

Inside:

Featured Faces & Spaces

Enticing Urban Living Options

Developer Profiles

Design & Rightsizing Trends

4 LUREOF THE CITY
---
CONTENTS

6

Discovering the

Lure of the City

Residents rethink downtown

10

Urban Living

A look at some of

the Corridor's existing

urban living options

14

On the Horizon

Urban projects on the rise

16

In Person

Steve Emerson

18

High Design

Spaces

George Hannah

24

High Design

Spaces

Kathy and David Gimer

29

In Person

Blaine Thomas

and Randy Miller

30

Adaptive Reuse

Mott Lofts save the past

32

Design Trends

Corridor designers share

the look of the city

36

Rightsizing 101

Organizing for the

next chapter of life

LUREOF THE CITY 5
---
Discovering

the lure of the citY

BY RUTH PAARMANN PHOTOS BY BEN KAPLAN
---
Area residents reflect

on life in the heart of the

Corridor's cities

PAGE 6

The Petersens enjoy relaxed loft living

in the Bottleworks Loft Condominiums.

PAGE 7

Since fall of last year, Shannon Beck and her

son Willem have embraced the simplicity and

perks of living near downtown Cedar Rapids.

eady or not, the world is becoming

more urban — and it seems the Corridor

is ready. According to the World

Health Organization's Global Health

Observatory data, the global urban

population is expected to grow approximately

1.84 percent per year from 2015-2020.

Across the Corridor, the residents reflect

diverse populations. Retired people, young

professionals, empty nesters and single parents

all cite various reasons for moving to —

and loving — the urban lifestyle.

Shannon Beck, a single mom and life coach,

moved from the home where she grew up

on Cedar Rapids' northeast side to a unit in

Village Lofts last fall. With an office in the

Cherry Building, her eyes were open to all that

downtown had to offer.

"I always wanted to experience loft-style living.

With a busy life, I love that I don't have to

take care of the lawn or snow," she said. "And

we love being near downtown."

She and her son, Willem, enjoy riding their

scooters around town, and Ms. Beck likes being

close to lunch meeting options and the gym.

"I like the views of the river and the vintage

Quaker Oats sign. And who doesn't love stone

counters and stainless appliances?" she noted

of the amenities in her unit.

Another plus: heated indoor parking. While

she now drives Willem to school every day,

they truly enjoy their commute together.

Historic haven

Across the Cedar River in the Bottleworks Loft

Condominiums, Cathy and Tom Petersen gave

in to their lifelong interest in having a cool,

historic urban space. Having lived near Omaha,

they were intrigued by the warehouse conversions

there. In 2015, as their kids left the nest,

they moved out of their Crescent Street home

in southeast Cedar Rapids and into two condos

they combined into one customized living space.

"We've been downtown people for years,"

said Mr. Petersen, who has worked at various

downtown companies.

"We go out to eat, go to the theater, CSPS,

the farmers' market — we have always come

downtown for everything," said Ms. Petersen,

who owns Wit's End in Marion.

The couple appreciates their home's history.

"It's on the National Register and there was

a bakery on this floor," said Mr. Petersen, who

serves on the condominium's homeowner's

association board.

The couple considered buying an acreage, but

found the scale of maintenance daunting. They

don't miss snow removal or lawn care, plus they

use less gas, as Tom walks to work when he can.

When remodeling the units, they ensured

that their college-aged kids would have awesome

rooms. Plus, they added loft seating and

office areas. >

LUREOF THE CITY 7
---
"It's very fun not to be constrained by size," said

Ms. Petersen of their 16-foot ceilings and ample brick

walls that allow for large works of art.

Other than the occasional trains they say the place

is amazingly quiet. The only thing missing for these

urbanites is a grocery store within walking distance.

Smooth Transition

For Ednamae and Ken Fisher, their apartment in the

Iowa River Landing provides the perfect transition

from their north Coralville home to one they are

building in North Carolina. Mr. Fisher, CFO of University

of Iowa Hospitals and Clinics, retires in July.

"It provides a bridge between our old house and

a new house. It has what we need and it's easy to

maintain," Mr. Fisher said.

The new, move-in ready unit was a big draw. Mr.

Fisher is also closer to work, and Mrs. Fisher has easy

access to shopping at Von Maur and other boutiques.

"The restaurants here are great. We like to people

watch, especially when we can sit outdoors," Mrs.

Fisher said. "It's a friendly, social environment here."

They also enjoy the trails, although Mrs. Fisher often

walks with friends in their former neighborhood.

One of the difficulties was choosing furnishings to

fit. This meant that Mrs. Fisher's grand piano went

to a friend's house until their big move.

Another change was to their grocery shopping.

"We shop every day now, and that way, we don't

have to bring big bags of groceries back upstairs,"

Mrs. Fisher said.

"We market shop, like in Europe or on the East

River in New York City," Mr. Fisher added.

ABOVE: The Petersens love having large walls in

their loft condo for hanging vivid artwork.

Carefree Retiree

For Suzanne Lagina, downtown Iowa City has been

the perfect place to retire. She now lives close to

siblings in Cedar Rapids, and her Plaza Towers condo

is in proximity to almost everything she needs.

"I wanted to be able to walk to as many places as

possible," she said.

When moving from Chapel Hill, Ms. Lagina considered

Cedar Rapids and Iowa City, but the density

of activities in Iowa City eventually won out.

"I volunteer at the hospitals, both of which are walkable

from downtown. I like the whole atmosphere and

having the market, gym, swimming pool, library and

Senior Center all so close. It is the perfect location."

One of the challenges was downsizing.

"It's something you need a reason to do, but it's

all good. It helps you see what you truly like and

need," she said.

Ms. Lagina loves her views of the city, the Ped

Mall and spectacular sunsets. And she can always

find something to do, from FilmScene to the city's

annual jazz and arts festivals.

"It's a constant feeling of excitement and being

alive," she said. "I didn't know a soul when I moved

here. Being able to have all of these places to go and

develop new friendships and groups, like the tennis

team and dancing team, the people at church and the

volunteer activities — they helped me develop lots of

new friends with similar and different backgrounds." |

8 LUREOF THE CITY
---
Just like you,

we chose the Corridor as our home.

www.millhisersmith.com 319-365-8611

3100 Oakland Rd N.E. Cedar Rapids

www.ufgins.com 800-332-7977

118 Second Ave. SE Cedar Rapids
---
URBAN LIVING

IN THE CORRIDOR

Iowa's Creative Corridor offers a variety of enticing urban living

options, from apartments in unique historic structures to beautiful new

construction in up-and-coming neighborhoods. Here's a sampling.

The Landing

201 Ninth Ave., Coralville

1 & 2 bedroom luxury apartments

591-1,191 square feet

$955-$1,695/month

(319) 351-3931

www.wattsgroup.com

Set in the heart of Coralville's Iowa River

Landing, this four-story structure was

completed in June 2016, and features 64

one- and two-bedroom luxury apartments.

Each unit is on a single level and

features a variety of high-end finishes,

including stainless steel appliances,

upscale cabinetry and stone countertops.

The bathrooms are tiled and include

imported fixtures, while the attached

patios/balconies allow residents to take in

all the action around them. The building also includes garage

parking on the first floor and elevator access to each level.

In addition to its proximity to cafés, restaurants and boutique

shopping – soon to include a Trader Joe's – the location is also

conveniently located next to Coralville's Transit Intermodal

Facility, which connects local and regional bus routes.

The Depot

460 12th Ave. SE, Cedar Rapids

1 & 2 bedroom apartments and condominiums

575-1,175 square feet

$895-$1,495/month

www.thedepot-cr.com

Residential living options in Cedar Rapids'

trendy NewBo district are expanding to include

more live/work options, including luxury condos

above the shops and offices in The Depot.

The first building in the $18 million

development was completed last year with 13

rental units on the third floor, and the second

building will be completed later this fall with 26

rental units. Designed by Fusion Architects, the

buildings have open-concept floor plans with

luxury details including 10-foot ceilings, quartz

kitchen countertops and tile bathroom floors.

Renters have a choice of one-bedroom

units starting at 575 square feet; two-bedroom,

two-bath units starting at 875 square feet; and three-bed, two-bath units topping out at 1,175 square feet.

Most of the units have private balconies, and all come with on-site parking, front load washer/dryer units

and luxury vinyl tile flooring.

All 13 of the rental condos in the first building have already been leased, with demand driven by nearby

cultural and lifestyle amenities such as the NewBo City Market, CSPS and The Vault coworking space.
---
The Metropolitan

450 First St. SW, Cedar Rapids

1 & 2 bedroom apartments and condominiums

643-2,600 square feet

$995-$1,750/month; condos start at $300,000

www.themetropolitancr.com

Located across the street from the McGrath Amphitheater

and overlooking the Cedar River, the Metropolitan

offers a luxury lifestyle for owners and renters alike.

Featuring owner-occupied penthouses on its top

three floors, market-rate lofts below and Class A commercial

space on its ground-floor, this new building from

Hobart Historic Restoration aims to set a new standard

for urban living in the Corridor. Each unit has been built

around an open-floor plan and includes private balconies;

on-site parking is included. Other amenities include

granite countertops, full appliance packages, glass and

tile showers, private floor access, a fitness center and

smart energy and tech features.

"It's unique, it's luxurious, and the views from every unit are unbelievable," said developer B.J.

Hobart. "To my knowledge, there's no other residential building downtown with these river views."

Vizzi Media/Iowa Realty

Plaza Towers

201 S. Linn St., Iowa City

Studio through 3 bedroom units

550-4,300 square feet

$1,750-$4,200/month

www.moengroup.com/plaza.html

Plaza Towers was one of the first developments in Iowa City to

combine a robust mix of commercial tenants with upscale residential

units, all in the center of Iowa City's Pedestrian Mall.

The building's first six levels include a luxury hotel, conference

center and banquet facility, restaurant, market and deli, center

for holistic healing and massage therapy, a 6,000-square-foot roof

terrace and a 24-hour health club. The Residences at Plaza Towers

on the floors above serve up light-filled spaces, all with commanding

views and generous private balconies. Tenants enter through a

staffed lobby, with secure underground parking and resident-only

elevator access also available.

There are a few rental units in the building, but the vast majority

are owner-occupied condos, said developer Marc Moen, of Moen

Group. A 1,040-square-foot one bedroom unit is set to come on

the market around $460,000, while a luxurious three-bedroom unit is

currently listed at $1.36 million.

LUREOF THE CITY 11
---
One University Place

1300 Melrose Ave., University Heights

1-4 bedroom condominiums

981-2,264 square feet

Starting at $315,000

www.oneuniversityplace.com

One University Place stands out for its energy-efficient and sustainable condominiums

next to wooded ravines and rolling green space, and its unmatched proximity

to the University of Iowa campus, UI Hospitals and Clinics and Kinnick Stadium.

The two buildings and grounds designed by Neumann Monson Architects

feature striking surroundings, sophisticated finishes and secure underground parking. Set back from Melrose

Avenue by a wide, tree-lined promenade, the recently completed south building's two upper floors feature

24 condominiums. The building is welcoming its first commercial tenant, Maggie's Farm Wood-Fired Pizza,

which is set to open May 1.

The five-story north building, scheduled to be complete by December, will have 80 condominiums. Its

concierge services, including shuttle service, will benefit both buildings. Sustainability and comfort has also

been a focus for One University Place's design, with solar panels, high-end sound insulation and LED lighting.

Smulekoff's

97 Third Ave. SE, Cedar Rapids

Studio & 1 bedroom apartments

600-950 square feet

$650-$750/month

www.aspectinc.net

The historic Smulekoff's department store building on the banks of the Cedar River is

restored and ready for its next life as the Corridor's first "microaparment" development.

Featuring 16 efficiency and 16 one-bedroom apartments across two floors, the building

has been tailor-made for young professionals looking to live in the middle of the action.

The apartments feature a variety of fully restored historic elements, including exposed

wood timbers, wood floors and exposed brick on the walls, and many of the units offer

stunning bird's-eye views of the adjacent Cedar River. Amenities include in-unit washers

and dryers, available indoor parking, and a coffee shop and wine lounge on the ground

floor, making it ideal for those looking to stay close to home.

"I have a lot of people calling me about this one," said developer Steve Emerson. "You

get some people who want a really big one bedroom, or who want the smaller efficiency

[unit] because it's looking over the river."

Riverview West

629 S. Riverside Drive, Iowa City

1-3 bedroom apartments

686-1,462 square feet

$762-$2,080/month

www.hpmic.com

As redevelopment brings new amenities to Riverside Drive in Iowa City,

the new Riverview West apartments provide a wide range of affordable

living options with a luxury feel.

Riverview West opened in the fall of 2016, one of the first living

options in the area with rooftop solar power. It was developed by

Riverview West LLC, a partnership of Kevin Hanick and Kineret Zabner.

Mr. Hanick believes the location within walking distance of the

University of Iowa campus will appeal to a range of renters. The location also brings plenty of convenience for socializing and

dining, with a new Bruegger's Bagel Bakery across Riverside Drive, and a new Kum & Go Marketplace next door.

Apartments include upscale touches, such as quartz countertops, balconies and stainless steel appliances. Among the shared

amenities are a landscaped courtyard with picnic tables, elevators and trash chutes on each floor for convenient waste disposal.

Mr. Hanick said Riverview West plans to utilize its large lobbies with abundant natural light to offer wellness options. Among

those being considered are yoga classes, table tennis tables and exercise equipment.

12 LUREOF THE CITY
---
Pre-approve

your mortgage

FASTER with FSB.

Lenders you can trust.

Experience you can count on!

When you want an answer fast, you

can get your mortgage pre-approved

at myfsbonline.com/mortgage.

If you'd prefer to talk with someone to help

you through the process, we're here to help

you every step of the way.

With several mortgage loan options to

choose from, we can customize a loan

solution to fit your needs and help make your

home-buying experience the fun and exciting

time it should be!

For the home buying

experience you want, call us.

Subject to credit approval. Must be at least 18 years of age to apply.

Member FDIC | myfsbonline.com | 319-377-4891 |
---
ON THE

HORIZON

There are numerous urban

residential developments in

various stages of progress

across the Corridor. Here's a

glimpse of what's to come.

7

7 S. Linn St., Iowa City

Studio & 1 bedroom units

300-500 square feet

Pricing not yet available

As its name suggests, the building in downtown Iowa City

known as 7 aims to be both simple and stylish. The seven-story

building will be located just west of the Plaza Tower Condos,

built on the site of the former Van Patten House.

In its place will be approximately 24 studio apartments

with 300 square feet of space, and 12 one-bedroom apartments

with 500 square feet of space, in addition to retail/

office space on the first floor.

The development is largely aimed at young professionals

and graduate students looking for affordable housing downtown,

as well as retirees looking to live a simpler life near the University of Iowa campus. The building

is also expected to be LEED certified, and will include design efforts aimed at minimizing street noise.

The location is just two blocks from Iowa City's Pedestrian Mall, and falls within walking distance

of no less than three grocers.

"It's very livable from a walking standpoint, which is one of the unique features that we have with

that location," architect and developer Kevin Monson said.

Ellis Landings

1871 & 1895 Ellis Blvd. NW, Cedar Rapids

1-3 bedroom units

1,000-2,000 square feet

Starting at $250,000

Those looking to be close to Cedar Rapids' core while still

having a little green space might want to consider the

coming Ellis Landings project. Developed by Steve Emerson

and Jim Happel, the four-story building will bring 27

upscale condominiums to the riverfront near Ellis Park, in a

bid to bring residents and businesses back to an area that

was largely depopulated by flood buyouts after 2008.

According to Mr. Happel, the units will be priced in

the $250,000-$380,000 range, with the upper price range

attached to larger, 2,000-square-foot penthouse units that

will include a spiral staircase to a fourth-floor space with

an extra bedroom or study and extra bath. The development

will also include a large atrium and private garages,

and a new restaurant located next door.

Mr. Happel says the river views have already generated

strong interest from prospective buyers. "It's the nicest

part of the river, definitely," he said.

14 LUREOF THE CITY
---
Sabin Townhomes

509 S. Dubuque St., Iowa City

2 & 3 bedroom units

1,135-1,428 square feet

Pricing not yet available

The Sabin Townhomes are among the

latest projects scheduled to come online

south of downtown Iowa City, not far from

other pending developments such as

RISE at Riverfront Crossings and the Hilton

Garden Inn.

The majority of the units will be

two-bedrooms, and all will feature an

upstairs and downstairs component. The

multistory building will also be paired with

a roughly 600-stall parking ramp, which

should be partially obscured by residences

along the facility's street-facing walls.

Ground-level units of the Sabin Townhomes

will begin at roughly 1,100 square

feet. At the high end of the development,

the largest units will total closer to 1,400

square feet.

The development's are scheduled to

be completed in August, with move-ins

beginning this fall.

The Crossings

1201 & 1301 S. Gilbert St., Iowa City

Studios to 2 bedroom units

$600-$1,400/month

When the first apartments at The Crossings are

completed next year, the development on

Gilbert Street in Iowa City will provide one of

the first glimpses into the future of the Riverfront

Crossings District.

Located just north of Highway 6, the complex

will overlook the planned Riverfront Crossings

Park, which the city plans to connect with

surrounding neighborhoods and trails.

Those amenities were major draws for the

developers behind The Crossings, which will

eventually contain eight residential and mixeduse

buildings. Next year, the development

should finish its first building, located at 1301 S.

Gilbert. That will be mixed-use, with first floor

retail or office space, and second and third

floors each containing up 27 studio apartments.

Although ground hasn't yet been broken

for the mixed-use buildings, the de facto

centerpiece of the development has already

arrived: Big Grove Brewery opened its brewery

and taproom at the former Iowa Hawk Shop

Outlet warehouse offering both indoor and

outdoor seating, live music, and a slew of

specialty foods and in-house brews.

The first move-ins at The Crossings are

anticipated for summer 2018.

LUREOF THE CITY 15
---
IN PERSON

Steve Emerson

Business-minded architect taking

on historic renovations and

reviving downtown Cedar Rapids

BY RUTH PAARMANN PHOTO BY SHUVA RAHIM

Steve Emerson stands inside the newly renovated

Smulekoff's building in downtown Cedar Rapids.

rawing and drafting were among

Steve Emerson's favorite activities

as a kid.

The Marion native always wanted to be

an architect, so he pursued that dream at

Iowa State University. After graduating and

receiving his architecture certification, he

also saw the value in expanding his skill

set by completing the University of Iowa's

evening MBA program.

"At ISU, I was so goal-oriented. The other

architecture students were super artistic.

I was detailed and thorough, but not so

strong on the design flair," Mr. Emerson

said. "My strength is the business end – the

practicality side. I do rigid, fast deadlines

well. We hit them and make sure things are

done right."

A shrewd business sense has earned

Mr. Emerson a place as one of the primary

property owners in downtown Cedar

Rapids. His 11-year-old firm, Aspect

architecture:design, employs more than 30

people, with 20 in construction. In addition

to providing architecture services, the company

maintains 30 properties.

Around 1999, Mr. Emerson began

buying one property at a time, performing

much of the demolition and construction

work himself. Family and friends pitched

in, and Mr. Emerson secured tenants.

"It was a fun hobby on the side," he said.

"I found buildings that had been on the

market for a while, and I negotiated super

hard on price. I had the ability to walk away.

If I bought a building under contract, I used

that time to find tenants."

That formula paid dividends, allowing

him to establish cash flow. It also gave him

valuable experience.

"I get a lot of business because of my

construction background. I look at life cycle

costs, durability, efficiency, use of space," he

said. "I think of how the owner can repurpose

the building when they move on."

Restoring Property Health

Many structures Mr. Emerson refurbishes

are vacant, but even occupied buildings

have issues. The Town Centre office

building was such a case, with the previous

owners in bankruptcy. Mr. Emerson

bought it specifically to make it healthy

again, making sure tenants had someone to

communicate with about leases and other

concerns. (He has since sold his stake.)

In a much more demanding project, he

stripped the Paramount office building

down to the concrete and > PAGE 38

16 LUREOF THE CITY
---
O

T

After 87 years of serving thousands of Eastern Iowans we understand one thing very well.

turn houses into

CSB is family owned and community-focused.

If you are buying a new home, refinancing your

existing home, or want to use your home equity

to make some improvements, you should meet our people.

Call our Corridor Residential Real Estate expert

Andrea Kuhn at (319)202-4277, or e-mail

her at andrea.kuhn@centralstate.bank.

She's good people. Just like you.

www.centralstate.bank

Coralville - Iowa City - Cedar Rapids - Walford - Elkader - Marquette - McGregor

LUREOF THE CITY 17
---
HIGH DESIGN SPACES

Cedar Rapids professional

relocates to lively NewBo neighborhood

BY RUTH PAARMANN PHOTOS BY BRIAN DRAEGER
---
When the Row Houses on Second were

announced in the NewBo neighborhood

in southeast Cedar Rapids, George Hanna

was the first to buy. For two years, Dr. Hanna,

a dentist had been seeking a smaller

alternative to his 6,000-square-foot home

in Swisher. The three-bedroom townhome

offered the right size for his lifestyle. >

PAGE 18

Sleek, comfortable and functional, this Cedar Rapids row

home checks all the boxes for George Hanna's goal to

downsize his home while enriching his life.

PAGE 19

TOP: Dr. Hanna sourced Poggenpohl cabinets and unique,

smart appliances for his kitchen. BOTTOM: While most of

the home features a deep gray color scheme, these glass

stairs add a touch of color with bold LED lighting.

LUREOF THE CITY 19
---
"The house was just too big for an empty nester,"

he said. "I was so ready to move."

Dr. Hanna embraced the opportunity to be part

of the growing NewBo area, with its biking trails,

the YMCA and nearby live music jams. He was

intent on choosing a large, bright unit with views

of the park-like area between Second and Third

streets. He also liked the townhome approach.

"At other condos, I'd park below and have to

go up an elevator, and they felt like apartments.

I wanted something that felt more like a home,"

he said. "I also liked the idea that I could do some

design work."

Having lived 15-20 minutes from restaurants

and supermarkets, Dr. Hanna also appreciated the

location's proximity to dining options.

"I always had this vision of walking to restaurants,"

he said. "I love being able to walk to meet

my neighbors and friends for drinks and dinner."

TOP: The home's streamlined design and color scheme is the

perfect backdrop for beautiful artwork. TOP RIGHT: The relaxed

living room features a TV hidden behind an art canvas. Dr.

Hanna can scroll up the artwork using a remote control.

BOTTOM: Included in the smart home system, the mesmerizing

electric fireplace adds color and interest to the space.

Smart & Secure

The ease of maintenance means few worries. To

ensure all is operating properly, no matter where

he is, Dr. Hanna chose a Control4 smart home

system from Reference in Coralville.

"The system controls the sound, TV, window

blinds, security, temperature and lights," he said.

"It even has a setting to track my activities for a

week so that info can be used to make the place

look occupied when I'm gone."

When he leaves or arrives at home, he presses

a button to control the temperature, lighting and

more. He uses an app to control settings while

he's away or in bed. The system also controls >

20 LUREOF THE CITY
---
REASON TO LIVE DOWNTOWN #34: CLOSE TO PARKS, TRAILS,

RESTURANTS, LIBRARY, ENTERTAINMENT... NEED WE GO ON?

Ready to make the move? Our professional real estate

agents are ready to guide you through the process, helping

you make the move to your next home.

411 1st Ave SE Cedar Rapids, IA • www.skogman.com • Licensed Broker in the State of Iowa

opnarchitects.com

LUREOF THE CITY 21
---
TOP: Comfortable furnishings provide a

continuity of style throughout the master

suite. ABOVE: An alcohol-based fireplace

hangs in the corner of the master suite.

RIGHT: The powder room on the mezzanine

pops with a modern stone sink and pedestal.

22 LUREOF THE CITY
---
the electric fireplace in the living room and the lighted

stairs that lead to the mezzanine level kitchen.

The units are built to withstand flooding, which they

did seamlessly in September 2016. Dr. Hanna explained

that the front door is at the 26-foot flood level, and the

footings and garage are extra thick. Even though he had to

relocate for a week, he was thrilled that his home didn't

take on a single drop of water when the Cedar River

reached its second-highest crest in the city's history.

Warmth & Depth

When it comes to style, Dr. Hanna wanted to maintain a

sleek, yet warm space. A backdrop of grays and blacks

receives pops of colorful art and plenty of texture.

Dr. Hanna chose a few key pieces and worked with

Jeff O'Brien of Focal Point Interiors to complete the look.

First, Dr. Hanna chose Poggenpohl black lacquer cabinetry,

which he found in Chicago along with light fixtures.

"Jeff did the interior design for my previous home in

Swisher, so he knew my tastes and knew what furniture

I had," he said.

Mr. O'Brien helped him replace some oversized

furnishings and chose flooring, tile, wallpaper, paint and

fabrics to coordinate with the color scheme.

"This space feels really warm and cozy," Mr. O'Brien

said. "It's partly the depth of the color – the lights and

darks. There's enough warmth to the gray that it doesn't

give you that cold feeling."

The kitchen features everything a cook needs and

more, including a built-in espresso and coffeemaker.

Flip-up cabinets offer dimension and texture over the

polished tile backsplash and quartz countertops. A

cleverly updated lazy Susan makes the most of a corner

cabinet. Dr. Hanna enjoys cooking in the space, taking

advantage of the delivered meals-in-a-box to save time

on shopping.

Sleek Modifications

The one space that Dr. Hanna modified from the original

plan was the master suite. He had the floor plan

changed to allow for a tiled shower. Sliding doors separate

the bath and bedroom. He also found a ventless

hanging fireplace for the corner.

A guest bath and two bedrooms round out the third

level. One bedroom is a dedicated guest suite, while the

other serves several purposes. To make the space multifunctional,

Dr. Hanna ordered an ingenious wall bed system

from Resource Furnishings. It came complete with

modular shelves and a desk that dives effortlessly under

the bed as it descends from the wall. (See page 27.)

"It came in 55 boxes," he said. "It probably took me

200 hours to put it all together."

The flexibility of the room is worth it, as his two sons,

both in their 20s, can have their own rooms when they

visit, while Dr. Hanna has a functional office and workout

room the rest of the time.

He could not be happier with his space or choice of

neighborhood.

"I love this area," he said. |

Purchase Your Home Today!

The Metropolitan is conveniently located

across the street from the McGrath

Amphitheater/downtown and is the home of

luxury owner-occupied condominiums.

www.hobarthistoricrestoration.com

HOME

LIFE

HEALTH

TrueNorth offers real solutions that are designed with

you in mind.

Don't leave your priorities to chance. At TrueNorth, we specialize in

developing plans that help you manage your personal risks to meet your

unique insurance needs.

truenorthcompanies.com

LUREOF THE CITY 23
---
HIGH DESIGN SPACES

Retreat with a View

Iowa couple finds a fresh retreat in Park@201

BY RUTH PAARMANN PHOTOS BY BRIAN DRAEGER

Sometimes, a small space with

incredible views is all you need.

Just ask Kathy and David Gimer.

Their condo in Park@201, in the

beating heart of Iowa City,

brings them more enjoyment

than they ever expected. >

An open concept provides the perfect backdrop

for stylish and comfortable furnishings and rugs.
---
David and Kathy Gimer.
---
PAGE 26

LEFT: Kathy Gimer

ensured that reading

nooks were available

in the unit and on

the balcony. RIGHT:

Windows and natural

light are key features

of every home in

Park@201. BELOW: A

pop of fresh apple

green lights up a

feature wall.

PAGE 27

The Gimers' unit

provides fabulous

sunset views from the

unit and its balcony.

26 LUREOF THE CITY
---
"In 2013, we talked about investing in real estate somewhere

– either down south or out west," said David, who

has a dental practice in Iowa Falls and also serves as an

adjunct instructor at the University of Iowa College of

Dentistry.

"Through conversation with friends and peers, we

found out about a new development in downtown Iowa

City. We met with the developer, Marc Moen, to discuss

Park@201, and it sounded like a good investment opportunity.

It represented a place that we could use rather than

one that was far away."

Dr. Gimer teaches once a week at the dental school, so

their unit serves as a landing pad for work and play. The

couple met during dental school, and their kids now have

families of their own. As lifelong Hawkeye fans, they hold

season tickets to football and basketball games. Dr. Gimer

also attends wrestling matches and baseball games.

"It enables us to come and go freely, depending on my

work schedule and what university events might be taking

place. If we want to do something with friends, we can stay

over and do that," he said.

Fresh Outlook

Their Iowa City home bears a contrast to their home base

in Iowa Falls, which they built in 1995. In Iowa Falls, they

have 2.5 acres and an open, yet woodsy, setting for their

home, which offers 1,800 square feet on the main level. In

Iowa City, they embrace a hotel suite-feel several stories

up, with modern industrial overtones and an entire wall >

CH I HULY

Venetians

FROM THE GEORGE R. STROEMPLE COLLECTION

Twists and

Turns:

The Story of Sokol

June 3 – December 31, 2017

LEAD SPONSOR

APRIL 29 - OCTOBER 1, 2017

PRESENTING SPONSOR

NCSML.org • 319-362-8500

1400 Inspiration Place SW • Cedar Rapids, IA

LUREOF THE CITY 27
---
TOP: The master suite opens

directly to the balcony. ABOVE:

A glass shower enclosure shows

off a beautiful tile shower.

of windows in the living room.

"It's a place we use as a retreat from the week. We love to

come to Iowa City and just relax," Mrs. Gimer said.

To achieve a fresh feel, they painted one wall a shade

of green apple and added wallpaper in the bedroom for

texture and warmth. Mrs. Gimer worked with Luxe Interiors

in Coralville to furnish it with clean-lined chairs, glass tables

and comfy rugs.

The appliances, cabinetry and window treatments were

preselected, but the couple loved the choices. They made

one upgrade – to Corian countertops, which are easy to care

for and look perfect in the unit's modern setting.

In January, the couple started their third year in

Park@201. The couple each cite different favorite aspects of

their retreat.

"I like the vibrancy of the Ped Mall. It wasn't there when

we were in dental school," Mrs. Gimer said. "I've also been

really surprised when we take walks around the campus. I

really enjoy exploring around the Union and river. We find

places we've never seen."

"For me, I really enjoy the view," Dr. Gimer said. "The ability

to look out over downtown and the Ped Mall is relaxing.

We've been watching the construction of the College of Music

and the hotel being built to the east of it. The constant activity

in the downtown area is great. It's upbeat and progressive."

A balcony allows them to spend time outside, usually in

the evening in the fall. Mrs. Gimer also likes to read there

during pleasant spring days.

As part-time residents, they appreciate how easy to is to

come and go. They credit Mr. Moen for being readily available

as a property manager.

"We're landlords at home ourselves, so we appreciate

how helpful he has been with questions and if we need him

to check on things," Dr. Gimer said. "We feel very rewarded.

We think it turned out to be a good decision. And we're

proud to have invested in downtown Iowa City." |

28 LUREOF THE CITY
---
IN PERSON

here's an 'odd couple' dynamic

between developers Blaine Thomas

and Randy Miller that could very

well be the secret ingredient in the success

of their development, 808 on Fifth.

Located in the heart of Coralville, just

north of the busy Coralville Strip and a few

blocks down from the city's Center for the

Performing Arts, 808 on Fifth has grown

steadily since its first building opened in

2015, expanding to two buildings along

leafy Fifth Street, with two more under

construction and a fifth being planned.

There is now a waiting list for the

development's 200-plus apartment units,

and its 40,000 square feet of retail space

has filled up quickly with Mr. Thomas'

friends and associates – each one of them

seemingly drawn by his magnetic presence,

frenetic pace, and vision of creating

a high-end yet welcoming development in

the heart of the city.

"I would like to call this a development

for everybody," Mr. Thomas said over coffee

at Tip Top Cakes, one of the first commercial

tenants at 808. "We talk about price

points on menus before people come in.

We talk about the cost of a haircut. Is it

affordable to the masses?"

The development is now home to a

diverse cast of small businesses, including

a florist, a salon, a gym, a chiropractor and

realty offices. Each one has been recruited

and selected by Mr. Thomas for their

appeal and ability to complement the

growing Fifth Street corridor.

"If the commercial businesses in this

development don't serve the community

and the residents upstairs, they aren't coming,"

he said.

Indeed, Mr. Thomas prides himself on

his hands-on nature, saying that he knows

"every single person who moves in the

building," and proving it in conversations

with tenants, during which he floats effortlessly

between questions about family to

furniture arrangements. He has set a high

bar for 808 on Fifth and expects a lot of its

businesses, but also works to ensure their

success, whether by helping with buildouts

or offering regular – often unvarnished

– feedback.

"We argued about everything in [Tip

Top Cakes] to make it the best it can be," he

recalled. "Stuff like the sign being crooked

or tape on the windows, that just drives me

nuts. And I don't own the business, but I

want it to be the best it can be." > PAGE 38

Blaine Thomas

and Randy Miller

Coralville's dynamic duo brings an urban

mindset to the center of the city

BY ADAM MOORE PHOTO BY SHUVA RAHIM

Blaine Thomas (left) and Randy Miller

stand outside their offices at 808 on Fifth.

LUREOF THE CITY 29
---
ADAPTIVE REUSE

Mott Lofts: Where Past & Present Meet

BY RUTH PAARMANN PHOTOS BY BRIAN DRAEGER

Back in 1902, the Iowa

Wind Mill & Pump Co.

made and housed its

wares in several facilities

on the west bank of

the Cedar River. One

structure remains: the

main brick building, which

was labeled "Mott Inc."

in the 1990s. In 2012, the

building was placed on

the National Register of

Historic Places.

The previous owner, Linn County, used it for storage and

debated using the land for other purposes following the

flood of 2008. But the county decided to sell, and Hobart

Historic Restoration saw the value in the sturdy structure.

"My husband and I always liked the building, especially

the setting on the river. We admired it for years before the

opportunity came along to work on it," said owner and

project manager B.J. Hobart.

The company made plans to convert it to a mixed-use

building, completing its residential apartment units in

2016. According to Casey Dunagan, property manager, all

units were occupied by July.

"Several of our residents work at Rockwell or Transamerica,

and some of them travel a lot," said Mr. Dunagan.

He noted that many of them relocated to Cedar Rapids

from out of state, and most are young professionals in

their 20s and 30s.

The apartments feature similar layouts with wood-look

flooring, stone counters and open floor plans. Most units

offer one bedroom, while four are two-bedroom units.

Residents must agree to respect the brick walls and beams

that add historic character and value to the building, Mr.

Dunagan noted.

The lobby features exposed beams, pulleys and photos

of the building. Residents can use the elevator, but many

opt for the rustic restored staircase.

While the building stands close to a number of downtown

gyms, a workout room was added in the basement for

residents. Hobart also occupied a space for its maintenance

shop to easily access the mowers, snow blowers and other

equipment required to keep the property tidy.

Outside, with its refreshed white lettering, the building

is a prominent landmark on the river's west bank. The

brick structure was cleaned and tuck-pointed to secure the

exterior. New custom double-hung wood windows took the

place of old ones, but screens could not be > PAGE 39

30 LUREOF THE CITY
---
helping your

business make the right

connections

Our belief in providing a great local experience

extends far beyond our Internet, voice and data

services. It's in everything we do!

See the difference local service makes

319-519-6484 | ImOn.net/Business

proudly providing connections at the new

space opening

soon!

We're such an innovative, energetic group, people don't

believe we've been around for 42 years. That is, until

they see the list of the more than 40,000 projects we've

completed! (And

how young

we were

when we

started.)

PAGE 30

A typical one-bedroom unit in Mott Lofts

provides an open concept kitchen and

living area. Brick walls and original ceiling

joists provide historic charm.

PAGE 31

The building's original staircase has been

preserved for the use of tenants.

CIVIL ENGINEERING · LAND DEVELOPMENT PLANNING · LAND SURVEYS · LANDSCAPE ARCHITECTURE · WATER MANAGEMENT

LUREOF THE CITY 31
---
The Look of the City

Keep up with the latest in urban design. Corridor designers

offer their expertise on what's hot for your home.

LIGHTING

Alex Von Ahsen, Phelan's

Lamps to ceiling fixtures are being influenced by

the industrial look. In lamps, it's industrial meets

glam, with natural elements such as marble and

agate mixed with brushed metal or acrylic. Mixed

metals – brushed brass, gold and copper – or

those metals mixed with black are also popular.

TEXTILES Chris Gnade, Design Ranch

Woven vinyl textiles give designers freedom to bring character to any interior, and in unexpected

ways. Available in a range of weaves, they can add color, texture and even coordinate vertical

surfaces with upholstery and floor coverings. Today's textiles are durable and easy to clean and

install. Chilewich wall coverings, shown here, are also environmentally sustainable products.

32 LUREOF THE CITY
---
Thinking about BUYING or

SELLING a HOME? Call me!

Brad Oppedahl, REALTOR ®

Your home, my expertise!

319-360-2181

BradO@Skogman.com

411 1st Avenue SE Cedar Rapids IA 52401 • Licensed to sell in the state of Iowa

STONE

Lori Wiles, Lori Wiles Design

Stone can create a huge architectural

impact in a cost effective way. The

Corridor offers excellent stone resources,

and very light stone has recently become

available in a variety of designs, making

it easier than ever to incorporate in an

interior design. We love to use it to make

a statement in both traditional and

contemporary spaces.

Interiors Gifts Lifestyle

LUREOF THE CITY 33
---
KITCHENS

Devonna Wood, Cabinet Studio Inc.

White and gray painted cabinets still dominate

kitchen trends, while dark blue has become popular

as an accent color for kitchen islands. Textured

white oak and horizontal walnut have also grown

in popularity. Custom hoods in wood, stainless steel

and other metals, and backsplashes in slabs of

stone and large tiles provide dramatic focal points.

FLOORING

Alex Von Ahsen, Phelan's

The preference continues for

wood flooring in neutral gray

stains, wide planks and a range

of clean to distressed surfaces.

The introduction of Luxury

Vinyl Tile (LVT) has brought a

durable, easy-maintenance

product for use in commercial

and residential spaces.

34 LUREOF THE CITY
---
Randy Miller is honored

to have represented the

following area projects

808 on 5th

Mixed-Use Redevelopment in Coralville

Big Grove Brewery

Riverfront Crossings in Iowa City

The Crossings

at Riverfront Crossings

Mixed-Use Redevelopment in Iowa City

Mid-West America

COMMERCIAL REALTY

250 12th avenue suite 100 · coralville, iowa

319.338.8909

www.dwellhomefurnishings.com

Randy Miller, BROKER/OWNER

319-688-3000

www.MWACR.com

This could be your view every day!

Leasing Now!

The Metropolitan is conveniently located across the street from

the McGrath Amphitheater/downtown. The luxury apartments are

spacious and have an open floor plan with private balconies. All

rentals have river views and parking on-site included.

www.hobarthistoricrestoration.com

LUREOF THE CITY 35
---
ORGANIZATION

A national expert in minimalism

offers tips for getting back to basics

Rightsizing for the Next Chapter

BY CINDY HADISH

The business

concept of

rightsizing a

company's

footprint through

a proactive,

strategic plan can

apply to lifestyle

choices as well.

Baby boomers, born between 1946-1964, are heading into retirement at a rate of

about 10,000 per day, with an increasing number of them moving from spacious

homes in the suburbs to more compact homes in the city.

Retirement or not, anyone debating a move could benefit from rightsizing their

material footprint, by cutting through clutter and reorganizing their possessions.

During a recent Professional Women's Network event at the Cedar Rapids

Marriott, Joshua Becker, founder of "Becoming Minimalist," offered some strategies

for living more simply that apply to all stages of life.

Mr. Becker, author of "Clutterfree with Kids" and other best-sellers, is one of the

leading voices of following a minimalist lifestyle with fewer possessions.

"Simplicity brings balance, freedom and joy," he writes on his blog. "When we

begin to live simply and experience these benefits, we begin to ask the next question,

'Where else in my life can I remove distraction and simply focus on the essential?'"

Some tips from Mr. Becker's talk that can help in the rightsizing process:

n Determine what you value and need in your life. Essential needs may

vary greatly depending on that determination. Someone who plans to travel

extensively, for example, would need different possessions compared to a

person who has several pets or wants to stay at home to garden. "Ask yourself,

'what do I want my life to be about?'" Mr. Becker said. "It's about value: what

things do you need in order to do that."

n Start on the easiest, most lived-in areas. Mr. Becker began with his car;

removing everything and saving only those things that were important, such as

a pair of sunglasses and the vehicle manual.

n Move room to room. Begin with the place in your home that already is the

most organized, saving closets, the basement and garage, where clutter tends

to accumulate, for last.

n Focus on your own possessions. "It's always easier to see someone else's

junk," Mr. Becker said. "But you can't start throwing out your spouse's stuff or

your kids' stuff first."

n Stay on top of paper clutter by digitizing documents and photos.

Unsubscribe to junk mail and handle the mail on a daily basis, immediately

recycling what can be tossed and saving other items into a folder to be

reviewed on a weekly basis.

n Match cups, bowls, plates and silverware for better uniformity in stacking

and storing. Donate those items that don't match. If there is one souvenir cup

or mug that is so important you can't live without it, that's perfectly fine. Just

don't keep five of them.

n Get rid of guilt by donating to places that can benefit by reselling

your items, including the Salvation Army and Goodwill, and look for other

organizations that could use the items, as well, such as giving pots and pans and

blankets to a refugee resettlement group and clothing to women's shelters. |

36 LUREOF THE CITY
---
Other tips to

help with a

move from

Caring.com

If it's chipped, broken or

stained, toss it. Charities

don't want nonworking

Christmas lights,

snagged clothes, lidless

plastic Tupperware or

any items they can't sell.

Consider bringing in

the pros. Hire someone

to hold an estate sale

if you have a large

number of items, such as

furniture and dishware,

that you'd like to sell.

Don't be shy about

tossing replaceable

items. Not worth

moving, donating, or

even conferring about:

old spices, junk mail, old

magazines, outdated

medications, unused

toiletries, plastic food

containers, candles,

stuffed toys (most

charities won't accept

them) and the contents

of the junk drawer (just

hang onto change and

spare keys).

If there are several

items of high value,

consider an appraisal.

Go through the entire

house; the appraiser

will only come out once

and is more interested

in relatively large lots.

Auction houses, whose

goal is to sell items at

the best price, are

better options than

antique dealers, whose

goal is to get items for

the lowest price.

If an item is meant to be

a gift or legacy, plan to

give it now, rather than

moving or storing it.

Innovative, space-saving furnishings can be a huge help in right

sizing. Dr. George Hanna found this modular wall bed system

through Resource Furnishings. The bed folds down, tucking the desk

away. Shelving is part of the system, providing a cohesive look.

LUREOF THE CITY 37
---
EMERSON FROM PAGE 16

rebuilt the office space from scratch in order to restore an architectural

gem to the city.

Although historic preservation can be daunting, the state's

housing credits and historic tax credit program help make the

challenges worthwhile.

"I focus on downtown because it is such an important region for

the city," he said. "Plus, if I can take a crappy building and make it

new and fresh again, it improves all of downtown. It has inherent

benefits to the rest of my buildings and to downtown."

Changing With the Times

Other obstacles he has encountered during his career include the

changes in the banking industry and a struggle toward work-life

balance. While he used to work day and night with his job as an

architect and do the demolition on the side, he has become a better

delegator, entrusting employees to keep him in check.

"In the office and construction areas, I empower people extremely

well so they buy into the project," he said. "It saves me time."

Technology has also enabled him to have a more flexible work

schedule, working from home in the mornings and evenings as

needed, or even answering questions while on vacation.

As of February, Mr. Emerson is working on seven projects that

will result in approximately 147 residential units. These vary from

32 efficiency and one-bedroom apartments in the Smulekoff's

building to new and historic townhomes in Kingston Pointe, the

old ESC building, 323 Third St. and other developments.

Mr. Emerson is excited about the way Smulekoff's is evolving

into a mixed-use development. He's also exploring an innovative

solar/green roof combination on this and two other buildings.

While he prefers living near Center Point with his wife and two

children on an acreage with woods and a pond, he appreciates the

urban lifestyle.

"The people who want to live downtown aren't just people who

work here," he said, noting that a cross section of older and younger

couples and professionals live in his buildings. "You can park

your car and you don't need to drive on weekends." |

Inside Tip Top Cakes, one of

808 on Fifth's first commercial

tenants, and a popular

meeting place for Mr. Thomas.

808 FROM PAGE 29

It's that energy and dedication to detail that drew in Randy Miller,

owner of Miller Monument and a longtime real estate investor

and broker. Mr. Miller was introduced to Mr. Thomas by a mutual

friend, and began doing some consulting work on the earliest

stages of 808. Despite Mr. Miller's preference against partnering

on projects and the prospect of an early retirement on the horizon,

the two hit it off and struck a partnership that continues to grow,

just like their development.

Mr. Miller, for his part, compared their partnership to TV's "Odd

Couple." He serves as the opposing force to Mr. Thomas' big dreams

and boundless energy, preferring to work in the background and

crunch numbers while Mr. Thomas does the gladhanding.

"I'm 58 now, and I have a lot of patience," Mr. Miller said of his partner.

"I'm not sure how we would have done back when I was 30."

"Blaine likes to take an idea and run with it, and sometimes you

can't – you have to think about it," he added. "But then again, that's

why the two of us get along so well. I'd be sluggish without him."

Mr. Thomas, 40, affectionately describes his partner as "the"

leash that keeps him from chasing the next thing to flutter in front

of his face, as well as his cheerleader, keeping him grounded in the

realities of large-scale development.

"When I'm talking about the numbers, the performance, the

contractors, the timelines, the interest rates … who do I call? Randy,"

he said. "Instead of [my] going and jumping off the Iowa River

bridge, he pulls me back."

While Mr. Miller originally set a time limit on their partnership,

pledging to retire after five years of work on 808, that now looks

like a casualty of Mr. Thomas' expanding vision. Plans are moving

forward for the fifth building, which will be "loaded with commercial

space," according to Mr. Thomas, and the partners are working

with the city to purchase three properties on 10th Avenue for

future residential development. Mr. Miller also has his own plans

in action, as the developer behind The Crossings development in

Iowa City (see page 15).

If Mr. Thomas has his way, 808 on Fifth will evolve into a central

piece of Coralville's emerging downtown, connecting the Plaza

on Fifth building, the Watts Group's Old Town development and

reshaping 10th Avenue down to the strip.

"I have to continue the mantra of a pedestrian development.

This is downtown," he said. "Is it going to keep going down Fifth

Street? Of course it is. Is it going to go to the north? Of course. It's

just a matter of time." |

38 LUREOF THE CITY
---
Let us make your

space extraordinary!

Commercial and

Residential Interior Design

319.320.6971

www.melanieolson.com

A spacious lobby greets guests and residential and

office tenants. It features historic pulleys and wood

beams original to the Wind Mill & Pump Co. building.

MOTTS LOFTS FROM PAGE 31

used because the original windows had none.

Functional additions include a parking lot and water retention

basin, which is required in order to preserve water quality. In

addition, a short black iron fence was added to deter geese that

would walk up the banks of the Cedar River.

Per Hobart's original plans for the building, commercial leases

are taking off in the lower level and main floor. Synergy Massage

opened a studio in the lower level before the flood of 2016. Several

businesses are on the docket for the rest of the available space

on the main floor. An artisan jeweler plans a workshop there, and

other professional services companies have expressed interest

in the space. A yoga studio will occupy a bright, open space on

the east side of the building, where the original, ornate safe door

remains in place.

The build-out for four businesses began in February, and most of

the businesses are expected to occupy their new spaces this year. |

FOCUSED ON

BUILDING QUALITY

Plaza on Fifth

319.338.1125

1310 Highland Court, Iowa City

LUREOF THE CITY 39