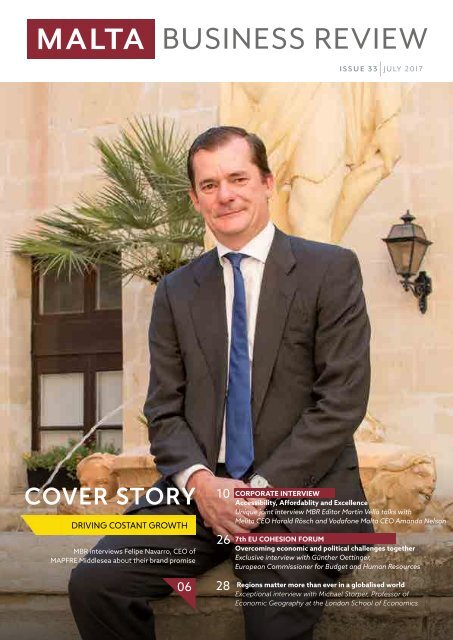 You also want an ePaper? Increase the reach of your titles
YUMPU automatically turns print PDFs into web optimized ePapers that Google loves.
MALTA

BUSINESS REVIEW

ISSUE 33 JULY 2017

COVER STORY

DRIVING COSTANT GROWTH

MBR interviews Felipe Navarro, CEO of

MAPFRE Middlesea about their brand promise

06

10

26

28

CORPORATE INTERVIEW

Accessibility, Affordablity and Excellence

Unique joint interview MBR Editor Martin Vella talks with

Melita CEO Harald Rösch and Vodafone Malta CEO Amanda Nelson

7th EU COHESION FORUM

Overcoming economic and political challenges together

Exclusive interview with Günther Oettinger,

European Commissioner for Budget and Human Resources

Regions matter more than ever in a globalised world

Exceptional interview with Michael Storper, Professor of

Economic Geography at the London School of Economics
---
DRIVING COSTANT GROWTH

MBR interviews Felipe Navarro, CEO of

MAPFRE Middlesea about their brand promise

ISSUE 33 JULY 2017

CORPORATE INTERVIEW

Accessibility, Affordablity and Excellence

Unique joint interview MBR Editor Martin Vella talks with

Melita CEO Harald Rösch and Vodafone Malta CEO Amanda Nelson

7th EU COHESION FORUM

Overcoming economic and political challenges together

Exclusive interview with Günther Oettinger,

European Commissioner for Budget and Human Resources

Regions matter more than ever in a globalised world

Exceptional interview with Michael Storper, Professor of

Economic Geography at the London School of Economics

Malta Business Review

06 COVER STORY

DRIVING CONSTANT GROWTH

Martin Vella speaks to Felipe Navarro, CEO of

MAPFRE Middlesea about their brand promise

10 CORPORATE INTERVIEW OF

THE MONTH

ACCESSIBILITY, AFFORDABLITY AND EXCELLENCE

Unique joint interview MBR Editor Martin Vella talks with

Melita CEO Harald Rösch and Vodafone Malta CEO Amanda

Nelson

SPECIAL FEATURE:

MALTA'S BEST ENTREPRENEUR

OF THE YEAR AWARDS 2017

12 EMBRACING CHALLENGES, RECOGNISING VALUE

Abigail Law, Malta's Best Innovation in Product & Service

Entrepreneur of theYear 2017, shares her thoughts and

insights on Look Amazing Ltd

20 CONTINUOUS LOOP TO INNOVATE

Interview with David Abela, Managing Director at Eurobridge

Shipping Services Ltd, winner of Malta's Best International

Trade Entrepreneur of the Year Award

21 DRIVE FOR INNOVATION

Meet Joseph Bigeni, Manager of Il-Logga Boutique Hotel

06

CONTENTS

July 2017

SPECIAL PULL-AND-KEEP

SUPPLEMENT FEATURE:

7th EU COHESION FORUM

25 MY REGION, MY EUROPE, OUR FUTURE

Address by the Hon Prime Minister of Malta Dr. Joseph Muscat

26 OVERCOMING ECONOMIC AND POLITICAL CHALLENGES

TOGETHER

Exclusive interview with Günther Oettinger, European

Commissioner for Budget and Human Resources

28 REGIONS MATTER MORE THAN EVER IN A GLOBALISED

WORLD

Exceptional interview with Michael Storper, Professor of Economic

Geography at the London School of Economics

30 THE EU'S FUTURE FINANCES

A rare interview with former Italian Prime Minister and EU

Commissioner Mario Monti

32 CALLING FOR STRENGTHENED COHESION, IMPROVED

EMPLOYMENT OPPORTUNITIES AND LIVING CONDITIONS

Martin Vella interviews Corina Cretu, EU Commissioner for Regional

Policy

34 STUDENTS REPORT… ON INTERREG PROJECT IN MALTA

A look at the Interreg Annual Meeting held in Malta

BUSINESS INTERVIEWS

44 SERVICE, DELIVERY, PERFORMANCE

MBR interviews Brian Darmanin, Technical Director at J2 Group

48 STRUCTURE FOR SUCCESS

Claire Camilleri Gauci, Director at Aid Compliance, tells us just

why keeping updated with regulations is essential for effective

compliance

FEATURE STORIES

52 BOOST YOUR STRATEGIC THINKING

Robin Cleland tells us why organisations should more

customer-centric and data-driven in their approach digital

53 INTERNATIONALISATION & MILITARIZATION: CHINA

VS EU, WHO IS RIGHT?

Anatole Baldacchino take a glimpse at the colonial times,

and draws parallels between the EU and China

PUBLISHER

MBR Publications Limited

OFFICES

Highland Apartment - Level 1,

Naxxar Road,

Birkirkara, BKR 9042

+356 2149 7814

EDITOR

Martin Vella

TECHNICAL ADVISOR

Marcelle D'Argy Smith

SALES DIRECTOR

Margaret Brincat

DESIGN

Eleonora Muratore, MBR Design

ADVERTISING

Call: 9940 6743 or 9926 0163/4/6;

Email: margaret@mbrpublications.net

or admin@mbrpublications.net

CONTRIBUTORS

Anatole Baldacchino; Antoine Bonello; George

Carol; Robin Cleland; Jean Paul Demajo; Aude

Rabault; G. A. Carol

SPECIAL THANKS

Demajo Dental; DOI; European Commissioner

for Transport; EU/EP Plenary Session/

Institutions – External Relations; GRTU; ICF

MOSTRA; European Commission, 9 Ways

Cohesion Policy Works For Europe; J2 Group;

LinkedIN; MAPFRE Middlesea; Panorama/EU

Commission

PRINT PRODUCTION

Printit

MALTA BUSINESS REVIEW

COVER STORY

06

10

26

28

EDITORIAL

Malta Business Review

Rising traffic congestion is an inescapable condition in every locality,

town and village in Malta. Although I hate to talk about this subject, I

felt I had to bring it up. It stems from the widespread desires of people

to pursue certain goals that inevitably overload existing roads and

transit systems every day. But everyone hates traffic congestion, and

it keeps getting worse, in spite of half-hearted attempted remedies.

Commuters are often frustrated by policymakers' inability to do

anything about the problem, which poses a significant public policy

challenge. Although governments may never be able to eliminate

road congestion, there are several ways how we can move to curb it.

Traffic congestion is not primarily a problem, but rather the solution

to our basic mobility problem, which is that too many people want

to move at the same times each day. Why? Because efficient operation of both the economy and school

systems requires that people work, go to school, and even run errands during about the same hours so they

can interact with each other. That basic requirement cannot be altered without crippling our economy and

society. The same problem exists in every major metropolitan area in the world. Our basic problem is that

our road system does not have the capacity to handle peak-hour loads without forcing many people to wait

in line for that limited road space. Waiting in line is the definition of congestion, and the same condition is

found in all growing major urban regions.

The second approach would be to build enough road capacity to handle all drivers who want to travel in

peak hours at the same time without delays. But this "cure" is totally impractical and prohibitively expensive.

Government would have to widen all major commuting roads by demolishing buildings, cutting down trees,

and turning most of every locality into a giant concrete slab, and frankly we already have more than enough

of that! There are many occasions when adding more road capacity is a good idea, but we simply cannot

afford to build enough to completely eliminate peak-hour congestion, unless we ask the EU for special

funding for such project.

Although congestion can seem intolerable, the alternatives would be even worse. Peak-hour congestion

is the balancing mechanism that makes it possible for Maltese to pursue other goals they value, including

working or sending their children to school at the same time as their peers, living in low-density settlements,

and having a wide choice of places to live and work. Traffic congestion is compounded by the fact that

the police and local traffic wardens are rather inconspicuous by their absence. As a matter of fact, traffic

wardens' only role in our society is to go around densely populated parking areas and indiscriminately dish

out as many parking contraventions as possible. It seems this is their only duty and obligation. Which is not.

Traffic wardens should be there to patrol, control traffic congestions and solve traffic problems in hot spots,

as well as help residents and not harass them with parking contraventions. Traffic congestion in almost all

areas is here to stay. In fact, it is almost certain to get worse during at least the next few decades, mainly

because of rising populations and wealth. This will be true no matter what public and private policies are

adopted to combat congestion. But this outcome should not be regarded as a mark of social failure or

misguided policies. In fact, traffic congestion often results from economic prosperity and other types of

success.

Although traffic congestion is inevitable, there are ways to slow the rate at which it intensifies. Several tactics

could do that effectively, especially if used in concert, but nothing can eliminate peak-hour traffic congestion

from major arteries. For the time being, the only relief for traffic-plagued commuters is a comfortable, airconditioned

vehicle with a well-equipped stereo system, a hands-free telephone, and a daily commute with

someone they like.

10 10 26 28

QUOTE OF THE MONTH

"The question I ask myself like almost every day is, 'Am

I doing the most important thing I could be doing?'…

Unless I feel like I'm working on the most important

problem that I can help with, then I'm not going to feel

good about how I'm spending my time. And that's what

this company is."

Disclaimer

MARK ZUCKERBERG, CEO, FACEBOOK

All rights reserved. No part of this work covered by copyright may

be reproduced or copied and reproduction in whole or part is strictly

prohibited without written permission of the publisher. All content

material available on this publication is duly protected by Maltese

and International Law. No person, organisation, other publisher or

online web content manager should rely, or on any way act upon

any part of the contents of this publication, whether that information

is sourced from the website, magazine or related product without

first obtaining the publisher's consent. The opinions expressed in the

Malta Business Review are those of the authors or contributors, and

are not necessarily those of the editor or publisher.

Congestion has become part of commuters' daily leisure time, and it promises to stay that way!

This month our team have worked on two unique special features, mainly regarding our highly successful

trade registered gala event- Malta's Best Entrepreneur of the Year Awards, which saw over 600 guests

entertained in a highly charged emotional evening at the Verdala Palace in Buskett, Rabat, where MBR

Publications Ltd collected over Euro 3,000, which was handed to HE The President of Malta. The other

interesting feature is about the 7th Cohesion Forum held recently in Brussels, which I was invited to attend

and had the honour of moderating one of the plenary sessions.

Enjoy the read.

Martin Vella

Editor-in-Chief

30

32

Talk to us:

E-mail: martin@mbrpublications.net

Twitter: @MBRPublications

Facebook: www.facebook.com/MaltaBusinessReview

Malta Business Review's editorial opinions are decided by its Editor, and besides reflecting the Editor's

opinion, are written to represent a fair and impartial representation of facts, events and provide a correct

analysis of local and international news.

Agents for:

4 5

www.maltabusinessreview.net
---
Malta Business Review

COVER STORY OF THE MONTH

COVER STORY OF THE MONTH

Malta Business Review

DRIVING

CONSTANT

GROWTH

"A STRONG BRAND PROMISE IS ONE THAT

CONNECTS YOUR PURPOSE, YOUR POSITIONING,

YOUR STRATEGY, YOUR PEOPLE AND YOUR

CUSTOMER EXPERIENCE. IT ENABLES YOU TO

DELIVER YOUR BRAND IN A WAY THAT CONNECTS

EMOTIONALLY WITH YOUR CUSTOMERS AND

DIFFERENTIATES YOUR BRAND."

Martin Vella speaks to Felipe Navarro, CEO of

MAPFRE Middlesea about their brand promise

MV: Does your brand promise articulate

what your target customers can expect in

their interactions with you? What should

they experience? How should they feel?

And most importantly what do you promise

that is unique?

FN: Our brand promise is to be "your

trustworthy insurance company" and we do

our utmost to fulfill this promise by providing

peace of mind and being deserving of our

clients' trust. Peace of mind and protection

is the essence of what we have to offer (we

consider ourselves 'people who look after

people' ) and this guides us in how we live

our brand. Crafting this promise requires

understanding of our values, interests,

strengths, and our business philosophy.

MV: Can you please elaborate on your

mission, vision and values?

FN: Our Vision is that of being the most

trusted global insurance company. We intend

to continue developing innovative solutions

that safeguard people, with products

designed to protect their property and

savings, and securing their future. Our aim is

to provide close support to clients whenever

and wherever they need us, across all five

continents.

As a multinational team, our mission is to

strive to improve our services and ensure the

best possible relationship with our clients,

distributors, providers, shareholders, and

society in general.

Our Values include solvency, integrity, vocation

for service, innovation for leadership, and

being a committed team. These values shape

our operations and guide us as we work

towards achieving our vision and delivering

on our mission.

MV: How would you explain these values to

the reader?

FN: Solvency is understood to mean financial

strength and sustainable results over time,

rendering us fully capable of meeting all

obligations with stakeholders. All MAPFRE

directors, employees, agents and partners,

are required to conduct themselves ethically

at all times, taking a socially responsible

approach to all activities and long-term

commitments. This is what we mean by

integrity. We constantly strive to excel in all

of our activities. When we refer to vocation

for service, we mean that our performance

is centered on ensuring the best possible

relationship with clients. When we speak

about Innovation for leadership, we identify

differentiation as a key requirement to drive

constant growth and improvement, putting

technology at the service of our business and

objectives.

Our Vision is that of

being the most trusted global

insurance company

MV: What are the advantages of being a

global insurance company?

FN: MAPFRE is a leader on the global

insurance market. We operate in more than

100 countries across five continents, and we

At the heart of our

operations are the more than

37 million clients who place

their trust in us.

are the foremost multinational insurance

group in Latin America and leaders in nonlife

insurance in the region. We are among the

top 10 insurers in Europe, and the undisputed

leader in the non-life insurance in the Spanish

market. We also feature in the top twenty

vehicle insurance providers in the United

States. All this places us in a position to deliver

efficiently and effectively with regard to our

clients' insurance needs anytime, anywhere.

At the heart of our operations are the more

than 37 million clients who place their trust

in us. We insure people, protecting their

goods and managing their savings. We insure

professionals and businesses, supporting

them through challenging times. And we

cover major risks, placing the emphasis on

prevention.

MV: How many people work for MAPFRE

worldwide?

FN: We are 37,000 employees in 5,400

offices offering a comprehensive portfolio of

products worldwide.

MV: What is the main reason clients choose

MAPFRE?

FN: MAPFRE is synonymous with

innovation. We seek solutions that address

new challenges, and we respond efficiently

in the event of major disasters. We provide

our clients with full support by harnessing

the latest technology. We help to drive digital

transformation in the world via products

designed to cater to future risks, even

covering activities that do not yet exist.

Commitment is a keystone of our business

philosophy. It is our duty to establish a

solvent and profitable business, but never at

the expense of sustainable engagement with

the environment around us. The CSR branch

of the organisation, Fundación MAPFRE, not

only helps provide shareholding stability,

it also delivers on our mission of driving

development in the communities within our

footprint, taking action to enhance the quality

of life for around 17 million people in 29

countries. MBR

EDITOR'S

Note

Mr. Felipe Navarro López de Chicheri is

President & Chief Executive Officer at

Mapfre Middlesea Plc, Chairman at Bee

Insurance Management Ltd., Chairman

at Church Wharf Properties Ltd.,

Chairman at Euro Globe Holdings Ltd.,

Chairman at Euromed Risk Solutions

Ltd., Chairman at Middlesea Assist

Ltd. and Chairman at The Maltese-

Spanish Chamber of Commerce. He

is on the Board of Directors at Growth

Investments Ltd. and MSV Life Plc.

Mr. Navarro López de Chicheri was previously employed as

Director & General Manager by Duero Pensiones EGFP SA. He

also served on the board at Aseguradora Valenciana SA de Seguros y

Reaseguros, Bankia Mapfre Vida SA, Bankinter Seguros de Vida SA

de Seguros y Reaseguros, CatalunyaCaixa Vida SA d'Assegurances

i Reassegurances, CCM Vida y Pensiones de Seguros y Reaseguros

SA, Laietana Vida Cia Seguros de la Caja de Ahorros Laietana SA

and Union del Duero Compaia de Seguros de Vida SA. He received

his undergraduate degree from Universidad Complutense de Madrid

and an MBA from Universida de Alcalá de Henares.

6 7

www.maltabusinessreview.net
---
Malta Business Review

CORPORATE INTERVIEW OF THE MONTH

CORPORATE INTERVIEW OF THE MONTH

Malta Business Review

Access,

Affordability,

and Excellence

By Martin Vella

An app will allow customers to be updated

with the expected time of the technician's

arrival and enable a self-install service to

all existing customers wishing to change a

product.

What we save can be reinvested

in better products, services and

experience for customers.

can benefit from aggressive competition in

the future, across mobile, fixed and TV.

MBR: Following the merger, will the type

of solutions offered to business clients'

change?

AN: In the Enterprise segment, where

currently the incumbent (GO) is the strongest

player, there will be a real choice for business

customers of all sizes. We will be able to

deliver products and services currently not

being offered.

Vodafone Enterprise customers will gain

access to a full suite of fixed services (such as

fixed broadband and telephony, international

connectivity and data centre services) with

the convenience of having one account

manager to manage it all.

Business customers will also benefit from very

high speed internet on both mobile and fixed

by 2018, which will allow them to equip their

workforces and, in turn, serve their customers

in a highly agile and digital way. MBR

All rights reserved / Copyright 2017

The recent Melita and Vodafone

merger will benefit customers,

competition and the country –

for reasons more than one. In a

unique joint interview MBR Editor

Martin Vella talks with Melita

CEO Harald Rösch and Vodafone

Malta CEO Amanda Nelson to

find out more about the merger

and its advantages.

MBR: Can you assure a high level of

customer service in the combined entity?

AN: Definitely. A passion for excellent

customer service will be at the core of the

combined entity. Vodafone has a very high

standard of customer service and has access

to state of the art training on customer

experience for all levels of staff and an

accreditation process for all frontline workers.

That training will be fully available to the

combined entity and will be rolled out to

Melita staff.

Vodafone has also implemented a 'SuperCare'

promise, whereby customers are given a

specific deadline by which their issue will be

resolved – if this is not met, the customer

is financially compensated. The combined

entity will extend the 'SuperCare' promise

to its entire portfolio of services, including

Melita's services.

MBR: The number of operators in Malta will

essentially go from three to two. What is the

impact of the merger on competition?

HR: Strong competition is precisely the main

benefit for customers. In the fixed market,

Malta has for a long time had only two

competitors in GO and Melita. Nevertheless,

the prices Maltese customers pay for fixed

internet access are in line or cheaper than what

one would pay in other Western European

countries. This has been guaranteed by strong

infrastructural competition between Melita's

powerful broadband network and GO's fibre

infrastructure.

In the mobile market, economies of scale

really matter. Malta is the smallest state in

the EU and has arguably the highest cost

per mobile subscriber of any EU country.

Operators need to invest significantly more

per inhabitant than the EU average to build

mobile infrastructure.

The merger will enable us to spread our

investment over more customers. What we

save can be reinvested in better products,

services and experience for customers.

Moreover, GO has massive advantages as

the fixed line incumbent in Malta with a

legacy network which neither Vodafone nor

Melita have had. Vodafone and Melita have

each invested significant amounts in their

respective networks, and the merger provides

the best means by which Maltese consumers

Amanda Nelson, Vodafone Malta CEO

MBR: What was the strategic objective

behind the Vodafone Malta and Melita

merger?

HR: There has been a lack of real competition

for Maltese consumers and businesses in the

converged market (i.e. TV, telephone, internet

and mobile services) for too long. Demand for

converged services in Malta is more advanced

than in most other countries in Europe,

yet GO is the only operator able to offer 4G

together with high speed broadband, denying

real choice to consumers.

Allied to that, we want to merge Melita and

Vodafone Malta to enable us to invest in the

next generation of telecoms services – Gigabit

capable broadband and 5G. The choice for

Malta is between having one provider set the

pace at which we get these technologies that

will help our economy and society, or enable

two providers to compete to bring technology

benefits to our country.

The combination of Vodafone and Melita is

a highly complementary one because the

combined entity will be able to draw from

the different sets of strengths of the two

companies. Vodafone is the market leader

in mobile with an award-winning network.

Melita on the other hand is the market leader

in fixed internet and TV, owning the best

broadband network in Malta.

MBR: The transaction is currently going

through the regulatory approval process. If

approved, would that mean that Vodafone

will be leaving the island?

There has been a lack

of real competition for Maltese

consumers and businesses

in the converged market

for too long.

AN: No, Vodafone will not be leaving Malta.

Vodafone will retain the largest possible

minority stake in the combined entity (49%),

and the expertise of its staff will transfer

across to the combined entity.

In fact, Vodafone has appointed its current

CFO as the CFO of the combined entity.

Melita customers can expect to start

benefitting from Vodafone's excellence in

customer service, and the combined entity

expects that GO customers will be tempted

by the combination of Melita and Vodafone's

combined offerings.

The entity's mobile and enterprise business

will operate under the Vodafone brand and

distribute a wide range of services including

Vodafone's global portfolio of products

and services and benefit from access to

Vodafone's extensive expertise in mobile and

fixed operations worldwide.

MBR: Some people talk about merging or

combining cultures, while others seek to

create a new culture that is separate from

those of the legacy companies. What will

your approach be?

HR: We will build a new culture based

on elements that can be found in both

companies. A drive for quality is one such

building block. Vodafone is known for its

excellent customer service and ever since

Melita has changed shareholders in 2016, we

have made significant investments in quality.

And feedback from customers tells us that

we have made great progress. We have the

fastest and only published call waiting times

in Malta. The commitment to delivering a

service whereby calls are answered within

30 seconds will apply to the combined

entity. Melita's Service Guarantees will be

fully adopted, including installation within 48

hours and repair in case of outage in 24 hours.

Harald Rösch, Melita CEO

8

www.maltabusinessreview.net

9
---
SPECIAL FEATURE: MBEOTYA 2017

Malta Business Review

MALTA

BUSINESS REVIEW

The Power

of Purpose

by Martin Vella

We interview Dr. Joanna Delia, Aesthetic

Physician , winner of Malta's Best

Healthcare Entrepreneur of the Year Award

2017. MBR diagnosed the entrepreneur

behind the doctor and how Dr. Delia juggles

her duties on a day-to-day basis…

SPECIAL FEATURE

MBR: What was your 30 second pitch

to describe you during Malta's Best

Entrepreneur of the Year Awards 2017?

JD: I was asked the question: Why is success

the entrepreneur's drug. There are many

interpretations of success and when I thought

about what success means to me, I thought

of 'happiness'... a legacy of happiness - happy

clients, happy colleagues and a happy family!

I am also very passionate about the struggles

faced by career women in Malta and I strive

to be some sort of inspiration for other

women and mothers, to show them that

it can all be done! Lastly I believe success is

when you make your dreams come true,

through hard work, even when you start from

scratch with no financial backing, no family

business backing, working 13 hours a day and

answering emails at 3am while breastfeeding

your baby! If that is success, then it is my drug!

MBR: In healthcare, you have to identify

one particular human need and address

that really well. Do you agree?

JD: I suppose healthcare is a human need

in itself! When you are dealing with the

intricacies of the functions of the human

body, your job is so multi-faceted, it is

impossible to identify any single 'need'! In

my world, we deal with the exterior's ability

to give a person confidence! Patients come

to us with issues that are potentially making

them feel unhappy and putting a dent in their

confidence. They place their trust in us to

treat them as individuals, and find a solution

which is unique and which gives subtle but

amazing results! They have to see that the

world of cosmetic medicine is not the hypertransformations

the media seems to portray

it to be, but a repertoire of medical tools to

address small aesthetic issues! Therefore

there are plenty of human needs that need

addressing in my line of work!

MBR: Why is it important to have the

sense of empathy and belonging towards

strangers you are dealing with and make

them feel comfortable?

JD: It is paramount to have empathy! I always

tell my clients that I am honored every single

time a patient sits in front of me and entrusts

me with her or his face. Our job, essentially,

is to couple the person's perceived, physical

and cosmetic medical needs with her

intrinsic, psychological needs. It takes a lot

of deciphering. We study the effects of aging

on the face, and the effects of other toils

that time has on the face, such as the long

term scars associated with acne, and plan a

solution that will make the client happier and

more confident. When all this is done with

the client's ultimate satisfaction in mind, the

client feels comfortable and our job is done

well!

MBR: How did you decide to participate in

Malta's Best Entrepreneur Awards and what

feedback can you give us about the event?

JD: I was informed that I was nominated and

shortlisted for the awards, and I have to say

I was very surprised, humbled and happy for

the recognition already at that stage. The

event was wonderful in the sublime setting

of the gardens at the Verdala palace and

the vast range of awards meant that it was a

networking opportunity with members of the

business community from all of its corners.

any entrepreneurial moves I

make I make by instinct, driven

by passion and excitement,

wanting to improve

MBR: How does it feel to win Malta's Best

Healthcare Entrepreneur of the Year Award?

JD: I am a professional with no business

training, and any entrepreneurial moves I

make I make by instinct, driven by passion

and excitement, wanting to improve

circumstances for my team, and pledging

to constantly improve facilities and services

for our clients. To be validated through this

award is an extraordinary feeling. It is a sigh of

relief, pointing somehow that your decisions

and struggles and the way you handled some

of your challenges was heading in the right

direction! It motivates you to keep pushing

for excellency!

MBR: What were some key lessons-learned

in getting from the idea to where you are

now?

JD: Wow! It has certainly been an interesting

journey! I believe you never stop learning

and whether I booked a course in Paris to

learn about a new treatment from the best

in the field or life threw a tough challenge my

way, I find it exciting to know that I will gain

knowledge and improve with every step! I

have had to force myself to delegate, and

therefore learn who to trust! I constantly try

to improve my relationship with my team so

that we have a relationship of mutual benefit

and one which fosters a better experience for

our patients! Another good lesson learnt is

that a good, excited attitude is contagious and

universally permeating through every aspect

of the business!

MBR: You are a doctor and hold several

degrees so which kind of medicine are you

most interested in?

JD: After a stint working at St Luke's hospital,

aspiring to be a surgeon, I realised I was far

too empathic to handle the constant flow of

patients troubled by serious medical issues,

pain and the constant realization that life

is an anti climax. I have so much respect for

my friends and colleagues who face suffering

and death on an hour by hour basis! I chose

to specialise in cosmetic medical procedures,

giving the best of my professional abilities

to better people s lives through medical

aesthetic improvements.

MBR: What can you tell us about The Medaesthetic

Clinic you have founded?

JD: It is an enterprise based on happiness

:) The premises was designed to be both a

home away from home for the staff, as well as

a comfortable, inspiring and functional space

for our patients! We have state of the art

rooms dedicated to different treatments, as

well as a spacious reception area and another

area where both our children and client's

children can play, watch cartoons on a wide

screen, and where mothers can breastfeed!

We perform about 7,500 treatments a year

and we pride ourselves with client satisfaction.

Every member of the team is professionally

and regularly trained. We want to be as good

as we can be.

MBR: What do you think are the most

important factors that will make this clinic

a success?

JD: To run my own clinic was something of a

dream up until a few weeks before I actually

took the plunge! The ethos my team and I

work by is to give any visitor an incredible

experience, from our first communication

to after the follow up! And we don't have to

force this... we genuinely care about each

and every person who walks through our

door. Asides from investing in gold standard

equipment and technique training, it gives

us so much satisfaction to realise we have

tools to make people happier. We want them

to feel understood and satisfied above and

beyond their original expectations! And their

feedback and gratitude is priceless! That is

why we say we treat People and not just Skin!

MBR: What words of advice would you

give to other healthcare upcoming/student

entrepreneurs?

JD: Keep your minds open, find a niche that

you love and work that will make you happy,

allow you to be yourselves, and live the life you

want to live. Almost anything can be achieved

by hard work! Nothing comes easy but there

is no better feeling than accomplishing your

dreams and giving others the opportunity to

do the same! MBR

All rights reserved / Copyright 2017

10

www.maltabusinessreview.net

11
---
Malta Business Review

SPECIAL FEATURE: MBEOTYA 2017

SPECIAL FEATURE: MBEOTYA 2017

Malta Business Review

Embracing

Challenges,

Recognizing

Value By George Carol

Abigail Law, Malta's Best

Innovation in Product &

Service Entrepreneur of the

Year 2017, shares her thoughts

and insights regarding Look

Amazing Ltd and her recent

accomplishment, and on

building a growing brand.

market, our approach towards the business is

what sets us apart from competition.

MBR: What is the key to success of Look

Amazing, and what has made your business

model work so well?

AL: The success being achieved by the

company is inherited from properly

investigating our market. One does not simply

decide to distribute a brand without doing the

proper research first… What is new? What

does the market need? What will make us

different? How do we set the standard and

the price? These are all questions we ask

ourselves before investing. Our ranges are not

considered cheap but we educate our clients

to understand that we bring good value

for money to their purchases and educate

ourselves alike to be properly informed on

each and every product. Education is the key!

colleagues and trust earned from suppliers

contributes to having a strong company that

will generate more revenue.

MBR: What has been central to Look

Amazing's strategy or success?

AL: Planning, planning and planning! Business

success does not happen by chance. Different

strategies are used but a business plan has

always been used to make sure that most

things are foreseen and we are as prepared

as possible for the situations that will be

presented. We take time to analyse and

prioritise which business strategy applies the

most for the project that will be undertaken.

Different brands require different approaches

(some would require more marketing while

others would require more education,

amongst other factors) but as long as they are

planned for it increases the chance of success

drastically.

MBR: How important is your career position

and working had till your career growth?

AL: I take my work very seriously and have to

admit that I am quite a workaholic in fact! I

actually cannot sleep if a task is unfinished.

No matter what it takes to get a job done, I

will do it. I try not to let my family suffer so

there have been many occasions where I

resumed working in the evening and worked

the night away, but I am happy to do so if that

is what is required. Having everything in good

order gives me a piece of mind and a good

vibe which is essential for me to continue my

work! MBR All rights reserved / Copyright 2017

Abigail Law at Malta's Best Entrepreneur of the Year Awards 2017

MBR: How does it feel to be recognised

as a female business leader, especially in

an industry that is so stereotypically male

oriented and hard to crack?

AL: As with most industries it is always

difficult for women to juggle between work

and family life however that does not make

it impossible! There are many factors that

contribute towards making it possible and in

my case I have a director (a family woman

herself) who literally kills herself to achieve

so much and whose experience in the field is

second to none! I have a team who contribute

and strive to reach targets constantly – they

are my backbone. And last but not least I

have my husband – he's the one who keeps

me sane when things get crazy, the person

who is always there to help me rationalise

when in tough situations and attends to the

kids when I am absent. So, to be recognised

feels amazing but none of it would be possible

without all the people involved behind the

scenes!

MBR: What was your reaction after winning

Malta's Best Innovation in Product & Service

Entrepreneur of the Year 2017?

AL: I was ecstatic! When I see that the

company is doing better and better, that

already gives me personal satisfaction, but to

actually be recognised for it by winning such

a prestigious award then that is just the best

feeling ever! I would never brag about how

well I am doing so to have others notice your

success is very rewarding. This great award

has actually encouraged me further to set

new goals and targets and I will work even

harder to achieve more.

MBR: To what do your attribute your

success?

AL: One word… "Teamwork". The reason why

the business is successful is because all of us at

the office work so closely together. We share

our opinions and discuss our differences and

the results are evidently beneficial. No one

person can be successful without a team that

is always there to back them up. Of course,

all the preliminary work was done by our

director Gemma Fiorini, who strived so hard

to get only the best brands to the company,

visiting multiple companies and laboratories

before deciding what the market needs and

making sure that we are always one step

ahead in this game!

MBR: How has your career evolved and

which area do you lead today?

AL: I started working with the company to

break from my daily routine after having

two children. At the time I was the director's

personal assistant, helping her with office

tasks that I was very capable of doing after

having my own business. Eventually, I started

working on a daily basis and with our director

being abroad so often since she owns other

companies overseas, I automatically took the

role of General Manager. I basically ensure the

smooth running of the company and attend

to all duties required as per my position.

MBR: What sets you apart from competition

as Malta's Best Innovation in Product &

Service Entrepreneur of the Year?

LA: At some point all companies face

obstacles and challenges that sometimes

feel as if they are impossible to overcome

or achieve. Having an optimistic approach

always gives a solution and a positive result.

In this industry change is a constant and it is

not easy to frequently adapt to new ideas but

our drive to grow and learn is bigger than the

challenges presented and we move forward

by embracing challenges and recognize

the value of failure, as this makes us gain

perspective and grow as individuals. So, apart

from the extraordinary brands we bring to the

This great award has actually

encouraged me further

to set new goals and targets

and I will work even harder

to achieve more

MBR: There is a strong culture within Look

Amazing. How do you make sure you do not

lose that culture?

AL: Ethics! Maintaining ethical standard not

only when doing business deals but also

towards other members of the company

and customers alike. Respect earned from

12

www.maltabusinessreview.net

13
---
Malta Business Review

SPECIAL FEATURE: MBEOTYA 2017 SPECIAL FEATURE: MBEOTYA 2017

Malta Business Review

by Martin Vella

Here at Aspen Limited, Josette

Fenech and her sibling Liliana Borg

enjoy discussing innovative projects

and finalising on design schemes

as much as they love art and

travelling and spend hours updating

themselves with the latest trends in

décor. Recently winning the highly

acclaimed Malta's Best Real Estate

and Property Entrepreneur of the

Year Award, Josette and Liliana are

poised to have a meteoric rise in

business. We spoke with the devoted

sisters about what makes them tick

and about their plans for the future

and dream projects.

Aspen Limited: Josette Fenech and Liliana Borg receiving the award at Malta's Best Entrepreneur of the Year Awards 2017

MBR: Would you tell us about the culture

and background of Josette Fenech and

Liliana Borg?

LB: We are sisters! We are deeply entrenched

in a family business culture where we have

each other's interests at heart; shared, well

considered interests that involve input,

joined up thinking and planning from start

to finish. Our father, Joe Grima, involved us

both directly in the family hotel business and

we worked from the bottom up, experiencing

every aspect of business systems, operations

and culture before taking this vast experience

into our own business. We created Aspen

with an eye firmly on customer service as

we both feel the same way about how the

customer is always omnipotent.

MBR: How would you define your roles and

how do you reconcile different opinions?

JF: As a well-functioning, yet thoroughly

diverse team, Liliana and I, each work on

separate aspects of the business. I am

creative and customer focused as a sales

oriented director, whilst Liliana delivers the

financial and accounting arm of the business.

Both aspects are essential and it is vital that

both are efficient and well ordered in order

to achieve the results we desire. We are both

very flexible in our approach to problem

solving and over the years, we have amassed

a huge amount of experience that allows

us to overcome issues and challenges. As

a fluid team that focuses on delivering our

client's needs, we sometimes have different

opinions on a given subject. At this point,

we both seek advice and do our research

in order to strengthen each side of the

argument. We then work hard, sat around

the table in order to reach a satisfactory

and progressive decision based on mutual

respect, compromise and experience.

We know our business, our area

and our local culture thoroughly

and this is key to the positive

image we hold in the North

MBR: What is it about your work that has

made your job so special?

JB: I (Josette) feel that the most special

part of my working days are those exciting

moments when, together with a client, we

create the client's home. It is not about the

sale but about achieving the client's dreams.

Liliana suggests that she finds the successful

completion of a project in an efficient and

measured manner completely satisfying.

Liliana has a keen eye for detail and the focus

on getting it right, every time, is important

to her. Indeed, working within an exacting

budget for and with the client gives Liliana

a great deal of satisfaction and it is always

a vital part of any negotiation, which also

dictates the creative aspect's scope. We are

keen to express that we both have a shared

enthusiasm for giving the customer exactly

what they want and need.

MBR: When customers walk into Aspen Ltd,

are there certain elements that stand out

and is there a specific niche market?

LB: We like our customer's first impression to

be that of professional calmness. Our offices

are modern and carefully designed to make

the client feel at home, yet they retain their

functionality. If a client is comfortable when

negotiating their requirements, they will

be more likely to express their ideas so that

together, we can create the home that they

really want and we can then facilitate their

dreams. In terms of a niche, we believe that

working in our own town and surrounding

areas gives us the edge over our competitors

in the respect that we know the area and its

culture from a unique perspective. We believe

it is one of the keys to property development

success, to know your area and our ability

to help our clients create that vision of their

dream home is based upon local cultural

knowledge. Indeed, that all important aspect

of almost instant accessibility in terms of

viewing the properties and the developments

as the projects move forward is vital for our

business.

MBR: How much of a focus is developing

business in the areas of planning, building

and finishing a property?

JF: As directors, we lead a team of highly

skilled and highly experienced people and

our collaborative efforts are highly focused

upon each vital stage of planning, building

and finishing a property. We have a tried and

trusted formula that is successful whilst being

open to change, adaptation and nuanced

alteration, as a project requires. We both feel

that in all areas, proper planning is vital to a

smooth and efficient project completion. We

do not always get everything right, but we do

always learn from the experience and create a

positive outcome for the client.

MBR: What does it take to be successful in

the North of the Island?

JF: We feel very strongly about our ethos of

working closely with each client to provide

them with the opportunity to create a

home, rather than merely selling them a

property. We have built a reputation based

on professional customer care, integrity and

client satisfaction. This also extends to our

contractors and suppliers. In addition, we

know our business, our area and our local

culture thoroughly and this is key to the

positive image we hold in the North.

We have a tried and trusted

formula that is successful

whilst being open to change,

adaptation and nuanced

alteration

MBR: Why has Aspen Limited has become

one of the most respected property

developers in the north of the island?

LB: We feel the previous answer covers this

question too but we could also add that our

business is mainly built on the back of word

of mouth; we consistently have positive

referrals.

MBR: What is your feedback following

the success achieved in Malta's Best

Entrepreneur of the Year Awards 2017 and

how did you feel after winning Best Real

Estate & Property Entrepreneur of the Year

Award?

JF: The feedback has been incredible; we have

received more likes and viewing requests via

the website and indeed, various solid queries

that we are currently working on, following

that wonderful evening. It was a wonderful

experience for us both. We have always

worked hard for our business success and

whilst we remain humble and grateful to

our team, we also felt a touch of pride to be

honoured in such highly respected company.

MBR: Are you happy with where your

product is today and are there changes

clients can expect in the future?

JF: We always remain innovative and we do

enjoy researching and creating new concepts

but at the end of the day, we are here to

provide exactly what the client wants and

needs. Thus, our innovation is customer

focused, and driven, and it is often the

customer who brings an idea and we do our

very best to make that dream a reality. MBR

All rights reserved / Copyright 2017

14 15

www.maltabusinessreview.net
---
Malta Business Review

SPECIAL FEATURE: MBEOTYA 2017

Malta Business Review

Setting

Higher Standards

Malta Business Review interviews

Gaetano Borg Bonaci, Director at Elia

Borg Bonaci Ltd, who have guaranteed

the highest quality standards in food

products, confectionery and catering for

over 60 years, and outright winners of

Malta's Best Catering Company of the

Year Award and also Malta's Best Family

Business of the Year 2017.

MBR: Would you tell us about the culture

and background of Elia Borg Bonaci Catering

Ltd?

GBB: We have always been a family business

which has been run very much like an

extended family, because we only employ

workers who cherish and practice those values

and quality traditions which have always been

the hallmark of our family throughout the

three generations. All family members are

hardworking and committed to the company

and this is conducive to a very positive work

ethic throughout the organisation where

mutual respect and cooperation are standard

practice.

MBR: What led you to become involved in

catering?

GBB: My brothers and I took over the bakery

in Villambrosa Street, Hamrun which was

opened by our parents in 1953 and started

offering outside catering. We are very focused

on our business and we have always resisted

diversifying into other sectors because

beyond the business objectives, we always

enjoyed working in what we can do best and

constantly improving our service offering.

This strategy has paid off because despite the

efforts of very valid competitors, our company

has managed to improve its market share.

MBR: How would you define your role

today?

GBB: Last year, my brothers and I gave way

to our sons and daughters to manage the

business and implement their own initiatives

under a defined management structure

and with full reporting and accountability.

Therefore today, I have a 'caretaker' role with

respect to management functions since the

key management decisions are taken by the

young team, which also includes non-family

members. However, I am still very much

involved in sales and customer relations.

since 1953 this iconic coffee

shop has always been a popular

meeting place for people coming

from all walks of life, both

young and old

MBR: What is it about your work that has

made your job so special?

GBB: I derive great pride from the very

flattering reviews we receive from satisfied

customers because I spend a lot of time

assisting young couples planning a troublefree

wedding reception. And thanks to my

sales executives, we are also being inundated

with new orders for corporate functions as

a result of personal recommendations from

existing customers.

MBR: When customers walk into Elia Café,

are there certain elements that stand out

and is there a specific niche market?

GBB: Elia Café is household name and not only

for the Hamrun community. This is because

since 1953 this iconic coffee shop has always

been a popular meeting place for people

coming from all walks of life, both young and

old. This is where you can buy one of the

many Elia confectionery products, prepared

strictly according to the old traditional recipes

and artisan processes. Apart from the many

regulars we welcome a lot of occasional

customers, including many young people,

who appreciate our personalised service and

the mouth-watering confectionery display

and, of course, Elia Ice Cream.

MBR: How much of a focus on catering F&B

to further develop your business are you

presently concentrating?

GBB: Today, outside catering is by far our main

focus. We are still developing confectionery

products for the coffee shop but at the same

time we are boosting the product range for

wedding receptions, corporate functions,

family parties etc. Similarly, we have

extended our range of cakes and gateaux for

all occasions and with customised decoration.

The new savoury dishes for the 2017 menu

have been a great hit and we have now

designed new menus for banquets which are

becoming popular with corporate clients and

foreign wedding couples. We are also setting

higher standards of service by providing

training and career incentives to waiters and

chefs engaged in outside catering. At the

factory we have invested in new technology

for greater efficiency and improved quality

control.

MBR: What does it take to be successful on

an Island of our scale?

GBB: According to our market research, our

brand is as popular in the North as it is in the

South because there is no such divide when

it comes to people's appreciation of reliable

service and high quality products. You should

Gaetano Borg Bonaci, Director at Elia Borg Bonaci Ltd, receiving the award for Malta's Best Entrepreneur of the Year Awards 2017 from Johan Zammit, NetRefer

be creative, but also remember that you are

a business. The art of catering is one of the

most fun and important parts of the business

and this is part of our success.

MBR: Why has Elia Borg Bonaci Catering Ltd

become one of the most respected catering

and wedding establishments?

GBB: Our family business is now in its third

generation and throughout all these years

the company has earned a solid reputation

of caring for the customer at all stages of our

relationship: we spend time understanding

their desires and advising them on practical

issues and then we personally make sure

that we deliver what we promise, always

maintaining our high quality service. Family

members are involved in every stage of our

operations and this is highly appreciated by

both personal and corporate customers.

we only employ workers who

cherish and practice those values

and quality traditions which

have always been the hallmark

of our family throughout the

three generations

MBR: What is your feedback following

the success achieved in Malta's Best

Entrepreneur of the Year Awards 2017 and

how did you feel after winning Malta's Best

Catering Company of the Year Award and

also Malta's Best Family Business of the

Year?

GBB: We received many congratulations

from our clients through social media as well

as business associates and suppliers. The

employees are also very proud of the awards.

MBR: As a key leader in this space, is there

anything you are working on that you are

particularly proud or excited about?

GBB: Yes, we are very proud of the success

of our new venues, Giardini Lambrosa

and Veranda in Rabat. The great variety

of functions held there since the opening

last year, meeting the needs for wedding

receptions, private parties, corporate

functions and other events, is testament to

their versatility and popularity, and we are

very excited about this. MBR

All rights reserved / Copyright 2017

16

www.maltabusinessreview.net

17
---
Malta Business Review

SPECIAL FEATURE: MBEOTYA 2017 SPECIAL FEATURE: MBEOTYA 2017

Malta Business Review

SPECIALISED KNOWLEDGE

AND EXPERTISE

by George Carol

KE: I think it's a great event and very well put

together. There are a wide range of awards

and it gives entrepreneurs the opportunity to

receive recognition for their hard work, and

motivation to continue forging their path to

success.

MBR: What's the feeling after winning

Malta's Best Young Entrepreneur of the

Year?

KE: I was quite surprised to have won, but

I have to say that it's inspired me to work

harder than ever on the projects closest

to my heart. In fact, I am now in the early

stages of setting up a new project related to

architecture, design, and investment.

In our ongoing

special feature,

we speak with

leading voices in the

Maltese architecture

community and learn

about their work,

development issues

in our community,

and good design

practices and

principals. Perit

Karl Ebejer,

Managing Partner,

ME Architects, is

a co-founder of

ME Architects, an

office positioned

as a vehicle for

collaboration

between themselves

and other designers,

architects,

fabricators, and

most importantly,

clients.

ME Architects receiving the award for Malta's Best Entrepreneur of the Year Awards 2017

MBR: Award-Winning Architect Odile Decq

on Rethinking Architectural Education said,

"We believe that today it is fundamental

to totally rethink architectural education.

Architecture must no longer be reduced to a

professional or specialised education: it is a

discipline that opens to the world, to a way

of seeing the world and a capacity to act in

the world." Do you think Architecture today

needs to have a more humanist ambition?

KE: Most definitely. A lot of the time we tend

to overlook the fact that with our specialised

knowledge and expertise, architects have a

social responsibility towards the community.

It seems that as a group, architects get bogged

down by fast-paced projects and forget about

the bigger picture. We should be more aware

of the positive impact our work can have on

the community, whether it's by creating new

and innovative concepts with a humanitarian

and ecological focus at their core, or by

offering our services to aid organisations that

look after vulnerable people and the less

fortunate.

It is essential that a student of

architecture experiences

first-hand what it means

to transpose a design on

paper to reality

MBR: Can you tell us why you opened your

own studio instead of working for a boss?

KE: Some time ago, I was working full time

with Valletta Rehabilitation Project and I was

offered a few freelance jobs. With that, I had

to choose between trying to juggle between

both jobs, or officially going out to work on

my own. I took a leap of faith and decided to

focus my full attention and energy on my new

clients and jobs. It was the best decision I ever

made.

MBR: Could you name one project, that was

important for your career and why?

KE: My team and I were truly honoured to

have led the design project on the John Taylor

office on Tower road in Sliema. John Taylor is

probably one of the most high-end property

estate agents in the world. So, as you can

imagine, we were quite anxious when we

presented our ideas to them as we went

in with a completely new and challenging

concept, but the client was extremely

responsive to our proposal and appreciated

that it was different from other ideas that had

been presented by competing architects.

MBR: What is the problem with architecture

education today?

KE: Unfortunately, there is no practical

element within the cirriculum. During my

years as a student representative, I had

voiced my concerns about this on several

occasions, mainly because we were hardly

ever taken on site. It is essential that a student

of architecture experiences first-hand what

it means to transpose a design on paper to

reality; where they are able to get the feel

of materials, engage in carrying out a project

as a team, and actually see buildings coming

together before their own eyes.

MBR: You said: "Architects need to become

more entrepreneurial". We think so too!

Can you elaborate on that?

KE: As I stipulated in my speech, while

running an architecture firm must be borne

from passion, it is essentially a business. As

a firm, we must face regulatory bodies and

entities from all spheres; and of course, our

most important task is keeping our clients

happy. And hopefully, you are also able to

make some money by the end of it all, too!

MBR: What feedback can you give us

regarding Malta's Best Entrepreneur of the

Year Awards 2017?

Go ahead – believe in yourself,

dedicate yourself to your project

and your clients, and listen to

nobody but your gut.

MBR: Are business and entrepreneurship

courses part of the curriculum?

KE: For some reason, these two elements

are completely excluded from the current

curriculum, and this poses a very big problem.

Modules in business, management and

entrepreneurship should be compulsory

at university - this would give young

entrepreneurs more confidence and a solid

foundation for bringing their plans to life. I'm

sure it would even give those students who

aren't entrepreneurs a better skillset to deal

with their day-to-day lives and jobs.

MBR: Do you have any advice for

'archipreneurs' who are interested in

starting their own business?

KE: Firstly, I really like the word Archipreneurs

and hope it sticks! My advice would be not

to overthink it; if your instinct is to go for it,

then you probably should. Go ahead – believe

in yourself, dedicate yourself to your project

and your clients, and listen to nobody but

your gut.

MBR: How do you see the future of the

architectural profession? In which areas

(outside of traditional practice) can you

see major opportunities for up and coming

developers and architects?

KE: The profession is becoming more

specialised, and as of late clients are

becoming more specific with their requests

– to the point where clients want a team

that can guide them through the whole scale

and spectrum of a project. With so many

existing developments, I see opportunities

in refurbishment and rehabilitation of

properties which are not necessarily very old,

but of other very recent eras, as well new

concepts focused on hubs and shared spaces

for living and working. MBR

All rights reserved / Copyright 2017

18 19

www.maltabusinessreview.net
---
Malta Business Review

SPECIAL FEATURE: MBEOTYA 2017

SPECIAL FEATURE: MBEOTYA 2017

Malta Business Review

Continuous loop

to innovate

by Martin Vella

Drive for

Innovation

By George Carol

David Abela, Managing

Director at Eurobridge

Shipping Services Ltd,

winner of Malta's Best

International Trade

Entrepreneur of the Year

Award, believes that if

you devote yourself to

something for such a long

time, you will inevitably

become a master of your

trade – and your legacy

will pass even further…

MBR: What has been the secret behind

EUROBRIDGE's success?

DA: After all these years, I now feel that the

three fundamental things one needs to be

successful are work ethic, perseverance

and the best team possible behind you.

EuroBridge, particularly myself, have

experienced various failures in the past and

I am sure will continue to experience them

again, but one cannot simply give up on

achieving his dreams despite the difficulties

he faces every day, whether these problems

are small or big. That is where perseverance

and work ethic come in, and if one wants to

dream big, he cannot do that without the help

of a great team that has the same common

ambition to succeed.

we will continue giving our

best to innovate and be frontrunners

in our industry

David Abela receiving the award for Malta's Best Entrepreneur of the Year 2017 from Thea Saliba

MBR: How do you define the EUROBRIDGE

brand message and how critical is that to be

consistent?

DA: When I took over EuroBridge, it was still

in its infancy. However, the name stuck with

me especially the 'Bridge' part. I wanted to

evolve the company into something where all

connected to it felt part of something exciting

and with a purpose. That is why besides

the logo which shows a modern bridge in a

continuous loop to innovate, I also introduced

the motto 'logistics people to count on'. This

is a message goes to all out there working

with us, be it suppliers or customers, that we

are there for them and we will continue giving

our best to innovate and be front-runners in

our industry both locally and internationally.

MBR: Looking at the success and impact you

had during Malta's Best Entrepreneur of the

Year Awards 2017, do you ever take time to

reflect and step back and celebrate?

DA: Unfortunately, not that much. I feel the

company still has a lot of potential to grow so

I cannot stop with the vision I have for it to

catch up on what I have achieved yet, because

we are simply not there yet! My wife says

that this is something which I will continue

saying forever, as I am always making new

targets for myself and the company. To be

fair, although I always worked hard, I have

also always given myself time to enjoy my

family and friends throughout these years.

I understand that without my family, I could

have never dreamed to reach such heights let

alone actually achieve it. So, knowing that my

family is happy for me and sharing this with

them is celebration enough for me. For now.

MBR: How does winning Malta's Best

International Trade Entrepreneur of the

Year Award feel?

DA: It feels great, really great! Last year the

company won 'The Outstanding Industry

Contributor Award' so that makes two great

awards in less than a year so this was more of

a consolidation of our achievements after last

year's victory. To be recognised and rewarded

by your fellow peers is the most beautiful part

and I am certain I will continue making sure it

was deserved. I was actually nominated for a

total of five awards and that is really humbling.

The target is now to be nominated and win

even more in next year's awards! MBR

Joseph Bigeni receiving the award for Malta's Best Entrepreneur of the Year 2017 from Margaret Brincat

MBR: Can you tell us what is behind Il-

Logga's accomplishments?

JB: Our accomplishments basically stem from

our sense of togetherness. Since we are a

family run company, and we are well aware

of what each of us is most good at doing, so

slotting ourselves into the different required

roles was relatively easy. Our team is literally

a family; we share our opinions freely and

sometimes disagree, however our collective

efforts are directed towards the best interest

of 'il-Logga'.

MBR: You have studied both business and

hospitality. How has this helped you to

develop a successful business within the

hospitality industry?

JB: Prior to the creation of 'il-Logga', we

have purposefully studied and worked at

similar establishments to ensure that we

have what it takes to run such an enterprise

successfully. For instance, I graduated and

worked in the accounts and business sector,

as well as occupying an administrative role in

a five-star hotel for an additional three years.

Furthermore, my elder brother Christof is a

qualified chef with nine years of experience at

a handful of reputable restaurants. The blend

of diverse though relatively rich accumulation

of experiences complement each other

seamlessly in our day-to-day operations, to

address our clients' reviews, and make key

decisions.

JB: Our typical day commences at 6am with our

À la Carte breakfast preparations, welcoming

our first residents at 8am. Whilst serving

them, we assist them with their queries such

as planning their holiday or suggesting places

worth visiting. Our stipulated checkout time

is 11am, where I am principally occupied with

sorting out incurred bills and ensure that our

guests were pleased. From there on, I usually

manage bookings and check-ins, update our

publicity and social media pages, exchange

emails, and deal with our suppliers and client

queries. Meanwhile, Christof would be

sorting out goods delivered by our suppliers

and preparing slow-cooking recipes, as the

rest of the team would be handling all the

cleanings. To my amazement, no matter how

busy we could be, we barely finish on time

to open our adjacent restaurant! Hence, we

accelerate our final touches to serve dinner

from 6pm till late.

The blend of diverse though

relatively rich accumulation of

experiences complement each

other seamlessly

Joseph Bigeni is the Manager

of Il-Logga Boutique Hotel,

perched on top of a scenic hill

at the outskirts of Xaghra,

overlooking Marsalforn. He is

an ambitious and driven young

man, who would not settle for

just an ordinary career path.

He is from Gozo and has spent

most of his career there. He has

an in-depth understanding of

the travellers' culture and speaks

their language. Perhaps, he

understands the Maltese culture

better than other Gozitans who

are living and working in Gozo,

or in the Maltese mainland.

from an outsider's point of view, as to it being

a means of publicity for our boutique Hotel.

This was a very big achievement for us so we

definitely appreciate the opportunity that

was given to us and celebrate it with family

whenever we can.

MBR: How does winning Malta's Best

Boutique Hotel Entrepreneur of the Year

Award feel?

JB: The nomination in itself was already

a great honour, let alone scooping such

an award. This award meant a lot to us

because it recognized our tireless efforts and

decorated our brand with a highly prestigious

label. Moreover, the event coincided with

the maiden anniversary since our launch and

therefore we could not have celebrated it any

better. However, we are not resting on our

laurels or allowing it to distract us from the

determination that rewarded us with such

success.

MBR: Competition has pushed independent

hoteliers like yourself to think about what

"boutique" means for a generation of

travellers. What are the biggest challenges

that you face today in improving the guest

experience at the hotel?

MBR: Looking at the success and impact you JB: Our concept of 'boutique' was born from

had during Malta's Best Entrepreneur of the

our drive for innovation. However, this comes

with an obligation that while customized

Year Awards 2017, do you ever take time to

service is a must, we are additionally ought to

reflect and step back and celebrate?

constantly update and renovate our services

MBR: What does running your hotel involve; JB: Winning the Malta Best Entrepreneur and facilities to reflect expectations and

what's your typical day?

award made us reflect and look at this award contemporary demands. MBR

All rights reserved / Copyright 2017 All rights reserved / Copyright 2017

20 21

www.maltabusinessreview.net
---
Malta Business Review

SPECIAL FEATURE: MBEOTYA 2017 SPECIAL FEATURE: MBEOTYA 2017

Malta Business Review

Practical and Versatile

By Martin Vella

Perit Arielle Agius is the Director and Head Architect of ARCO DESIGN

STUDIO, one of the foremost interior designers in Malta. She believes that

her work revolves around a functional eclecticism. Established in 2012,

the architecture and interior design company is firmly entrenched in the

lead of the architectural market in Malta. Having projects ranging from

residential designs to hospitality and commercial interiors, Arielle recently

won the coveted Malta's Best Architecture & Interior Design Entrepreneur

of the Year Award.

ARCO Design Studio at Malta's Best Entrepreneur of the Year Awards 2017

MBR: What has been the secret behind

ARCO DESIGN STUDIO's success?

AA: ARCO Design Studio is an architectural

firm, founded in 2012. Since the very

beginning my main objective was to strive

for consistency in presenting excellent quality

of work. Our firm is constantly thriving for

great attention to detail in design, respecting

deadlines, and always being up to date with

Planning Authority laws and regulations. We

take great care at keeping a close relation

with our clients, and also follow up on their

progress with regards to the commercial

sector.

MBR: Leading a design studio, what's

the most important: the practical or the

theoretical?

AA: Being an entrepreneur means that

one needs to be flexible in order to meet

the vast demands of the office, colleagues,

and customers. Although education does

mentally prepare you to conquer challenges,

experience is the true key to management.

Being practical and versatile rather than

theoretical.

Although education does

mentally prepare you to

conquer challenges, experience

is the true key to management

MBR: How do you define the ARCO DESIGN

STUDIO brand message and how critical is

that to be consistent?

AA: Realising that a designed space has much

more to offer than just aesthetics, "Stepping

Out Of The Ordinary" means creating

particular and unique spaces reflecting our

clients' needs and personalities. Obtaining

a state of wellbeing within one's personal

space, whether at home, work or during

leisure time is crucial.

MBR: Looking at the success and impact you

had during Malta's Best Entrepreneur of the

Year Awards 2017, do you ever take time to

reflect and step back and celebrate?

AA: Definitely! It is crucial for my team to be

united and in high spirits. I firmly believe that

the state of mental health and happiness is

key for a successful office.

MBR: How does winning Malta's Best

Architecture & Interior Design Entrepreneur

of the Year Award feel?

AA: It definitely feels rewarding! I am lucky

enough to have a very satisfying job, to see

our projects being realised and our clients

satisfied. This award has been that extra "pat

on the back", and a recognition for all the

hard work. It has certainly given us motivation

to continue to improve our services. MBR

All rights reserved / Copyright 2017

22 23

www.maltabusinessreview.net
---
Malta Business Review

ARCHITECTURE

Integrated Architecture

MALTA

BUSINESS REVIEW

SPECIAL FEATURE

By George Carol

Photo Credits, Peter M. Mercieca/MJMDA

At the core of MJMDA, there seems to

be a determination to deliver ever more

Integrated Design Projects. Since 2003,

MJMDA has worked consistently at building a

team of people that have at their core a desire

to focus on a completed work of architecture

as one whole. This approach is client oriented

and strives to look at the end user of buildings,

rather than thinking about the originators of

the work. Although this sounds like a rather

obvious way to work, it's rather the opposite

in many cases for architecture.

'Do we not use our buildings as a whole?

Then so should our buildings be conceived

and designed as a whole!' founder, director

and lead architect Matthew J. Mercieca

posits. He insists this is nothing new across

many of today's advanced design systems.

'Take industrial design objects, a phone, a

computer, a vehicle. All these objects have

caught up with how the great designs can

materialise.' He stressed that the integration

of structure, services and aesthetics

constitute the architecture of the future.

Challenges in the scale of buildings and lack of

mass-production for architecture, makes this

aim no mean feat he admits. 'This approach

may not suit every project type, and requires

more effort and organization, but the benefits

of such an approach creates longer term

success in the performance and usability of

these buildings.' It is about aesthetics and

beauty, but it is also about functionality and

performance for the team MJMDA.

Being technical and target driven however

does not mean that MJMDA have lost their

taste for passion, romance and poetry in their

work. Quite the contrary, MJMDA seem to

have acquired the skills to deliver solutions

from simplest buildings (haiku) to the more

complex (Iliad). Capability of complexity

means that simplicity should be more

reachable. But the inverse is less likely to be

possible.

MJMDA has a team of professionals spanning

Architectural Design, Interior Design,

Structural Engineering, Building Services

Engineering and Project Management in

order to make possible a closely co-ordinated

response to building programs covering

several sectors. MJMDA's 18-strong team

works on projects ranging from small homes

with personal touches and detail, to high end

villas to stun, to multipurpose buildings and

rental apartments with a taste for the unique,

great working spaces and offices, retail and

food and beverage outlets. MBR

ADDRESS BY THE PRIME MINISTER

DR JOSEPH MUSCAT

Addressing the 7th Cohesion Forum in

Brussels today, Prime Minister Joseph

Muscat stated that "Cohesion Policy is

synonymous with and the personification

of European solidarity at its best", and called

for "simple yet solid rules that can be used in

the current programming period, at a time

when European economies are taking off".

Prime Minister Muscat maintained that

the Cohesion Policy is at the heart of the

Union's work for its citizens, that it supports

policies affecting people's everyday life, and

advocates for an improved quality of life

across the European continent.

The Prime Minister said that the Cohesion

Policy's primary objective is to ensure citizens

are better off at the end of each programming

period regardless of how diverse the socioeconomic

situations of each member state

are.

While commenting on the principle behind

the policy, Dr Muscat noted how Malta has

made its own contribution to it by modifying

the rules to guarantee additional assistance to

Member States affected by natural disasters,

demonstrating the EU's willingness to stand

by its citizens when they need it the most.

The Prime Minister stated that the vision for

the future of the Cohesion Policy is a policy

that fulfils the needs of communities by

turning opportunities into prosperity, and

that supports the Union's strategic projects.

He remarked that his vision is one where

rules are simplified so that even the smallest

communities and businesses can benefit.

Dr Muscat concluded by saying that it is

ultimately government's responsibility to

create the right environment for the policy to

work. MBR

All rights reserved / Copyright 2017

Malta's Prime Minister Joseph Muscat at the 7th Cohesion Forum in Brussels. Photos: OPM

24 www.maltabusinessreview.net

25
---
Malta Business Review

SPECIAL FEATURE: 7th COHESION FORUM, BRUSSELS 26-27 JUNE 2017

Special

Feature

Special

Feature

SPECIAL FEATURE: 7th COHESION FORUM, BRUSSELS 26-27 JUNE 2017

Malta Business Review

Overcoming

economic and

political challenges

together

Günther Oettinger, European Commissioner

for Budget and Human Resources reflects on

the future role for Cohesion Policy

in the EU's budget

Communicating the results of Cohesion

Policy in an effective manner is a must.

It is a shared responsibility with the Member

States, local and regional authorities

How can the next financial period be

more in tune with current political

and economic challenges?

This is exactly what the reflection process

on the future of the EU at 27 launched by

the Commission should tell us. Together

with my colleague Commissioner Creţu, I am

preparing a reflection paper on the future

of the EU's finances. It will contribute to the

debate on the future of Europe together

with other papers on the EU's political and

economic priorities: the social dimension of

Europe, globalisation, defence and the future

of the Economic and Monetary Union. It will

present the various issues, options and tradeoffs

which we might have to address based on

which scenarios we choose for the future of

the EU.

I want this to be a positive debate. I believe

this is possible: as long as the EU budget is

better aligned with political priorities and

focuses on programmes and policy areas

with clear European added value. "No euro

I am particularly encouraged by the

common recognition of the key role the EU

budget plays in the European construction,

that it brings stability and is an expression

of solidarity and the value of doing

things together

spent without EU added value" should be our

guiding principle, reflecting that Europe can

best overcome both economic and political

challenges together.

What role do you see for Cohesion

Policy beyond 2020 in helping

Europe's economy grow?

Cohesion Policy has been a driver for

economic growth and jobs and has helped

many regions to develop. Therefore, it clearly

has European added value. During and in

the aftermath of the economic and financial

crises it helped to prevent major disruptions

in many regions. So, this policy should remain

an important part of the future EU budget.

But we should be thinking if we can further

enhance its EU added value by focusing even

more on projects that contribute strongly to

EU priorities, notably growth and jobs. An

important question is whether we should

focus more on regions in need. We need

to reflect how we can help regions that

are strongly affected by globalisation and

technological change. And finally, we need

to be mindful to simplify its implementation

rules in order to reduce the administrative

burden for everyone.

What I also find quite convincing, based on

current experience, is that cohesion policy

is most effective when combined with a

national economic framework conducive to

growth, i.e. where the necessary structural

reforms are being carried out to ensure the

relevant legal framework, administrative

capacity and business environment are in

place. So for me, the link between Cohesion

Pol- icy and the larger economic governance

agenda should be strengthened in the next

financial framework.

How would/can Cohesion Policy help

the EU reconnect with its citizens?

The best way Cohesion Policy can demonstrate

its value to the EU citizens is by

meeting their needs and expectations: deliver

jobs and growth and contribute to addressing

new priorities such as energy security,

migration and defence and security.

Of course, communicating the results of

Cohesion policy in an effective manner is

also a must. Communication is a shared

responsibility with the Member States,

local and regional authorities. But, while

the regulations include a legal obligation

to provide information about the projects

funded by Cohesion Policy, it is important to

find the right distribution channels and to

target the right audience so as to ensure the

message gets across about the benefits of

European support.

The concrete actions to be taken must use all

the existing tools, engage with the national,

regional and local authorities, and also

balance the use of media and social media

campaigns with public debates/events that

both raise awareness and give people the

opportunity to give their feedback.

Various people and associations with

different interests have expressed their

own views on the future Multiannual

Financial Framework (MFF). Do you

see one or more common threads in

those opinions and, if yes, which ones?

I am particularly encouraged by the common

recognition of the key role the EU budget plays

in the European construction, that it brings

stability and is an expression of solidarity

and the value of doing things together. The

demand to make the budget more responsive

to changing political priorities and to bring it

closer to the EU citizens is certainly a common

thread.

These are valid expectations of course, but

there are different ways and views on how

to achieve them. At this stage, I have no

preconceived ideas on what the future MFF

should look like... it is simply too early to say.

Although I have my preferences of course, most

importantly I remain open to all stakeholders'

views and the results of the public debate on

the future of the EU at 27. MBR

All rights reserved / Copyright 2017

Creditline: European Commission, Panorama Spring

2017

26 www.maltabusinessreview.net

27
---
Malta Business Review

SPECIAL FEATURE: 7th COHESION FORUM, BRUSSELS 26-27 JUNE 2017

Special

Feature

Special

Feature

SPECIAL FEATURE: 7th COHESION FORUM, BRUSSELS 26-27 JUNE 2017

Malta Business Review

INTERVIEW WITH MICHAEL STORPER

PROFESSOR OF ECONOMIC GEOGRAPHY

AT THE LONDON SCHOOL OF ECONOMICS

Regions matter

more than ever

in a globalised

world

Shortly before the Commission

published the reflection paper on

Harnessing Globalisation, it

organised a high-level seminar

on 'Globalisation: Why regions

matter' to discuss the geography

of growth, jobs and inequalities

in Europe, as globalisation,

technological change and

sustainable development impact

EU regions in different ways.

Professor Michael Storper

attended this seminar.

You started your presentation by

quoting The Economist saying:

"Regional inequality is proving too

politically dangerous to ignore", and

you go on to note that this inequality

further accentuates the dilemma we

have about whether to invest in more

developed or less developed regions. So

what is more important: efficiency or

equity?

For this high-level meeting I worked with

my colleagues Simona Iammarino and

Andres Rodriguez-Pose to prepare a study

entitled 'Regional Development at the

Centre of Europe's Economic Future'. We

argue that there is no longer a simple tradeoff

between efficiency and equity: this is an

outmoded idea if by "efficiency" we mean

that we concentrate everything in the highest

income regions and expect that there will be a

diffusion of benefits to all other regions.

The mechanisms of diffusion have weakened:

skills are becoming concentrated in

fewer places; innovation is doing the same;

migration is slowing down and becoming

more selective, with one circuit for skilled

people and another for the less skilled. This

means that in the long-run, people who are

being underutilised in many regions cannot

develop their talents, it is more and more

difficult to migrate, and entrepreneurs are

not able to effectively enter the market.

We want to get the benefits

of concentration and specialisation,

but we also want to spread these benefits

to more regions by overcoming the

barriers to innovation, entrepreneurship,

skilling and mobility that exist

Therefore, a policy that invests in the long term

capabilities of people, firms and individuals in

all regions will be more efficient than one that

assumes that geographical concentration will

benefit all people and all regions. At the same

time, this is not an either-or: we must continue

to support Europe's world-class metropolitan

regions and clusters in the face of ongoing

global competition. This policy is based on

a redefined notion of "equity": it rejects the

older notion of redistributing from the most

successful regions to all other regions, and

replaces it with a definition of equity that

is based on stimulating development in all

regions.

Indeed, you mention talents, and you

might already know that regional

policy has introduced a new concept:

smart specialisation. This basically

means that we encourage regions to

identify their own strengths, their

comparative advantages, and invest

in those areas. And you also introduce

in your presentation a policy based

on differentiation. Do you find

similarities between the two?

Yes, we propose to deepen the concept

of smart specialisation and to give it some

additional tools so that it can be more

effective. Realistically, not every region can

specialise in the same type of thing: thus,

there's no point in pro- posing that every

region should try to become a 'little Silicon

Valley'.

Instead of a blanket approach to innovation

and specialisation, we introduce the concept

of 'development clubs' which refers to regions

at different levels of per-capita income. The

challenges and near-term goals for low-,

middle- and high-income regions are very

different. What is 'smart' is for regions to

understand which development club they

are in, and their realistic smart specialisations

in the medium term. This notion gives

additional precision to the concept of smart

specialisation.

Lastly, I would paraphrase the title of

your presentation: Globalisation: do

regions matter?

In fact, globalisation has made regions matter

more and more, because it turns out that

while globalisation spreads wealth around

the world, and there are 500 million Chinese

who have now entered the global middle class

because of it, at the same time within every

country it concentrates wealth and income in

metropolitan areas around the world, in every

country. So, regions actually matter more

than ever in a globalised world. In light of this,

we want to get the benefits of concentra- tion

and specialisation, but we also want to spread

these benefits to more regions by overcoming

the barriers to innovation, entrepreneurship,

skilling and mobility that exist. These barriers

are in some way being reinforced by current

market trends, and diffusion mechanisms are

too weak to do the job of spreading wealth

and opportunity.

To do this, we propose what we call 'placesensitive

distributed development strategies'

(PSDDP), which are develop- ment strategies

adapted to the precise but different needs

of low-, middle- and high-income clubs of

regions in Europe. Each of these clubs has a

different strategic guiding principle and hence

different mixes of policies and measures for

each type of territory. MBR

All rights reserved / Copyright 2017

Creditline: European Commission, Panorama Spring

2017

28 www.maltabusinessreview.net 29
---
Malta Business Review

SPECIAL FEATURE: 7th COHESION FORUM, BRUSSELS 26-27 JUNE 2017

Special

Feature

Special

Feature

SPECIAL FEATURE: 7th COHESION FORUM, BRUSSELS 26-27 JUNE 2017

Malta Business Review

The EU'S future

finances

The High-level group on own resources (HLGOR)

was established in February 2014 to reflect

on finding more transparent, simple, fair and

democratically accountable ways to finance the

EU. The Group was chaired by former Italian

Prime Minister and EU Commissioner Mario

Monti and comprises members designated by

the European Parliament, the Council and the

European Commission. The final report and

recommendations were presented in the European

Parliament and in the Council in January 2017.

In your view, what are the major

challenges for EU finances after 2020?

The major challenges for EU finances

are already here today and are similar to

the challenges the EU itself faces: how

can we regain trust from our citi- zens?

How can we provide more legit- imacy to

European spending? The EU has been hit

by multiple crises in recent years, most of

them highlighting new priorities: reinforce

the competitiveness of the European

economy, and in par- ticular address youth

unemployment; secure our external borders

and improve our cooperation on internal

security and defence; fulfil our commitments

to fight climate change and environmental

deg- radation; and finally, ensure a smooth

transition from EU-28 to EU-27 when the UK

leaves the EU.

These are the issues

on which the EU is

expected and being

pressured to act on

today, and yet they

are often not part of

its traditional core

business, in particular internal and external

security which remain within the realm of

national sovereignty. Although recent annual

budgets have used the flexibility tools, their

implementation remains to be seen.

What major changes are you proposing

compared to the current system?

Reforming the revenue system is part of this

overall shift, because the current financing

system – based on an over- whelming share of

national contributions from Member States –

EU policies, and notably

cohesion, benefit to all countries,

even the 'net contributors'

favours the status quo and are a hindrance to

focusing on new needs. Thus, in the High-level

group on own resources' report, we make

nine recommendations conducive to change.

Among these, I think the most likely to have

a strong impact are the focus on expenditure

with the highest European added value,

the abolition of rebates in favour of certain

countries, and the introduction of one or

several new own resources linked to EU

flagship policies. For example, own resources

Future Structural Investment Funds

will play a crucial part in our reform

efforts because they have often been in

the crossfire of criticism for financing

too many projects with questionable

European added value

based on a common reformed VAT or a

common corporate tax can be designed to

contribute to a better functioning of the Single

Market, to simplify the life of our companies,

and to support the fight against tax fraud

or evasion; environmental own resources

can contribute to decarbonisation efforts

and green growth. In my view, this latter

recommendation represents how EU revenue

can bring extra added value: the EU cannot

levy taxes, but its revenue can contribute to

achieving EU policies and objectives.

What are the major obstacles to

making those changes possible?

The most obvious obstacle lies in the decisionmaking

procedure applicable to the financing

system, which imbeds an asymmetry of

power between the European Parliament

and the Council. The European Parliament

is only consulted on own resources, while

its consent is required for the multiannual

financial framework, and it co-decides on the

annual budget. In addition, decisions within

the Council must be taken at unanimity and

after ratification in all national parliaments.

This is the heaviest procedure that exists.

There are other obstacles linked to the fact

that in most cases leaders who go through

one negotiation are rarely present at a

second, which dis- perses the memory and

experience, or leads to misunderstanding

about how EU finances work. A common

fallacious argument used to reject real own

resources, for example, is to consider that

only national contributions allow for Member

State control over EU finances, and that

more autonomous own resources would

lead to uncontrolled budget increases. This

is not the case. Real own resources would

change the composition of revenue (and

lower national contributions). The volume

of the budget is decided by the multiannual

financial framework. And since the EU budget

must be in balance and cannot resort to debt,

revenue is automatically calculated once the

expenditure is known – not the other way

around.

What place do you see for the

European Structural and Investment

Funds?

Future Structural and Investment Funds

will play a crucial part in our reform efforts

Executive Summary &

Recommendations available in 23

languages: http://ec.europa.eu/

budget/mff/hlgor/index_en.cfm

because they have often been in the crossfire

of criticism for financing too many projects

with questionable European added value.

This is particularly true in the more developed

regions in the richer Member States.

Moreover, their financing through national

envelopes makes it a major feature of the

focus on net balances.

Future reform will have the difficult task of

claiming back the legitimacy of EU action in

many regions, by focusing on EU-wide public

goods rather than local ones. It will also need

to show the benefits they bring beyond

the immediate beneficiaries. Crossborder

benefits, spillover or leverage effects are

currently ignored or hidden in budgetary

negotiations, yet they provide a measure of

European added value. This needs to change

to make the budget more transparent,

accountable and fair. EU policies, notably

cohesion, benefit all countries, even the 'net

contributors'. MBR

All rights reserved / Copyright 2017

Creditline: European Commission, Panorama Spring

2017

30 www.maltabusinessreview.net

31
---
Malta Business Review

SPECIAL FEATURE: 7th COHESION FORUM, BRUSSELS 26-27 JUNE 2017

Special

Feature

Special

Feature

SPECIAL FEATURE: 7th COHESION FORUM, BRUSSELS 26-27 JUNE 2017

Malta Business Review

Calling for strengthened cohesion, improved

employment opportunities and living conditions

MBR interviews Corina Crețu, EU Commissioner for

Regional Policy during the 7th Cohesion Forum in Brussels

MBR: Your colleague spoke of a bottom

up approach and another colleague also

mentioned that the cohesion policy is one

of the most controlled yet less understood.

How does the EU intend to communicate

the results of the cohesion policy in an

effective way both on a local and regional

scale, to insure that the mistakes of the past

are not repeated?

CC: As you rightly mention, it is very

important to learn from our lessons and I

am very pleased for the Maltese Presidency

and how they handled most of the agenda,

including the issue of the communication

towards a common idea. We have discussed

in Luxembourg and in Malta with all the

ministers of this idea and I think it's very

important to raise awareness. Of course

wherever I go, I try to visit very important

project locations and institutions funded

by European money. For instance I visited a

hospital in Malta, which is a state of the art

and it's an example of high quality standard.

I visited the Citadel in Gozo, which has been

recently restored by European funding,

giving to Malta a very important jewel back

to its heritage. I try to do this in all countries

but obviously one person cannot do what all

the members of the states can do together!

Cohesion policy needs to reflect

on the demanding challenge

of making Europe's economy

more inclusive, competitive and

resilient

We have this proposal of alliances between

member states, ministers, regional, local

authorities and we have to be fair to one

another of course, especially if it concerns a

big investment funded by European money.

Many mayors attempted to say that it is

Corina Crețu, Commissioner Regional Policy and Martin Vella, MBR Publications Ltd.

CORINA CREȚU

by Martin Vella

EU Commissioner (2014-2019)

Regional Policy

their achievement, which is true, but they

should mention that European money was

the catalyst and without it no project would

have been made. There are countries like

Greece for instance, where 75% of all public

investments are done by European money

and people still don't know what happened

to thousands of schools, bridges and now the

temple Valley which is the tunnel of under

Olympic mountain. Everything is done by

European money so I really think we have to

make a common effort, including with you

journalists.

MBR: And what is exactly the EU regional

policy and how significant is this event?

CC: EU regional policy is an investment policy.

It supports job creation, competitiveness,

economic growth, improved quality of life and

sustainable development. These investments

support the delivery of the Europe 2020

strategy.

The event is a milestone in the preparations

for the post-2020 framework for the European

Structural and Investment Funds. Cohesion

policy needs to reflect on the demanding

challenge of making Europe's economy more

inclusive, competitive and resilient and must

address the questions raised by the White

paper on the future of Europe about the

added value of EU policies, subsidiarity, and

gaps between promise and delivery.

The 7th Cohesion Forum is contributing to

the reflection about the future design of the

cohesion policy, and this in a context marked

by profound and rapid changes affecting our

European societies and the globalised world.

Today, things are looking up: the EU's

economy overall is in its 5th year of recovery.

Private investment is picking up. EU GDP

growth is expected to remain constant this

year and next, at 1.9%.

And employment is at its highest level ever

with, in the first quarter of 2017, 234.2 million

employed in the European Union.

But, at the same time, as you just heard,

globalisation and digitalisation are changing

the way we live and work. We are in an era

of rapid change, and our labour markets are

feeling the pressure.

MBR: So what opportunities exist with all

these challenges?

CC: While globalisation and digitalisation

confront us with new challenges, they also

offer abundant opportunities: For example:

the value of the data economy is expected

to increase to 739 billion euro by 2020. This

is 4% of EU GDP – so, more than double its

value today.

Green Growth and the circular economy

will also generate challenges but many new

opportunities as well in many sectors such as

energy efficiency or the automotive industry.

These evolutions represent large new

markets for EU companies and it is not only

big corporations who benefit: over 80 % of

European exporters are small and mediumsized

enterprises.

But I understand many Europeans also feel

apprehensive. They see globalisation and

digitalisation as synonymous to job losses and

unfair conditions.

To remain competitive, our companies will

have to anticipate market changes and our

people will have to gain the right skills for

today's and tomorrow's jobs.

The Commission has provided responses to

these challenges in the European Pillar of

Social Rights, and proposed options in the

Reflections Papers on the social dimension of

Europe and on harnessing globalisation.

Our social goals are firmly

anchored in Article 3 of the

Treaty: calling for strengthened

cohesion, improved

employment opportunities and

living conditions.

On the world stage, the EU needs to work

towards a sustainable global order, based

on shared values, and an effective and

enforceable global rulebook that addresses

new global challenges in a fair manner, such

as tax evasion or social dumping, for example.

Within Europe, the combination of

globalisation and digitalisation has increased

the demand for skilled labour; but reduced

the number of jobs for those with lower

qualifications or executing simple and

repetitive tasks. We must, therefore, take

steps to increase the skills of all Europeans to

enhance their employability and equip them

with the necessary talents for innovation and

competitiveness.

This is the main objective of the New Skills

Agenda for Europe launched one year ago,

including the Digital Skills and jobs Coalition

and a Recommendation on Key Competence.

MBR: How can the EU turn the New Skills

Agenda for Europe into reality?

CC: To turn the New Skills Agenda for

Europe into reality, we need well targeted

EU investments to empower people: to help

them harness the potential of change, and

protect them against any new risks.

MBR: What is the key to people

empowerment?

CC: The key to people empowerment is

investment in human capital. This is the

raison d'être of the European Social Fund. It

helps prepare people for the labour market -

which is the best vehicle out of poverty and

exclusion.

It helps create new and quality job

opportunities – and, together with the

Erasmus+ programme, it supports vocational

training and apprenticeship empowering

people to enter or stay on a quickly evolving

labour market.

Moreover, it encourages people to be mobile

and available for whenever, wherever and

whatever new jobs emerge, as a result of

globalisation. Therefore we need to further

develop what I would call the Single Labour

Market, offering professional experiences

and jobs opportunities beyond the national

boundaries.

Globalisation, digitalisation and Green

Growth create opportunities and challenges,

hopes and fears. Their benefits are neither

automatic nor evenly distributed. So,

reconciling economic and sustainable growth

with social progress is ever more relevant

today.

MBR: What about our social goals?

CC: Our social goals are firmly anchored in

Article 3 of the Treaty: calling for strengthened

cohesion, improved employment

opportunities and living conditions.

And they are clearly echoed in the Rome

Declaration on the Future of Europe where

Member States have solemnly declared that:

'Taken individually, we would be side-lined by

global dynamics. Standing together is our best

chance to influence them and to defend our

common interests and values'.

All levels need to work together to make our

European social market economy resilient

and sustainable in a globalised world.

We need strong and targeted investment in

people to meet our social goals - and to deliver

the principles of fairness, social protection

and equal opportunity - as espoused in the

European Pillar of Social Rights. MBR

All rights reserved / Copyright 2017

32 33

www.maltabusinessreview.net
---
Malta Business Review

SPECIAL FEATURE: 7th COHESION FORUM, BRUSSELS 26-27 JUNE 2017

Special

Feature

Special

Feature

SPECIAL FEATURE: 7th COHESION FORUM, BRUSSELS 26-27 JUNE 2017

Malta Business Review

DATA POINT: 3 - OPEN DATA PLATFORM

Communicating on ESIF performance: the

growing importance of common indicators

The need to monitor and report on performance

must be a shared responsibility and an essential

part of all meaningful debates on EU policy.

he 2014-2020 programmes have seen improvements in the use of

indicators to measure the outputs and results of the different ESI Funds

– common indicators are a powerful tool to communicate aggregate

policy achievements across Member States. These developments have

accompanied other performance-related improve- ments, such as the

more robust setting of objectives, clearer target setting, and the new

performance framework linked to the performance reserve. One of the

effects of a greater focus on performance is that indicators must no

longer be the concern of a few technicians.

The current system of indicators has been developed over the years

based on experience and learning specific to each fund. Thus, the

common indicators are common to the programmes under each

TWO EXAMPLES FROM THE ESF AND ERDF BY END-2015

ESF: Participant employment status

Implemented: 2 707 055 participants

Of which

Unemployment supported: 1574509 participants

Employed: 435 940 participants

Inactive supported: 696 606 participants

specific fund with indicators adapted to the fund- specific objectives,

the target sectors and the intervention rationale applied.

Two main concerns have influenced the choice of indicator concepts

and the definition of common indicators:

> Are the indicators a meaningful measure of the interventions and

objectives of the specific fund?

> Are the indicators readily available without creating excessive cost

and burden for managers and beneficiaries?

For the period 2014-2020, the answers to those questions were

developed in partnership with stakeholders and experts from the

Member States during several years of reflection.

The most visible product of the current indicator system on the ESIF

open data platform is the presentation of 'achievement' tiles for

common indicators by fund and by theme.

0

2 500 000

2 000 000

1 500 000

1 000 000

500 000

Other improvements include an expanded list of common indicators

and better methodologies for collecting and reporting ERDF and ESF

indicators.

Are there too many indicators?

This question has been raised at the highest level of the EU institutions,

not least because it would be simpler to commu- nicate at the EU

level with a few, easy-to-aggregate indicators. The European Court of

Auditors also recently questioned the relevance and use of so many

programme-specific indicators and the difficulty of their aggregation to

the EU level.

On the other hand, different stakeholders have different needs and

propose a broad range of indicators, many of which are relevant for

them and already available in their region or Member State.

MANY COMMON INDICATORS BY FUND TRANSLATE

TO A FEW INDICATORS BY 'THEME': THE ERDF CASE

RTDI:

6 indicators

Energy Climate:

5 indicators

Social Infra:

2 indicators

Another explanation for the seemingly large number of EU common

indicators is the very wide thematic scope of actions and sectors

financed by the ESI Funds. For instance, there are 46 common

indicators for the ERDF.

ERDF: Firms receiving support

Planned: 1 098 048 enterprises

Decided: 137 463 Enterprises

Implemented: 36 379 Enterprises

Overview of programme targets

ICT:

1 indicators

Environment:

7 indicators

URBAN:

4 indicators

Firms:

9 indicators

Transport:

6 indicators

Interreg:

6 indicators

Austria Malta Cyprus Romania Netherlands Latvia Denmark Croatia Slovenia

Bulgaria

Belgium

Perhaps the right questions are: "Do the common indicators capture

key achievements in the different thematic areas?" and "Are there

areas where we do not capture key achievements?"

Where to next?

In the debate on the post-2020 EU multiannual financial framework

and the future of shared management through the ESI Funds, the issue

of performance and measuring achievement is a hot topic. The main

questions are:

> Can we improve the measurement of the funds' performance while

reducing the burden for stakeholders?

> Can the different indicator concepts be rationalised across the funds?

Do different stakeholders need different indicators?

> Would there be benefits in the definition of common EU indicators

across funds to measure and communicate achievements?

> Should we focus on reducing the number of specific national

indicators? Or is the quality of the indicators and their policy relevance

more important?

It may seem like a technical debate but it is a key one for the future of

the policy. Watch this space or, better still, engage in it! MBR

Creditline: European Commission, Panorama Spring 2017

FIND OUT MORE

ESIF Open Data platform:

https://cohesiondata.ec.europa.eu/ Select the "achievement" sections on the

"Theme", "Country" or "Fund" pages:

Open Data FAQ on "Achievements":

http://ec.europa.eu/regional_policy/en/faq/about_open_data/

ECA special report No 2/2017: The Commission's negotiation of 2014-2020

Partnership Agreements and programmes in Cohesion: http://www.eca.europa.eu/

en/Pages/ DocItem.aspx?did=41008

Finland

Slovak Republic

Czech Republic

Germany Poland Hungary Ireland Italy

Sweden

Spain

Portugal

France

Interreg

United Kingdom

Greece

Estonia

Overview of program implemented values (2015)

Employed Inactive supported Unemployed supported

Implementation Progress

Cyprus Hungary Austria Croatia Luxembourg Slovenia Denmark Estonia Slovak Republic

Sweden

Netherlands

United Kingdom

Greece

Poland

Bulgaria

Czech Republic

Lithuania

Finland

Latvia

Portugal

Ireland Belgium Germany Italy France Spain

0,0 % 20,0 % 40,0 % 60,0 % 80,0 %

Planned Decided Implemented

100,0 %

34

www.maltabusinessreview.net

35
---
Malta Business Review

SPECIAL FEATURE: 7th COHESION FORUM, BRUSSELS 26-27 JUNE 2017

Special

Feature

Special

Feature

SPECIAL FEATURE: 7th COHESION FORUM, BRUSSELS 26-27 JUNE 2017

Malta Business Review

9 WAYS COHESION POLICY WORKS FOR EUROPE

MAIN RESULTS 2007-2013

Cohesion Policy funding as

a % of government capital

investment 2007-2013

EU28 = 6.5% Average

60%

50%

40%

30%

57.1

52.1

52.1

50.5

42.5

40.9

38.7

34.3

39.4

27.5

25.1

24.5

EU Cohesion Policy investments in 2007-2013

were a vital source of Finance for many

Member States, representing up to 57% of

government capital investment.

20%

18.9

Cohesion Policy 2007-2013 was implemented in challenging times. Europe

was hit by the economic and financial crisis, which limited public

investment – making Cohesion Policy funds even more vital for growth

and job creation.

An independent expert evaluation of 2007-2013 funding found that

Cohesion Policy investments had positive, tangible results ranging from

job creation, positive impact on regional disparities and an increase

in GDP.

H

10%

0%

Lithuania

Slovakia

Latvia

Malta

Poland

Estonia

Bulgaria

Czech Republic

Portugal

Romania

Slovenia

2. SMES GET THE SUPPORT THEY NEED

Hungary

7.1

Italy

Spain

Cyprus

Greece

7

4.4

3.9

2.5

1.7

1.1

1.1

France

Finland

Germany

UK

Sweden

Austria

Ireland

Belgium

1

0.8

0.7

0.7

0.4

0.4

0.2

Denmark

Luxembourg

Netherlands

€346.5 billion invested

to reduce disparities between regions and to promote balanced and sustainable development.

1. BENEFITS ALL EU COUNTRIES

Every region and country in the EU benefits from Cohesion Policy, via the direct effects of the investments and/or the indirect

effects like increased trade.

€1 € €€€ €2,74

€1 of Cohesion Policy investment during 2007-2013

will generate €2.74 of additional GDP by 2023.

€346.5 billion

invested in 2007-2013

Estimated return nearly €1 trillion

of additional GDP by 2023

121 400 start-ups were financially supported, as well as an estimated number of

400 000 SMEs.

Cohesion Policy is an essential pillar of the EU's jobs and growth agenda.

3. FINANCING AVAILABLE FOR BUSINESSES

EU funding for financial instruments has increased considerably, rising from

€1 billion in 2000-2006 to €11.5 billion allocated in 2007-2013 through the

European Regional Development Fund (ERDF).

Financial instruments played a crucial role in providing funding to SMEs during

the credit crunch of the economic crisis – helping many firms stay in business.

4. EXTENDS AND IMPROVES TRANSPORT NETWORKS AND MOBILITY

EU funding has contributed to removing transport bottlenecks and reducing

travel times.

The investments led to the construction of 4900 km of roads, mostly

motorways, of which 2400 km of TEN-T networks.

€

€

1 million jobs

created in 2007-2013

1/3

of net job creation

during that period

Funding also led to the construction or upgrading of 1500 km of TEN-T railway

and supported the development of sustainable public transport.

36 www.maltabusinessreview.net

37
---
Malta Business Review

SPECIAL FEATURE: 7th COHESION FORUM, BRUSSELS 26-27 JUNE 2017

Special

Feature

Special

Feature

SPECIAL FEATURE: 7th COHESION FORUM, BRUSSELS 26-27 JUNE 2017

Malta Business Review

5. PRESERVES THE ENVIRONMENT, SUPPORTS THE FIGHT AGAINST CLIMATE CHANGE

6. BOOSTS CULTURE AND TOURISM

Better waste-management strategies have led to a substantial increase

in the proportion of recycled waste, and to the closure of landfill sites

below EU standards.

Energy efficiency measures in public buildings reduced the

consumption of fossil fuels considerably, which in turn helped to cut

energy costs and contributed to fight global warming.

Investments in infrastructure connected 6 million people to new or

improved supplies of clean drinking water and 7 million people to new

or upgraded wastewater treatment facilities.

EU investments helped rebuild cultural and touristic sites, which

increased the number of visitors and gave a boost to sustainable

economic development and job creation in the concerned regions.

Thus the investments supported local regeneration and fostered

economic diversification, innovation and increased competitiveness.

8. ENCOURAGES COUNTRIES TO ADDRESS COMMON CHALLENGES TOGETHER

H

9. THE LESSONS LEARNED ARE BEING APPLIED

EU funding for cross-border programmes resulted in over

6800 projects, including actions to:

create and expand economic clusters,

develop centres of excellence, higher education and

training centres, and cooperation networks between

research centres,

establish cross-border advisory services for enterprises

and business start-ups.

About 1300 environmental projects focused on the joint

management of natural resources such as sea and river

basins.

Funding also included support to help cross-border

regions combat natural risks, respond to climate change,

preserve biodiversity and set up initiatives to develop

renewable energy.

7. INCREASES THE QUALITY-OF-LIFE IN CITIES

ERDF funding for urban development and social infrastructure 2007-2013 amounted to €29 billion,

about 11% of the programme's budget.

About 4% was invested in urban development initiatives which included investments in deprived areas

and support for economic growth, cultural heritage and strategy development.

7% was allocated to social infrastructure and used to invest in health and education. This led to better

access to educational and lifelong-learning services in combination with labour services.

The funding programmes for 2014-2020 have been designed in a more

result-oriented way, as the 2007-2013 programmes did not always focus

enough on results.

Programmes must now have more specific objectives and clear targets.

Programmes are monitored closely during implementation to ensure welldefined

goals are achieved.

Programmes must report results and outputs regularly.

To ensure quality delivery of programmes, there is now a performance

framework linked to the release of a performance reserve.

Investments concentrate on key themes.

The broader use of financial instruments is more actively encouraged.

MBR

Creditline: European Commission, 9 Ways Cohesion Policy Works For Europe

38 39

www.maltabusinessreview.net
---
Malta Business Review

SPECIAL FEATURE: 7th COHESION FORUM, BRUSSELS 26-27 JUNE 2017

Special

Feature

Special

Feature

SPECIAL FEATURE: 7th COHESION FORUM, BRUSSELS 26-27 JUNE 2017

Malta Business Review

Liam

Sara

Andrew

Miguela

Mauro

Students report...

on Interreg

projects in

Malta

The Interreg Annual Meeting 2017 took place

from 26-28 April in Malta. It was organised

by the European Commission, Directorate-

General for Regional and Urban Policy with

the support of the Maltese Presidency of the

Council of the European Union.

During the event, participants had the opportunity to visit

one of three projects:

> Lithos cross-border project on the protection and

valorisation of historical heritage;

> CypFire transnational project on protecting the

Mediterranean regions' natural heritage against fire;

> Malta south sewage treatment infrastructure.

Students from the journalism school at the Malta College

of Arts Science and Technology - MCAST were also invited

to attend. These project visits were an opportunity for

these young people to witness the concrete benefits of

cooperation. Their impressions of the project visits are

given below.

Lithos

This cross-border project between Malta and Sicily focuses

on the protection and valorisation of the historical heritage.

Speaking to Daphne Marie Fenech, the lead architect

behind the Lithos project at the Inquisitor's Palace in

Vittoriosa, she explained that in essence the project focuses

on the synergy between the historical profession of two

nations (Malta and Sicily) and the ability to put it to use to

restore building and structures that otherwise would be

lost.

One of the techniques in the forefront of the project is

stereotomy, revolving around the geometrical knowledge

of drawing and cutting the blocks of solid material. Fenech

stated that the fact that the project's results were tangible

aided the process of receiving funds from the European

regional fund. Consequently, a museum and training centre

were erected with material, equipment and expertise not

present in Malta but imported from Ragusa, Sicily.

Speaking on the benefits of working with another EU Member

State in a cross-border project, Fenech said the communication

between parties is exceptional and a platform

such as the EU helps in creating a pool of countries that

seeks partners in similar projects.

Apart from the rejuvenation of old structures and infrastructure,

the project also aimed at the resurgence of masonry

skills in Malta. Prior to this and similar initiatives local architects

feared the death knell for masonry skills and other

historical professions targeting architecture.

The important role of MCAST was also highlighted during this

informative meeting. The institution's work in conjunction

with Heritage Malta's various research operations gave a

new lease of life to a number of prospective masons.

Liam

40 www.maltabusinessreview.net 41

CypFire

On 27 April I had the chance to attend the CypFire project

event held by the EU Commission. Prior to visiting some

sites a talk was held at the local council of Mgarr where

we were greeted by the mayor Paul Vella who introduced

three more speakers – Roberto Tanti, Gianni Della Rocca

and Eman Vella.

Each spoke of their involvement in this project. Tanti started

by stating the aim of this CypFire project: to suppress forest

fires with a natural barrier, cypress trees. He talked about

how the project came to be with the various experiments

done in different countries and the general spreading of

knowledge.

Della Rocca spoke about the technical aspect of the project

by going into scientific detail about the properties of the

particular species of trees called Mediterranean cypresses.

Lastly, Vella spoke of the input the Mgarr local council had

in previ- ous experiments to determine the best species of

cypress to use in this natural barrier. Mgarr was the best

contender for planting trees as it has the best maintained

rural area in Malta and plenty of space. The trees were

planted in two sites – one near Gnejna and one in Ballut – in

2006 and 2012, respectively. The monitoring of these trees

is still ongoing even though CypFire has ended.

Sara and Andrew

Ta' Barkat sewage treatment plant

The annual meeting included a visit to the sewage treatment

infrastructure known as Ta' Barkat, at Xgħajra, Malta, Stefan

Cachia and David Sacco, engineers within Water Services

Cor- poration, discussed the project's aim and objectives,

agenda and the treatment's key infrastructure.

Cachia opened up the discourse with CF116, one of the

most iconic waste projects in Malta. This operational

programme was originally submitted to the Commission

in December 2007 and formally submitted in July 2010.

According to Cachia, CF116 re-establishes the bathing

water quality along with the Bathing Water Directive and

eliminates extra raw waste water which is discharged into

the sea. This project also aims to get rid of all bad odour

emissions in raw waste-water discharge. Cachia said the

project cost around EUR 80.1 million.

Sacco discussed the project's aim and objective with

regards to the reduction in pressure on natural water

resources to diversify the available water supply and

increase the propor- tion of reclaimed water. He also stated

that the water services facilitates 90 boreholes, 10 pumping

stations and 3 sea-water reverse-osmosis plants in Malta

and 44 boreholes and 2 pumping stations in Gozo.

The Water Services Corporation aims to continue to invest

in better quality of life which leads to an investment in the

future of the Maltese people. The delegation then visited

the plant.

Miguela and Mauro MBR

Creditline: European Commission, Panorama Spring 2017
---
Malta Business Review

DENTAL HEALTHCARE

Malta Business Review

ADDRESSING COMPLEX

CASE SCENARIOS!

By Dr Jean Paul Demajo

In today's dentistry aesthetics are as

important as functionality. Many patients visit

the dentist and tell them how happy they are

that their bridge or implant they had done

many years ago is still doing fine. What they

are unhappy about are the poor aesthetics

they carry. Most of this old dental work is

heavily constructed using old techniques

with possible visible metal. The frontal view

often shows receeded darkened gums by the

thin metal-ceramic edge of the border of the

crown. Spaces appear in between the teeth

and/or implants, again due to gum recession

causing dark shadows and food packing.

Food packing leads to plaque build-up and

inflammation. Yes this may be kept clean but

the aesthetics still leave much to be desired.

The fact remains that in most cases a bridge

or implant looks very good when inserted but

10, 15 or 20years later it looks very poor and

not in-keeping with the rest of the dentition.

OPTIONS FOR TREATMENT

1 Removal of the implant and adjacent tooth

with poor prognosis followed by two new

implants replacing the two missing teeth

and two new crowns

2 Modification of metal collar and provision

of new implant crown

3 Removal of implant and construction of

new all-ceramic bridge in zirconia or lithium

di-silicate replacing both teeth

4 Gingival plastic surgery to cover the metal

collar

This is a tricky case scenario on a patient

with high expectations. Each option

carries advantages and disadvantages.

Understanding that each option may bare a

good but possibly a compromised result, the

patient has opted for option 1. Here is the

sequence of events:

1 Explantation (removal of implant) and

extraction of adjacent central incisor

2 Simultaneous bone and gingival grafting

plus provision of removable prosthesis.

3 Placement of 2 new implants 3months

post-removal of implant and tooth with

further bone augmentation

4 Fitting of new all ceramic intermediate

implant-crown connections followed by

a metal free all-ceramic superstructure

4months post-implantation

Intra-op pre treatment

Intra-op showing two implants and two ceramic connections

The above shows that there are many

solutions to an aesthetic problem. What's

important is knowing what options are out

there, explaining them to the patient and

selecting the best option to address the

patients wishes. Timeframes and costings

must also be weighed out.

Ask your dentist! MBR

A CASE SCENARIO

Middle aged man is unhappy

with an implant done

12 years ago

The implant has healed very well

Fully satisfied with performance

of implant but deeply unsatisfied

with current aesthetics

of tooth and gum

Extra-op pre treatment

Extra-op post treatment

DR JEAN PAUL DEMAJO

Dental and Implant Surgeon,

Trained in London working in

private practice in Malta

42 43

www.maltabusinessreview.net
---
Malta Business Review

IT INTERVIEW OF THE MONTH

IT INTERVIEW OF THE MONTH

Malta Business Review

Service, Delivery,

Performance

By George Carol

Brian Darmanin,

Technical Director at J2 Group

"IT and Technology

are the core of today's

businesses but managing

your technology should

not be a time-consuming

aspect of your business"

maintains Brian

Darmanin, Technical

Director at J2 Group

in this interview with

MBR.

MBR: Why did OSM decide to merge within

J2 Software and what is the strategic fit

here?

BD: We value clients' business and strive

to give them the best level of products and

services possible. As part of this ongoing

commitment we have decided to invest

further in another local IT firm namely J2

Software, which is an established software

house specialising in the retail sector,

accounts, payroll and custom software for

the past 20 years. Effective November 2016

we have merged with J2 Software, forming

a new group of companies under the brand

name of J2 Group with main office located

in Msida, Malta and branch office in Xewkija,

Gozo. This merger means that we can now

provide businesses a stronger competitive

advantage bringing the customer to the

forefront of today's technological standards

and demands.

MBR: Some people talk about merging or

combining cultures, while others seek to

create a new culture that is separate from

those of the legacy companies. What was

your approach?

BD: This is a merger of two innovative and

professional companies having a history of

successfully working together for the last five

years. Both companies have accomplished

excellent results for customers, with an

emphasis on personalised service and

support. Clients can still rely on the same

personal working relationships that they have

had with us in the past. Customers will still be

dealing with the same people and can depend

on the same high quality service that we have

always striven to give all our customers.

MBR: What benefits and synergies will this

new merged team gain and what are the

main benefits for your customers?

BD: We understand that this merger

represents a change in our company brand,

name and logo. We also want to ensure our

clients that our services will remain the same

and will only grow stronger through this

combined offering.

MBR: With regard to J2 Group's evolution,

how do you see the company positioned for

the future?

BD: The Group will continue to focus on our

core IT services and software products while

keeping in mind client needs. We are currently

investing in Microsoft solutions while we are

also re-writing some of our core packages in

order to keep up with the latest technologies.

MBR: What level of focus has J2 Group put

on technology investments?

BD: J2 Group is a dynamic company with

a flair for technology and an emphasis on

personalized service. Our team is made up

of qualified and experienced personnel and

more importantly made up of people who

love technology. Thus our energetic team is

committed in providing and recommending

quality services and products which would

best fit your business model, operating

best technology available. J2 has more than

20-years of experience understanding the

business of the perioperative continuum.

MBR: Following the merger, have the type

of solutions you offer today changed the

client relationship?

BD: This merger represents a growth in

resources for the whole group and we want

to ensure clients that our services will grow

stronger through this combined offering.

Our goal is to continue delivering all-round

high-quality service and support in our

current markets more efficiently than before.

To accomplish this, we shall adhere to the

established road-maps and service level

agreements while simultaneously exploring

opportunities to provide you with additional

value in new areas. We are and will continue

to be committed to growing your business

and are sure that this merger shall prove

beneficial to the level of service and coverage

we offer you.

MBR: How has J2 Group's focus shifted to

help clients achieve better results?

BD: We firmly believe that every customer

is unique and has distinct requirements.

Hence we take time to sit down together

in order to examine your business needs

before recommending the way forward. We

appreciate the costs, time and investment

that businesses invest in infrastructure and

solutions and that's why we treat every

project as if it were our own. We thus focus

all our energies into your business in order

to guarantee professional service, delivery,

performance, and above all cost effectiveness.

MBR: Will you discuss the critical role

that technology plays within J2 Group's

business?

BD: J2 Group is backed-up with strategic local

and foreign partnerships, thus keeping us

on the forefront of today's technologies and

business needs

MBR: How critical has it been to

communicate these changes internally so

the employees understand it?

BD: Our team is key for us and the team

has been involved in the process and

communication of this merger throughout.

Since we have been working together for

several years this was a very smooth transition

for us. MBR All rights reserved / Copyright 2017

J2 VALUES

QUALITY

Quality should be the outcome of patient care systems &

result from attention to process as well as individuals

INTEGRITY

Live an examined life subjecting motives and actions to

the scrutiny of mind and heart; be principled and fair in

business practices with colleagues and clients and assure

results based on value, worth and commitment

RESPONSIVENESS

Be responsive to client needs and remain flexible in

the face of their changing priorities; practice effective

listening; be supportive of colleagues

AFFIRMATION

Affirm the knowledge, skill, dignity and humanity of

clients, co-workers, and persons with whom we interact;

maintain an organizational culture that respects quality of

life concerns

INNOVATION

Innovation & creativity should be the hallmark of our

efforts to design or enhance our services

LEARNING

Remain knowledgeable of current systems, trends, and

environmental factors through continuous learning or

acquisition of staff to complement our knowledge base;

recognize that learning is dynamic not stagnant

VITALITY

Maintain an organizational style that brings vitality and

energy to our product and efforts; remain open to new

ideas and foster a work environment for risk-taking; affirm

healthy living

DIVERSITY

Respect differences and appreciate that sameness is not

only uninteresting but limiting

44 45

www.maltabusinessreview.net
---
Malta Business Review

BUSINESS INTERVIEW

BUSINESS INTERVIEW

Malta Business Review

Discovering Innovative

Lighting Solutions

MBR: How and why did you become part of

the Light Design Solutions Ltd design team?

PC: The Company LIGHT DESIGN SOLUTIONS

(LDS), whose showroom and offices are

located in Birkirkara, has the primary objective

of providing a specialised lighting design

service that aims to enhance space and brings

out the aesthetic and architectural features of

the building. LDS was set up in 2008. I had

worked in the lighting design sector, for other

companies, for more than twelve years. I felt

that attaining the potential of my abilities

depended on others, besides the fact that

people needed a better understanding of

light usage and how light's potential could

be exploited to transform it into an artistic

experience. The whole concept of the

employees and exhibits at the offices and

By G. A. Carol

Peter Cutajar's experience in the

field helped him appreciate that

Light Design Solutions (LDS)

would have to collaborate with

foreign partners around the

globe, since this would offer good

quality products consistent with

the latest lighting technologies,

which are incessantly

revolutionising the lighting sector.

In this interview with Peter, we

learn more about LDS.

showroom of LDS is founded on the mission

to explain to our clients that lighting is not

just the light source but the LIGHTING EFFECT

that the source creates.

A significant objective of LDS

is to address the interaction

between human needs and

wishes; between architecture

and aesthetics; between

excellence, economics and

budget constraints

The decisive objective of LDS is the

optimization of space and making it effusively

functional. The presentation of light is central

for LDS because light enriches the character

Peter Cutajar, Light Design Solution (LDS)

and aesthetic feature of the designated area;

be it a house, a commercial environment,

outdoor space or a place that provides

entertainment. The motto of LDS is to enhance

people's wellbeing by creating an appealing

and pleasant ambiance of the area they are

in. The Company strives to help its clients live

this experience. A significant objective of LDS

is to address the interaction between human

needs and wishes; between architecture and

aesthetics; between excellence, economics

and budget constraints. At LDS, we strive to

create a harmony between such concepts by

being imaginative, original and innovative,

rational, finding consensus with the client's

needs and practical.

Every interior and exterior project is a new

challenge for LDS; even when the approach is

identical and the final results were achieved by

the employing the same techniques. Hence,

the art of lighting design demands innovation

and creativity because every project is unique.

The Company's mission lies in its strength

to search and discover innovative and cost

effective solutions for lighting plans and

designs; project management; supervising

the installation of energy efficient products

and systems that the LDS is commissioned to

execute.

MBR: What are your greatest moments

or accomplishments personally and

professionally?

PC: Over the past years, LDS has been entrusted

with important projects around the Maltese

Islands and even abroad. One of the greatest

moments and accomplishments of my career

was working with the renowned Maltese

Architect, Professor Richard England (FAIA)

on the Dar il-Ħanin Samaritan Conference

Centre Project in St. Venera, conceived as an

overall series of open spaces aimed to engage

the lay people in meditative sessions, in both

its external and internal spaces. Professor

Richard England (FAIA) wrote that the lighting

designs for the above mentioned Conference

Centre, as planned and executed by LDS, not

only highlights the architectural features but

also enhances the whole project. He goes on

to state that roaming through the illuminated

spaces of Dar il-Ħanin Samaritan provides an

enchanting experience because it gives the

architectural design an added layer of poetic

quality. As an architect of the project I applaud

the finished product.

The Company's goal is to create

a design where people can

enjoy the discernable aesthetic

architectural features

LDS was given a free hand by Professor

England to design the appropriate lighting

for this Conference Centre. It took us eight

months to finalise the lighting designs and

2 years to finish the lighting project. This

project and working with Professor Richard

England (FAIA) was a great milestone for LDS,

as it was a living proof of what LDS stands for.

The project demonstrated the Company's

capabilities and potentialities unswervingly

and robustly.

MBR: In your opinion, what sets you apart

from other light design studios designers?

PC: In my opinion, such projects as Dar il-

Ħanin Samaritan Conference Centre lauded

by Professor Richard England (FAIA) are

proof of the Company's credentials and the

service that it offers its clients. LDS provides

comprehensive service of professional

lighting calculations, wiring plans indicating

the precise position of the lighting fixture in

tandem with the size and cut outs for the false

ceiling contractor, together with 3-D images

showing the lighting effect created for our

clients. The service that LDS provides includes

supervising the execution of the lighting

design plans and the fixing of lighting fixtures

on site.

MBR: From idea to finished product – how

does a design become a lighting fixture

ready to go on the market?

PC: The journey from the conception of the

idea to the finished product goes through

a number of stages. The initial stage of the

project is that of a rudimentary design of the

project. The Company's design team then

develops the simple idea and develops it into a

sophisticated notion of the light effect that to

be achieved. The Company's team then sets

about designing the product starting with the

shape of the light fitting and finishing with the

optics. In the process we collaborate and keep

contact with our lighting manufactures in

Italy and Germany who construct the design

of LDS. Foreign Companies have placed the

designs of Lighting Design Solutions in their

Company's official catalogue.

MBR: How would you characterize your

design work in five words?

PC: I would say that the design work of

Lighting Design Solutions is: Professional,

Comprehensive, Innovative, Imaginative

and Practical.

MBR: What are your goals and what is on

your professional bucket list?

PC: My goal is to create the awareness that

light design is as important as the architectural

features and the interior designs employed.

Unfortunately, many do not give light design

the attention that it deserves. It could be

that people consider the architectural design

and the finishing materials required (such as

bathrooms and tiles) for their new homes for

their new home more important. I believe

that individuals who spend thousands of Euro

(whether it is for their home or a business

enterprise) and do not give the necessary

attention to lighting would simply become

the owners of have a half-baked project.

MBR: What inspires your designs?

PC: Our designs are inspired by the concept of

beauty and how light can transform a simple

structure into art, and as Professor Richard

England (FAIA) stated, give the architectural

design an added layer of poetic quality.

Light plays a very important role in bringing

out the architectural features at night. The

Company's goal is to create a design where

people can enjoy the discernable aesthetic

architectural features of the building not only

during daytime, bathed by sunlight, but more

importantly at night, illuminated by artificial

lighting.

MBR: With so much experience behind you,

how do you see the lighting market in the

future?

PC: The experience that I have gained in

the last nine years suggest that architects

and interior designers are realising that light

design is more complex than meets the eye. I

think that the lighting market has a promising

future because we have come to realise

that these professionals are recognising

the need to collaborate with lighting design

professionals. The secret for our success is

that if we want to create a particular light

effect, we are capable of visualising the light

fixture required that will produce the light

effect imagined, and if it is not found on the

market, we have the experience, expertise

and ability to create it. MBR

All rights reserved / Copyright 2017

46

www.maltabusinessreview.net

47
---
Malta Business Review

RISK MANAGEMENT

RISK MANAGEMENT

Malta Business Review

structure

for Success

by George Carol

CC: The tsunami of regulations that will

continue to emerge from EU will make this

difficult for the compliance department

to follow and ensure that they are being

properly complied with. Increased head

count in compliance will still not solve the

problem. Also the talent in compliance

combining regulatory knowledge and

practical implementation are rare. This will

push the need for further development of

compliance monitoring systems with artificial

intelligence solutions. In the future the role of

the compliance officer will be in the software

development and integration of powerful IT

systems. We will see a time when compliance

will totally incorporate the digital evolution.

MBR: What does FINTECH stand for and

represent?

CC: FINTECH is the future of financial services

whereby the operational processes and also

controls are automated, partially or fully,

through the use of technology. The pace of

technology and its use is accelerating at a

very fast rate. Use of artificial intelligence

and robotics will become more a reality of

financial services.

MBR: The terminology and definition of

compliance is extensive. Can you briefly

describe BLOCKCHAIN, the regulators pace

of evolvement, and the importance part of

preservation of reputation?

CC: Blockchain is the technology on

which cryptocurrency has been built. This

technology has the power to leave a trace of

each process or asset as it moves hands. This

will achieve a higher level of transparency but

this technology has the power to facilitate

transactions on a peer-to-peer level without

the need of intermediaries such as banks. No

wonder this technology is considered as the

disruptive technology of the future.

From what I have read, heard and

experienced, the regulators seem to be

sceptical about the use of this technology or

cryptocurrency. In part, this may be due to the

lack of understanding of how this technology

really works. Also the regulators were too busy

understanding and implementing all these

regulations coming out of the EU. However,

I still believe that appreciation of Blockchain

and digitisation can also be the future tools

of how regulators can monitor the industry

more efficiently and effectively.

Still it is important to keep in mind that Bitcoin

has been linked with money launderers, drug

traffickers and paedophiles. Yet, Blockchain

cannot be avoided as it will be part of our

lives. By properly regulating it, the technology

is intended to be used for good and legitimate

scopes. Such will preserve a country's

reputation – at least in part. MBR

All rights reserved / Copyright 2017

Non-profit organisations are not immune to reputational damage.

Recently we saw FIFA a major institution in football hindered by its

corrupt members and bad governance. Community interest institutions

or companies need to be transparent, have codes in place and effective

controls. This has made compliance not a function for commercial

entities but also for non-profit organisations as part of the presentation

of the reputation and to keep the purpose of the organisation alive.

Claire Camilleri personally considers compliance and good corporate

governance as a mission and a passion at the same time. In this interview

Claire Camilleri Gauci, Director at Aid Compliance, tells us just why

keeping updated with regulations, networking staying close to reality

are essential for effective compliance.

MBR: What can you tell us about the

development of compliance and in what

way compliance plays a major role in the

control structure of an organisation?

CC: Post financial crisis we have experienced

a stream of directives and regulations from

European Union and an increased role of

EBA, ESMA and EIOPA, which have moved

compliance from an operational role to a

strategic function both physically and in spirit.

Having said so, compliance has become an

important part of the corporate governance

mechanism but it is not the only component.

Business to thrive need the right combination

of strategy, internal control, positivity and

enthusiasm.

MBR: How have things changed on the

regulatory compliance, legal affairs and risk

management fronts over the two decades

you have been in compliance and at Aid

Compliance?

CC: Over 20 years I have seen the start of a

single regulatory body in Malta and the final

transposition stage of all EU regulations prior

to Malta joining the European Union. At that

time compliance was limited in scope.

Nobody anticipated the devastating impact of

the global financial crisis, the fall of Lehman

Brothers or the Madoff scandal. Inevitably

such events pressured legislators and

regulators to introduce more regulations.

Hefty fines by the regulators and reputational

damage caused by 'name and shame' have

underlined the risk of non-compliance as a

financial burden that has to be avoided for

the prosperity of the firm. All these elements

have pushed the Compliance Office from

back office or 'behind the desk' stereotype

to the person that is part of the life of the

executive meeting.

this technology has the power to

facilitate transactions on a peerto-peer

level without the need of

an intermediary such as banks

MBR: How does this form part of the internal

governance, especially where compliance is

a risk area?

CC: Compliance and legal risks should be seen

as part of the risk management framework.

When these areas are seen as a risk, one is

able to effectively and efficiently determine

which regulations effect the company, the

financial impact of regulations as a result

of non-compliance, and how these are

effectively mitigated. If compliance is well

managed it is the first line which can define

and reinforce governance.

MBR: What is the underlying rationale of

the compliance function?

CC: It is important to recognise that the

compliance function deals with people. The

Compliance Officer and the Department

should advise, educate and inspire the

culture and which reflects in fair, honest and

professional dealings with the clients and

rest of the society including regulators. Being

practical is also critical to ensure the business

remains in perspective.

MBR: Which industries or sectors is

compliance gaining importance?

CC: Compliance is gaining importance across

various sectors not only financial services,

listed companies and pharmaceuticals which

are the classic examples. The Gaming sector

is one example where it has seriously evolved

Claire Camilleri Gauci, Director at Aid Compliance

in terms of the need of compliance. This

was pressured by anti-money laundering

regulations, general data protection

requirements and responsible gaming, just

to mention a few. However, we are seeing

compliance in other sectors such as sports, or

in areas such as environmental compliance.

At the end of the day, increased regulations

have impacted every industry not as a result

of the pressure exerted by policy makers or

regulators but also by the public outcry for

social responsibility.

MBR: Can you tell us which areas or

industries are maturing in terms of

compliance?

CC: Gaming is a sector which has matured not

only in terms of compliance. We are seeing

a steady increase in the engagement of

professional and experienced non-executive

directors who are able to bring the 'control

mindset' on the board table. Also, internal

audit is increasing in demand in case of large

scale companies.

MBR: How do you define the AID brand, its

achievements, and its future?

If compliance is well managed it

is the first line which can define

and reinforce governance

CC: AID Compliance has been developed

to bring high-end professional compliance

and internal audit in a practical manner. The

team is composed of highly professional

individuals with years of practical experience

and different backgrounds. Innovation and

business sensitivity has distinguished AID

from others. Since its inception in 2014 the

Company has become a renowned named

in financial services and we are gaining

momentum in gaming and cyber security

audits. We are also developing other areas in

compliance such as sport.

MBR: How does technology influence and

impacts compliance?

48

www.maltabusinessreview.net

49
---
Malta Business Review

Committed to Providing the

Best Education Learning Experience

YACHTING AND AVIATION

eie educational group

Malta Business Review

OUR MISSION

To enhance the level of Academic

training and Tuition of both pre and

post graduate levels by:

Learning a language or obtaining an academic

qualification is more important than ever in

the global economy. eie Educational Group

provide students with a first-class educational

teaching and training service at a fair price.

Students ask for an excellent teaching

environment so that they quickly progress

through their course, but also that they will

want to enjoy themselves whilst studying.

At eie Educational Group, you will have a

fantastic studying experience. eie encourage

social interaction trough regular, fun and

varied leisure programmes, as this improves

a learning experience.

eie Educational Group, was established in

January 2000 and their success is built on a

long-standing commitment to the specific

needs of local and international students. eie

constantly expands its worldwide networks,

partners with established renowned

organisations, invests in its facilities and in

social commitments. The eie Educational

Group is redefining the landscape of modern

education.

The eie Educational Group aims to develop the

appropriate competencies and knowledge

needed in planning, evaluation, research and

development tasks in education and related

fields in the midst of societal changes, both

on local and global levels. This network gives

eie the key to be competitive and to share

the collective experience and continuous

professional development with their cilients.

In a fast moving world, challenges are

demanding and change is constant.

Tomorrow's future depends on today's

knowledge. MBR

For more information about eie's degree programmes,

English language courses or other business related

courses you can e-mail at info@eie-group.com,

phone on +35621332804/5

• Contributing actively towards the

propagation of equal opportunities

for all.

• Continually engaging in the pursuit of

excellence.

• Continually investing in its own

people.

• Striving to afford the best service to all

our clients.

• Establishing itself as a leader in the

international education field.

• Contributing towards the social

welfare of the community.

Through its companies, the EIE EDUCATIONAL GROUP is able to

offer the following services:

Academic programmes

Training programmes

English Language courses

Student Accommodation

Internships

Certificate, Diploma, Bachelor, Master degrees in various

subjects for young and mature adults are offered through eie

Institute of Education (Licensed by the NCFHE as an institute

of Further and Higher Education – License Number 2005-TC-

001);

Business courses, thematic seminars for business excecutives

offered through eie Mangement Centre;

English courses at Beginner, Elementary, Pre-Intermediate,

Intermediate, Upper-Intermediate, Business English and

Advanced levels are offered through Unilang International

School of Languages, Valletta (Licensed by the EFL Monitoring

Board – License Number 249/MB16)

Provision of quality accommodation around Malta ideal for

students offered through eie Residences

Organisation of Work placement and Internships for

international students offered through eie internships.

Commitment to

EXCELLENCE

The eie

Educational

Group

eie Educational Group, Valletta Buildings, South Street, Valletta

Tel: +356 21 332804/5 info@eie-group.com

is an acknowledged leader

in international education

Higher Educational courses - eie Institute of Education

(NCFHE License Number 2005 - TC - 001)

English Language Courses - Unilang International

School of Languages (EFL License Number 249/MB16)

Executive and Business courses - eie Management

Centre

Internship services - eie Internships

Student Accommodation - eie Residences

International Educational services - eie International

www.eieEducationalGroup.com

50 www.maltabusinessreview.net 51
---
Malta Business Review

STRATEGIC THINKING

FOCUS: CHINA VS EU

Malta Business Review

BOOST YOUR

STRATEGIC THINKING

By Robin Cleland

Organisations

not only need to

recognise the

importance of

strategic thinking,

but also need to

become more

customer-centric

and data-driven

in their approach

to formulating,

tracking and

adapting their

strategy.

Internationalization & Militarization:

China vs EU, Who is right? [Part 1]

By Anatole Baldacchino

Robin Cleland, Managing Partner at 20/20 Strategy

Strategy is about making choices and

developing a deliberate plan of action to

strengthen and enhance performance. It is

fundamental to the success and sustainability

of an organisation, whether you are operating

in an emerging or mature category, or are a

new or established brand. It forces you to

think about your organisation's capabilities

and the mechanics of the industry in

which you operate. It defines what your

organisation stands for, and how you want

to compete, and it sets the direction for the

whole organisation.

Bold strategic decisions and precise execution

matter more now than ever before in today's

rapidly changing environment, where the

world is less linear and more fluid, with fast

changing customer behaviour and intense

competition

Effective strategy requires focus. Given

resource constraints, strategic decisions must

involve making trade-offs – Strategy is as

much about what you choose to do, as it is

about what you choose not to do. Therefore,

to drive growth, you need to allocate

resources to focus on those activities where

you have a competitive advantage and that

will deliver the highest impact.

However, making the right strategic decisions

on where to focus and allocate resources can

be challenging. As a consequence, important

strategic decisions often resort to being

based on partial information and gut feel.

Although intuition and gut feel are valuable as

a starting point to strategy, it is risky to base

the future direction of an organisation solely

on this – you will either be lucky or wrong!

Furthermore, an essential part of strategy is

effective implementation, and it is hard to

obtain a shared buy-in to the strategy based

on one person's gut feel.

Bold strategic decisions and

precise execution matter more

now than ever

For these reasons, a more structured and

data-driven approach to strategy is required to

manage complexity, obtain buy-in and support

better strategic decisions. The approach must

build alignment on the optimal strategy to

pursue, and in doing so provide clear answers

to the following questions:

• What opportunities are there, how big are

they, and how could they evolve?

• Which opportunities should you prioritise

for your brand?

• How can you activate these opportunities?

Answering these questions involves

deconstructing the market to develop a

deep understanding of underlying customer

behaviour and segments, the market and

competitor dynamics, and the drivers of

brand performance. Furthermore, it is

essential to assess how external market and

competitive conditions could evolve going

forward, as strategy involves understanding

possible futures to inform present decisions.

This approach ensures that strategic decisions

are based on a clear understanding of the big

picture, as well as the underlying detail.

By thinking strategically and adopting a

customer-centric and data-driven approach

to strategy, you can uncover hidden

growth opportunities, attract and retain

your customers, adapt to changing market

conditions, and make strategic decisions

that will help your brand thrive and compete

effectively. MBR

ABOUT THE AUTHOR

Robin Cleland is Managing Partner at 20/20

Strategy, a boutique strategy consulting

company, specialising in growth strategy.

He advises leading global brands and new

emerging brands across a range of sectors

and countries.

If we take a glimpse at the colonial times,

western big hats, UK and France always

looked to enhance their respective roles

as expansionists. The Chinese on the other

hand, were against this way of thinking of

colonialism and instead they preferred to stay

watching from the gallery.

Europeans regarded colonies, "as part of their

package" with all the benefits that comes

with it, however the Chinese view of colonies,

was that these countries were "outside

civilization" and therefore unworthy of its

protection.

China does not aspire to run the world,

because it already believes in itself as the

"God of this World".

This is the reason why, China does not take an

aggressive stance at world stage.

However as time goes by, we analyze the

present scenario and take a look at what

Chinese youth thinking on International

affairs and militarization. Youths were asked

as what role China should play in International

affairs. The following were the results,

What role do you think China should play in

International affairs?

25% replied to leadership role as a regional

great power. (At present)

30% replied to leadership role as a regional

great power (by 2028)

21% replied leadership role a great world

power (At present)

47% replied leadership role as a great world

power (by 2028)

8% replied to take care of its own business

only and little to International affairs (at

present)

4% replied to take care of its own business

only and little to International affairs (by

2028)

2% only had no clear idea (At present)

3 % only had no clear idea (By 2028)

In accordance to the Center for arms control

and Non-Proliferation in 2008, China spent

122 Billion US dollars on military expenditure,

whilst the European countries spent 289

Billion US dollars.

This scenario was overturned in 2016, in

accordance to the Stockholm Peace Research

Institute,

Which states that China spent 216 Billion

dollars in 2016 and the European countries

spent 192 Billion US dollars by the same year.

China is building up its military base year

by year but remains non-aggressive. The

EU's view on militarisation is somehow

more complicated as one may think. In fact

militarization of Europe is highly regarded

as a greater threat than Brexit. US led

NATO deploying military assets around

Russia puts more pressure on the EU for

greater militarisation. Europeans view on

militarization is surrounded by skepticism. A

greater build up in Europe can push further

vulnerable countries and can inflict further

problems on the failed migration European

policies. From the China youth survey a low

8% of the respondents, claim that China

should take care of its own house rather than

its International affairs.

This view in Europe is somehow the opposite

as many EU citizens think that we should

control our borders carefully to regulate the

flow of migrants. NATO's intent to extend its

mission to the center of the Mediterranean

creates further EU tensions. This is done

in the name to fight against Isis. The other

justification of militarization of Europe is the

intervention of Russia in Ukraine. Russia is

seen as an external threat to Europe. The EU

pledged a 1.5 Billion fund a year by 2020 to

boost the European defense system.

China deploying its naval assets around

the Spratly islands because China claims

that these are part of its territorial waters.

Vietnam, Malaysia, Philippines and Japan all

claim part of these waters as well. (Article to

be continued) MBR

52 53

www.maltabusinessreview.net
---
Malta Business Review

BUILDING & CONSTRUCTION

BUILDING & CONSTRUCTION

Malta Business Review

The Future looks

Bright white

by

Antoine Bonello

Solar Reflective coatings offer a powerful

sustainability option for the restoration and

maintenance of roofs in general.

Many people here in Malta are now adopting

the thermal reflecting membranes not only to

waterproof but also to reduce the heat intake

inside buildings by as much as 90%. A thermal

roof coating also contributes to reduce the

energy consumption for cooling and heating

buildings by as much as 50%. An all year round

product that can provide long term solutions

to all waterproofing problems.

Malta is an island with low rain fall and

plenty of sunshine, needless to stress on

the importance of solar panels, especially

now that they can be in a position to absorb

more UV rays and produce more electricity

thanks to the thermal membrane reflective

ability. Our recommendation is to avoid

fixing the panels directly on the concrete

surface, they should be mounted on slabs or

elevated on proper metal structures that can

be dismantled without damaging the roof

whatsoever.

A Good thermal reflective resin membrane

have must have an SRI (solar reflective index)

of at least 111% (ASMT E 1980) and a thermal

ability of 91% (ASMT C 1371)

Preparation and proper product application

are the secret to prevent a piss poor

performance. Waterproofing seems so easy

on paper it is just a roller application. Well

not exactly. A good amount of preparation is

required in order to achieve a proper result

that can last years. REMEMBER never let

anyone experiment with your home especially

when it comes to waterproofing. Over 80% of

building damages are related to water intake.

DIY is very popular here in Malta and to

facilitate its application, a thermal resin

membrane with micro fibres is now available,

thus avoiding the need to implement any

fibreglass reinforcment net. A good job is

never enough if the materials applied are of

poor quality. Always avoid plastics, acrylics

and latex and cement based materials as they

lack UV resistance and become brittle, most

of them do not last a whole winter. Elasticity

is also very important due to structural

movements and so is resistance to water

stagnation, which is something very common

with our flat roofs. On the contrary carpet

membranes increases heat intake by 80% and

its bitumen properties starts to melt when the

temperature exceeds 35 degrees, something

very common here in Malta.

Qualities and visible certifications a good

waterproofing product must carry on the can

• UV Resistance, Elasticity, VOC low, H2O, CE

Mark, low impact on the Enviroment.

Delicate works that involve the

implementation of a fibre netting should be

carried out by professionals and properly

trained people. Always make sure that the

persons to whom you commission the works

are accountable, traceable and trustworthy. It

is therefore recommended to make sure that

they are affiliated with the Malta Professional

Waterproofing and Resin Flooring Association.

Always ask to see by Installers Card for more

piece of mind. This way you can determine

whether or not the person has the necessary

knowledge to do a proper job.

The Malta Waterproofing and Resin Flooring

Association provide technical knowledge and

professional formation to all Maltese installers

who wish to improve their workmanship or

start a carrier in the waterproofing business.

The Association also assists its members

by providing the services of a profession

advisor when facing challenging situations

or other difficulties during their works.

The Association also provides its qualified

members the Certified Installers Card. This

is done to reassure the general public that

the person is able to carry out the requested

job at its best. All this is being made possible

thanks to the Resin and Membrane Centre

and NAICI International Academy. For

further information with regards the Malta

Professional Waterproofing and Resin

Flooring Association visit our website on

www.maltawaterproofing.com or call on

27477647 MBR

54 55

www.maltabusinessreview.net
---
Malta Business Review

YACHTING AND AVIATION

Malta Business Review

EQUIOM

reaches new

yachting

and aviation

milestone

Equiom, the international professional

services provider, has reached a new

milestone of USD4 billion in assets under

administration for its yachting and aviation

portfolio.

As one of the largest yachting and aviation

departments in the corporate service sector

globally, Equiom has a 30-strong yachting

and aviation team worldwide. They provide

ongoing support and advice to clients with

dedicated teams for registration, structuring,

tax, customs and legal matters relating to

yachts and aircraft.

Equiom's Director of Yachting and Aviation,

Edward Leigh commented: 'We are pleased

to have reached such a significant milestone.

It is a true testament to the high calibre of

our team and the breadth of our offering.

We manage transactions for some of the

highest valued yachts and aircrafts in the

world, including helicopters, other types of

aircraft, motor and sailing yachts. With larger

superyachts and corporate aircraft currently

in high demand, it will be interesting to see

how the market develops over the next few

years.'

Equiom has been providing services to

the yachting and aviation sectors for over

ten years. In 2016, the company achieved

Authorised Economic Operator (AEO) status,

which is a globally recognised quality mark

in the industry. This recognition affords

certain benefits to clients in the yachting and

aviation customs process, such as fast-tracked

paperwork and fewer customs checks.

Edward continued: 'A number of new recruits

in the team this year has enabled us to attend

more and more industry events, Including

the European Business Aviation Convention

and Exhibition (EBACE) and the Monaco

Yacht Show in September. We look forward

to seeing existing clients and intermediaries

and making new contacts as we continue our

commitment to serving the industry.'

Equiom Isle of Man Managing Director, Aidan

Davin added: 'Recent changes have given us

the opportunity to create a stronger team than

ever before, united in their efforts to deliver

the highest levels of service that clients have

come to expect from Equiom. The growth

in our assets under administration under

Edward's leadership is a great indicator of the

importance of this service line not only to our

Isle of Man but also our Jersey, Guernsey and

Malta offices all of whom have contributed to

this achievement.'

For more information visit www.

equiomgroup.com MBR

Creditline: Equiom Group (Europe) Limited

Members of Equiom's yachting and aviation

team at Jubilee Buildings in the Isle of Man

START THIS OCTOBER

APPLY NOW!

Applications open.

No entry requirement needed.

Course is recognised by the

NCFHE at Level 3 and Level 5 of

the Malta Qualification

Framework and European

Qualification.

Small Classes Morning Sessions

Twice a week from 9am till 1pm

You do not have enough qualification

to start your career?

STARTING OCTOBER 2017

Secretarial Course

Business Finance Accounting Award +

Accounting in Business Diploma

70% REFUND FROM TAX CREDIT

56

1 April 2017-31 March 2018

Malta

TEL: 21443140/99443140

info@learnkey.com

www.maltabusinessreview.net

57
---
Malta Business Review

NEWSMAKERS

Signing of EU

Ministerial

Declaration

to put Europe

as the lead

market in 5G

Photos: OPM_PS

Parliamentary Secretary for Financial Services,

Digital Economy and Innovation Silvio

Schembri, together with other EU Ministers

signed an EU ministerial declaration that

confirms the willingness of member states

to position Europe as the lead market for 5G.

The signing took place during an informal

meeting of ministers of competitiveness and

telecommunications in Tallinn Estonia, which

is now hosting the EU Presidency.

The declaration indicates the steps member

states have to take to foster the swift rollout

of 5G infrastructure and related services

across Europe. It emphasises on the need

to create the right preconditions to leverage

the full potential of 5G and proposes a

strategic dialogue with stakeholders on 5G

challenges. The declaration will be signed by

telecommunications ministers of EU member

states during the informal meeting in Tallinn

Estonia next week.

5G is a critical element to enhance connectivity

and ensure that consumers and businesses

can become more competitive in Europe. It

is expected that future 5G infrastructure will

serve a wide range of applications and sectors

including professional uses such as assisted

driving, eHealth, energy management,

possibly safety applications.

This meeting addressed the necessity to

facilitate the data economy, especially

with respect to the free flow of data, an

essential element that will help the Maltese

Government to develop and implement its

planned blockchain strategy in various sectors

of the economy. Having such a strategy

will enable Malta to harness blockchain

technology in several government areas such

as facilitating trade between EU countries.

The Maltese Government sees this economic

strategy as a key opportunity for the creation

of an innovative industry with great potential

for the Maltese economy.

Parliamentary Secretary Silvio Schembri

said the Maltese Government agrees that

actions should be taken at EU level in order

to facilitate access to and reuse of data

across different sectors and organisations

in member states. This would improve the

overall competitiveness and ensure that

resources are used efficiently. MBR

Source: Parliamentary Secretariat For Financial

Services, Digital Economy And Innovation

EU Foreign Ministers adopt

legislative amendments

suggested by Malta aimed

at disrupting migrant

smugglers' business model

Minister Carmelo Abela, with Minister Jean

Asselborn

EU Foreign Ministers adopted legislative

amendments, proposed, and negotiated by

Malta during its Presidency of the Council of

the EU, concerning the regime of restrictive

measures aimed at stopping the supply

of goods to smugglers of human beings in

Libya. "This initiative, which targets goods

used by smugglers such as dinghies and

motors, is extremely important in disrupting

the operations of traffickers and is fully in

line with the actions envisaged by the Malta

58

Declaration of 3rd February, 2017", Minister

Abela said at the Foreign Affairs Council. He

also called on the EU to consider how this

initiative could be extended internationally.

Through these measures, the direct or

indirect sale, transfer, or export of such

equipment by EU member state nationals

or from the territories of member states,

would be subject to prior authorisation by the

competent authority of the exporting state.

The ministers held a discussion on the political

and security situation in Libya. Minister Abela

expressed Malta's continued concern at

the political stalemate and stated that the

ultimate goal remains that of all-inclusive

dialogue based on the Libyan Political

Agreement. The Minister reiterated Malta's

support to the efforts made by the United

Nations to register progress on this priority

and welcomed the appointment of Special

Representative Ghattas Salame, adding that

the EU and its member states should continue

to put their weight behind these efforts and

urge political and military powerbrokers to

find a long-awaited solution. The ministers

agreed that Libya should remain high on the

EU's agenda and adopted Council Conclusions

on Libya.

In this context, they also addressed the issue

of migration with a particular focus on the

Central Mediterranean Route - a discussion

continued over lunch in the presence of the

International Organisation on Migration (IOM)

and the United Nations High Commissioner

for Refugees (UNHCR). The ministers

supported the various actions identified by

the Malta Declaration, including projects

for the development of Africa - through the

Trust Fund for Africa and the newly adopted

European Fund for Sustainable Development

(the latter negotiated and concluded by the

Maltese Presidency) - as well as support to and

capacity building of the Libyan Coast Guard.

The Council expressed solidarity with Italy and

the ministers supported Italy and the work

being done in the context of the humanitarian

response. They stressed the importance of

the EU continuing to work closely with the

IOM and the UNHCR in a comprehensive way,

including on adequate reception capacities.

The evolving scenario in North Korea and its

impact on regional and international stability

was also addressed by the ministers, and

the Council adopted Council Conclusions in

this regard. The ministers had a discussion

on the EU's Global Strategy, focusing on the

next steps concerning implementation with

a view to identifying priorities for the coming

months, and building upon progress already

registered. MBR

Source: Ministry For Foreign Affairs And Trade

Promotion