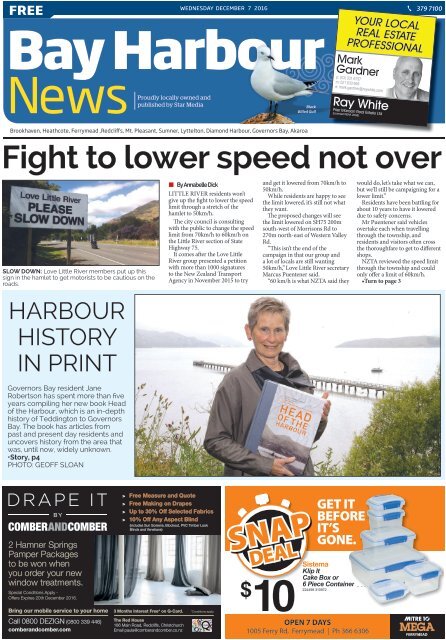 Bay Harbour: December 07, 2016
Do you know the secret to free website traffic?
Use this trick to increase the number of new potential customers.
FREE

Wednesday deCeMBeR 7 2016 379 7100

Bay Harbour

News

Proudly locally owned and

published by Star Media

Black

Billed Gull

YOUR LOCAL

REAL ESTATE

PROFESSIONAL

Mark

Gardner

p: (03) 331 6757

m: 021 633 669

e: mark.gardner@raywhite.com

Prier Manson Real Estate Ltd

(Licensed REAA 2008)

Brookhaven, Heathcote, Ferrymead ,Redcliffs, Mt. Pleasant, Sumner, Lyttelton, Diamond Harbour, Governors Bay, Akaroa

Fight to lower speed not over

SLOW DOWN: Love Little River members put up this

sign in the hamlet to get motorists to be cautious on the

roads.

• By Annabelle Dick

LITTLE RIVER residents won't

give up the fight to lower the speed

limit through a stretch of the

hamlet to 50km/h.

The city council is consulting

with the public to change the speed

limit from 70km/h to 60km/h on

the Little River section of State

Highway 75.

It comes after the Love Little

River group presented a petition

with more than 1000 signatures

to the New Zealand Transport

Agency in November 2015 to try

and get it lowered from 70km/h to

50km/h.

While residents are happy to see

the limit lowered, it's still not what

they want.

The proposed changes will see

the limit lowered on SH75 200m

south-west of Morrisons Rd to

270m north-east of Western Valley

Rd.

"This isn't the end of the

campaign in that our group and

a lot of locals are still wanting

50km/h," Love Little River secretary

Marcus Puentener said.

"60 km/h is what NZTA said they

would do, let's take what we can,

but we'll still be campaigning for a

lower limit."

Residents have been battling for

about 10 years to have it lowered

due to safety concerns.

Mr Puentener said vehicles

overtake each when travelling

through the township, and

residents and visitors often cross

the thoroughfare to get to different

shops.

NZTA reviewed the speed limit

through the township and could

only offer a limit of 60km/h.

•Turn to page 3

HARBOUR

HISTORY

IN PRINT

Governors Bay resident Jane

Robertson has spent more than five

years compiling her new book Head

of the Harbour, which is an in-depth

history of Teddington to Governors

Bay. The book has articles from

past and present day residents and

uncovers history from the area that

was, until now, widely unknown.

•Story, p4

PHOTO: GEOFF SLOAN

2 Hamner Springs

Pamper Packages

to be won when

you order your new

window treatments.

Special Conditions Apply -

Offers Expires 20th December 2016.

Bring our mobile service to your home

Call 0800 DEZIGN (0800 339 446)

comberandcomber.com

> Free Measure and Quote

> Free Making on Drapes

> Up to 30% Off Selected Fabrics

> 10% Off Any Aspect Blind

(includes Sun Screens, Blockout, PVC Timber Look

Blinds and Venetians)

3 Months Interest Free* on Q-Card. *Conditions apply.

The Red House

186 Main Road, Redcliffs, Christchurch

Email paula@comberandcomber.co.nz

GET IT

BEFORE

IT'S

SNAP

GONE.

$

$

10

10

Sistema

Klip It

$

10

Cake Box or

Sistema

6 Piece Container Set

Klip 224498 It 310972

Cake Box or

6 Piece

$ Ferrymead

Container Set

224498 310972

1005 Ferry Road

Phone: 366 6306

Sistema

OPEN Ferrymead

Klip It

7 DAYS

1005 Ferry Road

Cake 1005 Box Ferry or Rd, Ferrymead Phone: 366 6306| Ph 366 6306

DEAL

GET IT

BEFORE

IT'S

GET IT

GET BEFORE IT

BEFORE IT'S

IT'S

SNAP

GONE.

SNAP

GONE.

DEAL

SNAP

GONE.

DEAL

DEAL

Monday - Friday:

7.00am - 7.00pm

Saturday, Sunday

& Public Holidays:

Monday 8.00am -- Friday: 6.00pm

7.00am - 7.00pm

Saturday, Sunday

& Public Holidays:
---
PAGE 2 BAY HARBOUR

Wednesday December 7 2016

FROM

THE

EDITOR'S

DESK

Inside

News....................................3-19

HATS OFF to Jane Robertson for

her fantastic book, Head of the

Harbour.

It's an amazing compilation of

facts, photos and every detail you

need to know about that part of the

harbour. It took Jane, from Governors

Bay, five years to put together.

We look at the book on pages 4-5.

The book concentrates on the

area from Teddington to Governors

Bay and recounts stories from

past and present day residents. It

covers the formation of the landscape,

local fauna and flora and

Maori and European settlement.

A couple of young surfers from

the area did very well at the South

Island Primary School Champs at

North Beach (see page 16). Sumner

School's Ava Henderson won both

the year 7 and 8 girls' events,

while Point Surf Team's Jack Tyro

finished second in the year 6 and

under boys' section.

– Barry Clarke

Celebration for Heathcote Tigers at Hagley Oval

SPORT 16

Local Views........12 & 15

Sport..........................................16

Santa Parade................20

Community Events......23

Health & Beauty.........25

Real Estate..........................26

GET IN TOUCH

General Enquiries Ph 379-7100

Classified Advertising Ph 379-1100

The Christchurch Star Company Ltd. PO box 1467 - Christchurch

starmedia.kiwi

Annabelle Dick. 03 364 7497

annabelle.dick@starmedia.kiwi

NEWS SPORTS ADVERTISING ADVERTISING

Fraser Walker-Pearce. Ph: 364 7424

fraser.walker@starmedia.kiwi

Javier Balcazar. Ph: 982 9308

javier.balcazar@starmedia.kiwi

Rob Davison. Ph: 021 225 8584

rob.davison@starmedia.kiwi

BUILDING or RENOVATING

• New builds - architectural specialists

• Lighting design recommendations

• LED lighting upgrades

• Audio and media solutions

• Rewiring and switchboard upgrades

• Inspections and electrical assessments

Masters

HOLLYWOOD 3

www.hollywoodcinema.co.nz

28 Marriner St,

Sumner

Phone:

03 326 6102

Thursday 8th December - Wednesday 14th December

A UNITED KINGDOM (M) Violence

THU/FRI/TUE/WED 1:30, 8.10 SAT 6.00, 8.10

SUN 7.00 MON 1:0

YOUR NAME (TBC) Japan animation

THU/FRI/TUE/WED 6.00 SAT 1.30, 3:30 SUN 2.00, 5:00

OFFICE XMAS PARTY (R16) Violence, offensive language, drug use, sexual material.

THU/FRI/TUE/WED 8.30 SAT 8.00 SUN 7.20

The Great Museum

Santa Search

3 December to 8 January

0800 326 3326

Email: office@smartconnections.co.nz

Website: www.smartconnections.co.nz

SUNSET SONG (M) Sexual violence, sex scenes & nudity

THU/FRI/TUE/WED 1.30, 6.00 SAT 5.30 SUN 4.50 MON 1.30

TROLLS (G)

THU/FRI/TUES/WED 4.00 SAT 2.00, 3.45 SUN 1.30, 3.15

ALLIED (M) Violence and offensive language sex scenes content that may disturb

THU/FRI/SAT/TUES/WED 8.00 SUN 7.00

DANCER (M) Nudity & drug references

THU/TUE/WED 2.00, 6.00 FRI/SAT 6.00 SUN 5:30 MON 2.00

SING (G)

THU 10.00 (School) FRI 10.00, 1.30, 3.30, SAT/SUN 1:30, 3.30

WED 10.00 (School)

STATE OF THE ART HIGH DEFINITION, LICENSED BAR

Bring your family and join in the fun searching high and low for our

hidden Santas. You could go into the draw to win a great prize.

Visit our website to find out more.

Rolleston Avenue, Christchurch

General admission free; donations appreciated

www.canterburymuseum.com

Supported by

NOW OPEN

Fashion Labels

Outlet Store

Sorelli

Fashion Labels Outlet

Unit 4, Archerfield Business Park

Senior Place, Bromley, Christchurch

PHONE 389 2338 email: sorelli@vodafone.co.nz

HOURS:

Mon - Fri 9.30am - 5pm

Sat 10am - 3pm
---
Wednesday December 7 2016

BAY HARBOUR

PAGE 3

News

ADVOCATING FOR CHANGE: Love Little River members (from left), Holly and Gabe Calcott,

Marcus Puentener, Paul Bradford, Laurie Williams and Sharon McIver want to see the 70km/h

speed limit lowered to 50km/h.

Speed limit battle not over

•From page 1

But Mr Puentener said it's

inconsistent with speed limits

around the area.

"They (NZTA) said there needs

to be consistency and if people

drive through one township and

it's 70 km/h and another where

it's 70 km/h they're going to get

confused. But in Tai Tapu it's

50km/h, so having it 70km/h at

Little River, isn't that confusing?"

he said.

A flush median will also be

painted at the start of the 60km/h

speed limit, and in the central

section of the township there will

be wider painted edge lines and

centre lines.

Extending the existing 50km/h

speed limit on Western Valley Rd

to the Church Rd intersection has

also been proposed.

"The battle might be lost but

the war isn't finished yet," Mr

Puentener said.

Consultation is open until December

16 and if approved, speed

limit changes will be implemented

in March.

Bid to fight boat

mooring bylaw

• By Annabelle Dick

MOORING OWNERS are

banding together to fight a new

bylaw they say strips them of

their rights.

Environment Canterbury's

Navigation Safety Bylaw, which

came into effect on October 10,

has banned mooring owners

from selling their berths.

The bylaw also threatens to

remove an owner's mooring if

it's unused for more than six

months.

Tui Scott, who owns a mooring

at French Farm, is outraged

at the bylaw changes.

"Everyone I've spoken to is

annoyed and upset because

they've spent a lot of money on

their moorings or spent a lot

of money maintaining it over a

period of years," he said.

A mooring can cost anywhere

from $1000 to $20,000. While

the buyer doesn't 'own' it, they

have authorisation over the area

indefinitely. But under the new

bylaw, a mooring owner can no

longer sell it once they're done

with it or don't want it – they

have to pass authorisation to

ECan.

"A friend paid $30,000 for two

moorings in Akaroa but now

they're worthless when he's finished

with them," Mr Scott said.

As part of the changes, a

mooring authorisation can also

be stripped if a mooring is left

vacant for more than 180 days

in a year.

Authorisation can also be

revoked if a person has not paid

fees set out within the bylaw in

three months.

"These changes are supposedly

under navigational safety,

but they're nothing to do with

safety. It appears to us it's a

money grab or an asset grab,"

Mr Scott said.

The changes have prompted

mooring owners in Canterbury

to create a group to fight the

new bylaw and get it reviewed.

They've got legal representation

looking over the bylaw and

they want more mooring owners

to come on board.

"I've got 100 names so far

and I've had 50 people pledge

money for the kitty for fighting

this."

•To be a part of the mooring

group challenging the bylaw

changes email Tui Scott

on optieng90@gmail.com

or phone 027 657 4483

SUMMER CASUALS

Several styles and colours available

From $39 to $89

47c Garlands Road, Woolston

Phone 389 3431

www.thefootwearfactory.co.nz

Do you need a...

• Retaining wall

• Car deck

• Driveway or

access to your

property

If so phone the local expert…

Rod Murrell – 021 301 744

We also sell

screened soil & all

grades of metal

30 years experience

Free quotes

No job too small
---
PAGE 4 BAY HARBOUR

Wednesday December 7 2016

News

Author recounts stories of past and

• By Annabelle Dick

JANE ROBERTSON'S five years

of research has paid off as her

book about Lyttelton Harbour's

history is about to be released.

Ms Robertson's book, Head

of the Harbour, gives a timeline

of the area from Teddington to

Governors Bay and recounts

stories from past and present day

residents.

The book talks about the

formation of the landscape, local

fauna and flora and Maori and

European settlement.

"It started off as a little project

and I thought I'd interview some

of the older residents in Governors

Bay to get some record of

their stories," she said.

Her book is being endorsed

and launched by Heathcote

Valley-born historian Gordon

Ogilvie on Sunday.

He has published several

award-winning books on the

Port Hills and Banks Peninsula's

history.

The idea occurred to Ms Robertson

to write a book as there

were no other publications that

told such an extensive history of

the harbour head.

"Some people have written

family histories and there are

other books available but there

STORY TELLER: Jane Robertson's book provides an extensive history of the harbour area.

PHOTOS: GEOFF SLOAN

hasn't been anything that's covered

the whole area and brought

it all together. I think people

are looking forward to having it

documented in one place," Ms

Robertson

Two hundred copies of the

book have already been prepurchased.

FROM THE ARCHIVE: The

pupils of Governors Bay

School, 1903.

Courtesy of Chris Bond

It's taken her five years to compile

the book. Ms Robertson said

it was a large feat but managed to

source the information through

many different means.

"I got into archival research

using old newspapers, the museum

library, resources that were

available as well as unpublished

materials. Another primary

source was diaries and letters

from local families," she said.

While undertaking research,

she uncovered some interesting

finds which she says are included

in the book.

SHE WEARS RAM 53396 | HE WEARS PRIMP 53375

EASTGATE PHARMACY

Eastgate Shopping Centre Phone (03) 389 8408

WERE UP TO $149.99

NOW JUST $49.99

DEPARTS: LYTTELTON QUAIL ISLAND

ON SELECTED STYLES ONLY

BUSH INN PHARMACY

Cnr Riccarton Rd / Waimairi Rd Phone (03) 348 4038

Pack a

it ' s

Picnic,

Island

Time!

0800 436 574

www.blackcat.co.nz

Discover walking tracks, native birds,

penguins, the swimming beach and

shipwrecks, all on the island that's

only 15 minutes from Christchurch!

Start Exploring

Otamahua/Quail Island today!

Oct – Apr 10.20am 3.30pm

Dec – Feb 10.20am & 12.20pm 12.30pm & 3.30pm

FARE: adult $30 child $15 return

CRUISES

LYTTELTON & AKAROA
---
Wednesday December 7 2016

BAY HARBOUR

PAGE 5

present Lyttelton

"One of the things that I learnt

was that in Teddington in the

1860s there was a 90m jetty that

extended out into the mud flats

and there's still evidence of the

jetty there but it was washed away

in the 1868 tidal wave. The book

also has a lot of photos that people

haven't seen before," she said.

This is the first book she's ever

written.

Ms Robertson is a teacher and

academic by trade who lectured

at the College of Education and

worked at Canterbury University.

She resigned to start an editing

business before working on Head

of the Harbour.

"There's something really nice

about writing in the area that

you're living in especially if you

feel passionate about it – it's such

a beautiful spot," Ms Robertson

said.

The hardcover Head of the Harbour,

which weighs 2.4kg, retails

for $100.

•Next week, excerpts from the

book

HISTORY: Head of the

Harbour gives a timeline of

Governors Bay jetty and other

jetties, which are now nonexistent.

PHOTO: GEOFF SLOAN

HISTORIC: St Cuthbert's

Church, Governors Bay,

built 1860-62. The church is

currently being reconstructed

following earthquake

damage. Courtesy of Alison

and Jack Hussey

•We have two copies of Jane

Robertson's new book Head

of the Harbour to giveaway

courtesy of the publisher.

To be in the draw, email

giveaways@starmedia.kiwi

with Head of the Harbour in

the subject line or write to

Head of the Harbour Book

Giveaway, Star Media, PO

Box 1467, Christchurch 8140.

To be eligible for the draw,

all entries must include your

name, address and contact

number. Entries close

Wednesday, December 14.

Winners will be published in

the Wednesday, December

21 edition.

Buck to stand down

as chairwoman

• By Fraser Walker-Pearce

SALLY BUCK will stand down

as chairwoman of the Linwood-

Central-Heathcote Community

Board midway through her

three-year term.

She was voted chairwoman at

the board's first official meeting

last month. But she told

Star Media the board agreed

she would step down after 18

months in order to allow a

younger member of the board to

take up the role.

She was nominated for the

role due to her experience as

being a city councillor and on

the Canterbury District Health

Board.

The board are in support of

this move, members Darrell

Latham, Brenda Lowe-Johnson,

Tim Lindley and Jake McLellan,

as well as city councillors Sara

Templeton, Yani Johanson and

Deon Swiggs backed Ms Buck's

call to stand down halfway

through.

But a lone voice against the

proposal Alexandra Davids has

voiced her disapproval at the

decision.

"I think the chair is a very

important role and should be

continual throughout the three

years," she said.

Ms Davids was nominated

for both chair and deputy but

missed out.

Ms Davids said she was "a

little disappointed" she wasn't

elected for either position.

"Politics seems to get in the

way sometimes," she said.

She also ran for city councillor

against incumbent Cr Johanson

but missed out by about 1400

votes in the local body elections.

Ms Buck said sharing the

load is a good way to spread the

amount of work to be done by

the board. She said continuity

would not be an issue and

residents could contact whoever

they liked on the board.

"It is the same people on the

community board whoever

chairs it. Residents contact all

the board members, not just the

chair," she said.

In the Spreydon-Cashmere

Community Board chairwoman

Karolin Potter said she won't

step down as chairwoman half

way through the term. Deputy

chairwoman Melanie Coker

said it was unusual and not

something they had discussed as

a board.

2 KiosKs

in store

Digital MeDia Only

SPECIAL PRICE!

Flixonase ® 24 Hr

Nasal Spray

120 dose

$

23 99

The team at Redcliffs Pharmacy

Wish you

all a very

Happy &

Healthy

Christmas!

free

gift wrapping

facebook.com/

lOts Of

gift iDeas

instOre

Redcliffs

PHARMACY

87 Main Road, Redcliffs. Phone 384 1037

www.redcliffspharmacy.co.nz

Holly, Kirsty, Daryl, Catherine & Sandi
---
PAGE 6 BAY HARBOUR

Wednesday December 7 2016

News

Salsa success

PERFORMER: Caitlin Quinn has been dancing for four years, taking part in

numerous competitions. ​

• By Caitlin MIles

IT MAY have been the first time Caitlin

Quinn competed in an international Salsa

dancing competition but that didn't stop her

from taking home a second and two thirds.

The 14-year-old of Woolston competed in

the World Salsa Solo competition in Brisbane

at the weekend.

Caitlin came second in Salsa Shines

Youth category and received two thirds in

the Youth Freestyle and Mixed Latin Duets

categories. Caitlin said since she had never

competed at this competition before she

wasn't focused on winning.

"For me it's more about the experience of

being there with all of these dancers from

around the world," Caitlin said.

Earlier this year she competed in the youth

section of the New Zealand Salsa Solo competition.

She placed first in youth couples,

third in salsa soloist and fourth in salsa

teams. These results made her able to qualify

for the World Salsa Solo competition.

She has been dancing with Latin Fire

Dance Company for four years, spending

five hours a week training.

Caitlin started with hip-hop and then jazz

dancing, she decided to try out salsa when

her friend Natasha suggested it.

"I thought I'd try a youth salsa class with

my friend and it just went from there," Caitlin

said.

Caitlin has been training in hip-hop, jazz,

contemporary, salsa, bachata, cha-cha and

zouk ever since.

"It's a lot of fun and the tutors are really

great too," she said.

DANCING: Caitlin decided to try a

salsa class for fun four years ago, since

then her passion for Latin dancing has

grown.

Dancing isn't the only extra-curricular

activity she does, while being a Marian College

student she also manges to fit in speech,

drama, basketball, netball, water polo and

swimming as well. She said it's hard work

juggling everything and fitting in time to

be with her friends and by the end of the

week her muscles are "pretty sore" but she

wouldn't change it.

Caitlin plans to keep dancing and competing,

aiming to constantly improve and grow

her skill set.
---
Wednesday December 7 2016

News

BAY HARBOUR

PAGE 7

WE ARE ON THE

MOVE AGAIN...

IT'S OFFICIAL: City councillors Yani Johanson and Sara Templeton, Port

Hills Labour MP Ruth Dyson, library patron David Cox, library

EXCITING: Redcliffs School pupils at the official opening of the new library on Friday. sub-committee member Jan McLauchlan, Mayor Lianne Dalziel and

PHOTOS: CHRISTCHURCH CITY COUNCIL ​ sub-committee member Tuula Rapley cut the ribbons.

Community TO celebrates A NEW LOCATION library IN opening

REDCLIFFS Volunteer Library

is back in business.

The library opened its doors

on Monday after a ribbon cutting

celebration on Friday.

In 1914, Mayor Henry Holland

and the Redcliffs community

opened the original

Redcliffs Library. More than

100 years later, Mayor Lianne

Dalziel did it all again.

The original library was

damaged in the February 2011

earthquake and later demolished.

Since

FERRYMEAD,

then, it has been operating

out of Redcliffs Tennis Club. be a great place for the commu-

people of all ages could go and

She said the new library will

DUE

generational places

TO

where

Redcliffs School pupils nity to connect.

connect.

helped move the books to the "The community is getting "Libraries are more than

new site

EARTHQUAKE

with a human chain on back into shape with everything

REPAIRS

about books; libraries are about

November 25.

in the village as it was, which social justice and equity, and

At the opening, Redcliffs we're very pleased with." they're about connection."

Library chairwoman Rosemary City councillor Sara Templeton

The new library was designed

Sladen said it was "marvellous"

to have the library back.

"We're back on our old

said it was fantastic to

have the new facility up and

running.

by Young Architects and City

Care started construction in

June.

site with a very

WATCH

splendid new "June was the

THIS

sod-turning

SPACE

It cost about $1 million,

building, which we're going to and, six months later, here we which included the library area, HOME: The new Redcliffs Volunteer

enjoy using and we're very, very are opening the building." a reception, meeting room, Library building.

proud of it."

She said libraries were inter-

kitchenette and toilet.

PHOTO: GEOFF SLOAN

arlotte Gort

We will keep you informed as to our

new address.

from the doctors and staff at Ferrymead Medical Centre

If you would lIke advIce

and treatment wIth:

We will be closed from

• Women's health • Children's & teenage health 4pm & wellbeing Friday December 23,

• Older persons health • Lifestyle 2016 adviceand reopening at 10am

• Warrant of fitness checks for men and Wednesday women January 4, 2017

• Helping patients manage long term medical problems

• Removal of skin lesions • Sports medicine • Vasectomies

We • Occupational would like to and welcome company medicine • Drug testing

• Pre-employment medicals • Stopping smoking support

• Travel vaccinations

to Ferrymead Medical Centre

New

starting

patients

January

welcome

4, 2017

Ph. 384 5484

Dr Brendan Smith Dr Charlotte Cooper Dr Gort Stephan Dr David Thomson

Ferrymead

MEDICAL

C E N T R E

MERRY CHRISTMAS

and a happy and safe holiday

Dr Sophia Harris

ferrymead

medIcal centre

FERRYMEAD MEDICAL CENTRE

UNIT 10/2 WATERMAN PLACE

PHONE 384-5484

Mon to Fri 8.30am-5.30pm
---
PAGE 8 BAY HARBOUR

Wednesday December 7 2016

News

Get ready for Chch's iconic fun run

THOUSANDS OF Cantabrians from

all walks of life are starting their

preparations for The Star City2Surf

with Mike Pero on Sunday, March 19.

Entries are now open for the 43rd

running of the event.

In the past, the 14km event (starting

at Centennial Park) has been

seen as for runners only, but with

the introduction of the very popular

Sport Canterbury 6km event (starting

at Hansen Park), this fun run is really

about movement, whether it be running,

jogging or walking.

Both events finish at Ferrymead

playing fields, which will be full of

family entertainment and prizes. The

fun run is also free to participants

under 10-years-old.

Next year's The Star City2Surf with

Mike Pero is proudly supporting

Aviva family services.

Looking to inspire others to put

The Star City2Surf

with Mike Pero

Sunday, March 19

14km or 6km option

Early bird $20 entries now

available at City2surf.co.nz

until December 31.

on the running shoes and get to the

finish line are the Diaz family.

The family began its journey to a

healthy lifestyle through a Facebook

page Hungry4Hauora. It highlights

the family's journey of ups and downs

on the way to a healthy lifestyle.

Normally very camera shy, Rudolph

and wife Telena want to inspire others,

especially the Maori and Pacific

community.

After just two months of regular

exercise and nutritious eating, Mr

Diaz says he has already noticed a difference

in his energy levels and skin

health.

Working as a health and well-being

adviser at He Waka Tapu, Mr Diaz

is urging others who are looking to

lose weight and live a healthy lifestyle,

to use The Star City2Surf with Mike

Pero as a vehicle for change.

He Waka Tapu had 600 participants

in the 2016 event and is aiming to

reach 1000 participants in 2017.

The family has already set about

getting active, regularly attending

training circuits with the Hale Compound

Conditioning organisation.

"A big part of the fitness group we

are in is to set goals throughout the

year. City2Surf is the main goal for a

lot of people in our group," Mr Diaz

said.

Getting fit for the 6km or 14km

event will be just the start for the

family who are looking to get to their

goal weights by next October. Mr

Diaz is hoping to get from 140kg,

which he weighed two months ago,

down to 95kg.

ACTIVE: Rudolph and Telena Diaz are on a

journey to a healthy lifestyle, hoping to promote

nutrition and exercise to their two-year-old

daughter, Te Hiere Oromai, and others.

Nehad, Anita, Ashleigh, Kellie and Grant

Full Service Pharmacy

including...

• Passports Photos

• Revlon Cosmetics and Revlon Club

• Gifts and Gift Wrapping

• Ear Piercing

• Extensive Natural Health range

• Scarves, Hats and Sunglasses

• Focus on Natural Organic Skincare including Trilogy,

Antipodes and Sukin

OPEN SAT & SUN

Dispensary Service

• Medico Packs

• Quit Smoking Quitcards

• Emergency

Contraceptive Pill

• Delivery Service

Owned and operated by

your phamacist, Grant Bell

CAFÉ

NOW OPEN

1005 Ferry Rd, Ferrymead. Ph:943 9635

OPEN 7 DAYS: Mon to Fri 8.30am - 6pm

Sat 9am - 4pm and Sun 10am - 4pm
---
Wednesday December 7 2016

BAY HARBOUR

PAGE 9

FLOORING CLEARANCE!

GARAGE CARpEt

stOCk CLEARANCE

2m - $30 pER mEtRE

3m - $45 pER mEtRE

4m - $60 pER mEtRE

ALL CARpEt

REmNANts pRICEd

tO CLEAR FROm

$5 pER pIECE

CLEARING vINyL

FROm $30

pER mEtRE

(2 mEtRE wIdE vINyL)

Royal Palace

Polyprop

• 67 oz polyprop

• Extra heavy duty

• Cut pile

• 2 colours

NOW

$85.00

Tiburon

Wool

• 40 oz wool

• Extra heavy duty

+ stairs

• Loop pile

• 1 colour

NOW

$75.00

Bedrock

Polyprop

• Hardwearing polyprop

• Heavy duty

• Loop pile

• 4 great colours

to choose from

NOW

$49.90

3.65m WidE RoLLS 3.65m WidE RoLLS

Pure Wool

Wool

• Slightly imperfect

• Loop pile

• Extra heavy

duty + stairs

• 3 great styles

NOW

$59.90

3.65m WidE RoLLS 3.65m WidE RoLLS

Benmore

Polyester

• Heavy duty polyester

• Cut pile

• 4 great colours

• Foam back

no underlay required

NOW

$79.90

4m WidE RoLLS

Wyoming

Polyester

• 50 oz polyester

• Extra heavy duty

• Cut pile

• 3 colours

NOW

$105.00

3.65m WidE RoLLS

312 Wilsons Road North, Waltham | Phone 366 0070

Mon to Fri 8am - 5pm and Sat 10am -1pm

www.carpetkingdom.co.nz

FREE no obligation measure & quote (conditions apply)

Q Card Finance Now Available
---
PAGE 10 BAY HARBOUR

Wednesday December 7 2016

A BRANCH OF

SCHOOLS

Redcliffs School's inaugural barn dance saw

hundreds of Bay Harbour residents enjoy

the chance to let their hair down. After a

challenging few years, the school community

took the opportunity to celebrate. They were

joined by Lyttelton band The Eastern, who had

just returned from an international tour. The

dance was the school's main fundraiser for

the year, with ticket sales and a live auction. It

was supported by local businesses, and the

event secured substantial funds for additional

resources at the school.

Michael Toomey

mft@younghunter.co.nz

Proudly providing

legal advice to

the community

for 25 years

HOEDOWN: Residents enjoyed the country beats at the Redcliffs

School barn dance. ​

COUNTRY

FUN: The

Eastern

had people

dancing

the night

away.

Michelle Rossiter

mjr@younghunter.co.nz

P. 384-5350

www.younghunter.co.nz

SCHOOL SPIRIT:

Parents and

neighbours came

along to help raise

money for the

school.

Baths 15-25% Off

Mixers 15-20% Off

New Stainless Steel

Tap range

Big Christmas Sale

13b Parkhouse Rd, CHRISTCHURCH

All Plywood Vanity 20% Off - All MDF Vanity up to 50% Off

Showers at Wholesale prices and much more

Open 7 Days Mon - Fri 9.00 - 5.30, Sat 9.30 - 4.00, Sun 10.00 - 3.00

0800 MILLEN | www.millen.co.nz | 03 348 8678

Thinking of Selling?

SPRING into action!

After the dormant winter months the property market has sprung

into life with very active buyers urgently looking for their new

home. If considering selling before Christmas call Chris today

for an up to date property appraisal and latest market news.

For a confidential no-obligation chat about

the value of your home call Chris today.

Chris Moores

Harcourts Grenadier Ferrymead

1020 Ferry Road

P: 03 384 7950 | M: 027 588 4440

E: chris.moores@harcourts.co.nz

GRENADIER

Licensed Sales Consultant REAA 2008

EARLY CHRISTMAS SPECIAL

Laybuy plus finance available

diGital pianos

From $899

Fender electric

Guitar pack

Fender Squirer Strat, AXL Amp,

Tuner, Lead, Strap and pics.

$399

audio

tecHnica

Head

pHones

from $22 50

steel

strinG

Guitars

$99

acoustic

palatino

pianos

from $6000

Cnr Wordsworth & Brisbane Sts, Christchurch.

Free On-Site Parking off Brisbane Street. Ph: 366 1949

www.beggsmusic.net.nz

saMson

MicropHones

From $25

keyboards

Including adaptor

$59
---
Wednesday December 7 2016

News

Win tickets to rock event

BAY HARBOUR

PAGE 11

IF YOU want to win a double

pass to a great early autumn

rock festival in Canterbury –

here's your chance!

Star Media is giving away

10 double passes to Live In

Lincoln Selwyn Sounds on

Saturday, March 4, featuring

some of New Zealand's alltime

favourite bands.

Headlining is Mi-Sex where

they will launch their new

album Not From Here.

Dragon will also be playing,

as well as Sharon O'Neill,

Annie Crummer, Margaret

Urlich and Debbie Harwood,

Jordan Luck and his new

band, and multi-award winning

singer-songwriter Jason

Kerrison.

There will also be a number

of local bands in what will be

an amazing day and

early evening of live music

(11.30am-8.30pm).

Only a 25min drive from

Christchurch, the concert will

take place at the community

reserve Lincoln Domain. This

will be the largest musical

concert the picturesque town

has ever hosted in its rich

history.

This massive line-up will

bring some of the greatest

songs from the last few

LIVE: The Jordan Luck Band (left) will join Dragon and Mi-Sex (below) for a Lincoln

concert in March.

decades in Kiwi music to life

on stage, mixed in with some

new releases that no doubt

will enter musical history in

time to come.

If you want a chance to win

a double pass and immerse

yourself in the world of classic

hits and experience the

next big hit on the charts live,

email giveaways@starmedia.

kiwi

Entries close Thursday,

December 15, at 5pm.

NEW LOCATION ADVERT.pdf 1 1/05/2014 11:51:35 a.m.

VISIT OUR NEW LOCATION LOCATION

430 ST ASAPH STREET!

RECOVER YOUR LOVED FURNITURE

No job too big or small

And if you miss out on winning

a ticket but still want to

go or send your mum and dad

then buy them via Ticketek.

What a great Christmas

present!

Details: Saturday,

March 4, 2017, from

11.30am-8.30pm

Tickets: Ticket buyers

will be able to prepurchase

a return bus

ride between pick-up

points in Christchurch

or Rolleston and

Lincoln Domain if you

don't want to take the

car.

Hours of Business: 7am-4.30pm Mon-Thurs

Fri 8am to midday

or by appointment with Keith 027 566 3909

Still able to offer

you the finest top

quality new furniture

Visit us online

www.qualityfurniture.co.nz

P. 371 7500

QUALITY FURNITURE SPECIALISTS

RE - UPHOLSTERY SPECIALISTS KEITH HARTSHORNE 0275 663 909

Visit our new website: www.min.nz

From bare land to luxury abodes

min sarginson

is the ideal coastal realtor

COASTAL REAL ESTATE SPECIALISTS

We'll help you live the dream.

Min Sarginson Real Estate Ltd. specialises in homes, sections and

rental properties in the spectacular Lyttelton Harbour bays, and

coastal suburbs of Christchurch, New Zealand.

We'll make it so easy for you. All our sales consultants live in the

area – we can give you valuable insights into life in our thriving

coastal communities.

This is an exciting time; of promise, optimism, and opportunities

never anticipated pre-quakes. Beachfront, or hillside with

grandstand views, find the property of your dreams:

Lyttelton | Diamond Harbour | Governors Bay | Cass Bay

Charteris Bay | Church Bay | Purau Bay | Port Levy | Northshore

Southshore | New Brighton | Heathcote | Sumner | Redcliffs

Scarborough | Mount Pleasant | Clifton

Call Min Sarginson Real Estate Ltd. for free, no-obligation advice. Lyttelton: 03 329 4161, lyttelton@min.nz or Church Bay: 03 328 7273, churchbay@min.nz
---
PAGE 12 BAY HARBOUR

Wednesday December 7 2016

Your Local Views

Lions provide Kaikoura

earthquake relief

• By Lions Club of Lyttelton

secretary Mary Jamieson

HERE IT is

December

already. I have

just returned

from a month in

Australia where I

visited five states

and caught up with heaps of

friends, former workmates and

family. I had a great time and

managed to miss the Kaikoura

earthquake.

My heart goes out to the people

of Kaikoura, as here in Christchurch

we have a very good idea of

what lies ahead for them.

Hopefully, the powers that be

will be more efficient this time.

Lions International and NZ Lions

swung into action and grants of

$20,000 have gone to Kaikoura.

The local Lions will make sure

this is well spent.

While I was away, Lyttelton

Lions held a successful barbecue,

a membership drive (not successful)

and a garage sale.

All the funds we raise get spent

mainly in the local area and no

administration fees are deducted.

It would be great to get some new

members in 2017. Think about

the effect you could make in the

local community. Our president

is available on 384 6124 or 027

436 1901.

December is always a frantic

month with so many end of year

parties. I hope you survive them

all and have a lovely day on December

25.

The president and members of

the Lions Club of Lyttelton wish

everyone a happy Christmas and

a great New Year.

Wear a lifejacket

• BY GARY MANCH,

NAVIGATIONAL SAFETY OFFICER,

LYTTELTON

IT'S A real tragedy when

people lose their lives whether

it's on the water, in the water,

or elsewhere.

The recent events up in the

North Island where seven

families are now without

a friend, husband, dad or

partner due to a charter

vessel capsizing is absolutely

something that no one should

have to go through. The sad

thing is that sometimes these

fatalities can be prevented

through the wearing of

lifejackets.

I can't comment on the

recent boating incident as the

matter is still under investigation

and, in time, the coroner

will make a finding, but what

we do know from past experience

is that correctly fitted lifejackets

save lives, end of story.

Maritime New Zealand, in

conjunction with Coastguard

New Zealand and Rebel Sport,

is offering discounted lifejackets.

Rebel Sport is offering a

20 per cent discount for two

weeks from December 1, 2016,

Pirate's Corner

and coastguard is touring New

Zealand with a van offering

old for new lifejackets, with

the new ones being heavily

discounted. Go to www.

coastguard.nz to see when they

will be near you.

If your lifejacket is old,

or worn, now is the time to

update it with a new one.

Lifejackets do not last for ever

and it's crucial you check them

regularly for wear or damage

and, if it is an inflatable one,

make sure the gas cylinders

are not corroded and in good

condition.

For any inflatable lifejacket,

we suggest you manually

inflate them and leave it overnight.

If it is still fully inflated

in the morning, then the bladder

is sound. However, if in

doubt, chuck it out, or take it to

one of your local boating shops

or lifejacket retailers and have

the jacket checked out before

using.

One of our slogans this year

is "Nobody's faster than disaster"

and, quite honestly, it's

pretty hard to argue with.

With the Christmas holidays

coming up, more and more of

you will be out boating, whether

it's in a canoe or power boat

and the waterways will become

busier and busier.

My request to all of you out

there is wear a lifejacket when

in your boat, no matter what

size or type. Christmas is supposed

to be a time of joy and

celebration, not mourning.

On that note, please be careful

out there, let's have a safe

boating summer.

•More Local Views, page 15

under $20

easy

CHRISTMAS

SURVIVAL GUIDE

Surviving the silly season is super

easy at Super Liquor!

BECK'S

12 x 330ml

B o t t l e s

CORONA

12 x 355ml

B o t t l e s

DANIEL LE

MARTINI

MUMM

BRUN

COCKTAIL KIT

7 50 m l

7 50 m l

Includes 350ml

HOT DEAL!

Kahlua bottle,

$

21 99 $

49 99

bottle and Absolut

a

ST REMY

1 Litre

HOT DEAL!

$

17 99

$

22 99

$

37 99

7 50 m l

7 50 m l

$

14 99 $

9 99

GIFT IDEAS

LEON ROUX

CHURCH

BLANC DE

ROAD

BLANC

EXCLUSIVE TO SUPER LIQUOR

ESPRESSO

Kahlua Shaker.

Makes 16

cocktails.

ANY 2

+ a mixer for

$

75!

Canadian Club and

Jim Beam 1 Litre

JIM BEAM OR

CANADIAN CLUB

1 Litre

$

37 99

each

STEINLAGER

18 x 330ml Bottles

HOT DEAL!

$

27 99

Choose

from Coruba,

Smirnoff,

Gordon's &

Grant's 1 Litre;

Jose Cuervo &

Jack Daniel's

Range 700ml.

2for

$

89!

or from $47.99 each

3for

$

99!

or from $34.99 each

Choose from Jägermeister, Wild Turkey, Bombay Sapphire, Jameson 1 Litre

& Jameson Caskmates, Drambuie, Chivas Regal 12YO, Cointreau 700ml.

JACK DANIEL'S

AND TWO GLASS TIN

Includes a 700ml Jack

Daniel's bottle and two

branded rocks glasses

in a limited edition tin.

JÄGERMEISTER

AND LEATHER WRAP

BRANDED HIPFLASK

Includes a 700ml

Jägermeister bottle

and one Hipflask.

$

42 99

$

42 99 $

59 99

S

VALUE FOR

THE SILLY SEASON

$34

BACARDI

99*

PASQUA MAGNUMS

$14 99*

SURVIVAL

TIP #36

Practise your excited face before

Christmas day for when you get

socks from the kids. Again

NIC

CHRISTMAS!

1 Litre

1.5 Litre

valid

Wednesday,

Thursday, Friday,

Saturday only!

Offers end close of trade 18th December 2016, while stocks last. Available at participating stores only. *Super

Sonic valid 7th – 10th December 2016. Limits may apply. Trade not supplied. Terms and conditions may apply.

Available 5th – 18th December 2016 inclusive. Please see www.superliquor.co.nz for details.

superliquor.co.nz

0800 SUPERL (0800 787 375)

SUP0263_C19_W1_180x263_CH
---
Wednesday December 7 2016

BAY HARBOUR

GET OUTDOORS SORTED

THIS SUMMER

Waxworks

BAMBOO GARDEN

TORCH, 1200MM

Fuel with citronella oil to repel

mosquitoes. Perferct for lighting up

your garden.

129683

$

4 98

EACH

PAGE 13

Glass Jar Citronella Candle

Great for table tops to reppel mosquitoes.

Various colours available.

202153

Black Padded Beach Chair

Sling arms for easy storage.

268784

Solar Tree Lights

4 Branch, 2m wireless

129487

Number 8

$

59 98

Festoon Lights

Connectable lights. suitable for

outdoor use. Lighted length 2.25m.

244675

Umbrella Parasol Aluminium

3M, Natural Colour

229384

$

7 99 $

19 98 $ 39 98 $ 169

Moon Chair

Powder-coated frame with oxford fabric.

Foam padded for extra comfort.

Lightweight and foldable.

268783

Café Moon Chair

Red, Green and Blue colours available.

Stackable

288985

Barcelona Chair Deluxe

Aluminium

Polyester oxford fabric, steel frame, head

rest. Padded back rest. Drink holder in

armrest. 3 recliner positions

268788

Chiminea

Cast Iron

51cm

248383

$

229

Number 8

Chair Recliner

1 Year Warranty. H:1090-780mm, W:620mm

268778

$

99

$

59 98 $ 79 $

89 98EXCLUSIVE

Rattan 3 Piece Café

Setting Durable powder

coated steel frame

288869

Nouveau

Hexagonal Gazebo With Curtains

Durable steel powder-coated frame.

Polyester canopy with mosquito nets.

Not a permanent structure.

$

27 98 $

199

202115

Jack And Jill

Hardwood Pacific

248065

Nouveau

3 Piece Bench Setting

1500 x 900mm table and 2 bench seats.

FSC Eucalyptus hardwood.

!88195

Siena Egg Chair,

Wicker

Powder-coated steel frame.

All weather wicker. 3 year

warranty.

288905

$

699

Nouveau

Contempo 3pc

Conversational Setting

Two single seater round lounge chairs, with

steel swivel base, and a coffee table. Spun

polyester seat cushions included.

248173

$

699

Nouveau

Sirocco Aluminium/

Glass 7Pc Set

1500 x 1000mm glass top table

with 6 armchairs.

!88163

$

299 $

599

Nouveau

Como, 5 Piece Outdoor Setting

1065mm round table and 4 armchairs.

Wicker-look with aluminium construction.

Cushions included.

!88004

Siena 4 Piece

Lounge Setting

2 seater lounger, 2 single chairs

and a coffee table !88931

Nouveau

Marbella 9 Piece Setting

Hardwood 2200x1000mm table

with high back tub chair !88952

$

999

$

1,099

$

2,299

$

3,199

BBQ Portable Gas Cruiser

Lightweight aluminium construction

Operates on LPG or propane gas

Great camping BBQ option

083508

$

199

Gasmate

Ranger Portable Gas BBQ

Can be used with or without the stand.

Vitreous enamel finish.

With non stick

hotplate and

high profile

hood. 202319

$

349

Ferrymead

1005 Ferry Road, Phone: 366 6306

Opening Hours: Monday–Friday: 7:00am–7pm

Saturday, Sunday and Public Holidays: 8:00am–6:00pm

Offers available at Mitre10 Mega Ferrymead only, until the 14th of December, while stocks last.

Gasmate

Gemini 6Br Hood BBQ Black

Powder coated steel construction.

Includes side

burner.

288997

mitre10mega.co.nz

If you find a lower price on an identical stocked

product locally we will beat it by 15%.

Masport

BBQ 4 Burner Hooded S/Steel

Stainless steel hood with window.

Side and rear burner. Cover included.

248612

find us

mitre10.co.nz

If you find the same product cheaper from another Mitre 10 store or Mitre 10 website we'll match that price. Excludes trade

and special quotes, stock liquidations and commercial quantities. The in-store price may be lower than that advertised.

Gasmate

BBQ 6 Burner Hooded S/Steel

Vitreous enamel firebox, powder coated side

shelves and

stainless steel

fascia.

Large

glass viewing

window.

229235

$

599 $

999 $

1099
---
PAGE 14 BAY HARBOUR

Wednesday December 7 2016

Christmas

Shops bursting with

festive gift ideas

The countdown to the big day is well underway, so making

up the Christmas gift list will now be a top priority… if you

haven't already done so.

Finding those special gifts and stocking

fillers as well as the Christmas treats for

the table is so easy at our city's malls and

shopping centres, where the shops are

bursting with festive merchandise.

Every woman likes to receive bodypampering

gifts, and there is a huge

selection of these priced to suit all budgets

at the many pharmacies and gift shops

around the city. Perfume is another

favourite and again there is a wide

selection to choose from, ranging from

exciting new releases to the well-known

fragrances that have stood the test of time.

Lingerie, jewellery, fashion accessories,

homewares and decor items – there's no

end to the ideas for the women on the list.

The men are equally well catered for, from

the sophisticated metro-male boyfriends,

to the car-crazy brothers and the DIY

in the bays

enthusiast and keen gardener husbands

and dads. Choose from clothing, books,

tools, personal grooming items and

gadgets to put a smile on their face on

Christmas morning.

Speaking of smiles, nothing gives families

more joy than seeing the excitement

of the children opening their presents.

Whether they are delivered by Santa or

snuck under the tree by mum and dad,

the cuddly toys, games, dolls and building

blocks, the candy canes, toy trucks and

pretty dresses currently filling the shops

will bring squeals of sheer happiness from

the smallest family members.

The tweens and teens usually have their

own ideas about what they want for

Christmas, so the gift cards offered by a

wide range of retailers are the perfect way

to please.

Orders now being taken

for the new local book...

Head of

the Harbour

by Jane Robertson

INSTORE

NEXT WEEK

DEC 11

A History of Governors Bay,

Ohinetahi, Allandale & Teddington

A MUST READ FOR THIS CHRISTMAS

For anyone who lived in (past or present) or has

had an association with Lyttelton Harbour

NOW

OPEN

Tuesday – Sunday

Lunches till late

41B Nayland Street, Sumner

HEAD

OF THE

HARBOUR

by Jane Robertson

INSTORE

NEXT WEEK

DEC 11

HEAD

OF THE

HARBOUR

by Jane Robertson

INSTORE

NEXT WEEK

DEC 11

or pre-order

your copy

today

A History of Governors Bay,

Ohinetahi, Allandale & Teddington

A MUST READ FOR THIS CHRISTMAS

For anyone who lived in (past or present) or has

had an association with Lyttelton Harbour

A History of Governors Bay,

Ohinetahi, Allandale & Teddington

A MUST READ FOR THIS CHRISTMAS

For anyone who lived in (past or present) or has

had an association with Lyttelton Harbour
---
Wednesday December 7 2016

Your Local Views

Listening is vital

BAY HARBOUR

PAGE 15

Christchurch

Coastal Residents

United spokesman

Darrell Latham

talks about city

council decisions

in the Bay Harbour

area

Recently I was the

guest speaker at the Ferrymead Sumner

Men's Probus Club.

Prior to the meeting a list of suggested

topics was emailed to me. Included

was the Redcliffs School situation,

coastal hazards, other local issues and

wait for it, the following question –

stupid council decisions! How they

happen and why won't they listen?

What can we do?

I thought, how do I deal with this

curly monster?

My first thought was to run a 100

miles from it. Answers could be

injurious to my health and ruinous

to my tenure as a community board

member. My wife reminded me that I

was elected to serve, not to cut and run

from difficult questions or situations.

"Answer the question she said,'' and I

did.

Yes, I agreed that at times council

decisions failed the common sense

sniff test. Yes, I agreed that consultation

needed to be about residents having

their say and being listened to.

They'd had a gutsful of disingenuous

processes. So how do we achieve better

outcomes?

The process of city making is complicated.

Listening to people's concerns

is vital. If councils can do this in a genuinely

collaborative way, then people

will engage.

Top-down planning "puts urban

professionals in the driver's seat" but

loses out on community engagement;

while "bottom-up planning does the

reverse, and loses the benefits of professional

expertise."

The best solution is a combination.

However, I reminded them that

people must engage and not be complacent.

As recently elected councillors and

community board members we need

to be reminded that we are here to

serve our constituents. Sure, consultation

does not always mean consensus.

Sure, sometimes even council

decision-making processes are guided

by health and safety regulations.

Nevertheless, too often lately I am

hearing that council decision-making

is top down. We can and we must do

better!

•Do you have a view on Latham's

opinions? Email annabelle.dick@

starmedia.kiwi

Amazing Green-Fee Package

Play 2 Rounds on the Best Links Golf Course in Christchurch

with a Motorised Cart and 2 Free Beers for $59.00 (usually $131.20)

Here's how you can take advantage of this great offer…

Pick up your phone and dial 383 0307.Then press 2 and tell James or Moon in the Pro-shop that you are

calling about the Green-Fee Package in the paper and you want to book a tee time for 2 players. Tee times

for Saturday aren't always available but for most other days you will be able to get the tee time you want.

Here's what to do on the day you are playing…

Cut this ad out of the paper and hand it in at the Pro-shop at least 15 minutes before your tee time. In return

we will give you the key to a motorised cart and a voucher for 2 free handles of beer to be enjoyed after

the game. Then hop in the cart and go and enjoy the best greens and fairways in Christchurch (some of the

pros who played in our recent Pro-am reckoned they were the best greens and fairways in NZ).

Here's what to do after the game…

Throw your clubs in the car and return the cart to the Pro-shop. Then claim your free beers at the bar. If you

don't like beer - no worries. Just ask for a cup of coffee or a glass of wine instead. Then relax on the deck

after a great day's golf.

That's it, just pick up that phone and make the call…. 383 0307.

Waimairi Beach Golf Club

"The best links course in Christchurch"

www.waimairibeachgolfclub.co.nz

Dyers Road Landscape

& Garden Supplies

• Barks • Peastraw • Composts - we supply the best available

• Aggregates - Chip, Round and Basecourse

• Pavers & Schist products • Pungas

• Decorative Stones & Landscaping Rocks

• Trailer Hire first hour free with purchase

• Bag & Bulk - pick up or delivered

David, Carol & Mike

We will deliver!

SOIL

AND

HARDFILL

DUMPING

Phone: 03 384 6540

183 Dyers Rd, Bromley • OPEN 7 DAYS

Weekdays 7.30am-5pm. Weekends 8.30am-3pm

www.dyersroadandlandscapes.co.nz

LIFESAVER: Canterbury Trailer Yacht Squadron commodore John Cullens

(left) hands over a defibrillator to Naval Point Club Lyttelton commodore Dave

Anderson. CTYS is one of many clubs based at the Lyttelton port which felt that

with so many members a defibrillator was a safety net for people who use the

facilities

A reader responds to

an article in the Bay

Harbour News on

November 23 on coastal

hazards.

Val McClimont,

Woolston – In a few weeks,

two years will have elapsed

since the city council's commissioning

of the second

Tonkin & Taylor report. That

report predicted a sea level

rise of 1000mm in the following

100 years. Therefore

our sea levels should have

increased by 20mm in the

last two years.

Sea level increases have

been taking place around our

coastlines at between 1.6mm

and 3mm a year for well over

100 years.

The longest span of sea

level records have been kept

by the Port of Auckland – a

straight line graph, no acceleration.

The latest study we have of

New Zealand sea levels was

published in 2008. It confirms

the slow incremental

year by year increase that

again produces a straight

line graph with no sign of

acceleration.

According to the NIWA

web site, Lyttelton registers a

sea level increase of 1.9mm a

year, less than one fifth of the

T&T prediction.

The notations on our coastal

property LIMs are based

on predictions that are not

verified by a reality check.

That our council refuses to

remove the notations is a

scandal.

Enjoy modern

Scandinavian design

in your bedroom

Have the best nights sleep on a

Dreamwool Pocket Spring or Natural

Latex mattress with 100% natural fillings.

No foams, polyester fillings and glue.

Enjoy year round superior comfort

and support on a flexible slat bed

22 Kennaway Rd • www.dreamwool.com • Ph 343-5105
---
PAGE 16 BAY HARBOUR

Wednesday December 7 2016

SPORTS

YOUNG GUN: Sumner's Jack Tyro surfed well to come second in

the year 6 and under boys' section. PHOTOS: MARK O'MALLEY

DOUBLE: Ava Henderson, of Sumner School, seen here earlier in the year, took away two titles

on Saturday, winning both the year 7 and year 8 girls' events.

Surfers impress at school champs

BAY HARBOUR surfers were

among the winners at Saturday's

South Island Primary School

Champs.

Held at North Beach, the

competition saw school representatives

vie to be named the

best in their year group.

Sumner School's Ava Henderson

was the best performer out

of the Bay Harbour schools.

• By Fraser Walker-Pearce

HEATHCOTE'S senior cricket

side has been promoted to the

city's top two-day competition.

Heathcote beat Burnside West

Christchurch University in

the 2B competition play-off on

Saturday to secure a spot in the

2A competition.

Heathcote officials asked

Canterbury Metro Cricket for a

relegation and promotion-style

tournament in the 2A and

2B competitions, which was

implemented at the start of the

season.

"For us, it was a big win

because we've been pushing

for that promotion-relegation

style for a while. We've also

been pushing for us to have that

premier status and now we have

it," said Heathcote secretary

Paul Corliss.

The side finished fourth in the

She won both the year 7 and 8

girls' events.

Jack Tyro, of Sumner club

Point Surf Team, also finished

second in the year 6 and under

boys' section.

New Brighton Catholic

School's Myka Black took home

the year 8 boys' title, while

Rawhiti School's Dara O'Malley

was also impressive, winning

2B competition.

Mr Corliss said it had been

a long struggle for the team,

which had players who were

anxious to either qualify

for the top competition or move

on.

"There are a few of our

the year 7 boys' title.

The championship, now in its

13th year, was run by the North

Wai Boardriders Club.

Saturday's wind provided testing

conditions for the organisers

and surfers.

However, good numbers and

some impressive action on the

water made for a great day's

surfing.

Heathcote earns promotion

ON FORM: Heathcote's Craig

Primmer in action during

the team's promotion match

against BWCU on Saturday.

players that love playing for

Heathcote but had sometimes

been wanting to play premiers

and they've been waiting a long

time for that. The good ones

understandably want to play up

a grade and now they can."

It is unclear who will be

relegated from the top flight to

make way for Heathcote.

Mr Corliss said he had faith

the team could make the step up

to the top flight.

"I don't think they'll be

embarrassed or shown up at all,"

he said.

The side is looking forward

to playing its first 2A match

against Lancaster Park at

Heathcote Domain on Saturday.

Results

•Year 6 and under boys:

Campbell Heasley, 1; Jack

Tyro, 2; Jack McKenzie, 3;

Tom Robertson, 4.

•Year 7 boys: Dara O'Malley,

1; Jack McKenzie, 2; Brooklyn

Ward, 3; Liam Heasley, 4.

•Year 7 girls: Ava Henderson,

1; Grace Hately, 2; Caoimhe

Hungerford, 3; Lucy

Asher, 4.

•Year 8 boys: Myka Black, 1;

James Miller, 2; Jai Oakley, 3;

Dara O'Malley, 4.

Year 8 girls: Ava Henderson,

1; Lily Robertson, 2; Eden

Hungerford, 3; Ruby

Armstrong, 4.

BIG CHANCE: The Heathcote Tigers (above) led the

Canterbury Kings onto Hagley Oval on Saturday to play the

Sydney Thunder. It was a warm-up match for the McDonalds

Super Smash Twenty-20 competition. The Tigers won the

Peter Fulton Guard of Honour competition, set up on the

Kings Facebook page. It saw youth teams enter photos of

them celebrating after a game and the photo with the most

likes the week before the game was the winner. The Tigers

photo gained more than 120 likes and earned them access

to a training session and the chance to lead the Kings out

against the Thunder. The game ended with the Kings beating

the Thunder by 20 runs.

sellOut

up tO

18 mOnths

interest

free!

sAVe

up tO60%

Open 7 Days Mon - Fri 9 - 5.30pm Sat - Sun 10 - 4pm

nZ

mADe

BeDs lOCAllY

OWneD

7 Open

DAYs

242 Ferry Rd Along From Old Ami Stadium | Phone 377 8887 | www.bedworld.co.nz
---
Wednesday December 7 2016

BAY HARBOUR

PAGE 17

Barrington Jewellery Centre

1 ONLY Diamond

Cluster

JVC Valuers

1st Fl/10a Athelstan Street,

Barrington

Christchurch

Ph:

Fax:

03 332 4233

03 982 4234

Email: jim@jvcvaluers.co.nz

Client Name:

Valuation Number:

BARRINGTON MALL

The Warehouse

Ruby Ring

JC12-7834Ad

Valuation for Insurance

Item: 1 SOLITAIRE RING

Alloy: 18ct yellow gold, Stamped : (18ct/1.00), Manufacture: assembled cast, Maker Designer: na, Setting:

tapered six claw, Underrail: straight, Shoulders diamond set extended and pointed cross over,

Shank/Band: narrow, near flat and slightly tapered.

DIAMOND.. one claw set, round brilliant cut diamond measuring 5.37 - 5.29 mm, estimated total weight

0.58 carats, with apparent averaged quality of; Colour: I-J, Clarity: low SI2, Make: medium good.

DIAMOND.. Fourteen channel set, round brilliant cut diamonds measuring 1.93 - 1.95 mm, estimated

total weight 0.42 carats, with apparent averaged quality of; Colour: H-I, Clarity: SI2-I1, Make: medium.

DiamondLink #L049M- www.diamondlink.co.nz

Item Weight:

Condition:

Durability:

510

Good

Good

Valuer: Jim Young, GIA: Diamonds Graduate GIA: ADG

Authorised signature:

Economic Factors:

YouR oNe sTop JeWelleRY shop

grams

NRV- New Replacement Value......

$6,275.00

VALUERS DECLARATION - I hereby certify that the above item was personally examined by me on the date shown

and has been valued for the purpose of Insurance. This report does not constitute a warranty or guarantee. This

report should be read in conjunction with the attached schedule

20 July 2012

$NZ Exchange Rates US$ 0.7775 Metal Prices (NZ$/ounce) Gold 2055.16 Platinum 1857.87 Palladium

785.52 Silver 36.09

www.claritydiamonds.co.nz

www.titaniumweddingrings.co.nz

www.pwbeck.com.au

Ph: (03) 982 2982 or 0800 4 RINGS

Email: edwin@claritydiamonds.co.nz

offering a combined expertise in jewellery of over 100 years.

opened in 1999 Barrington Jewellery Centre offers unique service where you can purchase

your engagement, wedding rings and remakes, have jewellery repaired, ring resizing and

restoration completed, as well as your precious items of jewellery valued.

18ct white gold

0.31ct TDW

only $2,500

1 only

18ct white gold

0.46ct TDW

only $2,995

1 only

LAST mONTh ALONE mORE ThAN

700 NEW ZEALANdERS NEEdEd

TO CLAIm fOR LOST OR STOLEN

JEWELLERY ANd WATChES. If YOU

NEEd TO CLAIm NOW, WOULd YOUR

JEWELLERY bE fULLY INSUREd?

®

Clarity Diamonds - Edwin Edmonds

Clarity Diamonds was established by Edwin Edmonds to offer a

personalised service to provide the best combination of style quality

and value for money. Over the last 35 years Edwin has specialised

in engagement and wedding rings and carries one of the largest

selections in Christchurch which customers can order in the

combinations that suit them best. Free Quotes are given and a design

service is also available. Remaking of your jewellery is also a speciality

at Clarity Diamonds where we can recreate your treasured pieces.

OVER 500 WEDDING

RINGS IN STORE

KEEP AN EYE OUT FOR CLARITY

DIAMONDS DIAMOND RING

BUY OF THE MONTH

Craig Anderson – Goldsmith / Manufacturing Jeweller

With 38 years experience at the workbench Craig specialises in jewellery repair and

restoration. A member of the Goldsmiths Guild of New Zealand, Craig completed

his apprenticeship in Wellington and attained his Trade Certificate in Manufacturing

Jewellery in 1978. Jewellery repairs, ring resizing and restorations are carried out

by Craig in his workshop on the premises. Craig will discuss the best available

options to you in regards repairs as well as advice on the care and maintenance

of your precious jewellery items. Whilst no appointment is necessary Craig can be

contacted on (03) 337 6576 if you wish to make a time to see him.

ATHELSTAN STREET

Craig Anderson NZTCMJ

Goldsmith

BARRINGTON

Jewellery Centre

JVC Valuers, Jewellery Valuation Specialists

Jewellery Manufacture, Repair & Restoration

Ph: (03) 337 6576

Email: gold.smith@clear.net.nz

BARRINGTON

JEWELLERY

CENTRE

ENTRANCE

Why use JVC ? See why JVC Valuers, jewellery valuation specialists are leading

the industry in jewellery valuation services.

1. EXPERIENCE. As we value more precious jewellery than anyone else in NZ, our

valuation team have unrivalled expertise. We can value all types of jewellery,

diamonds and gemstones. We value antique watches, antique jewellery, Asian

22 carat or 24 carat gold jewellery.

2. QUALITY. Our valuations meet Insurance Company standards. Your jewellery

will be clearly described, cleaned, photographed and valued. (see sample in

advertisement)

3. PRICE. We offer fair and transparent pricing based on the work we do, not the

value of your jewellery. So there's no hidden fees.

4. SECURITY. Your jewellery stays on our premises, all our valuations are

completed in house.

5. CONVENIENT. JVC Valuers has four valuation centres conveniently located

in Auckland, Tauranga, Wellington & Christchurch (Christchurch, 1st floor 10a

Athelstan Street-next to medical centre).

6. SERVICE. By appointment you can make a booking at our special Valuation

Days, to have your jewellery valued within the same day. Please Phone 332 4233.

7. Check us out. www.jvcvaluers.co.nz

www.jvcvaluers.co.nz

Ph: (03) 332 4233

Email: jim@jvcvaluers.co.nz

Opening Hours: Monday to Friday 9.00am – 5.30pm Clarity Diamonds: After 5.30pm Weekdays and Saturdays (by Appointment only)

LeveL 1 - 10a atheLstan street, Barrington, ChristChurCh

Professional

service from

professional

people

Barrington St Barrington St

Barrington

jewellery

Centre

Frank leigh St

Edwin Edmonds

Clarity Diamonds

GIA Diamond Cert.

Craig Anderson

Goldsmith /

Manufacturing

Jeweller

Member Goldsmiths

Guild of N.Z.

NZTCMJ

Jim Young

JVC Valuers

Senior Valuer

GIA: Diamonds

Graduate

Bei Kong

JVC Valuers

FGA: Gemmogolist

GIA: Diamond

Grading

Barrington

Shopping

Centre

Only $1,395

athelStan St

WE ARE

HERE

SiMeon St

Barrington

Medical

Milton St
---
PAGE 18 BAY HARBOUR

Wednesday December 7 2016

News

Fundraiser earns $130,000 for Starship's

STARSHIP'S national air

ambulance service has been

given over $130,000 after a

fundraiser tea party held at

Mona Vale.

It was the second year the

Christchurch Diamonds and

Stars Tea Party has taken place,

an event organised by the

Friends of Starship.

A marquee was set up on the

Iris Lawn and 240 guests attended

on November 27.

Silent and live auctions were

held, with items such as Bruce

Springsteen tickets, a return trip

to Honolulu for two plus five

nights of accommodation, and

swimming lessons up for grabs.

Phil McGoldrick was the auctioneer,

while Jenny Burtt Florist

owner Dale Brown donated the

orchid centrepieces on the tables

that were later auctioned off.

The air ambulance service

flies medical experts to children

in life-threatening emergencies

around the country, and they

treat the children in the aircraft

on the way to Starship.

Sam and Connor Knowles and

Vanessa Pardoe were the guest

GUESTS OF HONOUR: Guest family, Sam and Connor Knowles,

and Vanessa Pardoe at the tea party. Connor, 6, was flown to

Starship in the air ambulance after being hit by a car in May.

family at the event, who know all

too well the importance of the

service.

Six-year-old Connor was hit by

a car in May and was flown in the

air ambulance to Starship with a

broken pelvis, a brain bleed and

the ligaments holding his head

onto his back bone were torn.

He was in a coma for 10 days

and spent the next two weeks at

Starship.

The tea party was hosted by

Friends of Starship co-chairwomen

Charlotte Smulders and

Gina Satterthwaite, while radio

and television personality Mike

Puru was the MC.

Mrs Smulders said the money

raised was crucial for the service.

"It's an essential service to fly

our sick and injured children

from the South Island, receiving

critical and world class care as

they fly. The care on board can

make the difference between life

and death."

Last year, 432 children were

admitted to Starship from the

South Island – more than one

each day.

The Starship Foundation raises

$1.5 million each year to fund

the air ambulance.

Moet & Chandon provided

the champagne for the tea party,

while CoLab, Clive Barrington

Construction, Continental and

EY were the event sponsors.

GOOD CAUSE: Friends of Starship co-chairwomen Gina

Satterthwaite (left) and Charlotte Smulders, with MC Mike Puru,

and Starship Foundation chief executive Brad Clark.

PHOTOS: GILBERT WEALLEANS

ESSENTIAL SERVICE: The Starship team from Auckland who

came down for the event.
---
Wednesday December 7 2016

BAY HARBOUR

PAGE 19

critical air ambulance service

GLAMOROUS:

Nikki Walsh,

Melissa Shipley,

Bianca Astle,

Jo Chilies and

Sarah Dampier

enjoying

themselves.

FUNDRAISER: Jan Edlin and Diana

Smith at the fundraising function.

RAISING MONEY: Mayor Lianne Dalziel and

Arlee Folkers at the event on the Iris Lawn at

Mona Vale.

TASTY:

Guests were

seated in

the marquee

with

traditional

tea party

food.

GIVING: Cilla

Glasson and

Sue Ellis.

ON NOW!

your chance to

win one of three

$1000

SHOPPING SPREES

THIS COULD BE YOU!

HAPPY:

Auctioneer Phil

McGoldrick and

Nick Smith.

WIN

Shop scan

SMILES ALL ROUND: Cheryl van

Opzeeland and Di Clyma.

enter every time you shop at any of these participating businesses - more draws, more chances to win! Promotion closes 9th Dec 2016. conditions apply.

"Exclusive range of pottery, furniture,

handcrafts, stoneware & gifts"

395 Brougham St,

Christchurch

Ph (03) 365-3411

Open 7 days

Mon-Fri 10-4.30pm

Weekends 10-4pm

The Automotive Lamp

Specialists

New and Used Lamps for Cars, Trucks,

Vans, 4WD and Motorhomes

PH 0800 225 483

325 Brougham Street

CHRISTCHURCH

Bezzera E61 Machines

Vitamix Blenders

Kitchenaid Mixers

Magimix Processors

Bialetti Espresso

Kai Shun Knives

Lodge Cast Iron

Le Creuset Cookware

Pyrolux Cookware

Arcos Knives

Cutlery Homeware

Cheforks Uniforms

Bamix Stick Blenders

Total Food Equipment

Schott Zwiesel

Victorinox Knives

Dualit Toasters

Electric Mincers

Food Dehydtrators

Cake Decorating

Roasting Dishes

Electric Kettles

Sabatier Knives

Acme Expresso Cups

Imperia Pasta Makers

Staub Cookware

Wood Chopping Boards

218 Moorhouse Ave 03 366 6912

Organic Whole Food Specialist

With a Large Range of Local Products,

Bulk Grains, Home Wares, Health,

Well-being & Beauty and more…

Get 10% off when buying in bulk

$22

WOF

SIZZLING

SAT WOF

SPECIAL

Full mechanical service

+ repair available

Cnr Fitzgerald Ave & Hereford St.

Phone: 365-5220

www.a1auto4service.co.nz

2016 seasoN

NoW starteD

the place to be

this summer!

Season passes available at the Woodford Glen Shop,

129 North Avon Road, ChCh | Ph (03) 385-1515

Check out www.woodfordglen.co.nz for meeting dates

Fresh Produce Delivered

Mon • Wed • Fri • Sat

Join the Co-op membership to

open up more discounts

Open: 10am - 6pm Mon to Fri

9:30am - 4:30pm Sat

10am - 5pm Sun

12 London Street, Lyttelton

03 3288 544 | shop@harbourcoop.co.nz

www.harbourcoop.co.nz
---
PAGE 20 BAY HARBOUR

Wednesday December 7 2016

Santa Parade

SANTA COMES TO TOWN: The Santa Parade took place on

Sunday, attracting large numbers of spectators. The usual

seasonal floats, as well as representatives of local business,

charity and cultural communities, marched along Riccarton

Rd. Music from brass, pipe and rock bands, combined with

the cheers of onlookers, made for a festive atmosphere.

Young and old all appeared to enjoy the colour and fun of

the day.

PHOTOS: GILBERT WEALLEANS

CHRISTMAS

SALE

BOUNTY

5 piece modular outdoor setting

Available in grey or natural.

Offers valid 30 November to 24 December 2016

$

999

SAVE $600

Riccarton Megastore, 179 Blenheim Rd. Phone 341 3196 • OPEN 7 DAYS • www.bigsave.co.nz

NEW

SEASON'S

OUTDOOR

RANGE

instore now
---
Wednesday December 7 2016

BAY HARBOUR

PAGE 21

Christmas

Party

See S below for f detailst on this

week!

Fresh Tegel NZ Skin On Chicken Breast Fillets

Coke/Sprite/Fanta/Lift/L&P 1.5L

$

10 99

kg

$

1 99

each

Hass Avocados

Signature Range Mild/Colby/Edam Cheese 1kg

89 c each

$

8 49

each

Fresh NZ

Lamb Leg

Roast

Californian Seedless Bi-Colour Grapes 500g

Keri Original Fruit

Juice/Drink 1L

(Excludes Premium)

$

11 99

kg

DB/Export Gold/Tui

24 x 330ml Bottles

$

3 49

pack

Saints

750ml

Please drink

responsibly

3 for

$

5 00

Bluebird Chips/

Summer Flavours

140-150g

$

31 99

pack

Free gift with

purchase!

See instore for more

information

Christmas

Party

dates +

times!

$

8 99

each

Come along to your local

SuperValue Christmas Party!

There will be savings, prizes, giveaways, delicious food

tasting and demonstrations. Great fun for the whole family.

$

1 49

each

Lyttelton

3pm – 6pm

Thursday 8th December

Sumner

From 3pm

Thursday 8th December

SuperValue Lyttelton: 17 London Street, Lyttelton. Phone 328 7368. Open 7am-9pm, 7 days.

SuperValue Sumner: 3 Village Mall, Sumner. Phone 326 5688. Open 7am-9pm, 7 days.

Specials available from Wednesday, 7th December until Sunday, 11th December 2016 or while stocks last. We reserve the right to limit quantities. All limits specified apply

per customer per day. Trade not supplied. Prepared meals are serving suggestions only. Props not included. Certain products may not be available in all stores. Proprietary

brands not for resale. Customer Support Freephone 0800 40 40 40.

svbhn0712
---
PAGE 22 BAY HARBOUR

Wednesday December 7 2016

NEW 7 SEAT

OUTLANDER

FROM $32,990 +ORC*

Along with versatility and an unbeatable warranty, all the features you need from a family SUV are in the new Outlander 2WD LS.

Visit ChristchurchMitsubishi.co.nz, call 03 379 0588 or come and see us on the cnr Montreal & St Asaph Streets, Christchurch.

* Price listed is for Outlander 2WD LS. Price excludes On Road Costs which includes WoF, Registration and a full tank of fuel. See www.mmnz.co.nz for Diamond Advantage terms and conditions.

cnr Montreal & St Asaph Streets, Christchurch. Sales, Service & Parts: 03 379 0588

*Price listed is for Outlander 2WD LS. Price excludes On Road Costs which includes WoF, Registration

and a full tank of fuel. See www.mmnz.co.nz for Diamond Advantage terms and conditions.

Christchurch BMW

MORE X APPEAL.

THE NEW BMW X1.

The new BMW X1 proves what is possible with its class leading combination of urban

practicality, agile driving dynamics and iconic X appeal. Showcasing bold styling, a powerful

yet efficient engine, LED headlights, Parking Assistant and much more, the BMW X1 is the

perfect adventurer within the city limits and beyond. Book your test drive today.

Starting from $65,500. *

Christchurch BMW

30 Manchester Street, Christchurch. (03) 363 7240. www.christchurchbmw.co.nz

*Excludes on-road costs.
---
Wednesday December 7 2016

BAY HARBOUR

PAGE 23

Email tom.doudney@starmedia.kiwi

by 5pm each Wednesday

Knit 'n' Yarn

Today, 10am-11am

Head along to Lyttelton Library

to Knit 'n' Yarn. Take your

knitting, crochet or other portable

craft project and enjoy time

with other crafters.

Temporary Lyttelton Library

at Trinity Hall, free, beginners

welcome

Meditation and Buddhism

Wednesdays, today, 7.30pm –

9pm

Each class consists of a guided

meditation and a talk based on

Buddhist wisdom. Classes are

suitable for everyone. Join in any

week, booking is not required.

This course will help you to

experience mental clarity and

inner peace by meditating on

the mind itself. Meditating on

our own mind has many benefits

from calming our mind and

helping us to dissolve away distractions,

worry and delusions,

to improving our concentration

and mindfulness.

Suggested donation of $10

Mt Pleasant Community

Centre, 3 McCormacks Bay

Rd

Just a Little Something

Until December 18, Thursday to

Sunday, 11am-5pm, and Fridays,

11am-7pm.

The annual miniature

exhibition will showcase 26

artists with an array of beautiful

(and small) works. There are

sculptures, ceramics, prints, fine

art and many other forms of

artwork for sale.

Oxford St Art Gallery, 13a

Oxford St, Lyttelton

​Sumner-Redcliffs community

Christmas carols

Thursday, December 8, 6.30pm

Here's one for the calendar:

Sumner Bays Union Trust's

annual community Christmas

carols is back again this year. The

event will feature singers Eddie

Simon and Yulia Townsend, and

the Sumner Silver Band conducted

by Vickie Ward. There may

be a mysterious visitor wearing

red as well. The massed singing

begins at 6.30pm, although the

Sumner Silver Band will be performing

for half an hour before

that. It's an event for the whole

family, so go along to join in

some Christmas musical fun.

Sumner Surf Lifesaving Club,

31 Main Rd, Sumner

Create 'n' Connect art and

craft group

Thursday, December 8, 9:30am

to noon

Go and enjoy creativity in

company! Take your project

along, or others can help provide

inspiration for something new to

do. Phone Beth for more info on

022 678 1252.

St Andrews Church, 148 Main

Rd, Redcliffs

Baby Times

Friday, December 9, 10.30am-

11am

Community Christmas Party, Sunday, December 18, noon -

3pm. Go and join in a fun interactive Christmas party. Santa will

arrive and be in the grotto to meet children and take photos.

There will be a bouncy castle, games for all ages, as well as

a free sausage sizzle and beverages. Free admission. Banks

Peninsula Rugby Club Rooms, Western Valley Rd, Little River.

During each session there is a

variety of stories, songs, rhymes,

fingerplays and other book related

activities. The programmes

are especially suitable for under

two-year-olds.

Temporary Lyttelton Library at

Trinity Hall, free.

Learn to Sail

Saturday, December 10, 9am –

5.30pm

Learning to sail is a lot of

fun and provides children and

adults of all ages with valuable

life skills. To help children and

families to get into sailing in an

easy and affordable way without

the upfront cost of having to purchase

a boat, Naval Point Club in

Lyttelton has 10 well-equipped

Optimist dinghies.

Phone David Noakes 021 022

88411 or email programmes@

navalpoint.co.nz.

Naval Point Club Lyttelton,

Erskine Point, Lyttelton

Redcliffs playgroup

Monday, December 12, 9.30am-

11.30am during term time

All welcome, $2 per family.

Phone Vanessa 384 1815

St Andrews Church, 148 Main

Rd, Redcliffs

Storytimes/Wā Kōrero

Tuesday, December 13, 11am-

11.30am

Programme for preschoolers

include stories, music, movement

and rhymes.

Kōrero pukapuka, pūoru, korikori.

Temporary Lyttelton Library at

Trinity Hall, free.

Markets:

Mt Pleasant Farmers Market:

Every Saturday, 9.30am-

12.30pm, 3 McCormacks Bay Rd

Lyttelton Farmers Market:

Every Saturday, 10am-1pm,

London St.

3 Garlands Road, Woolston

DeluxeCinemas.co.nz

Phone XMAS Bookings VOUCHERS | Free AVAILABLE Parking IN | Cafe/Licensed STORE & ONLINE Bar

03 389 5360 Online Before Bookings 5pm, Monday | Cinema to Friday. Club Terms | Hot & Conditions Nuts/ Cheeses Apply.

A UNITED An Absolute Crowd Pleaser

DAILY 12:10pm, KINGDOM 4.15pm BASED ON A TRUE STORY

M Violence, Coarse Language,

Some Scenes May Disturb

SING STREET

Young Children

THU, FRI: 10:00am, 2:10pm, 4:15pm, 6:20pm, 8:30pm, SAT: 10:00am,

WED 2:10pm, 12:10pm, 4:15pm, 4.15pm, 6:20pm, 8:20pm 8:00pm, SUN: 11:00am, Pauline 1:10pm, Collins, 3:25pm Jonathan Pryce

THU DOUG M Course Language and sexual references.

MON: 10:00am, 2:10pm, 4:15pm, 6:20pm, TUE: 10:00am, 2:10pm, 4:15pm,

WED 12:10pm, 4.15pm, 8:20pm

NZ Biggest Film Ever

6:20pm, 8:30pm, WED: 11:00am, 1:20pm, 8:30pm

M Violence, Coarse Language,

Some Scenes May Disturb

THU 10:00am

HUNT FOR THE WILDERPEOPLE Young Children

ALLIED BRAD PiTT, MARiON COTiLLARD

Jacky Cambel, Seth Rogan

M Violence, Coarse Language,

DAILY WED: 12:50pm, 12:10pm, 6:20pm, 4.15pmTHU, Some Scenes May Disturb

ME FRI: BEFORE 1:10pm, 8:20pm, YOU SAT: 3:00pm, 8:30pm,

Young Children

SUN: WED12:50pm, 12:10pm, 4.15pm, 7:45pm, 8:20pm MON, TUE, WED: 1:10pm, 8:20pmAn Absolute Crowd Pleaser

M Violence, Coarse Language,

Some Scenes May Disturb

SUNSET THU 10:00am SONG DiRECTED BY THE TERENCE PAPAL DAviES BASILICAS Young Children

WED: 3:10pm, 5:45pm, THU, FRI: 10:35am, 5:45pm, SAT: Pixar 10:15am, Family Film 5:25pm,

M Violence, Coarse Language, Some

FINDING DORY JULY 20TH Scenes, May Disturb, Young Children

COMING

SUN: 10:15am, 5:10pm, MON, TUE, WED: 10:35am, 5:45pm Pixar Family Film

M Violence, Coarse Language,

FINDING DORY JULY 20TH Some Scenes, May Disturb,

I, DANIEL BLAKE PALME D'OR

Pixar Family Film

SOON

M Violence, Coarse Language, Some

FINDING DORY JULY 20TH Scenes, May Disturb, Young Children

WED: 10:45am, 2:15pm, THU, FRI, SAT: 12:10pm, SUN: 3:10pm,

MON, TUE: 12:10pm, WED: 3:40pm

THE FOUNDER BASED ON A TRUE STORY

WED: 4:10pm, 8:35pm, THU, FRI: 3:30pm, SAT: 12:50pm, SUN: 8:30pm,

MON, TUE: 12:10pm WED: 3:40pm

THE MATRIX DELUxE RETRO

SUN: 5:35pm

LION PREviEW SCREENiNg, LiMiTED SEATS

WED: 6:00pm

COMING SOON

DEC 15th Rogue One: A Star Wars story

(Tickets On Sale Now)

DEC 22nd A Man Called Ove

DEC 26th Lala Land

PREVIEW SCREENINGS

DEC 14th: 6:00 Lion

DEC 21st: 12:15 A Man Called Ove

A UNITED KINGDOM M Violence ALLIED M Violence, offensive language, sex scenes & content that may

disturb SUNSET SONG M Sexual violence, sex scenes & nudity I, DANIEL BLAKE M Offensive language

& adult themes THE FOUNDER M Offensive language THE MATRIX M Violence & sex scenes LION PG

Cafe open from 11am

TAB & Gaming

Function Facilities

HOUSIE

Tuesday, Thursday,

Saturday

SHUTTLE

Tuesday - Saturday

A classic, contemporary Club experience

Open 7 Days from 5.30pm

SATURDAY

CHRISTMAS DANCE WITH

THE DREWS

8pm in the Top West Bar

$2 entry

SUNDAY

FAMILY

GALA DAY

11am Sports Bar &

Outside, free entry

RETRO ROAST

LUNCH

12PM-1.30PM

WEDNESDAYS

until Wednesday 21st December

$10 Members / $12 Non

Book your Christmas work

or club Function today…

Christmas Buffet and Platter Food options, alcohol and

non-alcoholic options available with up to 5 different

activities including...

Paintball

Driving Range

Monsters and Zombies

Indoor Mini Putt

9 Pole Par 3 Golf Course

Volcano Park Mini Putt

Still Rock Restaurant and Bar

To book ph 376 5350, 50 Ferrymead Park Drive, Ferrymead

www.ferrymeadgolf.co.nz

18 hole themed Indoor Mini Putt,

Platter Food options available

Ph 384 1566, 21 King Edward Terrace, Woolston

www.caddyshack.co.nz
---
plete and attach to clothing bag for

PAGE 24 BAY HARBOUR

Wednesday December 7 2016

14km

6km

name

signed

2017

14km

6km

19 March 2017

This

emergency

contact number

2017

sticker is valid for entry into either

distance. Must be worn during the event,

to claim prizes, and for free entry into

Ferrymead Heritage Park.

OFFICIAL ENTRY NUMBER:

This

Moving with you for 43 years!

existing

medical condition

19name

th March 2017 • Prize Giving Ferrymead

emergency

Park.

signed

contact number

existing

medical condition

19 th March 2017 • Prize Giving Ferrymead Park.

dist

to c

Ferr

OF

ENTRIES NOW OPEN!

$20 Early bird available online

A Star Media Event

Are you up for it?

The Star Photo Archive: 1983

city2surf.co.nz
---
Wednesday December 7 2016

HEALTH & BEAUTY

BAY HARBOUR

PAGE 25

The Running Evolution

Move Better, Run Fast(er)

With the running season well and truly upon us, many of us will be

seeking ways to lift our game. Running programmes are popular, with a

myriad of groups available for anyone wanting to get into running. With

so many on offer it can be hard to know which one is the right fit for you.

Muscle People staff travelled to

Sydney to learn from renowned running

specialist, Paul Goss from the Running

School in London, UK and have brought

his programme back to The Running

Centre in Christchurch.

The Running Centre is lead by

Grace Fursdon, who alongside her

Physiotherapy degree, also has a

post-graduate qualification in Sports

& Exercise Medicine. Her training,

experience as a competitive runner and

passion for running make her a natural

champion for anyone looking to improve

their running. "If you're new to running,

or want some professional advice on your

technique, then we recommend individual

coaching sessions." says Grace. "We start

with analysis of your running technique

utilising a videoed running analysis

program. When you watch your video

you can clearly see where improvements

and corrections will be made. Once we've

got the basics right most clients then

choose to join our RunFit group running

programme which adds the fun and

motivation of running in a group" says

Grace.

RunFit, our group running course, is

a repeating eight week program. Clients

are also welcome to join RunFit without

having coaching if they're confident with

their running technique.

Give the friendly team at Muscle

People Physiotherapy a call today

360 3606 for information on RunFit,

group running programme.

"I'd run a few half marathons and had just

completed my first full marathon and found

I was getting cramp. I wanted to run more

efficiently, I wanted to get better times and

I didn't want cramp. Grace used a video

program to analyse my running technique, then talked

me through the faults I had and worked through them

systematically each week at a coaching session. To be

honest the new running technique felt a bit odd at first,

but after a month it felt completely natural. I noticed a

difference straight away, I'm running better, faster

and no more cramp!" - Sam.

Varicose Vein Treatment

Non-surgical Vein Laser Treatments available

Free Assessment

Tired of aching and unsightly veins?

No surgery, no scars, no stitches. No time off work

- continue normal daily activities. An affiliated provider to

Southern Cross Health Society (medical necessity

criteria apply) - check your policy for cover.

Enjoy skirts, short and cropped pants again.

Payment plans available (Conditions apply)

www.transformclinic.co.nz | 52A Mandeville St | Riccarton | 08002lookgood | 343 2880

Do you want

to run faster?

Runfit

pRogRamme

Call us toDay on 961 0236

move betteR

Run fasteR

injuRy fRee

get the technical edge

Celebrating

25 years

Celebrating

25 years

Celebrating

25 years

Celebrating

25 years

Celebrating

25 years

Celebrating

25 years

Celebrating

25 years

Celebrating

25 years

It wouldn't be a celebration without you.

It's Starship's 25th birthday. So we'd like to acknowledge everyone who's helped us reach this wonderful milestone.

To our staff, donors, volunteers, corporate partners and, of course, our patients and their families - your support of our national

children's hospital means the world to us. Here's to you, and another 25 years of delivering outstanding care to young patients.

THANK YOU.

Celebrating 25 years

starshipbirthday.co.nz
---
PAGE 26 BAY HARBOUR

Wednesday December 7 2016

REAL ESTATE

Church Bay waterfront contemporary

67 Koromiko Crescent, Diamond Harbour | POA

4 bedrooms | 2 bathrooms | 3 living rooms | 1 dining room | 3 off-street parks | Listing # 3183

A rare opportunity to acquire a prime

waterfront property with panoramic sea

views which sweep across Quail Island,

the Port Hills and Lyttelton Harbour. This

contemporary 350m2 (approx.) family

home is positioned on a spectacular site.

An executive home featuring incredible

outdoor family living, providing relaxed

indoor/outdoor flow ideal for ease of

entertaining. Privacy and shelter is

provided by the mature trees, established

formal garden and large lawn leading onto

the expansive kwila deck. The property is

set on an impressive 1810m2 parcel of land,

in two titles. Featuring a double height

entrance and living room ceilings, 4 double

bedrooms, 2 living areas and a large family

room/playroom. This open plan executive

home features breathtaking sea views at

every turn. With both the new master

en-suite and family bathroom luxuriously

appointed with Italian porcelain and

marble mosaic, exquisite in every detail.

Facing North West this is a naturally warm

home, the sun tracking from the early

morning to spectacular evening sunsets.

The floor to ceiling windows in the living

area harness all natural warmth which

during the cooler months is backed up

by under-floor heating, in addition to the

gas fire place in the lounge area, adding to

the warmth and ambience. This property

is visually stunning with world class

views. The current owners are reluctantly

departing after 16 years, their sincere wish

is that the property should continue to be

enjoyed as much as they have enjoyed it.

For a private viewing, contact Tim

Dunningham of Min Sarginson Real

Estate (Licensed Agent REAA 2008),

phone 027 651 5474 or 329 4161

now bigger than ever

growing with you

SprIng Is here –

It'S Sow Time

how to get the best results from

seeds and seedlings

100% NatIve In

The capItal

Unravelling the secrets of

Otari-wilton Bush

The New Zealand

landscape awards

The people behind

the projects

$7.90 incl. GST

Save our roSeS

How a rose register is protecting our heritage

September 2016 | 100%

It's time

to grow!

New look and more

content than ever!

MeeT LeSTer Brice

A Garden coach

auckland Botanic GardenS

Why we love our public grounds

The magazine for

gardeners who like to get

their hands dirty

SubScribe from

$43. 50*

*6 issues/6 months

ISSN 2423-0219

SUBSCRIPTIONS FREEPHONE

0800 77 77 10

www.gaRdeNER.kiwI
---
Wednesday December 7 2016

BAY HARBOUR

PAGE 27

Caravans, Motorhomes

& Traliers

CARAVAN around 4 to 5

berth wanted. Don't mind

repairs. 027 938 5344

WE can sell your caravan

on behalf on our busy

caravan site at www.

affordablecaravans.co.nz

512 Belnheim Rd, ChCh.

03 348-6614

Community Events

ALCOHOLICS

ANONYMOUS, If you

want to have a drink thats

your business. If you want

to stop, we can help. Phone

0800 229-6757

Computers

Gardening

& Supplies

Landscape

and Garden

Services

If you need help

getting your garden

back in order after

repairs, need any

type of landscape

construction work or

garden restoration.

Ph 021 272 0303

Gardening

& Supplies

A GARDEN OR

LANDSCAPING TIDY

UP? Shrub, hedge &

tree pruning, Lawns,

Gardening, consistently

reliable general property

upkeep, Dip. Hort. 10

yrs experience, One off

tidy ups or on-going

service. Nick's Property

Maintenance. Keeping

your garden beautiful.

Free Quote. Ph. 942-4440

GARDENER - Need

your home or commercial

garden tidied up or

renovated or require long

term assistance. Phone

Ruth 326-6663 or 021

272-0303

Holiday

Accommodation

HOUSESITTERS reqd in

Canty, fab homes Xmas /

NY. Prefer ret./not wkng.

Ph Lisa 03 359 2323 www.

townandcountryhomesit.

co.nz

SUMNER Holiday

Accom 027 600 6076

www.kotaresumner.nz

Classifieds Contact us today Phone our local team 03 379 1100

Holiday

Accommodation

QUEENSLAND SUN-

SHINE COAST AUSTRA-

LIA Resort, Ocean Views,

Balconies, Self Contained,

1 or 2 B/R Ensuite,

Heated Pool, Spa, Sauna,

Free Internet, Shops,

Restaurants, Tennis, Surf

Club & Patrolled Beach,

Public Transport at door.

Ask for our SEASONAL

SPECIALS. Phone 61 7

544-35011 Email: reception@mandolin.com.au

www.mandolin.com.au

ALL

YOUR

COMPUTER

WORRIES SOLVED!

*$30.00 off your first

Celebrant

WEDDINGS, Civil

service with this coupon!* Union Ceremonies,

No problem too big or Renewal of Vows, Naming

small from home PC's to Ceremonies, Funerals

business networks. PC and Unveilings - Jenni

slow? An end to Viruses, Gibson Ph/Fax 324-8332,

Spyware, and Clogged 021 723-089. www.

Systems. Safe secure celebrantservices.net.nz

hassle-free computing.

Lost files recovered.

Microsoft Certified,

MCSE, MCP+l. 30 years

experience. Call Andrew

Buxton this week on 326-

6740 or 027 435-7596

for $30.00 off* Custom

Computers Christchurch

ADD SOME

COLOUR

TO YOUR ADVERT!

Trades & Services

Cracked tiles?

Dirty grout?

Old or mouldy

silicon?

Brett Ph 03 358 5105

or 027 746 7632

www.groutpro.co.nz

Trades & Services

Trades & Services

BUILDER

Licensed & Experienced

From new decks

to full remodels

& new builds.

Free quotes

Ph Deane

022 123 1175

ROOF

PAINTING

Rope & harness

a speciality,

no scaffolding

required,

30 years of

breathtaking

experience.

FREE QUOTES

Exterior staining,

exterior painting,

moss and mould

treatment and

waterblasting

Phone Kevin

027 561 4629

LANDSCAPING/

STONE WORK

All forms of landscaping,

fences, decking & paving.

Phone Mike

Stoneage Landscapes

021 1499 733

Trades & Services

BOOKKEEPIng

ADMInISTRATIOn

Ph 027 600 6076 www.

kotaresumner.nz

RE-ROOFING

QUALITY ROOFING AT THE

BEST PRICE AROUND

Protect your home with a new Colorsteel roof.

Call for a friendly, FREE assessment and quote.

• Roofing

• Spouting and Downpipe

• Safety rails

• Licensed Building

Practitioner

Ph: 347 9045 or 021 165 1682

Email: Robinsonroofing99@gmail.com

Trades & Services

BRICKLAYER

George Lockyer. Over

30 years bricklaying

experience. UK trained.

Licensed Building

Practitioner number

BP105608. Insurance

work. EQC repairs.

Heritage brickwork a

speciality. No job too

small. Governors Bay.

Home 329-9344, Cell

027 684-4046, email

georgelockyer@xtra.co.nz

CARPET & VInYL

LAYIng

Repairs, uplifting,

relaying, restretching,

E mail jflattery@xtra.

co.nz,

ph 0800 003 181

or 027 2407416

COnCRETE

Decorative Concrete

Placing, Canterbury

owned & operated

for over 10 years,

competitive rates, full

excavation, coloured,

exposed, stamped, call

Paul 027 322 6119

ELECTRICIAn

JMP Electrical.

Experienced & registered..

Expert in all home

electrical repairs &

maintence.Call James 027

4401715

FURnITURE

REMOVALS

Large Trucks $95 +

GST per hour 7 day NZ

wide, packing & moving,

Professional Company,

Professional Service.

Canterbury Relocations

Ltd. ph 0800 359 9313

LAnDSCAPE

COnSTRUCTIOn

Lawns, paving, water

features, irrigation,

planting, decks,

driveways, kerbing, ponds,

retainer walls, fencing.

Free quotes, Phone Tony

021-034-8555

PAInTIng

PLASTERIng

Free quotes. Int/ext &

roof painting Family run

business, work guaranteed.

Ph Kerin or Paul 022 191

7877 or 379-1281. Website

www.swedekiwipainting.

co.nz

PAInTER/PLASTERER

Experienced tradesman,

quality work, free quotes,

ph Simon 027 389-1351 or

03 328-7280

PLASTERIng

INTERIOR, no job too

big or too small, specialise

in repair work & new

houses, free quotes given,

over 20 yrs plasterering

experience, ph 027 221-

4066 or 384-2574

ROOFIng

Qualified & Licenced

Practitioner. Re-Roof &

Repairs, all types. Member

New Zealand Roofing

Association. Over 35 years

experience. Phone John

027 432-3822 or 351-9147

email johnmill@ihug.

co.nz

STOnEMASOn, BRICK

& BLOCKLAYER

Earthquake Repairs, Grind

Out & Repoint, River/

Oamaru stone, Schist,

Volcanic Rock, Paving,

all Alterations new & old,

Quality Workmanship,

visit www.featureworks.

co.nz or ph 027 601-3145

Trades & Services

VHS VIDEO TAPES

all camera tapes converted

to DVD, video taping,

weddings, twenty firsts,

special occasions, www.

grahamsvideo.co.nz ph 03

338-1655

WInDOW CLEAnIng

"Your Windows are the

eyes of your Home", for

a free no obligation quote,

call Greg Brown, Crystal

Clear Window Cleaning

ph 384-2661 or 027 616-

0331 Local Resident

Wanted To Buy

A+ Household effects,

fridges, freezers, washing

machines, ovens. Good

cash paid. Ph Paul 022

0891 671

MUMS & DADS

Would you like your children to

exercise more and earn some money?

DELIVERY

PEOPLE

Public Notices

Lyttelton Primary

School

Board of Trustees

By-Election

Declaration of Parent

By- Election Results

Parent representatives votes:

Mateer, Stephen 55

Pham, Jaimee 8

Walker, Jamie 58

Invalid Votes 13

I hereby declare the following

duly elected:

Walker, Jamie

Rita (AH) Norris

Returning Officer

WANTED

Bay Harbour News

is looking for people

to deliver the paper

on a Wednesday. The

work involves door to

door delivery of The

Bay Harbour News

Please Call

Leanne Lucus 364-7451

or Mark Coulthard 364 7453

email: deliveries@starmedia.kiwi

Situations Vacant

Public Notices

ADVERTISE YOUR

BUSINESS HERE

Phone for further details

(03) 379 1100

Situations Vacant

Fisherman's

Wharf

Restaurant

Part time

Positions available

•Front of house

•Chef/cook

Experience necessary

Please phone

03 3287530 or

0211140266
---
PAGE 28 BAY HARBOUR

Wednesday December 7 2016

Four Grenadier Seasons Ferrymead

realty

Redcliffs

4 2 3

5 Basil Place

Fun and laughter has filled this home as it was designed and built to meet the demands of any

growing family, and the current owners have loved raising their children in this idyllic location. Set in

a peaceful cul-de-sac, the home offers expansive living with 2 separate lounges as well as stylish main

kitchen/family room that is very much the hub of the home. Friends will enjoy visiting as the home

features superb indoor and alfresco entertaining options; including an expansive Vegola covered deck

leading to the sparkling, heated pool surrounded by frameless glass and manicured rear gardens.

Auction: Thursday 15 Dec 12:00 p.m. (98 Moorhouse Avenue), Unless Sold Prior

View at: www.harcourts.co.nz ID#FM5037

Chris Moores Ph 027 588 4440

2 Mt Pleasant

5 2 1

4 Muritai Terrace

This inviting modernised home offers great family space, sun and enticing sea and city views. The functional

floor plan allows room for all the family and for those who love to entertain. Fully repaired and tastefully

renovated, all that's left is for you to move in and enjoy. The home provides very generous dining/living plus a

separate lounge, complete with a new clean air approved log burner. The living space opens to a wide sunny

deck, creating the ideal indoor/ outdoor flow for alfresco dining, or simply relaxing and unwinding

while soaking in those expansive views.

Auction: Thursday 15 Dec 12:00 p.m. (In rooms), Unless Sold Prior

View at: www.harcourts.co.nz ID#FM5032

Deb Beesley Ph 027 280 8837

Mt Pleasant 59 Major Hornbrook Road

Papanui 32 Moreland Avenue

Mt Pleasant 91 Cannon Hill Crescent

Sumner 22 Tuawera Terrace

4 2 1 2 3 1 1 1 4 3 3 2

4 3 1

1

Auction: 20 December 2016, 12pm

View at: www.harcourts.co.nz ID#FM5038

Deb Beesley

Ph 027 280 8837

Auction: 15 December 2016, 12pm

View at: www.harcourts.co.nz ID#FM5019

David Searle

Ph 021 565 950

Price: $699,000

View at: www.harcourts.co.nz ID#FM4963

Deb Beesley

Ph 027 280 8837

View at: www.harcourts.co.nz ID#FM5018

Joy Butel

Ph 021 353 280

Woolston 28 Charlesworth Street

Redcliffs 17 Mandalay Lane

Mt Pleasant 46 Main Road

Waltham 121A Osborne Street

3 1 1 2

4 2 2 2

4 2 2

2

2 1 1 1

Price: $420,000

View at: www.harcourts.co.nz ID#FM5030

Catherine Dougall

Ph 027 588 6844

NPM

View at: www.harcourts.co.nz ID#FM5031

Alison Carter

Ph 027 431 8960

Auction: 15 December 2016, 12pm

View at: www.harcourts.co.nz ID#FM5033

Deb Beesley

Ph 027 280 8837

Price: $230,000

View at: www.harcourts.co.nzID#FM5014

Kirsty McLeod Ph 027 226 5893

Deb Beesley Ph 027 280 8837

Greg Powell

Branch Manager

027 274 6157

Alison

Carter

027 431 8960

Michelle

Ward

027 203 7858

Deb

Beesley

027 280 8837

Joy

Butel

021 353 280

Chris

Moores

027 588 4440

David

Searle

021 565 950

Kirsty

McLeod

027 226 5893

Liz

Lewis

027 453 0952

Want to

be part of

the team?

Ferrymead

Carol

Williams

027 282 4950

Catherine

Dougall

027 588 6844

Dave

Elston

0274 593 165

Chris

Smart

021 871 100

Craig

Todd

027 642 1075

Lisa

Ny

027 622 5060

Megan

Jarratt

027 841 2335

Shaun

Davey

027 953 8860

Alistair

Hazeldine

027 572 1555

This could

be you!

1020 Ferry Rd Ferrymead • Ph 384 7950 • harcourtsgrenadier.co.nz

Grenadier Real Estate Ltd MREINZ is a Licensed Agent Under the

Real Estate Agents Act 2008