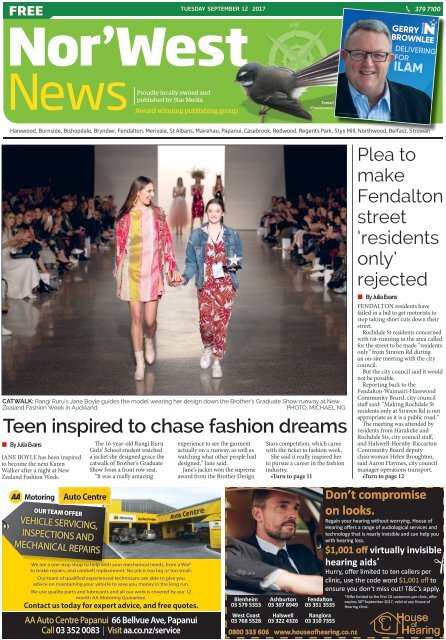 Nor'West News: September 12, 2017
Do you know the secret to free website traffic?
Use this trick to increase the number of new potential customers.
FREE

TUESDAY SEPTEMBER 12 2017 379 7100

GERRY

BROWNLEE

DELIVERING

FOR

ILAM

Proudly locally owned and

published by Star Media

Award winning publishing group

Fantail

(Piwakawaka)

Authorised by G Brownlee, 283 Greers Road, Christchurch

Harewood, Burnside, Bishopdale, Bryndwr, Fendalton, Merivale, St Albans, Mairehau, Papanui, Casebrook, Redwood, Regents Park, Styx Mill, Northwood, Belfast, Strowan

CATWALK: Rangi Ruru's Jane Boyle guides the model wearing her design down the Brother's Graduate Show runway at New

Zealand Fashion Week in Auckland.

PHOTO: MICHAEL NG ​

Teen inspired to chase fashion dreams

• By Julia Evans

JANE BOYLE has been inspired

to become the next Karen

Walker after a night at New

Zealand Fashion Week.

Motoring

OUR TEAM OFFER

Auto Centre

VehiCle serViCing,

insPeCtions And

meChAniCAl rePAirs

The 16-year-old Rangi Ruru

Girls' School student watched

a jacket she designed grace the

catwalk of Brother's Graduate

Show from a front row seat.

"It was a really amazing

We are a one stop shop to help with your mechanical needs, from a WoF

to brake repairs, and cambelt replacement. no job is too big or too small.

our team of qualified experienced technicians are able to give you

advice on maintaining your vehicle to save you money in the long run.

We use quality parts and lubricants and all our work is covered by our 12

month AA motoring guarantee.

Contact us today for expert advice, and free quotes.

AA Auto Centre Papanui 66 Bellvue Ave, Papanui

Call 03 352 0083 | Visit aa.co.nz/service

experience to see the garment

actually on a runway, as well as

watching what other people had

designed," Jane said.

Jane's jacket won the supreme

award from the Brother Design

Blenheim

03 579 5353

West Coast

03 768 5528

Stars competition, which came

with the ticket to fashion week.

She said it really inspired her

to pursue a career in the fashion

industry.

•Turn to page 11

Ashburton

03 307 8949

Halswell

03 322 4326

Fendalton

03 351 3535

Rangiora

03 310 7355

0800 333 606 www.houseofhearing.co.nz

Ilam - Gerry Brownlee - post-it.indd 1 30-Aug-17 3:02:37 PM

Plea to

make

Fendalton

street

'residents

only'

rejected

• By Julia Evans

FENDALTON residents have

failed in a bid to get motorists to

stop taking short cuts down their

street.

Rochdale St residents concerned

with rat-running in the area called

for the street to be made "residents

only" from Straven Rd during

an on-site meeting with the city

council.

But the city council said it would

not be possible.

Reporting back to the

Fendalton-Waimairi-Harewood

Community Board, city council

staff said: "Making Rochdale St

residents only at Straven Rd is not

appropriate as it is a public road."

The meeting was attended by

residents from Harakeke and

Rochdale Sts, city council staff,

and Halswell-Hornby-Riccarton

Community Board deputy

chairwoman Helen Broughton,

said Aaron Haymes, city council

manager operations transport.

•Turn to page 12

Don't compromise

on looks.

Regain your hearing without worrying. House of

Hearing offers a range of audiological services and

technology that is nearly invisible and can help you

with hearing loss.

$1,001 off virtually invisible

hearing aids *

Hurry, offer limited to ten callers per

clinic, use the code word $1,001 off to

ensure you don't miss out! T&C's apply.

*Offer limited to the first 10 customers per clinic, offer

expires 30 th September 2017, valid at any House of

Hearing clinic.

House

of

Hearing
---
2

Latest Christchurch news at www.star.kiwi

Tuesday September 12 2017

Inside

FROM

THE

EDITOR'S

DESK News..................................... 3-11

A LOT of success in your

Nor'West News this week – and it's

all to do with young people.

On the front page today we

showcase what was an amazing

night for 16-year-old Jane Boyle at

New Zealand Fashion Week.

Her jacket won a major award

and the Rangi student was in the

front row to soak up the atmosphere

and glory.

On the sporting front, Christchurch

Boys' High's under-15 rugby

team are national champions after

beating Hamilton Boys' High 22-

18 on Friday.

They are undefeated this season,

a remarkable effort.

Burnside High's first XI football

side won the Rex Dawkins Cup

after an undefeated showing last

week in Palmerston North.

And Rangi's first XI hockey team

finished second in the Federation

Cup after a narrow 1-0 defeat to

Auckland's St Cuthbert's College

on Saturday. – Barry Clarke

CBHS under-15s have 'perfect' season SPORT 15

NOR'WEST NEWS

Candidates................ 4-10

Sport..........................................15

Community Events...18

Shop, Win & Relax.......20

Food................................... 21

Health & Beauty.............27

Real Estate.....................29

GET IN TOUCH

General Inquiries Ph 379-7100

Classified Advertising Ph 379-1100

The Christchurch Star Company Ltd. PO box 1467 - Christchurch

starmedia.kiwi

NEWS

Julia Evans

Ph: 021 914 742

julia.evans@starmedia.kiwi

ADVERTISING

Monique Maynard

Ph: 364 7474

monique.maynard@starmedia.kiwi

Discover this

unique Emporium

Metal art - gifts - hoMewares

water features - pottery

Mirrors - candles

wall hangings & More

722 Marshland Road, Top end Styx

Open 7 Days

Ph: 03 323 9781

www.hitchingpost.co.nz

Helping us,

Helps tHe

community

Drop off or buy

3 family stores in your community

4 Restell Street, Papanui

Ph 352 4581

520 Cranford St, Redwood

Ph 352 0515

50 Charles St, Kaiapoi

Ph 03 903 0017

Hagley Senior College

INFORMATION EVENING

Thursday, September 21st | 5:00-7:00pm

Principal's Presentations are at 5:00 and 6:00pm

www.hagley.school.nz
---
NOR'WEST NEWS Latest Christchurch news at www.star.kiwi

Tuesday September 12 2017 3

News

Intersection wager causes stoush

• By Julia Evans

A STOUSH has broken out

between Aaron Keown and

John Stringer over a contentious

Harewood intersection.

City councillor Keown has

dismissed Papanui-Innes Community

Board member John

Stringer's claim that the Gardiners,

Breens and Harewood Rds

intersection does not need traffic

lights.

Mr Stringer wrote an opinion

piece for last week's Nor'West

News where he said upgrading

the intersection was "not a local

priority". He said there had been

too much coverage on one side

of the argument.

But Cr Keown said that's simply

not true.

"As the local city councillor,

I've been contacted by a lot of

residents about 'their' issue,

which is the Breens, Harewood

and Gardiners intersection, and

I am merely their spokesperson,"

he said.

Mr Stringer lives near the

intersection but is a member of

the Papanui-Innes Community

Board, which does not cover the

junction.

He suggested a traffic island

would be enough to "solve his

[Cr Keown's] problem".

But the city councillor said

MONOPOLY: John Stringer "claimed" city councillor Aaron

Keown's (right) $100 reward. ​

installing traffic lights at the

intersection was not just an idea

he had come up with.

"The idea of traffic lights is not

mine but an idea of the people I

represent and I support them,"

he said.

Cr Keown said it is his job to

speak on behalf of the residents

of Harewood, who have asked

for this upgrade for years.

A petition signed by more

than 1000 people would suggest

lights are what they want.

"As elected members, it is

our job to speak on behalf of

our residents, and I've been

contacted about this intersection

more than any other issue ever

in my 10 years of being elected,"

Cr Keown said.

Mr Stringer said the intersection

at Johns and Harewood Rds

is more dangerous than the Gardiners,

Breens and Harewood

Rds intersection. He "claimed"

Cr Keown's offer of $100.

The city councillor had offered

$100 to anyone who could

come up with a more dangerous

intersection than Gardiners,

Harewood and Breens Rds. But

Cr Keown said the Johns and

Harewood Rds intersection is

not in the city council's jurisdiction,

nor is it more dangerous.

"I've only ever had a couple of

mentions of the Johns Rd and

Harewood Rd intersection as it's

not even our jurisdiction – it is a

New Zealand Transport Agency

corridor," he said.

Cr Keown said Mr Stringer's

Monopoly money would not

help the issue at all.

"The real money needs to be

stumped up for an intersection

upgrade that the people of Harewood

say is long overdue," Cr

Keown said.

•HAVE YOUR SAY: Which

intersection do you think is

the most dangerous? Send

your views to julia.evans@

starmedia.kiwi

Local

News

Now

In Brief

Fire rages, homes at risk

EXCELLENCE AWARD

St Andrew's College has been

presented with an excellence award

by World Vision. The college raised

$22,794 during the annual 40-hour

famine appeal.

PARKING ISSUES

Heavy vehicles parking along

Leinster St, Merivale, are causing

concern for residents, who are

struggling to find on-street

parking. Traffic and parking issues

along the street have been raised

with the Fendalton-Waimairi-

Harewood Community Board.

City council staff are investigating

and will report back to the

community board.

YOUTH LEADERS WANTED

The Rotary Club of Bishopdale

Burnside is calling for nominations

for its youth leadership course. To

nominate someone aged 18 to 25

within the area, email secretary@

bishopdale-burnside-rotary.com.

MORE RESERVE PARKING

Work is currently under way

to increase the size of the car

park at Roto Kotahu Reserve

in Harewood. The reserve has

increased in popularity so the city

council found it needs to provide

more parking and better facilities.

Work is expected to be completed

by mid-October.

IS PAIN

STOPPINGYOU...

Caleb Ruthven

NZ Registered

Chiropractor

▪ Sleeping well?

▪ Sitting or driving comfortably?

▪ Working efficiently?

▪ Enjoying sport?

Back, shoulder, neck pain?

Make an appointment today!

ACC providers.

PAPANUI CHIROPRACTIC

165 Harewood Road | P: 021 104 1970

E: admin@papanuichiropractic.co.nz

www.papanuichiropractic.co.nz

your one stop shop!

We welcome you to come along and have a look

Our fee is

1%

from

min fee applies

Phone Kama Jacobs

022 043 7696 or

03 384 8600

1 Amyes Rd, Hornby Ph. 349 4163

Hours: Mon - Fri 9am-4.30pm,

Sat 9.30am-1.30pm

335b Riccarton Rd, Church Cnr

Ph. 341 8539

Hours: Mon - Fri 9.30am-5pm

Sat 9.30am-2.30pm

At Smart Real Estate YOU keep the Profits

Our Smart Marketing offers Global Exposure

Full service, Free Appraisals

Life's Great

SEPTEMBER

Hearing well, Well Now!

FREE Hearing Screening (Adult)

FREE Hearing Aid Demonstrations

Take the first step to remove one of life's

greatest frustrations, book a FREE hearing

screening and hearing aid demonstration.

Take the opportunity to remove one of life's

greatest

• Reduce

frustrations

listening effort

almost

throughout

effortlessly

your

by

day,

taking

less

the

stress & fatigue.

first • Understand step and having speech a in free difficult hearing listening screening situations, eg. Restaurants.

(by appointment only) and hearing aid demonstration.

Call now to book an appointment

West Consultations Coast Hearing by Clinic Appointment only

LIMITED APPOINTMENTS

September 18 Monday & 19 Tuesday

Merivale Hearing Clinic

September 21 Thursday

24b Church Lane.

Call now: MNZAS 356 Audioligist 2324

Hokitika: September 18 Monday & 19 Tuesday

85 Fitzherbert Street

Westport: September 21 Thursday

Buller Hospital, Cobden St

Greg Foote MNZAS Audioligist

Provider: ACC, War Pensions, Govt. Agencies,

Government

Greg Foote, subsidies

Audiologist

available.(conditions apply)

CALL NOW 0800 727 366

*

SprinG oFFer For FirSt 12 CALLerS. oFFer endS FridAy 29 by West th September.

Coast Hearing

* only the first 12 callers to each clinic (Hokitika & Westport) will

receive this special offer which ends Friday 15 September 2017

September

SprinG SpeCiAL

SEPTEMBER

SPRING

Two hearing SPECIAL

aids for

the two price hearing of aids one for

*

the price of one*

Conditions

conditions apply

apply

Testimonials:

Doug Garlick

of Westport has been a

client of Greg's since the

late 1990's. Doug's

hearing loss is mainly

work related and has

been deteriorating over

the years. "I have tried

many hearing aids over

the years but I am totally

sold on my present

hearing aids. They are the

best yet and you hardly

know you are wearing

them. I hear sounds I

have not heard for many

years" says Doug. Doug

found the service

"fantastic" and "the whole

process and follow-ups

were excellent, friendly,

and informative."

Les Singer of Hokitika is

another very satisfied

client since 1995. Les lost

his hearing many years

ago and has worn a

number of hearing aids

over the years with each

model better than the

previous one. Wearing

hearing aids helps Les

communicate and

understand

conversations, particularly

with his wife, family, and

grandchildren. Hearing

aids has improved quality

of life and reduced stress

for all concerned. Les is

very happy with the

excellent service provided

Clinic.
---
4

Latest Christchurch news at www.star.kiwi

Tuesday September 12 2017

NOR'WEST NEWS

GENERAL ELECTION 2017 – MEET THE CANDIDATES

Ilam electorate

McMaster & Heap

Veterinary practice

EMERGENCY EYE

SURGERY FOR JESS

Meet "Jess" an 8 year old black and

white moggy with real attitude,

who recently flew down from

Nelson to see Dr Steve Heap for

emergency surgery on her left eye.

Her primary vet at Alabama Vets,

had seen her a week earlier for a

painful superficial ulcer ( probably

from a cat scratch injury). Jess

was very hard to examine so

was started on topical eye

ointment and anti-inflammatory

medication. Jess was otherwise

well. She returned 2 days later as

her owners couldn't medicate

the eye either. By this stage her

left eye was producing a bloody

infected discharge, had swelled

up and the ulcer had grown in

size. Her vet added in antibiotic

tablets and more medication

for inflammation, swelling

and pain but the next day the

ulcer looked no better. Jess

needed to be sedated as the

vet couldn't examine this eye

with her awake. Her eye was

stained with fluorosein( as can

be seen in the attached photo)

and had become non healing

and so given the difficulty

in medicating Jess it was thought a better

way to go was surgery in Christchurch with

DrSteve Heap.

So Jess flew to Steve and was operated on

immediately to prevent the eye collapsing

and impaired vision. Steve performed

a lamellar keratectomy to remove the

dead, soft, spongy tissue on edges of the

deep stromal corneal ulcer. A conjunctival

flap was sutured over the large defect

to allow the perfect environment for

healing, meaning a good blood supply and

protection from environmental allergens.

Due to the difficulty in checking the healing

progress of Jess's eye it was thought a good

idea to board her at McMaster & Heap vets

until Steve was happy that the ulcer was

healing. As we were still unable to get near

Open 7 days

Cnr Hoon Hay & Coppell place

phone 338 2534, Fax 339 8624

e. mcmasterandheap@yahoo.co.nz

www.mcmasterheap.co.nz

her eye to apply drops, long acting injections

were given for ease and for her comfort.

Needless to say she needs a head collar worn

to stop her irritating her eye, undoing all

Steve's good work.

So far so good 4 days out from her surgery.

She is eating up a storm and feisty again

which means she's back to her happy self.

Steve has given the all clear and she flies

home on Friday to her eagerly awaiting,

doting parents.

Steve sees at least 10 eye referrals daily and

many of these patients end up needing

surgery. Eye injuries can't wait if the end

result is to save the eye and Steve will often

come into the clinic on his days off to see

emergency cases. The take home message

here is don't wait with eye problems – get

them looked at early by your vet, as two eyes

are always better than one!!

Dr Michele McMaster

McMaster & Heap

Gerry Brownlee –

National

I am honoured to be selected

by the National Party

as their candidate in Ilam.

I grew up here, I have my

home in the electorate and

I have a real commitment

to the sustainable development

of its future.

I represent the National

Party because I have a

genuine commitment to

equal opportunity, personal

freedom and personal

responsibility. I value

enterprise, hard work and

Anthony Rimell -

Labour

What I'll bring

to Ilam is an established

track record of service

to the people of

Canterbury.

I'm focused on the must

haves; decent, affordable

homes; clean water; and

swimmable rivers.

Priorities for me

include retaining and

improving state housing

in Bryndwr; improving

our health funding; and

ensuring better access to

education.

As a union organiser I

reward for achievement.

But, as the Member

of Parliament for Ilam

led the nurses union in

successfully negotiating one

of the largest settlements in

Canterbury's history.

For several years I was on

Be prepared for the start of

our season October-April

FREE coaching

FREE Club Uniform

½ Price subs for 1st year bowlers

and full membership only $195

Special rates for students

Free extensive members library

Contact Barry Hollands 352 6156

or Bev Baxter 359 6057

Bowls Papanui Inc

The Friendly Club

181 Condell Ave, Papanui

www.bowlspapanui.co.nz

assisting people at a

grass roots level, I know

any community is only

as strong as its most

vulnerable. National

has focused on building

a strong economy that

provides opportunity for

enterprise and funding to

meet the needs of our most

at-risk New Zealanders.

I am asking for your

vote to continue as the

Member of Parliament for

Ilam and most importantly

for your Party vote for

National.

the Advisory Board of the

Christchurch Earthquake

Appeals Trust, where I

supported projects that

gave Christchurch people

real hope.

I was recently elected to

the board of the Tenants

Protection Agency.

As an MP, I'll be here for

the local people.

I currently head a

multicultural church in

Riccarton.

I continue to work for

a better and fairer society,

so that we can all enjoy a

quality life here in New

Zealand.

GIVE LAWN

BOWLS A TRY

If you are looking for a new activity this summer, maybe

lawn bowls is for you!

Modern refurbished club rooms and electronic surveillance

throughout makes our club comfortable and safe. Voted Club

of the Year for 2016 and Greenkeeper of the Year in 2017.

We have up to date bowls available for you to trial without

commitment and world class greens for members to enjoy

the game. Buddy system in place for new members.

The sport for all ages
---
NOR'WEST NEWS Latest Christchurch news at www.star.kiwi

Tuesday September 12 2017 5

Ilam electorate

David Lee - Green

Party

David is a native Cantabrian

with strong roots in

Ilam.

Connection and connectedness

are fundamental

to his vision for a better

Christchurch and a better

New Zealand.

A career urban planner,

David understands how

the physical world fosters

and sustains personal and

community wellbeing. Relationships

with our environment,

and connection to

the world at large, provide a

sense of identity, affiliation,

and belonging.

As MP for Ilam, David

will get Canterbury back

onto the government's

agenda. Rebuilding critical

infrastructure and services

for a 21st-century city –

and beyond, investment

in transport networks and

clean water are essential for

Cantabrians to enjoy the

standard of living that all

New Zealanders deserve.

In central and local

government roles David

has been responsible for

environmental policy and

transport planning.

He is currently an elected

representative, leading

climate change, technology,

innovation and enterprise –

the way forward to address

environmental sustainability.

Raf Manji -

Independent

It's been my privilege

to serve you as a local

councillor since 2013.

Much has been achieved

in that time but we are

still far from securing the

thriving 21st-century city

we envisaged back in

2011.

It's been five years

since the blueprint and it's

time for a reset and new

leadership.

You have two votes to

cast this election – one

for the party you want to

lead the next Government

and one for the person

you think can best

represent Ilam and

Christchurch's interests in

Parliament.

As an independent I

will be free to focus on

local issues, such as water

quality, transport, health

and housing, as well as

continuing to make sure

the next Government

finishes the rebuild job

properly.

Christchurch needs a

strong, independent voice

in Wellington,

and someone who can

work with the next

Government.

And that's why I'm

asking you to vote for

me as your electorate

candidate for Ilam.

Martin Frauenstein –

Conservative

Martin settled in Wellington

New Zealand in

1996.

Since 2011 he and his

wife have lived in the

Ilam electorate. He was a

solutions architect at the

CDHB for four and a half

years, and has since reestablished

his IT consultancy.

Martin holds a strong

sense of justice, and the

belief that offenders should

be held accountable for

their actions while being

rehabilitated to be

reintegrated as productive

members of society.

He has been an active

volunteer with Corrections

since 2012.

He holds the preservation

of life and strong

families dear. As a pro-life

advocate, supports the 40

Days for Life movement.

Voting, is a cornerstone

of democracy – the

voice of the people.

The Conservative Party

principle of binding

citizens-initiated referenda

therefore resonates

strongly with him.

The Conservative principles

of democracy, family

and justice offer voters the

chance to "hit the reset

button" on the future of

New Zealand.

Martin Thomas Francis

– Independent

My name is Martin

Francis, I am 75-years-old

and live in the 'red zone'.

I stand for the people

affected by the earthquakes

and who live every

day, dealing with the

Governments deception by

ruling areas of Christchurch

to be 'red zones.'

The Quake Outcast

group has now won five

court rulings in its favour,

at their own cost, the

Supreme Court deeming

that the red zone zoning is

unlawful.

The land and those

improvements that

have been obtained by

the Government is by

deception and can now

be said to be 'proceeds of

crime'. I stand to fight to

right the wrong.

In the red zone, all

sections and improvements

insured or uninsured, to be

treated as equal.

Gerry Brownlee

announced to the media

a game to push uninsured

off their land, without

paying for improvements.

I stand to push for

repairing the red zone

errors the Government

has made. Doing it once,

doing it right.

•Also standing in Ilam

is Paul Gilbert, ACT.

•More candidates, pages

6, 7, 8 & 10

NEw PhARMACy

oPEN Now

*Excludes Real Sleep

TAKE

50 %

off

MARKED

PRICES

Jointcare

(200cap)

Tumeric

(30cap)

$19 90

$39 90

Magnesium

(100cap)

Kyolic

(120cap)

$54 90

$25 90

Services

+ FREE delivery for

prescriptions in local

areas

+ $3 Medico pack

+ FREE blood pressure

checks

+ Reading Glasses

+ Passport photos

+ Ear Piercing

+ FREE UTI consultation

+ FREE VIAGRA

consultation

oNly

$2 50

whIlE SToCKS

lAST

Open

Monday – Friday:

8:30am – 5:30pm

Saturday: 9am – 12pm

Wairakei

RoAD

BARNETT'S PhARMACy

4/501 Wairakei Road, Burnside 03 360 3178 03 351 3099 wairakei@barnettspharmacy.co.nz BarnettsWairakei
---
6 Tuesday September 12 2017

Latest Christchurch news at www.star.kiwi

GENERAL ELECTION 2017 – MEET THE CANDIDATES

Christchurch Central electorate

NOR'WEST NEWS

Nicky Wagner –

National

My focus has, and will

continue to be, making

Christchurch a city of

opportunity for all.

The last six years have

been tough and we still face

many unique challenges,

but I think we all want the

same thing — a vibrant,

people-friendly community

where our families can

thrive.

We want a great

education for our kids, we

want training and higher

learning opportunities,

we want jobs we like, we

want support services, solid

infrastructure and a safe

place to relax and enjoy

ourselves.

Christchurch continues

to go from strength to

strength, with strong job

growth, more visitors and

regeneration plans well

under way.

But, there's plenty more

to be done.

That's why I'll be out

over the next 11 days

knocking on doors,

speaking to local groups,

attending events and

connecting with as many

people as possible.

I'm committed to helping

Christchurch get back on

its feet and ensuring it's a

great place for everyone to

live, work and play.

Ian Gaskin – United

Future

United Future is leading

the debate on drug law

reform.

If I'm elected to represent

Christchurch Central I

will likely be a government

coalition partner and be

able to change the law.

By enabling drug addicts

to get drugs on prescription

we will see a major

reduction in crime.

By allowing class C drugs

to be sold a large new

cash flow will assist the

Government.

1080 poison.

We can farm opossum

and use the 30 million

possum in the wild as

foundation stock.

Worldwide fine fur is a

$80 billion dollar industry.

We can feed farmed

possum with hydroponic

grown freshwater seaweed

and watercress, this will

help clean rivers.

This will bring 10000

jobs to rural South Island

towns.

I'm 62-years-old and

have been living in

Christchurch since before

the earthquakes.

I have been involved with

United Future for over 30

years.

Duncan Webb –

Labour

I choose to live in

Christchurch because it will

become the best place for

my family.

Labour's plan – $300

million for the people of

Christchurch to choose

how they progress our

rebuild, an inquiry into

EQC, and compensation

for undue delays by insurers

– puts Christchurch and

Cantabrians first.

As a lawyer helping

homeowners battle for justice

I've seen what people

are still up against.

Six years after the earthquakes,

our people and our

city are still floundering;

that's scandalous. The job is

not finished.

Investing in the city also

means investing in health.

Labour will properly fund

health, especially mental

health.

A strong city is one

where people can get the

help – whether that is

surgery, or counselling –

they need, especially our

children.

Let's get this fixed.

I'm proud to be part of

a Labour team that has

the vision to help make

Christchurch the great

place we know it can be for

the future.

Doug Hill – The

Opportunities Party

At 24, I am the

youngest candidate in

The Opportunities Party

and I am enthusiastic

about encouraging New

Zealanders to look forward

beyond just the next three

years.

In order to prosper as a

nation, we need to place

our votes to help secure

a better future for New

Zealand.

I grew up in

Paraparaumu and moved

to Christchurch to begin

university in February

2011, just days before the

second quake.

Six-and-a-half years

later, I have completed

my Master's degree in

Biological Sciences at the

University of Canterbury.

TOP's evidenced-based

policy resonates with

my science background,

and their non-partisan

approach is a breath of

fresh air.

If we want to address

housing affordability,

poverty, environmental

degradation, and our

mental health crisis in

earnest, then we need

comprehensive and

evidence-based policies to

address these issues at the

root.

TOP has these

policies, but we need your

support.

FASh I onS

WOMEN'S WEAR CLEARANCE

CASUAL & DRESSY • SIZES 10-26

LOTS OF BARGAINS

FABRIC BONANZA

DESIGn ER DRESS FABRICS

At VERY REASonABLE PRICES

FABRIc BONANz A & cOTu RA

113 MAIn S o U th RoAD o FF St REEt PARKIn G

03 366 6958 Mon-FRI 8AM-4PM

CHOOSE local audiology

SWITCH to Sincock & Till

Time to get hearing aids?

Do your existing hearing aids need some love?

Bring in your old/very old or ancient hearing aids and

we will give them a FREE clean and tuneup!

Or let's get you on track with your first hearing test!

Call 385 6036 today

Switch to Sincock & Till Audiology

701 Barbadoes Street, Edgeware | www.staudiology.co.nz

FOR YOUR NEW HOME OR RENOVATION

Blinds

Curtains

Shutters

Awnings

Screens

up to

40%

off

(for a limited time only)

12

Months

Interest

Free

(Terms and conditions apply)

0800 836 587 www.venluree.co.nz Mobile Van Service
---
NOR'WEST NEWS Latest Christchurch news at www.star.kiwi

Tuesday September 12 2017 7

Christchurch Central electorate

Peter Richardson -

Green Party

Kia ora koutou.

I am standing as the

Green Party candidate

for Christchurch Central

because I believe in the

Green Party's principles of

environmental wisdom, social

justice and community

decision-making.

I am a partner at Linwood

Law, living in Mairehau

and married with three

adult children. I have been

involved in the campaign

to protect Canterbury's waterways

and aquifers, and

have built social housing in

the city.

In Government the

Green Party will fight to

protect our environment,

lift the most disadvantaged

out of poverty, and tackle

the pressing issue of climate

change.

We can do these things

while transforming our

economy from its present

low wage, low value, polluting

model, to a model

that encourages innovation,

productivity, high wages

and clean technology.

Our policies are fully

costed and financially

responsible.

Please give your party

vote to the Greens on September

23. We need a new

Government with a strong

green heart.

Janine Shufflebotham

- Aotearoa Legalise

Cannabis Party

The Aotearoa Legalise

Cannabis Party has been

around for 21 years and

exists to legalise cannabis

for recreational, spiritual,

medical and industrial

purposes.

To empower people to

work together for peace and

true justice and to institute

a proper and just balance

between the power of the

state and the rights and

Waimakairiri electorate

dignity of the individual.

We believe adults have

the right to freedom of

choice unless that choice

harms others or the

planet.

Cannabis is the third

most widely used recreational

drug in New

Zealand after alcohol and

tobacco and the most

widely used illegal drug in

a population of more than

four million. 13.4% of those

between age of 16 and 64

use cannabis this ranks us

the ninth highest cannabis

consumption in the world.

Philip Robinson - New

Zealand First

My name is Philip

Robinson and I am your

Christchurch Central

representative for the New

Zealand First political

party.

I am a patriotic New

Zealander, self employed,

and with many years of life

experience.

New Zealand First has

spent many years in Parliament

putting New Zealand

interests first in ownership

of our assets and sovereignty.

Control of our future

by ownership of our rural

and urban land by New

Zealand residents is a

cornerstone of New Zealand

First policy. As more

foreign-based ownership

takes hold and profits are

repatriated back to foreign

owners our country will

struggle to have enough

local capital for growth.

As we see now New

Zealand is becoming debt

ridden in both government

and private debt levels.

An $8 billion Government

debt 10 years ago has

expanded to a massive debt

of around $65 billion even

though there was extensive

sell-offs in power generation

and Air New Zealand

state assets.

Matt Doocey –

National

Growing up in north

Christchurch, I know our

community well.

I opened an office in

Belfast last year to be more

accessible and serve you

better.

Living and working in

the Waimakariri electorate

with my family, it's important

to me to be accessible

and keep connected to your

issues and concerns.

My commitment to you

is to continue to work hard

to serve all in the Waimakariri

electorate to the best of

my ability.

National's management

of New Zealand's growing

economy resulted in direct

investment into Waimakariri,

including the Western

Belfast Bypass and Northern

Corridor motorways.

Ten schools in the

electorate will open new

modern learning environment

classroom buildings

this year.

National is investing

more into our public services,

committing a record

$16.8 billion for health;

$11.6 billion for education,

the largest ever, and our

$2 billion family incomes

package will result in 1.3

million New Zealand families

getting an extra $26 per

week

•More candidates, pages

8 & 10

FILL UP FOR LESS THIS SEPTEMBER

WITH YOUR SUPERGOLD CARD.

Save

per

12litre*

*Terms and Conditions apply.

Head into your local participating challenge

service station and save 12 cents off per litre

with your SuperGold card.

Find your local challenge station at

www.challenge.net.nz
---
8

Latest Christchurch news at www.star.kiwi

Tuesday September 12 2017

NOR'WEST NEWS

GENERAL ELECTION 2017 – MEET THE CANDIDATES

NICKY WAGNER

MP FOR CHRISTCHURCH CENTRAL

A

E

P

W

103 Salisbury Street

Central Christchurch

PO Box 21359

Christchurch 8143

chch.office@parliament.govt.nz

(03) 365 8297

www.nickywagner.co.nz

Funded by the Parliamentary Service and authorised

by Nicky Wagner, 103 Salisbury Street, Christchurch

Waimakairiri electorate

Dan Rosewarne -

Labour

I'm a serving soldier with

the New Zealand Defence

Force and extremely excited

about potentially serving

the country in a different

way as an MP.

I'm new to politics

but I am not new to the

challenges many Kiwis face

today.

My wife and I know how

hard it is to try and scratch

together a house deposit

before being priced out of

the market.

I remember how hard

it was being faced with a

leukaemia diagnosis with

a young family and having

to worry about how my

wife and I are going to pay

the mortgage, whether my

kids were going to miss

out on everyday things and

wondering if I will make it

through.

These life challenges

turned my mild interest in

politics into an unrelenting

pursuit.

It is these experiences

that have also shaped my

views on the importance of

equality, social justice and

providing opportunities for

everyone to get ahead.

Improve your

Computer Skills

For work and everyday life

• Increase your skills with free beginner courses in computing basics,

keyboarding, Word, Excel, PowerPoint, Publisher, Photoshop, web

design, digital communications

• Improve your job prospects with a free qualification - New Zealand

Certificate in Computing (Intermediate User) Level 3

• Daytime, evening and weekend classes

• Friendly, supportive environment

• Study at your own pace

• Start any time

• Five Christchurch locations: Madras Street, Hornby, New Brighton,

Rangiora and Bishopdale

Enrol today.

ara.ac.nz | 0800 24 24 76

KNOWLEDGE AT WORK

CHRISTCHURCH | ASHBURTON | TIMARU | OAMARU | ONLINE

Nikki Berry -

Green Party

Nikki Berry is

campaigning for the Green

Party vote.

Nikki has strong rural

connections through her

family and believes that the

Green Party is a natural

fit for proud rural New

Zealanders who care about

their community and the

environment.

She is a musician who

for the last 20 years has

Nicola Glenjarman

- The Opportunities

Party

After attending Aranui

High School, I established

successful businesses in the

building and social services

sectors.

My husband and I loved

raising our daughter in

Waimakariri.

Recently, I gained a

Masters with honours in

science; my thesis focused

on New Zealand freshwater

ecology.

The degraded state of our

South Island rivers disappoints

me.

The health of waterways

is undisputedly important

used music as a vehicle to

empower individuals and

build community.

She directs The Rockers

of Ages, a popular

community choir based in

Rangiora.

Nikki is excited about

the incredible talent and

experience of the top 20

candidates on the Green

Party list and hopes that

by standing as a candidate

she can increase the Green

Party vote.

to the majority of New

Zealanders and I believe I

understand both the problems

and solutions.

In addition to my

science degree, my qualifications

in social service

(dip DipSosc) and business

management (BBM) give

me a unique perspective

on 'people, profit and the

planet'.

I have been involved in

playcentre and a rescue

team, spending five weeks

behind the cordon postquake.

My family also operated

an educational menagerie

teaching children about

the importance of the New

Zealand environment.

I am determined to create

a fairer New Zealand for

future generations.

•More candidates, p10

SOLD

SOLD

SOLD

SOLD

SOLD

SOLD

SOLD

SOLD

SOLD

SOLD

SOLD

SOLD

SOLD

SOLD

SOLD
---
NOR'WEST NEWS Latest Christchurch news at www.star.kiwi

Tuesday September 12 2017 9

FREE

11mm

high

dENSity

luxuRy

FREEuNdERlAy

ON SELECTED PRODUCTS *

NylON

Newport

• Commercial Heavy

Duty

• Solution Dyed Nylon

• Loop Pile

• 5 Colours

FREE

UNDERLAY

$99 90

NylON

Okiwi Bay

• Extra Heavy Duty

• Solution Dyed Nylon

• Cut Pile

• 1 Great Colour

FREE

UNDERLAY

$157 00

NylON

horizon

• Extra Heavy Duty

• Solution Dyed Nylon

• Cut Pile

• 1 Great Colour

FREE

UNDERLAY

$119 90

WOOl

Boucle

• Extra Heavy Duty

• Wool Plus

• Cut Pile

• 1 Great Colour

FREE

UNDERLAY

$119 90

garage

Carpet

• 6m x 6m fully installed

• Conditions apply

FULLY

INSTALLED

$900 00

2nds Carpet

• 100's of metres

• Pure Wool

• Extra Heavy Duty

CLEARANCE

FROM

$60 00

2 Metre Wide

Vinyl

• Selected patterns

• Buy 1 get 1 free

BUY 1

GET 1 FREE

$49 90

Commercial

Vinyl Planks

• 4 Colours

BUY 1

GET 1 FREE

FROM

$39 90

Call for our mobile showroom to

visit your home

312 Wilsons Road North, Waltham | Phone 366 0070

Mon to Fri 8am - 5pm and Sat 10am -1pm

www.carpetkingdom.co.nz *Conditions apply.

Q Card Finance

Now Available

FREE no obligation measure & quote (conditions apply)
---
10 Tuesday September 12 2017

Latest Christchurch news at www.star.kiwi

News

GENERAL ELECTION 2017 – MEET THE CANDIDATES

Waimakairiri electorate

Benjamin Price –

Conservative Party

I have lived in the

Waimakariri electorate for

the last 20 years and have

worked in various roles

over that time – predominantly

in the IT sector.

I joined the Conservative

Party after seeing successive

governments completely

(and arrogantly)

ignore the directives of

New Zealanders, including

through citizen initiated

referenda.

The unfortunate result

has been numerous legislative

and social changes

that have not only been

detrimental to the effective

running of the country,

but also to the stability and

coherence of families.

Governments need to

be reminded that they

work for the citizens of the

country, not the other way

around.

•Other candidates standing in Waimakariri are Peter Adcock-White, Democrats

for Social Credit, Stuart Hawkins, ACT, Richard Prosser, New Zealand First, Aroha

Reriti-Crofts, Maori Party and Destiny Wiringi, Independent.

Where to cast your vote

Polling booths in

Nor'West News area:

Bishopdale – Bishopdale

School Hall, 465 Greers

Rd; Cotswold School

Hall, 50 Cotswold Ave; St

Margaret's Presbyterian

Church, The Hub, 94

Farrington Ave.

Ilam – Ilam School Hall,

66 Ilam Rd.

Mairehau – Mairehau

High School Hall, 440 Hills

Rd; Mairehau Primary

School, 43 Mahars Rd;

St Albans Community

Preschool, 3 Thames St; St

Albans Uniting Parish, 36

Nancy Ave.

Merivale – Heaton

Normal Intermediate

School Hall, 125-133

Heaton St; Rangi Ruru

Girls' School, Helen Kitson

Function Centre, Rhodes

St.

Papanui – Casebrook

Intermediate, 100 Veitches

Rd; Northlands Shopping

Mall, Hoyts Cinema

Entrance, Main North

Rd; Papanui High School

Hall, 30 Langdons Rd;

Papanui Primary School,

40 Winters Rd; Paparoa

Street School, 120 Paparoa

St; St Joseph's School Hall,

4 Vagues Rd; St Paul's

Anglican Church Parish

Hall, 1 Harewood Rd;

Waimairi School Hall, 1

Tillman Ave.

Redwood – Northcote

School, 26 Tuckers Rd;

Redwood Play Centre,

40 Dunedin St; Redwood

School Kereru Room,

51 Prestons Rd; St Lukes

Community Hall, 278

Main North Rd.

St Albans – Beulah

Church, 140 Springfield

Rd; Blind Foundation, 96

Bristol St; Rehua Marae,

Whare Kai (Dining

Room), 79 Springfield Rd;

St Albans Baptist Church,

64 McFaddens Rd; St

Albans Primary School, 17

Sheppard Pl.

DESIGN: Christchurch Boys' High School has opened its new hall.

Boys' High opens $4.6m hall

• By Julia Evans

THE FIRST step in

Christchurch Boys' High

School's $32 million

upgrade is finished.

The school has

unveiled its new $4.66

million hall, which has

mezzanine seating for 1350

students.

Headmaster Nic Hill

said the hall was an

important milestone in the

school's overall rebuild.

"It's the first thing we've

finished – it was really

great for the boys," Mr Hill

said.

He said the building is

"very modern" but has a

"traditional purpose".

"We're not bound by

tradition but we've got a

really clear mandate about

what the boys need from

the space."

During the opening

assembly, Mr Hill spoke

to the students about the

hall representing the next

136 years in the school's

future and the 136 years of

history behind it.

"The best story I heard

was a student sent his dad

a picture of his freshly

polished shoes. He'd

shined them to go into the

new hall," he said.

The three-year facelift,

which began construction

last year, includes a new

block of 37 classrooms and

NOR'WEST NEWS

a gym.

Mr Hill said the school

is aiming to create spaces

that won't date. The next

step is designing the

classroom block.

"We've spoken with

architects, as well as asked

students, parents and the

board of trustees what

they want in the design,"

he said.

Only a few of the

school's original buildings

are set stay, including

the Deans' farm heritage

buildings and the

Centennial building.

The main heritage

block will be repaired

throughout the course of

construction.

SPEND

$150 AND

RECEIVE A

Corner

Marshland &

New Brighton Rd,

Shirley

*For full terms and

conditions visit

thepalms.co.nz

FREE GIFT

FREE* Body Shop

Body Butter when

you spend $150

from September 11 th

until stocks last

TPS31230
---
NOR'WEST NEWS Latest Christchurch news at www.star.kiwi

Tuesday September 12 2017 11

News

Bridge club finally settles down

• By Julia Evans

AFTER BEING nomadic

for more than six years, the

Bishopdale Bridge Club has

found a home.

With the opening of the

Ōrauwhata: Bishopdale Library

and Community Centre, the

club feels like it has finally

settled down, president Janet

Stokes said.

Prior to the February 22,

2011, earthquake, the 40-yearold

bridge club has "been

wandering", Mrs Stokes said.

The club left the former

Bishopdale Library on

Farrington Ave and moved

down a few houses into St

Margaret's Presbyterian Church

just before the quakes.

But it had to move again after

an arson attack last May caused

$2 million in damage to the

church, and the club lost all its

equipment.

Since the fire, the club has

been using space in Riccarton

provided by the Crockfords

Bridge Club.

She said the Riccarton club

had been most accommodating,

but it was good for the older

members, who found it

difficult to travel, to be back in

Bishopdale.

"We're just thrilled to be back

in the local Bishopdale area," she

said.

Earlier this year, the club was

approved a grant of $3000 by the

Fendalton-Waimairi-Harewood

Community Board to replace its

equipment. Mrs Stokes said

the club has been able to

purchase new specialist tables,

table cloths and equipment with

the grant.

The club's 70 members, mostly

aged over 70-years-old, now

meet regularly in the "fresh",

ACE: Bishopdale

Bridge Club

members Betty

Brown, Jenny

Vartha, Julia Hall,

Daphne Jenkins,

Peter Tompkins

and Janet Stokes

at the club's

new home.

PHOTO: MARTIN

HUNTER

new environment. Mrs Stokes

said it feels good to be part

of the wider rejuvenation of

Bishopdale. "The whole area

is going through a buoyant

regeneration. It doesn't feel old

and tired anymore," she said.

Local

News

Now

Fire rages, homes at risk

Teen chases

the fashion

dream

•From page 1

"It proved that it was a realistic

dream that I could chase. Really

opened my eyes to the opportunities."

Unfortunately before Jane

could see any of her favourite

designers' shows, she had to fly

back the next day for exam week

at school.

"I found it so hard concentrating

after that," she said.

It was 90-year-old fashion icon

Iris Apfel who inspired the bright,

bold jacket design, which was

made from worn leather and recycled

material.

"Iris helped to inspire me and

push past my boundaries and

incorporate technique, colour and

texture all into one jacket," she

said.

Jane put her heart and soul into

the jacket, which took more than

80 hours to create.

"I made each and every one

of the tassels covering the sleeve

and hand braided and cut the

front panels of the jacket," she

said.

Jane said there were many

hours spent handmaking the tassels

in front of the television – but

they were all "worth it."

BURNSIDE

• Open 7 days from

10am - 9pm

• Chiller trailer hire

• Glass hire

• Local delivery

SpeiGhtS

24 x 330ml Bottles

$

34 99

SteinLaGer pure

12 x 330ml Bottles

$

22 99

KahuLa

1Ltr Bottle

$

34 99

each

SmirnOff

1Ltr Bottle

$

34 99

each

JaGermeiSter

1Ltr Bottle

$

49 99

each

$

24 99 Db expOrt GOLD

& Db DrauGht

15 x 330ml Bottles

Captain

mOrGan

1Ltr Bottle

maLibu

1Ltr Bottle

$

34 99

each

Jim beam

1.25ml Bottle

$

39 99

each $

42 99

each

baiLeyS

1Ltr Bottle

$

39 99

each

Offers valid from Monday to

Sunday or while stocks last.

501 Wairakei Rd, Burnside - Ph. 03 359 0556
---
12 Tuesday September 12 2017

Latest Christchurch news at www.star.kiwi

NOR'WEST NEWS

News

Bryndwr church reopens

• By Julia Evans

THE VILLAGE Presbyterian

Church in Bryndwr has

celebrated the opening of its new

building.

The building replaced St

Stephen's Presbyterian Church,

which was damaged in the February

22, 2011, earthquake.

PERFORMANCE: Burnside

Primary School pupils during

the opening celebrations.

During the ceremony,

Reverend Martin Stewart said

the original church built on

site in 1959 now combines St

Stephen's and St Giles.

Part of the event was also

acknowledging that it has been

almost 20 years since the community

centre was established at

St Stephen's.

"It's been 20 years since the

community centre was formalised

here too," Rev Stewart said.

He described the new church

as "open", "light", "welcoming",

"comfortable" and not a "traditional"

church. Burnside Primary

School pupils performed

during the short ceremony

before a celebratory meal.

NEW HOME: John Simpson,

Lesley Compton, Johan Dalkie,

architect Gordon Dalkie and

minister Martin Stewart.

PHOTOS: AARON CAMPBELL

Residents-only street rejected

•From page 1

Staff investigated the rat running

after receiving complaints

from residents and found it

happens mostly in the morning

between Christchurch Boys' and

Christchurch Girls' High Schools.

Rochdale Precinct Society

spokesman David Nicholls said

while he wasn't one of the

residents at the meeting, closing

the street to the public had been

something the group was definitely

behind.

He said it "would've been helpful"

if the city council listened to

the suggestion.

It comes as the Rochdale St

Precinct Society is taking Bell,

Lamb and Trotter to the High

Court to put a stop to a proposed

"boutique funeral home" on their

street.

City council staff also noted

in their report that Rochdale

TRAFFIC:

Rat runners

on Harakeke

and Rochdale

Sts are

frustrating

residents.

PHOTO:

GILBERT

WEALLEANS

St already has a speed bump,

pedestrian refuge and three areas

of narrowing to provide traffic

calming.

But as a result of the on-site

meeting, staff came away with

several other action points to stop

motorists taking short cuts.

Mr Haymes said sign and road

marking alterations have been

sent to contractors and will begin

shortly.

Tapered no stopping restrictions

along Kilmarnock St to

Harakeke St will be installed and

stop signs will be moved forward

to extend the no stopping area.

Pedestrian warning signs will

also be installed on either side

of the Christchurch Boys' High

School hostel Adams House, on

Harakeke St.

"These are scheduled for completion

by the end of September,"

Mr Haymes said.

Bathroom & Shower

Renovations

Tile & grout Cleaning

Re-grouting

Grout Sealing & Re-colouring

Replace Mouldy Silicone

CALL TODAY 0800 247 688

befoRe

afTeR

www.groutpro.co.nz

Taking Care of family

Wills, Powers of Attorney, Family Trusts, Rest Home Subsidy,

and Separation and Relationship Property Agreements,

we'll take care of you and your family.

3 locations: New Brighton, Styx Mill & Kaiapoi

www.pierlaw.co.nz
---
NOR'WEST NEWS Latest Christchurch news at www.star.kiwi

Tuesday September 12 2017 13

WORK

WITH THE

BEST!
---
14 Tuesday September 12 2017

Latest Christchurch news at www.star.kiwi

REAL ESTATE

NOR'WEST NEWS

Proud to be a

PROFESSIONAL

SERVICE

(Medium/Large

Enterprise)

FOLLOW US ON...
---
NOR'WEST NEWS Latest Christchurch news at www.star.kiwi

Tuesday September 12 2017 15

Rangi narrowly miss out on

hockey's Federation Cup

RANGI RURU Girls' School's

hockey team came second in the

Federation Cup tournament after

a narrow 1-0 defeat to Auckland's

St Cuthbert's College on Saturday.

The national tournament was

held in Hawkes Bay last week and

featured 32 of the country's top

teams.

Rangi Ruru won their quarterfinal

against Hawkes Bay's Iona

College on Thursday 3-2, before

beating Villa Maria College 4-1 in

the semi-final.

Rangi Ruru director of sport

SPORTS

RUNNERS-UP: Rangi Ruru Girls' School finished second in the

Federation Cup after a 1-0 loss to Auckland's St Cuthbert's

College.

PHOTO: PLANET HOCKEY

LAwyERS

We have over 40 years' experience

to assist you with…

• Buying and Selling Houses and

Commercial Property

• Wills, Trusts and Estate matters

• All issues facing you

and your business;

• Employment Law

matters;

• Traffic matters;

• Advice regarding

Retirement Villages

• General Legal Advice on all matters

Call John, Brendan or Andrew today

03 366 8996

Email. lawyers@mclegal.co.nz

Airport Business Park

92 Russley Road, Christchurch 8042

Jo Fogarty said it had been

a demanding week and she

was pleased with the result,

acknowledging the hard work of

the players, as well as head coach,

Aaron Ford, and assistant coach

and manager, Megan Wang.

"Our success is due to quality

coaching, our support team,

which includes nutrition, strength

and conditioning, and mental

performance coaching and,

of course, our hard working,

motivated and talented students,"

Fogarty said.

'CEREC' & cosmetic dentistry

Wisdom tooth removal

Painless, high quality dentistry

Sedation dentistry

Experienced, conscientious team

Experienced hygienists

OPEN SATURDAYS

355 9380

144 Cranford Street

www.stalbansdentalcentre.co.nz

Burnside end football season on high

• By Andrew King

BURNSIDE HIGH won the

Rex Dawkins Cup after an

undefeated showing at the

tournament in Palmerston

North.

Their perfect eight wins from

eight games cumulated in a 3-1

win over Hutt Valley High in

the final. However, it left coach

Dave Williams wondering what

could have been if they had

made the top national tournament.

"This did show that we

should have been at the premier

tournament because we had

the team to do well, but unfortunately,

we did not get the

chance," he said.

The Rex Dawkins Cup is a

satellite tournament for teams

'Perfect' run for under-15 rugby boys

• By Andrew King

CHRISTCHURCH Boys'

High's under-15 rugby team

are national champions after

beating Hamilton Boys' High

22-18, giving them a perfect

season.

The hard fought win over

Hamilton was a culmination of

patience and defence, assistant

manager Matt Parr said. The

scores were locked at 15-all in

the second half.

"There was a bit of a hairraising

moment when we had a

penalty in front but decided to

not in the top 32 in the country.

Selection to the premier

tournament in Napier was done

on the standings earlier in the

Connetics first XI season. At

the time, Burnside (above) were

outside the top four. They finished

the season in fourth.

The highlight aside from

winning the title, Williams said,

was only conceding four goals

but scoring 36.

go for a quick tap that didn't pay

off," Parr said.

A late try to Callum Simpson

was converted and CBHS held

on to take the title in a season

where they didn't lose a single

game.

The under-15 side has given

first XV coach Danny Porte a lot

to look at during the off season

with a number of players putting

their hands up for the top

team.

Loosies Lochie Murray and

Jack Fantham were dynamite all

week, Parr said. Hooker Clayden

Paranihi, who came off the

NEW LOCATION ADVERT.pdf 1 1/05/2014 11:51:35 a.m.

VISIT OUR NEW LOCATION LOCATION

Hours of Business: 7am-4.30pm Mon-Thurs

Fri 8am to midday

or by appointment with Keith 027 566 3909

Williams said captain Byron

Heath was a stand-out player

and was only two goals shy of

the golden boot award. Keeper

Christian Firth also stood out,

only letting in four goals and

saving a penalty in the final.

"Centre mid-fielder Jamie

Palmer also played amazingly

well and Milan Clarke did a

perfect job as our centre back,"

he said.

bench, is an exciting prospect,

as is All Blacks coach Steve

Hansen's son Ollie on the

wing.

Josh Taula will also be on

Porte's radar, measuring in at a

whopping 204cm at the age of

15.

On top of that, the starting

front row weighs in at about

350kg, making them a force to

be reckoned with, Parr said.

"Credit really has to go to

head coach Phil McKay and

Graham Moody who have been

with the team for the past two

years," Parr said.

430 ST ASAPH STREET!

RECOVER YOUR LOVED FURNITURE

No job too big or small

Still able to offer

you the finest top

quality new furniture

Visit us online

www.qualityfurniture.co.nz

P. 371 7500

QUALITY FURNITURE SPECIALISTS

RE - UPHOLSTERY SPECIALISTS KEITH HARTSHORNE 0275 663 909

Wai: We care

"

When I was a kid I used to love

building dams and swimming in

creeks – now that I have my own

children I want to start giving back.

"

What's your wai? Canterbury's water zone committees are looking for new community

members, visit ecan.govt.nz/waiwecare before 8 October and let us know wai you care.

Suzanne Furkert,

Christchurch West Melton Water Zone Committee member
---
16 Tuesday September 12 2017

Latest Christchurch news at www.star.kiwi

NOR'WEST NEWS
---
NOR'WEST NEWS Tuesday September 12 2017 17
---
18 Tuesday September 12 2017

Latest Christchurch news at www.star.kiwi

NOR'WEST NEWS

include Maori language content.

Shirley Library, 36 Marshland

Rd

St Albans Exercise

Today, 9.15-10.15am

These classes are designed for

people living with long-term

health conditions. Classes generally

occur weekly but won't happen

on public holidays or during

school holiday periods. Phone

0800 663 463 to register.

Foundation of the Blind, 96

Bristol St

GenConnect

Tuesday, 12.10-12.40pm

Connecting generations by

sharing knowledge. Do you have

questions about your iPad, smart

phone or tablet? Or maybe you

want to know how to use Skype,

Facebook, or share your photos

with family or friends? Ask an

expert. Papanui High School students

will be available every

Tuesday during term time from

12.10-12.40pm to help you find

answers to all your questions

Papanui Library, 35 Langdons

Rd

Scrabble Group

Tuesday, 9.45am-noon

Go along and play scrabble

with this friendly weekly group.

Exercise your brain and have

fun.

Gold coin donation. Sundbye

Email julia.evans@starmedia.kiwi

by 5pm each Wednesday

House, 100 Farrington Ave

Reading to Dogs

Tuesday, 3.30-4.30pm

These sessions have been designed

to provide a relaxed and

non-threatening atmosphere to

encourage children to practice

their reading skills and develop a

love of reading. This programme

uses dogs who are the pets of

the city council's animal management

team and have been

trained and tested for health,

safety and temperament. Sessions

are 15min. Phone 941 7923

to book a spot.

Shirley Library, 36 Marshland

Rd

Scrabble Club

Wednesday, 1-3pm

Go along to the Scrabble Club.

There's no obligation, just go

along whenever you can and join

the friendly group. All materials

are supplied.

Ōrauwhata: Bishopdale Library

and Community Centre, 13 Bishopdale

Court

Play Rummikub

Thursday, 1-3pm

Go along to Fendalton Library

and play rummikub, an exciting,

interactive strategy game that

BOOK TALK: Friends of the Library will hold its author talk

with Genevieve King on Tuesday from 12.30pm at Fendalton

Library, 4 Jeffreys Rd. King, a self-published author, will

be talking about her book Valley Gatherings, which is a

compilation of photos, stories and recipes gathered from

people living on or near the Clarence River. Gold coin

donation, all welcome.

will test your wits.

Fendalton Library, 4 Jeffreys Rd

Knit 'n' Yarn

Thursday, 2-3pm

Go along and enjoy a chat with

others as you knit. For anyone

who loves to knit or wants to

learn.

Fendalton Library, 4 Jeffreys Rd

Card Club

Friday, 1.30-3.30pm

This weekly card club is on

every Friday – just go along and

join in the fun.

Shirley Library, 36 Marshland

Rd

Super Saturday Storytimes

Saturday, 11-11.45am

Encourage learning through

a love for stories and craft.

Storytimes is an interactive programme

including stories, songs,

rhymes and play. All stories during

Te Wiki o Te Reo Maori will

A Cappella Extravaganza

Saturday, two shows from 3pm

and 7.30pm

Christchurch City Chorus is

proud to bring world champions

The Westminster Chorus and

LoveNotes, an international

champion quartet, to Burnside.

Christchurch City Chorus, Malestrom,

Cashmere High Girls

Barbershop Chorus, The Vocal

Network, L'Attitude, Aftershock!,

The Plainsmen and Slovenian

Gospel Trio will also perform.

Tickets available at Ticketek.

Aurora Centre for Performing

Arts, cnr Greers Rd and Memorial

Ave

Mah-Jong Group

Monday, 2-4pm

Interested in learning or playing

mah-jong? Join this free, fun

and social group.

Papanui Library, 35 Langdons

Rd

Activity Zone

Monday, 3.30-4.30pm

Go along and have fun at

the activity zone – the Shirley

Library after school club. There

will be technology, craft, games

and books. Every Monday

during term time, suitable for

children aged six to 10. Caregivers

are to remain in the library

during the session.

Shirley Library, 36 Marshland

Rd

fall in

Love

with your

favourite

furniture

all over again.

30 YEARS

EXCELLENT

RANGE OF FABRICS

Recover your couches and chairs and save money!

BEFORE

AFTER

EXPERIENCEFREE

QUOTES

Somerfield Upholstery Ltd

FURNITURE RECOVERY SPECIALIST

10 Calgary Place, Hornby | Ph 021 251 6200 | 349 0456

VISIT OUR SHOWROOM | QUALITY WORKMANSHIP GUARANTEED

www.somerfieldupholstery.co.nz

Paul Tainui

Shop online

with the in

store special

prices!

Discount code:

Goat

themohairstore

140 Colombo Street, Beckenham

Phone 03 943 1639

www.themohairstore.co.nz

Still Pedalling!

Full Workshop Services:

• WOF's • Service Checks

• Wheel Alignment • Brakes

• Clutches • Tyres etc

All makes & models

Trevor Crowe's been

involved with cars for a

while. You can benefit

from his experience at...

Subaru Specialists

518 Moorhouse Ave (East end) | P: 379 7615

W: crowesport.co.nz | E: service@crowesport.co.nz
---
NOR'WEST NEWS Latest Christchurch news at www.star.kiwi

Tuesday September 12 2017 19
---
20

Tuesday September 12 2017

ON

NOW!

Promotion closes October 10th 2017.

Conditions apply.

Shop

Win

& Relax

Latest Christchurch news at www.star.kiwi

SUPPORT YOUR LOCAL

BUSINESSES

TO WIN 1 OF 5

FAMILY GETAWAYS

TO HANMER

SPRINGS

Enter every time you shop at any

of these participating businesses

More Chances to Win!

Proudly

Supported By

NOR'WEST NEWS

We design your jewelery unique to your style and personality.

We offer a resize and redesign service.

Merivale Mall | ChristChurCh

Phone 356 2377

JuST

INCREDIBLE

IT's

• Barrington Mall

• The Hub, Hornby

• New Brighton Mall

• South City Centre

Gasmate

Nebula bbQ

4 burner

5910586

USUALLY $649

$

499

Only available at PlaceMakers Cranford Street and Kaiapoi

cranford st & kaiapoi

EDGEWARE VILLAGE

1066 Colombo St, Ph. 365 0802

BISHOPDALE VILLAGE MALL

135 Farrington Ave, Ph. 359 1020

OPEN 7 DAYS 7.00AM - 5:30PM

Boost Brain Performance

ENZO:PROFESSIONAL (ENZOGENOL) is a potent

antioxidant extract of the N.Z. pine bark and

has been clinically shown to improve memory,

concentration & brain performance.

SUPER

60's only $45.30, save $5.00

120's only $84.90, save $15.70

PRICE! Detailed Information Available

Bringing You the Best in Natural Health!

TROUBLE HEARING?

Call today

for a free

hearing check

& hearing aid

demonstration

HAIRCUTS FROM ONLY

NO BOOKINGS

$16

NO COLOUR

MARSHALLS HEALTH & NATURAL THERAPY

CONSULTING - PRESCRIBING - DISPENSING -

MANUFACTURING - MEDICAL HERBALISTS

110 SEAVIEW RD, NEW BRIGHTON • PH 03 388 5757

Email: enquiry@marshallshealthshop.co.nz

- WE ARE ALWAYS HAPPY TO HELP! -

Merivale Hearing Clinic

For your appointment

Phone 356 2324

24b Church Lane

Northlands Mall | Phone 352 3877

Mon-Wed 9am-6pm, Thurs-Fri 9am-9pm,

Saturday 9am-6pm, Sunday 10am-6pm

www.sharingshed.co.nz

The Automotive Lamp Specialists

WElcOmE tO Our family friENdly

christmas

shOP!

OPEN NOW

Amazing food and coffee

• All freshly made onsite

• Delicious baking

• Gluten free products

• Home made pies

• A fantastic all day menu

& much more

10 main north road

New and Used Lamps for Cars, Trucks,

Vans, 4WD and Motorhomes

325 Brougham Street, CHRISTCHURCH | PH 0800 225 483

Pataka

768 Marshland Road (North End)

Open everyday until Christmas Day 10am - 4pm

OPEN MON - FRI 7AM - 3PM, SAT & SUN 8.30AM - 3PM

181 Woodham Rd, Avonside | Ph: 03 389 7111

18b Main North Rd

03 354 6000

429 Colombo St

03 379 3265

Designer

Fashion

3000

Items

Arriving

Daily!

see our

HUGE

selection!

• Designer Brands • Family Clothing

• Menswear • Footwear • Bric-a-brac

• Workman Outdoor Clothing

• Household Goods • Books

• See the Retro Section AND Formal Wear

$32

WOF

ALL CAR

SERVICING

Convenient

central city

repairs and

parking

Open Daily 7 Days

Sydenham: 39 Battersea St Papanui: 472 Cranford St

Hornby: 94 Shands Rd

New Brighton: 52 New Brighton Mall

(Old Farmers Building)

HOURS

Mon–Sat 9am–5pm

Sun/Public Holidays 10am–4pm

New Zealand's Largest Recycled Clothing Retailer

Cnr Fitzgerald Ave &

Hereford Street

Phone: 365-5220

www.a1auto4service.co.nz
---
NOR'WEST NEWS Latest Christchurch news at www.star.kiwi

Tuesday September 12 2017 21

GREAT food

BROUGHT TO YOU BY...

Your fresh food people

BUTTERFLIED LAMB LEG

WITH ROSEMARY AND

GARLIC

Ingredients

1 bunch Flat leaf (Italian) parsley

1 bunch Fresh mint

2 medium Red onions, sliced

1 Butterflied boneless leg of

lamb, approx. 150-200g per

person

3 cloves Garlic, finely chopped

3 Tbsp Chopped rosemary

2 Tbsp Olive oil

1 cup White wine

Directions

ICEBERG LETTUCE,

WALNUT AND BLUE

CHEESE SALAD

Ingredients

1 Iceberg lettuce

1 Walnuts, toasted

1 Blue cheese

1 Walnut oil

1 Cider vinegar

Directions

Remove the outer leaves of a

small iceberg lettuce. Cut the

head into four wedges.

Toast some walnuts.

Crumble some good blue

cheese and, using the white bits

from the outer edges.

Make a creamy dressing by

blending them with walnut oil

and a little cider vinegar (olive

oil is fine if you don't have

walnut).

Sprinkle the walnuts and the

blue cheese crumbs over the

crisp lettuce wedges and spoon

over the dressing.

Preheat oven to 220 deg C.

In a roasting tray, lay out the

parsley and mint, then add the

sliced onions.

Place the butterflied lamb leg

on top of the onions, fat side up

(there should be a thin layer of

fat on one side).

Score the lamb on the side

with the fat in large diagonal

shapes.

Sprinkle over a large pinch of

sea salt, and crack over plenty of

black pepper.

Rub the garlic into the slits

where you've scored it, then

sprinkle over the rosemary and

rub that in too. Drizzle over the

olive oil and rub into the skin.

Place the lamb on a high rack

in the oven and grill for 20-

25min (depending on its size)

until the skin crisps and goes

golden.

Remove from oven and add

wine to the tray.

Return the lamb to the oven,

but move it down from the top

shelf to the centre of the oven.

Roast for a further 20min.

Remove from oven, rest for

5-10min, then slice into thick

strips. Serve on a plate of fresh

parsley and sprinkle with

pomegranate seeds. Use the pan

juices and onion to make a gravy

if you wish.

Iceberg Lettuce ........................ 1 .99

EACH

Telegraph Cucumbers ........ 1 .99

EACH

Eve Apples ...................................... 2 .99

kg

Large Pineapples .................... 2 .99

EACH

Red Seedless Grapes 500g ... 3 .99

PUNNET

Skinless Chicken Breasts 9 .99

kg

Beef TopSIde Roast ............... 11 .99

kg

Butterflied Lamb Leg ........ 16 .99

kg

NEW SEASON

NAVEL

ORANGES

NZ Navel Oranges are just perfect at the moment.

Sweet, juicy and full of flavour, enjoy them at their best.

Not only do they taste great, with high levels of Vitamin C,

they'll also help keep you healthy through winter.

Enjoy NZ Navel Oranges at their peak.

All our fresh meat is 100% NZ FARMED.

specials VAlid 11th september - 17th september 2017. ONLY AVAILABLE AT

RAEWARD FRESH HAREWOOD RD, TOWER JUNCTION & MARSHLAND RD

harewood rd Mon–Fri 8.00am–6.30pm Sat–Sun 8.00am–6pm

Tower junction Mon–Fri 8.00am–6.30pm Sat–Sun 8.30am–6pm

MARSHLAND RD Mon–Sun 8.00am–6:00pm

WWW.

.CO.NZ
---
2

FLAME FILES

Tuesday [Edition datE] September 12 2017

22

Latest Christchurch news at www.star.kiwi

SENIOR LIVING

NOR'WEST NEWS

Golden Healthcare

Group Residential

Care Services

Candles can cause chaos

• By Mark Thomas –

specialist fire investigator

I SUPPOSE in spring you

can expect some extremes

of weather, so the heavy

rain last weekend, followed

by a frost and then a

nor'wester shouldn't be a

surprise.

Most people will have

seen the news about the

whole house slipping away

over in Charteris Bay but

less will be aware that

the same day a leak in a

commercial building in

Mandeville St caused a

large enough build-up of

water for portions of the

ceiling to collapse.

In these circumstances

fire crews can only do so

much, using tarpaulins to

either direct water away or

to protect contents.

THen those affected must

start the long process of

repair.

A couple of weeks ago I

mentioned the bad practice

of putting combustible

materials on a stove top.

You just never know when

an element might be on,

just turned off or turned

on while the article is

there.

THis happened again

on Monday evening in

Percival St. This time

a plastic coffee maker

We design your jewelery unique

to your style and personality.

was involved. Only

smoke damage resulted.

Unfortunately 'only

smoke damage' stinks and

continues to for days, or

even weeks.

Finally one of my pet

hates – candles, used for

ambience. A fire last week

at Rapaki was the result

of this practice where a

bath mat caught on fire.

So did the plastic bath.

Confusion ensued.

Finally the taps were

turned on causing water

to flow through the hole in

the bath to the level below

via a light fitting. All

because of candles. Please

don't.

We offer a resize and redesign service.

Golden Healthcare Group's

position at the forefront of

Canterbury's residential care

services is cemented by a

state-of-the-art facility being

developed at Lady Wigram

Retirement Village providing

hotel-style accommodation

for those residents who enjoy

being part of a vibrant, social

community.

One of the villas built during

the first stage of construction

has been converted to

accommodate social events

such as bowls, happy hours, high teas and

television viewing of sports fixtures.

Once the project is complete, it will

comprise 101 villas, 73 apartments, and

100 care beds. The proposed facilities will

include a rest home, hospital, and dementia

facilities, and permanent amenities such

as a community centre, Bowling Green,

swimming and spa pools, a gym, a theatre,

a library, and a hairdressing salon.

The villas will be offered in a

combination of two and three bedrooms

whereas apartment residents will have a

choice between one and two bedrooms.

The Lady Wigram Retirement Village is

a short stroll from The Landing, the central

retail hub of the Wigram Skies subdivision,

and only a short drive to Hornby Mall, the

Hornby Working Men's Club and the city.

Rest home care is provided in the Golden

Age Rest Home and Brookhaven Rest

Home, both of which also encompass

retirement villages. Brookhaven also

has a dementia care unit along with the

dedicated Camellia Court, Albarosa, and

Somerfield rest homes. Furthermore,

the Hoon Hay Rest Home is a dedicated

dementia wing, but the Hoon Hay House

on the same site specialises in mental

health.

Within the facilities, there are plenty

of opportunities to create unique

environments for differing requirements

for residents. Nursing care is provided

by registered nurses, and health is well

monitored. An activities co-ordinator

ensures residents will never be bored and

they participate in programmed activities,

games, sing-alongs with performances by

visiting entertainers, library book exchange

and exercise programmes. The group has

four vans to utilise for residents outings.

Golden Healthcare employs 260 at its

facilities which care for about 350 residents.

All staff are highly trained, experienced,

and qualified in their roles.

Respite care is also provided at all

facilities.

The Golden Healthcare Group website

goldenhealthcare.co.nz provides full

contacts.

Would you like

to promote your

Business?

For local features

please contact

Merivale Mall | ChristChurCh

Phone 356 2377

121 Skyhawk Road

Bev Stanger

03 364 7407

bev.stanger@starmedia.kiwi
---
[Edition datE]

NOR'WEST NEWS Latest Christchurch news at www.star.kiwi

Tuesday September 12 2017 23 3

SENIOR LIVING

Methyl B-12

Research supports

eye health

Emerging research has shown as many as 50 per cent of older

adults and as many as 25 per cent of younger adults are deficient

in vitamin B12.

B12 is essential for energy production,

cell health, regulation of mood and

sleep cycles, nerve health and repair and

prevention of homocysteine - a serious

cardiovascular risk factor that is known

to cause damage and plaque in the blood

vessels. It can also increase the chances

of a stroke. Harvard researchers found

a 34 per cent decrease risk of vision loss

in a study of participants aged 40+ who

supplemented with B12. Another study

linked a higher risk of hearing loss in

subjects in their 60s who were low in B12.

The reason so many people lack B12

seems to be due to our body's inability

to absorb it as we age, as the digestive

system becomes less efficient. Anti-reflux

medication and other drugs further reduce

B12 absorption.

The good news is B12 in the form of

Methylcobalamin sublingual tablets that

are dissolved in the mouth and thru

bypassing the digestive tract have been

shown to effectively raise B12 levels in the

body.

Further info is available from the

Natural Health Advisers at Marshall's

Health & Natural Therapy, 110 Seaview

Road, New Brighton, phone 388 5757. We

are always happy to help!

Clinically Proven Nutrients

Support eye Health

Go Vision Protect from Go Healthy New Zealand is the new standard

in eye support formulas. It is one of the most comprehensive high

potency eye formulas available anywhere, with well researched

ingredients in levels needed to support eye health & good vision.

Key nutrients include: Bilberry, Yumberry, Blackcurrant, Lutein,

Zinc + nine other nutrients.

Diminished vision

Tired Eyes

Dry Eyes

Sore Eyes

Poor Night Vision

Poor Focus, Blurry Vision

Macular Degeneration

Sensitivity to Glare

Headaches from Eye Strain

Supports general eye health

30 Capsules

only $29.90, save $10.00

60 Capsules only

$47.90, save $17.00

120 Capsules

only $88.90, save $40.90

Mail order

available

only one capsule daily required!

Bringing You the Best in Natural Health!

MarSHallS HealTH & NaTUral THeraPY

CONSULTING - PRESCRIBING - DISPENSING - MANUFACTURING - MEDICAL HERBALISTS

110 SEAVIEW RD, NEW BRIGHTON • PH 03 388 5757 • Email: enquiry@marshallshealthshop.co.nz

- We are alWaYS HaPPY To HelP -

IS YOUR BRAIN SHRINKING?

BRAIN FOG, FORGETFUL, FEELING OLD, LOW ENERGY, MOOD SWINGS,

DIFFICULTY SLEEPING, PINS & NEEDLES, NUMBNESS IN LEGS

Up to 1 in 2 people may have a shrinking brain due to a lack of vitamin B12.

Supplementation of methylcobalamin B12 has been shown to reduce the rate of brain

shrinkage & support memory & brain function. B12 is also known to protect against

homocysteine a serious cardiovascular risk factor that can also damage the hearing,

eyesight & affect the mood. B12 is essential for energy, cell health & nerve function.

B12 SupportS:

• Memory & Brain Performance

• Helps protect brain from shrinking

• Energy & Recovery

• Nerve Function

• Helps protect blood vessels from damage

• Sleep

• Cellular Health & Repair

• Vegetarian's Diet

• Good Health

• Cardiovascular Health

SEE A DIFFERENCE

IN AS LITTLE AS 48

HOURS!

SUPER PRICE OFFER

Superior Methylcobalamin B12

(High Absorption Sublingual Lozenges)

100 Lozenges

Only $ 32 .90

200 Lozenges

Only $ 59 .80

MAIL ORDER AVAILABLE

Bringing You the Best in Natural Health

MARSHALLS HEALTH & NATURAL THERAPY

CONSULTING - PRESCRIBING - DISPENSING - MANUFACTURING - MEDICAL HERBALISTS

110 SEAVIEW RD, NEW BRIGHTON • PH 03 388 5757 • Email: enquiry@marshallshealthshop.co.nz

- WE ARE ALWAYS HAPPY TO HELP! -

Nutritional researchers have discovered a

range of nutrients that are essential for eye

health. Some of the most essential nutrients

that have been shown to protect and even

improve eye function are:

Selenium, is a trace mineral that is low

in N.Z. soils and therefore in many of

our foods. Researchers believe selenium

may help prevent cataracts, macular

degeneration (the leading cause of impaired

vision in older people) and may also

improve dry eyes and general eye health.

Zinc is a mineral that a large percentage

of the population are low in. Zinc has been

shown to help protect the eyes from the

damaging effects of light as well as slow

vision loss due to macular degeneration.

Vitamin C, Citrus Bioflavonoids, Betacarotene

(Pro-vitamin A) and Copper have

potent antioxidant ability and help protect

the eyes from damage

Lutein and Zeaxanthin are amazing

nutrients that have been shown in landmark

research to not only provide potent eye

protection but may even help reverse

some of the signs of age-related macular

degeneration (AMD).

Bilberry and Blackcurrant, high in potent

antioxidants may help protect the lens and

retina from damage and reduce the risk of

cataracts. They also may help improve blood

supply to the eye, strengthen the small

capillaries of the eye and may help improve

night vision, may alleviate many eye

THE JOYS OF HOME OWNERSHIP #76

WEEDING

THE GARDEN

Wouldn't you rather be improving

your handicap? Let us take care of the

garden at your new home at

McKenzie Lifestyle Village in Geraldine.

Contact David Connolly on 0800 84 55 24.

M E M B E R O F R V A

ailments including eye fatigue that may be

caused by reading, driving and computers.

Eyebright may help normalise eye

pressure and reduce eye allergies.

Taurine is an amino acid that is essential

for correct eye function. It may also have a

detoxifying affect on the eye.

Vitamin B2 may help alleviate eye fatigue,

bloodshot eyes and maintain good vision.

Yumberry is the latest in eye protection.

It provides many nutrients, is rich in

oligomeric proanthocyanidins (OPC's) that

are potent antioxidants that may protect

eyesight.

These nutrients taken in a therapeutic

amount should provide comprehensive eye

protection, may slow and possibly even help

reverse eye damage that could lead to loss

of vision. All these nutrients are available

in an economical one a day easy to swallow

capsule.

Further information is available in store

at Marshall's Health & Natural Therapy,

110 Seaview Road, New Brighton, Phone:

388-5757. We are Always Happy to Help!

Third Age

Tours EST 1999

Small Group Tours for

the over 50s

Domestic and

International

Great Prices!

England/Wales & Yorkshire Dales

24 August - 23 September 2017

Enchanting Ireland & Scotland

31 May - 27 June 2018

curiosities of cuba

25 April - 21 May 2018

Treasures of Turkey 1 - 25 September 2018

captivating croatia, Slovenia

montenegro & Venice

15 June - 9 July 2018

2017

Full

2 PlAcES

lEFT

Vietnam & cambodia

4 - 26 October 2018

Beautiful norfolk Island

4 - 11 November 2017

Sicily, rome & Southern Italy

29 Sept - 24 Oct 2018

South Island Tours

Glorious Autumn in Arrowtown

17 - 22 April 2018

catlins/Stewart Island

8 - 16 February 2018

Due to popular demand we are running

a second tour 22 Feb - 2 Mar 2018

White herons, Glaciers & Alpine

loop Tour

28 January - 2 February 2018

PluS oThEr DESTInATIonS!

For a FrEE InFormATIon

PAck contact Brenda

Third Age Tours

Ph 03 379 3799 or 03 312 7050

Freephone: 0800 927 725

sunshineone@xtra.co.nz | thirdagetours.co.nz
---
24 Tuesday September 12 2017

Latest Christchurch news at www.star.kiwi

AUTOMOTIVE PROFESSIONALS

NOR'WEST NEWS

Local workshop provides

full servicing and repairs

Although it is a small suburban workshop, Hoon Hay Automotive

in Hoon Hay Road offers the full range of vehicle servicing and

repairs, the same as you would find in larger businesses.

Owner Grant Prior is a fully qualified

mechanic, as is his employee Wade, and

the pair service all types of vehicles, from a

basic service to a full going-over.

They also provide transmission flushes,

coolant changes, cam belt replacement,

and all electrical and mechanical repairs

using the workshop's diagnostic tools to

assess the problems.

Hoon Hay Automotive also supplies and

fits tyres, with a variety of brands available

from entry-level Hi Fly tyres right up to

performance tyres, so everyone is catered

for.

They supply and fit the quality Century

Yuasa batteries, which carry a two-year

warranty.

WoFs for all types of vehicle as well as

trailers are also provided.

But while Grant, Wade and office

manager Sarah carry out all the day-to-day

work, the real star of the business is Jessie

the meet and greet dog, who welcomes

customers with a friendly wag of the tail

and makes sure every customer leaves

happy. She has been a key part of the team

for nine years.

So next time your vehicle is due for a

warrant or service or needs repair, call

Hoon Hay Automotive on 982 0405 and

be sure of quality results. They are located

at 287 Hoon Hay Road, with plenty of offstreet

parking available.

The team at Hoon Hay Auto

The Automotive

Lamp Specialists

Free Check & Assessment

ROSES

AUTO ELECTRICAL

s

m

a

r

t

mall

edium

Fast

turnaround

utomotive

epair

echniques

• Paintless dent removal

• Minor paint repairs

• W.O.F • Servicing

• Repairs • Batteries

• Auto Electrical • Tyres

• Clutch • Cambelt

• Diagnostic Equipment

YOUR LOCAL

AUTOMOTIVE SHOP

New and Used Lamps for Cars, Trucks,

Vans, 4WD and Motorhomes

325 Brougham Street, CHRISTCHURCH

PH 0800 225 483

Smart repairS (NZ) Limited

automotive refinishers

272 Lichfield St (Fitzgerald Ave end)

Ph 377-0409

287 Hoon Hay Road

Christchurch

Open Mon-Fri

Ph. 982 0405

• new & quality

secondhand tyres

• alloy wheels

• replacement rims

• puncture repairs

WITH A MASSIVE RANGE OF TYRES IN STORE,

WHY NOT POP IN AND SEE US TODAY!

8c Birmingham Drive,

(Cnr Hands & Birmingham Drive)

Ph: 03 343 0099 Cell: 027 226 3805

Website: www.jcmdirect.co.nz

®

PARKER

AUTOMOTIVE

■ All Automotive Repairs and

Servicing including 4WD

■ Suspension Brakes & Cambelts

■ WOF, Tyres, Batteries

■ Courtesy Car

55 Lincoln Rd, behind Caltex

(Cnr Lincoln & Torrens Rd)

Ph 03 982 4268

Mob 027 331 0382

Email: parkerauto@clear.net.nz

A vonhead

utomotive

free

6 months roadside assist

with any vehicle servicing

• automatic transmission

flushing service

• Wof • tune-ups • suspension

• batteries • neW tyres • oil &

lube service • courtesy cars

• full mechanical repairs

oPen 6 days (sat until 1pm)

126 racecourse road

Ph 342 7123 or 027 495 6600
---
2

NOR'WEST [Edition NEWS datE]

Latest Christchurch news at www.star.kiwi

Tuesday September 12 2017 25

RYMAN HEALTHCARE

A brand new kitchen is a key feature of the refurbished townhouses

Major refurbishments enhancing

retirement village townhouses

Already widely recognised as a

beautifully appointed retirement

village in Papanui, near Northlands

mall, the Ngaio Marsh Retirement

Village, which is part of the Ryman

Healthcare group, is currently

undergoing major refurbishments to

its townhouses. A full refurbishment

of the village centre will also be

carried out in 2018.

While the practice has been

for each of the one, two and

three-bedroom townhouses to be

redecorated as residents have moved

out, now they are having more

substantial renovation work done.

When a townhouse is vacated,

a brand-new kitchen with stone

bench-top, dishwasher and waste

disposal unit will be installed,

the bathroom will be upgraded

with tiled flooring and underfloor

heating, and a second toilet added

where possible.

A heat pump and double-glazing

will provide comfort and warmth

for residents, while most of the

townhouses will also have brandnew

carpets and drapes fitted.

The décor of the townhouses is

also being updated, with soft neutral

tones creating an elegant, restful

environment.

Ngaio Marsh has two of these

refurbished townhouses currently

available for retired people who

would like to enjoy the benefits of

independent living in this lovely,

resort-style village.

There are numerous advantages

to retirement living at Ngaio Marsh,

with a key one being the guarantee

of fixed weekly fees*. The weekly fee

new residents pay when they move

into a townhouse remains the same

for the duration of their time in that

townhouse.*

While enjoying the same fully

independent lifestyle they have

always had, townhouse residents

can participate in any of the village

activities on offer and use the leisure

facilities whenever they choose

to. Indoor and outdoor bowls,

petanque, croquet, pool, a gym,

swimming pool and spa pool, a

well-stocked library, a shop, and hair

salon are all available for them.

They can take part in the

exclusive Ryman Triple A Exercise

Programme, and also go out on the

regular shopping trips and outings

in the village van, all of which

means they have the benefit of

independent living, combined with

the companionship of their fellow

residents when they wish.

A sense of security is provided

with 24-hour emergency call alarms

ensuring there is always help on

hand if needed, they can potter in

the garden outside their townhouse,

and family members can visit

whenever they like.

Ngaio Marsh runs a regular

activities programme, which

includes guest speakers, who

come from a range of professional

groups and private and government

organisations to provide interesting

and stimulating talks for the

residents.

There is also a wide variety of

musical entertainment, which is

always popular. Performers include

an NZSO chamber group, young

singers from the Dame Malvina

Major Foundation, which Ryman

sponsors, and individual musicians

singing and playing guitar.

In addition to all these benefits,

there is the Ryman Difference,

which further sets Ngaio Marsh

apart. This includes the fixed weekly

fee*, which stops immediately when

the townhouse is vacated, a 90-day

money-back guarantee* and four

hours of house cleaning at no cost

for residents leaving their home and

moving into Ngaio Marsh.

Next year, the village centre will

come under the refurbishment

spotlight. The project will include

a new movie theatre, extension

and upgrading of the library, the

hair salon being fully refurbished,

upgrading of the dining room and

a new cafe where baristas will make

the coffee.

*Terms and conditions apply

Joan and Ernie Selenger relaxing in their townhouse

"The whole village

has great people"

Ernie and Joan Selinger moved

into their Ngaio Marsh townhouse in

March 2016, and couldn't be happier

with their home and lifestyle.

Joan, who was a nurse throughout

her working life, both in New

Zealand and in her husband's home

country of Canada, says when she

and Ernie felt ready to move in to a

retirement village they looked round

a few places, including Ngaio Marsh.

They talked to sales advisor Marie

Kyle-Stevenson, who showed them

a townhouse that was available, and

that was it – an instant decision to

move in.

"It had nice views of the gardens,

and we liked that," Ernie says.

He says what they especially enjoy

about living at Ngaio Marsh is the

choice of activities.

"You can be as active as you want

to be. And the management are very

helpful – they encourage you to get

involved in things."

Ernie goes to the gym most

days, spending 40-50 minutes on

the rowing machine, and using the

swimming pool and spa as well.

Not so much a "gym bunny", Joan

says, she started a 500 Club, with 22

members now enjoying the popular

card game every Wednesday.

She also likes gardening and has

planted a veggie patch outside their

home.

An avid reader, Ernie enjoys

visiting the library, and is very

impressed with the services of

librarian resident Dawn Marshall,

who is in her 90s.

Both Joan and Ernie thoroughly

enjoy their neighbours, too.

"It's a great neighbourhood," Ernie

says. "The whole village has great

people – they have a great sense of

humour, and we're all here for the

same reason."

And as Joan says, "The most

important thing is people should

move into the retirement village

while they are still able to enjoy the

lifestyle. The resthome and the care

are all there if they need it later."

Townhouses provide independence and easy maintenance

Refurbished townhouse

available now

Enjoy your own modern home with resort-style

facilities right on your doorstep!

For more information

phone Marie on 354 6608

95 Grants Road, Papanui

7228
---
26 Tuesday September 12 2017

Latest Christchurch news at www.star.kiwi

HEALTH & AWARENESS

NOR'WEST NEWS

Anxiety and breathing

– are they related?

When good breathing goes bad

Have you experienced any of these

breathing difficulty symptoms?

• Disturbed sleep

• Erratic heartbeats*

• Feeling anxious and uptight

• Upset gut/nausea

• Chest pains*

• Shattered confidence

• Tired all the time

• Achy muscles and joints

• Dizzy spells* or feeling spaced out

• Irritability or hypervigilance

• Frequent yawning and sighing

• Breathing discomfort*

• Pins and needles

• Feelings of 'air hunger'

*Check with your doctor if you experience

these symptoms.

These questions are asked on

the website www.BradCliff.com.

BradCliff was started by North Island

physiotherapists Dinah Bradley and

Tania Cliffton Smith, who specialise in

hyperventilation and anxiety treatment.

Their website notes one in 10 people

experience some form of breathing pattern

disorder or chronic over breathing at some

time in their lives, resulting in a range

of disturbing or frightening symptoms

puzzling to you and your doctor.

You feel unwell because of overbreathing,

and overbreathing makes you feel unwell.

A vicious cycle is established, which is a

major stress all by itself. This is experienced

currently by many Cantabrians, says Ietje

van Stolk of Physical Sense Gym & Physio.

As she explains, it is normal to breathe fast

and in the upper chest when we are in danger

and fight or flight is needed. We know all

about that here, due to the earthquakes.

Normally, once the danger is gone, our

breathing should restore itself within a

couple of days. We would then be using the

diaphragm for our normal nonstressed

breathing. We have been having a hard

time restoring our breathing pattern

here in Canterbury because every time

our body tried to achieve that, the next

aftershock came rolling in. Even though the

aftershocks have significantly diminished,

some people's fight or flight mode

breathing has become chronic, or habitual,

Ietje says. And, as she points out, using the

wrong muscles for breathing means these

overworked muscles cause headaches, neck

pain and jaw pain.

With fast upper chest breathing, sighing

and yawning, the resulting disturbance

of our oxygen and carbon dioxide levels

can give us the feeling we are not able to

control our own body. One moment you

are feeling fine, next moment your chest

feels tight, you feel out of breath, your

heart beats erratically and you may even

experience dizziness and/or tingling.

Very scary if you do not understand what

is happening. No wonder this causes

anxiety. Not being the boss over our own

body makes us anxious, anxiety feeds the

faulty breathing pattern, and so it goes on.

The BradCliff physiotherapists have

established a national network of

practitioners that regularly train together

and can help you overcome this problem.

Physical Sense is part of that network.

Physical Sense Gym and Physio is located at 300 Colombo Street, Sydenham. The Blue Line Bus stops in front of the door and there is ample

parking. To enquire about specialised exercise classes or physiotherapy treatment, phone 377-2577 or visit www.triggerpoints.co.nz

We are a family owned & operated stylish

health supplement store located just around

the corner!

True

Who thought

DENTURES

and false!

could look this

natural?

• Full dentures • Metal partial dentures

• First-time immediate dentures • Implant supported dentures

Our fully qualified staff are here waiting to

help you with your health needs!

STUNNING: A beautiful new denture for

a young female patient

These stunning lovebite full upper and

lower dentures have been expertly crafted by

internationally-recognised dental technician

Richard Greenlees at his Christchurch studio.

The combination of Richard's skill, experience

(including 15 years in London's prestigious

Harley Street) knowledge and revolutionary

techniques allow him to create beautiful

bespoke false teeth that truly resemble those

in nature and reflect each patient's individuality

and unique character.

PH: 03-962 7883

VEBITE

AGING GRACEFULLY: Natural teeth for

a gentleman patient in his 80's

HOLLYWOOD: It's all white for this

female patient in her 60's

402 Montreal Street

Christchurch | P. 379 1222

By appointment only.

Consultation fee applies.

lovebite.com

Richard will personally guide you through the entire process to create

teeth with small nuances in the fabrication, colour and shape. Your beautiful new

lovebite dentures will boost your confidence and make you look and feel year's younger!
---
2

NOR'WEST [Edition NEWS datE]

Latest Christchurch news at www.star.kiwi

Tuesday September 12 2017 27

HEALTH & BEAUTY

New hope for patients

suffering from MS,

strokes or spinal injuries

For those seeking relief from pain caused by injury, and other physical and mental

health issues, Chinese health practitioner Dr Lan Xiao offers a method of treatment

that brings fast, and often immediate results.

Special offer for SepTeMBer - if

you have suffered a stroke, spinal injury

or have MS, then this article is for you.

A graduate of Beijing Medical College, Dr Lan

established an acupuncture clinic in Christchurch

in 1993. As she continued her research and medical

practice, she discovered a reflexology network on

the human body, an exciting new discovery that

became the foundation of her new treatment –

acupuncture without needles.

Instead of needles, Dr Lan uses a blunt instrument

to stimulate the reflexology points on the face

or other parts of the body. When the point is

stimulated by pressure, a message is sent to the

repair centre to promote healing. As Dr Lan

explains, the treatment increases energy, which

boosts the body's healing system.

The body will heal injuries naturally, she says, but

that is a slow process. In addition, many people will

start to use their injured part, for example a knee

or an ankle, before it is properly healed, therefore

prolonging the injury and even causing chronic

pain.

With her powerful treatment, results are produced

very quickly – even instantly.

She likens it to the differences between the

power of a car – natural healing, of an aeroplane

– other types of natural healing, and of a rocket –

reflexology network.

It brings fast results because it is a very precise

treatment, Dr Lan says. She uses it to treat people

of all ages with many different types of pain in all

parts of the body, including arthritic pain, MS,

and pain from injury, and there are no side-effects.

Depression and anxiety, often the result of ongoing

low energy, can also be overcome with Dr Lan's

treatment.

Dr Lan's treatment can give amazing, instant

improvement for muscle weakness and numbness

caused by nerve damage such as MS, stroke

and spinal injury. Search You Tube for Dr Lan

reflexology to see lots of instant results videos.

Dr Lan has published a book, Dr Lan's Reflexology

Network, which introduces the treatment and

explains how it works. Her website, www.

drlansreflexologynetwork.co.nz, includes treatment

videos, where people who have had the treatment

speak about the fast relief it has brought them.

Dr Lan is offering 10 patients of stroke, 10

patients of MS and 10 patients of spinal injury

half price for their rehabb. Phone 323 4168,

mobile 027 231 8388.

Bishopdale Clinic

13a Bishopdale Court, Ph 360 3606

City Clinic

12 Hereford Street, Ph 961 0236

Wigram Skies Clinic

67 Skyhawk Road, Ph 322 9400

Back & neck pain

Sprains and strains

Functional training studio

Biomechanical assessments

Headaches and migraines clinic

Work injuries & gym rehab

Pre and post surgery rehab

Call us today Ph 360 3606

musclepeople.co.nz
---
28 Tuesday September 12 2017

Latest Christchurch news at www.star.kiwi

NOR'WEST NEWS

Breaking news,

delivered to

your pocket.

Visit www.star.kiwi

anytime, anywhere!

Fire rages, homes at risk

•news •CTV •sport •districts •schools •lifestyle •opinion •what's on

www.star.kiwi
---
NOR'WEST NEWS Latest Christchurch news at www.star.kiwi

Tuesday September 12 2017 29

REAL ESTATE

Location and style

15a Whareora Terrace, Cashmere

Auction: Thursday, 28 September 2017 Unless Sold Prior

4 bedrooms | 2 bathrooms | 3 toilets | 2 living rooms | 1 dining room | 1 car-garage | 1 carport | 1 off-street park | Listing #BE192840

Situated on the highly desirable lower

slopes of Cashmere Hills, this lovely home

is a testimony to the architecture of Jonty

Rout. Designed with flair, this home is a

cut above the average with stunning rimu

cathedral ceilings and timber detailing

bringing warmth and spaciousness.

Step into the welcoming entranceway

to view the stunning living area set below.

A large welcoming space with room to

entertain and to flow out onto the generous

decking. The separate formal dining offers

ample space for your dinner parties. The

kitchen is modern and opens into a second

smaller living room or 'snug'. A cosy space

for those busy evenings after work to relax

in.

There are three double bedrooms, all

opening onto a deck, two with mezzanine

floors and the master having an ensuite

and walk in robe, plus a good-sized family

bathroom. Both bathrooms are presented

to a high standard - nothing to do here, the

hard work has been done. There is also a

fourth bedroom upstairs, a great teenage

hideaway.

On the practical side, this home has the

bonus of heaps of storage, beautiful builtin

cabinetry, an internal vacuum system,

central heating and a large laundry.

Step from your kitchen onto a sunny

deck surrounded by your own little bit of

paradise. The home is nestled into the land

with a private, well-established landscaped

garden that is easy care to boot. Sheltered

from the easterly you get to enjoy the

renowned Cashmere microclimate within

easy reach of the central city.

To complete the picture, you have easy

drive on access, off street parking with

garaging and a carport to put your car and

bikes away.

Call now to view - this property may well

sell before the scheduled auction day.

Open Home: Saturdays and Sundays

12:00pm - 12:30pm.

See you at the open home or to arrange

a private viewing of this property call

Debbie Pettigrew on 027 777 0411 or

Debbie Johnson on 021 0515225 from

Harcourts Grenadier Beckenham

(Licensed Agent REAA 2008) or phone

the office 337 1316

now bigger than ever

The magazine for gardeners who

like to get their hands dirty

SubScribe from

$43. 50*

*6 issues/6 months

SUBSCRIPTIONS FREEPHONE

0800 77 77 10

www.gaRdeNER.kiwI

growing with you

SprIng Is here –

It'S Sow Time

how to get the best results from

seeds and seedlings

100% NatIve In

The capItal

Unravelling the secrets of

Otari-wilton Bush

The New Zealand

landscape awards

The people behind

the projects

$7.90 incl. GST

Save our roSeS

How a rose register is protecting our heritage

September 2016 | 100%

It's time

to grow!

New look and more

content than ever!

MeeT LeSTer Brice

A Garden coach

auckland Botanic GardenS

Why we love our public grounds

ISSN 2423-0219

Classifieds

Contact us today

Phone our local team 03 379 1100

Trades & Services

BEST BATHROOMS

full renovation

specialists, LBP, repairs

& maintenance ph

03 387-0770 or

027 245-5226

BRICKLAYER

George Lockyer. Over

35 years bricklaying

experience. UK trained.

Licensed Building

Practitioner number

BP105608. Insurance

work. EQC repairs.

Heritage brickwork and

stonework a speciality. No

job too small. Governors

Bay. Home 329-9344,

Cell 027 684 4046, email

georgelockyer@xtra.co.nz

Trades & Services

BUILDER LICENSED

available for all aspects

of building. Please call

027 241-7471 or 335-0265

BUILDER QUALIfIED

& licenced. Now availble

for repairs, additions,

alterations, EQ repair

work. 35 yrs exp. Ph Ian

021 350-509

BUILDER

For all building work

but specialist in bathroom

renovations, 30 yrs

experience, with service

and integrity. Free Quotes.

Ph Lachlan 383-1723 or

0274 367-067.

Trades & Services

****************

CARPET & VINYL

Laying. Repairs, uplifting,

relaying, restretching, Email

jflattery@xtra.co.nz ph 0800

003 181 or 027 2407416

ELECTRICIAN

REGISTERED for all

electrical installations &

repairs Ph 03 322 4209 or

021 026 73375

HANDYMAN

No job too big or small.

Good rates. Call 020 410

67205

PAINTER AVAILABLE

All aspects in painting.

Very competitive in roofs

and fences. Please call 027

241-7471 or 335-0265

Trades & Services

PAINTER

Quality work, I stand by

Canterbury Ph Wayne

03 385-4348 or 027 274

3541

PLASTERER

Gib Stopping, Small

job specialty. 30 + years

experience. Ring 0800

387-369

PLUMBER

ALF THORPE

PLUMBING Certifying

Plumber for all

types of plumbing,

maintenance, spouting,

alterations etc.

Phone 352-7402 or

0274-350-231

Trades & Services

ROOfING REPAIRS

Fully Qualified, Over 40

Yrs experience Ph John

027 432-3822 or 351-9147

email johnmill@ihug.

co.nz

SHOE REPAIRS

Belfast engraving.Shoe

repairs,key cutting &

engraving.(10 yrs exp)683

Main North Rd ph 027

3113423

SPOUTING CLEANING

Spouting Unblocked,

Cleaned Out and Flushed

Out. Also Full Handyman

Services Available. Call

Trevor 332 8949 or

021 043-2034

Trades & Services

STONEMASON

BRICK & BLOCKLAYER,

Earthquake Repairs, Grind

Out & Repoint, River/

Oamaru stone, Schist,

Volcanic Rock, Paving,

all Alterations new & old,

Quality Workmanship, visit

www.featureworks.co.nz

or ph 027 601-3145

TILER/CARPENTER

35 years exp, no job

too small. Ph Ross 027

4311440.

T.V. SERVICE CENTRE

Repairs, tvs, microwaves,

stereos, DVD. Aerial

installations and kitsets,

480 Moorhouse Ave, ph 03

379 1400

Trades & Services

UPHOLSTERER

Dining Chairs, Lounge

suites, Caravan Squabs

etc. recovered. Free

Quotes. Phone Graeme

383-1448

VHS VIDEO TAPES

& all camera tapes

converted to DVD, video

taping special occasions,

www.grahamsvideo.co.nz

ph 03 338-1655

WINDOW CLEANING

Average 3 bdrm house

inside or out $40. Both $70.

Phone Trevor 344-2170

WINDOW CLEANING

Average 3 bdrm house

inside or out $40. Both $70.

Phone Trevor 344-2170

Wanted To Buy

AAA Buying goods

quality furniture,

Beds, Stoves, Washing

machines, Fridge

Freezers. Same day

service. Selwyn Dealers.

Phone 980 5812 or 027

313 8156

A+ Household effects,

fridges, freezers, washing

machines, ovens. Good

cash paid. Ph Paul 022

0891 671

TOOLS Garden,

garage, woodworking,

mechanical, engineering,

sawbenches, lathes, cash

buyer, ph 355-2045
---
30

Latest Christchurch news at www.star.kiwi

Tuesday September 12 2017

NOR'WEST NEWS

Classifieds Contact us today Phone our local team 03 379 1100

Community Events

ALCOHOLICS

ANONYMOUS, If you

want to have a drink thats

your business. If you want

to stop, we can help. Phone

0800 229-6757

Computers

ALL

YOUR

COMPUTER

WORRIES SOLVED!

*$30.00 off your first

service with this coupon!*

No problem too big or

small from home PC's to

business networks. PC

slow? An end to Viruses,

Spyware, and Clogged

Systems. Safe secure

hassle-free computing.

Lost files recovered.

Microsoft Certified,

MCSE, MCP+l. 30 years

experience. Call Andrew

Buxton this week on 326-

6740 or 027 435-7596

for $30.00 off* Custom

Computers Christchurch

Entertainment

Weka Pass Railway

Waipara, North Canterbury

We are RUNNING

SUNDAY 17th September

Running 1st & 3rd

Sunday of every month

Phone 0800wekapass

Depart Glenmark Station

11.30am & 2.00pm

www.wekapassrailway.co.nz

Holiday

Accommodation

QUEENSLAND SUN-

SHINE COAST AUSTRA-

LIA Resort, Ocean Views,

Balconies, Self Contained,

1 or 2 B/R Ensuite,

Heated Pool, Spa, Sauna,

Free Internet, Shops,

Restaurants, Tennis, Surf

Club & Patrolled Beach,

Public Transport at door.

Ask for our SEASONAL

SPECIALS. Phone 61 7

544-35011 Email: reception@mandolin.com.au

www.mandolin.com.au

Personals

HANDSOME silver fox is

searching for an attractive

slim euro or asian lady to

pamper and enjoy

company together

0276594425

LARGE male spoon seeks

a small female spoon ph

3583634

SINGLE MALE is

looking for a lady in

the NW to wine dine

and intertwine with. Im

180cm athletic single live

on own and have time on

my hands. email me at

tossthecoin68@gmail.com

ADD SOME

Trades & Services

DO iT OncE

Do it right

Driveways FREE

Paths & patios QUOTES

Concrete or asphalt

Earthquake repairs

All work guArAnteed

Brad 021 716 942

www.gardencitydriveways.co.nz

Lawns, Gardens

& Home Cleaning

COLOUR

TO YOUR ADVERT!

9185885AA

Free Quotes

Professional, personalised

service. Regular &

one-offs. Fixed price.

Ph: 377-5814

For all your property and

cleaning requirements

Trained, insured & security

screened owner/operators

Multi-award winning

systems & Franchises

Franchises Available

www.fviphomeservices.co.nz

ROOF

PAINTING

Rope & harness

a speciality,

no scaffolding

required,

30 years of

breathtaking

experience.

FREE QUOTES

Exterior staining,

exterior painting,

moss and mould

treatment and

waterblasting

Phone Kevin

027 561 4629

HOUSE

CLEARING

Are you

moving house

or trying to

downsize?

Call All Clear

Canterbury. We work

with you to recycle,

sell and dispose of

unwanted items.

Ph: 03 260 0934

or 021 078 4553

raewynlcooke@gmail.com

www.allclearcanterbury.co.nz

Trades & Services

CONCRETE

Concrete Removal

& Trucking

Driveways, paths, sheds, garages, site clearances.

We also deliver and spread landscaping supplies –

topsoil, bark chip, shingle etc.

3 Tonne Digger and operator available for hire.

For fast friendly service phone

Nick on 0274 324 124

keacontracting@yahoo.com

EXTERIOR PLASTERING

Quality

Workmanship

at Competitive Pricing

Free Quotes

Aynsley Frewer

M: 027 201 1296

E: aynsleyfrewer@xtra.co.nz

PO Box 20534 Bishopdale

MAINTENANCE

Doctor

Fixit

• Carpentry • Repairs &

Maintenance

• Doors & Windows

• Fencing

• Painting & Plastering

• Tiling

• Outdoor Maintenance

• Renovations

• Decks & Pergolas

Norm McRae

027 222 3060 | 03 312 0082

www.doctorfixit.nz

ROOF RESTORATIONS

• Roof Restoration

• Painting/Decorating

• Moss Treatments

• Gutter Cleaning

• Leaks

Paul Jefferies - 021 235 9552

allaspectsroofpaint@gmail.com

Trades & Services

concrete & paving

• Driveways

• Earthquake repairs

• New Home Specialists

• Patios & Paths

tel: 0508 873 7483

email: sales@affordableconcrete.co.nz

www.affordableconcrete.co.nz

WINDOW TINTING

tintawindow

advanced film solutions

99% uv block

fade protection

heat control

reduce glare

25 Years Experience

PAINTER

Michael Kelly Painters

Locally owned and

operated family

business.

25+ years Experience

• Painting • Wallpapering

• Interior • Exterior

Free Quotes

Phone

Michael 0212 649 492

michaelkellypainter@hotmail.co.nz

privacy films

frosting designs

non-darkening films

Workmanship Guaranteed

Lifetime Warranties on Most Films

UV

block

Free Quotes Canterbury and Districts

03 365 3653 0800 368 468

junk

Trades & Services

DRIVEWAYS

Exposed Aggregate

Stamped Concrete Plain

Concrete Resurfacing

Things we offer...

Competitive/affordable pricing

Attention to detail

Professional service

free quotes/insurance scopes

Cell 0278 145 848

www.drivecrete.co.nz

Why go to the Dump? Junkman comes to you!

Items too big for the rubbish bin?

Or too heavy for you to move?

Junkman comes to FROM

you & takes it away $

65 *

*Prices vary depending on items and volume – minimum charge $65

0800 586 5626

www.junkman.co.nz office@junkman.co.nz

RENTAL

NO BOND

Terms and conditions apply

NEED A

FRIDGE • WASHER

TV • FURNITURE ?

Call Mr Rental - 0800 111 313

Visit www.mrrental.co.nz

123 Blenheim Road, Riccarton

Open Monday to Friday

Lawns, Gardens

& Home Cleaning

9185885AA

Free Quotes

Professional, personalised

service. Regular &

one-offs. Fixed price.

Ph: 377-5814

For all your property and

cleaning requirements

Trained, insured & security

screened owner/operators

Multi-award winning

systems & Franchises

Franchises Available

www.fviphomeservices.co.nz

ROOF

PAINTING

Rope & harness

a speciality,

no scaffolding

required,

30 years of

breathtaking

experience.

FREE QUOTES

Exterior staining,

exterior painting,

moss and mould

treatment and

waterblasting

Phone Kevin

027 561 4629
---
NOR'WEST NEWS Latest Christchurch news at www.star.kiwi

Tuesday September 12 2017 31

What's On

Entertainment

To advertise, contact

Jo Fuller 03 364 7425

jo.fuller@starmedia.kiwi

Full programme of top line acts

THE Hornby WMC has a full programme

of top line acts gracing its stages this

weekend.

Australian based drag revue, Drags to

Bitches dazzles with two

performances in the Sports

Hall - Friday and Saturday

night. is ACE Award

Winning production will

showcase all the artistic

aspects in the drag and

entertainment industries:

the art of costume, music,

voice, yodelling, dance,

comedy, sculpture and a

few surprises. Tickets $40. Show starts at

8pm.

Home Grown Country is currently

touring, playing one only Christchurch

show in the Westivew Lounge on Friday

night.

Talented country music artists Bevan

Gardiner, Cam Scott, Melissa Partridge,

and Yvonne Munro will be joined by Peter

Kesha and James Davy in a spectacular

country music showcase. Tickets $15, door

sales $20. Show starts at 7.30pm.

Saturday sees the return of Timaru's

'most versatile band'... e C-Bay Band.

ey play a mix of Jazz, Country and Rock

'n' Roll. Made up of Tony Atwood (lead

vocals); Heath Rainey (lead

guitar/keyboard); Ross Polson (bass/vcoals);

John Shoaf (guitar/trumpet); and George

Kinch (drums/vocals), the group formed

almost 3 years ago and is also a regular

attraction at the Timaru Town & Country

Club. Catch them in the Westview Lounge

this Saturday. 7.30pm start. Free entry.

e Hornby WMC , Carmen Rd. Phone

349 9026.

RESTAURANT & CAFÉ

We are open from 6.30am

Seniors SPECIAL

2 courses Soup/Roast or Roast/Dessert

Special available lunch only. Monday - Saturday 12pm - 2.30pm

Family Friendly

Kid's 2 course special

A West Coast welcome in the heart of

Redwood, beautifully refurbished and

something for all the family.

TRY OUR WONDERFUL MENU & DAILY SPECIALS

Daniels Road | Phone 352 8355

coasterstavern.co.nz

$20

$10

'Famous for their roasts!'

The

RACECOURSE HOTEL

& Motorlodge

118 Racecourse Rd, Sockburn,

Christchurch. Ph 03 342 7150

www.racecoursehotel.co.nz

Lunch & Dinner

All you can eat, 7 days

Bookings Essential

PH 386 0088

fb.com/GardenHotelRestaurant

www.gardenhotel.co.nz

SERVING

HAPPY HOUR

5PM - 7PM DAILY

CONGRATULATIONS JASON DAIKEE

FATHER'S DAY GRAND PRIZE WINNER

OUR CABINET ITEMS

ARE HOMEMADE

CREATED FRESH ON SITE DAILY

$12

LUNCH

SPECIALS

COFFEE

HAPPY

H O U R

Live Music:

6PM.FRI.15 SEPT

2PM-4PM

DAILY

$3.50

Offer available for a limited time

and includes tea, hot chocolate

MON: ROAST MEAL

TUE: FISH & CHIPS

WED: FISH BURGER

THU: ROAST MEAL

SAT: FISH & CHIPS

AVAILABLE

FROM

11.30AM-2PM

FOR A

LIMITED TIME

Sima & Vaeio

PHONE 385 8880 FIND US ON FACEBOOK fb.com/GBCCHCH

THE GARDEN HOTEL COMPLEX | 110 MARSHLAND RD

www.gardenhotel.co.nz | phone 385 3132

www.newbrightonclub.co.nz

BOOK NOW! SUNDAY NIGHT BUFFET

SUNDAY 24th SEPT, $25 PER PERSON

ALL BLACKS v SOUTH AFRICA

7.35PM SATURDAY

TUESDAYS & THURSDAYS

Members Lucky Card Draw

FUNCTION ROOMS

SHUTTLE RUNNING

Tues, Thurs, Fri & Sat

TAB POD

GAMING ROOM

PIERVIEW

Restaurant

Quality

a la carte

with a view!

Open from 5.30pm

FRIDAY, SATURDAY & SUNDAY

OPEN FOR

SUNDAY BRUNCH

By the Seaside!

10.30am-2pm

ClubBISTRO

Open Tuesday to Saturday

12pm-2pm and from 5pm

Midweek $11

SPECIAL ROAST

Available Tuesday,

Wednesday, & Thursday

SUNDAY 3 COURSE

DINNER SPECIAL $25

SUNDAY NIGHT

BUFFET

Sunday 24th September

ALL YOU CAN EAT

$25 BOOK NOW!

202 Marine Parade ● Ph 388-9416

Members, guests and affiliates welcome

H ORNBY

WORKINGMEN'S

CLUB

LET US ENTERTAIN YOU!

WESTVIEW SPORTS HALL

LOUNGE FRIDAY & SATURDAY

FRIDAY, 7.30PM:

Home

Grown

Country

TICKETS $15.

DOOR SALES $20.

SATURDAY,

7.30PM:

C-BAY

BAND

UNBEATABLE FAMILY DINING

OPEN

Chalmers

Restaurant

Early Bird Special

FRIDAY & SATURDAY 5.30pm – 6.30pm

Club CAFE

OPEN 7 DAYS

LUNCH & DINNER

Gluten Free &

Vegetarian options

FOR DINNER

Friday, Saturday, Sunday

OPEN FOR BUFFET LUNCH

Every Sunday 12pm - 2pm

Roast

(4 Choices)

and

Free Desserts $22 50

EVERY SUNDAY

IN CHALMERS

12PM-2PM

$25

GROUPS WELCOME

BOOKINGS ESSENTIAL

The Hornby Club | ph 03 349 9026

17 Carmen Rd | Hornby

www.hornbywmc.co.nz

Members, guests & affiliates welcome
---
32 Tuesday September 12 2017

Latest Christchurch news at www.star.kiwi

NOR'WEST NEWS

Our lowest advertised prices ever on

New Zealand's premium pocket spring beds.

HURRY

STOCKS ARE

LIMITED

2 Great Christchurch Locations

BEDS R US HORNBY

40 Carmen Rd

Hornby

Ph: 03 595 2360

BEDS R US MOORHOUSE

166 Moorhouse Ave

(Next To Noel Leeming)

Ph: 03 379 5110
---
Enhance your theatre experience as

we welcome you an hour before your

show to indulge in a delicious platter

and a beverage of your choice.

Limited bookings available.

Add pre-show hosting to your CIRKOPOLIS ticket purchase online: www.ticketek.co.nz

Enquiries Phone: (03) 366 6326 Email: supperclub@itr.co.nz