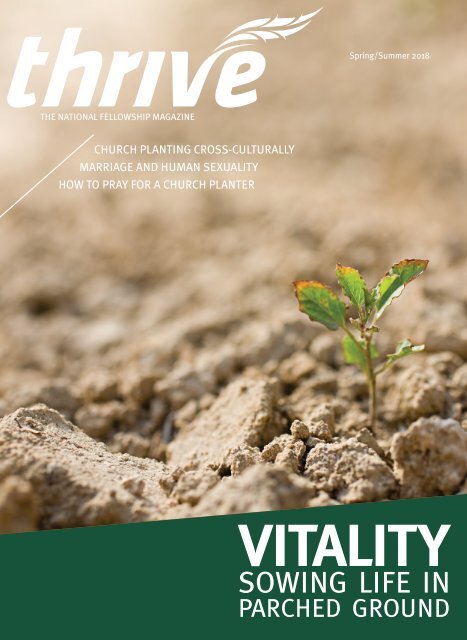 VITALITY (Spring/Summer 2018)
Sowing Life in Parched Ground
Sowing Life in Parched Ground
SHOW MORE
SHOW LESS
You also want an ePaper? Increase the reach of your titles
YUMPU automatically turns print PDFs into web optimized ePapers that Google loves.
Spring/Summer 2018

THE NATIONAL FELLOWSHIP MAGAZINE

CHURCH PLANTING CROSS-CULTURALLY

MARRIAGE AND HUMAN SEXUALITY

HOW TO PRAY FOR A CHURCH PLANTER

VITALITY

SOWING LIFE IN

PARCHED GROUND
---
Spring/Summer 2018

A CHURCH PLANTING

RENAISSANCE

by Steve Jones

Something special is happening in Canada as it relates to church planting. Our Fellowship is currently involved in

36 church plants, with dozens more in the incubation stage. I had the joy of attending the Momentum conference

in the fall of 2017 along with over 50 Fellowship church planters and leaders. Momentum is one of Canada's premier

church planting conferences where planters come to learn best practices, case studies, workshop training, and receive

inspiration. During the conference, Fellowship National hosted a "Fellowship Night" for our planters that included

dinner, time of sharing, and prayer. It was a joy for me to see church planters from BC and Ontario sharing their stories

in small groups while other planters from Montreal and Halifax prayed together.

Why Is Church Planting So Important?

THE FIRST WORD

The spiritual need in Canada is immense. Church attendance has declined from 70% in the 1950s to 15% in 2006, and

the fastest growing group is now those who identify as "no religion", which has increased from 12% in 1985 to 19% in

2004. In spite of these numbers approximately two-thirds of Canadians still identify themselves as Christian. People

are still open to hearing the Gospel. Christian leaders believe the biggest need in Canada is a clear and winsome presentation

of the Gospel — most Canadians have simply never heard.
---
thrive-magazine.ca

thrive / 3

Along with the significant influx of new Canadians who are often far more open

to hearing the Good News as they transition into their new country and environment,

an opportunity to leverage the Gospel in Canada among immigrants is

presenting itself now.

Our churches need to be guided by several principles in our church planting

efforts:

1. Churches best create churches.

CHURCH

ATTENDANCE

HAS DECLINED

FROM 70% IN

THE 1950S TO

15% IN 2006...

• Planting churches is best accomplished by local churches multiplying

themselves, whether that be a mother church, association partnership,

or "Antioch" church * .

*

An Antioch church is a proven multiplying local church in our AÉBÉQ

(French) Region.

2. Churches best create leaders.

• Leadership is vital. Leaders are best developed through mentoring and

ministry training done in the context of the local church, whether that

be through internships, cohorts, or our Immerse program * .

*

Immerse is a church-based theological educational model founded in our

Pacific Region and adopted/modified in our AÉBÉQ (French) Region.

3. Churches best make disciples.

• Studies and surveys consistently show that church planting is the most

effective way to win the spiritually lost, and the church is God's chosen

instrument for making disciples.

In this edition of THRIVE, you will learn about the efforts of Fellowship church

planters and missionaries in Canada and beyond. Also featured are the efforts to

revitalize many of our local churches as we reintegrate the Great Commission

DNA back into our movement of churches.

Our theme verse for 2018 is Romans 12:12 (NIV):

"Be joyful in HOPE, patient in AFFLICTION, faithful in PRAYER."

The church remains the greatest HOPE of our nation. Consider spending time in

daily prayer for the church health (vitality) and church planting (multiplication)

efforts of our movement.

Steven Jones is President of The

Fellowship of Evangelical Baptist

Churches in Canada. Follow Steve on

Twitter @FellowshipSteve
---
4 / thrive Spring/Summer 2018

THE

FELLOWSHIP'S

THEME VERSE

FOR 2018 IS:

"BE JOYFUL IN

HOPE, PATIENT

IN AFFLICTION,

FAITHFUL IN

PRAYER."

ROMANS 12:12 (NIV)

14 OPPORTUNITIES

You can connect with us on FACEBOOK:

www.facebook.com/FellowshipNatl,

on INSTAGRAM: @FellowshipNatl

and on TWITTER: @FellowshipNatl.

Come and join the conversation.

2 THE FIRST WORD

A CHURCH PLANTING

RENAISSANCE / Steve Jones

5 FOUNDATION

FELLOWSHIP FOUNDATION / Gord Baptist

6 OUT THERE

CHURCH PLANTING CROSS-CULTURALLY

DDM THE OBJECTIVE, CPM THE

OUTCOME / Dave Marttunen

10 TRUTH TALK

MARRIAGE AND HUMAN SEXUALITY /

Steve Jones

14 GROUND WORK

7X7=1: AN UPDATE / Terry Cuthbert

KARATE FOR CHRIST CANADA /

Neil McGillivray

16 UP TO SPEED

CHURCH PLANTING UPDATES

AWAKENING THE LOCAL CHURCH

COME BACK CHURCHES

22 THE LAST WORD

HOW TO PRAY FOR A CHURCH

PLANTER / Valerie Heaton

out there

love extended

11 LOVE EXTENDED

HOPE IN THE MIDST OF CHAOS /

Valerie Heaton

12 ESTABLISHING NEW ROOTS

FOR MORE GREAT STORIES, VISIT

OUR WEBSITE: thrive-magazine.ca

MISSION STATEMENT: Thrive is the official magazine of

The Fellowship of Evangelical Baptist Churches in Canada. It

is published to enhance the life and ministry of church leaders

and members in Fellowship congregations by providing articles,

resources and news that reflect evangelical values, a common

mission as well as a shared sense of identity and vision. Thrive is

published three times a year and is available in English and French.

© The Fellowship of Evangelical Baptist Churches in Canada

MINISTRY CENTRE: P.O. Box 457, Guelph ON N1H 6K9

T: 519-821-4830 F: 519-821-9829 EMAIL: president@fellowship.ca

thrive-magazine.ca

SENIOR EDITOR: Steven Jones MANAGING EDITOR: Valerie Heaton LAYOUT & DESIGN: Ampersand

Email: thrive@fellowship.ca POSTAGE: Return undeliverable Canadian address to Circulation Department, P.O. Box 457, Guelph ON N1H 6K9
---
thrive-magazine.ca

foundation

FELLOWSHIP FOUNDATION

As I have now passed the threshold

of being 60+ years of age, when it

comes to accessing information, I find

myself in a state of constant confliction.

I love having the printed page in my

hands. I'm not one that likes to access

my news media by a smart phone, iPad,

or computer screen. I still like the sound

of rustling paper and the stain of ink on

my fingertips. However technology just

won't allow that to continue. And so as

I struggle to deal with our world today, I

find myself now conforming to what it

demands. If I want to share and promote

what I need, technology is a major part.

Therefore, we now have online accessibility

to our Fellowship Foundation

on our webpage. And in actuality, it

does it better than print. The Foundation

helps to facilitate the generosity of God's

people to Fellowship ministries; anything

that you need to know about us

you can now access on our Foundation

webpage.

For example, we have our promotional

and reference forms readily available

for you. Through our "Promotional

Materials" link, you can access our brochures,

which give an overview of what

the Foundation can do. For more detailed

information, our "Reference Material"

link enables you to access and download

our Bylaws, Policy Manual, Financial

Statement, as well as our Bequest and

Investment forms.

For an overall understanding, you can

view our video, which gives a clear

picture of the Foundation's purpose —

connecting the passions of our donors

to good works. Currently, many have

expressed this by tithing in their Will.

Fellowship ministries to date have received

over $2.5 million in pledges from

Legacy Giving to advance His Kingdom.

If you want to be part of this great movement,

I invite you to go online to see

how you can partner your generosity to

God's glory. Join us at www.fellowship.

ca/foundation. And for those who prefer

old-fashioned personal help, you can

reach me using the contact information

provided below.

— Gord Baptist

is Fellowship

Advancement Director

and can be reached at:

519.821.4830, extension

244 ~ fax 519.821.9829

gbaptist@fellowship.ca

by Gord Baptist
---
Spring/Summer 2018

CHURCH PLANTING CROSS

OUT THERE: FELLOWSHIP INTERNATIONAL

PATIENCE, CONSISTENCY

AND INTENTIONALITY

by Ricardo Castro

It's 10:00 am; I'm going to have a coffee on the central square. Sitting, I'm

waiting for someone to engage in conversation, since this is the most

important hour in the village's life. In a few minutes, people will arrive,

and conversations will start. Sometimes I initiate spiritual discussions,

sometimes not — but it's always important to be there, to be part of

who they are. After this, Ingrid and I have an appointment to organize

a Gospel choir with non-Christians in the village. We are happy:

there have been 16 enrollments for this project in only two days,

and we pray that the Lord would open hearts among the villagers.

After that meeting, we will have dinner with a family with whom

we have already shared the Gospel. After two dinners, we have

gained their trust and they begin to ask us real questions.

Patience, consistency, and intentionality are essential ingredients

to gain people's trust — to hear from them — although in

a culture very much based on relationships, those people do

not want to be apart from their community. In such a context

progress is slow, so the challenge consists of making disciples

who then will reproduce themselves in their own network

of connections.

By God's grace, after two years spent in this area we have

two small groups, one in Zafra and the other in Llerena.

We are putting a lot of energy into discipleship, hoping

to sow the DNA of multiplication.

As another means to give this region a boost, I have

been involved in the development of a very young

Seminary which is still in its infancy stage, where

leadership development and church planting are the

focus.

Please continue to pray for our discipleship and

training efforts in Spain, that God would use us as

tools to accomplish His purposes in this region,

for His glory!

— Ricardo Castro is a Fellowship International

missionary serving in Spain.

PLANTING AND WA

DISCIPLE-MAKING

TRAINING IN INDON

by Edwin Karwur

The agricultural metaphors of

planting and watering a seed is

elaborated by Paul in 1 Cor. 3:5-9.

We know that the elaboration

was given by Paul to overcome the

problem of divisions among the

Christians in Corinth, but I think

Paul is also giving us an indication

about the principal of collaboration in

the mission fields that God has given

us.

The fields are God's possessions, and God

also determines the growth — but God

uses instruments to accomplish His will.

That's the way it is within the ministries

of the church; every person's ministry is

significant. The statement Paul uses in 1 Cor.

3:9, "we are God's fellow workers," refers to Paul

and Apollos. This is the Near Eastern metaphor

of a family working together in the field (cf. 2

Cor. 6:1). This verse has three possessive genitives:

Paul and Apollos belong to God, as does the

church in Corinth. 1 The aim of the collaboration is

to enhance the well-being of the church. 2

Together in partnership, Fellowship International

and the missions department of the Convention of

Indonesian Baptist Churches have a thriving evangelism

ministry. In one area they have been able to reach

approximately 140,000 people with the Gospel of Christ

and have baptized 70,000 since 2005. These new converts

are scattered in close to 17,000 house churches, with only

eight people in every house church.

PATIENCE, CONSISTENCY, AND INTENTIONALITY ARE
---
thrive-magazine.ca

thrive / 7

-CULTURALLY

TERING: TAKING PART IN THE

MOVEMENT AND LEADERSHIP

ESIA

The numbers are astonishing, and they will continue

to grow. We praise God for these amazing

results, yet we still see the need for sustainable

discipleship and leadership training programs.

These leaders are focusing their time and energy

on evangelizing. They need more people to

come alongside and help with discipleship and

leadership training. In light of this, Fellowship

International, through LeadersFormation (our

leadership training and discipleship program),

will come alongside the Convention

of Indonesian Baptist Churches to disciple

as many people as we can. We plan to do

this through leadership training programs

among the leaders of at least 20 house

churches in that area. LeadersFormation

will have another cohort at the

Seminary in Manado, which will involve

30 Seminary graduates who are

now leading their own churches. We

hope to be able to begin these two

cohorts soon and continue for five

years to come. I hope that at the

end of those five years those who

are being trained in both locations

will carry on the works that

LeadersFormation has begun in

their areas and beyond.

— Edwin Karwur is a

Fellowship International

missionary and serves as

President of the Indonesian

Theological Seminary in

Manado, Indonesia.

CHURCH PLANTING

CROSS-CULTURALLY

by Bechara Karkafi

The rabbit church movement is the fastest multiplication/discipleship

model in use across the globe, especially

in areas where severe persecution is taking place.

Rabbit churches are small groups of believers that multiply

rapidly, planting many new churches in short periods

of time. In Lebanon, we were blessed to be able to encourage

and support the rabbit church movement on several levels,

and we are witnessing unique growth as a result of this genuine

discipleship ministry.

"Discipleship is all about living life together rather than just

one structured meeting per week" (Francis Chan, MULTIPLY:

Disciples Making Disciples).

This is exactly what is going on in rabbit churches in Beirut:

believers are living in community, eating together, worshipping

together (without music), praying together, and teaching each

other through reading the Scriptures. During our visits to these rabbit

churches with other Fellowship pastors from Canada we felt as

though we were meeting people from the early church! We noticed

that their faith is all about Jesus and their convictions are built on simply

believing in scripture. Our heart's desire as we serve in the Lebanon

and MENA area is to partner with and support genuine leaders who are

participating in rabbit churches. Please pray for the 18 rabbit churches

in Beirut, as well as for the leadership team. Also pray that we will see our

Fellowship churches getting involved, partnering with, and supporting

these rabbit churches in order to see an amazing church planting movement

spread across the region.

— Bechara Karkafi is a Fellowship International missionary serving in

Lebanon, the Middle East, North Africa, and Canada.

ESSENTIAL INGREDIENTS TO GAIN PEOPLE'S TRUST

1

R. J. Utley, Paul's Letters to a Troubled Church: I and II Corinthians (Marshall: Bible Lessons International, 2002), 44.

2

C. H. Talbert, Reading Corinthians: A Literary and Theological Commentary On 1 & 2 Corinthians (Macon: Smyth & Helwys Publishing, 2002), 19.
---
8 / thrive Spring/Summer 2018

DDM THE

OBJECTIVE,

CPM THE

OUTCOME

by Dave Marttunen

A DISCIPLE MAKING MOVEMENT (DMM) IS CAUSITIVE AND A

CHURCH PLANTING MOVEMENT (CPM) IS THE RESULT.

OUT THERE: FELLOWSHIP INTERNATIONAL

How can Fellowship International dare to dream of planting

1,000 churches in the lifetime of a single missionary? It

sounds preposterous.

"I HAVE FOUND

THAT THERE

ARE THREE

STAGES IN

EVERY WORK

OF GOD:

FIRST IT IS

IMPOSSIBLE,

THEN IT IS

DIFFICULT,

THEN IT IS

DONE."

HUDSON TAYLOR,

FOUNDER OF CHINA

INLAND MISSION IN 1865

The first step is to PRAY.

Others have dreamed,

prayed, and acted. As

William Carey, the often

cited Father of Modern

Missions, writes:

"Expect great things from

God; attempt great things

for God."

These two issues —

prayer and acting in faith

— may be the biggest barriers

for us to overcome

in the area of planting

new churches.

Changing our ministry

model by expecting and

attempting is not an easy

task. Thankfully there are

inspiring examples for us

to look to.

Indonesia is one such

example. Over the last

12 years, about 12,000 small church clusters have been

started — some of which have reproduced up to 16 times.

Thousands of people have come to Christ, and half of these

are estimated to have been baptized. The leaders of these

small churches have changed their model: discipling precedes

planting.

Let's compare two different ministry models using the

metaphor of rabbits and elephants.

A mature female African elephant weighs three tons and has

a gestation of 22 months. At birth, a baby elephant weighs

260 lbs. An elephant is not ready to reproduce until it is 15

years old. The female will give birth every five years. Starting

with one female elephant, the estimate is that at the end of

five years there could be three elephants (one adult, one juvenile,

and one baby) for a total weight of approximately 10

tons — an impressive weight for three animals!

On the other hand, a female rabbit's gestation period is about

one month, and it can breed within days of giving birth.

Furthermore, a female rabbit is able to have its first litter

when it is six months of age, and usually breed each month

thereafter. Following a five year cycle, the outcome is very

different from the elephant. If one female rabbit produces

three other females each month, at the end of the first year

there would be 37 females ready to breed by the start of the

second year. Using this formula we can estimate that at the

end of five years there would be 69,293,304 rabbits in total

(Source: http://www.bio.miami.edu/hare/scary.html).
---
thrive-magazine.ca

thrive / 9

FELLOWSHIP

INTERNATIONAL

MISSION: CATALYZE

NATIONAL DISCIPLE-

MAKING MOVEMENTS

AMONG UNDER

REACHED PEOPLE.

Fellowship International exists to catalyze

Disciple-Making Movements in strategic

populations by empowering nationals.

The average rabbit weighs four pounds. Utilizing the previously

used formula, at the end of five years there would

be 34,647 tons of rabbits! Incredible!

I am not suggesting that "elephant churches" aren't valuable

or that they fail to glorify God. They are wonderful!

However, my point is this: if we dream great dreams with

God and pray great prayers for God's glory, then it may

follow that we must also change our actions. Carey did. He

left England and served God in India, where he started a

missions movement.

Fellowship International has adopted a new model and

is willing to try new things to help fulfill our dreams and

prayers. In August, all our missionaries will gather for a

Summit in Poland. Together we will learn, pray, dream,

talk, plan, and then return to our fields to act. Our hope

is Jonathan's hope, who said to his armour bearer:

"Perhaps the LORD will act in our behalf. Nothing can hinder

the LORD from saving, whether by many or by few."

1 Samuel 14:6

With God's provision, planting 1,000

churches in the lifetime of a missionary

is not beyond the realm of our

dreams, prayers, and actions.

— Dave Marttunen is Director of

Fellowship International.

VISION: PARTNERING

WITH NATIONALS FOR

KINGDOM IMPACT

Fellowship International personnel work

strategically among under-reached and

unreached peoples to catalyze 'Disciple-Making

Movements' (DMMs) and promote leadership

development by partnering with nationals for

evangelism, social justice, business and relief

initiatives to advance the Kingdom of Christ.

VALUES:

Discern, attuning to God

Catalyze, leading the way

Collaborate, building teams in partnership with

our churches, and others.

Empower, resourcing for mission

Multiply, cultivating disciple-makers
---
truth talk

Spring/Summer 2018

MARRIAGE

AND HUMAN

SEXUALITY

POLICY

by Steve Jones

TRUTH TALK: THEOLOGY AND TRENDS

During our Fellowship National

Conference (November 12-14,

2018) in Richmond, BC, our churches

will be voting to approve a new policy.

This new policy will replace the current

"Fellowship Marriage Policy",

which was adopted February 22,2007.

The motivation for a new policy is

due to the societal and legal realities

that have transpired in Canada

since 2007. There is a definite need to

define Biblical marriage and address

gender identity issues. The new policy

in question has been developed over

a two-year process, which included a

task force that studied the subjects in

question and drafted the policy. This

team consisted of three pastors, three

professors, and three National Council

members. It has been vetted by pastors,

five Regional Directors, National

Directors, and Regional and National

Councils. The policy will be distributed

to our churches in the Fall 2018 for

consideration and adoption at our annual

Fellowship National Conference.

No policy is a perfect document, but

this policy is a solid attempt to define

our view of Biblical marriage and human

sexuality while seeking to protect

our churches and clergy.

The policy states that homosexual

practice is a violation of God's definition

of human sexuality. It is contrary

to God's created order and is behaviour

viewed in Scripture as a serious

violation of God's basic moral laws.

Nowhere in Scripture does one find

any Biblical trajectory toward its

approval.

The policy seeks to address these

Biblical truths in a spirit of grace,

mercy, and kindness, emphasizing the

need for our churches to be safe places

for people to experience healthy, restored

relationships with God and others.

The church is called to affirm the

dignity of all people, treating everyone

with respect in grace-filled communities,

providing love, support, and

accountability.

The policy makes clear the official

position of the Fellowship concerning

the solemnization of marriage and

the result of a church or clergy acting

contrary to the Fellowship's policy

statement on "Marriage and Human

Sexuality."

— Steve Jones is President of

Fellowship National.

THE POLICY SEEKS TO ADDRESS THESE BIBLICAL TRUTHS IN A SPIRIT

OF GRACE, MERCY, AND KINDNESS, EMPHASIZING THE NEED FOR OUR

CHURCHES TO BE SAFE PLACES FOR PEOPLE TO EXPERIENCE HEALTHY,

RESTORED RELATIONSHIPS WITH GOD AND OTHERS.
---
thrive-magazine.ca

love extended

HOPE IN THE

MIDST OF CHAOS

by Valerie Heaton

The DR Congo has been wrought with violence and

war for decades; it permeates every aspect of life there.

Citizens continue to protest their corrupt President, and

are met with brutality in return. There is so much violence

happening on the streets that people are afraid to risk going

outside, even to go to church, for fear they might be caught

up in police conflict. In an attempt to keep the rest of the

world from seeing the truth, the government has gone so far

as to silence the people from reaching out on social media,

shutting down internet and mobile phone connections for

days and sometimes weeks at a time.

Fellowship International missionaries Apollo and Lois

Midigo serve in Goma, DR Congo, helping church leaders

preach the Gospel, teaching reconciliation and forgiveness,

and training pastors in

evangelism and missions.

The long history

of violence in the Congo

has left its citizens battered,

disillusioned,

and in desperate need

of the healing power of

the Gospel. Many pastors

who come to the

Midigos for help ask for

teaching from the Bible

on forgiveness and reconciliation,

so that they

can in turn teach their

congregations how to

deal with their wounds

from the past and fear in the present. Their next training

session focusses on training in war trauma counselling as

well as basic counselling skills to help victims of rape and

torture. They also provide training to chaplains who serve in

the military, prisons, schools, and universities that deal with

survivors of war.

Recently Apollo and Lois were approached by a pastor from

an area outside of Goma where violence is pervasive; he

had heard that they were distributing Bibles, which were

supplied through our recent Sowing the Seed appeal. He and

two other pastors from the area had only parts of select

books of the Bible — one had part of Mark, one had Job, and

the other had Deuteronomy — and were thrilled to receive

a full copy from the Midigos!

The Midigos need our prayer support as they continue in

their ministry in Goma. Please pray for God to continue to

keep them safe in the midst of ongoing violence, and for

a peaceful resolution to the political situation there. Pray

for their upcoming training sessions, and that God would

provide safety during their meetings. Pray also that God

would provide more Bibles for them to distribute to pastors

throughout the Congo.

Through the act of discipling and teaching pastors and chaplains

who then go on to disciple and teach others in their congregations

and communities, the Midigos are helping to build

God's Kingdom in Congo — one life at a time.

— Valerie Heaton is Managing Editor of Thrive Magazine

and Communications Administrative Assistant for the

Fellowship National office.

LOVE EXTENDED: FAIR
---
12 / thrive Spring/Summer 2018

ESTABLISHING

NEW ROOTS

Canada has become home to people from a wide variety of cultures, providing a safe place for

them to establish new roots, build their families, and contribute to their new community.

Statistics Canada projects that by the year 2031, visible minorities living in Toronto will account

for 63 percent of the population. Oakville and Mississauga are two cities that are a part of the

Greater Toronto Area and each has particularly high concentrations of new immigrants. With

God's leading, City Center Baptist Church (Mississauga) and Faith Baptist Church (Oakville)

are seeking to plant Arabic-speaking churches in their neighbourhoods in order to spread the

Gospel to new immigrants and Arabic-speaking Canadians.
---
thrive-magazine.ca

thrive / 13

STATISTICS CANADA PROJECTS THAT BY THE

YEAR 2031, VISIBLE MINORITIES LIVING IN

TORONTO WILL ACCOUNT FOR 63 PERCENT

OF THE POPULATION.

Faith Baptist Church, Oakville, ON

With a total population of 193,832, Oakville is a bustling community

that has an Arabic-speaking population of 4,635 (2.4%

of population). Faith Baptist Church, under the direction of

Pastor Les Clemens, is seeking to reach this population — which

is predominantly Muslim — through a new church plant. The

majority of those who attend Faith Baptist are non-Canadian in

ethnicity, a trend which has inspired the church to reach out to

the growing population of Arabic-speaking immigrants in their

region.

City Centre Baptist Church, Mississauga, ON

City Centre Baptist Church, under the leadership of Pastor

Deric Bartlett, has also felt the need to plant a church with the

intention of reaching out to the 29,900 Arabic-speaking peoples

living in the Mississauga area (4.1% of the overall population).

Pastor Deric sees this as an opportunity to make City Centre

reflect the community of Mississauga — diverse and multicultural.

These thousands of Arabic-speaking immigrants have

landed right on the church's doorstep; City Centre doesn't want

to waste this opportunity!

These two churches have great vision and tremendous opportunity.

It is our hope that we, as a Fellowship, can partner with

these churches and help support them in these two exciting

projects. Our goal is to raise a total of $60,000 so that we can

give $30,000 to each of these ministries.

The goal: $60,000 — $30,000 for

each church plant.

Please consider giving toward these important church planting

efforts and, in doing so, help to spread the Gospel to Arabicspeaking

peoples in the Oakville and Mississauga areas.
---
ground work

Spring/Summer 2018

7X7=1:

AN UPDATE

by Terry Cuthbert

Since the inception of the Fellowship, English churches across Canada have recognized francophone

Canada as one of their God-given mission fields just next door. Through their missionary

efforts, a francophone movement of Fellowship churches was born which today, numbering

around 80 congregations, is ably led by the francophone leadership of the Fellowship French

Region (AÉBÉQ). This mature movement exists within a mission field in which the number of

evangelicals is under 1%, thus still justifying our continuing assistance — but in a different form.

Since the beginning of 2015, the Fellowship has been encouraging partnerships between English

churches from across Canada and French reproducing congregations, their church planting projects,

or specific francophone regions with sparse Gospel presence. In the last three years, seventyfive

church partnerships have been established: Bramalea with Terrebonne-Mascouche; Forward,

Cambridge, ON with Saint-Jérôme; Stoneridge, Lower Sackville, NS with Saint-Léonard; Fort

Saskatchewan, AB with Oasis, Deux Montagnes; and First, Timmins, ON with the Abitibi Regional

Project, just to name a few.

GROUND WORK: FRANCOPHONE AND CHAPLAINCY MINISTRIES

What do these partnerships look like in real life? Terrebonne-Mascouche sent their youth down

to Brampton, ON to interact with the youth at Bramalea Baptist on their own turf. Ecclesia,

St Jérôme bought an old theatre in the heart of their mission field. Partners provided teams of

volunteer workers to help with the renovations. For several years now,

francophone church plants have been inviting their respective communities

to join them in showing acts of kindness to their neighbours. Teams

from partner churches needed to learn little French to participate in these

initiatives and yet leave a significant and lasting impression. New and

creative ways to express these partnerships are left to the imagination of

those involved in these cross-cultural but not too distant relationships.

— Terry Cuthbert serves as Francophone Mobilizer Coordinator.
---
thrive-magazine.ca thrive / 15

KARATE FOR

CHRIST CANADA

by Neil McGillivray

Recently at a Fellowship Chaplaincy training event

on "Apologetic Dialogue" with Reverend Dr Joe

Boot, I was sitting with our President Steve Jones

when he posed the question, "What are the obstacles

that exist in our current ministries?"

When it was my turn to share, I expressed that one of

my biggest obstacles in ministry is getting Fellowship

Baptist Churches to open their doors to our Karate

for Christ Ministry. Our start-up location at Cedar

Creek Church, a Fellowship church in Cambridge,

ON, is still operating but all our other locations meet

in AGC, PAOC and Christian Reformed churches.

My mentor, Reverend Gervis Black, always said, "The

church exists for those who aren't in it."

Karate for Christ Canada is a para-church organization

that comes alongside the local church to reach youth

with the Gospel of Jesus Christ, through teaching

Karate. We have had great success in reaching youth

that otherwise would never step foot into a church. At

some of our locations the classes are made up of 95%

unchurched and unsaved youth from the surrounding

community. At every class we teach a Bible lesson

on topics like who God is, who Jesus is, who the Holy

Spirit is, the authority of Scripture, and prayer. Along

with Bible lessons, we require scripture memory work

for each belt level and present certificates and a wooden

sword to students who read the entire Bible. Please

take advantage of the synergy afforded by church and

para-church partnerships. We exist to serve the church

— Fellowship churches included!

— Neil McGillivray is a Fellowship Chaplain and

Executive Director/Senior Instructor at Karate For

Christ Canada.

"THE CHURCH EXISTS FOR THOSE

WHO AREN'T IN IT."
---
Spring/Summer 2018

CHURCH PLANTING

UPDATES

UP TO SPEED: REGIONAL UPDATES

CHURCH PLANTING BOOM

When asked about the current state of church planting in the FEB

Central Region, I am so encouraged to tell the story of what God is

doing.

Currently in FEB Central we have 37 churches in "church plant" status

and we have an additional 19 churches at some point in incubation.

That is a big change for us and it has taken years! Today the

majority of our churches when they approach capacity are asking

"where and how do we plant?" rather than, "where and how big

do we build?" There have been a number of contributing factors

that were and are intentional.

First, we communicate the need for church planting at

National and Regional events. I remember the first President's

Address that Steve Jones made. He said, "We need to become

a church planting machine!"

Second, we celebrate our church planters and their wins. It

doesn't take long before what you celebrate takes root in

your DNA.

Third, we have established good systems for recruiting,

assessing, equipping, and coaching church planters.

These help us to direct people into ministry roles that

fit and to avoid many potential pitfalls.

Lastly, we relentlessly pursue the vision to see all of

our churches engaged in church planting in some

way in order to reach the millions of lost people

in our Region. Church planting is one of the three

main focuses of FEB Central, alongside church

health and leadership

development.

— Tom Haines is

Director of Church

Planting for the FEB

Central Region.

30% GROWTH

BY 2022

IN OUR

FELLOWSHIP

PACIFIC REGION

By 2022, Fellowship Pacific will "… innovatively

develop relationships and

resources that propel every church in

Fellowship Pacific to be accountable to

their Gospel mandate."

One of our strategies of this vision will be

the addition of 30% new congregations.

This will primarily occur through church

plants, satellites, and new additions. For this

to occur we need healthy churches developing

healthy church planters leading healthy

church plants.

Our plan? Prayer. Clarifying our values and philosophy.

Gauging our current church health and

reproduction. Finding resources. Working through

our churches. Supporting new planters and church

plants. Partnering. Reproducing.

"We need pastors and churches who care more about

their children than they do about themselves. The

only way to do that is to make babies." (Bob Roberts Jr.,

The Multiplying Church)

— Todd Chapman coordinates

Church Planting and Multi-Ethnic

Ministries and serves on the

Church Lifecycles Team for the

Fellowship Pacific Region.
---
thrive-magazine.ca

thrive / 17

ESTABLISHING A VILLAGE IN OUR

FELLOWSHIP PRAIRIES REGION

September, 2017 saw the launch of Village Calgary in the Fellowship Prairies Region.

Pastor Vinh Doan and his wife, Laura, felt the Lord leading them to serve in Calgary,

and He lead them to The Fellowship. Of course, the Lord did this right around the same

time that He was stirring in the hearts of our Westbourne church to close and "re-boot".

Wouldn't you know it? This also aligned with Village Church's (Pacific Region) vision to

plant a satellite in Calgary.

An average attendance of 240, another staff position (welcome, Pastor Nathan!), the beginning

of a youth ministry (lay-lead), and His provision for the location of the church

are examples of some early highlights.

You can hear the very Mind of God now, can't you?

Why stop at a miraculous story of how this church came into being? Let's keep it going, with an ongoing miraculous

story of it currently 'being'.

He's that kind of God.

— Mark Breitkreuz is Director of the Fellowship Prairies Region.

Pastor Vinh and Laura Doan,

with Grace and Aubrey.

THE ANTIOCH MODEL IN OUR

AÉBÉQ (FRENCH) REGION

Based on the model of the Antioch church presented in Acts 13, we are

adopting this inspirational template for all our churches, which generates

a new dream. In that passage, we see a mature church that radiates

Christ and has several gifted leaders. Moreover, listening to the Holy

Spirit, this church never hesitated to send workers to unreached areas.

Its most elementary definition would read: "An Antioch church is a

healthy church on mission who is getting stronger, who equips its people,

radiates Christ, and who plants churches by the Gospel movement."

A church:

• is radiating, doing evangelism work in a contextualised manner,

developing missionary initiatives which aim to reach its town, a

target group, an unreached area, or country for Christ.

• is reinforcing itself when it is aiming to live out the Gospel in all

aspects of its life.

• is equipping its people when it is training, influencing and deploying

leaders according to their call and vocation.

• is planting churches when its sends workers to start a new

church, because of a missionary initiative which grew and

multiplied.

In church planting, an established church becomes an Antioch

church, acting as a mother church for a plant project. Such a church

takes the entire responsibility to go through all the steps of pregnancy,

until the daughter church reaches maturity.

That's the reason why the focus and care of AÉBÉQ will be emphasized

towards Antioch churches, which have

evangelism projects aimed at church planting.

Is it not true that mothers who take good care

of themselves will produce healthy babies?

— Jean–Pierre Gagné is Director of Church

Planting for the AÉBÉQ Region.

EAST COAST START-

UPS AND RENEWALS

It's true that in many rural places in our Region you

can't go 20 kms without passing two or more church

buildings. A visitor recently asked a man who was

painting a church in the center of town what time the

service was on Sunday. The man replied, "Oh no by'

we's don't meet for church here anymore. Actually

none of d'ese villages has a preacher in em right now."

There may be a lot of church buildings, but there is

a desperate need for a movement of Gospel renewal

and church plants. Many of these congregations

have moved far from a Gospel that has the ability

to save lives. Others have simply become buildings

that are used for occasional weddings or community

get-togethers.

We are beginning to see some church plant and church

renewal traction in our Region. There are 15 church

planters and leaders who meet monthly to work

through what planting in our Region looks like. We are

seeing the Fellowship's two recent plants in our Region

making significant strides into their rural villages as

they get asked to serve in various roles in the communities

— even in coming alongside a couple of dying

congregations to see Gospel renewal happen!

Recognizing the need for both planting and renewal

movements, PAXnorth Church is hoping to raise

$30,000 a year over the next ten years to train twenty

pastors and planters who will impact our Region. Join

with us as we pray and work

towards a Gospel renewal in

our Region.

— Brad Somers is lead pastor

of PAXnorth Church in Halifax,

NS.
---
Vitality Te

18 / thrive Spring/Summer 2018

AWAKENING

THE LOCAL

CHURCH:

UPDATE ON THE

CONGREGATIONAL

VITALITY PATHWAY

"…I (Jesus) will build my church, and the gates of Hades will not overcome it." (Matthew 16:18b)

God continues to build His

church for His glory.

Since 2016, starting in Quebec and

now also in FEB Central, an exciting

work has begun to strengthen

Fellowship churches, using the principles

of the Congregational Vitality

Pathway – an approach developed by

the US-based Evangelical Covenant

Church. The CV Pathway has been

utilized in many different countries

and contexts. We are excited about

its potential to help re-invigorate local

churches across Canada.

The CV Pathway contrasts with typical

church health strategies because

of its preparation period of improving

the culture of a church before

initiating change within the church.

"Preparing the soil" in this way

demands more time and effort than

jumping directly to assessments and

solutions. However, the focus on understanding

and improving the culture

within the body will ultimately

improve the quality of the eventual

harvest.

In the last few months, the principles

of CV Pathway have been shared

with many church leaders, including

a workshop at FNC 2017. So far,

four churches in AÉBÉQ and five in

FEB Central have decided to embrace

this revitalization approach which

invites a coach to journey with the

church for this season. While the CV

Pathway takes about 18 months, the

early reports have been encouraging.

The leadership teams have been

encouraged and excited about the

initial stages of the approach. Each

VERITAS workshop that kicks off the

journey with the whole church has

been spirit-filled and energizing, as

the church prepares to seek the Lord's

face and guidance. One of the foundational

principles of the Pathway is

the belief that God will provide for

the ministry to which He calls His

church. Part of the approach prepares

congregatıonal v

VITALITY IS NOT A PROGRAM; IT IS A PATHWAY…a transformative

that occurs over time. With these excellent resources and supportiv

along the way, many established churches are discovering hope as

congregational vitality pathway. The answers are not in the informa

in this brochure; the answers are in the conversations you have abo

information as the Holy Spirit leads and guides.

VIM Conversation

with the Pastor and

Church Leadership

UP TO SPEED: REGIONAL UPDATES

DO YOU REALLY WANT YOUR

NEXT TWO YEARS OF MINISTRY

TO BE LIKE THE LAST TWO?

Co-op Learning Community

Each pastor and Vitality Team

leader will participate in a

learning community. The group

convenes to share progress,

praises, and problems that

we can mutually address.

Participation helps the church

to move along the Pathway at

the most profitable pace.

Telling

Congre

A works

the lang

includin

churche

mission

will set
---
thrive-magazine.ca thrive / 19

the church to better discern and respond

to His work in and through us.

If your heart longs to see your church

re-awakened to its mission with new

passion and vigour, the CV Pathway

is an approach worth considering.

Churches of any size or age can become

more healthy and missional by focusing

more on where God is already at work

in and around the church.

— Andrew Hurrell lives in Ottawa, ON,

and is an independent church health

consultant who has been retained by

AÉBÉQ and FEB Central to promote

revitalization in the local church. You

can reach him at ahurrell@lighthousecom.org.

ıtalıty pathway

process

e coaching

they walk the

tion presented

ut this

am

Relational Covenant

Service of

Consecration

Joshua 3:5

You shall know the truth

and the truth will set you free.

John 8:32

Strategic Ministry

Planning Team &

Implementation

the Truth about

gational Vitality

hop that introduces

uage of vitality,

g the four types of

s and the ten healthy

al markers. The truth

you free.

Empowering People,

Inspiring Change

A workshop that offers tools

for change management,

including helpful constructs

for your leadership and

church. All living things

change.

A Congregational

Vitality Assessment Tool

A congregational assessment

that measures the currently

reality and trajectory of your

church using the 10 Healthy

Missional Markers.

A Unifying Approach

to Strategic Ministry

Planning

A workshop that guides

the Strategic Ministry

Planning team in the

discovery, development and

deployment of a ministry

plan. Jesus had a strategic

plan.
---
20 / thrive Spring/Summer 2018

COME-BACK CHURCHES

UP TO SPEED: REGIONAL UPDATES

EXPERIENCING GOD AT WORK

Immanuel Fellowship Baptist Church, Abbotsford, BC

How did this happen? What do we do now? How will we recover from this?

Those might have been questions mulling around the heads of the leadership team and church family

at Immanuel Fellowship Baptist Church in Abbotsford, BC, just over two years ago. Their lead pastor

had resigned. Three out of five of their other staff members left over the next five months. They

were in the midst of planning a whole new vision for the church and suddenly all that work came to an abrupt halt. They

lost three board members. Over a short period of time their congregation plummeted from 500 to 200. And from all that,

their finances suffered greatly. The future looked uncertain, but those still there didn't lose hope and they had the desire to

move forward. They began to pray, formed a search committee, and trusted that God would provide. The leadership decided

to find an interim pastor first, someone who could come and help them heal and walk with them as they worked through

painful issues.

They didn't know who God was already preparing for them, and soon their paths crossed. Pastor Dennis Bunio and his

wife Dianne felt God calling them to move from their church in Armstrong to the Lower Mainland area. They were looking

for an associate position, but graciously accepted the interim role at Immanuel. Then Dennis began to do what he does

best — connect and encourage people. He used his experience as a lead pastor to work with the leadership team, initiating

a process to develop a whole new vision that went deeper than the previous one. The church was seeing God at work in so

many ways: new people began to attend and others came back, church attenders stepped up and took risks to serve in new

ways, and a number of people in the church began to

give sacrificially, which provided them the financial

means to continue to move forward. The leadership

team stepped up and eventually they hired Dennis

as their Associate Pastor and added an Immerse student

(overseeing Youth Ministry) to their staff.

In March of 2017, Immanuel welcomed Kyle

Corbin as their new Lead Pastor and he and his

wife Amy moved into the community. Kyle

and Dennis, along with the leadership team,

completed their work on the new vision

and rolled it out to the church. March also

brought a new worship leader to the staff

team. Last fall, they celebrated as their

Immerse student graduated and came on

staff full time as their Youth Pastor.

— David Horita is Regional Director of

the Fellowship Pacific Region.

PASTOR'S PERSPECTIVE:

Kyle Corbin, Lead Pastor, Immanuel Baptist, Abbotsford, BC

Coming in to a church that had been going through what

Immanuel had been experiencing is quite a challenge, but an

exciting one. While we developed the new vision, I focused on

preaching and building trust with the congregation. By God's grace

we now have a healthy church, leadership team, and staff. Our

congregation is growing (we are now between 275-300 on a Sunday).

But, even more exciting than that, we are seeing the amazing lifetransformation

that only comes from individuals encountering Jesus.

Since I began in March, we've seen a number of children and high

school students decide to follow Jesus and we've had 7 adult and youth

baptisms. We've seen people leaving lives of addiction, individuals with

incredible life challenges experiencing freedom — and it's all happening

because God is on the move. If there's one thing I know for sure it's this:

God hasn't forgotten Immanuel; in fact, I believe He plans to use us to see

His Kingdom come in Abbotsford as it is in Heaven.
---
thrive-magazine.ca

thrive / 21

CONGREGATIONAL

VITALITY PATHWAY

IN THE FEB CENTRAL

REGION

We are truly thrilled to be able to offer the

Congregational Vitality Pathway as a process for

church revitalization in our Region. The combination

of church-wide engagement, on-site facilitating, formation

of a vitality team, and ongoing coaching enhances

effectiveness and Spirit-led change. Our prayer is to see

many of our churches utilize CVP for spiritual renewal,

plus raise up our own CV Pathway leaders to be used in

our own churches. Andrew Hurrell, CV Pathway certified

coach and church consultant,

is a gift to us and we appreciate

his service and ministry to our

churches.

— Bob Flemming is Regional

Director of the FEB Central

Region.

CVP IN THE AÉBÉQ

REGION

Over the past two years we at AÉBÉQ have been creating

a CVP Field Team with the purpose of encouraging

and supporting our churches to become both

healthy and missional. The tools and approach of

the Congregational Vitality Pathway program have

served as our starting point. This spiritual approach

involves both church leaders and members in the

process of asking God to reveal the portrait of health

for their church. Our conviction is that a lasting

vitality change in a church must begin with a true

health portrait. One of the first spiritual fruits that

we have seen so far is a change in the relationship

culture amongst the leaders

first, and eventually amongst

the members.

— Louis Bourque is the

Regional Director of the

AÉBÉQ Region.

A CHURCH THAT'S REACHING —

ALL THE WAY TO CUBA!

Kinmount Baptist Church, Kawartha Lakes, ON

Kinmount Baptist Church, located in the north end of the City of Kawartha Lakes, is a small church having an impact

in their community – and in Cuba!

Kids' Camp in Kinmount had 30 children registered – 25 were unchurched kids from the community. Kids' Camp

Sunday service followed, where 22 campers and 12-15 parents/grandparents came out to hear the Gospel. Kids Zone

will begin on Sunday mornings in September and all the children who attended the summer camp are invited.

The church is continuing to grow spiritually and numerically. Recently four new members were added and Pastor

Dave Sedore expects that another three will be welcomed soon. Over the past two years they have had 11 baptisms

and are anticipating at least two more before the year-end.

Kinmount has also planted a church in Cuba! Pastor Dave met Elieser Lopez-Hernandez a number of years ago on a

missions trip. At the time, Elieser was in seminary. Pastor Dave kept in touch and had a strong impact on his spiritual

growth. Now Elieser is planting a church in Madruga Mayabeque and is on Kinmount's payroll. The church has

short-term mission trips planned for October and January to help remodel a house purchased to be turned into a

church building.

Another note of praise: Pastor Elieser recently attended seminary classes in the south end of Cuba where Fellowship

pastor, Steve West, was teaching. The seminary paid all of the church planter's expenses so that he could attend.

God is good!

Let's pray for Kinmount as they reach out.

— Bob Flemming is Regional Director of the FEB Central Region.
---
Spring/Summer 2018

HOW TO PRAY FOR

A CHURCH PLANTER by Valerie Heaton

There are many wonderful things one experiences

as a part of our Fellowship family: community,

support, guidance, and the privilege to be able to

pray for one another. Our National office publishes

a monthly Prayer Partners bulletin, which acts as a

guide for those who wish to be "in the know" about

specific prayer requests from various Fellowship ministries.

However, one ministry that isn't always included

in the monthly guide is that of church planters.

Those planting churches do so by trusting in God's

provision, guidance, and faithfulness each and every

day, waiting on Him to make headway in their communities.

Many church plants are located in spiritually

desolate areas such as French-speaking Quebec

(where less than 1% of the population identify as

Evangelical), which can feel like an unwinnable

battle. And yet these church planters and their teams

keep on going in spite of the difficulty.

Have you ever wondered how to pray more effectively

for a church planter? We've reached out to

some of our very own from across Canada to give

you an idea of what to pray for specifically. We spoke

with some who are still struggling to gain financial

independence as a new church, and asked for prayer

that God would bring the funding needed to be able

to be self-sustaining. Others asked that we pray for

their members to have courage in their faith in their

individual workplaces — that the Gospel would be

proclaimed boldly and that people would hear it, accept

it, and live it. Many asked for prayer for the Spirit

to lead them where He wants them to go, and that

they would continue to glorify Christ in every facet of

their church. Some with military connections asked

for prayer for those whose family members were serving

overseas, that they would have strength and lean

on the Lord for provision and comfort. Others asked

for prayer that church planting teams would see the

sacrifice often required of them as a gift instead of a

loss — that they would be ready, willing, and excited

to give what is needed to expand God's Kingdom.

Those working in the AÉBÉQ (French) Region reported

that there is the possibility of beginning some

Muslim-focused church plants in the near future, and

asked for prayer that God's hand would be evident in

shaping the future of this ministry.

These are but some of the ways we can uplift our

Fellowship church planters in prayer. Please join with

us in bathing our church plants and their leaders with

constant prayer, asking God to bless their ministries

and go before them, preparing hearts to receive Him.

— Valerie Heaton is Managing Editor of Thrive

Magazine and Communications Administrative

Assistant at the Fellowship National office.

THE LAST WORD
---
DON'T IGNORE

THESE WARNINGS

Spring/Summer 2018

When there's something wrong with your

car, you take steps to fix it. Your insurance

is no different. Don't wait! Make a service

call to Deeks to tune up your insurance so

we can help save you money.

CALL US TODAY FOR A

NO-OBLIGATION QUOTE

1-800-240-5283 | deeksinsurance.ca