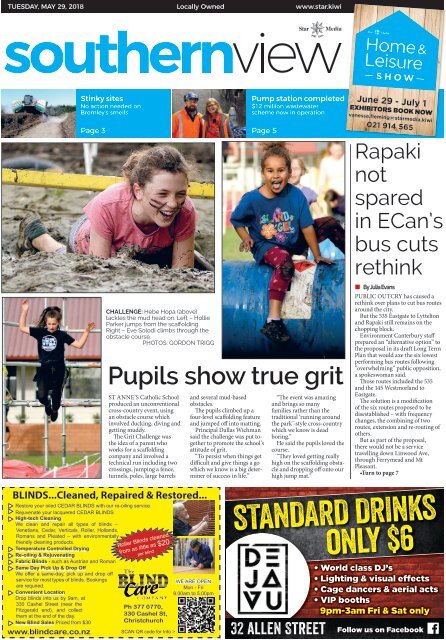 Southern View: May 29, 2018
Create successful ePaper yourself
Turn your PDF publications into a flip-book with our unique Google optimized e-Paper software.
TUESDAY, MAY 29, 2018

Locally Owned

www.star.kiwi

Stinky sites

No action needed on

Bromley's smells

Pump station completed

$12 million wastewater

scheme now in operation

June 29 - July 1

EXHIBITORS BOOK NOW

vanessa.fleming@starmedia.kiwi

Page 3 Page 5

CHALLENGE: Hebe Hopa (above)

tackles the mud head on. Left – Hollie

Parker jumps from the scaffolding.

Right – Eve Solodi climbs through the

obstacle course.

PHOTOS: GORDON TRIGG

Pupils show true grit

ST ANNE'S Catholic School

produced an unconventional

cross-country event, using

an obstacle course which

involved ducking, diving and

getting muddy.

The Grit Challenge was

the idea of a parent who

works for a scaffolding

company and involved a

technical run including two

crossings, jumping a fence,

tunnels, poles, large barrels

and several mud-based

obstacles.

The pupils climbed up a

four-level scaffolding feature

and jumped off into matting.

Principal Dallas Wichman

said the challenge was put together

to promote the school's

attitude of grit.

"To persist when things get

difficult and give things a go

which we know is a big determiner

of success in life."

"The event was amazing

and brings so many

families rather than the

traditional 'running around

the park'-style cross-country

which we know is dead

boring."

He said the pupils loved the

course.

"They loved getting really

high on the scaffolding obstacle

and dropping off onto our

high jump mat."

021 914 565

Rapaki

not

spared

in ECan's

bus cuts

rethink

• By Julia Evans

PUBLIC OUTCRY has caused a

rethink over plans to cut bus routes

around the city.

But the 535 Eastgate to Lyttelton

and Rapaki still remains on the

chopping block.

Environment Canterbury staff

prepared an "alternative option" to

the proposal in its draft Long Term

Plan that would axe the six lowest

performing bus routes following

"overwhelming" public opposition,

a spokeswoman said.

Those routes included the 535

and the 145 Westmorland to

Eastgate.

The solution is a modification

of the six routes proposed to be

disestablished – with frequency

changes, the combining of two

routes, extension and re-routing of

others.

But as part of the proposal,

there would not be a service

travelling down Linwood Ave,

through Ferrymead and Mt

Pleasant.

•Turn to page 7

BLINDS...Cleaned, Repaired & Restored...

Restore your oiled CEDAR BLINDS with our re-oiling service.

Rejuvenate your lacquered CEDAR BLINDS

High-tech Cleaning

We clean and repair all types of blinds –

Venetians, Cedar, Verticals, Roller, Hollands,

Romans and Pleated – with environmentally

friendly cleaning products.

Temperature Controlled Drying

Re-oiling & Rejuvenating

Fabric Blinds - such as Austrian and Roman

Same Day Pick Up & Drop Off

We offer a same-day, pick up and drop off

service for most types of blinds. Bookings

are required.

Convenient Location

Drop blinds into us by 9am, at

330 Cashel Street (near the

Fitzgerald end), and collect

them at the end of the day.

New Blind Sales Priced from $30

Roller Blinds cleaned

from as little as $20

per blind

Ph 377 0770,

330 Cashel St,

Christchurch

www.blindcare.co.nz SCAN QR code for Info >

WE ARE OPEN

Mon - Fri

8.00am to 5.00pm

STANDARD DRINKS

only $6

32 allen Street

• World class DJ's

• Lighting & visual effects

• Cage dancers & aerial acts

• VIP booths

9pm-3am Fri & Sat only

Follow us on Facebook
---
2

Latest Christchurch news at www.star.kiwi

Tuesday May 29 2018

SOUTHERN VIEW

from the editor's desk

Lizard home for Ferrymead

THE FOCUS is on men's health in June.

On page 8 today we have a list of

activities that promote good health for us

males.

Bonding sessions at the local isn't on the

list. (Bugger).

On a serious note, we men have to take care of our health.

I keep reasonably fit and rarely take a day off sick.

But a year ago I was struck down with pneumonia. It took

some convincing to get me to the doctor to see how bad the 'flu' I

thought I had was.

I was directed to go to the hospital. I told my other half I'd text

her in an hour or so to be picked up.

Four days later I was discharged.

– Barry Clarke

get in touch

GENERAL ENQUIRIES Ph 379 7100

CLASSIFIED ADVERTISING Ph 379 1100

The Christchurch Star Company Ltd

PO box 1467, Christchurch

starmedia.kiwi

NEWS

Sophie Cornish

Ph: 364 7437

sophie.cornish@starmedia.kiwi

ADVERTISING

Mark Sinclair

Ph: 364 7461

mark.sinclair@starmedia.kiwi

Sanctuary beside the Heathcote

Find out how biodiversity is being encouraged along the lower

Heathcote River.

Page 6

Home & Leisure Show

Win a $500 Resene gift

Get ready for the Home & Leisure Show on June 29 to July 1

at Horncastle Arena. Book online and be in to win.

Page 14

Linwood Avenue School art

Pupils work displayed in library

Check out these vibrant mixed media paintings at the

Linwood Library and see what the pupils have been

working on.

Page 15

The best-read local newspaper, delivered to

15,826 homes every Tuesday

Spreydon, Hoon Hay, Hillmorton, Cracroft, Cashmere,

St Martins, Somerfield, Sydenham, Addington, Waltham,

Opawa, Beckenham, Huntsbury, Woolston.

WWW .VI S I O N C O LLE G E.CO. N Z

Our Sydenham

family store has

relocated

LEARN

MODERN OFFICE

COMPUTER SKILLS

FREE 20 week course.

NZ Certificate in Business (Admin & Computing).

This course will cover Windows 10 and Microsoft Office

(Word, Excel and Publisher). Taught within a business context,

this programme will prepare you for the modern office.

Hours are flexible and can include night classes.

ENROL

NOW

PHONE US NOW ON:

0800 834 834

txt OFFICE to 027 557 8839

COLLEGE

50 Hazeldean Rd,

Addington, Christchurch

A division of ATC New Zealand. (Est 1984). NZQA Accredited.

Free Quotation

Free Installation

Free Aluminium Track

for Christchurch customers

CURTAINS | BLINDS | SHUTTERS | SHADES

ProFessional Custom made Curtains

25 Picton Avenue Riccarton, Christchurch

P 349 4888 E officinevoluptasnz@gmail.com

www.officinevoluptas.co.nz

Te Ope Whakaora

NOW OPEN

Cnr Carlyle & Gasson Sts

Pick ups call 332 8277

Best

Motorbuys

TM

ANYTHING WITH A MOTOR!

The South Island's leading motoring

publication FREE every Friday at

hundreds of locations around the

South Island, and it's available online!

www.bestmotorbuys.co.nz

For Advertising Enquiries,

Ph Lea Godfrey 021 277 3086
---
SOUTHERN VIEW Latest Christchurch news at www.star.kiwi

Tuesday May 29 2018 3

News

Bromley's stinky sites investigated

• By Bridget Rutherford

MORE THAN 60 sites in

Bromley have been investigated

for potentially causing a stink

– but none were warranted bad

enough for action.

Environment Canterbury and

the city council have carried out

an odour investigation project

in the suburb, which currently

gets the most

complaints in

Christchurch.

The project's

findings are

being analysed

and will be used

Ross Trotter

to help further

investigations

as odour complaints

continued.

City council solid waste manager

Ross Trotter said it

was created to help provide a

register of the industrial sites

in Bromley to assess "potential

odour risk".

Of the 270 sites surveyed, 60

were noted as being activities

or industries that could create

odour. Seventeen of those had

already been noted as being "at

risk."

"During the survey undertaken,

three sites' activities were

noted for further investigation to

Environment Canterbury," Mr

Trotter said.

"These activities were reviewed

by a senior resource management

officer and no pollution

event was raised, as he was

confident there was no further

concern."

Bromley has long had an

odour problem.

The city council-owned organics

processing plant Living Earth

on Metro Place, which deals

with the contents of green bins,

has been the source of most of

the complaints.

In 2016, a putrid stench

wafted over the suburb plaguing

residents and forcing Bromley

School to close for two days,

though the source was never

determined.

Christchurch West Melton

Banks Peninsula zone manager

Steve Firth said the investigation

meant they could determine

the "character" of the different

odours and how to deal with

them in the future.

Since January 1, Bromley has

had the highest number of odour

complaints in the city.

ECan stats show there had

SMELLY: Bromley

has long had an

odour problem,

with many of

the previous

complaints having

come from the

Living Earth plant. ​

been about 108 reports of odour,

and 58 odour events.

An odour event is when complaints

are received for the same

location during any 24-hour

period.

Fifty-one of the odour events

were from Metro Place, where

Living Earth is, three came from

Senior Place, two from Tanya St,

and one each from Wickham St

and Francella Place.

Mr Firth said of the 16 substantiated

odour events, many

were not deemed offensive, while

the source was unable to be

found at others.

HORNCASTLE ARENA

June 29 - July 1 10AM - 5PM

TICKETS ONLINE: starhomeshow.kiwi

In Brief

OPAWA LIBRARY DESIGN

The Ōpāwa Library rebuild

working group has meet to develop

the design brief for the library's

construction. The working group

is set to agree on the city council's

final design brief, which will be

included in the request design and

build contracts. The earthquakedamaged

building at 151 Opawa

Rd has been closed since 2011. The

library is operating out of interim

premises in the nearby Opawa

Children's Library building.

WALTHAM PARK SAFETY

City council staff have found

safety concerns at Waltham Park

need to be identified by a crime

prevention through environmental

design report, after a request

from the Linwood-Central-

Heathcote Community Board. The

report would suggest actions to

resolve the issues. To make a full

assessment of the concerns, a day

and night-time site visit would be

necessary.

FIGHTING CHANCE

Halswell and Wigram boxers

Nate Hastie, 10, Mykah Lamb, 15,

Marcus Pidduck, 13 and Clinton

Smither, 24, were granted $600

from the Halswell-Hornby-Riccarton

Community Board to complete

their registrations as fighters

at the Strikeforce boxing gym.

Lunch & Dinner

Take-away menu available

Brand new food

caravan on street

$10

Lunch

Specials

12-2pm

295 Selwyn St, Spreydon, Chch

Call for bookings Ph. 027 424 3632

Nuk Korako

National List MP based in

the Port Hills

Please feel free to contact my

office if there is anything I can

help you with.

A

E

P

6/950 Ferry Road, Ferrymead

nuk.korakomp@parliament.govt.nz

03 384 0008

/nukkorako.PortHills

korako.co.nz

Funded by the Parliamentary

Service and authorised by

Nuk Korako, 6/950 Ferry Road,

Ferrymead, Christchurch

FILL UP FOR

LESS WITH

YOUR GOLD

CARD.

15

*Terms and Conditions apply.

111-115 Milton Street

Phone 332-6056

as local as you are | www.challenge.net.nz

FOR

CHLORINE FREE

WATER

Call Aqua Filter today

on 0800 426 426

www.aquafilter.co.nz

Better Technology,

Better Water...
---
4

Latest Christchurch news at www.star.kiwi

Tuesday May 29 2018

SOUTHERN VIEW

raNGiora • Northwood • st martiNs • tower juNctioN • BishoPdaLe • raNGiora • Northwood

Northwood • st martiNs • tower juNctioN • BishoPdaLe • raNGiora • Northwood • st martiNs • tower juNctioN • BishoPdaLe •

WINTERSALE

MASSIVE DISCOUNTS ON ALREADY EVERYDAY LOW PRICES!

50 %

TUESDAY,

MAY 29 -

SUNDAY,

JUNE 3

50 %

off

KIDS' GAMES

off

GREETING CARDS

65 %

off

ART CANVAS

EXHIbITION, bLACK & STUDIO

*Does not apply to canvas panels and professional canvas.

EVERY SIZE

IMAGINAbLE!

"bEST RANGE IN NZ!"

*Applies to selected products.

Stock may vary from store-to-store.

30 %

HUGE

RANGE

ON SALE!

HALF

PRICE

ADULT GAMES

AND PUZZLES *

off

PAINTS & bRUSHES *

*Excludes medium products.

35 %

off

@papertreestores

bARGAIN

*Applies to selected products. Stock may vary from store-to-store.

*Applies to selected products. Stock may vary from store-to-store.

bOOKS

Follow us on Facebook:

@papertreestores

tower junction, off Clarence St, Riccarton | Bishopdale, 31 Bishopdale Court, Bishopdale | rangiora, 206 High Street, Rangiora

Northwood supa centre, Main North Road, Belfast | st martins shopping centre, Wilsons Road, St Martins

• st martiNs • tower juNctioN • BishoPdaLe • raNGiora • Northwood • st martiNs • tower juNctioN • BishoPdaLe • raNGiora
---
SOUTHERN VIEW Latest Christchurch news at www.star.kiwi

Tuesday May 29 2018 5

News

HORNCASTLE ARENA

June 29 - July 1 10AM - 5PM

TICKETS ONLINE: starhomeshow.kiwi

• By Anan Zaki

CONSTRUCTION OF Halswell

and Westmorland's new

wastewater scheme has been

completed.

Estimated to serve 14,000 residents,

the $12 million South East

Halswell Wastewater Scheme is

made up of 8km of new sewer

mains pipes, which had a diameter

of 450mm.

A new pump

station was

also built at 270

Sparks Rd, near

Hendersons Rd.

The sewer

pipes linked

pump stations

Kylie Hills

and would

allow for new

subdivision

connections, the city council

said.

Halswell Ward councillor

Anne Galloway said the

scheme was "totally positive" for

the area and praised workers for

delivering the project on time.

"Having it means pressure is

taken off ageing infrastructure

in other parts of the ward and

means we have infrastructure

that protects the environment

and up to the job," she said.

Haslwell was one of the fastest

growing areas in the city and the

Wastewater scheme completed

In Brief

CHALLENGE:

Councillor

Anne

Galloway with

Fulton Hogan

project

manager Jon

Ireland. ​

new wastewater scheme meant

the area was future-proofed for

growth, Cr Galloway said.

Council senior project manager

Kylie Hills said the scheme

had the capacity to service more

than 5000 new houses in the

area.

A new water supply main

through the Sutherlands Rd corridor

and Quarry View was also

part of the project.

The work came with a number

of challenges, he said.

"We had to deal with trenching

through swampy ground

during one of the wettest winters

on record, several significant

road closures, challenging

ground conditions and pressure

to finish work in the Nga

Puna Wai section to be ready for

the construction of the sports

hub."

Existing pump stations in the

area were also upgraded as part

of the project.

The scheme has the capacity to

carry more than 11 million litres

of wastewater per day.

MOVE FOR SCHOOL

Language school Pasifika

Education & Employment

Training Organisation has

shifted from its Riccarton base

to Addington following an

ownership change. PEETO was

based at the Riccarton Baptist

Church for the past seven years.

The new owners, HJ Education

Group, will run PEETO classes

from 20 Twigger St.

CLUB GETS BOOST

Riccarton Leagues Club's hopes

of building two new changing

rooms have been boosted. City

council staff recommended the

Halswell-Hornby-Riccarton

Community Board give the club

$10,000 towards its building

cost. Building the changing

rooms was expected to cost

$245,000. The decision will be

made at the next community

board meeting on May 29.

PARKING RESTRICTIONS

Parking restrictions have been

recommended in Freyberg

Ave in Riccarton. City council

staff recommended that the

cul-de-sac off Deans Ave, would

have a parking limit of 120min

on weekdays 9am to 5pm. The

restrictions would apply to 20m

on each side of the street at the

Deans Ave end.

Something

special just

for you!

Visit Smith and Boston!

SMITH & BOSTON

Prebbleton Village | Christchurch

Ph: 03 349 5646

www.smithandboston.co.nz

Commissioned by
---
6 Tuesday May 29 2018

Latest Christchurch news at www.star.kiwi

News

Scarborough Dippers not afraid of the cold

• By Sarla Donovan

THE STARS are still visible

above Pegasus Bay when Kerry

Newton dips her toes into the

waves lapping at Scarborough's

steps.

It's just after 7am on a Friday

morning, and there's an autumn

chill in the air.

Eight others have joined her

this morning, including firsttimer

Robin Dawson who has

driven over from Lyttelton.

The group down Coffee

Culture takeaways before

shedding their puffer jackets and

wading out gingerly, chatting

amongst themselves.

There's no squealing or

shouting as one by one they

disappear under the 12 deg

C water, some freestyling off

towards the tangerine horizon.

In 10min they're all back,

climbing up the stairs to dry off

and carry on with their day.

"It's bracing," grins Robin, who

has a few triathlons under his

belt.

And though the weather isn't

always so kind, most of the

group will be back next Friday.

They're hard core.

The Scarborough Dippers

started last July when Kerry, an

accountant, decided instead of

'Dry July' she'd do 'Wet July.'

She and a small group of

friends pledged to swim every

morning for the entire month.

They raised about $1200 for

marine protection charity

Project Jonah.

"I myself said I'd donate $10

STUDY @ SIT

CHRISTCHURCH

Lizard sanctuary for lower Heathcote River

LIZARDS SHOULD feel right at

home in a new sanctuary within

Ferrymead Park.

To encourage biodiversity

in a river zone, the Heathcote-

Opawaho Lizard Sanctuary is

being developed alongside the

lower Heathcote River.

WELCOME: McCanns

skinks are being set up with

a new home for lizards in

Ferrymead.

for every day I went in but as

a punishment it would be $50

if I missed a day; that was my

encouragement not to miss. So

I donated $310 because I went

every day."

About four of them managed

to do it and they've continued to

swim together since, though on

a weekly rather than a daily

basis.

"Once we finished, we got

addicted," Kerry says. "We

thought, we've got to continue.

So we decided to do it once a

week on Friday. Once July comes

ENROL NOW FOR SEMESTER TWO

ª Vocational Pathways Construction and Infrastructure - Construction

(Level 2) - Starting 11 June 2018

ª New Zealand Certificate in Electrical Engineering Theory

(Level 3) - Starting 11 July 2018

ª New Zealand Certificate in Construction Trade Skills - Carpentry

(Level 3) - Starting 22 August 2018

Call today or email sit@sit.ac.nz

North Canterbury Forest &

Bird and the city council parks

unit have signed a memorandum

of understanding enabling the

development.

City council parks ranger

Pieter Borcherds said the new

agreement builds on a successful

relationship with the adjacent

Calder Green Reserve.

"It also signals a strong commitment

to working in an important

estuarine ecosystem."

again we'll do it every day."

Others have joined and there's

now a Facebook group with

about 30 members.

Cathe Grater was one of

the original 'Wet July' four

and says the experience was

transformational.

"That month is life changing.

You get out there, it's completely

quiet other than us and we just

laugh. You could be in the worst

mood, but whatever is going

on in your life you walk out

there and it just changes your

perspective."

It is hoped that the specially

designed habitat will encourage

more lizards to settle next

to the riverside walkway from

Ferrymead Heritage Park to the

Tunnel Rd bridge in Woolston.

The planned low-growing

plants and rock piles will add to

the local biodiversity by providing

both food sources and shelter

from predators.

Work on the sanctuary got

under way on Sunday with a

"It is cold. But other than a few

crab bites it's mainly just such a

mental discipline and challenge.

We keep it sort of meditative

because you have to adjust;

without going above the kidney

line you just walk out and hang

out there as long as you can

until we go under. We're in togs

not wetsuits and if it's winter

and you get under that nine

degrees it can be quite dangerous

if you get chilled in the back.

We've tried double dipping in

winter but it gives you an ice

headache."

SOUTHERN VIEW

community planting day.

The project will feature signage

that encourages planting of

trees and scrubs which enhance

the habitat for native birds and

lizards.

Calder Green Reserve manager

Mick Ingram said the sanctuary

targets the protection and

enhancement of indigenous

flora and fauna through ongoing

"restoration planting" by the

river.

CHILLED: The

Scarborough

Dippers at

their early

morning

ocean swim.

The water

temperature

was 12 deg C.

From left to

right – Wayne

Simmons, Sue

Elliot, Sandra

Taylor, Bee

Rueder, Cathe

Grater, Robin

Dawson,

Kathrin

Mueller, David

Bennett and

Kerry Newton

PHOTO:

MARTIN

HUNTER ​

"The warmer months are

nothing, you get out there, have

a laugh but in winter it takes

discipline to get out of bed

especially when it's raining. But

you do it – and nothing else

matters. It's beautiful, it's always

different. Usually in winter

there's no waves, everything

is still and you see all kinds of

things. We have George our

dolphin and we have a seal that

come and visits."

"You've got to go and do it to

understand. It's life-changing,

it's amazing."

0800 TO STUDY

www.sit.ac.nz
---
SOUTHERN VIEW Latest Christchurch news at www.star.kiwi

Tuesday May 29 2018 7

Stepping stone in Quarryman's Trail

THE FIRST stage of a cycle

route that will eventually

connect Halswell and the central

city is nearing completion with

the last few intersections and

crossings opening soon.

Construction work started

on the Quarryman Trail cycleway

last October. The first

4.6km stage of the route, from

Moorhouse Ave to Victors Rd,

is expected to be finished by

the end of June. In the next few

weeks, traffic signals will be

turned on at two new intersections

and two new controlled

crossings for cyclists and pedestrians.

A pedestrian and cyclist crossing

from Rydal St to Sparks Rd

near Hoon Hay School became

operational last week. Signals at

the Lyttelton St and Sparks Rd

intersection will be open from

May 28 and traffic lights will go

on at Sparks Rd and Hoon Hay

Rd from June 5.

Another pedestrian and cyclist

crossing has been built at the

intersection of Barrington St

and Strauss St and this will open

in June, once the new shared

path connecting Roker St and

Barrington St is finished.

The contractors, Isaac Construction

Ltd, have completed

the intersection upgrades using

'deep lift asphalt'. This is a

CHRISTCHURCH South

Toy Library is taking part in a

national toy library awareness

week.

Toy Library Awareness week

runs until Sunday.

There are nearly 200 local toy

libraries across New Zealand

supporting families and children

by providing access to a wide

range of toys, games, and

puzzles for hire.

For many families, hiring

toys gives their children access

to items that are not easily

affordable to buy, and allows

children to come to a library

and explore all the different toys

relatively new technique where

the asphalt is a thicker layer

than usual and allowed faster

construction. It is also stronger

and more long-lasting, reducing

future maintenance, the city

council said.

Contractor Fulton Hogan

has worked on the section of

the Quarryman's Trail between

Moorhouse Ave and Roker

St which is already open, and

includes two new and three

upgraded intersections.

The final stage of the cycleway,

from Victors Rd to Te Hapua in

on offer. Christchurch South

Toy Library recently relocated

from Spreydon School to a new,

temporary home at Addington

Raceway.

Open two mornings a week –

Friday and Saturday – there is

a large area with many toys for

members to peruse.

Members say they like the

new space and the way the toys

are displayed. Children can

explore the toys and try them

out in a safe and welcoming

environment.

It is proven that play is an

essential component of child

development and many schools

Halswell, will be constructed at

a later date subject to funding

availability.

The city council's planning

and delivery transport manager

Lynette Ellis, says the new intersections

will benefit motorists

as well as improving safety for

pedestrians and cyclists.

"They will help ease congestion,

particularly at peak times

at the busy intersections of

Lyttelton St and Sparks Rd and

at Hoon Hay Rd and Sparks Rd

which were previously roundabouts

and now have signals. The

are incorporating play as a

tool to support learning in the

classroom.

The library has dress up

and role playing toys such as

doctor's kits, play kitchens and

cash registers, all of which are

considered good for the brain.

Studies say that the act of

staying in character strengthens

kids' discipline and impulsecontrol,

and promotes the social

skills they'll need as adults.

Hiring from a toy library is

also a great way to care for the

environment.

It is estimated that more than

25 per cent of toys thrown away

NEARLY

FINISHED:

Cycle lanes

being

constructed

at the Sparks

Rd and

Lyttelton St

intersection. ​

zebra crossing outside Hoon

Hay School has been replaced

with pedestrian signals which

will make it much safer for

children."

Long term, the cycle route will

provide a safe way for people to

commute between Halswell and

the central city, she says.

The Quarryman's Trail is part

of a network of Major Cycle

Routes, being built across the

city by the city council to link

shopping centres, businesses,

schools, parks and popular recreation

destinations.

Toy library celebrates at Addington base

each year go straight into the

rubbish bin.

The library is open Friday,

9.30-noon, and Saturday, 9-

11.30am, at the Twiggers Stand

at Addington Raceway.

Visit the Facebook page

at www.facebook.com/

ChristchurchSouthToyLibrary

or www.southtoys.co.nz for

parking details and more

information about memberships.

Or call librarian Karen on 027

714 1335 for more information.

•Mention you've seen

this article and get a $5 toy

credit.

HORNCASTLE ARENA

June 29 - July 1 10AM - 5PM

TICKETS ONLINE: starhomeshow.kiwi

Outcry forces

ECan bus

route rethink

•From page 1

The Rapaki section of the route

will be serviced three times in the

morning and three times in the

evening by an extended version of

the 28 Lyttelton bus.

During a deliberation meeting

on Wednesday, councillor Cynthia

Roberts said she wanted staff to

re-look at dropping the 535.

"I really would like staff to have

a look again at the opportunity

for the 535 that went through Ferrymead.

. .There is quite a substantial

group of people who are

interested in this route," she said.

Councillors have asked for staff

to further consider the best solution

for the 535.

The 145 route from Westmorland

to Barrington Mall will be retained

and extended into the CBD.

The service will have a half-hourly

frequency during peak times and

less frequent services off-peak.

The section of the 145 between St

Martins and Eastgate will still be

discontinued.

However, ECan public transport

senior manager Stewart Gibbon

said a school service is being considered

for Cashmere High school

students who use the 145.

ECan announced in February it

was considering cutting the routes

to plug a $4 million funding shortfall.

The news prompted outrage.

The plan would be funded by

a 2.5 per cent increase in fares

annually for the next three years,

starting in July."

There were 781 submissions on

the draft LTP, with the majority of

those on public transport options.

Mr Gibbon said if approved, the

changes would come into effect in

October.

The decision now lies in the

hands of councillors who will approve

the final LTP in June.

Bus patronage has not fully recovered

following the February 22,

2011, earthquake.

•HAVE YOUR SAY: Are

you happy with ECan's

compromise? Will you still be

affected? Send your views to

julia.evans@starmedia.kiwi

BRIGGS

AUTO SERVICE

LET US

SERVICE yOUR

VEhICLE And

REdUCE yOUR

RUnnInG

COSTS

your local trusted automotive

service and repair specialists

332-0140 | 242 Barrington Street

Kerry Briggs | Blair Shewan

Meet Ruth

at the Te Hapua ¯ Halswell Centre Café

2-3pm Friday 8 June

Phone 09 376 4512

porthills.mp@parliament.govt.nz

Tree Lined Street - Your New Address?

16 Wilding Street, St Martins | Listing Number: BE193030

3 1 1 1

Auction 31 May 2018 Unless Sold Prior

This classic weatherboard home is located in the heart of leafy St Martins along

a tree-lined street where your environment will mark the changes of season

with colour and charm. Sitting on a generous 650sq m section the modest

1940's bungalow is well maintained with fresh exterior paint in modern neutral

tones. Inside, open plan living and dining opens into a galley style kitchen with a

centrally located wood burner easily warming the whole area. A separate laundry

room is adjacent to the kitchen and opens directly outdoors. There are three

bedrooms and a bathroom with full sized bath and shower above. Light interior

décor and plenty of sun give a fresh feel to the rooms. There is a single garage

with good off street parking options and additional shed and/or workshop space.

The sizeable section is well fenced with a vege patch and plenty of established

trees and shrubs. Those with a passion for home improvement will see some easy

opportunities here to add value in this popular and sought after area. In zone

for Cashmere High School and St Martins primary and in a lovely peaceful spot,

investment here is likely to keep everyone smiling - even the bank manager.

Your agent, Your home, Your future

LICENSED SALES CONSULTANT REAA 2008

P 027 777 0411
---
8 Tuesday May 29 2018

Latest Christchurch news at www.star.kiwi

News

SOUTHERN VIEW

HORNCASTLE ARENA

June 29 - July 1 10AM - 5PM

TICKETS ONLINE: starhomeshow.kiwi

Encouraging men to get healthy

• By Anan Zaki

THE LENS will be focused on

Christchurch men next month,

as Men's Health Month kicks

off.

Sport Canterbury have teamed

up with generous local activity

providers to create a month of

free activities for over-60s to

celebrate the month.

"Men's Health Month is a

chance for men across New

Zealand to start talking more

about their health," Sport

Canterbury chief executive

Julyan Falloon said.

"What we're trying to do is

raise that awareness and translate

that awareness into behaviour

change," he said.

Sport Canterbury's Community

Groups Strength and Balance

project leader Rebecca Logan said

men have usually been shy to join

group activities.

"Often guys think group

exercises are for women, but

these classes have benefits for

everyone."

Miss Logan encouraged men

to make the most of the month of

activities.

"Come and give it a go

and if you enjoy it, buddy up

with another participant to

become a regular class attendee.

Group exercise offers many

benefits to men, including

improving your strength and

balance, which will enable you

live stronger for longer and keep

your independence."

ACTIVE: Sport Canterbury

chief executive Julyan Falloon

and Community Groups

Strength and Balance project

leader Rebecca Logan are

encouraging men to think

about health.

Free Classes for over-60s

Qigong Class

June 5

Qigong is a peaceful

flowing movement practise,

which could be described

as a mixture between Tai

Chi and Yoga. This exercise

enhances body, mind and

spirit. Socialise with free

refreshments after class.

6.30pm-8.30pm, 19

Templetons Rd, Aidanfield.

To register

email sandyjsky@gmail.

com or phone 260 1256

YMCA Lifefit Circuit Class

June 11

This circuit class involves

intervals with weights and

cardio stations to enhance

strength and stamina. It

is suitable for all fitness

levels. Go and give it a

go. Socialise with free

refreshments after class.

11am-noon, YMCA

13a Bishopdale Court,

Bishopdale. To register

email paul@ymcachch.org.

nz or phone 359 8320

Outdoor Circuit Class

June 12

Small group personal

training in the great

outdoors. This class is

focused on fitness, fun

and friendship. Socialise

with free refreshments

after class. 11am-noon,

Centennial Park. Lyttelton

St, Somerfield. To register

email manuela@myfitlife.

co.nz or phone 021 865

882

Seniors Circuit

June 15

Gentle exercises for senior

citizens. Increase your

mobility and strength while

socialising with others.

10am-11am, Physical Sense

Gym and Physio. 300

Colombo St, Sydenham.

No need to register for this

class.

Please register by

phone or email, as

there are limited places

available. Although the

classes are all suitable for

beginners, participants

need to be medically

fit to exercise – if they

are uncertain, it is

recommended that they

check with their GP.

exHibitors

book now

limited spaces available!

Don't miss your opportunity to showcase your

business in front of 10,000+ qualified attendees

Vanessa.fleming@starmedia.kiwi

021 914 565

Horncastle arena June 29 - July 1 10AM - 5PM

Inspiration | Trends | Technology | Innovation | Show Specials
---
SOUTHERN VIEW Latest Christchurch news at www.star.kiwi

Tuesday May 29 2018 9

huge flooring

clearance

NYLON

Ruby Bay

• 75oz solution dyed

nylon

• Extra heavy duty

• Cut pile

• Slightly imperfect

• Colour Riverton

$109 90

NYLON

Riviera

• 26oz solution dyed

nylon

• Extra heavy duty

• Cut pile

• 5 colours

$79 90

WOOL

Impressionist

• Wool blend

• Extra heavy duty

• Cut pile

• Slightly imperfect

$69 90

NYLON

Columbia

• 36oz solution dyed

nylon

• Extra heavy duty

• Cut pile

• 12 colours

$99 90

WOOL

Sierra

• Pure wool

• Extra heavy duty

• Loop pile

• 2 colours

$59 90

NYLON

Windsor Twist

• 36oz solution dyed

nylon

• Extra heavy duty

• Cut pile

• Slightly imperfect

• Colour Paua

$79 90

Garage Carpet

6m by 6m garage fully

installed for $900

Some conditions apply

$900

vINYL

2m wide vinyl

• Selected patterns

hALF

pRICE!

$25 00

NOW

pER M

312 Wilsons Road North, Waltham Phone 366 0070

www.carpetkingdom.co.nz | Mon - Fri 8am - 5pm | Sat 10am -1pm

Q Card Finance Now Available

FREE no obligation measure & quote (conditions apply.)
---
10 Tuesday May 29 2018

Latest Christchurch news at www.star.kiwi

SOUTHERN VIEW

YOU CAN AFFORD

TO BE DIFFERENT.

From an estimated weekly payment of $35 * , you can escape the city in

a new MINI Countryman – with three years of scheduled servicing, a

warranty plan and roadside assistance. All for the price of your weekend

brunch.

Available in ALL4 all-wheel drive with increased cargo and passenger

space, and ruggedly handsome design the biggest

MINI yet is ready when you are.

Start your adventure. Book a test drive today at

Christchurch MINI Garage.

*Estimated Weekly Payment means the estimate of the weekly cost to you for budgeting

purposes of the monthly payments required for this monthly finance product. Offer based on

a MINI Countryman Cooper with a RRP of $45,750 plus on road costs, on a loan agreement,

an initial customer deposit of $10,980, 2 x annual structured payments of $10,980 due

in month 12 and 24, a final payment of $10,980 in month 36 and a total of 33 monthly

payments of $149.70.

Finance calculation based on a 36 month term with a fixed interest rate of 1.99%. Total

amount payable is $48,860.10 which includes an establishment fee of $175, a PPSR of

$10.35, a dealer origination fee of $200.

CHRISTCHURCH MINI GARAGE.

30 Manchester Street, Christchurch. 03 363 7240

CHCHMINI.CO.NZ

THE MINI COUNTRYMAN.

MIN0327

MINI Financial Services terms, conditions, and standard lending criteria apply. Offer

expires 31 July 2018 or while stocks last. New MINI's come with MINI's 3 Year Scheduled

Servicing Warranty Plan and Roadside Assistance. Model shown with optional extras. For

full car specifications see www.MINI.co.nz.

386 Moorhouse Avenue, Christchurch.

Sales, Service, Parts & Finance: 03 379 0588

For the first time striking design,

seamless connectivity, intuitive driving

and exceptional safety have come

together perfectly in a bold new SUV

To explore the many features and

experience it for yourself at

Christchurch Mitsubishi on

03 379 0588 to book a test drive.

*Price listed is for Eclipse Cross 2WD XLS. Eclipse Cross 2WD VRX pictured. Brilliant Red colour pictured available for an additional $500.

Price excludes On Road Costs - which includes WoF, Registration and a full tank of fuel. See www.mmnz.co.nz for Diamond Advantage terms and conditions.
---
SOUTHERN VIEW Latest Christchurch news at www.star.kiwi

Tuesday May 29 2018 11

National schools team call-up for Zoe

SPORTS

• By Jacob Page

ZOE MCMEEKEN is making the

right impression in her Halswell

14 premier boys football team,

with both national selectors and

the Mainland Pride taking notice.

Zoe has been named in the

under-15 secondary schools team

to travel to Sydney from July 8-14.

The team will play three games

against New South Wales age

group teams.

She is also part of the Mainland

Pride wider-training squad.

The 14-year-old winger has

been outflanking the boys for the

past three years and said playing

against them had only positive

effects on her game.

"I really enjoy it because they're

a lot more physical when they go

in to challenge you and I think it

forces me to match it and protect

the ball more," she said.

The Lincoln High School student

first started playing at age five

in a Rolleston 'first kicks' event.

A talented runner and crosscountry

athlete, it wasn't until year

9 when football became her focus.

"I did enjoy running and crosscountry

and it's helped me in my

position in football, but I enjoyed

the team aspect of football more

than being an individual in running,"

she said.

Zoe said she has aspirations to

become a Football Fern in the

future but she wanted to make the

most of every opportunity given

to her,

She said training alongside

players she looks up to and who

are twice her age has been a great

experience.

"I'm realistic that I don't expect

to make the Pride squad this year

since I'm so young but I know the

trainings are making me a better

player," she said.

As for the boys, they know what

to expect "I've been playing for

Halswell long enough that I think

they are used to me by now," she

said.

IMPACT: Zoe McMeeken (right) looks to have a bright future in the sport after making the New

Zealand under-15 football team and the Mainland Pride wider-training squad.

Cashmere Club to host

Addington gym boxer's

Golden Gloves' challenge

POWER PUNCH: Sophie Mullally, with assistant coach Matt

Neale, is eager to make her presence felt at the South Island

Golden Gloves on Saturday.

• By Jacob Page

A SHOULDER injury three

years ago got Addington boxer

Sophie Mullally fixated on the

sport

Sophie has been training with

former national coach Phil Shatford

at Addington's Riverside

Boxing Gym, and on Saturday

she is set to compete at the South

Island Golden Gloves at the

Cashmere Club.

Sophie said she has always

enjoyed physical sports so boxing

was a natural fit.

"I had a shoulder injury from a

game of rugby and (my dad) said

I should come to the gym and do

some boxing to try to rehab it,"

the former rugby flanker said.

"The shoulder got better the

more I trained with Phil and

then one day he asked if I wanted

to have an actual fight and I

thought I'd give it a go," she said.

Sophie now has a six win, one

loss record in the under-54kg

class and has given up rugby.

"Boxing is my focus now and

I play a bit of touch rugby for

speed and fitness," she said.

She said accepting you are

going to be hit in the face from

time-to-time was all part of the

sport.

"When it first happens, you

want to punch them back but, of

course, there's the technique and

strategy you need to think about

during a round."

The Templeton resident said

one of the biggest challenges was

finding girls in her weight-class

and age.

"I'm hopeful of a bout at South

Islands, even if I have to box

someone older or in a different

weight class – it's all experience,"

she said.

Sophie's aim is to win a national

title at the New Zealand

Golden Gloves event on October

3 at the Hornby Working Men's

Club.

www.trainme.org.nz

Gain NCEA Credits

with the Ultimate

career taster

FREE

*

Enrolling NOW!

FOR JULY START

*Some conditions apply

Txt 'Ultimate' to 027 557 8839

to find out more

or phone 0800 872 466

50 Hazeldean Road

Addington, Christchurch
---
12 Tuesday May 29 2018

Latest Christchurch news at www.star.kiwi

SOUTHERN VIEW

26th August 2018

10am – 3pm

Air Force Museum, Wigram

Tickets available on door

For exhibiting

enquiries contact

Mark Sinclair:

mark.sinclair@

starmedia.kiwi

BRIDALSHOW
---
2

SOUTHERN

[Edition

VIEW

datE]

Latest Christchurch news at www.star.kiwi

Tuesday May 29 2018 13

HEALTH & BEAUTY

Linwood Medical

Centre offering

new Sick Kids Clinic

With winter around the corner, cold

and flu season is now upon us. As a result,

general practices tend to be busier and

it can often be more difficult to get an

appointment.

Linwood Medical Centre is trying to

change that.

Beginning 5 June, the medical centre

will be providing a Sick Kids Clinic to

streamline visits for children with acute

health needs. At the end of each morning

and afternoon, appointments will be

available for children under 14. These

appointments will be with a nurse who

will be able to provide letters for schools

and advice to parents to help get their

child well.

General Practitioners (GPs) will be

available to see the child if the nurse

has additional concerns or believes a

prescription is needed.

Parents will need to call the medical

centre to schedule an appointment for

their child. Enrolled patients will have

priority and the visits will be free as

always to children under 13. If a nonenrolled

child needs to be seen, the cost

will be just $20.

The clinics will streamline appointments

for sick kids and provide the best service

possible for as many children as need to

be seen.

Linwood Medical Centre is located

upstairs in Eastgate Shopping Centre next

to The Loft and the Linwood Library. The

Centre provides extended hours general

practice, with it's own social worker, and

specialised nurse services like B4 School

Checks, diabetes education, and smear

clinics. Linwood Dispensary, Physio

South and Bubs4u Midwifery Care Nurse

Maude district nursing, and CDHB Older

Persons health are also located inside the

Centre.

Next door, The Loft

www.theloftchristchurch.org.nz provides

numerous social services.

For additional information on

Linwood Medical Centre, visit

www.linwoodmc.co.nz or call to make

an appointment 03 389 2550.

The flu season is upon

us and Linwood Medical

Centre is here to help!

New eNrolmeNts welcome

Level 1, 20 Buckleys Rd, Linwood

(located inside Eastgate Shopping Centre)

P 03 389 2550 W linwoodmc.co.nz

Mon to Thurs 8am-8pm,

Fri 8am-5pm and Sat 10am-4pm

"Where Every Smile Matters"

Experienced team provides caring and

gentle dentistry for the whole family

Dental Hygienist Available

Sedation dentistry

Wedding packages

Winz quotes

ZOOM whitening

treatment

ACC accredited

Dental Health Counselling

Free treatment for

adolescents (13-18 years)

Free treatment of

children (0-13) with a

school dentist referral

PH 332 6399

We've moved!

Now based at

104 Colombo Street,

Beckenham

www.smileconcepts.co.nz

style

noun

elegance and sophistication.

synonyms: flair, grace, poise,

polish, suaveness, urbanity, chic,

finesse, taste, class, comfort,

luxury, affluence, wealth,

opulence, lavishness.

Letterbox Advertising

Flyers and Newspaper Inserts

DESIGN

We offer professional

design services.

PRINT

We print your gloss

mailers and letterbox

flyers.

Delivery

Canterbury wide

coverage or targeted

zone deliveries.

FREE QUOTES

Contact: Michaela Malloch

P: (03) 379 7100 or 021 932 177

E: michaela.malloch@starmedia.kiwi

MAGAZINE

STYLE.KIWI
---
14 Tuesday May 29 2018

Latest Christchurch news at www.star.kiwi

Get your tickets

online and be

in to win a

$500 Resene

gift voucher

SOUTHERN VIEW

Earlybird

tickets available

online now

$6 or 2 for $10

Children under

12 FREE

JUNE 29 – JULY 1 2018

Horncastle Arena

BOOK NOW: www.starhomeshow.kiwi

Friday, Saturday, Sunday, 10am-5pm
---
SOUTHERN VIEW Latest Christchurch news at www.star.kiwi

Tuesday May 29 2018 15

Email gilbert.wealleans@starmedia.kiwi

by 5pm each Wednesday

Music Workshop

Wednesday, noon-3pm

Head along to a song-crafting

workshop at Avebury House.

For more information and

bookings, call Andy on 027 387

4094.

Avebury House, 9 Evelyn

Couzins Ave, Richmond

Creative Writing

Wednesday, 4-5.45pm

A group leader works with

members to craft, create and

develop their own work. Bring

with you some pens or pencils

(even a laptop), paper, and any

of your wonderful ideas, storytelling,

or art. Talk to any of the

friendly Linwood Library team

for more information. Suitable

for adults and teens. No charge.

Linwood Library, Eastgate

Shopping Centre

Knit 'n' Yarn

Wednesday, 10.30-1pm

Go along to Linwood Library

for a friendly Craft Corner

session. Take your knitting,

crochet or other portable craft

project and enjoy time with

other crafters. Have a look at

the range of books to get ideas

for your next project. Free,

beginners welcome.

Linwood Library, Eastgate

Shopping Centre

Mid-Week Laughter Club

Wednesday, 6-7pm

Focus on getting over stress

and release endorphins to help

you relax. There is no comedy,

stand-up or jokes at this session.

Instead, you are encouraged to

make yourself laugh at nothing

at all for the purpose of relaxing.

Entry is $2.

St Marks Methodist Church,

corner of Barrington and

Somerfield Sts

Storytimes – Tala mo

tamaiti

Thursday, 10-10.30am

Join us to celebrate Samoan

Language Week with stories,

songs, rhymes and fun. O

mai uma tamaiti ma matua ia

tatou fiafia fa'atasi e faitau ma

fa'alogologo i tala i lenei Vaiaso

o Gagana Samoa. This is a free

session.

Linwood Library, Eastgate

Shopping Centre

Rummikub Club

Thursday, 10am-noon

Join in a game of rummikub,

a tile-based game for two to

four players, which combines

elements of the card game

rummy and mahjong. There is

no charge to play.

Linwood Library, Eastgate

Shopping Centre

Check out the artwork from Linwood Avenue School's room 14 pupils on display at the

Linwood Library. Titled 'Spider Art', these vibrant, mixed media paintings enable everyone

the opportunity to come and see the work being done at the school. Suitable for all ages.

Wednesday, 9am-6pm.

South Library Book

Discussion Group

Thursday, 6-7pm

For those who love reading

and want to share in discussion

with other friendly book lovers.

The group subscribes to the Book

Discussion Scheme so there

is a cost involved. Held on the

last Thursday of each month at

6pm Places are limited so please

phone or email to inquire about

availability and cost.

South Library, 66 Colombo St

Beyond Beginner iPads

Friday, 9-10.30am

Part of a six-week course on

Fridays, finishing on June 15.

Expand your iPad knowledge

by focussing on a different topic

each week. Explore working

and playing on the iPad, music,

books, movies and social

networking. Bookings are

essential as places are limited.

The cost is $15.

South Library, 66 Colombo St

Scrabble @ Linwood Library

Friday, 10.30-noon

Come along to the Scrabble

Club every Friday. No obligation,

just come along when you can

and join the friendly group. All

materials are supplied. No fee.

Linwood Library, Eastgate

Shopping Centre

Spreydon Social Games Club

now bigger than ever

Saturday, 10am-noon

Join a friendly game or two of

upwords, scrabble, cards, chess,

mahjong and more.

Spreydon Library, 266

Barrington St

Opawa Farmers' Market

Sunday, 9am-noon

Go along to the farmers'

market for organic and delicious

produce from local growers.

Enjoy sipping on a coffee while

wandering around the market

and checking out the food on

offer. From artisan bread and

French pastries to fresh berries

and local cheeses, there will be

something for everyone.

275 Fifield Tce, Opawa

growing with you

SprIng Is here –

It'S Sow Time

how to get the best results from

seeds and seedlings

100% NatIve In

The capItal

Unravelling the secrets of

Otari-wilton Bush

The New Zealand

landscape awards

The people behind

the projects

$7.90 incl. GST

Save our roSeS

How a rose register is protecting our heritage

September 2016 | 100%

It's time

to grow!

New look and more

content than ever!

MeeT LeSTer Brice

A Garden coach

auckland Botanic GardenS

Why we love our public grounds

The magazine for

gardeners who like to get

their hands dirty

SubScribe from

$43. 50*

*6 issues/6 months

ISSN 2423-0219

SUBSCRIPTIONS FREEPHONE

0800 77 77 10

www.gaRdeNER.kiwI
---
16 Tuesday May 29 2018

Latest Christchurch news at www.star.kiwi

SOUTHERN VIEW

#GetBetterResults

The Press audited circulation

46,252 *

VS

audited circulation

149,948 *

Mass Circulation | Mass Readers | Massive results

Advertise with Star Media and let us help you grow your customers, sales and profits.

We home deliver into over 100,000 more homes than The Press. In fact we reach more people with

just one ad than any other Christchurch media channel. Get the Star Media advantage working for

your business today. For a professional, no obligation free consultancy for your business, call us now.

Contact Shane today: 03 379 7100 shane@starmedia.kiwi

www.starmedia.kiwi

*ABC circulation report The Star, Bay Harbour News,

Selwyn Times and North Canterbury News vs Press. ANP
---
SOUTHERN VIEW Latest Christchurch news at www.star.kiwi

Tuesday May 29 2018 17

REAL ESTATE

Build a beautiful life

314 Highsted Road, Casebrook

Auction: Thursday 21st June, 2018 (unless sold prior)

Listing #PI53337

This piece of land offers the opportunity

to build your dream home within easy reach

of city amenities - without compromising

on space. Situated away from the road

for the ultimate in peace and privacy, the

2000sqm freehold section means room to

design the lifestyle you've always wanted,

both indoors and out.

Situated just moments from leafy

walking trails at Styx Mill Conservation

Reserve, with schools, supermarkets,

shops and cafés within five minutes' drive,

you'll be surprised at the convenience

of this location. With many high-calibre

homes within close proximity, plus new

developments in the area, the growing

popularity of this neighbourhood will

ensure the enduring value of your property.

Plus, you'll be able to enjoy all the planned

new amenities nearby, such as childcare

facility, café and retail, while enjoying a

section of generous proportions.

This is your chance to build a beautiful

new life in a location that has is all.

Possibilities like this are all too rare,

so to find out more contact 352 6166 or

Cameron Bailey on mobile 0275 557

079 or Brendan Hart on 027 5106 525 of

Harcourts Gold Papanui (Licensed Agent

REAA 2008) today and register your

interest.
---
18 Tuesday May 29 2018

Latest Christchurch news at www.star.kiwi

Bicycles

CYCLING

COMPANION wanted.

Ph / txt 021 02879 855

Computers

ALL

YOUR

COMPUTER WORRIES

SOLVED! *$30.00 off

your first service with this

coupon!* No problem too

big or small from home

PC's to business networks.

PC slow? An end to Viruses,

Spyware, and Clogged

Systems. Safe secure

hassle-free computing. Lost

files recovered. Microsoft

Certified, MCSE, MCP+l.

30 years experience.

Call Andrew Buxton this

week on 326-6740 or

027 435-7596 for $30.00

off* Custom Computers

Christchurch.

Curtains

www.curtainfabric-outlet.com

Fashion Designs & Colours

Discontinued Designs

End of Lines Bargain Prices

Call at Our Shop

CURTAIN FABRIC OUTLET

71 Hawdon St Sydenham

Ph 366-5026

Holiday

Accommodation

Australia QLD

SUNSHINE

COAST

RESORT

ALEXANDRA HEADLAND

All Units Have Ocean Views.

Heated Pools, Spa & Sauna,

Free Wifi, Tennis

& Mini Golf.

CHECK OUR GREAT

WINTER SPECIALS

www.mandolin.com.au

0061 7 5443 5011

JUNE to AUG temps 20C

Classifieds Contact us today Phone our local team 03 379 1100

For Sale

PAPER END

ROLLS

Newsprint, White Gloss

& White Matte available

Great for Packing, Pattern Making,

Drawing Paper

NOW AVAILABLE FROM

29A Coleridge Street, Sydenham

or Phone Martin 0276 942 007

for delivery options

Pets and Supplies

• Quiet rural setting

• Modern purpose built facility

• AsureQuality approved

• Caring qualified staff

• Inspections encouraged

69 Avoca Valley Road, Heathcote.

Ph. (03) 3844028 Email. info@avocacats.co.nz

www.avocacats.co.nz

Gardening

& Supplies

A GARDEN OR

LANDSCAPING TIDY

UP? Shrub, hedge &

tree pruning, Lawns,

Gardening, consistently

reliable general property

upkeep, Dip. Hort. 10

yrs experience, One off

tidy ups or on-going

service. Nick's Property

Maintenance. Keeping

your garden beautiful.

Free Quote. Ph. 942-4440.

Wanted To Buy

TOOLS Garden,

garage, woodworking,

mechanical, engineering,

sawbenches, lathes, cash

buyer, ph 355-2045

ADD SOME

COLOUR

TO YOUR ADVERT!

style

noun

elegance and sophistication.

synonyms: flair, grace, poise,

polish, suaveness, urbanity,

chic, finesse, taste, class,

comfort, luxury, affluence,

wealth, opulence, lavishness.

MAGAZINE

STYLE.KIWI

Trades & Services

HOUSE

CLEARING

Are you

moving house

or trying to

downsize?

Call All Clear

Canterbury. We work

with you to recycle,

sell and dispose of

unwanted items.

Ph: 03 260 0934

or 021 078 4553

raewynlcooke@gmail.com

www.allclearcanterbury.co.nz

Looking for

experienced

painters &

decorators

who will provide

the best result

and are a pleasure

to have at home?

- Clean & tidy

- Punctual

- Over 20 years working

in Christchurch

- Quality assured

call clayton on

027 2210 555

email:

info@a1decorating.co.nz

Visit:

www.a1decorating.co.nz

Lawns, Gardens

& Home Cleaning

9185885AA

Free Quotes

Professional, personalised

service. Regular &

one-offs. Fixed price.

Ph: 377-5814

For all your property and

cleaning requirements

Trained, insured & security

screened owner/operators

Multi-award winning

systems & Franchises

Franchises Available

www.fviphomeservices.co.nz

AAA HANDYMAN

licensed carpenter

LBP, all property and

building maintenance,

repairs, bathroom/shower

installations, with free

quotes 03 383 1927 or 027

245 5226 ciey@xtra.co.nz

CARPETLAYER

35yrs experience. Special

rates for seniors. Prompt

service. Ph 021 263 7209

CARPET & ViNYL

Laying. 50 Yrs exp

Repairs, uplifting,

relaying, restretching,

Email jflattery@xtra.co.nz

ph John on 0800 003 181

or 027 2407416

GARDENER

Need your home or

commercial garden tidied

up or renovated or require

long term assistance.

Phone Ruth 326-6663 or

021 272-0303

iRRiGATiON

Fed up with standing

around with a hose? Need

an irrigation system for

your garden? Ph Andy

032601378 or 0211419199.

englishgrdnr@gmail.com

Enjoy outdoor living all year round

• House, deck, carport & window canopy etc

• Warm & dry in winter

• UV protection for summer

• Customised & Tailored

• Café curtains fitted

• 5 year warranty

Trades & Services

ARCHGOLA

15 months

INTEREST FREE

Normal lending criteria apply

Chris Thorndycroft

Grant Stewart

Ph 0508 272 446 | www.archgola.co.nz

DRIVEWAYS

Exposed Aggregate

Stamped Concrete Plain

Concrete Resurfacing

Things we offer...

Competitive/affordable pricing

Attention to detail

Professional service

free quotes/insurance scopes

Cell 0278 145 848

www.drivecrete.co.nz

GLAZING

Stephen Thom Glazing 2012 Ltd.

• Mirrors • Pet Door Specialists

• Splashbacks

THE CAT DOOR MAN

ALL BROKEN WINDOWS

Phone Cushla or Darren Twist

03 352 6225 or 027 352 6225

PAiNTiNG

Indoor / Outdoor, over

30 exp, same day quotes,

ph Steve 021 255 7968

PAiNTER AVAiLAbLE

All aspects in painting.

Very competitive in roofs

and fences. Please call

027 241-7471 or 335-0265

PAiNTiNG

& Decorating Wingfields

Contracting, all interior

& exterior painting & all

forms of interior plastering

& jib fixing, ph Mark

021 171-1586 or 355-5994

PAiNTER

Quality work, I stand by

Canterbury Ph Wayne 03

385-4348 or 027 274 3541

PLASTERER

Gib Stopping, Small

job specialty. 30 + years

experience. Ring 0800

387-369

PLUMbER

ALF THORPE

PLUMBING Certifying

Plumber for all types of

plumbing, maintenance,

spouting, alterations etc.

Phone 352-7402 or 0274-

350-231

ROOFiNG REPAiRS

Fully Qualified, Over

40 Yrs experience

Ph John 027 432-3822

or 351-9147 email

johnchmill@outlook.com

SPOUTiNG CLEANiNG

Spouting Unblocked,

Cleaned Out and Flushed

Out. Also Full Handyman

Services Available. Call

Trevor 332 8949 or

021 043 2034

STONEMASON

BRICK

&

BLOCKLAYER,

Earthquake Repairs, Grind

Out & Repoint, River/

Oamaru stone, Schist,

Volcanic Rock, Paving,

all Alterations new & old,

Quality Workmanship,

visit www.featureworks.

co.nz or ph 027 601-3145

TiLER/CARPENTER

35 years exp, no job

too small. Ph Ross

027 4311440.

T.V. SERViCE CENTRE

Repairs, tvs, microwaves,

stereos, DVD. Aerial

installations and kitsets,

480 Moorhouse Ave, ph

03 379 1400

VHS ViDEO TAPES

& all camera tapes

converted to DVD, video

taping special occasions,

www.grahamsvideo.co.nz

ph 03 338-1655

WiNDOW CLEANiNG

Average 3 bdrm house

inside or out $40.

Both $70. Phone Trevor

344-2170

Ph 377 0034

Trades & Services

BUILDER

From new builds to small home alterations, we

specialise in turning your dream home ideas into reality.

Call the name you can trust!

ADVERTISE YOUR

BUSINESS HERE

SOUTHERN VIEW

www.dimocks.net.nz

FOOTCARE

OASIS

Senior Citizens Foot Care

25 Conway Street, Spreydon

Treating hard thick nails, calluses

and corns finishing with a foot massage

Price $30 Allow 45 mins

Home Visits available by appointment

Therapist – Amanda

(30 years experience)

Ph. 942-6036 for an appointment

HOURS ARE FLEXIBLE

plumber

The go to guys for

plumbing services

✓ Plumbing and Gas

✓ No job too big or small

✓ All areas covered

P: 03 595 5610 W: gofox.nz

E: info.ccp@gofox.nz

Phone for further details

(03) 379 1100
---
SOUTHERN VIEW Latest Christchurch news at www.star.kiwi

Tuesday May 29 2018 19

What's On

Entertainment

FAST PACED

PSYCHOLOGICAL

THRILLER - 'A PICASSO'

FOLLOWING on from past productions 'Turn of

the Screw' and 'e Woman in Black', locally

based independent theatre group, NO Productions

eatre Collective presents its latest offering, A

Picasso.

Photo credit: euns Verwoerd

Written by Jeffrey Hatcher, A Picasso is a fastpaced

psychological thriller set in an interrogation

room in Nazi-occuppied Paris.

Directed by Michael Adams ('Turn of the

Screw'), this intense piece about art, sex, politics

and truth is full of unexpected twists and

surprises.

To advertise, contact

Jo Fuller 027 458 8590

jo.fuller@starmedia.kiwi

e story line follows a cat-andmouse

game between the great artist

and a captivating female cultural attaché

from Berlin.

"Which of these three paintings are

genuine, Señor?"…

When Miss Fischer (played by

Nataliya Oryshchuk) reveals that the

genuine Picasso pieces are destined not

for an exhibition but a burning of

degenerate art, the artist (played by

David Allen) begins a desperate

negotiation with his Nazi opponent,

who turns out to be his secret admirer.

'A Picasso' takes place at the

Christchurch Art Gallery Te Puna o

Waiwhetū in the Philip Carter Family

Auditorium on Friday June 8 at 7.30pm

and Saturday June 9 at 2.30pm and

7pm. Tickets $27 (concessions $22).

Recommended R16.

RESTAURANT & CAFÉ

Cooked Breakfasts

Check out our extensive breakfast

menu from Continental to Cooked

We are open from 6.30am

TREAT THE FAMILY!

Kid's 2 course special

Great Kids menu

plus designated play area.

What's On

TUESDAYS & THURSDAYS

MEMBERS LUCKY CARD DRAW

LIVE MUSIC - COMING UP

SUNDAY 3 JUNE, 2PM

$19

$13

Dine by the Beach

PIERVIEW

RESTAURANT

UPSTAIRS

Open from 5.30pm Fri, Sat,

Sun, and Sunday Brunch

from 10.30am to 2pm.

Famous for their

succulent roasts

available Lunch & Dinner

The

RACECOURSE HOTEL

& Motorlodge

118 Racecourse Rd, Sockburn,

Christchurch. Ph 03 342 7150

www.racecoursehotel.co.nz

MONTH-END

SUNDAY NIGHT

BUFFET $25pp

Sunday 24th June

from 5.30pm

BOOK NOW!

CLUBBISTRO

DOWNSTAIRS

Open Tuesday to Saturday

12pm - 2pm & from 5pm.

202 Marine Pde | Ph 388 9416 | www.newbrightonclub.co.nz | Members, guests & affiliates welcome

Lunch & Dinner

All you can eat

7 days

SERVING

Bookings Essential PH 386 0088

fb.com/GardenHotelRestaurant www.gardenhotel.co.nz

HAPPY HOUR

5PM - 7PM DAILY

OUR CABINET ITEMS

ARE HOMEMADE

CREATED FRESH ON SITE DAILY

$12

LUNCH

SPECIALS

Live Music:

6PM.SAT 2.JUNE

Mid-Winter

Christmas

COFFEE

HAPPY

H O U R

Saturday Saturday 17 June 23 June to to

Sunday Sunday 2 July 2017 15 July.

LUNCH

Mon to Fri $24.50pp

Sat & Sun $25.50pp

DINNER

Mon to Thur $31.50pp

Fri to Sun $33.50pp

Senior Citizens

discount available.

2PM-4PM

DAILY

$3.50

Offer available for a limited time

and includes tea, hot chocolate

MON: ROAST MEAL

TUE: FISH & CHIPS

WED: FISH BURGER

THU: ROAST MEAL

SAT: FISH & CHIPS

AVAILABLE

FROM

11.30AM-2PM

FOR A

LIMITED TIME

Sima & Vaea

PHONE 385 8880 FIND US ON FACEBOOK fb.com/GBCCHCH

THE GARDEN HOTEL COMPLEX | 110 MARSHLAND RD

www.gardenhotel.co.nz | phone 385 3132

H ORNBY

WORKINGMEN'S

CLUB

LIVE MUSIC

FRIDAY 7PM:

JO'S KARAOKE

SATURDAY

4.30PM:

DES NEWTON

8PM:

ROBBIE DREW

COMING UP

SATURDAY 9 JUNE

A TRICK OF THE LIGHT

THE PINK FLOYD PROJECT

SUNDAY 10 JUNE

THE C-BAY BAND

SATURDAY 23 JUNE

STARS IN THEIR EYES

feat TONY WELLINGTON

AS ROY ORBISON and

EDDIE SIMON AS LEO SAYER

The Hornby Club | ph 03 349 9026

17 Carmen Rd | Hornby

www.hornbywmc.co.nz

Members, guests & affiliates welcome

FAMILY FRIENDLY DINING

OPEN

EVERY DAY

Club CAFÉ

LUNCH &

DINNER

JOIN US FOR OUR

EXCITING SERIES

OF CLUB CAFÉ

$17

Chalmers Restaurant

FRIDAY & SATURDAY

CARVERY DINNER

$22.50

OPEN FROM 5.30PM

Early Bird Special

5.30pm - 6.30PM

FREE

DESSERT

SUNDAY BUFFET

$27

EVERY SUNDAY FROM 5PM-8PM

COMING UP

BOOK NOW!

LUNCH & DINNER
---
20 Tuesday May 29 2018

Latest Christchurch news at www.star.kiwi

SOUTHERN VIEW

barrington | city market

$

7 99

kg

Fresh NZ Tegel Skin On Chicken Breast Fillets

$

2 89

kg

Loose Crispy Jazz Apples

New

$

14 99

kg

$

2 99

kg

$

3 00

ea

Fresh NZ Topside

Steak/Roast Beef

Seedless Satsuma Mandarins

Cadbury Dark Milk/

Chocolate Block

155-205g

Big

2.25L

Size

2 for

$

5 00

$

3 90

ea

$

3 90

pk

Coke/Sprite/Fanta/Lift/L&P 2.25L

Fresh'n Fruity Yoghurt 1kg

(Excludes Greek)

Nescafé Coffee Sachet 10 Pack

$

19 99

pk

$

11 99

ea

Steinlager Classic

12 x 330ml Bottles

Wither Hills/Villa Maria Private Bin/

Lindauer Special Reserve 750ml

(Excludes Pinot Noir/Syrah)

Always read the label. Use only as directed.

Now available

Shop

Online

Colect Instore Save time

ClickCollect.nz

FreshChoice

Barrington | City Market

Open 7 Days a week.

FreshChoice.co.nz

FreshChoiceNZ

*

Excludes: Lockdown NIVEA Shower, NIVEA Sun and travel minis.

Specials valid 28th May - 3rd June 2018 or while stocks last at FreshChoice Barrington & City Market

only. We reserve the right to limit quantities. Trade not supplied.

Owned and

operated

by locals

fcsv3005