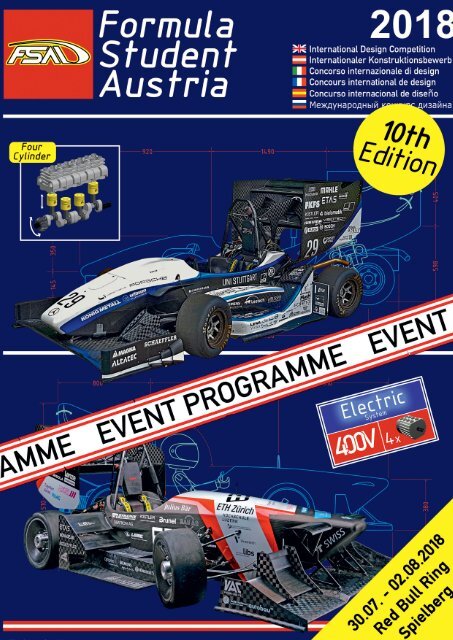 FS Austria Event Programme 2018
Create successful ePaper yourself
Turn your PDF publications into a flip-book with our unique Google optimized e-Paper software.
FOreWOrD

Lukas rASCHenDOrFer

Attention all teams,

Dear friends of Formula Student Austria,

It's a party!

Formula Student Austria is celebrating its 10th anniversary

this year and we're thrilled to welcome you to the birthday

party!

I 2008 a small group of Austria Formula Student

Alumni decided that it was time to host an

Austrian event. At that time Austria had three

rather successful teams (graz, the other graz

and tu Vienna) so having our own competition

seemed like the next step.

So, in the summer of 2009, the first Formula

Student Austria was held on the Wachauring, a

small rallycross & training track in Melk, lower

Austria.

21 teams attended and it became clear that there was indeed

more than enough interest to warrant an additional

european event.

As 2010 marked the introduction of electric cars to FS it

also became clear that even the increased number of 27

teams would not cut it for the future. Our venue had become

too small for our needs.

Luckily, red Bull had just completed the work on the former

A1 ring in Spielberg - the track now known as red

Bull ring - and prepared for a grand opening in May 2011.

So Formula Student Austria, now with 32 teams, became

one of the first Motorsports events to use the freshly rebuilt

site and what can we say - we stayed ever since.

2012 we again grew to 42 teams and almost 1000 participants.

the next milestone was set in 2013 when we became official

part of the FSAe World Series (and also the last addition

till today), which also got us a seat on the international

rules committee where we could try and shape

the future of Formula Student as a whole.

the last big step was taken in 2017 when we

again expanded our grid to 50 spots ( = almost

1500 participants), which marks the current capacity

limit of the site (i.e. 1/2 of the pit lane), but

who knows what the future might bring ;-)

enough dwelling on the past, let's look forward

to a great event, a celebration of fun and passion

engineering, team spirit and cooperation past all borders.

A big thank you to all of our sponsors and partners, to all

the volunteers and judges and to the teams travelling from

everywhere between uS and Australia, between norway

and India, between estonia an Israel for making FSA a staple

in the Formula Student world, and a fun one at that.

Keep on racing,

Lukas raschendorfer

& the FSA team

For live timing & coverage

of the event go to

> fsaustria.at/live

FORMULA STUDENT AUSTRIA

Impressum

Herausgeber:

FSA Bewerbsorganisation

Stremayrgasse 16

8010 graz

gestaltung;

Lukas raschendorfer

© 2018 Formula Student Austria

fsaustria.at

flic.kr/photos/fsaustria

@fsaustria

youtube.com/user/fsaustria

fb.com/FormulaStudentAustria

2 | Formula Student Austria | Spielberg 2018
---
AVL RACING - limiting the unknown

in electric motorsports

www.avl.com/racing

SIMULATE

ENGINEER

MAKE

TEST

RACE
---
tHe FSA teAM

Formally known as the FSA Steering Committee

Christoph Hirt | event Manager

Christoph HIrt

taking the torch from former lead Martin Matzer Christoph

Hirt is determined to further FSAs lead in the "small but

mighty" class of FSAe events. He hit the [FSAe] ground

running during the formation of an FSe team 2009 and

joined FSA in 2013.

Christoph Lorenzutti | Sponsor relations, Scoring

part of the FSAe circus since 2005, Christoph can look back

on a lot of experience in the series. Working on aquiring

new supporters for FSA throughout the year, his main responsibility

at the event is the scoring system.

Christoph LOrenZuttI

ralph Moser | It, timing, Hr

ralph MOSer

As FSA's tame It professional, ralph makes sure that all

the electronic systems at the event, from timing to team

internet, play nice. During the rest of the year his responsibility

is recruiting the staff and judges, without whom FSA

would not be possible.

Alexander rauch | Dynamics

After years of work as junior dynamics guy, Alexander

advances to Head of Dynamics for the 2018 event. As FS

Suspension team leader he knows how to push Formula

Student cars to their limits.

Alexander rAuCH

4 | Formula Student Austria | Spielberg 2018
---
Manuel Seeböck | Dynamics, Orga

Manuel spent several years in the Formula Student electric

world before reinforcing FSAs Orga team. You will

also be able to spot him on the race control tower during

the dynamics.

Manuel SeeBÖCK

Lukas raschendorfer | rules, Statics, International relations

Lukas rASCHenDOrFer

After multiple years as "Sparkie" for both C&e FSAe cars,

Lukas joined FSA and is now responsible for the rules,

also taking FSA's chair in the FSAe world committee.

A racecar engineer by day, a designer by night he also creates

FSA's graphical designs and herds the lolcats.

Benjamin Möller | rules, Head Scrutineer

With several years of experience as C- and e-car team

captain as well as FSg & FSA scrutineer, Benjamin joined

the FSA Steering Committe for the 2017 event. He is responsible

for the interpretation of the more technical parts

of the rulebook as well as the technical inspection at the

event.

Benjamin MÖLLer

A whole lot of Volunteers | Making FSA happen

Seven guys may be enough to organize the event, but to

actually run the event a much greater number of people

is needed. this is where all of our red-shirted volunteers

step in and take over all the tasks from scrutineering to

fetching the cones that were ungently removed from their

positions.

Like the steering committee, they are all volunteers, dedicating

their free time and holidays to providing you a great

experience.

Spielberg 2018 | Formula Student Austria | 5
---
Our partners

Mentor

Siemens PLM Software, a business unit of the Siemens Digital Factory Division, is a leading global provider of

engineering software solutions to drive the digital transformation of industry, creating new opportunities for manufacturers

to realize innovation. Supporting 1 million students at 3,000 schools in 67 countries and over 140,000

customers worldwide, Siemens PLM Software, including the Mentor business unit, works with companies of all

sizes to transform the way ideas come to life, the way products are realized, and the way products and assets in

operation are used and understood.

For more information on Siemens PLM Software products and services, visit www.siemens.com/plm,

www.siemens.com/plm/academic and for Siemens' Mentor Automotive software tools, please refer to

www.mentor.com/mentor-automotive as well as www.mentor.com/company/higher_ed

Key software relevant to Formula Student designs from Siemens + Mentor:

• 3D Mechanical Design & Engineering: NX, SolidEdge

• Mechanical Simulation and Test, 3D CFD: LMS, NX Simulation, Mentor-FloEFD, STAR-CCM+

• Lifecycle Collaboration: Teamcenter, Polarion

• Electronic System & Harness Design: Mentor-VeSys, Mentor-Capital

• PCB Design & Verification: Mentor-PADS PCB with Mentor-HyperLynx

• Manufacturing Engineering: Tecnomatix, NX CAM

• Composite Engineering: Fibersim

• Automotive Networking: Mentor-Volcano

• Embedded Software Engineering: Mentor-CodeBench, Mentor-Nucleus RTOS

Magna

Magna is a leading global automotive supplier with 340 manufacturing operations and 93 product development,

engineering and sales centres in 28 countries. We have over 172,000 employees focused on delivering superior

value to our customers through innovative processes and world class manufacturing.

We are the only automotive supplier with a holistic view of the entire vehicle, including the integrated electronics

that link everything together. Every day, our team uses that perspective to impact the industry. If you can think it,

we can create it.

Magna's innovation and technology is transforming vehicles and the future of mobility. We are committed to supporting

the next generation and the education of future automotive leaders. We believe in the development and

nurturing of bold young minds in science, engineering, and technology.

magnacareers.com

6 | Formula Student Austria | Spielberg 2018
---
AVL Racing

AVL RACING is the global motorsport group of AVL, the world's largest privately owned company for development, simulation,

and testing technology of racing powertrains. With its five segments SIMULATE, ENGINEER, MAKE, TEST and RACE,

AVL RACING is the integrated partner for premium motorsports at every stage of the development routes of its customers.

AVL RACING – Creating Winning Technologies

#avlracing #accelerateinnovation #electrifiyingspeed

Internationales Wiener

Motorensymposium

Das Internationale Wiener Motorensymposium findet jährlich unter der Leitung von Gründer und Vorsitzenden

des Österreichischen Vereins für Kraftfahrzeugtechnik Univ.-Prof. Dr. Hans Peter Lenz statt und ist eine der

weltweit führenden Veranstaltungen dieser Art. 2018 wurde Univ.-Prof. Dr. Bernhard Geringer, TU Wien, in das

Leitungsgremium aufgenommen.

Das zweitägige Programm bietet in zwei Parallelsektionen eine Vielzahl von Fachvorträgen über die neuesten

Entwicklungen und die aktuellsten Forschungsergebnisse auf dem Gebiet der Automobiltechnik. Die mehr als

1000 Teilnehmer haben Gelegenheit zu Meinungsaustausch und Vernetzung. In den beiden Plenarsektionen zu

Beginn und Ende der Veranstaltung erläutern Vorstandsvorsitzende oder Vorstandsmitglieder der wichtigsten

Unternehmen grundsätzliche Firmenstrategien oder technische Spitzenleistungen ihrer Häuser.

Ergänzt wird dieses hochkarätige Vortragsprogramm durch eine begleitende Fachausstellung, auf der die führenden

Automobil- und Zulieferfirmen neueste Technologien und Entwicklungen präsentieren.

Ein reichhaltiges Kulturprogramm für Teilnehmer und Begleitpersonen rundet die Veranstaltung ab.

Das nächstjährige 40. Internationale Wiener Motorensymposium findet am 16. und 17. Mai 2019 im Kongresszentrum

Hofburg Wien statt.

KTM

KTM-Sportmotorcycle AG, with its headquarters in Mattighofen, is one of the world's leading manufacturers of

motorsport vehicles. Our product portfolio ranges from race-ready offroad and street motorcycles to ATVs and the

lightweight X-Bow sports car, as well as PowerParts and PowerWear. Qualified and highly-motivated employees

are our most important success factor.

So if you share our passion and would like to accomplish your own aims with KTM, visit

http://www.ktmgroup.com/de

Spielberg 2018 | Formula Student Austria | 7
---
ITK EngineerinG

Your partner for future technology

With over 1,000 associates, ITK Engineering is an internationally recognized technology company. ITK is characterized

by high-level expertise in the digitalization, electrification, automation, and connectivity of systems.

Through the tailor-made development of systems and software, particularly in the field of embedded systems,

ITK is helping shape the mobility of tomorrow. In doing this, the company's goal is to inspire – on both human and

technological levels – and to set new standards.

Founded in 1994, the company is headquartered in Rülzheim, near Karlsruhe in southern Germany. ITK has subsidiaries

in Munich, Ingolstadt, Stuttgart, Lollar, Frankfurt, Braunschweig, Friedrichshafen, Berlin, Cologne, Graz

(Austria), Barcelona (Spain), Tokyo (Japan), and Detroit (United States).

The company, which became part of the Bosch Group in 2018, plans to continue growing its workforce by as much

as 20 percent annually – both throughout Germany and in the international market.

www.itk-engineering.com, www.itk-career.com

klima + energie fonds

The Climate and Energy Fund was brought to life in 2007 by the federal government in order to support putting its climate

strategy into action – short, middle and long term. The owner is the Republic of Austria, represented by the environmental

ministry and ministry of infrastructure. The strategies of the Austrian federal government in the areas of research and

technology, environmental protection and energy provide the basic essentials that are reflected in the programmes of the

Climate and Energy Fund. Important cornerstones for all of the measures are the sustainability and efficiency. The overriding

importance of all actions remains the requirement to implement the reduction of national greenhouse gas emissions as

quickly and sustainably as possible.

The Climate and Energy Fund law formulates three target areas on which the sponsorship strategy of the climate fund is

orientated.

Research and development in the area of sustainable energy technologies and climate research,

Boosting projects in the area of public local and regional transport, environmentally friendly goods transport and

mobility management projects and

Boosting projects for supporting the market penetration of sustainable energy technologies relevant to the climate.

8 | Formula Student Austria | Spielberg 2018
---
Joham & Partner

Looking for a new job?

YOU GOT IT!

We are a Graz-based consultant and recruitment agency specializing in job for engineers and technicians in IT,

mechanical engineering, automation, electrical engineering, and more. By cooperating with selected international

companies we can offer you a wide range of jobs, increasing the chances of finding the right one for you. Our 15

years of expert knowledge distinguish us from our competitors and make us a reliable partner in your job hunt.

LET US HELP YOU DO WHAT YOU LOVE.

All our services are free of charge, and include:

• CV checks and job interview preparation

• Job mediation

• Consulting and orientation

• Advocate and build bridges between candidates and companies

For more information and current job listings, visit johampartner.at and like us on Facebook!

Dewesoft

DEWESoft® is one of the most innovative total solution data acquisition companies on the market. The vision of the company

is to have single easy to use software package with highly integrated hardware capable of doing any kind of measurements.

With having the whole chain in hands from hardware design, manufacturing and software design to global sales,

marketing and technical support we are covering many different applications in Automotive, Aerospace & Defence, Power,

General Industry, Transportation and Civil engineering. Our motivation and inspiration for the future comes from great relations

established with our customers worldwide.

We are really proud to say that people are the biggest asset of the company. Our team consists of highly educated and motivated

people, who are passionate about their work and share the same vision. Due to extremely fast grow and gaining big

market recognition, we are always looking for bright talents to join our global team.

DEWESOFT GmbH

Grazerstrasse 7

8062 Kumberg

Austria

Tel: +43 3132 2252

http://www.dewesoft.com/

Social media:

https://www.facebook.com/DEWESoft-184975818205514

Spielberg 2018 | Formula Student Austria | 9
---
Automotive

10 | Formula Student Austria | Spielberg 2018
---
FOrMuLA StuDent

Scope and Martin History MAtZer

"The Formula SAE ® Series competitions challenge

teams of university undergraduate and graduate students

to conceive, design, fabricate, develop and compete

with small, formula style, vehicles."

Formula SAe rule A1.1: Competition Objective

the roots of formula student lie in 1970s texas, as a

variant to the already existing Mini Baja (competition

for lawnmower-powered offroad vehicles). the idea

resonated well and after a few establishing years, Formula

SAe was introduced as a design competition with a very

open ruleset and also much more "race" appeal since the

cars were allowed to have engines with siginficant power

comapred to the spec'd single cylinders in Baja.

the event quickly picked up momentum, and in 1998 it

made the jump over the big pond when Formula Student

uK was the first non-uS competition to be held. Soon other

followed and today there are eight official competitions all

over the World:

• Formula SAe Michigan

• Formula SAe Lincoln

• Formula SAe Australasia

• Formula Student Austria

• Formula SAe Brazil

• Formula Student germany

• Formula SAe Italy

• Formula Student (uK)

Additionally, there a whole lot of unofficial events held

around the globe, e.g. in India, the netherlands, Hungary,the

Czech republic and many more.

So what is it all about? Formula Student is an engineering

Design competition that should teach engineering

students some real-world skills relevant to the automotive

and other industries. to sucessfully compete, a team

has to delve into research, design, manufacturing, testing,

developing, marketing, management and finances - this

favors or even requires the formation of multi-disciplinary

teams. this and the fact that Formula Student is as much

a project management exercise as it is an engineering

challenge, it teaches the competitors a valuable and industry-appreciated

combination of soft- and hard skills.

the vehicle itself is governed by a set of internationally

agreed upon rules. the rules have grown pretty complex

over the years (the rule book is now larger than the one for

F1), so here are the defining characteristics:

Vehicle:

• Open-Wheel, Open-Cockpit, Formula-style body

• four wheels

• aerodynamic devices are limited in size

C - powertrain:

• 20mm Air restrictor (19mm for e85)

• turbo/supercharging is allowed

e-powertrain:

• any number of motors and driven wheels

• 80kw peak system power

As originally intended, Fromula Student has become a major

source of highly qualified graduates in the engineering

world, focused but not limited to the automotive sector.

even in the highest classes of professional motorsports,

FS team jackets and memorabilia can be seen everywhere.

the unique compination of engineering and project management

skills required to complete and run an FS car

makes it a great preparation for real-world projects. this

is recognized by many businesses, making it an ideal stepping

stone from academics into an interesting rewarding

job.

Spielberg 2018 | Formula Student Austria | 11
---
Disciplines

The first of the so-called Dynamic Disciplines is the Acceleration.

The car has to accelerate from a standstill and cover

a distance of 75 meters a quickly as possible. Due to a high

power to weight ratio, FSAE cars can do this in well below

four seconds with terminal speeds of well over 100 kph, outrunning

almost all road-going sportscars. Each team can

have two drivers, each of them doing two runs.

Maximum Score: 75

2017 Winner C: TU Graz

2017 Winner E: Uni Stuttgart (Greenteam)

In the Skid Pad event the lateral ability of the car is tested on

a figure-eight course. After entering the course, the driver

he has to go round the right circle (right turn) two times, then

round the left circle (left turn) two times - the time for the second

lap of each circle is used to determine the score. Again,

each team has 4 runs split among two drivers.

Maximum Score: 75

2017 Winner C: UAS Coburg (CAT Racing)

2017 Winner E: UAS Munich (tuFast)

The Autcross track is a handling course consisting of turns,

hairpins, straights and slaloms and is roughly 1000 meters

long. Each car enters the track on its own and will do a single

"hot lap" of the course.

The track is marked using small traffic cones which will,

when hit, result in a two-second penalty.

Each team has two runs for each of their two drivers.

Maximum score: 100

2017 Winner C: TUfast (TU Munich)

2017 Winner E: AMZ Racing (ETH Zürich)

The Endurance race takes part on a closed autocross course

over a distance of 22km. At half-time a driver change is performed

and the car has to perform a hot restart. This event

is driven with multiple cars on the course but overtakes are

performed in special two-lane overtaking zones.

The fuel/energy consumption as well as the laptimes during

the Endurance are used to calculate the Efficiency score.

Maximum Score: 325 (Endurance) / 100 (Efficiency)

2017 Winner C: Rennteam Stuttgart / Akron

2017 Winner E: AMZ Racing (ETH Zürich

12 | Formula Student Austria | Spielberg 2018
---
The most important one of the Statics is the Engineering

Design Event. During the judging the team has to present

their car to a group of automotive and racing experts. These

judges will check if the design goals have been met, if the

team members understand their design and if it has been

executed well.

Maximum Score: 150

2017 Winner C: Rennteam Stuttgart / Akron

2017 Winner E: TUfast (TU Munich)

For the Cost Event, the teams have to submit a detailed Bill of

materials up front. At the event, their correctness and completenessis

checked an the team is presented with an additional

cost-related task.

During the Presentation Event, the teams have to present a

business plan for selling their design to fictional investors.

Maximum Score: 100 (Cost) / 75 (Business)

2017 Cost Winner C: TUfast (TU Munich)

2017 Presentation Winner C: KA raceing (KIT Karlsruhe)

2017 Cost Winner E: Barcelona

2017 Presentation Winner E: Uni Stuttgart (Greenteam)

When all the events are over, the scores are added up and

the Winner Over All is determined. Additionally, prices are

given to the best teams in each discipline. From 2014 on, the

scoring was split between cars with electric and combustion

powertrain.

Maximum Score: 1000

2017 Winners C: 2017 Winners E:

1. Rennteam Uni Stuttgart 1. AMZ Racing

2. Rennstall Esslingen 2. KA raceing

3. CAT Racing Coburg 3. Greenteam Stuttgart

Spielberg 2018 | Formula Student Austria | 13
---
University of Stuttgart

Rennteam Uni Stuttgart

1

Engine

ECU

Fuel

Wheels

Suspension

Electrics

Wings

Dimensions

Best Feature

Yamaha Y6F-RZ

MiTec

Tears of our powertrain guys

4

REIB

There are some wires

Some are the other way around

42 x 1337 x drei [l x w x h]

Babyseat for one of our drivers

WHEN YOU REALIZE

THE DEADLINE IS

DUE TOMORROW

Max Power Engine Torque Weight Top Speed

89 [HP] 68 [Nm] 185 [kg] 121 [km/h]

rennteam0711 RennteamStuttgart rennteam_stuttgart RennteamUniStuttgart www.rennteam-stuttgart.de

14 | Formula Student Austria | Spielberg 2018
---
University of Akron

Zips Racing

5

Zips Racing presents "Tanya" aka ZR18, the 27th Formula Student

Combustion racecar from The University of Akron in Akron, Ohio.

Spielberg 2018 | Formula Student Austria | 15
---
UAS Stralsund

Baltic Racing

6

As the first German Formula Student Team Baltic

Racing has brought this competition to Germany

and has ever since participated in the different

Formula Student competitions. Thanks to our long

history we can look back on many achievements

in the past and are looking forward to a great

season with our new car - the TY18. In that regard

we would like to thank our amazing sponsors and

supporters for their continuous support, only due

to them we have been able to build all of our 18

cars! We are more than happy to have the privilege

of being part of this great competition and can't

wait for catching up with all our friends and are sure

to defend our CAT-tastic spirit award at FSA 2018.

It's going to be PURR-FECT!

Driver

Walfred

Frame

tubular space frame

Max. Power

58,8 kW

Engine

Triumph

Street Triple 675

Tyres

Continental

205/470 R13

Fuel

ROZ 98

Weight

180 kg

16 | Formula Student Austria | Spielberg 2018
---
Karlsruhe Institute of Technology

KA-RaceIng

7

Hello together, we are KA-RaceIng and we want to say sorry

for this teampage. As always we decided to write this text one

hour before the deadline, just to realise that the deadline is two

days later, if we would just listen to our COO once …

"Calendar!" But enough of our ability to read dates, lets introduce our better half.

With our new combustion car, we tried to keep the lightweight

design of last year and bring more power by turbo charging our

single cylinder engine. Sadly we are neither really light, nor do we

have the most power. Besides our beer, we have one thing that

makes us special… our awarness of deadlines. Jokes aside, our

KIT18c is not only one of our earliest driving cars in the KA-

RaceIng history, but a complete revolution compared to the last

season. Our engine got an huge update with the comeback of our

beloved and missed friend: the turbocharger. Titanium welded

uprights and other optimisations saved us more than 4 kilogramms, our electronic team implemented a

brand new interface unit and the aerodynamic crew inceased the downforce by more than 12 percent.

As you see, we are a team, full of love for our project, passion

for motorsport but also the needed crazyiness and fun.

Although we are writing about a combustion car, we are "one

team - three cars". Last year we were the only team with

three cars driving, this year we are back with three even better

ones, motivated to fight for first places all over again. Feel free

to visit us in our Pit, talk to us and you will realise that we are

happy students who enjoy each second we can spent at one of

our KITs.

Long story short, we love what we do, our car is not perfect but

for us it's the most beautiful car we could possibly build and for

all the lazy people we wrote down our keyfacts in a short table.

Technical Data

Engine Lost one cylinder but still OK

ECU Lots of wires and stuff

Wheels 4

Electronic Gadgets More than we can handle

Suspension Since we have tires yes

Fuel E85

You thought here will be a

joke about beer, right?

Wings Turned them around, now

they work just fine

Differential Heavy but yup, still there

Max. power Depends on the day

Dimensions Big enough that our drivers can

still cone

Weight Depends on the driver

Frame type Worst thing for a CBOM

Driver Heavy but fast

Best Feature Diffusor

Oil catch tank

Spielberg 2018 | Formula Student Austria | 17
---
Technion: Israel Institute of Technology

Formula Technion

9

18 | Formula Student Austria | Spielberg 2018
---
Technische Hochschule Mittelhessen

THM Motorsport

11

Spielberg 2018 | Formula Student Austria | 19
---
13

UAS Munich

municHMotorsport

#PASSIONWORKS – not only the name of our

cars but also our favorite phrase used in our last

Team Magazine uploads.

After obtaining all the knowledge about our

long time used (and loved) 4-cylinder-engine,

we asked ourselves: How could we make our

lives more difficult?

By asking all six of our team members

we evaluated that we couldn`t stand our

electronic parts and therefore our choice for

an astonishingly vibrating one-cylinder-engine

was easy.

While seeing less power with the new engine

concept, it allows us to give our drivers full

comfort. Highlights are our seat with a massage

function and the fancy new cup holder with an

integrated shaking function for your perfect

drink-to-go.

Hopefully we will manage to finish the

endurance without losing to many K-Nuts!

KEYFACTS

• Weight: approx. 761 kg

• Performance: approx. 42 kW

and 42 meowtonmeters

• Engine&ECU: KTM 450 SX-F

(your mom's favorite toy),

MeowTeC M150

• Lubrication: leaking

• Compression ratio:

3,1415926535897932384:1

• Chassis Front: a stiff

monocock

• Chassis Rear: Tubular space

frame (Kruppstahl)

• Wheels: Continental C18

with CFRP Rims

20 | Formula Student Austria | Spielberg 2018
---
University of Bath

Team Bath Racing

14

Team Bath Racing are

back in Austria this year

for the first time since

2015, with their brand

new challenger, TBR18.

The University of Bath's

Formula Student team

consists this year of 20

final year engineering

students, assisted by 45

younger year students.

The design philosophy of this year's car has been to optimise for transient

performance, meaning developing a racecar that performs excellently in acceleration,

braking and cornering. Based on a full carbon fibre monocoque and powered by a

brand new, turbocharged KTM 690cc single cylinder engine, which is fuelled with E85,

the car produces 70 hp and 77.5 Nm. Running on OZ Racing Magnesium wheels and

Avon tyres, with a full aerodynamics package generating over 1100N of downforce at

80kph, TBR18 promises to be a dynamically excellent Formula Student car.

Team Bath Racing

team_bath_racing

@TeamBathRacing

Spielberg 2018 | Formula Student Austria | 21
---
15

UAS Ostwestfalen-Lippe

OWL Racing-Team

22 | Formula Student Austria | Spielberg 2018
---
17

UAS Vienna

Os.Car Racing Team

This team didn't bother to submit a team page, so the FSA social media cats team created one for them.

You're welcome.

nope. nope. Yes!

Os.car making of (2013-2018):

+ =

+

+

+

+

=

=

=

=

Spielberg 2018 | Formula Student Austria | 23
---
18

U.A.S. Graz

joanneum racing graz

We, the Formula Student Team of the University of Applied Sciences

Graz, are better known as the Weasels. This name derives from our

agility, speed, and cleverness. Our focus on engineering design and our

dedication to powertrain development distinguish us from other teams.

Precise manufacturing and the continuous improvement of our car have

many times enabled us to be among the top ten teams of the world.

#NeverStopPushing

Weight/ 199 kg

Wheelbase/ 1580 mm

Track width/ 1280 / 1240 (f/h)

Engine/ modified in-line two-cylinder engine

from BRP Rotax

Displacement/ 600 ccm

max rpm 7.700

max Power/ 63kW @ 6000 rpm

max Torque/ 127 Nm @ 4500 rpm

Gearbox/ self-developed 3-speed transmission

with CFRP-gearbox housing

Clutch/ electro-pneumatic actuated dry clutch

Chassis/ CFRP monocoque with tubular rear

frame

Suspension/ double unequal A-arms out of CFRP

and Aluminum, pullrod actuated

spring-damper units

Rims/ one-piece CFRP 7x13"

Tires/ Continental C17 Slick (205 / 470 R13)

With the jr18, we want to race back to the top of the Formula Student world

ranking list. This newly developed racecar compromises several new

features and will be ready to race in Italy, Austria, Germany, and Japan. On

our way back to the top, we will #neverstoppushing.

24 | Formula Student Austria | Spielberg 2018
---
OvGU Magdeburg

UMD Racing

20

UMD Racing is the Formula Student Team based at Otto-von-Guericke University Magdeburg,

Germany. The team was founded in 2008 and has successfully participated at several Formula

Student Events in the last years. The focus this year has been on aerodynamics and driveability.

Now we can proudly present this year's car with our first aerodynamic package, including frontwing,

rearwing, undertray with diffusor and sidewings as well as a new suspension kinematic design.

We are excited to be at FSA,

see you all on the track!

www.umdracing.de/

www.facebook.com/umdracing

TECHNICAL DATA

Engine

Big Block

www.instagram.com/umdracing220/

Wheels 4

Suspension

Wings

Max. power

Chassis

Weight

Driver

Of(f) course!

Like a butterfly

Will Power!!!

Orange

7.640 Ounces

Otto von Guericke

Spielberg 2018 | Formula Student Austria | 25
---
25

National Technical University of Athens

Prom Racing

PROM Racing is more than happy to participate in Formula Student Austria

for a second year in a row, with its meowest and lightest car ever.

Engine: KTM-EXC 510cc

Wings: More wings more worries

ECU: Not fried yet

Differential: LSD

Max power: 55 cats

Fuel: Greek tzatziki

Weight: 175kg

www.promracingteam.com /prom.racing /promracing /PromRacingTeam

26 | Formula Student Austria | Spielberg 2018
---
University of Miskolc

Formula Racing Miskolc

26

This team didn't bother to submit a team page, so the FSA social media cats team created one for them.

You're welcome.

Their website isn't really helping either Maybe they got a secret to keep?

Let's try google!

Spielberg 2018 | Formula Student Austria | 27
---
27

TU Dortmund

GET racing Dortmund

Formula Student Team TU Dortmund

The Formula Student Team of the TU Dortmund

exists since 2005 under the name GET (German Engineered

Technologies) racing. Meanwhile the GET

racing team is building the 8th race car. Over the

years, the team has grown to over 40 team members

from fields such as mechanical engineering, electrical

engineering and information technology, industrial

engineering as well as economics and computer

science. In the meantime, defined segments have

formed with all these specialist areas.

Rüdiger

"Nicht so tief, Rüdiger!"

(Not this low, Rüdiger!)

TECH SPECS

Dimensions 2732/1378/1248

Engine Yamaha YZF-R 6 RJ 09

Max. Power a lot

ECU DTA S60 PRO

Wheels (Fr / Rr) 7x13, alu rim

Eletrics some cables

Suspension double wishbone/pushrod

Differenal Drexler

Frame Steel Space Frame

Wings no wings

Specials same trail as nyan cat

28 | Formula Student Austria | Spielberg 2018
---
University of Kassel

Herkules Racing Team

Herkules Racing Team

28

University of Kassel

Frame Construction Front carbon monocoque, rear steel space frame

Material CFRP with honeycomb sandwich material, E235, E355 and 25CrMo4

Overall L / W / H 2865mm / 1395mm / 1185mm

Wheelbase / Track (Fr / Rr) 1540mm / 1200mm / 1160mm

Weight (Fr / Rr) / Distribution (Fr/L) 84.95kg / 115.31 kg / 48,1% / 51.4%

Suspension Double A-arm suspension, pushrod linked on lower A-arm, third

element, (angled load path)

Tyres Continental C18 205/470 R13

Wheels 7x13, 30mm offset, OZ magnesium rims, 4 hole

Engine / Peak Power Modified Suzuki GSXR 600 / 59kW

Bore / Stroke / Cylinders / Displacement 67.0mm / 42.5mm / 4 cylinders / 599cc

Compression ratio 13.6:1

Fuel System Fully sequential injection with Bosch injectors and a FSE high

pressure in-line fuel pump

Fuel 98 octane unleaded gasoline

Max Power / Torque design 12400rpm / 8130rpm

Drive type Chain drive (pitch: 15.875mm; width 18mm

Differential Limited slip differential by Drexler, adjustable preload, Castrol Syntax

Limited Slip 75W-140

Cooling Side mounted radiator and one shot brazed oil cooler, custom build fans

Brake System 4 Disk system, self-developed rotors with 240 / 227,5mm diameter,

adjustable brake balance

Electronics Wiring harness with lightweight FEP coated wires, motorsport

connectors, full programmable dashboard

Downforce at 80kph / Drag 851N / 450N

Spielberg 2018 | Formula Student Austria | 29
---
31

Hochschule Kempten

Infinity Racing - Rennteam der Hochschule Kempten e. V.

The Infinity Racing team is the highest

racing team in germany. In 2018 we

started developing on prepreg. Our forms

are ready and the team is prepared for the

new lamination type.

Last season we did an awesome

accelaration race without a gear shift.

Let´s see what we achieve this time!

D

#InfinityDelay #YourWaytoTheTopOfMountain

Technical Data

Engine 2005 Yamaha R6 RJ 09 4

cylinder DOHC

ECU None (carburetor+distributor)

Wheels 7.47x13, OZ magnesium rim

Electronic Gadgets Monitoring steering wheel

Suspension Double unequal lenght A-

Arm. Pull/Push rod actuated

vertically oriented spring and

damper

Fuel gasoline

Wings Rear + Front = Downforce!

Differential Drexler

Max. power To much to display

Dimensions 3000x1430x1160

weight Unkown

Frame type Hybrid Monocoque Front:

Composite Monocoque; Rear:

Steel Spaceframe

Driver Who ever stands on the startline

Best Feature Prepared for prepreg

30 | Formula Student Austria | Spielberg 2018
---
UAS Niederrhein

HSNR Racing

49

The HSNR Racing Team was founded in 2011 in Krefeld, Germany, being part of the UAS Niederrhein.

With the RS-18c there was a huge change in the vehicle's concept. Our goal was to increase the

driveability and cornering speed to improve our overall performance. A new self-made gearbox, a more

agile suspension and the first ever aerodynamic package make the seventh car of our team unique.

Engine

Power

Torque

KTM 500 EXC-F

49 HP

45 Nm

Fuel Super 98

Wheels

Tires

Differential

Chassis

Bodywork

OZ Racing 13" Magnesium

Continental C18

LSD

Steel Space Frame

CFRP

The distinguishing features of this year's racecar are the new design and the weight reduction of 15 kg

excluding aerodynamics. The centre of gravity was lowered significantly by developing a more ergonomic

chassis and designing the car more compact.

The RS-18c is a big step for HSNR Racing and on track it will hopefully show what it is capable of. We're

looking forward to an exciting event here at FSA and want to thank all sponsors and supporters!

Facebook HSNR Racing

Youtube HSNR Racing

Instagram hsnr_racing

Spielberg 2018 | Formula Student Austria | 31
---
53

Technische Universität Graz

TU Graz Racing Team

The TU Graz racing team was founded in 2002 and since 2004 we are participating very

successfully in formula student competitions.

Our 15 th race car, the TANKIA 2018 "Giulia" and the whole team are prepared to show what we are

capable of. It is a great pleasure for us to be part of the home race at Spielberg that is only 85

kilometres away from our workshop.

Technical Data

Chassis

Engine

Fuel

Suspension

Tires

Weight

Top Speed

One Piece CFRP-Monocoque

KTM 500 EXC

E85

Pushrod Front/ Rear

10"Hoosier LC0 / Carbon Rims

155 kg

Yes please

Students 40

Kangaroos 0

Dogs 1

The atmosphere at such a competition is very special: everybody is helpful

if you need something, information is exchanged, friendships are made and

after an exhausting day at the race track you

enjoy the time with all the other participants. We

are looking forward to the event and the teams we

are going to meet and there is one thing we can

already say for sure:

FSA – we'll be back

32 | Formula Student Austria | Spielberg 2018
---
OTH Regensburg

Dynamics e .V:

62

RP18C

Dynamics returns to Austria to launch the rocketship! With our 11 th car, a new engine, a completely redesigned aeropackage

and only three gears we're aiming for the moon again.

To make it even faster we've done everything in black!

After last year's unfortunate start at the Red Bull Ring (we always swap engines multiple times per event) we won the

skidpad and an outstanding 5 th overall in Germany as well as the Business Plan in Spain. We are looking forward to

compete at a beautiful track in an awesome atmosphere! Be ready for the beast!

Engine

Electronics

Gearbox

Drivetrain

Suspension

Wheels

Frame

Aerodynamics

weight

Honda CBR600RR PC40 with Bosch MS4

self-developed MCU, data logger, live telemetry,

Optimized sequential three-speed transmission

self-developed, semiactive differential

double wishbone & pushrod system

C18 205/470R13

one-piece CFRP monocoque with optimized layup

adjustable front & rear wing, side pods, undertray with diffusor

192kg

www.dynamics-regensburg.de dynamics_ev Dynamics.Regensburg

Spielberg 2018 | Formula Student Austria | 33
---
63

UAS AACHEN

AIXTREME RACING

FH Aachen

Aixtreme Racing

In 2007, when the No Angels reunited (anyone loving

Lucys hair as much as we do?), a group of students

from the University of Applied Sciences in Aachen

decided to take part in the formula student

competition and establish a team: Aixtreme Racing!

One year later the first car was build.

Nowadays being part of Aixtreme Racing means joining a group

of 13 individuals from different faculties: mechanical engineers,

business engineers, automotive engineers and one technical

communication scientist – which is also our cook.

Coming from FH Aachen, we are perfectly prepared for

independently contracting a flawless car due to the mind-set of

education in a very practical way.

With the FS17 we developed a completely new vehicle last

season. This concept is now being optimized with the FS18.

Work for this season is in progress – right round the clock.

Rearframe:

1 kg lighter

Monocoque:

10 kg lighter

Wall thickness:

34 | Formula Student Austria | Spielberg 0.7 mm2018

Driver:

still to fat

Teamsize:

expansion in progress
---
Monash University

M17-C, Australia, Monash Motorsport University, Monash

Motorsport

66

TECH SPECS

Powertrain

Instrumentation

2017 KTM 690 Duke-R

MoTeC Dash Logger, LED

shift/warning lights

Wheels 10"x 7.5" Hoosier R25B

tires, carbon shells with Al

centres

Brake System Floating bisalloy rotors,

Tilton 78 series MC with bias

bar, GP200 caliper front,

PS1 rear

Suspension Double unequal length A-

Arm, direct acting spring and

damper with rear anti-roll bar

Fuel 98-RON

Aerodynamics Double element front wing,

three element rear wing,

undertray and bodywork

Driveline Chain driven spool, 13:41

drive ratio

Dimensions 2936 mm, 1391 mm, 1185

mm

Mass with 68kg driver 134 kg rear, 129 front

seated

Frame type Steel tube spaceframe with

bonded composite panel

floors, aluminium rear

bulkhead

Body Work (material,

process)

Wet-laid Carbon Fibre

reinforced Polymer sidepods

and nosecone, with

integrated radiator ducting

Spielberg 2018 | Formula Student Austria | 35
---
70

UAS Coburg

CAT-Racing

launch control

to much

CI: -3,05

36 | Formula Student Austria | Spielberg 2018
---
Dwarkadas J. Sanghvi College of Engineering

DJS Racing

77

DJS Racing started back in 2012 with

a handful of passionate engineering

students coming together to create a

racecar.

Reason behind so many tweaks!

Our Fourth combustion vehicle, DJSR

04, is set to maintain our legacy. It is

expected to display a boost in performance

with the debut of the all new

aerodynamics package. Carbon fibre

has been more extensively used as

compared to our previous model.

Pneumatic shifting has been incorporated

for faster gear shifting. The

antiroll bar system has been entirely

revamped and a multitude of changes

centered around weight reduction

will make DJSR 04 our best performing

car yet.

: djs_racing : DJSRacing : @DJSRacing_India

: www.djs-racing.com

DJSR 04

1.CHASSIS : MS 1020, 1018 Tubular

Space Frame

2.ENGINE : KTM 390 RC

3.WEIGHT: 185 kgs

4.SUSPENSION : OHLINS TTX 25

VARIABLE DAMPING SUSPENSION

5.Electronic Gadgets: Driver wore

a Fitbit once

6.Fuel: Tears of CFO

7.Wings: First Time, Please Excuse

8.Drivers: Some hobos we lured

with bread

Spielberg 2018 | Formula Student Austria | 37

#DitchJoggingStartRacing
---
79

Szechenyi ´ Istvan ´ University

Arrabona Racing Team

urofron/rearuenion

wihoninenaire

oimieaeronamiceemenanbowork

ownforceb5m/

55ubuareeaceframe

28,95kg

ngine,imuae

mieauminiumriveraincomonen

urogrammabe,auouhif,

cuomeemerem

Hi5

Established in 2014, Arrabona Racing Team represents the University of

Győr since it's foundation as the most successful Hungarian combustion

engine team in Formula Student. This year, we are looking forward to

competing in FSG, FSA and FS East, with 30 passionate team

members, and a unique engine – supplied by SZEngine. Our

brand-new race car, ART_05 was designed and built with

all our knowledge and experiences to raise the bar

even higher.

30

team members

ureignhighigh

2.5k

55m

1

2

3

4

5

eibeenginemouning

Tianiumanirobarbae

enraieweigh

uenioneign

aigueimuaion

niueengine

Anmanmore...

www.arrabonaracing.hu

vimeo.com/arrabonaracing

facebook.com/arrabonaracing

Arrabona_Racing_Team

Arrabona_RT

38 | Formula Student Austria | Spielberg 2018
---
AGH University of Science and Technology

AGH Racing

81

GRAŻYNA - 1-100 km/h in 3,72 s!!!

DESIGN OF

AMERICAN

DREAM

CAME

TRUE

CAR

THE

DESIGN

EVENT

FIGHTERS

SOCIAL

MEDIA

DRAGONS

Spielberg 2018 | Formula Student Austria | 39
---
92

Header

Oxford Brookes University

92, UK, OXFORD Oxford BROOKES Brookes UNIVERSITY, Racing OXFORD

BROOKES RACING

40 | Formula Student Austria | Spielberg 2018

Footer
---
Hochschule Esslingen

Rennstall Esslingen

94

Spielberg 2018 | Formula Student Austria | 41
---
96

Manipal Academy of Higher Education

Formula Manipal

We, Formula Manipal are the

official racing team of Manipal

University, India. After coming up

with 8 intriguing cars and scaling

new heights in

the FS circuit

since 2008, we arenow all ready to set the tracks

on fire with our car FMX8.

We aim to blaze through the asphalt and burn some

rubber to make our university and sponsors proud.

P.s: We Burn fuel faster than what it takes the gulf

to find more!

42 | Formula Student Austria | Spielberg 2018
---
UAS Schweinfurt

Mainfranken Racing e.V.

97

THE TEAM

The MF11 is the 11th car developed

by the Mainfranken Racing Team from

the university of applied sciences

Würzburg-Schweinfurt. The team is

organized as society (e. V.) with a

boardroom of four people, together

with the leaders of the teams main

departments. The major constructions

is mostly done by the most

experienced teammembers. The rest

of the team mainly consists of new

participations in their freshman year.

Due to this fact a lot of attention has

been put on the transfer of knowledge

to our new members and to build a car

with outstanding engineering specs.

TECH SPECS

90 PS | 218 kg | 600 ccm

Yamaha R6 | Motec M800 | Drexler Differential

Lounch Control | Electronic Throttle Control

Selfdeveloped Telemetric | Driver Radio

Tireheater through exhaust pipe

Spielberg 2018 | Formula Student Austria | 43
---
Technical University of Dresden

Car#, Country, University, Teamname

E4

Elbflorace

Header

170kg – fullsize CFRP Monocoque – 1.5 planetary gear

LottE

Footer

44 | Formula Student Austria | Spielberg 2018
---
UAS Munich

municHMotorsport

E13

Passion works or sometimes Passion does

not work.

Cooling works or sometimes Cooling does

not work.

Endurance works or sometimes Endurance

does not work.

Driver works or sometimes Driver does not

work.

municHMotorsport works or sometimes

municHMotorsport does not work.

Back in Austria – awesome! #PASSIONWORKS

KEYFACTS

• Weight: exactly 190.00kg

• 4 wheel hub motors in the

wheel hubs

• Peak performance of each

motor: MAXIMUM

• Planetary gearbox because

we like astrology

• Recuperation – getting back

is better than giving

• Traction Control – dependent

on the driver

• Wheels by Continental,

Rims by Johannes

Spielberg 2018 | Formula Student Austria | 45
---
E18

Karlsruhe Institute of Technology

KA-RaceIng

Hello together, we are KA-RaceIng and we want to say sorry

for this teampage. As always we decided to write this text one

hour before the deadline, just to realise that the deadline is two

days later, if we would just listen to our COO once…

"Calendar!" But enough of our ability to read dates, lets introduce our better half.

With our new electric car, we decided to change everything. New chassis, new

drivetrain, new suspension, hv-accumulator and tires. The only thing that stayed the

same are basically our drivers, even though some of them are a little bit heavier than

last year. With our new motor, we decided to take a step back with rpm just to push

the torque value, our hv-accumulator got completely new types of stacks

for more capacity, our cooling system got some beautiful weight

reduction and our suspension team built a sweet system

without an anti roll bar. All this in a new spreadtow

chassis… we basically built a fast chessboard with an

heave - roll system and the best aerodynamic

package we ever had.

As you may know, we are not an electric team, we are "one team –

three cars". We are a team full of love for our project, passion for

motorsport and also the needed craziness and fun to push through long

nights. Last year we were second with our electric car, this year we are

back with two better cars, motivated to fight for first places all over again.

Feel free to visit us in our Pit, talk to us and you will realise that we are

happy students who enjoy each second we can spend at one of our cars.

To summarize it, we love that we are able to do what we are doing,

competing in the Formula Student. And even though we had to spent

night after night fixing bugs and mistakes, we love every part of our

KIT18e.

Technical Data

Motor Black Magic

ECU See above

Wheels Same as 18c

Electronic Gadgets Same as motor

Suspension Something with dampers and

stuff

Fuel Zero emissions

Wings We nearly fly so we have no

friction :)

Differential Currently used in the KIT18c

Max. power More than we can handle

Dimensions 3 - obviously

Weight Depends on our driver

Frame type Chessboard

Driver 100 kg but fast as hell

Best Feature The funny beeping noise when

we fake our RTDS

46 | Formula Student Austria | Spielberg 2018
---
Tallinn University of Technology

FS Team Tallinn

E24

Formula Student Team Tallinn is based in Estonia and is the only

team in our country. Although being from a small country we are

currently the highest ranking electric team in Eastern Europe and

Scandinavia. The team first came together in 2006 and since then

has competed in all the major competitions in Europe and United

States. Over the years our team has enjoyed a steady growth and

development, keeping up with the latest technologies and

celebrating many successes along the way.

BTW! First year using prepreg CFRP.

Best use of FSA Tempalte Award.

Right here. [the editor]

Technical Data

Motors 4 x AMK DD5-14

ECU Self developed

Wheels 18x7.5-10

Electronic Gadgets Self developed systems

include: 4G telemetry, AMS,

Ground speed Sensor.

weight 181 kg

Frame type CFRP single piece

monocoque

Dimensions 1530 WB/ 1180 Track

Max. power 4 x 35kW

Spielberg 2018 | Formula Student Austria | 47
---
E26

Universität Stuttgart

GreenTeam Uni Stuttgart e.V.

This team didn't bother to submit a team page, so the FSA social media cats team created one for them.

You're welcome.

The GreenTeam is almost as old as FSA (9 th Anniversary this year). We know that they were the first ever FSE winner,

but details from that era are scarce and often indistinguishable from mythology. You have been warned.

Combustion Engines are hard to quit cold turkey, so they kept one

around to ease the withdrawal.

The mythical Greenteam driver.

Some say he runs on straight E85

Som

Now optimized for romantic rides into the sunset: their

2018 car, the E0711-9

Elton John during his brief time as

GreenTeam Member

48 | Formula Student Austria | Spielberg 2018
---
ETH Zürich

AMZRacing

E33

© Fabio Meier

Since the Academic Motorsports

Club Zurich (AMZ) was founded in

2006 by students of ETH Zurich it has

produced a prototype to compete in

various Formula Student competitions

in Europe every year. After having built

three cars powered by combustion

engines, AMZ has moved forward to

developing electric racing cars since

2010. The association is financially independent

and supported by numerous

financial, manufacturing and parts

sponsors as well as institutes of various

Swiss universities. AMZ is the first Swiss

team in Formula Student.

The active team counts approximately

35 people, backed by the crucial

support of their alumni. In 2017, AMZ

finished the season at the top of FSE

rankings.

AMZ's twelfth car - eiger - cap-

tivates with innovation through and

through. It is the result of more than

eight months of development time,

countless sleepless nights and the

single intention of a team to be successful

through innovation.

We look forward to competing with

the whole formula student community

this summer!

Technical Data

Motor

AMZ M8 (I R8 8/8)

Dimensions

1530 WB / 1220 Track

Weight

172 kg

Wheels

13", CFRP Rim

Fuel

Caffeine & Electricity

Frame Type

Glued

Gadgets

Too many

Wings

Some stolen from sharks

Driver

Eibär

Suspension

Active

Max. Power

167.6 kW

Best Feature

Did we say active

suspension?

Spielberg 2018 | Formula Student Austria | 49
---
E41

TU Wien

TUW Racing

Vienna's University of Technology's Formula Student Team is called TU

Wien Racing. Our main focus is lightweight design and in-house development

of nearly all our components that make our newest race car:

The tenth racecar of TU Wien Racing, the EDGE10, features a lot of technical

refinements in comparison to last year's vehicle.

The improved aeropackage, which includes rearwing, frontwing and

venturi-tunnels, enable us to generate even more downforce.

Our self-developed inverter has also been updated and is working great in

combination with our two self-developed motors.

With those and a lot more updates and improvements, the EDGE10 is our

most advanced racecar yet.

163kg

0-100km/h in 3.1s

Self-developed Inverter

50 | Formula Student Austria | Spielberg 2018
---
TU Darmstadt

TU Darmstadt Racing Team

E42

DART Racing is a Formula Student Team of the TU Darmstadt. Found in 2005 by motorsport

enthusiasts, we have grown to become one of Hessens biggest Formula

Student teams, managed and maintained by over 50 highly motivated students.

In 2012 the team decided to shift their focus away from combustion and towards

electrically powered racecars. Since then, every year features new innovation and

extraordinary features, such as the specially customized tires from Pirelli.

The ny2018 is the latest addition to the ranks of DART's history.

Hundreds of man (and woman) hours have created a new monocoque, fascinating

new aerodynamics and a remarkable packaging system. We are proud to be more

than just students building a racecar. We are one team with one goal: The top!

Technical Data

Engine Spins Max. power Is my name

ECU Who needs that? Dimensions Out of this one

Wheels Pirelli DART tires Weight How dare you!!

Suspension Red and grey Frame type Long, hard and silky

Fuel Dang Dragon Words of You careful must be, a dark

Wings Flew away! Wisdom side the monocoque has!

Spielberg 2018 | Formula Student Austria | 51
---
E44

Deggendorf Institute of Technology

Fast Forest

Fast Forest is the Formula Student team of the Deggendorf Institute of Technology, founded in 2008.

With this year's season, Fast Forest reaches its 10th year of race car passion and the dedication for

new innovations. Therefore, we are proudly introducing Jenny10X, the ninth generation of electric

race cars which combines the benefits of its predecessor with new features. The overall concept is

based on the two goals of reliability and validation.

This summer is going to be our fifth time participating

at Formula Student Austria. Our team consists

of about 70 members which are representing all faculties

of the DIT. Together we are looking forward

to bring a part of the Lower- Bavarian culture to the

Red Bull Ring and share it with our dear fellow Formula

Student teams.

Technical facts for you:

Dimensions

Power

Max. system voltage

Max. battery capacity

Battery cells

Drivetrain

Suspension

2873x1361x1162mm

80 kW

588 V

6,84 kWh

LiCoO 2

, 140s2p

4 motors with planetary gearbox in each wheelhub

double unequal length A-Arm, push rod

actuated horizontally oriented spring

and damper

#sauguad #runforestrun #10years

52 | Formula Student Austria | Spielberg 2018
---
UAS Sankt Augustin

BRS Motorsport

E45

The BRS MOTORSPORT TEAM is the Formula Student

team of the UAS Bonn-Rhein-Sieg with about 70 students

of all faculties, who share their love for designing, developing

and manufacturing a single-seater. The most recent race car is

the G18e, also called Mary. It is the second all-wheel-driven electric

race car of the team. This season was not only about fixing quirks of our last race car, but also

to push innovation and design improvement. We not only optimized our race car, but also the

structures of our team so we could work as efficiently as possible. Last season we got a handful of

top 3 places, even though we worked with a new concept that no team member has worked with

before. The season of 2018 will be even more exciting and we hope to surpass our expectations!

Facts about the G18e "Mary"

WEIGHT

225 KG

DIMENSIONS 2908 x 1416 x 1156

MOTORTYPE

SYSTEM VOLTAGE

AMK DD5

600 V

Innovative features of the G18e

The G18e has a whole new battery concept. We went from using pouch cells to round cells and

with that we could implement our self-developed battery management system. The aerodynamic

concept was optimized with the implementation of a drag-reduction-system and sidepods. For

the CFRP monocoque chassis we used aluminum honeycombs for the first time and because of

selective laser sintering the stabilizer bridge of our suspension was able to get topology-optimized.

Contact us!

www.brsmotorsport.de

support@brsmotorsport.de

VISIT OUR WEBSITE!

www.instagram.com/brsmotorsport

www.facebook.com/brsmotorsport

(it's fabulous)

Spielberg 2018 | Formula Student Austria | 53
---
E60

Georg Simon Ohm Nürnberg

Strohm und Söhne

Our team "Strohm + Söhne e.V." from TH Nürnberg was founded in the year 2011. Since then

we constantly evolve our NoRa. This season we developed our fifth racecar. Because of many

new challenges we decided to run a two years concept. During this period, we constructed,

designed, tested and built our new racecar with 35 motivated team members. Now we can

present an aluminium monocoque with all-wheel-drive motors and many new developments

like a complete new designed suspension. Furthermore, we are really proud of your selfdesigned

PCBs like the Battery Management System, Smart Sensors and 16 other PCBs, which

we optimize each year.

Now we proudly present our NoRa5!

Frame: Aluminium monocoque with aluminium honeycomb

Weight: 219 kg

Length: 2075 mm Width: 1420 mm Height: 1112 mm

Motor Technology: all-wheel-drive

Motor Type: DD5-14-10-POW-18600-B5

Maximum Motor Torque: 9.8 Nm

Final drive reduction ratio: 13.8

Damper: Carbon KW competition 3A Formula Student

Suspension: Carbon wishbones

Accumulator Cell Chemistry: LiPo

Accumulator Cell Configuration: 144s2p

Energy content: 6,4 kWh

Nominal Accumulator Voltage: 600 V

www.strohmundsoehne.de

strohmundsoehne

strohmundsoehne

54 | Formula Student Austria | Spielberg 2018
---
NTNU Trondheim

63, Norway, Norwegian Revolve University NTNU of Science

and Technology, Revolve NTNU

E63

Revolve NTNU is finally back at FSA! We are Norway's northernmost team, and this year

we are competing with our new electrical beast, ATMOS. This is a product of

approximately 50 students coming together, hard work and creativity. We are excited to

see how well we can perform this summer at Red Bull Ring in Austria.

This year, we have many great new solutions. Our carbon fiber monocoque got a totally

new design - it is now smaller, more aero friendly and every system can be tightly

packed inside the chassis. The aerodynamics has also gotten more extreme this year.

During our production period we produced over 100 elements in light carbon fiber, so we

can get maximal traction to the course in every event.

Inside the car you can find over 38 self-designed PCB's, every single one of them produced in

Trondheim. Combining all our PCB's you will see a neat field of wires, going from the rear to the front

of our car. Not only do we have over 60 PCB's, but the car also has over 300 sensors. If that isn't

amazing, I don't know what is. Being able to read all of the information is crucial. Therefore, we have

made several changes to our self-developed software program, Revolve Analyze. Here our members

can get live data from testing and during competitions. This way we can monitor our car all the way

to the finish line.

Do we even need to talk about our suspension system? Of Course! We have 3D printed uprights in

titanium, topology optimized carbon fiber rims and carbon fiber tubes connecting the suspension

system to our monocoque. Since 2016, we have been producing cars with 4WD and this year is no

exception. Inside each wheel we have AMK motors, enabling us to steer each wheel independently.

If you want to know more about our car, come see us in our pit or grab hold of one of our members!

Spielberg 2018 | Formula Student Austria | 55
---
Monash University

M17-E, Australia, Monash Monash Motorsport University, Monash

Motorsport

E65

THE TEAM

Monash Motorsport is a student-run team comprised of

over 100 students that work collaboratively in technical,

business and management aspects.

Our team vision is to be the most respected Formula

Student team in the world.

As a part of this vision, we developed our first ever

electric vehicle in 2017 along with our 18th combustion

vehicle and achieved overall first with both cars in the

2017 Australasian competition.

In 2018, we made the decision to bring both cars to

Europe to compete on the global stage with some of

the best teams in the world.

We're super excited to be competing in Formula

student Austria again and we can't wait to see you all!

TECH SPECS

Powertrain

Instrumentation

Emrax 228 High Voltage

MoTeC D153 Mini Color

Display mounted on dash

with electrical safety system

LED indicator lights

Wheels 10"x 7.5" Hoosier R25B

tires, carbon shells with Al

centres

Brake System Floating bisalloy rotors,

Tilton 78 series MC with bias

bar, GP200 caliper front,

PS1 rear

Suspension Double unequal length A-

Arm, direct acting spring and

damper with rear anti-roll bar

Maximum Motor 240Nm for 120s

Torque (peak)

Aerodynamics Double element front wing,

three element rear wing

Driveline Drexler Limited Slip

Differential

Dimensions 2936 mm, 1391 mm, 1185

Mass with 68kg driver

seated

Frame type

mm

201 kg rear, 120 front

Steel tube spaceframe with

bonded composite panel

floors, aluminium rear

bulkhead floors, aluminium

rear bulkhead

56 | Formula Student Austria | Spielberg 2018
---
Duale Hochschule Baden-Württemberg

CURE Mannheim

E69

COOPERATIVE

UNIVERSITY

RACECAR

ENGINEERING

2 EMRAX motors

on rear axle

BACK FOR MORE

Special Formula

Student Pirelli tire

CM-18e is the second formula student vehicle by the

team of DHBW Mannheim. It is built to compete in

the Formula Student Electric class of the 2018 season.

After building the first formula student car with a new

team last year, the main goal for this year was to improve

every single part for building a reliable car, which is

competitive to similar teams.

"PEDAL SCALING" AS UNIQUE FEATURE

Air Sprung-Damper

system

Pedal Scaling is a real time indication of the accelerator

and brake pedals.Designed and tested in motorsports

and implemented into the daily traffic on roads it leads

to quicker reaction times and adaption to other road

users. Think about it!

EVERYBODY

CURE, founded in 2012, is the biggest student project at the

Cooperative State University in Mannheim. Started as a part of

Project Engineering studies CURE has grown to a range of more

than 20 different courses at our university. Combining these

studies we have created a platform of economical knowledge

and engineering expertise.

Our greatest challenge is to achieve the best performance in our

studies and the professions we pursue at our partner companies

parallel to our studies – both while pushing this race car project

forward. This is why everybody in our team has to be an organizational

talent and this is the reason why we will succeed.

Spielberg 2018 | Formula Student Austria | 57
---
E71

TU Ilmenau

Team Starcraft e.V.

After last year's fire that destroyed our dreams for FSA 2017, we

started project phoenix, put all energy into renovating our workshop

and regaining the lost equipment. Thanks to the support from our

sponsors and fellow FS teams we were able to recover from the

severe setback and embraced the opportunity to start all over again

with a completely new concept. Now we are back on track with allwheel

drive, aerodynamics, 3-damper concept and a lot of other

fancy high-tech, ready to surpass the expectations.

Specs Specs Specs

Frame CFRP Monocoque Motor controller in-house developed SiC

inverter

Dimensions

in mm

2790(L), 1481(W), 1050(H),

1530(WB), 1200(Track)

Motors

AMK DD5-14-10-POW-

18600-B5

Weight 178kg Max RPM 20.000

Tyres 205x34 R13 Continental Max Power 36kW per motor

Wheels 7x13, OZ FSAE Mg Max Voltage 600V

teamstarcraft.de

fb.com/teamstarcraft

Team Starcraft e.V.

teamstarcraft71

58 | Formula Student Austria | Spielberg 2018
---
TU Bergakademie Freiberg

Racetech Racing Team TU Bergakademie Freiberg e.V.

E76

Spielberg 2018 | Formula Student Austria | 59
---
E78

TU Hamburg

e-gnition

The team which worked on this beauty

consists of over 60 students

from all fields of study. We worked

a hard year to create not only the

egn18-ev, but also the egn18-dv,

our second autonomous racing car

created to compete in the FSEast

and FSG.

We can't wait to see how our car

stacks up against the great competition

at this event. The best of luck

to all the other teams, we are eager

to see your cars on track!

This year marks our seventh season as a formula student

team and our fifth visit to the FSA competition. The egn18-

ev is a powerful racing machine, featuring a strong carbon

fibre monocoque, dynamic 4WD, an exquisite aerodynamics

package and advanced control systems.

4x wheel hub motor with planetary gear

1:14.15 Transmission

15 kg aero package

400 N downforce at 50 km/h

600 Volt 6.7 kWh HV Accumulator

288 Lithium Polymer Cells

195 kg total weight 1530 mm wheelbase

1200/1150 front/back trackwidth

Self developed BMS

Torque vectoring Slip Control

60 | Formula Student Austria | Spielberg 2018
---
Delft University of Technology

Formula Student Team Delft

DUT18

Formula Student Team Delft

E85

Formula Student Team Delft consists of 80 team members from nine different faculties of

the university. Since 2014 Formula Student Team Delft is famous for her lightweight

concept four-wheel driven electric car. This year the innerwheel design, a single stage

planetary transmission inside the wheel, is further development making it more efficient,

lightweight and less complex. The self-developed pcb's made it possible to prepare the

cars for the harsh endurance and autocross conditions as best as possible. Our less

complex, lightweight suspension optimises grip in all dynamic events.

Also, a completely new chassis shape has been chosen to aid the new aerodynamic

devices. The aerodynamic devices where validated in the windtunnel, showing promising

results. Together with our custom made tires, we believe we have a very competitive

tractor.

Technical Data

Team members who think

tractor tyres Þt the DUT18

better than the Vredestein's

1 Max. Power 18 rainbows

Max towing capability 400 kg of stroopwafels Dimensions (LxWxH) [mm] 2831 x 1428 x 1138

Tyres the rubbery ones Total mass of team

members

32 DUT18 cars

Amount of people with

shoe size 43

14,5 Chassis Inspired on Nyan cat

Prefered method of plowing chisel plough Time zone 1 week later than the FSA

magazine deadline

Spielberg 2018 | Formula Student Austria | 61
---
E96

UAS Zwickau

WHZ Racing Team

62 | Formula Student Austria | Spielberg 2018
---
RWTH Aachen University

Ecurie Aix, the Formula Student Team at RWTH Aachen University, was founded in 1999. The

name "Ecurie Aix" is a reference to the team's home base in the German city of Aachen, which

is located right at the borders to Belgium and the Netherlands. The word "Ecurie" means

"Racing Stable" or "Racing Team" in french and has been chosen in respect to a very

successful Belgian motorsport team named Ecurie Francorchamps. The word "Aix" is derived

from Aachen's French name: Aix-la-Chapelle.

Ecurie Aix Formula Student Team RWTH Aachen e.V.

E99

For 2018 we built an evolutionary car which is derived from last year. The concept is based on

a single piece monocoque with four electric motors. In order to make the car more reliable we

redesigned only a few parts completely but stuck with the concept of our eace06. The most

obvious changes were made by the aerodynamics and cooling department. The side covers

with so called chimneys are not only a genuine eye catcher, but they also heavily improved the

mass flow through the radiators.

In our fourth appearance we hope to build on the successes from the previous years, since we

took a trophy home to Aachen every time we went to FS Austria.

www.facebook.com/EcurieAix/

@EcurieAix

www.youtube.com/EcurieAix

@ecurieaix

Spielberg 2018 | Formula Student Austria | 63
---
transform :

mobility

copy

© FSG/Shidhartha De