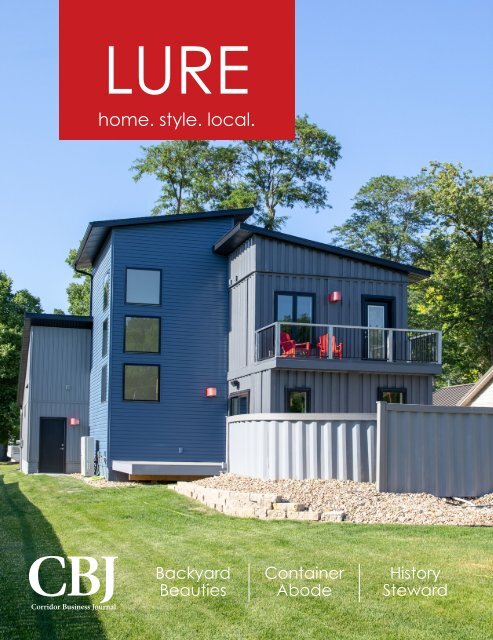 Create successful ePaper yourself
Turn your PDF publications into a flip-book with our unique Google optimized e-Paper software.
LURE

home. style. local.

Backyard

Beauties

Container

Abode

History

Steward
---
FROM THE EDITOR

Enjoying the Beauty of Fall

After a steamy summer, who is ready for sweatshirts, apple orchards and football games?

I know I am. And I can't think of better place to be in the fall than Eastern Iowa.

The trees' vibrant colors provide the perfect backdrop for picking apples and

pumpkins or going on a hayrack ride. Oh, and there's plenty of football games around

here to sport your favorite sweatshirt.

In this issue, we offer up some favorite apple orchards and pumpkin farms (page

39). Most of these agribusinesses have stores selling products made with their produce

as well as specialty items. Some even have activities for kids and

adults, such as corn mazes and haunted houses.

Whether you're at Kinnick Stadium or a local high school

football game, there likely will be a waft of smoke coming from

grills cooking up brats and burgers. Tailgating can vary from

basic grilling to elaborate spreads. We asked several area culinary

experts to share their favorite recipes and they came up with

everything from cookies to chili. Check them out on pages 34-36.

For those who prefer taking in fresh air away from large

crowds, peace and tranquility can be found right in their own

backyard. Last fall, Lure featured "man caves" where men can

relax in their own environment among their favorite things. In

this issue, we take a look at "she sheds" – backyard havens where

women (and men) can surround themselves with their favorite

gardening supplies and accessories (pages 4-10).

A new flower shop in Iowa City also offers a quaint, inviting space to take in nature's

beauty. Willow & Stock (pages 30-34) puts a unique twist on the buy local movement as

it sources its flowers, stems and greenery from local suppliers. Owners Angie Barnett

and Amber Neville even bring in items from their own yards and gardens.

The homes featured in this issue fall on opposite ends of the style spectrum. On the

historical side, Bobby Jett saved a home originally built in 1853 over an 18-month period

(pages 20-29). The property known as Stone Wall Acre had fallen into disrepair over

the years until Jett purchased it in 2016. He painstakingly rejuvenated every inch of the

property, clearing the overgrown trees and renovating the 1,600-square-foot home with

modern touches while preserving its historical qualities.

On the modern side of the spectrum, a group of builders in Cedar Rapids who call

their venture CARGOHAB (short for Cargo Habitat) constructed a new home out of four

shipping containers. It's believed to be the first of its kind in the Corridor, if not the entire

state of Iowa. The long, narrow industrial-looking abode is actually a high-end custom

3,000-square-foot home with artistic features.

Although we're excited about the fall season, it's never too early start planning for the

holidays. If you have holiday decorating ideas for the next issue of Lure, please drop me a

line at angela@corridorbusiness.com.

Until then, get out enjoy the beauty of fall, pick a few pumpkins and take in the big game.

FALL 2018

Chief Executive Officer

& Publisher

John F. Lohman

Vice President

Aspen N. Lohman

Chief Operating Officer

& Associate Publisher

Andrea Rhoades

Magazine & Special Projects Editor

Angela Holmes

Writers

Tricia Brown

Cindy Hadish

Angela Holmes

Photographer

Brian Draeger

Graphic Design Manager

Becky Lyons

Graphic Designer

Julia Druckmiller

Magazine Media Consultant

Judith Cobb

Chief Content Officer

Adam Moore

CBJ Media Consultant

Kelly Meyer

Events & Social Media Marketing Manager

Ashley Levitt

Event Media Consultant

Rhonda Roskos

Marketing & Distribution Manager

Jean Suckow

Angela Holmes

Editor

Contents are registered to Corridor Media

Group. Reproductions or other use, in whole

or in part, of the contents of the publication

without permission is strictly prohibited.

LURE

home. style. local.

ON THE COVER

2345 Landon Road, Ste. 100

North Liberty, IA 52317

319.665.NEWS

www.corridorbusiness.com

Backyard

Beauties

Container

Abode

History

Steward

This unique home in southeast Cedar

Rapids was built from four cargo shipping

containers. The owners, CARGOHAB (short

for Cargo Habitat), designed the home to be

high-end and artistic to add to its mystique.

See more, starting on page 12.

2 LURE FALL 2018
---
CONTENTS

4

Backyard Beauties

"She Sheds" provide tranquility

12

Custom Container Abode

High-tech meets high-style

20

History Steward

The transformation of Stone Wall Acre

4

30

Blossoming Business

Flower shop sources local

34

Time to Tailgate

Recipes for football season

38

Fall Fun

List of things to do this fall

12

20

LURE FALL 2018

3
---
BACKYARD

beauties

Sheds

not only

provide

storage,

but also

tranquility

BY CINDY HADISH

PHOTOS BY BRIAN DRAEGER

Rebecca Mueller built her rustic

potting shed with her husband over a

weekend at their acreage between

Mount Vernon and Cedar Rapids.

4 LURE FALL 2018
---
Whether you call them

potting sheds, garden

houses or "she sheds"

– the female equivalent of a man

cave – these outdoor sanctuaries

are growing in popularity for

homeowners, not only for practical

purposes, but for entertaining and

aesthetic appeal, as well. Take a look

at several of these backyard beauties

in the Corridor for inspiration in

creating your own.

Rustic Chic

When Rebecca Mueller needed a space for her

gardening tools, she took matters in her own hands,

building a shed that's equal parts rustic and chic, with

vintage windows, a flea market find for a door and

other recycled items.

"I wanted to build something unique with

repurposed materials and this is what I came up

with," said Mueller, 31, who lives on an acreage

between Mount Vernon and Cedar Rapids with her

husband and their menagerie of animals, including

chickens, miniature donkeys, dogs, cats and rabbits.

Their 25-by-25-foot garden, where tomatoes,

onions, potatoes and other vegetables thrive, is a good

distance down a path from their home and garage, so

she wanted to have her shovels and other tools stored

closer on their 7-acre wooded property, not far from

the Cedar River.

An old tie rack serves as a garden tool holder on the

wall, shelves ensure full use of all of the space inside

the petite 8-by-4-foot building, and the windows – a

Craigslist find – allow ample sunlight into the structure

to help spur growth for seedlings in the spring.

The exterior walls, supported by two-by-fours,

were salvaged from a horse barn near Dundee, with

remnants of a mural still visible on the outside.

Mueller estimates the materials cost just $400, with

the majority of the shed constructed in a weekend.

"It really went as planned," she said. >

Rebecca Mueller

decorated her

rustic-yet-chic

potting shed with

flea market and

other recycled finds

such as clay pots,

vintage windows

and tin cans. Her

chicken, "Silkie," is

one of the many

animals that live on

the property.

LURE FALL 2018

5
---
He-Shed, She-Shed

If she had her preference, Jeanie Geers would up the scale in decorating the potting

shed she shares with her husband, Jerry, outside their Marion home. But because

they both use the 12-by-20-foot space, Jeanie doesn't exactly consider the structure

a "she shed."

"It's a working shed," she said, noting that at the height of their business, Dry

Creek Hostas, she would spend entire days in the outbuilding potting hostas and

more. The two have since retired and are winding down their hosta growing, which

takes up much of their 2-acre, shaded yard.

Their cabin-like shed, with a 7-by-20-foot porch, was designed by Jeanie, 65,

and built nearly 20 years ago by Jerry, 67, with about $7,000 in materials from

Menards, including cedar siding.

"I'm the visionary and it if involves building, he makes it happen," she said,

noting that her husband at first was skeptical about constructing a porch on the

shed. "He couldn't understand why. Of course, our customers always sat there and

he sits there all the time. Now he gets it."

The couple built their shed as large as they could to fit their property and use it

not only as a potting shed, but for storing tools, birdhouses, containers and other

items for their gardens. Their dogs and grandchildren also hang out on the porch,

which includes whimsical finishing touches, such as an old mailbox and frogshaped

door handles.

"I wanted it to fit the space," Jeanie said, pointing out boulders at each end of the

structure, with a backdrop of trees. "It nestled in there quite perfectly." >

Jerry and Jeanie Geers enjoy their potting shed outside their Marion

home with their granddaughters, Haylee and Rylee. Because they

both use the cabin-like space that has a front porch, the don't exactly

consider it a "she-shed." The area has whimsical finishing touches such

as a wheelbarrow garden and frog-shaped door handles.

6 LURE FALL 2018
---
THE LARGEST

SELECTION OF

FLOORING IN

EASTERN IOWA.

Carpet | Tile | Hardwood | Window Treatments

randysflooring.com

Building a new home?

We can protect you from

rising interest rates!

Our special Lock and Build SM extended lock option can

help your dreams of home ownership come true while

providing the peace of mind that comes with locking

into an affordable rate. Also available is the option of

floating down to a better rate or flipping into a fixed rate

loan. Shoot an e-mail or text our way, or give us a call.

We'll be happy to provide the details!

Aim High. Bank Strong.

Melissa Myers

Mortgage Loan Originator

NMLS #729958

Cell (319) 458-0059

melissa.myers@cbibt.com

Washington/Kalona Area

Eric Olsen

Mortgage Loan Originator

NMLS #446561

Cell (319) 330-6689

eric.olsen@cbibt.com

Iowa City/Coralville Area

Art Floss

Market President

NMLS #543221

Cell (319) 631-3379

art.floss@cbibt.com

Iowa City/Coralville Area

Member FDIC

LURE FALL 2018

7
---
8 LURE FALL 2018

Blueprint-Free

Lisa Hinzman Howard sketched the concept for her garden shed on a

napkin. Once her vision came to fruition, she found it indispensable

for storage, entertaining and more. The 12-by-12-foot structure, with

a 5-by-12-foot porch, was constructed by family members with about

$3,800 in materials purchased at Menards.

When she first moved to her home in northwest Cedar Rapids,

the landscape was bare. A Linn County Master Gardener since 2011

who now operates her own gardening consulting business, Midwest

Garden Gal, Hinzman Howard, 47, has created a backyard haven

with perennials, vegetables, herbs and other plants, combined with a

series of arbors, stones and pathways.

The garden shed stores much of what she doesn't use in the

off-season, including trellises and large rain barrels. Cross-beams

become cubbyholes for holding small essentials, while peg boards

and wall hooks are used for hanging garden tools and more.

"You name it, it goes in the shed," she said.

While she is all about functionality, the porch offers a spot for

kicking back after working in the garden or relaxing over a drink

with neighbors, with a firepit nearby.

"We come out here all the time to sit with a beer or margaritas; it

all happens on the porch," she said. >
---
Potting

Shed Tips

Lisa Hinzman Howard, of

Midwest Garden Gal, offered

these suggestions for creating

the perfect potting shed:

LEFT: Lisa Hinzman

Howard enjoys

her backyard

haven in

northwest Cedar

Rapids that

includes a 12-by-

12-foot she-shed

surrounded by

many plants,

vegetables and

flowers, including

a purple clematis

over the arbor

and a yellow

daylily.

RIGHT: Potting

sheds can be

spruced up

with a variety of

whimsical signs

and decorations

often found at

flea markets.

n Go big. You'll always have

more items to store, so build

the largest size shed that can

fit in your space.

n Stay neutral. Using beige

or another neutral exterior

color offers a blank palette

for colorful signs and other

decorations.

n Think outside the shed. Have

a plan for landscaping

around the structure, to

provide a finished look for

the area.

n Get organized. Go vertical

with storage, using hooks

and pegs for hanging

garden hoses and tools.

n Be personal. Decorate your

garden shed with signs and

art that strike a chord and

make you smile. "Trespassers

will be composted" is among

the messages on one of

Hinzman Howard's signs.

For more gardening tips, visit

www.midwestgardengal.com

LURE FALL 2018

9
---
Elena Murillo and her

daughter, Monica

Morley, enjoy their

multipurpose shed in

their garden in northeast

Cedar Rapids. The area,

dotted with fairy gardens

and relaxing places to sit,

overlooks a koi pond.

Nature Watch

A "Lake House" sign on their garden shed is an apt description

for the multi-purpose building in the gardens of Monica Morley

and her mother, Elena Murillo, in northeast Cedar Rapids.

The shed and seating area, which overlook a koi pond teeming

with fish, serve as a feeding station for the koi, a spot to drink

coffee in the morning and as storage for the nets, containers of

koi food and other items used for the pond and gardens.

"I don't consider it a regular shed," said Morley, 62, noting the

position of the building down a path serves as a focal point in the

yard. "This gives the illusion that it's a kind of a getaway in there."

The custom-made shed cost about $6,000 when Murillo,

Morley and her husband were creating the design for their

backyard more than 15 years ago. While they wish it could be

a bit larger, they have found it to be a vital component in their

outdoor space.

"I didn't want a shed that looks the same," said Murillo, who,

at age 95, gardens daily during the growing season.

The seating area offers a prime spot for taking breaks

to watch the koi and multitude of birds and other wildlife

attracted to their gardens.

"I've learned so much being out here to actually see this

little bit of nature," Murillo said. |

10 LURE FALL 2018
---
BEST. DECISION. EVER.

When it comes to your dream home – making sure it is perfect means tons of tough decisions. Let our

knowledgeable product experts relieve the stress and restore the fun while introducing you and your

design team to our extensive collection of products from the most sought after brands.

Request your appointment today at fergusonshowrooms.com

CEDAR RAPIDS

FERGUSONSHOWROOMS.COM

LURE FALL 2018

©2018 Ferguson Enterprises, Inc. 0418 818572

11
---
CUSTOM

CONTAINER

ABODE

12 LURE FALL 2018
---
Container home takes urban living to a new level

BY ANNETTE JUERGENS BUSBEE PHOTOS BY BRIAN DRAEGER

This modern home in southeast

Cedar Rapids, constructed out of

four cargo shipping containers,

features a light and airy main floor

with maple wood flooring and

structural beams on the ceiling.

LURE FALL 2018

13
---
IIt's a one-of-a-kind home in the

Corridor and, most likely, in the entire

state of Iowa.

The new-construction, single-family

residence located in southeast Cedar Rapids

has a plethora of custom and high-tech

features. And it's constructed out of shipping

containers – four to be exact.

The two-story house is a venture of five

Cedar Rapidians who own CARGOHAB, which

is short for Cargo Habitat. The partners are

Fred and Joann Zehr, retired Rockwell Collins

employees; their son, Justin, chef at Local

Pour; John Armon, vice president at Kerndt

Brothers Bank; and Casey Cornwell, owner of

Cornwell Homes & Design.

The group liked the idea of recycling and

transforming cargo containers for housing.

When a deep, narrow lot became available

for sale at 527 30th St. Drive SE, it seemed

perfect for a single-family home built out of

long, narrow shipping vessels.

The group spent several months working

on an architectural plan. The final design

is a hybrid one. The core of the home

incorporates the 45-by-8-foot "K" Line

America containers purchased from A-1

Storage in Manchester. The two-stall garage

and stairwell are stick-built.

Fred Zehr said the goal was to create an

environmentally friendly, high-end custom

home with artistic features.

"We wanted a piece of art when we were

done. And I think we got close to it," he said.

Many of the artful custom features

incorporated into the interior were created

by Cornwell. They give a tip of the hat to the

industrial container structure in a stylish,

yet, cozy presentation. >

The kitchen and dining

room flow into the

main living area and

have amenities such as

wooden rectangularshaped

light fixtures,

granite countertops and

custom wood cabinets.

14 LURE FALL 2018
---
DREAM SPACES

Start at Woodharbor Design Showroom

We turn your imaginative ambitions into tangible, functional

spaces. Woodharbor Design Showroom in Hiawatha is a leader in

high quality cabinet design; uniting your taste with modern style.

Room to Flow

The nearly 3,000-square-foot home has four

bedrooms, four full baths and two laundry rooms.

A color palette of gray, silver, black and white

flows through the three levels. The flooring

consists mostly of maple wood and gray carpet.

The light and airy main floor holds a living

room, dining area, kitchen and drop zone cubby.

Zehr said the floor is designed so guests can move

easily around the space and to the backyard deck

and patio.

The patio features a stone waterfall set against

a backdrop of panels of container steel that also

provide privacy to the outdoor area. Adding

to any social gathering is a speaker system to

provide music indoors and out.

On the main floor, several decorative features

make striking statements. In the living room, the

TV and a spalted maple wood mantel are framed

by floor-to-ceiling, 16-by-16-inch, dark metal

squares. In the kitchen, pieces of the red "K" Line

containers accent the base of the kitchen bar and

cubby in the drop zone space.

The ceiling also offers glimpses of the cargo

vessel, painted gray, in between panels of

reclaimed hardwood and structural steel beams.

Some of Cornwell's custom touches are seen

in the home's light fixtures. For the dining room

chandelier and kitchen bar pendants, he used

configurations of wooden rectangles, reflecting

the shape of the cargo containers.

The kitchen has amenities that will please

cooks of all kinds, including GE smart wireless

appliances, a gas stove, a fill pot faucet, granite

countertops and custom wood cabinets. >

1737 Boyson Rd.

Hiawatha, IA 52233

319-393-9147

www.woodharborcr.com

LURE FALL 2018

15
---
16 LURE FALL 2018

Fred and Joann Zehr, partners of the home's

builder CARGOHAB, love to show off unique

features such as the red light fixtures made

of salvaged auger head shields from Marion

Iron Company and the master bathroom that

contains a walk-in closet.

RIGHT: Columns of windows fill the stairwell with

natural light. A spalted staircase maple post

secures the steel railings.
---
Design. Build. Create. Renovate.

Come home to expert

craftsmanship, artistry, custom

finishes, and innovative

design. We are builders of

exceptional spaces, working

closely with our clients to

create homes they treasure.

Heartwood Build & Design is a

cutting edge design and build,

custom carpentry, and general

contracting business located

in Cedar Rapids.

Industrial, Yet Chic

The metal and wood elements on the main

floor are carried out in the open staircase.

Custom-made steel railings come together at

spalted maple posts, while more reclaimed

hardwood is used for the stairs.

Upstairs, the master and guest bedrooms

each have a balcony – perfect settings for a

morning cup of coffee or an evening glass

of wine, Zehr said. The guest room balcony

looks over the backyard; the master's, the

tree-lined neighborhood street. In addition,

the master bedroom has an en suite

bathroom and walk-in closet.

The lower floor holds two more bedrooms

and an open space that can be used for

a variety of purposes including a family

entertainment room or a study. Refurbished

hardwood is used, again, on the ceiling. >

319.929.6768 & 319.929.6059

HOME

LIFE

HEALTH

heartwoodbuilddesign

heartwoodbd@gmail.com

TrueNorth offers real solutions that are designed

with you in mind.

Don't leave your priorities to chance. At TrueNorth, we specialize

in developing plans that help you manage your personal risks to

meet your unique insurance needs.

truenorthcompanies.com

LURE FALL 2018

17
---
Energy Efficient

Technology-wise, the home has been pre-wired for

Wi-Fi. Comfort-wise, there are seven temperature

control zones that can be set by the individual

thermostats or a smartphone app. Pocketbook-wise,

the home's average energy costs should make any

future owner happy.

A rooftop solar panel system provides, on average,

about half of the structure's power consumption.

That, in addition to other energy-efficiency measures

taken by CARGOHAB, earned the house a Home

Energy Rating System (HERS) number of 42.

"The lower the number the better, and Alliant

Energy said this is one of the best in the area," Zehr

said. "We're proud of that."

This new home is listed for $429,000. Zehr said

the extensive labor involved in moving and cutting

the steel containers, plus the custom-design features

were factored into the price.

"This home has a lot of amenities, and it's

virtually stormproof and fireproof," he said. "It can

suit of lot of people's lifestyles." |

The guest room balcony

overlooks the back yard which

includes a deck and a rock

sculpture at the property line.

18 LURE FALL 2018
---
Get gorgeous with North America's #1 choice.

Brighten up a beautiful New Year with the best warranty out there.

Call now for your

free consultation at home!

Latour Cellular Shades

Panel Track Roller Shades

25% OFF

Selected Signature

Series Window

Coverings

319-393-4626

www.BudgetBlinds.com

Blinds • Shutters • Shades

Drapes • Home Automation

Sheer Window Shadings

Roman Shades

*Applies to selected window treatments and Enlightened Style products from Budget Blinds. Restrictions may apply, ask for details. Minimum purchase required. Valid for a limited time, not valid with any other

offers, discounts, or coupons. Offer good at initial time of estimate only. At participating franchises only. ©2018 Budget Blinds, LLC. All Rights Reserved. Budget Blinds is a trademark of Budget Blinds, LLC and

a Home Franchise Concepts Brand. Each franchise independently owned and operated.

LURE FALL 2018

19
---
history

STEWARD

The

transformation

of Stone Wall

Acre

BY TRICIA BROWN

PHOTOS BY BRIAN DRAEGER

Each morning, Bobby Jett

gets up, starts cooking his

oatmeal, then takes a cup

of coffee and his Hungarian

Vizsla, Etter, outdoors to "do

a tour" – a walk around his

fenced three-quarter acre

property along Iowa City's

Foster Road.

20 LURE FALL 2018

He checks on the dozens of trees and

arborvitae he's planted over the last two

years, including rare species such as

the Dawn Redwood, once thought to be

extinct. He watches intently from day to

day to see what new growth or blooms

emerge from the expansive perennial

beds, where one-of-a-kind day lilies, poppies

and roses line the east perimeter.

He may spy a newborn spotted fawn

burrowed beneath a Green Giant arborvitae

or look over his shoulder and see the

prayer flags – hung among the branches –

waving in the breeze.

This sense of peace and tranquility represents

an 18-month project completed

with painstaking care. It represents Jett's

devotion to historic preservation in the

town in which he grew up, and to being a

steward of the land. >
---
Bobby Jett, and his

Hungarian Vizsla, Etter,

relax at Stone Wall Acre,

Jett's renovated historic

home along Foster

Road in Iowa City.

LURE FALL 2018

21
---
Labor of Love

In 2016, Jett purchased the property that, at

the time, was home to what he says was an

overgrown forest and a small, dilapidated

house originally built in 1853, the same

year Iowa City was incorporated. The transformation

that occurred over the ensuing

months, until he moved in in fall 2017, is

nothing short of spectacular.

It was a project during which every stone

was, in fact, overturned. The place is named

Stone Wall Acre.

"One day on social media, one of my

friends posted a picture of this place and

commented that it would be a great fixer-upper,"

Jett said. "I thought, 'Oh my gosh, I have

to do it because I love Iowa City history.'"

Jett's research led him on a journey of

the property's history since it first was purchased

by three brothers from Ohio – Jacob,

John and Henry Erhardt – who came to Iowa

from Ohio in the 1850s and purchased 120

acres, including the property where Jett's

home now stands. Henry Erhardt built the

home in 1853 for he and his wife, Mary, who

died of dropsy only eight years later. Henry

later remarried and moved to a home near

Hills, where he's buried in a country cemetery

that bears his name.

The property changed hands five or six

times, Jett's research shows, until it was purchased

by Bud and Betty Louis in the 1950s.

The Louises lived in the home until Betty's

death. A daughter then took possession and

it sat vacant until a bank eventually took

possession. The only parcel remaining of the

original 120 acres was the three-quarter acre

lot where the home fell into disrepair and

trees overtook the property. >

Iowa City resident Bobby Jett transformed a

run-down structure originally built in 1853 into a

modern home true to its original footprint. A new

breezeway connects the home to a two-vehicle

garage that also includes unfinished space for

an apartment on its second level. The yard is

Jett's favorite aspect of the property, reflecting

his love of flowers, trees, and meditation as he

has hung prayer flags on northwest edge.

22 LURE FALL 2018
---
Blue limestone

pavers are placed all

around the home.

GRAVELY MOWERS

MOW THE DISTANCE

Get the Mower You've Always Wanted.

All Sizes. All Prices Ranges.

SHOWN:

GRAVELY

ProTurn 460

Air-Ride Seat

Yamaha 33HP

TOP OF

THE LINE

www.gravely.com

City Tractor Co.

645 Penn Ct. North Liberty, IA

319-665-6500

LURE FALL 2018

23
---
24 LURE FALL 2018

Country Stone Masons

dismantled an old stone wall

surrounding the property

and transformed it piece

by piece into a dry-stack

wall. Built with no mortar, the

wall is built by placing rocks

and chipping them on-site

so they fit tightly together.

Then, heavy capstones are

placed on the top.
---
PLUMBING - CABINETRY

COUNTERTOPS - LIGHTING

319-338-8275

www.studioh2o.net

2020 S. Riverside Dr.

Iowa City

Make your home

One-Of-A-Kind!

LURE FALL 2018

25
---
Just days after Jett purchased the property in

2016, Total Tree Care removed the dead trees and

Country Stone Masons began work on the dry-stack

limestone wall on the south border of the property.

"It is called Stone Wall Acre because there was a

stone wall here, and supposedly these stones were

salvaged from the Old Capitol," Jett said. "I saved all

of them and they're all around the bottom of the

fence and in the new dry-stack wall."

On his travels to Kentucky, Jett saw many drystack

walls lining horse farms and loved the look.

Built with no mortar, the walls are built by placing

rocks and chipping them on site so they fit tightly together.

Then, heavy capstones are placed on the top.

Jett also began working with Neumann Monson

Architects in Iowa City on his vision for the home.

His goal was to stay as true to the original 1853

footprint as possible.

"Even though it wasn't insulated, there was no

foundation, the roof was falling in, rodents were living

in it, there was no kitchen, the bathroom was falling

apart, it would either be 'fix it or let it fall down.' That

would have been it," he said. "A developer would have

torn it down and built condos. The alternative was I

could do this and save as much history as I possibly

could and still make it modern and livable." >

TOP: The original fireplace was maintained as the focal point of

the living room, which Jett outfitted with vintage mid-century

modern furniture. Perhaps the most spectacular feature of the

home is the giant Nanawall, encompassing nearly the entire

west wall of the living room.

CENTER: The kitchen features modern appliances, a farmhouse

sink and a white marble backsplash. The windowsills throughout

the home are made of the same white marble.

BOTTOM: The iron and oak spiral staircase, made by Walker

Welding in Tiffin, is suspended between the first and second levels.

26 LURE FALL 2018
---
Country Feel in the City

At just more than 1,600 square feet, the home is interesting,

charming and right-sized. It's a piece of history

with a modern flair.

So many aspects of the property make it unique.

First is the iron fence that surrounds the property

on all sides, made and installed by hand by Tim Linden,

a metal fabricator from North Liberty. It's a piece of art

in itself that makes the home feel quiet and secluded in

a dense and busy neighborhood.

Inside the home, the oak floors are original. Every

board was removed, every nail was pulled out, and

Gray's Hardwood Flooring in Cedar Rapids took them

back to the shop and sanded them, piece by piece. A

foundation was built and poured and a geothermal energy

system was installed under the southeast portion

of the yard.

The exposed brick walls also are original, thanks to

Ken Gilbaugh of Gilbaugh Masonry in Coralville.

"He took off each brick, took them out into the yard,

cleaned them off, and reset each one perfectly back in

place," Jett said. >

Interior Design | Furniture | Gifts

331 Kirkwood Avenue | Iowa City

351-4653 | Hours: M-F 10-5

www.designsurroundings.com

WATER TOUCHES EVERYTHING

IN YOUR HOME.

WHOLE-HOME

Better water in

every room your

family uses water.

ON YOUR TERMS

Buy, rent or

finance­—whateverworks

for you.

FEWER CHORES

Enjoy spotless glasses,

softer laundry and less

scrubbing.

PEACE OF MIND

Reduces­contaminantsthat­may­be­inyour

water.

Culligan Water Conditioning

4855­Chandler­Ct,­Marion

(319) 377-6441

Vetter's Culligan Water

3414­Merchant­St,­Coralville­

319-209-4707

LURE FALL 2018

27
---
Placed among the original bricks are two of the

original beams from the home, with visible axe

marks and burn marks from a fire that is said to

have once damaged the structure.

The iron and oak spiral staircase, made by Walker

Welding in Tiffin, is suspended between the first and

second levels.

"This was the hardest part of the house," Jett said.

"They had to figure out how to get the stairwell to

the second floor and they came up with this ingenious

hanging staircase."

A hydraulic trap door in the floor near the back

entrance opens to reveal a staircase leading to the

basement, where, tucked into the southeast corner

is the original barrel ceiling root cellar, said to have

been a stop on the Underground Railroad.

"People always want to see this," Jett said. "It

sounds cooler than it really is."

The kitchen is the epitome of modern country.

Jett's favorite feature is the cast iron farmhouse sink

surrounded by a gleaming white marble backsplash

that doesn't stop until the ceiling.

The main living space is a throwback to a more

recent era, featuring Jett's collection of mid-century

modern furnishings. Most of the pieces came from a

shop in Winter Park, Florida, where Jett would select

items from photos sent to him by the owner, Renj Reichert,

have them shipped to Iowa and put in storage.

"I had this place furnished before it was even

built," he said.

On the south wall, facing the original fireplace, is

an expansive set of built-in shelves that house Jett's

book and vinyl collection, as well as unique pieces of

art — each with a significant meaning.

"My other love is books," Jett said. "It's all arranged

and each section means something to me. It

was very important to me to have a place to display

my books." >

TOP: Jett's collection of books and mementos from his

travels are displayed on an expansive wall of built-in

shelves in the living room.

CENTER: Etter relaxes in the TV room adjacent to the main

living room. An original beam of the home is exposed

above the windows.

BOTTOM: Windows in the master bedroom give the room a

treehouse feel in the summer, and in the winter when the

leaves have dropped, Jett can see the Iowa River.

ABOVE: The original key to the home was found during the

remodel. Jett framed it and displays it in the kitchen.

28 LURE FALL 2018
---
His interests are vast, and include

photography, meditation and mindfulness,

roses, history and art.

Adorning the brick walls are

prints by Mauricio and Diego Lasansky,

a painting by Willy Bo Richardson,

and photography by Shelby

Lee Adams, one of Jett's idols.

Perhaps the most spectacular

feature of the home is the giant

Nanawall, encompassing nearly

the entire west wall. The Nanawall

is a large panel sliding glass wall

system that opens the home to the

outdoors. Large pocket screens can

be pulled across to keep bugs out

or a dog in. But the effect is serene

– Jett can sit in his living room,

listen to the birds and watch the

prayer flags blowing in the wind.

"My first love is the yard. That's

the one thing I get the most excited

about," he said. "This allows me to

be outside all the time. I can just sit

here. That's what I do at night with

Etter, I just sit." |

The master bath on the second level is

outfitted in white marble and features

flooring made of stamped concrete block.

Iowa's Source for

Professional Glass Service

Our Products

& Services

• Commercial

• Residential

• Glass Repair

• Custom Glass Fabrication

• Shower Doors

• Custom Mirrors

• Tabletops

• Backsplashes

• Cabinet Glass

• Colored Glass

Serving Iowa For

Over 50 Years!

PLEASE VISIT US ONLINE

www.alliedglassproducts.com

LURE FALL 2018

29
---
Blossoming Business

Black-Eyed Susan Green Trick Dianthus Gomphrena Cremone

BY TRICIA BROWN PHOTOS BY BRIAN DRAEGER

A year ago, Angie

Barnett and Amber

Neville jumped feet

first into a business

partnership that offers

them complete creative

license and puts a new

twist on locally-owned

and locally-sourced.

Willow & Stock, located on North Linn Street

in Iowa City, is truly a fresh take on a flower

shop – a quaint and inviting storefront, stems

and arrangements grown nearby, a place where

you won't find baby's breath or affiliation with a

wire service offering standardized bouquets.

A couple of brick and mortar flower shops

closed in early 2017. Off and on, Barnett

continued to chat with Neville about her

idea. Then the space on Linn Street became

available. Neville, who worked as a corporate

librarian, was ready for a career change.

"Our idea is something totally different than

what anyone else in the area is doing," Barnett

says. "Floral industry trends follow the restaurant

industry. The trend in the last decade has

been farm to table, a natural movement."

For Willow & Stock, that means flowers,

stems, greenery and other natural items are

sourced nearby – even from their own yards

and gardens. >

30 LURE FALL 2018
---
Amber Neville and Angie Barnett opened their dream

flower shop, Willow & Stock, at 207 N. Linn St. in Iowa

City last year. The shop features plants and flowers

grown locally, including from their own backyards.

LURE FALL 2018

31
---
FYI

Willow & Stock

207 N. Linn St., Iowa City

(319) 338-1332

http://willowandstock.com

The locallysourced

products at

Willow & Stock

go hand-inhand

with the

store's design

aesthetic.

From Muddy Miss Farms in Iowa City, Cardinal

Flower Farm in Iowa City, Pheasant Run Farm

in Van Horne, and Echollective Farm in Mechanicsville,

to name a few, come zinnias, hydrangea,

sunflowers, larkspur, dahlias, snap dragons,

black-eyed Susans, tansy, campanula, nigella, cosmos,

butterfly bush, lush greenery, curly willow

branches and much more.

And the locally-sourced products go handin-hand

with their design aesthetic.

"All the other elements that we've embraced

are the seed pods and the grasses and the

things that we're focusing on might be things

used occasionally in other shops but we're

using them in the forefront of our design,"

Barnett says. >

Some of their suppliers…

Cardinal Flower Farm

4495 Freund Road SE, Iowa City

(319) 400-2291

www.facebook.com/cardinalflowerfarm

Muddy Miss Farms

3714 500th St. SW, Riverside

(319) 321-8838

www.facebook.com/MuddyMissFarms

Pheasant Run Farm

6925 19th Ave., Van Horne

(319) 228-8758

www.pheasantrunfarmiowa.com

Echollective Farm

879 Echo Ave., Mechanicsville

(319) 325-3910

https://echollectivecsa.blogspot.com

Salt Fork Farms

4824 Sutliff Road NE, Solon

(319) 936-5012

www.facebook.com/SaltForkFarms
---
Let us make

your home,Your

Castle

Cool Water Rose

The biggest surprise, the shop owners say, has

been the number of farmers and growers who have

contacted them about being part of the shop.

"It makes you feel like you made the right decision,

like the stars were aligned for you," Barnett said. "And

even though we have some great relationships established,

people tell us on a regular basis that they've

got a couple of acres of land and some time, would we

want them to plant things for us. It's cool."

Their design aesthetic and focus on locally-sourced

products have created a solid foundation on which to

build their business. They expect to hire a part-time

employee soon.

"It's a great neighborhood. It just feels like such a

good fit," Neville said. "I don't want to say it's too good

to be true, but it's been very well-supported and it just

feels like this time next year we have no reason to think

it wouldn't be double what we're doing right now." |

Celebrating 20

Years in Business

240 CLASSIC CAR CT. SW CEDAR RAPIDS 319-866-9816

WWW.CANTEBURYKITCHENS.COM

Fresh flowers and arrangements come

from just a short distance away, including

farms in Iowa City, Riverside, Solon, Van

Horne and Mechanicsville.

Interior Design | Furniture | Accessories

Area Rugs | Art | Lighting Window Treatments

538 S. GILBERT ST. IOWA CITY | PH 319.338.2830 | M-F 9-5

WWW.THEMANSION.DESIGN

LURE FALL 2018

33
---
TIME TO

Tailgate

BY ANGELA HOLMES

Ahh, football season. Time for big hits, dazzling

catches and of course, fabulous food. Gathering with fellow fans to tailgate before

– and sometimes after – the game is as much of a tradition as the game itself.

Tailgating ranges from simply having a few beers and bags of chips set up on a

pickup's opened tailgate – hence the name – to elaborate parties with tents, decorations,

games and tables of endless food and drinks. Several recipes to get you started

are on the following pages.

34 LURE FALL 2018
---
CHEWY HONEY-PEANUT

BUTTER COOKIES

MAKES ABOUT 5 DOZEN

1 cup pure clover honey

1 cup creamy or chunky peanut

butter

2/3 cup shortening

2 large eggs

3 1/2 cups baking mix

1 cup granulated sugar

1/4 teaspoon baking soda

Additional granulated sugar for rolling

In mixing bowl, beat together honey,

peanut butter, shortening and eggs

until well blended. Combine baking

mix, 1 cup sugar and baking soda;

add to peanut butter mixture and mix

well. Chill dough for at least 1 hour.

Shape dough into 1-inch balls and roll

in additional sugar; place on cookie

sheet coated with nonstick cooking

spray. Flatten slightly with the bottom

of a smooth glass dipped in sugar;

make an indentation using a footballshaped

cookie cutter. Mark the laces

in the center of the football with a

knife. Bake at 375 degrees for 9 to 10

minutes or until golden brown. Cool

5 minutes; remove to rack to cool

completely.

FROM "TAILGATES TO TOUCHDOWNS:

FABULOUS FOOTBALL FOOD"

BY NINA SWAN-KOHLER

SLOPPY JOES

SERVES 8 (1/2 CUP FILLING EACH)

12 ounces lean ground beef

1 large onion

2 cups finely chopped cremini

mushrooms, (about 4 ounces)

10 ounces diced canned tomatoes

2 tablespoons all-purpose flour

1/2 cup water

1/4 cup cider vinegar

1/4 cup chili sauce

1/4 cup ketchup

8 hamburger buns

Crumble beef into a large nonstick

skillet; cook over medium heat until

it starts to sizzle, about 1 minute. Add

onion and mushrooms and cook,

stirring occasionally, breaking up the

meat with a wooden spoon, until the

vegetables are soft and the moisture

has evaporated, 8 to 10 minutes.

Add tomatoes and flour; stir to

combine. Stir in water, vinegar, chili

sauce and ketchup and bring to

a simmer, stirring often. Reduce

heat to a low simmer and cook,

stirring occasionally, until the sauce

is thickened and the onion is very

tender, 8 to 10 minutes. Serve warm

on buns.

To make ahead: Prepare filling and

store in freezer for up to a month.

ADAPTED FROM WWW.EATINGWELL.COM

FIRSTDOWN DEVILED EGGS

SERVES 12 (1/2 EGG EACH)

6 large eggs, hard-boiled

2 tablespoons light salad dressing

1 teaspoon yellow mustard

1 teaspoon white wine vinegar

1/2 teaspoon salt

1/2 teaspoon granulated sugar

1/8 teaspoon white pepper

Peel eggs and cut in half lengthwise.

Remove yolks from eggs and place

in a small bowl. Place egg whites on

a platter.

Mash egg yolks with fork. Stir in salad

dressing, mustard, vinegar, salt, sugar

and white pepper and mix until

smooth.

Fill each egg white half with 1-1/4

teaspoons of yolk mixture. *Top each

with your choice of topping.

Refrigerate until ready to serve.

*Substitute toppings for your team

colors:

Black and Yellow: Top eggs with ripe

black olives.

Red and Yellow: Top eggs with

paprika, pimiento, roasted red

pepper or half of a grape tomato.

Purple and Yellow: Top with diced red

onion.

SOURCE: WWW.HY-VEE.COM

LURE FALL 2018

35
---
GAME DAY HEARTY

MEXICAN DIP

MAKES 4 CUPS

1 pound lean ground beef

1 medium onion, finely chopped

(1 cup)

1 3/4 cups mild picante sauce or

1 can (14 1/2 ounces) Mexicanstyle

diced tomatoes

1 can (4 ounces) chopped green

chilies

1 cup water (divided)

1 package (2.75 ounces) regular

country gravy mix

1/2 package (16-ounce size)

processed Mexican cheese food,

cubed

1 teaspoon ground cumin

1 teaspoon finely chopped jalapeño

pepper (optional)

Chunks of French bread, tortilla chips

or corn chips

In 4-quart saucepan or Dutch oven,

cook and stir ground beef and

onion until beef is browned; drain.

Add picante sauce, green chilies

and 1/2 cup water; heat to boiling.

Meanwhile, dissolve gravy mix in

1/2 cup cool water; stir into boiling

mixture until slightly thickened.

Reduce heat to low; stir in cheese

until melted. Stir in cumin and

jalapeño pepper. Heat through.

Serve warm with bread chunks, tortilla

chips or corn chips.

FROM "TAILGATES TO TOUCHDOWNS:

FABULOUS FOOTBALL FOOD"

BY NINA SWAN-KOHLER

IOWA HAWKEYE CHILI

SERVES 10

2 tablespoons olive oil

1 large yellow onion, chopped

3 cups yellow bell peppers, chopped

and divided

3 clove(s) garlic, minced

2 pounds ground turkey, or ground

chicken

2 (28 ounces each) cans diced

tomatoes

4 (15 ounces each) cans no-saltadded

black beans, rinsed and

drained

2 cups chicken, or vegetable broth

4 tablespoons chili powder

1 tablespoon ground cumin

1 tablespoon granulated sugar

1 fresh lime, juiced

Kosher sea salt, to taste

Fresh cilantro, chopped, for garnish

Shredded cheddar cheese, for

garnish

Kettle chips, for serving

In a large pot, heat oil over medium

heat. Cook onion, 2 1/2 cups yellow

peppers and garlic, 5 minutes or until

softened, stirring often. Add turkey

and cook until no longer pink, about

5 minutes, using a wooden spoon to

break up the meat.

Stir in tomatoes, beans, broth, chili

powder, cumin and sugar. Bring to

a boil; reduce heat to maintain a

simmer, stirring occasionally. Cover

and simmer 45 minutes. Stir in lime

juice and season to taste with salt.

Top chili with remaining 1/2 cup

chopped yellow pepper, cilantro and

cheese. Serve with kettle chips.

SOURCE: WWW.HY-VEE.COM

IOWA STATE WHITE CHILI

SERVES 12

8 slices peppered bacon, diced

1 cup white onion, diced

1 cup green bell pepper, diced

1 pound smoked pork loin, cooked

and cubed

2 cups half-and-half

2 cups chicken broth

1 (1-ounce) packet chili seasoning

1 (8 ounces) package shredded

pepper Jack cheese

2 (15 ounces each) great northern

beans, drained and rinsed

1 (15.5 ounces) can chili-style beans

in chili gravy

2 tablespoons corn starch

2 tablespoons water

White rice, cooked, hot, for serving

In a large pot, cook bacon over

medium heat for 5 minutes or until

crispy, stirring occasionally. Transfer

cooked bacon to a paper-towel lined

plate. Do not drain grease from pot.

In the same pot, cook onion and bell

pepper for 1 minute. Add pork loin

and cook 1 minute. Stir in half-andhalf,

broth, chili powder, and reserved

bacon pieces and bring to a boil. Stir

in cheese until completely melted;

reduce heat to maintain a simmer.

In a small bowl, whisk together

cornstarch and water until smooth;

whisk into chili to thicken. Increase

heat to high, and boil for 30 seconds.

Remove from the heat. Carefully stir

in northern beans and chili beans to

avoid breaking or mashing the beans.

To serve, spoon chili over white rice.

SOURCE: WWW.HY-VEE.COM

36 LURE FALL 2018
---
HOME DECOR • LIGHTING • RUGS • FURNISHINGS • KITCHENWARE

CUSTOM CABINETS • CUSTOM WOOD SIGNS • CLOTHING

TWO LEVELS & OVER 6,700 SQ FT AWARD-WINNING RETAIL EXPERIENCE

200 N LOCUST ST • EDGEWOOD, IA • M-F 8A-7P & S-S 10A-3P

Boost Your Holiday Sales

Reserve your ad space in our holiday gift guide.

Contact Judith today judith@corridorbusiness.com or 319.665.6397 x 318

LURE WINTER EDITION DEADLINES OCT. 12TH

shop . spend . eat . enjoy

LURE FALL 2018

37
---
Fall Fun

Autumn is the perfect time to enjoy the crisp temperatures and vibrant colors in

Eastern Iowa. A variety of places offer the opportunity to pick your own pumpkins or

apples and enjoy activities such as hayrack rides, corn mazes and more. Hours can

vary, so you may want to call before you head out. Here is a sampling:

Allen's Orchard

5801 N. 10th St., Marion

August-October: 10 a.m.- 5 p.m. daily

(319) 377-1408

www.allensorchard.com

This u-pick orchard offers more than 40

varieties of apples, including Cortland,

Gala, Honeycrisp and Sweet Sixteen.

Picked apples, donuts, turnovers and pies

as well as other gifts and products can

also be purchased in the store.

Bart's Farm and Pumpkin Patch

7307 Alburnett Road, Marion

(319) 373-2633

Open through end of October: 5-9 p.m.

Monday to Friday, 9 a.m.-7 p.m. Saturday

and Sunday.

https://bit.ly/2LAVojO

Bring your own wagon and pick pumpkins

from the field or choose from a variety of

already-picked pumpkins in the front yard.

Visit the animals in the barn and enjoy a

pony ride or a tour on a hayrack.

Bass Farms

1325 Highway 30 West, Mount Vernon

(319) 895-6480

June 15-Oct. 31: Tuesday to Sunday 10

a.m. to 6 p.m.; Monday closed. Nov.

1-June 15: Hours vary or by appointment.

(319) 895-6480

https://bassfarms.org/

Located across from Palisades State

Park on Highway 30, this scenic farm

grows a variety of crops including sweet

corn, gourds and pumpkins. A specialty

store carries jams, jellies, chocolates and

wines from around the world. Hay rides,

educational tours and corporate or group

outings also available.

The Big Apple Orchard

1115 Highway 30 W., Mount Vernon

Open through end of October: Mondays,

Tuesdays, Fridays 3-6 p.m., Saturdays

and Sundays 10 a.m.-6 p.m. Closed

Wednesdays and Thursdays

(319) 361-7692

http://bigappleorchard.com/

This u-pick orchard is home to nearly 2,200

apple trees with more than 20 varieties.

The Orchard Store is stocked with donuts,

fresh apple cider, honey from local hives,

ice cream and gifts.

Bloomsbury Farm

3260 69th St., Atkins

Sept. 15-Oct. 31: Monday-Saturday 9

a.m.-6 p.m.; Sunday 11 a.m.-5 p.m.

(319) 446-7667

www.bloomsburyfarm.com

If the 17-acre pick-your-own-pumpkin

patch or 10-acre corn maze aren't

enough to keep you entertained, there

are plenty of other attractions including

a zip line, haunted house, Western town

and fully-stocked country store including a

smoke shack and pizza parlor.

Colony Pumpkin Patch

2780 Front St. NE, North Liberty

Sept. 15-Oct. 28: 4-6 p.m. Monday-Friday,

10 a.m.- 6 p.m. Saturday-Sunday

(319) 626-6091

http://colonypumpkinpatch.com/

This year Colony Pumpkin Patch has a

brand new hay rack to take customers to

the pick-your-own pumpkin patch. Picking

pumpkins and shopping at the store are

free but there is an admission fee for the

corn maze, barrel train and other activities.

Zombie Paintball opens Sept. 17 and the

annual fall festival begins at 10 a.m. Oct. 6.

Genoa Bluffs Farms

2168 Hh Ave., Marengo

(319) 668-8447

https://genoabluffs.wildapricot.org/

This family farm in Iowa County offers a

variety of pumpkins ranging from six to 40

pounds, gourds, popcorn, Indian corn,

decorative corn stalks and many varieties

of squash. Activities include a corn maze,

game stations, bounce house, train ride,

water pump duck races and a musical wall.

Kacena Pumpkin Farm

2510 55th St., Vinton

(319) 210-2218

This farm just off Highway 150 north of

Vinton has 20-30 varieties of squash

and an additional 10 types of gourds,

pumpkins and Indian corn. A photo

booth, walking trails and country store are

also available. At the end of November,

Christmas trees are available on the farm.

Kroul Farms

245 Highway 1 S., Mount Vernon

April-October: 10 a.m.- 6 p.m.

(319) 895-8944

http://kroulfarms.com/

Kroul Farms offers pumpkins and other

produce, plants and flowers and

holiday décor throughout the year.

Halloween activities include a corn maze,

spooky graveyard and photo ops with

Frankenstein. Customers are encouraged

to explore the grounds and visit the farm

animals.

Wilson's Orchard

4823 Dingleberry Road NE, Iowa City

August-October: 10 a.m.-6 p.m. daily

(319) 354-5651

www.wilsonsorchard.com

With more than 140 different types of

apples grown on the orchard available

for u-pick, the site also opens its pumpkin

patch to customers in October. The retail

store offers a variety of products made

from the apples including donuts and

turnovers and apple cider and vinegar.

Activities include pumpkin carving and

trick-or-treating.