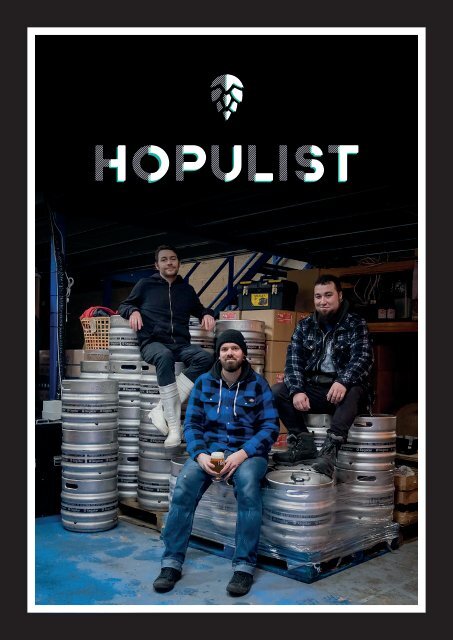 Hopulist Issue Six
Welcome to issue six of Hopulist… • Our guide to the craft beer scene in Birmingham • Exclusive interview with Unity Brewing's Jimmy Hatherly • Inside the mind of Lervig designer Nanna Guldbaek • Our pick of the best European Imperial Stouts out there • How top writer Breandán Kearney got into beer • Our picks of what beer is hot right now • All the freshest beer merch to keep you looking slick
Welcome to issue six of Hopulist…
• Our guide to the craft beer scene in Birmingham
• Exclusive interview with Unity Brewing's Jimmy Hatherly
• Inside the mind of Lervig designer Nanna Guldbaek
• Our pick of the best European Imperial Stouts out there
• How top writer Breandán Kearney got into beer
• Our picks of what beer is hot right now
• All the freshest beer merch to keep you looking slick
SHOW MORE
SHOW LESS
You also want an ePaper? Increase the reach of your titles
YUMPU automatically turns print PDFs into web optimized ePapers that Google loves.
One of our favourite things about putting this

issue of Hopulist together was getting better

acquainted with the Second City. Good old Brum

is really starting to come up trumps as a craft

beer destination, and we have to say it's about

time too. As somewhere that is a little more

accessible to more of the country than our

glorious capital, Birmingham's emergence as a

craft beer town should help spread the good word

to more people than ever before.

We also spoke to some really interesting and

talented people that make this industry so great.

People like Jimmy Hatherly from Unity Brewing,

who is trying to embrace the unique friendliness

of the craft beer industry into his company.

And also Lervig designer Nanna Guldbaek – her

inspiring work is helping the beer we love look so

cool.

Thanks for reading, we hope you enjoy it.

Cheers,

The Hopulist team
---
06

12

14

Get your craft beer

news fix right here.

New beer releases

to look out for.

The story behind

Unity Brewing.

22

24

40

Check out winter

woolly merch.

Our craft beer guide

to Birmingham.

We chat with Lervig's

Nanna Guldbæk.

50

52

66

Four more merch

must haves.

Europe's finest

Imperial stouts.

We give an F about

craft beer.

70

74

Writers of craft –

Breandán Kearney.

What have we been

drinking this month?
---
SIGNATURE TAPROOM

Signature Brew, renown for its collaborative

projects with bands and artists, has

recently opened a taproom and venue in

Haggerston, East London.

Based in a railway arch next to the Regent's

Canal the tap room includes Signature's core

beers, their current range of artist collab beers

and guest beers as well as wine, spirits and food.

It is dog-friendly and also has an outdoor terrace

near the canal.

The taproom also boasts space for live events

and a dedicated space for live music photography.

To find out more and for opening hours visit

www.signaturebrew.co.uk

TO FIND OUT MORE ABOUT SIGNATURE BREW READ ISSUE 4 OF HOPULIST
---
THORNBRIDGE

BAR PLANS

Thornbridge Brewery are hoping to open 10 new pub sites

across England over the next five years. Planning has been

approved on the first of these – a former bank on Colmore

Row in the centre of Birmingham. Due to open over the coming

months the Birmingham Tap will be a traditional take on the

modern craft beer pub, incorporating the Thornbridge brand and

making the most of the history of the building. The pub will also

have a food offering to complement the excellent range of craft

beers.

Thornbridge have also announced they have secured their second

site in York city centre. Other locations that Thornbridge are

looking at include London, Manchester, Brighton and Leeds.

Thornbridge Brewery CEO Simon Webster said: "We have a

real passion for pubs and want to introduce our beers to a wider

market. This gives us the opportunity to work towards ensuring

our beer is present in every corner of the country!"

ORANGE IS THE

NEW BLACK

Just in case you missed

the news Thornbridge

is now offering Jaipur in

these sexy new cans and

they are available from

Tesco. Green Mountain,

Florida Weisse and Lucas

have also made it onto

the canning line.

CHECK OUT OUR GUIDE TO BIRMINGHAM BARS & TAP ROOMS IN THIS ISSUE
---
COSTCUTTER CHEERS

CRAFT EXPANSION

Online beer distributor EBria Trade

has agreed a deal with Costcutter

Supermarkets Group (CSG) that will

bring access to over 80 craft breweries to their

range of convenience stores.

The deal will give Costcutter's independently

owned local shops and off-licences improved

access to fresh, exciting beer from highly

respected breweries all over the UK.

Daniel Forth of CSG commented:"It's long

been our intention to open up our drinks range

to include more craft beer, particularly finding a

way to support the local brewing talent around

each location. The partnership with EeBriaTrade

allows us to do just that, by putting the buying

decisions into the hands of the stores."

David Jackson, CEO of EeBria Trade added:

"Working with Costcutter is a great opportunity

for us to help more of our huge range of

breweries get products into the hands of more

people. Making craft beer increasingly accessible

both in bars and to drink at home is part of our

mission. The deal will bring both limited edition

and core range beers from some of the UK's best

breweries."

CSG operates a network of over 1,700 stores

across the UK through the Costcutter, Kwiksave

Mace, Simply Fresh and Supershop brands.
---
BREWDOG

BLUEPRINT

We think it's fair to say that BrewDog has had

somewhat of a chequered year (Pink IPA and

BeerPorn anyone?) and they remain very much a

Marmite topic for many. Maybe as a result of this (or maybe not)

they have released their blueprint for the next ten years (which

you can download by clicking on the link below). The blueprint

highlights include a rejig of their core beer range (which sees 5AM

likely become a seasonal), the reintroduction of BrewDog cask

beer, a new barrel-ageing programme, a list of upcoming BrewDog

bars and much more.

As well as the beer, BrewDog has also pledged to remove all

plastics from their packaging, launch a foundation which will

see them give away at least £1million every year and they have

reduced payment terms to help the smaller breweries who supply

BrewDog bars. Whisper it quietly but could this be a turning point

in BrewDog's controversy riddled history?

WHAT WE THINK...

This compilation of 30+

initiatives from BrewDog

is a much needed step in

the right direction after

a string of ill-advised

marketing campaigns.

It would be great if we

could spend the next

ten years talking about

quality beer and the craft

beer community.

WWW.BREWDOG.COM/LOWDOWN/BLOG/THE-BREWDOG-BLUEPRINT
---
EDEN

PROJECT

The team behind a rapidly growing

independent brewery have injected their

personalities into the business by literally

putting themselves on their products.

Eden River Brew Co, in Penrith has given its

new look a personal twist by featuring pictures of

its team members on the cans for its core range of

modern, hop-forward beers.

It is also inviting customers to put their face on

a can next year by posting pictures of themselves

drinking one of its brews on social media.

The cans – which feature the faces of director

Jason Hill, head brewer Linda Stanton,

communications and content marketer Giles

Brown and designer Jemma Ainsworth – are

currently available to order and pre-order at

www.edenriverbrewco.uk

Jemma, a graphic design student at University

of Cumbria came up with the innovative designs

as part of the annual Eden Student Design

Project, in which it challenge students to develop

the artwork for its beers.
---
JASON HILL

DIRECTOR :

"Our whole ethos at Eden is to graft hard

to make truly exciting and original beers, but

have a bit of fun at the same time. We put a

lot of ourselves into making the brewery a

success and creating beers we can be proud

of. I think Jemma's designs are a clever and fun

way of reflecting that, giving the brand a bit of

personality and creating a connection between

us and our customers.

"Obviously the people who buy and enjoy

our beer are vital in supporting us, giving us

feedback and encouraging us to move forwards

and expand. That's why we're inviting people

who love Eden to post a picture of themselves

drinking a beer on our social media pages with

the hashtag #sipspression. Early next year we'll

pick some of our favourite pictures and feature

their faces on 2019's cans."

JEMMA AINSWORTH,

GRAPHIC DESIGN STUDENT:

"I knew that I needed to come up with bold

designs to stand out on the shelf and be

something original that no-one had ever seen

before.

"I came up with the idea of the faces because

I wanted something that would capture people's

attention as they were walking down the aisle;

using people's faces and eye contact draws

people in a lot.

"Eden Brewery were really welcoming and

friendly people to work with and I learned a lot.

I never thought that I would work on a beer

can design, but I've learned that I like working

with packaging. The fact that it is formatted

on something 3D, you have to imagine how

someone picks it up and interacts with it. It's

more of an experience, which I thought was a

really interesting way to look at graphic design."
---
WANT YOUR LATEST BEER LAUNCH FEATURED

LOVE A BIT OF CAKE

This is Cloudwater's homage to Parkin,

the oatmeal and ginger cake enjoyed

across the north of England. An Imperial

Brown Ale base with a rich blend of

malts, oats and treacle for flavourful

sweetness, and added ginger and spices

for that distinctive Parkin cake aroma.

Release date: Already on sale

COSTA (RICAN) COFFEE

Buxton's Extra Porter – Costa Rican

Coffee is a rich, smooth porter brewed

with cacao nibs, vanilla beans and Costa

Rican Villa Sarchi coffee. If you enjoyed

their Guatemalan Coffee creation then

we think you will enjoy this.

Release date: Already on sale
---
NEW RELEASES WE

CAN'T WAIT TO GET

OUR HANDS ON...

? CONTACT US AT INFO@HOPULIST.COM

BRUT FORCE

Signature Brew have recently produced a

limited edition Brut IPA in collaboration

with Mercury Prize winners alt-J.

Absolutely No Worries is a light-bodied

beer with hints of botanicals, juniper

berries and coriander – a nod to alt-J's

go-to tour tipple, gin and tonic.

Release date: Already on sale

SUPERNATURAL SESSION

Magic Rock have recently refreshed the

design of their core cans and as part of

these changes they have also added a new

sessionable IPA called Saucery to their

core range of beers. At 3.9% this hoppy

pale ale has a moreish drinkability we

think you will enjoy.

Release date: Already on sale
---
Unity

1. The state of being united or joined as a whole.

1.1 The state of forming a complete and harmonious

whole, especially in an artistic context.

1.2 A thing forming a complex whole.
---
A joyous un|on

|s be|ng forged

|n the south

coast c|ty of

Southampton

– whether |t's

|ngred|ents,

brewer|es or

people – Un|ty

Brew|ng founder

J|mmy Hatherly

|s determ|ned to

un|te them for

the greater good.

Unity Brewing founder Jimmy Hatherly.

Unity Brewing started

in pretty much the

way all craft beer

companies start. Someone

with a passion for beer itself

got his ideas together, wrote a

business plan, honed a brand,

got some investment and built

a brewery. But what makes this

Southampton-based relative

newcomer to the craft beer

industry so interesting is its

emphasis on the very thing it is

named after: Unity.

"The ethos behind Unity is

all about the ingredients and

the industry," explains founder

Jimmy Hatherly.

© All photos and artwork supplied courtesy of Unity Brewing Co.
---
"Fundamentally it's about uniting simple

ingredients to create something so much

greater than the sum of their parts, but more

than that's about how wonderfully unified

the beer industry can be. It's unlike any other

industry in that aspect and we wouldn't be

the brewery we are today without the support

of other people. The world is a better place

when we work together. Taking from that, It's

also about bringing people together, uniting

people over simple pleasures."

Unity thrives on a spirit of collectivism and

really championing the collaborative culture

that the craft beer industry is known for. It

utilises traditional and modern techniques to

create seasonal, Belgian-inspired beer that has

been slowly making a very strong name for

itself in craft since its launch in 2016. It is now

one of the leading lights in the growing craft

scene in Southampton – but how did it get

here? Jimmy explains some of the back story.

"I am lucky enough to have a Dad who's

really into beer. He took me to Belgium when

I was about 19 and I never looked back.

He also used to work in the United States

occasionally and I remember about 12 years

ago him coming back with a couple of bottles

of what 'all the locals were drinking'. It was

Pliney The Elder – I was hooked."

After beer got its claws into Jimmy's

consciousness at that age, he set out to

work and began in the wine industry – an

experience he claims helped him hone and

train his palate. He continues: "I was home

brewing too and really wanted to move over

to beer rather than wine so scored a job as
---
the Sales and Marketing Manager at London

Fields Brewery, then, the 6th or 7th brewery

in London. I had my first experience of

commercial brewing there before moving

on and honing my skills in a load of other

breweries and craft beer bars in London

before moving back to my home town of

Southampton and starting Unity."

Southampton was an easy choice for Jimmy

and his wife – they both grew up there and

they have family dotted around the city.

When they left London, they had the vision

of creating a brewery that the people of

Southampton could be proud of.

At present, Unity has a core range of three

well-honed beers that it believes give a good

introduction to what it is about: Congregate,

a Belgian Pale, which is inspired by modern

"Fundamentally

|t's about

un|t|ng s|mple

|ngred|ents to

create someth|ng

so much greater

than the sum

of the|r parts,

but more than

that's about how

wonderfully

un|f|ed the beer

|ndustry can be."
---
hoppy session beers from Belgium; Conflux,

a modern American pale ale that has a juicy,

citrusy vibe; and Collision, a beer made to

represent the south coast of England with soft

honeyed notes of spelt malt and dank flavours

of Mosaic and Columbus hops.

Outside of this core collection, Unity

specialises in seasonal and limited run beers

that playfully experiment with saison styles

– at the time of writing they included: Été,

a summer saison brewed with elderflower;

Centenairs, a beer to celebrate the 100th

brew by the Unity brewhouse; and Fresco,

a summer Belgian IPA, which Hopulist can

categorically say is delightful.

The traction that Unity has gained within

the scene in just a short time is something

that has surprised but also delighted Jimmy

and his team.

"We've been totally bowled over with the

response we're getting for our beers so we've

grown faster than we expected. We only have

a small 6bbl kit, we're brewing at capacity and

have run out of space in our current unit, so

expansion plans are in motion to build a bigger

brewery with a proper onsite taproom rather

than the pop-up we currently have. If all goes

well we'll be in production by June next year

and that will be the last move we make, it's

important for us to us remain small."

The success was well culminated when

Unity was named as one of the four best
---
UK breweries by We Are Beer's Raise the Bar

competition – recognition that Jimmy has

earmarked as one of his proudest moments so far.

But, what of the future? Well for Jimmy, it's

pretty simple. "We're gonna settle in to our new

site, enjoy putting on events in our taproom and

brewing new beers with awesome people, stay

humble and enjoy doing what we're doing. We'll

continue to evolve the company and the beers

but fundamentally we just want to continue to

try and make the best beer we can and have a

good time doing it. I do want to bring some of

our focus back to farmhouse ales and using more

local and foraged ingredients so we'll see how

that works out, we'll be doing our best to make

saison really cool again whatever happens!"

|NFO

UNITY BREWING CO

Southampton

É unitybrewingco.com

$ ! "
---
Quick-Fire

Questions

How do you see the craft beer market?

"It's a scene that has grown and changed

quite rapidly. It's massively grown and changed.

FOMO and the rise of Instagram hazy IPA nerds

has changed the way some people drink, for

better or for worse. There's also the issue of

lots of sub-par breweries cropping up because

they think they can make a load of cash from

a boom industry. Ain't nobody making much

money from craft beer that's for sure. I think

we'll see a shakeup soon though so it's become

more important than ever to stay at the top of

your game. One thing I do know though is as a

whole, the quality and availability of beer being

produced in the UK has sky rocketed in the last

few years which is awesome, hopefully we'll see

a lot more of that."
---
What is the thing that worries you

most about the future of craft?

"Poor quality beer putting new

drinkers off is an issue. In-fighting

as the market share is squeezed

when we should be introducing new

drinkers rather than scrabbling over

the same ones will get tired. It's going

to be interesting to see what Inbev

et al's next moves will be as well. As

long as the duty relief doesn't deviate

much from where it is, the small guys

will always be able to compete."

What is the thing that excites you

most about the future of craft?

"The Saison revolution is coming

and we'll be manning the barricades!

Seriously though, I think we're going to

move back towards more regionality

and freshness as breweries start to

focus more on direct sales to the

public and more breweries invest in

mixed ferm and wild projects."
---
SERIOUS WAFFLE

Style out the colder months ahead with

this lightweight, but warm, waffle-knit

beanie. We love the double-sided Siren

logo stitched tag, a nice touch and all at a

good price too.

NORTHERN POWERHOUSE

A grey bobble beanie with NORTHERN

emroidery and Northern Monk logo on

the tag. We know what will be keeping

our noggin warm this winter... quality

merch from Leeds' finest.

W A N T Y O U R P R O D U C T F E A T U R E D ? C O
---
WHAT A SUMMER IT

WAS, BUT THE FUN

IS OVER NOW KIDS...

DURATION IS HERE

After a long wait, Duration beer is finally

hitting bars and bottle shops, so what

better way to celebrate than get your

hands on some of its rad merch? These

waffle-knit beanies look ace.

SUPER SOFT

The Wild Beer Company recently

released this speckled beanie – this

maroon number is made using soft cable

knitwear and incorporates their iconic

logo on the tag.

N T A C T U S A T I N F O @ H O P U L I S T . C O M
---
A craft beer guide to

B|RM

|NG

HAM

As the craft beer revolution vines its way through the British

Isles, more and more of its towns and cities are becoming

destinations to drink great beer. No longer just confined

to London or its orbitals, craft beer can now definitely

be considered a national event. Birmingham in the West

Midlands is one such place where this is happening. And while

you might think – as the nation's second city – this would be

an obvious echo spot for the trends that begin in London,

it's not always the case. It has taken a while for Birmingham

to reach a point where there is a good craft venue within a

short walk of wherever you are in the city, but that has now

started to happen. As is our duty, we did said walking (and

drinking) to discover the best craft watering holes of Brum.
---
JeWELLeRy

Quarter

FREDERICK STREET

PAGE

34

1000 Trades

GRAHAM STREET

The Pig & Tail

CAROLINE STREET LUDGATE HILL

GEORGE STREET ST PAUL'S SQUARE

CHARLOTTE STREET

Burning Soul Brewing Co

NORTHWOOD STREET

LIONEL STREET

LIVERY STREET

B4100

The Wolf

WATER STREET

Indian Brewery

LIONEL STREET

CORNWALL STREET

PAGE

32

PAGE

33

A4400

CHURCH STREET

EDMUND STREET

SNOW HILL

STATION

LIVERY STREET

SNOW

hiLL

COLMORE ROW

SHADWELL

A4400

ICC &

SYMPHONY

HALL

GRANVILLE STREET

BERKELEY STREET

THEATRE

GAS STREET

CENTENERY SQUARE

BROAD STREET

BRIDGE STREET

CENTRAL

LIBRARY

HOLLIDAY STREET

MAILBOX

COMMERCIAL STREET

MUSEUM

& ART GALLERY

Purecraft

SEVERN STREET

VICTORIA

SQUARE

CiTY

CEntRE

Brewdog

WATERLOO STREET

NEW STREET

PINFOLD STREET

SUFFOLK STREET QUEENSWAY

GOUGH STREET

PAGE

31

PAGE

29

PAGE

30

JOHN BRIGHT STREET

*

HILL STREET

SEVERN ST.

Thornbridge*

BENNETTS HILL

NAVIGATION STREET

TEMPLE STREET

STEPHENSON ST.

NEW STREET

STATION

Cherry Reds

STATION STREET

CHER

TEMPLE ROW

CANNON ST.

Post Office Vaults

PAGE

31
---
STREET

PAGE

35

Two Towers Brewery

A craft beer guide to

St MARY'S ROW

B|RM

COLMORE

CIRCUS

WHITALL STREET

CORPORATION ST.

|NG

HAM

RY ST.

PAGE

28

CORPORATION STREET

NEW STREET

MARTINEAU

PLACE

Tilt

UNION STREET

HIGH STREET

EDGBASTON STREET

PAVILLIONS

BULL RING

INDOOR MARKETS

PERSHORE STREET

B4100

UPPER DEAN STREET

Kilder

MOAT LANE

PARK STREET

SHAW'S PASSAGE

PAGE

37

ALLISON STREET

p28 Tilt

p29 Post Office Vaults

p30 Brewdog

p31 Cherry Reds

p31 Purecraft

p32 The Wolf

MERIDEN STREET

B4100

BORDESLEY STREET

COVENTRY STREET

DIGbeth

OXFORD STREET

• O2 INSTITUTE

p33 Indian Brewery

p34 1000 Trades

p34 Pig & Tail

p35 Brewers of Brum

p36 Clink

p37 Kilder

*See news pages

Dig Brew Co

FLOODGATE STREET

Clink

B4100

PAGE

36

GIBB STREET

PAGE

35

RIVER STREET

HEATH MILL LANE

CUSTARD

FACTORY
---
Tilt

When you first walk through the

doors of Tilt – located incredibly

centrally, just off Corporation Street

– you may wonder just what this

place is supposed to be. Tilt has three

distinct sides to it – coffee, craft beer

and pinball. The two owners, like

so many in this trade, have brought

their passions to life in the form of a

business. You'll find an excellent range

of craft beers on tap including a good

percentage from American brewers.

The bar also has a can and bottle

fridge, which you can buy from to

takeaway, or drink in for a small fee

of £1.25 extra. We have often been

surprised at the beers we've found

in this fridge on our semi-regular

jaunts to Birmingham, including some

belters from US brewer Stillwater

Artisanal and some favourites from

Scandinavian names like To Øl and

Amundsen. The bar has floor-to-ceiling windows

across much of the main level, but go upstairs and you

will find another good sized space with interesting

views of some of Birmingham's architecture. There is

also a downstairs bar too.

The attention to detail on beer is also mirrored by

the coffee – they only serve speciality coffee, which

refers to some of the highest grade coffee beans

available on the market. They use roasters from all

over the world and seek out the best they can find –

in many ways they offer a craft style of coffee.

The other real standout feature of Tilt is the pinball

machines, where the bar gets its name. They are into

double figures with the number of machines they

have in the bar and they also host regular leagues

and other competitions for pinball wizards to test

their skills. While this might not be everyone's cup

of tea (or should we say coffee), it certainly adds a

unique vibe and a friendly atmosphere.

Tilt offers enough for you to stop in at any time

of day or night and seek out something that will

improve your mood.
---
CITY CENTRE

Post Office Vaults

Blink and you'll miss the Post Office Vaults,

especially if you approach the entrance

to the bar that is on Birmingham's main

pedestrianised shopping street, New Street.

It's little more than a doorway, but upon

entering and descending the stairs, you'll find

a little oasis of good beer in a cosy and dimlylit

cellar bar. This independent pub prides

itself on being one of the best offerings of

international beer in the city – outside of its

eight real ales from UK brewers – it has an

inexhaustible collection of bottled beers from

as far and wide as Belgium, Germany, France,

Norway, the Netherlands and the USA.

Another nice touch of this pub is that, while

it doesn't serve food, you can bring your own

and they will provide cutlery and plates. The

bar opened in 2011 and has an air of history

about it that makes it a very welcoming place

to raise a glass.
---
Brewdog

We all know and love Brewdog

(well, most of us) – but whatever

your view on one of Scotland's

greatest exports, you know you can

safely enter it as a refuge away from

flat pints of macro beer you'll find

in other bars in this very central

location. Brewdog in Birmingham

is just a few minutes from New

Street station on John Bright

Street and presents the perfect

place to get a glass of something

with taste and standard. The bar

opened in 2012 and features the

typical Brewdog interior décor with

exposed brickwork and metalwork.

There is also a reasonable outside

seating area to take advantage of

those warmer drinking days. In our

view, this is a great place to start an

evening or if you want to kill some

time before grabbing your train in

somewhere other than the ultramodern

and mainstream interior of

New Street.
---
CITY CENTRE

Cherry Reds Café Bar

Just across the street from the Brewdog bar, you'll

spy Cherry Reds Café Bar. On the face of it, it

may not look like somewhere you should have on

your list when in search of craft beer, but you'd be

wrong. The Café offers simple and delicious food

and also serves a good range of craft beers to go

with – a fact it has prided itself on since it opened

in 2010. You'll find many good beers from Belgium,

covering a wide range of styles as well as some

from more local brewers like Northampton-based

Maule Brewing. Not your traditional craft beer bar

or bottle shop, but Cherry Reds is certainly worth

a stop if you fancy a bite to eat, or to sit outside on

its many exterior chairs and tables.

Purecraft

If you are searching for a craft

beer venue with more of a local

angle, then Purecraft could be

the answer to your prayers. The

bar is owned and operated by

Alcester, Warwickshire-based

brewer Purity, which occupies

an interesting market position as

a producer of craft-style beers

and more traditional ales. It's a

tough one to miss as it lies just

off Victoria Square on Waterloo

Street – within eyeshot of

the Birmingham Museum and

Art Gallery. Inside, you'll find

a smartly decorated bar with

varying seating options and a

great range of beer that generally

includes all of Purity's range as

well as beers from other UK

brewers like Tiny Rebel and

Magic Rock. The bar also serves

decent food, covering snacks and

full meals (we highly recommend

the scotch egg).
---
The Wolf

The Wolf is absolutely one of our

favourite craft beer venues in the

whole of Birmingham. Located on

Constitution Hill, within walking

distance of many of the businesses

and offices of Snow Hill, the bar is

a family-run business with a real

passion for the craft beer market.

Inside you will find a chaotically

decorated bar, plastered with beerbased

paraphernalia and old bottles,

cans, labels and tap fronts from

beers of all different kinds from

across the world. Seating is provided

by a mixture of retro furniture

and the main bar area sports large

windows allowing you to watch

the world go by while supping a

delicious beer of your choice. The

taps are changed regularly, but you

are always likely to find a locallybrewed

beer from Birminghambased

Burning Soul. On our visit

for this feature, there was also a

beer from Twisted Barrel, which

hails from nearby Coventry. There

is also a fridge behind the bar with a wide selection

of bottles and cans that is regularly updated in case

one of the beers on tap doesn't take your fancy.

The Wolf is one of the larger craft beer venues

you will find in Birmingham and is subsequently

more suitable for large parties. This is ehoed by the

great range of board games they have within the

pub – perfect for passing the time with good friends

and good beers.

The atmosphere is always welcoming in the Wolf

and its location a little outside of the very centre of

Birmingham lends a different vibe to the place. The

building it is housed in and the surrounding ones are

from traditional red brick that bring a nostalgic feel

to the whole area.
---
SNOW hiLL

Indian Brewery

Sound the 'another favourite venue of

the Hopulist team' klaxon – the Indian

Brewery in Snow Hill is well worth

hitting on any trip to Birmingham. Itself

a brewer, the company has combined

its passion and fervour for brewing

small batch craft beer with one of

Birmingham's other famous exports

– Indian food. Located within a railway

arch that is more like something you'd

find in London, the bar/restaurant

is decorated with brightly coloured

memoirs from India that really bring the

place to life. As well as trying the beers

the Indian Brewery itself brews, there

is also a small selection of other craft

beers from the likes of Yeastie Boys and

TailGate.

But one of the best things about this

place, is as you may have guessed, the

food. We will leave you only one piece of

advice, try the fat naans. Seriously. TRY

THEM. Thank us later.
---
JeWellery Quarter

1000 Trades

Situated in a pretty eye-catching listed building, 1000 Trades is an independent bar

and kitchen in the Jewellery Quarter that is well worth checking out. The bar prides

itself on championing all forms of craft beer. There are up to 12 beers on tap at any

one time, carefully selected to offer choice and complement each other – some are

brewed locally, others are from distant shores.

1000 Trades also has an emphasis on music and works in partnership with the local

music scene in Birmingham to ensure there is often great entertainment on site too.

There's also tonnes of local artwork hung throughout the building for you to enjoy

while enjoying the produce.

Pig & Tail

Housed in the historic George & Dragon building in the Jewellery Quarter, the Pig

& Tail promises a gastronomical experience that you will struggle to find elsewhere

in Brum. Chef Mark Rafferty was the man behind this place and it was born out of

his desire for Birmingham to have somewhere to enjoy family-style fresh food that's

locally sourced alongside great craft beers.

The dishes are uncomplicated yet delicious and the beers hail from some of the best

names in craft included Wander Beyond Brewing and The Wild Beer Co.
---
BREWERS OF BRUM

Burning Soul Brewing Co

Based near the Jewellery Quarter, Burning Soul is one of

the brightest lights in the Birmingham craft brewing scene.

With the history of a group of bored friends searching for

something to drink with some real taste, the brewery was

founded in 2013 and concentrates on creating beer that

brings people together. The brewery also has an in-house

taproom that is open on Friday and Saturdays, where you

could get the chance to sample its more experimental

beers that don't make it to full production.

Two Towers Brewery

This community-owned brewer is situated in Birmingham's

famous Gunmakers' quarter and brews a wide range of

beers and ales that it supplies to bars and clubs around the

city. Opened in 2010, Two Towers is named after a book

by one of Birmingham's most famous sons, JRR Tolkien and

brews beers that are equally as epic as his stories. There's

a tap room at the brewery and the Gunmakers' Arms pub

next door which pours many of its beers.

DigBrew Co

If you walk around the graffitied old factory units of

Digbeth you may spot stickers for the enigmatic DigBrew

Co and may be wondering what it's all about. Well the

best way to find out is the head to River Street and visit

the brewery's on-site taproom that is open on Fridays and

Saturdays. DigBrew makes some impressive beers that are

bold in style and high on quality. You may also be able to

sample their beers at many of the bars in this feature.
---
DiGBETH

Clink

Smack-bang in the heart of one of the most

cultural and creative areas of Birmingham,

Clink is a bottle shop and taproom that you

will feel right at home in. Located in the city's

old Custard Factory district in Digbeth, the bar

features old school factory windows that shine

light into a quaint and relatively small bar that is

big on character and beer selection. There are

over 200 bottled and canned beers available for

you to select and either take away or drink in.

There is also eight different beers run on tap, and

any of these can be served into growlers too.

You will find many of the power houses of craft

beer on the shelves in Clink, including Northern

Monk, Cloudwater, Magic Rock Mikkeller and

Omnipollo. The bar has an upstairs section that

again benefits from the unusual architecture of a

former factory and offers a unique place to enjoy

a craft beer.

There are also plenty of interesting

independent shops and food venues dotted

around too, so you can really make a day of it if

you decide to venture out to Clink.
---
Kilder

This is one of Birmingham's true hidden gems –

hidden because it is relatively new and also that it is

tucked away in a railway arch near to the city's iconic

Moor Street Station. The bar was opened by the

owners of popular cult burger restaurant Original

Patty Men, who decided to turn the arch next door

into one of Digbeth's best craft beer experiences.

The bar features stylish décor that was created by

a Digbeth-based architect and the beers on tap are

numerous. We enjoyed sampling from brewers such as

Deya, Founders, Siren and, of course, local favourites

Burning Soul.

Due to the nature of being opened by guys and

girls who own a restaurant, the food here is pretty

awesome too. There's a wide range of bar snacks,

light bites and bigger meals to help keep you in there

longer and enjoy more of the beer on offer. There's

also a good selection of wine, for those you may have

dragged in who aren't interested in the beer.

The venue and its owners place a real emphasis

on micro brewing and supporting the local brewing

scene, so expect this to grow in stature as a venue as

the years go by.
---
"WITHOUT

DEVIATION

FROM THE

NORM,

PROGRESS

IS NOT

POSSIBLE."

FRANK ZAPPA
---
© GREAT DIVIDE BREWING CO
---
Nanna Guldbaek

FROM SERVING IN A BAR TO BEING ART

DIRECTOR FOR ONE OF EUROPE'S TOP CRAFT

BREWERS, IT'S BEEN A METEORIC RISE FOR

NANNA GULDBAEK. SHE TELLS US WHAT

MAKES HER TICK AND HOW SHE CREATES

WORKS THAT MARRY DIGITAL AND ANALOGUE.

Can you tell us how you got into design and illustration?

It has always been a tool to tell stories. In school as a kid we often had to make

illustrations for our Danish papers, I used to make my own comics or sketch

with friends after school and wrote and illustrated my own stories and gave

them as Christmas presents (… I'm not sure they were always appreciated).

As a teenager I spent a good amount of my money on paper and frames for

exhibits I was attending. But it was first when I started at the Danish Design

School in Copenhagen that I began to work more professionally with it. Even

though I studied product design and not graphic design, graphic skills are

crucial when making others understand your idea and creating narratives. My

interests have always been mixed between art, design and technology.

How did you start working for Lervig?

After I dropped out of design school (I dropped out to become an engineer,

which I eventually also dropped out of and went back to the design school)

I ended up as a bartender for Mikkeller in Copenhagen, and when going to

a beer festival in Tallinn, Estonia for them, I met the Lervig brewers Mike

Murphy and David Graham. They asked me to do some labels for them

around New Year 2017, and then it just developed rapidly. I finished my school

here in June this year, so it has been pretty hectic to have full time study and

also work as art director for Lervig.
---
Can you tell us more about the design process behind your

work at Lervig?

Often Mike or David have an idea about a beer, a recipe in mind or

the beer is already in the tanks. Mike always has a lot of ideas, and

he thinks in a very creative way – I see a lot of similarities to how he

and I work. But usually I get some notes about the beer, and I start

working. I like to create a lot of material using only paper and pen

– simple. Then I pick something out, start working with it digitally,

print it out and put it on a can, sketch it directly onto the can. Back

and forth – digital and analog. I also like the aesthetic of working

like this – the visual difference between a sketch made in hand and

computer-generated artwork. And nothing can ever be too neat,

then it gets boring. The danish model Emma Leth once described

good style to be very, very close to bad style, and this I think is also

true in many other design aspects. It's a fine elastic line.

How the label feels when holding the beer is important. I love

working with different materials and finishes to create a tactile

experience.

It's cool to all of a sudden make artwork for beers I used to drink

and sell as a bartender. I would never have imagined that happening

when I walked into the Mikkeller bar for the first time.

How much has the job influenced your relationship with craft

beer and vice-versa?

It's cool to all-of-a-sudden make artwork for beers I used to drink

and sell as a bartender. I would never have imagined that happening

when I walked into the Mikkeller bar for the first time. I get to work

with other amazing artists and designers from around the world,

whenever making collaboration brews. I like working with other

designers because you learn from each other's processes. In our

school studio I would always have beer in our communal fridge,

for good times and bad times – and give tasters if people wanted to

taste. Talk about the flavors. Quality over quantity. But at the same

time, I would never not join the Friday bar with my classmates,

because we would be drinking cheap Tuborg from bottles.
---
Video is a strong tool to tell the story about a product because

you can show how the product smells, feels and sounds through

imagery and thereby trigger all five senses, not just the eyes.

What are your other creative influences and interests?

Children's books, games and animated movies. Early influencers were

games and shows like Taken, Grand Theft Auto, Need For Speed, Crash

Bandicoot, Pokémon, Dragon Ball, Naruto and the endless amount of

low quality games found online. With a lot of the games my friends and

I used to draw our own characters or use the platform of perhaps Grand

Theft Auto to make our own games and stories in the universe. Then I

read a lot, and still do – a lot of kids' books – I like how simple stories

can be illustrated in a nuanced way, or how complicated subjects can

be illustrated simply. Then I have always been interested in animated

movies – both early Disney movies, like Mulan (a favourite) but also

new films like How To Train Your Dragon with its crazy landscapes

and flying scenes. With the discovery of Hayao Miyazaki – and

works like Howl's Moving Castle and Spirited Away, which are both

visual masterpieces, but also manages to address subjects like global

warming, technology and portray the everyday life – I started looking

more into anime.

Next to this – studying industrial design and product design – I have

been interested in Danish furniture, classics like Børge Mogensen, Arne

Jacobsen and Verner Panton, but today more experimental materialfocused

designers like Nikolaj Stenfatt (Denmark) and Jonas Edvard

(Denmark) who work with materials like mushrooms and seaweed in

their products. But also, more conceptual studios like Studio Swine

(UK/Holland), Nendo (Japan) and Space10 (Denmark) ,which all really

combine art, design and technology to create experiences and makes

us question what we know and how we do things through design and

the products we surround ourselves with. Studio Swine uses film as

a big part of their process, which is something I, along with giffs and

animation, have also integrated more and more into my process. Video

is a strong tool to tell the story about a product because you can show

how the product smells, feels and sounds through imagery engaging

with the user's preconceptions, experiences and memories and thereby

trigger all five senses, not just the eyes.
---
Are you excited about the quality of design and illustration in the craft

beer market at the moment?

Yeah, a lot. It's great that new breweries focus on the artwork and design of

their beer from day one. It's gonna be interesting to see how it develops in the

next few years, with more breweries opening their own bars where they really

get to show their identity. Also with beer festivals – it seems like the festivals

are focusing more and more on creating a full experience with both artwork,

music and food – all revolving around beer of course.

Which other designers and illustrators work in the craft beer industry

do you admire?

Keith Shore's humor and how he has, and continues to, develop the

Mikkeller characters. Karl Grenadin for his powerfull illustrations and colour

combinations, which allows people to explore it very differently. Nick Dwyer

in the way he has created a Beavertown Universe with lots of colour and great

attention to detail – artwork recognizable from miles away. Kasper Ledet

for his conceptual approach and use of photography – uncompromised and

thorough. James Yeo in his way of telling a story – with all of his labels I feel

like there is an entire story to tell, as if it's a still frame from a movie.

It seems like the festivals are focusing more and more

on creating a full experience with both artwork, music

and food - all revolving around beer of course.

And Finaly, what are you working on at the moment?

Now I'm finally done with school I have started to re-design old favorites

like Super Sonic, Tasty Juice and the Lucky Jacks series. Generally, the rest

of 2018 will be catching up on old artwork to get a more complete visual

identity for Lervig – not as mixed as it is now. Well, along with a good

amount of new beer releases too!

The last two years have been crazy busy for Lervig, busy in a good way.

That's exciting. We have a really great team and are based in this beautiful

Norwegian west coast city of Stavanger. I think we are currently about 25

people spread across 12 different nationalities, which really adds a cool

cultural mix where we have both celebrated Chinese New Year with hot pot,

Norwegian 17. May (national day) and Irish St. Patrick's Day.
---
Top

five

THE FIVE

LABEL

DESIGNS

NANNA

IS MOST

PROUD OF.

Sippin' Into Darkness

A black and white character (except the

red nails) drawn upon a photo taken from

Stavanger, where the Brewery is based and

where the weather is very shifty, grey, rains

a lot.

Perler For Svin

Use of different medias, analog

and digital rendered – that

together with a matt finish and

the cut-outs, focuses on the

tactile experience when holding

the beer in your hand.
---
House Party

A manipulated photograph of holographic

foil, which I then integrated the

characters onto – creating a psychedelic

mess of colors and body parts.

Liquid Sex Robot

The artwork was made to be as

provocative as the name and the strong

flavours of the beer. I wanted to show the

two characters having sex – but soft and

tender. A label which continues to create

conversations about sex and gender.

Easy

A simple design with a pencil

drawn character, the use of a

gradiant background – and then

the thing that ties the entire label

together: the holographic foil.
---
MAKE IT YOUR OWN!

Inside this in-depth homebrewing guide is

a collection of 100 recipes from around

the globe including all the information

you will need to recreate them with

simple instructions and visual timelines.

CATALAN CAP

Barcelona's Garage Beer Co have a small

but inspired range of merch available

online. We have selected the snapback

trucker cap as the pick of the bunch, but

the tees are also well worth a look.

W A N T Y O U R P R O D U C T F E A T U R E D ? C O
---
BECAUSE SOME

THINGS YOU NEED

IN YOUR LIFE...

MONK MAGIC

As soon as we clapped eyes on this Teku

glass we thought it was a must-own.

Northern Monk branded with Patrons

Project Hop Flowers design running

around the glass.

ESSENTIAL EXPERIENCES

The Beer Bucket List by Mark Dredge

features over 150 imperative beer

experiences from around the world. So

if you like to combine your love of beer

with travel, then this is an essential.

N T A C T U S A T I N F O @ H O P U L I S T . C O M
---
EUROPEAN

IMPERIAL

STOUTS

AND PORTERS

The term Imperial originates from the

18th century for beer that was brewed

in Britain but then exported to Czarist

Russia. After a visit to England from

Peter the Great in 1698 it is reported

he fell in love with stout beers and

as a result breweries were keen to

ship beer out to Russia. Purposely

brewed stronger to easily withstand

the voyage it was also perfectly suited

for the cold climate of Russia and the

Baltics. The commercial success of

Imperial stouts ensured that the style

endured.

It is never easy to simplify the

complex charachteristics of any beer

but today the term Imperial Stout

and Imperial Porter more commonly

refers to double or stronger versions

with a higher alcohol content, usualy

ranging from 8% to 12% ABV, with big

and bold flavours including, although

not exclusive to, dark chocolate,

coffee, dried fruit and dark fruit.
---
UNTAPPD RATINGS CORRECT AT TIME OF PUBLISHING

WINTER IS COMING...

SO TO GET YOU ALL

IN THE MOOD WE'VE

PICKED OUT ELEVEN

FINE EXAMPLES OF

IMPERIAL STOUT, ALL

BREWED IN EUROPE,

IN A BID TO GIVE

YOU A FLAVOUR OF

WHAT IS AVAILABLE.

BECAUSE NOTHING

BEATS LONG, COLD

NIGHTS LIKE A BIG

ROASTED STOUT WITH

HINTS OF CHOCOLATE

AND MARSHMALLOW.

HERE ARE THE VERY

PLEASING RESULTS...
---
X LERV|G

PURE DECADENCE

BARCELONA

Style:

|MPER|AL STOUT

ABV: 10.3%

Volume: 330ml

UNTPPED.com

RAT|NG: ●●●●● 3.84

WHAT THEY SAY:

Developed over

many trips to

visit our friends

at Lervig Brewing

in Norway. This

collaboration is

dark & rich with a

great roast, sweet

flavor & alcohol

back bone to

balance it all out.

Sit back enjoy and

look down on it all

with decadence.

WHAT WE THINK:

This lovely

Russian Imperial

Stout comes

with a roasty

espresso aroma

that entices

you in. It has a

smooth, medium

mouthfeel with

no real lingering

aftertaste. The

flavours are dark

chocolate, malt,

coffee and a very

slight bitterness.

The beer has

a kind of soft

dryness that

makes it very

drinkable indeed.
---
HYPNOPOMPA

STOCkHOLM

Style:

|MPER|AL STOUT

ABV: 11%

Volume: 330ml

UNTPPED.com

RAT|NG: ●●●●● 3.98

WHAT THEY SAY:

Hypnopompa

is our imperial

stout brewed with

almost 100 kilos of

marshmallows and

Tahitian vanilla

beans (the size

of cigars). Low

carbonation and

boiled a bit extra

for good measure,

this is a beer

strictly for the

stout inclined.

Drink now or age

for many years.

WHAT WE THINK:

Besides being

in one of

our favourite

bottle designs,

Hypnopompa

is also a pretty

damn good

beer. Black in

colour and

with very little

head, the beer

has a roasted

chocolate and

vanilla aroma

that gives way to

a marshmallow

taste that is quite

sweet with a dark

malt tang,
---
MAD ABOUT CACAO

X LAUGER

Breda

Style:

|MPER|AL STOUT

ABV: 11%

Volume: 330ml

UNTPPED.com

RAT|NG: ●●●●● 3.76

WHAT THEY SAY:

Mad About Cacao

is a collaboration

with Laugar

Brewery from the

Basque Country

in Spain. It is an

imperial stout with

a touch, and that

touch is a nice

load of cocoa

that we have

added.

WHAT WE THINK:

This beer is a

true European

collaboration that

plays heavy on its

name – cacao is

one of the main

ingredients in

this beautifully

brewed Imperial.

A very dark brown

in colour, the

flavour has subtle

sweetness that

then gives way to

a bitterness that

is born from the

cacao.

It has a good,

heavy maltiness

that is nice and

dark too, which

we really like.

The end is quite

dry and we

think this would

be perfect for

an autumnal

evening.
---
IMPERIAL STOUT

L|THUAN|A

Style:

|MPER|AL STOUT

ABV: 9.2%

Volume: 330ml

UNTPPED.com

RAT|NG: ●●●●● 3.78

WHAT THEY SAY:

Dark and full of

roasty character

this is big and

complex brew. In

order to infuse

some barrel

character to this

beer we have

aged it on oak

chips along with

some chopped

vanilla beans.

It's good for

ageing. Just

make sure you

keep it in cellar

temperatures.

WHAT WE THINK:

Probably not

a brewery that

many of you will

be familiar with,

but after trying

this, you should

be.

Aged in a barrel

to add complexity

and character

to the beer, its

dark brown/black

colour is matched

perfectly with a

roasted chocolate

and sweet malt

aroma.

The flavour is dark

roast coffee with

hints of nut and

vanilla.
---
AUPA TOVARISCH

V|zcaya

Style:

|MPER|AL STOUT

ABV: 12%

Volume: 330ml

UNTPPED.com

RAT|NG: ●●●●● 4.1

WHAT THEY SAY:

Deep black

opaque body with

medium high and

creamy. Marked

toasted and

roasted aroma

that is wrapped in

liqueur and nutty

touches. Striking

and complex

in flavor with a

predominance of

notes of coffee

and chocolate

with a slight

bitterness and

subtle aftertaste.

WHAT WE THINK:

This Spanish take

on a Russian

Imperial Stout has

quite an unusual

aroma when you

first pour it with

hints of coffee,

slight acidity

and liquorice.

The initial taste

is coffee then

there is increasing

sweetness and

liquorice flavour

the more you

drink. A bitter

aftertaste that

isn't too strong,

making this

another easy

drinker.
---
HIGHLAND BARREL AGED

BUXTON

Style:

|MPER|AL STOUT

ABV: 10.5%

Volume: 330ml

UNTPPED.com

RAT|NG: ●●●●● 4.01

WHAT THEY SAY:

Scotch Whisky

Barrel aged

Imperial Stout.

WHAT WE THINK:

A beautiful

blend of stout

and whiskey, this

cracker from

Buxton is well

worth your time.

A slightly oily

black-brown

colour, it carries

a smokey and

woody aroma that

is all too enticing.

The whiskey

taste is subtle

and really

compliments the

charred malt,

boozy, fruit cake

hints that you get.

We are big fans of

what Buxton do.
---
YOU'RE NOT GETTING ANY

X ZAPATO

BELFAST

Style:

|MPER|AL STOUT

ABV: 10%

Volume: 330ml

UNTPPED.com

RAT|NG: ●●●●● 4.01

WHAT THEY SAY:

Brewed in Belfast

in collaboration

with Yorkshire

based Zapato.

You're Not Getting

Any tastes like

deep chocolate,

smooth and full

bodied. Blueberry

sweetness, vicious

notes and gentle

tartness. Brewed in

homage to those

that think they're

entitled to every

new release.

WHAT WE THINK:

A fascinating

collab between

two cool UK

brewers, this

stout is infused

with blueberry,

which might

sound bizarre,

but really works.

You can smell

them slightly in

the aroma along

with caramel, but

they really come

through in the

taste, for which a

lighter mouthfeel

helps. The

lightness of the

blueberry makes

this a dangerously

easy drinker at

9.8% ABV.
---
DEKADENTS

ESTON|A

Style:

|MPER|AL STOUT

ABV: 11.2%

Volume: 330ml

UNTPPED.com

RAT|NG: ●●●●● 4.14

WHAT THEY SAY:

A luscious

Imperial Stout

aged on raisins

and rum soaked

vanilla beans.

WHAT WE THINK:

An Imperial Stout

with a decent

head that fades

quickly, this effort

from Estonian

outfit Pühaste has

an aggressive

aroma that is

biscuity and

tinged with rum.

The taste carries

a heavy rum and

raisin flavour

but remains

balanced and

easy to drink. It is

a great example

of how to brew a

classic Imperial

with no attribute

spiking too wildly

in any particular

direction.
---
MOCHA MONSTER

X VAN MOLL

BARCELONA

Style:

|MPER|AL STOUT

ABV: 10.1%

Volume: 330ml

UNTPPED.com

RAT|NG: ●●●●● 3.88

WHAT THEY SAY:

Barcelona's

Guineu are one

of Spain's most

acclaimed and

eclectic breweries.

This collaboration

with Eindhoven's

Van Moll is a full

bodied natural

beer with notable

coffee and cacao

flavours. Feel like

having a Moka

Coffee.

WHAT WE THINK:

As the name

suggests, this

porter is a

frightfest of

chocolate/coffee

flavours. If you

close your eyes

and sniffed the

aroma could

easily be that

of an espresso

or iced coffee.

Upon drinking you

get sweetness of

chocolate, brown

sugar and then a

punchy aftertaste

of coffee and

bitterness. This is a

pretty aggressive

and hard-hitting

porter.
---
BLACK BLOCK

SUR|A

Style:

|MPER|AL STOUT

ABV: 11.2%

Volume: 330ml

UNTPPED.com

RAT|NG: ●●●●● 3.97

WHAT THEY SAY:

An incendiary

beer that warms

the heart and

soul of who takes

it. A beer with a

lot of presence

and a fine bubble

crown. Aromas of

coffee, chocolate

and liqueur. In the

mouth we find a

beer with a lot of

density and great

complexity due

to the malts and

chocolate is once

again present.

WHAT WE THINK:

Another Spanish

offering on the

Russian Imperial

Stout theme,

this beer carries

an aroma

of liquorice,

roasted oats and

molasses. It's

lovely to drink,

with a rich velvety

texture that is

complemented

perfectly by

flavours of burnt

caramel and a

slight hint of plum.

This is a beer very

true to the style.
---
WRCLW RYE RIS DOUBLE BA

WROCLAW

Style:

|MPER|AL STOUT

ABV: 10.2%

Volume: 330ml

UNTPPED.com

RAT|NG: ●●●●● 3.88

WHAT THEY SAY:

Clear malty

tones – coffee,

chocolate and

caramel and

velvety rye malts

– bring to mind

Belgian pralines.

Ageing in port

and bourbon

oakwood barrels

gives the beer

refined vanilla,

coconut, dry

dark fruit aromas

enhanced

with port and

American whiskey

tones.

WHAT WE THINK:

There's just

something about

whiskey and

Imperial Stouts,

they go together

so well, as this

bourbon-infused

number from Stu

Mostow shows.

A medium beige

head brings

aromas of malt,

smoke, toffee,

coconut and a

hint of vanilla.

The taste really

hits you with

bourbon but then

gives way to a

more chocolatey,

toffee kind of

vibe. Worth

checking out.
---
IS FOR, WELL,

LOTS OF THINGS.

THAT'S WHY WE

HAVE DEVISED

OUR OWN BEER

GLOSSARY

FOR YOU TO

DRINK IN.

IMPROVE YOUR

KNOWLEDGE OF

WHAT MAKES

BEER SO GREAT

AND IMPRESS

YOUR FRIENDS

IN THE BAR.

WHAT HAVE YOU

GOT TO LOSE?

FATHER'S BEER

(PATERSBIER)

Father's Beer, or

Patersbier to give it

the correct name,

is the term used

to describe the

weaker beer brewed

by Trappist monks

to consume for

themselves.

Also called Enkel,

meaning 'single'

it was originally a

basic recipe used by

Trappist breweries.

In recent years some

of these beers have

been introduced

commercially. If

you want to try one

out, then examples

include Chimay

Gold, St Bernadus

Extra 4 and

Westmalle Extra.

A
---
FERMENTATION

The simplest

explanation of

fermentation in

brewing is the

process by which

yeast converts the

glucose in the wort

to ethyl alcohol and

carbon dioxide gas -

giving the beer both

its alcohol content

and its carbonation.

If you are not a

brewer some of

these phrases won't

mean much but it

is a vital part of the

brewing process

and without it you

wouldn't get alcohol,

degredation of

sugars or proper

flavour development.

In short, no

fermentation equals

no beer.

FINAL GRAVITY

Now that you've read

and fully understand

fermentation *ahem*

then it will be easier to

understand Gravity.

In brewing terms, it

is the concept used

to measure the

percentage of alcohol.

So here's the

science... Original

gravity (OG) measures

how much sugar is

present in the wort

before it is fermented.

The final gravity

(FG) is how much

sugar is left over at

the completion of

fermentation. The size

of the gap between

OG and FG can be

used to calculate how

much alcohol the beer

contains. The bigger

the difference, the

greater the amount of

alcohol present and

hence the stronger

the beer.

FINISH

Beer tasting

terminology is a

minefield but one

thing you will hear

again and again is

finish.

A quick scan

through beer

rating websites

and you will see

terms like hoppy

finish, bitter finish,

longlasting fruity

finish etc. Simply

put this is the sense

and perception

of the beer after

swallowing.
---
FIRST GOLD

HOPS

First Gold is a variety

of the Goldings

hop and has the

distinction of being

England's first

hedgerow hop.

A versatile bittering

or aroma hop with

orange, marmalade

and spicy

characteristics.

The combined floral

and fruit aromas

are ideal for modern

Blonde, Pale Ale,

Belgian Blond &

Tripels and Saison

as well as American

Pale Ales.

Typical examples

you can try include

Wylam Gold Tankard,

Inveralmond Ossian,

Adnams Broadside

and Williams Gold.

FLAKED RICE

Flaked rice is what's

called an adjunct.

Adjuncts are

unmalted grains

(such as rice) used

in brewing beer,

which supplement

the main mash

ingredient.

Flaked rice is a

common and costeffective

adjunct

in American and

Japanese-style

lagers – producing

crisp and dry beers

with minimal flavour.

The likes of Sapporo,

Budweiser and

Heineken all use

it. But remember

adjuncts don't kill

beer, people do.

A
---
FOUNDERS

BREWING CO

Michigan-based

Founders Brewing

have a simple

philosophy: "We

don't brew beer for

the masses. Instead,

our beers are

crafted for a chosen

few, a small cadre

of renegades and

rebels who enjoy a

beer that pushes

the limits of what is

commonly accepted

as taste. In short,

we make beer for

people like us." And

with offerings like

Kentucky Breakfast

Stout and Canadian

Breakfast Stout

it is hard not to

acknowledge that

this mantra has

produced truely

world-class beers.

FRUIT BEER

Great fruit beer is

an art form, the

homeland for which is

Belgium, where they

have been brewing

exceptional fruit beer

for centuries.

But Belgian ales are

not the only vehicle

for fruit additions,

sour styles like

Lambic, Gose or

Berliner Weisse are

the most obvious fit

with raspberries and

cherries enhancing

the sharpness. Citrus

and tropical fruits

share flavour profile

with American hops

and work well in pale

ales and IPAs. Stouts

and Porters whose

rich flavours and

aromas fit perfectly

with berries, cherries

and plums. So much

fruity fun to be had no

matter your tastes.

FUGGLE HOP

A revered classic

English hop, Fuggle

has a delicate,

minty, grassy and

slightly floral aroma.

It can be used as a

main hop (perfect

for bittering) or for

dry hopping.

The hop is named

after Richard

Fuggle and was

first released

commercialy in

1875. Examples of

beer using Fuggles

include Tiny Rebel's

Fugg Life IPA, Little

Creatures The

Fuggle is Real and

Fuller's IPA.
---
WRITERS OF

CRAFT

BREANDÁN

KEARNEY

BREWER, WRITER AND BELGIAN BEER

ENTHUSIAST BREANDÁN KEARNEY

ON HOW TOOTHACHE STARTED HIS

PASSION FOR GREAT BEER AND

WHAT EXCITES HIM IN BREWING

How did you get into beer writing? What inspired you?

My route to beer writing was obscure. In 2010, I left my job

as a solicitor in Belfast to go travelling around the world.

In Peru, I met a Belgian woman and in 2013 I moved to

Belgium, knowing almost nothing about beer. In the first

weeks after the move, I experienced intense tooth ache,

resulting in root canal treatment with an endodontist in

Kortrijk. After the treatment, I visited a train station cafe and

ordered a beer called Westmalle Tripel, a Golden Tripel of

9.5% ABV brewed in a Trappist Abbey and presented to me in

a chalice glass. After that, I signed up for brewing classes and

started a beer blog to try to learn more, eventually writing for

magazines and websites in other countries.
---
Give us a brief overview of

your experience and work in

beer writing?

I write for various beer

publications including 'Belgian

Smaak', 'Belgian Beer and Food

Magazine' and 'Good Beer

Hunting'. I specialise in writing

about Belgian beer, and focus

more on cultural narratives

than on news reporting or beer

reviews. I also publish a podcast

in which I interview high-profile

people in the world of Belgian

beer.

What has been your proudest

moment?

My proudest moments in beer

writing were being named Beer

Writer of the Year in 2015 by the

British Guild of Beer Writers and

being awarded the title of Best

Beer History Writer 2018 by the

North American Guild of Beer

Writers. I also gain a short-lived

satisfaction on publication of an

article on which I have reported

deeply and for which I have taken

time to try to craft an engaging

narrative.

What has changed the most

in the beer/craft beer industry

since you've been writing

about it?

The thing that has changed the

most since I've been writing about

beer is the number of people

interested in beer and the number

of breweries starting up.

THE THING THAT

EXCITES ME

MOST FOR THE

FUTURE OF BEER

– OR PERHAPS

THE THING FOR

WHICH I HAVE

MOST HOPE –

IS BREWERS

LEARNING AND

IMPROVING ON

QUALITY...

What is it like to be a beer

judge? What do you look for

in a beer? Any notably very

impressive ones over the years?

I find beer judging to be mentally

tiring as it requires a great deal of

focus over a long period. I try to

judge more to the style guidelines

as set by the competition rather

than to personal taste as it is

more fair to limit subjectivity, as

challenging as that can be.

What are your favourite kinds

of beer and why?

I tend to choose lower alcohol

and drier beers, whether these are

aromatic session IPAs, an Oude

Geuze or a crisp hoppy pilsner.

Having said that, there is always

a moment for a rich and creamy

export stout.

On the future of beer – what

excites you the most? And what

worries you the most?

The thing that excites me most for

the future of beer – or perhaps the

thing for which I have most hope –

is brewers learning and improving

on quality, understanding the

causes of common off-flavours

in their beer and knowing how

to prevent them. The thing that

worries me most is people not

fulfilling their potential, in any

walk of life.

What are your top three tips

for beer lovers to get more

from their experiences?

Read a lot. Taste different things.

Enjoy beer with others.
---
OUR FAVOURITE

CRAFT BEERS OF

THE MOMENT.

SO GOOD WE

ARE DRINKING

THEM AT HOME.
---
LHG

MORE GLOW -

CITRA

IPA

Left Handed Giant are

rolling out a series of

single hop beers under

the More Glow moniker.

This is the Citra number

and has all the big

hitting tropical fruit

and citrus flavours

and aroma you would

expect. The artwork is

by James Yeo and prints

are currently available

on the LHG website.

ABV: 6.4%

Colour: Hazy gold

Aroma: Tropical/citrus

Taste: Tropical/citrus
---
UNITY

FRESCO

SUMMER

BELGIAN

IPA

We know we are a bit

late with this one but

Unity's special summer

IPA release Fresco is a

fusion of juicy Amarillo

hops, foraged lemon

balm and honeysuckle

all fermented in Belgian

yeast. A lovely mix of

floral and fruit in both

aroma and flavour. Goes

down a treat.

ABV: 6%

Colour: Hazy orange

Aroma: Orange peel,

herbal

Taste: Orange zest,

honey
---
GREAT DIVIDE

YETI

IMPERIAL STOUT

Simply put Colorado's

Great Divide have

created one of the

world's finest Imperial

Stouts. The aroma is

roasted coffee and

burnt caramel whilst the

taste is a mix of coffee,

chocolate and caramel.

Amazingly creamy

and smooth with a dry

hoppy finish – with

winter on the way this

is well worth searching

out.

ABV: 9.5%

Colour: Black

Aroma: Roasted coffee

and burnt caramel

Taste: Chocolate and

coffee
---
VERDANT

BLOOM

IPA

Cornwall's Verdant India

Pale Ale showcases

Mosaic and Columbus

hops with what they

describe as a stripped

down malt bill. Sweet

tropical flavours with

a hint of caramel and

pine. Dank, pungent

and packed with

juiciness with a good

solid bitterness. Very

drinkable indeed.

ABV: 6.5%

Colour: Hazy yellow

Aroma: Hoppy, caramel

Taste: Fruity, pine
---
GIPSY HILL

HOPS NOT HATE

SOUR

Hops not Hate is a

project for people in

the beer industry to

raise awareness and

financially support a

charity of their choice –

giving 50 per cent of net

profit from the sale of

beer to the charity. The

beer itself is a mango,

orange peel and biscuit

sour. Tart, fruity, and

refreshing, pairs nicely

with social change.

ABV: 4.2%

Colour: Golden

Aroma: Orange zest

Taste: Mango/tart citrus
---
NORTHERN MONK

LEEDS BEER

WEEK 2018

TDH PALE ALE

Brewed especially

for Leeds Beer Week,

this collaboration with

Northern Monk is a

crushable Pale Ale,

based on Northern

Monk's Faith – triple dry

hopped with Ekuanot,

Citra and Mosaic. An

explosion of tropical

fruit with an assertive

hoppy finish, this is a

great example of triple

dry hopping executed to

perfection.

ABV: 5.5%

Colour: Yellow/orange

Aroma: Tropical fruit

Taste: Juicy fruit
---
LERVIG

GOING NOWHERE

PALE ALE

Another festival

collaboration this time

between Lervig and

London Craft Beer

Festival. Although

labeled as a pale ale

there is a slightly

sour, citric tang. An

easily quaffable,

slightly tart session

pale with tropical and

citrus fruit aroma and

taste. A definate thirst

quencher.

ABV: 4.4%

Colour: Black

Aroma: Citrus/tropical

Taste: Tropical fruit,

sour
---
NEXT ISSUE READY FOR CONSUMPTION

JANUARY 2019
---
! FACEBOOK.COM/ HOPULIST/

$ @HOPULISTMAGAZINE

SEARCH THE HASHTAGS:

#HOPULIST #HOPULISTMAG

E: INFO@HOPULIST.COM

W: HOPULIST.COM

TO ADVERTISE

OR IF YOU WOULD LIKE

YOUR BREWERY, TAP ROOM

OR PRODUCT TO APPEAR IN

HOPULIST PLEASE CONTACT:

INFO@HOPULIST.COM

EDITORIAL: DAVID GUEST

DESIGN: MARK GRAFTON