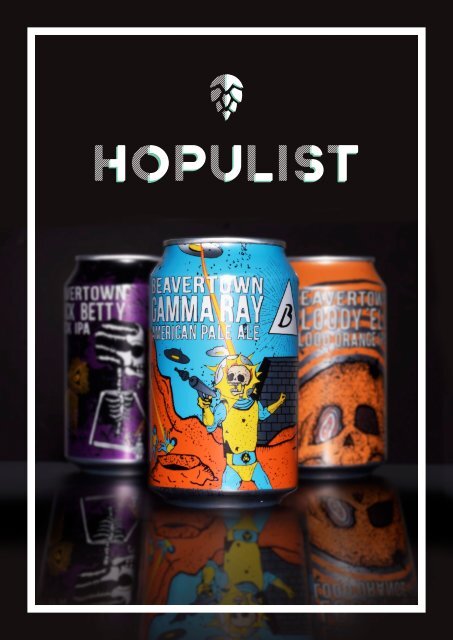 Hopulist Issue 1
A free magazine celebrating everything beautiful about the world of craft beer. If there's malt, hops, or wheat in sight, we have it covered.
A free magazine celebrating everything beautiful about the world of craft beer. If there's malt, hops, or wheat in sight, we have it covered.
SHOW MORE
SHOW LESS
Create successful ePaper yourself
Turn your PDF publications into a flip-book with our unique Google optimized e-Paper software.
Hopulist is a celebration of good beer. Plain and

simple. If there's malt, hops and yeast in sight, we

will be there.

This magazine was born from a strong passion

for two things: quality beer and quality publishing.

Combining this unique blend of talents, we hope

it can inform and entertain you on a subject that

is close to our hearts.

The craft beer movement has exploded into life

in the last five years, and subsequently it can be

a little confusing and maybe even daunting. We

hope to be your guide across the beery seas. We

will bring you the latest news, brews and intrigue

from the craft beer universe and we hope you will

enjoy reading it as much as we enjoyed putting it

together.

The Hopulist ship has set sail, we don't know

where it will lead, but we sincerely hope you will

join us for a quaff or two along the way.

Spread the word...

Cheers,

The Hopulist team
---
06

10

12

What's new in craft?

We've got it covered.

Fresh beer launches

for fresh people.

Exclusive interview

with Nick Dwyer.

20

22

36

Get your hands on

the latest beer merch.

Eleven interesting

Scandinavian beers.

Bangkok has it going

on for craft beer.

48

52

64

KBS – a breakfast

stout to die for.

Why New Zealand is

belting for beer.

Our A-Z of craft

beer begins.

68

78

80

The story behind UK

pioneer Beer Gonzo.

More merch. Because

why not?

What the Hopulist

team's been drinking.
---
FREE

Available on iOS

and Android

How many beers have you earned after

a 10km run? Mikkeller Running Club's

new app helps you track your running

and beer drinking so you can keep a fine

balance between the two.

Modern life doesn't make it easy to

maintain a healthy balance between

exercise and the love of beer but this app

will show you how. With the help of a

simple calculation of both your calorie

burning and calorie intake it tells you if

you can have another beer or if it's time

to get running.

As well as obligatory running app

features, like GPS distance calculation,

it also gives you the opportunity to

socialise with fellow runners and share

and discuss beer habits with other MRC

members around the world.

Information on all MRC running

chapters and Mikkeller bars is also

featured.

WHAT IS THE MRC?

The Mikkeller Running

Club was founded by

Mikkel Borg Bjergsø,

who is also the creator

and owner of Mikkeller.

As a youngster he

earned a scholarship

in the US thanks to

his track prowess so

it is no coincidence

he chose to focus on

running.

The idea of Mikkeller

Running Club is

to stay fit through

running. Having fun and

socialising is the order

of the day with training

sessions ending at the

clubhouse – a bar that

serves Mikkeller – to

share a few beers. You

do not have to be an

experienced runner or

athlete to join and with

chapters (clubs) and

events popping up all

over the world you too

could be pounding the

streets wearing an MRC

shirt.

To find out more visit:

mikkellerrunningclub.dk
---
PICTURES © BREWDOG

Ever dreamt of supping craft beer in

your hotel room or relaxing in a hot

tub filled with beer? Well dream no

more… Scottish craft brewing pioneers

BrewDog is planning to build a craft

beer hotel attached to a new state-ofthe-art

sour beer facility in Columbus,

Ohio.

With money raised from crowd

funding investors BrewDog hopes

to have the 'Doghouse' open by late

2018. If you would like to stay in one

of the 50 rooms you can expect craft

beer minibars, Punk IPA on tap in

your room, beer spa treatments with

bespoke hop oils, a rooftop residents

bar, craft beer themed breakfast, ensuite

shower beer fridges and of course

a restaurant majoring in beer and food

pairings.

Sounds to us like the ideal

environment in which to immerse

yourself in the ultimate beery weekend.
---
Asian food chain

Wagamama has

collaborated with

Greenwich's Meantime

Brewing Company to create

two brand new craft ales

exclusive to wagamamas

UK restaurants; Kikku and

Kansho.

The collaboration

between Wagamama's

executive chef, Steve

Mangleshot, alongside

Meantime's head brewer,

Ciaran Giblin has lead to

two uniquely infused pale

ales with Asian-inspired

flavours that sit well

alongside Wagamama's

menu.

To find out more visit:

www.wagamama.com

KANSHO

Meaning 'zesty' in Japanese,

has been brewed using fresh

lime and ginger. Wagamama

recommends pairing this

lighter pale ale with citrus

infused dishes such as lollipop

prawn kushiyaki or Raisukaree

curry to complement the

vibrant flavours.

KIKKU

Meaning 'kick' in Japanese, is

a shichimi infused pale ale.

Shichimi is a Japanese seven

flavour spice mix, offering

a subtle kick and heat. The

pale ale is best paired with

wagamama's richer dishes

such as Tori Kara Age or the

Short Rib Ramen.

PHOTOS & ARTWORK © TIDYMCKENZIE.CO.UK
---
The annual Top 50 US Craft

Brewing list has been released by

Brewers Association and sees four

names removed after a busy year

of mergers and acquisitions. The

craft brewers removed from the list

were Lagunitas Brewing, who were

number 6 on the list in 2015, Ballast

Point, Breckenridge Brewery and

Four Peaks Brewing.

The list is based on US beer sales

volume and to be considered 75 per

cent of the brewery must be owned by

a craft brewer and production cannot

exceed 6 million barrels.

The top five craft breweries remain

unchanged from 2015. Twenty-two

states are represented on the list with

California making up roughly 20

percent of the top 50.

The big movers include Duvel-

Moortgat which went from #15 in

2015 to #6 in 2016. The rise comes as

a result of being the parent company

for Boulevard Brewing, Brewery

Ommegang and Firestone Walker.

Another brewery that moved up

the list thanks to an acquisition

was Oskar Blues. They moved from

#24 in 2014 to #10 in 2016 after

acquiring Cigar City Brewing.

PHOTO © YUENGLING

TOP 50 U.S. CRAFT BREWERS

# BREWER STATE

01 D. G. YUENGLING & SON, INC PA

02 BOSTON BEER CO MA

03 SIERRA NEVADA BREWING CO CA

04 NEW BELGIUM BREWING CO CO

05 GAMBRINUS TX

06 DUVEL MOORTGAT CA/MO/NY

07 BELL'S BREWERY, INC MI

08 DESCHUTES BREWERY OR

09 STONE BREWING CO CA

10 OSKAR BLUES BREWING CO CO

11 BROOKLYN BREWERY NY

12 MINHAS CRAFT BREWERY WI

13 ARTISANAL BREWING VENTURES PA/NY

14 DOGFISH HEAD CRAFT BREWERY DE

15 SWEETWATER BREWING CO GA

16 NEW GLARUS BREWING CO WI

17 MATT BREWING CO NY

18 HARPOON BREWERY MA

19 ALASKAN BREWING AK

20 ABITA BREWING CO LA

21 GREAT LAKES BREWING CO OH

22 ANCHOR BREWING CO CA

23 STEVENS POINT BREWERY WI

24 AUGUST SCHELL BREWING CO MN

25 LONG TRAIL BREWING CO VT

26 SUMMIT BREWING CO MN

27 ODELL BREWING CO CO

28 SHIPYARD BREWING CO ME

29 FULL SAIL BREWING CO OR

30 ROGUE ALES OR

31 21ST AMENDMENT BREWERY CA

32 FLYING DOG BREWERY MD

33 NINKASI BREWING CO OR

34 GORDON BIERSCH BREWING CO CA

35 ALLAGASH BREWING CO ME

36 NARRAGANSETT BREWING CO RI

37 GREEN FLASH BREWING CO CA

38 TRÖEGS BREWING CO PA

39 UINTA BREWING CO UT

40 BEAR REPUBLIC BREWING CO CA

41 KARL STRAUSS BREWING CO CA

42 SURLY BREWING CO MN

43 SIXPOINT BREWERY NY

44 LEFT HAND BREWING CO CO

45 LOST COAST BREWERY CA

46 REVOLUTION BREWING IL

47 NORTH COAST BREWING CO CA

48 AVERY BREWING CO CO

49 REAL ALE BREWING CO TX

50 BJ'S BREWERY CA
---
STONE GO EAST COAST

Stone Brewing, renowned for their west

coast style IPAs, are paying homage to the

New England haze craze with this Nor'

East Nod Double IPA. Described as 'all

'bout hop flavour with a sweet, bright,

decidedly UN-bitter finish.'

Release date: Nothing announced as yet

but expected to be released in the USA

from August.

CROSS CONTINENTAL MASH-UP

Beavertown and Firestone Walker have

come together to produce West Side

Beavo IPL a one-off collaboration set for

limited release in both the USA and UK.

Described as 'a beer that speaks to both

breweries' penchant for brewing hoppy

beers with complexity and balance.'

Release date: Unveiled at the Firestone

Walker Invitational Beer Fest in June.
---
NEW RELEASES WE

CAN'T WAIT TO GET

OUR HANDS ON...

TRIPLE CROWN

Welsh legends Tiny Rebel have recently

waded into the Triple IPA market with

Captain Insano. Described as 'Hops front

and centre, in your face and bigger than

ever...' this 10% ABV beer has prominent

mango and clementine flavours. It is a

limited edition release so get your hands

on it now before it's too late.

Release date: Already on sale

UK GOES TROPICAL

Okay, so we know this isn't new but

it's about to hit the UK so we thought

it worthy of an entry. Sierra Nevada's

Tropical Torpedo IPA was inspired by

island life with intense hop flavour and

aromas of mango and passionfruit. A

truely tropical twist on the American IPA.

Release date: UK - available in bottle and

keg from 19th June.
---
BEAVERTOWN BREWERY – CREATIVE DIRECTOR
---
HE'S THE REASON BEAVERTOWN

BEERS LOOK AS GOOD AS THEY

TASTE. MEET THE MAN BEHIND

THE ARTWORK...

DWYER

Can you tell us how you got into design?

I transitioned from traditional oil painting to

illustration when I was finishing up at school:

I used to make CDs for my friends (although

mainly girls I had crushes on) and I would

illustrate the cover, inside and back with the

track list. Studying English at school was a big

influence as I used to take the visuals from books

by people like Brett Easton Ellis and Thomas

Pynchon and turn them into illustrations. Also

music – I have always loved lyrics and they

formed a huge part of how I tell stories now.

Later on I was introduced to gritty graphic

novels from the likes of Grant Morrison and

Warren Ellis, along with the darker side of

comics such as Batman and Preacher, and it

revolutionised the way I would draw and the

detail I would incorporate. I've always been

hugely attention seeking, which translates

well into beer design, when you want it to be

eye catching! In a nut shell my job is having

unfamiliar folks notice and try our beer, and

loyal fans recognise it instantly.

© NICK DWYER
---
How did you start working with

Beavertown?

When I graduated I immediately

got a restaurant job to make ends

meet while keeping a look out for

freelance work / a steady design

position somewhere, ideally

illustration specific. While working

at one restaurant my buddy James

Rylance said he'd met this guy Logan,

who had a BBQ joint and brewery

in the back, and needed labels for

two experimental beers called "Black

Betty" and "Gamma Ray." After a few

sessions talking through the designs

and required changes, I saw how

nice it looked working at Dukes, the

BBQ joint, and applied for a waiter

job. This meant more time chatting

to Logan about things like music,

art, comics etc and it turned out we

shared a lot of interests. Alongside

this I would make sure he always saw

the best page of my sketchbook when

I was working on it before shifts.

This translated into help with the

current core range branding, website

and marketing materials etc, and

eventually a full time designer roll

at our then-site in Hackney Wick.

From there my job and relationship

with the company evolved into fully

fledged creative director.
---
Can you tell us more about the concept

behind your work at Beavertown?

In a general sense, I'm here to make the outside

of our beer look as good as the inside tastes. We

use the phrase 'gravitate' a lot when talking about

the design because we want people familiar with

it to recognise it instantly and gravitate towards

it, whilst people new to it do the same due to how

eye catching it is. More specifically, I (we) love all

things sci-fi and psychedelic, and I devour graphic

novels with Grant Morrison and Warren Ellis being

a huge influence. When a beer is in the works I

tend to chase brewers around the brewery asking

questions about the beer in an attempt to weave

any ideas into a relevant design to the specific

beer. It's so scientific its never usually that hard to

translate it into something tangible. Its also about

50% what I'm into at the time - music, books, tv,

movies, video games, all play a huge part. More

video games than you would think actually. I get

obsessed with the big story ones.

| TEND TO CHASE

BREWERS AROUND

THE BREWERY

ASk|NG QUEST|ONS

ABOUT THE BEER

|N AN ATTEMPT TO

WEAVE ANY |DEAS

|NTO A RELEVANT

DES|GN TO THE

SPEC|F|C BEER.
---
How much has the job influenced your relationship

with craft beer and vice-versa?

I didn't know what craft beer was so I guess you could say

it changed my life! Not a lot of people can say that without

being called a prick. You can probably still call me a prick

actually. When I started, having not tried the beer, beer

was just beer and it was fine. That's exactly the sentiment

this industry fights against now, with so many varieties and

so many of our contemporaries (us included) pushing the

boundaries of quality, flavour and generally what's possible.

Artwork has a lot to do with that too, as if you pick up

something based on its brand and it's bad, you're likely to

remember that it's bad and see that as a big red flag next time.

I'm definitely not the sort of person who would leave a mate's

birthday drinks because there was nothing good on tap,

but it certainly made me appreciate quality over quantity,

which can never be a bad thing. It's a mental world of beer

fanaticism and I think at times it gets a bit much, but raising

the bar is never going to be a bad thing.

| GUESS YOU

COULD SAY CRAFT

BEER CHANGED

MY L|FE! NOT A

LOT OF PEOPLE

CAN SAY THAT

W|THOUT BE|NG

CALLED A PR|Ck.
---
What has been your hardest brief for a project

and do you have any set rules?

The initial move into cans involved an arduous

couple of months of working through the night to

get the designs right. I can't believe how quickly we

brought it together to be honest but like anything

gruelling it was a great learning experience. The

hardest briefs are when I know Logan has a very

specific idea of what he wants it to look like, but

I'm not 100% clear. That's when I draw it in bits

and slowly build it up into a scene or image. Those

usually come out best, but most of the time I'm on

crazy tight deadlines. In terms of rules, the recent

logo change and subsequent rebrand of a couple of

cans came out of the concept of never having to slap

your branding on designs - the skull fits nicely into

the illustration and my hand drawn copy sits within

that, sometimes even forming part of the design.

Seamlessness is a good word for it.

What has been your favourite

project to date?

Rebranding Neck Oil, with the

video, prints, integration into the

extravaganza artwork and everything

else was a real benchmark for all of

us working together to get something

out. I took feedback from the team,

Kamilla made that amazing video I

got to get in with my pants on, we

made t-shirts, prints, had a scavenger

hunt across London and generally

shouted loud about it. It really paid

off and people seem to love it. It was

so much fun because it's a sign of

things to come. I can't wait to get

the other few out there now, its so

rewarding.
---
Are you excited about the quality

of design and illustration in the

craft beer market at the moment?

Absolutely! I think companies are

waking up to the idea of cultivatiing

someone with a passion to produce

designs for them over throwing

money at design agencies. If you're

going to labour over your beer, why

not have someone labour over the

design? There's so much personality

and character in beer too, and you

can show it any way you like.

Loads of breweries go super

minimal while maintaining very

distinct characteristics, others

go very clean but busy, whereas

there are some (like us) who have

someone draw until their fingers

fall off based on throwing ideas

around over a few beers.

What other breweries' work

inspire you?

I've got a lot of love for Rich Norgate

(Magic Rock) doing his thing there.

It's so recognisable yet so different

each time. Alec Doherty was one of

the first with his labels for Partizan

to really push the illustration

thing, and obviously Karl Grandin

(Omnipollo) makes those beautiful,

screen printed bottles look so easy

but so sexy (it's not easy).
---
© NICK DWYER

WE HAVE A BUCkET

LOAD OF AMAZ|NG

COLLABS COM|NG

UP AS WELL AS

SOME SPEC|AL AND

ONE-OFF BEERS SO

kEEP YOUR EYES

AND TONGUES

PEELED.

What are your creative influences and interests?

The graphic novels mentioned earlier but I'm also a

huge surf / psych music fan. Lots of beer names are

twists on song names from bands I like, as are some

of the illustrations for the labels. I watch a lot of

cartoons aimed at teenagers and below, more than I

watch movies or tv shows aimed at adults. Futurama

is my absolute favourite and I usually watch an

episode before bed every day. Kurt Vonnegut,

Thomas Pynchon and Brett Easton Ellis are firm

literary favourites too, but it's mainly the cartoons.

What are you working on at the moment?

Brand refreshes across the core range cans, ranging

from total overhaul to implementing the skull logo.

We also have a bucket load of amazing collabs

coming up as well as some special and one-off beers

so keep your eyes and tongues peeled.

Thats as much as I'll say...
---
RECLAIMED BEER TOTE

What better way to open your next

beer? Handmade from reclaimed pallet

wood and featuring a fitted vintage style

bottle opener and lined base. The tote

holds 6 standard 330ml bottles.

HAUS FIESTA GLASS

The Haus Fiesta beer glass from And

Union has been designed and engineered

for the ultimate craft beer pleasure. And

we all know the benefits of German

engineering. 400ml and dishwasher safe.

WANT YOUR PRODUCT FEATURED? CO
---
BECAUSE SOME

THINGS YOU NEED

IN YOUR LIFE...

SKULL LOGO CAP

Beavertown Brewery's merch range looks

as good as its beers taste. With adjustable

strap and embroidered skull logo.

Because if you're drinking you may as well

look cool as fuck doing it.

DRINK CRAFT BEER TEE

If your friends don't already know you

love craft beer then it's time to leave

them in no doubt. This unisex t-shirt is

screen-printed using earth friendly, waterbased

inks.

NTACT US AT INFO@HOPULIST.COM
---
ELEVEN

I NTER-

ESTI NG

BEERS

F R O M ...

Scandinavia [ a ]

Is a historical and cultural region in Northern Europe

characterized by a common ethnocultural North Germanic

heritage and mutually intelligible North Germanic languages.
---
IN THE GLOBAL CRAFT

BEER ARMS RACE THE

NORTHERN EUROPEAN

NATIONS THAT MAKE

UP SCANDINAVIA ARE

TRUELY BECOMING

A SUPER POWER. WE

LEFT OUR RESIDENT

EXPERT TOM SELL

ALONE IN A DARK

ROOM WITH ELEVEN

OF SCANDINAVIA'S

FINEST OFFERINGS

FROM THE REGION'S

MOST INSPIRING

PRODUCERS, HERE ARE

THE RESULTS...

RATEBEER.COM SCORES CORRECT AT TIME OF PUBLISHING
---
NOA PECAN MUD CAKE STOUT

STOCkHOLM

Style:

|MPER|AL STOUT

ABV: 11%

Volume: 330ml

RATEBEER.com

OVERALL: 100

STYLE: 99

WHAT THEY SAY:

Thick, rich and

excessively

decadent, this

beer aims to bring

back childhood

memories. Brewed

with aromas.

WHAT WE THINK:

Deep dark brown

in colour, almost

black. Thick, tight

tan-coloured head.

Aromas jump

out of the glass,

sweet, chocolate

brownie, sweet

vanilla, pecans,

coffee, a slight

boozy undertone.

Taste is chocolate

milkshake, freshly

brewed coffee,

caramel, toffee,

pecans, toasted

malt, slightly spicy

in the end. Finish

is fairly smooth,

slightly sticky and

long lasting with a

thick and smooth

mouthfeel. Alcohol

barely noticeable.

A lovely and

warming twist on

an imperial stout.
---
20

COPENHAGEN

Style: |PA

ABV: 6.8%

Volume: 330ml

RATEBEER.com

OVERALL: 89

STYLE: 82

WHAT THEY SAY:

Brewed with 20

different hops for

a fresh and tasty

palate challenge.

WHAT WE THINK:

Murky deep amber

colour, big offwhite

head. Juicy

fruit, tropical fruit,

pine, grapefruit.

Strong american

hop taste, orange,

pine, caramel

maltiness. Thick

mouthfeel, oily

and chewy texture,

a strong, longlasting,

dry and

bitter finish.
---
EKTA PILS

Göteborg

Style: P|lsner

ABV: 5.2%

Volume: 330ml

RATEBEER.com

OVERALL: 83

STYLE: 98

WHAT THEY SAY:

Malty taste with a

clear bitter, hints

of white bread,

citrus peel and

herbs. Serve at

6-8°C to dishes of

fish or white meat

or as a social

drink.

WHAT WE THINK:

Flawless clear

pale golden in

colour, long last

thick white head.

Classic German

pils aroma, herbal,

grassy, grainy. Taste

is slightly stone

fruit like peaches,

lemon, grassy and

floral. Spicy and

crisp finish with

a medium bitter

finish. Classic

German style

pilsner.
---
BLOSSOM

COPENHAGEN

Style: WHEAT ALE

ABV: 6.3%

Volume: 330Ml

RATEBEER.com

OVERALL: 93

STYLE: 99

WHAT THEY SAY:

A fresh, flowerfull

and hoppy

American-Style

Wheat Beer. 40%

Wheat Malt, a

ton of Simcoe,

Citra, Galaxy and

Amarillo hops

combined with a

nice handful of 6

different specially

made dried

flowers. A salute to

all the beauty the

spring brings.

WHAT WE THINK:

Deep orange, hazy

in appearance.

Medium white

head. Citrus,

orange, slight rose

water aromas.

Taste is grassy,

slight juicy fruit,

tangerine, floral

and zesty flavours

come through.

Finish is mildly

smooth bitter,

with a medium

dry finish. Medium

mouthfeel. Very

refreshing indeed.
---
LAWLESS

AkT|EBRYGGER|

STAVANGER

Style: SA|SON

ABV: 6.5%

Volume: 330ml

RATEBEER.com

OVERALL: 68

STYLE: 45

WHAT THEY SAY:

A collaboration

brew with Arizona

Wilderness. This

Farmhouse Ale

is flavoured with

juniper berries,

giving a herbal

character and

fruity finish.

WHAT WE THINK:

Red/Amber in

colour, thin white

head which

subsides quickly.

Sherry, bready,

spicy on the nose.

Taste is resinous,

caramel, boozy

at the back end,

finish is fairly

bitter for a saison.

Lacking the spicy

pepper character

you would expect

from this style. Dry

and slightly ashy

in the end.
---
SAISON

LANDSkRONA

Style: SA|SON

ABV: 6.5%

Volume: 330ml

RATEBEER.com

OVERALL: 75

STYLE: 50

WHAT THEY SAY:

A rustic farmhouse

ale fermented with

multiple strains of

saccharomyces

and brettanomyces

yeast,

giving it a complex

and elegant taste.

WHAT WE THINK:

Pure clear golden

in colour, a thick

creamy long

lasting white head.

Well carbonated.

Cider apple,

barnyard, tart

aromas. Taste is

light berries, apple,

earthy noble hops,

sour tang with a

little maltiness on

the finish. Peppery,

yeasty dry finish.

Very refreshing.
---
ICELANDIC WHITE ALE

AkUREYR|

Style: W|TB|ER

ABV: 5.2%

Volume: 330ml

RATEBEER.com

OVERALL: 48

STYLE: 71

WHAT THEY SAY:

A clean and crisp

start with a smooth

mouthfeel thanks

to the oats, citrus

and spice round

out a refreshing

finish. Brewed with

pure Icelandic

water for a cool

smoothness that

is deliciously

refreshing.

WHAT WE THINK:

Light golden

orange in colour

and slightly hazy.

Thick clean white

head. Citrus

aromas, slightly

yeasty. Taste is

orange, coriander,

herbal, slightly

dry. Finish is

mildly bitter, spicy.

Medium to light

mouthfeel. Very

refreshing and

simple wheat beer.
---
TROPIC THUNDER

LANDVETTER

Style: SOUR/WILD

ABV: 4.5%

Volume: 330ml

RATEBEER.com

OVERALL: 95

STYLE: 72

WHAT THEY SAY:

Tropic Thunder is

a joint effort with

nomadic brewer

Brian Strumke of

Stillwater Artisanal.

Brewed with

lactobacillus and

allowed to ferment

with plentiful

mango, passion

fruit and peach.

WHAT WE THINK:

Hazy pale golden

colour, very

minimal head.

Aromas of deep

peach juice,

mango juice,

tropical fruit juice.

Just like a classic

fruit juice based

cocktail. Flavour is

sour, sharp lemon,

slight peach in the

middle. A sharp,

dry and long sour

finish. One for the

summer!
---
SUNDBY STOUT

COPENHAGEN

Style: STOUT

ABV: 6.2%

Volume: 500ml

RATEBEER.com

OVERALL: 92

STYLE: 93

WHAT THEY SAY:

Floral tones lay

on top of the

typical stoutcharacteristics

of roasted malt

to add lightness.

Malt sweetness

and hints of bitter

chocolate and

English liqourice.

WHAT WE THINK:

Very dark brown

in colour, almost

black. Nice thick

creamy slightly

off white head.

Roasted malt,

plum, slight

chocolate, vanilla

aromas. Burnt

chocolate, freshly

brewed coffee,

slightly smoky

initial flavours.

Dark fruit and

and ashy, slightly

bitter cocoa in the

finish. Mouthfeel

is smooth

and creamy,

carbonation is

gentle. A classic

stout.
---
INDIA PALE ALE

GR|MSTAD

Style: |pa

ABV: 7.5%

Volume: 500ml

RATEBEER.com

OVERALL: 98

STYLE: 99

WHAT THEY SAY:

A rich, malty,

and very bitter

ale. Cascade

hops provide a

long, fruity, and

spicy after-taste.

Recommended

serving

temperature

10°C/50°F. Ideal

with barbequed

or smoked meat

dishes.

WHAT WE THINK:

Deep golden

orange in colour,

nice thick creamy

white head.

Aromas of pine,

resin, caramel,

citrus. Taste is

spicy, fruity esters

from the english

yeast, grapefruit,

marmalade. Finish

is medium resinous

bitter with a dry

spicy end.
---
BADEBRYGG

BRYGGER|ET

DRAMMEN

Style: GOLDEN ALE

ABV: 4.5%

Volume: 500ml

RATEBEER.com

OVERALL: 63

STYLE: 94

WHAT THEY SAY:

The beer for the

bright season.

A golden and

harmonious ale

with light malt

sweetness and a

mild and rounded

fruity bitterness.

WHAT WE THINK:

Light golden

colour, medium

creamy head.

Fresh cut grass,

lemon, english

yeast aromas.

Taste is malty,

orange, lemon,

grassy. Mild soft

and dry finish,

spicy with medium

bitterness. Easy

drinking english

style golden ale.
---
CRAFT BEER

banGKÕK

SŁYLE
---
By David Guest

Beads of sweat roll down my forehead as

the heavy, humid air of a spring night in

Bangkok pours all of its weight relentlessly

onto me. The traffic noise roars like an overhead

troop of warplanes and the battle of what seems

like life and death on the roads around me takes

place with jovial second-nature by its participants.

It's a sensory invasion, but not an unpleasant one.

Bangkok is one of the world's most visited cities

and there are plenty of reasons why. But perhaps

way down the list of those reasons is the one

I'm about to pull to my lips in an ice cold Vedett

pint glass. Craft beer is not what you'd typically

associate with this place, but that assumption is oh,

so misguided.

I'm nestled in the corner of a stylish, open-air

craft beer bar, perhaps slightly unoriginally named

Craft. But don't let the tell-it-like-it-is name put

you off, Craft is the self proclaimed king of the craft

movement in Thailand and it's no wonder. With

two bars in central locations and a staggering range

offering of over 170 beers from around the world

from the tap, bottle and can, this is a place not to be

missed. The Craft I'm in right now is in the Silom

district of the city. It's in the south centre and is the

are where a lot of big businesses are. It made sense

for this to be one of the first locations for Craft,

as there is an international community here who

work in the towers of steel and glass that surround

it. The open air area of the bar is finished with astro

turf and stylish furnishings and as I make my way

into the wood-walled bar to order another beer, I

am pretty staggered by the offering there is.

Craft |s

the self

procla|med

k|ng of

the craft

movement |n

Tha|land and

|t's no wonder.

W|th two bars

|n central

locat|ons and

a stagg e r| n g

range

offer| ng of

over 170 beers

from around

the world

from the tap,

bottle and

can, th| s is a

place not to

be m| ssed.
---
The taps have some very familiar names, such as

the aforementioned Vedett, and others like Rogue

and BrewDog, but there are also names I don't

recognise. Coedo is a Japanese craft brewery that

is heavily stocked and its produce kicks the arse

of the usual Thailand drinking fodder of wishywashy

lagers like Singha and Chang. I sample an

intriguing red ale that is intricate in body and

as good as anything I have tried in Europe or

the United States. There's also craft beers from

Australia, Mexico and more places that I think my

liver can handle sampling.

It has to be said that the Thai staff on this

particular night are not craft beer aficionados,

but a handy numbering system on the menu

makes getting your point across easy. My visit

to the other Craft on Sukhumvit was a wholly

different experience – the staff here were lively,

intelligent and even able to make suggestions

based on descriptions of the type of beer that was

tickling my fancy. It was also a busier night and

subsequently you got a better view of the audience

– and it was very international. I clocked languages

and accents from around the world, proving that

craft beer is a global movement and Bangkok is the

perfect global city to experience it in.

Another neat aspect to Craft is at each bar, they

have a sister bar next door known as Whisgars.

The Sherlock Holmes-esque among you will have

deduced that this is a whiskey and cigars bar. Now,

I love craft beer, but I'm also partial to a whiskey so

a nightcap here was a perfect end to my evening.

But Craft isn't the only place to enjoy drinking

some decent beer if you ever make it to Bangkok,

oh no.

CH|ANG MA| •

PHUkET •

thA|LAND

Bangkok

• PAT TAYA

• kOH SAMU|

Bangkok is the

capital and most

populous city of

Thailand. A clash

between tradition

and modernity,

famed for its ornate

shrines, vibrant

street life and food.
---
© COURTESY OF MIKKELLER

© COURTESY OF MIKKELLER
---
I headed to another establishment during my stay

known as BREW. Feeling confident after having

been in the city for a few nights at this point,

I decided (and somehow convinced my longsuffering

girlfriend) that this was within walking

distance. Before I go any further let me strongly

advise you NEVER to walk anywhere in Bangkok.

It's the least pedestrian friendly city I've ever

been to, and after a sweaty and often dangerous

stagger around its maze-like streets, we discovered

BREW was not open… I stood around gawping

at the non-illuminated sign for sometime before

an equally disgruntled American sitting on some

nearby steps informed us the bar has been closed

for renovation for some time, BUT WAS OPEN

TOMORROW! Fast-forward 24 hours and I was

sipping a lovely Belgian wheat beer convincing

my girlfriend that it had all been worth the wait. A

live band entertained the again very international

crowd. This place had character, it had great beer,

it had decent grub and it was in a city that was

winning me over with every passing second.

Bangkok as a serious craft beer destination is

not just my rose-tinted (and potentially fine ale

influenced) view of the place though. Danish

brewing giant Mikkeler has recently opened a bar a

little further out from the centre.

So, while the typical destinations for craft beer

probably remain in Europe and the United States,

it was incredibly refreshing to see the movement

being picked up so authentically in somewhere

as exotic and alien as Thailand. If you ever make

it out there, rest-assured that the weather is great,

the people are incredibly friendly, the experience is

fantastic, and most importantly, the beer is good…

| f you ever

make | t o u t

there, restassured

that

the weather

| s great, the

people are

| ncredibly

fr| endly, the

experience

| s fantast| c ,

and most

| mportantly,

the beer | s

good...
---
TOP BANGKOK BEER TIPS

one

two

Never walk anywhere. Taxis and tuk

tuks are incredibly cheap and are a great

experience to ride in. Just show your driver

where you want to go on Google Maps so

they can get context and you'll be away.

It's advisable to go for lighter refreshing

beers on the whole. Stouts and heavier ales

don't fare to well in 35C+.

three

four

five

While the food was decent in the bars I

tried, I would advise eating somewhere

else before or after. Thailand is the home of

exciting flavours and you really need to try

them.

Don't be afraid to ask. I never felt like

anyone was trying to scam me in the city

and many Thais are just happy you're there

and that you're interested (spending money

in) their country.

Chang and Singha are everywhere in

Thailand and often for ridiculously cheap.

Don't succumb, they are not worthy of

your crafty pallet.
---
"THERE IS

MORE TO

LIFE THAN

BEER ALONE,

BUT BEER

MAKES

THOSE OTHER

THINGS EVEN

BETTER."

STEPHEN MORRIS
---
KBS (KENTUCKY BREAKFAST STOUT)

GRAND RAP|DS

Style:

|MPER|AL STOUT

ABV: 11.9%

Volume: 355Ml

RATEBEER.com

OVERALL: 100

STYLE: 100
---
A beer aged in

caves with its own

annual launch

party? KBS is a

super stout worth

shouting about.

Created using a dreamy

blend of Belgian

chocolate, sumatra

and kona coffee beans, lots

of oats, roasted grains and

barley, it's no wonder that

KBS is a champion of ratebeer.

com. The beer was first

created back in 2003 using

Jack Daniel's whiskey barrels

(we know, whiskey too!) to

create the oatmeal breakfast

stout. Founders knew it

had something special and

continued to experiment until

settling on the recipe that we

enjoy today.

THE

100

CLUB

IN THIS SERIES WE

EXAMINE THE BEERS

THAT HAVE ACHIEVED

THE PERFECT SCORE

OF 100/100 ON

RATEBEER.COM. JUST

HOW DO THEY DO IT?
---
"KENTUCKY

BREAKFAST

STOUT (KBS) IS A

QUINTESSENTIAL

REPRESENTATION

OF WHO

FOUNDERS IS

AS A COMPANY

AND THE

LEGACY WE'VE

ESTABLISHED IN

THE INDUSTRY..."

DAVE ENGBERS, CO-FOUNDER AND PRESIDENT
---
Like most strong stouts,

KBS takes roughly a year

from brew day to bottle

and spends most of its

time blissfuly ageing in

oak barrels from the big

bourbon producers. The

secret weapon that Michiganbased

Founders use with KBS

compared to other oak-aged

stouts is how the barrels are

stored. Founders rents airconditioned

caves that run

under the Grand Rapids

in former gypsum mines.

Yes, you read that right.

The darkness and constant

temperature of the caves

creates the perfect ageing

conditions. This is about the

closest craft beer comes to the

Batcave.

The stout has earned such

notoriety that Founders now

has a 'KBS Week' every year

to honour its release with

visitors and residents of Grand

Rapids getting to enjoy it before

anyone else (the lucky swines).

KBS is released world-wide

each year on April 1st and with

only around 5,000 barrels to

house KBS the limited numbers

mean it disappears very quickly.

While most of us could only

dream of attending the launch

party or even relocating to

Grand Rapids, thankfully you

can usually get your hands on

some. And trust us, it's worth it.
---
NEW

ZEA

THE KIWIS ARE

A NATION OF

CRAFT BEER

LOVERS. BUT

WITH THE RAPID

GROWTH OF ITS

MARKET COMES

A UNIQUE SET OF

CHALLENGES...

New Zealand has nearly three times as

many craft breweries per capita than

the USA. The Oceanian nation has

a near perfect climate for growing barley and

hops – something many probably didn't know.

You might also be unaware that New Zealand

has a rich heritage of hop breeding programmes

dating back as far as the 70s that have developed

new varieties exclusive to the country.

These hops have not only become the

mainstay of domestic craft beer but also thrived

in the export market due to their citrusy and

floral notes, fresh tropical fruit flavours and

alpha acid and essential oils inherent in the

hops.
---
LAND
---
BEER MONEY

GREEN FLASH,

ALPINE BEER

COMPANY

AND SIERRA

NEVADA ARE

JUST THREE

AMERICAN

BREWERIES

THAT MAKE

USE OF NEW

ZEALAND

HOPS IN

SIGNIFICANT

VOLUMES.

Many of the New Zealand hop varieties fit

seamlessly with the popular American IPA

style and also offer something new for US and

European brewers and beer lovers. Green Flash,

Alpine Beer Company and Sierra Nevada are

just three American breweries that make use of

New Zealand hops in significant volumes.

This blend of unique hops and export demand

means that the craft beer scene in New Zealand

is progressive and varied. It's also worth some

serious dollar – Australia and New Zealand

(ANZ) Banking Group's recent report on the

craft beer industry in New Zealand suggests

craft beer sales were up a whopping 35 per

cent in 2016, the third year on the bounce that

it has reported strong sales growth. Craft beer

now accounts for 15 per cent of all domestic

beer sales in New Zealand with several craft

breweries reported to be growing way faster

than the average rate for the sector. Sounds too

good to be true for budding brewers and beer

lovers alike, right? Well, actually it could be.
---
5 INTERESTING NZ HOPS

NELSON SAUV|N

A variety named after the Sauvignon Blanc grape, with which it

shares some aroma characteristics. The high alpha acid content

make it truly dual-purpose as either a bittering and/or aroma hop.

Best known for its distinct gooseberry, white wine-like aroma.

kOHATU

MOTUEkA

WA|-|T|

Another dual purpose variety with mid-range alpha acid content.

Pleasant tropical fruit, lime and pineapple with traces of pine. It can

be used as a single hop or part of a blend.

Bred from Saaz and used primarily, although not exclusively, as an

aroma hop. Sweet and resinous with zingy citrus, tropical fruit and

fresh herbal notes.

A relative new comer to the world of hops it has a low alpha and

high oil content. The perfect aroma hop, delivering strong lime and

peach flavours.

SOUTHERN CROSS

Mainly a bittering variety. A soft bitterness makes it a good early

addition to the boil. It has excellent essential oils delivering a

lemon zest, pine and spice essence.
---
GROWING PAINS

FOR SOME

BREWERS

WITH SALES

ON THE RISE,

BUSINESS

GROWTH

WILL FEEL

MUCH LIKE

HOLDING THE

PROVERBIAL

TIGER BY

THE TAIL.

It's not all butterflies and hoppy rainbows in

Kiwi land, there are challenges.

John Bennett, general manager central region

of ANZ, explains: "Yes the craft category

is performing well, but from the brewer's

perspective there are plenty of challenges.

For some brewers with sales on the rise,

business growth will feel much like holding the

proverbial tiger by the tail."

In recent years the large volume sales of mass

produced amber lager have been in decline in

New Zealand. As a result the larger Breweries,

reflecting what is happening in the US and

European markets, are looking to buy into

the craft beer trend with the inevitable talk of

acquisitions and takeovers.

The three biggest breweries in New Zealand,

Lion, DB Breweries a subsidiary of Dutch giant

Heineken and Independent Liqour Group(ILG)

have all been at it. In 2012 ILG, which is itself

owned by Asahi of Japan, acquired Founders

Brewery. Lion has been aggressive in the craft

beer market buying Emerson's in 2012 and

Panhead Custom Ales in 2016 and then this

year Tuartara was sold to DB Breweries. It's

a familiar tale when a relatively small market

undergoes an explosion of growth, it's tough to

stay pure to the movement as the bigger sharks

circle.
---
SELLING OUT?

THE BALANCE

BETWEEN

SEEING YOUR

BUSINESS

CONTINUE TO

GROW AND

RETAINING

CREDIBILITY

IN THE

CRAFT BEER

MARKET IS A

TIGHTROPE...

Beer exports in New Zealand are growing,

especially in higher ABV styles with a 15 per

cent growth on last year and up more than four

times what it was just five years ago. For the

high growth brewers the challenge is keeping

up with demand. A lack of infrastructure

and productive capacity has seen some sell

to the 'big-boys' in order to take things to the

next level. But for all the talk of remaining

committed to the philosophy of the craft brewer

many consumers simply see it as selling out.

Google 'Founders Brewery' and you will see

numerous posts telling you the beer has gone

downhill since it was bought by ILG – in some

cases, this might not always be the case, but

perception is everything.

The balance between seeing your business

continue to grow and retaining credibility in the

craft beer market is a tightrope that many other

nations have navigated – some far better than

others. The hope with New Zealand is that it

continues to create exciting and ingenius beers,

celebrating those unique home-grown hops and

preserving the kiwi craft brewer revolution.
---
THE NUMBERS

35% 168

The annual growth of craft

Craft breweries in NZ and

sales in NZ. growing.

15% 1,500+

Craft portion of the total

The number of unique craft

NZ beer market. beers in the NZ market.

9%The growth in the craft

portion of the NZ beer

market in three years.

49The number of countries

that NZ beer exports to.

(Source: ANZ New Zealand Craft Beer Industry Insights 2016)
---
NEW

ZEALAND

F|Ve nz

beers you

need to try:

Yeast|e Boys D|g|tal

Brewery locat|on: Well|ngton

Style: |PA

ABV: 5.7%

RateBeer.com rat|ng:

Overall 93 Style 89

Three Boys Oyster Stout

Brewery locat|on: Chr|stchurch

Style: Stout

ABV: 6.2%

RateBeer.com rat|ng:

Overall 95 Style 97

Tuatara Sauv|nova Pale Ale

Brewery locat|on: Paraparaumu

Style: Amer|can pale ale

ABV: 5.2%

RateBeer.com rat|ng:

Overall 95 Style 98

8 W|red H|ppy Berl|ner

Brewery locat|on: Warkworth

Style: Berl|ner We|sse

ABV: 4%

RateBeer.com rat|ng:

Overall 91 Style 83

Rena|ssance Boon|es P|ls

Brewery locat|on: Blenhe|m

Style: P|lsner

ABV: 5.5%

RateBeer.com rat|ng:

Overall N/A Style N/A
---
WHAT'S THE NEXT BEST THING TO DRINKING

BEER? TALKING ABOUT BEER, OF COURSE.

AND IN THIS MODERN WORLD, THE WAY WE

DO THAT MORE OFTEN THAN NOT INVOLVES

SOCIAL MEDIA. SHARING BEER ADVENTURES

WITH YOUR FRIENDS AND THE WIDER

WORLD HAS NEVER BEEN EASIER, AND WE

AT HOPULIST WANT TO EXPERIENCE THEM

TOO. NEXT TIME YOUR OUT QUAFFING YOUR

FAVOURITE TIPPLE AND THINKING ABOUT

JUST HOW AWESOME A PHOTO OF IT WOULD

LOOK ON YOUR SOCIAL MEDIA PRESENCE,

MAKE SURE YOU SLAP #HOPULIST ON IT.

YOU NEVER KNOW, YOU MIGHT SEE YOUR

NAME UP IN LIGHTS IN OUR NEXT ISSUE.
---
@TWINCITYBREWING

@BEERNOTES

@BEAVERTOWNBEER

@CRAFTBKK

@HOUSEGRAFTONBREWING

@EINSTOK

@THECHORLTONTAP

@MAGICROCKBREWING

@BEERGONZO
---
IS FOR,

WELL, LOTS

OF THINGS.

THAT'S WHY

WE HAVE

DEVISED OUR

OWN BEER

GLOSSARY

FOR YOU TO

DRINK IN.

IMPROVE

YOUR

ABV

Once a sign of pure,

unfiltered masculinity,

the ABV or alcohol

by volume level of a

beer tells you plain

and simply how strong

it is.

ABV has been

experimented with

a lot by brewers.

Very low ABVs are

preferred for lighter,

session ales, while

at the other end of

spectrum, doubledigit

ABV ales have

been produced on a

commercial level. It's

worth noting that

bigger is not always

better when it comes

to ABV, we're not kids

anymore!

A
---
ALPHA ACIDS

This is the part of

beer drinking that

makes us all feel like

scientists – knowing

your alpha acids and

their levels in hops

and the effect that has

on beer.

In Lehman's terms

Alpha acids serve two

main purposes in beer.

First off, they help to

produce the bitter

taste – different hops

have different acid

levels, and the length

of the boil in brewing

can also affect this

bitterness.

Secondly, they act as

a kind of antiseptic.

Before the use of

hops in beer, the only

way to make it last

for a long time was

by upping the alcohol

content significantly.

Actually, we're not

sure if this is a

benefit…

AMARILLO HOPS

The hops named after

the Spanish word for

yellow brings a unique

citrus flavour and

aroma to any beer it is

brewed with.

It is lightly acidic

with sweet, orangey

flavours and its

usual preferred use

is in American IPAs,

American ales and

wheat beers.

Hailing from the

north west of the

United States, this is

an idiosyncratic hops

that gives beers a lift

into a world of citrusy

splendour.

AMBER ALE

Remember when

the word amber

held the promise of

resurrecting badass

dinosaurs from

the dead to wreak

havoc on a remote

Costa Rican island?

In the beer world,

Amber is slightly less

scary, but no less

awesome. Amber

ales are brewed with

a large proportion

of amber malt or

sometimes crystal

malt to produce an

amber colour. Just like

dinosaurs, amber ales

come in a wide range

of shapes and sizes

with a hue that can

vary from from light

copper to light brown.

Great examples

include Maine Beer's

Zoe, AleSmith's Evil

Dead Red and Brew

Dog's 5AM Saint.

Clever girl…
---
AMERICAN IPA

In typical American

fashion of taking

something and making

it bigger, better and

more glitzy, the

American IPA is a

modern twist on one

of beers oldest styles,

the English IPA.

American IPA's

tend to be more

flavourful than their

English cousins and

can hold a wide range

of colours from pale

to red. Naturally they

use mainly American

hops and usually

have herbal or citric

character bigger than

Donald Trump's ego

after winning a twitter

row with an 11-yearold

girl.

ANCHOR BREWING

Little did German

brewer Gottlieb

Brekle realise when he

and his family landed

in San Fransisco to

settle in 1849, that his

brewing empire would

eventually become

one of craft beer's

most intuitive names.

With its own copper

brewhouse and an

emphasis on dry

hopping and open

fermentation, you

haven't lived unless

you've taken a ride on

the Anchor Steamboat

at the very least.

Other great beers

include Go West

IPA, Liberty Ale and

California Lager.

This company was

started in the time

of the California

gold rush, now its

producing gold of its

own, in craft beer

form (we like that

much more).

A
---
APOLLO HOPS

This hops is more

all-American than the

space programme

it appears to be

named after. Very

high in those pesky

alpha acids and

subsequently quite

bitter and bold in

flavour, it is most

commonly used in

beers with a big hop

profile. Its notes are

citrusy, resiny and

spicy and its use is

becoming more and

more widespread

throughout the

brewing community.

This is one small

hops for man, one

giant leap for beer

kind.

AROMATIC HOPS

We all love a great

aroma, right? And its

probably for the best

seen as that is the

trend of many types

of craft beer today.

Aromatic hops is an

umbrella term for the

magical variety of this

great plant that brings

aroma, both subtle and

strong, to the beers

we know and love.

Varieties include;

Amarillo, Aramis,

Blanc, Crystal, Ekunot,

Gold, Moteuka,

Pacifica, Saphir, Spalt,

Sussecx, Tahoma and

Ultra, to name but a

few!

AZACCA HOPS

What have Haitan

farmers and craft beer

got in common? No,

it's not a fondness

for getting drunk

(although maybe it

could be), it's Azacca.

The Haitian god of

agriculture shares

his name with a new

breed of bittering

hops that is widely

considered to be a

great addition to any

IPA beer. Many regard

this hops as a good

dual-use hops that can

give off an aroma of

tropical fruits, but also

supply a sharp, spicy

bitterness that makes

its beers nice and

punchy.
---
Go|n'

go nzo

A true pass|on for

qual|ty beer, a steely

entrepreneur|al

determ|nat|on and

a love affa|r w|th

Belg|um. Comb|ne these

elements and you

have a gl|mpse of the

ethos beh|nd one of

the Uk's best-stocked

onl|ne beer shops Beer

Gonzo. We f|nd out

how th|s bus|ness |s

r|d|ng the front of

the beervolut|on |n

the country.

There was a time, not that long

ago when if you wanted to go

out for a beer in the UK your

options were pretty limited. You were

left either staring into a brown, swirly

and stagnant traditional English ale

or trying to contain your over-inflated

internal organs from several pints of

an obscenely gassy lager. It was a rock

and a hard place. But in some hidden

corners of the country there were

some trying to change that. Anthony

Akers is one of those men, and his

hidden corner happens to be the very

centre of the country in the historic

city of Coventry. Anthony and his two

business partners, Martin and Mick

Leape, ran a small bar called Inspire,

which majored on a wide selection

of quality Belgian beers. Things

weren't easy, but the trio saw an

opportunity to evolve their business

into something special.
---
"We wanted to start a new business

together and decided that a beer shop was

the way to go – the credit crunch meant

that people were venturing out to bars

later and later, preferring to drink at home

beforehand," he explains.

"We were looking into starting

e-commerce, but then a chance arose for us

to buy our first shop back in 2010."

Beer Gonzo was born. And so the

people of the corner of Coventry known

as Earlsdon began to buy their beer not

from a huge supermarket chain, but from

somewhere that aroused their interest and

awakened their beer senses. The shop ticked

along nicely and after two years Anthony

had the chance to move to a bigger premises

with a better location.
---
"Moving round the corner to a more

visible shop on the high street of the town

was perfectly timed with the take-off of the

beer revolution," he says. "Things took off

really quickly and we were able to launch

a website to sell beer nationally quite soon

after."

Fast-forward five years and today Beer

Gonzo is one of the best stocked online

Moving round the

corner to a more

visible shop on the

high street of the

town was perfectly

timed with the takeoff

of the beer

revolution.
---
eer retailers in the UK, offering beers of all

kinds from a plethora of varied, interesting

and innovative breweries.

Anthony continues: "We have always had

a passion for good quality beer, having had a

huge Belgian selection at our old bar Inspire.

We have a deep love for Belgian beer as it is

what first captured our imagination and we

will always have a good representation of the

'motherland' on our shelves. As the business

has grown, I think we have established a

reputation and a customer base who are

after the higher-end beers on the market

as has been shown by the huge interest in

American and Scandinavian beers."

Beer Gonzo has been able to meet and

exceed the expectations of its customer base

by cultivating a strong network of suppliers

around Europe. This isn't something that

happened overnight, nor is it something that
---
When sourc|ng beer we do

our research and most

|mportantly, follow our

hearts as usually |f you

are pass|onate about a

certa|n brewery, then

the customer w|ll be

|nterested to see what has

|mpressed you so much.

is easy to manage as the beer industry

continues to grow exponentially. But

Anthony and his team are making it

work, and then some.

"When sourcing beer we do our

research and most importantly, follow

our hearts as usually if you are passionate

about a certain brewery, then the

customer will be interested to see what

has impressed you so much.

"There are so many more breweries

now compared to five years ago. Back

then, a new brewery started and you

would stock them, because you had to.

Now you have to choose more carefully

and ask for samples. The American

phenomenon of the 'hype beer' has

transferred over here to the UK and as

wonderful as this is, as it creates huge

interest in the industry, it also increases

the pressure on retailers to secure some

of the beer. This can be more acute online

as if you don't get that particular beer,

you won't be very busy that week."

Like any good businessman, Anthony's

Belgian beer-fuelled grey matter was

purring away over the next evolution for

his business. And just last year it came to

him as Beer Gonzo opened a taproom on

site.

"The idea for the taproom actually

came about because the website and

wholesale side of the business became

too big to run out of the storeroom," he

admits.
---
"That forced our hand to get a central

warehouse and left the space at the rear

of the shop empty. We could either do a

taproom or extend the shop. We knew what

we wanted to do!"

The Beer Gonzo taproom is blowing locals

away with crazy and rare beers on keg for

its taps and people have been drawn, not

just from the city of Coventry, but nearby

Birmingham and even further than that.

"The beer scene has changed

immeasurably in the Midlands with

ourselves, Byatts Brewery and now Twisted

Barrel Ale banging the drum as hard as

we could for a number of years. There is

still a long way to go but hey, I can walk

to my local and have a bottle of Cantillon

Fou'Foune served in a lambic basket. How

many people can say that?"

A beer revolution has been born and there

are plenty of plans to build on it, as Anthony

details.

"The bottle list will also develop as our

bottle ageing programme begins to bear

fruit. We have some vintage Lambics on the

way and will continue to use our Belgian

contacts to source the Lambics, even though

it is getting harder & harder!

"We have regular beer tastings, bottle

shares and MTB events booked in. We

are also planning to run a beer and food

matching event with a local chef friend of

ours.

"In terms of the retail side of the business,

we are looking to push forward with the

wholesale side of the business and are

pushing forward with plans to supply into

Europe and beyond. After that, perhaps we

can bring our taproom experience to another

city. Watch this space…"

COVENTRY

|NFO

Beer Gonzo

3a Earlsdon St

Coventry

West Midlands, UK

CV5 6EP

É www.beergonzo.co.uk

È info@beergonzo.co.uk

$ @beergonzo

! /beergonzo1

" /beergonzo1
---
QUICK-FIRE QUESTIONS

ANTHONY

AkERS

Favour|te beer?

De Struise Pannepot / 3 Fonteinen Zenne Y Frontera

Can or bottle?

Can for fresh IPA, Bottles for complex stouts.

Can't imagine laying a can down for ageing!

Best place you've ever enjoyed a beer?

In De Verzekering Tegen De Grote Dorst - Quite simply nicest place to

drink beer in the galaxy and by chance, it has the best beers in the universe.

Brewery that most |mpresses you?

De Struise Brouwers - An absolute dedication to bringing the most

phenomenal complexity of flavour to their beers. Not a hazy IPA in sight!

Favour|te country of or|g|n for beer?

Belgium, if that wasn't already apparent!
---
BUSINESS FOR PUNKS BOOK

256 pages, filled with the passion and

irreverance that has taken BrewDog

from two guys and their dog to a globally

recognised craft beer brand. Learn how

to do business, the hop-induced, passioninfiltrated

BrewDog way.

MAGIC ROCK PINT GLASS

The fun illustrated style of Magic Rock's

branding make this limited edition pint

glass a must. We love its contemporary

look – top work from one of the UK's

most cutting-edge breweries.

WANT YOUR PRODUCT FEATURED? CO
---
BECAUSE SOME

THINGS YOU NEED

IN YOUR LIFE...

STAINLESS STEEL GROWLER

This two-litre growler is made of food

grade stainless steel. An attached swing

top offers long-lasting freshness and

ensures you're giving your beer the love

it deserves.

BEER GONZO TEKU GLASS

Proper glassware is a huge factor in

bringing out a craft beer's most desirable

attributes and will provide you with an

enhanced quaffing experience. This beauty

is perfect for stronger beers and sours.

NTACT US AT INFO@HOPULIST.COM
---
Our favourite

craft beers of

the moment.

So good we are

drinking them

at home.
---
VOCATION BREWERY

HEART & SOUL

SESSION IPA

A full bodied and intensely

fruity beer. The West

Coast hops give a tropical

fruit character with notes

of passion fruit, mango,

pineapple and grapefruit.

Pours hazy golden with a

decent white head. Great

session beer and very

flavoursome.

ABV: 4.4%

Colour: Golden yellow

Aroma: Tropical fruits

Taste: Fruity
---
AND UNION

SUNDAY

PALE ALE

German modernists And

Union work to the basic

principles of modernism –

simplicity and the honest

expression of the nature

of materials and their

quality. This balanced and

gently spiced pale ale

follows that philosophy.

A good session beer and

can we talk about the can?

Minimilism at it's finest.

ABV: 5.5%

Colour: Hazy Orange

Aroma: Orange peel

Taste: Tangerine & citrus
---
CLOUDWATER

NW DIPA CITRA

DOUBLE IPA

Cloudwater have started a

rotating scheme of DIPAs

to showcase the changing

seasons. Using yeast from

one of Manchester's oldest

family brewers they have

cleverly integrated the

best of both traditional

and cutting edge

techniques. The NW has a

wonderful citra aroma and

a fruity taste. It truely is a

world class DIPA. .

ABV: 9%

Colour: Murky orange

Aroma: Hoppy and fruity

Taste: Fruit medley
---
TO ØL

DIPA UNDERGROUND

DOUBLE IPA

We are going to resist

any Jamiroquai 'dipa

underground' gags,

largely because 90s pop

references aren't our thing.

Clean, hoppy and well

balanced this is another

excellent addition to the

plethora of great DIPA's

currently being produced.

We also love Kasper

Ledet's artwork.

ABV: 8.5%

Colour: Dark orange

Aroma: Caramel, hoppy

Taste: Sweet fruit, pine
---
BEAVERTOWN

LUPULOID

IPA

A recent addition to

Beavertown's line up of

core beers, Lupoloid has a

big hoppy aroma of citrus

fruit typical of an American

IPA. Light and zingy with

restrained bitterness.

Tastes of hops, grapefruit,

pine with a tropical vibe.

We loved it!

ABV: 6.7%

Colour: Yellow

Aroma: Citrus fruit

Taste: Grapefruit/pine
---
REDWELL

KOFRA

STOUT

An intersting

collaboration between

Redwell Brewing and

an independent coffee

shop called Kofra. This is

a coffee stout that uses

Kofra's own blend of

beans, roasted just for

them. Smooth and tasty

it really showcases what

can be done when people

are passionate about what

they produce.

ABV: 5.9%

Colour: Rich black

Aroma: Coffee, chocolate

Taste: Mellow coffee
---
YEASTIE BOYS

GUNNAMATTA

EARL GREY IPA

The New Zealand

craft scene is alive and

progressive as this hugely

floral IPA demonstrates.

'Dry-leafed' with Earl

Grey Blue Flower tea,

it's mellow complexity

and quenching dry finish

make it very drinkable

especially for the tea

lovers amongst us.

ABV: 6.5%

Colour: Amber

Aroma: Earl Grey

Taste: Citrus and herbs
---
ISSUE TWO READY FOR CONSUMPTION

SEPTEMBER 2017
---
! FACEBOOK.COM/ HOPULIST/

$ @HOPULISTMAGAZINE

SEARCH THE HASHTAGS:

#HOPULIST #HOPULISTMAG

E: INFO@HOPULIST.COM

W: HOPULIST.COM

TO ADVERTISE IN HOPULIST

OR IF YOU WOULD LIKE

YOUR BREWERY, TAP ROOM

OR PRODUCT TO APPEAR IN

HOPULIST PLEASE CONTACT:

INFO@HOPULIST.COM

A BIG THANK YOU TO:

TOM SELL & DAVID GUEST