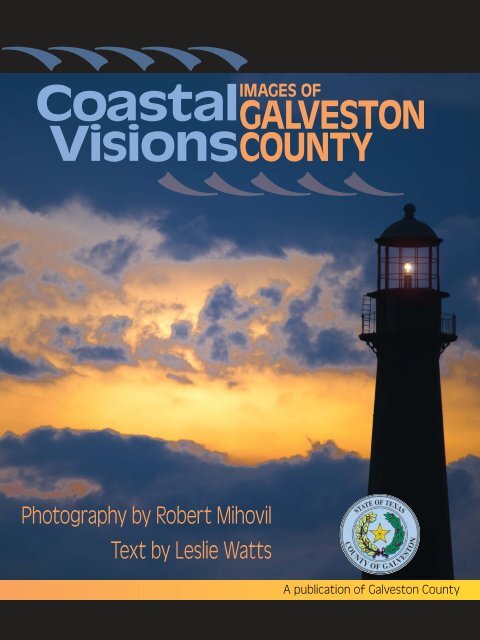 Coastal Visions: Images of Galveston County
A full-color photography book showcasing the Galveston County area, paired with the histories of companies, institutions, and organizations that have made the region great.
A full-color photography book showcasing the Galveston County area, paired with the histories of companies, institutions, and organizations that have made the region great.
SHOW MORE
SHOW LESS
Create successful ePaper yourself
Turn your PDF publications into a flip-book with our unique Google optimized e-Paper software.
Coastal

Visions

IMAGES OF

GALVESTON

COUNTY

Photography by Robert Mihovil

Text by Leslie Watts

A publication of Galveston County
---
Thank you for your interest in this HPNbooks publication. For more information about other

HPNbooks publications, or information about producing your own book with us, please visit www.hpnbooks.com.
---
Coastal

Visions

IMAGES OF

GALVESTON

COUNTY

Photography by Robert Mihovil

Text by Leslie Watts

A publication of Galveston County

HPNbooks

A division of Lammert Incorporated

San Antonio, Texas
---
The tugboat Crosby Rambler pushes a barge on the Intracoastal

Waterway that carries traffic from Brownsville, Texas, to southern Florida.

This photograph was made from the bridge just north of High Island on

Highway 124, the most northeastern point of Galveston County.

First Edition

Copyright © 2012 HPNbooks

All rights reserved. No part of this book may be reproduced in any form or by any means, electronic or mechanical, including photocopying, without permission

in writing from the publisher. All inquiries should be addressed to HPNbooks, 11535 Galm Road, Suite 101, San Antonio, Texas, 78254. Phone (800) 749-9790.

ISBN: 9781935377825

Library of Congress Card Catalog Number: 2012939449

Coastal Visions: Images of Galveston County

photography: Robert Mihovil

narrative: Leslie Watts

design: Glenda Tarazon Krouse

contributing writer for sharing the heritage: Brenda Thompson

HPNbooks

president: Ron Lammert

project managers: Joe Bowman

Larry Sunderland

administration: Donna M. Mata

Melissa G. Quinn

book sales: Dee Steidle

production: Colin Hart

Evelyn Hart

Tony Quinn

Omar Wright

PRINTED IN MALAYSIA

COASTAL VISIONS - Images of Galveston County

2
---
4 Introduction

5 Galveston County–Land and Water

6 Chapter1 Rich Heritage

28 Chapter2 Unified Community

48 Chapter3 Vibrant Lifestyle

70 Chapter4 Essential Enterprise

92 Chapter5 Visionary Populace

114 Galveston Partners

193 Sponsors

194 About the Photographer

195 About the Author

Contents

3
---
Introduction

Galveston County is as diverse as its people. From its earliest days, the land encompassed

today by Galveston County has been central to the history of Texas. First inhabited by Native

Americans as early as the 1500s, progressing to the swashbuckling days when pirates roamed

the Island, Galveston County watched as Texas grew into an independent republic and later

a state. The largest and most progressive community in Texas until the late 1800s, Galveston

led the state in the development of commerce and culture, and the Port of Galveston was

widely described as the "Queen of the Gulf".

Stretching from the nation's fourth largest city of Houston's outlying southern suburbs,

to the Gulf's sandy beaches and coastal waters, Galveston County offers a wide range of

geography and lifestyles. Located adjacent to NASA's Johnson Space Center, the county is

home to bustling industry including petrochemical, medical, technology, business, education,

and tourism. Galveston has been known for almost 200 years for its natural deep water

harbor which is home port for numerous cargo ships and cruise lines. It also encompasses

historic neighborhoods, exclusive second-home enclaves, small fishing villages and quiet

middle-class communities. Despite such diversity the character of the region is unified and

shaped by the governance and public service shared by nearly three hundred thousand residents.

Combining the fun benefits of a coastal community with a strong job-producing economy

and educational opportunities, Galveston County is a great place to live, work and play.

Year-round activities include indoor and outdoor sports, cultural events and performing arts.

Colleges and universities, including branches of Texas A&M and the University of Texas, offer

advanced degree and certification programs. With nationally recognized health care facilities,

it also provides a wide range of medical services and medical education programs.

In addition to full-time residents, vacationers from across the nation descend on Galveston

County each year for recreation, relaxation and special events such as Mardi Gras and other

festivals. Reminiscent of the heady days of the 1940s, construction is slated to be complete

in May of 2012 for the new "Pleasure Pier" on Galveston's Seawall. This will add additional

shops, restaurants and rides to a county already packed with fun family activities.

I hope you enjoy reading this book and seeing the pictures depicting life in Galveston

County. This book may inspire you to pay a visit to Galveston County, and, once here, to stay

and enjoy what Galveston County has to offer.

Mark Henry

Galveston County Judge

COASTAL VISIONS - Images of Galveston County

4
---
A map of Galveston County shows the dramatic diversity of physical landmarks within the

county boundaries. The county stretches from coastal plains in the north to low-lying

barrier islands in the south. Nearly half the county area is comprised of water,

primarily Galveston Bay. Through Galveston Bay runs the Houston Ship Channel.

Along the dredged channel tanker ships, container ships and numerous barges

navigate, carrying over 220 million tons of cargo annually. Most vessels enter

the ship channel through Galveston Harbor pass, although many others enter

by way of the Intracoastal Canal, which also runs through the county, in a

northeast-southwest direction. The Port of Galveston and the Port of Texas City

are both within the county boundaries. The Port of Galveston is the departure

point for numerous cruise ships, while the Port of Texas City is designed to move

petrochemicals to and from Texas City refineries. The main highway artery in the

county is IH-45, which runs from Dallas to Galveston. In the northern part of Galveston

County, growing communities are home to thousands of residents who work in Houston,

as well as in Galveston County enterprises. Cattle ranches and other agricultural operations are located

throughout the western part of Galveston County. Galveston Island and Bolivar Peninsula annually

attract over 5 million visitors to the county, and provide location for thousands of second homes. The

geographic diversity of Galveston County is reflected in the diverse population and economy of the county.

Land & Water

EAST BAY

High

Island

Kemah

Friendswood

League City

Bayview

Bacliff

Gilchrist

45

Dickinson

San Leon

GALVESTON BAY

Bolivar Peninsula

Algoa

Santa Fe

Alta Loma

La Marque

Texas City

Port Bolivar

Hitchcock

Bayou Vista

45

Tiki Island

WEST

BAY

Galveston Island

Galveston

Galveston

County

Galveston County–Land and Water

5
---
Chapter

1

Set aside in

1840-41 to provide

a public burial place on

Galveston Island, the Old

City Cemetery was laid out

on the far western edge of the

populated area. Encompassing

four city blocks, the land was

divided into a complex of smaller

cemeteries, some with specific

religious and secular affiliations.

This tombstone in the Episcopal

area stretches upward toward puffy

gray clouds and blue sky, and the

surrounding ground area is covered

with a blanket of bright yellow

Coreopsis wild flowers.

COASTAL VISIONS - Images of Galveston County

6
---
RICH

Heritage

Possibly Galveston Island's most recognized building, the Bishop's Palace,

shown here at dusk, was constructed between the years of 1887 and 1892 as the

private home of lawyer, investor, lobbyist and politician Walter Gresham and his family. Designed

by well-known Galveston architect Nicholas Clayton, the home was purchased by the Roman Catholic

Church in 1932 to be used as the official residence for the bishop, but reappointed as a "house museum" in 1963.

Named among the top 100 such structures in North America by the American Institute of Architects, it is open for tours.

Chapter 1

7
---
lways, there is the sea.

Ebbing and flowing, powerful

and molding, it was laying

the groundwork for the future of Galveston

County long before humankind knew the

world was round.

Historians are unsure as to when and for

how long the first Native American population

groups made their homes on the area's islands

and coastal plains, but it is for certain that

they, like today's inhabitants, were drawn to

the region's beauty, climate and the abundant

resources it provided.

Although evidence suggests the existence

of a 5,000-year-old Native American burial

ground near Caplen on the county's Bolivar

Peninsula, experts agree that tribal groups

such as the Karankawas surely had established

a regular presence on Galveston Island during

the sixteenth century.

COASTAL VISIONS - Images of Galveston County

8
---
At about this same time on the other side

of the globe, however, inhabitants of those

distant lands had begun to experience

growing curiosity about what lay beyond

their own European horizons. Although

explorers were sent out from several nations,

it was Spain that by the sixteenth century

was making great inroads into North and

Central America, dispatching militia and

missionaries to establish a foothold on the

new lands they had found there. Of these

early Spaniards, the one most connected

with Galveston was Cabeza de Vaca—and,

yes, this does translate as "head of (a) cow."

Opposite: Bill Silverberg plays the role of pirate Jean Lafitte in a performance of

Pirates and Petticoats during the Jane Long Festival on Port Bolivar.

Above: In a demonstration using blanks but real gun powder, members of the

Orange County Regulators and The Single Action Shooting Society participate in a

staged gun battle during the Jane Long Festival on Bolivar Peninsula. The event is held

at Fort Travis Seashore Park and includes sharp shooters, cowboy poetry, bunker tours,

food booths, longhorns, live music and the dramatic presentation Pirates and Petticoats.

Chapter 1

9
---
COASTAL VISIONS - Images of Galveston County

10
---
One of few survivors of a Spanish group

exploring the upper Gulf of Mexico, de Vaca

and his compatriots were blown ashore in

1528 somewhere along the Karankawas'

coastal hunting ground. Although initially

well-treated, the group was eventually

imprisoned by the Karankawas for about

six years before de Vaca made a successful

escape southward to Mexico. Cabeza de Vaca

had a lasting influence on the Karankawa's

sand bar, however, by providing what is

thought to be some of the first known

written accounts of the island and

its inhabitants.

As part of Spain's continued interest in

the new world, Bernardo de Galvez, a military

hero who served during the 1780s as viceroy

of Mexico, ordered a survey of the coastline

of the Gulf of Mexico. In honor of his sponsor,

navigator Jose de Evia gave the name

Bahia de Galvez to the gulf's largest bay, and

the entire area—island, city and county—

eventually became known as Galveston.

As the nineteenth century dawned, vigorous

westward expansion of the fledgling

United States made it necessary to push a

number of New Orleans undesirables a little

further down the coast from that thriving

port. As a result, Galveston soon became an

attractive location for various freebooters,

pirates and privateers trying to keep one step

ahead of the law. The most notable of these

was Jean Lafitte, who—after being chased out

of Louisiana waters—moved his business

interests westward and found Galveston the

perfect setting for a new colony.

Opposite: Anne Willis of Crystal Beach

plays the "Spirit of Jane Long" in Pirates

and Petticoats during the Jane Long

Festival on the Bolivar Peninsula. Jane

survived the winter of 1821 on Bolivar

Point, during which time she gave birth

to one of the first Anglo children to be

born in what would later become Texas.

According to a local historian, Jane helped

plan the Texas Revolution and is called

"The Mother of Texas" because of her

strength and bravery.

Above: Dr. James Long, portrayed by

Sid Bouse, proposes marriage to his

future wife, Jane, as played by Dr. Melanie

Wallace, during the production of Pirates

and Petticoats, an original dramatic

presentation during the Jane Long Festival

on Port Bolivar.

Chapter 1

11
---
Hope Leskowitz and brother, William, of Seabrook peep through

the iron gates at the old Fort Travis bunker on the Bolivar Peninsula.

Named Campeche, Lafitte's fortified compound

eventually boasted around 1,000

inhabitants, and what is thought to be the

site of Maison Rouge, Lafitte's personal home,

is easily located today by a historical marker

on the island's bay side, near the Port of

Galveston. To the west, close to an area that

archeologists believe was a Karankawa settlement,

another historical marker tells how, on

this site in 1821, the "freebooter" Jean Lafitte

and his men fought the last Native Americans

in the "Battle of the Three Trees," after which

both groups disappeared from the land

known as Galveston.

Opposite: A prickly pear cactus adds color to the vegetation

growing atop a long abandoned Fort Travis bunker on the Bolivar Peninsula.

COASTAL VISIONS - Images of Galveston County

12
---
Chapter 1

13
---
Top: Re-enactors representing

Union forces return fire during

a re-enactment of the Civil

War's 1863 Battle of Galveston.

The event included a living

history encampment.

Above: Played out on both land and sea, the 1863 Battle of Galveston ended with Confederate

forces driving out the Union ships that had occupied Galveston's harbor since October of 1862.

The Confederate re-enactors shown here are all members of the nineteenth century Living History

Association, 1st Texas Infantry, 8th Texas Calvary. Celebrating their "victory," left to right,

are Matte Schlageter, Ed Welch, Fred Anthamatten, Jeff Thompson and Mike Bringhurst.

COASTAL VISIONS - Images of Galveston County

14
---
Top: Depicting a Confederate solider, a member of

the nineteenth century Living History Association fires

his flintlock rifle during a re-enactment of the Battle of

Galveston. Galveston Historical Foundation marked

the anniversary of the 1863 Civil War battle, the

most important military event in Galveston's history,

with this dramatization on The Strand, located in

Galveston Island's historic downtown district.

Right: David Smith portrays a Confederate soldier in the

re-enactment of the Civil War's 1863 Battle of Galveston.

The event was sponsored by Galveston Historical

Foundation to mark the anniversary of the most

significant military encounter in Galveston history.

Chapter 1

15
---
The elegant Landes-McDonough Home, located on Galveston

Island's Postoffice Street, was built in 1887 for Henry A. Landes,

a cotton trader, merchant and community leader. Landes became

mayor of Galveston after the great Storm of 1900. Although the

basement of the home was flooded during Hurricane Ike in

2008, the main floors suffered relatively minor damage.

COASTAL VISIONS - Images of Galveston County

16
---
The civilized world was on the move,

however, and the continent's western lands

were in the crosshairs for many Americans

and others seeking a better life. "GTT"—

standing for "Gone to Texas"—was a wellknown

term for many restless adventurers,

and Galveston, with its natural deep-water

harbor was an ideal point of entry for people,

supplies, and new ambitions.

Although Galveston entered the nineteenth

century still under the control of Spain, its

jurisdiction passed to Mexico in 1820, and

Galveston, in 1825, was designated a provisional

Mexican port of entry with a Mexican

customs house. Things were changing quickly

and following the Texas republic's declaration

of independence from Mexico in 1836,

Galveston County received official recognition

in 1838 as part of the new nation.

Galveston's first luxury hotel, the Tremont,

was opened in 1839, and The Galveston News

began publication in 1842.

It was a time and land of opportunity,

and—not unexpectedly—the prosperity

being enjoyed on the island, which became

known as the "Queen of the Gulf" because

of its busy port and resulting luxurious

lifestyle, also spurred the growth of new

communities on the county's mainland areas

to the north.

The Santa Fe Area Historical Foundation Depot

Museum, as seen through early morning fog,

takes on the mystery of yesteryear.

The depot is located in Hitchcock.

Chapter 1

17
---
The inland areas of Galveston County were

flourishing by the end of the nineteenth

century. The Miller-Brautigam Home shown

here holds the title of the oldest remaining

house in the City of Sante Fe. Constructed

in 1896 of cypress wood for Henry Miller,

owner of the Alta Loma Lumber Company,

it was purchased in 1930 by the Albert

Brautigam family. In 1995 it became the

home of Sante Fe Mayor Ralph Stenzel.

Farmland for crops and livestock beckoned,

along with deciduous trees and fresh

water. For those making their way to and

from the island port, there was a need for

food, shelter and fresh supplies. Horses needed

new shoes, wagons required constant

repairs and surplus cargo had to be stored.

As a plus, Galveston County's more inland

locations offered additional protection from

the storms and "overflows" that often plagued

the low-lying island city.

Railroads soon were being built as an

alternative to rough wagon trails, and these,

too, encouraged communities to sprout up

in support of the specialized needs of the

new "iron horse." Initially a Karanakawa

community, then later named Butler's Ranch

after first resident George W. Butler, the

area known today as League City was the

chosen location in 1854 for the Galveston,

Houston and Henderson Railroad. The town

of Santa Fe took its name from a railroad line

established in that area in 1877.

During the Civil War soldiers traveling

between Houston and Galveston enjoyed stopping

off for buttermilk at a farming community

about half way between the two points.

Known then as Buttermilk Station, this later

became the City of La Marque. Friendswood

was so named by a group of Quakers—officially

known as the Society of Friends—who

arrived by train in that area in 1895.

COASTAL VISIONS - Images of Galveston County

18
---
To the east of Galveston Island, the Bolivar

Peninsula, with gulf access on three sides and

a mainland connection to the north, attracted

its own special group of early settlers. In

1815 the peninsula had been accessed and

named for Simon Bolivar by explorer Henry

Perry. A few years later Dr. James Long of

Natchez, who had his own plans for the area's

development, established Fort Las Casas on

the peninsula. As a result of Long's wife, Jane,

giving birth to a daughter there in December

of 1821, Bolivar is often credited with being

the birthplace of the first Anglo child to be

born in Texas, and Jane is frequently referred

to as the "Mother of Texas," although this title

may also be a result of her alleged participation

in the planning of the Texas Revolution.

The peninsula's subsequent development

on its southern point included an early

settlement established in 1893 that became

known as Port Bolivar. The peninsula also

became known for its production of food

crops and long-fiber "sea island" cotton, and

later served as the location for Galveston's

second Fort Travis, with construction beginning

in 1898 and ending in 1943. The first

drilling for oil in Galveston County also

began on the peninsula's High Island in 1901.

The sturdy Victorian-era Frank B. Davison

Home was constructed of cypress in

1895-97 for Frank B. and Florence Haven

Davison. Davison was a prominent civic

leader and pioneer in Texas City. Open for

tours, the home is located in the historic

area of Texas City and is one of a number

of community museums paying tribute

to Galveston County's early mainland

settlers and their contributions to the area's

future development.

Chapter 1

19
---
The reverse silhouette of a

longhorn is featured in this

metal work sculpture by

John Barber. It can be seen

in one of the windows

of the Butler Longhorn

Museum in the League City

Historical District.

COASTAL VISIONS - Images of Galveston County

20
---
Opposite, bottom: Photographed from the third floor, looking toward the stage and box

seats, the interior of The Grand 1894 Opera House provides insight into the levels of

sophistication and luxury that existed on Galveston Island in the late nineteenth century.

At the time of its construction, The Grand included a hotel and shops in addition to its

luxurious 1,500-seat theater and large stage area. Painstakingly restored, it today hosts

world-class and local theatrical productions year round.

Above: A full-mount longhorn named Classic Ace is on display at the Butler Longhorn

Museum in the League City Historical District. Named for Milby Butler, the museum

tells the story of Butler's role in supporting the amazing comeback of the Texas longhorn.

Chapter 1

21
---
COASTAL VISIONS - Images of Galveston County

22
---
Opposite, top: Located in a replica of the first house built in Friendswood,

the Friendswood Heritage Museum is operated by the Friendswood Historical

Society and dedicated to "preserving and portraying our unique history."

Friendswood was founded as a Quaker colony in 1895 by the F. J. Brown and

T. H. Lewis families in search of their "promised land." The museum's exterior

replicates the original 1895 house built by Frank J. Brown upon his arrival

in the area.

Opposite, bottom: Historian and author Joycina Day Baker enjoys a quiet

moment in the parlor of the Friendswood Heritage Museum, where she is shown

holding a book she published on Friendswood history. The museum is housed in

a replica of the Frank J. Brown home, the first house built in Friendswood.

Above: This barn at the Friendswood Heritage Museum is a reconstructed

replica made of 100-year old lumber reclaimed from cotton warehouses

originally located on Galveston Island. The machinery shown under the barn's

overhang is a fig sprayer, such as those that would have been used to maintain

fig trees during the community's heyday as a major provider of fresh figs and

other produce.

Right: The organ at the Friendswood Heritage Museum is a 1906-era

Mason & Hamlin pump organ from the original Quaker church in Friendswood.

Chapter 1

23
---
Above: Located on Skyline Drive near the Texas City Dike, the Half Moon Shoal

Lighthouse replica serves as a landmark and museum in the Bay Street Park area.

Right: The Saint Mary Mission Church is located on Highway 518 in League City.

Constructed in 1910, the Gothic Revival structure was relocated and restored by

parishioners in the late twentieth century. The Roman Catholic church was the

social center of the community during its earliest history.

COASTAL VISIONS - Images of Galveston County

24
---
Chapter 1

25
---
COASTAL VISIONS - Images of Galveston County

26
---
As Galveston County entered the twentieth

century, the success enjoyed by the Port of

Galveston predictably gave rise to other shipping

expansion, including further development

of Port Bolivar and the founding of a

new port in Texas City.

The dredging of Galveston Bay to help

maintain necessary depths and the building of

a series of jetties created an awareness of yet

additional options to improve water transport

in the area. These improvements resulted in

the eventual construction of today's Gulf

Intracoastal Waterway, a protected canal-style

channel that stretches from Brownsville to

Ft. Meyers, Florida. On a clear day, the view

from the top of the canal's bridge at Galveston

County's northernmost point offers a panorama

of busy tug boats, flat coastal plains with

grazing cattle and working oil wells—and, on

the southern horizon, the sparkle of distant

gulf waters crashing against a sandy shore.

Today, the story of Galveston County is still

a work-in-progress. Although the numerous

cities, towns, villages and other populated

places of the county have contributed their

own special histories to the diverse tapestry

of modern-day Galveston, their greater gift

is a spirit of unity that is directed toward

the county's future and realizing the dreams

of tomorrow.

Opposite: A functioning windmill near

Hitchcock is a scenic reminder of the

importance of agrarian activities in

Galveston County during the nineteenth and

twentieth centuries. Located on land owned

by Westwind Helicopters, Inc., the windmill

still pumps water into a nearby pond.

Above: The Gulf of Mexico is greeted by

sand dunes and a picket fence at San Luis

Pass on the southwestern end of

Galveston Island.

Chapter 1

27
---
Chapter

2

Highland Bayou Park in La Marque

offers a scenic venue for community gatherings,

festivals and general recreational activities.

The 230-acre site provides local families and corporations

with playgrounds, fishing ponds, picnic tables and a boat ramp

plus facilities for volleyball, tennis, basketball and horseshoes.

COASTAL VISIONS - Images of Galveston County

28
---
UNIFIED

Community

The strong town-and-gown relationship between business and education in Galveston County

is illustrated by the placement of many graduates in local area enterprises. Here,

a graduate of Texas A&M University at Galveston talks on the radio as

she pilots a tug boat into Pier 10 at the Port of Galveston.

Chapter 2

29
---
Above: Dedicated on May 30, 2010, to the men and women who served in the armed forces of the United States, this striking 16-foot wide flag sculpture

made from aluminum is part of the Veterans' Memorial in Friendswood. Located adjacent to the city hall, the sculpture rests on black marble with the words

"honor," "gratitude," "respect" and "remembrance" engraved into its base.

Opposite, top: Although the large flag sculpture at Friendswood's Veteran's Memorial is constructed of grayish aluminum, its highly polished surfaces reflect

the vibrant colors of its surroundings. Here, its stars have taken on blue and yellow reflections from the sky and dormant grass. The sculpture recognizes the

many military contributions made by Galveston County citizens.

Opposite, bottom: Heading out to sea to harvest nature's bounty is a community affair in Galveston County. Here, the shrimp boat Dying Breed is cheered

by an enthusiastic crowd as it makes its way past the Kemah boardwalk during the community's "Blessing of the Fleet," an annual event each May.

COASTAL VISIONS - Images of Galveston County

30
---
lways, there is the sea.

Insisting, cajoling, threatening,

consoling, it is both boon and

bane for those who make their homes and

pursue their livelihoods on its coast. In

Galveston County, the Gulf of Mexico and its

authority over neighboring coastal land areas

have created an invisible yet inseparable bond

between the communities and peoples who

live within reach of their power and influence.

Encompassing almost 450 square miles, of

which more than half are water, Galveston

County by nature and nurture presents its

own special challenges and rewards. In

addition to some 400 miles of beachfront,

there are bays and bayous, lagoons and lakes,

playgrounds and parks to manage. Several

hundred thousand permanent residents,

representing a broad spectrum of income

levels and lifestyles—plus a year-round influx

of tourists numbering into the millions—also

must be accommodated by the county's

infrastructure and public services.

Chapter 2

31
---
The Gottfried Moller Rain Water Pump Station, located on the Bay Street

Extension in Texas City, is part of the community's flood control and water

management system. It is located near the levee on Dollar Bay near Moses

Lake and incorporates an Archimedes' principle screw-type design system.

COASTAL VISIONS - Images of Galveston County

32
---
The act of balancing growing commerce

and heavy industry with sensitive lifestyle

and environmental issues—coupled with a

growing awareness of the importance of

community well-being—is today providing

numerous opportunities for creative problem

solving throughout the county.

From pre-school to graduate school,

educational programs for the county's young

people are being developed and finely tuned

to ensure that the leaders of tomorrow will

have the job skills needed to compete in the

work force of the twenty-first century.

Ensuring a quality lifestyle for the community

is also of paramount importance to

Galveston County leaders. Numerous public

parks and recreational areas offer the county's

citizens a broad range of choices for leisure

and fitness activities. Free concerts and

cultural events entertain and educate, and

area businesses regularly sponsor community-wide

projects to enhance the local quality

of life. A number of groups also have been

formed to help protect the county's diverse

environment, and protected wildlife and

nature preserves dot the county.

Through special activities and memorials,

citizens regularly join ranks to show their

appreciation to the county's military men

and women. Various festivals, including the

Blessing the Fleet in Kemah and the Bolivar

Peninsula's Crab Festival, provide an opportunity

for local citizens to celebrate the

importance and show their support of

county economic drivers such as the seafood

and fishing industries.

Established in 1891 to provide training for

future physicians, the University of Texas

Medical Branch at Galveston has grown

from a single school with 23 students and

13 faculty members to a modern center of

academic medicine and health science with

more than 70 major buildings, 2,500

students and 1,000 faculty members.

Occupying 84 acres, UTMB includes four

schools, three institutes for advanced study

and a major medical library. It also

maintains a network of hospitals and clinics

offering a full range of primary and

specialized medical care throughout the

Gulf Coast area, and is affiliated with the

adjacent Shriners Hospitals for Children—

Galveston and other treatment and research

facilities. This rooftop vantage point offers a

view across Galveston Bay to the refineries

of Texas City in the distance.

Chapter 2

33
---
COASTAL VISIONS - Images of Galveston County

34
---
Opposite: An ornate

four-face clock is a

popular landmark in

Walter Hall Park in

League City. The clock

was produced by Electric

Time of Medfield,

Massachusetts, and was

dedicated April 8, 1999.

Above: Cindy Clement plays with her granddaughter Lacey Higgins during one of the free

summer band concerts that take place weekly behind Ashton Villa on Galveston Island.

The Tuesday evening Galveston Beach Band performances are among the island's most

beloved summer traditions. Offered free of charge, they regularly attract locals and visitors

alike to enjoy musical selections that range from jazz, pops and big band sounds to show

and patriotic tunes. Each concert also features a children's parade, in which kids both young

and old wave American flags as they "march" around the venue in time with the music.

Left: John Tarver,

popular saxophonist

with the Galveston

Beach Band, blows

sweet and low during

one of the group's

weekly summer

concerts, offered

free of charge each

Tuesday evening

behind Ashton Villa

on Galveston Island.

Chapter 2

35
---
Located at Walter Hall Park in League City, the waterfall at Helen's Garden is a favorite

venue for nature lovers and area photographers. Named in honor of Helen Hall, wife of

legendary League City business leader Walter Hall, the lush garden area is located in the

heart of the community's historical district and includes walking paths, benches, waterfalls,

fountains and restrooms. Helen Hall is often referred to as the "matriarch" of League City and,

as a civic leader in her own right, was a charter member of the local library board of trustees.

COASTAL VISIONS - Images of Galveston County

36
---
With down-home entertainment and camaraderie,

the Galveston County Fair and Rodeo

spotlights the county's support for agricultural,

farming and ranching activities. Young and

old delight in rodeo activities, midway attractions

and various shows and competitions

that involve livestock, music, art, barbeque

and beauty queens. Established in 1938 the

fair's foundation is based on the county's

commitment to youth, education and agriculture,

and proceeds go toward scholarships for

high school seniors from Galveston County.

Enriching and giving back to the community

is an important part of the petrochemical

industry's mission throughout Galveston

County. Here, Jose Ramirez plays on the

colorful playground equipment at Carbide

Park while his brother Elias Ramirez takes

a snow cone break on the bottom of the

park's slide.

Chapter 2

37
---
Above: Championship horsemanship

and rope handling take center stage before

a large crown at the Galveston County

Fair and Rodeo's popular calf roping event

in Hitchcock. Other activities during the

fair include cook-offs, art and talent

shows, livestock shows, auctions and

beauty contests.

Opposite, top: Bull riding events can send

everyone scrambling for safety at the

Galveston County Fair and Rodeo in

Hitchcock, an annual celebration of the

county's farming, ranching and

agrarian roots.

As concerned citizens work together for

the betterment of the county as a whole,

major industries ranging from health care,

education and tourism to shipping and

petrochemical processing also work with

county leaders to ensure that economic

growth does not interfere with citizen

well-being, and vice-versa. Further underlining

the need for both cooperation in and

coordination of any far-reaching effort is

the area's diversity in population groups

and cultures.

A recognition of the necessity of working

together is not a new concept in Galveston.

Tribal society was probably an ideal social

arrangement for the area's early habitation.

Maintaining a unified community was a major

factor in the ability of the Karankawa Indians

to maintain life as they procured food and

shelter under challenging circumstances.

Similarly, the pirate groups that followed

were also well aware that their strength lay in

a communal loyalty to an identified leader,

however questionable his trade.

Opposite, bottom: Bull riding is always

filled with excitement and sometimes

unexpected results at the Galveston County

Fair and Rodeo in Hitchcock.

COASTAL VISIONS - Images of Galveston County

38
---
Chapter 2

39
---
COASTAL VISIONS - Images of Galveston County

40

Later, as Galveston evolved from a small

trading post on an elongated sand bar at the

edge of the nation's frontier to a major center

of organized—and civilized—commerce and

culture, its needs changed as well. The sense

of community that was earlier necessary

to maintain life became key to the region's

prosperity during the mid-to-late nineteenth

century. Unification for survival gave way to

unification for destiny.

Galveston's emerging nineteenth century

business leaders—the men who were creating

the largest and most prosperous community

in the newly formed Republic of Texas—

well knew the importance of working together.

It had been unification of purpose in the

1830s that had allowed a group of relative

newcomers to put together a consortium

known as the Galveston City Company that

purchased and platted almost 5,000 acres

of island property. The resulting lots were

quickly sold to aspiring Galvestonians

and eventually became the basis for the City

of Galveston.

In 1843 city leaders took the idea of

community unification even further in their

establishment of an officially recognized and

very active chamber of commerce. Even

before Texas became a part of the United

States, Galveston's business community was

busy encouraging like-minded citizens to

join together in laying the groundwork for

economic development.
---
Opposite, top: Young people concentrate on

the action as they attempt to round up goats

during the Goat Scramble event at the

Galveston County Fair and Rodeo

in Hitchcock.

Opposite, middle: Tiny cowboys and

cowgirls fill a trailer during the opening

parade of the Galveston County Fair and

Rodeo along Highway 6 in Hitchcock. The

event places special emphasis on the

participation of young people, and proceeds

go toward scholarships for Galveston

County high school seniors.

Opposite, bottom: Andrew Harrity checks

on his rabbit before the rabbit judging at the

Galveston County Fair and Rodeo in

Hitchcock. Since 1938, the fair and rodeo

has embraced a county-wide mission of

promoting youth, education and agriculture.

Above: Heidi McMillen of Sante Fe, with

her face painted like a chipmunk, watches

the rodeo action from a high rail during the

Galveston County Fair and Rodeo in

Hitchcock, an annual county-wide event

that is dedicated to serving Galveston

County youth.

Chapter 2

41
---
Left: The Mutton Bustin'

competition requires a

strong handhold at the

Galveston County Fair

and Rodeo in Hitchcock.

The fair and rodeo

provides scholarship

funding for area high

school seniors.

Right: Ouch! This rider

is tossed during the

Mutton Bustin'

competition at the

Galveston County Fair

and Rodeo in Hitchcock.

Founded in 1938,

the fair and rodeo is

dedicated to the youth

of Galveston County.

Although the Civil War slowed progress

in Galveston just as it did throughout the rest

of the nation, by the late 1860s, Galveston's

fortunes were once again on the upswing.

The county's commitment to taking care of

its own was advanced further with the

establishment of public schools for white

and African-American students. In 1870,

Galveston began publication of the first

African-American newspaper in Texas.

In 1890, in an unsurpassed gesture of

altruism, private funding provided for the

island's John Sealy Hospital to be opened

with a stated mission of ensuring that even

the most needy citizens of Galveston could

receive proper medical care. A nursing school

was founded concurrently to help staff the

hospital and, a year later, the first statesupported

medical school was opened nearby.

Today both these schools and the hospital

are integral parts of this century's University

of Texas Medical Branch at Galveston, which

now includes two additional schools plus

three institutes for advanced study, a major

medical library and numerous clinics and

patient care facilities.

Progress was coming to mainland areas as

well during the late nineteenth century. With

the construction of railroads, bridges and businesses,

the more northerly communities were

realizing their own identities as integral parts

of the Galveston County whole. In addition

to the expansion of ranching and agricultural

interests, they, too, were establishing schools,

post offices, commercial ventures, and, of

course, their own governmental groups and

chambers of commerce. At the turn of the

century, the discovery of oil in the area and

the resultant growing importance of the

petrochemical industry catalyzed mainland

development and remains a major driving

force in the county's economy today.

Additional progress came out of peril in

the aftermath of the 1900 storm, when the

need to quickly and efficiently rebuild

supported the establishment of the nation's

first commissioner form of government for

the City of Galveston. The efficiency of this

organizational plan was such that by 1920,

some 500 U.S. cities had adopted it.

As the necessity for cooperative efforts not

only within but between communities became

more and more evident, the Galveston County

Commissioners Court was established to

manage the administrative aspects of the

county as a whole. Forming a protective

umbrella of centralization for a number of

vital services, including the judicial system

and health and emergency services, this

group consists of sixteen elected officials and

is headed by the county judge, who also is

elected by Galveston citizens.

COASTAL VISIONS - Images of Galveston County

42
---
Above: The Starship 2000

ride holds appeal for young

and old at the Galveston

County Fair and Rodeo

in Hitchcock.

Right: Bootz Crash the

Clown, also known as

Mike Stultz of Dickinson,

and Frank Schurwon of

Texas City, members of

the El Mina Shrine

clowns group, entertain

spectators during the

Galveston County Fair and Rodeo's

opening parade on Highway 6 in Hitchcock.

Chapter 2

43
---
The most visible part of the county

court's work is emergency planning and

services, including creating and updating

the county's plan for handling weather and

environmental emergencies. A crucial element

in this planning is designing the

county's evacuation procedures, a necessity

in coastal communities that must always

be aware of their proximity to the gulf and

alert to the possibility of tropical storms

and hurricanes.

Other proactive measures, such as yearly

county-wide hurricane preparedness meetings,

were a vital factor in the county's ability

to ride out Hurricane Ike in 2008 with a

remarkably low rate of injury and death,

compared to previous similar storms.

For those areas where city emergency

and law enforcement services are not already

provided, the county helps ensure citizen

safety and well-being through the sheriff's

office and funding assistance for volunteer

fire and emergency departments.

Today, as in the past, each area of

Galveston has its own special needs and

goals, but there is growing awareness that all

are part of an even greater whole. By working

and playing together, sharing resources and

building for a better tomorrow, the county's

citizens themselves, in cooperation with local

governing bodies, are creating a structure for

future growth and development, a Galveston

County that will take them healthily and

happily into the twenty-first century.

COASTAL VISIONS - Images of Galveston County

44
---
Opposite: Water management is an

important part of life in Galveston County.

Here, the Hitchcock Diversionary Canal,

as seen from an overpass on Second Street

near the Galveston County public boat

ramp, provides a scenic sunrise view as it

functions to drain excess water from inland

areas into the bay.

Left: Here a brown pelican perches on the

pilings of an old fishing pier on High Island.

The area also is home to a rookery.

Known nationally for their conservation

efforts, the communities along the Bolivar

Peninsula are widely recognized as a bird

watchers' paradise.

Chapter 2

45
---
A great Blue Heron reflects the fading light

of a golden day at Pier 19 in Galveston.

COASTAL VISIONS - Images of Galveston County

46
---
St. Matthew's United Methodist Church on High Island is easily

recognized by the multiple birdhouses on its property. One of the

birdhouses has even been designed to look like the church.

Nationally recognized as a bird watching paradise, the

community is known for its preservation efforts.

Chapter 2

47
---
Chapter

3

Following a nice hit to center field, Damone Gasaway of the "Tsunami"

team looks for the ball after he flies past third base. Third baseman Zach Gallagher of

"Powerhouse" awaits the throw from the outfield. The game took place at a replica of Fenway Park

at the Big League Dreams Sports Park in League City. The park also offers baseball and soccer facilities.

COASTAL VISIONS - Images of Galveston County

48
---
VIBRANT

Lifestyle

The 1877 tall ship Elissa requires lots of tender, loving care.

Here, she is being secured at Pier 21, next to the Texas Seaport Museum

operated by Galveston Historical Foundation. Elissa is maintained by an enthusiastic

volunteer corps, who learn the ancient crafts associated with her upkeep and also how to sail her.

Chapter 3

49
---
lways, there is the sea.

Energizing, entertaining and

source of recreation and

relaxation, it sets the tone for Galveston

County's vibrant lifestyle—a lifestyle that

combines the inherent fun and benefits of

living near the coast with a strong jobproducing

economy, numerous educational

opportunities and exemplary health care and

public services.

A belief in the superiority of Galveston

County's environment—coupled with gratitude

for being so fortunate as to be allowed to live

here as well—seems often to imbue its

citizens with a spirit of pride and prosperity

that is independent of many other earthly

circumstances. Young, old, rich, poor, or

in-between—the great majority of residents

and visitors, for the most part, are just glad

to be here.

COASTAL VISIONS - Images of Galveston County

50
---
Opposite, bottom: Out at third!

No. 7, Anthony Matamoras

of the "All Out Sports 2" team

is tagged out at third base by

"Fo9ers" Thomas Shoppe

during a baseball tournament at

Big League Dreams Sports Park

in League City. "All Out Sports

2" beat the "Fo9ers," and the

game was played at a replica

of Fenway Park.

Right: Pow-wow on the mound—

"Salinas" team players have a

meeting on the pitcher's mound

during a baseball tournament

against the "Rebels" at Big

League Dreams Sports Park

in League City. The game

was played at replica of

Wrigley Field.

Below: Out at second! A player slides headfirst into second base, but not before being

tagged out at a softball tournament at League City's Big League Dreams Sports Park.

The game was played at a replica of Fenway Park.

Chapter 3

51
---
COASTAL VISIONS - Images of Galveston County

52
---
Opposite, top: The annual Lone Star Motorcycle Rally is among

the largest of such gatherings in the world. Each year, thousands

of motorcyclists from throughout the nation rev up their engines

and head to Galveston Island for a weekend of fun and frolic.

Opposite, middle: Sponsored by the Lakewood Yacht Club, the

Harvest Moon Regatta attracts several hundred participants each

year. This photograph was taken under excellent weather conditions

from Galveston Island's Pleasure Pier on the Seawall.

Opposite, bottom: Collin Carpenter of Texas City fires his Russianmade

30-caliber Saiga at the Texas City Municipal Shooting Range.

The all-weather facility includes 28 shooting stations for all legal

caliber rifles, 11 stations for hand guns and separate areas for skeet

and trap. It is one of very few legal and licensed outdoor gun ranges

in the area, and concealed handgun certification also is offered.

Above: Luis Armendariz of Friendswood wade fishes in the fog at sunrise

along Skyline Drive in Texas City. Using salt water lures as he fishes for

"reds," he reports the area is known as a "very good fishing spot."

Chapter 3

53
---
Those born on Galveston Island proudly

hold forth collective bragging rights for

their B.O.I or "born on the island" status. In

defense, anyone new to the area—usually

defined as having been an island resident for

anything shorter than a lifetime—can make

his or her own claim to being an I.B.C.,

or "islander by choice." Citizens of the

county's mainland communities have similar

pride in the unique attributes of their own

hometowns. As a result, the competition

between various communities as to who is

"on top" during any particular week is

often fierce, whether based on the recent

accomplishments of a successful favorite

son or daughter, the securing of a new

commercial venture, the acquisition of a

resident celebrity or the current rankings of

rival high school football teams.

Galveston County's growing reputation as

one of the state's most desirable areas in

which to live, work and play is supported by

growing population numbers in several communities

and a stream of new businesses.

Offering a diversity of people, job and educational

opportunities, housing and leisure

activities, Galveston County is working

toward offering something for everyone.

The population itself includes roughnecks,

poets, bankers, commercial fishermen, astronauts,

accountants, cowboys (and cowgirls!),

physicians, construction workers, ship captains,

teachers and rocket scientists, and each

brings his or her own unique experiences,

ideas and talents to the mix.

Educational and occupational diversity in

the county is supported by several public

school systems, a number of private and

church-run schools, schools for special needs

students and several colleges and universities

that offer academic opportunities that range

from two-year associate degrees and professional

certifications to post-doctoral studies

and cutting-edge research posts.

COASTAL VISIONS - Images of Galveston County

54
---
Opposite: The Society of Friends Church in Friendswood was

founded by Quakers who immigrated to the area in 1895.

Above: Religion plays an important role in Galveston, and groups

representing non-denominational beliefs as well as most major

denominations meet regularly within the county. "Most sacred heart

of Jesus, have mercy on us" is the inscription at the base of this

impressive granite statue located on the front steps of the

Queen of Peace Catholic Church in La Marque.

Chapter 3

55
---
A pair of horses off FM 159 in La Marque greet each

other in early morning light. Galveston County offers many

opportunities for horse lovers not only to enjoy riding but

also to maintain horses on their own properties.

COASTAL VISIONS - Images of Galveston County

56
---
Amarillo

Red

Above: Amarillo Red, a twenty-two-year-old Registered

Texas Longhorn, grazes contentedly on ten acres of

clover and lush grass in Sante Fe. The longhorn

is one of the Stanley family's many pets.

Right: Texas Cowgirl, a twenty-three-year-old

Registered Texas Longhorn, and Amarillo Red,

(above), are two of the magnificent breed owned

by Sharon and Larry Stanley of Sante Fe.

The Stanley's numerous pet animals also

include dwarf ponies, a peacock, chickens,

goats and an English Labrador.

In addition to two main community colleges,

the state's two major universities—Texas A&M

and The University of Texas—maintain extensive

educational facilities in Galveston County,

specializing, respectively, in maritime and

marine science and in medicine, nursing and

allied health science. A young person—without

leaving the county—can learn how to

weld or speak Chinese, but can also study to

be a brain surgeon.

Texas Cowgirl

Continuing education and leisure learning

courses are also popular and offer instruction

in computer skills, performance and visual

arts, foreign languages, construction, culinary

and similar skills, plus dance and other physical

activities such as yoga, tai chi and Pilates.

Chapter 3

57
---
Below: Hayley Vineyard, "Junior Miss Good Ole' Days," and Paige Molis, "Miss Good Ole' Days," wave from a lime green vintage automobile

during the parade for Hitchcock's annual Good Ole' Days Festival. The event also includes barbeque, a talent show and other entertainment.

Opposite, clockwise, starting at the top left:

At left, "Little Miss Good Ole' Days" contestant Harmoney Jennings wears a fluffy red tulle skirt and a black top with sparkles.

The annual Hitchcock Good Ole' Days Festival includes beauty pageants, entertainment, barbeque, a talent show and parade.

Hannah Alvarez, a contestant for the title of "Tiny Miss Good Ole Days," wears a blue and white flowered dress for her pageant appearance

during the Hitchcock Good Ole' Days Festival. The annual event is sponsored by the Hitchcock Chamber of Commerce.

On stage, Allyssa Schattel, wearing a cowgirl hat and carrying a bouquet of yellow roses, competes for the title of "Little Miss Good Ole' Days"

during the Hitchcock Good Ole' Days Festival. The popular annual event boasts a turnout larger than the population of the host city

of Hitchcock itself.

COASTAL VISIONS - Images of Galveston County

58
---
Chapter 3

59
---
Right: Queen Victoria, as portrayed by

Anne Boyd, plays a major role in the annual

Dickens on The Strand festival held on

Galveston Island each December. Here

"her majesty" is showered with artificial

snow as she greets her subjects during the

Queen's Parade as it passes in front of Old

Galveston Square. Sponsored by Galveston

Historical Foundation, the family-friendly

festival has been named among the world's

top events of its type.

Below: Pirates swagger down the historic Strand during the Queen's Parade, a highlight of Galveston Island's

Dickens on The Strand, an annual event sponsored by Galveston Historical Foundation. Turning the city's

historic downtown area into a Victorian cityscape each December, the weekend festival offers several

parades, ongoing free entertainment, street vendors, traditional foods, costume contests and numerous

period-appropriate events.

Real estate diversity throughout the county

supports myriad choices in housing styles and

prices. Multimillion dollar estates featuring

the latest in construction technology, water

front communities with adjacent boat docks,

historic homes with hand-hewn architectural

elements, modest first-home bungalows and

easy-living retirement condominiums are all

part of one of the nation's healthiest and most

reasonably priced real estate markets. There

are also wide open spaces that allow their

owners the opportunity to raise and ride

horses, or indulge in such pets as longhorn

steers, chickens, goats and peacocks.

From baseball to Broadway-style musicals,

diversity is also the name of the game when

it comes to Galveston County's opportunities

to enjoy life and leisure. Year-round activities

include indoor and outdoor sports, cultural

events and performing arts. Again, the diversity

is such that residents and visitors can attend

a rodeo one night and an opera the next, or

enjoy a morning touring an oil rig museum,

an afternoon "on safari" in a wildlife park, and

an evening of fine dining and dancing.

COASTAL VISIONS - Images of Galveston County

60
---
Above: Christopher Read

of League City portrays an

1890s steamship captain

as he participates in the

"Sideburn Competition"

during Galveston Island's

annual Dickens on

The Strand festival.

Left: Bret Bailey of Flower

Mound, Texas, twirls his

mustache on stage

during the "Mustache

Competition," one of the

many events featured as

part of Galveston Island's

annual Dickens on

The Strand festival.

Chapter 3

61
---
The area's arts and events calendars include

regular performances of the Galveston

Symphony, amateur and professional theater,

and other performance art productions that

appeal to a wide range of audiences. Exhibits,

lectures, concerts and spectator sports are

offered in abundance even in the county's

smaller communities, and there is hardly a

week that does not include a major fun-filled

festival or activity, many of which support

worthwhile charitable and civic projects.

Galveston County's special events range in

mood from down-home casual to downtown

fanciful, and many focus of themes celebrating

the county's history. For a half-century,

Hitchcock's Good Ole' Days Festival has

attracted residents and visitors alike to enjoy

a weekend of revisiting its glorious past, and

interest in the event has become such that

the number of those attending is now larger

than the population of Hitchcock itself.

Galveston Island's Dickens on The Strand

holiday festival has been named one of the

top events of its type in the world. On the

first weekend of December, it transforms

the island's historic downtown area into a

Victorian London cityscape with costumed

re-enactors, parades, shopping and family

activities, including ongoing street entertainment,

period appropriate foods and wares,

lectures, tours and events featuring the works

of nineteenth century author Charles Dickens.

Above: Real estate choices in Galveston County range from vintage Victorian styles to

new, modern, upscale developments with all the trimmings. The two historic homes shown

here are located on Galveston Island's Postoffice Street and survived not only the

Great Storm of 1900 but Hurricane Ike in 2008.

Opposite: A stately black and white lighthouse lends nostalgic charm from its modern-day

position on the south shore of Clear Lake. The 99-foot structure is situated on the tip of

Beacon Island, a private island adjacent to the South Shore Harbour Marina, and was

designed to intentionally resemble the lighthouse at Cape Canaveral, Florida.

COASTAL VISIONS - Images of Galveston County

62
---
Chapter 3

63
---
COASTAL VISIONS - Images of Galveston County

64
---
Outdoor activities also thrive in Galveston

County's coastal climate. The Texas City Dike

attracts visitors and residents alike who

want to try their luck "hooking a big one"

off the world's longest man-made fishing

pier. Also in Texas City, an outdoor shooting

range offers plenty of space to practice one's

marksmanship and also offers concealed

handgun certification.

Popular athletic activities include outdoor

favorites such as hiking, jogging, bicycling,

roller skating and skate boarding. Even

water sports such as swimming, surfing and

boating are possible during what might be

considered an "off season" in other areas.

Tennis, golf and fishing also enjoy year round

popularity, with a number of tournaments

and organized events.

Team sports in almost all major categories

—especially baseball, football, basketball

and soccer—are local favorites on both the

juvenile and adult levels. League City's Big

League Dreams Sports Park provides replicas

of several well-known sports fields to provide

an enhanced experience for those competing

in tournament play there.

Cutting-edge bands and music groups find

Galveston audiences receptive to new ideas

in music, especially during such events as the

annual Lone Star Motorcycle Rally, but there

is no shortage of choices for those with

more traditional tastes. Churches, synagogues

and other places of worship representing the

world's major beliefs also have found a welcoming

home in Galveston County, and religion

plays an important role in many citizens' lives.

Opposite: A modern Gulf Coast boating

community, Waterford Harbor offers

643 luxury floating docks, with extra wide

piers on both sides of each slip. Surrounded

by beautiful homes, the easily accessed

marina is located on Clear Lake and

linked to Galveston Bay.

Above: Waterford Harbor in Kemah is

known for its luxurious waterfront homes,

floating docks and substantial bulkheads.

The upscale boating community is located

off FM 2094.

Chapter 3

65
---
Below: Caroline Pielop of Houston, still wearing her bright yellow and blue life vest,

hugs her teddy bear from the dock at the Harborwalk Marina in Hitchcock. Her father,

Stuart Pielop, and brother, Ben, watch from the boat Long Run following an afternoon of

fishing at the north jetties. They caught one bull red. Pielop says he likes everything about

Harborwalk, including the marina, floating docks, security, club house and restaurant.

Opposite: The Suzy Q, a 38-foot sailboat owned by Richard Sherman, rests at her dock along

West Shore Drive in Clear Lake Shores. The Watergate Marina is shown in the background.

COASTAL VISIONS - Images of Galveston County

66
---
Boating figures predominantly in several

other seasonal favorites, including community-sponsored

boat parades, fleet blessings

and the Lakewood Yacht Club's annual

Moonlight Regatta that traverses Galveston

Bay each fall. Boat tours of the Port of

Galveston give participants a chance to view

waterfront areas that provided much of the

impetus for Galveston's founding, and the

1877 "tall ship" Elissa, one of only three

historic square-riggers that still sails, is

open daily for tours and is always looking

for volunteers to help maintain and learn to

sail her.

For those interested in other aspects of

Galveston County's past, there are numerous

opportunities to explore the area's rich history

through self-guided and docent-led tours,

museums and special events such as

homes tours and historic re-enactments.

Several local libraries maintain exhibits of

historic photos and mementos, and the area

additionally offers museums and exhibits

dedicated to railroading, aviation and sailing

as well as other significant aspects of the

county's early days.

One of the most treasured aspects of life in

Galveston County, however, is the opportunity

it offers for sitting back and just relaxing.

Yes, there are activities galore and a seemingly

never-ending list of fun things to go and do

and see, but there are also those times that

seem perfect for doing nothing, which may

be the most favorite pastime of all.

Chapter 3

67
---
Four colorful chairs

wait for occupants on a

West Shore Drive dock

in Clear Lake Shores.

The Watergate Marina is

shown in the background.

COASTAL VISIONS - Images of Galveston County

68
---
Above: This sunset scene looks out toward Tiki Island from

Tiki Tom's RV Park and Fishing Pier. Tiki Tom's offers access to six acres

of protected grassland, oyster reefs and four 250-foot piers. Located on

Jones Lake on West Bay, just off I-45 at Tiki Island, the area also has

a reputation for offering great bird watching opportunities.

Chapter 3

69
---
Chapter

4

Dolphins

play in Galveston harbor near

the bows of tugboats Andrew K. of Bay Houston

Towing and The Judge of Suderman Young Towing.

COASTAL VISIONS - Images of Galveston County

70
---
ESSENTIAL

Enterprise

Two tug boats guide a massive

tanker toward the Port of Texas City.

Chapter 4

71
---
Above: An oil well pumps busily on High Island at sunrise.

Although residents of the area were among the first in Galveston

County to discover oil on their land, oil slicks had been noted on

nearby Gulf of Mexico waters as early as the sixteenth century.

Opposite: The ferry boat Robert H. Dedman heads out across

Galveston Bay toward Bolivar Point at sunset. In the background

is the shoreline of Pelican Island, and a Texas flag, located on

another ferry passing close by, can be seen in the foreground.

The free ferry service is operated by the Texas Department of

Transportation and provides service between Galveston Island

and the Bolivar Peninsula 24 hours a day.

COASTAL VISIONS - Images of Galveston County

72
---
lways, there is the sea. Provider of transport,

purveyor of food and fun, it and the land it embraces

on the upper Texas coast offered both the compelling

rationale and rich resources necessary for Galveston

County's founding and its future development.

The role of the county's coastal location has been—and will

continue to be—central to the area's development. Past and

present economic drivers—including shipping and its ancillary

services, petrochemical procurement and processing, seafood

production and commerce, agriculture, insurance, education,

health care and tourism—are all connected in some way to its

favorable coastal location, climate and natural resources.

Cotton transport by sea played a major role in Galveston's

early commercial development. Ships from its port ran the Union

blockade during the Civil War in an effort to maintain the area's

strong hold on global cotton transport, and in 1873 a local Cotton

Exchange was organized to further Galveston's dominance in

the cotton market. By 1900 the Port of Galveston was the leading

U.S. port for the export of cotton and wheat.

Chapter 4

73
---
COASTAL VISIONS - Images of Galveston County

74
---
Opposite, top: A mechanic checks out an

Era Helicopter at Scholes International

Airport. The vehicle is especially designed

for making emergency rescues in the Gulf of

Mexico at distances of 150 miles-plus from

shore. Scholes International Airport began

service in 1931, and can today handle all

types of planes up to a Boeing 767. It is a

major staging point for air service to

petrochemical rigs in the Gulf of Mexico.

Opposite, bottom: Scholes International

Airport in Galveston is a major center for

air service to the offshore energy industry.

Here, a helicopter from PHI, Inc., fleet

stands ready to continue the company's role

in serving customers' offshore operations in

the energy industry.

Left: The control tower at Scholes

International Airport on Galveston Island is

equipped to handle a variety of air traffic.

The 1,200-acre airport includes a newly

renovated airport terminal, 24-hour fixed

base operator, 24-hour weather service,

24-hour ARFF station on field, navigational

aid and precision approaches providing

all-weather capabilities. With two

6,001-by-150-foot runways, the airport

is capable of accommodating all types of

planes up to a Boeing 767. The facility

began service as a municipal airport in

March of 1931 on a 120-acre tract with

two shell runways. In this photo, the streak

of light in the background was made by a

helicopter taking off from the airport.

Chapter 4

75
---
The ship Maritime Champion is loaded with grain at the automated Archer

Daniels Midland Galveston Grain Elevator, located at the Port of Galveston.

COASTAL VISIONS - Images of Galveston County

76
---
The need for an alternative to muddy

wagon roads had been apparent from

Galveston's earliest days, and the Galveston,

Houston and Henderson Railroad Company

was chartered in 1853 to join Galveston with

points north. More than 150 years later, rail

transport remains essential to the county's

economic well-being as a vital part of servicing

the area's petrochemical refineries and

transporting a variety of goods to and from

local ports.

Not even "King Cotton" could compare

with oil, however. Although the first hint of

possible petroleum deposits in the area

occurred in 1543 when explorers on an offcourse

Spanish ship noted an unusual sheen

on the water near what is now High Island,

it was 1901 before exploratory drilling was

initiated in the area. Today, a large number of

on- and off-shore wells operate throughout

the area, but the county's most notable connection

with the petrochemical industry

comes from the numerous refineries whose

massive processing plants are major contributors

to the local economy.

Aviation also figures into Galveston

County's essential enterprise. Although much

of its flight activity today centers around

service to the petrochemical industry, Texas

City became a national aviation leader in

1913 when nine planes were assigned there

as part of the nation's First Aero Squadron,

an event that is considered the birth of

U.S. Air Force. Air mail service, provided by

open cockpit bi-planes, was begun between

Houston, Galveston and Dallas with the

establishment of Contract Air Mail Route 21

in 1928.

Located in Santa Fe, Haak Vineyards and

Winery is Galveston County's first and only

winery. Its illuminated, old-world style

chapel, reception pavilion and scenic

vineyard make is a popular site for special

events, and it also hosts regular tours,

wine tastings and other activities.

Chapter 4

77
---
Rail transport continues to be an essential part of the machinery that keeps

Galveston County on the move. Here, Union Pacific locomotives are shown

at the intersection of Highway 519 and Loop 197, with a petrochemical

complex in the background.

COASTAL VISIONS - Images of Galveston County

78
---
Today, Galveston Island's Scholes

International Airport serves as a major

staging point for air service to the Gulf of

Mexico's petrochemical industry. Founded in

1931, Scholes began service on a 120-acre

tract of land boasting two shell runways.

Today, the airport has grown to occupy

1,200 acres and provides vital support for

numerous local and non-local ventures.

Equipped to handle a variety of air traffic,

Scholes is used by a number of companies to

handle fleet helicopters and private planes.

Airport features include a newly renovated

airport terminal, 24-hour fixed base operator,

24-hour weather service, 24-hour ARFF station,

highly technical navigational aids and

precision approaches providing all-weather

capabilities. With two 6,001-by-150-foot

runways, Scholes can accommodate all types

of planes up to a Boeing 767.

Scholes is also a leader in its ability to

support quick response to deep water

emergencies. Today's Era Helicopters located

at Scholes can make emergency rescues in

the Gulf of Mexico at distances of 150

miles-plus from shore, and are setting new

standards for prompt, safe rescue on the

open seas.

Railroading played an important role in the

early development of Galveston County,

and railroad depots dotted the mainland

countryside. The 1902 Dickinson Railroad

Museum shown here is open for tours.

Chapter 4

79
---
Below: The petrochemical industry plays a vital role in Galveston County's economy.

Here a major refinery in Texas City is both illuminated against the night sky and reflected

in the water at its base.

Opposite: This aerial view of the Bollinger Shipyard in Texas City shows a petrochemical

refinery complex in the background. Repair and support services for the ship, barge and rig

industries are important parts of Galveston County's diversified commercial enterprise.

COASTAL VISIONS - Images of Galveston County

80
---
Chapter 4

81
---
Luxury homes surround the yachts and sailboats tethered to South Shore Harbour Marina's floating docks.

Galveston's proximity to the coast was a

decisive factor in its selection in the 1880s

as the site of the state's first public medical

school and later, in 1962, as the appropriate

location for Texas A&M University at

Galveston's campus concentrating on maritime

studies. Both schools are recognized

today as leaders in their respective disciplines.

UTMB, in particular, has grown from its

initial one-building campus for 23 students

and 13 faculty members to a modern 84-acre

campus with more than 70 buildings, 2,500

students, four schools and 1,000 faculty

members. UTMB is additionally affiliated

with the nation's first Shriners hospital to

specialize in the treatment of pediatric burns,

and is the home of the state's only and the

nation's largest Biosafety level 4 laboratory

on an academic campus.

UTMB also contributes to the local economy

through its role as one of the largest

employers in the Houston-Galveston area.

Not only do its schools require their own

administrative and other personnel, but a

large network of patient care facilities

throughout the county and beyond must be

staffed on a variety of levels.

COASTAL VISIONS - Images of Galveston County

82

Yachts and sailboats line the floating

docks at South Shore Harbour Marina.
---
As seen from above, a man and

woman carry supplies to one of

the numerous boats docked at

South Shore Harbour's floating dock

complex that provides water craft

shelter on all sides.

Yachts line the floating docks at the South Shore Harbour Marina.

The South Shore Harbour complex includes a resort, spa and conference center

with 25,000 square feet of space that can accommodate a variety of meetings and gatherings.

It is conveniently located only minutes from Houston's Hobby Airport, NASA's Johnson Space Center,

the Kemah Boardwalk, the Big League Dreams Sports Park and historic League City.

Chapter 4

83
---
Land-lubbers and sailors alike appreciate the

Topwater Grill's nautical decorating theme

and fresh seafood. Located in San Leon,

the restaurant provides a docking area

for those who choose to arrive by water.

COASTAL VISIONS - Images of Galveston County

84
---
Tourism is also moving toward becoming a

major economic driver in Galveston County.

Building on a decades-long appreciation of

the area's coastal location, the county's development

as a regional recreational center,

water wonderland and cruise ship port is

moving into the arena of big business today.

In contrast to the time when the arrival of

a "pleasure ship" in Galveston was big news,

today's cruise ship industry is making the Port

of Galveston one of the fastest growing cruise

ports in the nation, and many of the today's

most modern vessels regularly line the docks

alongside the port's recently remodeled cruise

ship terminal. Already either a home port or a

seasonal port for several of today's major

cruise lines, the island is attracting even more

cruise ship traffic each year as additional lines

include it in their ports of call.

At the other end of water travel enterprise

is the free ferry service between Galveston and

the Bolivar Peninsula. Considered part of the

state highway system, the service is operated

24 hours a day by the Texas Department of

Transportation. Capable of accommodating

motor vehicles as well as walk-on passengers,

the ferry provides not only essential transport

between the island and the peninsula, but

offers an up-close view of the bay's busy shipping

channels, Pelican Island and the wreck of

SS Selma. As a special treat, playful dolphins

often display their own special form of entertainment

as they frolic alongside the various

vessels traversing Galveston's open waters.

Opposite, bottom: Sail or drive to

The Topwater Grill in San Leon.

Boaters can dock at the door of this

restaurant known for its fresh seafood

and a choice of al fresco or indoor dining.

Above: The Galveston Island Convention

Center at the San Luis Resort combines

well appointed executive conference facilities

with the amenities of a relaxing resort

overlooking the Gulf of Mexico.

Here, the two-story, 140,000-square-foot,

multi-function property reflects its own

image along the Galveston Seawall.

Chapter 4

85
---
COASTAL VISIONS - Images of Galveston County

86
---
With so much opportunity for boating, it's

no surprise that the county is one of the

nation's leaders in pleasure craft ownership

and offers numerous facilities for boaters.

Private docks, public launching ramps and

other maritime-centered facilities can be

found throughout Galveston to service water

craft ranging from solitary kayaks to luxurious

yachts and speed boats.

Floating docks and high-level surveillance

and security are among the progressive

features to be found at many area marinas as

they seek to provide the latest in convenience

and service. The surrounding residential

communities also often include some of

the county's most exclusive and luxurious

housing choices.

Adding extra impetus to the area's growing

economy are several luxurious conference

and resort centers, located on the mainland

and on Galveston Island. Providing support

for the county's growing demand for largeoccupancy

facilities to handle state, national

and international conferences and meetings,

these modern centers are capable of supporting

all types of gatherings that can benefit from

their high-tech amenities, professional service

and warm hospitality in a resort setting.

Other areas of county enterprise are

similarly tapping into the visitor and tourism

industry to attract guests from around the

nation to local museums, parks and events

that center on Galveston history or coastal

activities. A plethora of festivals celebrate

local produce and other foods, as well as

the county's diverse cultures and ethnic

groups. The Blessing of the Fleet kicks off the

shrimping season in several communities,

and the Crab Festival is a major event on the

Bolivar Peninsula.

Opposite: The Texas Gulf Coast is known

for its fresh seafood industry. Whether

providing the "fruits of the sea" to

restaurants across the nation or cooking

it up in local eateries, Galveston County

purveyors know that fresh is always

best. This combination platter from

Crazy Allen's Swamp Shack in Kemah

includes shrimp, crab, crawfish,

gumbo and corn on the cob.

Below: Supporting Galveston Island's

growing tourism industry, the "Wolfpack"

is among Schlitterbahn Galveston Island

Water Park's most popular rides. Open

year round, the family-owned facility

provides water activities and

recreation for all ages.

Chapter 4

87
---
Below: Chasity Morris of San Antonio and daughter Rosslan, wearing ear

plugs, enjoy one of the many concerts at the Texas Crab Festival in

Crystal Beach on the Bolivar Peninsula.

Bottom: A young festival

participant walks on water

while staying dry at the

"Bubblee" attraction during

the Texas Crab Festival

in Crystal Beach on

the Bolivar Peninsula.

The activity features

huge beach balls in which

a person can stand.

Once the ball is zipped up,

walking on water without

getting wet is just a step away.

COASTAL VISIONS - Images of Galveston County

88
---
Galveston County's numerous shopping

options range from giant malls to small boutiques.

There are several centers that feature

nationally recognized up-scale stores, but

there are also discount shopping opportunities

throughout the area. Concurrent with the

nation's growing awareness of the importance

of offering "walking city" environments for

commercial enterprise, many Galveston communities

are working to revitalize their original

downtown areas to provide village-style

venues that include restaurants, small shops,

entertainment and other attractions in keeping

with modern tastes.

Left: The seafood industry is celebrated in

many Galveston County festivals and

events. Here, Eric Thomas enjoys a pony

ride at the Texas Crab Festival, held at

Gregory Park in Crystal Beach on the

Bolivar Peninsula. The event includes a

crab cook-off, crab races, volleyball and

horseshow tournaments, a "crab legs"

contest for people, and a "Weiner Dog

Nationals" race for dachshunds.

Below: Adults become kids again at the

Texas Crab Festival in Crystal Beach on the

Bolivar Peninsula. Here, April Bierbower of

Spring, Texas, and friends enjoy a "train

ride" in brightly colored plastic barrels,

hooked together and pulled by a tractor.

Chapter 4

89
---
Above: The 130,000-ton cruise ship Magic, launched by Carnival Cruise Lines in 2011, sits alongside Texas Cruise Ship Terminal I at its home

port on Galveston Island. One of the world's newest cruise ships, the Magic has 1,845 staterooms. Pelican Island is shown in the background.

Opposite: A mix of old and new can be seen in this rooftop view of historic downtown Galveston at dusk. Taken looking down Twenty-third Street

toward the Port of Galveston, it shows the lights of the historic Tremont Hotel's rooftop bar on the left, and the restored Washington Building

is on the right. Center stage is the 3,690-passenger Carnival Cruise Line's newest ship, Magic, docked at Texas Cruise Ship Terminal 1.

COASTAL VISIONS - Images of Galveston County

90
---
Despite its growing urbanization, however, Galveston County

continues to maintain many areas with large acreage dedicated to

cattle raising, farming and other agricultural endeavors. Santa Fe's

Haak Vineyards, the county's first and only vineyard and winery,

offers not only quality beverages for sale, but tours, wine tastings,

festive dinners and facilities for meetings, weddings and other

special events.

Galveston's simpler lifestyle and less crowded roads are also a

part of its appeal as a "bedroom community" to numerous

Houston workers. Several of the county's residential areas are

among the fastest growing in the state, and League City and

Friendswood in particular—located virtually on the south door

step of NASA'S Johnson Space Center—have attracted many who

have big-city jobs but, on a personal level, enjoy a closer-tonature,

less congested way of daily life.

Chapter 4

91
---
Chapter

5

Galveston County is going places.

Here, the new Galveston Causeway,

a part of I-45, is shown as it links

Galveston Island with the Galveston County

mainland. The causeway was designed to include

lighting both above and below the elevated span.

COASTAL VISIONS - Images of Galveston County

92
---
VISIONARY

Populace

The design and testing of NASA's Orion Multi Purpose Crew Vehicle is part of the ongoing work at Johnson Space Center, located

only minutes from Galveston County's League City and Friendswood communities. In addition to providing a look at the

nation's first interplanetary spacecraft designed to carry astronauts on long duration, deep space missions, this full-scale

mock up of the Orion spacecraft serves as a vital test lab for navigation, rendezvous and docking operations.

When paired with additional propulsion and life support systems, Orion will eventually be able to take

humans to Mars. Software engineers at Lockheed Martins' Space Exploration Development Lab in

Houston work with NASA astronauts, spacesuit designers and aerospace engineers to test

avionics, software and sensors in flight-like scenarios. The lab enables early testing and

development for spacecraft systems and components, which will help reduce

cost and risk during vehicle production and actual spaceflight.

Chapter 5

93
---
COASTAL VISIONS - Images of Galveston County

94
---
lways, there is the sea. Inspiring and

empowering, it has drawn to its shores and coastal

plains those in search of adventure, opportunity

and advancement. Providing a temperate climate,

ample food supplies and means of transport for commerce and

travel, the coastal area known today as Galveston County has,

from its earliest days, attracted people of vision.

Early inhabitants braved a total unknown to establish their first

settlements, and later immigrants liked what they already knew,

but envisioned creating more. By the mid-nineteenth century,

Galveston was nationally recognized for its many innovations

and "firsts," a tradition that is continuing today in many of the

county's twenty-first century endeavors.

Among those whose dreams for Galveston have contributed to

its present day position of leadership in academic medicine and

related research are the visionary scientists and physicians who

joined the state's new medical school in 1891. Today the University

of Texas Medical Branch at Galveston continues to draw illustrious

faculty and researchers to Galveston, with international attention

being focused on its study of rare diseases and their prevention.

Opposite, top: An emu steps out in the early morning mist at the entrance of the Bayou

Wildlife Park. "By living with the animals for the past thirty years, I've learned things

not found in many books," says Clint Wolston, owner and developer of the park.

Opposite, bottom: White spotted deer are among the numerous wild animals that can

be viewed at the Bayou Wildlife Park. The park includes more than eighty acres of

woods and prairies and contains

approximately 500 animals

representing fifty different species

from Africa, India, Asia, Australia

and North and South America.

Right: A large white rhino is one

of the endangered species at Bayou

Wildlife Park. Clint Wolston,

owner of the park, is shown on

a golf cart in the background.

He has developed the eighty-acre

park as a private animal reserve

over the past thirty years.

Chapter 5

95
---
Left: The new 5,300 square foot

Dickinson Independent School District

Education Support Center is a

Collaborative for High Performance

Schools (CHPS) facility and is designed

for high performance environments that

are energy and resource efficient, healthy,

comfortable, well lit, and that contain

amenities needed for quality education.

Below: The exterior of the Dickinson

Independent School District Education

Support Center is shown here.

COASTAL VISIONS - Images of Galveston County

96
---
Located on Galveston Island, the Galveston

National Laboratory at UTMB is home to

the state's only and the world's largest biocontainment

laboratory on an academic campus.

The facility's eight-story, high-security

National Biocontainment Laboratory houses

several Biosafety Level 4 research laboratories

for exotic disease diagnosis and research.

Within the high-tech facility, scientists are

engaged in efforts to translate research ideas

into products aimed at controlling emerging

infectious diseases and defending society

against bioterrorism.

Galveston County also is recognized as a

choice residential location for many who

work in the nation's nearby space industry

at NASA's Johnson Space Center. Today,

Galveston County—a land that was once

explored by those who navigated by the stars

—has become the home of many who in

modern times are navigating to the stars.

In their ongoing mission, NASA scientists

are working on the Orion project to develop

the nation's first interplanetary spacecraft

designed to carry astronauts on long duration,

deep space missions. When paired with additional

propulsion and life support systems,

Orion will eventually be able to take humans

to Mars. Providing a vital component for

testing navigation, rendezvous and docking

operations, the JSC lab supports the development

of spacecraft systems and components

that will help reduce cost and risk during

vehicle production and actual spaceflight.

Visionaries with architectural expertise

were key to nineteenth century Galveston's

reputation for excellence in construction, and

local developers today are continuing this

ongoing quest for safe, sustainable housing

that is pleasing to the eye and a pleasure

to occupy. Combining carefully engineered

infrastructure systems with modern technology

and innovative materials, a number of

county builders are achieving new levels of

security, durability, economy and beauty in

today's homes and public buildings.

Located on the campus of the University of

Texas Medical Branch at Galveston, the

Galveston National Laboratory at UTMB

is an eight-story, high-security National

Biocontainment Laboratory housing biosafety

level 4 research laboratories for exotic

disease diagnosis and research. The GNL is

the largest biocontainment laboratory in

the world on an academic campus. Within

the high-tech facility, scientists are engaged

in efforts to translate research ideas into

products aimed at controlling emerging

infectious diseases and defending society

against bioterrorism. The GNL complements

and enhances UTMB's decades of prominence

in biomedical research, and additionally

provides a world renowned resource for

training researchers in infectious diseases.

The GNL provides specialized research

capabilities to develop therapies, vaccines

and diagnostic tests for naturally occurring

emerging diseases as well as microbes that

might be employed by terrorists.

Chapter 5

97
---
The Quaker City String Band, shown here on

Ship's Mechanic Row in Galveston Island's entertainment district,

traditionally performs in several of the city's Mardi Gras parades,

including "Z Krewe," the "Children's Parade"

and the "Knights of Momus Grand Night Parade."

COASTAL VISIONS - Images of Galveston County

98
---
Above: The Quaker City String Band, which has

performed in the Philadelphia Mummer's Parade

since 1931, plays a big part in Galveston Island's

annual Mardi Gras celebrations. Here, band

members—wearing clown costumes to reflect a

theme of "My Kind of Clown"—are being led by

Jimmy Good as they perform in the Mardi Gras

entertainment district at Old Galveston Square.

Mardi Gras, or "Fat Tuesday," annually brings out

revelers by the thousands who enjoy this traditional

pre-Lenten celebration with parades, balls and other

celebrations. Reinstated in 1985 as part of the plan

to support the re-development of Galveston's

historic downtown district, the event has enjoyed

spirited growth as part of Galveston's commitment

to the parallel and concurrent missions of historic

preservation and encouraging new areas of tourism.

Left: Two members of the Quaker City String Band

wear huge, colorful clown heads as they perform

with banjoes on Galveston Island's

Seawall during the Mardi Gras

Chapter 5

Children's Parade.

99
---
With their fancifully decorated and color coordinated umbrellas, Allison and Bob Brown

were among the participants in the "Funky Uptown Umbrella Brigade" parade. The event

took place during Galveston's 2012 Mardi Gras and marked the continuation of an ongoing

rivalry between Galveston supporters and a Romanian group to secure the Guinness World

Record title for the largest choreographed umbrella dance on the globe. The Galveston event

attracted 1,503 dancers in 2012, setting a new world record as they performed the hokey

pokey in Galveston's Victorian-era downtown entertainment district.

COASTAL VISIONS - Images of Galveston County

100
---
Sustainability, conservation and the minimization

of environmental costs in the county

are being specifically addressed through

such projects as the Dickinson Independent

School Districts Education Support Center.

Containing 5,300 square feet of space,

the structure is a Collaborative for High

Performance Schools (CHPS) facility and is

designed to provide a high performance

environment that is energy and resource

efficient, healthy, comfortable, well lit, and

that contains the amenities needed for

quality education.

Harkening back to the time when Galveston's

successful nineteenth century business leaders

provided incentives for overall economic

development, today's community leaders

similarly seek to provide a catalyst for

Galveston and its economic well-being.

Among Galveston's modern visionaries

are descendants of early Galveston business

magnate William L. Moody. Using the family's

vast resources acquired from cotton trading

and transport, railroads, insurance and

investments, Moody's son William L. Moody,

Jr., granddaughter Mary Moody Northen

and other family members later established

the Moody Foundation and Mary Moody

Northen Incorporated. Today, these organizations

provide generous continuing support

for numerous Galveston area initiatives

related to education, environmental issues,

historic preservation and health care,

especially research on traumatic brain injury.

This night view of The Strand Historic

Landmark District on Galveston Island

illustrates the successful realization of

Galveston leaders' vision to restore and

rejuvenate the city's downtown area.

Where buildings stood dilapidated and

empty only a few decades earlier, residents

and tourists alike now enjoy a vibrant

downtown filled with opportunities for

shopping, sightseeing, dining and

entertainment as well as a

horse and buggy ride.

Chapter 5

101
---
Above: Alongside Offatts Bayou on Galveston

Island, a brown pelican is silhouetted against a soft

background showing a solitary sailboat and Moody

Garden's Rainforest Pyramid. One of the island's

most popular attractions, Moody Gardens includes

a multi-acre resort complex and numerous

educational and recreational attractions.

Right: Completed in 1895, the 2,800-square-foot

Moody Mansion was the home of William L.

Moody, Jr., and his family. Based initially on

cotton, the financial empire established by Moody

grew to include banking, ranching, insurance and

hotels. Mr. Moody purchased the house just after

the 1900 storm, and members of the Moody

family went on celebrate more than eighty

Christmas seasons there. Containing many of the

Moody family's furnishings and personal effects,

the four-story structure has been fully restored,

and visitors can tour numerous areas that depict

the elegant life of a powerful Galveston family.

Opposite: As seen from Eagle Point in

San Leon, the rising sun illuminates a handful

of broken shoreline pilings as they jut out into

the water. The distant ship on the horizon is

heading out to sea.

COASTAL VISIONS - Images of Galveston County

102
---
Chapter 5

103
---
Incorporating advanced technology and

materials, Beachtown on Galveston Island's

East End combines traditional style with

easy maintenance in a pedestrian-friendly

community that includes individual homes

and townhomes.

The eponymous Moody Gardens, which

had its inception in providing care and rehabilitative

therapy for those suffering from

brain injury, has grown to include a nationally

recognized center for education, recreation

and large meetings of all types. Among the

most popular destinations in the Houston-

Galveston area, the complex includes a

luxurious hotel and convention center, lush

gardens, aquarium and rainforest pyramids,

MG3D, 4D and Ridefilm theaters, exhibits

and venues in which visitors can observe

live animals—including penguins—in re-creations

of their natural habitats, a fresh water

"beach" and rides on a life-size steamboat.

Another Galveston visionary whose early

altruistic work continues to benefit Galveston

today was Harris Kempner. Originally from

Poland, Kempner made his way from New

York to Galveston, from where he expanded

his business interests throughout Texas

and established another of the state's great

nineteenth century fortunes. Today, descendants

of the original Kempner family and

others work through the Harris and Eliza

Kempner Fund to improve the general

welfare of the community, especially in

those areas concerned with securing and

maintaining equal rights and promoting

programs of education and healthcare.

COASTAL VISIONS - Images of Galveston County

104
---
Proudly waving in the late afternoon light,

a large American flag displays its colors in

front of the Bolivar Lighthouse base.

Visionaries in Galveston also include those

who are dedicated to helping the county realize

the future financial potential of rediscovering

its past. Through special events and the rehabilitation

of historic structures, local citizens

throughout the county today are developing

an emerging and profitable industry around

the fast-growing business of historic tourism.

Among those groups providing a major

impetus for restoration efforts on Galveston

Island is Mitchell Historic Properties, whose

guidance is provided by members of the family

of George Mitchell, a leader in the development

of Texas energy and one of Galveston's

most prominent visionaries of modern times.

Chapter 5

105
---
Screams

of delight and terror

fill the air as the Silver Bullet

wooden roller coaster careens down

its track at the Kemah Boardwalk. One of

Galveston County's most popular entertainment

venues, the Kemah complex includes

educational and entertainment

options plus a variety of

dining and shopping

choices.

COASTAL VISIONS - Images of Galveston County

106
---
This stunning lighthouse

replica is a popular landmark

in the Kemah Lighthouse

District and signals that

visitors are closing in on

the area's boardwalk,

shops and restaurants.

Chapter 5

107
---
A chain-saw pelican carved

from yellow pine is among

the items available at the

Eagles' Nest in Kemah

As a Galvestonian himself, Mitchell was

among the first to see the economic potential of

revitalizing his aging hometown and turning it

into a unique destination for tourists and a

viable commercial venture for the residents of

his home community. Instrumental in the rescue,

rebuilding and revitalization of Galveston's

historic downtown, Mitchell also was a catalyst

in the reactivation of Galveston Island's Mardi

Gras celebration. Now celebrated in several

additional communities, the pre-Lenten event

each year attracts thousands of tourists and

local residents alike, who participate in

parades, balls, parties and other festivities.

One island-based group known as the

"Funky Uptown Umbrella Brigade" took the

concept of visionary to a new level during

Mardi Gras 2012, when 1,503 costumed

revelers—dancing the "Hokey-Pokey" in

unison—secured the Guiness World Record

title for the largest choreographed umbrella

dance in the world to date.

Other Galveston County residents have

realized such visionary goals as establishing an

80-acre wildlife park that serves as a refuge for

fifty different species of animals, or turning the

sleepy, bay-side fishing village of Kemah into

a giant wonderland of carnival-style amusements

with a scenic boardwalk, restaurants

and shops. It also includes an educational area

that features a historic School House Museum.

For historian A. Pat Daniels, the vision was

more personal—to ensure that the SS Selma, a

concrete World War I oil tanker, was accorded

her rightful place in Galveston history.

After striking a jetty in Tampico, Florida, only

a year after its initial launch in 1919, the

Selma was towed back to Galveston. Without

knowledge of how to repair her, the government

decided to scrap the unusual vessel, and

she was taken to her final resting place near

Pelican Island's eastern shore, where she

remains today. In 1992, however, she was

purchased by Daniels, a former reporter and

editor for the Houston Chronicle, the Houston

Post and Galveston's The Daily News. Thanks

to his efforts, the Selma is now listed in the

National Register of Historic Places, has been

designated a state archeological landmark by

the Texas Antiquities Committee and is recognized

with a Texas Historical Commission's

Official Texas Historical Marker.

COASTAL VISIONS - Images of Galveston County

108
---
Above: The School House Museum in the

Kemah Lighthouse District occupies a

vintage school building, originally located

on Highway 146. Relocated to its present

site, the structure has been restored as a

museum and visitor center.

Left: A whimsical painting of teacher and

pupil adorn this plywood cutout in front of

The School House Museum in the Kemah

Lighthouse District.

Chapter 5

109
---
Among Galveston's most visionary projects,

the rescue and restoration of the 1877

iron barque Elissa was one that focused

international attention on the importance

of maritime historic preservation. Here, the

National Historic Landmark motors out to

the Gulf of Mexico from the Bolivar Roads.

The smoke through which she is moving is

the result of a grass burn-off on the nearby

Bolivar Peninsula

Today, Galveston County's continuing

progressive leadership, professional opportunities

and an enterprising yet relaxed way of

life are in the forefront as its citizens focus on

a future of continuing progress and prosperity.

Known for their commitment to the

celebration of diversity and the ability to

embrace challenges as well as opportunity,

the people of Galveston County maintain a

"can-do" spirit that is constantly looking for

paths to a better tomorrow.

Hard-working, fun-loving, mindful of its

past, supportive of its future—it is a county of

peoples whose history of success is based on

centuries dedicated to new beginnings and

dynamic, innovative leadership. Like the forces

of nature that through the ages have carved its

beaches and bays and molded its coastal plains,

the vision of Galveston County's people is

based on invention and re-invention—ebbing

and flowing, reaching and growing—and the

awareness that always, there is the sea.

COASTAL VISIONS - Images of Galveston County

110
---
Kissed by the incoming tide at sunset,

a Lightning Whelk shell is a treasured find

on Galveston Island.

Above: The SS Selma, a concrete World

War I oil tanker, rests of the sandy bottom

along Pelican Island's eastern shore. After

striking a jetty in Tampico, Florida, only a

year after its initial launch in 1919, the

Selma was towed back to Galveston.

Without knowledge of how to repair her, the

government decided to scrap the vessel and

she was taken to her final resting place

where she remains today. In 1992, the SS

Selma was purchased by historian A. Pat

Daniels, a former reporter and editor for

the Houston Chronicle, the Houston

Post and Galveston's The Daily News.

Thanks to his efforts, the Selma now is

listed in the National Register of Historic

Places, has been designated a state

archeological landmark by the Texas

Antiquities Committee and is recognized

with a Texas Historical Commission's

Official Texas Historical Marker. Despite

her compelling history, she is best known

today as marking the location of one of the

area's most popular fishing spots for

flounder and trout.

Chapter 5

111
---
COASTAL VISIONS - Images of Galveston County

112
---
This view of historic downtown Galveston from the

harbor shows architecture that spans the centuries

while embracing a vision for the future. The high-rise

American National Insurance Building stands in stark

contrast to the 1877 tall ship Elissa at dock.

Chapter 5

113
---
COASTAL VISIONS - Images of Galveston County

114
---
Galveston

Partners

Profiles of businesses,

organizations, and families that have

contributed to the development and

economic base of Galveston

Quality of Life ...........................116

The Marketplace ........................136

Building a Greater Galveston .....162

GALVESTON PARTNERS

115
---
Quality of Life

COASTAL VISIONS - Images of Galveston County

116
---
Healthcare providers, school districts,

universities, and other institutions

that contribute to the

quality of life in Galveston

The Grand 1894 Opera House......................................................118

Moody Gardens ® ........................................................................120

Moody Gardens ® Golf Course

Moody Gardens ® Hotel ..........................................................121

Texas City Independent School District .........................................122

Texas A&M University at Galveston .............................................124

College of the Mainland..............................................................126

City of La Marque .....................................................................128

Galveston College ......................................................................129

City of League City....................................................................130

Abundant Life Christian Center ...................................................131

Beachtown ................................................................................132

SCENIC GALVESTON, Inc...........................................................133

City of Texas City......................................................................134

Gulf Greyhound Park .................................................................135

QUALITY OF LIFE

117
---
THE

GRAND 1894

OPERA HOUSE

Above: The exterior view of The Grand

following Hurricane Ike renovations, 2009.

PHOTOGRAPH COURTESY OF THE OPERA HOUSE STAFF.

Below: A view of the interior of The Grand

1894 Opera House, orchestra level, 2010.

PHOTOGRAPH COURTESY OF MARK BRITAIN.

Although William Shakespeare held forth

that "All the world's a stage," Galveston's Grand

1894 Opera House holds forth a stage for all

the world.

Surviving fire, flood, hurricanes, changing

public taste and neglect, the historic landmark

theatre has, for more than a century,

welcomed a cast of performers and productions

ranging from internationally renowned

warblers to local tots in tap shoes. Young and

old, professional and amateur, onstage and off,

thousands have played both major and

supporting roles in its colorful history.

Following its opening on January 3, 1895,

Anna Pavlova, William Jennings Bryan,

Ignace Paderewski and Sarah Bernhardt were

among those who graced The Grand's stage

during its early years. More recently, Tommy

Tune, Bernadette Peters, Hal Holbrook, Willie

Nelson and Itzhak Perlman have filled the

house. Despite such star power, however,

The Grand's mission also traditionally has

included serving its community as a performance

venue for local graduations, recitals and

other events.

Constructed in a mere seven months and

built at the behest of the local business

community, The Grand complex originally

included shops and a hotel in addition to the

luxurious theater that boasted box seats,

state-of-the-art acoustics, and a thirty-eight

by thirty-six foot proscenium stage.

Such "thespian temples"

were considered a must for

any self-respecting nineteenth

century city of note,

and served as a center of culture

and civic activity. As

Galveston in the late 1800s

was the most prosperous

and progressive city in the

state, it had the ability—and

some would say, the duty—

to offer the best in theater

facilities and entertainment.

According to one historian,

there was a saying that if a

traveling stage production

had not "played The Grand,"

it had not played Texas.

Yet, as with many great

dramas, The Grand's life

has included both triumph

and tragedy. Although today

it holds the title of "The

Official Opera House of the State of Texas," the

elegant structure was just over five years old

when Galveston's "Great Storm" of 1900 left

it partially destroyed. Despite major damage,

however, the importance of having a theatre in

Galveston's downtown area was such that

crews went to work almost immediately, and

The Grand reopened in slightly over a year.

As the twentieth century progressed, a new

threat emerged as motion pictures more and

more supplanted traditional stage productions

COASTAL VISIONS - Images of Galveston County

118
---
in popularity. Although such greats as Tex

Ritter (with his horse), George M. Cohan and

the Ziegfeld Follies continued to play "live" at

The Grand for a number of years, sequential

efforts to remodel it into a "movie house"

during the first half of the 1900s resulted

in the obliteration of many of its original

features. As its usage evolved, The Grand's

ownership and management changed also,

and over the years, it was renamed first the

Martini Theater and then the State Theater.

Falling into disrepair during the 1960s,

the theater was closed in 1974. Recognizing

that demolition was a possibility, a group of

concerned citizens formed a grass-roots

preservation effort, and purchased the property

that same year.

A first priority was to make the facility

usable. After completing enough repair to

prevent further deterioration and make it

stageworthy—and despite dust, mold, limited

seating and inadequate heating and air

conditioning—the venue began offering a

limited bill of entertainment while supporters

set about raising money for what became a

twelve year, $7 million restoration project.

The Grand's next decade was filled with

painstaking research and hard work as

preservation architect Killis P. Almond, FAIA,

spearheaded the restoration project. Photos

were studied, and original features discovered

under layers of sheetrock and paint. A

remnant found on a balcony floor was used

as a pattern to weave replacement carpeting,

and lost and damaged woodwork was

replaced with vintage lumber from Virginia.

On January 18, 1986, The Grand raised

its new scenic curtain on a gala re-opening

performance by Steve Lawrence and Eydie

Gormé. Enthusiasm was such that the theater's

attendance and offerings quickly

expanded. In 1989 a "Serious Fun" program

was introduced for children, which grew to

include The Grand Kids Festival.

Marking its own centennial with a community-wide

celebration on January 3, 1995, and

the commemoration on September 9, 2000, of

Galveston's recovery after the 1900 storm, the

dawn of The Grand's second 100 years was

bright with expanded programs and facilities.

Annually, some 200 bookings attracted over

100,000 patrons, of which it was estimated

eighty percent came from "off the island."

In October 2007 a major capital campaign

was introduced, which included a Sidewalk

of Stars initiative, to help provide ongoing

support. The Grand's future seemed secure.

Less than twelve months later, however,

Hurricane Ike roared ashore, and along with

much of Galveston Island, The Grand suffered

major damages. In an outpouring of

support, patrons and performers from near

and far offered assistance and rearranged

show dates.

With Jerry Jeff Walker

scheduled to perform at The

Grand on January 3, 2009—

an exact 114 years after The

Grand's inaugural opening—

that became the target date

for The Grand's post-Ike

debut. Amid a flurry of

rebuilding that consumed

the next ninety-two days,

executive director Maureen

Patton—in typical "the show

must go on" style—told contractors,

"We don't have to be

finished; we just have to be

ready [to re-open]." Patton

knew The Grand would serve

a vital role in the healing of

the Galveston community,

and the quick re-opening

brought needed visitors back

to the Island, contributing to

economic recovery as well.

Today, The Grand is once

again at the state's cultural

forefront as it shares the

magic of live theatre with ever wider audiences.

Even its beloved nine foot Steinway

concert piano, which during Hurricane Ike

was submerged in ten feet of sewage-contaminated

salt water, has been given a new role to

play. After its rescue from the flooded orchestra

pit, the instrument's inner golden harp

was refinished and, under the gifted touch of

Galveston metal artist John Weber, transformed

into a sculptural masterpiece that

today holds its own center stage as The

Grand's elegant conference room table.

Maureen M. Patton, executive director of

The Grand, seated at the Steinway piano

conference table. The table was crafted from

the remains of The Grand's nine foot

Steinway piano destroyed by Hurricane Ike.

PHOTOGRAPH COURTESY OF JOHN GLOWCZWSKI.

QUALITY OF LIFE

119
---
MOODY

GARDENS ®

Above: Moody Gardens property.

Below: Cotton-top Tamarins in the Moody

Gardens Rainforest Pyramid.

Visit a tropical rainforest. Explore four

different oceans of the world. Attend a

function or simply relax at the onsite AAA

four-diamond rated hotel, convention center

and spa. Play a round of golf at one of the

most scenic courses in Texas.

Relax on white sandy beaches and dip a

toe in the crystal blue waters of a beautiful

lagoon. Enjoy a film at the 3D, Ridefilm or

4D Special FX theaters or go cruising on the

Colonel Paddlewheel Boat. Choose from a

variety of casual or fine dining options at one

of Moody Gardens' restaurants.

And do it all in one place—Moody

Gardens ® , one of Texas' most popular and

unique tourist destinations with more

than two million visitors every year.

Located on Galveston Island and

saturated in botanical beauty, Moody

Gardens ® is a 242-acre educational and

leisure resort that truly has something

for everyone. The most unique options

are located inside three magnificent pyramids

that punctuate the resort's skyline.

The centerpiece is the Rainforest

Pyramid ® , ten stories of clear glass reaching

skyward and home to a living tropical rainforest

complete with crashing waterfalls,

trees, caverns, flora and fauna. An amazing

variety of wildlife and a new, dramatic

tree-top canopy entrance and trail offers

guests a "bird's eye" view of this truly breathtaking

experience. Free-roaming Cotton-top

Tamarins, Saki Monkeys, Two-toed Sloths,

exotic birds and butterflies are often just a few

feet away. Other new exhibits get guests close

to other endangered animals including an

ocelot, frogs and many other reptiles and

animals for a rainforest experience like no

other. The new canopy entrance and tree-top

trail is just one part of a massive $25

million enhancement project, which

was completed in the spring of 2011.

Opened in 1999 with an original

price tag of $50 million, the Moody

Gardens Aquarium Pyramid ® is one

of the largest and most fascinating

aquariums in U.S. with 1.5 million

gallons of water playing host to more

than 10,000 marine animals ranging

from penguins and seals to sharks and

thousands of tropical fish. In addition

to four exhibits representative of the

four points on the compass—the

North Pacific, South Pacific, South

Atlantic and Caribbean—there are

also tide pools, "touch tanks" and

unique viewing opportunities as well as

underwater classrooms and learning experiences

for guests of all ages within the tenstory

tall structure of blue glass.

Other exciting attractions at Moody

Gardens ® include the Discovery Pyramid ®

where visitors can experience the mysteries

of science through a myriad of interactive

exhibits; an extraordinary 3D Theater with

a giant six-story screen; a Ridefilm Theater;

a man-made, but beautiful tropical beach

surrounded by blue lagoons; the Colonel

Paddlewheel Boat; a seasonal holiday ice

skating rink; a seasonal Festival of Lights;

and a full menu of unique dining and

shopping opportunities.

Moody Gardens ® began in the mid-1980s

with a horse barn, a riding arena with a hippotherapy

riding program for people with head

injuries and an extraordinary vision to create

an island tourist destination. Today Moody

Gardens ® is one of the premier educational/

leisure facilities in the Southwest. It also provides

horticultural therapy as well as education

and employment for persons with a wide range

of physical and emotional disabilities.

For more information, call 800-582-4673

or visit online at www.moodygardens.com.

COASTAL VISIONS - Images of Galveston County

120
---
MOODY

GARDENS ®

GOLF COURSE

Moody Gardens ® Golf Course is an above

par golf course named by Golf Digest as one

of America's Top Ten Newly Renovated

Courses and one of the Most Scenic and

Best Outlying courses in the Houston area

by Houstonchron.com Golf Guide.

Formerly known as the Galveston

Municipal Golf Course, the 2008 redesigned

course is the inspired product of the

renowned architects of Jacobsen Hardy

Golf Course Design. The facelift represents

a $16-million contribution to the city

by Moody Gardens ® and the culmination

of a vision to provide a first-class public

golf course for residents and visitors. It is

owned by the City and managed by

Moody Gardens ® .

Fully clad in Paspalum turf—a playing

surface especially designed for seaside

courses—Moody Gardens ® creates a tropical

air with eighteen holes meandering through

upland and lowland native areas as well

as the natural wetlands habitat of beautiful

Sydnor Bayou and perfectly accented with

more than 500 palm trees.

For more information or to schedule

a tee time, call 409-683-GOLF or visit

www.moodygardensgolf.com.

Moody Gardens golf course.

Moody Gardens ® Hotel, Spa and Convention

Center does not just sit amidst the magic of

Moody Gardens ® , it is an integral part of it.

This AAA Four-Diamond hotel features

428 spectacular guestrooms, two restaurants,

bars, a spacious convention center, tropical

pool, full service spa and many other

amenities. The hotel is designed to perfectly

mirror the botanical beauty of

Moody Gardens ® .

Among the finest accommodations

on Galveston Island, each guestroom

features stunning panoramic

views and indulgent amenities.

For those planning a meeting, convention,

memorable wedding or

other special event, the Hotel

Convention Center includes more

than 100,000 square feet of state-ofthe-art,

custom-designed function

space with a professional sales and

catering staff to handle every detail.

Speaking of catering, the hotel

employs one of Galveston's finest

executive chefs and culinary teams

serving event attendees, hotel guests and

patrons of both Shearn's Restaurant; an

upscale AAA Four-Diamond dining experience,

and The Terrace Restaurant, which

offers delicious fare in a tropical setting is

designed to bring the outside indoors.

For more information, call 409-741-8484 or

visit online at www.moodygardenshotel.com.

MOODY

GARDENS ®

HOTEL

Moody Gardens Hotel lobby.

QUALITY OF LIFE

121
---
TEXAS CITY

INDEPENDENT

SCHOOL

DISTRICT

It may take a village to raise a child, but it

also takes the whole community to educate one.

Fortunately, the Texas City Independent

School District (ISD) and its loyal community

figured that out years ago. As a result, the

school district made up of 30,000 residents

and 5,500-plus students is not only fully

accredited by the Texas Education Agency, but

has also carried the Accountability Rating of

"Texas Education Agency Recognized School

District" and has consistently met Adequate

Yearly Progress or AYP-requirements as

defined by the United States' federal No Child

Left Behind Act.

"Much of our school district's success is

due to the recognition that it takes a cooperative

effort among educators, students, parents

and the entire community to create a school

system that works," former Superintendent of

Schools Bob Brundrett, Ph.D., said during a

2011 interview. "And, time and time again,

such a shared commitment has made a huge

difference in the lives of our students."

A good example of this shared commitment

came in November of 2007 when a

committee of 125 community members diligently

studied facilities, made suggestions and

informed residents about the needs of the

local school system. As a result, the people of

Texas City overwhelmingly passed a school

bond election for more than $122 million,

which has paved the way for multiple

improvements and additions to the school

system from a brand new intermediate school

and elementary school, both of which opened

in August of 2009, to the Simpson Education

Support Center and a new high school, which

opened doors in 2011.

In addition to the newly opened or planned

schools, Texas City ISD includes a Pre-K Head

Start Program and four elementary schools for

students kindergarten through fourth grade—

Heights Elementary, Kohfeldt Elementary,

Northside Elementary and Roosevelt-Wilson

Elementary. There is also Levi Fry Intermediate

for students in grades five and six, Blocker

Middle School for students in grades seven and

COASTAL VISIONS - Images of Galveston County

122
---
eight, and Texas City High School for those in

ninth through twelfth grade. Improvements

have been plentiful for these existing system

schools as well as the system's technology

infrastructure and athletics facilities all seeing

complete renovations and major upgrades

from the 2007 school bond.

The school system has an assessed value of

more than $3.5 billion and a trophy case

teeming with local, state and national awards

that have been bestowed upon its schools,

students and staff throughout the years.

Many of its graduates have gone on to write

and direct world-renowned movies, play professional

sports, lead military units and preside

as judges in courts. They have become

doctors, lawyers, business owners, mayors

and teachers; and many have returned to

Texas City to raise their own children who

are now on their path to success.

And, yet, those responsible for the Texas

City ISD refuse to allow the system to rest on

its laurels.

"We are devoted to continuous improvement

in every area of our school system and

to our guiding principle, 'Every Child Will

Learn'," Dr. Brundrett said. "It is in pursuit of

this fundamental belief that we focus all of

our efforts in preparing our individual students

for their future by building relationships,

making learning relevant and rigorous

and developing each student's unique talents

and skills."

In addition to its regular curriculum-driven

academic programs, Texas City ISD has a

special Gifted and Talented Program available

to develop the intellectual and creative

potential in K-12 students who indicate a

need to go beyond the regular curriculum.

There are also programs and support for

second-language learners, those who need

extra academic assistance in order to succeed.

Complementing these top-notch academic

programs, the Texas City ISD additionally

offers many extracurricular and co-curricular

activities from clubs, job partnerships,

fine arts, athletics, vocational skills programs,

dance team or cheerleading to

help motivate students to reach their

potential. Additional opportunities are

provided through The Foundation for

the Future—a nonprofit, tax-exempt

and independently registered community-based

organization which promotes

enrichment, innovation and excellence

in education throughout the school system.

With the steadfast belief that there

is a strong correlation between the quality

of life in a community and the quality of an

educational system, the Foundation's goal is to

make up the difference in funds needed to provide

an even higher quality of education to

Texas City students and, in fact, to date has

awarded more than $1 million in grants to

teachers for innovative programs that enhance

the educational environment.

"Public schools have helped to create our

community and will continue to be the

backbone of the future work force as long as

we ensure that they remain among the best in

the nation," said Foundation Executive

Director Deborah Laine. "Come see what

can happen when a community and school

district work together."

For more information on the Texas City

ISD, visit online at www.tcisd.org.

QUALITY OF LIFE

123
---
TEXAS A&M

UNIVERSITY AT

GALVESTON

Above: The 135-acre George Mitchell

campus of Texas A&M University at

Galveston on Pelican Island.

Opposite, top: Marine Biology doctoral

students Sarah Piwetz and Sylvia Bonizzoni

survey the Galveston Ship Channel for

dolphin activity.

Opposite, bottom: Kathryn Perry, Texas

A&M University at Galveston class of

2011, serves at sea today as a Merchant

Marine Officer.

On the Gulf of Mexico coast near the

Houston, Texas, ship channel, generations

of a special campus community have

gathered to teach and learn about the sea.

This community, Texas A&M University at

Galveston, has populated research laboratories

and expeditions, marine and military

vessels, boardrooms and classrooms of

the world.

With nearly 2,000 students, TAMUG is

an integral branch of the internationallyacclaimed

Texas A&M University. Celebrating

its fiftieth anniversary, TAMUG proves its

worth as a premier university for ocean and

coastal studies. Its impact upon the State of

Texas, coastal communities of Texas, the

business, industries and enterprises of the

entire U.S. Gulf of Mexico is far reaching.

At its 130 acre campus on Pelican Island—

adjacent to the Galveston ship channel

near the mouth of Galveston Bay—TAMUG

creates a small college atmosphere offering

remarkable marine and maritime academic

and research experiences. In addition to

academic degrees, TAMUG offers outreach

programs ranging from Sea Camp for

school-aged students to Roads Scholars

for seniors.

This by-the-sea campus environment

complements unique curricular offerings

with nationally recognized and accredited

programs. TAMUG provides ocean-oriented,

four-year courses and graduate programs

preparing students for excellence in business,

oceanographic and physical sciences, biological

sciences, engineering and transportation,

administration and liberal arts.

In recent years, TAMUG consistently

ranked among the top ten public universities

in Texas (in research grant dollars generated

per full-time faculty researcher).

Additionally, TAMUG is home to the Texas

Maritime Academy, one of six state maritime

academies in the United States and the

only mariner-licensing program on the Gulf

of Mexico.

In fact the branch campus owes its existence

to Galveston community's desire to establish a

U.S. maritime academy in Galveston.

The academy provides students all the

training required by federal law to obtain a

U.S. Coast Guard unlimited tonnage license

(deck/engine) in the Merchant Marine along

with a bachelor's and master's degree from

a tier one university. Other opportunities

include the Strategic Sealift Officer Program

(SSOP), in which qualified cadets attend

Naval Reserve Officers Training Corp courses

(NROTC), which lead to a commission in

the Naval Reserves. These cadets are also

COASTAL VISIONS - Images of Galveston County

124
---
eligible to receive $8,000 per year in student

incentive program (SIP) funds. Inter-service

transfers to other branches of the military are

also possible. The Texas Maritime Academy

Corps of Cadets also offers the naval Reserve

Officers Training Corps (NROTC) for students

who desire to receive an active duty

commission in the Navy.

At the heart of the academy and the entire

learning community of TAMUG is respect

for traditions, the sea and each other. In his

book, Aggies by the Sea, Regents Professor

Stephen Curley describes the spirit and

traditions of TAMUG.

"Texas A&M University at Galveston is of,

for, and by the sea. It combines its love for all

aspects of the ocean with the traditions of

Texas A&M University to bind and define its

extraordinary community of 'Sea Aggies.'"

QUALITY OF LIFE

125
---
COLLEGE OF

THE MAINLAND

Above: COM students walking on Eckert

Lake trail.

Below: Faculty and staff members.

College of the Mainland has a firm grasp

on the ABCs of higher education in Galveston

County. At COM, one of the area's fastest

growing local colleges, A is for affordable,

accessible and applicable programs; B is for

a better and brighter futures; C is for

community interaction and inspiration; D is

for diverse campus and curriculum; and E is

for "Education for Everyone."

From opening day on September 14, 1967,

with 414 students meeting in a renovated high

school, COM has grown to an annual enrollment

of more than 4,000 credit and 10,000

continuing education students who enjoy a

modern, centrally-located main campus of

approximately 120 acres in Texas City, plus a

second smaller campus known as Learning

Center-North County in League City.

Students are the focus at COM, and the

college is known for its progressive, proactive

approach to higher education. Offering one of

the state's most affordable tuition structures,

COM also provides financial assistance to

qualified students through scholarships,

grants and work-study programs. To ease

scheduling difficulties, weekend and online

courses are available in some areas of study.

Even the enrollment center is designed for

student convenience, and offers a "one-stopshopping"

point of entry, with comfortable

seating, a small play area for children, registration

and cashier stations, and a dozen

semi-private computer carrels for use by

students during the enrollment process.

Offering courses that range from fine arts

and nursing to industrial arts and law enforcement,

COM's programs have garnered local,

regional and international recognition.

Accredited by the Southern Association of

Colleges and Schools, COM is widely recognized

for academic excellence. Its Process

Technology Program is the first in the nation to

offer an associate degree in PTEC and has been

recognized by the state as setting the standard

for all similar programs. The school's Nursing

and Allied Health Program graduates frequently

score a 100 percent pass rate on national

exams, and the Pharmacy Technician Program

has recently received national accreditation.

Programs holding state accreditation include

Police and Fire Technology, Real Estate,

Cosmetology, Nursing and Allied Health

Education. COM's Child Development Lab

School was the first in Galveston County to

receive national accreditation, and its Partners

in Alternative Certification for Teachers

Program provides a short-track option for

those holding non-education degrees who

want to become accredited educators.

Additionally, qualified local high school students

can "get a jump" on a career or further

education through COM's Dual Credit Program.

Operating in cooperation with area school systems,

this program allows teens to take courses

for credit at COM during their high school

COASTAL VISIONS - Images of Galveston County

126
---
years. As a result, a number of area young people

have received their associate degrees or

professional certifications from COM prior to

their high school graduations. Those going on

to four year colleges and universities have often

found that the course work they completed at

COM allows them to obtain advanced placement

or enter at a second-year level.

Older students often enroll at COM to

complete requirements for deferred or second

careers, or to help themselves move up in

their current professions. Others just want to

learn for learning's sake by enhancing their

knowledge in fields that have long interested

them. One recent student had not been in a

classroom for forty-two years before enrolling

in COM's Process Technology program, but

two days after turning seventy-two—and with

a grade point average of 3.7—he received his

Associate of Applied Science degree. One of

the nation's oldest community college honors

graduates, he was inducted into Phi Theta

Kappa, the international honors society.

COM also serves low-income, first-generation

college-bound students through its TRiO

Upward Bound Program. With funding provided

by the U.S. Department of Education,

TRiO combines a rigorous program of course

work with special academic support and

culturally enriching activities. This program's

success is affirmed by the number of

participants who have gone on to

enroll at community colleges and

four-year universities.

Just as COM attracts a diverse mix

of students, it offers a diverse selection

of courses, and also works with

local business and industry to ensure

that its programs are attuned to

current employment opportunities.

Nursing and healthcare programs are

the most popular, but there are also

courses for graphic arts and design,

drafting, civilian firearms, security

and loss prevention. For the business-minded,

there are accounting,

bookkeeping, and computer technology

courses; languages offered

include Spanish, Chinese, Arabic

and even sign language. The industrial

technology program features

welding, machinist/millwright, electrical,

air conditioning and heating.

COM's Risk Management Institute's

safety classes are available free of

charge to employers, employees and

the general public. For those who

wish to study abroad, faculty-led

tours are also open to the public,

with participation on a credit or

non-credit basis.

COM's bond with the central

Galveston County area extends far

beyond traditional education, however.

Individually and collectively,

its students, faculty and staff participate

in a number of civic projects

and charities. The pleasant, parklike

campus serves as a recreational

area for local citizens, and the

school also provides a cultural center

for the community with activities

that include lectures, art exhibits,

concerts and theatrical productions. In addition

to continuing education courses, COM's

Senior Adult Program for those older than

fifty-five offers field trips to local and out-oftown

destinations, in addition to courses in

computer skills, bridge, Spanish, art, line

dancing, yoga, Pilates and tai-chi and water

exercise classes at COM's indoor, heated pool.

Above: COM offers workforce training.

Below: COM students in the

Enrollment Center.

QUALITY OF LIFE

127
---
CITY OF

LA MARQUE

Above: Highland Bayou Park.

PHOTOGRAPHY BY STEVEN RAMIREZ.

Below: Gulf Greyhound Park, La Marque.

Located at the geographic center of

Galveston County, the City of La Marque is

"right on the mark" when it comes to

blending small city charm with modern

convenience and life-style.

La Marque's favorable location has been

apparent since its earliest days, when it was

known as Buttermilk Station, a name taken

from the Civil War practice of soldiers'

stopping off to purchase buttermilk on their

marches between Galveston and Houston.

With only six families in 1867 and an economy

based on dairy products and agriculture,

the town grew from 100 to 175 people during

the 1890s and included several fruit farms, a

Baptist church and a small school with fourteen

students. It was during this time that the

community, which also had become known as

the Highlands for its location near Highland

Bayou, was renamed La Marque by postmistress

Madame St. Ambrose. By 1914, four

railroads served the community, and the population

had grown to 500. In the ensuing years

of the twentieth century, business and commerce

expanded to include over 300 businesses

and a population of more than 14,000.

Today, La Marque's proximity to Houston's

Clear Lake region and the coastal cities of

Galveston and Texas City provides a rare

opportunity for its residents to enjoy the best

of two worlds—a community where family

life is prized and neighbors know one another's

names combined with easy access to

employment and business opportunities.

Known for its low cost of living, La

Marque is ideal for business and residential

investment. Much open acreage has modern

infrastructure already in place for future

development, and it is proximally located

to major land, air, rail and sea routes that

connect it to the world. A twenty-four acre

retail plaza and the revitalized downtown

area offer diverse shopping experiences

and housing choices range from historic

homes to new construction. Residents

include young families with modest bungalows,

couples with growing families and

needing larger homes close to good schools

and recreational facilities, and retirees who

want a peaceful community with easily

accessed medical care.

Recognized also for educational excellence,

La Marque students are served by

several public school districts, private

schools and academies. Higher education

is provided by College of the Mainland,

Galveston College and Texas A&M-Galveston.

La Marque is not limited to all work and

no play, however. Tourism in La Marque

took a major leap in the 1990s with the

construction of Gulf Greyhound Park, the

world's largest dog racing track. Additionally,

Highland Bayou Park offers 230 acres

dedicated to baseball, basketball, tennis,

playground and pavilion facilities, a fishing

pier, wetlands for bird watching and hiking,

Other local favorites include horseback

riding, camping and water sports.

COASTAL VISIONS - Images of Galveston County

128
---
GALVESTON

COLLEGE

Many institutions of higher learning talk

about being an educational beacon, but

Galveston College has the lighthouse to prove it.

From its earliest days in 1967, when it

began classes with a single building—the

refurbished St. Mary's Orphanage—and a

modest curriculum, the school has endeavored

to be "a beacon of light, guiding lifelong

learning" for local residents. Today, occupying

a twelve acre complex and offering programs

in many of the nation's fastest growing

academic disciplines, Galveston College also

displays the historic cupola from Galveston's

South Jetty Lighthouse, on loan "for use in

perpetuity" from the U.S. Coast Guard.

Such affirmation has been a constant

throughout Galveston College history. The

announcement of its founding garnered

front-page headlines in the December 1, 1966,

Galveston County Daily News, and many of the

school's educational and athletic programs, as

well as additions to the campus itself, reflect

the mutually supportive relationship between

the school and its home community.

With a central focus on training for careers,

not just jobs, and in keeping with its informal

motto of "Go for it," Galveston College offers

numerous two-year degree programs and a

variety of one-year programs and short-term

certifications that can lead to career opportunities

both on and off the island.

Concentrating on such diverse areas as

healthcare, information technology, business,

culinary arts and technical training, the institution

is dedicated to "building Galveston, one

mind at a time," and aggressively creates accessible

learning opportunities to fulfill individual

and community needs by providing highquality

educational programs and services. In

a departure from traditional curricula, an

innovative two-year welding degree program is

geared to local employment, and an associate's

degree program in industrial systems is helping

resupply the local workforce in these areas.

Aware of the importance of addressing the

shifting economies of its home community,

Galveston College also is a leader in distance

education. It is one of the few colleges in the

United States offering online courses in cutting-edge

disciplines such as computerized

tomography and magnetic resonance imaging.

Members of the community join in college

activities through public lectures and continuing

education and leisure learning courses.

School athletic teams, known as the

"Whitecaps," participate in numerous intercollegiate

sports under the National Junior

College Athletic Association and the Region

XIV Athletic Conference.

Supported by state funding, local taxes

and tuition, Galveston College is one of the

most affordable higher education opportunities

in Texas. Additionally, the Galveston

College Foundation has for more than a

decade offered Universal Access, a "free

tuition program" for local high school, homeschooled

and GED graduates. For additional

information visit www.gc.edu.

QUALITY OF LIFE

129
---
CITY OF

LEAGUE CITY

Clockwise, starting from the top:

A creekside view.

Heads up.

Helen's Garden in League City's

Historic District.

Boutique shopping in League City.

The citizens and leadership of League City

have every right to be proud. After all, the

community they call home has been designated

one of the 100 Best Small Cities in America

and its burgeoning population is proof that it

is deserving of this title.

Encompassing fifty-five square miles in

Galveston County, League City's population

growth over the past two decades has been

nothing short of phenomenal. The population

has risen four to six percent every year while

growth for the rest of the state has averaged

less than two percent annually. With a current

population estimated at 83,500, the city is the

largest in the county.

Though it lies within the Houston metropolitan

area, League City has much to offer in

its own right. Aerospace, petrochemicals,

healthcare, upscale commercial, boating and

visitor attractions make up the majority of its

economic base and household income levels

and educational profiles are well above the

Houston-area average.

And, simply put, it is beautiful. League

City is home to the luxurious South Shore

Harbor Resort area with its yacht-filled marina.

Its Main Street area is more like a city in a

park—with majestic oaks lining both sides of

the street and with gardens, ponds, bandstands

and enchanting landscapes serving as a

backdrop for the many historic homes which

have been transformed into charming shops

and eateries. The city's northern border is

accented by beautiful Clear Lake, which is not

only the home of the nation's third largest

pleasure boat anchorage, but also provides

access to Galveston Bay and the Gulf of

Mexico. Moreover, the city is home to three

beautiful golf courses and is in the midst of

implementing a master plan that calls for 212

miles of trails and pathways, which will not

only improve mobility throughout the city,

but will increase recreational opportunities

for pedestrians and bicyclists alike.

First settled nearly 200 years ago by

Stephen F. Austin, League City actually gets its

name from J. C. League who began acquiring

land in the county in the late 1800s. He

renamed his holdings League City in 1896, a

name that stuck when the city was finally

incorporated in 1962.

Today's League City is governed by a mayor

and seven council members who join the city's

paid personnel in striving to provide the best

services possible.

"We are extremely proud of our city and

look forward to continued growth as more and

more people learn about our upscale neighborhoods,

top-quality schools and recreational

lifestyle," said Mayor Tim Paulissen. "Home to

rocket scientists and entrepreneurs, you could

say we are where business meets pleasure."

For more about League City, please visit

www.leaguecity.com.

COASTAL VISIONS - Images of Galveston County

130
---
ABUNDANT LIFE

CHRISTIAN

CENTER

More than a church, more than a school,

more than a congregation, Abundant Life

Christian Center embraces a Bible-based

global mission. With one of the largest

church memberships in Galveston County,

ALCC's focus is on "ministries that reach

neighborhoods and nations."

ALCC's rapid growth has taken it from a

ten person meeting in Pastors Walter and

Cindy Hallam's home in 1985 to a current

congregation of approximately 4,000 worshippers.

Racing to stay ahead of its quickly

increasing numbers, ALCC locations through

the past twenty-five years have included a

local motel, a funeral home, a refurbished

grocery store and its first sanctuary, dedicated

in 1987, that was capable of seating 500.

Today, ALCC members enjoy a multi-acre

complex in La Marque that offers an accredited

kindergarten through grade twelve charter

school, recreational areas that include a skate

park and other activities, an Internet and coffee

cafe, a book store and gift shop, numerous

offices and meeting rooms, a children's

education area and a spacious, state-of-theart

75,398 square-foot sanctuary, dedicated

in 1994 and capable of seating 4,000.

"People are the purpose" is a popular

phrase at ALCC, and in addition to regular

morning and evening services on Sunday

(complete with valet parking) and one on

Wednesday evening, there are in-house and

outreach ministries operating throughout

each and every day. Supporting its mission to

serve as a "place of love and healing," the

congregation is active in providing food to

the needy, transportation for those without

rides to medical and other critical appointments,

and ministerial support for all.

In addition to men's, women's and the innovative

"Joyzone" children's ministry, ALCC

provides music and audio/visual ministries,

plus the Chosen Youth Ministry for young

people and the Abundant Life Ministries of

National Destiny Program (ALMOND).

Of special importance to the congregation

is Casa Angelina, an ALCC orphanage in

Guatemala, named after Pastor Walter and

Cindy Hallam's middle daughter, Angela, who

died in a plane crash in 2002. Dedicated to

the Lord's service, Angela was a gifted writer

and musician, and today the orphanage carries

on her work with dedication to serving

young people through the provision of food,

clothing, housing and education for approximately

seventy impoverished street orphans.

Reaching out at every opportunity, ALCC's

main campus hosts a number of live productions

and dramatic presentations, including

"Road to Emmaus," an Easter drama based

on scripture and initially conceptualized by

Angela. Other annual events include the

"Heartbreak Hotel-Hotel Hallelujah" and "Tour

of Hell" multimedia presentations, and the

Hallelujah Harvest event, held on October 31

of each year. In addition to the onsite public

charter school, Bible clubs and reading and

recreational programs, ALCC's youth activities

include Vacation Bible School and an overnight

camp in Columbus, Texas. With these events

and ministries, Abundant Life Christian Center

reaches thousands every week.

Abundant Life Christian Church is located

at 601 Delaney Road in La Marque and on the

Internet at www.alcc.org.

QUALITY OF LIFE

131
---
BEACHTOWN

With a visionary's gift for

successfully bridging the gap

between dream and reality, Tofigh

Shirazi has created in Galveston's

Beachtown an oasis of common

sense and uncommon beauty.

Today, the "new urbanist" community

on the island's eastern

shore is setting new standards

for construction, aesthetics and

sustainability in coastal living.

Set adjacent to a 700 acre nature

preserve and bounded on its

southern shore by the Gulf of

Mexico, the development has been

described as a "distinctive, appealing…architectural

gem" unlike

any other on the Texas coast.

Framed with graceful arches

and double galleried porches,

Beachtown homes overlook sun-kissed

dunes, palm trees and pristine lagoons.

Arranged in traditional-style "villages," they

are centered about a town square offering

shops, recreational opportunities and other

amenities. By incorporating architectural elements

popular during Galveston's Victoriaera

"golden age," the entire development has

been meticulously designed to pay tribute to

the island's heritage, while also addressing

environmental concerns, supporting modern

lifestyle preferences and incorporating stateof-the-art

building practices and materials.

Planned by Duany Plater-Zyberk & Co.,

the firm that created Florida's Seaside and

Rosemary Beach, the community was

designed with tree-lined passage ways that

connect the lagoons to the beach. Featuring

the architecture of numerous New Urban

Guild Architects, including Michael G. Imber,

Steve Mouzon, Eric Brown and Eric Moser,

Beachtown offers single family residences,

townhomes and spacious lofts.

In addition to being recognized with the

Palladio Award for architectural excellence,

Beachtown has been featured in the New York

Times and Wall Street Journal. It also was

selected to showcase a Coastal Living magazine

"Idea House," and featured in Texas Architect

Magazine where it was noted for its "casual

seaside luxury." In the aftermath of Hurricane

Ike in 2008, Beachtown was singled out by

ABC news for its ability to ride out the storm

with only minor damages.

This level of storm resistance is of utmost

importance to Shirazi. Set directly on the

beach front, all Beachtown homes are built

to meet or exceed the "Fortified…for Safer

Living" standards as established by the

Institute for Business and Home Safety and

the most rigorous construction standards

established for coastal communities.

Incorporating impact-resistant glass, steel

portals, and concrete pilings and beams such as

those used in highway construction, the living

areas of Beachtown's homes rise some twenty

plus feet above sea level and provide improved

levels of safety, security and durability,

As the "beloved place" Shirazi first visualized,

Beachtown today truly is his dream

come true—"a total environment, a place to

enjoy a sustainable, simple life by the sea."

As a plus, nature herself seems to concur;

Beachtown boasts the island's only sandaccreting

shoreline, with its beaches building

at a rate of about three feet a year.

COASTAL VISIONS - Images of Galveston County

132
---
SCENIC

GALVESTON,

INC.

How many cities in America can boast a

spectacular transportation approach traveling

through natural and restored gateway wetlands?

Galveston Island can!

Mile after mile to and from Galveston,

travelers on Interstate 45 pass 1,058 acres of

picturesque and pristine marsh—a stunning

estuarial corridor accented by 1.9 miles of

shoreline and teeming with nature.

But, this gateway has not always been

quite so scenic. In fact, less than two decades

ago, it was a proliferation of billboards, bait

camps, levy walls, landfills and fireworks

merchant stands, not to mention the soon-tobe

home of an unsightly cabaret compound.

"When we organized in 1992-93, our

intertidal nursery wetlands were being

environmentally and visually destroyed," said

Chairwoman Evangeline Whorton, referring

to the all-volunteer nonprofit habitat

conservation service organization—SCENIC

GALVESTON, Inc.—which she founded

along with vice chairman Richard Kirkpatrick

shortly after attending an eye-opening

Livable Communities Conference in Austin.

From the start, the goal of SCENIC

GALVESTON (SG) was to acquire, restore

and perpetually protect this natural corridor.

And, even though the group did not have

money, it did have friends—friends like

John M. O'Quinn whose $500,000 contribution

matched a North America Wetlands

Conservation Act grant and jumpstarted

SG's efforts.

Over the years, SG acquired and restored

thirteen owners' parcels on both sides of I-45

between Bayou Vista and the southern end of

the Santé Fe Overpass and, in 2010, officially

dedicated it the John M. O'Quinn Interstate

45 Scenic Estuarial Corridor. Today, this

corridor is not only a unique nursery ground

preserve for wildlife, birds, aquatic species

and disappearing coastal plant communities,

it is also permanently deeded as a publicenjoyed

conservation habitat appreciated by

kayakers, canoers, photographers, fishermen,

bird watchers, hikers, students and the like.

It is also a catalyst for industry such as

ecotourism, commercial and recreational

fishing, shrimping, oystering, and vacation

destination, just to name a few.

But that is just part of the story.

Today, with more than 900 volunteers,

SG has raised 11 million dollars and acquired

almost 3,000 acres. In 2001 it received Texas'

first Coastal Impact Assistance Program grant,

allowing for the acquisition of 1,500 acres

in the contiguous Virginia Point Peninsula

Preserve (VPPP) to protect premiere wetlands,

native prairies, and almost five miles of

Galveston Bay shoreline. Another 350 acres is

being added, which will permanently safeguard

2,000 acres on VPPP that would have otherwise

been lost to petrochemical development.

As for the future, SG has its sights set on

continuing to recover, restore, and protect the

last remaining one percent of coastal Texas.

Why? Because SG knows—as the group's

catchphrase coined years ago by a renowned

environmentalist states—"Acre for acre, wetlands

constitute the most ecological productive

community our planet has to offer."

Above: The enchanting West Marsh of the

John M. O'Quinn I-45 Scenic Estuarial

Corridor invites millions of visitors to enjoy

and work in the marshes at Mile Markers

6-7 off Interstate 45 in Galveston County.

Below: The O'Quinn Pavilion, a Carl

Brunsting AIA design, is the focal meeting

place at Reitan Point for hundreds of

volunteers who participate regularly in

cleaning and maintaining public

non-intrusively used habitat conservation

preserves owned by SCENIC GALVESTON.

QUALITY OF LIFE

133
---
CITY OF

TEXAS CITY

City of major industry and an international

shipping port—city of lush green parks, friendly

neighborhoods and vibrant lifestyle—the

City of Texas City embraces many identities.

Officially incorporated in 1911, the City of

Texas City traces its origins back to the

1890s, when a group of investors saw the

potential for a port on the north shore of

Galveston Bay. Under the name of the Texas

City Improvement Company, the group purchased

10,000 acres of land and over the next

two decades, the fledgling port community

rapidly expanded. A railroad line was laid,

and the port's ship channel was deepened.

Schools, churches and businesses soon

opened, cotton and grain shipping gave rise

to affiliated industries, and 1908 saw the

start-up of the city's first oil refinery.

Trees and open spaces abound while

numerous fountains and outdoor sculptures

adorn many public venues. From its advantageous

location on the northern edge of

Galveston Bay, Texas City also enjoys a

diversified economy that includes residential,

commercial, environmental, retail, marine,

healthcare, entertainment and tourism

related businesses.

With forty-four parks occupying 800

acres, recreation facilities range from the

world's longest manmade fishing pier and

a world-class natatorium to neighborhood

tennis courts and splash parks. Other attractions

include golf, boating and exploring

wildlife sanctuaries. Heritage Square offers a

glimpse into the area's historic past, and at

Bay Street Park, a F-100 Super Saber Jet sits

alongside a vintage biplane replica in

tribute to the area's having served as the

birthplace of U.S. military aviation.

The park also contains a ship's anchor,

one of several exhibits commemorating a

massive dock-side explosion that in 1947

killed hundreds and leveled a major portion

of the city. In tribute to the community's

resilience and ability to recover from

that and other disasters, a statue of the

mythological Phoenix—also known for its

ability to "rise from the ashes"—dominates

the convention center plaza.

Left: Texas City Dike is a levee that extends

five miles southeast into the mouth of

Galveston Bay.

Right: Phoenix Foundation located at Doyle

Center Century Plaza.

Since that time, Texas City has grown to

become a center for many of the nation's

largest and most progressive petrochemical

operations, but it is not a typical industrial

community. Environmentally savvy, business

friendly and extremely community-minded,

it received the 1997 All-America City Award

and also has been recognized by Money

Magazine, Reader's Digest, Food & Wine

Magazine and the U.S. Conference of Mayors

for its livability.

Creating a better tomorrow has been a

Texas City goal for more than a century, and

today it is taking a leadership role in meeting

the challenges of a changing world as it

balances safety and environmental issues

with commerce and community well-being.

Inspired leadership and dedicated citizens

have always made the difference in Texas

City, and today this city by the bay is making

a difference across the nation.

COASTAL VISIONS - Images of Galveston County

134
---
GULF

GREYHOUND

PARK

When a slim and sleek greyhound sprints

across the finish line at Gulf Greyhound Park,

he is not just crossing any finish line—he is

crossing the finish line of the world's largest

greyhound racing operation.

Indeed, since the sounds of the bugle

summoned the first set of canine racers for

the track's debut race on November 10, 1992,

more than ten million fans have enjoyed live

greyhound races and pari-mutuel wagering

opportunities at Gulf Greyhound Park and,

in the first decade, have taken home more

than $1.4 billion in prize money.

Year round—rain or shine—they come to

the $55 million complex, which is located on

100 acres in La Marque, Texas, and features

a four-level, 315,000 square foot, climatecontrolled

facility as well as an expansive

parking lot with 8,000-plus parking spaces.

The track seats 6,600 with a total facility

spectator capacity of 14,000 and there are

318 teller windows as well as 1,100 closedcircuit

televisions throughout the complex so

that fans can monitor races, learning how to

bet or watch a favorite sporting event.

Dining options are also plentiful with a

variety of food and beverages to meet every

patron's taste and budget. On the second level

of the facility is a complete food court with

a variety of menus as well as the Terrace

Clubhouse that seats approximately 900 people

for full-service dining before and during

performances. The Clubhouse tables overlook

the track, providing patrons with an excellent

view of the races. Also, inside the Clubhouse

is the Terrace Bar featuring all the amenities of

a hometown bar with a big screen television

and many other smaller televisions throughout

as well as friendly tellers for placing bets

or punching winning tickets. Reservations

to the Terrace Clubhouse and Bar are recommended.

In addition to the second-level offerings,

there are numerous other concession

and beverage areas throughout the facility.

The track itself is a quarter mile made up

of a sand composition surface with courses

of 5/16ths, 3/8ths and 7/16ths of a mile.

Fourteen kennels are located on the grounds

with each capable of housing up to sixty-two

greyhounds and equipped with hot water

supplies, whirlpool, central heat, heat alarm

and fire alarm systems, plus twenty-four hour

security. The park is owned and managed

by Gulf Greyhound Partners, Ltd., a Texas

controlled partnership.

Gulf Greyhound Park is open seven days a

week with simulcast races on Mondays and

Tuesdays and live racing Wednesday through

Sunday. The park is located once block west

of 1-45 South at Exit 15, 30 miles south of

Houston and just 15 miles north of Galveston.

For more information, call 1-800-ASK-2WIN

or visit online at www.gulfgreyhound.com.

Above: And they're off!

Below: Down the stretch to the finish line!

QUALITY OF LIFE

135
---
The Marketplace

COASTAL VISIONS - Images of Galveston County

136
---
Galveston's retail and commercial

establishments offer an

impressive variety of choices

ERF Wireless, Inc. .....................................................................138

Kleen Supply Company ...............................................................140

Hygeia Enviro-Clean, Inc............................................................142

AMOCO Federal Credit Union .....................................................144

Matthews, Inc. ..........................................................................146

The Law Firm of Alton C. Todd....................................................148

J&J Telecommunications..............................................................150

Texas City-La Marque Chamber of Commerce .................................152

HomeTown Bank, N.A. ................................................................154

A-1 Fire Equipment Co. ..............................................................155

Galveston Chamber of Commerce..................................................156

Texas First Bank .......................................................................157

Better Business Bureau ...............................................................158

ROBCO Facility Services.............................................................159

GIA Insurance...........................................................................160

Leslie Watts..............................................................................161

Mihovil Photography ..................................................................162

THE MARKETPLACE

137
---
ERF WIRELESS,

INC.

Right: ERF Wireless coverage—Texas region.

Whether a banker, teacher or business owner

behind a desk somewhere in rural Kansas, a

rancher living in the vast plains of Oklahoma or

a worker moving to yet another oil drilling site

in the most remote location of Texas, everyone

needs to stay connected these days.

But for many living and working in the

more rural and sparsely populated areas of

America, staying connected has not always

been easy. ERF Wireless, Inc., of League City,

Texas, in Galveston County is quietly going

about a business model that is changing that

situation for many Americans.

ERF Wireless, Inc., is a public company, founded

by ex-NASA manager Dr. H. Dean Cubley

in 2004. ERF Wireless provides

wireless broadband communications

products and services on a

nationwide basis to enterprise,

commercial and retail users and

focuses on vertical markets such

as regional banks, the oil and gas

industry, education, healthcare,

enterprise, and residential customers

located in areas that have

limited services.

"Cable or telephone-line DSL,

it is not a viable option for those

who work and live in the most

rural un-served areas of our country

or for those whose business

requires them to frequently move about," said

ERF Wireless founder and chief executive officer

Dr. H. Dean Cubley. "We fully understand

the need in rural America for quality broadband

communications and at ERF Wireless

we are confident that wireless broadband

technology is not only viable, but is the most

logical solution in these situations."

Indeed, ERF Wireless firmly believes

that for rural America wireless broadband

has already become the "third pipe" as

both an alternative and extension to DSL

and cable modem. In many cases,

this is a superior alternative

because it is not only versatile,

it is also less expensive than a

wired solution, faster to implement

and fully configurable for

one or more applications.

This is where ERF Wireless—one

of America's largest wireless Internet

service providers (WISPs)—enters.

"Our company has already

developed an extensive wide-area

wireless broadband network in

North America and Canada by a

combination of acquiring, constructing and

contracting for our wireless broadband

network coverage," said Cubley, adding that

his company as of 2011 is already actively

working in five states including Texas,

Oklahoma, Kansas, Louisiana, and New

Mexico, and already has wireless network

coverage available in Colorado, Wyoming,

Arkansas, and Alberta, Canada.

While ERF Wireless has many thousands

of residential and commercial customers

within the rural wireless broadband network

coverage, the heart of their business strategy

is to utilize these networks, in addition, to

service the more profitable vertical markets.

COASTAL VISIONS - Images of Galveston County

138
---
In some vertical markets, such as the company's

largest—the rural needs of the oil and

gas industry—Cubley says that wireless

broadband is really the only logical solution

for meeting modern digital communications

needs. Previously VSAT satellite terminals had

been the norm for this market but modern

drilling and exploration software utilized by

the oil and gas companies has made the VSAT

solution unacceptable due to the inherent

time delay ("latency") of the VSAT.

"The drilling would be over by the time a

copper or fiber connection was laid," he said.

"These "nomadic" operations simply cannot

go to the local telephone company and get

service that supports the way they operate.

We can literally follow them wherever they go

and can be at a new site in a matter of hours."

To provide the wireless broadband service to

these rural oil and gas locations ERF Wireless

has formed a wholly owned

Energy Broadband ("EBI")

subsidiary company. EBI utilizes

a large fleet of mobile

broadband trailers ("MBT")

that contain erectable fiftyfoot

towers that are utilized

to connect back to ERF

Wireless' extensive broadband

network coverage to

complete the connection.

When the oil and gas customer

needs the circuit established, EBI can

respond within a matter of hours. When it

comes time to move to the next drill location,

EBI folds the tower down and moves right

along with the drilling crew.

Another example of a vertical market in

which ERF Wireless has found great success

is the regional banking industry. Employing

leading-edge wireless broadband technology

and its proprietary CryptoVue ® Network

Security Appliance, ERF Wireless has established

in these very rural locations an extremely

competitive advantage and is the nation's

leading provider for secure wireless networks

in the regional banking industry. To date, our

regional bank customers have replaced expensive

T1 telephone networks by

utilizing our CryptoVue security

appliance together with wireless

networks that we designed and

built. These banks are now connected

across three states at more than

one hundred banking locations.

Another vertical market, initiated

in 2011, in which ERF Wireless

is very active is the rural education

sector, which is in areas within or

near locations where ERF Wireless

already has network coverage.

These educational applications have

many things in common with the regional

banking application because they are in

extremely rural settings, but need the advantages

of broadband connectivity just as their

more urban counterparts. ERF Wireless can

effectively provide a quality wireless broadband

solution in many of these school districts

and has already implemented many of

these educational networks to date.

In addition to the company's headquarters

there are regional offices in Pampa, Lubbock,

Odessa, Justin, and Plains, Texas.

For more information on ERF Wireless, visit

www.erfwireless.com or www.erfwireless.net.

Above: Energy Broadband provides wireless

broadband directly to the remote

customer locations.

Below: ERF Wireless BranchNet wireless

network for regional banks.

THE MARKETPLACE

139
---
KLEEN SUPPLY

COMPANY

Below: Carlos Peña and his father, Mario

Peña, founder of Kleen Supply Company,

August 1988.

Bottom: Loyal staff works on orders and

keeping up with customers' needs. Left to

right: Russ O'Connor, Frank Macaluso,

Johnny de los Santos, Rafael Galindo,

Berta Peña, Diane Peña and Carlos Peña.

The happy, cartoon-like octopus over the

front entry has his tentacles full. Sporting

mops, brushes, sponges, a bucket and broom,

he is a one busy guy, but not nearly as busy as

the real-life owner inside.

Carlos Peña, of Kleen Supply Company in

Galveston, is a man of many missions, a fact

quickly apparent with a brief look around his

large store. In addition to row after row of

industrial cleaning equipment, supplies and

related items, and a special shop featuring

pool and patio products, Peña's office area is

that of a hands-on executive, but one with

strong family and some unusual community

and international ties.

Evidence of his many projects are, as anticipated,

arranged across his desk, and a shelf

displays photos of his wife, children, grandson

and other family members and friends. Then

there are photos of Peña participating in

various community events, and a photo from

London when he visited

with the Archbishop of

Canterbury and a photo of

Peña meeting with Pope

Benedict XVI at the Vatican

in Rome.

Now the Pope and the

Archbishop have very little

to do with Kleen Supply,

but Peña's life has much

to do with all three, as well

as the presiding Bishop of

the Evangelical Lutheran

Church in America. As one

of Galveston's most civic-minded business

leaders, he has also become one of its most

altruistic, and today not only manages the

largest cleaning supply business in Galveston

County, but also is in his second term as vice

president of the ELCA and is on the board of

the World Council of Churches, a position that

takes him literally all over the world.

Kleen Supply's mission statement—"To

provide the best service and care possible"—

could also be a defining statement for Peña's

mission in life, both personal and public.

Described as a person who has an "eye for

possibility," he is deeply committed to his

company, his community and his church, and

whether he is trying to find the best product

for a challenging cleaning project, presiding

over a local civic group, or meeting with

world religious leaders in Geneva, his focus is

on "service" and "care."

That "eye for possibility" trait could also be

said of Peña's father, Mario, who founded

Kleen Supply in the family's Galveston garage

in August of 1971, the same year the younger

Peña was graduating from Galveston's Ball

High School. Since that time, the business has

grown from several pallets of merchandise on

a garage floor to the current cleaning-supply

emporium of 26,000 square feet.

Although his father often said, "Once you

work for yourself, you'll never work for anyone

else," Peña did not immediately join the

family business. In love with the trombone

and equipped with a degree in music education

from the University of Houston, he spent

three years as a band director in Galveston

schools before joining Kleen Supply in 1979.

During that same time frame, a romance

also emerged between Peña and an attractive

U of H coed named Diane, also from

Galveston. They both laugh as they recount

how the relationship began. It was during the

Lenten season and she needed a ride to her

Lutheran church for Wednesday vespers. She

asked him—as a casual acquaintance with a

car—to drive her. He agreed, though he still

jests about whether it was divine intervention

or because he knew that the event would be

followed by a covered dish supper. Whatever

the cause, he soon joined her church and her,

and they were married in 1978.

COASTAL VISIONS - Images of Galveston County

140
---
Today, the Peñas jointly run the multimillion

dollar Kleen Supply business, with the

help of a small but long-term staff. "We have

loyal employees and loyal customers," says

Diane, adding that the fact that many of their

employees have been with them for more

than fifteen years—and include his mother

and her father, who still work on a part

time basis—is illustrative of the stability and

family spirit of Kleen Supply.

Herself a teacher and then a school administrator

for many years, Diane retired from

her career at about the same time that Peña

was first elected to the ELCA vice presidential

post during the group's 2003 Churchwide

Assembly in Milwaukee, Wisconsin.

Assuming heavy responsibility was not

new to Peña. A director of Texas First Bank

and a member of numerous University of

Texas Medical Branch and civic boards, he has

served as president of Galveston Historical

Foundation and on the Gulf Coast Regional

Governing Board of Christus Health. He also

has received the Young Lawyers Association of

Galveston Liberty Bell Award and been named

a Rotary International Paul Harris Fellow.

Recognizing, however, that this new "job,"

the ELCA's highest ranking lay position,

would require an enhanced level of commitment

and extensive travel, the couple decided

that she would stay in Galveston and tend to

the daily needs of the business while he took

on what they both saw as a larger calling.

"This is the way God has chosen to use me

at this point in my life," says Peña, citing the

fact that owning his own business is a major

factor in allowing him the freedom to accept

such a demanding position. He quotes his

father again, saying, "Put the time into your

own business, and you'll do well and have the

ability to do other things."

In addition to specific duties such as

chairing the ECLA executive committee and

board of directors, Peña also has ad hoc

responsibilities assigned by the church's

bishop. "When the bishop calls and says,

'I need for you to go to Jerusalem, or Indonesia

or Ramala or Istanbul,' I go," he says.

Meanwhile, back at the store, there are

orders to be placed and deliveries to be made.

Although the emphasis is on cleaning and

paper products—toilet tissue being the most

popular item—Kleen Supply's inventory is

diverse and includes pesticides, safety and

emergency equipment, coffee, condiments

and wholesale concession and food items—

even candy and snow-cone syrup. "If there's

a demand, we carry it," laughs Diane.

Above: Kleen Supply Company, May 2011.

Below: Experienced warehouse crew gathers

orders for prompt delivery. Left to right:

Jessie Hernandez, Richard Hernandez,

Rafael Galindo, and Eddie Perez.

THE MARKETPLACE

141
---
HYGEIA

ENVIRO-CLEAN,

INC.

Left to right: Dolores Cuchia with founder

and father Anthony J. Cuchia, Sr.

Cleanliness can mean the difference

between a productive and apathetic workplace;

between a fruitful and listless learning

environment or, for that matter, any other

place that people choose to live their lives

each and every day. It can mean the difference

between sickness and health, even the difference

between life and death and is the very

reason the people of Hygeia Enviro-Clean,

Inc. take their jobs so seriously.

On any given day, anyone who lives or

works within the 100 mile or so radius

encircling Hygeia's home-base will very likely

come into contact with the services and

products it provides. The company's figurative

fingerprints are everywhere—from inside

the janitor's mop bucket, public restrooms,

restaurants, shopping malls, retail stores,

schools, churches and industrial plants to

inside a myriad of medical facilities.

A six-plus decade family business now

headquartered in neighboring Houston, it is

a major distributor of commercial and industrial

cleaning supplies and equipment. It

employs approximately thirty people, each

one fully dedicated to exceeding customers'

expectations by delivering excellent customer

service and quality products which help

clients not only create a healthier and safer

environment for today, but one which is

sustainable well into the future.

"We strive to contribute to the success

of our customers and to always provide not

only the top of the line maintenance supplies

and equipment, but to also support those

customers with on-going knowledge of new

and improved products, equipment and

methods," Vincent Leone, Sr., owner, president

and CEO, said in a recent interview.

An example of Hygeia Enviro-Clean's

constant quest for the latest products and

innovations to benefit its clients came about

recently when many institutional clients were

faced with new environmental standards and

certifications, which forced them to search

for more maintainable alternatives to the

harsh, synthetic hand soaps and sanitizers

they were using. Hygeia provided these

clients with a worthy alternative when it

teamed up with a flourishing skin care

company that had developed high-quality

hand hygiene products that blend environmentalism

with infection prevention.

Located at 11314 Windfern Road in

Houston, Hygeia Enviro-Clean's headquarters

includes a large warehouse distribution center,

a retail showroom, a training center as

well as management and sales offices, all

housed in a modern 12,500 square foot

facility built in 2005. This facility's warehouse

is stocked with the most requested products

so that customers may purchase onsite or

order for delivery by either phone or the

company's website at www.hygeiaec.com.

Perhaps, however, the most unique aspect

of the facility is the Hygeia Training Academy,

a specially designed and equipped training

center where clients can learn the latest in

products and techniques. The training center

has fully functional demonstration fixtures

and six different types of flooring, all ideal for

practicing the correct application of the latest

commercial cleaning and floor care products.

In addition to the Houston headquarters,

the company also has a division with offices

in Beaumont. This division continues to promote

public awareness of maintaining the

environment utilizing the present and ongoing

development of cleaning supplies and

equipment. The Beaumont offices and warehouse

distribution center are located at 7550

College Street in Beaumont and serves the

COASTAL VISIONS - Images of Galveston County

142
---
"Golden Triangle"—Beaumont, Orange and

Port Arthur—with deliveries as far as Lufkin,

a radius of more than one hundred miles.

Enviro-Clean was founded as Hygeia

Chemical Company in Galveston in 1944 by

Anthony J. Cuchia, Sr. Cuchia ran the company,

growing it from little more than a dream

into a thriving company with offices in two

cities—Galveston and Beaumont. It was a

family business from the start with all of

Cuchia's children affiliated with the company

at one time or another. In fact, eldest daughter

Dolores worked for years as her father's

secretary and office manager. A second

daughter, Toni, took charge of the Beaumont

branch after it was opened in 1961 and, in

later years, yet another daughter, Patti, also

managed the Beaumont operation.

Even after the senior Cuchia died unexpectedly

in 1965 and the business was

divided into two separate corporations—

Hygeia Chemical Company, Inc. of Galveston

and Hygeia Chemical Company Inc. of

Beaumont—both remained in the family. The

founder's son, A. J. Cuchia, Jr., took over the

Galveston operation following his graduation

from Texas A&M University and still operates

it under the name of Hygeia Chemical

Company today. Dolores and husband,

Vincent Leone, Sr., purchased the Beaumont

division, eventually changing the name to

Hygeia Enviro-Clean, Inc. Leone remains at

Enviro-Clean's helm.

"It is our commitment and goal to continue

what Mr. Cuchia, Sr., started in 1944,"

Leone said. "A company dedicated to providing

outstanding products and service and to

remain committed to environmental sustainability—past,

present and future."

For more information on Hygeia Enviro-

Clean, Inc., visit online at .www.hygeiaec.com.

President and CEO Vincent Leone, Sr.

THE MARKETPLACE

143
---
AMOCO

FEDERAL

CREDIT UNION

Whether borrowing or saving, playing or

graying, AMOCO Federal Credit Union

stands ready to help its members reach their

financial goals with personally attuned programs

to address modern-day lifestyles.

Whatever the need—a new or better car, a

starter or larger home, an improved education,

a long-awaited vacation or secure retirement—AMOCO

FCU's mission is "to serve

and satisfy" its members.

Throughout its more than seventy year history,

the organization has built a reputation

for providing strong, long-term monetary

guidance and vigilant management of its

members' resources. Begun in 1937 as the

Pan-Am Employees Federal Credit Union, its

certificate of organization was signed by

William J. Myers, then governor of the Farm

Credit Administration that played a major

role in President Franklin D. Roosevelt's

New Deal to help the struggling

nation recover from the 1929 stock

market crash and the subsequent Great

Depression and Dust Bowl disasters.

Inaugurated with 169 members and

$28,000 in assets, the Pan-Am Employees

FCU was dedicated initially to serving

the financial needs of employees of the

Pan American Refining Corporation of

Texas City and even had its offices located

within the refinery complex. A 1947

expansion, however, opened the credit

union to include employees of Amoco

Chemicals in Texas City and Amoco (Pan

American) subsidiary. Changing its name

COASTAL VISIONS - Images of Galveston County

144
---
in 1955 to Amoco Federal Credit Union to

correspond with the new name of its sponsor

company, Amoco Oil Refinery, the credit

union grew during the post WWII years to

include 3,100 members and $2.6 million in

assets in 1957.

With the merger of British Petroleum and

Amoco Oil in 1998 to form BP Amoco and a

subsequent decision in 2004 to call the company

BP, the credit union made the choice to

maintain the Amoco name because it represented

stability and familiarity in the community.

The one change that was made was to

redesign the name so that it became the

acronym AMOCO FCU, standing for A

Member Owned Cooperative Organization

Federal Credit Union.

Although financial challenges—and the

credit union's name—may have changed over

time, AMOCO FCU today remains steadfast

in its ability and dedication to helping members

manage their financial lives and build for

the future while providing for the present.

One of the largest and most progressive credit

unions in the Houston/Galveston area,

it today lists assets of more than $540 million

and includes a diversified membership

consisting of more than 300 local sponsor

companies and 62,000 members.

Offering a full range of financial products

including checking and savings accounts,

loans, credit cards, investments, insurance

and financial planning, AMOCO FCU

additionally seeks to educate its members of

all ages about sensible money management

and to help improve individual financial

conditions and foster financial literacy in

the community-at-large. Dedicating financial

resources as well as the time and talents of its

staff, AMOCO FCU sponsors programs such

as A-Zone Accounts for members under twenty-two

years of age, and BALANCE, a program

designed to help members acquire financial

control of their daily lives. For members fiftyfive

and over, it offers the Platinum Club that

meets quarterly and offers group travel events.

In one of its most innovative programs and

the first such event in the Houston area,

AMOCO FCU in 2009 initiated an "Earn or

Burn Challenge" with a grand prize of $20,000.

Selecting four families out of 200 applicants

from its membership, the credit union set up a

reality-show format to follow the "contestants"

as they worked toward specific financial goals

over a ten month period. Each family was

assigned a "coach" and charged with the challenge

of improving its financial health and creating

new spending and saving habits. Progress

was monitored on a monthly basis, and a blog

set up to allow others to observe how each

family was addressing its challenges over the

contest period.

At the end of the contest, although there

was only one grand prize winner, all the families

felt they had "won" in that they all had

achieved significant financial improvement

and had developed important skills for better

life-long understanding and control of the

financial aspects of their lives.

Such support on a one-to-one basis is a

major key to AMOCO FCU's growth. The

satisfaction and loyalty of members and the

commitment of its employees and volunteers

have been apparent throughout its history.

Functioning as a financially healthy institution

during even unstable economic times, it

was a one-branch credit union until 2005,

when the decision was made to open a second

branch in Bay Colony. Within the first six

months of that branch opening, 1,000 new

members joined AMOCO FCU and the tellers

performed approximately 250,000 transactions.

Four more new branches opened in the

next four years, and, going back to the original

idea of offering onsite services for refinery

workers, a one employee "microbranch" was

opened in 2007 at the BP refinery.

Through donations, sponsorships and volunteerism,

AMOCO FCU and its representatives

and employees actively participate in a

diverse array of civic and charitable organizations.

Active with all nine local chambers of

commerce, it has formed additional partnerships

with nonprofit groups and participates

in numerous programs and events each year

that focus on community, health and wellness,

youth, education, and other select groups.

It also partners with other area credit unions

through the Gulf Coast and Houston Chapter

of Credit Unions, and is recognized as a leader

in the credit union community for its support

of the Children's Miracle Network.

THE MARKETPLACE

145
---
MATTHEWS, INC.

Above: James A. "Jimmy" Matthews, Sr.

The story of Matthews, Inc., is more than

just a story about a fuel and tire service. It is

the story of a true family business—a story of

a son and a grandson who continue to build

on the legacy started by family patriarch,

James A. "Jimmy" Matthews, Sr., nearly seven

decades ago.

An extremely hard working man, the senior

Matthews started Matthews, Inc., in 1942

as a full-service fuel and tire station selling

Republic Oil. From the start, the foundation

he laid for his business was the same foundation

of honesty and integrity that he lived by.

He was also careful to follow the guidelines

established by the industry organizations

which he so proudly served—organizations

such as the Texas Service Stations Association

and Texas Association of Petroleum Retailers

for which he served as regional vice president

and president, respectively.

The industry's code of ethics was his code

of ethics as he committed himself to creating

a service station where integrity meant more

than profit; where honesty meant more than

volume; and where honor was the watchword

in sales and service. What is more, he

instilled each of these beliefs and principals

in every one of his employees as well as in

the two generations of Matthews' men—

James A. "Ossie" Matthews, Jr., and James A.

"Trey" Matthews III—who would eventually

take over the business.

Ossie grew up working with his father

down at the shop. Back in the 1940s and

1950s, the company was not only a service

station, but was also a paint and body shop.

Ossie learned all facets of the business from

his dad and was thrilled when his own son,

Trey, showed an interest in the business as

well. Trey started working down at the shop

after school and on weekends when he was

just fifteen years old and had the wonderful

opportunity to work with

both his father and his

grandfather for many years.

He is next in line to take

over the business once Ossie

retires, just as Ossie did

when his father retired.

Indeed, today, Ossie and

Trey proudly continue to

carry the torch passed to

them by the senior Matthews

and can be found daily at the

facilities of Matthews, Inc.,

located at 531 Texas Avenue,

where the company has been

located since 1945. It is here

that they succeed in keeping

up the family tradition of

honest, reliable tire sales and

COASTAL VISIONS - Images of Galveston County

146
---
services to a host of customers

every day, some of them being

third generation themselves.

In addition to commercial and

retail tire sales and service,

Matthews, Inc., also offers a variety

of other services to include

countywide road service calls,

wholesale fuel sales and deliveries,

a gas station and more. To

provide these services, the company

employs seven of the most

dedicated, loyal, hardworking

and skilled employees as well as a

fleet of four vehicles—two tire service repair

trucks and two fuel delivery trucks. The trucks

and teams are steadily on the go repairing and

replacing tires all around Texas City and the

Galveston County area, including inside many

of the area's oil refinery plants, some days all

day long. The company specializes in Cooper

Tires and Hankook Tires.

The Matthews, Inc., station is also constantly

busy during operation hours with cars

and trucks needing fuel or tires; with one of

the most unique features being the station's

full-service gas pumps. While most stations

have long given way to the self-service pump,

Matthews, Inc., has offered full service since

the day it went into business in 1942.

"Many of our customers are companies that

come to us to fill up their company vehicles,

but we also still have a lot of personal

accounts that still come in as well. Some are

the elderly or disabled or just customers

who have been using our full-service pumps

forever," said Ossie. "And as long as

there is a need for full-service at the gas

pump, we will be providing it."

In addition to caring about its customers,

the owners and employees of

Matthews, Inc. also truly care about the

community in which they live and work,

actively giving back by sponsoring

various organization and events including

sports teams, cook-off teams, Texas

City Independent School District events

and Texas City-La Marque Chamber of

Commerce events, just to name a few.

"If anyone ever wonders what it takes

to withstand the test of time, we think

that we have found the answer. At least

at Matthews, Inc., we feel the secret to

our success is simple—knowing our

customers on a first name basis and

always putting them first," Ossie said.

"That's the way dad started the business

almost seventy years ago and that's the

way it will always be done as long as we

are around."

For more information on Matthews,

Inc., call (409) 945-0277.

Left to right, James A. "Ossie" Matthews, Jr.,

and James A. "Trey" Matthews III.

THE MARKETPLACE

147
---
THE LAW FIRM OF

ALTON C. TODD

Above: Alton C. Todd.

PHOTOGRAPH COURTESY OF IMAGING STUDIOS.

Below: The Todd children, left to right,

Jeff Todd, Kamilah Todd, Seth Park,

Kari Todd, Mike Todd, Jennifer Evans

and Matt Todd.

Cows, pizza parlors, railroads and

refineries—whatever a client's concern, The

Law Firm of Alton C. Todd, located in

Friendswood, upholds the philosophy of

"Your Case is Our Cause."

Named one of the Top Ten Texas Super

Lawyers by Texas Monthly, Alton C. Todd, the

son of a farmer and mail carrier, is known for

his tenacity and success in the courtroom and

also his willingness to take on cases that

other attorneys might reject.

"An attorney too big to try a small case

is too small to try a big case," says Todd,

who was included in the 2008 Bar Register

of Preeminent Lawyers, elected a fellow

of the International Academy of Trial

Lawyers in 2009, and included on the

Best Lawyers in America's list of the Top 100

Lawyers of Texas.

"Whatever a potential client's situation is,

I take his or her issues seriously because

those issues are serious to that client," adds

Todd, who also was recognized by Texas

Lawyer Magazine as the state's Best Civil Trial

Lawyer and The Personal Injury Lawyer for

Serious Suits.

The magazine also reported that Galveston

lawyers overwhelmingly pick Todd as the

"go-to" personal injury lawyer for really big

suits, and a fellow attorney was quoted as

saying "He's a very, very good trial lawyer. His

word is his bond."

Such accolades are matched only by Todd's

own enthusiasm for the practice of law.

"I love going to work everyday," he says.

"This is a wonderful profession—it gives me

the opportunity to help others and make a

positive difference. It is my responsibility to

present evidence in the best light possible for

my clients, and I enjoy that challenge."

Additionally appreciative of the advantages

offered to him by Galveston County, Todd

says, "The practice of law here has given me

a phenomenal opportunity that I could never

have experienced elsewhere. In particular,

I feel very strong and positive about the

county as a whole, and especially about

where we are in Friendswood today."

Todd's climb to the top of the state's legal

roster was not an easy one. With a wife

and young twin sons, Todd put himself

through law school by working five nights

a week and Saturdays on a freight shipping

dock. He additionally served on the board

of editors for the school's law review

journal, and during the summers, installed

swimming pools.

Although Todd initially intended to stay

in the Dallas area, upon receipt of his doctor

of jurisprudence degree from Southern

Methodist University, he was intrigued by a

job offer from an insurance defense firm on

Galveston Island, and the young family—now

with a fourth child on the way—relocated to

the Gulf Coast in 1971, the same year he

passed the Texas Bar. Remembering those

early times, Todd jokes that his life then

centered on "babies, state bar and boarding

up." Four years later, however, opportunity

beckoned again, and Todd—now with five

children—moved to Alvin, where he joined

the practice of Wellborn, Britt and Brown.

Later, drawing on his twenty-five years of

experience in personal injury cases, Todd

formed his own eponymous firm that was

relocated to Friendswood in 2000.

Today, The Law Firm of Alton C. Todd

occupies the historic 1938 residence

constructed for Friendswood founder Cecil

Brown, and its offices provide both a tribute

to the history of the area and a testimony

to Todd's ongoing commitment to the

community. In addition to recognitions of

Todd's professional honors and the firm's

numerous civic activities, a museum-like

gallery of historic photos shows the town

during its formative years, including an early

1900s post office, grocery store and other

street scenes. Todd, himself, shares many

values with the Brown family, especially those

supporting hard work and education.

From the Midwest, the Browns arrived in

the area during the winter of 1895 and had

the unusual experience of disembarking from

their train just after the Texas Gulf Coast had

experienced a rare and record-setting snow

fall. The family soon identified suitable land

and, despite having no actual money, was

able to arrange satisfactory terms for the

desired acreage with owner J. C. League, a

founder of nearby League City. As members

of the Religious Society of Friends—often

COASTAL VISIONS - Images of Galveston County

148
---
eferred to as Quakers—the Browns named

their new community Friendswood.

Drained by four creeks, the area was

favorable for farming, and Friendswood was

soon known for its production of figs,

Satsuma oranges and strawberries. The everindustrious

Quakers also began preserving

some of their figs, and thus became one of

the first "factories" in the area. In addition,

Brown set up a sawmill, and used timber

felled during the 1900 hurricane to build

Friendswood Academy, which graduated its

first class in 1907.

Today, Todd is likewise working to ensure

that Friendswood's twenty-first century

young people also receive an exemplary

education. Dedicated to the success of his

community's future citizens, he says,

"Education is a big deal here—our students

even compete nationally in academic

decathlons. We realize that education is a

vital investment in their—and our—futures,

and the more knowledge they have, the more

opportunities they will access."

Todd's own children, too, are following

their father's example, accessing their own

individual and sometimes unconventional

roads to success. Currently, their choices

range from one son's joining his father's firm

in the practice of law to the youngest

daughter's combining university studies with

serving as a Dallas Cowboys Cheerleader.

Left to right, Clint McGuire, Alton C. Todd,

and Jeff Todd in front of The Brown House.

THE MARKETPLACE

149
---
J&J TELECOMMUNICATIONS

When are good connections no longer

"good" enough? When Galvestonian Eddie

Janek and his J&J Telecommunications Inc.

are poised to point the way to "great."

As founding owner of the island-based

business communications leader, Janek is well

acquainted with the importance of great connections.

Widely recognized for its innovative

high-tech and service-oriented operations, J&J

is dedicated to ensuring that its customers

experience only the best in equipment, the latest

in cutting-edge software, and unparalleled

personalized service and technical support.

"Customer satisfaction is a major commitment

at J&J," says Janek. "In addition to

offering optimal technology and service, we

take a personal interest in our customers'

individual needs. We also believe that if a

situation is 'mission-critical,' downtime is not

an option, so we provide twenty-four hour

emergency call-out services, seven days a

week, and free loaner equipment."

Eric Froeschner, J&J's global sales and

marketing director, agrees saying, "Customers

who outsource their IT service and support

with J&J are assured of 100 percent quality

and reliability. We are not satisfied until our

customers are satisfied. Whether we're building,

supporting or administering a system—

or developing a custom IT solution—J&J will

find a way to do it better, faster and more

cost-effectively."

J&J's reputation as a leader in business

communications was further reinforced in

the aftermath of Hurricane Ike in 2008. Word

quickly spread of how customers using J&J's

innovative connections were able to maintain

communications before, during and after the

storm made landfall.

Crediting the power of a cutting-edge

"hosted voice solution" with J&J's ability to

provide its customers with uninterrupted

communication during Ike, J&J CEO Scott

Kellogg points out that most local businesses

using more traditional systems lost service

during the storm.

"By use of this system, J&J enabled its

customers—one of which was Galveston's

largest insurance company—to maintain

contact with their customers and employees

throughout this major disaster," says Kellogg.

"It was a situation that brought numerous

other businesses here to an abrupt halt for an

extended period of time."

Aware that small to mid-sized companies

have specific needs, Janek additionally notes

that J&J Telecommunications is especially

equipped to serve them. "Our engineers are

the brightest and best in all areas of computer

networks and IT solutions, from basic cabling

and messaging to network security and

collaborative workgroup solutions," he says.

"We also offer one of the most comprehensive

and affordable support and maintenance

packages in the industry and by choosing J&J,

a business is getting customer service that

caters to its specific requirements."

COASTAL VISIONS - Images of Galveston County

150
---
Janek points out that J&J technicians can

be used to supplement a company's existing

support staff or, alternatively, J&J can take full

responsibility for administering and managing

a communications network. "It's like having a

complete support staff at a fraction of the cost

of hiring full-time personnel," he says.

In the more than twenty-five years since Janek

founded the company with his son Craig in

1984, few areas of modern life have changed so

dramatically as business communications. J&J's

own growth reflects this trend, and the company

that initially served only Galveston provides

services today throughout the United States.

To maintain its edge on industry progress,

J&J requires intensive initial training and ongoing

continuing education for its design, installation

and service staff. Janek, however, makes no

apologies for the fact that today he leaves the

high-tech and specialized areas to the young

"whiz-kids" such as Scott and Bill Fennelly,

J&J's CFO, who have joined J&J in recent years.

"The telecommunications industry is one

that is constantly 'pushing the envelope,'"

Janek says. "It's just good business on my

part that I step back and let these young

techno-gurus take the lead when it comes

to mastering the ever more sophisticated

demands of today's cutting-edge technology."

What has not changed, however, is J&J's

philosophy on service.

"New communications technology is only

as good as the people who design the systems

to meet an individual business' specific

needs, then install and maintain it," Janek

says. "It's J&J's time-honored commitment to

service that more than anything else sets us

apart from the others."

The importance Janek places on service

has been reflected throughout his life, both

personally and professionally. A teenager

during the early 1940s, he attempted to enlist

in the military at age fifteen, but his ruse was

ultimately discovered and he was sent home.

A year later, however, he succeeded in joining

the Navy, and served in the South Pacific

during World War II and later in Korea.

In July 1946, Janek had the opportunity to

twice witness the making of history with the

testing of the atomic bomb in the Bikini Atoll

of the Marshall Islands. He chuckles when he

notes that in addition to being warned to close

their eyes lest their eyesight be damaged, he

and his fellow crew members had been cautioned

that witnessing the blasts might make

them sterile. Today, Janek—who earned some

twenty military medals—notes that he is not

blind and is also the father of three children.

As a major civic leader, Janek's role in the

greater Galveston community also has been

filled with history-making activities. A past

Galveston County commissioner and former

board member of several groups including the

Galveston Airport Commission, Port of

Galveston Wharves Board and Galveston

Navigation District, Janek was appointed by

Texas Governor Rick Perry in 2011 to the

Board of Pilot Commissioners for Galveston

County Ports. Janek additionally has been

recognized with a special resolution for his

numerous contributions to the County Judges

and Commissioners Association of Texas.

THE MARKETPLACE

151
---
TEXAS CITY-

LA MARQUE

CHAMBER OF

COMMERCE

Above: Local legislators at a business

luncheon, including Representative

Craig Eiland, Senator Mike Jackson,

and Representative Larry Taylor.

Below: The Texas City-La Marque Chamber

of Commerce building.

Bottom: Safety Council ribbon-cutting

ceremony with local plant managers

and businessmen.

Imagine a complex of multiuse rooms—

meeting rooms, conference rooms, sitting

rooms, rooms with copying and communications

equipment—each one proudly bearing

the name of a vital area business. Imagine

these rooms radiating like the spokes of a

wheel off a central receiving area "hub"

that buzzes with activity and friendly voices

as area business leaders drop by regularly

on official and nonofficial business. Imagine

wall-to-wall display cases loaded with maps,

brochures, driving guides, reference materials

and background information on local life

and leisure. Imagine clean rest rooms and

hot coffee.

If you can wrap your mind around all

this, you are close to experiencing the reality

of the Texas City-La Marque Chamber of

Commerce, around which all things related

to the well-being of these two coastal communities

seem to revolve.

Founded in 1969, the Texas City-La Marque

Chamber of Commerce has much to show for

its years of service. With a focus on improving

its community's economic development

and quality of life, it has served as a defining

and unifying force throughout the area's

development as a major economic and industrial

player on the Texas Gulf Coast. Also

drawing strength from its diversity, the

organization's membership reflects the area's

global interests and includes members from

as far away as China.

The group's all-inclusive role is summed

up in its mission statement: "The Texas City-

La Marque Chamber of Commerce is an

organization of businesses and individuals

whose purpose it is to create a positive

business environment, assist in economic

development, support public and private

institutions, promote tourism and community

involvement and, in general, enhance the

quality of life in our communities."

Acting as a catalyst for a number of organizations

within the community, the chamber

and/or its committees touch virtually every

aspect of life in Texas City and La Marque.

Whatever the concern—education, industry,

business or the environment—it is almost

guaranteed that there is a chamber group that

is deeply and personally involved.

COASTAL VISIONS - Images of Galveston County

152
---
The education committee works through

local schools to provide scholarship opportunities

and each year hosts a new teachers'

breakfast. Other area concerns and commitments

are served through activities such as

a speaker's bureau, the annual "Trash Bash,"

a Hurricane Forecast Luncheon and an

industrial trade show. Other regular events

include a golf tournament, shrimp boil,

community picnic and "FunFest."

Reflecting its "Partners in Progress" motto,

the organization has received unparalleled

support from its community.

Naming rights on rooms,

and even chairs, and the

donation of supplies and

services have resulted in a

building that is completely

paid for today, leaving this

chamber looking forward

to a future of new growth,

partnerships and collaboration

in its continuing work

to create a even better place

to live, work and play.

Clockwise, starting from top left:

Texas City Dike.

The Texas City vs. La Marque football

game, "Battle By the Bay."

The Spirit of Texas City biplane at Bay

Street Park.

Halfmoon Shoal Lighthouse on Texas

City Levee.

The Delaney Cove subdivision in

La Marque.

The Davison Home, a historical home in

Texas City.

Children fishing on Texas City Dike.

THE MARKETPLACE

153
---
HOMETOWN

BANK, N.A.

Above: Friendswood downtown,

601 South Friendswood Drive.

Below: Galveston Main Bank,

1801 Forty-fifth Street.

Whether it is the home team, home cooking,

or home, sweet home—there is no doubt

that there is no place like home. For many

Galveston County area residents, there is also

no place like HomeTown Bank for handling

their business and personal financial needs

and services.

Commencing operations on Galveston

Island on June 12, 1966, under the name

of Bank of Galveston, National Association,

the bank was founded by a group of local

business leaders who believed Galvestonians

of the 1960s needed a bank more centrally

located to residents living on the western part

of the island.

Changing its name to HomeTown Bank,

National Association, in 1999 to better support

the expansion of its services to mainland

areas, HomeTown Bank has since opened a

number of new offices

and currently has 2

banking locations on

Galveston Island, 1 in

League City, 1 in Alvin,

and 2 in Friendswood.

HomeTown Bank has

enjoyed a long history

of consistent leadership

and profitable operations.

Throughout its

first half century of serving

Galveston County,

it has had only four

chairmen and three

presidents. A founding

Director and long-time

Chairman of the Board

was Michael J. Gaido, Sr.,

a member of the restaurant

and hotel family of

the same name. Upon Gaido's death in 1993,

Jack Miller, of the Schreiber and Miller

Furniture in Galveston and La Marque,

served as chairman for many years before

being succeeded by Michael J. Gaido, Jr.

Other bank leadership has been provided by

President Douglas Lee, who served more than

twenty years before Jimmy Rasmussen was

named to that position in 1989.

Taking its name seriously is a full-time mission

at HomeTown Bank. With a philosophy

of hiring local people, serving local people

and sharing its ownership among some 500

shareholders, HomeTown Bank strives to

welcome each customer like a member of the

family, including hosting outreach social and

community events several times a year.

Through the provision of personalized,

boots-on-the-ground service by real people, a

neighbor-to-neighbor working environment

has been created by HomeTown Bank, even

during times of disaster. In the aftermath of

Hurricane Ike and at a time of international

financial crisis when larger, national banks

were failing, HomeTown Bank was recognized

in the Congressional Record of the

111th Congress of the United States for the

bank's ability to provide immediate attention

and emergency service to its home community

through more than $6 million in bridge

loans to local area business.

Services provided by HomeTown Bank

range from traditional checking and saving

accounts to consumer and commercial lending;

certificates of deposit, online banking

and bill pay, Cash Management, Commercial

Remote Deposit Capture, Debit MasterCard,

and worldwide ATM access services. For

additional information on HomeTown Bank,

visit www.htbna.com on the Internet.

COASTAL VISIONS - Images of Galveston County

154
---
When Hurricane Ike blew through

Galveston Island in September 2008 bringing

110-mph sustained winds and towering

twenty-two foot waves, A-1 Fire Equipment

Co., like the majority on the island, lost

everything—everything, that is, but its will to

survive and rebuild the very island on which

the company was founded in 1967.

"We lost both of our shops and our office,"

said owner and operator Mark Priddy, who

purchased the established fire equipment

company in 2002 and merged it with his

existing company, Galveston Fire and Safety.

"But because our clients and neighbors come

first, we chose to focus on helping them get

back up and running."

Because they needed some place to work

from immediately, Priddy purchased a facility

in nearby La Marque and his team set out to

help rebuild the island. They worked nonstop,

seven days a week for more than a year

making sure each of their clients had what

they needed in the way of fire protection.

Then, like today, they performed thousands

of inspections and provided, serviced and

installed everything from fire extinguishers,

fire alarm systems, restaurant systems,

marine fire systems and flame and gas detection

systems to carbonic and hydrostatic

testing systems as well as access control and

closed circuit television. They worked on,

restored and rebuilt structures to include

businesses, government and school facilities,

colleges and residential facilities and also

installed systems on and inspected the boats

of the U.S. Coast Guard as well as those that

service the oil rigs off the coast.

Today, A-1 Fire still operates from its office

in La Marque and has earned its rightful designation

as a household name on Galveston

Island and all along the Texas coastline. It

services 3,000-plus customers, many who

have themselves or, who by carrying the

torch of their forefathers, have laid the

very foundation of the area, clients such as

George Mitchell Properties, Landry's Seafood,

Port of Galveston, Moody Gardens, College

of Mainland and Galveston Community

College, just to name a few.

In addition to its traditional services, the

company has recently added a second division,

A-1 Restaurant Services, which focuses

on kitchen hood cleaning. The company

employs a dozen skilled and dedicated associates

and has annual revenues which consistently

top $2 million. It is fully-licensed and

certified with the State of Texas; an accredited

member of the National Fire Protection

Association; and a proud sponsor of the youth

program at the annual Galveston County Fair.

For more information, stop by the company's

office at 3202 Main Street in La Marque, call

409-744-4438, or visit the company website at

www.a-1fire.com.

A-1 FIRE

EQUIPMENT CO.

THE MARKETPLACE

155
---
GALVESTON

CHAMBER OF

COMMERCE

It is not just about ribbon cuttings with

giant wooden scissors, nor the plaques,

awards and framed news clippings that cover

the walls at the Galveston Chamber of

Commerce. The most distinguishing feature

of Texas' first—and oldest—chamber of

commerce is its total understanding of the

word "business."

Founded in 1845 the Galveston Chamber

of Commerce was made official "by law" by

the Eighth Congress of the Republic of

Texas. Local business leaders whose names

are attached to the official documents of

that event include such historic notables as

S. M. Williams, founder of the Texas Navy,

and M. B. Menard, who later became a

founder of Galveston itself.

A similar pioneering

spirit has since energized

Galveston's chamber for

more than 160 years.

Through natural disasters

such as storms, fires and

fever epidemics, through

economic prosperity and

down-turns, the Galveston

Chamber of Commerce has

played a vital and pivotal

role in the unfolding commercial

development of not

only its home community,

but the entire Gulf Coast

region of the United States.

From the beginning,

Galveston's leaders knew the importance of

working together. With one of the best natural

deepwater ports in the world, the island

early on attracted shipping and maritime

interests, and with shipping came businessmen,

entrepreneurs, adventurers and workers

of every description.

With such diversity, however, there had to

be consensus and a common ground for the

men and women who were going to shape

Texas history and commerce as it branched

out over the remainder of the nineteenth century

into banking, railroads, cattle and cotton.

The Galveston Chamber of Commerce was

specifically designed to provide this broad

base for businesses of all types. With its

guidance, the island city of the 1800s soon

became known as "The Queen of the Gulf,"

and for many decades was the most prosperous

and progressive city in the state. Today,

Galveston's chamber—with its to-the-point

mission "To Promote and Advocate for

Business"—is still the unifying organization

for local growth and development.

Combining creative foresight with an ability

to tap into innovative business ventures

attuned to the world's changing needs,

Galveston's twenty-first century chamber continues

its dedication to building a strong local

economy through more businesses, better

businesses, and jobs with competitive salaries

and fringe benefits. Additionally, its programs

foster better schools, enhanced educational

opportunities and a decrease in crime.

Through commercial stimulation, the

chamber is also paving the way for public

programs and community amenities that

enhance Galveston's overall quality of life,

contributing to not only increased resident

satisfaction but the building of the tourism

industry through growing numbers of conventions,

meetings and vacationing visitors.

COASTAL VISIONS - Images of Galveston County

156
---
Teaming up Lone Star State values with

all-star employees and family-friendly service

is a winning strategy at Texas First Bank.

With a motto of "Helping Texans Build Texas"

and headquartered in Texas City, Texas First

Bank is Galveston County's largest, locallyowned

family of community banks.

Initially founded in Hitchcock in 1962 as

First State Bank, the organization was purchased

in 1973 by an investor group headed by

current Board Chairman Charles T. "Chuck"

Doyle. Renamed Texas First Bank, the

organization grew steadily under Doyle's

leadership and, by the end of the

twentieth century, had established banking

centers in all thirteen of Galveston

County's incorporated areas. Today, it

includes twenty banking centers and

has expanded into Brazoria, Chambers,

Harris and Jefferson Counties, as well

as offering additional services through

Texas First Mortgage, Texas First SBA

Lending, Texas First Investment Center,

and the Rust-Ewing and Sullivan

Insurance agencies.

Steadfastly maintaining its conservative

roots, Texas First Bank has solidly

and profitably withstood world market

fluctuations without losing its family

focus. Deeply committed to customer

service and satisfaction, it combines

responsible management with innovative

programs, such as online account

opening, and was the first bank in Texas

and the second bank in the nation to

offer the VISA Extras program. Texas First Bank

was voted Best of the Bay's "Best Bank" and

named among the area's "Top Work Places" by

the Houston Chronicle, and received Golden

Eagle and Silver Eagle marketing awards from

the Independent Bankers Association of Texas.

In 2009 the Independent Community Bankers

of America Magazine Independent Banker

named Texas First Bank one of the topperforming

banks in the country.

A five-term mayor of Texas City and the

Galveston County Daily News' "Citizen of the

Century," in 2000, Doyle has been a major

player in the development of the bank and of

Texas City. The recipient of numerous honors,

including IBAT's "Chairman's Award" and

being named "Texas Banker of the Year," he

served as the first community banker on

the Federal Advisory Council to the Board

of Governors of the Federal Reserve in

Washington, D.C., and was a director of the

Federal Reserve Bank of Dallas. He also is

known for his work with area youth, including

playing a prominent role with the Boy

Scouts and helping found the "LEADS" leadership

program for area high schools with the

Texas City ISD Foundation for the Future.

Deeply committed to maintaining the

altruistic and family nature of Texas First,

Doyle today has three of his sons working

with him, and, following their father's lead,

each is also heavily involved in civic affairs.

Matthew is vice chairman of the bank's

board and currently Mayor of Texas City;

Christopher is bank president/CEO and

heads the Salvation Army advisory board;

and Patrick is currently Galveston County

Commissioner, serves as the bank's legal

counsel, and is active in Scouting. The threesome

and their father also have given the

Doyles the distinction of being the only family

to have four members named among the

Texas Jaycees' "Outstanding Young Texans."

TEXAS FIRST

BANK

Left to right holding their Outstanding

Young Texans awards are: Legal Counsel

of Texas First Bank, Patrick Doyle;

Chairman of the Board, Charles T. Doyle;

Vice Chairman, Matthew T. Doyle;

and President/CEO Christopher Doyle.

THE MARKETPLACE

157
---
BETTER

BUSINESS

BUREAU

For going on nine decades, consumers and

businesses in Galveston County have enjoyed

the protection and assistance provided by the

Better Business Bureau of Greater Houston

and South Texas.

Perhaps better known as simply the

BBB, this bureau is one

of a network of 110 private

business organizations

located throughout

the United States and

Canada. Like its sister

organizations across the

continent, it was born out

of concern for the deceptive

advertising practices

prevalent during the early

twentieth century and

actually morphed from

the existing Associated

Advertising Clubs of

America. History tells us,

in fact, that it was during

a meeting of this group,

which was presided over

by the club president and

held at the Rice Hotel in downtown Houston,

that the area BBB was officially founded on

February 28, 1922.

Today, this BBB serves a metropolitan area

that encompasses Galveston and seventeen

other Texas counties. It promotes mutual

trust between more than 8,000 accredited

businesses and a population that has grown

from less than 300,000 when the BBB was

first founded to more than six million today.

The organization employs sixty people and

has four offices in the region.

According to the organization's board of

directors, which is made up of fifty members

representing the counties it services, the

BBB is in the business of creating and

maintaining better business throughout its

service area. It works diligently to create a

trustworthy business community, which

breeds success for both consumer and

accredited businesses alike.

Indeed, it is a simple, but successful

premise. Because companies that are invited

to join the BBB as Accredited Businesses

must meet the BBB Standards for Trust and

maintain all requirements of Accreditation,

consumers can feel confident in patronizing

BBB-accredited businesses. Likewise, when

consumers feel more confident about a

business, accredited businesses usually enjoy

a growing customer base.

Specifically, the BBB gathers and archives

information about businesses and their

reliability, whether accredited or not; alerts

the public to fraud against consumers and

businesses; provides information on ethical

business practices, and acts as mutually

trusted intermediaries between consumers

and businesses to resolved disputes. Core

services include business review reports,

fraud prevention, charity accountability and

effectiveness education, complaints and

dispute resolution, consumer and business

education, truth in advertising and wise

giving charity reports.

Additionally dues-paying Accredited

Businesses can utilize a number of services

to help improve their business from dispute

handling and resolution, training, various

advertising and marketing tools and a

speakers bureau, just to name a few, as

well as complete access to a host of valuable

business information resources available only

through the BBB.

For more information, please visit online at

www.bbbgalveston.org.

COASTAL VISIONS - Images of Galveston County

158
---
When R. C. Williams founded ROBCO

Facility Services in 1977, his office was the

trunk of his car.

Today, however, ROBCO has a headquarters

office in Texas City and two satellite offices

and is one of the premier facility management

companies in Texas. ROBCO provides a wide

range of services in six main areas—janitorial,

lawn care, pest control, greenbelt mowing, box

moves and ancillary service. The employee roster

has grown from one to approximately 100.

When asked what makes the company

successful, the now retired founder who has

since turned over the company to his son,

Emery Williams II, is quick to tip his hat

to the employees. "We feel that our greatest

assets are our employees. Through hard

work, good management and a working

relationship based on commitment, we are

able to maintain a consistent and highly

trained workforce with high quality work

performance," the elder Williams said.

The company is particularly proud of its

stellar safety record. It has had no recordable

incidents with the Occupational Safety and

Hazard Association (OSHA) in almost a decade

and has been recognized time and again by the

committee that presents the Houston Business

Round Table Safety Excellence Awards.

"With quality and safety procedures

second to none in the industry, our clients

can trust us to work in their highest security

and most restricted areas," says Emery, who

now serves as company president.

ROBCO provides superior services both

inside and out for facilities of all sizes and

types—from commercial office buildings,

industrial facilities, chemical plants and

refineries to undeveloped and newly developed

properties as well as recreational and

school properties. Its client list includes

well-known corporate citizens such as BP

Refinery, Praxair Incorporated, First Choice,

BP Amoco Chemical Company, Ineos Nova,

LLC, Oxbrow Carbon and Minerals and

BP Chemical, Inc., just to name a few.

Indoors, the company's janitorial service

record is spotless and staff and management

are constantly researching to identify the most

efficient, cost-saving and green methods to

perform cleaning services.

Outdoors, ROBCO provides top-notch

landscaping services to include design and

complete lawn care and pest control treatments

and maintenance to protect and bring

out the aesthetics of offices and facilities alike.

ROBCO's Greenbelt Mowing division provides

services such as tractor mowing, tree

removal, weed and tree trimming, grading

services, seasonal clean-up and maintenance.

The Moving Division provides professional

moving services for commercial clients.

Additionally, the company is also equipped

to provide an array of ad hoc services on

demand such as pressure and steam washing

and herbicide spraying.

ROBCO Facility Services is located at

428 Texas Avenue, Texas City, 77590. For

more information, call 409-945-5539 or visit

www.robcoservices.com.

ROBCO FACILITY SERVICES

R. C. Williams.

THE MARKETPLACE

159
---
GIA INSURANCE

Above: Southeast corner of Market and

Twenty-first Streets, 1893.

PHOTOGRAPH COURTESY OF THE ROSENBERG LIBRARY.

A small collection of broken red bricks

and mortar bears silent witness to the real

business at Galveston Insurance Associates.

Sharing display-case space with gleaming

civic awards and vintage photos, the

crumbled masonry from a long ago storm

ravaged building is a somber reminder that

human life, health and property must never

be taken for granted.

The oldest independent

insurance agency in Galveston

County and the largest on

Galveston Island, GIA has

shared more than 120 years of

history with its home community.

During that time, the

company has dealt with fire,

flood and storm. It has seen its

clients through sickness and

health and been there to provide

security and support

through many of life's most

major moments.

As an Independent Insurance Agency, GIA

is not limited to selecting policies from only

one insurance provider, but has the ability to

'shop' for competitive rates and provide

individualized coverage through a variety of

personal and business insurance products.

Additionally, GIA's long tenure in the insurance

business provides extra assurance of dependable

representation in that it has over the years

cultivated favorable and stable relationships

with a number of carefully chosen, reputable

and financially sound insurance companies.

From its offices today on Galveston Island

and in Friendswood, Texas, GIA can help

clients select insurance for nearly all personal

and business interests, including farm and

ranch coverage. In addition to life and health

insurance for individuals, families, groups

and employees, GIA offers homeowners,

windstorm, flood, automobile, boat, yacht,

motorcycle and other "valuable property"

policies. Commercial coverage includes business

and commercial property protection,

plus liability, windstorm, flood, workers'

compensation, business vehicle and bonding

policies. GIA can also assist with financial,

business, retirement and estate planning.

GIA's history includes helping Galveston

recover from numerous weather disasters.

Founded in 1892 by Charles Rhodes Brown,

one of the first presidents of the Independent

Insurance Agents of Texas, the company had

been in business only eight years when

Galveston experienced the Great Storm of

1900. Slightly over a century later, GIA once

again played a leadership role in disaster recovery

when Hurricane Ike struck in 2008. GIA's

president, Garry P. Kaufman, was president of

the Independent Insurance Agents of Texas

(IIAT) when Hurricane Ike made landfall.

As the state's largest writer of flood insurance

and among the first agencies in Texas

to have a website, www.gia-tx.com, GIA is

committed to providing ongoing

service in advance of, throughout

and immediately after catastrophic

events. In advance of Ike,

it relocated computer servers,

workstations and a management

team inland to College Station,

allowing GIA to be "online" and

fielding calls from customers even

as Ike was making landfall. The

day following the storm, the company

president was back on

Galveston Island personally helping

process client claims, and

three days later, GIA's mainland

office reopened to provide assistance

twelve hours a day to the

neighboring community.

COASTAL VISIONS - Images of Galveston County

160
---
A Galveston resident since the late

1980s, journalist Leslie Watts currently

pursues a freelance career in writing

and editing—and sometimes helping

others write and edit—books, articles,

institutional publications, press releases,

speeches, scripts, advertising and

other materials. In addition to a

journalism career that has included

both print and broadcast communications,

Watts has taught high school

algebra and middle school English.

Graduated with honors from

Louisiana State University in Baton

Rouge, Watts earned her bachelor's

degree in journalism, specializing in

radio and television broadcast. She

also has studied computer science at

the University of Houston and worked

on a Master of Science degree in

mathematics at the University of

New Orleans.

Her career has included serving as

director of continuity for WAFB-TV in

Baton Rouge, where she helped organize

programming and also wrote and produced

news and feature stories, commercials and

public service messages.

She joined the Houston Chronicle as a food

and wine writer and assistant to the food

editor, and was later named senior fashion

writer. During her almost ten years at the

Chronicle, she produced several weekly

columns, contributed general features to the

newspaper's lifestyle section, and assisted in

the sports department during football season.

She also provided coverage of figure skating

events and personalities during Houston's

Olympics Festival.

In anticipation of the 100th anniversary

of the founding of the medical school at

the University of Texas Medical Branch at

Galveston, Watts was hired as the event's

Centennial Writer to oversee the writing and

publication of materials related to the centennial

celebration. In this role, she produced the

centennial's quarterly newsletter and authored

numerous publications including two commemorative

books, Century of Service and

Centennial Reflections. Upon completion of

the medical school's anniversary celebration,

she continued to write for the university

and assisted with special projects for the

UTMB president's office and other upper-level

administrative areas.

Her freelance career has included serving

as a contributing editor for Continental, the

in-flight magazine for Continental Airlines,

during which she for several years authored

the airline's monthly Cityside column on

Houston, and also served as the Houston

restaurant reviewer and features writer. Other

publications in which her work has appeared

range from the Journal of the American Medical

Association and Texas Medicine to the Handbook

of Texas and Liquor Store Magazine.

Watts enjoys spending time with her four

children and seven grandchildren, and is

also an active volunteer. She has served on

a number of Galveston boards related to

church and civic activities, including the

Grace Episcopal Church Foundation Board.

She also has chaired Galveston Historical

Foundation's homes tour committee and

preservation and conservation services

committee, and continues to work with that

organization's Dickens on the Strand festival

and other local and Houston-area projects.

LESLIE WATTS

Leslie Watts.

THE MARKETPLACE

161
---
MIHOVIL

PHOTOGRAPHY

Freelance photographer Robert Mihovil.

Photographer Robert Mihovil is a man

of passion—passion for his family, passion

for historic Galveston Island and passion

for photography.

Although his work has appeared in

numerous local, national and international

publications, his loyalty to his home

community—and his affection for it as a

favorite subject—has been paramount in

his career.

"I have always been proud to be a B.O.I.,"

says Mihovil, referring to the "born on

the island" acronym used by many native

Galvestonians to ensure that everyone is

aware of their island heritage. A fourth

generation Galvestonian, Mihovil adds that

he even has had the same phone number

for fifty-three years and except for the time

he spent earning a bachelor's degree in

journalism at the University of Texas main

campus in Austin, he has been an island

resident throughout his life.

Many of his fellow citizens and professional

acquaintances recognize that he could

have set his sights on far-reaching fame,

but Mihovil is adamant about his home

community's place at the center of his life.

"I never aspired to be a world famous

photographer," he says. "I am perfectly

satisfied and completely content being the

big fish in our little island pond. I have a

wife, family and friends who love me. I have

an adult daughter who speaks to me and a

photography career that I'm still passionate

about after thirty-two years. Although I have

opportunities to travel on many exciting

assignments, I am very active in my neighborhood

and community and I especially

enjoy sharing with others my love and

appreciation of Galveston."

Mihovil also admits to being a perfectionist,

not only with regard to the technical

aspects of his photography but with the

selection of subjects and the locations in

which he photographs them.

In his preparation for gathering the images

featured in Coastal Visions: Images of Galveston

County, Mihovil contacted representatives of

all the county's chambers of commerce as

well as local historians and civic leaders from

throughout the area's various communities.

"It was important to me that Coastal Visions

be truly representative of the county as

a whole," he says. "I wanted every area

in the county to have input into the

selection process of what really constitutes

Galveston County's vision and which

subjects were truly representative of our

coastal lifestyle."

Mihovil is happily married and has

one daughter.

He is a regular contributor for Coast

Magazine, Guidry News and Texas Journey. His

work also has appeared in Coastal Living,

National Geographic, Newsweek, Offshore,

People, Smithsonian, Texas Highways and

Texas Monthly. The Austin-American Statesman,

Boston Globe, Houston Chronicle, New York

Times and USA Today have also published

his work.

His photographs have additionally

been chosen for the covers of such

publications as the Galveston Park Board

of Trustees Visitor's Guide, the Galveston

Chamber of Commerce Directory and AT&T

telephone directories distributed throughout

the county.

In addition to his own freelance career,

Mihovil and his friend/photo assistant Carl

Schutz host photography excursions for the

Galveston Island Arts Academy. During these

hands-on programs, they help participants

set up their own digital cameras, provide

instruction in basic photography skills,

share photography tips and finish up with a

photography "field trip."

Mihovil also teaches photography each

summer at Sea Camp, an outreach program

for students thirteen to eighteen years of

age at Texas A&M Galveston. Remembering

that his own interest in photography

began at a similarly early age, he says "The

first camera I ever owned, I won selling

Worlds Finest Chocolate when I was twelve.

I sold twenty-four cases to win the

first prize, which was a stereo. I selected

the second prize instead, however—a

Kodak camera."

Mihovil Photography is located at 2402

Church Street, Galveston Island, Texas 77550.

For additional information please go to his

online web gallery at www.mihovil.com.

COASTAL VISIONS - Images of Galveston County

162
---
PHOTOGRAPH COURTESY OF MIHOVIL PHOTOGRAPHY.

THE MARKETPLACE

163
---
Building a

Greater Galveston

COASTAL VISIONS - Images of Galveston County

164
---
Galveston's real estate developers,

construction companies,

heavy industries, and manufacturers

provide the economic foundation

of the region

Mitchell Historic Properties ........................................................166

BP Texas City Refinery ...............................................................170

BP Texas City Chemicals.............................................................171

Galveston County Economic Alliance.............................................172

United Way Galveston County Mainland........................................173

Ocean Star Museum ..................................................................174

Gulf Copper..............................................................................176

CenterPoint Energy....................................................................178

First Choice Power ....................................................................180

HDR, Inc..................................................................................182

Port of Galveston ......................................................................184

Hitchcock Industrial Development Corporation ...............................186

Blimp Base Interests, Inc. ...........................................................187

Prudential Premier Properties–Beach or Bay ..................................188

Marathon Petroleum Corporation .................................................189

Valero Refinery .........................................................................190

Galveston-Texas City Pilots.........................................................191

Dow Texas City Operations .........................................................192

BUILDING A GREATER GALVESTON

165
---
MITCHELL

HISTORIC

PROPERTIES

Above: Young George Mitchell in knickers.

Below: George and Cynthia Mitchell pictured

at the former Wentletrap Restaurant.

PHOTOGRAPH COURTESY OF THE ROSENBERG LIBRARY,

GALVESTON, TEXAS.

Probably few people enjoying the late

1920s Galveston beachfront paid much attention

to a small boy gathering shells—shells he

later would sell to a local merchant but this

appreciation of Galveston's natural beauty

combined with a talent for entrepreneurship

came early for George Mitchell.

Most likely, not many more noticed the

same boy at age twelve as he spent his

summer biking through Galveston's neighborhoods,

identifying the many different

varieties of Oleanders, the island's official

flower, to be found across the city. This

youthful desire to honor his island heritage

blended with a commitment to its preservation

also forecast George Mitchell's most

daring adult mission.

Today, as founder of Mitchell Historic

Properties, George is recognized as having

taken on an unparalleled adult role as a leader

in the rescue of Galveston's historic architecture,

the preservation of the island's heritage,

and the rebirth of his home community as a

center of business and tourism.

The internationally recognized geologist,

engineer, oilman, businessman, developer,

philanthropist and preservationist has been

not only a catalyst but a major player in the

rehabilitation of Galveston's nineteenth and

early twentieth century downtown and its

resultant elevation to the status of The Strand

National Historic Landmark District, as

designated by the National Park Service.

With investment in the Galveston

community totaling more than $175

million, MHP administers the operations

and preservation of more than

one-fourth of the buildings on The

Strand and the adjacent Pier 21 area,

and oversees some twenty historic

buildings and three hotels.

Where fifty years ago there stood

entire city blocks of dilapidated and

sometimes abandoned Victorian- and

Edwardian-era buildings, there is today

a bustling downtown with sparkling

retail emporiums, art galleries, offices,

residences and restaurants. Because of

George and other similar visionaries,

today's tourists and locals alike can

leisurely stroll Galveston's charming

historic downtown as they shop, work, dine

and play. Some are even fortunate enough to

now call it home.

The man behind much of this Galveston

renaissance—George Phydias Mitchell—was

born in 1919 to Savvas Paraskevopoulos and

Katina Eleftherion. Savvas had emigrated

from Greece in 1901, and while working on a

railroad crew was faced with a company paymaster

who complained of his employee's

multi-syllabic Greek last name. Savvas solved

the problem by adopting the Irish paymaster's

own name—Mike Mitchell—and then passed

the last part on to his own progeny.

After moving to Galveston, where George

was born, the family lived above their small

dry cleaning shop in a Galveston neighborhood

referred to as the "League of Nations"

because of its diverse racial and ethnic

composition. Hardworking but unschooled,

George's parents stressed the importance

of education to all four of their children,

and, following his graduation in 1935 from

Galveston's Ball High School, George had

planned to enter Rice University in preparation

for medical school. At age sixteen, however,

he was declared too young for admission

to Rice, so he decided to mark time by

working with his brother Johnny in the oil

fields that were sprouting up all over Texas.

In the heady atmosphere of the burgeoning

petrochemical industry, a career in medicine

was soon set aside, and George headed off to

Texas A&M to study geology and petroleum

engineering. Working his way through college

by operating a laundry concession, waiting

tables, and selling candy, stationery and book

cases that he made himself—and also finding

time to captain the university's tennis team—he

graduated in 1940 at the top of his class.

The next decade was filled with momentous

events for the aspiring young entrepreneur.

On Thanksgiving Day 1941, during a train ride

returning to Houston after a football game,

George met Cynthia Woods, who became

the love of his life. The couple married on

Halloween 1943 and began a life-long partnership

in which they not only raised ten children

but also became one of the region's most

significant couples, widely recognized for their

civic leadership.

COASTAL VISIONS - Images of Galveston County

166
---
Following service during World War II as a

captain with the U.S. Army Corps of Engineers,

George began his petroleum engineering career

in earnest. He led a gas exploration "wildcatting"

operation that in 1952 hit one of the largest

strikes in history, laying the foundation for what

would eventually become Mitchell Energy and

Development Corporation, one of the nation's

premier independent energy companies.

Above: Hotel Galvez & Spa is the only

historic beachfront hotel on the Texas Gulf

Coast. In preparation for the hotel's 100th

anniversary, all Gulf facing windows will be

replaced with operable, divided light

windows reminiscent of the hotels

original design.

Left: The Tremont House is located in

historic downtown Galveston and is a

wonderful example of adaptive use of a

historic building.

Despite the demands of a busy professional

life, which came to include the development

of The Woodlands, a planned community

north of Houston, George made sure his growing

family made time and space for regular

visits to Galveston south of Houston. It was a

favorite place to come and relax, a place where

George could indulge in his passion for fishing

and where the children learned to share their

parents' appreciation of and commitment to

the island.

The Mitchells also began to direct their

attention toward providing a solid foundation

for Galveston's future economic growth

through the development of the western part

of the island, but were additionally concerned

about the continuing deterioration of numerous

architectural treasures on the east end.

In particular, they saw the widespread blight

that threatened the historic downtown.

In 1972, on a visit to Charleston, South

Carolina. George learned of an innovative

program that included a buying-and-selling

"revolving fund" program that was being used

to help temporarily rescue historic structures

from the wrecking ball and stabilize them until

a suitable permanent owner could be found to

continue the structure's restoration.

Below: The Hutchings-Sealy Building is

situated on the corner of Strand and

Twenty-fourth Street in the heart of historic

downtown Galveston. The building offers

retail space on the first floor as well as office

space on the second and third floors.

BUILDING A GREATER GALVESTON

167
---
Left: Old Galveston Square is a high-traffic

retail location in the center of historic

downtown Galveston. The building offers

highly visible retail space on the first floor

as well as retail/office space on the second

and third floors.

Right: The Thomas Jefferson League

Building on The Strand.

A group from Galveston Historical

Foundation was dispatched to study the

Charleston program and, with the support of

several local foundations and others, a

similar fund was established for the island.

The Mitchells purchased the 1871 Thomas

Jefferson League Building on The Strand in

1976, and with its renovation, opened the

upscale Wentletrap Restaurant.

In 1982, George shared in a speech to the

island's Rotary Club a major plan for his home

town that included increasing year-round

tourism, developing additional residential areas

on the island's west end and revitalizing the

entire downtown area. His personal goals

included the opening of two hotels, a marina

and upscale condominiums, and establishing a

trolley line to run from downtown to the beach.

The first hotel, the San Luis Resort and

Condos, was new construction, but was built

on historic property that had served as Fort

Crockett during World War II. The land came

with elevated military bunkers and vintage

gun emplacements, which were left intact and

can be seen today still strategically overlooking

the Gulf with the magnificent San Luis

complex sitting high on the hill above them.

The second hotel was The Tremont House,

which occupies the 1879 Leon and H. Blum

Building in the historic downtown area.

Constructed more than a century earlier, the

building like much of downtown Galveston

had fallen into severe disrepair at the time of

the Mitchells' purchase.

With his typical visionary approach and

perseverance, however, George personally

oversaw its transformation from a massive

but shabby commercial warehouse into the

119-room Tremont House, one of the Texas

Gulf Coast's most charming and luxurious

historic hotels and the first of any significance

in Galveston's downtown area in six decades.

With fanfare such as the city had not seen in

years, the hotel's opening in February 1985

was accompanied by the Mitchells' revival of

Galveston's traditional Mardi Gras celebration,

complete with a gala parade, costumed revelers

and a formal ball.

Another rescue effort took on mythological

aspects. As Hurricane Alicia left Galveston

in its wake in 1983, it also left the

Washington Building—constructed in 1873

as the Washington Hotel—almost totally in

ashes, the result of an electrical fire sparked

by the storm. The Mitchells had already

purchased the building and plans had been

drawn up for its rehabilitation, but all that

was left were portions of two walls, one of

which had to be supported by a lumber brace

to keep it from falling.

In typical Mitchell fashion, the rehabilitation

program, which now included rebuilding

as well, went forward, and what emerged was

a charming reinforced concrete-framed replication

of the original building to house retail

areas, offices and the city's oldest law firm.

The space in back of the Washington was

reconfigured to include a park-like courtyard

that fronted a bakery and coffee shop aptly

named The Phoenix, and which for many

years after was a favorite early morning stop

for George, who would quietly drop in,

inconspicuously take a table in the corner and

visit with a close friend or two over coffee.

COASTAL VISIONS - Images of Galveston County

168
---
The Mitchells have not limited

themselves to saving only Galveston

buildings. The badly deteriorated 1877

"Tall Ship" Elissa had initially been slated

for the City of San Francisco, but

George and other community leaders

were able to negotiate a deal to bring

her to Galveston instead, where today,

gloriously restored, she serves as the

main attraction at the Texas Seaport

Museum and is one of three National

Historic Landmarks in Galveston.

George also followed through on his

1982 vision to create a trolley line,

whose vintage-like vehicles offered

regular passenger service across the island

from Pier 21 on the bay to the beachfront on

the gulf until they were severely damaged

by Hurricane Ike in 2008. Also a part of the

George's plan to strengthen the link between

Galveston's harbor and The Strand, the Pier 21

complex includes the Harbor House Hotel &

Marina, constructed in 1993, in addition to a

theater, shops and restaurants.

Although they cannot claim the BOI

("Born on the Island") status of their father,

the children of George and Cynthia Mitchell

seem to share much of their parents' commitment

to the island. Son Grant Mitchell has

turned his cinematic talents to the production

of several multimedia presentations on the

island's history, including The Great Storm and

The Pirate Island of Jean Lafitte, both of which

are shown at Pier 21's Great Storm Theater.

Daughter Sheridan Mitchell Lorenz has joined

her parents in civic projects such as the

development of a local affordable housing

initiative known as The Oaks, and applied

her expertise in architectural preservation and

interior decoration to the accurate restoration

and refurbishment of the 1911 Hotel Galvez.

Additionally, the Mitchells' granddaughter

Lori Mitchell currently oversees design choices

for all the family's Galveston properties

with the same care and attention to detail

shown by her grandmother and aunt.

It was at Cynthia's encouragement—she is

reported to have said to her husband, "If you

really care about Galveston, you will buy that

hotel"—that George in 1992 purchased the

Galvez for $3 million. The initial rehabilitation

that followed totaled around another $20

million, but few grand hotels of the past have

been so painstakingly researched and meticulously

rebuilt to their earlier splendor. Photos

from its premiere years, when the Galvez was

known as the "Queen of the Gulf," were carefully

examined by Sheridan and her mother,

and later modifications removed and earlier

design elements restored. Even the paint colors

of the original lobby were replicated to create

an oasis of spacious, palm-shaded vistas connected

by "tea and cream" columns and arches.

There was yet another great challenge coming,

however. When Hurricane Ike struck in

September 2008, destroying much of the

rehabilitation efforts of the past half century,

MHP was again a leader in the recovery and

rebuilding of the historic district. Launching a

massive clean-up and restoration program,

the organization commandeered an army of

workers to address the damages, and following

the example of George and other stalwart

islanders, much of Galveston quickly and

heroically rebounded.

The following year, when the "Spirit of

Galveston" award was presented to George by

the Galveston Chamber of Commerce, many

felt he should receive a "Heart of Galveston"

tribute as well, for that is what he had truly

given. And indeed, as the evening unfolded

and his many contributions throughout the

years were being extolled, one could catch a

glimpse every now and then of the young

George with his shy, boyish smile, and totally,

unabashedly still head-over-heels in love with

his island home.

Due to high demand for waterfront property

for dining, retail and entertainment, the

Pier 21 complex provides a destination

along the pier. Pier 21 offers retail space.

BUILDING A GREATER GALVESTON

169
---
BP TEXAS CITY

REFINERY

Above: West Plant.

Below: Board operator, Cynthia Cappa.

Workers at the BP Texas City Refinery

have been producing vital transportation

fuels for the American marketplace since

1934. Originally the site was owned by

Pan Am, and later Amoco before that

company merged with BP in 1998.

As the third largest refinery in the United

States and BP's largest refinery worldwide,

the Texas City plant has a crude capacity of

475,000 barrels per day. The refinery can produce

up to 3 percent of the U.S. gas supply.

During 12 hours of normal production,

the Refinery's workers

can produce 21 million gallons

of gasoline, enough to fill up 80

miles of a 36-inch pipeline.

Locally, the refinery is the

largest private sector employer

and taxpayer in Galveston

County. The site's 2,000 plus

workers are proud to provide

a variety of fuels, chemical

feedstock and other refined

petroleum products for customers

across the country.

Less than ten years after

its construction, the refinery's

workers made a lasting impact

on history. During World War II,

U.S. Government funds resulted

in the construction of three new

units at the facility, where its

workers produced vital jet fuel

for American and Allied forces.

The site saw continued growth following

the war to keep up with post-war demands.

By the 1960s, the plant had the capacity

to produce 240,000 barrels of crude a day.

During the next decade, a waste water

facility was built as part of a modernization

project. Further expansions and investments

continued from the 1980s to 2000s aimed at

improving capability, reducing emissions and

producing a cleaner fuel.

From 2005 to 2009, BP invested more

than $1 billion and more than 60 million

hours to renovate the 1,200-acre facility.

Those renovations included major updates

to 28 major process units, a rebuilt 27-mile

steam system, new flare systems and a 62,000

square feet employee services building.

Located in south Texas City, the refinery has

access to the world through the Port of Texas

City and numerous pipelines.

With a daily employee and contractor

work force that can reach as high as 7,000,

the site's annual economic impact on the

Texas economy from operating revenues

and spin-off revenues totals more than

$20 billion.

BP works to be a good corporate neighbor

with employees participating in numerous

community services projects and has

raised nearly $1 million annually for the

United Way. The company's Fabric of

America program has enabled employees to

give more than $1.1 million in contributions

to local organizations.

COASTAL VISIONS - Images of Galveston County

170
---
BP TEXAS CITY

CHEMICALS

The 300 workers of the BP Texas City

Chemicals facility are proud to run the

world's largest production plant of both

paraxylene and metaxylene.

The 220-acre site includes four manufacturing

process units—three paraxylene (PX)

and one metaxylene (MX). The PX production

capacity is 2.5 billion pounds per year

and the MX production capacity stands at

500 million pounds per year.

The principal use for paraxylene is purified

terephthalic acid (PTA) which is used primarily

in making polyester for textile fibers and

fabrics for various products such as bottles

containing groceries and cleaning products,

magnetic tapes, microfilms and containers.

The PX output from BP Texas City

Chemicals is primarily shipped to BP's PTA

plant in Cooper River, South Carolina, and

then exported to facilities throughout

Asia. PTA is the key raw material used to

manufacture polyester fiber, resin and film.

The main use of metaxylene is purified

isophthalic acid (PIA) which is used to

make soda bottles, fiberglass auto bodies,

surf boards, snowmobile housings, outboard

motor covers, industrial cooling fans and

vaulting poles.

The MX production at BP Texas City is

under long-term sales contract to a third party

in the United State for conversion into PIA.

The Chemicals plant purchases most of

its feed stocks directly from the adjacent

BP Texas City Refinery.

The chemical plant is located on the

south side of Texas City and was acquired

by BP in 1998 from Amoco along with the

neighboring refinery.

BP Texas City Chemicals implements a

deepwater dock facility at the Port of Texas

City which is leased from the Texas City

Terminal Railway Port Authority.

BP workers are proud to support local

charitable and service organizations like the

Salvation Army, the Galveston County Food

Bank, Ronald McDonald House, D'Feet Breast

Cancer, the Bay Area Council Boy Scouts, and

school districts throughout Galveston County.

On the next two pages, BP is proud to sponsor

the presentations of the Galveston County

Economic Alliance and United Way Galveston

County Mainland. Both agencies have been

excellent partners with BP Texas City in improving

the quality of life for many citizens, families

and businesses throughout Galveston County.

BUILDING A GREATER GALVESTON

171
---
GALVESTON

COUNTY

ECONOMIC

ALLIANCE

The Galveston County Economic Alliance

was formed in February 1998 to provide

economic development services for Galveston

County. The current executive director is

Don Gartman. The Alliance is a membership

organization composed of cities, business,

education and industry leaders in Galveston

County. Its board of directors represents a

wide cross section of the membership.

The principal function of the Alliance is to

facilitate the location and development of new

business and industry into Galveston County.

Since its inception, it has worked with many

new businesses to create new jobs and inject

capital into the local economy. The Alliance

works very closely with city economic development

entities to attract business that is

consistent with the growth plan of the city.

Galveston County boasts a wonderful variety

of communities, from the tourist centered

economy of Galveston Island, to the industrial

base of Texas City, to the scientific and

technical focus of Northern Galveston County.

Each community is unique and has its own

priorities for development.

Galveston County is committed to creating

an environment that encourages economic

growth and the creation of jobs. It provides a

well educated workforce, strong community

support, excellent medical facilities through

the University of Texas Medical Branch, and a

wide variety of lifestyle experiences. More

information about Galveston County cities

and the Galveston County Economic Alliance

may be found at www.gcea.us.

Although its principal function is to facilitate

the location of new business and industry

into Galveston County, in 2005, the Alliance

decided to extend its work to the support of

small business development within Galveston

County. It formed the Galveston County

Economic Alliance Foundation for the primary

purpose of raising the necessary match

funding to bring the services of a Small

Business Development Center to Galveston

County. The Foundation entered into an

agreement with the University of Houston to

host the Galveston County Small Business

Development Center, which saw its first client

in 2006. Since that time, the Center has

assisted in the formation of over 100 new

businesses, the creation of over 400 new jobs,

and the infusion of over $23,000,000 into the

economy of Galveston County. The Center provides

one-on-one business advice and counseling

at no cost to the business owner, and

a variety of training classes at very low cost.

Visit www.gcsbdc.com for more information.

COASTAL VISIONS - Images of Galveston County

172
---
UNITED WAY

GALVESTON

COUNTY

MAINLAND

There is a United Way in almost every large

city across the United States and several other

parts of the world. Each United Way is as different

as the diverse communities it serves.

The organization now known as United Way

Galveston County Mainland has been serving

the people of Galveston County's mainland

communities since 1955. Then, it was called

United Fund. Now it is called United Way

Galveston County Mainland. Then, and now,

the mission is still the same: mobilizing the

caring power of people to help one another.

Each year, this United Way raises funds with

the help of industrial and community advocates

to support programs at local nonprofits

and to provide direct community services.

The United Way was born out of necessity.

It was created by men and women of good

will as an answer to the waste and frustration

of many competing appeals for funds, numerous

and incessant demands for volunteer time

and the fragmentation of human services.

In the early years of this organization, the

campaign goal was about $200,000 for 11 social

service agencies. The 2012 campaign goal was

$2,324,000, which was designated to fund more

than 60 programs that improve the health,

income and education of people who live in

Galveston County's 13 mainland communities.

Year after year, employees from the industrial

plants and local business leaders give

a portion of their wages to United Way

Galveston County Mainland. The petrochemical

businesses that call Texas City home have

played an integral role in keeping the doors

open for vital social service programs in

Galveston County by supporting United Way.

The support that this United Way has

received from the industrial employees and

contractors goes beyond financial donations.

In 2012, United Way Galveston County

Mainland had plant managers from every

large plant in Texas City serving on their

board of directors. These community leaders

have been instrumental in improving the

health, income and education of Galveston

County by remaining proactive and steadfast

in their commitment to United Way.

United Way Galveston County Mainland is

a local phenomenon that evolved gradually

through community efforts to help people. It

also served to coordinate the agency activity

into a galvanizing force to strengthen the

impact of the individual on his or her

community. United Way Galveston County

Mainland continues today, as they have in the

past, to be actively involved in coordinating

vital health and human services to provide

maximum impact to the people who live and

work in Galveston County.

Below: Eagle Scout Will Roberts, Texas City

Mayor Matt Doyle, and BP Texas City

Plant Manager and Business Unit Leader.

BUILDING A GREATER GALVESTON

173
---
OCEAN STAR

MUSEUM

Above: Ocean Star Offshore Drilling

Rig Museum.

Below: Boy Scout Troop 266 working on

Geology Badge activities.

Ahoy! Welcome aboard the Ocean Star for

a first-hand adventure aboard an offshore

drilling rig. Whether charting a course for

entertainment or education, visitors will find

her ready to take them on a heady, industrialstrength

voyage of discovery within a

comfortable, modern museum setting.

The only known facility of its type, the

Ocean Star, a "jackup" drilling rig, offers the

opportunity to physically enter the world of

the offshore petrochemical industry. This

great leviathan of the deep—deep water

drilling, that is—is a marvel in technology,

and although Ocean Star is now retired from

active duty and permanently berthed at

Galveston's Pier 19—she still has many

lessons to teach.

Within the renovated three-story interior,

complete with elevators, innovative exhibits

illustrate the evolution of drilling and the

petroleum industry from 2,000 B.C. to modern

times. Technological advances in the

exploration for, capture and transport of oil

and gas are clearly illustrated in multi-media

presentations, and, through interactive

exhibits, visitors can experience what it is like

to operate a cyberbase driller's

chair or mount a "Billy Pugh"

personnel basket, the main

method of transporting people

and supplies from ships onto the

rig itself. Visitors also will see a

display of "pigs," a pipeline

cleaning device, and learn why

these devices squeal.

Detailed models of the ocean

floor are a lesson in Gulf Coast

ecology and geology, and exciting

videos, photographs and intricate scale models

of the various type of ships, drilling rigs,

offshore production facilities and other

equipment used to extract petroleum and

natural gas products from under the sea

dramatically illustrate the when, where, why

and how of the North American drilling

industry from the late nineteenth century to

modern times. A Hall of Fame features industry

pioneers, and an oil careers exhibit

includes an interest profile survey and a

hands-on, hats-on display of uniforms.

Outdoors at the Ocean Star, metal gangways

and decks rattle underfoot, and the heft

and height of the rig's decks and their onboard

equipment are stunning. Standing on

the drill floor, it is a 193-foot shot, straight

up to the top of the derrick, and at her

working weight of 5,096 tons, the Ocean Star

was a formidable presence during her fifteen

years of service in the Gulf of Mexico.

Equipment on view ranges from seismic

equipment, "Christmas trees" and a "monkey

board" to the giant block-and-tackle system

used to control the drill's descent, drill bits,

coring bits, power tongs, drill collars, a

blow-out preventer, a helicopter and the

all-important crane used to move men and

material on and off the rig.

Attracting approximately 40,000 visitors a

year from across the nation and around the

world, the Ocean Star is open year-round and

has received enthusiastic reviews, including

being listed as a "Must Visit" museum by Go

Guides Destination, named "Best Museum in

Galveston" by Islander magazine, and referenced

as a point of interest by Newsweek and

Corporate & Incentive Travel magazines.

COASTAL VISIONS - Images of Galveston County

174
---
In addition to tours for the general public,

the Ocean Star offers "on board" accredited

teacher workshops and education supplies

such as "Knowledge Boxes" and "Playing With

Petroleum Kits" that are estimated to impact

some 90,000 students annually. There are also

Tour Plus Programs designed for students in

grades three through twelfth, overnight programs,

Boy Scout and Girl Scout badge workshops

and monthly family day events. For

those unable to visit the Ocean Star, a Mobile

Offshore Learning Unit travels to schools

throughout the state. The Ocean Star is additionally

available for event rentals.

The museum also depicts the ties between

modern lifestyles and the need for petroleum

through an exhibit of toys, shoes, cell phones,

computers, deodorants, disposable diapers,

household cleaners, paints, cosmetics and

medicines that are all connected to off-shore

oil and gas production. Transportation and

climate control are also an integral part of

today's world, and although progress is being

made in the development of alternative energy

sources for these, it is estimated that fossil

fuels will be needed to help power them for

many decades yet to come.

Oceanic and other exhibits illustrate the

many steps taken to protect the environment

during oil and gas exploration and extraction.

Rig platforms are shown supporting the

growth of coral and other marine life, and a

video on the Texas coast's Flower Garden

Banks points out that it is recognized as one

of the world's healthiest reef systems despite

the presence of some 400 oil and gas wells

within a ten mile radius of the sanctuary.

Safety and comfort are paramount concerns

for personnel of offshore rigs, which

operate under the auspices of the U.S. Coast

Guard. The Ocean Star displays such specialized

equipment as escape pods, some of

which can hold up to twenty-eight men,

a barometric treatment facility, and, for

deep-water surveillance and construction,

protective dive suits and remotely-operated

under-sea vehicles. There are also exhibits to

show how rig workers live on a daily basis in

their floating home, with ship-style cabins,

recreational areas and kitchens known for

their exceptional food. During her working

days, the Ocean Star had a

crew of forty-nine, but

today's larger rigs may

have as many as ninety

workers on board that

range from "rough necks"

to computer specialists.

The Offshore Energy

Center, a nonprofit educational

organization formed

in 1989 and headquartered

in Houston, is dedicated to

expanding the awareness of

the vast energy resources

beneath the world's oceans,

and chronicling the unique heritage and

technological accomplishments of the industry

that discovers, produces and delivers these

resources in a safe and environmentally

responsible way. OEC receives no federal or

state funding and is supported by the community

and the industry. Special displays at the

Ocean Star honor those individuals and companies

who have provided major financial and

in-kind donations to the museum, and the

OEC additionally sponsors an annual fundraising

gala and golf and fishing tournaments.

Built in 1969 by the Bethlehem Steel Yard

in Beaumont, Texas, the Ocean Star served off

the Louisiana coast before being retired in

1984. Acquired in 1995 by the OEC, she was

refurbished, rebuilt, relocated in Galveston,

and reopened as a museum in 1997.

Top: Visitors pause their audio guided tour

for a photo on the rig floor.

Above: Children from Dickinson ISD on a

guided tour during a field trip.

BUILDING A GREATER GALVESTON

175
---
GULF COPPER

Gulf Copper is golden on the upper Texas

coast. Specializing in ship and drilling rig

repair and upgrades—and operating under

the official name of Gulf Copper Drydock and

Rig Repair—the progressive company has

brought to Galveston County not only a new

industry but also created much needed jobs

and provided a major economic boost with

the opening of its latest facility on Pelican

Island in 2005.

One of the leading rig repair companies in

the Gulf of Mexico, Gulf Copper describes

itself as "employee-owned, customer-driven."

According to Vice President Leonard Hale—

who oversees Galveston operations—the

company is dedicated to establishing itself as

the long-term preferred provider of marine

and industrial fabrication and repair services

in all the markets it serves.

"We intend to be our customers' project

partner and solution provider not just in

the present but for months and years to

come," says Hale. "Through our programs of

seeking continuous improvement in both

productivity and the quality of our work,

Gulf Copper is committed

to building value for

our customers, employee/

owners, vendors and the

communities in which

we operate. Individually

and as a company, we are

adamant about adhering

to safe practices in the

workplace, protection of

the environment and

ethical dealings with all

our stakeholders."

Gulf Copper was founded in 1948 when

three employees of Farmers Copper in

Galveston moved to Port Arthur, Texas, to

begin an independent enterprise dedicated

to the fabrication and installation of copper

piping aboard ships.

When the original owners retired in 1979,

the Port Arthur company was purchased by

Morris Albright and Bill Picton, who expanded

its operations to include full topside ship

repair with a machining division. Over the

years, Gulf Copper further diversified to service

the commercial marine, offshore shipping,

oil and gas, petrochemical, power generation,

construction and transportation industries.

A second branch was opened in Corpus

Christi in 1990, and since that time, Gulf

Copper has grown to become an international

leader in marine repair, and today operates

additional locations in San Diego and Guam.

In the first six years following the opening

of the Pelican Island facility, the number of

employees at that location grew from 150 to

more than 800, of whom more than 500 have

become shareholders through the company's

Employee Stock Ownership Plan. This plan

was initiated in 1998 when Gulf Copper

decided to further reward the numerous

talented people on its payroll and initiated a

program in which employees such as welders,

fitters, machinists, electricians and laborers,

among others, could share in the ownership

of the company.

With some 3,000 feet of quayside space

and dry-docking capabilities for most jack-up

drilling rigs as well as smaller semi-submersibles,

Gulf Copper's Galveston facility is

widely recognized for its diversity and ability

COASTAL VISIONS - Images of Galveston County

176
---
to provide a broad range of services for its

customers, including fabrication, blasting,

painting, machining, mechanical, electrical,

scaffolding and other marine-related work.

Additional areas of Gulf Copper specialization

include modification, reclassification,

topside repairs, installation, staging, sea fastening

and modular fabrication. It also provides

support for the surveying, repairing,

retrofitting, maintenance and general services

of offshore vessels, including jack-ups, semisubmersibles,

barges, MSVs and others.

With deepwater facilities in both Port

Arthur and Galveston, Gulf Copper is advantageously

located to the U.S. Gulf Continental

Shelf and the U.S. Gulf Deepwater Oil Fields.

As a dynamic local hub for some of the most

demanding repair in the maritime industry,

the company is able to support a client list

that includes major and independent offshore

drilling rig contractors, offshore oil and gas

operating and service companies, national oil

companies, major U.S. commercial ship operators

and the U.S. government and military.

Such diversity offers its own challenges,

however. "We know that every customer and

every job is unique," says Hale, "Gulf Copper

has the manpower and expertise to devise a

solution that fits a wide range of requirements,

and our highly trained staff will listen

to a customer's needs and create a solution

that is tailored to a specific project."

Partnership with the community also is an

important focus for Gulf Copper. In addition

to being known for its generous corporate

donations, it participates in local fund drives

and sponsorships within its home communities.

Following Hurricane Ike in 2008, it

provided extensive repair services and materials

at cost for Galveston's severely damaged

Ocean Star Offshore Drilling Rig and

Museum. Upholding its mission as a major

supporter of activities that involve a community's

youth or those in need, Gulf Copper's

activities in these areas include the Salvation

Army's Red Kettle Drive, the Southeast Texas

Food Bank, Toys for Tots; Cell Phones for

Soldiers and Newspapers in the Schools.

It is also a major supporter of the Galveston

Seafarers Center, a nonprofit, multidenominational

organization aimed at serving the needs

of the men and women

who live and work at

sea. "The welfare of the

seafarer and his or her

care while in port is

important to us," says

Hale. "By providing

these workers who are

far from home with

much needed amenities

such as reading

materials, news outlets,

and phone services

with international

capabilities, we can

provide a sense of welcome and comfort."

Gulf Copper additionally participates in the

work of the ARC Center of Southeast Texas,

a branch of the oldest and largest nonprofit

volunteer organization in the state committed

to creating opportunities for people with

intellectual and developmental challenges.

The most poignant of Gulf Copper's volunteer

activities, however, is its participation in

the Mary Madeline Project to provide comfort

and support to grieving families who have

suffered the death of a baby. Founded in

memory of Madeline Marie Erickson, who

died at the age of seven weeks, this nonprofit

organization provides infant-size burial gowns

and blankets to local hospitals.

For additional information on Gulf Copper,

visit www.gulfcopper.com.

BUILDING A GREATER GALVESTON

177
---
CENTERPOINT

ENERGY

Below: In December 2008, CenterPoint

Energy received approval from the Public

Utility Commission of Texas (PUCT) to

deploy more than 2 million smart meters

across its electric service territory in and

around Houston. Electric smart meters are

part of Energy InSight SM , CenterPoint

Energy's system of integrated smart

technologies, designed to give consumers

more control over their energy consumption

while improving electric reliability and

power restoration. The company continues

to work toward a bright electric future

with the implementation of a self-healing

intelligent grid that will use smart meters,

power line sensors, remote switches and

other automated equipment to improve

power reliability and restoration in

central Houston.

For CenterPoint Energy, "Always There ® " is

more than a slogan, it is a pledge. Rain or

shine, sleet or snow, more than 8,800

CenterPoint Energy employees understand

the necessity of reliable energy delivery.

Headquartered in Houston, CenterPoint

Energy, Inc., is a domestic energy delivery

company that includes electric transmission

& distribution, natural gas distribution, competitive

natural gas sales and services, interstate

pipelines and field services operations.

CenterPoint Energy and its predecessors

have long been dedicated to the Galveston

community. A leading energy delivery company

with more than 2 million electric end-use

customers in its 5,000 square mile service territory,

the company's electric business powers

more than 64,000 customers in Galveston

County. From the very first flip of a switch,

which turned on electric lights in Galveston

in the late 1800s, the island has undeniably

had its share of devastating storms. From the

Hurricane of 1900, which holds the record

for the deadliest hurricane in U.S. history, to

Hurricane Carla in 1961, Hurricane Alicia in

1983 and Hurricane Ike in 2008, CenterPoint

Energy has been true to its pledge of being

"Always There ® ." Ike, the third costliest hurricane

to ever make landfall in the U.S. at that

time, caused great destruction and wiped out

electrical power for more than 2.1 million

customers. It was the largest power outage in

both company and state history. CenterPoint

Energy employees and more than 11,000

linemen and tree trimmers from across North

America worked day and night, restoring

power to all who were capable of receiving it

in just eighteen days.

Though it has a proud past, CenterPoint

Energy is also investing in leading-edge technology

for a new energy future. The company

is installing and building an intelligent grid.

Smart meters will promote energy conservation

and give consumers the ability to better

monitor and manage their electric use. With

intelligent grid communication equipment,

the company will have the ability to reroute

power around problems automatically, thus

minimizing service disruptions, which will

result in fewer and shorter outages.

In Galveston County, CenterPoint Energy

has also been providing safe, reliable natural

gas service since the 1920s. In its six-state

natural gas service territory, the company has

more than 107,000 miles of main and service

COASTAL VISIONS - Images of Galveston County

178
---
lines, and delivers natural gas to more than

3.2 million residential, commercial and

industrial customers, about 57,000 of which

are in Galveston County. Natural gas is

domestically abundant with enough resources

and proven reserve to satisfy current demands

for 100 years. It also offers more savings,

greater comfort and less impact on the environment.

CenterPoint Energy's natural gas

distribution business is also making intelligent

investments by installing remote electronic

transmitters on customers' existing

natural gas meters enabling the company to

read meters remotely, virtually eliminating the

need for a meter reader to enter a customer's

yard. This technology could also serve as a

foundation to provide on-demand gas usage

information to consumers, and to shut-off gas

meters automatically when gas leaks or unsafe

levels of carbon monoxide are detected.

CenterPoint Energy and its employees are

not only "Always There ® " for our communities

after a storm, but daily. Giving graciously

of both time and money, employees log

hundreds of thousands of hours volunteering

for worthwhile causes, and join the company

in financially supporting charitable causes

such as United Way, Habitat for Humanity,

Junior Achievement, March of Dimes and

numerous other organizations. The company

is also proud to invest in the area's future

by sponsoring educational programs and

providing financial support to help Galvestonarea

students reach their goals.

For more information on CenterPoint

Energy, Inc., please visit the company online

at www.CenterPointEnergy.com.

Below: Community involvement is a way of

life for the employees of CenterPoint Energy,

who contribute hundreds of thousands of

volunteer hours to worthwhile causes each

year. The company cares about the well

being of its community and supports

charitable causes such as United Way,

Habitat for Humanity, UNCF, Junior

Achievement, March of Dimes and

numerous other organizations. The

company also proudly sponsors many

educational programs around the city,

providing financial support to help students

reach their goals.

BUILDING A GREATER GALVESTON

179
---
FIRST CHOICE

POWER

First Choice Power is in the business of

providing electricity to people and businesses

all over Texas. But they would tell you their

real job is looking out for their customers and

putting "you first."

With friendly, face-to-face service. A team

that listens to you and finds answers. By

helping you use electricity smarter—for a

lower electricity bill and a better environment.

That is how they do it.

That commitment does not stop with

electricity. They are actively involved in the

community, giving time and resources to

programs that do things like fund grants

for nonprofits and teachers and provide one

million meals to Texans in need with a

program called Food First TM .

"Because, like you, we're proud of the

places we work and live," said Gabe Sims,

manager of the Texas City local office. "We

understand you have a choice when it

comes to buying electricity, and we want to

be your company—a company you actually

like. A company that is always surprising

you with helpful service and great benefits.

The kind of company you tell your friends

and co-workers about.

"And from what we hear, we are," he

added. "In fact, your enthusiastic support

has helped us grow to be one of the largest

retail electric providers in the state. Most of

our new customers come to us based on

word-of-mouth from friends and family. In

fact, more than half of our customers are

from referrals."

As part of PNM Resources, Inc., First Choice

Power is "Texans serving Texans." They are

small enough to provide personalized customer

care, but large enough that customers

know they will be here for the long haul.

"We've grown our business by taking care

of our customers the way we would take care

of our family, led by a first-rate leadership

team—good people who know a lot about the

energy industry and also know the value of

doing what's right," Gabe said.

A certified retail electric provider in Texas

since 2001, First Choice Power has been

around since the start of deregulation in

January of 2002. But its Texas roots run much

deeper. It has ties to a seventy year heritage of

serving Texans, and many customers know

them as the affiliated retail electric provider of

TNMP (Texas New Mexico Power).

Gabe Sims and Laura Flores of the

Texas City local office review a

customer's account.

COASTAL VISIONS - Images of Galveston County

180
---
It is not just its company history that is

long—they also have a long history of giving

back to communities they serve. First Choice

Power supports nonprofit organizations,

teachers and communities throughout Texas,

including a partnership with Gleanings from

the Harvest and Reduce your Use Grants TM for

Mainland Communities, United Way, Santa Fe

Texas Education Foundation, Odyssey

Academy in Galveston, Resource & Crisis

Center of Galveston County, HRA Village

Incorporated in Texas City, and M. I. Lewis

Social Service Center in Dickinson.

"Every time I turn around, I see them

involved in the community, and the police

department could not ask for a better supporter,"

said Neal Mora of the Texas City

police department.

So whether you are shopping for a new

electricity provider or you are a longtime

First Choice Power fan, you will find

they are working hard every day to earn

your business.

Contact the local store at (409) 949-9260

or stop by 915 North Twentieth North in

Texas City—for a cup of coffee or a chat.

Above: Brad Senter (center) receives

$10,000 for being the customer with the

most referrals through the First Choice

Power Turn on a Friend Program.

Below: Customer Cathy Touchton stops by

to talk about her bill with Jay Campbell.

BUILDING A GREATER GALVESTON

181
---
HDR, INC.

PHOTOGRAPH COURTESY OF SCOTT DOBRY PICTURES.

When H. H. Henningson founded what

would eventually become HDR, he not only

fulfilled his personal dream to lift small

midwestern communities from their frontier

status, he laid an incredible foundation for

one of the largest and most respected architectural-engineering

companies in the world.

Indeed, almost a full

century since Henningson

first unfurled the blueprints

for his new civil

engineering firm in 1917,

the company has continuously

evolved and expanded

in scope and size and

is today an expertise-driven

international firm that

delivers its services through

a strong local presence; a

company that is diligently

and assuredly changing the world, project by

project, community by community.

Although today HDR has more than 185

offices worldwide—including fifteen in Texas

and five along the Texas Gulf Coast—

Henningson Engineering Company, as it was

first known, began with just one office in

Omaha, Nebraska. From that office, twelve

employees designed water and sewer systems

for new cities and towns throughout the

Midwestern frontier. The company grew

quickly, however, tripling in staff in the first

few years and expanding its services along the

way, even helping to organize the public

power districts that would finally deliver

much-needed electricity to the rural areas of

Nebraska in the 1930s.

From the beginning, Henningson was a

firm believer that a company is only as strong

as its employees, and like HDR's management

today, was always vigilant about hiring only

the best, most talented and most loyal

employees. Many of those employees grew

their careers along with the company as a

result. Two staff members even went on to

become equal partners in the venture, with

their names eventually being added to the

company shingle. Willard Richardson and

Charles Durham both joined Henningson in

the 1930s and, by 1946, were named partners.

In 1950 the company officially changed its

name to Henningson, Durham and Richards,

Inc., or HDR for short. Henningson retired

from the company in 1953, making Durham

president and Richards, vice president.

Under the leadership of Durham and

Richards, the company continued to grow by

leaps and bounds and, in 1955, further

expanded its capabilities to provide total inhouse

service to clients, including a new

architecture department. Soon after, the company

opened a second office and boasted an

overall employee roster of 215. By 1977 the

company celebrated its sixtieth birthday with

18 offices, a roster of 771 employees and a

growing presence on the international front

adding projects such as the $1.4 billion King

Abdulaziz University in Jeddah, Saudi Arabia

to its resume.

The 1980s brought the addition of new

specialty services—such as recycling, landfills

and materials recovery—and continued

growth in the company's core services of

transportation, environmental, resource

management, water, healthcare, science and

technology and civic.

HDR crowned the twentieth century by

being named one of the top fifty architectural

and engineering firms in the nation and by

the dawn of the new century had won three

large management assignments in Arizona,

Missouri and Texas; was hired as part of the

design-build team to renovate the Pentagon;

and won a contract to design the Hoover Dam

COASTAL VISIONS - Images of Galveston County

182
---
Bypass project, a $240-million four-lane

highway connecting Nevada and Arizona and

crossing the Colorado River via the western

hemisphere's longest concrete arch bridge.

In 2005, HDR reorganized into regional

formats in order to help manage the company's

flourishing growth and completed a number

of mergers and acquisitions spurring even

more growth and a wider array of services. In

2008, for example, it merged with CUH2A to

create the most comprehensive science and

technology design firm in the world.

An entirely employee-owned company

since 2003, HDR currently employs more

than 7,800 professionals worldwide and is led

by Chairman and CEO George A. Little, PE,

HDR Architecture President, Doug S. Wignall,

AIA, RAIC, LEED AP, HDR Engineering

President Eric L. Keen, PE, and a host of other

executive team and board members. The

company has stamped its name on thousands

of completed projects in fifty states and sixty

countries, many of which have led to a

trophy-case burgeoning with awards and

honors—two of the most recent being a

number one ranking in Modern Healthcare's

2011 "Annual Construction & Design Survey

of Healthcare Architects" and a number eleven

ranking in Engineering News-Record's 2011

"Top 500 Design Firms."

A Galveston County project recently won

honors when the Dallas Chapter of the

American Institute of Architects awarded a

2011 Citation Award to the HDR-designed

Galveston Fire Station #4, a fire and rescue

station located at the Scholes International

Airport on Galveston Island. Designed to

withstand extreme weather conditions, the

station will serve as the primary fire and

rescue support for island residences and the

Galveston airport. It will be a self-contained

unit capable of maintaining critical services,

even in the face of a hurricane.

Another local project completed by HDR

is the Houston-Galveston Regional Transit

Framework Study, a comprehensive needsbased

assessment of transit operations and

capital needs in the Houston-Galveston area.

Completed and presented in 2010, this study

serves as the framework for developing a

regional public transit plan that includes

short- and long-term recommendations

through 2040.

Recently, the City of Galveston selected

HDR to lead an ambitious planning project

designed to ensure public and private actions

align to improve the community's livability,

sustainability, and competitiveness. This

planning effort, known as Progress Galveston,

is organized in three parts: 1) completing

an update to the City's Comprehensive Plan;

2) preparing a series of Specialized Plans

addressing important issues such as historic

preservation, mobility, parks and recreation,

disaster recovery, and coastal management;

and 3) rewriting and streamlining ordinances

and regulations affecting the development of

private property.

For more information on HDR, Inc., visit

www.hdrinc.com.

BUILDING A GREATER GALVESTON

183
---
PORT OF

GALVESTON

Sea birds soar overhead and palm trees dot

the landscape as seagoing vessels from around

the world ply the busy waters of the Port of

Galveston. On almost any given day for much of

the past 200 years, this natural deep water harbor

with easy open-ocean access has presented a

similar scene of ever expanding—and often

record-setting—coastal commerce set against a

backdrop of picturesque natural beauty.

As the first and oldest

port in Texas, the Port of

Galveston has played a pivotal

role in the development

of not just Galveston County

but the American Southwest.

Repeatedly asserting itself as a

leader in maritime travel,

commerce and trade, it has

time and again asserted its

claims to fame. During the

1800s, as cotton became

king, the Port of Galveston

led the world in its export, and the city it called

home became known as the "Queen of the

Gulf." More recently, the Port of Galveston has

continued to set records with such diverse

achievements as earning the title of the Premier

Cruise Port in the Gulf of Mexico and, on a

very different note, breaking the U.S. record as

an international exporter of live cattle.

Located only 9.3 miles from the open sea at

the entrance to Galveston Bay and contiguous

with the Gulf Intercoastal Waterway, the 850-

acre Port of Galveston is a self-supporting enterprise

with annual operating revenues of more

than $20 million and an estimated statewide

economic impact of more than $1 billion.

Served by both major western railroad lines, it

is approximately a one-hour drive from Houston,

the nation's fourth largest city, to which it is

linked by the interstate highway system.

Supporting its leadership role in domestic

and international shipping, the Port of

Galveston includes two state-of-the-art cruise

terminals with three cruise ship berths, a

short-line terminal railway, an export grain

elevator and facilities to handle a diversified

mix of traditional and non-traditional cargo.

Its capabilities include "roll-on/roll-off" and

container cargo, dry and liquid bulk, export

grain, refrigerated fruit, plus general and

special project cargo. It also is home to ship

and rig repair facilities, one of which operates

the largest dry dock west of the Bahamas.

Never resting in its quest to provide optimal

conditions and cutting-edge opportunities

for the maritime industry, the port's

recent improvements have included

such projects as deepening the harbor,

adding an additional cruise terminal,

and installing what is believed

to be the world's largest mobile gangway.

The port's ability to handle

special cargo projects is spotlighted

by its success in 2011 with the largest

ever "load-out" of livestock in any

one shipment from a U.S. port. This

included the successful transport of

almost 6,000 head of cattle, a number

of whom were pregnant, to Russia to

replenish depleted herds there.

COASTAL VISIONS - Images of Galveston County

184
---
The Port of Galveston is also an international

leader in the cruise industry and hosts

several of the largest and newest ships representing

the world's top cruise lines. As the primary

point of embarkation for cruises to the

western Caribbean, the number one cruise

port in Texas and the Premier Port on the Gulf

of Mexico, it is among the nation's busiest

cruise ports and has been ranked among the

top twenty cruise ports in the world. As an

additional plus, the Port's convenient location

adjacent to the Historic Downtown Galveston

Strand District allows passengers and crew

members to easily explore numerous shops,

restaurants and other attractions, all within a

short walking distance.

The excellent reputation of Galveston as a

cruise ship port is further reinforced by the

decisions made by such industry greats as

Carnival Cruise Lines and Royal Caribbean

International to designate Galveston as a yearround

home port and seasonal home port,

respectively, for their largest ships, some boasting

passenger capacities of up to 4,000.

Combined with additional planned cruise line

deployments, it is estimated that approximately

one million passengers annually will soon

include the Port of Galveston in their travels.

Such statistics are in stark contrast to the

port's earliest days, when it was little more than

a trading post. That began to change in the early

1800s, when French privateer Louis Michel

Aury was commissioned by Mexico to establish

a port in Galveston that could be used in

Mexico's fight for independence against Spain.

Aury was unfortunately called away on business

about the time Jean Lafitte, having just

been run out of New Orleans for pirating

activities there, was looking for a new

location for his headquarters. Lafitte

quickly took advantage of Aury's absence

and moved his own operations to the

island, establishing a fortified village commune

he named Campeche. With homes,

saloons, gambling and boarding houses—

plus Lafitte's own mansion, known as

Maison Rouge–the settlement eventually

boasted a population of around 1,000 and

purportedly operated quite profitably

until its activities were eventually closed

down by the United States.

In 1825, while still

under Mexican rule,

Galveston was designated

a provisional port and customs

entry point by the

Congress of Mexico, and

six years later a Mexican

custom house was established

on the island. With

the break away of the

Republic of Texas from

Mexico, Galveston became

the homeport for the Texas

Navy in 1835 and was

declared by the Texas

Congress as an official port

of entry in 1837. By the

time Texas renounced its

status as an independent

republic and became a

part of the United States in 1845, the Port of

Galveston had grown to become a major center

of international shipping and commerce, a

position that has distinguished it ever since

among the great ports of the world.

Port of Galveston is located on the Internet

at www.portofgalveston.com.

BUILDING A GREATER GALVESTON

185
---
HITCHCOCK

INDUSTRIAL

DEVELOPMENT

CORPORATION

First settled by a group of French pioneers

in the 1820s, Hitchcock, Texas, is not only

one of the oldest communities in Galveston

County, but it is one of the most resilient and

robust anywhere.

Its story in fact is one of not just surviving,

but thriving—surviving the nation's most deadly

hurricane in 1900, the Great Depression and

even an invasion of insects that completely

destroyed all of its local crops, yet always finding

a way to turn it around, reshaping itself to

make the most of all situations. It has been an

important agricultural center and the "Vegetable

Shipping Capital of the United States." It has

been a vital military center and the home of two

major military installations—the Army's Camp

Wallace and a U.S. Naval Air Station known as

Blimp Base. And, today, fueled by more than

7,000 community-spirited citizens and led by

committed and capable organizations such as

the City of Hitchcock, the Hitchcock Chamber

of Commerce and the Hitchcock Industrial

Development Corporation (HIDC), it is still

thriving and growing—this time as the gateway

to the Golden Gulf Coast.

Indeed, its strategic location only 20 minutes

from Galveston and just 35 minutes from

Houston and their deep water ports makes this

71 square-mile community the very hub of the

Greater Gulf Coast area, an asset that leaders

say has not only brought them much success,

but that also offers unlimited potential for

future growth. Major shopping malls, hospitals,

colleges and recreational facilities are

only minutes away and the Highland Bayou

and Intercoastal Waterway gives Hitchcock a

Foreign Trade Zone (FTZ) as well as ample

waterfront property open for both residential

and commercial development—developments

such as the exclusive, gated and masterplanned

community of Harborwalk located

on West Galveston Bay and including 850

acres and sites for 550 homes, a marina, a

beach club, restaurant and boat slips.

Within the city limits are many conveniences

including a medical clinic, a dental

office, several eateries, a shopping center,

banks, a modern library, a number of churches

as well as a host of other businesses to

satisfy the needs of the community. The

Hitchcock Independent School District offers

instruction kindergarten through twelfth

grade as well as a Head Start program and

two private schools. The entire community is

served by a well-equipped, skilled volunteer

fire department, which keeps insurance rates

low for businesses and residents alike and

city services are top-notch including a dedicated

and well-trained police department.

For more information on the City of

Hitchcock; the Hitchcock Chamber of

Commerce; or the Hitchcock Industrial

Development Corporation, a nonprofit corporation

which actively offers assistance to

developers in securing municipal services

and issues bonds for construction of new

business, visit www.hitchcockidc.com.

COASTAL VISIONS - Images of Galveston County

186
---
Occupying approximately 300 acres of

choice coastal plain on the former site of

World War II's Naval Air Station in Hitchcock,

Texas, today's Blimp Base Interests, Inc., offers

prime industrial storage facilities, exceptional

service and convenient location.

With clients such as General Electric,

BP, Mitsubishi Power Systems of America,

Republic Helicopter, Dixie Equipment

Company, Dynami, Inca Refinery, CCR,

Depco and others, Blimp Base Interests

includes a fifty-five acre Free Trade Zone,

climate controlled warehouse and lay-down

yard storage with superior land elevation.

Founded in 1998 with only twelve acres,

the company has been successful far beyond

expectation, according to owner Joe Wilburn.

Attributing much of its growth to his proactive

business philosophy and deep commitment

to service, Wilburn only half-jokingly states,

"I never say 'no,'" and cites numerous instances

in which he has been able to provide clients

with far more than mere storage.

Drawing on his background in the petrochemical

field and as a commercial and

community developer, Wilburn is able to tap

into a wide-spread network of industrial and

related contacts, and is making a reputation

for his company as the "go to" source for

difficult projects.

"When a client comes to me with an

emergency in Louisiana, the contacts I've

made over the years allow me to coordinate

pick-up of the items he needs, locate trucks

for their transport and expedite delivery,"

Wilburn explains. "If someone has a building

to move, I can help with that, too," he adds.

Within hours after Hurricane Ike struck in

2008, Blimp Base Interests was up and running

as a major staging area for emergency response

efforts. As the warehousing

and distribution point for

BP's Humanitarian Assistance

Team, thousands of generators

and tons of emergency

supplies were distributed

from the site, incorporating

logistics that stretched to

London, Japan, and other

distant locations.

Four 150-foot tall concrete

pillars, the striking remnants of a 300

by 1,000 foot blimp hangar built in 1941,

mark the entrance to the complex off

Highway 2004. Here, lighter-than-air dirigibles

ventured forth to defend the Gulf of

Mexico against German submarines, and the

area is rich with reminders of its military

heritage. Pigeon Street was so named because

it led to coops for the messenger pigeons used

to transport information from air ships back

to land. The original base fire station is used

today for offices and a conference room, and

remains of a rail line show where half-track

tanks were brought in for refurbishment

during the Korean War. The hangar itself was

the largest wooden building in the world in

1968, when it was demolished—except for its

supporting concrete columns that refused to

budge, even when dynamited.

Additional information is available on the

Internet at www.blimpbase.com.

BLIMP BASE

INTERESTS, INC.

BUILDING A GREATER GALVESTON

187
---
PRUDENTIAL

PREMIER

PROPERTIES–

BEACH OR BAY

Prudential Premier Properties–Beach or

Bay is located at 2275 Highway 87,

Suite 18-A in Crystal Beach.

Combining the delight of gifted matchmakers

with the know-how of experienced

real estate brokers, Mary Ellen Smith and

Kelli Untermeyer, owners of Prudential

Premier Properties–Beach or Bay, are dedicated

to building beautiful relationships on

Bolivar Peninsula.

By tapping into their own personal and

professional enthusiasm for the area, Smith

and Untermeyer have elevated Beach or Bay

to a leadership role in arranging win-win real

estate transactions on the scenic coast just

northeast of Galveston Island.

"Our mission is to promote Bolivar

Peninsula, whether we are negotiating purchases

or sales," says Smith. "Whatever our

client's focus—first home, retirement property,

primary residence, secondary home, investment

property or rental—we are dedicated to

matching people to the properties that meet

their specific needs. This is a wonderful place

to live, and we want to 'share the wealth'."

This commitment to its home community

was behind the company's decision in 2006

to pursue a national connection and expand

client representation. After careful research,

Beach or Bay teamed up with Prudential, a

global leader in financial investing and real

estate marketing, and, in Smith's own words,

"With this international connection, we

helped bring the world to Bolivar's doorstep."

Emphasizing the area's significance, Smith

adds, "There is only so much coastal property

available, and our area is highly desirable.

First of all, it is beautiful, and secondly, the

prices are still relatively low. As home to the

Bolivar Lighthouse and Fort Travis, it has

great historic significance, and also offers an

incredible closeness to nature that includes

world famous bird sanctuaries and several

Audubon Society projects."

Community affairs are another major focus

for Beach or Bay agents and staff, and Smith

has served on the Galveston County Parks

Board and the Bolivar Peninsula Special

Utility District Board. Other agency activities

include membership in the Bolivar Peninsula

Chamber of Commerce, Galveston Chamber

of Commerce, Lighthouse of the Krewe and

the Bolivar Cultural Foundation.

Despite its international reach today, the

company's beginnings were modest and all

has not been smooth. Before the first office

was up and running, Smith and fellow founding

realtor Joyce Cooley would sometimes

find themselves writing contracts on the

hoods of their cars. After a family illness

forced Cooley's retirement, Smith operated

the company alone until Untermeyer, a

broker associate with another major Bolivar

company, joined Beach or Bay in 2008,

just after Hurricane Ike struck the area.

Fortunately, the company was able to quickly

start rebuilding, and—along with many

others on the peninsula—was soon looking

forward to an even brighter future. Today, a

wall hanging at the office entry greets visitors

with the message: "At the beach, it's all good,"

and no one could agree more than Smith

and Untermeyer.

COASTAL VISIONS - Images of Galveston County

188
---
MARATHON

PETROLEUM

CORPORATION

Having the strength and endurance to "go

the distance" has been part of Marathon

Petroleum Corporation's (MPC) heritage

since its founding in 1887. Established in

northwestern Ohio, a leading center for crude

oil production in the late nineteenth century,

the company has proven its ability to adapt to

changing economic, political and market

conditions, and emerge still a leader nearly

125 years later.

In addition to its Texas City refinery, MPC

maintains similar facilities in Illinois, Ohio,

Michigan, Louisiana and Kentucky. As a

leading economic force in Galveston County,

MPC's Texas City site employs some 200

workers and has a production capacity of

76,000 barrels of crude per day.

MPC's ties to its Texas City home include a

strong focus on community well-being and

enrichment. Among the core principles guiding

MPC's approach to doing business are its

commitments to health and safety, environmental

stewardship, integrity, corporate citizenship

and inclusive culture. MPC's local

activities include participation in a number of

civic, charitable, educational and cultural

organizations, ranging from The 1894 Opera

House to the Galveston County Food Pantry.

Founded as the Ohio Oil Company, the

company was purchased in 1889 by John D.

Rockefeller's Standard Oil Trust, under which

it operated until 1911, when President

Theodore Roosevelt's trust-busting campaign

allowed it to resume independent operation

under its earlier name. In 1930 'The Ohio'

purchased the Transcontinental Oil Company,

acquiring the Marathon product name, the

Pheidippides Greek runner trademark, and

the "Best in the Long Run" slogan. In 1962 it

acquired its Texas City refinery from

Plymouth Oil Company, and also officially

adopted the Marathon Oil Company name.

Today, the Marathon Petroleum Corporation,

the parent company of the Texas City facility, is

headquartered in Findlay, Ohio, and ranks in

the top 100 of the Fortune 500. Employing

more than 25,000 employees, it maintains

refining, marketing and transportation operations

throughout the nation's Midwest, Gulf

Coast and Southeast regions and is the nation's

fifth largest company of its type.

Among the keys to MPC's success is the high

regard in which it holds the health and safety of

its employees, contractors and the neighboring

community. Deeply committed to minimizing its

environmental impact, it is continually looking

for ways to reduce its environmental "footprint."

MPC additionally upholds the highest standards

of business ethics and integrity. Enforcing strict

principles or corporate governance, it strives for

transparency in all its operations. Dedicated also

to making a positive difference in the communities

where it operates, MPC values diversity

and strives to provide its employees with a

collaborative, supportive and inclusive work

environment where they can maximize their

full potential for personal and business success.

BUILDING A GREATER GALVESTON

189
---
VALERO

REFINERY

The year was 1908, and a new era was

dawning over Galveston Bay. Petroleum—

"black gold"—was restructuring the way

America lived, and a new refinery was breaking

ground on the Texas Gulf Coast.

Operated initially as the Texas City Refining

Company, that same refinery has continued

operations for more than a century and today

is one of fourteen refineries that make up

Valero Energy Corporation, headquartered

in San Antonio and North America's largest

independent refining company.

Specializing in the production of highquality

transportation fuels, the Valero Texas

City Refinery occupies 300 acres of land

strategically located along the Texas City ship

channel. The refinery is able to process almost

250,000 barrels of crude oil and other feedstocks

each day, and makes gasoline, ultra low

sulfur diesel, jet fuel and other high-grade

petroleum products.

Reflecting the company's commitment to

excellence, Valero early on recognized the need

for enhancing safety, reducing emissions and

being a good neighbor, which included building

relationships within its home community,

offering progressive employee benefits and

providing quality products for customers.

Since acquisition by the Valero Energy

Corporation in 1997, the Texas City Refinery

has doubled its refining capacity while reducing

emissions by half. Its participation in the

Volunteer Protection Program (VPP) sponsored

by the Occupational Safety and Health

Administration (OSHA) has resulted in its

being named Valero's first "Star Site" and later

being recertified as a VPP "Star Among Stars."

It also has been recognized with the National

Petrochemical and Refiners Association's

Award for Safety Performance.

Valero workers are considered the company's

top asset, as evidenced by an all-employee

bonus program and highly competitive

health benefits. The company also reaches out

personally to workers in need. In one case,

the company plane was sent to bring home

an employee who was seriously injured while

on vacation in an area that could not provide

satisfactory medical treatment.

Volunteerism and giving back to the community

is important to Valero employees.

Valero is perennially among the largest

per-capita donors to local United Ways, and

employees volunteer with the American

Cancer Walk, Boy Scouts, Benefit for Children

Golf Classic, Chamber of Commerce,

Hospice, Life-Flight, Rotary Club, Special

Kids programs, women's and children's

shelters, and programs for hurricane victims,

orphanages and the elderly. With financing

supplied by Valero, an in-house volunteer

program also identifies, organizes and implements

projects such as landscaping, painting,

and repairing of homes and recreational areas

for nonprofit organizations.

COASTAL VISIONS - Images of Galveston County

190
---
GALVESTON-

TEXAS CITY

PILOTS

Part art, part science, part experienced

"spot-on" navigational judgment—the task of

maneuvering the world's largest moving

objects through confined areas in a busy

port facility is all in a day's work for the

Galveston-Texas City Pilots.

With approximately 5,000 vessels a year

entering and leaving Galveston County ports,

safety is the primary focus for the area's statelicensed

compulsory pilots. When dealing with

navigation, even a single minor miscalculation

could cause a major disaster, and pilots are a

main line of defense against shipping mishaps.

Ships entering and leaving the county's

ports range from luxurious cruise ships packed

with vacationing passengers to giant oil

tankers under the guidance of foreign crews.

Pilots are on duty twenty-four hours a day,

seven days a week, and provide not only

shipboard guidance into and out of port but

work to minimize the environmental impact

that a busy port can generate through fires,

collisions, damaging currents and contamination

from fuel and cargo.

With a history of having served as

"Sentinels of the Ports of Galveston County

since 1845," pilots have traditionally considered

themselves the "eyes" of the county's

ports. Keen observation, skilled judgment

and precise communications are essential

elements of their work, and pilots employ

a variety of skills, including diplomacy,

to maintain port efficiency and safety.

Piloting duties include boarding ships

waiting for port entry and conducting an

intensive exchange of vital information with

the ship's master, who may or may not have

ever sailed into the port before or speak

English as a first language. The pilot provides

specific information about the port, and the

master provides specific information about

the ship and its cargo. After this exchange,

further navigation into port is under the

control of the pilot, who, in cooperation with

the master and crew, directs the vessel's

movement for the remainder of the journey.

The training to become a pilot is demanding

and includes ten years of shipboard

experience, holding a master's license and the

satisfactory completion of a two-year apprenticeship

program. Each pilot is considered

an independent contractor and must be a

United States citizen. In Texas, pilot associations

are governed by the state-appointed

Pilot Commission, named by the governor

and charged with overseeing and regulating

tariffs and ensuring that all pilots are trained

and equipped to service their customers.

The Galveston County pilots' headquarters

on Pelican Island include comfortable living

facilities for on-duty pilots, offices, repair and

maintenance facilities, and, most importantly,

the high-tech communications center. It also

houses an impressive collection of nautical artwork,

log books from the 1800s and vintage

photos, including one from 1905 showing the

first steamship to visit the Port of Texas City.

BUILDING A GREATER GALVESTON

191
---
DOW

TEXAS CITY

OPERATIONS

It was an uncertain time on May 21, 1941,

when 249 men—Carbiders as they were

called—turned the first valve that began

producing ethylene at what is today known

as Dow Texas City Operations. Production at

the Union Carbide Texas City plant began

just in time for its products to be in strong

demand—and even indispensable—just a

few months later when America went to war.

While there have been both challenging and

rewarding times over the last seven decades,

the site's future looks promising.

By the mid 1950s, Texas City Operations

was producing and shipping products, adding

dock facilities and modernizing equipment.

The site had also become a family affair, with

many relatives working side by side—in fact,

throughout the site's history, Texas City

Operations has employed multiple generations.

Though employees were socially active

during non work hours, the site was also

characterized by community involvement,

with many employees playing a meaningful

role in local government and in the education,

social, service and charity organizations that

help give the city and county their character

and direction. They were active in school

classrooms and on athletic fields, mentoring

young people and making life more comfortable

for the elderly and poor.

In the 1970s, the site began shutting down

some units as business needs dictated.

However, this decade also

brought the introduction of

new technologies to Texas

City Operations. In 1971,

Carbide signed an agreement

with the newly formed Waste

Disposal Authority, a unique

government and industry collaboration

to improve water

quality along the Gulf Coast.

The new facility was built in

1973, utilizing Carbide technology,

to biologically clean

waste water streams. The

mid-1970s also saw the construction of a

new vinyl acetate plant, using state-of-the-art

technology, as well as the construction of

the low pressure OXO technology, a breakthrough

in production of OXO alcohols that

is still used to this day.

A bigger change was on the horizon for

Texas City. In August of 1999 the directors

of Union Carbide Corporation and Dow

Chemical Company approved a merger, one

of the largest in the history of the chemical

industry. Dow brought to the site a renewed

emphasis on employee health and safety and

today, it is clear through the site's strong

safety culture that the safety of the people

who work at the site always comes first.

Seventy years of operations is an impressive

milestone, particularly in an increasingly

competitive global marketplace. But throughout

its history the people of Texas City have

repeatedly demonstrated a can-do spirit and

genuine concern for the site, the community

and one another. With the perseverance and

commitment that defines Texas City, the next

seventy years look bright.

COASTAL VISIONS - Images of Galveston County

192
---
Sponsors

A-1 Fire Equipment Co...........................................................................................................155

Abundant Life Christian Center ..............................................................................................131

AMOCO Federal Credit Union................................................................................................144

Beachtown..............................................................................................................................132

Better Business Bureau............................................................................................................158

Blimp Base Interests, Inc.........................................................................................................187

BP Texas City Chemicals.........................................................................................................171

BP Texas City Refinery ............................................................................................................170

CenterPoint Energy.................................................................................................................178

City of La Marque...................................................................................................................128

City of League City .................................................................................................................130

City of Texas City ...................................................................................................................134

College of the Mainland..........................................................................................................126

Dow Texas City Operations.....................................................................................................192

ERF Wireless, Inc. ..................................................................................................................138

First Choice Power .................................................................................................................180

Galveston Chamber of Commerce...........................................................................................156

Galveston College ...................................................................................................................129

Galveston County Economic Alliance......................................................................................172

Galveston-Texas City Pilots .....................................................................................................191

GIA Insurance ........................................................................................................................160

Gulf Copper ...........................................................................................................................176

Gulf Greyhound Park..............................................................................................................135

HDR, Inc. ...............................................................................................................................182

Hitchcock Industrial Development Corporation......................................................................186

HomeTown Bank, N.A. ...........................................................................................................154

Hygeia Enviro-Clean, Inc. .......................................................................................................142

J&J Telecommunications.........................................................................................................150

Kleen Supply Company ..........................................................................................................140

Leslie Watts ............................................................................................................................161

Marathon Petroleum Corporation ...........................................................................................189

Matthews, Inc.........................................................................................................................146

Mihovil Photography ..............................................................................................................162

Mitchell Historic Properties ....................................................................................................166

Moody Gardens ® .....................................................................................................................120

Moody Gardens ® Golf Course

Moody Gardens ® Hotel......................................................................................................121

Ocean Star Museum ................................................................................................................174

Port of Galveston ....................................................................................................................184

Prudential Premier Properties–Beach or Bay............................................................................188

ROBCO Facility Services.........................................................................................................159

SCENIC GALVESTON, Inc. ....................................................................................................133

Texas A&M University at Galveston ........................................................................................124

Texas City Independent School District...................................................................................122

Texas City-La Marque Chamber of Commerce.........................................................................152

Texas First Bank......................................................................................................................157

The Grand 1894 Opera House................................................................................................118

The Law Firm of Alton C. Todd ..............................................................................................148

United Way Galveston County Mainland ................................................................................173

Valero Refinery .......................................................................................................................190

SPECIAL THANKS

League City Chamber of Commerce and

North Galveston County Chamber of Commerce

SPONSORS

193
---
About the Photographer

R O B E R T

M I H O V I L

Photographer Robert Mihovil is a man of passion—passion for his family, passion for historic Galveston Island and passion for photography.

Although his work has appeared in numerous local, national and international publications, his loyalty to his home community—and

his affection for it as a favorite subject—has been paramount in his career.

In his preparation for gathering the images featured in Coastal Visions: Images of Galveston County, Mihovil contacted representatives

of all the county's chambers of commerce as well as local historians and civic leaders from throughout the area's various communities.

"It was important to me that Coastal Visions be truly representative of the county as a whole," he says. "I wanted every area in the county

to have input into the selection process of what really constitutes Galveston County's vision and which subjects were truly representative

of our coastal lifestyle."

He is a regular contributor for Coast Magazine, Guidry News and Texas Journey. His work also has appeared in Coastal Living, National

Geographic, Newsweek, Offshore, People, Smithsonian, Texas Highways and Texas Monthly. The Austin-American Statesman, Boston Globe,

Houston Chronicle, New York Times and USA Today have also published his work.

His photographs have additionally been chosen for the covers of such publications as the Galveston Park Board of Trustees Visitor's Guide,

the Galveston Chamber of Commerce Directory and AT&T telephone directories distributed throughout the county.

Mihovil also teaches photography each summer at Sea Camp, an outreach program for students thirteen to eighteen years of age at

Texas A&M Galveston. Remembering that his own interest in photography began at a similarly early age, he says "The first camera I ever

owned, I won selling Worlds Finest Chocolate when I was twelve. I sold twenty-four cases to win the first prize, which was a stereo.

I selected the second prize instead, however—a Kodak camera."

Mihovil Photography is located at 2402 Church Street, Galveston Island, Texas 77550. For additional information please go to his

online web gallery at www.mihovil.com.

COASTAL VISIONS - Images of Galveston County

194
---
About the Author

L E S L I E

W A T T S

Free-lance journalist Leslie Watts has lived and worked in the Galveston area for more than twenty years. In addition to a writing

career that has included both print and broadcast communications; she has taught high school algebra and middle school English.

A graduate of Louisiana State University in Baton Rouge, Watts earned her bachelor's degree in journalism, and has also studied

computer science at the University of Houston and worked on a master's degree in mathematics at the University of New Orleans.

Her career has included serving as director of continuity for WAFB-TV in Baton Rouge, and as a reporter, editor and columnist for

the Houston Chronicle. Upon moving to Galveston in the late 1980s, she joined the University of Texas Medical Branch at Galveston

where, in conjunction with the medical school's 100th anniversary, she held the position of Centennial Writer, and later assisted with

other writing projects.

Her free-lance writing has appeared in numerous publications, including Continental Airlines in-flight magazine, for which she was

a contributing editor, features writer, columnist and restaurant reviewer.

Watts enjoys spending time with her four children and seven grandchildren, and is an active member of Galveston's Grace Episcopal

Church and Galveston Historical Foundation.

ABOUT THE AUTHOR

195
---
For more information about the following publications or about publishing your own book,

please call HPNbooks at 800-749-9790 or visit www.hpnbooks.com.

Albemarle & Charlottesville:

An Illustrated History of the First 150 Years

Black Gold: The Story of Texas Oil & Gas

Garland: A Contemporary History

Historic Abilene: An Illustrated History

Historic Alamance County: An Illustrated History

Historic Albuquerque: An Illustrated History

Historic Amarillo: An Illustrated History

Historic Anchorage: An Illustrated History

Historic Austin: An Illustrated History

Historic Baldwin County: A Bicentennial History

Historic Baton Rouge: An Illustrated History

Historic Beaufort County: An Illustrated History

Historic Beaumont: An Illustrated History

Historic Bexar County: An Illustrated History

Historic Birmingham: An Illustrated History

Historic Brazoria County: An Illustrated History

Historic Brownsville: An Illustrated History

Historic Charlotte:

An Illustrated History of Charlotte and Mecklenburg County

Historic Chautauqua County: A Bicentennial History

Historic Cheyenne: A History of the Magic City

Historic Clayton County: An Illustrated History

Historic Comal County: An Illustrated History

Historic Corpus Christi: An Illustrated History

Historic DeKalb County: An Illustrated History

Historic Denton County: An Illustrated History

Historic Edmond: An Illustrated History

Historic El Paso: An Illustrated History

Historic Erie County: An Illustrated History

Historic Fayette County: An Illustrated History

Historic Fairbanks: An Illustrated History

Historic Gainesville & Hall County: An Illustrated History

Historic Greene County: An Illustrated History

Historic Gregg County: An Illustrated History

Historic Hampton Roads: Where America Began

Historic Hancock County: An Illustrated History

Historic Henry County: An Illustrated History

Historic Hood County: An Illustrated History

Historic Houston: An Illustrated History

Historic Hunt County: An Illustrated History

Historic Illinois: An Illustrated History

Historic Kern County:

An Illustrated History of Bakersfield and Kern County

Historic Lafayette:

An Illustrated History of Lafayette & Lafayette Parish

Historic Laredo:

An Illustrated History of Laredo & Webb County

Historic Lee County: The Story of Fort Myers & Lee County

Historic Louisiana: An Illustrated History

Historic Mansfield: A Bicentennial History

Historic McLennan County: An Illustrated History

Historic Midland: An Illustrated History

Historic Montgomery County:

An Illustrated History of Montgomery County, Texas

Historic Ocala: The Story of Ocala & Marion County

Historic Oklahoma: An Illustrated History

Historic Oklahoma County: An Illustrated History

Historic Omaha:

An Illustrated History of Omaha and Douglas County

Historic Orange County: An Illustrated History

Historic Osceola County: An Illustrated History

Historic Ouachita Parish: An Illustrated History

Historic Paris and Lamar County: An Illustrated History

Historic Pasadena: An Illustrated History

Historic Passaic County: An Illustrated History

Historic Pennsylvania An Illustrated History

Historic Philadelphia: An Illustrated History

Historic Prescott:

An Illustrated History of Prescott & Yavapai County

Historic Richardson: An Illustrated History

Historic Rio Grande Valley: An Illustrated History

Historic Rogers County: An Illustrated History

Historic Santa Barbara: An Illustrated History

Historic Scottsdale: A Life from the Land

Historic Shelby County: An Illustrated History

Historic Shreveport-Bossier:

An Illustrated History of Shreveport & Bossier City

Historic South Carolina: An Illustrated History

Historic Smith County: An Illustrated History

Historic Temple: An Illustrated History

Historic Texarkana: An Illustrated History

Historic Texas: An Illustrated History

Historic Victoria: An Illustrated History

Historic Tulsa: An Illustrated History

Historic Wake County: An Illustrated History

Historic Warren County: An Illustrated History

Historic Williamson County: An Illustrated History

Historic Wilmington & The Lower Cape Fear:

An Illustrated History

Historic York County: An Illustrated History

Iron, Wood & Water: An Illustrated History of Lake Oswego

Jefferson Parish: Rich Heritage, Promising Future

Miami's Historic Neighborhoods: A History of Community

Old Orange County Courthouse: A Centennial History

Plano: An Illustrated Chronicle

The New Frontier:

A Contemporary History of Fort Worth & Tarrant County

San Antonio, City Exceptional

The San Gabriel Valley: A 21st Century Portrait

The Spirit of Collin County

Valley Places, Valley Faces

Water, Rails & Oil: Historic Mid & South Jefferson County

COASTAL VISIONS - Images of Galveston County

196
---
Leadership

Sponsors

ISBN 9781935377825