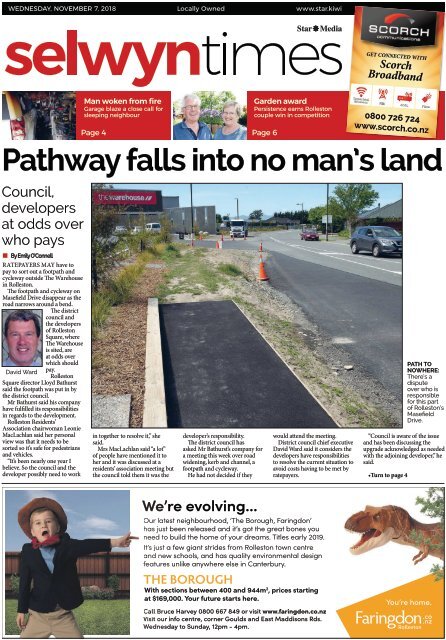 Selwyn Times: November 07, 2018
Create successful ePaper yourself
Turn your PDF publications into a flip-book with our unique Google optimized e-Paper software.
WEDNESDAY, NOVEMBER 7, 2018

Locally Owned

www.star.kiwi

GET CONNECTED WITH

Scorch

Broadband

Man woken from fire

Garage blaze a close call for

sleeping neighbour

Page 4 Page 6

Garden award

Persistence earns Rolleston

couple win in competition

0800 726 724

www.scorch.co.nz

Pathway falls into no man's land

Council,

developers

at odds over

who pays

• By Emily O'Connell

RATEPAYERS MAY have to

pay to sort out a footpath and

cycleway outside The Warehouse

in Rolleston.

The footpath and cycleway on

Masefield Drive disappear as the

road narrows around a bend.

The district

council and

the developers

of Rolleston

Square, where

The Warehouse

is sited, are

at odds over

which should

David Ward

pay.

Rolleston

Square director Lloyd Bathurst

said the footpath was put in by

the district council.

Mr Bathurst said his company

have fulfilled its responsibilities

in regards to the development.

Rolleston Residents'

Association chairwoman Leonie

MacLachlan said her personal

view was that it needs to be

sorted so it's safe for pedestrians

and vehicles.

"It's been nearly one year I

believe. So the council and the

developer possibly need to work

in together to resolve it," she

said.

Mrs MacLachlan said "a lot"

of people have mentioned it to

her and it was discussed at a

residents' association meeting but

the council told them it was the

developer's responsibility.

The district council has

asked Mr Bathurst's company for

a meeting this week over road

widening, kerb and channel, a

footpath and cycleway.

He had not decided if they

would attend the meeting.

District council chief executive

David Ward said it considers the

developers have responsibilities

to resolve the current situation to

avoid costs having to be met by

ratepayers.

"Council is aware of the issue

and has been discussing the

upgrade acknowledged as needed

with the adjoining developer," he

said.

•Turn to page 4

PATH TO

NOWHERE:

There's a

dispute

over who is

responsible

for this part

of Rolleston's

Masefield

Drive.

We're evolving...

Our latest neighbourhood, 'The Borough, Faringdon'

has just been released and it's got the great bones you

need to build the home of your dreams. Titles early 2019.

It's just a few giant strides from Rolleston town centre

and new schools, and has quality environmental design

features unlike anywhere else in Canterbury.

THE BOROUGH

With sections between 400 and 944m 2 , prices starting

at $169,000. Your future starts here.

Call Bruce Harvey 0800 667 849 or visit www.faringdon.co.nz

Visit our info centre, corner Goulds and East Maddisons Rds.

Wednesday to Sunday, 12pm - 4pm.

You're home.
---
2 Wednesday November 7 2018

Latest Christchurch news at www.star.kiwi

ROLLESTON RESIDENTS have every

reason to be disappointed with the

outcome of road work on Masefield Drive

which we highlight on page 1 today.

And it looks like ratepayers across the

district will have to pay for a fix.

The cycleway and pathway outside of The Warehouse stops

where the road narrows.

Reporter Emily O'Connell has been back and forth to the

district council and the company involved in the development

to try and find out which will have to fix it.

But it's a case of pass the parcel.

The district council believes the company is responsible; the

company says it has done the job as required.

The council won't say if legal action is a possibility. It's probably

not worth the cost.

– Barry Clarke

get in touch

GENERAL INQUIRIES Ph 379 7100

CLASSIFIED ADVERTISING Ph 379 1100

Star Media, a division of Allied Press Ltd

PO box 1467, Christchurch

starmedia.kiwi

NEWS

Emily O'Connell

Ph: 364 7497

emily.oconnell@

starmedia.kiwi

Georgia

O'Connor-Harding

Ph: 364 7438

georgia.oconnor@

starmedia.kiwi

ADVERTISING

Lynette Evans

Ph: 364 7434

lynette.evans@starmedia.kiwi

schools

Ellesmere College's Xmas play

The school's budding student actors took to the stage last

week for What Santa Forgot.

Page 19

sport

Showjumper off to China

Darfield High student Katherine Hadler will sit her final NCEA

exam then head to China for an international under-18 event.

Pages 29

community events

Get crafting in Leeston

Craft and chat at Patchwork Plus on Monday, 10am-3pm, at

the Leeston Library.

Page 37

SELWYN TIMES

The best-read local newspaper, delivered to

20,015 homes, RDs and farms every Wednesday

Ladbrooks, Tai Tapu, Leeston, Lincoln, Southbridge, Prebbleton,

Halswell, Rolleston, Templeton, Burnham, West Melton, Darfield,

Kirwee, Arthur's Pass.

Bowranda

PATIO ROOF

For a free Measure & Quote PH 0800 26 26 20

⚫ Achieve your outdoor vision

⚫ A permanent, sheltered outdoor space

⚫ Eliminates 99% of harmful UV light – maintains

ambient light

⚫ Options to customise and enclose with outdoor

blinds

⚫ Immediately increase the value of your home

⚫ Frame constructed of powder-coated aluminium

& stainless steel

⚫ Square profile exhibits aesthetic conformity

with NZ residential architecture

⚫ Manufactured to clients custom specifications

& dimensions

www.bowranda.co.nz

There's

much more

to come

Discover a true,

carefree lifestyle

at Lady Wigram

Retirement Village

Independent Living

at its best.

Lady Wigram Retirement Village facilities are second

to none. Whether you're looking for a serviced

apartment or a single story villa mixed with luxury

resort style facilities, you have an abundance of

choice at Lady Wigram Retirement Village.

Sarah Jacobson - Village Manager

210 Kittyhawk Ave, Wigram

Phone 03 341 0543

Mobile 027 3411 464

www.goldenhealthcare.co.nz
---
SELWYN TIMES Latest Christchurch news at www.star.kiwi

Wednesday November 7 2018 3

News

2019

ON THE DOMAIN LINCOLN 2 MARCH 2019

TICKETS

ON SALE

NOW

www.selwynsounds.co.nz

Buyer's market –

prices ease, property listings jump

• By Emily O'Connell

IT'S A buyer's market for

properties in Selwyn.

Information released by

realestate.co.nz also shows

Rolleston is one of the most

sought after areas in Canterbury

It rates the fifth most sought

after area behind Fendalton, Rangiora,

Christchurch's central city

and Cashmere.

A big climb in new listings

and a drop in asking prices are

making the market more attractive

to buyers, realestate.co.nz

says.

Rolleston's Ray White licensee

agent and business owner

Brendan 'Big Red' Shefford said

prices "have eased" as there's

more supply and buyers have a

"good selection."

Mr Shefford said there are

many contributing factors to

Rolleston's popularity.

He said Rolleston "is the heart

of Selwyn" and it has a variety of

schools on offer as well as other

facilities, employment opportunities

and the development of the

Christchurch Southern Motorway.

"It's a wonderful opportunity

to be a buyer in the market at the

Looking for

a mortgage

broker?

Head to our website for

more information or call

Michelle to arrange a

free consultation.

Michelle lindsay

Mortgage advisor

Phone 021 346 265

www.stephaniemurray.mortgage

moment with what's in stock,"

Mr Shefford said.

The median sale price in

Rolleston from July to September

was $545,000.

Realestate.co.nz spokeswoman

Vanessa Taylor said Cantabrians

remain the biggest searchers for

property within the region.

"They're followed by property

seekers from the Auckland, Otago

Lost your

hairdresser?

Lesley Heenan

Formerly at Collective

Hair Lincoln now at

BLACK SUEDE HOUSE

OF HAIR in Hornby

385a Main South Road | Phone 349 2466

www.blacksuedehouseofhair.com

and Wellington regions," she said.

When it comes to Selwyn, Mr

Shefford said "a good percentage

of them are moving within

Canterbury."

"Then you've got the natural

Auckland movement that filtered

throughout the country. You

have people moving to Rolleston

as a result of the Auckland

movement but not necessarily

FOR SALE:

Ray White

licensee

agent and

business

owner

Brendan

'Big Red'

Shefford

outside a

property in

Navy Loop,

Rolleston,

which is one

of the most

sought after

areas in

Canterbury.

someone buying from Auckland,"

he said.

Mr Shefford said first home

buyers and people using KiwiSaver

are becoming "more and more

common" in Selwyn's market.

It comes as Selwyn property

owners are expecting to receive a

letter with an updated property

valuation in about a week.

Quotable Value carried out

the revaluation on behalf of the

district council and it showed

there has been a 6.7 per cent

average increase in capital values

in Selwyn since 2015.

The valuations are an estimate

of the likely price that would

have been paid for the property

on July 1 of this year.

Mr Shefford believes the average

increase is down to "natural

growth" with "everything going

up over time."

Residential property values

rose by an average of 3.8 per cent

between July 2015 and July 2018,

with lifestyle properties increasing

by an average of 8.4 per cent.

Property value changes varied

across the largest towns – with average

values increasing by 4.1 per

cent in Rolleston, 1.1 per cent in

Lincoln, 2.4 per cent in Prebbleton

and 0.4 per cent in Darfield.

Other townships showed

similar increases with Leeston

increasing 5.1 per cent, West

Melton 3.8 per cent, Tai Tapu

6.2 per cent and Southbridge

showing a slight decrease at

minus 0.3 per cent. Residential

values in the rural areas of

Malvern increased by 7.6 per

cent and Ellesmere 3.3 per cent.

CONFIDENCE

COMES FROM

HEARING

WELL AGAIN

Hear well this Christmas

There is time to get your hearing sorted before the social season!

We can have you hearing beautifully with new hearing aids by Christmas!

If you already wear hearing aids, bring them in for a FREE

professional clean and pack of batteries!*

Want to have your hearing sorted by Christmas?

Call 03 390 2332 *offer valid until end of 2018 only

36 Tennyson Street, Rolleston | Darfield | Leeston | Lincoln | www.sincockhearing.nz | 03 390 2332
---
4 Wednesday November 7 2018

Latest Christchurch news at www.star.kiwi

SELWYN TIMES

News

Pathway

falls into no

man's land

•From page 1

Mr Ward said the developers have

made development payments but

they "were not associated with the

road frontage upgrades, identified as

needed for the development."

The district council would not

say whether legal or

other action would

be taken.

District councillor

Nicole Reid, who

is chairwoman of

road safety subcommittee,

said

Nicole Reid

from a council

perspective, it's the

developers responsibility to fix the

road. "I have raised it with council

staff and it has been something that

I've been following," she said.

In Brief

CAR SEAT CHAMPIONS

A group of volunteers called Selwyn

Carseat Champions is making a

difference to children's safety when

in a vehicle, and is looking for

volunteers. If you are interested in

joining, email Stephanie Hautler

at roadsafety@selwyn.govt.nz for

more information.

Neighbour wakes teen from blaze

• By Emily O'Connell

BRODIE ABLETT will always

be grateful to his neighbours

who woke him from a nearby

fire at the weekend.

Mr Ablett, 19, was woken by

his neighbour as a blaze in a

garage on their property was

within minutes

of erupting

into an inferno.

He was asleep

in his father's

Rakaia Huts

house when

the fire started

Brodie

Ablett

in Merrolli

and Graham

Turner's garage.

Mr and Mrs Turner, who live

on Ocean View Pl, were also

woken by their neighbours,

Barry McKay and Graeme

Patterson, after Mr McKay

smelled smoke about 5.50am

on Sunday.

Mr Patterson had been

watching the England v South

Africa rugby game and was

planning to go whitebaiting.

Mr McKay was planning to go

fishing.

Mr Ablett said he is

"unexplainably grateful" to

have been woken up by Mrs

DAMAGE: Merrolli and Graham Turner's garage after the fire.

Turner. "I would hate to think

how it may have gone down if

it [the fire] had hit a gas bottle

or the trees at the front of our

section where the fire was

heading," he said.

By the time Mr Ablett left

his father's house, Mr McKay

and Mr Patterson had pulled

the boat away from the front

of the garage and were using

the garden hose to begin

extinguishing the fire.

"We actually got it out with

a garden hose, reasonably out

anyway, and then the brigade

turned up and took over from

there," Mr Patterson said.

Southbridge chief fire officer

Donald McMillan said they

were "very lucky." If no one

had been awake, he said the fire

would have spread to where Mr

Ablett was sleeping in about

10min.

"It would have happened if

no one had woken up, it would

have spread," he said.

It took firefighters 20min to

contain the blaze, which caused

"considerable damage," Mr

McMillan said.

Mrs Turner said they have

insurance but it was still

"pretty scary and shattering."

She said the garage contained

their Suzuki Escudo, power

tools, fishing and motor-cycle

gear.

Mrs Turner said the cause

of the fire was still being

investigated.

TICKETS ON

SALE NOW.

Grab your early bird tickets now for Canterbury's

biggest day out, the New Zealand Agricultural

Show (formerly the Canterbury A&P).

The Show will be held at the Canterbury Agricultural Park from

14 to 16 November. Witness ordinary people doing extraordinary

things, with the best of the best competing in woodchopping,

endurocross, livestock and more! This year, we welcome a

strongman competition, medieval mayhem and all the old Show

favourites you have come to love.

GET YOUR TICKETS NOW AT WWW.THESHOW.CO.NZ
---
SELWYN TIMES Latest Christchurch news at www.star.kiwi

Wednesday November 7 2018 5

Concern over fire risk

• By Georgia O'Connor-

Harding

HOT WEATHER and strong

wind at the weekend has

Kirwee's chief fire officer

pleading with residents to

maintain their properties

to prevent major fires over

summer.

Chief fire officer Stuart Jones

is calling for residents to be vigilant

and ensure they cut down

long grass.

The brigade is concerned over

the difficulty it is facing when

trying to access rural properties

with overgrown driveways.

The fire brigade is also

concerned over the build-up of

dry material that can fuel fires.

"We have had those couple of

inches of rain and the nice hot

weather. We are going to have

a quick spurt of growth and

everything is going to get quite

long quickly before it dies off."

MetService meteorologist

Gerrit Keyser said the

combination of heat and

the fohn wind coming off

the mountains on Saturday

and Sunday made the best

conditions for fires to start.

The outlook for the next

four weeks shows average

temperatures are set to

be higher than normal in

Canterbury compared to

previous years.

Mr Keyser said it is expecting

temperatures to be 1.7 deg

C warmer on average than

previous years. The average

maximum in November for

Canterbury is 18.9 deg C.

Mr Jones said trying to get

large fire trucks and tankers

up long driveways covered in

overgrowth is "impossible".

He said it is hard to get the

trucks into overgrown areas

where fires are developing

and there are concerns over

firefighters getting trapped.

"We are just damaging our

vehicles if we do this and we are

putting our members at risk,"

he said.

Mr Jones also said the sale

of fireworks should be "totally

banned".

"Especially in these winds,

it was ridiculous with the

winds we had out here all day

Saturday. Most of Saturday

night there was potential for

a major disaster . . . just from

stupid fireworks," he said.

He said people are

irresponsible with how they use

fireworks and there are already

enough displays in Rolleston

and New Brighton.

THE KIRWEE Volunteer Fire

Brigade is ramping up its efforts

to secure a rapid response

vehicle to speed up its ability to

respond to emergencies in tough

terrain.

Chief fire officer Stuart Jones

said the brigade needs a fourwheel-drive

as it is often called

out in deep snow, high winds,

and to areas with unsealed

roads.

Mr Jones also owns the

Challenge service station in

Kirwee. It has launched a My

Challenge rewards programme

to help the brigade achieve its

goal. Customers have the ability

to choose to donate their My

Challenge fuel discount to the

brigade.

"We've been doing raffles

down at the hotel, the usual

stuff, but now we're seeing a

much wider section of our

village community able to

donate because it's so simple,"

Mr Jones said.

He said being limited to

large fire trucks is slowing

down its ability to respond to

emergencies. The 4WD and

a locker box for equipment is

estimated to cost about $50,000

and the brigade has raised about

Local

News

Now

Fire rages, homes at risk

Brigade pumps up bid for

rapid response vehicle

RESPONSE: Kirwee's

Challenge service station is

running a promotion to help

get the fire brigade a rapid

response vehicle.

$30,000 over the past year.

"Taking the big fire appliances

around those tracks is pretty

challenging. We're damaging

the trucks, smashing mirrors

off, that sort of thing, just to

get around and up these long

and tree-lined drives," said Mr

Jones.

He said the brigade could use

the rapid response vehicle to

locate the scene of an emergency

and scout out safe access before

bringing in its heavy equipment.

He's hoping the Challenge

initiative will get them over the

goal line.

KIDS BIKES

LAYBUY NOW FOR XMAS

10%

deposit

STORAGE AVAILABLE UNTIL XMAS EVE.

BIkE pIckUp TIL 9pM ON 24 Th dEcEMBER.

401 Main South Rd, Hornby | Phone (03) 925 9689
---
6 Wednesday November 7 2018

Latest Christchurch news at www.star.kiwi

SELWYN TIMES

News

Armistice Day

commemorations

COMMEMORATIONS will

be held across Selwyn to mark

Armistice Day on Sunday.

The events will pay tribute to

the end of World War 1 with the

signing of an armistice between

Germany and the Allied Powers

on November 11, 1918.

The district council will be

holding an Armistice Day service

at the car park of the new Lakeside

Soldiers Memorial Hall on

Harts Rd.

The public will need to assemble

at 10.30am for the 11am service.

Other commemorations to be

held in the district will be at the

Glenroy Community Hall and

Centre between 9-11am.

The Sheffield Waddington

Community Committee is holding

a service at 11am at the Sheffield

War Memorial.

This weekend will also mark a

special occasion for the Templeton

RSA.

It will be holding a dinner party

for its members to celebrate its

80th anniversary as a RSA on

Saturday at 5.30pm.

On Sunday, the Templeton RSA

will hold a service at 10.45am to

commemorate Armistice Day.

•Turn to page 10 and 11 to

read about the historical

significance of Armistice Day

in Selwyn.

Garden award 'a surprise'

• By Emily O'Connell

FOR MARILYN and Dave

Cable, being named as the

overall winners in the Rolleston

Residents' Garden Competition

came as a surprise.

The competition, which

encourages people to beautify

the town through gardening,

attracted 34 entries this year.

Unable to spend as much time

in the garden as they would have

liked, Mr and Mrs Cable didn't

feel confident going into the

contest.

In spite of this, the couple won

the large garden category and

became the overall winners.

They have been entered every

year since 2011 and Mrs Cable

says she just "loves" gardening.

She said Mr Cable does the

"lawn, edges and hedges" and

she does the rest.

"It gives me an opportunity

to get the garden tidied up to

a reasonable standard, it gives

me a date that I need to work

towards," Mrs Cable said.

Competition president

Brenda Dunlop said this year's

competition went "really well"

and they were "impressed" with

the standard of gardens entered.

A prize-giving was held last

week for winners at Lemonwood

Grove School. Mayor Sam

Broughton helped present the

awards.

Winners:

•Small garden - Christine

and Peter Thorne, 26

Castleton Drive

•Medium garden - Lynette

Chamberlain, 2/735 East

Maddisons Rd

•Large garden - Marilyn

and Dave Cable, 244 Dunns

Crossing Rd

•Garden up to threeyears-old

- Eunice

Edgecombe, 54 Quartz

Drive

•Garden viewed from

street - Geraldine and

Howard Croucher, 8

Wedgewood Row

GREEN

FINGERS:

Dave and

Marilyn Cable

of Rolleston in

their winning

garden.

•Garden hidden behind

fences and trees – Muriel

Smith, 52 Lowes Rd

•Commercial or industrial

garden – Power Farming

Canterbury, 7 George

Holmes Rd

•Overall winner – Marilyn

and Dave Cable, 244 Dunns

Crossing Rd

HON AMY ADAMS

MP FOR SELWYN

Working hard for our communities

If you would like to sign up for

my newsletter please visit:

www.amyadams.co.nz

CONTACT

P 03 344 0418

E selwynoffice@parliament.govt.nz

Funded by the Parliamentary

Service and authorised

by Amy Adams, 829 Main

South Road, Templeton,

Christchurch.

Bay Audiology is

now in your

neighbourhood.

West Melton - OPENING 13 TH NOV!

03 348 5096

Unit 10, 736 Weedons Ross Road

Open by appointment only.

Rolleston - EXTENDED HOURS FROM DEC!

03 348 5096

41 Shelley Street

Open by appointment only.

Our NEW West Melton clinic is here for all your hearing

needs, from FREE hearing checks (available to anyone

aged 18 years & over) to hearing aid care & support.
---
SELWYN TIMES Latest Christchurch news at www.star.kiwi

Wednesday November 7 2018 7

Sunstrike likely factor in crash

• By Georgia O'Connor-

Harding

SUNSTRIKE IS believed

to be a factor in a threeway

car crash in Rolleston

– leaving the drivers

involved lucky to walk

away injury free.

A man driving on

Curraghs Rd failed to see

an oncoming vehicle on

Maddisons Rd.

The impact of the crash

caused the vehicle travelling

on Maddisons Rd to

collide with another car

waiting on the other side

of Curraghs Rd.

The crash happened at

about 8.10am on Friday

morning and was attended

by police, ambulance

and the fire service.

Sergeant Phil Bayne

said the man who failed to

see the oncoming vehicle

possibly had sunstrike as

he was looking east.

A woman driving the

vehicle on Maddisons Rd

was taken to Christchurch

Hospital to be assessed

but there were no injuries.

Sergeant Phil Bayne

said the crash could have

ended in a fatality or serious

injuries.

He said it was lucky

the speed limit had been

reduced to 80km/h on

Maddisons Rd.

"That had a major

impact on lessening the

severity of the crash. The

fact everyone was wearing

seat belts made it easier as

well," Sergeant Bayne said.

Sergeant Bayne said

the car travelling on

Maddisons Rd and the

car waiting on Curraghs

Rd sustained moderate to

severe damage.

Details instore.

FINAL

WEEK

CARING: Fern Broomhall, of Prebbleton, looking after quintuplet lambs which

were born 11 days ago. Fern's mother, Stephanie Broomhall, says the fiveyear-old

is "very nurturing" and "just loves" all animals, especially lambs. Mrs

Broomhall said she's heard it's quite rare for a ewe to have five lambs. When

she's older, Fern wants to be either an "animal doctor" or work at a zoo.

Hellers Fresh NZ

Burgers 400g or

Pre-cooked Sausages

1kg Plain (excludes

Flavoured Variants)

ANY 2 FOR

$

12 99

Pams Fresh NZ

Chicken Kebabs 8 Pack

$ 8

99

pk

In Brief

VEHICLE FIRE

Firefighters extinguished a

"well involved" vehicle fire

on Perymans Rd, between

Tai Tapu and Lincoln, at

2am on Thursday. Lincoln

chief fire officer Jeremy

Greenwood said it took the

crew about 10min to put

the fire out. The abandoned

vehicle was "destroyed"

and Mr Greenwood was

unsure what caused the

blaze.

MISS HARMONY BELLE

Rolleston School teacher

Jade Bell was runner-up in

the 19 Black Miss Pinup

New Zealand pageant

in Auckland over the

weekend. The competition

encourages women of all

shapes and sizes to feel

confident and step out of

their comfort zone. Miss

Bell, also known as Miss

Harmony Belle, started

dressing in vintageinspired

clothing about

two years ago. It was

the Taumutu resident's

first time entering the

competition.

HIGHLAND GAMES

There's just three days

until the annual Hororata

Highland Games. The

games, which will take

place at the Hororata

Domain on Saturday,

will celebrate all things

Scottish, including

highland dancing, tug

of war, heavy events and

the Selwyn Times Kilted

Mile event. There will

also be 120 stalls, food

caravans and the Have A

Go arena. Tickets can be

purchased online at http://

hororatahighlandgames.

org.nz/tickets/ or at the

gate. Children under fiveyears-old

are free, $5 for

over fives and adult tickets

are from $20.

BRIGHT STUDENT

A Lincoln High School student

has proven to be one

of the brightest inventors

in the country. MacKenzie

Parker won the best mobile

application award with

Emma Hogan at the ASB

Bright Sparks Awards in

Auckland last week.

YOUTH COUNCIL

Applications for the

2019/2020 Selwyn Youth

Council are open. Young

people who live in Selwyn

and are aged between 14

and 24 are eligible to apply.

The youth council is made

up of 12 members. Current

chairwoman Paige Sullivan

said by joining, you can

help make life better

for young people in the

district. Applications close

on November 23. For more

information and to apply,

visit www.selwyn.govt.nz/

YouthCouncl or Facebook.

com/SelwynYouthCouncil.

FUNDING GRANTS

The Springs and Ellesmere

Discretionary Funds

Committee will today

consider granting $500

from the Springs Ward

Discretionary Fund to

Lydia Palaiologou and

$500 to Natasha Frost.

The money would assist

with the cost of attending

the World Salsa Solo

competition in Brisbane

from November 22-26.

Quality Bakers

Nature's Fresh King

Burger Buns 8 Pack

$

3

99 pk

The Ned 750ml

(excludes Pinot Noir

& Chardonnay)

$

13 99 ea

Bluebird Original

Cut Chips 150g

$

1 99 ea

$ 26 99

pk

26

Corona Extra

12 Pack 355ml Bottles

www.foursquare.co.nz

facebook.com/FourSquareNZ

Specials available South Island only from Monday 5th November until Sunday 11th November 2018

or while stocks last. Wine and beer available at stores with an off licence. Wine and beer purchases

restricted to persons aged 18 years old and over.
---
8 Wednesday November 7 2018

Latest Christchurch news at www.star.kiwi

SELWYN TIMES

News

Fireworks spectacular thrills big crowd

The Rolleston fireworks display took place on Saturday night with a crowd of

about 15,000 in attendance. It was the third year the event had been held at

Foster Park instead of Rolleston Reserve. The event cost about $70,000, with

$30,000 of fireworks ignited. Rolleston fireworks organising committee member

Jens Christensen said apart from the wind, everything was "brilliant."

Our gorgeous range of..

sandwiches, paninis, bagels,

scones, slices, muffins,

quiches, sausage rolls & pies,

coffee and more!

CATERING AVAILABLE!

Gorgeous Food

specialist bakery

OPEN

SATURDAY

7am - 1.30pm

66-68 Springs Rd Ph: 344 6044 Email: gorgeousfood@xtra.co.nz

Open Monday-Friday 6am-3.30pm www.gorgeousfood.co.nz

100%

CapItal GaIn

to the ResIDent

$1,000 FullY

ReFunDable

DeposIt

ROLLESTON LAW

Rolleston Office: 78A Rolleston Drive, Rolleston

Darfield Office: Darfield Business Hub, 68 South Terrace

W: www.meareswilliams.co.nz

T: (03) 374 2547 M: 021 148 6221

Richard Gray

E: rcg@meareswilliams.co.nz

Anita Molloy-Roberts

E: am@meareswilliams.co.nz

Kate Warren

E: kcw@meareswilliams.co.nz

neW shoW hoMe open

MonDaY to FRIDaY 10am to 2pm

E S T A T E

Phone. 03 421 7796 | Email. sales@woodcroftestate.co.nz

WOODCROFT WAY, 28 KENDON DRIVE, ROLLESTON, CANTERBURY

Rolleston's neW ReGIsteReD RetIReMent vIllaGe

• Initial weekly fee of $75 includes rates & full insurance

• Gated community and emergency call button in each villa

• Two & three bedroom villas with single/double garage from $400,000

• On Site Manager and a Pavilion and Bowling Green

• Weekend viewing by appointment

• Call Corinne 021 292 1141

www.manorgroup.co.nz
---
SELWYN TIMES Latest Christchurch news at www.star.kiwi

Wednesday November 7 2018 9

at Rolleston's Foster Park

New Spring

fashions in

store now!

PHOTOS: PETER WALKER ​

Buy yours today - sizes 6-22

SMITH & BOSTON

Prebbleton Village | Christchurch

Ph: 03 349 5646

www.smithandboston.co.nz

HEAT PUMP

SALE NOW ON!

Amazin' spring Specials!!

• We will offer you the best quality brands and

option of heat pump for your home/business

• Providing Heat Pump solutions for over 16 years to Cantabrians

• We personally guarantee all our products & installs for 5 years

(providing annual maintenance has been completed)

Phone us today for your free consultation & quote

41A SHAKESPEARE RD, WALTHAM

PHONE 03 366 0525

www.enviromaster.co.nz

"A local team for local people"

Meat you in

Farrington

Mobile butcher at

South Point Shopping Centre

Thursdays 2–6:30pm

• Grass fed giving leaner meat, higher in nutrients

• Prime choice cuts

• Gluten free options available

ElitE MEats ChristChurCh

Bush Inn Centre | 364 Riccarton Road, Riccarton

Phone 03 348 5043 | Like us on Facebook

We pride ourselves on service, advice and quality meats

Sections for sale in

Wilfield, West Melton

A wide range of sections for sale at Wilfield. Drop in to our sales and information

office, 2 Kingsdowne Drive, this Wednesday or Sunday from 1pm to 3pm

to find out more. Contact us on 03 741 1340 or mail enquiries@yoursection.nz.
---
10 Wednesday November 7 2018

Latest Christchurch news at www.star.kiwi

SELWYN TIMES

News

Armistice Day commemorations have

HONOURED: Trooper

Gilbert 'Bertie' McGill of the

Canterbury Mounted Rifles,

taken before transferring to the

Canterbury Infantry Regiment.

He died of wounds while

serving on the Western Front in

France. ​

Historian and district council staff member Wayne

Stack continues his monthly look at Selwyn's past.

Anyone with suggestions for future features can

phone Wayne on 021 119 9107. This month's feature

covers the Armistice Day commemorations

THE COMMEMORATION of

the centenary of Armistice Day

to be held at the new Lakeside

Soldiers' Memorial Hall on

Sunday has a greater historical

significance for the Selwyn

District than most people realise.

Traditionally in New Zealand

and Australia, Anzac Day has

provided the main focus for

remembrance of sacrifice in war,

with Armistice Day receiving

only limited attention.

However, the building of the

new memorial hall in the centennial

year of the end of World

War 1 is proof of the continued

commitment of the people of

the district in remembering the

sacrifice of the citizen-soldiers

and nurses who went to war to

defend the nation's interests.

The building of a new hall at

Lakeside to replace the old hall

that had been demolished after

suffering significant damage

from the September 4, 2010,

earthquake was contentious.

Some questioned the rationale

of building a new hall in an

area of low population density

when it would be better suited in

Leeston.

However, the heritage significance

of the old hall was

recognised by the district council's

decision to build a modern

replacement to preserve its commemorative

function.

What made the original hall

so significant was that it was

one of the first, if not the first,

Great War memorials built in

Canterbury.

It had a dual function of not

only being a memorial to those

from the district who served

overseas during World War

1, but also served a practical

purpose in providing a muchneeded

community meeting

place.

According to a report marking

the opening of the memorial

hall published in the Ellesmere

Guardian on August 4, 1917, the

residents of Lakeside had begun

raising funds for a community

hall in 1914, but it was agreed

to put the project on hold at the

Our Great

history

WITH WAYNE STACK

outbreak of war later that year.

The war went on longer than

expected and the need for a

hall became acute due to the

increased number of community

functions held to support the

war effort.

Raising sufficient funds to

build the hall had been an

obstacle in the past, but like the

funding for the new hall in 2018,

the project was realised through

community collaboration.

In 1916 'a generous and wellknown

local lady,' who remained

anonymous, had offered to fund

free of interest the amount of

money required over and above

the amount subscribed by residents.

And it was at her suggestion

that a brick building be put up

and dedicated to the memory

of the Lakeside soldiers serving

overseas in the war.

By this time the New Zealand

Expeditionary Force had suffered

heavy casualties fighting at

Gallipoli, on the Western Front,

and in Egypt and Palestine; with

a number of volunteers from

Lakeside among them.

The building of the original

hall also came about through

further generosity of John

McLachlan, a local farmer who

had donated land for the hall

to be built on adjacent to Hart's

Creek near Creamery Corner.

Many residents were also

actively involved in the project

by providing free cartage of

building materials and providing

furnishings, while a Mr K. Patterson

presented a large wooden

roll of honour which hung in the

hall.

This originally recorded those

soldiers from the district who

served in both the Great War

and the Boer War, with names of

those locals who had served in

World War 2 being added later.

The tender for building the hall

was awarded to Messrs Paynter

and Hamilton from Christchurch

at a price of £699, of which

£300 was raised by public

subscription, mostly by Lakeside

residents.

Christchurch Casino's

buffet is back!

gold

card special

$

19 Lunch

(THU)

WED - SUN

gold

card special

$

29

Dinner

(THU & SUN)

Fun and exercise

all year round

Lagoon Pools import and install quality fibreglass swimming pools. To compliment the pools

they supply good quality equipment including salt water chlorinators, heat pumps, pool lights,

fountains and water features, swim turbines, spa jets, robotic pool cleaners and a range of covers

and roller systems including hidden and automated.

Imported from Leisure Pools in Australia, their Vinyl Ester pools are strong with six layers including

protective armour. Each pool is strength tested and has a lifetime structural and osmosis warranty.

Lagoon Pools owners Julie and Warren are dealers for Leisure Pools in the North Canterbury to

Southland area, and agents for the Elite Hideaway Roller system.

Call Lagoon Pools on 0800 927 282 or 349 2160, email info@lagoonpools.co.nz or visit:

www.lagoonpools.co.nz They are open by appointment only.

www.lagoonpools.co.nz

03 349 2160

0800 92 72 82

BOOKINGS ESSENTIAL - 03 372 8892 | CHCHCASINO.CO.NZ | 30 VICTORIA ST

Gold Card must be presented to receive offer. Not to be used in conjunction with any other offer or discount. T&C's apply.
---
SELWYN TIMES Latest Christchurch news at www.star.kiwi

Wednesday November 7 2018 11

historical significance

Once built, the main room of

the hall measured 50ft by 31ft,

with a high stud. There was a 6ft

vestibule at the front entrance, on

each side of which was a 'retiring

room' measuring 10ft by 9ft.

The main room included a

stage measuring 21ft by 9ft and

there was a large supper room at

the back, running the full width

of the hall, 31ft by 10ft deep.

The hall was reported as having

'an attractive front elevation,

two large folding entrance doors,

with a neat window either side'

with the words Soldiers Memorial

Hall appearing in large letters

above the entrance.

The hall was officially

opened by the MP for

Ellesmere, Colonel

Heaton Rhodes, on

August 3, 1917.

This was a very

critical time for New

Zealand during World

War 1.

The NZ Division

had suffered several

thousand casualties on

the Western Front in

gaining success in the

battle of Messines in

June that year, which

was followed by the

disaster at

Passchendaele on October 12,

where the division lost 2861

HONOURED:

Lance Corporal

Hersey Rapley,

of Leeston, was

killed in the battle

of Messines

while serving in

the Canterbury

Infantry Regiment.

COMMUNITY: The original Lakeside Soldiers' Memorial Hall.

casualties (including 957 killed in

action) in a single day.

Such loss of life in a military

event remains unprecedented in

New Zealand history

and the thought of

not returning home

weighed heavily on

those local young

men who travelled to

Europe and the Middle

East as reinforcements.

An example is that

of Trooper Clement

McLachlan of the

Canterbury Mounted

Rifles who later transferred

into the NZ

Rifle Brigade, serving

on the Western Front.

After receiving a

letter from his sister, Margaretta

Lochhead, giving him an update

on the progress of the building

of the hall, he replied in a letter

home expressing his hope that

there would not be too many

names on the roll of honour.

Sadly, he was one of those who

did not return, dying of wounds

in France in April 1918.

The McLachlan family connection

with the hall remains with

Clement's great-great nephew,

Hamish McLachlan, being the project

architect of the new memorial

hall, while working for Architecture

Workshop in Wellington.

Other local family connections

to those named on the roll of

honour are still prevalent in the

district, such as the Lambies,

Taiaroas, Thians and Pattersons.

When opening the original

hall, Rhodes commented that

Lakeside was a rich fertile

district, that he was confident

the population would greatly increase

in the future and that the

MEANINGFUL: The roll of honour that will again hang in the

new Lakeside Soldiers Memorial Hall.

Creamery Corner would some

day become an important and

busy centre.

While this did not come to

fruition, his prediction that the

hall would prove very useful to

the district in many ways, while

also being a permanent memorial

to those from Lakeside who

served in the war, certainly did.

The original Soldiers Memorial

Hall became the heart of the

Lakeside community, providing a

sense of connection to the place.

Apart from being a venue for

annual Anzac Day services, for

93 years the hall catered for lifeevent

markers that are central to

small communities – weddings,

funerals, significant birthday

parties, elections, sporting and

cultural group meetings.

The new modern facility will

continue to fulfil these functions

for the years ahead.

Following the Armistice Day

commemoration, the hall will be

open for viewing, although the

official opening will not occur

until early 2019.

YOU BRING THE DREAM,

WE'LL BRING THE

Montessori & Early

Childhood Preschool

• We Offer a Friendly, Fun and supportive

environment – only 5 minutes from Rolleston.

• We believe that Tamariki thrive in a peaceful,

structured and caring environment, full of fun

and challenges.

• We Offer focused, balanced curriculums

that prepare Tamariki for the next step in

their learning journey.

• We value diversity within our Tamariki and

their whānau and this is reflected in our

whānau focused philosophy.

• We have 3 well resourced classrooms,

caring for Tamariki from 6 weeks to 6 years

of age. We are proud of our large, natural

playgrounds that offer challenges for all

ages.

Call in to visit us today, meet the teachers

and have a look around our school

ENROL

NOW

FOR 2019

YOUR OUTDOOR LIFESTYLE

Experience the best of outdoor living with a

Stratco Outback ® Verandah, Louvre or Carport.

Open your home to the outside and create a

space that can be enjoyed throughout the year.

Under a Stratco Outback you are protected from

the elements, expanding your possibilities for

entertaining, storage, an all-weather play area for

kids or simply enjoying your garden.

"Nothing beats the strength, good looks

and low maintenance of steel"

For enrolments please contact Jasmine or Kylie on 347-6161

Visit us at 643 Burnham School Road

Download forms from www.burnham-montessori.co.nz

CHRISTCHURCH

Ph: (03) 338 9063 55 Hands Rd, Christchurch NZ 8024

www.stratco.co.nz
---
12 Wednesday November 7 2018

Latest Christchurch news at www.star.kiwi

SELWYN TIMES

A taste of

Croatia & Slovenia.

Hosted Tour & Cruise.

Prepare to enrich your palate and rejoice in history, nature, and culture as you discover one of

the most interesting areas of Europe! Spend 14 remarkable days touring Croatia, Slovenia and a

touch of Italy, followed by 8 days onboard a luxurious Small Ship, cruising the gorgeous Adriatic

coastline. You may even choose to extend your stay to see Montenegro and Bosnia & Herzegovina.

22 days/21 nights

from

$ 11,975pp

share twin, lower deck cabin. Airfares are additional

Departs Zagreb on 12 Jun & 10 Aug 2019

Your tour hosts

Ela Patajac

12 JUN - 03 JUL 2019

Having guided tours across

Europe before making New

Zealand her home, Ela is looking

forward to sharing her passion of

great food, culture, and history with

you all on this marvellous tour.

INCLUDES:

• Coach Tour Zagreb to Split

• 7-night Luxury Small Ship Cruise Split to Dubrovnik

onboard MS Markan or MS Black Swan

• Sightseeing with local guides

• Travel host and tour director

• Authentic food experiences

Teodora Antunovich

10 AUG – 31 AUG 2019

Passionate about travel and her

Croatian heritage, Teodora has

previously hosted tours and is

excited to showcase the very best of

Croatia and Slovenia. Join her on this

delightful tour.

HIGHLIGHTS: ZAGREB • VARAŽDIN • LJUBLJANA • BLED • BOHINJ • POSTOJNA •PREDJAMA • MOMJAN • POREČ

•MOTOVUN •LIVADE • ROVINJ • PULA • VODNJAN • VENICE • GROŽNJAN • OPATIJA • PLITVICE LAKES • ZADAR • PAG •

NIN • KRKA • ŠIBENIK • TROGIR • SPLIT • BOL • HVAR • BIŠEVO • VIS • KORČULA • MLJET • SLANO • STON • DUBROVNIK

The best holidays are created together. HOT.CO.NZ

BARRINGTON 331 7182 I CHRISTCHURCH CITY 365 7687 I FERRYMEAD 376 4022 I HIGH ST LANES 339 3440

HORNBY 344 3070 I MERIVALE 355 2200 I NORTHLANDS 352 4578 I RANGIORA 313 0288 I RICCARTON 341 3900

SHIRLEY 385 0710 I UPPER RICCARTON 343 0869

CONDITIONS: Valid for new bookings only from 01 October 2018. Prices are per person in in NZ dollars based on share twin and lower deck cabin on board MS Markan or MS Black Swan.

Valid for travel dates as specified. Airfares are additional. A non-refundable deposit of $1,500 per person is required upon confirmation with full payment due no later than 60 days prior to

departure from New Zealand. Prices are based on a minimum of 14 pax travelling. If minimum numbers are not reached, a surcharge will apply. Solo Travellers: To guarantee a private room,

solo travellers must book the 'single use' price. If you agree to share with another passenger of the same gender you will pay only the 'twin share' price. Group Size: Tour & Cruise - up to

25. Cruise only - up to 36/38. Tour Arrangements. We reserve the right to alter the routing, change accommodation and services if required. The cruise operator reserves the right to alter

the route due to weather or other conditions and cancel or change the ship if necessary. Travel Insurance: It is a requirement of this travel arrangement that all travellers must take out a fully

comprehensive travel insurance for the full duration of this trip. For full booking terms & conditions please ask your House of Travel consultant.
---
SELWYN TIMES Latest Christchurch news at www.star.kiwi

Wednesday November 7 2018 13

News

Time for young bird breeders to step up

• By David Hill

FILM STAR Doug Bain is keen

for the next generation to step

up.

The Pecking Order star

planned to step down as poultry

convener after the New Zealand

Agricultural Show on November

14-16, after bowing out from the

equivalent role at the Selwyn

Spring Show last month.

The Dunsandel farmer was

presented with the Ellesmere

A&P Association's personality

of the show trophy in recognition

of decades of service and

his newfound celebrity status,

nearly 18 months on from the

release of Pecking Order.

He was the second chook

breeder to win the trophy after

former poultry convener Ted

Slattery won the inaugural event

in 1998.

Mr Bain was the Christchurch

Poultry, Pigeon and Bantam

Club president during the filming,

before being unceremoniously

ousted in a coup.

The film told the story of

members of the Christchurch

club as they prepared for the

2015 national show, which was

held in Oamaru.

"I walk down the street in

Leeston and Christchurch and

people will still come up and

congratulate me.

"Of course, one scene is never

forgotten.''

He said the film had given

poultry shows throughout the

South Island a major boost.

"After the film came, Brian

Glassey and I, as two of the

stars, were both at the show in

Dunedin and people were queuing

up to congratulate us and

take photos.''

However, he acknowledged

that fame had taken a bit of getting

used to.

"I'm a boy from out in the

tussocks and I don't like a lot of

attention.''

The Selwyn show featured in

Pecking Order, the 2014 show at

the beginning of the film and

the 2015 show at the end.

While the main events for

chook breeders were the various

poultry shows held during the

winter months, Mr Bain said

AWARDS:

Dunsandel's Doug

Bain (left) is keen

to encourage

young people to

get into poultry

breeding, including

Shaun Prangley, of

Dunsandel.

PHOTO: DAVID HILL

having a presence at the spring

A&P shows, such as Leeston,

Rangiora, Kirwee and Christchurch,

was good promotion.

He said he was keen to

encourage the next generation,

including 10-year-old Shaun

Prangley, of Dunsandel, who

won the W. L. Gobbe Cup for

best junior (under-16) at the

Selwyn show, after acquiring

some white leghorn bantams

from Mr Bain earlier this year.

Local

News

Now

Fire rages, homes at risk

Church bell

still missing

• By Louis Day

ST MARY'S churchgoers

in Springston were left

dumbfounded after they found

their bell had been stolen.

Spokesman Neville Benny said

the 150-year-old cast iron bell was

likely to have been stolen between

late September and early October.

"We had our last church service

on the fourth Sunday of September

and we weren't back there

until October 14."

Mr Benny said no one could

believe it until they saw the bell

had gone.

"The chap that usually rings

the bell came in and said the bell

was gone, so we all walked out

the door and we were all dumbfounded

really."

Mr Benny suspected it was Lincoln

University students ahead of

the infamous garden party.

"If it was college students, they

could probably drop it off back

outside the door no questions

asked."

Mr Benny estimated that the

bell would cost at least $1000 to

replace.

Mr Benny said he had notified

the police as well as scrap metal

dealers across the country but had

not heard anything.

Arts Culture

& HeritageSELWYN

Need funding for your creative project?

Creative Communities Selwyn can help!

Funding is available to groups or individuals with

community-based creative projects that promote arts

or culture in Selwyn.

Applications for this funding round close at 5pm,

Friday 30 November.

Visit www.selwyn.govt.nz/artsfunding for more

information and to apply.
---
14 Wednesday November 7 2018

Latest Christchurch news at www.star.kiwi

SELWYN TIMES

the NZ AgriculturAl Show spECIALs

tS 138

husqvarna inteck engine, 17.5hp, Auto

choke, Air induction for a quality cut , 38"

cutting Deck

sEE us AT sITE E 68 Show SPeciAlS VAliD til 30 NoV 2018

tc 238

Kawasaki Fr Series V twin engine, 18 hP, 320 l

catcher Bin included, 38" cutting Deck

Z 242e

Kawasaki Fr Series V-twin,

21,5hP 42" cutting Deck ,

2.2 Acres per hour

(optional catcher)

CAN'T

MAkE IT?

GIvE us A

CALL!

$

3,499

wAS $3,999 sAvE $500

r 216

B&S inteck 4155, Articulated Steering,

Front Mounted 94cm combi Deck.

$

5,699

wAS $6,299 sAvE $600

MZ 48

Kawasaki Fr Series V twin, 23hp, 48" cutting

Deck, 3.3acres per hour (optional catcher).

$

5,999

wAS $6,599 sAvE $600

rc 318t

New exciting Design, rider format with Anti clog

collection System

$

6,799

$

9,699

$

13,299

wAS $7,499 sAvE $700

wAS $10,299 sAvE $600

wAS $13,999 sAvE $700

ALsO — ALL OF yOur OTHEr OuTdOOr NEEds!

From:

$ 179 From: $ 399 From: $ 179 From: $ 289 From: $ 549

NEW LOCATION!!

151 rOydvALE AvE, BurNsIdE

pHONE: 03 357 4646 WWW.MArTyNs.CO.NZ
---
SELWYN TIMES Latest Christchurch news at www.star.kiwi

Wednesday November 7 2018 15

Your Local Views

Get involved in the community

Rolleston

Reserve

Management

Committee

chairman

Jens

Christensen

writes about

Selwyn's

growing population and

why residents should

get involved in their

communities

IN 1989 the Springs, Ellesmere,

Malvern and part of the

Paparua councils amalgamated

to become the Selwyn District

Council.

At the time, these councils

were very much made up of

rural people and tight-knit

communities. Volunteering

in the community for the

community came naturally

back then whether it was for

the school, play centre, Plunket,

sports, hall, reserve, township

committee or residents'

association.

But things are changing and

previously rural townships like

Rolleston, Lincoln, Prebbleton

and even Darfield are expanding

rapidly and becoming in their

own right thriving urban

communities.

Rolleston, which had one

school in 1989, now has six

and Lincoln's third is now

under way. Committees and

meetings are struggling to get

buy-in across the district, and

the situation is far worse in the

larger growing townships where

public attendance at meetings is

becoming smaller as well.

Apart from Malvern, which

has a community board,

the other three wards are

represented by township

committees. These township

committees are the interface

IDEAS: Jens Christensen is

encouraging residents to

make a difference by going

along to public meetings in

their communities. ​

between the community and

the district council and take any

concerns or projects up with the

council.

They are an important part

of democracy and they need

the support of the community

they represent. Malvern has

township, hall and reserve

committees, too, but it is the

community board there that

represents the community's

issues to the council.

Likewise, all the townships

across Selwyn have reserve

or domain committees and

hall and community centre

committees to run the operation

of these facilities.

In many cases, these

management committees

are elected at the triennium

elections every three years,

and are committees of the

council which are delegated the

management of these facilities.

For the record and from

the council's website, there

are 24 township residents or

community associations, 22

hall or community centre

committees and 18 reserve

committees or domain boards

governing their community's

facilities.

In most cases, the township

committees/community

associations administer the

township grants received from

the council based on population

numbers and, in the larger

townships, these grants are

substantial.

So when you are reading the

council's notice in the local

newspapers and see a township,

hall/community centre or

reserve/domain management

meeting is happening in your

area – come along, get involved,

and make a difference in your

community please.

•More local views, page 16

Local

News

Now

Fire rages, homes at risk

Former mayor Bill Woods

responds to Weedons

Residents' Association

secretary Gary Doyle's

article on Selwyn's

population increase and

what it means for residents

I agree with the comments

of Gary Doyle regarding the

pressures on facilities resulting

from growth of the district.

But there is

more to it than

portrayed by

Gary due to the

growth being

predominately

in one part of

the district. The

way our present

council views this situation is that

the growth thereby the demand is

universal throughout the district

which it is definitely not.

If there is pressure on facilities,

the cost related to that pressure

should be borne by those that

created and need the increased

demand.

This is usually done by a user

pays type of money collection

plus with an increase in demand

there is a related growth in

rateable properties.

The funding for these facilities

should be kept in relation to the

increased funding that is relative

to the population growth instead

of loading a considerable burden

on those who do not increase the

demand or receive the benefit.

JOIN US NOW!

See website for details

BENDON

$15 Bra Sale!!! (Selected Styles,

T&Cs apply, Ends 13th Nov)

K&K

40% off Lowest Marked Price

(T&Cs apply)

THE BAG LAB

60% off RRP on Reversible

Fashion Bags Were $129 Now

$40 (T&Cs apply)

STYLES MAY DIFFER TO IMAGE SHOWN

CUTLER AND CO

Shoes Were $249.95 Now $99.95

(Selected Styles, T&Cs apply)

UNDER ARMOUR

Further 25% off All Footwear

Sign up to Smart Deals & be in the monthly draw for a $100 Dress-Smart gift card!

Be one of the first to hear about the latest deals, sent straight to your inbox each week!

CHRISTCHURCH 409 Main South Road, Hornby

www.dress-smart.co.nz

Open 10am-5pm, 7 Days 03 349 5750
---
16 Wednesday November 7 2018

Latest Christchurch news at www.star.kiwi

SELWYN TIMES

Your Local Views

Adequate police staffing levels vital

Selwyn MP Amy Adams

writes about the recent

homicide in the district and

Selwyn's high crash rate

I AM SURE that many Selwyn

residents would have been

shocked by the recent homicide

in the district and the reported

involvement of gang members in

this incident.

While most Selwyn residents

are wonderful, law-abiding citizens,

this event is a reminder that

no community is immune from

the influence of gang activity and

criminal behaviour.

For this reason, it is vital

that our local police have the

resources they need to deal with

incidents and help prevent crime

in our communities.

Unfortunately, road safety

remains a major issue in our district

that takes up a considerable

amount of police attention.

As I mentioned in a column

in the Selwyn Times earlier this

year, Selwyn has an unacceptably

high rate of crashes, particularly

at intersections. Anything that

we can do to reduce both our

local and our national crash rate,

should be encouraged.

One way of approaching the

problem is to look at the reasons

for fatal crashes and see what we

ROAD SAFETY: Selwyn MP Amy Adams says the district has

an "unacceptably high rate of crashes" and anything which can

reduce them should be encouraged. ​

can do to minimise or eliminate

the risks.

Last year, 79 fatal crashes

involved a driver with drugs in

their system, compared with

70 involving an intoxicated

driver. These figures come from

testing that is done by authorities

following a fatal crash and

show that we need to get more

proactive in preventing people

from driving while under the

influence of drugs.​

Currently, under the Land

Transport Act, drug driving is

measured by an impairment test

that involves an eye assessment

and requesting a driver walk

heel-to-toe in a straight line. The

current method has some obvious

limitations.

Advances in drug testing technology

over recent years including

saliva and sweat tests have

made roadside testing for drugs

much more practical. Based on

this, my colleague Wairarapa

MP Alastair Scott submitted

Amy Adams

Selwyn MP

HOMICIDE: The recent death of a man on a road near Charing

Cross has shocked some Selwyn residents.

a member's Bill which would

have allowed police officers to

perform roadside drug testing on

any driver who they suspected

was driving under the influence

of drugs.

Disappointingly, all three parties

in the Coalition Government

voted against this member's Bill,

in spite of the Minister of Police

Stuart Nash previously acknowledging

the need to roll out new

technology to combat the

danger posed by drugged

drivers.

The voting down of a

member's Bill which would

have kept our roads safer and

saved lives is incomprehensible.

If the Government saw some

way to improve the Bill the least

they could have done was to

send it to select committee for

consideration and feedback.

SPRING HEAT PUMP

Want year-round comfort?

Three to Four Bedroom Ducted Solution

Unobtrusive Ceiling Installation

$12,999 *

Year-round Heating and Cooling

Whisper Quiet

Energy Efficient

Optional Wi-Fi Control

PEAD71 Ducted Heat Pump System

8.0kW Heating | 7.1kW Cooling

from

$7,499 *

*Includes basic installation. Conditions apply.

0800 324 678

www.dcis.co.nz

$13,999 *

HEAT PUMPS • AIR CONDITIONING • ELECTRICAL

Rolleston

Saturday 24 November

10am–12pm

Rolleston Community Centre

Market Kids'

Come along to Rolleston's coolest kids' market to buy or sell some

pre-loved treasures. Grab your unwanted toys, sports gear, books or

hand-crafted masterpieces and set up a stall to make some pocket

money prior to Christmas.

For children aged 8-13 years, caregiver required. Stalls $5 each,

register as a stall holder at bit.ly/kidsmarket18 by 22 November.

No food or drinks to be sold.
---
SELWYN TIMES Latest Christchurch news at www.star.kiwi

Wednesday November 7 2018 17

Thorough process to select leaders at schools

• By Emily O'Connell and Georgia

O'Connor-Harding

STUDENTS FROM around the

district are putting their best foot

forward in a bid to be named as a

school leader next year.

Lincoln High School has completed

a two-month process of

deciding its 2019 head students.

It started with students who

were interested, submitting a CV,

cover letter and teacher referee

report.

After a question and answer

session with the current head

students, applicants had a 5min

interview with principal Kathy

Paterson and assistant principal

Kylie Wissel.

This helped form the shortlist

of about eight to 10 students.

Their first task was to submit a

poster to the office so it could be

placed around the school.

The shortlisted students then

attended a two-hour "head 2

head" activity session, working

on problem-solving and communication

skills.

About a week later the students

presented a 1min speech to the

school. After this, year 9 to 12

students voted for their preferred

leaders. Staff also got a chance to

vote.

Last term, students helped out

at the Delta Community Support

Trust's disco night. The trust

provides activities and a support

network for people who are

experiencing hardship, disadvantage

and disability.

The final stage of the process

was a 20min formal interview

with Mrs Paterson and Mrs

Wissel.

Miki Tiltman and Coven

Mouat have been named as the

school's head students for next

year, along with Maria Mendoza

Nieto and Dylan Booysens who

will be the deputy head students.

Mrs Wissel said the school's

selection process provides a "really

good insight into what areas

of strengths and weaknesses they

all have."

"I think back to their first

interview when they were nervous

and unsure to becoming

wonderfully confident young

people," she said.

Rolleston College's leadership

is unique as it offers opportunities

from year 9.

As it's a new school it currently

only has year 9 and 10 students.

Students are able to apply for

roles and go through a selection

process in their whanau.

They also have the opportunity

to attend leadership classes,

conferences and be part of action

groups when the need arises.

PROCESS:

Lincoln

High

School

principal

Kathy

Paterson

with the

shortlisted

head

students

for next

year as

well as

some of

its current

head

students. ​

SCHOOLS

The school's distributed leadership

model means leaders can

take the lead when they are ready

for the challenge.

Ellesmere College has a fourstage

process in choosing its

head students.

Students have to apply in writing

to indicate their interest by

October 15.

They are then invited to

present a short speech to their

year 12 peers on why they would

make a good school leader.

Following the speech, students

are then ranked in order of preference

by both staff and

their fellow year 12 students to

get an indication of who should

be shortlisted for the positions.

The shortlist usually ranges

from seven to 10 students.

The students are then interviewed

by the school's senior

leadership team and a kaitiaki

before recommendations are

made to the principal who makes

the final decision.

Darfield High School's selection

process is just as extensive

with applications for the leadership

roles closing and the initial

round of interviews being conducted

in August.

Successful students were then

invited to attend a leadership

camp last month at the Environmental

Education Centre of New

Zealand in Craigieburn.

At the camp head student job

descriptions are shared before

each student makes a presentation

at the camp on their vision

for the position and how they

will achieve this.

A second round of

interviews with head student

applications are held before an

announcement and presentation

is made at the school's senior

prize-giving on December 3.

•More schools, pages 18 & 19
---
18 Wednesday November 7 2018

Latest Christchurch news at www.star.kiwi

SCHOOLS

SELWYN TIMES

CELEBRATIONS: A band performs at Springston School's

150th jubilee fete. More than 1600 people attended the event,

which had face painting, entertainment and stalls. It was just

one of the events held over the celebratory weekend. The

school started with 14 pupils in 1868 and it now has 240.

PHOTOS: CHANDRA HARRISON ​

FARMLANDS CUP

IS YOUR CUP

Farmlands

2019

WHILE STOCKS LAST

BNZ CRUSADERS VS

PULSE ENERGY HIGHLANDERS

SOUTHBRIDGE RUGBY CLUB, SOUTHBRIDGE

8 TH FEBRUARY 2019

HIGHLANDERS BRAND GUIDELINES 2012

SHAREHOLDER-DISCOUNTED

TICKETS ON SALE NOW

CO LO U R

Purchase your tickets at participating Canterbury stores or online at www.farmlands.co.nz/cup

The H IG H LANDERS can be used as four colour or one colour.

The colour breakdown is as follows:

Terms and Conditions apply. Offer available to Farmlands shareholders only. Exclusive ticket pricing is while stocks last. When the allocation is

PAN TO N E PRO CESS (CMYK)

exhausted the pre-sale price will revert back to Adult $25.00 and Child $15. Sold at participating Farmlands Canterbury stores. For full list of stores

Yellow 123

30.5m 94y

and Terms and Conditions visit www.farmlands.co.nz.

Blue

295

1 0 0 c 5 6 m 3 4 k

Purple

208

91m 34y 38k
---
SELWYN TIMES Latest Christchurch news at www.star.kiwi

Wednesday November 7 2018 19

Young Ellesmere actors shine in Xmas play

Ellesmere College students

Christopher Stanley, Emma

Brook and Jessica Dalton

(right) were among the cast

members on stage last

week for the school's junior

production of What Santa

Forgot. The production

showcased the problems

that occur in the North

Pole as Christmas nears.

With a stressed Santa,

overworked elves and

children complaining they

never see their father,

Santa has a lot to deal with.

The performance was in

traditional pantomime style

with as much audience

participation as the cast

could get. The play was

directed and produced

by drama teacher Tracey

Dwyer.

STARS:

Mikayla

Lemon

and

Emma

Johnson,

along

with

Harvey

Johnson

(right),

show

off their

acting

abilities.

fEAtURE nigHt!

pLUS

cAntERBURY DEMOLitiOn

DERBY tEAM cHAMpS

SAt 10 tH nOVEMBER

7pM StARt

ADULTS $20 Seniors $10

FAMILY PASS $40

Children $5 Under 5yrs free

(2 adults & up to

4 children 15yrs & under)

DOUBLEDAYS ROAD KAiApOi

infOLinE 03 364 8833

www.wOODfORDgLEn.cO.nz

The revolution

in heat pumps

is here now!

The Fujitsu e3series

The brilliant

heat pumps from Fujitsu

e1 : efficiency

e2 : environment

e3 : economy

FREE consultation from your local

Accredited Heat Pump Expert

INSERT DEALER DETAILS HERE

ELF: Olivia Sheehan on stage in Ellesmere College's

production of What Santa Forgot.

The revolution in heat pumps is here now!

Website: www.pshc.co.nz

Free

wiFi

with E3

series

heat

pumps

for a limited

time only.

Phone today: 03 381 6950

The brilliant e3 series

heat pumps from Fujitsu

e1 : efficiency

e2 : environment

e3 : economy

Installed from

$1,990 incl GST

Email: info@pshc.co.nz

FG1441
---
20 Wednesday November 7 2018

Latest Christchurch news at www.star.kiwi

SELWYN TIMES

Long Sleeve SHIRT CLEARANCE

the MENSWEAR

the SHIRT

CLEARANCE

Reduced to ½ SALE price

You choose two or more shirts and you will only pay half the sales

price, regardless of size, style, fabric or price. The most you can pay

is $62 each, the least you can pay is $12 each. The sizes available

range from 37cm/SM up to 50cm/6XL.

We have so many 'Manufacturers Markdowns' to which we have

added the 'Spring-cleaning' our own stock to bring up to a thousand

shirts to select from. There is such a wide variety of well respected

brands from around the world, in long sleeve casual and business

shirts, mostly 100% cotton or cotton rich fabrics, patterns from

stripes, checks, from the neat hounds tooth to the larger geometric.

Come find something to appeal to your tastes and needs. Business

shirts, many oddments styles. It is important to know we do not have

complete ranges, the prices reflect they are "a real mixed bag of

oddments", end of lines dis-continued ranges. You are familiar with

the brands, know our quality that you can trust, and that we do fully

guarantee. If you don't know, NOW is the time to find out, we know

you won't be disappointed.

YES! ½ sale price for TWO SHIRTS

or more.

LONG SHORTS OR SHORT LONGS

Sizes 84cm to 102cm only $30

These casual pants are cheap enough to shorten for long shorts or

short longs. We are getting many requests for extra long shorts for tall

people, cyclists or just because at $30 a pair this way you can have

whatever length you choose at a price you like. Khaki or putty shades

available, while stocks last. RRP $109.99

CLEARANCE $ 30

SUMMER DENIM JEANS

Stretch denim for great comfort in a summer weight cloth.

Sizes 84 to 96cm. RRP $119.99

CLEARANCE $ 38

CASUAL pANTS & MOLESkINS

Summer casuals & stretch moleskin pant in 5 pkt style. Bronze, Olive,

Charcoal, Sand. Two cloths, five shades in broken size and colour

ranges. Sizes 84 to 104cm. RRP $119.99

CLEARANCE $ 64– $ 72 or 2 for $ 100

Excluded brands: As a condition of this promotion we have to exclude the

following brands: Aertex, Airweave, Country Look, David Smith, John Lennon,

RM Williams, Vonella

@ SYDENHAM

387 Colombo Street

Parking behind Butlers Auto Mart

In association with

2

mens stores

in Bishopdale Village

Hours: Mon to Fri 10am to 4pm. Sat 10am to 3pm.

Closed Sun.

Are the stores the same? NO, but they do share heritage.

They have similar and different merchandise.

News

HISTORY: Kate Foster, Colin Wilson and Margaret Copland at the Hororata Parish

Spring Fair. ​

Suffrage 125th anniversary

celebrated at Hororata fair

ABOUT 1500 people attended the

Hororata Parish Spring Fair.

The community day, held at Hororata

Domain on Labour Day, celebrated the

area's connection to a prominent moment

in history – 125 years since New Zealand

women achieved voting parity.

Well-known storyteller Margaret

Copland, along with historians Colin

Wilson and Kate Foster, presented Sir

John Hall's story.

Sir John is buried at St John Cemetery

in Hororata. His last act before retiring

from Parliament was to pilot the women's

right to vote Electoral Bill in 1893.

The presentation included sharing the

speech he read in Parliament supporting

the Bill.

Visitors to the fair were able to learn

more about the suffrage movement with

a display and movie put together by the

Homebush Stables Historical Society.

"It was great to be part of the Beca

A GROUP of mothers passionate about

bringing a toy library to Rolleston are

making progress towards getting the

project off the ground – but could do with

a little help.

The Rolleston Toy Library project is the

initiative of Fiona Morland who moved to

Rolleston with her family in October last

year.

"With so many young families in

Rolleston I thought we should set one up,"

Mrs Morland said.

Beginning with a general call for

expressions of interest on the Rolleston

Community Facebook page, Mrs Morland

soon discovered there was a strong desire

within the community for a facility.

She set about gathering a small group

of volunteers to figure out what needed

to be done to make it happen. The group

has formed a committee and has become

an official incorporated society. Students

from Rolleston College are helping the

committee with a logo design.

The biggest hurdle has been finding

suitable premises. The group is welcoming

Heritage Week and the Suffrage 125

celebrations, it added a new twist to the

fair and showcased our community," fair

committee chairwoman Lucy Cookson

said.

The country auction was again a feature

of the event. Visitors showed off their

No 8 wire ingenuity in the Agri-Art

competition, creating garden art.

"While the spring fair is the major

fundraiser for the Hororata Parish each

year, more importantly, it is a wonderful

day for our community to come together

and welcome others to enjoy a day in the

country," Mrs Cookson said.

She said there were numerous other

community groups and businesses with

stalls.

"As always, it takes a big team to

make these events happen. Thank you

to all the committee, stall-holders,

performers and the businesses and

individuals who supported the event."

Bid for Rolleston Toy

Library gains support

any offers – from potential shared facilities

to sheds, containers or garages.

The feasibility of an online toy library is

also being investigated as an option.

The goal is to have a fully functioning

toy library that provides a collection of

safe, high-quality toys for children aged

up to six-years-old. The next focus for

the group is a fundraising campaign to

help secure a space and fit it out with the

essentials. There are also plans to make

applications for community grants.

•The committee will hold a toy

drive and car boot sale at Rolleston

College from 10am-1pm on

November 24. For more information,

visit https://www.facebook.com/

events/276804573175564/
---
SELWYN TIMES Latest Christchurch news at www.star.kiwi

Wednesday November 7 2018 21

• By David Hill

A LEADING Dunsandel farming couple

have been nominated in the first Primary

Industries Good Employer Awards.

Sharemilkers Michael and Susie

Woodward have been nominated in the

minister's award category, announced by

Agriculture Minister Damien O'Connor.

Mr Woodward is the Federated Farmers

North Canterbury dairy chairman and a

Central Rural Life columnist.

"It's a good surprise. We had seen it

advertised and we

were approached

by someone

who wanted to

nominate us," Mr

Woodward said.

"It wasn't

anybody from

within our team,

so we are stoked

that somebody

thought we were

worthy to be put

forward."

He said he

understood the

nomination

recognised the

value they place on their employees in

supporting them "on their journey" and

helping them to meet their goals.

While the Woodwards employed the

best candidates, Mr Woodward said

they were keen to encourage young New

Zealanders to work in the primary sector

and had recently hosted a Christchurch

school group on their farm.

"We've got three Kiwis so that's half

of our staff. We want to have more

Kiwis working in the industry, so it's

Lincoln Uni international

students share experiences

LINCOLN UNIVERSITY international

postgraduate students and Lincoln

Rotarians have got together to share their

experiences and ideas.

The annual Rotary Club of Lincoln

event has been an ongoing project for

more than a decade, and it's proven to be

a great way to welcome young overseas

scholars to the community.

Lincoln is a multi-cultural township and

this is reflected in the club membership,

with 10 of the 43 Lincoln Rotary members

originally from another country.

The club invited 15 postgraduate

students and their partners from China,

India, Iran, Lebanon, Pakistan, Romania,

Sri Lanka, Thailand, Vietnam, Zimbabwe,

Indonesia, Myanmar, Morocco and the

Philippines.

"This was an excellent opportunity for

us to learn about different cultures and

NOMINATED:

Sharemilkers

Michael and Susie

Woodward say they

want to see more

Kiwis working in the

industry.

Dunsandel farmers up

for top employer award

important that they feel valued and have

opportunities to advance.''

He said the biggest barrier to employing

young New Zealanders was "attitude"

which was largely due to the ongoing

perception that agriculture was a

career for those who struggled

academically.

''We need people who are at the top

of their game in our industry. So it's a

challenge for us of how can we produce

employees who get up each day and say

'how can I make this job better?' We still

need the

people [who]

are good

with their

hands as

well.''

Mr

O'Connor

said good

staff are the

foundation

of all good

businesses.

"I've met

exceptional

employers

Susie and Michael Woodward

and workers

across the

sector and one particular message has

stayed with me: First we look after the

people, then they'll look after the animals,

and everything else will follow."

The Woodwards' employer Theland

Farm Group, which owns 26 farms

throughout New Zealand, has also

been nominated, with chief executive

Justine Kidd a finalist in the employee

development category.

The winners will be announced at

Parliament in Wellington on November 27.

students who also felt they are so welcome

in New Zealand," programme coordinators

Ravi Gooneratne and Farhad

Dastgheib said.

The students came from different

faculties of Lincoln University and each

gave a 2min talk about their country,

culture and the highlights of their

research.

This allowed club members to become

aware of some of the current research

projects conducted at the university.

The event was supported by the

Foundation and International Committee.

•The Rotary Club of Lincoln

meets every Tuesday evening at

Lincoln University and welcomes

visitors and new members. If you are

interested, phone Farhad Dastgheib

on 027 454 9317 or email farhad@

inet.net.nz .
---
22 Wednesday November 7 2018

Latest Christchurch news at www.star.kiwi

SELWYN TIMES

Backyard Critters

favourite fashion store

Viva la Moda

FASHION QUARTERLY

with Robyn McKenzie

Spring has been rather unpredictable, but I am positive the

sun will be with us for longer than a day.

We have just received a new drop of Kektz-Ke and she never fails in wowing us with

stunning florals and styles. Pictured is the Radiant Dress, Preview Top and Morrissey

Shorts matched with the Robe Top. All these in store and more.

Kektz-Ke

Radiant

Dress

We have Augustine

High Summer Pre Orders

Wednesday 7 November

and as always lots of bright

summery styles here.

Pictured is the Zaria

Dress, how gorgeous

is this for a Summer

Wedding!

Augustine High

Summer.

Zaria Dress

Kektz-Ke

Preview

Top

www.vivalamoda.co.nz

Shorts will be in

high demand

with summer fast

approaching Sass

has delivered

with this cute style

in Oregano and

Seaside, more

styles in store and

more on the way.

Sass

Seaside.

Kektz-Ke

Morrissey Shorts

matched with

the Robe Top.

Sass

Oregano.

We are loving the new watches from Foxleigh not only are

they available with a leather strap they now come with a

mesh strap, a great gift or treat yourself to a new time piece.

These watches come in a gift box, many styles available

pictured are 2 combinations.

With Christmas nearing we have made it easy to buy for that hard to buy

loved one, with online gift cards. Gift cards are delivered by email and contain

instructions to redeem them at checkout. Our gift cards have no additional

processing fees. You can still purchase gift cards instore.

Extended shopping hours starting 15 November we will be open late night

Thursday's until 7.00pm, this will continue throughout the summer months. Don't

forget we are now open Sunday's 10.00am to 3.00pm

Our web site is continually updated with new arrivals, you can shop online 24/7

and we can have your purchase either couriered or you can select pick up in

store option. https://vivalamoda.co.nz/

Partpay Don't forget we offer Partpay online and instore, but now and spread

the payments over 6 weeks.

Like us on

Facebook

Shop 12, Rolleston Square, Rolleston. Phone 347 1151

INSECT: The garden soldier fly exaireta spinigera is a native of Australia but was

introduced into New Zealand in about 1900. ​

Fly larvae a rich

source of protein

Mike Bowie is

an ecologist

who specialises

in entomology

(insects and other

invertebrates).

Each week he

introduces a new

species found in his backyard at

Lincoln. His column aims to raise

public awareness of biodiversity,

the variety of living things around

us. Check out the full list of

invertebrates found at http://

naturewatch.org.nz/projects/

backyard-biodiversity-bugs-inlincoln

A FLY SPECIES commonly seen about

the house at the moment is the garden

soldier fly exaireta spinigera.

It is a native of Australia but was

introduced into New Zealand around

1900. It has also found a home in Hawaii

and British Columbia.

SELWYN residents took the opportunity

to let the district council know what they

thought of the District Plan review so far.

'Are we on the right track?' was the

theme of the initial public consultation

on a number of key draft changes for the

future District Plan.

Consultation took place between

August 16 and October 8, except for the

cultural landscapes topic.

More than 270 online surveys were

submitted. The topics that received the

highest numbers of surveys were family

flats, night glow, sites and areas of cultural

significance, housing development in residential

zones and home-based business.

The feedback is now being considered and

will inform the drafting of detailed policies

and rules for the proposed District

Plan.

Adults are 14mm long and have a dark

body with black and white striped legs.

The adult flies feed on pollen and nectar,

whereas the larvae are decomposers and

are often found in composts or decaying

vegetation.

Larvae are flattened, strongly

segmented and extremely robust. They

are harmless to humans but are extremely

beneficial in decomposing vegetative

matter efficiently into rich compost.

Other species of soldier flies have

been cultured by companies overseas to

produce millions of larvae per day as an

example of sustainable bio-conversion.

One kilogram of the black soldier fly

larvae can consume 2kg of biowaste in

less than four hours.

These larvae are one of the richest

sources of protein on earth and are fed to

poultry or fish. These flies could be the

answer to a more sustainable future.

•For more information, visit

https://www.youtube.com/

watch?v=IrB2PXGNqzg

270 survey responses to

District Plan review

It's expected that the proposed District

Plan will be notified in early 2020 for

formal public consultation. The new

District Plan is expected to become

operational by March 2022, subject to any

Environment Court appeals.
---
SELWYN TIMES Latest Christchurch news at www.star.kiwi

Wednesday November 7 2018 23

Selwyn District Council

WWI Armistice Centennial

Commemorations

Please join us on Sunday 11 November this year, to mark the

centenary of the armistice that ended the First World War in

1918. On that day 100 years ago, after four years of brutal conflict,

war finally gave way to peace.

Importance of Armistice

The commemoration of the centenary of Armistice Day to be held at the new

Lakeside Soldiers Memorial Hall on Sunday 11 November this year has a greater

historical significance for the Selwyn district than most people realise. Traditionally in

New Zealand and Australia, Anzac Day has provided the main focus for remembrance

of sacrifice in war, with Armistice Day receiving only limited attention. However,

the building of the new memorial hall in the centennial year of the end of the First

World War is proof of the continued commitment of the people of the district in

remembering the sacrifice of the citizen-soldiers and nurses who went to war to defend

the nation's interests.

Lakeside Soldiers Memorial Hall

Top left: Former Lakeside Soldiers

Memorial Hall

Top right: Artists impression of the

new Lakeside Soldiers Memorial Hall

Bottom left: The new hall under

construction in October 2018

Lakeside Soldiers Memorial Hall replaces the old hall which was built during WW1.

The original hall was built on Harts Road in 1917 as a memorial to soldiers from the

local community. It remained in regular use until the earthquakes of 2010–2011, which

significantly weakened the structure, and it was demolished.

The new $1.6 million Lakeside Soldiers Memorial Hall, expected to be completed

in late November, is a large hall with adjoining courtyard space which can

accommodate traditional community activities, but also be able to host special

events, functions and weddings.

Lakeside Soldiers Memorial

Hall commemoration

(Outside the hall as building due to be completed in

late November)

11 November 2018

8am: Flag raising

10.30 am: Assemble (not later than)

11am: Two minutes' silence followed by

prayer from Major Chris Purdie,

military padre

Finish at noon: Refreshments provided

All welcome.

Traffic management will be onsite to assist with parking.

Other commemorations in

the district

Glenroy Community Hall and Centre Armistice Day

Centennial Remembrance Service, 11 November

2018, 9–11am, Glenroy Community Hall

Sheffield/Waddington Community Committee

Armistice Day Commemoration, 11 November

2018, 11am, Sheffield Cenotaph

War Memorial Lighting

As part of WW1 Centenary and Armistice

commemorations, the Council is installing

feature lighting at war memorial sites in townships

across Selwyn.

The lights provide for white or coloured lighting

of the memorials, depending on the wishes of the

community. As well as highlighting the memorials,

the lights also allow the sites to support other

important community events and commemorations.

To date lighting has been installed at:

∙ Tai Tapu (Rhodes

Park Domain Gates of

Remembrance)

∙ Leeston Cenotaph

∙ Springston War

Memorial

∙ Hororata War

Memorial

∙ Rolleston Memorial

Clock Tower

∙ Darfield War Memorial

∙ Dunsandel War

Memorial

∙ Prebbleton War

memorial

∙ Sheffield War

Memorial.

Lighting will be installed at other war memorials in

the district in the future.

www.selwyn.govt.nz
---
24 Wednesday November 7 2018

Latest Christchurch news at www.star.kiwi

Selwyn Times

Join the Selwyn Youth Council

and make a difference

Applications for the 2019/20 Selwyn Youth Council are open now and young people aged

between 14 and 24 years of age who live in Selwyn are encouraged to apply.

The Youth Council is made up of 12 passionate young people with support from the Selwyn

District Council.

Current Youth Council Chair Paige Sullivan says by joining the Selwyn Youth Council you

could help make life better for local young people by representing their views to the Council

and other organisations.

The Youth Council ensures the voices of young people in Selwyn are heard in local decision

making and that their views are taken into account when planning projects that affect them, like

town centre works, local parks, pools, libraries and events.

This year the Selwyn Youth Council has been involved with a number of initiatives including the

Selwyn Link bus service trial, BOOST 2018, a 'What do YOUth think? survey and hosting a 'What

do YOUth think? event to gather feedback on the Long–Term Plan 2018–2028.

Mayor Sam Broughton says our Youth Council has made a big difference in Selwyn.

"If you are interested in helping support other young people and want to be a part of making cool

things happen you should put your name forward for consideration."

Any young person with a passion for issues affecting youth who wants to make a positive

contribution to our community can complete an application online.

Applications open Monday 5 November and close Friday 23 November. For more information or

to apply please visit selwyn.govt.nz/YouthCouncil or facebook.com/SelwynYouthCouncil.

Selwyn Carseat Champions seeking new volunteers

Selwyn Carseat Champions are a group of volunteers actively making a difference to our children's

safety when in a motor vehicle, and they have positions available to be filled.

Volunteers are given training to be registered New Zealand Transport Agency Child Restraint

Technicians and are equipped with the skills to install child restraints from baby capsules through to

older children's booster seats.

Anna Nurse of Leeston, trained as a technician four years ago she has several reasons for volunteering.

"This was something I could fit in around my family and work life. I have taken great pride over the years

in being able to help caregivers keep their little ones safe," she says.

"It's not just putting car seats in – each install is a lesson

and I know that mini lesson is going to be shared with

their friends and bit by bit the ripple effect of what we are

doing is changing the culture around car seat safety"

As our community grows with young families, demand for

the service is growing to the point where more volunteers

are needed to become child restraint technicians.

Volunteers are involved in monthly car seat clinics as

well as being available for one off checks when personal

commitments allow.

If you are interested in becoming a volunteer in your

community please contact Stephanie Hautler

roadsafety@selwyn.govt.nz for more information.

Selwyn has initial say on future

District Plan

Many Selwyn residents took the opportunity to let us know what

they thought of the review of the current District Plan so far.

Are we on the right track? was the theme of the initial public

consultation on a number of key draft changes for the future

District Plan, which took place between 16 August and 8 October

2018 (except for cultural landscapes topic which was open for

consultation until 23 October).

Environmental Services Manager Tim Harris says it's important to

get public feedback at an early stage of the review.

"We are especially pleased to see submissions from those directly

affected, which will help inform the potential shape and direction

of the future District Plan before the detailed proposed rules and

policies are drafted."

A total of 272 online surveys were submitted and the topics that

received the highest numbers of responses were family flats, night

glow, sites and areas of cultural significance, housing development

in residential zones, and home-based business.

While most people submitted their feedback via our engagement

hub Your Say Selwyn, some had their say via email, phone calls

or at one of the drop-in sessions that the Council held across the

district. The feedback came from a broad cross-section of the

district's population and from every part of the district.

In total our consultation site received over 5,400 views from people

who were interested to find out more about the District Plan Review.

In total our consultation site received over 5,400 views from

people who were interested to find out more about the District

Plan Review. To find out more about how people engaged in the

initial public consultation check out the full engagement report at

selwyn.govt.nz/districtplanreview.

What happens next?

Feedback is now being considered and will inform the drafting

of detailed policies and rules for the Proposed District Plan.

It's expected that the Proposed District Plan will be notified in

early 2020 for formal public consultation. The longer timeframe

is due to the local government elections at the end of 2019 and

ensuring the newly-elected Council endorses the Proposed

District Plan before it is notified. After this, submitters will

have an opportunity to speak to their submission at a formal

hearing. Following the hearing, the Hearing Panel will make

recommendations on proposed amendments and the Council

will then make final decisions. We expect the new District Plan

to become largely operative by March 2022, subject to any

Environment Court appeals.

Need funding for your

creative project?

Applications are open now for Creative Communities funding.

Funding is available to groups or individuals with community-based

creative projects that promote arts or culture in Selwyn.

Applications for this funding round close on Friday 30 November, 5pm.

Visit selwyn.govt.nz/artsfunding for more information and to apply.

ON THE

ROADS

2018 & 2019

Confirming the details

Consultation with

specific groups

October 2018–July 2019

On the roads this week

Coaltrack Road will be having pre-reseal repairs

undertaken over the week.

Reconstruction work will continue on

Waimakariri Gorge Road.

Footpath reconstruction will take place in

Springfield and continue on Rolleston Drive.

Council Call

Selwyn District Council

Norman Kirk Drive, Rolleston

Ph 347 2800 or 318 8338

Rolleston Library

Rolleston Drive, Rolleston

Ph 347 2880

Darfield Library & Service Centre

1 South Terrace, Darfield

Ph 318 8338 or 347 2780

CC061118
---
Selwyn Times Latest Christchurch news at www.star.kiwi

Wednesday November 7 2018 25

Notices

DOG MICROCHIPPING

If your dog was first registered

after 30 June 2006 and is not a

working dog, the law requires

him or her to be microchipped.

This free monthly service is

available at the following places

on Friday 9 November.

Darfield: 9–9.30am

Rolleston: 10.15–10.45am

Lincoln: 11.30am–12pm

Leeston: 12.45–1.15pm

Please note:

· Clinics last half an hour.

· The Rolleston venue is

in Norman Kirk Drive (off

Rolleston Drive).

· Microchipping will not take

place if wet.

If you have any questions

regarding microchipping,

please contact Tracey Wheeler

on 347 2800.

SPORT NEW ZEALAND

RURAL TRAVEL FUND

Sport New Zealand Rural Travel

Funding is available for Selwyn

sport teams who need to travel

to local competition games and

are comprised of members aged

5–19 years (school competitions

in school time are not eligible).

This funding round is for

summer sports only.

For further information and

application forms go to

selwyn.govt.nz/ruraltravel

Meetings

Public Forums: Council,

Community Board and local

committee meetings are open

to the public. Time is available at

the start of meetings for people

to speak on matters of concern.

Please notify Bernadette Ryan

or your local committee at least

three days before the meeting.

Township, Hall and Reserve

Committees: To list or make

changes to meeting details, email

meeting.changes@selwyn.govt.

nz or phone 347 2800 or 318

8338 by 9am Wednesday the

week before publication.

COUNCIL & COMMUNITY

BOARD

Unless stated meetings are held

at the Rolleston Council Building.

Selwyn Waihora Zone

Committee

Tue 6 Nov 12pm

Lincoln Event Centre

Property Committee

Wed 7 Nov 9am

Audit & Risk Subcommittee

Wed 7 Nov 10.15am

Council meeting

Wed 7 Nov 1pm

Council Water Race

Subcommittee

Mon 12 Nov 12.30pm

District Plan Review Committee

Wed 21 Nov 9am

LOCAL COMMITTEES &

ASSOCIATIONS

Coalgate/Glentunnel Reserve

Management Committee

Tue 6 Nov 7.30pm

Coalgate Fire Station

Darfield Township Committee

Thur 15 Nov 7.30pm

Darfield Library

Doyleston Community

Committee

or contact Stuart Westoby,

347 2708, stuart.westoby@

selwyn.govt.nz

Applications for this funding

round close Friday 23 November.

GOULDS ROAD ACCESS WAY

RESERVE REVOCATION

Selwyn District Council

propose to seek the Minister

of Conservation's approval to

revoke the reservation of the

Local Purpose (Access Way)

Reserve adjoining Goulds

Road, Rolleston described

in the Schedule. The reserve

has become surplus to

requirements as it is no longer

required for an accessway.

Schedule

Canterbury Land District -

Selwyn district

246m 2 more or less being Lot

101 DP 496520 and being all of

the land comprised in Computer

Freehold Register 731260.

Any person wishing to make a

submission or to find out more

information please contact the

Acquisitions, Disposals and

Leasing Department by email at

property@selwyn.govt.nz before

5pm on 7 December 2018.

ALCOHOL NOTICES

Mac Enterprises Limited has

applied for an off licence and

on licence. Objections are

open until 14 November. For

more information head to

Wed 7 Nov 7.30pm

Osborne Park Hall

Dunsandel Community

Committee

Mon 19 Nov 7.30pm

Dunsandel Community Centre

Glenroy Community Hall

Committee AGM

Tue 20 Nov 7.30pm,

Glenroy Hall

Glentunnel Community Centre

Committee

Tue 20 Nov 7.30pm

Glentunnel Community Centre

(note week earlier)

Kimberley Reserve & Hall

Committee

Thur 22 Nov 7.30pm

Kimberley Hall

Kirwee Recreation Reserve

Management Committee

Mon 12 Nov 7.30pm

Kirwee Recreation Reserve

Kirwee Township Committee

Mon 19 Nov 7.30pm

Kirwee Hall

Lincoln Community

Committee AGM

Mon 12 Nov 7pm, Fitzgerald

Room Lincoln Event Centre

Prebbleton Reserve

Management Committee

Mon 19 Nov 7.30pm, Community

Cottage, Blakes Road

Rolleston Reserve

Management Committee

Mon 19 Nov 7.30pm, Rolleston

Community Centre Lounge

Sister Cities Committee

Tue 13 Nov 6pm

Rolleston Headquarters Building

Selwyn district has Sister

Cities cultural and friendship

relationships and exchange visits

with our Sister Cities in Japan;

China; Coventry in Rhode Island,

USA; and Toraja, Indonesia;

selwyn.govt.nz/alcoholnotices.

MOBILE LIBRARY SCHEDULE

Wednesday 7 November

Arthur's Pass 11.30am–12.30pm

Castle Hill 1.40–2.15pm

Springfield 3–3.30pm

Thursday 8 November

Giggles and Scribbles Early

Learning Centre 10.15–10.45am

Prebbleton Playcentre*

11–11.30am

Council Headquarters

12.45–1.15pm

Bright Beginings Montessori

Preschool 1.30–2pm

Monday 12 November

Dunsandel Playcentre

10–10.30am

Burnham Montessori

11–11.30am

Darfield Playcentre 12–12.30pm

Darfield Primary School

1–1.30pm

Tuesday 13 November

Kirwee 10–10.45am

Kirwee School 10.45–11.30am

Preston Downs, Corner

Prestons/Weedons Ross Road

12.15–12.45pm

West Melton School

12.45–1.30pm

West Melton Learning Centre

1.30–1.50pm

The Cat's Pyjamas Preschool

& Nursery (West Melton)

1.50–2.20pm

Anyone welcome to attend.

RSVP to Bernadette Ryan 3472

830 or bernadette.ryan@selwyn.

govt.nz for catering purposes.

Springfield Township

Committee

Tue 6 Nov 7.30pm, Tawera Hall

Springston Community

Committee

Mon 19 Nov 7.30pm

Springston Hall

Springston Hall Committee

Fri 9 Nov 7.30pm, Springston

Hall (additional meeting)

Springston Reserve Committee

Wed 21 Nov 7.30pm, Errol Tweedy

Pavilion, Springston Reserve

Springston South Soldiers

Memorial Hall AGM

Sun 11 Nov 1.30pm, 433 Days

Road, Springston South

Tawera Memorial Hall Committee

Wed 7 Nov 7.30pm, Tawera Hall

Waihora Park Reserve

Committee – AGM

Tue 6 Nov 7.30pm

Waihora Bowling Club

Springfield Township

Committee

Tue 6 Nov 7.30pm, Tawera Hall

Weedons Reserve Committee

Mon 19 Nov 7.30pm

Weedons Community Centre

(week later due to Show Week)

West Melton Reserve

Board Committee

Mon 19 Nov 7.30pm

West Melton Rugby Club

Whitecliffs Township &

Domain Committee

Mon 12 Nov 7.30pm

Glentunnel Community Centre

A casual vacancy has arisen

on the Whitecliffs Township &

Domain Committee. Expressions

of interest to Jodie 03 551 0121.

Selwyn Events

FRI–WED

2–28

NOVEMBER

SATURDAY

10

NOVEMBER

SATURDAY

17

NOVEMBER

SATURDAY

24

NOVEMBER

SATURDAY

24

NOVEMBER

SATURDAY

1

DECEMBER

FRIDAY

7

DECEMBER

Found Objects as Art

Selwyn Art Gallery, Darfield

Expect the unexpected at Selwyn

Gallery this November with Found

Objects as Art. Works created largely

from recycled objects will be on show,

with the gallery excited to present a

wide variety of styles, mediums and

imagination under the same roof.

Veges 101 – A Gardening

Workshop for Beginners

Lincoln Envirotown Community

Gardens, 10–11.30am

If you know next to nothing about

growing vegetables, but would like to

get started, this workshop is for you!

For more information contact Ruth

Wood 325 2193, ruth.wood@xtra.co.nz

Christmas Bazaar Market

The Lincoln Green, 9.30am

Entertainment and activities for the

children, a visit from Santa, and a

great festive atmosphere. Lots of

amazing stalls. Come and enjoy the

morning, your Christmas shopping

starts here!

Rolleston Kids' Market

Rolleston Community Centre,

10am–12pm

Come along to Rolleston's coolest

kids' market to buy or sell some preloved

treasures. For children aged

8–13 years, caregiver required. Stalls

$5 each, register as a stall holder at

bit.ly/kidsmarket18 by 22 November.

No food or drinks to be sold.

The Courtenay A&P Show

Kirwee Showgrounds, from 8am

Featuring fun and friendly competition,

a great day out where town and

country meet. For more information

head to www.courtenayshow.org.nz.

Selwyn Twilight

Christmas Market

Rolleston Community Centre,

1–4pm

A great opportunity to get a roll on with

your Christmas shopping, the Selwyn

Twilight Christmas Market will allow

you to find a number of trinkets either

for yourself, or for a special someone.

For more information you can contact

Debbie Herridge on 027 515 1962.

Leeston Santa Parade

High Street, Leeston, from 5pm

The evening will offer plenty fun

for the family, with a variety of food

options and stalls to as well as street

entertainment. The parade starts

at 6.30pm and will end with carols

by torchlight.

For information on listing a community event visit

www.selwyn.govt.nz/councilcall

Leeston Library & Service Centre

19 Messines Street, Leeston

Ph 347 2871

Lincoln Library & Service Centre

Gerald Street, Lincoln

Ph 347 2876

(03) 347 2800

Darfield call free 318 8338

www.selwyn.govt.nz

SelwynDistrictCouncil
---
26 Wednesday November 7 2018

Latest Christchurch news at www.star.kiwi

SELWYN TIMES
---
SELWYN TIMES Latest Christchurch news at www.star.kiwi

Wednesday November 7 2018 27

SPORTS

LOOKING: Weedons' batsman James Richards looks for a second run, while Josh Watson

approaches the bowling crease.

PHOTOS: KAREN CASEY

Tough weekend for

Selwyn cricket teams

POWER: Jono Green looks to get the ball back to the

wicketkeeper quickly.

WHACK: Kaiapoi wicketkeeper Finn Caddie watches Shannon

Dunnett play a shot, while Brad Nightingale appeals for a

wicket.

• By Jacob Page

IT WAS a miserable Saturday

for Selwyn's premier cricket

teams with all three suffering

losses in the Canterbury

Country one-day competition.

Leeston-Southbridge,

Weedons and Darfield were

all defeated as Southbrook and

Oxford went to the top of the

table.

Weedons suffered an

embarrassing batting collapse

on the road against Kaiapoi. The

visitors restricted the hosts to

69 all out inside 26 overs thanks

largely to pace bowlers Frazer

Austin 5/13 and Lachie Stove

2/22. Weedons started well,

reaching 18 without loss, but

then lost eight wickets for 10

runs to eventually be all out for

52, falling 17 runs short.

Leeston-Southbridge remain

third on the table after a late

collapse saw them lose by six

runs to Sefton at Sefton Domain.

Leeston-Southbridge appeared

to be cruising to the target

after a century stand between

Tim Gruijters (62) and Liam

O'Sullivan (37) had them at

135/5 in pursuit of 142 for

victory. Leeston-Southbridge

then lost five wickets for no runs

in 12 balls to lose the game.

Darfield were no match for

Oxford Rangiora at Oxford's

Pearson Park. After being

sent in to bat on a green pitch,

Darfield lost wickets regularly

and found scoring difficult as

they were bundled out for 69

inside 35 overs.

Darfield were unable to take

early wickets and Oxford-

Rangiora cruised to the target

with eight wickets to spare.

Cheviot were able to knock off

competition leaders Southbrook

thanks to a gritty 53 off 47

balls from Jack Harris that saw

them through to 190/8. Former

Canterbury batsman Shanan

Stewart made a brisk 44 and

combined with Jack Boyle (24)

in a partnership of 70.

However, when both departed,

the previously unbeaten

Southbrook lost all momentum

and eventually fell 18 runs short.

On Saturday, Cheviot will host

Weedons at Cheviot Domain;

Southbrook will host Leeston-

Southbridge at Southbrook

Domain; Darfield will travel

to Rangiora to play Sefton and

Kaiapoi will hit the road to play

Oxford.

Scorecards:

•Sefton 141/9 (T Harrison

36, M Rowe 24, A Robinson

22, S Barber 20; J Harden

2/17, T Field 2/23, W

Macfarlane 2/27) beat

Leeston-Southbridge 135 (T

Gruijters 62, L O'Sullivan 37;

F Sheat 4/15, J Jones 2/0, O

Bragg 2/15).

•Darfield 69 (M Power

3/11, M Murphy 3/14) lost

to Oxford-Rangiora 70/2 (J

Mariu 29no; C Warner 2/28).

•Cheviot 190/8 (J Harris

53, J Hyde 33, B Hartland

30; J Boyle 3/26, D Boyle

2/32, S Ermerins 2/51) beat

Southbrook 172 (S Stewart

44, J Boyle 24, B Rich 23, C

Clement 23; J Hyde 3/30, H

Cox 2/25, B Rayner 2/26).

•Kaiapoi 69 (J Gourlie 23;

F Austin 5/13, L Stove 2/22)

beat Weedons 52 (L Stove

20; T Oram 6/25, R Saini

2/11).

Points table: Southbrook

21, Oxford 21, Leeston-

Southbridge 15, Cheviot

15, Kaiapoi 15, Sefton 12,

Weedons 12, Darfield 9.

NEW ZEALAND'S STAND OUT WEEK

CHRISTCHURCH, 10—17 NOVEMBER 2018

TICKETS ON SALE NOW

NZCUPANDSHOW.CO.NZ
---
28 Wednesday November 7 2018

Latest Christchurch news at www.star.kiwi

SELWYN TIMES

Nuturing the young for 167 years

The late US journalist

Herb Caen wrote: "A city

is not gauged by its length

and width but by the

broadness of its vision and

the height of its dreams."

Caen might have been

writing of Christchurch,

as our visions for the new

city pay homage to the

dreams of the founders

while unleashing our own

dreams for a lofty future.

At the heart of the

city since those earliest

aspirational days when the

founders laid out the first

roads and planted the first

trees, St Michael's has had

at its heart the vision and

dreams of our city and its

children.

Indeed, for 167 years,

St Michael's has been

educating and nurturing

the visionaries and

dreamers who continue to

shape our city and step

out into the world beyond.

For our young pupils have

limitless potential to lead

exciting and generous

lives, and we have the

responsibility to educate and inspire

them, to encourage every child to

flourish, in mind, body and spirit.

St Michael's is a prep school for girls

and boys in Years 1-8. Our classes are

small, fewer than 20 pupils, and our

specialist teachers ensure each child is

an individual, well known by staff and

fellow pupils alike. For at the heart of

St Michael's are the essential values

of Christian faith and good citizenship:

respect, integrity, community, faith,

hope and love.

An independent school education

at the primary level is a great gift

and so traditional foundations in

Counting the beat, an exploration of rhythm. Year 1

and 2 Music.

English and Maths are assured. This

academic rigour then underpins our

wider curriculums in Science, History,

Geography and Spanish. IT literacy is

taught, not assumed, and computer

use is measured. We like teaching and

talking to our pupils!

A prep education offers balance.

St Michael's cultural and sports'

programmes further develop each

child's foundation, as creativity and

problem-solving come in many forms.

Specialist art and music classes are

enjoyed weekly. We have two choirs,

and most pupils play at least one

instrument or study speech and

drama with one of our nine

itinerant staff.

Located in the heart of

the city, on the banks of

the Avon and the new City

Promenade, our extended

campus is spectacular:

today, the Art Gallery;

tomorrow, the Gardens;

tennis later in Hagley Park.

A recent school survey

indicates that many of

our parents now work in

the thriving city centre,

or Lincoln and Riccarton

Road hubs but they live

city-wide. They comment

on the benefit of knowing

their children are in

school nearby and the

convenience of popping

in for an hour to catch

a performance or watch

a race. With the new

central exchange only a

block away, a number of

children arrive by bus from

all corners of the city.

Is your child one of 15

or 50? Is their classroom a

calm, productive learning

space or is the noise and

movement unceasing? How

much of the teacher's attention does

your child actually receive? There is

an alternative.

You and your child are warmly

invited to discover for yourselves

our purposeful, wholehearted and

inclusive prep school. Our Open Day

is Tuesday, November 14, or contact

our registrar, Bec Hitchcock, for a

personal tour: 03 379 9790.

On the Alps2Ocean cycle trail as part of the

Year 7 and 8 Mt Cook Camp.

On the go! School Athletic Sports at Christ's

College.

Cracking good fun! The school's annual

Holiday Programme.

St Michael's

Your school at the heart of the city since 1851

✓ Co-educational, Years 1-8

✓ Small classes

✓ Specialist teachers

✓ Traditional classrooms;

academic rigour

✓ Musical excellence

✓ Christian values

✓ Before & after school care:

7.30am - 5.30pm

✓ Cental city location,

easy access

In tune: St Michael's pupils perform at the Christchurch Schools'

Music Festival, earlier this term.

Open Day: Tuesday 14 November

www.saintmichaels.school.nz 249 Durham Street 379 9790
---
SELWYN TIMES Latest Christchurch news at www.star.kiwi

Wednesday November 7 2018 29

Darfield High showjumper

off to China after exams

• By Jacob Page

DARFIELD HIGH School

student Katherine Hadler has

exams and representing her

country to ponder over the next

couple of weeks.

​The 15-year-old will sit her

final NCEA level one exam on

November 20 – maths – and

then jet her way to China to

represent New Zealand for the

first time. She is set to compete

at an international under-18

showjumping event.

​The Springston Pony Club

member will compete against

riders from China, Australia and

Thailand in three gymkhana

games and showjumping at a

maximum height of 80cm.

Katherine has been competing

for the past 10 years. She got

her first pony at age four named

Charisma.

"I just remember asking

my parents for one since the

age of two. I learnt how to do

everything on that horse."

She still has two horses,

including one she rides regularly

called Pavlova.

​Katherine said she was thrilled

to be representing her country

for the first time.

"It's something I've wanted to

achieve for quite a while and one

day I would like to make it to an

Olympics."

TALENTED: Darfield High School's Katherine Hadler will head

to China to compete at an international showjumping event on

November 20.

PHOTO: PAULINE JARVIS​

She said certain traits made for

a good showjumping horse.

"Personally, I like a horse with

a bit of speed that can do tight

corners to save time. You also

want one you can communicate

with so you can get clear jumps."

Katherine will ride local horses

in China, which she said would

be an added challenge.

"I'll have three days to try to

bond with them which isn't a lot

of time."

She is not sure what the

standard of competition will

be, but said she is looking

forward to the challenge of a new

experience.

• By Jacob Page

DARFIELD lawn bowler

Hazel Littlejohn has warmed

up for the deaf bowls world

championships in January by

winning the national singles title

in Blenheim.

She was also named player

of the year as she prepares

for the world championships

at Christchurch's Elmwood

Bowling Club which start on

January 7.

"It was a huge thrill to have

that sort of a confidence boost

so close to the world championships,"

Littlejohn said.

She is a fourth-year bowler

and the tournament in January

will be her first international

call-up.

Littlejohn said her

performance at the national

tournament, held over Labour

weekend, could be attributed

to regular training at the

SPORTS

CALL-UP: Selwyn

bowlers Barbara

Herrick (left), Hazel

Littlejohn and

Margaret Bailey

will represent

the New Zealand

deaf lawn bowls

team at the world

championships in

January.

Littlejohn called up to bowl

for NZ at world champs

Dunsandel Bowling Club over

winter with her coach Ashley

Paul. "I didn't think I had done

enough to win initially, as it was

a really tight competition," she

said.

"We had quite a mild winter

and having access to an artificial

green meant I was able to

practice three to four times a

week instead of just once a week

like in previous seasons.

"My coach has worked hard

with me during the winter and

his dedication and willingness

to give up his time has meant a

lot to me."

West Melton bowler Barbara

Herrick and Leeston's Margaret

Bailey will also be part of the

New Zealand team in January.

Teams from Wales, Scotland,

South Africa, England,

Australia, Northern Ireland and

Ireland are all expected at the

event.

Your fresh food people.

OUR weekly specials

.49

each

c

Large Avocados ....................................................... 1

Broccoli ..................................................................................99

Telegraph Cucumbers ..................................... 1

Bunched Asparagus .......................................... 1

Loose Tomatoes ........................................................ 2

Red Grapes 500g ........................................................ 3

Lamb Shoulder Chops ..................................... 9

Beef Porterhouse ................................................. 21

Chicken Thigh Fillets .................................... 12

Havoc Free Range Pork Mince ......... 9

.49

each

.99

each

.99

kg

.49

.99

kg

.99

kg

.99

kg

.99

kg

All our fresh meat is 100% NZ FARMED. specials VAlid 5th november - 11th november 2018.

ONLY AVAILABLE AT RAEWARD FRESH HAREWOOD RD, TOWER JUNCTION.

each

punnet

WWW.

.CO.NZ
---
30 Wednesday November 7 2018

Latest Christchurch news at www.star.kiwi

GEAR UP FOR summer SALE

SELWYN TIMES

ON NOW

ENDS 22.11.18

ALL OUTDOOR ON SALE! SNAP UP THE SAVINGS!

Epitome of relaxation...

Valencia Corner Suite

NOW ONLY $

1499

Share a meal over long

summer nights.

Miami 7 Piece Dining Set

NOW ONLY $

1549

Enjoy luxe longevity with

our Sunbrella range.

Milan Corner Lounge Suite

NOW ONLY $

3999

Cushions and Lazy

Susan sold separately.

Shop

Online

Nationwide

Delivery

Finance

Options

targetfurniture.co.nz

Cnr Blenheim & Curletts Rds, Christchurch

Ph: 0800 TARGET (0800 827438)

Offers and product prices advertised here expire 22/11/18.

Sale excludes Manchester and Accessories.
---
N

261

Proposed Christchurch Southern Motorway Stage 2 (CSM2) alignment

New local road

Railway Line

SELWYN TIMES Latest Christchurch news at www.star.kiwi

Wednesday November 7 2018 31

ON

NOW!

Promotion closes 16th December 2018.

Winner will be drawn 19th December 2018.

Conditions apply.

Shop

Win

& Relax

SUPPORT YOUR

LOCAL BUSINESSES

TO WIN A

FAMILY

GETAWAY

TO HANMER

SPRINGS

PLUS $1,000 IN

SHOPPING VOUCHERS

Enter every time you shop at any

of these participating businesses

More chances to win!

Proudly supported by...

"Come on

in to shop,

win and

relax!"

12/736 Weedons

Ross Road, West Melton

Phone 03 347 0777

Fax 03 347 0888

see our great range

of Chainsaws,

Blowers,

line triMMers

anD Mowers

instore now…

CHERYL - 325 4949

West Melton

Pharmacy

@ the old Dunsandel Garage EST. 2013

WED: 9-5 THU: 9-6 FRI: 9-5 SAT: 9-12

DarfielD Mowers & Chainsaws

33 South Terrace, Darfield Ph: 318 8976

authoriseD husqvarna Dealer

Caps $39

Belts $110

LET'S GET

GardEninG

Spring is a great time of year for

gardening, with perfect conditions for

growing. Intelligro Landscape Centre

have you covered for the growing season

with top-quality products to give your

plants the best environment to thrive.

Intelligro is open 7 days with the team

ready to give advice, load up your

trailers or fill your car with bags. No

trailer? Hire one onsite, or if you're tired

of battling with traffic, road works and

increasing fuel prices, arrange a delivery

of bulk or bagged products and Intelligro

will deliver to your door. Simple!

www.igro.co.nz | Phone 03 347 9415

Makes Great

Christmas Gifts!

Main South Road (SH1)

Weedons Ro s Road

Heading north on Main South Road you

will use the Weedons Ross Road off

ramp. Manion Road is just before the

railway lines on the left-hand side.

If you are heading south along Main

South Road, then turn right into Curraghs

Road, and Manion Road is on your left just

before the railway line. You cannot miss

our big green sign. Our team look forward

to seeing you in store!

For more information,

check out our website:

www.igro.co.nz

or visit our facebook page:

www.facebook.com/igro.co.nz

Alston Road

Manion Road

Berke ts Road

Jones Road

Larcombs Road

Justine Drive

Wallets from $145

Bottles $39.95

50 Main North Road, Woodend 03 310 0570

823 Main South Road, Templeton 03 349 6241

www.canterburyequestrian.co.nz

Cu raghs Road

Robinsons Road

Dawsons

Road

Shop 15, 9 Masefield Drive

(new Rolleston Square West). Ph: 420 0996

www.industria.co.nz

Jones Road

ALL YOUR

MOTORING NEEDS

› While You Wait WOF's

› Courtesy Cars

› Diagnostics

› Repairs › Servicing

› Batteries › Tyres

Auto

Phone 347 4020

851 Jones Rd, Rolleston

www.jonesroadauto.co.nz

Womens

Fashion

Footwear,

Jewellery,

Watches, Bags,

Hats, Fascinators

Gift Vouchers

Shop 12, Rolleston Square, Rolleston. Phone 347 1151

Mon- Fri 9.00am-5.00pm Sat 10.00am-4.00pm

Sum 10.00am-3.00pm

Gifts

for all

occasions

THE SEWING ROOM

Quilters Fabric & Gifts

45A South Terrace,

Midwest Mews, Darfield

Phone: 03 318 8513

Mon-Thurs 9am-4.30pm, Fri 9am-5pm, Sat 10am-12pm

Rolleston Village Pharmacy

Christmas

gift ideas

instore

now!

92 Rolleston Drive, next to New World

Phone (03) 347 4118

JOIN NOW FOR

FREE

UNTIL

JAN

2019

WITH FREE GROUP FITNESS AND PERSONAL TRAINING SESSION

SIGN UP ON A 6 OR 12 MONTH CONTRACT AND PAY NOTHING UNTIL JANUARY 2019

P 03 421 5746 E lincoln@flexfitnessgym.co.nz

Corner of Edward and Eastfield Dr, Lincoln

Offer only available until Sunday 11th November

9.30aM - 1pM

eveRy

SaTuRDay

Rain oR SHine!

• 35+ Stalls

• Hot breakfasts & delicious food all day,

plenty of tables and chairs

• Live music

• Free off street parking,

wheelchair/disabled parking

• Giveaways, competitions & more

• Dogs welcome (on leash only)

254 Lawford Rd. West Melton

Contact Taylah 022 084 9790

Birthday Celebrations!!

10%

OFF STOREWIDE

We have been in our new premises

for a year and it's time to celebrate

From 5 th - 10 th November & join us

for a piece of birthday cake

We look forward to seeing you!

2 McMillan St, Darfield. Ph. 03 318 8734

Open Monday-Friday 9am-5pm,

Saturday 9.30am-12.30pm
---
32

Latest Christchurch news at www.star.kiwi

2 Wednesday [Edition datE] November 7 2018

SELWYN TIMES

dISCOVER

Recalling happy times in

the old community hall

In a few weeks, the new Community

Centre in West Melton will be officially

opened, ushering in a new era of

community involvement and activities.

In a few weeks, the new Community

Centre in West Melton will be officially

opened, ushering in a new era of

community involvement and activities.

It will be an asset to West Melton, but

at the same time, there are many oldergeneration

West Melton residents who have

fond memories of the former community

hall, which for decades was the centre of

their social and community life.

Built in 1892, it was originally a shearing

and wool shed for the West Melton Sale

Yard and Dip Company, then in 1925,

with a drop-off in wool sales, the wool

shed was converted into a social hall. Ten

years later the shed burnt down, and a

new community hall was built with funds

raised by the community.

In 1961, the shareholders of the West

Melton Hall Company, formerly the West

Melton Sale Yard and Dip Company, gifted

the land to the County Council.

Further fundraising in the early 1960s

resulted in the addition of a kitchen,

supper room, lounge and Plunket rooms to

the hall.

West Melton's oldest original resident,

John Pearce (87), recalls school concerts,

wedding receptions, 21st birthdays, dances

and balls being held in the hall. Soldiers

were farewelled from the hall and then

welcomed home there after the war.

Another resident, Alistair Nicholl, recalls

the "very successful" winter balls that were

held in the hall in the late 1970s and early

1980s, and which morphed into the "old

farmers' balls".

On June 17, 2017, locals turned out in

their finery for the final ball to be held at

the hall – a fitting farewell to mark the end

of its life, prior to demolition.

Jacqui Butt remembers winning first

prize for her school project at the district

flower show, which was held every year in

the hall. The "fabulous" school concerts

also live on in her memory – especially the

year she wore lipstick for the first time.

She also remembers the excitement of

having movies screened there, but with

something going wrong almost every time

the audience often wouldn't see the end of

the movie.

Heather Wild recalls the fundraising

dances held to purchase curtains and

furniture for the hall; Alison Pearce

enjoyed card afternoons at the hall, while

her husband was a keen indoor bowls

player.

All the residents spoken to were sad to

see their old hall go, but believed the new

community centre would be good for West

Melton.

9.30am - 1Pm every SaturDay

rain or SHine!

35+ Stalls

Free off street parking

Room to play

Discover space and lifestyle in a wide range of sections for sale at

Wilfield. Drop in to our sales and information office, 2 Kingsdowne Drive,

this Wednesday or Sunday from 1pm to 3pm to find out more. Contact us

on 03 741 1340 or email enquiries@yoursection.nz.

Hot breakfasts and

delicious food all day

Plenty of tables, chairs

Live music every week for the

whole duration of the market.

Dogs welcome, we even have

a few stalls for them!

Wheelchair/Disabled parking.

Giveaways, competitions & more.

Stalls available at $20

Contact us for more information.

254 Lawford rd. West melton

Contact taylah 022 084 9790
---
SELWYN TIMES Latest Christchurch news at www.star.kiwi

Wednesday November [Edition 7 datE] 2018 333

Vet centre creates strong

connection with community

The West Melton Vet Centre has just

celebrated its first anniversary, and over the

last 12 months, the practice has become an

integral part of the local community.

"What's been wonderful is the strong

connection that's been created with the

West Melton community, and we want to

thank the businesses for treating us as part

of the shopping centre, and the community

for their support," says vet Michael Meehan.

The practice was established by vet

Jacoba Vaessler as a standalone vet clinic

specialising in the treatment of dogs, cats

and other small domestic animals. While

every animal is treated with care and

compassion, there was one incident with a

guinea pig that was especially memorable,

Michael says. The guinea pig, which was the

mascot at the West Melton School, needed

treatment for a cyst. This was successfully

carried out, and because it belonged to the

school, there was no fee charged.

"The children made us a thank you card,

and receiving that was very rewarding,"

Michael says.

Another enjoyable experience was the

successful treatment of a small goat that

was suffering from hypoglycaemia and

couldn't walk properly. After the treatment,

the goat skipped and jumped joyfully out

of the clinic, to the delight of the vet team,

who posted a video of the goat on the

clinic's Facebook page.

As a standalone clinic, West Melton Vet

Centre is able to offer prompt test results

and diagnoses, thanks to the high-quality

equipment Jacoba has had installed. This

includes an in-house blood machine, which

provides test results in 15-20 minutes, an

ultra-sound machine and a digital X-ray

machine.

Jacoba, Michael and the team of four

vet nurses pride themselves on providing

a professional service, without being too

clinical, Michael says.

"We are professionals, but we also enjoy

taking a casual, light-hearted approach

with our clients when appropriate, and

having a laugh with them."

West Melton Vet Centre is located at

736 Weedons Road, phone 347 4546.

Opening hours are Monday to Friday

8am-6pm.

NOW OPEN

IN WEST MELTON

Your Friendly West Melton

Community Vet Centre

West Melton Village,

Unit 3, 736 Weedons Ross Rd

P 03 347 4546

E nurses@westmeltonvets.co.nz

Beautiful Trilogy Sets

In Store Now.

GOLD

CARD

LUNCHES

MON - FRI

New Summer Menu •

Bus to Races •

Tuesday & Saturday •

New Summer Special Deals •

Check out our website •

Unichem West Melton Pharmacy

12/736 Weedons Ross Road, West Melton

Phone 03 347 0777

West Melton

Pharmacy

Open 7 days Coffee/Lunch/Dinner

Open 11.30am Mon-Sat | Ph 03 421 6481

Sunday Breakfast from 9am

West Melton Village, Weedons Ross Road

www.twofatpossums.co.nz

Courtesy Van available
---
34 Wednesday November 7 2018

Latest Christchurch news at www.star.kiwi

SELWYN TIMES

It's all go

in the garden

It is all go in the garden and with Show

Weekend coming up there is plenty of time

to get those tasks done!

Here are some things you can plant this month

Veggies Lettuce, Chillies, Capsicums, Sweet Corn, Cucumbers,

Courgettes, Spinach

Flowers Poppies, Sweet Peas, Alyssum, Marigolds, Begonias, Petunias,

Lobelia

Show weekend is almost here so it is time to prepare to plant out your tomatoes!

If you have started them inside your seedlings will be keen to get into a bigger pot

or garden bed. Tomatoes are hungry feeders so before planting in the ground mix

in our tomato fertiliser so they will have a good start, then feed every 4 weeks until

the season ends.

Once your plant is in fruit make sure you cover them as birds just love those big

plump red tomatoes as much as you do. Cut off their laterals (these are the bits

that grow out from the main stems), as this keeps the plant healthier and the

nutrients go into producing the main fruit.

Safety

in the garden

Spring brings the risk of

catching Legionnaires

Disease if you don't handle

potting mixes and compost

correctly. The bacteria that

cause Legionnaires Disease

are present naturally in the

environment and there is no

method available to eliminate

the bacteria.

So, we must work with

protecting ourselves from the harmful effects of these bacteria, in much the

same way as we protect ourselves from the damage caused to us by exposure

to the sun. Below are some precautions you can take to reduce the risk of

contracting Legionnaires.

• Open bags with a sharp knife – away from the face - in open spaces,

not in enclosed areas like sheds or greenhouses

• Remember to use gloves and masks when handling the mix

• Dampen any dry mix – being care not to inhale dry, dusty mix

• Store bags out of direct sunlight

• Always wash your hands after gardening, and before eating or drinking

Long Weekend Hours

Intelligro will be Open on

Canterbury Anniversary Day!

Fri 16th Nov 9am – 4pm

Sat 17th Nov 8am – 5pm

Sun 18th Nov 9am – 4pm

SHOW WeekenD In StORe SpeCIALS!

Check out our Facebook page leading up

to Show Weekend for our in-store specials!

What's new?

Bio Marinus-Organic Liquid Fish

Fertiliser. This is an amazing fertiliser

that improves the soil to create an

excellent growing environment

for your plants.

It is Bio Gro certified organic, making

it very eco-friendly and safe to use

around all of your plants.

For more information,

check out our website:

www.igro.co.nz

or visit our facebook page:

www.facebook.com/igro.co.nz

261 Manion Road, Weedons

Access to Intelligro from Manion Road is now available from both the

Weedons Ross Road end, and Curraghs Road entrances. Manion Road

is the new road built between Weedons Ross Road & Jones Rd

For more information www.igro.co.nz | Phone 03 347 9415
---
SELWYN TIMES Latest Christchurch news at www.star.kiwi

Wednesday November 7 2018 35

Gardening

Local

News

Now

The heat is on – time to grow chilli

Fire rages, homes at risk

• By Henri Ham

CHILLI SEEM to generate a mass

following all over the world.

Did you know right here in

New Zealand, we have our own

chilli-eating competition and hot

sauce festival? Much like coriander,

chilli also really polarises

people. They either love it or

won't touch it.

When it comes to chilli, I'm

definitely in 'team heat' and love a

good chilli in my cooking or even

on its own.

Chilli heat is measured in

Scoville Heat Units. The higher

the rating the hotter the chilli.

Trained testers dissolve dried

chilli in alcohol and sugar water

to measure its pungency. They

then sample the mixture and

dilute it until they can't detect any

more heat.

Now I love chilli, but I'm not

sure if I'd like this job.

The current champion to the

'world's hottest chilli' goes to the

carolina reaper. It has a little grim

reaper-shaped tail and clocks in at

1,600,000 SKU. To give some perspective

– the friendly jalapeno

measures around 5000 SKU.

Eating hot chilli is not for the

faint-hearted. People often find

them to taste initially sweet, with

an after burn that can last up to

one hour in unsuspecting victims.

And as a general rule, the smaller

the pod the hotter the taste.

Chillies are a spring and summer

plant. The first varieties are

ready right now such as jalapeno

and red hot chilli. In November

you'll see the habanero red, bhut

jolokia (ghost pepper) and the

jalapeno red flame seedlings become

available. You'll have to wait

until Christmas time to get your

hands on a carolina reaper plant.

Here's are some of the chillies

in order of hottest (starting with

the hottest of the hot) – carolina

reaper, bhut jolokia, habanero

red, red hot pepper, jalapeno red

flame and jalapeno.

Planting wise, chilli are fairly

easy to grow. They like a welldrained,

sheltered and sunny spot

in your garden that is very similar

HOT: The capsicum jalapeno

(left) is ready for planting now.

Above – the carolina reaper

is considered the world's

hottest chilli pepper.

to where you'd plant your tomatoes,

capsicums, basil and parsley.

If you've got space near any beefriendly

plants like oregano and

lavender, plant your chillies there

to help with pollination.

Increase the quality of your soil

by adding a good general fertiliser

and come compost. Sheep pallets

are also great to mix in with the

compost, and act as a slow release

fertiliser.

Chilli plants can get quite big,

so plant your seedlings around

30-50cm apart. But they don't

actually need a lot of space, and

grow well in pots as well. Water

straight after planting, but after

that they only need attending to

every few days. Avoid wetting the

leaves to prevent the spread of any

diseases. And, once your chillies

have developed, you might like to

water them sparingly (depending

on your taste buds) as less watering

will make the fruit hotter.

In around two to three months

from planting, you'll start to see

some spicy life. First flowers appear

then, after being pollinated,

they turn into fruit.

If you're unsure whether your

plants have been pollinated

simply dab a small paint brush

in each flower to help spread the

pollen around.

Remember as with many fruit

plants, cut your chillies rather

than pulling them off. This encourages

more fruit to grow. And

what many people don't realise is

that a whole chilli freezes really

well – lasting up to six months in

the freezer. When you're ready

to cook with them, use an extra

sharp knife and chop up your

chilli while frozen. With fresh

chilli about $2 each in the supermarket

right now, it sure makes

sense to freeze them.

Chillies are perennial plants

meaning they can last a few

seasons. Once your plant has

finished fruiting, simply prune

back by about a third, and remove

any dead branches. They don't

cope well with frosts. If you did

plant them in pots, move them to

warmer ground for winter. Either

indoors, or higher to the deck or

under the eaves of your house.

PATIOS - OUTDOOR AREAS - CAR PORTS

Shadecraft is a locally owned company who specialise in shade and weather

protection products to enhance your homes design and use of outdoor areas.

SHADE SAILS – UMBRELLAS – ALL WEATHER CANOPIES

ShadeCraft (SI) Ltd

0800 742332 • Cell 0274 981239 • www.shadecraft.co.nz

Use your outdoor living areas

all year round

• Warm & dry in winter

• UV protection for summer

• Stylish & permanent

• 5 year warranty

"AS SEEN ON TV"

Chris Thorndycroft

15 months

INTEREST FREE

Phone 0274 211 079 | www.archgola.co.nz

Normal lending criteria apply
---
36 Wednesday November 7 2018

Latest Christchurch news at www.star.kiwi

SELWYN TIMES

HALF PRICE

Queen Size Mattress & Base

NOW $1,999 WAS $3,999

Lotus

50 %

OFF *

Firm - Natural antibacterial properties of Latex Gold help to maintain a dust free,

healthier sleep environment which is great for asthma and hay fever sufferers.

Orchid

50 %

OFF *

Zulu

Kappa

GREAT

VALUE

Queen Size Mattress & Base

Queen Size Mattress & Base

Queen Size Mattress & Base

NOW $2,199 WAS $4,399

Other Sizes & Models Available In-store!

BEDS R US CHRISTCHURCH

166 Moorhouse Ave, (Next To Noel Leeming)

Ph: 03 379 5110

ONLY $1,249

ONLY $629
---
SELWYN TIMES Latest Christchurch news at www.star.kiwi

Wednesday November 7 2018 37

Email emily.oconnell@starmedia.kiwi by

5pm each Wednesday

Teen Artspace

Leeston on Wednesdays,

4-5.30pm, and Darfield on

Tuesdays, 4.30-6pm

Teens can participate in art

and craft activities and hang

with friends in a creative

atmosphere. They will learn

how to use various art and craft

materials. Suitable for secondary

school-aged students. Free.

Drop-ins welcome.

Leeston Library, 19 Messines

St, and Darfield Library, 1 South

Tce

Digital Photobook

Workshops

Thursday, 6.30-8.30pm

Would you like to

learn how to create a digital

photobook, but not exactly

sure how? This free session

will help you develop the skills

to create a digital photobook

from your treasured memories.

Recommended for adults

with basic computer

skills. Bookings essential. Take

along your photos on a USB

drive. To make a booking,

visit https://www.eventbrite.

co.nz/e/digital-photo-bookworkshop-leeston-librarytickets-50894106643

Leeston Library, 19 Messines

St

Veges 101

Saturday, 10-11.30am

A gardening workshop for

beginners if you know next

to nothing about growing

vegetables, but would like to get

started, this workshop is for you.

A gold coin donation to support

the activities of the gardens

would be appreciated. For more

information, phone Ruth Wood

on 325 2193 or email ruth.

wood@xtra.co.nz.

Lincoln Envirotown

Community Gardens, 35 James

St, Lincoln

Mahjong Beginngers Group

Tuesdays, 1-3pm

Go along to play Mahjong with

the beginners group.

Lincoln Library, 22 Gerald

St

Justice of the Peace Clinics

Rolleston on Monday, noon-

1pm, and Lincoln on Tuesday,

10am-1pm​

A justice of the peace will

be available to members of

the community to witness

signatures and documents,

certify document copies, hear

oaths, declarations, affidavits

or affirmations as well as sign

citizenship, sponsorship or rates

rebates applications.

CREATIVE: Go along to Patchwork Plus on Monday from 10am-3pm at the Leeston Library, 19

Messines St. Take along any craft you wish and have a chat. For further information, phone Diane

Spencer on 027 444 6791. ​

Rolleston Library, 94 Rolleston

Drive, and Lincoln Library, 22

Gerald St

Lakeland Exhibition

10am-4pm, Tuesday-Sunday

This exhibition is fascinated

with earth, water, fire and

alchemy, from the ordinary to

the extraordinary in the potters'

journey. The Halswell Pottery

Group exhibition will run until

December 9.

Lakeland Art Gallery, 80 High

St, Leeston

Markets:

West Melton Market:

Saturday, 9am-noon. St Paul's

Church.

Lincoln Farmers and Craft

Market: Saturday, 9.30am-

12.30pm. Gerald St, Lincoln.

Darfield Market: Saturday,

9am-1pm, opposite Challenge

Darfield, South Tce.

Running groups:

Lincoln Road Runners:

Tuesday registration from

5.30pm starts at 6pm. 3km

or 6km events. Starts at

Lincoln University. Gold coin

donation.

Malvern Road Runners:

Tuesday registration begins

at 5.45pm and the first of the

6km runners leave at 6pm. 3km

or 6km. Starts from Malvern

Netball Centre.

Ellesmere Road Runners:

Wednesday registration

from 5.45pm starts at 6pm.

3km or 6km walk or run.

Starts from Leeston

physiotherapy.

15TH TO 18TH NOVEMBER 2018

Boulevard Market

Talbot and Wilson Streets

Friday 9am-4pm

Market Day

The Domain, Hislop Street

Saturday 9am-4pm

Entertainment including

Nomad, Mollys Remedy,

Jenny Harraway and more!

Open Gardens Fri-Sun

(see programme for

individual open days/times)

Art & Photo Exhibition

Friday and Saturday

10am 4pm

and Sunday 10am-3pm

Free family fun days

www.facebook.com/artsnplants/
---
38 Wednesday November 7 2018

Latest Christchurch news at www.star.kiwi

SELWYN TIMES

2WD XLS $27,990 +ORC

• 5 Star Safety

• Smartphone Connectivity

• LED Daytime Running Lights

• 18" Alloy Wheels

• Sports Trim

2.4L LS $33,990 +ORC

• 7 Seats

• 2.4L Petrol Engine

• 126kW Power

• 18" Alloy Wheels

• Reversing Camera

from $34,990 +ORC

• 1.5L MIVEC Turbo Petrol engine

• Keyless Entry and Push Button Start

• Forward Collision Mitigation

• Touch Pad Commander

• Auto Rain-Sensing Wipers & Light-

Sensing Headlamps

GLX-R $29,990 +ORC

• 2.4L Turbo Diesel Engine

• 6 speed manual (auto available)

• Braked Towing Capacity - 3,000kg

• 7" Touchscreen with Bluetooth

• Reversing Camera

CHRISTCHURCH MITSUBISHI

386 Moorhouse Avenue, Christchurch.

03 379 0588 | christchurchmitsubishi.co.nz

10 year / 160,000km Powertrain Warranty (whichever comes

first) (non transferable). 5 year / 130,000km New Vehicle

Warranty (whichever comes first) (non transferable).

Prices listed are for ASX 2WD XLS, Outlander 2.4L LS and Eclipse Cross XLS 2WD. Eclipse Cross VRX pictured, Red Diamond colour (pictured) is available for an additional $500.

Prices exclude On Road Costs which includes WoF, registration and a full tank of fuel. Visit mmnz.co.nz for full Diamond Advantage terms & conditions.
---
SELWYN TIMES Latest Christchurch news at www.star.kiwi

Wednesday November 7 2018 39

Motoring

Local

News

Now

US-built Acadia released by Holden NZ

Fire rages, homes at risk

• By Ross Kiddie

HOLDEN New Zealand has

launched its much-anticipated

seven-seat sport utility vehicle –

the Acadia

It is the first time Holden has

offered a GMC-based product in

its line-up.

Acadia boasts all the American

presence you'd expect from a

large SUV but, importantly, it has

had Holden input from early on.

While Acadia is unashamedly

American in its design, its

performance and driving persona

has that signature Holden feel

thanks to local engineering input.

Using lessons learned from recent

Commodore and Colorado

programmes, Holden engineers

have focused on delivering the

direct steering and composed

ride that resonates with Kiwis.

Acadia is driven by a powerful

3.6-litre V6 engine and ninespeed

automatic transmission. It

drives through the front wheels

with all-wheel drive on demand.

Standard across the range is a

traction select system, which

allows the driver to alter chassis

and powertrain attributes to suit

a variety of driving conditions.

Front-drive models offer normal

(2x4), snow, sport and trailer/

tow modes, while AWD models

offer 2x4 (AWD disconnect), 4x4,

sport, off-road and trailer/tow

modes.

Additional chassis and

driving dynamics features

include MacPherson strut

front suspension, five-link rear

suspension, rack-mounted

electric power steering system

and four-wheel disc brakes.

The media launch for Acadia

was held on a variety of twisty

roads north of Auckland. Initial

driving impressions were that

of an involving driving presence

with strong engine performance.

There is a large car feel with

comfortable in-cabin dynamics.

From the driving seat it

steers directly and there is

little body movement over the

suspension. The Acadia is quiet

in its movement and refinement

throughout the vehicle is hugely

noticeable. It is built on the same

production line as Cadillac in

Tennessee, consequently, build

quality is high.

A genuine seven-seater,

the Acadia is configured for

maximum comfort and flexibility.

The rear two rows of seats can be

folded flat for maximum cargo

capacity if required, while the

centre row is adjustable front to

rear so the ideal leg room can be

achieved for varying passenger

groups.

In a first for Holden, the new

Acadia features intelligent speed

assist with traffic sign recognition,

all carefully calibrated to local

conditions by Holden engineers.

Other tech features include active

HOLDEN ACADIA: Large seven-seat sport

utility vehicle sourced from Tennessee,

trailer assist and the inclusion

of bicycles in the pedestrian

detection system.

"The level of technology across

the range is compelling," says

Marc Ebolo, managing director of

Holden New Zealand.

"Whether we are talking safety,

convenience or infotainment,

Acadia has the most complete

technology package Holden has

ever offered."

The Acadia arrives here in

three specifications ranging from

$49,990 to $71,990.

NEW

LOCATION

95 Gasson St

The Automotive Lamp Specialists

New and Used Lamps for Cars, Trucks,

Vans, 4WD and Motorhomes

PH 0800 225 483 | 95 Gasson Street, CHRISTCHURCH

AN AFFORDABLE

HEDGETRIMMER

THAT LETS YOU

FOCUS ON

CUTTING HEDGES.

NOT EXTENSION

CORDS.

Best

Motorbuys

TM

FROM ONLY

$495

ANYTHING WITH A MOTOR!

The South Island's leading motoring publication

FREE every Friday at hundreds of locations

around the South Island, and it's available online!

www.bestmotorbuys.co.nz

For advertising enquiries, ph Lea Godfrey 021 277 3086

STIHL Store SHOP Details Northwood here

554 Main North Road, Belfast, Christchurch

Store Details here

Ph: 03-974-2469

Store Details here

STIHL SHOP Rangiora

Corner Store Lineside Details and here Station Road, Rangiora

Ph: 03-313-3398

STIHL SHOP Fosters

559 Blenheim Road, Sockburn, Christchurch

Ph: 03-343-6339

www.stihlshopchristchurch.co.nz

STS0166

LOVE YOUR LAND

LOVE YOUR LAND
---
40 Wednesday November 7 2018

Latest Christchurch news at www.star.kiwi

SELWYN TIMES

Win a Great Deal

Race

into

New Shape Model

for$8,990

$48.38

Huge Boot Space

for$16,990

$90.94

Great Colour!

for$8,990

$49.92

Sporty 7 Seater

for$9,990

$55.04

2008 Toyota Ist 150G

1.5 Litre Chain Driven Engine, ABS, Dual Airbags,

Remote Central Locking, CD Player, Tinted Privacy

Glass, Excellent Fuel Economy with Enough Pep,

72,992kms.

2011 Toyota Prius Alpha S

1.8 Litre Chain Driven Hybrid, ESC, 8 Airbags,

Smart Key/Push Button Start, Auto Air Cond, Auto

Lights, Multi-Function Steering Wheel, CD Player,

Reversing Camera, 56,075kms.

2009 Mazda Demio

1.3 Litre Chain Driven, ABS, Dual Airbags, Auto Air

Cond, Stunning Black & White Trimmed Interior,

Auto Lights, CD Player, 51,885kms, Economical,

Reliable & Fun to Drive.

2007 Honda Stream RS-Z

2.0 Litre i-Vtec Engine, ABS Brakes, Dual Airbags,

Climate Air Cond, CD Player, Tinted Privacy Glass,

Sports Interior Trim, Child Seat Anchor Points,

79,644kms.

Roomy Sports Wagon

for$16,990

$90.94

Sharp in Black

for$12,990

$68.89

Versatile SUV

for$11,990

$63.76

Compact SUV

for$18,990

$101.19

2009 Mazda Atenza Sports 25S

2.5 Litre Chain Driven, Paddleshift, ABS, ESC, Dual

Airbags, Auto Air Cond, Auto Lights, Smart Key/

Push Button Start, CD Player, Dual Exhaust, Only

36,584kms.

2011 Nissan Juke 15RX

1.5 Litre Chain Driven Engine, ABS, Dual Airbags,

Smart Key/Push Button Start, Auto Air Cond,

Auto Headlights, CD Player, Perfect Lifestyle

Vehicle with Fuel Economy.

2010 Mitsubishi RVR M SPEC

1.8 Litre Chain Driven MIVEC Engine, Dual

Airbags, CD Player, Remote Central Locking,

Alloys, Air Cond, High Seating Position,

Great Fuel Economy.

2016 Ford Ecosport Titanium

1.5 Litre Engine, 7 Airbags, ABS, Smart Key/Push

Button Start, Auto Air Cond, Auto Lights, CD

Player, Corner Sensors, Fog Lights, Rear Spoiler,

22,051kms.

Super Low Kms!

for$16,990

$90.94

Reliable,Compact SUV

for$10,990

$58.63

V8 Turbo Diesel

for

$52,990

$273.99

4WD Plug-in Hybrid

for$29,990

$157.59

2008 Subaru Forester 2.0 4WD

2.0 Litre Boxer Engine, ABS, ESC, Dual Airbags,

Auto Air Cond, Cruise, CD Player, HID Headlights,

Heated Front Seats, Dual Exhaust, Rear Spoiler,

Only 10,407kms.

2006 Toyota Rav 4 4WD

2.4 Litre Chain Driven, Tiptronic,

Climate Air Cond, Smart Key with Push Button

Start, Alloys.

2011 Range Rover Vogue TDV8

Fully Loaded with Extras, Multi Airbags, Cruise,

Full Leather, Heated Front/Rear Seats, NZ GPS

Nav, Auto Lights, Airbag Suspension, Rev Camera,

Sunroof, Tow Bar.

2013 Mitsubishi Outlander

PHEV G 2 Litre Hybrid, 6 Airbags, Smart Key/

Push Button Start, Auto Lights, Cruise (Radar),

Rev/Side Camera, Lane Keep Assist, Power

Operated Tailgate, 59,277kms.

Safe Family 7 Seater

for$17,990

$96.06

4WD Family SUV

for$13,990

$75.55

Grouse Colour!

for$24,990

$131.96

4WD, Dark Interior

for$16,990

$90.94

2009 Toyota Vanguard 7 Seater

2.4 Litre VVTi Chain Driven Engine, 8 Airbags,

Smart Key/Push Button Start, Auto Air Cond,

Auto Lights, Cruise, CD Player, Reversing Camera,

Fog Lights, Rear Spoiler.

2007 Nissan X-Trail 4WD

2.5 Litre Chain Driven Engine, ABS, ESC, Dual

Airbags, Leather Seats, Auto Air Cond, Auto

Lights, CD Player, Reversing Camera, Smart Key/

Smart Door Lock System, Alloys.

2013 Mitsubishi Outlander 24G

2.4 Litre Paddleshift, 7 Seater, Multi Airbags, Smart

Key/Smart Door Lock System, Auto Air Cond, ECO

Mode, Alloys, 39,101kms, One of the Most Popular

SUV's in NZ.

2008 Nissan Murano 250XL

2.5 Litre V6 Chain Driven, ABS, ESC, 4WD,

Smart Key/Push Button Start, 6 Airbags,

Auto Air Cond, Auto Lights, Cruise Control,

Dual Exhaust, 63,218Kms.

*On road costs of $300 may apply to some vehicles

6 MONTHS FREE WARRANTY ON EVERY CAR

Stadium Cars Christchurch 03 366 5900 | stadiumcars.co.nz
---
SELWYN TIMES Latest Christchurch news at www.star.kiwi

Wednesday November 7 2018 41

NZ New

INCLUDES

Selection

Balance

Of New Car

Warranty

Great Kms

for

$13,990

$74.02

Cruise, Bluetooth

for

$9,990

$53.51

Stylish & Funky

for

$10,990

$58.63

Captivating Looks

for

$27,990

$145.80

2011 Mazda 3 GLX 2.0

2 Litre Chain Driven, ABS, Multi Airbags,

Bluetooth, CD Player, ISOFIX, Remote Central

Locking, Tiptronic Sport Mode, Alloys, Tow Bar,

76,807kms.

2012 Holden Cruze CD

1.8 Litre Engine, Tiptronic Auto, ABS, ESC, EBD,

Dual Airbags, CD Player, Bluetooth, Remote

Central Locking, ISOFIX Child Seat Anchor Points,

Cruise.

2006 Mini Cooper S Supercharged

1.6 Litre, Half Leather Trim, 6 Speed Manual,

Alloys, Air Cond, Fog Lights, CD Player, 4 Airbags,

Standout Blue and White Paint Scheme, ISOFIX,

ABS Brakes.

2016 Holden Commodore VF2

SV6 3.6 Litre, Factory Body Kit, 18" Alloys, Auto

Park, Suede/Leather Bucket Seats, 10 Airbags, Fog

Lights, Cruise, Traction Control, Reversing Camera,

Push Button Start, Tiptronic, 60,731kms.

Trusty Workhorse

for

$24,990

$130.42

Top Spec Model

for

$17,990

$94.53

Modern Looks

for

$26,990

$140.67

European Designed

for

$9,990

$53.51

2011 Nissan Navara ST 4WD

2.5 Litre Turbo Diesel, Chain Driven, 6 Speed

Manual, 2WD/4WD, ABS, Dual Airbags, Cruise,

CD player, Air Cond, Alloys, Rear Canopy,

Tuff Deck, Tow bar.

Save

$$$

Spacious Wagon

for

$5,990

Check out our

Fantastic

Save

$$$

$33.00

2010 Mitsubishi Outlander VR-X

4WD 2.4 2.4 Litre, 7 Seater, Alloys, Auto,

Paddleshift, Auto Lights, Dual Airbags, Cruise

Control, Fog Lights, Full Leather, Smart Key with

Smart Door Lock System, 84,844kms.

Compact Crossover

for

$4,990

TRADE IN

Save

$$$

$27.87

2016 Holden Captiva LTZ 2.2D

AWD 2.2 Litre, Turbocharged Diesel, 7 Seater,

Leather, Multi Airbags, Heated Front Seats, Dual

Zone Climate Air Cond, Central Touch Screen,

Cruise, Reversing Camera, ESC, AUX/USB Input.

7 Seater

for

$4,990

Save

$$$

$27.87

2010 Hyundai I30 1.6

1.6 Litre, 5 door Hatch, 8 Airbags, Factory Alloys,

Air Cond, CD Player with USB/AUX Input, Steering

Wheel Audio Controls, Tow Bar, Parcel Tray,

95,323kms.

Selection

Great Value

for

$6,990

Save

$$$

$38.12

2006 Subaru Legacy 3.0L

3 Litre Chain Driven, Tiptronic, Dual Airbags,

Leather Seats, Heated Seats, Air Cond,

Cruise Control.

4WD, Rev Camera

for

Save

$$$

2003 Mitsubishi Airtrek 2.4

2WD 2.4 Litre, Tiptronic, Dual Airbags, AUX Input,

Factory Privacy Glass, Electric Mirrors/Windows.

Great Colour

Save

$$$

for for

for

$7,990 $5,990

$5,990

$8,990

$43.25

$33.00

2004 Honda Odyssey 2.4

7 Seater, 2.4L Chain Driven Auto, Dual Airbags,

Alloys, Reversing Camera, Remote Locking.

Economical, Fun

Save

$$$

$33.00

2004 Mazda Atenza 23S

2.3 Litre Chain Driven, Dual Airbags, Aero Body Kit,

Auto Air Cond, Child Seat Anchor Points,

Remote Locking.

Family SUV

Save

$$$

$48.38

2007 Mitsubishi Outlander 24G

2.4 Litre Chain Driven MIVEC Engine, Paddleshift,

Air Cond, Reversing Camera, Alloys.

2010 Honda Fit 1.3

1.3 Litre Chain Driven Auto, Air Cond, Central

Locking, Electric Windows, Economical Hatch.

2007 Nissan Cube

1.4 Litre Chain Driven, Air Cond, Smart Key/Smart

Door Lock System, ABS, Dual Airbags, 80,084kms.

2005 Mitsubishi Outlander 24G

4WD 7 seater, 2.4 Litre Chain Driven MIVEC

Engine, Paddleshift, Air Cond, Rev Camera, Alloys.

OVER 500 CARS IN STOCK - Canterbury's Best Vehicle Selection

Stadium Cars Christchurch

564 Moorhouse Avenue, Christchurch

03 366 5900 | stadiumcars.co.nz

CHECK

OUT OUR

GREAT

WEEKLY

PRICES

OPEN

7 DAYS

*Conditions apply: Not available with any other offer. Finance offer subject to credit and lending criteria. Finance calculation based on 60 month term.

No deposit with an annual fixed interest rate of 11.95%, includes an establishment free of $375. See our website for full disclosure.
---
42 Wednesday [Edition datE] November 7 2018

Latest Christchurch news at www.star.kiwi

2

SELWYN RURAL LIFE

SELWYN TIMES

Animal tracing system ramps up

Work to strengthen New Zealand's

animal tracing system to protect our

economic base and unique way of life has

been ramped up.

As Biosecurity Minister Damien

O'Connor said last week, "The National

Animal Identification and Tracing (NAIT)

scheme should have worked better during

the Mycoplasma bovis response and I'm

determined to help transform it into an

easy-to-use, world-class traceability system

to keep our primary sectors and economy

safe.

"From today, everyone who has an

interest in NAIT can have a say on proposed

ways to strengthen it for the future.

"Earlier this year the long-awaited NAIT

Review found a variety of flaws in the

system and more than half of users were

not recording farm-to-farm movements.

"We instructed OSPRI to crack on with

making operational changes and fixed the

NAIT Act 2012 under urgency to bring its

search and inspection powers in line with

other Acts to ensure compliance officers

can do their jobs.

"Now we need to hear from those who use

NAIT every day to tell us what changes to

the law will make the system both a useful

business tool and effective biosecurity tool.

"At the heart of these proposals is a

shared desire by the Government, farming

industries and all New Zealanders to

improve NAIT to keep our primary

sectors safe and ensure those blatantly

disregarding the rules and putting the

rest of the sector at risk are penalised," the

Minister said.

The Ministry for Primary Industries

launched the regulatory consultation last

Tuesday morning at a technical briefing for

farming and industry stakeholders.

It looks at ways to tighten rules around

handling untagged animals, improve the

use of data, and align penalties with other

Acts to reflect the seriousness of noncompliance

with NAIT. It also discusses

longer-term improvements such as

including other species and specifying roles

for transporters and stock agents.

PROGRESSIVE

LIVESTOCK LTD

Dairy Heifer Grazing Wanted

Greater Canterbury Area. Long Term Weight Gain contracts.

Numbers to suit. Start December 2018.

My clients want well grown Heifers, and will pay for it.

Contact Steve Hill 0275 564 599

steve@progressivelivestock.co.nz

www.progressivelivestock.co.nz

Canterbury Ltd

• Quotations for water system designs and water testing

• Pipes, valves, fittings sales

• Filtration supply and installation

• Pump service, repairs and maintenance

• Bore flush and development

• Bore pump sales, servicing and maintenance

• We also sell, service and repair most

pump brands including sewage pumps

NEW LOCATION

551 Halswell Junction Road

0800 GRUNDFOS / 0800 478 633

OWN A REFURBISHED TUATARA AT

HALF THE PRICE OF NEW

$

12,995 .00

GST incl

For sales and service or

after hours service call

Jason 021 649 944

or Mike 021 560 044

www.pumps-filters.co.nz

FEATURES

• All-steel construction; • Huge carrying & towing

capacity; • Go anywhere capability; • Road registratable;

• NZ design & assembly;

Lifestyle fencing

now sold at canterbury timber

and Hardware

please call in for your free quote today!

new

product

Tuatara Machinery Ltd • 291 Weedons Ross Road

Tel. 03-347-4956 • Mob. 0274 770 070

www.tuataramachinery.co.nz

Your Local Timber Merchant

NEW ENTRANCE: 167 Manion Road, Rolleston

Jason Pester P 03 347 7465 F 03 347 7032 E jason@cthl.co.nz

Mon-Fri: 7am-5pm Saturday: 8am-12pm

canterbury

c t H timber & Hardware

We are here
---
SELWYN TIMES Latest Christchurch news at www.star.kiwi

Wednesday November [Edition 7 datE] 2018 433

SELWYN RURAL LIFE

Bees and pollination the

subject of new research

Lincoln University Ecology Professor

Steve Wratten, a recently announced James

Cook Research Fellowship recipient, will

address one of the major biodiversity

challenges facing the future of agriculture:

threats to bee populations and their

pollination efficacy.

"Agriculture has been called the biggest

ecological experiment on earth. This global

activity occupies 36 per cent of the earth's

arable land and contributes up to 40 per

cent of the GDP in developing countries,

but less than one per cent in developed

ones," Professor Wratten said.

"The idea of 'sustainable intensification'

is being advocated by the world's policy

makers: a system in which agricultural

yields are increased while minimising

adverse environmental impact. Agriculture

has inadvertent but major negative

consequences, including a severe impact

on biodiversity, human health and the

environment."

Professor Wratten will employ a vital

new approach to the understanding and

enhancement of pollinator populations. It

is based on the recent discovery that the

pollen of some flower species does not have

an appropriate ratio of nutrients for bee

health, particularly with respect to sodium.

This element, along with others such as

potassium, calcium, magnesium, and iron,

are vital for the health of pollinators.

"Currently, when floral mixtures are

selected to improve bee health, no account

is taken of the pollen nutrient composition,"

he said.

Professor Wratten will analyse the

chemical composition of pollens in a range

of plant species to assess their suitability to

bees and other pollinating insects. He will

also develop science-based drinking water

for bees, supplemented with a balanced

mixture of soil-derived minerals to provide

the nutrients appropriate for bee health.

These research methods also have the

potential to increase bee resistance to

pathogens and parasites, including the

Varroa mite, thereby addressing some of

the causes of bee population decline.

This novel approach employed by

Professor Wratten can provide world-class

management protocols for bees and other

pollinating insects for deployment in bee

keeping, and beyond.

"The project will serve the burgeoning

bee economy in New Zealand, an industry

which currently has approximately one

million honey bee hives but which has

suffered somewhat from a lack of focused

research for optimal management," he

said.

Selwyn Auto

ALL YOUR MOTORING NEEDS

› WOF's › Diagnostics › Repairs

› Servicing › Batteries › Tyres

› Motorbike WOF's & Repairs

› Courtesy Cars Available

Phone 329 5841 | 132 Leeston Road, Springston

www.selwynauto.com | office@selwynauto.com

• Bulk Cartage

• Fertiliser, Grains, Aggregates

• Blower Units for all Farm supplies*

*Ask for us when ordering

• Mini Readymix Concrete*

*up to 3m loads

• Civil Works & Site Excavations

• Bulk Liquids & Tractor Units

• All residential and light commercial drainage

• Septic Tank Systems • Alterations

• Excavations • Canterbury Wide • Free Quotes

M: 027 437 2468 | E: office@dynamicdrainage.co.nz | W: www.dynamicdrainage.co.nz

PO Box 86024, Rolleston West, Rolleston 7658

3 TRUCKS

3 CARS

3 LUBES

3 SERVICING

3 FLEET WORK

3 BOATS

3 DIESEL INJECTOR

3 & PUMP SERVICING

3 ENGINE TUNING

3 BRAKES

3 MAXXIS TYRES

3 WHEEL ALIGNMENTS

3 BATTERIES

3 WOFs

3 CAMBELTS

AND MUCH

MORE!

Mon-Fri 7am-5pm

Sat 8am-12pm (WOFs only)

839 Jones Road, Rolleston P.O. Box 16 Rolleston

Phone Simon on 347 7110 or Mobile 027 272 9213
---
44 Wednesday November 7 2018

Latest Christchurch news at www.star.kiwi

SELWYN TIMES

Your full-sized daily read

Available

from

7.30am

at . . .

• Beckenham Lotto and

News Agency, Sydenham

• Bishopdale Unichem Pharmacy

• Caltex Russley

• Fresh Choice Merivale

• Hagley Night & Day, Riccarton

• Hillmorton Superette, Halswell

• Kiwi Bookshop and Lotto,

Edgeware

• New World Bishopdale

• New World Fendalton

• New World Halswell

• New World Ilam

• New World Rolleston

• Paper Plus Bush Inn, Riccarton

• Paper Plus Barrington, Spreydon

• Paper Plus Hornby

• Paper Plus South City, Sydenham

• Piccadilly Books, Avonhead

• Relay, Christchurch Airport

• Pak'nSave Riccarton

• Templeton Convenience Store

• Whitcoulls Hornby

• Whitcoulls Merivale Mall

• Whitcoulls Northlands

• Whitcoulls Palms

• Whitcoulls Westfield Riccarton

• Whitcoulls South City

Sign up to our e-edition

A convenient exact replica of the newspaper in a digital format. View the ODT

e-edition on your desktop, tablet, laptop and smartphone (Apple IOS & Android).

To sign up, call our Circulation team

on 03-479-3555 OR email

circulation@alliedpress.co.nz
---
SELWYN TIMES Latest Christchurch news at www.star.kiwi

Wednesday November 7 2018 45

Classifieds Contact us today Phone our local team 03 379 1100

Auctions

clearing sale darfield

Saturday 10 November, commencing 10am

Onsite at 427 Kimberley Road, Darfield | Account Kay Stott

Farmall 1952 Model

M Tractor with interrow

cultivator, Yardman 38in

15hp ride-on mower,

Taylor round bale feeder,

pel harrows, 2 single drum

UFO mowers, 2 large silos,

augers, electric fence gear,

MF mower, transarc welder,

workshop tools, press etc,

hay sweep, gilbarco petrol

pump and tank.

Restored gigs including 4

person cee spring dog cart,

2x2 person gigs, 4 wheel 2

seat gig, full size fibreglass

horse, vintage carriage and

car parts, cream separators,

butter churn, hand operated

horse clippers, horse drawn

farm implements, palometer

vintage petrol pump, enamel

signs, 4 wool presses, wool

scales, antarctic horse hoof

covers and much more!

Viewing from 9am sale day and

Friday 9 November 2pm-4pm.

Outside entries are invited.

All enquires strictly to the auctioneers:

Simon (021 154 8281) or

Robert (021 441 103)

For more photos visit:

smithsauctions.co.nz

auction

Auctions

truck & machinery

liquidation auction

• Scania 6x4 Tractor Unit

• Scania 8x4 Tipper

• Scania 6x4 Tipper

• 2 and 3 axle tip trailers

• Domett B train trailers

• Sakai SW25 road roller

• Volvo ECR58D Excavator

• Hitachi EX100-5

Excavator with

attachments

• Komatsu 4 wheeler

bucket loader

• OMH precision soil screen

• 3 axle flatdeck semi trailer

• Mills Tui transport trailer

Monday 12 November at 2pm

Onsite at Trices Road (Sabys Road end)

auction

All enquiries contact Simon Hunter 021 154 8281

Viewing by appointment or on sale day from 12pm

Location - Trices Road (Sabys Road end) -

follow the signs on auction day

Photos: www.smithsauctions.co.nz

Select Services

building/decorating

Building and

Renovating

Solutions

Locally

based in

West

Melton

New Builds or Alterations

• Kitchens & bathrooms

• Painting & decorating – interior & exterior

• Roof painting

• Plastering, tiling, wallpapering

• Plumbing & electrical

• Maintenance - complete roof repairs,

leaky homes, weather board replacement,

brickwork

• Window repair & replacement

• Decking, pathways, driveways

Christchurch Building

& Decorating Ltd

Contact David & the Team on 0800 766 378

Email: clearwater.painting@xtra.co.nz

Reliable service, excellent results

Animals Livestock/

Supplies

Standing

graSS

WantEd

MIN 5 Acres

(03) 347 3479

Caravans, Motorhomes

& Traliers

CARAVAN Wanted to

buy. Up to $5000 cash

today 027 488-5284.

Curtains

www.curtainfabric-outlet.com

Fashion Designs & Colours

Discontinued Designs

End of Lines Bargain Prices

Call at Our Shop

CURTAIN FABRIC OUTLET

71 Hawdon St Sydenham

Ph 366-5026

Flatmates

FURNISHED ROOM.

Availnble for animal lover.

Forest walks, mountain

views. Ph 027 5533556

AUTO ELECTRICIAN

Ellesmere

Auto

Electrical

• Air Conditioning • Alternators

• Starter Motors • Wiring Repairs

• Diagnostics • Lighting • Batteries

Mobile Auto Electrician

022 644 9664

Farmlands Card Accepted

Firewood

DRY FIREWOOD

AVAILABLE

OLD MAN PINE, BLUEGUM

838 Jones Road, Rolleston

Phone yard 347 8622

or Andrea 021 222 8661

For Sale

FOR SALE

COnCREtE pipES

– vARiOuS SizES

225 dia x 2.5 long - $80.00 ea

300 dia x 2.4 long - $78.00 ea

375 dia x 1.2 long - $75.00 ea

450 dia x 1.2 long - $168.00 ea

Discount given for 4 or more

and 10 plus orders.

Contact Sharon Carrick

(Johnston Civil Ltd)

sharon@johnstons.net.nz

or (03) 324-3744

Pick up Leeston

Next season firewood at Spring

prices – Oldman pine, Macro,

bluegum & logmix.

Yard hours. Fri 8am – 5pm

Sat 8am – 12pm or by arrangement

For Sale

NEW COTTAGE

/ RELOCATABLE

BUILDING. 6.4m x

3.0m with kitchenette and

bathroom. Timber framed

with plywood cladding and

coloursteel roof. $36,000

ono. Viewing welcome

- located in Church Bay.

Please call Sarah 027 304

8243

ADD SOME

COLOUR

TO YOUR ADVERT!

carpet layer

CARPET

LAYER

45 YRS + EXPERIENCE

Repair, Uplifting,

Relaying, Restretching

All preparation work undertaken

*Also GARAGE CARPET

Phone John 027 208 7383

jandcbennett@xtra.co.nz

Funeral Directors

Non-Service Cremation $2,050

Just Funerals, a family owned and

operated company with qualified,

registered and experienced staff.

Other services also

available, please

call to enquire.

Phone 0800 804 663 - 24 Hour Availability

Email: info@justfunerals.co.nz

christchurch.justfunerals.co.nz

Cremations from $1995

Direct Service for Gold Cards,

Grey Power members or RSA

(normal price $2,350)

Not available with any other service.

*some conditions may apply.

Simple, affordable and dignified

Other services available

Freephone 0800 000 121

www.integritycremations.kiwi

SHELTERBELT TRIMMING

Boundary

Trimming

Call Tony Dempsey

Phone 03 325 3256

Mobile 0274 323 943

Gardening

& Supplies

MUSHROOM

COMPOST

$25 a Large Scoop

Sat 9am – 1pm

817 Springs Road

Lincoln Rotary Club

Fundraiser

Gardening

& Supplies

MUSHROOM Compost

$25 a Lge Scoop, Sat

9am - 1pm, 817 Springs

Rd, Lincoln Rotary Club

Fundraiser

Pets & Supplies

PUGS PUPPIES.

Pure breeds.Ph 027

5533556

Select Services

Medium

Squares

WATER FILTERS

CALL AQUA FILTER TODAY

For all of your Water Treatment needs

0800 426 426 | www.aquafilter.co.nz

vinyl laying

VINYL

LAYING *

*SPECIALISING

IN VINYL PLANK

Selection available or

customer supply

All floor preparation

undertaken

Contractors rates

Phone John 027 208 7383

jandcbennett@xtra.co.nz

McHale

Rounds

Conventional

Bales

Baleage - Hay - Individually Wrapped

THOMSON CONTRACTING

Storage

STORAGE

CONTAINERS

$35 pw. 350 Brookside

Rd, Rolleston. Brookside

Storage on Trademe. Ph

0210650934.

Call Michael or Jackie

Office 03 347 3479

Cell 027 228 9868

Garage Doors, Auto Openers,

EQC Quotes, Repairs and

Maintenance, One off Custom

Made Designs...

Select Services

Need a hand?

✤ Lawns & Edges

✤ Landscaping

✤ Gardening

✤ Hedge Trimming

✤ Handyman Jobs

✤ Casual or One Off

Phone Mike Lineton

022 341 8848

Your local

Selwyn District

GARDENER/

HANDYMAN

Showroom at

Larcombs Road and

Home Ideas Centre,

Mandeville Street

The genuine custom made

garage door professionals

EQC &

insuranCE

rEPairs

TyPEs of garagE doors:

Cedar Door, Glass & Acrylic doors, Flat Panel insulated range,

Pressed Panel Doors, Ribline doors, Tilt doors, Roller Doors,

flush mounted doors.

Proud to support your local community

Phone: 0800 661 366 • Fax: 03 347 8363

Factory: 276 Larcombs Road, R.D. 8 Weedons,

Christchurch

www.custommade.co.nz

9020599AA
---
46

Latest Christchurch news at www.star.kiwi

Wednesday November 7 2018

SELWYN TIMES

Classifieds Contact us today Phone our local team 03 379 1100

Trades & Services

Trades & Services

Trades & Services

Trades & Services

Trades & Services

Builder

BUILDers

"A local looking after locals"

• Licenced builder with 20 years

experience in renovations,

alterations and extensions

• A creative craftsman who is

attentive to detail

• Quotes the job, does the job

• Works with all budgets

Andrew Drewitt

Ph: 021 395 324

Email: ad_designs@hotmail.com

CONCRETE

CONCRETE

Specialising in in residential

& commercial finishes for all your

& & commercial concrete requirements finishes for including: for all all your

concrete Floor requirements slabs • Driveways including:

Floor Pads slabs • Patios Driveways

• Paths

info@consol2003.co.nz

Pads Patios Paths

www.consol2003.co.nz

info@consol2003.co.nz

www.consol2003.co.nz

Call John on

Call Call John John on on

027 227 8208

027 227 8208

Canterbury Canterbury owned owned owned and and and operated operated since since since 2003 2003

2003

DECORATORS

digga hire

Short and long term hire -

Flexible and competitive rates

1.5t - 25t Excavators & attachmEnts

0800 344 425

New Paint • Repaints

Wallpapering • Fences

Repairs • Feature Walls

Floor & Roof Painting

Spray Painting

Light Commercial

Restoring Timber

Selwyn based but service the whole of Canterbury

www.andertondecorators.co.nz

www.facebook.com/andertondecorators

027 724 6846 027 PAINTIN

Cnr SH1 & Weedons Ross Rd, Rolleston

Access from Manion Rd

Excavations

• Driveways

• Car Parks

• Site Cleaning

• Demolition

• Farm Tracks

• Drain Cleaning

• Stump & Hedge

Removal

• Ashpalt Concrete

Driveways

SWAINS

KIWI KERB

Over 22 Years Experience

Quality

Workmanship

• Driveways

• Kerb &

Channel

• Garden Edging

Phone: 0800 081 400

Mob: 0274 325 457

Wide range

oF TruckS

(Since 2005)

• Tennis Courts &

Swimming Pools

• Chip Seal Driveways

• Diggers – 2 Ton

up to 20 Ton

• Excavators

• Bobcat & Drilling

• For Posthole &

Fence hole

For a Free Quote

on your next project

Phone Steve on 021 338 247

or 325 7922

LANDSCAPING

Call Aaron &

the team today!

Free

QuoTe

For the Outdoor

Space of your

Dreams...

Paving, Irrigation,

Lawns, Planting,

Fences, Pergolas,

Water-features,

Outdoor fires,

Raised Vege beds,

Decks, Artificial

grass & more...

Phone: 03 347 4422

or 021 542 402

Email: Aaron@theoutdoorspace.co.nz

www.theoutdoorspace.co.nz

STOP BIRDS

hail, leaves, snow & vermin from

blocking & damaging your spouting

Quality materials: BHP Colorbond steel mesh with

unique patented louvre will even keep out pine needles.

Will not rust or sag with age or load. 10 year warranty,

range of colours.

Proven in Australia & New Zealand over the last 15 years.

FOR SAFE, PURE DRINKING

WATER FROM YOUR ROOF.

NOW AVAILABLE: STAINLESS STEEL

MICO MESH

Call Rohan anytime Mon-Sat for a

no-obligation assessment & quote

03 982 8850 0800 486532

www.gumleaf.co.nz

• Irrigation • Drainage • Driveways

• Auger Hole Drilling

• Land Clearing & Development

• Culvert Installation • Construction Site Works

• Tree & Hedge Removal • Concrete Breaker

Phone Mike: 027 272 8058 OR 03 324 4323 A/H

g.m.contracting@xtra.co.nz

www.gmcontracting.co.nz

BUILDING REPAIRS

GIB STOPPING | FENCING

YARD CLEARING / CLEAN UP

SMALL DIGGER WORK

DRIVEWAYS & CONCRETE REPAIRS

RC MAINTENANCE

no job too small

LifestyLe

LTD

ROSS CHESTNUT

ROSS Owner CHESTNUT

/ Operator

Owner / Operator

021 969 654

021 969 654

ross@rcmaintenance.co.nz

ross@rcmaintenance.co.nz

PO Box 92010

PO Box 92010

Farringdon, Rolleston

Rolleston 7650

BUILDING REPAIRS | GIBB STOPPING | YARD CLEARING / CLEAN UP

SMALL DIGGER WORK | FENCING | DRIVEWAYS & CONCRETE REPAIRS

BLock

fencing

new fencing, post driving,

repairs, maintenence.

Quality workmanship

& advice.

Phone Allan 021 049 6151

allan@agrifencenz.com

Facebook: agrifencenz

Lawn mowing

Hedge trimming

Gardening

Weed eating

Spraying

and much more

Call Todd

0212059543

toddmc.greenacres@gmail.com

Est

1979

Arthur's

Roof & Property

Services

Ph: 03 347 2635

DeMossing

Silicone Sealing

Pest Controls

Roof Repairs

Colourcoating

Cell: 027 584 7980

Email: apisl2008@slingshot.co.nz

www.arthursroofandproperty.co.nz

Trades & Services

UDI PAINTING &

DECORATING

For all painting and

decorating services.

Fully Qualified

• Interior &

Exterior Painting

• Wallpapering

• Plastering

• Roof Painting

All work guaranteed

FREE QUOTES

Contact Udi Aale

Ph. 021 074 2075

BUTCHER

SERVICE

Watkins Home Kill

Processing Beef, Pigs,

Sheep, Deer & Fish.

Smoking Bacon, Ham

and small goods.

Mobile slaughter service.

124 Burdons Road

Burnham

Phone Tim 347 6693

www.curtainfabric-outlet.com

Fashion Designs & Colours

Discontinued Designs

End of Lines Bargain Prices

Call at Our Shop

CURTAIN FABRIC OUTLET

71 Hawdon St Sydenham

Ph 366-5026

TAI TAPU TYRES

53 Main Rd Tai Tapu

Ph. 03 329 6767

Will better any

other quoted price

Stockists of Kumho, Goodride and

Petlas Tyres, for all cars, 4WD, bikes,

tractors and trucks.

ELECTRICIANS

Professional

Friendly Registered

Tradesmen available

for your Electrical

requirements today.

For immediate

quality service please

contact

services

Ph. 03 322 8454

www.skeltonelectrical.co.nz

• Lawns

• Hedges

• Sections

• Gardens

027 512 3166

steve@mrgreen.co.nz

mrgreenchristchurch

ROOF

PAINTING

Rope & harness

a speciality,

no scaffolding

required,

30 years of

breathtaking

experience.

FREE QUOTES

Exterior staining,

exterior painting,

moss and mould

treatment and

waterblasting

Phone Kevin

027 561 4629

Need a hand?

✤ Lawns & Edges

✤ Landscaping

✤ Gardening

✤ Hedge Trimming

✤ Handyman Jobs

✤ Casual or One Off

Phone Mike Lineton

022 341 8848

Your local

Selwyn District

GARDENER/

HANDYMAN

Heatpump

Cleaning

Is your heatpump

ready for wInter?

• Save power, Save Money

• Cleaner healthier air

• Friendly, professional

service

Bemer

Heatpump

Cleaning

Rob Spink

• 0800 423 637

• (A/H) 03 325 2713

spinkfam@xtra.co.nz

ACE HIGH

PLUMBING

All Plumbing

Gasfitting

Drainlaying

Blocked Drains

Log Fires,

Wetbacks

Gas Hotwater

Phone

021 454 864

PESt

coNtRol

• Spider proofing

& fly control

• all other pest

problems

Rob & Scott WaRloW

Servicing Selwyn Area Since 1987

Qualified & Experienced Professional

office: 03 337 9553

Rob: 027 436 1169

Scott: 021 168 6118

Member of Pest Management

Assoc. of NZ

BUILDER QUALIFIED

Decks, T & G Flooring,

Villa Restoring, New

Homes, Weatherboards.

Free Quotes. Bennet &

Sons Ltd Sam 027 496-

9362 or Tony 027 224-

0374

BUILDER

Qualified, licenced

and insured, bathroom

renovations, decks, re

roofing, ph Josh 020 400

96143

www.jmhbuilders.co.nz

CARPENTER

HANDYMAN

Small Job Specialists,

Carpentry, Repairs,

Decking & Maintenance,

40 years experience, no

job too small, Ph Warren

03 322-1103 or 027 697-

8541

CARPET & VINYL

LAYINg

Exp. Repairs, uplifting,

relaying, restretching.

Email jflattery@xtra.co.nz

ph 0800 003 181 or 027

2407416
---
SELWYN TIMES Latest Christchurch news at www.star.kiwi

Wednesday November 7 2018 47

Trades & Services

CONCRETE CUTTING

Affordable Concrete

Cutting with Quality, and

removal work. Free quote.

No job to small. Phone 027

442-2219, Fax 359-6052

a/h 359- 4605

FENCING

Quality timber fencing -

gates & repairs, ph Ryan

027 951 8892

Bellamy's

Furniture

Furniture made to

order and restoration

by tradesman with

35yrs experience.

PH Stephen

021 073 2624

Trades & Services

LANDSCAPING

Paving, Lawns, Irrigation,

Decking, Fencing.

Kanga & small digger

services. Check out Squire

Landscaping on facebook.

FREE QUOTES. Ph

Arthur 347-8796, 027

220-7014 Edwin 027 220-

7154

MASONRY

DAMAGED

MASONRY?? Rock and

Blocks Work Ltd for all

your brick, block and tile

laying needs. Friendly

service Licensed Building

Practitioner phone Devon

on 021 375-888 or 03 329-

5511

RJB PLUMBING

Renovations, New Houses,

Hot Water Cylinders,

Kitchens Bathroom

Upgrades, Laundries,

General Maintenance ,

Water Filters. Phone Mark

0278690026

ROTARY HOEING

Veggie gardens, new

sections, lawn laying. Ph

Dave 382-5779 / 027 673

0495

SPIDER & FLY

CONTROL

Fully certified professional

service. Call Zero Pests

022 507 3787 or 03 595

0422

STUMP GRINDING

Best price guarantee Tony

0275 588 895

TILING

Flooring - Splashbacks

-Wall incl tile removal, reg

master tiler, ph Dave 027

334 4125

WINDOW CLEANING

Brown & White Ltd.

Family owned since 2001.

Ph Paul 027 229 3534

RENT ME!

Ideal as an extra

bedroom or office.

no bond required

Classifieds

To Let

Fully insulated and double glazed for warmth.

Three convenient sizes from $70 a week:

Standard 3.6m x 2.4m

Large 4.2m x 2.4m | Xtra-large 4.8m x 2.4m

CASUAL SECURITY OFFICERS

Wanted various locations around the

Selwyn Area specifically Dunsandal

and Lincoln. COA preferable but not

essential and training provided. Roles

suit mature minded persons.

All applicants please email through

expressions of interest along with a

CV to stephen@alliedsecurity.co.nz

Wanted To Buy

AAA Buying goods

in Rolleston,Lincoln,

Prebbleton. Quality

furniture, Beds, Stoves,

Washing machines,

Fridge Freezers. Same day

service. Selwyn Dealers.

Phone 980 5812 or 027

313 8156

TOOLS Garden,

garage, woodworking,

mechanical, engineering,

sawbenches, lathes, cash

buyer, ph 355-2045

Public Notices

Selwyn

Arts Heart

AGM

November 12

6.30pm

Library Rolleston

Community

Centre

New members

welcome.

Find out about

supporting the

Arts in our area.

ROLLESTON

NETBALL CLUB

AGM

Wednesday

28th Nov, 2018

7.00pm

Rolleston Reserve

Tennis Pavillion

ALL WELCOME

Visit our website

www.justcabins.co.nz

for display cabin locations

www.justcabins.co.nz

Situations Vacant

Public Notices

WAIHORA

RUGBY

FOOTBALL CLUB

AGM

To be held at Te

Waihora Room, Tai Tapu

Community Centre on

Wednesday 21 st

November 2018

at 7.30pm

Any queries please contact

the Secretary at

secretary@waihora.co.nz

or 021 0245 1731

Public Notices

PLACES FOR OUT OF ZONE

ENROLMENT IN 2019

Enrolment at the school is governed by an Enrolment Scheme,

details of which are available from the School Office.

The Board has determined that up to six (6) places are likely

to be available for out-of-zone students for 2019. These are

offered in Years 1-3. The exact number of places will depend on

the number of enrolments received from students who live

within the schoolezone.

The deadline for receipt of applications is 4pm on Friday 16

November 2018. If a ballot is required it will be held on Tuesday

20 November, 2018.

Parents of students who live within the school zone and intend

enrolling their child at any time during 2019 should notify

the school by the above date also to assist the school to plan

appropriately. Students who live in the school zone are entitled

to enrol at the school and do not require to be balloted.

Application details are available from the school office.

office@springston.school.nz

Phone 03 329 5724

Springston School Board of Trustees

Contact us today

Public Notices

OUR SPACE 2018-2048 GREATER

CHRISTCHURCH SETTLEMENT PATTERN UPDATE

NOTICE OF DRAFT UPDATE FOR PUBLIC CONSULTATION

The Greater Christchurch Partnership (comprising Environment Canterbury,

Christchurch City Council, Selwyn District Council, Waimakariri District Council,

Canterbury District Health Board, Te Rūnanga o Ngāi Tahu and other public agencies)

has released a draft Greater Christchurch Settlement Pattern Update, Our Space

2018-2048.

The draft document outlines land use and development proposals to ensure there

is sufficient development capacity for housing and business growth across Greater

Christchurch to 2048. It complements the existing Greater Christchurch Urban

Development Strategy (UDS). The document has been prepared in order to satisfy the

requirement to produce a future development strategy, outlined in the National Policy

Statement on Urban Development Capacity.

The draft document and supporting information can be found on the Partnership

website www.greaterchristchurch.org.nz/ourspace

The draft document is available to view during ordinary opening hours at the:

• Civic Offices, 53 Hereford Street, Christchurch

• Selwyn District Council Offices , 2 Norman Kirk Drive, Rolleston

• Waimakariri District Council Offices, 215 High Street, Rangiora

• Environment Canterbury, 200 Tuam Street, Christchurch

• Libraries and other services centres in Christchurch City, Selwyn and Waimakariri

Districts

The public is invited to make submissions on the draft document as provided for by

Part 6 of the Local Government Act 2002.

Submitters should state if they wish to appear before a hearings panel to be heard in

support of their submission.

Consultation starts on 1 November 2018 and submissions can be made in writing,

electronically or in audio format. Submissions need to be received no later than Friday

30 November 2018.

You can do this:

• online at www.greaterchristchurch.org.nz/ourspace

• email ourspace@greaterchristchurch.org.nz

• mail to Our SPACE Consultation, Greater Christchurch Partnership, PO Box 73012,

Christchurch 8154

• hand deliver to Civic Offices, 53 Hereford Street

Public drop-in sessions have been organised during November in Christchurch,

Rolleston, Rangiora and Kaiapoi. Further details of dates, times and venues for these

information events are available at www.greaterchristchurch.org.nz/ourspace

For further information visit www.greaterchristchurch.org.nz or contact Keith Tallentire,

Partnership Manager, phone (03) 941 8950 or email ourspace@greaterchristchurch.org.nz

Vehicles Wanted

CHRYSLER VALIANT CHRYSLER VALIANT

car/ute/wagon wanted. car/ute/wagon wanted.

Please call/text Jaden Please call/text Jaden

0273 497 834. Anything 0273 497 834. Anything

considered.

considered.

Vehicles Wanted

Vehicles Wanted

CAR REMOVALS

$$CASH PAID$$

CARS, VANS, UTES

& 4X4 WANTED

NZ OWNED

AND

OPERATED

FOR

24 YEARS

We use world class vehicle

depollution systems

0800 8200 600

www.pickapart.co.nz

ADVERTISE YOUR BUSINESS HERE

Phone for further details

(03) 379 1100

Show

home

Guide

Homes by Parklane

"Standout Homes for an

Outstanding Price"

Flemington, Lincoln

6 Craig Thompson Drive

Wed to Sun 12pm - 4pm

Wigram

2 Harvard Avenue

Mon to Fri 9am - 5pm

Master Builders House of the

Year 2017 Gold Reserve Award

Winning Showhome

(03) 341 3000 or 029 201 2453

www.homesbyparklane.co.nz

Signature Homes

Rolleston

97 Ledbury Drive, Faringdon.

Open Wed to Sun 12noon – 4pm

Prestons Park

37 & 39 Prestons Park Drive

Marshland, Chch both Open Wed

to Sun 12noon – 4pm

Show Room/Office:

31 Watts Road, Sockburn

0800 8444 88 or 03 3427788

www.signature.co.nz

Jennian Homes Canterbury North

Rolleston

7 Lemonwood Drive, Faringdon

Wednesday to Sunday, 12pm to 4pm

Rangiora

9 Westpark Boulevard

Wednesday to Sunday, 12pm to 4pm

www.jennian.co.nz

David Reid Homes

Casebrook

New showhome coming soon:

2 Glenturret Drive

Prebbleton

80 Farthing Drive

Fri to Sun 12pm-4pm

Shane - 021 392 995 or

Krystal - 021 335 707

www.davidreidhomes.co.nz

To advertise in

The Showhome Guide

Contact Elaine: (03) 364 7436

elaine.moon@starmedia.kiwi
---
48 Wednesday November 7 2018

Latest Christchurch news at www.star.kiwi

SELWYN TIMES

Christmas Special

We really have got your farm covered!

Now we've got Canterbury covered too.

We have a full (in

house) design service

available and we will help

with the council consent

process. Recommended

Builders available in

Canterbury.

The Sheds4U team is taking care of all

your farm sheds, liveable sheds, and

other farm & lifestyle block construction

Basic Barns...

buy them by the Bay

Starting at only: $4,335 +gst

Additional Bays: $1,200 +gst

6.0m deep, 3.5m bays, 3.3m high

We've got New Zealand covered!

em: sales@sheds4u.co.nz

wb: www.Sheds4u.co.nz

Call the team today for a

FREE no obligation quote...

0800 86 20 10
---
WEDNESDAY, NOVEMBER 7, 2018

Locally Owned

www.star.kiwi

Man woken from fire

Garage blaze a close call for

sleeping neighbour

Garden award

Persistence earns Rolleston

couple win in competition

Page 4 Page 6

let's have the

best race day

ever!

The

biggest social week is upon us...

Whether you're planning a day out with

the girls, looking sharp with the boys or a

fun-filled family time, we've got super

specials to get you Cup Week ready!

SCORE

TWO OR MORE

LOOK OUT FOR

OUR SUPER SCORE

MULTI-BUY DEALS.

SIMPLY BUY TWO OR MORE

BOTTLES FOR

SUPER SAVINGS!

SCORE

MORE

OR TWO

SCO

SCO

OR

TWO

SCORE

TWO OR MORE

SCORE

$

31 99

each

SCORE

Single Bottle $34.99

MORE

OR TWO

SCORE

MORE

OR TWO

JÄGERMEISTER, ABSOLUT FLAVOURS, JAMESON 700ml

or RUSSIAN STANDARD, BELL'S, LARIOS, KAHLÚA, MALIBU, CHATELLE 1 Litre

Sorted

GIFT CARD

superliquor.co.nz

GIFT CARDS order online & instore
---
est

dressed

You can be the fashion front runner but still keep a cool head... That classic

kiwi lager goes hand-in-hand with a sharp suit, just chill and enjoy!

prawns

on the barbie!

To kick the day off right, don't

forget to eat... why not fire up the

barbie and get a bit-la-dee-da?!

Toss some fresh prawns on the

grill, you won't be dissapointed!

Then plate up, crack open a cold

one, and enjoy.

SPEIGHT

WAIKATO

24 x 330ml B

$

34 99

eac

go for the

beat

the odds

Celebrate in style with

barrel-aged Tennessee

Whiskey.

$

24 99

each

BOMBAY

SAPPHIRE

Every drop contains

10 hand-selected

botanicals from exotic

locations around the

world. They're then

gently vapour infused

to capture the bright,

vibrant flavours

1 Litre

$

37 99 $ 44 99

JACK DANIEL'S

Mellowed drop

by drop through

10-feet of sugar

maple charcoal,

then matured in

handcrafted barrels.

700ml

Includes Honey, Fire

prebig

win!

MILLIONAIRE'S

MARTINI

Stir 40ml gin and 40ml dry

vermouth together in an ice-filled

mixing glass until cool. Strain into

a chilled coupe glass and top with

Champagne or other sparkling wine.

gallop to

success

Make sure everyone's

satisfied and up your

cocktail game!

pre-rac

LONG WHITE

VODKA Range

10 x 320ml Bottles, 4.8%

GORDON'S G&T

12 x 250ml Cans, 7%

Be the first ou

ready t

CORUBA

10 x 330ml

$

25 99
---
STEINLAGER CLASSIC

24 x 330ml Bottles

HOT DEAL!

$

39 99

Perfect for sharing with your

favourite friends before the big race!

top race

drops

'S, SUMMIT,

or LION RED

ottles

h

e

mix

t of the gate with

o go RTD's!

hydration

station

Make the most of a long day with

a refreshing spritzer. Simply

combine 3 parts white wine and

1 part soda water in a glass with

ice. Fancy it up with a few dashes

of orange or lemon bitters and

garnish with an orange peel or

fruit of your choice.

WITHER HILLS

Range

Complex and full of

character – this range

captures the beauty of

Marlborough in a glass.

750ml

Includes Early Light Range

Excludes Pinot Noir

$

12 99

SCORE

TWO OR MORE

$

11 99

each

SCORE

Single Bottle $12.99

MORE

OR TWO

SCORE

SCORE

MORE

OR TWO

PETER YEALANDS

Range

Award-winning wines

that take their name

from their founder

and his passion

for innovation and

sustainability.

750ml

Excludes Pinot Noir, Syrah

& COLA

Bottles, 5%

THE NED Range

JULES TAYLOR

MADAM SASS

Born of the Waihopai

Valley, The Ned

Range

Pinot Noir

represents the vibrant

Consistently fine

Enticing wine, full of

diversity that is so

boutique wines

attitude, style and

prevalent in the

bursting with flavour,

extravagance. Decadent

Marlborough winegrowing

region.

everyday enjoyment.

dark cherry aromas are

outstanding for

blackberry and sweet

750ml

750ml

delivered with opulence,

Includes Sauvignon Blanc,

Includes Sauvignon

chalky tannins and

Pinot Gris, Rosé

Blanc, Pinot Gris,

complex oak spice.

Rosé, Chardonnay

$

15 99 750ml

$

19 99

$

21 99

RANGE

With all your favourite brands,

you'll find the perfect drink for

any occasion. Super sorted!

DEALS

Plus super value

every day.

EASY

150+ stores throughout

New Zealand, with super friendly

service. Super convenient!
---
standout

sparklers!

A blaze of colour, an outlandish hat or classic super style

– whatever your look for the day, make sure you have a

chilled bottle of bubbly to toast good company

...or if you're lucky, that race win!

CANTI

Prosecco

750ml

SCORE

TWO OR MORE

$

15each

Single Bottle $15.99

SCORE

MORE

OR TWO

SCORE

SCORE

MORE

OR TWO

make a

day of it !

Start the day right – with full bellies!

A scrumptious Champagne breakfast

is the way to go... Think croissants,

cream, jam and fruit, or go all out

with berries, banana and bacon on

pancakes for a delectable feast!

$

9 99

$

13 99

$

47 99

$

49 99

LEON

ROUX Brut

750ml

DA LUCA

Prosecco

750ml

LANSON BLACK

LABEL NV

750ml

PIPER-

HEIDSIECK Brut

750ml

150+ STORES NATIONWIDE, 100% LOCALLY OWNED & OPERATED

superliquor.co.nz | 0800 SUPERL (0800 787 375)

SUP1138_C17

Offers end close of trade 18th November 2018, while stocks last. Available at participating stores only.

Varietals may vary by store. Limits may apply. Trade not supplied. Terms and conditions may apply.

Available 5th November – 18th November 2018 inclusive. Please see www.superliquor.co.nz for details.

CANTERBURY: Amberley | Ashburton | Barrington | Belfast | Blenheim Road | Brighton | Brougham | Burnside | Collingwood | Colombo Street

Cromwell | East Street | Eastgate | Edgeware | Elmwood | Ferrymead | Halswell | Hanmer Springs | Hillmorton | Hornby | Ilam | Kaiapoi | Leeston

Lincoln | Lyttelton | Methven | Oxford | Pages Road | Papanui | Parklands | Rangiora | Seaside | Shirley | Wigram | Woodend | Woolston
---
tHe BeSt PRoPeRtieS AcRoSS

tHe SeLWYn DiStRict

INSIDE

PUBLiSHeD eVeRY WeDneSDAY

Week commencing WeDneSDAY, 7tH noVemBeR 2018

The 'cream of the crop' on Barton Fields

Positioned among other quality homes in the prestigious Barton

Fields, sits this grand 304m2 two storey home, with triple car

garaging & off-street parking for the boat or camper. Anyone

who enters this high spec'd property will be in awe of the high

studded ceiling, which adds to the feeling of space, & the

quality of fittings & finishing throughout. Boasting 2 living areas

downstairs, including a large open plan space which combines a

designer kitchen with WIP, 90cm oven, family living & a defined

dining area with lower stud to create intimate ambience. The

separate lounge can be closed off for quieter times in front of a

movie. The master suite is on the ground floor, with its en-suite

luxuriously finished with a tiled shower & under tile heating, plus

a generous WIR. This level also offers a separate laundry, sizable

study nook, walk-in linen room plus under stair storage. Heading

upstairs, you'll find 3 further bedrooms, one essentially being

a second master suite or guest room with its own WIR & dual

access en-suite/family bathroom with undertile heating. The

icing on the cake is a very handy third living space at the top of

the landing, which can accommodate another TV, small couch or

2 loungers. So, whether you're a professional couple who want

a stunning home just a short drive from the city, or if you need a

larger home for your family or to accommodate guests, then we

strongly urge you to view this one as it will be sold on or before

the deadline sale date of 6pm Wednesday 14th November. This

truly is the cream of the crop for those with impeccable taste.

DEADLINE SALE:

All offers to be presented

by 6.00pm, Wednesday

14th November 2018

(Unless sold prior)

Town & Lifestyle Real Estate Ltd

Licensed (REAA 2008) - Rolleston

Brendan 'Big Red'

Shefford

Contact:

Mobile: 027 224 4733

Sarah Booth

Contact:

Mobile: 027 527 8258

rwrolleston.co.nz/RLL24279

38 Carnaveron Drive, Lincoln Open Homes: Sat 1pm - 1.30pm & Sun 12.15 - 12.45pm
---
2

Hastings McLeod Limited Licensed under the Real Estate Agents Act 2008 rolleston@pb.co.nz 03 929 0306

PARK LIKE GARDENS WITH RUSTIC CHARM!

NEW LISTING

LEESTON

611 Leeston Dunsandel Road

Set on a 1759m2 mature and fully landscaped section,

escape the hustle and bustle while still only being a few

minutes drive from the charming Leeston Township.

Come and enjoy this beautifully presented 3 bedroom

home with open plan living which flows out to the

stunning park like setting full of rustic charm offering

your own slice of paradise and serenity. Featuring the

original tennis pavilion which has been used as a

workshop of recent times, it keeps the history of the

land through to the recent day.

The warm and inviting home features great heating

options with 2 heat pumps, a large log burner and HRV

so whether it be keeping warm in winter or cooler in

summer your options will be covered.

The three bedrooms in the home are all true doubles

and the master benefits with a walk in robe & access to

the main all in one bathroom as an ensuite. If a country

setting without the acreage is what you have been

searching for, then this property is a must to view.

Call Angela now!

WEB ID ROU64535

VIEW Saturday 10 Nov 1.45 - 2.15pm

DEADLINE SALE closes Wednesday 14th November,

2018 at 5.00pm, (unless sold prior)

Angela Hunt

Mobile 021 548 777

angela.hunt@pb.co.nz

DEADLINE SALE

3

1

2

STUNNINGLY DIFFERENT

NEW LISTING

ROLLESTON

23 Beaumont Drive

Packed with stunning features highlighted with stone

features and a well-designed interior offering high

ceilings this super-sized family home is set to impress.

• 4 bdrm plus study nook

• Tiled bathroom and ensuite

• Beautiful open plan kitchen/dining/living

• Entertainers delight with great indoor/outdoor flow

• Large 6.8m x 7.1m garage with drive through access

• 992m2 landscaped fully fenced section

• Double sided gas fire place in both living areas

Packed with features designed for ultra-modern living,

and not your average cookie cutter home, you will be

proud to call this your new home.

Call now to secure your chance to own this delight.

WEB ID ROU64761

VIEW Sunday 11 Nov 3.00 - 3.30pm

DEADLINE SALE closes Wednesday 14th November,

2018 at 12.00pm, (unless sold prior)

Sarah Yeates

Mobile 027 447 2719

Office 03 929 0306

sarahy@pb.co.nz

DEADLINE SALE

4

2

2

pb.co.nz
---
3

Hastings McLeod Limited Licensed under the Real Estate Agents Act 2008 rolleston@pb.co.nz 03 929 0306

7.86HA LIFESTYLE STARTS HERE!

NEW LISTING

PRICES VALLEY

2890 Christchurch Akaroa Road

Raise your family with the lifestyle you always dreamed

of: wide open paddocks, friendly chooks, pony rides,

character building farm chores and making huts. Enjoy

the warmer months outdoors in the beautiful gardens,

firing up the BBQ; stay snug in the winter with the wood

burner on wetback and large conservatory trapping the

daytime warmth. A perfectly placed spa pool on the

deck lets you marvel at the night sky all year round.

The solid construction of the 2+ bedroom cottage is

reinforced by new roofing, wiring and piling from its

relocation in the 1990's. More recent improvements

include an updated bathroom with wet room shower.

Whilst the cottage has been lovingly maintained, just

think of what could be created when you take

advantage of the lead lighting, built-in cabinets and

gorgeous wood panelling!

Is this your dream realised? Not many lifestyle properties

are set up to be so diverse in their offering and remain

an affordable option.

WEB ID ROU64684

VIEW 10 Nov 1.15 - 1.45pm & 11 Nov 11.00 -

11.30am

DEADLINE SALE closes Thursday 15th November,

2018 at 12.00pm, (unless sold prior)

Sarah Yeates

Mobile 027 447 2719

Office 03 929 0306

sarahy@pb.co.nz

Michael Robb

Mobile 027 436 7106

Office 03 929 0306

michael.robb@pb.co.nz

DEADLINE SALE

2

1

2

FAIRVIEW- CENTRAL CANTERBURY

NEW LISTING

HORORATA

15 Osbournes Road

An aesthetically pleasing property located in a quality

location approximately 50 minutes drive to Christchurch.

Variation of soil types and a strong baseline allow for a

wide scope of production choices, including but not

limited to Dairy support mixed cropping or finishing.

Significant infrastructure for a block of this size including

substantial cattle yards, woolshed and yards along with

numerous other sheds.

Generally reliable rainfall, solid production history and

quality shelter are defining features.

Property Brokers are privileged to showcase this versatile

opportunity and, on behalf of our Vendors, encourage

those searching for such to contact the listing agent to

arrange a viewing.

WEB ID DFR64702

VIEW By Appointment

DEADLINE SALE closes Thursday 29th November,

2018 at 1.00pm, (unless sold prior)

Matt Collier

Mobile 027 205 6626

mattc@pb.co.nz

DEADLINE SALE

pb.co.nz
---
4

Hastings McLeod Limited Licensed under the Real Estate Agents Act 2008 rolleston@pb.co.nz 03 929 0306

OPPORTUNITY KNOCKS!

OUTDOOR ENTERTAINING IS A BREEZE!

NEW LISTING

NEW LISTING

WEB ID ROU64653

DOYLESTON

1465 Leeston Road

Enjoying a mature setting of 4,361m2, you will love the

opportunity that this sizable 5-6 bedroom home offers.

The large home is spacious with open plan kitchen,

dining and living, plus a second very generous living

area. The grounds are established, sheltered and fenced,

offering a paddock either side of the home. There is also

a large garage/workshop with rear access and a 3/4 car

carport + extra off street parking. Multi zoned, this

property offers a variety of options or possible business

opportunities.

DEADLINE SALE

VIEW Saturday 10 Nov 2.45 - 3.15pm

DEADLINE SALE closes Thursday 22nd November, 2018 at

5.00pm, (unless sold prior)

Angela Hunt

Mobile 021 548 777

angela.hunt@pb.co.nz

5

2

4

WEB ID ROU64538

ROLLESTON

55a Park Lane

Roll on the summer evenings here and enjoy outdoor

entertaining whatever the weather! Sitting on a family

sized 793m2 section, this beautifully presented 4

bedroom, 2 bathroom property offers great privacy. The

open plan kitchen/dining/living is very spacious and ideal

for entertaining, great indoor outdoor flow to outside

area with Archgola and roll-down sides, overlooking the

sun-drenched North-facing gardens. To accommodate

the growing family there is also a handy separate living

room with dual access.

Call Angela today!

Angela Hunt

Mobile 021 548 777

angela.hunt@pb.co.nz

BUYERS $569,000+

4

2

2

Introducing

Angela Hunt

Property Brokers are excited to welcome

Angela Hunt to our True Team.

Angela brings many years of

outstanding 10/10 service to the sale

of her clients homes. If you want to

experience this exceptional service

and results call Angela Now!

Angela Hunt

Residential/Lifestyle Sales Consultant

M 021 548 777

E angela.hunt@pb.co.nz

pb.co.nz

Hastings McLeod Ltd Licensed REAA 2008

pb.co.nz
---
5

Hastings McLeod Limited Licensed under the Real Estate Agents Act 2008 rolleston@pb.co.nz 03 929 0306

THERE'S SOMETHING FOR EVERYONE!

CHARACTER-FILLED HOME

NEW LISTING

NEW LISTING

WEB ID ROU64553

ROLLESTON

140 Lowes Road

You'll find plenty of excuses to stay home when you

move in here! With the spacious kitchen featuring

excellent bench space, gas hobs and a lovely islandbreakfast

bar, cooking will never be a chore - just pop

outside to your raised vege garden for freshly picked

produce, right by the kitchen door! During the summer

you will want to keep both ranch sliders open to enjoy

the fresh summer breeze as you spend time relaxing on

your wrap-around patio or pottering around your

beautiful gardens.

VIEW Sunday 11 Nov 12.00 - 12.30pm

Sarah Yeates

Mobile 027 447 2719

Office 03 929 0306

sarahy@pb.co.nz

BUYERS $569,000+

3

2

3

WEB ID LEU64683

SOUTHBRIDGE

15 High Street

This gorgeous older-style residence is filled with

character and lifestyle advantages. And is set on

4047m2 of peaceful and tranquil park-like grounds. This

is a property to treasure!

The home offers 4 double bedrooms with built-in robes.

The kitchen/ dining area is the hub of the home and

shows off the beautiful timber cabinetry, joinery and

wall-panelling and there are french-windows leading out

to a private and sheltered veranda and outdoor

entertainment area.

View By Appointment

Penny Dadson-Clausen

Mobile 027 895 5943

Office 03 929 0306

pennyd@pb.co.nz

BUYERS $480,000+

4

2

3

WIN A

$

5,000

Splash out

on your property

this summer!

See how much your

property is worth by

requesting a FREE market

appraisal, and you could

WIN one of two $5,000

MITRE 10 vouchers.*

*Terms and conditions apply

SPLASH

Call us today on

0800 367 5263

to be in to WIN!

pb.co.nz
---
6
---
7
---
8
---
9
---
10
---
11
---
12

View Thursday 5:30 - 6pm

Saturday & Sunday 4 - 4:30pm

www.harcourts.co.nz/LN2236

Celebrating our Success!

at the Harcourts Canterbury Quarterly Awards

Hornby

On behalf of Four Seasons we would like to congratulate our teams for achieving top

results for Client Experience in the Canterbury Region (July - September 2018).

• Hornby Top office for Client Experience

• Rolleston 3rd office for Client Experience

Thanks to all our wonderful clients for your on going support and

entrusting us with your most valuable asset!

July - September 2018

Hornby Top office for

Client Experience

3rd Place

July - September 2018

Rolleston 3rd office for

Client Experience

Four Seasons Realty 2017 Ltd | Licensed Agent REAA 2008

Contributor to realestate.co.nz

harcourts.co.nz

Your home for local property
---
13

Four Seasons Realty 2017 Ltd | Licensed Agent REAA 2008

Contributor to realestate.co.nz

harcourts.co.nz

Your home for local property
---
14

www.harcourts.co.nz/RL2041

Your Real Estate Experience

matters to me!

Awarded 1st for Highest Client Experience in Canterbury

April - September 2018 Quarter 1 & 2 (Rated by Clients).

Thank you to all my clients.

To experience the best Canterbury has to offer

Caine Hopcroft

M 027 330 1002 P 03 347 1411

Four Seasons Realty 2017 Ltd | Licensed Agent REAA 2008

Your home for local property
---
M-A

MATSON & ALLAN

REAL ESTATE LIMITED

'The

Selwyn

Experts'

15

Residential

Lifestyle

Rural Property

Licensed REAA2008

ROLLESTON - 3 Slate Street

SLEEK AND STYLISH ON SLATE STREET

• Delightful and newly built home

• Solid low maintenance brick

• Large central living area

• Three double bedrooms

• Master with WIR and generous size ensuite

• Great indoor/outdoor flow to a private and secure

entertaining area

• Double glazing and Heatpump ensures good warmth

• 572m 2 secure and private section

• An absolutely meticulous property that represents

outstanding value

OPEN HOME

Viewing: Sun 12.45 – 1.15pm

Price: Neg Over $509,000

View: www.marealestate.co.nz/MA0447

Jackie Derrick Mb 027 636 3576

jackie@marealestate.co.nz

ROLLESTON - 8 Full Moon Lane

EPITOME OF LIVING WITH 4 CAR GARAGE

• Executive home built in 2018

• Two generous size living areas

• Stovax standalone fire place

• Large sliders to decked area

• Designer kitchen; granite benchtops & walk in pantry

• Designated dining and living

• Four double bedrooms

• Spacious master with large WIR and ensuite

• Standalone bath in the main bathroom

• Separate laundry and plenty of internal storage

• Private 820sqm, designated trailer or vehicle parking

OPEN HOME

Viewing: Sun 2.15 - 2.45pm

Price: Neg Over $749,000

View: www.marealestate.co.nz/MA0440

Jackie Derrick Mb 027 636 3576

jackie@marealestate.co.nz

ROLLESTON - 11 Reuben Avenue

OAMARU STONE CLASSIC ON 1435M 2

• Located in Branthwaite Subdivision

• 240m 2 (approx) Oamaru Stone home

• 3 bedroom, 1 bathroom and ensuite

• 2 x living areas with log burner & heat pump

• 2 car internal garaging

• North facing with veranda on two sides

• Freshly painted and new carpet throughout

• Newly laid ready lawn

ROLLESTON - 750 Weedons Road

TRANQUIL SETTING ON 3.8HA

• 3 bedroom home with stunning garden views

• 224m 2 double glazed home

• 2 large living areas, one opening onto front lawn

• Established garden setting & BBQ area

• Kitchen/living area with extra large windows

• 3+ car garaging & garden shed, 3-bay barn

• Well subdivided & sheltered 3.8 hectare property

located on Templeton Silt Loam soil

• Peace & tranquillity as soon as you drive up tree

lined drive

OPEN HOME

Viewing: Sun 3.00 – 3.30pm

Price: Neg Over $550,000

View: www.marealestate.co.nz/MA0445

Andrew Taylor 027 435 5930

andrew@marealestate.co.nz

Price: Neg Over $790,000

www.marealestate.co.nz/MA0448

Andrew Taylor 027 435 5930

andrew@marealestate.co.nz

ROLLESTON - East Maddisons Road

LARGE SECTIONS FOR SALE

• 11 x large 1000m 2 —1120m 2 lots

• Priced from $240,000

• 1 x 594m 2 price $185,000

• North facing aspects

• Fully serviced to boundary

• Internal boundaries fenced

View: www.marealestate.co.nz/MA0374

• Sensible covenants to protect your investment

KIRWEE - 12 Anson Street

HIDDEN GEM OF KIRWEE

• Quality built 200sqm home

• 2024m 2 of total privacy (two titles)

• 4 Bedroom and 2 bathrooms

• Open plan kitchen and dining

• 3 large living areas

• Log fire and heat pump

• Recent redecoration throughout

• Beautifully landscaped

• Heaps of garaging

• Separate area for a work from home option

Andrew Taylor 027 435 5930

andrew@marealestate.co.nz

OPEN HOME

Viewing: Sun 1.45 – 2.15pm

Price: Neg Over $549,000

View: www.marealestate.co.nz/MA0425

Paul Robinson Mb 021 277 2690

paul@marealestate.co.nz

ROLLESTON - 26 Moore Street

FIRST HOME BUYERS DELIGHT

• Delightful 4 bedroom home in the heart of Rolleston

• Beautifully renovated - just move in and enjoy this

home

• 2 living areas

• Log burner with wetback and a heatpump.

• Large secluded deck and private back yard area

• Ideally located - handy to the malls and school

• Priced in a range now almost impossible to find in

Rolleston.

• Don't be the one to miss out on this rare opportunity.

WEST MELTON - 209 Lawford Road

IRRIGATED 4 HECTARE WONDERLAND

• 4 bedroom plus office 300m 2 home

• Multiple living areas

• Sheltered outdoor living areas

• Very productive backyard including 80m2 tunnel

house

• Irrigation consented to 2032 at 9L/sec

• Established grounds

• Excellent outbuildings

• Sought after location

• Realistically priced

KIRWEE - 4 THOMAS STREET

EXECUTIVE STYLE IN KIRWEE

• Stunning 320m 2 executive style home

• 4 double bedrooms plus separate office

• Recently refurbished elegant kitchen and ensuite

• Open plan kitchen/dining with separate lounge

• Highly appointed low maintenance and fully

fenced

• Separate workshop

• Hugely popular central Kirwee location

DARFIELD - 1141A Greendale Road

YOUR PIECE OF PARADISE

• Large lifestyle family home on 6200sqm

• Beatifically decorated 233sqm home

• Log Fire with 2 heat pumps and additional heat

transfer system

• Converted double garage to super large games room

or work from home area

• Newly built 90sqm high studded implement shed on a

concrete base

• Awesome country living at its best

• Large bedrooms

• Chef's style kitchen with large gas hob

Viewing: Sun 2.00 – 2.30pm

Price: Neg Over $435,000

View: www.marealestate.co.nz/MA0401

Andrew Taylor 027 435 5930

andrew@marealestate.co.nz

OPEN HOME

OPEN HOME

Viewing: Sun 1.00 - 1.30pm

Price: Neg Over $925,000

View: www.marealestate.co.nz/MA0429

Andrew Taylor 027 435 5930

andrew@marealestate.co.nz

OPEN HOME

Viewing: Sun 2.30 - 3.00pm

Price: Neg Over $649,000

View: www.marealestate.co.nz/MA0451

Paul Robinson Mb 021 277 2690

paul@marealestate.co.nz

OPEN HOME

Viewing: Sun 12.30 – 1.00pm

Price: Neg Over $695,000

View: www.marealestate.co.nz/MA0403

Paul Robinson Mb 021 277 2690

paul@marealestate.co.nz

ROLLESTON PH: 03 347 9949 LEESTON PH: 03 324 3704 DARFIELD PH: 03 318 8204 www.marealestate.co.nz

Chris Flanagan

027 433 4657

Andrew Taylor

027 435 5930

Jackie Derrick

027 636 3576

Jo Barrett

021 859 006

Brendan Roxburgh

027 571 3983

Stephan Knowler

027 229 9522

Cameron McRae

027 769 6696

Paul Robinson

021 277 2690

Emily Newcombe

021 645 695
---
16

REAL ESTATE SPECIALISTS

24 Beaumont Drive, Rolleston

26 Doncaster Avenue, Lincoln

PRICE By NEGOTIaTION

Walk In, Unpack & Enjoy!

Thoughtfully designed with comfort and modern

family living in mind, this spacious four-bedroom

home exudes contemporary style. With quality

finishes and attention to detail present throughout,

this home boasts a sleek kitchen & an open plan

layout with a concealed study nook and a separate

formal lounge.

Four bedrooms are serviced by two bathrooms, one

of which is an ensuite off the master. Located in the

Flemington subdivision, buyers seeking a quality

home in a family orientated setting will gravitate

towards this home.

Don't delay, contact Mike now for more information.

41 Farnborough Way, Rolleston It's Got to Go!

UNDER OFFER! WE NEED MORE!

This lovely home received 4 offers within 3 days! Needless to say we have one very happy purchaser and several

disappointed buyers who missed out. Are you thinking of selling? Do you have a 4 bedroom, 2 bathroom family

home on 1000sqm or thereabouts?

If so, contact Mike or Elyse now – we have families who want to purchase NOW!

OFFERS OvER $393,000

Motivation is at an all-time high to get this SOLD!

Constructed just three years ago by the trusted team

at Golden Homes, this two-bedroom property offers

cosy and sun-filled living in the popular setting of

Faringdon.

Ideally suited to purchasers who are planning their

next stage of life and are looking to downsize, it could

be equally attractive to those wanting to get on the

investment ladder, or to those who are just starting

out. With open plan living and superbly positioned for

the sun this property is appealing in so many ways!

Do not delay, call us now to make this beauty yours!

68 Rolleston Drive, Rolleston

0800 645 346

www.oneagencyres.co.nz

Mike Goatley

027 249 5561

Stephen Ferguson

021 224 2000

Trevor McIvor

027 444 2814

Fraser Mackintosh

027 286 8161

Elyse Campbell

021 187 6217

Nicola Curtis

Administrator

Julz Sibbe

Administrator

Real Estate Specialists Ltd Licenced REAA (2008)
---
STAGES 1, 2A & 2B

NOW SELLING

www.boffamiskell.co.nz

PREmIum SECTIONS

www.bayleys.co.nz/556437

TOSSWILL ROAD

Images 26 artist impressions only

• stages 1, 2a and 2B selling now

• titles due mid 2019

• priced from $235,000

• sections ranging from 400m 2 to over 900m 2

• an easy commute to christchurch city via the

southern Motorway

32

31

27

1

30

25

28

23

29

House and Land

packages by Mike

Greer Homes.

5 7

Landscape Masterplan

2

21

24

3

1

19

22

6

20

4

8

16

10

12

9

15

11

14

13

34

CENTRAL AVENUE

FUTURE

RESERVE

COACHMANS ROAD

430m 2

700m 2

700m 2 700m 2 2

2

600m 2 69

460m 66 1:2,000 @ A3

2 5

BUPA SITE

400m 2

67

68

65

405m 2

400m

460m

64THE VILLAGE ESTATES | PREBBLETON

400m 2

63 LANDSCAPE MASTERPLAN

400m 2 | Date: 6 19 September 60 2018 | Revision: 4 |

400m 2

EXISTING

STORMWATER

Project Manager:

Ground 61 Capital by

jane.rennie@boffamiskell.co.nz

400m 2 | Drawn: 59

Plan prepared for New Boffa Miskell Limited

DR| Checked: KC

PONDS

62

400m 2

58

400m 2

50

57

54

5 460m 2

400m 2

49

55

455m 2

2

48

435m 2

405m

56

460m 2

53

405m 2 420m 2 1

7

47

52

445m 2

46 51

70 2

44

436m

400m 2

440m 2

45

650m

615m 2 Greer Homes.

32

29

9

6

715m 2

720m 2

31

650m 2

600m 2 5 7

505m 2

450m 2

41 43

500m

4

33

36 40

435m 2 445m

42

500m 2

2 500m 2

2

39

3

37

18

35 440m 2 445m 2

480m 2

2

38

17

71

450m 2

480m 2

19

780m 2 16

500m 2

34

21

20

665m

FUTURE

2

15

RESERVE

515m 2

23

22

14

645m 2

12 500m 2

25

24

640m

13

2

500m 2

700m 2

10

700m 2

27

26

645m 2

11

925m

House and Land

8

28

packages by Mike

600m 2 30

650m 2 715m 2

TOSSWILL ROAD

1

FUTURE

SUBDIVISION

PREBBLES DRAIN

CONDUCTORS ROAD

765m 2

3

2

745m 2

1

960m 2

77

400m 2

76

420m 2

75

72

455m 2 5 400m 2

73

405m 2 71

74 425m 2 400m 2

460m 2

70

4

0

60

60m

N

17

TOSSWILL ROAD,

PREBBLETON

= UNDER CONTRACT/SOLD

STATIONMASTERS WAY

FUTURE

SUBDIVISION

ChRIS JONES

M 027 220 5043

B 03 375 4700

chris.jones@bayleys.co.nz

www.boffamiskell.co.nz

NAThAN COLLETT

M 027 826 1535

B 03 375 4700

nathan.collett@bayleys.co.nz

www.chrisjonesbayleys.nz

www.facebook.com/chrisjonesbayleys

Whalan and partners ltd, Bayleys, licensed under the rea act 2008

NEW LISTING

Cottage

Broadfield 482 Hamptons Road

Hampton Lodge

Seldom does the opportunity arise to purchase a 2 hectare lifestyle property with two dwellings. Tucked away from

the road within a mature garden setting, this appealing property can accommodate the largest of families

comprising not only a spacious five-bedroom home but also a contemporary three-bedroom cottage with home

theatre. Outdoor living features a sunny deck, greenhouse, vegetable garden, pond with a jetty and BBQ area with

outdoor fireplace. Outbuildings include a studio with an enclosed workshop. Conveniently located midway

between Hornby and Rolleston with improving city access with the completion of the Southern Motorway late next

year. Perfect for those wishing to downsize from a farm, or large family requiring access to the city. Interested

parties are encouraged to act quickly if they wish to secure this once in a lifetime opportunity.

bayleys.co.nz/558591

5 2 2

Deadline Sale (unless sold prior)

1pm, Wed 28 Nov 2018

View Sun 1-1.30pm

Chris Jones 027 220 5043

chris.jones@bayleys.co.nz

Sam Sidey 027 346 3500

sam.sidey@bayleys.co.nz

WHALAN AND PARTNERS LTD, BAYLEYS, LICENSED UNDER THE REA ACT 2008
---
18

Accelerating success.

Reach more people - better results faster.

READY FOR YOUR LIFESTYLE DREAM!

FOR SALE BY DEADLINE PRIVATE TREATY closing Thu 29 November 2018 at 4pm (unless sold prior)

414 HUDSONS ROAD, GREENPARK, CANTERBURY

RURAL/LIFESTYLE

4.33 Hectares

(subject to title)

colliers.co.nz/210698

Bareland

section

Easy commute to

Christchurch

Services at

boundary

Entry level

lifestyle

Ruth Hodges

027 309 0334

Agri Realty Ltd,

Licensed under the REAA

ENTRY LEVEL LIFESTYLE HANDY TO LINCOLN

FOR SALE BY DEADLINE PRIVATE TREATY closing Thu 29 November 2018 at 4pm (unless sold prior)

428 HUDSONS ROAD, GREENPARK, CANTERBURY

RURAL/LIFESTYLE

9.3 Hectares

(subject to title)

colliers.co.nz/210700

Approximately

90m² cottage

Easy commute to

Christchurch

Entry level

lifestyle

Three bay shed

with lean-to

Ruth Hodges

027 309 0334

Agri Realty Ltd,

Licensed under the REAA
---
19

HANDILY LOCATED, WELL SET UP GRAZING BLOCK

FOR SALE BY DEADLINE PRIVATE TREATY closing Thu 29 November 2018 at 4pm (unless sold prior)

1001 STATE HIGHWAY 75, TAI TAPU

BARE LAND

55.8126

Hectares

3 bay shed and

cattle yards

colliers.co.nz/210719

Handy to

Tai Tapu

Ideal first

farm

Additional 15

hectares

Ecan land

Ideal for a first farm or suitable as an adjunct to an

existing operation. Additional Ecan land gives total

area of 70 hectares (approximately). Excellent farm

facilities with cattleyards, sheds, central lane and

older sheep yards.

Ruth Hodges

027 309 0334

Agri Realty Ltd,

Licensed under the REAA

EXCITING HORTICULTURE - HOME AND INCOME!

FOR SALE BY DEADLINE PRIVATE TREATY closing Fri 7 December 2018 at 4pm

3437 OLD WEST COAST ROAD, DARFIELD

HORTICULTURE

19.8295

Hectares

Horticultural and/or

contractor uses

colliers.co.nz/210913

Coolstore, multiple

sheds and workshop

Total shed space

of 1,373m²

Three bedroom

family home

plus sleepout

This is a unique opportunity to purchase a rural

property that is suitable for a wide and varied

range of horticultural and/or contractor uses with

its large range of sheds, irrigated paddocks and

Templeton soils.

Ruth Hodges

027 309 0334

Agri Realty Ltd,

Licensed under the REAA

colliers.co.nz
---
2

20

[Edition datE]

What to watch for when

the mode of sale changes

Buying a property is rarely straightforward,

which is no surprise given that it's the

biggest financial commitment most people

ever make. When you combine big sums of

money and a considerable level of emotional

investment, even the simplest transaction

can be stressful. We hear a lot about the need

for buyers to do their homework, but there

are plenty of reasons for sellers to be careful

too.

If you're selling a property with a real estate

agent, you must sign an agency agreement

that sets out all the terms and conditions

of your contract with them, including how

much commission they will earn from the

sale and how the property will be marketed.

That's why it's so important to get legal advice

before you sign an agency agreement. If it's a

standard agreement, you usually retain the

right to sell the property privately but it's a

good idea to check this. If you have signed

an agreement with an agency but decide for

whatever reason to opt for a DIY private

sale, you should double and triple-check

whether the agency agreement requires you

to pay commission to the real estate agent or

agency.

Most agencies use the Real Estate Authority

(REA) standard clauses in agency

agreements, which set out certain terms

and conditions for the contract and the

payment of commission. According to the

standard clauses, commission is payable if

the property is sold within the active term

of the agreement (normally 90 days) or if it

is sold privately within six months after the

end of the term to a buyer that the agent had

earlier introduced to the property. In other

words, if the buyer visits an open home run

by the real estate agent, and then enters into a

private sale with the seller within six months

after the end of the agreement, the seller is

still obliged to pay commission to the agent.

This can vary depending on whether it is

a sole or general agreement – talk to your

lawyer before you sign up.

Both sole agency agreements and general

agency agreements provide for commission

payments after the agreed period ends. If a

seller enters into a sale within six months of

the agency agreement ending with a buyer

who was introduced by the real estate agent

(or the agent facilitated the sale), then the

seller must pay the agent commission just as

they would have done when the agreement

was still current. So, if the agent brings a

potential buyer to a property in March, the

agency agreement expires in April, and the

seller and purchaser enter into a private

sale agreement in May, the seller will have

to pay the agent commission. The sale must

become unconditional (which is when all

the conditions of the sale and purchase

agreement have been met), but it doesn't

matter whether it goes unconditional during

or after the agency period, or during or after

the six months following expiry, so long as

the sale and purchase agreement is entered

into within those timeframes. So, before you

sign an agency agreement, ask the agency

if it uses standard REA clauses. If it doesn't

you may be exposed to more complicated

commission risks and you should seek legal

advice.

Generally, any issues arising from the agency

agreement/arrangements between the seller

and the real estate agent won't have a direct

effect on the separate sale and purchase

agreement between the seller and the buyer.

However, the wrangling involved may create

headaches or delays that you as a buyer

wouldn't want to be troubled with.

If you do decide that you're really keen on a

property in this situation, seek legal advice

before getting involved (and especially

before signing anything). Remember too

that the REA can help you with questions

and complaints about sales involving

licensed real estate agents, but it's unable to

step in if you have a problem with a private

and unlicensed seller.

For independent advice on buying or

selling property, check out settled.govt.nz.

NEW LISTING

Southbridge 61 Gordon Street

Duvauchelle Totara Drive

As one chapter closes,

another begins

• Set amongst a stunning, private and sheltered

country garden

• Appealing Grade II Heritage listed family home

• Rural - 3.1641 hectare of Waimakariri deep and

moderately deep silt loam soil

• An abundance of outbuildings including a threebay

shed (one lockable bay)

• Walking distance to Southbridge Primary School

and township

5 3 1 1

Deadline Sale (unless sold prior)

1pm, Wed 28 Nov 2018

View by appointment

Nicky Butler 027 751 1801

nicky.butler@bayleys.co.nz

Suzy McPherson 027 695 0519

suzy.mcpherson@bayleys.co.nz

WHALAN AND PARTNERS LTD, BAYLEYS, LICENSED REAA 2008

Totara Drive Estate - harbour

sections available

Totara Drive Estate is a peaceful, scenic harbour-side

development with 12 affordable titled sections

remaining priced from $140,000 to $210,000.

Situated just over an hour's drive from Christchurch

and close to the thriving seaside town of Akaroa

makes it just far enough away to be the perfect home

away from home location. The sections all have their

own unique feel and enjoying magical sea and harbour

views. Service connections available to all sections.

Price by Negotiation

Richard Innes 027 522 9598

richard.innes@bayleys.co.nz

Jeremy Gould 027 436 1581

jeremy.gould@bayleys.co.nz

WHALAN AND PARTNERS LTD, BAYLEYS, LICENSED REAA 2008

bayleys.co.nz/558704

bayleys.co.nz/552098
---
A large, quality home sited in a private and established

5021m 2 park-like se ting in the sought after Claremont

Estate on the boundary of Christchurch City.

The home features four bedr oms (master with

en suite and walk-in robe), open-plan kitchen, dining

and living along with formal dining, lounge and

conservatory. Great ind or outd or flow to a large

sheltered deck set in sprawling lawns and easy care

gardens with automated watering. Triple car garaging,

security gates, ducted heating, solar energy and

security system are just a few of the many extras on

offer with this property. There is a separate standalone

spacious office/studio that gives options for

those who require a dedicated work from home space

or alternatively, r om for a dependant relative.

Set amongst other quality homes on larger sections,

this property maintains a semi-rural f el whilst being

a short, easy commute into the city or ou to Ro leston.

Selwyn Times

Auction (unless sold prior)

Thursday 19 October, 2pm

411 Blenheim Road

www.pggwre.co.nz/DAR26164

Karen Hennessy

Contact:

Phone: 03 341 4301

Mobile: 027 967 0186

karen.he ne sy@p gwrightson.co.nz

W ek commencing Tuesday, 3Rd ocToBeR 2017

Brand new 'show stopper' with 4 car garaging

As always, this builder has finished his latest new build to

perfection, incorporating a l the 'must haves' and more for

the discerning buyer. Situated on a 12 0m 2 section, with

an established backdrop, the substantial 315m 2 fl or plan

provides the ultimate in family living options. The su ny &

spacious open plan living r om boasts a designer kitchen

with 90cms oven, stone bench tops & a walk in pantry,

together with define dining, living & study spaces that

The formal lounge als opens to the landscaped garden

& has a boxed high stud ceiling with sound speakers. A l 4

bedr oms are fabulously proportioned qu en sized r oms,

with the master suite providing the perfect parents' retreat

featuring an amazing dre sing r om with fu l wardrobe

system, a ditional storage & a beautiful tiled ensuite with

double tiled shower, fr estanding bath & twin vanities. The

family bathr om is equa ly elegant with a tiled shower &

twin vanities. Cosy up in front of the log burner, k ep your

toes warm with the under tile heating in the bathr oms &

k ep c ol or warm, as required, a the push of a bu ton with

2 heat pumps.

The home's practical layout also includes a walk-in linen

r om, a substantial separate laundry, a tic storage with

la der a ce s and last, but certainly not least, hugely sought

after 4 car garaging. From the moment you a proach this

premium property, you wi l a preciate what a privilege it

would be to be able to ca l it 'home'.

www.flemington.co.nz

DeaDline Sale:

Closing 4pm on Monday

11th June 2018

(unless sold prior)

rwro leston.co.nz/RLL23148

Town & Lifestyle Real Estate Ltd

Licensed (REAA 2 08) - West Melton

Sarah Booth

Contact:

Mobile: 027 527 8258

Brendan 'Big Red' Shefford

Contact:

Mobile: 027 224 4733

Lincoln - 03 325 7299

Ro leston - 03 347 9988

West Melton - 03 347 9933

THe BeST PRoPeRTieS AcRo S

W ek commencing WeDneSDAY, 23RD mAY 2018

Town & Lifestyle Real Estate Ltd

Licensed (REAA 2 08)

2

[Edition datE] 21

Your guide to all things Real Estate

in the Selwyn District

Check building covenants

before you purchase

Developers have a vision for their

subdivisions, which include the size, style

and landscaping of individual homes.

Such requirements will be written up in

a separate building covenant document.

As these address what might be built and

how a property can be used, it is important

to check these out before signing up for a

piece of land.

Covenants are conditions relating to

land ownership and use. Given they are

legally binding documents, you should

familiarise yourself with what is required

in terms of the home you will build and

also future living. Your solicitor should

also check this document.

Building covenants usually require

building work to be carried out in a safe

and tidy manner, and in line with Council

building consent standards. They will

also stipulate that care is to be taken

during building to ensure that public

spaces, infrastructure and facilities near

the site are not damaged. The impact of

construction on others living in the estate

will also likely be addressed.

In relation to the home to be built,

building covenants may address:

• the design and size of the home,

positioning on the section and whether

more than one storey is permitted;

• building height as well as roof pitch;

• whether any outbuildings are permissible

along with their siting;

• landscaping where viewed from the

street;

• location and style of driveways and paths

within street view; and

• fencing – boundary and within the

property (including distance from the

front of the section).

Your house design (including colours,

roof style and cladding types) along with

a landscaping plan, should be submitted

to your developer for approval before

building commences. It is a good idea to

do this before submitting plans to Council,

just in case changes may need to be made.

Covenants extend beyond the building

period, having validity after the ownership

of and responsibility for the subdivision

passes to the local Council. It is therefore

worth considering whether your lifestyle

will be impacted on, by the rules of the

area you are looking to live in.

While most covenants are reasonable

and logical, some are more specific.

Architecturally designed homes and only

some exterior cladding types may be

required. Often caravans, motorhomes

or trucks are not to be parked in view of

the street. There have also been cases in

certain developments where no vehicles

are to be parked on the street.

To ensure covenants are adhered to

during the building and landscaping

process, developers request a bond.

This may be around the $2,000 mark,

something to be budgeted for. Once

developer's approval and sign-off is

achieved, the money will be refunded,

unless there is damage to the footpath,

vehicle crossing, curbing or some other

aspect of public land, which has not been

remediated. In such a case, the bond

may be forfeited to reimburse the cost of

putting this right.

Checking out building covenants before

purchasing land will avoid any surprises

further down the track.

Fencing

styles will be

addressed within

the covenants.

Covenants

determine house

design, size and

height.

PUBLiSHeD eVeRY WeDneSDAY

THe SeLWYn DiSTRicT

INSIDE

Quality Home, Private Setting, Sought After Location

extend through sliding d ors to a large deck & covered 'al

fresco' entertaining area.

63 Rossington Drive, West Melton Open Home: Sunday 2.00pm - 2.30pm

EVERY WEDNESDAY inside Selwyn Times

Address: 19 Devine Drive, Templeton Open Home: Sunday 8 & 15 October, 1pm - 1.45pm

Get the power

of three offices

working for you

Your section hunt

starts here

New Falcon's Landing sales office open, 17 Branthwaite Drive, Ro leston,

Ray White Rolleston,

Lincoln & West Melton

Sales - Property Management - Loan Market

Residential - Lifestyle - Commercial

Thursdays, Fridays and Sundays from 1-3pm. Come, visit and share in our vision

for Ro leston. Or ca l us anytime 03 741 1340. Email enquiries@yoursection.nz

Get your messages into homes throughout

the Selwyn District.

Delivered to every home & rural letterbox

(also available at selected pick up points).

For full information on placing your

advertising call:

Lynette Evans

Ph 021 222 7831 | email: lynette.evans@starmedia.kiwi

Printed on

high impact

Gloss!

Selwyn Times dedicated to getting you outstanding results & making our district a better place to live.
---
2

22

[Edition datE]

Protecting your family's privacy and

security when holding an open home

When selling a property, many people

are uncomfortable with the idea of

strangers looking through their house

when they're not present. However,

holding an open home is often the best

way to show off the place to potential

buyers.

Welcoming house hunters (and let's

be honest, a few nosy neighbours) to a

property does come with privacy and

security risks that vendors should be

aware of – and plan for.

"It's natural for sellers to have concerns

about privacy and security – after all,

you're inviting complete strangers into

your family's home," says Real Estate

Authority (REA) Chief Executive Kevin

Lampen-Smith.

Lampen-Smith suggests sellers prepare

by taking note of any items of sentimental

or monetary value that should be removed

from the property.

"Think about items that could easily be

slipped into a pocket or handbag, such as

jewellery, silverware, small electronics or

even the prescription medication stored

in your bathroom cabinet. Tucking them

away in your sock drawer or under your

bed won't do the trick," Lampen-Smith

says.

Something that's often overlooked by

sellers opening their house to potential

buyers is the risk of identity theft. It might

sound far-fetched, but sellers who leave

important documents like passports,

bank statements or credit card receipts

lying around are leaving themselves

vulnerable. Lampen-Smith recommends

these sorts of documents be tidied away

and stored somewhere secure.

Next, do a digital sweep of the property.

The family PC or office desktop should

be switched off and password protected.

USB sticks or hard drives that are loaded

with personal information should also be

stored securely.

"While this might sound like plain

old common sense to many, I've heard

of a seller leaving a post-it note with the

house alarm code right next to the alarm,

for anyone to come back and deactivate

later," Lampen-Smith recalls.

Sellers should talk to their real estate

agent or salesperson about how the actual

open home will be conducted.

"Ask if there will be a sign-in register,

where visitors provide their name and

contact information when they arrive at

the showing. This is a helpful tool for the

agent when it comes to following up with

potential buyers, and, in the case that

something is damaged or stolen during

the open home, the information can be

passed onto police," Lampen-Smith says.

The agent is required to be present at

the viewing and shouldn't leave potential

buyers alone at the property. Ideally,

the agent should accompany visitors as

they tour the house, but this isn't always

possible if the showing gets busy. Sellers

could ask that a second person from the

real estate agency be on-site during the

open home, to greet visitors at the door,

ask them to sign in and wait until the

agent is free to show them through.

Sellers who still feel uneasy about

having an open home could ask the agent

to show the property 'by appointment

only' to potential buyers.

"There's no law saying you must have

an open home. Remember, it's your

house and ultimately you don't have to do

anything you're uncomfortable with," says

Lampen-Smith.

For more information about buying

or selling a property, visit settled.govt.

nz
---
23

this WEEk's

10.00am – 11.00am

12.30pm - 1.00pm

5.00pm – 5.30pm

11.15am - 11.45am

11.45am - 12.30pm

12.00pm – 12.30pm

12.00pm – 12.30pm

12.15pm – 12.45pm

1.00pm – 1.30pm

1.00pm – 1.30pm

1.00pm – 1.30pm

1.00pm - 1.30pm

1.00pm – 1.30pm

1.15pm – 1.45pm

1.30pm – 2.00pm

1.30pm – 2.00pm

1.45pm – 2.15pm

2.00pm – 2.45pm

2.15pm – 2.45pm

2.15pm – 2.45pm

2.15pm – 2.45pm

2.30pm – 3.00pm

2.45pm – 3.15pm

2.45pm – 3.15pm

thursday 8th NOVEMBEr

9 Clydesdale Way, Barton Fields Lincoln

Harcourts Hornby

9 Rempstone Drive, Halswell

Harcourts Rolleston

22 Chaucer Street, Rolleston

Harcourts Rolleston

saturday 10th NOVEMBEr

61 Stonebrook Drive, Rolleston

Harcourts Rolleston

15 Camden Street, Dunsandel

Harcourts Rolleston

15 Canberra Place, Redwood

Property Brokers

95a Neill Street, Hornby

Ray White Rolleston

7 Mahoe Street, Templeton

Ray White Rolleston

656 Springston Rolleston Road, Rolleston

Harcourts Rolleston

28A Wilson Street, Hornby

Ray White Rolleston

38 Carnaveron Drive, Lincoln

Ray White Rolleston

25 Kathleen Crescent, Hornby

Harcourts Rolleston

3 Birchwood Close, Prebbleton

Harcourts Hornby

2890 Christchurch Akaroa Rd, Prices Valley

Property Brokers

20 Caroline Way, Northwood

Ray White Rolleston

9 Trevor Street, Hornby

Harcourts Rolleston

611 Leeston Dunsandel Road, Leeston

Property Brokers

1086 The Lake Road, Leeston

Matson & Allan Leeston

1159 Goulds Road, Rolleston

Ray White Rolleston

11 Laguna Gardens, Shirley

Ray White Rolleston

22 Chaucer Street, Rolleston

Harcourts Rolleston

35 Riverstone Drive, Rolleston

Harcourts Rolleston

600 Sandy Knolls Road, West Melton

Ray White West Melton

1465 Leeston Road, Doyleston

Property Brokers

suNday 11th NOVEMBEr

12.00pm – 12.30pm 13 Rochester Crescent, Rolleston

Matson & Allan Rolleston

12.00pm – 12.30pm 17 Tiny Hill Drive, Rolleston

Ray White Rolleston

12.00pm – 12.30pm 30 Thames Drive, Rolleston

Property Brokers

12.15pm – 12.45pm 393 Dawsons Road, West Melton

Harcourts Rolleston

12.15pm – 12.45pm 19 Mountain View Place, Leeston

Matson & Allan Leeston

12.15pm – 12.45pm 38 Carnaveron Drive, Lincoln

Ray White Rolleston

12.15pm – 12.45pm 49a Shelley Street, Rolleston

Harcourts Rolleston

12.15pm –1 2.45pm 5 Forbes Road, Tai Tapu

Ray White Lincoln

12.15pm – 12.45pm 21 Harkness Place, Avonhead

Ray White West Melton

12.15pm – 12.45pm 212 Larcombs Road, Rolleston

Ray White Rolleston

12.15pm – 12.45pm 25 Lawrence Drive, Rolleston

Ray White Rolleston

12.15pm – 12.45pm 14 Te Waikare Street, Lincoln

Ray White Lincoln

12.30pm – 1.00pm 109 South Town Belt, Rakaia

Ray White Lincoln

12.30pm - 1.00pm 17 Coleridge Street, Rolleston

Ray White Rolleston

12.30pm - 1.00pm 9 Rempstone Drive, Halswell

Harcourts Rolleston

12.30pm – 1.00pm 1141A Greendale Road, Darfield

Matson & Allan Darfield

12.45pm – 1.15pm 4 Bronte Way, Rolleston

Matson & Allan Rolleston

12.45 – 1.15pm 9 Mountain View Place, Leeston

Matson & Allan Leeston

12.45pm – 1.15pm 3 Slate Street, Rolleston

Matson & Allan Rolleston

1.00pm – 1.30pm

3 Birchwood Close, Prebbleton

Harcourts Hornby

1.00pm – 1.30pm

656 Springston Rolleston Road, Rolleston

Harcourts Rolleston

1.00pm—1.30pm

1585 Clintons Road, Darfield

PGG Wrightson Real Estate Canterbury

1.00pm – 1.30pm

209 Lawford Road, West Melton

Matson & Allan Rolleston

1.00pm – 1.30pm

59 Clausen Avenue, Leeston

Matson & Allan Leeston

1.00pm – 1.30pm

57 Manse Road, Leeston

Matson & Allan Leeston

1.00pm – 1.30pm

6 Russell Street, Darfield

Matson & Allan Rolleston

1.00pm – 1.30pm

55a Park Lane, Rolleston

Property Brokers

1.00pm – 1.30pm

6 Loxley Place, Lincoln

Ray White Lincoln

1.00pm - 1.30pm

25 Kathleen Crescent, Hornby

Harcourts Rolleston

1.45pm - 2.15pm

1.45pm – 2.15pm

1.45pm – 2.15pm

2.00pm – 2.30pm

2.00pm – 2.30pm

2.00pm – 2.30pm

2.00pm – 2.30pm

2.00pm – 2.30pm

2.00pm – 2.30pm

2.00pm – 2.30pm

2.00pm – 2.30pm

2.00pm – 2.30pm

2.00pm – 2.45pm

2.00pm – 3.00pm

2.15pm – 2.45pm

2.15pm – 2.45pm

2.15pm – 2.45pm

2.15pm – 2.45pm

2.15pm – 2.45pm

2.15pm – 2.45pm

2.30pm – 3.00pm

2.30pm – 3.00pm

2.30pm – 3.00pm

2.30pm – 3.00pm

2.30pm – 3.00pm

2.30pm – 3.00pm

2.30pm – 3.00pm

2.30pm – 3.00pm

2.30pm – 3.00pm

47 Hungerford Drive, Rolleston

Harcourts Rolleston

12 Anson Street, Kirwee

Matson & Allan Darfield

26 St James Street, Southbridge

Matson & Allan Leeston

26 Moore Street, Rolleston

Matson & Allan Rolleston

22 Rossington Drive, West Melton

Ray White West Melton

8 Bluff Street, Coalgate

Matson & Allan Darfield

164 Lowes Road, Rolleston

Ray White Rolleston

14 Weston Way, Lincoln

Ray White Lincoln

9 Zabeel Street, Lincoln

Ray White Lincoln

1 Heathridge Place, Lincoln

Ray White Lincoln

8B Dewar Lane, Prebbleton

Ray White Lincoln

59 Masefield Drive, Rolleston

Ray White Rolleston

95 Neave Road, West Melton

Harcourts Rolleston

2/638 Leeston Road, Springston

Farmlands Real Estate

60 Branthwaite Drive, Rolleston

Ray White Rolleston

22 Chaucer Street, Rolleston

Harcourts Rolleston

94 Renoir Drive, Rolleston

Ray White Rolleston

8 Full Moon Lane, Rolleston

Matson & Allan Rolleston

15 St John Street, Southbridge

Matson & Allan Leeston

68 Rossington Drive, West Melton

Ray White West Melton

35 Riverstone Drive, Rolleston

Harcourts Rolleston

20 Allingham Lane, Rolleston

Ray White Rolleston

1 Carlyle Lane, Rolleston

Ray White Rolleston

4 Thomas Street, Kirwee

Matson & Allan Darfield

5 Diane Place, Rolleston

Harcourts Rolleston

207 Barrington Street, Somerfield

Ray White West Melton

61 Hamptons Road, Prebbleton

Harcourts Rolleston

1 Shelley Street, Rolleston

Ray White Rolleston

19 High Street, Southbridge

Matson & Allan Leeston

11.00am – 11.30am

11.00am – 11.30am

11.00am – 11.30am

11.00am – 11.30am

11.00am –11.30am

11.00am – 11.30am

11.00am – 11.30am

11.15am – 11.45am

11.15am - 11.45am

11.30am – 12.00pm

11.30am – 12.00pm

11.45am – 12.15pm

11.45am - 12.30pm

12.00pm – 12.30pm

2890 Christchurch Akaroa Rd, Prices Valley

Property Brokers

21 Victors Road, Hoon Hay

Ray White Rolleston

12 Siding Lane, Prebbleton

Ray White Lincoln

33 Navy Loop Rolleston

Ray White Rolleston

25 Greenaway Street, Halswell

Ray White Lincoln

12 Oakley Drive, Prebbleton

Ray White Lincoln

44 School Road, Tai Tapu

Ray White Rolleston

758 Sandy Knolls Road, West Melton

Harcourts Rolleston

61 Stonebrook Drive, Rolleston

Harcourts Rolleston

51 Bethany Road, Rolleston

Harcourts Rolleston

1621 West Coast Road, West Melton

PGG Wrightson Real Estate Canterbury

33 Carston Street, Leeston

Matson & Allan Leeston

15 Camden Street, Dunsandel

Harcourts Rolleston

4 Joy Place, Rolleston

Matson & Allan Rolleston

1.00pm – 1.30pm

1.00pm – 1.30pm

1.00pm – 1.30pm

1.00pm – 1.30pm

1.00pm – 1.30pm

1.00pm – 1.30pm

1.15pm – 1.45pm

1.15pm – 1.45pm

1.30pm – 2.00pm

1.30pm – 2.00pm

1.30pm – 2.00pm

1.30pm - 2.00pm

1.30pm – 2.00pm

1.30pm – 2.00pm

22 Ryelands Drive, Lincoln

Ray White Lincoln

405 Trents Road, Prebbleton

Ray White Lincoln

51B Moore Street, Rolleston

Ray White Rolleston

15 Royston Common, West Melton

Ray White West Melton

19 Jowers Road, West Melton

Ray White West Melton

10 Butler Court, Rolleston

Ray White Rolleston

9 Fairhurst Place, Rolleston

Ray White Rolleston

191 Brookside Road, Rolleston

Ray White Rolleston

2 Gainsborough Court, Rolleston

Ray White Rolleston

9 Trevor Street, Hornby

Harcourts Rolleston

73 Dynes Road, Rolleston

Matson & Allan Rolleston

9 Barley Mow, Leeston

Matson & Allan Leeston

500 East Maddisons Road, Rolleston

Harcourts Rolleston

33/28 James Street, Lincoln

Ray White Lincoln

2.45pm – 3.30pm

3.00pm – 3.30pm

3.00pm – 3.30pm

3.00pm – 3.30pm

3.00pm - 3.30pm

3.00pm – 3.30pm

3.00pm – 3.30pm

3.00pm - 3.30pm

3.00pm – 3.30pm

3.15pm – 3.45pm

3.15pm – 3.45pm

3.15pm – 3.45pm

3.15pm – 3.45pm

3.15pm – 3.45pm

465 Leeston Road, Springston

Farmlands Real Estate

13 Conductors Road, Prebbleton

Ray White Lincoln

105 Old Bridge Road North, Springston

Ray White Lincoln

64 Rossington Drive, West Melton

Ray White West Melton

79 Newman Road, Rolleston

Mike Pero Real Estate West Melton

11 Reuben Avenue, Rolleston

Matson & Allan Rolleston

4 Frame Crescent, Rolleston

Matson & Allan Rolleston

23 Dunlop Crescent, Rolleston

Harcourts Rolleston

13 Pakitki Street, Lincoln

Ray White Lincoln

67 Alston Road, West Melton

Ray White Rolleston

7 King Street, Doyleston

Ray White Lincoln

40 St James Street, Southbridge

Property Brokers

12 Bowen Street, Southbridge

Matson & Allan Leeston

40 Ledbury Drive, Rolleston

Ray White Rolleston

12.00pm – 12.30pm

12.00pm – 12.30pm

12.00pm – 12.30pm

12.00pm –12.30pm

12.00pm – 12.30pm

87 Strauss Drive, Rolleston

Matson & Allan Leeston

13 Ardrossan Way, Tai Tapu

Ray White Rolleston

19 Kingsdowne Drive, West Melton

Ray White West Melton

6 Edward Street,Lincoln

Ray White Lincoln

21 Lowes Road, Rolleston

Ray White West Melton

1.30pm – 2.00pm

1.30pm – 2.00pm

1.30pm – 2.00pm

1.30pm – 2.00pm

1.45pm - 2.15pm

43 Masefield Drive, Rolleston

Ray White Rolleston

8 Henley Close, Rolleston

Ray White Rolleston

25 Goldrush Lane, Rolleston

Ray White Rolleston

786 Weedons Ross Road, West Melton

Ray White West Melton

47 Oak Tree Lane, Rolleston

Harcourts Rolleston

3.30pm – 4.00pm

3.30pm – 4.00pm

3.30pm – 4.00pm

3.30pm – 4.00pm

4.00pm – 4.30pm

44 Shelley Street, Rolleston

Ray White Rolleston

5 McKellar Place, Hornby

Harcourts Rolleston

436 Southbridge Leeston Rd, Southbridge

Ray White Rolleston

1/842 West Coast Road, West Melton

Ray White Rolleston

2554 Bealey Road, Hororata

Harcourts Rolleston

For full details of all

Open Homes, please

contact the Real Estate

companies

RAY WHITE

ROLLESTON 03 347 9988

www.rwrolleston.co.nz

WEST MELTON 03 347 9933

www.rwwestmelton.co.nz

LINCOLN 03 325 7299

www.rwlincoln.co.nz

FARMLANDS www.farmlands.co.nz

FARMLANDS LINCOLN 03 325 2889

FARMLANDS LEESTON 03 324 3189

FARMLANDS DARFIELD 03 317 9070

HARCOURTS

www.fourseasons.harcourts.co.nz

HARCOURTS HORNBY 03 349 9919

HARCOURTS ROLLESTON 03 347 4711

MATSON & ALLAN

www.marealestate.co.nz

ROLLESTON 03 347 9949

DARFIELD 03 318 8204

LEESTON 03 324 3704

MIKE PERO ROLLESTON

03 347 1111, www.mikepero.com

PGG WRIGHTSON

CANTERBURY

03 318 7850, www.pggwre.co.nz

PROPERTY BROKERS

ROLLESTON

www.propertybrokers.co.nz

ROLLESTON 03 929 0306
---
24