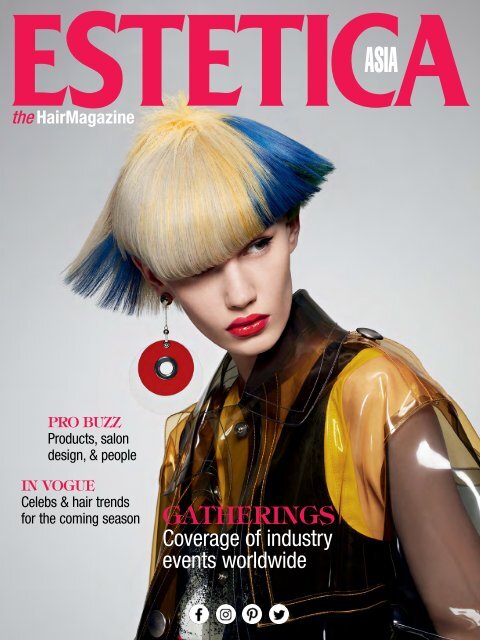 Estetica Magazine ASIA Edition (4/2018)
Estetica Magazine is the world's leading hairdressing magazine. Founded in Italy in 1946 and published today in over 60 countries around the world, it is a global reference point for professionals working in the hair and beauty industry. Techniques, fashion, education and trends are at the core of every issue of Estetica Magazine. Further information about both the printed and digital versions of the magazine is available at www.esteticanetwork.com
Estetica Magazine is the world's leading hairdressing magazine. Founded in Italy in 1946 and published today in over 60 countries around the world, it is a global reference point for professionals working in the hair and beauty industry. Techniques, fashion, education and trends are at the core of every issue of Estetica Magazine. Further information about both the printed and digital versions of the magazine is available at www.esteticanetwork.com

SHOW MORE
SHOW LESS
Create successful ePaper yourself
Turn your PDF publications into a flip-book with our unique Google optimized e-Paper software.
ASIA

the HairMagazine

PRO BUZZ

Products, salon

design, & people

IN VOGUE

Celebs & hair trends

for the coming season

GATHERINGS

Coverage of industry

events worldwide
---
Estetica n. 4/2018

contents

Publisher and

MANAGING Director

Roberto Pissimiglia

INTERNATIONAL

EditorIAL DIRECTOR

Sergi Bancells

sergi@esteticamagazine.com

EsteticaNetwork

Editor-in-Chief

Laura Castelli

l.castelli@estetica.it

International Editorial

Coordinator

Fatima Pilone

f.pilone@estetica.it

FEATURES EDITOR

Gary Kelly

estetica.uk@lineone.net

Editorial Staff

Alice Gioannini

adtraffic@estetica.it

Sales & PR Asia-Pacific

Luisa Barberis

Layout

Manuela Artosi

m.artosi@estetica.it

Davide Cardente

d.cardente@estetica.it

España

Sergi Bancells, Elisabet Parra,

Bel M. Dolla, Cristina Hernández

Deutsche Ausgabe

Michaela Dee

France

Stéphanie Argentin, Marie Coccoluto

UK

Gary Kelly, Maria Weijers

Italia

Lucia Preziosi

Glorianna Vaschetto

México-Latinoamérica

Sergi Bancells, Erika del Paso,

Héctor Ramírez, Ernesto Álvarez,

Karla Cuéllar, Fernando Farfán

USA

Sergi Bancells, Marie Scarano

DIGITAL

Matteo Franceschini Beghini,

Erica Balduini, Ludovica Cavalli,

Erika Marchese, Wilma Sommariva,

Valentina Stella

Looks Margaret Zhang 4

Design Timeless Chic 6

Vision Enhance & Empower 8

Events World Champs 72

Events Trend Vision Evolution 74

international trends

We All a Bob 17

International Hairdressing Awards 2019 48

Trendsetting

haircolours for

all occasions…

and everyday

looks!

Fabulous over-the-top industry shows

brimming with inspiration.
---
Margaret Zhang

Dick Lau is the genius behind many of Taiwan's cuttingedge

celebrity styles. Here's his take on photographer and

writer Margaret Zhang's colourfully creative hair journey.

Getty Images

Getty Images

Dick Lau is the founder and creative director of H-PARK and HEADLINE, two of the hair industry leaders and top

trendsetting salons in Taiwan. With more than 30 years' experience in the hair industry, Dick is the mastermind

behind the looks of countless Asian superstars such as Eddie Peng, David Tao, Gigi Liang, and Valen Hsu. Despite

being one of the country's top hair gurus, Dick retains a charming modesty and is always open to embracing new

techniques and international hair trends; this makes him popular with many luxury brands and fashion magazines,

working frequently in partnership with Chanel, Christian Dior, Vogue, Marie Claire, and Elle.
---
Getty Images

Getty Images

Margaret's

eye-catching hair

colour adds the

perfect compliment

to her strong

fashion statements.

Margaret Zhang is

a fashion influencer

extraordinaire,

with almost 1

million followers

on Instagram.

photos @margaret_zhang

DICK LAU ON... MARGARET ZHANG

"In the image top right, Margaret is wearing a totally on-trend leather tube dress with a denim jacket over

it: this outfit speaks volumes about the fact that she is a fashion influencer. She is so good at mix & match

using conflicting and contrasting fashion elements, textures and fabrics to create a personalised, edgy

style. This also shows off her uniqueness and individuality. With beautiful high cheek bones, an angular

face and full lips, Margaret's facial features make her look cool, girly and yet slightly boyish at the same

time. The pink-toned hair suits Margaret very well since the raspberry pink and smoky purple convey

both her avant-garde style while reflecting her soft and feminine side. The eye-catching colour also

becomes the main focal point and adds the perfect compliment to her strong fashion statements."

"She is so good at mix & matching

elements, textures and fabrics"

looks

5
---
Timeless Chic

Take a look at Nien is New's latest interior

design concept. Inspired by Italian style, it breathes

sophistication and customer appeal. Gary Kelly

6 design

One of the leading salon groups in the city of Da Nang, Vietnam, Nien is New offers for a discerning,

trend-conscious salon clientele. Airy and calm, it offers a tranquil oasis from the chaos of the city,

with wide open spaces for a sense of freedom and cleanliness. Exclusively Alfaparf Milano in terms

of haircare products, the interior generates timeless beauty that thanks to neutral colour with vibrant

colour accents combined with and the use of naturally-derived materials such as wood and stone.
---
Retail of beautiful, sought-after

Alfaparf Milano professional

hair products is a natural

succession from the luxurious

in-salon experience.

Natural elements with small and medium potted trees add to the vitality and spatial

correlation of the salon interior. Designed as a sanctuary where the high-class salon

clientele can both relax and engage in consultations with hair professionals, Nien is

New underlines its commitment to the well-being of its customers and staff alike.
---
Colormuse is Shiseido

Professional's new range of

direct dye color system: from

lush violets to charming pastel

pinks to edgy ash grey, color

variations are limitless.

Preston Tan @ Walking On

Sunshine (this page) and

Kelvin Lim @ M Nature Century

Square (right)

Products: Shiseido Professional

Enhance &

Empower
---
#WHATSYOURMUSE

"Inspire, create, color

your muse with an

infinite palette"

vision

9
---
10 vision

"Street-style

perfected in the

hands of experts

in their craft"
---
Hairstylists were given the freedom to

express their inspiration, using the

influencers' hair as a canvas to bring their

imagination to life. The collection aims

to provoke thought on the motivation

behind getting a hair color.

Linus Loh @ EX Style Sculpture (left) and

Ken Chong @ Salon Orient (this page)

Products: Shiseido Professional
---
Tapping into the creative acumen

and influence of expert

photographers, Shiseido

Professional has endeavoured to

bring out the persona of Colormuse

that is accessible, fun and inspiring.

Kason Kiu @ M Plus (this page) and

Kenzo How @ Shinka Ang Mo Kio

(right)

Products: Shiseido Professional
---
"Dear Stylists

& Colorists,

How would you

create your own

muse!?"

vision

13
---
Two exciting days of extraordinary shows, a nail-biting

competition and inspiring artist sessions were at the

heart of Global Zoom 2018 - Goldwell and KMS' much

anticipated and artistically renowned event. So it was

'Destination Toronto' for 3,000 passionate visitors.
---
Stylists from all over

the world came

together on September

30th and October 1st

to experience two

days full of creativity

and to share a lot of

inspirational moments.

One of the numerous

highlights of these two

impressive days was

the world premiere of

Goldwell's Color Zoom

'19 Collection R MIX.

EDUCATIONAL INSIGHT

Presented by the Color

Zoom Creative Team,

which included the

2017 Global winners,

R MIX gave an insight

into the technical

and creative aspects

of 2019 Color Zoom

trends. The Master

Design Team presented

the most fashionforward

designs from

Goldwell's signature

programme, focusing

on cut, styling and

E

E
---
colour. Global Cutting Ambassador Jay Mahmood and

the team showcased haircuts from the Master Stylist

Programme alongside Rodica Hristu, whose colour

expertise brought to life the Master Colorist Programme.

The KMS Style Council delighted the audience with initial

insights about STYLECOLOR. Across the two days, the

team showcased a variety of cuts and styles with amazing

colour effects to enhance the looks. The @Pure Pigments

Team, Rebecca Hiele and Lindie Blackwell, presented models

whose customised colours displayed unprecedented shine,

vibrancy and brilliance, displaying how @Pure Pigments

The event was co-hosted by VP & Global Creative Director of Kao

Salon Division, Goldwell and KMS, John Moroney: a true industry icon.

His experience as a platform artist, salon educator, salon owner,

and inspirational guru makes him a true educator of educators.
---
can be used within the daily salon routine. Mario Krankl, the world champion hairstylist, presented his unique

creations, up-dos and avant-garde styles during this fashion-forward Artist Session. Mazella & Palmer, who

are renowned globally in the salon industry for ground breaking education and artistry, took to the stage to give

insight into the inspiration behind the cutting and colouring techniques for some of their most iconic collections,

with incredible video concepts and live model demonstrations. The Color Zoom Hall of Fame award is dedicated

to recognising former Color Zoom winners who have used Color Zoom as a platform for advancing their career.

At this year's Global

Zoom Event the Gala

Show was initiated by

an Oribe-Cocktail-Party.

The guests had the

exclusive possibility to

immerse themselves into

the world of Oribe Hair

Care – the new member

of the Kao Salon

Division.
---
The 2018 Global Zoom Event opened its doors to hands-on hair demos at its Academy Sessions.

The Color Zoom Creative Team, which included the 2017 Global winners, gave an insight into

REMIX, presenting technical insights of the new 2019 Collection.

This year two winners were announced: Neil Barton from the UK and Rodica Hristu from Canada - both for their

dedication and mentoring of Color Zoom teams throughout the last decade.

COLOR ZOOM CHALLENGE

Stylists participating in three different categories (Partner, Creative & New Talent) interpreted the ELEMENTAL

Collection as they represented their countries at the Color Zoom Live Final:
---
CREATIVE CATEGORY

GOLD

Global

Bronze

Winner

SILVER

SHANGHAI

Salon: Mainstage

Name: Ng Chloe

HONG KONG

Salon: Salon Boku

Name: Daniel Wong Man Kit

MALAYSIA

Salon: The Editor Salon

Name: Lee e Kai

BRONZE

WENZHOU

Salon: Asalong

Name: Jimmy Yang

HONG KONG

Salon: Red Hill Shake

Name: Fred Chan Chun Lung

MALAYSIA

Salon: The Hair Tric

Name: Emily Ng Fong Fong

SHANGHAI

Salon: My Salon

Name: Amy Fan

HONG KONG

Salon: Rainbow Salon

Name: Alvin Ng Chun Yui

MALAYSIA

Salon: a+b Hair Studio

Name: Alice Boon Siew Wei
---
CREATIVE

CATEGORY

China

Hong Kong

Malaysia

Singapore

Taiwan

Vietnam

GOLD

SILVER

SINGAPORE

Salon: The Lawn

Hairdressing

Name: Zac Kam

TAIPEI

Salon: Flux Réel Boutique

Name: Sophie Hung

HOCHIMINH

Salon: Misu

Name: Nguyen Truong Thinh

BRONZE

SINGAPORE

Salon: Degree Hair Studio

Name: Jas Li

TAIPEI

Salon: Eak

Name: Henry Hou

HANOI

Salon: Ha My

Name: Tran Thi Thu Ha

SINGAPORE

Salon: Hairloom

Name: Terence Lai

TAIPEI

Salon: Cubex

Name: Weli Wang

HANOI

Salon: Pink House

Name: Nguyen Dac Hoc
---
NEW TALENT CATEGORY

GOLD

SILVER

FUZHOU

Salon: Ecloe

Name: Alvin You

MALAYSIA

Salon: The Editor Salon

Name: May Chang Chee Ling

SINGAPORE

Salon: Super Blades

Name: Paul Chong

BRONZE

CHANGSHA

Salon: Staroom

Name: Dong Zhou

MALAYSIA

Salon: The Editor Salon

Name: Ian Lee Jia Pei

SINGAPORE

Salon: Evolve Salon

Name: Ace Chai

SHANGHAI

Salon: Linga

Name: Ken Liu

MALAYSIA

Salon: Wenawave Salon

Name: Yip Pui Yian

SINGAPORE

Salon: Hairloom

Name: Mervyn Lee
---
NEW TALENT

CATEGORY

China

Malaysia

Singapore

Taiwan

Vietnam

GOLD

Global

Bronze

Winner

SILVER

CHIAYI

Salon: Perspace

Name: A Lon Hsu

HANOI

Salon: Cuong Hair

Name: Kim Van Cuong

BRONZE

TAINAN

Salon: K-Hans

Name: Ted Lin

HANOI

Salon: Nga

Name: Do Phi Hung

TAIPEI

Salon: PS

Name: Moon Tu

HANOI

Salon: Elite

Name: Pham Dinh The
---
PARTNER CATEGORY

GOLD

Global

Silver

Winner

SILVER

CHANGSHA

Salon: Staroom

Name: Ke Wen

HONG KONG

Salon: Captain Salon

Name: Sammi Yuen Chun

Wai

SINGAPORE

Salon: Starlight Salon

Name: Jacky Tan

BRONZE

HEFEI

Salon: Answers

Name: Max Hsu

HONG KONG

Salon: Red Hill Salon

Name: Ian To Chun But

SINGAPORE

Salon: Super Blades

Name: Jophy Tio

SHANGHAI

Salon: Shianglife

Name: Val Lin

HONG KONG

Salon: Blonde Hair Aesthetic

Name: Tasha Yip Pak Yan

SINGAPORE

Salon: Evolve Salon

Name: Sandy Yeo
---
GOLD

PARTNER

CATEGORY

China

Hong Kong

Singapore

Taiwan

On Sunday, September, 30th, 79 national finalists from

33 different countries, whereof 15 from Asia, competed live

and simultaneously before parading their finished looks on-stage

at the Gala Show in the evening.

The Show came to a close with the announcement of all three

global winners, all of whom had demonstrated astounding

hairdressing skills throughout the Color Zoom competition.

New Talent category: Nushka Barbosa, Netherlands

Creative category: Roos Topley, Netherlands

Partner category: Lieke Nijenkamp, Netherlands

SILVER

TAIPEI

Salon: Double H

Name: Hardy Tsai

Six more very talented artists were pleased about their Bronze

and Silver Awards. Three Winners come from Asian countries:

• A Lon Hsu from Taiwan won the Bronze Award in the New Talent

category – for young, creative colorists with less than five years

of professional experience.

• Ng Chloe from China won the Bronze Award in the Creative category

for color creations done by stylists with more than five years experience.

• Jacky Tan from Singapore won the Silver Award in the Partner

category for color creations designed by stylists who have already

worked for Goldwell since the last two years at shows or at seminars.

BRONZE

TAIPEI

Salon: Four

Name: Kenjin Huang

STYLISTS' FAVOURITE AWARD

Again Lieke Nijenkamp from the Netherlands (Partner category) won

the Stylists' Favourite Award, together with Nushka Barbosa from

the Netherlands (New Talent category) and Pedro Alvarez from Mexico

(Creative category). The special feature of these awards is that

anyone, anywhere in the world, is able to vote via an online platform to

choose their favourite entry in each category, from all of the National

Gold Winners. The Gala Show and Awards presentations ended

with the announcement that Global Zoom 2019 will be taking place

in the beautiful Austrian capital city of VIENNA.

TAIPEI

Salon: Flux Collection

Hair Boutique

Name: Minnie Kuo
---
MODA

INT'L

We

all

a

bob

Hair: Daniel Couch and Ashleigh Maybank

Photo: Richard Miles/Make-up: Lucy Flower

Styling: Leila Ali/Products: Wella Professionals
---
We

all

bob

a

And it's come a long way since the 1960s... from its origins signed Vidal Sassoon until

today. The "average" length par excellence more than a hairstyle is a contemporary

status. Lending itself to myriad interpretations. From the Lob (long+bob) with shoulderlength

locks, to the Wob (wavy+bob), dedicated to those who love texture. For the

genetically elegant there is the Pob (posh+bob), but for everyone the bob represents

just one absolute: freedom. To interpret, play with an image. The bob is independence.

Tutte pazze per il Bob. Che dagli Anni '60 ne ha fatta di strada... Dalle origini firmate

Vidal Sassoon ad oggi, la lunghezza "media" per antonomasia più che uno stile di

capelli è uno status contemporaneo. Mille le sfumature possibili. Dal Lob (long+bob),

con le lunghezze alle spalle, al Wob (wavy+bob), dedicato a chi ama il mosso. Per le

geneticamente eleganti arriva il Pob (posh+bob) ma per tutte il carré rappresenta un'idea:

essere libere. Di interpretare, giocare con l'immagine. Bob è indipendenza.

Alle stehen auf den Bob. Bereits seit den 60er Jahren sorgte er für Furore ...

Ursprünglich von Vidal Sassoon kreiert ist die "mittlere" Länge auch heute eher ein

zeitgemäßes Statement als nur ein Haarschnitt und bietet unendliche Varianten.

Vom Lob (long+bob) mit schulterlangem Haar bis zum Wob (wavy+bob), für alle, die

Bewegung lieben. Für alle, die auf Eleganz schwören, kommt jetzt der Pob (posh+bob),

doch letztlich steht auch dieser für die Idee, sich frei zu fühlen. Mit dem Aussehen

spielen und seinen eigenen Stil finden. Der Bob bedeutet Unabhängigkeit.

On en raffole de la coupe bol. Qui, depuis les années 60, en a fait du chemin. De sa

création par Vidal Sassoon à aujourd'hui, la longueur « moyenne », plus qu'un style,

c'est une façon d'être actuelle. Mille sont les déclinaisons. De la coupe Lob (long+bob)

avec longueurs aux épaules au Wob (wavy+bob) pour celles aimant l'ondulé. Pour les

élégantes nées, voici le Pob (posh+bob) mais, pour toutes, le carré, c'est une idée :

celle d'être libre. D'interpréter, de jouer avec l'image. Le bob, c'est l'indépendance.

Todas locas por el Bob. Que desde los años 60 ha recorrido un largo camino... De los

orígenes bajo la firma de Vidal Sassoon a hoy, la longitud "media", por definición, más

que un estilo de pelo es un status contemporáneo. Mil posibles matices. Dal Lob (long

+ bob), con largos a los hombros, al Wob (wavy + bob) movido. Para las genéticamente

elegantes llega el Pob (posh + bob) pero para todas, el carré representa una idea: ser

libres. Para interpretar, jugar con la imagen. Bob es independencia.
---
Hair: Rizos

Photo: David Arnal

Make-up: Pilar Lucas
---
Hair: TOM|CO. Creative Team

Photo: Mario Naegler

Hair: Sally Rogerson/Colour: Misty Weeks/Photo: John Rawson/Products: LaBella

Concept: Luigi Neri, Ernesto Spica/Photo: Fabio Munis

Hair: Ian Davies/Photo: Paul Gill

Products and Colour: Joico Europe

Artistic Direction: Carlo Di Donato& Dario Manzan @ Mitù

Photo: Lorenzo Sampaolesi/Products: Wella

Creative Direction:

Aldo Coppola, Stefano Lorenzi

Photo: Irina Lis Costanzo
---
Hair: Elle Schoemaker

Colour: Kristie Kesic @ Stelios Papas

Photo: Elizabeth Maleevsky

Make-up: Gemma Elaine

Styling: Kristie Kesic

We

all

bob

a
---
Hair: Michelle Diasinos

@ Academie Salon

Photo: Michelle Tran

Make-up: Mikele Simone

Styling: Jana Bartolo
---
We

all

bob

a

Hair: Alter Ego Italy

Colour: Alter Ego Italy

AkademÏa Artistic Team

Photo: Andrew O'Toole

Make-up: Silvia dell'Orto,

Daniela Galeazzi

Styling: Emanuela Mari

@ Day Dream
---
Artistic Direction: James Longagnani

Photo: Marco La Conte/Products: Wella

Hair: Chris Williams for Rush/Photo: Jack Eames

Hair: Kevin Kahan

Photo: Andrew O'Toole

Artistic Direction: James Longagnani

Photo: Marco La Conte/Products: Wella

Hair and Photo: Anthony Grant @ Jamie Stevens

Artistic Direction: Christine Margossian/Photo: Bruno Estatoff

Hair: David Siero @ Siero Hair Studio/Photo: Pedro Antunes

Hair: Kaizen Education/Photo & Creative Direction: Sal Misseri
---
We

all

bob

a

Hair: Sharon Tranter

Photo: Damien Carney

Make-up: Roque Cozette

Styling: Nikko Kefalas
---
We

all

bob

a

Hair: Gianluca Grechi @ Pucci

Photo: Dino Frittoli

Make-up: Angelo Nenna Pintor

Styling: Veronica Spadaro

Products: Davines
---
Creative Direction:

Sacha Mascolo for Toni&Guy

Artistic Direction: Cos Sakkas

Photo: Jack Eames

Styling: Sara Dunn

Make-up: Ian Nguyen

Products: label.m
---
We

all

bob

a

Hair: Sophie Bauçais, Jérémy Blanc,

Christophe Gaillet, Philippe Laurent,

Laurent Tourette, Eric Zemmour

Photo: Jules Egger

Make-up: Natacha Maillard

Styling: Aurore

Products: L'Oréal Professionnel
---
Hair: Andrea de Deugd/Photo: Elizabeth Maleevsky

Hair: Joey Scandizzo/Photo: Andrew O'Toole

Artistic Direction: Nilton Barros for Intercoiffure Brasil

Photo: Marco Massimo/Products: Aneethun, Vult

Hair: Travis Bandiera @ Royals Hair Sydney

Photo: David Mannah

Hair and products: KMS

Hair: Anzhelika Suvorova

Photo: Karen Kananian
---
Hair: Olga García

@ Olga García Estilistas

Photo: David Arnal

Make-up: Wilder Rodríguez

Styling: Eunnis Mesa
---
We

all

bob

a

Hair: Alexander Dinter

for La Biosthétique
---
We

all

bob

a

Hair and Colour: Fabien Provost,

Alexandrine Piel, Liam Oats

Artistic Direction: Fabien Provost

Photo: Adel Awad

Make-up: Faar by Alia

Styling: Chloé Dugast
---
Hair: Jesus Oliver/Photo: Chris Bulezuik

Hair and Colour: Roberto Perozzi @ RPH Salon

Photo: Takashi Imai

Artistic Direction : Michel Dervyn/Hair: Alexandre De Paris

Photo: Laurence Laborie

Hair: Richard Kavanagh/Photo: Steven Chee

Hair: Uva Salon

Photo: Ed Purnomo

Hair: Montibello Creative Team

Photo: Jens Grundmann

Artistic and Creative Direction: Christophe

Nicolas Biot for SoGlam!

Photo: Danilo Falà

Products: Wella
---
We

all

bob

a

Hair: Isabelle Mazé

Photo: Marine Leroy

Make-up: Denise Richard

Stylist: David Labrousse
---
Creative Direction:

Mauro Galzignato for Kemon

Hair: D. Carlucci, R. Rogari,

A. Candido, P. Baltieri,

D. Comandulli, D. Tworuschka

Colour: Matteo Sartini

Photo: Omar Macchiavelli

@ Aura Photo Agency
---
We

all

bob

a

Hair: Michelle Griffin

Photo: Richard Miles

Make-up: Lauren Mathis

and Lucy Flower

Styling: Clare Frith
---
Hair: Michael Albor/Photo: Adam Peterson

Concept: Felicitas Ordás/Photo: Esteban Roca

Products: Revlon Professional

Hair and Colour: Candice Mckay/Photo: John Rawson/Products: Davines

Hair: Alima Baz for Eugene Perma

Hair and products: KMS

Concept: Luigi Neri, Ernesto Spica

Photo: Fabio Munis
---
We

all

bob

a

Hair and Colour: Majer,

Plomes, Thompson

Photo: Elsa Okazaki

Make-up: Nino Allegro

Styling: Max Märzinger
---
Hair: Elle Schoemaker

Colour: Kristie Kesic

@ Stelios Papas

Photo: Elizabeth Maleevsky

Make-up: Gemma Elaine

Styling: Kristie Kesic
---
Hair and Colour: Chad Demchuk @ Michael Flores Salon/Photo: Tom Carson

Hair: Carlos Ramos

Photo: G + K

Hair: Chris Williams @ Rush

Photo: Jack Eames

Hair: Ceri Cushen & Katy Brereton

@ Metropolis hairdressing/Photo: Robert Masciave

Hair: Robert Eaton/Photo: Richard Miles

Hair: Ryan Humpage/Photo: Jamie Blanshard

Hair: Hooker & Young Art Team/Photo: Michael Young

Hair: Chris Tsiknaris @ Tsiknaris Hair

Photo: Anniss+Barton
---
Hair: Sophie Chandler & Michael

Rackett for Rush

Photo: Alessandra Cecchini

Make-up: Kelly Mendiola

Styling: Magdelena Jacobs

We

all

bob

a
---
We

all

bob

a

Creative Direction:

Lachlan McPherson

Hair: Richard Kavanagh

@ Rodney Wayne

Photo: Steven Chee
---
Hair: Compagnia della Bellezza
---
We

all

bob

a

Hair: Anna Barroca

Photo: David Arnal

Make-up: Wilder Rodriguez

Styling: Aaron Gil
---
Hair: Sandra Faiva/Photo: Gresson Gastar

Hair: Sandro Macri @ Salon Collage/Photo: Giancarlo Intini

Hair: Dean Bradwell/Photo:John Rawson

Hair: Chrystofer Benson/Photo: John Rawson

Hair: Reno Prezio @ Bellus Academy/Photo: Natasha Gerschon

Hair and Concept: Kobi Bokshish @ Intershape

Photo: David Mannah
---
We

all

bob

a

Hair: Elise Antoine @ Mylord Coiffure

Photo: Weronika Kosinska

Make-up: Izabela Szelagowska

Styling: Waleria Tokarzewska-Karaszewicz
---
Hair: Goldwell Color Zoom '19

Creative Team

Photo: Ralph Mecke

Make-up: Loni Baur

Styling: Ingo Nahrwold
---
The finalists 2019

Celebrating the 15 finalists of the 1st edition of the International Hairdressing Awards, set to take place

in Madrid on February, 3rd 2019. It will be the great night of global hairdressing, with a grand runway show

featuring Sassoon, Toni&Guy, Sanrizz, X-Presion, Beauty Underground, Revlon Professional Global Artistic Team

and Mikel Luzea. Main sponsors of the IHAwards are Revlon, Revlon Professional & Salon Look-IFEMA, with

Estetica as Global Media Partner; Beauty Underground and Takara Belmont also sponsor the awards.

Festeggiamo i 15 finalisti della 1 a edizione dell'International Hairdressing Awards, in programma a Madrid il

3 febbraio 2019. Sarà la notte dedicata ai parrucchieri, con una grande sfilata di Sassoon, Toni&Guy, Sanrizz,

X-Presion, Beauty Underground, Revlon Professional Global Artistic Team e Mikel Luzea. I principali sponsor

degli International Hairdressing Awards sono Revlon, Revlon Professional e Salon Look-IFEMA con Estetica come

Global Media Partner; tra gli altri, anche The Beauty Underground e Takara Belmont sponsorizzano i premi.

Am 3. Februar 2019 findet in Madrid die Feier der 15 Finalisten der ersten Ausgabe der International

Hairdressing Awards statt. Erwartet wird eine großartige Nacht des weltweiten Friseurhandwerks mit einer

großen Modenschau unter Mitwirkung von Sassoon, Toni&Guy, Sanrizz, X-Presion, Beauty Underground, des

Revlon Professional Global Artistic Teams und Mikel Luzea. Die Hauptsponsoren der International Hairdressing

Awards sind Revlon, Revlon Professional & Salon Look-IFEMA, Estetica als Global Media Partner; The Beauty

Underground und Takara Belmont, wobei die beiden letztgenannten auch die Preise sponsern.

Célébration des 15 finalistes de la 1 e édition des trophées International Hairdressing Awards qui se déroulera

le 3 février 2019, à Madrid. À l'affiche sur la passerelle de cette magnifique soirée de la coiffure internationale :

Sassoon, Toni&Guy, Sanrizz, X-Presion, Beauty Underground, Revlon Professional Global Artistic Team et Mikel

Luzea. Les principaux sponsors des International Hairdressing Awards sont Revlon, Revlon Professional et Salon

Look-IFEMA aux côtés d'Estetica comme partenaire média mondial. Beauty Underground et Takara Belmont

sponsorisent eux aussi l'événement.

Celebramos a los 15 finalistas de la 1ª edición de los International Hairdressing Awards, que tendrá lugar en

Madrid el 3 de Febrero de 2019. La gran noche de la peluquería global tendrá un show en pasarela con Sassoon,

Toni&Guy, Sanrizz, X-Presion, Beauty Underground, Revlon Professional Global Artistic Team y Mikel Luzea.

Los main sponsors de los IHAwards son Revlon, Revlon Professional y Salon Look-IFEMA, con Estetica como

Global Media Partner; Beauty Underground y Takara Belmont también esponsorizan los premios.

Mikel Luzea, founder and director of the International Hairdressing Awards
---
The awards of the Awards

www.ihawards.com
---
Best international

Women's Commercial

Collection

Morgan Richards

australia

Title: Avant Minuit / Author: Morgan Richards / Styling: Lydia-Jane Saunders, Kathryn Bloom

Makeup: Charlotte Revet / Photo: Anniss+Barton
---
Rick Roberts

United Kingdom

Title: elysian / Author: Rick Roberts / Styling: bernard connolly

Makeup: abbie beautement / Photo: desmond murray
---
Best international

Women's Commercial

Collection

steven Smart

United Kingdom

Title: Raw / Author: STEVEN SMART / Styling: BERNARD CONNOLLY / Makeup: DEBRA SMART / Photo: RICHARD MILES
---
Best international

men's Commercial

collection

Jim Shaw

United Kingdom

Title: Decade / Author: Jim Shaw / Styling: Bernard Connolly / Makeup: Rose-anna Velin / Photo: Tony Le-Britton
---
Best international

men's Commercial

Collection

Mio Sota

USA

Title: Beneath the Surface / Author: Mio Sota / Styling: Mio Sota / Makeup: Melissa Musseau / Photo: John Rawson
---
Terri Kay & Andrea Giles

United Kingdom

Title: Tailored / Author: TERRI KAY & ANDREA GILES @ MARK LEESON / Styling: Bernard Connolly

Makeup: Lan Nyguen Grais / Photo: Richard Miles
---
Best International

Avant-Garde

Collection

Kylie Hayes

New Zealand

Title: Marvel / Author: Kylie Hayes / Styling: Milana De Mina / Makeup: Lizzie Sharp / Photo: Carl Keeley
---
Natallia RotmanovA

Belarus

Title: New Icon / Author: Rotmanova Natallia / Styling: Golacheva Marina

Makeup: Golacheva Marina / Photo: Korabkova Nadezda
---
Best international

avant-garde

collection

Sylvestre finold

United Kingdom

Title: LAUREN / Author: SYLVESTRE FINOLD @ TONI&GUY / Styling: PHONIX / Makeup: Simon James / Photo: Kevin Luchmun
---
International Artistic

Team of the Year

SACO HAIR

United Kingdom

Title: RAW / Author: SACO HAIR / Styling: TANI ZEKOUT / Makeup: MARCO ANTONIO / Photo: DAVID OLDHAM
---
International Artistic

Team of the Year

RUSH Hair

united kingdom

Title: LOST REBELS / Author: RUSH ARTISTIC TEAM / Styling: ROBERT MORRISON

Makeup: KRISTINA VIDIC / Photo: JACK EAMES
---
X-presion

spain

Title: FX Collection / Author: X-presion / Styling: Manuela Mazzeti / Makeup: Barbara Bonaza / Photo: Steffano Cattelan / Products: Fudge Professional
---
International

Hairdresser

of the Year

angelo Seminara

australia

Title: TATAMI / Author: Angelo Seminara / Styling: Niccolo Torelli / Makeup: Laura Dominique / Photo: Andrew O'Toole / Products: Davines
---
Detlef Gehlhaar

germany

Title: Colorhythm / Author: Detlef Gehlhaar / Styling: Heiko Pallach

Makeup: Sabine Oberhuber / Photo: Anja Frers
---
International

Hairdresser

of the Year

petra mechurova

Czech Republic

Title: I AM / Author: PETRA MECHUROVA / Styling: PETRA MECHUROVA / Makeup: IAN NGUYEN GREALIS / Photo: JOHN RAWSON
---
follow us on:

ITALY

estetica.it

facebook.com/estetica.it

USA

esteticamagazine.com

facebook.com/EsteticaUSA

UK

esteticamagazine.co.uk

facebook.com/EsteticaUk

FRANCE

esteticamagazine.fr

facebook.com/EsteticaFrance

GERMANY

esteticamagazine.de

facebook.com/EsteticaDeutscheAusgabe

SPAIN

esteticamagazine.es

facebook.com/EsteticaModacabello

LATINA

estetica-latina.com

facebook.com/EsteticaModacabelloLatina

THE NETHERLANDS

esteticamagazine.nl

facebook.com/EsteticaNetherlands

RUSSIA

esteticamagazine.ru

facebook.com/pages/Estetica-Russia/321329071361317

BRAZIL

estetica-brazil.com

facebook.com/AmaBeleza

GREECE

esteticamagazine.gr

facebook.com/EsteticaHellas

ROMANIA

estetica.ro

facebook.com/EsteticaRomania

MEXICO

esteticamagazine.mx

facebook.com/EsteticaMexicoMagazine

CZECH REPUBLIC & SLOVAK

esteticamagazine.cz

facebook.com/esteticamagazine.cz

esteticanetwork.com – esteticamagazine.net

@esteticanetwork

@esteticamagazine
---
The architectural project was created by the

studio "Matteo Thun&Partners + technical

director Luca Colombo", the interiors were created

by Molteni&C|Dada Contract Division, from

an idea of interior designer Monica Signani.
---
DAVINES VILLAGE:

THE NEW HOME OF

SUSTAINABLE BEAUTY

"The soul of Davines expresses itself through its deep values. The Davines

Village is their symbol: a company headquarters that exemplifies the concept of

Sustainable Beauty that we pursue with ever stronger commitment and passion.

The virtuous architectural design has turned into a reality that puts the wellbeing

of the people who work here at its centre and represents a place where

ethics and aesthetics coexist in harmonious balance."

Davide Bollati, Davines Group President

The Davines Group new headquarters, built

in Parma on a surface of 77,000 square

metres, is the most tangible embodiment

of the values of beauty, sustainability and

wellbeing that drive the company led by

Davide Bollati. Davines Village includes spaces

dedicated to offices, training, Research and

Development laboratory, the production plant,

warehouse and a large central greenhouse

used as restaurant and co-working space.

In line with the spirit that guides every

activity of the Group, the new home of

"Sustainable Beauty" has been designed

to communicate a message of deep care for

people and the environment. Transparency,

lightness, nature, sustainability, community

and wellbeing are the key words that

characterize this project and find expression

through the overall plan and sustainable

and virtuous technical and building choices.
---
Save and optimize every resource, no waste. To make this

happen, Davines Village was thought and designed to reduce

to a minimum the use of artificial lighting; it has been endowed

with photovoltaic, solar thermal, geothermal systems and

energy consumption is monitored in every area with systems of

communication and control. The use of special filters guarantees

a very high quality of almost sterile air inside the production

plant, whose requirements are very close to those demanded by

the pharmaceutical industry. Environmental sustainability is also

pursued through choices of everyday life at the company: organic

waste from the restaurant feeds the garden with a dehydration

system more efficient than the classic composting. The restaurant

does not use disposable materials and the parking area features

ten charging stations for electric vehicles.
---
Developed from the concept

of "home", the structure of

Davines Village reinterprets in a

contemporary key the archetypes

of traditional homes typical of

Italian rural areas. The offices,

the areas dedicated to training

and the laboratories, shaped as

small houses on the sides of the

two central courtyards, evoke the

company's family roots and convey

a sensation of welcome, intimacy

and community. The complex was

made with a minimum amount of

masonry elements and designed

to achieve maximum architectural

transparency, thanks to the use of

glass that provides every working

station with a view of the green

areas.
---
The inspiration that guided

the stylistic definition of the

interiors was born from the

wish of combining the values

of participation and sharing

with the aesthetic enhancement

of the work environment. The

welcoming and personalized

spaces, a far cry from the

traditional "corporate" image,

recall living spaces in which

formal and aesthetic choices

harmonize with functional

needs. White, with some

copper hints, is the dominating

colour of these simple and

linear rooms.

The distinguishing feature

of the Davines Village is the

large glass building located

at the centre of the complex:

a "greenhouse" full of light

characterized by a modern

and light architectural style.

The employees' co-working

area is the beating heart of

life within the company. This

meeting and exchange place

houses the bistrot and the

company restaurant, the latter

in partnership with Vicook, a

catering company connected

with the three Michelin-starred

Da Vittorio restaurant.
---
About 80% of the total surface is made of green areas in

constant and harmonious back and forth with the architecture

that defines the two inner courtyards, where shrubs and

herbaceous plants mix with more sculptured-shaped species

and tall trees. White is the predominant colour of the flowers,

evoking a sensation of freshness and purity. The large outdoors

garden is used as "open air lab" with officinal and aromatic

plants, fruit trees and vegetables grown for experimentation,

demonstration, and culinary purposes. A "scientific vegetable

garden" is available to the Research and Development

Laboratory, to pick samples and test natural ingredients. And

many rows of trees that naturally counter harmful emissions

have been planted as border with the A1 Motorway: 300 metres

of green belt part of the «Green KM», another environmental

project promoted by Davines. Thanks to the financial

contribution of the companies located along the border with the

Motorway, trees will be planted on the 11 km long border to

protect the area of Parma from pollution.

The green areas have been

designed by the renowned

studio Del Buono Gazerwitz.

Parma-Italy

www.davines.com

For more information and inquiry about visiting, please contact us at:

+390521965611 - welcome.village@davines.it

or fill out the online form: http://bit.ly/davinesvillage
---
World Champs

OMC Hairworld in Paris 2018 united pros from all corners

of the world for a competitive passion in the craft of beauty.

Over 1,000 international contestants attended MCB by Beauté Séléction in Paris this year to witness a daring competition

on the opulent Parisian stage. Styles were entirely unexpected while emphasizing the editorial artists of current beauty

trends. With styled masterpieces, masculine editorial panache and a mixture of creative looks, it was a truly triumphant

weekend for the industry world hairdressing Olympics! Talent was overflowing as competitors stood next to their creations

with pride – there was no limit to how breathtaking these looks could be. This means that the competitions honored

hairdressers for their skills, embodying the industry's enthusiasm when it comes to celebrating this craft.

72 events
---
With over 50 member

countries and over

2,000,000 individual

members worldwide,

OMC is the largest

professional hairstylists'

organization in the world

and hosts the biggest hair

annual competition in

our industry.

Salvatore Fodera, OMC World President, Christophe Gabreau, President Standing Events and Co-President MCB by Beauté Sélection, and Bernard

Stalter, President UNEC & Co-President MCB hosted this amazing global event. The OMC Global Awards Night on Saturday was sponsored by

Cindarella Paris, the same sponsors of the OMC Hairworld competition furniture. For a complete overview of the OMC Hairworld 2018 competition in

Paris, meet all the winners, watch the videos and enjoy our photo galleries, please visit our EsteticaMagazine website >>> https://bit.ly/2MxGVkW

events

125
---
Trend Vision

Evolution

Wella Professionals transforms its annual global competition

into an inspiring creative retreat celebrating the competitors'

beauty talents through mentoring, training and challenges.

Eugene Souleiman, Wella Professionals

Global Creative Director of Care & Styling

Rossano Ferretti, Coty Professional

Beauty Global Ambassador

ITVA 2018 Couture Color Award

ITVA 2018 Couture Collection Award
---
Speak EIMI Award for best editorial look

ITVA 2018 International Creative Vision Award:

Sergey Chernyshev (Russia)

ghd Award for interpreting the Queen Maker look

ITVA 2018 International Color Vision Award: Tanya Grant (Australia)

On top of the

International Color

Vision Award and the

International

Creative Vision

Award, there were

five more awards

based on the finalists'

work while in Lisbon.

Destination Lisbon! 76 participants from 43 countries were inspired by the magical beauty of the Portuguese capital at the

new-look International Trend Vision Awards by Wella Professionals. This year more than ever before, the added values

were outstanding, thanks to Wella Professionals bold decision to completely change the format and environment of its

biggest annual event. During their time at ITVA Creative Retreat, participants were divided into 8 teams guided by 16

international mentors who had a threefold role: teaching, coaching and judging! ITVA was a unique, inspiring experience

to drive participants' creative excellence to the next level. Check out our website for a complete overview of ITVA 2018!

Sylvie Moreau & Patrick Cameron, ITVA 2018 hosts

A new era of ultra-personalization

The evolution of Wella's ITVA also reflects the evolution of the brand, where

ultra-personalization plays a major role. "New consumers are personalization

obsessed – connecting the physical and digital experiences: it's our duty to capture

and build these experiences for them," said Sylvie Moreau, President of Coty

Professional Beauty. "It's all about the boom of the service experience – rather than

being afraid of the change, we need to fully embrace it: first, going back to what

made our industry successful, which is impeccable service where consultation is

the essence; and then beyond that, expressing those skills through digital means."

events

75
---
ofessional salon brand

Goldwell's @Pure Pigments PGoldwell always thinks

like stylists do.

launch in Asia featured

This is why they

dedicate their efforts

to developing

revolutionary colour and

innovative colour

products capable of opening a

renowned master stylists for

whole new world of infinite

creativity to hairstylists.

spectacular showcases.

This new world has been dubbed

@Pure Pigments and is based on

Hands-on

HD 3 Colour Technology, which

forms gradient layers of multispectral

colours on the hair.

The result is similar to light

colour

passing through a prism. It creates

a unique play of colour reflections.

With such a breakthrough

product, Goldwell wanted to

ensure that the Asian launch

of @Pure Pigments would be

something as spectacular as the

results. Two major events were

planned: the Imagine Color Gala

at MacPherson Stadium in Hong

Kong and a special event at

the Esplanade recital Studio in

Singapore. And for each event,

an A-list of Goldwell VIPs was

lined up for the presentation

of the product and the possibilities

it offers.Goldwell Singapore was

delighted to have special guest

- Sandra Schmelz from KAO

Research & Development Lab in

Germany to fly in to share with

guests the technology behind this

incredible innovation. The 3 new

service options - Color Morphing,

Color Boosting and Color

Washing - were introduced to the

"I like how bleached

hair becomes

smoother and

does not look as

dry after using @

Pure Pigments," Lai

Mei Jen, Creative

Director @Shunji

Matsuo

76 events
---
guests and hair colour gurus Lai

Mei Jen from Shunji Matsuo, Peter

Lim from Monsoon Hair Group

and Shawn Chia from Chez Vous

were on hand to present two looks

each, showcasing exquisite, vivid

colours created with @Pure

Pigments. Guests were all in

awe at the results presented during

the launch. In Hong Kong,

Goldwell invited four hair masters

the calibre of Rodica Hristu,

Goldwell International Artist

Canada, Lok Chan, Global Winner

of Color Zoom Challenge 2014,

Kammy Ma, Technical Director

of Headquarters and celebrity

hairstylist Jamie Lee from HAiR

to showcase their cut, colour,

and styling techniques.

They also demonstrated the

four new services of @Pure

Pigments: Color Morphing, Color

Boosting, Color Washing and

Color Cooling.

BREAKTHROUGH

INNOVATIVE TECHNOLOGY

HD 3 Colour Technology in

@Pure Pigments is the result

of a joint collaboration between

Kao and Fujifilm. Takahito

Nakamura, Germany based

Manager of Research &

Development of Kao Salon

Division, explained this

breakthrough innovative

technology, "Goldwell's HD 3

Dye Technology pushes the

limits of traditional hair colour.

While oxidative hair colour

provides depth and coverage,

@Pure Pigments creates multidimensional

and multi-tonal

light reflections." @Pure Pigments

expands hairstylist's creativity

in colour while delighting clients

and exceeding their expectations.

Rodica Hristu,

Goldwell International

Artist, introduced and

showcased the effect

of the four @Pure

Pigments services.

"The new technology gives us a

lot of freedom to experiment;

there are no limitations"

Peter Lim Salon Director Monsoon Hair Group

(Above) Goldwell Hong Kong Artist Lok Chan and

celebrity hairstylist Jamie Lee from HAiR showcased

their cut, colour and styling techniques.
---
Essential

experts

King-of-the-Stage and

celebrity to the stars,

Tyler Johnston, talks

Schwarzkopf Essential

Looks AW18/19!

Trendsetters from

Schwarzkopf

Professional MIB

(left to right):

Wu Wanqing, Chan

Hiu Tung and Zhou

Zhiqun.

T

yler Johnston, a master

who fuses adventurous

creativity with cuttingedge

fashion sense into

his unique technique,

earns him the prestige

of being one of the

hottest hairstylists around town, and

serves numerous celebrities and big

names from Hollywood, including

David and Victoria Beckham, Cate

Blanchett, Keira Knightly and Kate

Beckinsale.

In September Schwarkopf

Professional launched its Essential

Looks AW18/19 collection in

Tianjin, China, casting Tyler on

stage to show off the true beauty

of hair to the amazement of an

unequivocally capivated audience:

This is your first time to Tianjin,

how do you feel like staging here?

First of all, I am very excited to

come to Tianjin for the first time

of my life, and bring you the new

Essential Looks launching here, and

this is really my honour to be part

of it. The most important thing is to

show the new collection to different

places in China, and let people here

to get to know about this.

What is the main theme of today's

show?

The prime objective is to let people

here to learn about the essence of

this new collection. Our trip is to

introduce the three themes of the

new Essential Looks, and also to

launch a new line of the OSIS and

the new FIBREPLEX.

The new Essential Looks has three

themes, namely: 1/ Global Tribe –

this involves the fusion of different

cultures, and how different textures

can be blended together; 2/ New

Formal – which is basically about

something classic, clean lines, very

structured, and bold in styling; 3/

Lucid Nocturnes – it is more on

the dark, deep shade, with a touch

of punk, and it is inspired by the

underground sub-culture.

What would you suggest to do in

order to integrate the Chinese

culture into the global trend?

Personally I believe in the concept

of global village and we all can

be as one big family; we are all

affecting and influencing each

other through the interaction

comes from the merging and

embracing of different cultures.e.

When dealing with different

groups of audience, such as

celebrities and general public, how

do you handle, or how do you

deliver your services?
---
I think no matter who we are

serving, regardless if they are

celebrities or movie stars or

ordinary consumers, we need to

provide the same, high quality of

services because we are all equal.

After all, what we are doing is

to provide our best services to

customers nevertheless.

How do you find inspiration for

your creative mind?

I do my best and I need to believe in

everything I create. We are

inevitably affected by current trends,

but we must believe in our own

judgement, our feelings and our

instincts. If we think it over and still

believe that we are doing the right

thing, then go ahead and give our

best shot.

Being so successful a hairstylist, or

a total image designer rather, what

kind of advice could you give to

fellow Chinese hairstylists?

My best and only advice would be to

get as much inspiration and ideas as

you can from the things and people

around you, and it is necessary to

have your own thought and input

into it; not copying, but to learn and

absorb from others. Put something

of yourself into it and create your

own style, and always believe in

yourselves, then you will find the

correct way to move on.

Trendsetters from Schwarzkopf Professional

MIB team Leading fashion to the Wonderland

Han Han

New Formal is the theme of my presentation. I chose this theme simply because I can

apply detailed and delicate cutting, and with the aid of latest Schwarzkopf Professional

hair color products to do color-gradation, I can re-invent this classic bob into a

modern styling, accessible to laymen on a daily basis. My model grew long hair, and

I modified the bob with a layered finish, and at the ends in the back I deliberately

retained some fringes in the bottom layer.

Zhang Shupin

Here I took part in the production of two of the three themes, first one was the Global

Tribe. I particularly like this theme because of its freestyled, natural way of expression,

a perfect imperfection… which fell into my understanding of what global tribe was

meant to me. I believe this theme is all about the integration of various elements:

different cultures, different styles, input from different hairstylists, and I applied a

more natural way in mixing up different elements in my.

LIU SHI

I was amazed by the three themes of the latest Essential Looks collection, they really

reflected the latest global trends on the excellent colors and stylings. For example,

the New Formal is typically aimed at the OL (Office Ladies) market, and the light

& shadow bleaching technique used in this theme worked perfectly to highlight the

hairstyles. What I did in my work was to re-invent a clean and classy feeling of the hair,

showing not only the variability of the colors in the daytime

Wu Wanqing

It is always a pleasure to look at the new collection each year. Everytime I will try to

pick out the source of inspiration, as every collection has its own characteristics, for

that is exactly where the core of the collection lies… "root of the past" as I called it. So

this is how I started my creation – from the source of inspiration I found the elements

of my works. In any creation, all we need is to be adaptive, and all details have to be

beautiful.

Chan Hiu Tung

Among three themes of the new collection, I like Global Tribe the most, simply

because I have a gut feeling that fits well to my personal character. I like layers and

disconnected cut, in which I found a lot of rooms, and a lot more freedom for my

creation. When I presented my creation with an Asian model, first of all, I made some

adjustments by not using the normal and formal technique; my disconnected cut was

more free-styled, more layers, more curly, and tried to be as natural as possible.

Zhou ZHIqun

This time I joined Tyler on the stage and performed session label together. We made

bespoke costume for the models to make the whole show more international, and we

also used real hair pieces when creating hairdos in more delicate and precise details

and angles. Personally I like Global Tribe the most. That's because with different tribes

and races and countries, we have different cultures, and the Global Tribe theme reflects

exactly this point.

Leading fashion to

the Wonderland for

Schwarzkopf

Professional

(left to right):

Han Han, Zhang

Shupin and Liu Shi.

profiles

79
---
Education and training

are undoubtedly the

most important

investment a beauty

professional can make

in his or her career, at

least on a par with the

salon itself. And any professional

The Shiseido Professional

worth his salt will confirm that

it's much more than a question

Creators Academy provides

of practicing basic skills.

The development of a vision and

creativity - a sort of sixth-sense for

precisely what hairdressers

beauty - is also invaluable in order

to attain true success in terms

need to boost their creative

of customer satisfaction, but also

in terms of self-gratification.

skills and beauty sense.

This is where Shiseido

Professional, always an ideal salon

Picture

partner, decided to raise the

education and training benchmark

with its Creators Academy.

NOTHING BUT THE BEST:

Perfect

raising the benchmark

Founded in 2013, the Academy

has since welcomed about 160

participants. In 2018 alone 48

individuals from 9 Asian countries

(including 14 Beauty Innovator

Award Grand Prix winners)

attended. The instructors are

careflly selected from Shiseido

Hair & Makeup Artists who have

already perfected their skills at

Shiseido Academy of Beauty &

Fashion(SABFA) and are now

globally active in the back stage

of top collections of leading

international fashion houses,

beauty magazines and beauty

advertisement. The Academy

Hard at work on

the Original and

Trend Hair Creation

Courses to prepare

for the professional

photo shoot (above).

80 events
---
takes everything a step further

by providing Shiseido's uniqueness

to hair designs, thereby increasing

attraction and adding value to

the Shiseido Professional brand.

An intensive five-day course

focuses on improving a creation

skill, culminating on the final day,

when each participant creates his

or her own project and design for a

professional photo-shoot, for

first-hand experience in the

techniques of practical photo

shooting, which are also a part of

the program.

five days of hard

work & Inspiration

Participants sign up for an intense

training course that is sure to

take them to the next level of

salon professionalism. All topics

are covered using a lecturedemonstration-workshop

approach. Day 1 is dedicated to

Basic Techniques in Hair &

Make-up and Personal Image

Creation as imparted by the Makeup

artists teaching at the Shiseido

Academy of Beauty & Fashion.

On Day 3 participants tackle how

to create trendsetting hair styles.

Original Hair Creation 1 and 2

are slated ot take place on Days 3

and 4, with top styling artists

expounding on the best tried and

true methods for creating work

and then demonstrating specific

techniques that can subsequently

be applied in the hands-on

moment of the program.

Once projects are in place,

participants then prepare for the

next day's climax of the course

with a visit to a beauty supplier to

procure the necessary materials.

Finally, on the last day, all

participants are required to create

a look suitable for the final photo

shoot. This is the moment of truth

for any hairstylist, and the most

rewarding moment of the

program, Except perhaps for the

end-of-course party and diploma

presentation ceremony. And

success in hairdressing is always

something worth celebrating!

Left and bottom:

Course attendees from 9 Asian

countries.

Not an ordinary academy, but

complete training that gives an

immediate return on investment
---
Shiseido Professional

brings energy back into

fashion with 4 new trend

concepts: Mixed Media,

Rebellious, Multi Effect

and Neon Art.

Free, wild and brave was the

energy of Shiseido

Professional Fall Winter

2018/19 Malaysian seminar.

Shiseido Professional together

with educators have partnered

with Shiseido Professional

Beauty Creative Team, Toshihide

Mouri and colourist expert Naoya

Oda and Shiseido Professional

Artistic Ambassadors, Edison Lim,

Nick Koh and Daviv Goh for the

launch of Shiseido Professional

highly anticipated colour cream

Colormuse by Primience. A highly

vivid direct-dye colour system with

12 colours. Specially developed for

Asian hair. Perfectly intermixable

for unlimited colour expression

enabling you to create your muse

Energised

en-vogue!

today with Colormuse, which can

be incorporated in order to recreate

today's trendiest looks:

Mixed Media

The hottest trend of this season is

styles combined with various artistic

motifs. Pairing a printed dress with

patterned tights has an absolute

presence. Taking this inspiring trend

into action, Shiseido Professional

mixes both Colormuse by Primience,

a highly vivid direct-dye colour system

and Primience, a clear and intense

colour cream, designed to blend easily

with the Asian skin tone.

At the Fall Winter

2018 runways, the

stars of the show

were '80s power

shoulders, '60s

flower children like

bohemian look, a

tribal look with

wild animal prints,

and a brilliant neon

coloured sportswear.
---
Rebellious

This year on Paris fashion runway,

we see pairing of numerous

prints with tartan check as a base

for a subtle hybrid mixed styling.

Similarly with Mixed Media,

Shiseido Professional uses both

Colourmuse by Primience and

Primience together to recreate

Rebellious mixed styling, a more

subtle and adaptable approach

in hair colour and styling.

Multi Effect

So we've got the bold and the not

so bold, now for those who want to

play it safe and classic, the Multi

Effect trend brings a refreshing

twist to your classic hair look.

Using Colormuse by Primience,

Shiseido Professional shows

business partners how to refresh

with new shine and long lasting

colour effect for any consumers

who aren't ready for a major change.

Neon Art

Neon Art is a trend image for the

dare devils. For consumers who are

absolutely not afraid to have their

hair drenched in bold vivid colours.

With the latest Colourmuse by

Primience range that features 12

highly vivid colour cream treatment,

encouraging dare devils to express

themselves freely and fearlessly!

Shiseido Professional launched a

successful 3 days seminar across

Kuala Lumpur, Penang and Johor

Bahru with a total turnout of 200

people that were excited to see

Shiseido Professional latest colour

cream launch, Colourmuse by Primie.

Shiseido Professional launched a successful

3 day seminar across Kuala Lumpur, Penang

and Johor Bahru with a total turnout of

200 people that were excited to see their

latest color cream launch, Colormuse by

Primience and learn about the versatility

of the product.through the seminar.

How Shiseido Professional's

latest color range Colormuse by

Primience can be incorporated to

recreate today's trendiest looks

trends

83
---
Keep in

the pink

Shiseido Professional partners with Petite

Fleur for an exclusive floral workshop to

support cancer patients and survivors and

their caregivers at the National Cancer

Centre Singapore (NCCS).

T

he 1st Anniversary of

The Hair Care AIRY

FLOW launch seemed

like the perfect

opportunity for

Shiseido Professional

to embark on journey

to support the war on cancer. So, in

collaboration with salon partners,

Shiseido Professional has initiated

an online fundraising campaign to

raise funds for the NCC Research

Fund. Established in 2005, the NCC

Research Fund serves as the

flagship fundraising and grantmaking

channel of the National

Cancer Centre Singapore (NCCS)

by providing seeding and bridging

funds for numerous translational

and clinical research programmes.

Shiseido Professional hopes to

create more beautiful miracles for

cancer patients and survivors

through this initiative.

Moreover, Shiseido Professional

partnered with Petite Fleur, who

hosted an exclusive hands-on floral

workshop for cancer patients and

survivors at the NCCS in October.

Petite Fleur are known for their

handcrafted bouquets for every

occasion using only premium

blooms nurtured to last longer than

average. Each arrangement is

elegantly fashioned with an eye for

detail - and is individually a vibrant

expression of art and beauty

Shiseido Professional partnered with Petite Fleur in hosting an exclusive hands-on floral workshop

for cancer patients and survivors in the hopes of raising spirits and hopes in the fight against cancer

with long-lasting and colourful blooms in spectacular arrangements.

84 charity
---
Shiseido Professional

adopted pink, the

symbolic colour of

October's Breast Cancer

Awareness Month, for

its hair care products.

Participants in this event were able

to bring home their bouquet

creations. Shiseido Professional and

Petite Fleur hoped that these

flowers would raise spirits and

hope to the patients, survivors and

their caregivers in the fight against

cancer with the long-lasting and

colourful blooms in spectacular

arrangements. The participants of

this floral workshop also included

cancer survivors who are part of

Shunji Matsuo Hair Salon's

upcoming Makeover Magic show.

makeovers that make

a difference

Makeover Magic is the brainchild

of hair maestro extraordinaire Mr.

Shunji Matsuo. An annual event of

colour and beauty that preaches that

age is just a number, confirming that

beauty and grace can accompany a

lady well into her twilight years.

Every year, Makeover Magic works

wonders on mature women,

providing glamorous makeovers

for these advanced stylists.

This year, the event was held on

the evening of 9th October, the

first anniversay of Mr. Shunji

Matsuo's passing in 2017 after

losing his stoically fought battle

with pancreatic cancer.

In addition to Makeover Magic,

Matsuo leaves the legacy of his

Shunji Matsuo Hair Salon, where

hairstylists are called Hair

Communicationists and the

company mission is 'With Heart,

Knowledge And Sincerity''.

Besides working with mature

women, Makeover Magic has also

invited cancer patients and

survivors as fashion models this

year to encourage them to embrace

life in the most positive way

possible. It is a showcase that

demonstrates how colour and

beauty do not fade even when one

ages or suffers from illness.

The participants of this floral workshop also included cancer

survivors and participants in Shunji Matsuo Hair Salon's Makeover

Magic. Before their makeovers, these beautiful women enjoyed the

bright colours and heady blooming fragrance of their self-designed

flower arrangements at home.
---
Emerging

talents

The Shiseido

Professional Beauty

Innovator Award

fosters and garners

trendsetting

hairstyling talents in

Asia and beyond.

86 award

All hair designers are encouraged to

compete. It is an ideal opportunity

to exchange ideas with other hair

artists and broaden one's vision of

career development.

T

he Shiseido Professional

Beauty Innovator Award

has long been a milestone

in the career of hair

stylists across Taiwan

eager to break into the

international arena. This

award offers a great opportunity for

emerging designers to visit Tokyo

and step onto the stage to receive

gold awards with other winners

from many other countries. And

this year the award presents new

challenges in two different

categories: Total Creation, where

artists can express their utmost

creativity in looks rarely seen in

salons, and Salon Creation, the new

category that encourages stylists to

create outstanding commercial

styles with avant-garde hair colors.

Shiseido Professional remains true

to its core principle of defining

contemporary Asian beauty and

mentoring young hair designers

who are promising trendsetters.

The award platform is intended to

inspire and stimulate contestants to

unleash their creativity while

improving their professional skills.

This award is a priceless

opportunity for emerging designers

to visit Tokyo and step onto the

stage to receive gold awards with

winners from other countries.

These winners may also have a

chance to receive training sessions

at SABFA, where world-famous

hair gurus will stimulate them with

creative ideas. This consultant team

consists of Hair Culture-Benny (art

consultant), Govin Hair (image

consultant), Ander Hair

(educational consultant), Vis A Vis

(commercial consultant).
---
This new colour series comes in 12 highly vivid hues: red,

orange, yellow, green, blue, violet, pink, gray, brown,

beige, clear and white. They can be used alone or mixed

with other Primience products for unlimited possibilities.

Technocolour

Shiseido Professional

Colormuse enables

colourists to adapt

their creativity to the

customer in their chair.

To introduce Colormuse

and its eye-catching

colouring results to

members of HK's hair

beauty industry,

Shiseido Professional

held a launch event at

the Hong Kong Maritime Museum

in Central. Taichi Kimura and

Yoshikazu Okayama, performers

from the renowned Lim Salon

(Japan) demonstrated Colormuse's

potential. The next day these same

artists demonstrated cutting,

highlighting and styling techniques

at the "2018 Salon Trends

Workshop". The workshop also

included a product trial session

that made it possible for attendants

to experience Colormuse colours

and gain information on the latest

salon trends and techniques.

Performing guests from Lim Salon

were Taichi Kimura, an expert on

identifying the shape of the head,

hairline and hair flow to draw out

the personality that is unique to

each customer, and Yoshikazu

Okeyama, a perm lecturer with 12

years of hairdressing experience

who designs hairstyles with casual

playfulness and is a strong believer

in using hairstyles to create

individuality for each and every

customer. Specifically developed for

Asian hair, Colormuse is formulated

using Shiseido's advanced skincare

technology – 'Aqua in Pool' to

provide longer lasting colour while

highly moisturize hair. Colormuse

colours are all intermixable within

PRIMIENCE ranges for unlimited

color creativity.

events

87
---
HOST COUNTRIES

HAIRWORLD 2018 PARIS

HAIRWORLD 2019 PARIS

is the OFFICIAL

World Organization in the

HAIR & BEAUTY Profession

to present the

WORLD

CHAMPION TITLES

SALVATORE FODERA

OMC WORLD PRESIDENT

2021 Yokohama JAPAN

2020 Paris FRANCE

2019 Paris FRANCE

2018 Paris FRANCE

2017 Paris FRANCE

2016 Seoul SOUTH KOREA

2014 Frankfurt GERMANY

2012 Milan ITALY

2011 Milan ITALY

2010 Paris FRANCE

2008 Chicago USA

2006 Moscow RUSSIA

2004 Milano ITALY

2002 Las Vegas USA

2000 Berlin GERMANY

1998 Seoul SOUTH KOREA

1996 Washington D.C. USA

1994 London GREAT BRITAIN

1992 Tokyo JAPAN

1990 Rotterdam HOLLAND

1988 Düsseldorf GERMANY

1986 Verona ITALY

1984 Las Vegas USA

1982 Paris France

1980 Rotterdam HOLLAND

1978 Düsseldorf GERMANY

1976 New York USA

1974 Vienna AUSTRIA

1972 Barcelona SPAIN

1970 Stuttgart GERMANY

1968 Vienna AUSTRIA

1966 Milano ITALY

1964 Basel SWITZERLAND

1962 Amsterdam HOLLAND

1960 Paris FRANCE

1958 Cologne GERMANY

1956 Vienna AUSTRIA

1954 Brighton GREAT BRITAIN

1952 Brussels BELGIUM

1950 Roma ITALY

1948 Paris FRANCE

1947 Paris FRANCE

1946 Paris FRANCE

www.omchairworld.com
---
Inspirational

Colouring Night

Stylists gather to experience the latest

breakthrough innovation in Goldwell

Hair Colour: @Pure Pigments.

Goldwell presents

its latest innovation

in hair colour,

@Pure Pigments,

and opens up a

completely new

dimension of colour

results. High-definition direct dye

additives elevate hair colour with

unprecedented vibrancy and

brilliance. This newly invented

product has stormed the market

with its groundbreaking

technology and iridescent colour

result. Recently Goldwell hosted

"@Pure Pigments Color Jamming

Night", gathering passionate

colourists to try out these creative

colour additives at M Plus Salon, a

premium hair salon located in

prime shopping area of Hong

Kong. Goldwell Hong Kong Artist,

Lok Chan, explained how @Pure

Pigments can elevate salon's

regular colour service and how the

shades can be customized for

every client. They are extremely

versatile and can also be used for

colour correction. As an example,

Lok added Pure Red and Pure

Violet @Pure Pigments for vivid

brilliance and colour saturation.

After Lok's sharing of colour

know-how, stylists worked in

groups to develop a stunning

colour design on models. The

application of different

combinations of pigments to

Topchic, Colorance or Nectaya

formalations illustrated the

mesmerizing effect of @Pure

Pigments, from natural to striking

hair colours and fascinating pastel

effects. It was an enjoyable evening

for stylists to share their experiences

and ideas in a chilled ambience.

"@Pure Pigments gives stylists

great freedom in colour creation

and achieves unique tones with

unparalleled brilliance, and truly

amazing multi dimensional

shine." Lok said.

innovation

89
---
Feeling

Gorgeous

The 9th FEELING Hair

Styling Competition

attracted thousands

eager to see the shows

and award ceremony.

TWO FACE

INHERITING

ZAPHYR DISCIPLINE

Top & right: the "Convergence" show by the TiTi Salon, P-Style Salon, &

Two Face Salon. Above: exclusive FEELING team – Zephyr Discipline

team led by Creative Director Chen You Jun & Art Director, Xiong Yi.

verwhelming success

marked the 9th

FEELING Hair Styling

Competition, held in

September at the Tianjin

Sport Centre, in Tianjin,

China. Chairmen of

FEELING, Mr. Deng Wei Wen and

General Manager, Mr. James Shi

were proud to emcee the opening

of award ceremony and officially

welcome the crowds. Participants

were also entertained and

inspiring by the creative

performances featuring several

teams who presented impressive

shows inspired by five major

themes: "Inheriting",

"Breakthrough", "Vientiane",

"Convergence", "Realization".

Seven Asian hairstyling masters

presented their career stories in

the hairdressing industry on stage:

Mr. Suki Luo, Mr. Vic Wu,

Mr. Peter Wu, Mr. Boris Wong,

Mr. Xie Mu Sheng, Mr. Zhou

Xiao Feng and Mr. Xiang Shu Bo.

Based on the theme of

"Inheriting", Mr. Xiang played

the role of a young and confused

hair stylist embarking on his

career while the other masters

imparted their belief in

perseverance and self-worth to

Xiang by performing their own

individual styling techniques.

Performance teams from Hong

Kong, Taiwan and Japan also

treated visitors an outstanding

stage performance that reflected

the distinctive local fashion

cultures in "Breakthrough".

Wakeup Academy, under the

leadership of Vic Wu, presented

a dynamic and colorful circusinspired

show on stage to

represent the theme of "Vientiane".

The "Convergence" performance

Tionjin teams were from local hair

salons. Their show perfectly

reflected the creativity of hair

stylists with a mash-up of different

takes on global fashion trends.

Vintage Hollywood merged

smoothly with urbanite trends by

TiTi Salon, P-Style Salon crossed

over traditional Chinese palace

style with European aristocratic

fashion, and classic tik tok dance

melded with jazz music and

fashion hair styling thanks to

Two Face Salon. FEELING's

exclusive hair stylist team –

Zephyr Discipline – applied

innovative AR technology on stage

with a dance performance. Zephyr

Discipline Creative Director, Mr.

Chen You Jun and Art Director,

Mr. Xiong Yi changed the model's

styling in a live performance on

stage to evoke the concept of a

butterfly breaking out of its

cocoon in "Realization".

The overall championship's grand

prize winner was proclaimed as

Ms. Wu Wan Ning from Una Hair

Salon, Taiwan. She accepted her

trophy in front of more than 8000

people audience in the stadium.

For more information visit

www.feelinghair.com

P-STYLE

events

91
---
The 3-day beauty trade

exhibition, BeautyAsia

2019, is poised to

showcase its 23rd

edition by introducing

the latest of what's on

offer from the region.

One-stop

destination

M

ore than 124

international

exhibiting companies

from 15 different

countries convened

in Singapore, during

the last edition,

reinforcing BeautyAsia as the

preferred trade show for the

market. The event is highly

effective in its core purpose of

bringing together suppliers,

manufacturers and distributors that

could result in new product

development and business

opportunities. Exhibitors also

shared encouraging feedback about

their involvement, in particular

citing the show's high attendance

levels and the number of new

business contacts gained.

BeautyAsia really has proven itself

to be a great platform to build up

brand and product presence in the

Asian beauty and wellness market.

"For the upcoming edition of

BeautyAsia, we see encouraging

support from foreign exhibitors, as

well as returning exhibitors from

countries such as China, Italy,

Japan, Korea, Singapore, Taiwan,

Thailand and many more," said

Gillian Loh, Project Manager of

Lines Exhibition. For many years,

BeautyAsia has been a trusted

platform for global businesses to

convene and showcase innovative

products, as well as gain

opportunities with stakeholders

expanding beyond Asia. We are

excited to see newly minted

partnerships and business

collaborations at next year's

BeautyAsia, given that Asia's beauty

and wellness market is evergrowing

and the rapid development

of technology brings new

possibilities in the market."

BeautyAsia is an

annual trade show

that incorporates

four distinct shows:

BeautyAsia,

SpaAsia, HealthAsia

and NaturalAsia.

For more

information visit:

beautyasia.com.sg/

events

93
---
Cosmoprof India promises to

drive innovation and deliver

groundbreaking formulas in the

Beauty and Cosmetics industry.

Captivating

debut

BolognaFiere and UBM

India successfully

concluded the preview

edition of Cosmoprof

India, at the Sahara

Star Hotel in Mumbai.

The event received an

exceptional response in the form of

exhibitors and visitors alike and

helped formulate new business

relations and expansions as well as

strengthen current relationships.

With successful signature trade

shows in Bologna, Las Vegas and

Hong Kong, which cumulatively

involve over 370,000 professionals

and 7,000 companies from across

the world, the Cosmoprof platform

has now officially established its

presence in India, a dynamic and a

growing market for the beauty

The next rendezvous for

Indian beauty industry

will be at the Bombay

Convention & Exhibition

Centre (BCEC) from

12 to 14 June, 2019, with

Cosmoprof India 2019.

sector. Cosmoprof India Preview

was featured a number of captivating

presentations and features. For

instance, the in-depth sessions and

seminars of Cosmotalks leveraged

the collaborations of internationally

renowned partners: Beautystreams,

Euromonitor, ICMAD (Independent

Cosmetic Manufacturers and

Distributors) Centdegrés, Kline &

Company and JCKRC SPA

Destination. Cosmoprof OnStage

hosted the best of innovation and

creativity for the cosmetics industry.

Live demonstrations, hair shows,

spectacular nail art, make-up

techniques, cutting-edge beauty

treatments and new products

presented by exhibiting companies

took center stage.

To increase business opportunities,

an International Buyer Program by

Cosmoprof Worldwide Bologna

aided B2B meetings between

companies, distributors, buyers,

importers and suppliers from India,

United Arab Emirates and South

East Asia. The next rendezvous for

Indian beauty industry will be at the

Bombay Convention & Exhibition

Centre (BCEC) from 12 to 14 June,

2019, with Cosmoprof India 2019.

events

95
---
Hair: Goldwell

Color Zoom '19

Creative Team

Photo: Ralph Mecke

Make-up: Loni Baur

Styling: Ingo Nahrwold

Estetica n. 4/2018

ad index

BEAUTY ASIA SINGAPORE 92-93

www.beautyasia.com.sg

cOSMOPROF MUMBAI 95

Advertising

HEAD OFFICE

Corso Cairoli, 16

10123 Torino (Italy)

Tel.: +39 011 83921113

Fax: +39 011 8171188

adv@estetica.it

www.estetica.it

www.cosmoprof-asia.com

DANCOLY COSMETIQUE 2/94

www.dancoly.com / +33 442381250

DAVINES ITALY 66-71

http://www.davines.com/it

FARMEN/VITALITY'S

www.vitalitys.it / 800 463300

Membre de l'Association

Internationale de la

Presse Professionnelle

IIIC

FEELING 91-91

www.feelinghair.com

GOLDWELL/KMS CALIFORNIA

www.goldwell.com / +49 (0) 61513960102

FC/insert/76-77/IVC

GOLDWELL HONG KONG 89

www.goldwell.com / +852 2529 1018

OMC 88

www.omchairworld.com

SCHWARZKOPF PROFESSIONAL 78-79

www.schwarzkopf.com

SHISEIDO PROFESSIONAL

www.pro.shiseido.com.jp / +81 3 62187982

IFC-1/80-87

TAKARA BELMONT 14-16

www.takarabelmont.co.jp / +81 6 62123523

Estetica Asia

Edizioni Esav

Via Cavour, 50

10123 Torino (Italy)

Tel.: +39 011 83921111

Fax: +39 011 8125661

info@estetica.it

www.esteticamagazine.net

Printed in Italy by

GrafArt & G. Canale & C.

Registration n. 435 of 7.4.49, Turin

Law Court. All rights reserved.

Reproduction in whole or in part of

texts or photography is prohibited.

Manuscripts, photographs and art

are selected at the discretion of the

publi sher free of charge (advertising

exclu ded). Whether published or not,

no material will be returned and

remains the property of the

publishing house, which may make

use of it as seen fit. This may include

the withdrawal of publication rights

to other publishing houses. Estetica

requires exclusive publication rights

in the hairdressing sector for all

photography submitted which must

not therefore be offered for

publication to other magazines in the

hairdressing trade or industry.

Notice to subscribers (Art. 13 of

EU Regulation 679/2016)

Pursuant to Art.13 of EU Regulation

679/2016, our company will proceed

with the processing of the personal

data you provide in compliance

with current laws in force concerning

the protection of the processing of

personal data and in keeping with

the obligations and guarantees of

the legal, contractual, and regulatory

standards. Subscription information

may be known only bny subjects

specifically authorised and instructed

by our Company and by third parties

subjects authorised to carry out the

orginasational and economic

activities connected with the

subscription (ex. Shipping

management, enveloping, sending

correspondence) and will not be

communicated to third parties for

purposes not allowed by law or

without explicit consent; they will

be stored for teh purpose of sending

our publications and for the time

necessary to complete the purposes

of professional updating for which

the same information was collected.

Data process controller is the

company Edizioni Esav S.r.l. -

Via Cavour 50, 10123 Turin.

The person whose information was

processes may, at any time, exercise

the rights established by the EU

Regulation (Art. 15 Right to access;

Art.16 Correction; Art. 17

Cancellation) by writing to

Edizioni Esav - edizioniesav@pec.it.
---
4

NEW

FASHION SHADES

WHY BLEND IN, WHEN YOUR HAIR CAN SHINE?

Two different formulas

for customised, professional

colour

LIGHT UP HER BEAUTY

WWW.VITALITYS.IT