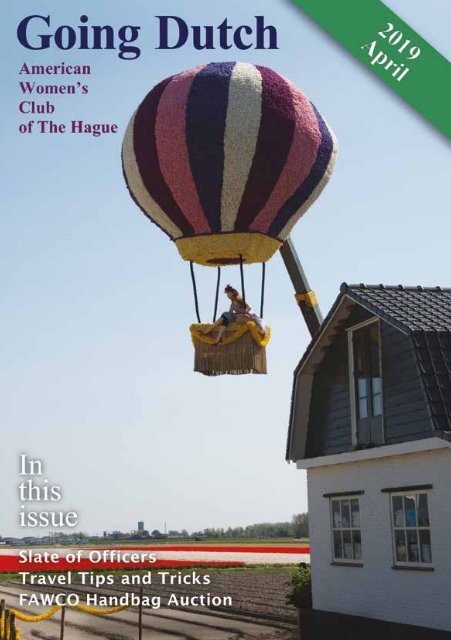 AWC Going Dutch April 2019
The monthly magazine of the American Women's Club of The Hague
The monthly magazine of the American Women's Club of The Hague
SHOW MORE
SHOW LESS
Do you know the secret to free website traffic?
Use this trick to increase the number of new potential customers.
one stop shop

for all your beauty desires

Going Dutch

April 2019

The Magazine of the

American Women's Club

of The Hague

5 Officers and Chairwomen

6 Winter Activities Collage

8 Message from the President

9 April General Meeting

10 Letter from the Editor

12 Membership

Denneweg 56

2514CH The Hague

Tel. 0703458442

www.lifestylesalonthehague.nl

Easter Basket Assembly

FAWCO Handbag Auction

Unconventional Travel: Seoul

26

36

42

13 Newcomers

14 Ongoing Activities

19 Front Desk Volunteers

20 One-of-a-Kind Activities

22 Slate of Officers

26 Easter Basket Assembly

28 April Calendar

30 Repatriation

32 Dutch-American Friendship

Day

34 FAWCO Corner

35 Hope Beyond Displacement:

News from the CRP

36 FAWCO Handbag and Art

Auction

40 Travel Tips & Tricks

42 Unconventional Travel:

Seoul

46 The Dutch Daily

48 Announcements

52 Classifieds

53 Index of Advertisers

and Ad Rates

54 Restaurant

Recommendations

APRIL 2019 3
---
Editor

Audrey Goodman

2018-2019 AWC Officers

Committee Chairs

AWC Clubhouse

Johan van Oldenbarneveltlaan 43

2582 NJ Den Haag

Tel: 070 350 6007

info@awcthehague.org

www.awcthehague.org

Going Dutch Magazine

goingdutchmag@awcthehague.org

Clubhouse Hours

Tuesday and Thursday

10 a.m. - 2 p.m.

Monday, Wednesday and Friday Closed

Dues (Effective 2018-2019)

€ 110 per year (€ 66 after January 1)

€ 90 business, professional

€ 55 valid US military ID

€ 35 student

€ 35 Outside the Netherlands (Going

Dutch magazine not included)

Add € 15 new member registration fee

Design and Layout

Teresa Mahoney

Cover Photo

Bulb fields in Sassenheim by Melissa White

Photography

Greetje Engelsman, Amber Gatewood,

Marsha Hagney, Suzanne MacNeil, Teresa

Mahoney, Julie Mowat, Melissa Rider,

Emily van Eerten, Melissa White

Proofreaders

Celeste Brown, Jane Gulde, Diane Schaap,

Debbie van Hees

Advertising Manager & Invoicing

Open

Contributors

Debbie Cascio, Jane Choy, Suzanne Dundas,

Greetje Engelsman, Rebecca Failor, Marsha

Hagney, Eileen Harloff, Suzanne MacNeil,

Julie Mowat, Naya Pessoa, Melissa Rider,

Holly Savoie, Jo van Kalveen, Melissa White

Printer

www.dwcprint.nl

AWC Bank Account Number

IBAN: NL42ABNA0431421757

KvK Den Haag

40409274

BTW or VAT: 007408705B01

Honorary President Diane Hoekstra

President Suzanne MacNeil

president@awcthehague.org

Vice President Marsha Hagney

vicepresident@awcthehague.org

Treasurer Sheyla Karman

treasurer@awcthehague.org

Secretary Heather DeWitt

secretary@awcthehague.org

Club and Community Development

Naya Pessoa

community@awcthehague.org

Clubhouse Administrator

Jan Essad

clubadministrator@awcthehague.org

Communications Audrey Goodman

communications@awcthehague.org

Member-at-Large

Sunita Menon

Front Office

Liduine Bekman, Siska Datema-Kool,

Dominique Duysens, Amber Gatewood,

Shanon Gonzales, Melissa Rider, Jessie

Rodell, Holly Savoie

Activities: Greetje Engelsman

Arts: Jane Choy

Assistant Treasurer: Teresa Insalaco

Benefit Event: Michelle Voorn & Deana

Kreitler

Board Advisor: Jessie Rodell

Caring Committee: Naomi Keip

Chat, Craft & Cake: Suzanne Dundas

eNews Amber Gatewood

Evening Events: Elizabeth Zeller

Events & Tours: Liduine Bekman

FAWCO: Julie Mowat and Teresa

Mahoney

Front Office Coordinator: Open

General Meeting Programs: Dena

Haggerty

Heart Pillow: Jan de Vries

Historian/Archivist: Georgia Regnault

Holiday Bazaar: Jaimie Keppel-Molenaar

IT Administrator: Julie Otten

Kids' Club: Lindsey Turnau

Library: Dena Haggerty

Membership: Melissa Rider

Newcomers: Holly Savoie, Greetje

Engelsman

Parliamentarian: Georgia Regnault

Philanthropy: Holly Savoie

Public Relations: Open

Social Media: Ceci Wong and Julie Otten

Tennis: Molly Boed

Tours: Liduine Bekman, Sabine Crowley

Volunteer Coordinator: Laurie

Martecchini

Webmaster: Julie Otten

Women with Dutch Partners: Michelle

Voorn

Deadlines: Submissions are due no later than the last Monday of the month preceding the publication month.

For example, for the May/June issue, submissions are due before Monday, March 25

Please Note: Articles submitted to Going Dutch will be published subject to space limitations and editorial approval.

All rights reserved; reprints only by written permission of the Editor. Please email to: goingdutchmag@

awcthehague.org

Legal Notice: Articles in Going Dutch express the views and opinions of their authors alone, and not necessarily

those of the AWC of The Hague, its Members or this publication.

4 GOING DUTCH

AWC Mission Statement

The AWC is an association formed to provide social and educational activities for American

women living in the Netherlands and to promote amicable relations among people of all nations,

as well as acquiring funds for general public interest. Membership in the club is open

to women of all nations who are friendly and welcoming to American culture. The association

does not endeavor to make a profit. The AWC is a 100% volunteer organization.

APRIL 2019 5
---
"Trashure" Hunt Beach Cleanup

Farewell Lunch for Pamela

Winter

Activities

Behind the Scenes of Panorama Mesdag

Out to Lunch Bunch

Thirsty Thursday at Project 2.0 Gallery

TLC Dinner

February General Meeting
---
Message from the President

by Suzanne MacNeil

April General Meeting—Vote!

by Suzanne MacNeil

April! The tulips have emerged from

their winter slumber, the pop-up restaurants

at Scheveningen are popping

up, and the change in seasons is palpable.

Just as April promises so much, so does the

Club. We will be celebrating Rembrandt at a

discussion about his work that will be hosted

by our Arts Chair, Jane Choy, at her home

on Wednesday, April 3.

I caught 'FAWCO Fever' at the

conference in Edinburgh!

If you've recently moved to the

Netherlands, you definitely want to attend

one of our most popular events for newcomers.

The Dutch Products class is offered in

the spring and fall and is taught by long-time

Member Carol Slootweg, who is also a chef,

and will be joined by Greetje Engelsman.

The two will share the substitutes for your

usual items that aren't sold in the country,

along with explaining some of the new-to-you

food that you'll see at your local markets. I

only recently took the class (after more than

six years as an expat) and finally solved a

problem I hadn't been able to resolve when

washing towels. It's never too late to learn

and I suggest saving Monday, April 8 for

the class!

8 GOING DUTCH

Are you going to

Madurodam on

Saturday, April

13? I hope to

see you that

evening for the

Club's annual

major philanthropic

event.

The Benefit

Committee has

been working for

months to organize

and create

a night that will

continue our

legacy of giving

back to our

host country. The

re-Building

Lives, from

Trafficking to

Independence

will benefit Not for Sale. The organization

is fighting to end modern day slavery and

the benefit evening will be busy with a sitdown

dinner, music and dancing, live and

silent auctions, and a scavenger hunt through

Madurodam. It is going to be a great evening

and the committee hopes the guests will help

us make a generous donation to Not for Sale.

April also hosts two major holidays,

Passover and Easter, and if you celebrate

either, I hope you'll spend time with family.

If not family, then with friends, who are our

surrogate family while we're on this expat

journey.

One of the most important April events is

our General Meeting on Thursday, April 11

when Members vote on the slate of officers.

Many thanks to Lindsey Turnau, the chair

of the Nominating Committee, and those who

sat on the committee. The Members who have

volunteered to serve on the Board deserve

your attendance at the meeting, especially

if you have not yet met those who are on

the slate. It's important to know who will be

charged with continuing the Club's legacy,

whether it's financial prudence, philanthropy,

or working to provide Members a wide range

of events and activities.

The key component of the April meeting

is the vote for our Board, so we don't

invite an outside speaker. However, once the

vote is complete, Julie Mowat, our FAWCO

(Federation of American Women's Clubs

Overseas) rep, will present about the >>33

Voting for your Board is one of the key

responsibilities of being a Member

of our AWC. The Board oversees all

aspects of the Club with the help of committees

and volunteers. As a nonprofit organization,

we are registered with the KvK

(Chamber of Commerce) and must follow

all laws pertaining to nonprofits. If you're

not able attend the April meeting, you are

still able to vote by filling out a proxy ballot,

in accordance with our Bylaws. The vote

will count only if we have a quorum of 15%

of the voting Members of the Club. Please

download the proxy ballot from our website

under the 'About Us' tab. From there

you'll see 'Club Documents' and it's there

that you'll find the ballot. Please download

by Jan Essad and Sunita Menon

The construction on Johan van

Oldenbarneveltlaan is now just outside our

front door!

According to a Dutch website, works will

possibly continue until July. However, we

hope they will finish early. Due to this ongoing

construction, parking will be limited

and public transportation is recommended.

Parking is available on the southside of the

street and on the one-way streets off Johan

the document, complete it, and send it with

a Member who is attending the meeting, or

scan and send it to info@awcthehague.org.

Our Parliamentarian, Georgia Regnault,

will oversee the voting.

Thursday, April 11

10 a.m. – Noon

AWC Clubhouse

Construction Around the AWC

Clubhouse

van Oldenbarneveltlaan. However, public

transportation is highly encouraged.

The Clubhouse is accessible via tram #16,

tram #1, and bus #21. Consult www.9292.

nl for the best means of travelling to the

Clubhouse from your area.

We sincerely hope this minor inconvenience

won't keep you from coming to the

Clubhouse to enjoy scheduled activities and

great company. See you at the Club!

APRIL 2019 9
---
Letter from the Editor

by Audrey Goodman

I've been looking forward to April for a long

time. It kicks off several months of travel adventures,

beginning with a trip back home. I

haven't been back to Baltimore, Maryland since

last April, and I'm beyond excited for my weeklong

stay in Charm City. I plan to spend the first

couple of days with my sister, several nights

with a couple friends, and a weekend sharing a

hotel room with my mom. Somewhere in there

I'll do a bit of shopping (looking forward to

plentiful petite options again), go to an Orioles

game, catch up with friends over drinks, and enjoy

Easter brunch and dinner. And I'll finally get

the pleasure of meeting several of my friends'

babies born over the last year.

I've always found it interesting to hear

what other expats miss about home, other

than friends and family: The favorite restaurant

in town, shopping at Target, a certain shampoo

that can't be bought in Europe, summer

trips to the local beach. For me, it's American

baseball. I was raised in a Cardinals family

but embraced the Orioles when I moved to

Baltimore. There's something about sitting in

Camden Yards with a Hebrew National hotdog

and a National Bohemian (Natty Boh) tall boy,

singing Thank God I'm a Country Boy during

the seventh inning stretch, and praying for a

home run that bounces off the warehouse. Yes,

I'm aware of their horrible record over the last

couple (okay, many) years. But I haven't lost

faith. Go O's!

"If you go anywhere, even

paradise, you will miss your

home."

-Malala Yousafzai

After filling up on blue crabs and Natty

Boh, I'll head to Georgia to meet my husband

and his family. My sister-in-law is getting married!

She and her fiancé will have a small afternoon

ceremony in Savannah, with immediate

family and a couple of close friends. The next

day they will host a larger brunch celebration

at a restaurant along the Savannah River, likely

followed by an afternoon of bar-hopping. We'll

spend four days in the coastal city, and it's

sure to be a fun weekend. Not only will I get

to spend time with friends and family in my

home city, I'll get to spend a long weekend in

a beautiful southern city filled with history.

10 GOING DUTCH

I've been enjoying every minute of my

time here in The Hague, but the expat life

comes with a bit of homesickness. While I'm

grateful for Skype and WhatsApp, they can't

replace the comfort brought by hugs from

friends and family. I have one week to get my

Baltimore fix and a long weekend to enjoy

family time, then I'll be back to continue my

European adventures!

Audrey

APRIL 2019 11
---
Membership

Newcomers

by Melissa Rider

by Greetje Engelsman

With 15 new women joining since

January, our Membership is now at

176 Members. As you may already

know, any English-speaking woman may join

the AWC. Currently, 24% of our Membership

is international. The demographic trend of

our newer Members tends to be younger,

working women. But non-working women

still make up 58% of the AWC, with working

woman comprising 22.7%. Our Honorary

Members who have been with the Club for

a minimum of 25 years compose 12.5% of

the Membership. Our smallest groups are our

Overseas and Student Members at 4.5% and

2.3%, respectively.

Welcome New Members!

Catherine

Helen

Dutch Products Class

(Especially for new Members: a must!!)

AWC Member and long-term resident of

the Netherlands, Carol Slootweg, will explain

Dutch cooking and cleaning products.

She teaches cooking classes, so she is an

expert in using local products and converting

American recipes. She and Greetje

Engelsman have co-produced a book entitled

Dutch Products, which will be offered

for sale for € 10.

Join this class and you will never be confused

about cooking or cleaning products in

the Netherlands again!

If you have questions, contact Greetje at

activities@awcthehague.org.

Monday, April 8

10 a.m. – Noon

AWC Clubhouse

FREE

Sign Up at www.awcthehague.org

Encourage your friends and acquaintances

to join, so we can continue to grow, thrive,

and evolve! Registration and payment can

be done at www.awcthehague.org. If you

have any questions, please contact me at

membership@awcthehague.org.

Going Dutch is Available Online

Go to www.awcthehague.org to share the current month's issue with friends and family. You will

also find links to our annual advertisers, whose support makes this magazine possible. If you

visit or contact one of our advertisers, let them know Going Dutch sent you!

Birthdays

Due to changes in European privacy laws, and because

Going Dutch is posted on our external Facebook page, we

won't be sharing birthdays in print any longer. Instead, you'll

see Members' birthdays in the weekly eNews, which is sent

to your private email account and is more secure. We value

our Members' privacy. If you have any questions, please

contact Melissa Rider, our Membership Coordinator, at

membership@awcthehague.org.

Members: eNews

Distribution

A weekly electronic

newsletter

is sent to all AWC

Members.

If you have not been

receiving your eNews,

please contact Melissa at

membership@

awcthehague.org.

12 GOING DUTCH

APRIL 2019 13
---
Credit: Amazon

Ongoing Activities

Book Clubs

The AWC Book Clubs are open to all readers,

and new Members are especially welcome!

There are no requirements that you

must attend every meeting or lead a discussion.

Snacks are provided by a different

Member each month. There are two Book

Clubs hosted by AWC Members: One in the

daytime and one in the evening. Questions?

Teresa Mahoney organizes the daytime

group and can be reached at bookclubday@

awcthehague.org. Dena Haggerty handles

the evening meetings and can be reached at

bookclubevening@awcthehague.org. reading!

Daytime Book Club

April Selection:

Who Asked You? by Terry

McMillan

When Who Asked You?

begins, Trinetta leaves

her two young sons with

her mother, Betty Jean,

and promptly disappears.

BJ already has her hands

full dealing with her other

adult children, two opinionated

sisters, an ill husband,

and her own postponed dreams—all

the while holding down a job delivering

Daytime Book Club Reading List:

May 23: Perfume River by Robert Olen

Butler

June 27: The Witch Elm by Tana French

room service at a hotel. Her son Dexter is

about to be paroled from prison; Quentin,

the family success, can't be bothered to lend

a hand; and taking care of two lively grandsons

is the last thing BJ thinks she needs.

But who asked her?

Thursday, April 25

10 a.m.

AWC Clubhouse

FREE

Daytime Book Club Recap – February

We discussed Milkman by Anna Burns, a

novel about social oppression and intimidation

in a war-like setting, presumably

Belfast in the seventies during The Troubles.

No physical places are mentioned, nor do

we get to know names of people. We only

learn of the characters' relationship to the

protagonist, an 18-year-old girl stalked by

a renouncer called "Milkman". Burns' language

reminds us of James Joyce, the way

she describes in stream-of-thought fashion

the isolation the protagonist must deal with

Credit: Amazon

for being unjustly found guilty of adultery

by a society where you are driven to trust

only yourself. We all recommend this book,

especially the audio version.

Evening Book Club

April Selection:

The Song of Achilles by

Madeline Miller

A tale of gods, kings, immortal

fame, and the human

heart, The Song of

Achilles is a dazzling literary

feat that brilliantly

reimagines Homer's enduring

masterwork, The

Iliad. An action-packed adventure, an epic

love story, a marvelously conceived and

executed page-turner, Miller's monumental

debut novel has already earned resounding

acclaim from some of contemporary fiction's

brightest lights. Fans of Mary Renault,

Bernard Cornwell, Steven Pressfield, and

Colleen McCullough's Masters of Rome series

will delight in this unforgettable journey

back to ancient Greece in the Age of Heroes.

Evening Book Club Reading List:

May 8: TBA

The location changes every month, so

please contact Dena at bookclubevening@

awcthehague.org if you are interested in

attending.

Wednesday, April 10

7:30 p.m.

Location TBA

FREE

Evening Book Club Recap – February

It's no surprise Rachel Kushner's The Mars

Room was shortlisted for the Booker Prize.

It is a beautifully written book that focuses

upon a topic rarely seen in the world of

fiction: women in prison. Main character

Romy Hall's voice comes through with such

clarity that it's as if Romy were standing

next to us telling her story out loud. But

this was not an easy story to read. On the

contrary, Romy's life was the stuff of which

nightmares are made. A kid who got off >> 16

Cancellation Policy

Members may reserve a spot for an AWC tour, activity or

event in advance. Payment is required within five business

days of the reservation or before the deadline date (whichever

is sooner) otherwise your name will be moved to a waitlist.

It is the responsibility of the Member to notify the Club at

awcthehague.finance@gmail.com to cancel a reservation

prior to the cancellation deadline. Please note that there will

be NO REFUNDS (no exceptions) after the cancellation deadline.

Members may find a substitute in lieu of cancellation

provided that arrangements are made with the tour, activity

or event organizer. Members shall be held responsible for

their guest reservations in accordance with this policy.

AWC Guest Policy

Guests are welcome

to participate in AWC

activities and tours on

a limited basis. As a

nonmember, a guest

is limited to attend

two functions per

calendar year and will be

charged an additional

nonmember fee. Only

Members are entitled to

use babysitting services.

14 GOING DUTCH

APRIL 2019 15
---
Ongoing Activities (cont.)

Continued from page 15

track, never found her way, and ends up in

prison for life. Fortunately, Romy's story is

not told in one exceedingly long narrative.

Instead, we view bits and pieces of her past

as she struggles to make it through everyday

life in prison. This made the story palatable,

although no less heartbreaking. We also get

a glimpse into other lives as the novel is told

from various points of view. These changes

were a breath of fresh air. The Mars Room

is a breathtakingly beautiful book about an

abysmal situation.

Chat, Craft & Cake

Chat Craft & Cake is a weekly highlight

for those who enjoy crafts and camaraderie.

Whether your craft is knitting, quilting,

needlepoint or simply mending your

clothes, or whether you are a beginner or an

expert, you are welcome to join us. Fish that

UFO (Unfinished Object) out of the drawer

and get going on it again. CCandCer's are

always ready with a helping hand, a lesson,

or some advice. Each week, a different

Member brings a cake—tried and true,

or experimental. Babysitting is not available

and there are lots of sharp objects

about (pins, needles, scissors and wit) so

we cannot accommodate children. Contact

Suzanne Dundas at chatcraftcake@awcthehague.org

for more information

Every Tuesday

10 a.m. – Noon

AWC Clubhouse

FREE

Heart Pillow Project

Members work together to make heartshaped

pillows designed to help support

the arms of recent mastectomy patients.

Each pillow is made with TLC, wrapped,

and comes with a note signed by an AWC

volunteer. No sewing skills are needed, as

you can cut, stuff, or wrap the heart pillows.

We are proud to provide men and women

with something both practical and comforting,

and we know our work helps because

we often receive thank-you notes and emails

from the patients who have received a heart

pillow. For more information, please contact

Jan de Vries at heartpillow@awcthehague.

org.

Tuesday, April 9

Noon – 2 p.m.

AWC Clubhouse

FREE

Visitors Welcome

Out to Lunch Bunch: April

The Malieveld in The Hague is a large grass

field, located opposite The Hague Central

Station. It is a major venue for funfairs,

concerts and markets that are organized

throughout the year. The Malieveld is also

a favorite place for protests and major

manifestations. The café-restaurant >> 18

16 GOING DUTCH

APRIL 2019 17
---
Ongoing Activities (cont.)

Continued from page 17

Front Desk Volunteers Needed

by Holly Savoie

Credit: VVV.nl

Paviljoen Malieveld has been located at the

Malieveld since 1941. This restaurant is an

"institution" and is famous for its delicious

poffertjes, pancakes and Old Dutch waffles.

The pavilion is also highly suitable for a

light lunch or extensive afternoon tea. When

the temperature is pleasant, the terrace is

open. If you have any questions, please

contact Greetje Engelsman at activities@

awcthehague.org.

Monday, April 15

Noon – 2 p.m.

Paviljoen Malieveld

Koekamplaan 6, Den Haag

www.malieveld.nl

Sign up at www.awcthehague.org

Thirsty Thursday

Don't miss our April Thirsty Thursday as

we're returning to Restaurant Nivoo. This

spot was one of the favorites last Club year

and several Members requested that we visit

again. Thirsty Thursday is a casual evening

of companionship and good conversation.

Two soft drinks, wine or beer, plus snacks.

Thursday, April 18

6 – 9 p.m.

Restaurant Nivoo

Hooistraat 1, 2514 BM, Den Haag

€ 15 for two drinks and food

No RSVP needed

Walkie Talkies

Whether you count your steps or just want

to walk with friends, the Monday morning

Walkie Talkies is a fun, healthy and energetic

way to start the week. The group meets in

front of the Clubhouse before heading out

to walk to various destinations in the area,

usually racking up 10,000 steps along the

way. To receive email updates, contact

Emily van Eerten or Greetje Engelsman

at walkietalkies@awcthehague.org.

Mondays

9:30 a.m.

AWC Clubhouse

Free

Sign up at www.awcthehague.org

Wassenaar Coffee &

Conversation

If you live in or north of Wassenaar, join

your neighbors for coffee and conversation

once-a-month without having to drive

to the Clubhouse. One Member will host

a casual coffee at her home at 9:30 on the

first Thursday of every month. Prospective

Members are welcome too. Suzanne

Dundas coordinates these meetings and can

be reached at chatcraftcake@awcthehague.

org. Because the location changes every

month, contact Suzanne if you are interested

in attending or for more information.

Thursday, April 4

9:30 a.m.

Location TBA

FREE

In order to keep the Clubhouse open and

functioning properly, we need some friendly

faces stationed at the Front Desk to welcome

both current and potential Members to

our Clubhouse.

Since we are open two days a week, that

means we have a minimum of eight shifts to

cover each month. In order to spread out the

workload, we ask that each Front Desk volunteer

commits to at least one shift per month.

Our amazing Front Desk team is currently

comprised of the following volunteers:

• Amber Gatewood

• Dominique Duysens

• Holly Savoie

• Liduine Bekman

• Melissa Rider

• Shanon Gonzales

• Siska Datema

Playball Netherlands is now

taking bookings for 2019!

Want to get your little one involved?

www.playballkids.com to see the fun for ages

2-7 years

Email kidsplayball@hotmail.com to arrange a

FREE trial class

www.facebook.com/PlayballNetherlands

Or call Maggie on: 0627214347

Volunteering at the Front Desk is:

• a great way to get to know current AWC

Members,

• only a once-a-month commitment for

four hours, and

• fun and easy to do.

If you are interested in volunteering for

the Front Desk, please contact me at

philanthropy@awcthehague.org.

Looking forward to welcoming you to our

team.

18 GOING DUTCH

APRIL 2019 19
---
One-of-a-Kind Activities

by Marsha Hagney

RSVP directly on www.awcthehague.org. Direct any questions to

vicepresident@awcthehague.org

Payment must be made within 5 calendar days of reserving or your name will be moved to a waitlist.

Payment can be made in the Front Office by PIN, on the AWC website (www.awcthehague.org) or by

bank transfer to the AWC account NL42ABNA0431421757.

large distance, so good walking shoes and

an interest in covering much ground are required.

Wednesday, April 17

10:30 a.m. – 12:30 p.m.

We will meet for coffee at the first

"gem" at 10 a.m.

De Haagsche Kluis, Plein 20, Den Haag

€ 15 Members / € 20 Non-Members

Max 15

Registration/Cancellation Deadline:

April 15

Sign Up at www.awcthehague.org

Rembrandt: Bohemian or

Businessman, Romantic or

Rebel

AWC Member Jane Choy graciously

opens her home and shares her knowledge

once again. Holland has designated 2019 as

"The Year of Rembrandt" commemorating

his legacy. This year marks 350 years since

his death. This special lecture provides an

opportunity to learn about Rembrandt, as

you experience the many tours and exhibits

in the Netherlands throughout 2019.

Rembrandt is considered by many to be

Holland's greatest artist and the equal of

Mozart, Shakespeare and Michelangelo.

Unlike van Gogh, another great Dutch artist,

Rembrandt has not left much written

material explaining his views on art. But

what he has left is a unique visual autobiography

in his self-portraits, which he

did from the time he was 20 until he died

at the age of 63. This lecture will use the

self-portraits as a thread through his life

and with his other masterpieces explore the

man and what, why and how he painted.

Was he a businessman or bohemian? Rebel

or romantic?

Wednesday, April 3

Coffee at 7:30 p.m.

Lecture 8 – 9:30 p.m.

Private home in Voorburg

Registered attendees will receive address

in advance of the event

€ 15 Members / € 20 Non-Members

Includes refreshments

Maximum 20

Cancellation Deadline: March 25

Sign Up at www.awcthehague.org

Hidden Gems City Walk

Monique Varma leads us on a special walking

tour of hidden gem including hofjes

(courtyards surrounded by almshouses that

have existed since the Middle Ages and

provided housing for women and the elderly),

statues, monuments, gardens, and religious

buildings. We start at De Haagsche

Kluis, at Plein 20. They will open earlier

than usual for our coffee at 10 a.m., and

we will depart there at 10:30 to begin the

walk. We will conclude at Pulchri Studio

with many gems in between. Many of the

places we will tour are now mostly closed

to the public for various reasons, mostly

the change in security standards the past

several years. More details will be available

before the tour. A unique tour with the

disclaimer that it involves covering a fairly

Unique products

for entrepreneurs

Sligro The Hague Forepark is the perfect fit for you as entrepreneur.

We inspire and support you with our products and services, that will

help you with your business. Our people are always there for you

with professional and tailored advice.

sligro.nl

Linge 2, The Hague

1061246

20 GOING DUTCH

APRIL 2019 21
---
Slate of Officers 2019-2020

We are pleased to introduce the candidates for the 2019-2020 AWC The Hague Board.

The election of Officers will take place during the General Meeting on April 11. If you

are unable to attend the meeting, please submit a proxy ballot.

President – Suzanne MacNeil: I am honored to be nominated

for a second term as President of our Club, which

will be my seventh year as a Member. Where has the time

gone?!?! My first term on the Board has been filled with

serious discussions, teamwork, fun, and desserts. Lots of

desserts! I told the 2018-2019 Board at our first meeting

in June of last year that I'm not a micromanager, and

that each Member is empowered to oversee her position

and the volunteers with whom she works. I also told the

women who served with me that while we are charged

with overseeing the Club on many levels, we are volunteers,

and the Club is first and foremost a social organization

so our goal is to enjoy our time together. I hope our

Members sensed the camaraderie within the Board this

Club year, and I see no reason to change our way of working.

Looking ahead, I want to help our AWC continue to

grow, make substantive decisions that will serve the Club for years to come, and help

to foster the friendships that make our AWC one of the most interesting and inspiring

organizations you'll ever join!

Vice President – Shanon Gonzales: I was born in the

Texas panhandle and lived in the Houston area from the

age of five. My husband and I always dreamed of living in

Europe. When he was offered a transfer to his company's

corporate office in Amsterdam, we knew we couldn't pass

up the opportunity, and we moved our family to Leiden in

August 2019. My husband, Christopher, and I have been

married for 23 years this summer, and we have two children.

My daughter, Emily, is a sophomore at the University

of Mary Hardin-Baylor in Texas and is pursuing her nursing

degree. My son, Seth, just started high school and attends

Rijnlands Lyceum in Oegstgeest. I graduated with a

degree in Education from Houston Baptist University, and

I have taught for 22 years. I have been fortunate to teach

3rd grade, 4th grade, reading academic support, and (my

favorite level) kindergarten. I love helping people, and

teaching has brought me so much joy! I spent 17 years at Memorial Parkway Elementary

(MPE) in Katy, where I was very active in leadership roles. I served as a team leader for

most of my years at MPE. I was also the chair of the Sunshine Committee, as well as

the campus representative for the Association of Texas Professional Educators. In addition,

I served as the webmaster for my campus. My family enjoys traveling together,

and we are excited about the opportunities we now have to explore the Netherlands and

surrounding countries. I am so glad that I found the AWC so quickly after my arrive to

the Netherlands, and I am excited to serve on the Board.

22 GOING DUTCH

Treasurer – Sheyla Karman: I was born in Panama, lived

and studied in New York for 17 years where I obtained my

BS in accounting from Long Island University, and later my

CPA licensure in New York State. I began my public accounting

career in 1987 with PricewaterhouseCoopers in

New York City, which took me on to Curaçao, and Jersey

in The Channel Islands. In 1998 I returned to the US and

changed career paths to the private sector as a financial reporting

manager for Ocwen Financial Corporation, a publicly

traded entity. In 2001, I switched career paths again,

this time to fulfill the desire to start a family and become a

full-time mother. Over the course of the past 17 years, along

with motherhood, I have applied my professional skills and

experiences to diverse volunteer leadership work opportunities:

as Treasurer for the AWC of Brussels, Fellowship

Committee Chair at the American Protestant Church of The Hague, account reviewer for

the AWC of The Hague, alongside pursuing my passion for hospitality as an events planner

and caterer. I have lived in The Hague since 2005, and am married to a Dutchman, and we

have two teenage kids.

Over the past year I have served the AWC The Hague as Club Treasurer and continued to

meet and forge friendships with the diverse group of ladies who make up the AWC of The

Hague. Our Finance Team has been working this past year on updating our accounting program,

methods of payment and continuing to provide the Board and various Committees

with finance related support. In the coming year, our goal is to continue to support the

Board and its various Committees and to look for ways to improve and simplify the finance

function, while looking ahead at the short- and long-term life of the AWC The Hague.

Secretary – Heather DeWitt: I was born in Louisiana and

became a Third Culture Kid when, at the age of seven, my

family moved to Saudi Arabia. Living there and traveling the

world was a wonderful way to grow up. After moving back to

Northern California for high school and Southern California

for university, I met my husband, Mike, at a drive-in movie.

With Mike's evolving career we have lived across the US:

California, Wyoming, Colorado, Pennsylvania, and Texas.

With each move I have reinvented myself, as a graphic artist,

teacher, interior decorator, and marketing production

assistant. However, my favorite job has been as a mom. I

have volunteered for many school, sport, church committees

and groups over the years supporting our children Skyler

and Logan. One very fond volunteer memory was as a key

member of the St. Richard Appalachian Mission trip. This

trip is an annual event where 40 adults and 80 high school

youth travel to West Virginia and perform "Habitat for Humanity" like work on people's

homes. It was always an amazing week to work with the youth. I was able to improve

my DIY skills tenfold; a few things I enjoyed learning were HVAC, drywall framing and

how to plumb a shower! I have also had the opportunity to volunteer here in The Hauge

with Present Stichting International, by helping underserved people improve their lives

by improving their living environments. Having the wish to travel has always been in my

blood and living in such a central location, I'm always looking for the next adventure. My

travel highlight of last year was being able to walk on the Camino de Santiago with my

daughter, mother and father. This year I'm looking forward to being able to meet more

AWC Members and enjoying the wonderful city we call home.

>> 24

APRIL 2019 23
---
Slate of Officers (cont.)

Continued from page 23

Club and Community – Amber Gatewood: I was born

and raised in West Virginia and received my BS in Dental

Hygiene at West Virginia University. A highlight of my

career was my time spent in pediatric dentistry, especially

community outreach in schools and the Give Kids A Smile

program. I was on the dental hygiene advisory board at

Bridgemont Community and Technical College and believe

that the mouth is a gateway to overall health (remember to

floss!). My husband, Mark, and I met during wild times

at WVU, then settled down and got married in 2006. We

moved to Charleston where I was active in the Bedford

Road Garden Club, attended Bible Center Church and

joined the Junior League. Shortly after moving to Houston,

a wonderful opportunity presented itself, and we relocated

to The Hague for Mark's job in oil and gas. Currently, I

am the eNews Editor and enjoy meeting culturally diverse

women while working the front desk. I LOVE the cycling culture in the Netherlands,

the convenience of European travel, and meeting up with my husband after work trips

in places I might not normally venture. BUT my favorite place to go is back to 'Almost

Heaven'; being in my grandma's kitchen, hiking in the hills, kayaking with my sisters,

and simply spending time on the farm make me the happiest.

Clubhouse Administrator – shared by Jan Essad &

Sunita Menon

Jan Essad: I was born in Albuquerque, but have known the

expat life ALL my life, growing up in a military family and

then marrying Bob who served in the US Air Force for 29

years. I took advantage of the military lifestyle as an opportunity

to do many different things: working as a hospital

administrative assistant, dental assistant, substitute teacher,

and owner of a small pottery business. Since arriving in

The Hague in 2010, when Bob accepted a position with

NATO, I have been an active Member of the AWC, serving

various roles such as Secretary, chairing two Holiday

Bazaars, Activities and Tours Chair (I am very proud the

Walkie Talkies I started is still going strong!), Gala committee

team member for six AWC Galas and Heart Pillow

Project. Outside the Club, I enjoy fundraising for Stahili

and am also an active member of Redeemer Church enjoying outreach for asylum seekers.

Bob and I have two grown children, Grant and Natalie, and the cutest little granddaughter

Myra Grace. This past year, Sunita and I have loved giving the Clubhouse a

major facelift, by organizing a Club clear out, new furniture, painting, floor polishing and

repairs where needed. We have also installed a new printer, router and motion lighting in

the alleyway. Sunita and I look forward to serving on the Board again and accomplishing

the remaining things on our VERY ambitious checklist.

Sunita Menon: I was born in New Delhi, India and educated in various cities all over

the country. After completing my master's degree in biology, I met and married Mohan

24 GOING DUTCH

and moved to the US in 1991. I have lived in New York and Seattle, taught pre-med at

the State University in New York and worked as a science educator at a middle school for

several years. My family moved to the Netherlands in 2007 and in 2008 I started my business,

The Acer Company, specializing in product brokerage and business development.

My first AWC event was an evening wine tasting, as a guest; I enjoyed my time so much

that I became a Member shortly thereafter. Since joining the AWC, I have been a part of

the Gala team for six galas and the AWC Philanthropy Chair from 2013-2015. In 2015, I

joined the AWC Board as Secretary and served until 2016. Today, I am an AWC Board

Member and active volunteer at the Stahili Foundation, an organization that helps reunite

children with families in Kenya. I also volunteer at Ipse de Bruggen, a Dutch support center

for handicapped children and adults. I live in The Hague with my husband and grown

children Avanti and Ajay. I trained as an Indian classical dancer for 18 years. I also love

to cook, travel and learn languages – am learning Romanian at the moment. I enjoy being

on the board, especially working with Jan on the Clubhouse projects and I look forward

to another fun and productive year ahead!

Communications – Audrey Goodman: I was born in

Florida, spent my childhood moving around the US, and

am a proud Navy Brat. I spent most of my adult years in

Baltimore, where I call home. My background is in general

liability and property insurance, working in claims for over

seven years and insurance operations for the last three. I've

held various management roles over the past five years and

helped launch a new claims organization. My husband's

job moved us to The Hague in 2018 for a two-year assignment,

and this the first expat experience for us both.

I joined the AWC Board mid-way through the 2018-2019

Club year, as the Communications Officer. During this

time, we launched a new website (thanks to AWC Member

and Webmaster Julie Otten), increased the activity on

our public Facebook account, and reorganized our private

Facebook page. I am also the Editor of Going Dutch, working with Terri Mahoney who

handles the design and layout. Additionally, I am serving on the Benefit Event Committee

as the Marketing and Promotions Chair for the re-Building Lives Benefit. In the upcoming

Club year, our goal is to further increase our social media activities, expand Going

Dutch advertising and article submissions, explore additional marketing options, and

fine-tune the new AWC website.

Did you know that any woman who speaks English is eligible to join the

American Women's Club?

Invite your English-speaking friends, wherever they're from, to join us today!

APRIL 2019 25
---
Easter Basket Assembly

by Holly Savoie

Help us assemble Easter baskets for the

children residing at Vliet en Burgh,

the Leger des Heils (Salvation Army)

foster home in Voorburg. Baskets, bubbles,

chalk, etc., and of course chocolate bunnies

have all been purchased! All we need

is for you to "Hop on Down" to the AWC

Clubhouse and help to assemble the baskets.

Join us for a fun evening of fellowship and

wrapping fun.

Funds from the philanthropy budget was

used to purchase all the items needed for the

baskets. Of course, any additional items that

you would like to donate will be used and

appreciated.

In order to give working Members an

opportunity to participate, basket assembly

will take place in the evening this year.

Please contact me at philanthropy@

awcthehague.org with any questions, or to

volunteer to help with the assembly and/or

delivery of the baskets.

Thursday, April 4

6 – 8 p.m.

AWC Clubhouse

Sign up at www.awcthehague.org

The new AWC Website is now up and running!

Please visit

www.awcthehague.org

for all of your Club-related needs:

Payment of Membership dues, registration for activities and events, Membership

directory, etc.

If you have any questions about the website, please contact

awcthehague.communications@gmail.com.

26 GOING DUTCH

APRIL 2019 27
---
April 2019

Sun Mon Tue Wed Thu Fri Sat

1

2

3

4

5

6

Walkie Talkies 9:30 a.m

Chat, Craft & Cake 10 a.m.

AWC Tennis 1 p.m.

Wassenaar Coffee and

Conversation 9:30 a.m.

AWC Board Meeting 1 p.m.

Rembrandt Lecture

7:30 p.m.

Easter Basket Assembly

6 p.m.

7 8

Walkie Talkies 9:30 a.m

Dutch Products Class

10 a.m.

9

Chat, Craft & Cake 10 a.m.

Heart Pillow Workshop

Noon

AWC Tennis 1 p.m.

10

Evening Book Club

7:30 p.m.

11

Coffee 10 a.m.

April General Meeting

10:30 a.m.

12

Buddy Check 12

13

re-Building Lives Benefit

6:30 p.m.

14 15

16

17

18

19 20

Walkie Talkies 9:30 a.m

Out to Lunch Bunch

Noon

Chat, Craft & Cake 10 a.m.

AWC Tennis 1 p.m.

Hidden Gems City Walk

10 a.m.

Thirsty Thursday 6 p.m.

Dutch - American Friendship Day

21 22

23

24 25

26 27

Walkie Talkies 9:30 a.m

Chat, Craft & Cake 10 a.m.

Daytime Book Club 10 a.m.

King's Day

28 29

Walkie Talkies 9:30 a.m

30

Chat, Craft & Cake 10 a.m.

Save the Dates:

May 9: Installation of Officers

May 15: Lunch Bunch

May 23: Volunteer Luncheon

28 GOING DUTCH

APRIL 2019 29
---
Reflecting on Repatriation

by Rebecca Failor

Expat, trailing spouse, repatriation. These are all terms

I'd never used before 2010, when we started our

wonderful life of living in the Netherlands. And

what a wonderful life it was! The AWC The Hague made

such a big difference in my integration into that life. But

all good things seem to end, so now the word "repatriate"

applies to me.

For those of you who know me, you know I think you can

do almost anything if you are determined and have a plan.

As a very experienced traveler, I thought our integration

into Dutch life would not be that difficult. Heck, I had just

retired and had all this time to do whatever was needed.

As my husband Hugh says when I am being naïve, "It's

a nice little world you live in." So when reality set in, I

needed help and that is what I received from the wonderful

AWC ladies and our lovely neighbors.

So when we repatriated I was not so naïve. I read the Repatriation section of the AWC

book At Home in Holland. I got it that my friends' lives had moved on without me. I knew

the wonderful public transportation of the Netherlands would not be there on my return

to California's San Francisco Bay Area. But how hard could it be? I can read and speak

the language. I was returning to a community I had previously lived in for 30 years, so I

know my way around and know the customs. I have friends here.

What Has Been Easy:

• Staying with wonderful friends until we were ready to move back into our house.

• Returning to the area we had lived for over 30 years.

• Hugh had a job to return to, even though he did not have a specific assignment.

• Knowing how to speak, understand, read, and write the language.

• Knowing where and how to buy stuff, such as:

○ Two cars (yes, two are needed here and we are driving more in one day than I

used to drive in a couple of weeks)

○ New bed, with all the needed sheets, blankets,

etc.

○ New television and stand

○ New kitchen and laundry appliances for our

house, replacing 20-years-old ones

○ New window coverings—24 of them!

• Knowing how to hire workers to:

○

Paint the entire interior of our house—it

looks so fresh and new!

○. Install new carpet and flooring

○. Repair a water problem in a bathroom

• Getting our belongings from storage and receiving

our shipment (though it takes weeks to get everything

put away).

30 GOING DUTCH

What Has Not Been Easy:

• Finding that most people have little interest in what

your life was like in the Netherlands, or hearing about

your experiences.

• Missing my friends living in Holland (Thank goodness

we have had quite a few visitors from our NL times).

• Integrating back with old friends who have full lives.

• Finding a club with frequent activities, like the AWC,

with Members who "get my situation" and want to

help.

○ The local women's club just doesn't fit me. I

○

tried!

I'm not "Dutch" enough to integrate with the local

Dutch group.

• Driving everywhere you need to go. It isolates you

from the life around you.

• Watching Hugh be sidelined at work by those trying so hard to protect their turf.

• Adjusting to US payment processes. The first time I wrote a check after repatriating, I

had to stop and remember how. What goes where, and how does my husband want it

recorded? And of course they wanted to see identification. Why can't I just transfer the

money directly?

It's Funny What I Miss About Holland:

• Dropping in at Chat, Craft & Cake, even though I don't do any crafting

• 200-gram packages of roerbak veggies, ready for a quick stirfry

• Flowers that cost less than $20 a bouquet

• Ladies talking about Houston

• The Museumkaart for access anytime to a fabulous museum, even if I only had a short

time to visit.

The Wonderful Things About Living in California:

• Views of mountains and rolling hills from our backyard

• Sailing on the San Francisco Bay

• Feeling at home, and not like a visitor.

For any of you who will be repatriating: Take care of yourself. Don't expect it to be a piece

of cake. And remember the wonderful experiences and friends you have made during your

life abroad.

APRIL 2019 31
---
The Story of Dutch-American

Friendship Day

by Roberta Enschede

"There are no friends more faithful than they."

– John Adams

On the 19th of April 1782, the United Provinces

recognized the independence of the raggle-taggle

colonies that were to become the United States of America. John Adams, the feisty, determined

colonial man from Quincy, Massachusetts fought and cajoled and reasoned to make

Dutch Recognition of American independence a reality.

Ultimately, "De Heer Adams" succeeded. He became Minister Plenipotentiary, the first

American ambassador to the United Provinces. He was received by the States General and

the next day at Huis Ten Bos by William V, Prince of Orange. He wrote, "We have torn from

England's bosom a faithful ally by availing ourselves of the still small voice of reason without

money—without credentials."

Princes Margriet by members of Congress, Steny Hoyer (D-MD) and Ben Gilman (R-NY).

The resolution was sponsored by Bill Alexander (D-AR) (Steny Hoyer, now the majority

leader in the House, came in his place) and Ben Gilman (R-NY). It was handwritten by an

artist calligrapher who proudly placed the wax seals of the US and the Netherlands upon it.

Thomas Boyleston Adams, President of the Massachusetts Historical Society, and Charles

Francis Adams, direct descendants of John Adams, came over from Boston. The same day,

in Washington D.C., Her Majesty Queen Beatrix addressed a joint session of Congress.

On April 20, Her Majesty allowed the Huis Ten Bos to be opened. Charles Francis Adams

and Thomas Boyleston Adams were welcomed there 200 years to the day after their ancestor

"De Heer Adams" Minister Plenipotentiary was received by William V, Prince of

Orange.

"The American cause has had a signal triumph in this country." – John Adams

It was true in 1782. It was true in 1982. In 2019, we know—it is true today!

"There are no friends more faithful than they." – John Adams

In 2007, on the 225th anniversary, Ambassador Pete Hoekstra, then Congressmen Pete

Hoekstra (R-MI) and Chris van Holland (D-MD) now Senator, introduced HR-89 reaffirming

Dutch-American Friendship Day.

"You will see, the American cause has had a signal triumph in this

country. If this had been the only action of my life, it would have been

a life well spent." -John Adams

Message from the President (cont.)

Continued from page 8

He bought a house at Fluweleen Burgwaal 18, "suitable for a Hotel des Etats-Unis". That

house became the first embassy the US ever owned. (The site is now a parking lot.)

On Dutch-American Friendship Day, we extol his "Signal Triumph"—237 years of unbroken

diplomatic relations—the longest continuous ties between the US and any nation. The idea for

Dutch-American Friendship Day began in September of 1981. There was talk and plans for

the Bicentennial of Dutch-American relations: business initiatives, projects, more business

initiatives. But, we asked, "What about history?"

In 1981, it was especially important to remember our history, our shared values, our "firm,

inviolable friendship." The Cold War was a clear and present reality. The US wanted to deploy

48 cruise missiles in the town of Woensdrecht. Thousands of Dutch people protested on the

Malieveld and all over the country. A resolution declaring Dutch-American Friendship Day

would not mollify their concerns and fears. Nevertheless, it would be a fitting tribute.

What was drafted on a kitchen table in September 1981, was passed by both houses of Congress

in March 1982 and signed by President Ronald Reagan. HJ 410 (House Joint Resolution 410)

declared the 19th of April Dutch-American Friendship Day.

It passed just in time for the John Adams Dinner that would be held on the anniversary of

the Bicentennial. At the dinner, the first copy of the joint resolution was presented to HRH

32 GOING DUTCH

FAWCO Biennial Conference that was held in

Edinburgh in March. It was my first FAWCO

conference and our Club had a large contingent

of Members attend, including Georgia

Regnault, Emily van Eerten, Anne van

Oorschot, Terri Mahoney, and Laurie

Brooks. In addition, Johanna Dishongh, a

former president of our Club who has repatriated,

is the US Issues Liaison for FAUSA,

the American arm of FAWCO.

I met incredible women from every

FAWCO region and 40 different clubs in

Edinburgh. The presidents' sessions gave

me confidence that our Club is moving in

the right direction. I'll discuss some of what I

learned in Edinburgh at our April meeting, the

ideas we shared, and why FAWCO remains a

relevant organization that all Members should

become more involved in, as it offers numerous

opportunities through its multifaceted

programs. If you're not familiar with

FAWCO, I know Julie will be happy to share

why she became our rep, and I can explain

why I caught FAWCO Fever at the conference

in Edinburgh!

I hope to see you at one, or all, of the fun

events taking place this month.

Tot ziens,

Suzanne

APRIL 2019 33
---
FAWCO Corner

by Julie Mowat, AWC The Hague FAWCO Representative

Federation of American Women's Clubs Overseas, a United Nations NGO with

consultative status with the UN Economic and Social Council

www.fawco.org.

One Billion Rising

One Billion Rising is the biggest mass action

to end violence against women in history.

This campaign started in 2012 and occurs

annually on Valentine's Day. Many activities

are planned, including flash mobs. This

year, the AWC The Hague participated

again. Melissa Rider held a rehearsal at the

Clubhouse for Members to learn the dance,

and lots of laughter and fun was had. Then

on Valentine's Day, a beautiful sunny day,

we (dressed in pink and red) joined the AWC

Amsterdam (AWCA) for the flash mob in

Rembrandt Square in Amsterdam. So much

fun with great energy! The AWCA did a fantastic

job organizing. When we were done,

we decided to try to make it to the flash mob

in Leiden (last year, AWC Members danced

with Webster University in Leiden). We

caught the right train and ran to the location

in Leiden. We made it and joined them in

their dance! Again, lots of fun energy and

laughs. It was so empowering and a wonderful

experience. We all plan to do it again

next year and hope more Members can join

us!

It's Not Too Soon to Register to

Vote

Federal law

requires

overseas

voters to

(re)register

every year

in which

they mean

to vote. Yes, the next national election is in

2020, but prepare for special and any other

elections that may arise in 2019 by using

FAWCO's dedicated website to register:

www.usvotefoundation.org.

Hope Beyond Displacement

News From Collateral Repair Project

by Tricia R. Saur, FAWCO Member

SuperGirls: A Hallmark of Hope

Beyond Displacement

SuperGirls focuses on healthy eating and included

a field trip to a nearby supermarket.

The girls had a small budget to spend and

got to decide what nutritious snack to purchase.

The activity was followed by vibrant

discussion that illustrated how the girls are

learning about the value of money and independent

decision making.

The Collateral Repair Project (CRP) has

seen real results in the way the girls control

their emotions and interact with others, from

the beginning to the end of the six-month

session. For example, when one eight-yearold

participant began, she was barely able

to communicate at all. She was too shy to

look at anyone's face or respond when spoken

to. Because of these issues, her parents

decided it would be easier for her to not go

to school. Then, after six months, she was

regularly participating, and her hand was

the first to shoot up to answer questions.

That September, her parents registered her

in school.

Leadership In Action

As part of the Leadership in Action program,

18 women and men finished a 5-day

training which taught them how to advocate

and act on issues they see in their community.

They have chosen child labor, violence

against women, and the dangers of the internet

as the issues to focus on and are in the

process of designing advocacy projects.

34 GOING DUTCH

APRIL 2019 35
---
FAWCO Handbag and Art Auction

by Julie Mowat, AWC The Hague FAWCO Representative

Our FAWCO Handbag and Art Auction was once again a big success! This has always

been a particularly fun event, and this year was no exception. Not only was a record

amount raised – € 3,880! – but everyone had a wonderful time. Also, this last amount

donated has pushed our Club up into "Diamond Level" donor status! It was truly incredible

how many fabulous bags, scarves, accessories, and artworks were donated. It was wonderful

to hear the gleeful laughs when a new item was presented. Bags were modeled by volunteers

and then passed around to be examined before the competitive bids started. The high tea

treats and bubbly were also highly appreciated by our many attendees.

This fundraiser was the last one for the 2017–2019 FAWCO Target Project: CRP's Hope

Beyond Displacement. This non profit operates an amazing community center in Jordan that

helps refugees. The funds raised will be used for many things including SuperGirl classes,

gender-based violence programs, vocational training, education, etc. Your donations will

definitely make a difference! Having had the privilege to visit there last spring, I can say your

donations will be utilized well. For more information, visit www.collateralrepairproject.org.

This auction could not have happened without all the dedicated and delightful volunteers

that donated their time, money, and creative positive energy. We were led by our

fearless leader Terri Mahoney, whose calm positive energy is an inspiration. Thank

you especially to Loren Mealey, our auctioneer, who can really make the room buzz, and

to all of our volunteers who put in more hours than you might imagine to make the whole

event possible: Amber Gatewood, Audrey Goodman, Deana Kreitler, Debbie van

Hees-Cascio, Dominque Duysens, Emily van Eerten, Georgia Regnault, Glenda Ohr,

Greetje Engelsman, Holly Savoie, Jan Essad, Lana Heidar, Maud Janssen, Melissa

White, Sunita Menon, Suzanne MacNeil, and Una Mulvihill.

Again, a big heartfelt thanks to everyone who donated items, volunteered, and made

purchases. I hope you are enjoying your new goodies. I am so proud to be a Member of

this generous Club!

With gratitude, Julie >> 38

36 GOING DUTCH

APRIL 2019 37
---
Handbag Auction

38 GOING DUTCH

APRIL 2019 39
---
Travel Tips & Tricks

by Audrey Goodman

"I use www.skyscanner.nl to help me find the cheapest

flights to European destinations. We much prefer flying

from Rotterdam if possible—far less queuing time and

much cheaper car parking! And don't forget to consider

going from airports located outside the Netherlands.

We have flown out of Brussels airport a few times because

flights were significantly cheaper than those in the

Netherlands." – Jo van Kalveen

"The best way to avoid the tour bus crowds is to either

get up and out early or visit later in the day. Take an

afternoon siesta if you choose the early option, so you

can still enjoy a fun evening out. Many museums have

night hours one day a week." – Melissa Rider

"In the US, my husband and I are loyal to one of the

large hotel chains. But we've found that boutique hotels

in Europe are often cheaper and cozier than the chains,

especially in many city centers. Our new go-to website

for hotels is www.booking.com. We've also become big

fans of the Lonely Planet travel books. I know the Rick

Steves books are more popular, but we prefer the format

and maps in Lonely Plant." – Audrey Goodman

"My 'Cannot Travel Without' piece of luggage is the

Brics X-Large 3-in-1 Bag (www.brics.it). It has a sleeve

that fits over your trolley handle, making it so easy to

move through airports. It's a shoulder bag with leather

straps that you can move and restyle, to make it into a

large crossbody, freeing your hands. The small zipper

pouch that snaps inside the bag comes with a thin, removable

leather strap so it can be used as an evening

crossbody or just a clutch. [Bonus!] The other thing I

carry is a roll of washi tape. It comes in handy for clothes

alterations, rubber band replacement, or keeping bags

tightly closed in your suitcase. It is so tiny, but does a

big amount of work!"

– Debbie Cascio

"If you plan to walk on anything other than the roads,

i.e. hiking paths or trails, I have a great free app that will

help you navigate anywhere in the world. You can use it

with WiFi, or if you know you will be out with no WiFi

reception, you can downlaod the maps for free and have

them ready on your phone to be used with GPS. Go to

the app store and look for Gaia GPS."

– Terri Mahoney

Travel4U@americantravelcenter.net/www.americantravelcenter.nl/tel. +3261234901

"Our next holiday is

a safari. They do

the whole world!"

"My husband and I love using the Rick Steves Audio

Europe App. I like to listen to the audio files as I am

planning our trip. Once we arrive in the city, we usually

start our adventure with his City Walk audio guide. The

City Walk provides a great overview and history of the

city and when it is complete you have a good lay of the

land to explore more in-depth." – Holly Savoie

"They make booking a

holiday so easy. I just

leave it to them!"

"Every trip is

customized, just for

me! That's unique!"

40 GOING DUTCH

APRIL 2019 41
---
Unconventional Travel: Seoul

by Melissa White

Shortly after New Year's and just a month

after leaving Athens, Ashlynn was off

to Seoul for eight weeks for her next

"on stay" as a full-time model. It was incredibly

strange kissing my 18-year-old daughter

goodbye at Schiphol knowing that she was

traveling to Asia on a one-way ticket; the plans

for the next leg of her trip to Sydney hadn't

been finalized at the time.

Instead of renting her own place, this time

Ashlynn was staying in a "model apartment"

managed by her Korean modeling agency so

that models could share affordable space in

this overcrowded city. The apartment was in

Gwangjin District, southeast of the city center

42 GOING DUTCH

and about a 20-minute walk from a vibrant

shopping and restaurant area. It was also conveniently

close to the agency and the male

models' apartment. Ashlynn was a bit apprehensive

about living with total strangers, but

she quickly bonded with the other girls and

was very happy she wasn't living on her own

in such a foreign land. The biggest drawback

was that she was constantly having to watch

good friends leave; not unlike what she was

used to growing up as an expat, but on a much

faster timescale.

Two weeks after she left Holland, I also left

Schiphol on a one-way ticket to Seoul. Unlike

Ashlynn, I had a series of one-way tickets that

would then take me to San Francisco to visit

my parents, and on to New York to meet up

with my husband on a business trip (which is

definitely an entirely different tale to tell), and

then eventually back home to complete my first

round-the-world journey. Seoul had previously

changed my life by exposing me to international

travel and the idea of living as an expat.

My parents lived there in the early 90s and I

got my first passport to visit them in 1991 when

I was 27. Over my five visits, I spent about

eight weeks in Seoul and was looking forward

to experiencing the city with my daughter.

I had originally planned to stay in a hotel

in the city center with Ashlynn joining me on

the weekends, although it would have limited

our time together. I was thrilled when her

agency offered to let me stay with Ashlynn

in the three-bedroom apartment instead, since

there was only one other model at that time,

a 20-year-old Russian from Tel Aviv. A big

surprise was that I could stay for free, allowing

me more time with Ashlynn and freeing

up more spending money to spoil her. It also

meant that I ended up hanging out with a

bunch of models 14 to 23 years old when I

was invited to a few group dinners and an

evening of karaoke.

Things had really changed since the last

time I was in Seoul in 1995. I was happy to

see that the roads seemed much more orderly

than the complete chaos before. My

dad likened driving there in the 90s to being

completely surrounded by teenage drivers, as

few people could afford cars previously. The

subway system has spread vastly around the

city and is efficient, clean and easy to use.

The line serving Itaewon, where my parents

lived, didn't open until five years after they

left. Itaewon's main shopping street had transformed

from a series of crooked alleys and

little shops to a glut of national and international

chain stores. I was excited to find the

familiar staircase up the hill to my parents'

old street, but was astonished when I realized

that all the single family houses on their side

of the street had been replaced by multistory

apartments or office buildings. I was also surprised

to see how many bars were advertising

that they were open 24/7; in 1991, I was in a

bar with a friend when announcements were

made by megaphone at 1 a.m. instructing

people to go home and then the police arrived

at 2 a.m. to escort everyone out.

A model's schedule is not her own.

Ashlynn frequently wouldn't find out when

she had castings or photo shoots until 9 p.m.

the previous evening, so it was difficult to

make any firm plans. She usually had at least

one casting daily, so we were limited to mostly

half-day activities. Unlike Athens, where I

walked along with her and then waited outside

while she went to castings, in Seoul she was

always driven to castings or jobs and accompanied

by her manager to translate since very

few of the clients and photographers spoke

English. She had the entire first weekend off,

but we had the misfortune of getting food poisoning

from an Indian restaurant on Saturday,

which wiped out Sunday. She then had to

work most of the second weekend, but this

gave me the chance to run with two different

chapters of the Hash House Harriers, the international

running group that I regularly run

with in Holland (www.harrier.nl). "Hashing"

is a great way to see sections of a city that are

off the beaten path.

Some of the other models told us about

a raccoon café that they had visited, but

complained that it was very busy with lots

of screaming children. I did a little research

and found an alternative that wasn't in a

tourist area. According to Timeout Seoul, the

owner of Blind Alley had adopted the rescued

raccoons as babies and didn't want to leave

them home alone so set up a separate room in

a café for visitors to meet her pets. We were

lucky enough to be the only guests. Before

meeting the raccoons, however, we first fed the

two resident pigs in a most unusual manner:

by sitting on a pillow, having a blanket placed

across our laps and then throwing the >> 44

APRIL 2019 43
---
Unconventional Travel (cont.)

Continued from page 45

food across the blanket. Needless to say, it was

quite a strange sensation. Things were calmer

with the raccoons with one of them sleeping

and one hiding. We took turns holding and

feeding the third one, who was surprisingly

heavy. The room was clean with lots of

climbing structures to entertain the raccoons

and the staff seemed very attentive.

44 GOING DUTCH

Seoul is now home to the fifth tallest

building in the world: Lotte World Tower

(seoulsky.lotteworld.com). It opened in 2017

and is 1,821 feet (555 meters) tall with 123

floors. Rather than take the subway, we

walked across a bridge over the Han River

and along the riverfront for one and a half

hours. It was chilly (the temperature rarely

was above freezing during my visit), but

the sun was shining and it was great to get

outside. The design of the tower reminded

me of The Shard in London, but this was

much taller. We entered the building through

the most luxurious shopping mall I've ever

seen, before heading to the basement which

housed a more affordable mall and the entrance

to the observation deck. Admission

was a bit pricey, but it was definitely money

well spent. The fun started when we entered

the Sky Shuttle, the world's tallest and fastest

double-decker elevator, which took just

under one minute to bring us

to the 117th floor. While the

views were fantastic there,

they got even better when

we went up to the 118th floor

to check out the Sky Deck,

the world's highest glassfloor

observation deck. It

was truly wild standing on

a clear glass floor 1,568 feet

(478 meters) above traffic.

Our timing was perfect to

see the 360° view of Seoul

as daytime transformed into

nighttime. We finished our

visit with the signature cocktail

of the 123F Lounge on

the top floor.

The next day we were back in the basement

of Lotte World Tower, this time to visit

the Lotte World Aquarium, another highpriced

activity that Ashlynn would have

foregone if she had to pay since she keeps

herself on a strict budget. As a future marine

biologist, she is torn between her love for

being around sea life and her concerns about

animals in captivity. We were both impressed

with this modern and well-designed aquarium

housing 55,000 creatures from 650 species.

I especially enjoyed the 275-foot (85-meter)

long underwater tunnel and Ashlynn especially

loved getting to look eye-to-eye with

a beluga whale.

On my last night in town, we went to Asia's

largest underground shopping center: COEX

Mall. Ashlynn was happy to find a Dutch café

serving authentic warm stroopwafels, which

were unlikely to be vegan but worth it for a

little piece of home. The biggest surprise of the

evening occurred when we wandered into what

we thought was a giant bookstore. Instead it

turned out to be the incredible Starfield Library

with over 50,000 titles in an amazing twostory

open-plan design. We just happened

to go past some magazines and on a whim I

searched for the February issue of Noblesse,

a Korean luxury lifestyle magazine. Much to

our surprise, there was Ashlynn gracing the

pages in a circus-themed editorial she had shot

just two weeks earlier wearing

designer clothes. It was quite

surreal to be standing in a library

in Seoul watching my

daughter seeing herself in a

Korean magazine for the first

time. I was especially thrilled

when we discovered a bookstore

around the corner that

had a copy so I could bring

one home.

By the time you are reading

this, Ashlynn's stay in

Korea will have come to an

end and she'll have moved

onto Sydney, where yet another

adventure awaits me as

well.

APRIL 2019 45
---
Credit: Royal Institute of Dutch Architects

The Dutch Daily

by Eileen Harloff

From Embassy to Cultural Center

When the US Embassy moved from the

Lange Voorhout in The Hague out to

Wassenaar over a year ago, a question arose:

What should become of the building? In

some quarters it was suggested that it be demolished—as

soon as possible as it was an

eye sore for that location and looked like a

prison—and replaced by a smart hotel. Other

factions said the building should be kept, but

that it should be changed into a hotel. Others

suggested that it should become a new museum,

either to house the Escher collection

(currently located down the street) or to make

it into a museum dedicated to Dutch porcelain.

The decision has been made. and the

former embassy building is now a museum

whose purpose is to "focus on the most relevant

developments in the modern arts and

provide the opportunity and space for artists

to develop new work and thereby make a

meaningful contribution to society." The museum

is under the aegis of the national institution

West Den Haag, together with ANNA

Vastgoed (Property) and Culture.

The rescue of the building from destruction

is applauded by those interested in architecture

and its development over time.

It is a product of the Hungarian-American

architect and furniture designer Marcel

Brauer, a former member of the then radical

arts and crafts Bauhaus School that was

founded in the 1930s by Walter Gropius in

Weimar, Germany. Following his studies,

Brauer became a member of the faculty of

the School, later moving on first to London,

then to the US where he was on the faculty

of the Harvard Graduate School of Design.

In 1946 he moved to New York City and

set up his own practice. During his career

he designed almost 100 buildings, including

the UNESCO headquarters in Paris, the

IBM Research Center, and the headquarters

of the US Department of Housing and Urban

Development in Washington, D.C.

Like it or not, the former embassy building

has been spared a sad demise and can now

look forward to a bright future, it is be hoped,

in the context of modern society. The museum,

which opened its doors to a large crowd

of visitors in February and can be visited

daily from 1 to 6 p.m. Free entrance is available

for children up to 12 and Museumkaart

holders. www.onzeambassade.nl

Get With It, Gemeentemuseum

To the horror and dismay of many of its

admirers—including me, I might add—

the Gemeentemuseum of The Hague will

be changing its name to Kunstmuseum

Den Haag (Art Museum The Hague) some

time at the end of this year. Although the

Gemeentemuseum is one of the most visited

and well-known art museums in the country,

according to Director Benno Tempel its

name is old fashioned, stuffy and regional—

it's not associated with its international collection.

Nor is a change of name so unusual,

an example being the former Letterkundig

Museum (Literary Museum), whose present

name is Literatuurmuseum (Literature

Museum). With its new name, the museum

will have the international allure that is

crucial in these times and will undoubtedly

lead to a greater number of visitors. When

news of the intended change was made public,

the newspaper AD carried out of poll to

determine the opinion of the public. The response

was that only 14% of the respondents

Credit: Gemeentemuseum The Hague

thought it a good idea. A former Professor of

Corporate Communications, Cees Riel, who

has carried out extensive research on the subject,

agrees with Director Tempo. The new

name, he suggests, is associated with modern

art from the 20th and 21st centuries, and

while change often leads to uncertainty and

irritation, in the long run the change will generally

be accepted.

The Case of the Glass Piano

It's like a story from a book or a film, and

its main character is a former Malaysian millionaire,

Jho Low, who stole millions from

Malaysia's national funds, among others,

through various white-washing deals. He

was a big spender, owning a super-luxe yacht

with helicopter platform and a 19-man crew

(bought in the Netherlands), a private plane,

10 houses in New York City, California

and London, paintings (one of which was a

Picasso that he gave as a gift to Leonardo

DiCaprio), jewels, etc. He also gave money

to charity.

Now this is where Holland comes into the

story. Jho Low ordered a glass piano from

Dutch piano maker, music teacher and director,

Peter Tol. The piano maker lives in

Ablasserdam, where he has a home and

workshop. When he was 12 years old, he

saw an acrylic piano in a store in town. He

was fascinated with it and decided that one

day he would like to have such an item in his

own home. Peter grew up, married, and had

a daughter named Cecille, who was severely

handicapped, but who learned to play the

piano. Together they entertained themselves

with playing duets. When she was 25 years

old, Cecille moved out of the home and Peter

began building acrylic pianos, to which he

gave her name.

Switch back to Jho Low, millionaire. He

saw one of Tol's acrylic pianos and decided

that this was the perfect gift for supermodel

Miranda Kerr. It was October, and he wanted

the piano to be delivered to Miranda in

California by Christmas, about three months

away. It usually takes nine months to build

a piano, but Peter Tol had an unfinished one

on hand and was able to meet the deadline.

Moreover, the piano was to have a red acrylic

ribbon around it just above the legs, and

when it was taken out of its wrappings it was

to automatically play You're Still the One.

The piano was delivered on time, in the rain,

but as no one was home it was deposited on

the front porch. How it was received and if it

were used is not known.

The end of story is not yet in sight. Eventually

the financial machinations of Jho Low came

to light and he fled to an unknown destination,

although it is suspected that it is China.

As most of these transactions took place in

the US, that country was tasked with sorting

out the mess. This undertaking is costing a lot

of money, as items that had been gifted to various

people (the Picasso given to Leonardo

DiCaprio, the glass piano to Miranda Kerr,

etc.) have had to be retrieved, examined and

repaired. The fate of Peter Tol's glass piano

is not yet known. I hope it ends up in the

Netherlands and that it will be on display. It

may even become a national treasure.

Credit: Vogue

46 GOING DUTCH

APRIL 2019 47
---
Announcements

Scary Bikers

A comedy/drama about life, love and staying

on your bike by John Godber, one of the

U.K.'s most performed playwrights. Based

in Amsterdam, The Queen's English Theatre

Company's touring production opens in the

Netherlands just as it is also transferring into

London's West End. When retired miner

Don and former teacher Carol meet it looks

like a new beginning, but a bike ride through

Europe tests their budding romance. It's second

time around for recently bereaved Carol

and Don, but the road to love proves rocky

when they find they are on opposite sides

of the fence over Brexit! Tickets are sold at

www.qetc.nl for performances in The Hague

on April 5 – 7 and in Leiden on April 10.

Greenhouse Open Weekend

Kom in de Kas (Enter the Greenhouse)

is the largest public event of the Dutch

greenhouse industry on Saturday, April 6

and Sunday, April 7. Hundreds of hospitable

vegetable, flower and plant cultivators are

scattered over 22 regions throughout the

country. This is a unique opportunity to see

what is happening inside the greenhouses.

The cultivators will proudly present the art

of growing fresh and safe natural products.

www.komindekas.nl

48 GOING DUTCH

National Museum Week

For more than 30 years, over 400 museums

across the country have offered a special

weekend with free or discounted entrance

including free films, slide shows, tours,

demonstrations and workshops. The fun

has been expanded to an entire week from

April 8 – 14 with the theme of Our Real

Gold. For more information and to see

which museums are participating, visit

www.nationalemuseumweek.nl.

Sci-Fi Weekend

Take a deep dive into the unknown during

Sci-Fi Weekend at the Kunsthal Rotterdam,

a contemporary art museum. On Saturday,

April 13, there will be a lecture on extraterrestrial

life by Vincent Icke, Professor

of Theoretical Astronomy and Cosmology.

The Doelen Ensemble will perform Hans

Zimmer's Interstellar Suite, and there will

be a focus on the first landing on the moon,

which took place 50 years ago. You can

also join in a comic illustration workshop.

Sunday, April 14 is Kunsthal Family Day.

Immortalize yourself as a cyborg and learn

with the HipHopHuis how to dance like a

robot. You can design your own robot in

the Digital Playground Media Lab. On

both days, you can have great fun with the

best science fiction retro and classic video

games in the arcade hall. Admission is free

for Museumkaart holders and youth under

17. www.kunsthal.nl

Toy robots c.1950-1970 Photo by Tristan Fewings, Getty Images

The Arts Society Lecture

William Shakespeare and His Turbulent

Times

More than 400 years after Shakespeare's

death, his words still have the power to thrill,

move and uplift the soul. This lecture will

explore what is known of his life in the turbulent

and dangerous world of Elizabethan

and Jacobean England and look at the development

of English Renaissance theatre.

Freelance lecturer Elizabeth Merry has over

25 years' experience lecturing on classical

art and architecture, and the links between

literature and art. Non-member fee is € 13.

Tuesday, April 16

8 p.m. (doors open at 7:30 p.m.)

Cultural Centrum Warenar

Kerkstraat 75, Wassenaar

www.theartssocietythehague.org

Scottish Country Dancing

Potluck

The St. Andrew's Society of the Netherlands

invites the AWC to a Potluck Ceilidh

(Scottish country dancing). There is no

previous experience needed. Similar to

American square dancing, there is a "caller"

who walks everyone through each dance before

the music starts and then calls out the

moves throughout. Dress code is smart casual

or kilt. Entrance to the dance with refreshments

is € 10 plus a potluck item for

the buffet.

Friday, April 5

7:30 – 10:30 p.m.

British School of the Netherlands

Diamanthorst 16, Den Haag

www.standrews.nl

Bonfire Beach Fest

Celebrate the official opening of beach

season at this festival that will put

Scheveningen on fire. On Friday, April 19

and Saturday, April 20, the entire beach—

from the Sportstrand to the Zwarte Pad—

transforms into a large open and free festival

area. Young and old will be entertained with

cultural, musical and culinary activities.

www.bonfirebeachfest.com

Flower Parade

On Saturday, April 13 at 9:15 a.m., the

72nd edition of the annual Flower Parade

will leave Noordwijk to travel its 25-mile

(40-kilometer) route along the main roads

to arrive in Haarlem around 10 p.m. The

procession will be comprised of 17 large >> 50

APRIL 2019 49
---
Announcements (cont.)

Continued from page 49

floats with the theme of Changing World

and more than 30 decorated luxury cars,

interspersed with marching bands. There

will be plenty of space on the roadside for

the hundreds of thousands of spectators

who always congregate along the route.

The Flower Parade passes Keukenhof

around 3:30 p.m. If you miss the parade,

you can see the floats on view in Haarlem

on Sunday, April 14 until 5 p.m. There

will also be an illuminated parade in

Noordwijkerhout on Friday, April 13 at

9:15 p.m. To see the schedule of the route,

go to www.bloemencorso-bollenstreek.nl.

KunstRAI Art Fair

From Wednesday, April 17 until Monday,

April 22, the longest running art fair in the

Netherlands (now in its 35th year) will offer

contemporary Dutch art for sale at RAI

Amsterdam. During the fair, over 80 galleries

will show their paintings, sculptures,

photography, new media, design and jewelry.

www.kunstrai.nl

Outdoor Photo Exposition

The National Geographic Masters of

Photography outdoor photo exposition is being

held on the Lange Voorhout through April

22. This free exposition displays a selection

of 22 historic images of landscapes, culture

50 GOING DUTCH

and animals as seen through the lenses of top

photographers.

Life I Live Festival

Starting at 7 p.m. on Friday, April 26, The

Hague city center will be transformed into

a free open-air music festival to kick off the

celebration of the King's birthday and continuing

on Saturday, April 27 for King's Day

itself. During these two days, 50 local bands

and DJs will perform next to international

acts on stages scattered around playing a variety

of musical styles: soul, rock, funk, hip

hop, blues, indie pop, jazz and dance tunes.

www.thelifeilive.nl

Tulip Festival

This festival celebrates the famous tulip and

ensures it blooms all over Amsterdam each

spring. In 2015, nearly 550,000 tulip bulbs

were planted in beds and pots around the

city for the first festival. Additional bulbs

have been planted each year, moving towards

the goal of one bulb for every inhabitant of

Amsterdam. All through the month of April,

colorful and rare tulips can be seen at 85

Photo by John Lewis Marshall

locations scattered among the gardens of museums,

private homes and other city institutions.

A festival guide and route map showing

the participating locations is available for € 2

at the information points. www.tulpfestival.

com

Broadway Writer/Performer

Coming to The Hague

Join award-winning playwright and performer

Ann Randolph for her two-day workshop:

Speak Your Truth: Writing and Storytelling

for the Page, Stage and Life. Ann teaches

how sharing your strengths and vulnerabilities

builds trust with friends, clients and your

audience. She says that by learning how to

tell your own story, you will not only learn to

craft your experience into a compelling narrative,

but also unleash a sense of purpose in

your own life. Tickets are € 260 and can be

purchased at www.eventbrite.com.

Saturday, May 18 – Sunday, May 19

10 a.m. – 5 p.m.

De Stadhouder

Stadhouderslaan 9, Den Haag

Hockney and Van Gogh Exhibit

Through May 26, the colossal works of

David Hockney will be on display at the

Van Gogh Museum in Amsterdam. Hockney

– Van Gogh: The Joy of Nature offers an

extensive and colorful exploration of the

common ground between the work of these

artists. This exhibit will further demonstrate

the influence of Van Gogh on Hockney's

work, exploring both artists' fascination with

nature, their use of bright, contrasting colors

and their experimentation with perspective.

Science Fiction: A Journey Into

the Unknown

Through June 30, you can step into the fascinating

world of more than 100 years of science

fiction at Kunsthal Rotterdam and discover

the ongoing human quest for the unknown on

our own planet and beyond. More than 850

unique objects show the incredible imagination

of the human mind. Travel through time

and space with film clips and video installations,

rare manuscripts, drawings, books,

comics, and art. Admire the many costumes,

masks, models and props from film classics

like Star Wars, Star Trek and Godzilla. See

Darth Vader's warrior helmet, Spock's space

suit, an original manuscript from 1865 from

Jules Verne's Around the World in Eighty

Days and the dinosaur egg from Jurassic

Park. Immerse yourself in a multiscreen installation

with an episode from the Netflix hit

series Black Mirror specially adapted for this

exhibition. www.kunsthal.nl

APRIL 2019 51

Kilham to Langtoft II by David Hockney Photo by Richard Schmidt Photo by Tristan Fewings, Getty Images
---
Classifieds

Index of Advertisers

Beginners Website Setup

Basics Course

Learn the basic requirements

for setting up a new Website.

Main topics: Domain names,

Web hosting, and Content

management systems.

COST: €25, AWC Members

only €15

DATES: Mar 18, Apr 1, Apr 8

TIME: 10 - 11:30 a.m.

WHERE: AWC Clubhouse

Register: www.Juewels.com

Coffee, tea, and cookies

included!

Taught by: Julie Otten (AWC

Webmaster)

Expat Families in Transit &

Work Life Balance

Ingrid offers Child & Teens

Counseling, Life Work

Coaching, Accountability

Coaching and Workshops

& Training. Experienced

Bilingual Psychosocial

Therapist/Counselor &

Coach. Certified NFG

member. Check for Coverage

Health Care Insurance.

Contact 0640216544. FREE

30 MIN CONSULTATION.

imasselinkandreas@gmail.com

www.ingridmasselinkandreas.

com

Private Pilates Lessons in

Your Own Home

I am a Certified Pilates

instructor offering mat

Pilates—tailored to your

body's specific needs.

Monday to Friday, office

hours. Women only. Private

one-on-one or small groups of

up to three possible. Lessons

in English.

The Hague, Wassenaar area

only.

Please email christina@gikas.

nl for more info.

ACCESS

page 27

American Travel

Center

page 41

Aveda Lifestyle

Salon

Inside Cover

FRITSTAXI

Airport Service

Inside Back Cover

Happy Critters

Marcel

Vermeulen

page 19

Petros Eyewear

Playball Kids

Sligro

page 11

page 19

page 21

VERHEY VAN

WIJK brilmode

page 17

Wassalon

Weissenbruch

page 15

Your Cleaning

Service

Jewelry

page 11

APRIL 2019 53

page 27

WORDPRESS Basics

Workshop

Learn how to install, setup,

create and manage your own

WordPress Website.

COST: €149, AWC Members

only €90

DATES: Mar 4, Mar 22, Apr 5,

Apr 12

TIME: 9:30 a.m. - 1:30 p.m.

WHERE: AWC Clubhouse

Register: www.Juewels.com

Coffee, tea, juice, & light lunch

included!

Taught by: Julie Otten (AWC

Webmaster)

Member Privacy

Please be reminded that the AWC Membership List is for AWC Member reference only and use of this

information in any communication other than AWC official business is strictly prohibited. Members may

not share the list with anyone other than another AWC Member in good standing and never to any

third party.

The AWC takes care to protect Member information and adherence to this policy is critical to maintain

Member privacy. Members are asked to report suspected misuse of the list to any AWC Board Member.

52 GOING DUTCH

Event information, suggestions or comments

for eNews?

Please send all eNews information to

enews@awcthehague.org

no later than end of day each Friday for the following

week's eNews.

Support Fellow AWC Members

Find links to a large variety of businesses

owned by AWC Members at www.

awcthehague.org/site/newcomers/

business-links

Rates

Classified Mini-Ads:

Deadline: In general, the 1st of the month prior to the

month in which your ad will appear, although subject to

change due to holiday schedule.

AWC Member Rates:

For 45 Words

Non-Member Rates:

For 45 Words

For 25 Additional Words

Per Issue € 15 € 8

Eight Issues € 110 € 55

For 25 Additional Words

Per Issue € 10 € 5

Eight Issues € 70 € 30

The AWC is not responsible for accidents

or injuries occurring at Club activities or

on Club property. Sports and exercise

instructors must carry their own liability

insurance.

How to Submit Your Ad:

Email your ad to: goingdutchads@awcthehague.org

Payment Information:

Please indicate the name of your ad on your payment so that

we are able to match up your payment with your ad.

By Bank Transfer:

ABN-AMRO 43.14.21.757

IBAN: NL42ABNA0431421757

Display Ads:

For full, half, third or quarter page commercial display ads,

email our magazine staff at

goingdutchads@awcthehague.org
---
Restaurant Recommendations

by Audrey Goodman

Recommendations by Naya Pessoa & Jo Van Kalveen

Please send your recommendations to goingdutchmag@awcthehague.org.

Somos Peru

Authentic Peruvian cuisine with good service.

Delicious "pisco sour" cocktails, usually

two-for-one on Fridays!

Javastraat 13, 2585 AB, Den Haag

070 778 6184

Somos-Peru.nl

Peruvian, Latin, Seafood

€€ - €€€

Tuesday – Friday, 12 – 10 p.m.

Saturday & Sunday, 1 – 10 p.m.

Closed Monday

MaMa Kelly

Housed in a converted water plant, with

a menu based around chicken or lobster.

Check out the huge terrace during the

warmer summer months!

Saturnusstraat 100, 2516 AH, Den Haag

070 217 0546

MaMa-Kelly.nl

French, Seafood, International

€€ - €€€

Sunday – Friday, 11 a.m. – Midnight

Saturday, 11 a.m. – 1 a.m.

(Lunch is available from Noon – 3 p.m., &

Dinner from 5:30 – 10 p.m.)

Central Park

Beautifully-presented food, with a regularly

changing menu. Look out for their special

ice cream dessert, served in a huge bowl

surrounded by dry ice, with a variety of fun

toppings.

Oosteinde 14, 2271 EH, Voorburg

070 387 2081

CentralParkVoorburg.com

French, Dutch, Seafood

€€€€

Breakfast: Monday – Friday, 7 – 10 a.m.

& Saturday – Sunday, 9 – 11 a.m.

Lunch: Sunday – Friday, 12 – 3 p.m.

Dinner: Monday – Saturday, 6 – 9 p.m.

& Sunday, 6 – 8 p.m.

54 GOING DUTCH

APRIL 2019 55