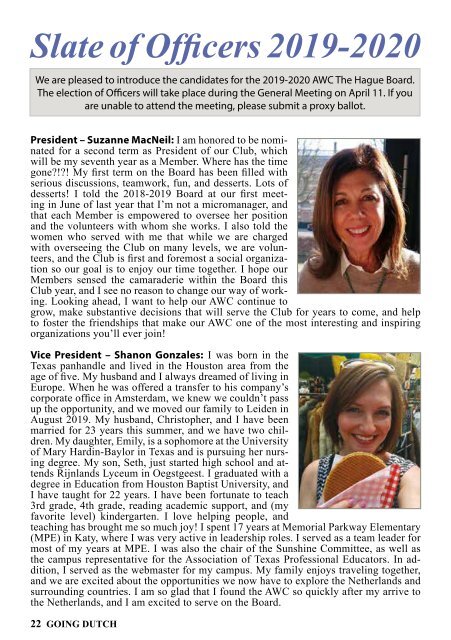 AWC Going Dutch April 2019
The monthly magazine of the American Women's Club of The Hague
The monthly magazine of the American Women's Club of The Hague
SHOW MORE
SHOW LESS
You also want an ePaper? Increase the reach of your titles
YUMPU automatically turns print PDFs into web optimized ePapers that Google loves.
Slate of Officers 2019-2020

We are pleased to introduce the candidates for the 2019-2020 AWC The Hague Board.

The election of Officers will take place during the General Meeting on April 11. If you

are unable to attend the meeting, please submit a proxy ballot.

President – Suzanne MacNeil: I am honored to be nominated

for a second term as President of our Club, which

will be my seventh year as a Member. Where has the time

gone?!?! My first term on the Board has been filled with

serious discussions, teamwork, fun, and desserts. Lots of

desserts! I told the 2018-2019 Board at our first meeting

in June of last year that I'm not a micromanager, and

that each Member is empowered to oversee her position

and the volunteers with whom she works. I also told the

women who served with me that while we are charged

with overseeing the Club on many levels, we are volunteers,

and the Club is first and foremost a social organization

so our goal is to enjoy our time together. I hope our

Members sensed the camaraderie within the Board this

Club year, and I see no reason to change our way of working.

Looking ahead, I want to help our AWC continue to

grow, make substantive decisions that will serve the Club for years to come, and help

to foster the friendships that make our AWC one of the most interesting and inspiring

organizations you'll ever join!

Vice President – Shanon Gonzales: I was born in the

Texas panhandle and lived in the Houston area from the

age of five. My husband and I always dreamed of living in

Europe. When he was offered a transfer to his company's

corporate office in Amsterdam, we knew we couldn't pass

up the opportunity, and we moved our family to Leiden in

August 2019. My husband, Christopher, and I have been

married for 23 years this summer, and we have two children.

My daughter, Emily, is a sophomore at the University

of Mary Hardin-Baylor in Texas and is pursuing her nursing

degree. My son, Seth, just started high school and attends

Rijnlands Lyceum in Oegstgeest. I graduated with a

degree in Education from Houston Baptist University, and

I have taught for 22 years. I have been fortunate to teach

3rd grade, 4th grade, reading academic support, and (my

favorite level) kindergarten. I love helping people, and

teaching has brought me so much joy! I spent 17 years at Memorial Parkway Elementary

(MPE) in Katy, where I was very active in leadership roles. I served as a team leader for

most of my years at MPE. I was also the chair of the Sunshine Committee, as well as

the campus representative for the Association of Texas Professional Educators. In addition,

I served as the webmaster for my campus. My family enjoys traveling together,

and we are excited about the opportunities we now have to explore the Netherlands and

surrounding countries. I am so glad that I found the AWC so quickly after my arrive to

the Netherlands, and I am excited to serve on the Board.

22 GOING DUTCH

Treasurer – Sheyla Karman: I was born in Panama, lived

and studied in New York for 17 years where I obtained my

BS in accounting from Long Island University, and later my

CPA licensure in New York State. I began my public accounting

career in 1987 with PricewaterhouseCoopers in

New York City, which took me on to Curaçao, and Jersey

in The Channel Islands. In 1998 I returned to the US and

changed career paths to the private sector as a financial reporting

manager for Ocwen Financial Corporation, a publicly

traded entity. In 2001, I switched career paths again,

this time to fulfill the desire to start a family and become a

full-time mother. Over the course of the past 17 years, along

with motherhood, I have applied my professional skills and

experiences to diverse volunteer leadership work opportunities:

as Treasurer for the AWC of Brussels, Fellowship

Committee Chair at the American Protestant Church of The Hague, account reviewer for

the AWC of The Hague, alongside pursuing my passion for hospitality as an events planner

and caterer. I have lived in The Hague since 2005, and am married to a Dutchman, and we

have two teenage kids.

Over the past year I have served the AWC The Hague as Club Treasurer and continued to

meet and forge friendships with the diverse group of ladies who make up the AWC of The

Hague. Our Finance Team has been working this past year on updating our accounting program,

methods of payment and continuing to provide the Board and various Committees

with finance related support. In the coming year, our goal is to continue to support the

Board and its various Committees and to look for ways to improve and simplify the finance

function, while looking ahead at the short- and long-term life of the AWC The Hague.

Secretary – Heather DeWitt: I was born in Louisiana and

became a Third Culture Kid when, at the age of seven, my

family moved to Saudi Arabia. Living there and traveling the

world was a wonderful way to grow up. After moving back to

Northern California for high school and Southern California

for university, I met my husband, Mike, at a drive-in movie.

With Mike's evolving career we have lived across the US:

California, Wyoming, Colorado, Pennsylvania, and Texas.

With each move I have reinvented myself, as a graphic artist,

teacher, interior decorator, and marketing production

assistant. However, my favorite job has been as a mom. I

have volunteered for many school, sport, church committees

and groups over the years supporting our children Skyler

and Logan. One very fond volunteer memory was as a key

member of the St. Richard Appalachian Mission trip. This

trip is an annual event where 40 adults and 80 high school

youth travel to West Virginia and perform "Habitat for Humanity" like work on people's

homes. It was always an amazing week to work with the youth. I was able to improve

my DIY skills tenfold; a few things I enjoyed learning were HVAC, drywall framing and

how to plumb a shower! I have also had the opportunity to volunteer here in The Hauge

with Present Stichting International, by helping underserved people improve their lives

by improving their living environments. Having the wish to travel has always been in my

blood and living in such a central location, I'm always looking for the next adventure. My

travel highlight of last year was being able to walk on the Camino de Santiago with my

daughter, mother and father. This year I'm looking forward to being able to meet more

AWC Members and enjoying the wonderful city we call home.

>> 24

APRIL 2019 23