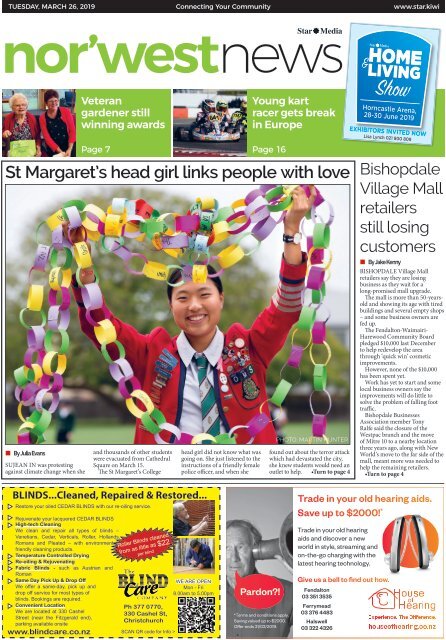 Nor'West News: March 26, 2019
Do you know the secret to free website traffic?
Use this trick to increase the number of new potential customers.
TUESDAY, MARCH 26, 2019

Connecting Your Community

www.star.kiwi

Veteran

gardener still

winning awards

Young kart

racer gets break

in Europe

EXHIBITORS INVITED NOW

Lisa Lynch 021 800 809

• By Julia Evans

SUJEAN IN was protesting

against climate change when she

Page 7 Page 16

St Margaret's head girl links people with love

and thousands of other students

were evacuated from Cathedral

Square on March 15.

The St Margaret's College

head girl did not know what was

going on. She just listened to the

instructions of a friendly female

police officer, and when she

PHOTO: MARTIN HUNTER

found out about the terror attack

which had devastated the city,

she knew students would need an

outlet to help. •Turn to page 4

Bishopdale

Village Mall

retailers

still losing

customers

• By Jake Kenny

BISHOPDALE Village Mall

retailers say they are losing

business as they wait for a

long-promised mall upgrade.

The mall is more than 50-yearsold

and showing its age with tired

buildings and several empty shops

– and some business owners are

fed up.

The Fendalton-Waimairi-

Harewood Community Board

pledged $10,000 last December

to help redevelop the area

through 'quick win' cosmetic

improvements.

However, none of the $10,000

has been spent yet.

Work has yet to start and some

local business owners say the

improvements will do little to

solve the problem of falling foot

traffic.

Bishopdale Businesses

Association member Tony

Ralfe said the closure of the

Westpac branch and the move

of Mitre 10 to a nearby location

three years ago, along with New

World's move to the far side of the

mall, meant more was needed to

help the remaining retailers.

•Turn to page 4

BLINDS...Cleaned, Repaired & Restored...

Restore your oiled CEDAR BLINDS with our re-oiling service.

Rejuvenate your lacquered CEDAR BLINDS

High-tech Cleaning

We clean and repair all types of blinds –

Venetians, Cedar, Verticals, Roller, Hollands,

Romans and Pleated – with environmentally

friendly cleaning products.

Temperature Controlled Drying

Re-oiling & Rejuvenating

Fabric Blinds - such as Austrian and

Roman

Same Day Pick Up & Drop Off

We offer a same-day, pick up and

drop off service for most types of

blinds. Bookings are required.

Convenient Location

We are located at 330 Cashel

Street (near the Fitzgerald end),

parking available onsite

Roller Blinds cleaned

from as little as $22

per blind

Ph 377 0770,

330 Cashel St,

Christchurch

www.blindcare.co.nz SCAN QR code for Info >

WE ARE OPEN

Mon - Fri

8.00am to 5.00pm

Pardon?!

*Terms and conditions apply.

Saving valued up to $2000.

Offer ends 31/03/2019.

Trade in your old hearing aids.

Save up to $2000! *

Trade in your old hearing

aids and discover a new

world in style, streaming and

on-the-go charging with the

latest hearing technology.

Give us a bell to find out how.

Fendalton

03 351 3535

Ferrymead

03 376 4483

Halswell

03 322 4326
---
2 Tuesday March 26 2019

Latest Christchurch news at www.star.kiwi

get in touch

from the editor's desk

THERE HAS been a lot of amazing gestures

and things done by the community as a

result of the terror tragedy.

So many, most can't be given the public

credit they deserve.

But on page 1 today, we do showcase a

great effort at St Margaret's College, led by student Sujean In.

She started the Paper Chain of Love and it has been added to

by students from around New Zealand and Australia – each link

with a message of support.

"It came from the idea that all of us students are connected and

that love is stronger than hate. Everyone in Christchurch is interlinked

and we share a love for each other in spite of the ugliness of

Friday," she says.

How right she is.

- Barry Clarke

GENERAL INQUIRIES Ph 379 7100

CLASSIFIED ADVERTISING Ph 379 1100

Star Media, a division of Allied Press Ltd

PO Box 1467, Christchurch

starmedia.kiwi

sport

Page 10

community events

Page 19

home & living show

NOR'WEST NEWS

March to success

Find out how Canterbury marching teams went at the national

event.

Discovery wall

Head down to the Papanui Library on Monday to see the Mobile

Discovery Wall.

Exhibitors book now

Don't miss your chance to showcase your business in front of

more than 10,000 people.

NEWS

Jess Gibson

Ph: 021 914 169

jess.gibson@starmedia.kiwi

ADVERTISING

Monique Maynard

Ph: 364 7474

monique.maynard@

starmedia.kiwi

Rodd Gray

Ph: 982 9308

rodd.gray@

starmedia.kiwi

Exhibitors

Book now

Don't miss your opportunity to

showcase your business in front of

10,000+ qualified attendees

lisa.lynch@starmedia.kiwi or 021 800 809

Page 20

The best-read local newspaper, delivered to

16,717 homes every Tuesday

Harewood, Burnside, Bishopdale, Bryndwr, Fendalton, Merivale,

St Albans, Mairehau, Papanui, Casebrook, Redwood, Regents

Park, Styx Mill, Northwood, Belfast, Strowan.

JOIN US NOW!

See website for details

COTTON ON KIDS

New Winter Stock, Take 30% Off,

Includes Fleece Hoodies & Trackpants

(while stocks last).

KESS HAIR & BEAUTY

Fudge Violet Shampoo 1L $35,

Fudge Hair Shaper 2 for $22.

STYLES MAY DIFFER TO IMAGE SHOWN

RODD & GUNN

Selected Jackets from $199,

Selected Shirts from $49 & from $79

(while stocks last).

CUTLER & CO

New Season Dress Pants were $199.95,

Now $99.95 (while stocks last).

HALLENSTEINS

Selected Short Sleet Tee's $5, Short

Sleeve Polo's $10 (while stocks last).

Sign up to Smart Deals & be in the monthly draw for a $100 Dress-Smart gift card!

Be one of the first to hear about the latest deals, sent straight to your inbox each week!

CHRISTCHURCH 409 Main South Road, Hornby

www.dress-smart.co.nz

Open 10am-5pm, 7 Days 03 349 5750
---
NOR'WEST NEWS Latest Christchurch news at www.star.kiwi

Tuesday March 26 2019 3

News

Innes Rd bus stop battle lost

• By Jess Gibson

THE SUBMITTERS who

opposed the installation of four

bus stops along both sides of

Innes Rd have lost their battle.

A decision was passed by the

Papanui-Innes Community

Board on Friday to install the

bus stops on the road between

Severn and Mersey Sts and near

Nancy Ave.

The new bus stops are needed

for the Orbiter bus after its

route was changed due to

the Christchurch Northern

Corridor project.

The city council received 35

submissions when the public

were asked to give feedback on

four options for bus stops along

Innes Rd between Philpotts Rd

and Cranford St in February.

Only 13 were in favour of the

option chosen, which was the

city council's preferred choice.

Twenty-one submissions

preferred option two, which was

to install a single set of bus stops

on Innes Rd near Ethne St.​

One respondent said they

preferred option two as option

one may pose a risk to the safety

of children, with St Francis of

Assisi School and Mairehau

Primary beside the proposed

stop near Nancy Ave.

No respondents were in

'CEREC' & cosmetic dentistry

Wisdom tooth removal

Painless, high quality dentistry

Sedation dentistry

Experienced, conscientious team

Experienced hygienists

OPEN SATURDAYS

355 9380

144 Cranford Street

www.stalbansdentalcentre.co.nz

favour of option three, which

was to install the bus stop at

a location other than those

in options one and two. One

submitter said they supported

option four, which was to do

nothing.

Feedback was also received

from Environment Canterbury

and Go Bus, which both stated a

preference for option one.

Similar concerns were raised

for options one and two,

including a loss of parking, bus

stops located over driveways,

hazards to motorists pulling out

of their driveways, an intrusion

tree trouble?

call us 384 9630

www.fourseasonstreecare.co.nz

t h e t r e e p e o p l e

f o u r s e a s o n s t r e e C a r e

on privacy, littering and traffic

problems.

Because of these concerns,

the board's decision was not

unanimous – city councillors

Mike Davidson and Pauline

Cotter, as well as member

Emma Norrish, supported

option one.

Chairwoman Ali Jones and

member Jo Bryne voted against

option one as they wanted

option two, while member John

Stringer was not at the meeting.

But Cr Davidson said it is

never easy to install bus stops

on streets which have never

DIVIDED: The

battle to stop

four new bus

stops being

installed along

Innes Rd for

the Orbiter bus

has been lost.

had them before. "You are

never going to please everyone

when you install new bus stops.

However, we have to weigh up

the benefits to the community

as a whole when making these

decisions," he said.

"Ensuring bus stops are

located within walkable

distance of as many members

of the community as possible is

essential in creating good public

transport outcomes," he said.

There are currently interim

stops on Innes Rd near Ethne St,

which will operate until the new

bus stops are installed.

Local

News

Now

In Brief

Fire rages, homes at risk

RESERVE NOTICEBOARD

The Rotary Club of Papanui is

behind a new noticeboard at

Bridgestone Reserve. The board was

installed at no cost by City Care last

week. The Papanui Heritage Group

is working on a map and narrative

about the history of Papanui Bush

to go on the board.

PARK CHANGES

Part of MacFarlane Park has

been reclassified to accommodate

the new Shirley Community

Trust building and KidsFirst

Kindergarten. The Papanui-Innes

Community Board approved the

partial changes, making the site a

local purpose reserve rather than a

recreation reserve.

ARTS STUDENT GRANT

Burnside High School student

Kiera Jonkers has been granted

$500 from the Coastal-Burwood

Community Board for an art

history and visual arts tour to

Europe.

We'd like your feedback

on our activities,

spending and funding

for 2019–20

Our Draft Annual Plan is open

for feedback until 1 April

MOTORWAY SESSION

A drop-in session about the impact

of the Northern Corridor on St

Albans, Edgeware and Mairehau is

due to be held today at the Scottish

Society Hall, 136 Caledonian Rd,

St Albans, from 3.30-5.30pm.

Another session is scheduled for

April 4 from 5-7pm at the St Albans

School hall

Sick of late night tenant phone calls and being on call 24/7?

Tenants not paying their rent on time?

Can't find a tenant for your vacant property?

HAVE YOUR SAY

ccc.govt.nz/haveyoursay

Katrina Green

Operations Manager

027 606 0030

Ray Hastie

Property Manager

027 448 8225

Let us take the stress out of owning a rental property.

Contact us for a free no obligation chat today.

Morris & Co Property Management - Professional Property Management Services with a Personal Approach.

We are local experts with

Canterbury-wide knowledge

providing professional Property

Management services with a

personal approach

Ray White Morris & Co Property Management Limited

03 331 6755 morrispm.nz@raywhite.com

canterburypm.co.nz
---
4 Tuesday March 26 2019

Latest Christchurch news at www.star.kiwi

News

LOVE: Sujean

In organised

the Paper

Chain of Love

movement

for students

around the

city, New

Zealand and

abroad.

Sujean's gesture links schools

around NZ and Australia

•From page 1

"Young people can often feel

lost as to what you can do when

this kind of thing happens."

She started the Paper Chain of

Love and it has been added to by

students from around Christchurch,

New Zealand and Australia

– each link with a message of

support.

"It came from the idea that all

of us students are connected and

that love is stronger than hate

. . . everyone in Christchurch

is interlinked and we share a

love for each other despite the

ugliness of (March 15)," Sujean

said.

"I wanted to create something

to represent that. What they did

was try and tear our city down,

like it was made of paper, but it's

stronger than that."

Her idea has taken off.

Students from St Andrew's,

Marian, Villa Maria, St Bede's,

Catholic Cathedral, Christ's

and St Thomas' of Canterbury

colleges, as well as Selwyn House,

Middleton Grange, Avonside

Girls, Christchurch Girls, Rangi

Ruru, Cashmere, Papanui,

Darfield and Shirley Boys high

schools are also making chains.

Support has also been shown

for the initiative at Auckland's

New Zealand College of

Chiropractic, St Oran's College

in Lower Hutt, Gisborne Girls'

High, Timaru's Craighead

Diocesan, Waimate High, St

Hilda's Collegiate and Otago

Girls' High in Dunedin,

Hamilton's Waikato Diocesan

School for Girls, and Masden

Collegiate School and Queen

Margaret School in Wellington.

Meanwhile, in Australia,

Loreto College in Ballarat,

Victoria, Melbourne's Ivanhoe

Girls' Grammar and Mentone

Girls' Grammar, Our Lady of

Mercy College in Parramatta and

Meriden School in Sydney are

making chains.

The chains were delivered

to the memorial at Deans Ave

during the Students Uniting in

Love vigil and more chains have

been delivered to other sites.

Bishopdale mall retailers

still losing customers

•From page 1

"Ten thousand dollars won't

even get the . . . toilets fixed," said

Mr Ralfe.

Development Christchurch Ltd

is in charge of the redevelopment,

working alongside the business

association and community

board.

A DCL spokesperson said

work to date had included

meetings with businesses and

landowners, shopper surveys,

and discussions with key

community groups.

DCL has also conducted

reviews of traffic, urban design,

land use, parking, pedestrian

access and lighting.

It confirmed that no further

funding had been set aside for

the regeneration work.

"(That) would need to be done

through council's Annual Plan

process," they said.

Community board member

Aaron Campbell said Bishopdale

Village Mall was a lot further

down the list in terms of

development priority.

"The issue now is that DCL do

not have budget."

A quick walk around the mall

reveals several empty lots and

little foot traffic.

Shopper Nellie Meares

said the mall had become

"an afterthought", especially

NOR'WEST NEWS

AFFECTED: Tony Ralfe's

Sports World store is losing

customers as the Bishopdale

mall development slows.

PHOTO: JAKE KENNY

compared to the upgraded

Northlands Mall 2km away.

A key anchor tenant, Mitre 10,

moved out three years ago.

It was reported last year that

businessman Doug Spence

had bought the store's former

building, which remains vacant

nearly a year on.

Mr Spence could not be

reached for comment on his

plans for the building.

ARTS

CANTERBURY

@ THE RUSSLEY

VILLAGE

SATURDAY AND SUNDAY

30 TH - 31 ST MARCH

FROM 10AM – 3PM

CASH & CARRY SALES

An exhibition of paintings,

sculpture, ceramics and jewellery

by local Canterbury artists

73 Roydvale Avenue

russleyvillage.co.nz I 03 982 8280

(Roadside parking available on Roydvale Avenue)
---
NOR'WEST NEWS Latest Christchurch news at www.star.kiwi

Tuesday March 26 2019 5

Five days to have say on $1m toilets

THE PUBLIC has five days to

have a say on the designs for

the toilet blocks at Roto Kohatu

Reserve which are set to cost $1

million.

The plans are for two separate

toilet blocks, which would

be installed at the popular

recreation site on Sawyers Arms

Rd.

There are currently only

portaloos at the site, which has a

high number of annual visitors

who use Lake Roto Kohatu

and Lake Rua for watersports,

swimming and picnics.

Each new block would have

two cubicles and an outside

shower. The cost is estimated at

$282,806 for each building and

$440,000 to connect them up to

services.

One block would be installed

beside the main car park and the

other at the canoe polo area.

The toilet blocks would

be brought to the site fully

constructed and then be

connected to the existing

infrastructure on Greywacke Rd.

HOTSPOT: An increase in visitors to Lake Rua and

Lake Roto Kohatu has led to plans for two new toilet

blocks.

(Left) – One of the designs for the new toilet blocks,

which would each have two cubicles and an outside

shower.

In February, city councillor

Aaron Keown said the high cost

for the toilets was necessary.

"It's so expensive because it's not

near a road and half the money is

just getting the services like the

fresh water and the electricity in,

which have to be in two different

trenches," said Cr Keown.

"You can't do a half-baked job

on toilets like this," he said.

The toilet blocks were approved

by the Fendalton-Waimairi-

Harewood Community

Board in July after the city

council discovered visitors

were defecating in the bushes

surrounding the lake.

The city council is also

proposing a new 100-space

car park. Depending on the

outcome of the consultation,

the city council aims to have the

toilet blocks completed before

December.

•To have your say, go

to www.ccc.govt.nz/thecouncil/consultations-andsubmissions/haveyoursay/

show/229

Local

News

Now

Cost of QE II

facilities could

be slashed

Fire rages, homes at risk

• By Julia Evans

A TOILET block and changing

facility at QE II Park will not cost

ratepayers $1 million.

Instead, city council staff are

investigating ways to cut back

the cost of the planned 200 sq m

building after a request from the

hearings panel.

Burwood Ward city councillor

and hearings panel chairman

Glenn Livingstone said he was

pleased with the result.

"The whole hearings panel

was very concerned over the

proposed $1 million cost for the

changing sheds and toilets and

was very clear over that," he said.

Cr Livingstone previously

said a house could be built for

$350,000 so he couldn't understand

why a toilet block would

cost almost triple that.

However, city council head

of recreation, sports and events

Nigel Cox said the $1 million

budgeted for the toilet and

changing room block had been

an estimate.

The building would have four

changing rooms with showers and

toilets, a referees' changing room,

storage, public toilets, provision of

services and landscaping, including

paving, and vegetation.

Arts, crafts,

books, stationery,

gifts, toys

and more!

Bookshop, Postshop & Kiwibank

Bishopdale, 31 Bishopdale Court

Phone: 03 359 8207

Monday–Friday 8:30am–5:30pm,

Saturday 8:30am–3pm, Sunday closed

Something for

everyone

Fabulous range

of gifts, very

affordable

prices,

complimentary

gift wrapping

Bishopdale

Pharmacy

37 Bishopdale Court, Bishopdale

Phone 03 359 8302

Refurbished

& ready for you!

2 for 1 $30

Steak nights

Wednesdays from 5pm

Selling delicious, original Kiwi cuisine, baking fresh daily.

See in store for

our delicious

Hot Cross Buns!

EDGEWARE VILLAGE 1066 Colombo St, Ph. 365 0802

BISHOPDALE VILLAGE MALL 135 Farrington Ave, Ph. 359 1020

OPEN 7 DAYS 7.00AM - 5.30PM

200gm Sirloin with chips & salad

Where locals meet to enjoy great

food, drink & entertainment

177 Papanui Road, Merivale

Ph. 355 3377 www.thebrewers.co.nz
---
6 Tuesday March 26 2019

Latest Christchurch news at www.star.kiwi

NOR'WEST NEWS

STOCKTAKE

SALE

SERTA DEKOTA

Pocket Spring Unit, Single-Sided Mattress,

Medium Latex, and Dreamfoam Comfort Layers

High Profile Platform Base,

Foam Box Edge Support,

Euro Top, Blended Wool,

Knit Fabric SAVINGS

STOREWIDE

FANTASTIC

STOCKTAKE

HUGE RANGE

OF POCKET

SPRING

BEDS

SAVE

NOW

DEALS

STOREWIDE

NOW

CHIROPRACTIC KAURI HD

Torquezone ® HD 5 zoned Spring System

Eco-friendly Dreamfoam ®

Endorsed by the New Zealand

Chiropractors' Association.

MASSIVE

RANGE

SANCTUARY

RANGE

STOCKTAKE

SALE PRICES

IN-STORE

NOW!

CLEARANCE

BEDS MUST

BE SOLD

SLEEPYHEAD - MAKING

BEDS IN NEW ZEALAND

SINCE 1935

Made by Kiwis for Kiwis.

10 YEAR WARRANTY

Quality you can trust...

we guarantee it!

SLEEPYHEAD - MAKING

BEDS IN NEW ZEALAND

SINCE 1935

Made by Kiwis for Kiwis.

10 YEAR WARRANTY

Quality you can trust...

we guarantee it!

SLEEPYHEAD - MAKING

BEDS IN NEW ZEALAND

SINCE 1935

Made by Kiwis for Kiwis.

10 YEAR WARRANTY

Quality you can trust...

we guarantee it!

7 Day Money Back Comfort Guarantee on Queen and King Beds

CNR MOORHOUSE AVENUE & MONTREAL STREET

NEXT TO FARMERS. PHONE: 365 0132
---
NOR'WEST NEWS Latest Christchurch news at www.star.kiwi

Tuesday March 26 2019 7

News

Garden award for 94-year-old

MARIE McCormick has been

a member of the Christchurch

Beautifying Association since

she was in her late 20s.

At 94-years-old, she has

just received an award for the

garden at her Papanui home.

Mrs

McCormick was

one of 93 people

to receive an

award at the 29th

Papanui-Innes

Community

Board Garden

Ali Jones

Pride Awards

at the Chapel St

Centre in Papanui on Thursday.

Mrs McCormick is not able

to garden much anymore

– she leaves that to Rayleen

Hughes, who has been her

gardener for about 15 years.

Mrs Hughes said when

she goes around to work on the

garden, Mrs McCormick will

often point out piles of weeds

around the place.

"She just can't help herself,"

said Mrs Hughes.

The Garden Pride Awards

acknowledge and celebrate

community gardens and

the effort residents put into

them.

Board chairwoman Ali

Jones said with recent events

OPTION ONE

in the city, she expected people

would want to stay home and

the awards would have to be

rescheduled. But this was not

the case.

"Staff contacted recipients

and others invited, and they

overwhelmingly said they

wanted the ceremony to go

ahead," said Ms Jones.

"I think that's wonderful and

I am looking forward to seeing

some beautiful gardens after a

week of real distress, sadness

and tragedy for so many," she

said.

The attendees included award

recipients and their guests,

Christchurch Beautifying

Association representatives, Papanui-Innes

Community Board

members, Papanui High School

representatives and council

staff.

The awards are a city council

initiative which were started in

VETERAN:

Marie

McCormick,

94, shows

off her

certificate at

the Garden

Pride

Awards

ceremony

with Rayleen

Hughes,

who has

helped keep

her garden

beautiful for

15 years. ​

1991. It has been a joint venture

between the community board

and the association since 1997.

The association judges select

award-winners by viewing all

gardens which are visible from

the street.

The gardens can be

residential or commercial.

The judges consider the effort,

overall tidiness and impact

of the garden on the street

amenity.

Local

News

Now

• By Jess Gibson

Fire rages, homes at risk

St Albans Park

and Sports

Pavilion to

be opened

at ceremony

on Sunday

RESIDENTS CAN celebrate the

reopening of the St Albans Park

and Sports Pavilion on Sunday.

An event will start at 2pm with

a ribbon-cutting ceremony and

introduction to the park from

Papanui-Innes Community Board

members.

There will be a blessing, a kapa

haka performance and kowhai

tree planting before people can

roam the new park and pavilion.

The St Albans Skate Jam will

also be held at the St Albans skate

park from 1pm and will continue

during the opening celebrations.

The event will also include the

collection of items to go in a time

capsule which will be buried

at the site of the new St Albans

Community Centre.

St Albans Park has been

undergoing work since January

last year to fix ongoing flooding

issues. The pavilion was damaged

in the February 22, 2011,

earthquake.

Daily

Specials

& factory

2nds

238 Port Hills Road,

Heathcote

corner of Port Hills and Chapmans Rds

18B MAIN NORTH RD, PAPANUI | PH 354 6000 | WWW.SHOSHA.NZ

shop hours

Monday to Saturday

8am - 6pm

Sunday 9am - 4pm

Ian Falconer

Licensed Salesperson

027 849 0404

Thinking of selling?

Call your local agents

Ian & Cathy Falconer

Freephone 0800 888 426

Try us, you'll like us.

We sell throughout the Christchurch area

Mike Pero Real Estate Ltd Licensed REAA (2008)

Cathy Falconer

Licensed Salesperson

027 660 1920
---
8

Tuesday March 26 2019

News

Easter egg

hunt for

Methodist Mission

CHOCOHOLICS CAN indulge

over Easter and know it's all for a

good cause.

The Christchurch Methodist

Mission is organising the

inaugural My Easter Egg Hunt

fundraising campaign. Anyone

can host a hunt at a venue of

their choice. The mission is

encouraging individuals, churches

and businesses to take part.

Once registered online,

participants can buy a batch of

eggs and hide them around their

backyard, work place or local park.

Participants will be encouraged to

ask people attending their hunt to

make a donation to the mission.

Easter egg hunts can be registered

online at

http://bit.ly/myeasteregghunt2019.

The hunts can be run anytime

from April 13-28.

Two Canterbury businesses

are backing the hunt. Trade Aid

is providing the chocolate, and

chocolatiers She Universe will

transform them into delicious

eggs.

The money raised will help

the mission provide food and

clothing, housing, financial

support for power bills and school

costs, budgeting advice and

support for families impacted by

family violence.

Venue offered for Anzac Day service

• By Georgia O'Connor-Harding

RANNERDALE Veterans

Village has offered to hold an

Anzac Day ceremony in Upper

Riccarton due to the closure of a

historic library in the suburb.

But the long-standing Anzac

service organised by the Upper

Riccarton Memorial Library

committee still will not go

ahead.

Rannerdale Veterans Village

general manager Charmaine

Diver told Nor'West News it was

happy for the service to be held

at its spaces and has offered it to

the committee.

Last year the library service

was held at Rannerdale because

the library was closed in

October 2017 by the city council.

Memorial library chairwoman

Aynslie Walter previously told

Nor'West News it wouldn't be

organising a separate event at

Rannerdale because it was quite

an exercise to close off part of

the building so there can be a

dawn service.

But Ms Diver said it is not

an exercise to close off part of

Rannerdale.

"We just open up the venue so

we are not here to facilitate," she

said.

But Mrs Walter said it has now

been decided representatives

will go to the Anzac service

Latest Christchurch news at www.star.kiwi

FRUSTRATION: Arthur Woods, Aynslie Walter, Mary Ibbetson, Keith Walter and Ailsa Smith

have previously protested against the closure Upper Riccarton Memorial Library.

PHOTO: MARTIN HUNTER

organised by Rannerdale.

"It is far too late for me to

arrange another service . . . we

have already told people we are

not doing a service this year,"

she said.

The library was closed after

an engineering assessment

raised concerns over structural

strength. Members of the Upper

Riccarton Memorial Library

Committee have previously

opposed the closure of the

library.

Opened on March 19, 1919,

the library was the first of seven

war memorials to be built in

New Zealand. This year would

NOR'WEST NEWS

Local

News

Now

Fire rages, homes at risk

have marked 100 years since the

library was opened to

remember the men from the

district who gave their lives in

World War 1.

Since March last year,

volunteers have been operating

out of the annex of the building

at the library.

mens and WOmens

clOtHing

all 30%

off RRP

Open 7 days

dressmart HOrnby, main sOutH rd

pH 03 344 5304

style

noun

elegance and sophistication.

synonyms: flair, grace, poise,

polish, suaveness, urbanity,

chic, finesse, taste, class,

comfort, luxury, affluence,

wealth, opulence, lavishness.

MAGAZINE

STYLE.KIWI

233 Riccarton Road

Phone 341 5419

"Easiest to find Denture

Clinic in Christchurch"

Learn

Computer Skills

Looking for an administration role?

This FEES FREE* 20 week course will give you the

skills to work in a modern office, covering advanced

use of Microsoft Word, Excel, Publisher and other

computer based business applications.

For more info txt 'OFFICE' to 027 557 8839

*Conditions apply

0800 834 834

vision.ac.nz

50 Hazeldean Road, Addington
---
NOR'WEST NEWS Latest Christchurch news at www.star.kiwi

Tuesday March 26 2019 9

MANUFACTURERS

STOCK CLEARANCE

1000'S OF BLM CARPET AVAILABLE

FREE no obligation measure & quote (conditions apply)

Washington

• Polyester 22oz

• Cut pile

• 2 Great colours

RUNOUT PRICE

$50.00 PER METRE

Detroit

• 26oz Solution dyed nylon

• Extra heavy duty

• 8 colours

STOCK COLOURS

$79.90 PER METRE

Windsor Twist &

Cable Bay

• 36oz Solution dyed nylon

• Extra heavy duty & stairs

• 20 colours

SUPER LOw PRICE $99.90 PER METRE

Q Card Finance Now Available

Selected Vinyl

Planks

3 Colours in stock

NOw $25.00PM 2

Vinyls

2m & 3m wide

2M wIdE FROM $29.90LM

3M wIdE FROM $50.00LM

Newport

• Commercial Solution Dyed

Nylon

• Loop pile carpet

• 2,500 metres to clear

NOw 1/2 PRICE

$65.00 PER METRE

York Street

• 48oz Pure Wool

• Extra heavy duty

• Slightly Imperfect

BE QUICK $75.00 PER METRE

Garage Carpet

6x6m, Fully installed

NOw $850.00

312 Wilsons Road North, Waltham Phone 366 0070

Mon to Fri 8am-5pm and Sat 10am-1pm

Check out our website! www.carpetkingdom.co.nz
---
10 Tuesday March 26 2019

Latest Christchurch news at www.star.kiwi

NOR'WEST NEWS

Teams march

to success

at nationals

SPORT

CELEBRATION: Eclipse under-12 team members Amelia, Tiana, Rylee, Mya and Sophie during

the awards ceremony. (Above left) – Empire senior technical drill.

The Canterbury marching teams had a great result at

the national event last Friday and Saturday with the

following results:

•Under-12 grade

Eclipse won the technical drill,

were third in display and were the

overall champion team out of 22

under-12 teams.

•Under-16 grade

Eclipse won the technical drill

and the display, and were the

overall champion team out of 11

under-16 teams.

•Senior grade

Eclipse won the technical drill,

DRILL: The

Eclipse seniors

(not in order) Sam

(technical leader),

Tisha (display

leader), Kate,

Tracey, Aez, Kaitlin,

Becky, Letitia,

Emily, Jackie,

Janelle, Jayla,

Micky and Renee.

03 349 5050

were second in the display and

were the second overall champion

team. Empire were third in the

technical drill and were the third

overall champion team out of 13

senior teams.

•Masters grade

Eclipse were second in the

technical drill, second in display

and were the second overall

champion team out of nine

masters grade teams.

•More sport, pages 15-16

free

CONSULTS

The revolution

in heat pumps

is here now!

The Fujitsu e3series

The brilliant

heat pumps from Fujitsu

e1 : efficiency

e2 : environment

e3 : economy

MARCH: (Above) The Eclipse senior

technical drill. (Above left) – The

Eclipse masters Vicky Crawford, Vicky

Law (coach), CJ Ahrens, Paulette

Marshall, Alana Diver (coach), Diane

Burton, Sumiko Walker, Rachell

McLeod, Selina McRoberts, Rebecca

Rosie (display leader), Angela Russell,

Anna Gordon (technical leader) and

Donna Yates. (Left) – The Eclipse

under-12 team (not in order) Fifi

(technical leader) Lyric (display

leader) Skyla, Rylee, Tamara, Sophie

G, Sophie D, Tiana, Jamiee, Ella,

Charlie, Amelia, Brodie, Mya and Zara.

The revolution in heat pumps is here now!

The brilliant e3 series

heat pumps from Fujitsu

e1 : efficiency

e2 : environment

e3 : economy

New Dentures > Relines > Repairs >

6 Brynley Street, Hornby, Christchurch

www.betterdenture.co.nz

Website: www.pshc.co.nz

FREE consultation from your local

Accredited Heat Pump Expert

Phone today: 03 381 6950

INSERT DEALER DETAILS HERE

NEW ZEALAND'S FAVOURITE AIR

Fujitsu's Catechin Filters are

approved by the Asthma and

Respiratory Foundation NZ's

Sensitive Choice ® programme.

Email: info@pshc.co.nz
---
NOR'WEST NEWS Latest Christchurch news at www.star.kiwi

Tuesday March 26 2019 11

STOCKTAKE CLEARANCE

20-60 % OFF

IMPERIAL, CREAM

30% OFF

ALL FLOOR STOCK BEDS

50% OFF

ALL SLAT BEDS

REGAL, MOCHA

60% OFF

ALL ACCESSORIES

40% OFF

ALL OUTDOOR

SIMPLYFURNITURE.CO.NZ

484 Cranford Street, Christchurch - 03 354 5026 | 12 Hawthorne Drive, Queenstown - 03 442 3435
---
WESTERN 12 Tuesday NEWS March 26 2019

Latest Christchurch news at www.star.kiwi

[Edition NOR'WEST datE] NEWS 27

Wellbeing & Beauty

New centre provides

personalised weight

management solutions

In November 2018, Dr Jonie Girouard

and her husband Dr Michael Girouard,

opened The Girouard Centre in

Silverstream, Kaiapoi, dedicated to weight

management and wellness.

The couple came to New Zealand three

years ago from the United States, where

Dr Michael was one of the country's

most experienced, leading bariatricians

and Dr Jonie practised as an obesity

specialist. Already managing six other

centres internationally via the internet,

they wanted to open a dedicated weight

management centre in the Christchurch

region, where they would treat people with

weight management issues on a completely

individual basis.

Dr Jonie has a particular interest in

lipoedema, a condition that affects around

11 per cent of the female population, but

is often confused with fibromyalgia and/or

obesity due to the lack of awareness of this

condition.

As she explains, lipoedema is a painful,

progressive condition that causes swelling

in the hips, buttock and legs, and as it is not

related to excess calorie intake it can't be

treated with the usual dieting and exercise

regime.

"It is a complicated disease that often

develops in families, and if left untreated

it will progress, often leading to excess

body weight and obesity due to the lack of

exercise through decreased mobility," she

says.

Patients with lipoedema seeking help at

the Girouard Centre are initially assessed

to determine family history and lifestyle

and are provided with basic knowledge

of lipoedema to help them understand

the condition. An individual tailored

programme covering meal planning and

appropriate exercise is provided, and

the patient is often referred to Burwood

Hospital for compression and lymphatic

manual drainage therapy.

"The services we offer are unique

in New Zealand," Dr Jonie says.

The Girouard Centre offers nonsurgical

treatment for all types of

weight management problems,

with every person receiving an

individualised treatment plan

according to their needs, so they can

achieve their goals.

Personal goals may include reaching

their ideal weight, reducing their

cholesterol levels or preventing diabetes.

Avoiding the yo-yo weight gain and loss

that some people wrestle with is equally

important in weight maintenance and

optimal health, Dr Jonie says.

The centre is open for consultation

on Tuesdays and Wednesdays and

appointments can be made by calling

(03) 327 2273, or through The Girouard

Centre website or Facebook page. It Dr Michael and Dr Jonie

is located at Unit 6, 42 Silverstream Girouard, who have opened

Boulevard, Silverstream, Kaiapoi. their new centre in Silverstream

Weight Management and

Wellness Centre

We provide comprehensive, medically

supervised, non-surgical weight management

and wellness treatment programs for adults.

We are dedicated to improving the health and wellbeing

of our patients through individualized weight management

treatment programs.

Get in touch with us today!

Shop 6, 42 Silverstream Blvd, Kaiapoi

(Just 15 minutes from Christchurch Airport

with convenient parking)

Phone 03 327 2273

www.girouardcentre.co.nz

Do you Struggle

with Headache

and Migraine?

Talk to us about how we can help with:

• Migraine

• Tension Headache

• Hormonal

Headache

• Vertigo

• Post-Concussion

Syndrome

• Cluster Headache

• Abdominal Migraine

now open

Take

control

with The

Headache

Clinic

0508 HEADACHE (0508 432 322) | www.headacheclinic.co.nz

AUCKLAND • CHRISTCHURCH • INVERCARGILL

Helping you look & feel your best

We offer the following treatments in

a tranquil friendly environment

Eat Guilt Free

• Curb sugar cravings

• Cook guilt free meals

• Energy boosting breakfasts

• Feel Fuller for longer at lunch

• Waxing

• eyebrow & eyelash tinting

• Manicures & Pedicures

• Facials - Using O Cosmedics

• Makeup - Lessons & Applications

gift vouchers available

• Delicious dinners that suit everyone

Get the Satisfy Cook Book FREE before

March 31st 2019 find out more at

www.theguiltfreenutritionist.com

Free giFt

with booking

when you

menton this ad

Marilyn

Open tuesday - Saturday

refer to Facebook page @BeautiqueonHighsted

Ph. 260-1624

email. beautiqueonhighsted@outlook.com

Cnr Sawyers Arms road & Highsted rds, Bishopdale
---
NOR'WEST NEWS Latest Christchurch news at www.star.kiwi

Tuesday March 26 2019 13

Free post-stress counselling

Have you been declined treatment by the DHB ?

The Canterbury Charity Hospital may be able to treat you at no cost.

Counselling is being provided free of charge by the

Canterbury Charity Hospital to provide "psychological

first To aid" be for treated people by who the are needing Charity extra Hospital support you must:

to • help Have with been their turned grief down and with in writing regaining for treatment their "life by the CDHB

balance"

• Not have

following

medical

the

insurance

major traumatic event on

Friday 15 March. All the volunteer counsellors and

psychologists

• Not be able

hold

to afford

recognised

the treatment

national

privately

qualifications.

(means tested)

• Have a referral from your doctor

If you need help please contact the Charity Hospital

to make an appointment:

Phone 03 360 2266 (8am until 5pm week days) or

020 4098 0750 (after hours)

Email: reception@charityhospital.org.nz

Our current services are:

Colonoscopy (acute and screening); Gynaecology and women's health; Rectal

bleeding clinic; General surgery (abdominal, rectal); Urology; Oral surgery and

dentistry*; Counselling (self referral); Orthopaedics (upper and lower limb); Cataracts.

* All dentistry and oral surgery patients need a dentist's referral.

Dentistry is available for WINZ clients only, whilst oral surgery may be available if

you fit the criteria.

Our other services are currently:

Colonoscopy (acute and screening); Gynaecology and women's

health; Rectal bleeding clinic; General surgery (abdominal,

rectal); Urology; Oral surgery and dentistry; Orthopaedics

(upper and lower limb); Cataracts.

Why are the Charity Hospital's services free?

They are free thanks to the hard work of around 200 volunteers

including counsellors, surgeons, dentists, anaesthetists, nurses

Why are the Charity Hospital's services at no cost to the patient? and administration staff who provide their services at no cost.

They are free thanks to the hard work of around 300 volunteers, including surgeons, dentists, anaesthetists, nurses and administration staff who

provide their services at no cost. If you would like to volunteer please visit our website.

The The Charity Hospital does not receive any Government funding.

and 82 cents of every dollar donated goes directly to patient care.

Of every dollar donated, 82 cents goes directly to patient care.

Please donate online at www.charityhospital.org.nz or

complete Please donate the form online below at and www.charityhospital.org.nz post to us at PO Box 20409, or complete the form below and post it to us at

Bishopdale, PO Box 20409, Christchurch Bishopdale, 8543. Christchurch 8543.

YES!

I would like to support the Canterbury Charity Hospital

to help Cantabrians in need.

OR donate online at

www.charityhospital.org.nz

MY DETAILS

I am paying by:

Cheque enclosed (payable to Canterbury Charity Hospital Trust)

FIRST NAME

SURNAME

NO / STREET

SUBURB

TOWN / CITY

(please circle) Visa Mastercard

Card number

Expiry date

Name on card

Signature

POST CODE

TELEPHONE

EMAIL

Please send me information about

including The Canterbury Charity

Hospital Trust in my Will.

I would like to make a regular gift by

automatic payments.

Please find enclosed my gift of: (please circle) $200 $100 $50 $20 Other $

Please do not add me to

your mailing list or include

me in acknowledgements.

Donations of $5 or greater may

qualify for a tax rebate - an official

receipt will be issued.

Canterbury Charity Hospital - 349-353 Harewood Road, Bishopdale, Christchurch - reception@charityhospital.org.nz
---
14

Tuesday March 26 2019

Latest Christchurch news at www.star.kiwi

NOR'WEST NEWS

Want a storage-friendly

sidekick with style?

BOMBAY BUFFET

4 Door Buffet – Black

NOW ONLY $

799

Want fresh outdoor

at bargain prices?

REDUCED OUTDOOR

Limited time only.

While stocks last.

Spritz Corner Suite + Coffee Table

was $ 3598

now $ 2198 SAVE

$

1400

Ego Egg Chair

was $ 579

now $ 299

SAVE

$

280

Capella 3 + 1 + 1 + Coffee Table

was $ 2999

now $ 1699

SAVE

$

1300

Shop

Online

Nationwide

Delivery

Finance

Options

targetfurniture.co.nz

On trend designs? You want it, we got it! Sale ends 08.04.19

Cnr Blenheim & Curletts Rds, Christchurch

Ph: 0800 TARGET (0800 827438)

Offers and product prices advertised here expire 08/04/19.

Sale excludes Manchester and Accessories.
---
NOR'WEST NEWS Latest Christchurch news at www.star.kiwi

Tuesday March 26 2019 15

Your Local Views

SPORT

How do we regain

what we lost?

Justice of the

peace and

Fendalton-

Waimairi-

Harewood

Community

Board

member

Shirish

Paranjape

reflects on the terror attack

During my overseas travels,

I would often say (boast?) that

New Zealand is one of the

most peaceful countries on

earth, police normally do not

carry arms and politicians and

other leaders are extremely

approachable.

They often drive their own cars

and travel economy class like all

New Zealanders do.

Only our prime minister has a

security person when in public.

My overseas friends would

confirm that they had heard

same/similar opinions about

New Zealand. Those who had

visited would recount good

memories of their visit.

One day, one person changed

it all.

The question now is, "how do

we regain what we lost?"

I feel we should not take any

knee-jerk reactions due to this

incident.

Even if changes are necessary,

for example, with the gun

control laws, they should be wellconsidered/well-discussed

and

debated decisions, rather than

"heat of the moment knee-jerk

reactions".

There is no need to swing from

one end to the other, although

inevitably, a few things may need

to change.

I have been fortunate enough

to have travelled to many

countries all over the world.

Friends, family members and

colleagues often I ask me if I feel

safe in a particular country or

city, and how do I judge it.

My answer always is the less

police/security persons I see, the

safer I feel at any place and the

presence of families and children

in public area, particularly after

sunset, makes me feel safer at any

place.

Too much police/security

presence can be unnerving, as we

found out this week.

The presence of a police

helicopter circling over us had,

for many residents, exactly the

opposite effect than the desired.

The stated official purpose

was to provide assurance to the

community, but it's presence had

many residents worried.

I recall a story from several

years back.

For a week, I had hosted guests

from the Middle East.

On the last day of the visit, they

said: "Shirish, you have done so

much for us, and shown us many

places here, but we have not seen

one thing at Christchurch."

"What is that?," I asked.

"In the whole week here, we

haven't seen even one officer of

New Zealand Police," was their

reply, being so used to police

presence back in their country.

I took them to Christchurch

Central Police Station, where

they not only saw an officer,

but the lovely officer smilingly

obliged and allowed the visitors

to take photos with him and his

police car.

This is the Christchurch, this

is the New Zealand we like, and

others envy.

Let us do everything we can,

individually and collectively, to

regain it.

I end this article with a poem

which my daughter Neha wrote

and sent from London, where

she is undergoing her two-year

overseas experience.

To Christchurch and its people,

Too many innocent lives lost

Too many prayers left unanswered

Too many people hurt

Too many dreams shattered

Too much hate in the world

Just too much anger

How did it come to this?

Is all of the world now in danger?

The people of Christchurch, we

like our red and black

But not the red that comes with

blood stains

Not the black that accompanies a

terror attack

Christchurch will be back up

though,

Once again rising from the ashes

Once again, our people will find

that smile

After we've wiped tears off each

other's eyelashes

Christchurch is my home, as it is

yours

I hope you all feel safe again,

albeit with horrific scars

I wish for this paradise to be

beautiful again

I hope you see your prayers

weren't in vain

triPle treAt

2019 modiFied inVAsion

Plus

CAnterBury

suPerstoCK ChAmPs

& rAmP rACe derBy

P29/18287/CHCHP

DouBLe GLAZe

EXISTING OR NEW

WINDOWS

AND SAVe!

P29/18287/CHCHP

DouBLe GLAZe

EXISTING OR NEW

WINDOWS

AND SAVe!

FridAy 29 th mArCh &

sAturdAy 30 th mArCh

6Pm stArt

CLEAN SWEEP: Jenna Borthwick won six gold medals at the

age group national championships and now holds all New

Zealand under-17 girls records in track cycling.

PHOTO: GEOFF DICKINSON

Jenna sets records to

dominant track event

ST MARGARET'S College

cyclist Jenna Borthwick

dominated the age group track

national championships in

Cambridge, winning six gold

medals and making her way

into the record books.

Jenna, 16, dominated the

competition. On her way to

gold, she broke every New

Zealand under-17 girls record,

including some of her own.

On the opening day of the

competition, she set the New

Zealand record in the under-17

2000m individual pursuit. In

qualifying, she bettered the

previous mark set by current

junior world team pursuit silver

On the final day, Jenna

topped off an incredible competition,

securing a further three

titles to add to the three she

won earlier in the week.

She teamed up with Villa

Maria College student Mikaela

Grant, Rangi Ruru's Charlotte

Spurway and Amelia Sykes

from Avonside Girls' High

School to win the under-17 girls

team pursuit. The team went

into the final as underdogs,

3.5sec slower in qualifying than

the quartet from Southland.

In one of the races of the

evening, Southland led the

charge through the 1000m and

2000m marks, but the gritty

medallist, McKenzie Milne. She DOUBLE Cantabrians GLAZING produced a stunning

final 1000m which saw

then lowered that time again to PROVIDES:

win gold in the final.

INSULATION them sneak past Southland by

Jenna backed up her win in 0.75sec, an astonishing 7.4sec

REDUCED CONDENSATION

the individual pursuit with faster than their qualifying

NOISE REDUCTION

gold and another New Zealand time.

record in the 500m time trial.

Her time of 36.278sec beat Vantage

LOWERED Jenna HEATING and Amelia COSTSthen

MORE paired HOME up SECURITY in the team sprint,

elite rider Ellesse Andrews' setting a new national record of

record from 2015.

PLUS 36.947sec ALL GENERAL in qualifying, before

She then lowered her DOUBLE own GLAZING

GLASS, going IDEAS on to win & ADVICE: gold in the

PROVIDES:

national record, clocking

BROKEN evening WINDOWS session.

INSULATION

11.932sec in the sprint, the REDUCED CONDENSATION SHOWERS In her final outing of the

first time an under-17 female NOISE REDUCTION

BALUSTRADES competition, Jenna joined

LOWERED HEATING COSTS

has broken the 12sec mark. Charlotte in the madison where

MORE HOME SECURITY

SPLASH BACKS

Jenna showed her class to win the pairing worked in tandem

match sprints from in front PLUS ALL GENERAL CAT & DOG DOORS

to gain a lap on the field and

GLASS, IDEAS & ADVICE:

and behind, with her complete

BROKEN WINDOWSsecure maximum sprint points

dominance marking her SHOWERS as one to blow away the competition.

to watch.

BALUSTRADES •More sport, page 16

www.christchurchglass.co.nz

e: info@chchglass.co.nz

Call (03) 343 5103

F:

for

03

an

343

obligation

5102

free quote

35 Hammersmith e: info@chchglass.co.nz

Drive, wigram, Christchurch

F: 03 343 5102

Po Box 16 264 Hornby, Christchurch.

35 Hammersmith Drive, wigram, Christchurch

Po Box 16 264 Hornby, Christchurch.

SPLASH BACKS

CAT & DOG DOORS

www.christchurchglass.co.nz

Call (03) 343 5103 for an obligation free quote

1 NZ Luke BrowN

driVers From

All oVer nz

– don't miss it!

Servicing Christchurch for 20 years

Servicing Christchurch for 20 years

douBledAys roAd KAiAPoi inFoline 03 364 8833 www.woodFordglen.Co.nz

Adults $20, seniors $10, Children $5, under 5 yrs Free FAmily PAss $40 (2 Adults & uP to 4 Children 15yrs & under)
---
16 Tuesday March 26 2019

Latest Christchurch news at www.star.kiwi

Teen kart driver off to Europe

CHRIST'S COLLEGE student

Jacob Douglas will make a little

bit of Kiwi karting history when

he lines up at the first round

of the FIA Karting Academy

Trophy series in Germany in

May.

Although more and more New

Zealand karters have been travelling

to Europe to compete in

recent years, Jacob, 13, is the first

to be invited by the FIA Karting

Academy to contest

its annual

trophy series.

"It's acknowledgement,

if you

like, from the

very top people

in our sport,"

Jacob

said KartSport

New Zealand

president

Douglas

Graeme Moore.

"Drivers like Jacob are truly

world class, and that by being

able to produce drivers of his

obvious calibre, the sport here

must be in pretty good shape."

In spite of his age, Jacob is

already a veteran of several trips

to Europe to race. The two-time

NZ Vortex Mini ROK champion

led a four-strong New Zealand

squad to its best finish yet at the

annual ROK Cup International

event in Italy in October last

year.

"It's a big commitment,

particularly for a 13-year-old, but

it's what Jacob wants to do so as a

family we are right behind him,"

BIG THINGS: Jacob Douglas (front) will become the first Kiwi

to compete in the FIA Karting Academy Trophy Series. PHOTO:

FAST COMPANY/UMBERTO FRAENKEL-SPORTINPHOTO

said his father Craig Douglas.

Having already proved he

can foot it with the best young

Vortex drivers in the world,

Jacob says his goal is to establish

himself in Europe and he

believes that this year's threeround

series – in which up to

50 invited drivers use the same

model of OTK kart – is just the

stepping stone he needs.

"I am really proud that

Kartsport New Zealand is

supporting me," said Jacob.

"It is a great series to introduce

me to European junior racing

and I am extremely excited to

continue where I left off last year

at the ROK Cup with Lennox

Racing. I am looking forward to

SPORT

doing New Zealand proud and

everybody who has helped take

to where I am today. I am also

fortunate that my KartSport

New Zealand academy coach,

Tiffany Hamilton, will be by my

side to help guide me through

the weekends when I am up

there. Tiff has lots of European

racing experience for me to draw

on."

This year the series will be

contested over three rounds,

starting at Wackersdorf in

Germany in early May, before

heading to Italy for a second

round in June, then the third and

final in September.

Each year for the past nine

years, drivers representing what

FIA characterises as "the best

prospects between the ages of 12

and 14 from over 40 countries

around the world" have battled

it out in what effectively is a onemake

kart/engine/tyre series,

aimed at uncovering the next

Lewis Hamilton.

One former academy trophy

series winner whose name will

be familiar to fans is Toyota

Racing Series race and round

winner and 2018 series runnerup,

Richard Verschoor, of the

Netherlands, who won the

academy trophy in 2014.

In Brief

NOR'WEST NEWS

VOLLEYBALL CHAMPS

St Andrew's College won

the Canterbury secondary

school senior girls volleyball

championships at Pioneer

Stadium, defeating St Margaret's

College in the final. Burnside

High School finished third.

Meanwhile, the senior boys title

was won by Riccarton High

School, which defeated Shirley

Boys' High School in the final.

BURNSIDE TENNIS TEEN

Burnside High School tennis

player Diego Quispe-Kim

has been selected in the New

Zealand team to play at the

ITF World Junior Tennis

competition in Kuala Lumpur,

Malaysia, from April 1-6.

The 13-year-old will team up

with Jack Chapman and Alex

Mirkov for the international

team competition for players

aged 14 and under. With more

than 100 countries represented

in the opening stages of the

competition, the New Zealand

team will look to book a spot at

the world finals later in the year.

SISTER SCHOOL RUGBY

St Bede's College's sister-school

Sapporo Yamanote from Japan

borrowed several St Bede's

rugby players in order to play

against an under-18 selection.

Sapporo Yamanote won the

match. However, given the fact

that more than half of the 11

tries scored were by St Bede's

players, both schools won in one

way or another.
---
NOR'WEST NEWS Latest Christchurch news at www.star.kiwi

Tuesday March 26 2019 17

0% INTEREST *

PAY JUST $19,125 +ORC* NOW, $19,125 IN 12 MONTHS, $19,125 IN 24 MONTHS.

BASED ON RSP OF $56,990+ORC*

The fully-equipped Pajero Sport VRX now comes with an unbeatable finance offer.

You also get: 7 seats • 2.4L turbo diesel engine with 8-speed auto • 3.1T towing • Super Select 4WD • Smartphone Connectivity for Android

Auto and Apple Carplay • 5 star safety • Adaptive Cruise Control • Forward Collision Mitigation • Multi-Around Monitor • Blindspot Warning.

To experience it for yourself, call 03 379 0588 or visit 386 Moorhouse Avenue.

*Offer for approved applicants of Mitsubishi Motors Financial Services only. Offer is based on a vehicle price of $56,990 which does not include On Roads Costs, which includes WoF, registration, 1,000km road user charges and

a full tank of fuel. Finance offer over 24 months with deposit of $19124.35 required then second payment in 12 months of $19124.35 and final payment in 24 months of $19124.35. Total amount payable over the term $57373.05

excluding ORC of $650. Fixed Interest Rate 0% p.a. This offer includes documentation fee of $375 and PPSR fee of $8.05. Terms and conditions apply. Excludes all lease and some fleet purchasers. Offer expires 31 March 2019 or

when stock runs out.

0% INTEREST *

PAY JUST $13,458 +ORC* NOW, $13,458

IN 12 MONTHS, $13,458 IN 24 MONTHS.

BASED ON RSP OF $39,990+ORC*

10 year / 160,000km Powertrain Warranty (whichever comes

The fully-equipped Eclipse Cross VRX 2WD now comes

with an unbeatable finance offer. .

CHRISTCHURCH MITSUBISHI

386 Moorhouse Avenue, Christchurch.

03 379 0588 | christchurchmitsubishi.co.nz

first) (non transferable). 5 year / 130,000km New Vehicle

Warranty (whichever comes first) (non transferable).

*

Offer for approved applicants of Mitsubishi Motors Financial Services only. Eclipse Cross VRX 2WD offer is based on a vehicle price of $39,990 which does not include on roads costs of $550, which includes WoF, registration and

a full tank of fuel. Finance offer over 24 months with deposit of $13457.68 required then second payment in 12 months of $13457.69 and final payment in 24 months of $13457.69. Total amount payable over the term $40373.05

excluding ORC. Fixed Interest Rate 0% p.a. The offer payment instalments are based on a vehicle price of $39,990, plus documentation fee of $375 and PPSR fee of $8.05. Terms and conditions apply. Excludes all lease and some

fleet purchasers. Offer expires 30 June 2019 or when stock runs out.
---
18

Tuesday March 26 2019

Latest Christchurch news at www.star.kiwi

NOR'WEST NEWS

Calling for exhibitors

weddingshow

Sunday 25th August, 2019 Air Force Museum, Christchurch

To exhibit at this fantastic show, please email mark.sinclair@starmedia.kiwi for more info.
---
NOR'WEST NEWS Latest Christchurch news at www.star.kiwi

Tuesday March 26 2019 19

Email jess.gibson@starmedia.kiwi by

5pm each Wednesday

GenConnect

12.15-12.45pm

If you have questions about

your ipad, smart phone or tablet,

head down to GenConnect where

Papanui High School students

will help you for free.

Papanui Library

Scrabble Club

Today, 10.30am-noon,

Wednesday, 1-3pm, and 1.30-

3.30pm

Play scrabble with a friendly

group. Just head down when you

can – no bookings required. All

materials are supplied at this free

event.

Today at the Redwood Library,

tomorrow at the Bishopdale and

Shirley libraries

Culture Exchange

Friday, 3.45-4.45pm

Go along and make new

friends, practice your English

and learn about New Zealand

and Christchurch.

Shirley Library

JP Clinic

Today, 10am-1pm, tomorrow,

10am-1pm

A justice of the peace will

be available to members of

the community to witness

signatures and documents,

certify document copies, hear

oaths, declarations, affidavits

or affirmations, as well as sign

citizenship, sponsorship or rates

rebates applications. No charge.

Today at the Papanui Library

and Shirley Library, tomorrow at

the Bishopdale Library

Knit 'n' Yarn

Today, 1-3pm, Wednesday,

1-2.30pm, Friday, 10am-noon

Take your knitting, crochet or

another craft project and have

fun with this social group. This is

a free, drop-in event.

Today at Bishopdale

Library, tomorrow at

Redwood Library and Friday

at Papanui Library

Makerspace

Today, 3.30-4.30pm

Join in on the fun activities

every week at the Makerspace

sessions. There will be creative

and/or tech activities to try and

fun to be had for kids of all ages.

No bookings required for this

free event.

Redwood Library

Reading to Dogs ​

Today, 3.30-4.30pm, Thursday,

3.30-4.30pm

Reading to Dogs is designed

to provide a relaxed, nonthreatening

atmosphere, which

encourages children to practice

Head down to the Papanui Library on Monday to see the Mobile Discovery Wall. The wall is a

touch-sensitive, digital representation of Christchurch, which lets you swipe your way through a

virtual world of photos, videos and information. Discover images, videos and text relating to the

city's unique history and identity, or upload your own stories, photos and videos to the discovery

wall website. This event runs all day and is free of charge.

and develop a love of reading.

This programme​ uses dogs,

which are pets of the city council

animal management team. These

furry friends have all been trained

and tested for health, safety and

temperament. Registration is

required for this free event.

Today at the Shirley Library

and Thursday at the Papanui

Library

Rummikub

Monday, 1-3pm

Go along and play rummikub

– an exciting, interactive strategy

game. This is a free, drop-in

event.

Bishopdale Library

Mahjong Group

Saturday, 2-4pm, Monday,

2-4pm

If you are interested in

playing mahjong or would

like to learn to play, head

down and have a go. If you

have your own set, feel free to

take it along. This is a free

event.

Saturday at Shirley Library

(registrations required) and

Monday at Papanui Library

(drop-in)

40 th

Birthday

Great times

since 79

MT DOBSON

Season Pass Offer

ADULTS:

KIDS:

$Two "40" Nine

$One "40" Nine

(aged 5 – 17 at 1 June 2019)

Purchase online at: mtdobson.co.nz

Hurry, offer ends Midnight Monday March 25, 2019.

25 %

off

Resene Premium Paints,

Wood Stains, Wallpaper,

Decorating Accessories

and Cleaning Products!

Come in and see us today at

your local Resene ColorShop!

or shop online at shop.resene.co.nz

Discounts off the normal retail price of Resene premium paints, wood stains, primers, sealers,

wallpaper, decorating accessories and cleaning products until 23 April 2019. Available only at

Resene owned ColorShops and participating resellers. Paint offer also available at participating

Mitre 10 MEGA and selected Mitre 10 stores. Valid only with cash/credit card/EFTPOS purchases.

Not available in conjunction with account sales, promotional vouchers/coupons or other offers.

Excludes trade, ECS, WallPrint, wall decals, Crown products and PaintWise levy.
---
20

Tuesday March 26 2019

Latest Christchurch news at www.star.kiwi

NOR'WEST NEWS

Exhibitors

Book now

Don't miss your opportunity to

showcase your business in front of

10,000+ qualified attendees

lisa.lynch@starmedia.kiwi or 021 800 809
---
NOR'WEST NEWS Latest Christchurch news at www.star.kiwi

Tuesday March 26 2019 21

REAL ESTATE

Scenic views and executive lifestyle

6 Assisi Street, Mount Pleasant

Price: Enquiries over $999,000

4 bedrooms | 3 bathrooms | 3 living rooms | 2 car garaging | Listing Number SMT10380

Lifestyle advantages along with sea

views as far as the eye can see……

The lucky new owners will quickly

appreciate the highly sought after Mt

Pleasant location on a near level site,

incorporating sunshine and views which

literally take your breath away!

Built post-earthquake in 2013 and set

beside Parnham Reserve the adjoining

park is a family's dream. The split level

250m2 home is set on a private 911m2

section and finished to a high spec

with a warm, natural décor creating an

unbeatable homely feel. Inside there

are four double bedrooms and three

bathrooms, including two ensuites and a

family bathroom.

The centrepiece of the home is an open

plan kitchen, dining and living space

which effortlessly connects to a separate

lounge. The designer kitchen and walk

through scullery will please the chef of the

family. Both living spaces feature sliding

and bi-fold doors that spill out onto the

unbeatable outdoor entertaining area.

You will be toasty warm in the cooler

months and comfortable in the warmer

conditions. The two heat pumps, plus

solar and photovoltaic panels are excellent

for saving electricity. The separate laundry

leads to the outside area.

Upstairs the third lounge and main

bedroom are perfect for a parents' retreat

or a teenagers' hang out.

The gardens feature a contemporary

scheme that complements the house and

incorporates native planting. In addition

to the private, sunny grassed area, a

sheltered courtyard provides an alternate

external space to enjoy.

With two driveways perfect for a

caravan or boat.

Mt Pleasant primary school is a short

walk and private school buses interconnect

at the bottom of the hill.

Properties of this calibre are highly

sought after. Those interested parties are

advised to register their interest as this

property may be sold at any time.

Contact Debra for viewing times.

Marketed by Debra Hakaraia

Smart Real Estate

Call 0275620420 033848600

Smartrealestate.co.nz

Licensed Agent Reaa 2008

growing with you June 2018 | 100%

Plants For

winter wow

Cool Choices

For Colour

& Contrast

From swamp

to sea views

The journey

begins with sarah

the Gardener

$7.90 incl. GST

Snap it up

Enter our annual

Birdlife Photo

Competition to win

great prizes!

clear the air

Why groWing

indoor PLAnTs is

so good for you

give it a grow

from gArLic

To chinese

ArTichokes,

We hAve your

groWing TiPs

covered

the latest releases

into the rose world

+ rose care

through winter

The magazine for

gardeners who like to get

their hands dirty

SUBSCRIBE FROM

$43. 50*

*6 issues/6 months

SUBSCRIPTIONS FREEPHONE

0800 77 77 10

WWW.GARDENER.KIWI
---
22 Tuesday March 26 2019

Latest Christchurch news at www.star.kiwi

NOR'WEST NEWS

If you want more information about an item or to contact a

seller, visit www.postanote.co.nz and search the ID#

Triumph GT6 MKII 1970 2+2

Saw bench & Motor

Mazda Premacy 2005 7-Seater

Baby Buggy

1978 Ford Mustang Cobra II

Microsoft Minecraft Creeper Controller

$19,750

ID 25804

$300

ID 27737

$4,650

ID 27493

$50

ID 27736

$25,300

ID 14800

$35

ID 27732

Belted Galloway Bull

Volkswagen Touran

Beer Stein

Two Couches

2004 Honda Edix

Honda Odyssey

$1,200

ID 27698

$9,990

ID 27681

$15

ID 27600

$85

ID 27612

$4,800

ID 27613

$4,500

ID 27541

Cedar Blanket Box

Clothes Dryer

Isuzu Double Cab

Mazda Axela

Flotation Jacket (Aqua Vest)

1998 Suzuki DR350

$300

ID 13620

$150

ID 25671

$3,750

ID 27503

$14,750

ID 27338

$30

ID 27278

$1,990

ID 27276

Yamaha Electone Organ HS6

Farr 727 Yacht With Mooring

Mobility Scooter As New

RAV 4 J

Holden Rodeo D/Cab 4x2 Utility

Hot Water Urn/Steamer

$299

ID 15456

$15,000

ID 27491

$7,500

ID 27495

$12,000

ID 27492

$10,990

ID 27481

$150

ID 23193

2002 Subaru

HP Officejet Pro 8600 Printer

Chefmate Slow Cooker

Pyramid Speakers

Black Floor-standing Speakers

1978 Sprite CM Munro PopTop

$2,300

ID 23212

$100

ID 27449

$12

ID 27437

$90

ID 27375

$125

ID 27361

$6,000

ID 27349

Electric Bike

Folding Mobility Scooter

Daihatsu Atrai 4WD Van

ELBA Dishwasher

1989 VW Golf

2 Ex-Army Jerry Cans

$2,500

ID 22948

$1,850

ID 27299

$3,200

ID 27279

$400

ID 27142

$1,000

ID 27002

$60

ID 26934

1974 Liteweight Caravan

Leather Couches. 2-yr-old

Catherine Cookson

Valco Baby Runabout Deluxe

1971 MGB GT

Tasman 20 Trailer Sailer

$10,500

ID 26768

$1,200 each

ID 25821

$3 each

ID 27642

$150

ID 27587

$9,750

ID 26557

$4,500

ID 27076

2140006chch
---
NOR'WEST NEWS Latest Christchurch news at www.star.kiwi

Tuesday March 26 2019 23

Community Events

ALCOHOLICS

ANONYMOUS, If you

want to have a drink that's

your business. If you want

to stop, we can help. Phone

0800 229-6757

Holiday

Accommodation

Australia QLD

SUNSHINE

COAST

RESORT

ALEXANDRA HEADLAND

All Units Have Ocean Views.

Heated Pools, Spa & Sauna,

Free Wifi, Tennis

& Mini Golf.

CHECK OUR GREAT

WINTER SPECIALS

www.mandolin.com.au

0061 7 5443 5011

JUNE to AUG temps 20C

Classifieds Contact us today Phone our local team 03 379 1100

Health & Beauty

Organic

Footcare

Deluxe Treatment

Footpod offers a complete array of

footcare services to help you overcome

problems and maintain healthy feet.

. Athletes foot

. Fungus nails

. Ingrown toenails

. Warts, corns,

calluses & bunions

. General foot care

021 900 977

27 Forfar St, CHCH | www.footpod.co.nz

Trades & Services

rooF

painting

Book now and

receive 20% discount

for summer.

Rope and harness a

speciality.

No scaffolding required.

30 years experience.

Free quotes, call

Craig 021 060 2392

HALSWELL

GLASS & GLAZING 2017 LTD

THE PET DOOR SPECIALIST

• PET DOORS

• NEW GLAZING

• FRAMELESS SHOWERS

• MIRRORS

• INSURANCE CLAIMS

• RETRO GLAZING

• BALUSTRADING

ALL SUBURBS COVERED FOR

ALL YOUR GLAZING NEEDS

PHONE GAIL OR SARAH ON

322 7999 OR 021 CAT DOOR

(228 3667)

Trades & Services

HOUSE

CLEARING

Are you

moving house

or trying to

downsize?

Call All Clear

Canterbury. We work

with you to recycle,

sell and dispose of

unwanted items.

Ph: 03 260 0934

or 021 078 4553

raewynlcooke@gmail.com

www.allclearcanterbury.co.nz

House & Garden

Property services Ltd

Tree and shrub pruning

Hedge trimming

Garden maintenance

Landscaping

Lawnmowing

CALL us 021 405 277

Trades & Services

UPHOLSTERER

dyers upholstery services

(Ex Leacroft St, Bishopdale)

We specialise in

re-upholstering all types of

household furniture

inc squabs.

Trusted craftsman for over

30 years. Fabric samples,

Free quotes, pick up &

delivery.

All work guaranteed.

Ph. 359 5033 or

022 106 0108

ROOF

PAINTING

Rope & harness

a speciality,

no scaffolding

required,

30 years of

breathtaking

experience.

FREE QUOTES

Exterior staining,

exterior painting,

moss and mould

treatment and

waterblasting

Phone Kevin

027 561 4629

Trades & Services

DIRTY

TILES &

GROUT?

Our unique restoration processes will make your

tiled areas look BRAND NEW again!

We provide cost effective makeovers for showers,

bathrooms, kitchens or any other tiled areas.

Tiled Shower Makeovers

Professional Tile & Grout Cleaning

Re-Colouring of existing Grout

Tile/Grout Sealing

Tile/Grout Repairs

Silicone Replacement

Garage Carpet Installation

For your FREE no obligation quote contact

DARRYL

0800 882 772

darryl.p@groutpro.co.nz

GARDENING

YOUR ONE STOP SHOP FOR HOME SERVICES

0800 535 355

Regular garden maintenance,

seasonal clean ups

Trades & Services

PAINTER

Michael Kelly Painters

Locally owned and

operated family

business.

25+ years Experience

• Painting • Wallpapering

• Interior • Exterior

Free Quotes

Services available

throughout Christchurch

www.anextrapairofhands.co.nz

FOR A FREE QUOTE

Trades & Services

BAND FOR HIRE

The Meaniez have limited

dates available for this

year & 2020. Please call

Brian on 0272717288.

BATHROOM

Renovations, complete

service from start to finish,

free quotes, ph Dave 027

334 4125

****************

CARPET & VINyl

lAyINg

Exp. Repairs, uplifting,

relaying, restretching.

Email jflattery@xtra.co.nz

ph John on 0800 003 181

or 027 2407416

CHIMNEy SWEEP

Txt 027 669 4681

ElECTRICIAN

Registered, electrical

installation and repairs,

Gorbie Electrical, ph 021

026 73375 or 03 322 4209

Trades & Services

ElECTRICIAN

For electrical work, no

job to small, affordable,

tidy & experienced,

HEATPUMP servicing, &

performance test $70 + gst,

ph or txt 027 432

9755 or 03 326 4992

gARDEN

CORNER SORTER

Ring Graeme 027 341`

8596 / 342 5151

PAINTER

DECORATOR

All int /ext painting.

Comp rates. I stand by

Canterbury. Wayne 385-

4348, 027 274 3541

PAINTINg

30 years experience,

workmanship,guaranteed,

pensioners discounts,

free

quotes,

ph Robert 021 026-30757

Phone

Michael 0212 649 492

michaelkellypainter@hotmail.co.nz

Trades & Services

pc & phone repairs

• iPhones • Smart Phones

• iPads • Tablets • Computers

• Laptop Repairs, Parts and Accessories

• Glass Screen Protectors

• Phone Cases • Cables etc

Shop 3A, 1 Stark Drive, Wigram Business Park

Phone 0800 222 691

PLUMBER

NEED A PLUMBER

Call us now for fast friendly service.

Get your problems sorted out

quick smart - on time!!

Phone for a

FREE

quote now.

Phone 03 377 1280 | Mobile 021 898 380

Trades & Services

PlASTERER

Gib Stopping, Small

job specialty. 30 + years

experience. Ring 0800

387-369

PlUMBER

ALF THORPE

PLUMBING Certifying

Plumber for all types of

plumbing, maintenance,

spouting, alterations etc.

Phone 352-7402 or 0274-

350-231

ROOFINg REPAIRS

Fully qualified, over 40

yrs experience. Ph John

027 432-3822 or 351-

9147 email johnchmill@

outlook.com

SHOE REPAIRS

Belfast engraving. Shoe

repairs, key cutting &

engraving. (10 yrs exp)683

Main North Rd, ph 027

3113423

Trades & Services

SPOUTINg ClEANINg

Spouting Unblocked,

Cleaned Out and Flushed

Out. Call Trevor 332 8949

or 021 043 2034

STONEMASON, BRICK

& BlOCKlAyER,

Earthquake Repairs, Grind

Out & Repoint, River/

Oamaru stone, Schist,

Volcanic Rock, Paving,

all Alterations new & old,

Quality Workmanship,

visit www.featureworks.

co.nz or ph 027 601-3145

STUMP gRINDINg

Best price guarantee Tony

0275 588 895

TIlER/CARPENTER

35 years exp, no job

too small. Ph Ross 027

4311440.

Entertainment

Trades & Services

TIlINg

Flooring - Splashbacks -

Wall incl tile removal, reg

master tiler, ph Dave 027

334 4125

TIlINg

Flooring - Splashbacks -

Wall incl tile removal, reg

master tiler, ph Dave 027

334 4125

T.V. SERVICE

CENTRE

Repairs, tvs, microwaves,

audio amps, soundbars.

.Aerial & satellite

installations, kitsets, 480D

Moorhouse Ave, ph 03 379

1400

VHS VIDEO TAPES

& all camera tapes

converted to DVD, video

taping special occasions,

www.grahamsvideo.co.nz

ph 03 338-1655

ADVERTISE YOUR BUSINESS HERE

Phone for further details

(03) 379 1100

4WD farm properties at ethelton

sunday 14th of april, starting at 10am

Bring a picnic!

4wd

fundraiser

st george's hospital cancer care unit

$30 per adult

for further details contact John Belcher

Johnbelcher19@xtra.co.nz

Vehicles Wanted

CASH/CASH for any

unwanted vehicles, ph

347 9354 or 027 476 2404

CASH/CASH for any

unwanted vehicles, ph

347 9354 or 027 476 2404

Wanted To Buy

Dealers. Phone 980 5812

fridges, freezers, washing

cash paid. Ph Paul 022

sawbenches, lathes, cash

AAA Buying goods

quality furniture,

Beds, Stoves, Washing

machines, Fridge Freezers.

Same day service. Selwyn

or 027 313 8156

A+ Household effects,

machines, ovens. Good

0891 671

TOOLS Garden,

garage, woodworking,

mechanical, engineering,

buyer, ph 355-2045
---
24 Tuesday March 26 2019

Latest Christchurch news at www.star.kiwi

NOR'WEST NEWS

Love the

Choice

Brand new homes available now!

At Summerset retirement villages, you'll find a wide range of

homes specifically designed for the over 70s.

Our warm, modern homes are built with accessibility as a

priority. And there's no need to worry about maintenance

or upkeep. Simply choose your new home and make it your

own. You can even bring along your pet.

Summerset at Wigram and Summerset on Cavendish have

brand new homes available now and our Summerset at

Avonhead village is pre-selling* homes that will be ready to

move into in June!

Come along to our Morning Tea and Tour and find the home

that's right for you. We will take you through village plans and

pricing, and answer any questions you may have.

If you would like to get some information prior, you can

make an appointment or call in and visit us any time - we are

open 7 days.

Morning Tea

and Tour

Thursday 28 March

10am

Summerset on Cavendish

147 Cavendish Road, Casebrook

Summerset at Wigram

135 Awatea Road,

Wigram

Summerset at Avonhead

Shop 10, Avonhead Mall,

Merrin Street, Avonhead

*Licence to occupy.

For your free information pack, call

0800 SUMMER (786 637) or visit summerset.co.nz

SUM1434_37X8