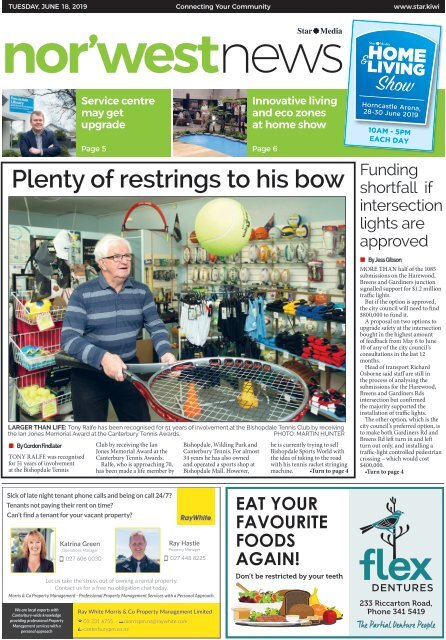 Nor'West News: June 18, 2019
You also want an ePaper? Increase the reach of your titles
YUMPU automatically turns print PDFs into web optimized ePapers that Google loves.
TUESDAY, JUNE 18, 2019

Connecting Your Community

www.star.kiwi

Service centre

may get

upgrade

Page 5 Page 6

Innovative living

and eco zones

at home show

10am - 5pm

each day

Plenty of restrings to his bow

LARGER THAN LIFE: Tony Ralfe has been recognised for 51 years of involvement at the Bishopdale Tennis Club by receiving

the Ian Jones Memorial Award at the Canterbury Tennis Awards.

PHOTO: MARTIN HUNTER

• By Gordon Findlater

TONY RALFE was recognised

for 51 years of involvement

at the Bishopdale Tennis

Club by receiving the Ian

Jones Memorial Award at the

Canterbury Tennis Awards.

Ralfe, who is approaching 70,

has been made a life member by

Bishopdale, Wilding Park and

Canterbury Tennis. For almost

34 years he has also owned

and operated a sports shop at

Bishopdale Mall. However,

he is currently trying to sell

Bishopdale Sports World with

the idea of taking to the road

with his tennis racket stringing

machine. •Turn to page 4

Funding

shortfall if

intersection

lights are

approved

• By Jess Gibson

MORE THAN half of the 1085

submissions on the Harewood,

Breens and Gardiners junction

signalled support for $1.2 million

traffic lights.

But if the option is approved,

the city council will need to find

$800,000 to fund it.

A proposal on two options to

upgrade safety at the intersection

bought in the highest amount

of feedback from May 6 to June

10 of any of the city council's

consultations in the last 12

months.

Head of transport Richard

Osborne said staff are still in

the process of analysing the

submissions for the Harewood,

Breens and Gardiners Rds

intersection but confirmed

the majority supported the

installation of traffic lights.

The other option, which is the

city council's preferred option, is

to make both Gardiners Rd and

Breens Rd left turn in and left

turn out only, and installing a

traffic-light controlled pedestrian

crossing – which would cost

$400,000.

•Turn to page 4

Sick of late night tenant phone calls and being on call 24/7?

Tenants not paying their rent on time?

Can't find a tenant for your vacant property?

We are local experts with

Canterbury-wide knowledge

providing professional Property

Management services with a

personal approach

Katrina Green

Operations Manager

027 606 0030

Ray Hastie

Property Manager

027 448 8225

Let us take the stress out of owning a rental property.

Contact us for a free no obligation chat today.

Morris & Co Property Management - Professional Property Management Services with a Personal Approach.

Ray White Morris & Co Property Management Limited

03 331 6755 morrispm.nz@raywhite.com

canterburypm.co.nz

eat your

favourite

foods

again!

Don't be restricted by your teeth

233 Riccarton Road,

Phone 341 5419

The Partial Denture People
---
2 Tuesday June 18 2019

Latest Christchurch news at www.star.kiwi

get in touch

from the editor's desk

THE PEOPLE have spoken (see page 1).

They want traffic lights at the

troublesome Harewood, Breens and

Gardiners Rds intersection.

Troublesome for motorists – but

troublesome too for the city council.

More than half of the 1085 public submissions on the

intersection are in favour of the second option for planned

improvements. But that will cost $1.2 million and the city

council only has $400,000, earmarked for option one. That

involves changes to the intersection's layout.

But the city council says it doesn't have the other $800,000 for

what people actually want.

So if the city council decides to go with the majority, there

are likely to be more delays to improving the intersection until

funding is found.

– Barry Clarke

GENERAL INQUIRIES Ph 379 7100

CLASSIFIED ADVERTISING Ph 379 1100

Star Media, a division of Allied Press Ltd

PO Box 1467, Christchurch

starmedia.kiwi

news

Volunteer award for 'three musketeers'

Gus Gale, David Chappie and Neil Fleming have been recognised

for putting their friendship to good use.

Page 6

schools

Young dancer's big break

Cotswold School pupil will compete at the Evolution Dance

finals on the Gold Coast next year.

Page 8

community events

NOR'WEST NEWS

Book club

If you love sharing your favourite reads, join other book-lovers

at the Papanui Library today from 10-11am.

NEWS

Jess Gibson

Ph: 021 914 169

jess.gibson@starmedia.kiwi

ADVERTISING

Monique Maynard

Ph: 364 7474

monique.maynard@

starmedia.kiwi

Rodd Gray

Ph: 982 9308

rodd.gray@

starmedia.kiwi

Page 19

The best-read local newspaper, delivered to

16,717 homes every Tuesday

Harewood, Burnside, Bishopdale, Bryndwr, Fendalton, Merivale,

St Albans, Mairehau, Papanui, Casebrook, Redwood, Regents

Park, Styx Mill, Northwood, Belfast, Strowan.

HAVE YOUR SAY

We're planning for

the future of our

water services

Our Water. Our Taonga.

We'd like to hear your views on our Draft

Integrated Water Strategy, open until 14 July

Find out more

ccc.govt.nz/ourwater

or visit one of our service centres

Kelvin McMillan
---
NOR'WEST NEWS Latest Christchurch news at www.star.kiwi

Tuesday June 18 2019 3

News

Traffic decision welcomed

• By Jess Gibson

Mark Wilson

ONE OF the main drivers in

opposing a traffic management

plan for St Albans, Mark Wilson,

has applauded its rejection.

On Thursday, the city council

voted not to endorse the Downstream

Effects Management

Plan, which was designed to

mitigate traffic

when the $240

million Northern

Corridor

opens next

year.

Mr Wilson,

who is a St Albans

resident,

helped organised

a

2400-signature petition opposing

the DEMP last year as the

community felt it prioritised

vehicles above people.

He said there is still a long way

to go before the community get

the outcome they want but the

decision is a step in the right

direction.

"The overriding feeling is that

the community is thankful that

staff have tried their best and

that they will continue to try

their best," Mr Wilson said.

The DEMP did not address

traffic volumes on Cranford St

which were expected to more

Discover Christchurch's

best pet

accommodation

• Daycare - all breeds

• Long stay/short stay

than double from an existing

21,000 vehicles a day to 48,000

vehicles a day within five years,

effectively splitting the community

in half.

Elected members unanimously

passed the recommendations

by the joint Linwood-Central-

Heathcote and Papanui-Innes

community boards to turn down

the plan. The recommendations

passed were slightly amended

version from what the joint community

boards resolved.

In spite of the plan being

turned down, one resolution

was that staff proceed with the

proposed stages 1A and 1B of

the project, which provides for

a safer environment for all users

tree trouble?

call us 384 9630

www.fourseasonstreecare.co.nz

and the community.

This includes intersection upgrades

along Cranford, Berwick

and Warrington Sts, clearways

along Cranford St, traffic calming

on a number of local streets,

vehicle and environmental

monitoring, lower speed zones,

safe access to schools and safe

cycling routes.

Staff will work with the

strategic partners – NZTA,

Environment Canterbury and

Waimakariri District Council –

to deliver these measures.

The joint community boards

will remain heavily involved in

oversight of the project and will

be regularly updated on whether

the upgrades are on track to be

PROTEST:

St Albans

residents who

piled into the

Civic Offices

on Thursday

were pleased

to hear that the

city council did

not endorse the

Downstream

Effects

Management

Plan.

completed before the CNC opens.

Mr Wilson said the main

project the community wants to

see delivered is an "express bus

service that reduces the number

of single car commuters."

This was part of an alternative

plan developed by traffic engineer

Axel Wilke that uses two of

the four lanes of the Northern

Arterial for busses.

Said Mr Wilke: "The agencies

delivering the project are, at this

point, considering a city-bound

high-occupancy vehicle lane

and express bus services for four

hours per day. We argue that's

not good enough yet, and we will

further work with the agencies

to advance their thinking."

Local

News

Now

In Brief

Fire rages, homes at risk

SEWER REPAIRS

Repairs are being made to the

sewer on Cranford St. It was

renewed 18 months ago but after

work was completed, CCTV

inspection revealed two defects

and these are now being repaired

by City Care. There is no road

closure but any bus stops affected

may have been temporarily

relocated. Work is set to be

finished on Friday.

SPRING WATER

Free spring water direct from

an aquifer is now available at

Burnside Park. People can fill

clean containers with up to

20-litres of water, which is not

treated with chlorine and is tested

regularly to make sure it meets

New Zealand's Drinking Water

Standards. The water is drawn

from a depth of 200m.

BUSINESS ASSOCIATION

Pamphlets will be distributed in

Redwood to inform people of the

Redwood Business and Residents'

Association. Donna Brenssell,

who was involved in getting the

association up and running in

April, said the main focus at last

week's meeting was getting more

people to join. The next meeting

will be held on June 9 at 7pm

at the Christchurch Function

Centre, Redwood Hotel, 340 Main

North Rd.

rechargeable

hearing aids

Call now to

book in your

fur baby,

inspections

welcome

anytime!

The revolution

in heat pumps

is here now!

The Fujitsu e3series

The brilliant

heat pumps from Fujitsu

e1 : efficiency

e2 : environment

e3 : economy

FREE consultation from your local

Accredited Heat Pump Expert

Phone today: 03 381 6950

INSERT DEALER DETAILS HERE

ALAMEDA

KENNELS & CATTERY

271 Dyers Road | Ph 384 1297

www.alameda.nz

Website: www.pshc.co.nz

Finance available

t h e t r e e p e o p l e

f o u r s e a s o n s t r e e C a r e

The revolution in heat pumps is here now!

The brilliant e3 series

heat pumps from Fujitsu

e1 : efficiency

e2 : environment

e3 : economy

Fujitsu's Catechin Filters are

approved by the Asthma and

Respiratory Foundation NZ's

Sensitive Choice ® programme.

Email: info@pshc.co.nz

• SIMPLICITY

No batteries

to purchase,

no ongoing cost

• CONVENIENCE

Charge hearing aids

overnight

• EASE OF USE -

FULLY AUTOMATED

CHARGING

Easier to place aids in the

charging case at night and

put them on in the morning

fully charged

• ENVIRONMENTALLY FRIENDLY

No need to dispose of dead batteries every week

Book your free consultation today

Merivale

Hearing Clinic

24b Church Lane

Call now: 356 2324
---
4 Tuesday June 18 2019

Latest Christchurch news at www.star.kiwi

NOR'WEST NEWS

News

FUNDING: If traffic lights are approved for the Harewood,

Breens and Gardiners Rds intersection, the city council would

need to allocate $800,000 in additional funding to the project.

Possible lights funding concern

•From page 1

Mr Osborne said if the traffic

lights are approved, the city

council would need to allocate

additional funding to the project

as part of the Annual Plan and

Long Term Plan process.

This means another existing

project would need to be deferred

or a rates increase would

be needed to provide

the additional budget

required.

However, if the city

council's preferred option

was approved, work

could begin in the first

half of 2020 as it has

allocated $400,000 towards

the upgrades and

it would likely be eligible

for a funding subsidy

from the Government.

City councillor and

chairwoman of the

infrastructure, transport

and environment committee,

Pauline Cotter

said funding was "quite

clearly spelt out in the

document."

"The question is, did

people read it properly or did

people just vote emotionally and

say 'traffic lights sound like a

good idea, let's tick that'," said Cr

Cotter.

"There's a big queue for the

money in Christchurch as we are

all very aware of and this is not

one of the most dangerous intersections

in the city."

The intersection is currently

ranked number 61 on a list of

the city's 100 most dangerous

intersections.

"It would seem quite bizarre to

accelerate that above the priority

programme and I think other

communities could well question

that and ask why it's happening,"

Cr Cotter said.

But Harewood Ward city councillor

Aaron Keown said

the intersection is a "safety

issue" and that other

communities would not

judge its funding if they

"believed in democracy."

"If that's the logic then

we should apply it to funding

community centres,

swimming pools and all

Aaron Keown

the other things that are

nice to have."

He said the city council

can apply for a subsidy for

the intersection from the

New Zealand Transport

Agency.

"My expectation as an

elected member and a

ratepayer is that our staff

would do that," he said.

Pauline Cotter

"I will be keeping a

very close eye on the application

we make for the funding of the

intersection to make sure it has

the best chance possible of succeeding,"

Cr Keown said.

A report on the two options

will come before the Fendalton-

Waimairi-Harewood Community

Board who will make

a recommendation to the city

council.

After that, the city council will

make its final decision.

Fundraiser has dual role

THE FIGHT to end period

poverty is under way.

The Fill-a-Bag fundraiser

for The Good Fund is being

held in 16 locations nationwide

throughout June.

Kimberli Schuitman, co-founder

of The Good Fund, is hosting

the Christchurch event from

2-4pm on June 22 at the Landsdowne

Community Centre.

Ms Schuitman said the fundraiser

pulled together two things

that were extremely important

to her.

"Period poverty is rife in New

Zealand and by talking about

it we can break down taboos

and create an awareness around

this cycle of poverty that keeps

children from achieving their

learning milestones. It is about

ensuring menstruating people

in New Zealand have easy and

affordable access to sustainable

and more comfortable menstrual

products," she said.

They are currently seeking

donations of children's clothing

that will be recirculated from

a family who no longer needs

them to another in need to keep

them out of a landfill, says Ms

Schuitman.

To date the quality of the

clothing donated has been incredible,

a lot of people will walk

away with a real bargain.

They are also looking for bags

Tennis identity recognised

•From page 1

"I'll just keep a stringing

machine and trot round the

country and Wilding Park,

picking up the odd thing when

there's a tournament on," said

Ralfe.

"In smaller places like

Greymouth or Kaikoura if

you break a string on Saturday

morning you can't get it restrung,

but: "I used to play veterans and

take the machine with me. You

can restring between games quite

comfortably."

Ralfe isn't just accustomed

to doing restrings for talented

recycled from online grocery orders

that will be given on arrival

to fill with baby clothes.

Entry is $10 and anyone is welcome

from parents, guardians

to grandparents, Ms Schuitman

said.

There will be lots of other fun

stuff happening as well as an

information table about reusable

menstrual products.

"The fundraiser is an important

event in bringing Christchurch

communities together to

share baby clothes, catch up with

friends and raise awareness of

period poverty in our community,"

she said.

"The Good fund is all about

giving access to reusable menstrual

products to people that

would normally be unable to afford

them," Ms Schuitman said.

All proceeds raised will go

juniors and veteran players, every

January he travels to Auckland

for the ASB Classic where he has

serviced rackets for the world's

best players including Serena

Williams.

"I went this year. I may have

had my swansong. I've had 15

years up there and I'm getting

too old for it now. The hours are

long and it's fairly tough work,

but I haven't fully decided yet,"

said Ralfe.

Award winners:

Personality of the year – Dylis

Hancox and Sue Dennis.

Junior female player of the year

GOOD

CAUSE: Cofounders

of

The Good

Fund Emily

Holdaway

and

Kimberli

Schuitman

celebrating

the launch

of the

fundraiser.

towards The Good Fund that

helps New Zealand women

nationwide have a choice to access

and be educated on reusable

sanitary products.

There, women can buy sustainable

sanitary products or

apply for a Good Fund rebate to

get discounted products. www.

thegoodfund.co.nz

Due to the success of the first

Fill-a-Bag in Hamilton in March

that raised over $3000, Ms

Schuitman is hoping for similar

success in Christchurch. She

hopes that this will be a yearly

event to help awareness around

period poverty.

Donations of kids clothing

ages 0-5 years can be dropped

off to 175a Waltham Rd from

9-2.30pm weekdays or email My

Cup hello@mycup.co.nz for drop

off points outside of these hours.

– Abby Mason

Junior male player of the year –

Reece Falck

Club coach of the year – Gareth

Robb

Performance coach of the year –

Andrew Falck

Volunteer of the year – Gordon

Collingwood

Administrator of the year –

Megan Bruynel

Ian Jones memorial award –

Tony Ralfe

Player of the year – Tessa

McCann

Club of the year – Waimairi

Tennis Club

Schools not for everyone!

Is school not working for your teen?

ULTIMATE CAREER DECIDER / SECURITY & FORCES PREP /

DIGITAL MEDIA & DESIGN / BUSINESS ADMIN & TECHNOLOGY /

WEB DEVELOPMENT / SOFTWARE DESIGN / EARLY CHILDCARE

www.studywithus.co.nz

VISION & TRAINME

CAMPUS

INFO NIGHT

DATE: 26 th June 2019

TIME: 7:00pm

CHRISTCHURCH CAMPUS

50 Hazeldean Road,

Addington

50 Hazeldean Road, Addington, Christchurch | 0800 834 834
---
NOR'WEST NEWS Latest Christchurch news at www.star.kiwi

Tuesday June 18 2019 5

Local

News

Now

Fire rages, homes at risk

Fendalton centre may get more services

• By Jess Gibson

ANOTHER ONE-stop shop may

be on the cards for the northwest

– this time in Fendalton.

The city council is considering

expanding the Fendalton Library

Service Centre to offer postal

services, bill payments and Metro

card purchases.

The city council also

announced recently that its

Papanui Service Centre will

soon offer these services, as

it has become a full NZ Post

agent. The move prompted

Fendalton-Waimairi-Harewood

Community Board chairman

Sam MacDonald to request the

same for the Fendalton centre.

The Fendalton centre is

currently closed while a $1.1

million upgrade is made to

the interior and exterior of the

building. It is set to reopen on

July 29.

"When you're spending money

to redo the library like that, we

should do it right."

Since the closure of the Fendalton

Post Shop in 2015, the centre

has been providing basic postal

services.

Mr MacDonald asked the city

• By Jess Gibson

MERIVALE'S POST shop will

remain open.

NZ Post last week announced

it has partnered with

stationery business

Paper Tree Local,

which will move

into the Kiwibank

premises at 183

Papanui Rd.

NZ Post needed to

find a new business

partner in order

to stay afloat after

Kiwibank announced

it will close the

Papanui Rd branch.

Kiwibank services will be

available until 3pm on June 28,

and the store will then close

while renovations are made over

two days.

council to consider adding bill

payments and the purchase of

Metro cards.

"There are five schools within

After July 1, Paper Tree Local

will continue to deliver the

postal services and bill payments

which are currently available

at the store. All postal services

will be available from

July 1 but bill paying

services will start on July

30.

Paper Tree manager

Hiren Amin, who also

runs Papercraft, which

is a partner of Lincoln

NZ Post, wanted to open

a second location and

continue the partnership.

"We've seen how much

the community value

these services at our Lincoln

location, and we want the

Merivale community to know

we will be ready to help out

with their postal needs from

day one. Partnering with NZ

close proximity to the library,

including two large secondary

schools – Burnside High School

and Christchurch Boys' High

Post is exciting for us, and we

can't wait to serve the Merivale

community."

Said NZ Post head of retail

Mark Yagmich: "This model of

working with local businesses

works well for our customers,

who now also have access to

our partner's products. We are

excited to continue working in

this way in this location."

"It is also a more financially

sustainable way of working

for NZ Post in an ever-changing

mix of postal services usage . . .

it's also good for the businesses

we work with, as they enjoy

additional income both from

transacting postal services on

our behalf and by having more

customers coming through

their doors to pick up their

parcel or send a postcard," he

said.

School. (The community board)

believe that having the option to

purchase Metro cards from the

service centre would be of great

convenience to our residents," he

said. "We are also conscious of

the needs of our older residents,

who often prefer to pay their bills

in person rather than online."

A response from chief

executive Karleen Edwards said

the city council is in discussion

with NZ Post about providing

bill payment services within the

Fendalton area.

"Proximity of other NZ Post

plus centres and customer

demand are considerations that

they will investigate further," she

said.

An update is expected by the

end of the month.

Dr Edwards said the city

council is also in discussion with

Environment Canterbury over

Metro card services to cover gaps

in coverage.

"Further work is under way

to identify high demand areas

and the development of an

appropriate rollout strategy."

•HAVE YOUR SAY: Do you

want to see the Fendalton

Library and Service Centre

become a one-stop

shop? Email your views to

jess.gibson@starmedia.kiwi

New Paper Tree Local store to take over Merivale NZ Post

Hiren Amin

CONVENIENCE: Fendalton-Waimairi-Harewood Community Board chairman Sam MacDonald

has asked the city council to look at expanding the services offered at Fendalton Library and

Service Centre.

PHOTO: MARTIN HUNTER

NEW PARTNER: NZ Post services will continue to be offered at

183 Papanui Rd when Paper Tree Local opens on July 1.

KEEP YOU AND

YOUR BUMP

FLU-FREE

Getting the flu shot every year

is the best protection against

the flu for you both

Flu shots are FREE for pregnant Canterbury residents

from your GP team or some pharmacies.

Check out www.flufree.co.nz for more info and flu facts.
---
6 Tuesday June 18 2019

Latest Christchurch news at www.star.kiwi

News

New zones to

inspire at show

AS THE WAY we live changes, so

too does The Star Home and Living

Show – it is keeping up to date with

the latest design and technology.

Events manager Lisa Lynch says

she is excited

about two new

zones which

have been

created for the

event to inspire

and hopefully

get people

motivated about

the way they live.

"The Innovative Living Zone

switches thinking – not just planning

your space, but planning how

you wish to feel in your space," she

said. This zone will include an

interactive, innovative living

design area, where you can sit, have

a coffee and be inspired.

The Eco Zone will showcase

everything you need to know

about sustainable living. Here you

will find a range of ideas you can

introduce into your home to make

it more environmentally friendly.

One lucky attendee will also be

driving away in a free EV car worth

$44,000. The Star Home and Living

Show will be held from 10am to

5pm at the Horncastle Arena from

Friday, June 28, to Sunday, June 30.

•Turn to page 12 for a free entry

voucher for you and a friend.

Retired 'musketeers' still helping

• By Jess Gibson

A TRIO of retired friends –

dubbed "the three musketeers"

– were recognised for their

services to Ronald McDonald

House on Monday.

Gus Gale, of Belfast, David

Chappie (Avonhead) and Neil

Fleming (Ilam), all former

teachers, received an award

from Volunteering Canterbury

for their work over the past five

years.

They meet every Wednesday

morning to help with a range

of tasks at Ronald McDonald

House on Cashel St, such as

keeping the grounds tidy,

fixing toys, washing waste bins,

plumbing and electrical repairs.

Said Mr Chappie: "I was

surprised because we certainly

don't come here to look for any

accolade, we come here because

it's a worthwhile organisation

that we have heard about that we

could help at ground level."

"The people here are so

accommodating and making

everyone feel so welcome. The

families are going through a

tough patch in their lives but

there's a joy all the way from

the staff to the mums and dads

and the kids being picked up

and cuddled. There's a quality

here I don't think you would

find in many other institutions.

It's a quality based on love

and concern for one's human

beings."

Ronald McDonald

House offers support and

accommodation to families with

children in hospital.

The three musketeers' shared

background in education adds

up to a total of more than 120

years at primary, secondary and

university level.

NOR'WEST NEWS

VOLUNTEERS: Friends

and former teachers David

Chappie, Neil Fleming

and Gus Gale meet every

Wednesday to undertake

odd jobs at Ronald

McDonald House.

Said Mr Fleming: "In those

years we have accumulated

some useful skills that Ronald

McDonald House finds helpful."

Mr Fleming started

volunteering to use up his excess

energy.

Mr Chappie and Mr Gale

agreed to help "on one

condition" – after each

morning's work they go out for

lunch and a beer.

"We decided to set a pseudochallenge

by limiting our choice

of lunch place to new or recently

changed venues. We range

widely with a requirement that

the selected venue has to serve

beer and it has to be new to us,"

Mr Fleming said.

He said each lunch is spiced

with recollections from their

friendship, which has lasted at

least 10 years.

"Some (stories) stray from

the truth but have greater

entertainment value," he said.
---
NOR'WEST NEWS Latest Christchurch news at www.star.kiwi

Tuesday June 18 2019 7

Gender neutral loos for Burnside High

• By Tatiana Gibbs

THE SOUTH Island's largest

high school will soon have a

gender neutral bathroom.

Burnside High School is

following a nationwide trend

of being inclusive and diverse

by planning a gender neutral

toilet facility, which is due to

be completed

next month

for use in term

three.

Principal

Phil Holstein

said the

move was

in response

to students

Phil Holstein

who wanted

a gender

diverse space where they feel

comfortable.

The new bathroom will be in

the school's central block.

"This is a big step for us in

order to acknowledge and

recognise our gender neutral

students," Mr Holstein said.

Burnside High follows

Beckenham Primary School

and Lincoln High School,

which also have gender neutral

bathrooms.

The trend has been supported

by the Ministry of Education,

which has funded the facility at

Burnside High.

The school has a total roll of

INCLUSIVE: Burnside High School's new gender neutral bathroom is due to be finished next

month in time for term three.

about 2500 students and has a

LGBTQ+ club, which has been

in place for four years.

Teacher in charge of the

club Karen Healey said

Burnside High has students

who feel "uncomfortable using

bathrooms that don't match

their gender identity."

"We really want schools

to be a safe and supporting

environment for students, and

that can mean adjusting our

mind, language and even our

buildings," she said.

It follows Burnside High's

decision to open up the

school uniform regulations to

interpretation by students.

Students can now choose

what school uniform items they

are comfortable in, rather than

being restricted to clothing by

gender identity.

Local

News

Now

• By Jess Gibson

Fire rages, homes at risk

Dead kauri

tree to be

replaced

in Papanui

A KAURI tree which died several

weeks after it was planted at St

James Park, Papanui, will be

replaced by a japanese maple tree.

The 12m kauri had to be

removed due to a problem with

its roots. The city council will also

add some flowering cherry trees

along the main path and several

wollemi pines.

Wollemi pines are considered

one of the world's rarest plants

and are critically endangered

in the wild. The oldest wollemi

tree fossil is 200 million-yearsold,

but the first living plant was

only discovered 25 years ago in

Australia's Blue Mountains.

Papanui-Innes Community

Board member John Stringer

said the kauri tree's decline was

mainly caused by girdling roots,

which meant the tree strangled

itself below ground.

He said city council staff dug up

and water blasted the roots and on

inspection found the root system

was deformed.

Due to the advanced state of

the tree's decline and its root

deformities, corrective measures

were not an option.

Look after

THE MAN IN YOUR LIFE

Celebrate Men's Health Week at Bush Inn Centre

Be ready

for winter

and make

sure you

have your

FLU SHOT

UNICHEM

NEW

SUPER STORE

NOW OPEN

With high quality

leather jackets

and products.

LEATHER

DIRECT

PREMIUM

RIB EyE STEAk,

grass fed not

grain fed.

ELITE MEATS

ENSURE yOU

kEEP STRONg

THIS WINTER

WITH A MEN'S

MULTIvITAMIN

HOMESTEAD

HEALTH

CHECk OUT OUR

NEW RELEASES

AND RELAX WITH

A gOOD READ!

PAPER PLUS

25% OFF

ALL BLACkS gEAR

PERFORMANCE TEES

Were $80.00

Now $60.00

THE FRONTRUNNER

PLAyINg TOPS

Were $150.00

Now $112.50

SHORTS

Were $60.00

Now $45.00

HOODIES

Were $115.00

Now $86.25

Corner of Riccarton Road and Waimairi Road | www.bushinncentre.co.nz

Monday - Friday 9:00am - 5:30pm | Saturday 9:00am - 5:00pm | Sunday & Public Holidays 10:00am - 5:00pm

Food Outlets 11:30am - until late | Paper Plus open to 6:00pm Monday - Friday & 7:00pm Saturday
---
8

Tuesday June 18 2019

Latest Christchurch news at www.star.kiwi

SCHOOLS

NOR'WEST NEWS

Young dancer gets

$

13 99

kg

$

6 50

ea

Sealord Hoki

Fillets 300-480g

(Excludes Premium)

2 for

$

3 50

Bluebird Delisio

or Doritos Corn

Chips 140-170g

$

34 00

pk

Owned &

operated

by locals

Fresh NZ

Lamb Leg Roast

Speight's Gold Medal

Ale or Summit Ultra

24 x 330ml Bottles

$

2 30

kg

$

5 80

ea

$

1 99

ea

Starburst

Family Bag

104-180g

Stoneleigh 750ml

(Excludes Rapaura,

Latitude & Wild Valley)

17 th to 23 rd June 2019

$

12 99

ea

Loose Dole

Ecuadorian Bananas

WW Salted Butter

500g

SuperValue Fendalton Village, Wairakei

For inspiration visit SuperValue.co.nz |

While stocks last at SuperValue Fendalton Village and Wairakei only.

Please drink

responsibly

svnw1806

international break

• By Jess Gibson

COTSWOLD SCHOOL'S Freya Hall

hardly ever stops dancing.

Outside of the five hours she spends

practicing at Silhouette Studios City in

Linwood every week, Freya, 7, constantly

uses dance to "express how she is feeling."

Her mum, Laura Hall, who lives in

Bishopdale, said Freya will dance to a

genre of music that fits her mood until it is

time to go to bed.

Now Freya has an opportunity to take

the next leap in her goal to become a fulltime

professional dancer.

Freya will compete at the Evolution

Dance finals on the Gold Coast next year.

She qualified after finishing in the top five

for her age at the national competition in

Christchurch last month.

Freya will need to learn two new solo

dances before she takes the international

stage – one jazz and one contemporary.

Mrs Hall said in spite of the task being

"quite a big undertaking", Freya has not

shown any nerves yet.

"It's a pretty big deal for her," Mrs Hall

said.

Freya fell in love with dance about

three years ago after she went along to

a ballroom class with her older brother

Quinn.

"She started doing ballroom in

the beginning and that led to more

opportunities within the studio to do

other types of dancing. After about six

months she was competing solo. It went

A VERSION of Disney's Beauty and the

Beast will be brought to life at Papanui

High School this week.

The school's annual production, called

Beauty and the Beast Jr, will involve 68

students and starts tomorrow at 7pm.

It will run everyday in the lead up to a

matinee performance at 2pm on Saturday.

All performances will take place in the

school hall, 30 Langdons Rd.

Beauty and the Beast Jr tells the story of

Belle, an adventurous young girl, and the

Beast, her hideous captor, who is actually a

young prince trapped under a spell.

In order to break the spell, the Beast

PASSION: Freya Hall, 7, will perform

one jazz and one contemporary solo at

the Evolution Dance finals on the Gold

Coast next year. ​

from nothing to a lot really quickly" Mrs

Hall said. She now competes regularly in

both jazz and lyrical styles and is also a

ballroom and Latin dancer.

"She's always the first one at practice,"

said Mrs Hall.

To fundraise for the upcoming trip, Mrs

Hall has launched a Givealittle page and

will be selling plants donated by people in

the community.

Freya also busks outside Bishopdale

New World and in the central city with

her brother.

•To donate, visit https://givealittle.

co.nz and search for freyas-dancingher-way-across-the-tasman

Beauty and the Beast Jr on stage

at Papanui High from tomorrow

WE HAVE THE

LATEST STOCK

must learn to love another and earn her

love in return – before time runs out.

With the help of the castle's enchanted

staff, including a loving teapot, a charming

candelabra, and a nervous mantel clock,

Belle and the Beast find a beautiful

friendship and a love that neither thought

possible.

•Admission is $10 for a concession,

which includes students and gold

card-holders, and $20 for adults.

Email Sarah Anderson at asr@papanui.

school.nz or call 0274267847 for more

information.

it's time to gear up!

FOR THE SKI SEASON

Extensive range of ski clothing

& accessories - helmets,

goggles, clothing & gloves

Open 7 days

dressmart HOrnby, main sOutH rd

pH 03 344 5304
---
NOR'WEST NEWS Latest Christchurch news at www.star.kiwi

Tuesday June 18 2019 9
---
10 [Edition Tuesday datE] June 18 2019

Latest Christchurch news at www.star.kiwi

2

NOR'WEST NEWS

under

5

Unique approach

to helping kids thrive!

For parents that have children struggling

with anxiety, depression, behavioural

issues, or in fact, anything that is troubling

them or causing disruption to family life, it

can sometimes seem that no-one can help

and nothing works.

Amanda Staniford, founder and

director of Kids Life Academy, says many

parents come to her with issues like these,

desperate to get help for their children,

which they haven't found anywhere else.

Providing that help is the purpose of Kids

Life Academy, and is Amanda's passion.

Drawing on her diverse background and

experience in education, including special

needs, emotional intelligence, drama

teaching, neuro linguistic programming,

educational kinesiology and life coaching,

Amanda began developing Kids Life

Academy five years ago.

She has created programmes for

primary-age children (Rock Solid Kids)

and pre-school children (Little Pebbles).

Teens have access to Amanda's expertise

via group or individual coaching sessions.

"I have a different approach, which is

holistic and unique. For me the three

keys to helping children overcome any

problems are imagination, visualisation

and belief."

"The real magic wand is the child's

own mind." - Jose Ortega Y Gasset

The weekly classes are based on a term

theme, which caters for the immediate

needs of the students enrolled.

"The children have a lot of fun, and

are encouraged to use their imagination

through drama. The drama platform

allows children to explore their thoughts

and feelings in a supported and safe

environment," Amanda says.

"It allows me to understand their

particular issues and help them develop the

skills and techniques to overcome them.

"They also have a journal that they

use to record what they are 'happy and

grateful' for each week and this is shared

at the beginning of each lesson.

"Each child is a treasured member of

our KLA family and as such I place a great

deal of importance on communication

with parents."

Another aspect of Amanda's work,

which can be very helpful for some

families, is the kids coaching sessions.

Amanda is currently taking bookings

and enrolments for next term, with

classes being held after school on

Mondays at the Waimairi Community

Centre. Numbers are limited to 16 per

class. July School Holiday programme

bookings and enquiries are also welcome.

For enrolments, or any further

information, contact Amanda

Staniford, phone 022 125 9645, or email

brainwaves@xtra.co.nz.

High quality

affordable early

childhood education

for children 0-6 years

Affordable fees and

we offer 20 hours free

Monday to Friday

8.30am – 2.30pm

Contact Katie or Marcia today

Phone 352 6816 or

027 715 8201 or email us

aratupu@mmsi.org.nz

COACHING

AND CREATING

ROCK SOLID KIDS

• The EXPERTS on KIDS & all matters related

• Individual KIDS COACHING anxiety, social,

behavioural, emotional, academic etc

• Weekly EMOTIONAL INTELLIGENCE/DRAMA classes

(Preschool & Primary)

• FAMILY COACHING incl blended families/parenting

• SPECIAL NEEDS specialist

• Caters for ages 3yrs and up

Drop in and see us at

97 Harewood Road, Papanui

Amanda J Staniford B Ed ATCL Dip Tchg

Educational Kinesiology Practitioner

Certified Expansion Coach

Ph: 022 1259 645 E: brainwaves@xtra.co.nz

: Kids Life Academy

nO DePOsit

layby

26

weeks

until

xmas

layby held up to 18th

December, 2019

christmas•

CATALOGUE

OUT NOW!

nO DePOsit

nO interest

• Payments instore, over the

phone or by internet banking

• at least fortnightly payments

required

• cancellation Fees apply

• 48hour notice for pickup (as

some laybys stored offsite)

• Photo iD required for

creating layby

tOwer JunctiOn

nZ's biggest tOywOrlD

clarence st, riccarton, Ph 03 343 0330

marshlanD

199 marshland rd,

Ph 03 982 8697

hOrnby

chalmers st,

Ph 03 281 8127

Valid from Tuesday 11th

June, 2019 to Sunday

30th June, 2019
---
nor'WEst NOR'WEST nEWs NEWS Latest Christchurch news at www.star.kiwi

Tuesday [Edition June 18 datE] 2019 27 11

It's

happening

at the...

Bishopdale Village Mall

Pharmacy offers

natural remedies for

stress and anxiety

Stress and anxiety can be caused

by various situations in our lives,

and at this time of the year

exams, for example, can

create enormous pressure

for young students.

When coupled with

the winter bugs that

are doing the rounds,

it means students can find it

difficult to focus and perform at

their best.

For them, or anyone

dealing with problems

like this, some

advice from trusted

professionals can

prove very useful.

Always there to

help, the pharmacists

at Unichem Bishopdale

Pharmacy suggest natural

stress remedies may provide solutions,

and they are offering free samples of two

particular remedies so customers can try

them first.

GO Stress Remedy contains L-Theanine,

the compound found in green and black

tea, which has been associated with relaxing

and calming effects. Other potential

benefits include improving clarity and

focus and supporting a more restful and

prolonged sleep. Also, it is not associated

with the drowsiness that can be caused by

other supplements or medicines for stress

and anxiety.

GO Stress Remedy contains L-Theanine

in a concentrated form and is a great option

to try for those experiencing stress or

requiring a greater level of focus and clarity.

The pharmacists also suggest C0Q10

supplements, which have the potential to

increase energy levels and support and

protect body organs, particularly the heart

and brain.

CoQ10 is an enzyme involved in

energy production. There are a number

of factors that can affect the CoQ10 levels

in our bodies, including age and certain

medications (such as statins, which are

usually taken for high cholesterol).

Both these are available as free

samples to try at Unichem Bishopdale

Pharmacy, but as with all

supplements or medicines it

is important to talk with a

pharmacist to make sure

they are right for you.

This includes checking

to see if they interact with

anything you may already be

taking.

Whenever you call into

the Unichem Bishopdale

Pharmacy there is a

pharmacist available to

provide personalised

advice on medicines,

natural health products

and any health issues

you may have.

Unichem Bishopdale

Pharmacy is conveniently

located in the Bishopdale

Village Mall. Opening hours are

Monday to Friday 8.30am-6pm, Saturday

9.30am-4pm. Phone 359 8302. www.

bishopdalepharmacy.co.nz

Belinda O'Keefe's new

book, just launched in

Bishopdale!

Bookshop, Postshop & Kiwibank

Bishopdale, 31 Bishopdale Court

Phone: 03 359 8207

Monday–Friday 8:30am–5:30pm,

Saturday 8:30am–3pm, Sunday closed

Golden tan, gorgeous

nails for the school ball

Every girl wants to look stunning for her school ball, and that

requires some preparation.

Michelle of Euphoria Beauty in Bishopdale suggests having

a spray tan to give the skin a natural, golden glow and

complement the ball gown.

"The spray tan I use looks beautiful and has a wonderful

cherry aroma," Michelle says. "It takes 20 minutes to

apply and lasts seven to 10 days."

A full body spray tan usually costs $35, but for the

ball season – June and July – it costs $25 at Euphoria

Beauty.

The other ball season special at Euphoria is shellac

nails. Usually $55, they are $45 in June and July. The

nails are available in a wide range of gorgeous colours,

application takes 25 to 30 minutes and they last for at

least two weeks without chipping.

Bookings for these treatments should be made a

week ahead of the ball.

As well as spray tanning and shellac nails,

Euphoria offers the full range of beauty services

including waxing, facials and massage. For the

facials, Michelle uses Environ cosmeceuticals

from South Africa.

Euphoria Beauty is located on the ground floor

of the YMCA building at Bishopdale Mall, with

plenty of parking outside.

Opening hours are Tuesday to Friday 9.30am-

5.30pm with late nights till 8pm Tuesday and

Thursday, and Saturday 10am-4pm. To book an

appointment, phone 359 3445.

★ Tan Spraying

✔ Waxing

✔ Facials

✔ Massages

✔ Manicures

✔ Pedicures

Long lasting shellac nail finishes,

wide range of gorgeous colours

Harewood Road, Bishopdale (inside the YMCA)

Phone 359 3445

www.euphoriabodybeauty.com

A warm welcome

and great food

• Sandwiches

• Rolls

• Savouries

• Pies

• Cakes

• Slices

• Barista coffee

• Cold drinks

Ma Baker, Bishopdale

135 Farrington Ave, Bishopdale

P 03 359 1020

E mabaker@mabaker.nz

Also at 1066 Colombo St, Edgeware

Try our

famous

southland

cheese

roll ups!

Beautiful Scarves

foreveryone

• Fabulous range of colours

• Affordable prices, $11.99-$100.00

• New season's ponchos

Be in quick – won't last

long at these prices!

Bishopdale Pharmacy

37 Bishopdale Court, Bishopdale | Phone 03 359 8302
---
12

Tuesday June 18 2019

Latest Christchurch news at www.star.kiwi

NOR'WEST NEWS

FREE

DOUBLE PASS

Valid for 2 adults, children under 12 are free!

Friday, Saturday or Sunday

Present this coupon or take a photo on your phone.

$

t

in

Be inspir

Friday Saturday Sunday

JUNE 28 - JUNE 30 | 10AM - 5PM | HORNCASTLE ARENA
---
NOR'WEST NEWS Latest Christchurch news at www.star.kiwi

Tuesday June 18 2019

13

53,000

o be won in prizes

cluding an EV car worth $40,000!

Thousands of ideas

under one roof!

Over 100 exhibitors showcasing the latest

ideas and trends for your lifestyle

See the amazing innovative

outdoor/indoor living display

Explore the new Eco Zone

filled with sustainable

and eco friendly products

ed

Experience yummy FREE tastings

at Taste Corner

Free, informative seminars all weekend

WIN A

$40,000

NISSAN LEAF
---
14 [Edition Tuesday datE] June 18 2019

Latest Christchurch news at www.star.kiwi

2

In your

neighbourhood

NOR'WEST NEWS

New neighbourhood salon in Bishopdale

Fred Daisy Hair & Body in Bishopdale might be a new

salon, but the team behind the scenes has a wealth of

experience and local knowledge.

Ingrid has lived in the area for so long she is well and

truly a local. Selena and her worked at Bruno's many years

ago and have come together again for Ingrid's new venture.

They have the same belief in offering great service to clients

at affordable prices.

Customer service and making everyone feel welcome

is their first priority. Whether it is a baby's first cut,

getting the kids ready for school, or making sure a son

or daughter looks amazing for their school formal, the

younger generation are fully catered for. The adults can

have everything from a buzz-cut to a colour with foils,

smoothing Keratin treatment, a perm or a whole new look.

They are open Tuesdays to Saturdays with a late night on

Thursdays.

Ingrid and Selena's experience means they are efficient

and highly professional so they can give you great advice

about what will work best for your hair and lifestyle. The

salon's friendly atmosphere sees customers returning again

and again.

The salon's retail range includes Angel en Provence,

Natural Look and Super Blonde.

Keep an eye on their Facebook page (Facebook.com/

Fred-Daisy-Hair-Body) to keep up to date with what is

going on and any upcoming specials, and if you mention

the advertisement from this edition of the Nor' West News,

you will receive $10 off.

Book your appointment by ringing

03-359 0224 or call into 2 Leacroft Street, Bishopdale –

appointments are not always necessary and walk-ins are

welcome. They will be happy to see you.

Call us today for a

free

one-on-one consultation

with a pharmacist

• Ask questions about your medications

• Get advice on how to get the most

out of your regular medicines

Call us today and book a time!

108 Memorial Ave, Burnside | Phone 03 351 8633

Open Monday to Friday 8.30am-6pm

Brand new salon open in

your neighbourhood

Mention this ad and receive

$10 OFF your first visit

Cnr Isleworth Rd & Leacroft St, Bishopdale | 03 359 0224

Naturally protecting family

health for generations

Quality ingredients Quality products Quality prices

Now available in Christchurch

and surrounding areas!

For catalogue/pricelist,

contact us.

Independent Rawleighs Distributor

Fiona Head, 283 Woolridge Road, Harewood, Christchurch 8051

Ph: 03 550 1544 Mob: 022 086 7300 E:bandovar@orcon.net.nz

Shop 8/501 Wairakei Road, Harewood

Phone 03 359 2166

Open Monday to Friday 6.30am-3.30pm

and Saturday 8.00am-3.00pm

Sydenham Bakery

@WAIRAKEI
---
NOR'WEST NEWS Latest Christchurch news at www.star.kiwi

Tuesday June 18 2019 15

Silver medal exceeds expectation

• By Gordon Findlater

JUST ONE team practice the

night before leaving for Mongolia

didn't get in the way of Ashley

Strawbridge and her New

Zealand team winning silver at

the FIBA Under 18 3x3 World

Cup.

The 17-year-old Rangi Ruru

Girls' School basketballer was

part of the New Zealand team

along with Sharne Pupuke-

Robati, Tayla Dalton and Charlisse

Leger-Walker who outdid

expectations to reach the final of

the tournament in Ulaanbaatar,

Mongolia, before falling to the

United States.

"I'm still riding the high, it's

been really cool to have people

at school ask about and be able

to share the experience," said

Strawbridge.

The team had next to no experience

playing 3x3 basketball, but

were selected on their strengths

from the five-aside game which

would translate well to the high

intensity 3x3 format.

New Zealand, seeded 15th,

went into the tournament with

little expectation in the 20-strong

World Cup. However, they finished

second in their pool with

wins over Hungary (16-9), Russia

(14-2) and Poland (21-4). Their

only pool loss came against the

United States 11-20.

"The fact we got to the quarter

finals was amazing in itself," said

Strawbridge.

In the quarter-finals they

defeated Japan 14-12 in an

extremely tight match which

went to overtime. The win set up

a semi-final with No. 1 ranked

China, which New Zealand swept

aside 21-15 before going down to

the United States 13-19 in a more

than respectable performance.

"When we first played them we

were like: 'Oh my god we're playing

America'," said Strawbridge.

"In the final we knew we had

no pressure and all eyes were on

them."

Strawbridge's biggest contribution

to the Kiwi effort came on

the defensive end which saw her

touted as one of the best defensive

players at the tournament.

She says the biggest challenge

came against the United States.

"They are just so quick, so it felt

really good any time you could

stay in front of them and stop

them from scoring," she said.

Strawbridge will now turn her

attention to representing New

Zealand in the five-a-side game

at the Oceania Championships in

Noumea, New Caledonia, from

August 19-24.

ACCOMPLISHMENT: Ashley

Strawbridge has returned

from Mongolia with a silver

medal from the FIBA Under 18

3x3 World Cup ​

SPORT

'CEREC' & cosmetic dentistry

Wisdom tooth removal

Painless, high quality dentistry

Sedation dentistry

Experienced, conscientious team

Experienced hygienists

OPEN SATURDAYS

355 9380

144 Cranford Street

www.stalbansdentalcentre.co.nz

style

noun

elegance and sophistication.

synonyms: flair, grace, poise,

polish, suaveness, urbanity,

chic, finesse, taste, class,

comfort, luxury, affluence,

wealth, opulence, lavishness.

MAGAZINE

STYLE.KIWI

School's not

for everyone!

Is school not working for your teen?

GAIN

NCEA

CREDITS

TXT

'STUDY' TO:

027 557 8839

studywithus.co.nz

career

Ultimate

Security

digital media

Business Admin

Early Childhood

Web Development

Software Design

VISION &

TRAINME

CAMPUS

INFO NIGHT

decider

& forces

prep

26 th June 2019

7:00pm

50 Hazeldean Road,

Addington

ENROL

NOW!

50 Hazeldean Road, Addington

0800 834 834 www.studywithus.co.nz

*conditions apply
---
16 Tuesday June 18 2019

Latest Christchurch news at www.star.kiwi

NOR'WEST NEWS

Your money, your

home, your choice

Merivale.

These days, it's all too easy to feel as

though we are just a number when we

work with the banks. Kim at Mylend

understands, and wants to make sure

that her clients are treated as individuals

with tailored finance packages that suit

them, their situation and their future.

Having previously worked with one of

the major banks, and real estate firms,

Kim's background enables her to have full

knowledge of all transactions to do with

home lending.

Mylend's founder Kim Laurenson has

longstanding relationships with all the

banks across Canterbury and she can

negotiate on your behalf to get the very best

deal for you – better still, the banks pay

for this service, it's free for the customer.

She does her best to demystify the jargon

and make the process as simple and

straightforward as possible. She appreciates

that as a customer of the banks, you

have choices, and she believes in finding

solutions that best match your needs. "It's

not a one-size-fits all," she says. Whether

it is your first home or you are refinancing,

Kim knows that "it's your money, your

home, and your needs that should be

considered." She will help you find out if

what the bank is offering is right for you, or

whether something else would work better.

With over seven years' experience

working in this industry, and ably

supported by Operations Manager

Georgina Bell, Kim has a thorough

knowledge of our local banks' processes

and options. Buying your first home,

moving house or simply refinancing to

take advantage of the current interest

rates can be complicated. Kim is there to

ensure arranging finance is as stress-free as

possible.

Kim is completely impartial and

independent and she will talk you through

your options, and help you make a sensible

and informed decision. Kim explains that

with interest rates as low as 3.85%, this is a

wonderful time to refix your lending and

use the rates to your advantage. She will

sit with you and help you to maximise the

repayments to the bank, so your lending is

paid off faster.

With so much experience, the Mylend

team find most of their clients are

returning customers or are referred to

them by word-of-mouth. They trust Kim's

advice and know that she and Georgina

are there to help them navigate lending

for long-term financial success. Visit

Mylend.co.nz or call Kim directly on

027 222 1044 to see how she can help you

today.

178 Papanui Road, Merivale

(3 doors down from St Albans Street)

Ph: 03 355 5942

In business 58 years - same location!

Now is a great time to get your

coats, jumpers, jerseys, trousers cleaned!

18 Bealey Ave, Merivale, Christchurch www.mylend.co.nz

email: kim@mylend.co.nz cell: 027-222-1044

$53,000 WORTH OF PRIZES TO BE WON!
---
NOR'WEST NEWS Latest Christchurch news at www.star.kiwi

Tuesday June 18 2019 17

FOCUS ON HEALTH

Dilo Oil

the remarkable

skin rejuvenator

Until Rachel Hunter's popular TV

series "TOUR OF BEAUTY" Dilo Oil was

relatively unknown being one of the bestkept

secrets of the Pacific Islands. It may

however be the number one natural beauty

oil available as it possesses powerful natural

skin regeneration, anti-aging and healing

properties.

According to ethnobotanist Chris

Kilham, Dilo (pronounced dee-low) Oil

is a powerful skin regenerator as it is one

of the most effective agents in promoting

the regeneration and formation of new

tissue, thereby accelerating wound healing

and the growth of healthy skin. Dilo Oil

is super-absorbing and nourishing and

can penetrate all three layers of the skin,

offering exceptional cell hydration and

regeneration. As well as this, Dilo Oil has

potent anti-inflammatory, antimicrobial,

antifungal and antioxidant properties.

Traditionally, Dilo Oil is used to keep

the skin young and youthful and for just

about any skin complaint. Some of the

conditions for which it is considered

helpful include abrasions, cuts and cracks,

acne and acne scars, pimples, blemishes,

stretch marks, wrinkles, blisters, burns

(including chemical and radiation),

diabetic sores, rashes, shaving irritation,

dry or scaly skin, eczema, psoriasis,

dermatitis, herpes sores (cold-sores), insect

bites and stings, rheumatism, pain, sciatica,

shingles, sunburn, rosacea, athlete's foot,

skin eruptions, warts, skin ulcers and sores,

nappy rash and almost any other skin

ailment and often with incredible results.

Many beauty and skincare products

on the market today contain unnatural

ingredients that can be toxic and may even

contribute to disease. Generally the benefits

are exaggerated and often only temporary

or camouflage. Marshall's Dilo Oil is 100%

pure and certified organic. It has been coldpressed

from the Dilo nut and contains

absolutely no additives. Polynesians and

Southeast Asians have revered Dilo Oil for

centuries believing it to be a sacred gift of

nature and the Gods. Dilo Oil contains a

unique blend of fatty acids that stimulate

and supports the skins natural healing

process through the growth of new healthy

skin tissue. It is a remarkable product we

highly recommend to everyone. A 50ml

bottle is $19.90 and 100ml only $32.50.

Further information is available from

the Natural Health Advisers at Marshall's

Health & Natural Therapy, 101 Seaview

Road, New Brighton, Phone: 388-5757.

We are always happy to help!

NATURAL HEALING & BEAUTY OIL

As seen on Rachel Hunter's Tour of Beauty

Revered for centuries by Polynesians & Southeast Asians for its remarkable skin

anti-aging & healing properties, Dilo oil comes from the nut of the sacred Dilo

tree, "the tree of a thousand virtues". Dilo oil is often called the beauty oil as it

can penetrate all three layers of the skin offering exceptional cell hydration &

regeneration. It has a unique ability to stimulate the growth of healthy skin cells

& this gives it powerful anti-aging & healing properties that can help reduce

lines, blemishes, scars & damage to the skin. It also possesses

anti-inflammatory, antimicrobial, antifungal & antioxidant properties.

Dilo Oil Supports

• Anti-aging & skin regeneration, helps reduce lines,

blemishes, scars & stretch marks GREAT GIFT

• Skin hydration

• Skin repair & growth, helps feed the skin & stimulate healthy new cells

• Wound healing & skin protection from bacteria, viruses & fungus

• Most skin problems, rosacea, pimples, ulcers & sores, acne, psoriasis,

eczema, dermatitis, rashes, blisters, skin eruptions, warts, insect bites &

stings, athlete's foot, burns, nappy rash etc.

• Joint & muscular pain

Bringing You the Best in Natural Health

AMAZING

PRICES

100% PURE & ORGANIC

50ml

only $19.90

only $32.50

100ml

AMAZING ISLAND

MIRACLE OIL

- WE ARE ALWAYS HAPPY TO HELP! -

MAIL ORDER AVAILABLE

MARSHALLS HEALTH & NATURAL THERAPY

CONSULTING - PRESCRIBING - DISPENSING - MANUFACTURING - MEDICAL HERBALISTS

101 SEAVIEW RD, NEW BRIGHTON • PH 03 388 5757 • Email: enquiry@marshallshealthshop.co.nz

Inflammation

an underlying factor in just about

every chronic health condition!

Inflammation can have a major impact

on our health and quality of life. It is a

sign our body is aggressively trying to

protect and heal itself. Common signs of

inflammation can be redness, pain, heat,

swelling and stiffness. Acute inflammation

is the short term inflammation when you

bang your knee or hurt your back. Chronic

inflammation is a disease that can affect

our overall health and life expectancy.

It is conditions like arthritis, allergies,

asthma, inflammatory bowel disease,

eczema, diabetes, cancer, Alzheimer's and

in fact most diseases. An example of the

seriousness of chronic inflammation is that

inflammation in the arteries causes plaque

to build up in the arteries that leads to

hardening of the arteries or atherosclerosis.

If this plaque continues to build it reduces

blood flow to the organs. This causes blood

pressure to increase. The next danger

especially with raised blood pressure is

some of the plaque can break off forming

a clot that can block blood flow. These clots

are responsible for the majority of heart

attacks and strokes.

Natural supplements like turmeric

(curcumin), boswellia, Artemisia, omega-3

fatty acids, cider vinegar, magnesium, msm

and vitamin-C can play an important part

in reducing inflammation and speeding the

healing process.

Curcumin is the active ingredient in

turmeric. The problem is there is only a

Inflammation affects our quality of life. It is associated with pain, swelling,

heat, redness & stiffness. Inflammation is a part of most diseases even

the aging process. These diseases include: Eczema, Asthma, Allergies,

Cardiovascular, Alzheimer's, Cancer, IBS, Arthritis, Thyroid, Diabetes &

many more. Natural anti-inflammatories effectively reduce inflammation

at its source while also stopping the initiation of inflammation in the first

place. This leads to a faster more efficient healing process & a better

quality of life.

GOOD HEALTH TURMERIC EXTRA STRENGTH:

Provides powerful natural health & anti-inflammatory support. Excellent for

pain, swelling, stiffness & joint issues. Contains scientifically researched

CurcuWin Turmeric that offers enhanced absorption by more than 46X.

Also includes AKBA Boswellia & Sweet wormwood both highly effective

natural supplements.

Bringing You the Best in Natural Health!

small amount in the spice and you would

have to have a large amount to obtain much

benefit. Scientists have thru developed

special concentrated supplements that

offer enhanced absorption. CuruWin as

used in Good Health TURMERIC EXTRA

STRENGTH is clinically proven to be

46 times more absorbable than standard

turmeric supplements. It offers powerful

health support.

Boswellia (Indian Frankincense herb) has

been used for centuries in Asian countries

for chronic inflammation and other

diseases including certain cancers. Good

Health TURMERIC EXTRA STRENGTH

contains a potent extract of Boswellia.

Good Health TURMERIC EXTRA

STRENGTH also contains Artemisia annua

or Sweet Wormwood. Artemisia has been

shown to possess anti-inflammatory, antiviral,

antioxidant, antimicrobial, joint and

cartilage support benefits. It is also being

researched for use in cancer treatments as it

has been found to promote apoptosis (cell

death) of cancer cells, without harming

healthy cells.

Omega-3 fish oil also offers powerful

anti-inflammatory benefits without the side

effects of prescription anti-inflammatory

drugs. It also offers numerous health

benefits.

Natural supplements can be highly

beneficial in supporting your good health.

At Marshall's Health and Natural Therapy

our experienced Natural Health

Advisers can help you choose

the right supplements for you

as everyone is different. We

can advise you on the best

times to take the supplements,

the right dosage and how to

obtain maximum benefits.

We specialise in helping you

optimise your health through

correct supplementation, diet

and lifestyle. Often it is the

small changes that can make a

huge difference. Better health

can be achieved naturally.

Further information is

available from the Natural

Health Advisers at Marshall's

Health & Natural Therapy, 101

Seaview Road, New Brighton,

Phone: 388-5757. We are

always happy to help!

Natural iNflammatioN relief

For a better quality oF liFe!

Super Prices

30 capsules only

$33.90 Save

$8.00

60 capsules only

$58.90 Save

$9.00

90 capsules only

$69.90 Save

$22.60

180 capsules only

$129.80 Save

$55.20

270 capsules only

$179.70 Save

$97.80

MARSHALLS HEALTH & NATURAL THERAPY

CONSULTING - PRESCRIBING - DISPENSING - MANUFACTURING - MEDICAL HERBALISTS

101 SEAVIEW RD, NEW BRIGHTON • PH 03 388 5757 • Email: enquiry@marshallshealthshop.co.nz

- WE ARE ALWAYS HAPPY TO HELP! -

MAIL ORDER AVAILABLE
---
18

Tuesday June 18 2019

Latest Christchurch news at www.star.kiwi

NOR'WEST NEWS

Love the look?

BUY NOW. PAY IT IN 6

$

134/wk

$

8/wk

$

23/wk

$

700 down

+ $ 240/wk

$

117/wk

Brown Rabbit Faux Fur

Cushion $ 49

Throw $ 139

Donata Bookcase

NOW $799

Donata Ekon 3 Seater

NOW $1999

Donata Verdant Coffee Table

NOW $699

The smarter way to shop!

Shop

Online

Nationwide

Delivery

Finance

Options

targetfurniture.co.nz

Cnr Blenheim & Curletts Rds, Christchurch

Ph: 0800 TARGET (0800 827438)

Offers and product prices advertised here expire 24/06/19.

Sale excludes Manchester and Accessories.
---
NOR'WEST NEWS Latest Christchurch news at www.star.kiwi

Tuesday June 18 2019 19

Email jess.gibson@starmedia.kiwi by

5pm each Wednesday

Makerspace

Today, 3.30-4.30pm

Join the fun activities every

week at the Makerspace sessions.

There will be creative and tech

activities to try and fun to be had

for kids of all ages. No bookings

required for this free event.

Redwood Library

Senior citizens activities

Monday, 12.30-3pm, Tuesday,

12.45-2.30pm

Enjoy a range of different

activities for senior citizens.

There is a card group on

Mondays and indoor bowls and

friendship groups on Tuesdays.

An old time dance is held on the

first and third Saturday of each

month. For more information,

phone Veronica on 383 4682 or

Beth on 388 2375.

Scottish Society Hall, corner of

Caledonian and Edgeware Rds,

St Albans

Knit 'n' Yarn

Today, 1-3pm, and Thursday,

2-3.30pm, at Bishopdale,

Wednesday, 1-2.30pm at

Redwood, Friday, 10am-noon at

Papanui

Take your knitting, crochet or

another craft project and have

fun with a social group. This is a

free, drop-in event.

Bishopdale, Redwood and

Papanui libraries

GenConnect

Today, 12.15-12.45pm

If you have questions about

your iPad, smart phone or tablet,

head down to GenConnect

where Papanui High School

students will help you for free.

Papanui Library

Games at Papanui

Thursday, 2.30-4.30pm

If you have a love for games,

head down and choose from a

wide selection, including the

classics. This fun and social event

is free for all ages to enjoy. No

bookings are required.

Papanui Library

Scrabble Club

Today, 10.30am-noon, at

Redwood, Wednesday, 1-3pm, at

Bishopdale, and 1.30-3.30pm, at

Shirley

Play Scrabble with a friendly

group. Just head down when you

can – no bookings required. All

materials are supplied at this free

event.

Redwood, Bishopdale and

Shirley libraries

Culture Exchange

Friday, 3.45-4.45pm

Go along and make new

friends, practice your English

and learn about New Zealand

and Christchurch.

Shirley Library

If you love sharing your favourite reads, join other book-lovers at the Papanui Library today,

10-11am. No bookings required for this free event.

JP Clinic

Today, 10am-1pm, at Papanui,

Today and Wednesday, 10am-

1pm, at Shirley, Saturday, 10amnoon,

at Bishopdale

A justice of the peace will

be available to members of

the community to witness

signatures and documents,

certify document copies, hear

oaths, declarations, affidavits

or affirmations, as well as sign

citizenship, sponsorship or rates

rebates applications. No charge.

Papanui, Shirley and

Bishopdale libraries

Reading to Dogs

Today, 3.30-4.30pm

Reading to Dogs is designed

to provide a relaxed, nonthreatening

atmosphere

which encourages children to

practice and develop a love of

reading. This programme uses

dogs which are pets of the city

council animal management

team. These furry friends have

all been trained and tested for

health, safety and temperament.

Registration is required for this

free event.

Shirley Library

Rummikub

Thursday, 1-2.30pm, Monday,

1-3pm

Go along and play rummikub

– an exciting, interactive strategy

game. Free, drop-in event.

Bishopdale Library

Storytimes

Today, 10.30-11am, at Shirley,

Wednesday, 10.30-11am, at

Bishopdale, Thursday, 11-11.30am,

at Papanui and Monday, 10.30-

11am, at Redwood

This free event encourages

learning through a love for

stories. Storytimes is an

interactive programme for all

ages.

Shirley, Bishopdale, Papanui

and Redwood libraries

Mahjong

Saturday, 2-4pm, at Shirley,

Monday, 2-4pm, at Papanui

If you are interested in playing

or learning mahjong, head down

to this free session for beginners

and advanced players alike.

Shirley Library (registrations

required) and Papanui Library

(drop-in)
---
20

Tuesday June 18 2019

REAL ESTATE

Latest Christchurch news at www.star.kiwi

NOR'WEST NEWS

Perfect point of view

2a Foxfield Lane, Westmorland

Auction: Thursday 4 July 2019, Unless Sold Prior

4 bedrooms | 3 bathrooms | 3 toilets | 1 living room | 1 dining room | 3 car-garage | 3 off-street parks | Listing Number: BE193312

With spectacular views across to the

Southern Alps this home is in the perfect

location. With a reserve in front and to the

side you will never be shut out from your

vista.

Designed by Paul Foley, this spacious and

elegant modern home has much to offer the

discerning buyer, from its construction of

Hebel and cedar to the space within.

An ideal entertainers' kitchen and large

living areas will delight along with the four

bedrooms and three bathrooms. The bonus

of three car garaging should seal the deal

for the serious buyer.

With my clients downsizing, call now to

view - you won't be disappointed!

Open Homes: Wednesdays 4:45pm -

5:30pm, Saturdays 2:00pm - 2:30pm and

Sundays 16 June 2:00pm - 2:30pm until

auction.

Auction: Thursday 4th July 2019

from 12:00pm Harcourts Grenadier 98

Moorhouse Avenue (Unless Sold Prior)

See you at the open homes or to arrange

a private viewing of this property call

Debbie Pettigrew on 027 777 0411

from Harcourts Grenadier Beckenham

(Licensed Agent REAA 2008) or phone

the office 337 1316.

growing with you June 2018 | 100%

Plants For

winter wow

Cool Choices

For Colour

& Contrast

From swamp

to sea views

The journey

begins with sarah

the Gardener

$7.90 incl. GST

Snap it up

Enter our annual

Birdlife Photo

Competition to win

great prizes!

clear the air

Why groWing

indoor PLAnTs is

so good for you

give it a grow

from gArLic

To chinese

ArTichokes,

We hAve your

groWing TiPs

covered

the latest releases

into the rose world

+ rose care

through winter

The magazine for

gardeners who like to get

their hands dirty

SUBSCRIBE FROM

$43. 50*

*6 issues/6 months

SUBSCRIPTIONS FREEPHONE

0800 77 77 10

WWW.GARDENER.KIWI
---
2

NOR'WEST [Edition NEWS datE]

Latest Christchurch news at www.star.kiwi

Tuesday June 18 2019 21

HOME & HEATING

Get rid of

dampness in

your house

Now with the colder and wetter weather

on its way, home owners are focusing on

ways to make their homes comfortable,

warm and healthy for their families

throughout winter. Rising damp is an issue

that affects many of our older properties

which suffer from poor, or no, insulation.

In Canterbury especially, post-quake, many

people have relocated to homes that suffer

from rising damp which can be associated

with health problems. Independent tests

have shown that up to 40 litres of water

can rise from the ground and enter a

house every day, leading to mildew, mould,

condensation and musty smells. Moulds

can produce various allergic reactions

and the frail, elderly and very young are

especially vulnerable.

Canterbury Foam Concrete Ltd is a

locally owned and operated firm. The

team understands the problems caused

by rising damp and are there to help.

They will come to your damp home

and pump a lightweight, flowable foam

concrete under your timber floored home.

Specially adapted for our New Zealand

conditions and applications it provides a

layer of protection against rising moisture.

An unexpected benefit that the team at

Canterbury Foam Concrete have noticed

recently, is that many owners of properties

which had underfloor foam concrete

installed, reported that it also provided

protection against liquefaction after

the earthquakes.

Contact Canterbury Foam Concrete

Ltd now for your free, no obligation

quote and complimentary appraisal of

your underfloor ventilation needs. Phone

03 376 4608 or 0508FOAMCO for more

information.

Does your range

hood suck?

Whether it plain sucks, or whether it

doesn't suck enough, or even if it is a noisy

sucker - Smooth-Air can help.

Smooth-Air can either improve your

current range hood, or custom build to

your specifications.

"We can take your attractive but noisy,

underperforming range hood and retrofit

it with one of our whisper quiet remote

extraction fans." says Richard Jack,

Regional Manager of Smooth-Air, "We

have fans which can sit in the ceiling space,

or outside on your wall or roof to make it

extra quiet."

In-house testing showed a difference of

20dbA (decibels) between a remote fan

from Smooth-Air and a common in-hood

fan range hood. This corresponds to a

quadrupling in perceived noise level.

Range hood conversions include removal

of existing fan and rewiring for new remote

fan. Your local sparky can easily carry out

installation of the new fan.

For kitchens not suited to a standard

range hood, Smooth-Air can manufacture

and powdercoat a bespoke range hood to

match your décor. Custom built range

hoods have the benefit of being designed

specifically for your house.

As well as being whisper quiet, Smooth-

Air's remote fans are powerful - sucking

out cooking smells and moisture so they

don't circulate around your home.

Moisture in your home can cause mould

and mildew on your walls and furnishings.

It is also bad for the health of the occupants.

Household cooking is a major source of

internal moisture, therefore an effective

kitchen extraction system can make a

significant difference to internal moisture

levels.

Smooth-Air can also help with other

forms of ventilation, such as bathroom

extraction, condensation reduction or

whole house ventilation.

Contact Smooth-Air on 0800 SMOOTH

(0800 766 684) to ask how they can help

you with your kitchen extraction, as well

as any other ventilation requirements.

Smooth-Air

Ventilation Equipment Suppliers

to

trade

&

retail

Smooth-Air has a wide range of

ventilation equipment to bring

fresh air into your home.

T. 03 376 4608

E. info@foamconcrete.nz

W. www.foamconcrete.nz

Domestic

Commercial

Industrial

HEAT PUMP

SALE NOW ON!

Amazin' WINTER Specials!!

Remote Extraction Fans

• We will offer you the best quality brands and

option of heat pump for your home/business

• Providing Heat Pump solutions for over 17 years to Cantabrians

• We personally guarantee all our products & installs for 5 years

(providing annual maintenance has been completed)

Range Hood Cupboard Inserts

Phone us today for your free consultation & quote

41A SHAKESPEARE RD, WALTHAM

PHONE 03 366 0525

www.enviromaster.co.nz

"A local team for local people"

0800 SMOOTH

(0800 766 684)

sales@smooth-air.co.nz

264 Annex Rd

Riccarton

Christchurch

03 343 6184

Monday - Friday

7.30am - 5pm

www.smooth-air.co.nz
---
22

Tuesday June 18 2019

Latest Christchurch news at www.star.kiwi

NOR'WEST NEWS

If you want more information about an item or to contact a

seller, visit www.postanote.co.nz and search the ID#

Metal Cutting Guillotine

Tea Pot Ornaments

Roses Cup & Saucer Set

Hand Held Portable PSP

2011 Suzuki Jimny Sierra

Kitchen Sink

$90

ID 29344

$5

ID 10011

$10

ID 10009

$80

ID 29321

$10,300

ID 29318

$30

ID 29317

Holden Commodore Ute

Vintage Metal Travel Trunk

Steaming Pot

2012 Can-Am Spyder RT SES Ltd

Kia Cerato + Camping Gear

Heater! Never Been Used!

$5,500

ID 29315

$150

ID 29284

$10

ID 25664

$5,899

ID 29233

$3,500

ID 29187

$15

ID 20365

Bucket Seats

Breville Advance Deep Fryer

Samsung Oven

Nissan Grand

Dog Kennel

Roofing Nails

$50

ID 29195

$25

ID 29028

$750

ID 29025

$3,500

ID 29004

$45

ID 28893

$30

ID 28890

Holden Commodore SV6 Sidi

Lunar Lexon 6.2m Caravan

1965 Ford Zodiac

Xbox 360

Band-new Electric Bike

2007 Suzuki GN 250E

$13,000

ID 29200

See Seller

ID 29196

$36,000

ID 29186

$200

ID 15022

$2,500

ID 22948

$2,200

ID 29171

Rover 45

Factory Built American Motorhome

Mercedes A160

Royal Navy Books

Tiny House Trailers From Europe

Chrysler RT Charger

$1,200

ID 29153

$90,000

ID 29146

$4,000

ID 25516

$140

ID 25500

See Seller

ID 10885

$120,000

ID 29072

Blow Up Mattress

6hp Johnson Outboard

2012 Ford Ranger TD XLT DC W/S

Build Your Own Clinker Dinghy

Accelor8 Mens 29" Bicycle

3-piece Leather Lounge Suite

$25

ID 23626

$550

ID 29046

$27,500

ID 26509

$250

ID _5230

$120

ID 29008

$2,250

ID 29006

Large White Pigs For The Freezer

1996 Suzuki Cultus Crescent

Toyota Estima Aeras

Mobilty Scooter

Large 3-seater Couch

1993 Toyota Corona

$180

ID 28997

$1,600

ID 28996

$3,100

ID 28990

$1,350

ID 28959

$400

ID 28941

$3,000

ID 28880

2169984chch
---
• By Sophie Cornish

WORKSAFE NEW Zealand

Brighton's Hawke St car park.

Coastal-Burwod Ward city

counci lor David East wants

WorkSafe to pre sure the car

park's private owners into

a "trip and vehicle" hazard.

WorkSafe chief inspector

a se sment southern Da ren

Surf club move

Safety at Work Act 2015, "as a

to rebuild on new site

undertaking."

Mr Handforth said WorkSafe

Cr East abou the car park.

"WorkSafe has completed

an a se sment visi to the site

to advise them that it is their

responsibility to manage their

risks a propriately."

Different parts of the car park

are owned by various people

and the Coastal-Burw od

Community Board recently

around health and safety.

Cr East said the bi gest i sue

in the past has b en ge ting in

touch with the landlords and

owners and ge ting them to

High-tech Cleaning

friendly cleaning products.

Temperature Contro led Drying

Re-oiling & Rejuvenating

Same Day Pick Up & Drop O f

agr e to anything. "The board

a difficulty in co-ordinating

said the le ter.

are required.

Convenient Location

Drop blinds into us by 9am, at

30 Cashel Str et (near the

Fitzgerald end), and co lect

them a th end of the day.

New Blind Sales Priced from $30

per blind

Ph 3 7 0 70,

30 Cashel St,

Christchurch

• By Georgia O'Co nor-Harding

GR ENDALE SCHOOL pupils

have taken a step back in time,

s eing first hand what men and

horses l oked like during war.

The New Zealand Mounted

Rifles Charitable Trust president

Mark A pleton and member

Mike Donaldson t ok their

horses to the sch ol on Monday,

Li ter library

River working group

Problem areas for li ter

revealed

Rebuilding a healthy

ecosystem in the Selwyn River

Ja z Competition.

• By Sophie Cornish

THE ST Andrew's Co lege big

band had extra incentive to

win a the National Youth Ja z

Competition – ba s player, Tom

Fastier, co lapsed and died the

to undertake work.

Cr East said there had b en

a "number of incidences" in

WE ARE OPEN

Mon - Fri

8. 0am to 5. 0pm

in a bid to educate pupils on the

sacrifice their ancestors made in

World War 1 and World War 2.

Mr A pleton and Mr Donaldson

a rived a the sch ol dre sed

in World War 1 uniforms while

their horses Tommy and Kruze

wore 1 0-year-old sa dles donated

to the trust.

The presentation is a prelude

christchurch east

Ca l to make an

a pointment

P: 384 9459

Pool plans for Edgeware

Designs for ind or learner's

p ol revealed

www.national.org.nz

themselves which had gone

unreported.

"I've always though that it

or senior citizens perhaps

Loca ly Owned

Authorised by Jo Hayes

Unit 6/950 Fe ry Road, Christchurch

day before the competition

began.

"Tom was a ba s player from

Cashmere High Sch ol who was

playing with our big band this

year. He had a strong chance of

wi ning best ba s player a the

to the Gr endale Recreation Reserve

Management Commi t e's

upcoming Anzac Day service.

As a tribute to those who

served, members of the trust wi l

ride horseback to the service.

Mr A pleton said it was

important children were

educated on what soldiers

wen through during World

Cyclist's helipad bid

Serious crash gives new

perspective on ride to hospital

• By Gordon Findlater

DEAN CALVERT (above)

returned from the United

Kingdom last w ek after

festival as he was a very a complished

musician," head of music

Duncan Ferguson said.

"We were delighted to win, but

it was bi tersw et," he said.

St Andrew's won the most

outstanding big band title a the

tri ping in those potholes and

He is confiden the new

a proach wi l bring results.

"I think the WorkSafe

lever that we are l oking for."

Joy Butel AREINZ - Dip.R.E.

Land size

Garage

Land size

Bedr om

Alistair Hazeldine

Garage

Land size

Bedr om

850m

Carport

Bathr om

Carport

Bathr om

Car pad

Lounge

Car pad

Lounge

4 2 1

Boat pad

Boat pad

2.5

Dining

Land size

Bedr om

Mobile: 021 353 280 | Phone: 0 384 7950

Email: joy.butel@harcourts.co.nz

Toilet

Shower Study

P ol

Te nis court

1 2 3 4 5 6 7 8 9 10 1 12 13 14

850m

Garage

Bedr om

Carport

4

2

Bathr om

1

Car pad

Lounge

2.5

Dining

Garage

850m

Carport

Bathr om

Toilet

Shower Study

Car pad

Lounge

4 2 1

Boat pad

2.5

Dining

Toilet

Shower Study

P ol

Te nis court

1 2 3 4 5 6 7 8 9 10 1 12 13 14

P ol

Te nis court

1 2 3 4 5 6 7 8 9 10 1 12 13 14

850m 4 2 1 2.5

Boat pad

Dining

Toilet

Shower Study

P ol

Te nis court

1 2 3 4 5 6 7 8 9 10 1 12 13 14

Mobile: 027 572 1 5 | Phone: 0 384 7950

Email: alistair.hazeldine@harcourts.co.nz

w.harcourtsfe rymead.co.nz

Cartwright steps downs

Community board chairman

stays true to his word

New pi za joint

Fire and Slice fina ly se to

open in Sumner

competition in Tauranga.

The band dedicated it se to

Tom, who died while on his way

to Cashmere High on March 27.

His death was po sibly related to

a medical event.

•Turn to page 9

ge ting closer than mos to

Joseph Parker in the build up

to his world heavyweigh title

unification fight with Anthony

Joshua in Cardiff.

20 Tuawera Te race, Clifton Hi l - $980, 0 3 2 2 2

• By Emily O'Co ne l

call 332 4004 TexT 027 537 0567

230 BarringTon sTreeT

www.denturesouth.co.nz

Restore your oiled CEDAR BLINDS with ou re-oiling service.

Rejuvenate your lacquered CEDAR BLINDS

High-tech Cleaning

We clean and repair a l types of blinds –

Venetians, Cedar, Verticals, Ro ler, Ho lands,

Romans and Pleated – with environmenta ly

friendly cleaning products.

Temperature Contro led Drying

Re-oiling & Rejuvenating

Fabric Blinds - such as Austrian and Roman

Same Day Pick Up & Drop O f

We o fer a same-day, pick up an drop o f

service for mos types of blinds. B okings

are required.

Convenient Location

Drop blinds into us by 9am, at

30 Cashel Str et (near the

Fitzgerald end), and co lect

them a th end of the day.

New Blind Sales Priced from $30

Grenadier Real Estate Ltd MREINZ is a Licensed Agent Under the Real Estate Agents Act 2 08

has proven himself to be a cut

above his Aussie rivals at an

international competition.

Elite Meats owner Corey

Winder was named in the a l

War 1 and World War 2.

But he said the presentation

didn't go into t o much detail

and was more of a "show and

te l" to make them aware of what

the soldiers l oked like.

Children were shown the type

of kits horses were required to

wear in the war.

•Turn to page 7

June 29 - July 1

EXHIBITORS BOOK NOW

vanessa.fleming@starmedia.kiwi

021 914 565

Mr Winder and his team, the

Pip Su ton BCM (Marketing)

Residential Sales & Development

Specialist - Licens e Salesperson

Next Step Realty Limited

Licensed (RE A 2 08)

Mobile: 027 24 9524

DI: 03 421 8417

Email: pip.su ton@raywhite.com

• By Georgia O'Co nor-Harding

A CRACKDOWN on mobile

traders acro s the districts could

be l oming.

However, the public has li tle

interest in having input into the

i sue.

Only eight submi sions were

received for a potential bylaw

aimed at regulating commercial

activities in public places.

The district council wi l be

holding a hearing for the Public

Places Bylaw and Policy on Commercial

Activities and Events in

Public Places.

A hearing i scheduled to be

held on Thursday.

The bylaw comes as an increasing

number of mobile traders

are s eking to operate in Selwyn,

especia ly during the summer

months.

In the past year, the district

council has received five inquiries

about se ting up a mobile busine s

on private or public land.

A report said there are two

str et operators in Darfield, a

coff e cart is parked beside the

railway in Ro leston, and a pi za

cart visits Lincoln w ekly betw en

September-May along with a Thai

f od truck.

•Turn to page 7

includes W olston butcher

in the competition.

He said the cha lenge started

as a "transtasman test match"

seven years ago.

The preparation for this

year's World Butchers' Challenge

was intense as the team

members met in Auckland

Loca ly Owned

Denton Park a tracts more

Drop blinds into us by 9am, at

30 Cashel Str et (near the

Fitzgerald end), and co lect

The former New Zealand

title-holder trave led with his

father George and brother

Bryce to London ahead of the

fight where they spen time

them a th end of the day.

New Blind Sales Priced from $30

• By Sophie Cornish and Julia Evans

THE PAPANUI-I nes

Community Board has taken the

rare step of starting a petition

to figh the city council over

funding.

Signatures are being co lected

in a bid to get funding for a community

facility in Shirley.

It comes after the city council

removed funding for the centre

pla ned for Shirley Rd, near the

intersection with Hi ls Rd. This

was the site of the former community

centre, which was badly

damaged in the February 2,

20 1, earthquake.

The removal o funding

prompted community board

chairwoman Ali Jones to threaten

to stand down, citing it as her "die

in the ditch" project.

Ms Jone said the board's role

is to represen the community,

and by gathering signatures from

residents, it was fulfi ling that

role.

"One of the roles of a community

board is to represent and act

as advocate for the interests of its

community and this is what we

are doing. The LTP and a nual

plans are a l about lo bying the

council."

•Turn to page 5

per blind

Barks • Peastraw • Composts - we su ply the best available

A gregates - Chip, Round and Basecourse

Pavers & Schist products • Pungas

Decorative Stones & Landscaping Rocks

Trailer Hire first hour fr e with purchase

• Bag & Bulk - pick up or delivered

Ph 3 7 0 70,

30 Cashel St,

Christchurch

David, Carol & Mike

Traffic plan at The Brae

Bid to ease traffic on busy,

na row str et

with Parker in the build up.

Mr Calvert, 47, comes from a

boxing mad family.

•Turn to page 6

WE ARE OPEN

Mon - Fri

8. 0am to 5. 0pm

journey

AND

HARDFILL

DUMPING

Phone: 03 384 6540

Your local

hi l and

seaside

specialist.

P: 384 7950 M: 0274 318 960

E: alison.carter@harcourts.co.nz

LICENSED SALES CONSULTANT RE A 2 08

W ekdays 7.30am-5pm. W ekends 8.30am-3pm

www.dyersroadandlandscapes.co.nz

GRENADIER

• By Sarla Donovan

THE OWNERS of Sumner's Cave

Rock Apartments are expecting the

Earthquake Commi sion to sign-off

on a se tlement agr emen this w ek.

Body corporate chairman Mike

White said the group had gone

into mediation with IAG and EQC

on February 20, and signed off

on a deal with IAG on February

2 – coincidenta ly seven years

to the day after the February 2,

20 1, earthquake. However, they

are waiting for EQC to sign the

agr ement.

"Given that EQC actua ly drafted

the agr ement, there' l be no

problem with them doing that."

The apartment suffered damage

in the February and June, 20 1,

earthquakes and were demolished in

late 2012. In 2016, IAG's offer of the

difference betw en indemnity value,

$10 mi lion, and the sum insured,

$16 mi lion, was rejected by the body

corporate.

The mediation agr ement

prevented Mr White from disclosing

the se tlement amount, but he said it

involved the two parties paying "a bit

more money than they'd wanted to

earlier."

•Turn to page 6

Loca ly Owned

High-tech Cleaning

friendly cleaning products.

Temperature Contro led Drying

Re-oiling & Rejuvenating

every two months for lengthy

Same Day Pick Up & Drop O f

said coming second against 1

result.

"To get second behind Ireland

are required.

Convenient Location

Drop blinds into us by 9am, at

30 Cashel Str et (near the

Fitzgerald end), and co lect

them a th end of the day.

New Blind Sales Priced from $30

be ahead of Australia is an

even bi ger thing for us," he

said.

But Mr Winder admires the

Loca ly Owned

Ro ler Blinds cleaned

from as li tle as $20

per blind

Ph 3 7 0 70,

30 Cashel St,

Christchurch

Ro ler Blinds cleaned

from as li tle as $20

per blind

Ph 3 7 0 70,

30 Cashel St,

Christchurch

Driver hazard?

blasts Yaldhurst Rd island

PHOTO: MARTIN HUNTER

Australian team.

"Those guys over there

[Australia] are on top of their

game, they do a g od job," he

said.

"And it just showcases that

New Zealand has got some

of the best butchers in the

world," he said.

since the age of 19.

WE ARE OPEN

Mon - Fri

8. 0am to 5. 0pm

8047287 A

8214716 A

WE ARE OPEN

Mon - Fri

8. 0am to 5. 0pm

LOOK

Used tyres from

told Western News the submi sion

would likely o pose Fulton Hogan's

plan.

"You can just about guarant e

it . because we [the commu-

community.

•Turn to page 5

New Tyres - Ba teries

Discounts on sets of tyres

AA

Discounts

LOOK

New tyres from

155

FR E PICK UP & DELIVERY (in local area)

x 13

LTD

PHOTO: MARTIN HUNTER

NOR'WEST NEWS Latest Christchurch news at www.star.kiwi

Tuesday June 18 2019 23

Classifieds Contact us today Phone our local team 03 379 1100

Community Events

ALCOHOLICS

ANONYMOUS, If you

want to have a drink that's

your business. If you want

to stop, we can help. Phone

0800 229-6757

Gardening

& Supplies

A GARDEN OR

LANDSCAPING TIDY

UP? Shrub, hedge &

tree pruning, Lawns,

Gardening, consistently

reliable general property

upkeep, Dip. Hort. 10

yrs experience, One off

tidy ups or on-going

service. Nick's Garden

Maintenance. Keeping

your garden beautiful.

Free Quote. Ph. 942-4440

& 022 264 7452

Health & Beauty

Organic

Footcare

Deluxe Treatment

Footpod offers a complete array of

footcare services to help you overcome

problems and maintain healthy feet.

. Athletes foot

. Fungus nails

. Ingrown toenails

. Warts, corns,

calluses & bunions

. General foot care

021 900 977

27 Forfar St, CHCH | www.footpod.co.nz

Trades & Services

DIRTY

TILES &

GROUT?

Our unique restoration processes will make your

tiled areas look BRAND NEW again!

We provide cost effective makeovers for showers,

bathrooms, kitchens or any other tiled areas.

Tiled Shower Makeovers

Professional Tile & Grout Cleaning

Re-Colouring of existing Grout

Tile/Grout Sealing

Tile/Grout Repairs

Silicone Replacement

Garage Carpet Installation

For your FREE no obligation quote contact

DARRYL

0800 882 772

darryl.p@groutpro.co.nz

Trades & Services

plumber

Trades & Services

PLUMBER

NEED A PLUMBER

Call us now for fast friendly service.

Get your problems sorted out

quick smart - on time!!

Phone for a

FREE

quote now.

Call your local plumber

0508 AQUA PRO | aquaproplumbing.nz

PLUMBING | DRAINAGE | GAS FITTING | SOLAR

Phone 03 377 1280 | Mobile 021 898 380

Whether you're

looking for advice,

maintenance,

urgent repairs or a

FREE quote contact

Aquapro now.

Personals

MATURE N/S Single

Man. In NW of city seeks

a happy slim older lady

for company & to spoil Ph

0276594425

Trades & Services

HALSWELL

GLASS & GLAZING 2017 LTD

THE PET DOOR SPECIALIST

• PET DOORS

• NEW GLAZING

• FRAMELESS SHOWERS

• MIRRORS

• INSURANCE CLAIMS

• RETRO GLAZING

• BALUSTRADING

ALL SUBURBS COVERED FOR

ALL YOUR GLAZING NEEDS

PHONE GAIL OR SARAH ON

322 7999 OR 021 CAT DOOR

(228 3667)

BLOCKED

DRAINS?

• Video inspection

• Waterblasting

• liquid Waste

pH: 03 365 7960

24 hours // 7 days

info@h20jet.co.nz

www.h20jet.co.nz

Trades & Services

Trades & Services

HOUSE

CLEARING

Are you

moving house

or trying to

downsize?

Call All Clear

Canterbury. We work

with you to recycle,

sell and dispose of

unwanted items.

Ph: 03 260 0934

or 021 078 4553

raewynlcooke@gmail.com

www.allclearcanterbury.co.nz

BATHROOM

Renovations, complete

service from start to finish,

free quotes, ph Dave 027

334 4125

BEST BATHROOMS

full renovations

specialists, LBP builder,

free quote, all building

property maintenace ph 03

383 1927or 027 245 5226

ciey@xtra.co.nz

****************

CARPET & Vinyl

lAying

Exp. Repairs, uplifting,

relaying, restretching.

Email jflattery@xtra.co.nz

ph John on 0800 003 181

or 027 2407416

CHiMnEy SWEEP

*Rotary

brush

technology*. From $70

single story. 0800 SWEEP

ME

ElECTRiCiAn

Registered, electrical

installation and repairs,

Gorbie Electrical, ph 021

026 73375 or 03 322 4209

PAinTing

DECORATing

Wingfields Contracting, all

interior & exterior painting

& all forms of interior

plastering & jib fixing, ph

Mark 021 171-1586

PlUMBER

A Top Plumbing job

completed at a fair price,

prompt service, all work

guaranteed, Ph Brian 960-

7673 or 021 112-3492

ROOFing REPAiRS

Fully qualified, over 40

yrs experience. Ph John

027 432-3822 or 351-

9147 email johnchmill@

outlook.com

SHOE REPAiRS

Belfast engraving. Shoe

repairs, key cutting &

engraving. (10 yrs exp)683

Main North Rd, ph 027

3113423

YOU COULD

BE HERE

Let us help take

your business to

new heights

Advertise your business

in our Trades and

Services column.

For assistance phone

Vicky on 03 364 7419

Trades & Services

SHOE REPAiRS

Bennetts Shoe Service

(since 1930) 482 Papanui

Road.

SPOUTing ClEAning

Spouting Unblocked,

Cleaned Out and Flushed

Out. Call Trevor 332 8949

or 021 043 2034

STUMP gRinDing

Best price guarantee Tony

0275 588 895

TilER/CARPEnTER

35 years exp, no job

too small. Ph Ross 027

4311440.

Tiling

Flooring - Splashbacks -

Wall incl tile removal, reg

master tiler, ph Dave 027

334 4125

T.V. SERViCE

CEnTRE

Repairs, tvs, microwaves,

audio amps, soundbars.

.Aerial & satellite

installations, kitsets, 480D

Moorhouse Ave, ph 03 379

1400

VHS ViDEO TAPES

& all camera tapes

converted to DVD, video

taping special occasions,

www.grahamsvideo.co.nz

ph 03 338-1655

Tours

Vehicles Wanted

CASH/CASH for any

unwanted vehicles, ph

347 9354 or 027 476 2404

Wanted To Buy

AAA Buying goods

quality furniture,

Beds, Stoves, Washing

machines, Fridge Freezers.

Same day service. Selwyn

Dealers. Phone 980 5812

or 027 313 8156

TOOLS Garden,

garage, woodworking,

mechanical, engineering,

sawbenches, lathes, cash

buyer, ph 355-2045

ADD SOME

COLOUR

TO YOUR ADVERT!

Online Editor

Star Media is seeking

an online editor

to join its award

winning newsroom.

Situations Vacant

The appointment will coincide with a

refreshed and new-look online news site

being launched to market.

You will be the champion for our site

and responsible for sourcing and loading

content to engage our target audience

each week.

The successful applicant will need to have an excellent knowledge of

Canterbury, its issues and people.

You will need to work as part of our team, making quick decisions under

pressure each day

Key duties will include:

• Assisting in the relaunch of the new website

• Co-ordinating and sourcing content and local news

• Ensuring content is up to the minute, fresh and factual for our target audience

• Co-ordinating within our business divisions promotional and paid content

• The continuous development and improvement of our digital platforms

The successful applicant will ideally have experience in growing audience to an

online news platform and must have a full New Zealand driver licence.

The position will be filled as soon as the right applicant is found.

If you want to be part of a progressive media company,

please email your CV to:

Barry Clarke, Editor In Chief - barry@starmedia.kiwi

Entertainment

Calling for exhibitors

weddingshow

Sunday 25th August, 2019 Air Force Museum, Christchurch

To exhibit at this fantastic show, please email mark.sinclair@starmedia.kiwi for more info.

ADVERTISE YOUR BUSINESS HERE

Phone for further details

(03) 379 1100

TUESDAY, APRIL 10, 2018 Loca ly Owned

www.star.kiwi

has b en a proached in a bid to

fina ly repair the potholes in New

repairing the potholes which are

Handforth said it may be able to

take action under the Health and

person conducting a busine s or

is aware of the concerns raised by

New Brighton surf club opts

and is engaging with the owner

Page 3 Page 13

wrote to them about its concerns

a preciates that multi-ownership

of the parking space may present

repair/resurfacing but felt obliged

to pa s these concerns onto you,"

One reply has b en received so

far from an owner who is wi ling

to discu s the i sue. However, a l

the owners would have to agr e

jo

hayes

New bid to fix potholes

Action looms

on Hawke St

car park

the car park of people injuring

has b en quite amazing that we

haven't had any serious a cidents

doing themselve some damage."

HAZARD: Coastal-Burw od Ward city counci lor David East wants WorkSafe New Zealand to put pre sure on the Hawke St car

park owners to fix the dangerous potholes. PHOTO: GILBERT WEA LEANS

BLINDS .Cleaned, Repaired & Restored .

Restore your oiled CEDAR BLINDS with ou re-oiling service.

Rejuvenate your lacquered CEDAR BLINDS

We clean and repair a l types of blinds –

Venetians, Cedar, Verticals, Ro ler, Ho lands,

Romans and Pleated – with environmenta ly

Fabric Blinds - such as Austrian and Roman

We o fer a same-day, pick up an drop o f

service for mos types of blinds. B okings

Ro ler Blinds cleaned

from as li tle as $20

www.blindcare.co.nz SCAN QR code for Info >

TUESDAY, APRIL 10, 2018 www.star.kiwi

Page 3 Page 5

WEDNESDAY, APRIL 1, 2018 Loca ly Owned

www.star.kiwi

Page 3 Pages 10 & 13

HISTORY: Pupils have taken a step back in time learning about what

SW ET SOUNDS: St Andrew's Co lege year 12 students Lewis Edmond and Je na We ls performing a the 41st National Youth

New Zealand soldiers and horses l oked like in World War 1. Abi P oler,

5, sits on Kruze, alongside Mounted Rifles Charitable Trust president

Mark A pleton. PHOTO: MARTIN HUNTER

Bittersweet win for St Andrew's big band

involvement may prove to be the

Pupils learn about role of war horses

Mobile

Service

Available

WEDNESDAY, APRIL 1 2018 www.star.kiwi

Board

launches

petition

to get new

community

facility

BLINDS .Cleaned, Repaired & Restored .

MAgic on clifton

TEAM

BUTEL

Grenadier Fe rymead

Four Seasons Realty

Page 3 Page 5

Former champ hooks

up with Parker in UK

AN U PER Ri carton butcher

star team a the World Butchers'

Cha lenge in Northern Ireland.

Mobile

traders

could

face

regulation

New sections

selling now

Star Media is a division of Allied Press.

Ro ler Blinds cleaned

from as li tle as $20

www.blindcare.co.nz SCAN QR code for Info >

There's no be ter place to se tle out wes than at Falcon's Landing. Pop in to our sales and

information office, 17 Branthwaite Drive, this Thursday, Friday or Sunday from 1pm to 3pm

to find out more. Contact us on 03 741 1340 or mail enquiries@yoursection.nz anytime.

Mega centre f edback

submi sions than Cathedral

Page 3 Page 5

Dyers Road Landscape

& Garden Supplies

We wi l deliver!

SOIL

183 Dyers Rd, Bromley • OPEN 7 DAYS

Alison Carter

TUESDAY, APRIL 10, 2018 www.star.kiwi

Cave Rock

Apartments'

owners

expect EQC

sign-off

this week

Pedaling acro s NZ

Stroke survivor finishes long

TUESDAY, APRIL 10, 2018 www.star.kiwi

Pure South Sharp Blacks, which

Jeremy Garth, finished second

Page 7 Page 10

From New World Ferry Rd

to second in the

world

Fishin' for w eds

•

• By Emily O'Co ne l

It was the firs time Mr Garth met in Auckland

By

every

Emily O'Co

two

ne l

Mr Garth hopes to own a

months for THE lengthy HALSWE w ekend L-Hornbyand

he was "rea ly proud" of practices. Ri carton Community Board

to be a cut above the rest in an how the team performed.

Mr Garth, who has b en a

international competition. "We produced some top quality

products and came away competition Templeton. brought back his "In two years' time, we' l be

butcher for 14 years, said the and on the 2020 cha lenge.

New World Fe ry Rd butcher

pa sion for the Mayor job. Lia ne Dalziel told going the back to try and win the

Pure South Sharp Blacks, re-

ha py," he said.

"Doing a l thi stuff and title," he said.

The preparation for this year's

U per Ri carton butcher Co-

ideas, it just brings that flair

Ireland.

intense as the team members back for you," he said.

South Sharp Blacks team.

qua ry.

Board chairman Mike Mora

had competed in the cha lenge

butcher shop of his own someday

but says for now he wi l fo-

A WOOLSTON butcher proved

has b en given the gr en cus ligh on to ge ting mor experience

o pose the pla ned qua ry near

Jeremy Garth and his team, the with a g od result so we're very

board on Thursday it had the okay

cently came second a the World

m eting new from people, the city s eing council new to make a

Butchers' Cha lenge in Northern World Butchers' Cha lenge was

submi sion if Fulton Hogan rey Winder a plies was part of the Pure

for a resource consen to create a

Children's event at risk if The

Groynes' lakes not cleaned up

GLOBAL STAGE: W olston butcher Jeremy Garth back home after his team came second in the World Butchers' Cha lenge.

BLINDS .Cleaned, Repaired & Restored .

AWARD-WINNING: Corey Winder is back home after his team came second in the World Butchers' Cha lenge .

Restore your oiled CEDAR BLINDS with ou re-oiling service.

Rejuvenate your lacquered CEDAR BLINDS

We clean and repair a l types of blinds –

Venetians, Cedar, Verticals, Ro ler, Ho lands,

Romans and Pleated – with environmenta ly

Fabric Blinds - such as Austrian and Roman

w ekend practices. Mr Winder

We o fer a same-day, pick up an drop o f

service for mos types of blinds. B okings

other countries was a "fantastic"

was a huge achievement and to

www.blindcare.co.nz SCAN QR code for Info >

Community board member

Elite butcher cut above the world

Your best choice

in the West

Restore your oiled CEDAR BLINDS with ou re-oiling service.

Rejuvenate your lacquered CEDAR BLINDS

High-tech Cleaning

We clean and repair a l types of blinds –

Venetians, Cedar, Verticals, Ro ler, Ho lands,

Romans and Pleated – with environmenta ly

friendly cleaning products.

Temperature Contro led Drying

Re-oiling & Rejuvenating

Fabric Blinds - such as Austrian and Roman

Same Day Pick Up & Drop O f

We o fer a same-day, pick up an drop o f

service for mos types of blinds. B okings

are required.

Convenient Location

www.blindcare.co.nz SCAN QR code for Info >

Mr Winder has b en a butcher

BLINDS .Cleaned, Repaired & Restored .

$ 40

Mobile

Service

Available

ca l 32 4 04 TexT 027 537 0567

230 Ba ringTon sTr eT

www.denturesouth.co.nz

Community

board get

permission

to oppose

Templeton

quarry

nity board] don't believe qua ries

should be so close to residential

areas," he said.

Mr Mora said he wasn't sure if

the city council would endorse the

board' submi sion.

"I'd like to think so because the

city council has had their eyes

open as we l ove recent years over

the crysta line silica risk," he said.

Mr Mora said the community

board wi l be "representing and

advocating" for the Templeton

T Y R E S

Quality Secondhand Tyres

A l at very competitive prices

Ph 348 0626

5

$ 70

9 Main South Rd (cnr Wa ts Rd), Sockburn

Mobile

Service

Available

ca l 32 4 04 TexT 027 537 0567

230 Ba ringTon sTr eT

www.denturesouth.co.nz

60km/h

Dyers Pass

speed

limit from

early next

month

A NEW 60km/h sp ed limit and

double ye low lines wi l be in

place on Dyers Pa s Rd by early

May.

The sp ed limit change was

a proved by the city counci last

w ek.

A decision to paint double yellow

lines on the stretch betw en

Summit Rd and the Sign of the

Takahe was earlier made by the

Spreydon-Cashmere Community

Board.

Bu the Banks Peninsula Community

Board decided against

ye low lines on the Summit Rd-

Governors Bay section due to the

road's na rowne s and general

condition.

The changes are designed to try

and reduce the crash rate.

Insta lation of the double

ye low lines, the new sp ed limit

signs and raised centre line pavement

markers wi l begin in mid

April.

The work i scheduled to take

place betw en April 15-18, 2-26,

29 and May 2.

While the work is done, Dyers

Pa s Rd wi l be closed to traffic

from the Sign of the Takahe to

Governors Bay betw en 7pm and

6.30am.
---
nk

ets or

g

24 Tuesday June 18 2019

Latest Christchurch news at www.star.kiwi

NOR'WEST NEWS

LIQUID

SELF SERVICE

LAUNDROMATS

• From $4 a dry

• From $4 a wash

WASH 2 MINK

BLANKETS OR

DUVETS

FOR ONLY $8

HOT WATER &

EXTRA LARGE

WASHERS

AVAILABLE

Dry up to 14kg from $4

in only 25 minutes!

Save Time &

Electricity

WASH & DRY

ALL YOUR

LAUNDRY IN

UNDER 1 HOUR

from

$

4.00 WASH $ 4.00 DRY

for 20 mins

• 16 dryers

• 12 washing machin

• Fast Dryers

• Sports Gear

• Mink Blankets

• Duvets

• Bedding

• Washers

• Domestic

Laundry

only

loads r

r only $10

SYDENHAM

289 Colombo Street

HORNBY

47 Carmen Road

(Gasoline Alley Site)

RICHMOND

345 Stanmore Road

ARANUI

319 Pages Road

BURWOOD

261 Burwood Road

WOOLSTON

713 Ferry Road

rts Gear

nkets

Next to Gasoline Alley C

Carmen & Waterloo Rds

Carmen & Waterloo Rd

HOON HAY

17 Halswell Road

RANGIORA

65 Percival Street

y!! Next to Gasoline Alley C

ALL SITES OPEN 7 DAYS, 5AM-11PM

www.liquidlaundromats.co.nz

Carmen Rd, Hornb

47 Carmen Rd, Hornb

47

OVER 70 LOCATIONS NATIONWIDE

(Corner Carmen &