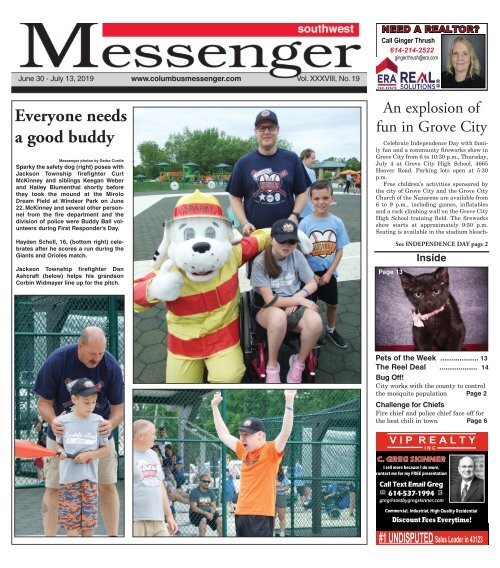 Southwest Messenger - June 30th, 2019
You also want an ePaper? Increase the reach of your titles
YUMPU automatically turns print PDFs into web optimized ePapers that Google loves.
June 30 - July 13, 2019 www.columbusmessenger.com Vol. XXXVIII, No. 19

Everyone needs

a good buddy

Messenger photos by Dedra Cordle

Sparky the safety dog (right) poses with

Jackson Township firefighter Curt

McKinney and siblings Keegan Weber

and Hailey Blumenthal shortly before

they took the mound at the Mirolo

Dream Field at Windsor Park on June

22. McKinney and several other personnel

from the fire department and the

division of police were Buddy Ball volunteers

during First Responder's Day.

Hayden Scholl, 16, (bottom right) celebrates

after he scores a run during the

Giants and Orioles match.

Jackson Township firefighter Dan

Ashcraft (below) helps his grandson

Corbin Widmayer line up for the pitch.

NEED A REALTOR?

Call REALTOR?

Ginger Thrush

Call 614-214-2522

Ginger Thrush

614-214-2522

ginger.thrush@era.com

An explosion of

fun in Grove City

Celebrate Independence Day with family

fun and a community fireworks show in

Grove City from 6 to 10:30 p.m., Thursday,

July 4 at Grove City High School, 4665

Hoover Road. Parking lots open at 5:30

p.m.

Free children's activities sponsored by

the city of Grove City and the Grove City

Church of the Nazarene are available from

6 to 9 p.m., including games, inflatables

and a rock climbing wall on the Grove City

High School training field. The fireworks

show starts at approximately 9:50 p.m.

Seating is available in the stadium bleach-

Page 13

See INDEPENDENCE DAY page 2

Inside

Pets of the Week .................. 13

The Reel Deal .................. 14

Bug Off!

City works with the county to control

the mosquito population Page 2

Challenge for Chiefs

Fire chief and police chief face off for

the best chili in town Page 6

V I P R E A L T Y

I N C

C. GREG SKINNER

I sell more because I do more,

contact me for my FREE presentation

Call Text Email Greg

614-537-1994

greg@soldbygregskinner.com

Commercial, Industrial, High Quality Residential

Discount Fees Everytime!

#1 UNDISPUTED Sales Leader in 43123
---
PAGE 2 - SOUTHWEST MESSENGER - June 30, 2019

Music, gnomes and

more at Grove City parks

Join the city of Grove City throughout

July and get your "Game On!" to celebrate

Parks and Recreation Month with activities

for residents of all ages and abilities.

Kick off National Parks and Recreation

Month, Friday, July 5 at 6 p.m., at the

grand opening and ribbon cutting of the

new, all-inclusive, nature-themed playground

in Gantz Park, 2255 Home Road.

Children can explore, climb, slide and

swing on the area designed to emphasize

the nature around them.

From 6 to 8 p.m., enjoy the play area,

walk the paths, tour Gantz Farmhouse and

Barn, and meet the Gardens at Gantz

Farm volunteers and Garden Sprouts

youth gardening group as they share the

improvements they are making to the

Gardens at Gantz Farm. Cross the bridge

to the gazebo at 7 p.m. where the fun heats

up with a performance by the Central Ohio

Brass Band - don't forget a blanket or

chair.

New this year, participate in the 2019

Gnome Hunt. Roam Grove City parks to

find the homes of up to 20 gnomes. Pick up

www.columbusmessenger.com

The City Beat

Mosquito management program aims to keep residents safe

By Andrea Cordle

Southwest Editor

It's officially mosquito season. The

pesky insects are not just annoying, they

present a potential health risk. Mosquitoes

can transmit diseases like West Nile Virus

and encephalitis.

According to Cindy Fitzpatrick, the

director of public service for the city of

Grove City, the city has entered into a contract

with Franklin County Public Health

for mosquito control. The city paid the

county $23,500 this year to trap, count and

test mosquitoes.

According to Franklin County Public

Health, the mosquitoes are collected in

pools of less than 50. So far this year,

Grove City has had one pool test positive.

"We had one in the west region to test

positive for the West Nile Virus," said

Fitzpatrick.

Fitzpatrick said the county has broken

the city into four quadrants — north, south,

east and west. Where the county finds a

positive test, they spray that area. In 2018,

the city had 48 pools test positive for West

Nile Virus — 20 in the north quadrant, 16 in

the south and 12 in the west.

This year, the county is using a natural

botanical pyrethrin, an insecticide derived

from chrysanthemum flowers. The county

uses the spray in the evening when a high

volume of mosquitoes is found. According

to the county, the spray is safe to be

applied around organic gardens, farms and

crops. However, the county does maintain

a 'do not spray' registry of residents who

request the spray not be used around their

property.

Mosquitoes require standing water for

their young to hatch and develop. Once the

eggs are laid, the insects can hatch and

emerge from the water as adults in one

week.

"Mosquitoes tend to stay where they

hatched," said Fitzpatrick. "So, if you have

mosquitoes around your house, they were

likely born there."

Eliminating standing water and mosquito

habitats around your home could

help to prevent bites and reduce the risk of

disease. Franklin County Public Health

offers these tips to control the mosquito

population on your property:

• Empty, remove, cover or turn over any

container that has the potential to hold

water.

• Repair leaky pipes and faucets.

• Make sure gutters and downspouts

are free of blockage and are properly draining.

• Change the water in wading pools

weekly and store indoor when not in use.

• Properly dispose of old tires.

• Empty planters that hold water twice

each week.

• Empty bird baths twice weekly.

around the southwest

INDEPENDENCE DAY

Continued from page 1

ers and in the areas outside the fenced-off

blast zone.

"Our community truly appreciates

those who made and continue to make sacrifices

to protect our freedom and country,"

said Mayor Richard "Ike" Stage. "This is

our day to celebrate and give thanks in

their honor."

All carry-in items are subject to search

by security. Blankets, lawn chairs and

most other personal items are permitted.

The following are prohibited: grills, alcohol,

weapons, personal fireworks including

sparklers, skates, bicycles, skateboards,

pop-up tents and canopies, and pets other

than service dogs. Tailgating with grills is

prohibited, as are flatbed trailers and

recreational vehicles. Coolers are not permitted

in the stadium. Food and beverages

are available for purchase.

• Empty your pet's watering dishes

daily.

• Use sand to plug holes in trees where

water can collect.

• Drain or fill low areas on your property

that hold water for more than three

days.

• Remind or help neighbors to eliminate

breeding sites in their property.

Fitzpatrick also encourages anyone

going outside around dusk or down to wear

long sleeves, long pants and wear insect

repellent.

The health department sets about 100

traps each week from mid-May through the

end of September.

To report an area of concern in the community,

call the Franklin County Public

Health mosquito hotline at 614-525-2483

or complete a service request form at

www.grovecityohio.gov. For more information

about mosquitoes and county's mosquito

program, visit mosquito.myfcph.org.

a Gnome Hunt card; identify the gnome in

each park for prizes and tickets to enter the

special grand prize raffle. Visit

GroveCityOhio.gov for details.

For more information, call 614-277-

3050. For event-day weather-related

updates, call 614-277-3060 and check

Grove City's Facebook and Twitter pages

@GroveCityOhio.

Blood drive at Kingston Center

The American Red Cross Blood Drive

meets in the Kingston Center, 3226

Kingston Ave., from 1-7 p.m. the first

Wednesday of each month. To schedule an

appointment call 1-800-448-3543 or visit

the American Red Cross Blood Drive website.

Parking is restricted to one side of the

street in the following neighborhoods:

Briarwood, Hoover Crossing, Marthas

Wood and Clark Drive from 5:30 to 11:45

p.m. Free parking is available at Grove

City High School, Grove City Church of the

Nazarene and Windsor Park. Parking is

also available at Murfin Fields for a fee, to

support the Grove City Kids Association.

For information regarding traffic flow,

visit www.GroveCityOhio.gov or call 614-

277-3050.

For event-day weather-related updates,

call 614-277-3060 or check Grove City's

Facebook, Twitter and Instagram pages

@GroveCityOhio. In case of severe weather,

the fireworks will be launched Friday,

July 5. Other activities will not be rescheduled.
---
www.columbusmessenger.com

June 30, 2019 -SOUTHWEST MESSENGER - PAGE 3

Welcome to 1913 Tournament Way

Welcome to 1913 Tournament Way, located in prestigious Pinnacle. If you are in the market for a family sized home and have an elevated sense of style

and taste,THIS IS THE HOME FOR YOU! When you enter you will notice the entire first floor is upper end hard surface low maintenance flooring. Open

fully applianced Stainless and Granite upgraded kitchen, featuring a HUGE eating bar. Over sized Great Room offers a gas log fireplace. Lower level is

custom finished and boasts a Media/Theater room along with a pub bar, an additional bedroom with an egress window, and a full impressive bath. Private

vaulted master suite with a deluxe bath and a walk in closet. Large Bonus Room. Not a small room in this immaculate home!

MLS#: 219022113

$399,900

COMMERCIAL, INDUSTRIAL, HIGH QUALITY RESIDENTIAL

UNPRECEDENTED SINGLE AGENT SALES OF OVER $75 MILLION FOR 2015-2018

C. Greg Skinner

614-537-1994

I sell more, because I do more, call me for my free no obligation marketing presentation.

Discount Fees Everytime.

I

GROVE CITY

greg@soldbygregskinner.com

UNDISPUTED #1 in 43123 SALES
---
PAGE 4 - SOUTHWEST MESSENGER - June 30, 2019

Opinion Page

www.columbusmessenger.com

Ever since I was a kid spinning 45 rpm

vinyl records on a portable record player

that had a felt covered platter, (Yes, I'm

ancient) I've wondered why some pop and

rock songs end by fading out while others

have a definitive ending.

I'm not a musician or a record producer,

so I'm not well versed in the recording

process. But someone does make a conscious

decision on how to end a song, be it

the songwriter or the producer.

A few years ago National Public Radio

researched this topic and reported that it

comes down to a couple of reasons: 1) the

fade out made it easier for radio disc jockeys

to control the end of a song to allow for

commercials, etc.; and 2) some artists feel

the lingering fade out enhances the listening

experience by repeating the song's chorus

or "hook."

That being said, which is better, the

fade out or the definitive ending?

I asked an old musician friend of mine,

Matt Wyatt - who played guitar for the Great

Plains and now performs with The 3 Speeds -

which he preferred: the fade out or the definitive

ending.

"My thoughts about fade outs are, does the

band feel stupid repeating a phrase, knowing

it is not gonna be completely heard? Wyatt

said. "I prefer clipped, sudden endings."

Fade outs can be long or short. They can

trick you sometimes by fading out and then

coming back before fading out again. I'm

looking at you, psychedelic

era Beatles.

Speaking of The

Fab Four, the long

fade out on the

SUPPORT

your

Community Paper

Through advertising, community newspapers like the

Messenger have always been FREE papers. In these

tough economic times we are asking you the reader to

help offset the current decline in advertising revenue by

participating in a VOLUNTARY payment program*.

To those who have already participated -

We Thank You.

For those who would like to, below is a form

you can mail with your DONATION.

*This is not a subscription.

.Name:

Address:

City/State/Zip

The long and short goodbyes of songs

BIRTHDAY • ENGAGEMENT • WEDDING • ANNIVERSARY

• GRADUATION • RETIREMENT

IN MEMORIUM • ARMED FORCES

Say it with an announcement ad in

the Messenger and spread the word.

You can download the appropriate form from

our Web site or stop by our office

Monday-Thursday, 8:30 a.m.-5 p.m.

Friday, 8:30 a.m.-2 p.m.

Columbus Messenger

3500 Sullivant Ave.

614-272-5422

www.columbusmessenger.com

3500 Sullivant Ave., Columbus, OH 43204

1 year ($9) 2 year ($18)

Eastside Westside Southwest

Southeast

Beatles' "Hey Jude" works because it is a

mesmerizing chant.

Some short fade outs almost serve as an

abrupt ending, like on Bob Dylan's "Love

Minus Zero/No Limit," which is a song I

love. On this song, the fade out is tantalizingly

short making me wish it could at

least go on for a few more seconds.

Some songs that on a recording have a

fade out can sometimes cause a band problems

when performed live. It seems like the

band does not know how to end such a song

in a clean way. So during live performances

they often strum guitars really fast and

end the song with a "chunk" of drums, bass,

and guitar all at once. There are too many

instances of this to name that fit this mold.

Come up with an ending!

A song with good definitive ending is

like coming to the end of a good book. The

sound ties up neatly and satisfyingly, such

as with The Who's "Won't Get Fooled

Again." Some endings can be almost jarring,

but fit the song's attitude such as The

Music Machine's "Talk, Talk," which ends

with a bam in a sharp, clipped vocal.

"No matter what you hear on a record,

you're hearing a structured performance in a

studio that is worked on to get a certain

Are you, like many, trying to shed some pounds?

If so, don't watch television or drive past any fast

food joints because sabotage is waiting around every

channel and corner!

Try eating responsibly when you are faced with a

grocery bag of burgers or pig trough size dinner plate

filled to the rim with food. Perhaps I should use the

term platter instead of plate because, along with

America's waistline, the size of our china is growing

along with our appetites.

A new chicken commercial touts the deliciousness of

a bowl with layer upon layer of chicken, gravy, potatoes,

etc. that looks more like a Jackson Pollack menu

mash-up.

When I was a little girl, my parents would drive 10

miles to a BBF–Burger Boy Food-O-Rama–at the

corner of Dering Road and High Street on the south

side of Columbus for a hamburger and fries. It was a

rare occasion and one our small family indulged in, at

the most, once a month.

Back in the 1960s, a normal, adult-size meal consisted

of a hamburger, small bag of fries, and a small

soda–pretty much the same components of what is

now a children's meal at fast-food restaurants of today.

Funny thing about the 1960s, people were satisfied

with a lot less food.

I do not remember my mother or father feeling like

they needed to eat more than what the simple meal

contained. They did not "Super Size" their order with

more or bigger burgers or slurp down what amounted

to a six-pack of soda in one cup.

One hamburger. One bag of fries. One soda. One

meal.

Point of View

Rick Palsgrove

sound, but at the

same time the band

wants you to feel the

immediacy of the

music," said Wyatt.

"When a song is ending,

a fade out can

snap you out of

denial because you're

obviously hearing

someone going away who isn't really going

away."

It's all a musical jumble and anyway

and the songs we like are all so subjective.

Ultimately it is up to each of us to decide

what we like best when listening to our

favorite tunes and no matter how a song

ends, all we need to do is replay it to relive

the experience.

I could end this column with a fade out

or just stop.

Rick Palsgrove is the managing editor of the

Columbus Messenger Newspapers.

Portions can ruin a weight loss plan

Places - By Linda Dillman

When did we turn the corner to mega burgers,

bulging boxes of fries, and pails of soda? Or single

plates at a buffet house filled with enough food to feed

a family of four? How often have you seen people push

themselves away from a table at a buffet, half-eaten

plates still piled with food?

My grandma would have said, "Look at that, what a

waste. Their eyes were bigger than their stomachs."

Who needs a country fried steak, mashed potatoes,

and green beans all swimming in the same sea of milk

gravy? Why serve a salad with enough greens to feed a

whole rabbit hutch on a plate the size of an old vinyl

record? Is it really necessary to dine on a hamburger

consisting of dual patties, a double dose of cheese, and

topped by multiple slices of bacon followed by a chocolate

shake chaser?

Try going into a restaurant and ordering a normal

size portion. My mother went to a corner eatery the

other day and asked about a salad accented with chicken.

The server admitted the salad size was large

enough for two, but my mother was a single diner and

since it was impractical to ask for a doggie bag for a

salad, half the meal went to waste.

My advice to restaurants, open up the children's

menu to people older than 12 or the senior menu to

non-seniors (or nearly seniors, like me). Companies

downsize. Why can't restaurants downsize their portions?

Instead of hiking up the price, cut costs by cutting

portions. Restaurants and diners would both benefit

with less waste and less waist.

Linda Dillman is a Messenger staff writer.
---
www.columbusmessenger.com

June 30, 2019 -SOUTHWEST MESSENGER - PAGE 5

Welcome to 4892 McNulty Street

Welcome to 4892 McNulty Street located in the ever popular PINNACLE. This outstanding five level split is loaded with space. Backs up to a Reserve on

a private lot. Captivating Chefs dream open kitchen features an upgraded stainless appliance package, as well as stunning granite tops. Soaring vaulted

Great Room boasts a fireplace. Owner built the home with an additional four season room which overlooks the outstanding vistas. Upstairs is a private

master suite with a walk in closet, as well as a dual sink bath. The other bedrooms are very nice and offer plenty of storage. The lower level is also finished

for additional living space. Three car garage parking . Full front porch. Do not let this immaculate home pass you by...

MLS#: 219022430

$349,900

COMMERCIAL, INDUSTRIAL, HIGH QUALITY RESIDENTIAL

UNPRECEDENTED SINGLE AGENT SALES OF OVER $75 MILLION FOR 2015-2018

C. Greg Skinner

614-537-1994

I sell more, because I do more, call me for my free no obligation marketing presentation.

Discount Fees Everytime.

I

GROVE CITY

greg@soldbygregskinner.com

UNDISPUTED #1 in 43123 SALES
---
PAGE 6 - SOUTHWEST MESSENGER - June 30, 2019

Newly moved back to West Columbus &

would love to Meet you!

Enjoy this Move in Special!

$15 off

Haircut & Color

club meeting

Grove City Arts Council

The Grove City Arts Council meets the third Tuesday of each

month at 6:30 p.m at Storypoint on Orders Road. For more information,

call 670-2926.

Heather Pettit - Sola Salons

$5 off

Haircut

Grand Re-Opening

2058 Stringtown Rd., Grove City, Oh 43123 - (614) 638-3291

* Please mention ad upon booking.

Lung Cancer?

Asbestos exposure in industrial,

construction, manufacturing jobs, or the

military may be the cause. Family in

the home were also exposed.

Call 1-866-795-3684 or email

cancer@breakinginjurynews.com.

$30 billion is set aside for asbestos

victims with cancer. Valuable settlement

monies may not require filing a lawsuit.

In Achievement

Rising to

the challenge

Messenger photos by Dedra Cordle

The relationship between the Jackson

Township Fire Department and the

Grove City Division of Police has

always been amicable. That is, until the

Chief's Competition at the Farmer's

Market rolls around. On June 22, with

the cook-off series tied 2-2, Police

Chief Richard Butsko and veteran officers

Lt. Doug Olmstead and Lt. Eric

Scott (below) battled Fire Chief Randy

Little, Assistant Fire Chief Shawn

Quincel and Battalion Chief Jason

Burley (right) to see who could make

the best chili. Team Butsko went the

more traditional route by creating a

classic meat chili while Team Little took

a more seasonal approach with a white

chicken chili. After much savoring, a

panel of five independent judges determined

the best chili to come from Team

Little, giving them a slight advantage at

the annual Farmer's Market Chief's

Challenge, which is sponsored by the

Grove City Area Chamber of

Commerce.

www.columbusmessenger.com
---
www.columbusmessenger.com

Community Focus

June 30, 2019 -SOUTHWEST MESSENGER - PAGE 7

"Moore Choices"

in Grove City

Grove City Council's Art Concern presents "Moore Choices," a

collection of watercolor artwork by the late Ned T. Moore (1928-

2019), on display through Friday, July 19 at City Hall, 4035

Broadway, in the Grove City Town Center.

After serving as an Army Special Services artist during the

Korean War, Moore worked as art director for several Columbusbased

art and advertising agencies and freelanced as an illustrator/designer.

He spent approximately 27 years as an educator,

where he was a professor of drawing and fine art at The Ohio

State University and Columbus College of Art and Design.

Moore's work captures every-day life with washes of brilliant

transparent color, pulling the viewer into the moment with fresh

and comforting brushstrokes. His work has been published in a

number of consumer and special interest magazines and exhibited

in national and international shows as part of traveling exhibits

sponsored by the Ford Motor Company.

The exhibit is open to the public weekdays, 8:30 a.m. to 4:30

p.m., or by appointment by calling Tami Kelly, clerk of council at

614-277-3065.

The Grove City Art Concern was founded in 1991 and sponsored

by Grove City Council. The Art Concern was created for the

express purpose of promoting arts and culture in the Grove City

community.

This piece, painted by Ned T. Moore, depicts a game day at The Ohio State University. It is part of the collection

"Moore Choices" on display at City Hall in Grove City.

Pick-Up &

Delivery

C.M.T

MOWER REPAIRS

Authorized Dealers for BOB CAT Mowers

6446 HARRISBURG PIKE, ORIENT, OH 43146

614-875-5830

"We have the lowest price in town!"

GENERAL MAINTENANCE SERVICES

Push Mowers $49.95 • Riding Tractors $149.95

Zero Turn Mower $149.95

Parts are additional on all units

PICK-UP & DELIVERY AVAILABLE $60.00

CHECK OUT THESE GREAT DEALS!!

• CRZ-42........ $ 4,000.00

• CRZ-48........ $ 4,200.00

• CRZ-52........ $ 4,500.00

• CRZ-61........ $ 4,800.00

• XRZ Pro RS61.. $ 7,900.00

ProCat RS 61.............. $ 9,400

ProCat 6000 61........... $ 9,500

Predator Pro 7000 72.... $ 12,400

0% Interest

Financing up to

48 months (if qualified)
---
PAGE 8- SOUTHWEST MESSENGER - June 30, 2019

club meeting

Lions Club

The Grove City Lions Club meets at 6:45

p.m. the second and fourth Wednesday of

each month at Beautiful Savior Lutheran

Church, 2213 White Road.

Vacation Bible School

Ages 4-12

July 8-10

Memorial Baptist Church

2435 Eakin Road

Free Dinner 5:30 VBS 6:00-8:15 pm

Register at: mbconline.myanswers.com/incredible-race/

JEFFREY P. COMPTON

ATTORNEY AT LAW

General Practice

Personal Injury • Domestic

Probate • Wills

Power of Attorney

Healthcare Documents

FREE CONSULT & PARKING

614-875-7233 Fax: 614-875-7207

3894 Broadway, Grove City

www.jeffreypcompton.com

Email: jcompton@jeffreypcompton.com

F∩O∩R∩ G∩R∩E∩A∩T∩ A∩U∩T∩O∩ R∩A∩T∩E∩S∩

it takes a village!

A∩t V∩illage I∩nsurance A∩gency

we

believe we can save you money

on

your car insurance.

B∩efore you renew y

our auto

insurance call us and see how much

we can save you!

Soapcitylaundry.com

4310 Broadway

Grove City, OH 43123

614-801-1999

S∩ave E∩ven

M∩ore W∩hen

W∩e I∩nsure

Y∩our C∩ar &

H∩ome!

www.viaoh.com • (614) 875-3010

3136 B∩roadway, S∩uite 103

G∩rove C∩ity, O∩H∩ 43123

Harrisburg First Responder

and Veterans Celebration

The Central Ohio Military Museum and

local first responders will host a

Harrisburg First responder and Veterans

Celebration from 10 a.m. to 5 p.m. July 20

and July 21 at 1010 High St. in the village

of Harrisburg.

The event will feature displays of military

vehicles, first responder vehicles and

reenactors from the Revolutionary War,

the War of 1812, the Civil War, Vietnam

and more. The event will also feature military

memorabilia, food trucks and vendors.

Military enthusiasts can appreciate the

carefully preserved uniforms and collectibles

acquired over the years by Bob

and Rita Traphagan.

"The Central Ohio Military Museum is a

not-for-profit institution, dedicated to preserving

the honor and sacrifice of our

Armed Forces Veterans, through the

preservation of their oral and written histories,

and personal artifacts," said Bob

Traphagan.

The museum also sponsors the

Memorial Brick Program. The names of

honorably discharged veterans from all

eras of service are carved on a brick and

placed at the local Veterans Memorial.

For more information, visit

thecomm.org or email Bob Traphagan at

bob.traphagan@thecomm.org.

www.columbusmessenger.com

Downpours make a mess in township

By Dedra Cordle

Staff Writer

On June 19, nearly four and a half inches

of rain fell within an hour in the city of

Grove City. Among the properties impacted

by the rapidly accumulating rainfall that

night was the Jackson Township administrative

building.Several emergency vehicles

within the fire department were also

impacted.

According to Township Administrator

Shane Farnsworth, the administrative

building took in a fair amount of water

through a breach in the front and back

entrances. He said at the June 25 board of

trustees meeting that the water made its

way into a closet, under the podium in the

public meeting room and throughout the

carpeting.

Farnsworth told the trustees they were

unable to contact a carpet cleaning service

at that time, so he used his own water vacuum

to suck up the excess water.

"I think I pulled about 30 gallons of

water out of the carpet," he said.

Farnsworth added that they used box

fans to dry out the carpeting that was

soaked near the closet and podium, and

also opened all the windows to air out any

mustiness left behind.

"I think we're going to have to watch out

for that for a while," he said during the

board's caucus session.

Beyond the soaked carpeting,

Farnsworth said no further damage was

reported.

According to Assistant Fire Chief

around the southwest

Shawn Quincel, there were three emergency

response vehicles that were impacted

by the rain.

"They were all out on runs and just

came into too much water," he said, referring

to Engine 203 and 206 and Medic 203.

Engine 206 is used primarily as a backup

vehicle.

Quincel told the trustees that Engine

203 had an electrical issue and is now

fixed, while Engine 206 and Medic 203 are

"in the shop" being evaluated.

Trustee David Burris asked Farnsworth

to contact their insurance agency as the

township could be looking at a large repair

bill.

There was no water damage reported at

any of the fire stations.

Jackson Township blood drive

Jackson Township will host a blood

drive from 11 a.m. to 5 p.m. July 5 in the

township's administrative office, located at

3756 Hoover Road. To schedule an appointment,

call the Jackson Township Fire

Department at 614-875-5588 or contact the

Red Cross at 1-800-red-cross or redcrossblood.org.

Immunizations in Jackson Twp.

Franklin County Public Health will

offer adult and childhood immunizations

on July 8 at the Jackson Township

Administration Building, 3756 Hoover

Road in Grove City.

Most insurance plans are accepted.

Discounted services are available for those

with no insurance.

To schedule an appointment, call (614)

525-3719 or visit www.myfcph.org.

Councilman honored for service

Ted Berry, a resident of Grove City, was

recently awarded the Ohio Commendation

Medal by Order of the Governor and

Adjutant General. Berry serves as the public

information officer of the 4th Civil

Support and Sustainment Brigade, Ohio

Military Reserve, Ohio Adjutant General's

Department. Berry has been appointed

Acting Public Affairs Officer of the Brigade

effective 10 October 2017.

The Commendation Award may be

awarded to any member of the state military

forces who has distinguished himself/herself

by meritorious achievement or

service to the state and accomplished it

with distinction. It is awarded for exemplary

behavior, efficiency and fidelity to an

active service member.

The proclamation said, "Ted Berry has

unselfish and untiringly rendering a distinct

service in furthering

the interest

of and in promoting

the security and

welfare of the state

of Ohio."

Berry is an elected

Grove City councilman,

hosts a 5K

to help animal rescue

organizations in

Ted Berry

central Ohio, and hosts the annual Grove

City Cornhole Tournament to benefit the

city parks.

Berry works as the business development

manager of the Byers Corporation

and is a former director of business development

and lobbyist for Ohio State

University.
---
www.columbusmessenger.com

June 30, 2019 -SOUTHWEST MESSENGER - PAGE 9

SUMMER FUN

The Obetz Zucchinifest is a free, four-day,

family festival held at Fortress Obetz during

Labor Day weekend. It is a great end of summer

tradition for the community. The festival offers

live entertainment on multiple stages, rides,

games, and a variety of food and craft vendors.

Guests can watch the pageant, parade, or browse

the classic cars at the Car and Motorcycle Show.

Enjoy a Zucchini beer brewed by North High

Brewing Co. while listening to the five National

acts on the Main Stage. The line-up this year

includes Warrant (8/30), Scotty McCreery (8/31),

RaeLynn (8/31), Spin Doctors (9/1), and Smash

Mouth (9/1). Local artists will perform on "Your

Stage" at various times throughout the weekend.

FRIDA

Y 8/30

Central Baptist

Free fresh fruit and vegetables will be

distributed on July 13 to qualified, lowincome

Franklin County residents. The

fresh produce will be available at Central

Baptist Church, 1955 Frank Road, beginning

at 10:30 a.m. To assist in registration,

O

betz Zucchinif

hinifest

FRIDAY,

AUG. 30

2

FORTRESS OBETZ

L ABOR DAY WEEKEND

FREE ADMISSION & PA

ARKING

Zucchini Beer

SATURDAY

8/31

Finding free produce this summer from local drives

PAID ADVERTISING

Hollywood Casino

fireworks show

PAID ADVERTISING

Obetz

Zucchinifest

Hollywood Casino Columbus announced its

annual fireworks show, at 200 Georgesville Road,

Columbus, on June 29 at 9:45 p.m.

The event is open to the public and welcomes

people of all ages for the event. Guests must be

age 21 to enter the facility. Complimentary selfparking

is available on surface lots at the property

and on levels 1–4 in the garage. No outside food

or beverages will be permitted on property.

This is the third consecutive year Hollywood

Casino Columbus has hosted fireworks to celebrate

the Fourth of July and has become a tradition

for many westside residents.

"Everyone loves fireworks and we are excited

to be able to share this experience with our

friends and neighbors here on the Westside," said

Jason Birney, vice president and general manager

for Hollywood Casino Columbus.

Admission is free and guests are encouraged

to bring a lawn chair. The show will last approximately

12 minutes and is presented by Rozzi's

Famous Fireworks.

All concerts are FREE!

Monday is Kids Day featuring the Cincinnati

Circus Company, COSI, and the Columbus Zoo.

The midway has plenty of rides and games for

kids of all ages.

Start growing your award-winning zucchini

soon so you can participate in the zucchini judging.

Prizes are awarded for biggest zucchini;

smallest zucchini; most unusual; and best

dressed.

OBETZZUCCHINIFEST.COM — Any information

or registrations you might need are available

on our website. Follow us on social media

@Zucchinifest for the most up to date information.

SUNDAY 9/1

FRIDAY 8/30

Car

& Motorcycle or

cl

Show

Obe

tzZucchiniFest

t.com

KIDS

DAY!

MONDAY 9/2

Cincinnati Circus Company,

COSI, & the Columbus Zoo.

please bring a photo ID and your current

address in Franklin County. You are asked

to also bring heavy-duty bags, boxes or

carts to carry the bulk produce home. For

more information, contact the church at

614-279- or visit 3115 www.centralbaptistcolumbus.org.

e Resurrection

The Resurrection Evangelical Lutheran

Church will host a fresh produce give-away

from 10 a.m. to 1 p.m. the second Saturday

Schuman's Meats

1440 Harrisburg PikeColumbus, OH 43223

614-274-2161 | www.schumansmeats.com

Tues. - Fri.: 7am – 6pm | Sat.: 7am – 5pm

TASTE THE DIFFERENCE

July 2nd - July 13th | CLOSED JULY 4th

of each month at 3500 Main St. in Hilliard.

The church also operates a food pantry on

Mondays from 6 to 6:45 p.m. For more

information, call the church office at 614-

876-7926.

YMCA

The Hilltop YMCA hosts a fresh produce

giveaway the third Wednesday of each

month from 4 to 6 p.m. at 2879 Valleyview

Drive in Columbus. For more information,

call the YMCA at 614-276-8224.

Beef

Chicken

Pork

USDA Choice Beef,

Ohio Grown,

Naturally Dry Aged

For Your Satisfaction

Cut Fresh Daily!

ALL OUR GROUND

MEATS AND PATTIES

ARE GROUND FRESH DAILY

American Cheese......................................................................................... $3.99 lb.

Off the Bone Ham......................................................................................... $4.99 lb.

Deep Fried Turkery Breast........................................................................... $5.99 lb.

Hard Salami................................................................................................... $4.99 lb.

Super Hot Pepper Cheese........................................................................... $5.49 lb.

Garlic Bologna............................................................................................. $6.49 lb.

Ham Salad.................................................................................................... $5.99 lb.

Chicken Salad.............................................................................................. $4.99 lb.

Baked Beans................................................................................................. $2.69 lb.

Potato Salad (Mayo & Mustard)................................................................. $2.39 lb.

Cole Slaw...................................................................................................... $3.99 lb.

Whole Ny Strips (Cut & Wrap Free)......................................................... $8.99 lb.

Whole Ribeyes (Cut & Wrap Free)......................................................... $10.99 lb.

Beef Brisket................................................................................................. $5.99 lb.

Beef Ribs...................................................................................................... $1.99 lb.

Beef Short Ribs........................................................................................... $5.99 lb.

Grill Burgers............................................................................................... $2.39 ea.

Ground Beef (10 lb. Package).................................................................... $23.99

Ground Beef Patties (20 Patties Per Box)................................................. $16.95

Coney Dogs (20 Hot Dogs Per Package)...................................................... $5.99

Pork Spare Ribs.......................................................................................... $2.49 lb.

Pork Country Ribs...................................................................................... $1.99 lb.

Bratwurst...................................................................................................... $4.99 lb.

Boneless Chicken Breast......................................................................... $1.99 lb.

Whole Chickens......................................................................................... $1.69 lb.

Chicken Drumsticks.................................................................................... $1.19 lb

Chicken Leg Quarters.................................................................................. .99¢ lb.
---
PAGE 10 - SOUTHWEST MESSENGER - June 30, 2019

www.columbusmessenger.com

SUMMER FUN

To advertise in a Southwest Messenger special

section, contact Doug Henry at 614-272-5422.

PAID ADVERTISING

Summer Jam West

is still rocking

This is the sixth year for Summer Jam West and we're still rocking!

You'll find us in Westgate Park on Saturday, July 13 from 11 a.m. to 7 p.m.

Our bands are full of energy and local and our 40 artists and crafters are

talented. We have five food trucks, all with mouthwatering offerings and

four food carts with everything from ice cream and J-Pops, to cookies and

kettle corn.

Where else can you find $1 snow cones and drinks? Did you know we

still have free face painting and balloon twisting for the kids? Did you know

about our free tees at the Kids Art Zone (11 – 4)?

Along with the food trucks and bands, we'll be bringing you an Art Car

Corral, The Artists Wrestling League, free bike repairs and helmets for kids,

a dog cooling station, 40 arts and crafts booths and Community Partners that

promote peace, acceptance and diversity on the Hilltop.

This year's festival theme is "Peace Train" and the mural is going up at

2322 Sullivant Ave. We're the only arts and music festival on the Hilltop and

it's only once a year, so come out and play with us!

PAID ADVERTISING

Get Your Game On!

This July in Grove

City Parks

Warm weather and long hours of sunlight make July perfect for exploring

the parks in Grove City and beyond. This is why 34 years ago, the

National Park and Recreation Association (NRPA) chose July to celebrate

National Park and Recreation Month. With 21 parks encompassing more

than 320 acres and miles of multi-use paths, Grove City offers many opportunities

to play outside: attend a special event, take a bike ride, cool off at

the splash pad or just enjoy a day in a park!

One way children enjoy parks that never goes out of style is on playgrounds.

Grove City features 19 playgrounds of various sizes and themes

including the award-winning, inclusive Dream Field Playground in Windsor

Park and new equipment at Westgrove and Pinnacle parks.

The most popular playground destination in Grove City for generations

is Gantz Park. Last March, work began on a new playground that ensures

children of all abilities can carry on this tradition. Don't miss the grand

opening of the new inclusive, nature-themed Gantz Park Playground at 6

p.m., Friday, July 5. Stay to officially kick off Parks and Recreation Month:

explore the Gardens, Farmhouse and Barn then enjoy a concert by the

Central Ohio Brass Band in the gazebo at 7 p.m.

summer events

Famous Fortress Fireworks

The third annual Famous Fortress

Fireworks will be held July 4 from 6-10

p.m. at Fortress Obetz, 2015 Recreation

Trail in Obetz. The event features games,

food trucks, inflatables, giveaways, and

fireworks.

CW Blues and Ribfest

The Canal Winchester Blues and

Ribfest will be held July 26-27 in downtown

Canal Winchester. Visit www.bluesandribfest.com

for information.

Bugstravaganza

Bugstravaganza will be held at Walnut

Woods Metro Park, 6716 Lithopolis Road,

Groveport. on Aug. 3 from 10 a.m. to 2 p.m.

Discover the wide world of insects and

their relatives with activities and displays

for all ages. Catch and release bugs, take a

tram ride, explore the creek, make crafts,

see insects up close and more. Meet at the

Buckeye Area.

Westgate Park

Music & Arts

Festival

Summer Jam West

SummerJamW

Community-Friendly

Live Bands All Day

Art Sale

Ohio Chalk Art Guild

Food Trucks!

Kids'

Zone

SummerJamWest.

est.org

'

OUR SPONSORSSORS

Tod W.

Siefert,

D.D.S.

This project is made possible through the generous contributions of several

organizations in support of the Neighborhood Partnership Grants program.

Design: Formation Studio
---
www.columbusmessenger.com

June 30, 2019 -SOUTHWEST MESSENGER - PAGE 11
---
PAGE 12 - SOUTHWEST MESSENGER - June 30, 2019

www.columbusmessenger.com

SUMMER FUN

Outdoor summer fun at Darby Park

The following are events scheduled at

Battelle Darby Creek Metro Park this

summer. Battelle Darby Creek Metro Park

is located at 1775 Darby Creek Drive in

southwest Franklin County.

•Spiders and Snakes Display, July 4

from 1 to 4 p.m. - Come discover more

about these misunderstood creatures. Meet

at the Nature Center.

•Stream Quality Monitoring, July 6 at

10 a.m. - Wade into the river to explore

stream life and determine stream health.

Option to become a stream quality monitoring

volunteer for ODNR's Scenic Rivers

Program. Meet at Indian Ridge.

•Feed the Stream, July 6 at 1 p.m. -

Enjoy the fish feeding frenzy as you help

feed them worms, crickets and minnows.

Meet at Nature Center.

•Family Creeking Adventure, July 7 at

3 p.m. - Get wet as we catch fish, bugs and

crawdads in Big Darby Creek. Meet at

Ranger Station.

•Wildlife Hike, July 10 at 10 a.m. -

Come and search for wildlife with a naturalist

on a two-mile hike along the Terrace

Trail. Meet at Indian Ridge.

•Disneynature: Born in China, July 12

at 7 p.m. - Watch Disneynature's "Born in

China." Follow the lives of three animal

families - snow leopards, giant pandas and

golden snub-nosed monkeys. Meet at

Nature Center.

•Photo Group: Photo Storage/Recover of

Lost Photos, July 13 at 10 a.m. - Learn the

latest strategies and processes for the

quickest access to your photos during editing,

long term storage and recovering lost

photos. Meet at Nature Center.

•All About Slime, July 13 at 11 a.m. -

Help us in creating and decorating ooey

gooey slime. Please dress for a mess. Meet

at Nature Center.

•Discover Falconry, July14 at 4:30 p.m.

- Meet and learn about some amazing birds

of prey from the Ohio School of Falconry.

Learn about the ancient sport of falconry

as you watch these raptors take flight.

Meet at Indian Ridge.

For more information about the park or

its programs, call 614-891-0700 or visit

metroparks.net.

PAID ADVERTISING

KANSAS, Sara Evans

at Lancaster Festival

Legendary classic rock band KANSAS and

country music star Sara Evans will perform with

the Lancaster Festival Orchestra on the Ohio

University Wendel Concert Stage for the featured

concerts at the 2019 Lancaster Festival.

Sara Evans performs on July 20, with

KANSAS headlining the Festival's finale on July

27.

The now-traditional tribute band concert on

July 24 will feature Bluffett featuring The Son of

a Sailor Band – an on-stage tribute to the legendary

Jimmy Buffett & the Coral Reefer Band.

An extra-special opening night concert of

"Symphonic Photochoreography" will surely

dazzle the audience when the Lancaster Festival

Orchestra performs on July 18 at Fairfield

Christian Church.

The event will feature three huge screens

across the front of the stage with specially created

films by renowned director Nicholas Bardonnay,

including: films of the National Parks to the

music of the New World Symphony by Dvorak,

historical footage of Abraham Lincoln to the

music of the Lincoln Portrait by Copland, and a

world-premiere of "FESTIVAL 35!," a film celebrating

the 35th anniversary of the Lancaster

Festival to the music of the Festive Overture by

Shostakovich.

Also new this summer is FESTIVAL U., a

free, open, university-style program with talks

and previews of Festival events to be held at Ohio

University on July 13 and 14. The program will

feature Mr. Bardonnay, discussing his new

Festival film; Kristin Canda, artist; Victor Jones,

director; and Maestro Sheldon, each giving a preview

talk about upcoming Festival events.

Tickets will be available for purchase online at

www.lancasterfestival.org at the Festival offices

– 117 West Wheeling St. in Lancaster.

The 2019 Lancaster Festival will be July 17-

27.
---
www.columbusmessenger.com SOUTHWEST MESSENGER - June 30, 2019 - PAGE 13

Pet Corner

Pets of the week

Ciabatta is a 2-yearold

large mixed breed

who is a wiggly,

active pooch. He is

looking for a loving

and active place to

call home. He will

need daily walks,

plenty of playtime,

and tons of cuddle

time. He looks forward

to attending our free Monday night training

classes with you, to learn his basic commands

and manners through positive reinforcement.

He is very interested in other dogs,

but may be too much for some. He should

meet any potential furry friends before adoption.

Adopt Ciabatta from the Franklin County

Dog Shelter.

FYI: 614-525-3647 or www.franklincountydogs.com

Suzie is a 5-year-old

boxer who is a busy

bee. She is a naturally

playful, curious,

and trusting canine.

Suzie would love a

home with someone

who would take her

out for daily walks or

give her something to

do. After the job is

done, she'll curl up in front of the fire with you

in the evenings. Suzie is up for adoption at the

Franklin County Dog Shelter.

FYI: 614-525-3647 or www.franklincountydogs.com

These furry friends are available

for adoption at local

rescues and shelters

Cipher is an adorable

4-month-old kitten.

He is playful and just

tons of fun. Cipher

has been neutered.

He is microchipped

and up to date on all

his vaccines. Cipher

is up for adoption

through Colony Cats

and Dogs. you can meet him the organization's

adoption center, located at 2740

Festival Lane in Dublin.

FYI: www.colonycats.org

Roomba is a sweet

girl who is about 3

months old. She

would make a great

addition to any home.

She is a typical kitty

who enjoys being petted

and playing with

toys. Roomba is

spayed and up to

date on vaccinations.

Stop by the Colony

Cats adoption center to meet her.

FYI: www.colonycats.org

McCain is a very

handsome and strong

3-year-old black

Lab/pit mix with loads

of energy. He would

love a human who

could play with him

and take him out for

daily walks. McCain

gets along with other dogs and cats as well.

He would love to fin his forever home. Adopt

McCain from Colony Cats and Dogs.

FYI: www.colonycats.org

Programs to produce homes

The Franklin County Dog Shelter and

Adoption Center will offer new programs

and foster opportunities during the month

of July.

On July 13, the shelter will host an

adoption event featuring long-term residents

at Homedog Resort and Daycare in

Columbus from 11 a.m. to 3 p.m. These

long-term residents will be joined by volunteers

who know the dogs' behavior and

potential adopters will be able to speak

with them and learn why the dogs are special

and what the right home would look

like for them. All dog adoptions will be $18

and every dog will be up-to-date on shots,

spayed or neutered, microchipped, and

receive a dog license.

The shelter has also announced dates

for the Shelter Running Club Open House.

This is an opportunity for interested individuals

from the public to learn more about

this program and join experienced runners

with a dog on a short two-mile run. The

open house dates will be July 6 and July 27

at 8 a.m. Interested individuals should

show up at the shelter and be prepared to

run with a dog.

Finally, the shelter will support a

Shelter Vacation program from July 15

through July 19. During this time, members

of the public will be able to foster dogs

from the shelter, welcoming them into

their homes for the week. All dogs will be

on a first-come, first-foster basis and preference

will be given to those dogs who have

been adoptable for one month or more.

The Franklin County Dog Shelter and

Adoption Center is located at 4340

Tamarack Blvd. in Columbus and is

opened Monday through Friday from 11

a.m. to 7 p.m. and 9 a.m. to 5 p.m. on

Saturday and Sunday. For additional

information, visit dogs.franklincountyohio.gov.

around the southwest

Pleasant View reunion

Pleasant View High School will have an

all class reunion on July 26 with a wiener

roast and July 27 with a pot luck. The

events will begin at 7 p.m. at CenterPointe

Church, 2505 Hyde Road in Grove City.

For more information, contact Tad Lamb

at 614-875-9691.

Free community meal

Bethel Lutheran Church, 4501 Hoover

Road in Grove City, will host a free community

meal every third Saturday of each

month. The food will be served from noon

to 1 p.m. For more information, call the

church office at 875-0510.

St. John's Evangelical

Lutheran Church

3220 Columbus St.

Grove City, OH 43123

614-875-2314 www.stjohnsgc.org

WORSHIP SERVICES

Saturday - 6:00 pm

Sunday - Traditional 8:15 am & 11:00 am

Contemporary - 11:00 am

Looking for a small,

friendly church experience? Try

First Presbyterian Church

of Grove City

4227 Broadway

in Grove City

Join us on

Sunday mornings:

Traditional Worship at 10 a.m.

Wellness services for seniors

LifeCare Alliance provides a nurse at

Grove City Church of the Nazarene in

Grove City every Tuesday to provide free

foot care and other wellness services for

seniors. To schedule an appointment or for

more information, call the nurse at 740-

360-4132.

S.A.L.T. at Evans Center

The Grove City Division of Police host

Seniors and Law Enforcement Together

(S.A.L.T.) meetings at 1 p.m. the second

Tuesday of each month at the Evans

Center, 4330 Dudley Ave. Adults of all

ages are welcome to attend. Visit

police.grovecityohio.gov for more information.

Grove City Church of God

"A Healing Place"

4235 Harrisburg Pike, Grove City, Ohio

614-875-7186

NEW SERVICE TIMES

Sundays beginning June 9

9 a.m. Discipleship Classes - 10:30 a.m. Worship Service

Wednesday Nights Beginning June 12

Connection Café opens at 5:30 p.m.

Discipleship Classes begin at 6:30 p.m.

The Naz

(Grove City Church

of the Nazarene)

4700 Hoover Rd.

614-875-2551

Join us Saturday's at 6PM or

Sunday's at 9AM or 11AM

www.thenaz.church

Be a Part of Our Local Worship Guide

Our upcoming Worship Guide is geared toward celebrating faith and helping readers connect

with religious resources in our community. Make sure these readers know how you can help

with a presence in this very special section distributed to more than 22,000 households in the

Southwest area.

Contact us today to secure your spot in our Worship Guide.

614.272.5422 • kathy@columbusmessenger.com
---
PAGE 14 - SOUTHWEST MESSENGER - June 30, 2019

t

in print

around the southwest

S.A.L.T. at Evans Center

The Grove City Division of Police host

Seniors and Law Enforcement Together

(S.A.L.T.) meetings at 1 p.m. the second

Tuesday of each month at the Evans

July Giveway

Place a prepaid classified line ad in our paper

for the month of JULY and be registered to win a

$50 Gift Card from

The Columbus Messenger Newspapers.

All ads received by mail, in person,

email or phone will be included in the drawing.

Drawing will be held July 30th, 2019

and the winner will be notified

and published in our August 11th issue

GOOD

in the power of print

Center, 4330 Dudley Ave. Adults of all

ages are welcome to attend. If you would

like additional information on other crime

prevention programs visit police.grovecityohio.gov

or call 614-277-1765.

LUCK!

We're proud of our industry, its past and its future.

Old fashioned values combined with new technologies.

We are truly honored to be a part of

every home in the community and relish in the fact

that we are the source for buying decision.

Thank you for your contributions to the

2010 National Circulation Verification Council Audit

that reveals the following facts about

Free Community Papers:

www.columbusmessenger.com

In Entertainment

Chucky is back with more

gore and more ridiculousness

It was choose a toy at the theaters this

weekend. The first and more wholesome

option was "Toy Story," the fourth installment

of a beloved animated franchise that

has garnered the reputation for making

even the most jaded of adults weep like

newborns. The second and less familyfriendly

option was "Child's Play," a reboot

of a beloved slasher that features a murderous

doll who has garnered the reputation

for making even the most jaded adults

weep like newborns. While both were worthy

options for a variety of reasons, I was

only in the mood for one.

"Child's Play" is not an exact replica of

the original hit from 1988, so points are in

order for base creativity. Though both

share the same ridiculous premise (or is

it?) of a doll coming to life and murdering

people, the latest version focuses more on

the dangers of dependence on technology

and less on the transference of one's

wicked soul into an inanimate object

meant for children. Whether the latter is a

deal-breaker is entirely up to you.

The film opens with low wage workers

in an overseas manufacturing plant meticulously

crafting the perfect technological

doll for consumers around the world. The

Buddi doll, as it is called, is promised to

provide a "life-long" companion for children,

helping them grow and thrive

through a supportive relationship where

they are their eyes and ears. Additional

features include babysitting duties for

overworked parents, connectively with

other Kaslan Industries products so the

Buddi doll can order Kaslan rides and find

programming on the Kaslan TV's, and, of

course, staring at you as you walk across

the room. (Seriously, their eyes follow you

everywhere! I don't know how doll collectors

do it.)

Though it is clear not every worker is

thrilled with the product they are creating,

or the job they have, they do it day in and

day out for consumer needs. But one

evening, a worker is caught daydreaming

and is promptly fired for envisioning a better

job somewhere else. Before he can pack

up his meager belongings, he is ordered to

finish up his Buddi doll, and finish up he

does. In an act of disobedience, he strips

the Buddi doll of all of its safety features,

including one that removes the anti-violence

protocol.

Naturally, this doll is shipped to the

states where it falls into the hands of a consumer

who purchased it for her child.

Luckily for this family, she was able to

return it due to its "occasional glowing red

eyes" but it is soon picked up by singlemother

Karen Barclay (Aubrey Plaza) who

gives it to her 13-year-old son Andy

(Gabriel Bateman) as a joke/early birthday

present.

The Reel Deal

Dedra Cordle

At first, Andy is

creeped out by the

waxen doll with the

voluminous orbs

and slicked hair, but

he quickly finds a

real friend in Buddi,

now Chucky (voiced

wonderfully by Mark Hamill). As they get

to know each other, Andy begins to suspect

that something is amiss when Chucky gets

possessive of his time spent with human

friends. Then things get weirder, more

dangerous and ultimately deadlier from

then on out.

One could say "Child's Play" is just

another unnecessary reboot of a beloved

property from an industry out of ideas and

they would be right. But this film is also an

interesting satirical piece about our willingness

to accept advanced technology into

our lives for the sake of convenience and

comfort. Unfortunately, it doesn't keep

with that thread throughout as it has to

make room for the more gruesome elements

of its predecessor and the overall

film really does suffer because of that.

I have to be completely honest and say I

thought this film was going to be complete

crap. The trailers looked dumb, Chucky

looked even more off than he normally

does, and it just didn't hit any good note at

all. But when I saw it, I was surprised at

how much I was enjoying it. It has some

dark humor, it pokes fun at itself, it has an

interesting take on tech and I laughed with

it just as much as I laughed at it. I know

this film is not going to be for everyone, but

it's a decent time if you're looking for quality

ridiculousness. Grade: B-

Dedra Cordle is a Messenger staff

writer and columnist.

southwest

Messenger

(Distribution: 21,678)

Andrea Cordle...................................Southwest Editor

southwest@ columbusmessenger.com

Published every other Sunday by the

The Columbus Messenger Co.

3500 Sullivant Ave., Columbus, Ohio 43204

(614) 272-5422

The Columbus Messenger Co. reserves the right to edit, reject or cancel

any advertisement or editorial copy at any time. The company is not

responsible for checking accuracy of items submitted for publication.

Errors in advertising copy must be called to the attention of the company

after first insertion and prior to a second insertion of the same advertising

copy.
---
www.columbusmessenger.com SOUTHWEST MESSENGER - June 30, 2019 - PAGE 15

In Education

Techie

Camp

SUMMER

AUTO DEALS

This Week's Features

By Dedra Cordle

Staff Writer

Like many children his age, Preston

Miller loves computer and video games. He

said he has learned many skills while playing

on these mediums and has even decided

that he wants to make a career out of it.

"I plan to be a YouTube video game creator,"

said the fourth grade student at

Finland Elementary School.

Knowing that he needed to hone the

skills required to be a game creator, Miller

was excited to learn that he would have the

opportunity to do so at his school. The only

problem was that it would take place in the

summer.

"I love summer break but I really wanted

to do this," he said.

On June 17 at roughly 8:30 a.m., Miller

found himself back in school for an all-day,

week-long programming class called Techie

Camp, which was made possible for students

at Finland Elementary and Franklin

Woods Intermediate through a grant from

Battelle and Tech Corps.

"Techie Camp is a hands-on program

that teaches young children the basics of

programming," said Tech Corps instructor

Will Sierzputowski. "For this week, along

with the one that was held last week (June

10 -14 at Franklin Woods), they are learning

how to make an app but with the stipulation

that they make something that

benefits others."

When the stipulation was announced

the first day of class, Sierzputowski said

there were a lot of blank stares.

"I don't know if it was because it is the

summer and they're in summer mode or if

they thought they would be making cool

apps right away," said the junior at Ohio

Northern University with a laugh. "Some

later told me they thought they would be

doing something that would make them a

lot of money so I think it might have been

the second option."

But with some prodding, the group of 22

budding creators brainstormed ways apps

can help people, watched design and programming

tutorials, and started putting

their ideas to code.

"I am so impressed by what they came

up with," said Tech Corps instructor Anna

Dake. "There has been a lot of variety with

these groups."

Heidelberg honors

Eric DeVore and Cedric Ebbeler of Grove City were named to

the dean's list at Heidelberg University for the spring semester.

Messenger photo by Dedra Cordle

Anna Dake, a volunteer with Tech Corps, works with Finland Elementary School students

Hannah West and Sophia Tope during the final work day of a week-long Techie

Camp on June 20. More than 35 children at Finland and Franklin Woods Intermediate

participated in the camp that taught them programming skills to create their own apps.

West and Tope made an app for parents that tells them the exact moment their children's

punishment time is up.

Olivia Reynolds, 10, she designed an

app that helps people remember recipes.

"If people forget, they can just pull it up

and have the instructions right there," said

the Franklin Woods Intermediate student.

Hector Flores co-created an app for parents

to tell them the appropriate age for

their children to do chores.

"I mow the grass and I'm not sure I

should be made to do it at my age," said the

fourth grader.

Hannah West and Sophia Tope created

an "ungrounding app" that counts down

the exact time they are out of punishment.

"Parents are always trying to tell you

that you have more time in punishment,"

said West.

"This app will show them that it is not

true because the countdown tells them the

time is up," added Tope.

Miller, the future game creator, programmed

an app that allows people to find

games on Roblox, a popular game creation

system platform.

"It breaks it up by skill level too," he

said. "If they're a beginner and want to

play a game where they find eggs, the app

shows them where to find it for beginning

level players."

names in the news

Other app creations include Fortnight

quizzes, algebra flashcards, origami

instructions, sports point trackers, and a

once-a-day reminder to do something nice

for someone else.

While the students said there was some

difficulties learning how to program, they

were given great instruction and plan to

continue making apps well into the future.

"It was a struggle sometimes but I had a

lot of fun learning how to do this," said

Reynolds. "Eventually I would like to put

something on the app store but I need to

work on a few more things first before I can

reach that level."

The Techie Camp that was held at

Finland Elementary and Franklin Woods

Intermediate marked the first time the

popular camp was held in the South-

Western City Schools District. It was

brought to the school, in addition to the

grant, due to the efforts of Kira Shade-Ray,

the Finland Elementary site coordinator

for Communities in Schools, and Helen

Cosner, a gifted intervention specialist

with the district. Shade-Ray said that

while coding clubs are growing in popularity

at the schools, they would love to host

Techie Camp again next summer.

ODU honors

Karsen Marioth of Grove City has been named to the Ohio

Dominican University's 2019 spring semester dean's list. She is a

2019 graduate of Central Crossing High School.

614-279-8880

www.haydocy.com

CERTIFIED USED SPECIALS

06 VOLVO XC90 AWD

19G068A

$

Sunroof & More! 5,995

08 TOYOTA TACOMA

17B153B

Super Clean!

07 HONDA ODYSSEY

SA1892A

Hard to Find!

07 CADILLAC ESCALADE

17G454E

Loaded, DVD & More!

15 BUICK VERANO

18G322A

Convenience Group,

White. Only 27,000 Miles!

$

15,191

13 GMC TERRAIN DENALI

19G056A

Sunroof,

Chrome Wheels!

15 CHRYSLER 300 S AWD

SA1833

Sunroof, $

17,995

Navigation & More!

17 BUICK CADSCADA

19G044A

1-Owner!

Only 15,840 Miles!

3895 W. Broad St.

www.haydocy.com

$

6,795

$

6,995

$

10,995

$

15,795

$

25,995

14 GMC YUKON DENALI

18G215A

Sunroof, DVD & More!

$

28,995
---
PAGE 16 - SOUTHWEST MESSENGER - June 30, 2019

www.columbusmessenger.com

CLASSIFIED ADS

Deadlines: Southeast and West editions, Wednesdays at 5 p.m., • East, Southwest, Madison editions, Tuesdays at 5 p.m.

All editions by phone, Tuesdays at 5 p.m. • Service Directory, Tuesdays at 5 p.m.

xEmployment

Now Hiring!

SALES ASSISTANT

The Advertising Department

is seeking a Sales Helper.

•No Experience Necessary.

•Base salary plus commissions, auto allowance.

•Senior Cizens and Recent Grads encouraged to apply.

Columbus Messenger Newspapers

WANTED

Retail • Servers • Cook

You Can Work 29+ Hrs. Based on

Your Availability & Performance

Immediate Full/Part-time Openings

• Weekly Pay

• Paid Training

• No Tip Sharing

• Paid Vacation

We Offer:

• Employee Meal Discount

• Position/Salary Advancement Plan

• Discount Purchase Plan

Apply online at crackerbarrel.com/careers for

Grove City Location

614-871-1444

NOW HIRING

Cabinets Manager

The Cabinet Division Manager is responsible

for leading, directing and managing the Cabinet

operation. This includes developing new

products and overseeing the development to

ensure smooth production. This position also

handles material selection, buying and communicating

with suppliers.

Resource Specialist

The Resource Specialist is responsible for

providing excellent customer service by researching,

locating and selling non-stock

items to customers as well as processing

modified product orders, special (custom) orders,

and providing product referrals to other

companies when necessary.

Please send your resume to:

Doug Henry, Adversing Manager

Columbus Messenger Newspapers

3500 Sullivant Aveune, Columbus, Ohio 43204

Doughenry@columbusmessenger.com

JOB

FAIR

OR OPEN

INTERVIEWS?

CALL KATHY

TO ADVERTISE

614-272-5422

INFORMATION

Summer's Here!

Call Marilyn Weaver

For An Appt.

For a New Cool

Summer Haircut/Style

614-277-1921

Indulgence Hair Salon

3387 McDowell Rd.

Grove City

ASSOCIATION ADS

Denied Social Security

Disability? Appeal! If

you're 50+, filed for SSD

and denied, our attorneys

can help get you

approved! No money out

of pockets! Call 1-866-

376-3163

Call Empire Today® to

schedule a FREE inhome

estimate on Carpeting

& Flooring. Call

Today! 1-866-538-7163

DISH Network $59.99 For

190 Channels. Add High

Speed Internet for ONLY

$14.95/month. Best Technology.

Best Value. Smart

HD DVR Included. FREE

Installation. Some restrictions

apply. Call 1-855-

837-9146

ASSOCIATION ADS

READER

ADVISORY

The National Trade Association

we belong to has

purchased the following

classifieds. Determining

the value of their service

or product is advised by

this publication. In order

to avoid misunderstandings,

some advertisers do

not offer "employment"

but rather supply the

readers with manuals, directories

and other materials

designed to help

their clients establish mail

order selling and other

businesses at home. Under

NO circumstance

should you send any

money in advance or give

the client your checking,

license ID or credit card

numbers. Also beware of

ads that claim to guarantee

loans regardless of

credit and note that if a

credit repair company

does business only over

the phone it's illegal to request

any money before

delivering its service. All

funds are based in US

dollars. Toll Free numbers

may or may not

reach Canada. Please

check with the Better

Business Bureau 614-

486-6336 or the Ohio Attorney

General's Consumer

Protection Section

614-466-4986 for more

information on the company

you are seeking to

do business with.

Employment

ASSOCIATION ADS

A PLACE FOR MOM. The

nation's largest senior living

referral service. Contact

our trusted, local experts

today! Our service is

FREE/no obligation. CALL

1-844-722-7993

Portable Oxygen Concentrator

May Be Covered

by Medicare! Reclaim

independence and

mobility with the compact

design and long-lasting

battery of Inogen One.

Free information kit!

Call 888-609-2189

SELLING YOUR OWN

PROPERTY? Need to

advertise it in your local

paper and others like it?

We have the placement

services to help you.

Contact MACnet MEDIA

@ 800-450-6631 or online

at MACnetOnline

.com

SAVE ON YOUR NEXT

PRESCRIPTION! World

Health Link, Price Match

Guarantee! Prescriptions

Required. CIPA Certified.

Over 1500 medications

available. CALL Today

For A Free Price

Quote. 1-855-530-8993

Call Now!

HEAR AGAIN! Try our

hearing aid for just $75

down and $50 per

month! Call 800-426-

4212 and mention 88272

for a risk free trial! FREE

SHIPPING!

Please apply online at:

http://gohcl.com or

Call 800-848-1633 x4637

BETTY'S

Elderly Care

Has Opening for Full-Time

Caregiver Working With the Elderly

Transportation, Some Experience

& References Required. Drug Test.

Call: 614-777-5850

ASSOCIATION ADS

Lung Cancer? Asbestos

exposure in industrial,

construction, manufacturing

jobs, or military

may be the cause. Family

in the home were also

exposed. Call 1-866-

795-3684 or email cancer@breakinginjurynews

.com. $30 billion is set

aside for asbestos victims

with cancer. Valuable

settlement monies

may not require filing a

lawsuit.

ASSOCIATION ADS

Dish Network Satellite

Television Service. Now

Over 190 channels for

ONLY $59.99/mo! ,

FREE Installation, FREE

Streaming, FREE HD.

Add Internet for $14.95 a

month. 1-800-219-1271

DIAGNOSED WITH

LUNG CANCER? You

may qualify for a substantial

cash award. NO

obligation, NO risk!

We've recovered millions.

Let us help you!!

Call 24/7, 855-845-8269
---
www.columbusmessenger.com

June 30, 2019 - SOUTHWEST MESSENGER - PAGE 17

xEmployment

JOB

EXPLOSION!!

STA F F I N G

WANTED

Your Partner at Work

SW CITY SCHOOLS

SCHOOL BUS DRIVERS

The South-Western City School

District is currently hiring drivers

$16.55/HR

Available positions are for substitute

drivers that can develop into "Regular"

positions with benefits. Interested

individuals should submit an application

on our website at swcsd.us. Follow the

employment link. Applicants should have

an excellent driving record and must

submit to drug, alcohol, and background

screening. A high school diploma or

equivalent is required.

EOE

HIRING?

Let us help you recruit the qualified employees you need to make

your business succeed. With a print and online audience of more

than 39,000 readers, our employment section is your key to meeting

local job seekers where they look first for fresh career opportunities.

Our Westside Messenger

covers Lincoln Village,

Galloway, Franklin Township

Our Southwest Messenger

covers Grove City and

Southwest Columbus

Reaches over 35,000

household in these 2 area

To list a job opportunity, contact a

recruitment advertising specialist today at

614.272.5422

or

Kathy@columbusmessenger.com

50 immediate openings

UP TO $27/HOUR

From Manufacturing, Warehouse,

Assembly, Pick/Pack to Forklift,

To Office and Skilled Laborers!

ALL SHIFTS!

Apply Daily at Trillium

Located at 4998 West Broad St., Suite 100

Columbus, Ohio

614-351-3100

NOW HIRING!

Local High Volume Pharmacy

Immediate 2nd & 3rd shift positions available

for Pharmacy Clerks and Technicians.

Looking for energetic associates

in a fast pace environment.

NEW Starting rate: $11.50 per hour

Shift differential $.50 an hour

Please apply at: jobs.kroger.com

Use Zip Code 43217

Must be 18 years of age & have high school diploma or GED.

Call 614-333-5012 for more details.

ASSOCIATION ADS

Wants to purchase minerals

and other oil and gas

interests. Send details to

P.O. Box 13557, Denver,

CO. 80201

VIAGRA & CIALIS! 60

pills for $99. 100 pills for

$150 FREE shipping.

Money back guaranteed!

1-800-503-7846

Spectrum Triple Play!

TV, Internet & Voice for

$99.97/mo. Fastest Internet.

100 MB per second

speed. Free Primetime

on Demand. Unlimited

Voice. NO CON-

TRACTS. Call 1-855-

652-9304 or visit http://

tripleplaytoday.com/national

GENERIC VIAGRA and

CIALIS! 100 Pills $99.00

FREE Shipping! 100%

guaranteed. 24/7 CALL

NOW! 888-889-5515

Earthlink High Speed Internet.

As low as $14.95/

month (for the first 3

months.) Reliable High

Speed Fiber Optic Technology.

Stream Videos,

Music and More! Call

Earthlink Today 1-855-

520-7938

ASSOCIATION ADS

Cross Country Moving,

Long distance Moving

Company, out of state

move $799 Long Distance

Movers. Get Free

quote on your Long distance

move 1-800-511-

2181

Get DIRECTV! ONLY

$35/month! 155 Channels

& 1000s of Shows/

Movies On Demand (w/

SELECT All Included

Package.) PLUS Stream

on Up to FIVE Screens

Simultaneously at No

Addt'l Cost. Call DI-

RECTV 1-855-781-1565

DO YOU HAVE AN AN-

TIQUE OR CLASSIC

CAR TO SELL? Advertise

with us. You choose

where you want to advertise.

800-450-6631

visit macnetonline.com

for details

Become a Published Author.

We want to Read

Your Book! Dorrance

Publishing-Trusted by

Authors Since 1920.

Book manuscript submissions

currently being

reviewed. Comprehensive

Services: Consultation,

Production, Promotion

and Distribution. Call

for Your Free Author's

Guide 1-877-626-2213

BE YOUR OWN BOSS!

INDEPENDENT

CONTRACTORS

WANTED

If you have a reliable

car and would like to

earn extra money,

then why not deliver?

• Deliver 1 or 2 days a week

• Flexible delivery hours

• Work close to home - often

in or near your neighborhood

CONTACT US

1-888-837-4342

www.thebag.com

• Deliver 7 days a week

• Delivery before dawn

• Work close to home - often

in or near your neighborhood

CONTACT US

614-461-8585

www.dispatch.com/delivery

ASSOCIATION ADS

KILL ROACHES-GUAR-

ANTEED! Harris Roach

Tablets, Sprays, Traps,

Concentrate. Hardware

Stores, Home Depot,

homedepot.com

Use RoundUp Weedkiller?

Non-Hodgkin's Lymphoma,

Multiple Myeloma

and Leukemia may

result from RoundUp exposure.

A recent $2 billion

judgment was

awarded in a RoundUp

injury case. Call 1-619-

493-4791 or email

RoundUp@breakinginjurynews.com

and let us

begin work on your

RoundUp case today.

$$OLD GUITARS & AMPS

WANTED$$ GIBSON •

FENDER • MARTIN. ALL

BRANDS. TOP DOLLAR

PAID. CALL TOLL FREE

1-866-433-8277

Suffering from an AD-

DICTION to Alcohol,

Opiates, Prescription

Pain Killers or other

DRUGS? There is hope!

Call Today to speak with

someone who cares.

Call NOW 1-855-866-

0913

IMPORTANT

NOTICE

The following states: CA,

CT, FL, IA, IL, IN, KY,

LA, MD, ME, MI, MN,

NE, NC, NH, OH, OK,

SC, SD, TX, VT and WA

requires seller of certain

business opportunities to

register with each state

before selling. Call to

verify lawful registration

before you buy.

Employment

Genpak has the following openings

at their Columbus, OH facility

Genpak LLC provides equal employment opportunities (EEO) to

all employees and applicants for employment.
---
PAGE 18 - SOUTHWEST MESSENGER - June 30, 2019

www.columbusmessenger.com

xCome & Get It! xAdult Care xInformation

COME AND GET IT

Deadlines are Tuesdays by 5 pm.

Call For Publication Schedule 614-272-5422

Need to Get Rid of Something Fast - Advertise It Here For FREE!

FREE Garden Straw for gardens or bedding. Call for appointment for pickup.

Circle S Farms, 9015 London-Groveport Road, Grove City, 43123

Grove City - 614-878-7980

Six Foot Sofa Bed Couch, good condition except has some damage to arms,

can cover, brown/green/beige/rust color.

AM - Canal Winchester - 614-837-3109

FREE HOT TUB in "As Is" Condition

RB - Groveport - 614-778-4916

. Come and Get It! is a bi-weekly column that offers readers an opportunity to pass

along surplus building materials, furniture, electronic equipment, crafts, supplies,

appliances, plants or household goods to anybody who will come and get them - as

long as they're FREE. NO PETS! Just send us a brief note describing what you want to

get rid of, along with your name, address and phone number. Nonprofit organizations

are welcome to submit requests for donations of items.

Send information to The Columbus Messenger, Attention: Come and Get It, 3500

Sullivant Ave., Columbus, OH43204. Deadline is Tuesdays by 5 pm for following

Mondays publication. Messenger Newspapers is not responsible for any

complications that may occur. Please contact us when items are gone. 272-5422

Come & Get It!

xMisc. for Sale

OFFICE

PRINTER

WORKCENTER

PRO 238

$350

FOR SALE $100

740-852-0809

Misc. for Sale

Betty's In-Home Care

Has an opening for

Elderly Care In

My Private Home.

Reas. Rates, Years of Exp. w/References

Hot Meals, Laundry,

Visiting Physicians & Home Health Nurses

& Also work with Hospice!

614-777-5850

We offer AFFORDABLE Care

for our Senior Citizens!

ASSOCIATION ADS

Applying for Social Security

Disability or Appealing

a Denied Claim?

Call Bill Gordon & Assoc.,

Social Security Disability

Attorneys, 1-855-

498-6323! FREE Consultations.

Local Attorneys

Nationwide [Mail: 2420 N

St. NW, Washington DC.

Office: Broward Co. FL

(TX/NM Bar.)]

Get a SMARTPHONE

for $0 DOWN* with

AT&T Next® and AT&T

Next Every Year; $250

Gift Card for Switching to

AT&T! (*Requires wellqualified

credit. Limits &

restrictions apply.) 1-

888-545-5093

SOCIAL SECURITY

DISABILITY BENEFITS.

Unable to work? Denied

benefits? We Can Help!

WIN OR PAY NOTHING!

Call 855-862-1929 to

start your application or

appeal today!

Applying for Social Security

Disability or Appealing

a Denied Claim?

Call Bill Gordon & Assoc.,

Social Security Disability

Attorneys, 1-855-

498-6323! FREE Consultations.

Local Attorneys

Nationwide [Mail: 2420 N

St. NW, Washington DC.

Office: Broward Co. FL

(TX/NM Bar.)]

Call Empire Today® to

schedule a FREE inhome

estimate on Carpeting

& Flooring. Call

Today! 1-800-508-2824

AT&T Internet Get more

for your High-Speed Internet

thing. Starting at

$40 / month w / 12-mo

agmt. Includes 1 TB of

data per month. Ask us

how to bundle and

SAVE! Geo & svc restrictions

apply. Call us today

1-833-707-0984

AIRLINE MECHANIC

TRAINING - Get FAA

Technician certification.

Approved for military

benefits. Financial Aid if

qualified. Job placement

assistance. Call Aviation

Institute of Maintenance

866-453-6204

Adult Care

CHILD CARE

OFFERED

Depend. Quality Child care

in loving hm. Exp. Mom, n-

smkr, hot meals, sncks,

playroom, fncd yd. Reas.

rates. Laurie at 853-2472

HELP WANTED

ADVERTISING

ASSISTANT

The Advertising Dept. at

the Columbus Messenger

Newspapers is seeking a

Assistant for

the Sales Department.

No Experience Necessary

Duties include:

Set Appomtments, Make

Calls, Run Errands, etc.

Senior Citizens and

welcome to apply.

Please send your

resume to:

Doug Henry,

Advertising Mgr.

Columbus Messenger

Newspapers,

3500 Sullivant Ave.,

Columbus, OH 43204

or email to doughenry@

columbusmessenger.com

4 Paws & A Tail

We are currently hiring a

PT Bather, Tues-Sat in

a busy Grove City Pet

Salon for IMMEDIATE

HIRE. Please call 614-

991-0130 or drop by

3899 Grove City Rd., GC

Home Health Aides

$13.00/hr. after 90 days

$15.00/hr. Premium Shifts

Performance Bonus and

Paid Time Off after 1 yr.

One yr. experience working

for an employer in a caregiver

7/21 A&M

role is required.

To apply, please visit

v-angels/galloway/employment

RECREATIONAL

VEHICLES

2018 Forest River

Cherokee Ltd, 33', includes

entire contents

Patio set, portable awning,

lawn mower and grill

$23.500 nego. Set up in

park in Circleville.

Ready to start camping!

614-204-0545

DATED SALES

YARD SALE

SAT., JULY 6, 8-6pm.

4215 Arbutus Ave. off

Kingston, Grove City,

NO CLOTHING. Antiques,

Christmas village,

buildings in boxes, lawn

furniture, tools, ladders,

holiday decor, glass,

Christmas decorations

including many trees,

furniture, student desk,

wireless house phones,

cookbooks, much more,

CASH ONLY, priced to

sell.

YARD SALE

5119 Lambert Rd., G.C.

July 12, 13 & 14

Ohio Pottery, Fenton,

Shot glasses, tools, hh,

fish equip, bear rug, misc

FREE

Garage Sale

Signs

When You Stop By

Our Office At:

3500 Sullivant Ave.

And Place Your

DATED SALE AD

Garage Sale - 3271

Reaver Ave., Grove City.

7/12 & 13, 9-5. Antique

dishes & other items.

WANT TO BUY

$ Cash At Your Door $

for junk or unwanted cars

(Free Tow). Call

614-444-RIDE (7433)

We Buy Cars & Trucks

$300-$3000.614-308-2626

ANTIQUES

WANTED

Victrolas, Watches,

Clocks, Bookcases

Antiques, Furn.

Jeff 614-262-0676

or 614-783-2629

WANTS TO Purchase

minerals and other oil &

gas interests. Send details

to: P.O. Box 13557,

Denver, CO 80201

We Buy Junk Cars &

Trucks. Highest Prices

Paid. 614-395-8775

JULY GIVEAWAY

Place a prepaid classified line ad in our paper

during the month of JULY and be registered

to win a $50 Gift Card from

The Columbus Messenger

Newspapers.

All ads received by mail, in person, e-mail or

phone will be included in the drawing.

Drawing will be held July 30, 2019

and the winner will be notified and published

in our August 11th, 2019 issue .

GOOD LUCK TO EVERYONE!!!!

Information

xPreschool/Daycare

Get A Head Start

on Fall Enrollment!

ADVERTISE Your

Preschool/Daycare

in the Messenger

Call Kathy

The Messenger

272-5422

Preschool/Daycare

MISCELLANEOUS

FOR SALE

Large Selection of

Chandeliers to

choose from.

All in working condition.

Going Out of Business!!

614-271-2469

MOVING OUT SALE

12 drawer dresser-gd cnd

Wood office table-good

Metal/wood computer tbl

King size new frame

Metal folding bed/sofa

Metal folding single bed

Vertical glass showcase

Lg standing wood closet

4 chairs/glass dining set

$50 each. 614-465-7763

HOMES FOR SALE

Galloway Home For Sale

By Owner-Reduced final

price to $200,000 as is. 5

BR, fin. bsmt w/2 extra

bdrms, 4 full bas, big

garden fully fenced. Most

appls. 614-465-7763

REAL ESTATE

SERVICES

Property Management

We are always available!

40 yrs. exp in

Certified Property Mgmt.

Reas. Fees. Call Now!

614-783-7464

SHARED LIVING

Working Person (prefer

over 60) to share home w/

elderly working person.

Furnished/unfurnished .

No pets or smoking.

614-746-7795

VACATION RENTALS

Englewood, Florida

Palm Manor Resort

Within minutes of white

sand Gulf beaches,

world famous Tarpon

fishing, golf courses, restaurants/shopping,

Bush

Gardens. 2 BR 2 BA

condos with all ammenities,

weekly/monthly, visit

www.palmmanor.com

or call 1-800-848-8141
---
www.columbusmessenger.com

June 30, 2019 - SOUTHWEST MESSENGER - PAGE 19

xClassified Services

INFORMATION

Look To The

Professionals

In Our

Service Directory

For

Quality

Service

That Is

OUT

OF

THIS

WORLD!

AIR CONDITIONING

AIR CONDITIONING

Complete System

Clean & Check

$49.95 7/7 A

Free Electronic Leak Testing

All Makes • All Models

45 Yrs. Exp. • Senior Discount

614-351-9025

614-351-9005

Air Conditioning

Installation & Repairs

30 yrs exp. $50 Service

Fee. R22 recharge avail.

614-226-0982

APPLIANCE REPAIR

Washer, Dryer, Stove &

Refrig. Repair 875-7588

AUTO SERVICE

Summer's Here!

MIDLAND AUTO

AC EVAC DYE &

RECHARGE - $110.00

& all your other

Auto Service Needs!

614-278-9458/778-3864

A Rating-BBB - 46 yrs.

American & Foreign Cars

BASEMENT

WATERPROOFING

Walker's Basement

Waterproofing. BBB

Accredited 614-359-4353

INFORMATION

ONLY

$50.00

For This Ad In Our

West & Southwest

For Info Call

272-5422

BLACKTOP

SANTIAGO'S

Sealcoating & Services LLC

Quality Materials Used

FULLY INSURED

Driveway Seal ( by broom)

Hot Fill Crack, Asphalt Repair

Call or text for Free Est.

614-649-1200

BLACKTOP SEALING

Driveways & Parking Lots

614-875-6971

CARPET CLEANING

DIRT BUSTERS

Any 5 areas $75. Home

Powerwash $99 to $200.

614-805-1084

Specializing in Pet Odors

CLEANING

Cleaning - 20 yrs exp.

Judy 614-946-2443

CONCRETE

ALL-CITY CUSTOM

CONCRETE

All Types Concrete Work

New or Tear Out-Replace

37 Yrs. Exp.

(614) 207-5430

Owner is On The Job!

Ohio Cement Contractors

All concrete patios, porches,

walks, drives, walls

etc. Specializing in stamped

color concrete. Bonded

& Insured. Please call Ron

740-771-5988

GALLION

CUSTOM CONCRETE LLC

Specializing in Custom Colors &

Custom Designs of Concrete.

Including Remove & Replace

41 yrs exp & Free Est.

Licensed & Insured

Reputation Built

On Quality

Ronnie

614-875-8364

See Us On Facebook

www.gallioncustom

concrete.com

AJ's Concrete,

Masonry

Good Work - Fair Prices

Block Foundations

Driveways • Sidewalks

Epoxy/Overlay Floors

Bonded-Ins. • Free Ests.

Now Accepting Credit Cards

614-419-9932

EDDIE MOORE

CONSTRUCTION

Quality Concrete Work

Lt. Hauling & Room Add.,

Block Work & Excavation

Stamp Patios,

Bsmt. Wall Restoration

37 Yrs Exp - Lic & Ins.

Free Ests. 614-871-3834

Buckeye Cement

Contractors

Specializing In

Tearout & Replacing

Concrete of Any Type

Licensed • Bonded • Insured

37th Year in Business

614-539-5640

7-7 W/SW

7/7 A

7/7 W/SW

FENCING

EAZY FENCE

Chain Link - Wood

No Job Too Big or Small

All Repairs ~ Free Est.

Insured. 614-670-2292

GUTTERS

Low Price-Great Service

5 & 6" Seamless gutters,

covers, siding, gutter clng.

Bill 614-306-4541

HAULING

DEAN'S HAULING

614-276-1958

HOME

IMPROVEMENTS

SINCE 1973

Phil Bolon Contr.

Windows & Siding

Decks, Kitchens, Baths

Room Additions,

Flooring, Roofing

Bsmt Waterproofing

Deal With Small Non-Pressure Co.

45 Yrs. Exp. - Refs. Avail.

Lic.-Bond-Ins.

KLAUSMAN HOME

IMPROVEMENT

Siding-Windows-

Doors-Roofing-Soffit-

Fascia-Gutters-Trim

Earn FREE Seamless

Gutters with Siding Over

1000 Sq. Ft.

FREE Shutters with

Soffit & Trim

EPA Certified

Member of BBB

Financing Available

7-7

A/M

Free Est. - Financing Avail.

Member BBB Of Cent. OH

O.C.I.E.B. ID #24273

614-419-3977

or 614-863-9912

LG

REMODELING

Interior & Exterior

Full Service Remodeling

• Bathrooms • Kitchens

• Tile • Drywall • Flooring

• Roofing • Siding • Etc.

NO JOB TO SMALL

A+ BBB Rating

A+ Angie's List

Lic. • Bonded • Insured

614-488-8377

www.lgroofingcolumbus@gmail.com

Over 20 yrs exp. • Free Est.

Licensed-Bonded-Insured

Owner & Operator

James 614-419-7500

Quality is our #1 Priority

HELMS' CONTRACTING

Call For FREE ESTIMATES

New Kitchens & Baths

New Replacement Windows

Basement Remodels

Room Additions • Roofs

More than 25 Years Experience

Licensed • Insured • Bonded

Bill Helms 614-296-0850

or 614-801-1801 7-21

W/SW

7-7 A&M

7/21 A

HOME

IMPROVEMENTS

C&JHandyman

Services LLC

Minor Plumbing &

Electric

Install Hot Water Tanks,

Dishwashers & Disposals

Also Fencing &

Interior/Exterior Painting

Free Est. ~ 18 Yrs. Exp.

614-284-2100

SLAGLE

HOME REMODELING

Baths, Kitchen,

Room Additions,

Plumbing and Electrical.

All your Handyman needs

No Job too Big or Small

Over 30 Yrs. Exp. Lic.-Bond-Ins.

Jerry

614-332-3320

HOME

MAINTENANCE

Finishing Carpenter for all

your extra home repairs or

Honey-do-list. over 40 yrs.

exp. Sonny 614-325-1910

LANDSCAPING

WE PULL WEEDS!

No job too big or too small.

We offer a full range of

landscape services

Fast • Affordable • Reliable

Call Dustin for a

FREE Estimate today!

614-357-7847

LAWN CARE

FREE ESTIMATES

The Lawn Barber

Cut & Trim Starting at

$22.50 & up

614-935-1466

LET US MAINTAIN

YOUR LAWN & GARDEN

FOR YOU

Summer, Spring,

Winter or Fall

WE DO IT ALL!!!!

Lawn Cuts, Edging,

Trees & Shrubs, Garden,

Mulching, Hauling,

Garden Pond &

Home Maint.

Free Ests. Low Rates

$20 & Up

Kevin - 614-905-3117

Old Man

& A Mower

Lawn Service

Senior Discount

Reasonable Rates

614-282-5176

Ask for Ed

7/7

MOVING

W/SW

Aaron Allen Moving

Local Moving Since 1956

Bonded & Insured

614-299-6683, 263-0649

Celebrating 60 yrs in business

7-7 A

6-30 SW

7-7 w/sw/m

PEST

CONTROL

Classified Services

TERMITE & PEST CONTROL

3093 W. Broad St., Cols.

614-367-9000

TERMITES? PESTS?

BED BUGS?

$100 off new termite services! with this ad

Monthly & Quarterly Pest Services

Great Prices!! Licensed & Insured

Visit Us

"Do It Yourself Pest Control".

Free Termite Inspection

MOVING

A Complete

Moving

Reasonable, Reliable

No Job Too Small

PUCO #150692-HG

Free Estimate

614-878-1179

PAINTING

Painting - Int./Ext.

Power Wash-Gutters Clnd

Free Est. - 26 Yrs Exp.

Call Dave 614-270-2369

God Bless

A Job Well Done Again

A lic. General Contractor

Some Skilled Services

Incl: Painting • Stucco,

Repair•Carpentry•Exterior

Drainage & Home Maint.

Call Today! 614-235-1819

Painter Over 30 Yrs Exp.

Free Est. Reas Rates

Daniel 614-226-4221

LeVay Painting Co.

Interior & Exterior painting,

Wall Repair,

Wallpaper Removal &

7-7

Powerwashing.

A&M

Zach

614-886-8926

Burt's Painting

"Grove City's Hometown

Painter." Free ests.

614-539-3412

PEST CONTROL

Anthony Pest Control

Eliminate Your Pest For

Less $$. 614-600-8841

Anthony Pest Control

Termite/Bed Bug Work

at Reasonable Prices.

614-600-8841

PLUMBING

All About Drains & Plumb.

Will snake any sm drain

$125 + tax. 614-778-2584

ALL IN ONE

PLUMBING LLC

"One Call Does It All"

$25 OFF LABOR

With This Ad

A

614-801-1508

All Major Credit Cards Accepted

7.7 A&M

7/21

POWER WASHING

Housewash

Vet/Sr Disc. Call Today!!

614-586-3417

MRS. POWERWASH

Any house wash $149 + tax

Single deck $69 + tax

2 Tier deck $99 + tax

Best Wash In Town

Over 45,000 Washes

Ashley, 614-771-3892

SHOP THE CLASSIFIEDS!!

Only $1 per line

columbus

❏ Check for one additional FREE week.

Telephone: _________________________________________________________

Print Your Name:____________________________________________________

Last

First

Print Your Address:___________________________________________________

Print Your City:__________________________ State:_______ Zip:____________

Print Your Ad Below…

One word each space. BE SURE YOUR TELEPHONE NUMBER OR ADDRESS is included in your

advertisement. The lessor of 4 words or 22 characters per line. We reserve the right to use abbreviations

when actual space exceeds amount purchased.

1. __________ __________ __________ __________

2. __________ __________ __________ __________

3. __________ __________ __________ __________

4. __________ __________ __________ __________

5. __________ __________ __________ __________

6. __________ __________ __________ __________

Columbus Messenger

3500 Sullivant Ave. • Columbus, Ohio 43204

614-272-5422

classified@columbusmessenger.com

$

PEST

CONTROL

Not Valid for Garage Sales

ROOFING

Robinson roofing & repairs

30 yrs. exp. Lifetime Cols.

resident. Lic./bonded/Ins.

Reas rates. Member of

BBB. Dennis Robinson

614-330-3087, 732-3100

SEWING MACHINE

REPAIR

REPAIR all makes 24 hr.

service. Clean, oil, adjust

in your home. $39.95 all

work gtd. 614-890-5296

TOP SOIL

Alexander Hauling

Driveways topped w/new

limestone. We also deliver

Topsoil - comtil - sandmulch.

Specializing in

residential. 614-491-5460

Bobcat Service Avail.

INFORMATION

DON'T BE

LEFT OUT!

Deadline Is Tuesdays by

5pm For Following

Sunday"s Publication

614-272-5422

West ___ Southwest ___ East ___ Southeast ___ Madison___

❏ Cash

❏ Check

❏ Money Order

❏ VISA ❏ MC

TROTT

TREE & LANDSCAPE

BURNS TREE SERVICE

Trimming, Removal &

Stump Grinding.

614-584-2164

Brewer & Sons Tree Service

• Tree Removal

• Tree Trimming 7-7

A&M

• Stump Grinding

• Bucket Truck Services

Best Prices • Same Day Service

614-878-2568

Joe's Tree & Yard Work

Trim, thin, shape bushes,

hedges, stump grinding,

hauling. 614-598-6247

Credit Card

Information

___

__________________________

Credit Card Number

____________

TREE SERVICES

Tree Trimming

& Removal

Also Stump Removal

Free Est. - Fully Ins.

Call 614-235-3791

Cell 614-738-0682

__(___)__

Exp. Date 3 digit code

Minimum Charge $5.00

7/21

A
---
PAGE 20 - SOUTHWEST MESSENGER - June 30, 2019

www.columbusmessenger.com

Summer reading

program comes

to Urbancrest

Messenger photo by Dedra Cordle

Karen Pease, a fourth grade teacher at

Highland Park Elementary, reads to Lilly

Pease and siblings Lottie, Ella and

Millie Rose at the Martin Luther King

Park in the village of Urbancrest on

June 19. Pease is a part of a free summer

program where several staff members

from the school are available for

reading instruction for students in

kindergarten through fourth grade. With

the exception of July 3, the teachers will

be on hand from 10 to 11 a.m. each

Wednesday through Aug. 7 at the open

shelter house with books, snacks,

prizes and crafts. The park is located on

First Avenue, between the Southwest

Community Center YMCA and the Union

Baptist Church.

V I P R E A L T Y

I N C

C. GREG SKINNER

COMMERCIAL, INDUSTRIAL, HIGH QUALITY RESIDENTIAL

• Only agent offering balanced marketing including Newspapers, Magazines,

area Postcards, Enchanced Internet and more!

• 5 Star Rated Columbus Area agent again for 2018 • Discount Fees everytime

Call Text Email Greg 614-537-1994

for a FREE marketing presentation, it spells out all I do to sell your home.

greg@soldbygregskinner.com

UNPRECEDENTED

SINGLE AGENT

SALES

OF OVER

$75 MILLION

FOR 2015-2018

UNDISPUTED Sales Leader in 43123