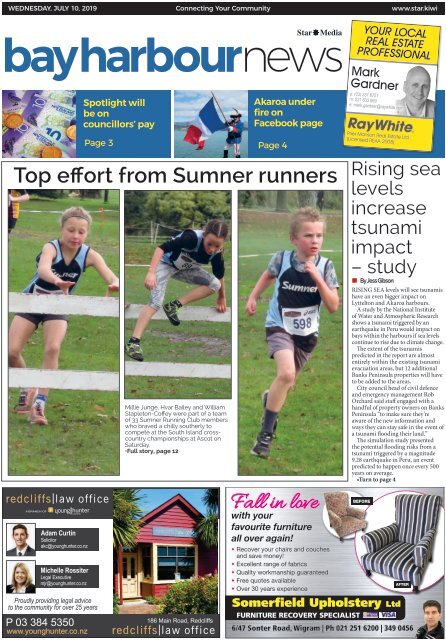 Bay Harbour: July 10, 2019
You also want an ePaper? Increase the reach of your titles
YUMPU automatically turns print PDFs into web optimized ePapers that Google loves.
WEDNESDAY, JULY 10, 2019

Connecting Your Community

www.star.kiwi

YOUR LOCAL

REAL ESTATE

PROFESSIONAL

Spotlight will

be on

councillors' pay

Akaroa under

fire on

Facebook page

Mark

Gardner

p: (03) 331 6757

m: 021 633 669

e: mark.gardner@raywhite.com

Page 3

Page 4

Top effort from Sumner runners

Millie Junge, Hvar Bailey and William

Stapleton-Coffey were part of a team

of 33 Sumner Running Club members

who braved a chilly southerly to

compete at the South Island crosscountry

championships at Ascot on

Saturday.

•Full story, page 12

Prier Manson Real Estate Ltd

(Licensed REAA 2008)

Rising sea

levels

increase

tsunami

impact

– study

• By Jess Gibson

RISING SEA levels will see tsunamis

have an even bigger impact on

Lyttelton and Akaroa harbours.

A study by the National Institute

of Water and Atmospheric Research

shows a tsunami triggered by an

earthquake in Peru would impact on

bays within the harbours if sea levels

continue to rise due to climate change.

The extent of the tsunamis

predicted in the report are almost

entirely within the existing tsunami

evacuation areas, but 12 additional

Banks Peninsula properties will have

to be added to the areas.

City council head of civil defence

and emergency management Rob

Orchard said staff engaged with a

handful of property owners on Banks

Peninsula "to make sure they're

aware of the new information and

ways they can stay safe in the event of

a tsunami flooding their land."

The simulation study presented

the potential flooding risks from a

tsunami triggered by a magnitude

9.28 earthquake in Peru, an event

predicted to happen once every 500

years on average.

•Turn to page 4

A BRANCH OF

Adam Curtin

Solicitor

akc@younghunter.co.nz

Michelle Rossiter

Legal Executive

mjr@younghunter.co.nz

Proudly providing legal advice

to the community for over 25 years

P 03 384 5350

www.younghunter.co.nz

186 Main Road, Redcliffs

Fall in love

with your

favourite furniture

all over again!

• Recover your chairs and couches

and save money!

• Excellent range of fabrics

• Quality workmanship guaranteed

• Free quotes available

• Over 30 years experience

before

Somerfield Upholstery Ltd

FURNITURE RECOVERY SPECIALIST

after

6/47 Sonter Road, Wigram | Ph 021 251 6200 | 349 0456
---
PAGE 2 Wednesday July 10 2019

BAY HARBOUR

Latest Christchurch news at www.star.kiwi

get in touch

from the editor's desk

THE SPOTLIGHT will be on city

councillors post election – over their pay.

On page 3 today, we reveal a change in

the way city councillors are remunerated.

They will receive money from a fund

called a governance pool. They will set their

own salaries, including any increase, and how community board

members, including those representing Banks Peninsula, will be

funded.

The issue of what Banks Peninsula members get paid has been

a hot topic during this current term, and I fully agree with their

concerns.

Community board pay rates have previously been based on

population. But Banks Peninsula members have big distances to

travel to get to meetings and carry out local body business that is

more time-consuming than city board members.

– Barry Clarke

GENERAL INQUIRIES Ph 379 7100

CLASSIFIED ADVERTISING Ph 379 1100

Star Media, a division of Allied Press Ltd

PO box 1467, Christchurch

starmedia.kiwi

NEWS

Jess Gibson

Ph: 021 914 169

jess.gibson@starmedia.kiwi

ADVERTISING

Jo-Anne Fuller

Ph: 364 7425

jo.fuller@

starmedia.kiwi

Rob Davison

Ph: 021 225 8584

rob.davison@

starmedia.kiwi

news

Five more wild peacocks shot

A neighbourly dispute in Lyttelton continues to escalate.

Page 5

sport

Plate almost out of Sumner's reach

Sumner will need a miracle to qualify for the premier metro rugby

competition semi-finals.

Page 12

community events

Fun for Harry Potter fans

Head to the Matuku Takotako: Sumner Centre today from

10.30-noon to celebrate the magical world of Harry Potter.

Page 15

The best-read local newspaper, delivered to

10,056 homes, RDs and farms every Wednesday

Brookhaven, Heathcote, Ferrymead, Redcliffs, Mt Pleasant,

Sumner, Lyttelton, Diamond Harbour, Governors Bay, Akaroa.

Get together

with your neighbours

this summer!

Apply for a subsidy for your Summer

with your neighbours event.

Applications close 16 August 2019.

Apply at:

ccc.govt.nz/GetTogether

Discover Christchurch's

best pet

accommodation

• Daycare - all breeds

• Long stay/short stay

Call now to

book in your

fur baby,

inspections

welcome

anytime!

ALAMEDA

KENNELS & CATTERY

271 Dyers Road | Ph 384 1297

www.alameda.nz

oN sAle Now!

Now only

$35.80

Plus $5 P&H per copy

AvAilAble from stAr mediA:

Level One, 359 Lincoln Road

Addington, Christchurch

Phone 379 7100

Sarah Piggott,

Tall Poppy Christchurch

Local agent, local expertise

Fairer flat fees for full service

Free no obligation market appraisal

The same exceptional service you deserve

Give me a call and find out about the Tall Poppy way!

Sarah Piggott Tall Poppy, Christchurch

M 021 060 3547 | E sarah.piggott@tallpoppy.co.nz | W tallpoppy.co.nz/sarah-piggott

BULSARA T/A TALL POPPY LICENSED UNDER REAA 2008
---
Wednesday July 10 2019

News

• By Louis Day

THE FUNDING of the Banks

Peninsula Community Board

will lie in the hands of city

councillors following the

October local body elections.

City councillors will vote

on how much of a $1,843,200

governance pool will go towards

increasing their own salaries

and decide if any should be put

towards increasing the remuneration

of the Banks Peninsula

Community Board and other

community boards.

Elected members will vote

on the allocation of funds and

make a recommendation to the

Remuneration Authority, which

will have the final say.

In spite of receiving a pay rise

of $194, the Banks Peninsula

Community Board is still paid

less than half of what inner-city

board members are.

As it stands, Banks Peninsula

Community Board members

are set to receive $9864 and the

chairperson $19,729 after the

elections.

Whereas members of the

Halswell-Hornby-Riccarton

Community Board will receive

$24,580 and their chair $49,160.

They say what they are paid

fails to account for the time and

Latest Christchurch news at www.star.kiwi

Funding review after elections

travel that the role requires.

The current remuneration

model is set by population, so

community boards with bigger

populations get better remuneration.

Banks Peninsula Community

Board member Jed O'Donoghue

thought they were paid a pittance

for the work they were

required to do.

He said the low level of remuneration

contributed to his decision

to not stand for re-election.

Half of the board have said

they may not seek reelection

because of what they are paid.

"I think to attract more candidates

and make the democratic

process better you would need

better remuneration," he said.

Deputy Mayor and Banks

Peninsula councillor Andrew

Turner said he would like to see

some of the governance pool

used to increase the funding of

the Banks Peninsula Community

Board.

"The work of a community

board member is not solely

driven by the population that it

represents. A lot of the work of

a community board is driven

by the environment and on the

Banks Peninsula we have a lot of

environmental issues," he said.

Andrew Jed

Turner O'Donoghue

City councillor James Gough

agreed there needed to be more

consistency in the remuneration

of community board members.

However, he thought it was

also important city councillors

were paid their fair share.

"You would be mad to not

appreciate that remuneration is

going to factor in the attraction

of quality candidates," he said.

Councillors will receive a

minimum base salary of $97,280

– $5120 less than what they are

currently paid.

But the mayor will get an

increase, receiving $195,000 – a

$1901 rise from the current

$193,099 the role pays.

Funds from the pool could

be used to increase the base

salary of city councillors

and additional pay could be

allocated towards roles with

extra responsibilities, such as the

mayor, deputy mayor, chairs and

deputy chairs of committees.

BAY HARBOUR

Local

News

Now

In Brief

PAGE 3

Fire rages, homes at risk

SEA WALL OPTIONS SOUGHT

Options on designs for various

sections of the sea wall between

Allandale and Governors Bay are

being investigated. The current

seawall is being undermined in

areas, particularly during storm

events. Works will be staged over

the three financial years where

budget has been allocated.

GODLEY HOUSE FEEDBACK

Residents can have their say on the

future of the former Godley House

site in Diamond Harbour. Public

consultation opened on Monday

for feedback on whether people

would like to see the site remain as

it is now, or be developed for future

use. The earthquakes severely

damaged Godley House and it

was demolished in 2012. If you

want to have your say, visit https://

www.ccc.govt.nz/the-council/

consultations-and-submissions/

haveyoursay/show/251

WASTEWATER PROJECT

Work has started on the fourth

stage of the Lyttelton Wastewater

Project. The city council started

work to complete wastewater

pipe installation underground on

Monday and it is expected to take

two weeks. Contractors will be

working from the corner of Ferry

Rd and Gould Cres across Ferry Rd

to Alport Pl.

tree trouble?

call us 384 9630

www.fourseasonstreecare.co.nz

t h e t r e e p e o p l e

f o u r s e a s o n s t r e e C a r e

Home Improvements?

• Architectural Homes

• Hill Projects

• Renovations & Alterations

• Designer Kitchens & Bathrooms

• Light Commercial Construction

• Landscaping Projects

Graham Robinson

P: 0274 340 821

E: graham345bsl@gmail.com

www.345builders.co.nz
---
PAGE 4 Wednesday July 10 2019

BAY HARBOUR

Latest Christchurch news at www.star.kiwi

News

Akaroa under fire on Facebook

• By Jess Gibson

A WEEK after Lyttelton was

targetted by the notorious

Facebook page Sh** Towns of

New Zealand, Akaroa has come

under fire.

A satirical review of Akaroa

which was posted to the page

last Tuesday attracted more

than 200 comments and 50

shares.

Sh** Towns of New Zealand,

which humorously writes about

"all the best places not to go on a

holiday," is followed by more than

125,000 people.

"The Banks Peninsula outpost

of Akaroa had the misfortune of

being settled by the French and

has been filled with pretentious,

foul-smelling weirdos ever since,"

it read.

Akaroa resident and Frenchman

Steve Le Lievre does not

have Facebook but has read the

post and said it was "way the hell

off from the truth.''

The 71-year-old is a well-known

identity in Akaroa as he is the

town crier and has lived there his

whole life.

The page took several jabs at

the town's French history which

dates back to 1840 when the first

group of settlers landed.

Mr Le Lievre is a direct descendant

of one of those settlers,

Francois Le Lievre.

The post read: "French

origins are still evident in the

inhabitants' laziness, aversion

to personal hygiene, unnatural

lust for baguettes and eagerness

to surrender at the first possible

opportunity," it read.

"Oh god, it's rather strange

to me. It has no bearing on the

history of Akaroa," Mr Le Lievre

said.

"It's bloody crazy, I know the

history because I'm part of it," he

said.

The post also served a backhanded

compliment at the town's

attractive views.

"Akaroa's main claim to fame

DESCENDANT:

Akaroa town

crier Steve Le

Lievre is not

impressed

with a harsh

write-up on

his home of 71

years.

is its supposed 'picturesque

charm', which is pimped out

twice daily when hordes of

norovirus-afflicted cruise ship

passengers descend on the

hamlet to buy dodgy croissants

and take a picture next to an old

lighthouse," it read.

Mr Le Lievre said he loves

"everything" about Akaroa

including the bustling tourism

scene.

•HAVE YOUR SAY: what

do you think of Akaroa? Email

your views to

jess.gibson@starmedia.

kiwi

New study shows

impacts of tsunami

•From page 1

Different sea level rise

scenarios are considered –

ranging from 19cm to 1.06m –

over the next 50-100 years.

Lyttelton has a steep

topography on the coast

protecting most of its shoreline

from a tsunami but low-lying

bays in the harbour, like Purau

Bay, Charteris Bay, Governors

Bay and Head of the Bay, are

more exposed to inundation.

Using 2018 seas levels,

NIWA discovered during the

magnitude 9.28 earthquake

scenario the inundation at Head

of the Bay would reach 1.5km

inland with a maximum depth

of 7m.

The inundation depth for

Head of the Bay is expected to

reach 8m with 2065 sea levels,

and 9m by 2120. It would extend

about 90m inland in both

scenarios. Port areas see severe

damage to infrastructure.

Low-lying areas in Akaroa

Harbour are the most likely to

be affected in a tsunami, namely

Wainui, Akaroa, Takamatua,

Duvauchelle Bay, Barrys Bay and

French Farm Bay.

In a 9.28 earthquake with 2018

sea levels, the inundation depth

in Akaroa would be more than

5m and reach as far as 250m

inland, flooding most of the

historical town.

In a 2120 sea level scenario,

it shows inundation would

increase in Akaroa by 100m

inland. In Takamatua with

2018 levels, inundation would

reach beyond the Christchurch-

Akaroa Rd as far as 440m inland

with a maximum depth of 6.5m.

In 2120, flooding would have

increased by 60m inland.

Scenarios with higher sea

levels also amplified inundation

in other bays.

"Modelling like this is so

important in allowing us to

better understand how tsunamis

flood the land. In turn, it allows

us to make the best-informed

emergency management

decisions," Mr Orchard said.

"We are always growing

our understanding, and as we

learn more, we will update

information in our tsunami

evacuation zones," he said.

The modelling was done by

NIWA at the city council's

request as part of a multi-hazard

analysis project.

Smooth-Air

Ventilation Equipment Suppliers

totrade

retail

0800 SMOOTH

(0800 766 684)

sales@smooth-air.co.nz

264 Annex Rd

Riccarton

Christchurch

03 343 6184

&

Smooth-Air has a wide range of

ventilation equipment to bring

fresh air into your home.

Domestic

Commercial

Industrial

Ceiling Mounting

Wall or Ceiling

Mounted Fans

Remote Extraction Fans

Wall Surface

Mounting

Monday - Friday

7.30am - 5pm

www.smooth-air.co.nz

Ferrymead

How to Escape from Prison

by Paul Wood

The Remarkable Story of How One Man Defied the Odds

At 18, Paul Wood thought he had lost everything. He

had committed an act he knew would send him to prison

for many years. To a young man like Paul, it might as

well have been for the rest of his life.

Plunged into a nightmarish world of extreme violence, solitary

confinement, gang allegiances, drugs, vindictive wardens

and regular stabbings, Paul spent the next 11 years confined in some of New

Zealand's toughest jails.

Based on an account of his experiences he wrote while still inside, How to Escape

from Prison chronicles Paul's road to redemption and a new life as a doctor of

psychology, helping others strive to fulfil their potential and develop the resilience

to flourish, even in adversity. This is a gripping read about a man who sank to the

depths of despair, before scaling the heights of true freedom.

'Paul's transformation is unbelievable. We are sometimes brought up to think

a zebra can't change its stripes. Paul Wood's story is proof that anyone can

change. It gives you great courage that you can do anything.'

- Sir John Kirwan

The Last Widow

by Karin Slaughter

New York Times bestselling author Karin Slaughter brings back Will Trent and

Sara Linton in this superb and timely thriller full of devious twists, disturbing

secrets, and shocking surprises you won't see coming.

It begins with an abduction.

The routine of a family shopping trip is shattered when Michelle Spivey is

snatched as she leaves the mall with her young daughter. The police search for

her, her partner pleads for her release, but it's as if she disappeared into thin air.

A month later, on a sleepy Sunday afternoon, medical examiner Sara Linton

is at lunch with her boyfriend Will Trent, an agent with the Georgia Bureau of

Investigation. But the serenity of the summer's day is broken by the wail of sirens.

Sara and Will are trained to run towards an emergency, not away from it. But

on this one terrible day that instinct betrays them. Within hours the situation

has spiralled out of control. And the fallout will lead them into the Appalachian

mountains, to the terrible truth about really happened to Michelle, and to a remote

compound where a radical group has murder in mind...

WIN THIS BOOK

ENTER TO

WIN

THIS BOOK

book

release

We have one copy of How to Escape from Prison to give away, courtesy of Take Note Ferrymead. To be in

the draw, email giveaways@starmedia.kiwi with How to Escape from Prison in the subject line or write to Take

Note Book Giveaway, How to Escape from Prison, Star Media, PO Box 1467, Christchurch 8140. To be eligible

for the draw, all entries must include your name, address and contact number. Entries close Tuesday, July 23.

Winner of Secrets of Silvergum is Olive Crothall of Opawa.
---
Wednesday July 10 2019

Latest Christchurch news at www.star.kiwi

BAY HARBOUR

PAGE 5

• By Louis Day

ANOTHER five peacocks

have been shot as a

neighbourly dispute in

Lyttelton continues to

escalate.

In February, Brenchley

Farm owner Sue Stubenvoll

sent a legal letter to her

neighbour Janelle Wills,

who feeds the wild

peacocks. It said she had

the right to shoot the birds

under the Impounding Act.

She gave Miss Wills four

weeks notice of what would

happen if they came onto

her property.

In May, Ms Stubenvoll

arranged for someone to

shoot five of the peacocks.

Last week, she had

someone shot another five.

She said it is possible

more may be killed.

Ms Stubenvoll said she

had eaten some of the

peacocks.

"They are pretty tough so

sometimes I give bits to the

dog," she said.

The cull comes right in

the middle of a relocation

effort to move the peacocks

out of harm's way.

There are now only

four peacocks left.

Seventeen have been

relocated.

There were originally

more than 30 peacocks in

the area.

Miss Wills said the

TARGETED:

Five more

peacocks

have

been shot

before they

could be

moved off

a Lyttelton

property.

Five more wild peacocks

shot – and some eaten

peacocks that were shot all

had new homes and were

about to be moved.

"I don't get it when they

have all got homes they are

set to move in to. Why kill

them when you can save

them?" she said.

She wants more time

to relocate the remaining

peacocks.

Ms Stubenvoll said she

killed the peacocks in a bid

to protect the rare geckos

and skinks that live on her

farm.

However, Miss Wills

does not believe her.

"The reason she has done

this is because she wanted

to eat them, it has nothing

to do with geckos."

Still Pedalling!

Collect

all three!

collectable tea towel

SPEND EXCLUDES TOBACCO, GIFT CARD & LOTTO.

1924-2019

Spend $25 and get 1 of 3 designs.

Whittaker's

Destination or

Artisan

100g Range

$

3 29 ea

Puhoi Valley

Yoghurt 450g

$

4 79 ea

CANTERBURY

READERSHIP UP

Trevor Crowe's been repairing &

improving vehicles for 70 years.

You can benefit from his

experience at...

Dole Bananas Loose

Product of Philippines

or Ecuador

$

2 49 kg

Fresh NZ Quality

Mark Prime Beef

Mince

$

10 99 kg

Reach 164,000* readers

with just one ad.

*Source: Nielsen CMI Q2 18 – Q1 19.

For further details and to

advertise, contact:

Shane Victor

shane@starmedia.kiwi

021 318 765

Subaru Specialists

Electric and

Hybrid Vehicles

We have a great range of Leaf's and

Prius's hand picked for the best

battery health. Sensible prices,

easy finance options. Backed up by

our expert technical team.

Visit online at

www.crowesport.co.nz

518 Moorhouse Ave (East End)

Phone 379 7615

PERFECT

FOR A

HOT SNACK

ON THE GO

Try our

oven baked ruffle chicken pieces,

with a crispy Southern style coating.

www.foursquare.co.nz

Available at selected stores

facebook.com/FourSquareNZ

Specials available South Island only from Monday 8th July until Sunday 14th July 2019

or while stocks last. Wine and beer available at stores with an off licence. Wine and

beer purchases restricted to persons aged 18 years old and over.
---
PAGE 6 Wednesday July 10 2019

BAY HARBOUR

Latest Christchurch news at www.star.kiwi

Four Grenadier seasons Ferrymead realty & Sumner

St Martins

4 3 1 2 Sumner

5 3 3 4

2 Rapaki Road

This sleek & stylish home is a prime example of 1970's architecture blended with contemporary comfort & styling, that

is often sought after, but seldom found.

Extensively renovated by Stufkens & Chambers Architects in 2013, this unique property comprises well-proportioned

spaces, offering flair & functionality for the modern family. Quality is evident throughout, from the designer kitchen, to

the deluxe bathrooms and the meticulous home heating elements.

Auction: 1st August 2019, from 12pm

View at: www.harcourts.co.nz ID#SM0210

Michelle Ward Ph 027 203 7858 & Shaun Davey Ph 027 953 8860

142 Scarborough Road

This striking executive home makes an immediate impression and enjoys an irreplaceable dress circle position

opposite Nicholson Park at the top of Scarborough Hill. Incredibly positioned with breathtaking 270˚ views that cannot

be built out over Sumner Beach and the city with a backdrop of the Southern Alps and the Kaikoura Ranges.

This spectacular level corner site was a determining factor in the distinctive design by acclaimed architect Alick

Bellerby which won 'house of the year' on completion. Spread over a 360sqm of approximate floor plan with generously

proportioned living areas, 5 bedrooms, 3 bathrooms and level access to 4 car garaging.

Price: NPM

View at: www.harcourts.co.nz ID#SM0222

Alison Carter Ph 027 431 8960

Mt Pleasant 65 Santa Maria Avenue

Redcliffs 17 Mandalay Lane

Mt Pleasant 52 McCormacks Bay Road

Mt Pleasant 25 Parkridge Place

3 2 1

2

4 2 2 2

3 2 1

2

3 2 2

2

Price: $755,000

View at: www.harcourts.co.nz ID#SM0203

Kirsty McLeod Ph 027 226 5893

Deb Beesley Ph 027 280 8837

Price: $899,000

View at: www.harcourts.co.nz ID#SM0212

Alison Carter

Ph 027 431 8960

Auction: 18th July 2019, from 12pm

View at: www.harcourts.co.nz ID#SM0205

Michelle Ward

Ph 027 203 7858

Price: $935,000

View at: www.harcourts.co.nz ID#SM0214

Michelle Ward

Ph 027 203 7858

Woolston 21 Kestrel Place

Heathcote 32 Martindales Road

Linwood 7 Woodham Courts

Richmond 28B Poulton Avenue

4 2 1

2

2 1 1 1

2 1 1

1

3 2 1 1

Price: $574,000

View at: www.harcourts.co.nz ID#SM0198

Price: $429,000

View at: www.harcourts.co.nz ID#FM5522

Price: $295,000

View at: www.harcourts.co.nz ID#FM5356

Price: $469,000

View at: www.harcourts.co.nz ID#FM5523

Kirsty McLeod Ph 027 226 5893

Deb Beesley Ph 027 280 8837

Joy Butel Ph 021 353 280

Alistair Hazeldine Ph 027 572 155

Chris Moores

Ph 027 588 4440

Sam Ansell Ph 021 160 6254

Josh Westland Ph 021 258 4410

Greg Powell

Branch Manager

027 274 6157

Alison

Carter

027 431 8960

Michelle

Ward

027 203 7858

Deb

Beesley

027 280 8837

Joy

Butel

021 353 280

Chris

Moores

027 588 4440

Kirsty

McLeod

027 226 5893

Liz

Lewis

027 453 0952

Megan

Looyer

027 841 2335

Mandi

Ussher

022 621 5758

Elisa

Jordan

027 483 6596

Ferrymead

& sumner

Carol

Williams

027 282 4950

Dave

Elston

0274 593 165

Claire

Savage

0210 314 342

Steve

Liebert

021 138 8401

Shaun

Davey

027 953 8860

Alistair

Hazeldine

027 572 1555

Lynton

Hubber

027 433 4141

Prue

Dacombe

021 752 348

Suzanne

Robin

027 271 4906

Sam

Ansell

021 160 6254

Josh

Westland

021 258 4410

Larissa

Clarke

020 418 07138

1020 Ferry Rd Ferrymead • Ph 384 7950 • harcourtsgrenadier.co.nz

Grenadier Real Estate Ltd MREINZ is a Licensed Agent Under the

Real Estate Agents Act 2008
---
Wednesday July 10 2019

News

MISSED: Douglas James (Jim)

McArthur received a Gold Star in

1998 for 25 years service to the

Sumner Volunteer Fire Brigade.

• By Jess Gibson

AFTER 25 years, volunteer

firefighter Marty Stanley still

gets an adrenaline rush when the

sirens go off at the Governors Bay

station.

Since joining the Governors

Bay Volunteer Fire Brigade in

1994, Mr Stanley has responded

to a range of call-outs in

the community and across

Christchurch.

But he said his biggest feat "by

far" was the Port Hills fires in

2017, where he helped out for

more than a week.

Now the 60-year-old has been

recognised with a gold star pin,

which represents 25 years of

service to the brigade.

"It was a pretty awesome

feeling. The years have gone really

fast, that's for sure," Mr Stanley

said.

"Working for the brigade is

great and it has been an amazing

ride. There's great camaraderie."

Mt Stanley works full-time at

Saeco Wilson in Sydenham and

says he is fortunate to have a

supportive company that allows

him to attend the brigade's

Sumner

Volunteer

Fire Brigade

chief officer

Daryl Sayer

remembers

retired chief

fire officer

Douglas James (Jim)

McArthur, who died on

July 1 aged 75

JIM FIRST joined the Sumner

fire brigade in 1967.

In 1983, Jim and his family

moved to Timaru for work,

but he rejoined the brigade

on their return in 1987 and

served another 13 years until

Firefighter honoured for 25 years of service

call-outs. About 75 people

attended the presentation of Mr

Stanley's award at Allandale Hall,

including firefighters and their

families.

Presenting the pin was

Queen's Service Medal-holder

Chris Price from the Ashburton

Volunteer Fire Brigade, who was

representing the United Fire

Brigades' Association of NZ.

Fire chief Andrew Norris said

the highlight of the evening was

Mr Stanley's award, as well as

the service awards for 15 other

members, including certificates

for three years and five years of

service.

The brigade was started in

1988 and Mr Stanley is the sixth

member to have received the

award in 31 years.

COMMENDED: Marty Stanley

stands beside a giant

version of the gold star he

wears on his formal uniform

to represent 25 years of

service to the Governors Bay

Volunteer Fire Brigade.

Latest Christchurch news at www.star.kiwi

Remembering a veteran

of the Sumner brigade

his retirement in 2000. Jim was

made a life honorary member

of the brigade in 1985, but the

pinnacle of his service was

when he received his Gold Star

for 25 years service in 1998.

The function for this was held

at the Sumner RSA. I seem to

recall a night of rock and roll

and dancing.

Not all of Jim's fire brigade

activity was within the Sumner

brigade.

He had active roles in both

the Canterbury Provincial Fire

Brigades Association and the

Mid-Canterbury Fire Brigades

Sub Association, serving as

president of each (at different

times) and being made a life

member of each. Jim has

remained a firm supporter of

these organisations, and of

the Sumner Volunteer Fire

Brigade. He was always a

regular attendee of AGMs and

social events.

Last month we had our

annual AGM, which celebrated

125 years of the brigade's

existence.

To mark this historic

occasion, we had speakers

relate their experiences of the

Sumner brigade. We had the

treat of hearing Jim speak

about some of his experiences

in the brigade, which in

hindsight turned out to be

excellent timing.

BAY HARBOUR

Local

News

Now

PAGE 7

Fire rages, homes at risk

Bid to reduce

freedom

camping

at reserve

• By Jess Gibson

AN ATTEMPT is being made to

address freedom camping issues

in Diamond Harbour by changing

a popular app.

The Diamond Harbour

Residents Association expressed

concerns in May over freedom

campers littering and causing

parking congestion for other

vehicles at Stoddart Point Reserve.

The city council has now

requested an app providing

information about freedom

camping at the reserve change its

wording to help reduce the issues.

CamperMate is a popular

phone app referenced on the city

council's "know where to camp"

brochure, which lists freedom

camping locations nationwide

and specifies guidelines for those

areas.

CamperMate currently refers

to the city council's freedom

camping bylaw from 2015 for the

whole of Diamond Harbour.

It states that certified selfcontained

vehicles can park at any

city council-owned site, except

a prohibited area of Purau Bay,

for a maximum of two nights per

month.

The city council has asked

CamperMate to update its

guidelines specifically for

Stoddart Point Reserve to

say "certified self-contained

campervans can stay in this

parking area for up to two

nights in any 30-day period.

Proof of self-containment will

be required. Regular monitoring

and enforcement. Please take

all rubbish with you. Popular

parking area for visitors, and for

locals commuting by ferry."

Follow us on Facebook

for the latest news and

amazing giveaways!

KidsFest

kidsfest.co.nz
---
PAGE 8 Wednesday July 10 2019

BAY HARBOUR

Latest Christchurch news at www.star.kiwi

We're not only at the heart of

your community, we have your

community at heart!

For nearly 20 years we've had an

ongoing involvement with a number of

local schools, groups, and clubs. We talk

about it a lot at our office meetings; it's

definitely not about being philanthropic

but more about giving back to a

community that supports our business.

And the reality is, many schools and clubs

up and down the country rely in varying

degrees on funding and assistance from

local businesses to help get through the

year. In our local community, whether

it is book prizes at Redcliffs School,

tournament sponsors at the Redcliffs/

Mt Pleasant Bowls Club, jersey sponsors

for Sumner Rugby Club Under 16 Girls,

Principal

Sponsors of

the Ray White

Sprint Series

regattas

at the

Christchurch

Yacht Club or conducting charity auctions

for local fundraising events, they are all

worthwhile and important causes.

Most of the team at Ray White Prier

Manson Real Estate Ltd live in the area

as well as work here. We take pride in

not only being local residents, but being

totally committed to our community

involvement.

Jan Edlin

027 433 8025

Patricia Van der bent

027 296 1408

Pip Sutton

027 224 9524

Top Sales

for June

Feature Properties

Eddie Spry and

Matt Clayton

working as a team

Eddie Spry

021 156 5884

Marie Malone

027 489 8349

We are hiring!

In your career there is ALWAYS room for

change, is this your opportunity for 2019?

✓ A fresh approach

✓ A fresh look at your business

✓ A fresh start

177 Soleares Avenue, Mt Pleasant

- Eddie Spry & Matt Clayton

Eleanor Corston

027 435 2415

Molly Ferdinand

027 594 7427

If you have a current real estate license, or you are in the

process of completing one, come and talk to us, have a

coffee, and ask us some questions!

Contact Craig Prier anytime!

Ph: 027 434 5299 or 384 4179

Email: craig.prier@raywhite.com

Anna Loader

027 272 7128

Bronny Clifford

021 272 7718

Mark Gardner

021 633 669

Confidentiality assured

Ray White Ferrymead

What people are saying

about us:

"Rosamund was well-informed, professional and

articulate. She balanced all that with a genuine interest in

us, having good people skills, providing regular feedback

and just being a naturally friendly representative."

– About Rosamund McDonald

187 Mt Pleasant Road, Mt Pleasant

- Eddie Spry & Matt Clayton

Daisy Foldesi

021 328 059

Matt Clayton

021 223 3998

"Molly was very personable and honest and did her best

to make sure we had all the information we asked for."

– About Molly Ferdinand

"Eddie gave us lots of time and accommodated our needs

without any fuss. We felt like he was being open with us

and explained all the process, etc, we could expect. He

went out of his way to do return viewings and plenty of

open homes."

– About Eddie Spry

96a Smith Street, Woolston

- Molly Ferdinand

Rosamund McDonald

021 026 56149

Simon Standeven

027 430 4691

Paula Standeven

027 547 2852

21 Humphreys Drive, Ferrymead and 47b London Street, Lyttelton

Phone (03) 3844 179 | rwferrymead.co.nz | /RayWhiteFerrymead

Rod Cross

021 763 763

Bev Prout

027 495 9586
---
Wednesday July 10 2019

News

Southworth to stand in south seat

• By Jess Gibson

A FOURTH candidate

will contest Environment

Canterbury's Owhanga –

South seat.

Geologist Vicky Southworth,

of Sumner, has

announced she will stand

for a seat which covers

Canterbury's bays, inlets

and harbours in October's

local body elections.

Mrs Southworth will be

standing independently against

Labour-aligned People's Choice

candidate's James Dann and

• By Jess Gibson

A 168-YEAR-OLD cottage in

Lyttelton will get a $50,888

upgrade.

The city council's social,

community development and

housing committee approved the

heritage incentive grant for Islay

Cottage in Ticehurst Rd.

The cottage was built in 1851

by carpenter Thomas Kent and

later occupied by Lyttelton

harbourmaster, Captain Hugh

McLellan.

It is considered a landmark

early colonial dwelling, which

retains many original heritage

features.

Vicky

Southworth

Phil Clearwater and one other

independent, Hamish Keown.

Mrs Southworth has a Master

of Water Resource Management

from Canterbury

University which ties into

15 years of scientific and

planning skills experience.

She is trained as

a geologist and has

The grant will cover

conservation and maintenance

work for the earthquakedamaged

heritage building.

Committee chairman and

city councillor Phil Clearwater

said it is important to hold on to

heritage in a rapidly changing

world.

"The cottage reminds us of our

history and we need to retain

these past connections as we

rebuild the city for the future," Cr

Clearwater said.

The committee also approved

$35,642 to improve Rue Jolie, a

historical dwelling in Akaroa

built in 1877.

Latest Christchurch news at www.star.kiwi

regularly helped and lead

restoration planting and

maintenance projects

like Sumner School's

planting day at Sumnervale

Reserve on June 22.

As a community representative

on the Canterbury water

management strategy regional

committee, she has been involved

in the complex issue of

freshwater management.

"I've seen how ECan works

and have got a good sense of

what's working and what isn't,

at least in the water space," Mrs

Southworth said.

Within the boundary that

the south seat covers, Mrs

Southworth wants to see habitat

expansion in the Port Hills and

Banks Peninsula.

"Linking up the bits we have

so that species can migrate and

repopulate areas is an efficient

way to build resilience. Akaroa

has a reintroduced tui population

that's doing well now," she said.

She would also like to work

more closely with central Government

to explore options for

planting native trees as climate

change mitigation, which could

bring in revenue.

"I like to talk to people, listen

and then mull over what I hear,''

she said.

•To stay up to date with

Mrs Southworth's campaign,

visit the Facebook page @

VickyforEcanChchSouth.

$50,888 upgrade approved for Lyttelton's Islay Cottage

RESTORATION: Quake-damaged Islay Cottage on Ticehurst

Rd in Lyttelton will get an upgrade.

BAY HARBOUR

Local

News

Now

• By Jess Gibson

PAGE 9

Fire rages, homes at risk

Time capsule

found in

school ceiling

A 25-YEAR-OLD time capsule

has been discovered at Okains

Bay School.

A builder found the capsule in

the school's ceiling. It contained

memorabilia from 1994, such as

newspaper clippings, magazines,

coins, stamps and several letters

from a roll of 19 pupils.

In one of the letters, a group

of senior pupils shared what was

happening at the time.

"New Zealand's prime minister

is Jim Bolger, for $1 you can buy

a pie or a Crunchie bar, we drive

to school in a 1991 Falcon, 1973

Holden, 1991 Honda and 1981

Mazda," the letter read.

"We'd like NZ to be clean,

pollution-free and war-free by

2050."

Principal Colin Hammond

said the discovery was "very

exciting" for teachers and the

school's 11 pupils.

Mr Hammond was in his

20s in 1994 and said he shared

what it was like to be a "spring

chicken" in those times.

Pupils will create their own

capsule before placing both back

in the ceiling to be discovered at

a later date.

Seven retirement villages

in Canterbury

þ

Want to be

elected?

●Local Council

●Community Board

●Ecan

●CDHB

Star Media can help you.

Talk to us today about your campaign.

• Halswell • • Rangiora •

• Mairehau •

Contact Jo Fuller

p 03 364 7425

m 027 458 8598

e jo.fuller@starmedia.kiwi

• Beckenham • • Riccarton • • Papanui • • Hornby •

www.rymanhealthcare.co.nz • 0800 000 290
---
PAGE 10 Wednesday July 10 2019

BAY HARBOUR

Latest Christchurch news at www.star.kiwi

Your Local Views

Projects taking shape

Port Hills

MP Ruth

Dyson shares

her views

on current

projects in

Sumner and

the Banks

Peninsula

If I never see another road

cone again . . .

One of the many things that

Christchurch folk are over is

road cones and traffic works,

detours and changed street

layouts. Driving in our city is a

bit like adventure tourism – you

never quite know what route you

will be taking or where you will

end up.

But I haven't detected this

frustration (or at least not quite

as much as other times) with

the extensive road work that is

going on in Sumner Village. I

think there are two reasons for

tolerance.

The first is that every day the

Shag Rock to Surf Club section

of the Coastal Pathway gets

closer to finishing – and it is

going to be such an asset for

Canterbury once the next two

stages are completed.

And in the village itself, the

extensive work is the delivery of

the concept part of the village

masterplan – which we started

working on eight years ago.

It will really lift the look of

the village and I am sure will

be warmly welcomed by all

residents. (And hopefully, boost

the "Shop Local" campaign).

The other significant piece of

Diane Patricia McCarthy

responds to last week's

Bay Harbour News article

about a comedian who was

grabbed by the back of the

head and pushed after he

made a joke about white

supremacists during a show

What we can do when we

encounter race-based statements

or actions in our community?

This week, our community

TAKING SHAPE: Extensive work has been taking place as part

of the Sumner Village masterplan.

work which is just starting is

the development at Naval Point

(as featured in the Bay Harbour

News last week).

This is definitely an "at

last" moment and the many

people who use Naval Point for

recreation, particularly on the

water, will be so pleased that

at last the area is going to be

improved.

The new Yacht Club and

Coastguard facility will be a

valuable asset to two very welldeserving

organisations. I am

confident that it won't take as

newspaper became a vehicle for

racism. We can object.

A comedian gained a banner

headline, photo, and story.

White supremacy and swastika

jokes he was "at peace with,"

delivered three months after

March 15's Muslim martyrdom,

triggered being assaulted after

his gig.

Reni Eddo-Lodge, the author

of Why I am no longer speaking

to white people about race, says

EMPOWERING GIRLS

YEARS 1 – 13

Book your personal tour today

Please contact: Lizzie Dyer, Registrar

(03) 353 2563 • enrol@stmargarets.school.nz

"We love it, you will too"

www.stmargarets.school.nz

long as the Sumner masterplan

work to be brought to life.

And I would like to encourage

everyone to submit on the Threat

management plan for hector's

and maui dolphin https://

www.doc.govt.nz/our-work/

our-work-with-maui-dolphin/

hectors-and-maui-dolphinthreat-management-plan/

before

the deadline of August 4.

It needs strengthening to

save these species and if you

want help with preparing your

submission, let me know. Happy

to help.

that racism takes her real, valid

and true life experience, and

marks her as an outsider. Our

Muslim and Jewish communities

were similarly treated. This is not

acceptable.

We have bi-culturally driven

criteria to guide how we respond.

Central to Maori tikanga are the

concepts of tapu and noa; sacred

and forbidden, and open anyone.

Let's apply them.

What material is tapu for a

VITTORIA

& Matt

Week of highs and lows

AS PART of the Matariki

celebrations, Vittoria recently had

her first hangi meal.

She loved it so much she started

using a fork on her own just to

eat it. I'm not even exaggerating,

it was literally the first time she'd

used a fork on her own. A fork

she took off Laura.

She was even scooping wee bits

up to feed to her grandparents in

exchange for more chicken.

After munching down on the

stuffing, pumpkin and potato on

her own plate, she was banging

on Laura's potato with her fork for

more.

Truly, her father's daughter.

This week has not been so full

of fun however, I've been sick with

a cold and a cough, the first time

since becoming the stay-at-home

parent.

I also had my first "concerned

parent" trip to the 24-hour surgery

on Tuesday.

To save those who read last

week's edition from further poobased

trauma, I'll quickly summarise

the reason; there was the

stinkyness, 'twas a strange colour

and Dr Google got me all stressed.

I started by calling Plunket, who

informed me that it would be a

good idea to take her to the doctors,

just in case.

As is typical in cases where you

present to a packed surgery with

a fairly benign concern, you wait

– for ages.

Pro tip; a giggling patient who is

comedian? Racism, child abuse,

abortion, sexual misconduct,

rape, family violence, bullying,

and other examples of sensitive

issues, exploitation and misuse of

power.

Comedian Ray Shipley explores

their gender fluidity in creative

ways, with a strong following. We

laugh at our weaknesses, blind

spots, inconsistencies.

Vote with your feet. Keep

staying away from racism.

TASTY: Vittoria enjoying a

hangi meal.

happy to run around and eat her

snacks is not high on the priority

list.

Needless to say, when I finally

saw the doctor it was a definite

non-emergency. But not wasted

time; I was reassured and what I

was worried about was a totally

legit concern. I am winning at

parenting.

So finally, to the family who

kindly lent me books and toys for

Vittoria to help entertain her and

to the wee lad who chatted with

her through the long wait, thank

you.

•Former Bay Harbour News

journalist Matt Salmons has

become a stay-at-home dad.

We follow his journey weekly.
---
Wednesday July 10 2019

Latest Christchurch news at www.star.kiwi

BAY HARBOUR

PAGE 11

8 th to 14 th July 2019

$

4 50

kg

Fresh NZ Chicken Drumsticks

$

2 50

ea

Dole Philippine Bobby Bananas

Bunched

$

6 00

ea

Tip Top Ice Cream 2L

$

1 69

ea

$

5 00

ea

$

3 50

ea

Bluebird Original, Thick

or Thinly Cut Chips

140-150g

Nescafé Coffee Refills

90-110g

Whittaker's

Artisan Collection

Chocolate 100g

$

10 90

kg

Fresh NZ Skinless Chicken Breast

Fillets

$

4 00

bag

Dig Me Agria, Red Jackets or

Vivaldi Gold Washed Potatoes 2kg

$

1 40

ea

Sealord Tuna

Sensations 85-95g

$

20 00

pk

$

14 00

ea

$

2 50

ea

Speight's Gold Medal Ale

or Summit Ultra

12 x 330ml Bottles

Huntaway Reserve or

Mudhouse Core 750ml

(Excludes Pinot Noir,

Home Block & Wool Shed)

Coca-Cola, Sprite,

Fanta, Lift, L&P or

Mello Yello Soft

Drink 1.5L

svbhn1007

Owned &

operated

by locals

SuperValue Lyttelton: 17 London Street, Lyttelton. Phone 328 7368. Open 7am–9pm, 7 days.

SuperValue Sumner: 3 Village Mall, Sumner. Phone 326 5688. Open 7am–9pm, 7 days.

While stocks last at SuperValue Lyttelton and Sumner only.

Please drink

For inspiration visit SuperValue.co.nz |

responsibly
---
PAGE 12 Wednesday July 10 2019

BAY HARBOUR

Latest Christchurch news at www.star.kiwi

SPORT

Plate semi-final almost

RISING HIGH: Lock Josh Loader picked up Sumner's players'

player of the match award on Saturday. PHOTO: ROZELLE MAY

• By Gordon Findlater

SUMNER RUNNERS claimed

a number of medals at the

South Island cross-country

championships at Ascot on

Saturday.

The Christchurch Avon Club

hosted the event, which doubled as

the Kennett Cup Steeples.

A total off 33 Sumner runners

braved the cold southerly and

achieved success across both the

junior and senior ranks.

In the juniors, Lucy Wheeler

took bronze in the under-12 girls

2000m cross-country, finishing

in 8min 33sec. She beat out

fellow Sumner runner Abigail

Scott-Douglas, who was just 1sec

back in fourth. Meanwhile, Hero

Barrettelli also took bronze in

the under-10 boys 2000m with a

time of 8min 56sec. Other strong

Firearms Amnesty & Buy-Back

Collection events near you

out of Sumner's reach

• By Gordon Findlater

SUMNER WILL need a miracle

to qualify for the premier metro

rugby competition plate semifinals

after their 15-48 loss to

Linwood at Linfield Park on

Saturday.

The result means Sumner

now have to defeat Sydenham

on Saturday and hope Burnside

and Linwood suffer upset

losses to University and Belfast

respectively.

Sumner showed plenty of

promise in the opening half

against Linwood, with close to

80 per cent of the possession.

However, they found themselves

trailing 7-12 at half-time.

"To have all that possession

and territory and only score

runs came from Millie Junge, Sam

Bailey, Zara Percasky, Abigail

Junge and Neve Majendie.

The senior racing was

highlighted by titles for Lisa

Brignull, David Fitch and Graham

Batchelor.

Brignull was dominant in

the 45-49 women's 5000m. She

finished more than 40sec ahead of

her nearest rival with a winning

time of 20min 31sec. Fitch was

seven points is one thing. Then

to give them two opportunities

and have them score two tries

was another," said coach Martin

Dodgson. Sumner scored a first

half try through second-five Willy

Saukura after working their way

into Linwood's territory after a

dozen fazes.

Dodgson said he couldn't fault

his side's mentality in the first half

after their subpar performance

against Burnside a week earlier.

In the second half, Sumner

dotted down for their second try

through fullback Poasa Cama.

After a scrum, Sumner went

down the blindside and Saukura

put Cama in to score with an

impressive off-load. Cama only

recently returned to rugby after

a serious knee injury at Linfield

Medal haul at South Island cross-country champs

even more dominant in winning

the 40-44 men's 9000m. His time

of 30min 17sec saw him finish

nearly 4min clear. Meanwhile

Batchelor won the 70-plus 7000m

in 33min 3sec.

There were also podium finishes

for Robyn Perkins

in the 55-59 women's 5000m,

Morgan Strong in the 45-49

women's 5000m and Alistair Cory-

Wright in the 50-54 men's 9000m.

Changes to firearm laws means many semi-automatic firearms and parts are now prohibited. If you, or anyone you

know, has these firearms or parts, please go to a collection event to hand them in for buy-back or amnesty.

Park early last year. Linwood then

went on to score two tries in quick

succession and seized the match.

"That's when our mentality

probably started to drop off a bit.

We started missing tackles and

we conceded two late tries," said

Dodgson.

From an individual standpoint,

Dodgson pin-pointed the

performance of lock Josh Loader,

who picked up the players' player

of the match. "He carried the ball

and did his core job really well.

He really ripped into things," said

Dodgson.

Sumner are now fifth in the

bottom six competition, two

points behind Burnside in second

and the final plate semi-final spot.

Their match against Sydenham at

Sydenham Park kicks off at 2.45pm.

Lucy Wheeler

13-14 July 2019

19 July 2019

19 July 2019

21 July 2019

27 July 2019

Riccarton Racecourse - Showgate Room

Amberley St John's Hall

Rolleston Community Lounge

Christchurch

Ashburton Trust Event Center

122 Racecourse Road, Sockburn

66 Carters Road, Amberley

94 Rolleston Drive, Rolleston

To be confirmed

211 Wills Street, Ashburton

10am - 3pm

3pm - 7pm

10am - 3pm

10am - 3pm

10am - 3pm

If your firearm can be modified to make it non-prohibited, or you may have a unique, high-value firearm,

please visit police.govt.nz for more information before attending a collection event.

Myth # 1

No one reads print

anymore right?

Wrong! Over 2.7 million Kiwis read the newspaper

every week.

If you're going to believe everything you read, make

sure you're reading a newspaper.

*Source: Nielsen CMI Q1 18 - Q4 18 (Base: AP 15+; Weekly coverage all Daily or Sunday newspapers)
---
Wednesday July 10 2019

Wine

Latest Christchurch news at www.star.kiwi

BAY HARBOUR

Local

News

Now

PAGE 13

Fire rages, homes at risk

Embracing the blend – it's a matter of balance

• By Mark Henderson

THIS ASSORTMENT of wine

eschews the concept of single

variety wines in favour of

embracing the blend.

It is all a matter of balance

and synergy, where two, three

or more ingredients can create

a complete whole, while the

freedom of the blend allows

wine-makers to experiment and

''have a little fun''.

Pegasus Bay's Sauvignon

Semillon and Millton's Les Trois

Enfants are old hands at this

game, while the new Vergence

typifies the test-bed approach,

with the Untitled range marrying

a startlingly diverse, multivintage,

region and variety

approach (Back label Lot

numbers will unlock the details).

Game on indeed.

2016 Pegasus Bay Sauvignon

Semillon

Price: $32

Rating: Excellent

Matchstick and a little wild

yeast funk soon blow off leaving

ripe pear, pea and grassy hints.

Powerful fruit offers breadth on

the palate, pear, pea pod, citrus,

sweetly fruited yet dry, a little

chalky grip a counterpoint to

the fruit. A zesty tangy element

runs like a laser beam through

the wine, to the delightfully long

finish that hangs in the

mouth.

A lovely food choice.

www.pegasusbay.com

2017 Millton Les Trois

Enfants Co-fermentation

Price: $21

Rating: Very good to

excellent

Surprisingly evolved colour

yet a fragrant and complex nose

of honey, citrus, roses and hints

of Turkish delight. The nose

suggests sweetness but this is

dry; the silky and supple palate

offering dry honey and musk,

orange zest, grilled grapefruit

and a bittersweet almond note

on the fresh, lifted finish.

Beguiling, intriguing and

rather fascinating.

www.millton.co.nz

2016 Vergence White by

Pegasus Bay

Price: $27

Rating: Very good to excellent

Somewhat subtle nose, struck

match, smoke and bramble, a

little wildness too. A game of

two halves perhaps, as the palate

is bold with intense grapefruit,

orange, mandarin, dried herbs

and nuts.

There's complexity on this

finely balanced, silky palate; a

zesty rush of acidity on the close

keeps this clean as a whistle,

while time sees an attractive

chewiness evolve.

www.pegasusbay.com

NV Untitled Pink Blend

Price: $20

Rating: Excellent

Multi region and variety blend.

Youthful, fresh and complex

nose of strawberry, apple skin,

citrus peel, peach and wine gum.

Creamy and attractive palate of

mixed berries apple and musk

moving into some savoury notes.

Delightfully, bright and zesty, dry

finish that hangs in your mouth.

A neat each-way bet here, both

as an aperitif, or with food.

www.untitled.nz

NV Untitled White Blend

Price: $25

Rating: Very good

Multi vintage, variety and

region blend. Fragrant nose

that evokes tropical fruit salad.

Creamy entry, a crisp, fresh

palate with notes of cooked

apple, pip fruits, toffee and

a refreshing, ripe grapefruit

character that gives zestiness.

Fresh and appealing drinking

with a little wisp of salinity on

the finish that gets the salivary

glands going.

NV Untitled Red Blend

Price: $30

Rating: Excellent

Intriguing multi vintage, multi

region and multi variety wine

with a nose of red fruits, malt

biscuits, wild herbs and a tangy,

resiny note.

This nods its hat to Europe,

its tanginess and juicy,

crunchiness suggesting a Kiwi

Beaujolais.

Fresh, bright, vibrant, nicely

balanced with an appealing

bittersweet element before

flowing to a long, cool, dry

finish.

www.untitled.nz

Visit our new website: www.min.nz

A professional realtor with

local expertise

and a personal touch

COASTAL REAL ESTATE SPECIALISTS

We'll help you live the dream.

Min Sarginson Real Estate Ltd. specialises in homes, sections and

rental properties in the spectacular Lyttelton Harbour bays, and

coastal suburbs of Christchurch, New Zealand.

We'll make it so easy for you. All our sales consultants live in the

area – we can give you valuable insights into life in our thriving

coastal communities.

This is an exciting time; of promise, optimism, and opportunities

never anticipated pre-quakes. Beachfront, or hillside with

grandstand views, find the property of your dreams:

Lyttelton | Diamond Harbour | Governors Bay | Cass Bay

Charteris Bay | Church Bay | Purau Bay | Port Levy | Northshore

Southshore | New Brighton | Heathcote | Sumner | Redcliffs

Scarborough | Mount Pleasant | Clifton

Call Min Sarginson Real Estate Ltd. for free, no-obligation advice. Lyttelton: 03 328 7273, lyttelton@min.nz or Church Bay: 03 329 4161, churchbay@min.nz
---
PAGE 14 Wednesday July 10 2019

BAY HARBOUR

Latest Christchurch news at www.star.kiwi

Valid for any purchase from 25/06/19 to 15/07/19. Terms &

Conditions apply. See in store for details.

STOREWIDE SALE

BIRTHDAY

NOW ON!

Sale ends

15.07.19.

Livorno 3 Seater - Black

WAS $2199

NOW

$1699

Indie Bunk Bed

WAS $999

NOW

$599

Aria Corner Sofa

WAS $3599

Real leather!

NOW

$2499

Allessa Sofa with Ottoman – Storm

WAS $2999

NOW

$1999

Catania 3 Seater

Black

WAS $2599

Real leather!

SAVE

$

1000

SAVE

$

900

NOW

$1699

Shop

Online

Nationwide

Delivery

Finance

Options

targetfurniture.co.nz

Don't miss out on great Birthday STOREWIDE SAVINGS! In store and online.

Cnr Blenheim & Curletts Rds, Christchurch

Ph: 0800 TARGET (0800 827438)

Offers and product prices advertised here expire 15/07/19.

Sale excludes Manchester and Accessories.
---
Wednesday July 10 2019

Latest Christchurch news at www.star.kiwi

BAY HARBOUR

PAGE 15

Email jess.gibson@starmedia.kiwi by

5pm each Wednesday

Knit 'n' Yarn

Today, 10am-noon

Take your knitting, crochet or

other portable craft project and

enjoy time with other crafters.

Have a look at the range of books

to get ideas for your next project.

Free, no bookings required.

Beginners welcome.

Lyttelton Library

One Stitch at a Time

Tomorrow, 10am-noon

Have a natter over needles at

One Stitch at a Time. All are

welcome from people who have

never crafted and aren't sure it is

for them to experienced crafters

who feel like a bit of a chat while

they sew, knit and weave.

Mt Pleasant Community

Centre

A Very Pleasant Playgroup

Tomorrow, 9.30-11.30am

Drop-in playgroup for preschoolers

and their grown-ups.

Stay for the whole session or

drop-in when it suits.

Mt Pleasant Centre

JP Clinic

Tomorrow (Little River), 11am-

12.30pm, and Saturday, 10amnoon

(Sumner)

A justice of the peace will be

available to members of the community

to witness signatures and

documents, certify document

copies, hear oaths, declarations,

affidavits or affirmations, as well

as sign citizenship, sponsorship

or rates rebates applications.

There is no charge for this service.

Little River Library and

Matuku Takotako: Sumner

Centre

Tai Chi

Friday, 7-8.30pm

This is a gentle exercise

for people of all ages and

fitness levels, bringing many

health and other benefits. All are

welcome to attend this weekly

class. Phone Lucida for more

information on 022 697 7420.

105 Bridle Path Rd

Super Saturday Storytimes

Saturday, 2-3pm

Encourage learning through a

love for stories. Storytimes is an

interactive programme including

stories, rhymes, craft and play.

This is a free session.

Matuku Takotako: Sumner

Centre

Lens on the World

Friday, Saturday and Sunday

10am - 4pm

Opening this weekend, an

exhibition of photography by

Diamond Harbour Camera

Club including a wide range of

images from club field trips and

Head to Matuku Takotako: Sumner Centre today from 10.30-noon to celebrate the magical

world of Harry Potter. Crafts and activities free for all ages.

members trips abroad. All works

for sale. Free entry. This exhibition

will continue until the end

of July.

Stoddart Cottage Trust, 2a

Waipapa Ave, Diamond Harbour

Shoreline Toastmasters

Monday 7.30-9pm

Nervous about speaking? Gain

confidence by practising speaking,

listening, learning

and laughing in a warm,

friendly non-threatening environment.

Mt Pleasant Yacht Club

Akaroa Craft Group

Monday, 1.30-2.30pm

Go along and join the very

friendly Akaroa Craft Group.

Sit in comfy chairs and have a

relaxing chat while working on

your craft project. Share skills in

a wide range of crafts, including

needlework, knitting, quilting,

handicrafts, making dolls, teddy

bears and spinning.

Akaroa Library

Mt Pleasant Walking

Group

Tuesday and Thursday,

9.30am

A mix of flat and hill walks

for people with a medium

level of fitness. Walks are in

nearby areas and further

afield. There will be carpooling

with shared costs. For more

information, phone Judy 384

1269.

Various locations

Technology Help Sessions

Monday, 2-3pm

If you need help using your

computer, smartphone, iPad,

or tablet, go along to a drop-in

session. It will cover off email,

searching the internet, using

the library catalogue, eBooks,

and general computer queries.

Take your laptop, tablet, or

smartphone, or use one of the

centre's computers for help with

anything digital. No bookings

required at this free event.

Matuku Takotako: Sumner

Centre

CANtAbRIANS

ouR

NEWSPAPERS

Canterbury

readership up

14 %

INCREASE

Reach 164,000* readers

with just one ad in our

Star Max Circ Package.

For advertising enquiries

please contact Shane Victor

Phone: 021 381 765

Email: shane@starmedia.kiwi

The "perfect wintertime

solace, right through to

the razzle-dazzle of its

joyous grand finale."

William Dart, NZ Herald.

PRESENTS

The Barber

of Seville

ISAAC THEATRE

ROYAL

1 – 7 AUGUST

BOOK NOW

nzopera.com

*Source: Nielsen CMI Q2 18 – Q1 19.

NZO0034CS
---
PAGE 16 Wednesday July 10 2019

BAY HARBOUR

Latest Christchurch news at www.star.kiwi

BIRTHDAY

BED SALE

Birthday

Super

Buy

Sale

Prices

on all

Sanctuary

Beds

SLEEPYHEAD - MAKING

BEDS IN NEW ZEALAND

SINCE 1935

Made by Kiwis for Kiwis.

10 YEAR WARRANTY

Quality you can trust...

we guarantee it!

Great

Price

Top

Seller

Huge

Range of

Pocket

Spring

beds on

Sale!
---
Wednesday July 10 2019

Tasty Bites

Latest Christchurch news at www.star.kiwi

BAY HARBOUR

Local

News

Now

PAGE 17

Fire rages, homes at risk

Eat healthy using delicious ingredients

Salads never need to

be boring, as seasonal

ingredients are just that

– seasonal. Winter brings

delicious flavours and

textures which go great with

grains. But don't forget to

add a punchy dressing

Buckwheat with

autumn vegetables and

pomegranate dressing

Ingredients

250g buckwheat groats, rinsed

well

1 bulb fennel, cut into thin

wedges

250g pumpkin, peeled and

deseeded, cut into cubes

1 red onion, peeled and cut into

wedges

¼ cup parsley, roughly chopped

2 Tbsp fennel tops, roughly

chopped

Dressing

2 Tbsp pomegranate molasses

1 Tbsp maple syrup

4 Tbsp olive oil

¼ tsp ground cinnamon

Pinch of salt

Directions

Heat the oven to 200 deg C.

Bring a medium-sized pot of

lightly-salted water to the boil.

Add the rinsed buckwheat and

cook for 25-35min. The groats

should be tender when cooked.

Drain and rinse under cold

water. Put into a large bowl.

While the groats are cooking,

prepare the vegetables.

Put the chopped vegetables

into a bowl with enough olive

oil to coat them well. Season

with salt and cracked pepper.

Toss to combine. Spread evenly

over a suitably-sized oven dish.

Roast, turning occasionally so

the vegetables cook evenly and

colour all over (30min).

Add the ingredients together

and pour over the dressing in a

small bowl and whisk together.

Add the roasted vegetables to

the cooked buckwheat, drizzle

over the dressing and add the

herbs. Toss gently to combine,

taste and adjust, seasoning if

necessary.

Top off your healthy salad

with a nutritious treat

Hazelnut bliss balls

Ingredients

½ cup hazelnuts

½ orange (juice and grated zest)

1 cup fine coconut

1 Tbsp coconut oil

½ tsp cinnamon

1 Tbsp dark cacao powder

1 tsp vanilla essence

Pinch of salt

Chunks of your favourite (storebought)

dark chocolate for the

centre of each bliss ball.

Directions

Place all the bliss ball

ingredients (except the chunks

of chocolate) into a bowl and

mix well. Then roll balls out of

the mixture.

Push a chunk of chocolate into

the centre of each bliss ball while

shaping them in your hands. You

can choose how big you make

the bliss balls.

Woolston - 6 Teal Close

Terrific on Teal

Situated in popular Brookhaven, the welcoming ambience of this tastefully decorated executive home is evident from the

moment you step through the front door. Four double bedrooms provide ample accommodation (master with en suite and

walk in robe) whilst the well appointed entertainers kitchen means cooking for family and friends is a pleasure. Versatile living

areas mean plenty of room for both family and guests and the outside offers space and serenity, whether you are entertaining

or relaxing by the outdoor fire and the water feature. The fully fenced garden offers security for both children and pets and

year round comfort is assured with ducted heating.

4 2 2 2

Deadline Sale

24th July 2019 at 6pm (unless sold prior)

Chris Spence

027 203 6164

chris.spence@mikepero.com

Mike Pero - Harewood

View - Thursday 5.15 - 6.00pm, Sunday 1.30 - 2.15pm

Web - mikepero.com/RX1949515

0800 500 123 www.mikepero.com

Mike Pero Real Estate Ltd. Licensed REAA (2008)
---
PAGE 18 Wednesday July 10 2019

BAY HARBOUR

Latest Christchurch news at www.star.kiwi

now open

M E T R O

nongshim

bowl noodle

range 86g

Hot & Spicy, Shin,

Kim Chi,

Chicken.

$0.99

each

bibigo seaweed snacks 5g

Sesame, Korean BBQ, Wasabi

$1.99

each

nongshim

onion

rings 50g

$0.99

each

jigs potato crisps 70g

Sizzling BBQ, Cheesy Cheese, Sweet & Savoury.

$0.99

each

bibigo

mandu

pork &

vege

dumplings 500g

$5.99

each

bibigo

mandu

pork &

vege

dumplings 907g

$9.99

each

$7.99

each

bibigo

duruduru dumpling

all purpose 710g

jack'n jill potato chips 60g

Salt & Pepper, Extra Hot, Chili Salsa.

$0.99

each

shin

ramyun

multi

pack

5pack

$4.99

each

doowee

chocolate

donuts 10pk

$4.99

Packet

jack'n jill roller coaster 60g

BBQ, Cheese, Honey Butter, Sweet & Spicy.

jack'n jill cloud 9 choco bars

37G Crispies, 45G Overload

$0.99

each

$0.50

each

More opening specials instore

$0.89

each

ding dong

snack mix 100g

ding dong

mixed nuts hot

& spicy 100g

$0.89

each $0.89

each

ding dong

mixed nuts 100g

$1.50

each

oreo mini choc

vanilla cream

biscuit 67g (x24)

Kosco Metro Corner of Colombo Street and liChfield Street
---
Wednesday July 10 2019

Latest Christchurch news at www.star.kiwi

BAY HARBOUR

PAGE 19

Beauty is skin deep

Korean skin producs

specific for every skin type

Makeup, hair products,

mens range and more!

• 800 product lines

• Samples on all products

• Try before you buy

Face masks

• Centrum Advance for Adults - 100 tablets $19.99

• Centrum Advance 50plus - 100 tablets $19.99

• Centrum Kids Orange or Strawberry - 60 tablets $9.99

• Centrum for Women or Men - 60 tablets $16.99

Spend $100 on health products

and get a Propolis Toothpaste

free!

Animal face masks

Spend $200

and get five Ekel

Sheet Masks

and one Amino

H.A moisture eye

cream for

free!

Spend $10 on

cosmetics and get one

Ekel Sheet Mask

free!

Spend $50 on cosmetics

and get one Labotica

Cleansing Foam

free!

Spend $100 on cosmetics

and get one Labotica Facial

Water and one Labotica

Cleansing Foam

free!

Kosmetics Corner of Colombo Street and liChfield Street
---
PAGE 20 Wednesday July 10 2019

BAY HARBOUR

Latest Christchurch news at www.star.kiwi

BMW X5 – performance with comfort

Motoring

Ross Kiddie

THE LAST place I expected to

see a brand new BMW X5 was in

Cootamundra, a small town near

the New South Wales/Victoria

border.

I had been to a rock concert in

Sydney, and took the train to Melbourne

to have a few days at the

formula one grand prix event.

I spotted the latest generation

sport utility vehicle sitting in a

car park near the railway station

and, although I couldn't see the

nomenclature it had a remarkable

resemblance to the very car

I picked up soon after my return

home – it was even the same

colour – white.

BMW New Zealand is landing

the X5 here in three specifications

at launch, with other variants sure

to follow. At present there is the

choice of two six-cylinder 3-litre

diesels or a 3-litre six-cylinder

petrol engine. The test car was

the xDrive30d, the entry model

at $135,200. The other variants

are the xDrive40i at $147,900 and

M50d at $177,900. The new X5 is

true to its heritage, it is the large

sport utility vehicle that impresses

with its build quality, performance

and economy.

It is also chock full of specification,

the list is way too long

to detail considering it was also

fitted with many of the specification

items from BMW's long list

of optional extras.

Personally, I could do without

all the bells and whistles, the X5

is a car with purpose, it is there

for the family car buyer who also

needs practicality, and it does that

well within its design parameter,

even though it is just a five-seater

only. Comfort levels are high,

and the X5 travels quietly and

smoothly.

Much of the latter is due to the

sophistication within the suspension

and driveline. BMW rates

the 2993cc diesel at 195kW and

620Nm; as a performance car

builder, the company has produced

an engine with remarkable

outputs, both developed low in

the rev band at 4000rpm and

2000rpm respectively.

Drive is passed through an

eight-speed transmission to all

four wheels, this process almost

seamless and contributes to the

refinement of the entire package,

it's uncanny how the gearbox can

harness the high power outputs

without notice. There are also

several drive modes which can be

BMW X5: Serious four-wheel-drive system.

tempered to suit each individual's

driving preference.

In terms of performance, the

big X5 has a solid turn of speed,

it will accelerate to 100km/h in

6.8sec, and will return a fuel usage

combined cycle average of 7.2-litre

per 100km (39mpg), that fits

with the evaluation car's readout,

it was showing a constant average

of around 8.8l/100km (32mpg).

It also showed a 5.5l/100km

(51mpg) instantaneous figure at a

steady 100km/h cruise, the engine

unstressed at a lowly 1300rpm.

On the road, the X5 cruises

with much dignity and poise, as

you would expect from a luxury

European car. I drove the fabulous

high country roads taking

in State Highway 72, the scenic

route between Canterbury's two

main river gorges.

The X5 has handling and control

that is akin to models from

the company that has such an enviable

sporty car heritage. I'm not

saying the X5 is a sports car but it

does have attributes that draws in

that technique as a car maker. The

30d rides on huge 22in wheels

and that contributes greatly as to

how the X5 feels from behind the

wheel, not withstanding that fourwheel-drive

enhances grip in the

first instance.

The X5 buyer can push quickly

into a corner with the knowledge

that it has ability, and offers reassurance

at the same time. While

• Price – BMW X5 30d,

$135,200

• Dimensions – Length,

4922mm; width,

2004mm; height, 1745mm

• Configuration – Sixcylinder,

four-wheel-drive,

2993cc, 195kW, 620Nm,

eight-speed automatic.

• Performance –

0-100km/h, 6.8sec

• Fuel usage – 7.2l/100km

its handling and surety must be

described as well above average,

it does so without compromising

comfort, body movement is well

controlled without the spring

and damper rates being overly

firmed.

As I've alluded to, the X5 is a

large SUV, it sits at just under

5m and it has a wealth of internal

space so that occupants can

spread out and enjoy the associated

benefits. If you think that

comes at the cost of rear load

space, that's certainly not the case,

BMW claims an 645-litre cargo

carrying capacity, stretching to

1860-litres with the rear seats

folded flat.

The X5 has carved out a healthy

part of New Zealand's SUV

market, the new model will only

add to its appeal, it's a versatile,

practical all-rounder, and one

which through its quality build

will serve and last for many years.

I certainly hope to get a drive

with the other engine choices.
---
Wednesday July 10 2019

REAL ESTATE

Substantial Scarborough Home!

142 Scarborough Road, Sumner

Price by negotiation

5 bedrooms | 3 bathrooms | 5 toilets | 3 living rooms | 1 office/study

4 car-garage | 2 off-street parks | Listing Number SM0222

Latest Christchurch news at www.star.kiwi

BAY HARBOUR

PAGE 21

This striking executive home makes

an immediate impression and enjoys

an irreplaceable dress circle position

opposite Nicholson Park at the top of

Scarborough Hill. Incredibly positioned

with breathtaking 270˚ views that cannot

be built out over Sumner Beach and the

city with a backdrop of the Southern Alps

and the Kaikoura Ranges.

This spectacular level corner site was a

determining factor in the distinctive design

by acclaimed architect Alick Bellerby which

won 'house of the year' on completion.

Spread over a 360sqm of approximate

floor plan with generously proportioned

living areas, 5 bedrooms, 3 bathrooms and

level access to 4 car garaging.

The kitchen is the hub of the home

connecting 2 of the living rooms. Warm oak

floors and full height windows flood the

home with warmth and light and optimise

the sea views. A separate downstairs media

room is a great space for teenagers, a work

from home office space or maybe a gym.

Look out over the manicured gardens

or step outside to a private Halswell stone

courtyard and BBQ area. Here you have

the ability to host everything from intimate

dinner parties to large gatherings in a very

private and sheltered setting.

The established and easily maintained

1613sqm grounds include level lawns, rose

gardens, planted borders and offers an

enviable microclimate with total privacy.

Located between Sumner Beach and

Taylors Mistake Beach, allows plenty of

recreational pleasures such as surfing,

boating, walking and cycling right on your

doorstep. While close by in the Sumner

Village you can enjoy the cafes, restaurants,

library and boutique shops.

Sublime design, superior construction

and a prestigious location combine to make

this a compelling lifestyle offering. With

our owner now committed to Auckland

you could secure this home for immediate

possession. Present all offers.

Open Homes: Sunday 14 July 2:00pm -

2:45pm.

See you at the open homes or for a

private viewing or for more information

contact Alison Carter of Harcourts

Grenadier Sumner (Licensed Agent

REAA 2008) on 384 7950 or mobile 0274

318 960.

growing with you June 2018 | 100%

Plants For

winter wow

Cool Choices

For Colour

& Contrast

From swamp

to sea views

The journey

begins with sarah

the Gardener

$7.90 incl. GST

Snap it up

Enter our annual

Birdlife Photo

Competition to win

great prizes!

clear the air

Why groWing

indoor PLAnTs is

so good for you

give it a grow

from gArLic

To chinese

ArTichokes,

We hAve your

groWing TiPs

covered

the latest releases

into the rose world

+ rose care

through winter

The magazine for

gardeners who like to get

their hands dirty

SUBSCRIBE FROM

$43. 50*

*6 issues/6 months

SUBSCRIPTIONS FREEPHONE

0800 77 77 10

WWW.GARDENER.KIWI
---
PAGE 22 Wednesday July 10 2019

BAY HARBOUR

Latest Christchurch news at www.star.kiwi

Calling for exhibitors

weddingshow

Sunday 25th August, 2019 Air Force Museum, Christchurch

To exhibit at this fantastic show, please email mark.sinclair@starmedia.kiwi for more info.
---
Wednesday July 10 2019

Latest Christchurch news at www.star.kiwi

BAY HARBOUR

PAGE 23

Computer

Services

VIRUS REMOVAL AND

PC HEATH CHECK

$50.00 With free pick

and delivery within 10km

of Redcliffs. Phone Paul

on 021495577. Microsoft

Certified Pro with 25 years

experience. Visit www.

seracnz.com

Gardening

& Supplies

A GARDEN OR

LANDSCAPING TIDY

UP? Shrub, hedge &

tree pruning, Lawns,

Gardening, consistently

reliable general property

upkeep, Dip. Hort. 10

yrs experience, One off

tidy ups or on-going

service. Nick's Garden

Maintenance. Keeping

your garden beautiful.

Free Quote. Ph. 942-4440

& 022 264 7452

GARDENER

Need your home or

commercial garden tidied

up or renovated or require

long term assistance.

Phone Ruth 326-6663 or

021 272-0303

To Let

STUDIO FOR RENT

Furnished Studio with

kitchenette for rent

- available now till

January 2020 or by

negotiation.$300 includes

power & internet Please

phone Ali 027 229 4298"

Classifieds Contact us today Phone our local team 03 379 1100

To Let

RENT ME!

Ideal as an extra

bedroom or office.

no bond required

Fully insulated and double glazed for warmth.

Three convenient sizes from $70 a week:

Standard 3.6m x 2.4m

Large 4.2m x 2.4m | Xtra-large 4.8m x 2.4m

Visit our website

www.justcabins.co.nz

for display cabin locations

www.justcabins.co.nz

Trades & Services

Your local professional

FOR ALL YOUR

PLUMBING,

GAS &

DRAINAGE

• Bathroom repairs

• Renovations

• Leaks

• Blocked drains

• Gas and drainage

Carol and Chris

Trades & Services

Landscape

and Garden

Services

Need help with

your garden?

We provide a quality

service for all your

Garden Maintenance

(hedges, lawns,

line trimming, weeding)

and Landscaping needs,

(fencing, paths, drives,

retaining and earthworks).

Full Arborist Service

Ph 021 272 0303

AAA HANDYMAN

licensed carpenter

LBP, all property and

building maintenance,

repairs, bathroom/shower

installations, with free

quotes 03 383 1927 or 027

245 5226 ciey@xtra.co.nz

BRICKLAYER

George Lockyer .Over

40 years bricklaying

experience.UK trained.

Insurance work, EQC

repairs, Heritage

brickwork & stonework

a speciality. No job too

small. Governers Bay.

Home 329 9344. Cell

0276844046. E mail

georgelockyer@xtra.co.nz

CARPET & VINYL

LAYINg

Exp. Repairs, uplifting,

relaying, restretching.

Email jflattery@xtra.co.nz

ph John on 0800 003 181

or 027 2407416

Phone 376 5322 or email

chcheast@laserplumbing.co.nz

Trades & Services

Atkinson Construction Ltd

• Local qualified licensed builder

• Over 30 years experience

• Building alterations

• Maintenance

• No job too big or small

Dean: 021 480 093

atkinsonconstruction@xtra.co.nz

PLUMBING &

DRAINAGE

SERVING

CHRISTCHURCH

AND WIDER

CANTERBURY REGION

WITH QUALITY

WORKMANSHIP

AND SERVICE.

PHONE HAMISH BALDWIN

027 636 3499

plumbING AND GAS

• Gas fitting – servicing, new, renovations

• Gas hot water installs

• Gas cookers and gas fires

• Kitchen / Bathroom renovations

• Backflow testing and installs

• Filtration – whole house, kitchen tap

• Domestic maintenance

Email: james@plumbingandgashq.co.nz

Text: 021 174 9265

0800 H20 LPG

Trades & Services

4 2 6 5 7 4

CONCRETE CUTTINg

Affordable Concrete

Cutting with Quality, and

removal work. Free quote.

No job to small. Phone 027

442-2219, Fax 359-6052

a/h 359- 4605

DRYwALL PLAsTERINg

from new housing to small

jobs, 32 years experience

Ph.027 666 2174

ELECTRICIAN

JMP Electrical.

Experienced & registered..

Expert in all home

electrical repairs &

maintenance.Call James

027 4401715

LAwNMOwINg

You Grow I Mow. Free sHEEP

quotes. Ph / text Chris 021

252 1801

LAwNMOwINg

You Grow I Mow. Free

quotes. Ph / text Chris 021

252 1801

DISCOUNT FOR

SUPER GOLD CARD

HOLDERS!

FREE QUOTES

Trades & Services

PAINTERs

DECORATORs

Qualified and experienced

painters and plasterers

available to undertake

any size job. Member

of Master Painters NZ.

Ph Chris 0800 438 152.

New Image Painters &

Decorators

PLAsTERINg

INTERIOR, no job too big

or too small, specialise in

repair work & new houses,

free quotes given, over 20

yrs plastering experience,

ph Peter 027 221-4066 or

384-2574

sHEARINg

MOBILE

Fast friendly professional

service. 25 yrs exp.

Shearing, drenching, hoof

trimming etc. Call Shaun

021 204 1274

Tuition

PIANO LESSONS

Catherine Bracegirdle

DipABRSM ATCL AIRMT

51A Colenso St, Sumner

Ph. 021 044 5102

www.pianoandtheory.co.nz

catherine.bracegirdle@gmail.com

Select Services

MUDROCK

Cartage Ltd

We're in your area now!

MORE THAN JUST CARTAGE....

We Offer:

• Grading of shingle driveways

• Chip seal, Asphalt and Concrete driveways

• Excavations – Foundation dig outs, trenching,

site scrapes and general earth works

• Farm works – laneways, construction and

maintenance

• Retaining walls • Soak holes

• Horse Arenas • And much more……

Please phone for a free,

non-obligation quote

Phill Baikie 027 390 7778

Trev Murdoch 027 431 7504

Public Notices

CANTERBURY

READERSHIP UP

Reach 164,000* readers

with just one ad.

*Source: Nielsen CMI Q2 18 – Q1 19.

For further details and to

advertise, contact:

Shane Victor

shane@starmedia.kiwi

021 318 765

Wanted To Buy

AAA Buying goods

quality furniture, beds,

stoves, washing machines,

fridge freezers. Same day

service. Selwyn Dealers.

Phone 980 5812 or 027

313 8156

BUYING Now, Royal

Albert, Royal Doulton, all

old china, crystal, antiques,

estate lots. For best prices

and free inspection call

Academy Antiques. Phone

349-4229

Public Notices

THANK YOU TO

EMPLOYERS OF

OUR VOLUNTEERS

By supporting your employee's

decision to volunteer, you're directly

responsible for making your

community a safer place to live.

• Ara Institute of Canterbury

• C & R Developments

• Christchurch Kidney Society

• Edwards Property Services

• Fire and Emergency New Zealand

• Goodman Fielder

• Governors Bay Properties

• Heron Construction

• Immigration New Zealand

• Layburn Hodgins

• Lyttelton Port Company

• Matt Annand Building Ltd

• Misceo Café and Bar

• Professional Electrics Ltd

• Real Project Group Ltd

• SaecoWilson

• St John

• Tait Communications

• Uprising Climbing Walls

• Wyma Solutions

Through the invaluable support of

employers, Governors Bay Volunteer

Fire Brigade and other volunteer fire

brigades throughout New Zealand can

continue to respond to emergencies in our

communities.

ADVERTISE YOUR BUSINESS HERE

FIREANDEMERGENCY.NZ

Phone for further details

(03) 379 1100
---
PAGE 24 Wednesday July 10 2019

BAY HARBOUR

Latest Christchurch news at www.star.kiwi

FERRYMEAD

Unit 1/950 Ferry Rd, Ferrymead, Christchurch | 03 376 4974 | ferrymead@flooringxtra.co.nz

www.flooringxtra.co.nz

P R O D U C T D I R E C T O R Y

& I N S P I R AT I O N G U I D E

LOOK BOOK 16/17 NZ$5.99

SAVINGS

HURRY

FINAL DAYS

P R O D U C T D I R E C T O R Y

& I N S P I R AT I O N G U I D E

OFFER ENDS SUN JULY 14

LOOK BOOK 16/17 NZ$5.99

18 months

no payments & no interest

on in-store purchases

$1,000 and over.

offer ends 14 July 2019.

lending criteria, fees,

t&Cs apply.

save up to

35% off *

flooring from our leading brands

you can browse our products online • shop rugs and accessories • www.flooringxtra.co.nz

FERRYMEAD

FERRYMEAD

LOCALLY OWNED & OPERATED

Unit 1/950 Ferry Rd, Ferrymead, Christchurch | 03 376 4974 | ferrymead@flooringxtra.co.nz

www.flooringxtra.co.nz

Unit 1/950 Ferry Rd, Ferrymead, Christchurch | 03 376 4974 | ferrymead@flooringxtra.co.nz

www.flooringxtra.co.nz
---
Wednesday July 10 2019

Latest Christchurch news at www.star.kiwi

BAY HARBOUR

PAGE 25

THIS YEAR'S ONLY

SOUTH ISLAND

SPA POOL EXPO!

SEE THE DEALS
---
PAGE 26 Wednesday July 10 2019

BAY HARBOUR

Latest Christchurch news at www.star.kiwi

EXPO DEALS

AZURE

RELAY

Deep and spacious, the Azure spa provides the perfect antidote to aches and pains.

Massage your tired feet on the perfectly placed foot-jets or lean back and enjoy the

comfortable lounge seat. It weighs less than 160kg without water, so go ahead and

take it with you!

With seating for 6, cushioned headrests and 35 targeted jets, there's plenty of room

for you, friends and family to relax in the 1300 litre Relay. This value-packed spa is

FiberCor® insulated and comes with a NoFault® heater. It also comes with dimmable

multi-color LED lights for added ambience.

EXPO ONLY PRICE

RRP: $10,980

$8,900

SAVE $1,990

PACKAGE

INCLUDES:

OZONE

POLYMER STEPS

EXPO ONLY PRICE

RRP: $22,470

$15,490

SAVE $6,980

PACKAGE

INCLUDES:

OZONE

POLYMER STEPS

COVER LIFTER

11-14 JULY • AIR FORCE MUSEUM, WIGRAM
---
Wednesday July 10 2019

R500

Latest Christchurch news at www.star.kiwi

BAY HARBOUR

SOVEREIGN PAGE 27

To give you a genuine swimming experience the X-Series delivers stronger

resistance and less turbulence than ordinary jetted swim spas. The design

features five jets - three on top for resistance and two underneath for lift – that

create a smooth, air-free current for superior low-impact, total-body exercise.

Need a spa that fits a narrow patio or backyard? The Sovereign is spacious

enough for 6 adults to relax in comfort and features a more rectangular shape

to fit in tighter spaces. It includes all the luxury features from the Highlife®

Collection with a lounge seat featuring our patented Moto-Massage® DX jet.

EXPO ONLY PRICE

RRP: $49,180

$41,990

SAVE $6,980

PACKAGE

INCLUDES:

POLYMER

STEPS

EXPO ONLY PRICE

RRP: $40,895

$32,990

SAVE $7,900

PACKAGE

INCLUDES:

FRESHWATER

SALT SYSTEM

POLYMER STEPS

COVER LIFTER

4 DAYS ONLY • DETAILS AT SPAEXPO.CO.NZ
---
PAGE 28 Wednesday July 10 2019

BAY HARBOUR

Latest Christchurch news at www.star.kiwi

OVER $1,500,000 OF PRODUCT

ACROSS MULTIPLE BRANDS!

SWIM SPAS

FROM UNDER

$26,000

VALUE BRANDS

STARTING FROM

$6,490

DETAILS AT SPAEXPO.CO.NZ