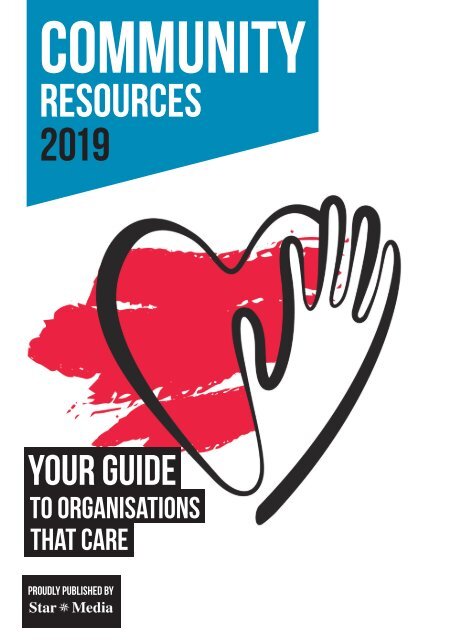 Community Resources: July 25, 2019
Create successful ePaper yourself
Turn your PDF publications into a flip-book with our unique Google optimized e-Paper software.
Community

resources

2019

your guide

to organisations

that care

proudly published by
---
2

PUTTING WELLBEING at the centre

If life is hard, complicated or just

confusing, visit The Loft on the first floor

of Eastgate Shopping Centre and see if

they can help.

The Loft is a collaborative partnership of

community, social and health services that

are focussed on improving the wellbeing

of people in the Christchurch community,

particularly children and their whānau.

The Loft is evolving and improving how

people access and experience social and

community-based support, which can

be a daunting and confusing experience.

Traditionally, people are required to

work out what help they need and then

seek it, often from multiple sources. The

Loft removes those barriers because it

provides an immediate and integrated

response to complex individual, whānau

and community needs, from one place.

The Loft space has been intentionally

designed to encourage and welcome

visitors in manner that is immediate and

mana-enhancing. As one client described

it, "for the first time, I was being listened

to."

People can just walk in the door without

an appointment or even knowing what

service they need – The Loft team helps

them through that process.

The Tautāwhi Manuhiri ensures that

visitors and clients are met with

manaakitanga and aroha; a Navigator

works with the children, adults and

whānau who walk in the door with high

and complex social needs to decide

what will best support them; and Te

Ara Atea – Family Violence Wayfinder

provides immediate, specialist 'make safe'

interventions for people experiencing

family violence. If the best support is not

available in The Loft, people will be helped

to access it externally.

A recent Loft client said "Everyone

was very friendly, they just all had that

empathy…and then I started getting all the

referrals, and what would be done, and

there were follow-ups. It didn't feel like,

'well, here you go and look for it yourself.

It was very proactive. It's been great."

www.theloftchristchurch.org.nz

0800 TO LOFT

1 ST floor Eastgate Shopping Centre

theloftchristchurch.org.nz

0800 TO LOFT (86 5638)

"They played a part

in something that

has changed my life.

Without them,

I'd still be suffering."

Community &

Social Services

Health

Services

OPENING HOURS: Monday – Friday, 9am – 5pm

Services currently represented at The Loft are:

• Anger management

• Budgeting advice

• Child health, parenting and community support

• Citizen's Advice Bureau

• Help to access housing

• Family violence services

• Legal advice

• Refugee and migrant services

• Return-to-work assistance for people with mental

health conditions

• Sexual assault support for people 18 and over

• Small loans (no interest and low interest)

• Social work support

• Specialist peer support

• Support to overcome harm from gambling

(including specialist support for Pasifika people)

OPENING HOURS: Monday – Thursday, 8am – 8pm;

Friday, 8am – 5pm; Saturday, 10am – 4pm

An integrated primary healthcare centre offering general

medical, midwifery, pharmacy, physiotherapy, mental health

and older person's services is located in an adjacent space.
---
COMMUNITY RESOURCES 2019

3

TOO MANY NEW ZEALANDERS

not exercising enough

New UK research has found that even

people who have been quite inactive much

of their life will benefit from exercise when

they are middle-aged or older.

A Cambridge University team of

researchers examined the relationship

between trends in physical activity levels

over time and mortality risk among adults

in middle age and older.

ExerciseNZ chief executive Richard Beddie

says many Kiwis will be shocked to learn

that New Zealand is the 13th-worst in the

world for physical inactivity and the worst

in the developed world.

"Exercise is the number-one sport in New

Zealand with more than half a million

participants, and growing research

confirms the health benefits of activity for

all Kiwis. But we should be much better

than that in terms of numbers," Richard

says.

"We have a massive crisis in New Zealand

in terms of people's inactivity. We urgently

need a co-ordinated approach to solve it,

involving government, local authorities,

schools and workplaces so we can

increase the quality and length of life of all

New Zealanders and reduce the burden on

the public health system.

"The exercise industry is ready and willing

to do its part and we want to present to a

government select committee on how to

address the issue. We need action and we

need it now."

As countless research studies have

shown, exercise can lower the risk of

cardiovascular disease, cancer and

diabetes, and increase life expectancy.

The UK academic research looked at the

effects that exercise in middle and older

age have on the risk of premature death

and lifespan. It showed that no matter

when anyone starts to exercise in life, they

can still reap the benefits.

Richard agrees it is not too late for the

almost 50 per cent of New Zealanders

that don't do enough physical activity to

earn the health benefits of exercise.

"World Health Organisation guidelines

say people should exercise 150 minutes

of movement a week, or 30 minutes five

times a week or 90 minutes of moderate

to intense activity a week," he says.

"The Cambridge research showed that

even those that have been inactive for

much of their lives will make significant

health gains in life expectancy and quality

of life if they start moving more regularly.

"The UK team examined how changes in

exercise levels over time affect a person's

risk of dying from any cause, as well as

dying from specific conditions — such as

cardiovascular disease."

The researchers found out how much

exercise older adults need in order to

boost their reasoning skills and their

brains' processing speed.

Also, the results suggested that even

if someone decided to exercise after

being physically inactive, the benefits for

longevity would still be significant.

PUBLISHER

Star Media

A division of Allied Press Ltd

PO Box 1467 Christchurch 8140

FEATURE & SUPPLEMENT MANAGER Jenny Wright

ADVERTISING

Elaine Moon - Ph 03 364 7436

email: elaine.moon@starmedia.kiwi

DESIGN Denise Crawford
---
4

COMMUNITY RESOURCES 2019

MEDICAL PRACTICE

dedicated to local community

"Modern Medicine – Traditional Values"

Serving our community for more than 80 years, Lincoln Medical Centre is

the general practice which has taken care of entire families for generations.

We welcome new patients living or working in our area.

Services available to enrolled patients include:

• GP Services (we can offer consultations in various languages:

French, Mandarin, Filipino, Sinhalese & Spanish)

• online appointment booking • skin checks & minor surgery • travel clinic

• blood tests • children's clinics • liquid nitrogen clinic with our nurses

• please visit our website for more information

Hours: Mon, Wed & Fri: 8am - 5pm | Tue & Thurs: 8am - 7pm

Sat: 9am - 12pm (excluding Public Holidays)

1 Gerald St, Lincoln | Tel: 03 325 2411 | Fax: 03 325 2432 | www.lincolnmedical.nz

Situated in the heart of

Lincoln, Lincoln Medical

Centre is the Family General

Practice that has served

the local community for

generations. At Lincoln

Medical they practise

modern medicine and hold to

traditional values. Their goal is

that patients feel the warmth

and the dedication of the

team.

The team consists of eight

General Practitioners as

well as a team of nurses

and receptionists, who

are committed to helping

meet the needs of enrolled

patients. For urgent care they

provide a doctor dedicated

to emergencies, and specific

children's clinics.

They also offer extended

evening hours on Tuesdays

and Thursdays, as well as

Saturday mornings for

enrolled patients. For routine

appointments. Patients are

encouraged, when possible,

to book in advance to ensure

they are able to see their

doctor of choice at their

desired time.

They continue to provide

home visits to those facing

long and sometimes

painful illnesses, as well as

collaborating with District

Nurses in the provision of

palliative care. As a team,

they are dedicated to

providing you and your family

with the highest quality care

they possibly can.

At Better Denture we have a range

of services and options available.

Free denture check

Free consults

Free quotes

New dentures

Same-day reline

Same-day repairs

Sport mouth guards

6 Brynley Street, Hornby | Phone 03 349 5050 | www.betterdenture.co.nz
---
COMMUNITY RESOURCES 2019

5

Steven of Just Funerals

FUNERAL

SERVICES

to meet every

family's needs

When a loved family member passes

away, it is important for those arranging

the funeral to find a funeral director that

meets their needs in every way.

Just Funerals on Blenheim Road is able to

do that, providing a totally professional

funeral service for the bereaved family and

friends. There is a selection of affordable

funeral options available, including burials,

with a price range starting from $1745

for direct cremation, and they also offer

repatriation and burial at sea services.

Steven has the skills to deal with clients

sensitively, first discussing with them what

they would like for their loved one, then

making all the arrangements and guiding

them through the process. He regards it as

a privilege to help families when they are

at their most vulnerable.

Just Funerals was established in

Christchurch 18 months ago, and is a

branch of the well-established, Aucklandbased

Just Funerals. A family business, it is

owned and operated by Steven and Vicky

Davey, together with their son Oliver, who

at 19 is the youngest fully qualified funeral

director in New Zealand.

The Just Funerals website has information

on all their services, then to speak to

Steven, phone 0800 804 663. He is

available 24/7.

Just Funerals, a family

owned and operated

company with

qualified, registered

and experienced staff.

Non-Service

Cremation

JuSt $1,745

Commital

service with

cremation

just $3,950

Chapel

service with

cremation

JuSt $6,500

Family

burial

service

From $3,400

Phone 0800 804 663 - 24 Hour Availability | Email: info@justfunerals.co.nz

christchurch.justfunerals.co.nz
---
6 COMMUNITY RESOURCES 2019

MANA IN MAHI HELPS

businesses grow and young

jobseekers thrive

TRIED & TRUSTED BRAND

through generations

A programme advocating

"Strength in Work" is a "winwin"

for both Canterbury

businesses looking for staff

and local young people

looking for work.

The Mana in Mahi programme,

led by the Ministry of Social

Development, helps young

New Zealanders get valuable,

sought-after skills and

qualifications to kick start

their career.

For employers, taking on a

trainee is a big commitment,

especially for smaller

businesses. Mana in Mahi

helps with the costs of preemployment

and on-the-job

training.

It also provides support to

help them get an industry

training qualification,

including an apprenticeship,

and employees can work

towards incentive payments.

Canterbury Work Services

Manager Simon Scott says

the programme is a "win-win"

for both the employer and

employee.

"This is a great opportunity

for you to grow your business

with support from us – and

we also support your new

employee".

Not only does Mana in Mahi

help businesses gain skilled

and knowledgeable people,

it also helps the wider

Canterbury community by

giving our young people a

kick-start to achieve their

training and career goals.

"Mana in Mahi can help you

make a difference for young

people. Helping a jobseeker

find work can be incredibly

rewarding for both the

employee and the employer,"

Scott said.

"Together, we can help build

a better long term future for

Canterbury".

For more information on how

this could help you into work,

or help you hire some talented

staff, talk to your local Work

and Income work broker, email

us at Mana_in_Mahi@msd.

govt.nz or call us on 0800

778 008.

The iconic Rawleighs brand has

been known for generations in

New Zealand, and Christchurch

distributor Fiona Head is

thrilled to represent it.

Originally from Hawkes

Bay, Fiona came to

Christchurch for

work in 2015, and

says that's when

she rediscovered

Rawleighs after

40 years.

"My mother and

grandparents

used to buy

Rawleighs," Fiona

says, "but I hadn't

had any other contact

with the products until I joined

up with the company. I became

a master distributor in 2017

and since then I haven't looked

back."

Fiona's distribution area covers

most areas of Christchurch

as well as Oamaru, with the

product range including

everything from medicinal

items through to home care

and personal care products,

and spices for cooking.

"Rawleighs is a tried and

trusted name that has

been in the market for

over 100 years. Their

products are all

top quality, and

they really work,"

Fiona says.

"They are

reasonably

priced too, and

they last for years."

Customers are

invited to call round to

see the full range of products

on display and available for

purchase at Fiona's home.

She also has catalogues for

customers to take home for

future reference. Her address

is 283 Woolridge Road,

Bishopdale, phone 550 1544, or

022 086 7300.

Now available in Christchurch and surrounding areas!

For catalogue/pricelist, contact us.

Independent Rawleighs Distributor

Fiona Head, 283 Woolridge Road, Harewood, Christchurch 8051

Ph: 03 550 1544 Mob: 022 086 7300 E: bandovar@orcon.net.nz
---
COMMUNITY RESOURCES 2019

7

KNITTING WITH LOVE

for tiny babies

MUSIC TRAINING

good for brain function

The knitting group Pod-Cast-

On meets every Monday,

10am-11.30am at the WEA

on Gloucester Street. Led by

experienced and passionate

knitter Kazuko, this group

produces much-needed pure

wool knitwear for babies in

the Christchurch Neonatal

Unit.

While knitting, they listen to

and discuss a podcast chosen

by the group. By the end of

last term more than 40 items

of clothing had been lovingly

stitched and taken to the

hospital. Mostly vests and

jumpers, they are used during

the babies' stay in hospital

and go into take-home packs

for new families.

Pure New Zealand wool

keeps little ones warmest in

winter and the knitters like

to think that the love poured

into each item helps too. The

group is free to attend (they

just ask for a $2 donation

towards buying wool), with

experienced and novice

knitters all welcome. If you are

a keen knitter looking for an

outlet for your knitting, or are

eager to learn, why not join

them. Donations of pure wool

also gratefully received.

Pod-Cast-On is one of over

40 courses and events in

the Education Programme

at the Canterbury Workers

Educational Association

(WEA), located on Gloucester

Street, opposite the Art

Gallery. From arts to current

affairs, dance to philosophy, it

has something for everyone.

Visit www.cwea.org.nz or drop

in and pick up a timetable.

Did you know that musical

training can change brain

structure and function for the

better? It can also improve

long-term memory and lead

to better brain development,

particularly for those starting

young.

So, why wait? Join the

Christchurch School of

Music. CSM is a not-for-profit

organisation with a strong

focus on community. Catering

for ages from two to 92, they

have something for everyone.

For the young ones there are

pre-school and junior classes

– 'Take off with Music', where

four and a half year-olds can

start on Suzuki strings, while

at age six the recorder is a

great instrument to learn.

There is a fantastic deal for

beginner recorder players –

just $52 for a year of tuition

including a recorder and a

book. New enrolments are

being taken now for Term 3.

Older children and adults

may opt for group or

individual lessons on a

specific instrument (including

voice). With six orchestras,

two concert bands, a Big

Band, a jazz combo, six

wind ensembles, rock

bands, two choirs, chamber

groups, a Samba band and a

guitar ensemble there is an

ensemble to suit all levels and

ages.

If affordability is an issue,

CSM may be able to offer a

discount through funding

provided by the Rata

Foundation.

To find out more about CSM,

or to enrol, got to www.csm.

org.nz.

CANTERBURY WORKERS EDUCATIONAL

ASSOCIATION

www.cwea.org.nz

59 Gloucester Street, Christchurch,

03 3660285
---
8 COMMUNITY RESOURCES 2019

HOW TO STAY well!

ONE-STOP-SHOP for disability

information & help

Why is it some people rarely

if ever get sick? In many cases

they are giving their body

what it requires for optimum

immune function. Some of

the factors we need to look

at to improve our immune &

overall health are: Sleep – Are

you getting enough deep

restorative sleep on a regular

basis. Nutrition – Are you

receiving all the nutrients your

body requires? It may be you

are eating a well-balanced

diet but you may not be

absorbing all the nutrients

you need due to a poorly

functioning digestive system.

Elimination – It is important to

clear waste products from the

body efficiently.

Toxins make a good

environment for microorganisms

(viruses) to breed.

Natural Environment – Try

to be outdoors in a natural

environment on a regular

basis. Sunlight is essential for

Vitamin D production in the

body. Vitamin D is essential

for a healthy immune function

as well as many other body

functions.

It is also a good idea to

support the immune system

directly by taking a good

immune tonic.

This should include the herbs

Echinacea & olive leaf.

Propolis also gives excellent

immune support when taken

regularly. Vitamin C & D as

well as Zinc are needed in

sufficient amounts for a

strong immune system.

These are general guidelines

however everyone is different.

It is best to come in to see us

& talk to our Natural Health

Advisers & Medical Herbalists

in store so we can suggest

the most suitable products

for your particular needs.

Consultations are available

if you require more in depth

support with any health

conditions. We are Always

Happy to Help at Marshall's

Health & Natural Therapy,

101 Seaview Road, New

Brighton, (in the old ANZ

Bank Building) or Phone: (03)

388-5757.

ARE YOU RECEIVING ALL THE

NUTRIENTS YOU REQUIRE?

Take the VITAL ALL-IN-ONE 12 day Challenge to Better Health!

VITAL ALL-IN-ONE has been developed to provide superior nutritional support to your body. It is

near impossible to obtain all the nutrients your body requires from a modern diet. VITAL ALL-IN-

ONE contains 78 vital nutrients in a balanced & highly absorbable form to help you receive all

the nutrients you require for optimum health.

• Increased Energy & Endurance

• Better Digestion & Assimilation of Nutrients

• Optimised Immune Function

• Reduced Brain Fog

• More Balanced Blood Sugar

• 78 Vital Nutrients to Support Optimal Health

• Superior to a Multivitamin Tablet

Super Low Prices

120g only $23.90, save $11.00

300g only $54.90, save $20.10

600g only $94.90, save $44.10

1kg only $139.90, save $59.10

Bringing You the Best

in Natural Health!

- WE ARE ALWAYS HAPPY TO HELP! -

• Dairy Free, Gluten Free, Vegan Friendly,

Wheat Free

• Gently Detoxifies, Cleanses & Energises

Every Cell in Our Body

• ALL YOU NEED – ALL IN ONE – DAILY

HEALTH SUPPLEMENT

FREE

TASTINGS

INSTORE

MAIL ORDER

AVAILABLE

MARSHALLS HEALTH & NATURAL THERAPY

CONSULTING - PRESCRIBING - DISPENSING - MANUFACTURING - MEDICAL HERBALISTS

101 SEAVIEW RD, NEW BRIGHTON • PH 03 388 5757 • Email: enquiry@marshallshealthshop.co.nz

For anyone with a disability

or impairment, whether it

is temporary or permanent,

finding the right people to

provide help can be difficult

and frustrating.

Aspire Canterbury, a not-forprofit

organisation established

over 30 years ago, specialises

in providing information and

services for the disabled, and

connecting clients with the

support and help they need

to live as independently as

possible.

"Our aim is to encourage

independent living for

anyone with disabilities," says

manager Julie Paalvast.

"We help them navigate the

information about anything

they need and want in their

daily lives by connecting

INSPIRING INDEPENDENT

living

If you are looking for un-bias advice, products

for hire or sale, or the discounted taxi scheme

– contact our team today!

Disability Information: Offering un-biased advice

to assist people in the navigation of organisation's or

services.

Mobile Service: Connecting with communities.

Fun interactive presentations of our information,

services and easier living equipment. We come to you!

Shop and Hire: Shop on-line or visit us in our shop

at 314 Worcester Street. Plenty of free parking.

Total Mobility Discounted Taxi Service: A

scheme which provides 50% discounts on taxi

journeys to eligible people in the Christchurch area

who, due to health conditions, are unable to access

public transport. Contact us on 03 366 9093.

them with the organisations

that are set up to meet those

needs. We're a one-stop-shop

for them."

For the elderly, who have

been busy and active all their

lives, having reduced mobility

through health or an accident

can be difficult to deal with.

Aspire Canterbury helps them

retain their independence

and remain living at home

by providing wheelchairs,

walkers and ramps for hire

or purchase, and as an

approved Total Mobility

agency, provides half-price

taxi fares so they can continue

to do their shopping and visit

friends and family.

The organisation's mobile van

travels to centres right around

Canterbury. Ph 03-366-9093

A not-for-profit with over 30-years' experience

providing unbiased knowledge and services. Aspire

enable social freedom and independence to people,

their families and whanau, who live

with any impairment.

314 Worcester Street,

Linwood, Christchurch

Ph: 03 366 6189

Freephone: 0800 347 242

Ph: (Total Mobility) 03 366 9093

E: manager@aspirecanterbury.org.nz | W: www.aspirecanterbury.org.nz
---
COMMUNITY RESOURCES 2019

9

Volunteer surgeon Ian Bradford

in the Charity Hospital's busy

Colonoscopy clinic.

HELPING CANTABRIANS

in need

The Canterbury Charity Hospital is the only

one of its kind in New Zealand and provides

free day surgery, medical

treatments, dentistry, oral surgery and

counselling to Cantabrians in need and has

had over 17,000 patient visits since it first

opened its doors in 2007.

To be eligible to be seen at the Charity

Hospital, patients have been turned down

by the public health system, do not have

medical insurance or the means to pay for

their treatment privately. Patients also need

a referral from their General Practitioner or

dentist.

The hospital's services are frequently

updated depending on need and currently

include colonoscopy (acute and screening),

gynaecology and women's health, general

surgery (abdominal, rectal), oral surgery and

dentistry, counselling (self-referral), orthopaedics

(upper and lower limb), cataracts,

urology and varicose veins.

The Charity Hospital's busy Colonoscopy

service fills an unmet need in the public

health system by providing free screening

to men and women aged under 50 with

rectal bleeding; one of the main symptoms

of colorectal cancer, as they are not seen by

the CDHB.

The Canterbury Charity Hospital also provides

professional training, development and

education for clinicians and also provides

work experience for student nurses and

other health professionals. Their interactive

technology in both the general surgery theatre

and the Colonoscopy theatre enables

them to run educational seminars.

The hospital also has a community room

which is available for like-minded community

groups to use for free including first aid

and resuscitation courses.

The Canterbury Charity Hospital Trust does

not receive any Government funding and

relies on fundraising events, donations,

charitable organisations and bequests to

raise the $800,000 required to run its free

services.

The hard work and dedication of around

300 volunteers is the reason that the hospital

can provide all its treatments and counselling

for free. These volunteers include

surgeons, dentists, anaesthetists, nurses,

technicians, denture makers, gardeners,

administration and other support staff who

all give generously of their time.

To donate, find out more about the current

services on offer or to enquire about gifting

your skills then please visit the hospital website

at www.charityhospital.org.nz or email

us at reception@charityhospital.org.nz.

HAVE YOU BEEN DECLINED TREATMENT

BY THE CANTERBURY DHB?

The Canterbury Charity Hospital may be able to help you if you...

• Have a letter from the CDHB saying you have been declined treatment

• Do not have medical insurance

• Cannot afford treatment privately (means tested)

• Have a referral from your doctor

Our current services are free and include...

• Colonoscopy

• Gynaecology and women's health

• General surgery

• Orthopaedics

• Urology

• Cataracts

• Varicose veins

We also provide some oral surgery and dentistry services with a

dentist's referral and counselling by self-referral.

The Charity Hospital does not receive any Government funding.

To find out more or to make a donation visit www.charityhospital.org.nz
---
10 COMMUNITY RESOURCES 2019

REVERSE THE SIGNS

of aging

Summer has come to a close,

and your skin, especially your

face needs hydration and

rejuvenation.

Now there is a machine that is

sweeping the globe and has

landed in Christchurch.

Experience the eleven beauty

and healing treatments

accomplished within one

facial mask using LED

technology.

LED was invented by NASA

as they were looking for a

light source to grow plants in

space, from this they found

that it had amazing skin cell

rejuvenation and it wasn't

long before LED infrared was

used in hospitals around the

world.

People from all over are

experiencing the full facial

rejuvenating experience with

the LED light therapy with

documented results in:

Anti-Ageing – Wrinkles, Age

spots, Scaring

Anti-Acne – Antibacterial,

Reduces inflammation

Cell Rejuvenation - Eczema

Reduce Redness – Rosacea,

Sunburn

Even Skin Tones – Hyper-

Pigmentation

Skin Booster – Collagen

Rejuvenation

Skin Soothing – Psoriasis

Pain Blocker – Reduce swollen

capillaries

Charmaine McFarlane and

Turn Back Time Beauty,

located in Somerfield are

the resident experts in this

Aduro LED light therapy with

tremendous benefits. She is

able to run this service parallel

to her popular Sparklewhite

Teeth-whitening service with

guaranteed results!.

View: www.

turnbacktimebeauty.co.nz or

www.aduronewzealand.co.nz

and make an appointment

today, call 339 7374 or 021 161

2349.

Beauty never felt so good!

Saving Lives

Saving Lives

Would you know what

to what do in to an do emergency?

in an

emergency?

St John is one of the

St John is one of the

leading providers of first

leading providers of

aid training in

first aid training in

Canterbury. Teaching

Canterbury. Teaching

people first aid skills is

people first aid skills is

critically important - first

critically important -

aid can help save a life.

first aid can help save

a life.

St John began in New

Zealand St John 132 began years in ago

and New was Zealand started in by 1885

community-minded

and was started by

people community-minded

who were

eager people to who promote were first eager

aid to skills promote and first training aid to

the skills public. and training Saving lives to

and the helping public. Saving others lives was

very and important helping others to them.

They was believed very important everyone to

should them. They have believed some

level everyone of first should aid ability, have

as some accidents level of and first medical aid

emergencies ability, as accidents can and

happen medical anywhere, emergencies

anytime. can happen anywhere,

anytime.

St John First Aid courses

provide St John the First necessary Aid courses

knowledge provide the and necessary

confidence knowledge to and provide

effective confidence first to aid provide

whenever effective first it's required. aid

Courses whenever range it's required. from basic

first Courses aid training range from and

industry basic first specific aid training

modules and industry through specific to

advanced modules through resuscitation to

for advanced hospital resuscitation

employees.

for hospital employees.

If

If

you

you

would

would

like

like

to

to

know

what

know

to

what

do in

to

an

do in an

emergency emergency and and would would

like like to to save save someone's

life, life, a first first aid aid course with

St with John's St Johns qualified qualified

instructors will ensure

you have all all the skills

you need when the time

comes time comes to save to someone's

save

life. someone's life.

Visit Visit www.stjohn.org.

nz/firstaid or or phone

0800 0800 FIRST FIRST AID AID (0800

347

347

782)

782)

to

to

book

book

your

your

first

first

aid

aid

course

course

today.

today.

Get Whiter Teeth

In just 1hr with NZ's

Certified Teeth Whiteners

Money back guarantee!*

BUY NOW PAY LATER with

Special

Offer

$199

*T&Cs Apply

over 10 weeks

Phone 339 7374 | www.sparklewhite.co.nz
---
HIGH QUALITY baby

products for sale or hire

When little ones come to stay, it can be

tricky getting hold of everything you

need. Highchairs, portacots, buggies

and carseats are all important pieces

of equipment to ensure a comfortable

stay, but not necessarily things we have

sitting around at home, if we don't have

young children ourselves. Baby On The

Move have the answer, offering long or

short term hire of exactly these types

of products, and can also help with

professional installation of the carseats,

ensuring that our young visitors are both

comfortable and safe.

Baby On The Move started in

Christchurch more than 20 years

ago. With 16 franchises thoughout

New Zealand, including two here in

Christchurch, they provide a range of

high quality baby equipment for hire and

sale. Whether you need a portacot for a

weekend visit, or a full nursery set-up for

COMMUNITY RESOURCES 2019

family visiting for a month or more, Baby

On The Move have everything you need.

Carseats for young children are a very

specific safety requirement which

can be confusing and stressful. The

professionally trained Child Restraint

11

Technicians at Baby On The Move, will

talk you through what you will need for

babies and children of different ages,

check that you have the correct fittings

in your vehicle, and then fit the carseats

for you when you pick them up. This

gives peace of mind so you can safely

transport your young visitors, knowing

that your carseats have been installed by

the experts.

As well as offering short or long term

hire options, Baby On The Move are

also retailers, stocking a wide range of

quality carseats, nursery equipment,

toys, and everything you need for babies

and young children. If you are caring for

littlies on a regular basis, it may make

sense to purchase certain items, and once

again, Baby On The Move can provide

sensible advice in choosing quality

products. With carseats purchased or

hired from Baby On The Move, they offer

free installation for the life of seat, which

means that any time you need assistance

you can pop in, and they will adjust or

reinstall the seat free of charge. If you

have a carseat purchased elsewhere,

they also offer a professional installation

service for which a fee applies.

Baby On The Move stores can be found

in Burnside and Sydenham or online at

www.babyonthemove.co.nz

CONTACT BABY ON THE MOVE, CHRISTCHURCH CENTRAL: 87a Gasson Street, Sydenham. Ph 03 421 3243.

BABY ON THE MOVE, CHRISTCHURCH NORTH: 515 Wairakei Road, Burnside. Ph 03 960 9752.

Great hire selection, not just car seats!

The Baby On The Move Hire Advantage

>> Biggest hire selection

>> Known brands

>> Days, months or even a year

www.babyonthemove.co.nz

CHRISTCHURCH CENTRAL 03 421 3243.

87a Gasson Street, Sydenham.

central.christchurch@babyonthemove.co.nz

>> Flexible hire options

>> Child Restraint Techicians

>> FREE advice and checks

CHRISTCHURCH NORTH 03 960 9752.

515 Wairakei Road, Burnside.

north.christchurch@babyonthemove.co.nz

Short or

long term

hires

available.
---
12

SUPPORTING

THOSE LIVING

with diabetes

Diabetes Christchurch Inc is a support

organisation for people living in the

Canterbury region that have diabetes, as

well as their family and friends.

They offer support, information, advocacy

and non-clinical education on all aspects

of diabetes. Their diabetes shop has a

wide range of medical products including

blood glucose testing metres, blood

glucose test strips, lancets, fingerpickers,

ketone test strips, diabetes cookbooks,

hypo treatments, medical grade shoes and

socks, travel bags, the popular Jok 'n' Al

sauces and toppings, sugar-free treats and

diabetes and gluten-free recipe books.

Diabetes Christchurch membership offers

you contact with other people with this

chronic condition, and exercise and

activities with their age-related support

groups and discounted shop products.

You can contact the office/shop on

925-9972 – they are located at 21 Carlyle

Street, Sydenham, with good parking.

The friendly staff can help you find further

information about different aspects of

diabetes care or make an appointment for

the subsidised podiatry toenail clipping

service, or you may like to attend various

group education classes for Type 2, or a

supermarket tour. The society occasionally

arranges social outings and functions

for members and the general public,

open meetings with diabetes-related

guest speakers and a High Tea party in

November for members aged over 80.

You can become involved with the

diabetes awareness programmes or other

fundraising and volunteer activities in

your area. Please see the calendar of

events on the website and Facebook page.

The website www.diabeteschristchurch.

co.nz has links to lots of information,

other diabetes services, or you can use

the online shop to purchase a range of

diabetes products.

Information Centre and Library:

Thesociety shop is open Monday to

Friday from 9am to 4pm. They have a

good library of pamphlets, books and

magazines, food, exercise and other

related diabetes issues. All members

receive a copy of their Viewpoint

newsletter, which includes information

and education on all aspects of diabetes

and updates on local events, as well as

local, national and international diabetes

research.

Diabetes Christchurch Inc would love to

include your stories about diabetes in this

so please email Lynne, the manager at

ltaylor@diabeteschristchurch.co.nz

DO YOU HAVE DIABETES?

Helping to support all people

with diabetes by providing

information, diabetes

medical products, support,

advocacy and education.

Phone or call in:

21 Carlyle Street

Sydenham, Christchurch 8023

Open 9am-4pm Monday to Friday

PHONE: 925 9972

DIABETES

CHrISTCHurCH

INC

Mobility Scooters

New Shipment Just Arrived

This

Weeks

Special

40% Off!

EziShopper 214

Luxury Seat

Full Suspension

LED Lights

Speed 14 kph

Distance 40km

Deep Cycle Batteries

Full Warranty

Free!

3 Day Home Trial

$6,490 Retail

$3,895 Special

We Come To you

Canterbury /South Canterbury wide

Call 0800 1155 76
---
COMMUNITY RESOURCES 2019

13

EYE SPECIALISTS

SERVICING their community

CARE IN THE COMMUNITY

for over 35 years

Hoon Hay Medical Centre is

a friendly and professional

general practice, dedicated

to providing high-quality

primary healthcare for over

35 years. Proudly achieving

the Foundation Standard for

quality healthcare, their team

of eight doctors is supported

by five Registered Nurses and

a front-of-house reception

team, providing excellent

customer service.

Doctor choice means patient

choice - the choice to consult

with your preferred doctor or

to build up a relationship with

a couple of their doctors. That

way, if your usual doctor is

on leave, you can still consult

with a familiar doctor.

Open from 8.15am to 5.30

pm, Monday to Friday, first

appointments are available

from 8.30am. The on-line

appointment booking

system – available through

the website, is a safe and

efficient way to pre-book

your appointment. Repeat

prescription requests

for regularly prescribed

medications in between

your medication review

appointments may also be

made through the website.

The purpose-built, recently

refurbished medical centre

ensures the comfort of all

patients with electronic

medical beds and heat pumps

in all consultation rooms.

Specialist services include

dermoscopy and skin

checks, travel health, sleep

studies and minor surgery

procedures.

New patient enrolments

are welcome. Discounted

consultations are offered for

Community Service Card

holders and the Under 14s.

Make Hoon Hay Medical

Centre your first choice for

your primary healthcare

needs.

Conveniently located

in Barrington Mall,

Richard Suckling

Optometrists

is a familyrun

business

that has been

providing eye

health services

to the local

community for

many years.

Optometrists Richard

Suckling and Jamie Crimmins

offer full eye examinations

to check vision and eye

health, including retinal

photography, and they

check for glaucoma, cataract

and macular degeneration.

Eyesight is precious, and they

encourage everyone to have

their eyes tested regularly

so any problems can be

identified and treated as soon

as possible.

They also have an

extensive range of

glasses frames

to suit all tastes

and budgets, as

well as quality

lenses and

lens coatings.

Check out their

Facebook and

Instagram pages

for the latest arrivals in

stylish frames.

Gold Card holders receive

a 15 per cent discount on

new frames and there a fuel

discounts for AA Rewards

card holders at Richard

Suckling Optometrists.

They are open seven days

– Monday to Saturday 9am-

6pm and Sunday 10am-5pm.

Appointments can be made

on their website, or phone

03 332 1730.

Gentle

on the Eye

SteriLid Eyelid Cleanser

Used in the treatment of blepharitis (an

inflammatory condition of the eyelids) and dry eye.

An eyelid cleanser that cleanses, yet, with its pHmatched-to-skin

formula, helps maintain the skin

oils that have antibacterial properties and provide

the skin with natural defense.

BARRINGTON, 256 Barrington Street

PH 332 1730 | www.suckling.co.nz

HOON HAY

MEDICAL CENTRE

Meet our

team of

doctors

Rod Kirkwood Mary-Anne Bellamy Sarah Barnes Damian Wilkinson

• Patient choice of doctor

• Appointment Availability

• Established GP/Nurse Team

Online repeat prescriptions

and appointment bookings

We look forward to providing you and your

family with ongoing professional healthcare

Liz Johnson Julie Gilmore Caroline Gibb Peter Morrison

Ph: 338 8179 www.hoonhaymc.co.nz
---
Perfect Smile

Perfect You

REGULAR EYE EXAMS

vital to detect glaucoma

Denture experts Christchurch Denture Care

have arrived in town

With more than 60 years of experience and multiple

locations around the South Island, Christchurch Denture

Care offers a full service care centre for all your denture

needs. Whether you desire a new full or partial set of

dentures, Christchurch Denture Care is dedicated to

perfecting your smile, at the talented hand of clinical

dental technicians Jenny and Naomi.

When it comes to dentures, there is nothing they cannot

do. They offer clients everything from full and partial

dentures, from conventional acrylic to metal framed to

flexible dentures; implant overdentures; mouthguards;

teeth whitening trays and same-day denture relines and

repairs.

They listen to their clients, understanding what their

unique needs are in order to give them the perfect

smile, and functional dentures. They believe in giving

customers quality service, quality dentures and quality

after care.

Continuing to offer the highest quality means they are

constantly moving forward.

Now, they are ready to offer digital denture services

at an affordable price! Precise digitally-designed

dentures, and you can wear your trial dentures to

ensure they are functioning well before you get your

final dentures.

• FREE consultation

• FREE aftercare

service

• FREE polishing for

the lifetime of your

dentures

• WINZ quotes

• Insurance quotes

CHRISTCHURCH

DENTURE caRE

Do you have any

denture issues?

contact us today

Riccarton road

dallas street

105 Wainui Street, Riccarton Phone 03 341 2242

Open Monday to Friday 9am -5pm, Saturday 9am to 4pm

www.christchurchdenturecare.co.nz

no transport? we can come to you at your home or rest home

wainui street

matipo street

Thousands of New Zealanders

are right now at risk of going

blind. It is estimated 115,000

Kiwis over the age of 40 have

glaucoma, but only half of them

know it.

That leaves 57,500 people who

could potentially lose their

eyesight.

Glaucoma is the leading cause

of preventable blindness in

New Zealand, so Glaucoma

New Zealand has been urging

people to get behind its annual

July appeal.

Now in its 11th year, the annual

appeal, Light up Glaucoma,

raises awareness and funds to

help Glaucoma New Zealand

continue its sight-saving work.

Glaucoma is the name given

to a group of diseases that

damage the eye's optic nerve.

The nerve fibres progressively

die taking away the peripheral

vision first. Therefore, there are

no symptoms until the disease

is quite advanced.

The most common form

of glaucoma is open-angle

glaucoma, which is hereditary.

A family history of glaucoma

can increase your risk of

the disease tenfold. As New

Zealand's population ages,

more people will be at risk

of developing glaucoma.

Currently one in 10 people over

the age of 70 have glaucoma.

Worldwide, 4.5 per cent of the

population has glaucoma - 64

million people - and that's

expected to grow to 111.8

million worldwide by 2040.

Early detection is

critical

While the statistics are

sobering, Glaucoma New

Zealand chair Professor Helen

Danesh-Meyer says with early

detection and treatment,

blindness from glaucoma can

be prevented with medication,

surgery and laser treatment.

"That's why it's so important

to raise awareness about

glaucoma and remind people

of the importance of getting

regular eye examinations,

because it could potentially

save the sight of thousands

of people," Professor Danesh-

Meyer says.

Known as the silent thief of

sight, glaucoma has no early

symptoms.

"By the time you do notice

symptoms, it's too late because

irreversible damage has already

been done to your eyes. Our

annual appeal raises awareness

about how crucial it is to get

regular eye examinations to

help stop people unnecessarily

losing their sight."

When to get

checked

Glaucoma New Zealand

recommends people have

an eye examination by the

age of 45 then every five

years after that until age 60.

After 60, examinations are

recommended every three

years.

Those with risk factors such as

a family history of glaucoma or

steroid use should be examined

earlier. Anyone who notices a

change in their eyesight should

book an eye examination as

soon as possible.
---
COMMUNITY RESOURCES 2019

15

RETREATING

into a shell

Do you have a family member who

is starting to shy away from family

gatherings? Are they saying "Nah",

more often than "Yeah", when a social

function is suggested? They may not

want to admit it, but they may have

developed a problem with their hearing.

Retreating into your shell is a common

coping mechanism for those with

hearing difficulties.

The most common type of hearing loss

is due to gradual damage to minute

nerve endings in the inner ear. This

causes a reduction of speech clarity,

with the beginning and endings of

words or sentences dropping away.

This is incredibly frustrating, as it can

sound like people are not speaking

clearly. The biggest problem, however,

is that background noise can be heard

just as loud as always, meaning that

understanding conversation in a group

or social situation can be very difficult.

As a rule, most people do not like to

admit to having hearing difficulties, so

when in a situation where conversation

is becoming hard to follow, most people

will try to bluff their way through, nod

and smile and hope they get away with

it. Trying to make out what is being

said in such a situation is very mentally

tiring, so you can understand why a

future invitation to such an event may be

turned down.

The team at Hear Again see this pattern

repeated time and time again and can

always help. A hearing test is simple and

painless and gives a quick clarification

om whether you have a hearing issue.

There are very discreet hearing aids

available now, which are not noticeable

when in place. And with prices starting

as low as $495 (assuming you are a

New Zealand Resident and eligible for a

Government Subsidy for hearing aids)

there are options to suit every pocket.

The friendly, professional team at Hear

Again don't bite, and will help you find

the best solution for your needs and

budget. You never know, they may even

find that you just need some ear wax

removing, and sort this out for you on

the spot!

Don't live life in a shell – re-join the

conversation and Hear Again!

Do whispered sweet nothings need to be quite a lot louder these days?

With FREE initial hearing checks

and high quality European

Hearing Devices starting from

only $495* there is no need for

you to miss out on all those

little secrets and compliments!

Don't suffer in silence

ACC & VETERANS' AFFAIRS

APPROVED SERVICE PROVIDER

03 974 1658

* Assumes eligibility for $511.11 per ear Government Subsidy for hearing aids

Shop 125, The Hub, Hornby

www.hearagain.co.nz