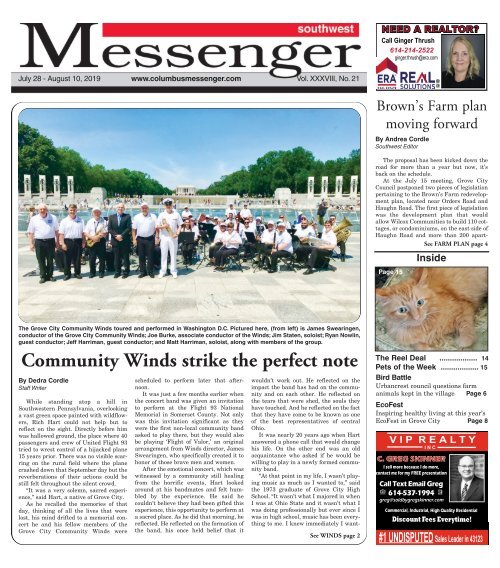 Southwest Messenger - July 28th, 2019
You also want an ePaper? Increase the reach of your titles
YUMPU automatically turns print PDFs into web optimized ePapers that Google loves.
July 28 - August 10, 2019 www.columbusmessenger.com Vol. XXXVIII, No. 21

NEED A REALTOR?

Call REALTOR?

Ginger Thrush

Call 614-214-2522

Ginger Thrush

614-214-2522

ginger.thrush@era.com

Brown's Farm plan

moving forward

By Andrea Cordle

Southwest Editor

The proposal has been kicked down the

road for more than a year but now, it's

back on the schedule.

At the July 15 meeting, Grove City

Council postponed two pieces of legislation

pertaining to the Brown's Farm redevelopment

plan, located near Orders Road and

Haughn Road. The first piece of legislation

was the development plan that would

allow Wilcox Communities to build 110 cottages,

or condominiums, on the east side of

Haughn Road and more than 200 apart-

See FARM PLAN page 4

Page 15

Inside

The Grove City Community Winds toured and performed in Washington D.C. Pictured here, (from left) is James Swearingen,

conductor of the Grove City Community Winds; Joe Burke, associate conductor of the Winds; Jim Staten, soloist; Ryan Nowlin,

guest conductor; Jeff Harriman, guest conductor; and Matt Harriman, soloist, along with members of the group.

Community Winds strike the perfect note

By Dedra Cordle

Staff Writer

While standing atop a hill in

Southwestern Pennsylvania, overlooking

a vast green space painted with wildflowers,

Rich Hart could not help but to

reflect on the sight. Directly before him

was hallowed ground, the place where 40

passengers and crew of United Flight 93

tried to wrest control of a hijacked plane

15 years prior. There was no visible scarring

on the rural field where the plane

crashed down that September day but the

reverberations of their actions could be

still felt throughout the silent crowd.

"It was a very solemn, sacred experience,"

said Hart, a native of Grove City.

As he recalled the memories of that

day, thinking of all the lives that were

lost, his mind drifted to a memorial concert

he and his fellow members of the

Grove City Community Winds were

scheduled to perform later that afternoon.

It was just a few months earlier when

the concert band was given an invitation

to perform at the Flight 93 National

Memorial in Somerset County. Not only

was this invitation significant as they

were the first non-local community band

asked to play there, but they would also

be playing 'Flight of Valor,' an original

arrangement from Winds director, James

Swearingen, who specifically created it to

honor of those brave men and women.

After the emotional concert, which was

witnessed by a community still healing

from the horrific events, Hart looked

around at his bandmates and felt humbled

by the experience. He said he

couldn't believe they had been gifted this

experience, this opportunity to perform at

a sacred place. As he did that morning, he

reflected. He reflected on the formation of

the band, his once held belief that it

wouldn't work out. He reflected on the

impact the band has had on the community

and on each other. He reflected on

the tears that were shed, the souls they

have touched. And he reflected on the fact

that they have come to be known as one

of the best representatives of central

Ohio.

It was nearly 20 years ago when Hart

answered a phone call that would change

his life. On the other end was an old

acquaintance who asked if he would be

willing to play in a newly formed community

band.

"At that point in my life, I wasn't playing

music as much as I wanted to," said

the 1973 graduate of Grove City High

School. "It wasn't what I majored in when

I was at Ohio State and it wasn't what I

was doing professionally but ever since I

was in high school, music has been everything

to me. I knew immediately I want-

See WINDS page 2

The Reel Deal .................. 14

Pets of the Week .................. 15

Bird Battle

Urbancrest council questions farm

animals kept in the village Page 6

EcoFest

Inspiring healthy living at this year's

EcoFest in Grove City Page 8

V I P R E A L T Y

I N C

C. GREG SKINNER

I sell more because I do more,

contact me for my FREE presentation

Call Text Email Greg

614-537-1994

greg@soldbygregskinner.com

Commercial, Industrial, High Quality Residential

Discount Fees Everytime!

#1 UNDISPUTED Sales Leader in 43123
---
PAGE 2 - SOUTHWEST MESSENGER - July 28, 2019

around the southwest

German Heritage Banquet

St. John's Lutheran Church will host

the Historical Society German Heritage

Banquet at 6 p.m. Aug. 24. Tickets are $25

per person and can be purchased at the

Grove City Welcome Center and Museum

on Park Street. The deadline to purchase

tickets is Aug. 10.

www.columbusmessenger.com

JEFFREY P. COMPTON

ATTORNEY AT LAW

General Practice

Personal Injury • Domestic

Probate • Wills

Power of Attorney

Healthcare Documents

FREE CONSULT & PARKING

614-875-7233 Fax: 614-875-7207

3894 Broadway, Grove City

www.jeffreypcompton.com

Email: jcompton@jeffreypcompton.com

Lung Cancer?

Asbestos exposure in industrial,

construction, manufacturing jobs, or the

military may be the cause. Family in

the home were also exposed.

Call 1-866-795-3684 or email

cancer@breakinginjurynews.com.

$30 billion is set aside for asbestos

victims with cancer. Valuable settlement

monies may not require filing a lawsuit.

Non-Hodgkin's Lymphoma, Multiple Myeloma, and

Leukemia may result from RoundUp exposure. A recent

was awarded in a RoundUp injury case.

Call 1-619-493-4791 or email

RoundUp@breakinginjurynews.com

and let us begin work on your RoundUp case today.

ODD

ERRY

ODD

NIGHT OF CHRISTIAN MUSIC

Fridays 7 PM To 9 PM

All ages welcome.

CALVARY ROAD COMMUNITY CHURCH

5108 NORTON RD, GROVE CITY

The Grove City Community Winds pose for a group photo with the U.S Capitol Building in the background.

WINDS

Continued from page 1

ed to do this."

With roughly 16 members — a majority comprised of

trumpet, trombone, clarinet and saxophone players —

they knew they were not going to sound exactly as they

wanted to at first.

"While some of them were professional musicians,

there were others who were still getting back into the

thick of things," said the trumpet player. "We had

some people who didn't play their instruments real

loud and it was always covered up by those who could.

It was an interesting first couple weeks, to be sure."

It was several months into their existence when a

member contacted Swearingen, a former band director

at Grove City High School who is world renowned as a

performer, composer and educator, to gauge his interest

in being their director. Hart thought it highly

unlikely he would say yes to the proposal; Swearingen

thought just the opposite.

"I told them I would commit to being the director for

five years and that was it," Swearingen said with a

laugh. "Now here we are, more than a decade after

those first five years and I'm still here, still enjoying

it."

He said the real selling point in taking the new venture

was his love for the city and the people in it.

"I had the feeling of wanting to contribute to this

great community and this desire to make things even

better."

His first order of business was to bulk up the numbers

by recruiting local talent, most of whom were

either professional musicians or current and retired

band directors. He even snagged saxophone player Jim

Staten, a former Airman of Note who is credited with

improving the music program within the South-

Western City Schools District.

Shortly thereafter, the Community Winds was 60-

strong and garnering a reputation in the music community

for their precision. They even gained a dedicated

group of local fans, notable among those are Cindy

Kazalia and Julie Oyster.

Kazalia said she had been listening to the concert

band since their inception, drawn in by their exceptional

talent and other-worldly sound.

"They always have a way to impact my soul," said

the long-time resident of Grove City. "Every time I

leave one of their concerts, their performance just

stays with me for a long time."

For Oyster, who is the daughter of Staten, it is the

combination of past, present and future displayed in

the ensemble that touches her the most. She said a

majority of the elders are known throughout the community

for their dedication to music education and

excellence, while the younger generation are known

for their up-and-coming talents.

She said it also doesn't hurt that their combined

experience comes together beautifully during each performance.

"I would describe their sound as pure and professional,"

said Oyster.

While the local fans may have known about these

hidden gems, they slowly started to receive more

attention outside of the city, and then eventually

beyond the state.

In addition to performing at local churches, venues

and festivals, the Community Winds were invited to

perform at the Ohio Music Educators Association

State Convention in 2012, then the World War II

Memorial in Washington D.C. that same year. In 2016,

they were invited to perform at the Flight 93 National

Memorial and then this summer were invited back to

the WWII Memorial.

Swearingen said they did not have out-of-state travel

plans in mind when the concert band was formed,

but he called the recognition a great honor and a true

reflection of the quality musicians and of the people in

the city itself.

"We wouldn't be able to continue to perform at such

a high quality without the support of this great community,"

he said, praising the city and the Grove City

Community Club who helped provide a portion of the

funding for the second D.C. trip.

As for Hart, he said he always has to lightly pinch

himself whenever they perform as a reminder of how

far they have come. He said he knows with the

immense love his bandmates have for music, each

other, and this community, they will continue to live

on well into the future.
---
www.columbusmessenger.com

July 28, 2019 -SOUTHWEST MESSENGER - PAGE 3

Welcome to 5921 Goldstone Drive

Welcome to 5921 Goldstone Drive. Over sized 2 story perfect for a growing family. Located in Grant Run Estates close to schools, medical, parks, &

shopping. Captivating chefs dream granite kitchen with optional morning room feature. Sunny & bright eating area open to a large great room offering an

upgraded gas log stone fireplace. Over sized stamped patio with a hot tub & fully fenced yard. Lower level was professionally finished by the builder and

also offers a half bath. Luxurious private master which is over sized with a full bath. Additional 3 bedrooms are generous sized & offer deep closets. Fall

in love with the large laundry room. Huge double lot. Make this impeccable home yours!

$319,900 MLS#: 219026616

COMMERCIAL, INDUSTRIAL, HIGH QUALITY RESIDENTIAL

UNPRECEDENTED SINGLE AGENT SALES OF OVER $75 MILLION FOR 2015-2018

C. Greg Skinner

614-537-1994

I sell more, because I do more, call me for my free no obligation marketing presentation.

Discount Fees Everytime.

I

GROVE CITY

greg@soldbygregskinner.com

UNDISPUTED #1 in 43123 SALES
---
PAGE 4 - SOUTHWEST MESSENGER - July 28, 2019

FARM PLAN

Continued from page 1

www.columbusmessenger.com

BIRTHDAY • ENGAGEMENT • WEDDING • ANNIVERSARY

• GRADUATION • RETIREMENT

IN MEMORIUM • ARMED FORCES

Say it with an announcement ad in

the Messenger and spread the word.

You can download the appropriate form from

our Web site or stop by our office

Monday-Thursday, 8:30 a.m.-5 p.m.

Friday, 8:30 a.m.-2 p.m.

SUPPORT

your

Community Paper

Through advertising, community newspapers like the

Messenger have always been FREE papers. In these

tough economic times we are asking you the reader to

help offset the current decline in advertising revenue by

participating in a VOLUNTARY payment program*.

To those who have already participated -

We Thank You.

For those who would like to, below is a form

you can mail with your DONATION.

*This is not a subscription.

.Name:

Address:

City/State/Zip

Columbus Messenger

3500 Sullivant Ave.

614-272-5422

www.columbusmessenger.com

3500 Sullivant Ave., Columbus, OH 43204

1 year ($9) 2 year ($18)

Eastside Westside Southwest

Southeast

ment units on the west side of Haughn

Road. The housing plan would cater to

senior citizens and empty nesters. The second

piece of legislation discussed was a tax

increment financing (TIF) agreement with

the developer.

Both items were postponed for council to

consider at its Aug. 5 meeting.

Jonathan Wilcox, of Wilcox

Communities, had requested the delay so

he and city officials could address the traffic

concerns brought forth by residents who

live along Orders Road. Some of the area

residents asked that the city address the

safety concerns along Orders Road before

they allow a large complex to be built.

Resident David Hellard reported witnessing

three traffic fatalities near his

home along Orders Road. Last year, he

spoke out against the project saying it

offered no comprehensive traffic plan for

the road.

The legislation on the TIF agreement

would address some infrastructure needs,

according to the ordinance.

Tax increment financing agreements

subsidize companies by refunding or

diverting a portion of their taxes to help

finance development or pay for infrastructure

improvements near the development

area. According to the legislation, the

exemption may be for up to 100 percent for

up to 30 years. The public infrastructure

improvements may include improvements

to public roads and water and sewer lines.

Mid-Ohio Indie Author Book Expo

The Mid-Ohio Indie Author Book Expo will be held from 3 to 7

p.m. Aug. 10 at the Vaughn Hairston YMCA in Urbancrest. The

event allows book lovers to discover new authors and purchase

singed copies of books.

The event started three years ago by local author Alicia

Wiggins to showcase the work of self-published authors. The event

will feature up to 40 authors from Ohio and surrounding states.

Admission is free. For more information, visit www.midohioindies.com.

Gathering at Gantz

Gantz Gardens, at 2255 Home Road in

Grove City, will be the setting for Gathering

at Gantz, an open house hosted by Grove

City Arts Council. The council invites the

public to enjoy hot dogs while watching art

demonstrations that include painting, photography

and coloring activities for children.

The event is an opportunity for the

public to meet GCAC members and learn

more about the council's mission. The event

will be held from 1 to 4 p.m. Aug. 25 in the

large shelter house. There is no cost to

attend.

"I believe the only way we're going to get

repairs to Orders Road and Haughn Road

is through a TIF," said Grove City councilman

Roby Schottke.

The legislation is not specific as to what

infrastructure improvements would be

addressed through TIF funds. It lays out

where the money could be used. Once the

funds start to come in, the funding for road

and/or sewer improvements would come

before city council.

According to Grove City Mayor Richard

"Ike" Stage, some of the intended projects

could include a safer Orders Road with

shoulders, a bike path and a road that goes

to the Grove City YMCA, instead of a lane.

"Orders Road is a problem," said Stage.

"The only way to get that resolved is if we

have major funding. We have brought forth

the best package for our community."

There was also discussion about the city

and developer working together to build a

public dog park near Fryer Park.

According to Wilcox, there were plans to

around the southwest

include a small, private dog park for residents

in the senior complex. Councilman

Ted Berry suggested making a larger, public

dog park.

"If you're already going to put money

into it, why not make it a public park?"

asked the councilman.

Wilcox thought it was a good idea and

said he would review the mechanics and

the project cost. If this is something city

leaders and the developer want to explore,

Wilcox would likely cover the initial cost to

build the public dog park but would be

reimbursed under the TIF agreement.

Not all city leaders were sold on the

idea.

"We don't know if this is something the

public wants," said councilman Steve

Robinette.

A public dog park is currently not part of

the legislation included in the Brown's

Farm development plan or TIF agreement.

City council meets at 7 p.m. Aug. 5 at

City Hall, 4035 Broadway.

Bourbon Tasting

The Heart of Grove City will host its annual Bourbon Tasting

event from 1 to 10 p.m. Aug. 10 in the Town Center. For additional

information, visit www.heartofgrovecity.org.

Festival at Our Lady

Our Lady of Perpetual Help will host a community festival from

6 p.m. to midnight Aug. 16-17 at 3730 Broadway. For more information,

visit www.ourladyofperpetualhelp.net.

Local author shares her story

Susan Brunner, a local author, motivational speaker, workshop

leader and radio personality, will be presenting her story from

'tragedy to triumph,' also including a reading from her book,

"Durim Bridges" at 2 p.m. Aug. 11 at StoryPoint Grove City, 3717

Orders Road. Interested participants are asked to RSVP by Aug.

11 to 614-875-6200. For more information on Brunner, visit booksbysusan.com.

Family fun night of footgolf

The Friends of Southwest Public Libraries will host a family

fun night fundraiser from 5 to 8 p.m. Aug. 3 at Kickmaster Golf,

1700 Dyer Road in Grove City. Participants can enjoy a footgolf

course, a zipline and ninja warrior course, a climbing wall, batting

cages and more. The cost is $10 per person.

Evans Center open house with state of city

Come together and celebrate the valuable contributions

Grove City seniors make to our community every

day while enjoying the Evans Center Open House from

9 a.m. to 3 p.m., Wednesday, Aug. 21. A light lunch

will be served at noon, while Mayor Richard L. "Ike"

Stage delivers a brief presentation regarding the State

of the City.

Join in for fun, food, information and demonstrations.

Connecting older adults to vital community services

to help them stay healthy and independent happens

every day at the Evans Center, 4330 Dudley Ave.

Gathering with friends and acquaintances is vital to

physical, mental and emotional health. The Evans

Center nurtures relationships and community connectivity

while participants pursue new interests and

experience a variety of options to stay active! Invite a

friend or neighbor to this free event to learn about and

enjoy the many services and activities available to

those ages 55 and older.

Find a variety of healthy living and lifelong learning

opportunities. Learn about classes and programs

at the Evans Center. Have a great time and meet some

new friends.

Can't make the open house? You can stop in any

time. The Evans Center is open 8 a.m. to 5 p.m., weekdays.

For additional information, call 614-277-1060 or

visit Parks.GroveCityOhio.gov.
---
www.columbusmessenger.com

July 28, 2019 -SOUTHWEST MESSENGER - PAGE 5

Welcome to 4694 Goodman St.

Welcome to 4694 Goodman Street, located in Briarwood Hills. This home boasts an indoor swimming pool and hot tub,if you love to entertain, THIS IS

THE ONE! Built and lived in by one of Central Ohio's Premier Builders, this home speaks to quality in every sense. Private first floor master retreat offers

a oversized walk in closet and a luxe bath. Dual Great rooms AND an additional large game room all on the first floor. The game room could easily be

modified into an additional in law suite for multi generational living. Immaculate kitchen offers gleaming white cabinetry, wall ovens and a full stainless

appliance package. Both additional bedrooms upstairs are large, with plenty of closet space. Finished lower level, home has TONS of storage space.

Close to schools, shopping and medical. Spectacular! $459,900 MLS#: 219017142

COMMERCIAL, INDUSTRIAL, HIGH QUALITY RESIDENTIAL

UNPRECEDENTED SINGLE AGENT SALES OF OVER $75 MILLION FOR 2015-2018

C. Greg Skinner

614-537-1994

I sell more, because I do more, call me for my free no obligation marketing presentation.

Discount Fees Everytime.

I

GROVE CITY

greg@soldbygregskinner.com

UNDISPUTED #1 in 43123 SALES
---
PAGE 6 - SOUTHWEST MESSENGER - July 28, 2019

Government Focus

By Dedra Cordle

Staff Writer

Within the past five years, the village of

Urbancrest council has debated and

approved ordinances related to nuisance

felines and canines, as well as the field

dressing of deer in public spaces. Now,

farm animals could be added to that list.

At the July meeting, councilwoman

Deborah Larkins-Jackson questioned

whether the raising of chickens, hens or

roosters was permissible in the village as

she heard their unmistakable call early one

morning.

"Are they allowed to be here?" she

asked.

The answer, said code enforcement officer

Randall Bogue, was 'possibly.'

"Since this issue has been raised, I have

been going through the village code extensively

and have not seen anything pertaining

to farm animals being allowed or disallowed

in the village.

"I'm still going through all of the code

from years past where it could be found,

but so far I have been unable to locate anything

concrete."

Larkins-Jackson said in addition to

hearing the noise herself, she has recently

been fielding complaints from residents

who have reported the same thing.

She said she doesn't necessarily mind

residents raising a chicken or two in the

village for their eggs - provided they are

properly secured and not running throughout

the village — but is wary about the raising

of hens.

Pick-Up &

Delivery

C.M.T

MOWER REPAIRS

Authorized Dealers for BOB CAT Mowers

6446 HARRISBURG PIKE, ORIENT, OH 43146

614-875-5830

"We have the lowest price in town!"

GENERAL MAINTENANCE SERVICES

Push Mowers $49.95 • Riding Tractors $149.95

Zero Turn Mower $149.95

Parts are additional on all units

PICK-UP & DELIVERY AVAILABLE $60.00

CHECK OUT THESE GREAT DEALS!!

• CRZ-42........ $ 4,000.00

• CRZ-48........ $ 4,200.00

• CRZ-52........ $ 4,500.00

• CRZ-61........ $ 4,800.00

• XRZ Pro RS61.. $ 7,900.00

"If I know one thing, it's if there are

hens around there are going to be roosters,"

she said.

Bogue said that in addition to researching

past ordinances, he is going to consult

with the leadership at Jackson Township

and the city of Grove City for their input.

"If either of those entities allow (residents

to raise chickens and hens), we

wouldn't have much of a case against it," he

said.

He added that if they do not, the village

council will have to debate the issue if residents

deem it too much of a nuisance.

In other news, the installation of the

speed capturing sign was once again

delayed. According to fiscal officer Kathy

Thimmes, there were several parts on back

order which caused the delay. She said she

ProCat RS 61.............. $ 9,400

ProCat 6000 61........... $ 9,500

Predator Pro 7000 72.... $ 12,400

0% Interest

Financing up to

48 months (if qualified)

www.columbusmessenger.com

A call to action to address farm animals in the village

around the southwest

Immunizations in Jackson Twp.

Franklin County Public Health will

offer adult and childhood immunizations

on Aug. 12 at the Jackson Township

Administration Building, 3756 Hoover

Road in Grove City. Most insurance plans

are accepted. Discounted services are available

for those with no insurance. To schedule

an appointment, call (614) 525-3719 or

visit www.myfcph.org.

Fresh produce at Central Baptist

Free fresh fruit and vegetables will be

distributed on August 10 to qualified, lowincome

Franklin County residents. The

fresh produce will be available at Central

Baptist Church, 1955 Frank Road, beginning

at 10:30 a.m. To assist in registration,

bring a photo ID and your current address

in Franklin County. You are asked to also

bring heavy-duty bags, boxes or carts to

carry the bulk produce home. For additional

information, call the church at 614-279-

3115 or visit the website www.centralbaptistcolumbus.org.

expects the village to receive the speed capturing

sign later this month.

Additionally, Mayor Joseph Barnes Sr.'s

fifth annual 'Your First Health is Your

Wealth Day' will be held from 8 a.m. to

noon on Aug 10. The event, which is located

in the parking area of the administrative

building, 3492 First Ave., will feature the

smoke truck from the Jackson Township

Fire Department, health screenings from

Kroger Pharmacy and other public health

entities, safety lessons from the Franklin

County Sheriff's Office and a bike raffle

and bike ride. Barnes said it will also feature

a back-to-school backpack raffle for 12

children. Food and light refreshments will

be provided.

S.A.L.T. at Evans Center

The Grove City Division of Police host

Seniors and Law Enforcement Together

(S.A.L.T.) meetings at 1 p.m. the second

Tuesday of each month at the Evans

Center, 4330 Dudley Ave.For more information,

visit police.grovecityohio.gov or

call 614-277-1765.
---
www.columbusmessenger.com

July 28, 2019 -SOUTHWEST MESSENGER - PAGE 7

ECO

OFES

ST

SA AT

URDAY AY,

AUG. 10 • 9 a.m.-2 p.m.

.

Grove City Town Centerer

• Park St. & Arbutus Ave.

for your family & the envir

vironment

demonstrations

• activities • information

• vendor

endors

P

MOUNT

CARMEL

PRESENTS

• rov

Take a leisurely ely 6.1 mile fun ride with Grove City's mayor.

Reserv

e a T-shirt: register er online at

bit.ly/bikegcmi

by July 30!

GROVE

CITY PARKS

AND RECREATION

EcoFest.GroveC

eCityOhio.gov

•

@GroveCityOhio

HEART OF

GROVE CITY

Saturday, Aug. 10

•

1-10 p.m.

Grove City Historic Town Center

facebook.com/HeartOfGroveCity
---
PAGE 8- SOUTHWEST MESSENGER - July 28, 2019

On July 15, the Central Ohio Transit

Authority (COTA) launched COTA Plus, an

on-demand microtransit that will provide

first/last mile service in partnership with

Grove City.

The mobility option will operate as a

one-year pilot and will offer customers with

point-to-point service at an affordable fare,

and connect COTA riders to fixed route service

for free.

COTA Plus is an on-demand, app-based

ride share service that can book multiple

passengers heading in the same direction

into a shared vehicle. Referred to in the

industry as microtransit on-demand,

COTA Plus operates either as a point-topoint

ride share service or as a connection

to or from a COTA bus line. Operators are

COTA employees, who receive training and

are subject to background checks upon hiring.

"There is increased demand for greater

mobility options across many of our central

Ohio communities, including Grove City,"

said Joanna Pinkerton, president/CEO of

COTA. "COTA Plus was designed with

input from multiple stakeholders, including

the city and area businesses, who have

identified mobility challenges as a barrier

to employment, healthcare, and education.

NOW ACCEPTING GRANT FUNDING APPLICATIONS

A∩t V∩illage I∩nsurance A∩gency we

believe we can save you money on

your homeowners insurance.

B∩efore you renew your

homeowners insurance call us and

see how much we can save you!

SWACO is now accepting applications for grant funding for

innovative waste reducing, recycling and composting projects

occurring in 2020. Franklin County non-profits, schools,

universities and local governments are eligible to apply.

F∩O∩R∩ G∩R∩E∩A∩T∩ A∩U∩T∩O∩ R∩A∩T∩E∩S∩

it takes a village!

Applications will be accepted until September 20, 2019

S∩ave E∩ven

M∩ore W∩hen

W∩e I∩nsure

Y∩our H∩ome

& C∩ar!

www.viaoh.com • (614) 875-3010

3136 B∩roadway, S∩uite 103

G∩rove C∩ity, O∩H∩ 43123

Soapcitylaundry.com

4310 Broadway

Grove City, OH 43123

614-801-1999

APPLY ONLINE:

SWACO.org/CommunityGrants

The City Beat

We are proud to pilot this innovative service

under the unique COTA Plus brand,

and to work with public and private entities

in the future to solve mobility challenges."

Customers can book trips on their

smartphone through the COTA Plus app. If

they download the app, they must register

as a user. After booking a trip, a COTA

Plus vehicle will arrive within 15 minutes

to take them to their destination. The trip

must begin and end within the defined

zone in Grove City. Customers can also

book COTA Plus trips by calling (614) 308-

4400.

COTA Plus is a partnership between

Grove City and COTA, with the option to

expand service in the future, as needed.

"COTA and Grove City have a long history

of working together and successfully

addressing the ever-changing transportation

needs of our growing community," said

Grove City Mayor Richard "Ike" Stage.

"The COTA Plus program is an innovative

and welcome pilot for our current mobility

challenges, further illustrating the

strength of our partnership."

www.columbusmessenger.com

COTA launches ride sharing program in Grove City

Inspire healthy living at the Grove City

EcoFest, Aug. 10 from 9 a.m. to 2 p.m.

Gather with family and friends in the

Town Center (Park Street and Arbutus

Avenue) at this waste-less event.

Mount Carmel presents the familyfriendly

Bike with Mayor Ike Bike Tour at

9 a.m., Saturday. Register online before

Wednesday, July 30 to secure a free T-

shirt; day-of registration begins at 8:30

a.m. After the ride and during the event,

bicycle parking is available at the secure

YayBikes! Bike corral.

Experience the training and skills our

Grove City police officers use to become a

bike patrol officer. Stop by Grove City's

own Heritage Bikes tent and discover the

world of electric bicycles with Orbit City

Bikes.

The Kids Zone features hands-on activities

including Color Me Happy face painting,

Franklin County Southwest Historical

Society rope making, sampling different

sports and Home Depot ready-to-assemble

bird house or airplane building. Enjoy the

Class2Trails and Ohio Wildlife Center

environmental activities or visit with your

favorite superhero. Pick up a Keep Grove

City Beautiful event passport and collect

stamps at the various activities for a prize.

Grove City is an ideal location for this

pilot project because of its expanding community.

The defined zone will connect

fixed-route riders to the Southpark

Industrial Park, the Mid-Ohio Foodbank

and the new Mount Carmel Grove City

Hospital.

"For many of our community members,

lack of transportation is a major barrier to

receiving essential medical care," said Sean

McKibben, president of Mount Carmel

Grove City. "We are thankful for this new

partnership with COTA and are excited to

offer improved access to exceptional

healthcare to the Grove City community."

Customers who book a trip with COTA

Plus will not pay additional fare if connecting

to fixed-route service (COTA Lines 3

and 61). If a customer books a COTA Plus

trip point-to-point without using COTA bus

service, they will pay a $3 fare. All COTA

Plus fare must be paid through the app.

Cash will not be accept by the operator.

Additional information about COTA

Plus, including service times and frequently

asked questions can be found at

COTA.com.

Plenty of activities at EcoFest

Blood drive at Kingston Center

The American Red Cross Blood Drive

meets in the Kingston Center, 3226

Kingston Ave., from 1-7 p.m. the first

Wednesday of each month. To schedule an

appointment call 1-800-448-3543 or visit

the American Red Cross Blood Drive website.

around the southwest

The Sustainability Zone spotlights environmental

education such as waste control,

composting, storm water conservation,

rain harvesting and solar installations.

Learn about pollinators and how insects

and plants help the environment.

The Health and Wellness Zone highlights

local businesses demonstrating

products, services and wellness programs,

and the Art Zone features displays by

Little Theater Off Broadway, paint-a-Tshirt

with the Grove City Arts Council,

visit the Friends of the Library and more.

A variety of food and merchandise vendors

sell healthy living items including

homemade soaps, skin-care products, environmentally

friendly cleaning products

and healthy food and drinks. Support the

Grove City Sports Scholarship program by

purchasing raffle tickets for a chance to

win a bicycle.

Register to receive important text notifications

regarding EcoFest and all future

event, safety, traffic and weather information.

Text GCALERT to 888-777 to get

started (standard messaging rates apply).

Visit the EcoFest website at

ecofest.grovecityohio.gov for full details.

For additional information, call 614-277-

3058.

Screenings at Evans

Amity Care Home Health Services provides

a nurse at the E.L. Evans Senior

Center in Grove City to do free diabetic

screening and blood pressure testing every

first and third Wednesday of the month

from 11 a.m. to 1 p.m. For more information,

call 614-334-6800.
---
www.columbusmessenger.com

Community Focus

July 28, 2019 -SOUTHWEST MESSENGER - PAGE 9

Back - to - School

Easing first day jitters

The first day of school is one of the most

exciting days of the year –but it can also

be one of the most stressful for both children

and parents.

The freedom (and chaos and boredom) of

the summer is over, and new friends (and

teachers and challenges) await. But an

annual family tradition can soothe everyone's

nerves by making the big day feel

more familiar and predictable. Here are

some rituals that may work for you and

your family – but, of course, feel free to

invent your own.

• Pack a note with your child's lunch

telling him how proud you are of him or, if

your child is older, pack a comic strip

clipped from the Sunday paper or a joke he

can share with his friends.

• Take a picture of your child (or children),

wearing that first day of school outfit,

in the same spot every year. Store the

photographs in a special album so you and

your family can look back on how your kids

have grown up over the years.

• Make a welcome home treat. Your

child might be too nervous for a special

breakfast on the first day, but she'll love

coming home to her favorite snack, which

she can eat while she tells you all about her

day.

• Take your child shopping for school

supplies before the big day. Nothing makes

a child feel more prepared for and excited

about starting school than a fresh batch of

pencils and new folders and binders.

• Visit the school the day before classes

start. You'll have a chance to walk around

the classroom without dozens of children

racing around, and you'll probably be able

to talk with teachers for a few minutes.

• Invite some children in your child's

class over before school starts. Include

some of his friends and someone who's new

to the area. Not only will your child see

some familiar faces on the first day, but

she'll also have a sense of purpose as she

helps the new kid get adjusted.

Messenger photos by Pat Donahue

Celebrating those on the front lines

Here, 6-year-old Donavan Gilpen of Mount Sterling enjoyed an inside look at a piece

of fire equipment on display with the help of Pleasant Township Firefighter Kyle

Helfer. The fire truck was on display at the Harrisburg First Responder and Veterans

Celebration on July 20. The event featured not only equipment used by emergency

personnel, but also military vehicles and displays.

Very Affordable!

Dance for Kids!

hip hop • tumbling• lyrical • jazz • tap • ballet

Above, Owen Peak, 8, got a hands on

look at riot gear courtesy of the Ohio

Department of Corrections and

Rehabilitation.

Left, children got the chance to meet a

member of the ODNR Division of

Wildlife K-9 Unit during a visit to the

Harrisburg First Responder and

Veterans Celebration.

OPEN HOUSE:

Season Starts August 26th!

Sunday August 18th 2-4:30pm

Wednesday August 21st 5-7:30pm

Reflections Dance Center

3048 Southwest Blvd | Grove City

614-875-1044 | RDCdance.com | Email: rdc5678@att.net
---
PAGE 10 - SOUTHWEST MESSENGER - July 28, 2019

www.columbusmessenger.com

Back - to - School

Tips for grabbing the best deals on school clothes

Children and parents often look forward

to the dawn of a new school year. But

before the first homeroom session can take

place, parents may need to take their students

clothes shopping.

According to a 2018 survey by Deloitte,

parents spend an average of $510 per

household on apparel, school supplies, electronic

gadgets, and other items for their

kids' return to school. The back-to-school

season runs from July through September,

during which American households alone

spend $27.6 billion, which is second only to

the holiday season in regard to the most

PAID ADVERTISING

A rich learning environment at

Amazing Kids Academy

Amazing Kids Academy was founded

September 2002 to meet the needs of Grove City

children who needed a small individualized

preschool environment. We offer small classes

with degreed teachers to meet the needs of your

child as they develop.

Our school has a rich learning environment

using High Scope curriculum which allows us to

be diverse in our learning approach. We have

many "indoor" field trips where groups come to

the school to talk with the children. Each year the

fire dept., police dept., Columbus Zoo, dentist,

Shelly Stone with their big equipment, Grove City

brought a snow plow and this year a lady who had

attended astronaut camp came to visit.

Amazing Kids Academy will help prepare

your child both socially and emotionally for their

first school experience along with their academic

needs. We are located in the Bethel Lutheran

Church at 4501 Hoover Rd. Grove City, Ohio and

you may call for more information, 614-539-

4800.

lucrative times for retailers.

Apparel is a large part of back-to-school

shopping. Many parents find they need to

outfit their kids with a new wardrobes each

year. Jeans and leggings that fit like a

glove in June may only reach mid-calf by

Labor Day. To make the shopping process

less harried and more productive, parents

can employ these strategies.

Take inventory

Go through kids' wardrobes and see

what can be salvaged and what might need

to go. This is the perfect opportunity to put

aside gently used, outgrown items that

may be passed on to someone else who can

use them. Be sure to make a list of any

items that the school requires, particularly

in regard to uniforms or dress codes. By

knowing what's in stock in the closet, you'll

have a clear idea of what you need to buy.

Check for tax-free discounts

Some states or cities offer tax-free or

discount shopping incentives, which can

add up to considerable savings. It may be

well worth the effort to stock up on necessities

during these times.

Sign up for loyalty programs

If yours is a child who prefers certain

brands, sign up early in the year for such

brands' loyalty clubs.

Get enough to get by

While certain clothing sales happen

between July and August, often the real

savings begin in October. Wait until that

time to buy the bulk of kids' school clothes.

After all, the first weeks of school are usually

warm, and summer clothing will still

suffice with a few new items thrown in to

freshen up wardrobes.

Invest in quality shoes

Sneakers and other shoes can be expensive.

However, investing in quality brands

can help you avoid having to buy shoes frequently.

Watch for shoe sales and stock up

on coupons. Many stores offer buy-one, getone

half off during the back-to-school season.

In addition to these tips, save more by

shopping overstock stores or warehouse

clubs for name-brand items at lower prices.

AMAZING KIDS

ACADEMY PRESCHOOL

4501 Hoover Rd.,

Grove City, OH 43123

Bethal Lutheran Church

614-539-4800

REGISTERING NOW FOR FALL!

3-5 YEARS, M-W-F, T., TH, 5 Morning

AND 3 AFTERNOON CLASSES

OPEN HOUSE

AUG. 13 TH , 6:00 - 7:00 P.M.

DEADLINE DATE: August 5th

PUBLICATION DATE: August 11th

Ad Size

1/8 Page

1/4 Page

1/2 Page

Full Page

*Prices are per paper.

200 Word Story With Your Ad.

Cost

Ad Rate

$125.00

$165.00

$235.00

$490.00

Call or Email Doug Henry

Phone: (614) 272-5422

Email: doughenry@columbusmessenger.com
---
www.columbusmessenger.com

July 28, 2019 -SOUTHWEST MESSENGER - PAGE 11

Reading is a passion for many people.

But even avid readers may not know just

how far back their love of reading stretches.

According to the American Academy of

Pediatrics, children who find pleasure in

reading have the potential to become lifelong

readers. In addition, studies have

shown that reading to children can help

kids become familiar with sounds, words

and language, helping them in their earliest

stages of cognitive development. So

adults who love books might be able to

trace their passion for page-turners to

those times their mothers and fathers read

aloud to them as youngsters.

Parents who want to their children to

learn to love reading can rely on various

techniques to accomplish that goal.

•Make reading a routine. Routine is a

necessity for parents, helping children

learn when it's time to eat, play and go to

sleep, among other things. Parents can

include reading to their children as part of

their daily routines. As noted, doing so will

promote language skills and cognitive

development while also acclimating children

to books and providing valuable time

Back - to - School

Establishing a love for reading at a young age

for them to bond with their parents.

•Create a distraction-free reading environment.

When reading to children, parents

can create an environment with little

to no distractions. This allows kids to focus

on their parents' voices as well as the story

they're being told. Parents can turn off the

television and the radio when reading to

their kids. In addition, moms and dads

should leave smartphones or tablets in

another room so they aren't distracted by

alerts or tempted to check for incoming

messages or emails.

•Read aloud together. Some children

may shy away from reading if they struggle

in their initial efforts to read. That does not

mean kids won't ultimately enjoy reading,

it just means a little more effort may be

required on parents' part to help kids overcome

any issues they have. Reading aloud

to children can help little ones learn how to

become good readers, as they will learn

how to pronounce words and form sentences.

Kids who know how to read can be

encouraged to read to their parents, which

can instill self-esteem.

•Let kids pick their own books. When

reading to youngsters, whether they're

babies, toddlers or already in school, parents

can let sons and daughters choose

their own books. Children might be especially

enthusiastic about reading if they're

allowed to choose their own books and stories.

Ohio Christian's Emergency and Disaster

Management Program

When Cayla Allen ('21) first started her college

career at Ohio Christian University, she

wanted to be a teacher. Later on, she switched to

an emergency and disaster management degree.

After receiving a degree, students are qualified to

work in areas ranging from local non-profits to

large, international organizations.

One benefit of the Emergency and Disaster

Management program is the hands-on experience

students get in the field.

"I have served on two disaster relief deployments

through OCU with The Salvation Army;

Reading can benefit children from the

earliest stages of their lives all the way

through adulthood. Parents can take various

steps to foster a love of reading in their

children.

PAID ADVERTISING

Ohio Christian's Emergency and

Disaster Management program

one in Puerto Rico (2017) and one in Florida

(2018), which were my favorite experiences,"

Allen said. "Secondly, I have taken several trainings

through The Salvation Army, certifying me

in different areas."

The professors in this program are very dedicated

to educating their students and helping them

achieve their goals.

When asked about the staff at Ohio Christian,

Allen said, "My professors here at OCU are some

of the most qualified and experienced people I

have ever met, and I hope I never take for granted

what they have provided me with to get where I

am today and where I will be in the future."
---
PAGE 12 - SOUTHWEST MESSENGER - July 28, 2019

www.columbusmessenger.com

SWACO needs clay soil

from Pleasant Township

By Hannah Poling

Staff Writer

A representative from the Solid Waste

Authority of Center Ohio (SWACO) attended

the July 23 Pleasant Township trustee

meeting to discuss plans to collect clay soil

for the landfill.

SWACO Director of Operations, Scott

Perry discussed creating a crossing on

Young Road to harvest clay.

"We are currently out of clay material to

build our landfill," said Perry. "Currently,

the area where we are at, we've used all

the clay. The next place to get clay is west

of Young Road."

He said that right now they are only in

the process of testing the dirt. All of the

samples have already been taken. SWACO

has plenty of soil for their daily operations

at the landfill, but they do not have any

clay.

Upgrades will also be made to the road.

According to Perry, SWACO will only use

the road as necessary during construction

and will use safety precautions such as a

mobile red lights, flaggers, a berm, and

fence around the construction area.

The project is scheduled to begin in

2021.

"We just want to keep the community

up to date with what we are doing," Perry

said. "We wanted to come out here and

show what we are doing and be transparent."

The noise ordinance was also brought

up at the meeting by Pleasant Township

resident, Mary Kerins.

According to Kerins, a rodeo took place

at the end of June about a mile and a half

away from her residence. She called the

Franklin County Sheriff's Office to file a

noise complaint against the rodeo.

"I live on Oakhurst and I could hear

every word the man said over the loud

speaker," Kerins said. "I didn't call until

11:15 p.m. and they were still going on. It

was loud and it was late."

She was told to bring the issue up with

Pleasant Township officials. She was then

forwarded to Prairie Township where she

attended their township meeting as well to

discuss the issue last week. Both Prairie

Township and Pleasant Township have the

same noise regulations.

According to Kerins, there were many

noise complaints made that night. She

wanted to make the trustees aware of the

situation so something could be done to

prevent this in the future.

"I think in that noise resolution there is

something that addresses events that happen

occasionally," said Nancy Hunter,

township trustee.

Hunter said the noise resolution would

be looked into more thoroughly to address

this issue.

Riding for the ribbon

Messenger photo by Pat Donahue

Central Crossing High School senior, Ellie Edwards rode her horse, Chex, to a

blue ribbon in the Junior Fair Horse/Donkey Musical Freestyle competition held

July 10 at the Madison County Fair.
---
www.columbusmessenger.com SOUTHWEST MESSENGER - July 28, 2019 - PAGE 13

Thank you for your friendship and your trust.

Greg is rated #1 in 43123

One of the BEST IN COLUMBUS

One of the BEST IN AMERICA

Call or Text Greg at 614-537-1994

www.soldbygregskinner.com
---
PAGE 14 - SOUTHWEST MESSENGER - July 28, 2019

Home

Buyers

Guide

IN CONTRACT

5094 WINTER CREEK DR, GROVE CITY

$

287,500

Lots of great things about this home. Sits on .34 acres in the Creekside sub

division off Buckeye Pkwy. 4 BR, 2.5 baths, Great RM, Open to Kitchen w/ island

and lots of cabinets, Appliances stay, Owners suite with deluxe bath & walk in

closet. 2 car gar w/ extra parking space

Pam Brown

REALTOR®

614.975.9462

www.era.com

3656 Broadway, Grove City, OH 43123

IN CONTRACT

1709 HOLTON ROAD, GROVE CITY

Built in 1900. This stunning 4 BR, 1.5 BA home w/2-3 car garage sits on 1.28

acres. Complete kitchen remodel, new electric box, new water softener & many

other updates. Large beautiful lot with trees and a ravine.

Terri Ehmann

REALTOR ®

Direct: (614) 216-7977

Fax: (614) 875-0889

terri.ehmann@herrealtors.com

herrealtors.com/TerriEhmann

Lincoln Village South, 323 Hiler Rd. $149,900

3 bed, family room, c/a, new carpets, plank flooring, dishwasher &

roof, lots of updates, 2 car garage, large covered back porch,

immed possession.

For sale by owner: Call (614)570-5372

www.columbusmessenger.com

In Entertainment

Creature film is back with some bite

Want to see apex predators on the big screen? Are

you not interested in watching them singing and dancing

and, you know, getting along with others? If so,

might I suggest the recently released "Crawl" to whet

your ravenous appetite?

If you're like me, you miss the abundance of mindless

creature features that filled the summer blockbuster

slate in the 1990s and early 2000s. These films

were fun, simple, stupid and exactly what you wanted

to see during these long and hot months.

Unfortunately, like most species on this planet, this

genre became endangered and then practically extinct

due to human activity, or inactivity to be more precise,

at the box office. But unlike the former, powerful people

in charge may be looking to bring the latter back to

life, a welcome respite from the constant stream of

comic book adaptations, sequels and reboots. Though

some may not be thrilled with this potential bit of

news, I say it is cause for a generic celebration. Let the

creature feature reign!

In "Crawl," the primary focus is on a competitive

swimmer named Haley Keller (Kaya Scodelario) and

her strained relationship with her father Dale (Barry

Pepper). For reasons not well explained, these two had

a falling out several years ago and have been in minimal

contact since despite living a short distance away.

After a disastrous swim meet that could imperil her

scholarship at the University of Florida, Haley is given

two more pieces of bad news: the first is that the strong

tropical storm has turned into a Category 5 hurricane

and the second is that her sister has not heard from

their father in days.

Despite knowing the perils of not getting out of

dodge during a weather event of that magnitude,

Haley travels back to their hometown to search for

their missing father. When she arrives at his last

known residence, she finds their beloved dog Sugar

(Cso-Cso) frightened and all alone. Knowing that he

would not willingly leave the pet behind, she takes the

pooch with her to their childhood home where they discover

his truck, tool belt and phone, but no estranged

father.

With a growing sense of unease, Haley searches the

house until the only place left is their labyrinthine

crawl space. Navigating its dark curves, errant wiring

What's looming?

Messenger photo by Andrea Cordle

Grove City resident Tina

Brownfield is making a rug on

the 1901 Union Loom at the

Grove City Welcome Center

and Museum. Brownfield has

started doing public demonstrations

on the tool used to

weave cloth. Participants can

learn about the loom and try it

out for themselves.

Brownfield will host an interactive

weaving demonstration

the first and second

Wednesday of each month at

the Welcome Center and

Museum, located at 3378 Park

St. To register for a lesson,

call the museum at 614-277-

3061.

The Reel Deal

Dedra Cordle

and the occasional rat and spider,

she quite literally stumbles

upon the body of her partially

mauled and unconscious father.

Not knowing what caused his

injuries, she uses a makeshift

tarp to try to drag him to safety.

But just as they nearly reach

the stairway to safe haven, a massive alligator strikes

from the shadows, leaving the humans trapped in a

maze of darkness that is quickly being flooded with

water.

Though the setting for this film is a dank crawl

space filled with murky water, it isn't hard to see the

action that is taking place: the use of light from director

Alexandre Aja (of "Piranha 3D" fame) and cinematographer

Maxime Alexandre put bigger budget

action films to shame. With this usage, the trickery of

light, it creates a sense of heightened tension as the

alligator could literally be lurking anywhere. That is

not to mention the use of measuring tapes as an awakened

Dale uses it to calculate how fast the water is rising,

or him slipping back into coach mode as he tries to

coax his daughter to make a swim for safety.

Like the creature feature films of the past, and

unlike the lesser versions on SyFy, you find yourself

rooting for these characters to succeed and survive

despite their long odds. And a bonus is that they don't

make too many stupid decisions unlike their counterparts

of yore.

So if you're looking for something fun and original

and straightforward to see this summer, consider

"Crawl" as an option. It's a lean film that features

decent jump scares, an excellent use of light, and it

constantly taps into the fear of what is lurking beneath

the water's surface or around any dark corner. Grade:

B+

Dedra Cordle is a Messenger staff writer and

columnist.
---
www.columbusmessenger.com SOUTHWEST MESSENGER - July 28, 2019 - PAGE 15

t

Pet Corner

Pets of the week

Venus is a 3-monthold

black Lab mix.

Her favorite things

are play time outside,

squeaky toys and

snuggly laps. Venus

would love a home

where her human

would take her out for

daily walks and play

with her. She is eager

to find her forever family. Venus is available for

adoption through Colony Cats and Dogs.

FYI: www.colonycats.org

Shelby is a 2-yearold

long-haired

orange tabby. He is a

big, sweet love bug.

He's neutered,

microchipped, FL-

/FIV negative and up

to date on vaccines.

Shelby currently

resides in the Colony

Cats adoption center.

Contact the rescue organization for more

information.

FYI: www.colonycats.org

Voodoo is a 2-year-old pit bull. Action is his middle name. He has a

'let's go' lifestyle that will keep you motivated to get outside and move.

Voodoo has tons of energy, and just like the sun, he's burning and

working 24 hours a day, seven days a week. He can run for miles,

chase a ball for hours, and still want to play at the end of the day. If you

think you can keep up with this one, meet Voodoo at the county dog

shelter.

FYI: 614-525-3647 or www.franklincountydogs.com

The following are events scheduled at

Battelle Darby Creek Metro Park this

summer. Battelle Darby Creek Metro Park

is located at 1775 Darby Creek Drive in

southwest Franklin County.

•Ultraviolet Night Walk, Aug. 2 at 9

p.m. - Use a blacklight to see the hidden

colors of the night. Meet at Indian Ridge.

•Family Creeking Adventure, Aug. 3 at

11 a.m. - Get wet as we catch fish, bugs and

crawdads in Big Darby Creek. Meet at

Ranger Station.

•Game Night, Aug. 3 from 6 to 9 p.m. -

Hang out in the nature center and play

games. We will have a selection of board

games and active games, but feel free to

bring your favorite. Meet at Nature

Center.

•Brown Bag Special: Cold Bloods, Aug.

7 at 1:30 a.m. - Pack a lunch and join us in

These furry friends are available

for adoption at local

rescues and shelters

July is a very active

and social pooch.

She will need lots of

exercise, tennis balls,

and attention to wear

her out. Because July

can be sometimes

rough at play, she will

require kids over the

age of 12, and preferably

no other dogs or

cats in the household. However, this 5-yearold

mixed breed is still a sweetheart with

much love to give. Adopt July from the

Franklin County Dog Shelter.

FYI: 614-525-3647 or www.franklincountydogs.com

Diamond is a bit of a

wallflower. This 4-

year-old pit bull is a

shy yet charming

pooch searching for a

patient owner with a

relaxed lifestyle. She

is looking for gentle

guidance to help her

come out of her shell.

Treat her sweet and

kind and she is sure to blossom. Adopt this

Diamond from the Franklin County Dog

Shelter.

FYI: 614-525-3647 or www.franklincountydogs.com

Summer events at the park

learning about and meeting some reptiles

and amphibians. Meet at Ranger Station.

For more information about the park or

its programs, call 614-891-0700 or visit

metroparks.net.

southwest

Messenger

(Distribution: 21,678)

Andrea Cordle...................................Southwest Editor

southwest@ columbusmessenger.com

Published every other Sunday by the

The Columbus Messenger Co.

3500 Sullivant Ave., Columbus, Ohio 43204

(614) 272-5422

The Columbus Messenger Co. reserves the right to edit, reject or cancel

any advertisement or editorial copy at any time. The company is not

responsible for checking accuracy of items submitted for publication.

Errors in advertising copy must be called to the attention of the company

after first insertion and prior to a second insertion of the same advertising

copy.

August Giveway

Place a prepaid classified line ad in our paper

for the month of AUGUST and be registered to win a

$50 Gift Card from

The Columbus Messenger Newspapers.

All ads received by mail, in person,

email or phone will be included in the drawing.

Drawing will be held August 30, 2019

and the winner will be notified

and published in our September 8th issue.

GOOD

Looking for a small,

friendly church experience? Try

First Presbyterian Church

of Grove City

4227 Broadway

in Grove City

Join us on

Sunday mornings:

Traditional Worship at 10 a.m.

LUCK!

St. John's Evangelical

Lutheran Church

3220 Columbus St.

Grove City, OH 43123

614-875-2314 www.stjohnsgc.org

WORSHIP SERVICES

Saturday - 6:00 pm

Sunday - Traditional 8:15 am & 11:00 am

Contemporary - 11:00 am

Grove City Church of God

"A Healing Place"

4235 Harrisburg Pike, Grove City, Ohio

614-875-7186

NEW SERVICE TIMES

Sundays beginning June 9

9 a.m. Discipleship Classes - 10:30 a.m. Worship Service

Wednesday Nights Beginning June 12

Connection Café opens at 5:30 p.m.

Discipleship Classes begin at 6:30 p.m.

Be a Part of Our Local Worship Guide

Our Worship Guide is geared toward celebrating faith and helping readers

connect with religious resources in our community.

Make sure these readers know how you can help with a presence in this very special section

distributed to more than 22,000 households in the Southwest area.

Contact us today to secure your spot in our Worship Guide.

614.272.5422 • kathy@columbusmessenger.com
---
PAGE 16 - SOUTHWEST MESSENGER - July 28, 2019

www.columbusmessenger.com

CLASSIFIED ADS

Deadlines: Southeast and West editions, Wednesdays at 5 p.m., • East, Southwest, Madison editions, Tuesdays at 5 p.m.

All editions by phone, Tuesdays at 5 p.m. • Service Directory, Tuesdays at 5 p.m.

xEmployment

JOB

EXPLOSION!!

S TA F F I N G

Your Partner at Work

WANTED

Servers • Retail • Cook

Dish • Grill

You Can Work 29+ Hrs. Based on

Your Availability & Performance

Immediate Full/Part-time Openings

We Offer:

• Weekly Pay

• Paid Training

• No Tip Sharing

• Paid Vacation

• Employee Meal Discount

• Position/Salary Advancement Plan

• Discount Purchase Plan

Apply online at crackerbarrel.com/careers for

Grove City Location 614-871-1444

50 immediate openings

UP TO $27/HOUR

From Manufacturing, Warehouse,

Assembly, Pick/Pack to Forklift,

To Office and Skilled Laborers!

ALL SHIFTS!

Apply Daily at Trillium

Located at 4998 West Broad St., Suite 100

Columbus, Ohio

614-351-3100

INFORMATION

REDFOX VAPORS

4064 Hoover, Grove City

614-991-0061

Check Us Out

Summer's Here

Call Marilyn Weaver

For An Appt.

For a New Cool

Haircut/Style

614-277-1921

Indulgence Hair Salon

3387 McDowell Rd.

Grove City

ASSOCIATION ADS

VIAGRA & CIALIS! 60

pills for $99. 100 pills for

$150 FREE shipping.

Money back guaranteed!

1-800-503-7846

ASSOCIATION ADS

Get DIRECTV! ONLY

$35/month! 155 Channels

& 1000s of Shows/

Movies On Demand (w/

SELECT All Included

Package.) PLUS Stream

on Up to FIVE Screens

Simultaneously at No

Addt'l Cost. Call DI-

RECTV 1-855-781-1565

HEAR AGAIN! Try our

hearing aid for just $75

down and $50 per

month! Call 800-426-

4212 and mention 88272

for a risk free trial! FREE

SHIPPING!

Call Empire Today® to

schedule a FREE inhome

estimate on Carpeting

& Flooring. Call

Today! 1-800-508-2824

Wants to purchase minerals

and other oil and gas

interests. Send details to

P.O. Box 13557, Denver,

CO. 80201

Get a SMARTPHONE

for $0 DOWN* with

AT&T Next® and AT&T

Next Every Year; $250

Gift Card for Switching to

AT&T! (*Requires wellqualified

credit. Limits &

restrictions apply.) 1-

888-545-5093

Cross Country Moving,

Long distance Moving

Company, out of state

move $799 Long Distance

Movers. Get Free

quote on your Long distance

move 1-800-511-

2181

BE YOUR OWN BOSS!

INDEPENDENT

CONTRACTORS

WANTED

If you have a reliable

car and would like to

earn extra money,

then why not deliver?

• Deliver 1 or 2 days a week

• Flexible delivery hours

• Work close to home - often

in or near your neighborhood

CONTACT US

1-888-837-4342

www.thebag.com

• Deliver 7 days a week

• Delivery before dawn

• Work close to home - often

in or near your neighborhood

CONTACT US

614-461-8585

www.dispatch.com/delivery

ASSOCIATION ADS

Denied Social Security

Disability? Appeal! If

you're 50+, filed for SSD

and denied, our attorneys

can help get you

approved! No money out

of pockets! Call 1-866-

376-3163

SELLING YOUR OWN

PROPERTY? Need to

advertise it in your local

paper and others like it?

We have the placement

services to help you.

Contact MACnet MEDIA

@ 800-450-6631 or online

at MACnetOnline

.com

DO YOU HAVE AN AN-

TIQUE OR CLASSIC

CAR TO SELL? Advertise

with us. You choose

where you want to advertise.

800-450-6631

visit macnetonline.com

for details

DISH Network $59.99 For

190 Channels. Add High

Speed Internet for ONLY

$14.95/month. Best Technology.

Best Value. Smart

HD DVR Included. FREE

Installation. Some restrictions

apply. Call 1-855-

837-9146

Employment

Here we grow again

HVAC/Refrigeration Maintenance Technician

For our service department in the Columbus, OH area

40+ hours guaranteed

Company van provided

Full benefits including paid Vacation and 401k

-Salary negotiable

Duties:

Repair and Maintenance of

- HVAC skills

- Refrigeration

Skills/Qualifications:

HVAC, refrigeration training

Excellent communication skills

Excellent customer service skills

Ability to work with little supervision

Please send resumes to: trghr@trgservice.com

ASSOCIATION ADS

AIRLINE MECHANIC

TRAINING - Get FAA

Technician certification.

Approved for military

benefits. Financial Aid if

qualified. Job placement

assistance. Call Aviation

Institute of Maintenance

866-453-6204

Dish Network Satellite

Television Service. Now

Over 190 channels for

ONLY $59.99/mo! ,

FREE Installation, FREE

Streaming, FREE HD.

Add Internet for $14.95 a

month. 1-800-219-1271

Applying for Social Security

Disability or Appealing a

Denied Claim? Call Bill

Gordon & Assoc., Social

Security Disability Attorneys,

1-855-498-6323!

FREE Consultations. Local

Attorneys Nationwide

[Mail: 2420 N St. NW,

Washington DC. Office:

Broward Co. FL (TX/NM

Bar.)]

HIRING?

Let us help you recruit the qualified employees you need to make

your business succeed. With a print and online audience of more

than 39,000 readers, our employment section is your key to meeting

local job seekers where they look first for fresh career opportunities.

Our Westside Messenger

covers Lincoln Village,

Galloway, Franklin Township

Our Southwest Messenger

covers Grove City and

Southwest Columbus

Reaches over 35,000

household in these 2 area

To list a job opportunity, contact a

recruitment advertising specialist today at

614.272.5422

or

Kathy@columbusmessenger.com
---
www.columbusmessenger.com

July 28, 2019 - SOUTHWEST MESSENGER - PAGE 17

xEmployment

Now Hiring!

SALES ASSISTANT

The Advertising Department

is seeking a Sales Assistant.

•No Experience Necessary.

•Base salary plus commissions, auto allowance.

•Senior Cizens and Recent Grads encouraged to apply.

Columbus Messenger Newspapers

Please send your resume to:

Doug Henry, Adversing Manager

Columbus Messenger Newspapers

3500 Sullivant Aveune, Columbus, Ohio 43204

Doughenry@columbusmessenger.com

columbus

WANTED

SW CITY SCHOOLS

SCHOOL BUS DRIVERS

The South-Western City School

District is currently hiring drivers

$16.55/HR

Available positions are for substitute

drivers that can develop into "Regular"

positions with benefits. Interested

individuals should submit an application

on our website at swcsd.us. Follow the

employment link. Applicants should have

an excellent driving record and must

submit to drug, alcohol, and background

screening. A high school diploma or

equivalent is required.

EOE

ASSOCIATION ADS

Suffering from an ADDIC-

TION to Alcohol, Opiates,

Prescription Pain Killers or

other DRUGS? There is

hope! Call Today to speak

with someone who cares.

Call NOW 1-855-866-0913

Use RoundUp Weedkiller?

Non-Hodgkin's Lymphoma

Multiple Myeloma and

Leukemia may result from

RoundUp exposure. A

recent $2 billion judgment

was awarded in a

RoundUp injury case. Call

1-619-493-4791 or email

RoundUp@breakinginjurynews.com

and let us begin

work on your RoundUp

case today.

Lung Cancer? Asbestos

exposure in industrial, construction,

manufacturing

jobs, or military may be the

cause. Family in the home

were also exposed. Call 1-

866-795-3684 or email

cancer@breakinginjurynews.com.

$30 billion is

set aside for asbestos victims

with cancer. Valuable

settlement monies may not

require filing a lawsuit.

ASSOCIATION ADS

Portable Oxygen Concentrator

May Be Covered

by Medicare! Reclaim

independence and

mobility with the compact

design and long-lasting

battery of Inogen One.

Free information kit!

Call 888-609-2189

Become a Published Author.

We want to Read

Your Book! Dorrance

Publishing-Trusted by

Authors Since 1920.

Book manuscript submissions

currently being

reviewed. Comprehensive

Services: Consultation,

Production, Promotion

and Distribution. Call

for Your Free Author's

Guide 1-877-626-2213

DIAGNOSED WITH

LUNG CANCER? You

may qualify for a substantial

cash award. NO

obligation, NO risk!

We've recovered millions.

Let us help you!!

Call 24/7, 855-845-8269

ASSOCIATION ADS

READER

ADVISORY

The National Trade Association

we belong to has

purchased the following

classifieds. Determining

the value of their service

or product is advised by

this publication. In order

to avoid misunderstandings,

some advertisers do

not offer "employment"

but rather supply the

readers with manuals, directories

and other materials

designed to help

their clients establish mail

order selling and other

businesses at home. Under

NO circumstance

should you send any

money in advance or give

the client your checking,

license ID or credit card

numbers. Also beware of

ads that claim to guarantee

loans regardless of

credit and note that if a

credit repair company

does business only over

the phone it's illegal to request

any money before

delivering its service. All

funds are based in US

dollars. Toll Free numbers

may or may not

reach Canada. Please

check with the Better

Business Bureau 614-

486-6336 or the Ohio Attorney

General's Consumer

Protection Section

614-466-4986 for more

information on the company

you are seeking to

do business with.

A PLACE FOR MOM. The

nation's largest senior living

referral service. Contact

our trusted, local experts

today! Our service is

FREE/no obligation. CALL

1-844-722-7993

ASSOCIATION ADS

GENERIC VIAGRA and

CIALIS! 100 Pills $99.00

FREE Shipping! 100%

guaranteed. 24/7 CALL

NOW! 888-889-5515

Earthlink High Speed Internet.

As low as $14.95/

month (for the first 3

months.) Reliable High

Speed Fiber Optic Technology.

Stream Videos,

Music and More! Call

Earthlink Today 1-855-

520-7938

Spectrum Triple Play! TV,

Internet & Voice for

$99.97/mo. Fastest Internet.

100 MB per second

speed. Free Primetime on

Demand. Unlimited Voice.

NO CONTRACTS. Call 1-

855-652-9304 or visit

http://tripleplaytoday.comnational

Call Empire Today® to

schedule a FREE inhome

estimate on Carpeting

& Flooring. Call

Today! 1-866-538-7163

[WANTED] CARS/

TRUCKS WANTED!!!

All Makes/Models 2002-

2018! Any Condition. Running

or Not. Competitive

Offer! Free Towing! We're

Nationwide! Call Now: 1-

888-368-1016

Lung Cancer? Asbestos

exposure in industrial, construction,

manufacturing

jobs, or military may be the

cause. Family in the home

were also exposed. Call 1-

866-795-3684 or email

cancer@breakinginjurynews.com.

$30 billion is

set aside for asbestos victims

with cancer. Valuable

settlement monies may not

require filing a lawsuit.

DENTAL INSURANCE

from Physicians Mutual

Insurance Company.

NOT just a discount

plan, REAL coverage for

(350) procedures. Call 1-

877-308-2834 for details.

www.dental50plus.com/

cadnet 6118-0219

Employment

ASSOCIATION ADS

IMPORTANT

NOTICE

The following states: CA,

CT, FL, IA, IL, IN, KY,

LA, MD, ME, MI, MN,

NE, NC, NH, OH, OK,

SC, SD, TX, VT and WA

requires seller of certain

business opportunities to

register with each state

before selling. Call to

verify lawful registration

before you buy.

ASSOCIATION ADS

CARS/TRUCKS WANT-

ED!!! All Makes/Models

2002-2018! Any Condition.

Running or Not. Top $$$

Paid! Free Towing! We're

Nationwide! Call Now: 1-

888-985-1806

CHILD CARE

OFFERED

Depend. Quality Child care

in loving hm. Exp. Mom, n-

smkr, hot meals, sncks,

playroom, fncd yd. Reas.

rates. Laurie at 853-2472

BETTY'S

Elderly Care

Has Opening for Full-Time

Caregiver Working With the Elderly

Transportation, Some Experience

& References Required. Drug Test.

Call: 614-777-5850
---
&NoApplicationFee

with 12-month lease

when you mention this ad

Limited-time offer!

1234 WASHINGTON STREET

SOMERSVILLE HEIGHTS

List details, terms and conditions here. List details, terms and conditions here.

List details, terms and conditions here. List details, terms and conditions here.

List details, terms and conditions here. List details, terms and conditions here.

List details, terms and conditions here.

PAGE 18 - SOUTHWEST MESSENGER - July 28, 2019

xCome & Get It!

COME AND GET IT

Deadlines are Tuesdays by 5 pm.

Call For Publication Schedule 614-272-5422

Need to Get Rid of Something Fast - Advertise It Here For FREE!

FREE Garden Straw for gardens or bedding. Call for appointment for pickup.

Circle S Farms, 9015 London-Groveport Road, Grove City, 43123

Grove City - 614-878-7980

FREE FIRE WOOD

GK - Grove City - 614-638-5647

FREE JVC TV

32" w/antenna - works well

DH - Columbus - 614-272-5422

FREE HOT TUB in "As Is" Condition

RB - Groveport - 614-778-4916

FREE 54" Mitsubishi Big Screen TV Console. Works great!

Must be able to haul away

JM - Lithopolis - 614-833-2400

. Come and Get It! is a bi-weekly column that offers readers an opportunity to pass

along surplus building materials, furniture, electronic equipment, crafts, supplies,

appliances, plants or household goods to anybody who will come and get them - as

long as they're FREE. NO PETS! Just send us a brief note describing what you want to

get rid of, along with your name, address and phone number. Nonprofit organizations

are welcome to submit requests for donations of items.

Send information to The Columbus Messenger, Attention: Come and Get It, 3500

Sullivant Ave., Columbus, OH43204. Deadline is Tuesdays by 5 pm for following

Mondays publication. Messenger Newspapers is not responsible for any

complications that may occur. Please contact us when items are gone. 272-5422

Come & Get It!

xAdult Care

Welcome

Betty's In-Home Care

Has an opening for

Elderly Care In

My Private Home.

Reas. Rates, Years of Exp. w/References

Hot Meals, Laundry,

Visiting Physicians & Home Health Nurses

& Also work with Hospice!

614-777-5850

We offer AFFORDABLE Care

for our Senior Citizens!

Adult Care

Carolyn's

Cottage

Private Assisted Living

3036 Woodgrove Dr.

Grove City, OH

Michelle Preston - Owner

614-991-0652

614-376-9761

xInformation

BACK TO SCHOOL

AUGUST GIVEAWAY

Place a prepaid classified line ad in our paper

during the month of AUGUST and be registered

to win a $50 Gift Card from

The Columbus Messenger

Newspapers.

All ads received by mail, in person, e-mail or

phone will be included in the drawing.

Drawing will be held August 30th, 2019

and the winner will be notified and published

in our September 8th, 2019 issue .

GOOD LUCK TO EVERYONE!!

Information

ADULT CARE

SENIOR HOME CARE

by ANGELS

We send you the Best

Home Caregivers for hygiene,

meals, light housework.

Up to 24 hr. care. Caregivers

are experienced in elder care.

Very reasonable rates.

"We do things your way."

614-561-0075

www.v-angels.com

HELP WANTED

Auction Auto Detailers

FRANK'S DETAIL OHIO

Immediate Openings

$400-$650 per week

Will Train / FT Benefits/

Weekly Pay

Monday-Saturday with

w/overtime available

Valid Driver's License Req

Apply in person

at our location or

make an appt.

Located: Manheim Ohio

3905 Jackson Pike

Grove City, OH

(Parking at

1394 Stringtown Rd.)

Call: 614-871-6820

Human Resources -

Attention: Leisa Kincaid

franksdetailohio.com

4 Paws & A Tail

We are currently hiring a

PT Bather, Tues-Sat in

a busy Grove City Pet

Salon for IMMEDIATE

HIRE. Please call 614-

991-0130 or drop by

3899 Grove City Rd., GC

DATED SALES

Community Garage Sale

Sat., August 3, 8am-4pm

Look for sale in the

covered picnic areas as

well as the garages.

Lamplighter Senior Village

1185 Lamplighter Dr.

Grove City, OH

8/18 A&M

DATED SALES

Yard Sale - Fri.-Sat.

Aug. 2 & 3, 8-5. 7573

Opossum Run Rd, out of

Darbydale. Lots of misc.

HUGE YARD SALE

1820 London Crest Dr.,

Grove City.

Fri.-Sat. Aug. 2-3, 9-5

Everything from A-Z Going

Cheap! Signs Posted

FREE

Garage Sale

Signs

When You Stop By

Our Office At:

3500 Sullivant Ave.

And Place Your

DATED SALE AD

PETS

Health Conscious Pet

Owners! Pet products for

Health, Rehabilitation,

Habitats. Visit us today

http://www.Assortmentpetproducts.com

WANT TO BUY

WANTED FREON R12

We pay CA$H! R12

R500 R11. Convenient.

Certified professionals.

www.refreigerantfinders.

com 312-291-9169

ANTIQUES

WANTED

Victrolas, Watches,

Clocks, Bookcases

Antiques, Furn.

Jeff 614-262-0676

or 614-783-2629

WANTS TO Purchase

minerals and other oil &

gas interests. Send details

to: P.O. Box 13557,

Denver, CO 80201

$ Cash At Your Door $

for junk or unwanted cars

(Free Tow). Call

614-444-RIDE (7433)

We Buy Junk Cars &

Trucks. Highest Prices

Paid. 614-395-8775

www.columbusmessenger.com

xFocus on Rentals

ATTENTION

APARTMENT MANAGERS

Advertise Your Apartment Listings Today!

simply the Best Place to Live

Claremont

Towers

Luxury Studio & 1-Bedroom Apartments

Great downtown location

Expansive floor plans

Hardwood flooring

Rooftop deck with grills

Community entertainment room

Stainless steel appliances

Our Westside Messenger

covers Lincoln Village,

Galloway, Franklin Township!

Our Southwest Messenger

covers Grove City and

Southwest Columbus

Reaches over 47,000 households in

these two areas!

Example

One Month Free Rent

000-000-0000

WWW.NAMEWEBSITE.COM

CALL KATHY

TODAY!

614.272.5422

kathy@columbusmessenger.com

Rentals

xPreschool/Daycare

Get A Head Start

on Fall Enrollment!

ADVERTISE Your

Preschool/Daycare

in the Messenger

Call KATHY at

The Columbus Messenger

614-272-5422

WANT TO BUY

We Buy Cars & Trucks

$300-$3000.614-308-2626

MISCELLANEOUS

FOR SALE

Couch For Sale. Call

614-595-0446 for information.

Makes bed.

Large Selection of

Chandeliers to

choose from.

All in working condition.

Going Out of Business!!

614-271-2469

Preschool/Daycare

HOMES FOR SALE

Galloway Home For Sale

By Owner-Reduced final

price to $200,000 as is. 5

BR, fin. bsmt w/2 extra

bdrms, 4 full bas, big

garden fully fenced. Most

appls. 614-465-7763

RENTALS

1 BR Apt. $425/mo. 1971

Vaughn St. 740-400-7758

VACATION RENTALS

Englewood, Florida

Palm Manor Resort

Within minutes of white

sand Gulf beaches,

world famous Tarpon

fishing, golf courses, restaurants/shopping,

Bush

Gardens. 2 BR 2 BA

condos with all ammenities,

weekly/monthly, visit

www.palmmanor.com

or call 1-800-848-8141
---
www.columbusmessenger.com

July 28, 2019 - SOUTHWEST MESSENGER - PAGE 19

xClassified Services

AIR CONDITIONING

AIR CONDITIONING

Complete System

Clean & Check

$49.95 8/4 A

Free Electronic Leak Testing

All Makes • All Models

45 Yrs. Exp. • Senior Discount

614-351-9025

614-351-9005

Air Conditioning

Installation & Repairs

30 yrs exp. $50 Service

Fee. R22 recharge avail.

614-226-0982

APPLIANCE REPAIR

Washer, Dryer, Stove &

Refrig. Repair 875-7588

AUTO SERVICE

Summer's Here!

MIDLAND AUTO

AC EVAC DYE &

RECHARGE - $110.00

& all your other

Auto Service Needs!

614-278-9458/778-3864

A Rating-BBB - 46 yrs.

American & Foreign Cars

BLACKTOP

BLACKTOP SEALING

Driveways & Parking Lots

614-875-6971

SANTIAGO'S

Sealcoating & Services LLC

Quality Materials Used

FULLY INSURED

Driveway Seal ( by broom)

Hot Fill Crack, Asphalt Repair

Call or text for Free Est.

614-649-1200

BRICK AND BLOCK

All American

Masonry Co.

20 yrs. exp. - Lic. & Ins.

Brick, Block,Glass Block

Decks, Retaining Wall,

Foundation, Tuck-pointing

Natural Stone,

Cultured Stone, Chimneys

614-805-7741

CARPET CLEANING

DIRT BUSTERS

Any 5 areas $75. Home

Powerwash $99 to $200.

614-805-1084

Specializing in Pet Odors

INFORMATION

ONLY

$50.00

For This Ad In Our

West & Southwest

For Info Call

272-5422

CLEANING

Cleaning - 20 yrs exp.

Judy 614-946-2443

CONCRETE

AJ's Concrete,

Masonry

Good Work - Fair Prices

Block Foundations

Driveways • Sidewalks

Epoxy/Overlay Floors

Bonded-Ins. • Free Ests.

Now Accepting Credit Cards

614-419-9932

ALL-CITY CUSTOM

CONCRETE

All Types Concrete Work

New or Tear Out-Replace

37 Yrs. Exp.

(614) 207-5430

Owner is On The Job!

Buckeye Cement

Contractors

Specializing In

Tearout & Replacing

Concrete of Any Type

Licensed • Bonded • Insured

37th Year in Business

614-539-5640

GALLION

CUSTOM CONCRETE LLC

Specializing in Custom Colors &

Custom Designs of Concrete.

Including Remove & Replace

41 yrs exp & Free Est.

Licensed & Insured

Reputation Built

On Quality

Ronnie

614-875-8364

See Us On Facebook

www.gallioncustom

concrete.com

EDDIE MOORE

CONSTRUCTION

Quality Concrete Work

Lt. Hauling & Room Add.,

Block Work & Excavation

Stamp Patios,

Bsmt. Wall Restoration

37 Yrs Exp - Lic & Ins.

Free Ests. 614-871-3834

FENCING

GUARDIAN

FENCE COMPANY

License..Bonded..Insured

All Types Fence Installed

40 Years Experience

Veteran Owned

614-475-1322

EAZY FENCE

Chain Link - Wood

No Job Too Big or Small

All Repairs ~ Free Est.

Insured. 614-670-2292

GUTTERS

Low Price-Great Service

5 & 6" Seamless gutters,

covers, siding, gutter clng.

Bill 614-306-4541

EPP

Seamless Gutters

Mikey 614-927-9132

licensed/bonded/insured

8.4 A

8/4 W/SW

8-4 W/SW

HAULING

DEAN'S HAULING

614-276-1958

DUMPSTER RENTALS

Bulk Pickups

Estate Cleanouts

You Load or We Load

Open 7 Days - Visa/MC

BUCKEYE HAULING

and DUMPSTERS

614-397-1171

HOME

IMPROVEMENTS

Quality is our #1 Priority

HELMS' CONTRACTING

Call For FREE ESTIMATES

New Kitchens & Baths

New Replacement Windows

Basement Remodels

Room Additions • Roofs

More than 25 Years Experience

Licensed • Insured • Bonded

Bill Helms 614-296-0850

or 614-801-1801 8-18

W/SW

SINCE 1973

Phil Bolon Contr.

Windows & Siding

Decks, Kitchens, Baths

Room Additions,

Flooring, Roofing

Bsmt Waterproofing

Deal With Small Non-Pressure Co.

45 Yrs. Exp. - Refs. Avail.

Lic.-Bond-Ins.

KLAUSMAN HOME

IMPROVEMENT

Siding-Windows-

Doors-Roofing-Soffit-

Fascia-Gutters-Trim

Earn FREE Seamless

Gutters with Siding Over

1000 Sq. Ft.

FREE Shutters with

Soffit & Trim

EPA Certified

Member of BBB

Financing Available

8-4

A/M

Free Est. - Financing Avail.

Member BBB Of Cent. OH

O.C.I.E.B. ID #24273

614-419-3977

or 614-863-9912

CandC

See The Difference

Plumbing & Electric

Install Hot Water Tanks,

Dishwashers & Disposals

8-4

Also Fencing & A

Interior/Exterior Painting

No Job Too Big Or Too

Small - We Do It All

614-702-3691

Over 20 yrs exp. • Free Est.

Licensed-Bonded-Insured

Owner & Operator

James 614-419-7500

8/18 A

8-18 A

PEST

CONTROL

PEST

CONTROL

TERMITE & PEST CONTROL

3093 W. Broad St., Cols.

614-367-9000

BED BUGS?

Starting At $ 295

Pest Control • Rodents • Roaches • Termites

Monthly & Quarterly Services

Great Price!! Licensed & Insured

Visit Us

"Do It Yourself Pest Control".

FREE INSPECTION

HOME

IMPROVEMENTS

C&JHandyman

Services LLC

Minor Plumbing &

Electric

Install Hot Water Tanks,

Dishwashers & Disposals

Also Fencing &

Interior/Exterior Painting

Free Est. ~ 18 Yrs. Exp.

614-284-2100

HOME

MAINTENANCE

Finishing Carpenter for all

your extra home repairs or

Honey-do-list. over 40 yrs.

exp. Sonny 614-325-1910

LAWN CARE

LET US MAINTAIN

YOUR LAWN & GARDEN

FOR YOU

Summer, Spring,

Winter or Fall

WE DO IT ALL!!!!

Lawn Cuts, Edging,

Trees & Shrubs, Garden,

Mulching, Hauling,

Garden Pond &

Home Maint.

Free Ests. Low Rates

$20 & Up

Kevin - 614-905-3117

MOVING

Aaron Allen Moving

Local Moving Since 1956

Bonded & Insured

614-299-6683, 263-0649

Celebrating 60 yrs in business

A Complete

Moving

Reasonable, Reliable

No Job Too Small

PUCO #150692-HG

Free Estimate

614-878-1179

PAINTING

Painting - Int./Ext.

Power Wash-Gutters Clnd

Free Est. - 26 Yrs Exp.

Call Dave 614-270-2369

God Bless

Burt's Painting

"Grove City's Hometown

Painter." Free ests.

614-539-3412

8-4 A

8/4 A&M

Painter Over 30 Yrs Exp.

Free Est. Reas Rates

Daniel 614-226-4221

A Job Well Done Again

A lic. General Contractor

Some Skilled Services

Incl: Painting • Stucco,

Repair•Carpentry•Exterior

Drainage & Home Maint.

Call Today! 614-235-1819

Classified Services

SHOP THE CLASSIFIEDS!!

Only $1 per line

columbus

❏ Check for one additional FREE week.

Telephone: _________________________________________________________

Print Your Name:____________________________________________________

Last

First

Print Your Address:___________________________________________________

Print Your City:__________________________ State:_______ Zip:____________

Print Your Ad Below…

One word each space. BE SURE YOUR TELEPHONE NUMBER OR ADDRESS is included in your

advertisement. The lessor of 4 words or 22 characters per line. We reserve the right to use abbreviations

when actual space exceeds amount purchased.

1. __________ __________ __________ __________

2. __________ __________ __________ __________

3. __________ __________ __________ __________

4. __________ __________ __________ __________

5. __________ __________ __________ __________

6. __________ __________ __________ __________

Columbus Messenger

3500 Sullivant Ave. • Columbus, Ohio 43204

614-272-5422

classified@columbusmessenger.com

$

PAINTING

Not Valid for Garage Sales

PEST CONTROL

Anthony Pest Control

Eliminate Your Pest For

Less $$. 614-600-8841

Anthony Pest Control

Termite/Bed Bug Work

at Reasonable Prices.

614-600-8841

PLUMBING

ALL IN ONE

PLUMBING LLC

"One Call Does It All"

$25 OFF LABOR

With This Ad

A

614-801-1508

All Major Credit Cards Accepted

8/18

All About Drains & Plumb.

Will snake any sm drain

$125 + tax. 614-778-2584

POWER WASHING

MRS. POWERWASH

Any house wash $149 + tax

Single deck $69 + tax

2 Tier deck $99 + tax

Best Wash In Town

Over 45,000 Washes

Ashley, 614-771-3892

West ___ Southwest ___ East ___ Southeast ___ Madison___

❏ Cash

❏ Check

❏ Money Order

❏ VISA ❏ MC

POWER WASHING

Bates & Sons

Soft Wash & Powerwash

Gutters & Windows

5 Star Google Reviews

614-586-3417

ROOFING

Robinson roofing & repairs

30 yrs. exp. Lifetime Cols.

resident. Lic./bonded/Ins.

Reas rates. Member of

BBB. Dennis Robinson

614-330-3087, 732-3100

SEWING MACHINE

REPAIR

REPAIR all makes 24 hr.

service. Clean, oil, adjust

in your home. $39.95 all

work gtd. 614-890-5296

TOP SOIL

Alexander Hauling

Driveways topped w/new

limestone. We also deliver

Topsoil - comtil - sandmulch.

Specializing in

residential. 614-491-5460

Bobcat Service Avail.

Credit Card

Information

___

__________________________

Credit Card Number

____________

TREE SERVICES

BURNS TREE SERVICE

Trimming, Removal &

Stump Grinding.

614-584-2164

TROTT

TREE & LANDSCAPE

Tree Trimming

& Removal

Also Stump Removal

Free Est. - Fully Ins.

Call 614-235-3791

Cell 614-738-0682

Brewer & Sons Tree Service

• Tree Removal

• Tree Trimming

• Stump Grinding

• Bucket Truck Services

Best Prices • Same Day Service

614-878-2568

__(___)__

Exp. Date 3 digit code

Minimum Charge $5.00

8/18

A

Joe's Tree & Yard Work

Trim, thin, shape bushes,

hedges, stump grinding,

hauling. 614-598-6247

8/4

A&M
---
PAGE 20 - SOUTHWEST MESSENGER - July 28, 2019

www.columbusmessenger.com

• STUFF, STUFF, MORE STUFF • COME TO WATERBEDS N STUFF • STUFF, STUFF, MORE STUFF • COME TO WATERBEDS N STUFF •

EAST

LANCASTER

CHILLICOTHE WEST

815 S. Hamilton 1251 N. Memorial Dr.

Bridge St. SUPER STORE

614-239-7270 614-654-3385

740-775-1171 W. Broad/Wilson

REYNOLDSBURG

Kroger Ctr.

St. Rt. 256

614-276-4722

614-861-4560

• STUFF, STUFF, MORE STUFF • COME TO WATERBEDS N STUFF • STUFF, STUFF, MORE STUFF • COME TO WATERBEDS N STUFF •

• STUFF, STUFF, MORE STUFF • COME TO WATERBEDS N STUFF • STUFF, STUFF, MORE STUFF • COME TO WATERBEDS N STUFF •

• STUFF, STUFF, MORE STUFF • COME TO WATERBEDS N STUFF • STUFF, STUFF, MORE STUFF • COME TO WATERBEDS N STUFF •