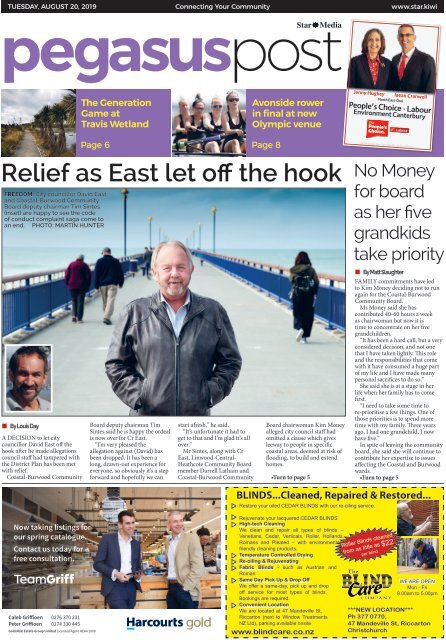 Pegasus Post: August 20, 2019
Create successful ePaper yourself
Turn your PDF publications into a flip-book with our unique Google optimized e-Paper software.
TUESDAY, AUGUST 20, 2019

Connecting Your Community

www.star.kiwi

The Generation

Game at

Travis Wetland

Avonside rower

in final at new

Olympic venue

Jenny Hughey Iaean Cranwell

North East-Ōrei

People's Choice - Labour

Environment Canterbury

Page 6 Page 8

Authorised by J McLellan, 6 Braddon Street, Addington

Relief as East let off the hook

FREEDOM: City councillor David East

and Coastal-Burwood Community

Board deputy chairman Tim Sintes

(inset) are happy to see the code

of conduct complaint saga come to

an end. PHOTO: MARTIN HUNTER

• By Louis Day

A DECISION to let city

councillor David East off the

hook after he made allegations

council staff had tampered with

the District Plan has been met

with relief.

Coastal-Burwood Community

Board deputy chairman Tim

Sintes said he is happy the ordeal

is now over for Cr East.

"I'm very pleased the

allegation against (David) has

been dropped. It has been a

long, drawn-out experience for

everyone, so obviously it's a step

forward and hopefully we can

start afresh," he said.

"It's unfortunate it had to

get to that and I'm glad it's all

over."

Mr Sintes, along with Cr

East, Linwood-Central-

Heathcote Community Board

member Darrell Latham and

Coastal-Burwood Community

Board chairwoman Kim Money

alleged city council staff had

omitted a clause which gives

leeway to people in specific

coastal areas, deemed at risk of

flooding, to build and extend

homes.

•Turn to page 5

No Money

for board

as her five

grandkids

take priority

• By Matt Slaughter

FAMILY commitments have led

to Kim Money deciding not to run

again for the Coastal-Burwood

Community Board.

Ms Money said she has

contributed 40-60 hours a week

as chairwoman but now it is

time to concentrate on her five

grandchildren.

"It has been a hard call, but a very

considered decision, and not one

that I have taken lightly. This role

and the responsibilities that come

with it have consumed a huge part

of my life and I have made many

personal sacrifices to do so."

She said she is at a stage in her

life when her family has to come

first.

"I need to take some time to

re-prioritise a few things. One of

those priorities is to spend more

time with my family. Three years

ago, I had one grandchild, I now

have five."

In spite of leaving the community

board, she said she will continue to

contribute her expertise to issues

affecting the Coastal and Burwood

wards.

•Turn to page 5

BLINDS...Cleaned, Repaired & Restored...

Restore your oiled CEDAR BLINDS with our re-oiling service.

Now taking listings for

our spring catalogue.

Contact us today for a

free consultation.

Rejuvenate your lacquered CEDAR BLINDS

High-tech Cleaning

We clean and repair all types of blinds –

Venetians, Cedar, Verticals, Roller, Hollands,

Romans and Pleated – with environmentally

friendly cleaning products.

Temperature Controlled Drying

Re-oiling & Rejuvenating

Fabric Blinds - such as Austrian and

Roman

Same Day Pick Up & Drop Off

We offer a same-day, pick up and drop

off service for most types of blinds.

Bookings are required.

Convenient Location

We are located at 47 Mandeville St,

Riccarton (next to Window Treatments

NZ Ltd), parking available onsite

www.blindcare.co.nz

Roller Blinds cleaned

from as little as $22

per blind

WE ARE OPEN

Mon - Fri

8.00am to 5.00pm

***NEW LOCATION***

Ph 377 0770,

47 Mandeville St, Riccarton

Christchurch
---
2 Tuesday August 20 2019

Latest Christchurch news at www.star.kiwi

news

PEGASUS POST

get in touch

Green light for bus stop plan

The plan to extend an existing bus stop on Shirley Rd and

construct a new shelter beside it will go ahead.

GENERAL INQUIRIES Ph 379 7100

CLASSIFIED ADVERTISING Ph 379 1100

Star Media,

a division of Allied Press Ltd

PO box 1467, Christchurch

starmedia.kiwi

Page 6

tasty bites

Food through science

The benefits of protein in our bodies can't be

underestimated. Get plenty in your diet with these recipes.

NEWS

Matt Slaughter

Ph: 021 910 788

matt.slaughter@starmedia.kiwi

ADVERTISING

Elaine Moon

Ph: 364 7436

elaine.moon@starmedia.kiwi

Page 13

community events

Photos on show

Go along to Our Ocean, an exhibition by Gary Easterbrook,

New Brighton Library all week.

Page 15

The best-read local newspaper,

delivered to 15,657 homes

every Tuesday

Linwood, Avonside, Richmond, Shirley, Burwood, Dallington,

Wainoni, Bromley, Aranui, Avondale, Bexley, New Brighton,

Northshore, Queenspark, Parklands, South Brighton.

• The Star

• North Canterbury News

• Selwyn Times

• Ashburton Courier

also publishing:

• Bay Harbour News

• Southern View

• NorWest News

• Western News

CITY SOUTH VAN SPARES

SERVICE CENTRE & TYRES

159 MACES ROAD | PH 384 8744

• Provide Full Workshop Facilities • Full Servicing & WOF Repairs

• Towing Available • Good Hourly Rate • Same Day Clutch Replacement

• 2 Day Engine Replacement • Mechanical & Exhaust Repairs

PLUS

CITY SOUTH VANS

We buy, sell and dismantle

vans & cars

• We pick up out of Chch

• Backpacker vehicles available

WITH Guaranteed Buy Back

100%

owned & operated

166 MACES ROAD, BROMLEY

P. 384 8744 or A/H 027 222 3241

OPEN SATURDAY

9.00AM - 1.00PM

Reach 168,000 readers

with just one ad placement

Call Shane Victor on 021 381 765 to find out how!
---
PEGASUS POST Latest Christchurch news at www.star.kiwi

Tuesday August 20 2019 3

News

Idea to revitalise mall

• By Matt Slaughter

A COASTAL Ward city council

candidate has an idea he thinks

could revitalise New Brighton

Pedestrian Mall.

But, it could cost ratepayers

$20 million.

Medical supplies salesman

Kelly Barber, who is running

against David East for the

Coastal Ward seat says the city

council should buy a section of

the east side of New Brighton

mall off landowners and

revitalise it themselves.

Business owners in the mall

and the New Brighton Business

and Landowners Association say

the idea sounds good on paper,

but are concerned with the

impact this could have.

Karma Free Cafe owner Elena

Bushnell's business sits at the

east side of the mall.

She said she would support

Mr Barber's idea if it meant her

business would stay in the mall,

but would be "angry" it was

forced to move.

"I have no idea if they [the city

council] would keep us or what

they would do with us, I don't

know.

"We just bought this business

recently so we have quite a bit

of debt to pay . . . so if we will be

REVITALISATION: City council candidate Kelly Barber wants

the city council to purchase a section of the east end of New

Brighton Mall and revitalise it.

taken out, then definitely we will

be angry."

New Brighton Business

and Landowners Association

chairwoman Rebbeca Tavete

said the idea was not as simple

as it sounded, but she would

support it if Mr Barber could

find a way to make it happen.

"A collective purchase would

be great if there's the money

and the investment can be

supported.

"It sounds good doesn't it, but

how realistic is that approach

and what would that mean in

terms of timing and working

with all the different landlords

to make the purchase possible?"

Said Mr Barber: "I'm talking

about the eastern end of the

mall, so as much as possible of

the eastern end of the mall to

enable somebody to perhaps

build a mall or to have some

kind of like coherent sort of plan

enacted because at the moment I

think the situation is a bit dire.

"Even if it's to purchase the

land of the people who are

not interested in moving New

Brighton mall forward . . . even

if it took them out of play by

compensating them for the land

and purchasing it off them."

Mr Barber said he had

researched the idea and said he

believed it would be possible

under the city council's Greater

Christchurch Regeneration Act

2016.

He estimated it would cost

the city council $20 million to

purchase the amount of land he

was proposing.

Mr Barber said he had doorknocked

about 1000 properties

in the Coastal Ward since his

election campaign began and

about 80 per cent of people

he had spoken to had said the

revitalisation of New Brighton

Mall should be a priority for the

city council.

When asked if they would

support Mr Barber's proposal,

both the city council and

Development Christchurch Ltd

did not comment before the

Pegasus Post deadline.

In Brief

ROAD DESIGN TO REMAIN

The Papanui-Innes Community

Board has decided not to cut off a

right turn into the KFC on Shirley

Rd to ease traffic congestion.

Pegasus Post reported last month

the board was considering

extending a traffic island just

down from an entrance to prevent

drivers from being able to make

the turn, but it was decided this

would be more dangerous than

keeping it.

WATER AMOUNT REQUESTED

Concerns have been raised about

the amount of water from the new

floating wetland in Shirley that

will be deposited into the Avon

River. City council staff have

been asked to report back to the

Coastal-Burwood Community

Board with this information.

The wetlands are designed to

help reduce the flood risk for

properties upstream in Shirley.

FIND A COLOURED ROCK

Colourful rocks are adding

some fun to the Southshore

estuary edge track. Residents are

collecting rocks, painting them

and hiding them in different spots

along the track for others to find.

Photos of the rocks are sometimes

then posted to the Southshore

8062 Facebook page, thanking

whoever hid them.

YOUR ONE STOP SHOP!

TYRES

NEW & USEd

WoF

FLAGS

TYRES

bOOk

IN NOW

FULL MECHANICAL

SERVICES

WHEEL

ALIGNMENTS

SPECIALISTS$49

Wigram - 341 1226 104 Hayton Rd

Woolston - 384 0000 49 Garlands Road

Public Meeting with

Hon Poto Williams MP

With special guest Professor Philip

Schluter to discuss, Oral Health in

our Tamariki and observations on

population health.

When: Friday 23 August, 7:30pm

Where: St Andrews Hall,

109 Marriotts Road,

North New Brighton

Electorate Office: 03 382 0288

/PotoWilliamsMP |

@PotoChchEast

Professor

Philip Schluter

Authorised by Poto Williams MP, Parliament Buildings, Wellington

NomiNAtE

dAd FoR

LoCAL FAthER

oF thE yEAR!

EVERY ENTRY GETS A FREE SLICE OF CAKE!*

ENtRiES CLoSE 31.08.19

opEN to ChiLdREN 12 yEARS ANd uNdER

ENTER

TO WIN!

DOWNLOAD ENTRY FORM ONLINE

AND ENTER IN-STORE

*Conditions Apply, see www.thecheesecakeshop.co.nz/terms

Edgeware | 205a Hills Road | Ph. 03 386 0222

thecheesecakeshop.co.nz

Cheesecakes | Mudcakes | Tortes | Desserts | Open 7 Days
---
4 Tuesday August 20 2019

Latest Christchurch news at www.star.kiwi

PEGASUS POST

News

Questions raised

over length

of stopbank

• By Matt Slaughter

THE PLANNED length of

a stopbank to be installed in

South New Brighton has been

questioned.

The bund is set to be installed

as part of a project to extend

stopbanks south of Bridge St in

South New Brighton to reduce

the impact of tidal flooding for

more than 500 properties near the

estuary.

Coastal Burwood Community

Board chairwoman Kim Money

said the bund will not extend far

enough to protect a part of South

New Brighton School, which she

and the board believe will be

prone to flooding.

"[City council] staff have said

that this is the best way forward

and that the report that they got

back said that the areas where the

school are didn't need protecting

given a modelling for a 50-year

flood said that the school wasn't

in danger.

She said the community board

had asked city council staff to

reconsider this.

The project to protect

properties in South New

Brighton from flooding began

last month.

More support for intersection upgrade

Wheelchair

users' convince

board to act

• By Matt Slaughter

THE MAIREHAU and

Burwood Rds intersection

needs to be made safer for

wheelchair users sooner, says

the Coastal-Burwood

Community Board.

The board has requested the

city council improve safety

measures at the intersection as

soon as possible, rather than

in 2023 when $1.3 million is

budgeted for the project.

Pegasus Post reported in June

on inexperienced wheelchair

users from Burwood Hospital's

spinal unit being put in danger

when trying to cross the road to

get to the nearby shops.

A site meeting was held

last month at the intersection

between the community

board, city council staff and

representatives from the New

Zealand Spinal Trust, New

Zealand Transport Agency and

Canterbury District Health

Board.

Community board

chairwoman Kim Money,

who has had a spinal injury

SAFETY PUSH: New Zealand Spinal Trust representatives

Hans Wouters (left) and Brett Ladbrook have been calling

for safety improvements at the Mairehau and Burwood Rds

intersection. ​

herself, said the risks wheelchair

users face when crossing the

intersection are clear.

"When this is brought to

your attention . . . you just see

that these members of our

community really need our

help here to prioritise this. If

their first venture out in their

wheelchair onto the street is

in this area to perhaps go over

to the little dairy . . . if there's

anything that we can do to make

that first venture out a safe one

and take the stress out of it, we

need to do that."

New Zealand Spinal Trust

chief executive Hans Wouters

said the community board

formalising a request to

complete the intersection safety

improvements sooner is another

good step towards making this

happen.

"The New Zealand Spinal

Trust has been very pleased with

the consultation process and

believe we were well listened to.

Clearly the community board's

decision is good evidence of that

and we're pleased again at this

positive progress."

The spinal trust's preferred

option to improve safety is for

traffic lights to replace the four

traffic islands and roundabout

currently at the intersection,

which are hard for wheelchair

users to navigate.

Mr Wouters has not heard

back from the city council as to

whether this will happen, but

hopes it would.

The city council could not

say yet if funding for the

intersection improvements will

be made available sooner, when

it will decide if they will happen,

or if traffic lights would be

chosen as the safest option.

We want you - come and try us out!

suMMER MEMBERshiP

Earlybird special

Purchase by 29th september 2019

and get one extra month

fREE

$510

Was $595

CasuaL goLf

Two people play

for the price

of one

$35

Was $70

TWiLighT goLf

Prestine twilight golf

Wednesday evenings from

october 2019 to March 2020.

open to all golfers -

handicap and

non-handicap grades.

$10

EaCh

Summer Membership starts 29 th September

2019 to 30 th April 2020.

Free month can start from the purchase date.

Bring in or mention this advert when booking.

One round per voucher, subject to availability.

Offer expires 31 st October 2019.

Prizes each night and flexible start times -

come and enjoy 9 holes of golf in our backyard!

Phone Clare today to join or make a booking!

03 383 1403 | 115 Waitikiri Drive, Bottle Lake

www.bottlelakegolf.co.nz
---
PEGASUS POST Latest Christchurch news at www.star.kiwi

Tuesday August 20 2019 5

HAVE YOUR SAY: Do you think the complaint

against David East should have been dropped?

Email your views to matt.slaughter@starmedia.kiwi

Complaint against

East dropped

•From page 1

The three community board

members were cleared of their

code of conduct complaints last

month. Cr East was not and

remained in negotiations with

the city council until last Tuesday

when he felt they had reached a

stalemate.

Cr East withdrew from the

code of conduct complaints

which arose from his outspoken

comments and the city council

decided not to pursue the matter

further following an almost yearlong

battle.

Cr East apologised for his

claims in a city council meeting in

November after it was discovered

the clause had never existed.

However, the city council

wanted him to make a personal

apology to the staff who he

claimed had tampered with

the District Plan. Cr East said

he considered it but in the end

decided against it.

A council spokeswoman said

East had agreed to apologise in

person to staff but withdrew from

the process. City council general

manager of corporate services

Leonie Rae was disappointed by

Cr East's withdrawal.

"I really felt that we had almost

got there. Cr East was to make a

personal apology to staff for the

allegations he made against them.

"Given that the complaint

cannot be resolved by agreement,

I have discussed the matter with

the mayor (Lianne Dalziel) and

we have accepted there is no point

continuing to take the complaint

any further."

Cr East felt the situation could

have been handled better by Ms

Dalziel and former city council

chief executive Karleen Edwards,

considering he had already made

an apology. "The previous chief

executive was very determined in

the protection of her staff and was

unrelenting in wanting another

and fuller apology, the mayor has

followed her lead but has not been

as dogmatic as the previous chief

executive," he said.

The allegations made by

Cr East and the community

board members led to Greater

Christchurch Regeneration

Minister Megan Woods approving

the city council's proposal to

amend the District Plan. But

an audit commissioned by the

city council by Environment

Canterbury councillor Peter

Skelton found there was never a

missing clause.

•Additional reporting Matt

Slaughter

Money puts family first

•From page 1

Said Ms Money: "I will

always be passionate about our

community and I will continue

to invest in it and assist where

possible. What this looks like, I

am not quite sure yet, but I will

take some time to consider my

next steps.

"I would also like to pursue

specific community projects that

I am involved in but I haven't

had the time to do so during this

period."

She said one of these projects

is trying to get a wheelchair

and pram walkway connecting

Waimairi Beach, North Beach,

New Brighton, Bottle Lake Forest

Park and Southshore.

Ms Money said she has enjoyed

her time on the board and felt

both wards had developed

in her time at the helm. She

said her achievements include

strengthening the relationship

between the board, various

community groups and city

council staff.

"I have given my all to

serving the community, and it

has been an absolute privilege

working with and supporting

the hundreds of passionate

volunteers, community workers,

entities and other elected

members who dedicate their

time and energy to make the

LOVE: Kim Money with Leilani Thompson and Kaia Frew, two

of her five grandchildren.

PHOTO: GEOFF SLOAN

Coastal-Burwood Ward what it

is today."

Her biggest disappointment

was what little has been done

to protect Southshore and

South New Brighton residents'

properties from the impact of

rising sea-levels, coastal erosion

and flooding, she said.

"That community should be

allowed to be able to get on with

their lives and be given hope . . .

and it's just not happening."

Said Ms Money: "There is still

plenty of work to be done before

the elections."

Ms Money said she

hopes whoever takes her

place after October's local

body elections will continue to

fight for the Coastal-Burwood

Ward.

"Whoever puts their hand

up should know the issues

and what is concerning residents

and just continue that good

work in keeping the council

accountable."

Discover Christchurch's

best pet

accommodation

• Daycare - all breeds

• Long stay/short stay

Hunter junior

(Leather)

Call now to

book in your

fur baby,

inspections

welcome

anytime!

ALAMEDA

KENNELS & CATTERY

271 Dyers Road | Ph 384 1297

www.alameda.nz

• All vehicle repairs

• Oil changes and services

• Brakes • Loan car available

• Tyres, punctures & batteries

• W.O.F • Tune up

Great new colours from size 7.

From $105 each

47c Garlands Road, Woolston

Phone 389 3431

www.thefootwearfactory.co.nz

YOUR LOCAL GARAGE

Soft plastics go

in the red bin

That's anything plastic you can

scrunch in your hand, like this

piece of bubble wrap.

Your LocaL GaraGe

VERY FRIENDLY SERVICE AND ADVICE

NEW BRIGHTON AUTOMOTIVE

Phone: 03 388 3630

40 Hawke St (behind Z Petrol Station)

Thanks for bin good everyone!

ccc.govt.nz/redbin
---
6

Tuesday August 20 2019

News

TRAVIS WETLAND and parts

of the red zone will feature in the

Christchurch Walking Festival.

Walks will include The

Generation Game at Travis

Wetland on October 6, a

Dogs' Day Out in the Zone on

September 29 and Adventure on

the Te Ara Ihutai Christchurch

Coastal Pathway on October 13.

Dog treats, activities and stalls

will be at the Dogs' Day Out,

with pets gathering at Richmond

Community Gardens in

preparation for putting their best

paws forward.

Said city council head of

community support, governance

and partnerships John Filsell: "A

wealth of walks are in our own

backyards.

"We literally have a walking

festival on our doorstep, offering

FITNESS:

Spend time

exploring

Travis

Wetland on

October 6 as

part of the

Christchurch

Walking

Festival.

Play The Generation

Game at Travis Wetland

a path to exploration in a

beautiful, natural environment

across greater Christchurch and

Selwyn and stretching up to

Waimakariri.

"People can walk while they

talk, focus on fitness and saunter

along some amazing tracks and

pathways – all while staying close

to home but learning more about

their region."

Festival programmes will be

available at libraries and service

centres and online.

While about half the festival

walks require bookings, you can

simply join the other walks on

the day.

Bookings open on 26 August

for the more than 50 walks on

offer between September 28 and

October 13.

•Run New Brighon, page 8

Latest Christchurch news at www.star.kiwi

Shirley Rd bus stop plan

given nod of approval

• By Matt Slaughter

THE PLAN to upgrade a Shirley

Rd bus stop has been approved.

The Papanui-Innes

Community Board greenlighted

the plan, which will

involve the extension of the

existing bus stop outside Shirley

Intermediate School and the

construction of a new bus

shelter beside it to make room

for two buses at a time.

Innes Ward city councillor

Pauline Cotter said she hopes

the upgrades will be completed

by December.

Pegasus Post reported last

month the board delayed

approving the plan and asked if

more space could be created to

move the bus stop and shelter

back to make the facilities

accessible for wheelchair users

and people with mobility issues.

Board members originally

asked if a Ministry of

Education-owned berm space

outside the school could be

used to create the extra room.

But Cr Cotter said this was no

longer necessary as an extra

50cm of space would be

created using city councilowned

land.

Cr Cotter said the board has

taken about five months to come

up with a plan which satisfied it.

She is pleased it has now been

finalised and said the wait has

been worth it to ensure the

extended bus stop and new

shelter will cater for all bus

users.

"I think that it's going to

look really good for Shirley to

have that, you know, improved,

more comfortable, more fit-forpurpose

shelter and bus stop

. . . there's some seating and then

there's room also for wheelchairs

or pushchairs," she said.

"We want to really encourage

people to use these buses and

one of the ways to do that

is for council to step up and

address our infrastructure

PEGASUS POST

GREEN

LIGHT:

The plan

to extend

an existing

bus stop on

Shirley Rd

and construct

a new bus

shelter

beside it will

go ahead.

improvements."

Environment Canterbury

manager of public transport

strategy, planning and

marketing Edward Wright

said the new stop will help

achieve the goal of ECan's

regional public transport plan

to increase the frequency of bus

services.

"The Palms is a key suburban

hub on our bus network. The

upgrades to this stop will be

appreciated by the many people

who use it every day. It is the

main stop at The Palms for the

Orange Line travelling towards

the city centre, and the Orbiter

travelling towards Northlands.

The Orbiter and Orange Line

are already high-frequency bus

services," he said.

Seven retirement villages

in Canterbury

• Halswell • • Rangiora •

• Mairehau •

• Beckenham • • Riccarton • • Papanui • • Hornby •

www.rymanhealthcare.co.nz • 0800 000 290

ENTERPRISE HOMES LTD

enterprisehomes.co.nz | 03 348 5189

sales@enterprisehomes.co.nz
---
PEGASUS POST Latest Christchurch news at www.star.kiwi

Tuesday August 20 2019 7

Petition for community centre

• By Matt Slaughter

EFFORTS TO get a new

community centre built at 10

Shirley Rd have been renewed.

A petition was launched last

Monday asking the city council

for this to happen as soon as

possible and it has received 80

signatures.

Richmond residents Jennifer

Dalziel and Joanna Gould

banded together with other

concerned residents to start the

petition.

Ms Dalziel believed the

city council was taking too

long to decide if some form of

community centre was going to

be built at the site to replace the

old one, which was demolished

after the February 22, 2011,

earthquake.

"Nothing's ever happened and

there are constant kind of calls

for something to happen," she

said.

The petition was part of a revitalised

effort to remind the city

council that Shirley residents'

were impatient and frustrated

waiting for development to happen

in the area.

"We're just watching everybody

else get all of these things

and we're not getting anything,

she said."

However, city council head

of community support, governance

and partnerships John Filsell

ACTION WANTED: A petition has been started to renew calls

to build a new community centre at 10 Shirley Rd.

said: "The council has

commissioned a feasibility

study for a community facility

on 10 Shirley Rd. This will be

considered by the Waipapa/

Papanui-Innes Community

Board, a date for this is currently

being agreed. The next step

depends on the outcome of the

board consideration.''

Mrs Gould said the petition

outlined that some form of

community centre would be

better than nothing, but she ideally

wanted to see a new library

built at the 10 Shirley Rd site,

which would include space for a

community centre and replace

Shirley Library.

"Community centres are

closed groups and it's an old

kind of model, whereas libraries

and learning spaces are the new

model for community centres

and because they're more inclusive

they capture a wider range

of people."

Said Mr Filsell: "The feasibility

study has not considered a

library development on 10

Shirley Rd within its agreed

scope."

Water strategy

feedback

delivered to council

• By Matt Slaughter

THE COASTAL-Burwood

Community Board has submitted

its response to the city council's

draft integrated water strategy.

The strategy sets guidelines

and goals for the city council's

management of drinking water,

wastewater and stormwater, as

well as surface water, groundwater

and flood management.

Board member Linda

Stewart said she feels

the draft is confusing

and ambiguous, not

providing enough

specific examples of how

water-related threats

affecting the Coastal-

Burwood Ward will be

addressed.

Ms Stewart said these

threats include potential

sea level rise and flooding.

She said for the Coastal-

Burwood Ward, the strategy:

"Doesn't acknowledge earthquake-related

damage. And so,

that's one of the biggest issues we

have in both wards."

The board agreed in its submission,

words like "place-making"

Linda Stewart

and "touchstone" used in the

strategy are confusing for the

community and should be simplified.

"When they do council speak,

we actually wonder what the

heck they're talking about," said

Ms Stewart."

But not everyone on the board

was critical of the draft. Said

member Tim Baker: "I have

faith in the [city council] staff,

a genuine faith in them that

they know what they're

doing."

Said city council head

of three waters and

waste Helen Beaumont:

"[A] hearings panel met

yesterday [last Monday]

and will meet again later

this week [last week] to

consider all submissions

received. No decisions have been

made, but any decisions and

changes to the strategy will be

published in a hearings panel

report (and related attachments)

that will go before a future

council meeting. The report

and attachments will be made

publicly available as part of the

council agenda.''

School's not

for everyone!

www.

STUDY

WITH

US.CO.NZ

IS SCHOOL NOT WORKING

FOR YOUR TEEN?

WE OFFER:

ULTIMATE CAREER DECIDER /

SECURITY & FORCES PREP /

BUSINESS ADMINISTRATION

& TECHNOLOGY / DIGITAL

MEDIA / EARLY CHILDHOOD

EDUCATION / SOFTWARE

DESIGN / WEB DEVELOPMENT

TEXT

'STUDY' TO:

027 557 8839

50 Hazeldean Road, Addington

0800 834 834 | www.vision.ac.nz
---
8 Tuesday August 20 2019

Latest Christchurch news at www.star.kiwi

PEGASUS POST

Avonside teen races on Olympic waterway

SPORT

TALENTED: Avonside Girls' High School rower Sally Wylaars (front) helped her women's four to

fifth at the junior world championships in Japan.

PHOTO: ROWING NZ

• By Jacob Page

AVONSIDE GIRLS' High

rower Sally Wylaars has helped

her New Zealand coxless four

to fifth at the junior world

championships in Tokyo.

The 17-year-old,

who was in the stroke

seat, rowed with Lucy

Burrell, Alison Mills

and Charlotte Darry at

her first international

regatta.

The combination

finished second in their

heat, maintaining that

place throughout the

race and finishing in

6min 46.090sec – 3sec

behind the Italian crew but still

good enough to automatically

make the final.

In the final, the crew made a

strong start and were in second

position at the first 500m mark.

But they were unable to keep up

Sally Wylaars

with China, Italy and Germany,

which took gold, silver and

bronze respectively. Darry, Mills,

Burrell and Wylaars finished the

final in 7min 14.50sec.

Wylaars was recently

named achiever of the year

at the Canterbury

Rowing Awards for her

progression in the sport.

She has been rowing

for four seasons and

won a silver medal at the

under-18 double sculls

with her Avonside Girls'

High teammate Maddy

Thornton earlier this

year.

The course for

the junior world

championships, known as the

Sea Forest Waterway, is a newlyconstructed

venue for the 2020

Olympic and Paralympic Games.

Fifty nations took part in the

junior championships and more

than 550 athletes competed.

Run New Brighton hits

the streets to deliver

health and well-being

A NEW running group is

encouraging residents to get

active.

Run New Brighton is a notfor-profit

initiative set up by the

New Brighton Olympic Athletics

Club to get more people running

in the area.

The members meet every

Wednesday at 5.30pm at

the New Brighton Olympic

Clubrooms.

There are pace-specific groups,

which cater for beginner,

intermediate and competitive

runners.

Run New Brighton organiser

Hayden Zervos said the group

allows runners and people of

different ages and backgrounds

to improve their fitness.

He said the group helps

improve the well-being of people

in the area.

"Eastern Christchurch has

reportedly not psychologically

recovered to pre-earthquake

levels," he said.

"Recreational groups can

play a role in the psychological

recovery of communities in

eastern Christchurch, which

could reduce pressure on local

mental health support services

and potentially reduce smoking

rates and alcohol consumption,

which are often driven by stress

factors.

"Running individually, and

more so with a group of people,

has been proven to deliver

physical and mental health

benefits.

"It can help to address anxiety,

depression, loneliness and raise

self-esteem and confidence.

"I have personally been

running for over eight years

and I credit it with making me a

better person not just physically

but also socially."

FUN RUN: James Zervos, Hayden Zervos, Nicola Smith,

Phillippa Coppe, Angela Boyson and Richard Young are part

of Run New Brighton.

Reach

168,000

readers

with just one ad placement

Call Shane Victor on 021 381 765 to find out how!

Restoring your confidence through your smile

Full service Denture Clinic

and Laboratory

Caldent Denture Cleaner

Free Consultation

No Obligation

Ph: 385 5517 + 396 Innes Road, St Albans

admin@denturesplus.co.nz

+ denturesplus.co.nz
---
PEGASUS POST Latest Christchurch news at www.star.kiwi

Tuesday August 20 2019 9

EXCESS STOCK &

FLOOR MODEL BED

CLEARANCE

Massive

Bed

Savings

STORE WIDE

Huge

Range!

up to

50 % off

Clearance Models

MUST BE

SOLD

Huge

Savings

ON EXCESS

STOCK

Selected

Floor

Model Beds

MUST BE

CLEARED

Great

Savings

7 Day Money Back Comfort Guarantee on Queen and King Beds

CNR MOORHOUSE AVENUE & MONTREAL STREET

NEXT TO FARMERS. PHONE: 365 0132
---
10 Tuesday August 20 2019

Latest Christchurch news at www.star.kiwi

PEGASUS POST

PICK IT UP AND DRIVE AWAY

Available from hundreds of pick up points around

Christchurch, Canterbury and the West Coast

each Friday including:

Selected Fresh Choice, New World stores and

hundreds of takeaway shops

Bringing buyers and sellers

together every week

For advertising enquiries

please call Anna on 021 902 729
---
PEGASUS POST Latest Christchurch news at www.star.kiwi

Tuesday August 20 2019 11

Shop

Win

& Relax

WIN

1 OF 5 FAMILY

GETAWAYS

TO HANMER

SPRINGS

more

chances

to win!

Enter every time you shop at any of these participating businesses

For all your health • Vaccinations & wellbeing needs

• Prescription Services

• Vaccinations

• Diagnostic Health Checks

• Prescription Services

• Health Advice

• Medicine Management

• Weight Management

• Medicine Management

• Natural Supplements

• Gifts

60 Queenspark Drive, Christchurch

• Travel Services

Phone: (03) 383 1330

Store Hours: Mon – Fri 8.30am – 6pm, Sat 9.30am – 2pm

The Body's Youth Protein

NEOCELL COLLAGEN SUPPORTS:

- Reduction in lines & wrinkles - improved skin elasticity

- Strong hair & nails, may help reduce hair loss

- Supports bone, ligaments, tendons & joint health

MARSHALLS HEALTH & NATURAL THERAPY

CONSULTING - PRESCRIBING - DISPENSING -

MANUFACTURING - MEDICAL HERBALISTS

101 SEAVIEW RD, NEW BRIGHTON • PH 03 388 5757

Email: enquiry@marshallshealthshop.co.nz

NEOCELL PREMIUM COLLAGEN IS

CLINICALLY RESEARCHED

FOR SUPERIOR RESULTS

SUPER LOW PRicE!

120's only $36.90, save $5.75

250's only $56.90, save $9.75

Mail Order Available

Bringing You the Best in

Natural Health!

- WE ARE ALWAYS HAPPY

TO HELP! -

Unichem Parklands Pharmacy

60 Queenspark Drive, Christchurch

Phone: (03) 383 1330

Monday – Friday

Saturday

All our

meAt is

Gluten

Free

Store Hours

8.30am – 6pm

9.30am – 2pm

FREE Courtesy Cars

All insurance & private

work welcome

www.everybodysbutchery.co.nz

372 Selwyn St

Ph 366 4947

302 Travis Road, North New Brighton

Phone: 03 388 5187

E: qe2collisionrepairs@outlook.com

Burwood

269 Burwood Rd, Burwood Ph: 383 2114

HOURS Mon-Fri 8:30am-5:30pm, Sat 9am-4pm

Spring into

fitneSS

Home of the

$40 service

LayBy FOR

XMaS nOw

72 Brighton Mall,

New Brighton

Phone: 03 388 1809

Monday to Saturday 9:00-5:30

Sunday 10:00-4:00

www.paperplus.co.nz

PARA PARA PARA PARA PARA PARA PARA PARA PARA PARA PARA PARA PARA PARA PARA PARA

PARA PARA PARA PARA PARA PARA

MATTRESSES

FOR ALL OCCASIONS

127 Blenheim Road PHONE 343 9820

No rainchecks. Cash sales only.

PARA PARA PARA PARA PARA PARA PARA PARA PARA PARA PARA PARA PARA PARA PARA PARA

BLENHEIM

CLARENCE

MATIPO

PARA PARA PARA PARA PARA PARA

Bring in this coupon for

GIFT CARDS

BUY ONE

ONE FREE

GET

• Barrington Mall

• The Hub, Hornby

• New Brighton Mall

• South City Centre

Conditions apply, free gift card same price or less, one deal per coupon. Offer expires 20th October, 2019.

PRINTER

CARTRIDGES

New compatible toner cartridges

New compatible ink cartridges

Brand ink cartridges

Gold card discounts

HUGE SAVINGS

ON VALUE PACKS

www.cartridgerefills.co.nz

Go Karting at

Christchurch's

Premier

Indoor Track

FUN

FOR ALL

AGES

35 Woodgrove Ave, North Beach, Chch

Ph. 03 382 5858 | info@cartridgerefills.co.nz

91 Buchan Street, Sydenham

Phone 03 374 9425
---
12

Tuesday August 20 2019

Latest Christchurch news at www.star.kiwi

PEGASUS POST

WHY CHoose

for Your next VeHICLe?

It's in our name

- Value!

A vehicle from

Value Cars will have

the best presentation,

best mileage and best

price combination.

We have been

trusted in Canterbury

for over 25 years and a

majority of our customers

are referral or repeat

customers. We stand by

every vehicle and we are

proud of our service.

One location for

every type of vehicle

and under cover makes

for a pleasant buying

experience. Our colour

and low mileage selection

is something we work

hard to provide.

CANTERBURY OWNED

& OPERATED

ESTABLIShED 1993

VALUE

REPUTATION

SELECTION

TRUSTED

PLUS

REGISTRATION

2005 vw golf

$5,999

Stylish and well sought after European 5 door hatch,

features a 2.0L engine with tiptronic trans, looks

smart finished in blue with driving lights and 16"

alloys, cruise control, keyless entry, rear wiper, safety

of ABS, T/C and 12 airbags, great buying!

PLUS

REGISTRATION

2008 toyota auris

$9,999

Extremely popular, reliable and stylish 5 door hatch,

features an economical 1.5L engine with automatic

trans. Looks smart in black with matching black

interior, push button start, rear wiper, reverse

camera, very low kms, ABS and airbags, don't delay

will sell quickly!

PLUS

REGISTRATION

2010 honda fit

$6,999

The Fit is a popular, versatile, economical and

spacious 5 door hatch, features an economical yet

peppy 1.3L engine with automatic trans and 5.5 star

fuel efficiency, looks good finished in red with black

interior, keyless entry, rear wiper, ABS and airbags,

perfect round town car!

PLUS

REGISTRATION

2011 mazda demio

$9,999

Super popular 5 door hatches, features an

economical 1.3L engine with automatic trans,

skyactiv technology with idle stop, looks smart in

teal with driving lights and 14" alloys, stylish black

interior, smart keyless ignition, rear wiper, ABS and

airbags, great vehicle and great buying!

PLUS

REGISTRATION

2017 suzuki ignis

$13,999

Current shape NZ new Ignis, 1.2 litre engine,

automatic trans, 5 star fuel efficiency, good in white

with chrome accents, driving lights, 16" charcoal alloys,

stylish interior, cruise control, push button start, reverse

camera, NZ navigation, bluetooth, very low kms, rear

wiper, ABS, T/C, 6 airbags, very good buying!

HYBrID

PLUS

REGISTRATION

2005 mazda mx-5 roadster

$10,999

Very cool 2 seater sports convertible, features a

2.0L engine with tiptronic trans and paddle shift

option, looks great in wine with black soft top and

16" alloys, tan leather interior, heated seats, keyless

entry, ABS and airbags. Come and take it for a

spin today!

PLUS

REGISTRATION

PLUS

REGISTRATION

PLUS

REGISTRATION

PLUS

REGISTRATION

2014 nissan latio

$10,999

New shape Latio, travelled very low kms,

features an economical 1.2 litre engine and

automatic trans, looks sharp in white, idle stop,

keyless entry, rear centre shoulder belt, ABS

and airbags, fantastic buying!

2009 subaru legacy

$13,999

The Legacy is a very desired sports sedan and this

example doesn't disappoint, features a powerful 2.5

litre engine with tiptronic trans and paddleshift option,

stands out finished in wine red with factory body kit,

driving lights and 16" alloys, desirable black interior,

push button start, reverse camera, rear wiper.

2008 mazda atenza

$11,999

The Atenza is a sleek sporty looking Sedan,

features a 2.0 litre engine with tiptronic trans,

travelled very low kms, leather interior, heated

front seats, driving lights, keyless entry, rear

centre shoulder belt, ABS and airbags, finished in

grey metallic!

2010 toyota sai

$13,999

Popular mid-sized family sedan combining practicality

with hybrid economy, looks lovely in aqua metallic

with chrome look detailing and 16" alloys, features a

2.4 litre hybrid engine with automatic trans and 5.5

star fuel rating, push button start, electric front seats,

reverse camera, safety of ABS, T/C and 9 airbags!

PLUS

REGISTRATION

2004 honda odyssey

$7,499

Sporty Absolute edition, room to seat 7, features

a 2.4 litre engine with tiptronic trans, looks very

good in white with body kit, driving lights and 18"

shadow chrome alloys, black partial leather interior,

cruise control, keyless entry, rear wiper, ABS, T/C

and airbags, upgrade your family wagon today!

PLUS

REGISTRATION

2010 toyota wish

$11,999

Very popular and well sought after wagons,

features a 1.8 litre engine with tiptronic trans,

room to seat 7, finished in grey with stylish black

interior, keyless entry, rear wiper, push button

start, ABS and 8 airbags, fast sellers so don't

delay!

PLUS

REGISTRATION

2008 audi a4

$14,999

The A4 is part of a line of executive cars produced

by Audi features a 1.8 litre turbo-charged engine

with tiptronic trans and 4 star fuel efficiency, looks

smart finished in black with driving lights and 17"

alloys, leather interior, powered/heated front seats,

infotainment system, keyless entry, low kms.

PLUS

REGISTRATION

2014 nissan x-trail

$23,999

A great family vehicle with a huge rear luggage space,

2.0 litre engine, automatic trans and 4.5 star fuel

efficiency, looks sharp finished in red with black body kit,

spot lights and black leather interior, cruise control, idle

stop, heated front seats, blind spot monitoring, reverse 4

corner camera, push button start, ABS, A/C and airbags.

PLUS

REGISTRATION

2008 subaru forester

$12,999

Practical, well built and enjoyable to drive, the Forester

offers excellent balance, features a 2.0 litre turbo

charged engine with tiptronic trans, AWD, cruise control,

heated/powered front seats, reverse camera, driving

lights, 17" alloys, keyless entry, rear wiper, ABS, T/C and

airbags, perfect for the active family!

Registration for 6 months is $301

Value Cars Warehouse

4.72

32 Moorhouse Ave, P: (03) 366 7768 IMVDA

www.valuecarswarehouse.co.nz
---
PEGASUS POST Latest Christchurch news at www.star.kiwi

Tuesday August 20 2019 13

Tasty Bites

Getting protein through a science-based diet

The role of protein in

people's bodies, its

sources and the benefits of

consuming it across the day

can't be underestimated.

These recipes provide a

science-based approach to

ensuring you get enough in

your diet

Orange kumara and

haloumi fritters

Serves 4

Ingredients

1.2kg orange kumara, peeled and

coarsely grated

320g haloumi, coarsely grated

2 tsp ground cumin

Light olive oil spray for cooking

2 cloves garlic, crushed

4 spring onions, white part thinly

sliced into rounds, green part

thinly sliced diagonally

120g baby spinach leaves

Avocado dressing:

80g medium-sized avocado

⅓ cup (80ml) white wine vinegar

or apple cider vinegar

½ tsp dijon mustard

Directions

To make the avocado dressing,

blend all the ingredients in a jug

with a hand-held blender until

smooth. Season with black pepper

and set aside.

Heat a large non-stick frying

pan over low-medium heat.

Combine the kumara, haloumi

and cumin in a bowl and season

with freshly ground black pepper.

Lightly spray the pan with

olive oil and drop in firmly

packed cup measures of the

kumara mixture, pressing down

to form 8cm circles. Depending

on the size of your pan, you will

probably need to do this in two

batches of four.

Cook for 5min each side

or until golden and cooked

through. Remove and cover to

keep warm. Lightly spray the pan

with a little more oil and increase

the heat to high.

Add the garlic, white part

of the spring onion, spinach

and 60ml water. Cook, tossing

constantly, for 2min or until the

spinach has just wilted. Remove

the pan from the heat and season

with black pepper.

Serve two kumara fritters per

person, layered with the spinach

mixture. Spoon over the dressing

and sprinkle with the green

spring onion.

Roast herb chicken and

vegetables

Serves 4 with leftovers

Ingredients

½ cup finely chopped flat-leaf

parsley

2 Tbsp finely chopped rosemary

1 Tbsp mixed dried herbs

6 cloves garlic, crushed

¼ cup (60ml) olive oil

¼ cup (60ml) red wine vinegar

1.8kg lean chicken tenderloins

1 head cauliflower, cut into florets

7 carrots, sliced into rounds

7 zucchini, thickly sliced into

rounds

750g button mushrooms

Light olive oil spray for cooking

1 cup (250ml) salt-reduced

chicken stock

Lemon wedges and flat-leaf parsley

leaves, to serve

Ingredients

Heat the oven to 200 deg C (or

180 deg C fan-forced).

Combine the parsley, rosemary,

dried herbs, garlic, olive

oil, vinegar and chicken in a

large bowl. Season generously

with freshly ground black pepper

and toss well to coat the chicken.

Divide the vegetables among

two large roasting tins and

lightly spray with olive oil. Toss

to combine, then top evenly with

the chicken mixture.

Pour half the stock over the

ingredients in each tin. Bake,

swapping the tins halfway

through and tossing the chicken

and vegetables, for 25-30min

or until the chicken is cooked

through and the vegetables are

soft.

Divide one-third of the chicken

and vegetables among four for

dinner, with lemon wedges and

parsley. Cool the leftovers, then

divide evenly between two large

airtight containers.

Store the leftovers in the fridge

for up to two days or in the

freezer for three months. Thaw

the frozen mixture in the fridge

overnight. Transfer the chilled

mixture to a baking dish and

reheat in a preheated 220 deg C

(200 deg C fan-forced) oven for

15-20min or until hot and crisp.

JOIN US NOW!

See website for details

BENDON

Biggest bra sale. Sets from $20,

Bras 2 for $35, Sleepwear from $20.

Selected styles. While stocks last.

RODD & GUNN

Buy one, receive the second item half

price. 2nd item the cheaper of the two.

ADIDAS

50% off the lowest marked price

storewide. Valid 22 Aug to 25 Aug.

Exclusions & conditions apply.

HALLENSTEINS

Blazers & Jackets $30. White business

shirts now $10. Selected styles.

STYLES MAY DIFFER

TO IMAGE SHOWN

UNDER ARMOUR

2 for $100 hoodies & joggers.

Conditions apply.

Sign up to Smart Deals & be in the monthly draw for a $100 Dress-Smart gift card!

CHRISTCHURCH 409 Main South Road, Hornby

www.dress-smart.co.nz

Open 10am-5pm, 7 Days 03 349 5750
---
14 Tuesday August 20 2019

Latest Christchurch news at www.star.kiwi

PEGASUS POST

ON THIS

WEEKEND

Be in to

WIN your

dream

honeymoon

Pre-purchase your

tickets from

withthisring.kiwi

for only $10pp

or get a ticket on

the day for $20pp

weddingshow

sunday 25th August, 2019, 10am–3pm, Air Force Museum, Christchurch

Fashion | Venues | Entertainment | Stationery | Jewellery | Catering | Floristry | Make-up | Beauty

Celebrants | Cakes | Hair | Photography | Transport | Wedding Planners | Honeymoon Destinations
---
PEGASUS POST Latest Christchurch news at www.star.kiwi

Tuesday August 20 2019 15

Senior Net New Brighton

Tuesday, Wednesday and

Thursday, 10am-noon (by

appointment)

This group offers assistance

to mature people

with modern technology,

including computers, tablets,

smartphones, email,

Facebook, Skype, Word,

cellphones and the internet.

Phone 382 6048 for

more information.

202 Marine Pde (next to

the New Brighton Club)

JP Clinic at Shirley

Library

Tuesday, 10am-1pm

A justice of the peace

will be available to members

of the community

to witness signatures and

documents, certify document

copies, hear oaths,

declarations, affidavits or

affirmations as well as sign

citizenship, sponsorship or

rates rebates applications.

No charge.

Shirley Library

SAYGo Steady As You

Go Falls Prevention Exercise

Class

Tuesday, 10am

This is a speciallydesigned

class to help

you avoid a fall. There is a

$2 koha entry but no booking

fee. Those interested

are invited to turn up on

the day and see what it can

do for them.

Parklands Community

Centre

Ascot Sit and Be Fit

Wednesday, 1-2pm, and

Thursday, 9.30-10.30am

Complete a class of exercises

without even leaving

your chair. The cost of the

class is $4 and you'll get a

Email matt.slaughter@starmedia.kiwi by

5pm each Wednesday

Our Ocean, an exhibition by Gary Easterbrook, will be held at New Brighton

Library all week from open until close. Gary is a keen amateur photographer,

musician and surfer who lives near Waimairi Beach. Go along and enjoy a small

collection of his photographs taken during his many walks on the beach. ​

cup of tea or coffee.

Ascot Community Centre

Rocket Club

Wednesday, 3.30-4.30pm

Go along and take part

in different activities

based on local and current

events in a learning

environment. Homework

help is available during this

time. Free and no bookings

required.

Aranui Library

Scrabble Club

Tuesday and Wednesday,

1.30-3.30pm and 1-2.45pm

Go along to the Scrabble

Club. No obligation, just

go along when you can and

join the friendly group. All

materials are supplied. No

fee.

Parklands and Shirley

libraries

CV help

Thursday, 10-11.30am

A librarian will be on

hand to assist customers

who need help with their

CV or resume.

New Brighton Library

Technology Help Dropin

Sessions

Thursday, 3.30-4.30pm

Go along to a drop-in

session for help with email,

searching the internet,

using the library catalogue,

eBooks, and general computer

queries.

Shirley Library

Cards Club

Friday, 1.30-3.30pm

This weekly club will

be held every Friday, just

go along and join the

fun. Free, no bookings

required.

Shirley Library

Makerspace

Friday, 3.30-4.30pm

Go along to a weekly

Makerspace session and

get hands-on with activities

for all ages. Something

new every week.

Aranui Library

Culture Exchange

Friday, 3.45-4.45pm

Go along and make new

friends, practice English

and learn about New Zealand

and Christchurch.

Shirley Library

New Brighton Seaside

Market

Saturday, 10am-2pm

Go and enjoy a warm

and fun atmosphere beside

the seaside. With live entertainment,

food and free

face-painting.

New Brighton Pedestrian

Mall

Golden Oldies Movie

screening – The Heroes of

Telemark

Monday, 1.30pm

Kirk Douglas and Michael

Redgrave star in this

1965 action. Norwegian

resistance tries to stop German

efforts to produce an

atomic bomb component

during World War 2. Cost

is $2, go early for a cuppa

and a chat.

New Brighton Museum, 9

Hardy St

Marshland Table Tennis

Club

Monday, 7.30-9.30pm

Go along every Monday

night until October 14.

Casual players are welcome

– $5 for adults per night, $3

for juniors under-18.

Marshland Hall, 430

Marshland Rd

FOCUS ON HEALTH

Superior new magnesium

offers more health benefits!

Magnesium deficiency is widespread with

researchers estimating up to 90% are not

receiving adequate magnesium in their diet.

According to medical researcher Dr. James

DiNicolantonio magnesium deficiency

increases the risk of numerous types of

cardiovascular and other diseases, costing

nations around the world an incalculable

amount of healthcare costs and suffering, and

should be considered a public health crisis.

Some of the typical signs of a magnesium

deficiency are: muscle cramps – especially

in the legs, muscle spasms and twitches,

fatigue, high blood pressure, poor

circulation, sore – heavy or uncomfortable

legs, irregular heart-beat, muscle and back

pain, insomnia, headaches, migraines and

anxiety. Sub-optimal magnesium levels are

also associated with many diseases including

diabetes, asthma, osteoporosis, Alzheimer's,

cardiovascular, ADHD and kidney.

There are many popular magnesium

supplements on the market, however most

use low cost sources of magnesium that are

also poorly absorbed offering little benefit.

Seeing the serious impact on health that

low magnesium levels are having a New

Zealand company "Biosphere Nutrition"

have developed a new magnesium that offers

superior absorption and more health benefits

compared to most other products available.

Biosphere Magnesium has been created to

be the cleanest, most bioavailable magnesium

supplement available. It combines three

types of the most bioavailable forms of

magnesium to create the ideal dose with

optimal absorption. Each serving provides

a therapeutic dose of 400mg elemental

magnesium to help people maintain

optimum magnesium levels. It is also easy

to take as it comes as a great tasting, easy to

mix powder that is also free of binders, fillers

and artificial ingredients. It is flavoured with

a natural lemon flavour and sweetened with

natural stevia and monk fruit extracts and

coloured with a dash of turmeric.

Magnesium Citrate is the first of the three

magnesium's. Biosphere have used a natural

marine based magnesium citrate as it has a

great absorption rate and mixes well with

water.

Next is Magnesium Lyscinate Glycinate

Chelate a stable magnesium designed to be

the most bioavailable possible as well as easy

on the stomach.

The last is Di Magnesium Malate a

fantastic form of magnesium for people

suffering from fatigue, since malic acid is

a vital component of enzymes that play

a key role in ATP synthesis and energy

production.

Optimal magnesium levels have been

shown to: Improve Energy, Improve

Sleep, Normalise Blood Pressure, Control

Inflammation, Reduce Pain, Regulate Blood

Sugar, Stop Cramping, Support Normal

Nerve and Muscle Function, Support Healthy

Bones and Help Maintain Good Health.

Biosphere Magnesium and further more

detailed information is available from

the Natural Health Advisers at Marshall's

Health & Natural Therapy, 101 Seaview

Road, New Brighton, and Phone: 388-5757.

We are always happy to help you!

New magnesium offers

enhanced health benefits!

Magnesium deficiency is widespread with

researchers estimating up to 90% are not receiving

adequate amounts. According to Dr. James

DiNicolantonio this deficiency is increasing the risk

of cardiovascular & numerous other diseases as well

as reducing lifespan & quality of life.

There are many popular magnesium supplements

on the market, however most use low cost sources

of magnesium that are poorly absorbed & offer little

benefit. Seeing the serious impact on health that

low magnesium levels is having a New Zealand

company "Biosphere Nutrition" have developed

a new magnesium that offers superior absorption

& more health benefits compared to most other

products available.

Biosphere Magnesium comes as an easy to

mix lemon flavoured powder that makes a very

pleasant drink.

sPecial

offer

Some common symptoms of magnesium deficiency:

• Muscle & leg cramps

• Twitches

• Tremors of hands

• Restlessness

• Poor sleep

• Irregular heartbeat

• High blood pressure

• Poor circulation

• Dizziness

• Headaches & migraines

• Poor concentration

• Muscle fatigue &

weakness

• Sore, heavy or

uncomfortable legs

• RSI & Nerve problems

• Muscle & Back Pain

• Chronic fatigue syndrome

• Fibromyalgia

• Mild to moderate

depression

marshalls health & NatUral theraPY

CONSULTING - PRESCRIBING - DISPENSING - MANUFACTURING - MEDICAL HERBALISTS

101 SEAVIEW RD, NEW BRIGHTON • PH 03 388 5757 • Email: enquiry@marshallshealthshop.co.nz

- kNowledge makes the differeNce -

30 sachets (1 month supply)

only $33.90, save $6.09

275g powder (2 month supply)

only $59.90, save $10.09

Bringing You the Best in Natural Health! MAIL ORDER AVAILABLE
---
16

Tuesday August 20 2019

REAL ESTATE

A vision of excellence!

1B Wood Lane, Fendalton

Price: $3,495,000

Latest Christchurch news at www.star.kiwi

5 bedrooms | 6 bathrooms | 7 toilets | 4 living rooms | 1 dining room | 3 car-garage | Listing Number PI57782

PEGASUS POST

This new property offers a unique and

desirable proposition, underpinned by this

historic site and first-class address.

A magnificent architecturally designed

home that emanates a sense of refined

sophistication.

Large family home of 513sqm offering a

fantastic lifestyle for families with plenty of

separation and versatile living areas.

The execution of this home offers total

luxury and light with no expenses spared.

Hagley Park, Botanic Gardens and golf

course within easy walking distance giving

occupants an amazing lifestyle

A large home low on maintenance may

seem a contradiction in terms, but this

property has more than achieved that, with

three living areas, five double bedrooms

all with en-suites and three outdoor living

decks. Triple garage with large space for

storage.

Luxuriously appointed throughout with

the highest quality fixtures and fittings

including high-end Gaggenau appliances

in the kitchen and butler's pantry.

The master bedroom has two en-suites

opening to a private balcony with river

views and there is a luxurious guest

bedroom on the lower level with river

views.

Zoning for some of Christchurch's most

desirable schools including Girls High and

Boys High.

- Location, design and exacting execution

couple with an uncompromising approach

to quality and detailing has resulted in a

compelling and contemporary home, to

truly appreciate what's on offer and find

out more about the long list of attributes,

contact the agent to view today!

To arrange a private viewing phone

Cameron Bailey on 352 6166 or mobile

0275 557 079 of Harcourts Gold Papanui

(Licensed Agent REAA 2008)

Want to be

elected?

• Local Council

• Community Board

• Ecan

• CDHB

Star Media can help you.

Talk to us today about your campaign.

Contact: Elaine Moon

03 364 7436

021 914 335

elaine.moon@starmedia.kiwi

oN sAle Now!

Now only

$35.80

Plus $5 P&H per copy

AvAilAble from stAr mediA:

Level One, 359 Lincoln Road

Addington, Christchurch

Phone 379 7100

Reach

168,000

readers

with just one

ad placement

Call Shane Victor on 021 381 765

to find out how!

The magazine for gardeners who

like to get their hands dirty

SUBSCRIBE FROM

$43. 50*

*6 issues/6 months

$7.90

SUBSCRIPTIONS FREEPHONE

0800 77 77 10

WWW.GARDENER.KIWI

growing with you June 2018 | 100%

Plants For

winter wow

Cool Choices

For Colour

& Contrast

From swamp

to sea views

The journey

begins with sarah

the Gardener

incl. GST

Snap it up

Enter our annual

Birdlife Photo

Competition to win

great prizes!

clear the air

Why groWing

indoor PLAnTs is

so good for you

give it a grow

from gArLic

To chinese

ArTichokes,

We hAve your

groWing TiPs

covered

the latest releases

into the rose world

+ rose care

through winter
---
PEGASUS POST Latest Christchurch news at www.star.kiwi

Tuesday August 20 2019 17

HOME & HEATING

Get rid of

dampness in

your house

The facts about

Home Ventilation

Balanced Pressure

vs Positive Pressure

Now with the colder and wetter weather

on its way, home owners are focusing on

ways to make their homes comfortable,

warm and healthy for their families

throughout winter. Rising damp is an issue

that affects many of our older properties

which suffer from poor, or no, insulation.

In Canterbury especially, post-quake, many

people have relocated to homes that suffer

from rising damp which can be associated

with health problems. Independent tests

have shown that up to 40 litres of water

can rise from the ground and enter a

house every day, leading to mildew, mould,

condensation and musty smells. Moulds

can produce various allergic reactions

and the frail, elderly and very young are

especially vulnerable.

Canterbury Foam Concrete Ltd is a

locally owned and operated firm. The

team understands the problems caused

by rising damp and are there to help.

They will come to your damp home

and pump a lightweight, flowable foam

concrete under your timber floored home.

Specially adapted for our New Zealand

conditions and applications it provides a

layer of protection against rising moisture.

An unexpected benefit that the team at

Canterbury Foam Concrete have noticed

recently, is that many owners of properties

which had underfloor foam concrete

installed, reported that it also provided

protection against liquefaction after

the earthquakes.

Contact Canterbury Foam Concrete

Ltd now for your free, no obligation

quote and complimentary appraisal of

your underfloor ventilation needs. Phone

03 376 4608 or 0508FOAMCO for more

information.

Under the New Zealand Building Code,

all buildings, including residential, need

to be suitably ventilated, either with

opening windows or forced ventilation.

Clause G4.1 states: "The objective of this

provision is to safeguard people from

illness or loss of amenity due to lack of

fresh air." There are many benefits to forced,

or mechanical, ventilation over opening

windows, including warmth, security,

reduction of outside noises and reduction

of condensation.

Traditional domestic ventilation systems

are 'positive pressure'. They bring air in

from outside via the roof space and force

the stale air out through gaps around

windows and doors. The incoming air

from these systems has to be heated or

cooled to keep the house warm in winter or

cool in summer.

The Smooth-Air HEX390 is a 'balanced

pressure' system. It extracts air from the

house and at the same time brings in fresh

air. These two streams of air pass through

a heat exchanger, which warms incoming

air in winter and cools in summer if air

conditioning is being used. This means that

up to 80% of the energy which would be

wasted using a traditional positive pressure

system is recovered, resulting in significant

energy savings and therefore lower heating

or cooling costs.

Until recently, balanced pressure

ventilation systems have been considerably

more expensive than traditional

positive pressure systems. However,

with Smooth-Air's unique

manufacturing capabilities, a

HEX390 balanced pressure system

can be installed for a similar price as

a traditional positive pressure system.

You can contact Smooth-Air on

0800 SMOOTH (0800 766684).

Smooth-Air

Ventilation Equipment Suppliers

totrade

retail

The most efficient way

to ventilate your home

&

HEX 390

For Healthy Indoor Air

T. 03 376 4608

E. info@foamconcrete.nz

W. www.foamconcrete.nz

Heat is transferred to the

incoming filtered fresh air

HEAT PUMP

SALE NOW ON!

Amazin' WINTER Specials!!

• We will offer you the best quality brands and

option of heat pump for your home/business

• Providing Heat Pump solutions for over 17 years to Cantabrians

• We personally guarantee all our products & installs for 5 years

(providing annual maintenance has been completed)

Phone us today for your free consultation & quote

41A SHAKESPEARE RD, WALTHAM

PHONE 03 366 0525

www.enviromaster.co.nz

"A local team for local people"

Substantial energy savings

over traditional domestic

ventilation systems.

0800 SMOOTH

(0800 766 684)

sales@smooth-air.co.nz

Made in New Zealand,for New Zealand conditions

Fresh air

from outside

Warm, stale

air from house

264 Annex Rd

Riccarton

Christchurch

03 343 6184

Exhaust air

to outside

Warm fresh air

to house

Monday - Friday

7.30am - 5pm

www.smooth-air.co.nz
---
18

Tuesday August 20 2019

Latest Christchurch news at www.star.kiwi

PEGASUS POST

If you want more information about an item or to contact a

seller, visit www.postanote.co.nz and search the ID#

Toyota Spacio

Art Deco Mirrored Top Table

Suzuki DRZ400E

Mazda Premacy

Quality Brand-new Bedside

Six Outdoor Chairs & Dining Table

$2,000

ID 30285

$150

ID 30611

$3,500

ID 30588

$4,800

ID 30362

$125

ID 30609

$125

ID 30547

1997 Honda Legend Extendable Large Glass Table

Electric Bike

DB Grubber

Breadmaker - Sanyo

Antique French Mirror Door

$1,400

ID 29798

$200

ID 30613

$1,000

ID 30284

$450

ID 30622

$25

ID 30083

$300

ID 30610

DeLonghi Portable

Heatpump/Air Conditioner

Honda Accord Euro CL 9

Old Milk Or Cream Can

Toyota Corolla 1.8 NZ New

Assortment of Kitchen Items

1974 Fiat 1000 Super 110hp

$550

ID 30524

$7,250

ID 29801

$75

ID 30313

$6,700

ID 30618

$20

ID 30620

$9,500

ID 30600

York Rowing Machine

Muncher for 5 HP Briggs & Stratton

1985 Dodge ES 600 Convertible

5 Lovely Leather Skins

Quality Writing Desk

Sleepout 4.6 x 2.4

$200

ID 30550

$400

ID 30552

$13,750

ID 30437

$250

ID 30551

$150

ID 30345

$4,500

ID 30543

Extending Dining Table & 6 Chairs

Nouveau Dishwasher

Mitsubishi Pajero

Victorian Oak Barley Twist Hall Chair

Two-stroke Lawnmower

Huntsman 525 Boat

$500

ID 30246

$50

ID 30526

$6,000

ID 30286

$150

ID 26843

$175

ID 26858

$23,000

ID 30383

1974 Leyland REL Bus

Glass Bottle

Old Battery Charger

Subaru Legacy B4 RSK

Home-built Garden Trailer

Whitebait Net

$8,000

ID 30168

$2

ID 30517

$30

ID 30487

$5,000

ID 30232

$275

ID 30373

$950

ID 29773

Leaf Blower Vacuum

Honda TRX 300

Seagull Outboard Motor

Audi A4 1.8 Turbo

Tandem Trailer with Cage

Honda Odyssey Camper Van

$50

ID 26618

$3,500

ID 26895

$400

ID 30576

$7,000

ID 30254

$2,500

ID 30237

$1,500

ID 30220

0819h03chch
---
PEGASUS POST Latest Christchurch news at www.star.kiwi

Tuesday August 20 2019 19

Classifieds Contact us today Phone our local team 03 379 1100

Finance

NEED A

QUICK CASH

LOAN NOW?

We offer a range of personal Loans

and can provide cash quickly.

Loans from $500 to $20,000

Contact Karyn or Kris

0800 695 626

or 03 379 7798

www.alternatefinance.co.nz

Car Parts

LANDROVER

DISCOVERY POWER

STEERING box $250

Ph 0275490048 or 021

363666

LANDROVER

DISCOVERY REAR

STEP. $45 Ph 0275

490048 or 021 3363 666

Collision Repairs

QEII Collision Repairs.

Free Courtesy Cars

(conditions apply). All

insurance work, rust

repairs & private work.

Spray-painting. Free

pickup & delivery. Ph. 03

388 5187

Community Events

ALCOHOLICS

ANONYMOUS, If you

want to have a drink that's

your business. If you want

to stop, we can help. Phone

0800 229-6757

Curtains

www.curtainfabric-outlet.com

Fashion Designs & Colours

Discontinued Designs

End of Lines Bargain Prices

Call at Our Shop

CURTAIN FABRIC OUTLET

71 Hawdon St Sydenham

Ph 366-5026

Wanted To Buy

CASH FOR

STAMPS,

COINS &

GOLD

Free Appraisals

Call Matt at

The Stamp and

Coin Exchange

134a Riccarton Rd

0800 39 24 26

We can come to you.

Call today.

AAA Buying goods

quality furniture, beds,

stoves, washing machines,

fridge freezers. Same day

service. Selwyn Dealers.

Phone 980 5812 or 027

313 8156

TOOLS Garden,

garage, woodworking,

mechanical, engineering,

sawbenches, lathes, cash

buyer, ph 355-2045

Trades & Services

FOR ALL YOUR

★Garden Clean-ups

★Pruning

★Lawn Mowing

★Garden Maintenance

Call us today for a FREE quote

PH 0800 4 546 546

(0800 4 JIMJIM)

Holiday

Accommodation

Australia QLD

SUNSHINE

COAST

RESORT

ALEXANDRA HEADLAND

All Units Have Ocean Views.

Heated Pools, Spa & Sauna,

Free Wifi, Tennis

& Mini Golf.

CHECK OUR GREAT

WINTER SPECIALS

www.mandolin.com.au

0061 7 5443 5011

JUNE to AUG temps 20C

Trades & Services

rooF

painting

Book now for Summer

and receive 20%

discount.

Rope and harness a speciality.

No scaffolding required.

30 years experience.

Also waterblasting paths,

driveways and moss removal.

Free quotes, call

Craig 021 060 2392

BUILDER

Qual builder, over 40 yrs

exp. Avail for all sorts

of building construction

work incl decks, fences,

carports, bthrm, kitchens &

general maintenance jobs.

For a free quote contact 03

925 0876 or 027 641 3681.

Trades & Services

Lawns, Gardens

& Home Cleaning

Free Quotes

Professional, personalised

service. Regular &

one-offs. Fixed price.

Ph: 377-5814

For all your property and

cleaning requirements

Trained, insured & security

screened owner/operators

Multi-award winning

systems & Franchises

Franchises Available

www.viphomeservices.co.nz

AAA HANDYMAN

licensed carpenter

LBP, all property and

SPOUTING CLEANING

building maintenance, Email donaldlord626@ Spouting Unblocked,

repairs, bathroom/shower gmail.com

Cleaned Out and Flushed

installations, with free CARPET LAYING Out. Call Trevor 332 8949

quotes 03 383 1927 or 027 Exp. Repairs, uplifting, or 021 043 2034

245 5226 ciey@xtra.co.nz relaying, restretching.

STUMP GRINDING

BRICKLAYER

Phone John on 0800

Best price guarantee Tony

George Lockyer. Over 003181, 027 240 7416

0275 588 895

40 years bricklaying jflattery@xtra.co.nz

experience. UK trained. FENCING

TILER/CARPENTER

Insurance work, EQC 25 yrs exp. Fencing, all

35 years exp, no job

repairs. Heritage styles & gates. Ph Mark

too small. Ph Ross 027

brickwork & stonework 0273 313 223

4311440.

a speciality. No job too PAINTING

T.V. SERVICE CENTRE

small. Governers Bay. & Decorating Wingfields Repairs, tvs, microwaves,

Home 329 9344. Cell Contracting, all interior audio amps, soundbars.

027 684 4046. E mail & exterior painting & all Aerial & satellite

georgelockyer@xtra.co.nz

BUILDER QUALIFIED

forms of interior plastering

& jib fixing, ph Mark 021

installations, kitsets, 480D

Moorhouse Ave, ph 03 379

Decks, T & G Flooring, 171-1586

1400

Villa Restoring, New PLUMBER

VHS VIDEO TAPES

Homes, Weatherboards. A Top Plumbing job & all camera tapes

Free Quotes. Bennet & completed at a fair price, converted to DVD, video

Sons Ltd Sam 027 496-

9362 or Tony 027 224-

0374

prompt service, all work

guaranteed, ph Brian 960-

7673 or 021 112-3492

taping special occasions,

www.grahamsvideo.co.nz

ph 03 338-1655

Trades & Services

plumber

Call your local plumber

Whether you're

looking for advice,

maintenance, urgent

repairs or a FREE

quote contact

Aquapro now.

No Deposit 12 Months Interest Free Finance

with 36 Months to Pay

0508 AQUA PRO | aquaproplumbing.nz

0508 278 2776 or 027 419 8843

PLUMBING | DRAINAGE | GAS FITTING | SOLAR

ROOF REPAIRS

Locally owned & operated with

over 30 years experience.

• Extensions & repair • Roof coating

• Concrete & clay tiles • Butynol

• Malthoid • Asbestos Certified

• Coloursteel • Old iron • Guttering

Phone Dave 981 0278

or 021 223 4200

E: dave@beaumontroofing.co.nz

BEAUMONT ROOFING LTD

3 issues $20

6 issues $44.50

10 issues $65

SUBSCRIPTIONS FREEPHONE

0800 77 77 10

rugbynews.co.nz
---
20 Tuesday August 20 2019

Latest Christchurch news at www.star.kiwi

PEGASUS POST

UP TO

60 % oFF

TOP BRANDS

CARPET YOUR HOME

WITH THE BEST.

FOR MUCH LESS.

You'll find all types of top end quality floor stock

at the lowest prices in town! Why not come in

and view our extensive range of beautiful rolls

of wool and nylon carpet, laminates, vinyl,

factory over runs and seconds of top quality

product all at heavily discounted prices!

FrEE

MEASURE

& QUOTE

DEpoT SpECIALS

LAMINATE FLoorINg

Mountain Oak 12mm Laminate $69 m 2 now 60% off $27.60m 2 - 303m 2 available now

Summit Oak 8mm Laminate $45 m 2 now 50% off $22.50m 2 - 320m 2 available now

Stirling Oak 8mm Laminate $45 m 2 now 50% off $22.50m 2 - 258m 2 available now

CArpET

Stock Special 60oz cut pile carpet

$149pm now 50% off $74.50 per metre @ 3.66m wide 289lm available.

100 Fitzgerald Avenue, Christchurch

P: (03) 595 1260 | E: sales@carpetdepot.co.nz

Mon–Fri 8:30am–5pm, Sat 10am–2pm, Sun Closed

www.carpetdepot.co.nz