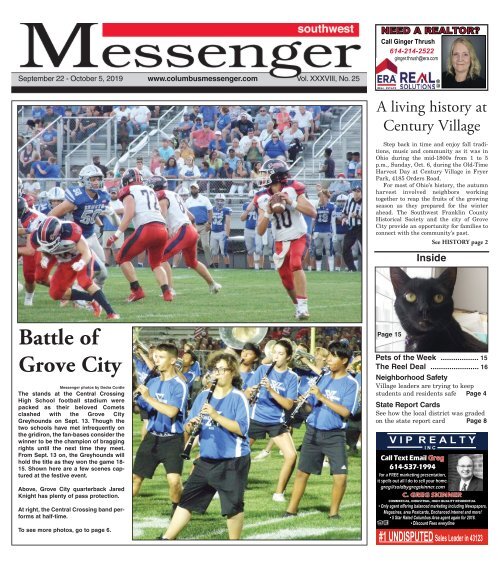 Southwest Messenger - September 22nd, 2019
You also want an ePaper? Increase the reach of your titles
YUMPU automatically turns print PDFs into web optimized ePapers that Google loves.
September 22 - October 5, 2019 www.columbusmessenger.com Vol. XXXVIII, No. 25

NEED A REALTOR?

Call REALTOR?

Ginger Thrush

Call 614-214-2522

Ginger Thrush

614-214-2522

ginger.thrush@era.com

A living history at

Century Village

Step back in time and enjoy fall traditions,

music and community as it was in

Ohio during the mid-1800s from 1 to 5

p.m., Sunday, Oct. 6, during the Old-Time

Harvest Day at Century Village in Fryer

Park, 4185 Orders Road.

For most of Ohio's history, the autumn

harvest involved neighbors working

together to reap the fruits of the growing

season as they prepared for the winter

ahead. The Southwest Franklin County

Historical Society and the city of Grove

City provide an opportunity for families to

connect with the community's past.

See HISTORY page 2

Inside

Battle of

Grove City

Messenger photos by Dedra Cordle

The stands at the Central Crossing

High School football stadium were

packed as their beloved Comets

clashed with the Grove City

Greyhounds on Sept. 13. Though the

two schools have met infrequently on

the gridiron, the fan-bases consider the

winner to be the champion of bragging

rights until the next time they meet.

From Sept. 13 on, the Greyhounds will

hold the title as they won the game 18-

15. Shown here are a few scenes captured

at the festive event.

Above, Grove City quarterback Jared

Knight has plenty of pass protection.

At right, the Central Crossing band performs

at half-time.

To see more photos, go to page 6.

Page 15

Pets of the Week .................. 15

The Reel Deal ....................... 16

Neighborhood Safety

Village leaders are trying to keep

students and residents safe Page 4

State Report Cards

See how the local district was graded

on the state report card Page 8

V I P R E A L T Y

I N C

Call Text Email Greg

614-537-1994

for a FREE marketing presentation,

it spells out all I do to sell your home.

greg@soldbygregskinner.com

C. GREG SKINNER

COMMERCIAL, INDUSTRIAL, HIGH QUALITY RESIDENTIAL

• Only agent offering balanced marketing including Newspapers,

Magazines, area Postcards, Enchanced Internet and more!

• 5 Star Rated Columbus Area agent again for 2018.

• Discount Fees everytime

#1 UNDISPUTED Sales Leader in 43123
---
PAGE 2 - SOUTHWEST MESSENGER - September 22, 2019

By Andrea Cordle

Southwest Editor

The Grove City Higher Education Investment Program

was designed to encourage college-educated students to

Lung Cancer?

Asbestos exposure in industrial,

construction, manufacturing jobs, or the

military may be the cause. Family in

the home were also exposed.

Call 1-866-795-3684 or email

cancer@breakinginjurynews.com.

$30 billion is set aside for asbestos

victims with cancer. Valuable settlement

monies may not require filing a lawsuit.

DENTAL Insurance

Physicians Mutual Insurance Company

A less expensive way to help get the dental care you deserve

If you're over 50, you can get coverage for about

$1 a day*

Keep your own dentist! You can go to any dentist

you want

NO annual or lifetime cap on the cash benefits

you can receive

FREE Information Kit

1-877-308-2834

www.dental50plus.com/cadnet

Paid for by the committee to elect John Galasso for Council

ODD

ERRY

ODD

NIGHT OF CHRISTIAN MUSIC

Fridays 7 PM To 9 PM

All ages welcome.

CALVARY ROAD COMMUNITY CHURCH

5108 NORTON RD, GROVE CITY

No wait for preventive care and no deductibles –

you could get a checkup tomorrow

Coverage for over 350 procedures including

cleanings, exams, fillings, crowns…even dentures

*Individual plan. Product not available in MN, MT, NH, NM, RI, VT, WA. Acceptance guaranteed for one insurance policy/certificate of this type. Contact us for complete details

about this insurance solicitation. This specific offer is not available in CO, NY; call 1-800-969-4781 or respond for similar offer. Certificate C250A (ID: C250E; PA: C250Q);

Insurance Policy P150 (GA: P150GA; NY: P150NY; OK: P150OK; TN: P150TN)

6096E-0917 MB17-NM008Ec

remain in Grove City after graduation. That is still the

goal, but a requirement that a student must reside in

Grove City after graduation has been lifted.

Grove City Council signed off on the change at a recent

meeting.

The higher education investment program was

adopted by the city several years ago. According to

city legislation, the objective of the program is to

expand higher education opportunities in Grove

City, attract economic development, encourage

investment and employment expansion and support

workforce training. It also aims to make the

city a lifetime destination for employment and residency

for young professionals.

Per the program, the city offers full-time students

a $1,000 scholarship each semester or $3,000

a year. Students can receive a maximum amount of

$12,000. The amount of the award part-time students

could receive is $500 per semester or $1,500

a year. To qualify, the student must be a Grove

City resident, attend a participating school and

agree to perform 10 hours of community service.

There was a requirement that the student remain

a city resident after graduating but the program's

committee recommended that the city drop that

rule.

"Forcing them to live here is not realistic," said

John Hampson, a former educator and higher education

program committee member. "It is costing

the city additional money that is unnecessary."

According to Hampson, the administration was

spending money trying to track down individuals

who did not fulfill their promise to stay in Grove

City.

The students may not stay in the city after completing

their studies, but Hampson said the city has

received valuable community service from the students.

He said the hope of the committee is that the

students will complete the community service,

develop ties to the area and want to stay in Grove

Experience living history with a variety of hands-on

activities including old-time games, traditional crafts

and daily chores; including leather tooling, rope weaving,

butter churning and well water pumping.

The event also features:

•Costumed re-enactors and period music.

•A wagon ride through Century Village.

•Restored or reconstructed historical buildings

including a one-room schoolhouse, log cabin, general

store and barns.

www.columbusmessenger.com

The City Beat

Residence requirement dropped from Higher Education program

Move with the Mayor

Grove City Mayor Richard "Ike" Stage is joining

forces with mayors from across the nation as they

Move with the Mayor during the month of September

to boost physical activity and lower the risk of cardiovascular

disease. The initiative, in partnership with

the National Forum for Heart Disease and Stroke

Prevention, promotes being active to improve the

health of individuals in our region.

Residents are invited to join Mayor Stage for a walk

at noon on Friday Sept. 27 in Fryer Park at the Eagle

Pavilion, 3670 Discovery Dr. The group will follow the

path along the pond to the Discovery Drive path

HISTORY

Continued from page 1

City.

"They have to want to be a part of the community," said

Hampson. "I think in the long run, you will see most of

them stay in Grove City."

Grove City councilman Ted Berry, who is also a higher

education program committee member, said the community

service requirement is significant.

"The students value the connection to the community

through that community service," he said.

A resident in attendance at the council meeting spoke

out against the change in the program. Roger Burket said

the initial purpose of the program, to eliminate educated

residents from leaving, is gone.

"This is not going to work," said Burket. "It was a bad

idea from the beginning. Tax dollars should not go to scholarships."

Grove City Mayor Richard "Ike" Stage said the city has

rewarded 134 students with scholarships.

"That is money well spent," said Stage.

The mayor said a main objective of the program is to

secure a permanent institution of higher education within

the city.

"We are telling colleges and universities that the city is

building a pool of students who live here, and we want to

subsidize their education," said Stage.

According to Hampson, a brick and mortar college-level

facility located in Grove City is the ultimate goal.

"I know you can see the possibilities," Hampson said to

council members.

Students who receive scholarship funds must attend an

institute that has a presence in Grove City. The participating

schools include Columbus State Community College,

which offers classes at the Career Academy, Ohio

Christian University at Grove City Church of the

Nazarene, and Ohio Dominican University, also offering

classes at the Career Academy.

To learn more about the Grove City Higher Education

Investment Program, visit www.grovecityohio.gov. The

deadline to apply for funding for the winter/spring semester

is Nov. 1.

around the southwest

around the Grove City YMCA.

"I'm asking residents to join me throughout the

month of September to get moving," said Stage. "I hope

we can inspire others to start a health journey of 30

minutes of walking or other forms of exercise."

Reports show heart disease kills more than 600,000

Americans each year. Mayors across the country are

encouraging citizens to take regular walks to improve

their health. Walking is one of the easiest ways to

lower one's chances of heart disease and its risk factors,

including high cholesterol, high blood pressure

and diabetes.

For more information, visit GroveCityOhio.gov.

•The village herb garden, windmill and antique

equipment.

•Metalworking demonstrations on a traditional

forge in the blacksmith shop.

Attendance and parking are free. Donations of nonperishable

food items for the Grove City Food Pantry

will be accepted at this rain-or-shine event. For a full

schedule of activities, visit GroveCityOhio.gov or call

614-277-3050.
---
www.columbusmessenger.com

September 22, 2019 -SOUTHWEST MESSENGER - PAGE 3

Welcome to 2840 Loris Way

Welcome to 2840 Loris Way, located in Margies Cove. This immaculate like new home features a first floor private master suite. Master offers a luxe spa

like bath with a soaking tub, dual sinks and a huge walk in closet. Over sized Great room feaures a corner fireplace and a panoramic view to the tree lined

private lot. Chefs dream stainless and granite kitchen is also open to the great room. Kitchen boasts upgraded 42 inch furniture grade cabinets and an

open island/eating area. Real wood oak flooring in the kitchen,eating area as well as the entry area. Three car tandem garage and plenty of storage in

the full poured extra high basement. Upstairs is a huge loft and 2 more large bedrooms. Home is close to schools, shopping, medical and shopping.

Home shows like a new build, do NOT miss out. $349,900 MLS#: 219033493

COMMERCIAL, INDUSTRIAL, HIGH QUALITY RESIDENTIAL

UNPRECEDENTED SINGLE AGENT SALES OF OVER $75 MILLION FOR 2015-2018

C. Greg Skinner

614-537-1994

I sell more, because I do more, call me for my free no obligation marketing presentation.

Discount Fees Everytime.

I

GROVE CITY

greg@soldbygregskinner.com

UNDISPUTED #1 in 43123 SALES
---
PAGE 4 - SOUTHWEST MESSENGER - September 22, 2019

By Dedra Cordle

Staff Writer

It is a scene that has become all too

familiar: A video shows a group of students

preparing to cross the road to reach their

school bus when a vehicle comes into view.

Though the lights on the bus are flashing

and its stop indicators have extended, the

vehicles races by and narrowly misses hitting

the children.

It is a problem that has occurred

throughout the country as districts have

opened its doors to a new school year and

now one local community says it is dealing

with the issue as well.

At the Sept. 10 village of Urbancrest

council meeting, councilwoman Shawn

Moore said there has been three reported

incidents of motorists passes stopped buses

within the month, one she has seen firsthand.

"I was at the bus stop with my granddaughter

when I saw this black truck fly

right by," she said.

She added that all of the bus lights and

gates were engaged but this motorists

showed little concern for the children ready

to enter the bus.

"It is very dangerous," she said.

Mayor Joseph Barnes Sr. asked where

in the village these incidents were occurring

and she replied that were taking place

on First Avenue. Councilwoman Alicia

Wiggins said she also heard that one took

place on Central Avenue.

First and Central Avenues are main

Cleanup in Jackson Twp.

The annual Jackson Township Cleanup

is open from 8 a.m. to 1 p.m. Sept. 28, at

the Jackson Township Administration

Building, 3756 Hoover Road, sponsored by

Jackson Township, the city of Grove City,

thoroughfares in the village. Not only are

they populated residential roads but

employees from nearby businesses often

use them as a shortcut to access Broadway.

In the past several years, council has taken

a number of steps to reduce traffic and

speeding issues along these streets. They

include restricting access between the

weekday hours of 4 p.m. and 6 p.m. and

installing a speed capturing sign to establish

trends for future enforcement purposes.

Moore said that with all they have done

to lessen the vehicular dangers posed to its

residents, she was disheartened to see

some motorists continue to endanger lives

by breaking bus passing laws.

"I would hate to see something happen

to any of our kids," she said.

She asked the street commissioner if

Keep Grove City Beautiful and Local

Waste Services. For more information, call

Jackson Township at 614-875-2742 or the

Grove City environmental supervisor at

614-277-3058.

Hazardous Waste

collection in Grove City

The annual Household Hazardous

Waste (HHW) mobile collection for

Franklin County residents, hosted by

SWACO, is from 8 a.m. to 2 p.m. Sept. 28

at the Kingston Center, 3226 Kingston

Ave. in Grove City. Find a detailed list of

accepted items at www.swaco.org that

includes gasoline, lighter fluid, thinners,

pool chemicals, fluorescent light bulbs,

propane tanks under 20 pounds, all types

of batteries and corrosives such as drain

cleaners.

Oil-based and spray paint only will be

accepted. Latex and other water-based

paint can be disposed with your regular

trash after drying it by adding paint hardeners,

cat litter or sawdust and leaving the

lid off. A $1 fee, per can, will be charged for

any water-based paint dropped off at the

event.

Franklin County residents can also take

advantage of SWACO's permanent HHW

collection site at 645 East 8th Ave. in

Columbus (the corner of East 8th and

Essex avenues) open Wednesday,

Thursday and Fridays.

5K Rescue Dog Walk/Run

Grove City Councilman Ted Berry will

host his annual 5K Rescue Dog Walk/Run

from 10:30 a.m. to 2:30 p.m. Oct. 6 at Breck

Park, 3005 Demorest Road in Grove City.

This is a free event but donations of

unopened dog food or dog toys are encouraged.

All proceeds raised will benefit animal

rescue organizations. Last year, there

www.columbusmessenger.com

Government Focus

Village council members concerned about student safety

JEFFREY P. COMPTON

ATTORNEY AT LAW

General Practice

Personal Injury • Domestic

Probate • Wills

Power of Attorney

Healthcare Documents

FREE CONSULT & PARKING

614-875-7233 Fax: 614-875-7207

3894 Broadway, Grove City

www.jeffreypcompton.com

Email: jcompton@jeffreypcompton.com

F∩O∩R∩ G∩R∩E∩A∩T∩ H∩O∩M∩E∩ I∩N∩S∩U∩R∩A∩N∩C∩E∩ R∩A∩T∩E∩S∩

it takes a village!

A∩t V∩illage I∩nsurance A∩gency we

believe we can save you money on

your homeowners insurance.

B∩efore you renew your

homeowners insurance call us and

see how much we can save you!

S∩ave E∩ven

M∩ore W∩hen

W∩e I∩nsure

Y∩our H∩ome

& C∩ar!

www.viaoh.com • (614) 875-3010

3136 B∩roadway, S∩uite 103

G∩rove C∩ity, O∩H∩ 43123

Columbus

Aero R/C Club

Swap Meet

Grove City Church of the Nazarene

4770 Hoover Rd., Grove City, OH 43123

Saturday, November 9, 2019 Show Admission: $5

For more information:

Please E-Mail michael63031@att.net or call: 614-465-9058

or message us on Facebook!

around the southwest

they could purchase signs that bring

awareness to the children in the area, such

as 'We Love Our Children' signs.

Commissioner Edward Banks said they

could purchase the signs but the problem

will not stop unless there is enforcement.

"We need the police to come out here,"

he said.

Moore agreed, saying it was imperative

to ask them to step up patrols during these

times.

Barnes suggested that when parents or

grandparents take their kids to the bus

stop, to bring a pen and paper with them to

write down a detailed description of the

vehicle and motorist. He then said to give

the information to the school district or

local law enforcement agencies for further

investigation.

were 368 human walkers and 157 dogs who

took part in the event. It raised more than

$11,000. To register for the walk, visit

raceroster.com.

Blood drive at Kingston Center

The American Red Cross Blood Drive

meets in the Kingston Center, 3226

Kingston Ave., from 1-7 p.m. the first

Wednesday of each month. To schedule an

appointment call 1-800-448-3543 or visit

the American Red Cross Blood Drive website.

S.A.L.T. at Evans Center

The Grove City Division of Police host

Seniors and Law Enforcement Together

(S.A.L.T.) meetings at 1 p.m. the second

Tuesday of each month at the Evans

Center, 4330 Dudley Ave. Adults of all ages

are welcome to attend. If you would like

additional information on other crime prevention

programs visit police.grovecityohio.gov

or call 614-277-1765.

Century Village open house

The Southwest Franklin County

Historical Society welcomes groups and

individuals to Century Village, 4185

Orders Road. Tour the historic log house

and school from 2 to 4 p.m. the fourth

Saturday of each month, May through

September. For more information or to

schedule a visit to Century Village, contact

Steve Jackson at 614-871-0081.

Free community meal

Bethel Lutheran Church, 4501 Hoover

Road in Grove City, will host a free community

meal every third Saturday of each

month. The food will be served from noon

to 1 p.m. For more information, call the

church office at 875-0510.
---
www.columbusmessenger.com

September 22, 2019 -SOUTHWEST MESSENGER - PAGE 5

Welcome to 5989 Haughn Rd.

Over 5 acres which shows from I 71 South . Just north of SR 665. Buildings on site are tear downs and have no value. Zoned C2

Commercial...2 Diesel repair facilities next door, as well as 2 self storage facilities. In the City of Grove City, all utilities on site. This

is a once in a lifetime opportunity as land with these kind of uses in the city do not come to market often. Land would have to be

rezoned and approved. Owner will look at all reasonable offers, lets talk!

$449,900

MLS#: 219033374

COMMERCIAL, INDUSTRIAL, HIGH QUALITY RESIDENTIAL

UNPRECEDENTED SINGLE AGENT SALES OF OVER $75 MILLION FOR 2015-2018

C. Greg Skinner

614-537-1994

I sell more, because I do more, call me for my free no obligation marketing presentation.

Discount Fees Everytime.

I

GROVE CITY

greg@soldbygregskinner.com

UNDISPUTED #1 in 43123 SALES
---
PAGE 6 - SOUTHWEST MESSENGER - September 22, 2019

Battle of Grove City

Continued from page 1

www.columbusmessenger.com

SEARCHING

for More Qualified Employees?

October 20 th , 2019

Deadline: October 14 th , 2019 At 2pm

Special employment Section Featuring:

Job Openings

Job Fairs

Full and Part Time Employment

Seasonal Job Opportunities and more

ALL ADS ARE IN FULL COLOR. Contact us by phone or online to discuss special

advertising rates that are available for this section as well as combination rate

discounts for advertising in multiple coverage areas.

Westside • Southwest • Eastside • Southeast • Madison

614-272-5422

Kathy@columbusmessenger.com

Doughenry@columbusmessenger.com

Southwest Messenger Newspapers

2019 Election Section

Reach over 22,000 households in Grove City, Urbancrest,

Commercial Point, Pleasant Township and Jackson Township!

Community VOTES you need to WIN!

Week 1, October 20th - Deadline: Oct. 15th

Exercise Your Right to Vote

Week 2, October 27th - Deadline: Oct. 22nd

Exercise Your Right to Vote

Week 3, November 4th - Deadline: Oct. 29th

Your Vote Can Make A Difference

Reserve Your Space Today!

Contact Doug Henry

Phone: (614) 272-5422 Email: doughenry@columbusmessenger.com

FREE

Ad Size

1/8 Page

1/4 Page

1/2 Page

Full Page

*Prices are per paper.

200 Word Story

Cost

Ad Rate

$ 130.00

$ 175.00

$ 250.00

$ 395.00

Messenger photos by Dedra Cordle

This cheekily painted rock was a popular destination for a photo. Here, current and

future Central Crossing students (from left to right) Trisden Collins, Landen Collins,

Kaitlyn Collins and Jordan Ferrell) gather before the game.

Members of the Grove City High School Color Guard perform at half-time. More photos

can be found at www.columbusmessenger.com (Southwest).
---
www.columbusmessenger.com

September 22, 2019 -SOUTHWEST MESSENGER - PAGE 7

Thank you for your friendship and your trust.

Greg is rated #1 in 43123

One of the BEST IN COLUMBUS

One of the BEST IN AMERICA

Call or Text Greg at 614-537-1994

www.soldbygregskinner.com
---
PAGE 8- SOUTHWEST MESSENGER - September 22, 2019

In Education

The Ohio Department of Education recently released its

annual report card. The report gives each school district in the

state an overall grade after factoring in six component grades.

The South-Western City Schools District earned an overall

grade of C.

The components include:

•Achievement - this represents whether student performance

on state tests met established thresholds and how well students

performed on tests overall. South-Western City Schools received

a D in achievement.

• Progress - looks at the growth that all students are making

based on past performances. The district earned an A in

progress.

• Gap Closing - is a component that shows how well schools

Looking for a small,

friendly church experience? Try

First Presbyterian Church

of Grove City

4227 Broadway

in Grove City

Join us on

Sunday mornings:

Traditional Worship at 10 a.m.

Contemporary Worship at 11:15 a.m.

Faith Community Church of God

"The Church at the Roundabout"

4203 Alkire Rd., Grove City, OH 43123

www.faithcommunitychurchofgod.com

614-277-8499

Where the whole Bible is preached and

honest answers are given to honest

questions. Join us as we prepare to

begin our new series of Genesis.

9:30 a.m. Sunday School

10:30 a.m. Worship Service

6:30 p.m. Wednesday Bible Study

Ohio School Report Card

Results for South-Western City Schools District

St. John's Evangelical

Lutheran Church

3220 Columbus St.

Grove City, OH 43123

614-875-2314 www.stjohnsgc.org

WORSHIP SERVICES

Saturday - 6:00 pm

Sunday - Traditional 8:15 am & 11:00 am

Contemporary - 11:00 am

The Naz

(Grove City Church

of the Nazarene)

4700 Hoover Rd.

614-875-2551

Join us Saturday's at 6PM or

Sunday's at 9AM or 11AM

www.thenaz.church

are meeting the performance expectations for the most vulnerable

students in English language arts, math, graduation and

English language proficiency. South-Western received a B.

• Graduation Rate - looks at the percent of students who are

successfully finishing high school with a diploma in four or five

years. The district received a C.

• Improving At-Risk K-3 Readers - this component reviews

how successful the school is at improving at-risk K-3 readers.

South-Western scored a C.

• Prepared for Success - looks at how well prepared Ohio's

students are for future opportunities. The district earned an F

in this component.

To review the report card or for additional information, visit

reportcard.education.ohio.gov.

Grove City Church of God

"A Healing Place"

4235 Harrisburg Pike, Grove City, Ohio

614-875-7186

NEW SERVICE TIMES

Sundays beginning June 9

9 a.m. Discipleship Classes

10:30 a.m. Worship Service

Wednesday Nights Beginning June 12

Connection Café opens at 5:30 p.m.

Discipleship Classes begin at 6:30 p.m.

Please visit the

Southwest Church

of your choice.

List your Worship

Services here.

For info. call 614-272-5422

Be a Part of Our Local Worship Guide

Our Worship Guide is geared toward celebrating faith and helping

reader connect with religious resources in our community.

Make sure these readers know how you can help

with a presence in this very special section distributed to more than

22,000 households in the Southwest area.

Contact us today to secure your spot

in our Worship Guide.

614.272.5422 • kathy@columbusmessenger.com

www.columbusmessenger.com

around the southwest

Marching Band Showcase

The South-Western City Schools

District Marching Band Showcase will be

at 7 p.m. Oct. 15 at Central Crossing High

School, 4500 Big Run South Road in Grove

City. For more information, visit

www.swcsd.us.

FHHS 5K for

breast cancer awareness

Franklin Heights High School will host

a 5K race to raise funds for breast cancer

awareness. The race will start at 9 a.m.

Oct. 5 at the school's stadium, 1001

Demorest Road in Columbus. Registration

begins at 8 a.m. The cost to participate is

$20 for adults and $10 for students.

Proceeds will benefit the Stefanie

Spielman Foundation. To register or for

more information, visit fhhs5kraceforawareness.weebly.com.

College Fair

The South-Western City Schools

District will host College Fair 2019 from 6

to 8 p.m. Sept. 25 at Central Crossing High

School, 4500 Big Run South Road in Grove

City. The event is free and open to all students

and their families. It will feature

representatives from numerous colleges

and universities, military branches and

will also include financial aid information.

For more details, visit www.swcsd.us.

Tax-Aide volunteers

needed for tax season

The AARP Foundation Tax-Aide program,

which provides free tax preparation,

primarily for senior citizens, at the Grove

City Church of the Nazarene and many

other locations across the state is seeking

volunteer tax preparers for next year.

Anyone who does his/her own taxes on a

commercially available program is an ideal

candidate for the volunteer opportunity.

Volunteers receive IRS-approved training.

They are asked to work at least one day a

week during the 10 to 11-week tax season.

For more information about volunteering,

contact William Evans at 614-885-

0938 or wlevans88@gmail.com. Those

interested may also visit the Ohio Tax-

Aide website at www.ohiotaxaide.org.

southwest

Messenger

(Distribution: 23,506)

Andrea Cordle...................................Southwest Editor

southwest@ columbusmessenger.com

Published every other Sunday by the

The Columbus Messenger Co.

3500 Sullivant Ave., Columbus, Ohio 43204

(614) 272-5422

The Columbus Messenger Co. reserves the right to edit, reject or cancel

any advertisement or editorial copy at any time. The company is not

responsible for checking accuracy of items submitted for publication.

Errors in advertising copy must be called to the attention of the company

after first insertion and prior to a second insertion of the same advertising

copy.
---
www.columbusmessenger.com

Remembering

lives lost on 9/11

September 22, 2019 -SOUTHWEST MESSENGER - PAGE 9

Messenger photos by Dedra Cordle

The Jackson Township Fire Department,

in concert with the American Legion

Paschall Post 164, hosted a September

11 remembrance service at Station 204.

The ceremony, which has been held for

five years, honors the thousands of

lives lost during the terrorist attack that

took place 18 years ago. At right, Fire

Chaplain Jeffrey Whaley rings the bell of

service. Far right, the American Legion

Paschall Post 164 Honor Guard stand

and salute for the national anthem.

Active Lifestyles

A bi-monthly feature celebrating the

wisdom, experience and contributions of our community's senior citizens

PAID ADVERTISING

Learn about our culture of care

Meadow Grove is a new facility in Grove City

offering short term rehabilitation after hospitalization,

including physical, occupational and

speech therapy in our brand new, well equipped,

gym to maximize their stay and achieve the best

outcomes. Our staff are professional, friendly,

and work with families and residents to create a

person-centered plan of care. All of our rooms at

Meadow Grove are private and include 32" televisions,

brand new furniture, and private bathrooms

with showers.

Meadow Grove was designed to be bright and

cheerful, with lots of windows and open dining

rooms. In addition, there are quiet areas for families

to enjoy whilst visiting including 2 private

dining rooms available for family gatherings.

Our activities staff keeps residents entertained

with hours of activities and outings.

Holidays are very special at Meadow Grove with

more than 25 Christmas trees all decorated with

an individual theme.

We are part of Foundations Health Solutions

with over 56 facilities in Ohio serving our communities,

in which we are privileged to come to

work daily in our residents home.

Come join us for a stay at Meadow Grove and

learn all about our "Culture of Care" that our

company and community prides itself on!

PAID ADVERTISING

Monument builders' artistry on display

in Gold Star Families Memorial

While it was dedicated just about 15 months

ago, the Gold Star Families Memorial Park has

become a focal point of the intersection of

Broadway and Columbus streets in Grove City.

Hannigan Memorials and Modlich Monument

Company played an integral role in the development

of the monument. Modlich collaborated on

the design of the monument with the Hershel

"Woody" Williams Medal of Honor Foundation.

The monument builders at Modlich then turned

the giant slabs of black granite into a memorial

that stands seven feet tall and 14 feet long and

highlights the themes of homeland, family, patriot

and sacrifice. Modlich also built the benches

and created the service medallions and title marker

in the park.

"We were honored to be a part of creating this

monument that is a beautiful tribute to families

who have lost loved ones who were serving their

country." said Jonathan Modlich, president of

Modlich Monument Company, which includes

Hannigan Memorials.

Hannigan Memorials is part of the family of

companies known as Modlich Monument

Company, which was founded 80 years ago. In

addition to Hannigan Memorials in Grove City

and Modlich Monument Company in Columbus,

the other locations include Darden Memorials,

Fuller Memorials, Mason Memorials and

Newark Memorials.

For more information, go to https://modlichmonument.com/locations/hannigan-memorials/.
---
PAGE 10 - SOUTHWEST MESSENGER - September 22, 2019

EDUCATE, EMPOWER, ENGAGE

Women 60 and over seize your opportunity to FLOURISH!!

Join us Wednesday, September 25th

at the Franklin Park Adventure Center

1775 East Broad Street,

10:00 a.m. to 2:00 p.m.

• Fitness activities

• Health Information from a gender perspective

• Style show (fashions by Chico's)

Sponsors:

FOR MORE

INFORMATION CALL

614.525.5230

Active Lifestyles

www.columbusmessenger.com

Promoting mental health care

Informed Aging - By Michelle Missler

Mental health care should be a critical part of everyone's overall

health and well-being.

According to the Center for Disease Control and Prevention, in

2018 over 45 million Americans experienced a mental health condition,

more than the populations of New York and Florida combined.

As for adults age 55 and older, 20 percent have experienced

some type of mental health condition that is not a normal component

of the aging process. All too often, mental health challenges

are overlooked and not addressed under the assumption they are

a normal part of aging.

Regrettably, far too often older adults do not access the help

that they need. Mental health conditions that go undiagnosed and

untreated can have significant impact on self-care, daily activities

and health and safety. Depression, anxiety, personality disorders

and severe cognitive impairment can be major contributors to

social isolation, which can result in diminished quality of life and

premature institutionalization. Mental health care is becoming a

basic part of primary care and should be addressed with the same

urgency as diabetes, high blood pressure and other physical

health conditions that can be prevented and treated through a

combination of medical interventions and behavioral changes.

The Franklin County Office on Aging recognizes the importance

of both good mental and physical health while aging in

place. If you or an elderly loved one is in need of mental health

care, please contact Senior Options at 614-525-6200 to get connected

to community resources or contact the Get Connected

Program with Mental Health America of Franklin County at 614-

242-4357 or connect@mhafc.org that will help find trusted mental

health services. It is imperative that no one suffers alone or in

silence.

Michelle Missler is the director of the Franklin County Office on

Aging.
---
www.columbusmessenger.com

Active Lifestyles

September 22, 2019 -SOUTHWEST MESSENGER - PAGE 11

Franklin County Board of Commissioners: Marilyn Brown, President, John O'Grady and Kevin L. Boyce

The Franklin County Board of Commissioners and The Franklin County Office on Aging join with the Messenger Newspaper in providing this update on aging issues in Franklin County.

Prepared, Not Scared

Each September, during National Preparedness Month,

Americans are encouraged and reminded to be prepared for

disasters or emergencies in their homes, businesses, and

communities. The 2019 theme is "Prepared, Not Scared."

Homeowners, families, communities, and businesses can use

this opportunity to find ways or help others understand more

about preparing for disasters and reducing risks to health and

the environment.

HOW TO PREPARE:

• Save early for disaster costs - Check your insurance

coverage to ensure you have appropriate insurance for

relevant hazards.

• Make a Plan to Prepare for Disasters – Create an

emergency plan and practice it. Share your plan with family

members. Be sure to include pets in your plan.

• Teach Youth to Prepare for Disasters – Include your

grandchildren in conversations about preparedness. Discuss

their role in your support network and how the people in this

network will assist each other.

• Get Involved in Your Community's Preparedness – Every

community has volunteer organizations that work during

disasters. Learn what organizations are active in your

community. Other ways to get involved include taking classes

in lifesaving skills or simply checking in with neighbors to see

how you can help each other before or after a storm.

Additional Suggestions:

• Direct Deposit - A disaster can disrupt mail service for days

or weeks. If you depend on Social Security or other regular

benefits, switching to electronic payments is a simple,

significant way to protect yourself financially before disaster

strikes. It also eliminates the risk of stolen checks.

• Mail order pharmacies – If you take medicines on a daily

basis subscribe to a mail order service. These services can

provide a 90 day supply of medicine which will enable you to

keep at least a week-long supply on hand. However, it's a

good idea to place your order at least two weeks before your

prescription runs out.

• Weather radio – In the event of severe weather, keep a

weather radio tuned to your local emergency station and

monitor TV. Subscribe to or download mobile alerts for

severe weather warnings in your area.

Preparing makes sense for older adults. The likelihood that

you and your family will survive an emergency depends on the

preplanning and preparation. Our abilities and needs are

different, but we can all prepare by evaluating our own

personal needs and those of our loved ones.
---
PAGE 12 - SOUTHWEST MESSENGER - September 22, 2019

www.columbusmessenger.com

Parade of Homes

The Building Industry Association of

Central Ohio (BIA) announced on Sept. 11

that Beulah Park, will be the site of the

2020 BIA Parade of Homes.

Once a historic racetrack and now the

site for the 2020 BIA Parade of Homes,

Beulah Park and Grove City will play host

to the BIA Parade of Homes for the first

time in more than a decade. The Parade of

Homes will take place in summer and feature

homes built by Ohio's premier

builders.

"For more than 60 years the Parade of

Homes has been at the forefront of showcasing

innovation and the latest trends by

the homebuilding community of central

Ohio," said BIA Executive Director, Jon

Melchi. "The 2020 Parade of Homes at

Beulah Park continues that fine tradition

at a historic location with unparalleled

accessibility and proximity to amenities."

The Beulah Park redevelopment is

unique in that it provides an opportunity

for place making with the ability to master

design 220 acres adjoining the existing and

established Town Center. The walkability

to the Town Center and central park is key

attributes allowing Beulah to serve as a

gathering place for Grove City and central

Ohio.

"What sets Beulah Park apart is its

location adjacent to an existing established

town center," said developer Pat Kelley

with Falco, Smith and Kelley. "It is proven

that the connectivity and walkability

enhances quality of life for future residents,

not to mention the parade site will

be adjacent to 58 acres of park land and

conservation area which connects to Breck

Park which is another 25 plus acres."

The Beulah Park development team

includes Falco, Smith and Kelley Ltd,

Townsend Construction, Trucco

Construction Co., Inc, G2 Land Planning

and Design, Craig Murdick Architect Ltd.,

Kimley Horn Engineering, Taft Law and

Plank Law.

BIA Parade of Homes information is

available at BIAparade.com. More information

on Beulah Park can be found at

Beulahparkliving.com.

PAID ADVERTISING

Why fall is the best

season to buy a home

By Jaszmine Davis

Marketing Coordinator, Telhio Credit

Union

The spring and summer seasons are notorious

for hot days and a hot real estate market. But have

you ever considered buying a home in the fall?

Potential home buyers are usually more concerned

with trick-or-treating and pumpkin spiced

lattes during the autumnal months, when in reality,

they should be scoping out neighborhoods as

fall is the best season to find the perfect property.

Fall is considered the "off-season" in real

estate and in turn means less competition. Most

buyers want to find a home during the summer to

avoid moving districts before the school year

starts, and if they don't, they usually drop out of

the market until after the new year. Buying in the

fall puts you in the best position possible: less

competition and a better chance of having an offer

accepted without getting into a bidding war

against multiple offers.

"Besides there being less competition for a

buyer, there tends to be more inventory available,

which affects the pricing in the buyers favor,"

said Igor Babamovski, VP Residential Mortgage

Lending at Telhio Credit Union. "Also, fall

weather means more rain and wet conditions.

This is optimal for buyers because any issues such

as basement dampness or roof leaks can be discovered

more easily."

Buyers also score better deals in the fall.

Homes that are put on the market during this season

are new or repositioned inventory that didn't

sell during the spring or summer. This means asking

prices on new inventory are lower, and repositioned

inventory are seeing price cuts. Sellers

are more motivated during this season in order to

be out before the holidays; they are ready to make

a deal. Buyers are urged to go in at a lower offer

and can participate in more aggressive negotiations.

But before jumping into the real estate pond,

buyers are advised to be well prepared, get preapproved

first, know their loan options and buying

power, and hire an experienced real estate

agent that is familiar with the area you are interested

in buying.

Learn more about Telhio by visiting telhio.org.

Make Your Next Move!

With a Telhio Mortgage

or Home Equity Loan!

No Equity?

No Problem!

Ask us for details!

877-221-3233

Personal Banking | Business Banking | Loans & Credit | Retirement Planning | telhio.org

Telhio is open to anyone who lives, works, worships or goes to school in Franklin, Fairfield, Delaware, Licking,

Madison, Pickaway, Union, Hamilton, Warren, Butler and Preble counties. Federally insured by NCUA. NMLS #251831
---
www.columbusmessenger.com SOUTHWEST MESSENGER - September 22, 2019 - PAGE 13

Affordable Home Financing Solutions

Preparing your yard for winter

Winter weather can be harsh.

Homeowners who spend much of the year

tending to their lawns and gardens may

worry that winter will undo all of their

hard work. Though homeowners cannot do

anything to prevent snow, wind and ice

from affecting their properties, they can

take various steps to prepare their lawns

and gardens for whatever winter has in

store.

•Mulch leaves. Falling leaves are a telltale

sign that winter is coming. In lieu of

raking leaves as they begin to fall, homeowners

can mulch them into their lawns.

Scotts, an industry leader in lawn care,

notes that mulching leaves is a great way

for homeowners to recycle a natural

resource and enrich the soil of their lawns.

While it might not be possible to mulch fallen

leaves in late autumn when they begin

to fall en masse, doing so in the early

stages of fall should be possible so long as

the lawn is not being suffocated.

•Rake leaves as they start to fall more

heavily. Once leaves begin to fall more

heavily, rake them up and add them to

compost piles.

The resource GardeningKnowHow.com

notes composting leaves creates a dark,

rich and organic matter that can add nutrients

to garden soil and loosen compacted

earth. Leaving leaves on the lawn once

they start to fall in great numbers makes it

hard for grass blades to breathe, and the

leaves can block moisture from reaching

the soil, which needs water to maintain

strong roots. In addition, potentially harmful

pathogens can breed on damp leaves

left on a lawn, and such bacteria can cause

significant damage to the turf over time.

•Remove annuals from the garden.

Annuals won't be coming back in spring, so

it's best to remove ones that are no longer

producing from the garden before the

arrival of winter. Doing so can prevent the

onset of fungal diseases that may adversely

affect the garden in spring.

Fall is the perfect time for homeowners

who spend months making their lawns and

gardens as lush as possible to take steps to

prepare such areas for potentially harsh

winter weather.

Purchase Loans:

•Conventional: As little as 5% Down!

• FHA: 3.5% Down

• USDA: 0% Down Rural Development

• VA: 0% Down for Veterans

• First Time Home Buyer Down Payment

Assistance Available.

•Eliminate Mortgage Insurance

• Pay Mortgage off Sooner

• Combine First & Second Mortgage

• Consolidate Debt

614.820.2300

Aemc.cc/SBurris

3009 Columbus St, Suite 101

Grove City, OH 43123

Shane Burris NMLS #252354 | SBurris@aemc.cc

Dylon Sparks NMLS #952444 | DSparks@aemc.cc

LendUS, LLC dba American Eagle Mortgage NMLS #1938

Equal Housing Opportunity

Pick-Up &

Delivery

C.M.T

MOWER REPAIRS

Authorized Dealers for BOB CAT Mowers

6446 HARRISBURG PIKE, ORIENT, OH 43146

614-875-5830

"We have the lowest price in town!"

GENERAL MAINTENANCE SERVICES

Push Mowers $49.95 • Riding Tractors $149.95

Zero Turn Mower $149.95

Parts are additional on all units

PICK-UP & DELIVERY AVAILABLE $60.00

CHECK OUT THESE GREAT DEALS!!

• CRZ-42........ $ 4,000.00

• CRZ-48........ $ 4,200.00

• CRZ-52........ $ 4,500.00

• CRZ-61........ $ 4,800.00

• XRZ Pro RS61.. $ 7,900.00

ProCat RS 61.............. $ 9,400

ProCat 6000 61........... $ 9,500

Predator Pro 7000 72.... $ 12,400

0% Interest

Financing up to

48 months (if qualified)
---
PAGE 14 - SOUTHWEST MESSENGER - September 22, 2019

www.columbusmessenger.com

Thinning grass can be easily treated

Thick grass is often a hallmark of a healthy lawn. If

grass begins to thin, homeowners may feel as though

all the time and effort they spent tending to their

lawns was for naught.

Thinning grass can be caused by any number of

things.

And while it might take a little effort to address,

thinning grass can be treated if homeowners correctly

identify that cause of the problem.

Leaf spot

The Center for Agriculture, Food and the

Environment at the University of Massachusetts

Amherst notes that leaf spot diseases affect both cooland

warm-season turfgrasses. Various fungi can cause

leaf spot. Symptoms and the timing of the appearance

of leaf spot will vary depending on which fungi is causing

the problem. For example, bipolaris sorokiniana,

which affects grasses in warm, wet summer months,

produces small spots that are dark purple to black.

Dreschslera poae is another fungi that causes leaf

spot, and it also produces dark purple to black spots.

However, it tends to appear in the spring when the

weather is cool and moist. Understanding the different

fungi and when they typically strike can help homeowners

identify what is causing their grass to thin. In

such situations, professional landscapers can be

invaluable resources as well.

Stripe smut

The University of Maryland Extension notes that

stripe smut primarily poses a threat to Kentucky bluegrass

that is older than three years. Pale green streaks

that run parallel to the veins in the leaves and leaf

sheaths are symptomatic of stripe smut, which tends

to be noticed in spring and fall, when weather is cool.

As the disease progresses, stripes turn black or a silvery

gray, causing the leaf blade to shred and curl.

After the blades have shred, they turn brown and die.

The grass thins because stripe smut makes it vulnerable

to problems like drought.

Ascochyta leaf blight

Lawns suffering from ascochyta leaf blight will

become straw-colored. According to lawn care and pesticide

experts, when a lawn is affected by ascochyta

leaf blight, its healthy grass blades will be mixed in

with diseased grass blades. Most prevalent in the

spring, this disease can affect grass at any time during

the growing season. That's because the ascochyta

fungi invade leaf blades through wounds, such as

those that can result from mowing. Dull lawn mowers

can contribute to the disease, which might disappear

on its own and can even return after it's seemingly

been cured. Various issues can cause grass blades to

thin. Working with a landscape professional is a great

way to combat such issues before they compromise the

look of a lawn.

PAID ADVERTISING

Is it time to

ban the bottle?

We've all heard the popular rule that we should drink eight glasses of

water every day. One of the main reasons water is so critical to life processes

is that it is helps the body transport critical substances in and out of living

cells. Simply put, water is essential to life.

In an effort to stay healthy and drink the recommended amounts of

water, more and more people have reached for the convenience of bottled

water. But the statistics about pollution and plastics are sobering:

* America's demand for bottled water uses more than 17 million barrels

of oil annually, enough to fuel 1.3 million cars for a year. (1)

* By 2050, there is going to be more plastic in the ocean than fish. (2)

* The energy we waste using bottled water would be enough to power

190,000 homes. (3)

If you are searching for an alternative to bottled water, it's time to consider

a home drinking water system. Kinetico Water Systems, headquartered

in Northeast Ohio, is one of the nation's premier water-treatment innovators.

For information on your personal water solution, contact Kinetico at

800-444-1387 or visit www.kineticocolumbus.com.

1 Pacific Institute. "Fact Sheet: Bottled Water and Energy – Getting to

17 Million Barrels." December 2007.

2 Sherri A. Mason, Ph.D.

3 "Not Disposable Anymore." P.O.V.'s Borders. 2004. PBS.
---
www.columbusmessenger.com SOUTHWEST MESSENGER - September 22, 2019 - PAGE 15

Martin is the perfect dog for someone with an active lifestyle.

Pets of the Week

He's a shelter favorite around here, and could use some extra

TLC. He is a bit dog selective, so we recommend you bring in

your pup to meet him first. However, he would also be great as

an only child. Come meet Martin today and fall head over paws.

FYI: 614-525-3647 or www.franklincountydogs.com

Hope is about 3

years old and she is

a very sweet girl. She

will give you kisses

and she just wants to

be pet. Hope would

be a great addition to

any family. She even

gets along well with

dogs. Adopt Hope from Friends for Life

Animal Haven.

FYI: www.fflah.org

Lillian is a little bundle

of love. She is a

sweet girl who likes

to play. Lillian is

spayed, microchipped

and up to

date on vaccinations.

She is ready to find

her forever family and

would make a great addition to any home.

She is up for adoption through Colony Cats

and Dogs.

FYI: www.colonycats.org

Roger is a happy

young man. He is

playful, loving and

ready for adoption.

Roger is neutered,

microchipped and up

to date on his vaccinations.

He is available

for adoption

through Colony Cats and Dogs.

FYI: www.colonycats.org

Hogan is an all-

American mutt. He

loves attention and

being with people. He

is 6 years old and suffers

from separation

anxiety so Hogan

needs a home where

his people will be

there with him a lot. Hogan enjoys car rides. If

you are interested in giving this calm, gentle

guy the life he deserves, contact Colony Cats

and Dogs.

FYI: www.colonycats.org

These pets are up for adoption

at local rescue organizations

Soapcitylaundry.com

2056 Lockbourne Rd.

Columbus, OH 43207

(614) 443-7627

Home Buyers Guide

IN CONTRACT

IN CONTRACT

3243 GUFFEY DRIVE, GROVE CITY

Stunning 2,844 sq. ft. home w/4 large BRs, 2.5 BAs, dining room, kitchen w/2 pantries, SS

appliances, island & eat-in area, Great room, addl. sitting room, 1st floor laundry & large loft.

Updates include luxury plank flooring, roof, hot water tank, solar screens & radon system.

Terri Ehmann

REALTOR ®

Direct: (614) 216-7977

Fax: (614) 875-0889

terri.ehmann@herrealtors.com

herrealtors.com/TerriEhmann

Saxton Real Estate

"People Serving People"

Locally owned and operated since 1959

Contact Saxton Real Estate for more

information about purchsing a HUD home.

3703 Broadway, Grove City, OH 43123

614-875-2327

www.saxtonrealestate.com

http://sageacq.com

https://www.hudhomestore.com/home/index.aspx

2463 BUCKEYE GROVE BLVD., GROVE CITY

Located in the Landings at Quail Creek. Master BR w/full BA & walk-in closet, 2nd

BR, laundry, dining area, kitchen w/eat-in area, 1/2 BA & great room w/gas FP on

1st floor. 3rd BR w/full BA & walk-in closet on 2nd floor.

Terri Ehmann

REALTOR ®

Direct: (614) 216-7977

Fax: (614) 875-0889

terri.ehmann@herrealtors.com

herrealtors.com/TerriEhmann

Pam Brown

614-975-9462

Thinking about

selling your home?

Call An Experienced Realtor!

38 Years of "Service with a Smile"

GREAT SELLING MARKET!

3656 Broadway, Grove City, OH 43123

614.871.1000 • www.era.com

1191 COLE ROAD, GALLOWAY $539,900

Beaut. classic 2 sty situated on approx. 3.5 acs w/huge outer bldg. Outer bldg has heated office &

1/2 BA. Perfect for home business, boat/RV storage, lrg. truck storage etc. Enjoy the prof. landscape

while relaxing on the front porch or from the back patio. Home has a 2 sty foyer w/center Hall that

leads to Form. LR, DR & FR. Lrg. kit. w/eating area. 1sr flr lndry w/mud rm area. Lrg. mstr w/huge

walk in closet. Bath has dbl sinks w/walk in shower & jetted tub. Lrg. bsmt. w/plenty of room & high

ceilings for potential rec rm. Brand New HVAC syst. w/transferable 10 yr. warranty. Conveniently

located 15 mins from downtown Columbus, with Country setting.

MARTHA CORBETT

614-488-0707

Agent Phone: 614-395-6551

Next Edition

October 6 th

Deadline: October 1 st

Contact Doug Henry

614-272-5422

DOUGHENRY@COLUMBUSMESSENGER.COM
---
PAGE 16 - SOUTHWEST MESSENGER - September - 22, 22, 2019

www.columbusmessenger.com

In Entertainment

"Hustlers" showcases humanity and complexity of exotic dancers

With a plot that revolves around female

exotic dancers, there was an extremely

high risk that the film "Hustlers" would

turn out to be a disaster. Though written

and directed by a woman, it is a rare occurrence

when movies portray these people as

anything other than sexual objects with

"daddy issues" so you just kind of had to

hold your breath and hope for the best.

"Hustlers" was a surprise and in the

best of ways. Not only did Lorene Scafaria

showcase the humanity and complexities of

these characters and their profession, but

she did so it ways that didn't feel voyeuristic

despite the nudity and sexual situations

depicted within. There are times, however,

when it does veer into that uncomfortable

category but those scenes were shot by

design.

While showing sensitivity, Scafaria also

doesn't shy away from the seedier aspects

of the clubs where they work, the demeaning

behavior from the male customers, nor

does she lessen the blow of the dancers'

criminal decisions later on. When I went to

see this film, I didn't expect it to be as deep

as it is, but as I said it was a surprise and

in the best of ways.

The film is a fictionalized look at a story

taken from Jessica Pressler's 2015 New

York Magazine article about a group of

New York City dancers who were arrested

for drugging men and maxing out their

credit cards. Names have been changed, for

obvious reasons, and scenes have been

embellished for entertainment purposes

but the fact still remains that this actually

happened.

The plot largely centers on a young

woman named Dorothy/Destiny

(Constance Wu) who works at various

clubs in New York to support her grandmother.

One might think she would be raking

in the cash, but at the end of the day

she has to share profits with bouncers, bartenders,

club owners and disc jockey's,

leaving her with little savable income.

After a particularly rough night, she

meets Ramona (Jennifer Lopez) and is

instantly enamored with this more experienced

dancer who has the club eating out of

the palm of her hand. Wanting to know all

of her secrets, Destiny asks Ramona for

help, and so begins a deeply complex

friendship filled with love, laughter, support

and knowledge about which rich guys

to target.

As the years pass, they drift apart when

Destiny moves away and has a child. Then,

when the recession of 2008 hits and her

boyfriend takes off, she goes back to New

York and resumes her friendship with

Ramona.

But things have changed in Ramona's

world too with the clubs not bringing in as

much money as they had in the past. Now,

she is in charge of a little operation where

a group of dancers (played by Keke Palmer

and Lili Reinhart) drug rich men, bring

them back to the club, and then proceed to

max out their cards while they are under

the influence. Wanting her friend to share

in the operation and its profits, she tries to

recruit Destiny into the scheme but she has

reservations as to its legality, as she

should. But after a particularly demoralizing

encounter with a customer and with

Ramona in her ear talking about how these

Wall Street types deserve to be bilked of

their money, she goes all in.

With the culture of silence regarding

men not wanting to talk about crimes perpetuated

against them by women, the scam

goes on for years. And then when it doesn't,

the scene, set to Lorde's Royals, is a glorious

one, probably one of the best scenes

featured in a movie this year.

There are times when the momentum

drags and point of view transitions become

awkward (it cuts between past and present

The Reel Deal

Dedra Cordle

day via interviews

with a journalist)

but overall

"Hustlers" is a highly

entertaining film

rich with humor,

complicated women,

an excellent soundtrack

and engaging performances, particularly

by Wu and Lopez.

It is no surprise that Lopez is getting

rave reviews and some award-season buzz

for her portrayal as Ramona. She oozes

charisma and warmth and that edge of

ruthlessness that make characters stand

out from the pack, and that is what she

does in "Hustlers." She stands out in a film

that is in of itself a standout, and makes

this an immensely enjoyable watch.

Grade: B+

Dedra Cordle is a Messenger staff

writer and columnist.

CLASSIFIED ADS

Deadlines: Southeast and West editions, Wednesdays at 5 p.m., • East, Southwest, Madison editions, Tuesdays at 5 p.m.

All editions by phone, Tuesdays at 5 p.m. • Service Directory, Tuesdays at 5 p.m. • Main Street Mailbox, Tuesdays at 5 p.m.

INFORMATION

REDFOX VAPORS

4064 Hoover, Grove City

614-991-0061

Check Us Out

Fall Into a

New Hair Style!

Call Marilyn Weaver

For An Appt.

For a New Haircut/Style

614-277-1921

Indulgence Hair Salon

3387 McDowell Rd.

Grove City

NEED

SOMETHING

DONE THIS

FALL?

CHECK OUT OUR

CLASSIFIED

SERVICES!

FOR

ADVERTISING

INFO. CALL

(614) 272-5422

THE COLUMBUS

MESSENGER

ASSOCIATION ADS

Become a Published Author.

We want to Read

Your Book! Dorrance

Publishing-Trusted by

Authors Since 1920.

Book manuscript submissions

currently being

reviewed. Comprehensive

Services: Consultation,

Production, Promotion

and Distribution. Call

for Your Free Author's

Guide 1-877-626-2213

Cross Country Moving,

Long distance Moving

Company, out of state

move $799 Long Distance

Movers. Get Free

quote on your Long distance

move 1-844-452-

1706

Suffering from an ADDIC-

TION to Alcohol, Opiates,

Prescription Pain Killers or

other DRUGS? There is

hope! Call Today to speak

with someone who cares.

Call NOW 1-855-866-0913

HEAR AGAIN! Try our

hearing aid for just $75

down and $50 per

month! Call 800-426-

4212 and mention 88272

for a risk free trial! FREE

SHIPPING!

ASSOCIATION ADS

[WANTED] CARS/

TRUCKS WANTED!!!

All Makes/Models 2002-

2018! Any Condition. Running

or Not. Competitive

Offer! Free Towing! We're

Nationwide! Call Now: 1-

888-368-1016

Call Empire Today® to

schedule a FREE inhome

estimate on Carpeting

& Flooring. Call

Today! 1-855-404-2366

VIAGRA & CIALIS! 60

pills for $99. 100 pills for

$150 FREE shipping.

Money back guaranteed!

1-844-596-4376

IMPORTANT

NOTICE

The following states: CA,

CT, FL, IA, IL, IN, KY,

LA, MD, ME, MI, MN,

NE, NC, NH, OH, OK,

SC, SD, TX, VT and WA

requires seller of certain

business opportunities to

register with each state

before selling. Call to

verify lawful registration

before you buy.

ASSOCIATION ADS

CARS/TRUCKS WANT-

ED!!! All Makes/Models

2002-2018! Any Condition.

Running or Not. Top $$$

Paid! Free Towing! We're

Nationwide! Call Now: 1-

888-985-1806

GENERIC VIAGRA and

CIALIS! 100 Pills $99.00

FREE Shipping! 100%

guaranteed. 24/7 CALL

NOW! 888-889-5515

A PLACE FOR MOM. The

nation's largest senior

living referral service. Contact

our trusted, local

experts today! Our service

is FREE/no obligation.

CALL 1-844-722-7993

Denied Social Security

Disability? Appeal! If

you're 50+, filed for SSD

and denied, our attorneys

can help get you

approved! No money out

of pockets! Call 1-866-

376-3163

DISH Network $59.99 For

190 Channels. Add High

Speed Internet for ONLY

$14.95/month. Best Technology.

Best Value. Smart

HD DVR Included. FREE

Installation. Some restrictions

apply. Call 1-855-

837-9146

ASSOCIATION ADS

SELLING YOUR OWN

PROPERTY? Need to

advertise it in your local

paper and others like it?

We have the placement

services to help you.

Contact MACnet MEDIA

@ 800-450-6631 or online

at MACnetOnline

.com

Get DIRECTV! ONLY

$35/month! 155 Channels

& 1000s of Shows/

Movies On Demand (w/

SELECT All Included

Package.) PLUS Stream

on Up to FIVE Screens

Simultaneously at No

Addt'l Cost. Call DI-

RECTV 1-855-781-1565

Attention all Homeowners

in jeopardy of Foreclosure?

We can help

stop your home from

foreclosure. The Foreclosure

Defense helpline

can help you save your

home. The Call is absolutely

free. 1-855-516-

6641

ASSOCIATION ADS

Applying for Social Security

Disability or Appealing a

Denied Claim? Call Bill

Gordon & Assoc., Social

Security Disability Attorneys,

1-855-498-6323!

FREE Consultations. Local

Attorneys Nationwide

[Mail: 2420 N St. NW,

Washington DC. Office:

Broward Co. FL (TX/NM

Bar.)]

Elminate gutter cleaning

forever! LeafFilter, the

most advanced debrisblocking

gutter protection.

Schedule a FREE

LeafFilter estimate today.

15% off and 0% financing

for those who

qualify, PLUS Senior &

Military Discounts. Call

1-855-402-0373

Lung Cancer? Asbestos

exposure in industrial, construction,

manufacturing

jobs, or military may be the

cause. Family in the home

were also exposed. Call 1-

866-795-3684 or email

cancer@breakinginjurynews.com.

$30 billion is

set aside for asbestos victims

with cancer. Valuable

settlement monies may not

require filing a lawsuit.

xInformation

SCORE A TOUCHDOWN

SEPTEMBER GIVEAWAY

Place a prepaid classified line ad in our paper

during the month of SEPTEMBER and be registered

to win a $50 Gift Card from

The Columbus Messenger Newspapers.

All ads received by mail, in person, e-mail or phone

will be included in the drawing.

Drawing will be held September 30th, 2019

and the winner will be notified and published

in our October 6th, 2019 issue .

GOOD LUCK

TO EVERYONE!!

Information
---
www.columbusmessenger.com

September 22, 2019 - SOUTHWEST MESSENGER - PAGE 17

CLASSIFIED ADS

Deadlines: Southeast and West editions, Wednesdays at 5 p.m., • East, Southwest, Madison editions, Tuesdays at 5 p.m.

All editions by phone, Tuesdays at 5 p.m. • Service Directory, Tuesdays at 5 p.m. • Main Street Mailbox, Tuesdays at 5 p.m.

xEmployment

WANTED

Servers • Dish • Grill

You Can Work 29+ Hrs. Based on

Your Availability & Performance

Immediate Full/Part-time Openings

• Weekly Pay

• Paid Training

• No Tip Sharing

• Paid Vacation

We Offer:

• Employee Meal Discount

• Position/Salary Advancement Plan

• Discount Purchase Plan

Apply online at crackerbarrel.com/careers for

Grove City Location 614-871-1444

ASSOCIATION ADS

Wants to purchase minerals

and other oil and gas

interests. Send details to

P.O. Box 13557, Denver,

CO. 80201

DISH TV $59.99 FOR 190

Channels + $14.95 High

Speed Internet. Free Installation,

Smart HD DVR

Included, Free Voice Remote.

Some restrictions

apply. Call 1-855-270-

5098

Earthlink High Speed Internet.

As low as $14.95/

month (for the first 3

months.) Reliable High

Speed Fiber Optic Technology.

Stream Videos,

Music and More! Call

Earthlink Today 1-855-

520-7938

ASSOCIATION ADS

DENTAL INSURANCE

from Physicians Mutual

Insurance Company.

NOT just a discount

plan, REAL coverage for

(350) procedures. Call 1-

877-308-2834 for details.

www.dental50plus.com/

cadnet 6118-0219

CASH PAYOUT? 70

years old and kids are

grown? Do you need that

life insurance or is a big

life settlement cash payout

smarter? Call Benefit

Advance. 1-877-332-

9643

AIRLINES ARE HIRING -

Get FAA approved hands

on Aviation training. Financial

aid for qualified students

- Career placement

assistance. Call Aviation

Institute of Maintenance

877-818-0783

ASSOCIATION ADS

READER

ADVISORY

The National Trade Association

we belong to has

purchased the following

classifieds. Determining

the value of their service

or product is advised by

this publication. In order

to avoid misunderstandings,

some advertisers do

not offer "employment"

but rather supply the

readers with manuals, directories

and other materials

designed to help

their clients establish mail

order selling and other

businesses at home. Under

NO circumstance

should you send any

money in advance or give

the client your checking,

license ID or credit card

numbers. Also beware of

ads that claim to guarantee

loans regardless of

credit and note that if a

credit repair company

does business only over

the phone it's illegal to request

any money before

delivering its service. All

funds are based in US

dollars. Toll Free numbers

may or may not

reach Canada. Please

check with the Better

Business Bureau 614-

486-6336 or the Ohio Attorney

General's Consumer

Protection Section

614-466-4986 for more

information on the company

you are seeking to

do business with.

ASSOCIATION ADS

Portable Oxygen Concentrator

May Be Covered

by Medicare! Reclaim

independence and

mobility with the compact

design and long-lasting

battery of Inogen One.

Free information kit!

Call 888-609-2189

SELL YOUR ANTIQUE

OR CLASSIC CAR. Advertise

with us. You

choose where you want

to advertise. 800-450-

6631 visit macnetonline

.com for details.

Spectrum Triple Play! TV,

Internet & Voice for

$99.97/mo. Fastest Internet.

100 MB per second

speed. Free Primetime on

Demand. Unlimited Voice.

NO CONTRACTS. Call 1-

855-652-9304 or visit

http://tripleplaytoday.comnational

Get a SMARTPHONE

for $0 DOWN* with

AT&T Next® and AT&T

Next Every Year; $250

Gift Card for Switching to

AT&T! (*Requires wellqualified

credit. Limits &

restrictions apply.) 1-

888-545-5093

ASSOCIATION ADS

$$OLD GUITARS & AMPS

WANTED$$ GIBSON •

FENDER • MARTIN. ALL

BRANDS. TOP DOLLAR

PAID. CALL TOLL FREE

1-866-433-8277

CHILD CARE

OFFERED

Depend. Quality Child care

in loving hm. Exp. Mom, n-

smkr, hot meals, sncks,

playroom, fncd yd. Reas.

rates. Laurie at 853-2472

HELP WANTED

AUTO/FORKIFT

MECHANIC

Central Ohio Forklifts

has an immediate need

for a Mechanic. We offer

competitive wages training

& benefits. REWARD

offered! $500 to new hire

mechanic payable after

90 days.

Please email Resume to

cof4150@gmail.com

or fax to 614-351-5123

Auto Mechanics

welcome to apply.

Home Health Aides

$13.00/hr. after 90 days

$15.00/hr. Premium Shifts

Performance Bonus and

Paid Time Off after 1 yr.

One yr. experience working

for an employer in a caregiver

10/13 A&M

role is required.

To apply, please visit

v-angels/galloway/employment

Employment

CRAFT SHOW

5th Annual

MISSION FALL BAZAAR

St. John's

Lutheran Church

3220 Columbus Street

Grove City, OH 43123

Handmade & repurposed

items, food mixes, candles

holiday arrangements,

scrapbooking, etc.!

Shop 'til you drop and

have lunch, too!

Sat., October 12,

9am-2pm in the FLC

Proceeds benefit the St.

John's Short-term Missions

DATED SALES

FREE

Garage Sale

Signs

When You Stop By

Our Office At:

3500 Sullivant Ave.

And Place Your

DATED SALE AD

WANTED

SW CITY SCHOOLS

SCHOOL BUS DRIVERS

The South-Western City School

District is currently hiring drivers

$16.55/HR

Available positions are for substitute

drivers that can develop into "Regular"

positions with benefits. Interested

individuals should submit an application

on our website at swcsd.us. Follow the

employment link. Applicants should have

an excellent driving record and must

submit to drug, alcohol, and background

screening. A high school diploma or

equivalent is required.

EOE
---
PAGE 18 - SOUTHWEST MESSENGER - September 22, 2019

www.columbusmessenger.com

xEmployment

SEARCHING

for More Qualified Employees?

October 20 th , 2019

Deadline: October 14 th , 2019 At 2pm

Special employment Section Featuring:

Job Openings

Job Fairs

Full and Part Time Employment

Seasonal Job Opportunities and more

ALL ADS ARE IN FULL COLOR. Contact us by phone or online to discuss special

advertising rates that are available for this section as well as combination rate

discounts for advertising in multiple coverage areas.

Westside • Southwest • Eastside • Southeast • Madison

614-272-5422

Kathy@columbusmessenger.com

Doughenry@columbusmessenger.com

DATED SALES

2983 Woodgrove Dr.,

Grove City. Fri. 9/27 8-4

& Sat. 9/28 8-12. Snow

blower, lawn edger,

countertop refrigerator,

drop leaf table, collectibles,

vintage linens, artwork,

kitchen, garden &

craft items.

Garage/Sample Sale

5665 Quail Run, Gr.City

9/27, 9-5; 9/28, 9-2

Fish & Hunt equip samples

Athletic shoe samples

Mens size 9, ladies 7

Clothing, Furniture

Misc hhold items

BROADWAY

ANTIQUES

2312 Harrisburg Pike

BUY & SELL!

Open Sat & Sun, Noon-6

10/14

Large Variety W/SW

614-539-5980

RUMMAGE SALE

Brown Road

Community Church

1553 Brown Road

October 5th-12th

Saturdays 9am-5pm

Weekdays 10am-3pm

(No Sundays)

Most Clothes $1.00

Multi-Family Garage Sale

Sept. 28 & 29, 9am-5pm

778 Hibbs Rd, Lockbourne

Includes kitch. appls, pots,

pans, dishware, games,

movies, Christmas decorations,

furn. & much more!

Employment

DATED SALES

ESTATE SALE

Sept. 27-28. 11am-5pm

191 Jennings Dr, C. Win.

Christmas & Halloween

decor, furn, misc tools

glassware, hshld items.

Priced to Sell! Cash only

WANT TO BUY

WANTS TO Purchase

minerals and other oil &

gas interests. Send details

to: P.O. Box 13557,

Denver, CO 80201

We Buy Cars & Trucks

$300-$3000.614-308-2626

ANTIQUES

WANTED

Victrolas, Watches,

Clocks, Bookcases

Antiques, Furn.

Jeff 614-262-0676

or 614-783-2629

We Buy Junk Cars &

Trucks. Highest Prices

Paid. 614-395-8775

$ Cash At Your Door $

for junk or unwanted cars

(Free Tow). Call

614-444-RIDE (7433)

MISCELLANEOUS

FOR SALE

Large Selection of

Chandeliers to

choose from.

All in working condition.

Going Out of Business!!

614-271-2469

MISCELLANEOUS

FOR SALE

Stair Lift, standard 12 step

size, 12'4" rail, $1100.

614-224-9991 leave your

name/number for call back

TREASURE HUNT

1092 Parsons Ave.

614-424-1960

HOMES FOR SALE

Move right into your

new home in Meadow

Grove of Grove City!

3 BR, 1.5 Bath, BiLevel

with Vaulted Entry has

everything needed on 1

floor. Lower level has

a large room for

possible 4th BR. Half

Bath, Utility and a

2 Car Garage. Recent

updates include a

beautiful front entry,

white aluminum porch

railings, lighting and

fixtures of brushed

nickel throughout, with

new carpeting & vinyl

flooring, All Season

porch w/ deck attached.

Kitchen features white

Merillat cabinets with

pull out shelving, full

size pantry, and a

43"x58" island. Nice

eating area. Master

Bath has a Sterling

full size shower with

2 seats and Brass

fixtures. All appliances

remain. The price of

$194,000 is negotiable

as this is a

For Sale by Owner

Realtor Comm. 3%

Call or Text Laura at

614-561-8471 to see

this outstanding home in

a Great Neighborhood!

BE YOUR OWN BOSS!

INDEPENDENT

CONTRACTORS

WANTED

If you have a reliable

car and would like to

earn extra money,

then why not deliver?

• Deliver 1 or 2 days a week

• Flexible delivery hours

• Work close to home - often

in or near your neighborhood

CONTACT US

1-888-837-4342

www.thebag.com

• Deliver 7 days a week

• Delivery before dawn

• Work close to home - often

in or near your neighborhood

CONTACT US

614-461-8585

www.dispatch.com/delivery

INFORMATION

Have Something

To Sell?

Need To Rent

That Property?

Try The

Messenger!

For Info On Placing

An Ad Call

614-272-5422
---
www.columbusmessenger.com

xCome & Get It!

September 22, 2019 - SOUTHWEST MESSENGER - PAGE 19

xClassified Services

COME AND GET IT

Deadlines are Tuesdays by 5 pm.

Call For Publication Schedule 614-272-5422

Need to Get Rid of Something Fast - Advertise It Here For FREE!

FREE Garden Straw for gardens or bedding. Call for appointment for

pickup. Circle S Farms, 9015 London-Groveport Road, Grove City,

43123

Grove City - 614-878-7980

FREE 54" Mitsubishi Big Screen TV Console. Works great!

Must be able to haul away

JM - Lithopolis - 614-833-2499

Ċome and Get It! is a bi-weekly column that offers readers an opportunity to pass

along surplus building materials, furniture, electronic equipment, crafts, supplies,

appliances, plants or household goods to anybody who will come and get them - as

long as they're FREE. NO PETS! Just send us a brief note describing what you want

to get rid of, along with your name, address and phone number. Nonprofit

organizations are welcome to submit requests for donations of items.

Send information to The Columbus Messenger, Attention: Come and Get It, 3500

Sullivant Ave., Columbus, OH43204. Deadline is Tuesdays by 5 pm for following

Mondays publication. Messenger Newspapers is not responsible for any

complications that may occur. Please contact us when items are gone. 272-5422

Come & Get It!

xFocus on Rentals

HAVE TO RENT THAT APARTMENT

BEFORE THE SNOW FLIES?

Advertise It!

CALL Kathy

For Rate Information

Columbus Messenger

272-5422

Rentals

HOMES FOR SALE

Galloway Home For Sale

By Owner-Reduced final

price to $200,000 as is. 5

BR, fin. bsmt w/2 extra

bdrms, 4 full bas, big

garden fully fenced. Most

appls. 614-465-7763

MOBILE HOMES

WANTED: Older mobile

home to buy at reas.

price for project.

614-260-5662

RENTALS

Property Management

We are always available!

40 yrs. exp in

Certified Property Mgmt.

Reas. Fees. Call Now!

614-783-7464

631 Evergreen Terrace,

Columbus, OH 43228

3 bdrm, 1 ba, fenced in

backyard, newly remod.

kitch, flooring & bathrm.

Stainless appls less than

2 yrs old - Stove, Refrigerator

and dishwasher.

Asking $1100/mo for

rent. No Pets.

614-560-1087

VACATION RENTALS

Englewood, Florida

Palm Manor Resort

Within minutes of white

sand Gulf beaches,

world famous Tarpon

fishing, golf courses, restaurants/shopping,

Bush

Gardens. 2 BR 2 BA

condos with all ammenities,

weekly/monthly, visit

www.palmmanor.com

or call 1-800-848-8141

APPLIANCE REPAIR

Washer, Dryer, Stove &

Refrig. Repair 875-7588

AUTO SERVICE

It's Hot!! Stay Cool!

MIDLAND AUTO

AC EVAC DYE &

RECHARGE - $90.00

& all your other

Auto Service Needs!

614-278-9458/778-3864

A Rating-BBB - 46 yrs.

American & Foreign Cars

BASEMENT

WATERPROOFING

Walker's Basement

Waterproofing. BBB

Accredited 614-359-4353

BLACKTOP

BLACKTOP SEALING

Driveways & Parking Lots

614-875-6971

SANTIAGO'S

Sealcoating & Services LLC

Quality Materials Used

FULLY INSURED

Driveway Seal ( by broom)

Hot Fill Crack, Asphalt Repair

Call or text for Free Est.

614-649-1200

CARPET CLEANING

DIRT BUSTERS

Any 5 areas $75. Home

Powerwash $99 to $200.

614-805-1084

Specializing in Pet Odors

CLEANING

Cleaning - 20 yrs exp.

Judy 614-946-2443

CONCRETE

GALLION

CUSTOM CONCRETE LLC

Specializing in Custom Colors &

Custom Designs of Concrete.

Including Remove & Replace

41 yrs exp & Free Est.

Licensed & Insured

Reputation Built

On Quality

Ronnie

614-875-8364

See Us On Facebook

www.gallioncustom

concrete.com

Buckeye Cement

Contractors

Specializing In

Tearout & Replacing

Concrete of Any Type

Licensed • Bonded • Insured

37th Year in Business

614-539-5640

EDDIE MOORE

CONSTRUCTION

Quality Concrete Work

Lt. Hauling & Room Add.,

Block Work & Excavation

Stamp Patios,

Bsmt. Wall Restoration

37 Yrs Exp - Lic & Ins.

Free Ests. 614-871-3834

9-29 W/SW

9/2/ W/SW

CONCRETE

AJ's Concrete,

Masonry

Good Work - Fair Prices

Block Foundations

Driveways • Sidewalks

Epoxy/Overlay Floors

Bonded-Ins. • Free Ests.

Now Accepting Credit Cards

614-419-9932

ALL-CITY CUSTOM

CONCRETE

All Types Concrete Work

New or Tear Out-Replace

37 Yrs. Exp.

(614) 207-5430

Owner is On The Job!

FENCING

EAZY FENCE

Chain Link - Wood

No Job Too Big or Small

All Repairs ~ Free Est.

Insured. 614-670-2292

GUTTERS

Low Price-Great Service

5 & 6" Seamless gutters,

covers, siding, gutter clng.

Bill 614-306-4541

Bates & Sons

GUTTER CLEANING

5 ★ Google Reviews

614-586-3417

EPP

Seamless Gutters

Mikey 614-927-9132

licensed/bonded/insured

HAULING

Dump Trailer Rental $185

Misc. hauling, stone,

mulch, topsoil, firewood,

small equipment.

Danny 614-774-2336

DEAN'S HAULING

614-276-1958

HEATING

HEATING

Complete System Clean & Check

$49.95

Free Carbon

Monoxide Testing

Gas-Oil-Electric Heat/Pumps

All Makes • All Models

43 yrs exp. • Sr. Discount

614-351-9025

HOME

IMPROVEMENTS

SINCE 1973

Phil Bolon Contr.

Windows & Siding

Decks, Kitchens, Baths

Room Additions,

Flooring, Roofing

Bsmt Waterproofing

Deal With Small Non-Pressure Co.

45 Yrs. Exp. - Refs. Avail.

Lic.-Bond-Ins.

9-29

A/M

Free Est. - Financing Avail.

Member BBB Of Cent. OH

O.C.I.E.B. ID #24273

614-419-3977

or 614-863-9912

9/29 A

9-29 A

HOME

IMPROVEMENTS

Quality is our #1 Priority

HELMS' CONTRACTING

Call For FREE ESTIMATES

New Kitchens & Baths

New Replacement Windows

Basement Remodels

Room Additions • Roofs

More than 25 Years Experience

Licensed • Insured • Bonded

Bill Helms 614-296-0850

or 614-801-1801 10-13

W/SW

KLAUSMAN HOME

IMPROVEMENT

Siding-Windows-

Doors-Roofing-Soffit-

Fascia-Gutters-Trim

Earn FREE Seamless

Gutters with Siding Over

1000 Sq. Ft.

FREE Shutters with

Soffit & Trim

EPA Certified

Member of BBB

Financing Available

Over 20 yrs exp. • Free Est.

Licensed-Bonded-Insured

Owner & Operator

James 614-419-7500

SLAGLE

HOME REMODELING

Baths, Kitchen,

Room Additions,

Plumbing and Electrical.

All your Handyman needs

No Job too Big or Small

Over 30 Yrs. Exp. Lic.-Bond-Ins.

Jerry

614-332-3320

C&JHandyman

Services LLC

Minor Plumbing &

Electric

Install Hot Water Tanks,

Dishwashers & Disposals

Also Fencing &

Interior/Exterior Painting

Free Est. ~ 18 Yrs. Exp.

614-284-2100

PEST

CONTROL

HOME

MAINTENANCE

TOM & SONS

Maintenance Services

No Job Too Small!

614-571-0208

25 yrs exp - Insured

Finishing Carpenter for all

your extra home repairs or

Honey-do-list. over 40 yrs.

exp. Sonny 614-325-1910

LAWN CARE

Fall Clean-Up Specials

Still accepting new clients

for lawn care.

Mulching, leaf removal.

Free est. Call Patrick

614-301-3575

LET US MAINTAIN

YOUR LAWN & GARDEN

FOR YOU

Summer, Spring,

Winter or Fall

WE DO IT ALL!!!!

Lawn Cuts, Edging,

Trees & Shrubs, Garden,

Mulching, Hauling,

Garden Pond &

Home Maint.

Free Ests. Low Rates

$20 & Up

Kevin - 614-905-3117

MOVING

Aaron Allen Moving

Local Moving Since 1956

Bonded & Insured

614-299-6683, 263-0649

Celebrating 60 yrs in business

A Complete

Moving

Reasonable, Reliable

No Job Too Small

PUCO #150692-HG

Free Estimate

614-878-1179

PAINTING

Painter Over 30 Yrs Exp.

Free Est. Reas Rates

Daniel 614-226-4221

Walker's Interior Painting

Free Est. 614-996-4772

Painting - Int./Ext.

Power Wash-Gutters Clnd

Free Est. - 26 Yrs Exp.

Call Dave 614-270-2369

God Bless

TERMITE & PEST CONTROL

3093 W. Broad St., Cols.

614-367-9000

BED BUGS?

Starting At $ 295

Pest Control • Rodents • Roaches • Termites

Monthly & Quarterly Services

Great Price!! Licensed & Insured

Visit Us

"Do It Yourself Pest Control".

FREE INSPECTION

Classified Services

9-29 A

9-22 SW

9-29 A

PEST

CONTROL

9/29 A&M

PAINTING

Burt's Painting

"Grove City's Hometown

Painter." Free ests.

614-539-3412

A Job Well Done Again

A lic. General Contractor

Some Skilled Services

Incl: Painting • Stucco,

Repair•Carpentry•Exterior

Drainage & Home Maint.

Call Today! 614-235-1819

PLUMBING

All About Drains & Plumb.

Will snake any sm drain

$125 + tax. 614-778-2584

ALL IN ONE

PLUMBING LLC

"One Call Does It All"

$25 OFF LABOR

With This Ad

A

614-801-1508

All Major Credit Cards Accepted

POWER WASHING

Bates & Sons

Soft Wash & Powerwash

5 ★ Google Reviews

614-586-3417

MRS. POWERWASH

Any house wash $149 + tax

Single deck $69 + tax

2 Tier deck $99 + tax

Best Wash In Town

Over 45,000 Washes

Ashley, 614-771-3892

ROOFING

Robinson roofing & repairs

30 yrs. exp. Lifetime Cols.

resident. Lic./bonded/Ins.

Reas rates. Member of

BBB. Dennis Robinson

614-330-3087, 732-3100

SEWING MACHINE

REPAIR

REPAIR all makes 24 hr.

service. Clean, oil, adjust

in your home. $39.95 all

work gtd. 614-890-5296

TOP SOIL

Alexander Hauling

Driveways topped w/new

limestone. We also deliver

Topsoil - comtil - sandmulch.

Specializing in

residential. 614-491-5460

Bobcat Service Avail.

TREE SERVICES

TROTT

TREE & LANDSCAPE

Tree Trimming

& Removal

10/13

10/13

A

Also Stump Removal

Free Est. - Fully Ins.

Call 614-235-3791

Cell 614-738-0682

BURNS TREE SERVICE

Trimming, Removal &

Stump Grinding.

614-584-2164

Brewer & Sons Tree Service

• Tree Removal

• Tree Trimming 9-29

A&M

• Stump Grinding

• Bucket Truck Services

Best Prices • Same Day Service

614-878-2568
---
PAGE 20 - SOUTHWEST MESSENGER - September 22, 2019

www.columbusmessenger.com

• STUFF, STUFF, MORE STUFF • COME TO WATERBEDS N STUFF • STUFF, STUFF, MORE STUFF • COME TO WATERBEDS N STUFF •

EAST

LANCASTER

CHILLICOTHE WEST

815 S. Hamilton 1251 N. Memorial Dr.

Bridge St. SUPER STORE

614-239-7270 614-654-3385

740-775-1171 W. Broad/Wilson

REYNOLDSBURG

Kroger Ctr.

St. Rt. 256

614-276-4722

614-861-4560

• STUFF, STUFF, MORE STUFF • COME TO WATERBEDS N STUFF • STUFF, STUFF, MORE STUFF • COME TO WATERBEDS N STUFF •

• STUFF, STUFF, MORE STUFF • COME TO WATERBEDS N STUFF • STUFF, STUFF, MORE STUFF • COME TO WATERBEDS N STUFF •

• STUFF, STUFF, MORE STUFF • COME TO WATERBEDS N STUFF • STUFF, STUFF, MORE STUFF • COME TO WATERBEDS N STUFF •