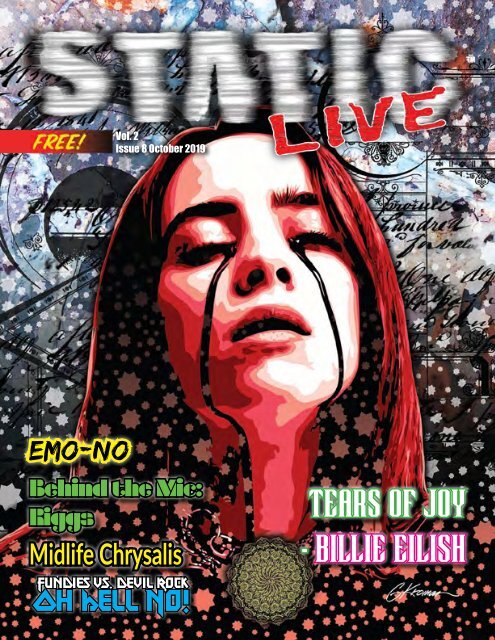 Static Live Magazine October 2019
STATIC LIVE Magazine is Central Florida's premier publication dedicated to celebrating music and culture. STATIC LIVE provides extensive, detailed community information from fashion to art, entertainment to events through noteworthy interviews, sensational photography and in-depth editorial coverage. STATIC LIVE is the only publication of its kind in Central Florida and reaches all target markets through wide distribution channels. Our staff includes highly accomplished contributors with award-winning backgrounds in music and entertainment; we know how much business is captured from the entertainment market. Our free full color publication can be found throughout Central Florida at key retailers, hotels and restaurants in high traffic areas. Our mission is to highlight the incredible talent, culture and lifestyle in Central Florida. With eye-opening profiles and coverage of the music and art community, STATIC LIVE readers will be positively influenced by our topical content and trending advertisers. STATIC LIVE Magazine is the most effective tool for branding connectivity with consumers in our area.
STATIC LIVE Magazine is Central Florida's premier publication dedicated to celebrating music and culture. STATIC LIVE provides extensive, detailed community information from fashion to art, entertainment to events through noteworthy interviews, sensational photography and in-depth editorial coverage. STATIC LIVE is the only publication of its kind in Central Florida and reaches all target markets through wide distribution channels. Our staff includes highly accomplished contributors with award-winning backgrounds in music and entertainment; we know how much business is captured from the entertainment market. Our free full color publication can be found throughout Central Florida at key retailers, hotels and restaurants in high traffic areas. Our mission is to highlight the incredible talent, culture and lifestyle in Central Florida. With eye-opening profiles and coverage of the music and art community, STATIC LIVE readers will be positively influenced by our topical content and trending advertisers. STATIC LIVE Magazine is the most effective tool for branding connectivity with consumers in our area.
SHOW MORE
SHOW LESS
You also want an ePaper? Increase the reach of your titles
YUMPU automatically turns print PDFs into web optimized ePapers that Google loves.
Vol. 2

Issue 8 October 2019

Emo-no

Behind the Mic:

Riggs

Midlife Chrysalis

Fundies vs. Devil Rock

Oh Hell No!

Tears of Joy

- Billie Eilish
---
5

6

8

10

12

15

18

20

22

24

28

30

32

34

35

38

"People are terrified of me,

and I want them to be."

~ Billie Eilish

Oh My Goddess

A Day in the Life of a Gigging Musician

Emo-no

Fundies vs. Devil Rock - Oh Hell No!

On the Block - My Mother's Music

Art Feature: Nicole Galluccio

COVER STORY - Tears of Joy

Static Live Event Calendar

Behind the Mic: Riggs

An Original Music Manifesto

Rock for Autism Recipe

Great Press Photos

Midlife Chrysalis

Rocktails

Phantom Foodie

Snap It

Static Live Media Group, LLC

927 S. Ridgewood Ave., Suite A5

Edgewater, FL 32132

386-847-2716 www.staticlivemag.com

Sean Impara, Owner/Publisher

Billy Chapin, Publisher

Jenny McLain, Editor

Nicole Henry, Graphic Artist

COVER ART BY GARY KROMAN

© 2019, Static Live Media Group, LLC. All rights

reserved. No part of this publication may be

reproduced or transmitted in any form by any

means electronic, mechanical, photocopying,

recording or otherwise without the prior written

permission of the authors.

Oh My...Goddess

Jenny T.

Hi, I'm Jenny T. from Indialantic, Florida. In my free time I love to play

basketball, work out, and play with my golden retrievers on the beach.

I love binge watching Bachelor in Paradise and Friends.

I also love to travel, having explored the U.S., Ireland and the

Caribbean. I was fortunate to meet Christine from Premiere Model

Management on a cruise this summer and she got me a contract with

one of the world's top agencies.

I plan to travel the world and live my dream of modeling and I hope

that modeling will allow me to see the world I have not yet seen.

5
---
y Adam Floyd

Transposition. Not the subject of a casual

read but this is written for those in-theknow,

so here goes: For the uninitiated,

transposition means changing the key of

a piece of music. There are two schools of

thought on the matter. The 'change the key to

suit yourself' crowd vs. the more purist 'do it

in the original key' people. Each camp has its

merits.

Keyboards change keys easily by using the transpose

function on better synths (poor piano and most wind

players have a hard time with TP and spend endless hours

honing the skill). When we honor the musical greats we

have to remember the great J.S. Bach was particularly

irreverent and swapped keys as it suited the event or even

the player. Rock stars drop from E to Eb on guitars when

the late nights and whiskey take their toll toward the end

of a tour. After rehab we hear them back up in brighter

sounding E major.

It is impressive when young singers on the

vocal contest shows hit the high notes of

Whitney Houston or Freddie Mercury. There

is a natural excitement when any instrument

sounds in its highest possible range. Would

the Mozart Violin Concerto in G be the same

if we dropped it down to F? Certainly a Hindu

raga should not be moved to any other

register. If you have ever tried to tune a sitar

you know it would be problematic to tune so

many strings, and they don't make a capo

that big.

Dining. Drinks. Music.

ON THE WATER. OFF THE CHARTS.

Our outstanding views are only surpassed by our exceptional menu. Enjoy very fresh

seafood, southern cuisine with a marina flair, craft beers and signature cocktails.

Happy Hour: Monday thru Friday 3-6pm. Weekend specials and live music 6-10pm.

On the North Causeway | 300 Boatyard Street NSB | Reservations 386.428.6888

Modern electronics allow for smooth TP

across all pitches and are not restricted to

half steps in A=440. This opens a whole

other can of worms about the A note getting

progressively higher in pitch over time. There

is good evidence that A was substantially

lower a couple of hundred years ago. Modern

orchestras are now known to tune as high

as A=448, how does this fit with the purist

narrative? "Don't do the tune if you can't hit

the note!" shouts the zealot.

In counter balance to the purist approach

we have the common needs of a working

performance. The meat and potatoes in the real world

means you compromise for a better end result.

Most singers have a transcendent moment when

they discover the capo for guitars. Suddenly they can

conveniently jump up and down by half steps. They

experiment exhaustively and find the 'right' fret to match

the overtones of their own voice. The results

can be stunning, especially for originals where

there are no preconceptions.

6

Anyone who has a particularly high or low voice will

naturally shift the octave for a comfortable range. Think

Bowser from Sha Na Na, or The Chipmunks.

We have to conclude that if you want to copy a recording

exactly, parrot and don't change a thing. You may learn a

lot and even end up in Las Vegas in a tribute band. If on the

other hand you want to optimize your voice or instrument,

transpose at will. You might learn a lot and even end up an

artist.
---
Emo-no

Thinking about the fashion world and

music, there are probably a million other

genres that would come to mind before

Emo. Originally, "Emotional Hardcore"

was a music genre that expressed rock

music with an emphasis on emotional

expressions, like confessional lyrics in

a band's songs. Today, it has its own

subculture that covers fashion, culture,

and behavior.

Back in 1987, the closest year

to the start of the Emo culture,

bands such as Screeching

Weasel, Dag Nasty, and Mass

Icon sported t-shirts, jeans, and

Chuck Taylors; this basically

being a nod to their anticorporation

stance. Between

1995-1999, flannel grunge got

into the mix with raw emotion

coming out of the mouths

of bands like Weezer, The

Offspring and Jimmy Eat World.

From 1999-2004 (ish), the scene

changed a bit with bands and

thrift stores having a bit to do

with the change. Thrift stores

had more western shirts and

striped sweaters on hand, which

really didn't give the non-main

streamers a choice and bands

like the Anniversary, Braid, and

American Football blended it

by wearing jerseys and skinny

jeans. As time went on, it turned

too preppy and fizzled out of the

Emo culture.

Going forward, the Emo genre

would morph into subcultures

like Screamo, this new direction

being fueled by Hot

Topic - blends of

this store with girls'

jeans from Hollister

and v-necks from

8

American Apparel , the Screamo fans would

wear these knits all the while listening

to Glassjaw and Thursday through their

headphones on their way to their school

therapist, relating to every word the songs

spewed out and thinking, "That's so me! That

too!"

Twinklecore is another genre spawning from the

Emo followers that just can't make their favorites fit

into what already is out there. What is Twinklecore,

or Noodle Rock? Emerging from twinkle daddies,

this sound has engaged old-time signatures, usually

a free form jazz influence, with longer instrumental

passages. The clothing style - sweaters, corduroy,

striped shirts, geeky glasses for deep reading,

vintage t-shirts for under your sweaters, and Chucks

for the boys and clunky shoes for the girls. Oh! And

don't forget the black hair dye.

Today, Emo is seen as a subculture tagged with

skinner jeans, tight band t-shirts, studded belts, flat/

straight hair with long bangs. It is often confused

with Goth - probably because the main color for

both is or can be black. Emo's like the items listed

above and scarves, hoodies, you know, layered

clothing. Emo's cultural expression and influences

are poetry, making their critiques from post-punk and

punk philosophies. Goth decorate themselves with

black nails, eyeliner, and

lipstick and are guided by

a subculture relating to

black magic, vampires,

witches, and veers toward

death, fiction, and fantasy.

Billie Eilish, our cover

girl, has earned the

name Emo-Pop Princess

from some media

outlets. Some of her

songs are from a phobia

perspective; others

from raw emotion. This

definitely fits for an Emo

subculture invention.

Billie's clothing has been

at the top of most articles,

with the biggest, baggiest

pants and shirts possible.

This coming after fans

took a pic of her getting

out of her tour bus in

Nashville wearing a tank

top; later her boobs were

trending on Twitter. Maybe

people should give her

credit for stepping out of

the norm and covering up

her "puppies." And maybe

she should thank the fans

for pushing her in the

direction of baggie, giving

her even more media

attention. After all, "no

press is bad press." (Ask

Lady Gaga.) We will see if

Billie changes her baggie

mind about her puppies

after she turns eighteen in

December.

By

Jamie Lee
---
Fundies vs. Devil Rock

Oh Hell No!

The devil, to semi-borrow a phrase from

comedian Richard Pryor, was acting a

motherfreakin' fool in the 1970s and early

'80s.

The Red-Skinned Dude with Horns and Tail was a

major rock star back in those days, making gueststar

appearances on albums by Led Zeppelin, Black

Sabbath, the Rolling Stones, Electric Light Orchestra,

Blue Oyster Cult, Black Oak Arkansas and – egads! –

even Styx.

Or so some Christian fundies claimed.

Yes, I know what you're thinking: Satan would take

one look at Styx and say, "Me, waste my swag on

those pantywaists? Are you fuckin' insane?"

Yet, according to a Christian minister dude named

Jacob Aranza and numerous other Church Lady folks,

these rockers and others were Knights in Satan's

Service.

Aranza delivered the gory details in two books in the

early '80s: "Backward Masking Unmasked:

Backward Satanic Messages of Rock and

Roll Exposed," and "More Rock, Country &

Backward Masking Unmasked."

10

He wasn't the only one. I was a student at the

University of Alabama in the early '80s when a

crusading conservative Christian group held a rally on

campus to "expose" what the tricky devil was up to in

rock music.

Satan's main trick, they claimed: Convince rockers to

record paeans to his glory, then reverse them and add

the backwards recordings to their songs. Innocent

kids will then hear such messages and subliminally

understand them, and will come away thinking: "Gee,

I really like this 'Stairway to Heaven' song, and for

some reason I now know that the devil is a really cool

dude!"

One backwards bit on "Stairway" supposedly says:

"There's no escaping it. It's my sweet Satan. The one

will be the path who makes me sad, whose power

is Satan." Another allegedly says: "Oh I will sing

because I live with Satan."

Yes, when I first heard these accusations, I plopped

Zep's fourth album on my archaic, black boxy

stereo and dropped the needle with the turntable

power off, then I finger-powered the vinyl in a

reverse spin. I heard what sounded like a guy with

a grapefruit lodged in his throat mumbling weird,

incomprehensible shit while mentioning "Satten." Sort

of.

Masking on the Black Oak Arkansas song "When

Electricity Came to Arkansas" supposedly says:

"Satan, Satan, Satan. He is God, he is God, he is

God." Quiet Riot proclaimed "Serve beast for money"

on their "Mental Health" album. And what about Styx?

Play their song "Snowblind" backwards and you get

"Satan, move in our voices."

The Rolling Stones, despite being above board with

their devil games – "Sympathy for the Devil" anyone?

-- went backwards on their "Tattoo You" album with "I

love you, said the devil."

Or so the devil hunters said.

Of course, Black Sabbath and singer Ozzy Osbourne

during his solo career also possessed the cheek to

openly embrace satanic shenanigans. No secret

there.

These days it's easy to look back at the satanic panic

and laugh. Ozzy, after all, went on to become one

of America's most beloved goofball dads when "The

Osbournes" reality TV show aired on MTV in the early

2000s.

But I recall reading an interview of Led Zep vocalistlyricist

Robert Plant back when the fundamentalists

were sullying his music by dragging it across Satan's

asshole, and his distress was palpable: "To me it's

very sad, because 'Stairway to Heaven' was written

with every best intention, and as far as reversing

tapes and putting messages on the end, that's not my

idea of making music. It's really sad. The first time I

heard it . . . I was absolutely drained all day. I couldn't

take people seriously who could come up with

sketches like that. There are a lot of people who are

making money there, and if that's the way they need

to do it, then do it without my lyrics. I cherish them far

too much."

So, which was really the work of the devil? Rockers

supposedly using "backward masking" to indoctrinate

fans with satanic platitudes? Or Christian fundies

defiling uplifting, good-time, even beautiful music

that brought joy and pleasure to millions of

people?

by Rick de Yampert 11
---
Music was always a family thing. My

mother was one of nine children. They were

a farming family and had to create their

own entertainment. She and her sisters

had a natural harmony that was beautiful.

Several of the siblings and my grandmother

played guitar. I loved the hymns they

would sing and the songs they had come to

harmonize together (Bye Bye Blackbird, My

Grandfather's Clock, Sisters and countless

other ones whose titles elude me at the

moment). She loved Elvis, Tom Jones, The

Everly Brothers, Tommy Roe and anything

with great harmony. She always had an

organ in the house and played by ear. I

remember, since there was only the one

television, watching Lawrence Welk every

week. While riding in the car, we would listen

to the radio or turn it off and sing together.

The only time I ever sang in front of people

other than my family was singing Christmas

songs with her.

As we are putting together this issue of Static

Live Magazine, I am not working from my

kitchen as I normally do. This month, I am

working mostly from my mother's hospital

room. Since October is Breast Cancer Awareness

Month, I thought it would be appropriate to write about

her and include some details about her struggle with

cancer (although hers originated in the bladder).

I am one of three children born to my mother.

Although I am the middle child, I am the only girl. So

we all had a special "thing" - the oldest, the only girl

and the youngest. We learned everything from our

mother; values, morals, kindness, humility . . . an

endless list of attributes. There are two more tangible

things I credit my mother with as well; my love of

both reading and music. When we were young, our

mother would sing and read to us every day. As we

became old enough to read, we would read together.

As we grew to be more independent, we would have

a "bedtime" and then "lights out" time. The period

of time in between those two would generally be for

reading. Homework would have been done long

before bedtime and there was only one television

in the house at that time (and it only received 3-4

channels, if the antenna was pointed in the

right direction). So we all read and traded

books and it is a love each of us carried into

adulthood.

12

My mother's favorite thing at the end of

her life was to sing in her church choir. She didn't

read music so she would struggle at first sometimes

but she learned that YouTube would usually have

the song she was trying to learn, often broken into

parts so she could learn the soprano line and sing it

perfectly. Whenever called upon to sing or choose

music for the Sunday services, she did so with honor.

My mother passed away on September 15, 2019. Her

initial diagnosis of bladder cancer was in May of 2018

and after six months of struggling with chemotherapy

and then surgery to remove her bladder, she was

triumphantly declared cancer free. Her first follow

up scan in June of 2019 showed some "areas of

concern". The cancer came back with a vengeance

and invaded her lymph nodes, her liver, her pelvis, her

lungs. She lived about three months from the time of

the concerning follow up scan.

Her funeral service was beautiful and heartfelt; there

was a special quartet assembled to sing her favorite

hymn - Abide With Me! My mother had no doubt that

she would be reunited with her family who had gone

before her. I'm sure there is beautiful music wherever

they are. And I'm sure they are happy to have her

beautiful soprano voice back with them.

On the

Block

By Jenny McLain
---
To create competent expanded

functions dental assistants (EFDA's)

that will be employable.

My experience and passion for

Dentistry is dedicated to teaching

the skills that I have so enjoyed

and excelled for 28 years.

Most important of all the reward

of helping others achieve their smile.

SMILES WORLDWIDE!

NICOLE

Galluccio

15
---
Nicole Galluccio is a mixed media visual artist,

originally from the New Jersey shore, living and

creating in South Florida since earning her BFA

from Florida Atlantic University in 1998. Nicole

entered college to study biochemistry, with the hope

of becoming a doctor. Despite being awarded a

scholarship for chemistry, her teacher thought her

medical illustration skills were so exceptional that she

should pursue art. She had a gift for illustrating the

likeness of single-celled organisms, anatomy, and

botanicals. While studying biochemistry she had a

work study in her university's bio lab and greenhouse.

Working in the greenhouse opened her up to engage

in caring for and observing flora on a new level. She

ultimately received a Bachelor's in Fine Art and is now

a professional artist.

She does not consider herself to have much of a

green thumb but rather a knack for illustrating both

florals and fruits in her work, in her own bold stylized

version of course. Her work intends to stimulate

happiness and positive emotional response. She

has developed a unique style of acrylic paintings

using dozens of bold colors with a pop art feel,

and she pursues every art opportunity that comes

her way, especially the challenging ones. Her 50

piece "Records Revisited" art installation from

2016 at the Cultural Council of Palm Beach County

encompassed her love for music passed down by

her musician father. Dabbling in DJing on turntables

as a college student she developed a love for vinyl

records. Wanting to repurpose her old turntables and

mixer she created an interactive room of nostalgia,

where visitors could listen to the records exhibited

that spanned genre and era (with her own creative

touches added to the original album cover art)

mounted in handmade pine frames.

"Looking at a painting by Nicole Galluccio induces a

feeling of calmness and joy. With everything going on

in the world right now, this is exactly what I needed

to see. When you walk into her studio you walk into a

bold, bright flower garden [evoked by her paintings]

with a hot pink floor, and leave unexpectedly, with

a smile on your face. This is no accident. The work

is process oriented. She established her painting

practice on Color theory, which is the combination of

art and science that determines what colors look good

together. The bold designs mimic the color wheel and

are rooted in the philosophy of aesthetics; studying

how the mind and emotions appreciate beauty. Her

work references nature. Emerson said, "The simple

perception of natural forms is a delight."

Nature dazzles the senses. Galluccio relies

on this by using recurring motifs of flowers,

sunshine rays, and character art based

16

on wildlife. Everyone loves a good Disney film and

her bird characters could be plucked right out of a

Snow White picture. She relies heavily on geometric

structure and often references the mandala, which

denotes the universe in Buddhist symbolism." (Diane

Arrieta)

Nicole has shown several times in the prestigious

Cultural Council of Palm Beach County with her 7th

exhibition there slated for February 2020. Her first

museum solo exhibition, "Full Bloom" was shown on

April 2018 at the Cornell Art Museum in Delray Beach.

She continues to sell work regularly in the Cornell

Museum Art Store, has a brand-new large-scale

mural and pop up art exhibition at Hopportunities, a

new concept craft beer bar in Delray Beach, FL set to

open in October of this year. She has a simultaneous

pop up solo show at the Florida Atlantic University

Library in Jupiter, FL scheduled to run November 15th

through January 2020.

Feel free to check out Nicole's work on Instagram @

nicolegalluccioart, her website at nicolegalluccioart.

com or go check out her work in person if you are in

the south Florida area.

Check out a recent blog post by Diane Arrieta

for an upcoming show hosted by Florida Atlantic

University in their Jupiter, FL Library location https://

faumacarthurlibraryexhibit.blogspot.com/2019/09/

considering-color-and-aesthetics-in.html?fbclid=IwAR

19QfFUKX_5YPvM7VXNiFM6iOKrLBxY1ZdMmHhOtIJ7BeXRzy2pDiGwYo

Listen to her interview with the Left Brain Artist

Podcast by Suzanne Redmond on https://

suzanneredmond.com/nicole-galluccio-acrylic-painterwith-a-bold-colorful-style/
---
Tears

of Joy

- Billie

Eilish

At times she seems sad or dark, but chances

are that she is most likely laughing on the inside,

all the way to the bank. On the outside she's

monotone and boring but there must be a fire

burning within her soul that has driven her to

put out so much music lately. She has captured

today's youth in just 16 months. She's all

over the media in the music biz and,she's just

getting started. Last year, Chance the Rapper

proved you don't necessarily have to record and

create music with large labels to make it in the

mainstream and become popular all over the

world; he even earned a Grammy in the process.

Miss Eilish has managed to do a lot of this lately,

cranking out her top tunes while recording in her

parents' basement.

Her brother, Finneas O'Connell, produces of

almost all of her songs. It's clear that talent

runs in the family. Of course, this isn't

your typical family or basement,

as both of their parents

are well known in the

entertainment

drink? Chances are, will she have ten Top 10

Alternative hits to her name - maybe more. Then

again, the way it's going she might do that while

she's still a teenager. One thing is for sure; music

is in her veins and heart and the world is just

hearing the beginning of great things to come.

Here's a little history about her career so far:

Billie Eilish (Billie Eilish Pirate Baird O'Connell)

was born December 18, 2001. She was raised in

Highland Park, Los Angeles. She began singing

at a young age and was writing songs at age 11.

She gained a following after the release of her

single "Ocean Eyes" on SoundCloud in 2016;

the song was originally written by her brother,

Finneas O'Connell for his band. The song

peaked at number 84 on Billboard's Hot 100 in

May of 2019 and was certified platinum by the

RIAA. Her debut EP, Don't Smile at Me, was

released in August of 2017. She collaborated

with rapper Vince Staples on a remix of "Watch"

titled "&Burn", which was later included on the rerelease

of the EP. Following the EP's commercial

success, Apple Music named Eilish an Up Next

artist in September of 2017. Her collaboration

with Khalid, "Lovely", was also released in April

of 2018. Her track "Bored" was used for the

By The Reluctant Genius

Billie Eilish is rarely smiling when out in

public and she refuses to wear clothing that

will accentuate any of her female personal

traits. She has been criticized for not smiling

in photographs and he has responded by

saying she doesn't like smiling because it

makes her feel weak and powerless.

18

community.

And it's not like she's

using "Garage Band" on her

iPhone.

A musical force at 17, the

sky's the limit for this young

lady and it should prove to

be an amazing career. Who

knows what may happen by

the time she's old enough to

soundtrack of the Netflix series "13 Reasons

Why", who also bought the rights to use "Lovely"

for the same series. Her full length debut,

"When We Fall Asleep, Where Do We Go?" was

released in March of 2019, showcasing

her pop, electronic, hip-hop and rock

hybrid style.

19
---
OCTOBER

2019

Tuesday, October 1, 2019

Grind/Kona - The Transfers 6pm

Wednesday, October 2, 2019

Grind/Kona - Chuck Morel 6pm

Thursday, October 3, 2019

31 Supper Club - The Transfers 6pm

Bounty Bar - Seth Pause 7pm

Flagler Tavern - Reed Foley 9pm

Grind/Kona - The Click 7:30pm

Yellow Dog Eats - Marty McCarrick 6pm

Friday, October 4, 2019

31 Supper Club - Project Coast 7pm

Bounty Bar - Dustin Stock 7pm

Crabby's Oceanside - The Vibe 4pm

Grind/Kona - TBD

NSB Brewing - Eddy Davis 6pm

Oceanside - TBD

Traders - Justin Hall 6pm

Traders - Kings County 9pm

Yellow Dog Eats - The Evening Muze 6pm

Saturday, October 5, 2019

31 Supper Club - Dana Kamide Band 7pm

Bounty Bar - Music Matt 7pm

Crabby's Oceanside - Reed Foley 12pm

Crabby's Oceanside - Music Matt 5pm

Flagler Tavern - Reed Foley 5pm

Grind/Kona - The Cyclones 7pm

NSB Brewing - Jason Longoria 6pm

Oceanside - Stephanie Schaffer 5:30pm

Tortugas - The Vibe 6pm

Traders - Etc 6pm

Traders - Kings County 9pm

Yellow Dog Eats - Gina Cuchetti 6pm

Sunday, October 6, 2019

Bounty Bar - Warren Beck 7pm

Crabby's Oceanside - Jessie Abbey 12pm

Oceanside - Jimmy Z 10:00am

Tuesday, October 8, 2019

Grind/Kona - The Evening Muze 6pm

20

Wednesday, October 9, 2019

Bounty Bar - Trevor Ohlsen 7pm

Grind/Kona - Are Friends Electric 6pm

Thursday, October 10, 2019

31 Supper Club - Mark Raisch 6pm

Bounty Bar - Drew Halverson 7pm

Flagler Tavern - Reed Foley 9pm

Grind/Kona - Luvu 7:30pm

Yellow Dog Eats - Trevor Ohlsen 6pm

Friday, October 11, 2019

31 Supper Club - Warren Beck 7pm

Bounty Bar - Bradford Buckley 7pm

Crabby's Oceanside - Jimmy Z 5pm

Grind/Kona - 5 Time Shag 7pm

NSB Brewing - Jonny Odis 6pm

Oceanside - TBD

Traders - Acoustic Inferno 6pm

Traders - The Accuzed 9pm

Yellow Dog Eats - Eddy Davis 6pm

Saturday, October 12, 2019

31 Supper Club - Dana Kamide Band 7pm

Bounty Bar - Jason Longoria 7pm

Crabby's Oceanside - Jonny Odis 12pm

Crabby's Oceanside - Faith Hannon 5pm

Flagler Tavern - Reed Foley 5pm

Grind/Kona - Trevor Ohlsen 7pm

NSB Brewing - Stephanie Schaffer 6pm

Oceanside - Marty McCarrick 5:30pm

Traders - Randy Williams 6pm

Traders - The Accuzed 9pm

Yellow Dog Eats - Bradford Buckley 6pm

Sunday, October 13, 2019

Bounty Bar - Chuck Morel 7pm

Crabby's Oceanside - Jason Longoria 12pm

Oceanside - Splash 10am

Tuesday, October 15, 2019

Grind/Kona - The Transfers 6pm

Wednesday, October 16, 2019

Grind/Kona - Chuck Morel 6pm

Thursday, October 17, 2019

31 Supper Club - Comedy Night 6pm

Bounty Bar - Stephanie Schaffer 7pm

Flagler Tavern - Reed Foley 9pm

Grind/Kona - Rasta Bayers 7pm

Yellow Dog Eats - Claire Vandiver 6pm

www.StaticLiveMag.com

Friday, October 18, 2019

31 Supper Club - Kelly Jarrard 7pm

Bounty Bar - Warren Beck 7pm

Crabby's Oceanside - Drew Halverson 4pm

Grind/Kona - Bradford Buckley 7pm

NSB Brewing - The Evening Muze 6pm

Oceanside - Al Canali 5:30pm

Traders - Eddy Davis 6pm

Traders - Pop Culture Poets 9pm

Yellow Dog Eats - Hannah Wilson 6pm

Saturday, October 19, 2019

31 Supper Club - Gina Cuchetti 7pm

Bounty Bar - Ian Opalinski 7pm

Crabby's Oceanside - The Evening Muze 12pm

Crabby's Oceanside - Thom Blasberg 5pm

Flagler Tavern - Reed Foley 5pm

Grind/Kona - Musical Charis 7pm

NSB Brewing - Seth Pause 6pm

Oceanside - Nate Utley 5:30pm

Tortugas - 5 Time Shag 6pm

Traders - Marty McCarrick 6pm

Traders - Pop Culture Poets 9pm

Yellow Dog Eats - Warren Beck 6pm

Sunday, October 20, 2019

Crabby's Oceanside - The Transfers 12pm

Oceanside - Warren Beck 10am

Tuesday, October 22, 2019

Grind/Kona - The Evening Muze 6pm

Wednesday, October 23, 2019

Grind/Kona - Are Friends Electric 6pm

Thursday, October 24, 2019

31 Supper Club - Ricky Silvia 6pm

Bounty Bar - Kaci Jo Hibbard 7pm

Flagler Tavern - Reed Foley 9pm

Grind/Kona - TBD

Yellow Dog Eats - The Cyclones 6pm

Friday, October 25, 2019

31 Supper Club - Shannon Rae 7pm

Bounty Bar - Jay Paski 7pm

Crabby's Oceanside - The Vibe 4pm

Grind/Kona - Eddy Davis 7pm

NSB Brewing - TBD

Oceanside - Austin Miller 5:30pm

Traders - Jimmy Z 6pm

Traders - Boomers 9pm

Yellow Dog Eats - Jonny Odis 6pm

Saturday, October 26, 2019

31 Supper Club - High End 7pm

Bounty Bar - Hannah Wilson 7pm

Crabby's Oceanside - Warren Beck 12pm

Crabby's Oceanside - TBD

Flagler Tavern - Reed Foley 5pm

Grind/Kona - NSB Erb 7pm

NSB Brewing - Bradford Buckley 6pm

Oceanside - Jason Longoria 5:30pm

Tortugas Cheap Thrills 6pm

Traders - Warren Beck 2:30pm

Traders - Etc 6:30pm

Traders - Boomers 9pm

Yellow Dog Eats - Austin Miller 6pm

Sunday, October 27, 2019

Bounty Bar - Chuck Morel 7pm

Crabby's Oceanside - Jessie Abbey 12pm

Oceanside - Splash 10am

Tuesday, October 29, 2019

Grind/Kona - The Transfers 6pm

Wednesday, October 30, 2019

Grind/Kona - Chuck Morel 6pm

Thursday, October 31, 2019

Yellow Dog Eats - Jonny Odis 6pm

Flagler Tavern - Reed Foley 9pm

Grind/Kona - Bradford Buckley 7:30pm

Yellow Dog Eats - The Transfers 6pm

Community Events

21
---
Behind the Mic: Riggs

95.7 the Hog, Daytona Beach

It's usually this time of year that I am found scrambling

at the last minute for an awesome, if not awesomely

affordable. Halloween costume. My mom was responsible

for some all-time best efforts/bad results costumes

including me parading around my Ohio neighborhood as

garbage

(a garbage bag with old food stapled to it), a carrot,

a football player and Snoopy. I tried the prom queen

approach, Rocky Horror's Frank 'N. Furter, Jigsaw and

more.

My most frequently used Rock idea is the Paul Stanley. It

simply requires a black curly wig, something to paint a star

on your eye, lipstick and some press on chest hair. If you

are a dude who chooses to use his own chest hair, make

sure to blow dry and fluff what you got to maximize the

effect. You can accessorize with a fancy belt, a fancy tight

pant or vest, but in this costume, the face and head do all

the work.

Perhaps a more modern option would be the Rob Zombie.

Short of splurging for some zombie-eye contact lenses, all

that is required for this are some bell bottoms with various

patches from speed shops or dark horror film images and

a denim jacket with much of the same flare attached. You

can go with the wig or you can choose to not shower for a

couple of months and make sure to put gum in your hair to

complete the effect. Toss on a weathered cowboy hat &

bang, you win.

You can go as a member of Metallica, Nickelback,

Disturbed, or a host of other bands by wearing a

black T-shirt and black skinny jeans. You may need to

accessorize this with a name tag identifying which member

of what band you are but it's a money saver. Grab a guitar,

a bald cap, and some cool black shades and voila! You are

guitar virtuoso Joe Satriani. Or slap on some poorly applied

clown makeup and a big red smile from ear-to-ear, pop

on a green wig and a cloak, and you just became guitar

virtuoso John 5. All it takes is a kilt and a cut-off sleeveless

denim jacket, an excessively bushy press-on beard and

long blonde wig and you just became guitar virtuoso Zakk

Wylde.

Now there are a host of less appropriate, snarky Rock

& Roll costumes as well. Pop one arm back inside your

t-shirt, grab a drumstick and you're trick-or-treating as Def

Leppard's Rick Allen.

A shotgun, poorly applied eyeliner and a t-shirt reading

"Hole's Gonna Be Big" along with some makeup heroin

track marks on your arm is all it takes to be Courtney

Love. If you are a particularly hairy dude, get some faux

gauge earrings, no shirt and a microphone and you've got

the formula for a solid Linkin Park Chesthair Bennington

costume. Some may think it's too soon, but 'ya only get

one Halloween a year, so express your rock self.

Dropping close to $50 on a solid Slipknot mask and a

mechanic's shirt is always a nice option but you also need

to calculate the accessibility of the mouth hole for booze

consumption. If you are heading to a Halloween party

and you have a mini-mail slot sized hole in your mask, you

are limited to drinking your trash can punch or ambient

temperature draft beer through a straw and it's hard to look

cool and menacing in that situation. AND you need to stay

properly hydrated in a latex pull-over mask as well as the

necessary mouthwash or mints because when your heavy

breathing comes back at 'ya like a hot racquetball serve,

you'll want to be minty fresh.

OK, so now you are set. No panic needed. Just toss on an

ill-fitting sweater and tattered pants and do the Cobain. Get

a wig and a magician's hat and rock the Slash. Or maybe

go deep and smear on some black eye makeup and a bike

chain over your shoulder and you just became Alice Cooper

In Chains! And if you win a contest, cut me in for 5%.

Happy Rockin' Halloween!

Cheers!

RIGGS

Catch RIGGS, GUY, & INTERN STEVE

The Morning HOG / 95-7 The HOG Weekdays 5-10 am

& SATURDAY NIGHT LOUD 9-midnight

Don't miss the Haunted Halloween Spooktacular Oct. 26 on 95.7

The HOG!

@saturdayloud on Twitter

riggs@957thehog.com

I stepped up my game when I was in college by going as

Morton Clowney Junior, my tribute to the late crazed talk

show host, rocking a clown costume and wig and placing

many warts all over my face while working some candy

cigarettes. I thought it was damn genius. My wife brought

perhaps the greatest costumes to life in my early radio

career as months of painstaking paper mache work turned

in to Terrance and Phillip, the South Park Canadian icons

that make me laugh with each and every fart. Unfortunately,

I entered a costume contest and a drunk dude thought it

would be fun to punch one of the paper mache heads and

then the party ended.

But the best costumes have always been the

Rock & Roll inspired efforts. So here are a

few awesome, if not completely tasteless and

inappropriate, ideas for Rock & Roll Halloween

costumes:

22
---
An Original Music Manifesto

24

Original

Between the Blues and the Beatles, practically every

chord and chord progression imaginable has already

been "invented." These days, if your music gets

famous, there's a good chance you'll get sued, because

someone, somewhere "made it up" before you did. So

how in this modern age can you possibly be an "original"

band?

Because of sheer volume and the nature of entropy, it

appears the music world is getting less and less original

anyway. Seems like tribute bands are getting more and

more of those weekend spots at the local premiere

venues, while the local original bands are competing for

the few spots left at the dive bars. Original bands need to

literally face the music, and ask themselves why?

Is society dumbing down? Yes. Have people become

accustomed to not paying for music or even searching

for it anymore? Yes. Are radio stations so corporate and

streamlined that people are just hearing the same 1000

songs over and over again? Yes, but is that the reason

your band is a meaningless speck of sand in the desert

of bands that is the musical wasteland? I don't think so.

You're in a Hardcore band, and let me guess,

there's throat vocals? You're in a Progressive

metal band, and you have two singers; one

screams, and the other one sings melodically,

right? You're a Rapper, and you bought your

beats off the internet? You're in a Jam Band,

and you jam? Wait, aren't you already in a

Reggae Rock band?

Seems to me that modern music for the most

part has been shoved into genre cubbies,

and about half of the music from any of these

genres sounds way too similar to the rest. On

top of that, the blues progressions are, well,

old. Those classic rock riffs are really played

out and those surf rock lines are becoming

monotonous. That Dubstep sound is really

getting annoying, and the auto-tuning of

vocals is downright ad nauseum.

So what is a band to do to stand out? If

we can't be original anymore, we'll need to

be the "new" original. Bands that still get

my attention are the ones that mix genres,

change genres, pace, meter, and style, do

variations on themes, and most of all, those

that evolve. Bands like Fishbone, Ween,

and even Bruce Springsteen are constantly

evolving their music and are finding a way to

stay original in an unoriginal world. They are

the "new" originals.

Some will say that what I'm about to suggest

has also been done before, and that's true;

part of my opening point is that there really

is nothing original left to do. But the music

scene could still use more ideas like these.

Hardcore band, do a ballad, in your style

but without the throat vocals. Rapper, get a

rock band behind you on a couple tracks.

Rock band, create a rap song. Jam band,

jam out a pop song. Emo band, do a happy

song. Punk band, do a Sinatra-style song.

Whatever you are doing - change it up, fuse it

with something else, make part of it half-time,

create a bridge that goes a half step up, add

a violin or a trumpet. Do something different

because, for the love of the Beatles, we need

some "new original" music out there.

As always, thanks for reading. Check back

next month, when I discuss professionalism

and how important it is for original bands

trying to make their way. Until then, keep

making and supporting "new" original music!

By C. August Wenger

DRINK SPECIALS

SUNDAY

FUNDAY

MONDAY

& TUESDAY

2 FOR 1

WEDNESDAY

LADIES NITE

THURSDAY

LIVE MUSIC

$2 MONTHLY BEER SPECIAL

$3 MARGARITAS

$4 CUERVO MARGARITAS

$3 SMIRNOFF FLAVORS

$4 CAPTAIN MORGAN

$5 CROWN ROYAL

$1 OFF PINTS

GET TWO

FOR THE

PRICE OF ONE!

FREE WELL DRINKS,

DRAFTS & WINE FOR LADIES

18 Eddy Davis 6 pm

4 Justin Hall 6 pm

4 & 5 Kings County 9 pm

5 ETC 6 pm

11 Acoustic Inferno 6 pm

11 & 12 The Accuzed 9 pm

18 & 19 Pop Culture Poets 9 pm

19 Marty McCarrick 6 pm

25 & 26 The Boomers 9 pm

25 Jimmy Z 6 pm

26 ETC 2 pm

26 Warren Beck 7 pm

ALL DAY!

ALL DAY!

8 to 10

8 to 10

317 FLAGLER AVE. NEW SMYRNA BEACH, FL
---
CROSSWORDPUZZLE

Across

1. What American sitcom did Billie Eilish use samples from in "My

Strange Addiction?: The ____

5. Which female singer released an album called The Immaculate

Collection in 1990?

6. The legendary American singer, Ray Charles helped pioneer what

genre of music?

7. What is the title of Whitney Houston's 1992 best-selling soundtrack

album: The _____?

11. Which English female artist released the 2015 hit song "Hello"?

14. The pop artist, Billie Eillish released her debut album, We All Fall

Asleep, Where Do We Go at what age?

15. Which American rock band released their 1975 album, Dressed To Kill?

16. Which well-known rapper gained a reputation for being the white

boy who destroyed opponents in rap battles?

18. Which artist holds the record for the most gold and

platinum albums?

26

19. Which 90s hip-hop duo originated from East Point,

Georgia?

Down

2. What rock band does Chris Martin, Jonny Buckland, Guy Berryman,

and Will Champion belong to?

3. Which rock band was formed by the Gallagher brothers from

Manchester?

4. The first name of singer who released 1959 hit song "Put Your Head

on My Shoulder"?

7. Kenneth Brian Edmonds is the legal name of which musician?

8. What was Kendrick Lamar's original last name?

9. Al Green gained popularity in the 1970s but shortly after he also

became a ___?

10. Which rapper is best known for his albums Illmatic and Stillmatic?

12. Which English rock band consists of the members: Phil Collins,

Mike Rutherford and Tony Banks?

13. How many brothers were there in the original Jackson family line

up?

17. Justin Timberlake was the leader of the singer of what popular boy

band?

Answers on page 36

1. Who does Billie Eilish co-write her songs with?

2. Who was the first rapper to sign to Jay-Z's record label, Roc Nation?

3. What is the title of Bon Jovi's best-selling album?

4. The name of the first band to hold the top 3 songs on the Billboard Hot 100?

5. Which music icon launched her own social media website in 2011?

6. What is the birth name of Axl Rose, lead singer of Guns N' Roses?

7. What is the title of Billie Eilish's debut single that gained her popularity?

8. Who was the original drummer for Nirvana?

9. What is the title of MC Hammer's most successful single of the 90s?

10. Who are the original members of the Backstreet Boys?

Answers on page 36 27
---
this Corner is a local 501 (c) (3) group that is an affiliate of Rock Steady

In

that provides boxing routines to help slow the symptoms of

Boxing

disease. 100% of the proceeds are to help raise money for In

Parkinson's

Corner. With your donations, we will be able to support locals who

this

from Parkinson's disease through the guidance from Rock Steady

suffer

certified trainers.

Boxing

in attending? Like our event on

Interested

Facebook.com/HeartlandRehab

MEDITERRANEAN

PAN-SEARED BRANZINO

WITH ANISE ZUCCHINI AND

MINI GRAINS

Phil Soussan

Two ½ pound fillets of fresh Branzino cut from

whole fish

Fragrant cherry tomatoes cut in half

One large zucchini coarsely cut into chunks

Half red onion cut coarsely into medium sized

pieces

1 cup mixed dried harvest grains (such as Israeli

cous-cous, orzo, mini garbanzos or red quinoa)

1 cup of chicken broth

1 tablespoon olive oil

2 tablespoons butter

½ teaspoon of anise seeds

Splash of anise liquor

(or pernod or ricard)

Fresh basil leaves, julienned Salt and pepper (to

taste)

OUT

PUNCH

PARKINSONS

Sponsored by

PREPARATION

Bring chicken broth to a rolling boil in a small pan, add

the grains, turn down the heat and cover. Cook through

until al dente. Clean and pat dry the fillets. Cut three

slashes through the skin on one side of each filet and

season with salt and pepper. Add a tablespoon of olive

oil to a non-stick skillet and then add the butter over a

medium heat until melted through and bubbly.

Lay the fillets skin side down and turn down the heat

to medium low. Apply slight pressure on the fillets to

flatten and cook until the skin is golden and crispy,

three to four minutes. Carefully turn the fillets over and

cook until no longer translucent, approximately another

three to four minutes.

Meanwhile in another skillet over high heat add olive

oil and then add the zucchini chunks. Season with

pinch of salt and pepper. After four minutes add the

onion and anise seeds. When the onion has softened

deglaze with a splash of the anise liquor and then add

the tomatoes to heat through, but do not allow to cook

through.

Finish with julienned fresh basil, stir through once and

remove from heat.

PLATING

Plate the fillet skin side up over a small mound of the

grains, add the zucchini medley to the side and garnish

with a sprig of basil. Enjoy with a glass of crisp Pinot

Grigio!

For more than three decades, Phil Soussan has

gained notoriety as a band mate and songwriter for

legendary rock n rollers including Billy Idol, Vince Neil

and Ozzy Osbourne, whom he wrote the hit song

"Shot in the Dark." Soussan has also dabbled in the

restaurant industry and is certainly a commendable

chef in his own right. But don't take our word for it;

his Mediterranean Pan-Seared Branzino with Anise

Zucchini and Mini Grains speaks for itself.

N O V E M B E R 3 R D 2 0 1 9

Rehabilitation & Fitness Center

Heartland

Wallace Road, New Smyrna Beach FL 32168

140

Local Music

Live

Games health Fair

Raffles

musicians Byron & Billy,

Featuring

Moore, and vocals by Kiki Sharkey.

Mark

28

This recipe has been added to the "Rockin Recipes for Autism" cookbook to benefit an amazing charitable

cause, 'We Rock for Autism, an officially recognized non-profit 501 (c)(3) organization.

For more information about "Rockin' Recipes for Autism", or to order the book, visit

www.rockinrecipesforautism.com

Our goal is to donate $5,000 to assist people fight with Parkinson's
---
GREAT

PRESS

PHOTOS

By Stephanie Christie

Getting that great

press photo for

yourself or your

band is probably

one of the most

important pieces

of your brand. You

know what they

say...You never get

a second chance to

make a great first

impression. Your

photo is your first

impression, so let's

make sure it speaks

to your band and

sends a great vibe

to your audience.

1

2

3

4

PLANNING IS IMPORTANT - Creating a mood board

on Pinterest will be a huge help, not only to you, but also

to your photographer, stylist and bandmates. I would

suggest that you always start by gathering a few shots of

other artist photos that you feel drawn to. Ask yourself

why you like those photos. Do they have great color?

Great composition? Do they tell a story in one single

frame? Other items to include in the mood board might

include wardrobe ideas, location ideas, prop or backdrop

looks.

THE GOAL IS TO 'LOOK' LIKE YOU 'SOUND'

- By this I mean, anybody should be able to look at

your photo and have a very good idea of what to expect

BEFORE they actually hear your music. If you are a surf

rock band, I would expect to see you in a setting that

reflects that vibe. It could be a beach, a retro beachside

motel, a surf shop, a cafe, a jeep, on a boat etc. It would

feel out of place to see a photo set in a parking garage,

warehouse, cityscape or rooftop.

WARDROBE MATTERS - Hiring a stylist is a really

great way to make sure that you look like the very best

version of you. For a couple hundred bucks, a stylist will

pull a few looks for you, based on your mood boards and

sizes and will handle all returns of clothing. You will show

up with a few basic items that the stylist can use to mix

in, and you will look and feel amazing and your photos

will look professional. If you don't know where to find

a stylist, ask your photographer. All photographers have

stylists that they work with regularly and are very happy

to have another professional on the shoot. Also, make

sure your stylist has a link to your music, your website

and your socials.

HAIR AND GROOMING - Get a fresh haircut/color a

week before your shoot...not the day before. You know

the old joke about the difference between a good haircut

and a bad haircut? About 2 weeks. When going for a

new look make sure you bring photos of inspirational

looks. Find cuts and colors you love and share those

with your stylist. Shave, moisturize and take a look at

those eyebrows. They shape your expression. Clean,

manicured nails are a plus. Having an on-set hairstylist

is really wonderful if you have long hair or if you are

shooting multiple looks. Also, make sure your hair stylist

has a link to your music, your website and your socials.

5

6

7

8

SELECTING A PHOTOGRAPHER - Having a

professional photographer is the most important aspect

of any shoot. I cannot tell you how many times I have

had a band schedule a photoshoot next week for

new photos and they tell me that a family friend with a

really good camera is taking the photos. That's great

if the family friend is a professional photographer.

However, most of the time that family friend is just a

nice person with a nice camera. Big difference. If your

mom ordered a 10k ProTools setup and insisted on

recording your next album for you, would you do that?

Probably not. It would be like me calling myself a chef

because I have a gourmet kitchen. Every piece of your

content needs to be held to the same standard as your

professionally mixed and mastered tracks. The first

step is to share your mood board with your potential

photographer to see if they can get your 'vision'. Also,

make sure your photographer has a link to your music,

your website and your socials.

BE ORGANIZED - Start a group chat or group email

with all band members, photographer, stylists and

helpers. Send out an email with locations, call-times

for hair and wardrobe fittings , possible weather issues,

back-up plan etc. Let's say you have a shoot planned

for the beach and it is raining cats and dogs. Head to

a bowling alley, a cafe, a shopping mall, arcade or old

bookstore nearby and shoot a few frames while you

wait for the weather to clear. Sometimes the accidental

shots are the best ones!

PLACEMENT OF SUBJECTS - If you are

shooting a multi-member group, there are a few

key things to keep in mind. It is very important that

your photographer knows the role of each member

in the band. Otherwise, you may end up with your

lead singer in the back of the photo. Also, If you

know that a member may only be a touring player or

may be leaving the group soon, you should let your

photographer know this as well. Generally, they will

position them on either end of shot so that they can be

cropped out if necessary.

SHOOT EDITORIAL STYLE - By this I mean try

to capture more than just your band image itself and

work within a theme. Grab a shot of just your feet. Or

just your hands. If you're shooting in a cafe, ask your

photographer to shoot a couple of shots of forks and

knives on the table, or hands holding a menu. These

can be used for additional content pieces like tour

posters, Instagram posts, Facebook event

pages, or album artwork.

31
---
Change is upon us. I can feel it in the air. Can you?

As fall approaches we are all adjusting, adapting

and hopefully overcoming whatever challenges and

changes we face at the end of one season and the

start of the next. For me, October not only holds the

promise of a new season but of a personal new year

ahead. With my 44th birthday on the horizon I have

been reflecting upon the bounty of my life and the

major dramatic shifts that have occurred in the last

decade since I was a pop star still in my early 30's. I

sit here to write and can't help but wonder how and

when the pendulum shall swing the other direction.

See, almost everybody I know has been going

through extraordinarily rough times lately. What I keep

telling myself is, when the pendulum has swung so

far in one direction it has no choice but to eventually

swing the other way. So I cannot wait to see what is

on the other side of all of this turmoil and upheaval.

It's gotta be something truly amazing!

As we well know trauma, pain and catalyst moments

of change can often be our greatest teachers in life

and our greatest source of inspiration, if we choose

to dive deeply into it and go with the transformative

tide they bring in their wake. I've found that resistance

to it is absolutely futile and can very well cause us

more unnecessary agony. If we try to control the

uncontrollable we just get battered into submission by

the winds of change anyway. It's best to get yourself

centered in the eye of whatever storm you are

currently facing and hunker down for the ride.

When awful and jarring things happen to us we tend

to want to disappear, hide away and numb out. We

also tend to get hyper vigilant for the next, worse

thing to happen. Neither is helpful. That only creates

patterns of escapism and a tendency to wait for

the other shoe to drop. To get out of the negative

feedback loop that these intense experiences can

leave us in we must jump off the carousel of nonprogress

and find the will to grow through it. Yes,

sometimes it feels far easier to escape all the

uncomfortable bits of life but in reality, this comes

with a heavy price, not only for yourself but for those

you love most who take the brunt of your inactivity,

pain and depressed energies. That being said, the

act of cocooning yourself in times of crisis is often an

absolute necessity and a much healthier way to tend

to your delicate emotional state when times are tough.

So where do we start when we have come to a

complete halt on our journey or are faced with a

tragedy that changes our trajectory? What do we do

when we have lost touch with our old selves

and have no idea who we are to become?

How do we handle the hairpin, 180 turn

life sometimes takes on us? We grow and

32

Midlife Chrysalis

By Candice Beu

change or we wither and eventually die. Sometimes

we must face the hardest truths. It's just that cut

and dry. We have two basic choices, to allow the

untangling to take place within and around us or to

check out completely. Choose love and life or fear and

death. Every moment we get the chance to choose.

If we hold on too tightly to the threads of the past

and try to weave our expectations around how things

"should've been" we'll get sucked down into the vortex

of regret and all that has been lost. If we can instead

choose to be vulnerable, choose acceptance and

allowance, then go gracefully within and digest the

experiences of our human beingness in both silence

and solitude, then we can create a safe space, a

golden chrysalis, for our changing selves.

Crisis puts us right into the crucible and straight into

the fire where we are faced with the ultimate test of

who we are and what we are made of. So we must

gather all the tools in our emotional, physical and

spiritual toolbox and get to work embodying our truth.

Ultimately it is you and only you who can do the

interior work that initiates the energetic and mental

shifts necessary to access the supernatural strength

and evolution available in times of crisis. The forced

metamorphosis that is upon you is a gift that can

reveal a multitude of insights, if you can regroup and

reframe it for yourself while you reinvent your life. We

all go through it at different stages of our journeys

but a lot of the times we are hit with it in our middle

years. Our caterpillar nature is often very active in our

early years of life as we eat up all the experiences

around us...the good, the bad, the ugly, the weird

and the beautiful. But eventually something happens

to every single one of us. Some sort of crisis (be it

an illness, a birth, a death, a divorce, a diagnosis,

or some tragedy) befalls us. The once curious and

hungry caterpillar inside can no longer seem to move

in any direction. We can't go backwards, we can

hardly move forward and all we can see is the present

starkness of an uncertain future. Some may call it a

midlife crisis but I like to call it "The Midlife Chrysalis".

If we are lucky we can come out the other end a very

different animal but it does take time, effort, patience

and a willingness to let go of that which no longer

serves us. We have to get comfortable with being

uncomfortable while we dissolve and restructure

inside the shell of our former selves.

Sometimes we must break in order to rebuild. The

mosaic we create out of the broken parts of ourselves

can soon become the beu-tiful new winged one who

is birthed through the chrysalis of our own being.

But we must breakthrough! We can't stay cocooned

away forever or that delicate new creature will never

fully form or fly. We must break out of our safety net

eventually and hang upside down in faith for a while,

letting our supple new wings unfurl before we are

strong enough to take to the sky and dance upon

those winds of change. So be easy on yourself. Go

slowly. Don't rush the process and let time do what

time does best, heal and grow. Love, friendship and

creative forms of self expression are great healing

forces in times of pain and change. Small children,

pets and/or loved ones are also important motivators

for keeping one active. They provide big incentives

for not giving up on life as well as often being hidden

sources of wisdom and comedy... two essentials in

my book. All these supportive forces can help bring a

bit of ease, comfort and levity to your rebirthing time.

Writing has been a cathartic and therapeutic part of

my personal resurrection and healing journey. Music

has as well, but music always helps everyone in some

way in my opinion. That's what makes it so universal.

It's the memory maker, the memory keeper, and the

conduit that assists emotions to flow and release,

especially when you have lost the ability to find the

words or get in touch with your emotions. Music can

also get us moving again and you've got to moveit

move-it in order to start your momentum up after

being cocooned away a while. An object in motion

will stay in motion and an object at rest will stay at

rest. So start moving and use great music to do it.

Butterflies don't break out of their chrysalis without

a bit of a struggle and a bit of a dance. As much as

simple activity may seem impossible, think of all the

things you can still do and be actively appreciative

of those blessing in your life. Stop focusing on what

you couldn't control or weren't able to keep from

happening. The sooner you can accept that life is

full of unanswered questions and that we are all

complicated creatures on an uncertain journey, the

better.

Trials and tribulations can affect us in bizarre,

interesting and unexpectedly delicious ways if we let

it. So keep seeking better solutions and become a

treasure hunter of simple joys in order to find those

gems hidden in the darkest of times. Also, remember

to be kinder to yourself and to others out there in the

world. You never know when you may encounter an

incapacitated caterpillar or what crisis had recently

befallen a fellow butterfly now testing her newfound

wings. The autumn winds blow hard and warm here

in the south so let's make our break throughs count,

gather our inner strength, spread our gorgeous hard

won wings and in due time, bravely take to the skies.

"Now our chrysalis is breaking, cause we're done

incubating, and we're ready to emerge with a surge

for creating...so sorry to keep ya'll waiting"

-Danielle Beu

(Lyric taken from the song "Sister" by The

Beu Sisters/The Beu-tiful Album)

33
---
Rocktails with Booker Patron

In past issues, Rocktails articles were about different artists and the libations they enjoy when partying like a rock

star. There is no doubt that alcohol of all types is a part of the music business and has been for generations. These

days, many established musicians have created their own alcohol brands to sell to the public as a way to share their

love of spirits and, of course, as a way to hopefully make a lot of money. Here's just a short list of the many products

that are available to the public:

BOB DYLAN recently recently announced a collection

of premium handcrafted whiskeys, Heaven's Door

Spirits, featuring his own artwork on the bottles. The

blends include a Straight Tennessee Bourbon, a Double

Barrel Whiskey, and a Straight Rye Whiskey finished in

"Cigar" Barrels from Vosges, France.

GEORGE STRAIT recently declared "This year, I'm

resolving to drink more water, and better tequila," adding

that his long time ritual for celebrating a successful

show includes having a shot of tequila backstage. Strait

brought the "previously nameless" Código 1530 tequila

from Mexico.

DARIUS RUCKER and his band kick off each

show with a ceremonial group whiskey shot. It's a

longstanding tradition for Rucker (also the frontman for

Hootie & the Blowfish, whose songs include one titled

"Whiskey and You") to bring good luck for each show

and now he continues the ritual with his line of liquor,

appropriately named Backstage Southern Whiskey.

Phantom Foodie

In case you haven't heard, New Smyrna's own Tayton

O'Brians now has a FULL LIQUOR BAR!!! So

now, those of you who may have bypassed this gem

because you turn your nose up at the largest beer and

wine selection in the area have no excuse not to go in

and give their food menu a try.

Owners Brian and Tonia Pemrick have created an

old style Irish Pub with great food and drinks and

something going on every night of the week. Monday

is Wing Night (and their wings are delicious); Tuesday

is Irish Night with Corned Beef and Cabbage;

Wednesday is Fish and Sing night with Fish and

Chips and karaoke; Thursday is Taco & Tire night with

beef or fish tacos and "Kill a Keg" Fat Tire beer; Friday

is karaoke/DJ with DJ E-Rock; Saturday brings live

music. They are rumored to be reviving their Sunday

Country Night as well.

Tayton O'Brians happens to be one of my favorite

places to stop anytime I am on Flagler Avenue, if only

to say hello to Brian and grab a Bass Pale Ale. The

staff are always attentive, friendly and knowledgeable.

Their menu includes Irish Pub favorites such as Fish

and Chips, Scotch Eggs, Potato Pancakes, Fried

Bangers, Corned Beef and Cabbage, and Shepherd's

Pie. My favorites in particular are Fish and Chips,

French Dip Sandwich, Turkey Club Wrap and the

Wings.

You can't go wrong at Tayton O'Brians for watching

sports, having dinner and drinks or listening to music.

Great owners, friendly staff, seemingly endless

beer selection and now FULL LIQUOR BAR. Not to

mention some of the most fun karaoke nights I've ever

experienced. There is also an outside beer garden - a

perfect spot to enjoy a nice evening outside.

Be sure to stop by the next time you go on a Flagler

Avenue bar crawl! And do yourself a favor - make it

your first stop and have a great meal to kick off your

evening.

Maroon 5 frontman ADAM LEVINE & forman Van

Halen member SAMMY HAGAR, now have more

than rock music in common. The pair bonded over their

love of tequila and launched Santo Mezquila the world's

first mezquila (a combination of tequila and mezcal). By

blending the two liquors, Hagar says they created "a

higher spirit."

JUSTIN TIMBERLAKE collaborated with the

legendary Casa Sauza to create Sauza 901 Tequila, a

smooth, triple distilled drink. JT and tequila - what could

be better?

MARILYN MANSON's strong brand typically

includes all things creepy. When he came up with his

own alcohol brand, it had to green and strong. His

absinthe liquor, Mansinthe, is produced in Switzerland

and is distilled from herbs, so the green color

is actually natural.

34

35
---
CROSSWORD

PUZZLE answers

answers

1. Who does Billie Eilish co-write her songs with? Her brother, Finneas

2. Who was the first rapper to sign to Jay-Z's record label, Roc Nation? J Cole

3. What is the title of Bon Jovi's best-selling album? Slippery When Wet

4. The name of the first band to hold the top 3 songs on the Billboard Hot 100? The Beatles

5. Which music icon launched her own social media website in 2011? Lady Gaga

6. What is the birth name of Axl Rose, lead singer of Guns N' Roses? William Bruce Rose

7. What is the title of Billie Eilish's debut single that gained her popularity? Ocean Eyes

8. Who was the original drummer for Nirvana? Chad Channing

9. What is the title of MC Hammer's most successful single of the 90s? U Can't Touch This

10. Who are the original members of the Backstreet Boys? Howie Dorough, AJ McLean, and Nick Carter

Gotha Location

October 3 - Bobby Koelble

October 4 - Mud Rooster Band

October 5 - TBD

October 10 - Zack Meadows

October 11 - Alejandre Garcia

October 12 - Dave and the Waverlys

October 14 - Open Mic Night

October 17 - Ramona

October 18 - Ramona

October 19 - Run Raquel

October 24 - JT Trio

October 25 - Crenshaw

October 26 - Live Heart

October 28 - Open Mic

October 31 - NO MUSIC (Halloween)

1236 Hempel Ave.

Windermere 34786

(407) 296-0609

DOG FRIENDLY

LIVE MUSIC

YellowDogEats.com

New Smyrna Location

October 3 - Marty McCarrick

October 4 - The Evening Muze

October 5 - Gina Cuchetti

October 10 - Trevor Ohlsen

October 11 - Eddy Davis

October 12 - Bradford Buckley

October 17 - Claire Vandiver

October 18 - Hannah Wilson

October 19 - Warren Beck

October 24 - The Cyclones

October 25 - Jonny Odis

October 31 - The Transfers

147 Canal St.

New Smyrna Beach 32168

(386) 410-4824

36

Open every day at 11am
---
PHOTO CREDIT BRUCE CORN PHOTO CREDIT NICCO STARR PHOTO CREDIT NICCO STARR

PHOTO CREDIT CARLOS RIVERA

PHOTO CREDIT CARLOS RIVERA

PHOTO CREDIT TERRY HARGER

PHOTO CREDIT TIM TUECH

PHOTO CREDIT BRUCE CORN
---
BEACHSIDE TAVERN

OCTOBER

4 - SUMMERLONG

Reggae Rock 9pm

5 - GUERILLA PANIC

Reggae Rock 9pm

11 - TRAE PIERCE AND

THE T-BONES BAND

Rock 9pm

12 - PLAYIN POSSUM

Classic Country 9pm

16 - CHUCK MAGID TRIO

Adult Contemporary 9pm

18 - WELL TRAINED DOGS

Alternative Rock 9pm

19 - THE A+ TEAM

80's Rock 9pm

20 - 14th ANNUAL

HARMONICA

CHAMPONSHIP 12am

24 - JONATHAN SCALES

AND FOURCHESTRA

Jazz Fusion 8pm

4 5

11 12 16

18 19 20

25 - LUVU

Dance/Top 40 9pm

26 - THE SUPERVILLAINS

Ska/Reggae Rock 9pm

27 - TROPIDELLIC

Reggae Rock 8pm

24 25 26

29 - SHINE AND THE

SHAKERS

Soul/Rock 9pm

30 - CHUCK MAGID TRIO

Adult Contemporary 9pm

27 29 30

690 E. 3rd St. New Smyrna Beach, Fl www. BeachsideTavern.com