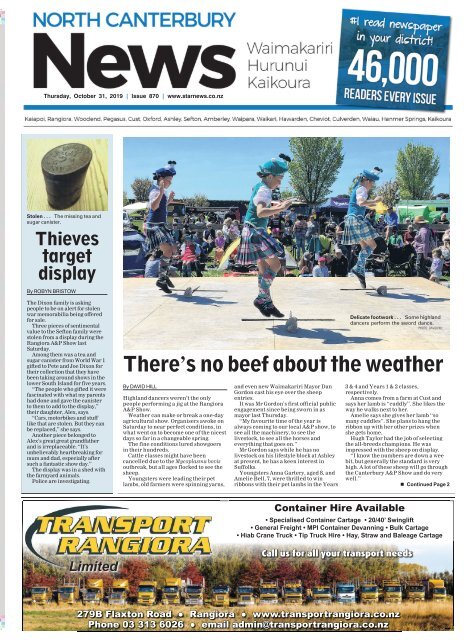 North Canterbury News: October 31, 2019
You also want an ePaper? Increase the reach of your titles
YUMPU automatically turns print PDFs into web optimized ePapers that Google loves.
Thursday, October 31, 2019 | Issue 870 | www.starnews.co.nz

Stolen ... The missing tea and

sugar canister.

Thieves

target

display

By ROBYN BRISTOW

The Dixon familyisasking

people to be on alertfor stolen

war memorabilia beingoffered

for sale.

Threepiecesofsentimental

valuetothe Seftonfamily were

stolen from adisplay during the

Rangiora A&P Show last

Saturday.

Amongthem was atea and

sugarcanister from WorldWar 1

gifted to Pete and Joe Dixon for

theircollection thatthey have

been takingaroundshowsinthe

lowerSouthIsland for five years.

''Thepeople who gifteditwere

fascinated with what my parents

had done and gave the canister

to them to add to the display,''

theirdaughter, Alex,says.

''Cars, motorbikes and stuff

like that are stolen. But they can

be replaced,'' she says.

Another piece belonged to

Alex's great great grandfather

and is irreplaceable.''It's

unbelievably heartbreaking for

mum and dad, especially after

such afantastic show day.''

The display was in ashed with

the farmyardanimals.

Police are investigating.

Delicate footwork ... Some highland

dancers perform the sword dance.

PHOTO: DAVID HILL

There's no beef about the weather

By DAVID HILL

Highland dancers weren't the only

people performing ajig at the Rangiora

A&P Show.

Weather can make or break aone­day

agricultural show. Organisers awoke on

Saturday to near perfect conditions, in

what went on to become one of the nicest

days so far in achangeable spring.

The fine conditions lured showgoers

in their hundreds.

Cattle classes might have been

cancelled due to the Mycoplasma bovis

outbreak, but all ages flocked to see the

sheep.

Youngsters were leading their pet

lambs, old farmers were spinning yarns,

and even new Waimakariri Mayor Dan

Gordon cast his eye over the sheep

entries.

It was Mr Gordon's first official public

engagement since being sworn in as

mayor last Thursday.

''My favourite time of the year is

always coming to our local A&P show, to

see all the machinery, to see the

livestock, to see all the horses and

everything that goes on.''

Mr Gordon says while he has no

livestock on his lifestyle block at Ashley

at present, he has akeen interest in

Suffolks.

Youngsters Anna Gartery, aged 8, and

Amelie Bell, 7, were thrilled to win

ribbons with their pet lambs in the Years

3&4and Years 1&2classes,

respectively.

Anna comes from afarm at Cust and

says her lamb is ''cuddly''. She likes the

way he walks next to her.

Amelie says she gives her lamb ''so

many cuddles''. She plans to hang the

ribbon up with her other prizes when

she gets home.

Hugh Taylor had the job of selecting

the all­breeds champions. He was

impressed with the sheep on display.

''I know the numbers are down awee

bit, but generally the standard is very

high. Alot of these sheep will go through

the Canterbury A&P Show and do very

well.''

Continued Page 2

Container Hire Available

•Specialised Container Cartage •20/40' Swinglift

•General Freight •MPI Container Devanning •Bulk Cartage

•Hiab Crane Truck •Tip Truck Hire •Hay, Straw and Baleage Cartage

Call us for all your transport needs

279B Flaxton Road ● Rangiora ● www.transportrangiora.co.nz

Phone 03 313 6026 ● email admin@transportrangiora.co.nz

1857551
---
NEWS

2 North Canterbury News, October 31, 2019

Build customers,

sales &profits with

North

Canterbury's

best read

newspaper

Thursday, January24, 2019 Issue 830 | www.ncnews.co.nz

news

Robyn Bristow

Managing Editor

027 312 1581

robyn.bristow

@ncnews.co.nz

Reporters

Neil Clarkson, David Hill,

Shelley Topp, Rachel MacDonald.

46,000

readers every issue

0

readers every issue

46,000

readers every week

30,150

copies deliveredtoEVERY

home, farm, RD and lifestyle

block in Waimakariri,

Hurunui and Kaikoura

districtsevery

Thursday!

advertising

DaynaBurton

Sales Co-ordinator

027 312 0089

dayna.burton

@ncnews.co.nz

Amanda Keys Advertising

027 536 6224

amanda.keys@ncnews.co.nz

Claire Oxnam Advertising

021 560 386

claire.oxnam@ncnews.co.nz

ValGenet Advertising

027 807 2251

val.genet@ncnews.co.nz

Matt shows he has the right moves

By ROBYN BRISTOW

The South Island Chess

Championship trophy has a

new home in Rangiora,thanks

to the efforts of chess player

MattMcNabb.

For him, the ancient game

is both apleasure and a

passion, and it's been thatway

since he first learned his way

around it as a5­year­old.

He describes it as agame

that's easy to learn, but

complicated to master.

''I was taughttoplay chess

by my grandfather, who left

me his hand­turned chess set

whenhedied.

''I then wentontoplay club

chess, as wellasplayingon

the computer, constantly

learning new strategies and

new ways of looking at the

game.

''I love it. It's great fun,

leaves nothing to chance,and

you never playthe samegame

twice.

''Infact,it's said there are

morepossible chess positions

thanthere are atoms in the

universe,'' he says.

Matthas honed his skills

and competed extensively

overthe years, although he

has not managed to fit in many

tournaments since moving

backtoCanterbury from

Auckland 12 yearsago and

starting afamily.

However, he did make it to

thismonth'stournament at

the HeritageHotel in Hanmer

Springs.There, he playedhis

way to becomingjoint holder

of the South Island title,

bringingthe trophy backto

Waimakariri for six months,

before sending it to

Show patrons flock to see sheep entries

From Page 1

''Andeven into the flock section

there's somevery good sheep,

whichisgood to see.''

Mr Taylorchose Oxford farmer

Dave Gillespie'sSouthdown ewe

as all­breeds champion meat

breed, whilethe champion wool

breedribbonwent to aCorriedale

ram bred by T.A. and C.M. Beaton.

He saysmost farmers are in

good spirits thanks to avery

favourableseasonwith plenty of

rain.

More pictures, pages 20 and 21

Check mate ... Matt McNabb with the South Island Chess Championship trophy.

Invercargill to gracethe home

of his co­winner, Edward Lee.

The pair actually placed

fourthequal on points in the

competition,but the three

players aheadofthem were

from the North Island, and so

were ineligibletowin the

title.

Matt says he has enteredthe

South Island contest afew

times,but never really had

great results. Thathas now

changed, but since it was first

won in 1950, so manynames

have been engravedonthe

cup thatitnow needsanew

base beforeMatt'sand

Edward's names can be added

to the honour roll.

Matt's advice for young

chess players keen to further

their skills?''I play at the

Canterbury Chess Club in

PHOTO: SUPPLIED

Christchurch, but the North

Canterbury Chess Club is also

agreat local option for those

interestedinpickingupthe

game or enjoying the

challengeofplaying others.

''Andplay against your

computer —you'll learn so

much because the gameisso

complex, Idon'tthinkthere

will ever be aprogramme able

to solve it.''

Starting young ...

Anna Gartery, left, aged 8,

won the ribbon for pet lamb

(Years 3and 4) with 3­monthold

Rolly, while her brother

Sam, 6was second in the

Years 1and 2pet lamb class

with It's ya Boy Benji, to

7­year­old Amelie Bell's

lamb, Marble, at the Rangiora

Show on Saturday.

PHOTO: DAVID HILL

Kerryn Clark Advertising

021 586 138

kerryn.clark@ncnews.co.nz

getintouch

Editorial

info@ncnews.co.nz

Advertising

sales@ncnews.co.nz

GraphicDesign

heather.hood@ncnews.co.nz

Distribution/Deliveries

027 807 2251

Amberley: 03 314 8335

119 Carters Road, Amberley

Rangiora: 03 313 2840

77-83 High Street, Rangiora

Christchurch: 03 364 7460

www.starnews.co.nz

*Source 2018 Nielsen readership survey.

2095268

Kaiapoi Lodge

Residential Care

Nursing Home, Hospital and

Respite

Person Centred Care,

Care that's built

around you

6Cass Street, Kaiapoi

Ph 03 327 7235
---
Church restoration to begin soon

By DAVID HILL

Effortstorestore the historic

Glenmark Churchare gaining

momentum.

FriendsofGlenmark Church

Inc chairman Andy Munrosays

there is now $1.562 million in

the bank towards the rebuild,

with arecent fundraising

eveningnetting $35,000.

This leavesthe project

$500,000 short of thetarget

required to complete the

rebuild, including pipeorgan

repair,refurbishment and

stainedglasswindow

restoration.

The GlenmarkChurch

opened in October 1907 and

was fundedbythe generosity of

Annie Townend, daughterof

Glenmark Station owner

George Moore.

''We are seekingfundsfrom

friends, family and those that

appreciatethe building and

chattels for theirheritage

value, as well as for the normal

function it provides to the local

community,'' Mr Munro says.

Arecent fundraisingevening

was held in the new Omihi

Community and Sports Hall,

with more than 120 people

attending.

Former All BlackRichard

Loe was the master of

ceremonies.

Guest speaker Mark Inglis

''gave an inspiring and

motivational talk on the

challenges he has facedand

overcome since losinghis legs

to frostbite''.

The Waipara School PTA

provided athree­course buffet

meal.

There was also an auction on

the evening conducted by John

McCone,inwhich donated

goods weresnapped up by an

enthusiasticcrowd.

ALotteries Commission

grant of $720,000 has been

Restoration closer ... The historic Glenmark Church was damaged in the 2010 Canterbury

earthquake.

PHOTO: ROBYN BRISTOW

received,alongwith insurance

money, AnglicanChurch

Property Trustfundsand

$110,000from the Friends of

Glenmark, leaving the $500,000

shortfall.

''TheGlenmark community

is grateful to the Glenmark­

Waikari ParishVestry for

guaranteeing the immediate

financial shortfall so the

restoration can start,'' Mr

Munrosays.

Former local resident and

engineerHerb Farrant has

peer­reviewed the scopeof

works and quantity­surveying

documents.

''Tenders will go out very

soonand it is hopedthat the

restoration workonthe church

building willbegin earlynext

year,''MrMunrosays.

''Itisagreat feeling to be

finally starting on aproject that

has taken along time to get to

thispoint.''

Anyone who wants to help

the cause,can follow The

Friends of Glenmark Church

page on Facebook or go online

to the website

friendsofglenmarkchurch

.org.nz.

Mr Munro says a''buy­abrick''campaign

and a

Givealittle page will alsobe

launched to help raise the

remaining funds.

''Anybody with afamily

history withthe church may

like to purchase bricksinthe

name of family members,past

or present, and so havea

familytree recorded.''

NEWS

North Canterbury News, October 31, 2019

PUMPS, WATER, DRAINAGE,

PLUMBING AND GAS ISSUES

24 hour service available

3

Do you need abackflow

prevention device fitted

as now required by the

Waimakariri or Hurunui

District Councils?

We can advise, supply and install

approved backflow preventers

Talk to us first

0800 PUMP WATER

786792

Email: accounts@pumpservices.co.nz

Race Day

Ready

Great selection of "Heels" -

Don't miss out!

BRESLEY Academic

Pewter, Oyster

2195691

Motorway delays expected with concrete pour

The final concrete pour on the

Waimakariri Bridgedeck on State

Highway 1willagaindisrupttraffic on the

motorway, affecting the weekend of

November 1to4.

The new lane on SH1 thatconnects to

the newChristchurch Northern Corridor

will be sealed at the same time.

Work is on schedule to be finished on

the bridge beforeChristmas, with

asphalting and approach work continuing

The North Canterbury News

into the new year.

The workwill reduce traffic to one lane

in both directions over quite along

section. It will slowtraffic. Motorists are

urged to stayintheir lane and expect

delays.

Only use the shoulderand the grass

area in between the north and

southbound lanesonthe northside of the

Waimakariri Bridge for emergency

situations.

It is hopedtohave the bridge re­opened

by 5.30am on Monday.

The traffic measures willbeinplace

from6pm, Friday, November 1, to 5.30am,

Monday,November 4. There willbea

60kmh speed limit in place on the bridge.

The Tram Road on­ramp will be closed

fromaround 7am to 6pm on November2

and 3. This is to reduce the traffic flowon

SH1 before the bridge. For more

information, phone 0800 262200.

BRESLEY Sweeper

White, Navy, Black

Size 37-41

Kaiapoi Mill, Ranfurly Street, Kaiapoi

Monday –Friday 9am –5pm

Saturday 10am –1pm

Closed on Public Holidays

Ph 03 327 0576

2210708

Waimakariri akar

a District Council Foyer

6 th – 19

th December: 9am

– 4:30pm

(Excluding weekends)

OPEN for

The Santa

Parade

12:30-3:30pm

Raising funds for

NZRT-12

(Waimakariri

Search &Rescue)

and Rangiora

Community Watch

Registerfor atreeNOW

Opentobusinesses,schools and

community groups

belindat23@gmail.com
---
NEWS

4 North Canterbury News, October 31, 2019

YOU'RE INVITED TO

CELEBRATE EXCELLENCE

Silver Ferns Farms 2018 Plate to Pasture winners, the Galletly family,

invite Silver Fern Farms suppliers and the local community to an

on-farm Field Day.

Come and see how they farm with the consumer in mind and hear

about their key learnings from their China market visit.

Also hear an update from Richard Young, Chairman of our Co-op.

ON-FARM FIELD DAY

Wednesday, 6November

10.00am –2.00pm

Hossack Downs Farm

63 Lyndon Road, Waiau

To assist with catering please RSVP to:

gemma.fraser@silverfernfarms.co.nz

Floodingwoes... Black­billed gullnests justasthey werebeingwashed out by the

October 19 floodinthe Ashley­Rakahuri River. The gulls seemed determined not to be

washed out and were still bringingnestingmaterial to their doomednests. PHOTOS: GRANT DAVEY

Gulls opt for abetter

river spot after flood

Black­billed gulls have been gathering

over the lasttwo months in preparation

for breeding on the Ashley­Rakahuri

River.

Theirprogress towards nestinghas

been an interesting but chequered

journey, as it has beeninprevious years.

Ashley­Rakahuri RivercareGroup

member Grant Davey says, at first,the

birdssettled not farwest of the Cones

Road bridge,

''Buttheir choice was not good,asit

involved low islands very prone to

flooding.

''Fortunately, only asmallpercentage

of them were on nests because, as

feared, afresh on October 19 forced

them to move, he says.

Within aday, they had congregated

againabout 3km downstream, on amuch

more suitable site, and by October22at

least2200 birdshad beencounted.

''It was ahigherweed­free island

offering protection fromboth floods and

predators. The numberpresent is very

similar to that whichinitiallyarrived on

the river last year,''MrDaveysays.

Elsewhereonthe river, there has

been avariable start to the breeding

season for other species.

One of the firsttoarrive was the

banded dotterel. Mostnow have young

chicks, while the pied stilt and blackfronted

tern are only just starting to lay

eggs.

''There are at leastsix pairs of wrybill

present. Four havealready hatched

chicks, includingthat of the onlybanded

bird,BW­BW.

''He is present at his usual sitefor his

10th season.''

Wrybill are the most iconic birdof

braided rivers and only breed in

Canterbury.

GroupChairman NickLedgardsays,

despite its unique status, comparatively

little is known about the species.

''Forthis reason, we are askingthe

public to vote for the wrybill as New

Zealand'sBird of the Year —a

competition which gets under way

towards theend of thismonth.''

Hands-on activities forall ages:

• Guided walk to Tūtaepatu Lagoon

• Kids mountain bike ride

• 'Know your Park' scavenger hunt

with prizes

• Meet our rare Canterbury ry Mudfish/

Kōwaro

• Pesky

pests trapping demonstration

• Learn about volunteering and local

conserv rvation projects

• Refreshments available and

Sausage sizzle

Freshthinking ... Theblack­billedgulls were initially reluctanttomove on.

Moteliers humbled by win

2219426

AHanmer Springs motel has been

recognised as the country's best for the

second year running.

The St James Premium

Accommodation in the alpine village

has been named ''Best Motel'' in the

2019 Hospitality New Zealand Awards

for Excellence.

Owners Paul and Rae Baigent are

thrilled to win the title again.

The award was presented at the

recent Hospitality New Zealand

Awards for Excellence gala dinner in

Napier.

''Our motto is 'our difference is the

detail' and we genuinely enjoy

providing afriendly hospitality

experience with quality

accommodation for all our guests,''

Paul says.

''To be judged Best Motel two years

running by our industry peers is an

honour.''

Paul and Rae opened The St James in

the village in October 2010.

The pair say they could not have won

the award without the passionate

efforts of their staff.
---
Business optimism

revealed in survey

NEWS

North Canterbury News, October 31, 2019

5

By ROBYN BRISTOW

North Canterbury businesses are

holding their own and are

optimistic aboutthe future,

despite being nervous aboutthe

wider New Zealand business

situation, according to the latest

North Canterbury Business

Opinion Survey.

The results, released this week

by Enterprise NorthCanterbury

(ENC),reveal strength in the local

business community, with

business profitability no longer

negative (net 0% profitability

compared to net ­15%inApril),

and 48% of businessesexpecting

more profitinthe coming year.

Thirtypercent expect to

maintain current profit margins.

ENC business supportmanager

Miles Dalton says it has been a

tough year for manylocal

businesses, but the future is

looking good.

''On the whole,both salesand

profits have been flat over the last

six months, but lookingat

previous profit cyclesthe

indicators are that we should see

some good results over 2020.

''Thisupcoming cycleiscoming

from alower base so we can

predict aprofitable 2020,but

perhaps not as good as some other

yearshave been.''

The surveyalso reveals that

businesses are holding backon

further investmentatthe moment,

but are optimistic about their own

prospectsfor the coming six

months.

Local business owner Laura

Good, of Create Design Studio in

Rangiora, says she is feeling

positiveabout the comingmonths.

''I am excited for the next six

months.

''Wehave actually seena

significant lift in our turnover in

the past six months, but Iknow

somebusinesses have

experienced aslightdownturn.

While it is hardtopredictwhat's

coming, Ilike to lookonthe

positive side.''

The surveyed businesses

expressedalack of confidence in

the general business situation in

New Zealandwith anet ­41%

confidence level. Thisisthe

lowest level recorded sinceENC

started surveying in 2013, but is in

linewith businesses across New

Zealand.

Local businessesare continuing

to employmore staff and the gross

domestic product (GDP) in North

Canterbury is growingatthe same

level as New Zealand as awhole.

''It's certainlyamixed bag of

indicators,'' Mr Daltonsays.

''There is alevel of optimism

thatbodes well for the future, but

someofthe indicators suggest that

businessesneed to continue to

carefullywatchtheirmargins.At

thisstage, 2020looks likely to be

positive.''

The NorthCanterbury Business

Opinion Surveyisconducted

every six monthsbyEnterprise

North Canterbury.

Champion image ... Anne Lambe's work, Devil and That Violin,was the champion image in arecent

Rangiora Photographic Society competition.

The devil is in the detail

Anne Lambewas judgedto

have takenthe champion

imageinthe recent Rangiora

Photographic Society Set

Subject competition.

Her work, Deviland That

Violin,was judged bestinthe A

gradedivision.

Results:

Championimage overall: Devil

and That Violin,byAnne

Lambe.

Best in grades:

Agrade: Devil and That Violin,

Anne Lambe.

Bgrade: Dancing Magnolia,

Catherine Dalton.

CGrade: Wanaka Elements,

Alan Dunscombe.

Honours:

AGrade: Graham Dean,Jan

Driscoll, Sandra Fleet, Hillary

Lakeman, AnneLambe,

Colleen Linnell (2), Maxine

Cooper, Cathy Price,Chris

Sharpe, Dominic Stove,

RhondaStove, David

Woodcock.

BGrade:Catherine Dalton,

Keith Sycamore.

CGrade: Tabitha Andrews,

Lisa Carter, Alan Dunscombe,

Nick Hampson.

Amusical tribute to

Dame Vera Lynn

Thursday7November,10am

Charles Upham Retirement Village

Join New Zealand entertainer,Vicki Lee,

foranostalgic journeyfilled with warmth

and professionalism.

Endorsed by Dame Vera Lynn herself,this

showwill include awonderful selection of

songs and warstoriesfollowed

by refreshments.

Tickets arejust $10per person.

Hear thesongs

and memories

of theForce's

Sweetheart

To purchase your ticket please contact

Wendy or Chris on 310 8644by

Tuesday5November

24 Charles Upham Drive, Rangiora

1487
---
VIEWS

6 North Canterbury News, October 31, 2019

New deputy mayor humbled

By DAVID HILL

Neville Atkinsonisthrilled to be

Waimakariri's new deputy

mayor.The long­serving Kaiapoi

councillor was unanimously

elected to be new mayorDan

Gordon's deputyatFriday's

inaugural meetingofthe 11thterm

Waimakariri District

Council.

''I'm just humbled and thrilled

to be in this seat and Iintend to

perform the duties as diligently

as Ihave in the last 18 years and

to support Dan as best Ican,'' Cr

Atkinson said.

''I'm reallyexcited to be here

and to be part of the new council.

The last coupleorthree days

getting to know the other

councillors have been good. We

have areallygood council.''

Cr Atkinson has servedfive

terms on the council and one

term as aKaiapoi Community

Board member before that.

His sentiments were echoed by

chief executive JimPalmer,who

presided over the meeting until

he witnessed Mr Gordon

presenting andthensigningthe

mayoral declaration.

''Theyhave come together

reallywell over the last two

weeks and I'm sure we are going

to haveafantastic three years.''

The meeting openedwith Ngai

Tuahuriri and councilkaumatua

Aroha Reritii­Crofts calling the

councillors into the chambers

and then blessing the new

council term.

Councillorsalso unanimously

approved Mr Gordon's

recommendations for portfolio

holders and council committee

appointments. Further

appointmentswill be made at the

first regular councilmeeting on

November 5.

Council portfolioholders:

MayorDan Gordon: Iwi

relationships, regional transport.

DeputyMayor Neville Atkinson:

Internationalrelationships

(supported by Crs Philip Redmond

and JoanWard).

Cr KirstynBarnett:District

planningdevelopment (supported

by Cr Niki Mealings), and

communications and customer

service.

Cr Al Blackie: Kaiapoi

regeneration.

Cr Robbie Brine: Solid waste,and

greenspace (parks,reserves and

sports grounds).

Deputy ... Waimakariri Mayor Dan Gordon, right, congratulates his

new deputy, Neville Atkinson.

PHOTO: DAVID HILL

Cr Wendy Doody: Community

facilities(aquatic centres, multi­use

sports stadium, libraries/service

centres,town halls, museums and

community housing), and

community development and

wellbeing (supportedbyCr

Atkinson).

Cr Philip Redmond:Regulation

and civil defence.

Cr Niki Mealings: Climatechange

and sustainability.

Cr Sandra Stewart: Canterbury

Water Management Strategyand

Waimakariri Zone Committee,

drainage and stockwater.

Cr Joan Ward: Business,

promotion and town centres, and

audit, risk, Long Term Plan and the

excellence programme.

Cr Paul Williams: Roading and

utilities (water supplies and sewer).

Community board andcommittee

appointments:

Rangiora­Ashley Community

Board: Crs Barnett,Brine,Ward and

Williams.

Oxford­Ohoka Community Board:

Crs Doodyand Mealings.

Woodend­Sefton Community

Board: Crs Redmond and Stewart.

Kaiapoi­TuahiwiCommunity

Board: Crs Atkinson and Blackie.

Audit and Risk Committee: Crs

Atkinson, Barnett, Stewart (1st

chair), Ward (2nd chair) and

Williams.

Communityand Recreation

Committee: Crs Blackie(1st chair),

Brine, Doody, Mealings (3rdchair)

and Redmond (2nd chair).

DistrictPlanning and Regulation

Committee: Crs Atkinson (2nd

chair), Barnett (1st chair), Mealings,

Redmond andWard.

Utilities andRoading Committee:

Crs Blackie, Brine (3rd chair),

Doody (1st chair), Stewart and

Williams (2nd chair).

MahiTahi Joint Development

Committee: Mayor Gordon, Crs

Atkinson andBlackie.

Landand Water Committee: Crs

Atkinson, Barnett, Blackie,

Mealings, Stewart (chair) and

Williams.

District Licencing Committee: Cr

Redmond, joining Crs Atkinson,

Williams and Doody,and

CommissionerJim Gerard.

Mayor Gordon is an ex­officio

member of all council committees.

Chief Executive Review

Committee: Mayor Gordon (chair),

Crs Atkinson, Brineand Williams.

Hearings Committee (other than

RMA): CrsAtkinson,Barnett,

Blackie, Brine, Doody, Mealings,

Redmond, Stewart, Ward and

Williams.

CodeofConduct Committee: Crs

Atkinson (chair), Brine, Redmond

and Doody.

Canterbury Civil Defence

EmergencyManagement Group

(CDEM Group):Mayor Gordon.

Greater Christchurch Partnership

(GCP): MayorGordon, Crs Atkinson

and Mealings.

Local Government New Zealand

Rural/Provincial sector and Zone5

and 6meetings: Mayor Gordon.

Greater Christchurch Public

Transport Joint Committee and

Regional Land Transport

Committee: Mayor Gordon.

Canterbury Waste Joint

Committee and Canterbury

Regional Landfill Joint Committee:

Cr Brine.

Unanimous backing ... Hanmer Spring's Jason Fletcher is settling

into his role at Hurunui's deputy mayor.

PHOTOS: SUPPLIED

New deputy hails

from Hanmer

By ROBYN BRISTOW

HanmerSpring's Jason

Fletcher hasbeen appointed

Hurunui district's deputy

mayor.

He wasappointed at a

meeting on Thursday night

in front of apacked gallery

as the new council wassworn

in.

New Mayor Marie Black

declined to appoint her

deputy,but hernomination

of Cr Fletcher was backed

unanimously by the full

council.

The meeting wasbrought

to aclosewith the

confirmation thatthe first

''business as usual''council

meetingwill be held today.

Mr Fletcher saidhewas

humbled by thehonour of

being electeddeputy mayor.

''I appreciate the

opportunity to follow in the

footsteps of good people. I'm

justexcitedtosupport

Marie,who will make an

exceptional leader,'' he said.

Mrs Black said thenew,

moreceremonious first

meetingwas alovelyway to

markthe occasion.

''Itwas truly specialand I

think the galleryreally

enjoyed watching,''she said.

Down to business ... From left, Hurunui District Council chief

executive Hamish Dobbie, Mayor Marie Black, and secretary

Graham Sutherland.

McALPINES MITRE 10 MEGA RANGIORA -OCEAN WATCH

This

Week

Sun

Fishing

Guide

Moon

Wind

Swell

Pegasus Bay

Tide Chart

3

2

1

Ok

Thursday Friday Saturday Sunday Monday Tuesday Wednesday

Oct 31 Nov 1 Nov 2 Nov 3 Nov 4 Nov 5 Nov 6

Rise 6:14am

Set 8:11pm

Best

Times

3:27am

3:55pm

Rise 8:20am

Set 11:37pm

Light Nbecoming

moderate NE

Ok

Rise 6:12am

Set 8:12pm

Best

Times

4:23am

4:51pm

Light SW turning

E

Ok

Rise 6:11am

Set 8:14pm

Best

Times

5:18am

5:45pm

Rise 9:04am Set 12:39am

Rise 9:55am

Light Wturning

NE

Good

Rise 6:10am

Set 8:15pm

Best

Times

Set 1:34am

Rise 10:50am

Moderate Weasing

to light E

Rise 6:08am

Set 8:16pm

Set 2:20am

Rise 11:48am

Light Nbecoming

fresh NW

Rise 6:07am

Set 8:18pm

Set 2:58am

Rise 12:48pm

Moderate NWturning

W

Rise 6:06am

Set 8:19pm

Set 3:31am

Rise 1:49pm

Light SW becoming

moderate NE

S1.1 mturning

E SE 1.2 m SE 0.8 m SE 0.6 m E0.5 m E0.5 m E0.7 m

3 6 9 NOON 3 6 9 3 6 9 NOON 3 6 9 3 6 9 NOON 3 6 9 3 6 9 NOON 3 6 9 3 6 9 NOON 3 6 9 3 6 9 NOON 3 6 9 3 6 9 NOON 3 6 9

6:11am

6:37pm

Good

Best

Times

7:03am

7:27pm

Fair

Best

Times

7:51am

8:14pm

Ok

Best

Times

8:37am

8:59pm

0

Highs Lows Highs Lows Highs Lows Highs Lows Highs Lows Highs Lows Highs Lows

Waimakariri 7:52am 2.6 1:34am 0.3 8:46am 2.5 2:26am 0.3 9:40am 2.5 3:19am 0.4 10:32am 2.4 4:11am 0.5 11:24am 2.3 5:04am 0.6

5:56am 0.7 12:41am 2.1 6:48am 0.7

Mouth

8:15pm 2.4 2:05pm 0.3 9:10pm 2.3 2:59pm 0.4 10:05pm 2.3 3:52pm 0.5 10:58pm 2.2 4:47pm 0.6 11:50pm 2.2 5:42pm 0.6 12:15pm 2.3 6:35pm 0.6 1:05pm 2.2 7:25pm 0.7

Amberley 7:52am 2.6 1:34am 0.3 8:46am 2.5 2:26am 0.3 9:40am 2.5 3:19am 0.4 10:32am 2.4 4:11am 0.5 11:24am 2.3 5:04am 0.6

5:56am 0.7 12:41am 2.1 6:48am 0.7

Beach

8:15pm 2.4 2:05pm 0.3 9:10pm 2.3 2:59pm 0.4 10:05pm 2.3 3:52pm 0.5 10:58pm 2.2 4:47pm 0.6 11:50pm 2.2 5:42pm 0.6 12:15pm 2.3 6:35pm 0.6 1:05pm 2.2 7:25pm 0.7

8:01am 2.6 1:43am 0.3 8:55am 2.5 2:35am 0.3 9:49am 2.5 3:28am 0.4 10:41am 2.4 4:20am 0.5 11:33am 2.3 5:13am 0.6

6:05am 0.7 12:50am 2.1 6:57am 0.7

Motunau 8:24pm 2.4 2:14pm 0.3 9:19pm 2.3 3:08pm 0.4 10:14pm 2.3 4:01pm 0.5 11:07pm 2.2 4:56pm 0.6 11:59pm 2.2 5:51pm 0.6 12:24pm 2.3 6:44pm 0.6 1:14pm 2.2 7:34pm 0.7

8:03am 2.6 1:45am 0.3 8:57am 2.5 2:37am 0.3 9:51am 2.5 3:30am 0.4 10:43am 2.4 4:22am 0.5 11:35am 2.3 5:15am 0.6 12:01am 2.2 6:07am 0.7 12:52am 2.1 6:59am 0.7

Gore Bay 8:26pm 2.4 2:16pm 0.3 9:21pm 2.3 3:10pm 0.4 10:16pm 2.3 4:03pm 0.5 11:09pm 2.2 4:58pm 0.6

5:53pm 0.6 12:26pm 2.3 6:46pm 0.6 1:16pm 2.2 7:36pm 0.7

7:57am 2.0 1:40am 0.3 8:52am 2.0 2:35am 0.3 9:47am 1.9 3:28am 0.4 10:40am 1.9 4:21am 0.4 11:33am 1.8 5:13am 0.4

6:04am 0.5 12:48am 1.6 6:54am 0.5

Kaikoura 8:24pm 1.9 2:14pm 0.3 9:20pm 1.8 3:11pm 0.3 10:15pm 1.7 4:06pm 0.4 11:07pm 1.7 5:01pm 0.4 11:59pm 1.7 5:53pm 0.5 12:24pm 1.8 6:43pm 0.5 1:14pm 1.7 7:31pm 0.5

*Not for navigational purposes. Wind and swell are based on apoint off Gore Bay. Maori Fishing Guide by Bill Hohepa. www.ofu.co.nz www.tidespy.com Graphic supplied by OceanFun Publishing Ltd.

2118223
---
MicroSDCards

from only $5

14"Laptop CF0079TU +

4GBRAM,1TB HHD, Intel®

Celeron® processor,

&Windows 10 Home.

available in

16GB,32GB, 64GB &128GB

14"

$ 699

less

than

Save

$ 200

$ 9

per

week #<

8KGWASHING

MACHINEUNDER

$800!

STOREWIDE

BLOWOUT

Getsortedfor summer early

withthese massivedeals

Weekender 4

Burner BBQ +

$ 529

Save

$ 70

less

than

Deluxe 3.0Gazebo Blue

$

MPG-D30B-C 299

PicturedwithPorticoTent 3.0

Save

attachment MPGO-TP30-A

$

soldseparately forRRP$219) 90

+

per

$ 8 week #<

8KGWashing

Machine

WMY8046LB2 +

$ 748

less

than

Now

per

$ 10 week #<

55"

Delhi 3Piece OutdoorSetting +

Thesegorgeousoutdoor chairscombineamodern

look withthe comfort anddurabilityoftraditional

wicker material.

$ 649

less

than

Save

$ 200

$ 9

per

week #<

STAY

PROTECTED

FROM THE

ELEMENTS

Merida

Umbrella +

GreatPrice

$ 149

$ 2799

55"4KSmart UHDTV

55RU7400

$ 1494

less

than

Now

per

$ 16 week #<

Vienna Fabric Corner Suite

With BuiltInRecliners

Accessoriesnot included

Save

$ 1200

less

than

per

$ 15 week #>

Easy repaymentswithaffordablefinance, EVERYDAY!

24 months

interestfree

on everything $499 &over *

50 months

interest free

on furniture&beds $999 &over *

OURPRICE

PROMISE

Find alower pirce

and we'll match it †

Applies to identical product.

Lifemadeeasy. HelpingKiwis feel at homesince1918

Notall products areavailable in allstoresbut areavailable online andfor order.Please calluson0800 764847 to checkfor availability at your localstore. All offers in this ad arevalid Wednesday 30th October

untilTuesday 5thNovember 2019while stockslastorunless otherwise stated. *Apple products, selected computers, game consoles, gift cards, clearance items and some promotionalitems arenot available

in conjunctionwithinterestfreeoffers.Flooring available onamaximumof18monthsinterestfree. Exclusions,fees, terms, conditions andcreditcriteriaapply. Available in-store only.Equal instalmentamounts

include one-offbooking feeof$45.00, annual fees of $45.00p.a., and security registration feeof$8.05, andexcludeinsurance.Current interest rate of 23.95% appliestoany unpaid balance after expiry of (any)

interest free period. See in-store or visit smithscity.co.nz fordetails.Discountisoffour full retail price, notavailable in conjunctionwithany otheroff, excludesclearance. †For full PricePromise termsand conditions

visitsmithscity.co.nz/price-promise.

JTWK1SB

550Colombo Street | Cnr Belfastand RadcliffeRoad Northwood

smithscity.co.nz
---
NEWS

8 North Canterbury News, October 31, 2019

Retired councillor would do it again

By DAVID HILL

John Meyer says he has enjoyed

working as part of ''some great

teams'' during his time in local

government.

He retired this month from

the Waimakariri District

Council after five terms as a

councillor, but will continue to

serve on the Kaiapoi­Tuahiwi

Community Board.

''If Ihad the opportunities

again Iwould certainly do it.

It's been that pleasurable and

we've had some great teams,''

Mr Meyer says.

He was first elected to the

Ashley County Council in 1973,

when he was aged 25 and living

in Amberley.

''It was my involvement with

Jaycees in Amberley which led

to me standing. They

nominated me for council and I

got on.

''Councillors in those days

didn't get paid, so Iappreciate

these people who say they need

more support. But Iwas lucky.

Lynda was ateacher and Ihad

agood firm Iwas working for

who encouraged me and liked

the idea of me being on the

council.

''It was areally good learning

curve and it was so enjoyable

and challenging.''

After two terms on the Ashley

County Council, the Meyers

returned to Kaiapoi where Mr

Meyer joined the family

business at Williams Garage,

now the Caltex service station.

His father­in­law Ben

Williams served three terms as

Kaiapoi mayor.

In the 1980s Mr Meyer joined

the Kaiapoi High School board

of governors before being

elected on to the board of

trustees and serving as board

chairman.

He was first elected to the

Waimakariri District Council

in 1995 and served two terms as

Kaiapoi Community Board

chairman before missing in

2001 by just four votes.

''In those first two terms we

had really good teams. We had

some big challenges with the

sewage system, growth and the

roundabouts.

''The sewage system was

corrected and sent out to sea

rather than into the river, and

the town was growing far faster

than we thought it would.''

In 2010 he was re­elected to

the council and has served on

the local community board in

all but three of the last 24 years.

''You can do little things as an

individual, but, for the big

things, working as ateam

makes it far more achievable.''

Given many councillors are

juggling jobs or running

businesses, Mr Meyer wonders

whether there should be fewer

councillors to make it afulltime

role and more authority

could be delegated to

community boards.

''I think there's some merit in

it and Ithink it would be fairer.

That will come up for

discussion again in the review

period and those questions will

be asked in ademocratic way.''

The Meyers have two adult

children and four

grandchildren.

In his retirement, Mr Meyer

plans to spend more time with

his grandchildren, in his

garden, working on his classic

cars, and whitebaiting.

He owns an MGB GT sports

car, aRover P6B and a1964

Rover P4.

Long service ... John Meyer

received aspecial trophy

depicting his Rover P6B, in

recognition for serving as

chairman of the Waimakariri

District Council's road safety

committee for the last nine years.

PHOTO: DAVID HILL

In brief

Braking targeted

Anew road­user sign aimed at

heavy­vehicle drivers has been

installed on Lehmans Rd, by the

Westpark Rangiora housing

subdivision. The sign asks

drivers not to use engine brakes.

It has been placed on the

subdivision side of the heavytrafficbypass,

shortlybefore the

Lehmans and Oxford Road

intersection stop sign. It was

installed as acourtesy measure

by the Waimakariri District

Council to help reducetraffic

noise for nearby residents.

Compression­releaseengine

brakes are used in some heavy

diesel trucks but can be

noisy.

Lost and found

The following property has been

reportedaslost to the North

Canterbury police: Ablack

leather card wallet(Rangiora), a

white Samsung Galaxy Edge

cellphoneinablackhalf case

(HanmerSprings), ablack Apple

iPhone (Amberley), ablue wallet

with acat on the bottomfront

corner (Rangiora), apink

SamsungGalaxy S8 in ared case

with askeleton on it (Amberley),

aBauer white and red

mountainbike (Rangiora).

The following property has been

found: Ablue portable speaker

(Kaiapoi), afishing rod and reel

(Kaiapoi), agold flat chain

necklacefound in Rangiora but

at Kaiapoi Station.

Waimakariri Bridge-SH1 traffic delays

TheChristchurch Northern Corridor team is widening SH1 and the Waimakariri Bridge. Trafficwill be

reduced to one lane in each direction from Fridayevening 1November until Monday4November. We

need to pour the final concretefor thebridgedecksand we aresealing the newlane on SH1 that will

connect to the newCNC motorway.

Thesouthbound lane reduction on SH1, betweenthe Western Belfast Bypass andthe bridge, staysinplaceuntil

Monday afternoon12pm. We willhavetoclose the southbound bridgeand alltraffic will divert(contraflow) onto

the northbound bridge. We expect the concretetocureintimeforustoreopen thebridgetoearly Monday morning

traffic.Please expect slowmoving trafficinboth directions duringthe weekend.

TheTramRoadon-ramp willbeclosed from around 7am to 6pm on 2and 3November. This is to reduce thetraffic

flowon SH1beforethe bridge.

Formoreinformation phone 0800 262200 or viewour videos and project updates at www.nzta.govt.nz/cnc
---
NEWS

North Canterbury News, October 31, 2019

9

2220605-31/10-b

Reservations welcome but not essential

Dineinortakeaway

Serving some of the

best Moroccan food in

New Zealand

Delicious +healthy

Suitable for groups,

availablefor privatefunctions

Extensivemenu (GF &Veg options)

Spaciousmodern restaurant

194 King Street, Rangiora •03313 7880 • www.taaftan.co.nz

Waimakariri from the air ... Canterbury Recreational Aircraft Club instructors Scott

James, front, and Easwaran Krishnaswamy, rear, flying in the club's Tecnam P­92 Echo

trainers during aflight. The image was taken from another Tecnam P­92 flown by Roy

Waddingham. The club is holding an open day at the Rangiora Airfield this Saturday.

PHOTO:BRIAN GREENWOOD

Open day set to go

The Canterbury Recreational Aircraft

Club will hold its annual open day at

Rangiora Airfield this Saturday.

The club, with more than 270 members

and 120 aircraft, is one of New Zealand's

largest.

The open day will run from 10am to

3pm. It is being held to give the

community achance to meet club

members, flight instructors, pilots, and

learn about the aircraft.

There will also be the opportunity to

learn more about recreational flying and

the club's activities.

Trial flights will be available during

the day, with acouple of cost options.

There will also be the opportunity to win

afree trial flight.

Food trucks, an ice­cream vendor and

abouncy castle will be on site.

The Sou'Westers blow in

By DAVIDHILL

John Wright and The Sou'Westers are

performing in the Rangiora Town

Hall this Friday to raise moneyfor

the CommunityWellbeingNorth

Canterbury Trust.

John Wright was the first New

Zealand test batsman to score5000

test runs and went on to coachboth

the New Zealand and Indian cricket

teams.

John,who lives in Ohoka, is also an

accomplished musicianand partof

the foursome that makes up The

Sou'Westers.

The John Wright &Sou'Westers

eventcombinessongsand yarns

from his many tours of duty as a

high­profile international

sportsman, travellerand songwriter.

The Sou'Westers also feature Liam

Ryan on keyboard, Dean

Hetherington on guitar and

internationalsinger­songwriterAly

Cook, whoselatest single, Red Dirt

Road Trip,isinthe toppositionon

the AustralianAirplayChartsfor the

third week running.

Proceedsfrom the night will go

towards helpingthe trust provide

free communityand social services

to families and communities in need

throughout the Waimakariri and

Hurunui districts; services suchas

the KarangaMai Early Learning

Centre, Kaiapoi CommunityPantry,

socialworkers, familycounselling

and community youth workers.

The trust is localtoNorth

Canterbury and has received

considerable support from local

sponsors to stage the event.Tickets

can be bought onlinethrough

iticket: iticket.co.nz/events/

2019/nov/john­wright.

Free Health Seminar

New to New Zealand and want to know

more about our health service? Come

along to this free Health Seminar.

You will find out more about things like blood

pressure checks, quitting smoking and managing

medication. Our speaker is from the Cancer Society.

Ruataniwha Centre

176 Williams St, Kaiapoi

1.30pm-3.30pm, Sunday 3November 2019

Numbers are limited, light refreshments provided.

Register with Citizens Advice Bureau North

Canterbury, Phone 03 313 8822 oremail

coordinator.northcanterbury@cab.org.nz

Christmas

Celebration Night

late night shopping

FIREWORKS

9:30PM!

Friday 22 November |5:30pm to 9:30pm

High Street, Rangiora

STALLHOLDERS

APPLYNOW

www.rangiorapromotions.co.nz
---
NEWS

10 North Canterbury News, October 31, 2019

Hellers Fresh Burgers 400g,

Pre-Cooked Sausages 1kg Plain (Excludes Flavoured Variants),

Our Classics Sausages 6-10 Pack (Selected Varieties only),

Tegel Fresh NZ Chicken Tenders 6 Pack or

Quick Cook Chicken 300-400g Varieties

PamsFreshAsparagus

250g Bunch or

Cherry Tomatoes

250g Prepack

Product of NewZealand$

3 49 ea

Mac's

6Pack 330mlBottles

$

13 49

pk

Fresh Strawberries

250g Prepack

Product of New Zealand

BEER&

WINE

WEEK

www.foursquare.co.nz

ANY

2FOR

0

16 00

$ 4 49

pk

The Ned 750ml

(excludes PinotNoir

&Chardonnay)

$

13 99 ea

facebook.com/FourSquareNZ

Specials available South Island only from Monday 28th October until Sunday 3rd

November 2019 or whilestocks last. Wine and beer available at stores with an off

licence. Wine and beer purchases restricted to personsaged 18 yearsold andover.

Rescued food ... Satisfy Food Rescue co­ordinator Stef van Meer, left, chairwoman

Phillipa Hunt and operations support Michelle Campbell help sort some rescued food.

PHOTO: DAVID HILL

Satisfy Food Rescue

in fundraising mode

By DAVID HILL

Rescuing food and better livingisthe

focusfor SatisfyFood Rescue.

The local food redistribution group is

hosting its annualfundraising event,

Living Better withSatisfy,atthe Pines

Kairaki Beach HallonSaturday,

November 2, as it lookstokeep its green

van on theroad.

ChairwomanPhillipa Hunt says the

trustoperates on just 30 hours of staff

time,relying heavily on volunteers and

community supporttoensure rescued

food is redistributed where it is needed.

''We needaround four to five

volunteers Monday to Friday, one

helping the driverand the rest sorting

and redistributingthe food.''

The staff includesco­ordinatorStef

van Meer, operations support Michelle

Campbell and driver Helen Kelly, who

has just joined the team.

All three are employed just 10 hours a

week each.

What became of former mayor?

By ROBYN BRISTOW

West Eyreton resident Wendy Morganis

on amission.

She is trying to traceher family tree,

but is hamperedbythe factthat

computers don't comenaturally to her.

In particular, she is lookingtofind out

more about one ancestor, aman called

William Wilson.

His nickname was Cabbage, given—

apparently—because of his preference

for hatswoven from cabbage tree leaves.

He was aprominentnurseryman and

landowner in Christchurch,with one

record showingacauliflower that was

more thanthree feetincircumference

and weighing 11lb –— just ashadeoff 5kg.

He was also the first mayorof

Christchurch and seemstohave been a

powerfuland authoritative figure.

He was apparently responsible for the

central islandtree plantings on

Fitzgeraldand Bealey avenues, and

possibly the plantings on the banks of the

Avon.

Thesewere all implementedwhen he

was subcommittee chairman responsible

for thelandscaping of thoseareas,

according to the website Papers Past.

Unfortunately, his private lifewasn't so

Phillipa says Satisfy's focusremains

on better living and raisingawareness.

''We are trying to find away to engage

the community and the focus is on waste

reduction in the home.''

She sayspeople regularly throwout

food whichisstilledible.

''People get confused with the 'best

before date', but it has more to do with

freshness, so it's all about using your

senses,'' Phillipasays.

''If the datewasn't there, how would

you tell?''Stef adds.

The fundraising eventoffers two

ticketing options, either come at 9.30am

for asessionofyoga, or joininat

10.30am for ahigh tea,with

demonstrations and speakers sharing

tips and tricks for living better.

For more information and to book

tickets, go online to

livingbetterwithsatisfy.floktu.com.

Satisfy FoodRescue can be foundat

satisfyfoodrescue.org.nz and on

Facebook.

positive. He married Elizabeth Williams

in 1856.

She was just 20 yearsold —17years

younger than he was. She gavehim 14

children —seven boysand seven girls.

He beather to the degree that she

soughtlegal protection, which he

breached, and for which he was arrested.

However, by then, he had alreadybeen

nabbedfor fraud for going under the

radar to use land for his own benefit, for

which he was atrustee.Heultimately

died bankrupt.

After all the publicity —and the papers

at the time foundhim highlyentertaining

—Williammanaged to get re­elected to

council 10 years afterhis stintasmayor.

Five of the sitting councillors at the time

resigned in protest.They said: ''Either

this man stands down or we go.''

And, even just acouple of years ago, the

governmentclaimeda183­square­metre

patch of land in aformer Lichfield St

laneway which belonged to William back

in the day.

All attempts to find an heirhad

apparently failed, so block 6between 130

and 132LichfieldSt, running behind

High St bar Smash Palace, sat ownerless

for 120 years.Itnow has arateable

valuation of $150,000.
---
Waimakariri Events

NOVEMBER 2019

11

NOV EVENTS

1st John Wright

&The Sou'Westers

8pm –10pm, Rangiora Town

Hall. As part of their nationwide

tour. Expect an evening of fine

musicianship, rich harmonies and

tales from the road. Tickets GA $45

VIP $99: www.wellbeingnc.org.nz

2nd Kaiapoi RSA

Centenary Parade

2pm, Parts of Williams Street,

Fuller Street and Raven Quay,

Kaiapoi. The Parade will include

the NZ Army Band, military

personnel and hardware, RSA

Veterans, Fire Service and Police,

St. Johns Ambulance and Youth

organisations.

2nd Canterbury Recreational

Aircraft Club Open Day

10am –3pm, Rangiora Airfield,

Merton Road, Rangiora. Come

along to meet the club members,

talk to the pilots and learn more

about recreational flying. Food

trucks, ice cream and abouncy

castle for the kids too.

2nd Living Better with Satisfy

9.30 –12.30, Pines Beach Hall,

Kaiapoi. Afabulous fundraising

morning where you can learn

about waste free healthy living with

inspiring demos and speakers,

ascrumptious high tea and the

option of alittle bit of yoga!

Tickets $20 -$35

www.livingbetterwithsatisfy.floktu.com

3rd USA Day

–All American Car Show

10am –3pm, Gladstone Park,

Woodend. All American Vehicles

display hosted by The American

Classic Car Club. Children's

entertainment, food stalls and

trade stalls. Apercentage of

profits will be donated to Ronald

McDonald House South Island.

Display cars $5 per person max

$10 per car load. Public $5 per

person, children under 12 free.

No dogs allowed.

9th Woodford Glen Speedway

Feature Night, 6.30pm.

Visit www.woodfordglen.co.nz

10th Tūhaitara Coastal

Park Open Day

10am –2pm, Tūhaitara Coastal

Park-Woodend Beach Domain.

Agreat range of activities that

the whole family can enjoy.

Bring your bike along. Visit

"Friends of Tūhaitara Coastal

Park" on Facebook for more

details about the event.

10th Kaiapoi Community

Garden Open Day

10am –1pm Kaiapoi Community

Garden, Hilton Street, Kaiapoi.

Come and browse around the

Community Garden, listen to live

music and indulge in morning tea.

Food demonstrations, seedlings

and preserves for sale. There is

achildren's corner with amud

kitchen and sand pit, as well as

their own garden bed to dig, plant

flowers in etc. Gold coin donation

will be appreciated.

16th Woodford Glen

Speedway

Mainland Stockcar Teams Champs

6.30pm. Visit www.woodfordglen.co.nz

19th Charles Upham Village

Christmas Market

1pm -4pm, Charles Upham

Retirement Village, Village Centre,

24 Charles Upham Drive, Rangiora.

With stall's from near and far for all

your Christmas shopping needs.

22nd Rangiora Christmas

Celebration Night 2019

5.30pm –9.30pm, High

Street, Rangiora. 'Shop until

you drop' at Rangiora's High

Street retailers and eateries –

peruse quality market stalls,

live music, grab aSanta photo

and stay until the end for an

impressive fireworks display.

24th Ohoka Garden

Tour &Fete

10am –4pm, Ohoka School,

261 Jacksons Road. Premier

properties and gardens open

for viewing in the lovely area of

Ohoka. Enjoy our school fete,

refreshments, food and market

stalls. Tickets are $25 +booking

fee. www.ohokagardentour.co.nz

24th RGA Community Choir

Christmas Concert

2pm-Methodist Church, King

Street, Rangiora.Featuringthe

RGACommunity Choir andguests.

Annual Xmas Concert including

afternoon tea! $7.50doorsalesonly.

24th Pak'nSave Triathlon

Festival

8am –12pm, Pegasus.

Atriathlon, duathlon (run/bike/

run) and aqua bike (swim/run)

event for all ages and abilities

from 5years up. Race as a

team or individual.

$29.99 per person.

Visit www.triathlonfestival.

co.nz for more information.

29th Nov –1st Dec Santa's

Grotto –Ashgrove School

4pm -8pm on Friday, 10am –8pm

on Sat/Sun, Ashgrove School

Hall, Seddon Street, Rangiora.

Come along to this festive, annual

Christmas event! Christmas

themed displays, an interactive

play area and photos with Santa

will be available on site. EFTPOS

or cash only, nocredit cards.

Ticket sales available on the door

$3 per person (babies free).

30th Woodford Glen

Speedway

Mag &Turbo Super Cup, 6.30pm.

Visit www.woodfordglen.co.nz

www.triathlonfestival.co.nz

REGISTER NOW

www.oxman.co.nz

ww.visitwaimakariri.co.nz/events

More info at: www

or Kaiapoi i-SITE Visitor Centre, Phone: 03 327 3134, Email: info@kaiapoivisitorcentre.co.nz
---
NEWS

12 North Canterbury News, October 31, 2019

Young talent gets an opportunity to shine

By DAVID HILL

Established musicianDavidRea

is impressed with the young

talentWaimakariri has to offer.

The former Rangiora High

Schoolstudent was back in his

home townlast Thursday evening

to judge at WaiYouth's

CentreStage 6and performwith

his band, ElectricTemples,inthe

Rangiora Town Hall.

''It was avery hardcompetition

to judge; theirtalent is so high,''

David says. ''I thinkthat halfof

the vocalists, if they auditioned

for JazzSchool(at Ara Institute of

Canterbury) theywould get in.

''I'm glad that we were justa

guest act.''

The 24­year­old is studying at

the Christchurch Jazz school. He

is working on his first solo album,

Time,and is amember of the

band The Preservatives,as well as

Electric Temples.

He was one of theoriginal

members of youthevents group

WaiYouth, in the days before

Centrestage.

The other judges were Emily

Johnstone, aformerstudent of

Rangiora High School and the

Hartley School of Performing

Arts, and Shannyn Miller, aJazz

Schoolstudent who playselectric

guitarfor Electric Temples.

They had to choose between

dancing and aerobics,aswell as

vocalists and instrumentals

performing anything from pop

and rock to opera.

Rangiora High School deputy

head boy LachieJames began the

entertainmentwith aduet with

his sisterBrianna as aguest act,

before returning for the final act.

The winner's cheque of $1000

was presentedtoRangiora High

School student Sophia Ambrose,

aged 17, who performed

Habanera from the French opera

Carmen.

''I have been singing for as long

as Ican remember.Iwatched the

musical Tomorrow whenIwas

five yearsold and Iwas really

inspiredbythat.''

Sophia is planing to study

musicatthe University of

Canterbury next year and

performs avariety of music.

''I played punk rock on electric

guitar in last year's CentreStage.''

Dancer Ataleya Dickie, aged

15, astudent of Rangiora High

School and the Jenna McKenzie

School of Dance, wassecond for

her original choreographed

routine of the song BodyLove by

Mary Lambert.

''I just finished learning it this

morning. It's asong about

bullying against girls and

accepting yourself, because true

beauty comes from the inside.''

Ataleya says she will put her

$500 cheque towards attending a

danceconvention in Auckland

next year.

Kaiapoi High School pupil

Josh Keating, aged14, was third,

afteralead malfunction on his

guitar loop pedal put his

performance in jeopardy.

He returned after the

intermission to blow the crowd

away with The Eaglesclassic

HotelCalifornia.

''I thoughtIhad lost it, but I

came back out in my hoodie and

Ijust went for it.''

Winners are grinners ... Josh

Keating, left, aged 14, Ataleya

Dickie, 15, and Sophia Ambrose,

17 took home the prizes at

CentreStage 6.

PHOTOS: DAVID HILL

Judges ... CentreStage judges

Shannyn Miller, left, Emily

Johnstone and David Rea were

impressed with Waimakariri's

young talent.

Meet

Nicole,

the

flooring

specialist who

comes

to you!

FREE measure and quote

Colour consultancy

On board specials:

Carpet

Vinyl

Tiles

Town &CounTry

Laminate

Timber

Floors

Servicing North

Canterbury

Four generations of

experience in flooring

All from the comfort

of your own home!

free

underlay

on selected

ranges

bOOK YOUR IN-HOME CONSULTATION TODAY –Call, text or email Nicole on 027 303 6134 or nicole@carpetplus.co.nz

CHRISTCHURCH CITY RANgIORA OxfORD KAIKOURA KAIApOI HANMER wOODEND pEgASUS

251 blenheim Rd, Christchurch | phone 343 1917 | www.carpetplus.co.nz

Teacher's

Scotch Whisky

1Litre

34 .99

each

Mumm

Cordon Rouge

Champagne

750ml

49 .99

each

Larios Gin Original

1Litre

33 .99

each

Russian StandardVodka

Original 1Litre or Jameson

Irish Whiskey 700ml

35 .99

each

Jim Beam White

Bourbon or Canadian

Club Whisky 1Litre

38 .99

each

Coruba Rum

1Litre

39 .99

each

St-RémyVSOP Brandy

1Litre

39 .99

each

Beefeater Gin

1Litre

40 .99

each

Jim Beam Black Label

Bourbon 1Litre

44 .99

each

Chivas Regal 12YO

Whisky 700ml

49 .99

each

Jack Daniel's No.7

Whiskey 1Litre

51 .99

each

Woodstock 7% 330ml

6Pack Cans

12 .99

pack

Speight's Gold Medal Ale

or Summit Lager 330ml

24 Pack Bottles

34 .99

pack

Billy Maverick 7%

250ml 12 Pack Cans

21 .99

pack

Vodka Cruiser 7% 250ml

12 Pack Cans or Vodka

Cruiser 5% 275ml

12 Pack Bottles

21 .99

pack

Coruba &Cola 7%

250ml 12 Pack Cans

24 .99

pack

Woodstock 5% 330ml

18 Pack Bottles or Cody's

7% 250ml 18Pack Cans

29 .99

pack

Behemoth Something

Hoppy IPA 330ml

6Pack Bottles

19 .99

each

Panhead 330ml

6Pack Bottles

(excl Rat Rod)

19 .99

pack

Heineken or Monteith's

Craft Beer (excl Original,

Radler &Summer) 330ml

12 Pack Bottles

23 .99

pack

DB Draught, Export

Gold or Tui 330ml

15 Pack Bottles

23 .99

pack

Corona 355ml

12 Pack Bottles

27 .99

pack

RANGIORA 16 SouthbrookRoad•03 3136684•www.henrys.co.nz

HOURS: Monday to Thursday 10am–9pm, Friday &Saturday 10am–10pm, Sunday 11am–7pm

Henry's encourages safe &responsible use of alcohol. Shout prices run from Monday 28th October until Sunday 10th November 2019 orwhile stocks last.

Collect Fly Buys or Airpoints for every $20 spent.

Shout prices exclusive to

Henry's Rangiora ONLY
---
No Tricks...

Just

Treats

WANTED

Treats

See the Good Sports.

STOCK

WANTED

Late model

vehicleswanted.

Popinand

see us today!

Economical 5Door

for

$5,990

Economical Fuel Miser

for

$6,990

Extremely Popular Hatch

for

$6,990

Zippy Fuel Miser

for

$8,990

$33.00

$39.66

$39.66

$48.38

2004 Mazda Verisa

1490cc, Auto AIr Conditioning, CD Player, Chain

driven (no cambelt), Dual Airbags, Electric Mirrors,

Electric Windows, Factory Privacy Glass, Fog

Lights, Power Steering, Remote Central Locking.

2010 Nissan March Collete

1200cc with 67,839kms, Air Con, CDPlayer, Chain

driven, Dual Airbags, Electric Mirrors, Electric

Windows, Factory Privacy Glass, Monsoon Shields,

Power Steering, Remote Central Locking.

2008 Honda Fit L

1300cc with 94,959kms, Auto, CDPlayer, Chain

Driven, Climate Air Con, Dual Airbags, Electric

Mirrors, Electric Windows, Factory Privacy Glass,

Remote Central Locking, Reverse Camera.

2010 Mazda Demio

1340cc with 43,773kms, Auto, Alloys, CD Player,

Auto Air Con, Chain Driven, Dual Airbags, Electric

Mirrors, Electric Windows, Factory Privacy Glass,

High Seating Position, Remote Central Locking.

Perfect Lifestyle Vehicle

for

$8,990

$48.38

Versatile 7Seater Stunner

for

$8,990

$49.92

Practical &Sporty

Sharp Looking Luxury Hatch

for

for

$9,990 $9,990

$55.04

$55.04

2007 Nissan Dualis 20S

1990cc, Aero body kit, Air Con, Alloy Wheels, CD

Player, Chain driven, Dual Airbags, Electric Mirrors,

Electric Windows, Factory Privacy Glass, High

Seating Position, Monsoon Shields, Reversing Cam.

2007 Toyota Wish XAero Sports

1800cc with 42,141kms, Auto, Aero body kit, Alloy

Wheels, Auto AIr Conditioning, CD Player, Chain

driven, Climate Air Con, Dual Airbags, Electric

Mirrors, Electric Windows, High Seating Position.

2008 Honda Stream RS-Z

1800cc with 33,689kms, Auto with Paddle Shift,

Aero Body Kit, Alloys, Auto Air Con, CD Player,

Chain Driven, Dual Airbags, Factory Privacy Glass,

Fog Lights, High Seating, Remote Central Locking.

2008 Toyota Blade G

2400cc with 55,560kms, 9Airbags, Alloys, Auto

Lights, Chain driven, Child seat anchor points,

Climate Air Con, Electric Mirrors, Electric Seat

(Drivers), Electric Windows, Half Leather Seats, HID.

Family Favourite

for

$10,990

$60.17

Low kms &Sporty

for

$10,990

$60.17

Popular &Dependable

for

$11,990

$63.76

Lifestyle 4WD

for

$11,990

$63.76

2010 Mazda Premacy 20S

2000cc with 51,857kms, Tiptronic Auto, Alloys, Auto

Air Con, CD Player, Centre Shoulder Belt in Rear,

Child Seat Anchor Points, Dual Airbags, Dual Electric

Sliding Doors, High Seat Position, Reverse Camera.

2007 Toyota Auris 150X

1500cc with 19,624kms, Auto, CD Player, Auto

Air Con, Centre Shoulder Belt in Rear, Chain Driven,

Dual Airbags, Factory Privacy Glass, Power

Steering, Remote Central Locking, Smart Key.

2007 Suzuki Escudo 2.0XE 4WD

1990cc with 77,811kms, 4WD, Alloy Wheels,

Climate Air Con, Dual Airbags, Electric Mirrors,

Electric Windows, Factory Privacy Glass, Heated

Seats, HUD, Monsoon Shields, Reversing Cam.

2008 Nissan X-Trail AXIS Autech

2500cc with 95,305kms, Tiptronic Auto, Alloys,

Auto Air Con CD Player, Cruise, Dual Airbags, ESC,

Leather Heated Seats, High Seating Position,

Reverse Camera, Smart Key with Smart Door Lock.

Versatile, Compact SUV

for

$13,990

Luxury Crossover

for

$14,990

Low Kms &Reliable

for

$15,990

Plenty of Power

for

$15,990

$75.55

$79.14

$84.27

$85.81

2010 Mitsubishi RVR G(ASX)

1800cc with 62,745kms, Tiptronic with Paddleshift,

push button start, Alloys, Auto Air Con, Auto Lights,

Chain driven, Cruise Control, Electric Mirrors, Electric

Windows, High Seating Position, Rear Spoiler.

2011 BMW X1 SDrive 18i

1990cc with 87,410kms, Tiptronic Auto, 4Airbags,

Alloys, Auto Lights, AUX Input, CD Player, Climate

Air Con, Electric Mirrors, Electric Windows, Fog

Lights, ISOFIX, Remote Central Locking, Smart Key.

6MONTHS FREE WARRANTY•OVER 500 CARS IN STOCK!

Stadium Cars Rangiora 03 310 7940 | stadiumcars.co.nz

609 Lineside Road, Waimakariri, Rangiora OPEN 7DAYS

*Conditions apply. Not available with any other offer. Finance offer subject to credit and lending criteria. Finance calculation

based on 60 month term. Nodeposit with an annual fixed interest rate of11.95%, includes an establishment fee of$455.

See our website for full disclosure.

2008 Toyota RAV4 4WD

2360cc with 46,542kms, Tiptronic Auto, Alloys,

CD Player, Chain Driven, Child Seat Anchor Points,

Climate Air Con, Dual Airbags, Factory Privacy

Glass, Front Camera, High Seating, Smart Key.

2008 Toyota Vanguard 240S

7Seater 2400cc with 65,017kms, Tiptronic

Auto, 4WD, 8Airbags, Alloys, CD Player, Dual Zone

Climate Control, Fog Lights, Half Leather Seats,

High Seating Position, Reverse Camera, Smart Key.

*On road costs may apply to some vehicles
---
Safe, Smooth Hatch

for

$13,990

$74.02

Spacious Turbo Diesel

for

$14,990

$79.14

Funky,Chic &Stylish

for

$14,990

$79.14

Luxury 7Seater

for

$16,990

$89.40

2012 Hyundai I30 Elite

1999cc with 45,114kms, Auto, 10 Airbags, Alloys,

5Star ANCAP, Auto Lights, Auto Wipers, AUX/USB/

Bluetooth/CD, Auto A/C, Cruise, Fog Lights, ISOFIX,

Leather, Reverse Sensors, Towbar, Traction Control.

2012 Holden Captiva 5AWD

2231cc with 86,987kms, 8Airbags, Auto Tiptronic,

Air Con, Alloys, Auto Lights, AUX/USB Input, CD

Player, Cruise, High Seating, ISOFIX ,Multi Functional

Steering Wheel, Traction Control, Turbo Diesel.

2019 MG 3Style

1498cc with 2,031kms, 8Airbags, 5Speed Manual,

Alloys, Auto Lights, AUX/USB/Bluetooth/CD, Climate

Air Con, ESC, ISOFIX, Leather, Rear Spoiler, Traction

Control, PLUS...Balance of New Car Warranty!

2016 LDVG10 Turbo 2.0 7Seat

2000cc with 80,156kms, Petrol, Tiptronic Auto, Alloys,

Auto Air Con, Auto Lights, AUX/USB/Bluetooth/CD,

Cruise, Dual Airbags, ISOFIX, Reverse Camera,

Smart Key. PLUS... Balance of New Car Warranty!

Eye-catching Looks

for

$19,990

$104.78

Elegant, Safe Hatch

for

$21,990

$115.04

Super Low Kms!

for

$20,990

$109.91

Stunning Style

for

$22,990

$120.16

2016 Nissan X-Trail ST 4WD

2488cc with 83,831kms, Tiptronic Auto, 5Star

ANCAP Safety Rating, Air Con, Chain Driven,

Daytime Running LEDS, Electric Mirrors, Electric

Windows, High Seating Position, ISOFIX ,NZNew.

2017 Mazda 3GLX 2.0

2018 Honda Jazz S

1998cc with 50,306kms,Tiptronic Auto, Cruise Control, 1317cc with just 688kms, 5Star ANCAP, 6Airbags,

Alloys, 5Star ANCAP, 6Airbags, AUX/USB/Bluetooth, Air Con, Auto, Alloys, AUX/USB/Bluetooth, ISOFIX,

ISOFIX, I-Stop, Reverse Camera, Smart Key, Traction Rear Spoiler, Reverse Camera, Traction Control.

Control. PLUS...Balance of New Car Warranty! PLUS...Balance of New Car Warranty!

2017 Mazda 6GSX

2488cc, 5Star ANCAP, 6Airbags, Alloys, Tiptronic

Auto, Auto Lights, AUX/USB/CD/Bluetooth, Cruise,

Dual Zone Climate, ESC, ISOFIX, I-Stop, Heads

Up Display, Reverse Camera, Smart Key, Traction

Control. PLUS...Balance of New Car Warranty!

Classy Compact SUV

for

$22,990

$120.16

Stylish &Versatile

for

$23,990

$125.29

Modern Turbo SUV

for

$25,990

$135.55

Eye Catching Looks

for

$25,990

$135.55

2018 Holden Trax LTZ1.4 Turbo

1364cc with 37,550kms, Tiptronic Auto, 6Airbags,

5Star ANCAP, Air Con, Alloys, Android Auto, Apple

CarPlay, MyLink Entertainment, Cruise, Leather

Heated Seats, Reverse Camera, Smart Key, Traction

Control. Plus...Balance of New Car Warranty!

Dependable Workhorse

for

$27,990

$145.80

2017 Mitsubishi ASXXLS 2.0

1998cc with 14,843kms, Tiptronic Auto, Air Con,

Alloys, 5Star ANCAP, Android Auto, Apple CarPlay,

AUX/USB/Bluetooth, Cruise, Daytime Running LED's,

High Seating Position, Reverse Camera, Traction

Control. Plus...Balance of New Car Warranty!

Sophisticated Sedan

for

$29,990

$156.06

2018 Ford Escape Trend AWD

2.0 EcoBoost 1999cc with 62,674kms, Auto,

5Star ANCAP, 7Airbags, Alloys, Android Auto, Apple

CarPlay, Auto Air Con, Blind Spot Monitoring, Idling

Stop, Cruise, Dual Zone Climate, Reversing Camera,

Smart Key. Plus...Balance of New Car Warranty!

Stunning Luxury

for

$33,990

$176.57

2018 Nissan X-Trail ST4WD

2488cc with 54,014kms, Tiptronic Auto, Alloys,

Air Con, 5Star ANCAP, 8Airbags, Auto Lights,

AUX/USB/Bluetooth, CD Player, Cruise, High Seat

Position, ISOFIX, Rear Spoiler, Reverse Camera,

Smart Key. Plus...Balance of New Car Warranty!

Save $1,000's Off New

for

$43,990

$227.84

2016 Holden Colorado LT Ute

2776cc with 80,275kms, 5Star ANCAP, 6Speed

Manual, Multi Airbags, Air Con, Alloys, AUX/USB

Input, Cruise, Electric Driver's Seat, Nudge Bar,

Parking Sensors, Radio with Bluetooth, Tonneau

Cover, Towbar, Tuff Deck, Turbo Diesel.

2018 HyundaiSonataElite Series 2

2359cc, 30,688kms, Tiptronic Auto, 5Star ANCAP,

6Airbags, Aero Body Kit, Alloys, Auto Lights, AUX/

USB/Bluetooth, Cruise, Heated Seats, ISOFIX, Lane

Departure Warning, NZ Sat Nav, Reverse Camera,

Smart Key, Plus...Balance of New Car Warranty!

ARRIVINGTHIS WEEK: 2xWildtrak Rangers,3xIsuzu D-Max, 1xHolden Colorado

PLUS

2017 Holden Barina LS

Be quick, these will sell fast!

• Zippy, economical NZ New, Manual, 1.6 Litre • Ranging from

• Reversing Camera, Cruise, Alloys, Bluetooth,

Steering Controls with Handsfree Phone

Stadium Cars Rangiora

03 310 7940 | stadiumcars.co.nz

609 Lineside Road, Waimakariri, Rangiora

www.stadiumcars.co.nz

www.stadiumcars.co.nz

• Ranging from 44,000kms - 59,000kms

• Balance of New Car Warranty

OPEN

7DAYS

2017 BMW 3Series 318i

1499cc with 33,617kms, Auto, 6Airbags, Alloys,

Auto Lights, AUX/USB/Bluetooth, Cruise, Dual Zone

Climate, Electric Driver's Seat, Fog Lights, Heated

Seats, ISOFIX, Leather, NZ Sat Nav, Reverse Camera/

Sensors, Smart Key with Push Button Start.

www.stadiumcars.co.nz

Only

$69per

week!

2018 Jeep Cherokee Trailhawk

3.2P/4WD 3239cc with 10,474kms, 9Speed

Auto, 5Star ANCAP, 7Airbags, Adaptive Cruise,

Alloys, Bluetooth, Dual Zone Climate, Electric

Heated Seats, Lane Departure Warning, Towbar.

PLUS...Balance of New Car Warranty!

See our job vacancy intoday's Situation Vacant column

Just

$12,990

Driveaway

3Only!
---
EXTENDED FOR 1FINAL WEEK!

+ SUPER DEALS! ENDS 04.11.19!

Tibet 4Piece Bedroom

Package

Includes Queen Bed Frame,

2xBedsides &Tallboy

WAS $2196

NOW

$

1296

Bahamas Trundler Bed

Includes Bed Frame,

Bahamas King Single

Mattress +Bahamas

Single Mattress

WAS $897

NOW

$

698

ALL OUTDOOR ON SALE

Hanging out for summer sun?

Jenn Sofa Bed

WAS $379

Fox 3 Piece Dining Package

WAS $5199

NOW

$

4299

Bali Egg

Chair

WAS $725

Capri Egg

Chair

WAS $659

NOW

$

599

NOW

$

549

PAYNOTHING UNTIL2021!

Credit criteria, exclusions, fees, terms &conditions apply.

NOW

$

249

STOREWIDE LABOUR DAY SALE ON NOW! ENDS 04.11.19!

Shop

Online

Nationwide

Delivery

Finance

Options

Cnr Blenheim&Curletts Rds, Christchurch

Ph: 0800 TARGET (0800827438)

targetfurniture.co.nz

Offers andproduct prices advertised here expire 04/11/19.

Sale excludes Manchesterand Accessories.
---
'We have to play our part'

By DAVID HILL

New Environment

Canterbury councillor

GrantEdge expects the

regional body's ''climate

emergency'' will remain

in place for some time

yet.

He says climate

change, biodiversity and

waterissues are the most

challenging issues facing

the Canterbury region.

''Climatechangeisa

huge issue acrossthe

board. Whatare we going

to do about climate

change and all the

implications it brings?

''It's notonly aboutsealevelrise

and low­lying

areaswhichare

vulnerable to flood,but

changes to biodiversity

and the effects on plants

and animals.

''Theworld is saying

'letsget on with it

because it'shappening

already', even in New

Zealand. It's aglobal

issueand we havetoplay

our part.''

Mr Edgewas elected

alongside sitting

councillorClaireMcKay

in the North Canterbury

ward and is no stranger

to water and biodiversity

issues, having served10

yearsonthe Waimakariri

Zone Committee.

''It'sencouraging that

peoplewith good

experience,who havea

wide breadth of

knowledge and are able

to ask questions and

understand theanswers,

have been elected on to

the council.

''A number of them are

scientists or have served

on zone committeesor

the regional committee,

so we'vegot abit of a

taste for what's going on.''

He says it is essential

councillors bring awide

range of skills, giventhe

diversityofareas in

which ECan is engaged,

including air quality,

biodiversityand

biosecurity, freshwater

management,hazards,

risk and resilience,

regional leadership and

transport and urban

development.

''It'sthe realisation

that ECan coversacross

the whole regionand

you'remaking decisions

that impact acrossthe

whole area.

''In the campaign there

was areal sense of alack

of understanding about

what ECanactually does,

so there, perhaps, needs

to be better

communication.''

He says ECan's

primary role is acting on

New challenge ... Grant Edge is looking forward to

playing arole in Canterbury's future.

PHOTO:SUPPLIED

central government

legislationand ensuring

local district councilsare

''actingaccordingtothe

legislationand

implementingitintheir

local plans''.

''Sometimes there is a

disconnect,sothere is a

need for collaboration,

particularly at astaffing

level. Ithink thatwill be

challenge for the new

council —how fastcan

changesbemade towards

meeting the challenges

we are facing?''

Mr Edge, alandscape

architect, worksfrom

home on asmall,onehectare

blockat

Fernside, nearRangiora.

TIRED OF WATER CONSENT

MONITORING HASSLES?

NEWS

North Canterbury News, October 31, 2019

17

New mayor set

for challenges

By DAVID HILL

Craig Mackle is looking

forward to the challenge of

being Kaikoura's new mayor.

Mr Mackle was due to be

sworn in yesterday at the first

meeting of the new council

after winning the mayoralty

by just 12 votes.

He says he has spent the

last two weeks ''learning the

ropes'', attending

school camp and

''looking at my

calendar and

thinking 'oh my

God'!''.

''The earthquake

recovery will be the

main focus over the

next few years, to

finish what we've

started and stepping

forward to brighter and better

things.

''The next 12 to 18 months

will be pretty hectic as there's

still quite abit of work to do

until we get back on alevel

keel.''

Mr Mackle says the new

council will be heading away

for aretreat next month to

plan ahead for the next three

years. It will be held at Mt

Lyford.

Three years ago the newly

elected council was on a

Craig Mackle

planning retreat at St Arnaud

in the Nelson region when the

7.8­magnitude earthquake

struck on November 14, 2016.

The councillors made a

hasty retreat back toward

Kaikoura, but soon found

themselves cut off from the

town until being rescued by

helicopter.

''It definitely created abit

of panic and upset,'' Mr

Mackle recalls.

The new mayor

has been actively

involved in setting

up acharitable trust

to build anew

community pool and

the trust will now

need to appoint a

new trustee, as the

mayor is

automatically

appointed to the trust.

Mr Mackle says he has big

shoes to fill, following the

retirement of Winston Gray,

who led the district for nine

years, including in the

immediate aftermath on the

2016 earthquake.

''I've only spoken with

Winston briefly, on the side of

the road, as he's avery busy

man.

''I just hope Idon't have the

same challenges he's had to

deal with.''

We have an early Christmas present for farmers!

Get a FREE Logger upgradefor water consent meter,soil moisture

and temperature monitoring equipment.

Are you aware that ECan is focussing on Data Gaps for consent monitoring data and taking follow up action? This is

where alogger has not captured data for aperiod of time and shows in the ECan records as aData Gap. If you are still

using Aquacom monitoring units and the Aquacomnetwork you may be at risk of having Data Gaps.

ECan have been communicating with data providers and farmers advising of data missing going back to 2018 (and in

some cases 2017). This places additional and unnecessary stress on farmers and creates additional work for all of us.

From our experience, most Data Gap issues are with the Aquacom units, so we've decided to solve this problem at the

source by offering afree IoT logger in exchange for Aquacom units on properties throughout Canterbury. Farmers

will get an improvement indata timelines, data reliability and eliminate additional expensive Aquacom repair costs.

Not only will we replace your IoT logger, ifyou sign up before the end of November 2019, Watermetrics will waive

your consent monitoring fees from now until the end of 2019 season.

By choosing the free upgrade, you will receive monitoring technology that can add additional sensors to monitor a

number of 'things'. One such example is our soil moisture and soil temperature sensor. Wecan provide these at

$1,850 each, (500mm probe) plus some installation costs, plus GST.

And the best part? It's an early Christmas gift -absolutely freeupgrade in exchange for your old Aquacom unit.

If you wouldlike to discuss this further,weare at the;

st and 2 nd November: Stand 1220 on the western side of the arena

th th November: in the Agri tent

www.watermetrics.co.nz

To get your upgrade call

Watermetrics on 0800 493-762

or visit our website to start

enjoying these new benefits:

Terms andconditions apply

2219132
---
NEWS

18 North Canterbury News, October 31, 2019

Fabulous fundraiser ... Participants in the Saints Functional Fitness Gym fundraiser for the Battersby family.

PHOTO: BRENDAN HOLT, DISPLAY PHOTO AND VIDEO

Gym members dig deep for family

By SHELLEY TOPP

The Rangiora community has

rallied to show love and support

for terminal cancerpatient

Kylie Cameron­Battersby, her

husband Karl Battersby and

their threeyoungdaughters.

Agiant fundraiser was

organisedfor the Rangiora

familybybrothers Aaron and

AshleyMcConville,owners of

SaintsFunctional Fitness Gym

in Kingsford Smith Drive in

Rangiora,wherethe event was

held on Sunday, October 20.

Whenthe brothersheard about

Kylie, whose husband Karl and

sister­in­law Rachael

Henderson are members of the

gym,they wanted to do

something to help.

Theyorganised the fundraiser

through their Facebook page,

tellingfollowers that:''Kyliehas

beenatwar with cancerfor

eight yearsnow. Unfortunately

it has now entered the terminal

stage. So this is how we are

going to help.''

The brothers organised a

teamchallengefor the day, with

each team completing 18 unique

fitness/team building/problemsolving

stations to collect points.

Each team member donated

anything theycouldtoenter the

event and all the money raised

was donated to Kylie and Karl.

The brothers got ahuge

response,with alarge crowd

takingpart.

Afamily­style barbecue was

held for those who participated,

as well as their supporters,and

nearly$8000 was raised for

Kylie,Karl and theirdaughters.

''It was such an amazing day to

be part of,''Rachaelsays. ''It

was so humbling because it was

really about loveand support.

Aaron and Ash are amazing

people.''

Karl, who is amember of the

gym's ''5am crew'',says the

fundraiser was overwhelming

for him, Kylieand their girls.

''But at the same time it

couldn'thave been better. It was

awesome. Amassive thanks to

the whole Saints community,the

Rangiora community and Ash

and Aaronfor doing what you

havedone.''

Quake

party

Three yearsonfromthe

7.8­earthquake,the

Kaikouracommunity has

muchtoremember and

celebrate.

The entire communityis

invitedtocometogether

onNovember 14 to share

food, musicand more.

The headline actwill be

New Zealandmusician

and television personality

AnikaMoa, who will

perform alongside local

musicians.

Runningfrom4pm until

late at theKaikoura

Memorial Hall and

surroundinggardens,the

get­together and concert

promises something for

everyone.

On offer willbe

afternoontea and aguided

tour of therefurbished

memorial hall, face

painting,children'sgames,

apotlucksupper and

outdoor movie (weather

permitting).

The local violence­free

networkiscontributing to

funding theoccasion, and

severalcommunity groups

are settotakeleadroles

throughoutthe event.

To learn more, email

jo.york@kaikoura.govt.nz

or call (022) 0614558,orgo

to theKaikouraDistrict

Council website.

AFFORDABLE TOOLS THAT WILL

MAKEYOU FEEL LIKEAPRO.

NOT LOOK LIKE AROOKIE.

STIHL CHAINSAW

MS 170

$295

STIHL BLOWER

BG 50

$325

Spring Specials

Valid until 30 th November 2019

HTH Pool Chlor

Granules

$

99

10kgs

$

289

40kgs

Pool Chlor

Granules

$

89

10kgs

$

279

40kgs

STIHL LINETRIMMER

FS 38

$195

STIHL WATERBLASTER

RE 88

$295

STIHL HEDGETRIMMER

HS 45 450

$495

Tri-Chlor

Tablets200g

Hydrochloric

Acid 5L

$

39

10PK

$

33

STIHL SHOP Northwood

554 Main North Road, Belfast, Christchurch

Ph: 03-974-2469

STIHL SHOP Rangiora

Corner Lineside and Station Road, Rangiora

Ph: 03-313-3398

STIHL SHOP Fosters

559 Blenheim Road,Sockburn, Christchurch

Ph: 03-343-6339

www.stihlshopchristchurch.co.nz

LOVEYOURLAND

PH Decrease

Tablets 200gm

$

9

2x10

Packs

ParamountPools and Poolquip NZ

AquaChek

Yellow

$

18

75 Blenheim Road,Christchurch

0800 POOL QUIP | 03 343 3441

christchurch@paramountpools.co.nz

Hours: MondaytoFriday 8.30am-5pm, Saturday 9am-1pm

www.paramountpools.co.nz
---
RANGIORA A&P SHOW

20 North Canterbury News, October 31, 2019

RANGIORA A&P SHOW

21

Perfect weather draws big crowd to Rangiora'srural showcase

Making friends ... Ella Greenhalgh, aged 7, of Swannanoa, talks to adonkey in the

farmyard nursery.

Reducing waste... Eco Educaterethink educator Lesley Otteyshares tipsonreducing waste withFred

Chim,ofKong MingChinese Takeaways, at the WaimakaririDistrict Counciltent.

Boy'stoys ... Don

Begley, left, of West

Eyreton, chats to Craig

Lowe,ofRangiora.Mr

Begley is sitting on his

1941 Massey­Harris101

Superhigh arch,which

he restored. Mr Loweis

sitting on Nathan

Begley's 1950 Massey­

Harris Pony.

Lining up ... Katie Meredith, left, and her mount Ngahiwi

Double­Cross, and Tayler Nalder, with Icebreaker, wait to

compete.

Seniors ... Kit Johnson,left, of Kaiapoi, with his alpaca,watches whilejudge Molly

Gardner,ofBanks Peninsula, examines Loburn breeder Martin Bennett's entry in the senior

male (36­months and over) class.MrBennett's 57­month­oldalpaca was the winner.

Siblings ... Rangiora New LifeSchool brotherand­sister

act Liam and Abigail Chessum perform.

Host with the most ... Compass FM station

manager Kerry Treymane kept things moving

during the community concert.

Mayoral approval ... New Waimakariri Mayor Dan Gordon checks out the show's sheep entries

during his first official public engagement.

PHOTOS: DAVID HILL

Pecking order ... Poultry section judges Pam Jackson, left, of Woodend, and Josie Doo, of Eyrewell,

admire the best hard feature bantam and premier exhibit, entered by Brett Hawker, of Balcairn.

Finding afriend ... Isabel, aged 4, and Katie Leitch meet adog in the farmyard nursery.

Fun with appliances ... Seven­year­old Katie and 11­year­old Hayden Bailey check out afire engine

with their mum, Jodie Sturgess.

Belly dancers ... The Northern Gypsy belly­dancing troupe, of Rangiora, performs during the

community concert.

Cattle class ... Rangiora High School cattle show team member Reese

Drozdowski, aged 15, of Balcairn, leads 1­year­old lowline bull Cruiser.
---
NEWS

22 North Canterbury News, October 31, 2019

New space ... Fools of Desire Cafe co­owner Elisa Leach, left, with staff members Taylor, Amy and Gary in the

cafe's new area.

PHOTO: SHELLEY TOPP

Cafe expands next door

By SHELLEY TOPP

The ownersofRangiora's Foolsof

Desire Cafe haveexpandedtheir

business, takingover the former

florist shop next door.

When florist Fi Sidey decided to

move her business from Conway

Lane to the former Sparks

Menswear shopinRangiora's High

St, the Fools of Desire owners

ElisaLeachand KarlHorwarth

decided to obtainthe extra space

next door.

The wall inside the little seating

nook in the cafewas removed to

accessthe new space.

''Fools of Desirehas been

growing overour almost four years,

and we are often full to capacity,so

when the opportunity to have a

littlemore space came up, we

decided to grab it,''Karl said.

''It is acompetitive hospitality

marketinRangiora so to survive

you mustconstantly be improving

and innovating.'' The new space,

which openedfor cafe customers

on Wednesdaylast week, is also

available for functions, meetings

and events during the day.

''Withaprojectorand sound

systeminstalled we can handle

anything, and it is probably the

biggest screeninRangiora for

meetings at over 3m wide.''

Life skills ... Kaikoura High School student Annalise Graham

was awarded ''overall excellence'' at the Blue Light life skills

camp held at Burnham Military Camp last month. PHOTO: SUPPLIED

Skills recognised

By DAVID HILL

AKaikoura student has been

recognised for her

leadershipskills.

AnnaliseGraham,aged 17,

aYear 12 student at

KaikouraHigh School,

received theoverall

excellence award at the

week­long Blue Lightlife

skills camp run by the New

Zealand policeforceat

Burnham MilitaryCamp

recently.

''It was prettycool.Iwasn't

expecting it,''she said.

''It was awesome. Ireally

enjoyed justbeing at the

camp.Itwas very strict, butit

was an amazing

atmosphere.''

The opportunitytoattend

the camp arose after going

through the Cactusfitness

and leadershipprogramme

at schooland gaining one of

two scholarships.

She is now considering a

career in the policeforce.

''I wouldn't have really

looked at it before, but being

there on the camp and seeing

whatitwas like has certainly

opened my eyes.''

She says her school

provides plentyof

leadership experiencesand,

in the aftermath of the2016

earthquake, there havebeen

manyopportunities for

young peopletoget involved.

''It's such acool wee

community and the

earthquakehas definitely

boostedopportunities for

young people. It's pretty cool

to see the community open

up and createopportunities

for us to help out.''

ThePremium Difference

***TRY BEFORE YOUBUY***

Checkout our websitefor forDemoTimes &Locations

DEMODAY DEAL

5% offBBQ's andaccessories only on Demo Days!

Higher RoastingLid

Continuous Spark

Electronicignition

PrecisionLid

Thermometer

$

4099 ®

WeberBaby Q -Q1000

®

$

459

WeberBaby QPremium -Q1200

$

569

WeberQ-Q2000

®

®

$

619

WeberQPremium-Q2200

®

$

969 Weber Q - Q3000

WeberQPremium -Q3200

$

1019

STIHL SHOP Northwood

554 Main North Road, Belfast, Christchurch

Ph: 03-974-2469

STIHL SHOP Rangiora

Corner Lineside and Station Road, Rangiora

Ph: 03-313-3398

www.stihlshopchristchurch.co.nz

LOVE YOUR LAND
---
Transform

your garden

with anatural timber sauna

For those seeking the ultimate in garden lifestyle,

the answer canbefound at CanterburySaunas, says

business owner Mark Smith. As he explains, aFinnish

barrel sauna turns agarden into asanctuary of

relaxation, refreshment and rejuvenation.

The barrels come from Finland and

are made by apassionate family

company, who live, breathe and

sleep sauna, Mark says. They are

handcrafted fromThermowood, a

very slow-growing Nordic Spruce

that has been heat-treated at205

degrees celcius for two days. The

timber is free of resin, durable, and

not prone to warping, so is perfect

for sauna. Thermowood is also 25 per

cent more thermally efficient compared to

cedar.

"Similar-looking saunas are available elsewhere.

However, at Canterbury Saunas we use 45mm-thick

timber to ensure longevity and we offer many upgrade

options, such aswindows and different lengths and

widths.

"People were taken aback at the recent Canterbury

Home Show, at the quality of the ball-and-socket

joinery and how many growth rings were on the timber

walls –people kept coming up and stroking them,"

Mark says.

Unrivalled in size and options for customisation,

Canterbury Saunas also exclusively offers

the Huum heater range, from 4.5kw to

18kw. The standard model holds 55kg

of stones, which produces fabulous

steam, and with an upgrade option

the heater can be controlled

remotely with asmart phone.

For amore rustic feel, clients can

also upgrade to atraditional woodburning

heater, perfect for people in

remote locations.

Mark says sauna compares well to a

conventional spa pool, without the need to

run the heater constantly. Hehas used his St Albans

sauna several times aweek for over ayear and has

found that the electricity costs are about $2 asession.

Virtually maintenance free, there are noslippery steps,

filters tobechanged or harsh chemicals to add to the

sauna –aquicksweep outand wipe down every few

weeks issufficient. Oiling the outside of the timber

once ayear is also recommended.

Published studies from the University of Bristol, which

used very large study groups over 20 years, have

come back with some interesting findings, Mark says.

Regular use ofFinnish-style saunas can reduce blood

pressure and the chance ofstroke. It also benefits

skin condition and eases breathing problems. Soft

tissue aches and pains are also eased in the heat of

sauna. Finally, the barrel shape and quiet environment

combine to create afeeling of peace and sanctuary

away from the hectic pace of life.

CanterburySaunas has ademonstration model

at Oderings Garden Centre, 20 West Coast Road,

Yaldhurst. Website www.canterburysaunas.co.nz

Six wayS SaunaS

u

beat

spa pools

Ease aches and pains away with a Scandinavian

designed and crafted barrel sauna, the hot

new option with some great advantages.

1. Saunas only use power when in use.

2. Saunas aren't noisy.

3. Easier to keep clean with no need for chemicals.

4. Enjoyable in any weather, cocooned from

the elements.

5. Safer – no slippery steps, level floor, and easy to get

in and out of.

6. Lower maintenance because there's only one

working part, the heater.

canterburysaunas.co.nz

mark@canterburysaunas.co.nz | CALL 03 669 2506
---
RANGIORA MOTOR GROUP

QASHQAI ST

AGILITY MEETS SMARTS

FEATURES INCLUDE

FRONT AND REAR PARKING SENSORS | INTELLIGENT EMERGENCY BRAKING | REARVIEW CAMERA

*Finance offer available to approved applicants ofNissan Financial Services only and excludes all lease and some fleet purchasers. Available on new unregistered Nissan vehicles only. 1.9% P.AFixed Interest.

Maximum term 48 months. No deposit required.$375 establishment fee, $8.05 PPSR fee, and $10 monthly account keeping fee apply. Terms and conditions apply. Valid from 1October 2019 to 31 October 2019.

Units must be registered by 31 October 2019.Offer cannot be used in conjunction with any other offer.Nissan reservesthe right to vary,withdraw or extend this offer.

VRX DIESEL 4WD $35,990

XLS $16,990

+ORC

2WD GLX-R MANUAL $33,990 +ORC VRX 4WD AUTO $49,990 +ORC

•15" Alloy Wheels

•2.3L Diesel engine

•5Star Safety Rating

•Leather seats

•Integrated Audio and

•Smartphone Connectivity

Air Conditioning.

•LED Daytime Running Lights

•18" Alloy Wheels

•2.4L Turbo Diesel Engine

•6-Speed Manual

•3.1T Towing Capacity

•Forward Collision Mitigation

•Lane Departure Warning

•Auto wipers and

headlamps

•Super Select 4WD

•8-Speed Automatic

•3.1 Tonne Towing

•7Leather Seats

DRIVEAWAY*

*ASX VRX 2.3L 4WD offer price shown is available on a limited number of pre-registered stock vehicles. All other prices shown excludes on road costs, which includes registration, WoF,

1,000km road user charges (if applicable) and afull tank offuel and are only available for alimited time orwhile stocks last. Visit mmnz.co.nz for full Diamond Advantage warranty conditions.

RANGIORA MOTOR GROUP

321 *EclipseHigh Cross offer Street, price shown isRangiora available on alimited| number 03941 of pre-registered 3175 stock | vehicles. rangioramotorgroup.co.nz

All other prices shown excludes on road costs, which includes registration, WoF, 1,000km road user charges (if applicable) and afull tank of fuel.

Visit mmnz.co.nz for full Diamond Advantage warrantyCHRISTCHURCH conditions.

Open Mon-Fri 8:00am -5:30pm, Sat 9:00am -3:00pm MITSUBISHI

386 Moorhouse Avenue,Christchurch | 03 379 0588 | christchurchmitsubishi.co.nz
---
Advertising feature

Classics to

roll into

Woodend

Americanclassic carowners willsoonbe

gatheringinforceinWoodend.

Theywill roll up to GladstonePark this

Sunday in their carstocelebrate the

AmericanClassicCar Club's 28th

Canterbury USA Day,and in doingsowill

help boost thecoffers of Ronald

McDonald House.

Ronald McDonaldHouseprovidesa

family­focused environment,

accommodationand supportservices in

Christchurchfor allfamilieswith achild

needinghealth care.

USA Dayoriginallybegan whenthe

club organised ashow at Waikuku Beach

oval. The event soon outgrewthe venue

anditwas relocated to GladstonePark to

allowfor the growth in recent years of

interestinclassic Americana.

ClubcaptainRay Bewleysays up to 650

cars rangingfromthe 1930stopresentday

models willfeaturethis year.

The gates open at 10am and people

will be able to enjoy looking at the cars

until 3pm. Many of those on displayare

gleaming and impeccablyrestored;

while others are work in progress.

They areall drivenbyownerswith a

passion for American style,with classics

includingPlymouths, Chryslers,Fords,

Chevrolets and Studebakers.

Ray, who with his partner Jimmi

Anderson owns a1956ChevroletBel Air,

says Americanvehicles appeal to him

because of their style, comfortand

power. But owning one is enough, he

says. Registering, warranting, cleaning,

and maintaining his prideandjoy is

enough of achallenge.Hejust loves

takingitfor runsonclub days.

However,someenthusiastshave two

or three,while others fillabarn.

''I getout at the weekendand go on

club runs,'' he says.

Each month abunchofmembers get

togetherfor cruises to apicnicarea or to

arestaurant/hotel. They alsovisitcar

collections, carshows, support charity

events and events of interest to members.

While the focus of theevent is cars,

therewill be stalls and entertainment

until 3pm. Stallswill have various

themes, including diecast carsand toys,

carmemorabilia,beer­crate seats,

wheelie bin tops, honey andbalms,

aromatherapy, man­cavegear, coffee,

donuts,exoticcandy, icecream, andthe

usualfood vendorsservingfreshly

batteredhot dogs,chips,fish,

sandwiches, muffins, cakes,and

Americanhot dogs.United Plates of

America, My Retro addictionand Mag&

Tyre Directwillalso have stalls. There is

abouncy castle forthe children.

Aband, Sign of the Firebird,will play

classicrockduringthe day, including

fromthe Rolling Stones, Led Zepplin, The

Beatles and more.

Entryis$5per person;children under

12 are free. It is $5 foraperson to display

theircar,withamaximumof$10per car

load.

FOR ALL YOUR PANELBEATING AND

SPRAYPAINTING REQUIREMENTS

INCLUDING CLASSIC

CARS

13C STONE STREET,KAIAPOI

PH 327 8582 2013578

136CourtneyDrive,Kaiapoi

03 327 4599 /021 322 892

Summer Time is nearly here, come andsee us for Air Conditioning

OpenMonday-Friday8am-5pm

CANTERBURY USA DAY

North Canterbury News, October 31, 2019

• HeavyTransport • Farm Machinery • Boats

• Privatevehicles • Caravans /Motorhomes

25

Wonderful wheels ... Malcolm Fraser and his wife, Joanne, enjoy getting out and

about in Audrey.

Audrey loves to cruise the

highways and byways

By ROBYN BRISTOW

Rangiora's Malcolm Fraser loves

cruising in Audrey.

He bought the 1965 Ford

Thunderbird, which sports a

stunning Cherry Bomb Amethyst

paint job, about 12 months ago. He

was drawn by its spaciousness.

He had previously owned two, twoseater

Corvettes. But now there is

room for his wife, Joanne, and the

grandchildren

Malcolm will be lining up with

Audrey at the USA Day at Woodend

on Sunday, November 3.

He bought the ''old cruisey'' lefthand­drive,

390­cubic­inch V8 from

Tauranga.

''She came in from California, was

cream, and was pretty much original.

''She is not completely finished

being restored —nocar ever is,''

Malcolm says.

He tries to take her for atrip every

weekend. ''She floats along. Ilove

driving her.''

Joanne, on the other hand, has no

intention of getting behind the wheel

and mastering left­hand­ drive. ''It's

his sport,'' she says.

They both helped name Audrey.

Joanne had put a''Laundry'' sign

up in their new laundry, but the land

the nfailed to stick.

Hence her name Audrey, which

can be seen on the Thunderbird's

back window.

He is considering airbrushing

Audrey on to the boot, in honour of

the late actress Audrey Hepburn.

Americana .... Malcolm Fraser's Ford Thunderbird looks American from top to

bottom.

1Markham Street,Amberley

03 314 8377

2220588

KAIAPOI COLLISION CENTRE

2146303

"Yourlocal tyre shop

forover30years"

KAIAPOI ALIGNMENT &TYRES

80WilliamsStreet • 080080KATS(5287)

www.kats.co.nz

Open6days:Mon-Fri 7.30am-5.30pm.

Sat8.00am-2.00pm

COME &SEE

US FOR

• Commercial &

fleet repairs

• Buses,caravans

&motorhomes

• Trucks,trailers,

buses &boats

WE ARE

EXPANDING!!!!

Choose usfor all Panel

and Paint Repairs

Still providing our customers with everydaycrash

repairs, bumps &scrapestomajorsmashwork

Quality workmanship &fastest turnaround

Fleet of courtesy carsavailable

CONTACT:JOHN PH 313 6966

639 LINESIDE ROAD,SOUTHBROOK

www.ncrcc.co.nz

Your Vehicle

Your Choice

of Repairer

• Free Courtesy Cars

•Bake Oven

•Any Insurance or

Private Work

•Helpful, Friendly,

Professional Staff

•Fast Turnaround,

with High Quality

Service

•Off Street Parking

We can do any insurance

or private work.

Like usonFacebook

191E Ohoka Road, Kaiapoi.

Ph/Fax (03) 327-7143 •Open 8.00am -

5.30pm Mon -Fri &Sat by appointment

FOR ALL YOUR LIGHT

AND HEAVY

TRANSPORT REPAIRS

Breakdown &

After Hours

Service

Available

Phone 03 313 6361

0275 200 711

307 Flaxton Road,

RANGIORA

brooktrucks@xtra.co.nz

2218807-31/10-h

2217419-31/10

2162155
---
NEWS

26 North Canterbury News, October 31, 2019

Tony marvels at the digital revolution

By GINA MCKENZIE

WhenTony Benny startedhis

journalism careerinrural

Timaru in the 1970s,hehanded

overhis articles and photos to

the local bus drivertotakethem

to the mainnewspaper office.

Today, he usescutting­edge

technologytoexpand his video

production and communications

businessbased at Coopers

Creek,nearOxford.

''Itseemsfunnylooking back

and remembering hurrying to

get my copyand photos to the

bus driverbefore he headed off

to Timaru to drop it off at the

Herald.''

TonystartedUpside Down

Productions in 1998while still

workingfor CountryCalendar.

He credits advances in

technology, including camera

equipment, theinternet andnew

devices such as drones with

enabling himtooperate a

nationwide business from atiny

Canterbury village.

''Itwas agradual process as I

startedbuying equipment and

gainingclients, butwithout

advances in technology I

definitely wouldn'tbewhere I

am today.

''It'samazing thatIcan sitin

my home officeand upload

videos or photos in acoupleof

minutes now, when Ithink about

how it used to be.

''Everything has become

smaller and moreaffordable

overthe last30years. Being able

to capture drone footageadds a

whole newdimensiontomy

business.''

Tony saysmanyadvances have

been madesince theearly1970s

when teleprinterswereusedin

newsrooms acrossNew Zealand.

Themachinesprinted outnews

from agenciesand therewould

be along trail of computer paper

snaking throughthe studioeach

morning ready to be cutinto

separatepage­sized sections.

''Iremember we had one guy

in the TVNZnewsroom in

Dunedin whose solejob was

lookingafterthe teleprinter.

''It was something of acrisis

when Iwas asub editor at the

OtagoDaily Times if the

teleprintersbrokedown —a

manfromthe PostOffice would

be called in at anytime of day or

night to get them goingagain.''

When Tony workedfor TVNZ

in Wellington during the 1980s,

thefax machine wasviewedasa

great step forwardfrom

teleprinters.

''To be abletotype something

andthenfeeditinto afax forit

to be printed off in someother

office seemed remarkable then.''

Tony laughs when comparing

teleprintersand faxes to the

technology used by his new

drone.''I got aphone callthe

otherday when Iwas out getting

some footage. We chattedfor a

fewminutesthenIsaid, 'I'llhave

to go —mydrone'shovering up

therewaiting for me'.

''We'rereally lucky to have

this technology available and to

be able to teach ourselves howto

useit.''

Thebroadbandrollout has

also helpedTony with improved

internet speedswhenediting

Tony Benny ... ''Everything has become smaller and more affordable over the last 30 years.'' PHOTO: SUPPLIED

videosand photosorvoiceovers.

''Whenwefirstmovedhere,

we had to getasecond phone

linefor theinternet,and

everything was reallyslow but

now it'salmost as fast as the

editing studio in Christchurch.

''I really enjoybeing able to

workfrom home and usingthe

faster speed internet.''

Tonytravels alloverNew

Zealand to work with clients. He

enjoysthe flexibility of usinghis

phone as ahot spottodeal with

filerequests and emailsduring

driving breaks.

''Connectivity hasreally

improved so Ican respond to

requests on the go now which

wouldn'thave been possible a

few years ago in manyrural

locations.''

Cloud­basedtechnologysuch

as Dropbox andVimeo have also

madeahugedifferencetohow

Tonyoperates.

''Beingable to store largefiles

in the cloudmakeseverything

easier. Beforewehad to burn a

DVD and dropitoff to the client

which madeeverything more

time­consuming. Everyone can

view the mostrecentversionof

thefile now and work on it or

view it whenitsuitsthem.''

Tony plans to keepworking

past retirement age andsays

further advanceswill allow

more peopleinhis sector to

continue working longer.

''I'll keepworking as long as

possible. Everythingisgetting

smaller and lighter withnew

technology in terms of the

equipment you carry in the field.

As long as youstay healthy and

keep evolving, anythingis

possible.''
---
NE

ZEALAND

STRAWBERRIES

PER 250G

$2.99

Open 7am-7pm

94 Carters Road Amberley
---
Farm Smarter

with

Prosser Quirke

Accountants

We take the time to understand each

client'ssituation &apply ouragriculture

accounting expertise to best meet

each clients rural tax &rural industry

accounting needs.

CharteredAccountants&Business Advisors

6Blake Street,Rangiora

Ph 313 7824

team@prosser-quirke.co.nz

2144789

Your one stop shop for

effluent spreading.

Stir

it!

Suck

it!

Spread

it!

Get the most from your

effluent!

18,000 litre Tanker for your liquids &a6metre

Stirrer to mix ponds &enableeffective emptying.

14.5 tonne solids spreader handles all solid effluent

from separator solids to pond crusts.

Based inCulverden & offering 24hr

emergency call out.

Contact Paul

0220 417 340

Email -paul@craig-keen.com

1705812

Less Stressfor you andyourLivestock!

-Competent stock handling by professional

drivers.

-Modern fleet of code compliant trucks and crates

-Competitive pricing, planning and logistics.

Livestock -stock@amuritransport.co.nz

56 St Leonards Rd, Culverden

Fertiliser -fert@amuritransport.co.nz

Ph 03 315 3033 -Fax 03 315 8413

Freight -freight@amuritransport.co.nz

Bulk Grain –Shingle –Coal –Golden Bay Cement -Daily Freight Services

2164342

MOBILE MAINTENANCE ☑

COSTLY BREAKDOWNS ☒

Hydraulic Hose Servicing -On-site Repairs

■ MOBILEWELDING

■ HEAVY FABRICATION &MACHINING

■ AGRICULTURAL MACHINERY REPAIRS

■ HYDRAULIC HOSE SERVICE

■ DAIRYSHED AND

YARD REPAIRS

■ GENERAL

ENGINEERING

2145309

"delivering quality at the best rates"

DAIRY FARMING IN NORTH CANTERBURY

28 North Canterbury News, October 31, 2019

Holstein fan off to Switzerland

By DAVID HILL

Ayoung North Canterbury

farmer willrepresent New

Zealand at an international

gathering of dairy farmers in

Switzerland.

Robbie Wakelin has been

selected to attendthe 15th

WorldHolstein Friesian

Federation Conference in

Montreux.Hewas one of a

record 17 peoplevying for the

fortnight­long trip, fundedby

Holstein Friesian NZ.

''It's areally humbling

experience to have been

selected to be part of the New

Zealand delegation,'' he says.

''It will be an exceptional

opportunity to meet other

breedersand visit some of

Switzerland'stop Holstein

Friesian herds.''

Robbie and his brother John

run a300­cow, split­calving

dairyfarm at Springbank, near

Rangiora. The 95­hectare

property is owned by afamily

trust.

Robbie is passionate about

genetics and breeding

efficient, high­producing cows

with exceptional udders. The

TRACK ROCK

USE WAIKARI TRACK

ROCK FOR YOUR

COW DAIRY LANES

Waikari track rock is lighter

and goes further than

competing lane rock products

GET MORE FOR

YOUR MONEY

HARBOURS NO BACTERIA SO CAN

HELP IMPROVE HOOF CONDITION

ORDER TODAY

ph: 021 059 5521 |em: scc@unifone.net.nz

Why buy new when we

can maintain or repair?

Alittle well timed maintenance

and inexpensive repair can save

you $$$$.

Letushelp you reduce

expenditurenow!

29 Mountain View Road Culverden

P/Fax (03) 315-8994 Mobile 027 206 9185

Enthusiast... Robbie Wakelin is heading to the WorldHolstein

Friesian Federation Conference.

PHOTO: HOLSTEIN FRIESIANNZ

herd's production averages 550

to 600 kilograms of milksolids

per cow.

''Wedon't have afeedpad,

but we do have afeed system in

the milking shed wherecows

receiveahigh­energyblend.''

Robbie and John usually

rear60to70replacement

heifer calves on lease blocks.

2176093

Amuri Spraying Ltd

For all your Progibb, Liquid urea and General

spraying requirements.

•2xSelf• Propelled 24m •3xLandcruisers• 15m

Locally Owned and Operated

Richard Cater 0274 420 187 Aly Youngman 027 583 2007

1635135

The brothersare trained

artificial insemination

technicians and the business

has an embryo transfer

programme.

''We've been importinghighquality

embryosfrom Canada

to implant in our cowsfor the

past five or six years,'' he says.

''It'sakey part of our

It'sall about milking smarter

Milking efficiency helpstoattractand

retainstaff through better labour

management.

When long workinghours on­farm

becomethe norm,stress, fatigue,and

resentment can start to dominatedaily

routines.

Often,sharemilkersorstaff will move

on to another farm where the work­life

balance is better.

On most dairy farms, milkingaccounts

for more than 50 percent of staffhours,

so it makes sense to target that areafor

efficiency, as savings can significantly

reducetotal hours worked.

That'swhy consultantJosh Wheeler, a

recognisedMilksmartexpertfrom

quality management systems provider

QCONZ,has beencontracted by

DairyNZ to work directly with farmer

discussiongroups and provide

Milksmart workshops for rural

professionals.

His aim is to helpfarmers understand

the valueofDairyNZ's Milksmart

efficiency programmeand other similar

approaches, suchasDairyNZ's MaxT

milking strategy.

With MaxT, cowsare milked to a

maximum time —one that will shorten

milking duration for up to the slowest 20

percent of cows.

''Any dairy farmers who can provide

betterworking hours for themselves and

their team are morelikely to attract and

retainstaff,'' Mr Wheeler says.

''Demand is outstripping the supply of

suitable people for on­farmroles,partly

because unemployment across the

country is only 4%.

breeding strategy.''

The herd'spedigree

HolsteinFriesians are

registered under Belbrook

Holsteins.

It is the leading herd in New

Zealand for having the highest

number of excellent cows (120),

according to Holstein

International magazine.

Robbie's long­term goal is for

one of his bovine beauties to be

named supreme champion

dairy cow at theNew Zealand

Agricultural Show.

The Wakelins are taking

eight cowsand fourheifers to

nextmonth's show.

His love of showing began in

primary school, when his late

father Trevor Wakelin boughta

cow named Cresslands

Ambition Dalia EX4.

''ShowingDalia'sfirst calf

ignited my passionfor cows

and the Holstein Friesian

breed in particular,'' he says.

Robbie doesn'tjust show

cattle; he is also atrained

judge. He became an associate

judge in 2008, when he was 16.

He has judged at several

shows, on­farm competitions

and club competitions.

''Onfarmswheremilkingtimes are

morethan threehours, staffare waking

before 4am to go and get the cows,'' he

says.

''That'shard on the body,gettingupat

thattime.

''So, if theycan become more efficient

at milking and startcloser to 5am,

everyone can get abit more time in bed.

''That'sone of the main'buy­ins' for

manyfarmersand their staff.

''Implementing MaxT's milking

strategy has been showntobethe most

efficient way to milk cows.

''I've found that, on­farm, MaxT

provides benefits that are not only good

for people, but also for cow health and

the business's bottomline.''

Mr Wheeler has worked withplentyof

farmers using Milksmart and MaxT who

havesaved one to two hours per milking

—that'stwo to four hours aday if

milking twice daily.

The teamcan also plan around

milking with more accuracy, thanks to

moreconsistent finishing times.

''Farmers talk about 'labour saving',

but they're not looking to cut back on

labour.

''It's aboutredirecting it, so theydon't

needtoadd extra time on to the day to

get other jobs done.

''Italso frees up more timefor better

decision­makingand for family,

community and other non­work

activities.''

To find out what agreatworkplace

looks like, as outlined in DairyNZ's

Sustainable Dairy Workplace Action

Plan, visit dairynz.co.nz/wap.
---
DAIRY FARMING IN NORTH CANTERBURY

North Canterbury News, October 31, 2019

Cows sure to look their best at show

By DAVID HILL

The Sherriff familyisbusy

transitioning cows from

grass to dry feed, as the

New Zealand Agricultural

Show approaches.

The North Canterbury

dairy farmers have won

supremechampiondairy

cow at the Christchurch

show for the last three

years and have ateam of

seven cowsintraining for

this year'sshow.

Olivia Cahill farms with

her husband Jared and

father Peter Sherriff at

Ohoka, near Rangiora, and

is in charge of preparing

the team of cowsfor the

show, being heldat

CanterburyAgricultural

Park in mid­November.

''We start about fourto

five weeks out, by bringing

them off the grass and

puttingthem in the shed,

feedingthem hay, putting

them on the halter and

then returningthem to

grass.

''A weekout from the

show they are just on dry

feed, replicating what they

will get at the show.''

Olivia saysthe pens at

the show are prepared over

the weekend,''so by the

time we bringthe cowsin

on Mondaythey can just

walk in, sit down and

relax''.

The cowswill stick to

their normal schedule of

morningand evening

milkings duringshow

week, except on Thursday,

which is judging day.

''We get them full of milk

on Thursday.Wewill work

out how much milk to keep

on them so the judge can

look at how they holdtheir

milk up,'' she says.

''It'sabouttaking what

you'vebred and showing

them off and hopefully

doing well.''

Peter says showing cattle

is about production

attributes, rather than ''a

beautycontest''.

Their two­timesupreme

champion cow, 7­year­old

Maria,was recently tested

with 48 litresofmilk.

''Mostfarmers would be

happy if theircows were

producing 20 litres and it

doesn't costtwice as much

to feedher and you don't

need to get her in calftwice

as oftentoget that48

litres.''

The Sherrainestud cows

weigh in at around600kg

each, considered ''too big''

by New Zealand standards;

and American genetics are

used in their breeding,

which means the

Sherraine herd has apoor

''breed worth''ratingwith

Livestock Improvement

Corporation (LIC).

''We have aminus­187

'breedworth', whichis

considered oneofthe

poorest herdsinNew

Zealand,'' Peter says.

''But how many cows

Top producers ... Father and daughter team Peter Sherriff and Olivia Cahill are expecting

big things from their cows.

PHOTO:DAVID HILL

have produced more than

45,000litres of milk in their

lifetime?''

Carra,now 11, who won

supreme champion in 2016,

has producedmore than

60,000litres and was the

only entrant in the

45,000­plus litresclass at

last year's show. This year

Carra will be joinedby

Maria in the 45,000­plus

litresclass, Olivia says.

''Environmental issues

are the big thing going

forward and theseare the

New Zealandcowsofthe

future.''

The next big thing ... Olivia Cahill checks on 5­year­old

cow Lucy, who she hopes will enjoy some success at the

New Zealand Agricultural Show.

29

Dairy

events

planned

Dairy farmersare

invited to join DairyNZ

directors and their local

DairyNZ team to discuss

the future of dairyingin

aseriesofevents called

Offload, Reload, Refresh.

Attendees will getan

overview of the latest

local and national

insights andother

breakthroughsthat will

help the dairy sector

meet future challenges.

Topics include

''Offloadyour ideas

about where to focus

DairyNZ's activities

next'', ''Reload on the

latest insights and

breakthroughs

happening in the dairy

sector and how

DairyNZ,and dairy

farmers are responding

to change'',and

''Refresh over adrink

and nibbles with

DairyNZ directors,

sector leaders and other

farmers''.

The series will come

to Rangiora on

November18, from

10.30am to 2pm, in the

Artisan BakeryCafe

complexat18High

Street,Rangiora.

Contact Amy

Chamberlain on (027)

243 0943.

65 MainNorth Rd,Woodend

PH: 03 312 7927 |www.canterburyhonda.co.nz

TRX500FM6

.

S15,213

WHILE STOCKS LAST

NOW

ONLY

.

EXC GST

**
---
RuralLife

www.jj.co.nz

03 344 5645

Young farmers tested at Rangiora show

By DAVID HILL

Tasmanregion young farmerswere put

throughtheirpaces at theRangiora Show

on Saturday.

TheWaimakaririYoungFarmersClub

hostedthe secondoftwo Tasman region

district contest andskillsdays as part of

the2020FMG YoungFarmer of theYear

contest.

Tasmanregion junior vice­chairwoman

AshleighFoley saidhaving the contest at

theRangiora Show, andatthe Selwyn

SpringShow at Leestonthe previous

Saturday, wasgoodexposure forthe

event.

''Oneyoung guy cameuptometoday;

HIGH COUNTRY FENCING

HILL COUNTRY SPECIALIST -

Dozer and Digger

RURAL

STOCK YARDS

EARTHWORKS

2191656

FENCING

• Post Driving

• Stock Fencing

• Stockyards

• Post and Rails

• Lifestyle etc

Ph Andy Horn

021 2141201 or

(03) 314 9460

WE STAND

BY OUR

WORK

GEOFF ROGERS

021 640 748

www.highcountryfencing.co.nz

2209036

MASTER BUILDER

LocaltoNorth Canterbury.

CALL ARTHUR027 245 1601

arthur@robertsonbuilding.co.nz

www.robertsonbuilding.co.nz

BARNS/FARM BULDINGS•RIB RAFT FLOOR SYSTEM INSTALLATION

PROJECTMANAGEMENT•ADDITIONS•NEW HOMES

HOME MAINTENANCE•EQC REPAIRS•ALTERATIONS

FREE QUOTES

2021055

he's15and he goestoschool in town,but

he'sworkingonafarmand he asked 'can

Ijoinyourclub?'.

''His schooldoesn't haveateenag club,

but he's keentoworkinagriculture.''

The Waimakariri Young Farmers Club

membersaysyoung people didnot need

to comefrom afarmtocompete in the

contestorhave acareer in agriculture.

''I grew up in Christchurch and hadno

exposure to agriculture.

'' Ithought ajersey wassomething you

woreand not abreedofcow.

''Myfriends from Lincolnstillgive me

stick about it.''

Ashleigh competed at Leestonand was

the eventconvenor at theRangiora Show.

''LastweekIwas competing justtogive

it ago.

''You getquitenervouswhenyou don't

knowwhat the modulesare.

''But Ienjoyed giving it agoand it's

given me theconfidence to step up next

yearand go competitiveand trytoget

through to the regionalfinal.''

Tasman regionchairwoman Vanessa

Robinson saidshe was pleased withthe

response acrossthe two district contests.

She saidone young person madethe

tripdownfrom Renwick, near Blenheim,

to competeatLeeston, whileNational

Trade Academy studentslinedupatthe

RangioraShow to giveitago.

''The benefitofhaving justtwo

qualifyingcompetitions in theTasman

region is it puts fewer demandson

volunteers and, by keeping it open,ifyou

volunteer at oneeventyou canstill

competeinthe otherevent.''

The topfour placegetters fromeach

event qualified forthe Tasman regional

final,which willbeheldinthe

Christchurch districtonSaturday,March

28.

Results:

Tasman South (Leeston):

JackTaggart (Lincoln University), 1st.

Jonny Brown (Dunsandel),2nd.

Scott Abrahamson (West Melton), 3rd.

JeremyKilgour(Lincoln University),4th.

Tasman North (Rangiora):

KendalBuchanan, Christchurch City,1st.

DeanGardiner, Amuri Basin,2nd.

Becky Rickard, Lincoln, 3rd.

GeorgeGill, Lincoln,4th.

GRAB TICKETS NOW.

Join us forCanterbury'sbiggest dayout and our most jam-packed

scheduleyet...

Held at the Canterbury Agricultural Park from 13 to 15 November,wewelcomemusic from the

Eastern, the NZ ArmyBand,Kings &more. There'sentertainment fromHeTāngata, ZirkaCircus

&Tip TopXCookieTime. Also, along with over3000 animals competing on-site, we welcome

the LetThereBeMeat BBQ comp and Canterbury'sStrongest Man &Woman.

Want more? Head to our websiteand checkout the full schedule. Thereissomething for

everyone on showatthe Show. Seeyou there!

Accident ... Waimakariri Young Farmers' Club member Ryan Hawes models for the St

John first­aid module at the Tasman North district contest and skills day at the Rangiora

Show on Saturday.

PHOTOS: DAVID HILL

Tractor module ... There were several tasks relating to practical on­farm work, including

atractor module.

Coating breakthrough hailed as agame-changer

Could nanotechnology increase on­farm

productivityand reduce environmental

impacts?

That is aquestion aLincoln University

research teamhopes to answer, thanks to

a$1milliongrant from the Ministry of

Business, Innovation and Employment's

endeavour fund.

Lincoln University Associate Professor

Craig Bunt says his team will develop a

groundbreaking nano­coatingwhich can

be appliedtofertilisertocontrol its rate of

release into soil, and to seeds to control

their timing of germination.

''Controlling fertiliser rate­of­release is

important because release that is too

rapid can result in excessive nitrogen

being lost into soil and waterways, causing

significant pollution and other negative

environmental impacts.

''When nitrogen is lost,farmers must

apply more fertiliser to achieve desired

results, which increases farming costs.''

The team will initially focus on

understanding the science of the new

polyester nano­coatingand its

biodegradation.

GET DISCOUNTED TICKETS AT WWW.THESHOW.CO.NZ

SEE YOU

THERE!
---
0.99% FINANCE*

TRACTOR &LOADER

FROM

PACKAGES $102,990+GST

MF 5710S CAB (100 HP)

With its upgraded design, high performance driveline, high levels ofcomfort and wide choice ofequipment and options,

the MF5710S is indisputably designed to tackle any challenges and any tasks on the farm, quickly and efficiently -itis

truly the ultimate go-anywhere, do-anything tractor.

• 4.4 LAGCO Power Engine

• High capacity hydraulic system

• 5,200 kg rear lift capacity

• MF956X Loader with 1.8m bucket

• Industry leading high visibility bonnet

• Transmission controls integrated into loader joystick

JJ Ltd Christchurch 726 Main South Road TEMPLETON

Phone: Jed Williams 027 260 7821 or Michael Bone 027 498 7044

Email: enquiries@jj.co.nz

*Finance is based on finance with an interest rate of 0.99% p.a. on minimum 30% deposit, the equipment GST component repaid in the third month and monthly repayments in arrears over a36month term. Offer

availableuntil31st December 2019 or whilestocks last to approved purchasers, registered for GST, for hirepurchase finance and business purposes only,made and subject to terms and conditions and credit approval by

AGCO Finance Pty Ltd GST No: 88-831-861.Not to be used in conjunction with any other offer. Fees andcharges may apply. ~Price based on standard specification MF5710SCAB tractor & MF956X loaderwith 1.8m

bucket. Image used for illustration purposes only and may differ to specification on offer.

MASSEYFERGUSON.CO.NZ

Aworld ofexperience. Working with you.
---
RURAL LIFE

32 North Canterbury News, October 31, 2019

Lamb salad ... Delicious lamb dishes will tempt visitors to the

Amberley Show on Saturday.

FILE PHOTO

Taste Hurunui

Choosing achampion ...

Alpacas line up during judging at last year's New Zealand Agricultural Show.

PHOTO: SUPPLIED BY ANNE ROGERS

Europeanjudge at show

By DAVID HILL

Therewill be aEuropean

flavour in the alpaca sectionat

the New Zealand Agricultural

Show.

German­born alpaca judge

RobinNasemann has been

lineduptojudge at this year's

show,says Anne Rogers, who is

convenor of the cattle and

alpaca committee.

''We're thrilled to haveRobin

and it shouldcreate plenty of

interest in the alpaca section,''

says Mrs Rogers,who is an

alpaca breeder at Okuku, near

Rangiora.

Mr Nasemann was bornin

Germany,went to school in

England and studied for a

masters degree in economics in

Switzerland.

His family startedbreeding

alpacas in 2003and now has a

herd of 100 alpacasinwest

Germany.

He began judgingin2010 and

has judgedatalpaca shows

throughoutEuropeand North

America.

Mr Nasemann also holds

seminars about alpacasacross

Europe.

Mrs Rogerssaysalpaca

entries are up slightly on last

year, withjudging due to take

place on the Thursday and

Fridayofthe show.

Having thealpacas located

close to the cattle ring makes

the jobofconvening both

sections easier, she says.

''Most of my time will be with

the alpacas, but Idorove over

to the otherside throughoutthe

three days.

''Wemoved the alpacas to a

new area last year,whichhas

worked reallywell.

''I love the new area; it's on a

diagonal, so we back on to the

cattle arena.

''It's areallynice area.''

Taste Hurunui at this Saturday's Amberley A&P show is

aimed at showing visitors how to cook interesting meals

using New Zealand lamb.

Local chefs will cook Hurunui spring lamb, and some of

the dishes and local wines will be available for the public

to sample.

The Butcher's Mistress in Rangiora will also have this

lamb available to buy.

There will also be an auction of beef ribeye and lamb

legs, and Simo from Pukeko Junction Cafe will be cooking

beef, as well as lamb, for tasting.

The schedule is:

10am: Beef tasting starts.

10.30am: Viv Van den Bosch, from Fiddlers Green

Vineyard &Bistro, will stage acooking demonstration.

11.30am: Auction of Hurunui beef ribeye processed by

Silver Fern Farms, and Hurunui lamb legs processed by

The Butcher's Mistress.

Midday: Acooking demonstration by alocal chef and

presentation of beef prizes.

12.15pm: Wine awards presentation.

1pm: Lamb tasting competition.

1.15pm: Bax and Berg will stage acook­off, using spring

lamb.

2.30pm: Auction of Hurunui beef ribeye processed by

Silver Fern Farms and Hurunui lamb legs, processed by

The Butcher's Mistress.

3.30pm: Prize giving for lamb.

58,000 people live within our

circulation area. Just one ad in the

North Canterbury News will be read

by 46,000 of them every week!

Phone

03 314 8335

Source 2018 Nielsen Readership research all people 10+ NCN Circulation area
---
SPORT

North Canterbury News, October 31, 2019

33

Nth Canty sports results

RangioraGolf Club

Midweek men,Stableford:Ross

Campbell 42, 1; Ken McFarlane 41,2;

Jim Cook39, 3.

Weekend men, Stableford minus

putts: Division 1: Kerry Chuck+15,

1; Keith Ussher +14,2;Kevin Jones

+13,3.Div 2: IanJohnstone+7, 1;

Sid Dyer +7,2;Jim Woods +6 (c/b), 3.

Midweek men,Stableford:Eric

Crawford 41,1;Neil Hewitt 38,2;

Harry Osborne 38 (c/b), 3.

Weekend mixed, Stableford:

Ladies: Bex Crosbie 40, 1; Jill

Davison 39,2;Mary Millar 38(c/b),3.

Men: Division 1: Bruce Hutchison

40, 1; CarlHadler 38,2;Karl

Rollinson36(c/b), 3.

Division 2:Kieran McGoverin 40,

1; NeilMcCracken 39,2;Rob Duncan

38, 3.

RangioraBridge Club

Grey Pairs, 12 October:North/

South: Judith Calder/Beverley Brain

1, Colleen Adam/Joan Lloyd2,Laura

Anderson/Noreen Thompson 3. East/

West: Fern McRae/David McRae 1,

Pam McAllister/Brian Stewart 2,

Joyce Gray/Dawn Simpson 3.

Rata Pairs, October 14:N/S: Rewi

Thompson/Jenny Shore 1, JackLyon/

JeanetteChatterton2,DavePutt/

Shirley Symn3.E/W:Sue Solomons/

Jan Roose 1, Sue McIlroy/Dawn

Simpson 2, LizPartridge/Junette

McIntyre 3.

Plate Pairs, October 16: N/S:

Jeanette Chatterton/DawnSimpson

1, Sarah Waldron/JanelleCrawley 2,

Diane Findlay/Darcy Preston 3. E/W:

Liz Partridge/Kevin Kuch 1, Liz

Duke/ColleenAdam 2, Bernice

Lloyd/Lorraine Proffit 3.

Grey Pairs, 19 October: N/S:

Junette McIntyre/Sarah Waldron 1,

JudyBruerton/Julie Day2,Colleen

Adam/Joan Lloyd 3. E/W:Fern

McRae/David McRae 1, Dawn

Simpson/Joyce Gray 2, Sue McIlroy/

DeniseLang 3.

Rata Pairs, 21 October: N/S:

Adrienne Paine/JoanLloyd 1, Jack

Lyon/Junette McIntyre 2,Bunty

Marshall/Judy Hayton 3. E/W:

Catherine Boddy/ShirleyWard1,

DaveTocker/Andrew Findlay 2, Sue

McIlroy/Dawn Simpson 3.

Plate Pairs, October 23: N/S: Diane

Findlay/Darcy Preston 1, Dave

Tocker/Sue McIlroy2,Derek Wilson/

Sue Solomons3. E/W: Nancy Harris/

Junette McIntyre 1, David Welsh/

JackLyon 2, Owen Evans/Tony

Biddington 3.

Young race caller ... Matt Cross is looking forward to calling his first New Zealand Trotting

Cup at Addington Raceway on November 12.

PHOTO: RACE IMAGES

Nerves expected for

Cup Day race call

By SHELLEY TOPP

Next month's New Zealand Trotting Cup

Day at Addington Raceway will be a

nervoustime for Canterbury's new race

caller, Matthew Cross.

The young commentator, who grew up

in Kaiapoi and went to school there, took

over from Mark McNamara as race

caller for the Canterbury region last

August.

He was aguest speaker at the

Rangiora Harness Racing Club's annual

generalmeetingthis month.

Matthew, aged 26, said he was looking

forwardtocalling the $750,000 race on

Tuesday, November 12.

It was something he had longed to do

since he was ateen watching Reon

Murtha calling races at Addington.

''Everyone else was watching the races

but Iwas watching Reon up in the

commentary box,'' he said.

''I knew then that was what Iwanted to

do when Iwas old enough.

HARNESS RACING

''I am very fortunate to be doing what

Iamdoing now.''

However, he is sure there will be

butterflies before the big race on Cup

Day.

''It will be an incredible honour to call

such aprestigious race.

''Everyday Ithink about it.''

After leaving school, Matt became a

junior driver working for Cran Dalgety

at West Melton for two years.

He also worked for Mark Jones at

Burnham andWoodendBeach trainers

David and Catherine Butt before

accepting acadetship with the New

Zealand Racing Board as understudy to

Mark McNamara and Trackside

television presenter Greg O'Connor.

He did his first race commentaries at

the Rangiora Harness Racing Club's

meetingonJune 29, 2014,calling two

races on the programme.

MainPower

NC sports

awards

North Canterbury sporting talent

will be celebrated at the MainPower

2019 North Canterbury Sports

Awards, tomorrow night, Friday

November 1.

Hosted by the North Canterbury

Sport and Recreation Trust, the

event is being held at the Ohoka

Sport and Events Centre.

The annual awards are one of

North Canterbury's biggest nights

for local sportsmen and

sportswomen, and those who work

hard behind the scenes. It celebrates

the success of the region's top

athletes, sports people and clubs,

and the contributions of coaches,

officials and administrators.

MainPower Youth Sport

Scholarships will also be awarded to

the region's most talented young

sports people. The evening begins

with pre­dinner drinks and nibbles,

followed by adinner, entertainment,

and the presentation of awards and

scholarships.

Have yougot an opinion about a

storyyou'veread? Send us a

LETTER TO THE EDITOR

Send all letters to

robyn.bristow@ncnews.co.nz.

Letters are run at the Editor's discretion, are

limited to 150 words and may beabridged.

JET BOATS.

ENGINEERING. TRUCKS.

NEED REPAIRS?

WeunderstandYOUR servicing

&engineering needs

Local experienced Jet Boater

with 35 yearsasa

as a

FleetMechanic/Engineer

CallMurray027 457 8320

033144449

314 4449

hurunuijet@gmail.com

1822888-F

New Hiab Crane Truck available with up to 10 tonne lifting capacity

•Specialised Container Cartage •20/40' Swinglift

•Freight, General and Linehaul Cartage •Logging &Self Loader

•Bulk Grain, Sand, Shingle &Fertiliser Cartage •Hiab Crane Truck

•Tip Truck Hire •Flat Deck Truck &Trailer Hire •Hay, Straw and Baleage Cartage

•Flat Deck Tippers •MPI Accredited Container Devanning Facility

•Daily Freight Rangiora and surrounding districts -Christchurch •Tail Lift Available.

With our full range of equipment, we offer you the

service you want, when you want it.

2221641-U

P.O. Box 171 ● 279B Flaxton Road ● Rangiora ● www.transportrangiora.co.nz

Phone 03 313 6026 Fax 03313 6024 email admin@transportrangiora.co.nz

1794599
---
North CanterburyNews

PROPERTY

Atruly stunning property

30 Raddens Road, Ohoka

Stunning property onprestigious Raddens Road with anelegant five bedroom home set amongst spring fed ponds,

sweeping lawns and avenues of trees plus plantings on the banks of the stream.

The home was built in1999 with feature décor, open plan kitchen/dining/living, huge lounge with formal dining (jet

master open fire) and views across the ponds. Twobedrooms have ensuites, third bathroom, master bedroom

upstairs with balcony, ensuite and Walk-in wardrobe. Diesel fired radiators for heating, double glazed, LED lights,

separate laundry, attached two car garage and spa bath.

Fabulous outdoor living options with asheltered courtyard. Raised vegetable gardens, enclosed 3-bay shed.

Separate accommodation of two studio units, nicelyappointed, consisting of twobedroomseach, oneunit is double

glazed, both with heat pumps. Extended family or extra income options. The magnificent setting has been the venue

for functions including weddings.

Currently grazing cattle.

4.2 hectares (subject to resource consent to subdivide and issue of title) of premium land in blue chip location within

15mins (approx.) drive to Christchurch Airport, easy commute to Christchurch City, Kaiapoi and Rangiora, 6kms to

the Northern Motorway.

This truly one of akind property will appeal todiscerning buyers.

For more information contact

Malcolm Garvan

027 231 4425

Price $1,680,000

plus GST

Farmlands Real Estate

Website ID: RX2053765

2217055

Residential

Lifestyle

Rural
---
For Sale

Lyford

74 Mount Lyford Forest Rd

5.09 Hectares

Price

$490,000

Contact

James Murray 027 436 8103

Lyford lifestyle. Completely refurbished, this three bedroom, two bathroom, log home has views to

Mount Lyford and is in an established secluded setting. The majority of the block is planted in Pinus and

Douglas Fir providing plenty of firewood to fuel the log burner. Retire tothe peace and quiet of the area,

use as aholiday home or run abusiness from home utilising the spacious detached 144m 2 workshop.

This area could also be utilised for garaging for six cars plus two carports. | Property ID RX2038088

Summerhill | 230 Cottles Road

8.54 Hectares

Secluded lifestyle property. Partially renovated Oamaru Stone

clad home with three bedrooms, two bathrooms, aseparate lounge

and stunning mountain views. New four car garage and numerous

sheds. The property is fenced into four paddocks with deer fencing

with atree lined stream which runs through the property into a

landscaped pond. There isawell for domestic and stock water.

Amenity tree plantings. Set on an elevated terrace with rolling

contour. The house is being sold "As is where Is" (house requires

finishing). Plans are available on request. | Property ID RX2069211

Price

Available on application

Inspection

By appointment

Contact

Malcolm Garvan 027 231 4425

Amberley

3/21, 4/21 Morris Road

726m 2 ,1,384m 2

Price

$149,000

Contact

Jenny Rouse 027 314 6119

Handy location. Ready tobuild anew home in agreat location, these two sections may just be what

you are looking for. The sections are located centrally in Amberley Township, within an easy walk of shops

and other amenities. There are two sections available inasmall subdivision at the end of the street. Each

section has services to the boundary and some boundary fencing. Vendor will remove any unwanted olive

trees. The section sizes are 726m 2 and 1,384m 2 (includes driveway). | Property ID RX2050854

Sefton

107 Harleston Road

4.7 Hectares

Price

Offers over $1,200,000

PRICE REDUCTION

Tuahiwi

34 Tuahiwi Road

4.7 Hectares

Price

$365,000

Contact

Maurice Newell 027 240 1718

HamishAnderson 027 6788888

Contact

Malcolm Garvan 027 231 4425

Boundary indicative only

Extended family or homestay. Energy efficient rammed earth home with seven bedrooms in three

separate living areas. The west wing has aWarmington open fire aswell as aRayburn with awetback

and piping for under floor heating. The east wing has awood-burner, which also has awetback, with

underfloor heating. Three bedroom flat with kitchenette above the four car garage. Total-span shed, with

toilet and shower. Separate 3-bay barn and cattle yards. | Property ID RX1710477

Lifestyle development opportunity. Bareland –Fabulous location being close to the Motorway. Four

lifestyle titles to be sold as one property. Situated at the eastern end of Tuahiwi Village. Flat contour,

fenced into two paddocks with excellent post and wire fences. Recently leased for grazing. Old shed

and well. Tworoad frontages, Tuahiwi and Church Bush Road. Difficult to find properties with this

potential and location. The vendors are realistic and want the property sold. | Property ID RX1827366

Amberley

146 Double Corner Road

8Hectares

Price

By negotiation

Contact

Hamish Anderson 027 678 8888

Maurice Newell 027 240 1718

Quality, location and views. Subdivisible 8hectare block situated less than 2km from residential

Amberley. The double glazed, brick home has three living areas, large master with en suite and walk-in

wardrobe and generous three car garaging. Access is from asealed road and the driveway and parking

area is completely sealed. Set on fertile Wakanui soil, with excellent pasture, this property is currently used

for finishing cattle. Large 18m x9m4-bay barn, cattle yards and aloading ramp. | Property ID RX1688793

Palmerston

1016 Palmerston Hwy

48.65 Hectares

Deadline Sale

Closing 2pm, Tuesday

5November 2019

Contact

Barry Kingan 027 229 5046

Ross Robertson 021 023 27220

Architecturally designed quintessential country home. This near-new architecturally designed

family home is located on adesirable 48 hectares of easy rolling grassland. The property commands

outstanding views north and west and is centrally located between Oamaru and Dunedin, plus, just

minutes from Palmerston township. The superb design of this 465m 2 home presents avariety of options

including up market B&B or as afamily home with space to grow and roam. | Property IDRX2049208

James Murray

027 436 8103

Jenny Rouse

027 314 6119

Hamish Anderson

027 678 8888

MalcolmGarvan

027 231 4425

Maurice Newell

027 240 1718

Alan Eastwick

027 447 0007

Russell Clifford

027 434 3122

Carol Thompson

027 914 2341

Katy Biggs

022 068 7415

Licensed under REAA 2008
---
Four SeasonsRealty

Hanmer Springs Fete

Friday 1 st November

Join us forNorth Canterbury'sexclusiveshopping event.

Over 100 incredible stalls from across NewZealand.

Stroll beneath the trees in thestunning Queen MaryGrounds.

Ticketsonsale: www.hanmerspringsfete.co.nz

03 315 7084 hanmersprings@harcourts.co.nz

Proudly supported by:

Four Seasons Realty

Four Seasons Realty 2017 Ltd Licensed Agent REAA 2008

harcourtsfourseasons.co.nz

Four Seasons Realty2017 LtdLicensed Agent REAA 2008

Your home forlocal property.
---
NEWS &CLASSIFIEDS

North Canterbury News, October 31, 2019

37

Rangiora raceday ... A2004 watercolour by June Douglas is held by Kerryn Larwood, office

administrator at the Bells Auction House in Kaiapoi. The painting is included in alarge

antique sale being held at the auction house on Wednesday next week.

PHOTOS:SHELLEY TOPP

Auctionspopular at

BellsinKaiapoi

By SHELLEY TOPP

Antiques will be on offer at Bells Auction

House in Kaiapoi next Wednesday,on

November6.

The auction housewas established in

1948byRichard Bell and is now run by his

grandson, RichardMcCrone.The company

holds two or three antiqueauctions

annually,inaddition to its weekly

Thursday auctionssellingfurniture,

whiteware, china, linenand other

collectables.

''Itjust depends on what comesin,''

Richardsays. ''We like to have two or three

antique auctions ayear.''

The auctions are always popular, with50

to 60 peopleattending.

Viewing is open the day beforethe

auction and biddingcan be done online via

absentee bids on the Bellswebsite, or over

the phone on auction day.

Itemsdepictinglocal history, such as two

paintings featuring Thoroughbred racing

Eco babes

If you're concernedabout the waste and

cost of disposable nappies, comeand

discuss alternatives with Eva, amidwife

and mother­of­two at GretaValley, on

Sunday, November 17, 2pm to 3.30pm.

She is using cloth nappies and trying

out nappy­free times based on learning

to respondtoababy's ''needtogo'' cues.

Other infant products,such as baby

wipes,food pouches,and commercial

care products can alsobesubstituted.

Share yourexperiences,too, about

caringfor your family in ways that care

for the environment. Cost: 1.5

TimeBank Hurunuicredits or $10.

Registration: (03) 314 3406oremail

tbhlearningexchange@gmail.com.

Fossils fieldtrip

Local amateur paleontologist Leigh

Love will lead atrip to MacKintosh's

Beach,near Waipara, on Saturday,

November 16, from 2pm to 4pm. He will

point out what to lookfor in locatingand

identifying fossils, and how to handle

treasures if you make afind. Sturdy

footwear is advised, as there willbe

walking involved. Details to be

confirmed on registration. Cost: 2

TimeBank Hurunuicredits or $15

suggested. To register, phone (03)

314 3406 or drop an email to

tbhlearningexchange@gmail.com.

Watercolour ... The MV Tuhoe at Kaiapoi

Wharf,painted by Ann Barrett in the autumn

of 1987, is included in the sale.

at Rangiora Racecourse and the MV Tuhoe

at Kaiapoi wharf, which are for salein

Wednesday's auction,always attract alot

of buyer interest, officeadministrator

Kerryn Larwood says.

2040: The regeneration movie

2040 highlights apathway of change

towardsamore ecologically focused

and equitable future.This docu­drama,

to be screenedatthe Amberley School

Hall on Tuesday, November 19, from

7.30pm to 8pm, draws on the bestminds

and positive solutions to address

humanity's challengeswith climate,

economics, technology,civil society,

agriculture and sustainability. Aimedat

abroad audience,including children

and their parents, seriousinformation

is delivered with irreverence and

humour.Above all, the viewsand

visionsofyoung peopleare to the fore.

Tickets: $5; schoolchildren are free.

Book by emailing

tbhlearningexchange@gmail.com or

phone (03) 314 3406. It is supported by

the Amberley District Residents'

Association, TimeBank Hurunui and

Amberley School.

SouthbrookSpring Market

The Southbrook School's Spring Market

will be held on Friday, November 8. It

will providefour hoursoffun, food and

marketstalls, starting from 4pm.

There will be bargains, music, food,

entertainment,good old fashioned

games for the kids and achocolate

wheel.The eveningwill wind up at

8pm.

Auction Sales

CLEARING SALE

on Account of

Mr K.B. &Mrs A. M. Judson

on their

LESLIES ROAD PROPERTY,

CUST

Friday8th November 2019

Commencing at 12noon.

Full details ChCh Press

Sat2nd November 2019

All"profits"fromthe sale will go

to:The"OxfordHealth &Fitness

Centre".

We arecurrently accepting

outside entries which should be

made to the Auctioneers:

WAI-MACK AUCTIONS

OXFORD

Phone (after5.30pm)

or email to:

TimorAlison Fleetwood

Phone 0274 344 095 or

tfleetwood@xtra.co.nz

Cars Wanted

CASH 4CARS

and 4WD'S

Phone

Automotive

Parts

03 313 7216

CASH / CASH for any

unwanted vehicles. Ph 03

347 9354 or 027 476 2404.

Wanted To Buy

CASH PAID for all types

of scrap, farm machinery,

old vehicles etc. Phone

Wayne 027 749 9736, 03

323 6610, Licenced Dealer.

TOOLS, garden, garage,

saw benches, lathes. Cash

buyer. Phone 03355 2045.

DOWNSIZING? Garage

sale? Cash for estate china.

Please telephone 313 1878

or 027 350 3963.

Pets

BICHON HOMESTAY

for smaller dogs. We look

after your dog in our home.

"No kennels". Phone today

03 314 6110.

GREYHOUND just

retired from racing. If you

love walking and want

company, this is the pet for

you. Female, 4yo, speyed

and fully vaccinated. Quite

happy for atrial period to

see if suitable with any new

owner. Phone Ken 03 327

7190.

Gardening

TIDY TREES and gardens.

All tree pruning,

felling, hedge trimming and

general gardening. Telephone

Daniel 027 373 7001

tidytreesnandgarden@gmail.com.

GARDEN hedges cut to

perfection. Tree & arbor

work. Also spraying. Free

quotes. Ph 03 312 0668 or

021 111 4322.

Get results for

your business

-advertise in

the North

Canterbury

News

Phone 03 314 8335

or email

info@ncnews.co.nz

Environment Canterbury

2019 Triennial Elections

DECLARATION OF RESULT

The finalresult forthe EnvironmentCanterburyelections held on Saturday

12thOctoberis as follows.

Mid-Canterbury/Opakihi Regional Constituency (2 vacancies)

VotesReceived

MACKENZIE,Ian 13,836

SUNCKELL, John 11,633

WALTERS, Sarah Striving forBetter 10,807

LIM, Allen Independent 10,686

INFORMAL 213

BLANK VOTINGPAPERS 2,337

Ian MACKENZIEand John SUNCKELL aredeclared elected.

The voterreturn percentage was46.48%, being 28,867 votes, excludingspecial votes.

SouthCanterbury/OtuhituhiRegional Constituency (2 vacancies)

VotesReceived

MCKENZIE, Elizabeth Independent 8,920

SCOTT, PeterJ Independent 6,939

ROSS,Jared Independent 6,650

MCILRAITH, Peter Independent 5,923

ULRICH,Herstall 5,705

DRIVER, Phil 5,614

INFORMAL 54

BLANKVOTINGPAPERS 2,152

Elizabeth MCKENZIE and PeterJSCOTTare declared elected.

The voterreturn percentage was54.75%, being 23,586 votes, excludingspecial votes.

Christchurch South/OwhangaRegional Constituency (2 vacancies)

VotesReceived

SOUTHWORTH, Vicky IndependentforPositiveChange 11,802

CLEARWATER, Phil The People'sChoice -Labour 10,476

DANN,James Macbeth The People's Choice -Labour 8,175

PLATT,Lincoln IndependentCitizens 5,769

KEOWN, Hamish Independent 4,442

TINDALL,Rik CommunityVoice .NZindependent 3,456

INFORMAL 32

BLANKVOTINGPAPERS 1,719

Phil CLEARWATER andVickySOUTHWORTHare declared elected.

The voterreturn percentage was44.85%, being 25,488 votes, excludingspecial votes.

NorthCanterbury/OpukepukeRegionalConstituency (2 vacancies) VotesReceived

MCKAY,Claire 11,310

EDGE,Grant Independent 7,508

FAULKNER, John Independent 6,274

JACKSON,Garry 5,435

BYRNES,Greg 5,386

DOWLE, Bill 4,937

INFORMAL 81

BLANKVOTING PAPERS 3,699

GrantEDGE and ClaireMCKAYare declaredelected.

Thevoter returnpercentagewas 48.87%, being 26,211 votes, excludingspecial votes.

Christchurch West/Opuna Regional Constituency (2 vacancies)

VotesReceived

HANDS, Megan Independent 12,250

PAULING,Craig The People's Choice 9,325

CULLINANE,Rod IndependentCitizens 8,894

CAMPBELL,Aaron Water: Time's Up 8,269

HORN, Chrys ThePeople'sChoice 7,984

KINGI-PATTERSON,Drucilla Denise 985

INFORMAL 24

BLANKVOTING PAPERS 2,282

Megan HANDS and CraigPAULING aredeclared elected.

Thevoter return percentagewas 42.2%, being 28,056 votes, excluding special votes.

Christchurch North East/Orei Regional Constituency (2 vacancies)

VotesReceived

HUGHEY, Jenny The People's Choice -Labour 12,903

APANUI, Tane Rail andWater 11,402

KNIGHT,Roy 11,046

CRANWELL,Iaean The People's Choice 6,666

INFORMAL 5

BLANKVOTINGPAPERS 2,201

Tane APANUI andJenny HUGHEYare declared elected.

Thevoter returnpercentagewas 39.75%, being 25,825 votes, excludingspecial votes.

Christchurch Central/OhokoRegionalConstituency (2 vacancies)

VotesReceived

PHAM,Lan The CommonGood -Independent 8,486

MARSHALL,Nicole Labour -The People's Choice 7,264

MCMAHON,Paul Labour -The People's Choice 5,797

PRICE,Felicity IndependentCitizens 5,627

WILKE, Axel The Common Good-Independent 5,323

HARRIS, Evan IndependentCitizens 4,947

CHOW, Alan 2,444

INFORMAL 12

BLANKVOTINGPAPERS 1,661

Nicole MARSHALL and Lan PHAM aredeclared elected.

Thevoter returnpercentagewas 37.69%, being 22,616 votes, excludingspecial votes.

AnthonyMorton

ElectoralOfficer

Environment Canterbury

17 October2019
---
CLASSIFIEDS

38 North Canterbury News, October 31, 2019

Public Notices

Enrolment Scheme 2020 –Broomfield School

TheBoards of Trustees from Broomfield School would liketonotify parentswho wish to enroltheir childrenatthe aboveschoolfor 2020. Enrolmentat

Broomfield School is governedbyanenrolment scheme,the detailsofwhichare availablefromthe schooloffice.

Applicationsforout-of-zoneplacesare nowbeinginvited.

TheBoardofTrusteesatBroomfieldSchoolhasdeterminedthatthereare now2placesattheNewEntrantlevelforout-of-zonestudentsin2020.

Theexactnumberofplaceswilldependonthenumberofapplicationsreceivedfromstudentswholivewithintheschool's homezone.Parentsofstudents

wholivewithin thehome zone shouldalso apply by this date to assist theschool to plan appropriately for theremainderofthe year.Students wholivein

thehome zone areentitled to enrol at the school.

Thedeadlinefor receiptofapplications forout-of-zoneplacesis3pm on Friday 15 th November 2019. If aballot for out-of-zone places is required,itwillbe

held on Monday18 th November 2019.Parentswill be informed of the outcome by 21 st November 2019.

Applicationsfrom out-of-zonestudents will be processed in thefollowing orderofpriority:

Firstpriority willbegiventostudentswhohavebeenacceptedforenrolmentinanapprovedspecialprogramme.

(Thisprioritycategoryisnotapplicableatlistedschools.)

Secondprioritywillbegiventoapplicantswhoaresiblingsofcurrentstudents.

Thirdprioritywillbegiventoapplicantswhoaresiblingsofformerstudents.

Fourthprioritywillbegiventoapplicantswhoare childrenofformerstudents

Fifthprioritywillbegiventoapplicantswhoarechildrenofboardemployees.

Sixthpriority willbegiventoallotherapplicants.

Forfurtherinformation, including application forms, please contactthe relevantschool office.

BoardofTrustees

Broomfield School

PUBLIC NOTICE OF

APPLICATIONFOR

OFF-LICENCE

Section 101,Sale

and Supply of

AlcoholAct 2012

Imperial Discount Liquor

Ltd has made application

to the District Licensing

Committee at Rangiora

for the renewal ofanOff

Licence in respect of the

premises situated at 14

Southbrook Road, Rangiora

known as Henrys BWS

Rangiora.

The general nature ofthe

business conducted under

the licence is Bottlestore.

The days on which and the

hours during which alcohol

is soldunder thelicenceare

Monday to Sunday 9am to

10pm.

The application may be

inspected during ordinary

office hours at the office

of the Waimakariri District

LicensingCommittee at 215

HighStreet, Rangiora.

Any person who is entitled

to object and who wishes

to object to the issue of

the licence may, no later

than 15working days after

the date ofthe publication

of this notice, file anotice

in writing of the objection

with the Secretary of

the Waimakariri District

Licensing Committee at

Private Bag 1005, Rangiora.

No objection tothe renewal

of alicence may be made

in relation toamatter other

than amatter specified in

section 131ofthe Sale and

Supply of Alcohol Act 2012.

This isthe first publication

of thisnotice.

KAIAPOI CHRISTADELPHIANS

"The Key of Knowledge .."(Luke 11:52)

"GOOD NEWS"

The Lord Jesus Christ said "The time is

fulfilled, and the kingdom of GOD is at

hand: repent, and believe in the gospel".

Mark 1:15.

2219876v1

CanterburyDistrictHealth Board

2019 Triennial Elections

DECLARATION OF RESULT

The final result forthe election of sevenmembersofthe CanterburyDistrict Health

BoardheldonSaturday12th Octoberisas follows.

CanterburyDistrictHealth Board(7vacancies)

BUCKSally Independent elected

GOUGH James Independent Citizens elected

KANEJo

elected

MARSHALL Naomi

elected

KEOWNAaron Independent forHealth Outcomes elected

CHU Catherine Independent Citizens elected

DICKERSON Andrew Independent elected

BALLANTYNEPeter Independent excluded

PHIPPS Rochelle Independent excluded

CRIGHTON Anna Independent excluded

WAKEFIELD Steve

excluded

CRAWFORDGray

excluded

BOOTH Geoff Independent excluded

DAVIDS Alexandra Results Focused excluded

MORADebbie Independent-Community Focussed excluded

WAKEMAN Peter STOP Trashing Our Planet excluded

PATON VickiTahau Independent excluded

SALISBURY Brian Independent excluded

LYALL Malcolm

excluded

ANDERSON Blair Another Mildgreen Initiative excluded

READ Robert

excluded

EDIE John Independent excluded

HANSEN Tubby ElectronicSchizophrenia excluded

Sally BUCK, Catherine CHU,Andrew DICKERSON,JamesGOUGH, Jo KANE, Aaron

KEOWNand Naomi MARSHALL aredeclared elected.

The final absolutemajority of votes(final quota) as determined at the lastiteration was

16,226.3. Therewere4,853 informalvotes and 17,141 blank votes.

AnthonyMorton

Electoral Officer

CanterburyDistrict HealthBoard

17 October2019

2220134

Annual GeneralMeeting

Monday 11 th November @7.30pm

At the Southbrook Clubrooms

As the largest Club In North Canterbury it takes

alarge team of people to keep things running

smoothly. Weare still seeking some volunteers to

help out next season. Come along and see how

you can help out! Many hands make light work!

All Welcome

2222245-U

2221834-31/10-h

Public Notices

ProposedPlanChange 3

to the Hurunui District Plan –

Morford Estate –Summary of

Decisions Requested

The initial round of submissions on proposed

Plan Change 3 – Morford Estate closed on

14 October 2019. Asummary of the decisions

requested by persons making asubmission on

Proposed Plan Change 3has been prepared

andisavailable for public inspection.

The summaryofdecisions requested, alloriginal

submissions, and the further submission form

are now available at hurunui.govt.nz/report/

consultations, the Hanmer Springs Community

Library &Service Centre and the Council office

in Amberley.

FurtherSubmissions

Further submissions are now invited on the

submissions received. A further submission

can only be made in support of, oropposition

to,arelevant originalsubmission. It provides an

opportunity for you to assess how any original

submissions may affect you, and tohave your

views considered. Youdonot have tohave

madeanoriginal submission to be abletomake

afurther submission,but under Clause 8ofthe

First Schedule to the Resource Management

Act 1991 only the following persons may make

afurther submission:

•Any person representingarelevant aspect

of the public interest; or

•Any personthat has an interestinthe

proposedplan change greater than the

interest that the general public has;and

•Alocalauthorityitself.

A copy of the further submission must be

served onthe person who made the original

submission to which the further submission

relates, within five working days ofmaking the

furthersubmissiontoHurunui District Council.

Further submissions close at 5pm on 14

November 2019.

Situations Vacant

609 Lineside Rd, Rangiora

2218784-31/10-h

PUBLIC NOTIFICATION

KATE VALLEY LANDFILL

COMMUNITYTRUST

TheTrust advises thatitreceived onevalid

nomination, being Richard Northover,for

acommunitytrustee from theWaipara

Community Area, therefore Richard

Northoverwillbethe newCommunity

Area Trustee.

Have yougot an opinion about a

storyyou'veread? Send us a

LETTER TO THE EDITOR

Send it to robyn.bristow@ncnews.co.nz

Letters are run atthe Editor's discretion, are limited to 150

words and may be abridged.

CAR GROOMER

YARD HAND

Full time position

Required for busy

dealership. Must be

reliable, hard working

and conscientious.

Afull clean drivers

licence and agood sport

mentality is essential.

To apply send your CV to

craig@stadiumcars.co.nz

2222237-31/10-h

Trade&Services

ABEL &Prestige Chimney

Cleaning. Nth Cant owned

& operated. Covering all

areas from Waimak to Hanmer.

Professional, guaranteed,

service. Firebox

repairs, carry most parts. Ph

0800 661 244.

AFFORDABLE concrete

cutting with quality and

removal work. Free quotes.

No job too small. Ph 027

442 2219, Fax 03 359 6052

or A/H 03 359 4605.

BRIAN'S Tree Services.

Tree felling, topping,

shaping, firewood cut, rubbish

removed, stump grinding,

branch chipping.

Affordable rates. Phone 03

327 5505 or 021 124 4894.

CARPENTER / Painter

specialising in alterations &

renovations, repairs &

maintenance, 35 plus years,

experienced licenced

builder. Telephone Trevor

313 5013 or 027 431 1864.

BRICK &Blocklayer. All

types of work undertaken.

New, EQC, repairs, LBP.

Phone Hamish 313 5678 or

027 238 6003.

PLASTIC WELDING

North Canterbury specialist.

All plastic &fibreglass

repairs. Telephone James

021 180 5103.

PAINT & wallpaper

services. Wayne Bryant.

Exterior, interior, qualified

tradesman. Free quotes. Ph

313 5337 or 027 654 4568.

ROOFER All roof repairs,

roof painting, waterblasting,

moss treatment,

repointing, gutter clean &

snow straps. And more.

Free quotes. Phone Nathan

027 516 6609.

PAINTER & Decorator.

25 + years experience.

Interior /exterior, roofs &

waterblasting. For a free

quote. Please ph Steve 03

314 4620 or 027 477 1930.

AFFORDABLE house

painting, exterior /interior.

Free quotes. Phone Mike

027 444 8577.

BUILDER available.

Maintenance, fences,

decks. Phone 027 294

1423.

ENGINEERING. Qualified

Fitter /Welder available

to work on contract

basis. Casual or full time.

Fabrication, repairs &

maintenance, MIG, TIG,

ARC. Please phone Andy

027 735 1988.

METAL WORX. Flashing,

Sheetmetal Fabrication,

Wrought Iron,

Welding, Custom Trailers,

General Metalwork. No job

too big or too small. Ph 021

265 5428 or 03 314 6908.

Find us on facebook/

Glenmark Metal Worx.

glenmarkmetalworx.ltd@gmail.com.

NORTH CANTERBURY

Tree Care. Qualified

Arborist specialising in big

trees in small places, long

term tree plans, Riparian &

shelter planting, land clearing,

stump grinding, branch

chipping, fully insured, free

quotes. Ph 0800 873 336.

PAINTER & Decorator.

Semi retired painter. Small

jobs. Ph Peter 03 312 7945

or 027 693 8360.

POWER TOOLS repairs,

parts &sales for over 30

years. All main brands serviced.

Grossman Trade

Tools, 31A Watts Road,

Christchurch. Ph 389 9230.

RANGIORA Rubbish

Removal and RRR skips.

Wheelie bins any frequency

and skips from 1.5 cube to

9cube. Skips and wheelie

bins for any use, rubbish,

greenwaste, building sites

or just cleanups. Give us a

phone call 313 6957 or for

skips 021 313 255.

Trade&Services

HOUSE

CLEARING

Are you

moving house

or trying to

downsize?

Call All Clear

Canterbury. We work

with you to recycle,

sell and dispose of

unwanteditems.

Ph: 03 260 0934

or 021 078 4553

raewynlcooke@gmail.com

www.allclearcanterbury.co.nz

LANDSCAPES

Paving

Patio &Pathways

-New or Existing

Free Quotes

–Competitive Pricing

Blair Gibson

027 699 5815 03 313 7933

SUMMERFIELD

FENCING

IN YOUR AREA NOW.

Lifestyle or farm, sheep, cattle,

horse, all types of animals.

Fences, yards, sheds, arenas,

shelters, runs.

30+ years contract fencing.

Steve is available to help with

your design &planning.

Ph office03312 4747

2091848

SEPTIC TANK

CLEANING

Bill's Liquid

Waste

Under New Management

You dump it...

Blair pumps it...

Blair Tavendale

Ph 03 314 9371

0275 379-694

2130820

2152265

ANTHONY SYMONDS

Plastering &Painting

Services

Local with 30 years

experience

All workmanship

Guaranteed.

Phone 021 344 023

2217414

Pride &Quality Painting

&Decorating Services

20 yrs exp, fast and friendly

service. For all your painting

needs, phone: Martin 310

6187 or 021 128 9867

PROPERTY maintenance,

lawns, hedges, chainsaw

work, pruning, painting &

minor home alterations.

Town &Country. Ph Mike

03 313 0261.

SCREEN PRINTING.

For all your printing

requirements. T­shirts,

Hoodies, Hi­Vis vests and

polos, Overalls, Caps etc.

Please phone Heather 03

313 0261 or email

heather.norstar@gmail.com.

SHEARER. Hap's Farm &

Lifestyle Services. Shearing,

crutching, drenching,

tailing, feet trimming &

health check. Trailer, generator

&mobile handpiece

available. Experienced,

reliable and honest. Ph 03

312 1214 or 021 267 4025.

SHEARER Mobile sheep

shearer available for lifestyle

blocks. Over 30 years

experience. Phone Stuart

027 315 6916.

SHOE REPAIRS, key cutting,

engraving, giftware.

10 years experience.

BESK, 683 Main North

Road, Belfast. Telephone

027 311 3423.

VALUATION ­

Specialising in North Canterbury.

Contact Geoff at

Maxwell Valuation. Phone

03 310 8541 or email

geoff@maxval.co.nz.
---
TRUSTED TRADES &PROFESSIONAL SERVICES

North Canterbury News, October 31, 2019

39

Appliance Repairs

Builder

Butchery

Chiropractic Services

•REGISTERED TECHNICIAN

•AUTHORISED LOCAL SERVICE

F&P,Bosch, Smeg,

ASKO, Ariston, LG,Classique,

Haier, Samsung andmore....

"For best results be sure to use authorised service"

NORTHCANTERBURYAPPLIANCESERVICES

Rangiora: 03 313 4420 Kaiapoi: 03 327 3810

1913020

Oxford Butchery

Shane and Leanne Frahm

We cankill &processyourstock

FourGenerationsofFrahms

since 1957

Ph 312 4205

Oxford

1680439

Number one

old-fashioned bacon

&ham curing.

A/H 312 4709

Dr Carissa McGregor Chiropractor

Injury, accidents and maintenance

ACC Registered and Accredited

Monday-Thursday | 03 313 0350

Libi McKinnon Physiotherapy

privatephysio@xtra.co.nz

03 0278 686 2574

ACC Registered Provider | Tuesday &Friday

Select Health

51 Ashley Street, Rangiora

2103107

2208126

Computer Repairs

For all your computer repairs, parts, servicing, sales &more..

Come and see us for friendly &supportive service

Concrete

ALL CONCRETE AND CONSTRUCTION WORK

•Driveways, patios &paths •Bridges and Culverts

•Floors, foundations, sheds and buildings

•Dairy Sheds,Herd homes •Precast concrete

•Placing &Finishing

Daryl Power 027 230 9401

email concretepower@scorch.co.nz

2047213

Denture Clinic

AFFORDABLE DENTURE

CLINIC

(Formerly Riccarton DentureClinic)

1843944

New Dentures

Relines

Repairs

BRYCE JWARD NZCDT

Kaiapoi

Ph (03)327-0077

Gold Card

Discount

KAIAPOI VILLAGEARCADE,

123 WILLIAMS STREET

Drainlayer

♦ New Residential Drains, Commercial &Alterations

♦ Supply and Install of Septic Tanks &Effluent Systems

♦ Stormwater Retention Ponds &Tanks

♦ AllTypes of Field Drainage &Trenching

FREE

QUOTES

Jesse McAnulty 027 259 8560

Email: jm-drainage@outlook.com

2158403

Electrician

Handyman &Landscaping

Landscaping

2089195v2-4/4-S

AARON HARRIS

ELECTRICAL LTD

NEW HOUSES • ALTERATIONS

ELECTRICAL INSPECTIONS • SMART WIRING

SYSTEMS AND MORE...

M: 0275 543 958 E: aaron@ahel.co.nz

2020478

1831495

STEWART CONTRACTING

Landscaping -Fencing

& Earthworks

ENJOYABLE STRESS FREE LANDSCAPING

03 313 9375 •027 369 3974

www.stewartcontracting.co.nz

contact@stewartcontracting.co.nz

2136148

Plumbing and Gas

Property Maintenance

Scaffolding

Thursday,August 2, 2018 | Issue 808 | www.ncnews.co.nz

● Filtration –whole house, kitchen tap

● Domestic maintenance

● Gas fitting –servicing, new,

renovations

● Gas hot water installs

● Gas cookers and Gas fires

● Kitchen /Bathroom renovations

● Backflow testing and installs

2063426

Discount forSuper Gold card holders!

james@plumbingandgashq.co.nz

0800 H2O LPG

4 2 6 574

2218589

Our yard maintenance programs will leave

your feeling

relaxed, relieved &stress free!

•Mowing •Weeding •Yard tidy-up's

•Shrub trimming •Prunining

ASKUSABOUTOUR EASY PAY SUBSCRIPTION OPTIONS

Call 0800 669 7483

info@mowrite.co.nz

mowrite.co.nz

MAINTENANCE

by mowrite

mow

RITE

"WE MOW+MUCH MORE!"

•Edge protection

•Working platform

Phone

0274 366 901

Plans for pricing

jas.rangiorascaffolding@xtra.co.nz

North Canterbury wide

1783878

HAVE YOU BEEN TO

OUR WEBSITE LATELY?

www.ncnews.co.nz

Visit now to view the paper online &more!

Scrap Metal

CASH PAID FOR SCRAP

•Car Bodies •Scrap Steel •Specialists in Farm

Machinery•All non Ferrous

MAINLAND

METALS LTD

Ph (03)338 7000

Mike 0274 818 544•Robbie0274 818 027

Locally owned and operated

1902273

Shingle

SHINGLE SUPPLIES

CAP 65

CAP 40

CAP 20

Quarry Prices

DRAINAGE CHIP

from $40 per cube

from $23 per cube

from $25 per cube

from $30 per cube

all +gst

Plus all excavation and truck hire

house excavations, driveways, subdivisions

58,000 people live within our

circulation area. Just one ad in the

North Canterbury News will be read

by 46,000 of them every week!

Phone

03 314 8335

CONTRACTING

Ph: KEN 027 201 3302

Email: stress@xtra.co.nz

2009594

2221854-U

Source 2018 Nielsen Readership research all people 10+ NCN Circulation area
---
RANGIORATOYOTA

WHY BUY ANEW VEHICLE FROM US?

UPFRONT HAGGLE FREE PRICES ON ROAD COSTSINCLUDED SETOFFLOOR MATS INCLUDED CAPPED PRICE SCHEDULED SERVICING*

4YEARS AA ROADSIDE ASSIST EXTENDED WARRANTYLOYALTY BENEFITSWITH SERVICING* 7DAY MONEYBACKOPTION*

UNTOUCHABLE VALUE

3% FINANCE

*

ACROSS THE TOYOTA RANGE FINANCIAL

AL

SER

RVICE

ES

CELEBRATING

30 YEARS

30 YEARS

TOUCHED IT

INCLUDES

ON-ROAD

COSTS

5 YEARS

WARRANTY

IF SCHEDULED

SERVICING IS MET*

5 YEARS

ROADSIDE

ASSISTANCE

5 YEARS

WOF

COVERAGE

5

YEARS CAPPED

PRICE SERVICE

COVERAGE *

FINANCIAL

SERVICES

Visit us at www.toyota.co.nz/rangiora-toyota

VISITTOYOTA.CO.NZ TODAY.

*WarrantyonlyvalidatedifScheduled Servicing is metthrough an Authorised Toyota Dealer or ServiceAgent.Capped priceservice coverage appliestoservicing carried outat15,000km, 30,000km, 45,000km and60,000kmonlyortime intervals of

12 months,24months, 36 months and 48 months, whicheveroccursfirst under normaloperating conditions. Finance offer availableonnew Toyota vehiclespurchased and deliveredatTDP,BronzeorFarmlandsShareholderpricingbetween 1October

2019 and 31 December2019orwhile stocks last. Prices andspecifications aresubjecttochange atanytime.Toyota FinancialServiceslending lending criteria, termsand conditions ons apply. See toyota.co.nz forfull T&Cs.

SPECIAL

2013Toyota Aqua

•1.5LHybrid PetrolAuto,

•ParkingSensors

•Bluetooth

WAS$15,995

NOW ONLY

$

14,995

2009 Toyota Wish

•1.8LPetrolAuto

•Only 65,500km,7-seater

•ReverseCamera, 7airbags $ 13,995

2005ToyotaFielder

•1.5LPetrolAuto

•ClimateAir,Alloys

•Only 58,000km!

$65p/w –total cost $16,813

WAS$9,995

NOW ONLY

$

8,995

2008 Toyota Ractis

•1.5LPetrolAuto

•57,400km

•Keyless,CruiseControl

WAS$9,995

NOW ONLY

$

7,995

2013ToyotaPriusS

•1.8LHybrid PetrolAuto

•Keyless

•5-door Hatch

$

17,995

Only3.9L/100kms ( , Combined)

2014 Toyota Aqua Hybrid

•1.5LPetrolAuto

•USB,Bluetooth

•ClimateAir

$

15,995

Only3.9L/100kms ( , Combined)

2012 Toyota Yaris Sedan

•1.5LPetrolAuto

•NZ-new

•Only 25,400km

$

13,995

$65p/w –total cost $16,813

2010 Toyota Prius S

•1.8LHybrid PetrolAuto

•Keyless,Climate Control $

17,995 , •Only 78,100km 3.9L/100kms ( Combined)

2018 Toyota Yaris GX

2016 MiniCountryman

•1.3LPetrolAuto, ReverseCamera

•1.6L PetrolAuto

•NZNew

$ •Satnav,MoonRoof

•Only 24,650km 17,995

$83p/w –total cost $21,470

WAS$39,495

NOW ONLY

•JohnCooper WorksEdition $ 37,995

2005 Toyota Corolla GX

•1.8LPetrolManual

•ElectricWindows &Mirrors

•CDPlayer

$

5,995

Ex-Demo2019CorollaSX

•2.0LPetrolAuto, Satnav,

•Toyota SafetySense $

•Less than100kms! 30,995

$140 p/w –total cost $36,598

2013Toyota

Townace Liteace

•1.5LPetrolAuto, 2Seater

WAS$15,995

NOW ONLY

•ElectricWindows,Air con $ 13,995

$65 p/w – total cost $16,813

Ex-Demo 2018 Toyota HiluxS 2012 Toyota Hiace

•2.8L TurboDiesel Manual 2WD

•2.0LPetrolAuto, 5-door

•Alloys

$ •Short WheelBase

•ReverseCamera 33,495 •High Roof

$152 p/w –total cost $39,505

$

24,995

$114 p/w –total cost $29,616

2016 ToyotaRav4Limited

•2.0LPetrolAuto2WD

•Sunroof,Leather, Satnav

•Only 30,300km

$

34,995

$158 p/w –total cost $41,251

2016 HiluxSRPre-Runner

•2.8LTurbo Diesel 2WDAuto

•Reversecamera $

•Bluetooth 32,995

$146 p/w –total cost $38,926

2012LandCruiser200VX

•4.5LTwin Turbo Diesel, 8-Seater

•Leather,Satnav

•Towbar

$

67,995

2018 LandCruiser PradoGX

•2.8L TurboDiesel

•Satnav

•ReverseCamera

WAS$56,995

NOW ONLY

$

54,995

*Allbased on a10% deposit over60months, with an interest rate of 10.75%.Weekly payments.

Percival Street,Rangiora. Ph (03)313-8186any time •www.rangiora.toyota.co.nz

FINANCIAL

SERVICES

2002LandCruiserVXLimited

•4.2LTurbo Diesel Auto

•Height control

•Leather,climateair

$

25,995

2016 HiluxSR5Limited

imit

it

•2.8L TurboDiesel Auto

•4x4, Satnav,Leather

•Roof racks

$

42,995

2015LandCruiserPradoLimited

•2.8L TurboDieselAuto WAS$59,995

NOW ONLY

•KDSSSuspension,

•Sunroof,Leather $

57,995

$272 p/w –total cost $70,860

FINANCE&INSURANCEAVAILABLE

2210750-31/10-b