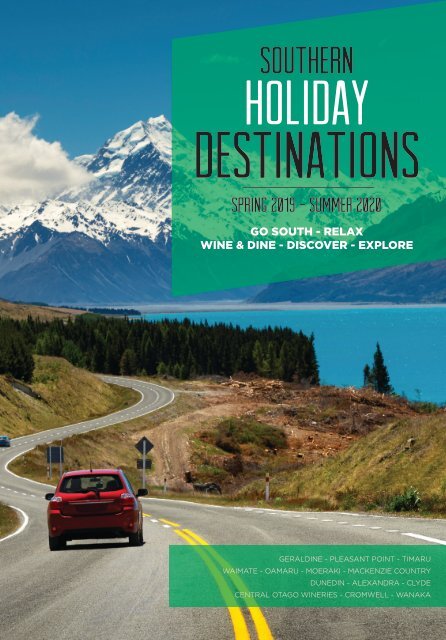 Southern Destinations: November 07, 2019
Create successful ePaper yourself
Turn your PDF publications into a flip-book with our unique Google optimized e-Paper software.
southern holiday destinations spring-summer 2020

1

Southern

Holiday

Destinations

spring 2019 - summer 2020

go south - relax

wine & dine - discover - explore

geraldine - Pleasant Point - timaru

Waimate - oamaru - moeraki - mackenzie country

dunedin - alexandra - clyde

central otago Wineries - cromWell - Wanaka
---
2

GERALDINE

southern holiday destinations spring-summer 2020

Be Creative

at Pin tin

Step inside this enchanting store, which is under new

ownership and meet Caroline and Rhona. Browse

around the well-stocked shelves where you will find a

fantastic selection of patchwork fabrics from designers

and collections across the globe including our very own

"Kiwiana" range which is inspired by native and iconic

New Zealand scenery and wildlife as well as view the

numerous quilts around the shop all made locally.

They carry a selection of patterns, yarns and supplies for

knitting and crochet, patterns and supplies for patchwork

and dressmaking, general haberdashery and hosiery.

They also stock Pfaff and Brother sewing machines and

supplies. Stop by this fun and creative Geraldine location.

03-693-1122.

FreSHCHoiCe geraLdine

tHe LoCaLS FavoUrite

SUPermarket

FreshChoice Geraldine supermarket is a locally

owned and operated full service supermarket

in the heart of Geraldine. Located on Peel

Street they are open daily from 7am-8pm

daily. FreshChoice in Geraldine is convenient

for all your grocery needs whether you live in

Geraldine or you are just visiting.

The clean fully stocked shop has a

comprehensive range of fresh fruit, vegetables,

meat, deli and bakery products that are

sourced locally wherever possible. You will also

find locally produced Talbot cheeses and an

extensive range of Barkers condiments in-store

alongside the selection of beer and wine.

FreshChoice Geraldine is committed to

offering competitively priced groceries and

has thousands of specials throughout the store

each week so that you can save money on all

the essentials.

With the best fresh food in town, value for

money groceries, friendly helpful staff and

great customer service, FreshChoice Geraldine

is your one stop shop every day of the week.

rUraL dog

aCCommodationS

Looking for a home away from home for your

furry family member? The Brookside Kennels in

Geraldine offers clean spacious accommodation for

your dog with two supervised runs per day around

the paddocks, with or without the companionship

of other dogs.

Your furry family member will be fed twice a day

with the dog hotels food of choice or if your dog

has a special diet or you would like to provide their

meals, either option will be accommodated.

Your furry friend will be looked after by experienced

dog lovers and if any medical concerns arise, the

local vet is on call if the need arises.

For just $18 per day, book your dog into Brookside

Kennels and enjoy some pet-owner's peace of

mind for the holidays. Located at 208 Woodbury

Road, 2kms from Geraldine, Brookside Kennels

welcomes your enquiry ph 03-693-9929.

PUBLiSHer

Star Media

A division of Allied Press Ltd

PO Box 1467 Christchurch 8140

advertiSing

Jenny Wright - Ph 03 364 7446

email: jenny@starmedia.kiwi

Frank Greenslade - Ph 03 364 7441

email: frank.greenslade@starmedia.kiwi

editoriaL Jenafor Rollins

deSign Denise Crawford

UNDER NEW OWNERSHIP

Treasure Trove!

Jam packed full of

wonderful fabrics and

yarns, tools, gadgets

and sewing supplies

and much more for all

of your crafting needs.

We exercise all

dogs in fully

secure, fenced

paddocks

Your

local

Food Specialist

See us on facebook

for class list 2020.

9 Talbot Street, Geraldine

www.thepintin.co.nz | thepintin@xtra.co.nz

Ph 03 693 1122

208 Woodbury Road • Geraldine

Ph: 03-693 9929 • Mob: 021 076 4534

Email kbarb@xtra.co.nz

geraldine

Peel Street, Geraldine.

Open 7am – 8pm, 7 days.

Phone 03 693 8529.

Owned and

operated

by locals

fcgshdMar19
---
southern holiday destinations spring-summer 2020

GERALDINE

3

tHe SeCretS oUt!

"It's all about location. Geraldine has everything here

for a wonderful, active lifestyle; we're nestled in a

fabulous microclimate with easy access to parks

and river walks, and Geraldine township is a vibrant

community with art galleries, boutique shopping and

fantastic eateries, with a never-ending schedule of

music festivals, fetes, exhibitions and shows."

If you've reached the point of wanting to simplify your

life, McKenzie Lifestyle Village should be on your

'must-see' list.

Architecturally designed, the villas at McKenzie

Lifestyle Village boast every convenience you could

possibly want; quality fixtures and fittings throughout,

double glazing and superb heating, well thought

out floor plans, private outdoor living areas, and

magnificently landscaped grounds. 2019 welcomes, 1

bedroom assisted care units. Offering independence

with discrete help on hand. McKenzie Lifestyle

Village also welcomes subsidised care providers,

allowing you to remain as independent as possible.

At the heart of the village is the Leisure Centre – a

central point for entertainment and events. There's

an indoor swimming pool, spa, library, hair salon,

craft room, and therapists room as well as outdoor

pursuits including petanque, mini golf, bowls, putting

green, and croquet – true resort style facilities.

Too often people tell us they wish they'd made the

decision to move here sooner, just do it while you're

still independent and you can enjoy everything that

we have to offer.

Whether you're more inclined to enjoy the company

of others, or prefer privacy and solitude – you'll find

your perfect lifestyle here. Enjoy visiting family and

friends and a full social life.

Could Geraldine be your place to call home? Feel

free to call for an appointment 0800 845524 or mlv.

org.nz. We will be happy to show you through the

impressive facilities at 33 Connolly Street Geraldine.

Modern Lifestyle Living

33 Connolly Street, Geraldine

P 0800 845 524 or 03 693 8340 E sales@mlv.org.nz

www.mlv.org.nz

ACCREDITED VILLAGE OF THE RVA
---
4

GERALDINE & pLEAsANt poINt

southern holiday destinations spring-summer 2020

Berry Barn

Bakery & CaFé

Filled Rolls, Pies, Hot Food, Slices,

Sweet Treats and Coffee, Tea and

other Beverages. Select showcase

kiwi baking at its finest. Enjoy the

enchanting atmosphere choosing

between their indoor or outdoor

seating.

They cater for tour coaches, travelling

a Warm WeLCome

at geraLdine

moteLS

Enjoy the unique country village

atmosphere of Geraldine with their

wide range of cafés, galleries and

shops. Stop over at the Geraldine

Motels located on the south side

of the town centre. You will feel a

warm hospitable welcome to this

accommodation which is clean,

comfortable and self-contained

all within 200 metres of the town's

restaurants, cafés, movie theatre and

shopping area.

You will be warmly welcomed by

owner operators, Joseph, Mayumi

and Helley who will help you get

settled and make sure you're

comfortable throughout your stay.

Enjoy the free WiFi for all guests

and pets are welcome by prior

berry barn

bakery & cafe

open 7am - 4pm

76 Talbot Street, Geraldine

03 693 9900

visitors and the local community.

Providing them all with a delectable

culinary experience.

Stop by when you are in Geraldine at

The Four Peaks Plaza, 76 Talbot Street.

They are open 7 days a week from 7am

- 4pm. Ph: (03) 693 9900

arrangement.

Geraldine Motels is only a short

walk to the bowling green, tennis

courts, heated swimming pool, parks,

domain, museums, and bush and

river walks. You have your choice of

two golf courses to play on which are

within a 5 minute drive and the large

park-like garden behind the units

borders the Waihi River, which is a

scenic place to relax.

Situated 1.5 hours from the

Christchurch airport and a 1.5 hour

drive to the ski fields, Geraldine is

located in South Canterbury along

the popular Scenic Touring Routes.

Phone: +64 3 693 8501.

Email: info@geraldinemotels.co.nz

Geraldine

MOTELS

We are looking forward to hosting you

• Short stroll to Village centre

• Spacious standard and superior

family and studio units

• All units are fully self contained

and serviced daily

• 3 Sky channels

• Off street undercover parking

97 Talbot Street, GERALDINE, SOUTH CANTERBURY, NZ

Phone: 03 693 8501 | Fax: 03 693 8801

Email: info@geraldinemotels.co.nz | www.geraldinemotels.co.nz

Your Hosts: Joseph, Mayumi and Helley Jones

RESERVATIONS 0800 400 404

PLeaSant Point -

BUiLt on HoSPitaLity

One of the main attractions in this

quaint country town of close to 1300

is their Award winning PLEASANT

POINT MUSEUM & RAILWAY, which

has a stellar reputation for being one

of the best of its kind in the country.

When the Fairlie Branch Railway

Line closed in 1968, a group of

enthusiasts established the Pleasant

Point Railway and Historical Society

based upon "a vision, a rusty steam

locomotive, a vandalized train station

and no money!"

The Museum & Railway is run

entirely by volunteers and has

become one of South Canterbury's

premier attractions. The Museum

hosts two former New Zealand

Railways wonderfully restored

STEAM LOCOMOTIVES and the one

of worlds' only operational FORD

MODEL T RAILCAR built from the

1925 original NZR plans. They only

built 2 in 1925 for use down on 2

short Southland branch lines and

then they scrapped them in 1931.

This unique vehicle only holds 11

passengers and looks more like

a bus on rail wheels. It was built

mUSt StoP

For iCe Cream

When traveling or on a warm

summer's day or anytime actually,

ice cream is a much welcomed treat.

Pleasant Point Dairy is a well known

destination spot for ice cream

and so much more. After you grab

some snack foods, a newspaper or

magazine, a coffee or a cool drink,

you can choose your favourite

flavour of their 19 ice creams choices.

Can't decide, that's easily fixed by

having a mix of flavours on one

cone. Not to mention the full range

PLEASANT POINT

MUSEUM & RAILWAY

19kms west of Timaru

VISIT award winning Museum & Railway

RIDE Steam Locos, Model T Railcar...

holiday weekends VIEW displays, Old Time Movie

Theatre, Model Railway, Printing Room & much more

SPECIAL EVENTS

RAILCAR runs DAILY December 27 th 2019 to March 1 st 2020

Adults $15, Child $10 includes a guided tour of our complex

XMAS / NEW YEAR steam railway running times: 10.30am to

the last train at 4pm December 2019: 27th & 28th

January, 2020: 2nd, 3rd, 5th, 12th, 19th

Adults $12, Child $6

Phone 03 614 8323 (24 hour train info line)

www.pleasantpointrail.org.nz

by local and museum railway

volunteers from original drawings

and blueprints.

The museums working fleet also

includes an Ab699 from 1922 and

a D16 from 1878, plus 2 diesel

locomotives and the rail car is the

only one operating in the Southern

Hemisphere and there are a very

small number operating in UK and

USA. The society members have relaid

the railway track.

On some weekends and public

holidays, the locomotives pull

historic carriages along 2 kms of

track that was once part of the old

35 mile branch line to Fairlie. The

trains run from the restored former

Pleasant Point railway station to

Keanes Crossing where there is

a vintage Movie Theatre, Printing

Room, Operating Model Railway

Room, a restored old NZ Railways

Ganger hut, a Children's playground,

a collection of Railway rolling stock

and much more.

of novelties from ice blocks to your

favourite Kapiti ice cream. Serving

only New Zealand's finest Tip Top ice

cream, you can taste the goodness.

You will be welcomed by their

friendly staff and owners Murray and

Selena are there to serve you with a

smile. Feeling lucky? Try your hand

at lotto.

No matter your destination, make a

point of stopping today at Pleasant

Point Dairy. No ordinary dairy.

Pleasant Point

DAIRY

• Ice Cream • Sweets

• Groceries • Snack Foods

• Newspapers • Chicken & Chips

• Coffee • Refreshments

• Motor Camp Bookings

For all your needs call in & see

Murray, Selena and the team.

Open 7 days | Ph 03 614 7515

75 Main Road, Pleasant Point
---
southern holiday destinations spring-summer 2020

pleasant point

5

MagnOlIa

cOttage –

cOMFOrt and

elegance In One

ObsOlete IrOn MOtOrs &

FrOcks and shOcks

When entering Magnolia

Cottage instantly feel at

home. The large lounge

invites you to kick off your

shoes and relax. During the

evenings there is a private

courtyard off the lounge

to enjoy a complimentary

wine while drinking in the

country sounds. With a

separate kitchenette you

can create your own meals

or visit a local town nearby

for dinner. The bedroom

has a comfortable queen

sized bed. Wake up

feeling refreshed in the

morning and wait for your

breakfast tray to arrive at

a time that suits you. With

books, DVDs, magazines

and games you will leave

Magnolia Cottage feeling

rested and rejuvenated.

Call for a booking 027455

2722

Obsolete Iron Motors is a working garage

performing vehicle and motorcycle services.

W.O.F's, repairs and a passion for classic,

custom restoration and fabrication work.

Full of surprises and well worth popping into

see all the memorabilia, also home of the twin

engine Triumph land speed motorcycle built

by Gilbert Bailey to race on the Salt Flats in

Bonneville.

While you're visiting Obsolete Motors visit

the Ladies Cave next to a Man's Cave called

Frocks and Shocks. Giftware, Jewellery, a

unique range of clothing and memorabilia

from year's past. All visitors welcome, have a

group outing. Gilbert and Sharon are happy

to open, just give them a call. This is a novelty

location taking you back in time. Obsolete Iron

Motors – Frocks & Shocks is a unique business,

not to go past, but to call in for a visit. 03 614

7410 obsoleteironmotors@gmail

Pleasant Point

Camping Ground

Pleasant Point Domain, State Highway 8,

1km from Pleasant Point Township Centre

26 powered sites, 7 cabins, tent sites,

town supply water, kitchen, laundry,

showers, toilets and children's play area.

Booking enquiries please phone

(03) 614 7515

Open September – 31 May

aOrangI MOtOrs FOr

yOur servIcIng needs

Do you own a motorcycle, van,

car, bus, 4WD, truck or recreational

vehicle? If the answer is yes, stop by

Aorgangi Motors in Pleasant Point for

all of your transport servicing needs.

They take pride in helping keep your

vehicle safe and operating at its best

ability. You can feel confident in their

skilled mechanics and know you are

in good hands.

Aorangi Motors is an independent

NPD service station and workshop

and is a member of the MTA.

They are open 24 hours for fuel, so if

you are travelling to a destination you

can always feel confident you have

a petrol stop located in the Timaru

Region.

Get in touch with Aorangi Motors,

your local automotive repair

providers. Feel confident you are in

the best of hands.

caMpIng at

pleasant pOInt

Enjoy the scenic and enjoyable

campgrounds in Pleasant Point, which

is open on a seasonal basis between

mid-September to mid-May. The

campgrounds offer:

7 cabins

26 powered sites

Ablution block

Showers

Kitchen

Laundry

Tent sites

Don't forget to book your camping

site at the Pleasant Point Dairy 03

614 7515 or online with the Timaru

District Council. www.timaru.govt.nz/

community/facilities/motor-camps/

pleasant-point-motor-camp

ToP FRiEndly SERvicE

A creative

workshop

providing

innovative

services

Magnolia Cottage is a self contained one

bedroom cottage in a private setting just minutes

from Pleasant Point, South Canterbury. The

bedroom has a queen sized bed with linen and

bedding provided. The living/dining area has a

lounge suite with pull out bed to accommodate

an extra person. A private outdoor area with

BBQ plus continental breakfast provided. No

additional charges for linen and cleaning.

Magnolia Cottage

BED AND BREAKFAST

69 Keane Rd, Pleasant Point, South Canterbury

027 455 2722 | pleasantpointcottage.co.nz

Full workshop

24 hour after hours

payment terminal

Trailer hire

AoRAnGi MoToRS lTd

77 Main Road, Pleasant Point

Phone: 03 614 7260

Email: aorangimots@gmail.com

87 Main Road, Pleasant Point

Phone (03) 614 7410

www.obsoleteiron.com

Obsolete Iron Motors can handle all

of your auto repair services including;

• Brake Service

• WOF

• Part Procurement

• Oil Change

• Cam & Timing

Belt Replacement

• Battery Health

Check

• Custom and Classic

Vehicle Repair

• Motorcycle

Servicing

ObsOlete IrOn MOtOrs

87 Main Road, Pleasant Point

(03) 614 7410 | www.obsoleteiron.com
---
southern holiday destinations spring-summer 2020

6

tImARu

Premier

aCCommodation

in timarU

Find treaSUre

troveS

A Quality Assured 4 star plus motel,

Aspen on King boasts 30 quiet

units, situated in a beautiful garden

setting off the main road of Timaru,

away from the bypass but close to

amenities.

Aspen on King has a variety of studio,

one and two bedroom units, (most

with spa baths), one full access two

bedroom unit, 2 luxury 3 bedroom

units and 2 studio access units.

All their Motel units have access to

telephones and free Wi-Fi internet,

iron and ironing board, full cooking

facilities.

Their setting includes a quarter acre

lawn with 12 ft trampoline, swing &

slide, as well as a giant chess set.

Enjoy the free DVD library, WIFI and

Six Sky channels. There is ample

parking.

They are proudly supporting South

Canterbury Cancer patients with fully

subsidised accommodation through

the Timaru Cancer Society.

For further information and

reservations contact your hosts, Terry

and Karen Wright on 0800 822 344 or

visit www.aspenonking.co.nz

at kidStUFF

Kidstuff is a family owned & run baby

and children's business located in

the south end of Stafford Street. Here

at Kidstuff we pride ourselves on

providing a diverse range of quality,

affordable and unique products with

personalised service with staff that

are knowledgeable and passionate.

Kidstuff will inspire and transport

you into the wonderful world of toys,

dress-ups, books, art and crafts,

fashion and all your baby needs. It's

a treasure trove of fun, imagination

and fantasy, eye catching products

for girls and boys and the young at

heart. Follow them on facebook at

Kidstuff or visit their website www.

kidstuff.net.nz

PERSONALISED SERVICE

MULTIPLE PAYMENT OPTIONS

Services include free gift wrapping,

carseat fittings & shoe fittings.

Plus we have a play area, feeding couch

& baby friendly bathroom.

Your Hosts Karen & Terry Wright

51 King Street, Timaru

03 688 3054

Freephone 0800 822 344

www.aspenonking.co.nz

03 688 5152

170 Stafford Street, Timaru
---
southern holiday destinations spring-summer 2020

timaru

7

Caroline

Bay annual

Carnival

The Caroline Bay Association Annual

Carnival begins on Boxing Day and

runs until 12th January 2020 with

many activities for all age groups

to enjoy. The annual Alpine Energy

Talent Quest is on the Sat Jan 4th &

Sun 5th and is always very popular

with a variety of talent on show.

Great family entertainment is on daily

with free concerts at 2.00pm and

7.00pm.

Artists performing include such

shows as Dee May & the Saints,

The Soul Agency, Recliner

Rockers, NZ AC/DC, Badly Stuffed

Animals, Desperate n Dateless and

Dangerbaby. All that's just up to New

Years Eve.

The New Year's Eve entertainment

is Dangerbaby from 9pm – 11pm,

sure to be an excellent concert

with the rides operating and the

games open with great prizes to be

won on the Choc Wheel. Our own

pyrotechnic team have planned

another excellent fireworks display, a

very worthwhile show to see, thanks

to Pub Charity.

The New Year continues with more

performances not to miss like the

Queen & Robbie Williams tribute

shows, Kylie Austin & Noel Burns,

Sweet Marie, Kenny Rogers & Dolly

Parton show and to finish the That

80's show.

We have many competitions for the

young ones through the different age

groups. Fancy dress is very popular

as are so many of the games in the

entertainment complex.

18 holes of mini golf is always good

family fun, as too with the good

old favourite the Merry Go Round,

so many enjoy a ride on those

wonderful horses. The Octopus, Big

Wheel, mini train rides and many

other rides to enjoy.

For holiday entertainment and a

fabulous time then the Caroline

Bay Carnival is the place to be this

summer. Check the website for

when the artists are performing this

carnival. www.carolinebay.org.nz

Dangerbaby

2018 Talent show winners

Kylie Austin

Rec Rocker
---
8

tImARu

southern holiday destinations spring-summer 2020

toP10 in

timarU

WonderFUL

LoCaL Heritage

Explore the wonderful world of

local heritage at South Canterbury

Museum, Timaru. From fossils to

fashions there are hundreds of

things to see. Discover local wildlife

and geology, learn about the

region's Maori heritage, the arrival of

European settlers, social history and

everyday life from the last 150 years.

Along with its permanent displays,

the Museum features a special

exhibition to mark the centenary of

the end of the First World War, and

its impact on local lives. This runs

through until February 2019,

In the galleries there are puzzles and

other activities for children, while the

Museum's research area provides

a huge selection of documentary

sources for digging deeper. Local

heritage films can be viewed at the

Museum and souvenirs, gifts and

local history books are available for

purchase in the Museum shop.

South Canterbury Museum is

located on Perth Street, downtown

Timaru. Hours are Tuesday-Friday

10am – 4:30pm, weekends and most

public holidays 1-4pm. Closed 25,

26 December and 1 January. Free

admission, donations encouraged.

Circa 1918 Portrait of Four

Timaru Boys.

Explore

Imagine staying in a location within

easy proximity to the central city

combined with the space, seclusion

and peace that is usually associated

with the countryside. The Top 10

Holiday Park in Timaru offers exactly

that and is within walking distance

of Timaru's shops, restaurants and

popular Caroline Bay attractions.

Offering facilities and amenities that

are clean, modern and affordable

and surroundings that are sheltered

and safe for all the family, holiday

accommodation comprises motels,

units, cabins and sites for caravans

and camping. The Top 10 Holiday

Park in Timaru is open year-round

and hosts Alison and Gordon

Collister aim to ensure your holiday is

enjoyable and problem free.

SHoP UntiL yoUr

HeartS Content

at HoPkinSon'S

Hopkinson's - South Canterbury's

leading homewares store and home

of the famous Hopkinson's Furniture

Reviver. Situated on State Highway 1

just North of Timaru.

Walk through the door to a warm

welcome and be pleasantly

surprised by the vast array of

giftware and furniture. Their

awesome team are there to help you.

Complimentary gift wrapping - layby

and gift vouchers available

Also well known for their quality

basket ware available in logs-trayspets

and more.

Shop their huge selection of Sam

Toft Prints online or instore where

they carry up to 150 prints at any one

time.

While in store take time out and relax

in Café Pharlap – offering morning

and afternoon teas and light lunches.

Hopkinson's look forward to seeing

you in store.

www.hopkinsons.co.nz

Hopkinson's Timaru

Nature

History

From fossils to fashions, there

are hundreds of fascinating

things to see. Discover the

heritage of South Canterbury

Culture

Perth Street, downtown Timaru

museum.timaru.govt.nz

www.facebook.com/SCMuseum

251 Hilton Highway, Timaru | 03 688 7662 | www.hopkinsons.co.nz
---
southern holiday destinations spring-summer 2020

wAImAtE

9

tHe WonderS oF Waimate

If you are searching for a destination that offers

spectacular scenery, activities to suit all genre and

eateries to tempt any taste buds, the Waimate

district is the place to be.

Nestled in the rolling foothills of the central South

Island, about 45 kilometres south of Timaru,

Waimate is a thriving town that offers travellers

a unique destination off the beaten track. The

region is blessed with a vast array of stunning

landscapes. Pristine rivers and lakes, native bush

teeming with wildlife, including the infamous

Bennett's Wallaby, rolling hills and an expansive

rugged coastline make up this wonderful district.

During your stay, check out the Maori rock art

at Maungati, look for fossils in the remarkable

limestone cliffs along the banks of the Waihao

River, or visit the site where millions of moa bones

have been excavated at Kapua and learn about

these amazing birds.

QUeenS Lodge

Established in 1854, Waimate's streets tell a

story that is rich in history with incredible silo

art towering over the town, stunning Edwardian

architecture, historic churches and many buildings

of cultural significance. The beautifully maintained

public gardens and reserves are a great place

to relax, or be spoilt for choice with the many

walking and mountain biking tracks from familyfriendly

riverside strolls to steep undulating

terrain.

Waimate hosts many events each year, with

several big events drawing crowds from near

and far. Rumour has it they know how to throw a

good party! The famous Waimate 50 Motorsport

Festival held in October sees the countries best

race car drivers battle it out around the streets

of Waimate for a weekend of adrenalin and

racing car action. Waimate is also known for its

juicy strawberries which have always played an

important role in the local economy, and so the

Strawberry Fare was created to honour this. The

fare sees 14,000 visitors head to the town for this

free family day out, with all day entertainment,

upmarket stalls and colorful rovers and

entertainers.

There are accommodation options to suit all

travellers, from cosy B&B's, motels and pub style

rooms to the many scenic campsites scattered

around the region. While you are here, tame

your hunger pangs at the many eateries on offer,

whether you are after a juicy steak, light snack

or a fine dining experience. The friendly locals

will welcome you with their warm country style

hospitality, so head over to waimate.org.nz to

check out the busy event calendar, and to start

planning your holiday at this remarkable South

Island destination. The Waimate district truly is a

district to explore.

The historic building sits on the corner of Queen

Street and Mill Road in Waimate. As well as a

function centre and accommodation, the Queens

Lodge is home to a café and restaurant, that offer

a unique dining experience. Artifax Café and the

Game Keeper's Restaurant are both museumstyled

with displays from Waimate, New Zealand,

Asia and around the world including archeologic,

natural history, geology, steampunk and religious

items. New displays are created each month.

The restaurant and café provide house-made

foods with ingredients sourced from local growers

and suppliers. Our signature dishes include the

umami black garlic steaks and burgers made

with our own black garlic. A selection of local

wines and beers are available too. The coffee, is

considered one of a kind, exceptional. The cafes

barista says, "We use 'Unknown Chapter' beans

which are amazing however, it is the rare Pascucci

coffee machine that makes all the difference." The

Pascucci known as the Italian Stallion, is one of

only 11 in the world and irreplaceable.

Queens Lodge is located in the historic 1900's

home of the towns renowned doctor, Dr Arthur

Gentry Pitts and was formally known as the

Criterion Hotel. The building is being lovingly

restored to its former glory. Currently, the

Queens Lodge provides 8 backpacker style

accommodation units and suits. Some of the units

have access to the upstairs balcony with views of

the historic silo murals, across the road.

Just a couple of hundred meters down the tree

lined street is Victoria Park, where you can visit the

free wallaby enclosure and aviaries, walk in the

gardens, or enjoy a picnic lunch. A range of picnic

basket options are available from Artifax Café.

explore the wonders of

waimate district today!

Wallabies | Cycling & Walking Tracks | Silo Art | Fishing & Boating | Golf Heritage

Hunting | Parks & Playgrounds | Fossils | Horse Riding

waimate.org.nz

Heading south or to the lakes?

Stop and visit the museum style cafe and restaurant.

Enjoy a connoisseurs coffee, we have the only

genuine Pascucci coffee machine in New Zealand.

Stay in the historic homestead.

Cnr Queen Street & Mill Road, Waimate

For reservations phone 027 313 6575

queenslodgewaimate@gmail.com
---
southern holiday destinations spring-summer 2020

10

wAImAtE

Waimate'S tame

WaLLaBieS

While visiting Waimate, you must

visit the town's famous Tame

Wallaby Park Sanctuary.

Gwen, the "Wallaby Lady" has

dedicated 42 years to hand raising

and caring for orphan baby wallabies

through to adulthood, mostly

brought to her by hunters.

This requires much commitment

as they need constant warmth and

food.

Gwen loves them all as much today

as she did when she got her first

one all those years ago. As visitors

meander among tame wallabies at

their own pace, hand feeding them

special pellets, they are fascinated

by the animal's gentle nature, thus

allowing you hassle-free time to feel

at one with nature.

The park is located off the north end

of Highway 82 on Bathgates Road

close to Waimate. Watch out for the

Wallaby Park sign and don't forget

your camera!

Open daily from 20th September to

10th June from 10am-5pm. During

the off season June 11th to 19th

September the park is open by

appointment, weather dependant

or by chance! No EFTOS or credit

facilities are available.

Phone 03 689 7197 or visit www.

waimateorg.nz/tamewallabies

HOP TO THE

WALLABY PARK

EnkleDooVery Korna Waimate

Affordable Hands-on Adventure

• WALK AMONGST • TOUCH • FEED

• PHOTOGRAPH • OUR FAMOUS WALLABIES

Located North End of State Highway 82

on Bathgates Road, Waimate

Your host: Gwen Dempster-Schouten 03 689 7197 | Email: jenny_dempster@hotmail.com

NO EFTPOS OR CREDIT CARD FACILITIES

Group bookings essential please

NO EFTPOS OR CREDIT CARD FACILITIES

Admire the cute tame Wallabies

• Open 7 days 10am-5pm

• 20 Sept through to 10 June

• During the off season, June 11th to Sept 19th,

will be open by appointment, weather-dependent

or by chance, 10am to 4pm

www.waimate.org.nz/tamewallabies

Tyre Repairs

Fill up

your gas

bottles

SadleRS SeRvice STaTion

19 Queen Street, Waimate

03 689 7303 / 027 211 3813

Open 7 days Mon - Fri 6am- 9pm

Sat 7am - 9pm Sun 7am -8pm

Save at

SadLerS

ServiCe

Station

As you enter Waimate from the

north you will come upon Sadlers

Service Station, a service station to

not only stop at and refuel, but a

station which offers takeaway food,

tyres and discounts. Use your goody

card to build up points for food or

beverages. All supermarket dockets

can be redeemed for a 6 cent petrol

discount including Zed and more.

Or 12 cents off at all Farmlands or

10 cents off Gold Cards. Savings is

the goal at Sadlers Service Station,

where service is great and every

penny counts.
---
southern holiday destinations spring-summer 2020

oAmARu

11

tea and HiStory

CamPing in tHe

at totara eState

Heart oF Waitaki

LakeS

Looking for something a little

different to do this summer? Got

visitors staying and looking for a

wonderful local experience? Bring

them along to Totara Estate and not

only enjoy our beautiful grounds but

hear the story of early New Zealand

farming history and how important it

is to all of us as Kiwis. Our heritage

breed sheep enjoy being fed; there

are old fashioned games for the

kids, dressing up, even a bit of old

time laundry to be washed and

hung on the line. After your tour

around you may feel like continuing

your heritage experience with a

Farmhouse style tea in the original

Cookhouse Café.

Take time to visit the gift shop and

if you still feel energetic after all of

that then the short hike up to the

Brydone Monument is worth it to

take in the patchwork view of the

timeless countryside around the

Estate.

Something new this season is our

Daily Guided Tour each day. Come

along for a warm welcome by one

of our costumed character guide.

Enjoy rustic style morning tea in

the Cookhouse and maybe even

dress up in costume to really get

to feel what life was like in bygones

days. Your guide will then take you

on an interesting and entertaining

tour of the beautiful farm buildings,

following in the footsteps of the

workers right back in 1882. An

informative and entertaining heritage

experience. Our friendly staff are on

hand to welcome you every day from

10.00am to 4.00pm from September

to May.

A little further down the road at

Maheno is Clarks Mill which is open

Sunday afternoons from 1.00 to 3.00

with the machinery running the last

Sunday of the month. For something

special come along to our Clarks

Mill Comes Alive event on the last

Sunday of January, February and

March where the Millers House,

Smokey Joes and the NOVMC also

open for the afternoon.

We offer Guided Tours for larger

camping at

groups by arrangement both

properties so if you are looking for a

really interesting day out book now

for a time that suits.

Look on the website or contact us

for entry prices which do include

family packages. You can also find us

on Facebook under «Totara Estate».

Then please - Join us for some Living

history at its best.

VISIT OAMARU

A place for those who yearn for

summer holidays the way they used

to be, Waitaki Lakes camp sites offer

affordable, back-to-basics camping

in stunning surroundings, open from

the third Saturday of September for

a season of sun and skipping stones

until Sunday the 3rd of May 2020.

Waitaki District Council manages

six camping grounds around Lakes

Benmore and Aviemore – Loch Laird,

Sailors Cutting, Falstone Creek,

Parsons Rock, Boat Harbour and

Wildlife Reserve. The ultimate in oldschool

camping, the sites are sunny

and sheltered, with weeping willows

trailing in the water, and lovely

grassy areas to pitch a tent.

Waitakians have been coming

here to water ski, fish or just float

since they were knee high to a

grasshopper. Unwind your internal

spring, snooze over a book: you'll be

sold on the place too.

Camping at

Pitch a tent on the sunny side of the

lakes for a retro rewind to a time

when your cell phone didn't chirp

with work every 5 seconds and

dinner was cooked, and eaten, al

fresco. Choose a campsite close to

shops, a golf course, playgrounds

and walking/cycling tracks or just

get away from it all and enjoy fishing,

swimming or boating on quiet

waters.

Camping passes and boat ramp

tickets are available from: Waitaki

District Council offices, Omarama

Mobil Garage or Kurow Auto Services

and camp supervisors. For more

information about payment options

and camping visit www.waitaki.

govt.nz, and for regular updates

and stories from the camp grounds

follow the Waitaki Lakes Camping

Facebook page.

WAITAKI LAKES

Totara Estate

Experience a taste of living history when you visit Totara

Estate, the birthplace of the frozen meat industry in New

Zealand. Self Guided or guided tours available.

Cookhouse Café. Daily Guided Tour 10.30am

Open Daily September-May 10.00-4.00pm State Highway

1, 8 kms south of Oamaru.

www.totaraestate.org.nz

Clarks Mill

Fully restored Oamaru Stone Flour Mill dating back to

1866. Tours available by our excellent and knowledgable

guides. 12 Kms south of Oamaru at Maheno.

Open every Sunday from October 28th to April from 1pm – 3pm.

Machinery operates last Sunday of the month. Clarks Mill Comes

Alive event last Sunday in January, February and March.

www.clarksmill.org.nz

Group Tours available at both sites by arrangement. Admission charges apply.

See our website or facebook page for more details or ring us on 03 433 1269.

Email: totaraestate@heritage.org.nz. Facebook: @TotaraEstate

Enjoy affordable back-to-basics, retro Kiwi-style camping within

stunning surroundings at the beautiful Waitaki Lakes, where it is

sunny and sheltered and there's swimming, fishing, boating, cycling

or a chance to just pull up a deck chair, unplug and unwind

www.waitaki.govt.nz
---
12

oAmARu

southern holiday destinations spring-summer 2020

Stay in a PieCe

oF HiStory

enHanCe

WooL

Enjoy the peace quiet of a country getaway in

the historic "Little Red School House" which

operated as a school in the 1920s.

Situated at over 400 metres above sea level,

absorb the panoramic mountain and country

views.

Located on a working sheep and beef farm.

Guests can engage within the farming

environment if arranged prior.

Transport arrangements available for guests

cycling the Alps2Ocean cycleway.

30 minute drive inland from Oamaru.

Kitchenette, Washing Machine. Free WIFI

Little Red

School House

Bed & Breakfast

• Breakfast Included

• Free WiFi

• Panoramic sea, mountain & countryside views

• 30 minute drive from Oamaru

• Kitchenette, Washing Machine

• Flat Screen TV with satellite channels

• Experiences available include walks, mountain

biking trials, star gazing, a 4 wheel drive trip on

the farm, horse riding, viewing sheep shearing

or dog trialing if arranged prior

21 Turnbulls Road, Five Forks

North Otago, New Zealand

To book or for inquiries, call, email or message:

027 295 4930 | goldengully2015@gmail.com

- Little Red School House (Oamaru)

Your hosts - Greg & Nic Ruddenklau

exPerienCe

tHe

FLavoUr

Brydone Wholefoods 6kms south of Oamaru you will

find Brydone Wholefoods Store. Located in the old

Totara Hall, the family business combines a lifelong love

of the land and a passion for wholesome healthy food.

Be tempted by seasonal certified organic, spray free and

local produce, fruit, fresh and dried and nuts which are

kept at optimal temperature in their large walk in chiller

for freshness. Try their real fruit ice cream and available

dairy free options.

The freezers and fridges are crammed with local and

organic meats including a wide range of dairy and nondairy.

In addition to the store's extensive grocery lines,

they also stock environmentally friendly household and

healthcare products, the NZ Biogro certified Viola range

and the well renowned Weleda products including

their baby range. We also stock a range of Dr Hauschka

Skin Care. You will find products that are gluten-free,

dairy-free and refined sugar-free, as well as paleo and

vegan lines, while the kitchen provides delicious raw

desserts, baking and savoury foods, Brydone's baristas

will tempt you with your choice of Underground Coffee.

Local residents and visitors are warmly welcomed

by our staff at Brydone Wholefoods Store. Relax and

enjoy the warmth and peace in our coffee lounge. As

well as offering a courier service for out-of-town-folk,

customers can shop online and/or order one of our Fruit

& Vege Boxes available from our online shop. Brydone

Wholefoods Store is open Monday to Friday 9am-6pm,

Saturday 10am-4.30pm. Phone 03 4346744 or email

brydonewholefoods@gmail.com

BRYDONE WHOLEFOODS STORE

ORgaNic & NaTuRaL FOOD SpEciaLiSTS

Open Monday to Friday 9.00am to 6.00pm

Saturday 10.00am to 4.30pm

Shop online!

451 Alma-Maheno Road, State Highway 1,

Oamaru (6km South of Oamaru)

R.D. 19-D, Oamaru 9492

Telephone/Fax 03 434 6744

Email brydonewholefoods@gmail.com

Like us on Facebook

6km south of Oamaru on State Highway 1

(just past Totara School)

BRYDONE

WHOLEFOODS

STORE

The wool shops and draperies that once graced every

town, city and suburb have almost become extinct, but

visit Enhance 2007 Ltd in Oamaru and you may be filled

with nostalgia!

It is an Aladdin's Cave of wonderful wools, yarns,

patterns, needles, sewing threads, buttons, bows,

accessories and people who know their stock and their

stuff. Presided over by owner Val Hill who has had a

lifetime career in wool and crafts, Enhance has been in

business for over a decade.

"We try to have a broad range of wool from 2ply to

chunky as well as a mix of lovely yarns like silk, possum,

Tencel, cotton and alpaca" says Val. Whenever possible

she sources New Zealand wools, but the yarns come

from all over the world including UK, Peru, Australia,

China, Italy and Turkey.

Staff at Enhance have seen an increasing interest in

crafts especially among young Mums with toddlers and

babies and Enhance offers a huge selection of patterns

in-stores. Whether you are a beginner looking for a first

project or an experienced knitter looking for a challenge,

Enhance can inspire you with ideas, techniques and

encouragement.

In addition to the superior selection of knitting products,

you will also find embroidery fabrics and threads

haberdashery items for superb finishing of your work and

gift ideas such as costume jewellery.

As well as serving the customers of North Otago, clients

contact Enhance from as far away as Auckland and

Bluff, while others browse and buy whenever they visit

Oamaru. So why not do the same and visit enhance 2007

Ltd next time you're in the region? You will find a wealth

of product selection, with genuine customer service

and the pleasure of a gentle and rewarding shopping

experience. Enhance is open Monday to Friday 9 am-

5:30 pm and 10 am to 1 pm on Saturdays. For further

information phone 03 434 2144 or check them out on

Facebook.

Colour and love of design

Stockists of a complete range available in NZ from 2ply through to chunky

• Blends include Possum, Alpaca, Silk and Mohair

• Stunning range of colours

• Embroidery fabrics

• Threads and accessories

• Ribbons and buttons

• Laces, braids, beads and haberdashery

• Fabric dye and paint

• Costume jewellery

Laybys

welcome

125 Thames St, Oamaru

Tel: 03 434 2144 | Fax: 03 434 2145

Email: enhance.oamaru@gmail.com
---
southern holiday destinations spring-summer 2020

oAmARu

13

exPerienCe tHe

amBianCe

nortHStar

moteL

Designed in 1881 by Forrester and

Lemon, the magnificent Oamaru

stone building has been welcoming

guests for over 130 years. Today they

proudly continue their tradition of

exceptional style and hospitality,

right in the heart of Oamaru.

Their award-winning cuisine is

available from early breakfast to

late night dinners, and everything

in between. From the smallest of

get-togethers to the largest of

conferences, their locally sourced

cuisine caters to all.

Boasting two on-site bars, guests

can mingle at The Brydone in the

main street of Oamaru or watch the

big game at the Pacific Ocean-facing

Sports Bar.

Located in the heart of Oamaru,

The Brydone is the perfect location

for your next adventure in 'New

Zealand's coolest town'. They are

a short walking distance from the

Victorian Precinct and the little blue

penguins, smack bang in the middle

of jaw-dropping scenery. Let yourself

be swept away in the magic of The

Brydone Hotel.

Located in the north of Oamaru,

Northstar offers modern

accommodation and delicious,

locally sourced cuisine in stylish

surrounds. Slumber in a super king

bed, and wander at your leisure to

the onsite restaurant where you can

feast on the best the Waitaki has to

offer.

Northstar's motel units offer

affordably priced accommodation

with full kitchen facilities, a choice of

a super king bed or two king singles,

a Nespresso machine and modern

styling for the discerning traveler.

The complex is perfect for events,

parties and corporate functions. Their

friendly and experienced staff delight

in working with you to make your

event perfect. Only a short walk to

your accommodation after dining in

the restaurant or enjoy a quiet night

in with a bottle of Central Otago wine

from the on-site bottle store.

Sample the best of Oamaru while

you stay at Northstar - they are

located only a few minutes drive

from town and it's a short 20 minute

drive to the burgeoning Waitaki

Valley wine region. Come back

and enjoy luxurious bedding after

a day's adventuring, or perhaps sip

on a nightcap at their restaurant.

Whatever your journey, Northstar has

it all.

Founded

The Oamaru

after

Trust

an end

manage

to prohibition

4 businesses

in 1961,

in the

Oamaru

hospitality

Licensing

industry

Trust

including

(OLT)

a

operates

hotel, motel,

four

restaurants,

businesses

bars

in the

and

hospitality

a retail liquor

industry:

outlet

The

throughout

Brydone Hotel,

the District,

Northstar

and ensures

Motels Restaurant

staff are highly

& Bar,

skilled

Sports

in all

Central

areas. This

Brewhouse

means a

and

great

Liquorland

service, yummier

Oamaru.

food,

Their

amazing

staff strive

coffee

to

&

provide

fine wines

the

are

best

at

service

your fingertips.

and hospitality

The profits

to

we

the

make

wider

are

community,

driven back

locals

into the

and

community

visitors alike.

- that's us, working for you 24 hours a day, 7 days

a week.

The OLT Trust's proudly strives supports to provide North quality Otago accommodation, by both distributing food, beverage

its and profits entertainment to deserving for community both Oamaru projects, locals and visitors also acts to the as area.

the The Oamaru-based Licensing committee Trust board for Lion who Foundation act as the Oamaru funding based

applications, committee for distributing Lion Foundation hundreds funding of thousands applications of have dollars distributed

throughout hundreds of the thousands community. of dollars The OLT back acknowledges into the community. the The Trust

continuous acknowledges support the continuous their businesses support receive that OLT from businesses local and receive the

wider from public the local which and assists wider public in ensuring which assists this funding ensuring is returned funding to is

the community. The returned OLT - back your into community, the community. your trust.

Quality dining and accommodation, Oamaru

Like us on Facebook: North Star & The Brydone Hotel

OPEN DAILY
---
14

oAmARu

southern holiday destinations spring-summer 2020

great Home-

StyLe Cooking

PreSenCe

on HarBoUr

No trip to Oamaru would be

complete without a visit to the Star

and Garter. An historic restaurant,

well known throughout the area

and beyond, the Star and Garter

specialises in good, honest, homestyle

cooking. Roast meals, lamb

shanks, fresh blue cod, and much

more. Their signature dish, seafood

chowder, is a firm favourite. They

also offer a wide range of gluten

free items, as well as dairy free,

Looking to

find that

unique

piece

Arthur's Antiques

showcases vintage lights,

china, jewellery, architectural

hardware plus much much

more...

P. 03 437 0053 or 027 434 2474

360 Thames Highway, Oamaru

arthursantiquesnz@gmail.com

vegetarian, and vegan. They are

happy to customise any dish to your

requirements, and with a popular

children's menu, the kids will be

happy too! They also cater parties,

weddings, and events, as well as

having accommodation. Built in the

1860's, the Star and Garter has a

lovely charm of days gone by. Stop

in and enjoy good kiwi food and

hospitality.

treaSUre trove

Arthur's Antiques is situated

at 360 Thames Highway,

Oamaru in the North End

Shopping area. The shop is

run by Donna & Tim Arthur

and Maisie the cat.

It is open every day

from 10am (Sunday

10.30am) including

public holidays.

There are two

shops attached to

each other. One is a

Furniture Emporium

with adjacent to the

main shop, where there is

always a good selection of:

Vintage Lights, China, Crystal,

Silver & silver plate, Jewellery,

Clocks and even more

Presence on Harbour is situated an

old warehouse building in Oamaru's

picturesque Victorian Precinct.

We are not your usual gift store

specialising in New Zealand arts and

crafts, kiwiana and merino possum

knitwear, call in and see for yourself.

Shop in person or online and you

will find gifts for all occasions

including weddings, engagements,

baby showers, housewarmings, or

simply an irresistible item to indulge

yourself! A variety of kiwiana easily

provides the ideal gift for friends and

relatives in New Zealand or those

overseas to remind them of home.

The selection at Presence on

RealFood Pantry is just off Thames on

Eden Street and is home to quality

ingredients for baking, cooking, treats

and brewing. You'll also find a selection

of organic and gluten free products, bulk

fruit and nuts, herbs and spices. Pick up

furniture to choose from.

Have a look at their Vintage

tool selection, Kerosene

lamps and Architectural

hardware.

Each weekend they

have people from

all over the country

looking to find that

unique piece.

On your next trip

South, pop in and

see what treasure

you can find. You won't

be disappointed and while

your there say hello to Maisie

the cat.

Ph 03 437 0053

Email: arthursantiquesnz@gmail.com

Established in 1995, Slightly

Foxed Secondhand Books

has a reputation for good

quality books at reasonable

prices. The shop buys and

sells books on all subjects,

including New Zealand;

children's; travel; art; military;

literature; fiction; history;

biography; religion; natural

history; gardening and

cooking.

The bookshop has a Victorian

style atmosphere. Warmed

in winter by heat pumps and

with comfortable seating.

The children's book area has

Harbour includes Oamaru-themed

gifts, plus wall art by New Zealand

artists and photographers. The

exquisite range of knitwear by Koru

and Native World features jackets,

cardigans, shrugs, ponchos socks,

accessories and children's wear.

The inviting shop at 1 Harbour St

Oamaru is open 7 days a week and

welcomes customers to browse, buy

and enjoy the ambience of Presence

by name and by nature!

For further information and

inspiration call 027 4395170 or visit

www.presenceonharbour.co.nz.

Also, check them out on facebook

and instagram.

reaL Food Pantry

some international foods. They have a

supply of cake decorating and brewing

supplies. They offer a back to basics

approach to food and you will find a

range of recipes, new ideas and friendly

advice. www.realfoodpantry.co.nz

BookS, BookS

and more BookS

a playhouse under the stairs

and features illustrations from

Alice in Wonderland. The

proprietor wears traditional

style clothing and enters

purchases in a spring-back

ledger. All purchases are

wrapped in brown paper and

tied with string.

Having visitors travel from

further a-field specifically

to visit the bookshop is the

reward for hard work and

patience in the initial few

years. It is now enjoying

its 23rd year in the Historic

Precinct of Oamaru.

Friendly Staff, Delicious Food

in relaxed surroundings in Oamaru's

oldest established restaurant

From award winning

Seafood Chowder to

Roast Meals, fresh Blue

Cod, Victorian Liver

& Bacon, and more.

Dairy-free, vegetarian

& gluten-free options.

Private Back Room.

Oamaru's Oldest Restaurant

Call in and see Lisa and her staff for a welcome

and service that's second to none.

Open 7 days, 11am till late

9 Itchen Street, Oamaru | Phone (03) 434 5246

Grains & Flours

Peas, Beans & Lentils

Herbs & Spices

Organic & Gluten Free Products

International Foods

Cake Decorating Supplies

Brewing Supplies

Confectionery & Treats

10 EDEN STREET, OAMARU 9400

P 03 433 1433

M 027 357 6590

E info@realfoodpantry.co.nz

PRESENCE ON HARBOUR

GROOVY STUFF FOR GROOVY PEOPLE

MERINO POSSUM KNITWEAR

NZ ART & QUALITY KIWIANA GIFTS

Open Daily except Christmas Day

1 Harbour Street, Oamaru

presenceonharbour@gmail.com

Tel: +64 27 439 5170

www.presenceonharbour.co.nz

facebook.com/presenceonharbour

instagram.com/presence_on_harbour

QUALITY BOOKS

BOUGHT & SOLD

Kahren Thompson

11 TYNE ST, (HISTORIC PRECINCT) OAMARU

PH 03-434 2155 EMAIL slightlyfoxed@actrix.co.nz
---
southern holiday destinations spring-summer 2020

oAmARu & moERAkI

15

Lagonda

tearoomS

tradition

at itS FineSt

Thames Street is Oamaru's modern

commercial hub and complements

the nearby historic precinct with

a variety of shops, services and

accommodation. Alongside its wide

thoroughfare and easy parking,

you'll find well known stores and

franchises, locally owned boutiques

and a plethora of delightful cafes,

restaurants, pubs and hotels; among

them:

Lagonda Tearooms is one of those

iconic New Zealand style of milk

bar, ice-cream parlour and tearoom.

Offering selections for morning

and afternoon tea, lunches and

takeaways. Lagonda is also a Coach

Travel Centre and 7 day a week

refreshment stop. As well as indoor

and outdoor seating, the tearoom

also has free WiFi customer use.

aSCot moteL

oamarU

Doug Familton welcomes you to

Ascot Oamaru Motel which is the first

motel in Oamaru as you drive in from

the north on State Highway 1. Ascot

Oamaru Motel is one of Oamaru's

largest motel complexes with 30

units and ample car parking space.

Accommodation choices include

studio rooms, one and two bedroom

apartments and access apartments

offering ideal flexibility for business

and leisure travellers as well as

groups and families. All units are

nicely decorated, and some offer spa

baths.

OAMARU MOTEL

A range of amenities to ensure

guest comfort includes free wifi,

room service breakfast, laundry and

sky TV. The Ascot Oamaru Motel

is conveniently located alongside

Oamaru's Galleon Complex which

houses a tenpin bowling alley,

gaming room, and family restaurant.

It is also close to Centennial Park

Sports Grounds, the Oamaru

Racecourse and secondary schools.

For further enquiries and information

visits www.ascotmoteloamaru.co.nz

or email stay@ascotoamarumotel.

co.nz

LAGONDA TEAROOMS

OAMARU

FLeUrS PLaCe

Fleurs Place in Moeraki Village has

been recognised nationally and

internationally for delicious, simply

prepared fresh fish and locally sourced

produce, served and enjoyed in

beautiful surroundings.

The restaurant is right on the village's

waterfront across the Bay from the

iconic Moeraki Boulders, a stone's

throw from the areas rare wildlife.

After 20 years at Oliver's fine dining

restaurant in Clyde, Fleur Sullivan

followed a dream to live by the sea

and found herself "surrounded by fish

stock, cod livers, mussels, seaweed

and boats." The temptation to establish

another restaurant was overwhelming,

and the rest as they say is history.

The food is simply superb and

incorporates seasonal delicacies

like muttonbird. All the shellfish

is harvested commercially from

Marlborough to Bluff. The Trio of

Fillets, Tasting Plate for Two, Fish of

the Day (which can be baked whole) is

straight from the Moeraki fishing boats,

selected from the ever-changing daily

catch which may consist of; Blue Cod,

Moki, Gunard, Sole, Flounder or Groper

complemented by fresh vegetables

a PieCe oF ParadiSe

Just 50m from the beach, Moeraki

Village Holiday Park enjoys an idyllic

setting close to the famous Moeraki

Boulders and colonies of penguins

and seals. Hosts Kristina and Robbie

Mitchell welcome visitors from

all over the world to their "piece

of paradise" and provide a variety

of accommodation to cater for all

budgets.

As well as 6 self contained motels, 3

self contained tourist flats, 3 cabins

and 30 tent/caravan or motor home

sites, visitors will also appreciate

modern well equipped communal

kitchen and dining facilities, clean

shower blocks and guest laundry, a

TV lounge with Freeview TV, internet

and wireless access, barbeques and

children's play equipment.

Fleurs Place

simple, fresh, naturally good food

from local organic growers, including

Fleurs personal garden.

Fleur lives by her commitment to

provide top quality fresh produce to

her customers as well as the rest of

the team, who contribute their garden

produce and herbs to Fleur's fresh

produce inventories.

The Fleurs team members consist

of culinary experts from around the

world including countries such as

France, Korea, Sardinia, Ireland, the

Netherlands, Columbia and more.

Top off any meal, with one of the

menus delectable desserts made by

their master dessert chef, who make

desserts that melt in your mouth.

Fleurs has been named Cuisine

Magazines first and inaugural food

legend. Stop by Fleurs and select from

a menu which is a treat for food lovers

from all around New Zealand and the

world. Fleurs is a sought out 'foody'

destination so bookings, especially in

the busy season, are essential.

Phone: 03 439 4480

Located on a curve of faultless

beach, there's ample opportunity for

fishing and boating, deep sea charter

fishing, while wonderful walks

take you to Moeraki's unique rock

formations and wildlife including

New Zealand's rare Hoiho or yelloweyed

penguin.

The area is also historically

significant and once boasted a Maori

village and pa in addition to the

pretty Kotahitanga Church and a

lighthouse in continuous use since

its establishment in 1878.

Visitors to Moeraki can enjoy

restaurant meals at the Moeraki

Tavern or the award winning world

class taste sensation of Fleur's Place

or the services and amenities of

Oamaru just 20 minutes drive away.

Moeraki Village

Holiday Park

500a Thames Highway, Oamaru 9400

Phone: 03 437 9040 or 0800 62 62 78

Email: stay@ascotmoteloamaru.co.nz

www.ascotmoteloamaru.co.nz

FAST FRESH FOOD

with value meals,

milkshakes, icecreams & drinks

Internet available

Open every day except

Christmas Day

Call in, relax and enjoy at

LAGONDA TEAROOMS

191 Thames Street, Oamaru

Phone: (03) 434 8716

Fish from the Moeraki fishing boats

• Bookings essential •

Phone 03 439 4480

www.fleursplace.com

• Moeraki Boulders

• Yellow-Eyed Penguin Colony

• Beautiful Views • Motel Units

• Tourist Flats • Cabins

• Caravan Sites • Tent Sites

114 Haven Street, Moeraki, North Otago

Phone/Fax 03 439-4759

moerakivillageholidaypark@xtra.co.nz
---
16

mAckENzIE

southern holiday destinations spring-summer 2020

Lake

tekaPo

CottageS

Lake oHaU Lodge –

exPerienCe tHe BeaUty

Lake Tekapo Cottages offers self

contained holiday accommodation in

one of the South Island's most scenic

settings. Nestled in a large garden

amid mature trees, a selection of

charming cottages of varying size,

accommodate between 2 and 8

guests.

Well sited for both mountain views

and privacy, the cottages allow

independent visitors to enjoy a

country-style stay with modern

comforts and village amenities close

by. Tekapo has become a year-round

destination with water sports, hot

springs, skating, ski fields, scenic

flights to Mt Cook and a World

Heritage Night Sky attraction at Mt

John.

As well as their self contained

cottages, the company also manage

a number of well appointed holiday

homes that are also available for rent.

For further information and bookings

visit www.laketekapocottages.co.nz

LAKE TEKAPO COTTAGES

LAKE TEKAPO COTTAGES

Cottage and holiday home style accommodation

Spectacular mountain views | Excellent restaurants

Affordable accommodation rates | Free Wifi

Friendly, personal service for our guests

Central location close to shops and church

12 Sealy St, Lake Tekapo | Ph: (03) 680 6865

laketekapocottages@gmail.com | laketekapocottages.com

As you drive the 25 km road through golden farmland of

the valley, much is to be discovered round each bend.

When you take one last right hand curve, the valley

opens up to the turquoise blue of the glacier fed lake

and a stunning view of the Glen Mary Summit. Entering

the picturesque oasis, guests have many activities to

choose from at Lake Ohau Lodge. The ever changing

weather determines it all, and on the calmest of days the

guests will experience a sense of peace and tranquillity.

As you walk through the beech forest or along the edge

of the lake, the summit of Aoraki/Mt. Cook peaks over

the ridgeline of the Dobson Valley. With the reflection

off the water it is as if the mountains jet straight up out of

the Earth. By definition, Ohau means place of wind and

"Ohau" it can blow. The wind picks up the spray off the

lake waves giving the air a cooling freshness.

Enjoy the many mountain bike and walking options.

Being the halfway point between Twizel and Omarama

on the Alps2Ocean cycle trail, Lake Ohau is the perfect

place to refuel and stretch your legs. If you have arrived

to the Lodge by vehicle you can drive just 20 minutes

further along to the magical Temple Valley. There are

three different hiking options tailoring to all skill levels.

For a quick 1 hour return, the Ram Hill Lookout is for

you. If you are feeling a bit more daring take the North

Temple Track 5 hours return through the beech forest

and moss covered river banks which will open up into

a dramatic waterfall filled cirque. The energy and size

of the mountain surroundings will have you forgetting

about the city life you left behind.

The Lodge also offers a next level dining experience.

Encouraging communal dining, Lake Ohau Lodge makes

an effort to seat guests with other travellers who will add

to the experience. There are many stories of life long

connections being made over the 3 course meal. They

offer a truly delicious 3 course menu at night, sourcing

such local product as Aoraki salmon, Merino lamb, wild

Fiordland venison and using local butchers and food

providers wherever possible. The lodge is also happy to

provide a packed lunch for your day out explorations.

There are 4 standards of accommodation, all ensuite,

ranging from basic, clean and comfortable to their

classically furnished best rooms featuring local artists

work, and either ground floor or upstairs where the best

views of Aoraki can be enjoyed from your balcony. The

beautiful outdoors is just outside your room at the Lake

Ohau Lodge. With so many activities to choose from, you

will spend your time experiencing all that nature has to

offer outside and then journey inside when you're ready

for a wee rest.

Further up the valley if you have a mountain bike or

high wheelbase 4WD, you can drive to Monument Hut

and walk or 1½ hrs to the Huxley Gorge swing-bridge

and back. Crystal clear streams, beautiful open valley

and again, lovely native beech forest. You will truly

understand what makes this valley a hidden gem in the

Mackenzie District

Experience the natural beauty, peace and tranquillity of

Lake Ohau Lodge.

PROUD TO SERVE MEALS PREPARED WITH

LOCALLY SOURCED INGREDIENTS

NZ WINES, MONTEITH'S CRAFT BEERS,

ALLPRESS ESPRESSO

Casual café-style meals for breakfast and lunch and a

relaxed atmosphere for evening à la carte dining.

For the guaranteed 'hottest meal in town' select from

the Stonegrill menu! Dine alfresco over summer and

stay cosy and warm by our fire in winter.

Our menu changes seasonally, but you can always

expect to find a great Mackenzie Country Steak and

Alpine Salmon on offer.

LAKE TEKAPO VILLAGE CENTRE

PHONE 0800 806 886

OPEN DAILY FROM 10AM.

DINNER SERVED FROM 5PM.

RESERVATIONS ESSENTIAL

FOR DINNER.

Stay on your alps2ocean journey | Stunning views & 4 standards of accommodation

a dinner bed & breakfast package is offered | Try our famous cyclists platter & coffee

or you can base yourself at the Lodge and explore the area

To make an enquiry or a booking email: reservations@ohau.co.nz

Phone: (03) 4389 885 www.ohau.co.nz
---
southern holiday destinations spring-summer 2020

DuNEDIN

17

i-Site dUnedin iS in tHe knoW

i-SITE knows all the best things to do, places to

stay and ways to get there. Plus, they'll take care

of the bookings.

Every person who works at i-SITE is a travel

expert for their own hometown, so they can

help you to find the sort of activities, attractions,

accommodation and transport that only a local

would know.

You can be sure that once you have experienced

the latest and greatest of what one place has

to offer, i-SITE will help connect you with their

equally friendly i-SITE colleagues at the next stop

on your journey.

So, whether you've come around the world or

down the road you can rely on i-SITE for expert

local knowledge and bookings throughout New

Zealand.

• Itinerary planning and information

• Bookings nationwide - accommodation,

transport, activities, attractions

• Free maps, weather & mountain safety

information

• Local information - events, attractions,

restaurants & more!

Book BeFore yoU arrive

They can send you information and brochures

and answer any queries you have. They try to

respond within 48 hours. They can book your

accommodation, travel, activities and tours for

Dunedin and anywhere else in New Zealand

prior to your arrival to Dunedin. This is particularly

useful if you have several bookings to make or

require accommodation during a peak period.

They do not add booking fees and accept Visa

and MasterCard payments for bookings.

WHen yoU arrive

in dUnedin

When you arrive in Dunedin, visit them first and

they will arrange all your accommodation, tour

and sightseeing bookings in Dunedin and Coastal

Otago for no extra charge. The i-SITE Visitor

Centre has all the convenience of a one-stop

shop.

oPening HoUrS

Summer (November to March)

Monday to Friday: 8.30am - 5.30pm, Saturday,

Sunday 8.45am - 5.30pm and Public Holidays:

9am - 5pm

During our busiest period (December to February)

we will open until 6pm when demand arises.

dePartment oF

ConServation

Located within the Dunedin i-SITE Visitor Centre

is the Department of Conservation (DOC). Come

in to book your huts on the Great Walks, purchase

topographical maps and get great advice on all

the walks you can do on DOC land.

maPS and BroCHUreS

They have an extensive range of track, walking

and road maps which includes detailed

information on the Dunedin and Coastal Otago

Walks, the Central Otago Rail Trail, the Southern

Scenic Route, Fiordland National Park, Stewart

Island and much more!

Peruse their extensive range of brochures,

posters, maps and other information about all

regions of New Zealand.

SoUvenirS

They have a range of unusual and original

Dunedin & New Zealand souvenirs, from stamps

and postcards, to books and mementos.

year roUnd FUn

at moana PooL

Moana Pool is open year round and

has more to offer than just swimming

lanes. Bring the children to enjoy the

fun and fabulous waterslides and the

rocking wave pool, while you take

a moment to relax in the hot spa.

Exercise those holiday muscles in our

fitness facilities and lane swimming or

take part in the aqua fit classes.

There are also party rooms and BBQ's

available to hire so you can make the

most of the sun and festive holiday

spirit. Enjoy stellar views over Dunedin

from this delightful family -friendly

holiday activity spot! Centrally located

minutes from the Octagon, Moana

Pool has free parking.

EXPERT LOCAL KNOWLEDGE

and bookings throughout New Zealand

NEW ZEALAND'S OFFICIAL VISITOR INFORMATION NETWORK

Visitor Centre

50 The Octagon

PHONE 03 474 3300

EMAIL visitor.centre@dcc.govt.nz

WEBSITE www.isitedunedin.co.nz

MAKE MOANA POOL YOUR HOLIDAY DESTINATION

Come and enjoy our great facilities: Wave pool – toddlers pool – rapid river – water

slides – inflatables – diving boards – BBQ and rooms for hire.

Make the most of your leisure time.

60 LITTLEBOURNE ROAD | DUNEDIN | PH 03 477 4000

WWW.DUNEDIN.GOVT.NZ/MOANAPOOL

A DEPARTMENT OF THE DUNEDIN CITY COUNCIL
---
18

DuNEDIN

southern holiday destinations spring-summer 2020

emerSon' S

BreWery

oLveSton

HiStoriC Home

Over the past 25 years we have been

searching for the elusive Holy Ale,

now Emerson's has a new spiritual

home to pursue our quest."

Emerson's is all about sharing and

having fun, so get a group together

or join one of their 60 minute

guided tours through our

brand new Brewery

and Taproom. The

tour will take you

through a little bit

of the history of

how Emerson's

has been a

pioneering

force in the

development of

craft brewing in

New Zealand. You

will then be taken

into the brewery,

learning about all the

aspects of the Emerson's

Brewing process, from milling the

malt to packaging the finished

product.

There will be a chance to get your

hands a little dirty in the Emerson's

Workshop, our 1200L Pilot Brewery

incorporated into the middle of our

Taproom. The tour finishes with

a delightful sensory experience

sampling six of our most famous

beers.

If you can't bear to tear

yourself away, stay

on, sit down and

enjoy a fantastic

meal in an

atmosphere

that won't be

easily forgotten.

Before you

leave there is

an opportunity

to purchase an

Emerson's brew

from one of 12 taps

located in our cellar

door and take a little bit of

Emerson's with you.

Emerson's Brewery and Taproom is

located at 70 Anzac Ave, Dunedin or

visit www.emersons.co.nz

BrEWErY

TOUr

A 'must visit' for lovers of arts and

culture; Olveston offers a unique

glimpse into the extraordinary

lives of one of Dunedin prominent

Edwardian families.

Olveston was the home of

businessman, collector and

philanthropist David Theomin.

Designed by the English architect,

Sir Ernest George, Olveston was built

with every modern convenience

including central heating, a gas

generator for electricity, a shower

in each bathroom and heated towel

rails, an internal telephone system

and service lift. The house was

also lavishly furnished with exotic

artefacts, prized artworks, antiques,

carpets, ceramics, statues and

weaponry purchased from around

the world.

Olveston was inherited by the

Theomin's daughter Dorothy in 1933.

Continuing the family tradition of

philanthropy, Dorothy supported

many of the artistic and community

causes championed by her parents

including Dunedin Public Art Gallery

and the Plunket Society.

Following Dorothy's death in 1966,

it was discovered that Olveston,

complete with the original contents,

was gifted to the people of Dunedin.

Guided tours reveal the extraordinary

lives of the Theomin family and allow

a glimpse of Dunedin's rich business,

artistic and social history from the

mid-1800s until the 1960s.

Set within a 1-acre 'Garden of

National Significance', at 42 Royal

Terrace, Olveston is within walking

distance from the Octagon. Olveston

is a time capsule, as little has

changed inside the house since it

was occupied as a family home. A

feast for the eyes, a tour of Olveston

is for those who appreciate (or aspire

to) the finer things in life.

Visiting Olveston is by guided tour

only. Tours commence daily at

9.30am, 10.45am, 12noon, 1.30pm,

2.45pm and 4pm. For details of

other activities and events held at

the house throughout the year, visit

www.olveston.co.nz

Brewery tours and tastings daily from 10am.

Taproom & Restaurant 10am till late.

70 Anzac Ave | Ph 03 477 1812 | www.emersons.co.nz
---
southern holiday destinations spring-summer 2020

DuNEDIN

19

St CLair Hot

SaLt Water PooL

kingSgate – tHe

ideaL LoCation

St Clair Hot Salt Water Pool is the

only surviving salt water pool of

several in Dunedin from the late

1800s.

St Clair Pool is an outdoor hot salt

water pool built on a beautiful

site at the southern end of St Clair

beach. Its wonderful location on

the beachfront makes it a highly

pleasurable swimming experience. It

is particularly suitable for those who

love swimming in salt water, but may

not wish to venture into the brisk

ocean water. The pool is heated to 28

degrees Celsius and is a mixture of

salt and chlorinated water.

The pool features a paddling pool

for toddlers, changing facilities, a

disabled change area and there are

lots of things to do including lane

swimming, aqua jogging, playing and

relaxing. A cafe operates year round

at the facility. It is open from 9am-

5pm daily.

St Clair Pool is open for the summer

season on 1 October and closes on

31 March 2020.

Kingsgate Hotel Dunedin is right in

the heart of the city, providing the

ideal location for guests whether

they are visiting for business or

leisure. With unbeatable views over

the city and friendly, knowledgeable

staff, the Kingsgate is the place to be.

The central business district is right

on your doorstep and you are within

easy strolling distance of some of

Dunedin's best local attractions

including the Speights Brewery and

the famous Dunedin Railway Station.

In house dining at Jimmy Cook's Kiwi

Kitchen sets the stage for a true Kiwi

dining experience. Savour a mouthwatering

selection of authentic

Kiwiana favourites and enjoy a

beautiful beverage made locally in

Otago. The Aberdeen Bar offers a

happy hour from 17:30 – 18:30 daily.

With 55 sunny, north facing,

well-appointed guest rooms, the

Kingsgate Hotel offers comfort,

convenience and a warm welcome

at any time of the year.

SEE WHAT'S NEW IN DUNEDIN

ST CLAIR HOT SALT WATER POOL

Come and swim at one of Dunedin's favourite swimming pools this summer.

Open hours: Monday to Friday 6am – 7pm | Saturday and Sunday 7am – 7pm.

Season and multi visit passes and group bookings are available.

THE ESPLANADE | ST CLAIR | DUNEDIN

PH 03 455 6352 | WWW.DUNEDIN.GOVT.NZ/STCLAIRPOOL

• Centrally located in the heart of the city.

• Contemporary, north-facing rooms with wonderful views.

• Delicious and affordable food at Jimmy Cook's Restaurant.

• Complimentary Moana Pool passes and full access to

Sky TV.

• Warm and authentic Kiwi service.

• Family friendly and fun.

KINGSGATE HOTEL DUNEDIN

10 Smith Street, Dunedin, 9016, New Zealand

T +64 3 477 6784 E kingsgate.dunedin@millenniumhotels.co.nz

A MILLENNIUM HOTEL | www.millenniumhotels.com
---
southern holiday destinations spring-summer 2020

20

DuNEDIN

dUnedin'S

CHineSe

garden

Located in the heart of Dunedin is the only

traditional Chinese Scholar's Garden in the

southern hemisphere.

The garden takes visitors on a journey through

the city's cultural history, heritage and tradition –

giving recognition to the Chinese people who first

came to Otago during the 1860s gold rush and

stayed to establish a new life.

As a NZ Gardens Trust 5 star rated garden, it has

a distinct character being designed and built

using authentic Chinese materials and crafted

by a team of artisans from Dunedin's sister city

of Shanghai. The Garden features hand-made

wooden buildings, tiles, bricks, lattice-work and

hand-finished granite paving stones.

Plants, trees, and rocks are carefully composed

into small perfect landscapes mimicking a

traditional Chinese landscape painting.

It is a great place to bring children for activities

including garden hunts, costumes and arts and

crafts. Parents can take some time out in the

Tea House and enjoy traditional Chinese tea and

treats.

Explore Dunedin's

stories at one of

New Zealand's most

innovative museums

toitU otago

SettLerS

mUSeUm

Visit and explore

the only authentic

scholar's garden in the

Southern hemisphere.

• Learn about the Dunedin

Chinese Settlers in our

alleyway exhibition.

• Savour traditional tea and

dumplings in the

enchanting teahouse.

• Create memories and

dress up in traditional

Chinese costume.

The gallery spaces at Toitū showcase

dozens of display cases filled with

intriguing objects which provide the

opportunity to interact and explore

specific time periods. Try on a turn

of the century dress or climb on the

Roslyn tram or Tiger Tea bus. Play

the classic 1980s Atari game Laser

Hawk or chill out and listen to some

music. The interactive displays also

include soundscapes and digital

media that will engage curious

minds.

The beautiful Art Deco bus station

area has a children's area with craft

materials and dress ups – as well

Encounters exhibition.

as comfortable seats for the adults'

tired legs. The archives and research

centre has a wealth of information for

budding genealogists or historians

and friendly staff who can help them

get started.

The Museum has a café offering a

variety of snacks and drinks as well

as a shop displaying toys, games,

novelties and designed jewellery,

china and gifts.

Toitū Otago Settlers Museum is a fun

place to spend an hour or a day with

something new always waiting to be

discovered.

OPEN DAILY 10am – 5pm

ADMISSION Adult $9.50

Under 13 FREE

ANNUAL PASS $21

Cnr Cumberland and Rattray Streets

(beside Toitū Otago Settlers Museum)

www.dunedinchinesegarden.com

03 477 3248

OPEN 7 DAYS | FREE ENTRY | FREE WIFI

10am – 5pm

31 Queens Gardens, Dunedin

P (03) 477 5052

www.toituosm.com
---
southern holiday destinations spring-summer 2020

DuNEDIN

21

WorLd CLaSS StateLy Home

Larnach Castle is undoubtedly one of New

Zealand's finest historic homes and in 2017 this

property was endorsed by Heritage New Zealand

as a 'Landmark Property'. Not only is this title a

testament to the wealth of its builder, but to the

current owners who have restored and revitalised

it for the benefit of visitors from all over the world.

William Larnach was a merchant, Baron and

politician when he built the castle in 1871 for his

wife Eliza. The finest materials were imported to

befit the opulent grandeur he envisaged; Italian

marble, Venetian glass and tiles from England.

The 3000 square foot ballroom is still used for

weddings and balls and the castle boasts the

only Georgian hanging staircase in the Southern

Hemisphere.

Part of the romance and intrigue of the castle

today is the tragic history of its owner. Larnach

shot himself after a scandal involving his wife and

the building was subsequently used as a mental

hospital and later to billet troops.

Years of neglect finally came to an end when

the Barker family purchased it in 1967 and

painstakingly restored and developed it to its

present condition. As well as its magnificent

Victorian interior, resplendent with architectural

details, elaborate fittings and antique furniture,

35 acres of garden have been re-developed into

"Garden of International Significance" status.

The native plant trail is a beautifully illustrated

walk through the castle grounds among rare and

iconic native plants in rock gardens, a south seas

garden and a rain forest. Children also enjoy a

special guide to Larnach Castle. The illustrated

brochure contains interesting facts about

castles, Victorian times, the family's history and a

children's tour of the grounds.

Larnach Castle offers guests three different styles

of accommodation; Camp Estate - country house

accommodation positioned 500 metres from

the front gate of the Castle, offering luxurious

decor and total privacy; Larnach Lodge, features

colonial style in the grounds of the castle and

has 12 bedrooms with private facilities for guests;

while Castle Stable Stay is the perfect choice for

budget conscience travellers.

All house guests may dine in the elegantly

restored castle dining room and enjoy the

unparalleled atmosphere of New Zealand's only

genuine castle. Superbly located on the Otago

Peninsula, Larnach Castle captures the romance

and history of the past. Also, on the property is

a café, pentaquin pit and a gift shop for castle

themed mementoes to take home.

Email info@larnachcastle.co.nz

www.larnachcastle.co.nz

go WiLd in tHe natUre CaPitaL

oF neW ZeaLand!

Join one of Monarch's invigorating one-hour

wildlife cruises or longer tours exploring the

stunning Otago Harbour and Peninsula. These

multi award winning excursions will get you

closer to rare Southern Ocean wildlife for great

photo opportunities, and memories that will last a

lifetime.

Drive yourself to Wellers Rock Wharf and hop

aboard a Wildlife Cruise. Watch as huge northern

royal albatross glide past the boat as they return

from the ocean to their nests. Check-out the NZ

furseal rookeries while your skipper explores the

bay beneath the South Island's oldest lighthouse.

Out at sea you'll see a variety of different albatross

and seabird species. If you're lucky you might spot

dolphins, blue penguins or a large NZ Sealion.

Half and fully day tour options are also available

and depart daily from Dunedin. All tours feature

a Wildlife Cruise. Some options include a visit

to Penguin Place, the Royal Albatross Centre or

Larnach Castle. A few of these tours also cruise

the length of the Otago Harbour.

Go online and check-out their newest experience,

the Sundowner Package. Leaving Dunedin midafternoon,

it includes a Wildlife Cruise, Albatross

Colony tour, fish & chips dinner & Blue Penguins.

Watch as they return ashore after dark before

being taken back to the city.

For further information go online at www.wildlife.

co.nz or call (03) 477 4276

Email: info@larnachcastle.co.nz

www.larnachcastle.co.nz
---
22

DuNEDIN

southern holiday destinations spring-summer 2020

royaL

aLBatroSS

Centre

don't miSS

HaPPy HenS

Ever seen a giant albatross sharing

your space? Explored a hidden fort?

Visit Otago Peninsula for your only

chance to see two unique award

winning attractions; the world's only

mainland albatross breeding colony

and the world's only fully restored

1886 Armstrong Disappearing Gun.

Both are iconic Dunedin experiences

at Pukekura/Taiaroa Head.

The Royal Albatross with its three

metre wing span is sure to amaze.

Led by knowledgeable guides, a

tour from the Centre is the only

way to get close-up views of these

magnificent birds in their world

famous breeding colony, so make

certain you book ahead.

Pukekura is also home to a wide

range of other bird and marine

life. Albatross, seals, cormorants

and penguins have all colonised

the headland, which boasts a rich

cultural history. The headland has

been a fortified site since the earliest

Maori settlement of the region. On

the Fort Taiaroa tour visitors explore

the historic Victorian Fort and 1886

Armstrong disappearing gun hidden

beneath the albatross colony.

Make time for the superb Café and

Souvenir Shop on-site. This great day

out supports the Otago Peninsula

Trust, a private charitable trust

dedicated to conservation, education

and sustainable tourism. Visit all the

Trust's attractions including the Royal

Albatross Centre, Fletcher House

and Glenfalloch Woodland Garden

and Restaurant.

For more information visit - www.

albatross.org.nz

Happy Hens! "Always put a smile on

your face!"

For over 35 years, their studio is still a

visitor destination stop at Portobello

as Happy Hens continue to delight,

enchant and to share their magic

with people.

Recently, a bride-to-be hand-painted

her own little hen, as a surprise

gift for her intended husband and

she plans to display her special,

little work of art at her forthcoming

wedding in Japan.

New colours and designs keep

appearing, attracting our many

global collectors and those just

wanting to invest in good luck and

happiness. As its Spring, the Daffodil

Train is running, and Happy Hens

don't miss a chance to have some

fun!

Port to Port CrUiSeS

SCeniC BeaUty

in minUteS

Now there is a shortcut between

Port Chalmers and Portobello. Port

to Port Cruises & Wildlife Tours is an

attractive new venture as it's the first

ferry service of its kind on the Otago

harbour in almost 60 years.

Catch the ferry and save yourself a

76 km road trip. See wrecks of old

ships and an array of harbour birds

during the commentary presented

during the trip. Sit back and relax

during the short jaunt from one port

to the other on a ferry which can

hold up to 20 people at a time.

Or get back to nature on one of

the wildlife cruises where you can

expect to see seals, albatross and

penguins.

Port to Port enjoy the beauty of

Dunedin by sea.

Dunedin NZ

DON'T

MISS

03 478 0499

albatross.org.nz

World's only mainland

Royal Albatross breeding colony

Unique hand made ceramic hens are prize

winners with universal appeal and magic.

Catch one

at Portobello!

www.happyhens.co.nz

ph: 03 478 0111

Port to Port Cruises

and Wildlife Tours

School Holiday Children's Cruises

To see shipwrecks, harbour birds, tug

and pilot boats and much more!

• 25 minutes to an hour options

• Prices from $20 per adult and

$10 per child

Forsyth Barr Stadium Ferry

• Steamer Basin Dunedin to Forsyth Barr Stadium, return

• From $22 adults - 10 minutes each way

• Free and plentiful parking near

Steamer Basin

• See website or call for bookings

10% discount when you

bring this ad on the day

Phone 020 4162 4250 | www.porttoport.co.nz
---
southern holiday destinations spring-summer 2020

Journey into

the heart of

new Zealand

dunedin

garden

Motel

23

Come on a journey with Dunedin

Railways into the rugged and

spectacular Taieri Gorge. Departing

daily from the iconic Dunedin

Railway Station, we make our way

into some of New Zealand's most

ever-changing and iconic scenery.

Enjoy the Otago landscape as we

weave through farm, forest and lush

wilderness and travel over countless

bridges and viaducts.

This can all be experienced from

the comfort of an enclosed carriage,

or you may choose to visit the

open-air platform to capture some

great photos. With live onboard

commentary, learn more about

the delights of our small city and

its fascinating surrounds, as well

as stories about the early pioneers

who built the historic rail line. Our

fully licensed on board buffet cart is

stocked with local beers and wine,

as well as a variety of snacks for

you to choose from. This is a 4.5-

hour return, all weather experience

that will suit individuals, families or

groups alike! Find out more at

www.dunedinrailways.co.nz or by

calling 03 477 4449.

Blue Penguins Pukekura

Garden Motel in Dunedin offers

clean, comfortable and affordable

accommodation close to the

university, hospital and city centre

and is also one of the few petfriendly

motels in Dunedin.

With 16 units ranging from cosy

studios to one or two bedroom units

including 3 wheelchair access unit,

Garden Motel can welcome couples,

family groups, sports teams and

business guests. "We are passionate

about our family and our business,

enjoy meeting people from all walks

of life and ensuring they have a great

stay in Dunedin" say hosts John and

Bonnie Sheppard.

They are proud of the 3 plus star

property which is well appointed with

ensuite bathrooms, kitchen facilities,

Sky TV and free Wi-Fi. Guest comfort

is a high priority and at Garden Motel

they experience a warm friendly

environment with recommendations

on local activities and attractions too.

For further information visit www.

gardenmotel.co.nz

Discover korora...

the worlds smallest

penguin... scurrying home

each night in their natural

environment

Everyone loves penguins! Discover Korora, Little Blue

Penguins, the world's smallest penguins in their natural

habitat on the picturesque Otago Peninsula and see

them scurry home to their cliff side burrows at the end

of the day. A purpose-built observation platform and

boardwalk at the beach provide the most natural way to

view the little penguins without disturbing them.

Blue Penguins Pukekura is operated as a conservation

kaitiakitanga partnership between the Royal Albatross

Centre, the Otago Peninsula Trust and the Pukekura

Trust. The increased financial support from visitors

to the area has provided the penguin population with

"The Pet Friendly Motel"

the chance to flourish thanks to the increased level of

predator control and the construction of nest-boxes

required to successfully raise their young free from

harm. Penguin numbers have dramatically increased

to over 200 breeding pairs thanks to the hard work of

all of the stakeholders involved in the Blue Penguins

Pukekura project.

Tours begin every evening at dusk from the Royal

Albatross Centre and last for approximately 75 minutes.

There is a Café and Souvenir Shop on site. Reservations

are recommended as the tour fills fast. For more

information please visit www.bluepenguins.co.nz

www.bluepenguins.co.nz

TAIERI GORGE

• 16 units, cosy studio to

spacious 2 bedroom units

• Pet friendly - ask us how

• Sky TV

• Complementary refreshments

replenished daily

• Wireless internet & continental

breakfast available on request

BOOK DIRECT FOR BEST RATES

Ph: 0508 Garden or 03 477 8251

Fax: 03 477 9803

info@gardenmotel.co.nz

www.gardenmotel.co.nz

Weave through farm and forest vistas, sandstone tunnels

& lush wilderness as we ascend to this wondrous place.

Daily departures, 4.5 hour return train journey.

www.dunedinrailways.co.nz dunedinrailways
---
southern holiday destinations spring-summer 2020

24

ALExANDRA & cLyDE

time to

CHeCkoUt

CentraL

otago

OPEN the door to the fantastic cycle trails of

Central Otago by visiting Bike It Now in Clyde!

Bike It Now! offers everything from half-day bike

hire to a range of tour packages, either selfguided

or supported, from one to nine days

in duration. It also operates an independent

bike shop retailing well-recognised Scott, Trek,

Merida and Avanti brands and a great range of

accessories and clothing, all combined with a full

workshop for getting ''little issues'' sorted.

Electric bikes are presently taking the cycling

industry by storm and Bike It Now! is at the

forefront of the E-Bike revolution, having retailed

and rented them out since November 2013.

"That's quite mind-blowing for a little shop in

Clyde which has a population of 1000 people,"

says Fletch. "It shows it's not about where you are,

but how you do it, and we're becoming known

as the place to go not only for E-Bikes but for

anything to do with bikes whether it be sales,

hiring bikes, bike repairs or planning cycle tours."

Fletch says E-Bikes complement traditional

bikes attracting many new people into cycling,

especially effecting the social side of it –cyclist's

of all levels can now ride together.

"The market for E-Bikes is huge - maybe older

people looking for a bit of exercise or young

families who want to explore our cycle trails –

whatever, the E-Bikes mean they can do longer

rides." Our E-Bike motto is "RIDE MORE, RIDE

FURTHER, ENJOY"

Options to consider over the summer holidays

are the One-Day Wonder rides they offer on

either the Otago Central Rail Trail or the Roxburgh

Gorge Trail. "Auripo to Clyde is one of the most

spectacular sections of the OCRT, taking in the

railway viaducts and tunnels of the Poolburn

Gorge,'' says co-owner Duncan. The Roxburgh

Gorge, incidentally, has been called "New

Zealand's Grand Canyon". If you have 2 days how

about the Wedderburn to Clyde "Fantastic" ride

on the Otago Central Rail Trail – enjoy a bottle of

Pinot and a pre-dinner platter – complements of

Lauder School BnB and Bike It Now!

Bike It Now! provides its customers with the

personal touch and it is always "all about you!"

Duncan, with Fletch and Lisa, are the ''handson''

owners of Bike It Now! You can guarantee

meeting them and the Bike It Now! team over

the summer and they all will ensure your cycling

needs are meet. Bike It Now! is located directly

behind Olivers on Holloway Street in the Historic

Clyde Precinct.

For further information call 0800 245-366, email

info@bikeitnow.co.nz or visit the website www.

bikeitnow.co.nz , checkout their facebook page

bikeitnow or instagram bikeitnowclydenz

a Warm aLexandra WeLCome

Alexandra Holiday Park offers, not only a safe

haven and warm welcome but an exceptional

discovery experience. Photo opportunities all year

round in our landscape – with hot dry summers,

beautiful leaf colourings in autumn, frosts in

winter and the burst of life including blossom in

spring.

There is a varied selection of accommodation

to suit all budgets including: 20 self-contained

units sleeping 2 to 18 people, depending on the

unit; plus 2 and 4 berth standard cabins and 300

Campsites for camper vans, caravans and tents;

with the Complex catering for larger groups from

19 to 29.

Clean and comfortable facilities are

complemented by a TV room, internet access,

play area, laundry and even an ablution block

that's centrally heated in winter!

Located close to the Otago Rail Trail, Aquatic

Centre and golf course, Alexandra Holiday Park

is also an ideal base to enjoy fishing, walking,

mountain biking, 4WD off-roading, plus skating

and curling in winter, as well as the renowned

vineyards, wineries, cafes and restaurants of the

district.

Hour Place (Alexandra Holiday Park) being

approximately an hour drive to/from Wanaka,

Queenstown, Lake Hawea, Naseby, Ranfurly and

St Bathans makes it a great place to stay any time

of the year.

Ph 03 448 8297 or email info@ahp.nz or visit www.

ahp.nz

ALEXANDRA

HOLIDAY PARK

"Sensational Service"

Muzza_W23 Trip Advisor

"Couldn't Ask for More"

Hamish 2018

"Freedom machines

and all the thinking

done for you!"

roserandom Trip Advisor

• Top quality bike hire

including E-bike specialists

• Bike retail

• Bike tours

• Itinerary planning

• Transport; including door to door

from Queenstown

• Otago Central Rail Trail

• Roxburgh Gorge Trail

• Clutha Gold Trail

• Half-day to multi-day rides

• www.bikeitnow.co.nz

• 0800 BIkenow (245366)

• 25 Holloway St, Historic Clyde

• Facebook/bikeitnow

44 Manuherikia Rd, Alexandra

Ph: (03) 448 8297

info@ahp.nz www.ahp.nz

Close to 4WD Tracks, Rail Trail, Aqua Centre, Golf Courses,

Bike & Walking Tracks, Wine Trails, Curling, Fantastic Fishing,

Approx 1 hour drive to Wanaka, Queenstown, Naseby, Ranfurly.

"Great for a getaway in sunny Central Otago"
---
southern holiday destinations spring-summer 2020

cLyDE

25

oLiverS in CLyde

deStination

High profile Clyde restaurant, Olivers,

was singled out for top honours at

the 2018 Central Otago Tourism's Eat.

Taste.Central awards underlining its

place as a key establishment in the

region.

The historic restaurant's signature

short beef rib was the winning dish in

the regional tourism awards capping

off a successful year for Olivers

Restaurant which was also placed as

a finalist in the NZ wide Silver Fern

Farms Restaurant Awards, as well as

receiving its fourth consecutive Beef

and Lamb Excellence Award.

Owners, David and Andrea Ritchie

are delighted with the success of the

restaurant which they opened in 2015

- steadily cementing its reputation

as a significant Central Otago eatery

ever since.

The heritage listed stone buildings

also house award-winning boutique

accommodation, the Victoria Store

Brewery and the Merchant of Clyde

café.

David says it is the rich history

and stories of days gone by that

make the Olivers so attractive to

holidaymakers. The restored lodge

and stables include 11 ensuite rooms

which they authentically restored

eight years ago. "The ambience in

the stone-built stables and lodge

is pretty special. Schist walls, stone

floors and stable doors that date

back to the 1870s are complemented

by luxurious modern fixtures and

fittings that make for a memorable

experience."

The Victoria Street Brewery is a

craft brewery specialising in pilsner,

golden ale, IPA and porter beers, as

well as the occasional seasonal brew.

The Merchant of Clyde Café, Deli

and Bakery is a locals' favourite for

coffee and food. Most of the produce

is handmade on site, from freshly

baked bread to a range of jams and

chutneys, while they also stock

New Zealand cheeses, Patagonia

chocolates, local honeys, olive oils

and other locally made produce.

"Seeing people enjoy the food

and enjoy themselves is incredibly

rewarding. We try to create the best

experience that we can for everyone

that comes, whether they are here

for a formal dining experience, a visit

to the café or brewery or a stay in our

beautiful accommodation."

SHoPPing in

HiStoriC CLyde

viLLage

Folklore Store located in Clyde's

historic precinct is renowned

amongst its loyal customer base for

its outstanding collection of artisan

products and home design goods.

Sarah and Todd Sisson opened

the store in 2016 and say over the

past year they have sourced an

assortment of outstanding new items

from around the globe.

"Part of the Folklore charm is that

the store is continually changing.

With the exception of our exclusive

Folklore-branded products virtually

nothing on the shelves was here at

our opening day three years ago, and

the range has probably tripled over

that time," says Todd.

Folklore Store is best known for its

collection of diverse artisan products

a

for the home, with an emphasis on

natural materials.

"We are constantly searching for

those special pieces of craftmanship

from different makers that are not

readily found elsewhere – we really

strive to keep that point of difference

going," says Sarah.

Check out their online Folklore store

Many of Folklore Store's sought-after

products can be purchased online

at their recently upgraded website -

folklorestore.co.nz

"We have expanded the online

offering so people who have come

from a distance to shop can now

continue to do so," says Todd.

Folklore is open at 10-5 Weekdays

and 10-4 Weekends.

Set within one of Otago's most significant heritage

buildings, enjoy the fresh local flavours of award

winning Olivers Restaurant.

Taste craft beer brewed onsite or visit the Merchant of

Clyde café-bakery-deli for Hummingbird coffee and

delicious baked goods and our own range of preserves

and condiments.

Olivers Lodge and Stables provides luxurious heritage

accommodation in 11 en-suited rooms, within a

beautiful courtyard setting.

34 Sunderland Street, Clyde | P 03 449 2600

bookings@olivers.co.nz | www.olivers.co.nz

19 Holloway Street, Historic Clyde Precinct, Clyde

Open 7 Days - 10am to 5pm

ph: 03 449 2998

www.folklorestore.co.nz

@folklorestore.clyde www.facebook.com/folklorestore.clyde/
---
southern holiday destinations spring-summer 2020

26

cLyDE

StoP By

tHe eade

gaLLery

The Eade Gallery, now firmly established on the

growing Central Lakes and Central Otago art

circuit is a 'must visit' destination for its distinctive

selection of predominantly Central Otago art.

Located in the historic precinct of Clyde, the

Eade Gallery displays paintings, jewellery, indoor

and outdoor sculpture, ceramics, woodwork,

photography, reproduction prints and cards, along

with Melanie Eade's own vibrant mixed media

artworks.

October is the start of the season for Eade

Gallery's solo exhibitions with the first starting in

October.

raCHeL HiraBayaSHi

Saturday October 5 – Thursday October 31:

"Another Time"

"I'm a landscape artist and the solitude of Otago

and the bare form of the hills and mountains

are the subject," says Rachel. "Often shadow or

silhouetted figures allow for a projected narrative

but there is always an isolation at the centre of the

work."

Rachel's work will also include brazed swinging

creatures including Tuis, fish and rabbits, recycled

tin flowers and cottages.

keLvin mCmiLLan

Saturday November 2 - Thursday November 28:

"Art of Light"

Kelvin's works depict New Zealand landscapes,

buildings and people. He is the first New

Zealander to be part of Landscape Artist

International. Kelvin describes his style as

representational in watercolour, acrylics and

pencil.

"I am showing a variety of work in both acrylics

and water colours and my hope is that people

will enjoy the variety of subjects and the light and

strong colours that I use. "

eStHer dexter

Saturday November 30 - December 29:

"Memories"

Esther's flair for design is evident in the simple

lines, contemporary colours and minimalistic style

that dominates much of her work. She uses hand

painted broken glass, resin, acrylic and eggshells

in these works. "I paint South Island landscapes

but my work is about our emotional connections

to the land rather than being about specific

places, hence I paint in a dreamlike, slightly

abstract way."

Open 7 days from 10am

17A Holloway St Clyde

Website : www.eadegallery.co.nz

Email : melanie@eadegallery.co.nz

Ph 021-265-3358

antiQUe Lodge moteL CLean,

SPaCioUS and HomeLy

No matter what the season, you'll find a warm

welcome at the Antique Lodge Motel where

hosts Heidi and Guenther provide affordable

accommodation reviewed on Trip Advisor as

"clean, spacious and homely". This quaint motel

offers affordable self-catering accommodation

ranging from superior to standard and family

to single bedroom units. Situated within the

historic precinct, the motel is just a short stroll

from a variety of eateries and other businesses.

Let Antique Lodge Motel serve as a great base

from which you can explore all the wonders that

Central Otago has to offer.

All units have fully equipped kitchens, flat screen

TV, Sky, free Wi-Fi, on-site parking and there are

large central heating radiators for cosy warmth

in the winter. In summer the free gas BBQ and

trampoline are popular amenities after a day of

cycling, sight-seeing or wine tasting.

Heritage schist fencing and a stone stable

built pre 1900 are still to be found on the motel

grounds. The stone stable is used in the warmer

months as a breakfast room for guests. The giant

sequoia (Wellingtonia) is a protected tree, planted

around 1900, and is a sight to behold.

PAINTINGS I JEWELLERY I PHOTOGRAPHY

CERAMICS I SCULPTURE I WOOD WORK

REPRODUCTION PRINTS & CARDS

• 7 self-contained 1 & 2-bedroom units

• Short stroll to Clyde's eateries

in historic precinct

• Continental breakfast buffet

in Schist stable (Oct-Apr)

• FREE WIFI, overnight bike storage

Your all seasons

holiday stay!

OPEN 7 DAYS FROM 10AM

Holloway Street, Clyde, Central Otago Tel: 021 265 3358

melanie@eadegallery.co.nz www.facebook.com/Eadegallery www.eadegallery.co.nz

56 Sunderland Street | Clyde | Central Otago

Ph: 03 4492709 | 0800 99 22 66

www.antiquelodgemotel.co.nz
---
southern holiday destinations spring-summer 2020

Central OtagO Wineries & CrOmWell

27

RiveR Rock

estate

the wooing

tRee vineyaRd

Cromwell's River Rock Estate is

a boutique vineyard, winery and

cellar door with luxury vineyard

accommodation. The 1 hectare

vineyard was first planted in

2004 and produces Pinot Gris,

Chardonnay-style Pinot Gris, Two

Together, Pinot Noir, Zesty Pinot Noir,

Naked Pinot, Rose and Sauvignon

Blanc wines and is also home to

Tommy Cooper Port and also now

has available Olive oil from its own

small olive grove.

The cellar door is housed in a

picturesque barn and offers tastings,

sales and merchandise. It is open

daily from 11am-5.30pm in summer

and 11am -5pm during the winter

months.

Accommodation at River Rock

Estate comprises Vineyard ensuite

rooms that cater for two adults and

a cottage that is designed for four

adults. Also a powered site for a fully

self-contained camper van. Visitors

will enjoy the estate's restful views of

the Carrick, Dunstan and Pisa Ranges

and the fairways of the nearby golf

course. Also available is a private Hot

Tub/Spa and inground plunge pool/

swim spa, both housed in unique

grain silo buildings.

River Rock Estate conveniently

located within five minutes walk

to Cromwell town- ship where

amenities include, mini golf, shops,

cafes and restaurants.

For further information and bookings

visit www.riverrockestate.com

andeRson PaRk Motel

offeRs the heaRt of

cRoMwell

Wooing Tree is situated in the heart of

Central Otago, New Zealand, next to

the town of Cromwell and opposite the

big fruit sculpture. The family owned

single vineyard site specialises in

Pinot Noir and also produces a Rosé,

a still Blanc de Noir called «Blondie»

and now a sweet wine called "Tickled

Pink" from the same grape variety.

Wooing Tree Chardonnay and Pinot

Gris have also been added to the

portfolio. The Wooing Tree label has

had a remarkable first few years, 10

trophies, numerous gold medals, 5

star ratings, and praise from wine

writers worldwide.

Steve and Thea Farquharson and

Jane (Steve's sister) and her husband

Geoff Bews returned from overseas to

run the vineyard, having setup the 18

hectare property in 2002. Steve had

studied viticulture, wine making and

the wine trade at Plumpton College

in the UK, and Jane had also studied

viticulture there.

Nevertheless, owning and developing

a vineyard was still a sharp learning

curve.

The Central Otago location gives a

perfect mix of sub regional climates

and optimum heat degree-days and

the aim was to produce a pinot noir

with rich and intense fruit flavours

from low yielding vines.

During the clearing of the land for

planting, they discovered a 100 year

old tree commanded a place in local

folk lore as "the wooing tree" and

a rendezvous for sweethearts and

lovers. The tree was retained, and the

story provided the perfect name for

both the vineyard and the owners'

new wine label! Today Wooing Tree

sits prominently in the middle of the

vineyard, which has become a popular

location for marriage proposals and

weddings.

We offer wine tastings, sales, lunches

and platters, all in a relaxed childfriendly

environment with a sandpit

and slide.

Functions are by appointment and the

Cellar Door is open 7 days Summer

10am-5pm, Winter 11am-4pm, and in

winter for tastings and sales only.

Relax and enjoy the peace, privacy

and comfort of their recently

refurbished rooms. Studios, one

bedroom and 2 bedroom units are

available to accommodate the sole

traveller to a family.

Only 5 minutes from the shops and

town centre, you have access to

everywhere as you are centrally

located.

Spacious lawns with outdoor seating

and barbeque facilities area available

for your gatherings. Enjoy nature as

you are surrounded by cherry and

other fruit trees.

All units are situated on the ground

floor and include kitchenettes, Skye

TV and WIFI. They have a children's

playground and are pet friendly (on

application). There is ample parking

for each unit plus additional parking

for boats and trailers.

Enjoy the quality and affordable

accommodation as you enjoy the

heart of Cromwell and Central Otago,

a very special area of New Zealand.

ANDERSON

PARK MOTEL

--- Cromwell, New Zealand ---

An Ideal Base to Explore Central Otago From

Wine Tasting • Sales • Platters

9 Gair Avenue, Cromwell

0800 220 550 | 03 445 1523

andersonpark@xtra.co.nz

www.andersonparkmotel.co.nz

Your host: Geoff

• BBQ Area

• Playground

• Guest Laundry

• Spacious Grounds

• Free Wifi and SKY TV

• Pet Friendly

Boutique Vineyard & Winery

Vineyard Accommodation

Cellar Door

Wine Tastings & Sales

Open 7 Days Winter 11am - 5pm

Summer 10am - 9pm

1 Shortcut Road, Cromwell.

Ph 021 270 5518

Open 7 Days

SummeR: 10am – 5pm

WinteR: 11am – 4pm

Summer and Winter

menus available

Bookings Recommended

64 Shortcut Road, Cromwell. Ph: 03 445 4142

cellardoor@wooingtree.co.nz

www.wooingtree.co.nz
---
28

cRomwELL

southern holiday destinations spring-summer 2020

BLoWn aWay By HögLUnd

art gLaSS

CentraL goLd moteL

Asure Central Gold Motel is ideally

located in Cromwell and only a

100 metre walk to all the shops,

restaurants, golf, the town's sports

complex and swimming pool. They

have available 11 modern, spacious

studios or book one of their new 2

bedroom family apartments which

10% off when presenting this

advert until March 31st 2020

offers full kitchens, free Wi-Fi, air

conditioning and have smart T.Vs

in all rooms. As one of Cromwell's

newest motels, the Central

Gold Motel offers a 4 star plus

accommodation at an affordable

price. Visit www.centralgoldmotel.

co.nz

CROMWELL

ASURE Central Gold Motel

Relax, unwind and enjoy the

luxury and comfort of ASURE

Central Gold Motel, Cromwell

Your Hosts Gaylene and

Craig welcome you

• 11 spacious units - 10 ground

floor and 1 first floor

• 4x two bedroom family apartments

• Less than 2 minutes from

shopping centre

• Free Guest laundry and BBQ

• The perfect base for exploring

the area

24 Barry Ave, Cromwell, New Zealand | PH - 03 445 4700

www.centralgoldmotel.co.nz | info@centralgoldmotel.co.nz

Höglund Art Glass Gallery

World renowned blown glass

& glass jewellery.

Nelson glass artists

Ola and Marie Höglund

recently opened a glass gallery

in their new home

on state highway 6 between

Cromwell and Wanaka.

Visitors welcome

OPEN DAILY

Höglund Art Glass Gallery

1767 Luggate-Cromwell Road 9383

Central Otago

Phone 03 442 7210

www.hoglundartglass.com

The King of Sweden has one. The

King of Tonga has several. Clinton's

have a collection and so has Elton

John. What? Pieces of glass from

Höglund Art Glass, of course.

Höglund Art Glass has

a reputation which

extends beyond

the shores of

New Zealand.

Created by

glass artists Ola

Höglund and

Marie Simberg-

Höglund and

their family, their

stunning glass

is sought after

worldwide by avid

collectors and people who

appreciate the beauty and

skill evident in each blown piece.

Ola and Marie have been dedicated

to the development of their

distinguished art glass that are held

in galleries and private collections

around the world for the past 35

years and the Höglund glassblowing

dynasty is one of our national

treasures.

Well established in Nelson they have

recently launched the Höglund Art

Carrick Lodge Motel is your solution

to accommodation in Cromwell.

Conveniently located in the heart

of Cromwell, adjacent to the Mall

for easy access to shops and

restaurants. Only a short walk to the

golf course, local swimming pool,

Glass Gallery in Central Otago. Marie

says their two sons will continue

making glass at the glassblowing

studio in Nelson while Marie and

Ola are very enthusiastic

about building a glass

studio beside the

new Central Otago

gallery as soon

as possible,

located at their

new home on

state highway

6 between

Cromwell and

Wanaka.

This glass gallery

also displays

paintings, artwork

and jewellery which has

drawn a steady following

with locals and visitors to the region.

Once purchased the artwork can be

shipped around the world.

The Höglund Art Glass Gallery is

open to visitors seven days and is

clearly signposted on State Highway

6 between Wanaka and Cromwell.

(55 mins drive from Queenstown)

Tel: 03 442 7210

1767 Luggate-Cromwell Road, www.

hoglundartglass.com

CarriCk Lodge moteL

gym, Lake Dunstan walks and bike

trails. Wineries and fine foods in our

beautiful countryside.

Carrick Lodge Motel in Cromwell has

a range of accommodation options

available from Studio rooms through

to family units.

Located In The Heart Of Cromwell

- Spacious units

- Range of options from

studios to family units

- Free unlimited Wifi

- 50 plus Sky channels

- Across from town centre

- Short walk to golf course,

swimming pool and

Lake Dunstan

10 Barry Avenue, Cromwell

P: 0800 445 495 - 03 445 4519

E: info@carricklodge.co.nz | W: www.carricklodge.co.nz
---
southern holiday destinations spring-summer 2020

cRomwELL

29

neW Look For

HarveSt HoteL

5 reaSonS to

tUrn rigHt

Harvest Hotel at The Gate Hospitality

& Tourist Centre, Cromwell's only

hotel, has a long-established

reputation for iconic Central Otago

views from all of its 47 rooms. And

with its natural wood cladding

and steep pitched roofline, not to

mention spacious grounds, Harvest

Hotel has plenty of street appeal,

too. Being alongside Cromwell Golf

Course and across the road from the

Wooing Tree Vineyard also scores

big ticks with guests.

Now the hotel has something

more to offer. Almost all rooms

have recently been refreshed and

refurbished to a high standard.

Bathrooms were transformed, French

doors opening onto a deck or patio

were double glazed and climate

control added to give guests control

over the degree of cooling or heating

that suits them best.

The refurbishment of Harvest Hotel

rooms is one of the final steps in

a multi-million dollar project that

transformed the hotel and its bar

and café into The Gate Hospitality &

Tourist Centre.

What was the public bar is now the

hunting lodge themed Five Stags Bar

and Restaurant and is proving hugely

popular with locals, guests and

passing travellers, as is the Forage

Information Centre & Café. In the

gallery linking Five Stags and Forage

is another winning feature and that

is the toilets which many rate as the

South Island's best.

If you are heading out of

Queenstown in search of new

horizons, don't give Cromwell

a miss! This little town has a lot

more to offer than its unassuming

appearance might let on. Here are

five reasons you should turn right the

next time you pass Cromwell from

Queenstown:

REASON 1 – The delicious fruit

Sample the amazing array of fruit the

region has to offer. There are many

fruit stalls around town where you

can buy fresh produce, freshly made

fruit ice cream and a host of other

local products. Some of the orchards

are open to wander through, offering

plenty of photo opportunities, and

many of them have pick-your-own

packages.

REASON 2 – The amazing wine

The Cromwell Basin is home to some

of the best Pinot Noir wines in the

world, and there are many ways to

explore the large number of wineries

and cellar doors in the area to taste

test.

REASON 3 – The high-speed thrills

Looking for an adrenaline fix, race

around the Highlands track, take a

helicopter flight, ride on a jet boat,

or get a crew together for a round of

paintball.

REASON 4 – The history

Born out of the Otago gold rush,

Cromwell has a rich history that

spans over 150 years. Take a stroll

through the historic buildings in the

Heritage Precinct, visit the Cromwell

Museum or discover more on the

Otago Goldfields Heritage Trail.

REASON 5 – The natural beauty

Cromwell is full of opportunities to

get back to nature. Picnic or swim at

Lake Dunstan. There are many fun

trails to explore on your mountain

bike or on foot. Check out the bike

park or the skate park and test your

skills.

T a k e a m o m e n t t o s a m p l e t h e f r u i t s f r o m o u r l a n d , t o s p o i l y o u r s e l f .

T a k e a m o m e n t t o d i s c o v e r o u r h e r i t a g e , t o g l i m p s e i n t o o u r f u t u r e .

A m o m e n t t o s o a k i n t h e n a t u r a l b e a u t y o f o u r l a n d s c a p e , t o b r e a t h e .

T a k e a m o m e n t i n C r o m w e l l – t o b e i n s p i r e d .

CROMWELL'S HOSPITALITY AND VISITOR CENTRE

CNR HIGHWAY 8B & BARRY AVENUE, CROMWELL

EMAIL: info@thegate.nz NZ FREEPHONE: 0800 104 451 PHONE: + 64 3 445 1777 FAX: + 64 3 445 1776 WEB: www.thegate.nz
---
southern holiday destinations spring-summer 2020

30

cRomwELL

CromWeLL toWn

and CoUntry

CLUB

CromWeLL

Heritage

PreCinCt

On the shores of the Kawarau arm of

Lake Dunstan is this inviting purpose

built club. They provide a relaxed

friendly atmosphere for members

and guests alike to enjoy great

company, great facilities & great

service.

Play pool or darts, try your luck on

our 11 gaming machines, share the

excitement of Sky TV sports events

with friends and family or enjoy our

Central Otago weather & outstanding

lake views from our deck.

Printers Bay at the Club Bistro, where

home cooked, light, main meals and

desserts are an excellent value for

the money.

Kids are well catered for with their

own specific menu offering all of their

favourites and your kids will enjoy a

designation environment with small

kid's room, large blackboards and an

outside playground.

Cromwell Town and Country Club

always welcomes members from

affiliated clubs throughout New

Zealand. So, don't be a stranger next

time you are in Cromwell, drop in

and enjoy all the benefits of feeling

you belong.

tHe CHarm oF

tHe PiCtUreSQUe

viCtoria

armS HoteL &

reStaUrant

One of Central Otago's best kept

secrets, the Cromwell Heritage

Precinct is tucked away on the

shores of Lake Dunstan, at the

confluence of the Kawarau and

Clutha arms of the lake.

Evolving from an idea in the mideighties,

this heritage village has

been developed by volunteers over

the years. Some buildings have

been re-built from stone from the

original buildings while others are a

faithful re-creation built to modern

building code. It is not only a

delightful and free visitor attraction

with historical displays and charming

buildings, but also a hub for artists

and craftspeople.

The schist stone cottages and shops

are tenanted by a quality-focused

arts collective, international-standard

printmaker, renowned goldsmith,

a colourful fibre artist and a plant

expert and maker of herbal creams

and perfumes. There are also unique

gift outlets and three great cafes.

The historic displays tell the story

of the incredible 1860s gold rush

when sparsely populated Central

Otago was suddenly inundated with

thousands of hopeful prospectors.

Children love the talking 'locals'

who tell the yarns, life-size horses

and secret alleyways, as well as the

ducks, fishing wharf and picnic areas.

Named in 2014 as one of New

Zealand's best 'hidden gems' by AA

Directions Magazine, the precinct

is gradually being discovered by

overseas visitors, Kiwi families,

makers of television commercials

and locals.

Situated on the corner of Melmore

terrace sits the oldest pub in Old

Cromwell & the Central Otago

District, overlooking the glorious

views of Lake Dunstan. We cater

to all with our extensive lunch,

evening & takeaway menus including

delicious barista coffee.

We have the facility for large groups

in our upstairs Function Room

another chance to check out our lake

views. 03 445 0607

open Hours

Monday & Tuesday 2pm-late

Wednesday-Sunday 11 am-late

Lunch: Thursday-Sunday 12pm-2 pm

Dining: Monday-Sunday 5.30pm-9 pm

On Holiday in Cromwell?

Are you a Club Member?

Victoria Arms Hotel

Clean,

Comfortable,

Affordable

A lovely quiet motel situated

close to the Cromwell

Heritage Precinct and Lake

Dunstan, with views of the

surrounding hills.

We have 5 spacious studio units,

2 large one-bedroom family

units and 1 cute hideaway cabin.

All units are fully self-contained,

warm and comfortable.

Come and explore Central Otago with us

0800 267 268 centralgateway.co.nz

The Cromwell Town & Country Club welcome all

affiliated members and guests to our relaxed and

friendly club rooms with a million dollar view over

the Kawarau arm of Lake Dunstan. Our Members

Lounge is open Monday to Friday from 2pm and

Saturday and Sunday from 11am. Our restaurant is

open Thursday through Sunday from 5.30pm with

great home cooked tasty meals.

Cromwell Town & Country Club

Melmore Terrace, Cromwell

Ph: 03 445 1169

E: cromwelltc@xtra.co.nz

www.cromwelltownandcountryclub.co.nz

• Extensive lunch, evening

and takeaway menus

• Overlooks the glorious

views of Lake Dunstan

• Upstairs function room

available for hire

65-67 Melmore Terrace, Cromwell | 03 445 0607 |
---
southern holiday destinations spring-summer 2020

cRomwELL

31

oBJeCtS oF art

oCta gaLLery

Located in the heart of Cromwell

Heritage Precinct, the workshop

of Les Riddell is a wonderland of

handcrafted jewellery, art objects

and curios. Aptly touting the name

Objects of Art, everything found in

the gallery has a one off, creative

appeal. Whether it is constructed

from gold, silver or platinum, bone,

antler or stone, there is something

for everyone. Custom made work is

only limited to your imagination and

insured worldwide shipping helps

you get it back home.

Many a customer has entered

with the trepidation of receiving a

rustic root canal. While much of the

equipment is related to that found

in dental venues, Les assures his

visitors that though he can offer

a long slow root canal, trying on

an array of glittering rings will be

much more satisfying. After all, the

Murrell cottage once stood as the

simultaneous office of the local

dental clinic, watchmakers and

mayoral seat, all held by the talented

Mr Murrell. After 120 years, Les has

brought the cottages use full circle,

though he has yet to run for mayor. A

pretty clever fellow, we wouldn't put

it past him.

Stop in on your visit to the Heritage

Precinct. You will be inspired by the

finished jewellery and be able to

view it all in the making through the

gallery windows!

Cromwell Heritage Precinct

71 Melmore Terrace, Unit 4A

Cromwell

PH: 03 445 3094

www.objects-of-art.co.nz

sales@objects-of-art.co.nz

Located within the Cromwell

Heritage Precinct, OCTA provides

a living gallery space to showcase

limited edition original prints

and an eclectic mix of works of

art by recognised National and

International artists.

The gallery's directors, Gail and Chris

de Jong, moved to Central Otago

after successful careers in secondary

and tertiary art education. In opening

the gallery, they bring their own

knowledge and enthusiasm to the

venture.

As part of the ever-changing display

at OCTA you will find works by

Chagall, Matisse, Braque, Antoni

Tapies and others alongside well

known New Zealand artists like

SeQUoia

Ralph Hotere, Pat Hanly, Marilynn

Webb, Nigel Brown, Kathryn Madill,

Olav Nielson, Michel Tuffery, Kelvin

Mann, Inge Doesburg, Jo Ogier, Jim

Cooper, Blue Black, Suzanne Butson

and Peter Cleverley. Recent arrivals

include prints by Euan McLeod,

Gregory O'Brien, John Pule and Dick

Frizzell.

As well as selected prints sculptures

and ceramic pieces, you will also

find unusual art objects and books

of historical interest. OCTA Gallery

and Workshop is located at 71

Melmore Terrace in Cromwell's

Historic Precinct and welcomes

visitors daily from 10am-4pm. www.

cromwellheritageprecinct.co.nz

CromWeLL'S

FineWareS

itaLian

ConneCtion

As you walk through the doors at

Armando's Kitchen in Cromwell,

you feel transported to Italy as you

embark on a culinary experience.

Lasagna, pasta dishes, pizza, breads

and more, line page after page of

meal selections.

The ambiance is enchanting as you

can overlook Lake Dunstan in the

Old Cromwell Precinct. Next time

your in Cromwell, make a point to

stop at Armando's Kitchen. A meal

you'll remember. Please check their

Facebook page and Website for

Summer Hours.

03 445 0303

Open 7 days a week from 9am - 4pm

Friday & Saturday Evening: 6pm - 8

pm

www.armandoskitchen.com

Facebook - Armando' s Kitchen

Housed among the heritage

buildings of Old Cromwell Town,

Sequoia finewares is a unique

shopping experience. With a

beautiful outlook over Lake Dunstan

and the hills beyond, the store is

brimming with ideas for your home

and gifts.

Gail has selected old-fashioned

wooden toys, books, furniture,

homeware by quality designers

including CC Interiors, French

Country Collections, Citta and Robert

Gordon just to name a few.

Have a look through all their local

influences including merino wear, an

assortment of jewellery, cards by the

dozens and fabulous hand-printed

linen and scarves – a wonderful

way to remember your visit to this

dynamic Central Otago landscape.

Browse your way into the back room,

and you'll be surprised by pre-loved

designer wear for women. Revitalise

your wardrobe with the thoughtful

selection of dresses, tops, jeans and

accessories at great prices.

The Old Cromwell Town precinct

houses buildings that reflect the

town's gold mining and pioneering

past, and the jetty provides a

convenient entry point for visiting

boats. Admission to the precinct is

free. Sequoia finewares is a treasure

trove of quality décor and exciting

discoveries.

Objects Of Art Ltd

Old Cromwell Town Art

Specialising in custom made

jewellery and art objects from

new and recycled materials

Art Gallery & Workshop

Specialising in works on paper

Italian Cooking in Cromwell (old Cromwell Precinct)

A treasure trove of:

Homeware | Gifts | Toys

71 Melmore Tce

Unit 4A Cromwell Historic Precinct

03 445 3094 | sales@objects-of-art.co.nz

Join us on Facebook

www.facebook.com/objects.of.art

OCTA Gallery, according to many of its visitors, is considered quite

unique in this part of the world. Operating from a historic building in

Cromwell's Heritage Precinct, Central Otago, it provides a living art

space, showcasing limited edition original prints and an eclectic mix

of art work created by renowned national and international artists.

During the last few years, OCTA Gallery has established a reputation

for the quality of its diverse, eclectic, and interesting works, as well

as the excellent service it provides.

Its directors, Gail and Chris de Jong look forward to your visit and

are keen to share their extensive knowledge and experience as

professional artists and educators.

Phone 027 231 7503 | Email octa@artlover.com

• Top quality, locally sourced food

• Homemade baking, pasta and gnocchi

prepared daily in our kitchen

• Italian coffee and award winning local gelato

• Light lunches, traditional Italian dishes, pizza

and classic NZ dishes

• Open every day for breakfast and lunch

• Evening dining - Please check our website or

Facebook page below for evening hours

Armando's Kitchen Italian Cafe

71 Melmore Terrace, Old Cromwell Precinct

Ph. 03 445 0303 @armandoskitchen

armandoskitchen@gmail.com www.armandoskitchen.com

Designer pre-loved clothes

• • •

Open every day 10am till 4pm

Cromwell Heritage Precinct

Ph. 03 445 1387

gailsequoiafinewares@gmail.com
---
32

wANAkA

southern holiday destinations spring-summer 2020

Bring oUr

airPLaneS Home

A mission to return six special

commercial planes home to New

Zealand is being described as the

country's «greatest airline treasure

hunt».

Aviation enthusiasts Paul Brennan

and Jason Rhodes are on a mission

to save them from the scrap heap,

the weather and to put them on

display at the National Transport

& Toy Museum in Wanaka so the

next generation of travellers can

experience a window seat into the

past.

The cost of bringing the planes

home is put at $1 million, which is

why they are appealing to those who

like history and aviation and anyone

in between for a koha. Donations are

accepted at www.givealittle – Bring

our birds home or check out their

FB page bring our birds home and

a donation can be received by their

charitable trust.

It all started with a conversation

between some aviation enthusiasts

who were wondering what happened

to the last remaining members of the

original airliner fleet.

«And we expected that we wouldn't

find any, that they would all be gone.

But after a little digging we realised

that there was just one copy left of

every model remaining in the world.»

Paul Brennan said.

He went onto say, "The DC8 was

the plane that few the Royal family

around the Pacific and delivered

them to Christchurch for the

Commonwealth Games in 1974.

Captain Gordon Vette saved a life

from the cockpit of the DC10. The

Hawker Siddeley 748 launched the

Mt Cook Airline services that built the

South Island tourism. After serving

our country, the planes were shipped

off to all corners of the globe."

Bring New Zealand history back

to New Zealand for the next

generations.

Donate to: Bring our birds home on

FB or by givealittle. We thank you

and future generations thank you for

your support.

Bring Our Birds Home

Whakahokia mai ō tātou manu ki te kāinga

The campaign to return these six historic air frames to NZ before it's too late.

These are the only remaining original members of the TEAL/Air NZ/NAC Electra, DC-8, B737, DC-10 & B747 fleets on the planet

- precious artifacts of our nation to be displayed in Wanaka at the National Transport & Toy Museum for future generations

PLEASE DONATE to our registered charitable trust at:

www.givealittle.co.nz/cause/bringourbirdshome

MT ASPIRING

HOLIDAY PARK

www.facebook.com/bringourbirdshome

www.bringourbirdshome.co.nz

• 10 acres of

restful park like

surroundings

• Tent sites -

powered and

unpowered

• Self contained

units - sleeps 2-7

• Basic cabins

- sleep 5

• Communal

Bathroom &

Kitchen

• Swimming pool,

spa, playground &

trampoline

• Easy walk to town

Wanaka HoteL

Wanaka's only Town Centre Hotel,

Wanaka Hotel occupies a prime site

with magnificent views of the lake

and foreshore. Welcoming locals

and visitors alike, this 3 Star hotel

offers a range of facilities including

accommodation, public bar, TAB,

pokies, two restaurants and café.

The café is open for breakfast, lunch

or coffee and cake, there is authentic

Mexican fare at Amigo's or you can

treat yourself to the Bullock Bar's

a HoLiday Park

to Be CLoSe

to natUre

Mt Aspiring Holiday Park in Wanaka

is located on the edge of town with

a serene outlook of the surrounding

hills and a view of the lake from the

powered sites. They have a variety

of accommodation and sites spread

across 10 acres of restful parklike

grounds, which will offer a bed for

every budget. Across the park they

have unpowered grass tent sites,

powered caravan/campervan/tent

sites that are grass or half grass/half

shingle.

Accommodation consists of selfcontained

units with beds fully made

up and a kitchenette and ensuite,

that can sleep from 2 up to 7. The

basic cabins can sleep up to 5 with a

shared bathroom/kitchen facility.

Families enjoy the variety of

facilities they offer including bike

hire, swimming pool, spa pool,

playground and trampolines, as

Steakhouse menu. Accommodation

is comfortable and affordable with

double, twin and triple rooms all with

ensuite facilities.

The location is brilliant for lakeside

activities in summer and convenient

for getting to other attractions like

Puzzling World, Wanaka Museum.

You are also in the heart of the

shopping precinct. Renowned for its

relaxed atmosphere, Wanaka Hotel is

the place to stay this summer!

well as a large grass play area. It is

a lovely walk into town along the

lakeside where you will find a variety

of shops, bars and a huge selection

of eateries.

Our park is the ideal base to enjoy

the many recreational and sporting

activities that Wanaka has to offer of

outdoor activities in the hot and dry

Otago summers, including tramping,

lake cruises, skydiving, as well as

superb skiing choices in the winter.

The jewel at the heart of the region

is Mt Aspiring National Park, where

you can hike, jet boat or even take a

helicopter ride to see our stunning

glaciers.

Take time to explore our spectacular

piece of paradise – it will seduce you

with its beauty and urge you to stay

longer. We look forward to having

you stay with us soon.

WAnAkA'S only

toWn centre hotel

- enjoy spectacular lake and mountain views

217 Wanaka-Mt Aspiring Road, Wanaka 9305, NZ

P. 03-443 7360 Reservations 0508 926 252 (within NZ)

www.mtaspiringholidaypark.co.nz

71 Ardmore Street, Wanaka - Ph 0800 473 288

www.wanakahotel.co.nz