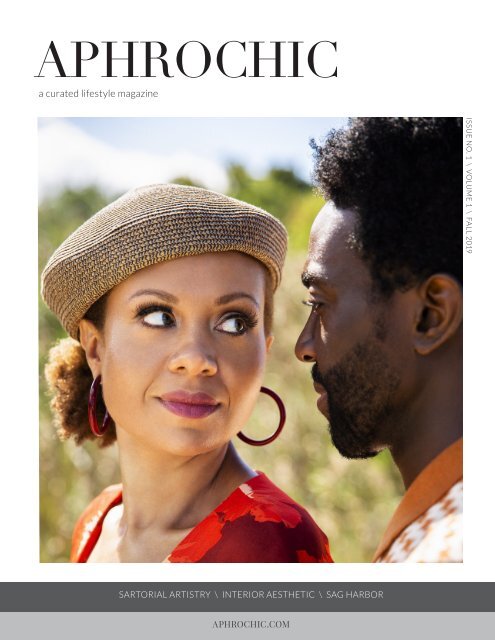 AphroChic Magazine: Issue No. 1
Welcome to the Fall 2019 issue of AphroChic Magazine. Designed to celebrate the presence, innovation and accomplishments of creatives of color from all corners of the African Diaspora, we welcome the season in this issue with a focus on fashion, authentic beauty, and creating moments that bind us together. On the cover, New York fashion stylists, Courtney and Donnell Baldwin of Mr. Baldwin Style invite us to experience a fête in a historic part of Sag Harbor. We take a look inside the Brooklyn home of fashion designer and movement artist, Nana Yaa Asare-Boadu and experience her effortless aesthetic. Then, we go half way around the world on a photographic journey of Morocco, with photographer Lauren Crew. Along the way, you'll find articles that explore the nature of the African Diaspora, the importance of the Black family home, and the books, art and accessories you'll want to bring home this season.
Welcome to the Fall 2019 issue of AphroChic Magazine. Designed to celebrate the presence, innovation and accomplishments of creatives of color from all corners of the African Diaspora, we welcome the season in this issue with a focus on fashion, authentic beauty, and creating moments that bind us together.

On the cover, New York fashion stylists, Courtney and Donnell Baldwin of Mr. Baldwin Style invite us to experience a fête in a historic part of Sag Harbor. We take a look inside the Brooklyn home of fashion designer and movement artist, Nana Yaa Asare-Boadu and experience her effortless aesthetic. Then, we go half way around the world on a photographic journey of Morocco, with photographer Lauren Crew. Along the way, you'll find articles that explore the nature of the African Diaspora, the importance of the Black family home, and the books, art and accessories you'll want to bring home this season.
SHOW MORE
SHOW LESS
Create successful ePaper yourself
Turn your PDF publications into a flip-book with our unique Google optimized e-Paper software.
APHROCHIC

a curated lifestyle magazine

ISSUE NO. 1 \ VOLUME 1 \ FALL 2019

SARTORIAL ARTISTRY \ INTERIOR AESTHETIC \ SAG HARBOR

APHROCHIC.COM
---
When AphroChic began, our blog was dedicated to highlighting the contributions

of Black people in the world of design while providing content for smart, design

savvy people of color - an audience we were often told did not exist. At first it

was just a hobby, but things have a way of growing and AphroChic had a mind of

its own. Two years after it started, our blog became a product line, then a book

and after that an interior design company. Now, 12 years since our first blog post,

we've come full circle.

Four years ago we had the honor of speaking at Harvard's first Black in Design Conference.

It was an amazing event gathering hundreds of Black architects, designers,

and students from all over the country. It was truly inspiring; yet as it went on, we

realized how little we all knew about each other. It drove home to us the importance of

increased representation - not just within the so-called "mainstream" - but in our own

community. We realized how much we needed to see us, for us, and we decided to do

something to help.

AphroChic has always been about filling voids. The blog looked to fill a void in a conversation

that took no notice of Black creatives or a Black audience. We created products

because we saw so few luxury items for the home that connected to our culture or represented

our history. We wrote a book and designed spaces to show how rooms and the

things we put in them can tell our story.

With this magazine, we want to fill another void. We want to provide a platform for

showcasing our presence and our talents, a lens for appreciating Black creativity in all

fields. This isn't a design magazine or even a lifestyle publication - it's a quarterly love

letter to the cultures of the African Diaspora, to the people who fought to create them

and to those who work now to see them continue and evolve.

In each issue, we will highlight stories of Black creatives in a variety of disciplines,

industries, and fields while exploring the connections between art, design, architecture,

food, technology, music, politics, and history that fit together to make a culture.

Thank you for taking this first step with us. Welcome to AphroChic Magazine.

Jeanine Hays and Bryan Mason

Founders, AphroChic

Instagram: @aphrochic

editors' letter
---
Fall 2019

DEPARTMENTS

Read This,

Visual Cues,

A Family Affair,

Coming Up,

Mood,

FEATURES

Fashion // Sartorial Artistry,

Interior Design // Interior Aesthetic

Food // Food & Fellowship,

Culture // A Day at the Beach,

Travel // Morocco: A Photographic Journey,

Reference // The Questions of Diaspora,

PINPOINT

Artists & Artisans,

Hot Topic,

Who Are You,
---
CONTRIBUTORS

APHROCHIC

a curated lifestyle magazine

ISSUE NO. 1 \ VOLUME 1 \ SEPTEMBER 2019

Cover Photo: Brittany Ambridge

SAG HARBOR STORY \ BECOMING NINA \ VINTAGE VISION

APHROCHIC.COM

Publishers/Editors: Jeanine Hays and Bryan Mason

Creative Director: Cheminne Taylor-Smith

Contact:

AphroChic

Brooklyn, NY

AphroChic.com

info@aphrochic.com

Photo Contributors:

Chinasa Cooper

Lauren Crew

Patrick Cline

issue one
---
READ THIS

Contemporary imagery showcasing art and culture across the African Diaspora is few

and far between. But three recent books show another picture. In these works, we see

catalogs of Black contributions in fine art, explore the photographs that brought visual

representation to the Black is Beautiful movement, and explore the ways that people

of African descent have not only influenced fashion, but set the standard for what it is.

These books break new ground, adding an important element of self-recognition to the

way we see the cultural institutions we love.

Black Refractions: Highlights from the Studio

Museum in Harlem. Written by Thelma Golden

and Kellie Jones and Connie H. Choi.

Publisher: Rizzoli Electa. $45

Kwame Brathwaite: Black Is Beautiful.

Essays by Tanisha C. Ford and Deborah

Willis. Publisher: Aperture. $32

How to Slay: Inspiration from the Queens and

Kings of Black Style. Written by

Constance C.R. White.

Publisher: Rizzoli. $55

aphrochic
---
VISUAL CUES

We are transfixed by Adepero Oduye's short film, To Be Free. In the film, which

showcases Oduye's many talents as writer, directer and star, she transforms herself into

the legendary Nina Simone. Filmed in Brooklyn, NY, with an intimate cast of friends

and fellow actors, the audience is transported to the 1960s for a single impromptu

performance by Miss Simone, where she is truly free. Having the opportunity to

participate in the film as part of the audience, we saw first-hand the making of a film

that not only celebrates an icon, but the freedom that can come in a moment of honest

self-expression.

Visit aphrochic.com to listen to our podcast with Adepero Oduye.

Photography by Jenny Baptiste

aphrochic
---
issue one
---
IT'S A FAMILY AFFAIR

At the beginning of 1956, the Belfield area of Philadelphia was a predominantly white

part of the city. With few exceptions, just about all of the African Americans to be found

there were domestic workers, coming in and out of houses as they finished their work as

maids. But in October of that year, a new family arrived. Made up of three generations

- a grandmother, her four children, and two grandchildren - they were only the second

Black family to move onto the block.

My mother was a few days past

her seventh birthday when she moved

with her family into the new house.

They came from North Philadelphia,

and a house where they had

lived along with even more family

members. Purchasing the new home

had been a group effort - one that

required the whole family to pool

their money together. But a new

home meant new possibilities, and

buying the home in Belfield eventually

led to the purchase of others.

The home was a row house,

something of a staple in Philadelphia.

Row homes are attached

houses, appointed with sizable front

yards and smaller back lots. With

three-stories, three bedrooms, and

a full basement, it was large enough

for a family of six to live in comfortably.

And over the next six decades,

"the house," as we've always called it,

has been a cornerstone for my family.

A place for holidays and casual visits,

a place for kids to run and for pets to

live, a perfect place for being together

at any time and for any reason. While

the list of occupants has changed over

time, the house has always been ours

and it's always been there for anyone

who needed it. Someone moving up

from the South? They can stay at

the house. A grandchild in need of

a place to live after college? There's

room at the house. A new baby on

aphrochic
---
the way, a friend in need - there is

always room for family at the house.

My family's house is unique,

but it's far from being the only one

of its kind. The Black family home is

a significant cultural institution in

America. So many of us recognize

the warm feeling that comes from

thinking of that one special house

where the family can always be found.

For people like my great-grandmother

Lola Harper, affectionally

called "Mama," and her children,

home ownership was not an easy path.

Covenants that barred ownership

and access to specific neighborhoods

were common across the country in

the 1950s and before. To purchase a

home was a challenge, but well worth

it, as ownership provided security

for the family. It gave you something

to call your own, something to

pass down to future generations.

Today, this institution is in

danger. According to the US Census

Bureau, home ownership among

Black families dropped in 2019 to

40.6%, the lowest it's been since 1950.

Beginning in 2007, the decline marks

the complete erasure of progress

made since the 1968 Fair Housing Act,

which barred the discriminatory real

estate practices that had always disenfranchised

Black people seeking

to own their own homes. Causes for

the losses include predatory lending

practices, subprime mortgages,

and struggles with upkeep, but

behind them all are many of the

same attitudes that created barriers

to Black home ownership in the

past. For many Black families, "the

house" is in danger of being lost.

To preserve our family home

of 63 years, we began an effort to

update the space to keep it in good

repair for years to come. The process

has been an ethnographic study of

my family, the community, and the

importance of ensuring that the

Black home remains a family affair.

My mother was a child when she

first moved into the house. Years later,

she would inherit it from her mother

as her mother had inherited it from

Mama. Today, my sister lives there

with her husband and son; and my

wife and I continue the home's legacy

by being stewards for the next generation

that will certainly call it home.

It's a Family Affair is an ongoing series

focusing on the history of the Black family

home, stories from the Harper family,

and the renovations and restorations of a

house that bonds this family.

Photos from Harper Family Archives

Words by Bryan Mason

issue one
---
COMING UP

Events, exhibits, and happenings that celebrate and explore the African Diaspora.

La Biennale di Venezia 2019

Venice, Italy

Through Nov. 24

Sculptor Martin Puryear is representing the United

States in a solo exhibition, only the fourth African

American artist to do so in the famed event's 58-year

history. Commissioned by Madison Square Park Conservancy,

Puryer created A Column for Sally Hemings,

above, specifically for the Venice Biennale.

martinpuryearvenice2019.org

Taste of Soul Festival

Los Angeles

Oct. 19

The largest one-day street festival in Los Angeles, with

over 350,000 attendees. Taste of Soul features local

and international cuisine that reflects a Black cultural

experience, fused with diverse cultures and traditions.

It also includes five stages with major acts like Queen

Latifah and Stevie Wonder.

tasteofsoul.org

Afro Syncretic

New York

Nov. 8

Afro Syncretic presents the work of nine artists highlighting

the African roots of the Latinx diaspora. Collectively,

the works center on the vibrancy of diasporic blackness

within Latinx culture and urge viewers to confront dominant

narratives of what it means to be Latinx.

wp.nyu.edu/latinxproject

aphrochic
---
MOOD

Silhouette Pouf,

AphroChic, $555

Broom Pouf,

AphroChic, $555

aphrochic
---
Must-have products we have our eye on this season.

AphroChic x Dounia Home

Handmade in Morocco, the Amur Table Lamp blends

the centuries-old technique of creating pierced metal

lanterns with modern lighting aesthetics. The perforated

globes allow precision control of the amount of

light in a space, while the abstract base adds a contemporary

feel.

Amur Table Lamp

$1,250

Jomo Furniture

The Ashanti I stool is a modern interpretation of the

traditional Ashanti stool from Ghana. Re-imagined

in Baltic birch plywood with a sleek silhouette, this

adjustable stool reflects a deep appreciation for traditional

craftsmanship and modern style.

Ashanti I

$2,100

Slate Eau de Parfum

$95

House of Linnic

Edgy and seductive, Slate is an eclectic scent crafted

to evoke the feel of New York City. Blending notes of

white tea, frankincense, pepper and peony, its organic

ingredients and essential oils fuse to create a sophisticated

sensory experience, perfect for when you're

feeling irresistible.

issue one
---
FEATURES

Sartorial Artistry | Interior Aesthetic | Food & Fellowship | A Day at the

Beach | Morocco: A Photographic Journey | The Questions of Diaspora
---
Fashion

Sartorial

Artistry

Photos by Gregory Prescott

Words by AphroChic: Jeanine Hays and Bryan Mason

aphrochic
---
With ankara fabric draped in a backyard in

Brooklyn, photographer Gregory Prescott

captures images of model, George Okeny. The

author of By Window Light a nd t he upcom i ng Only

HUMAN, Prescott has found his most enduring

source of inspiration in capturing the human

form. In his artist's statement he writes, "My

photographs have successfully embraced both

the inner and outer beauty of men and women.

GOD is the true artist. I am the channel." In

this sartorial series, Prescott explores the way

that color, texture, and shape converse in the

interplay of the body with fashion. With Okeny

standing boldly in fall staples, like a leather

coat and deeply-hued bomber, Prescott reveals

to us this Sudanese model's beauty, strength,

and piercing humanity. AC

Visit gregoryprescott.net to learn about the photographer's

self-produced first solo exhibition set for October 2019, and

his next coffee table book, Only HUMAN.
---
Fashion

aphrochic
---
aphrochic
---
issue one
---
Interior Design

Interior

Aesthetic

At Home with Fashion Designer

Nana Yaa Asare-Boadu

Photos by Patrick Cline

Words by AphroChic: Jeanine Hays & Bryan Mason

aphrochic
---
issue one
---
Interior Design

aphrochic
---
"I'm not much of a talker," says Nana Yaa Asare-Boadu, looking out the

window of a Brooklyn cafe at all the activity of a morning in New York City.

She says it quietly, the way she says most things, and though she's here

specifically for a conversation, her first confession is more believable than

the next: "I don't think that deeply about fashion."

But if there's one thing to learn

from Nana Yaa, it's that not being much

of a talker should never be confused

with not having much to say. A career in

fashion that has spanned major brands

and nation-states has given her plenty

to say about fashion, design, and the

lopsided dialectic between honesty and

commerce in the life of a creative. That

doesn't mean she wants to talk about it.

"People should just do it," she says. "Stop

talking. Go places. See for themselves.

Listen, and then have their views."

Nana Yaa is the definition of a global

citizen. Born in London of Ghanaian

ancestry and raised in Holland, her

talents have taken her to Paris and

Milan, with stays in Israel and Ghana.

All of that before arriving in

New York to assume a position with

fashion house Jonathan Simkhai that

now sees her time split between New

York and Los Angeles. Along the way

she's acquired a fluency in French and

Dutch, as well as a working knowledge

of German and Twi.

With so many countries to her

credit, it's not hard to imagine why

talking is not one of her more valued

pastimes. Perhaps a life lived between

languages has given her an appreciation

of all that words cannot do. Instead,

Nana Yaa favors non-verbal forms of

communication. Drawing, design, and

issue one
---
Interior Design

aphrochic
---
ecently dance are just a few of the

ways she's found to express herself.

But perhaps her most complete exposition

of who she is comes from the

design of her Brooklyn pied-à-terre.

Luxuriously sized for a city where

cramped quarters are the norm, the

two-story, one bedroom apartment is

elegantly designed in an understated

yet expressive way that blends family

photos, touching gifts, and lucky

finds from all over the world to tell a

story as unique and intriguing as the

designer herself.

More than its space, the interior

of the home has the kind of "bones"

that interior designers dream of.

Small architectural details, original

to the home, are built into the walls

and doorways bringing personality

and interest into every room. It's

the perfect palette for an artist with

so many stories to tell, and the type of

find all New Yorkers dream of. "I was

really lucky," she recalls of the process

of finding her home.

Living in London and searching

for apartments online, Nana Yaa came

across her future home, and immediately

dismissed it as too good to be

true. "I told my mom, I'm never going

to get it, but she kept saying, just call

them. Just call them, so I did." A call

turned into a conversation and soon

Nana Yaa dispatched a local friend

to see the place firsthand and let her

know what she was getting into. "You

should get it," was the quick reply.

Stepping through the garden level

entrance of the home presents visitors

with an immediate choice: up the

stairs to the right and to the second

floor, down the hallway in the center,

or through the open entryway to the

left. Those who choose left will find

themselves in an expansive dining

room presided over by a beautiful

reclaimed wood table. Generally unissue

one
---
assuming despite its delightful

texture and capacity to seat eight, no

one would ever suspect that the table

is a perfect example of how Nana Yaa

decorates her home, and the types of

stories that make up her life.

"This was a beautiful surprise," she

smiles as she remembers. "It basically

came with the house." The table was

one of several curiosities - including an

antique deep sea diving helmet - that

were waiting for her when she moved

in. About a year later, Nana Yaa was on

a job interview and her interviewer

asked her about living in Brooklyn. He

asked what neighborhood, what street

and finally the address. After she'd

answered, he revealed that he'd once

lived in Brooklyn as well. Same neighborhood,

same street, same address.

"Do you still have that dining room

table?" he asked. "I left one there when

I moved out."

Nana Yaa's home is less a space

decorated in furniture and accessories

and more a library of stories,

each one encased in some seemingly

mundane object yet curated and

aphrochic
---
issue one
---
Interior Design

aphrochic
---
issue one
---
Interior Design

presented with as much care and

style as great works by renowned

masters. A narrow hallway between

her dining room and her kitchen has

been converted into a small yet dense

library. In it, she reveals another of

her decorating secrets. "I'm a bit of a

hoarder," she confesses, and books are

high on her list of coveted items.

From an early age, the designer

wanted nothing more than books for

birthdays, holidays or any occasion

where gifts were a possibility. Over

the years her collection has grown

and, quickly exceeding the confines

of these few shelves, Nana Yaa's books

are a constant presence in every

room. On tables they become objects

of interest, places for conversations to

begin. On mantles, they add color and

texture to the stark white of her walls.

Stacked on the floors to improbable

heights, they become statuary or

makeshift tabletops, often adorned

with curiosities and accessories of

their own. If this is hoarding, she

should give lessons.

Past the library lies the kitchen.

Here, amid the appliances and

utensils, Nana Yaa continues to find

opportunities for small narrative

moments. On the counter, a pestle

from Ghana sits beside a jar gifted

from a friend found while traveling

in Mexico. On the walls there are

photos taken by her of designs she

created while studying in London

sitting alongside a fashion illustration

she framed while living in Paris. The

crown jewel of the space is a Ghanaian

mask made by children at a foundation

that her mother once ran in Ghana. To

raise money, Nana Yaa's mother would

sell the masks in Holland, and she was

able to keep one for herself.

Wherever she goes in the world

and for however long, Nana Yaa takes

Ghana with her.

aphrochic
---
issue one
---
The only place where

Asare-Boadu embraces

maximalism is with her

collection of books.
---
issue one
---
Interior Design
---
It isn't only an ethnicity, not

only a part of her identity, Ghana

is a family heirloom passed down

to her from her mother and grandmother,

not through explanation, but

by meaningful objects and meaningful

moments. From her grandmother

and great-grandmother,

the designer received a collection

of Kente cloth. As diverse as they are

beautiful, the collection of vintage

fabrics includes instances of pink and

green stripes and elaborate black and

white patterns, as well as the familiar

patterns that are more commonly

collected under the term. From her

mother she inherited her love of

fashion, remembering the stylish

ensembles her mother would create

and her trademark way of matching

her bag to each outfit.

In more concrete terms, Ghana

is a frequent destination of Nana Yaa's

travels, as she goes often to visit her

mother. True to form however, it isn't

the bustle and noise of cities that hold

the most interest for her, but the quiet

spaces further north.

"When I go to Ghana I don't stay

in Accra for long" she offers. "I like to

go up to where my mother's family is.

I spend a lot of time talking to them,

and I listen." In those quiet spaces,

Nana Yaa connects to what she feels

are the essential lessons of the place

and the culture, and discovers the

space to let her creativity find new and

ever-more-honest means of expression.

In its most recent incarnation,

her search has transcended both the

verbal and the visual to explore the

kinetic in a unique and mesmerizing

form of performance art.

Nana Yaa is quick to decry any

notion of her performance as dance

or herself as a dancer. While at first

glance it might seem the most natural

categorization, closer inspection

issue one
---
Interior Design

reveals that it's nothing so structured

as that - and that's the point.

Rhythmic and undulating, unintentionally

yet unrepentantly sensual, her

movements eschew formal choreography

in favor of offering her audience

a glimpse of pure emotion in search of

spontaneous and complete catharsis.

The effect is hypnotic, and more than a

few people have fallen under her spell.

As a result, what began as a few posts on

Instagram has expanded into a series of

artistic and commercial collaborations.

Notably, Nana Yaa was featured in the

#LikeNoOneElse campaign of Turkish

lingerie line, Else.

Nana Yaa's home and her

movement work fit well together in

the context of her general approach to

creative things. Unchoreographed, yet

flawlessly executed, her living room

expands from a small entryway at the

top of her stair into high ceilings and

large windows that bathe the room in

sunlight. And like her dancing, Nana

Yaa's style is minimalist, elegant, and

serene. Taken as a whole, the room

comes together in what feels like a very

classic, French style. Its neutral color

palette seemingly exists to highlight the

rooms undisputed star, the modern,

pink, velvet sofa from Saba Italia. Yet

like so much of Nana Yaa's decor, the

piece wasn't a find, it was a gift. A

friend, the company's owner, simply

felt like she needed a pink sofa.

Themes from the first floor repeat

themselves in larger and interesting

ways on the second. Sculptural stacks

of books and magazines become larger

and more ornate. The walls on every

side of the room are adorned not with

art, but with memories. A framed work

in watercolor turns out to be a doodle,

one of many that a former co-worker

would constantly make and discard.

Vibrant photographs are test

shots for runway shows from years

past. Flea market finds from far-flung

shops adorn the mantle and take the

place of wood in the fireplace. And everywhere

there is evidence of family -

photos with mom, old watches awaiting

repair, and an entire wall dedicated

to images of her grandmother when

she was young. There appears to be

nothing in the space that isn't personal,

nothing that is without its own specific

meaning, yet it all fits together as if its

only purpose was to be in this room.

Appropriate for a fashion designer,

the only way into the bedroom is

through the closet. A brief hallway

separating the living room from the

bedroom became the perfect space in

which to house the designer's fashion

arsenal. The bedroom itself is a visual

sanctuary - clean lines and soothing

colors accented by small yet stunning

moments. This is where she keeps

her record collection, and opposite

it, a dress form stands adorned in

a dazzling array of traditional hats

and beaded jewelry, all from Ghana.

Blessed with the same large windows

as the living room, it feels like an easy

room to go into and a hard one to leave.

Nana Yaa's home is a mirror of

herself. Impeccably presented, but with

a depth of meaning that isn't hidden,

it just isn't screaming for attention.

Noticing it is inevitable; appreciating it,

unquestionable. But understanding it -

that might take some doing. It isn't that

her meaning is unfathomable, but that

it requires us to take the time to hear

everything that she's trying to tell us in

everything that she isn't saying. It's a lot

to do in one performance, one visit or

one morning over coffee in Brooklyn -

but that's ok, she'll wait. AC

Visit aphrochic.com to see a special performance

by Nana Yaa Asare-Boadu.

aphrochic
---
issue one
---
aphrochic
---
Food &

Fellowship

Chef Rashad Frazier Is Connecting

Cultures Through Food

It's a random day. The middle of a hectic week, and Rashad Frazier is

stopping by. The chef, a longtime friend, has a new recipe in mind. We

are willing guinea pigs, eager to see what he wants us to test today.

Photos by Rashad Frazier, Patrick Cline, and Bryan Mason

Words by AphroChic: Jeanine Hays & Bryan Mason

issue one
---
Food

In the past there's been a karaage

fried chicken sandwich, a slab of

Japanese baby back ribs, even cornmeal

crusted okra. We're meat-lovers, but

today Rashad's encouraging us to try

something new. He comes bearing

the most beautiful of gifts. Bags full of

fresh ingredients, aromatic spices, and

fresh shrimp. Before he even begins to

prepare our lunch, we're ready to give

up red meat (at least for an afternoon).

For Chef Frazier, food is more

than just fuel. It's a canvas, a history

lesson. And most of all, it's an opportunity

to connect. The Food Network

star, host of the show Hate It or Plate

It, often uses the phrase "food at play"

when describing his dishes. But when

his food hits the palette, you feel that

there's something more than play at

work. There's innovation, meaning,

memory, and a narrative in each bite.

As we sit in our kitchen in Brooklyn,

Rashad cooks comfortably and

we watch in wonder as our stovetop

does things it's never done before.

We learn as we wait that the dish, a

skillet shrimp, is a recipe from his

food concept, Yoshi Jenkins. On the

surface, Yoshi Jenkins is a combination

of African American and Japanese

aphrochic
---
culinary traditions.

An unlikely alliance, one would

think, until you talk to Rashad a little

more. The inspiration for the brand

and its signature fusion of flavors is

rooted in history. Specifically, it references

a brief and extraordinary

period in the 1930s, when Los Angeles'

Little Tokyo district was referred to as

Bronzeville. During that time, Japanese

Americans and African Americans lived

in close proximity before the period of

Japanese internment. Rashad reflected

on this moment in history, wondering

what types of dishes would result from

the two communities living together.

We have no idea what Rashad can

do with a brush and paint, but in a

skillet, he mixes colors like a master.

Bright yellows, reds, and greens mix

together, creating a festive backdrop

for the pops of pink from the shrimp

that are the star of the dish. The

resulting fusion is as subtle as it is

effective. Shrimp are as much a favorite

in Japan as they are in his native North

Carolina. For this dish he prepares

them in coconut oil and ginger,

longtime staples of traditional Japanese

cooking. At the same time, the cast iron

skillet is reminiscent of the big black

issue one
---
Food

pot used for the fish fries that are one of

his fondest memories of home.

With Yoshi Jenkins, the dishes span

continents. It takes only a single bite for

the concept to come together. We taste

the American South and understand

Rashad's stories about fresh tomatoes

in his grandmother's garden. The

shrimp have the distinctive flavor of the

Far East, notes of ginger and coconut

accented by cilantro and parsley.

The fusion is seamless and complete,

worlds colliding in a single pan.

But this food isn't just about connecting

distant cultures, or bringing

attention to moments in time long

past. This is food for the here and now,

and for people to enjoy together. Not

only do we love the shrimp, sopping

up every last bit with slices of french

bread, we talk, we laugh, and we forget

about everything other than the food in

the bowls and the people in the room.

We end the afternoon as we usually

do, with more talking, more laughing,

and more trips to the skillet. After a

whole day of cooking and eating in

fellowship, we see that food is far

more than fuel. It brings our senses

to life; tells us our stories and those of

countless others, and ultimately it pulls

us together. AC
---
Yoshi Jenkins Skillet Shrimp

INGREDIENTS

1/4 cup coconut oil

20 jumbo shrimp (about 2 pounds), shelled and deveined

Kosher salt

Freshly ground pepper

4 garlic cloves, thinly sliced

2 tablespoons minced shallots

1 tablespoon minced ginger

4 bird's eye chilies, seeded, stemmed and chopped

1 cup shellfish stock

4 tablespoons cold unsalted butter, cut into cubes

1 cup heirloom cherry tomatoes, halved

3 tablespoons fresh lemon juice

1/4 cup Italian parsley, chopped

2 tablespoons cilantro, chopped

TOOLS

Large Skillet

Wood Spoon

Spatula

Sharp Knife

Cutting Board

In a large skillet, heat 3 tablespoons of coconut oil. Pat the shrimp dry. Moisture will prevent

shrimp from caramelizing. Season the shrimp with salt and pepper.

Once skillet starts to smoke, add the shrimp to the skillet and cook over moderately high heat

until lightly browned, about 1 to 2 minutes per side. Transfer to a plate.

In the same skillet, heat remaining 1 tablespoon of coconut oil. Add garlic, ginger, shallots, and

chopped chilies and cook over moderately low heat, stirring constantly (this prevents it from

burning), until softened, about 1 minute.

Add the shellfish stock and bring to a boil. Simmer over moderate heat until the broth has

reduced by one-fourth. Whisk in the butter a few cubes at a time until incorporated. Add the

tomatoes and shrimp and simmer until the shrimp are cooked through, about 2 minutes longer.

Stir in the lemon juice, parsley, and cilantro and serve.

Serve with sliced, buttered, and toasted baguette.

Serves 4.

For more about Yoshi Jenkins listen to our One Story Up podcast episode on Food, Culture & Fusion, aphrochic.com.

issue one
---
Culture

A Day

at the

Beach

Celebrating Sag Harbor with Mr. Baldwin Style

Written and Produced by AphroChic:

Jeanine Hays & Bryan Mason

Photos by Brittany Ambridge

Styling by JL Goodman

aphrochic
---
58
---
There are some days that are magic. Days when it all goes right - the perfect

setting, the perfect weather, and the perfect group of friends gathered to mark

an important occasion.

For Donnell and Courtney Baldwin, New York fashion

stylists known for their brand, Mr. Baldwin Style, that

moment came on a sunny day at Havens Beach in Sag

Harbor. The idyllic location, set among bright white sands,

long blades of grass, and even a few deer roaming by the

ocean, was perfect for the couple's celebration of their

six-year wedding anniversary.

To make the most of a beautiful day, the couple, whose

brand works with Ralph Lauren and Rosario Dawson's

globally conscious Studio 189, called on an equally fashionable

array of guests to toast their latest milestone in one of

their favorite places to visit.

"We enjoy visiting Sag Harbor during all times of the

year," says Courtney. The couple was first introduced to

the area when Donnell lived in East Hampton for a short

time. "Each season has its own charm. In the summer, Main

Street is bustling with a mix of residents and weekenders

heading to or coming from the beautiful area beaches. In

the winter, the town is visibly less populated, but equally

charming. Sag Harbor serves as an escape and a place to

recharge year-round. It's a place where you can go for fresh

air and get a fresh perspective, whether it be for the day or

the entire summer."

On this day, guests arrived in a steady stream.

issue one
---
S

b

o
---
ag Harbor is special to us

ecause it's a perfect blend

f so many things we love.
---
Culture

Shoes were quickly discarded in

favor of the feel of sand and surf and

sun on bare feet. Among the guests, a

number of people in the fashion world

came to celebrate the couple's anniversary.

Fashion designer Jerome

LaMaar arrived in a flowing lilac

kimono, while stylist James Bianca

stunned in an African wax print dress.

Vintage blogger Krystle DeSantos

came in a stylish assortment with a

'70s vibe. In addition to the fashion

crowd, other creatives were also in attendance,

including interior designer

Mikel Welch from TLC's Trading

Spaces, and advertiser Law Smithson.

Over the years, Sag Harbor

and its many beaches have seen

countless days like this, when African

Americans gathered to celebrate

moments like these. It's a history

that begins with freed slaves coming

as laborers in the 19th century, and

later in the 1940s, African Americans

developing safe places of refuge

and leisure. This was particularly

true in the Sag Harbor Hills, where

African Americans have lived in the

beach community since World War

II. During the Jim Crow era, the area

served as a seasonal destination for

affluent and middle class African

Americans. Notable figures, including

Lena Horne, Harry Belafonte, Duke

Ellington, and Langston Hughes

to name a few, have long come to

Sag Harbor as a summer retreat.

The area's legacy is so important

to American history that the SANS

neighborhood, named for the historically

Black Sag Harbor Hills, Azurest

and Ninevah areas, was recently

added to the New York State Register

of Historic Places. "When we first

began visiting Sag Harbor, we always

felt a connection to the town, but

had no idea of the history," remarks

Donnell.

aphrochic
---
Culture

For this special day at Havens

Beach, with the historic SANS houses

in the background, guests gathered

for an intimate afternoon soirée.

Donnell and Courtney worked with

John Goodman of JL Goodman Design

to create the perfect look for their

gathering. Sitting firmly in the sand,

with the tide lapping about its legs,

a carved, wooden table looked as if it

had risen magically from the ocean.

Goodman's design featured a bold mix

of pink, fuchsia and lavender, offering

a bright pop of color against nature's

palette of green, blue, and sandy

brown. The tablescape, with pampas

grass and fuchsia coral, was a modern

nod to the coastal setting, complete

with beach sand and pebbles dusted

lightly across the surface of the table.

Against the backdrop of sand and

surf, guests toasted the couple while

nibbling on local cheeses, fruits, and

vegetables all from the Hudson Valley.

As Courtney and Donnell

learned about the history of the

place following their first visit, they

began to better understand the connection

that they felt whenever they

were there. Prior to the Civil Rights

Movement, African Americans were

not allowed access to many of the

beaches and entertainment activities

in the area - so we created our

own. For over 40 years, the summer

crowd in Sag Harbor consisted of a

mix of affluent and middle-class Black

people. Doctors, lawyers, educators,

and blue-collar professionals met

each year to escape the racism that

they faced in the world away from

the beach. Meanwhile many of these

families took advantage of the opportunity

to buy beachfront property,

a chance that was scarcely available

elsewhere. Today, many of the homes

in the area have been passed down to

family members and there are still a

aphrochic
---
few of the original residents that live

in the coastal communities, helping

to continue the traditions and teach

others about the long-standing importance

of the area.

"There are a lot of places that we

enjoy in Sag Harbor. We love Long

Beach and Havens Beach. Both are

fairly small in size but offer a little

something different. Havens Beach

is adjacent to the historically African

American private beaches," reflects

Courtney. "From there you have a

great view of the boats and yachts that

come in and out of the town harbor.

Long Beach is beautiful, with areas

of no traditional sand at all, just large

pebbles. It's just a few minutes drive

from the main village and offers

some of the best views of Sag Harbor's

amazing sunsets."

Many things have changed since

Black people first sought out Sag

Harbor in search of the freedom to

enjoy a day at the beach. What hasn't

changed is the joy of gathering to

celebrate the best parts of life in a

place that requires no explanation,

asks for no apology. For Courtney

and Donnell Baldwin it was the only

place to come to celebrate their life

together, surrounded by friends and

inspired by history. "Sag Harbor is

special to us because it is a perfect

blend of so many things that we love,"

Donnell explains. "Every time we visit,

we learn something either through

experience or conversation that we

can apply to our current business

or that adds to the pursuit of our

wildest dreams. We keep coming back

because of how we feel when we are

there and how refreshed we feel when

we return to our busy and sometimes

hectic life in New York City." AC

To learn more about Mr. Baldwin Style,

mrbaldwinstyle.com. Visit aphrochic.com to

see more from their day at the beach.

issue one
---
Culture

Sag Harbor Travel Tips from

Mr. Baldwin Style

WHERE TO EAT

Our favorite restaurant is nothing fancy but has the best seafood! The

Dock House is a favorite of locals and visitors alike and has been our

favorite restaurant since we started coming to Sag Harbor. If we decide

not to eat in the restaurant, we will take our to-go boxes straight to the

beach to enjoy our dinner in perfect view of a beautiful sunset. We also

have a tradition of visiting Buddha Berry, a local frozen yogurt shop that

offers non-dairy soft serve "ice cream," before we head back to the city.

TRAVEL TIPS

You can hop on the Hampton Jitney or into your car and in less than two

hours from Manhattan you can arrive in a sophisticated beach town with

a rich culture that provides an immediate escape and recharge. There's

no plane or airport hustle required. It's especially perfect for a romantic

getaway because very little advanced planning is required.

SHOPPING SOURCES

Sag Harbor has intentionally been kept free from large retail chains to

maintain the village charm, so the boutiques that line Main Street are

unique. We love visiting Donna Karan's new Urban Zen store. It's part

clothing store, part furniture & artifact store, and part restaurant. The

space is truly meditative and peaceful. Upon visiting the store, you are

automatically taken on a journey to Africa and Haiti where many of the

retail items have been made by local artisans.

WHERE TO STAY

We enjoy renting area homes or staying at a local hotel called the Baron's

Cove. The hotel is great in every season, not crowded, and the indoor and

outdoor fireplaces are delightful.

THE HISTORY

After visiting several times we learned about the rich history of the

area and began looking for ways to connect with the history however

we could. We began reading everything we could find about Sag

Harbor and connected with locals during our visits. It has sparked our

interest in learning more about the history of African American leisure

communities around the country.

aphrochic
---
Travel

Morocco

A Photographic Journey

The story of Marrakech begins in

the year 475 AH (1062 AD), as two

men walked together in the Sahara

desert. Cousins by blood, brothers

in arms and ideology, they had spent

years at war and were touring the

desert in search of a future.

Photos by Lauren Crew

Words by AphroChic: Jeanine Hays & Bryan Mason

aphrochic
---
Travel

Abu Bakr ibn Umar, leader of the

Almoravids, and his top lieutenant

Yusuf ibn Tashfin were continuing

a fight begun by Abu Bakr's brother

Yahya ibn Umar and their teacher, the

Maliki jurist and preacher Abdullah

ibn Yasin. Both had fallen in battle,

leaving it to Abu Bakr and Yusef to

continue to expand their dominion,

and with it their vision of Islam.

Unrivaled in combat, the Almoravids

were unbeaten on the field and

were, at that moment, suffering the

consequences of their success. They

had conquered and occupied Aghmat,

a wealthy and sophisticated city, but

the courtly life of a crowded city was

proving impossible for an army of

hardened desert nomads.

Abu Bakr and Yusef had gone into

the desert seeking a solution - a place

where the Almoravids could build

the type of military encampment

their ranks were used to, defensible

and efficient, with lots of open space.

When they found what they had been

looking for, work on the new encampment

began.

From that time on, the city of

Marrakech has stood for more than

900 years. It has been the capital of

an empire that stretched from present-day

Senegal up through much of

Spain and across most of North Africa.

It has been a center of learning and

philosophy, a hotbed of sedition, and

the seat of rulers, rebels, and tyrants

alike. It has been besieged, sacked,

restored, colonized, and liberated.

Today, from the Koutoubia

mosque to the Almoravid koubba

(bathhouse), through the maze-like

passages of the souks, to the open

plaza of the Medina, Marrakech - like

all ancient places - carries the weight

of its history. In every moment there

is an almost tangible sense of all that

has come before.

But Marrakech is not simply a

place of the past. Its arts, architecture

and culture continue to touch the

world, influencing everything from

the fashion of Yves Saint-Laurent to

modern interior design. Few places

on earth bridge the gap between the

old world and the new so well. This is

Marrakech, a city in pictures. AC

aphrochic
---
Travel

aphrochic
---
issue one
---
Travel

aphrochic
---
"Traveling - it gives you

home in a thousand strange

places, then leaves you a

stranger in your own land."

Ibn Battuta (1304-1369)
---
Travel
---
issue one
---
Reference

The Questions

of Diaspora

It's hip-hop and street style. It's Juneteenth in Harlem, the Caribbean Day Parade in

Brooklyn and Carnevale everywhere. It's all over Beyonce's latest video. But what is the

African Diaspora? It's a common term for referring to the collection of cultures across

the world that trace their roots back to the African continent.

But many of us refer to it so often

or hear of it so frequently that we may

not stop to explore precisely what it is

Edwards calls, "a confusing multiplicity

of terms…including 'exile,' 'expatriation,'

'post-coloniality,' 'migrancy,'

'globality,' and 'trans-nationality'

but as so often happens, getting to a

good answer is all about asking the right

questions.

or what it means. In fact, there are many

among others…"

definitions of the African Diaspora,

various constructions describing its

inner workings, and even different perspectives

on the point in time at which it

came into existence.

The difficulty in pinning down a

specific definition for the term might

stem from the fact that it's even harder

to define what diasporas are in general.

Over the past 50 years, diaspora

has become the favorite answer to a

multitude of theoretical questions and

French sociologist,

Dominique Schnapper, traces

the history differently, asserting that

diaspora has not spawned these terms,

but rather that, "since 1968 it has designated

all forms of population dispersion,

until then evoked by the terms

expelled, expatriate, exile, refugee,

immigrant, or minority."

So coming to an agreement on the

definition of diaspora is difficult, even

before trying to describe a specific one.

But the level of importance that's been

The Question of Origins

Diaspora is an ancient term with

a long history. Meaning simply "dispersion,"

or "scattering," in Greek, the

historian Thucydides was likely the

first to use it to describe the displacement

of people by war. Its association

with dispersed Jewish communities

began with the translation of the

Hebrew Scriptures into Greek between

the 3rd and 2nd centuries, BC. Deuteronomy

28:25 is often referred to specif-

the basis for countless more.

It has

placed on the concept in recent years

ically for its use of the word to describe

given rise to what scholar Brent Hayes

is undeniable. So getting a clear idea of

what diaspora is might be a good idea,

the Jewish nation being "scattered to all

the kingdoms of the earth." For the next

Words by Bryan Mason
---
Ngbaka mask, Democratic Republic of the Congo, Yale University Art Gallery
---
Reference

two millennia, diaspora was used

almost exclusively to refer to dispersed

Jewish populations throughout history.

But by the 20th century other groups

had begun using the word as a designator.

Armenian writers begin focusing

on displacement in their work as early

as 1915, while the African Diaspora

sees its first mention by the late 1960s.

It wasn't until the early '90s that the

explosion of communities regarded

as diaspora began an expansion of the

term. The trend has continued into the

21st century, expanding the application

of the term beyond national dispersions

to include the many groups that inhabit

the concept today.

In 2000, listing the number of

studied diasporas, Khachig Tololyan,

editor of the academic journal Diaspora,

counted "three dozen trans-national

communities…ethnics, exiles, expatriates,

refugees, asylum seekers, labor migrants,

queer communities, domestic service

workers, executives of trans-national corporations,

and trans-national sex workers,"

and the list has grown since then.

The Question of Movement

At the core of every construction

of diaspora is the idea of movement.

All diaspora communities have their

origins in one place and have moved to

several others. The question raised by

identifying so many disparate groups as

diaspora though, is whether all forms of

movement should be thought of as the

same. The key distinction in this debate

is between migration and dispersion.

The primary difference between them is

simple, but significant: volition. Simply

put, the former is something you do, the

latter is something that someone else

does to you.

Dispersion happens in instances

where communities are forced to

move by forces such as war, mass deportation

or, in the case of the African

Diaspora, a massive international slave

trade. Migration, conversely, is largely

a choice. Even in those situations

where lack of employment or resources

cause movement, they don't force it in

the same way. And while there is unquestionable

trauma in being forced

into migration because of famine or

a weakened economy, it's a different

trauma than that of surviving a war or

experiencing the Middle Passage.

Translating that distinction to

currently considered diaspora groups,

we see that differences do become

apparent.

The earliest groups to be considered

diaspora, the Jewish, the Greeks,

the Armenians, and the Africans, were

all victims of dispersion of one type or

another. Later groups, such as that of

international sales representatives, or

even Detroit lieutenant governor Garlin

Gilchrist's laudable Detroit Diaspora

concept, refer to groups that moved of

their own volition. Other characteristics

common to diaspora constructions,

such as a dream of return to the place

of dispersion or the recognition of a

shared culture between members of the

group, may possibly be said to apply, but

certainly not in the same ways.

If there are dispersed communities

that function as diaspora and cannot be

suitably defined by any other term, we

risk losing sight of the unique features

found in those communities by conflating

diaspora with other forms of

movement and migration. This in turn

can lead to misconstrual of the changing

dynamics of diaspora communities and

a misunderstanding of their needs and

goals.

aphrochic
---
Spinning By Firelight–The Boyhood of George Washington Gray, Henry Ossawa Tanner, Yale University Art Gallery

In evaluating whether or not certain

communities qualify as diaspora, we must

consider what's at stake for them in this

categorization, and the extent to which

international salesperson, for example,

I may be dispersed from my homeland,

I may dream of a day of return, I may

even have a tense relationship with the

hostland. But do I have a sense of recognition

with other professionals so

dispersed, even from my own homeland,

to other host lands? Do we recognize in

each other a common struggle or shared

diaspora groups. However it is a very

different conversation for Armenian

or Jewish communities, than it would

be for trans-national executives or

they function as communities. If I'm an

yearnings? Is my dream of return for all of

domestic service workers.

However,

us, or just for myself?

At the same time, reevaluating the

sense of dejection associated with the

loss of the homeland in light of later

prosperity is a common theme for

current frameworks of diaspora make

it difficult to distinguish between them.

The Question of Definitions

Why does diaspora have to have a

issue one
---
Reference

specific definition that everyone agrees

to? The short answer is: it doesn't. If

all migrations result in diaspora, then

there can be as many conceptions of

diaspora as there are types of movement

— more even. However, if diasporas are

themselves a unique thing, different in

process and outcome than other types

of migration, it makes sense to study

them as such, especially those groups

for which there's more at stake than the

designation of being "in diaspora."

Look at it this way: If one person

believes that a hammer is a building

tool, and another believes it's a cooking

utensil, they can discuss the importance

of the tool and their love for it all day;

but whether the job is building a house

or baking a cake, they will have a very

difficult time doing it together. They

don't have to agree on the best ways to

use it, but it would help if they shared a

generally coherent idea of what it is.

The Question of Africa

So what does that mean for us?

Currently there isn't much that separates

the way that the African Diaspora

is understood from the widely varied

approaches taken in the study of

diasporas as a whole; and for those not

dedicated to studying it specifically, the

African Diaspora is taken to be simply

one more in a field of many. This raises

questions as to whether there are any

unique features of the African Diaspora

that aren't common to all forms of

migration and that demand specific

attention and study.

This much we know: nearly all

concerned parties agree that those of

African descent who reside in locations

outside of the African continent constitute

a diaspora. However very few

seem to be able to agree on what that

means, or why it is important. Yet these

characteristics do exist, demonstrating

not only the distinctive features of

a diaspora but presenting the African

Diaspora as a unique case for study.

Consider the fact that, unlike other

diasporas, the African Diaspora does not

have a single point of origin. True, we

call it the African Diaspora, but as many

of us are tired of pointing out, Africa is

a continent, not a country. That means

that the story of the African Diaspora

is not a question of dispersal from one

place to several but from many places to

many more. That changes things.

Diasporas are generally about

one culture being scattered to many

places and maintaining relationship to

each other through their shared point

of origin. However each culture of the

African Diaspora is not a scattering

of one culture into many but a fusion

of many cultures into one. In every

instance, dozens of different African

cultures, present in different levels,

came together along with any number of

Native American and European cultures

to become a distinct thing. It became the

African American and the Trinidadian;

it became the Jamaican and the Haitian;

it became Dominican, Cuban, Brazilian,

and more. It became all of us. This significant

difference does not make the

African Diaspora any less a diaspora.

Nor is it more usefully understood as a

series of smaller diasporas from specific

countries in Africa. It is specifically the

joining of many African cultures, in

unique ways, across a variety of places,

that creates the African Diaspora.

Consider also that the African

Diaspora exists not only as a state

of being, but as a concept. In a short

treatment of the subject, historian Colin

A. Palmer lists five distinct diasporic

aphrochic
---
Am I Not A Woman & A Sister, Anti-Slavery Hard Times Token, American, Yale University Art Gallery

issue one
---
Reference

moments in African history, beginning

with the first human migrations out of

the continent. His suggestion being that

the existence of other examples of largescale

movement on the part of African

people means that, "there is no single

diasporic movement or monolithic

diasporic community to be studied."

While it's true that the global

migration of Africans predates the

trans-Atlantic slave trade, it's difficult

and to ignore that the African Diaspora

as a concept is a direct development of

that particular dispersal, and more specifically,

of a long history of thought and

action aimed at dealing with the political,

social, moral, and economic ramifications

of that moment in human history.

And it is on that point that we can begin

to answer some of these questions.

The Question of Purpose

What is the African Diaspora for?

That is the right question. It's right

because it puts every other question

we've asked in perspective. Nearly

every construction of diaspora as a

concept holds that the relationship

between dispersed populations and the

"homeland," whether real or imagined,

is of vital importance to the category.

Yet few if any consider diaspora from a

functional standpoint.

Perhaps the best way to understand

the African Diaspora is not as a

state of being or a happenstance of historical

migration, but as a tool. The

African Diaspora isn't simply the result

of voluntary or forced migration from

one continent to several. It is an analytical

structure formed out of a complex set

of ideas created by networks of thinkers,

creatives, groups, and movements

working both in concert and in contravention

to one another over hundreds of years.

Understanding the Diaspora in

this way makes several useful changes

to the way we approach the question

of defining it. First, it argues that the

creation of the Diaspora was not an incidental

consequence of dispersion, but

an intentional decision on the part of

those dispersed.

Second, it requires that the

Diaspora conform to the one criteria

that applies to all tools: that it was

created to do a job. And, like any tool,

understanding the African Diaspora is

in large part a matter of understanding

its process of manufacture and the

reasons for its construction. Once those

are ascertained, we can move on to the

only question that ultimately matters:

Does the African Diaspora still have a job

to do, or is it already obsolete?

This essay is the beginning of a

series that will address this question

by analyzing the African Diaspora from

the perspective of a tool. To do so, it

will trace the historical development

of the African Diaspora concept as an

emergence from the extensive tradition

of international Pan-Africanist thought

that preceded it through the various articulations

of the concept that have influenced

the use of the term today.

This series doesn't claim to be exhaustive

in its survey of contributors

to Pan-Africanism or to the theory and

study of diaspora. Nor does it claim to

be authoritative about the nature and

uses of the concept. The goal here is to

begin a conversation, not end one. And

if it inspires us to do more and say more

to explore and strengthen the bonds

between our communities towards

functional and mutually beneficial ends,

then that would be nice too.

The work of Diaspora is not done,

but we can only reach a better understanding

of the potential uses of the

diaspora concept going forward by

more thoroughly understanding the

needs and processes that brought about

its emergence and the purpose for

which we currently need it. AC

aphrochic
---
Kente Prestige Cloth, Ghana, Yale University Art Gallery

issue one
---
PINPOINT

Artists & Artisans | Hot Topic | Who Are You
---
ARTISTS & ARTISANS

The Cameroonian Juju Hat

An explosion of plumage, pops of bright festive colors, Cameroonian juju hats have spent

the last few years becoming synonymous with global style in home decor. Originally

meant to decorate people, rather than rooms, their popularity has grown to the point

that lately it seems that no room is complete without one of these beautiful feathered

pieces on the walls. Yet, while juju hats are a common sight on the walls of many modern

interiors, for the Bamileke people of Western Cameroon they were once a rare item

reserved only for a select few.

Like most Bamileke art, juju hats

are created specifically for use at royal

festivals or ceremonies. The frame is

constructed from raffia that is woven to

create the support structure. Feathers

taken from a chicken, guinea hen, or

other wild bird are dyed and attached

to the base. A leather strap attached to

the back is used to pull the hat open to

its full breadth. When not in use, the

hat folds up into a manageable bundle

that not only helps with storage, but

also acts to protect the feathers within

the shell of the much tougher raffia

structure. Protecting the delicate

feathers is a high priority, as the hats

play an important societal role.

In Bamileke societies, the king,

called a Fon, is attended by a committee

of eight men known as the Mkem or

"the assembly of holders of hereditary

rights." Each man of this council

acts as the head of a particular society

tasked with certain duties within the

kingdom. Every two years the Mkem

hold special meetings at which the

wealth of the king is displayed and each

member dons masks appropriate to

their societies. The most venerated of

these, the elephant and leopard masks,

are reserved only for the king and for

members of the Kuosi and the Kemdje,

both warrior societies. It is with these

masks that Tyn or juju hats are most

commonly seen, though occasionally

they are also worn alone, like on the

death of a king or a wealthy member of

one of the eight societies.

One of the biggest questions about

these hats is what to call them. Juju

is not a term found in any Bamileke

language and no one is sure where it

came from. Two theories are that it is

either a derivation of the word "djudju,"

used by the Hausa of northern Nigeria

to denote an evil spirit, or from the

French "joujou," meaning a trifle or toy.

From the time of its first recorded

use in the late 17th century, juju became

a popular term among Europeans for

referring to West African religions and

their healers who were called juju men.

It may be that an observer mistook the

wearers of these hats for such healers

and applied the name by which we

now know the feathered hats that the

Bamileke call Tyn.

aphrochic
---
issue one
---
HOT TOPIC

Don't Touch My Hair

It's 1984 and I'm six years old, one of the few Black kids in my mostly white suburb, and

it's the night before school picture day. My mother is straightening my hair. The hot

comb sizzles at my edges. She warns me not to move or I will get burned. She doesn't

need to remind me. My ears have been here before and we both know I'm going to get

burned no matter how still I am.

The battle has begun. My hair is

unruly, wild, out of control; it needs

to be subjugated. The comb will make

sure of it. I get burned, but it's a small

price to pay for the perfect first grade

photo - I'll look just like the other

girls. By the second grade, my mother

is elated. No more hot comb needed.

There's a new product on the market -

kiddie perms. Now I'll look just like the

girl on the box. Her hair is silky with

sheen and perfect curls, it never fights

back, it's completely under control.

Now all I have to do is sit still, let it set

in, just a little longer, a little longer…it

doesn't even burn (well, at least not as

much as the hot comb).

For years my hair was a battle

ground. Wars were waged with hot

combs, lye, flat irons, brushes, curling

irons, anything to make it "acceptable."

Acceptable meant straight.

Straighter than it was when it grew out

of my head. Straight like it belonged to

somebody else. When it was straight, I

was pretty. Pretty was something that

burned, something I got out of a box.

Pretty meant under control - sitting

perfectly still and lifeless while heat

and chemicals taught my hair to do the

same. But it sent the right message,

it made me acceptable, and it never

lasted for more than a few weeks. When

that perm started to sweat out, pretty

was done and I was advised that I had

better address my "kitchen."

Fast forward to 2001, the age of

neo-soul, Lauryn Hill's baby fro, and

my big chop. I was sick of perms, tired

of the girls on the boxes. I decided it

was time to begin my journey into (or

back to) my actual hair. The initial hair

cut was the toughest. The result was

short and stubbly, not exactly flattering,

but it was mine. Thankfully my

tight curls quickly grew into a wellstacked

afro that I styled with colorful

fabrics and wraps. By now the visual

cues of conformity were all but lost.

My mother feared I would never find a

job, even though I already had one. But

if I wasn't going to be hired because of

what naturally grew from my head, I no

longer cared. It was time to be free. Now

my hair is long and luxurious; dozens

of tightly bound locks that cascade

down my back or over my shoulders

Words by Jeanine Hays. Photo opposite by Jessica Felicio

aphrochic
---
HOT TOPIC

depending on the day and my mood. I

don't look like anyone but me, and I love it.

My mother's fears were not

unfounded. It was important for me

to realize that the image of beauty that

she presented to me wasn't just about

aesthetics - it was rooted in a larger

question of survival. Education and

experience were great, as far as they

went, but if I wasn't "acceptable", she

knew, I could easily find myself un-hirable.

And it wasn't just a question for

me, but for many Black women, both

here and abroad, both then and now.

We are now almost 20 years into

the 21st century, and the public acceptability

of Black women's hair continues

to be a contested issue. In most states,

Black hair is ruled by outside forces.

It's banned from offices and fast food

chains; a child can even be dismissed

from school for the crime of wearing

her own hair in the way that it naturally

grows. The Supreme Court has failed to

address such discrimination. In most

states our hair is subject to approval,

the oppression thinly veiled by appeals

to workplace and school dress codes.

Conformity remains the priority, and

somehow locks and afros never seem to

fit the desired look. But a movement is

afoot to create change.

In South Africa, young girls have

marched to demand the right to "be

naturally who we are." In the UK, people

like fashion blogger Freddie Harrel are

empowering Black women through

education and shining light on the lack

of natural hair salons and products in

England. And in the United States, discrimination

against natural hair is being

challenged through new laws in California

and New York. California recently

became the first state to ban discrimination

based on natural hair. The newly

passed Crown Act bans employers

and schools from enforcing grooming

policies that disproportionately impact

people of color. New York has followed

suit and even the US military has

retracted its ban on twists, locks, afros,

and braids for female soldiers.

In 2016, Solange sang, "Don't touch

my hair." The words became an anthem

for Black women who know all too well

the pressures of fighting on this front -

whether to conform to the norms that

are imposed on us or to subvert them.

For those of us who enjoy our natural

hair and see it more commonly on celebrities

and athletes, this seems like an

outdated argument - and it is. But for

many more of us, the fear of our hair

being "too Black," and the fact of being

denied entry into jobs and educational

opportunities is all too current. It has

caused many Black women, like myself,

to endure painful exercises in assimilation

- to get things straight. But around

the world, anthems like it are inspiring

movements to remove the ability of

outside observers to dictate what is acceptable,

presentable or beautiful in us.

It feels like a wake up call and an

opportunity to experience our hair as

an exercise in personal freedom, as

more states, schools, and workplaces

are compelled to follow suit.

Photo opposite by Bryan Mason

aphrochic
---
WHO ARE YOU

Name: Stacey Blake

aka Design Addict

Mom

Hometown:

Fayetteville, NC (by

way of Jamaica)

Occupation: Teacher

turned design blogger

designaddictmom.com

"Black culture is a multicultural treasure trove."

aphrochic
---
aphrochic