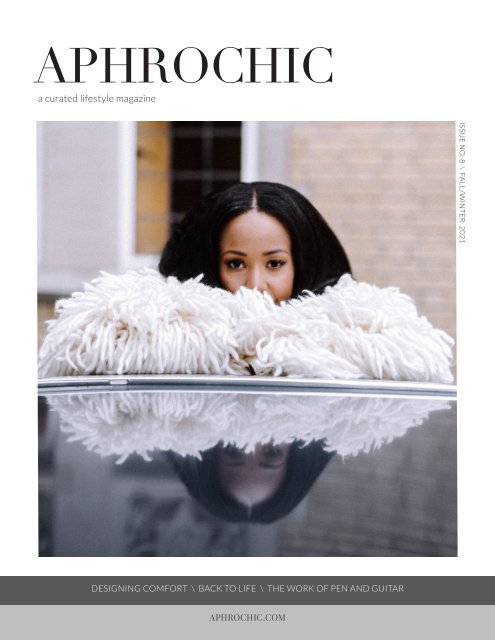 AphroChic Magazine: Issue No. 8
This issue is about revolution, remembrance, and rebirth. In Dubai, Chef Alexander Smalls is launching a first-of-its-kind food experience celebrating the culinary revolution taking place in Africa. In New York, as fashion week returned, House of Aama launched a collection remembering the elegance of 20th century Black resort towns. In Philadelphia, Chanae Richards is carving out space for rest, relaxation and meditation. And in Los Angeles, our cover star, Jennah Bell, is part of a renaissance of music that is indie, soulful and written from the heart. In this issue we take you to The Deacon hotel designed by Shannon Maldonado. And in our Wellness section, we let you in our own road to rebirth, through the journey with long-haul COVID that has defined our life this past year. In our Reference section we explore new thoughts on the African Diaspora. Looking beyond the history behind the word to explore the idea itself, opening new worlds of possibility as we begin working to understand what the African Diaspora actually is. And we take you inside the importance of the emerging Black art scene heralded by the Obama portraits which, now well into their national tour, made a memorable stop at the Brooklyn Museum.
This issue is about revolution, remembrance, and rebirth. In Dubai, Chef Alexander Smalls is launching a first-of-its-kind food experience celebrating the culinary revolution taking place in Africa. In New York, as fashion week returned, House of Aama launched a collection remembering the elegance of 20th century Black resort towns. In Philadelphia, Chanae Richards is carving out space for rest, relaxation and meditation. And in Los Angeles, our cover star, Jennah Bell, is part of a renaissance of music that is indie, soulful and written from the heart.

In this issue we take you to The Deacon hotel designed by Shannon Maldonado. And in our Wellness section, we let you in our own road to rebirth, through the journey with long-haul COVID that has defined our life this past year.

In our Reference section we explore new thoughts on the African Diaspora. Looking beyond the history behind the word to explore the idea itself, opening new worlds of possibility as we begin working to understand what the African Diaspora actually is. And we take you inside the importance of the emerging Black art scene heralded by the Obama portraits which, now well into their national tour, made a memorable stop at the Brooklyn Museum.

SHOW MORE
SHOW LESS
You also want an ePaper? Increase the reach of your titles
YUMPU automatically turns print PDFs into web optimized ePapers that Google loves.
APHROCHIC

a curated lifestyle magazine

ISSUE NO. 8 \ FALL/WINTER 2021

DESIGNING COMFORT \ BACK TO LIFE \ THE WORK OF PEN AND GUITAR

APHROCHIC.COM
---
APHROCHIC INTERIORS

BOOK A PERSONAL DESIGN CONSULTATION

@APHROCHIC ON FACEBOOK
---
Well, it was no 2020, but 2021 has still been a long year. For many of us it's felt like

several years wrapped up in one. We began the 21st year of the 21st century with

great hope. The whole world waited with bated breath for a vaccine to change the

world that COVID had created. When it arrived, for a time, there was a feeling that

life would return to normal. But then suddenly there was vaccine hesitancy, and the

Delta variant, and more that we never predicted.

Cities began returning to life, some slowly, some recklessly. But things were different. Life in quarantine

meant time to think, and many of us are looking at things a bit differently now. Slowly the realization is dawning

that the world has not returned back to normal at all, and maybe that's a good thing. A global pandemic changes

everything. COVID-19 has changed our world in some truly complex ways. But as this long year marches on, we're

beginning to see something new take root. A new world is emerging - and we all have a part to play in shaping it.

As 2021 is ending, we're thinking ahead about this new world that we are entering and those who are at the

forefront: the artists, designers, musicians, fashion savants, chefs and more who are charting a new creative

path. And in this issue we're going around the world to visit some of our favorites, and explore some exciting new

fronts. Like 2021, this issue is about revolution, remembrance, and rebirth.

In Dubai, Chef Alexander Smalls is launching a first-of-its-kind food experience celebrating the culinary

revolution taking place in Africa. In New York, as Fashion Week returned, House of Aama launched a collection

remembering the elegance of 20th century Black resort towns. In Philadelphia, Chanae Richards is carving out

space for rest, relaxation, and meditation. And in Los Angeles, our cover star, Jennah Bell, is part of a renaissance

of music that is indie, soulful, and written from the heart.

In this issue we take you to The Deacon hotel designed by Shannon Maldonado. And in our Wellness section, we let

you in on our own road to rebirth, through the journey with long-haul COVID that has defined our lives this past year.

In our Reference section, we explore new thoughts on the African Diaspora. Looking beyond the history and

behind the word to explore the idea itself, opening new worlds of possibility as we begin working to understand

what the African Diaspora actually is. And we take you inside the importance of the emerging Black art scene

heralded by the Obama portraits which, now well into their national tour, made a memorable stop at the Brooklyn

Museum.

2021 has been a long year. The world is re-emerging, and the work being done by Black creatives today is

setting the stage for a bright new future ahead.

Jeanine Hays and Bryan Mason

Founders, AphroChic

Instagram: @aphrochic

editors' letter
---
FALL/WINTER 2021

DEPARTMENTS

Read This 10

Watch List 12

The Black Family Home 14

Mood 22

FEATURES

Fashion // House of Aama 26

Interior Design // Chanae Richards: Home Again 38

Culture // The Creator's Dinner 56

Food // Alkebulan 62

Travel // A Place to Gather 74

Wellness // Back to Life 82

Reference // The Structure of Diaspora 94

Sounds // Jennah Bell 100

PINPOINT

Artists & Artisans 108

Hot Topic 114

Who Are You? 120
---
CONTRIBUTORS

Cover Photo: Jennah Bell

Photographer: Mallory Talty

Publishers/Editors: Jeanine Hays and Bryan Mason

Creative Director: Cheminne Taylor-Smith

Editorial/Product Contact:

AphroChic

AphroChic.com

magazine@aphrochic.com

Sales Contact:

Ruby Brown

ruby@aphrochic.com

Contributors (left to right below):

Patrick Cline

Chinasa Cooper

issue eight 9
---
READ THIS

This month our book selections focus on Black women, a group often overlooked, mischaracterized,

and uniquely facing racism and sexism at the same time. New research by the American Psychological

Association coined the term 'intersectional invisibility,' shining a spotlight on the need for more visibility

for Black women in media. These three books deliver on that need. The Love Songs of W.E.B. Du Bois focuses

on a long line of Black women from one Georgia family and the lessons they pass down to one daughter,

Ailey Pearl Garfield, as she straddles her lives in the North and the South. Three Girls from Bronzeville is

a memoir about three women who grow up together in the South Side neighborhood of Chicago. It's both

a celebration of sisterhood and friendship and a testimony to the unique struggles of Black women. Black

Girls Must Die Exhausted focuses on a woman who seems to have it all, until a major setback causes her to

reexamine her life and her friendships. All three books create a much-needed visibility for Black women.

Three Girls from Bronzeville

by Dawn Turner

Publisher: Simon & Schuster. $22.99

The Love Songs of W.E.B. Du Bois

by Honoree Fanonne Jeffers

Publisher: Harper. $18.99

Black Girls Must

Die Exhausted

by Jayne Allen

Publisher: Harper

Perennial. $29.99

10 aphrochic
---
WATCH LIST

When the Metropolitan Transportation Authority decided to demolish and rebuild the Third Avenue

Bridge in Mount Vernon, NY, they still wanted to retain the history that the 121-year-old bridge had of

connecting a community. And they wanted the bridge to also represent that community in a new way.

So the MTA and the city of Mount Vernon commissioned artist Damien Davis to create a series of panels

spanning the bridge to tell the visual story of Mount Vernon. The work, entitled Empirical Evidence, was

created with painted water-jet cut aluminum, and it is meant to question "how cultures code and decode

representations of Blackness and Black people." The panels invite interaction and discussion about what

each symbol of Blackness means and how those definitions change over time. Davis said his inspiration

was language itself and how it works as a bridge, and the symbols he created are also a language of their

own. "For me, the question becomes how we take these larger complicated ideas, that can be hard to

explain, break them down into simple shapes, and then allow new dynamic, complicated conversations

to form around them. That is my hope for this project."

Empirical Evidence

by Damien Davis

Mount Vernon 3rd Avenue Bridge

12 aphrochic

serenaandlily.com
---
THE BLACK FAMILY HOME

Designing Comfort

Bedrooms need to be healthy spaces. They need to be restorative.

And for many in the Black community, they need to truly be places

of rest. Spaces where we can retreat from the world, get a full night's

uninterrupted sleep, so that we can get up tomorrow and continue our

fight for a better world. As we embarked on creating the bedrooms of

our dreams in our very first house, we worked to answer the question

- how do we design comfort?

We worked in partnership with

Article to find the perfect pieces for the

main and guest bedroom in the house, and

had a conversation with the brand about

how we approach designing spaces of

comfort for our home.

Article: How do you make a bedroom

feel comfortable and cozy?

AphroChic: The average person

spends 1/3 of their life in bed. This means

we are likely to spend a lot of our time

in our bedrooms. These spaces need to

support us while we sleep and first thing

when we wake up. To make sure this space

is comfortable and cozy we begin by identifying

the perfect bed.

When searching for that perfect bed,

we like to ask a few questions: do you want

to be up high, or do you like something

low and modern? Do you want a bed that

requires a box spring or would you rather

go with a simple and streamlined bed that

just requires a mattress? Do you want a

bed that's made with natural materials

that promotes a healthier lifestyle?

Once we can answer all of those

questions and find the perfect bed, then it's

about the pieces needed to complete the

room that add that extra sense of comfort.

You want bedside tables where you can

have books and lighting, and maybe even

a carafe of water if you'd like to have a sip

of water in the evening. It's nice to include

a cozy bench at the end of the bed. It's a

useful piece of extra seating in the room.

You want to be sure that everything you

need is included in the design of the

bedroom. And most importantly, that you

love your bed!

AR: How do you incorporate your

personal style into the bedroom?

AC: That personal style begins with

bedroom furniture. You can go modern,

classic, wood, upholstered. There's so

many different types of aesthetics to

choose from. For these bedrooms we went

The Black Family Home is an

ongoing series focusing on the

history and future of what home

means for Black families.

Stay tuned for the upcoming book

from Penguin Random House.

Photos by Bryan Mason

Jeanine in the

Celeste Kaftan,

see page 23

14 aphrochic
---
THE BLACK FAMILY HOME

mid-century modern. It felt right for the

house, which is a farmhouse. We wanted to

showcase the beauty of natural wood, and

we are able to do that with these gorgeous

pieces from Article.

Then it's all about pieces that complement

that mid-century look and our

own aesthetic. We love being able to incorporate

art and artisan pieces in the

bedroom, particularly by artists of the

African Diaspora. So we included sculptural

pieces in this room, some that have

been handmade by Black designers. The

personal touches make the room feel so

warm and it reflects our cultural heritage.

AR: While incorporating that style how

do you distinguish between two bedrooms,

do you like to make those spaces cohesive,

complementary, or contrasting?

AC: This is such a good question.

We actually begin with an entire style

for the house. In this home, there's a lot

of beautiful woods that really make the

farmhouse style come to life. The love of

wood was extended into both the main and

guest bedroom as well, with a shaker-style

bed for the guest bedroom and a 1950s style

platform bed for the main bedroom. But

while wood was a commonality, to give

each room its own personality, we chose

different finishes. In the guest room, the

black ash stain feels fresh and modern.

And in the main bedroom, the walnut

warms things up immediately.

AR: What are some of your favorite

qualities or features in your Article

bedroom furniture? How do they contribute

to the feel you want for the bedroom?

AC: We live in a 1930s farmhouse in

upstate New York. This home was beautifully

built and it has a heritage to it. It's

important to us to honor that, and we

wanted to bring in high-quality pieces

that shine in every room in this house. We

have incorporated some beautiful pieces

from Article into our design projects over

the years, and we know that pieces from

Article are made with quality in mind.

And it's no different with the bedroom

furniture. These are beautifully crafted

bedroom furnishings that are built to last.

They are also pieces that fit with our

lifestyle. We love that the Nera Walnut King

Bed comes with nightstands with wirenooks,

so that we can charge our phones at

night. And soft-close nightstand drawers

mean no disturbances in the middle of the

night. That is good design and ultimately

it makes for a beautiful bedroom that you

can rest and relax in. We moved upstate to

create a calming retreat for ourselves and

these pieces from Article absolutely contribute

to that. AC

Guest Bedroom Selections: Lenia Black Ash Queen Bed $1099, Lenia Black Ash 2 Drawer Night Stand $399,

Gabriola Ivory Boucle Bench $379

16 aphrochic issue eight 17
---
THE BLACK FAMILY HOME

18 aphrochic issue eight 19
---
THE BLACK FAMILY HOME

Main Bedroom Selections: Nera Walnut King Bed with Nightstands $1499, Nera Walnut 6 Drawer Low Double

Dresser $1349, Chanel Volcanic Gray 56" Bench $349, Candra Oak Media Unit $899.

20 aphrochic issue eight 21
---
MOOD

RETURN TO LIFE

It's time for a new normal. One where health, wellness, and

comfort come first. This season is all about a return to

living safely, and these pieces from Nike will help you do

just that. The latest collection includes hi-tech, sustain-

Nike Therma-FIT

Repel Women's

Synthetic-Fill

Golf Jacket $160

Nike Sportswear

Club Men's

Tie-Dye French

Terry Crew $75

Nike Sportswear

Tech Pack

Women's Pants

$100

able fashions made from recyclable and organic materials.

These thoughtfully designed sportswear pieces will keep

you warm, comfortable, and looking right for the life you

want. It's fashion-forward clothing that's perfect whether

you're working at home, working out at home or stepping

out — masked up — for some outdoor fun. Our favorite items

from Nike can be mixed or matched for a complete capsule

collection of comfortable staples that will support you as

you embrace living again.

Nike Heritage 2.0 Small Items Bag $30

See more at Nike.com.

AphroChic is partnering

with Nike to identify ways

to safely return to life. See

how Jeanine and Bryan

style their own Nike capsule

collection @aphrochic on

Instagram.

Nike x sacai

Women's Skirt

$500

Nike Daybreak

Women's Shoes

$100

Nike Swoosh

Luxe Bra $60

Nike Yoga

Dri-FIT

Men's

Pants $80

Nike Manoa

Men's Boot $85

Nike

Sportswear

Tech Fleece

Men's Full-

Zip Hoodie

$140

22 aphrochic issue eight 23
---
FEATURES

House of Aama | Home Again | The Creator's Dinner | Alkebulan |

A Place to Gather | Back to Life | The Structure of Diaspora | The Work

of Pen and Guitar
---
Fashion

House of Aama

Fashion Beyond the Gaze

White gaze has been a part of the African American

experience from the very beginnings of the culture. It

began with the traders, the owners, and overseers. As

we've grown, it's grown with us, judging and stereotyping,

prescribing, oversimplifying — and more often than not,

outright lying — demanding a response, even when the

response is overt and intentional disregard. Even today,

when we so often place ourselves consciously beyond this

gaze, it is still there to be transcended. But white gaze

isn't ubiquitous. There are quite a few times in our history

when it hasn't been there. And when those moments came,

it was like a day at the beach. Thankfully, LA-based fashion

house, House of Aama is here to take us back.

Words by Bryan Mason

Photos by JD Barnes

26 aphrochic
---
issue eight 29
---
Fashion

Headed by the mother/daughter design team of

Rebecca Henry and Akua Shabaka, House of Aama seeks to

probe and explore the many sides of the Black experience

in America and all over the world, presenting its pieces as

acts of spirituality as much as feats of design. The subject

of the brand's first New York Fashion Week event, a Spring/

Summer ready to wear collection for 2022, evokes the

feeling and style of America's Black beaches.

In 1893, Charles Douglass — the youngest son of

Frederick — and his wife Laura were refused entry to a

restaurant in Chesapeake Bay. The couple responded

by purchasing 40 acres of land and founding Highland

Beach, the first Black beach resort, some 35 miles east

of Washington DC. Douglass also sold portions of the

land to friends and family, a long list of which included

such notables as U.S. Senator Blanche K. Bruce, Virginia

Congressman John Mercer Langston, Louisiana Governor

P.B.S. Pinchback, and Judge Robert and Mary Church

Terrell. The resort was hugely popular, incorporating itself

as a town in 1922 under Charles Douglass' son, Haley. The

practice quickly caught on and more Black resort towns

began springing up along the east coast such as Oak Bluffs

in Martha's Vineyard, Carr's and Sparrow's Beaches in

Maryland and several beaches in Sag Harbor (see Issue #1).

Titled "Salt Water," in honor of those who survived

the Middle Passage, House of Aama's beach collection is a

fond look back on those beaches, what they meant to Black

people then and what they mean to us now. It's also a tribute

to Okolun, Agwe, and Yemaya, water spirits connected to

traditions found throughout the Diaspora. Boasting a variety

of looks, from form-fitting and flowing dresses to jumpsuits

and bikinis, this collection not only offers us all a chance to

hit the beach looking fierce, it reminds us that we always did.

To launch the collection at fashion week House of Aama

invited guests to "Camp Aama," a fictionalized remembrance

of a Black resort town located in the Freehand Hotel in New

York City. There, mother and daughter showed off the many

layers of their design aesthetic including their variety of

illustrations, fabrics, and prints, all created in house by their

design team in LA.

Combining historical research and oral tradition with

a sharp eye for celebrating days past in modern garments,

House of Aama's Salt Water collection is fashion in its highest

form — an act of society rather than a simple adornment of it.

By reminding us once again that we have never been passive

observers in our own story, Salt Water seeks to inspire

conversations on the present and future even as it sheds light

on the corners of our past we don't often see commemorated.

It's a reminder that regardless of how long the gaze has been

with us, it's never been a part of us. AC

30 aphrochic
---
Fashion

32 aphrochic issue eight 33
---
issue eight 35
---
Fashion

Global Attic • 312•767•4928 • Chicago

www.globalattic.com

36 aphrochic issue eight 37
---
Interior Design

Chanae

Richards:

Home Again

Home isn't always where you think it should be. Sometimes the

twists and turns of life take you back to a place you've already

been, but didn't quite recognize the first time around. Where it

goes from there is anyone's guess, but there's a good chance it

won't be anything you expected. That's the way it was for interior

designer, Chanae Richards, and the home in Philadelphia that

she had to leave to love.

Words by Bryan Mason

Photos by Chinasa Cooper

38 aphrochic
---
Interior Design
---
Interior Design
---
Interior Design

The founder and creative director of Oloro Interiors,

Chanae was only 22 years old the first time she set foot in her

house, and just a short time away from graduating from Temple

University with a BS in criminology. Built in the 1960s, in a style

that is much older, the Philadelphia row home had seen its

share of hard times — and things had not improved much since

then. "It was awful," Chanae remembers. "There had been a fire

years before. Then someone got ahold of it at a sheriff sale. They

flipped it and sold it to me, but they did extremely shoddy work."

Leaking pipes, unstable flooring, and an ancient boiler all

proved challenges for the young homeowner in her first year. "I

also learned you should always hire your own home inspector,"

she advises. Ultimately, buying the house had been a good idea,

even though it wasn't exactly hers.

"I'm a Bronx girl," she offers proudly. And though Philadelphia

had been her city of choice for an education, she'd

never had any intentions of staying. "I knew that I was going

back home to the Bronx after graduation, because that's what

you do," she says. "You graduate, then you go back home." But

a mentor of hers had other ideas. She persuaded Chanae to

check out some homes in the Germantown area of the city. "I

didn't know anything about Germantown," she laughs. "But

before I knew it, I was looking at houses with her realtor before

I graduated."

Chanae's home is designed to be a place of comfort. Its

island-inspired minimalism, juxtaposing moments of color

with an abundance of open space, is at once a testament to her

Caribbean roots — "My parents immigrated from Jamaica in

the '70s," she explains — and to what she wants from her life in

this home. To that point, her front door opens into a spacious

sun room. A traditional staple of Philadelphia row homes, the

room is dominated by a single, wall-length window designed

to catch every moment of sun. Chanae has decorated with soft

blue curtains against bright, white walls, and a modern lighting

pendant. Opposite the door, the room's lone piece of furniture

sits against the far wall. A vase of limelight hydrangeas and a

low-hung artwork complete the vignette, while the bench sits

waiting for coats, keys, and anything Chanae needs to leave at

the door when she gets home.

By her own report, Chanae's home buying experience

was generally painless — a fortunate exception to the rule that

makes buying a home a hassle for most everyone, but especially

difficult for people of color. "It was so smooth," she marvels. "I

didn't even realize that we'd had dinner with her realtor a couple

of times. And now I'm filling out loan applications in my senior

year. So after I graduated I moved from the dorm and straight

to this house."

While the buying process might have been quick and easy,

getting settled was anything but. Repairs were just the start of it.

"It was a huge transition because I'm a first-time homeowner,

and I'm 22," she says, "and I have this whole house, but I don't

have any furniture, I don't have a place to sleep." So though

it may have taken only a few months to get the house, shaping

it into a home was a process for the first couple of years. But

hardship builds character, and in Chanae's case, the struggle of

getting her place into shape was where her new direction would

start — it would just be years before she realized it.

"It took a long time to get the pieces that I wanted and

needed," she remembers. "I didn't have any money so I

developed this philosophy of only buying the pieces that I loved,

44 aphrochic
---
Interior Design

because the things that you only like are not going to last." It's a

perspective that has served her well ever since — even if it does

take a while to sit back and enjoy the results. "I didn't get in a bed

for maybe the first four months of living here," she laughs.

Three years after moving into her home, Chanae found

herself heading back to New York. "Family obligation," she

shrugs. For the next 10 years, the home was occupied by a

succession of tenants, while Chanae's life and career path

continued on in New York.

That path had already undergone its first big shift even

before she returned to the Bronx. While pursuing her grad

degree and career in criminal justice, a rotation in cybercrime

introduced her to the world of finance. "And I realize, wow, I

really like numbers," she marvels. "I really like analyzing bank

records. So I left and got a second master's degree in Public Administration

with a concentration in finance." That change led

to a series of financial posts for charter schools, non-profit

organizations and NYU — and a similar progression of apartments.

"My last full-time New York apartment was in Harlem.

I still live there part time," she explains. "And it's great. It gives

you all the New York vibes. But it's not mine."

While even the poshest New York apartments are known

for their tight confines, Chanae's Philadelphia home offers far

more space, and her design appreciates it. The vacation vibe of

the sun room flows effortlessly into the living room. The walls

and curtains lead the way, maintaining their color from the

previous space. Pops of color remain few but meaningful, a

combination of art, furniture and plants. Textures largely take

the place of colors here, giving depth and interest to the nearly

colorblocked room. The rug takes center stage, alternating

heights and textures in a distractingly engaging design. The side

table, mantle and even the radiator add to the story, blending

modern design looks with the house's beautiful old bones.

A similar rug adds slightly more color to the slightly more

colorful dining room. Like the living and sun rooms, this space

prioritizes giving Chanae room to breathe by concentrating the

intimate dining setting at the center of the room. The space is

defined by patterns and colors as the geometric plank arrangement

of the hardwood floor plays with the similar colors and

dissimilar pattern of the rug. Around the table, a mismatched

arrangement of chairs offers a variety of patterns and colors.

And on the walls, the distinct lines of one painting in bright

reds, blues and whites sits directly across from the blurred

lines of another in muted pastels. It's a subtle yet sophisticated

interplay that makes the long road to her design career seem

like a forgone conclusion.

Much like pursuing dreams of a career in law enforcement

led to finance, it was finance that led Chanae to a life in design.

"A photographer friend asked me to stage a gallery for him in

the Lower East Side. And then his friends started asking me to

do it." The constant requests started Chanae thinking about a

career change, though she was dubious at first — especially

when she found out that they were willing to pay. "I was like,

'you'll give me money to just curate your art,'" she reminisces.

"And they're like, 'Yeah."

After a year of double duty, working full time and

hammering out a business plan, Chanae was ready for a change

— just about. "I quit my job on January 12, 2018," she muses,

"then took a one way trip to Italy." Figuring that it could be her

last vacation for a while, Chanae was determined to make the

most of it while making firm decisions about her next step.

When she returned, she made the transition into full time production

design.

Chanae's guest room looks like a space styled for one of

her shoots. The explosion of plants covers the room from end

to end, and where there aren't plants, there's plant-themed

wallpaper to make the point even clearer. But this room isn't

staged for a commercial, and it's not just a guest room. It's

home for the one element of home decor that escapes Chanae's

refined, minimalist style.

"So, I'm that girl on the plane with plants in her bag," she

giggles. "There's some in that room that I brought back from

a trip to California, a philodendron I brought back up as carry

on from a trip to South Carolina to see my grandmother and a

whole banana plant." The list doesn't end there. Other plants

hail from DC or New York. "And a fiddle leaf fig from one of

46 aphrochic
---
Interior Design

48 aphrochic
---
Interior Design

my girls that I took from her because she was

gonna kill it," she laughs.

Chanae's new career in her old city was

going strong. But then something changed.

"I love my place in New York," she confesses,

"But there's something different about coming

home to a place you own." Despite its bumpy

start and long periods of absence, owning

her own home always had a special meaning

for her. "I'm one of the first individuals in my

family to buy a house," she explains. "So it

means a lot to have this in my life."

One of eight siblings, Chanae grew up

in apartments until her parents purchased

a home in her first year of high school. "That

was the first time anyone in my whole family

ever bought a house," she says. "And I became

the next person to have one. So it's more than

a dream."

The same year that Chanae left her job,

her last tenant moved out of the house. And

while the loss of income wasn't welcome, it did

provide her with a new opportunity. "When

that tenant moved out the plan was to just to

renovate it and rent it to someone else," she

recalls. "But in that process, I started to realize

how beautiful it was. I started feeling the bones

and feeling the neighborhood. And it dawned

on me that I really like it here."

If the first floor of Chanae's home is a

lesson in refined minimalism, the upstairs

is where she starts to have some fun. Where

the guest room is a study in plant design, her

master bedroom is full of color and life, from

the jewel toned walls to the vibrantly patterned

rug. Just past the foot of the bed a massive

fiddle leaf fig sits next to an x-bench piled high

with fuchsia pillows. And against the far wall, a

solitary chair is outlined against a feature wall

highlighted by an active floral wallpaper and

the triangle arch at its top. It provides a completely

different aesthetic from the rest of the

house while keeping with the overall feel of a

spacious vacation home in the city.

Since starting her life as a designer

and restarting her life as a Philadelphian,

Chanae has found herself becoming more at

home with her new path. Along the way she's

forged new alliances, finding community

in her chosen industry. "It took a while," she

admits, "but I've managed to connect with

other designers who look like me and sound

like me, who do their own thing." She's also

fallen deeper in love with Germantown, a

historic neighborhood that has been predominantly

Black since the height of the Great

Migration. She's also become an important

part of the Philadelphia business community.

As the Managing Director of the Philadelphia

Housing Authority's Entrepreneurial

Resource Center, Chanae leads a team

of innovators working to provide business

resources and entrepreneurial support specifically

to those living in Philadelphia's public

housing.

For Chanae Richards, life after collegestarted

with buying a house. And though she

didn't realize it at the time, it started her on a

path that led from the life she'd planned for

to something she'd never imagined. It wasn't

easy at first. "I left this six figure job to figure

out something else where I had no experience.

I won't lie and say, it's been all peaches

and cream," she says. "I have cried. But I've also

learned." AC

50 aphrochic
---
Culture

The

Creator's

Dinner

Creatives Gathered at The Gallery

Bar at Neuehouse in New York City

to Celebrate Designer Mark Grattan

As New York City re-emerges from the pandemic,

events and gatherings are being held again. It's

a time of rebirth for one of the world's cultural

centers, and a time to celebrate those who are

pushing culture forward.

Words by Jeanine Hays

Photographs by Leandro Justen, courtesy of Neuehouse Madison Square

56 aphrochic issue eight 57
---
Culture

Designer Mark Grattan is one of those people. The designer is at

the forefront of modern furniture design. Together, with his partner

Adam Caplowe, the two have developed VIDIVIXI, a brand that creates

coveted bespoke objects in their studio in Mexico City — from their

HermanX Auxilliary Table with an interlocking square base structure,

to their On Second Thought Club Chair where panels of leather run to

create a unique curved form.

Grattan recently won Ellen's Next Designer and is now part of

Saint Heron's group of multi-disciplinary creatives to lead product

development. This summer a group of New York City's design and

community gathered to celebrate Grattan's many accomplishments.

Hosted by Tiana Webb Evans of ESP Group and Yard Concept,

Grattan was feted by friends and colleagues including, architect

Felix Burrichter, curator Alexandra Cunningham Cameron, lighting

designer Gabriel Hendifar, music artist Solange Knowles, artist

Fernando Mastrangelo, interior designer Chloe Pollack-Robbins,

author Doreen St. Felix, curator Danny Dunson, Ryan Towns, and the

editor-in-chief of Elle Decor, Asad Syrkett.

Held at Neuehouse Madison Square the evening could not have

been more perfect, held inside the social club's new space, The Gallery

Bar. Recently opened in September, The Gallery Bar was designed to

be a day-to-night environment supporting creativity, innovation,

collaboration and connection through food and drink. Over beautifully

veined marble tables, guests sat together on intimate banquette

seating, toasting over a curated menu of speciality cocktails and global

and sustainable food.

"Tonight's dinner is an elegant and exciting first look preview of our

new Gallery Bar at NeueHouse NYC," said Josh Wyatt, CEO of NeueHouse,

"We are so passionate about bringing special people together, which is

now more important than ever. As a members club and community for

creators, innovators and thought-leaders, we've envisioned the ideal

work and social space to recharge, celebrate, and connect."

The perfect toast to the career of a designer who is making great

strides in moving the culture forward. AC

Designer Mark Grattan

58 aphrochic issue eight 59
---
Culture

Interior designer Chloe Pollack-Robbins

and artist Fernanco Mastrangelo

Tiana Webb Evans of ESP Group and

curator Danny Dunson

Guests gathered at The Gallery

Bar to celebrate designer

Mark Grattan

60 aphrochic issue eight 61
---
Food

Alkebulan

Chef Alexander Smalls Curates as Taste of

Africa's Cultural Revolution for the World

Food does so much more than just nourish our

bodies. It brings us together. Not just as families,

but as people. And because we're all different,

there are countless ways to prepare it, serve it and

take it in. Each one is attached to a culture — to

a particular way of being human. Like cultures,

food overlaps, weaving a fantastic tapestry of

influences that shows where we are, where we've

come from and who we've met along the way. If

you listen, food will tell you a story. Few people

know that as well as Chef Alexander Smalls.

Words by Bryan Mason

Photos from Alkebulan

62 aphrochic
---
Food

The culinary mind behind

some of New York's most celebrated

restaurants including

its first Afro-Asian fusion

spot, The Cecil, Chef Smalls

is the author of several books

exploring the history hidden in

the food of the African Diaspora.

This year he's breaking new

ground again as the curator of

the first ever African Dining

Hall fittingly titled, Alkebulan,

being presented as part of Expo

2020 Dubai. This 6-month-long

world's fair-style exhibition,

which began in October and will

run until March 2022, brings

together the best the world has to

offer in business, science, technology,

art, and food with the

concept of Connecting Minds,

Creating the Future, and built

around the mantra Opportunity,

Mobility and Sustainability.

Alkebulan is one of the

ancient names of the African

continent, perhaps the only

surviving term to be indigenous

to the land and its people. Alternately

translated as "Mother of

Mankind" or "Garden of Eden,"

it's unclear if other terms may

have existed among the continent's

many languages. However,

Alkebulan was widely used in the

north and has been connected to

the Ethiopians, Moors (Almoravids

/ Almohades) Nubians and

Carthaginians, among others. In

its current iteration, Alkebulan

is a dining hall the likes of which

has never been seen, pulling

from many of the continent's

major food traditions as seen

through the eyes of those who

are leading its culinary renaissance.

"It's really about raising

the profile, and bringing into

the light of day, the gifts of

African food," Smalls says of the

endeavor. "I brought in some

of the top chefs who are really

making a name for themselves,

but also leading the conversation

around the evolution / revolution

of the new Africa table."

The result is 22,000 square

feet of unimaginable culinary

delights. Among the leaders

of this exciting new school are

Joburg-based Congolese chef,

Coco Reinartz, Senegalese

pastry chef Mame Sow, Kenyan

celebrity chef, Kiran Jethwa and

French-Congolese, Afro-Vegan

chef Glory Kabe. The complete

hall boasts 10 original concepts,

3 of which were created by Chef

Smalls himself. The fortuitous

outcome of some skillful pivoting

after a collection of misfortunes

brought on by the COVID-19

pandemic, the Alkebulan dining

hall is that rarest of happenings:

the right thing in the right place

at the right time — an unprecedented

opportunity to showcase

Africa's culinary culture on a

world stage. For Chef Smalls, it's

the next step in a journey that he

started a long time ago.

"After my first restaurant

I understood that, more

than a chef / restaurateur, I

was an activist," he reflects.

"The point was elevating and

expanding the narrative of

the art and food of the African

Diaspora." In bringing together

so many parts of the continent

and the new visions that are

putting them back in conversation

with food culture in the

rest of the world, Chef Smalls is

continuing the story he began

with his book, Between Harlem

and Heaven — that not only did

Africa never leave these conversations,

it's been there from

the start. "Through slavery,"

he says. "Africa is the foundation

of cooking and hospitality

on five continents. Since then,

institutional racism has really

oppressed us, our products and

our value." The stories told in the

concept and menus of Alkebulan

are an important step towards

correcting that narrative.

Food isn't the only way to

tell our story, so the experience of

Alkebulan doesn't stop at the table.

Accompanying it's food offerings

are the art of Nigerian textile

designer Nike Davies-Okundaye,

Ghanaian sculptor and

66 aphrochic issue eight 67
---
Food

Chef Alexander Smalls

68 aphrochic
---
weaving artists, Theresah Ankkomah and

Rufai Zakaris, a Ghanaian artist whose figurative

works are made from single-use plastics

found on the street. Completing the ambience

is music from a variety of artists and DJs,

including R&B singer, Khandice, DJ Patchoulee,

and steel pannist Justin Homer.

For world travelers, fans of Diaspora

culture, and everyone who loves to eat,

Alkebulan is an amazing opportunity to get a

taste of the continent, past, present and a very

bright future. As events like this become more

common, more parts of the Diaspora will have

a chance to share their part of the story and

new perspectives on where Africa fits in our

global food story will be formed, creating the

possibility for something even greater. For

Alexander Smalls, it's likely that he sees it all

already and he's just waiting for us to catch

up. In the meantime, he's just taking it all as

it comes, one step at a time. "It's just gifts," he

muses. "The universe worked it out for me to

be able to do something like this with people

who I have such respect for. It's truly tremendous."

AC

issue eight 71
---
Food

72 aphrochic
---
Travel

A Place To Gather

More Than a Hotel, Philadelphia's The Deacon

Is a Space for Community

Philadelphia is a city of neighborhoods. Each block is distinct,

with its own special vibe. It's the birthplace of our democracy and

is home to some of the nation's oldest architecture. On any given

street, you can run into a historical site, and that's exactly what

happened when developer Everett Abitbol found an about-to-be

demolished building that he would transform into one of the city's

most exciting new boutique hotels.

Words by Jeanine Hays

Images by Jillian Guyette

issue eight 75
---
Travel
---
Travel

The former First African Baptist Church, originally built in

1906, had a wall that was falling into the street when Abitbol discovered

it. The church had been a place of refuge for South Philadelphia's

prominent Black community in the early 1900s. The same community

that W.E.B. DuBois studied and wrote about in The Philadelphia Negro.

After the church closed its doors, moving the congregation into a

bigger space, the historic building had fallen into disrepair. Knowing of

the rich community history of the First African Baptist Church, Abitbol

decided he wanted to restore the building as a "community asset."

He turned to Philadelphia native Shannon Maldonado, hiring her

as the creative director for what would become a hotel and community

space in the Graduate Hospital neighborhood of the city. Maldonado,

the owner of popular Philly boutique, YOWIE, is known for her love of

color, eye for artisanship, and her signature minimalist aesthetic. And

The Deacon offers all of that and more, with a Bauhaus design aesthetic.

In beautifully appointed rooms, guests can interact with history,

as the original stain glass from the church remains part of the architecture.

Or they can gather in the common areas where Maldonado

used color to create an enveloping and cozy experience.

Beyond the rooms, the hotel was designed to honor its roots, and

remain a place for the community to gather. On any given day, guests

and neighborhood residents can find an interesting event to attend.

From self-care slumber parties led by Freedom Apothecary to an

evening of Latin dance, where guests are led through lessons of basic

steps of Salsa by AfroTaino, every month there's a host of unique gatherings

to take part in.

A place to gather, relax, and enjoy, The Deacon is a unique space

designed for one-of-a-kind experiences and is now the new heart of

Philadelphia's Graduate Hospital neighborhood. AC

You can book your stay and/or experience at thedeaconphl.com.

78 aphrochic
---
Travel

80 aphrochic issue eight 81
---
Wellness

Back to Life

Returning to the World After Long-Haul COVID

It's been more than a year since COVID-19 came and changed the world. After

19 months of suffering, death and fear, rising vaccination rates and a declining

number of daily cases has many of us ready to take our first steps back into

real life — not life as it was before, but better, safer and with a new understanding

of what's really important.

Words by Jeanine Hays

Photos by Bryan Mason and Jeanine Hays

82 aphrochic
---
Wellness

Jeanine and Bryan head into the

mountains for a hike with their Nike

Therma-FIT Golf Jackets

84 aphrochic
---
Wellness

The First Months of the Pandemic

Our COVID journey started in February 2020. Bryan wasn't

feeling well. He had a deep pain in his back and could barely move.

The day before he'd been fine and then suddenly we were close to

going to the emergency room. Instead we opted to wait and see our

doctor the next day. In the morning, it was hard for him to walk and I

had to help him put his shoes on. In more than 20 years together, I had

never seen him so ill.

When we got to the doctor's office. I had to help him into the

building. The doctor sent us for a chest x-ray. It was a sunny day and

the x-ray facility was just a few blocks away, so we walked.

The test didn't take long. Instead of the results, we got an urgent

call from the doctor. Bryan had a severe double pneumonia. The

technicians were surprised he was even standing. One lung was so

full of fluid that it was pushing the other lung to the side.

The next two months were a blur. COVID quickly went from

being a rumor to a reality to a nightmare. Lockdowns were happening

all over the country, but we were already inside. Bryan was confined

to the couch while I cooked and tended to him and worked to keep our

business running. Over that period of caring for him, there were a few

days where I felt sick. Just some stomach cramps, nothing serious. I

thought it must have been a stomach bug. It was gone in a few days

and I never really thought about it.

We made our way to Mount Sinai for a COVID test on the same

day that New York City announced the lockdown. It came back

negative (they were only 70% effective then), so they treated his

pneumonia. The pain eventually subsided but his recovery was slow.

It took two months for him to stop sleeping on the couch and longer

for him to sleep through the night. Our doctor wasn't convinced

that his illness wasn't COVID so she researched along with us to get

caught up on the quickly moving science around the virus.

By May he was better, and for a few weeks things were good.

Then one day it felt like my skin was on fire. I broke out in hives all

over my body. The doctor suggested hydrocortisone cream and

lotion. It worked. A couple of weeks later, my feet were covered in

a red rash. Then sometimes when I'd eat, my throat would begin to

swell. It was strange, but none of it sounded like COVID.

In June our doctor suggested that we get an antibodies test. By

then the technicians could come directly to your home to draw blood.

A couple of weeks later we learned that we both had COVID-19 antibodies.

We had both had COVID.

It was upsetting to hear that. People were dying in New York

City from this awful virus. The former governor was giving us daily

updates. The JAVITS Center was a triage center. But Bryan was better

and my current symptoms didn't match anything that was being said

about COVID. We didn't start hearing about the long-haulers until

later.

The Summer of 2020

June and July were ok. Like everyone else in New York, we

spent our days looking out the window of our apartment like fish in

a bowl. We offered the magazine free online and started a series of

live podcasts. We had just finished lunch after a live podcast in August

when my throat began to swell. But this time it felt like I was choking,

dying. I couldn't breathe. I almost blacked out. I screamed for Bryan

to give me an EpiPen shot. We had never used one before — never

needed one, but the doctor had suggested getting one since I was

having these weird allergy attacks. Thankfully it had just arrived that

week. My throat opened back up and we headed to the ER.

I was observed by the hospital staff for about an hour and then

sent home with another EpiPen and some prednisone. The next day

it happened again. I needed another shot of epinephrine to breathe. I

was terrified. What was happening?

For two weeks I deteriorated. I couldn't eat things I normally ate

any longer. Bryan researched anti-inflammatory foods and created

a vegan diet for me with vegetables that helped deal with inflammation

in the body. I had to wear a mask all day inside our apartment

because everything was making me sick. I could no longer sleep in

our bedroom. We bought an air purifier because there was something

in the air causing me to feel worse.

We'd decided over the summer that we were going to leave the

city and were waiting to close on a house. But we needed to leave the

apartment sooner. Bryan packed up all he could and we left Brooklyn

in early September to stay at a friend's place in Manhattan while she

was upstate. I never saw our apartment again.

It was hard for me to walk. I needed constant air conditioning

because humidity would cause my throat to swell. My diet was

extremely limited — only about 7 different fruits and vegetables - and

I was on 10 medications just to breathe. We looked for help. I tried to

get into COVID care clinics at Johns Hopkins and the Mayo Clinic but

was rejected. When our doctor heard that the Mount Sinai Center for

Post-COVID Care had opened we called, but they had a six-month

waiting list. I couldn't go until March 2021. So Bryan started building

our own care team.

I saw a rheumatologist and a series of allergists. None were very

familiar with COVID, but we were able to rule out rheumatological

issues. One of my allergists was completely uninterested in hearing

about my experience. Whether it was because I'm Black, a woman, or

both, I don't know, but she remained convinced that I had a long-term

undiagnosed case of herpes. So we found a different allergist.

What was supposed to be a few weeks of staying in our friend's

apartment turned into months moving around Manhattan as our

closing date got pushed back again and again due to various issues

with the pandemic and the process itself. Finally, in mid-November

we closed and moved into our new home. For a couple of weeks life

86 aphrochic
---
Wellness

Jeanine and Bryan lace up for a run in the park. Bryan is wearing Nike Air Force 1 Luxe shoes and Jeanine is wearing Nike React

Infinity Run shoes.

felt absolutely perfect — then it all got much, much worse.

It started when a plant we received as a housewarming gift triggered

an extreme reaction. I broke out in hives, my throat began to close, I needed

two EpiPens and an ambulance. The EMTs were so kind. One had heard of

post-COVID syndrome and seemed quite interested in all that had been

happening to me. They said they would remember us if well called again.

They wanted to be sure to arrive quickly if I had another attack.

More prednisone followed, my second large dose in less than a year.

It weakened my immune system, and an infection quickly spread from

my mouth to my throat to my entire body. I couldn't talk. I didn't want to

eat. Everything hurt. I could only communicate through grunts and tears,

which made things hard for Bryan. I laid in bed day after day getting worse

and worse, weaker and weaker. We saw an ear nose and throat specialist

and then an infectious disease specialist. I needed to be weaned off the

prednisone, but it had to be extremely slow because my body would react

badly to fast tapering.

Care For The Long Haul

For two months I went through something called decompensation.

I wasn't eating so I lost too much weight. I couldn't walk or talk and slept

most of the day. It felt like dying. All I was holding on to was that I didn't want

my husband to be left all alone. I tried to gather strength for him. I wanted

to live.

He took care of me. Blending my food into smoothies, making

homemade apple sauce. Anything that I could keep down. I refused most

of it, but he knew that if I could make it to March, to the post-COVID center,

Jeanine gets into her morning exercise

routine, wearing a Nike Swoosh Luxe Bra

and Nike Sportswear Tech Pack Pants.

88 aphrochic issue eight 89
---
Wellness

that I could get better. He never stopped

believing. And he was right.

In March 2021, we borrowed a

neighbor's car (we bought one but it was

stuck in Texas, buried under snow) and

drove down to the city. My clothes were

hanging off my body. I talked slowly. I had

brain fog caused by COVID, and Bryan

needed to speak for me most times,

reading through a diary of symptoms

that we had been keeping since the last

spring. I was re-learning how to talk,

walk, even go to the bathroom again. The

doctor was attentive. She listened. Then

she said something I'll never forget —

"Everyone who comes here gets better."

Those were the words what I

needed to hear. I knew that God had

brought us to the right place. They

said that what I was going through

wasn't new. They'd seen hundreds of

similar cases. While the Post-COVID

Care Center had been started for the

most critical COVID-19 cases, those

who had been hospitalized and needed

oxygen, they found that thousands of

New Yorkers were dealing with "longhaul

COVID." Long-haulers usually

started with very mild symptoms, like

my stomach bug, but COVID triggered

something in the body, and months later

they developed a variety of symptoms.

They told Bryan that he had done

an incredible job taking care of me and

building my care team, and that now I

needed physical therapy, a pulmonary

specialist, and a neurologist. Within

weeks I had new diagnoses of a blood

pressure issue called POTS that was

common in post-COVID patients, and

peripheral neuropathy which caused

extreme nerve pain, making it hard to

walk. Where there was once no light at

the end of the tunnel, they told me that I

would be much better within six months.

I really couldn't imagine it. I had

such a long way to go. But we worked

hard. The physical therapy center had a

special post-COVID regimen that had

been developed by the Care Center.

And I did my part. Where the schedule

suggested physical therapy 2-3 times a

week, I wanted to work out daily. I also

had to start eating full meals again. It was

work. Hard work. But in a few months,

my appetite was back, and I could even

eat meat again. My body was sorely in

need of protein.

Bryan was my nutritionist, physical

therapist and mental wellness counselor.

There were so many days I wanted to give

up. Days I just felt bad for myself, days

I was just mad at the world — why did

COVID even exist? But every day he encouraged

me to work hard, getting my

mind and body fit, and now, six months

later, I'm sitting here writing this article,

able to walk again, and enjoy life again.

Return to Life

My COVID journey isn't over. The

virus has left me with chronic idiopathic

urticaria — a condition where your

body can randomly have severe allergic

reactions, from hives to anaphylaxis —

POTS, peripheral neuropathy, alopecia

and textile dermatitis. We have to be

so careful that sometimes I feel like a

woman in a bubble. I take an air purifier

with me when visiting family to make

sure that the air around me is clean. And

I don't go to restaurants, because I need

to avoid ingesting anything that might

cause my skin to break out or my throat

to close. So my husband has turned our

kitchen into the best restaurant in New

York, and he makes all of my meals to be

sure they're safe. We don't have plants

anymore. Just faux branches around

the house. The doctors don't know if I'll

always have these issues or if one day

they'll just disappear. There's still a lot

more to figure about post-COVID and

how it impacts the body long term.

But that's not what's important.

What matters is that, for the first time in

more than a year, my husband and I are

both healthy again. Every morning we

wake up and exercise. My body moves

again, my mind is clear again, I spend

every day eating amazing food and going

up and down the stairs like I used to —

even better actually, since I lost about

100 pounds in the last year. I always

used to walk a lot, but now I love to walk

because I know what it's like to not be

able to. I love to drive with Bryan to the

lookout on the mountains near our

home and look out over as much of the

world as I can see.

Finally, it feels like we've reached

a turning point. Fully vaccinated, ready

to get our boosters, we are starting to

enjoy life again. In our new home, we're

designing a wellness room. We're in there

every morning doing my physical therapy.

Soon it will be a room that supports meditation

and yoga practice as well. With

gear from Nike to help us with our daily

workouts, we're building our physical

and mental wellbeing as we continue to

recover from this virus and its impact on

our lives. It took a lot of steps to get here,

and there might still be some stumbles

ahead, but I'm looking forward to every

step we take from here. AC

See the MOOD section for the capsule

collection Jeanine and Bryan curated with

Nike to get back to life.

90 aphrochic issue eight 91
---
Wellness

COVID Resources

Centers for Disease Control: cdc.gov

World Health Organization: covid19.who.int

Johns Hopkins Bloomberg School of Public Health: publichealth.jhu.edu

Mount Sinai Center for Post-COVID Care: mountsinai.org/about/covid19/center-post-covid-care

I N T E R I O R S

N E W Y O R K

A P H R O C H I C . C O M

92 aphrochic issue eight 93
---
Reference

The Structure

of Diaspora

This series on the African Diaspora began by listing some

of the many questions that surround the African Diaspora,

and diasporas as a whole. Without doubt the most persistent

of these is simply, "What is it?" Ultimately, it's a question

of structure: "What is it that makes a diaspora?" But like

many simple questions, this one is made up of a seemingly

endless stream of other questions, making the process of

answering it incredibly complex.

Words by Bryan Mason

94 aphrochic issue eight 95
---
Reference

Search the term online and you'll find a lot

of answers and any number of definitions, most

of which will likely differ only in the smallest

details. But studying diasporas is a game of

inches and those small differences in definition

can mean big differences in how the concept is

actually applied and which groups it is applied

to. And so, this simple question has plagued

the study of diasporas for years. For the African

Diaspora, it may have been a question from the

beginning, but that depends on when you think

the beginning actually was.

When do we start? And how?

Since his 1966 introduction of the term,

Joseph E. Harris was instrumental in shaping

the discourse of modern African Diaspora

theory. His Introduction to the African Diaspora

marked a seismic shift in the way in which Africa-descended

peoples from around the globe

considered and addressed their collective circumstances.

In another introduction — one

that was appended to the 1993 second edition

of Global Dimensions of Diaspora — Harris gives

a brief definition of his concept of diaspora.

According to Harris, "the African Diaspora

concept subsumes the following: the global dispersion

(voluntary and involuntary) of Africans

throughout history; the emergence of a cultural

identity abroad based on origin and social

condition; and the psychological or physical

return to the homeland, Africa."

By conceiving of the African Diaspora in

this way, beginning with the voluntary — as

well as involuntary — movements of Africans

in antiquity, Harris expands the concept in

time and space, looking beyond the temporal

boundaries of the trans-Atlantic slave trade

and the geographic borders of the Black Atlantic

to the long periods of African movement that

pre-date both. Prior to the dispersion of the

16th-19th centuries, Africans moved about the

world in a variety of capacities, both free and

enslaved. Their presence and efforts bolstered

the spread of both Christianity and Islam as

world religions, and aided the development of

the ancient and medieval worlds in many places

including Greece, Rome and Spain. The effect

of this expansion, for Harris, is to preserve the

African Diaspora from being confined exclusively

to a legacy of new world slavery. This

larger historical purview enables Diaspora to be

read as a story of African achievement abroad

in addition to the more usual tales of subjugation

and woe. It also brings up some important

points to consider.

The first point to consider in Harris' construction

of Diaspora, at this point in the conversation,

is how it changes the relationship

between the Diaspora and Pan-Africanism. In

situating the origins of the African Diaspora

in the voluntary movements of Africans in

antiquity, Harris removes the trans-Atlantic

Slave trade as the direct catalyst for the Diaspora

and by extension, Pan-Africanism as the direct

predecessor of the African Diaspora. Conversely,

British historian, George Shepperson, who

also introduced the African Diaspora concept

in 1966, describes the Diaspora as,"a series of

reactions to the imposition of the economic and

political rule of alien peoples in Africa, to slavery

and imperialism." As scholar Carlton Wilson

would reflect, though Shepperson too called for

an expansion of the diaspora concept, he nevertheless,

"saw the slave trade, slavery, the period

of imperialism, and the partition of Africa as

being the focus of the African Diaspora."

The difference between Harris' and Shepperson's

constructions of the African Diaspora

brings about an interesting paradox. On the

one hand, it is both desirable and necessary to

tell a story of Diaspora that is not confined to

the ramifications of the trans-Atlantic slave

trade. However, a function-based approach to

the African Diaspora will necessarily fall closer

to Shepperson's view, as it was not the needs

of Africans in antiquity but in the modern age

of slavery, colonization, and imperialism that

led to the emergence of the African Diaspora

concept. And it is the needs of the world in

the aftermath of these events that the African

Diaspora concept must serve.

Forced Movement or Just Movement?

At stake within this small distinction is the

question of how diasporas begin and specifically

the looming issue of forced migration - whether

the condition of diaspora can only exist when

migrants are forced into movement by war, exile

or in the case of the African Diaspora, centuries

of capture and trade across deserts and seas.

While traditionally, the first dispersed communities

discussed as diaspora, beginning with

the Jewish, all had forced movement as their

starting point, increasingly in recent years the

cause of the movement has been considered

far less important if not completely immaterial.

This is particularly true in the study of internal

diasporas, comprised of people born in a particular

country who have simply moved to another

part of the same country.

The online resource WorldAtlas lists the

4 million Americans who moved from their

home states to other American states in 2010

and the millions more who have moved from the

interior of China to the nation's coastal cities as

examples of internal diasporas. So not only are

we lacking consensus on whether it's important

to consider why communities were dispersed

before terming them diasporas, it's not even

clear how far they have to go before the term can

be applied. Because of the lack of clarity on basic

points, attempting to understand the makeup of

the African Diaspora — and diasporas as a whole

— can easily become a process of going in rhetorical

circles. Case in point: this question of

forced migrations brings us back to a question

that this series has already posed. If forced

dispersion is not a necessary prerequisite to

diaspora, then any movement by a group of

people from one place to others — regardless of

distance — will logically result in a diaspora. And

if that's the case, then why study diasporas at all?

Worst Things First

For as long as there have been people,

there has been movement. Diaspora exists as

a separate category to migration specifically

because forced movement is the anomaly.

Without it, none of the other factors thought

to be defining aspects of diasporas fit. Harris'

ideas on common cultural identity, common

economic condition and the dream of return

— all standard components in most definitions

of diaspora — are far less certain realities for a

group of people who voluntarily left a particular

place than for people exiled or forcibly removed.

Africans who left the continent to travel the

world in antiquity did so in a number of different

socio-economic states and with a wide variety of

cultural identities. Those who left the continent

during the trans-Atlantic slave trade did so

under nearly identical circumstances and for

the most part were all delivered into similar

conditions of enslavement.

Forced migration also suggests a common

reason for dispersal for most if not all of those

thought to be in diaspora. Voluntary migration

on the other hand, can occur for any number of

96 aphrochic issue eight 97
---
Reference

reasons which may or may not provide the basis

for a sense of community. If, for example, two

members of China's "internal diaspora" were to

leave the same hometown only to meet in one

of the coastal cities, but one left reluctantly to

find work and the other left enthusiastically to

escape some personal tragedy, it's quite possible

that they do not share a dream of return.

The Law of Logical Conclusions

One final way to test the question of

whether forced migration is needed to create

a diaspora is to push the idea that it isn't to its

logical conclusion. Our world today is a highly

globalized space. Nearly every nation on earth

supports a mix of communities from other

nations. Therefore without the anomaly of

forced migration — though it has become more

common in recent years — just about everywhere

on earth is actively a part of the diaspora

of just about everywhere else. That would make

being part of a diaspora community about as

meaningful a distinction among human beings

as needing water or breathing air.

Because it begins with dispersal by an

external force, the traditional idea of diaspora

can be seen, on some level, as a resistance to the

condition of being dispersed. This is shown in

the constant reference to return, whether real

or imagined, to the original homeland. This resistance

is far less likely to exist among the

dispersed community if it had been their idea —

whether individually or as a group — to move in

the first place. Conversely those dispersed by an

external force like war, exile or enslavement are

far more likely to harbor the desire to undo their

migration. While distant from each other, African

migrants in antiquity were not — as a whole—

dispersed and therefore they were not a diaspora.

Whether forced migration is ever ratified

as the starting point of all diaspora, it clearly

plays an important role the beginning of ours

— or at least the start of our understanding

of ourselves as a diaspora. The issue we face is

how to situate that fact in the wider history of

the African continent from which our ancestors

were dispersed. Do we begin with the first

Africans to migrate, the point at which we were

dispersed, or the moment we decided that we

were a diaspora? As usual, we have some options

and each one leads to some specific outcomes.

Moving Beyond The Paradox

There are two possible solutions to the

Harris/Shepperson paradox that we'll consider

here: the first is to make a distinction between

the "African Diaspora Phenomenon," and the

"African Diaspora Concept." The spreading

of Africans across the world can certainly be

said to begin with the voluntary and involuntary

movements of people in antiquity.

However the concept of the African Diaspora,

as addressed in earlier segments, is a direct

outgrowth of the needs of those who were

dispersed by the trans-Atlantic trade and those

who were later despised for being the descendants

of the enslaved. While it is not at all points

the most elegant solution, it succeeds in countenancing

the competing facts that Africans

moved throughout the world prior to the global

slave trade and that the fallout from that trade,

including the colonization of Africa, is the reason

why anyone ever imagined an African Diaspora at

all. The distinction preserves the functional idea

that while the history of the African Diaspora is

not the whole history of the African Continent,

the trans-Atlantic slave trade and the world that

it built has not succeeded in cutting the African

Diaspora off from that larger history.

The second possibility is to acknowledge

that while Africans like so many others, have

moved freely around the world throughout

history — and continue to today it was not until

that movement was forced upon our ancestors

en masse that migration became dispersion

and scattered communities became a diaspora.

The effect of this perspective is to look at the

emergence of diaspora as a specific occurrence

within the continuity of African history

— and the point of genesis for a number of new

cultures, rather than as a process spanning

the entirety of it. Seen in this way the African

Diaspora is an outgrowth, an expansion, of

African history. It is a perspective that countenances

all of the Diaspora's deep connections

to the long histories of Africa's many nations,

kingdoms and civilizations, but without the

need for diaspora to be read backwards into

those histories. It also preserves the historical

and theoretical place of Pan-Africanism as a

precursor, contextualizing the fact that we were

a diaspora long before we ever thought to call

ourselves one. Because forced migration is not

acknowledged generally as a necessary starting

point for diaspora, this series has made consistent

use of the first solution, but acknowledges

that the second may actually provide a more

accurate description of the course of events

and a more promising starting point for understanding

the complex relationships that make

up the diaspora today.

Conclusion

Why we moved, how we became a diaspora

is an important question, but it's only the

beginning. To say Diaspora is easy. To understand

what we mean when we say it and what

we mean to each other as mutual parts of it is far

more complicated. It's not just a recollection of

all the places we come from and the years that

have passed since were dispersed, it's a consideration

of where and who and what we are now,

and the places that we call "home." AC

98 aphrochic
---
Sounds

Jennah Bell

The Work of Pen and Guitar

When you put good vibes out, good things happen. Case in point: A

chance post on Instagram featuring music from one of our favorite

artists garnered a response from someone who was a friend of the

artist's sister. A few DMs later, we had an interview, a clear choice

for this issue's cover story and best of all, a great conversation with

Jennah Bell.

Interview by Bryan Mason and Jeanine Hays

Photos by Mallory Talty

issue eight 101
---
Sounds

Jennah Bell is an intriguing multiplicity of

musical influences. Equal parts country, folk,

R&B and musical theater, her sound is instantly

familiar, yet all her own. We sat down with

Jennah to talk about her own musical history,

the path to becoming a singer and the value of

having space to dream.

AC: When did music first become a part of

your life? And when did you know it would be

your career?

JB: Music has always been a part of my life.

I grew up in a very musical household. My mom

studied music and my father was a songwriter.

For me the start of it was between seeing Annie

the musical and hearing Stevie Wonder's Superwoman

for the first time. I guess Superwoman is

kind of like a musical — the epicness of it.

As for the career path, I think that I knew

that I wanted to do it because I kept choosing

it. I attended the Berkelee School of Music in

Boston, but I didn't necessarily apply with the

idea to become a professional musician. I don't

think it was that direct. But I think after getting

there, and having that experience, I was more

certain that I wanted to pursue it. But I don't

think it was ever a hard line decision, per se.

AC: Tell us a little bit about Oakland. Living

in LA now, how does Oakland feel when you

remember it? How has it changed? And where do

you hear it in your music?

JB: I left Oakland for Boston when I was 17.

So the Oakland that I grew up with is drastically

different than what it is now, especially because

[of] the influx of tech to the Bay Area. But the

Oakland I grew up with — I think it was like

living on an island. Now that I've lived in other

places — New York, Boston, LA now — Oakland

is a very special place, with its own language,

its own baseline for artistic endeavors. And I

think that really influenced the way that I approached

writing songs and just being aware

of the language that I was using and what story

I was trying to tell, especially because poetry

was such a huge part of Oakland's art scene

when I was growing up. I think that the mosaic

of culture and art in Oakland leaves its own

print on everybody. But it's not any one thing. I

think that's why I often feel multiplicity in my

expression, because I don't ever feel like one

thing.

AC: What do you mean when you say,

"multiplicity in your expression?" Could you

elaborate that on that more?

JB: Sure. Oakland is on the smaller side

for a city but it's really dense. So from block to

block, you're somewhere else. So I had a lot of

very impactful experiences that at the time just

seemed like the norm, being from there. But

then leaving the Bay Area, it became very clear

that all of those things made in an imprint on

my personality. So I use the term multiplicity, I

guess, as a way to touch on the lack of singularity

not only in my experience, but also my personality.

It's kind of all over the place. It's all of the

things I've ever experienced and is never really

been streamlined to one thing.

AC: What was your first experience with

acoustic guitar? What about the instrument

convinced you to make it your focus?

JB: Well, my first experience with the

acoustic guitar was not pleasant. I played piano

and flute and had a brief stint with the drums

before I started guitar. I'd started writing

poetry and I'd started to think about songwriting

and I thought that if I learned how to

play guitar, it might change the expression of

my writing. But when I picked it up, I felt like

I was fighting with it the whole time. I didn't go

through the usual teaching avenues with it and

it was a very complicated instrument for me to

try to learn intuitively. At the same time, I did

develop a style pretty early on, because I didn't

know what I was doing.

My stepmom played a lot of James Taylor,

so I was very conscious of finger picking and

the more folk / country style. And I saw people

with guitars — Tracy Chapman, Richie Havens

— but there was no one artist I really saw and

felt like, that's why I want to play the guitar. I just

knew that pianos confused my brain. And that,

even though guitar was difficult, it was about

patterns. I think more in patterns than I do

anything else, so the guitar felt like if I learned

the patterns, I could just play them up and down

the fret board.

Over time, I started looking at guitar as

its own way to write music, as opposed to the

marriage between what I was writing over the

music. So I never did the guitar in any kind of

depth until after I left college. Then I was like,

Wow, there's a lot more here that I haven't even

begun to think about."

AC: I feel like when we listen to your music,

it's folk and there's country and there's a little

R&B in there. It's very ethereal as well. Can you

take us on the journey of how your sound came

together? Was it all at school or did it start later?

JB: I know, my parents would be very upset

at me for saying this. But when I was attending

Berkelee, I was at school — I was not in school.

I think that, having left home and realizing how

I learn and how I absorb, it was a much slower

process for me than institutionalized learning

gave room for, especially for something like

music. So there were moments where I could

grasp something. But processing it out, understanding

it, actually took a lot longer. So being

in a music school had its benefits, but also an

extreme amount of intimidation for the speed at

which I was absorbing things. My problem was

articulating that I knew these things. A lot of my

teachers were like, "You get it, but you can't tell

me what it is that you get." So I never really got

into what Berkelee was for.

What I took out of the experience, plus or

minus a few teachers who just got where I was,

and let me be, was my room. I was extremely

shy — I still struggle with stage fright — so I

was in my room, writing. I was the person who

would leave in the middle of the party and go

to a different room and start writing. It was

writing more than anything. The performance

didn't come until I moved to New York. But

when I was in Boston, I was just in my room,

learning. Learning how to record myself,

what my voice sounded like in a microphone.

Looking back, I probably wrote like 100 songs

in my first year. It just felt natural. Singing

wasn't really in the forefront of my mind.

I didn't think of myself as a singer. I introduced

myself as a songwriter. So yeah, I was

in my room, recording, figuring out the whole

guitar thing.

102 aphrochic
---
Sounds

AC: So it was in New York that you went more into the

singing part of your your path?

JB: It's funny, I was singing the songs, but I was still not

thinking of myself as a singer. I grew up with a very specific idea

of what a singer was. Etta James was a singer to me. Chaka Khan

was a singer to me. But I didn't sing like that. So I wasn't thinking

that I could sing at all. So I was still hyper-focused on the songwriting

part of it. And while I was in New York I was introduced to

this poetry community called The Strivers Row. I signed on with

them, and started doing shows. And then it became more interesting

for me — it's how people were responding to not only what

I was saying, but what I was presenting musically. Now, thinking

about my voice in terms of how it's changed over the years, just

with getting older, the things I can and can't do; I think singing is

much more of a study for me now, because I have to learn how to

navigate a body and muscles and things that are going through

their own natural process. So I can't approach them the way that

I used to, and I have to think about what I eat, if I exercise. All of

those things make me more of a singer now than I was if only

because of that.

AC: We know that folk and country all have roots in Black

music, but they're not seen as ours today. How do you see your

music in continuity with the wider history of Black music?

JB: Genre has always been a tricky thing for me. I think the

folk / country classification is one of the trickiest because it has

its own implications in terms of who can and who cannot. And

that's always been something, I guess, that's drawn me to it, not

just to sing it, but to really look at what that is. And it's storytelling.

So I never felt an embargo on whether or not I was allowed to

tell a story — that didn't seem so off-limits to me. I think what did

is being called a country artist or being called a folk artist. That

felt like people wanted to keep that away from how they heard my

music. And it's interesting — there are so many Black country

artists that were not classified as country. Ray Charles released

an entire country album. So did Tina Turner. Charlie Pride is one

of the highest-selling artists in the world in country music.

So there were all these things that I was seeing that weren't

real, that are just a way to make sure there is a space that's

untouched. And I never liked that idea. So in terms of the wider

picture, for Black artists or Black music, there's nothing we've

never touched, or created. And again, I think, part of growing up

in Oakland put some things in terms of intention, and pursuing

things, in perspective for me pretty early on. I think it made it

possible to just focus, to just drown out the noise of what genre is,

which at its worst is musical segregation. Like what you like, play

what you like. That's it.

I will — fortunately, and unfortunately — never experience

my music the way that other people do. So I'm always surprised

with what someone hears when they listen. Because I might

be going for one thing and someone can hear something completely

different. But for my sound, I think that being in love with

musicals, really does sort of speak to some aspect of the ethereality

you mentioned. As a kid, all of my favorite musicals books, and

even movies were all fantasy, and escapist. Even as an adult, I'm

learning I can very easily go into a world and completely detach,

and be somewhere else without realizing until I come back. So

I think, that ability actually makes it easier to not bring certain

realities into the music so that it's a space where you're dreaming.

Because dreaming is as much part of reality for me as anything else.

And I think for most people, you know, life is complex

and difficult at times. I need that dreaming place. So I guess,

other people need it too. And that might be what they're

hearing. So all of the influences, country, folk — I've never been

someone who said no to any genre or avenue of music, because

anything that isn't what I do is interesting to me and makes an

impression. So when I sit down to write, those impressions

come through. I try not to be too invested in that and just know

that I'm the avenue by which the music comes. So whatever is

meant to be in that pot, or the recipe that was meant for that pot

is what's there. I'm just doing the work of picking up the pen and

the guitar. AC

Listen to Jennah Bell's Anchors & Elephants on Spotify

104 aphrochic issue eight 105
---
PINPOINT

Artists & Artisans | Hot Topic | Who Are You
---
ARTISTS & ARTISANS

Coloring Outside the Lines

When Sotheby's launched a selling exhibition to celebrate the extraordinary skill,

imagination, and craftsmanship of Black jewelry designers, Sheryl Jones was sure to be

included. The Brilliant & Black: A Jewelry Renaissance exhibit is the first of its kind, just

like Sheryl herself. She is one of the first and few women of color operating a jewelry

store in New York City's famed Diamond District. Her seminal designs have been worn

by iconic women around the world, including Cicely Tyson, H.E.R., Andra Day, Tamron

Hall, Bevy Smith, Remy Ma, and more. And even at the exhibit she broke the rules,

having a male model photographed wearing her Pink & Peridot necklace. The result, as

always with Jones, offers the idea of a person who is not afraid to color outside the lines.

Photo of Sheryl Jones by

Hardy Klahold

Words by Cheminne Taylor-Smith

108 aphrochic issue eight 109
---
ARTISTS & ARTISANS

Sheryl began her career in fine jewelry

in 1999, after working for a decade in the entertainment

industry as a film and television

publicist. "I have always been passionate

about fine gemstones' transformative power

and beauty," she explains, "And I dreamed of

one day bringing music's similar vitality to a

jewelry collection of my own."

Sheryl's three fine-jewelry concepts

for the Sotheby's exhibit are part of her

Luminous Collection, which she conceived

to honor Black women who have broken

barriers and made history – much like

Sheryl herself in the jewelry business. The

one-of-a-kind colorful objects are imbued

with symbolism and significance. These

exquisite pieces manifest the strength and

beauty of every woman who wears them.

"I wanted to honor the tremendous

accomplishments and contributions to

society that Black women have made, in the

past and in the present. I know how hard

it is to be the only one or to have to break

through a barrier," Sheryl says. "It takes

persistence, resilience, patience, and creativity.

So I wanted to put the spotlight

on Black women who have changed the

world by breaking the rules and forging

new paths. Each piece in the Luminous

Collection isn't just a pretty look – they

are all crafted to represent strength and

the ability to embrace what makes us

different.

"Black women are excelling in every

industry from science, finance, entertainment,

to fashion, sports and art," Sheryl

continues. "We are holding positions and

achieving successes that women just one

generation ago could only dream about.

Women like my mother were often the first

in their families to go to college and to

achieve in ways their parents could never

imagine, but they had very limited career

paths and positions."

Sheryl is known for her work with

colorful stones, and this collection is no

different, featuring stones in a panoply of

shapes and a tapestry of colors to reflect

the vast array of interests and goals that

make Black women unique, while highlighting

the common values and qualities

that bind and lift us all.

"Each stone is weighted with meaning

and symbolism," Jones said. "They make

a statement on their own and complement

the strength and determination of the

woman who would make them her own." AC

The Pink & Peridot Necklace, which can

be worn in three ways, is comprised of 34

perfectly matched Ascher cut peridot, set with

multi-shape clusters of pink sapphires, rubies,

tourmalines, kunzite and diamonds. The unique

design includes a removable pendant set with

peridot, purple-pink diamond and unheated

purple sapphire, grape garnet, light and hot pink

sapphires, tourmalines, and diamonds.

"Peridot is associated with strength and

confidence, so I wanted to design a necklace

that would represent noble women who

demonstrate courage in the face of adversity and

act with quiet strength," Sheryl Jones reveals.

"With the peridot, there is a nod to wealth and

independence, the ability for a woman to stand

on her own. Add the pendant with its purple-pink

diamond and sapphires, and the look becomes

more soft, instinctive and passionate. I love that

duality in women."

110 aphrochic issue eight 111
---
ARTISTS & ARTISANS

The Amulet Ring has a strong focal point with a

pear shaped, pale pink, diamond. It underscores

the contrast of the hardness of a diamond with

the softness of a pastel color. Named for the

magical essence inside all Black women, this ring

is a reminder to each woman to let her light shine.

"Some luminous women may not be as well

known in the general public, but they are still

shaking things up in their own arenas," Sheryl

Jones says. "This ring truly represents the

combination of strength and beauty that all

Black women—and all women — possess."

The Moxieful Ear Pendants are executed in a

sweeping design that includes ovals, trillions,

rounds, cushions, and pear shapes. Their color

palette flows from light to dark with tourmalines,

tsavorite garnets, sapphires, aquamarines, and

white diamonds. "Aquamarine stones have long

represented tranquility and clarity, symbols of

a fearless woman," Sheryl Jones says. "I wanted

to use the colors of tranquil, cool waters to

showcase the ability of a strong woman to remain

calm at all times. At the same time, the design is

bold and challenges the status quo." The various

shades, colors, and shapes in the pendants,

weave together to create a tapestry of balance

and continuity.

112 aphrochic issue eight 113
---
HOT TOPIC

The Obama Portraits: A New Vision of Black Power

As Black people, there's never any shortage of hot topics that are on our minds as we

deal with the pileup of aggressions — macro and micro — that take up so much of our

daily lives. But if Black Joy is built on any one thing, it's the understanding that life

isn't all struggle. Sometimes the fact that we never stop fighting makes it hard for us

to see how often we win.

In a world where mental health maintenance

and a commitment to naps legitimately

stand side by side with marches and

protests as revolutionary acts, it's important

for us to take the time, whenever it comes,

to stop and smell the hard-won roses. And it

just so happens that two of our biggest wins

are traveling the country right now, and

could be coming to a museum near you.

Even before they were unveiled,

everyone knew that the portraits of the 44th

President and First Lady of the United States

would be unique — if only for being the only

such works to date to feature people of color.

But perhaps just as important, they are as

much fascinating and engaging works of

modern art as they are symbols of the continuity

of American power. And it is in both

capacities that they are touring the country,

giving all of us the chance to experience

them up close.

In late October, the portraits concluded

the second leg of their five-museum tour

which started in June 2021 and will end in

May 2022. Arranged by the Smithsonian

National Portrait Museum, the tour started

in Chicago and will take the portraits to

the Los Angeles County Museum of Art

(LACMA), Atlanta's High Museum of Art,

and Houston's Museum of Fine Arts. For the

second stop, the tour came to the Brooklyn

Museum, where they were the main attraction

for nearly three months.

Trusting the Process

To create the images that would

cement them as part of American history

forever, Barack and Michelle Obama were

presented with a short list of possible

artists. Michelle chose Amy Sherald, a

self-described American realist, known for

creating ethereal images of Black subjects

in shades of gray against mostly empty

backdrops. For the former First Lady, it was

imperative that she felt a connection with

her artist. With Sherald, that connection

was immediate and strong. "Within the first

few sentences of our conversation, I knew

she was the one for me," Michelle reported

to the Smithsonian. "There was an instant

connection, that kind of sister-girl connection…and

that was true all the way through

the process."

For President Obama it was even more

important to have an artist that understood

not only his unique position in the history of

America, but also how he saw himself in it.

As the nation's first Black president, Barack

Obama is the culmination of a great many

things that many people thought simply

couldn't happen. As his time in the Oval

office passed, it would become the fodder of

history, to be interpreted, contextualized,

or simply forgotten as future academics

saw fit. As part of the collection of Presidential

Portraits, this image of Barack Obama

Words by Bryan Mason

Photo furnished by The Brooklyn Museum

114 aphrochic issue eight 115
---
HOT TOPIC

will be part of a visual record that will last

long after his terms in office have faded

into antiquity. As such, it will be one of the

most lasting and personal statements on his

presidency. For a president with an eye on

history and a deep connection to contemporary

art and culture, Kehinde Wiley was a

clear choice.

Like Amy Sherald, Kehinde Wiley

is known for monumental works that

challenge mainstream notions of race,

culture and power. For Wiley, his habit of

"street casting" people met by chance on the

street to model for him speaks directly to his

method of reinterpreting famous works of

European portraiture to spotlight contemporary

Black people. But Barack Obama was

no chance meeting, and the difference was

apparent to Wiley from the start. "Generally

I'm painting the powerless," Wiley says in

a video interview available in the exhibit,

noting by contrast that having the American

President as your model means working

with "arguably, the most powerful man in

the world." But for President Obama, that

reversal was exactly the point. "I was always

struck by the degree to which [Wiley's

portraits] challenged our conventional

views of power and privilege," Obama

is quoted in the exhibit. The President

lauds the artist's "extraordinary care and

precision and vision in recognizing the

beauty and the grace and the dignity of

people who are so often invisible…"

Over the course of a year through a

combination of photo shoots and in-person

sittings, Wiley and Sherald completed their

respective works, which were unveiled to

the world in 2018. Seen individually, they

are masterful works befitting the Obamas

stature as both political figures and cultural

icons. Taken together, it's striking how very

different the two images are.

A Study in Distinction

The portrait of Barack Obama explodes

with color. From the billowing, floral

backdrop to the tone of the president's

skin, everything in the image is vibrant and

lively. Far from the formal stances that most

presidents have adopted in their portraits,

Obama in this image is conscientiously

informal, with an unbuttoned shirt, no tie

and absent any of the background regalia

associated with his office. Rather than

standing imperiously or sitting regally, the

president is leaning forward as if engaged

in conversation. His gaze is direct, and in

that somewhat unsettling way that he often

does, Kehinde Wiley succeeds in creating

the lifelike impression that the man in this

painting is very interested in what you're

about to say. In all, it's a very colorful and

engaging look at a person whose position

typically sets them apart.

Amy Sherald's portrait of Michele

Obama is an equally masterful work made

all the more striking by its deep contrasts

with Wiley's portrait of Barack. Featuring

Sherald's typically subdued color palette

and minimalist background, the image has

the calm and regal quality often associated

with classical portraiture. Contrasting

Wiley's nearly photorealistic approach to

depicting features, the soft lines of Sherald's

portrait feels more like an impression of the

First Lady — a feeling — than a direct translation

of her likeness. And where Barack in

his image is informal and engaging, Michelle

in hers is sophisticated and somewhat aloof,

with a look that could be as much appraising

as inviting, and leaving us to guess which it

might be.

Between the Lines

Presidential portraiture is always

symbolic by nature and often its content

is largely symbolic as well. In analyzing a

famed portrait of George Washington, the

exhibit lists seven symbolic inclusions in

elements ranging from Washington's stance

to a small rainbow seen in the background.

For Barack Obama, the flowering backdrop

that surrounds him includes homages to

several important places in his life's journey.

The African blue lilies are a tribute to his

Kenyan father while the jasmine refers to

Hawaii along with chrysanthemums, the

official flowers of Chicago.

For Michelle Obama, the colorfully

modern geometric print of her dress bears

a strong relationship to African American

quilt-making traditions such as those

which have survived in Gee's Bend Alabama

since before the Civil War. Also interesting

is Sherald's use of an empty backdrop

for this portrait. While a frequent element

in her work as a whole, it is also a common

motif for the portraits of past presidents.

John Adams, John Quincy Adams, Thomas

Jefferson and William Henry Harrison all

116 aphrochic issue eight 117
---
HOT TOPIC

have portraits with such a background. But

that's only the beginning of the meaning

layered in each of these images. True to

form, both Wiley and Sherald found ways to

place the first Black President and First Lady

in direct conversation with the meta-narratives

that surrounded them as Black people

in American popular culture even while

occupying the nation's highest office.

In his image, Barack Obama is a Black

man — an African — in nature. For much of

early African American history, the image of

the African in nature was often used to dehumanize,

depicting us as little more than

primates, incapable of the levels of civilization

evinced by those who enslaved us

and grateful for having been brought into

modernity. Yet in this image, Barack Obama,

Black and President of the the United States,

is surrounded by nature, but wrapped in the

symbols of "civilization." His suit, his watch,

the chair he's sitting on, and even wedding

ring all mark him as a sophisticated man of

the modern age, a stark contrast to those

early images. Even the intelligent gaze and

inviting demeanor depicted in the image

go against common tropes of Black men as

predatory and dangerous.

Similarly, Michelle Obama's portrait

can be seen speaking to those tropes of

common knowledge usually directed at

Black women. The soft lines of the portrait

depict a Black woman who is beautiful,

soft, strong, sophisticated and feminine —

a conspicuous absence in many museums

and collections outside of those shows and

events specifically devoted to such representations.

In its presentment of Mrs.

Obama, the painting takes away many of the

usual points of attack for African American

women. Her skin tone is more gray than

brown. Her body, hidden beneath the

flowing expanse of the dress is removed

as a potential focus of attention. And to a

society that's expectation of "free access"

to Black women — from their mannerisms

and their hair to their joy and their "magic,"

— is the subject of long and ongoing debate,

Michelle's posture of quiet reserve speaks

volumes.

Remember the Time

We've come a long way in our fight in

this country, and we've got a long way left to

go. When we stop to count our wins, we win

again and we get more of what we need to

push a little bit further. To have had Barack

and Michelle Obama leading this nation and

some of its most important discourses was

undoubtedly one of our biggest wins to date.

Sandwiched between the tenures of George

W. Bush and Donald Trump, the Obama

Presidency was 8 years of relative calm and

progressive thought built around reason,

compromise and most of all, hope.

And as we work to recover some sense

of that state amid the tumult of everything

that's followed since the Obamas left the

White House, seeing these portraits is more

than a great excuse to go to a museum — it's a

chance to remember that feeling again and a

chance to inspire something new, not just for

us but for the next generation. As Michelle

Obama said herself, "One visit, one performance,

one touch, and who knows how you

could spark a child's imagination." AC

118 aphrochic issue eight 119
---
WHO ARE YOU

Name:

Micah James, age 11

Based In:

Pennsylvania

Occupation:

6th grade

Currently:

My mom introduced me to these two

guys called Black Violin. And they play

hip-hop and classical music together.

And I just set that as an example of what

I wanted to do. I'm in 6th grade in the

Central PA Youth Orchestra, first chair.

I play the violin. Right now I like to play

video games, play violin, play basketball,

ride my bike, run track, and do drawing

videos on YouTube. I would like to run

professional track when I grow up, but

doing all of those things [I like] together

would be really cool.

Black Culture Is:

Like a remix. Our culture, after being

taken from Africa and incorporating

that into our lives in America.

Photograph by Michael

T. Davis Photography

(mtdphotography.com).

Part of the photographer's

More than a Hashtag series.

120 aphrochic