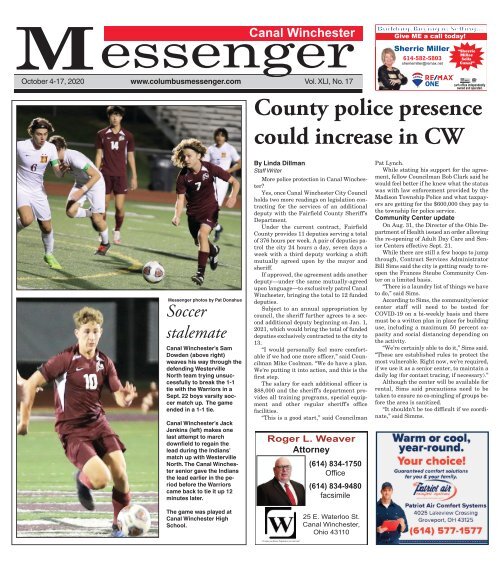 Canal Winchester Messenger - October 4, 2020
You also want an ePaper? Increase the reach of your titles
YUMPU automatically turns print PDFs into web optimized ePapers that Google loves.
Messenger

Canal Winchester

October 4-17, 2020 www.columbusmessenger.com Vol. XLI, No. 17

Building, Buying or Selling...

Give ME a call today!

Sherrie Miller

614-582-5803

sherriemiller@remax.net

"Sherrie

Miller

Sells

Canal"

Each office independently

owned and operated.

County police presence

could increase in CW

Messenger photos by Pat Donahue

Soccer

stalemate

Canal Winchester's Sam

Dowden (above right)

weaves his way through the

defending Westerville

North team trying unsuccessfully

to break the 1-1

tie with the Warriors in a

Sept. 22 boys varsity soccer

match up. The game

ended in a 1-1 tie.

Canal Winchester's Jack

Jenkins (left) makes one

last attempt to march

downfield to regain the

lead during the Indians'

match up with Westerville

North. The Canal Winchester

senior gave the Indians

the lead earlier in the period

before the Warriors

came back to tie it up 12

minutes later.

The game was played at

Canal Winchester High

School.

By Linda Dillman

Staff Writer

More police protection in Canal Winchester?

Yes, once Canal Winchester City Council

holds two more readings on legislation contracting

for the services of an additional

deputy with the Fairfield County Sheriff's

Department.

Under the current contract, Fairfield

County provides 11 deputies serving a total

of 376 hours per week. A pair of deputies patrol

the city 24 hours a day, seven days a

week with a third deputy working a shift

mutually agreed upon by the mayor and

sheriff.

If approved, the agreement adds another

deputy–under the same mutually-agreed

upon language–to exclusively patrol Canal

Winchester, bringing the total to 12 funded

deputies.

Subject to an annual appropriation by

council, the sheriff further agrees to a second

additional deputy beginning on Jan. 1,

2021, which would bring the total of funded

deputies exclusively contracted to the city to

13.

"I would personally feel more comfortable

if we had one more officer," said Councilman

Mike Coolman. "We do have a plan.

We're putting it into action, and this is the

first step.

The salary for each additional officer is

$88,000 and the sheriff's department provides

all training programs, special equipment

and other regular sheriff's office

facilities.

"This is a good start," said Councilman

Roger L. Weaver

Attorney

"A name you know, Experience you can trust"

(614) 834-1750

Office

(614) 834-9480

facsimile

25 E. Waterloo St.

Canal Winchester,

Ohio 43110

Pat Lynch.

While stating his support for the agreement,

fellow Councilman Bob Clark said he

would feel better if he knew what the status

was with law enforcement provided by the

Madison Township Police and what taxpayers

are getting for the $600,000 they pay to

the township for police service.

Community Center update

On Aug. 31, the Director of the Ohio Department

of Health issued an order allowing

the re-opening of Adult Day Care and Senior

Centers effective Sept. 21.

While there are still a few hoops to jump

through, Contract Services Administrator

Bill Sims said the city is getting ready to reopen

the Frances Steube Community Center

on a limited basis.

"There is a laundry list of things we have

to do," said Sims.

According to Sims, the community/senior

center staff will need to be tested for

COVID-19 on a bi-weekly basis and there

must be a written plan in place for building

use, including a maximum 50 percent capacity

and social distancing depending on

the activity.

"We're certainly able to do it," Sims said.

"These are established rules to protect the

most vulnerable. Right now, we're required,

if we use it as a senior center, to maintain a

daily log (for contact tracing, if necessary)."

Although the center will be available for

rental, Sims said precautions need to be

taken to ensure no co-mingling of groups before

the area is sanitized.

"It shouldn't be too difficult if we coordinate,"

said Simms.
---
PAGE 2 - MESSENGER - October 4, 2020

Local History

•Canal Winchester Area Historical

Society, meets the first Tuesday of the

month March through November at 7:30

p.m. in the Hocking Meeting Room at the

O.P. Chaney Elevator, located at North

High and West Oak streets.

AUTO HOME BUSINESS LIFE INSURANCE

Beplerinsurance.com

614.837.4379

staff@beplerinsurance.com

3246 Noe Bixby Rd., Columbus, Ohio 43232

Fall is Here!

Contact us NOW for your Furnace Tune-Up!

(614) 836-9119

Construction at two Scioto

River boat access points

Improvements are scheduled for two

Scioto River boat access locations in

Pickaway County, according to the Ohio

Department of Natural Resources Division

of Wildlife.

Construction will last through late fall

or early winter. Both locations will be

closed during construction.

The locations under construction

include one in South Bloomfield at State

Route 316, and another at the Elmon

Richards Wildlife Area boat ramp. These

ramps will provide boater access to miles of

prime fishing, hunting, and wildlife viewing

areas. The Scioto River corridor is

home to a diverse number of species

including bald eagles, beavers, mink, spotted

bass, smallmouth bass, and flathead

catfish.

The South

Bloomfield location

is scheduled to

receive a new concrete

boat ramp. The

new access will include a gravel drive and

parking lot to accommodate small trailers.

This ramp is designed for paddle crafts and

small boats and will be similar to the existing

Mackey Ford Wildlife Area ramp six

river miles upstream.

Construction work will upgrade the

Elmon Richards Wildlife Area ramp in

Circleville at State Route 22. The current

ramp was built in 2005 and the concrete

will be reconfigured to better accommodate

boats. The gravel drive will be replaced

and drainage improved to fix low, often wet

areas. This ramp is 10 river miles downstream

from the South Bloomfield access.

The project is funded through a gas tax

on marine fuels and the Sport Fish

Restoration Act, an excise tax on fishing

equipment administered through the

Division of Wildlife and U.S. Fish &

Wildlife Service.

For information on the Division of

Wildlife's research and management programs

and to find fishing reports, maps,

and more fishing resources, visit

wildohio.gov. Download the HuntFish OH

mobile app for fishing information on the

go.

www.columbusmessenger.com

The mission of the Division of Wildlife is

to conserve and improve fish and wildlife

resources and their habitats for sustainable

use and appreciation by all. Visit

wildohio.gov for information.

ODNR ensures a balance between wise

use and protection of our natural resources

for the benefit of all. Visit the ODNR website

at ohiodnr.gov.

Groveport Road studies

Groveport City Engineer Steve Farst

said two studies will be conducted along

the Groveport Road corridor. One is a safety

study between Greenpointe Drive and

the Kroger entrance to identify and design

intersection improvements at Greenpointe

Drive and at State Route 317. The other is

a planning study of the thoroughfare route

between Bixby Road and State Route 317.

New project funded

Governor Mike DeWine and Lt.

Governor Jon Husted announced the

approval of assistance for the following

project: Zenni USA (Zenni Optical) expects

to create 189 full-time positions, generating

$8.2 million in new annual payroll as a

result of the company's new project in the

village of Obetz.

Zenni Optical is an online retailer that

sells prescription and non-prescription eyeglasses,

sunglasses, sports glasses, and

goggles. The Ohio Tax Credit Authority

approved a 1.557 percent, 10-year Job

Creation Tax Credit for this project.

Malek &

Malek

ATTORNEYS AT LAW

Dear Fellow Veterans,

Joe Biden represents Duty, Honor, Country.

Joe's late son Beau Biden served honorable in combat in

Iraq. He received the Bronze

Star. Beau asked his Dad to

promise him he would run

for President of the United

States.

Sincerely, Ed Malek

OH License #

20692

Douglas, Ed, Jim

and Kip Malek

Ben Churchhill

"Hablamos Español"

FREE Initial Consultation

www.maleklawfirm.com

614-444-7440

1227 S. High St., Columbus, OH 43206

Be a Part of Our

Local Worship Guide

Our upcoming Worship Guide is geared toward

celebrating faith and helping readers connect with

religious resources in our community. Make sure these

readers know how you can help with a presence in this

very special section distributed to more than 20,000

households in the Groveport area.

The cost is $20 per issue. (must run twice)

Contact us today to secure your spot in Worship Guide.

614.272.5422 • kathy@columbusmessenger.com

Letters policy

The SOUTH MESSENGER welcomes

letters to the editor. Letters cannot be

libelous. Letters that do not have a signature,

address, and telephone number, or are

signed with a pseudonym, will be rejected.

PLEASE BE BRIEF AND TO THE

POINT. The Messenger reserves the right

to edit or refuse publication of any letter for

any reason. Opinions expressed in the letters

are not necessarily the views of the

Messenger. Mail letters to: SOUTH MES-

SENGER, 3500 Sullivant Avenue,

Columbus, OH 43204; or email

eastside@columbusmessenger.com.

Keep tabs on the news in Canal

Winchester and Hamilton Twp.

Look for South Messenger on

Become a fan!

eastside

Messenger

(Distribution: 16,822)

Rick Palsgrove................................South Editor

eastside@ columbusmessenger.com

Published every other Sunday by

The Columbus Messenger Co.

3500 Sullivant Ave., Columbus, Ohio 43204-1887

(614) 272-5422
---
www.columbusmessenger.com

October 4, 2020 - MESSENGER - PAGE 3

Hamilton Twp. Schools offer free student meals

By Linda Dillman

Staff Writer

A federal grant is providing a free

breakfast and lunch for all students in

kindergarten through 12th grade throughout

the Hamilton Local Schools district.

The service started Sept. 8 and is funded

through the USDA National School

Lunch Program. It continues until the end

of the year or when USDA grant funds are

exhausted. After that, only students verified

to receive free or reduced-cost breakfast

and lunch will continue to do so.

"The program provides meals, not only

for students who qualify for free or reduced

meals, but also for each and every one of

our students," said Hamilton Schools

Treasurer Adam Collier.

According to Collier, the district applied

for the grant last spring and is reimbursed

for both breakfast and lunch meals served

to students during the funding period.

There is no change in the components of

the free meals.

"We participate in the National School

Lunch Program and follow the meal pattern

for lunch and breakfast. Grant money

would not affect the meal pattern regulations,"

said Mary Anne Hillerich, food services

coordinator.

Hillerich said the four district school

buildings normally serve approximately

2,000 students for lunch and 1,400 for

breakfast. There are 3,000 students

enrolled in the district.

The regular cost for lunch at the high

school is $2.75, at the middle school it is

$2.50, the cost at the intermediate building

is $2.25 and the price for a lunch at the elementary

school is $2.

Lunch cost savings for a family of four

Southeast Branch Library

is open for browsing

By Rick Palsgrove

Managing Editor

People love libraries and the ongoing

coronavirus pandemic put a crimp in that

love affair when the Columbus

Metropolitan Library system closed all its

branches on March 13.

But hope springs eternal for area book

and lovers of information because, as of

Sept. 22, the Southeast Branch of the

Columbus Metropolitan Library, located at

3980 S. Hamilton Road, opened for browsing.

"Like all CML locations, the Southeast

Branch plays a vital role in the community

it serves with services like public computer

access, Job Help, Homework Help, and

Reading Buddies," said Gregg Dodd, director

of marketing for the Columbus

Metropolitan Library. "During the COVID-

19 pandemic, the branch has worked even

harder to meet the needs of customers with

curbside pickup and free copying, scanning

and faxing services. The Southeast Branch

and all other locations are open for limited

services. The Southeast Branch opened

ahead of 10 other CML locations."

Dodd said the Southeast Branch is currently

open for limited services, which

CW Recycles, a local recycling drop-off

program is offered on the first and third

Saturdays of each month from 9 a.m to

noon in the parking lot of

Winchester/Indian Trail Elementary

Schools, 6767 and 6865 Gender Road,

Canal Winchester.

Participants are asked to sort items into

two categories prior to drop-off.

Local drop-off recycling

includes: browsing the collection; using the

public computers; print, copy, scan and

faxing; getting job help; picking up items;

returning items; and getting Grab and Go

books.

"Curbside Pick-up remains available as

well," said Dodd.

Due to the pandemic, ongoing safety

precautions remain in place. According to

Dodd, the following restrictions and services

remain unavailable for customers:

•Customers over the age of five are

required to wear a face covering.

•Meeting rooms are unavailable for

booking and use.

•All in-person programming has been

paused (such as Storytimes).

•The number of customers in the building

are limited to ensure effective social

distancing. The library staff will let customers

know if they need to wait.

•There is a one hour limit on the use of

public computers.

Dodd said the normal daily attendance

at the Southeast Branch when it was in

operation before the COVID outbreak was

around 650 visits.

Call 614-645-2275 for library information

or visit columbuslibrary.org.

•Cardboard or any packaging that

when torn is brown.

•Aluminum, white paper/packages,

plastic up to recycle symbol 6.

•No glass.

To comply with recommended state and

district guidelines, all guests must remain

in their vehicles, volunteers will be on

hand to remove recyclable items.

with two students in the middle school is

approximately $100 a month.

According to Collier, during the preceding

fiscal year–July 1, 2019 through June

30, 2020–the district received $971,565 in

federal assistance for its free/reduced

lunch program. Hillerich said 72 percent of

the student population received free or

reduced meals for the 2019 through 2020

school year.

"So far, we are at 58 percent for this

school year, but we are still receiving applications

from families," said Hillerich.

In addition to cafeteria meals, hot

lunches and go-to breakfasts are delivered

via daily buses at different locations

throughout the district. A cafeteria worker

rides alongside the bus driver to help deliver

and keep track of students picking up

meals.
---
PAGE 4 - MESSENGER - October 4, 2020

www.columbusmessenger.com
---
www.columbusmessenger.com

October 4, 2020 - MESSENGER - PAGE 5

No Apple Butter Day festival, just the sale of apple butter

By Rick Palsgrove

Managing Editor

Groveport's Apple Butter Day will not be the same this

year, but the spirit of the day can live on in the community

in spite of the ongoing coronavirus pandemic.

The festival has been a mainstay and focal point for the

community since October 1974 when it began as a simple

gathering of friends cooking apples over an open fire in a

church parking lot. One can just sense the in the autumn

air as September turns into October that it is time for

Apple Butter Day.

The festival has grown over the years, with the city's

help, into the large, popular festival it has become.

However, like many things in this coronavirus pandemic

dominated year, Groveport's Apple Butter Day is going

to be a lot different this year. A whole lot different.

This version of Apple Butter Day

"It's going to be a scaled down event," said Groveport

City Administrator B.J. King.

King said he and representatives of the Groveport

Heritage Society met with the Franklin County Health

Department to come up with a way to somehow make

Apple Butter Day happen this year.

The result is that this year the festival itself will not

exist as there will be no craft booths, no historical displays,

no bands, no entertainment (except for the possibility of

piped up bluegrass music), no public attendance, no anything

at Apple Butter Day except for the drive through

sale of jars of apple butter.

City officials had hoped to shoot off the unused Fourth

of July fireworks on the evening of Apple Butter Day.

However, city officials stated on Aug. 24 that the Apple

Butter Day fireworks are now cancelled.

According to information provided to the city by

the Groveport Heritage Society, jars of apple butter

will be sold for $5 per jar from three or four drive

through stations set up along Wirt Road in front of

the Sharp's Landing building and the log house on

Oct. 10. Buyers will drive down Wirt Road from Main

Street and be guided to a specific pick up station and

exit through College Street or Rohr Road. There is a

limit of two jars of apple butter purchased per family

and payment is in cash only. Those wishing to purchase

apple butter must call 614-836-3333 to order

and arrange a pick up time within a two hour window.

Pick up times are from 10 a.m. to 4 p.m. After 4

p.m. apple butter will be sold without appointments.

A small group of volunteers made apple butter in

Heritage Park on Oct. 3.

"It's important we keep the annual tradition of

Apple Butter Day and its unbroken streak of being

held since 1974, even though it is significantly different

this year," said King.

Remembering Apple Butter Day

In normal years, Apple Butter Day is rich in tradition

featuring historical demonstrations, crafters,

and great food - especially the piping hot, freshly

stirred apple butter slathered on homemade bread.

Apples were important to Ohio's and Groveport's

pioneer agricultural economy and daily life. Apples

could be stored year round and travelled well when

shipped over the rough roads or the slow moving

freight boats on the Ohio and Erie Canal.

Remember, Apple Butter Day encourages us to

slow down, enjoy friends and family, embrace the

pleasures of simple foods, and reinforce our links to

the past.

Messenger photo by Rick Palsgrove

Groveport's Bob Cramer stirring apple butter at a past Apple

Butter Day.

Moses-Mouser Eye Care

Dr. Joshua Morris is a board-certified Optometrist

who grew up in Bellville, Ohio. He

completed his undergraduate degree at the

University of Akron, where he graduated

magna cum laude with honors.

Dr. Morris attended The Ohio State University

College of Optometry and graduated cum laude with honors to receive

his Doctor of Optometry Degree in May 2019. After completing his

studies, he was awarded the "Primary Vision Care Clinical Excellence

Award", in 2019.

Dr. Morris is a member of the American Optometric Association, the

Ohio Optometric Association, and The Ohio State Alumni Association.

He is excited to practice full scope optometry, diagnosing and treating

a variety of ocular disorders and diseases in patients of all ages, but has

a special interest in contact lenses and ocular disease.

On a personal note, Dr. Morris and his wife Tess, enjoy spending time

with their family, friends, and their Bernese Mountain dog Maverick,

cheering on The Ohio State Buckeyes, trying new foods, and exploring

Columbus breweries.

Q: Are contact lenses right for me?

A: 9/10 people who wear glasses are good candidates for contact lenses.

Contact lenses can correct for nearsightedness, farsightedness,

astigmatism, and even help you decrease your dependency on readers.

They can provide a wider field of view and the lenses won't fog up in cold

weather like glasses. Contact lenses are also a great option for when you're

exercising or playing sports where glasses could get in the way.

Q: How often should someone who

wears contact lenses get an eye exam?

A: Someone who wears contact lenses should have a comprehensive

dilated eye exam at least once a year. Contact lenses are medical devices

and need to be properly fitted and assessed by an eye care professional.

Schedule your contact lens exam today

with Dr. Morris.

6441 Winchester Blvd. E., Canal Winchester, OH 43110 614-963-3827
---
PAGE 6 - MESSENGER - October 4, 2020

Destination: CW

scarecrow contest

Destination: Canal Winchester will host

a scarecrow contest in historic downtown

Canal Winchester in October.

Area businesses and homes are encouraged

to create and display their scarecrows.

Awards will be given in various categories.

Follow Destination: Canal Winchester's

Facebook page for further information. at

www.facebook.com/destinationcw/

www.columbusmessenger.com

Trick-or-treat to be held in CW

By Rick Palsgrove

Managing Editor

Trick-or-treat will take place in Canal

Winchester, but other familiar Halloween

festivities will not due to the ongoing coronavirus

pandemic.

According to Mayor Mike Ebert, trick-ortreat

will be held Thursday, Oct. 29 from

5:30- 7:30 p.m.

"As always, make sure you are going to

homes of people you know, and for this year

maybe not go to as many homes as you normally

would," said Ebert. "Trick-or-treaters

should wear a mask and keep a safe distance

of six feet or more from others."

State guidelines/recommendations

The Ohio Department of Health issued

guidelines and recommendations regarding

Halloween festivities this year due to the

ongoing coronavirus pandemic, which include:

cancelling or avoiding hayrides and

haunted houses; not holding large Halloween

parties; wearing protective face

masks and practicing social distancing of at

least six feet; using hand sanitizer often;

avoid activities like bobbing for apples; and

select outdoor events or those that allow

staying in your vehicle.

The Ohio Department of Health also recommends

people be cautious regarding

trick-or-treating. It suggests holding drive

through trick-or-treating events, holding

drive by costume contests, leaving treats for

friends and neighbors, decorating your

home and hiding treats for your kids, and

holding costume contests and pumpkin

carry-offs virtually online.

If trick-or-treating door-to-door the department

states parents should limit the

number of houses visited, wiping off candy

wrappers with sanitizer when you arrive

home, allow kids to only eat factory wrapped

treats and avoid homemade treats by

strangers, and if your child is at greater

risk for COVID contact your doctor before

participating in Halloween activities. Community

members could consider leaving

treats on doorsteps or on an outside table.

Precautions: wear a mask if near others,

carry hand sanitizer for use during trick-ortreating,

limit the number of people in a

group, limit those in a group to family members,

those passing out candy should wear a

mask.

For the full list of guidelines pertaining

to Halloween, visit coronavirus.ohio.gov/static/responsible/celebrating-halloween.pdf.

Cancelled CW Halloween events

•According to Larry Flowers of the Canal

Winchester Area Historical Society, the traditional

Historic Ghost Tour will not be held

this year because of the pandemic. Plans are

for it to return in October 2021.

The popular Historic Ghost Tour features

historic Canal Winchester locations with

costumed historical characters who depict

people from the town's past.

•The annual VFW 10523 Halloween

Community Party will not be held this year.

The event is normally held at the Community

Center, located at 22 S. Trine St., but

the center has been closed for social gatherings

since March because of the pandemic.

Ebert met with a representative of VFW

10523 and said, "There doesn't appear at

this time to be much hope for the party. The

party normally brings in 50 to 75 kids plus

their parents in a normal year. If we were

to get that many, we would be required to

turn away about half of the kids. Turning

them away would be a very bad feeling for

the us, the kids and their parents."

Running Scared 5K will be virtual

The fourth annual Running Scared 5K

will be virtual online this year. Run a 5K between

Oct. 23 and Oct. 31 then share the

Messenger photo by Rick Palsgrove

Pumpkin power

Grace Ritzenthaler works placing

pumpkins on the display rack on a recent

beautiful autumn day at the

Schacht Family Farm Market on Shannon

Road.

results with race organizers.

The Halloween inspired race, sponsored

by Nationwide Children's Hospital, traditionally

features runners who wear a variety

of creative Halloween costumes.

Visit runningscared5k.com for information

on the race.

City charter review update

By Linda Dillman

Staff Writer

After a slow start due to the outbreak of COVID-19,

Canal Winchester's City Charter Review Commission is

kicking to high gear and holding regular meetings as

part of the process to revisit the city charter every 10

years.

Timed to coincide with the census, the 11-member

and two alternate commission meets during the same

year the U.S. Census is held and is comprised of six people

appointed by city council and five appointed by the

mayor. Appointees serve until they complete the task of

evaluating the city charter and deliver their final report

to council.

Commission members review charter rules and procedures

regarding corporate power; council powers; legislative

procedures; the publication of ordinances and

resolutions; administrative departments; boards and

commissions; finance, taxation and debt; referendums

and recalls; and ethics, campaign financing and the

process to remove officials.

The current charter was adopted by voters on Nov.

2, 2010. It became effective with Canal Winchester's official

status as a city on April 29, 2011.

According to the present document, in order to "have

the benefits of municipal home rule and exercise all of

the powers of local self-government conferred under the

Constitution and Statutes of the State of Ohio," and "to

preserve the traditional and historic values of the community,"

citizens vote on proposed changes to the charter.

Once the Charter Review Commission completes its

process, their recommendations are forwarded to council

for action. The commission does not determine what

is put on the ballot. Council reviews the commission's

recommendations and then determines what moves forward

to the ballot.

In the past, changes proposed by the commission and

approved by council usually appeared on the general

election ballot in the same year the commission was convened.

However, the commission is only required to

complete their work by the end of the year in which they

are convened.

While there was not enough time to make the Nov. 3

ballot this year, any proposed changes approved by

See CHARTER, page 7
---
www.columbusmessenger.com

CWHS school store opens

By Linda Dillman

Staff Writer

Canal Winchester High School students

desiring school supplies, spirit wear, or a

gift for a special friend need look no further

than around the corner in their school building

with the opening Sept. 21 of a new

school store–the Canal Corner.

Run by business students in teacher

David King's classes, the store offers bags,

pennants, hats, supplies, trinkets and a corner

where BrockStrong items are sold,

which King said provides a nice tie to the

community.

"Some things are still in the works as

COVID brought a slowdown to a lot of

things," King said. "We had cabinets put in

and there will be a lot of silhouettes for

every sport we have, including band. We're

still working, but we'll get there."

Before the end of school last year, students

were asked what they would like to

see on the store's shelves. In preparing for

stocking, staffing, and running Canal Corner,

King's business classes did market research

and are studying aspects of human

resources.

Profits earned in the store will be put

back into the Business Professionals of

America organization and then used where

needed in the school.

In addition to the store itself, a grant

funded the purchase of a wide-format

CHARTER

Continued from page 6

council are expected to appear on the primary

ballot in 2021.

Current commission members include

Michael Stobart, chairman; Marilyn

Rush‐Ekelberry , vice-chairman; Jim Bohnlein,

Charles Carpenter, Pat DeWitt, Steve

Donahue, Nick Franklin, Amy Giesecke,

Jackie Marion, Liana Obert, Ryan Rose and

alternate Rick Deeds.

The next Charter Review Commission

Our Pictorial Past

printer, vinyl cutter and a heat press to

make custom Canal Winchester items.

Together, the three machines have the

capability to: print vinyl, posters and banners;

cut decals: and create a variety of heat

press items such as t-shirts and sweatshirts.

Academic Intervention Coach Amiee

Byers–who works with seniors in a workbased

learning program and those at risk

for graduating on an alternative pathway–

said her students will gain real work force

experience on the machines and be able to

go to a sign shop with basic entry level experience–if

they are interested in that career

field after graduation.

"We're still waiting on an Internet connection

to be able to run the machines

(housed in room 119)," said Byers. "Hopefully,

with some of the money made through

the school store, we'll be able to purchase

additional equipment to make the store bigger

and the production piece bigger. The big

vision is that we'll be able to break out of the

high school and open it up to the community

where we can supply shirts and signage for

companies and the community."

Byers said organizers reached out to the

Canal Winchester Joint Recreation District,

which expressed interest in partnering with

the school for team gear.

"It's a really exciting time for the school

store and the production piece of that," said

Byers.

meeting is Oct. 14. Due to COVID‐19, until

further notice, commission meetings are not

open to the public. Individuals interested in

addressing the commission are asked to

submit written comments. Comments received

by 3 p.m. the day of the meeting will

be acknowledged at that evening's meeting.

Comments can be submitted using the form

available on the city's website.

October 4, 2020 - MESSENGER - PAGE 7

Canal Winchester

Messenger

The Empire Mill

Photo from George Bareis' "History of Madison Township"

The Empire Mill was built in Madison Township about a mile west of Canal Winchester

along the Ohio and Erie Canal in 1852 by John Chaney and his son, Oliver. The

mill was 35 by 70 feet in size and operated successfully until it burned down in 1895.
---
PAGE 8 - MESSENGER - October 4, 2020

Trail of Scarecrows

Lithopolis is participating in the 2020

Fairfield County Trail of Scarecrows. The

original and creative scarecrows will be

displayed on village lamp posts.

Cash prizes donated by the Lithopolis

office of HER Realtors and the Gilmore

Group will be awarded to the Lithopolis

People's Choice scarecrows by voting at

cboles@mail.com. A $50 cash Visa card will

be awarded by "Visit Fairfield County" to

the winner in each of the communities participating

based on a month-long "People's

Choice" vote.

VisitFairfieldCounty.org or like

Facebook "Fairfield County Trail of

Scarecrows" for details on voting.

Register your scarecrow at https://visitfairfieldcounty.org/trail-of-scarecrows-registration

using the Lithopolis tab.

Messenger photos by Linda Dillman

Pumpkin time!

Colder nights and shorter days herald

the arrival of autumn and pumpkin

time. Pictured at right is Hamilton High

School junior Ashton Thomas, left,

and Justin Fullen, right, a sophomore,

spent the morning of Sept. 19 harvesting

pumpkins just down the road from

the high school at the Hann family

farm market. Below, Gretchen Hann

readies a cartload of pumpkins picked

fresh in family-owned fields for her

Lockbourne Road Hann Farm Market.

www.columbusmessenger.com
---
www.columbusmessenger.com

October 4, 2020 - MESSENGER - PAGE 9

"Enola Holmes" is entertaining for all ages

While preparing to watch and review a

new movie or television show in which I

have aged, allegedly, past its target demographic,

I often try to experience it through

the lens of a younger version of myself.

And in order to tap into the mindset of

that bygone era, I ask a series of questions

during and after the viewing.

They include whether my younger self

would have liked the characters or have

been annoyed by them; whether my

younger self would have found more enjoyment

in the story being told or by crafting

a different version in real-time; or whether

my younger self would be embarrassed if

the older version publicly stated that she

liked it.

For the most part, the younger version

and the current form can find common

ground through similar but evolved interests

and that certainly applies in the case

of "Enola Holmes," a new film streaming on

Netflix that is geared toward young adults

but can be enjoyed by all age demographics.

There is plenty here in the form of entertainment

to go around, which is actually

surprising because my adult self thought

the opposite based on its trailer.

In this charming film, Millie Bobby

Brown plays the titular character who is

the youngest of the famed Holmes children

— brother Sherlock (played by Henry

The Reel Deal

Dedra

Cordle

Cavill) is making a

name for himself in the

world of criminology

and the elder Mycroft

(played by Sam Claflin)

is known throughout

polite society as a man

of impeccable character

and good standing.

While much is

known about the

dashing and intelligent

brothers, little is known about their

sister, and that is just the way their mother

wants it to be.

After the death of her husband and following

the relocation of her sons to the city,

Eudoria Holmes (Helena Bonham Carter)

decided that she did not want to raise her

daughter in the traditional sense. Gone were

the finishing schools with their rules and

deference to a man's opinion and in its place

were studies on the sciences, martial arts

and the importance of speaking one's mind.

Through this unorthodox education,

especially in Victorian times, Enola flourished

but formed a deep attached to her

mother in lieu of friendships with children

her age. Knowing that her child had to be

more independent, Eudoria did the only

thing she could think of: cut the strings to

make it happen.

On the morning of her 16th birthday,

Enola wakes to find her mother has disappeared.

Believing that her brother

Sherlock could solve this mystery in two

seconds flat, she requests that he and

Mycroft return home. When they arrive,

Enola discovers that the only thing they

want to do is fix her.

"She is such a mess," declares Mycroft

as he hires a reputable governess to drag

her off to a finishing school.

Before such a travesty can occur, Enola

puts her own sleuthing skills to work and

uncovers some clues as to her mother's

potential whereabouts.

Wanting to know why she left (and not

wanting to go to boarding school and learn

how to "embroider and hem handkerchiefs"),

she runs away to London to solve

this mystery. But like all good mysteries,

there is a secondary mystery afoot that

involves a missing young Lord (Louis

Partridge), a reform bill and an underground

movement set to shake up society.

With her brothers on her heels, along with

an apparent assassin, Enola has to make

sense of all of these semi-related threads

while finding her footing in a new world

that is openly hostile to spirited young

women like herself.

Though its plot is a little clunky

and darker plot threads are dropped

in favor of simplicity, the charm of its

lead character and the chemistry

between the cast members are good

enough to propel it past any bumps

that occur in this origin story.

Based on a series of novels by Nancy

Springer (though primarily adapted from

"The Case of the Missing Marquess"),

"Enola Holmes" is a great starting point for

a planned movie franchise. Though its plot

is a little clunky and darker plot threads

are dropped in favor of simplicity, the

charm of its lead character and the chemistry

between the cast members are good

enough to propel it past any bumps that

occur in this origin story.

With wit and an overarching sense of

sweetness, "Enola Holmes" is a fun movie

to watch, though it is about 25 minutes too

long.

But despite a few pacing and dropped

thread gripes, it is an entertaining film

that almost all age groups should be able to

enjoy.

Grade: B

Dedra Cordle is a Messenger staff writer

and columnist.

❏ London

❏ Main St.

❏ Phone

❏ Walk In

❏ Sales/Mail

columbus

Me ssenger

Established in 1974

the Columbus Messenger Co.

3500 Sullivant Avenue

Columbus, Ohio 43204

614/272-5422

Telephone: ______________________________________________

Print your Name: __________________________________________

Last

First

Print your Address: ________________________________________

Print your City ____________________ State: ______ Zip: ________

Print Your Ad Below...

One word each space. BE SURE YOUR TELEPHONE NUMBER OR ADDRESS is included in your advertisement.

The lessor of 4 words or 22 characters per line. We reserve the right to use abbreviations when actual

space exceeds amount purchased.

1. __________

2. __________

3. __________

4. __________

5. __________

6. __________

7. __________

8. __________

9. __________

10. __________

__________

__________

__________

__________

__________

__________

__________

__________

__________

__________

Your Cost Per Line –– 2 Line MinimuM

1 Paper ........$1.00 per line 3 Papers ......$2.55 per line

4 Papers ......$3.00 per line

2 Papers ......$2.00 per line

5 Papers ......$4.00 per line

$

Classification:

❏ Eastside Messenger

❏ Westside Messenger

❏ Southeast Messenger

❏ Southwest Messenger

❏ Madison Messenger

❏ All Newspapers

❏ Cash

❏ Check

❏ Money Order

❏ VISA ❏ MC

__________

__________

__________

__________

__________

__________

__________

__________

__________

__________

__________

__________

__________

__________

__________

__________

__________

__________

__________

Credit Card

Information

________________________

Credit Card Number

______________________

Exp. Date

$5.00 min. by fax or e-mail - $12.50 by phone

CLASSIFIED ADS

Deadlines: Groveport and West editions, Wednesdays at 5 p.m., • South, Grove City, Madison editions, Tuesdays at 5 p.m.

All editions by phone, Tuesdays at 5 p.m. • Service Directory, Tuesdays at 5 p.m.

ASSOCIATION ADS

Two great new offers from

AT&T Wireless! Ask how

to get the Next Generation

Samsung Galaxy S10e

FREE. FREE IPhone with

AT&T's Buy one, Give

One. While supplies last!

CALL 1-866-565-8452 or

www.freephonesnow.com/

cadnet

DENTAL INSURANCE

from Physicians Mutual

Insurance Company.

Coverage for (350+) procedures.

Real dental insurance-NOT

just a discount

plan. (Don't wait!)

Call Now! Get your

FREE Dental Information

Kit with all the details! 1-

877-308-2834 . www.

dental50plus.com/cadnet

#6258

VIAGRA & CIALIS! 60

pills for $99. 100 pills for

$150 FREE shipping.

Money back guaranteed!

1-844-596-4376

SELL YOUR ANTIQUE

OR CLASSIC CAR.

Advertise with us. You

choose where you want

to advertise. 800-450-

6631 visit macnetonline.

com for details.

ASSOCIATION ADS

DIRECTV - Switch and

Save! $39.99/month. Select

All-Included Package.

155 Channels.

1000s of Shows.Movies

On Demand. FREE Genie

HD DVR Upgrade.

Premium movie channels.

FREE for 3 mos!

Call 1-855-781-1565

Need IRS Relief $10K -

$125K+ Get Fresh Start

or Forgiveness Call 1-

877-378-1182 Monday

through Friday 7AM-5PM

PST

Cross Country Moving,

Long distance Moving

Company, out of state

move $799 Long Distance

Movers. Get Free

quote on your Long distance

move 1-844-452-

1706

Recently Diagnosed

w/Lung Cancer or Mesothelioma?

Exposed to

Asbestos Pre-1980 at

Work or Navy? You May

Be Entitled to a Signicant

Cash Award! Smoking

History Okay! Call 1-855-

591-0517

xAdult Care

VISITING ANGELS

Senior Home Care

by ANGELS

We send you the Best Home Caregivers

1 Hr. up to 24 Hr. Care

Prepared and Ready but still operating COVID Free.

Rates as low as $15.21 an hour!

"We Do Things Your Way"

614-80-ANGEL (614-802-6435)

Call or text for info. www.v-angels.com

Adult Care
---
PAGE 10 - MESSENGER - October 4, 2020

www.columbusmessenger.com

CLASSIFIED ADS

Deadlines: Groveport and West editions, Wednesdays at 5 p.m., • South, Grove City, Madison editions, Tuesdays at 5 p.m.

All editions by phone, Tuesdays at 5 p.m. • Service Directory, Tuesdays at 5 p.m.

xEmployment

NOW HIRING

Seasonal Fulfillment Center Associates

Order Processors, Bear Building, Pick/Pack & Sewing

Earn up to $16.00/hour through the week

Earn up to $17.50/hour for weekend only shifts

Overtime when available

1st Shift • 2nd Shift • Weekend Only Shifts • FT/PT Seasonal Positions also available

• Associate Discount

Apply online at careers.buildabear.com

Located at 5925 Green Pointe Drive South, Groveport, OH 43125

SEARCHING

for More Qualified Employees?

October 18 th , 2020

Deadline: October 9 th , 2020 At 2pm

Special employment Section Featuring:

Job Openings

Job Fairs

Full and Part Time Employment

Seasonal Job Opportunities and more

ALL ADS ARE IN FULL COLOR. Contact us by phone or online to discuss special

advertising rates that are available for this section as well as combination rate

discounts for advertising in multiple coverage areas.

Grove City • Groveport • Madison • South • Westside

ASSOCIATION ADS

DISH Network $59.99 For

190 Channels. Add High

Speed Internet for ONLY

$19.95/month. Call Today

for $100 Gift Card! Best

Value & Technology.

FREE installation. Call 1-

855-837-9146 (some restrictions

apply)

614-272-5422

Kathy@columbusmessenger.com

Doughenry@columbusmessenger.com

ASSOCIATION ADS

BUILDING MATERIALS

Metal Roofing, Siding

for houses, barns,

sheds. Close outs, returns,

seconds, overruns,

etc. at Discount

Prices. Huge inventory in

stock. Slate Rd Supply

717-445-5222

NOW HIRING BUS DRIVERS

$17.00 an Hour

Apply @ 4400 Marketing Pl.

Groveport, Ohio (Door 16)

614-836-4962

www.careers.nellc.com

& Requisition # 202020

ASSOCIATION ADS

Wants to purchase minerals

and other oil and gas

interests. Send details to

P.O. Box 13557, Denver,

CO. 80201

Stay in your home longer

with an American Standard

Walk-In Bathtub. Receive

up to $1,500 off,

including a free toilet,

and a lifetime warranty

on the tub and installation!

Call us at 1-855-

481-3969 or visit www.

walkintubquote.com/national

ASSOCIATION ADS

Elminate gutter cleaning

forever! LeafFilter, the

most advanced debrisblocking

gutter protection.

Schedule a FREE

LeafFilter estimate today.

15% off Entire Purchase.

10% Senior &

Military Discounts. Call

1-855-402-0373

Call Empire Today® to

schedule a FREE inhome

estimate on Carpeting

& Flooring. Call

Today! 1-855-404-2366

DISH TV $59.99 FOR 190

Channels + $14.95 High

Speed Internet. Free Installation,

Smart HD DVR

Included, Free Voice Remote.

Some restrictions

apply. Call 1-855-270-

5098

Employment

NOW HIRING!

Local High Volume Pharmacy

Immediate 2nd & 3rd shift

positions available for

Pharmacy Clerks and Technicians.

Looking for energetic associates

in a fast pace environment.

$13.00 Eff. Rate

Please apply at:

jobs.kroger.com

Use Zip Code 43217

Must be 18 years of age & have high school diploma or GED.

Call 614-333-5012 for more details.

ASSOCIATION ADS

READER

ADVISORY

The National Trade Association

we belong to has

purchased the following

classifieds. Determining

the value of their service

or product is advised by

this publication. In order

to avoid misunderstandings,

some advertisers do

not offer "employment"

but rather supply the

readers with manuals, directories

and other materials

designed to help

their clients establish mail

order selling and other

businesses at home. Under

NO circumstance

should you send any

money in advance or give

the client your checking,

license ID or credit card

numbers. Also beware of

ads that claim to guarantee

loans regardless of

credit and note that if a

credit repair company

does business only over

the phone it's illegal to request

any money before

delivering its service. All

funds are based in US

dollars. Toll Free numbers

may or may not

reach Canada. Please

check with the Better

Business Bureau 614-

486-6336 or the Ohio Attorney

General's Consumer

Protection Section

614-466-4986 for more

information on the company

you are seeking to

do business with.

ASSOCIATION ADS

SERIOUSLY INJURED

in an AUTO ACCIDENT?

Let us fight for you! Our

network has recovered

millions for clients! Call

today for a FREE consultation!

1-888-409-1261

HEARING AIDS!! Buy

one/get one FREE! Highquality

rechargeable

Nano hearing aids priced

90% less than competitors.

Nearly invisible! 45-

day money back guarantee!

888-986-3616

GENERIC VIAGRA and

CIALIS! 100 Pills $99.00

FREE Shipping! 100%

guaranteed. 24/7 CALL

NOW! 888-889-5515

IMPORTANT

NOTICE

The following states: CA,

CT, FL, IA, IL, IN, KY,

LA, MD, ME, MI, MN,

NE, NC, NH, OH, OK,

SC, SD, TX, VT and WA

requires seller of certain

business opportunities to

register with each state

before selling. Call to

verify lawful registration

before you buy.

[CARS/TRUCKS

WANTED!!!]

All Makes/Models 2002-

2019! Any Condition. Running

or Not. Competitive

Offer! Free Towing! We

are Nationwide! Call Now:

1-888-368-1016

AUTOMOTIVE

Get cash for your used

or junk cars today. We

buy all cars, trucks &

SUVs. Free pick up. Call

888-368-1016

WANTED

SW CITY SCHOOLS

SCHOOL BUS DRIVERS

The South-Western City School

District is currently hiring drivers

for the 2020-2021 school year

$16.55/HR

Available positions are for substitute drivers

that can develop into "Regular" positions with

benefits. Interested individuals should submit

an application on our website at swcsd.us.

Follow the employment link. Applicants should

have an excellent driving record and must

submit to drug, alcohol, and background

screening. A high school diploma or equivalent

is required.

EOE

BE YOUR OWN BOSS!

INDEPENDENT

CONTRACTORS

WANTED

If you have a reliable car and would like to

earn extra money, then why not deliver?

• Deliver 1 or 2 days a week

• Flexible delivery hours

• Work close to home - often in or

near your neighborhood

CONTACT US

1-888-837-4342

www.thebag.com

• Deliver 7 days a week

• Delivery before dawn

• Work close to home - often in or

near your neighborhood

CONTACT US

614-461-8585

www.dispatch.com/delivery

xInformation

OCTOBER

GIVEAWAY

Place a prepaid classified line ad in our paper

during the month of OCTOBER and be registered

to win a $50 Gift Card from

The Columbus Messenger Newspapers.

All ads received by mail, in person, e-mail or phone

will be included in the drawing.

Drawing will be held October 30th, 2020

and the winner will be notified and published

in our November 8th, 2020 issue .

GOOD LUCK TO EVERYONE!!
---
www.columbusmessenger.com

xCome & Get It!

COME AND GET IT

Deadlines are Tuesdays by 5 pm.

Call For Publication Schedule 614-272-5422

Need to Get Rid of Something Fast - Advertise It Here For FREE!

FREE Garden Straw for gardens or bedding. Call for appointment for pickup.

Circle S Farms, 9015 London-Groveport Road, Grove City, 43123

Grove City - 614-878-7980

. Come and Get It! is a bi-weekly column that offers readers an opportunity to pass

along surplus building materials, furniture, electronic equipment, crafts, supplies,

appliances, plants or household goods to anybody who will come and get them - as

long as they're FREE. NO PETS! Just send us a brief note describing what you want to

get rid of, along with your name, address and phone number. Nonprofit organizations

are welcome to submit requests for donations of items.

Send information to The Columbus Messenger, Attention: Come and Get It, 3500

Sullivant Ave., Columbus, OH43204. Deadline is Tuesdays by 5 pm for following

Mondays publication. Messenger Newspapers is not responsible for any

complications that may occur. Please contact us when items are gone. 272-5422

Come & Get It!

xMisc. for Sale

Misc. for Sale

xInformation

Congratulations

To Our Gift Card Winner

For September 2020

LARRY TABOR

From

The Columbus Messenger

Newspapers

Information

ASSOCIATION ADS

CARS/TRUCKS WANT-

ED!!! All Makes/Models

2002-2019! Any Condition.

Running or Not. Top $$$

Paid! Free Towing! We're

Nationwide! Call Now: 1-

888-985-1806

REAL ESTATE for SALE

SELLING A FARM OR

HOUSE? Advertise it

here and neighboring

publications. We can

help you. Contact MACnet

MEDIA @ 800-450-

6631 or visit our site at

MACnetOnline. com

HELP WANTED

Real Mechanic Needed

30% of Labor

Free lunch & drinks

Apply at Midland Auto

2433 Midland Ave., Cols

614-278-9458

INFORMATION

See...

You Looked!

Newspaper

Ads Catch

The Eye!

Call

272-5422

For Info. &

Pricing

HELP WANTED

HIRING: For Concrete

Forms Work. Exp. rough

Carpenter & Concrete

Finisher. 614-619-0784

DATED SALES

FREE

Garage Sale

Signs

When You Stop By

Our Office At:

3500 Sullivant Ave.

And Place Your

DATED SALE AD

WANT TO BUY

We Buy Junk Cars &

Trucks. Highest Prices

Paid. 614-395-8775

WE BUY JUNK CARS

Call anytime 614-774-6797

WANTS TO Purchase

minerals and other oil &

gas interests. Send details

to: P.O. Box 13557,

Denver, CO 80201

We Buy Cars & Trucks

$300-$3000.614-308-2626

FINANCIAL SERVICES

Business Debt Solutions

Call 614-270-1149

Debt Solutions Available

Call 614-270-1149

RENTALS

Half Double Hilltop

3 BR $900 mo, $900 dep.

Bill Weygandt Realtor

614-226-6767

VACATION RENTALS

Englewood, Florida

Palm Manor Resort

Within minutes of white

sand Gulf beaches,

world famous Tarpon

fishing, golf courses, restaurants/shopping,

Bush

Gardens. 2 BR 2 BA

condos with all ammenities,

weekly/monthly, visit

www.palmmanor.com

or call 1-800-848-8141

USED VEHICLES

Lexus 350 RX - 2011

114,000 mi - have Car Fax

Good condition & care, no

problems. $13,750

614-834-5208

October 4, 2020 - MESSENGER - PAGE 11

xClassified Services

APPLIANCE REPAIR

Washer, Dryer, Stove &

Refrig. Repair 875-7588

BLACKTOP

SANTIAGO'S

Sealcoating & Services LLC

Quality Materials Used

Get it Done before the

Seasons Over!!

Driveway Seal & Repair!

Top Seal Cracks!

Residential & Commercial

Mulching, Edging & Clean-ups

"Ask for whatever you need."

BBB Accredited-Fully Insured

Call or text for Free Est.

614-649-1200

BLACKTOP SEALING

Driveways & Parking Lots

614-875-6971

CLEANING

HOUSE/OFFICE

24 Hr. Call Back

C.D.C. Guidelines

614-846-1477

Looking for Mrs. Clean?

For excellent cleaning

services at reas. rates

w/great refs, depend. 10%

Sr. Disc. Free Est. CDC

fogging avail. Powerwashing.

Gwen 614-226-5229

INFORMATION

ONLY

$50.00

For This Ad In Our

South & Groveport

For Info Call

272-5422

CONCRETE

EDDIE MOORE

CONSTRUCTION

Quality Concrete Work

Lt. Hauling & Room Add.,

Block Work & Excavation

Stamp Patios,

Bsmt. Wall Restoration

35 Yrs Exp - Lic & Ins.

Free Ests. 614-871-3834

Buckeye City

Concrete & Excavating

* Concrete * Foundations

* Waterlines * Drains

*Catch Basins

614-749-2167

buckeyecityconcreteand

excavating@yahoo.com

D.J. & DAD KIMMLE

CUSTOM CONCRETE

10-11

All Types E/SE

Free Estimates

All Work Guaranteed

614-206-0158

AJ's Concrete,

Masonry

Good Work - Fair Prices

Block Foundations

Driveways • Sidewalks

Epoxy/Overlay Floors

Bonded-Ins. • Free Ests.

614-419-9932

10/11 A/M

10/11 A

CONCRETE

ALL-CITY CUSTOM

CONCRETE

All Types Concrete Work

New or Tear Out-Replace

37 Yrs. Exp.

(614) 207-5430

Owner is On The Job!

EVANS

Complete Concrete.

Facebook Evansconcrete

(Schedule Now)

• Foundations • Additions

• Block • Driveways

• Patios • Sidewalks

• Colored & Stamped

(Free Estimates)

614-554-7457

Ins./Bonded • 32 Yrs. Exp.

Pour It Right, The First Time

GUTTERS

Low Price-Great Service

5 & 6" Seamless gutters,

covers, siding, gutter clng.

Bill 614-306-4541

HAULING

DEAN'S HAULING

614-276-1958

HEATING

HEATING

Complete System Clean & Check

$49.95

Free Carbon

Monoxide Testing

Gas-Oil-Electric Heat/Pumps

All Makes • All Models

43 yrs exp. • Sr. Discount

614-351-9025

HOME

IMPROVEMENTS

SINCE 1973

Phil Bolon Contr.

Windows & Siding

Decks, Kitchens, Baths

Room Additions,

Flooring, Roofing

Bsmt Waterproofing

Deal With Small Non-Pressure Co.

47 Yrs. Exp. - Refs. Avail.

Lic.-Bond-Ins.

Free Est. - Financing Avail.

Member BBB Of Cent. OH

O.C.I.E.B. ID #24273

614-419-3977

or 614-863-9912

KLAUSMAN HOME

IMPROVEMENT

Siding-Windows-

Doors-Roofing-Soffit-

Fascia-Gutters-Trim

Earn FREE Seamless

Gutters with Siding Over

1000 Sq. Ft.

FREE Shutters with

Soffit & Trim

EPA Certified

Member of BBB

Financing Available

10-11

A/M

Over 20 yrs exp. • Free Est.

Licensed-Bonded-Insured

Owner & Operator

James 614-419-7500

10-25 A

4-11 A

11-1 A

HOME

IMPROVEMENTS

C&JHandyman

Services LLC

Minor Plumbing &

Electric ~ Now Hiring

Install Hot Water Tanks,

Dishwashers & Disposals

Also Fencing &

Interior/Exterior Painting

Free Est. ~ 18 Yrs. Exp.

CDC/EPA Approved Guidelines

614-284-2100

HOME INSPECTIONS

Home Inspections

"Welcome Home"

Inspection Services

Starting at $185

Licensed

InterNACHI/CPI

Certified

Free Estimates &

Discounts 10-25 A

Cell 614-316-9600

HOME

MAINTENANCE

JOE'S HOME MAINT.

Home Repairs, Roofing,

Siding, Gutters, Soffits,

Misc. Int. Repairs

Int. Painting

Call Joe 614-778-1460

37 Years Exp.

LAWN CARE

LET US MAINTAIN

YOUR LAWN & GARDEN

FOR YOU

Summer, Spring,

Winter or Fall

WE DO IT ALL!!!!

Lawn Cuts, Edging,

Trees & Shrubs, Garden,

Mulching, Hauling,

Garden Pond &

Home Maint.

Free Ests. Low Rates

$20 & Up

Kevin - 614-905-3117

MOVING

Aaron Allen Moving

Local Moving Since 1956

Bonded & Insured

614-299-6683, 263-0649

Celebrating 60 yrs in business

PAINTING

Painter Over 30 Yrs Exp.

Free Est. Reas Rates

Daniel 614-226-4221

A Job Well Done Again

A lic. General Contractor

Some Skilled Services

Incl: Painting • Stucco,

Repair•Carpentry•Exterior

Drainage & Home Maint.

Call Today! 614-235-1819

PLASTERING

DRYW

YWALL &

PLASTER

11/1

A&M

REPAIR

Textured Ceilings

614-551-6963

Residential/Commercial

BIA

Classified Services

11-1 A

PLUMBING

ALL IN ONE

PLUMBING LLC

"One Call Does It All"

$25 OFF LABOR

11/1

With This Ad

A

614-801-1508

All Major Credit Cards Accepted

All About Drains & Plumb.

Will snake any sm drain

$125 + tax. 614-778-2584

CHRIS'

PLUMBING

"Plumbing & Drain Professional

That You Can Count On"

24 Hrs., 7 Days/Week

No Overtime Charges

24 Yrs. Exp. in Plumbing &

Drain Cleaning Field

Call For A Free Phone Estimate

$100.00 For Any Small Drain

614-622-4482

30% OFF with AD

POWER WASHING

MRS. POWERWASH

Any house wash $149 + tax

Single deck $69 + tax

2 Tier deck $99 + tax

Best Wash In Town

Over 45,000 Washes

Ashley, 614-771-3892

ROOFING

Robinson roofing & repairs

30 yrs. exp. Lifetime Cols.

resident. Lic./bonded/Ins.

Reas rates. Member of

BBB. Dennis Robinson

614-330-3087, 732-3100

SEWING MACHINE

REPAIR

REPAIR all makes 24 hr.

service. Clean, oil, adjust

in your home. $39.95 all

work gtd. 614-890-5296

TOP SOIL

Alexander Hauling

Driveways topped w/new

limestone. We also deliver

Topsoil - sand - mulch.

Specializing in residential.

614-491-5460

Bobcat Service Avail.

TREE SERVICES

Brewer & Sons Tree Service

• Tree Removal

• Tree Trimming 11-1

A&M

• Stump Grinding

• Bucket Truck Services

Best Prices • Same Day Service

614-878-2568

TROTT

TREE & LANDSCAPE

Tree Trimming

& Removal

10/11

A

Also Stump Removal

Free Est. - Fully Ins.

Call 614-235-3791

Cell 614-738-0682

11/1 A/M
---
PAGE 12 - MESSENGER - October 4, 2020

www.columbusmessenger.com

OUR NEW OFFICE IS OPEN

Located at

7750 Diley Road, Suite A

Canal Winchester, OH 43110

For Appointment Information Call

(614) 837-7337

Physicians that will be seeing patients are:

Nicholas

Stevens,

MD

H Soctt

Tyson,

MD

SEARCHING

for More Qualified Employees?

October 18 th , 2020

Deadline: October 9 th , 2020 At 2pm

Special employment Section Featuring:

Job Openings

Job Fairs

Full and Part Time Employment

Seasonal Job Opportunities and more

ALL ADS ARE IN FULL COLOR. Contact us by phone or online to discuss special

advertising rates that are available for this section as well as combination rate

discounts for advertising in multiple coverage areas.

Grove City • Groveport • Madison • South • Westside

614-272-5422

Kathy@columbusmessenger.com

Doughenry@columbusmessenger.com

At the market

Messenger photo by Linda Dillman

Brandy Goodyear, carrying her eight-month-old son Reeden, along with her husband,

Tyler, visit the Canal Winchester Farmers' market and Pon Black's Black Thai

Farm stand on Sept. 19. It was the family's first visit to the market.

Canal Winchester hydrant flushing

Canal Winchester's Division of Water

will flush fire hydrants between 8 a.m. and

3:30 p.m., Monday — Friday, through Oct. 9.

The water department offers tips for residents

when crews are flushing hydrants in

your area:

•If you see a hydrant being flushed on

your street, avoid running tap water, washing

machines or dishwashers until flushing

in your area is complete.

•If you see hydrant flushing crews working,

please drive carefully and treat them

like any other road construction crew.

During or immediately following hydrant

flushing, tap water may appear discolored.

Although a slight discoloration may last for

a few hours, it does not affect the taste or

quality of the water. This discoloration only

affects the appearance of the water and

poses no health threat.

Should you notice discoloration or other

side effects from hydrant flushing, the

water department suggests the following:

•If you encounter discolored water, shut

your water off and wait several minutes.

After waiting, check the clarity by running

cold water for a few minutes to allow new

water to flow into your pipes. If the water is

still discolored, wait a few minutes and

check again. In some cases, it may be a few

hours before the water is completely clear.

•Avoid washing laundry during scheduled

flushing hours. After hydrants in your

area have been flushed, wait until water

runs clear from your tap, then begin with a

load of dark laundry before doing lights or

whites.

•If water pressure or volume seems low,

check your faucet screens for trapped particles.

For information contact Canal Winchester's

Division of Water at 614-837-5623 or

614 837-7716.