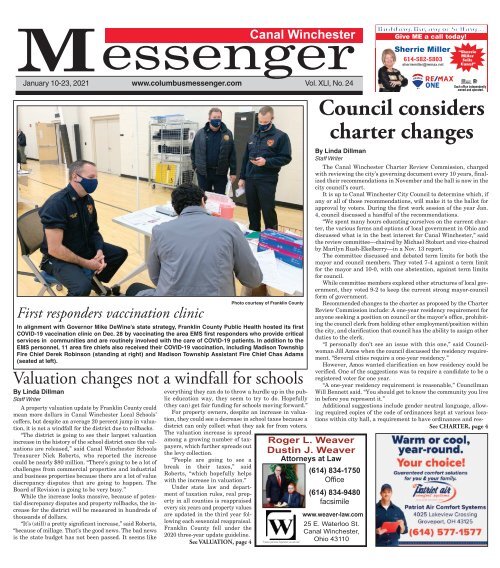 Canal Winchester Messenger - January 10th, 2021
You also want an ePaper? Increase the reach of your titles
YUMPU automatically turns print PDFs into web optimized ePapers that Google loves.
Messenger

Canal Winchester

January 10-23, 2021 www.columbusmessenger.com Vol. XLI, No. 24

First responders vaccination clinic

Photo courtesy of Franklin County

In alignment with Governor Mike DeWine's state strategy, Franklin County Public Health hosted its first

COVID-19 vaccination clinic on Dec. 28 by vaccinating the area EMS first responders who provide critical

services in communities and are routinely involved with the care of COVID-19 patients. In addition to the

EMS personnel, 11 area fire chiefs also received their COVID-19 vaccination, including Madison Township

Fire Chief Derek Robinson (standing at right) and Madison Township Assistant Fire Chief Chas Adams

(seated at left).

Valuation changes not a windfall for schools

By Linda Dillman

Staff Writer

A property valuation update by Franklin County could

mean more dollars in Canal Winchester Local Schools'

coffers, but despite an average 20 percent jump in valuation,

it is not a windfall for the district due to rollbacks.

"The district is going to see their largest valuation

increase in the history of the school district once the valuations

are released," said Canal Winchester Schools

Treasurer Nick Roberts, who reported the increase

could be nearly $80 million. "There's going to be a lot of

challenges from commercial properties and industrial

and business properties because there are a lot of value

discrepancy disputes that are going to happen. The

Board of Revision is going to be very busy."

While the increase looks massive, because of potential

discrepancy disputes and property rollbacks, the increase

for the district will be measured in hundreds of

thousands of dollars.

"It's (still) a pretty significant increase," said Roberts,

"because of millage. That's the good news. The bad news

is the state budget has not been passed. It seems like

everything they can do to throw a hurdle up in the public

education way, they seem to try to do. Hopefully

(they can) get fair funding for schools moving forward."

For property owners, despite an increase in valuation,

they could see a decrease in school taxes because a

district can only collect what they ask for from voters.

The valuation increase is spread

among a growing number of taxpayers,

which further spreads out

the levy collection.

"People are going to see a

break in their taxes," said

Roberts, "which hopefully helps

with the increase in valuation."

Under state law and department

of taxation rules, real property

in all counties is reappraised

every six years and property values

are updated in the third year following

each sexennial reappraisal.

Franklin County fell under the

2020 three-year update guideline.

See VALUATION, page 4

Roger L. Weaver

Dustin J. Weaver

Attorneys at Law

"A name you know, Experience you can trust"

Building, Buying or Selling...

Give ME a call today!

Sherrie Miller

614-582-5803

sherriemiller@remax.net

"Sherrie

Miller

Sells

Canal"

Each office independently

owned and operated.

Council considers

charter changes

By Linda Dillman

Staff Writer

The Canal Winchester Charter Review Commission, charged

with reviewing the city's governing document every 10 years, finalized

their recommendations in November and the ball is now in the

city council's court.

It is up to Canal Winchester City Council to determine which, if

any or all of those recommendations, will make it to the ballot for

approval by voters. During the first work session of the year Jan.

4, council discussed a handful of the recommendations.

"We spent many hours educating ourselves on the current charter,

the various forms and options of local government in Ohio and

discussed what is in the best interest for Canal Winchester," said

the review committee–chaired by Michael Stobart and vice-chaired

by Marilyn Rush-Ekelberry–in a Nov. 13 report.

The committee discussed and debated term limits for both the

mayor and council members. They voted 7-4 against a term limit

for the mayor and 10-0, with one abstention, against term limits

for council.

While committee members explored other structures of local government,

they voted 9-2 to keep the current strong mayor-council

form of government.

Recommended changes to the charter as proposed by the Charter

Review Commission include: A one-year residency requirement for

anyone seeking a position on council or the mayor's office, prohibiting

the council clerk from holding other employment/position within

the city, and clarification that council has the ability to assign other

duties to the clerk.

"I personally don't see an issue with this one," said Councilwoman

Jill Amos when the council discussed the residency requirement.

"Several cities require a one-year residency."

However, Amos wanted clarification on how residency could be

verified. One of the suggestions was to require a candidate to be a

registered voter for one year.

"A one-year residency requirement is reasonable," Councilman

Will Bennett said. "You should get to know the community you live

in before you represent it."

Additional suggestions include gender neutral language, allowing

required copies of the code of ordinances kept at various locations

within city hall, a requirement to have ordinances and res-

See CHARTER, page 4

(614) 834-1750

Office

(614) 834-9480

facsimile

www.weaver-law.com

25 E. Waterloo St.

Canal Winchester,

Ohio 43110
---
PAGE 2 - MESSENGER - January 10, 2021

Obetz history

The village of Obetz' population was

4,532 at the 2010 U.S. Census. The community

was originally known as Obetz

Junction, in honor of settler Charles Obetz.

The village formed in 1838 as a stagecoach

junction and incorporated in 1928.

Keep tabs on the news in Canal

Winchester and Hamilton Twp.

Look for South Messenger on

Become a fan!

eastside

Messenger

(Distribution: 16,822)

Rick Palsgrove................................South Editor

eastside@ columbusmessenger.com

Published every other Sunday by

The Columbus Messenger Co.

3500 Sullivant Ave., Columbus, Ohio 43204-1887

(614) 272-5422

www.columbusmessenger.com

Life during winter on an 1880s Ohio farm

By Rick Palsgrove

Managing Editor

God Bless Everyone

& Stay Safe at Home

Malek &

ATTORNEYS AT LAW

Malek

WORK INJURIES

WORKERS'

COMPENSATION

SAFETY VIOLATIONS

WRONGFUL DEATH

PERSONAL INJURY

SLIP & FALL INJURY

DOG BITE INJURY

"Hablamos Español"

FREE Initial Consultation

www.maleklawfirm.com

614-444-7440

1227 S. High St., Columbus, OH 43206

Work on an Ohio farm does not slow down during the cold of

winter, which is as true now as it was in the 1880s.

For the staff at Metro Parks' Slate Run Living Historical Farm

- a working farm depicting farm life in the 1880s and located near

Ashville at 1375 State Route 674 North - that includes work in the

farmhouse and barnyard during the changes in seasons.

"While most of the food preservation was complete for the year,

except butchering and maple work, the daily routine of cooking,

cleaning, mending and laundry did not change that much for the

women," said Ann Culek, farm program manager at Slate Run

Living Historical Farm. "Inspection of the root cellar and other

storage spaces to make sure the food there stayed fresh could take

up some time for a housekeeper trying to make food last until the

next growing season."

Culek said this included checking the jams and pickles for

mold, scraping the mold off or using those items first, and making

sure rotting apples or potatoes did not spoil what was touching

them.

"There was also more time in the winter for extended projects

like sewing family clothing and quilting," said Culek. "Much of

farm life is and was based on seasonality."

In the 19th century, without modern central

heating, keeping oneself warm in the

winter was a big task on the farm.

"Weather impacts humans then and

now," said Culek, who noted many farm

diaries mention the temperature and

weather daily, as it dictated much of their

lives. "Keeping warm was a constant battle.

Hauling and splitting wood or arranging

for coal to be delivered cost money and

time. Most families relied on cast iron

stoves, and some even had a furnace in the

basement, but there was no constant supply

of heat once the occupants of the household

retired for the night and no forced air to circulate

through the house. Many houses had

grates cut through the floor to allow the

Douglas, Ed, Jim

and Kip Malek

Ben Churchhill

heat to rise to the bedroom areas."

Houses got cold enough that the water in

the kitchen could freeze overnight.

"There are lots of written examples of

advice for how to thaw the inside and parlor

plants slowly in an attempt to save them

when they froze," said Culek. "Jack Frost, a

common visitor to the single paned windows

of the houses of the time, rarely makes a

visit to our homes of today with their insulated

glass. Most modern children have

never drawn patterns in the frost on their

windows for amusement. Layering was

essential for warmth inside and outside the

house."

No matter the cold weather, activity in

the barnyard continued throughout the

winter. For many farmers hog butchering

was a necessary chore for the cold months.

"Without a modern source of artificial

refrigeration, an 1880s farm family relied

on Mother Nature and the cold weather she

provided to keep meat from spoiling," said

Culek. "Hogs provided hundreds of pounds

of meat. Most often pork was brined in salt

in a barrel or crock or rubbed with salt for a

dry cure. Eventually the salt travels

throughout the meat, such as with ham and

bacon, thus once the meat is well salted, it

no longer needs to be refrigerated to keep

from spoiling."

Photo by Vicki Sherman and courtesy of Metro Parks

People cannot help but smile when they see the new piglets at

Metro Parks' Slate Run Living Historical Farm, located at 1375

State Route 674 North, near Ashville. For information on the

park, visit metroparks.net.

The salting process can take weeks to get into every part of the

meat.

"The naturally cold weather preserves the meat while that happens,"

said Culek. "Once salted, the meat was often smoked.

Families and neighbors regularly helped each other out on

butchering day as they might do a few hogs in a day, which was a

lot of work. They helped each other out, but also got a chance to

visit."

Other jobs for the winter were fence building, mending equipment,

husking shocked corn, and hauling wood. As late winter

arrived, those with access to maple trees would collect the tree sap

to boil into syrup or sugar for not only their family, but also to be

sold as a cash crop.

"Maple syrup time was another chance to visit your neighbors

at the 'sugar camp,' talking around the fire and tasting taffy-like

maple syrup poured over snow," said Culek.

When asked how the farm animals were cared for to keep them

warm in the winter, Culek said most farm animals grow thicker

winter coats.

"Besides offering shelter from the wind, and adequate food and

keeping water sources open, there was little an 1880s farmer could

or would do for the animals," said Culek. "They generally did not

need exceptional care and this part of Ohio is fairly moderate for

winter temperatures."

When asked if winter was a time of isolation for 1880s farmers,

more so than the rest of the year due to the weather, Culek said it

depended, but many families and neighbors still got together for

taffy pulls, popcorn and nutting evenings, social or fraternal group

meetings and lectures, or theatrical or musical performances at a

local "opera" house, within reach of anyone near a town. Plus, freezing

temperatures actually made some things easier and even fun.

"Often the frozen roads made hauling and traveling a bit easier

in winter than in the constant mud that roads became in the

spring," said Culek. "Ice cutting and skating happened on local

canals and creeks and coasting was a favored sport if any hill

could be found. When there was enough snow, many residents

seemed to enjoy getting a sleigh out and, although it could be a

frigid mode of transportation, sledding parties and races were a

winter pastime with the proper conditions."

For information about Metro Parks' Slate Run Living Historical

Farm, visit metroparks.net.
---
www.columbusmessenger.com

Enjoy history & nature on winter hike

By Linda Dillman

Staff Writer

Feeling housebound or want to work off some extra

holiday fluffiness?

You can get a dose of fresh air and exercise while

enjoying an historic hike around old canal towpaths in

Lockbourne during the village's winter hike series.

"We like to showcase the historic pieces of the trail

as well as the natural beauty you find along the

Magnolia Trail," said village of Lockbourne Deputy

Administrator Rachel Ricker. "It's also good to get out

and enjoy a cool, brisk walk in the winter."

The first in a pair of hikes will step off on Jan. 23

between 11 a.m. and 1 p.m. at 154 Commerce St. in

Lockbourne. The second hike takes place at the same

time, rain or shine, on Feb. 20.

There is no cost for the hikes, which are open to

everyone and for all ages.

According to Ricker, hikers can either park down

the hill in Locke Meadow Park or up on the street. The

entrance to the park is next to the village's Veterans

Park. The starting point is to the left side of the parking

area.

"We started the hikes two years ago," said Ricker

who said previous hikes, on average, attracted approximately

30 individuals from Lockbourne and the surrounding

area.

The Magnolia Trail ambles along Big Walnut Creek

and past historic Ohio and Erie Canal locks remaining

from the 1800s.

While the village of today may be a small community,

in the heyday of Ohio's canal system, Lockbourne

was the closest point to Columbus from the main canal

route. A 12-mile-long feeder canal was constructed

from Lockbourne to Columbus in 1831 to provide

access to the capital city in transporting people, livestock,

and produce.

Entering Hamilton Township from the Groveport

area, the canal followed a path now paralleled by the

railroad along Canal Road in Lockbourne, where a few

stone locks still stand from eight that serviced the area

starting in the 1830s.

Locke Meadow Park is home to the start of the

Magnolia Trail and Lock 30, which prevented flood

water from the creek from entering the main canal. A

By Rick Palsgrove

Managing Editor

Upgrades are being planned for the

busy Bixby Road/Groveport Road intersection.

"The plans are being designed now and

construction should start in spring 2021

and end in fall 2021," said Michael Corbitt,

village of Obetz deputy administrator and

director of engineering. "This is a village of

Obetz project."

According to Corbitt, the estimated cost

for the improvements is approximately

$1.6 million and the project will be funded

"by the village of Obetz and partially funded

by nearby development."

Improvements to the intersection will

include left turn lanes and more.

"Groveport Road will have a new eastbound

and westbound left turn lane constructed

onto Bixby Road with associated

signal modifications," said Corbitt. "This

Photo courtesy of the village of Lockbourne

Winter hikes will be held on the village of

Lockbourne's Magnolia Trails, 154 Commerce St.,

Lockbourne, on Jan. 23 and Feb. 20 from 11 a.m. to 1

p.m. See views of Big Walnut Creek as well as wildlife

including deer, herons, hawks, and ducks. Also on

the hike see the historic Ohio and Erie Canal locks in

Lockbourne and Columbus feeder canal remnants.

lock tender's house was once located adjacent to Lock 30.

"Along the creek, there is plenty of wildlife," said

Ricker. "I have seen herons, hawks and ducks. In other

seasons, you can find our paw paw grove and buckeye

trees. The trail is not very difficult at all. It would be

rated easy."

For information, call 614-491-3161, Monday,

Wednesday or Friday from 9 a.m. to noon, or visit

www.lockbourneohio.us.

Intersection to be improved

project will also consist of improving the

current condition of Bixby Road south of

the intersection to the village corporation

line. A multi-use path will be constructed

along Bixby Road."

Corbitt said the turns lanes "will provide

a safer intersection while providing

additional capacity to Groveport Road."

The intersection handles a large traffic

flow, especially on Groveport Road during

peak morning and afternoon rush hours.

The intersection's current configuration

often sees traffic back ups on Groveport

Road when drivers attempt to turn left

onto Bixby Road. Residents of nearby

Fairchild Estates have also noted it is difficult

at times to access Groveport Road

from their subdivision due to the traffic.

"The highest a.m. peak hour is approximately

1,100 vehicles and the highest p.m.

peak hour for traffic is approximately

1,200 vehicles," said Corbitt.

A Special Section From

January 10, 2021 - MESSENGER - PAGE 3

Letters policy

The SOUTH MESSENGER welcomes letters to the editor.

Letters cannot be libelous. Letters that do not have a signature,

address, and telephone number, or are signed with a pseudonym,

will be rejected. PLEASE BE BRIEF AND TO THE

POINT. The Messenger reserves the right to edit or refuse

publication of any letter for any reason. Opinions expressed in

the letters are not necessarily the views of the Messenger.

Mail letters to: SOUTH MESSENGER, 3500 Sullivant

Avenue, Columbus, OH 43204; or email eastside@columbusmessenger.com.

Be a Part of Our

Local Worship Guide

Our upcoming Worship Guide is geared toward

celebrating faith and helping readers connect with

religious resources in our community. Make sure these

readers know how you can help with a presence in this

very special section distributed to more than 20,000

households in the Southeast area.

The cost is $20 per issue. (must run twice)

Contact us today to secure your spot in Worship Guide.

614.272.5422 • kathy@columbusmessenger.com

columbus
---
PAGE 4 - MESSENGER - January 10, 2021

Lifeguarding classes

The Groveport Recreation Department

will offer lifeguard certification classes beginning

in January. Persons must be age 15

by the last day of class. The normal classroom

portion of the class will be held online

(eight hours). The in-water portion of the

class (20 hours) will be held at the Groveport

Recreation Center's indoor pool, 7370

WINTER PHOTO CONTEST WINNER

Kaitlyn Gossard and Ethan, 2, pose after having a snowball fight and building a

snowman. Central Ohio saw six days of snow fall in December 2020.

Groveport Road. Cost is $50 for Groveport

residents and $60 for all others. Free skills

training sessions are available to get persons

acclimated to the pre-requisites. For

information call Aquatics Manager Seth

Bower at 614-836-1000 or email

sbower@groveport.org or visit www.groveportrec.com.

Register either in-person at the

Groveport Recreation Center or online at

www.groveportrec.com.

-

-

www.columbusmessenger.com

Township police jobs updated

VALUATION

Continued from page 1

Requests to delay the process based on

COVID-19 related economic uncertainties,

a rising unemployment rate, and unpredictability

among residential and commercial

property owners were denied by the

state in May 2020.

A property tax levy is the collection of

taxes charged on the value of property.

School boards propose additional local tax

revenues by board resolution. School districts

can place a levy on the ballot up to

CHARTER

Continued from page 1

olutions published on the city's website, and

a recommendation to reduce the time between

charter reviews from 10 years to five

years.

Other CW news

•Mayor Mike Ebert and Councilman

Mike Coolman responded to a comment

emailed to the city questioning the space in

the new community center and a potential

need for more discussion before construction

starts.

"When we had a public meeting for that,

I don't think anyone showed up," said Ebert,

who reported the new space is larger than

the current community center. "They're

waiting until now when we're close to construction

to speak up. There's going to be

more floor area than the hall we have now."

Ebert said the senior center contains a

single large room where tables are stored

and cabinets line walls; whereas the new

By Linda Dillman

Staff Writer

The Madison Township trustees ended

2020 with agreements and changes to leadership

positions in the township's police department.

Via a conference call, the three trustees

amended a pair of 2018 resolutions for descriptions

for the administrative commander

and patrol commander and

reclassified the positions with no changes in

salary.

"The reclassification of the status will

provide the police chief with the ability to

provide better coverage for patrol, by placing

both commanders on the schedule,

adding officers to the overall patrol of the

township," said Madison Township Police

Chief Gary York.

The administrative commander supervises

administrative office staff, the detective

bureau, makes suggestions and

recommendations to the police chief as to

hiring, firing, promotions.

The commander acts as the department

information technology specialist, troubleshooting

technical issues with department

computers, in-car and body-worn

cameras, and other duties as assigned by

the chief.

In addition to the patrol commander, the

administrative commander can also serve

as the public information officer for the police

department and, in the absence of the

chief, may serve as acting police chief.

The patrol commander supervises the

patrol bureau, including sergeants and patrol

officers. They also make suggestions

and recommendations to the police chief as

to hiring, firing, promotions and ensure that

staffing is maintained for coverage on each

shift and other duties as assigned by the

chief.

Thomas Schleppi, who previously served

as a sergeant, is the department's administrative

commander and former patrol officer

Darrell Breneman is the patrol commander.

The trustees also agreed to set base pay

rates for non-bargaining employees effective

Dec. 12, set salaries and benefits for elected

officials and non-bargaining employees and

legislation splitting the salaries between

the general, police and fire department

funds.

Madison Township

community center closed

Madison Township is not taking 2021

reservations for the Community Center at

this time. Any updates will be posted on the

township's website, emailed through its

subscriber list, and posted to social media.

Intersection improvement

The village of Obetz engineer is working

on plans for improvements to the Bixby

Road/Groveport Road intersection. The improvements

will be completed in 2021.

three times a year on specified election

dates. If a majority of voters in an election

approve the tax, county officials charge and

collect the tax under the terms specified in

the tax levy proposal.

Property subject to taxation includes

buildings and land held by individuals or

businesses and divided into two classes: residential/agricultural)

and commercial/ industrial

and all other real property.

building contains a hall, along with a

smaller, separate meeting room and the capability

to hold larger meetings in council

chambers. In addition, when the library

eventually moves out of its space in the east

end of the new building, that area can accommodate

a larger community center.

"You have a banquet space, a private

clinic room and still meeting room," added

Coolman. "They'll have more usable square

footage (in the west end of the building)."

•Since it is an odd numbered year, a new

president or vice president of council need

not be elected. Mike Walker remained president

and Coolman remained vice president.

Committee positions also remained the

same. However, Bennett said he will not be

seeking re-election this fall and asked for

the council to consider appointing another

council member to the Joint Recreation District

board later this year.
---
www.columbusmessenger.com

It's just the routine turn of the calendar every 12

months but, unlike other times of the year, the change

from December to January triggers a sense of nostalgia,

reflection, and thoughts of change in our minds.

Why does the simple changing of a calendar page hold

such importance to us at this time of year?

The fading of a year represents endings and beginnings.

The winter solstice on Dec. 21, which brings us the

shortest amount of daylight for the year, is the end of the

sun's cycle to the south. The next day the sun begins its

journey back north bringing with it more daylight minute

by minute each day. It is the death and then rebirth of the

light in an instant.

Christmas generates warm feelings of gatherings and

good cheer, but also a bit of melancholy nostalgia for the

past. New Year's Day calls out for thoughts of pressing

ahead and making changes anew while New Year's Eve

makes us pause and look back at what the past year has

wrought and a re-evaluate what we have done with our

time.

The holiday season and the winding down of the year

can bring us conflicting emotions. We can count both satisfactions

and regrets this time of year. With the new year

and a fresh calendar comes promises of changes for the

better or for just something different.

The desire for change and being on the move - literally,

spiritually, and mentally - is ingrained in the American

spirit and gains strength with the arrival of a new year.

This is best expressed in that most American of literary

column

Looking backwards and forwards

Editor's Notebook

characters, Mark Twain's Huckleberry

Finn, who said in the book,

"The Adventures of Huckleberry

Finn," "All I wanted was to go

somewheres; all I wanted was a

change, I warn't particular," and

"But I reckon I got to light out for

the territory ahead of the rest, because

Aunt Sally she's going to

adopt me and civilize me, and I

can't stand it. I been there before."

While we ponder our existence,

time - which in reality is a conceptual

structure, an illusion of sorts,

created by humans to define and

measure the circle of life - relentlessly

spins by as it always does.

Rick

Palsgrove

So we stand together this time of year, looking backwards

and forwards, craving change while embracing the

past.

Let us make the most of the illusion of time that we

have.

Rick Palsgrove is the managing editor of the Messenger

Newspapers.

January 10, 2021 - MESSENGER - PAGE 5

Groveport Community Garden

Interested in gardening, but don't have enough space at your residence?

If so, you may want to consider gardening at the Groveport

Community Garden. The garden is in Heritage Park, 551 Wirt Road,

Groveport, just a one mile drive from the Groveport Recreation Center.

Dozens of plots available. On-site water available as well as fertile

soil. Cost is $10 per plot. Groveport residents and persons who had a

plot in 2020 may register beginning Feb. 1. Non-resident registration

begins March 1. Planting begins in early April. The garden closes on

Nov. 1. For information, visit www.groveportrec.com/259/Community-

Garden or call Kyle Lund at 614-836-1000.

Property valuations complaint process

Franklin County Auditor Michael Stinziano launched two initiatives

to make the Franklin County Board of Revision complaint

process easier for homeowners challenging the value of their homes

as determined by the auditor's office.

The office added an e-filing option for homeowners to file their

BOR complaints about the value of their homes electronically. E-filing

allows homeowners an efficient way to file a complaint via the

BOR website at www.franklincountyauditor.com/real-estate/boardof-revision.

It applies to filing the DTE-1 form, which is used to challenge

home value. Complaints can also be filed by email, mail or fax.

Additionally, the new Franklin County BOR Pro Bono Assistance

Program is designed to help low-to-moderate income homeowners

file complaints about the value of their homes. The program consists

of a clinic, where volunteer attorneys and real estate professionals

provide guidance about whether to file a complaint, and help completing

the complaint form. Homeowners with qualifying incomes

may also be able to get legal representation at the BOR hearing.

The initiatives come as the auditor's office has completed the triennial

update, which updated the property values of every parcel

in the county to keep them in line with the current real estate market.

BOR complaints can be filed now through March 31. Once a

complaint has been filed, a hearing will be scheduled before the

board where evidence about a home's value can be presented. Due

to public health concerns, all BOR hearings are being held via Zoom.

Moses-Mouser Eye Care

Dr. Joshua Morris is an Optometrist who grew

up in Bellville, Ohio. He completed his undergraduate

degree at the University of Akron, where

he graduated magna cum laude with honors.

Dr. Morris attended The Ohio State University

College of Optometry and graduated cum laude

with honors to receive his Doctor of Optometry Degree in May 2019. After

completing his studies, he was awarded the "Primary Vision Care Clinical

Excellence Award", in 2019.

Dr. Morris is a member of the American Optometric Association, the Ohio

Optometric Association, and The Ohio State Alumni Association. He is

excited to practice full scope optometry, diagnosing and treating a variety

of ocular disorders and diseases in patients of all ages, but has a special

interest in contact lenses and ocular disease.

On a personal note, Dr. Morris and his wife Tess, enjoy spending time with

their family, friends, and their Bernese Mountain dog Maverick, cheering

on The Ohio State Buckeyes, trying new foods, and exploring Columbus

breweries.

Q: What are floaters and what causes them?

A: Floaters are small dark shapes that move across your vision. They can appear

as dots, threads, squiggly lines, or even like cobwebs. Most floaters are caused

by normal changes in the eye. As you age, small strands of vitreous (gel-like fluid

that fills your eye) can clump together and cast a shadow on your retina (the

light-sensitive tissue at the back of the eye). Those shadows appear as floaters

that drift across your vision. You may notice floaters more when you look at a

bright background, like a computer screen or a blue sky.

Q: How often should someone with new

floaters get an eye exam?

A: Someone experiencing new floaters, a large increase in the number of floaters,

or flashing lights should see an eye care professional immediately. Sometimes

floaters have a more serious cause, including: infection, injury, inflammation,

bleeding, retinal tear or retinal detachment.

Someone with a few stable floaters should see an eye care professional at least

once a year for a comprehensive dilated eye exam.

Schedule your comprehensive eye exam

today with Dr. Morris

6441 Winchester Blvd. E., Canal Winchester, OH 43110 614-963-3827
---
PAGE 6 - MESSENGER - January 10, 2021

www.columbusmessenger.com

CLASSIFIED ADS

Deadlines: Groveport and West editions, Wednesdays at 5 p.m., • South/Canal Winchester, Grove City, Madison editions, Tuesdays at 5 p.m.

All editions by phone, Tuesdays at 5 p.m. • Service Directory, Tuesdays at 5 p.m.

xEmployment

The Prairie Township Board of Trustees is accepting applications for

a permanent part-time position in the Commercial Building and Zoning

Department. This position will primarily be assisting the Field Inspectors

with daily office duties including data entry, drafting letters, organizing

and labeling photos, answering phones, and assisting residents with

complaints. Some field work will be required. Salary $13.00 - $15.00 per hour.

Qualifications

• High School Diploma

• Must possess a valid Ohio driver's license and maintain insurability as

prescribed by the Township's current insurance carrier

• Strong computer skills including a working knowledge of Microsoft Office

and data entry capabilities are a must

• The desired candidate will have strong communication skills, both verbal

and written

• Must be dependable and punctual

Send resume to Randi Good, 23 Maple Drive, Columbus, Ohio 43228 or apply

online at www.prairietownship.org.

HIRING?

Let us help you recruit the qualified employees you need to make

your business succeed. With a print and online audience of more

than 39,000 readers, our employment section is your key to meeting

local job seekers where they look first for fresh career opportunities.

Our Eastside Messenger

now covers

Canal Winchester

Our Southeast Messenger

still serves our Groveport,

Obetz, Madison Twp. and

SE Columbus areas.

Reaches over 35,000

household in these 2 area

INFORMATION

Have Something

To Sell?

Need To Rent

That Property?

Try The

Messenger!

For Info On Placing

An Ad Call

614-272-5422

To list a job opportunity, contact a

recruitment advertising specialist today at

614.272.5422

or

Kathy@columbusmessenger.com

columbus

INFORMATION

IQ TESTED

THE CHURCH

OF SCIENTOLOGY

CENTRAL OHIO

TEST CENTER

Offers for a limited time,

free intelligence and

personality tests.

Your IQ, personality

and aptitude determine

your future. Know them.

No obligations.

1266 Dublin Road,

Columbus

ASSOCIATION ADS

READER

ADVISORY

The National Trade Association

we belong to has

purchased the following

classifieds. Determining

the value of their service

or product is advised by

this publication. In order

to avoid misunderstandings,

some advertisers do

not offer "employment"

but rather supply the

readers with manuals, directories

and other materials

designed to help

their clients establish mail

order selling and other

businesses at home. Under

NO circumstance

should you send any

money in advance or give

the client your checking,

license ID or credit card

numbers. Also beware of

ads that claim to guarantee

loans regardless of

credit and note that if a

credit repair company

does business only over

the phone it's illegal to request

any money before

delivering its service. All

funds are based in US

dollars. Toll Free numbers

may or may not

reach Canada. Please

check with the Better

Business Bureau 614-

486-6336 or the Ohio Attorney

General's Consumer

Protection Section

614-466-4986 for more

information on the company

you are seeking to

do business with.

WANTED

SW CITY SCHOOLS

SCHOOL BUS DRIVERS

The South-Western City School

District is currently hiring drivers

for the 2020-2021 school year

$16.55/HR

Available positions are for substitute drivers

that can develop into "Regular" positions with

benefits. Interested individuals should submit

an application on our website at swcsd.us.

Follow the employment link. Applicants should

have an excellent driving record and must

submit to drug, alcohol, and background

screening. A high school diploma or equivalent

is required.

EOE

ASSOCIATION ADS

Wants to purchase minerals

and other oil and gas

interests. Send details to

P.O. Box 13557, Denver,

CO. 80201

Want Faster & Affordable

Internet? Get internet

service today with

Earthlink. Best internet &

WiFi Plans. Call us Today

to Get Started. Ask

about our specials! 866-

396-0515

Need IRS Relief $10K -

$125K+ Get Fresh Start

or Forgiveness Call 1-

877-378-1182 Monday

through Friday 7AM-5PM

PST

Cross Country Moving,

Long distance Moving

Company, out of state

move $799 Long Distance

Movers. Get Free

quote on your Long distance

move 1-844-452-

1706

DISH Network $59.99 For

190 Channels. Add High

Speed Internet for ONLY

$19.95/month. Call Today

for $100 Gift Card! Best

Value & Technology.

FREE installation. Call 1-

855-837-9146 (some restrictions

apply)

[CARS/TRUCKS

WANTED!!!]

All Makes/Models 2002-

2019! Any Condition. Running

or Not. Competitive

Offer! Free Towing! We

are Nationwide! Call Now:

1-888-368-1016

ASSOCIATION ADS

GENERAC Standby

Generators. The weather

is increasingly unpredictable.

Be prepared for

power outages. FREE 7-

year extended warranty

($695 value!) Schedule

your FREE in-home assessment

today. Call 1--

855-447-6780 Special financing

available for

qualified customers.

HughesNet Satellite Internet

- 25mbps starting

at $49.99/mo! Get More

Data, FREE Off-Peak

Data. FAST download

speeds. WiFi built in!

FREE Standard Installation

for lease customers!

Limited Time. Call 1-855-

973-9254

IMPORTANT

NOTICE

The following states: CA,

CT, FL, IA, IL, IN, KY,

LA, MD, ME, MI, MN,

NE, NC, NH, OH, OK,

SC, SD, TX, VT and WA

requires seller of certain

business opportunities to

register with each state

before selling. Call to

verify lawful registration

before you buy.

Employment

BE YOUROWNBOSS!

INDEPENDENT

CONTRACTORS

WANTED

If you have a reliable car and would like to

earn extra money, then why not deliver?

• Deliver 1 or 2 days a week

• Flexible delivery hours

• Work close to home - often in or

near your neighborhood

CONTACT US

1-888-837-4342

www.thebag.com

ASSOCIATION ADS

AUTOMOTIVE

Get cash for your used

or junk car today. We

buy all cars, trucks &

SUVs. Free pick up. Call

888-368-1016

DISH TV $59.99 FOR 190

Channels + $14.95 High

Speed Internet. Free Installation,

Smart HD DVR

Included, Free Voice Remote.

Some restrictions

apply. Call 1-855-270-

5098

VIAGRA & CIALIS! 60

pills for $99. 100 pills for

$150 FREE shipping.

Money back guaranteed!

1-844-596-4376

The Generac PWRcell, a

solar plus battery storage

system. SAVE money,

reduce your reliance

on the grid, prepare for

power outages and power

your home. Full installation

services available.

$0 Down Financing Option.

Request a FREE,

no obligation quote today.

Call 1-866-586-

7248

Elminate gutter cleaning

forever! LeafFilter, the

most advanced debrisblocking

gutter protection.

Schedule a FREE

LeafFilter estimate today.

15% off Entire Purchase.

10% Senior &

Military Discounts. Call

1-855-402-0373

Hearing Aids at Sensible

Prices - Starting at $69.99

New Hearing Technology

Available to Everyone!

WiderSound® Hearing

Aids bring you technologically

advanced hearing

aids. No prescription required!

Visit

http://bit.ly/WiderSound4U

and get yours today! Additional

15% off with this

code EMP15

• Deliver 7 days a week

• Delivery before dawn

• Work close to home - often in or

near your neighborhood

CONTACT US

614-461-8585

www.dispatch.com/delivery

NOW HIRING BUS DRIVERS

$17.00 an Hour

Apply @ 4400 Marketing Pl.

Groveport, Ohio (Door 16)

614-836-4962

www.careers.nellc.com

& Requisition # 202020

xInformation

Congratulations

To Our Gift Card Winner

For DECEMBER 2020

JOSHUA PETERS

From

The Columbus Messenger

Newspapers

Information
---
www.columbusmessenger.com

xMisc. for Sale

INFORMATION

January 10, 2021 - MESSENGER - PAGE 7

xClassified Services

ASSOCIATION ADS

Looking for auto insurance?

Find great deals

on the right auto insurance

to suit your needs.

Call today for a free

quote! 866-924-2397

Pest Control

Find Pest Control Experts

Near You! Don't let

pests overtake your

home. Protect your loved

ones! Call to find great

deals on Pest Control

Services - 833-872-0012

CARS/TRUCKS WANT-

ED!!! All Makes/Models

2002-2019! Any Condition.

Running or Not. Top $$$

Paid! Free Towing! We're

Nationwide! Call Now: 1-

888-985-1806

Misc. for Sale

SHOP THE CLASSIFIEDS!!

Only $1 per line

columbus

❏ Check for one additional FREE week.

Telephone: _________________________________________________________

Print Your Name:____________________________________________________

Last

First

Print Your Address:___________________________________________________

Print Your City:__________________________ State:_______ Zip:____________

West ___ Southwest ___ East ___ Southeast ___ Madison___

Columbus Messenger

3500 Sullivant Ave. • Columbus, Ohio 43204

614-272-5422

classified@columbusmessenger.com

$

Not Valid for Garage Sales

ASSOCIATION ADS

Call Empire Today® to

schedule a FREE inhome

estimate on Carpeting

& Flooring. Call

Today! 1-855-404-2366

NEED TO SELL YOUR

VACATION HOME OR

HUNTING CAMP?

Advertise it here and

neighboring publications.

We can help you. Contact

MACnet MEDIA @

800-450-6631 or visit our

site at MACnetOnline.

com

Print Your Ad Below…

❏ Cash

❏ Check

❏ Money Order

❏ VISA ❏ MC

Credit Card

Information

___

__________________________

Credit Card Number

____________

ASSOCIATION ADS

Stay in your home longer

with an American Standard

Walk-In Bathtub. Receive

up to $1,500 off,

including a free toilet,

and a lifetime warranty

on the tub and installation!

Call us at 1-855-

481-3969 or visit www.

walkintubquote.com/national

Thinking about installing

a new shower? American

Standard makes it

easy. FREE design consultation.

Enjoy your

shower again! Call 1-

855-337-8855 today to

see how you can save

$1,000 on installation, or

visit www.newshowerdeal.com/cadnet

One word each space. BE SURE YOUR TELEPHONE NUMBER OR ADDRESS is included in your

advertisement. The lessor of 4 words or 22 characters per line. We reserve the right to use abbreviations

when actual space exceeds amount purchased.

1. __________ __________ __________ __________

2. __________ __________ __________ __________

3. __________ __________ __________ __________

4. __________ __________ __________ __________

5. __________ __________ __________ __________

6. __________ __________ __________ __________

__(___)__

Exp. Date 3 digit code

Minimum Charge $5.00

See...

You Looked!

Newspaper

Ads Catch

The Eye!

Call

272-5422

For Info. &

Pricing

ASSOCIATION ADS

SELL YOUR ANTIQUE

OR CLASSIC CAR.

Advertise with us. You

choose where you want

to advertise. 800-450-

6631 visit macnetonline.

com for details.

NEED IRS RELIEF

$10K-$125K+ Get Fresh

Start or Forgiveness.

Call 1-844-431-4716

Monday through Friday

7am-5pm PST

GENERIC VIAGRA and

CIALIS! 100 Pills $99.00

FREE Shipping! 100%

guaranteed. 24/7 CALL

NOW! 888-889-5515

DIRECTV - Every live

football game, every

Sunday - anywhere - on

your favorite device. Restrictions

apply. Call IVS

1-855-781-1565

INSURANCE

Medicare, Health & Life

Insurance 614-805-1084

CHILD CARE

OFFERED

Will babysit in my home

weekends. Meals prov.

614-315-0766

WANT TO BUY

We Buy Junk Cars &

Trucks. Highest Prices

Paid. 614-395-8775

We Buy Cars & Trucks

$300-$3000.614-308-2626

WE BUY HOUSES

FOR CASH

ANY CONDITION

CALL/TEXT 614-350-4511

WANTS TO Purchase

minerals and other oil &

gas interests. Send details

to: P.O. Box 13557,

Denver, CO 80201

VACATION RENTALS

Englewood, Florida

Palm Manor Resort

Within minutes of white

sand Gulf beaches,

world famous Tarpon

fishing, golf courses, restaurants/shopping,

Bush

Gardens. 2 BR 2 BA

condos with all ammenities,

weekly/monthly, visit

www.palmmanor.com

or call 1-800-848-8141

APPLIANCE REPAIR

Washer, Dryer, Stove &

Refrig. Repair 875-7588

CARPET CLEANING

DIRT BUSTERS

WINTER SPECIAL!

Any 5 areas ONLY $75.

614-805-1084

Specializing in Pet Odors

CLEANING

Looking for Mrs. Clean?

For excellent cleaning serv

at reas. rates w/great refs,

dependable. 10% Senior

Disc. Free Est. Gwen

614-226-5229

CONCRETE

AJ's Concrete,

Masonry

Good Work - Fair Prices

Block Foundations

Driveways • Sidewalks

Epoxy/Overlay Floors

Bonded-Ins. • Free Ests.

614-419-9932

EDDIE MOORE

CONSTRUCTION

Quality Concrete Work

Lt. Hauling & Room Add.,

Block Work & Excavation

Stamp Patios,

Bsmt. Wall Restoration

35 Yrs Exp - Lic & Ins.

Free Ests. 614-871-3834

Buckeye City

Concrete & Excavating

* Concrete * Foundations

* Waterlines * Drains

*Catch Basins

614-749-2167

buckeyecityconcreteand

excavating@yahoo.com

GUTTERS

Low Price-Great Service

5 & 6" Seamless gutters,

covers, siding, gutter clng.

Bill 614-306-4541

HAULING

DEAN'S HAULING

614-276-1958

HEATING

HEATING

Complete System Clean & Check

$49.95

Free Carbon

Monoxide Testing

Gas-Oil-Electric Heat/Pumps

All Makes • All Models

43 yrs exp. • Sr. Discount

614-351-9025

1/17 A

1/17 A/M

1/17 A

HOME

IMPROVEMENTS

KLAUSMAN HOME

IMPROVEMENT

Siding-Windows-

Doors-Roofing-Soffit-

Fascia-Gutters-Trim

Earn FREE Seamless

Gutters with Siding Over

1000 Sq. Ft.

FREE Shutters with

Soffit & Trim

EPA Certified

Member of BBB

Financing Available

Over 20 yrs exp. • Free Est.

Licensed-Bonded-Insured

Owner & Operator

James 614-419-7500

SINCE 1973

Phil Bolon Contr.

Windows & Siding

Decks, Kitchens, Baths

Room Additions,

Flooring, Roofing

Bsmt Waterproofing

Deal With Small Non-Pressure Co.

47 Yrs. Exp. - Refs. Avail.

Lic.-Bond-Ins.

1-17

A/M

Free Est. - Financing Avail.

Member BBB Of Cent. OH

O.C.I.E.B. ID #24273

614-419-3977

or 614-863-9912

C&JHandyman

Services LLC

Minor Plumbing

& Electric

Install Hot Water Tanks,

Dishwashers & Disposals

Also Fencing &

Interior/Exterior Painting

Free Est. ~ 18 Yrs. Exp.

CDC/EPA Approved Guidelines

614-284-2100

INFORMATION

ONLY

$50.00

For This Ad In Our

South & Groveport

For Info Call

272-5422

INFORMATION

1-31 A

31 A

HOME

MAINTENANCE

Finishing Carpenter for all

your extra home repairs or

Honey-do-list. over 40 yrs.

exp. Sonny 220-465-2602

JOE'S HOME MAINT.

Home Repairs, Roofing,

Siding, Gutters, Soffits,

Misc. Int. Repairs

Int. Painting

Call Joe 614-778-1460

37 Years Exp.

We Do Cleanouts, Demos,

Plumbing & Other

Jobs. Please Call Chrissy

and Robert at 614-

749-9196. Family Owned

Business and We Take

Pride In Our Work. Also

Guarantee On All Work.

LAWN CARE

LET US MAINTAIN

YOUR LAWN & GARDEN

FOR YOU

Summer, Spring,

Winter or Fall

WE DO IT ALL!!!!

Lawn Cuts, Edging,

Trees & Shrubs, Garden,

Mulching, Hauling,

Garden Pond &

Home Maint.

Free Ests. Low Rates

$20 & Up

Kevin - 614-905-3117

MOVING

Aaron Allen

Moving

Local Moving since 1956

Bonded and Insured

614-299-6683

614-263-0649

Celebrating

over 60 yrs

in business

PAINTING

A Job Well Done Again

A lic. General Contractor

Some Skilled Services

Incl: Painting • Stucco,

Repair•Carpentry•Exterior

Drainage & Home Maint.

Call Today! 614-235-1819

INFORMATION

LOOK TO

THE PROFESSIONALS

IN OUR

SERVICE DIRECTORY

For Service

"That Is Out Of This World"

Classified Services

1-17 A&M

PLASTERING

DRYW

YWALL &

PLASTER

1/30

A&M

REPAIR

AIR

Textured Ceilings

614-551-6963

Residential/Commercial

BIA

PLUMBING

ALL IN ONE

PLUMBING LLC

"One Call Does It All"

$25 OFF LABOR

1/30

With This Ad

A

614-801-1508

All Major Credit Cards Accepted

All About Drains & Plumb.

Will snake any sm drain

$125 + tax. 614-778-2584

CHRIS'

PLUMBING

"Plumbing & Drain Professional

That You Can Count On"

24 Hrs., 7 Days/Week

No Overtime Charges

24 Yrs. Exp. in Plumbing &

Drain Cleaning Field

Call For A Free Phone Estimate

$100.00 For Any Small Drain

614-622-4482

30% OFF with AD

ROOFING

Robinson roofing & repairs

30 yrs. exp. Lifetime Cols.

resident. Lic./bonded/Ins.

Reas rates. Member of

BBB. Dennis Robinson

614-330-3087, 732-3100

SEWING MACHINE

REPAIR

REPAIR all makes 24 hr.

service. Clean, oil, adjust

in your home. $49.95 all

work gtd. 614-890-5296

TREE SERVICES

Brewer & Sons Tree Service

• Tree Removal

• Tree Trimming 1-31

A&M

• Stump Grinding

• Bucket Truck Services

Best Prices • Same Day Service

614-878-2568

INFORMATION

1/30 A/M
---
PAGE 8 - MESSENGER - January 10, 2021

www.columbusmessenger.com

Our Pictorial Past

by Rick Palsgrove

Map from George Bareis'

"History of Madison Township"

Oregon

While Canal Winchester and Groveport

grew as the principal settlements in

Madison Township in the 19th century,

they weren't the only towns to appear on

the landscape. In 1817 Isaac Decker laid

out the town of Middletown on the

Columbus & Lancaster Pike (along what

is now Lithopolis Road near Gender and

Oregon roads). The name was changed

in 1830 to Oregon. The town did not take

hold and faded away. Other communities

that did not form permanently in Madison

Township were the Stevenson settlement

along Winchester Pike near

Ebright and Shannon roads; and Asbury,

an area located around Noe-Bixby Road

and Winchester Pike near Asbury

Methodist Church (the area is still

known as "Asbury" today).

columbusmessenger.com

The grace of art

Messenger photo by Theresa Garee

Artworks are in place that harken back to a time when the city of Canal Winchester

was a town bisected by a canal and CornerSmiths, located at High and Waterloo

streets, was Gayman's Department Store. "The (three) murals are approximately 6

feet wide and 10 feet tall," said Karen Stiles, executive director of Destination Canal

Winchester. "They look like windows where one can look inside the shop to see

what might have been happening at a much earlier time in Canal Winchester's history.

We chose that site because the side of the CornerSmiths building is a huge

wall begging for something like this. Waterloo gets a lot of traffic, so high visibility

and the scenes from the past are a nod to the history of the building and to the history

of our city." The project was funded by Destination: Canal Winchester. Stiles

said members of the Canal Winchester Art Guild submitted sketches from which

three were selected.

County auditor warns of fake checks

Franklin County Auditor Michael

Stinziano warned residents about a recent

scam where fraudulent checks appearing to

come from Franklin County are arriving to

unsuspecting individuals across Ohio and in

other states.

The checks, dated Dec. 23, are all for the

amount of $2,950.99, appear to be more

than an isolated effort to defraud unwitting

individuals and the county.

A coordinated effort between the

Franklin County sheriff, treasurer and auditor

is underway.

As there are multiple security measures

in place to keep taxpayer dollars safe, there

is currently no risk to county funds.

Individuals receiving an unexpected

check from the Franklin County Auditor's

Office are encouraged to call (614) 525-7346

to verify the validity of the check.