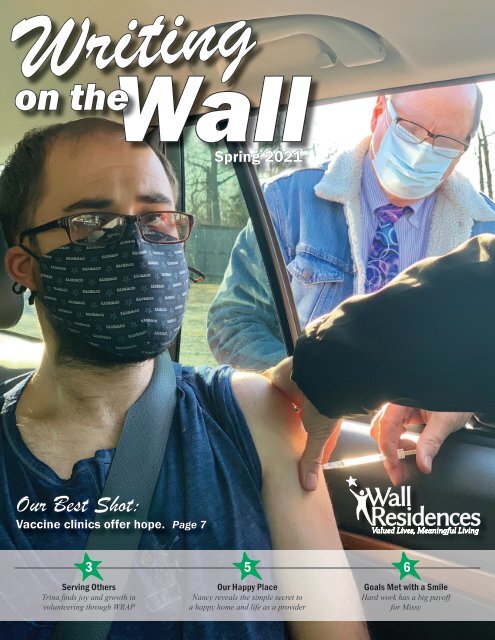 Writing on the Wall: Spring 2021
The quarterly newsletter of Wall Residences: a Virginia agency who provides services for individuals with intellectual or developmental disabilities. Services include sponsored residential, group homes, community engagement & community coaching, nursing, therapeutic consultation, and behavioral support. This issue highlights recent achievements of residents, providers, staff, and the agency as a whole during the first quarter of 2021.
The quarterly newsletter of Wall Residences: a Virginia agency who provides services for individuals with intellectual or developmental disabilities. Services include sponsored residential, group homes, community engagement & community coaching, nursing, therapeutic consultation, and behavioral support. This issue highlights recent achievements of residents, providers, staff, and the agency as a whole during the first quarter of 2021.
SHOW MORE
SHOW LESS
Create successful ePaper yourself
Turn your PDF publications into a flip-book with our unique Google optimized e-Paper software.
ong>Writingong>

on the

Wall

Spring 2021

Our Best Shot:

Vaccine clinics offer hope. Page 7

3

Serving Others

Trina finds joy and growth in

volunteering through WRAP

5 6

Our Happy Place

Nancy reveals the simple secret to

a happy home and life as a provider

Goals Met with a Smile

Hard work has a big payoff

for Missy
---
Director's Corner

John Weatherspoon

As I write this it has been almost one

year since I sent the first email to

our Sponsored Residential Providers

letting them know we were canceling

our upcoming face-to-face regional

provider meetings. It has been a year

since we first implemented changes to

our leave policy for employees adding

days to encourage staff to take time

off instead of coming to work with

symptoms of COVID, well before this

was supported by the Government.

Now with new cases finally declining

and more and more of our staff

and the individuals we serve getting

vaccinated, our leadership team has

begun having conversations about

when we may be able to begin to

gather in groups like that again this

year. We know there are still many

hurdles ahead of us but with over

1600 doses being received within the

agency, we are beginning to see that

being together again may become a

reality this year.

We would not be in this place without

the volunteers, health department

employees, and staff at pharmacies

working every day to get people

vaccinated. We learned early on in

the vaccination process that some

communication had been crossed

in relation to Sponsored Residential

homes and access to the vaccine

through the national vaccination

program.

I want to thank Craig Camidge,

Michele Thomas, and others at

DBHDS for seeing a need and

stepping in to catch the sponsored

homes that would have been missed

in the vaccine roll-out. I also want

to thank the family pharmacies that

stepped up to help make this a reality

for not only Wall Residences but

other Sponsored Residential agencies.

In particular, I want to thank Elkton

Family Pharmacy, The Pharm House,

BREMO Pharmacy, and the Emmet

Street CVS in Charlottesville for

setting up large vaccination sites and

making sure our services and others

were not forgotten. Thank you as well

to staff and providers who helped run

the clinics. Because of this, we can

look at the summer with optimism

that more outings, safe gatherings,

and greater freedom of movement in

and around the community may safely

start to return. Thank you to everyone

helping make this a reality!

Making a New Choice

Randy is a friendly, social guy with

a great sense of humor who loves his

family and his dog, Daisy. Ask him

about the antics Daisy has been up

to lately and you'll hear all about her

delivering packages for USPS and

driving tractors with hay bales! He enjoys

riding his tractor, visiting local attractions,

helping cook meals at home,

NASCAR racing, and Judge Judy.

Prior to starting Therapeutic Consultation

Randy would sometimes get

upset when things didn't go the way

he thought they would, such as when

something wasn't working correctly

or plans were changed. When Randy

became upset, he had a difficult time

expressing how he was feeling and

getting help in a way that was safe

and effective. Visual supports were

implemented to help Randy identify

what to do during these times. He has

made huge strides in asking for help

and is a pro at finding new activities

from his choice board that he can do

instead. He has a great understanding

of things that are triggering for him

and almost every week identifies a

new replacement behavior... although

petting Daisy is the favorite by far!

Now, if you ask Randy how things

are going, he'll tell you "I am okay"

because he chooses to just "let it go."

2
---
The Satisfaction

of Serving Others

WRAP participant Trina discovered

a new passion for volunteering at the

Rescue Mission of Roanoke thanks to

support from her WRAP DSP, Carey

Case. Trina and her WRAP group

were looking for ways to get involved

in the community, meet new people,

and try new no-cost activities so

Carey contacted the Rescue Mission

of Roanoke to see if they welcomed

volunteers who needed extra support.

Plans were made and Trina started

serving meals to people experiencing

homelessness in November.

"Volunteering at the Roanoke Rescue

Mission by serving food to the homeless

has given Trina a huge boost in

her self-confidence, evident by her

friendly, upbeat attitude towards fellow

volunteers and the people whom she

serves. Trina has learned the value

of teamwork and pitches in to help

at every opportunity without being

asked," Carey noted. "I have offered

other community activities for Trina to

explore and each time she says, 'I want

to go back to the Rescue Mission. I

love serving food to the homeless.'"

Stacy Boris, Volunteer Coordinator

at the Mission,

said, "Trina has

come in and

jumped right into

our food service

ministry with an

open heart. She's

flexible and

willing to take

on whatever responsibilities

are

presented for the

day. She is truly

just a light!"

Trina especially

likes joking around with the people

and making new friends. Her familiar

greeting to regular patrons is "I got

you!" as she anticipates their preferences.

She has also developed new

skills, such as learning food safety

practices and to confidently greet new

people in a professional manner.

Trina has appreciated that joining in

the meal after serving has helped her

to practice budgeting her money for

splurging on Starbucks and sushi as

well as saving up for a trip later in

the year. Residential Provider Susan

Trina and Carey volunteer frequently at

the Rescue Mission of Roanoke.

Lewis noted that the social isolation

caused by COVID-19 is hard on an

extroverted social butterfly like Trina

but her WRAP outings have allowed

her to get out more, learn about building

community through service, and

feel more relaxed overall. WRAP is

an integral part of meeting Trina's

social needs where she can explore

her larger community on her own

terms.

Meet the New ESOP Advisory Committee

Angie Newman

Admissions &

Program

Management

Caitlyn Davis

Wrap &

In Home

Services

Amanda Craig

Administration

Employee

Stock

Ownership

Plan

Kl'Methia

Merriman

Group Home

DSPs

India Eanes

Office

Personnel

Rebecca

Ledingham

TC, Training &

Nursing Teams

3
---
Self Care

As the pandemic moves into its

second year, it feels like "self

care" is the buzzword of the moment.

However trite the term may

seem, finding ways within and

outside of work to look after your

holistic wellbeing is very important.

Doing so well... or

ignoring it... can and will impact

not only you, but those around

you. Here are a few ideas to try in

various areas of self care.

Workplace/Professional

Join a peer support group

Read professional journals

Attend professional development

Physical

Develop a regular sleep schedule

Take a walk at lunchtime

Take time off work for yourself

Psychological

Keep a journal

Take up a hobby

Turn off your email and phone

Emotional

Nurture supportive friendships

Write three good things about

each day

Spiritual

Attend religious services

(even if online)

Do yoga

Spend time in nature

Relationship

Prioritize your closest loved ones

Attend special events of

friends & family

Thanks to Stephanie Moore for

these self care tips!

A Song in Her Heart

Lora's face lights up as she sits down

at the keyboard. She plucks out a few

tentative notes to be sure everything

is working correctly, then opens up

the songbook. Soon the room is filled

with music as Lora's fingers fly across

the keyboard and she gleefully belts

out songs of

praise.

Music is one

of her favorite

ways to

relax in her

new home.

Lora achieved a big goal in November:

she moved out on her own! DSP

Christina Cruz supports her on weekdays

with chores, cashing her weekly

checks, and grocery runs. Lora shares

that Christina is a "good worker" who

helps her with things that need to get

done around her new home. The two

also have fun together. Christina sings

at Lora's request as Lora plays her

piano. Outside the house, trips to little

free libraries are a favorite. Lora confides

that the medical books are her

favorites as she loves to learn about

how things work.

"

I check my email. Read. Talk to my

friends. Play my piano and sing.

When on her own at home, she enjoys

checking her email and chatting with

friends on the phone...but it is music

that clearly

makes her soul

come alive. If

you are really

lucky, when

visiting her in

her new home,

she'll show

you to where her keyboard holds a

place of significance and treat you to

a concert. And this concert is one that

is a treat for the eyes and the ears

because at the completion of each

song, she will look up as you applaud

and her beaming smile will fill your

own heart with joy.

As Lora herself says describing her

present happiness, "I've come a long

ways!"

4
---
Put My Home Where My Mouth Was

"This is My Happy Place" reads the

sign next to Nancy Kaplan's front

door. Spend even a few minutes in

Nancy's home and the truth of that

statement is quickly clear.

Nancy has been a provider with Wall

Residences for over six years, after

years of experience with supportive

apartment living, group homes, prevocational,

and other work with individuals

with disabilities. She's a fierce

advocate who gave speeches from

the viewpoint of DSPs during budget

hearings and fought to have the training

centers closed down. When the

effort was successful she says she felt

strongly she needed "to put my home

where my mouth was."

That good fight has included supporting

the men with healthy changes

and proper medication management,

equipping them for happier lives. It

has meant advocating for employment

in the community and seeking creative

solutions when a position wasn't

easily found. Both men held jobs pre-

COVID. Brandon's job will resume

once the church where he provides

the valuable services of sweeping and

cleaning returns to in person gatherings.

Grayson will be seeking new

employment once he is fully vaccinated.

The men use the money they

earn from their jobs for horse riding

lessons and are also active in a bible

study at church. Weekly outings for

take out are another feature of life in

this happy place. As Brandon notes,

"Nancy. Zach. Grayson. Me. We are

happy." Laughter flows as all agree

that statement is a very accurate

one and share the household motto,

"Don't break the provider!"

While Nancy adores her role as a

provider, she recommends those

considering it be thoughtful about if it

is the right fit for them. "You have to

share your life. Be honest and weigh

that first. But if this is right for you, I

have worked under a lot of agencies

and Wall is the best. I adore it (being

a provider). I love what I do. I found

a place where my heart can be as

open as I want." Nancy appreciates

the relationships with Wall's support

staff, but even more so the relationships

with all with whom she shares

a home, noting that each household

member is different and yet meld

together well. She gets joy from

watching Brandon and Grayson's

friendship continue to deepen. In

the end though, it comes down to

something very simple. "I love them.

I just love them."

Below: Grayson, Nancy, Brandon, and

Zach share a happy home.

Cover: Grayson gets his vaccine.

In becoming a provider, she

found not just a job, but a

calling. "I find it fascinating,"

she shares. "I like a good fight.

I like advocacy. I like watching

them grow." "They" are

Brandon and Grayson, the two

young men Nancy has supported

since 2016 and 2014 respectively.

Grayson and Brandon

call each other "brothers from

another mother" and there is

obvious affection between

the two, Nancy, and Nancy's

grown son Zach, a full time

backup worker who also lives

in the home.

5
---
Perseverance Pays Off in Goals Met

Missy is a young woman with a zest

for life! Her love for others (especially

her family) is strong and she

will often giggle while talking about

her young nephew's antics. Missy

has continuously stood back up again

when life has knocked her down and

kept her eye on her goals along the

way. Despite having vision and hearing

impairments, Missy has worked to

adapt to her world around her.

When starting Therapeutic Consultation

Services, Missy explained she

just "wants to have a job like everyone

else my age." At the time, Missy

was receiving supportive employment

services but not quite ready to start

on site job coaching. She tackled the

goals she needed to reach and when

the time was right started training

at Food Lion. Meanwhile, Missy

worked toward other goals with Therapeutic

Consultation to prepare for

new types of interactions a job would

bring. The effort she put in did not go

unseen! She expressed she "wanted

others to like being around me" and

"to be proud of myself" frequently

when discussing her goals in life.

The road was tough for her some

days, as old habits are hard to break.

However, if you put a challenge in

front of Missy, she will overcome it

with a smile on her face. Her hard

work at Food Lion prepared her for a

part time job offer at a local daycare

facility, working in the kitchen! Missy

is a blessing to her employer and

works hard to prepare snacks/meals

for the children she serves, as well

as clean the lunch area to ensure it is

safe for all. She interacts with adults

and children at her job and has been

praised for her dedication, smile, hard

work, perseverance, and ability to

relate to both the staff and children.

Missy recently had her annual planning

meeting and identified areas she

would like to work on next. She is

always striving to improve herself

and is the definition of an overcomer!

Missy's mom has expressed gratitude

for the help Missy received to

improve social and communication

skills, as well as teaching her alternative

behaviors to use.

When she is not working, Missy

enjoys going to day support, shopping

with her mom, getting her nails

done, helping to babysit her nephews,

and having girl time with her sister.

Watch out world, Missy has found her

wings and taken flight!

Know Someone Who Could Benefit from Our Services?

The Wall Residences Admissions team has staff in all parts of the state to respond to your referral needs and

answer questions about the services we offer. We work quickly to find the right match for longterm success

while striving for the quickest placement in services possible. The Admissions Team is here to serve you.

www.wallresidences.com

Alex Jackson

Admissions

Director

(434) 610-7578

Emily Eagle

Central Virginia, Danville,

Charlottesville, Staunton/

Waynesboro/Lexington

(434) 907-5067

Ashea Green

Northern

Region

(202) 760-6411

Brooke Keen

Roanoke, NRV,

SWVA

(540) 250-8482

Lisa Schalasny

Eastern

Region

(804) 380-4309

6
---
Two Shots at Hope

Over 800 individuals, providers,

DSPs, and staff rolled up their sleeves

in early 2021 for the opportunity to

receive both doses of the Pfizer or

Moderna COVID-19 vaccine. This

massive undertaking included clinics

around the state. Six clinics were

held in Madison Heights, two each

were held in Staunton and Floyd, and

clinics were held on a rolling basis

in Richmond. In addition, several

providers hosted clinics for their

area. Creativity and safety were the

hallmarks of the clinics, which took

different forms, including creating

private cubicles within bigger open

rooms at one location and using a

drive through model at another.

Diana Dyer was one provider who

hosted a series of clinics in her home.

Diana said, "I said yes to the clinic

because the individuals we live with

have been talking a lot about wanting

to get the shots and be able to go back

to work less worried about COVID.

I myself was nervous but decided it

was the right thing to do to get the

shots." Hosting a clinic wasn't without

frustrations. Diana noted ensuring

the right amount of doses would be

brought was one of the most difficult

parts. There was joy in it too, though.

"Once we knew we had enough shots,

the clinics were really a lot of fun. I

really liked meeting new people. It

was fun talking, serving snacks, helping

with the forms, taking temps, and

determining arms for shots. We got

pretty efficient with the process!" A

huge thank you to Diana and the other

providers who opened their homes for

clinics.

with disabilities. A November 2020

study by the West Health Institute

and Johns Hopkins found people with

intellectual and developmental disabilities

were three times more likely

to die of COVID-19.

Classification of individuals living

in sponsored residential and group

homes, providers, and DSPs as Group

1a was the first step. This opened the

conversation about ensuring those associated

with Wall Residences could

safely access vaccines as soon as

possible, with offices immediately

offered as potential vaccine clinic

sites. Numerous staff worked closely

with state authorities and multiple

pharmacies to make the clinics a

reality. Thank you to all whose hard

work resulted in so many gaining

access to this critical protection.

In total, over 1680 doses of the

vaccine were given over several

months at Wall Residences supported

clinics, in partnership with state officials

and pharmacies. A remarkable

statistic and accomplishment! With

so many people who are part of Wall

Residences now fully vaccinated, we

look to the future with hope!

"

In total, over 1680 doses

of the vaccine were given at

Wall Residences supported

clinics, in partnership

with state officials

and pharmacies.

Triona (top), Branch

(left), and Willie

(above) were among

the over 800 who

received their vaccine.

Leadership at Wall Residences had

been following with great concern the

heavier impact of COVID on people

ong>Writingong> on the Wall, Spring 2021 Editor Angie Covington

Contributing Writers April Bourgois, Patience Holdren, Meredith Kapalka

7
---
An Artist Emerges

Sebastian has long been a fan of

art but now he has become an artist

himself! In September, he was paired

with DSP Fitz Brown for In Home

services. WRAP Coordinator Joey

Warren noted, "Fitz and Sebastian

are an amazing match and exceptionally

active. Over the past few months

they have gone hiking, kayaking, and

many other outdoor activities, but

the thing that stands out the most is

Sebastian's artwork."

make marks on his own while

Fitz drew with him. Sebastian

mastered this skill and is now

making art independently.

He now enjoys sitting to copy

his sister's artwork for long

periods of time and finishes

each drawing by writing the

character's name.

Before working with Fitz, he did not

draw, but loved to watch others make

art. Sebastian is non-verbal but would

consistently ask others to draw for

him while he watched by bringing

them paper and pencils.

Sebastian and Fitz started working

on having him hold the pencils and

Sebastian has moved from art appreciation to

the joy of drawing images himself. One of his

drawings is pictured at left.

Digital

Bonus

The first months of 2021 at Wall

Residences have included snow day

fun, exploring new skills, creative

crafts, game time, and more. Many

individuals, providers, DSPs, and

staff also did "not give up their shot!"

We hope you enjoy this digital edition

bonus image gallery.

Have you liked and followed us on

Facebook and Instagram? We share

uplifting images and stories like the

ones in this galley on social media

multiple times each week!

FOLLOW US

ON SOCIAL MEDIA!

www.wallresidences.com