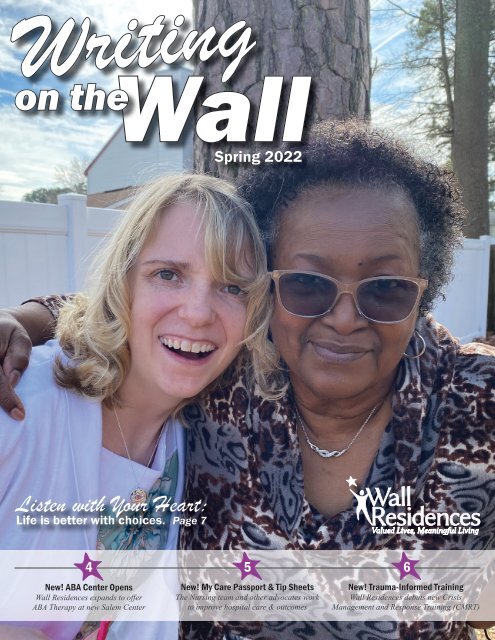 Writing on the Wall: Spring 2022
The quarterly newsletter of Wall Residences: a Virginia agency who provides services for individuals with intellectual or developmental disabilities. Services include sponsored residential, group homes, community engagement & community coaching, nursing, therapeutic consultation, and behavioral support. This issue highlights recent achievements of residents, providers, staff, and the agency as a whole during the first quarter of 2022.
The quarterly newsletter of Wall Residences: a Virginia agency who provides services for individuals with intellectual or developmental disabilities. Services include sponsored residential, group homes, community engagement & community coaching, nursing, therapeutic consultation, and behavioral support. This issue highlights recent achievements of residents, providers, staff, and the agency as a whole during the first quarter of 2022.
SHOW MORE
SHOW LESS
Create successful ePaper yourself
Turn your PDF publications into a flip-book with our unique Google optimized e-Paper software.
ong>Writingong>

on the

Wall

Spring 2022

Listen with Your Heart:

Life is better with choices. Page 7

4

New! ABA Center Opens

Wall Residences expands to offer

ABA Therapy at new Salem Center

5 6

New! My Care Passport & Tip Sheets

The Nursing team and other advocates work

to improve hospital care & outcomes

New! Trauma-Informed Training

Wall Residences debuts new Crisis

Management and Response Training (CMRT)
---
Director's Corner

John Weatherspoon

The DD Rescue Plan developed by

the ARC of Virginia and vaACCSES,

which we supported, did not make it

through the Senate Finance Committee.

I want to thank Senator Hanger

and Delegate Sickles for putting this

forward and their ongoing support

for our services. In a conversation

with a provider regarding this failure

from our legislature they made the

statement, "If not now, when?" It is a

valid question. The State was/is flush

with funding and there appeared to be

support the likes of which we had not

seen for something this comprehensive

in support of Waiver Services. It

would have made our services more

competitive in the hiring market for

Direct Support Professionals and recognized

the importance of those DSPs

in the provision of Waiver Services.

Now we find ourselves in a situation

where advocates are attempting to

prevent a large portion of Waiver

Services taking a significant cut, back

to the funding rate of June 2021.

At this time Sponsored Residential

Services and Small Group Homes

along with Community Engagement,

Community Coaching, In-Home,

and a handful of other services appear

safe and to be in the budget with

rates recommended from the Rate

Study. Even though the rate model

for Sponsored Residential failed

to recognize Direct Support

Professionals correctly within the

model there was still a small increase

recommended within it. We hope to

be able to share the outcome at our

All Provider Meeting scheduled for

April 29 in Roanoke.

We are excited to once again see

providers in person on April 29! It

has been too long since we have been

together in person. We have an amazing

agenda planned with time worked

in for reconnecting and enjoying the

snacks from Hotel Roanoke. I look

forward to seeing you there!

Aussie, Aussie, Aussie, Oi, Oi, Oi!

BJ proudly waves the flag of his favorite

country: Australia!

BJ has a passion for all things

Australian and a dream of moving

there someday. Recently, he met

with Senior Program Manager Becky

Weaver. During their conversation,

he clearly stated his rights (and gave

permission to share here):

(I have the right) "To be treated like

a human being, not to be harmed or

abused. I have a right to be safe. I

have a right to go to both colleges

after my delayed graduation is done

at 2023, and I have a right to date a

curvy African American girl either at

Virginia or the University of Oregon

so I can take her with my Aunt Cookie

and Aunt Paulina and the rest of

my groupies to Australia, including

Francesca in the capital of New South

Wales in Sydney, Australia. I have

2

the right to receive mails, to have my

own luxury apt. condo/complex with

a rooftop terrace that I might need on

my bucket list. I have a right to have

visitors from Australia and North

America like Ms. Karen so they can

teach me how to cook baked ziti Australia

style... it's like American baked

ziti but with kangaroo meat. I have a

right to believe in LGBTQ and human

rights and gay rights."

Empowering for self advocacy is a

key value for our agency. Quotes like

these show the excellent work our

program management staff does to

be sure every individual understands

their rights and has the opportunity to

express them fully. BJ is clear about

what he wants and we can't wait to

try that baked ziti!
---
Making an Impact in Lexington

A small group in Lexington is making

a big impact. Recently, Luke and

Phillip discovered they had a mutual

goal. "We were wanting to bring

diverse people together… this has

always been a dream of mine because

I put a lot of heart into learning how

to reach out," said Phillip. The first

step was to name their new WRAP

team. Phillip suggested, "Let's call

ourselves the Community Connections

Dream Team (CCDT)!" The

name stuck!

Grace Episcopal Church welcomed

CCDT with open arms when they

needed a place to eat lunch once it

got cold outside. The team partnered

with the church on a fundraiser

for Hope House, a residence

for South Sudanese children going

to school in Kenya. They sold

rubberband bracelets in South

Sudanese flag colors. The sale was

a success, raising $73 for Hope

House. The relationship with Grace

Episcopal grew, and Phillip started

working with the chairperson of the

church's Sudanese Mission Group, MJ

Mayerchak, to learn new crocheting

techniques. Phillip decided he wanted

to donate proceeds from sales of his

crocheted koozies to the cause. He

was asked to speak about God's Love

at a church luncheon in February. The

WRAP team got permission from the

church vestry to sell crafts again to

benefit Hope House. This time, bracelets

and koozies in Valentine's colors

raised over $134.00!

CCDT wanted to expand relationships

beyond occasional special events, so

they created Community Connection

Mondays, held weekly in the parish

hall. They participate in a Zoom exercise

class with folks from Florida, Virginia,

New Jersey, and Pennsylvania,

have informal discussion and a brown

bag lunch, and share an educational/

recreational program time. Activities

have included writing workshops, origami

and puzzles, holiday and history

programs, and individual craft projects.

Luke reflects, "I like it because

I get to hang out with people that

are funny, kind-hearted, and free-

Above: Phillip (back left) and Luke

(front right) with friends from Grace.

Right: Luke and Cindy Hughes

spirited." Phillip adds, "Bringing

people together as a community…

for unity… is a very important

thing within our world today."

Their connections grew to include

the shops on Main Street in

downtown Lexington. Luke, quite

the entrepreneur, often sold his handmade

rubberband bracelets to downtown

acquaintances. One afternoon,

we noticed a store had local crafts for

sale, so Luke asked the shop owner

if she would sell his bracelets. The

shopkeeper thought the fun, colorful

wristbands would have a better market

around the corner at Sugar Maple

Trading Company. Luke headed off

immediately and found the perfect fit!

3

Owner Cindy Hughes said "Yes!" to

three different holiday color schemes.

She bought them outright and packaged

them beautifully, but that wasn't

the last of it! Luke returned in February

with new colors for the spring,

and Cindy purchased more! Recently,

Luke reflected on what is meaningful

about this endeavor: "It makes me

proud and expanding my horizons

helps me to meet new people."

Phillip was so inspired by Luke's

success he wanted to find a downtown

home for his crafts, too. He

was drawn to House Mountain Yarn

Company and found the perfect

partner in its owner, Ellie Boylan.

Ellie was so enthusiastic about his

work she offered to put Phillip's

crocheted koozies on display, front

and center for the holidays, through

a consignment agreement. Phillip

recently suggested that Ellie put Starburst

candies in the glassware she uses

to display his multi-colored yarn creations.

Ellie is awaiting Phillip's new

craft ideas to put on consignment this

spring. Phillip expressed his delight,

"I enjoy selling my crocheted items to

raise money for charities, meeting others'

needs and building relationships

with people in the community."

~Susan Virginia Mead
---
ABA Center Opens

This winter, Wall Residences

opened it's doors to a brand

new ABA Center. The center is

part of our Clinical and Therapeutic

Services department,

providing Applied Behavior

Analysis (ABA) to children

and teens with autism and other

developmental disabilities.

Located in Salem, Virginia,

the center includes multiple

treatment rooms, a sensory

room, a group therapy space,

and an observation suite with

two-way window/mirror. The

center currently serves 11

clients and continues to grow.

Some of these clients come

to the center Monday through

Friday from 9:00am until

3:00pm, while others come 2-3 times

per week for therapy sessions and receive

the rest of their services within

their home.

At the center, Licensed Behavior

Analysts assess both the client's and

the family's needs, develop treatment

plans, and oversee implementation.

Behavior Technicians support clients

one-on-one to meet their treatment

goals. The ABA team works on a variety

of skills ranging from reductions

in interfering behaviors and/or repetitive

patterns of behavior to increasing

functional communication and

social skills. Parents and caregivers

receive on-site training so that they

can actively participate in their child's

treatment and planning.

Parents John and Kate shared, "We

cannot say enough good things about

Wall Residences ABA program. Our

son began attending Wall Residences

ABA program after a terrible experience

with another ABA provider.

The ABA Team at Wall Residences is

kind, friendly, professional, and they

genuinely care for the children and

families they serve. In the short time

that we have been working with Wall

Residences ABA Therapy Team, we

have seen so much growth in our son

and we know it is, in part, because of

the amazing team at Wall Residences

ABA Therapy."

~Heather Cromer

www.wallresidences.com

ABA Therapy can look a lot like play, but Behavior Analysts and Technicians use these

interactions to work with the child and to collect data to help with their treatment plan.

4
---
Better Care Through Communication

Since 2020, our nursing team has

been involved with a project to improve

hospital care for people with

developmental disabilities in partnership

with Augusta Health hospital in

Fishersville, VA. A local coalition of

six agencies who serve this population

was formed to do a comprehensive

assessment of needs and collaborate

with the hospital for better care

and communication. I had the opportunity

to meet the MD leader of the

Vulnerable Populations Committee of

Augusta Health at a COVID vaccine

clinic and introduced the coalition's

concerns. He immediately responded

positively and assured he would pave

the way for contacts in the hospital.

The collaboration was born!

The DBHDS/Office of

Integrated Health (OIH)

Registered Nurse Care

Consultants team was asked

for their support with the

hospital project. We discussed

how their office

plans to better support providers to

advocate for the best care and clinical

outcomes for the people we all

serve within the current broken health

system. All recognize that regulations

often do not match the reality of the

difficulties providers face when trying

to get proper care and treatment.

OIH had already begun the process of

considering supports, so the Augusta

Health project fueled their intentions!

The OIH team, local coalition, and

Augusta Health staff began working

together to develop meaningful dialog

and determine the first best steps to

meet the most significant needs.Our

meetings brought to light the hospital

staff's desire to provide the best care,

but that many had not been trained in

medical or nursing school curricula to

provide care to this population. They

were eager to improve their knowledge

and be more aware of an individual's

true needs.

The outcome of this group exploration

work is a set of advocacy documents,

which also serve as teaching

tools to start the journey to improved

care. Deanna Rennon, Wall Residences

QA Director, and I, Lead RN Care

Manager, had the privilege to join

with experts from OIH and the hospital

MD to develop:

• My Care Passport

• Consent Tip Sheet

• Medicaid Waiver Tip Sheet

• Discharge Tip Sheet

For more information about My Care Passport

and the Tip Sheets, please contact Kevyn Burn,

Lead RN Care Manager at 540-250-7832

or kburn@wallresidences.com.

My Care Passport is the central document.

Designed to be easy for the

Provider to fill out, it describes the

needs of the individual for medical

staff in an easy to reference format. It

covers who they need at bedside, who

can speak for them, feeding needs,

how they show pain, what comforts

them, and more. At Augusta Health

it is now posted at bedside and part

of the record. It is encouraged that it

be shared widely with all health care

providers caring for the individual.

The Consent Tip Sheet was specifically

requested by hospital medical staff

so they could know clearly who could

give consent, with whom they can

discuss care, and who they need to

listen to... the Provider, of course!

The Discharge Tip Sheet clearly tells

hospital medical staff what DBHDS

requires at discharge. It is an attempt

to solve the problem of Providers

trying to describe what is needed and

being challenged about the validity of

their requests by equipping them with

a document that shows, "DBHDS

says so!"

The Medicaid Waiver Tip Sheet gives

a short explanation of what the waiver

is and how it impacts the individuals.

Likely it will mostly be used with

Social Workers or Discharge Planners

and Case Managers to assist understanding

the support needs and how

those needs are funded.

The pilot at Augusta Health

began in January 2022 after

training the medical and nursing

staff on the new documents. The

grand plan includes assessing

the effectiveness of the pilot at

Augusta Health, then utilizing

the assistance of our Augusta

Health MD colleague to encourage

other hospitals to adopt these tools.

The four documents are now being

distributed, talked up, trained on, and

utilized throughout the State. The

OIH February Health Alert is about

the documents. Trainings are available

through our agency, the OIH site,

and other coalition agencies.

We request you obtain and use the

documents far and wide to teach our

health care providers about the needs

of people with developmental disabilities

and the systems that serve them.

Together, we can advocate for improved

care outcomes for the individuals

we serve.

~Kevyn Burn

5
---
First CMRT Instructor Training Held

In February, Wall Residences held our

first instructor training for the Crisis

Management and Response Training

(CMRT) program in Floyd. Developed

by Wall Residences experts, CMRT is

a trauma-informed, culturally competent

program that stresses prevention

as well as physical skills. It is replacing

Therapeutic Options (TOVA). This

instructor training brought people with

a broad variety of experiences together

to learn from each other, including

Providers, staff with experience in

other training programs, program

managers past and present, group

home leaders, representatives from the

Therapeutic Consultation and WRAP

teams, and administrators!

We spent the first day reviewing

Trauma-Informed Care, Mindfulness,

Self-Care, and a variety of other topics

to provide a comprehensive

picture of

how self-awareness

and quality of life

(for the individuals in

our services and the

people who support

them) can result in

best practices and outcomes.

On the second

day, we delved into

"hot topics" such as

human rights, cultural

competency, advocacy,

and navigating

systems in crisis. We

shared real-life experiences

as we practiced preventative

measures and physical intervention

skills. The Training Team is excited

to have so many new members and to

have a new curriculum more applica-

Rebecca Ledingham, Danielle Hiatt, Amanda Cox, Laura

Beth Parnell, Kevin Hieatt, Staci Formica, Erin Justis and

Robin Hurst gathered for the first CMRT Instructor training.

ble to the societal momentum toward

trauma-informed care. We hope it

will be interesting and refreshing for

everyone who takes the course!

~Rebecca Ledingham

Training Team

Update

I'm excited to introduce myself as the new first point of contact for the training

department! I've met many of you in my role as receptionist at the Floyd main

office. After helping the training team for the past two years, I am now moving

to that team full time as part of the agency's work to ensure training systems

and documents flow smoothly. I'm happy to assist you with any training questions.

You can reach me at training@wallresidences.com or (540) 745-4216.

~Ashlyn McDaniel

Know Someone Who Could Benefit from Our Services?

The Wall Residences Admissions team has staff in all parts of the state to respond to your referral needs and

answer questions about the services we offer. We work quickly to find the right match for longterm success

while striving for the quickest placement in services possible. The Admissions Team is here to serve you.

Alex Jackson

Admissions

Director

(434) 610-7578

Emily Eagle

Central Virginia, Danville,

Charlottesville, Staunton/

Waynesboro/Lexington

(434) 907-5067

Ashea Green

Northern

Region

(202) 760-6411

Brooke Keen

Roanoke, NRV,

SWVA

(540) 541-8563

Lisa Schalasny

Eastern

Region

(804) 380-4309

6
---
Listen With Your Heart

Communication is important in any

relationship. For Mackenzie and Provider

Jeanette Perry, it is the center of

their life together and takes multiple

forms. When conversation fails them,

they have found writing down what

they are trying to express for the other

to read helps clarify meaning. Working

to understand each other goes beyond

words. Jeanette describes when

they met. "I bonded with her immediately.

I told her mom I would not just

listen to her with my ears, but with

my heart." The two were a match and

have lived together for nearly two

years. "Mackenzie is a funny young

lady. Kind. Considerate. Helpful.

Energetic. She keeps me going! She's

just really fun to be with."

That heart bond goes both ways. Of

"Ms. J," Mackenzie says, "She's

a nice person. I like her. She's my

friend." Mackenzie also notes what

a good cook Jeanette is, with chicken

pot pie and "mac 'n cheese in the

oven" particular favorites. Jeanette

believes in providing Mackenzie with

as many opportunities to make her

own choices as possible. This extends

from meals to activities and beyond.

Those choices have created a life that

is full and busy! Mackenzie loves

spending several days a week at

Momentum 180 where she has many

friends. "I love my job!" she enthusiastically

shares, listing people she interacts

with there. They claim Fridays

and weekends as their days together

for chores and to just relax. They purposely

set no schedule on these days,

leaving them free to choose. Striving

for balance is key with eating out and

going to the gym to swim both named

as potential choices. Often they love

just getting in Jeanette's red truck and

driving. Sometimes they have a destination

in mind, other times they decide

as they drive what local spot they'd

like to see that day. Nearby beaches,

local restaurants, and parks offer many

options, as does one of Mackenzie's

favorite outings: shopping! She's an

avid collector of all types of bags,

backpacks, and purses. Not only does

she purchase ones that catch her eye,

she also makes them! She creatively

combines plastic bags, paper, and other

materials to fashion each, sometimes

even including a handwritten note as

part of the design when making

one as a gift.

The tight twosome becomes a

trio to their shared delight when

Jeanette's granddaughter Nyah

visits in the summer. Family

is important to both women.

Mackenzie is a proud aunt to

an adorable niece and shows

off pictures. She's looking forward

to a return trip to Alaska

this summer to visit with her

brother and his family again. Closer to

home, Mackenzie and Jeanette enjoy

friendships with neighbors, church

7

members, and others. "People are

drawn to her," says Jeanette. She also

lifts up the unexpected joy of gaining

a relationship with Mackenzie's

family and her own family gaining a

relationship with Mackenzie as one

of the benefits of being a Sponsored

Residential Provider.

Jeanette has spent her career working

with people with intellectual disabilities

and mental health diagnoses, with

over 40 years experience including

working at Eastern State Hospital and

for local community service boards.

About two years ago, she decided to

become a provider because she was

"at a point where I didn't want to

show up 9-5!" With her only child

grown, the house felt too big for one.

She knew she had room in her home

and heart for someone looking for

support she could provide. "It was

time to just enjoy life with someone

else. Enhance their life, as well as my

own." As the stories continue to flow,

it is clear heart listening has indeed

led to an enhanced life for both Mackenzie

and Jeanette.

~Angie Covington

Center: Mackenzie with just a few of the

bags in her collection.

Above: Jeanette Perry & Mackenzie
---
Spring Provider Meeting

Hotel Roanoke | Friday, April 29, 2022

Join us for an exciting day as we revel in the chance to be together again! This time of networking and

strengthening relationships within the agency will include opportunities for knowledge building, updates

from the agency, and a celebration of provider milestone anniversaries at the beautiful Hotel Roanoke.

We've missed you... you won't want to miss this!

Keynote Speaker: Dr. Karyn Harvey, expert and author of Trauma-Informed Behavioral Interventions

State Updates: Karen Tefelski, Executive Director, vaACCSES

Registration 8:30 - 9:30am | Program 9am - 4pm | Lunch & Paid Parking Provided

Safety Precautions: Vaccinated Guests Only

If you have a COVID exposure or symptoms as you prepare to travel, please test and/or send your regrets.

We've Missed You!

Digital Bonus: Look Beyond the Label

March was Developmental

Disabilities Awareness Month

and we celebrated with a series

of social media features of some

of the many talented, unique

individuals receiving support

from Wall Residences. Along

the way, we introduced you to

master crochet artists, a soda

fountain expert, a horse lover,

an animator, a cook, an avid

outdoorsman, and many, many

more. The series finale featured

a compilation video celebrating

all the featured individuals. In

this special digital bonus section

of our spring newsletter,

we invite you to enjoy the video

if you missed it on our social

media channels. Follow us on

Facebook and Instagram to see

the full series and new content

weekly.