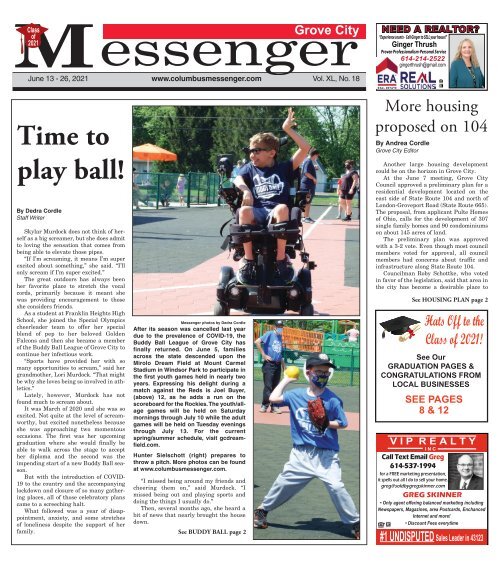 Grove City Messenger - June 13th, 2021
You also want an ePaper? Increase the reach of your titles
YUMPU automatically turns print PDFs into web optimized ePapers that Google loves.
Messenger

Grove City

Class

of

2021

June 13 - 26, 2021 www.columbusmessenger.com Vol. XL, No. 18

Time to

NEED A REALTOR?

REALTOR?

Ginger Thrush

Call Proven Professionalism-Personal Ginger Thrush Service

614-214-2522

"Experience counts - Call Ginger to SELL your house!"

gingerthrush@gmail.com

More housing

proposed on 104

By Andrea Cordle

Grove City Editor

play ball!

By Dedra Cordle

Staff Writer

Skylar Murdock does not think of herself

as a big screamer, but she does admit

to loving the sensation that comes from

being able to elevate those pipes.

"If I'm screaming, it means I'm super

excited about something," she said. "I'll

only scream if I'm super excited."

The great outdoors has always been

her favorite place to stretch the vocal

cords, primarily because it meant she

was providing encouragement to those

she considers friends.

As a student at Franklin Heights High

School, she joined the Special Olympics

cheerleader team to offer her special

blend of pep to her beloved Golden

Falcons and then she became a member

of the Buddy Ball League of Grove City to

continue her infectious work.

"Sports have provided her with so

many opportunities to scream," said her

grandmother, Lori Murdock. "That might

be why she loves being so involved in athletics."

Lately, however, Murdock has not

found much to scream about.

It was March of 2020 and she was so

excited. Not quite at the level of screamworthy,

but excited nonetheless because

she was approaching two momentous

occasions. The first was her upcoming

graduation where she would finally be

able to walk across the stage to accept

her diploma and the second was the

impending start of a new Buddy Ball season.

But with the introduction of COVID-

19 to the country and the accompanying

lockdown and closure of so many gathering

places, all of those celebratory plans

came to a screeching halt.

What followed was a year of disappointment,

anxiety, and some stretches

of loneliness despite the support of her

family.

Messenger photos by Dedra Cordle

After its season was cancelled last year

due to the prevalence of COVID-19, the

Buddy Ball League of Grove City has

finally returned. On June 5, families

across the state descended upon the

Mirolo Dream Field at Mount Carmel

Stadium in Windsor Park to participate in

the first youth games held in nearly two

years. Expressing his delight during a

match against the Reds is Joel Buyer,

(above) 12, as he adds a run on the

scoreboard for the Rockies. The youth/allage

games will be held on Saturday

mornings through July 10 while the adult

games will be held on Tuesday evenings

through July 13. For the current

spring/summer schedule, visit gcdreamfield.com.

Hunter Sielschott (right) prepares to

throw a pitch. More photos can be found

at www.columbusmessenger.com.

"I missed being around my friends and

cheering them on," said Murdock. "I

missed being out and playing sports and

doing the things I usually do."

Then, several months ago, she heard a

bit of news that nearly brought the house

down.

See BUDDY BALL page 2

Another large housing development

could be on the horizon in Grove City.

At the June 7 meeting, Grove City

Council approved a preliminary plan for a

residential development located on the

east side of State Route 104 and north of

London-Groveport Road (State Route 665).

The proposal, from applicant Pulte Homes

of Ohio, calls for the development of 307

single family homes and 90 condominiums

on about 145 acres of land.

The preliminary plan was approved

with a 3-2 vote. Even though most council

members voted for approval, all council

members had concerns about traffic and

infrastructure along State Route 104.

Councilman Roby Schottke, who voted

in favor of the legislation, said that area in

the city has become a desirable place to

See HOUSING PLAN page 2

SEE PAGES

8 & 12

V I P R E A L T Y

I N C

Call Text Email Greg

614-537-1994

for a FREE marketing presentation,

it spells out all I do to sell your home.

greg@soldbygregskinner.com

Hats Off to the

Class of 2021!

See Our

GRADUATION PAGES &

CONGRATULATIONS FROM

LOCAL BUSINESSES

GREG SKINNER

COMMERCIAL, INDUSTRIAL, HIGH QUALITY RESIDENTIAL

• Only agent offering balanced marketing including

Newspapers, Magazines, area Postcards, Enchanced

Internet and more!

• Discount Fees everytime

#1 UNDISPUTED Sales Leader in 43123

M
---
PAGE 2 - GROVE CITY MESSENGER - June 13, 2021

Jeffrey E. Buskirk

& Associates

Attorneys At Law

4178 Broadway, Grove City, OH 43123

Serving the Community for over 30 years

Social Security, Wills,

Estates, Probate

614-875-7220

jbuskirk2125@yahoo.com

614-875-0480 Fax

PLEASE GET VACCINATED

for Everyone's Safety

Malek &

ATTORNEYS AT LAW

Malek

Enter the

Million Dollar Drawing

www.ohiovaxamillion.com

WORKERS'

COMPENSATION

PERSONAL INJURY

WRONGFUL DEATH

SLIP & FALL INJURY

DOG BITE INJURY

Douglas, Ed, Jim

and Kip Malek

"Hablamos Español"

FREE Initial Consultation

www.maleklawfirm.com

614-444-7440

1227 S. High St., Columbus, OH 43206

BUDDY BALL

Continued from page 1

"I heard her screaming for her mommy and then

shouting, 'Buddy Ball was back,' 'Buddy Ball was

back,'" said Lori. "Those were the best things that we

heard in a long time."

The decision to bring Buddy Ball back was not one

that was taken lightly, said Lisa McCarty, the secretary

of the Buddy Ball League of Grove City board of

directors, nor was the decision to cancel the season last

year.

"We know how much our families love being a part

of this league but we also know that we have to do

everything possible to keep them safe and not put

their health at risk," she said.

McCarty said the board closely monitored the current

COVID-19 conditions in the county and state and

followed the guidelines from Governor Mike DeWine

and the health professionals.

"We took every piece of information they have

shared and came to the determination that a season

could be held safely this year," she said.

However, that does not mean the reopening did not

come with some conditions.

According to McCarty, the public has been asked to

continue wearing a mask while near the field area,

families have been asked to provide their own buddy,

and there will be staggered starts between the games

to allow for sanitization of the stands and equipment.

Additionally, there will be a shortened season of

just six weeks — the youth/all ages will play on

Saturday mornings through July 10 at the Mirolo

Dream Field at Mount Carmel Stadium in Windsor

Park while the teen/adult teams will play on Tuesday

evenings through July 13.

Still, Buddy Ball members and their families said

having a shortened season is better than having no

season at all.

"I've really missed this," said Kaiden Mack, 11, of

Grove City. "It's nice to be back out here playing baseball

with friends and hearing the crowd."

Opening day for the youth/all-ages 2021 Buddy Ball

HOUSING PLAN

Continued from page 1

live, which is why several developments are popping

up. However, further south, in Pickaway County,

there is excess warehouse space.

"The truck and warehouse traffic are a concern,"

said Schottke. "We need to keep trucks from coming

down 665 to 104."

Council president Christine Houk, who voted

against the proposal, said the truck traffic in that area

is already significant.

"The unresolved infrastructure issues should happen

before we sign off on any more housing," said

Houk.

The developer has agreed to conduct a traffic study

to assess improvements that would need to be made to

both roadways adjacent to the proposed development.

According to city documents, further discussions will

need to take place regarding the sharp bend on

London-Groveport Road, along the southeast corner of

the site.

"We have an opportunity for a deeper dive on traffic,"

said Tom Hart, a zoning attorney representing

Pulte Homes. "This will be a more comprehensive traffic

study in that area."

Several residents attended the council meeting

with safety concerns about the increased traffic.

In 2019, council approved a development plan that

allows for more than 500 housing units on the

League of Grove City

took place on June 5

with three games —

the Orioles versus the

Pirates, the Rockies

versus the Reds, and

the Cubs took on the

Braves.

Before each game,

the announcer welcomed

back the crowd

and said the three

words they have been

longing to hear since

the season ended in

2019 — "Let's Play

Ball!"

www.columbusmessenger.com

Skylar Murdock prepares to

run to first base.

And play they did. And score. And eat hotdogs and

popcorn after the game. And, of course, scream and

cheer throughout.

For the players, it was a sense of normalcy after a

difficult and isolating year and for the families it was

one that provided much comfort for them too.

Though many of the families have been playing and

attending games since the inaugural season in 2016, it

was the first time the Boulter family of Lewis Center

signed up.

Kim Boulter said she did not quite know what to

expect when she brought her 8-year-old son, Aiden to

participate in his first adaptive sporting event but was

blown away by the support from the community.

"We have enjoyed it so much," she said. "The players,

coaches and families were so kind and they have

made this environment so fun for us."

Angelia Rodgers, Kaiden Mack's mother, said that

supportive base is largely what keeps them coming

back year after year.

"There is nowhere else that you can get this level of

support," she said. "We have all really become a family

here."

Farmstead-Hancock property, near State Route 104

and Hawthorne Parkway. In 2020, council gave the

green light to Pinnacle Quarry, an expansion of the

Pinnacle development, that will add 180 single family

homes and 30 condominiums. Last year, council also

approved plans for a 105-unit apartment complex

along State Route 104.

"There are traffic issues," said councilman Aaron

Schlabach. "But we cannot not have housing. I am

pleased to add housing in the area."

Councilman Ted Berry said he would prefer the

area stay as is.

"My problem is where this is located," said Berry.

"My vision of that area is green. It should stay in its

current state for the park to expand."

Berry, who voted against the proposal, was referring

to Scioto Grove Metro Park, which is near the

property.

According to city documents, the preliminary proposal

includes several areas of open space and multiuse

paths, which would help with connectivity across

the site. There is also a potential trail connection to

Scioto Grove Metro Park, through the Scioto Meadow

subdivision.

The developer will still have to come before council

for final approval of the development plan.
---
www.columbusmessenger.com

Good oldfashioned

fun

Messenger photos by Dedra Cordle

On June 5, the community came out to

Century Village in Fryer Park to experience

a bit of old-fashioned fun during

the Heritage Celebration. Among the

newest attractions was the unveiling of

the recently restored railroad station.

Top right, Suzanne Gibboney-Rogers, a

volunteer with the Southwest Franklin

County Historical Society, breaks all

kinds of societal norms during that era

as she not only sits at the desk of the

stationmaster (who were traditionally

male) but shows off a little skin at the

ankle. "People would be very scandalized

by her behavior," said historical

society president Steven Jackson.

Nancy Pennell (right) joins a jam session.

She said they often perform folk

songs at Century Village on Saturdays.

Jackson Phillips (below) swings at a

pitch during the vintage "base ball"

game between the Ohio Village Muffins

and the Century Village Greyhounds.

Phillips, 18, was a member of the Central

Crossing High School baseball team.

Community Focus

We've Missed You!

June 13, 2021 - GROVE CITY MESSENGER - PAGE 3

Dance Camp is Back!

hip hop • tumbling • lyrical • jazz • tap • ballet

June 21 - 25

From 6 - 9 each night

TOT camp age 3-6

is from 5-6 each night

WE MISSED ALL OF YOU

LAST YEAR!

BOYS & GIRLS

Bring a friend and have a BLAST!

*Info and Forms are on the website

COME DANCE with US

Reflections Dance Center

3048 Southwest Blvd | Grove City

614-875-1044 | rdcdance.com | Email: wendi@rdcdance.com

Mary Jane LaLonde, left, and Mary Sanger check out the chives at the garden in

Century Village. Both are volunteers with the Gardens at Gantz Park.
---
PAGE 4 - GROVE CITY MESSENGER - June 13, 2021

Follow us on Facebook

JEFFREY P. COMPTON

ATTORNEY AT LAW

General Practice

Personal Injury • Domestic

Probate • Wills

Power of Attorney

Healthcare Documents

FREE CONSULT & PARKING

614-875-7233 Fax: 929-474-9475

1665 London-Groveport Rd., Grove City

www.jeffreypcompton.com

Email: jcompton@jeffreypcompton.com

Share your Compliments

Brighten a business owner's day

by sharing your positive experience

Businesses in our communities have been

through tough times. If you have had a good

experience and would like to share your

compliments it would be much appreciated.

Email Compliments to:

compliments4biz@gmail.com

Compliments may be printed in upcoming Messengers

Summer Reading Challenge offered at SPL

Southwest Public Libraries (SPL) will

offer its annual Summer Reading

Challenge (SRC) in a creative virtual format

from June 5 through July 31.

Registration opened on June 5 and participants

are able to sign up on the library's

website, in person at the Grove City or

Westland Area Library, or through the

READsquared app.

This year's theme of "Tails and Tales"

features animals and stories.

Offered for all ages, babies through

adults, SRC focuses on fostering early literacy

and keeping minds active during the

summer months, helping to combat learning

loss known as "summer slide." This

refers to the tendency for children to lose

significant learning gains over the summer

if they do not partake in reading or other

enrichment activities while school is out of

session.

The library has adapted SRC to continue

to serve the community safely.

Programming that is traditionally offered

live will be presented virtually. SRC participants

will have the opportunity to track

their reading, attend virtual programs, do

online activities, explore library resources,

complete missions and quests, and more to

earn prizes.

Activities include:

•Children's author Laura Numeroff,

best known for the series based on her book

"If You Give a Mouse a Cookie" (June 7,

12:00 p.m.)

•Columbus Zoo (June 14, 10:30 a.m.)

•TaleWise, a show interweaving stories

and science (June 21, 10:30 a.m.)

•Turtle Dance Music, a music and comedy

show crafted to be inclusive for all children

including those on the autism spectrum

(July 12, 10:30 a.m.)

•Wildlife Encounters, bringing favorite

animal characters from books to life (July

19, 10:30 a.m.)

•Reggie Harris: Music and the

www.columbusmessenger.com

Underground Railroad (July 26, 10:30

a.m.)

In addition, library staff will virtually

present a host of special programs, storytimes,

book discussions, and more for all

ages throughout the summer while also

providing ample opportunities to get hands

on with a variety of take-home "Take and

Make" craft and activity kits.

SRC is one of the library's most popular

programs that is eagerly anticipated by

participants and staff alike.

"We are so excited to be able to offer

another Summer Reading Challenge safely

this year," says Meredith Wickham, director

of Southwest Public Libraries. "Even in

a typical year, we know what it takes to

combat the loss of reading skills over the

summer, and with the pandemic intensifying

learning loss, it's become even more

important. Our staff have spent months

creating a stimulating program for all ages,

and we look forward to a fun and readingfilled

summer together."

Details about the library's Summer

Reading Challenge can be found at

swpl.org. Visit the library's website for a

full calendar of events.

Southwest Public Libraries serves

southwest Franklin county and surrounding

areas through its two branches, Grove

City Library and Westland Area Library.

Moses-Mouser Eye Care

Dr. Joshua Morris is an Optometrist who grew

up in Bellville, Ohio. He completed his undergraduate

degree at the University of Akron, where

he graduated magna cum laude with honors.

Dr. Morris attended The Ohio State University

College of Optometry and graduated cum laude

with honors to receive his Doctor of Optometry Degree in May 2019. After

completing his studies, he was awarded the "Primary Vision Care Clinical

Excellence Award", in 2019.

Dr. Morris is a member of the American Optometric Association, the Ohio

Optometric Association, and The Ohio State Alumni Association. He is

excited to practice full scope optometry, diagnosing and treating a variety

of ocular disorders and diseases in patients of all ages, but has a special

interest in contact lenses and ocular disease.

On a personal note, Dr. Morris and his wife Tess, enjoy spending time with

their family, friends, and their Bernese Mountain dog Maverick, cheering

on The Ohio State Buckeyes, trying new foods, and exploring Columbus

breweries.

Q: What are floaters and what causes them?

A: Floaters are small dark shapes that move across your vision. They can appear

as dots, threads, squiggly lines, or even like cobwebs. Most floaters are caused

by normal changes in the eye. As you age, small strands of vitreous (gel-like fluid

that fills your eye) can clump together and cast a shadow on your retina (the

light-sensitive tissue at the back of the eye). Those shadows appear as floaters

that drift across your vision. You may notice floaters more when you look at a

bright background, like a computer screen or a blue sky.

Q: How often should someone with new

floaters get an eye exam?

A: Someone experiencing new floaters, a large increase in the number of floaters,

or flashing lights should see an eye care professional immediately. Sometimes

floaters have a more serious cause, including: infection, injury, inflammation,

bleeding, retinal tear or retinal detachment.

Someone with a few stable floaters should see an eye care professional at least

once a year for a comprehensive dilated eye exam.

Schedule your comprehensive eye exam

today with Dr. Morris

1600 Gateway Circle, Grove City, OH 43123 614-963-3820
---
www.columbusmessenger.com

By Dedra Cordle

Staff Writer

Government Focus

The village of Urbancrest council has turned down a

development company's request for a tax abatement.

At its meeting on June 8, council denied a 10-year, 50

percent enterprise zone tax abatement application from

the Dublin-based T&J Properties with a 5-1 vote.

According to representatives with the company, they

sought to build a 100,000 square-foot industrial complex

on Urbancrest Industrial Court that could have netted the

village approximately $280,000 in property and payroll

taxes and brought approximately 40 full-time and parttime

jobs to the area.

The members of the council said they rejected the application

for a variety of reasons.

Councilwoman Nikky Ziglar-Zimmerman said she voted

against their request because she did not feel the abatement

would be a net gain for the community despite the

financial figures listed in an economic impact study conducted

by county officials.

"We have other projects coming in that are not paying

an abatement," she said. "Why are we going to entertain it

when we don't need it?"

She added that if the council had approved the application

as is, the village could have actually seen a reduction

in those property tax collections as they would have to split

the revenue gained evenly with the South-Western City

Schools District.

"It just didn't make a lot of sense for me to vote for this,"

Ziglar-Zimmerman said after the meeting. "It's an attractive

property — they even kept saying it was an attractive

property — so why are we going to settle for an abatement?"

Councilman Steven Larkins explained his rationale for

voting against the proposal as fear of occupancy, or

the lack thereof.

"I think they have put the cart before the horse,"

he said.

During the discussion for the application

request, R.J. Sabatino, the development administrator

for T&J Properties, said there is interest in

the single or multi-tenant industrial building but

no commitments thus far.

"That concerns me greatly," said Larkins after

the meeting. "I drive past these big, empty warehouses

all of the time and I do not want to see that

in or around Urbancrest."

Josh Roth, a senior program coordinator at the

county economic development and planning department,

said those concerns are valid but feels the

size of this proposed warehouse would likely meet

capacity.

"It's much easier to fill a space that is 100,000

square-feet than something that is seven times

larger," he said.

Larkins said though he is not strictly opposed to

industrial development, he would like to know who

any potential tenants are before making a decision

of this magnitude.

"It's going to impact our community for generations

to come," he said.

After the tax abatement application was voted

June 13, 2021 - GROVE CITY MESSENGER - PAGE 5

Village council rejects request for 10-year tax abatement

down, Sabatino said he was disappointed but appreciated

the council's time and consideration.

"Hopefully, the project happens (in the future)," he said.

Prepare for unexpected

power outages with a

Generac home standby

generator

REQUEST A FREE QUOTE!

844-334-8353

FREE

7-Year Extended Warranty*

A $695 Value!

Limited Time Offer - Call for Details

Special Financing Available

Subject to Credit Approval

A FREE ESTIMATE

15 10 5

YOUR ENTIRE

PURCHASE *

% % %

OFF + OFF + OFF

*To qualify, consumers must request a quote, purchase,

install and activate the generator with a participating dealer.

Call for a full list of terms and conditions.

1-855-995-2490

SENIOR & MILITARY

DISCOUNTS

YEAR-ROUND

CLOG-FREE GUARANTEE

TO THE FIRST

50 CALLERS! **

| Promo Number: 285

Are you or a loved one approaching

Medicare Decisions

Soon?

M ed icare Annual Enroll

ment Period

th

th

Oct. 15 Dec. 7

• I will be at the Grove City Farmer Market on June 5 th !

• Visit my table — 100 insulated grocery totes to hand out!

• Register to win an old fashion gum ball machine -

everyone is welcome to enter!

Call me t today... $0 Consultation n $0 Fee

Call me t

Consultatio

$0 Fee

Terr Terri ri

Curcio Curcio 6614-460-0601

460 060

01

Terri

Curcio

614-460-0601

0601

Resident

of Ohio, a representative that i

an 800#! I can mail

you

Local repre your esentative, choice of carrier(s) I can mail

information you your preferre or we can ed carrier(s) meet via Zoom information call.

And, to review. I can enroll

Also, a

I can enrol client l a without client without a face-to-fac a face meeting to face meetin or sched ngdule or schedule a personal a mee one-on-one eting if you meeting prefer. if

you prefer.

OHIO IN. #43449 Available year round to answer questions, or

to help resolve an

issue. NO FEE

Offering different types of plans with top-rated carriers. I will work for you to find the

plan that

Review

fits your

different

needs

types

and

of lifestyle, Medicare

while

plans

offer

with

ring top-rated

the lowest

carriers.

copays.

I work for you to

find the

plan that fits your needs and lifestyle,

while offering low

copays.

OHIO IN. #43449

Do I qualify for

Low Income Subsidy (LIS) to reduce my Rx copays?

Turning 65 and new to Medicare

Or over 65 and

still working

needing answers.

Grove City Chamber Member
---
PAGE 6 - GROVE CITY MESSENGER - June 13, 2021

--

What Are Your Housing Goals?

--

--

- -

The City Beat

community events

Explorers Information Session

Are you between the ages of 14 and 21

years old and interested in law enforcement?

Join members of the Grove City

Division of Police at an Explorers

Information Session from 6 to 8 p.m.,

Wednesday, June 9 at the Safety Complex,

3360 Park St. Explorers participate in

community service, ride-alongs, workshops

and other training to prepare for a career

in law enforcement. Parents are welcome

and applications will be available to those

interested. For more information, contact

the post advisor at 614-277-1754.

Coffee with a Cop

The Grove City Division of Police, city of

Grove City and Grove City Area Chamber

of Commerce invite you to Coffee with a

Cop from 10 to 11:30 a.m., Tuesday, June

29 at 3 Brothers Diner, 3090 Southwest

Blvd.

Join Police Chief Rick Butsko and officers

for a unique opportunity to ask questions

and learn more about the division's

work serving the Grove City community.

The program expands the division's outreach

to citizens continuing the Grove City

community policing philosophy. There is

www.columbusmessenger.com

no agenda, just a casual opportunity to ask

questions and share ideas over morning

coffee.

Coffee with a Cop is a national initiative

designed to advance the practice of community

policing and strengthen relationships

between police officers and the community.

Wine and Arts Festival

The Heart of Grove City will host the

Wine and Arts Festival in the Grove City

Town Center. The event will take place

from 5 to 10 p.m. on Friday, June 18 and

from 11 a.m. to 10 p.m. Saturday, June 19.

Tickets are available the day of the event

and start at $25. For more information,

visit heartofgrovecity.org.

Blood drives in Grove City

The American Red Cross will host several

blood drives in Grove City. The drives

will take place:

•June 12 from 9 a.m. - 2 p.m. at the

Grove City Church of the Nazarene, 4750

Hoover Road

•June 15 from 12 to 6 p.m. at St John's

Lutheran Church, 3220 Columbus St.

To schedule an appointment, call 1-800-

448-3543 or visit www.redcrossblood.org.

Honoring the fallen

Photo courtesy of the city of Grove City

The American Legion Paschall Post 164 and Veterans of Foreign Wars 8198 hosted

the annual Grove City Memorial Day Service on May 31 at Grove City Cemetery. The

ceremony featured the Placement of the Poppy to honor the fallen and their families

for their sacrifices made for our country. The event featured (left to right) Nick

Amicucci, Lt. Brian Wess and Ben Hart, the color guard from the Jackson Township

Fire Department. The Grove City and Central Crossing high schools Navy Junior

Reserve Officer's Training Corps also took part in the service.
---
www.columbusmessenger.com

June 13, 2021 - GROVE CITY MESSENGER - PAGE 7

Visit our Friends

Broadway

Down on Broadway

Shawn Conrad

Executive Director

R&R Lawn Care, LLC

A Local - Family Owned Business

Free Estimates!!!

Competitive Pricing

Residential Mowing

Commercial Mowing

Property Maintenance

John Deere Equipped!

The GC Chamber encourages you to walk along Broadway and

visit all of our restaurants and merchants

when you visit the Farmers' Market on

Saturday mornings.

Paul Ranke (614) 315-6051

Sales Marketing

Ben Ranke (614) 915-7151

Operations

Megan Ranke (614) 546-7261

Administration

ARDENT

We're looking for

Production Operators

to join our Columbus, OH team!

Apply online: ardentmillscareers.com

Search Location: Columbus, OH

MILLS IS

AN

EQUAL OPPORTUNITY EMPLOYER

Bring in this ad to receive15% OFF

on select air purification products.

3038 Southwest Blvd., Grove City

614-875-6600 www.aerusofcolumbus.com
---
PAGE 8 - GROVE CITY MESSENGER - June 13, 2021

www.columbusmessenger.com

Robert Cain Adams

Derrick Isaiah Adkins

Dennis Lubya Chadeya

Isaac Nassim Alaheri

Jemar Dashawn Chavis

Brandie Marie Alexander Malak Serenity Choua

Brooklyn Dawn Alexander Julie Marie Christensen

Alison Mary Margaret Allmon Samantha Koleanne Chuop

Austin James Allmon

Avery Madison Ciborek

Nathaniel Timothy Amicucci-Doup

Chloe Ann Clark

Ansony Bryan Herrera Andrade Alex Andrew Coffey fey

Brooke Melynn Armbrust

Ryan Charles Smith Armstrong

Amiryon Michael Bailey

Marisa Nicole Ballard

Anna Elizabeth Baltzer

Jeremiah Craig Bane

Aaliyah Christine Barker

Tanner Michael Barnard

Joshua David Bartko

Kelsey Reanne Bartlett

Nicholas Rocco Bartley

Noah Christian Bassett

Zachary Nathaniel Baugess

Hannah Morlan Beard

Gage Michael Beatty

Cole Matthew Becker

Breanna Marie Bellar

Sydney Leigh Belt

Jonathan Thomas Bennett

Camron Ray Berio

Madison Taylor Besse

Abby Renee Beverly

Salena Danielle Bevins

Tyler Austin Biddle

Collin Lucas Binegar

Carter James Binford

Hope Taylor Bishop

Sealan Marie Bishop

Kurtis Henry Blevins

Jack Edward-Albert Bogner

Nathanael Seth Bolin

Dylan Christopher Boso

Brandon Thomas Bowers

Logan Mathew Bowman

Nathan Edward Boyer

Dillon Edward Braddock

Olivia Evelyn Brain

Owen Nelson Brickles

Jason Monroe Casparro

Skylar Dawn Coldiron

Andrew Oliver Cole

Olivia Faye Cole

Claire Melane Collins

Ethan Andrew Conley

Mackenzie Rae Conley

Andrew Charles Converse

V

Ethan Allen

Jaden Thomas

Jamie Lynn Dent

Kierlan Chae DeRosa

Isabella Kae DeRose

Hannah Mae DeVine

Samantha Jean DeVore

Joshua James Dillion

Cynthia Jane Dimel

Drew Patrick Donahue

Cayley Morgan Donohoe

Tristen Richard Doughty

Madison Anne Douglas

Joslyn Elwanda Dowell

Savannah Ann

Samira Abdiaziz

Lilli Anne Ferguson

f

Grove City High School

Danel Augusto Fernandez

Mia Rose Feucht

Hannah Noel Fisher

Chase Weston Fleming

Reagan Marie Fleming

Rachel Ella Forney

Haylee Elizabeth Fowler

Aaron Lucas Francis

Tae'Juan Maurice Franklin

Kailey Joann Freeman

LeAnn Raquel Fruster

Stevie Marie Fruth

Jarod Daniel Fuchs

Katelyn Marilyn Gallagher

Faith Nicole Gay

Alivia Grace Gearheart

Kerynn Allison Gersper

Lukas James Hamilton

Madison Rose Hanna

Robert Wayne Harding III

Kiley Ann Hardyman

Mark Anthony Harr Jr.

Hannah Jo Harris

Jessie Lynn Harris

Heidi Nicole Hays

Perry Robert Heiby

Colin Joseph Henry

Annamaria Herrera Gonzalez

Ireland Lacey Hester

Claire Finn Heverly

Samuel Johnathon Higgins

Jeremiah Allen Hildebrand

William Matthew Hines

Luke Andrew Hinterschied

Jakob Colin Hively

Sophia Marie Hoersdig

Holstein

Class of 2021

Anthony Migu'el Hunt

Ava Quinn Hurd

Adam Joseph Husband II

Haley Jade Iacoboni

Madalyn Grace Irvin

Nicholas Steven Isaac

Fares Intaj Jallaq

Nader Nafez Jallaq

Madison Grace-Nicole James

Kendall Nicole Jameson

Clayton Allen Jarrell

Madelyn Leona Jarrell

Danielle Nicole Jarrett

Victoria Rose Jefferson ferson

Laila Dominique Johnson

Matthew Cole Johnson

Louis Christopher Jones

Rylee Lynn Jones

Nevaeh Ann Estelle Kelso

Cole Emmett Keplar

Jaden A Kershaw

Evan Luke Kindoll-Thomas

Gregory Allen Kingsbury III

Matthew Alan Kinney

Brayden Gabriel Kirk

Kyle Anthony Kuder

Genavieve Lynn Kuhn

Abigail Denae Lake

Chyann Rose Lament

yler Scott Lantzy

Andrew Leavens

Logan Michael LeFors

Jacob Gerald Legue

Sophia Claire Legue

Joseph Charles Lepard

William Earl Lewis III

Shemar Lee Likens

Cameron Nichole Linley

A

Mason

T

Carlee Rose McKnight

Madelynn Rose McKnight

Dakari Dajuan McLaughlin Ramirez

Zachary Scott McNamee

Meghan Christine McNeil

Jacob Viktor Melnik

Andrew Michael Miller

yvia Jayne Miller

Hannah Elizabeth Milner

Tyler Scott Mirolo

Taryn Elizabeth Mitchell

Savannah Jean Mongeon

Tori Lee Moore

Ella Nicole Moscinski

Ahmad Hasan Murib

Brandon Zion Nelson

Ashley Peyton Nickison

Gianna Lynn Nickoloff

Paige Elizabeth Noe

Noel

Alec Michael Olshefski

Jordy Gerardo Orta-Quintero

Ibrahim Mohamed Osman

Alexander Uchechukwu Olaleke Osuji

y'asia Ouse

Isaac Samuel Overly

Allyson Rene Pape

yler

Parks

Taylor Frederick Parsley Jr.

Johnny Ray Prilaman

Anthony James Repeta Jr.

Ashlea Michele Repeta

Kristina Louise Richcreek

Isaiah Nathaniel Rivers

Tatiana Miyu Robertson

Annabelle Robinette

Robinson

Romeo

Graden Allen Roth

Sydney Cole Roth

Venna Marie Rouse

Samuel Weston Roy

Savanna Chloe Rudacille

Jacob Henry Russell

Kayla Elizabeth Rutan

Melar Saeed

Skyla Anne Sanborn

Elizabeth Patrice Saur

Virginia Diann Sayre

Caleb Benjamin Schall

Benjamin Thomas Schneider

Elizabeth Michelle Schneider

Grace Marie Schroeck

Christian Mitchell Seckman

Leanna Marie Seipel

Ryan Matthew Seitz

Charles Peter Sexton

Kyler Allen Michael Shadwick

David Ivanovich Shapoval

Sydney Nicole Sharron

Bryonna Aeril Shephard

Daniel Lee Sheppard

Mary-Mae Vigil Shoemaker

Kyle Jonathan Short

Jakob Daniel Shrader

Madison Danielle Shreck

Katelyn Elizabeth Simmons

Sodahny Rachel Sip

Eva Maddison Six

Jenna Marie Slabaugh

Mitchell Riley Slaughter

ynn Smith

Karmyn Danielle Smith

Smouther

Steere

Brayden Eric Steinhauser

Makenna Neale Steinhauser

Jesse Stevens

Jaedyn Dawn Stonerock

Jeremy Daniel Streeter

Jessica McKenzie Streeter

Hayle Morgan Strickler

Abigail Kathryn Sweazey

Alexander

adlock

aylor

Luke aylor

Mya

aylor

Brennah Marie Thomas

Miracle Charlize Adriana Thomas

A Titus

T

ance

azquez

Jillian Adriane Walters

Yiming Wang

Angelina Michelle Ward

Riley Elizabeth Waugh

Matthew Christian Weaver

Noah Mitchell Weaver

Kendall Riane Weber

Nathan Alan Weber

Arden Brian White

Ethan Gregory Whittier

Gracie Laine Whittington

Joshua Daniel Wickline

Hayden

Gianna Nicole Yost

oung
---
www.columbusmessenger.com

June 13, 2021 - GROVE CITY MESSENGER - PAGE 9

Central Crossing High School

Class of 2021

Hodan Mohamed Abdi

Andres Felipe Campbell Montero

Zakaria A Abdi

Valeria Campbell Montero

Sabontu Kamal Abdikhadir Gianna Marie Cannell

Abdulrahman Hassan Abdulrahman Jamie Julissa Carbajal Perez

Caroline Katelyn Acheampong Eve Elizabeth Carr

Dylan Bradley Adams

Jonathan Isiah Carroll

Sakarie Abdi Aden

Paige Marie Carson

Nevaeha Jade Adu-Boahen

Adrian Aguilar Mora

Kimberly Marie Aguirre

Ahmed Abdurahim Ahmed

Mustafa Mohamed Ahmed

Yolanda

Ameer Andrew Akrouche

Halie Mercedes

Lanie

Bayan Alhaj

Ashwaaq

Sabirin Ali

Hamad

James Alan Alt

Luis Enrique Alvarado

Benton Kile Amon

Angela Opokua Amponsah

Marcos Alejandro Anaya

Damiiya Nashea Anders

Jacob Collin Archer

V

Taylor

Kelton Armstrong

Ismael Arreola Gonzalez

Jonathan Lee Crumrine

Justine Marie Asquith

Austin Jeffrey frey Curry

Sean Michael Asquith

Salah Aden Dahir

William Alan Atkins

Yahya Aden Dahir Ali

Antwan Marquis Ayers

TaNiyah Lachele Dalcaure

Courtney J Bachstetter

Kennedy Damian Garcia

Reagan Jolie Bandy

Caleb Devonar Davis

Lay'Marra Cuerathia Barker Kyle Charles Davis

Andrew Lane Basham

Ryan Patrick Davis

Jennifer Kay Basil

Addison Grace Dean

Alimatou Bayo

Dean

Amani Jordan Bayo

Ethan Alexander Bell

Jordan Matthew Burns

Sarah Mae Campbell

.

.

Burchett

Alhely Diaz-Bustamante

iet Doan

Barseoh Doerue

Brianna Nicole Dolch

Ashley Christina Dominguez Ibarra

Jaydon Michael Douglas

aylor Downs

Jacob

Mohamed D Ibrahim

ynn Fansler

Lauryn Elizabeth Imler

Deko Abdirahman Farah

Aisha Ahmed

Alexander Jordan Farmer

Farhiyo Omar Jeilani

Jordan Renee Ferrell

Angela Joyce Jennings

Catherine Emelina Figueroa-Figueroa

Jason Neil Jenny

Audrey Elaine Flanery

James Christopher Jermann

Riley Elizabeth Fleck

Mohamed Abdulkadir

Hans Guillermo Flores

Destiny Faith Johnson

Zoie Claire Johnson

Joshua Blake Johnston

Paige Madison Jones

Frank

Grace Ella Jordan

Victor Hugo Juarez Jr.

Mudathir Ali Kadir

Jayci Ann Kaufman

ynn Grace Frump

Brett Louis Fullen

Abel Abdou Garantche

Garcia

Benjamin Matthew Ginther

Brianna Renee Given

Kyren Maliq Glaze

Aeriyana Caprice Goddard

Teagan Kaye Goldsworthy

Alvie Jordan Green

Noor Al Huda Hadi

Taylor Dawn Hale

Shania Martinay Hall

Zarah Marie Haycook

Rachel Nicole Henry

Charity Faith Herron

Nevaeh Noel Herron

Conner Justin Hewlett

Christian Andres

Laterriana Mo'Neah Higgins

Joseph David Hinkle

Makaylah

Leann Marie Holpp

Dylan Michael Hook

Kolten Scout Hossfeld

.

Isabella Angelina

Ashton Allen

Moriana Chanta'

W

Riley Daniel Knudsen

Rahenatu Koita

Aurora Lexis Kulp

Charles Camden Mitchell Kulp

Amanda Danielle Kumfer

Haley Donnelly Kumfer

Jillian Cecilia Kumfer

Melody Sopia Kung

Alana Hayley Mann

Alasia Hayden Mann

Robert Vincent Mantle

Hannah Irene Martin

Carlos Enrique Martinez Antonio

Abraham Hamisi Matari

Matthew Nelson Matheney

Jonathan Ray Mathers

Tana Kaylyn Mathias

Faris Sufyan Matus

Tyler Marshall McArthur

Makenna Noelle McCormack

Sydney Nicole McCullough

Riley Joseph McKinney

Erica Elaine Meeks

Irina Emely Meleshchuk

Marcela Alejandra Mendoza Gomez

Omar Mijangos

Mackenzie Renee Milby

Aisha R Milhem

Alexandra Janine Miller

Hannah Renae-Morgan Miller

yler Miller

Hayden Michael Mitchell

Y

Momot

ernon Q'Whysan Murphy

ayne Neil

Nguyen

Noble

Nur

Makenzie Nicole Oliver

Sharon Nicole Orozco Osio

Falecia Amerie Ortega

Daniel Ortiz

Funmilola Ayobami Oseni

Mckenzie Rose Parsons

Jacob Gregory Payne

Delcy Jeanelle Pena-Lopez

Jorge Elias Perdomo

Miles Emmett Pingree

Skyler Austin Pinkerman

Andrew Popchuk

Kylee Jo Marie Potts

Abdullahi Qoriyon Qorane

Samuel Alexander Quintero Hernandez

Jonathan Junior Quiroz

Ziad Tarek

Ragheb

Brandon Ardulfo

Rebekah Anne

Noah Ray Rich

Zoe Anastasia

ictoria Kay Same

Faith Marie Samson

Cameo Ruth Sappington

Elijah Avery Scarberry

Gunnar Kambld Schmidt

Sharrock

Shishlo

angwei Shoopman

Taylor

errell

Nicholas Robert Tiegler

Melany Torres

Gutierrez

Kylie Anne Townsend

Jalynn Danea Turner

Napria Noelle Turner

Eric Philip Vannatter

argas Rojas

Anne V

Terra-Kae Louise Wilson

Wiseman

oods

oods

Worden

orthington

Emily Elizabeth Wright

Kiyah Nikole Wright

Dylan Ray Yeck

Jeremy Michael Yount

Bilal Abdikadir Yusuf

Alisha Zaman

*As of May 14, 2021

.
---
Bishop Ready High School

Central Crossing High School

5913 HOOVER RD. - 614-875-8525

3984 BROADWAY - 614-875-2345

TAMMY'S PIZZA

10% OFF your order

The more you buy, the more you save!

Exp. 7-31-21

Congratulations Class of 2021!

Congratulations &

Class o

SHIFFLET @UTO C@RE

Need Car Repairs?

MENTION This Ad

for a $30 Discount

on Repairs Of $200 or More.

3374 Sullivant. Ave. 614-488-9951

2330 International Street

Columbus, OH 43228

(1/2 mile West of I-270 off Roberts Rd.)

614-529-8828

www.fliptastic.com

Way to Go! Class of 2021

Congrats to all of this year's

Your commitment and dedication have paid off, and t

We know you'll continue to work hard and accomplish great t

good health and good fortune for you. As you continue this m

party without drugs or alcohol. W

Eric Snider

Insurance Agency, Inc.

4911 West Broad Street

Columbus, OH 43228

Near I-270 & West Broad

(614) 851-1300

eric@eric4cars.com

Hablamos Español

George Buttrick

Owner

WESTWAY

PAINT AND BODY REPAIR

2888 Fisher Road, Columbus, OH 43204

614-274-9311 614-276-5583

Fax 614-276-1942

Congratulations to the

Class of 2021

Congratulations Class of 2021

ADAM C. MILLER

State Representative House District 17

77 South High St., 10th Floor, Columbus, OH 43215

Office: (614) 644-6005 Fax: (614) 719-6963

Rep17@ohiohouse.gov

Pam Brown

614-975-9462

Thinking about

selling your home?

Call An Experienced Realtor!

41 Years of "Service with a Smile"

GREAT SELLING MARKET!

3656 Broadway, Grove City, OH 43123

614-871-1000 • www.era.com
---
Grove City Christian High School

Grove City High School

& Best Wishes to the

of 2021

TWO LOCATIONS TO

SERVE YOU!

5266 West Broad St., Columbus, OH

614-878-7353 and

9901 US Rt. 62, Orient, OH

614-877-9187

Summer Hours: Mon.-Sat. 10am-9pm,

Sun. 12 Noon-9pm - Orient only

10% OFF Next Purchase

Congratulations to Our 2021 Grads

Mary Tokar, Lindsay Logus, David Medford

and Gwendolyn Gould

ar's hardworking graduates!

, and today we celebrate your academic achievement.

reat things, and we hope the future holds success, happiness,

this milestone achievement, please be smart and enjoy the

ohol. We care about your safety!

ut

e?

altor!

Smile"

KET!

H 43123

com

-

Hats off to you,

GRADS!

telhio.org

Shawn Maghie

President

Tim Maghie

Vice President

EDGE/WBE Certified

JONES LUMBER &

MILLWORK COMPANY

57 North Sylvan Ave., Columbus, OH 43204

Phone 274-1109

jones-lumber.com

Congratulations Class of 2021

Best Wishes Class of 2021

"IKE" STAGE

Grove City Mayor
---
PAGE 12 - GROVE CITY MESSENGER - June 13, 2021

www.columbusmessenger.com

Preparing students to be Christian leaders

who impact their world.

Henry Arias-Lamus • Jacob Bapst • Josiah Bever • Evan

Bowen • Ivan Bowman

Olivia Carson • Alaina Dawson • Carson Dick • Jamie Dozier •

Jared Ehrman

Victor Garcia-Solis • Simona Giupponi

poni • Andrew Heins • Taylor Ison

Tara Johnson • Evan Karlich • MaKenzie Kisor • Ethan Koch •

Mackenzie Kouns

Christian Lautenschleger • Christopher

Martinez •

Kelsey Maxwell

• Collin May

Congratulations

Class of 2021

Grove City Christian School

Abigail McDonald • Molly Murage • Lonny New • Ellen Nicklaus •

Brooke O'Dell

Annabelle O'Neal • Dawson Palmer • Joseph Phillips •

Jaime Quevedo-Mora • Caren Quiroz

Kyle Reed • Taylor Rice • Isabella Rieser •

Evett Romine •

Catherine

Snider

Sebastian Sosa • Elizabeth Woods

Class of 2021

Grove City Christian School is a ministry of the Grove City Church of the Nazarene and is accredited by the

Association of Christian Schools International (ACSI) and AdvancED.

4750 Hoover Road •

Grove City, Ohio

43123 •

614-875-3000 •

www.grovecitychristian.org
---
www.columbusmessenger.com June 13, 2021 - GROVE CITY MESSENGER - PAGE 13

OhioHealth plans to open

medical building at Beulah

OhioHealth is announcing plans to open

a new, 12,000-square-foot medical office

building at Beulah Park in Grove City.

Three acres of land were purchased along

Southwest Boulevard in October 2020.

The medical office building will provide

primary care, obstetrics and gynecology

and laboratory services.

"Beulah Park is the perfect location to

provide such important services, as so

many residents of Grove City live and work

nearby," said Brett Kim, OhioHealth

Physician Group chief operating officer.

"We are committed to providing accessible,

high quality care to the people of this community

and are looking forward to opening

this medical office building in the summer

of 2022."

The medical office building will be one of

OhioHealth's leading sites for innovation

in how healthcare is provided. It will provide

the opportunity to explore and implement

new and exciting ways to provide services

that will help enhance the patient

and provider experience, not only in Grove

City, but throughout the entire OhioHealth

system.

"Grove City residents have shown that

they trust OhioHealth with their care. Our

urgent care here is the busiest in our system.

The response to OhioHealth Grove

City Methodist Hospital has been incredible,"

said Kim.

OhioHealth also is also committed to

many other healthcare services in Grove

City, including those in the OhioHealth

Grove City Health Center on Stringtown

Road, which houses urgent care, imaging,

rehabilitation and WorkHealth services.

Additionally, OhioHealth partners with

Grove City schools to provide sports medicine

physicians and athletic trainers to

work with student-athletes.

"Grove City enjoys a long-standing

OhioHealth partnership beginning with

their first healthcare facility in the early

1990s and they continue to provide an

expanding range of specialty medical services

in our area," said Grove City Mayor

Richard "Ike" Stage. "Adding a new medical

facility in Beulah Park solidly contributes

to the city's goal of becoming a fullservice

community."

Construction on the $6 million project is

expected to begin in late summer or early

fall.

For more information, visit www.ohiohealth.com.

Pick-Up &

Delivery

C.M.T

MOWER REPAIRS

Authorized Dealers for BOBCAT Mowers

6446 HARRISBURG PIKE, ORIENT, OH 43146

614-875-5830

www.cmtmowerrepairs.com

"We have the lowest price in town!"

GENERAL MAINTENANCE SERVICES

Push Mowers $49.95 • Riding Tractors $159.95

Zero Turn Mower $159.95

Parts are additional on all units

PICK-UP & DELIVERY AVAILABLE $60.00

CHECK OUT THESE GREAT DEALS!!

• ZT 2000-42... $ 4,200.00

• ZT 2000-48... $ 4,400.00

• ZT 2000-52... $ 4,700.00

• ZT 3500-61... $ 7,900.00

Pictorial Past

This photo is from inside of Endres and Son from the 1940s. This amazing building

in the Town Center was a hotel, saloon, and stagecoach stop in the early days of

Grove City Village. Today we know this place as Planks on Broadway. The photos

and information in the Pictorial Past are provided by Don Ivers, curator of the Grove

City Welcome Center and Museum.

ZT 6000-61........... $ 10,200

ZT 6100-61........... $ 10,600

ZT 7000-72........... $ 13,300

0% Interest

Financing up to

48 months (if qualified)
---
PAGE 14 - GROVE CITY MESSENGER - June 13, 2021

news and notes

GCHS Athletic Hall of Fame nominations

The Grove City High School Athletic Hall of Fame nomination

deadline has been extended to June 30 for the 2021 HOF class.

Forty athletes, four coaches, two teams, two athletic directors,

and a contributor have been inducted since the Athletic Hall of

Fame was founded in 2015. The purpose of the HOF is to recognize

and honor former GCHS athletes, coaches, administrators

and supporters who excelled in their sport or coaching/support

role and helped bring honor and recognition to Grove City High

School.

The nomination form and eligibility criteria can be found at

www.gchsgreyhounds.com. Forms can also be picked up in person

from the high school athletic department. Mail completed forms to

Grove City High School, Attn: Kris Sander, 4665 Hoover Road,

Grove City, Ohio 43123. Please include your and your nominee's

current contact information.

For further information, contact Kris Sander at

Kris.Sander@swcsd.us or Steve Carr at sacarr831@gmail.com.

Clime Road to close

The Franklin County Engineer's Office announced that Clime

Road will close on June 14 and will remain closed for approximately

five days for railroad crossing repairs. Clime Road will be

closed from Harrisburg Pike to Demorest Road.

DOUG HENRY

Your Local Advertising Specialist

Contact me today to increase your business!

614.272-5422

doughenry@columbusmessenger.com

Grove City

Messenger

Where is my....

GROVE CITY MESSENGER?

Having Poor Delivery

Service?

Let me know

Please send email to:

nopaper007@gmail.com

Reach over

22,000 Households

www.columbusmessenger.com

Pets of the Week

Bertha is a lovely

lady. She's 7 years

old, she is good with

kids, good with

dogs, and good with

cats. She loves people.

All she wants to

do is wave hello to

everyone she

meets. If you've

been in search of a

new 72-pound best friend, then what are

you waiting for? Come meet Bertha. She is

up for adoption at the Franklin County Dog

Shelter.

FYI: www.franklincountydogs.com

Clever is a bit of a

wallflower. She is a

6-year-old pit bull

mix. This shy yet

charming girl is

searching for a

patient owner with a

relaxed lifestyle.

Clever could use

gentle guidance to

help her out of her

shell. Treat her sweet and kind and she will

blossom. Adopt her from the Franklin

County Dog Shelter.

FYI: www.franklincountydogs.com

Dr. Honeydew is

fondly called Doc.

She is mom to the

Muppets, who are

also ready to be

adopted. Doc is a

gentle soul. She

loves hanging out

by a sunny window.

She is shy and can

join a home with

adults or older teens and a feline friend,

given the right introduction. Doc is a beautiful

tabby with gorgeous markings that shine

in the light and is ready for a comfortable

home where she can be loved. Doc is up for

adoption through Friends for Life Animal

Haven.

FYI: www.fflah.org

Daddy Warbucks

is 2 years old. He

ended up in rescue

because his owner

died. He loves being

held, brushed and

purrs like crazy

when you give him

pets. He's currently

residing at the Pet

Supplies Plus at

Consumer Square West Shopping Center.

Stop in the store if you'd like to meet him or

contact Colony Cats. Daddy Warbucks is

neutered, microchipped, and up to date on

vaccines.

FYI: www.colonycats.org
---
www.columbusmessenger.com June 13, 2021 - GROVE CITY MESSENGER - PAGE 15

Opinion Page

Driver errors that drive us all nuts!

We've all heard it too many times before and it's true.

Life is not always fair and I'm betting many feel it rarely

is. Play the violin and pass the tissues. And nowhere is it

more evident than when it comes to all of us sharing in the

financial, physical and mental anguish of others' miscues

on the roadways.

My career employer was big on safety and rewarded its

employees for incident free safety performance, on and off

the job. An employee was sitting at a red light on the way

home from work when another inattentive driver plowed

into him from behind. It wasn't his fault, he did nothing

wrong, the other driver was cited. But the entire work

force lost any reward. It made no sense to me, but that was

the rule.

It's by no surprise our auto insurance bills are so high

as we must all share in picking up the tab for that horrible

driver we too often see and even for those who might be far

away on the other side of the country. Every roadway

blooper that leads to a costly accident becomes a burden to

us all, even when we have nothing to do with them.

I thought I'd seen everything over the years, but recently

saw a new classic. I'm betting the driver already has

numerous accidents and tickets on his/her record with a

sure bet another isn't waiting too far down the road.

It was after our arctic plunge, with all the accompanying

snow and ice that enveloped outside parked cars like

an igloo. I was out walking along, and a car drove by. It

was completely socked in, snow and ice covering every window,

the rooftop and hood. The driver had semi-cleared a

tiny circle on the driver's side windshield. That's it. He/she

obviously hadn't even attempted to clear anything else.

He/she was basically like a pilot flying on instruments

with zero visibility. As it sped by, all I could see was the

vague shape of a head straining up to the hole and a reflection

coming off two eyeballs.

Oh, we all make mistakes on the road from time-totime,

maybe we've even had a major blunder or two in our

lifetime. Hopefully, our blunders have just been minor

Birds of a feather

W

R

D

G

E

C

F

L

F

W

D

M

S

H

K

P

T

E

A

M

L

Z

G

K

P

D

Y

B

M

N

L

U

N

T

R

A

D

R

C

O

O

T

S

Q

M

Z

V

O

L

S

N

S

D

L

H

W

O

K

T

V

Y

J

M

R

I

U

K

S

U

V

H

W

R

L

O

H

T

I

K

G

F

L

H

B

H

H

I

G

T

T

G

A

N

G

S

A

H

C

N

U

B

K

V

D

Y

P

A

A

L

U

M

N

I

R

E

Y

N

J

E

Z

M

R

T

B

F

I

R

I

D

O

P

S

O

T

P

T

M

I

H

G

L

B

O

Z

B

W

L

V

I

J

W

Y

O

D

E

Y

O

D

I

A

B

D

E

I

E

W

Y

N

O

E

R

K

C

R

D

T

I

N

U

S

D

J

L

B

B

X

I

M

K

E

L

I

V

A

S

V

N

A

X

H

D

G

N

O

R

H

T

O

J

B

incidents in nature. But some drivers are just an accident

waiting to happen every time they take to the roads. They

send shivers down your spine if you're unfortunate enough

to sit in the passenger seat with them driving and leave

you shuddering hours after the ride. You wonder if they

sent in five cereal box tops for their license. How could they

have possibly passed a road test without bribing the evaluator.

We've all held on for dear life with a driver like that

sometime in our lifetime. They zoom right up to the car in

front, regardless of what speed you're traveling or the

weather and road conditions. They step on the gas, then

the brake, over and over again. You're clenching the door

handle as tight as you can while your right foot is pushing

down on the floorboard as hard as possible while your

brain tries to convince you there's a brake pedal there. You

begin hoping your foot will break through the floor so you

can do a Fred Flintstone stop. To the driver, it's not tailgating

until you yell out, "back off" and close your eyes and

start praying and wondering if you sent in your last health

insurance premium.

I think what I saw goes right to the top of my always

highly coveted, 'Roadway Meathead of the Year' award list

and the year has barely begun. It surpasses many other

traditional and worthy annual candidates on my already

long-standing established list. I'll describe just a few frustrating

roadway situations we possibly share in.

There's the driver who slows down for a turn, way too

far in advance of the turn, then finally turns so slowly you

feel like yelling out your driver's window, "you need a

push?" That goes along with the driver who's zipping along

and suddenly slams on the brakes to turn, causing you to

slam on yours and hope nobody slams into your rear. Then,

halfway through the turn, the driver finally puts on the

turn signal. That's not quite how it's supposed to work.

We've all seen the Nascar driver. They approach an

intersection. The traffic light turns yellow far before they

get to it. That's apparently their signal that the flag is

T

T

J

B

D

M

I

K

G

B

N

N

Y

N

K

Messenger Word Search

ARMY

ALUMNI

BAND

BROOD

BUNCH

CLAN

CLUB

CLUSTER

CROWD

DENOMINATION

ENVOY

FAMILY

FLOCK

GANG

GATHERING

GROUP

HERD

HIVE

HUDDLE

KITH

MANKIND

MASS

MOB

ORGANIZATION

POD

PRIDE

SWARM

TEAM

THRONG

TRIBE

TROOP

UNIT

Puzzle Solution on page 20

Guest Column

Dave Burton

waving to start the race. They

excel like they had the pole position

and zoom through the light.

Only problem is, it turned red

long before they passed through

it. Hopefully, drivers who just

got a green light going the other

way are paying attention.

Taking the Nascar theme a bit

further. You're on a highway and

the car in front is going excruciatingly

slow, too slow. You signal

and pull out to pass it. You get up next to it and it speeds

up. You go faster and so does your now opponent. You're

now going faster than you want to, maybe even above the

speed limit. You're caught neck and neck in the passing

lane, left out to dry, and an 18-wheeler truck rolls up

behind you. He's impatient, his bumper gets right up to

yours. The car next to you won't slow down, you can't get

by. You go faster and faster, you're now in a near panic.

Finally, you get by and move back into the other non-passing

lane. You look back and the car you finally got by has

slowed back down to its snail pace and is backing up the

traffic again.

Some drivers seem to have a problem looking beyond

the car in front of them so they can anticipate up ahead

better. They literally live for the moment, not the future up

ahead. They might not see brake lights up ahead, flashing

lights, or an intersection light getting ready to turn red.

That, or they just ignore everything to make it more exciting

and wait until the last second to start hard braking,

nearly causing a pileup. Everything they do is last-second.

If you're a passenger, you feel like you're in a jet taking off

and landing the entire trip and start searching for your

barf bag under the seat.

That lack of anticipation really hits when the driver

fails to read the roadway signs telling cars to merge for

some approaching reason. Instead, they wait until the last

second and then try to duck into a tiny spot the safe and

patient drivers have left open. Most backup delays you see

are needless if drivers would just read and head the signs.

This one always rattles my patience. You're in heavy

traffic and drive along trying to keep a safe distance

behind the car in front. Inevitably a car flies by and ducks

in right in front of you causing you to quickly slow up, else

you'll be tailgating. If you try to back off and keep a safe

distance it happens repeatedly. You keep getting shuffled

back and can't win unless you too tailgate.

This morning's rush hour traffic report showed I-71 at a

complete standstill once again in the heralded construction

zone, our own little Bermuda Triangle for too many years

now. It's a rare day when there isn't one there, almost

always caused by one driver's miscues. So many other cars

end up sharing in the needless direct and indirect repercussions.

My company used to insist all accidents are preventable.

I'm not sure I agree with that, but I do agree

almost all are.

Dave Burton is a guest columnist for the Columbus

Messenger Newspapers. He lives in Grove City.
---
PAGE 16 - GROVE CITY MESSENGER - June 13, 2021

www.columbusmessenger.com

CLASSIFIED ADS

Deadlines: Groveport and West editions, Wednesdays at 5 p.m., • South/Canal Winchester, Grove City, Madison editions, Tuesdays at 5 p.m.

All editions by phone, Tuesdays at 5 p.m. • Service Directory, Tuesdays at 5 p.m.

xEmployment

WANTED

SW CITY SCHOOLS

SCHOOL BUS DRIVERS

The South-Western City School

District is currently hiring drivers

for the 2020-2021 school year

We Will Train

Available positions are for substitute drivers

that can develop into "Regular" positions with

benefits. Interested individuals should submit

an application on our website at swcsd.us.

Follow the employment link. Applicants should

have an excellent driving record and must

submit to drug, alcohol, and background

screening. A high school diploma or equivalent

is required.

EOE

FREE

TRAINING

+

$1000 SIGN-ON BONUS

Kroger Pharmacy Warehouse

2nd and 3rd Shift

Positions Available

Scan for more details and

link to apply:

ASSOCIATION ADS

WANTED

Host/Hostess • Back-Up Cooks

Grill • Servers • Dishwashers

You Can Work 29+ Hrs. Based on

Your Availability & Performance

Immediate Full/Part-time Openings

We Offer:

• Weekly Pay

• Paid Training

• No Tip Sharing

• Paid Vacation

• Employee Meal Discount

• Position/Salary Advancement Plan

• Discount Purchase Plan

Apply online at crackerbarrel.com/careers for

Grove City Location 614-871-1444

INFORMATION

Dianetics is a proven and

workable method of returning

self-determinism and

freeing you from depression.

L. Ron Hubbard.

Start the adverture - of

you, $25. Call 614-401-

0664 or come to 1266

Dublin Road, Columbus,

Ohio

ASSOCIATION ADS

Donate your car to kids.

Your donation helps fund

the search for missing

children. Accepting trucks,

motorcycles & RV's too!

Fast free pickup - running

or not - 24 hr response -

maximum tax donation -

Call 888-515-3813

DISH TV $64.99 FOR 190

Channels + $14.95 High

Speed Internet. Free Installation,

Smart HD DVR

Included, Free Voice Remote.

Some restrictions

apply. Promo expires

7/21/21. 1-855-270-5098

Never pay for covered

home repairs again!

Complete Care Home

Warranty covers all major

systems & appliances. 30-

day risk free. $200.00 off

+ 2 free months! 1-866-

395-2490

ASSOCIATION ADS

Update your home with

beautiful new blinds &

shades. Free in-home

estimates make it

convenient to shop from

home. Professional

installation. Top quality -

Made in the USA. Free

consultation: 877-212-

7578. Ask about our

specials!

ATTENTION DIABETICS!

Save money on diabetic

supplies! Convenient

home shipping for

monitors, test strips,

insulin pumps, catheters &

more! To learn more, call

now! 877-810-0063

DENTAL INSURANCE

from Physicians Mutual

Insurance Company.

Coverage for 350 plus

procedures. Real dental

insurance - NOT just a

discount plan. Do not wait!

Call now! Get your FREE

Dental Information Kit with

all the details! 1-877-553-

1891

www.dental50plus.com/

macnet#6258

Become a Published

Author. We want to Read

Your Book! Dorrance

Publishing Trusted by

Authors Since 1920 Book

manuscript submissions

currently being reviewed.

Comprehensive Services:

Consultation, Production,

Promotion and Distribution.

Call for Your Free Author's

Guide 1-866-482-1576 or

visit http://dorranceinfo.

com/macnet

The bathroom of your

dreams for as little as

$149/month! BCI Bath &

Shower. Many options

available. Quality

materials & professional

installation. Senior &

Military Diiscounts

Available. Limited Time

Offer - FREE virtual inhome

consultation now

and SAVE 15%! Call

Today! 1-877-540-2780

NEED IRS RELIEF

$10K-$125K+ Get Fresh

Start or Forgiveness.

Call 1-844-431-4716

Monday through Friday

7am-5pm PST

GENERAC Standby Generators

provide backup

power during utility power

outages, so your home

and family stay safe and

comfortable. Prepare

now. Free 7-year extended

warranty ($695 value!).

Request a free

quote today! Call for additional

terms and conditions.

1-855-465-7624

Employment

ASSOCIATION ADS

READY TO BUY, SELL

OR RENT YOUR

VACATION HOME OR

HUNTING CAMP?

Advertise it here and in

neighboring publications.

We can help you. Contact

MACnet MEDIA @

800-450-6631 or visit our

site at MACnetOnline.

com

Protect your home w/home

security monitored by

ADT. Starting at $27.99/

mo. Get free equipment

bundle including keypad,

motion sensor, wireless

door & windows sensors.

833-719-1073

New authors wanted!

Page Publishing will help

self-publish your book.

Free author submission

kit! Limited offer! 866-

951-7214

Thinking about installing

a new shower? American

Standard makes it

easy. FREE design consulation.

Enjoy your

shower again! Call 1-

833-769-0995 today to

see how you can save

$1,000 on installation, or

visit www.newshowerdeal.com/mac

HOME HEALTH AIDES

$13.00-$20.00 per hour

Choose your Schedule and Clients,

Benefits Available: Pay Advances,

Quarterly Bonuses, Paid Vacation,

401K w/matching, Medical/Dental/Legal

One year experience working for an employer

in caregiver role is preferred.

To apply, please visit v-angels.com

or text/call "career" to

614-80-ANGEL (802-6435)

DO YOU NEED

SEASONAL EMPLOYEES?

Call KATHY to ADVERTISE!

and reach over 40,000 homes in the

West & Grove City Messengers

614-272-5422

kathy@columbusmessenger.com
---
www.columbusmessenger.com

June 13, 2021 - GROVE CITY MESSENGER - PAGE 17

xEmployment

NOW HIRING

J & P Caulking, Inc.

3858 Alum Creek Drive

Columbus, OH 43207

Caulkers, Pointers, Cleaners

Swing Stage Experience

Please Call

Ph. 614-491-0658

Email: jpcaulking3@hotmail.com

EARN EXTRA

$$$ $$$

MONEY

The Advertising Department at the

Columbus Messenger Newspapers

is seeking a Salesperson.

No Experience Necessary.

Base salary plus commissions, auto allowance.

Seniors welcome to apply.

Please send your resume or call:

Doug Henry, Advertising Manager

Columbus Messenger Newspapers

3500 Sullivant Ave.

Columbus, Ohio 43204

614-272-5422

or

e-mail to doughenry@columbusmessenger.com

ASSOCIATION ADS

Donate Your Car To

Veterans Today! Help and

Support our Veterans.

Fast - FREE pick up.

100% tax deductible. Call

1-800-245-0398

Wesley Financial Group,

LLC Timeshare Cancellation

Experts Over

$50,000,000 in timeshare

debt & fees cancelled in

2019. Get free

informational package &

learn how to get rid of

your timeshare! Free

consultations. Over 450

positive reviews. 888-965-

0363

HOME BREAK-INS take

less than 60 SECONDS.

Don't wait! Protect your

family, your home, your

assets NOW for as little as

70¢ a day! Call 866-409-

0308

ASSOCIATION ADS

ATTENTION SENIORS:

The average funeral cost

is $9000+ Don't leave

your family to pay your

debts. State Approved,

Final Expense Life

Insurance Plans are now

avaiilable as low as $25 a

month. Hurry and call

before enrollment ends. 1-

877-761-1796. M-F 9am-

6pm EST

Wants to purchase minerals

and other oil and gas

interests. Send details to

P.O. Box 13557, Denver,

CO. 80201

Looking for auto insurance?

Find great deals

on the right auto insurance

to suit your needs.

Call today for a free

quote! 866-924-2397

HEARING AIDS!! Bogo

free! High-quality rechargeable

Nano hearing

aids priced 90% less

than competitors. Nearly

invisible! 45-day money

back guarantee! 833-

669-5806

ASSOCIATION ADS

Attention oxygen therapy

users! Inogen One G4 is

capable of full 24/7 oxygen

delivery. Only 2.8

pounds. Free info kit.

Call 877-929-9587

AT&T Internet. Starting

at $40/month w/12-mo

agmt. 1 TB of data/mo.

Ask how to bundle &

SAVE! Geo & svc restrictions

apply. 1-888-796-

8850

HughesNet Satellite Internet

- Finally, no hard

data limits! Call today for

speeds up to 25mbps as

low as $59.99/mo! $75

gift card, terms apply. 1-

844-863-4478

Train online to do medical

billing! Become a

Medical Office Professional

at CTI! Get trained

and certified to work in

months! 888-572-6790.

(M-F 8-6 ET)

Directv Now. No Satellite.

$40/mo 65 Channels.

Stream news, live

events, sports & on demand

titles. No contract/

commitment. 1-866-825-

6523

VIAGRA & CIALIS! 60

pills for $99. 100 pills for

$150 FREE shipping.

Money back guaranteed!

1-844-596-4376

DENTAL INSURANCE-

Physicians Mutual Insurance

Company. Covers

350 procedures. Real

insurance - not a discount

plan. Get your free

dental Info kit! 1-888-

623-3036 . www.dental50plus.com/58

#6258

BE YOUR OWN BOSS!

INDEPENDENT

CONTRACTORS

WANTED

If you have a reliable

car and would like to

earn extra money,

then why not deliver?

• Deliver 1 or 2 days a week

• Flexible delivery hours

• Work close to home - often

in or near your neighborhood

CONTACT US

1-888-837-4342

www.thebag.com

• Deliver 7 days a week

• Delivery before dawn

• Work close to home - often

in or near your neighborhood

CONTACT US

614-461-8585

www.dispatch.com/delivery

ASSOCIATION ADS

Don't let the stairs limit

your mobility! Discover

the ideal solution for

anyone who struggles on

the stairs, is concerned

about a fall or wants to

regain access to their

entire home. Call

AmeriGlide today! 1-844-

317-5246

HEARING AIDS!!

Buyone/get one FREE!

Nearly invisible, fully rechargeable

IN-EAR

NANO hearing aids

priced thousands less

than competitors! 45-day

trial! Call1-877-436-0234

Attention Active Duty &

Military Veterans! Begin a

new career & earn a

Degree at CTI! Online

Computer & Medical

training available for

Veterans & Families! To

learn more, cal 888-449-

1713.

The Generac PWRcell

solar plus battery storage

system. Save money,

reduce reliance on

grid, prepare for outages

& power your home. Full

installation services. $0

down financing option.

Request free no obligation

quote. Call 1-855-

270-3785

Pest Control

Find Pest Control Experts

Near You! Don't let

pests overtake your

home. Protect your loved

ones! Call to find great

deals on Pest Control

Services - 833-872-0012

DISH TV $64.99 190

Channels + $14.95 high

speed internet. FREE installation,

Smart HD DVR

included. Free Voice Remote.

Some Restrictions

apply. Promo Expires

7/21/21. 1-833-872-2545

ASSOCIATION ADS

Attention: If you or aloved

one worked around the

pesticide Roundup

(glyphosate) for at least 2

years and has been diagnosed

with non-Hodgkin's

lymphoma, you may be

entitled to compensation.

855-341-5793

SELL YOUR ANTIQUE

OR CLASSIC CAR.

Advertise with us. You

choose where you want

to advertise. 800-450-

6631 visit macnetonline.

com for details.

BATH & SHOWER UP-

DATES in as little as

ONE DAY! Affordable

prices - No payments for

18 months! Lifetime warranty

& professional installs.

Senior & Military

Discounts available. Call

855-761-1725

Eliminate gutter cleaning

forever! LeafFilter, the

most advanced debrisblocking

gutter protection.

Schedule a FREE LeafFilter

estimate today. 15% off

Entire Purchase. 10% Senior

& Military Discounts.

Call 1-855-791-1626

Employment

ASSOCIATION ADS

GENERAC Standby

Generators provide backup

power during power

outages, so your home &

family stay safe &

comfortable. Prepare now.

FREE 7-yr extended

warranty $695 value!

Request a free quote today.

Call for terms & conditions.

1-844-334-8353

Elminate gutter cleaning

forever! LeafFilter, most

advanced debris-blocking

protection. Schedule

Free LeafFilter Estimate

today. 15% off

Purchase. 10% Senior

& Military Discounts. Call

1-855-995-2490

Life Alert. One press of a

button sends help fast

24/7! At home and on

the go. Mobile Pendant

with GPS. Free first aid

kit (with subscription).

877-537-8817 Free brochure

VIAGRA and CIALIS

USERS! 50 Generic pills

SPECIAL $99.00 FREE

Shipping! 100% guaranteed.

24/7 CALL NOW!

888-445-5928 Hablamos

Espanol

HIRING?

Let us help you recruit the qualified employees you need to make

your business succeed. With a print and online audience of more

than 39,000 readers, our employment section is your key to meeting

local job seekers where they look first for fresh career opportunities.

Our Westside Messenger

covers Lincoln Village,

Galloway, Franklin Township

Our Southwest Messenger

covers Grove City and

Southwest Columbus

Reaches over 35,000

household in these 2 area

To list a job opportunity, contact a

recruitment advertising specialist today at

614.272.5422

or

Kathy@columbusmessenger.com
---
PAGE 18 - GROVE CITY MESSENGER - June 13, 2021

xAuctions

AUCTION

Thurs., June 17, 2021 @ 10:00 AM

5885 Haughn Rd., Grove City, Ohio 43123

A public auction will be held to settle delinquent storage account. The

names and last known addresses are listed below. The goods are general

household items unless other wise noted and will be sold by unit.

1) Lisa N Hosteriman, 5484 Sutton Dr, Grove Cit,y OH 43123, Unit 141

2) Chad Wayne Johnson, 6339 Riverveiw loop, Grove City, OH 43123, Unit 240-241

3) Sara E Salyers, 27875 Jugrun Dr., Frazeyburg, OH 43822, Unit 277

4) Sabrina M Gilbert, 155 Calahan, Columbus OH 43207, Unit 205.

Auctions

xPreschool/Daycare

holding His hand and theirs for over 30 years…

NOW ENROLLING – Call (614) 875-1917

Conveniently located on Hoover Road (between Route 665 and Stringtown Road)

Infant, toddler, Pre-K, School Age (virtual & blended learning assistance)

and summer day camp.

Breakfast, lunch and afternoon snack provided - Open 6:30am to 6:00pm.

childcareinfo@grovecitychristianchildcare.org

www.grovecitychristianchildcare.org

Visit us on Facebook or Instagram

Preschool/Daycare

xAdult Care

1 Hr. up to 24 Hr. Care

We send you the Best Home Caregivers

Rates as low as $15.21 an hour!

"We Do Things Your Way"

614-80-ANGEL (614-802-6435)

Call or text for info. www.v-angels.com

Adult Care

xPublic Notice

LEGAL NOTICE

The Grove City Police Department has recovered

numerous bicycles, tools, electronic equipment, clothing

and monies over the course of several months.

The bicycles are of various types and models, as are

the tools and electronic equipment. All properties are

held in a secured police facility at all times. If you

believe you have claim to any of the property and have

proof of ownership for the property, you may call the

Grove City Police Department Property Room at

614-277-1757. A review and release of any and all

property is by appointment only. All items not claimed

will be sold at public auction, turned over to the Law

Enforcement Fund, or destroyed according to Ohio

Law.

CHARITABLE DONATION

Qualified organizations may be eligible to receive

bicycles as charitable donations from the City of

Grove City. Qualified organizations must have a valid

ruling or determination letter recognizing the taxexempt

status of the organization, pursuant to Internal

Revenue Code Section 501(c)(3) or (c)(19).

Representatives may call the Grove City Police

Department Property Room at 614-277-1757 to

inquire about the donation process.

Public Notice

ASSOCIATION ADS

Want Faster & Affordable

Internet? Get internet

service today with

Earthlink. Best internet &

WiFi Plans. Call us Today

to Get Started. Ask

about our specials! 866-

396-0515

READER

ADVISORY

The National Trade Association

we belong to has

purchased the following

classifieds. Determining

the value of their service

or product is advised by

this publication. In order

to avoid misunderstandings,

some advertisers do

not offer "employment"

but rather supply the

readers with manuals, directories

and other materials

designed to help

their clients establish mail

order selling and other

businesses at home. Under

NO circumstance

should you send any

money in advance or give

the client your checking,

license ID or credit card

numbers. Also beware of

ads that claim to guarantee

loans regardless of

credit and note that if a

credit repair company

does business only over

the phone it's illegal to request

any money before

delivering its service. All

funds are based in US

dollars. Toll Free numbers

may or may not

reach Canada. Please

check with the Better

Business Bureau 614-

486-6336 or the Ohio Attorney

General's Consumer

Protection Section

614-466-4986 for more

information on the company

you are seeking to

do business with.

ASSOCIATION ADS

The Generac PWRcell, a

solar plus battery storage

system. SAVE money,

reduce your reliance on

the grid, prepare for power

outages and power

your home. Full installation

services available. $0

Down Financing Option.

Request a FREE, no obligation,

quote today. Call

1-855-900-2894

IMPORTANT

NOTICE

The following states: CA,

CT, FL, IA, IL, IN, KY,

LA, MD, ME, MI, MN,

NE, NC, NH, OH, OK,

SC, SD, TX, VT and WA

requires seller of certain

business opportunities to

register with each state

before selling. Call to

verify lawful registration

before you buy.

Donate your car to kids!

Fast free pickup running

or not - 24 hour response.

Maximum tax

donation. Help find missing

kids! 877-831-1448

CHILD CARE

OFFERED

Depend. Quality Child care

in loving hm. Exp. Mom, n-

smkr, hot meals, sncks,

playroom, fncd yd. Reas.

rates. Laurie at 853-2472

HELP WANTED

Landscape Company

looking for drivers and

non-drivers. Wage negotiable

depending on exp..

Call 614-456-9980,

Espanol 614-648-8424

www.columbusmessenger.com

xCome & Get It!

COME AND GET IT

Deadlines are Tuesdays by 5 pm.

Call For Publication Schedule 614-272-5422

Need to Get Rid of Something Fast - Advertise It Here For FREE!

FREE Garden Straw for gardens or bedding. Call for appointment for pickup.

Circle S Farms, 9015 London-Groveport Road, Grove City, 43123

Grove City - 614-878-7980

New feature product FREE to you. Participate in a brief survey and see

it on Facebook. Facebook.com/new shower sleeve and write:

freehands@mail.com

Columbus

. Come and Get It! is a bi-weekly column that offers readers an opportunity to pass

along surplus building materials, furniture, electronic equipment, crafts, supplies,

appliances, plants or household goods to anybody who will come and get them - as

long as they're FREE. NO PETS! Just send us a brief note describing what you want to

get rid of, along with your name, address and phone number. Nonprofit organizations

are welcome to submit requests for donations of items.

Send information to The Columbus Messenger, Attention: Come and Get It, 3500

Sullivant Ave., Columbus, OH43204. Deadline is Tuesdays by 5 pm for following

Mondays publication. Messenger Newspapers is not responsible for any

complications that may occur. Please contact us when items are gone. 272-5422

HELP WANTED

PTLawn Care, Clean-up,

Paint, etc to do various

tasks. No Exp. necessary,

no tools needed. Call or

text 614-207-8933.

NOW HIRING

Commercial

Janitorial

All Shifts

Full and Parttime

Call or Text Now

614-804-1256

DATED SALES

Galloway Presbyterian

Church Rummage Sale

Sat. June 26, 9-3

6191 Hall Rd. Galloway

PETS

GROOM

-N-

GO

Our Mobile Salon

Comes To You.

Small Dogs Under 30 lbs.

"Gentle Hands for Cold

Noses & Wagging Tails!"

614-804-1615

614-695-2424

WANT TO BUY

We Buy Junk Cars &

Trucks. Highest Prices

Paid. 614-395-8775

WE BUY JUNK CARS

Call anytime 614-774-6797

ANTIQUES

WANTED

Victrolas, Watches,

Clocks, Bookcases

Antiques, Furn.

Jeff 614-262-0676

or 614-783-2629

Come & Get It!

7.4 W/SW/M

7/4 W/S/M

xFocus on Rentals

WEDGEWOOD

VILLAGE

1, 2 and 3 BR Apts.

Rent Based on Income.

Call 614-272-2800 or visit us

at 777 Wedgewood Dr.

TTY/TDD 711

EQUAL HOUSING OPPORTUNITIES

WANT TO BUY

BUYING VINYL RECORDS.

LPs and 45s - 1950-80s

Rock, Pop, Jazz, Soul.

614-831-0383

WANTS TO Purchase

minerals and other oil &

gas interests. Send details

to: P.O. Box 13557,

Denver, CO 80201

We Buy Cars & Trucks

$300-$3000.614-308-2626

MISCELLANEOUS

FOR SALE

Large Handicap Ramp for

Sale - 614-279-8325

Electric Wheel Chair, HD-

Edge, ex. cond. 2018

model, built for larger

person, very clean &

durable. Only used 9 mo.

$5000 obo, discount for

veterans. 614-864-6389

Rentals

MISCELLANEOUS

FOR SALE

Gas Lawn Mower,

works like new - $50.00.

614-465-7763

RENTALS

Condo for Rent - 3BR,

Carport. No Pets - $1050.

614-557-8883

VACATION RENTALS

Englewood, Florida

Palm Manor Resort

Within minutes of white

sand Gulf beaches,

world famous Tarpon

fishing, golf courses, restaurants/shopping,

Bush

Gardens. 2 BR 2 BA

condos with all ammenities,

weekly/monthly, visit

www.palmmanor.com

or call 1-800-848-8141
---
www.columbusmessenger.com

Junw 13, 2021 - GROVE CITY MESSENGER - PAGE 19

xClassified Services

LANDSCAPING

(614) 407-5214

www.OnyxLandscapingllc.com

Full Service Lawn Care -

SPRING CLEANUP SPECIAL

Free Estimates - We Match Quotes

Start with trust and you will always be satisfied

AIR CONDITIONING

AIR CONDITIONING

Complete System

Clean & Check

$49.95

7/4 A

Free Electronic Leak Testing

All Makes • All Models

45 Yrs. Exp. • Senior Discount

614-351-9025

BASEMENT

WATERPROOFING

Walker's Basement

Waterproofing. LLC

614-359-4353

BLACKTOP

CITY WIDE

ASPHALT &

CONSTRUCTION

Blacktop & Concrete

Licensed/Bonded

Quality Work

Competitive Prices

7/4 W/gc

Since 1981

Call Craig Lantz

Local Resident

614-374-6217

citywideasphaltand

construction@gmail.com

BBB A+ Accredited Contractor

AGM OHIO

ROOFING &

SEALCOATING

Free Estimates

Cell 614-512-1699

SANTIAGO'S

Sealcoating & Services LLC

Quality Materials Used

SUMMER IS HERE!

Driveway Seal & Repair!

Top Seal Cracks!

Residential & Commercial

Mulching, Edging & Clean-ups

"Ask for whatever you need."

BBB Accredited-Fully Insured

7/4 A/M

Call or text for Free Est.

614-649-1200

LANDSCAPING

CARPET CLEANING

Any 5 areas ONLY $75

Powerwash $99 to $200.

614-805-1084

Specializing in Pet Odors

CONCRETE

GALLION

CUSTOM CONCRETE LLC

Specializing in Custom Colors &

Custom Designs of Concrete.

Including Remove & Replace

43 yrs exp & Free Est.

Licensed & Insured

Reputation Built

On Quality

Ronnie

614-875-8364

See Us On Facebook

www.gallioncustom

concrete.com

www.hastingsnsons.com

Driveways & Extensions

Patio & Walkways,

Porches & Steps,

Garage/Basement Floors

Hot Tub/Shed Pads,

Stamped/colored concrete

Sealing of new &

existing concrete.

FREE ESTIMATES

Contact Adam

614-756-1754

hastingsandsons.

columbus @gmail.com

Gilbert

Masonry

& Restoration

We Also Do Concrete

Sidewalks,

Driveways

Driveway Aprons

Patios

Concrete Steps

Free Est.

Lic./Bonded/Ins.

614-946-8871

7/4 W/SW

7/4 W/SW

MASONRY

#1 in CENTRAL OHIO

GILBERTS

Masonry/Restoration Co.

614-946-8871

Lic.-Bonded-Insured

32 Years in Business

• Brick • Block • Stone

• Cultured Stone • Stucco

• Concrete • Tuck Pointing

• Chimney Work

• Glass Block Windows

• Basement Waterproofing

Free Estimates

CONCRETE

Buckeye City

Concrete & Excavating

* Concrete * Foundations

* Waterlines * Drains

*Catch Basins

614-749-2167

buckeyecityconcreteand

excavating@yahoo.com

AJ's Concrete,

Masonry

Good Work - Fair Prices

Block Foundations

Driveways • Sidewalks

Epoxy/Overlay Floors

Bonded-Ins. • Free Ests.

614-419-9932

EDDIE MOORE

CONSTRUCTION

Quality Concrete Work

Lt. Hauling & Room Add.,

Block Work & Excavation

Stamp Patios,

Bsmt. Wall Restoration

35 Yrs Exp - Lic & Ins.

Free Ests. 614-871-3834

FENCING

EAZY FENCE

Chain Link - Wood

No Job Too Big or Small

All Repairs ~ Free Est.

Insured. 614-670-2292

INFORMATION

ONLY

$50.00

For This Ad In Our

West & Grove City

For Info Call

272-5422

7/4 A/M

7/4 A

MASONRY

GUTTERS

Bates & Sons

GUTTER CLEANING

5 ★ Google Reviews

614-586-3417

INFORMATION

NEED SOMETHING

DONE THIS SUMMER?

CHECK OUT OUR

CLASSIFIED SERVICES!

FOR

ADVERTISING

INFO. CALL

614-272-5422

THE COLUMBUS

MESSENGER

HAULING

DEAN'S HAULING

614-276-1958

HOME

IMPROVEMENTS

Handyman - outdoor &

indoor. Reasonable Rates

614-634-2244

C&JHandyman

Services LLC

Minor Plumbing

& Electric

Install Hot Water Tanks,

Dishwashers & Disposals

Also Fencing &

Interior/Exterior Painting

Free Est. ~ 18 Yrs. Exp.

CDC/EPA Approved Guidelines

614-284-2100

5/23 A

PEST

CONTROL

Classified Services

TERMITE &

PEST CONTROL

614-367-9000

TORCO®

TERMINATES

TERMITES

Locally Owned & Operated. Any Pest. Anytime.

$

50 00 OFF Service

Expires July 11, 2021

Free Termite Inspection

HOME

IMPROVEMENTS

SLAGLE

HOME REMODELING

Baths, Kitchen,

Plumbing and Electrical.

All your Handyman needs

No Job too Big or Small

Over 30 Yrs. Exp. Lic.-Bond-Ins.

Jerry

614-332-3320

KLAUSMAN HOME

IMPROVEMENT

Siding-Windows-

Doors-Roofing-Soffit-

Fascia-Gutters-Trim

Earn FREE Seamless

Gutters with Siding Over

1000 Sq. Ft.

FREE Shutters with

Soffit & Trim

EPA Certified

Member of BBB

Financing Available

7/4

SW/W

Over 20 yrs exp. • Free Est.

Licensed-Bonded-Insured

Owner & Operator

James 614-419-7500

Quality is our #1 Priority

HELMS' CONTRACTING

Call For FREE ESTIMATES

New Kitchens & Baths

New Replacement Windows

Basement Remodels

Room Additions • Roofs

More than 25 Years Experience

Licensed • Insured • Bonded

Bill Helms 614-296-0850

or 614-801-1801 6/6

W/SW

SINCE 1973

Phil Bolon Contr.

Windows & Siding

Decks, Kitchens, Baths

Room Additions,

Flooring, Roofing

Bsmt Waterproofing

Deal With Small Non-Pressure Co.

47 Yrs. Exp. - Refs. Avail.

Lic.-Bond-Ins.

7/4

A/M

Free Est. - Financing Avail.

Member BBB Of Cent. OH

O.C.I.E.B. ID #24273

614-419-3977

or 614-863-9912

6/13 A

PEST

CONTROL

HOME

REMODELING

HANDYMAN

All Phases of Construction

Carpentry, Drywall,

Painting & More

614-218-8032

Handyman Remodeling

Over 35 yrs exp.

Larry 614-376-7006

LAWN CARE

The Lawn Barber

Cut, Trim, Blow away

Hedge Trimming, Edging

Garden Tilling

614-935-1466

Lawnmasters and

Landscaping

Give us a call for your

yards that need mowing,

Spring clean-up, weed

control, paver patios, etc.

Free Estimates

614-378-1237

LET US MAINTAIN

YOUR LAWN & GARDEN

FOR YOU

Summer, Spring,

Winter or Fall

WE DO IT ALL!!!!

Lawn Cuts, Edging,

Trees & Shrubs, Garden,

Mulching, Hauling,

Garden Pond &

Home Maint.

Free Ests. Low Rates

$20 & Up

Kevin - 614-905-3117

MOVING

Aaron Allen

Moving

Local Moving since 1956

Bonded and Insured

614-299-6683

614-263-0649

Celebrating

over 60 yrs

in business

7/4 A&M

PLUMBING

PLUMBING

CALHOUN

PLUMBING AND

BASEMENTS

We install sump pumps, perimeter

drains, french drains, as well as

repair and install plumbing.

Give us a call, we can do it all!

614-444-1712

MOWER REPAIR

LAWN MOWER DR.

"House Calls Only"

Overall Checkups

Oil Change & Filter,

Spark Plug &

Blades Sharpened

MINOR REPAIR

John

614-395-7909

johnellis0333@sbcglobal.net

PAINTING

Moyer Construction LLC

Specialing in Painting

Insured - Free Estimate

614-378-3568

A Job Well Done Again

A lic. General Contractor

Some Skilled Services

Incl: Painting • Stucco,

Repair•Carpentry•Exterior

Drainage & Home Maint.

Call Today! 614-235-1819

Walker's Interior Painting

Free Est. 614-359-4353

Painter Over 30 Yrs Exp.

Free Est. Reas Rates

Daniel 614-226-4221

AMOS PAINTING

Insterior/Exterior Painting

Powerwashing

Call Jim 614-323-7819

PLASTERING

5/23 A

BudgetPro

"Budget Price

Professional Quality"

SUMMER SPECIAL

Int/Ext. Painting

Full Service

Int/Ext Remodeling

FREE ESTIMATES

614-599-8683

DRYW

YWALL &

PLASTER

6/13

A&M

REPAIR

Textured Ceilings

614-551-6963

Residential/Commercial

BIA

6/20 A

PLUMBING

All About Drains & Plumb.

Will snake any sm drain

$125 + tax. 614-778-2584

CHRIS'

PLUMBING

"Plumbing & Drain Professional

That You Can Count On"

24 Hrs., 7 Days/Week

No Overtime Charges

24 Yrs. Exp. in Plumbing &

Drain Cleaning Field

Call For A Free Phone Estimate

$100.00 For Any Small Drain

614-622-4482

30% OFF with AD

POWER WASHING

MDB POWERWASH

We Specialize In Decks.

Clean, stain, reseal,

revitalize any deck.

Quality work at fair prices.

Guarantee All Work 3 Yrs.

25 Yrs Exp. Free Est.

614-327-9425

Bates & Sons

Soft Wash & Powerwash

5 ★ Google Reviews

614-586-3417

MRS. POWERWASH

Any house wash $149+tax

Single deck $69+tax

2 Tier deck $99+tax

Best Wash in Town

Over 45,000 washes

Ashley 614-771-3892

ROOFING

Robinson roofing & repairs

30 yrs. exp. Lifetime Cols.

resident. Lic./bonded/Ins.

Reas rates. Member of

BBB. Dennis Robinson

614-330-3087, 732-3100

TREE SERVICES

BURNS TREE SERVICE

Trimming, Removal &

Stump Grinding.

614-584-2164

Brewer & Sons Tree Service

• Tree Removal

• Tree Trimming 6/13

A&M

• Stump Grinding

• Bucket Truck Services

Best Prices • Same Day Service

614-878-2568

7/4 A

6/13 A

7/4 A&M
---
PAGE 20 - GROVE CITY MESSENGER - June 13, 2021

Hollywood has been combing through

the case files of paranormal investigators

Ed and Lorraine Warren for ideas for more

than four decades now, but it wasn't until

2013 that anyone thought to make a movie

centered around the dynamic demon-fighting

duo of the Northeast.

In "The Conjuring," the story revolves

around their attempt to uncover the origins

of a haunted farmhouse before it destroys

the sweet family living within, but it wasn't

the tried-and-true horror trope that captured

the interest of the general public.

Though considered one of the best supernatural

films of the decade, what made

"The Conjuring" such a hit was the chemistry

between the actors Patrick Wilson

and Vera Farmiga and their depiction of

the unwavering faith between their reallife

counterparts as they fought off demons

while battling their own. Not only did their

portrayal add something new to the horrorsphere,

but it also sparked a newfound

interest in the couple (along with newfound

claims of fraud) and kickstarted a multimillion

dollar franchise and extended universe

with solo films and spin-offs where

they play second fiddle to haunted dolls

and other objects.

Looking for a small,

friendly church experience? Try

First Presbyterian Church

of Grove City

4227 Broadway, Grove City

In-person Worship 10 a.m.

Services will continue on

Facebook Live at 10 a.m. as well

www.fpcgc.org

In their latest venture, "The Conjuring:

The Devil Made Me Do It," it sees the two

take center stage once again as they try to

prove that a young man accused of murder

only did so at the behest of evil spirits.

The film begins in slick and stylized

fashion as Ed (Wilson) and Lorraine

(Farmiga) carry out an exorcism on 8-yearold

David Glatzel (Julian Hilliard) in early

1980s Connecticut. With thick fog rolling

through the kitchen and David doing his

best impression of a human pretzel on the

dining table to great sound effect, they try

to get the spirit to leave the boy despite the

physical and emotional toll it is taking on

their own bodies. Try as hard as they

might, this demon is not leaving — until the

boyfriend of David's sister invites it into his

own, that is.

Not believing that he is now host to an

evil entity (Ed collapsed after the exorcism

due to his heart problems and was not able

to explain that he saw the transference),

Arne Cheyenne Johnson (Ruairi O'Connor)

goes about his life none the wiser. But soon

odd things start to happen — a cereal box

falls to the floor, he starts to see visions,

and his once even temper becomes shorter

and shorter.

Be a Part of Our Local Worship Guide

Our Worship Guide is geared toward celebrating faith and helping reader connect with religious

resources in our community. Make sure these readers know how you can help with a presence in

this very special section distributed to more than 22,000 households in the Southwest area.

Contact us today to secure your spot in our Worship Guide.

614.272.5422 • kathy@columbusmessenger.com

While helping his girlfriend Debbie

(Sarah Catherine Hook) do odd jobs around

the dog kennel where they work one day,

he "blacks out." When he finally comes to,

he is covered in blood and realizes that he

has stabbed business owner Bruno Sauls

(Ronnie Gene Blevins) to death.

Upon hearing the news, a newly awakened

Ed and his increasingly clairvoyant

wife Lorraine rush back to the town to try

to uncover how this happened. Unlike the

local law enforcement officials, the prosecuting

attorney and the international

media, they whole-heartedly believe Arne's

claim that the devil made him do it.

Rather than delve into a straight courtroom

drama with elements of Satanic

Panic, the film retraces the case to the

beginning when Ed and Lorraine first

heard about David's possession. Through

flashbacks, tight shots of dark and dank

quarters and a jump scare involving a

waterbed, they determine that someone

had placed a powerful curse on him, one

that would have made him kill anyone the

demon commanded. With that part of the

mystery solved, they have to figure out who

placed the curse on him, why, whether it

has truly transferred to Arne and how far

this curse-placer is willing to go in order to

get what they want.

As the eighth installment in the greater

Conjuring universe, "The Devil Made Me

Do It," ran a real risk of losing the appeal

that made the latter films so popular —

Grove City Community Outdoor Movie

Nights return for the 2021 season.

Wednesday evenings will be jam-packed

with free, family-friendly outdoor movies

shown in partnership with the city of

Grove City and The Naz Church. Movies

are displayed on a large screen behind the

church, 4770 Hoover Road, at 8 p.m.

The 2021 Grove City Community

Outdoor Movie Nights schedule:

•June 23: Frozen

•June 30: The Lion King Animated

especially since it is

based on a real-life

murder case and not

just an alleged

haunting. But, like

it or not, true crime

is an increasingly

popular medium for

theory and story so in a sense it makes

sense that the creators wanted to pivot to

one of Ed and Lorraine's most controversial

cases. I'm not certain that will be a lasting

change in this universe, but it does open

the doors to explore more avenues in the

future should they so choose.

As in the case in the previous

"Conjuring" films (and some of the spinoffs,

to be honest), the strength of this one

lies with the acting, especially with Wilson

and Farmiga. They once again give a fantastic

performance, one that carries the

film through some rough story patches,

stilted dialogue and questionable decisions

involving jump scares with waterbeds. We

former owners of said "beds" know all about

their evilness.

Grade: C+

www.columbusmessenger.com

In Entertainment

Strong acting saves another "Conjuring" installment

Free Community Brown Bag Lunch Drive-through

Saturday, June 26, 11:00 am- 1:00 pm

EMMANUEL LUTHERAN

CHURCH

80 E. Markison Ave., Columbus, OH 43207

elclife.org

SUNDAY WORSHIP SERVICE

8:30 am & 11:00 am

BIBLE CLASS

Adult and Youth (K-5)

9:45 am

*11:00 service includes a radio broadcast

in our parking lot on FM 87.9

Birds of a feather

W

R

D

G

E

C

F

L

F

W

D

M

S

H

K

P

T

E

A

M

L

Z

G

K

P

D

Y

B

M

N

L

U

N

T

R

A

D

R

C

O

O

T

S

Q

M

Z

V

O

L

S

N

S

D

L

H

W

O

K

T

V

Y

J

M

R

I

U

K

S

U

V

H

W

R

L

O

H

T

I

K

G

F

L

H

B

H

H

I

G

T

T

G

A

N

G

S

A

H

C

N

U

B

K

V

D

Y

P

A

A

L

U

M

N

I

R

E

Y

N

J

E

Z

M

R

T

B

F

I

R

I

D

O

P

S

O

T

P

T

M

I

H

G

L

B

O

Z

B

W

L

V

I

J

W

Y

O

D

E

Y

O

D

I

A

B

D

E

I

E

W

Y

N

O

E

R

K

C

R

D

T

I

N

U

S

D

J

L

B

B

X

I

M

K

E

L

I

V

A

S

V

N

A

X

H

D

G

N

O

R

H

T

O

J

B

T

T

J

B

D

M

I

K

G

B

N

N

Y

N

K

The Reel Deal

Dedra Cordle

Dedra Cordle is a Messenger staff writer

and columnist.

Outdoor movies at the Naz

•July 7: Star Wars: The Force Awakens

•July 14: D2: The Mighty Ducks

•July 21: Toy Story

•July 28: Mary Poppins Returns

Watch these popular films from your car

or pack lawn chairs or blankets and enjoy

a movie under the stars, with family and

friends.

For additional information, visit

GroveCityOhio.gov. Movies may be canceled

due to adverse weather conditions

including high winds.

southwest

Messenger

(Distribution: 22,500)

Andrea Cordle...................................Grove City Editor

southwest@ columbusmessenger.com

Published every other Sunday by the

The Columbus Messenger Co.

3500 Sullivant Ave., Columbus, Ohio 43204

(614) 272-5422

The Columbus Messenger Co. reserves the right to edit, reject or cancel

any advertisement or editorial copy at any time. The company is not

responsible for checking accuracy of items submitted for publication.

Errors in advertising copy must be called to the attention of the company

after first insertion and prior to a second insertion of the same advertising

copy.