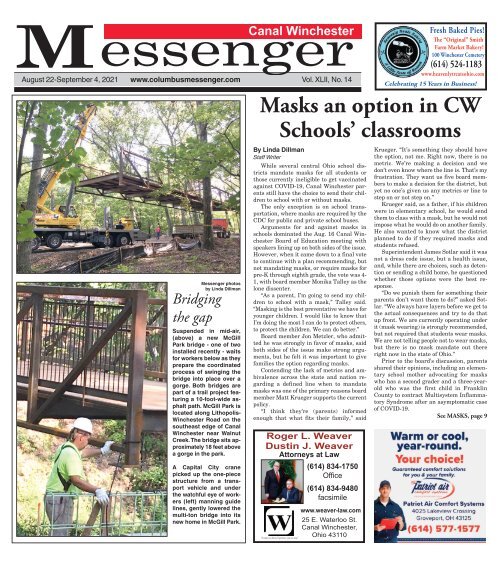 Canal Winchester - August 22nd, 2021
Create successful ePaper yourself
Turn your PDF publications into a flip-book with our unique Google optimized e-Paper software.
Messenger

Canal Winchester

August 22-September 4, 2021 www.columbusmessenger.com Vol. XLII, No. 14

Fresh Baked Pies!

The "Original" Smith

Farm Market Bakery!

100 Winchester Cemetery

(614) 524-1183

www.heavenlytreatsohio.com

Celebrating 15 Years in Business!

Masks an option in CW

Schools' classrooms

Messenger photos

by Linda Dillman

Bridging

the gap

Suspended in mid-air,

(above) a new McGill

Park bridge - one of two

installed recently - waits

for workers below as they

prepare the coordinated

process of swinging the

bridge into place over a

gorge. Both bridges are

part of a trail project featuring

a 10-foot-wide asphalt

path. McGill Park is

located along Lithopolis-

Winchester Road on the

southeast edge of Canal

Winchester near Walnut

Creek. The bridge sits approximately

18 feet above

a gorge in the park.

A Capital City crane

picked up the one-piece

structure from a transport

vehicle and under

the watchful eye of workers

(left) manning guide

lines, gently lowered the

multi-ton bridge into its

new home in McGill Park.

By Linda Dillman

Staff Writer

While several central Ohio school districts

mandate masks for all students or

those currently ineligible to get vaccinated

against COVID-19, Canal Winchester parents

still have the choice to send their children

to school with or without masks.

The only exception is on school transportation,

where masks are required by the

CDC for public and private school buses.

Arguments for and against masks in

schools dominated the Aug. 16 Canal Winchester

Board of Education meeting with

speakers lining up on both sides of the issue.

However, when it came down to a final vote

to continue with a plan recommending, but

not mandating masks, or require masks for

pre-K through eighth grade, the vote was 4-

1, with board member Monika Talley as the

lone dissenter.

"As a parent, I'm going to send my children

to school with a mask," Talley said.

"Masking is the best preventative we have for

younger children. I would like to know that

I'm doing the most I can do to protect others,

to protect the children. We can do better."

Board member Jon Metzler, who admitted

he was strongly in favor of masks, said

both sides of the issue make strong arguments,

but he felt it was important to give

families the option regarding masks.

Contending the lack of metrics and ambivalence

across the state and nation regarding

a defined line when to mandate

masks was one of the primary reasons board

member Matt Krueger supports the current

policy.

"I think they're (parents) informed

enough that what fits their family," said

Roger L. Weaver

Dustin J. Weaver

Attorneys at Law

(614) 834-1750

Office

(614) 834-9480

facsimile

"A name you know, Experience you can trust"

www.weaver-law.com

25 E. Waterloo St.

Canal Winchester,

Ohio 43110

Krueger. "It's something they should have

the option, not me. Right now, there is no

metric. We're making a decision and we

don't even know where the line is. That's my

frustration. They want us five board members

to make a decision for the district, but

yet no one's given us any metrics or line to

step on or not step on."

Krueger said, as a father, if his children

were in elementary school, he would send

them to class with a mask, but he would not

impose what he would do on another family.

He also wanted to know what the district

planned to do if they required masks and

students refused.

Superintendent James Sotlar said it was

not a dress code issue, but a health issue,

and, while there are choices, such as detention

or sending a child home, he questioned

whether those options were the best response.

"Do we punish them for something their

parents don't want them to do?" asked Sotlar.

"We always have layers before we get to

the actual consequences and try to do that

up front. We are currently operating under

it (mask wearing) is strongly recommended,

but not required that students wear masks.

We are not telling people not to wear masks,

but there is no mask mandate out there

right now in the state of Ohio."

Prior to the board's discussion, parents

shared their opinions, including an elementary

school mother advocating for masks

who has a second grader and a three-yearold

who was the first child in Franklin

County to contract Multisystem Inflammatory

Syndrome after an asymptomatic case

of COVID-19.

See MASKS, page 9
---
PAGE 2 - MESSENGER - August 22, 2021

To advertise in the Messenger,

call Doug Henry at 614-272-5422.

Prepare for unexpected

power outages with a

Generac home standby

generator

REQUEST A FREE QUOTE!

844-334-8353

FREE

7-Year Extended Warranty*

A $695 Value!

Limited Time Offer - Call for Details

Special Financing Available

Subject to Credit Approval

Serving Your Community

Malek &

ATTORNEYS AT LAW Malek

Proudly Announcing

Adding New Attorneys

To Serve You!

WORKERS'

COMPENSATION

PERSONAL INJURY

WRONGFUL DEATH

SLIP & FALL INJURY

DOG BITE INJURY

*To qualify, consumers must request a quote, purchase,

install and activate the generator with a participating dealer.

Call for a full list of terms and conditions.

A FREE ESTIMATE

15 10 5

YOUR ENTIRE

PURCHASE *

% % %

OFF + OFF + OFF

SENIOR & MILITARY

DISCOUNTS

| Promo Number: 285

Since 1972

YEAR-ROUND

CLOG-FREE GUARANTEE

1-855-995-2490

TO THE FIRST

50 CALLERS! **

Douglas, Ed, Jim

and Kip Malek

"Hablamos Español"

FREE Initial Consultation

www.maleklawfirm.com

614-444-7440

1227 S. High St., Columbus, OH 43206

www.columbusmessenger.com

It's time for the Zucchinifest!

By Linda Dillman

Staff Writer

The Labor Day weekend is fast approaching and

with it brings the annual Obetz Zucchinifest, a more

than three-decade long event that has its beginnings

as a Labor Day celebration.

Starting Sept. 3 when the festival opens at 5 p.m.

and running through Labor Day when the annual

event ends at 6 p.m., are four days filled with free

admission to nationally known entertainment, a circus,

fun, thrills, and plenty of edible zucchini-related

delights.

Why name a festival in honor of a humble–and prolific–squash?

Obetz Mayor Angela Kirk is glad you

asked.

"In the grand tradition of Ohio fairs and festivals–

like the Pumpkin Show and Tomato Festival–Obetz

selected a vegetable commonly grown in the area to

celebrate the harvest at the end of summer," said Kirk.

"The Zucchinifest acts primarily as a homecoming for

local residents, but also affords an opportunity to show

off our community to surrounding suburbs. Our guests

now travel from many parts of Ohio and the surrounding

states."

Evolving over time as both Obetz and the festival

grew, the earliest events were held in a small downtown

park with a handful of stands, a small stage, and

a few rides. As interest grew, the Zucchinifest was

moved to Memorial Park and later to its current location

at Fortress Obetz.

According to Kirk, the early festival attendance was

measured in dozens of people and now the counts are

in the hundreds of thousands.

"The early entertainment focused on local bands,

which is still an important part of today's

Zucchinifest," said Kirk. "However, as the festival has

grown, the entertainment has kept pace and now

includes several national acts."

For the 2021 event, on Sept. 3 the festival runs from

5-11 p.m. A car show will be held from 6-8 p.m., Hott

Messenger photo by Pat Donahue

A bird's eye view of a past Obetz Zucchinifest.

Lucy takes the stage at 8:30 p.m. followed by Winger

at 9 p.m. On Sept. 4, festival hours are 11 a.m. to 11

p.m. Phoenix Rising is the opening act at 8:30 p.m. for

Ezra Ray Hart.

On Sept. 5, the Zucchinifest runs from 11 a.m. to 11

a.m. with a parade at 1 p.m., North to Nashville at 7

p.m., and Big and Rich at 8:30 p.m. Labor Day hours

are noon to 6 p.m. The Cincinnati Circus is performing

from noon to 5 p.m., the Columbus Zoo will be at the

festival from 1-2 p.m. and pro wrestling takes the stage

from 1-4 p.m.

The Miss and Little Miss Zucchinifest pageant

takes place on Sept. 2 in the Fortress Obetz courtyard.

"There is always something fun to see at the

Zucchinifest," said Kirk. "From the ever-changing

entertainment acts, the kid's day activities, car shows,

beauty pageants–there is something for everyone.

The Zucchini Festival is not just an end of summer festival.

It is for many a tradition that is shared generation

after generation. That is what makes it so special

to so many, including myself."

Health literacy grant to fight COVID-19

Franklin County Public Health, in collaboration

with Nationwide Children's Hospital and Columbus

Public Health, was awarded a two-year federally-funded

$3.99 million health literacy grant from the U.S.

Department of Health and Human Services.

The primary goal of the project is to reduce

Franklin County COVID-related health disparities

and improve health outcomes among racial and ethnic

minorities, through planning and implementation of a

community health literacy plan.

"Throughout the COVID-19 pandemic many of our

residents have not had the opportunity to receive public

health information in a way that is most helpful to

protect themselves and their loved ones." said Joe

Mazzola, Franklin County Health Commissioner.

"This grant gives us the opportunity to expand our

health literacy efforts to reduce COVID-related disparities

within racial and ethnic minority populations and

other vulnerable communities."

The plan will be developed through a collaborative

process with nearly 20 committed community-based

organization and health partners, including public

health, community health centers, hospitals, and

social service and community health worker organizations

serving racial and ethnic minorities and New

Americans.

"Working with our partners to build a health literate

community–one that equitably enables individuals

to find, understand, and use health information

and services–is a vital step in ensuring everyone,

especially those most vulnerable, can use understandable,

meaningful information to guide their COVIDrelated

health decisions and protect their own and

their loved ones' health. Down the road, this valuable

work can be applied to other health issues too." said

Dr. Mary Ann Abrams, pediatrician at Nationwide

Children's Hospital.

The diverse partners will work together to enhance

existing and future community COVID-19 messaging

to strengthen people's ability to find, understand, and

use information and services to help them make the

best health-related decisions for themselves and others.

"Providing accurate and timely information on

COVID-19 is important, especially for communities

most at risk of serious illness, hospitalization and

death," said Dr. Mysheika Roberts, Columbus Health

Commissioner. "Together, we will work to address

some of the disparities that exist so that we can protect

and improve the health outcomes of black and brown

communities."

Organizational health literacy expertise will be fostered

using a train-the trainer model, creating a sustainable

infrastructure supported by tailored health

literacy knowledge and skills development and supporting

resources. The work will start immediately.
---
www.columbusmessenger.com

MORPC updates Transportation Public Participation Plan

The Mid-Ohio Regional Planning

Commission has updated its Public

Participation Plan, which lays out how

MORPC — as the federally designated metropolitan

planning organization for the

Columbus urbanized area — reaches out to

members of the public for their input

throughout the transportation planning

process. A draft of the plan is now available

for review and comment by the public.

"The Public Participation Plan is

designed to provide the public opportunity

to participate in, review, and comment on

the formulation of transportation policies

and plans, such as the Metropolitan

Transportation Plan, Transportation

Improvement Program and other transportation

programs," said Thea Ewing,

MORPC Director of Transportation &

Infrastructure Development.

As an MPO, MORPC conducts a continuing,

cooperative, and comprehensive

transportation planning process. The

transportation planning area for the

MORPC MPO includes Delaware and

Franklin counties; Bloom and Violet townships

in Fairfield County; New Albany,

Pataskala and Etna Township in Licking

County; and Jerome Township in Union

County.

MORPC's plan includes a structured

committee process, a project-specific

process, and a public outreach and information

dissemination effort tailored to

meet specific needs.

"The updated Public Participation Plan

includes changes to ensure that we are taking

advantage of new technology options

and reaching many segments of the population

for their feedback," said Níel Jurist,

MORPC Director of Communications &

Engagement.

This process provides a set of procedures

to be consistently and comprehensively

applied to incorporate the public's involvement,

including the planning and development

of the Central Ohio Transit Authority

(COTA) and Delaware County Transit programs

and projects. The public participation

process satisfies Section 5307 public

involvement requirements for the Program

of Projects.

The draft 2021 Public Participation

Plan can be viewed here. Comments on the

draft plan are due by 5 p.m. on Aug. 25,

2021, to Bevan Schneck, MORPC Sr.

Public Affairs Coordinator, via email to

bschneck@morpc.org or in writing to 111

Liberty Street, Suite 100, Columbus, OH,

43215.

The updated Public Participation Plan

will be considered for adoption by

MORPC's transportation committees at

their September meetings. The plan will

then be reviewed by the Ohio Department

of Transportation, Federal Highway

Administration, and Federal Transit

Administration to ensure that full and

open access is provided by MORPC, COTA,

and Delaware County Transit in the decision-making

process.

The Mid-Ohio Regional Planning

Commission (MORPC) is Central Ohio's

regional council with more than 70 members

comprised of counties, cities, villages,

townships, and regional organizations. We

take pride in bringing communities of all

sizes and interests together to collaborate

on best practices and plan for the future of

our growing region.

August 22, 2021 - MESSENGER - PAGE 3

Lithopolis Honeyfest

The Lithopolis Honeyfest will be held

Sept. 10 from 3-7 p.m. and Sept. 11 from

10 a.m. to 7 p.m. in downtown Lithopolis.

The event features bee beards, beekeepers,

art, music, honey bake-off, Ohio Honey

Show, honey extracting, hive inspection,

junior beekeeping, American Honey

Princess, food trucks, photo contest,

honey, and honey tasting. Admission is

free. Visit lithopolishoneyfest.com.

EMMANUEL LUTHERAN

CHURCH

80 E. Markison Ave., Columbus, OH 43207

elclife.org

SUNDAY WORSHIP SERVICE

8:30 am & 11:00 am

BIBLE CLASS

Adult and Youth (K-5)

9:45 am

*11:00 service includes a radio broadcast

in our parking lot on FM 87.9

Be a Part of Our Local Worship Guide

Our Worship Guide is geared toward celebrating faith and helping readers connect

with religious resources in our community. Make sure these readers know

how you can help with a presence in this very special section distributed to more

than 19,000 households in the South area.

Contact us today to secure your spot in our Worship Guide.

614.272.5422 • kathy@columbusmessenger.com

Messenger

South

Please visit the

South/Canal Winchester

Church of your choice.

List your Worship

Services here.

For info. call 614-272-5422
---
PAGE 4 - MESSENGER - August 22, 2021

Letters policy

The Messenger welcomes letters to the

editor. Letters cannot be libelous. Letters that

do not have a signature, address, and telephone

number, or are signed with a pseudonym,

will be rejected. PLEASE BE BRIEF

AND TO THE POINT. The Messenger

reserves the right to edit or refuse publication

of any letter for any reason. Opinions

expressed in the letters are not necessarily

the views of the Messenger.

Mail letters to: Messenger, 3500 Sullivant

Avenue, Columbus, OH 43204; or email eastside@columbusmessenger.com.

eastside

Messenger

(Distribution: 16,822)

Rick Palsgrove................................South Editor

eastside@ columbusmessenger.com

Published every other Sunday by

The Columbus Messenger Co.

3500 Sullivant Ave., Columbus, Ohio 43204-1887

(614) 272-5422

Keep tabs on the news in Canal

Winchester and Hamilton Twp.

Look for South Messenger on

Become a fan!

Puzzling

R

I

D

D

L

E

H

C

R

A

E

S

J

T

E

D

E

D

U

C

T

I

O

N

X

R

U

R

J

L

R

H

W

Q

E

G

L

G

J

E

M

I

R

X

Z

C

I

T

S

O

R

C

A

B

B

V

U

S

J

Z

E

N

X

L

N

I

N

M

L

I

L

C

G

Q

U

S

T

E

R

P

A

U

E

A

A

I

C

P

A

P

E

S

R

H

G

N

I

H

C

T

A

M

A

E

M

C

Z

E

R

S

N

K

I

P

Z

H

A

T

U

O

E

R

A

U

U

D

N

Y

D

W

X

R

T

K

L

I

M

B

M

L

A

R

I

A

A

W

G

E

O

N

P

E

V

Y

H

C

R

O

S

S

W

O

R

D

M

column

Remembering school days

I attended Hamilton Local Schools from kindergarten through

my senior year.

My father, mother and my 4-year-old self moved into Hamilton

Meadows soon after the first prefabricated house was erected in

1960. The construction laden landscape was a battlefield for kids

playing war in utility line trenches and a wonderful place to conduct

impromptu games of hide-and-seek.

Two years later, it was time to get down to reading, writing and

arithmetic and join my fellow warriors in school. We attended

kindergarten at a local church parish hall where the school district

contracted to hold classes.

Horrors of horrors, I walked to school! As a 6-year-old!

Unaccompanied! And my journey was not within eyesight of the

building! I had to cross one street, the high school parking lot, a

field between the high school and elementary building and close to

Rathmell Road for a short jaunt before reaching the parish hall.

There were a lot of kids around the same age and we would

never want to be seen with our parents walking alongside us.

Besides, if an adult was nearby, they would not let us throw

apples to the pigs living in a pasture next to the parish hall. Talk

about taking away our fun…and a few apple treats for the pigs

and piglets.

As an adult, I would buy fresh produce from the same farmer

who raised the pigs. I eventually fessed up to him about the

apples. He laughed and told me he was always well aware of what

we were doing.

There were no fancy pint-size graduation ceremonies for our

kindergarten class, just a smile from a teacher along with the

dreaded mustard yellow cardstock hand-notated report card.

Maybe I talked more than I should and fraternized with others

a little too much, but those skills helped me a lot as I grew older.

The next school year, I had a somewhat shorter walk to the elementary

building, albeit still within shouting distance of the

Walnut Hill parish hall and those pigs.

Hamilton Central Elementary had a gym! It had a real cafeteria

and classrooms with doors and desks and, at least to my 6-

year-old self, the most wonderful invention of all of kiddom, a

playground with swings, a slide and an actual bone busting, kneeskinning

foot-powered merry-go-round!

This brick 1950s era building was to be my educational home

for the next six years where I learned to love Edgar Allen Poe and

hate Spanish rice. I can also look back over the years to fifth grade

where my unexpected career as a journalist started by writing a

R

D

H

C

N

G

Q

C

W

G

M

N

N

U

T

K

T

E

A

S

E

R

S

E

I

M

O

N

S

W

G

M

Z

G

H

N

W

Y

Z

J

Y

N

W

G

X

S

O

L

U

T

I

O

N

I

Z

U

Y

L

H

J

Messenger Word Search

ACROSTIC

ANAGRAM

ANSWER

CIPHER

CLUES

CROSSWORD

CRYPTIC

DEDUCTION

GAME

GRID

HINTS

JIGSAW

JUMBLE

LOGIC

MATH

MATCHING

MAZE

MECHANICAL

NONOGRAM

NUMBERS

PATTERN

PIECES

PUZZLE

REBUS

RIDDLE

SEARCH

SOLUTION

SUDOKU

TEASERS

TRIVIA

Thanksgiving play

that was performed by

my class.

As we entered our

sixth-grade year, fear crept in…it was the

last year we would enjoy the unbridled fun of

recess. Once we made the journey across the

band practice field and a parking lot to the

high school building, the fun times were

over, or so we thought.

Even though seventh grade was considered

by the school district as junior high,

there was no designated part of the building

that indicated where the dividing line was

between ankle biters and soon to be graduates…except

for our lockers.

Seventh and eighth grade lockers–three

to a person, please–were located in the older

part of the "campus" in a beautiful brick

building constructed in 1939. It was connected

to the "new" building constructed in 1963

which was "oh so modern."

Puzzle solution on page 10.

www.columbusmessenger.com

Places

Linda

Dillman

Lockbourne Air Force Base was in full swing at the time and the

total student population approached 4,000. Yes, we had to share

lockers; yes, the hallways and classrooms were crowded; and yes, I

felt like I was a lost cog in a very big wheel, but I made it.

I participated in so many clubs and activities, the yearbook

staff had to cut out a few of them in order to have room for the list

under my senior picture in 1974. And yes, I took a lot of goodnatured

kidding when the yearbook was printed.

Because of activity at the base, our school sometimes felt like a

revolving door of friendships.

There were students of active-duty parents who moved in and

away with regularity. There were students who put down roots

after their parents retired and stayed in the community. Then

there were kids like me whose parents anchored their families to

the bedrock of Hamilton Meadows, Southern Pines, Obetz,

Lockbourne and Shadeville.

It was a little house on Service Drive where I grew up, within

short walking distance of the high school from which I graduated

nearly 50 years ago.

And it was a house two miles away from my family homestead

where I, my husband and our two daughters put down our own

roots three decades ago after a military sojourn that took us

around the country and across the ocean to Japan.

It's good to be back.

Linda Dillman is a Messenger staff writer.

Local candidates file for election

These local candidates were certified by the Franklin County

Board of Elections to be placed on the Nov. 2 election ballot:

Madison Township trustee (vote for two): Debbie Miller, John

Pritchard, Katherine Chipps, John Kershner.

Obetz village council (vote for four): Mike Kimbler, Bonnie Wiley,

Todd Gibbs, Robert Cramer, Guiles Richardson. (Jimmy Love filed

but was not certified by the board of elections.)

Hamilton Township board of education (vote for three): Amber

Clark, David Schutte, Jeff Sewell, Mary Isaac, Hillary Thompson,

Damon Batchelder.

Hamilton Township trustee (vote for two): Chris Hann, Todd

Blackstone.

Lockbourne village council: Bobbi Crouse, Tony Grandstaff.

Canal Winchester city council (vote for four): Brandon Hord,

Chuck Carpenter, Laurie Amick, Patrick Shea, Chloe Green,

Ashley Ward, Jill Amos.

Canal Winchester board of education (vote for three): Monika

Talley, Vangela Barnes. (Dave George, Maria Stewart, and Mike

Yonnotti filed but were not certified by the board of elections.)
---
www.columbusmessenger.com

Red Cross needs

volunteer drivers

The American Red Cross needs transportation

specialists to deliver blood.

These volunteer drivers will either pick

up blood products from the Red Cross processing

facility at 995 E. Broad Street and

deliver the boxes to area hospitals and/or

pick up blood from drive locations around

central Ohio and deliver it to Broad Street.

Transportation specialists help ensure

that blood products are available when and

where they are needed for hospital use

such as for trauma victims, surgery

patients, those receiving cancer and sickle

cell treatment among other serious medical

conditions.

The American Red Cross is experiencing

a severe blood shortage as the number of

trauma cases, organ transplants and elective

surgeries rise — and deplete the

nation's blood inventory.

"The donation of the blood is the first

step in the process," said Wendy

Yarbrough, regional donor services executive.

"Once the blood is collected, we need

to ensure it gets to its intended destination

quickly and safely. That's why volunteer

transportation specialists are so crucial to

this lifesaving process."

No special transportation license is

needed for this position. Volunteers will

drive Red Cross cars or standard mini

vans. To be eligible, prospective volunteers

must have a valid driver's license, three

years driving experience and a safe driving

record. Transportation specialists must be

able to lift 45 pounds.

More than 90 percent of the Red Cross

workforce is made up of volunteers.

To learn more about becoming a Red

Cross transportation specialist go to

www.redcross.org/deliver. To learn more

about other Red Cross volunteer opportunities,

visit www.redcross.org/volunteer.

Sound the Alarm

American Red Cross volunteers will

Sound the Alarm in Columbus as part of a

national effort to educate 100,000 people

about home fire safety in high-risk neighborhoods

this spring.

Columbus area residents are encouraged

to call 844-207-4509 to request a virtual

education appointment and referral to

partner agency for installation of free

smoke alarms. Visit SoundTheAlarm.org

and pledge to prepare against home fires.

This work is possible thanks to donations

from Red Cross' regional partners: American

Electric Power Foundation, Columbia Gas of

Ohio, Dayton Power & Light Foundation,

Duke Energ, and NetJets.

Sound the Alarm is part of the larger

Home Fire Campaign. Since launching the

campaign in 2014, the Red Cross has

helped save 864 lives across the country by

helping families create escape plans and

installing free smoke alarms. This work is

made possible with Red Cross' partners,

who have helped make more than 900,000

households safer in at-risk communities.

August 22, 2021 - MESSENGER - PAGE 5
---
PAGE 6 - MESSENGER - August 22, 2021

www.columbusmessenger.com

LARGEST FISH MARKET IN COLUMBUS!

NOW OPEN!

Frank's Fish Market 2, 2410 Hilliard-Rome Road, has the best selection of tasty seafood in town.

"I put my heart and soul in this new location," said owner Frank Gonzalez. "Everything from the

cutting table to the cooler is brand new."

Frank's Fish Market 2 also has fresh produce, an exquisite wine collection, and seafood choices

like no other.

"Whatever you're looking for in seafood, it's here," said Gonzalez.

Frank's Fish Market 2 will not be a restaurant. It will be strictly a retail store.

Frank Gonzalez has been a wholesale seafood distributor for 43 years, serving stores and restaurants

in Columbus, Dayton, Cincinnati, and locations in Kentucky.

When it comes to Frank's Fish Market:

"If it swims, he sells it!" (in season)

•Oysters Chesapeake Bay

•Assorted Beef Steaks

•Frozen Lobster Tails

•King Crab Legs

•Faroe Island Salmon

•Sea Scallops

SUPPORT YOUR LOCAL

SMALL BUSINESSES

FRESH PRODUCE - LARGE WINE SELECTION

•Chilean Seabass Fillets

•Halibut Fillets

•Snow Crab Clusters

•Orange Roughy

•Smoked Salmon

•Live Lobsters via Special Order Only!

2

WE ACCEPT

All Major Credit Cards,

EBT Cards (SNAP)
---
www.columbusmessenger.com

August 22, 2021 - MESSENGER - PAGE 7

Warehouses considered at Hill and Basil Western roads

By Linda Dillman

Staff Writer

Canal Winchester residents opposing the

growth of warehouses have another pair of

potential targets to add to their list with an

Oct. 6 public hearing set for rezoning of land

along Hill Road and Basil Western Road

near Meijer.

On Aug. 9, Canal Winchester's Planning

and Zoning Commission voted against approval

of a request by applicant Doug Swain

with Opus Development Company and

owner Weiser Development Co. to rezone

the 51-acre site from exceptional use to limited

manufacturing.

The property is located in Fairfield

County. A draft proposal includes one

542,685 square-foot warehouse and a second

187,310 square-foot building.

Many of the same concerns expressed in

opposition to previous pre-annexation and

Madison Township

Police statistics

July crime statistics from the Madison

Township Police: 9 accidents with injuries,

4 assaults, 1 burglary, 4 burglaries in

progress, 30 domestic complaints, 1 drunk,

1 fight, 9 fireworks complaints, 8 hit skip accidents,

9 juvenile complaints, 13

larceny/theft, 2 missing persons, 37 parking

violations, 2 person with gun, 17 property

damage accidents, 6 shots fired in area, 2

stabbing/cutting, 3 stolen vehicles, 7 suspicious

cars, 37 suspicious persons, 19 suspicious

persons/vehicles, 1 theft in progress, 7

threats or harassment, 76 traffic stops, and

4 vandalism.

economic development agreements for a

similar NorthPoint project at the intersection

of Bixby Road, Rager Road, and U.S.

Route 33–up for second readings at the

Aug. 16 Canal Winchester City Council

meeting–were shared by residents.

"They build warehouses, lease them, sell

them and then run out of town like rabbits,"

said Bixby Road farm owner Michael Barr.

"There's no investment in the community. I

understand growth, but to rush into more

warehouses is premature. There's going to

be a traffic jam down U.S. 33 like you've

never seen before. This property can be developed

in other ways besides warehouses."

Busey Road property owner Angie Halstead

said it is important for council to understand

how the Opus development could

impact residential quality of life and appealed

to council to consider different options.

Vangela Barnes, vice chairperson of the

Ice cream social

The Canal Winchester Area Historical

Society will hold its annual Ice Cream Social

on Sept. 4 from 1-3 p.m. at the historical

complex located at the corner of North High

and West Oak streets in Canal Winchester.

Music in the Park

The city of Canal Winchester's free summer

concert series, Music in the Park, will

be held Aug. 27 from 6-9 p.m. at Stradley

Place, 36 S. High St. in downtown Canal

Winchester.

The event features live entertainment

and family-friendly activities.

Barber Museum

The National Barber Museum in Canal

Winchester is located at 135 Franklin St.

(behind the former CW High School building).

The museum, housed in approximately

5,000 square feet, showcases art, artifacts,

and memorabilia from decades of the barbering

profession.

Call (614) 837-8400.

Greater Southeast Area Commission, urged

council to think about the future and the

families that live north and south of U.S.

Route 33.

"We want to bring people to the community,"

said Barnes, who noted housing must

also be available for workers, along with a

better variety of businesses, restaurants

and technology. "We need to think about us.

That's what brings better paying jobs to the

community. Think about what you are doing

and how you are going to do it."

Janice Goodwin alleged her property values

declined because of warehouse development

and the increase in pollution, as well

as noise and truck traffic that is negatively

impacting life on her 180-year-old homestead.

While not speaking in support of the rezoning,

resident Jim Bohnlein said the city

did not actively solicit the landowners to sell

their property to developers. He said owners

are entitled to sell their property, as are

all owners, whether it is a home in a subdivision

or farm land.

"Nobody can say 'you can't sell your

house,'" said Bohnlein. "They don't have to

sell it to us, to OPUS. They can sell it to

whomever they please. If you're not going to

get a warehouse approved by Canal Winchester,

you'll get it approved by Columbus."

Other news

•A public meeting to discuss the city's

comprehensive plan will be held at 6 p.m. on

Aug. 30, prior to a Committee of the Whole

session at 7 p.m. While council currently

plans to conduct the meetings at Town Hall,

10 N. High St., where seating is limited to

35 individuals, the city is looking into overflow

space to accommodate a larger audience.

•Council approved appointing Jeff

Dieringer as the new clerk of council.

Special Olympics

The mission of Special Olympics Ohio

and its Groveport and Canal Winchester

Special Olympics chapter is to provide year

round sports training and competition in a

variety of Olympic type sports for intellectually

disabled individuals. Contact local coordinators

Penny and Cassandra Hilty at

groveportspecialolympics@gmail.com or at

(614) 395-8992 or 395-6640.

Our Pictorial Past by Rick Palsgrove

Holiday royalty

Photo courtesy of the CW Area Historical Society

Pictured here is the "Queen's Float" from the Canal Winchester Sesquicentennial

Celebration Parade held on Labor Day in 1978.
---
PAGE 8 - MESSENGER - August 22, 2021

www.columbusmessenger.com

CW's Hometown Day celebration set for Sept. 4

Traditional Labor Day

weekend festival hopes

to return next year

By Linda Dillman

Staff Writer

Labor Day is always a cause for celebration

in Canal Winchester, but with COVID-

19 concerns still on the mind of festival

organizers, the annual three-day festival

shifts this year to a smaller, single day, endof-summer

special occasion on Sept. 4.

Hometown Day features music, midway

food, children's inflatables, and the introduction

of the Canal Winchester Queen and

her court at noon on a main stage in the

Stradley Park greenspace, followed by a

Lemonade Social from 12:30-2:30 p.m. in

the historic Interurban Station.

The celebration kicks off at 10:30 a.m.

with a parade that will follow the traditional

Labor Day parade route.

The Canal Winchester Steel Band plays

from 12:30-2:30 p.m. in the Stradley Park

gazebo, followed by Franke and Ranke featuring

Frank Harrison, Sr. from 4:30-6:30

p.m.

Mr. E entertains children at the main

stage from 2:30-4:40 p.m. and The Usual

Suspects and Repeat Offenders wind up

Hometown Day from 7-10 p.m. The weekly

Farmer's Market takes place at the historical

complex at North High and Oak streets

from 9 a.m. to noon where an old-fashioned

ice cream social will be held from 1-3 p.m.

Entertainment includes an art wall and

face painting from 4 p.m. to 8 p.m. in the

Stradley greenspace and Joy Unspeakable,

a living statue, performs throughout the festival

from 4:30 p.m. to 6:30 p.m.

Why the one-day event? Mayor Mike

Ebert said the idea was in the back of the of

the minds of the Labor Day Festival Committee

as far back as January, when COVID

issues were not improving and seemed to be

getting worse.

"The annual Labor Day Festival draws

between 30,000 and 40,000 visitors over the

three-day weekend, with kids rides, a car

show, beer tent and nearly continuous stage

entertainment, all of which bring people in

close proximity with each other," said Ebert.

"That is something we wanted to avoid as

we do not want the festival to potentially become

a super spreader of COVID to our community.

We thought limiting the number of

days and events within a festival would help

curb that."

In addition to not wanting to be the cause

of a pandemic outbreak, Ebert said availability

of entertainment also played a big

part in the decision. He said that most

"We wanted to do something

for our hometown, hence the

name Hometown Day, just to

give people a fun activity away

from home."

- Mayor Mike Ebert

widely known musicians were not committing

to anything in the first four months of

the year for 2021 concerts.

Those who did were demanding a 50 percent

non-refundable deposit, money the

Labor Day committee did not think was a

smart move and making it less affordable

for future festivals.

"Additionally, several musicians we were

considering for 2021 had canceled concerts

in 2020 at various locations and they decided

to fulfill 2020 commitments this year,

making it even more difficult to get the entertainers

we were looking for," said Ebert.

"After a lot of discussion and heartbreak for

us as organizers, it became apparent what

we had to do–once again cancel the 100th

Labor Day Festival, the one festival we have

all been working so hard towards for the

last several years. It is as disheartening to

us as organizers as it is to those who come

to enjoy our festivals, yet we still receive

criticism for making the right call."

In opting for a single day event, the

Labor Day Committee felt it had to do something

in Canal Winchester for residents,

even it was a smaller gathering.

"We wanted to do something for our

hometown, hence the name Hometown Day,

just to give people a fun activity away from

home," said Ebert.

According to Ebert, as small as the event

is, it still requires a great deal of money and

planning–from street closures, obtaining

food vendors, parade participants, entertainment,

to kid's activities and much more.

He said food vendors often shy away from

one-day events for multi-day events where

they can make more money.

"We decided to not charge any vendor for

space for this event, in order to get them

here for our attendees," Ebert said. "The

committee will be losing out on several thousand

dollars by doing this, but we wanted to

make it enjoyable for those looking for some

of their favorite Labor Day foods. In response

to this, most, if not all of our Labor

Day committee members have pitched in financially

with donations to help make up

for the loss of vendor fees. It's not always

about the work we do to make events happen,

but the things we go above and beyond

on that are often unspoken, and we do it

every year."

Eviction support

The Franklin County Commissioners approved

two contracts to support families facing

eviction due to the ongoing pandemic.

The Franklin County Municipal Court

recently said that it would not enforce a new

CDC eviction moratorium, and many families

are in danger of losing their homes due

to the pandemic and economy. The new supports

include $624,000 in additional funding

to the Legal Aid Society of Columbus and

$550,000 for Community Mediation Services

of Central Ohio.

"The effects of this pandemic will be felt

for many years to come," said board of commissioners

president Kevin Boyce. "It would

be a grave mistake to allow families who

lost their livelihoods due to the pandemic

also lose their homes, and would only prolong

our community's recovery."

The commissioners have long supported

the Legal Aid Society of Columbus, and this

contract adds to the county's annual funding

amount. The additional money will

allow Legal Aid to hire three new full-time

attorneys to work with families that are

struggling to pay the rent. These new

lawyers can assure that our residents' legal

rights are protected, represent them in the

court system, and negotiate with lawyers

and landlords. As many as 1,500 low-income

families are expected to be helped with this

new funding over the coming year.

"Many of our neighbors are living on the

edge, hurt by the pandemic through no fault

of their own. We want to help every struggling

tenant to work out a way to pay their

rent so that they can stay in their homes

and so that their landlords are also made

whole," said commissioner John O'Grady

Community Mediation Services of Central

Ohio (CMS) is also a long-time partner

which the commissioners annually fund in

order to provide tenant/landlord mediation

and other eviction prevention services. The

increased funding will allow CMS to serve

an additional 600 families. Since beginning

to work with Franklin County eviction

clients, CMS has seen that 90 percent are

able to avoid eviction or successfully relocate

to alternate stable housing.

"There are many families who are barely

surviving this pandemic, some being only

one flat tire away from being unhoused,"

said commissioner Erica Crawley. "With

that, we know that families and especially

children are unable to thrive and do well in

school without a safe and stable place to

live. We are pleased to be able to answer the

call to help our neighbors find ways to stay

in their homes with legal representation

and mediation services."

Each year, the commissioners allocate

about $23.5 million to affordable housing

and other housing supports. During the

pandemic, they've increased that investment

by more than $8 million to help vulnerable

families stay in their homes, and

resources are still available via the commissioners'

Emergency Rental Assistance Program

and the Impact Hope Fund.
---
www.columbusmessenger.com

Canal Winchester

Library Branch

The Canal Winchester Branch of the

Columbus Metropolitan Library, 115

Franklin St., is located in the rear portion

of the former school at 100 Washington St.

For information visit www.columbuslibrary.org

or call 614-645-2275.

Wagnalls Memorial Library

Wagnalls Memorial Library is located at

150 E. Columbus St., Lithopolis.

For information call (614) 837-4765 or

visit www.wagnalls.org.

MASKS

Continued from page 1

The three-year-old experienced a yearlong

litany of testing, treatment, blood

draws, ultrasounds, CAT scans and MRIs.

Parent Tom Harker said he strongly disapproved

of the current policy and acknowledged

that a universal mask policy would

make things easier for everyone.

"I feel like we've been given the choice to

potentially send our child to an unsafe environment,"

said Harker. "My family is

looking to enroll in an online program this

year which really hurts all of us. We want

our kid to go back to (public) school. I just

don't see how it's a good choice right now. I

know there are many concerned parents. I

know you're doing your best, but I think the

current choice is misguided."

Eastland-Fairfield opens

engineering tech center

Eastland-Fairfield Career & Technical

Schools opened its newest building, the Engineering

Technologies Center, on the Eastland

Career Center campus in Groveport,

4465 S. Hamilton Road, on Aug. 18.

According to Ryan Gasser, Eastland-

Fairfield coordinator of communications and

marketing, "Eastland-Fairfield is continuing

its commitment to providing students

with opportunities and resources to prepare

for their futures. This building represents

the latest commitment from EFCTS to provide

those resources to students in the preengineering,

welding and aviation

programs. This building also will serve as

the future home of Eastland-Fairfield's

Mechatronics program, a multidisciplinary

field of engineering that includes a combination

of mechanical engineering,

electric/electronic engineering, control engineering,

and computer engineering."

Census population data

According to the 2020 United States Census,

since 2010, the population of the city of

Canal Winchester grew 28 percent to 9,107;

the city of Groveport has grew 12 percent to

6,009; and the village of Obetz grew 21 percent

to 5,489, which means Obetz has surpassed

the 5,000 population threshhold to

reach city status.

9/11 Remembrance

A remembrance of the 9/11 terrorist attacks

on the United States will be observed

on the 20th anniversary of the attacks on

Sept. 11 at Motts Military Museum, 5075 S.

Hamilton Road, Groveport, at 8:45 a.m.

Third Thursday

The city of Groveport will host Third

Thursday, a summer festival series featuring

music, food trucks, vendors, and more.

The last Third Thursday will take place on

Sept. 16 with the "Fall Kickoff!" with hay

rides, photo backdrop, and free mini-pumpkins.

Third Thursday hours are 5-7:30 p.m.

at Cruiser Park, 4677 Bixby Road. For information

contact jreeves@groveport.org.

GriefShare group

Groveport United Methodist Church, 512

Main St., will sponsor a GriefShare group

starting Sept. 2 at 7 p.m. Register online at

https://www.griefshare.org/leaderzone/my/g

roups/136866. For information contact

groveportgriefsharegroup@gmail.com or call

614-836-5968.

Farmers Market

The Groveport Farmers' Market will be

held on Tuesdays through Sept. 14 from 4-

7 p.m. at Groveport Madison Middle School

Central, 751 Main St.

August 22, 2021 - MESSENGER - PAGE 9

Southeast Library

The Southeast Branch of the Columbus

Metropolitan Library is located at 3980 S.

Hamilton Road, Groveport. For information

visit

For information visit www.columbuslibrary.org

or call 614-645-2275.

CW Farmers Market

The Canal Winchester Farmers' Market

will operate on Saturdays through Sept. 25

from 9 a.m. to noon. For information visit

www.thecwfm.com.

Moses-Mouser Eye Care

Dr. Joshua Morris is an Optometrist who grew

up in Bellville, Ohio. He completed his undergraduate

degree at the University of Akron, where

he graduated magna cum laude with honors.

Dr. Morris attended The Ohio State University

College of Optometry and graduated cum laude

with honors to receive his Doctor of Optometry Degree in May 2019. After

completing his studies, he was awarded the "Primary Vision Care Clinical

Excellence Award", in 2019.

Dr. Morris is a member of the American Optometric Association, the Ohio

Optometric Association, and The Ohio State Alumni Association. He is

excited to practice full scope optometry, diagnosing and treating a variety

of ocular disorders and diseases in patients of all ages, but has a special

interest in contact lenses and ocular disease.

On a personal note, Dr. Morris and his wife Tess, enjoy spending time with

their family, friends, and their Bernese Mountain dog Maverick, cheering

on The Ohio State Buckeyes, trying new foods, and exploring Columbus

breweries.

Q: What are floaters and what causes them?

A: Floaters are small dark shapes that move across your vision. They can appear

as dots, threads, squiggly lines, or even like cobwebs. Most floaters are caused

by normal changes in the eye. As you age, small strands of vitreous (gel-like fluid

that fills your eye) can clump together and cast a shadow on your retina (the

light-sensitive tissue at the back of the eye). Those shadows appear as floaters

that drift across your vision. You may notice floaters more when you look at a

bright background, like a computer screen or a blue sky.

Q: How often should someone with new

floaters get an eye exam?

A: Someone experiencing new floaters, a large increase in the number of floaters,

or flashing lights should see an eye care professional immediately. Sometimes

floaters have a more serious cause, including: infection, injury, inflammation,

bleeding, retinal tear or retinal detachment.

Someone with a few stable floaters should see an eye care professional at least

once a year for a comprehensive dilated eye exam.

Schedule your comprehensive eye exam

today with Dr. Morris

1600 Gateway Circle, Grove City, OH 43123 614-963-3820
---
PAGE 10 - MESSENGER - August 22, 2021

entertainment

www.columbusmessenger.com

"Free Guy" humorous and visually appealing

Puzzle solution

R

I

D

D

L

E

H

C

R

A

E

S

J

T

E

D

E

D

U

C

T

I

O

N

X

R

U

R

J

L

R

H

W

Q

E

G

L

G

J

E

M

I

R

X

Z

C

I

T

S

O

R

C

A

B

B

V

U

S

J

Z

E

N

X

L

N

I

N

M

L

I

L

C

G

Q

U

S

T

E

R

P

A

U

E

A

A

I

C

P

A

P

E

S

R

H

G

N

I

H

C

T

A

M

A

E

M

C

Z

E

R

S

N

K

I

P

Z

H

A

T

U

O

E

R

A

U

U

D

N

Y

D

W

X

R

T

K

L

I

M

B

M

L

A

R

I

A

A

W

G

E

O

N

P

E

V

Y

H

C

R

O

S

S

W

O

R

D

M

R

D

H

C

N

G

Q

C

W

G

M

N

N

U

T

K

T

E

A

S

E

R

S

E

I

M

O

N

S

W

G

M

Z

G

H

N

W

Y

Z

J

Y

N

W

G

X

Get out in front of

the 2021 Election

S

O

L

U

T

I

O

N

I

Z

U

Y

L

H

J

Theatrical adaptations of video games

rarely give supporting characters more

than a passing glance. Much like the medium

they are pulling content from, they use

the secondary players to serve at the whim

of the leads and to be as disposable as necessary

(e.g., be harmed, maimed, or killed)

in order to advance the plot — should there

be one, that is. But the latest theatrical

adaptation of a video game turns that common

practice on its head, asking the question

as to what would happen if that throwaway

character took the reins. The result is

one of the most original and enjoyable

movies to ever come out of this genre.

In "Free Guy," Ryan Reynolds stars as

the not-so-free Guy, a non-player character

in an extremely violent open-world shooter

game called "Free City." Within the confines

of this game, which is loosely based

on the "Grand Theft Auto" franchise, Guy

and his fellow non-player characters are

unaware of their artificial reality, happily

going about their day while humans in the

real world don avatars (or skins) to cause

mayhem on their streets so they can level

up to acquire bigger and better weapons

and skills.

Because of the way the NPC's are

coded, they do not question that random

punch to their face, they do not ask why

someone held up their bank, and they do

not demand accountability for all of the

horrible things they see taking place. But

that passive worldview begins to change,

however, when Guy has a random

encounter with a mysterious woman.

While walking to work with his friend

Buddy (Lil Rel Howery) and expressing

their desire for a heist free day at the

bank, Guy overhears a woman humming a

Mariah Carey tune. Having never heard

START ADVERTISING NOW

Community Advertiser Get The VOTES You NEED!

Dates to Advertise before the Election:

9/5 • 9/19

10/27—Ad with Free Story • 10/31—Ad with Free Story

BEST BUY FOR YOUR

ADVERTISING DOLLARS

Our papers reach over 81,000 households!

200 Word Story

With Your Ad

Call or Email Doug Henry

Phone: (614) 272-5422

Email: doughenry@columbusmessenger.com

another person singing this song before,

Guy strikes up a conversation with her but

is puzzled by her strange behavior. He

chalks it up to her being "one of the sunglasses

people," but what he does not know

is that this MolotovGirl (Jodie Comer) is a

real person who donned an avatar to get

inside the game.

Thinking that this encounter was just a

random glitch in the matrix, MolotovGirl

(aka Millie) pays Guy little mind and sets

off to plumb the depths of the game

because its founder stole her software code.

But what she does not, could not know, was

that this was a transformative experience

for the lovelorn Guy.

Feeling that there is now "something

more" out there, Guy decides that he will

change his routine for the day. He will

order a different coffee, he will tell a different

joke, and he will definitely stand up

when his bank is robbed.

During the latter action, Guy snatches

the sunglasses off of the robber's face and

discovers the world that humans see while

playing in front of their screens. There are

suggestions for how many points can be

acquired from pushing someone in front of

a car, lighting them on fire, stealing a kitten,

or robbing a bank.

Wanting to know what is going on with

this new world, Guy seeks out MolotovGirl

and requests her help. In turn, he says he

can help her with her mission but she

rebuffs his assistance as he is on the lowest

level imaginable. When he asks what he

can do to earn points without hurting people,

she jokingly suggests that he try nice

things and see what happens.

Taking it to heart, Guy stops bank

heists, returns stolen money, and helps

that elderly lady find her kittens. His

efforts do not go unnoticed by the playing

public as he is soon referred to as "Blue

Shirt Guy." He even gains the attention of

popular vloggers who wonder whether the

game itself has been hacked.

While the public is buzzing about the

non-playable character gone rogue (in the

kind way), behind-the-scenes drama is taking

place at the real-life headquarters of

Soonami, the makers of "Free City" and its

soon-to-be released sequel. Much of it

revolves around the lawsuit between Millie

The Reel Deal

and "Free City" developer

Antwon (Taika

Waititi, leaning heavily

into tech bro stereotypes)

and the possible

stealing of data.

Though not as visually

interesting as what is

happening in the artificial

world, it is still

engaging due to the

actors involved.

Dedra

Cordle

Back in the artificial world, Guy continues

to help people not just to score points to

"level up" to MolotovGirl but because he

feels it is the right thing to do. He doesn't

know that his actions are causing real life

players to second guess their fondness for

video game violence, or their penchant to

discard background players. He also

doesn't know that outside forces are willing

to do anything, including reboot the system

and destroy the life-giving servers, in order

to stop his quest to change the world as he

knows it.

Video games, and even its theatrical

adaptations, are often thought of as cold,

even heartless at times, forms of entertainment

but "Free Guy" is loaded with

warmth amongst its non-stop jokes and

visual gags. Though it does point out the

casual violence of some of the more popular

open-shooter games, it doesn't get too

preachy about the message. Instead, it

focuses on doing what you can to do good in

the world.

To be honest, I wasn't expecting much

from "Free Guy" (I thought the trailers

made it look terrible) but I was surprised

by how enjoyable it actually was.

Humorous and visually appealing, it mixes

up the best of video game playing alongside

the best of romantic comedies. It's a

strange mashup to be sure, but the acting,

directing and script all worked seamlessly

together to create an original and endearingly

fun flick.

Grade: B

Dedra Cordle is a Messenger staff writer

and columnist.

Columbus Library culture passes

Columbus Metropolitan Library offers

its cardholders free admission to select

central Ohio cultural institutions.

The Culture Pass Program enables

CML customers to borrow passes just as

they would a book - using their library

card. This onetime pass, which must be

checked out in person, grants customers

limited free access to institutions that

would otherwise charge admission fees.

The culture pass program offers each

participating institution the opportunity to

select which specific CML locations will

offer their passes based on the neighborhoods

and communities associated with

their outreach, diversity and inclusion

goals. Culture passes cannot be reserved,

however customers can check their availability

at columbuslibrary.org by typing

"culture pass" into the catalog search bar.

Each participating organization offers

their passes to CML and its customers for

free. Visit columbuslibrary.org for information.
---
www.columbusmessenger.com

Celebrating canal history

August 22, 2021 - MESSENGER - PAGE 11

Communities up and down the length of

the old Ohio and Erie Canal are getting

ready to celebrate their canal history and the

creation of the new driving trail that highlights

that heritage.

The Scenic Scioto Heritage Trail, Inc., and

its partner communities recently announced

the development of the new Ohio and Erie

Canal Southern Descent Heritage Trail from

Buckeye Lake to Portsmouth.

Groveport will hold its kickoff event,

Groveport Canal Day: Celebrating Our

Heritage Along the Southern Descent Trail,

for the trail on Sept. 5 from noon to 4 p.m. in

Heritage Park, 551 Wirt Road. It will include

refreshments and possibly acoustic music

entertainment.

Heritage Park will serve as the starting

point for people to venture out to view other

canal sites in town including the Sharp's

Landing building across from the Groveport

Cemetery; a canal mural inside KidSpace, 630 Wirt

Road; the Groveport Heritage Museum in Town Hall,

648 Main St.; Lock 22 in Groveport Park; canal channel

remnants in Blacklick Park, and more.

Visitors may walk to the sites or use a shuttle to

Lock 22 provided by the city of Groveport.

The village of Lockbourne's kickoff event is Sept. 25

from 2-6 p.m. at Locke Meadow Park, 154 Commerce

St., which could include guided hikes along the

Magnolia Trail, a talk on the history of the Ohio & Erie

Canal and Lockbourne's significance during the canal

days, activities and games for the children, chili cook

off, and possibly a live band.

The 114 mile driving trail of the The Ohio & Erie

Canal Southern Descent Historic District begins at the

southern edge of Buckeye Lake in Fairfield County. It

includes Bibler lock 8 in Baltimore; locks 11, 12, and

13 in Lockville; lock 22 in Groveport; locks 26, 27, 29,

and 30 in and near Lockbourne; and remnants of the

Columbus Feeder just west of Lockbourne in Franklin

County.

In Pickaway County the trail includes Canal Park

Messenger photo by Rick Palsgrove

Ohio and Erie Canal lock 22 is located in Groveport Park, 7370

Groveport Road.

pets of the week

in Circleville.

In Scioto County the trail continues south through

Rushtown at lock 48 and lock 50 in West Portsmouth

and ends at lock 55, west of downtown Portsmouth at

the Ohio River.

All of these canal locks, with the exception of lock

55, are listed in the National Register of Historic

Places.

Work to list lock 55 is underway.

The locks' function was to raise and lower water levels

for canal boats to meet the changing level of terrain.

Residents and visitors can learn the story of this

important transportation route as they follow the driving

trail. Creation of the trail, which will be launched

this fall, is being funded by the Canal Society of Ohio

and Ohio Humanities grants.

For information about the Ohio and Erie Canal

Southern Descent Heritage Trail, contact project director

Cathy Nelson at cathyd.nelson@gmail.com or visit

seeohiofirst.org.

Remy is a sweet, 7-year-old girl.

She loves to run around and

explore. She is active and outgoing

and would benefit from a family with

a similar lifestyle. You will love her

goofy nature. Remy is a little uncomfortable

with other dogs and would

need to meet any furry friends

before adoption. Adopt her from the

Franklin County Dog Shelter.

FYI: franklincountydogs.com

Honey Bear, 8, makes a fantastic

furry friend. He is great around

other dogs, but sometimes he

needs a little time to warm up to

them. He struggled with shyness

when he first arrived, but Honey

Bear has graduated from the Shy

Dog Program. He likes to explore,

he comes when called and he is

fond of attention. Honey Bear is up

for adoption at the county shelter.

FYI: franklincountydogs.com

Claus is a 6-month-old boy who is

currently in foster care as he is a bit

cautious when at the adoption center.

He gets comfortable once he

gets to know you. His coat is super

soft and he has a sweet purr when

you pick him up. Give him a chance.

Claus is up for adoption through

Colony Cats.

FYI: colonycats.org

Arco has a nice and easy going personality.

He gets along well with

other dogs but is not great around

cats. Arco knows his basic commands

and is up to date on all vaccines.

He is 75 pounds of love and

about 7 years old. Arco is up for

adoption through Friends for Life

Animal Haven.

FYI: fflah.org
---
PAGE 12 - MESSENGER - August 22, 2021

column

www.columbusmessenger.com

The old days of gritty gridirons

The first thing you notice is the dirt and

the mud.

Recently I have been indulging my nostalgia

and watching videos of old NFL

games from the 1960s on YouTube.

Back in those days, most NFL teams

shared stadiums with Major League

Baseball teams, which meant that, at least

early in the football season, the dirt infield

of the baseball diamond was part of the

football field.

It is striking to see those often muddy

fields when compared to the rather pristine,

clean look of the modern synthetic

turf fields of today's football-only stadiums.

It is fun to see the players of yesteryear

get dirty and to see their athleticism on

display in dealing with less than ideal footing.

(A favorite memory is of Cleveland

Browns running back Leroy Kelly gracefully

stepping around defenders in the muck.

Commentators of the day often said Kelly

ran best when the field was its worst.)

As kids back then, we identified with

the pros as we splashed around playing

football in our own muddy backyards or

vacant lots.

Editor's Notebook

Because these old

stadiums accommodated

football and

baseball, there were

places where the

walls to the stands

were very close to the

end zones while

there were vast

expanses from the

sidelines to the

stands in some stadiums.

Then there were

the goal posts. In the

1960s the goal posts

Rick

Palsgrove

were situated on the goal line, as opposed

to today where they are at the back of the

end zone. The old posts were supported by

two pillars where today they have just one.

So, in the old days, players were twice as

likely to inadvertently run into the goal

posts during a play.

A fun aspect of the old goal posts is that,

unlike today where the goal posts are all

the same yellowish-greenish color, the old

posts were different colors depending on

which stadium you were in and some were

even striped!

As the football season wore on and the

baseball season ended back then, some stadium

crews would put sod on the dirt

infields.

But as December rolled around, the

entire football field in many of these old

stadiums became mostly dirt any way as

the weather, as well as the wear and tear

of playing on the fields, churned up most of

the grass so that the fields were primarily

dirt or mud with patches of grass.

Another aspect I enjoy seeing of the old

stadiums is how so many of them were

unique in their designs and layouts.

Today's stadiums all sort of look like the

same oval or box shape and are not instantly

recognizable.

The old stadiums were a variety of

shapes and sizes.

When turning on the TV to watch the

games in the 1960s you could tell what stadium

it was before the announcer said anything.

It is fun to see the players of

yesteryear get dirty and to see

their athleticism on display in

dealing with less than ideal footing.

A favorite memory is of

Cleveland Browns running back

Leroy Kelly gracefully stepping

around defenders in the muck.

Commentators of the day often

said Kelly ran best when the field

was its worst.

Modern stadiums give off the appearance

of 21st century technological influences

while the historic stadiums reflected

the industrial manufacturing nature of

their cities in the mid-20th century.

A case of cold computers and sleek

videos vs. fiery steel and brawny rust so to

speak.

Rick Palsgrove is editor of the Groveport

Messenger.

CLASSIFIED ADS

Deadlines: Groveport and West editions, Wednesdays at 5 p.m., • South/Canal Winchester, Grove City, Madison editions, Tuesdays at 5 p.m.

All editions by phone, Tuesdays at 5 p.m. • Service Directory, Tuesdays at 5 p.m.

xInformation

Marriages break down

because of incompatible

personalities.

If you and your marital partner are

having trouble, come in and get your

Personality and IQ checked as this

may be the reason for your disputes.

The Church of Scientology of Central Ohio

1266 Dublin Road

Columbus, OH 43215

Information

ASSOCIATION ADS

AMERICAN & FOREIGN

CLASSIC CARS AND

MOTORCYCLES

WANTED. $$PAYING

CA$H$$ Corvettes,

Mustangs, Jaguars, Austin

Healeys, Broncos,

Blazers, Ram Chargers,

AMX, and Triumphs

KRMiller1965@yahoo.com

717-577-8206

DENTAL INSURANCE

from Physicians Mutual

Insurance Company.

Coverage for 350 plus

procedures. Real dental

insurance - NOT just a

discount plan. Do not wait!

Call now! Get your FREE

Dental Information Kit with

all the details! 1-877-553-

1891

www.dental50plus.com/

macnet#6258

Internet &WIFI Starts at

$40 Call us Today to Get

Started. Find High-Speed

Internet with Fiber Optic

Technology No Credit

Check, No SSN Required.

Call us Today 866-396-

0515

ASSOCIATION ADS

Stroke & Cardiovascular

disease are leading

causes of death according

the AHA. Screenings can

provide peace of mind or

early detection! Call Life

Line Screening to

schedule a screening.

Special offer 5 screenings

for $149.. 1-833-549-4540

HughesNet - Finally, superfast

internet no matter

where you live. 25 Mbps

just $59.99/mo! Unlimited

Data is Here. Stream

Video. Bundle TV &

Internet. Free Installation.

Call 866-499-0141

Become a Published

Author. We want to Read

Your Book! Dorrance

Publishing Trusted by

Authors Since 1920 Book

manuscript submissions

currently being reviewed.

Comprehensive Services:

Consultation, Production,

Promotion and Distribution.

Call for Your Free Author's

Guide 1-866-482-1576 or

visit http://dorranceinfo.

com/macnet

ASSOCIATION ADS

The Generac PWRcell, a

solar plus battery storage

system. SAVE money,

reduce your reliance on

the grid, prepare for power

outages and power

your home. Full installation

services available. $0

Down Financing Option.

Request a FREE, no obligation,

quote today. Call

1-855-900-2894

READY TO BUY, SELL

OR RENT YOUR

VACATION HOME OR

HUNTING CAMP?

Advertise it here and in

neighboring publications.

We can help you. Contact

MACnet MEDIA @

800-450-6631 or visit our

site at MACnetOnline.

com

ASSOCIATION ADS

Don't let the stairs limit

your mobility! Discover

the ideal solution for

anyone who struggles on

the stairs, is concerned

about a fall or wants to

regain access to their

entire home. Call

AmeriGlide today! 1-844-

317-5246

Replace your roof with the

best lookng and longest

lasting material! Steel

from Erie Metal Roofs!

Three styles and multiple

colors available.

Guaranteed to last a

lifetime! Limited Time

Offer - $500 Discount +

Additional 10% off install

(for military, health

workers & 1st responders)

Call Erie Metal Roofs: 1-

855-338-4807

HOME BREAK-INS take

less than 60 SECONDS.

Don't wait! Protect your

family, your home, your

assets NOW for as little as

70¢ a day! Call 866-409-

0308

ASSOCIATION ADS

Donate Your Car To

Veterans Today! Help and

Support our Veterans.

Fast - FREE pick up.

100% tax deductible. Call

1-800-245-0398

!!OLD GUITARS WANT-

ED!! GIBSON, FENDER,

MARTIN, Etc. 1930's to

1980's. TOP DOLLAR

PAID. CALL TOLL FREE

1-866-433-8277

Update your home with

beautiful new blinds &

shades. Free in-home

estimates make it

convenient to shop from

home. Professional

installation. Top quality -

Made in the USA. Free

consultation: 877-212-

7578. Ask about our

specials!

Elminate gutter cleaning

forever! LeafFilter, the most

advanced debris-blocking

protection. Schedule

Free LeafFilter Estimate

today. 15% off Entire

Purchase. 10% Senior &

Military Discounts. Call 1-

855-995-2490

ASSOCIATION ADS

Looking for auto insurance?

Find great deals

on the right auto insurance

to suit your needs.

Call today for a free

quote! 866-924-2397

NEED IRS RELIEF

$10K-$125K+ Get Fresh

Start or Forgiveness.

Call 1-844-431-4716

Monday through Friday

7am-5pm PST

GENERAC Standby

Generators provide

backup power during

power outages, so your

home & family stay safe &

comfortable. Prepare now.

FREE 7-yr extended

warranty $695 value!

Request a free quote

today. Call for terms &

conditions. 1-844-334-

8353
---
www.columbusmessenger.com

August 22, 2021 - MESSENGER - PAGE 13

CLASSIFIED ADS

Deadlines: Groveport and West editions, Wednesdays at 5 p.m., • South/Canal Winchester, Grove City, Madison editions, Tuesdays at 5 p.m.

All editions by phone, Tuesdays at 5 p.m. • Service Directory, Tuesdays at 5 p.m.

xEmployment

Canal Winchester Local Schools is

looking for substitutes in the following

areas:

Teachers, Nurses, Secretaries,

Custodians, Classroom Aides,

Bus Drivers, and Bus Aides.

For more information, please contact

Pam Sayre at psayre@cwls.us or

614-832-0484

ASSOCIATION ADS

WANTED

SCHOOL BUS DRIVERS

The South-Western City School

District is currently hiring drivers

for the 2021-2022 school year

WE WILL TRAIN

Positions are available for substitute

school bus drivers that can develop into

regular positions with benefits. Interested

individuals should submit an application

at www.swcsd.us and follow the employment

link. Applicants should have an

excellent driving record and must submit

to a drug, alcohol, and background

screening. A high school diploma or

equivalent is required.

EOE

BE YOUR OWN BOSS!

INDEPENDENT

CONTRACTORS

WANTED

If you have a reliable car and would like to

earn extra money, then why not deliver?

• Deliver 1 or 2 days a week

• Flexible delivery hours

• Work close to home - often in or

near your neighborhood

CONTACT US

1-888-837-4342

www.thebag.com

• Deliver 7 days a week

• Delivery before dawn

• Work close to home - often in or

near your neighborhood

CONTACT US

614-461-8585

www.dispatch.com/delivery

DON'T

BE

LEFT OUT!

Deadline Is

Tuesdays by

5pm

For Following

Mondays Paper

614-272-5422

ASSOCIATION ADS

ATTENTION SENIORS:

The average funeral cost

is $9000+ Don't leave

your family to pay your

debts. State Approved,

Final Expense Life

Insurance Plans are now

avaiilable as low as $25 a

month. Hurry and call

before enrollment ends. 1-

877-761-1796. M-F 9am-

6pm EST

ATTENTION DIABETICS!

Save money on diabetic

supplies! Convenient

home shipping for

monitors, test strips,

insulin pumps, catheters &

more! To learn more, call

now! 877-810-0063

Donate your car to kids.

Your donation helps fund

the search for missing

children. Accepting trucks,

motorcycles & RV's too!

Fast free pickup - running

or not - 24 hr response -

maximum tax donation -

Call 888-515-3813

Never pay for covered

home repairs again!

Complete Care Home

Warranty covers all major

systems & appliances. 30-

day risk free. $200.00 off

+ 2 free months! 1-866-

395-2490

Long Distance moving.

Call for a free quote from

America's Most Trusted

Interstate Movers. Let us

take the stress out of

moving! Speak to a

relocation specialist! Call:

888-721-2194

ASSOCIATION ADS

New authors wanted!

Page Publishing will help

self-publish your book.

Free author submission

kit! Limited offer! 866-

951-7214

Life Alert. One press of a

button sends help fast

24/7! At home and on

the go. Mobile Pendant

with GPS. Free first aid

kit (with subscription).

877-537-8817 Free brochure

The Generac PWRcell

solar plus battery storage

system. Save money,

reduce reliance on

grid, prepare for outages

& power your home. Full

installation services. $0

down financing option.

Request free no obligation

quote. Call 1-855-

270-3785

VIAGRA & CIALIS! 60

pills for $99. 100 pills for

$150 FREE shipping.

Money back guaranteed!

1-844-596-4376

GENERAC Standby Generators

provide backup

power during utility power

outages, so your home

and family stay safe and

comfortable. Prepare

now. Free 7-year extended

warranty ($695 value!).

Request a free

quote today! Call for additional

terms and conditions.

1-855-465-7624

Employment

Wesley Financial Group,

LLC Timeshare Cancellation

Experts Over

$50,000,000 in timeshare

debt & fees cancelled in

2019. Get free

informational package &

learn how to get rid of

your timeshare! Free

consultations. Over 450

positive reviews. 888-965-

0363

The bathroom of your

dreams for as little as

$149/month! BCI Bath &

Shower. Many options

available. Quality

materials & professional

installation. Senior &

Military Diiscounts

Available. Limited Time

Offer - FREE virtual inhome

consultation now

and SAVE 15%! Call

Today! 1-877-540-2780

IMPORTANT

NOTICE

The following states: CA,

CT, FL, IA, IL, IN, KY,

LA, MD, ME, MI, MN,

NE, NC, NH, OH, OK,

SC, SD, TX, VT and WA

requires seller of certain

business opportunities to

register with each state

before selling. Call to

verify lawful registration

before you buy.

Are you limited by your

past experience? Find

out. BUY AND READ

Dianetics The Modern

Science of Mental Health

by L. Ron Hubbard. $25.

Call 614-221-5024 or

come to 1266 Dublin

Road, Columbus, Ohio

HOME HEALTH AIDES

$13.00-$20.00 per hour

Choose your Schedule and Clients,

Benefits Available: Pay Advances,

Quarterly Bonuses, Paid Vacation,

401K w/matching, Medical/Dental/Legal

One year experience working for an employer

in caregiver role is preferred.

To apply, please visit v-angels.com

or text/call "career" to

614-80-ANGEL (802-6435)

PART-TIME

DELIVERY PERSON

NEEDED

Looking for delivery person to

deliver our

South Messenger Newspaper

to store locations 2 times per

month. Approx. 2 hour delivery time.

GREAT PAY - GREAT HOURS

CONTACT: DOUG HENRY

doughenry@

columbusmessenger.com
---
PAGE 14 - MESSENGER - August 22, 2021

www.columbusmessenger.com

xEmployment

BETTY'S

Elderly Care

Has Openings for

Part-Time Caregiver

Working With the Elderly

Transportation, Experience

& References Required. Drug Test.

Good Wages.

Call: 614-777-5850

FREE

TRAINING

+

$1000 SIGN-ON BONUS

Kroger Pharmacy Warehouse

2nd and 3rd Shift

Positions Available

Scan for more details and

link to apply:

ASSOCIATION ADS

EARN EXTRA

$$$ $$$

MONEY

The Advertising Department at the

Columbus Messenger Newspapers

is seeking a Salesperson.

No Experience Necessary.

Base salary plus commissions, auto allowance.

Seniors welcome to apply.

Please send your resume or call:

Doug Henry, Advertising Manager

Columbus Messenger Newspapers

3500 Sullivant Ave.

Columbus, Ohio 43204

614-272-5422

or

e-mail to doughenry@columbusmessenger.com

ASSOCIATION ADS

Wants to purchase minerals

and other oil and gas

interests. Send details to

P.O. Box 13557, Denver,

CO. 80201

AT&T Internet. Starting

at $40/month w/12-mo

agmt. 1 TB of data/mo.

Ask how to bundle &

SAVE! Geo & svc restrictions

apply. 1-888-796-

8850

HughesNet Satellite Internet

- Finally, no hard

data limits! Call today for

speeds up to 25mbps as

low as $59.99/mo! $75

gift card, terms apply. 1-

844-863-4478

VIAGRA and CIALIS

USERS! 50 Generic pills

SPECIAL $99.00 FREE

Shipping! 100% guaranteed.

24/7 CALL NOW!

888-445-5928 Hablamos

Espanol

Train online to do medical

billing! Become a

Medical Office Professional

at CTI! Get trained

and certified to work in

months! 888-572-6790.

(M-F 8-6 ET)

DISH TV $64.99 190

Channels + $14.95 high

speed internet. FREE installation,

Smart HD DVR

included. Free Voice Remote.

Some Restrictions

apply. Promo Expires

1/21/22. 1-833-872-2545

ASSOCIATION ADS

HEARING AIDS!! Bogo

free! High-quality rechargeable

Nano hearing

aids priced 90% less

than competitors. Nearly

invisible! 45-day money

back guarantee! 833-

669-5806

Donate your car to kids!

Fast free pickup running

or not - 24 hour response.

Maximum tax

donation. Help find missing

kids! 877-831-1448

Directv Now. No Satellite.

$40/mo 65 Channels.

Stream news, live

events, sports & on demand

titles. No contract/

commitment. 1-866-825-

6523

Protect your home w/home

security monitored by

ADT. Starting at $27.99/

mo. Get free equipment

bundle including keypad,

motion sensor, wireless

door & windows sensors.

833-719-1073

Attention oxygen therapy

users! Inogen One G4 is

capable of full 24/7 oxygen

delivery. Only 2.8

pounds. Free info kit.

Call 877-929-9587

Thinking about installing

a new shower? American

Standard makes it

easy. FREE design consulation.

Enjoy your

shower again! Call 1-

833-769-0995 today to

see how you can save

$1,000 on installation, or

visit www.newshowerdeal.com/mac

DISH TV $64.99 FOR 190

Channels + $14.95 High

Speed Internet. Free Installation,

Smart HD DVR

Included, Free Voice Remote.

Some restrictions

apply. Promo expires

7/21/21. 1-855-270-5098

Attention: If you or aloved

one worked around the

pesticide Roundup

(glyphosate) for at least 2

years and has been diagnosed

with non-Hodgkin's

lymphoma, you may be

entitled to compensation.

855-341-5793

DENTAL INSURANCE-

Physicians Mutual Insurance

Company. Covers

350 procedures. Real

insurance - not a discount

plan. Get your free

dental Info kit! 1-888-

623-3036 . www.dental50plus.com/58

#6258

BATH & SHOWER UP-

DATES in as little as

ONE DAY! Affordable

prices - No payments for

18 months! Lifetime warranty

& professional installs.

Senior & Military

Discounts available. Call

855-761-1725

HEARING AIDS!!

Buyone/get one FREE!

Nearly invisible, fully rechargeable

IN-EAR

NANO hearing aids

priced thousands less

than competitors! 45-day

trial! Call1-877-436-0234

Employment

ASSOCIATION ADS

Want Faster & Affordable

Internet? Get internet

service today with

Earthlink. Best internet &

WiFi Plans. Call us Today

to Get Started. Ask

about our specials! 866-

396-0515

READER

ADVISORY

The National Trade Association

we belong to has

purchased the following

classifieds. Determining

the value of their service

or product is advised by

this publication. In order

to avoid misunderstandings,

some advertisers do

not offer "employment"

but rather supply the

readers with manuals, directories

and other materials

designed to help

their clients establish mail

order selling and other

businesses at home. Under

NO circumstance

should you send any

money in advance or give

the client your checking,

license ID or credit card

numbers. Also beware of

ads that claim to guarantee

loans regardless of

credit and note that if a

credit repair company

does business only over

the phone it's illegal to request

any money before

delivering its service. All

funds are based in US

dollars. Toll Free numbers

may or may not

reach Canada. Please

check with the Better

Business Bureau 614-

486-6336 or the Ohio Attorney

General's Consumer

Protection Section

614-466-4986 for more

information on the company

you are seeking to

do business with.

xAdult Care

Windsong is committed to providing

high quality, loving care, and affordable

home care services to our clients. With our

assistance, clients can lead

dignified and independent lives in the

comfort of their own home.

Individual needs are carefully assessed,

understood, and met through the selective

assignment of quality, trustworthy and

compassionate service-oriented personnel.

Give us a call today for a free in-home

assessment or visit our website at

www.windsongseniorcare.com

614-820-5000

Adult Care
---
www.columbusmessenger.com

xCome & Get it!

August 22, 2021 - MESSENGER - PAGE 15

xClassified Services

COME AND GET IT

Deadlines are Tuesdays by 5 pm.

Call For Publication Schedule 614-272-5422

Need to Get Rid of Something Fast - Advertise It Here For FREE!

FREE Garden Straw for gardens or bedding. Call for appointment for pickup.

Circle S Farms, 9015 London-Groveport Road, Grove City, 43123

Grove City - 614-878-7980

. Come and Get It! is a bi-weekly column that offers readers an opportunity to pass

along surplus building materials, furniture, electronic equipment, crafts, supplies,

appliances, plants or household goods to anybody who will come and get them - as

long as they're FREE. NO PETS! Just send us a brief note describing what you want to

get rid of, along with your name, address and phone number. Nonprofit organizations

are welcome to submit requests for donations of items.

Send information to The Columbus Messenger, Attention: Come and Get It, 3500

Sullivant Ave., Columbus, OH43204. Deadline is Tuesdays by 5 pm for following

Mondays publication. Messenger Newspapers is not responsible for any

complications that may occur. Please contact us when items are gone. 272-5422

Come & Get It!

xFocus on Rentals

Miller

Commons

100 Miller Avenue, Ashville

Ages 55+

Income limits apply

Covered parking - Appliances

No stairs or steps throughout.

Now Open!

Reserve your spot today.

614-813-8966

INFORMATION

Rentals

INFORMATION

WHAT IS THE SOURCE

OF

IRRATIONAL BEHAVIOR?

Find out BUY AND READ

Dianetics The Modern

Science of Mental Health

by L. Ron Hubbard - $25

Call (614)401-0664 Or come to

1266 Dublin Road, Columbus,Ohio

MOTORCYCLE

HONDA 2002 VT 600 M/C

$2,000. 614-406-3021

HELP WANTED

OFFICE needs an organized

fulltime person who can

multitask in our shop office.

Assist customers, phone,

purchasing, billing, etc.

QuickBooks exp. a plus.

Send resume with pay history

to: cewa@att.net or fax to

614-294-3731 or mail to:

Columbus Electrical Works

1854 S. High St.,

Columbus, OH 43207

Lincensed Barber Needed

Full or part time. located in

Great Southern Shopping

Center. Call Cindy for

more info 614-239-1976

PETS

HOMING PIGEONS

$5.00 ea. 614-662-8655

WANT TO BUY

BUYING VINYL RECORDS.

LPs and 45s - 1950-80s

Rock, Pop, Jazz, Soul.

614-831-0383

We Buy Cars & Trucks

$300-$3000.614-308-2626

We Buy Junk Cars &

Trucks. Highest Prices

Paid. 614-395-8775

WANTS TO Purchase

minerals and other oil &

gas interests. Send details

to: P.O. Box 13557,

Denver, CO 80201

WE BUY JUNK CARS

Call anytime 614-774-6797

VACATION RENTALS

Englewood, Florida

Palm Manor Resort

Within minutes of white

sand Gulf beaches,

world famous Tarpon

fishing, golf courses, restaurants/shopping,

Bush

Gardens. 2 BR 2 BA

condos with all ammenities,

weekly/monthly, visit

www.palmmanor.com

or call 1-800-848-8141

AIR CONDITIONING

AIR CONDITIONING

Complete System

Clean & Check

$49.95

Free Electronic Leak Testing

All Makes • All Models

45 Yrs. Exp. • Senior Discount

614-351-9025

BLACKTOP

SANTIAGO'S

Sealcoating & Services LLC

Quality Materials Used

SUMMER IS HERE!

Driveway Seal & Repair!

Top Seal Cracks!

Residential & Commercial

Mulching, Edging & Clean-ups

"Ask for whatever you need."

BBB Accredited-Fully Insured

Call or text for Free Est.

614-649-1200

AGM OHIO

ROOFING &

SEALCOATING

Free Estimates

Cell 614-512-1699

CLEANING

Looking for Mrs. Clean?

For excellent cleaning serv

at reas. rates w/great refs,

dependable. 10% Senior

Disc. Free Est. Gwen

614-226-5229

INFORMATION

8/29 A

CARPET CLEANING

9/12

A/M

CARPET CLEANING

Any 5 areas ONLY $75

Home Powerwash $99-$200

614-805-1084

Specializing in Pet Odors

NEED

SOMETHING

DONE

THIS

SUMMER?

CHECK OUT

OUR

CLASSIFIED

SERVICES!

FOR

ADVERTISING

INFORMATION

CALL

(614) 272-5422

THE

COLUMBUS

MESSENGER

CONCRETE

www.hastingsnsons.com

Driveways & Extensions

Patio & Walkways,

Porches & Steps,

Garage/Basement Floors

Hot Tub/Shed Pads,

Stamped/colored concrete

Sealing of new &

existing concrete.

FREE ESTIMATES

Contact Adam

614-756-1754

hastingsandsons.

columbus@gmail.com

AJ's Concrete,

Masonry

Good Work - Fair Prices

Block Foundations

Driveways • Sidewalks

Epoxy/Overlay Floors

Bonded-Ins. • Free Ests.

614-419-9932

EDDIE MOORE

CONSTRUCTION

Quality Concrete Work

Lt. Hauling & Room Add.,

Block Work & Excavation

Stamp Patios,

Bsmt. Wall Restoration

35 Yrs Exp - Lic & Ins.

Free Ests. 614-871-3834

Buckeye City

Concrete & Excavating

* Concrete * Foundations

* Waterlines * Drains

*Catch Basins

614-749-2167

buckeyecityconcreteand

excavating@yahoo.com

GUTTERS

Bates & Sons

GUTTER CLEANING

5 ★ Google Reviews

614-586-3417

INFORMATION

ONLY

$50.00

For This Ad In Our

South & Groveport

For Info Call

272-5422

HAULING

DEAN'S HAULING

614-276-1958

HOME

IMPROVEMENTS

C&JHandyman

Services LLC

Minor Plumbing

& Electric

Install Hot Water Tanks,

Dishwashers & Disposals

Also Fencing &

Interior/Exterior Painting

Free Est. ~ 18 Yrs. Exp.

CDC/EPA Approved Guidelines

614-284-2100

8/29 A

8/29 A/M

7/18 A

HOME

IMPROVEMENTS

KLAUSMAN HOME

IMPROVEMENT

Siding-Windows-

Doors-Roofing-Soffit-

Fascia-Gutters-Trim

Earn FREE Seamless

Gutters with Siding Over

1000 Sq. Ft.

FREE Shutters with

Soffit & Trim

EPA Certified

Member of BBB

Financing Available

Over 20 yrs exp. • Free Est.

Licensed-Bonded-Insured

Owner & Operator

James 614-419-7500

SINCE 1973

Phil Bolon Contr.

Windows & Siding

Decks, Kitchens, Baths

Room Additions,

Flooring, Roofing

Bsmt Waterproofing

Deal With Small Non-Pressure Co.

47 Yrs. Exp. - Refs. Avail.

Lic.-Bond-Ins.

Free Est. - Financing Avail.

Member BBB Of Cent. OH

O.C.I.E.B. ID #24273

614-419-3977

or 614-863-9912

HOME

MAINTENANCE

JOE'S HOME MAINT.

Home Repairs, Roofing,

Siding, Gutters, Soffits,

Misc. Int. Repairs

Int. Painting

Call Joe 614-778-1460

37 Years Exp.

HOME

REMODELING

Handyman Remodeling

Over 35 yrs exp.

Larry 614-376-7006

LAWN CARE

Lawnmasters and

Landscaping

Give us a call for your

yards that need mowing,

Spring clean-up, weed

control, paver patios, etc.

Free Estimates

614-378-1237

LET US MAINTAIN

YOUR LAWN & GARDEN

FOR YOU

Summer, Spring,

Winter or Fall

WE DO IT ALL!!!!

Lawn Cuts, Edging,

Trees & Shrubs, Garden,

Mulching, Hauling,

Garden Pond &

Home Maint.

Free Ests. Low Rates

$20 & Up

Kevin - 614-905-3117

Classified Services

8/29

A/M

NEED HOME REPAIRS?

We do it all! Fences, decks,

home repairs, more Just ask!

220-465-2602-local #

9/12 A

PEST

CONTROL

TERMITE &

PEST CONTROL

614-367-9000

TORCO®

TERMINATES

TERMITES

Locally Owned & Operated. Any Pest. Anytime.

$

50 00 OFF Service

Expires July 11, 2021

Free Termite Inspection

LAWN CARE

The Lawn Barber

Cut, Trim, Blow away

Hedge Trimming, Edging

Garden Tilling

614-935-1466

MOVING

Aaron Allen

Moving

Local Moving since 1956

Bonded and Insured

614-299-6683

614-263-0649

Celebrating

over 60 yrs

in business

PAINTING

A Job Well Done Again

A lic. General Contractor

Some Skilled Services

Incl: Painting • Stucco,

Repair•Carpentry•Exterior

Drainage & Home Maint.

Call Today! 614-235-1819

PLUMBING

All About Drains & Plumb.

Will snake any sm drain

$145. 614-778-2584

ALL IN ONE

PLUMBING LLC

"One Call Does It All"

$25 OFF LABOR

9/12

With This Ad

A

614-801-1508

All Major Credit Cards Accepted

CHRIS'

PLUMBING

"Plumbing & Drain Professional

That You Can Count On"

24 Hrs., 7 Days/Week

No Overtime Charges

24 Yrs. Exp. in Plumbing &

Drain Cleaning Field

Call For A Free Phone Estimate

$100.00 For Any Small Drain

614-622-4482

30% OFF with AD

8/29 A&M

9/12 A

PEST

CONTROL

PLASTERING

DRYW

YWALL &

PLASTER

9/12

A&M

REPAIR

Textured Ceilings

614-551-6963

Residential/Commercial

BIA

POWERWASHING

MDB POWERWASH

We Specialize In Decks.

Clean, stain, reseal,

revitalize any deck.

Quality work at fair prices.

Guarantee All Work 3 Yrs.

25 Yrs Exp. Free Est.

614-327-9425

Bates & Sons

Soft Wash & Powerwash

5 ★ Google Reviews

614-586-3417

MRS. POWERWASH

Any house wash $149+tax

Single deck $69+tax

2 Tier deck $99+tax

Best Wash in Town

Over 45,000 washes

Ashley 614-771-3892

ROOFING

Robinson roofing & repairs

30 yrs. exp. Lifetime Cols.

resident. Lic./bonded/Ins.

Reas rates. Member of

BBB. Dennis Robinson

614-330-3087, 732-3100

SEWING MACHINE

REPAIR

REPAIR all makes 24 hr.

service. Clean, oil, adjust

in your home. $49.95 all

work gtd. 614-890-5296

TREE SERVICES

BURNS TREE SERVICE

Trimming, Removal &

Stump Grinding.

614-584-2164

Brewer & Sons Tree Service

• Tree Removal

• Tree Trimming 8/29

A&M

• Stump Grinding

• Bucket Truck Services

Best Prices • Same Day Service

614-878-2568

8/1 A

8/29 A&M
---
PAGE 16 - MESSENGER - August 22, 2021

www.columbusmessenger.com

Comments sought on proposed water/sewer rate hike

By Linda Dillman

Staff Writer

Aqua Ohio is asking the Public Utilities

Commission of Ohio to consider a water and

sewer rate increase and Madison Township

wants residents to know they have opportunities

to voice their opinion regarding the

request.

According to Madison Township Administrator

Susan Brobst, the PUCO collects

comments on each case it hears and will be

hearing the Aqua Ohio case later this year.

"All calls (texts, email, etc.) are transcribed

and put into the case record," said

Brobst.

Earlier this year, the township received

notice from Aqua Ohio regarding a request

to increase water and sewer rates. If the request

is approved by the PUCO, it could go

into effect as early as the first quarter of

2022.

According to the Ohio Public Utilities

Commission of Ohio, on Feb. 6, 2019, the

PUCO approved a 3.66 percent system improvement

charge for Aqua Ohio following

a 2018 application.

The company also requested a 3.5 percent

improvement charge for households in

its servicing area in 2020.

Ohio law allows PUCO-regulated water

and wastewater companies to establish a

system improvement charge based upon

capital improvements and infrastructure replacements

it made since its last received

PUCO authority to increase rates.

Residents can send their thoughts, petitions,

letters, and concerns to the PUCO directly

by emailing

ContactThePUCO@puco.ohio.gov and

should always include the case number,

which can be found at

dis.puc.state.oh.us/?fbclid=IwAR20f8rwWB

6skR9m2BZTa_uVURLW68trsUG-ouRs-

Fav_Q3HlYQoo9tMaUeE.

For help with the process, visit

puco.ohio.gov/wps/portal/gov/puco/help-center/contact-us.

Brobst reported on negotiations by the

Ohio Attorney General regarding the OneOhio

special opioid settlement with three

pharmaceutical companies.

"The amount the township will receive is

unknown," said Brobst, who added the settlement

is a multi-year option. "Once we receive

more information, we'll have more

board discussion.

Trustee Michele Reynolds said the township

needs to opt-in to be part of the settlement.

"Attorney General David Yost sued these

companies and the settlement is going back

to the communities," said Reynolds.

Rental assistance

The Franklin County commissioners

voted to approve contracts worth $2.5 million

with Impact Community Action and the

Community Shelter Board to provide immediate

rental and utility assistance for

Franklin County families that are struggling

in the pandemic economy.

The funding is part of $13 million approved

for Franklin County by Congress at

the end of 2020, and should support nearly

800 individuals or families who have been

hurt by the pandemic and are having trouble

paying their rent or utility bills.

"People all over the country have been

struggling for almost a year, not only with

Get out in front of

the 2021 Election

COVID-19, but with the economic effects of

the pandemic," said board of commissioners

president, Kevin Boyce. "It feels like we've

been dealing with this for a long time, but

the long-term economic effects of this crisis

are just getting started, and it's vital that

we get assistance into the hands of the people

who need it while their troubles are still

manageable."

The two partner agencies will administer

the programs separately, but are both expected

to begin taking applications almost

immediately. Eligibility will be based on income

and applicants must be able to demonstrate

that their income level has been

harmed due to the COVID-19 pandemic.

START ADVERTISING NOW

Community Advertiser Get The VOTES You NEED!

Dates to Advertise before the Election:

9/5 • 9/19

10/27—Ad with Free Story • 10/31—Ad with Free Story

BEST BUY FOR YOUR

ADVERTISING DOLLARS

Our papers reach over 81,000 households!

200 Word Story

With Your Ad

Call or Email Doug Henry

Phone: (614) 272-5422

Email: doughenry@columbusmessenger.com

The assistance is expected to also aid landlords.

"Residents throughout Franklin County

really need this assistance and we're working

with trusted community partners to

help our neighbors in need," said commissioner

Marilyn Brown. "We remain committed

to helping residents stay safe through

this pandemic, and that starts with everyone

having a safe place to call home."

In addition to the direct support for

renters, Impact Community Action will be

heading a coalition of 16 partner organizations

to take on the eviction crisis in general.

Both Impact Community Action and

the Community Shelter Board are long-time

partners of the board of commissioners.

Their work and previous federal assistance

for rent and utilities helped to keep the

number of evictions in central Ohio at relatively

low levels throughout 2020. Unemployment

remains high, however, and

SNAP food assistance applications and

Medicaid caseloads are up. Without additional

support, many Franklin County families

will be without a roof over their heads,

which has secondary effects such as making

it tougher to keep a job or attend school regularly.

"Franklin County families are struggling,

through no fault of their own, to meet

the basic household needs of rent, food, and

utilities. This immediate dispersal of funds

is meant to help stabilize families in the

short-term so that they will be able to get

themselves back on track for the long-run,"

said commissioner John O'Grady.

The commissioners and their staff will be

working over the next two months to finalize

plans for the rest of this $10.5 million in

federal funding.

To apply for rental or utility assistance

or for more information, residents may visit

Apply.ImpactHopeFund.org or call 614-274-

7000 to reach the Community Shelter

Board.

Mental health assistance

Franklin County has launched a new online

tool to connect residents and families

with national and local resources to address

their mental and emotional health challenges.

The website, FranklinCountyOhio.CredibleMind.com,

allows residents to take a

self-paced approach to learn about more

than 200 different emotional and mental

health topics and find mental health

providers in Franklin County.

"The pandemic and economic downturn

have had a major toll on people's mental

and emotional well-being," said Joy Bivens,

deputy franklin county administrator for

health and human services. "This platform

allows us to meet people where they are. It's

judgement-free, it's evidence-based and it's

easy to use — whether you're just looking for

some mindfulness exercises to cope with

stress or searching for a mental health

provider."

The website was funded by the board of

commissioners and supports the work of the

Rise Together Blueprint to Reduce Poverty

in Franklin County by increasing access to

mental health services. It was developed in

collaboration with county health and

human services agencies, including the Department

of Job and Family Services (JFS),

and the Alcohol, Drug and Mental Health

Board of Franklin County (ADAMH).

"Additional support for well-being is welcomed

right now. Easily accessible, quality

support tools help to bury the stigma

around asking for help. It is up to all of us

to help change the perception that asking

for help is a sign of weakness. Taking care

of our mental health makes us stronger,"

said Erika Clark Jones, CEO for ADAMH.

The website offers more than a dozen different

self-assessments to help visitors get

a better idea of their mental health profile.

After completing the assessment, visitors

are referred to a variety of resources — articles,

videos, podcasts and more — all tailored

based off their results. All the resources are

vetted by experts and all the assessment

tools are confidential.

The site provides direct links to

ADAMH's network of more than 30 local behavioral

health providers. Residents can

also get information about obtaining Medicaid,

which covers mental health and addiction

treatment, through JFS as well as

resources from other health and human

services agencies like Office on Aging, Child

Support Enforcement and Justice Policy

and Programs.

Visit FranklinCountyOhio.Credible-

Mind.com to learn more.