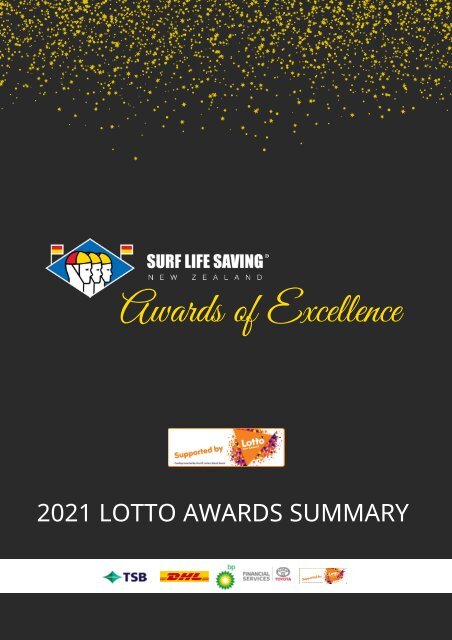 2021 Lottery Grants Board Partner Awards Summary
Do you know the secret to free website traffic?
Use this trick to increase the number of new potential customers.
Awards of Excellence

2021 LOTTO AWARDS SUMMARY
---
Thank You!

On behalf of everyone in the Surf Lifesaving community, we would like

to pass on our sincere gratitude to the team at NZ Lottery Grants

Board & Lotto. Your investment into our organisation makes a positive

difference. Your commitment and continued support to our cause,

enables us to support our wonderful volunteer Surf Lifeguards and

clubs, which means actual lives are saved on New Zealand beaches

and thousands more Kiwis are kept safe at the beach.

This year we saved 513 lives across the country & assisted 1142 people

to safety. That's meant over 1500 kiwi families still have their loved ones

thanks to the actions of our volunteer Surf Lifeguards - NZ Lottery

Grants Board & Lotto's support helps make this possible.

Thank you.

TOGETHER

Awards of Excellence
---
Lifeguard of the Year

Phoebe Havill

Onemana SLSC & Whangamata SLSC
---
Phoebe Havill's outstanding contribution to lifeguarding has

led to her becoming only the second woman to be awarded

the valued Lifeguard of the Year title.

Phoebe is a Patrol Captain at Whangamata and Onemana

SLSC and a committee member and Club Captain at Onemana

SLSC. She has completed 90 hours of volunteer patrolling

between both clubs and does regular roams to Pokohino,

Octopus Bay, and Donut Island, resulting in some of her

rescues. Her striking abilities as a leader have seen her instruct

at the Intermediate Guard School held in Waihi and mentor for

the National Guard School.

On her patrols, Phoebe encourages a proactive approach,

staying at the water's edge and changing the position of

guards monitoring the flags. Along with many club

responsibilities, including patrol coordinating, managing rescue

equipment and running club refreshers, Phoebe has instructed

on a combined Whangamata and Onemana SLA camp. She

also built the Onemana club website and currently runs the

social media accounts.

Awards of Excellence
---
Phoebe has instructed IRB crews and drivers at both clubs, in

and out of patrol hours, and recently gained her IRB Instructor

Award. Her regional contributions include work on the Eastern

Region IRB Development group, course facilitating, Patrol

Captain workshops and instructing and examining for a range

of surf lifesaving positions. Phoebe represents Onemana on the

Coromandel Lifesaving Committee and is the Chief Patrol

Auditor for the Coromandel.

Phoebe is a member of the Volunteer Strategy Working group

and Women in SLS group. She also helped form Wahine on

Water, with three others, an inspiring mentoring programme

created to encourage women to drive IRBs and take on other

challenging roles. Phoebe helped organise Wahine on Water

events in Pauanui and has assisted SLSNZ wahine to plan their

own events in other parts of the country.

NB: Phoebe also won the DHL Instructor of the Year award too.

Awards of Excellence