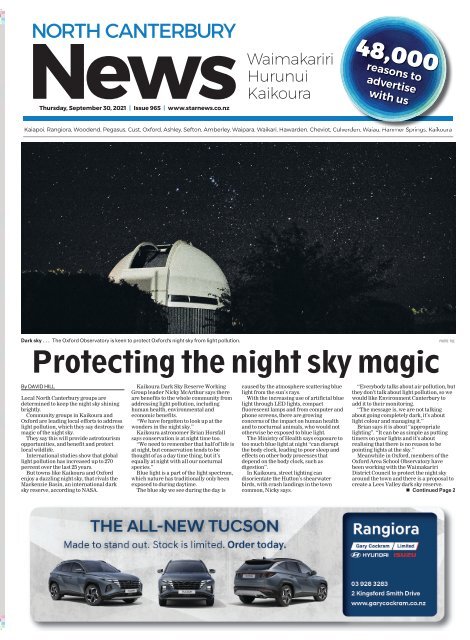 North Canterbury News: September 30, 2021
You also want an ePaper? Increase the reach of your titles
YUMPU automatically turns print PDFs into web optimized ePapers that Google loves.
48,000

reasonsto

advertise

withus

Thursday,September 30,2021 | Issue965 | www.starnews.co.nz

Dark sky ... The Oxford Observatory is keen to protect Oxford's night sky from light pollution.

PHOTO: FILE.

Protecting the night sky magic

By DAVID HILL

LocalNorth Canterbury groupsare

determined to keep the night sky shining

brightly.

Community groups in Kaikoura and

Oxford areleading local efforts to address

lightpollution, which they say destroys the

magicofthe night sky.

They say thiswill provide astrotourism

opportunities,and benefit and protect

localwildlife.

International studiesshow that global

lightpollution has increased up to 270

percent over the last 25 years.

But towns like Kaikouraand Oxford

enjoyadazzling night sky, that rivals the

MackenzieBasin, an internationaldark

sky reserve, according to NASA.

Kaikoura Dark Sky Reserve Working

Group leader NickyMcArthur says there

are benefits to the whole communityfrom

addressing light pollution, including

human health, environmental and

economic benefits.

''We have forgotten to lookupatthe

wondersinthe night sky.''

Kaikoura astronomer Brian Horsfall

says conservation is at night timetoo.

''We need to remember that halfoflife is

at night, but conservation tendstobe

thoughtofasaday time thing,but it's

equally at night with all our nocturnal

species.''

Blue light is apart of the lightspectrum,

which naturehas traditionally only been

exposed to during daytime.

Theblue sky we see during the day is

caused by the atmospherescattering blue

lightfromthe sun's rays.

With the increasing use of artificial blue

lightthrough LED lights,compact

fluorescentlamps and fromcomputer and

phone screens, there are growing

concerns of the impact on human health

and to nocturnal animals, who wouldnot

otherwise be exposedtoblue light.

The MinistryofHealthsays exposure to

too much bluelight at night ''can disrupt

the bodyclock, leading to poor sleep and

effects on other bodyprocesses that

dependonthe bodyclock, such as

digestion''.

In Kaikoura,street lighting can

disorientate the Hutton'sshearwater

birds, withcrashlandings in the town

common, Nicky says.

''Everybody talks about air pollution, but

theydon't talk aboutlightpollution,sowe

would like EnvironmentCanterburyto

add it to theirmonitoring.

''The message is, we are not talking

about going completelydark,it's about

light colourand managingit.''

Brian saysitisabout ''appropriate

lighting''. ''It canbeassimple as putting

timers on your lightsand it's about

realising that there is no reason to be

pointinglights at the sky.''

Meanwhile in Oxford, membersofthe

Oxford Area School Observatory have

beenworking with the Waimakariri

DistrictCouncil to protect the nightsky

around the town and thereisaproposal to

create aLees Valley dark sky reserve.

Continued Page 2
---
NEWS

2 North Canterbury News, September 30, 2021

Grow

customers,

salesand

profits

with North

Canterbury's

bestread

newspaper

Readership: 48,000 weekly

Circulation: 30,150copiesdelivered

to EVERY farm, RD, lifestyle block

and home inWaimakariri, Hurunui

&Kaikoura every Thursday.

news

Robyn Bristow

Managing Editor

027 312 1581

robyn.bristow

@ncnews.co.nz

Reporters

David Hill, Shelley Topp.

advertising

DaynaBurton

Sales Co-ordinator

027 312 0089

dayna.burton

@ncnews.co.nz

AmandaKeys

Advertising

027 536 6224

amanda.keys

@ncnews.co.nz

Kerryn Clark

Advertising

021 586 138

kerryn.clark

@ncnews.co.nz

JillianDickie

Advertising

022 024 3092

jillian.dickie

@ncnews.co.nz

Waimakariri opts out of reform

By DAVID HILL

Waimakaririisoptingout of the

Government's proposed water reforms

sayingthe model is ''flawed''.

Councillorsvoted unanimously at a

meeting on Tuesdaytoopt out of the

proposed water reforms,which would

transfer controlofdrinking water,

wastewaterand stormwater

infrastructure from67councils

nationwide to fourindependent entities.

If the reform goes ahead as proposed,

the threeNorth Canterbury councils

would becomepart of an entity covering

most of the South Island.

The council questions the reliability of

underlyingdata being proposed in the

model,and reiteratesinits feedback to

Governmentthe results of community

feedback whichshowed95percent of

respondents wishtoopt­out.

Mayor Dan Gordonsays there was a

clear message from residentsthat they

do not supportthis reform proposal.

''Everyone agrees that quality drinking

water and better environmental

outcomesare essential.

''However,the reform proposal as it

stands has afixed view on the solution

and the council doesn'tacceptthat there

is only one way to achieve these

outcomes.

''Thereare anumberofalternative

waystoresolve the issues facing the

sector.

''Asthis proposal stands, where the

casefor change has beenshown to be

flawed, it is unreasonable to expect the

council to transfer $602millionofpublic

assets and lose localcontrol when it's not

in the best interests of the district.''

Mr Gordon saysthe council entered

intothe process in goodfaith and on the

The Widest Music Variety

understanding reform was voluntary,

with councils having the ability to optout.

''I sincerely hope the Government

shows similargood faith and honours

this agreement.''

With the support of the Canterbury

Mayoral Forum, the Waimakariri

District Council is callingfor apauseto

allow for alignmentwith other local

governmentreforms, to allow the new

water regulator,Taumata Arowai, to be

established and for there to be clarity

about the incoming economic regulator.

The council has alsocalledonthe

Department of Internal Affairs to

properly assessalternative delivery

options and to look to increase

community involvement in the decision

making, including the ability for a

community to be able to decide whether

to chlorinate watersupplies.

Puppy poise wins photographic competition

''Picture Perfect Puppy''took out the

Champion image at the Rangiora

Photographic Society's second open

competition.

Photographer Amy Boycealsowon

the Bgrade section with her photo,

and gained Bgrade honours.

Results were:

Champion ImageOverall

Picture Perfect Puppy –Amy Boyce

BestinGrades

AGrade –Melbourne Bushfire Skies–

Dominic Stove

BGrade –Picture Perfect Puppy –Amy

Boyce

CGrade–Blue LightReflections –

JudeKnight

Honours

AGrade: Girl with aLace Scarf –

CherylMuirson; Last Light–Cathy

Price; TakeThat –Graham Dean; My

Place in Reality –Errol Hitt;

Melbourne Bushfire Skies—Dominic

Stove; Sienna in the Rain –Robyn

Carter.

BGrade:PicturePerfect Puppy –Amy

Boyce; Harrier Hawk–Amy Boyce;

Katydid –Sue Titmuss.

CGrade: AmazingLake –Nathan

Green.

LED streetlights contribute to light pollution

From Page 1

Aglobalstudy led by the University of

Exeter hasfound that the increased useof

LED streetlights is asignificant

contributortothe growinglightpollution.

''Contrarytopopularbelief,the

installation of 'broad white' LED

streetlights, while potentiallyproviding

Picture Perfect Puppy ... The Champion Rangiora Photographic Society image in its open

competition.

PHOTO: SUPPLIED

some energysavings, have increased light

pollution andalso theimpacts on

organismssuch as moths,''the study's

author Dr AlejandroSanchezdeMiguel

says.

InternationalDark­Sky Association

executive director Ruskin Hartley has

calledfor actiontoreversethe spread of

bluelightemittingLEDs.

''Withoutconcertedaction to reverse

this trend, the impact on the natural

environmentwill accelerate,further

exacerbating the biodiversity crisis,

wastingenergy andmeaningawhole

generation will growupin perpetual

twilight.''

getintouch

Editorial

info@ncnews.co.nz

Advertising

sales@ncnews.co.nz

Graphic Design

heather.hood@ncnews.co.nz

Distribution/Deliveries

03 314 8335

Rangiora: 03 313 2840 /03314 8335

14 Ashley St, Rangiora

Christchurch: 03 364 7460

www.starnews.co.nz

Tune in nowtolistenon104.9 North Canterbury

and103.7 Hanmer Springs andKaikoura

GET ONTHEPROPERTYLADDER

WITHTHISWEECRACKER

24 Wilkin Street ROTHERHAM

Looking foryour first home or aholiday home,

then this is the one foryou! Acosy twobedroom

cottage on a1012smq section in the heartof

the North Canterbury township of Rotherham.

Open-plan kitchen, dining, living with alog

burner with wetback to keep thewinterchill out.

Further complementedwith asmall two-bayshed,

woodshed,detached room and lean-to carport.

Don'tdelayyour enquiryoryou maymiss out.

DEADLINE PRIVATETREATY

GST Inclusive(Unless Sold Prior)

Closes 2.00pm, Wednesday 27 October

BruceHoban | M 027 588 8889

www.pggwre.co.nz

PGG Wrightson Real Estate Limited,licensed under the REAA2008

VIEW

Saturday2Oct &Sunday

3Oct 11.00am-11.30am
---
Leaders urge Covid vaccination

By SHELLEY TOPP

Community leaders are stepping up to

encourage people to get vaccinated

against Covid­19 in North Canterbury.

Aworkplace incentive in Hanmer

Springs to win $1000, and an Oxford

doctor's advocacyfor the Covid­19 vaccine,

are proving effective.

At the HanmerSprings Thermal Pools

and Spa 95 percent of the staffhave taken

the opportunity to go in the drawtowin

$1000 by becoming fullyvaccinated.

Vaccine advocate Dr Richard Clinghan

is alsohelping motivate peopletoget

vaccinated against Covid­19 by

encouraging them to considerwhat a

world without the Covid­19 vaccine would

be like.

Hanmer Springs Thermal Pools and Spa

manager Graeme Abbot says he is thrilled

withthe response to his incentive,but he

is hoping to encourage an evenbigger

percentage of his staff to get vaccinated.

''I am very mindful thatduringthe

course of ayear aroundhalf amillion

peoplewillvisit the pools. It is in the best

interest of stafftobefully vaccinated.

''This incentive is all aboutfully

protecting them and thepeople who visit

the pools,keeping them all safe,'' he says.

Dr Clinghan, who is ageneral

practitioneratthe Oxford Community

Health Centre and author of Jenny and

The Eddies, acomic bookabout viruses

and the importance of vaccines, says in a

world without the Covid­19 vaccine New

Zealand would have to remainclosed from

the rest of the world, or we wouldhave to

let the infectionin.

''The only way to control the infection

would be prolongedlockdowns,limited

numbers at events and comprehensive and

intensivecontacttracing and self­testing,''

he says.

People would also havetoself­isolate

frequently which would interfere with

their education, jobsand mentalhealth.

''Otherwise, we would have to livewith

HILUX, HIACEAND

EVERYTHINGIN

BETWEEN

68 FalsgraveStreet,Woolston

W: nzvanspares.co.nz

E: nzvanspares@hotmail.com

Ph: 03 3793932/0508 698267

100% Canterbury Owned

NZ's favourite home for

Recycled Hilux &Hiace Parts

Vaccine advocates ... Graeme Abbot, chief executive of the Hanmer Springs Thermal

Pools and Spa, and Oxford doctor Richard Clinghan, are encouraging people to get

vaccinated.

the infection.''

This would mean accepting that

hundreds of thousands of people would

have to sufferwith the long­term

complications of Covid­19, intensivecare

unitswould be overwhelmed with

ventilated patients with no room for

emergencies, deaths of thousands of

people wouldoccur and the healthcare

system wouldbecrippled with delayed

specialist appointments and elective

surgeries.

''Instead we can all shoulder some of the

burden of Covid­19 and takeonatiny risk

that we will have aseriousadverse event

to the vaccine,and protectnot only

ourselves,but the peoplewelove around

us that might be tooyoung or vulnerable to

have the vaccine, and our wider

community,''hesays.

''At present, too manypeopleare

considering the riskbetween havingthe

vaccine andnot havingthe vaccine.

'' The realityiswemust compare the

LAWNMASTERESTATESPECIAL

Save $100 on the Lawnmaster

Estate range *

Check

Out These

Features:

Was$849

Now $749

• Ball Bearing Wheels ESTATEECO READYSTART

• Ready Start Engines (no priming)

• Quality Alloy Chassis with LIFETIME Warranty

• 5Year Engine Warranty

• Oiled &Fully Assembled

*Excludes the Estate 400

360 FlaxtonRoad,Rangiora

Ph 03 313 5563

www.kingsmowersheating.co.nz

2419884

2187722

risk of having avaccineagainst the risk of

getting the infectionand what impact that

has not onlyonourselves, butthe whole of

society.''

Canterbury and West Coast District

HealthBoard figures show about 80

percent of Canterbury's eligible

population is now eitherfullyvaccinated,

has had asingledose or is booked to

receive their vaccination.

''We have vaccinated more than 354,000

peoplewith at least theirfirst dose and

more than 178,000 with their seconddose,''

the board's senior officer responsible for

the Covid­19 response in Canterbury, Dr

Helen Skinner says.

In NorthCanterbury more than 48,000

peoplehave been vaccinated in

Waimakariri,Hurunui and Kaikoura

districts, with at least theirfirst dose, and

more than 26,000 with theirsecond dose.

Canterbury has 107 vaccination clinics

acrossthe province,with more being

added each week.

Covid pushes Rotary book fair to November

The annual Rangiora Rotary Book

Fair has been pushed out until

Friday, November 26 and Saturday,

November 27.

Covid­19 protocolsare behindthe

shiftindates,sothe RotaryClub can

ensure everyoneislookedafterinthe

club's spiritofcaringfor the Rangiora

community.

Organiser Bruce Walker says the

fair,which will be heldatthe North

Canterbury A&P showgrounds on

Ashley Street, attracts alarge crowd,

and is eagerly anticipated.

It is also amajorundertaking by the

club.

''We hope everyone will supportour

book fair on the new,'' he says.

Bruce says the community support

for the Rotary book salehas been

amazing withoffers of bookdonations

coming in from allover North

Canterbury.

''There has alreadybeen agenerous

supply of books,''says Mr Walker.

However people can stilldonate

books. Collection bins will be

available at Rangiora New World and

the ZService station from Monday,

October 4.

The book fair wasoriginally heldin

the Conway BookShop by Haroldand

Mary Conway, and in recent years it

has been held at the Rangiora

Borough School Hall.

''Theschool has providedgreat

support, but withthe restrictions

imposed by Covid­19 the change of

date conflictswith the school

activities,'' he says.

This has meant achange of venueto

the Tin Shed at the showgrounds.

''It is the idealalternativewith

plenty of space for book loversto

browse at their leisure,''says Bruce.

Fundsraised from the booksale go

back intothe Rangiora community to

support awide range of activities.

NEWS

North Canterbury News, September 30, 2021

MASTER BUILDER

LocaltoNorth Canterbury.

arthur@robertsonbuilding.co.nz

www.robertsonbuilding.co.nz

3

CALL ARTHUR 027 2451601

BARNS/FARM BULDINGS•RIB RAFT FLOOR SYSTEM INSTALLATION

PROJECTMANAGEMENT•ADDITIONS•NEW HOMES

HOME MAINTENANCE•EQC REPAIRS•ALTERATIONS

FREE QUOTES

Experiencethe perfectfitfit

Removable innersole, OrthocFriendly

Providing comfort &longevity with everystep

Ar

arat

Nougat

L37-42, Leather

Ara

Pewter

L37-42, Leather

Kaiapoi Mill, Ranfurly Street, Kaiapoi

Monday –Friday 9am –5pm

Saturday 10am –1pm

Closed on Public Holidays

Ph 03 327 0576

FARMSWANTED

We currently have buyers looking

for the following properties:

• Sheep and beef farms between 5,000 and 10,000SU

• Irrigated dairy support land –will consider all areas

• Coastal sheep and beef/fattening farms between Omihi and Cheviot

• Sheep and beef farms upto5,000SU in the Waikari/Hawarden area

• Forestry blocks of any size

If you are considering selling, orwould like amarket update,

please call Ben Turner or Peter Foley in the strictest confidence.

Ben Turner 027 530 1400

Peter Foley 021 754 737

WHALAN AND PARTNERS LTD, BAYLEYS, LICENSED UNDER THE REA ACT 2008

2021055

2416870
---
NEWS

4 North Canterbury News, September 30, 2021

Backfor 2021!

2419876

OPEN ANEW ACCOUNT

DURING OCTOBER

&GOINTHE DRAW TO

WIN A$500 ACCOUNT CREDIT *

*

T's&C's apply

YES, WE'RE OPEN IN LEVEL 1&2!

21 PRIVATEGARDENS, HISTORIC HOMESTEADS &ART!

Thursday 28 th -Sunday31 st

Find outmoreathurunuigardenfestival.com

Newowners -Kieran and Sam

look forwardtomeeting

youin-storesoon!

5a Cone Street

Rangiora

Ph: 3134862

E: admin@rangioraitm.co.nz

st Oct2021

Show cancelled ... A&P show succumbes to Covid­19 uncertainty again.

PHOTO: FILE

Rangiora Show again

avictim of Covid-19

By DAVID HILL

The Rangiora Show has succumbed to

Covid­19 uncertainty for the second year

running.

Northern (Rangiora) A&P Association

president Graeme Green says with Alert

Level 2being extended until at least

October 5, the risk to the association was

just too great.

''We've hung out as long as we can, but

it's anybody's guess what will happen.

''It's disappointing as there's alot of

work that goes into it and especially as

we had to cancel it last year.''

Speed shearing and the motocross

bikes had been set to be the main

attractions at the show, Mr Green says.

''We were going to go all out since we

didn't have ashow last year, but it's not

to be.

''The speed shearing was getting quite

abit of enthusiasm and it would have

attracted anumber of North Islanders,

and the noise of the motor bikes attracts

people.

''But hopefully next year it will

happen and it doesn't rain.''

Mr Green says the committee will

consider whether to run acommunity

day early next year to ''let people know

we are still here''.

''It would probably be abit of

entertainment and afew animals to try

to generate abit of enthusiasm.''

In the meantime, several of the

individual section organisers are

planning to run their own section events

on what would have been show day,

Saturday, October 23.

''The horse section is too big to run

under Level 2, but Iunderstand there

will be some competitions for alpacas,

donkeys, woodchopping and some cattle.

''The gates will be shut under Level 2,

but we can open them if we are at Level

1and let the public come in and have a

wander round.''

Sheep dog trials and shearing

competitions are also being held off­site,

Mr Green says.

Waimakariri Mayor Dan Gordon

expressed his sadness at the show being

cancelled, again.

''It's ashame to hear that the Rangiora

A&P Show is not able to proceed this

year because of Covid.

''It's always ahighlight for me and our

community. Ilove attending our local

shows and they are such an important

occasion for town and country to come

together.

''I know the local show committee will

be disappointed as they put so much into

organising the show each year and the

decision they have made won't have

been taken lightly.''

Mr Gordon says his thoughts go out to

all local event organisers who are faced

with the uncertainty of whether their

events can proceed.

''A lot of voluntary hours go into

organising these events and having to

reorganise, or ultimately cancel, adds

additional pressure.

''But I'm hoping we will be in a

position to enjoy the show again next

year.''

Three Water Reform meeting

Communityconcern over the Three

Waters Reformproposedbythe

Government,has prompted Waimakariri

MP Matt Doocey to call acommunity

meeting.

National's Local Government

spokesperson ChristopherLuxon will

attend to discuss Nationals views on the

reforms,and answerquestions from the

community.

"It is clearfrom residentsthe proposed

ThreeWaters Reformiscausefor concern.

"It doesnot seem to matterwhether they

are rural or urban,orwhere on the

politicalscale theysit, everyone who is

approaching me has similar viewsonthe

ThreeWaters Reform,'' Mr Doocey says.

"People in Waimakariri seem

unanimously concerned aboutlosing local

control over our assets.

"Judgingbythe volume of calls and

emailstomyoffices,this proposal is

fraught with issues,which fundamentally

come downtopeople worrying aboutthe

impacts on their daily life," he says.

Aseparatemeeting will be held aheadof

the public meeting for councillors,

community board members and council

staff,toallowmore of the community to

attendinthe evening.

Any one wishing to attend the public

meeting, on October 12, at 6.30pm, at the

Riverside CommunityChurch, Kaiapoi,

will need to RSVP as Covid­19 restrictions

will still apply to numbers allowedto

gather.

To register email

waimakariri@parliament.govt.nz.
---
Mylk Made adream business

By DAVID HILL

An overseas experience has turned intoa

business dream for aRangiora couple.

After getting atastefor nut­based milks

at acafe in Lombok, Indonesia, Jemma

Turnerand Max Delore decided to create

their own business on their return to

North Canterbury—Mylk Made.

Launched in August last year, Mylk

Made has been nominated in the ambient

category in the New Zealand Artisan

Awards.

''It took ayear of working on it and

perfecting the recipes before we launched

it,'' Jemmasays.

''Our product is anatural product,

without the stabilisers you findinother

plant­based milks,soit's betterfor you.''

The new nut­based milksare sold as a

mylk base or concentrate in ajar or

bucket, and can be turned into milk for

your coffee, cereal or baking,byadding

water.

''Literally anything you can use milk for,

you can use our mylks and we have alot of

recipes on our website,''Jemma says.

A300 ml jar of mylkbase makesseven

litresand savesoncartons or tetrapaks,

which cannotberecycled in New Zealand,

or plastic bottles.

''People can re­use the jars themselves

or we havelaunched areturn system, so

peoplecan orderareturn for the lid and

jars and we can re­use them,'' Jemmasays.

''We want to minimise waste as much as

possible.''

With Max'sbuilding skills, the couple

has been able to convert Jemma'sparents'

backyard shed into acertifiedcommercial

kitchen.

Jemma and her mum Corinne work

together in the kitchen, with Corinne's

business experience coming in handy,

while dad Keith also gets ''roped in'' to

help.

''We have areallygood team dynamic

Family affair ... Jemma (left) and Corinne Turner have been busy mixing their new mylk

bases.

PHOTO: SUPPLIED

and it's not just the practical workinthe

kitchen,'' Corinne says.

''Jemma has the ideas and I've been in

business mostofmylife, and now I'm full

timewith Jemma.''

MylkMade mylk bases come in arange

of flavours including macadamia,

hazelnut,almond,coconut, lavender and

hemp.

Mostofthe ingredientsare sourced

locally,althoughalmondnuts arenot

grown in New Zealand and so are

imported from Australia.

Anew barista rangehas just been

launched for cafesand restaurants, with

BURKE'S

Max andKeithbeing roped in for

deliveries to cafes in Christchurchand

NorthCanterbury.

''Theboys will be doing it and theyare

quiteproud to be asked,''Corinnesays.

''We would really like to focus

throughoutthe North Canterbury area and

when we drop off new mylk bases, we can

pick up theirempty buckets or jars,''

Jemmasays.

Mylk Made products can be ordered at

mylkmade.co.nz or are available at 60

stockists nationwide, including New

WorldRavenswood, Percival Street

Bakery and the Rangiora Produce Market.

NEWS

North Canterbury News, September 30, 2021

5

Lower speed

limit proposed

Alower speed limit is being proposed

for partofJohns Road in Rangiora.

The Waimakariri District Council is

proposingtolower the speedlimit

from 100km/h to 80km/h afterrecent

crashes at the dangerous Lehmans Rd/

JohnsRdintersectionprompted a

review of the area.

''Consultationisdue to go out later

this monthonproposed speed limit

changes in anumber of locations

around the district.Included in this is

aproposaltoreduce the speed limit on

JohnsRdto80km/h with the aim of

reducing harmifacrash was to occur,''

council roading and transport

manager JoanneMcBride says.

''We knowthat speed may not cause

acrash, but it will always determine

the outcome.''

The council staff has alsoprepared a

report for the Rangiora­Ashley

Community Board seekingapproval to

change the current''GiveWay''control

sign to a''Stop'' sign.

The reportwill be presented to the

Boardfor considerationnext month

(in October).

''More generally though as drivers,

the best thingwecan do is slow down

and ensure we check carefully both

waysbeforepullinginto an

intersection,''Joanne says.

''A measured scan before you pull

out into an intersection can make all

the difference.''

The latestcrash at theJohns Rd/

Lehmans Rd intersection was earlyon

Monday evening last week (September

20).ARangiora St Johnambulance

crewattended the accident and two

people weretaken to Christchurch

Hospital in amoderate condition.

We'vegot everything youneed foryour garden

2309597

Potting Mix, Compost &Sheep Pellets

Push &Ride-on Mowers

Wheelbarrows

Chainsaws

Hedge &Line Trimmers

Home Irrigation

Garden Tools &Gloves

Wide variety of plants including:

Bedding Plants

Perennials &Small Shrubs

Peonies

Fruit Trees

Vegetables including Tomatoes

Seed Potatoes

Come in and see Lindsay, Ann and Julie today or phone 03 314 0130

Markham Street, Amberley |www.arthurburke.co.nz

ARTHURBURKELTD

Established 1935

2416752
---
OPINION

6 North Canterbury News, September 30, 2021

McALPINES MITRE 10 MEGA RANGIORA -OCEAN WATCH

This

Week

Sun

Fishing

Guide

Moon

Wind

3Waters Reform

debate continues

HurunuiDistrict Council is aboutto

provide feedback to central

Government on the proposedThree

Waters Reform, havingconsidered the

informal feedback from many

residents and ratepayers.

Having weighed up theproposal

with aHurunuilens, it may be no

surprisetoreaders to understand that

there is very little in thisproposalthat

will bringbettermenttoour district.

The Government's proposal (whichit

is yet to be confirmed)proposesto

transfer alldrinkingwater, wastewater

andstormwater assets, including all

field operations fromcounciltoanew

Crown Entity.

The proposedentityisknown as

"Entity D" and it's boundariesare

those defined in theNgaiTahu

Settlement Actof1998.

The Ministerspeaks of the

compelling "case forchange", however

hasgiven no provision for formal

consultation with the owners of the

assets.

This does notsit comfortably with

ourcouncil and we willbeconsulting

with you through the special

consultative procedure,under the

LocalGovernment Act, as owners of

these assets.

The government has not providedus

with atimeline for decisionmaking,

butweunderstand it willbesometime

before theend of theyear.

Thankfully manyhave provided

informal feedback to date,however

during the upcoming formal process

we will again need your voice toadd

weight for this decision of significance.

Idonotsee why thegovernment can

promotethe confiscation of billions of

dollars of rate payers owned

infrastructure andgiveverylittle in

LOST AND FOUND

Ok

Thursday Friday Saturday Sunday Monday Tuesday Wednesday

Sep 30 Oct 1 Oct 2 Oct 3 Oct 4 Oct 5 Oct 6

Rise 7:04am

Set 7:34pm

Best

Times

7:59am

8:25pm

Rise 3:40am

Set 12:19pm

Gentle SE becoming

moderate E

Ok

Rise 7:02am

Set 7:35pm

Best

Times

8:51am

9:17pm

Rise 4:26am

Set 1:19pm

Gentle Sbecoming

moderate SE

return –except removing the rights of

councils, and more importantly, the

right of localpeople to exercise their

democratic rights.

Localownershipmeans you can hold

peoplelikemeand mycolleagues to

account.

This is acritical loss to democracy

across New Zealand.

Theproposed governance model will

havethe effect of distancing any

accountability of the entities from

their customers, we believe this will be

asignificant step backwardsfrom the

current situationand struggle to

acceptthisposition.

Localgovernment is critically

importanttothe fabric of New

Zealandersand the thought of

centralisedsystems, and control, is

concerning.

Themost compellingfeedback

received from residents and

ratepayers in the Hurunui District is

thatwemustretain ownership and

control of the threewater assets and

thatyou trust your council to continue

to deliver the three water serviceson

yourbehalf now, and into thefuture.

Thecasefor change hasbeen poorly

conceived and executed, and this has

beenreinforcedbythe lack of

consistent information to councils.

With thisweeks focus on Mental

Health Awareness and the theme

"Take time to korero –alittle chat can

go along way"itconfirmsfor me that

the little everyday conversationsthat

we have canmakeabigdifferenceto

our wellbeing.

They canbrighten up our day,and

helpuscreate meaningful connections

withcolleagues,friends and family.

Stopand have achat, it is amazing

what it can do for yourwell­being.

The following property has been reported as lost to the North Canterbury police ­have

you seen it? Acellphone in red case, an iPhone SE with ared back, aSamsungGalaxy

S10 with ablue back, apouch containing prescription medicine, ablack Warehouse

cellphone with raised keypad, ablack CAT S23 cellphone, and an Oppo AX5 pink

cellphone in black case.

This property is waiting to be claimed: Abrown leather "Barkers" cardholder.(

Rise 7:00am

Set 7:36pm

Best 9:42am

Ok

Times 10:08pm

Rise 5:06am

Set 2:24pm

Gentle Wbecoming

moderate S

Rise 6:58am

Set 7:37pm

Best 10:33am

Ok

Times 10:58pm

Rise 5:40am

Set 3:34pm

Gentle SW becoming

moderate SE

Rise 6:57am

Set 7:38pm

Best 11:23am

Ok

Times 11:47pm

Rise 6:09am

Set 4:46pm

Gentle Wbecoming

moderate SE

Trees caused power cuts

Most poweroutages during recent

windstorms in NorthCanterbury could

have been avoided, says North

Canterbury Electricity lines company,

MainPower.

MainPower says around 90% of the

damage was causedbytrees, branches

and vegetation being blown into power

lines.

The lines company is urgingall tree

owners to regularlyinspect trees on

theirproperty, and be proactiveabout

keeping themwell away from power

linesand poles to prevent power

outages and potentialdanger to the

public.

MainPowerVegetation Control

Supervisor Kevin Smith says asingle

branch can bring down powerlinesand

take out power to awhole

neighbourhood.

''This is obviouslycostlytorepairfor

MainPower, potentially dangerousfor

the public, not to mentionreally

frustrating for those affected by having

no power.''

The storms, at their worst, left

around 7000 North Canterbury

properties without power.

''Itsimportant to think about the

hazard atree will pose if it falls.

''Theclosest atree should be to

network equipment is the height of the

tree,plus four meters,''says Mr Smith.

MainPowerrecommendsseeking

professional advicetotrim or remove

any trees that are growingwithin this

fall hazardzone.

Underregulations, tree owners may

be responsible for any damage their

treescausetothe electricity network.

This can include being liable for the

costsofrepairing damage trees cause.

Who should pay

DearEditor,

Iamwriting in regard to the

Government's rejectionofapleafor an

extra$50 millionfor thenew

Christchurch Stadium,and the decision

by city councillors to approach

neighbouringcouncils for funding.

Iwould ask the Government to take

intoconsideration the sentence handed

downlast year to the 28­year­old

Christchurch terrorist.

To incarcerate this manfor therestof

his natural lifeatthe current annual

costof$1.67 millionwill cost the

taxpayer $50 million over the next30

years and more beyond that.

Under the extraordinary

Rise 6:55am

Set 7:40pm

Best 12:11pm

Fair

Times

Good

Rise 6:35am

Set 5:59pm

Moderate Sturning

SE

Rise 6:53am

Set 7:41pm

Best

Times

12:36am

1:00pm

Rise 7:00am

Set 7:13pm

Moderate S

Storm damage ... Atree across road on

to power lines on Marsh Road, Rangiora.

PHOTO: SUPPLIED

''Any financial cost to tree owners for

repairing damagedpower linesis

something that can be easily avoided if

they are proactive with managing

vegetationontheir properties,''Mr

Smith says.

The best thing to do is to regularly

hire trainedprofessionals to trim trees

safely, before theybecome an issue.

Branches overhangingpowerlines

are also arisk and should be removed

by trained arborists.

''It is not something just anyone can

do. If the tree is closetopower lines,

electricitycan jump across objects like

tree branches or trimming equipment,

and cause serious harmoreven death

to anyone thatgets too close.''

More informationcan be found at

mainpower.co.nz or call 0800 30 90 80

to bookafree treeinspection and

quote.

circumstances of this case,ifAustralia,

in thewords of theirHomeAffairs

Minister PeterDutton''weretotake

their trash back', then this cost would

rightlybetheirs.

With thisexpense saved theNew

Zealand Governmentcould then make a

loan available to Christchurchonan

interest freebasisto be paidback over

thenext 30 years or so.

In thisscenario,the Government

makes asocial investment, receives all

thefunding back and everyone benefits.

What better, or morepositive way,to

usethismoney than in acity where the

peoplehaveendured so muchtragedyin

recenttimes.

Yours,

BruceFrampton, Oxford

Swell

Pegasus Bay

Tide Chart

3

2

E0.9 m E0.6 m SE 0.6 m SE 0.9 m SE 1.1 m E1.3 m E1.5 m

3 6 9 NOON 3 6 9 3 6 9 NOON 3 6 9 3 6 9 NOON 3 6 9 3 6 9 NOON 3 6 9 3 6 9 NOON 3 6 9 3 6 9 NOON 3 6 9 3 6 9 NOON 3 6 9

1

0

Highs Lows Highs Lows Highs Lows Highs Lows Highs Lows Highs Lows Highs Lows

Waimakariri 12:10am 2.0 6:16am 0.8 12:58am 2.0 7:04am 0.7 1:46am 2.0 7:52am 0.7 2:32am 2.1 8:40am 0.7 3:19am 2.1 9:28am 0.6 4:05am 2.2 10:17am 0.5 4:53am 2.3 11:08am 0.4

Mouth

12:31pm 2.1 6:54pm 0.8 1:20pm 2.1 7:43pm 0.7 2:09pm 2.2 8:28pm 0.7 2:56pm 2.2 9:13pm 0.6 3:42pm 2.3 9:57pm 0.5 4:28pm 2.4 10:43pm 0.5 5:15pm 2.4 11:32pm 0.4

Amberley 12:10am 2.0 6:16am 0.8 12:58am 2.0 7:04am 0.7 1:46am 2.0 7:52am 0.7 2:32am 2.1 8:40am 0.7 3:19am 2.1 9:28am 0.6 4:05am 2.2 10:17am 0.5 4:53am 2.3 11:08am 0.4

Beach

12:31pm 2.1 6:54pm 0.8 1:20pm 2.1 7:43pm 0.7 2:09pm 2.2 8:28pm 0.7 2:56pm 2.2 9:13pm 0.6 3:42pm 2.3 9:57pm 0.5 4:28pm 2.4 10:43pm 0.5 5:15pm 2.4 11:32pm 0.4

12:19am 2.0 6:25am 0.8 1:07am 2.0 7:13am 0.7 1:55am 2.0 8:01am 0.7 2:41am 2.1 8:49am 0.7 3:28am 2.1 9:37am 0.6 4:14am 2.2 10:26am 0.5 5:02am 2.3 11:17am 0.4

Motunau 12:40pm 2.1 7:03pm 0.8 1:29pm 2.1 7:52pm 0.7 2:18pm 2.2 8:37pm 0.7 3:05pm 2.2 9:22pm 0.6 3:51pm 2.3 10:06pm 0.5 4:37pm 2.4 10:52pm 0.5 5:24pm 2.4 11:41pm 0.4

12:21am 2.0 6:27am 0.8 1:09am 2.0 7:15am 0.7 1:57am 2.0 8:03am 0.7 2:43am 2.1 8:51am 0.7 3:30am 2.1 9:39am 0.6 4:16am 2.2 10:28am 0.5 5:04am 2.3 11:19am 0.4

Gore Bay 12:42pm 2.1 7:05pm 0.8 1:31pm 2.1 7:54pm 0.7 2:20pm 2.2 8:39pm 0.7 3:07pm 2.2 9:24pm 0.6 3:53pm 2.3 10:08pm 0.5 4:39pm 2.4 10:54pm 0.5 5:26pm 2.4 11:43pm 0.4

12:22am 1.6 6:25am 0.6 1:08am 1.6 7:10am 0.6 1:53am 1.6 7:57am 0.6 2:38am 1.6 8:43am 0.5 3:23am 1.6 9:31am 0.5 4:09am 1.7 10:19am 0.4 4:57am 1.8 11:09am 0.4

Kaikoura 12:42pm 1.7 7:03pm 0.6 1:29pm 1.7 7:49pm 0.6 2:16pm 1.7 8:34pm 0.5 3:01pm 1.8 9:17pm 0.5 3:47pm 1.8 10:02pm 0.5 4:34pm 1.8 10:47pm 0.4 5:22pm 1.9 11:35pm 0.4

*Not for navigational purposes. Wind and swell are based on apoint off Gore Bay. Maori Fishing Guide by Bill Hohepa. www.ofu.co.nz www.tidespy.com Graphic supplied by OceanFun Publishing Ltd.

2118223
---
LET'STALKABOUT

PLANNING FORTHE

DISTRICT'S FUTURE.

WaimakaririDistrict

Councilisplanning for

thefuture with thenew

Proposed District Plan.

We'reupdatingthe District Plan to ensure it enables

economic and residential growth, while protecting

thethingsthatmakeWaimakaririspecial.

TheDistrict Plan setsrules for sustainably managing how people use, subdivide

and develop land, what and wheretheycan buildand what kind of activitiesthey

can undertake.

The Plan also controls any adverse effects an activity could have on the

neighbourhood and protects the uniqueness of our district by looking after our

heritage, cultural values, outstanding landscapes and coastal environment.

Waimakaririisone of thefastest growing areasinNew Zealand and up to 15,000

houses may be needed to accommodate population change over the next 30

years, together with business, infrastructure and public facilities.

We need to ensure this growth is well planned, integrated and sustainable. One

of the critical ways to make this happen is through the District Plan.

The Proposed District Plan is open for your feedback until 5pm on Friday

26 November.

We encourage youtolookupyour property andany changesthat mayaffect you

on the Proposed District Plan.

Find out more and have your say

waimakariri.govt.nz/letstalk

Key changes

Greater recognition and protection ofthe District's

natural resources and cultural heritage.

Greater recognition of the effects onfresh water

and encouraging sustainable development.

Increased management ofdevelopment that could

be affected bynatural hazards.

New zone overlays, changes to existing zones, and

new names and definitions for zones –toalign with

the National Planning Standards.

New Development Areas for future population

growth.

Changes torural subdivision. Greater protection of

rural character and primary production.

Clearly identified activities for Commercial and

Industrial Zones.

New Special Purpose Zones, including Kāinga

Nohoanga,Hospital,Regeneration AreasatKaiapoi,

and Pegasus Resort.

Updated infrastructure and transport provisions.

Significant NaturalAreas (SNAs) nowshown on the

ePlanmap andidentified throughhabitatthresholds.

Some existing designations have been carried over

from theOperativePlanintothe Proposed Plan,with

or withoutmodification, andthere arealsosome new

designations.
---
NEWS

8 North Canterbury News, September 30, 2021

$10,000 reward for proof kokako still exists

By SHELLEY TOPP

A$10,000 reward is on offer for proof

that the South Island kokako still exists,

and North Canterbury is on the search

radar.

Nina Valley, Doubtful Valley and Hope

Valleyinthe Lake Sumner Forest Park,

have been areas of interestinthe search

for some time, and there have also been

reports of possiblesightings along the St

James Walkway and around Hanmer

Springs.

The South IslandKokakoCharitable

Trust willpay the reward for the first

informationreceived that results in

confirmationthat the SouthIsland

kokakoisstill alive.

''We are hugely grateful to the two

sponsors of this reward, initially Mohua

Investments Ltd and then The Morgan

Foundation, who matched the earlier

rewardof$5000,''the Trust's manager,

Inger Perkins,says.

The searchfor ''the grey ghost'',which

has a''datadeficient''conservation status

but is believed by sometobeextinct,

began four decades ago with asmall

group of individuals who were convinced

the South Island kokakostillexisted.

Although their beliefswere unable to

be substantiated, reports of sightings

have persisted and in 2010 the South

IslandKokakoCharitable Trust was

established to intensifythe searchby

complementing the work being done by

the Department of Conservation, and

others, in the campaigntodeterminethe

bird still existed.

The Trust has changed the game by

organising systematicsearches in sites it

ranks as most likely to result in an

encounter.

''We have received, and followed up,

some truly exciting reports of the bird.

''Yet despite our hardwork, we have

yet to determine for surethat the bird

EVERYDAY

PRICE!

$

vinoS 17 99

forasweet

WITHER HILLS

MADAM SASS

as nightin

Reds Range

CENTRALOTAGO

750ml

Pinot Noir or

Pinot Noir Rosé

HOT DEAL!

IncludesSyrah,

Merlot, Pinot Noir

750ml

$

29 99

HEINEKEN

15 x330ml Bottles

HOT DEAL! HOT DEAL! HOT DEAL! EVERYDAY

HOT DEAL!

HOT DEAL!

PRICE!

$ $

59 99

$

54 99

HOT DEAL!

39 99 $ $

59 99

each

42 99 $

49 99

$

39 99

Perfect

forcelebrating

NEW

STEINLAGER CLASSIC

PRODUCT

24 x330ml Bottles

BOURBON

MONTH

SEPTEMBER 2021

HOT DEAL!

$

29 99

BILLYMAVERICK

&COLA

18 x250ml Cans, 7%

HOT DEAL!

$

39 99

deals

everyday!

HOT DEAL!

$

37 99

each

1LITRE 1LITRE 1LITRE 1LITRE

JOHNNIEWALKERRed Label 1Litre

JACK DANIEL'S 700ml

Includes JackDaniel's Fire, Honey,Apple

BACARDÍ Range

1Litre

Includes Carta

Blanca, Oakheart

Spiced,Gold,Spiced

survives,'' Inger says.

Apublic search campaign poster,

launched by the Trust with the reward, in

2017, has triggered considerable

renewedinterestinthe search with more

than 260 new reports since then,which

have included bird­callrecordings.

However, the Trustwants more than bird

calls to prove the South Island kokako,

identified by its orange wattles, silverblue

plumage and ablackfacial mask,

has avoided extinction.

''Other native birdssuch as kaka,

korimako(bellbirds),and tui can sound

very similar,even to ears keenly attuned

to kokakoafter decadesoflisteningand

looking,'' Ingersays.

The Trust is asking for the public to

help with the search ''by keeping their

ears and eyes peeled and ideally

cameras/phones at the ready'' to record

images and sounds.''We are appealing to

you all, birders, trampers,hunters, pest

managersand all other backcountry

users, to be the additional ears and eyes

of the search effort,'' she says.

''We wantaphoto and any other

compelling evidence that the birdisstill

alive so that it can be conserved

appropriately.

''If we get that, it willbeworld news

and we will be thrilledtopay the $10,000

reward.''

Any evidence provided will be

considered by the Trustand

independent,expert ornithologists.

''The search is urgent,'' Inger says.

''If South Islandkokako still exist there

will be very few leftand they need to be

found and protected.''

More informationabout the South

Island kokako and the search for it can

be found on the Trust's website, www.

southislandkokako.org.

Membersofthe community can also

help the Trust by giving donations to help

with the search.

JIM BEAM

White Label

1Litre

TANQUERAY

London Dry Gin

1Litre

Elusive ... The South Island Kokako Charitable Trust is offering a$10,000 reward for

information, resulting in confirmation that the South Island Kokako is still alive and can be

conserved appropriately.

IMAGE: SOUTH ISLAND KOKAKO CHARITABLE TRUST

MALFYRange

700ml

Includes Arancia, Rosa

Sicilian Pink Grapefruit,

Limone, Originale

THE GLENLIVET

Caribbean Reserve

or Founder's Reserve

700ml

$ 40

2for

Single bottle

$21.99

MONKEY SHOULDER

700ml

CheerS

to the

weekend!

LONG WHITE VODKA Range

15 x320ml Bottles, 4.8%

Shop local with

AMBERLEY, ASHBURTON, BARRINGTON, BELFAST, BRIGHTON, BURNSIDE,

COLOMBO ST, EDGEWARE, ELMWOOD, FERRYMEAD, HALSWELL, HANMER

SPRINGS, HORNBY,ILAM, KAIAPOI, LEESTON, LINCOLN, METHVEN, OXFORD,

PAPANUI, PEGASUS, RANGIORA, SEASIDE, WOOLSTON

SHOP LATESTDEALS at WWW.SUPERLIQUOR.CO.NZ

NATIONWIDE DELIVERYNOW AVAILABLE

Exclusions may applyonsome brandsadvertised. Offers end close of trade 3rdOctober 2021,while stockslast.Available at participatingstoresonly.Multi Deal onlyavailable in store.

Varietals may vary by store. Limits mayapply.Wholesale (otherliquor retail banners) not supplied. Terms and conditions may apply.Available 20th September -3rd October 2021inclusive.

Please see www.superliquor.co.nz fordetails.

SUP2393_C13
---
NEWS

North Canterbury News, September 30, 2021

Consumer spend rebounds after lockdown

9

By ROBYN BRISTOW

Consumer spending in the Waimakariri

and Hurunui districts has bounced back

nicely after the recent Alert Level 4

lockdown.

But some industries have fared better

than others.

Enterprise North Canterbury

Business Support Manager, Miles

Dalton, says Marketview statistics show

there has been anice rebound overall,

with Waimakariri now at 8.8 percent and

Hurunui at 7.6% above pre­Covid

spending.

"However, this does not make up for

money lost during the lockdown, and the

recovery is not even across business

types.

''While supermarkets did well over

lockdown, hospitality venues were

unable to generate income, and even

now are still at lower than normal

income generation,'' he says.

Retail, while also unable to operate

under lockdown, saw alarge spike in

income once Alert Level 2kicked in, and

have now steadied to more normal

levels.

Mr Dalton says despite the

inconsistency across industry types, the

North Canterbury statistics are similar

to those for other regions outside of

Auckland.

Unemployment statistics were also

largely unaffected by lockdown, with

data to the end of August showing little

change to benefit numbers in North

Canterbury.

Hurunui unemployment numbers

remained steady and Waimakariri

figures continued the decrease that has

been occurring all year.

Mr Dalton says the figures do not

include the final week of Alert Level 3

lockdown, or afterwards.

"We will keep aclose eye on the

unemployment numbers in the coming

weeks, but Iwouldn't anticipate any

drastic changes,'' he says.

The figures from the Marketview

report are similar to those that followed

the 2020 Level 4lockdown, which saw

North Canterbury consumer spending

bounce back rapidly and actually

increase on the year prior.

''These numbers show the tenacity of

North Canterbury businesses, and the

commitment of North Canterbury

business owners, to their staff, Mr

Dalton says.

''The best thing that people can do to

keep this momentum up is to continue to

use our local businesses.

''If you have achoice between using a

local business and an online or out­ofdistrict

business, consider spending

your money locally.

''It keeps the money flowing in our

community which is very important in a

difficult time.''

Bouncing back ... Consumer spending is

bouncing back nicely after the recent Alert

Level 4lockdown.

PHOTO: FILE

NEW LAND ROVER DEFENDER 110

CAPABLE OFGREAT THINGS

AVAILABLE NOW

New Land Rover Defender relishes challenges and doesn't care much for impossibilities. With permanent all-wheel-drive and

world-first configurable Terrain Response tech, it has the capability to push boundaries even further.

Tested in every condition, in every environment, and on every surface you might encounter, it always comes out the

other side, ready for the next challenge. The new Defender crowned 2021 World Car Design ofthe Year as unstoppable

all-terrain model beats shortlisted rivals to win coveted award. Defender. Anicon inacategory of one.

To book atest drive, please contact Corey Gray atArchibalds.

38 Tuam St, Christchurch |03377 5200 |cgray@archibalds.co.nz | archibalds.co.nz

Own apre-2015 Land Rover Defender? Book aservice now from just $425. Call our team on 03 977 8146.

*Terms and conditions apply. The standard scheduled 5Year servicing isincluded (different terms and conditions apply to different models). Contact Archibalds for more details orvisit www.landrover.co.nz.
---
NEWS

10 North Canterbury News, September 30, 2021

Ladies Day raises $5000

By SHELLEY TOPP

An AshleyRugby Football Club's

''Ladies Day'', at LoburnDomain,

raised $5000 for CancerSociety

NorthCanterbury.

The society's North Canterbury

fund­raising and events manager

Tiffany Wafer saysthe donationis

'`huge for us'' and particularly

welcome after Daffodil Day events

had been cancelled becauseofthe

Covid­19 lockdownrestrictions.

The club'spresident,Murray

Goodwin, and captain of the club's

senior team, Matthew King,

presentedthe $5000chequeto

Tiffany at the RangioraShowcase

Jewellers shop in HighStreet last

week.

The jewellerybusinessisowned

by Julienne Stewart, the main

sponsor of the ''LadiesDay''event,

and whose son,Nick, aged 20, has

played for the Ashleyclub for 14

years.

Julienne saidshe was pleasedto

be abletosponsorthe eventtoraise

moneyfor the Cancer Society.

''It is acause that is close to my

heart. Cancerdoesn't discriminate.

It affects so many people.''

One of the guest speakersatthe

eventwas inspirational, multinationalnetballer,KellyHutton,

who talked about her experience

with cancer.

Murray said the catered event,

whichhad pre­soldtickets, and also

included champagne bubbles,

grazing platters, wine tastings,

Generous donation ... The Cancer Society North Canterbury 's fundraising

and events manager,Tiffany Wafer, left, with the Ashley Rugby Football Club

president, Murray Goodwin, Rangiora Showcase Jewellers' owner Julienne

Stewart, and the Ashley Rugby Football Club's senior team captain, Matthew

King, during the formal presentation of $5000 the club raised for Cancer

Society North Canterbury. The club held aLadies Day, sponsored by

Rangiora Showcase Jewellers, earlier this year.

PHOTO: SHELLEY TOPP

cheese tastings, and raffles, was

heldtoacknowledgeall the women

involved in rugbyand all they did to

helpthe sport.

Everyone was welcometoattend

the event no matter what team they

supported.

''Itwas an awesomeday and we

are hoping to make it an annual

event,'' he says.

Agame of rugby was also played

between the Ashley Division One

team, who weredeckedout in

speciallydesigned new pink

uniforms forthe day,playing

Saracens for the Rakahuri Shield.

''It was agreat game,'' Murray says,

even though Saracens won.

Work to start

on stormwater

Kaiapoi's ''shovel ready''

stormwater work is due to

get under way soon.

As part of the

government's 'Shovel Ready

InfrastructureProgramme',

the Waimakariri District

Council received a

contributionof$9millionto

co­fund amajorupgradeof

the Kaiapoi stormwater and

floodmitigation system.

The $18.3 million project

allows for the construction of

the Beach Road stormwater

pumping station, pressure

main and flood protection

bund.

The property located at

213 Beach Road, Kaiapoi,

formspart of the scopefor

this work and is necessary

for providing stormwater

drainagetoprotect the urban

area of northeastKaiapoi.

The work comprisesofan

underground reinforced

concrete pumpingstation

connected to Feldwick

Drain, withaboveground

control building, yard,

landscaping and fencingand

located in the northwest

corner of the property over

an area of around650 square

metres.

This willbeconstructed

with sheetpiling and

excavators and associated

dewatering equipment.

An underground 900mm

diameter pipeline that runs

from the pumping stationto

the Kaiapoi River parallel

with Feldwick Drain will be

constructed by open trench

usingconstruction

machinery and associated

dewatering equipment.

The trenchwill be finished

with topsoil and grass.A

bund of up to 1.25 metres

high will form acontinuous

raised landform fromBeach

Road to the Kaiapoi River

stopbank.

This willbegrassedand

constructed with mechanical

earthworks equipment from

imported granular material,

topsoiland finished with

grass. Entrytothe

construction areais

proposed from Beach Road

and Askeaton Drive.

Any objections to the

proposed works should be

made in writing to the

council and received before

October 22.
---
RANGIORA

TIME FOR

ANEW

COLOUR?

COME IN

AND SEE US.

100%LOCALLY

OWNED&OPERATED.

RANGIORA

If youfind alower priceonanidentical stocked productlocally, we will beatitby15%

If youfind thesame productfromanother Mitre10store or Mitre10website, we'll matchthatprice.Excludes trade and special

quotes,stock liquidations and commercial quantities.The in-storeprice maybelower than thatadvertised.
---
RANGIORA

BBQ

UPGRADE?

SORTED.

CHECK OUT

OUR FULL

RANGE

IN-STORE

TODAY.
---
We have extended our retail showroom and rebuilt and enlarged our

Trade drive through and now we are looking to grow our team as well!

100%LOCALLY

OWNED&OPERATED.

RANGIORA

If youfind alower priceonanidentical stocked productlocally, we will beatitby15%

If youfind thesame productfromanother Mitre10store or Mitre10website, we'll matchthatprice.Excludes trade and special

quotes,stock liquidations and commercial quantities.The in-storeprice maybelower than thatadvertised.
---
NEWS

14 North Canterbury News, September 30, 2021

Happy group ... Performers at the inaugural Kaikoura Ukefest which was held in Kaikoura last weekend.

PHOTO: WARREN WATSON

Ukulelefestivalhas Kaikoura humming

By SHELLEY TOPP

Along­heldvision forathree­day

festival in Kaikoura set the seaside

townbuzzingwith ukulele musicians

and theirmusic last weekend.

For organiser GayNewman, a

member of Christchurchukulele band

The SecretLivesofUkulele,bringing

the Kaikoura Ukefesttolifeinthe

Covid­19 level 2lockdown environment

was anerve­wrackingexperience. But

the success of the three­dayevent,

which was heldinperfectweatherlast

Friday, Saturday and Sunday, made it

all worthwhile.

''Itall went really well. Icouldn'tbe

happier with howthings went andI

already havepeople callingme

wanting to attendnextyear's festival.''

She is hoping to make the festival an

annual event andsays picturesque

Kaikouraisthe perfect place to holdit.

The festival was opened by Kaikoura

MayorCraig Mackle whosaid it was

greattohavethe festivalintownand to

see people out andaboutenjoying

themselves.

The local,Kaikouraband7.8 hit the

rightnote with him. ''They dida

versionofJohn Denver'sTake Me

Home Country Roads,called'Coastal

Road,' aboutKaikoura. They were

awesome.''

Thewordsto'Coastal Road',were

written by NancyMcPherson,of

Kaikoura,afterthe 7.8 magnitude

Kaikoura earthquake in 2016,and it

hasnow become athemesongfor the

town.

Thesong wasperformed by 7.8,

whichincludesLyndaKitchingham, of

Clarence, with NickyWoodill, Anthea

Smithand LizBeazley, all from

Kaikoura, duringthe Blackboard

Concert in Donegal House on the

opening night of the festival lastFriday

evening.The group specialise in threepart

harmoniesdone by Nicky,Lynda

andAnthea,who arealso membersof

theKaikoura Choir.

Have ago

and learn

to sail

The Stewart'sGully SailingClub is

keenfor boost its membership.

It is holding an open dayon

October 2, from 11am to 3pm, for

anyone keen to join its Have aGo

sailing day.

There is aLearn to Sail course

starting on Saturday, October 16,

also for new sailors.

The club caters for anyone aged

8, to 80 plus years.

Stewarts GullySailing Club was

formed in 1950.

It sailsonthe Waimakariri River

between the old railway bridge,

the Kaiapoi river andbeyond,and

is just 15minutes from

Christchurch.

The family oriented club places

an emphasis on yacht racing,

coaching, learning to sail, safety,

racing rules and social activities.

If you areinterested in becoming

amember of theclub contactGlen

Church on (03) 3835448 or email

gandbchurch@gmail.com or

Lindsay Russell (03) 3136709

lindsayrussell481@gmail.com.

Alternatively you cangotothe

HaveaGo dayattheclub off

KaingaRoad, through Riverlea

Estate Drive. The clubhas senior,

junior, family sailing and social

memberships available

NOTICE OF HELICOPTER

USE FOR INSPECTION

OF TRANSMISSION

LINES IN YOUR AREA.

Transpower, the owner and operator of the

National Grid is carrying out joint testing on the

conductor (wire) on sections ofits Benmore to

Haywards HVDC transmission line (between

Methven and Culverden).

This work will involve alow flying helicopter and

testing of conductor byalineworker suspended

below the aircraft at specific locations along the

line as highlighted on the accompanying map.

The work is planned

to occur between

Tuesday 28 September and

Friday 8October 2021.

In the event of bad weather the work will take place in

the following week.

Helicopter will be

operating at low

levelsinaroundthe

transmissionline in

highlighted zone.

73

Ashburton

77

Hororata

Methven

1

Culverden

Rangiora

Waipara

Christchurch

It's important to us that you are kept informed and updated onour activities. If you require further

information, please call Brendan Townsend 027 6755 840 or Myles Stichman on 0274 779 693.

7

1

Helicopter

operating zone

Highways

TPNCN2330921
---
Now's the time for all things water!

With summer just around the corner, now is

agood time to get your swimming pool ready

for those hot, sunny days.

The Irrigation Warehouse is your one stop

for all things water and water related,

including testing your water, and supplying

the water treatment products for your

swimming pool and spa.

Afree digital water analysis of your pool

and spa water is available at the Rangiora

store, branch manager Simon Moffitt says.

"All we need is for you to bring in afresh

water sample from your pool or spa which

we can test on the spot and provide the

necessary products for treating to get your

pool water sparkling and clean ready to go."

The Irrigation Warehouse has stores in

Rangiora and Christchurch with the Flaxton

Road store serving North Canterbury

properties from its premises since 2006.

The Rangiora store specialises in

supplying and installing products for the

moving, irrigation, and treatment of water

predominantly for the growing number of

residential and lifestyle properties in the

Waimakariri district and into Hurunui.

Afull range of irrigation products are

available including automatic irrigation

controllers and tap timers to take the

hassle out of remembering to turn on and

off hoses. The Rangiora store supply a

full range of lawn irrigation pop-ups and

fittings including the digital controllers

for residential and lifestyle properties

owners whether DIY enthusiasts or using

landscaping professionals and can offer

plenty of professional advice.

Customers can choose from battery

operated or mains operated systems to

automate their garden sprinklers and lawn

pop-ups.

"We specialise in supplying all the products

relevant to getting water where you want it

and in the most efficient way" Simon says.

The Irrigation Warehouse stocks afull range

of pipe fittings whether for lateral pipe, low

density, medium orhigh density pipe. They

have micro sprinklers and driplines for

gardens and hedgelines, lawn pop-ups from

leading brands like Hunter Irrigation and

Rainbird, and impact sprinklers and farm

packs of K-line irrigation pods.

The store is your one stop shop for all

your pumping needs whether submersible,

booster pumps and energy efficient constant

pressure variable speed pump which help

eradicate that loss of pressure in the shower

when someone turns on atap that annoys

all of us.

The energy efficient variable speed

pumps are extremely popular

and can help reduce your

power bills by utilising

inverter technology

to only operate at

alevel to meet

your current

water demand

speeding up

and slowing

down rather

than just

running at full

speed which

draws more

power and is

harder wearing

on the pump

itself so promoting

its lifespan.

"They are ideal for

both smaller homes and

larger lifestyle properties p and

Outdoor

Living

Ready for summer ...The Irrigation Warehouse has all your

swimming and spa pool treatment products available instore.

capable of meeting

your home and

irrigation needs,

all from one

correctly sized

energy efficient

pump."

There are also

12 volt caravan

pumps, quad bike

spray pumps, sump

and drainage pumps,

garden and pond

pumps in fact Simon says

"probably the largest pump

display in North Canterbury".

They also specialise in water filtration

systems for residential, lifestyle and

commercial operations. These include

filters, chlorine removal systems, water

softeners which are very popular and

reduce scaling and the shortening of the

life of appliances and hot water cylinders,

bacteria reducing ultra violet systems are

also available "for the whole house right

down to the easy to install undersink filter

set-ups which can help eliminate chlorine,

nitrates, bad taste and odours".

The Irrigation Warehouse is the only

authorised Platinum Master Dealer in

Canterbury for the popular Puretec Filters

and Filtration Systems.

See your

experts

in Rangiora!

2386035a

Gardens

PLUS

We Install &Service

Everything We Sell!

www.tiw.co.nz

03 313 0408

308 Flaxton Rd,

Rangiora

Landscaping

Free Quotes

Phone 027 537 2733

or 03 327 6850

www.easylawn.co.nz

2325172v1

Residential &Commercial

Installation, Repairs, Maintenance &

Alterations

NewGarage doors:Sectional, Roller,Tilt &Cedar

Partsand Maintenance

Door Upgrades:Tilt to Sectional

2386532b

AUTOMATICGARAGE DOOR OPENER

FOR SECTIONAL AND TILTA DOORS

SPECIAL

GST inclusive

$680 2-year warranty

SPECIALAVAILABLE FORASHORT TIMEONLY

Phone 027 207 6128 |03310 6577

hamish@abelgaragedoors.co.nz

www.abelgaragedoors.co.nz

Spring is fast approaching -

give Brett acall to discuss your

interior and exterior needs

Day Bros

Painters and Plasterers rs are

able to

handle your whole job -Nomore dealing with

two different trades!

We offer free quotes andservice Canterburywide.

Residential and commercial

properties.

We specialise in: painting

plastering roof spraying

specialised coating system

airless spraying water blasting

Local, family owned business who has been in business

for over 30 years. Members of master painters.

Please contact Brett on 0275 340 878

Email: office@daybrospainters.co.nz

www.daybrospainters.co.nz

2387068a

Need aQuality Builder in Kaikoura, Hanmer

&Hurunui? Full Builds, Extensions and Repairs

We have offices based in Rotherham and Kaikoura.

2325750v2

Jobs Large and Small

We are happy to help!

Contact ustoday for a

quote or to discuss

your next project

BGBeaven Builders

03 315 6346

www.hurunuibuilders.co.nz

wbeaven@amuri.net

Don't know where to start orhow to do it?

Gardens &Lawns doing their own thing –

not your thing?

Property maintenance falling behind?

No time for life on alifestyle block?

CALL IN THE EXPERT

LET AL-MOW AND MORE FOR YOU!

Regular maintenance or one off work

No job too big or small

Call Al Today!

P: 021 249 9495 |E:al@almows.co.nz

www.almows.co.nz

2325634v1

UPGRADE

YOUR EVERYDAY

TS138

Husqvarna SeriesEngine -14.7hp-38"Cutting Width

*

Offervalid 01/09/21-31/01/22 at participating Husqvarna Dealers, only while stocks last.

$

3,735 referstomodel TS138.

Your local authorised Husqvarna Dealer:

5YEARDOMESTIC WARRANTY #

#

Terms and Conditions apply,see HUSQVARNA.COM fordetails.

Ph.313 6640

275 Flaxton Rd,

Southbrook

sales@brandmowers.co.nz

LAWN

TRACTORS

FROM

$

4, ,449 *

WWW.HUSQVARNA.COM

2417081a
---
STYLE & QUALITY

FOR LESS

Manatee Corner

Recliner Suite

STORE OPEN AT LEVEL2

SUPER

SPECIAL

WAS $2299

$ WAS $2869

2099 $

2579

ExtraSection Available $299

Valley Corner

Storm

Raisin

SUPER

SPECIAL

Linea Coffee Table

Nordik Med Ext. Table

W160-210 xD90xH76 cm

WAS $1299

$

1169

WAS$789

$

699

Zurich Chair

WAS $199

$

179

5Year Warranty

5Year Warranty

FoxBedroom

Collection

Recliner Suite

RivieraMattress

Single $489 $449

King Single $509 $469

Double $609 $559

Queen $729 $669

King $799 $739

California King $879 $809

FROM

$

449

Chateau Mattress

Single $609 $559

King Single $719 $669

Double $859 $799

Queen $929 $859

King $1019 $939

California King $229 $1139

FROM

$

559

NZ Made

Bedside from $279

Bedframe from $708

Chest from $589

Lowboy from $681

Underbed Storage from $221

Piha Extension

Outdoor Table

QUALITY

FURNITURE

Willis Chaise

Outdoor Set

WAS $1899

49

$

1749

Marley

Outdoor Dining Chair

WAS $179

$

149

Affordable

PRICE TAG

WAS $2199

$

1999

Tekapo

WAS $2199

$

1999

3+1+1+Table +Bench Outdoor Set

FREE

CARPARKING

SOUTHCITY

BATH ST

WE ARE

HERE

255MOORHOUSE AVE

REBEL SPORT

COLOMBOST

MON-FRI 9:30AM–5:30PM

SAT-SUN 10AM–5:30PM

0800 268 264

www.affordablefurniture.nz
---
17

NEWS

North Canterbury News, September 30, 2021

Fun in the mud at Mandeville Sports Centre

Fun runners battled cold conditions and

Covid­19 level­two restrictions to have a

''muddy good time''on Sunday.

The runners were taking part in the

annual Muddy Good Run at the

Mandeville Sports Centre.

Organiser John Moore, of

Christchurch company CJM'S Events,

said it was easy to run the approved

event within the Covid­19 Level­2

lockdown restrictions, by keeping each

race to the allowable numbers, or less,

and making sure the small crowd was

aware of social distancing requirements.

Although it was abitterly cold day,

which left some competitors shivering

after their event, the Swannanoa

Volunteer Fire Brigade was on hand to

provide ashower of warm water for

every competitor after their race.

Once again this year the Muddy Good

Run course at Mandeville included mud

pits, slippery slides, mud and water

slides, cars to climb over and crawl

under, containers to scale, hay bales to

climb over and camouflage nets strung

over large muddy puddles to crawl

under.

There was also abest­dressed

competition and awide selection of

races held during the day, starting with

events for children in the morning and

events for adults in the afternoon.

All finishers received amedal.

Taking the muddy way home ... Acontestant slithers under acar during the last stages

of his race at the Mandeville Sports Centre, last Sunday afternoon. STORY&PHOTOS:SHELLEY TOPP

Camouflaged in mud ... Competitors fight their way through the mud while battling with

anet overhead.

Rinse and repeat ... Acontestant in the Muddy Good Run gets ahose down from a

member of the Swannanoa Volunteer Fire Brigade.

Back on course ... Acompetitor heads back on course after taking

awrong turn and being put right by photographer Raewyn Murray.

Muddy good fun ... Harry Eastwick, aged 16, left, with Craig

Eastwick (rear), Jemma MacDonald, and Lucas Seifert, aged 7, all

from Christchurch.

Reward for race finisher ... Craig Eastwick,

of Christchurch, enjoying awarmish shower

after competing in the 5km event during the

Muddy Good Run .

SPRING

Attract newcustomers, increase sales

and profits by advertising in the North

CanterburyNews.

Deliver your message right

intothe home where

buying decisions are

made.

Contact us todaytofind

out howwecan help you.

Phone 03 314 8335

Email info@ncnews.co.nz

Office 14 AshleyStreet,

Rangiora

Visit

www.ncnews.co.nz

or www.starnews.co.nz
---
PEGASUS, RAVENSWOOD, WAIKUKU &WOODEND

18 North Canterbury News, September 30, 2021

Grand opening of men'sshed tomorrow

By DAVID HILL

Volunteers can scarcely believe how

quickly they have managed to build the

new men's shed in Woodend's Gladstone

Park.

AdviceKiwi Menzshed Pegasus

Woodend will officially open its new

shed tomorrow (October 1), just two years

after the group was first conceived.

''It's great. Two years from the start and

we are pretty much done,'' secretary

John Burns says.

''Maybe it's alittle smaller than what

we've had, but it's agood start, it's our

own space and it's permanent.''

The new shed is 80 square metres and

has been made possible thanks to the

allocation of land from the Waimakariri

District Council at Gladstone Park,

sponsorship from Joel Mclachlan at

AdviceKiwi Canterbury, grants from the

Rata Foundation and COGS, and

community fundraising.

Treasurer Derrick Wales says the

group has enjoyed an eventful two years.

''It's been abit of ajourney, we began

with about adozen men who got together

and chatted about what we wanted to

do.''

The group began with atemporary six

month arrangement with the Old School

Collective in Waikuku, before gaining the

use of an old woolshed near Pegasus for

the last 12 months.

Mr Wales says the group is particularly

appreciative of the support from the

Waimakariri District Council.

''The council has been extremely

supportive from the beginning and they

were the ones who suggested we come to

this site and they've smoothed the path to

enable us to have alease for the land and

helped us along the way with the consent.

''The greenspace people at the council

have been particularly helpful.''

In the short term the men's shed plans

to erect some storage at the new site, as

it gradually moves its equipment,

including its many generous donations,

from the temporary site in Pegasus.

The Pegasus Residents' Group and

Pegasus Bay School have also been

supportive of the project from the

beginning and Mr Wales hopes to work

with both local schools, Pegasus Bay and

Woodend, in the future.

''It's been areal community effort and

in the early days people at the Pegasus

Residents' Group were just vital, they

were just corner stones of the

development.

''In fact the whole idea started with the

previous principal at Pegasus Bay School

(Roger Hornblow), and he even had the

idea of involving it in the school

grounds.''

The group has 22 members, with a

catchment of Pegasus, Woodend,

Ravenswood, Waikuku and the

surrounding area, and the permanent

site means it can begin actively

recruiting for new members.

''It's agood opportunity for men to get

out of the house and get involved,'' Mr

Burns says.

''We've got afair few retired

tradespeople who come along and other

guys who just want to come and help out

when they can.''

Getting ready ... Allan Pope puts up some tools on the toolstand ready for tomorrow's

opening at the Pegasus Woodend Menzshed.

PHOTOS: DAVID HILL

produce |meat |eggs

milk |bread

Phone Orders 03 312 7564

Online Orders www.vegenout.co.nz

Contactless delivery

73 Main NorthRoad,Woodend

2273702

Unloading ... Volunteers have been busy

setting up the shed.

2422226

49a Main North Rd,

Woodend

03 312 7778

Friendly andHonestAdviceon

protecngyourfinanciallifestyle

Life Cover

Income Protecon

• WOF • Service

• Wheel Alignment

• Tyres

• Automotive Repairs

Health Insurance

Business Buy/Sell Agreements

KeyPerson Cover

Free Review of Exisng Policies

CallJoel 0221040323

www.advicekiwi.co.nz

56 Main North Road, Woodend

03-312 7703

www.woodendautomotive.co.nz

2269513
---
PEGASUS, RAVENSWOOD, WAIKUKU &WOODEND

North Canterbury News, September 30, 2021

Addressing the challenges of urban growth

By DAVID HILL

''Exciting things'' are

happening in Woodend and

Pegasus, says Woodend­Sefton

Community Board chairperson

Shona Powell.

With the rapid growth, the

New World Ravenswood

supermarket opening during

the Covid­19 lockdown, the redevelopment

of Woodend's

Owen Stalker Park, the opening

of the Pegasus Woodend Men's

Shed and plans for new

community projects, it is all

happening in the area, she says.

''It's areally exciting place to

be at the moment and with all

the growth that's happening,

it's agreat place to live, work

and play,'' she says.

''Whoever thought you could

get excited about a

supermarket opening, but I

wasn't the only one.''

The new supermarket means

residents no longer need to

drive to Rangiora, Kaiapoi or

Christchurch for their weekly

grocery shop.

The Woodend /Pegasus and

Waikuku urban area, including

the new Ravenswood subdivision

is already the third

largest urban area in the

Waimakariri district, behind

Rangiora and Kaiapoi.

With more growth in the

pipeline, the population is

expected to double over the

next 10 to 30 years to more than

15,000.

''It's certainly growing and

it's such afast rate and there's

certainly future growth there as

well,'' Ms Powell says.

The rapid growth is creating

some challenges with increased

traffic volumes on State

Highway 1, which passes

through Woodend, and at the

roundabout, north of Woodend

which links Ravenswood and

Pegasus.

''SH1 traffic creates alot of

issues, but also the growth. We

have people who actually do

feel trapped in their homes.

They look at their clocks and

think 'I've left it too late','' she

says.

''We need something which

creates some breaks in the

traffic and we've been

consulting with NZTA (New

Zealand Transport Agency)

about that, but we're just not

making much headway at the

moment, but we will keep doing

that.''

AWoodend Bypass has long

been proposed to divert SH1

traffic away from the town

centre.

Safety improvements have

also been proposed on SH1 but

Waka Kotahi New Zealand

Transport Agency has yet to

approve funding, aside from a

signalised crossing which was

installed outside Woodend

School at the beginning of this

year.

The Woodend­Sefton

Community Board would also

like to see an underpass for

cyclists and pedestrians

constructed at the Woodend /

Pegasus /Ravenswood

0800 DEUTZNZ

19

Time to shop ... Woodend­Sefton Community Board chairperson Shona Powell admits she never

imagined she would get excited about asupermarket opening, with New World Ravenswood opening its

doors during the lockdown.

PHOTO:DAVID HILL

roundabout.

''We were told 'when it's

needed it will be put in','' Ms

Powell says.

''When you go to the

Ravenswood supermarket, the

only safe way to get there is by

private vehicle, because the

bus doesn't go there and trying

to cross the roundabout safely

on bike, foot or e­scooter (when

they come), it's extremely

difficult.

''The traffic is heavy and

there's no visibility for either

motorists or cyclists.''

The community board

lobbied for a50kph speed limit

at the roundabout, but was only

successful in getting it reduced

from 80kph to 70kph.

The rapid growth also creates

opportunities, with local

residents eagerly awaiting a

plan change application to

create acommercial centre in

the new Ravenswood subdivision,

alongside the

supermarket, BP and

McDonalds.

''Being just off SH1, it's the

perfect location and the

community board is in favour of

the plan change, as we feel the

growing population in the

district can support more retail

space. And when you've got

people bypassing Christchurch,

where do they stop?''

The Waimakariri District

Council plans to construct a

purpose built Pegasus

Community Centre in 2024 and

also plans to purchase land in

Ravenswood to build a

community facility in the future

as the area's population grows.

The Ravenswood facility could

include acommunity centre,

library, swimming pool or a

park and ride facility.

WEBSHOP

NOW OPEN

2421216

11 Bowmaker Crescent

Ravenswood

Christchurch

13A Douglas Alexander Parade

Albany

Auckland

Ph: 03595 +64 9414 28487360 Fax: +64 9414 +64 7360 9414Fax: 7365 +64 9414 7365

2018 •2019 •2020

DEALER OF

THE YEAR

www.shawdiesels.co.nz
---
PEGASUS, RAVENSWOOD, WAIKUKU &WOODEND

20 North Canterbury News, September 30, 2021

The Woodend flower show must go on

By ROBYN BRISTOW

The Woodend Spring Flower Show will

bloom despite Covid­19.

Organiser are continuing with plans

for the spring show in the Woodend

Community Centre, on Saturday, October

2, from 1pm to 4pm.

The show committee was forced to

cancel acraft morning it had organised

for children at the centre last Saturday,

but apart from that it is business as usual.

Visitors will be able to share the visual

floral symphony while abiding by the

Level 2Covid­19 protocols.

There will be asecurity guard on the

door to ensure numbers inside the centre

do not exceed the 100 at any one time.

It will be cash only, and waitresses will

be serving the tables for Devonshire

Teas.

Weather permitting there will be

chairs outside for people to sit on while

waiting to gain access.

All organisers ask is for everyone to be

patient as they strive to bring abit of

spring joy into their lives.

The show has arich history, dating

back to its beginnings 88 years ago when

agroup of young farmers' wives, many of

whom were members of the Woodend

Anglican church, started the show.

For some years it was known as the

Woodend Horticultural Society.

The light green vases used for the

daffodils, and some of the trestles still

have WHS marked on them.

Several cups and trophies are

engraved with the names of people and

families of those involved in the show

over the years ­Barker, Bourne,

Edwards, Jelfs, MacDonald, Moody and

Percy.

The early schedules catered for

farmers, with classes for various grains,

root crops, eggs, potatoes and vegetables.

Their wives entered baking, preserves,

In full bloom ... The Woodend Spring Flower Show will go ahead this Saturday with social

distancing.

PHOTOS: FILE

handcrafts, and floral displays of

Daffodils and cut Flowers.

Over aperiod of time other classes

were added, and daffodil classes

increased.

Children's classes were added, along

with photography, decorative floral

classes and ablokes section.

This year anew intermediate

decorative class has been added, with a

cup to be won presented in memory of the

late Shirley Tull, adedicated committee

member.

Also adults and secondary school

pupils are able to enter the colouring

competition.

There will be market stalls, raffles,

Devonshire Teas, daffodil bulbs to buy,

crafts and exhibits to see.

Entry is $2, children are free.

Colours of spring ... Daffodils are apopular

feature.

Community day ... The Woodend Spring Flower Show is popular with all ages.

BloomfieldCourt

Homelysettingproviding

personalised care,delicious

home cooked meals &rooms

with alovelygarden outlook.

Privatelyowned and

operatedwithin the heartof

NorthCanterbury.

Leading suppliers of steel building solutions

Opening its new North Canterburybranch in Ravenswood this month, the Cohesive Construction team

are excited to be apartofthe tremendous growth in North Canterbury. Located in the commercial area of

Ravenswood, the team are available to assist with all your steel building needs. Previously known as Wide

Span Sheds,Cohesive havebeen actively supporting the North Canterburycommunity for many years now

and look forward to being even more involved with the local community.

The new branch is runbyfather and son team, Jason and Robin Rogers, and their colleague of many years,

Sam O'Malley.The team have been building steel buildings for more than 20 years with over 50 years of

experience combined. "Weput astrong focus on giving the client exactly what they want," says Robin

Rogers. "Weare not salespeople by trade; we are builders and that is what sets us apartfrom the rest. We

can offer real experience and advice on steel buildings and really work with the clients to make the process

simple and enjoyable."

As the sole suppliers for Wide Span Sheds -South Island wide and across much of the North Island -

Cohesive Construction have been supplying and building Wide Span Sheds in the North Canterburyregion for

over 20 years. Under the Cohesive Group umbrella, they are anationwide construction company providing

pre-engineered steel building solutions to the commercial, residential, industrial and agri-business sectors.

With our unique in-house team of architects, designers and quantity surveyors, Cohesive can provide

everything from project feasibility reports and conceptual drawings through to custom designed, fully priced

and consented build solutions. This also means the customer is dealing with one company for the duration of

their project.

Constructing over 300 buildings ayear—ranging from garages and barns right through to shed-homes and

large commercial warehousing with offices—you can feel confident in knowing that you are building with a

professional and experienced team who understand the materials and building methods they are presenting.

Give the team acall today on 0800 COHESIVE

2421741a

134 Rangiora-Woodend Road,Woodend

Forfurther information phone Lyn-Nurse Manager 03 312 7088

Email: nmbloomfield17@gmail.com www.eldernet.co.nz/bloomfieldcourt/

The Widest Music Variety

Tune in nowtolistenon104.9 North Canterbury

and103.7 Hanmer Springs andKaikoura

2421444
---
PEGASUS, RAVENSWOOD, WAIKUKU &WOODEND

North Canterbury News, September 30, 2021

Bus connections remain aconcern

By DAVID HILL

Transport access remains an issue for

many Woodend, Pegasus and Waikuku

residents.

Besides the issues of traffic safety on

State Highway 1, residents in the growing

communities have been battling for years

to get the bus service they want.

Woodend­Sefton Community Board

chairperson Shona Powell is eagerly

awaiting the outcome of Environment

Canterbury's MyWay bus service trial in

Timaru and wonders if it may provide the

solution local residents are looking for.

MyWay by Metro is an on­demand

public transport service which has been

adopted into ECan's Long Term Plan,

following asuccessful year­long trial in

Timaru, and is subject to funding

approval by Waka Kotahi New Zealand

Transport Agency.

It works by residents ordering abus

through an app on their cellphone,

rather than having apre­set bus route

and has 6000 registered users in Timaru,

with 500 passengers aday using the

service.

''An on­demand service might be the

way of the future, so we will be very

interested to see what happens in

Timaru,'' Ms Powell says.

''But we certainly need better than

what we've got. It became an issue during

lockdown because they were using the

Sunday timetable and essential workers

couldn't get into the city on time for their

jobs.''

At present the bus services are centred

around getting people into Christchurch,

aside from the direct link between

Pegasus, Woodend and Rangiora.

''You can get abus every hour to

Rangiora and abus which goes through

Kaiapoi to the city, but it's not the service

we asked for,'' Ms Powell says.

She would like to see acircular route

Bus links ... Shona Powell is keen to improve urban connections.

which links the district's main urban

areas of Pegasus, Woodend, Kaiapoi and

Rangiora and ideally in both directions.

''It would have great benefits all round

because it would mean areas like

Silverstream (in Kaiapoi) would have a

direct link to Rangiora, which it no

longer has.

''We pay basically the same urban

transport rate as Christchurch residents,

but we don't get the same service. When

you go into Christchurch the bus stops

are often only ablock apart, so it's

definitely more catered to

Christchurch.''

Ms Powell would also like the bus to

stop at the recently opened New World

Ravenswood to make it more accessible

for residents. While she welcomed the

increased accessibility to walking and

cycling pathways linking the towns and

the imminent introduction of pink

Flamingo e­scooters, there remains a

safety concern for pedestrians and

cyclists trying to get across the

Ravenswood /Pegasus roundabout.

• General Dentistry

• Family Dentistry

• Funded Dental Care

0-18 *

• Dental Therapy

• Hygiene Clinic

2390022

PAGPegasus Dental

54 Pegasus Main St Pegasus

03 920 4003

pagpegasusdental@gmail.com

• Teeth Whitening

• Minor Oral Surgery

• Facial Pain

• Oral Medicine

Specialist

• Finance Options

Available

21

•Ample parking, easy

access

•Clinicians all New

Zealand trained

•Super Gold and

Community Services

Card Discounts

Open Monday to Friday 8.30 to 5.30 |www.pagdental.com

LATE NIGHT TUESDAY

*Conditions Apply

PHOTO:FILE

HOME KILL

BUTCHERY

2418110

Offering quality,

handcrafted meat

processing that caters

for your individual

culinary taste &

dietary requirements

ONLINE SALES

Call Peter today

313 0022

027 263 2828

401 Gressons Road, Waikuku

MEAT2U.NZ

PAGSilverstream Dental

4/42 Silverstream Boulevard Silverstream

03 925 8003

pagsilverstreamdental@gmail.com

Popular train ... The train at Woodend's Owen Stalker Park has had ashiny new paint

job.

PHOTO: DAVID HILL

Revamp for Stalker Park

The redevelopment of Owen Stalker

Park in Woodend is amajor milestone

for the community, says Woodend­

Sefton Community Board chairperson

Shona Powell.

The redevelopment of the

playground has been a''fantastic

collaboration'' between the

Waimakariri District Council, the

Waimakariri Youth Council, the

community board, Woodend School,

the Waimakariri Access Group and the

wider community, she says.

''All of these thoughts and opinions

were taken into account and Grant

Stephens from the council did a

fantastic job pulling it all together and

coming up with agreat design.

''We've tried to make it as inclusive

as possible, so that also people with

disability issues can also use parts of

the playground, so that's been agreat

thing.''

The BMX track has been upgraded, a

flying fox has been added, the popular

train has been tidied up and some new

items have been added to the

playground.

''The train is still there everybody,

don't worry. The train's been opened

up so that people can really get into it

now and acarriage has been added on

behind and it's all looking really good,''

Ms Powell says.

Comeonout...Great Memories aremade here!

Waikuku Beach Holiday Park

1DomainTerrace, WaikukuBeach

Phone 03 3127600

waikukubeachholidaypark@gmail.com

www.wbhp.co.nz

Come and exploreNorth Canterbury!

Waikuku Beach Holiday Park

is adestination for all seasons...

•Family friendly pricing

•Birdwatching at the Rakahuri Estuary Reserve

•Soclose to North Canterbury Wineries

•Lovely cycle and walkways to here, there and everywhere!

•Close to popular eateries and cafes

•Dog friendly sites available on request

•Stunning sunsets on our long sandy beach

•Listen to the sound of the sea as you relax at

your campsite /cabin

Vote for us for

People's Choice

Award

2420773
---
48,000 reasons

to advertisewith us!

2021 Nielsen Readership Survey —North CanterburyNewsvsNorthern Outlook

50,000

North Canterbury

News 2021

48,000

Readers

every

issue

25,000

0

Northern

Outlook

2021

Did not survey

Thelatest 2021 Nielsen report

is out and it shows that The

North CanterburyNewsisthe

best read newspaper in North

Canterburyfor all people 15+.

Thegraph attached shows

average issue readership 15+

on atypical week

With our proven48,000readers every issue —grow more

customers, sales and profits for your business, call us now

for afree advertising consultancy.

Here's what our customers have to say:

Advertising couldn't be easier with the North

Canterbury News, with a well laid out plan in

place at the start of the year along with flexibility

of being able to be change ads at short notice.

The North Canterbury News has well prepared ads

and great coverage around North Canterbury.

Craig Schroder,

General Manager, Arthur BurkeLtd

The North Canterbury Sport & Recreation Trust

relies on NC News to get our message out across the

whole region. NC News has the best in local grass

roots content that captures the readers we want to

keep inform about our FitnessCentresandthemany

programmesandeventsweruntosupportthehealth

andwellbeing of everyone in our community.

Tony Kean,

North CanterburySport &Recreation Trust

Phone - 03 314 8335

Email - dayna.burton@ncnews.co.nz

Office-14 Ashley Street, Rangiora

www.ncnews.co.nz

www.starnews.co.nz

*Source: 2021 Nielsen Readership Survey—North Canterbury News vs Northern Outlook average readership each issue

*Source: Nielsen readership surveyQ32020 –Q22021 all people 15+
---
Native plantings enhance stream

By GINAMCKENZIE

Overhalf of the 4500 native plants for a

biodiversity project at Burgess Stream

nearEyreton are in the ground with

planting expected to be completed by

November.

The initiative is ajoint project between

WaimakaririIrrigationLimited(WIL),

Environment Canterbury and WIL

shareholder and landowners Andrewand

Peter Gilchrist.

It is the first in aseries of linked

biodiversity projects whichaim to

improve environmentalvalues through

WIL's catchment area.

Biodiversity project lead Dan Cameron

saysBurgessStream is the perfect area to

begin as the areasurrounding an adjacent

spring head will be protected and a

significantriparian margin willbe

enhanced with indigenous species.

''It's been fenced off for years and has a

nicethick riparian margin,''hesays.

''Wealso found upland bullies and

native fish in the stream which makes it

the ideal place to start as we can protect

those natural values.''

Mr Cameron says the project aimsto

improve water quality throughplanting,

which will increase shading of the

riparian marginand contribute organic

matter which plays afundamental role in

creating healthy aquatic ecosystems.

It will also help to filter sedimentfrom

the water and provide aqualityhabitat for

aquatic fauna.

The plant species have been selectedto

thrive under an irrigation pivot, while

alsonot growing high enough to interfere

withits operation.

''Wehave to be practical with the plants

we select as theyneed to work in with the

farming operation.

''We've also included species with

cultural significance in terms of mahinga

kai values.''

Native restoration ... Over 2000 native plants have been planted along the edge of

Burgess Stream near Eyreton to improve biodiversity values.

PHOTO: GINA MCKENZIE

Collaboration is akey theme and Mr

Cameron spentmore than 18 months

planning and designing the projectto

ensure thatthe work carried out protects

and enhances the natural values of the

site.

''Weare planning for the future and

trying to implement the vision that

landowners, WIL and ECan have for

working together cohesivelytoimprove

waterways and the environment.

''It's not just aboutputting plants in the

ground for the sake of i,t or to tick abox,

but about making it work within the

context of afunctional farm and then

stepping back to take aholistic view of the

surroundingfarms, the entirescheme and

the wider community where WIL's

scheme connectswith other landowners.''

LandownerAndrewGilchrist says

while initially he was abit apprehensive

about the planting project, he is now

totallyonboard and has appreciatedall

the supportfrom WIL,ECan and Mr

Cameron.

''It's hard to know at the start,but once

we got going Icould see the benefits of

thisbecause we are all working together.

''Beingable to access funding from

ECantohelp with purchasing the plantsis

areal bonus.''

Mr Gilchrist and his staffspentAugust

planting out around 2500 natives along

the stream followingaplanting plan

developed by Mr Cameronand ECan staff.

He says it was apositiveteam building

exercise.

''August is one of our quieter months for

our contracting business, so it was the

perfect time to get everyone togetherfor a

bit of planting and it was something

positive for us to do together.

''We're looking forward to getting the

second lot of plants in the ground and will

be watching on withinterest as they

grow.''

NEWS

North Canterbury News, September 30, 2021

23

Covid forces

expo to be

postponed

Waimakariri's OlderPersonsExpo

has beenpostponed until Apri lnext

year.

The annualinitiative betweenthe

WaimakaririDistrict Council

community team, Presbyterian

Support and community partners

was due to be heldonOctober 7, but

has beenpostponed due to Covid­19

uncertainty.Other partners include

the Age­Friendly AdvisoryGroup,

North Canterbury Citizens' Advice

Bureau, SeniorNet and U3A.

The partners identified that one of

the highest needs for older peopleis

accessing the right service, alongside

being socially connected withtheir

community.

The event willnow be held on

Thursday,April21, at the Rangiora

Baptist Church hallinEast Belt.

The expo offers an opportunity to

encourage older peopletoremain

actively involved in their community

and make use of the many social

services available to support them.

Around25organisations which

provide services to senior adultsin

the district, wereexpected to have

displays,with staff and volunteerson

hand to chat with and provide more

informationontheiractivities.

''We kept it small becausewedidn't

know how people felt about going out

after Covid­19,'' Presbyterian

Support upper South Island manager

Vicki Lucas says. ''We were just

keeping it to service providers, but

we thoughtifitwent well we would

go gangbusters nextyear.''

HELLOSPRING!

Elyse 3 Seater – Forest

WAS $ 1299

NOW

$

999

Elyse Armchair

–Forest

WAS $

549

NOW

$

399

Jamie

Single/Single

Bunk Bed – Black

WAS $

699

WELCOME WARMER WEATHER WITH OUR

STOREWIDE

SPRING

SALE

Recliner

NOW $

599

ON SALE

Xander

Recliner Range

3Seater Recliner

NOW $

1299

Charlie 3Seater

WAS $

1599

NOW

$

1299

NOW

$

499

ON SALE

Larvik

Bedroom Range

Queen Bed

NOW $

799

Brix Light

7 Piece

Dining Set

WAS $

1689

NOW

$

1199

Bedside

NOW $

275

Tallboy

NOW $

799

Scantofindstore

250 Moorhouse Ave, Christchurch

0800 TARGET (0800 827438)

targetfurniture.co.nz

Offers and product prices advertised here expire

18/10/21. Sale Excludes Accessories.
---
NEWS

26 North Canterbury News, September 30, 2021

Gates maybe closed for Cup Week races

Covid­19 restrictions may mean

Canterburyhorse racing's biggest

week of the yearcouldbeclosed

to most punters for the firsttime

in 117 years.

Whileorganisershave

confirmed racingwillgoahead, it

cannotpromise thepublic willbe

allowed to attend.

AddingtonRacewaychief

executive BrianThompsonsays

AddingtonCup Week willgo

ahead, but thepublic would be

shut out entirely unlessthe

regionmovesdown to Alert Level

1restrictions.

At Alert Level 2, eventscan go

aheadbut with restrictions.

Events and event facilities—

forexample,stadiums, cinemas

andcasinoscan have amaximum

of 100people in anyindoor or

outdoor defined space.

AddingtonCup Week 2021kicks

offwiththe IRTNew Zealand

TrottingCup DayonTuesday,

November9.

TheShow Day Racesare

scheduled forFriday, November

12.

Tickets werescheduled to go on

sale thisweek, buthave beenput

on holddue to Covid­19

restrictions.

Mr Thompsonsays thedecision

to hold offisdue to alack of

certaintythe venue will be ableto

be open to the public.

''Theraces willstill go ahead,

butifthe country is stillunder

mass gathering restrictionsitwill

notbepossibletoholdCup Week

as apubliclyaccessible event,'' he

says.

''We are planningfor an Alert

Level 2event, where we can

safelyhostthe racingindustry in

Trotting brilliance ... Clarkville­owned trotter Sundees Son, which is

trained by Robert Dunn at Woodend Beach, and is driven by John Dunn,

won the big prize for trotters at Addington Raceway on Show Day last

year.

PHOTO: RACE IMAGES

100 person groups in different

parts of our facilities, with the

ability to scale­up if we moveto

Alert Level 1withnorestrictions

on mass gatherings, by October

19.''

If the region was stillinLevel 2

it wouldbethe first timein117

years thatthe event did not meet

its fullpublic capacity.

He saidthatifashiftdown to

Level 1was announcedafter

October19there willnot be

sufficient time to prepare afull

scale Cup Week event as

Canterbury andNew Zealand

knows andloves.

''Atthis stage under the current

restrictions all hospitality

packages,tickets to TheEdge

Public Village, Lindauer Lawn,

andPuntersLounge, plus Show

Daytickets to the Spectators Bar,

have beenput on hold.

''TheCrossing Fashion Starts

Here competition will be run

onlinethis year, with details

available mid­October.''

IRTisthe main sponsor of the

Tuesday racingand director

Richard Cole says he is hoping

theevent will rununder Level 1

''so that one of thenation'smost

treasured racedayscan be open

to allNew Zealanders''.

''If we're at Level 2, IRT looks

forward to hostingindustry

participants in asafe

Crowd favourite ... Monkey King, driven by Ricky May, wins the New

Zealand Trotting Cup at Addington Raceway during apast New Zealand

Cup and Show Week.

PHOTO: RACE IMAGES

environment and celebratingthe

exceptionalqualityofracing that

is alwaysprominent at harness

racing's most prestigiousrace

day,'' he says.

Mr Thompson says he is

hopeful he can bring ''two

amazing racedays''toCanterbury,

as is the tradition.

''We thank you for your

patienceaswenavigate ourway

through these uncertaintimes

andwewillkeep you updated as

we move alert levels.''

Tickets havealsobeendelayed

forthe Canterbury JockeyClub's

Riccarton Park CupWeekin

November, including the

traditional Saturdayrace

meeting.

''The Canterbury Jockey Club

has chosentodelay the releaseof

ticketingfor theNew Zealand

Cup Meeting (November6,10, 13)

fromthe proposed September1

date,''itposted on theofficial

website recently.Although the

Canterbury regionhas entered

Covid­19 Level 2, thislevel,

althoughallowing the conducting

of racedays, precludesthe

attendanceofasignificantcrowd.

''The clubwill monitor the

situation andrelease ticketing

whenthere is arealistic

expectation that we willbe

operating at Level 1inNovember

as we were lastseason wherea

crowd limitof15,000 attended

New ZealandCup Day.''

WIN afree solar system for your favourite charity

it's time to

let the sun in

to celebrate the opening of our

new solar hub in Christchurch

we are gifting a$30k solar system

to alocal organisation that you think

does great things in your community.

the

solar for good

project

to nominate

scan this QR code or

visit www.lightforce.co.nz

entries close Thursday 21st October

Robert Webb of The Whangarei Native Bird Rescue Centre

-Lightforce Northland charity winner
---
RANGIORA MOTOR GROUP

NEW DEALERSHIP OPENING LATE 2021

CNR Southbrook Rd &CoronationSt

POSITIONS AVAILABLE

•Sales

•Service Technicians

•Admin/Reception

•PartAdvisor

•Service Advisor

•Grooming

Expressions of interest to

steve.hammond@mbmg.co.nz

NAVARA SL-450

LIMITED EDITION

• BLACK 18" ALLOY WHEELS & EXTERIOR HIGHLIGHTS

• CLASS LEADING FUEL ECONOMY

• APPLE CARPLAY® & ANDROID AUTO

• 5 STAR SAFETY RATING

NISSAN 150,000 KM'S

5YR FACTORY

WARRANTY

Navara SL-450 available now foralimited time only,while stocks last.

RANGIORA NISSAN, 321 High Street, Rangiora

Ph: 03 941 3175

www.rangioranissan.co.nz

rangioranissan.co.nz

RUNOUT

OUTLANDER LS 2.4L 2WD

$32,

,990+ORC *

The 7 seater Mitsubishi Outlander

brings everything you would need in a

family SUV: safety, technology y, comfort,

unrivalled economy and that all important

space, plus a 10 Year Powertr rain Warranty † .

RRP WAS $41,99

90 +ORC

*Price listed is for Outlander LS 2.4L 2wd and excludes on road costs of $650 which includes registration, WoF and a full tank of fuel. Available while stocks last.

†

Visit mmnz.co.nz for full Diamond Advantage warranty conditions.

RANGIORAA MITSUBISHI

321 High Street, Rangiora | 03941 3175 | rangioramitsubishi.co.nz
---
NEWS

28 North Canterbury News, September 30, 2021

Trees provide solutions to erosion, sediment

By GINAMCKENZIE

Reducedamountsofsediment

and phosphorus are entering

Hurunui and Kaikoura waterways

while closercommunity

connections are being created

thanks to afour­year, $4.1 million

SoilConservation and

Revegetation (SCAR)project

funded by Environment

Canterbury, the Ministry for

Primary Industries and

landowners.

Some9000 poplar and willow

poles have been planted on 76 hill

countryfarms during the first

three winters of the project, which

promotes soil stabilisation and

improved soil management in

areas subject to erosion and high

winds.

Overfour years the programme

aimstodeliver 20,000 poles, fence

off,plant,and retire 238 hectares

of land for native reversion,

deliver 82 land use capability

mapstolandowners, and share

learningsonsoil conservation at

workshopsinHurunui and

Kaikoura districts.

EnvironmentCanterbury land

management and biodiversity

advisor Andrew Turnbull says

having staffwho can communicate

effectively with the farming

communityaswell as havinggood

farmsystems knowledge has been

vital to the success of the project

to date.

''Wetake the time to gettoknow

the farmers individually and we

havedeveloped good

relationships with them,''hesaid.

''Itisall aboutputting yourself

in the farmer's shoes and

strengthening those connections,

Farm ... Members of the North Canterbury Farm Forestry Group take

part in apoplar pole planting event at Mt Cass Station near Waipara in

Hurunui.

PHOTOS: GINA MCKENZIE

but still havingthe ability to have

courageous conversationsif

needed.

''We've had farmers, who are

not keen in the beginning,become

our biggest supporters when they

realise that we're theretooffer

adviceand to support them to

protect and improve the hillside

areas of their farmsbyproviding

them with the tools whichhelp

minimise soil erosion on hill

country land.''

Simplifying application

processes and having excellent

support from the project coordinatorhas

helped get more

farmers involved, Mr Turnbull

says.

''Farmersare busy and don't

want to be boggeddown with

paperwork, so we havemade it

reallyquick and simplefor them

to get involved in the project.''

The poplars andwillows are

supplied by Environment

Canterbury's nursery located off

Baynons RoadinClarkville, near

the Waimakariri River.

Nursery managerSteve Tuer

says the five­hectare site provides

thousands of treeseach year for

the projectand river control.

He understands that some

people may questionthe useof

poplars and willows because

thesehave areputation as pest

plants, but modern species of

poplar and willow clones have

been developed for soil

conservation purposes and lack

the invasive characteristics of

theirpredecessors.

''Some peopleare surprised

that we are using poplarsand

willows, but they are the most

suitabletreesfor erosion­prone,

exposed hillsides as natives would

neversurvive in those conditions

due to their fragilenature and

Farm discussion ... Waiau farmer Dave Bowler (left) and Environment

Canterbury land management and biodiversity advisor Andrew Turnbull

discuss soil conservation at Dave's hill country farm.

weaker root systems,''Mr

Turnbull says.

''Only poplars and willows can

grow the extensiveroot system

required to quickly stabilise

hillsides.

''Our main varietyofpoplars are

Veronese and Fraser as they are

best suited to the conditions.They

can grow up to 20 or 30 metres

high.

''We plant them at 10 to 15 metre

spacings when they are three

metres tall.''

Reducing environmental waste

is alsoanimportant feature of the

nursery, withleftover cuttings and

poles turned into mulch which is

added backinto the soil.

Mr Turnbull saystaking a

catchment­based approachtothe

projectand supporting and

enhancing existingareas of

biodiversity is important and he

appreciates the sharing of

knowledge thattakes place during

farm visits.

''Farmers are giving up their

time to be involved in this project

and by getting to know more about

areasthey have already

developed, we can work together

with them and their neighboursto

create better holistic outcomes for

everyone involved.

''Theproject also provides

farmers with evidence for their

Farm EnvironmentPlansand

builds resilience into their

farming operation, alongwith

reducing their overall carbon

footprint and achievinggood

waterquality outcomes.

''We're lookingforward to

continuing to develop these

relationships whileimproving

environmental outcomes during

the second half of the project.''

Jade

Ara graduate

From theWaimakariri

Riverinthe southto

Kekerenguinthe north,

theNorth Canterbury

News hasgot it covered.

Like the idea of helping create athrivingeconomy?

Thencheck outour business studyoptionsin

project management,accountancy,human

resources, innovation, marketing, operations

management and more. You'll discovera

range of qualifications thatcan equipyou

withthe skills and knowledge youneed for

acareer you'lllove.

Explorethe options at

ara.ac.nz |0800242476

Reaching

48,000 readers

every week
---
NEWS

North Canterbury News, September 30, 2021

29

And they're off ... Covid spaced runners and their dogs head out on the half marathon

at the 4Paws dog meeting on Sunday at Bottle Lake.

PHOTO: JOHN COSGROVE

Dog marathon at adistance

By JOHN COSGROVE

Man and beast were running together the

third 4Paws Marathon races held on

Sunday at Bottle Lake and on the

beaches of Christchurch.

Observing Covid Alert Level 2spacing

rules, competitors from all over the

South Island lined up for events

including the marathon, half marathon,

16km, 10 km, 5km and a2.4km rascals

walk/runs.

The event also hosted two virtual races.

At each race, organisers started lines of

competitors at ten second intervals to

space them apart and conducted

mandatory vet checks at various

distances along the tracks, which for

some went almost as far as the Brighton

Pier.

Darryl Cotton and Pip won the men's

marathon in atime of 3:46:31.

The women's marathon was won by

Holly Weston and Billy Knowler.

Eat BetterForever,byHugh Fearnley­

Whittingstall

The food we eat is the mostimportant factor

influencing our health andwell­being.

Yet despite (or perhaps becauseof) adecadeslong

debate aboutdiet,many of us still feel

confused, unhappy, guilty and anxious about

what we eat.

Travel Light, MoveFast, by Alexandra Fuller

From bestselling

author Alexandra

Fuller, the utterly

original story of

her father,Tim

Fuller, and a

deeply felt tribute

to alife welllived.

The Windsor

Diaries,byAlathea

Fitzalan Howard

The never­beforeseen

diaries of

Alathea Fitzalan

Howard who, as a

teenager, lived

alongside the

youngPrincesses

Elizabethand

Margaret at

Windsor Castle

during the World

War 2.

Thesetitles are available in both

Waimakariri and Hurunui libraries.

Find out more aboutrecent additionstothe

library collection by going to the library

catalogueatwaimakariri.kotui.org.nz or

hurunui.kotui.org.nz or contact yourlocal

library.

CHOOSE

5ADAY

for great mental

healthiness

HIGH

FIVE

WHAT 5WILL YOUCHOOSETODAY?

8+

HOURS

SLEEP

20 MINS

EXERCISE

+

POSITIVE

INPUT

THANK-

FULNES

10+

MINS

OUTSIDE

EAT

HEALTHY

FOOD

GIVE

POSITIVE

SELF

TALK FORGIVE

-NESS

DO

THINGS

YOU

LOVE

TIMEWITH

UPLIFTING

FRIENDS

USE/

DISCOVER

YOUR

TALENTS

DREAM

&PLAN JOURNAL

-ING

JOKE,SMILE

LAUGH

ALSO: FUN THINGSWITH YOUR FAMILY, HAVING ACAUSE, BEING PRESENT, LIFT OTHERS UP WITH YOUR WORDS

WWW.BEGREAT.CO.NZ
---
RURAL LIFE

30 North Canterbury News, September 30, 2021

Showcase on rural careers

Foodand fibre careerswill be showcased

to North Canterbury secondary school

students underanewinitiative.

LaunchedbyAgricultural Minister

Damien O'Connorrecently, theinitiative

—the Secondary School Employer

Partnership (SSEP) —aimstoconnect

youth and employers fromeducationto

employment.

SSEP is acollaboration between the

Ministry of Primary Industries and

SmartNZ, acharitable trust.

''Wewantand needyoungmindstobe

lit up by the breadth of foodand fibre

sector careers on offer in Canterbury,'' Mr

O'Connor said.

''These range fromworking on­farm,to

carryingout important research and

FARMBIKE SPECIALISTS

Servicing North Canterbury for over 25yrs!

•Sales, Servicing &

Parts

•All Makes &Models

•Qualified Motorcycle

Engineers

(NCME, TRADECERT)

•Electrical &Mechanical

fault testing

•Quality 2nd Hand Bikes

&UTV's

•Repairs &Dismantling

•Insurance Repairs

2177981

163 Stokes Road, Balcairn

Ph (03) 312 9844 or 027 205 5724 (AH)

farmbikesnc@orcon.net.nz

www.farmbikeservices.co.nz

innovation,toprovidingprofessional

services that give vitalsupport to the

sector.

''Canterbury is oneofNew Zealand's

keyfood andfibreproducing hubs. The

next generation of sectorinnovatorswill

be akeypart of theregion's future

success.''

The SSEP is basedonanawardwinning

initiative, first rolled outby

SmartNZ in theWaikato in 2016.

To date it has involved more than10,000

students from41Waikato secondary

schools and250 local employers.

It is athree­year formal relationship

between secondary schoolsand local

employers wholinkinwith school

curriculums at Years 9and 10.

The aim is to provide real­world

applicationofthe secondary school

curriculum and expose students to awide

range of career opportunities inside and

outside of the classroom.

The programmeprovides extensive

resources for teachers, employers,and

others that are tailoredtoindividual

school learning objectives, kaupapa, and

local employment opportunities.

Mr O'Connor says SSEP Canterbury will

contribute to delivering theGovernment's

10­year food and fibresector roadmap Fit

foraBetterWorld Accelerating our

Economic Potential which is aimed at

accelerating New Zealand's economic

recovery from Covid­19.

''We launched Fitfor aBetter World to

boost productivity, sustainability,and

jobs.

''Delivering theroadmap requires the

rightpeopleand fresh thinking.

''By reaching youngpeoplein

secondary schools through the SSEPs, we

canshow youth and their families the

huge range of exciting career pathways on

offer and pique their interest in

rewarding andlife­long careers in our

food andfibresector.''

Rural careers ... New Zealand Young Farmers has run careers days in the past in abid

to connect with secondary school pupils.

PHOTO: FILE

Meat Your Career

New Zealand Young Farmers is stepping

up its efforts to attractmore young people

into rural careers.

Initiatives such as Meat YourCareer and

the Food and Fibre Youth Network are

providingnew ways of linking teenagers

with career opportunities available in the

agricultural sector, chiefexecutive Lynda

Coppersmith says.

Meat Your Career is apartnership

between New Zealand Young Farmers and

Beef +Lamb New Zealand, with

residentialworkshops for Year12and 13

pupils being held in the North and South

Islands during the Octoberschoolholidays.

The South Island workshop is being held

at LincolnUniversity.

Further workshopsare beingplanned for

the April school holidays for thosewho

miss out.

''It's agreat programmeand its all fully

funded. We've done something similar at

Lincoln in the past and the kids who have

done it rave about it,'' Ms Coppersmith says.

''We tried running one in July and it was

cold and muddy, so the spring and autumn

seem to be the best times.''

The Food and Fibre YouthNetworkis

funded by the Ministry of Primary

Industries in partnership with New

Zealand Young Farmersand supported by

Beef +Lamb New Zealand, DairyNZ and

Agmardt.

It comprises acouncil of nine young

people who provide ayouthvoice to the

sector.

''They're supersmart and they're from

across different parts of the sector,''Ms

Coppersmithsays. ''Listening to them is

amazing,they'reall so clever.''

Getting afootholdintocity schools has

always been achallengeand requires

ongoingfunding, she says.

''We found with our schoolengagement

programme, it'shard to measurethe

success of trying to capture heartsand

minds.

''DairyNZ and otherstakeholdersneed to

show their shareholders thatthe money

they are spending is working, but it can take

10 years beforeyou see anyresultsand they

want to know after two years.''

But having2500 TeenAgmembers

throughoutthe country is ''anuntapped

resource'', Ms Coppersmith says.

''It's hard to trackwhether young people,

who showaninterest at school, actually

follow through and engage in an

agricultural career, but withour TeenAg

members we will be able to main a

connection through our new digital

platform, evening if they don't join ayoung

farmers'club.''

Achallenge for the sector continues to be

how to retainyoung people in the rural

sector.

''If someone milkscows for ayear and

hatesit, how do we keep them in the

sector? And you get those who don't wantto

be tieddown to one particular sector.

''Butwhen you do acadetship trade

programme you tend to do justone part of

the sector,but whatifyou could leave

school and do ataster ­say an eight week

course where you do four or fivedifferent

aspects.''

Spring milking focus day

Ten milkingsinseven days is the focus

of aRoad Show coming to North

Canterbury next month.

The Lincoln University DairyFarm

(LUDF), and South IslandDairying

Development Centre will present a

Spring up date on doing 10 milkings in

seven days, and discuss planting

plantain to reduce nitrogen loss .

Claxby, in Eyrewell, will host the

road show on October 5.

Managing spring and setting targets

due to the change in milking regime,

and understanding the impact on staff,

workloads and rosters will all be in the

spotlight, along with the 2020­2021

season's financial results and the

2021/2022 budget.

Guest speakers are Jack Hooper

from LIC, who will speak on breeding

the ideal LUDF cow,whilePaul

Edwards from Dairy NZ, will talk about

Variable MilkingUpdate Science.

Glen Judson from Agricomwill look

at the science of Ecotain, while

successful establishment of plantain

will be presented by Andrew Harrison,

also of Agricom.

Covid level 2restrictions apply with

90 registrations the maximum at the

venue. To register go to office@siddc.

org.nz.

The day starts at 10.15am and runs

until 1pm.

2410273

ONLINE MEAT SALES

MEAT2U.NZ

HOME KILL

&WILD GAME

MEAT PROCESSING

313 0022

Wood lotsand

shelter belts

Small wood lots

for logging and

firewood blocks

Mob:0274438 462

2405495
---
Connecting with rural youth

By DAVID HILL

Young farmersare finding

creativeways to connectduring

an uncertain time.

New Zealand Young Farmersis

developing anew digital

platform, including upgrading its

website and developing

cellphoneapps to ensure it can

connectwith its members to

support them through

challenging times.

''Weplan to have it up by next

yearand then we can tweakitand

developitas we go,'' chief

executive Lynda Coppersmith

says.

''It's about connecting withour

members in waysthey're used to

being connected.

''Inperson is always better,but

we havebeen in acontextwhere

we haven't been able to do that.''

The new digitalplatform will

allow the organisationtorun

moreonline eventsand to

developacalendar of events

being run by other industry

organisations to helpconnect

members with the wider sector.

Ms Coppersmith hopes the

platform willalso helpto

improveconnectionswith local

clubs aroundthe country in a

morecost effective way.

''Having people on the ground

is expensive, so our focus is on

finding the bestways to support

our clubs without having an

expensive team on the ground.''

Mental health continuestobea

hot topic for young peopleinthe

rural sector, she says.

During the lockdownNew

Zealand Young Farmers ran a

webinar on mental wellbeing,

with270 participating ''and it was

areally great discussion'', with

speakers talking abouttheir own

mental health battles.

''It's giving youngpeople

permission to feel like'crap' and

understanding that it'snormal.

''With the stress that's been

Rural connections ... Connecting with young people is important for

wellbeing.

PHOTO: FILE

createdwith the shortage of

workersonfarms, many young

people are doing more work and

workinglonger hours.

''Even the dairy women are

having to get up early to make

lunches, get thingsready, get kids

off to schooland goingtoher own

job, then coming home and doing

it all again.''

But attracting more young

people and urbanpeople intothe

sector is not easy.

Ms Coppersmithsays amore

holistic approachisneeded,

especially if you are askingyoung

people and families to move away

from family supportnetworks.

''If you are looking at South

Auckland, you can'tjust expect

people to up sticks and go and

work on vineyards in Hawke's

Bay or move to Canterbury,

becausethey are connected with

their communities.

''They are not justunits of

resource,they are living,

breathing human beings, so

you'vegot to create awhole

package and acommunity around

them.''

New ZealandYoung Farmers

also has work to do whenitcomes

to diversity and inclusion,

particularly whenengaging with

youngMaori, she says.

''We've had some really good

conversations with people in

Maoridom, particularly in the

NorthIsland,and the feedback

we'vehad is thatyoung people

walk intoayoungfarmers' club

and there'svery little

acknowledgement of Maori

culture.

''I think that's something for all

of New Zealand; there's an

expectation that things will be as

they've always been, but the

worldischanging.''

RURAL LIFE

North Canterbury News, September 30, 2021 31

Rural recycling sets

new record figures

Record­breaking volumes of

recyclinghave gone through

the rural recycling

programme, Agrecovery.

Atotal of 532 tonnes of

plastic from used

agrichemical containers, was

collected from Agrecovery's

sites, events and via on­farm

pick­ups over the past year —

a32percent increase.

Agrecovery chief executive

Tony Wilson say it is amassive

leap from the 405 tonnes

collected the previous year.

''Like most consumers,

farmers and growers are often

left with plastic packaging and

they don't want it to end up in

landfill or release emissions

by burning it.

''They are motivated to do

the right thing –and the best

thing is toturn it into a

resource that doesn't get

wasted,'' Mr Wilson says.

The plastic collected by

Agrecovery is shredded,

cleaned and broken down into

aresin before being made into

materials like cable cover and

dampcourse –abuilding

material to prevent rising

RangioraToyota

damp.

These products are sold

locally for locals.

''It's agreat example ofa

circular economy,'' says Mr

Wilson.

As the recycling process is

done in New Zealand there

are fewer emissions than

shipping the plastic offshore.

''We reuse the materials,

and our programme has the

added bonus of supporting the

local economy. It's awin­win,''

he says.

Farmers are now asking

Agrecovery to collect other

plastic packaging as well, and

is starting to collect soft

plastics like low­density

polyethylene bags.

''Our goal is to collect all

types of farm plastics. Our

high­density polyethylene

(HDPE) recycling is well

established and it's time to

tackle otherplastic types.

''We want to raise the game

to achieve better

environmental outcomes for

rural communities by

removing plastic from farms,"

says Mr Wilson.

Red meat roadshow

Farmer­owned red meat cooperativeAlliance

Groupis

hosting aseries of virtual

roadshowmeetings next month.

The five online meetings

replace in person meetings,

which have been cancelled due

to Covid­19 restrictions.

''We are disappointed we

won't be able to meet our

farmers in person, but we are

encouraging peopletoregister

for one of the five online

meetingsinstead,'' Alliance

Group chief executiveDavid

Surveyor says.

Sessiontimes include: North

Island ­Tuesday, October 12,

7pm to 8.30pm. Northern South

Island ­Wednesday, October 13,

7pm to 8.30pm.

Central /lower South Island­

Monday, October 18, 4pm to

5.30pm.

Lower South Island /

Southland ­Tuesday, October

19, 10.30am to 12pm, 7pm to

8.30pm.

To register, go to:

allianceroadshows.co.nz.

2016 HiluxSR5 4x4

•2.8L Turbo Diesel Auto

•Sat Nav

•Cruise &ClimateControl

2019 LandCruiserPrado VX

•2.8L Turbo Diesel, Facelift

2019 Peugeot 3008 Active

•1.6L TurboPetrolAuto

2007 Toyota Rav4

$ • Leather, Safety Sense

•Satnav,5-StarSafety

• Safety Sense, Camera,

46,995 $ $

•2.4LPetrolAutoAWD

•Only31,300kms 82,995

$

15,995

• Only 21,300km

36,995

95

$

39,995

995

•Satnav,Camera

•Cruise Control

2019 GX Rav4

•2.0L PetrolAuto, Satnav

•Only8,850kms

2013Toyota AlphardSC

•2.4LPetrolAuto, 7-Seater

•DualElectricDoors

•25,250kms

•2.8L Turbo Diesel, Leather

$

36,995 •18"Alloys

$

42,995

$

41,995

$ $

•SportsBar &Tonneau.

60,995

34,995

Percival Street,Rangiora • Ph (03) 313-8186any time • www.rangiora.toyota.co.nz

Signature

CLASS

2016 HiluxSR5Limited2WD

2018NissanNavaraRX4x4

•2.3LTurbo Diesel Manual

•Alloys, Bluetooth

•Only 58,100kms

2018 HiluxSR5 Cruiser

•2.7LTurboDiesel,leather

•18" alloys,Tonneau

•Only 37,250km

2018 HiluxSExtra Cab

•2.8L Turbo Diesel Manual

•2WD,Camera

•Only 50,100kms

FINANCE &INSURANCE AVAILABLE

2419738
---
FARM FOCUS

32 North Canterbury News, September 30, 2021

Putting Kiwi farmers in the driving seat

Back in 1981, three Wairarapa farmers

decided to create asystem for farmers

to improve the way they manage their

farming business.

At that time, record­keeping was very

much about looking back, using

accounting methodology.

The company founders wanted to be

able to look ahead, to plan for the next

season.

This radical approach proved to be

highly successful.

Forty years later this business, now

known as Farm Focus, is still going

strong.

Key to the company's success, is that

its specialised software meets farmers'

specific management accounting

requirements, but also makes it easy to

transfer transactions into tax­focused

accounting systems used by

accountants.

CEO, Brian Eccles has been involved

with the company from the early days,

and says that while software has

changed massively over the 40 years, the

successful formula established all those

years ago still holds true.

Managing cashflow through great

planning was important then and

continues to be vital.

''Running afarm is full of

uncertainty,'' says Brian.

''That can come from weather, pricing

changes or awide range of on and off

farm regulations.

''Plans help you manage adversity

because you can quickly pivot when the

plan isn't quite working.''

Technology is constantly evolving and

the company continues to invest in

major upgrades to ensure the product is

relevant in the modern world. It is

currently supporting customers to move

from its previous application,

Cashmanager RURAL, to its new cloudbased

application, Farm Focus.

''Not everyone loves change'' says

Brian,''but once customers begin to see

the value of investing in the new they

never look back.''

Customers moving across to the new

platform, such as Hawkes Bay farmer,

Caroline Smith, notice the

improvements.

"Cashmanager RURAL was agreat

package in its day but farming practices

and requirements have changed greatly

over the years.

''Focus's automated technology

makes budgeting much easier which has

definitely helped cut down time spent in

the office.''

Caroline says the ability to budget

three or four years ahead has been

especially helpful during Covid and

drought events.

''It's way easier to look ahead. It has

given us confidence in our planning and

shows we can weather the storm''

Brian says that while the world is full

of generic accounting systems designed

for city businesses, asystem like Farm

Focus, uniquely designed to meet the

special needs of farmers, is extremely

rare.

''What might be ideal for an

accountant might be entirely unsuitable

Farm Focus ... Brian Eccles is keen to support kiwi farmers.

for afarmer. Software like ours that can

drive improved management can

increase revenue massively.

''Potential savings in accountancy

costs are minor by comparison'' says

Brian.

In addition to marking 40 years in

business this year, Farm Focus is also

celebrating its recent win in the Cyber

PHOTO: SUPPLIED

Gold category at the Wellington Gold

Awards.

''This award really belongs to our

customers as we wouldn't be where we

are without their support. Helping New

Zealand farmers to stay at the top of

their game and retain their number one

spot in the world is what drives us!'' he

says.

Successfully

supporting

NewZealand

Farmers for

over40years

farmfocus.co.nz

Call 0800 888 080
---
Rangiora Toyota

Percival St, Rangiora

(03) 313-8186

www.rangiora.toyota.co.nz

Proudly supportingsport

in North Canterbury

Three wins from three for hockey finalists

Three Rangiora Hockey Club teams

featured in the finals for the Canterbury

competition, with all three coming away

with Grade titles for 2021.

Covid lockdown disrupted the planned

finals weekend

It was then decided to delay playing the

finals and only play the top games in each

grade to complete the season due to

Level 2gathering size restrictions.

Rangiora Korimako were the first team

to contest their final against Waikirikiri

in the Sunday Super League (SSL)

Championship.

Korimako had an up and down season

after being relegated from the SSL

Premier grade.

The young team had twice lost to

Waikirikiri in pool play, but with the

losing margin reducing each game, they

went into the final at MainPower Turf

with some confidence.

They scored two goals in the first

quarter, conceded one in the third and

then defended strongly to ensure

Waikirikiri didn't get any more.

On Monday Rangiora's Mid­Week Men's

Ateam took on Marist for the Division 2

crown at Nga Puna Wai.

Unbeaten all season ­including a7­nil

drubbing of Marist just afew weeks

earlier ­and 99 goals scored in 18 games,

made the Ateam firm favourites for the

clash, but they were well aware of the

pitfalls of over confidence against a

talented opposition.

In the end it was the overall team

performance of Rangiora under the

leadership of its most experienced

players Tony McDonald, Craig Reynolds

and Andrew Howell that gave them a

comfortable 4­1 victory.

Tuesday night saw the ongoing battle

between Rangiora Hurunui Hares and

Malvern reach it's conclusion in the

Women's Mid Week Open Division One

final.

The Hares had already beaten Malvern

to the Knock Out Cup earlier in the

season, but since then the teams had

traded victories through the Round

Robin, including a5­nil win to Malvern

and a5­1 win to the Hares.

The game could have gone either way.

In the end the Rangiora Hurunui

Hares were the better team on the night,

winning 2­1 in awell contested final

played in the best spirit of the game.

Final Standings

Division 1: Men –Rangiora CBK 6th out

of 10 teams. Women –Rangiora CBK 7th

out of 9teams.

Sunday Super League (Division 3): Men –

Rangiora Colts 3rd out of 7teams;

Rangiora Oddfellows 4th out of 7teams.

Women –Rangiora Korimako 1st out of 6

teams.; Rangiora Piwakawaka 5th out of

6teams.

Mid Week Open: Men –Rangiora A1st in

Division 2; Rangiora Allsorts 6th of 10 in

Division 2.

Women ­Rangiora Hurunui Hares 1st out

of 8teams in Division 1; Rangiora

Hurunui Hawks 6th out of 7teams in

Division 3.

Platinum Grades: Men ­Rangiora A6th

out of 7teams in Division 1; Rangiora B

6th out of 6teams in Division 2.

Women ­Rangiora A4th out of 6teams in

Division 2B; Rangiora B5th out of 5

teams in Division 3A.

Kwik Sticks 11­a­side: Boys ­Rangiora

Renegades 5th in Division 1.

Girls ­Rangiora Rascals 2nd in Division

2.

Kwik Sticks 7­a­side: Boys ­Rangiora

Rangers 3rd in Division 2. Rangiora

Rampage 6th in Division 3.

Rangiora A... Winners of the Men's Mid Week Open Division 2.

Rangiora Hurunui Hares ... Winners of

Canterbury Women's Mid Week Open Div 1.

Girls ­Rangiora Rainbows 2nd in

Division 1; Rangiora Rubys 6th in

Division 3; Rangiora Rebels 5th in

Division 5.

Kiwi Sticks: Boys ­Rangiora Rogues 5th

PHOTO: HAMISHBONDPHOTOGRAPHY

Koromiko ... Winners of the Sunday Super

League, division three.

in Division 2.

Girls ­Rangiora Rabbits 1st in Division 1;

Rangiora Raiders 2nd in Division 3;

Rangiora Road Runners 1st in Division 1

(no GKs).

LOVED BY

GENERATIONS

Published more frequently and

giving you better value for money

than any other rugby read

SUBSCRIBE

FROM AS

LITTLE AS

$20

rugbynews.co.nz

0800 77 77 10

ALSO AVAILABLE ATALL GOOD BOOKSTORES AND SUPERMARKETS
---
Four

Four

SeasonsRealty

Seasons Realty

AUCTION

AUCTION

SELLING YOUR PROPERTY FORA

Premium Price!

233 West Belt, Rangiora 12 Springbrook Close, Rangiora 3Highfield Lane, Rangiora 7Bloomfield Street, Leithfield

5Coronation Street, Rangiora 321P GeorgesRoad, Amberley 149 WhiteStreet, Rangiora 40A Percival Street, Rangiora

In today'smarket,when lowsupply meets high demand, it'simportant that youappoint the

best consultant to achievethe best possible result.

Phone me forafree, no obligation marketappraisal. Ilook forwardtodelivering youyour

SOLD sticker very soon!

KAREN

WARD

021 221 7027 |03313 6158

karen.ward@harcourts.co.nz

harcourtsfourseasons.co.nz

Four Seasons Realty 2017 Ltd|Licensed Agent REAA 2008

Karen

Four Seasons Realty
---
NEWS

North Canterbury News, September 30, 2021

Local groups step up for mental health

Take time to chat this week, local

mental health advocates say.

The Waimakariri District Council and

its community partners are supporting

Mental Health Awareness Week and

want to encourage people to take time

out to think about their own wellbeing

as well as that of others around them.

This year's theme for mental health

awareness week, is take time to korero/

ma te korero, ka ora ­alittle chat can go

along way.

Little things can make all the

difference, by following afew simple

steps such as: notice what's going on,

think about the good stuff, do helpful

things when it gets tough and connect

with your people.

''When Ineed abreak Iput on my

shoes and go for awalk somewhere

beautiful,'' Waimakariri District

Council community team manager

Tessa Sturley says.

''It's good to take time to notice the

sky, the hills, the birdlife, the animals

and plants and be thankful for such

beauty and the blessing of living in the

Waimakariri.''

To unwind and get out of a'fog', North

Canterbury Rural Support Trust

regional co­ordinator Arni Smit loves

nothing more than getting her hands in

the soil and tending the garden.

''It literally 'grounds' you!''

Rebecca from Yellow Brick Road

knows that when she starts to feel abit

flat, she needs to take action before the

black fog of depression descends.

''Even though Idon't feel like it,

outside exercise is my best medicine,

followed by catching up with friends

who make me laugh, getting to bed on

time, eating healthy food and generally

going easy on myself ­cutting back on

activities Ifind stressful and lowering

Take time to chat ... This week is Mental

Health Awareness Week.

my expectations of myself.

''All these things help me. And my GP

is always there if Ineed her.''

Jo Ealam from the Oxford Community

Trust says: ''I like giving myself time to

read for pleasure and connect with

friends, or have lunch or coffee with a

colleague.''

''The things that Idotokeep myself

well is time to myself to refuel, agood

book, yoga practice and being out in

nature,'' says Emily, from Comcare

Trust.

With everything that is going on

around us it's important that we take

time to think about and prioritise our

mental wellbeing.

The Waimakariri District Council's

community team works with arange of

providers, groups and organisations to

promote wellbeing through events and

initiatives.

Support is available if you or someone

else needs it.

If you believe someone may be at risk

of suicide consider the ''AEIOU of

Seek help ... Help is available for those struggling with mental health.

suicide prevention'': ask them, ensure

their immediate safety, identify

perceived problems, offer hope and use

professionals.

If you are worried about your own or

someone else's mental health, the best

place to get help is your GP or local

mental health provider.

In an emergency call the police

immediately on 111 or phone the Crisis

35

PHOTO: FILE

Response line on 0800 920092.

Free call or text 1737 (available 24/7).

Support is also available from

Lifeline on 0800 543354.

Youthline 0800 376633, free text 234 or

email talk@youthline.co.nz or online

chat.

Kidsline 0800 543754.

Suicide Prevention Line 0508 Tautoko

(0508 828865).

Up to

50 % Off

*Call for Terms

&Conditions

Off

*
---
What's happening in your

community…

All info onchanges to Council services and facilities can be found at waimakariri.govt.nz/covid19

Dogs on Lead at Kaiapoi Lakes

Extra signage has been installed at Kaiapoi Lakes

recently to help reinforce that dogs need to be on

alead in the reserve.

It's agreat spot for dog walking, but the lake is

also asignificant breeding ground for rare water

bird species such as the New Zealand Scaup and

the New Zealand Shoveler.

With thebird breeding season well underway,the

heightened vulnerability of wildlifemeansthat

effectivedog control is even more crucialatthis time.

Ashley Gorge Reserve Flood Recovery

Following flooding at Ashley Gorge Reserve inMay,

contractors have finished installing replacement

picnic tables and rubbish. Areplacement see-saw

is being manufactured and will be installed as

soon as it arrives from Auckland.

There are still some waterlogged areas and low

spots which will need extra work and reseeding,

and this will be done as soon as possible to allow

vehicles and picnickers touse the grass areas

within the reserve assummer approaches.

Mental Health Awareness Week

The Council along with their community partners

are supporting Mental Health Awareness Week and

want to encourage people to take time out to think

about their own wellbeing as well as that of others

around them.

This year's theme for Mental Health Awareness

week, is take time to kōrero/mā te kōrero, ka ora -

alittle chat can go along way.

We want to start by sharing experiences from

people in our community about what they do to

help themselves. Little things can make all the

difference so think about these four steps:

• Notice what's going on

• Think about the good stuff

• Dohelpful things when it gets tough

• Connect with your people.

Tessa,the Community Team Manager forthe Council

says, "When Ineed abreak Iput on my shoes and

go forawalksomewhere beautiful. It'sgood to

taketime to notice the sky, the hills, the birdlife,the

animals and plants and be thankful forsuch beauty

andthe blessingofliving in the Waimakariri."

To unwind and get out of a'fug', Arni from North

Canterbury Rural Support Trust loves nothing more

than getting her hands in the soil and tending the

garden. "It literally 'grounds' you!"

Jo from Oxford Community Trust says, "I like giving

myself time to read for pleasure and connect with

friends have lunch or coffee with acolleague."

"The things that Idotokeep myself well is time to

myself to refuel, agood book, yoga practice and

being out in nature." -Emily, Comcare Trust

With everything that is going on around us it's

important that we take time to think about and

prioritise our mental wellbeing.

At the Council our Community Team work with

arange of providers, groups and organisations

to promote wellbeing through anumber of

initiatives and events. We want people to know

that there is support available and there is awide

range of services right here in our District –find

out more atwaimakariri.govt.nz/community

Have you signed up for

the Waimakariri District

Council Newsletter?

To join visit:

waimakariri.govt.nz/subscribe

Ablocked drain?

New pothole?

Fallen tree?

Waimakariri District Council

Use the free Snap Send Solve app to tell

Waimakariri District Council about it.

DOWNLOAD FOR FREE

Visit our website to find out more

waimakariri.govt.nz

Waimakariri District Council have reviewed

speed limits inand around the main towns in

the District and are proposing some changes.

We are proposingthese changes foranumberofreasons

and are asking the community for their feedback.

Jump online to find out where we are proposing

changes and tell us what you think.

Or you can pop into any service centre topick up

information and afeedback form. Let us know

what you think before 5pm on Monday 18 October.

Atip to makesure

your bin is emptied…

How you place your bin helps tomake

sure it's emptied oncollection day.

Help us out by spacing bins at least half

ametre apart for the collection arm to

lift them and put smaller bins in front of

larger ones so the driver can see them.

—

Find out more collection tips at

rethinkrubbish.co.nz

ABOUT SPEED LIMITS

IN AND AROUND OUR TOWNS

Find out more at waimakariri.govt.nz/letstalk

.5m .5m

rethinkrubbish.co.nz
---
CLASSIFIED &NEWS

North Canterbury News, September 30, 2021

37

Give usyour

feedback

It's timetodust off your pencils,

paint brushesorcrayons!

Illustrate your favouritebookcover, character

or library inthis creative competition for all

ages. Entries will be displayed tothe public

with prizes for the top artworks!

Enter Now

OF THE

Find out more at

libraries.waimakariri.govt.nz

NEEDFUNDING

FORA

COMMUNITY

PROJECT?

Your Community Board can support

your project with grant funding.

Application forms and grant criteria are available

online or from any Council Service Centre. For more

information about funding visit the Council website.

Find out more at

waimakariri.govt.nz/communitygrants

Swannanoa School

The Swannanoa School will

celebrate 150 years at Labour

Weekend. Arange of activities

and events are planned over

October 21 to October 24, to mark

the occasion and to allow past

pupils, staff, school families and

the community to connect. These

events include the unveiling of a

specially commissioned sculpture

and commemorative garden, an

invitation to the community to

join the annual Pet Day, school

tours, taking of decade photos and

an informal evening mix and

mingle over dinner. Abook will

also be launched — History of

Swannanoa School.Check out

what's on and register now at

swannanoa.school.nz or email

150@swannanoa.school.nz

The Stewart's Gully Sailing Club

The club is keen to boost its

membership and will hold an

open day on October 2for anyone

keen to join its Have aGosailing

day.

The day runs from 11am to 3pm.

There is a Learn to Sail course

starting on Saturday, October 16,

also for new sailors.

The club caters for anyone aged 8,

to 80­plus years. For anyone

interested in joining the club

contact Glen Church on (03)

3835448 or email

gandbchurch@gmail.com or

phone Lindsay Russell (03)

3136709 or email him at

lindsayrussell481@gmail.com.

Rangiora Museum

The meeting of the Rangiora

Early Records Society is

postponed until Covid Alert Level

1.

Waiau Pig Hunt

Don't forget to get your entries in

for this years Waiau Pig Hunt

Fundraiser by Friday, October 1,

if you want to be eligible for the

Early Bird Entry Draw. Only paid

entries to the open section

qualify, and will go into adraw for

aHardy Magnum Suppressor

valued at $565. Sponsored by

North Canterbury River to

Ranges. Online entry form link:

forms.gle/8cvQ7LEKoXWc6X3A9.

Kaikoura exhibition

The Mayfair ­TeWhare Toi o

Kaikoura, will be showcasing a

solo exhibition — Outside In —by

visual artist Geoff Noble. It opens

to public on October 1and runs

throughout the month. Geoff

AMPLIFY YOUR

BUSINESS

AND BE THE

NAME THEY

REMEMBER

FIRST

Advertise with

us and get

noticed

today!

Phone us today on 03 314 8335 or email

sales@ncnews.co.nz to find out how we can help!

TREES, WOOD lots,

shelter belts suitable for

firewood or logging. Ph

027 343 9341.

440 1230.

LIFE JACKET inflattable

Hutchwilco, 150N manual.

Chest body waders, size 11

and acollapsable whitebait

net, hardly used. The lot

$340, phone 03 327 8015.

Property Wanted

2421782

Noble is arenowned artist based

in Nelson, who is presenting a

solo exhibition of new works that

are inspired by and feature

Kaikoura.

Ashley Tennis Club

Fancy some tennis on Sunday

mornings? The Ashley Tennis

Club is hosting Sunday morning

social tennis, starting October 3

from 10am to noon every Sunday

at the courts behind the Ashley

School. There is no cost, and balls

are provided. Families and locals

are welcome. Coaching is

provided. However, friendly

games will be encouraged.

Botanical Expo

An expo and rare plant fair on

October 9(postponement October

23), will be held at Broadfield

Garden, 250 Selwyn Road, from

10am to 4.30pm. The event

replaces the planned Botanical

Expo in the Lincoln Events

Centre, which was postponed

earlier this month.

The outdoor event, run by the

New Zealand Alpine Garden

Society, will feature floral design,

alpine and woodland plants,

demonstrations, music and food.

$10 entry.

Feedback sought on speedlimits

Residents are beingasked for

feedback around speedlimits in

the Waimakariri district.

The Waimakariri District

Council is seeking feedback on

proposals to reduce speed limits

in and around the towns in abid to

improve safety and ensure that

speedlimits are appropriate for

the many users.

''The safety of people using our

roadsisone of the council's top

priorities,'' road safetycoordinator

Kathy Graham says.

''Making sure speedlimits are

SPORTS RESULTS

Rangiora Golf Club

Nine holecompetition:Match

Play Men:John Gregan, Clifford

Boddy, Dennis Brook, Robert

Madden.

Match Play Women: Sarah

Rutherford, AnnieCameron,

Ruth Crawford,Diane Sinclair.

Stroke /Putting:Hilary

❛The safety of people

using our roads is one of

the council's top priorities

❜

—Kathy Graham

appropriate is one way to reduce

the risk for everyone.''

The review includes roads in

and around Oxford, Cust, Kaiapoi,

Lakeman15, Ross McQueen15,

Hudson Deane 16, Lyn Leech 17

c/b.

WaimakaririGorgeWomen's

Golf

Jenny Esson Trophy ­Stableford

18 Holes: R. Pilbrow40, 1; S

King38, 2; LPatton38, 3; J

Collins, MTeAwa 37, equal 4; J

Deans36, 5; MRobertson, H

Chamberlain35, equal 6.

9holes: RRoy 20, 1; JSmith16,

2.

Ohoka, Rangiora, Woodend and

Pegasus as well as some unsealed

roads aroundTuahiwiand

Ashley.

''Wewant to hearwhat the

community thinks of the proposed

speed limit changes,'' Ms Graham

says.

''Whether you drive acar, ride a

motorbike, walk orcycle, it's

important we receive your

feedback.''

Feedback canbemade until

October 18 atwaimakariri.govt.nz/

letstalk.

Amberley Golf Club

September25: PWylie 75, A

Genet 76, RKeith76, DWalker

77, GSmith 77,BFitzgerald77.

CampbellRosebowl: B

Pettigrew beat JCumming.

Mid Week men: JStringleman

40, NRhynd 38, MBruner38, J

Byrne 37, KRayner 37.

Two:BYate.

9Holers: Women:­HAstell 29,V

Crooks 31. Men: JEvans 34, D

Percy 34.

For Sale

6 X 200 LITRE steel

drums. Ideal for incinerators,

$15 each. Phone 027

LOOKING TO BUY

PRIVATELY

2-3 bdrm house

Rangiora &

Surrounds.

Pre approved first

home buyer.

Anything considered.

Ph Adele

027 314 5869

Wanted To Buy

CANTERBURY / South

Canterbury Photo News /

Foto News, 1960's magazine.

Also horse racing

magazines, Friday Flash

etc, 1950's to 1970's, and

Canterbury daily newspapers,

1950's to 1970's.

Ph 03 348 1783.

$$$

Amalgamated Scrap Metal

Ltd. Specialists in farm

machineryand farm clean

ups, old vehicles etc.

100% locally owned.

Ph 0800 030 712 or

027 695 0480.

2312759

Wanted To Rent

ACCOMMODATION

required. Retired gentle

bloke requires single bedroom

self-contained dwelling

in avery quiet country

location in North Canterbury

up to within 30

minutes from Christchurch.

Preferably long-term. Good

references. Please phone

027 271 3222.
---
CLASSIFIED

38 North Canterbury News, September 30, 2021

Public Notices

Situations Vacant

ANNUAL GENERAL MEETING

2422180

Wednesday,27 th October2021

4.30pm -5pm

Rangiora WarMemorialHall

Cnr High Street &AlbertStreet,

Rangiora

All Welcome

RSVPBY: Friday,22 nd October 2021

TO: info@wellbeingnc.org.nz

Kaiapoi Christadelphians

"The Key ofknowledge..." (Luke 11:52)

AWORLD IN TROUBLE

WHAT ISOUR WORLD COMING

TO? WHO CAN SOLVE THE

INSURMOUNTABLE PROBLEMS?

Environmentally, morally and economically, affairs

encompassing the Planet appear perplexing.

Many World leaders have taken responsible and

demanding roles to come up with answers to bring

peace of mind to their people. Many start off with

high hopes and good intentions, but very soon,

it becomes obvious there are many streams of

thought, different approaches to aproblem, many

ideologies. Unless there is mutual outlook it is very

difficult to formulate solutions, let alone achieve

them. The Bible-God's word, is an unchanging

rock, in an ever changing world,revealing truth,

hope and solutions for a very troubled world.

Those who have ears to hear and eyes to see, today

is the day of opportunity.

ALL WELCOME

Bible address -Sunday,3rd October 7.00pm

Kaiapoi Community Centre -Sewell Street

FOR INFORMATION -PHONE 03352 5453

website -bibletruthandprophecy

North Canterbury Dive Club

2021 AGM

to be held on

Monday 4October 2021 at 7.30pm

at the Mandeville Tavern,

99 Raven Quay, Kaiapoi.

All existing and new members welcome.

Enquiries 027 560 6902

2421774

Ashburton Fanciers

Society

POULTRY AUCTION

Sunday October 10,

Sports Hall

Tancred Street West

Ashburton

Viewing 11am

Start 12.30pm

Poultry, Bantams,

Ducks,Cavies

Something for

everybody

Fertile eggs for hatching.

2422234

ASHLEY RAKAHURI

Rivercare Group AGM, 7th

October, 6.30pm. Change

of venue, Rangiora Showgrounds

function centre,

156 Ashley St, Rangiora.

Farming Notices

HUNTERS Looking for

hunting, father & son,

experienced hunters new to

North Canterbury. Keen on

anything from pigs, deer,

goats & hares. Please ph

027 636 3710.

WOODEND Spring

Flower Show, Saturday 2nd

October 2021, 1.00 -

4.00pm. Woodend Community

Centre, School

Road. See gorgeous spring

flowers, photography,

crafts, floral art, and lots

more. Enjoy aDevonshire

Tea, browse plant / craft

stalls and buy Daffodil

bulbs for next season.

Entries welcome. Schedules

at Paws Vet Woodend,

Veg NOut and Libraries in

Woodend and Rangiora

also on line and Facebook.

Admission $2 Adults, Children

free. Please phone

Pam Cleeve on 03 313

8120.

Educational

TUITION available. Primary

and secondary up to

NCEA level 3. In centre

(Rangiora) or interactive

online from your home.

Each student on an individually

tailored programme.

Kip McGrath Rangiora has

been serving the local community

for 30 +years. Give

us acall (03 313 3638) or

book your free assessment

2421777

online https://www.kipmcgrath.

co.nz/rangiora

PUBLIC NOTICE OF

APPLICATION FOR

ON-LICENCE

SECTION 101, SALE

AND SUPPLY OF

ALCOHOL ACT 2012

Siri Ltd has made application

to the District Licensing

Committee at Rangiora for

the issue of an On Licence

in respect of the premises

situated at 4/246 High St,

Rangiora known as Siri Thai

Restaurant.

The general nature of the

business conducted (or to be

conducted) under the licence

is Restaurant.

The days on which and the

hours during which alcohol

is (or is intended to be)

sold under the licence are:

Tuesday -Sunday 12 noon to

2.00pm, 5.00 -10.00pm.

The application may be

inspected during ordinary

office hours at the office

of the Waimakariri District

Licensing Committee at 215

High Street, Rangiora.

Any person who is entitled

to object and who wishes

to object to the issue of the

licence may,not later than 15

working days after the date of

the publication of this notice,

file anotice inwriting ofthe

objection with the Secretary

of the Waimakariri District

Licensing Committee at

Private Bag 1005, Rangiora.

No objection to the issue of

alicence may be made in

relation to amatter other than

amatter specified in section

105(1) of the Sale and

Supply of Alcohol Act 2012.

This is the second publication

of this notice. This notice

was first published on 23

September 2021.

2419709v2

FALCONS &

COMMODORES

WANTED

Suitable for

dismantling or repairs

Ph 313 7216

2412522

Gardening

A+ GARDEN hedges cut

to perfection. Tree &arbor

work. Also spraying. Free

quotes. Ph 03 312 0668 or

021 111 4322.

COMPOST

BAGS

15 xbags for $50.

40 Litre bags.

Quality screened compost

made from trees

and shrubs.

Pick up Ohoka.

Text: 021 260 9899

Cars Wanted

ANY old cars, anything pre

1990, unfinished Hot Rods,

Classic Cars. Please call

027 258 8366.

CASH 4CARS

and 4WD'S

Phone

Automotive

Parts

03 313 7216

CARS, vans, 4WD's

wanted for dismantling or

repair. Phone 027 258

8366.

PUBLIC NOTICE OF

APPLICATION FOR

ON-LICENCE

SECTION 101, SALE

AND SUPPLY OF

ALCOHOL ACT 2012

NC Holdings 2016 Limited

has made application to the

District Licensing Committee

at Rangiora for the renewal

of an On Licence in respect

of the premises situated

at 14 Southbrook Road,

Rangiora 7400 known as

The Brook Bar &Eatery.

The general nature of the

business conducted (or to be

conducted) under the licence

is Bar and Restaurant.

The days on which and the

hours during which alcohol

is (or is intended to be)

sold under the licence are:

Sunday - Thursday 8am

- 11pm, Friday - Saturday

8am - 1am (the following

day).

The application may be

inspected during ordinary

office hours at the office

of the Waimakariri District

Licensing Committee at 215

High Street, Rangiora.

Any person who is entitled

to object and who wishes

to object to the issue of the

licence may, not later than

15 working days after the

date of the publication of this

notice, file anotice in writing

of the objection with the

Secretary of the Waimakariri

District Licensing Committee

at Private Bag 1005,

Rangiora.

No objection to the renewal

of alicence may be made

in relation to amatter other

than a matter specified in

section 131 of the Sale and

Supply of Alcohol Act 2012.

This is the second

publication of this notice.

This notice was first

published on 23 September

2021.

2420288v2

Gardening

GARDENER available.

Need afriendly hand in the

garden? Happy to help. Ph

Aimee 027 209 4933.

Automotive Services

CARAVANS &MOTOR-

HOMES. Interior &

exterior repairs, maintenance

& upgrades. Solar,

satellite, awning installations.

Sheetmetal, light

engineering & welding

services. Professional

coachbuilder specializing

in the RV industry 25 years.

Call Darryl @ Advanced

Auto Homes 027 220 6566.

Property Wanted

★★★

LIFESTYLE BLOCK

WANTED with or without a

house, Sefton, Balcairn

area. Anything considered

ph Emily 0272429983

Pets

BICHON HOMESTAY

for smaller dogs. We look

after your dog in our home.

"No kennels". Phone today

03 314 6110.

BIRD FEEDERS

½PRICE -$25 for 10

Plus - DOG BONES

and more

313 0022

2410274MEAT2U.NZ

SUMMER IS COMING …AND WE NEED YOUR HELP

We have extended our retail showroom and enlarged our drive thru, and now we need you!

We are seeking applications from outgoing, friendly and enthusiastic people to join our team and havethe following

SeasonalFixed Term positions available:

Inwards Goods /Storeperson

• Mon –Fri up to 40 hours.

• Mustbephysically fit and strong.

• Will be required to lift and carry heavy products all day.

• Work as part of ateam.

• Beable to think proactively.

• Work hard and smart.

• Mustbecustomer focused.

• Forkliftlicence wouldhelp.

• Musthavea"Can do" attitude

Retail Sales and Retail Sales Support

Team Members

• Weekend work required

• Upto40hours

• Mustbecustomer focused

• Working inside and outside

• Mustbephysicallyfitand strong

• Will be required to climb ladders and use lifting

equipment

• Will be required to pick, carry,assemble and deliver

heavy products

• Work as part of ateam

• Beable to think proactively

• Work hard and smart

Garden Products Team Member

• Weekend work required

• Upto40hours

• Mustbecustomer focused

• Working inside and outside

• Mustbephysicallyfitand strong

• Will be required to climb ladders and use lifting

equipment

• Work as part of ateam

• Beable to think proactively

• Work hard and smart

Customer Service Checkout Team

• Weekend work required.

• Upto40hours.

• Mustbecustomer focused.

• Mustbephysicallyfitand strong.

• Will be required to collect trolleys.

• Will be required to assist customers with purchases to

their vehicles.

• Work as part of ateam.

• Beable to think proactively.

• Work hard and smart.

• Able to take aturnonany ofthe various roles in these

positions

• Confident to act as our "greeter"

McAlpines have an active drug &alcohol policyinplace, apre-employment drug test and medical will be required

If any of these positions sound like you, send your application and CV to:

Seasonal Fixed Term Roles

McAlpines Mitre 10 Mega

PO Box 1003

Rangiora 7440

or email applications@mcalpines.co.nz

PLEASE SPECIFY WHICHPOSITION YOU ARE APPLYING FOR

MOBIL AMBERLEY

Day time position for amotivated

and well presented person, toassist

in merchandising, purchasing stock,

promotions andgeneralcashier duties.

Computer and communication skills

would be an advantage.

Phone Andrew 021 355 890

School Bus DriversRequired

Would youliketoearnextra income while still

havingmostofyourday free and at the same

time do your community aservice by helping to

provide asafe,highstandardofschooltransport

forour region'schildren.

TorlesseTravelhas positions available forpart

time busdriversinRangiora.

If youhaveaClass 2license, aPassenger

Endorsementand areinterestedindriving on a

part timebasisthenthiscouldbefor you.

Alternatively,ifyou areinterestedinbecoming

abus driver,wecan provide assistance to help

youachieve thecorrect licencing.

If youare interested in this role or wishformore

information, pleasecontact.

manager@torlessetravel.co.nz

Phone: 021 198 7358

Motorcycles

SOUTH PACIFIC Motorcycle

Services. Local family

business since 2003. All

types of service and repairs,

all makes and models. Collection

service available.

Please phone 03 312 0066

office@motorbiketours.co.nz

www.motorbiketours.co.nz.

Cars Wanted

2422137

FORD Falcon &Fairlane

1960 to 2000 car &ute, sw

wanted. Ph027 271 8716.

Livestock

HOMEKILL & Wild

Game meat processing. Ph

313 0022. www.meat2u.nz.

Personal

SEMI RETIRED, kind,

caring man looking for a

loving relationship.

Seeking agenuine, caring

woman in her 70's, light

drinker. Ph 020 4129 5331.

Firewood

SPRING SPECIAL Dry

Old Man Pine, $450, 6m2.

Phone 03 312 8726.

Trade&Services

A PAINTER WITH

PASSION! Local painter

with 30 years of quality and

integrity in all aspects of

painting. Phone Mike on

021 0903 8546.

ABEL &Prestige Chimney

Cleaning. Nth Cant owned

& operated. Covering all

areas from Waimak to Hanmer.

Professional, guaranteed,

service. Firebox

repairs, carry most parts. Ph

0800 661 244.

AFFORDABLE concrete

cutting with quality and

removal work. Free quotes.

No job too small. Ph 027

442 2219, Fax 03 359 6052

or A/H 03 359 4605.

ALL TREE SERVICES,

arbour work, pruning, tree

removal. Affordable &

friendly service. Telephone

021 111 4322.

ARBORIST qualified.

Copper Beech Tree

Services. Tree removal,

pruning, height reduction,

hedge trimming, shaping,

tree planting, firewood.

Free quotes. Contact Angus

Edwards 027 259 6741

copperbeechtreeservices@gmail.com

BRIAN'S Tree Services.

Tree felling, topping,

shaping, firewood cut, rubbish

removed, stump grinding,

branch chipping.

Affordable rates. Phone 03

327 5505 or 021 124 4894.

DRESSMAKING Bev's

Sew Good Services. For all

your alterations, repairs,

dressmaking, curtains.

Phone 327 5535.

Log Fires

Pellet Fires

Heat Pumps

2421767

Trade&Services

CHIMNEY SWEEPS

Time to service your fire.

Accumulation of soot seriously

affects performance.

Latest rotary brush technology.

Free moisture check

on wood. Safety inspection.

All work insured and guaranteed.

From $70 single

story. 0800 SWEEPME or

021 0277 1927. Visit

www.sweepnz.co.nz.

DIRTY TILES &Grout?

Professional tile cleaning,

tiled shower restoration,

mouldy silcone, shower

glass & we can even

recolour your old grout!

For all your tile and grout

issues call Grout Pro for a

free, no obligation quote.

Ph Darryl 0800 882 772.

METAL WORX. Flashing,

Sheetmetal Fabrication,

Wrought Iron,

Welding, Custom Trailers,

General Metalwork. No job

too big or too small. Ph 021

265 5428 or 03 314 6908.

Find us on facebook/

Glenmark Metal Worx.

glenmarkmetalworx.ltd@gmail.com.

Sales

Service

Installations

Free Quotes

03 343 1651

472 Blenheim Rd

www.heatstore.co.nz
---
CLASSIFIED

North Canterbury News, September 30, 2021

39

Trade &Services

PAINT & wallpaper

services. Wayne Bryant,

exterior, interior. Qualified

tradesman. Free quotes. Ph

313 5337 or 027 654 4568.

PAINTER. Qualified local

professional, Int / Ext,

roofs, wallpaper. Call or

text Corban 027 846 5035.

POWER TOOLS repairs,

parts &sales for over 40

years. All main brands serviced.

Grossman Trade

Tools, 23 Watts Road,

Christchurch. Ph 389 9230.

RANGIORA Rubbish

Removal and RRR skips.

Wheelie bins any frequency

and skips from 1.5 cube to

9cube. Skips and wheelie

bins for any use, rubbish,

greenwaste, building sites

or just cleanups. Give us a

phone call 313 6957 or for

skips 021 313 255.

ROOFER All roof repairs,

roof painting, water blasting,

moss treatment,

repointing, gutter cleans &

snow straps. And more.

Free quotes. Phone Nathan

027 516 6609.

SCREEN PRINTING.

For all your printing

requirements. T-shirts,

Hoodies, Hi-Vis vests and

polos, Overalls, Caps etc.

Please phone Heather 03

313 0261 or email heather.

norstar@gmail.com.

SHEARER. Hap's Farm &

Lifestyle Services. Shearing,

crutching, drenching,

tailing, feet trimming &

health check. — Ph. 03-

423-3713 or 021-267-4025.

Pride &Quality Painting

&Decorating Services

20 yrs exp, fast and friendly

service. For all your painting

needs, phone: Martin 310

6187 or 021 128 9867

SUMMERFIELD

FENCING

IN YOUR AREA NOW.

Lifestyle or farm, sheep, cattle,

horse, all types of animals.

Fences, yards, sheds, arenas,

shelters, runs.

30+ years contract fencing.

Steve is available to help with

your design &planning.

Ph office03312 4747

2091848

ANTHONY SYMONDS

Forall your painting &

plastering requirements

Local with 30 years

experience

All workmanship

Guaranteed.

Phone 021 344 023

2220615

SEPTIC TANK

CLEANING

Bill's Liquid

Waste

Blair Tavendale

Ph 03 314 9371

0275 379-694

2362002

You dump it...

Blair pumps it...

027 216 0000

2225862

REMOVALISTS

Movemen Ltd

2Men &agood sized truck.

From $150 plus GST per hour.

Kaiapoi based.

Call Gerard

027 668 3636

movemen.co.nz

2401953

PAINTERS

Reg Tradesman

Interior,exterior.

North Canterbury Painters

specialising in decorating for

over 65 at adiscountrate.

Free quotes.

Covering Nth Canty,Oxford,

Kaiapoi, Rangiora, Amberley.

Rob 03 327 7899

or 027 432 3520 2227597

LANDSCAPES

Paving

Patio &Pathways

-New or Existing

Free Quotes

–Competitive Pricing

Blair Gibson

027 699 5815 03 313 7933

VALUATION -

Specialising in North Canterbury.

Contact Geoff at

Maxwell Valuation. Phone

03 310 8541 or email

geoff@maxval.co.nz.

KITCHEN bathroom,

renovations, decking,

pergolas, fencing. Honest

reliable licenced builders.

Ph Don 027 727 9162.

2253902

WINDOW TINTING

tintawindow

advanced film solutions

99% uv block

fade protection

heat control

reduce glare

25 Years Experience

privacy films

frosting designs

non-darkening films

Workmanship Guaranteed

Lifetime Warranties on Most Films

UV

block

Free Quotes Canterbury and Districts

03 365 3653 0800 368 468

Trusted Trades &

Professional Services

Guide

To book your spaceinthis guide,phoneAmanda Keys 313 2840 or email amanda.keys@ncnews.co.nz

Appliance Repairs

•REGISTERED TECHNICIAN

•AUTHORISEDLOCAL SERVICE

F&P, Bosch, Smeg,

Ariston,LG, Classique,Haier,

Samsung andmore....

"For best results be sure to useauthorised service"

NORTHCANTERBURY APPLIANCESERVICES

Rangiora: 03 313 4420 Kaiapoi: 03 327 3810

2332343v2

Butchery

OxfordButchery

Shane and Leanne Frahm

We cankill&process yourstock

FourGenerations of Frahms

since 1957

Ph 312 4205

Oxford

Number one

old-fashioned bacon

&ham curing.

A/H 312 4709

WE ARE OPEN, WEARE AESSENTIAL SERVICE

2227889v2

Chiropractic Services

Dr Jess Ross

ACC RegisteredDrChiropractic

Monday &Thursday |03313 0350

Injury, accidents and maintenance

Libi McKinnon Physiotherapy

privatephysio@xtra.co.nz

027 868 2574

ACC Registered Provider | Tuesday&Friday

Select Health

51 Ashley Street, Rangiora

2344089v2

YOU

COULD

BE

HERE

Construction &Concrete

All Construction & Concrete Work

•Driveways, patios &paths

•Bridges and Culverts

•Floors, foundations

•Sheds and buildings

•Dairy Sheds, Herd homes

•Silage pits, effluent ponds

•Excavation and cartage

•Precast concrete

•Insulated panels

Daryl Power

027 230 9401

concretepower@scorch.co.nz

www.concretepower.co.nz

2273277

Thursday,August 2, 2018 | Issue 808 | www.ncnews.co.nz

HAVE YOU BEEN TO

OUR WEBSITE LATELY?

www.ncnews.co.nz

Visit now toview the paper online &more!

Allan Pethig

For all your electrical needs. Residential &Commercial

Phone 03 313 7144

027 432 1534

Fax 03 313 2144

rgrantelectrical@gmail.com

PO Box 69, Rangiora

Electrician

Advertise

your business

in our Trades

and Services

Phone

Amanda Keys

on

03 313 2840

Glass &Windscreens

UNDER NEW

MANAGEMENT

2269236

Landscaping

For all your landscaping needs

All Landscaping, Retaining Walls (Engineered and

Non-Engineered), Timber Fences, Landscape Structures

and more...Lifestyle Block, Rural and Residential.

Phone Jeremy 021 169 9394

www.blackhill.co.nz

www.facebook.com/blackhillltd

2372616v2

Engineering

For your Engineering needs

187d Ohoka Road, Kaiapoi

Phone 03 327 5246 |027 495 2821

toppeng@xtra.co.nz

2420841

▪ Painting ▪ Gardening

▪ Fencing ▪ Lawn mowing

▪ All General Maintenance

Performed to the highest

standard by a straight up,

honest, Handy Guy

No job too small!

Flat hourly rate, no hidden surprises!

THE

HANDY

GUY!

Handyman

Call Guy "The Handy Guy" Now

0275 040 658

Scrap Metal

CASH PAID FOR SCRAP

•Car Bodies •Scrap Steel•Specialists in Farm

Machinery•All non Ferrous

MAINLAND

METALS LTD

Ph (03)338 7000

Mike0274 818544 •Robbie0274818 027

Locally owned and operated

1902273

CAP 65

CAP 40

CAP 20

Shingle

SHINGLE SUPPLIES

Quarry Prices

DRAINAGE CHIP

from $40 per cube

from $23 per cube

from $25 per cube

from $30 per cube

all +gst

Plus all excavation and truck hire

house excavations, driveways, subdivisions

CONTRACTING

Ph: KEN 027 201 3302

Email: stress@xtra.co.nz

2009594

To book your spaceinthis guide,phone Amanda Keys 313 2840 or email amanda.keys@ncnews.co.nz
---
FREE DELIVERYTOKAIKOURA -OVER300 CARSONLINE-WWW.MORRISONCARS.CO.NZ

$

30,494

$

11,799

$

10,999

$

13,383

$

13,494

TOYOTA CHR TYPE GHYBRID

1800cc, leather interior,full

electrics, alloys, 3.3 litre per

100km full economy.

2014HONDA FITHYBRID

full electrics, 8airbags, 1500cc,

84,000km

2007 NISSAN DUALIS

fullelectrics, alloys, 88000km,

trade-in special

2018 MITSUBISHI MIRAGE

full electrics, alloys, 57,000km,

sharp wee car

2018NISSAN MARCH S

full electrics,19,000km, greatcolour

and price

$

8,494

$

15,494

$

13,994

$

13,394

$

15,494

2013 HONDA FIT HYBRID

84,000km, reverse camera

greatsafety&fuel rating

SPECTACULAR in blue!

2016SUZUKI IGNIS HV

1200cc,fullelectrics, alloys,

5-star safety rating, 3.6 litre fuel

economy,66,000km

TOYOTA VITZ

full electrics, push-button start

and what agreatcolour,87000km

2012 MAZDA AXELA SPORT

64,000km, alloys

Sports Body Kit!

2013 TOYOTA COROLLA AURIS

full electrics,1500cc, 4-star safety

rating, immaculatecondition and

only done 9000km

$20,494

$

9,949

$

10,999

$

15,494

$

57,694

2013 MAZDA ATENZA 25S

81,144km,2500cc, leatherseats,

looks AMAZING in RED!

2009 SUBARUOUTBACK

2.5L, 4WD, very popular, towbar

2014 MAZDA BIANTE

eightseater,full electrics, alloys,

5-starsafety rating,6.8litres per

100kmfuel econom

2015 MITBUSIHI GALANT

FORTIS SPORT

58,845km, 1800cc,greatkm, late

model,CLASSIC Silver!

2016 TOYOTA LANDCRUISER

PRADO TX

2900km,2800cc,diesel, 4WD,

PERFECT fortowing

$

26,494

$

32,999

$

35,999

$

9,999

$

13,994

2018 NISSAN XTRAIL

2000cc, full electrics, 30,000km,

likenew condition, atest drive will

impress.

2017 HOLDEN COMMODORE

VF2 SV6

fullelectrics, 5-starsafetyrating,

lastofthe great Holdenwagons

2019 KIA NIRO LTDHYBRID 2010SUBARU LEGACY

1600cc, full electrics, alloys,5-star fullelectrics, alloys,8airbags,

safety rating, 37,000km

NZ stereo, towbar,cambelt done,

trade-in special

2009 MAZDA 3AXELA

2000cc,fullelectrics,alloys,8

airbags,62,000km

All prices include on road costs, 12 month registration and new WOF

*Safety ratings are from year ofmanufacture*

2416758