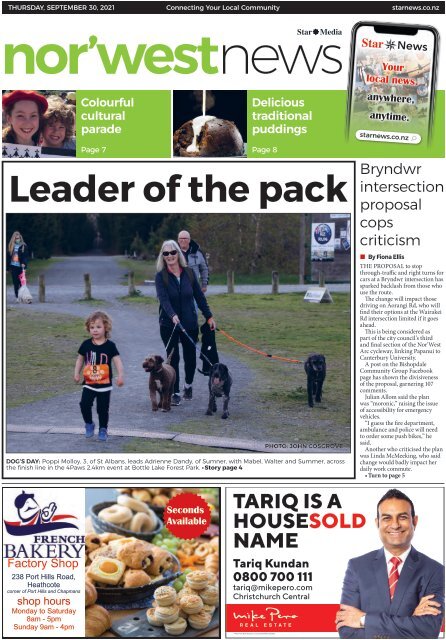 Nor'West News: September 30, 2021
You also want an ePaper? Increase the reach of your titles
YUMPU automatically turns print PDFs into web optimized ePapers that Google loves.
THURSDAY, SEPTEMBER 30, 2021

Connecting Your Local Community

starnews.co.nz

Your

local news.

Colourful

cultural

parade

Delicious

traditional

puddings

anywhere,

anytime.

Page 7 Page 8

Leader of the pack

PHOTO: JOHN COSGROVE

DOG'S DAY: Poppi Molloy, 3, of St Albans, leads Adrienne Dandy, of Sumner, with Mabel, Walter and Summer, across

the finish line in the 4Paws 2.4km event at Bottle Lake Forest Park. • Story page 4

Factory Shop

238 Port Hills Road,

Heathcote

corner of Port Hills and Chapmans

shop hours

Monday to Saturday

8am - 5pm

Sunday 9am - 4pm

Seconds

Available

TARIQ IS A

HOUSESOLD

NAME

Tariq Kundan

0800 700 111

tariq@mikepero.com

Christchurch Central

Mike Pero Real Estate Ltd Licensed REAA (2008)

Bryndwr

intersection

proposal

cops

criticism

• By Fiona Ellis

THE PROPOSAL to stop

through-traffic and right turns for

cars at a Bryndwr intersection has

sparked backlash from those who

use the route.

The change will impact those

driving on Aorangi Rd, who will

find their options at the Wairakei

Rd intersection limited if it goes

ahead.

This is being considered as

part of the city council's third

and final section of the Nor'West

Arc cycleway, linking Papanui to

Canterbury University.

A post on the Bishopdale

Community Group Facebook

page has shown the divisiveness

of the proposal, garnering 107

comments.

Julian Allom said the plan

was "moronic," raising the issue

of accessibility for emergency

vehicles.

"I guess the fire department,

ambulance and police will need

to order some push bikes," he

said.

Another who criticised the plan

was Linda McMeeking, who said

change would badly impact her

daily work commute.

• Turn to page 5
---
2 Thursday September 30 2021

Latest Canterbury news at starnews.co.nz

what's on

this week

NOR'WEST NEWS

GENERAL INQUIRIES Ph 379 7100

CLASSIFIED ADVERTISING Ph 379 1100

Star Media, a division of Allied Press Ltd

PO Box 1467, Christchurch

starmedia.kiwi

NEWS

Fiona Ellis

Ph: 021 914 407

fiona.ellis@starmedia.kiwi

ADVERTISING

Monique Maynard

Ph: 021 372 481

monique.maynard@starmedia.kiwi

Your local community news

delivered to 28,748 homes

within The Star each week.

Harewood • Burnside • Bishopdale • Bryndwr

Fendalton • Merivale • St Albans • Mairehau

Papanui • Casebrook • Redwood • Styx Mill

Regents Park • Northwood • Belfast • Strowan

Christchurch Women's Public

Speaking

Friday, 12.30-1.30pm

The Village Presbyterian Church, 460

Papanui Rd

Do you have a big speech coming

up? Do you need to give a presentation

at work? Are you shy? Do you

get tongue-tied when you are asked

to speak? Or are you already a confident

speaker, but want to become

even better? Christchurch Women's

Toastmasters is a local group where

you can gain the skills you need to

become a better, more confident

speaker. They meet weekly on Friday

at lunchtime. Members present a prepared

speech which is then evaluated

by another member. They have a lot

of fun, becoming better speakers in

a safe environment and with helpful,

positive feedback. Go along and find

out what 300,000+ people around the

world have already discovered: Toastmasters

International can improve

your career and your life.

Canterbury Orchid Show, Saturday and Sunday, 10am, Canterbury

Mineral and Lapidary Club, 110 Waltham Rd. The annual Canterbury

Orchid show will be held this weekend. Go and view all the wonderful

and colourful displays featuring Jenny Gillies costumes as the Canterbury

Orchid Society's centrepiece. Plant sales will be available from Nationwide

growers alongside their own club sales during the first weekend of October.

Eftpos will be available. Admission $5, accompanied children under 10 free.

Northcote Business

Networking

Friday, 8-9am

Joes Garage,1/478 Cranford Street,

Redwood

Do you have a business in the

north-west of Christchurch? Or travel

into the city from the Waimakariri

area? Here's the ideal group for you

to visit . . . Northcote is a progressive,

focused yet relaxed group where

business and fun sit comfortably side

by side. This atmosphere gives balance

and allows you to reflect on our

busy week to finish our planned tasks

before the weekend. It allows everyone

to share their challenges, successes,

knowledge and queries with

the commonality of business growth,

connections and developing opportunities.

If you're in business, need a

focused community and would enjoy

a supportive, high energy weekly

meeting, then go and join as you will

be made to feel very welcome.

Ōtukaikino River Planting Day

Saturday, 10am-12pm

The Groynes, Johns Rd, Northwood

Go and join in with a community

planting day at The Groynes,

along the Ōtukaikino River

margin. The Ōtukaikino River is

spring-fed, and provides valuable

habitat for fish and other wildlife.

They are planting along the banks

in these areas to enhance biodiversity,

stabilise from flooding, and help

keep the waterway clean. Take a

pair of gloves, your own spade if

you have one, and your enthusiasm.

Enter The Groynes through the

main entrance then follow the signs

towards the dog park. Email park

ranger Yvette for more information

at yvette.williams@ccc.govt.nz

What better way to honour our

women of Canterbury and New

Zealand than by teaming up on

Suffrage Day with Nicola Grigg, MP

for Selwyn and a strong voice for

Canterbury. We joined Canterbury

residents last Sunday at the Kate

Sheppard Suffrage Memorial to

recognise her enormous legacy

and celebrate 128 years of our

women leading the world in

having the vote. Well done to all

our women who are strong voices

for their communities. We honour

your contribution.

We've had a great response

from residents signing our

petition calling on the

Christchurch City Council to

reinstate the 70km/h speed limit

on Marshland Road. One of the

residents who brought the issue

to me will be presenting the

petition with me next month at

council and we will be bringing a

strong case on behalf of our

residents. If you would like to add

your name, please go to

I enjoyed catching up with our

Belfast School students last

week during their visit to

Parliament. This is a great

learning experience and I always

try to ensure I'm available to meet

our schools as their local MP

when they're in Wellington. Covid-

19 has impacted how we're able

to engage during these visits but

we still made the most of our

time together.

I'm inviting applications from all

students aged between 16 and 18

who live in the electorate to be

my next Youth MP. If you're

interested in being a voice for our

young people, please email

waimakariri@parliament.govt.nz

to hear more.

Low Supply

& High Demand!

Now is a fantastic time to sell.

Want to know what your home might be

worth in the current market?

Freephone direct to Cathy and Ian to

arrange a time to talk about your home.

0800 888 426

cathy.falconer@mikepero.com

Ian & Cathy Falconer

Brand and Territory Owners - Bishopdale

027 660 1920 • 027 849 0404

Mike Pero Real Estate Ltd Licensed REAA (2008)
---
NOR'WEST NEWS Latest Canterbury news at starnews.co.nz

Thursday September 30 2021 3

In Brief

WATER MAINS

Work has started to replace the

old water main pipes under

Pascoe Ave in Mairehau. The

work is set to be finished by the

end of next month. City council

contractor, Utilities Infrastructure

NZ, will replace the pipes. Traffic

management will be in place.

Residents impacted by blocked

access and water shutdowns will

be notified separately.

CLEAN AND TIDY: A new smart bin could be placed in St Albans Park once the skate park extension is opened.

PHOTO: NEWSLINE

New bin needed to deal

with skate park rubbish

• By Fiona Ellis

ST ALBANS Park could gain

another bin as the city council

anticipates a rise in litter over the

coming months.

Speaking at the Papanui-

Innes Community Board

meeting, council officer Bridie

Gibbings said it was considering

installing another smart bin

when the skate park extension is

completed at the end of the year.

"We'll be anticipating that

there will be more users down

in the park and that does in

turn create more litter issues

generally," she said.

Even without the skate park, a

rise in summer sport and park

use could mean another bin

needs to be installed, she said.

Board member

and Innes Ward

councillor Pauline

Cotter said she had

received feedback

indicating another

bin was already

needed at the park. Pauline

She said one bin Cotter

was not enough.

"We've requested you look at

putting another smart bin in, but

it wouldn't need to be another

smart bin it could just be an

older-style bin," she said.

However, Gibbings said any

new bin would be another smart

bin, as they can be emptied less

frequently.

The board will receive an

update on the situation from the

council by the end of the year.

GARDEN CARE

City gardeners are encouraged

to 'gear up' to protect themselves

against legionnaires' disease as

they get stuck into their spring

gardens. Canterbury Medical

Officer of Health Dr Ramon Pink

said legionnaires' disease, caused

by legionella bacteria, can start

with flu-like symptoms. This

year's campaign highlights the

importance of using the right

gear when gardening, particularly

when handling compost and

potting mix.

BELT UP, PHONE DOWN

Canterbury police are reminding

drivers to put down their cell

phones and wear their seat

belts following an operation in

Avonhead last week. During the

90min operation, 52 infringement

notices were issued, 44 for using

a mobile phone while driving,

and eight for failing to wear a seat

belt.

Shop local

SUPPORT LOCAL

Edgeware

1067 Colombo Street, St Albans

03 379 4564

Elmwood

1 Normans Road, Strowan

03 355 1170

Papanui

17 Main North Road, Papanui

03 352 6416

BECAUSE YOUR

FEET MATTER

40 years

combined

experience

People and Place

– our stories revealed

Saturday 9 October – Monday 25 October 2021

• General Foot Care

• Biomechanical

• Orthotics

• Ingrown Toenails

• ACC Registered

• Diabetic Foot Care

45 Merrin Street, Avonhead

Ph: 03 357 0155

E: info@footmatterspodiatry.co.nz

Book Online! No referral required.

Celebrate and explore our rich and diverse heritage,

with over two weeks of walks, open days,

exhibitions, performances and more!

ccc.govt.nz/heritagefestival
---
4 Thursday September 30 2021

Latest Canterbury news at starnews.co.nz

NOR'WEST NEWS

Participation a prize in itself

• By John Cosgrove

MAN AND beast were running

together at the third annual 4Paws

Marathon series held on Sunday

at Bottle Lake Forest Park.

Observing Covid level 2

spacing rules, competitors

and their dogs from all over

the South Island lined up for

the start of events, including

a marathon, a half marathon,

16km, 10km and 5km runs, and

a 2.4km rascals walk/run.

They ran along tracks through

Bottle Lake Forest Park and

along nearby beaches – with

some going almost as far as the

Brighton Pier.

The day also hosted two

virtual races.

Organisers started lines of

competitors at ten-second

intervals. They also conducted

mandatory vet checks along the

way.

4Paws event organiser and race

director John Molloy said it was

a massive but fulfilling day.

"In all we were very impressed

with how people respected

the event's Covid rules with

responsible mask usage in what

is a very social event (about 100

participants)."

He said dogs bring out the best

in people, and for the third year

READY TO GO: The Downes family, of St Albans, from left: Summer,

Beauden, 6, Nick, and Brooklyn, 8, with their dog Chloe before the start of

the 4Paws marathon 2.4km walk/run.

in a row there were no dog –or

human – altercations.

"The smiles on everyones

faces . . . inspires us to keep

hosting this event. [It] is about

participation and not winning

so the winners get no winning

prizes as such.

"But in due time they will

realise they have won the

best prize of all – sharing

the experience of finishing a

marathon together with their

best friend," Molloy said.

When it came to the multiple

races, he was unaware of any

event in the world that offered

this experience.

It was good to see both human

and dog winners were from

Christchurch, Molloy said.

DUO: Jordan Humphries, of Burnside,

with Gatsby. PHOTOS: JOHN COSGROVE

Darryl Cotton and Pip, a

kelpie, of Rangiora won the

men's marathon in 3hr 46min

31sec, while Holly Weston and

her sheep dog Billy Knowler of

Beckenham won the women's in

3hr 55min 41sec.

Nikila was a fantastic

agent who I felt went

above and beyond. She

was very supportive

and helpful throughout

the campaign, kept us

updated, and checked in

regularly to see how we

were doing.

The Nor'West News

is now on Facebook!

We achieved a great result

on auction day. I honestly

can't recommend Nikila

highly enough!!

- Lisa -

P 03 352 0352

M 027 517 5645

nikila.creagh@harcourts.co.nz

LICENSED SALES CONSULTANT REAA 2008

Call me to discuss

how my 17+ years of

industry experience

can assist with

getting YOU great

results!

Harcourts gold Redwood

280 Main North Road

www.harcourtsgold.co.nz

Like us on Facebook to access

the local news that matters to your

neighbourhood online, anytime!

Search Facebook for "Nor'West News"
---
NOR'WEST NEWS Latest Canterbury news at starnews.co.nz

Thursday September 30 2021 5

'I have seen so many close calls'

• From page 1

Ernie Bowden said the

intersection in its current

design was not dangerous,

but rather it was the drivers

who choose to speed causing

problems.

Others were supportive of

the proposal, such as Andrew

Munro, who said it made sense

to him.

"I have seen so many close

calls here, especially with those

who are really impatient," he

said.

Nathan Macgregor agreed,

saying he too had witnessed

close calls.

"I do drive past at least

three times per day and have

witnessed far too many near

misses of both cyclists and

cars as people attempt to

run the gauntlet of that

intersection."

Amy Mayes approved of the

design, saying that the road

needed to benefit everyone, not

just those driving cares.

"This is a dangerous road

to try to cross if you're on a

bike, where cars can easily find

another route."

City council acting head of

transport Lynette Ellis said the

plan had been reviewed by Fire

and Emergency NZ.

"They noted the change will

have little impact."

The design was intended to

make the intersection safer, she

said.

Feedback received confirmed

the current intersection was

considered dangerous.

However, the new design

seemed to be better received.

"We have not received any

feedback that the proposed

intersection is considered

dangerous. A Design Safety

and Network Functionality

audit was carried out on the

proposed scheme design."

The cycleway section

has received $10.5 million

in funding as part of the

Government 'shovel ready'

projects.

The city council is still

seeking feedback on the

design, with the public able to

have their say until October 12.

CROSSROADS: A city

council proposal would

see traffic unable to turn

right onto Wairakei Rd

from Aorangi Rd.

PHOTO: GEOFF SLOAN ​

Young explorers

invited to

honour Worsley

TWENTY-FIRST century

explorers will face their fears head

on in a challenging Antarcticafocused

weekend aiming to

highlight an unsung hero.

Canterbury-based school students

in years 7 to 9 can now apply

for the 2021 Young Inspiring

Explorers Worsley Weekend.

Run by Antarctic Heritage

Trust in partnership with William

Pike Challenge, the weekend celebrates

Antarctic explorer, Frank

Worsley.

Worsley was part of Sir Ernest

Shackleton's Endurance expedition

and is known for navigating

the rescue party to safety after the

ship was crushed by ice floes.

Trust commercial and partnerships

general manager Marcus

Waters said not many people

know about Worsley.

Twenty students will spend the

weekend of November 20 and 21

in Akaroa and Wainui, learning

about Worsley and taking part in

a range of activities that will teach

them to overcome challenges,

including high ropes and rafting.

Applications close

on Tuesday, and those

interested can apply at

https://nzaht.org/inspiringexplorers-expedition-2020/

application/

Holy moly look at our

power bill this month

A spike in the cost of your power bill can

be more than just a wee shock. It's one

tell tale sign that your heat pump may

not be working at peak efficiency. And

while heat pumps are a cost effective

form of heating and it may seem to be

running normally, one of the biggest

signs it isn't will be in your power bill.

And this is why:

BONDS

40% off storewide.

Some exclusions apply, for limited time only.

If your heat pump is overworking, its

diminished heating capacity will raise Photo credit to Fazakerley Patterson Photography

energy use as your pump struggles

to maintain the desired room temperature. The reason could be a number

of things; blocked filters and / or coils, a compromised compressor or a

refrigerant leak. Like any appliance, regular maintenance of your heat pump

will mean it will run more efficiently and save you money. All of these things

will be assessed in a regular service by our trained technicians.

The power is all yours and the best thing you can do to extend the life and

efficiency of your heat pump is to have it professionally serviced at least

once a year. Our technicians do a comprehensive examination of your whole

system, carry out a routine maintenance service and advise you if anything

might need further repair.

Book your Premium Heat Pump Clean & Service for just $75 by contacting

our friendly local team, or heading online to select a day and time that suits.

NEW BALANCE

2 for $50 on selected tees.

T&Cs apply.

Learn more about Airify, and how

we can help you save money on

your power bill by going to

www.airify.co.nz. Or get in touch

today on 0800 24 74 39
---
6 Thursday September 30 2021

Latest Canterbury news at starnews.co.nz

NOR'WEST NEWS

Leaders in Learning

Well done to the BHS Community!

Kia ora whānau

Kia kaha, kia mau, kia haere tonu:

Stay strong, hold fast, keep on course.

This is our school mantra for 2021. We adjust and adapt to

living in a COVID environment, endeavouring to make the best

of the situation we find ourselves in.

How quickly things change. Term 3 began at Alert Level 1,

almost with a sense of normalcy. Learning, events, competitions

proceeded as usual. Then, overnight, on 18 August we were

at Alert Level 4. The 16 school days of lockdown brought the

challenges of online learning and forced the cancellation or

postponement of many key school events. I know a lot of the

school community were disappointed by the cancellation of

Winter Sports Tournament week, the National Big Sing finale

and South Island Cadenza, Drama and Dance competitions to

name a few.

Thankfully, we have returned to school at Delta 2 from

9 September. No school assemblies can be held. The Senior

School exams, which provide a practice exam situation for

students plus provide evidence for derived grades if needed,

were moved until late this term. NZQA announced that the

NCEA exam period will start two weeks later, to give senior

students more time with their teachers. This affected our

Term 4 calendar. Winter sports activities have restarted with a

shortened season; and we were very pleased that the Year 13

Formal could be moved into Term 4.

I do want to thank the students, the staff, and whānau for the

way they responded to the lockdown; and for the way that they

have now returned to school under restrictions, making the

very best of the situation we are in.

Our challenge as a nation right now is to stop the spread of

Delta in our communities. We have shown our determination

and strength of character as Kiwis before; and we can do

it again. Yes, we might be frustrated and anxious, but let's

continue to all do our bit, and follow the government's clear

instructions. We have so much to be grateful for; and let's not

forget all those people in Auckland who have borne the brunt

of this outbreak.

Things will work out well!

Ngā mihi nui

Phil Holstein

Principal

Burnside High School

Outstanding Sporting Achievements

We are in the process of archiving past/present Burnside High School

students/staff members who have excelled in their sporting field.

This may be by either representing their country (age grades or

elite level), attaining national titles, or an outstanding achievement

as an athlete or in a management position. Once completed these

achievements will be displayed on an Honours Board within the

school.

Could you please paste this link: https://bit.ly/BHS_SPORT_GREATS

into your browser to complete the form. Please share this information

to anyone who may be helpful. Thank you for your time.

Helen Townsend (Tnh@burnside.school.nz)

Uniform Shop

The Burnside High

School PTA Uniform

Shop is situated in

A Block, adjacent to the

staff car park off Greers

Road. The shop stocks

a full range of new

uniform items along

with second hand items.

Opening Hours are

Monday lunchtime

1.00-2.00pm and

Tuesday after school

2.45-4.00pm.

Payment is by cash, eftpos and debit card only - no credit cards.

https://www.burnside.school.nz/uniform/

New Zealand Programming

Competition Success 2021

Burnside's top team Steve++

The New Zealand Programming contest ran on Saturday 11th of September as an online

event just one week after our second lockdown ended. Burnside teams got together at

our own school with four teams coming to use the school lab.

The national event had 32 High School teams from all over NZ and a similar number of

Tertiary student teams competing with the same problems at the same time.

Burnside's top team "steve++" consisting of Nicholas Grace, Isaac Siu and Hanan Fokkens

took first place in the High School grade with 342 points; an awesome total, managing to

answer all but one of the increasingly complex questions in the five hour competition.

This is Burnside High Schools 2nd year in a row winning the competition and we're

continuing to develop a strong tradition of success.

The other teams from Burnside had some success also with a team consisting of Year

12 programmers coming in 4th overall. "Steven Script" who were leading earlier in the

competition scored really highly and students Matthew Mercer, Jacky Zhang and Tim

Fisher-Taylor should be very pleased with their final result.

Grady Kenix competed as a solo programmer ending up in 23rd place, another

impressive result considering he had to answer all the questions himself Ricky Chen and

Shivam Shankar, two Year 10 students had a great result, ending up in 19th place in the

first ever NZ Programming Contest.

The programming club has lots more students in training for these teams and we are

looking forward to continued success in competitive programming in the following years.

Office Hours 7am-5pm weekdays. Please telephone (03) 358 8383 for all enquiries. www.burnside.school.nz
---
NOR'WEST NEWS Latest Canterbury news at starnews.co.nz

Thursday September 30 2021 7

The colourful costumes of 43 different countries were on display

last week at Burnside Primary School's cultural parade.

International co-ordinator Kay Harris said the cultural parade

celebrated the diverse background of the school's pupils.

"We loved how the children identified and wore their costumes

with such pride," Harris said.

The parade was part of a culture themed week, in which pupils

also flew their own handmade kites, one of many activities on offer.

"There was a huge range of activities from special artworks,

cooking, dancing and language opportunities."

Alice Fry

Malo and Neema Duncan with one of the multiple flags on

show.

Pupils Alyssa Ouyang, Fatima Zawari and Marin Koide

wear clothing showing their cultural background at

Burnside Primary School last week.

Eva Stedman and Alydia Roberts

Vivaan Puri and Aashman

Chandratrey
---
8 Thursday September 30 2021

Latest Canterbury news at starnews.co.nz

NOR'WEST NEWS

Word Hunt Competition

WIN!

A Family Annual Pass to

We have hidden 3 Kiwi's on our website. Each Kiwi has a special word.

To go in the draw to win; Simply go to rwbishopdale.co.nz or rwstrowan.co.nz.

Find all 3 Kiwi's and write the special words in the yellow boxes down below.

Once you have found all 3 special words, fill out your contact details, cut out this competition and bring it into our

Bishopdale or Strowan office to be in the draw to win a family annual pass to Willowbank Wildlife Reserve!

Word #1: Word #2: Word #3:

Full Name:

Contact Number:

Address:

Email:

Would you like to receive email market updates? Yes

No

Age:

Competition runs from 30/09/2021 to 18/10/2021.

Entries must be dropped in to 5/333 Harewood Road,

Bishopdale, or 55 Blighs Road, Strowan.

T's & C's Apply.*

*Terms and Conditions - Competition runs from Thursday 30th September to Monday 18th October. Entries must be physically handed in to our Bishopdale or Strowan

office between 9am - 5pm Monday - Friday to be in the draw. Entries may be placed in the Strowan office letterbox after hours located at 55 Blighs Road, Strowan. Prize

includes 1x Family Annual Pass to Willowbank Wildlife Reserve for two adults and any three children. Winner will be contacted and notified via phone on Wednesday

20th October and must be able to collect from the Bishopdale or Strowan office. By entering the competition, the winner agrees to their names being published and to

be photographed and that Ray White BS may use their names and such photographs for publicity purposes. The prize is not transferable or exchangeable, and cannot be

redeemed for cash. Entry is open to Christchurch residents only.

"Our house has sold and

the Gold Card discount

was a real bonus"

Ask us about our Super

Gold discount today.

Support us so we can continue to support your local community.

Ray White Bishopdale and Strowan - Winners of the REINZ and Ray White NZ Community Service Award.

Ray White BS

Bishopdale & Strowan

0800 YELLOW (0800 935 569)

5/333 Harewood Road, Bishopdale | 55 Blighs Road, Strowan

rwbishopdale.co.nz | rwstrowan.co.nz

Inline Realty Limited (Licensed REAA 2008)

Proudly owned by

Karen Ellis

021 519 275

Barry Ellis

021 519 274
---
NOR'WEST NEWS Latest Canterbury news at starnews.co.nz

Thursday September 30 2021 9

Mouth-watering traditional puddings

There's nothing

quite like a hearty

pudding to go with

the evening meal.

Try these two fruit

puddings before

warm summer

weather calls for cold

desserts

Fruit pudding

Serves 8

Ingredients

600gm dried fruit, place in

largest casserole dish with

¼ cup sherry

125gm butter, melt, then add

Finely grated rind of 1 large

orange

1 egg, beaten with a fork

2 cups flour sifted with one

teaspoon baking soda, one

teaspoon mixed spice and one

teaspoon ground cloves

½ cup brown sugar

Directions

Select a heatproof bowl (or loaf

tin) which will hold five cups and

will fit into crockpot.

Grease the bowl/tin with butter,

then line with microwave-proof

cling film.

Microwave fruit/sherry for five

minutes or until all the fruit is

hot, plump and shiny. The

liquid will soak into the fruit as it

cools.

Cool the fruit mixture to room

temperature before using it.

Turn the crockpot onto high

and fill with two cups hot water.

Add brown sugar to the flour/

baking soda/mixed spice/ground

cloves, then tip butter/orange

rind/egg into dry ingredients and

mix well.

Add the fruit mixture and mix

gently, but thoroughly.

Spoon mixture into prepared

bowl/tin and level off the top.

Cover with tin foil, folding the

edges down over the bowl.

Lower the bowl/tin into the

crockpot and put the lid on.

Cook on high to eight to 12

hours.

Take out while still warm as it

will be less likely to stick to the

container at this stage, then wrap

and cool completely.

Serve with brandy sauce,

custard and/or whipped cream.

Caramel sticky date

pudding

Serves 8

Ingredients

RICH:

Dried fruit

is a sweet

ingredient

to use in a

pudding and

the taste is

divine.

1 cup water, place in largest

casserole dish with

400gm pitted dates, chopped

roughly

150gm butter

2 tablespoons golden syrup

2 tablespoons sugar

1 teaspoon baking soda

1 cup plain flour, sifted with two

teaspoons cinnamon

2 eggs, lightly beaten

Directions

Microwave water/dates/butter/

golden syrup/sugar for 5min, stir,

zap for another 5min, stir (liquid

needs to have reduced right

down, leaving dates just moist).

Remove from microwave and

leave to cool for 15min, while still

warm add baking soda to the date

mixture and stir to combine, then

add flour/cinnamon and the eggs,

stirring until everything is evenly

combined.

Pour into small springform pan

that has been well greased and

lined with baking paper, and bake

at 180 deg C for 50min.

While it is baking, make

caramel sauce, as follows:

½ cup brown sugar, place in

largest casserole dish with

½ cup golden syrup

50gm butter

1 cup cream

1 teaspoon vanilla essence

Microwave for a minute at a

time until all the ingredients have

dissolved, stirring in-between.

Keep heating and stirring until

sauce turns a golden caramel

colour. Pour over the pudding.

Serve with ice cream.

Bec | Perfect Fit Bed Customer

This bed is amazing! I used to wake up with a lot of pain. Now I spring

"out of bed and my day begins! …The best purchase I've ever made!"

'CEREC' & cosmetic dentistry

Wisdom tooth removal

ADJUSTABLE MASSAGE BED

by

Up to

50 % Off

*Call for Terms

& Conditions

Off

*

Painless, high quality dentistry

Sedation dentistry

Experienced, conscientious team

Experienced hygienists

OPEN SATURDAYS

355 9380

144 Cranford Street

www.stalbansdentalcentre.co.nz
---
10

Thursday September 30 2021

Latest Canterbury news at starnews.co.nz

NOR'WEST NEWS

Our

readership is

skyrocketing

AGAIN!

Read

199,000 times every week!

*Source: Nielsen's National Readership Survey. Christchurch area, people over 15 years of age.

*Star Max — The Star, Bay Harbour News, Selwyn Times, North Canterbury News.

That's an

8.8% increase!

in readership over the last three months!

Reach more customers and grow your profits with our free professional advertising

consultancy for your business. Contact Shane on 021 381 765 / shane@starmedia.kiwi
---
NOR'WEST NEWS Latest Canterbury news at starnews.co.nz

Thursday September 30 2021 11

Classifieds Contact us today Phone our local team 03 379 1100

Trades & Services

Trades & Services

Trades & Services

Trades & Services

PLUMBER

FURNITURE

ELECTRICIAN

Excavations

NEED A PLUMBER

Call us now for fast friendly service.

Get your problems sorted out

quick smart - on time!!

Phone for a

FREE

quote now.

Phone 03 377 1280 | Mobile 021 898 380

EXCLUSIVE. STYLISH.

HANDCRAFTED.

Solid timber furniture

A fantastic range

of traditional and

contemporary

furniture designs.

We can also help you

with any custom made

furniture requirements.

19 Elgin St, Sydenham. Ph: (03) 366 9219

www.gavincoxfurniture.co.nz

Contact for a free quote

phone 027 331 0400

dave@davesimpsonelectrical.co.nz

davesimpsonelectrical.co.nz

Experienced Domestic Electrician

Quality Workmanship

• New Build

• Renovations

• Fault finding

• Power

• Lighting

• Switchboards

• Driveways

• Car Parks

• Site Cleaning

• Demolition

• Farm Tracks

• Drain Cleaning

• Stump & Hedge

Removal

• Asphalt Concrete

Wide range

of truckS

for a free quote

on your next project

Phone Steve on

021 338 247

• Tennis Courts &

Swimming Pools

• Chip Seal Driveways

• Diggers – 2 Ton

up to 20 Ton

• Excavators

• Bobcat & Drilling

• For Posthole &

Fence hole

free

quote

ROOF

PAINTING 24/7

Rope & harness

a speciality,

no scaffolding

required,

30 years of

breathtaking

experience.

FREE QUOTES

20% OFF other

roof quotes

Exterior staining,

exterior painting,

water blasting.

Moss and mould

treatment $300.

Phone Kevin

027 561 4629

Trades & Services

BETTER

LAWNMOWING

Better job. Better

Price. Better ring Grant

0277402508

BRICKLAYER.

George Lockyer.

Over 40 years bricklaying

experience. UK trained.

Insurance work, EQC

repairs. Heritage

brickwork & stonework

a speciality. No job too

small. Governers Bay.

Home 329 9344. Cell

027 684 4046. E mail

georgelockyer@xtra.co.nz

ADD SOME

COLOUR

TO YOUR ADVERT!

Trades & Services

CARPET LAYING

Exp. Repairs, uplifting,

relaying, restretching.

Phone John on 0800

003181, 027 240 7416

jflattery@xtra.co.nz

ELECTRICIAN (CERT)

Prompt, quality. Call Jack

027 206 0080

ELECTRICIAN (CERT)

Prompt, quality. Call Jack

027 206 0080

LAWNMOWING

You Grow I Mow. Free

quotes. Phone Chris 0800

701 501

PAINTER,QuALIfIEd

local professional, int/

Ext,roofs,wallpaper, call

or text Corban 027 846

5035

Trades & Services

STuMP GRINdING

Best price guarantee Tony

0275 588 895

STuMP GRINdING

Best price guarantee Tony

0275 588 895

TILING

Flooring - Splashbacks -

Wall incl tile removal, reg

master tiler, ph Dave 027

334 4125

VHS VIdEO TAPES

& all camera tapes

converted to DVD or

USB. Video taping

special occasions, www.

grahamsvideo.co.nz ph 03

338-1655

Real Estate

HOME WANTED 3-4

bedrooms. Looking in Nor

West areas, Beckenham

or Somerfield. Prefer

permanent material brick

and post 1990 build. Don't

mind if it needs some TLC

- anything considered.

Cashed up buyer. Phone

021 372 479

Wanted To Buy

AAA Buying goods

quality furniture, beds,

stoves, washing machines,

fridge freezers. Same day

service. Selwyn Dealers.

Phone 980 5812 or 027

313 8156

TOOLS Garden,

garage, woodworking,

mechanical, engineering,

sawbenches, lathes, cash

buyer, ph 355-2045

ADVERTISE YOUR

BUSINESS HERE

Phone for further details

(03) 379 1100

PAINTING & PlAsTerING

• PAINTING • TILING

• PLASTERING

• WALLPAPERING

Phone Kevin Steel

• Interior/Exterior

• New Homes & Repaints

• Quality workmanship assured

• Correct preparation always undertaken

• 20+ years experience

• Earthquake repairs

(Painting/Plastering/Wallpapering/Tiling)

Ph 027 216 8946

www.facebook.com/kevinsteelpainters&decorators

Email: kpsteel@xtra.co.nz

Up to

50 % Off

*Call for Terms

& Conditions

Off

*
---
12 Thursday September 30 2021

Latest Canterbury news at starnews.co.nz

NOR'WEST NEWS