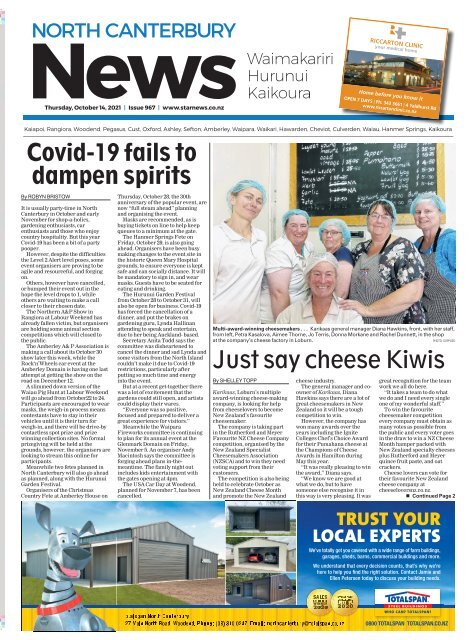 North Canterbury News: October 14, 2021
Create successful ePaper yourself
Turn your PDF publications into a flip-book with our unique Google optimized e-Paper software.
Home before you know it

Thursday,October 14,2021 | Issue967 | www.starnews.co.nz

OPEN7DAYS | Ph: 3433661 | 4YaldhurstRd

www.riccartonclinic.co.nz

Covid-19 fails to

dampen spirits

By ROBYN BRISTOW

It is usually party­time in North

Canterbury in October and early

November for shop­a­holics,

gardening enthusiasts, car

enthusiasts and those who enjoy

country hospitality.But this year

Covid­19 hasbeen abit of aparty

pooper.

However, despite the difficulties

the Level 2Alertlevel poses, some

eventorganisers are proving to be

agileand resourceful, and forging

on.

Others, however have cancelled,

or bumped their eventout in the

hope the leveldrops to 1, while

others are waiting to make acall

closer to their chosendate.

The Northern A&P Show in

Rangiora at Labour Weekend has

already fallen victim,but organisers

are holding some animal section

competitions which will closed to

the public.

The Amberley A& PAssociationis

making acall about its October 30

show laterthis week, whilethe

Rock'n'Wheels car eventatthe

Amberley Domain is havingone last

attempt at getting the show on the

road on December 12.

Aslimmeddown version of the

WaiauPig Hunt at Labour Weekend

will go ahead fromOctober22 to 24.

Participants are encouraged to wear

masks, the weigh­inprocess means

contestants have to stay in their

vehicles until it is their turn for

weigh­in, and there will be drive­by

contactless spot prizeand prize

winning collection sites. No formal

prizegiving will be held at the

grounds, however, the organisers are

looking to stream this online for

participants.

Meanwhile two fetes planned in

NorthCanterbury will also go ahead

as planned, alongwith the Hurunui

Garden Festival.

Organisers of the Christmas

Country Fete at Amberley House on

Thursday, October 28, the 30th

anniversaryofthe popular event, are

now ''full steam ahead'' planning

and organising the event.

Masks are recommended, as is

buyingtickets on line to help keep

queuestoaminimumatthe gate.

The Hanmer Springs Feteon

Friday, October 29,isalso going

ahead.Organisers have been busy

makingchanges to the event sitein

the historic QueenMary Hospital

grounds,toensureeveryoneiskept

safe and can socially distance. It will

be mandatorytosign in, and wear

masks.Guestshave to be seated for

eatingand drinking.

The Hurunui Garden Festival

from October 28 to October31, will

also be open for business. Covid­19

has forcedthe cancellation of a

dinner, and put the brakes on

gardening guru, LyndaHallinan

attending to speak and entertain,

due to her being Auckland­ based.

Secretary Anita Todd says the

committeewas disheartenedto

cancelthe dinner and sad Lynda and

some visitors from the North Island

couldn't make it due to Covid­19

restrictions, particularlyafter

putting so muchtime and energy

into the event.

But at arecentget­together there

was alot of excitementthatthe

gardens could still open, and artists

could display their wares.

''Everyone was so positive,

focused and prepared to deliver a

great experiencefor visitors.''

Meanwhile the Waipara

Fireworks committee is continuing

to planfor its annualevent at the

Glenmark Domain on Friday,

November5.Anorganiser Andy

Macintosh says the committee is

forging ahead plans in­themeantime.

The family night out

includes kids entertainment with

the gates opening at 4pm.

The USA Car Day at Woodend,

planned for November 7, has been

cancelled.

Multi­award­winning cheesemakers ... Karikaas general manager Diana Hawkins, front, with her staff,

from left, Petra Kasalova, Aimee Thorne, Jo Terris, Donna Morkane and Rachel Dunnett, in the shop

at the company's cheese factory in Loburn.

PHOTO: SUPPLIED

Just say cheese Kiwis

By SHELLEY TOPP

Karikaas,Loburn'smultiple

award­winning cheese­making

company, is lookingfor help

from cheeseloverstobecome

New Zealand'sfavourite

cheesemaker.

The company is taking part

in the Rutherford and Meyer

Favourite NZ Cheese Company

competition, organisedbythe

New Zealand Specialist

Cheesemakers Association

(NZSCA) and to win they need

voting support from their

customers.

The competition is also being

held to celebrate October as

New Zealand Cheese Month

and promote the New Zealand

cheese industry.

The general manager and coowner

of Karikaas,Diana

Hawkinssays there are alot of

great cheesemakers in New

Zealand so it will be atough

competition to win.

However, the companyhas

won many awards over the

years including the Ignite

Colleges Chef's ChoiceAward

for their Pumahana cheese at

the Champions of Cheese

Awards in Hamiltonduring

May this year.

''It was reallypleasingtowin

the award,'' Dianasays.

''We know we are good at

what we do, but to have

someoneelse recognise it in

this way is very pleasing. It was

great recognition for the team

workwe all do here.

''It takes ateam to do what

we do and Ineed every single

one of my wonderfulstaff.''

To win the favourite

cheesemaker competition

every company must obtain as

many votes as possiblefrom

the publicand every voter goes

in the draw to win aNZCheese

Month hamper packed with

New Zealand specialty cheeses

plus Rutherford and Meyer

quince fruit paste, and oat

crackers.

Cheese lovers can vote for

their favourite New Zealand

cheese company at

cheeseloversnz.co.nz.

Continued Page 2

TRUST YOUR

LOCAL EXPERTS

We'vetotally got youcovered with awide rangeoffarm buildings,

garages, sheds, barns, commercial buildings and more.

We understand that every decision counts, that'swhy we're

here tohelp you find the right solution. Contact Jamie and

Ellen Petersentoday to discuss your building needs.

SALES

EXCELLENCE

2020

STRATEGIC

EXCELLENCE

RUNNER UP

2020

Totalspan North Canterbury

127 Main North Road, Woodend. Phone: (03) 310 0247 Email: northcanterbury@totalspan.co.nz 0800 TOTALSPAN TOTALSPAN.CO.NZ
---
NEWS

2 North Canterbury News, October 14, 2021

Grow

customers,

salesand

profits

with North

Canterbury's

bestread

newspaper

Readership: 48,000 weekly

Circulation: 30,150copiesdelivered

to EVERY farm, RD, lifestyle block

and home inWaimakariri, Hurunui

&Kaikoura every Thursday.

news

Robyn Bristow

Managing Editor

027 312 1581

robyn.bristow

@ncnews.co.nz

Reporters

David Hill, Shelley Topp.

advertising

DaynaBurton

Sales Co-ordinator

027 312 0089

dayna.burton

@ncnews.co.nz

AmandaKeys

Advertising

027 536 6224

amanda.keys

@ncnews.co.nz

Kerryn Clark

Advertising

021 586 138

kerryn.clark

@ncnews.co.nz

JillianDickie

Advertising

022 024 3092

jillian.dickie

@ncnews.co.nz

getintouch

Editorial

info@ncnews.co.nz

Advertising

sales@ncnews.co.nz

Graphic Design

heather.hood@ncnews.co.nz

Distribution/Deliveries

03 314 8335

Rangiora: 03 313 2840 /03314 8335

14 Ashley St, Rangiora

Christchurch: 03 364 7460

www.starnews.co.nz

Forest Relic ... Devon Huston with his watercolour near Cheviot, which hangs in the Back Wall Gallery in the Hurunui District Library

in Amberley.

PHOTO: ROBYNBRISTOW

Brushstrokes with feeling

By ROBYN BRISTOW

The great outdoors helps Devon Huston to

put feeling into his watercolour paintings.

He says he has beensliding more and

more intopainting on site, rather than

from photographs he has taken.

Paintingfrom photos is easierbecause

you areout of the wind and the heat, but

they lack heart, he says.

''There is somethingabout painting

outside. You can putfeeling into it thatyou

can'tget fromphoto.There is more of you

in it,'' he says.

The outside, openair watercolourshave

asmoothness, more contrast, and more

detailedbrush strokes.

Huston has an exhibition of 16

watercolours in the Back WallGallery at

the HurunuiDistrictLibrary in Amberley

untilthe end of the month.

One, ForestRelic,awatercolour fromthe

Cheviotarea, had Hustontotally absorbed

in the moment. Sitting on his stool, with his

drawing boardonhis knees, holding his

watercolour palette, and sponge ­an

important part of his equipment ­there

NZ Cheese Month promotes supporting local

From Page 1

The New Zealand cheese company

with the mostvotesatthe end of this

monthwill be named Rutherfordand

MeyerFavourite NZ Cheese Company.

Rutherford and Meyer ownerJan

Meyersays being aproud New

Zealand­owned and operated

business the partnershipwith NZ

Cheese Month could not have been

more perfect.

PARK

UP

+

EXCLUSIVE

IN STORE ONLY OFFERS!

Wednesday, 20 Oct 2021

10.00am -2.00pm

was nearlyalot more feeling in the

painting thatheexpected.

As his brush strokes caughtthe light, and

the effects of his subject,hehad afeeling

he was beingwatched.

Looking up he saw some curious steers

starting to come toward him.

Hustonquicklypackeduphis tools of

trade,and slowly begantoretrace his

steps.Ashemoved the steers brokeinto a

trot and abit of agallop.

Fortunately, he says,hemade it safelyto

the otherside of the gate.

Hustonisself­taught, havingnospecific,

formaltraining in fine art. He leans

towardwatercoloursasapreferred

mediumand says the artistshemost

admires are those that createquite loose

semi­impressionisticwork in aformat

called''casual realism'', somethinghe

constantlyaims for in all his work.

He leftemployment after 36 years as Art

Director at the Christchurch Star,where

he produced advertisement layoutsand

designed retail promotional material

along withcopywritingfor pressand radio,

designing and producingadvertising

''Pairing our artisan rangeof

crackersand fruit pastes with New

Zealand's best cheesesisamatch

madeinheaven.''

NZSCA Chair, Catherine McNamara

saysNew Zealand's cheesemaking

industry is constantly evolving. ''It is

now,more than ever, vitallyimportant

Kiwis support localcheesemakers to

ensure their survival.Iencourage

shoppers to lookout for and purchase

brochures and cartooning.

He grew the art department fromone or

two peopleto15, before electingtotake

redundancy,and his superannuation, and

concentrate on becoming awatercolour

artist.

Initiallyhehad two years part­time

tuition fromrenownedartist Robert

McDowell in Christchurch. He movedon

to Pahia in the Bay of Island and expanded

his creation and sales of original land and

seascapes, beforereturning to the South

Island where he operated two studio

galleries in Havelock and Canvastown.

He has livedinNorth Canterbury for the

pastfive years, finding the scenery an

inspiration for his watercolours.

Huston took up tutoringinboth

watercolour and life­drawing skills in

workshopsthroughout the South island

and values this as atrue ''back­to­basics''

lesson for his own art.

His futurecareer ambitionsinclude a

continuation and expansion of teaching

time, plus establishing furtheroutlets in

galleries New Zealand­wide to display and

sellhis art.

New Zealand cheese. Supporting

delicious, locally­madecheesewill

ensureitishere forgenerationsto

come.''

Buyinglocally­made cheese also

keeps jobsand moneyinNew Zealand

by supporting the regions, as many

cheesemakers, and the farmswhich

support them, are in rural areas.

BuyingNew Zealand­madecheese

also reduces food miles.

MASTER BUILDER

LocaltoNorth Canterbury.

CALL ARTHUR 027 2451601

arthur@robertsonbuilding.co.nz

www.robertsonbuilding.co.nz

BARNS/FARM BULDINGS•RIB RAFT FLOOR SYSTEM INSTALLATION

PROJECTMANAGEMENT•ADDITIONS•NEW HOMES

HOME MAINTENANCE•EQC REPAIRS•ALTERATIONS

FREE QUOTES

2021055
---
Stadium busy despite challenges

By DAVID HILL

Rangiora's new Mainpower Stadium

has enjoyedabusy first couple of

months,despite the challenges of

Covid­19.

After opening to much fanfare on

August 8, the Covid­19 lockdown forced

the stadium to close just ninedays later,

resulting in the cancellationand

postponementofseveral major events.

But NorthCanterbury Sportand

Recreation Trust chief executive

MichaelSharpe and fitness centre

managerPaul Dunnsay there have

been plenty of positives.

''It took awee bit for peopletoget

used to wearingafacemask and

following the right protocols, but once

people got arounditwewere busy,''Mr

Sharpe says.

''People can't reallydowithout

fitness.''

The fitness centre opened with 200

membersand signed up another 100 in

the nine days beforelockdown.

''With the opening and for ninedays it

was really pumping and then it came to

ahalt,'' Mr Dunn says.

Afurther 100 new members have

signed since the stadium reopened,

leavingthe fitness centre on track to

meet its targetof500 members before

the end of the year.

''From the gym point of view, we are

continuing to build on the community

feel the trust has in our othersites,'' Mr

Dunn says.

''But Covid has hit us hardinstopping

our momentum, with our bookings

impacted, like the North Canterbury

Business Awards, the sports awards and

the deaf futsal nationals which haveall

been postponed,'' Mr Sharpe says.

Severalevents havebeen pencilled

HILUX, HIACEAND

EVERYTHINGIN

BETWEEN

68 FalsgraveStreet,Woolston

W: nzvanspares.co.nz

E: nzvanspares@hotmail.com

Ph: 03 3793932/0508 698267

100% Canterbury Owned

NZ's favourite home for

Recycled Hilux &Hiace Parts

In the swing of it ... Manager Paul Dunn says the new fitness centre has been busy in

recent weeks, as people get used to the restrictions of Alert Level 2.

PHOTO: DAVID HILL

in, depending on alert levels, including

the Mainland Eagles Camp run by the

Canterbury Rams for talented 15 to

19­year­old basketballers,and several

other regional and national

competitions which are yet to be

announced.

The stadium has hosted the South

Island Cheerleaders Competition with

no spectators, netball semi­finals and

local basketball and football teams,

while local rugbyclubs haveshown an

interestinusing the facilities.

''We've had quite strong interest from

STOP BIRDS

hail, leaves, snow &vermin from

blocking &damaging your spouting

Quality materials: BHP Colorbond steel mesh with unique

patented louvre will even keep out pine needles. Will not rust or

sag with age or load. 10 year warranty,range of colours.

Proven in Australia &New Zealand over the last 15 years.

FOR SAFE, PURE DRINKING WATER

FROM YOUR ROOF.

NOW AVAILABLE: STAINLESSSTEELMICRO MESH

Call Rohan anytime Mon-Sat for

ano-obligation assessment &quote

03 982 8850 0800 486 532 www.gumleaf.co.nz

We've got North

Canterbury covered.

Read us online at

www.ncnews.co.nz

1637376

alot of high performance sports

interested in using our facilities,'' Mr

Dunn says.

''The basketballers just can't get

enoughofit and they're already up 20

percent withtheirplaying numbers,''

Mr Sharpe says.

The handball programmeisalready

bulging at the seams, withthe 24 teams

playing at presentset to growto38

teams for nextyear.

Other councils have also been

showing an interest in what

Waimakariri has to offer.

Hutton'sshearwater lost to crash landings

By ROBYN BRISTOW

Dozens of adultHutton's shearwater have

been killed after crash landing on

Kaikoura's Beach Roadlast week, as dark

sky enthusiasts scrambletoreduce night

lighting in the town.

NickyMcArthur says the massivecrash

landingevent was unusual at thistime of

the year, and believesitisdirectly caused

by nightlighting in the seaside town,

coupled possibly with aweather event.

Fog add to the confusion with the birds

mistaking the sealed roadfor the ocean.

''They were totally disorientated,'' she

says.

Volunteers rescued many of thebirds,

but others were squashed by carsand

trucks, or eatenbycats.

The Hutton's Shearwaterisanendemic

species that is often affected by bright

lights.

It lives in two coloniesinthe Kaikoura

mountains (the Kowhai River and the Puhi

Peaks Nature Reserve) and one on the

peninsula, with the adult seabirds

returning home each spring for nesting,

then flyingout each autumn for their

winter feeding grounds.

Nicky says the birds beginreturningto

the colony in Augustonwardand by

Octoberhad pretty well made it, to mate in

the firstweek in November.

''This year extraordinary weather,

combined with diffusionoflight, has taken

itstoll,''she says.

It could be climate change,but normally

there werenoconcerns until the young

fledged theirnestsand headed out to sea

in March, she says.

Larry Field, one of four board members

of Kaikoura International Dark Sky (KIDS)

says in consultationwith the council he

wasable to get the new LED lights in the

town dimmed to 25 percent after the first

nightofcrash landings. He saysits difficult

to know the effect thishad, but says bright

nightlighting has an impact on theecology

of an area and human health, and is ''more

serious'' than anyoneevery thought.

Dr Field,aretired Universityof

Canterbury professor, an ecologist and a

Dark Sky astronomer, says internationally

thereisincreasing scientific evidence to

show the enormousimpact night lighting

is having on ecology streams and people's

health, particularlyonpeople working at

night.

He wants to seelighting prevented from

beingcast upward into the sky at night,

and wantstopreventpeopleworking at

nightinartificialdaytime habitats.

He and KIDS are pushing for Kaikoura

to becomeaDark Sky Reserve,tonot only

help the shearwaterbut also all

inhabitants.

LAWNMASTERESTATESPECIAL

Save $100 on the Lawnmaster

Estate range *

Check

Out These

Features:

Was$849

Now $749

• Ball Bearing Wheels ESTATEECO READYSTART

• Ready Start Engines (no priming)

• Quality Alloy Chassis with LIFETIME Warranty

• 5Year Engine Warranty

• Oiled &Fully Assembled

*Excludes the Estate 400

360 FlaxtonRoad,Rangiora

Ph 03 313 5563

www.kingsmowersheating.co.nz

NEWS

North Canterbury News, October 14, 2021

2419884

2187722

MattDoocey

MP for Waimakariri

Kaiapoi Office

03 3270514•kaiapoi@parliament.govt.nz

137 Williams Street

RangioraOffice

03 3107468•waimakariri@parliament.govt.nz

Level1Conway Lane,188 High Street

Ienjoy holding constituent

clinicsinOxfordand in

Belfasttobeaccessible;

pleasering my officeifyou

would liketomeetwith me.

Authorised byMatt

Doocey, Parliament

Buildings, Wgtn.

Meals from5.30pm

Comfort, Quality,

Affordable

Turkish Leather

Selling fast, Hurry In!

3

Piano Boogie

Woman!

www.janpreston.com

DONEGAL HOUSE KAIKOURA

WED OCT20 TH 8pm Schoolhouse Rd

Tickets $25from

thebar or online

witheveninda

"at the piano she is queen . . . from Boogie

woogie to Ragme the air pulsates with the

magical rhythms she creates" ChCh Star

MILLY

Coconut, Black

L37-42

FLORANCE

Biscuit, Black

L37-42

Kaiapoi Mill, Ranfurly Street, Kaiapoi

Monday –Friday 9am –5pm

Saturday 10am –1pm

Closed onPublic Holidays

Ph 03 327 0576

2418841v2
---
NEWS

4 North Canterbury News, October 14, 2021

Road safety in Woodend urgent

By DAVID HILL

AWoodend resident has called for

action on promised road safety

improvements in the town.

David Jones says while attention has

been placed on the proposed Woodend

Bypass, improved road safety to address

the increased traffic volumes due to the

growing population needs to be the

priority.

''While the bypass is anecessity that

should have been dealt with along time

ago, road safety improvements have

become more and more urgent since the

earthquakes caused amassive influx of

new residents to North Canterbury,'' he

says.

''Even if the bypass were to be started

tomorrow, it will be at least five years

before it will be open to traffic.

''In the meantime traffic density is set

to get steadily worse as Pegasus,

Ravenswood and Two Roads become

evermore populated.''

Mr Jones wrote to Waka Kotahi New

Zealand Transport Agency last month to

raise his concerns and was pleased to

get aresponse from national

infrastructure delivery manager

Andrew Thackwray.

Mr Thackwray confirmed NZTA is

working on anumber of safety

improvements for Woodend, but

provides no timeframe.

The safety improvements include new

roundabouts at Williams Street,

Kaiapoi, and Woodend Beach Road, the

widening of State Highway 1tothe north

and south of Woodend and installing a

wire rope barrier to the centreline to

prevent head on crashes.

Aset of traffic lights are also proposed

for the Woodend Road /SH1

intersection at the southern entrance to

the town, while improvements are

proposed for the Pegasus Roundabout to

Safety first ... AWoodend resident, David Jones, wants improved road safety to be a

priortiy as traffic increases in Woodend.

PHOTO:FILE

allow pedestrians to cross the road

safely.

Following an inquiry from North

Canterbury News,NZTA senior project

manager Chris Collins says there is

design funding in the 2021/24 National

Land Transport Programme for the

safety improvements in Woodend, with

further progress to be ''communicated

as this work develops''.

Waimakariri Mayor Dan Gordon and

Woodend­Sefton Community Board

chairperson Shona Powell are planning

to meet NZTA chief executive Nicole

Rosie early next month to discuss the

district's transport concerns.

Woodend's safety improvements are

not progressing fast enough following

community consultation in October

2018, they say.

''We are committed to seeing those

safety improvements delivered, but

we're still waiting on atimeframe,'' Mr

Gordon says.

''The safety improvements were left

out of the 2021/24 National Land

Transport Programme, so we're hoping

that it was amistake which will be

corrected soon and that's what we will

be seeking from Nicole Rosie.''

4WD threat. .. The red arrow indicates how

close a4WD got to awrybill nest in the

Ashley/Rakahuri River.

PHOTO SUPPLIED

Wrybill threat

By ROBYN BRISTOW

Apair of wrybills nestinginthe Ashley/

Rakahuri River, havecome close to having

theirnest squashed by a4WD.

The pair are the subject of acompetition

for school childrenbeing run by the Ashley­

Rakahuri RivercareGroup to name them.

The 4WD drive wascaught on camera

beingdriven down the riverbed on October

9, despite most access ways intothe river

beingblocked by Environment Canterbury,

and some signswarning of the threat to

nesting birds.

The wrybill is nationally vulnerable,and

at risk of extinction in the mediumterm.

The pair are notunfamiliar to the

dangers of nesting in the area. They have

previouslylost anest to floods and achick

and an egg to a4WD.

The rivercare groupismonitoring the

nest closely,and cameras have been

installed to warn them about any threats to

the nestingbirds, including rats.

They encouragepeople to protect and

respect the nesting habitat. Any school

childrenwanting to enterthe competition

to name the nesting pair can send their

entrytoinfo@ncnews.co.nz.

Have youseeneither of these pest plants?

Broomsedge

Andropogon virginicus

Thispest is not yetknown to occur in Canterbury

• Perennial clumping grassreaching1mtall

• Leaves are green, turningpurplishand

strawcolouredwhen mature

• Leaf basesare hairy above andonligules

• Seed headsare long and narrow and consistofseveral

pairsoftiny branches and spikeletswithtuftedhair

Boneseed

Chrysanthemoides monilifera

CHRISTCHURCH

We only need reports of boneseed found outside

the containment zone

¥ 73 ¥ 74

REPORT ANY SIGHTINGS

OUTSIDE THIS

CONTAINMENT ZONE

• Bushyevergreen shrub, 2-3m tall

• Toothed, vivid greenleavescoveredincotton-likedown

• Clusters of bright yellow,daisy-likeflowers

• Hard, oval greenfruit thatripen to black

and containabonecolouredseed

Report all potential sightingsusing the Find-A-Pest app,

or by contacting biosecurity@ecan.govt.nzorcalling 0800 324636.

Protect Canterbury,

report pests
---
NEWS

North Canterbury News, October 14, 2021

5

OPEN ANEW ACCOUNT

DURING OCTOBER

&GOINTHE DRAW TO

WIN A$500 ACCOUNT CREDIT *

*

T's&C's apply

Vaccination clinic ... Kaiapoi Family Doctors staff Maureen Gamble, front and Nerita Smith

working at the Covid 19 vaccination clinic which was held at the Kaiapoi Family Doctors

clinic in Charles Street last Saturday.

PHOTO:SHELLEY TOPP

Big push for vaccinations on

Super Saturday in Hurunui

By SHELLEY TOPP

Hurunuiisgearing up forabig push to lift

Covid­19 vaccination rates in the

community withfourclinicsopenfor jabs

in the districtthis weekend.

The pushispart of the Government's

Super Saturdayinitiative to driveNew

Zealand's fully vaccinatednumbers up to

90 percentormore.

Prime MinisterJacindaArdern says

highvaccinationratesinNew Zealand

would be agamechanger for Kiwis

becauseitwouldallowfewerlifestyle

restrictions.

She wants to see 90 per cent of people

aged12and olderfully vaccinatedagainst

Covid 19 to give Kiwis better protection

against thevirus.

But there is along waytogotoreach

that figure with only 57 percentofthe

population fullyvaccinated and 82 per

cent having had their first dose.

ThepracticemanageratHanmer

Springs Health Centre, Paul Walmsley,

says everyone hasarole to play in

protecting ''ourselves,our whanauand

ourcommunity'' by getting vaccinated.

''Ithas neverbeen more urgent to get

vaccinated.Weare pulling out all the

stops to increase ourvaccination rates,''

he says.

Everyone in Hurunui is being asked to

contribute towards thepush for

vaccinationthis weekend duringSuper

Saturday(on October 16) and on Sunday

(October 17).

''Ifyou areone of themany peoplewho

have already had 1or2doses—Shot!But

your job is notdone,'' Paul says.

''Tobest protect your whanau,

community, and therestofthe Hurunui,

we are asking you to help us reachyour

friends, whanau, andcolleagues whomay

stillhavesome hesitation about being

vaccinatedand need some helpand

support to get it done.''

On Saturday Covid­19 vaccination

clinicsinHurunui will be openat:

Amberley Farmers Market, next to the

HurunuiDistrict Counciloffices at 66

Carters RoadinAmberley,from 9amuntil

1pm; theAmuri HealthCentre, at 40

Wilkin Street, Rotherham, from 9amuntil

1pm; andthe HanmerSprings, at the

HanmerSpringsSports Domain, 59 Jacks

Pass Road, from10amuntil late.

On Sunday aCovid­19 vaccination clinic

will be openatthe WaikariHealth Centre,

at 100Princes Street,from10amuntil

1pm.

Vaccination clinicswillalso be openin

many otherareas aroundNorth

Canterburyatthe weekend.

In Kaiapoi, the vaccination clinic being

held at theKaiapoi Family Doctors

surgery at 42 CharlesStreet,isfully

booked forvaccinations this Saturday, but

thevaccinationclinic administrator, Alan

Gamble,ofRangiora, saystheycan still

acceptpeople withoutbookings.

Onehundred and thirty people

received vaccinations at the clinic last

Saturday, with some having their first

dose and others having their seconddose.

''We wanttoencourage people to come

andget vaccinatedand we can accept

some walk­ins.

''We won'tturnanyone away because it

is important we get everyone vaccinated,

butpeople withoutbookingsmay haveto

wait awee while.''

2419876

Newowners -Kieran and Sam

look forwardtomeeting

youin-storesoon!

5a Cone Street

Rangiora

Ph: 3134862

E: admin@rangioraitm.co.nz

** FIREWOOD SPECIAL **

$490 for 10 cubic metres

of semi-drypine offcuts

delivered to

Rangiora &Darfield.

Give the friendly team at

Ashley Industrial Services

acall today.

PH: 03 312 3341

E: admin@ais.co.nz

*Delivery fees may apply

2425357
---
OPINION

6 North Canterbury News, October 14, 2021

McALPINES MITRE 10 MEGA RANGIORA -OCEAN WATCH

This

Week

Sun

Fishing

Guide

Moon

Wind

Good

Thursday Friday Saturday Sunday Monday Tuesday Wednesday

Oct 14 Oct 15 Oct 16 Oct 17 Oct 18 Oct 19 Oct 20

Rise 6:39am

Set 7:50pm

Best

Times

8:07am

8:35pm

Set 3:39am

Rise12:39pm

Moderate Sturning

E

In the Electoratewith

MattDoocey

MP forWaimakariri

Good

Rise 6:38am

Set 7:51pm

Best

Times

9:03am

9:29pm

Set 4:22am

Rise 1:50pm

Gentle SE becoming

moderate E

Good

Authorised by MattDoocey,Level1ConwayLane,188 High Street,Rangiora.

Community spirit

Ihope everyone's checked theirLotto

ticket after the half amilliondollar

winning ticketlast week was revealed

to have been bought from Kaiapoi's

Red and Black Dairy.

Dairy owner Nilesh is probably as

excited as thewinner.

It was just ashortwhileago that

Nilesh came to me for help afterbeing

declined alicence to sell Lotto and

scratch card tickets.

Iorganised aLotto representative to

fly from Auckland to meet directly

with Nilesh.

The representative saw how

accessible the dairy is as ahub for

Kaiapoi, and was impressed by

Nilesh's commitment to our

community. It's exciting that so soon

after becomingaLotto outlet we could

produce awinner.

Community spirit was high at the

opening of AdviceKiwi Menzshed

Pegasus Woodend's new shed at

Gladstone Park.

Our community got behind the

project with volunteers rollingup

their sleeves in allsorts of ways.

Iwas thrilled to officially open and

speak at the opening, andtobe able to

acknowledge the importance of this

valuable community facility.

The shed is ahub for socialisation

and the sharing of skills,which results

in arangeofprojects that directly

benefit our communities. Well doneto

chairperson Sam Watt, Joel

McLachlan and the team!

Ienjoyed bringing National's

Housing Spokesperson Nicola Willis

recently to look at Waimakariri

solutions to housing our growing

population.

Nicola is doing valuable work

addressing housing costs, playing a

crucial role in how we reform the

Resource Management Act.

Our Waimakariri population

reached almost 65,000 last year, and

that brings both challenges and

opportunities.

We know decisions madein

Wellington impact our familiesonthe

ground, so Ilike to ensure

Waimakariri experiences are heard in

Wellington.

Applicationsare pouring in from

young people across Waimakariri to

be my next Youth MP.

It's exciting to see so many wanting

to be avoice for our youth. If youknow

ayoungperson you think would make

agreat WaimakaririYouth MP, please

email imakariri@parliament.govt.nz

for details.

Local resident Matt Hennessey's

and my petition on Change.Org is

gaining traction as we call on the

CDHB to establish amental­health coresponse

servicethat will see mentalhealth

practitioners respond with

police officers to mental health

emergency calls in Canterbury.

Aservice is currently being piloted

by the Wellington DHB. Police told us

20% of their call outs in Canterbury

are for people suffering mental health

crises. You can sign the petition at

www.change.org/p/canterburydistrict­health­board­cdhb­establishco­response­callout­team­to­addressmetal­health­crises.

Rise 6:36am

Set 7:53pm

Best 9:54am

Times 10:19pm

Set 4:56am

Rise 3:01pm

Moderate SE

becoming fresh S

Good

Rise 6:34am

Set 7:54pm

Best 10:42am

Times 11:05pm

Set 5:23am

Rise 4:10pm

Moderate SW

Waimakariri

Focus from Dan Gordon, Mayor

Rise 6:33am

Set 7:55pm

Best 11:27am

Good

Times 11:49pm

Set 5:47am

Rise 5:17pm

Moderate Sturning

SW

An unveiling, an

opening and aplea

Despite Covid restrictions Ihave been able

to attendand celebrate several significant

events over the past few weeks.

On Sunday Ihad the privilege to speak at

the unveiling of the new "Karo" sculpture

by the renowned artist AndrewDrummond

which sits on the riverbank by the Kaiapoi

marina.This event marked the launchof

the new Waimakariri Public Arts Trust.

The council set up this Trust with the

purposeofpromoting art and culture and

to encouragenew public art. Iwould like to

acknowledge and thank Chair Jackie

Watson and the Trusteesfor their work.

We as acommunity are indebted to the

Blackwell family for their donation that

has brought about the purchase of this

fantastic artworkand is part of celebrating

their 150thanniversary. Giving back to

Kaiapoiand Waimakariri is firmly

embedded in the Blackwell family's DNA,

and is highlighted in this beautifulnew

sculpture.

From George Henry Blackwell to today's

generation of Andrewand Michael, we

salute your commitment to our community

and wish you ahappy 150th anniversary.

PegasusMenz Shed

Ienjoyed attending andspeakingatthe

recent opening of the new Advice Kiwi

PegasusMenz Shed based at Gladstone

Park in Woodend.

From concept to completion this was

achieved in 20 months, which is

remarkable and down to the commitment

of the localcommittee and generosity and

supportoffunders like Joel McLachlan

from Advice Kiwi. Council has supported

the establishment of otherMenz Sheds in

Rise 6:31am

Set 7:56pm

Best 12:10pm

Good

Times

Set 6:09am

Rise 6:22pm

Moderate SW turning

SE

Rise 6:30am

Set 7:58pm

Best 12:31am

Good

Times 12:52pm

Set 6:29am

Rise 7:26pm

Gentle Sbecoming

moderate E

the districtbecause they are agreat place

to learnnew skills, share skills,have a

laugh and enjoy each other's company as

well as work on practical tasks ­either

personal or as agroup ­tobenefit the

community.

If this is of interest to you Iencourage

you to make contactwith your local Menz

Shed –they would welcomeyour

involvement.

Covid Vaccinations

Ibelieve in the Covid vaccination

programme and encourageeveryone who

is able to get vaccinated.

It is our best chance to beat this virus

and allow us to get back to normal. Ithink

the Super Saturdaycampaign this

weekend is agreat idea and am sure

Waimakariri will get right behindit. The

more people who are fully vaccinated,the

more protection we have against Covid,

resulting in more freedom for all New

Zealandersand the ability to also make the

most of the coming summer season.

If you haven'talready booked your

vaccineyou can do this at bookmyvaccine.

covid19.health.nz or by phoning

0800CANVAX (226829).

On TuesdayIhad the honour of layinga

wreathatthe Kaiapoicenotaph to

commemorate the 104th anniversary of the

Battle of Passchendaele. 846 young New

Zealanderslost their lives, including local

residents. We can never thank those who

gave the supreme sacrifice during World

War1 and conflicts since, but we can

remember them always and not forget that

it is due to their sacrifice that we enjoy our

freedomtoday. Lest we forget.

Proposed Waimakariri District Plan appointments

Deputy Mayor NevilleAtkinson andCr

NikiMealings have beenappointed to

the hearingspanel for the proposed

WaimakaririDistrict Plan.

Both councillors are certified

Resource ManagementAct decision

makers.

The Waimakariri DistrictCouncil is

consulting on the proposed District Plan,

aplanning document which sets rulesfor

how people use, subdivideand develop

land.

The planwas notified on September 18

and thecommunityhas untilNovember

26 to haveasay.

Deputy Mayor Atkinson andCr

Mealings will join four independent

commissioners, including an Iwi

appointed member, yet to be appointed,

who will hearsubmissions and make

decisions on the proposed DistrictPlan.

The council expects to be in aposition

to announcethe other independent

members in the comingweeks.

Residents can view the proposed

District Plan online,check for any

changes that mightaffecttheirproperty,

andmake asubmission during theformal

period by visiting waimakariri.govt.nz/

letstalk.

Mayor Dan Gordon says thecouncil is

confident in its appointments to the

panel.

''With the significance of the District

Plan it was importantto the council that

we had electedmember representation

on the panel.

''We are pleased to announce the

appointment of Deputy Mayor Atkinson

andCrMealings to thehearingspanel for

ourproposed DistrictPlan.

''Both Neville andNiki have

considerable experience in district

planning matters, and will demonstrate a

level of integrity that reflectsthe

significance of thedecisions being made.

''Weknow that they willdoan

excellentjob representing our

community in this importanttask.''

Theproposed District Plan willlikely

becomeoperative within two years

following the hearings and appeals

process.

Until then, current rulesapply except

for thosein the proposed plan with

immediate legaleffect.

Swell

Pegasus Bay

Tide Chart

3

2

SE 2.0 m SE 1.2 m E0.8 m E0.7 m E1.0 m E0.8 m SE 0.8 m

3 6 9 NOON 3 6 9 3 6 9 NOON 3 6 9 3 6 9 NOON 3 6 9 3 6 9 NOON 3 6 9 3 6 9 NOON 3 6 9 3 6 9 NOON 3 6 9 3 6 9 NOON 3 6 9

1

0

Highs Lows Highs Lows Highs Lows Highs Lows Highs Lows Highs Lows Highs Lows

Waimakariri

5:56am 0.5 12:45am 2.3 6:56am 0.5 1:43am 2.3 7:54am 0.5 2:39am 2.3 8:51am 0.5 3:33am 2.3 9:44am 0.5 4:23am 2.3 10:35am 0.5 5:10am 2.3 11:23am 0.6

Mouth

12:17pm 2.4 6:39pm 0.5 1:17pm 2.4 7:37pm 0.5 2:15pm 2.4 8:32pm 0.5 3:09pm 2.4 9:23pm 0.5 3:59pm 2.3 10:11pm 0.5 4:46pm 2.3 10:58pm 0.5 5:30pm 2.3 11:43pm 0.5

Amberley

5:56am 0.5 12:45am 2.3 6:56am 0.5 1:43am 2.3 7:54am 0.5 2:39am 2.3 8:51am 0.5 3:33am 2.3 9:44am 0.5 4:23am 2.3 10:35am 0.5 5:10am 2.3 11:23am 0.6

Beach

12:17pm 2.4 6:39pm 0.5 1:17pm 2.4 7:37pm 0.5 2:15pm 2.4 8:32pm 0.5 3:09pm 2.4 9:23pm 0.5 3:59pm 2.3 10:11pm 0.5 4:46pm 2.3 10:58pm 0.5 5:30pm 2.3 11:43pm 0.5

6:05am 0.5 12:54am 2.3 7:05am 0.5 1:52am 2.3 8:03am 0.5 2:48am 2.3 9:00am 0.5 3:42am 2.3 9:53am 0.5 4:32am 2.3 10:44am 0.5 5:19am 2.3 11:32am 0.6

Motunau 12:26pm 2.4 6:48pm 0.5 1:26pm 2.4 7:46pm 0.5 2:24pm 2.4 8:41pm 0.5 3:18pm 2.4 9:32pm 0.5 4:08pm 2.3 10:20pm 0.5 4:55pm 2.3 11:07pm 0.5 5:39pm 2.3 11:52pm 0.5

6:07am 0.5 12:56am 2.3 7:07am 0.5 1:54am 2.3 8:05am 0.5 2:50am 2.3 9:02am 0.5 3:44am 2.3 9:55am 0.5 4:34am 2.3 10:46am 0.5 5:21am 2.3 11:34am 0.6

Gore Bay 12:28pm 2.4 6:50pm 0.5 1:28pm 2.4 7:48pm 0.5 2:26pm 2.4 8:43pm 0.5 3:20pm 2.4 9:34pm 0.5 4:10pm 2.3 10:22pm 0.5 4:57pm 2.3 11:09pm 0.5 5:41pm 2.3 11:54pm 0.5

6:00am 0.4 12:51am 1.7 6:58am 0.4 1:47am 1.7 7:55am 0.4 2:42am 1.7 8:52am 0.4 3:34am 1.7 9:46am 0.4 4:25am 1.7 10:38am 0.4 5:15am 1.7 11:28am 0.5

Kaikoura 12:23pm 1.9 6:46pm 0.4 1:22pm 1.9 7:43pm 0.4 2:19pm 1.9 8:37pm 0.4 3:14pm 1.8 9:28pm 0.4 4:05pm 1.8 10:17pm 0.4 4:54pm 1.8 11:05pm 0.5 5:40pm 1.7 11:50pm 0.5

*Not for navigational purposes. Wind and swell are based on apoint off Gore Bay. Maori Fishing Guide by Bill Hohepa. www.ofu.co.nz www.tidespy.com Graphic supplied by OceanFun Publishing Ltd.

2118223
---
Alreadyfully vaccinated?Shot!

If not, now'sthe timetoget the

jobdone.Get vaccinated today,

this week or on SuperSaturday.

Do your bitsowecan allget back to doingthe things we love.

Covid19.govt.nz
---
NEWS

8 North Canterbury News, October 14, 2021

The Widest Music Variety

Tune in nowtolistenon104.9 North Canterbury

and103.7 Hanmer Springs andKaikoura

Spring into Spring

Exhibition

Bonsai beauty ... Linda with her 25­year­old Juniperus procumbens nana bonsai tree

growing out of apumice rock.

PHOTO:SHELLEY TOPP

Leithfield gardens on show

Guest artist Adrienne Pavelka

Fri 29 OcttoSun 31Oct

Entry$2Children Free

approximately350 original worksfor sale

watercolour, pastel, acrylic,oil etc.

10am -4pm daily

NEW VENUE

Rangiora A&P Showgrounds

Ashley St Rangiora

By ROBYN BRISTOW

Gardens,art and demonstrations at

Leithfieldand beyond on October23and

24 will help keep the pages turning at the

LeithfieldLibrary.

The community­owned Leithfield Public

Library is hosting the LeithfieldGarden

tour as afundraiser wherepeople can

stroll through gardens,visit artistsstudios,

indulge in localeateries and enjoy food

put on by localorganisations, while

discovering Leithfield's history.

It takes in 15 gardens of differentsizes

and styles, and will include

demonstrations of kokedama, livingvases

and bonsai.

The all­weather event starts at 10am

each day and runs until 4pm. Maps will be

issued for visitorswhichgive the order of

flow.

Artists include Stargirl, offering a

houseplant and kokedama store,with

kokedamamakingthroughoutthe day.Jax

Pots sells decorativeand functional

ceramics and homewares,while Pure has

oak winebarrel productsand artwork for

the home and garden.Magic Moss has

sphagnum and decorative moss for all your

garden needs, and willgive living vase

demonstrations and tours.

Locally produced soaps and balms will

be available fromShardia MacKintosh,

whileCee Dee Design will have handmade

jewellery, knitted brooches and plants for

sale.Jane Handmade features merino/

alpaca mixed knits ­beanies, snoods,

headbands and more,whileThe Barn will

offerBlackhills naturalcoloured hand

knittingyarns and aknitwear collection.

Thereare historical homes, and the St

Paul's AnglicanChurch to viewalong the

way, and the Leithfield Beach Fairy Forest

to explore.

Therewill be toursoffered at Harleston

House, alimestone block homebuilt in

1863 by the Ashworth family. Its gardenhas

been lovingly re­establishedusing plants

of the period when the home was built.

Thereare many surprises, including a

secret garden.

Roses, natives, apotager garden,an

abundance of spring flowers,and mature

trees, and acountry garden are partofthe

tour.

The Sanctuary of Fourviere, agarden

designed to tell the history of the Catholic

Mission in the Pacific willalso be open.

Entryis$25 for adults,seniors $15, kids

under15are free. Tickets are on sale at

Oderings,Barrington, SallyMacs,

Amberley,Woodend Nursery, Ouruhia

Nursery, Pukeko Junction Gallery,Mobil

Amberley and TerraViva.Gotothe

LeithfieldPublic Library Facebookpage

for moredetailsand updates.

Celebration Night

Friday 19 November I 5:30 - 9:30pm I High Street, Rangiora

The Mike Pero Food Zone ~Stalls ~Live Music ~Buskers ~Kid's Entertainers

Inflatables ~Santa Claus +DIY Photos ~Late night shopping

9:30pm Fireworks Display

Principal Sponsor

Brought to you bythe

Rangiora Promotions Association

www.rangiorapromotions.co.nz
---
Professionals

in North Canterbury

Building Trust.

Do you feel lethargic,

overwhelmed, have muscle

tension or crave some

time out?

Call us or book online for a

Relaxation Massage

Allow your therapist to ease your tension,

reduce your stress and enhance your

emotional &physical well-being.

2384258v3

31 Blackett Street, Rangiora

Phone 03 313 0349

Email info@head2toe.co.nz

www.head2toe.co.nz

Call Prosser Quirke Accountants

Chartered Accountants &Business Advisors

2299722v3

WORK SMARTER

NOT HARDER

6Blake Street, Rangiora, New Zealand

ph. 03 313 7824

email. team@prosser-quirke.co.nz

Project BNZ ... The historic Kaiapoi BNZ building being restored to its former glory before

the Canterbury earthquakes by Hazeldine Construction.

PHOTO:SUPPLIED

Trusted and experienced

Hazeldine Construction is testament to the

Kiwi 'can­do' attitude.

No matterthe project, no matter the

scale, no matter thechallenge, Hazeldine

Construction willmake it work.

As one of NorthCanterbury's most

experienced and innovative construction

teams, the Kaiapoi­based business has a

long historyofdelivering exceptional

results.

Founded in 2004 by Jared Hazeldineas

asole trader withone apprentice, the

company has grown to be ateam of 27.

As the teamhas grown,ithas remained

afamily business –bynameand by nature.

''Thevalue of family extends across our

team.Wegenuinely care about our people

and their families;workingtofoster an

environmentwith awork/life balance that

allows them to put first what is really

important. This has created atight­knit

and loyal workforcewetrust unreservedly

to deliver,'' Jared and Jasmine say.

Hazeldine Construction has earneda

reputation for quality results from its hard

workingteam, andthis trust has ensuredit

has become the builder of choice time and

again.

The companyhas significantexperience

in all areas of construction, including a

restoration of thisproportion, along with

new builds, EQ repairsand

reinstatements.

''We can take care of allaspects of your

project, no matter the scale.''

The old BNZbuilding in Kaiapoi, built

in 1883, is aproject being undertaken by

Hazeldine. It is aHistoric Place Trust

Category 1, Kaiapoi landmark building.

''HazeldineConstruction feels

privileged to be part of therestoration of

this historic building, which has been part

of the Kaiapoi landscapefor decades,''

Jaredand Jasmine say.

From concepttocompletion,

groundworks to the finishingtouches, the

qualified team works tirelessly to ensure

all projects meet its own exacting

standards.

HazeldineConstructionisalso very

community mindedand believesingiving

back to the community, sponsoringa

number of events, teams,individuals,

schools and organisations.

Experienced

Podiatrist;

2373659v2

Erin Marsden BSc(Pod)

NEW BASICS CLINIC $40

022 1726 049

www.northcanterburypodiatry.co.nz

NORTH CANTERBURY

03 311 8008

email@helmores-law.co.nz

www.helmores-law.co.nz

2373179v2
---
NEWS

10 North Canterbury News, October 14, 2021

Leithfield School principal retires

By SHELLEY TOPP

Leithfield School tumuaki, Sharon

Marsh has retired after seven years as

principal.

She was given afarewell morning tea

at the school last month, but will return

as avisitor for the opening of the

school's new building in about 12­18

months time. In the meantime Sharon

and her husband Lindsay have plans to

rent out their home in Woodend, and

pack up their caravan for an open­ended

tiki tour around New Zealand, enjoying

aslower lifestyle, fruit picking here and

there and playing alot of golf.

''We don't know when we will be

back,'' she says.

The school's board of trustees is in the

process of selecting anew principal to

replace Sharon and in the meantime her

deputy, Rob Cavanagh, will takeover the

principal's role. Sharon says she has

loved being principal of Leithfield

School.

''We have an amazing community and

having the school as afocal point for our

community is areal strength of what we

do here.

''We also have amazing staff who are

absolutely committed to doing the very

best job they can which has made my job

of leading them, areal pleasure.''

Sharon is also the lead principal for

Puketeraki, Rangiora Community of

Learning, which has avision to ''create

acommunity of learning in the heart of

the wider Rangiora district'', and she

will remain in that role until the end of

the current school year.

She says there have been many

highlights during her time at Leithfield

School but winning one of the $10,000

Treemendous School Makeover Awards

in 2016 to develop anative forest and

vegetable garden in the school grounds

was definitely one of them.

Farewell ... Principal Sharon Marsh (centre) with young pupils from the Leithfield School.

Others were the development of

Matariki celebrations at the school and

the rebuild programme. ''Three

quarters of our school will be rebuilt in

the next 12­18 months and that will be

great for the school,'' she says.

The development of the school's kapa

haka group and the school's

PHOTO: SUPPLIED

development as acommunity hub,

especially during summer at the

swimming pool has also been ahighlight

for Sharon.

''Our swimming pool which was one of

the first school pools to be built in our

area, provides alovely way for our

community to stay connected.''

Notable tree

felled in

Kaiapoi

One of Waimakariri's 59 ''notable

trees'' has been felled after it was

considered adanger to the

community and surrounding

buildings.

Adecision was made to fell the

tree near the intersection of

Williams St and Hilton St in the

Kaiapoi central business district

after several large limbs split and

fell against abuilding. The

Waimakariri District Council

approved the property owners

felling the 80­year­old beech tree,

under provisions in the Resource

Management Act (RMA).

An aborist, who was hired to assess

the tree's condition, identified

significant and extensive rot to the

tree and recommended ''immediate

removal to prevent injury to people

and damage to property''.

Council planning manager Matt

Bacon said it was adisappointing

decision, but necessary because of

the tree's condition.

''We have been working with the

arborist and property owners to

work through options, but sadly the

rot and damage is extensive and if

left, it would have posed safety

risks."

The tree was felled by aqualified

aborist on Friday last week.

The property owners, Kaiapoi

Crossing Body Corporate will now

apply for aretrospective resource

consent to remove the tree within 20

working days, as required under the

Resource Management Act.
---
Artwork for chopper

By SHELLEY TOPP

The Canterbury West CoastAir Rescue

Trustisset to benefit fromartworkdone by

prisoners.

Artwork for the Inside Art exhibition has

been done by unnamed prisoners in

Christchurch Women's Prison,

Christchurch Men's Prison and Rolleston

Prison andisonshow in the Oxford

Gallery toi oWaimakariri.

All proceeds fromthe exhibition, which

includes several silent auctions, will be

donated to the air rescue service.

The prisonersmade the decision to

donate the proceeds of theirartwork to the

Trustbecause several of them,ortheir

whanau, havebeen helpedbythe air

rescue service.

The exhibition, which closesonOctober

31, is the first time that artists from the

prisons have sharedapublicgallery space.

The OxfordArts Trust chairwoman,

AretaWilkinson says she hopesthe

exhibition will give the community a

glimpse at the creativityinside local

prisons and also giveartists some support

and encouragement to continue creating

art.

''Artisapowerful rehabilitation toolin

prisons where men and women learn to

express themselves and communicate

through widerangingopportunities in

music, drama and the visualarts.''

Department of Corrections education

tutorElaine Drumm, says art provides an

escape fromreality for the artist and the

audience.

''This is especially so in aprison

environmentwhere art enables people to

remove themselves from the confines of

prison, express their emotions through art

and reconnect withwhat is happening in

the world outside the wire.''

For one of the prisoners, who created

exhibit 1102 in the exhibition, Taneatua,a

Ta Moko pencildrawing on acard mask,

Taneatua ... Exhibit 1102 at the Inside Art

exhibition of work by Canterbury prisoners,

on show in the Oxford Gallery toi o

Waimakariri until Sunday, October 31.

Funds raised from the sale of the artwork will

be donated to the Canterbury West Coast Air

Rescue Trust.

PHOTO:SHELLEY TOPP

the workisanexpressionof''longing for

home.''

Canterbury West Coast Air RescueTrust

general manager Rachael McNutt, says the

Trust is grateful to have beenselected as a

charity partner for the exhibition.

With mission numbers up 40 per cent in

the first six months of this year, and the

Trust needing to raise$6millionper

annum to deliver the air rescue service,

community funding is vital.

''We are excited to be apartofsuch a

great initiative, whichhas tangible

benefits for so many in the community and

we thankeveryone who has contributed in

some way to make this possible,

particularlythe artists themselves.''

The exhibition involves 64 works.

Mental health

support urged

Waimakariri MP Matt Doocey and

Rangiora resident Matt Hennessey have

launched apetition to addressthe rise in

mental health callouts.

Mr Hennessey approached Mr Doocey

abouthow the policecould be better

supported to deal with emergencycallouts

wheremental healthissues were afactor.

Subsequent meetings withRural Area

Commander Inspector Peter Cooper

revealed 20 percent of Canterburypolice

callouts are for people in mentalhealth

crisis.

''It was staggering to hear NZ Police

callouts for mental health rosebyalmost

one third in justtwo years from2018 to

2020,'' Mr Doocey says.

''In Canterbury there is growingconcern

that police, who are not trained in

psychology, are being heavily reliedupon

to provide frontlinementalhealth

support.''

Through the petition, Mr Dooceyand Mr

Hennessey are asking the Canterbury

District HealthBoard (CDHB) to establish a

mental health co­response service.

This would see amental health

professional joining emergency responders

to attendtomentalhealth emergency calls.

Currently police andthe fire serviceare

the first responderstoall emergency

callouts.

''Often people experiencing amental

health crisisend up in emergency

departments or police cells, which is not

the best outcome for anyone,''Mr

Hennessey says.

''A co­response team wouldprovide

better support for people in distress,and

ensure frontlineresponders are making

best useofpeople, skills and resources.''

To sign the petition go to www.change.

org/p/canterbury­district­health­boardcdhb­establish­co­response­callout­teamto­address­metal­health­crises.

NEWS

North Canterbury News, October 14, 2021

11

up to

30 %

off

Resene Premium Paints,

Wood Stains, Primers,

Sealers and Wallpaper

plus 25% off DecoratingAccessories

and Cleaning Products

Come in and see us today!

Rangiora Resene ColorShop

83 Victoria St, (03) 313 7326

or shop online at shop.resene.co.nz

Discounts off the normal retail price until 31 October 2021 at

Resene ownedColorShops andparticipating resellers.Paint offers

also available atparticipating Mitre 10MEGA/Mitre 10 stores.

Valid only with cash/credit card/EFTPOS purchases. Not available

in conjunction with account sales,promotional vouchers/coupons

or other offers. Excludes trade, ECS,WallPrint, wall decals, Crown

products and PaintWise levy.

Your local real estate experts

From Ohoka toCheviot, our team has the expertise and

local knowledge to deliver outstanding results. So when

you're ready,we're heretohelp.

Ben Beckdahl

Sales Support

Steve Collier

Licensed Salesperson

Vanessa Cross

LicensedOffice Manager

Rob Duke

Brandand Territory

Owner

Janine Duke

BrandandTerritory

Owner

Jono Smith

Licensed Salesperson

Don Stott

Licensed Salesperson

MikePeroRealEstate Ltd. Licensed REAA(2008).

Kaiapoi |Amberley

TheDukes 0800 THE DUKES
---
12

MONTHS

INTEREST FREE

onpurchases $299 -$798

FINANCE OPTIONS

AVAILABLE

20% deposit

Paycash priceonly

No booking or insurancecharge

or 24 MONTHS INTEREST FREE on purchases $799 &over

Terms,Conditions &Credit Criteria apply

SUMMER

BBQ?

SORTED.

100%LOCALLY

OWNED&OPERATED.

RANGIORA

If youfind alower priceonanidentical stocked productlocally, we will beatitby15%

If youfind thesame productfromanother Mitre10store or Mitre10website, we'll matchthatprice.Excludes trade and special

quotes,stock liquidations and commercial quantities.The in-storeprice maybelower than thatadvertised.
---
RANGIORA

SPRING

FLOWERS?

SORTED.
---
12

MONTHS

INTEREST FREE

onpurchases $299 -$798

FINANCE OPTIONS

AVAILABLE

20% deposit

Paycash priceonly

No booking or insurancecharge

or 24 MONTHS INTEREST FREE on purchases $799 &over

Terms,Conditions &Credit Criteria apply

SUMMER

BBQ?

SORTED.

100%LOCALLY

OWNED&OPERATED.

RANGIORA

If youfind alower priceonanidentical stocked productlocally, we will beatitby15%

If youfind thesame productfromanother Mitre10store or Mitre10website, we'll matchthatprice.Excludes trade and special

quotes,stock liquidations and commercial quantities.The in-storeprice maybelower than thatadvertised.
---
WE HAVE EXTENDED OUR RETAIL SHOWROOM AND REBUILT AND ENLARGED OUR

TRADE DRIVE THRU AND NOW WE ARE LOOKING TO GROW OUR TEAM AS WELL!

100%LOCALLY

OWNED&OPERATED.

RANGIORA

If youfind alower priceonanidentical stocked productlocally, we will beatitby15%

If youfind thesame productfromanother Mitre10store or Mitre10website, we'll matchthatprice.Excludes trade and special

quotes,stock liquidations and commercial quantities.The in-storeprice maybelower than thatadvertised.
---
NEWS

16 North Canterbury News, October 14, 2021

Full flight ... Bordeaux wins the South Bay Trotter's Cup at apast Kaikoura Cup race

meeting.

PHOTO: RACE IMAGES

Cup transfers to Addington

Covidrestrictions have prompted

Kaikoura's big race meeting to be

transferred to Addington Raceway in

Christchurch.

The annualtwo­day meeting at the scenic

SouthBay Racecourse was scheduled to be

run at KaikouraonSunday, October 31, and

Monday, November1.

However, the KaikouraTrotting Club

committee has reluctantly madethe

decision to transfer the meetingto

Addington this year.

''It is one of the biggestdecisions in our

history,'' Kaikoura Trotting Club president

Ben Smith says.

''We havebeen racingonthe all­weather

tracktherefor 68 years and have never had

to consider such asituation.But we haveto

be pragmatic.''

Mr Smith says the lack of any detail from

the Government aboutCovid­19 alert levels

in the lead­up to the November meeting

meanttheyhad littlechoice.

''Thecommittee is just asmall group of

volunteers and we looked at every option,

but we had too manyquestions about

running themeetingatKaikoura at Level 2

so the decision was made to go to

Addington,'' Mr Smith says.

The club will raceonMonday, November

1, featuringa13­race programme, justeight

days before theNew ZealandCup.

''While disappointed for the Kaikoura

trackspecialistsweare enthusiastic about

what horses will turnupfor both the

$50,000 Alabar Kaikoura Cup and the

$30,000 MajesticSon SouthBay Trotters

Cup giventhe meeting will be two days

before the New ZealandCup trial, also at

Addington, so hopefullysome of thoseCup

horses willlook at racing at our meeting

instead,'' Mr Smith says.

''We knowalot of people are going to be

saddened by what has happened, but we

are obviously going to do everythingwecan

to make it ahugelysuccessfulday.''

Council to consult on

cycle ways, parking

By DAVID HILL

Walking and cyclingdevelopments,

parking, urban development, three

watersratingand flood recovery were

among the topics discussed at last

week'sWaimakariri District Council

meeting.

While disappointed not to receive

funding fromWaka Kotahi New Zealand

Transport Agency recently towards the

district's proposed walking and cycling

initiatives, councillors decided to

proceed with plannedconsultationof

the Walking and Cycling Network Plan.

''A lot of workhas gone into it so we do

want to engage with our community,''

Mayor Dan Gordon says.''Even though

we don'thave the full fundingwe

wanted, we stillfeel it's important to

have the conversation and you never

know withadvocacy, what it mightlead

to.''

Consultation willbecarried out in

February and March nextyear.

Several options can be explored,

including spendingthe council's

budgeted $563,500tocomplete a

reduced work programme, or increase

the funding to makeupfor some or all of

the shortfall.

Councillors also approved adraft

district parking strategy which will go

out for consultation for four weeks from

Mondayuntil November 14.

''We look forward to the feedbackfrom

the community,'' Mr Gordonsays. ''We

get quite afew views expressed on

disability parking and time limits,so

this is an opportunity for the publicto

come back withtheirviews and tell us

what theythink.''

Disability parking is alsobeing

considered as part of the processof

developing adisability strategy for the

district.

The new northeast Rangiora

development area is one step closer to

becoming areality after councillors

approved changes to the development

contributions policyschedule, following

public consultationand agreement from

the developer Bellgrove Rangiora Ltd.

An application will now be made to the

Minister for the Environment to fast

trackthe project.

Anew 3Watersrating structure was

also considered,but councillors decided

to hold off until early next year while the

council awaits for the outcome of the

government's proposed 3Waters

Reform.

''We thought it would be confusing if

we went out now and consulted,and

then things changed,'' Mr Gordon says.

''Butthere will be atime whenweneed

to have thatconversation of whether we

join anotherratingscheme.Weare still

not clear whether it would be the

council collecting the rates,should to

proposed reformsgoahead.''

Recovery managerSimon Hart

presented his finalreport, following the

May 31 floodevent, noting that anumber

of lessonshad beenlearned from the

eventand opportunities identifiedto

improve future recovery efforts. It was

confirmed that ongoingflood recovery

work will continue as part of the

council's established work programmes.

133 womenwith undetected

breast cancer in this lockdown.

And counting...

Join us, demand Government action on breast cancer now.

Sign the petition missingwomen.org.nz

Get checked. Re-book your mammogramimmediately.
---
Motoring

Guide

Your local motoring professionals

2387322v4

WE ARE THE

SERVICINGEXPERTS!

No Need To CommuteToChristchurch

-WeCan Do It All! We can use genuine parts, so

yourvehicleisstill covered under warranty.

We have the latest DiagnosticComputerSystems

that are compatible withmost vehicles.

Wheelalignments&tyresatverycompetitive prices.

CALL US NOW TO BOOK YOUR SERVICE

Discounts to Superannuates

77 IvoryStreet, Rangiora Ph 313-5802

Monday -Friday 8am-5.30pm

COLLISION REPAIRS RANGIORA

Support Local

Businesses

Recommendusfor Paint&Panel

requirements

Make an insurance claim and choose North

Canterbury Collision Repairs Rangioraas

your repairer. Your Car,Your Choice.

Crash repairs, bumps &scrapes to major

smash work

Commercial&fleet repairs,Buses,Caravans &

Motorhomes, Trucks,Trailers, Buses &Boats

Quality

workmanship &

fastest

turnaround

Fleet of courtesy cars available

Contact John 3136966

639LinesideRoad, Southbrook | www.nccrc.co.nz

Petrol &Diesel

Use your SuperGold card or

supermarket docket for 12

cents off Petrol &Diesel only

COMPLETE AUTO REPAIR SERVICE

WOF

Light Engineering

Tune-ups

Repairs

Lube-Oil changes Ride-on Mowers

Full Diesel Service Pick up &Delivery

Brakes &Clutches

Sell &Sharpen

Motor Work

Horse Clippers &

Warranty Work

Sheep Shears

Oils &Automotive Accessories, Postal

Services, Hot Pies, Sandwiches, Rolls,

Groceries and Sweet Treats

For your convenience

Sefton Garage

571 Upper SeftonRoad, Sefton

NorthCanterbury.Ph03 312-9713

2318082v7

Team Tyre General. .. Sam Hilston, serviceman (left), Allan Cleghorn, manager, Chris

Klein, field serviceman, Liam Greer, field serviceman. Absent: Bobby Max, trainee.

Quality service assured

TyreGeneralinRangioraprides itselfon

service,choice andvalue for money.

It sells all brands of tyres,offers fleet

servicing,and hasexperts who ensure a

professional job at itsbase at 346A

FlaxtonRoad, or out in thefield.

Knowledge and training withinthe tyre

and transport industries support Tyre

General'sabilitytoprovidethe righttyre

for the right job, after­sales serviceand an

efficientfleet management system.

Manager Allan Cleghornsays the

companyhas tyres for wheelbarrows,

lawnmowers, andcars through to heavy

trucks,tractorsand earthmoving

equipment.

''We are aone­stop shop when it comes

to tyres.

''We are notbrandspecific anddeal

with mostbrands,and allshapesand

sizes,'' he says.

Tyre General offers wheel alignments

on alltypes of vehicles fromcars,utes and

four­wheel­drives to specialty vehicles.

It can alsoarrangefor campervan and

truck alignments. Bookingsare essential.

TyreGeneraloffers afree tyre safety

check for treaddepth and tyre pressure,

We Do It All!

Your One Stop Mechanical Shop

with no appointment needed.

''If people want to pop in we cancheck

theirtyres for free, particularlywith the

holiday season rapidly approaching,''

Allan says.

It has aprofessionalcalloutserviceto

gettrucks, tractors and otherfarm

machinery backonthe job in no time.

It alsooffers emergencyroadside

assistance on 0800226 324, which is

available 24/7.

Itsbasecan be accessed from Lineside

Road or Flaxton Road. Parking is

availableonits Flaxton Roadproperty

whileyou discuss your needs.

Forfast,friendlyand professional

service,call in and see Allan andthe team

at 346A Flaxton Road, which has recently

been joinedbytrainee,Bobby Max.

For24/7 supportcall (03) 3106666or

email rangiora@tyregeneral.co.nz.

Tyre General,Rangiora,isopen

Monday to Friday, 7.30am­5pm; and

Saturdays from 8am to noon. It is closed

on Sundays.

Tyre General is offering atyrerotation,

balanceand wheel alignmentcombo,

from $89.

One Stop WOF Shop

All MechanicalRepairs and Servicing, Tyres,

Exhausts, Automatic TransmissionService

Burbidge Automotive

325 Flaxton Rd |Ph03313 3344

Ample carparking! Courtesy Cars, Van, Automatics Available

2387427v1

2389102v4

Best Brands

-Best Prices

5Star Service

ROTATION /BALANCE

AND WHEEL ALIGNMENTS

FREE

Pressure check on

Cars, Utes, 4WD &

Trailers

FROM $89

Bookings recommended, ts&cs apply.

346a Flaxton Road

Phone 03 310 6666

0800 226 324 for 24/7 Service

FOR ALL YOUR LIGHT

AND HEAVY

TRANSPORT REPAIRS

Breakdown &

After Hours

Service

Available

Vacancies Available

2Full time Mechanics wanted

Phone 03 313 6361

0275 200 711

307 Flaxton Road, RANGIORA

brooktrucks@xtra.co.nz

NEED TYRES?

• Punctures

• Balancing

• New tyres

• ATV tyres

• Motorbike tyres

(on and off road)

• Barrow tyres

• Mobility scooter tyres

• Bicycle tyres

Give usacall or come

and see us in store!

ARTHUR BURKE LTD

Markham St, Amberley

03 314 0137

2388559v4
---
ADVERTISEMENT

Southern Response

Concealmentwith Claims

Resolution Service

The Ross ClassAction againstSouthern Response

means over 3,000 homeowners areeligible forextra

payments by Southern Response.Theaverage payout

is expectedtobe$100,000per home.

What mayyou be eligible for?

•Claimssettled priorto1st October2014 mayhave

information hidden from thehomeowner which

couldentitle youupto20% more than youhave

received.

•You mayalsobedue interest from 2014.

If youare oneofthe more than 3,000 home owners

eligible andwanttosaveaconsiderableamountof

fees andcosts in settlingyourclaim youneedtoOpt

Out of theRossClass Action beingmanaged by

GrantCameron andAssociates.

GrantCameron has advisedthe mediaheand

his Litigation Funderare chargingupto27.5%

commission on everydollarhecollectsfrom

Southern Response on your behalf.

BecauseGCA Lawyersare runningthe Ross Class

Action it is necessary that you OptOut to avoid

expensive chargesand fees. If youdonothing, you

areautomaticallyinGrant Cameron'sRossClass

Action andthatisgoing to costyou averylarge

share of your SouthernResponse payout.

ClaimsResolution Service offers

youawayout of GCAs high cost

classaction at no cost to you.

The Courts areonyourside, theyhavedecidedtoallowpeople to OptOut of

theRoss Class Action beingrunbyGrantCameronand Associates.

But youonly have until 20 December 2021

TheCourts areon your side, theyhave decided to

allowpeopletoOpt Outofthe Ross Class Action

beingrun by GrantCameron and Associates. But

youonlyhave until 20 December 2021.

Southern Response have offered to pay$2,000of

your legal costs.

ClaimsResolutionServicehavebeenabletostrike

adealwithour paneloflawyers to provide legal

adviceto youabout your claim and Southern

Responsepaying forthatadvice and youare

charged nothing.

Letushelp youget your full entitlement atno cost

to you.

OurSR ClaimsOpt Out system

•NOcontracts

•NOsuccessfees

•NOcommission fee

•NOlegalese

•YES plain talk

•YES simple paperwork

•YES someoneyou already knowand trust

Timeisrunning out, start theprocess now. Enrolatwww.srclaims.co.nz

Email us if youwould liketoknowmoreabout our claims info@srclaims.co.nz

or call Leon on (03) 3778855

CLAIMS RESOLUTION SERVICE (2015) Ltd

Contact us today -call 03 377 8855 or visit www.srclaims.co.nz
---
NEWS

North Canterbury News, October 14, 2021

19

Book collection ... Rangiora Rotary book sale project co­ordinator Bruce

Walker(right) and ZService station staff member Daniel Smith check up on the book

bin at Rangiora's Zservice station.

PHOTO: SUPPLIED

Rangiora Rotary book bins

awaiting sale donations

Books,CDs and vinyl records are

being collected by Rangiora Rotary in

preparation for the annual book sale

on November 26 and 27 at the

Rangiora Showgrounds.

Collectionbins have been placed

outside the Rangiora ZService

Station and New World supermarket

and will be cleared by Rotary

members.

Projectco­ordinatorBruceWalker

saysthe decision to delay the annual

bookfair is an opportunitytobemore

openwith hopefully less restrictive

Covid­19 disruption.

''There is alot of anticipation for the

annual Rotary booksale,'' he says.

Rotary willalso collect books.

Phone 027­4724439ifyou want some

books picked up.

New home ... The wind­driven kinetic sculpture, Karo, was officially unveiled on Sunday

afternoon.

PHOTO: SHELLEY TOPP

Sculpture unveiled

By SHELLEY TOPP

Apublic sculpture fundedbythe Blackwell

family has been officially unveiled by the

Kaiapoi River.

Karo,the Andrew Drummond winddriven

kinetic sculpture was commissioned

by the Waimakariri Public Arts Trustand

funded by the Blackwell family to celebrate

the 150­year anniversary of Blackwell's

department store in Kaiapoi.

Threegenerationsofthe Blackwell

family joined asmallcrowd at the

installation site of the sculpture, on the

KaiapoiRiver bank nearthe KaiapoiRiver

Queen's berth, last Sundayafternoon to cut

the ribbon.

Andrew Blackwellsays the family

wanted to contribute somethingspecial for

the Kaiapoi communitytoacknowledge

their 150­year anniversary.

Waimakariri Public ArtsTrust

chairperson Jackie Watson saysthe

unveilingceremony was also heldto

celebratelaunching thetrust's website

waimakpublicart.org.nz.

The trust has been established to

commission artworks and promote the arts

and is overseen by theWaimakaririDistrict

Council with the trustees, Jackie, Wilson

Henderson, JudithHoult, DaelFoy and

Nicole Weber working to develop public

artsprojectsinWaimakariri.

Jackie says the trusteeswanted ideas

fromthe community about newlocations

for sculptures.

Fun and exercise

all year round

Lagoon Pools import and install quality fibreglass swimming pools. Tocompliment the pools

they supply good quality equipment including salt water chlorinators, heat pumps, pool lights,

fountains and water features, swim turbines, spa jets, robotic pool cleaners and arange ofcovers

androller systems includinghidden andautomated.

Imported from Leisure PoolsinAustralia,their VinylEsterpools arestrongwithsix layers including

protectivearmour. Each poolisstrengthtestedand has alifetimestructuraland osmosiswarranty.

Lagoon Pools owners Julie and Warren are dealers for Leisure Pools inthe North Canterbury to

Southland area,and agents forthe EliteHideawayRoller system.

Call Lagoon Pools on0800 927 282 or 349 2160, email info@lagoonpools.co.nz or visit:

www.lagoonpools.co.nz Theyare open by appointment only.

ACUT ABOVE

THE REST

TS138

Husqvarna Series Engine -14.7hp -38" Cutting Width

LAWN

TRACTORS

FROM

$

4,449 *

*Refersmodel TS138

www.lagoonpools.co.nz

03 349 2160

0800 927282

TS142

Husqvarna SeriesEngine

18.6hp -42" Cutting Width

Offersvalid 01/09/2021 -31/01/2022 while stockslast,atparticipating Husqvarna Dealers only.

Your localauthorisedHusqvarnaDealer:

TC138T

Husqvarna SeriesV-Twin Engine

764cc -38" Cutting Width

Ph. 3136640| 275 FlaxtonRoad, Southbrook

sales@brandmowers.co.nz

$

5,249 $

7,559

5YEARDOMESTIC WARRANTY #

# Terms andConditions apply,see HUSQVARNA.COM fordetails.

2417083
---
RANGIORA VOLUNTEER FIRE BRIGADE

20 North Canterbury News, October 14, 2021

MAKING

HEALTHY

HAPPEN

Open 24/7

for members

2425378

194 King Street,

Rangiora

Phone 03 313 6090

"Supporting Rangiora Fire Service recruitment"

Make the

Wright Move

Call BevWright

Residential Sales

M 027434 2486

E bev@pb.co.nz

Property BrokersLtd Licensed REAA 2008

Proud Supporter of the Rangiora

Volunteer Fire Brigade

We repair and replace all tyres from

wheel barrows to earthmovers and

everything in between.

Cnr High Street &Church St

Rangiora Tel: 03 313 7401

FOR ALL YOUR LIGHT

AND HEAVY

TRANSPORT REPAIRS

Breakdown &

After Hours

Service

Available

Proud to Support Rangiora Volunteer

Fire Brigade Recruitment

2Full time Mechanics wanted

Phone 03 313 6361

0275 200 711

307 Flaxton Road, RANGIORA

brooktrucks@xtra.co.nz

2424705

2424730

NORTH CANTERBURY

TRUCK &TRACTOR SERVICES LTD

•24hour breakdown service •Air &hydraulic brakes

•WOF /COF inspections •Steering &suspension

•Servicing,Diagnostics &Repairs

Office 03 313 5691 Kieran 027 560 7262

COF Booking 03 313 5691 (extn 4)

11-13 Station Road, Rangiora 7400

Email accounts@nctts.co.nz

2424843

Rga Brigade seeks volunteers

Volunteers who canrespondto

daytime fire calls are being sought by

theRangiora Volunteer Fire Brigade.

Alargerpool of volunteers will

lessen the impactonlocal employers

whogenerously support their staff

being membersof Fire and

Emergency.

Chief Fire Officer Brook Retallick

anddeputy Chief fire officerKerry

Ealam saysthe brigadeislooking for

personnel who areinapositionto

respond immediately to fire calls

between 8am and5pm.

The brigade is recruiting for

volunteers with daytime availability

Volunteering

for community

There are many reasons why people

volunteerwith Fireand Emergency.

Some join because theywant to

contribute to their community.Others

join to be part of ateam and to learnnew

skills.

Being avolunteer with Fire and

Emergencyisaway to serve your

community. Not only do volunteers

attendincidentsand emergencies,they

also participate in community events

and hold brigade events.

As avolunteer you'llmeet new people

in your community.

Volunteering with us is all about

teamwork.Volunteers learn teamwork

skillsthrough training and working with

their brigade.

When you volunteer, you become part

of ateam –not just withinyour brigade

but with Fire and Emergency

nationwide.

You will have the opportunity to take

part in alarge social network as well as

compete in sporting and firefighting

challenge events.

Volunteersare trained to do their jobs

safelyand effectively.

Firefighters and medicalfirst

responders attend formal training

courses held locally or at one of the Fire

and Emergency training centres.

For some firefighters this includes a

recruits course that can be up to aweek

long. Wages and salaries are reimbursed

by Fire and Emergecy and thereisalso

an allowance for babysitters.

All volunteer firefighters, and some

operational supportvolunteers,are also

trained in medical co­response.Fire

and Emergency also offer training in

valuable skillssuch as leadership, and

provide accesstoonline educational

resources.

Supporting Rangiora Fire Service

www.nctts.co.nz

to assistand supportour current

employers ,theysay.

Mr Retallick saysbeing avolunteer

firefighter can giverecruitsagreat

sense of achievement, and it can be

veryrewarding, particularly when

helping people in their darkest hour

by puttingall theskills and tools to

workthat firefighters have trained

for.

The Rangiora brigaderesponds to a

variety of emergenciesincluding

vegetation fires, natural disasters,

rescues, structure fires and medical

events. It also supportsneighbouring

brigadesinthe Waimakariri District.

PROUDLY

SUPPORTING

OUR LOCAL

VOLUNTEERS

The brigade not onlyresponds to

emergencies but partakes in smoke

alarminstalls,community risk

reduction andfire prevention

programmes.

Family lifeplays abig part of the

Rangiora Brigade with membersand

families often taking part in

communityevents such as Relay For

Life, Rakahuri mountainbike race,

andtheRangiora Christmas Parade

to nameafew. Some in­house events

include children's movie nights, pool

nights, family picnics, partner nights

andmid­winter dinners.

The brigadeiscurrently made up of

In training ... Rangiora Volunteers take part in aCivil Defence exercise.

Port Hills ... ARangiora unit helping out at the devastating Port Hills fire in February, 2017.

2424464

30­40 peoplewithvariousworking

back grounds fromshift workers,

self­employed,and stayathome

parents to office staff, trades

personnel andmanymore.

If youare over 18 years of age, have

acurrent drivers licence, can

respond to central Rangiora within

five minutes of turnout,ateam

player, keen on learning newskills

while making your communitysafer,

the brigade wouldlove to hear from

you !

Pleasecontact

brook.

retallick@fireandemergency.nz or

kerry.ealam@fireandemergency.nz.

Proudly supporting Rangiora Fire Service

Always ready ... An early photo of Rangiora Volunteer Fire Brigade members.

Volunteers ... Volunteers at ahopper fire in Rangiora.

PLUMBING ▪ LOG FIRES ▪ BACK FLOWS

PUMPS AND WATER TANKS

Supporting

Rangiora Fire

Service

Phone: 03 312 8947

Mobile: 027 471 7479 –Warwick

or 021 149 4266 –Sue

Email: info@warwickkirwanplumbing.co.nz

2425381

forthe

feeling

Proud to support

Rangiora Volunteer

Fire Brigade

Recruitment

Physical and MentalHealth

8High St

Ph 3130909

PHOTOS: SUPPLIED.

2425364

2424729

MattDoocey

MP forWaimakariri

Backingour local

volunteerfire

brigade

mattdoocey.co.nz

Funded by the Parliamentary

Service. Authorised by MDoocey,

Parliament Buildings, Wgtn.

Allan Pethig

Phone 03 313 7144

027 432 1534

Fax 03313 2144

BROOK&DEAN

21

Encouraging local

fire service volunteers

237 High Street, Rangiora

Ph: 313 7877

Supporting our Local

Volunteer FireBrigade

For all your electrical needs.

Residential &Commercial

Proud to support

Rangiora Volunteer Fire

Brigade Recruitment

rgrantelectrical@gmail.com

PO Box 69, Rangiora

www.rgrantelectrical.co.nz

SUPPORTING

LOCALS

2424728

2424703

RANGIORA

100% LOCALLY

OWNED &OPERATED.

Happytosupportthe localvolunteer firebrigade

JOIN US IN BACKING

NORTH CANTERBURY

bayleys.co.nz/canterbury

WHALAN AND PARTNERS LTD, BAYLEYS, LICENSED UNDER THE REA ACT 2008

Together ouractions help offer apathway forwardpavedwithfresh

hope for all of Canterbury, today, and for our future generations

Bayleys Rangiora Proudly Supports

• ChristchurchArt Gallery

• ChristchurchCityMission

• Community Wellbeing North

CanterburyTrust

• Crusaders

• Hanmer SpringsConservation Trust

• North Canterbury Rural SupportTrust

• North Canterbury Sport

and Recreation Trust

• Surfingfor Farmers
---
NEWS

22 North Canterbury News, October 14, 2021

Kaikoura to make asplash this summer

Kaikoura is set to have its new

community swimming pool open for

summer.

Finishing touches are being made

ahead of the Kaikoura Aquatic Centre's

official opening on Sunday, November

14, on the 5th anniversary on the

devastating 2016 earthquake which

destroyed the former community pool.

The new aquatic centre is amodern

facility catering to everyone from

competitive swimmers, young people

learning to swim, casual picnics with

families and friends, as well as those

who wish to gain better health through

water­based activities.

It includes a25by12metre lap pool,

a6mby10m multi­use learn to swim /

hydrotherapy pool, abeach entry

toddler pool, changing rooms,

administration building and apicnic /

barbecue area.

The project has been managed by the

Kaikoura Community Charitable Trust,

with assistance from the Kaikoura

District Council.

''It has been alot of work and many

volunteer hours from everyone

involved, and ahuge learning curve,''

says trust member John Diver.

''There will be afew nuts and bolts to

sort out once we open, but we're looking

forward to the centre becoming ahub

for the district over the hot summer

months.

''Local youth will also benefit with the

swimming club and Kiwi Swim holiday

programme having access to apurposebuilt

facility.''

Sport Tasman has been appointed to

Ready to use ... The new multi­use learn

to swim and hydrotherapy pool is sure to

get plenty of use over the summer months.

manage the pool and will be working

closely with the trust.

Sport Tasman chief executive Nigel

Muir says the pool opening will be an

exciting day for the Kaikoura

community.

''The importance of afun, family

space and the chance for tamariki to

learn fundamental water skills in a

seaside community makes this a

wonderful investment for future

generations.

''A huge congratulations to all who

Entranceway ...

Kaikoura's new aquatic centre is due to open next month.

PHOTOS: KAIKOURA DISTRICTCOUNCIL

have made this possible.''

Trust member Toni Batey has been

active in the community fundraising

and is working with local volunteers

doing weed control and planting the

area around the pool.

Acall will be going out closer to the

opening date for extra hands to help get

the centre in tip top shape.

''While the build is almost complete

we still have some work to do on the

entrance way, setting up the

administration building and the

barbecue area,'' Ms Batey says.

Funding to build the Kaikoura

Aquatic Centre included $1 million

contributions from the Kaikoura

District Council and the government's

Covid­19 recovery fund. Large

donations were received from the

Department of Internal Affairs

Lotteries Earthquake Recovery Fund,

the Lottery Community Facilities Fund,

the Rata Foundation and the Kaikoura

Op Shop, with the balance coming from

local fundraising.

Anyone who would like to volunteer to

get the site ready can contact

tonibatey@xtra.co.nz or phone

027­4382678.

CHOOSE

5ADAY

for great mental

healthiness

HIGH

FIVE

WHAT 5WILL YOUCHOOSETODAY?

8+

HOURS

SLEEP

20 MINS

EXERCISE

+

POSITIVE

INPUT

THANK-

FULNES

10+

MINS

OUTSIDE

EAT

HEALTHY

FOOD

GIVE

POSITIVE

SELF

TALK FORGIVE

-NESS

DO

THINGS

YOU

LOVE

TIMEWITH

UPLIFTING

FRIENDS

USE/

DISCOVER

YOUR

TALENTS

DREAM

&PLAN JOURNAL

-ING

JOKE,SMILE

LAUGH

ALSO: FUN THINGSWITH YOUR FAMILY, HAVING ACAUSE, BEING PRESENT, LIFT OTHERS UP WITH YOUR WORDS

WWW.BEGREAT.CO.NZ
---
STYLE & QUALITY

FOR LESS

STOREWIDE SALE

SALE

CHRISTCHURCH'SMOSTAFFORDABLE

NZ MADE LOUNGE SUITES

CUSTOMISE TO YOUR REQUIREMENTS

Iris 3+2 Seater

Available in other colours

2Seater $819 $759

3Seater $999 $919

SALE

QUALITY

FURNITURE

SALE

Lennox DiningChair

Maui

Recliner

Ebony,Dark Grey,

Beige or Marine.

Black PU

Affordable

PRICE TAG

Ackley Dining Table

WAS $1249

$

1179

WAS $519

$

479

Ash

Acacia

Birch

WAS $139

$

129

Elm

Collection

Sylvie Bedroom

Collection

Tallboy 5Drawers $829 $769

Tallboy 6Drawers $969 9 $899

Lowboy 6Drawers $879 $809

Bedside $299 $269

Headboard $549 $509

Table Large $1249 $1159

Table Small $759 $699

SALE

Atlanta Bunk

SALE

Piha Extension

Outdoor Table

White

RimuStain

WAS $1139

FINANCE

$

1079 WAS $1899

$

1749

WE CAN HELP WITH THAT

FREE

CARPARKING

SOUTHCITY

BATH ST

WE ARE

HERE

255MOORHOUSE AVE

REBEL SPORT

COLOMBOST

MON-FRI 9:30AM–5:30PM

SAT-SUN 10AM–5:30PM

0800 268 264

www.affordablefurniture.nz
---
48,000 reasons

to advertisewith us!

2021 Nielsen Readership Survey —North CanterburyNewsvsNorthern Outlook

50,000

North Canterbury

News 2021

48,000

Readers

every

issue

25,000

0

Northern

Outlook

2021

Did not survey

Thelatest 2021 Nielsen report

is out and it shows that The

North CanterburyNewsisthe

best read newspaper in North

Canterburyfor all people 15+.

Thegraph attached shows

average issue readership 15+

on atypical week

With our proven48,000readers every issue —grow more

customers, sales and profits for your business, call us now

for afree advertising consultancy.

Here's what our customers have to say:

Advertising couldn't be easier with the North

Canterbury News, with a well laid out plan in

place at the start of the year along with flexibility

of being able to be change ads at short notice.

The North Canterbury News has well prepared ads

and great coverage around North Canterbury.

Craig Schroder,

General Manager, Arthur BurkeLtd

The North Canterbury Sport & Recreation Trust

relies on NC News to get our message out across the

whole region. NC News has the best in local grass

roots content that captures the readers we want to

keep inform about our FitnessCentresandthemany

programmesandeventsweruntosupportthehealth

andwellbeing of everyone in our community.

Tony Kean,

North CanterburySport &Recreation Trust

Phone - 03 314 8335

Email - dayna.burton@ncnews.co.nz

Office-14 Ashley Street, Rangiora

www.ncnews.co.nz

www.starnews.co.nz

*Source: 2021 Nielsen Readership Survey—North Canterbury News vs Northern Outlook average readership each issue

*Source: Nielsen readership surveyQ32020 –Q22021 all people 15+
---
NEWS

North Canterbury News, October 14, 2021

Kaiapoi riders triumph in Springston Trophy

By DAVID HILL

The KaiapoiPony Club's

''Black'' team was ''excited'' to

successfullydefended the

Springston Troph equestrian

competition in Southland last

weekend.

The KaiapoiBlack teamwon

the event in 2019, but missed the

opportunity to go back­to­back

after last year'sevent was

cancelled due to Covid­19

uncertainty.

The three­day long contest

was held at the Ryal Bush Event

Centre under Alert Level2

conditions, withteams sticking

to theirteam bubbles.

''The kids were really

pleased. We didn'tthink we

would do it,'' admitsAmanda

Brown, one of the team's

coaches.

''It's really hard to get all the

riders to do it consistently

across the team, becausethere's

so many elements to get right.

''The main objective is to have

agreat timeand to give the

riders exposure to competition

and theylearn alot from

watching otherriders.''

Amanda's children Molly (16)

and Sam (12) Moffattwere part

of both successful Kaiapoi

Black teams.

The Springston Trophy is a

three­day event,with teamsof

six ridersacross different age

groups competing in dressage,

cross country and show

jumping.

Equestrianisusually an

individual sport, but ateams

Champion combination ... The Kaiapoi Black team celebrates after winning the Springston Trophy at the weekend.

eventadds an extraelement

''where everyone supports each

other'', Amanda says.

Kaiapoi ridersalso competed

in acomposite team, with all of

the Kaiapoi riders, families and

supporters staying at the

Central PiratesRugby

Clubrooms overthe weekend.

''Thatwas reallyfun,''

Amanda says.

''Wehave agreat team behind

the teamand everyone plays a

part,from cooking the meals to

finding aplace to stayand I

thinkthe riders really enjoy

that.''

Next year the Springston

Trophy is returning to

Canterbury, as the competition

marks its 50thanniversary.

''It's nice to spread it round

becauseitgives everyone a

boost, but Canterbury is really

strong at eventing and it will

givesome of the smaller North

Canterbury clubs the chance to

compete without being put off

by the distance,''Amanda says.

North Canterbury riders and

25

PHOTO: TANIA CLARKE ART &PHOTOGRAPHY

supporters will be enjoying

some much need respite after a

big weekend and the longdrive

home thisweek. Some of the

local riders will be backing up

for athree­day eventat

McLeansIsland, near

Christchurch, thisweekend,in

the final South Island event for

the season.

FINALWEeK!

Riley

Living & Bedroom

ON SALE

3Seater

NOW $

899

Chaise

Sofa –LHF

NOW $

1199

STOREWIDE

SPRING

SALE

4

Queen Bed

NOW $

699

ON SALE

Drawer

– W60

NOW $

299

Chia Bedroom

Range

8 Drawer

NOW $

599

5 Drawer – W80

NOW $

399

Marbella Outdoor

Corner Chaise

WAS $ 2299

NOW

$

1699

Lincoln 4 Seater

WAS $ 2699

NOW

$

1999

Atlantic Queen Bed Avery Single/Single

NOW Paris 7 Piece Dining Set –

WAS $ 999 Bunk Bed WAS $ 649

W190 WAS $ 2139 NOW

NOW

$

699

$

399

$

1599

Scantofindstore

250 Moorhouse Ave, Christchurch

0800 TARGET (0800 827438)

targetfurniture.co.nz

Offers and product prices advertised here expire

18/10/21. Sale Excludes Accessories.
---
NEWS

26 North Canterbury News, October 14, 2021

Remember, by LisaGenova

In Remember,neuroscientist andacclaimednovelist

LisaGenova delvesintohow memories are madeand how

we retrieve them. You'lllearn whether forgotten

memories are temporarilyinaccessible or erasedforever

and whysome memories arebuilt to exist foronly afew

seconds while others canlast alifetime.

Of Horses andMen,byFransJansen

Whetheryou'reatrue­blooded

horse­personorare simply

interested in peopleand their

animals, you willlovethis unique

perspective fromafarrierin

rural Northland andhis keen

understanding of the special

relationship people have with

their horses.

The Backofthe Painting, by

Linda Waters

Thisfascinating book by three

painting conservators explores

the backs of 33 paintings, ranging

from14th century artworkstothe

present day andheld in the

collectionsofthe Museum of New

ZealandTePapaTongarewa,the Auckland ArtGallery

ToioTamaki and theDunedin Public Art Gallery.

Thesetitles are available in bothWaimakariri and

Hurunui libraries.Find outmore about recent additions

to the librarycollection by goingtothe librarycatalogue

at waimakariri.kotui.org.nzorhurunui.kotui.org.nz or

contact your local library.

Residents line up for the jab

In North Canterbury more than53,000

people have had their first dose of the

Covid­19 vaccine and more than 34,000

have had their second dose, says

Canterbury District HealthBoard senior

officer responsiblefor the Covid­19

response,DrHelenSkinner.

Vaccination ratesare:

Kaikoura :76.1% of the eligible enrolled

populationhave received at least one dose

and 61.4%are fullyvaccinated.

Hurunui:75.7% have received at least

one dose and 48.7%are fullyvaccinated.

Waimakariri: 76.2% have received at

leastone dose and 48.3% are fully

vaccinated.

Up to

50 % Off

*Call for Terms

&Conditions

Off

*

ADJUSTABLE MASSAGE BED

by
---
NEWS

North Canterbury News, October 14, 2021

27

Leading the way ... Georgia Rhodes (left) and Hillary Cooper lead some Lowline cattle at

apast Rangiora Show.

PHOTO: FILE

Competitions in bubbles

By DAVID HILL

Cattlewill be back at the Rangiora

Showgrounds next week.

While the Rangiora Show has been

cancelled, cattle, alpaca and donkey

competitions will be held with no public

present due to Covid­19 AlertLevel 2

restrictionsonSaturday,October 23.

The cattlecompetition will also include

the junior handling and judging

competitions, convenor Phil Worthington

says.

The three sections will be separated

into three separate bubbles, with only

listed exhibitors,officials and supporters

able to enter the showgrounds.

Mr Worthington says 24 Hereford and

lowline cattle have been entered,along

with 14 youngpeople in the junior

herdspersoncompetition.

Youngcattle handlers willbetravelling

from Ashburton, Lincoln and Oxford to

compete againstmembers of the Rangiora

High School cattle show team.

They willbeput through their paces by

judgeAmy Hoogenboom, who will provide

atutorialfor the young handlers once

judging has been completed.

''It's disappointingnot to have afull

show,but it looksasthough we will have

to do avirtual competition at Canterbury

and there will be no handling

competition,'' Mr Worthington says.

''So we are thrilled we can offer

something for our young people.''

Whilemodern technology offered new

opportunities, it was not the same as

beingable to judge an animal up close, he

says.

''Technology means we can do afew

more things, but the thing is with aphoto

or avideothe judge can'tsee the animal

up close, so you can't tell if acow is pigeon

toed.

''And the skills of handling will wane

over time if we can't offer opportunities

like this for our young people.''

Keeping it Scottish ... Marshall Stokes (then 15), of Oxford, leads his 4­year­old

Galloway bull at Canterbury Agricultural Park last year.

PHOTO: FILE

Show week to be revised

By DAVIDHILL

The show must go on, but without the

public.

Whilethe New ZealandAgricultural

Show has officially beencancelled for

the second year in arow, Canterbury

A&P Association presidentChris Harris

says individualsectioncommitteesare

considering holding theirown

competitions similartolastyear.

Mr Harris says it was disappointing to

cancel the showfor the secondyear

running, but ''itcan't really be helped''.

''Ourpulling out doeseffect anumber

of businesses and we are very conscious

of that.

''It's an icon event and everyone wants

it, but there's just no way we be can

confident of safelyrunning the show.''

He says the horse section will not be

holding acompetitionthis yeardue to

the size of the competition and the lack of

lead in timetorevisethe event.

But other sections will holdamix of

on­farm competitions and judging at

Canterbury Agricultural Park at Wigram.

''We were lucky enoughtodoitunder

Level 1last year, but it will be more

challengingunder Level2toseparate

people,'' Mr Harrissays.

''Some of the eventswill be judgedon

farm, so it's alot easierwhen you know

who's coming.''

Some of the judging will be filmed and

available online,hesays.

''It means the show will still exist in

some form. It's one of thethingsthe

sections are working out, how they will

be able to do it.''

Alert Level 2restrictions mean that

none of the social events people looked

forwardtowill be held and it is unlikely

exhibitors willbetravelling fromother

parts of the country,MrHarris says.

''Hopefully we will only have to wait

for another year untilwecan do it again.''

Depending on vaccination rates and

government regulations,MrHarris

suspects if the showdoes go ahead in

2022, vaccination certificatesmay be

required for entry to the show.

WIN afree solar system for your favourite charity

it's time to

let the sun in

the

solar for good

project

to celebrate the opening of our

new solar hub in Christchurch

we are gifting a$30k solar system

to alocal organisation that you think

does great things in your community.

to nominate

scan this QR code or

visit www.lightforce.co.nz

entries close Thursday 21st October

Robert Webb of The Whangarei Native Bird Rescue Centre

-Lightforce Northland charity winner
---
NEW STORE

SPOOKTACULAR

OCTOBER DEAL$

$16.99

EACH

$19.99

EACH

$19.99

EACH

$21.99

EACH

$22.99

EACH

$24.99

EACH

Jim BeamGold; CC

Premium

7% 330ml 6pk cans

Woodstock

(incl zero) 330ml 10pk cans

TuiBourbon; Vodka Soda

7% cans

Barrel515% bottles all 12pks

$21.99

EACH

TuiHard Soda

330ml 10pk cans

Jim Beam &Cola; CC

(incl zero) 4.8% 10pk cans

Jim Beam Gold 7% 8pk cans

Cruiser

5% 12pk bottle range

NEW

FLAVOURS

Gordons G&T;Gin &Soda

(pink/sicilian) 12pk 250ml cans

Smirnoff Seltzers

12pk 250ml cans

NEW

FLAVOURS

Major Major

10pk can range

$24.99

EACH

$25.99

EACH

Clean Collective

5% 250ml 12pk cans or

Clean Collective2x

4pk 300ml bottles

NEW

PRODUCT

Scapegrace

330ml 10pk cans

$25.99

EACH

$26.99

EACH

JB; CC

4.8% 10pk bottle range

$29.99

EACH

Cody's

7% 18pk cans

$32.99

EACH

Woodstock

7% 250ml cans

5% 330ml bottles all 18pks

$34.99

EACH

Jack Daniels

&Cola

4.8% 330ml 12pk bottles

8 99

$38.99

EACH

NEW

FLAVOURS

Long White

15pk bottle range

$10.99

EACH

$13.99

EACH

$13.99

EACH

$13.99

EACH

$13.99

EACH

$13.99

EACH

2FOR

$25.00

$35.99

EACH

$36.99

EACH

$36.99

EACH

Hardy's VR

1L range

$37.99

EACH

Stoneleigh

Marlborough

(incl lighter) range

$37.99

EACH

19 Crimes

(ex cali red) range

$39.99

EACH

Lindauer Classic

&Enlighten

ranges

(ex reserve and free)

$42.99

EACH

Villa Maria

Private Bin

range (ex PN/Syrah)

$46.99

EACH

Arrogant Frog

Mudhouse

(ex PN) ranges

$52.99

EACH

Canterbury

Cream

$54.99

EACH

Larios 1L

Midori 700ml

Blackheart

Woodstock 1L

$9.99

EACH

Finlandia 1L

Jack Daniels

(lncl Honey, Apple &Fire)

Jagermeister

Pepe Lopez

(Gold/Silver) 700ml

Teachers

1L

GordonsPink

Sicilian Lemon 700ml

Gordons &Smirnoff

1L

Baileys

1L

Absolut

Ballantines

Beefeater 1L

Beefeater24700ml

JB 1.125ml

JB Devils Cut

JB Black 1L

MakersMark

700mls

Malfy 700ml range

Jameson 1L

JB Double Oak 1L

Haku Vodka

Roku Gin; Ratu Rum

range 700mls

Chivas Regal12yr $49.99

Chivas Regal15yr $76.99

Chivas Regal18yr $89.99

all 700ml

Old Mout

1.25L

cider range

$13.99

EACH

$18.99

EACH

$19.99

EACH

$21.99

EACH

$24.99

EACH

$25.99

EACH

$27.99

EACH

$26.99

EACH

Monteiths

6pk bottle range

Fortune Favours

6pk range

Kingfisher

12pk bottles

Somersby

12pk bottle range

Heineken

(incl light &0%)

12pk bottle ranges

Carlsberg

15pk bottles

Tui; Export Gold;Extra

DB Draught

15pk bottles

Corona

12pk bottles

$27.99

EACH

$31.99

EACH

$36.99

EACH

$37.99

EACH

$41.99

EACH

$41.99

EACH

Export 33

15pk bottles

NEW

STORE

Haagen

24pk bottles

Lion Red; Waikato

Speights or Summit

24pk bottles

SpeightsSummit

UltraLowCarb

24pk bottles

Asahi

24pk bottles

Promotionperiod between1/10/2021 to 31/10/2021. While stocks last.Promotiononlyavailable at participatingstores

Please contactyour local storetoconfirm whether they are participating in thepromotionand checkthe pricing in-store priortopurchase.

Online pricing will vary.

THIRSTYLIQUORAMBERLEY

86 CARTERS ROAD, AMERLEY

03 314 7400

ASK ABOUT

LOYALTY CARD

BENEFITS &

GIFT VOUCHERS

SteinlagerPure

StellaArtois

24pk bottles
---
RURAL LIFE

North Canterbury News, October 14, 2021

29

Kaikoura pest eradication received boost

Determined community members are

doing their bit to eliminate pests in

Kaikoura.

Conversations between Ocean Ridge

residents and the estate owner has led to

atrapping initiative aimed at boosting

the number of native bird species in the

area.

Pests like rats, mice, and stoats, which

threaten native birds, will be targeted.

The Ocean Ridge Community

Catchment Conservation Group is

leading this mahi/work and has been

granted nearly $20,000 from ECan's

biodiversity fund to support trap

construction, materials, community

engagement and administration.

The project will see apredator

trapping programme established in the

Ocean Ridge wetland and bush reserves,

and the nearby forest and shoreline.

The wetland and bush reserve host tui

and korimako (bellbird) along with other

bush­birds, and the wetlands are home to

pukeko and paradise ducks.

The shoreline is an important nesting

habitat for nationally vulnerable

pohowera/banded dotterel.

The conservation group supports other

predator­free 2050 conservation work in

Kaikoura and will be focusing on

community engagement, workshops for

volunteers with local trapping experts,

and community hui to share their

project's outcomes.

The project is acollaboration with the

Kaikoura Men's Shed, which was

approached to make the traps.

''The men's shed has experience in

making traps so we were very keen to

support the group and see how we could

work together,'' catchment group

chairperson Ross James says.

''Volunteers are also invaluable in this

space, and Ican't really praise them

enough.

''The groundwork they've put in

through backyard trapping and raising

pest issues is what it's all about. Without

that, we wouldn't have this project.''

Ocean Ridge owner, Cargill Station

Ltd, is supporting the catchment group's

2400852

Roger Hunter

Parts Manager

0275 071 022

Meet the locals ... The nationally

vulnerable pohowera /banded dotterel will

benefit from pest trapping in the coastal

forest opposite Ocean Ridge. PHOTO: AILSA HOWARD

mahi, with staff support dedicated to

environmental protection and

enhancement.

''Trapping protects our special places

and species, so to have the owners and

residents all on the same page means a

lot to the group,'' Mr James says.

The project will protect native

biodiversity, which future generations

will get to enjoy.

''We think protecting the environment

and enhancing the beauty of this area is

awonderful legacy to leave to our

children and those who come after us,''

Mr James says.

''We're showing them the importance

of protecting the biodiversity that we live

alongside, and hopefully they will

continue this work well into the future.''

Environment Canterbury Kaikoura

land management and biodiversity

advisor Heath Melville has been

supporting the group and says trapping

has wider benefits for native

biodiversity.

He says native birds face anumber of

challenges in ''human­centric

environments'', such as habitat loss and

DIRECT DRILL SPECIALS

12.5" (318mm) x 3mm

Plain Disc Blade

Designed to suit both the 4bolt &6bolt hub.

Suitable for:

DUNCAN RENOVATOR

drills MI-11353-L

$

35 95

+GST

1George Holmes Road, Rolleston

03 349 5975

Working with nature ... Trapping in the wetland area of Ocean Ridge will increase native

birdlife.

PHOTO: HEATH MELVILLE

predators.

Shorebirds such as pohowera/banded

dotterel are particularly vulnerable, as

they can be easily sniffed out by

hedgehogs, dogs and both feral and

domestic cats.

''This residential development has

gone to great lengths to re­establish

wetland and forest habitat, giving the

community opportunities to strengthen

their connection with our taiao/

environment, for which this project will

further enhance while helping our local

manu/birds,'' Mr Melville says.

''It's great to see the community

leading such aproject in their backyard

and beyond, to extend ahand to the

Canterbury

vulnerable shorebirds across the road.

''We're pleased to be able to support

their mahi through our biodiversity fund

and hope it might encourage more

community conservation efforts.''

12.5" (318mm) x 3mm

Fluted Turbo Disc Blade

Suitable for:

DUNCAN RENOVATOR

drills

MI-22035-L

2410273

ONLINE MEAT SALES

MEAT2U.NZ

HOME KILL

&WILD GAME

MEAT PROCESSING

313 0022

$

35 95

+GST

20COC003

BARMOWERS

FROM2.4MTO3.5M

GMD 240 GMD 310 GMD 355

GMD 280 GMD 315

• PROTECTADRIVE cutter bar

safety system

• Fast-Fit blades as standard

• Hydraulic headland lift

Contact

us today

Leeston 03 324 3791 Amberley 03 314 9055 Ashburton 03 307 8027 Timaru 03 688 2179

www.cochranes.net.nz
---
RURAL LIFE

30 North Canterbury News, October 14, 2021

Helping hand ... Murray Hartnell, of Amberley, assists in the shearing shed at apast New

Zealand Agricultural Show.

PHOTO:FILE

Call for financial aid

The scratching of SouthIsland A&P shows

from the spring calendar will wipe millions

of dollarsfrom local economies.

With the New Zealand Agricultural

Show,Rangiora Show and SelwynSpring

Show reducedtospectatoronly events, the

RoyalAgriculturalSociety(RAS) is

considering approachingthe Government

for financial aid, as showswill have to write

off up­front costs.

The Canterbury A&P Association has the

ability to draw on aloan of up to $1 million

from the Christchurch City Council, but

othershow committees are not so lucky.

RAS presidentBrentSnellex, of

Rangiora, says the cancellation of the

showsisamajor blow.

''TheA&P shows are an amazingvehicle

for the urban community to interact with

the country and it givesthe rural

community an opportunity to see each

otherand that'shelpful fromamental

health perspective.''

They are major revenue­earners and

theircombinedlosses are likelytorun into

tens of millions of dollars,hesays.

Mr Snellex saysitishard to stomach,

with no Covid­19 cases in the South Island

in the last12months.

He says the future of other events was

unknown.

Australianshows have received financial

help from the government and perhaps the

New Zealand Government should step in,

he says.

Shearingorganiserswill proceed with

the national Corriedale shearing and

woolhandling championships, normally

part of the Canterbury show.

Convener DaveBrooker says the

championships will be heldatthe

showgrounds, without the public but

probably livestreamed.

The Ellesmere A&P Association has

excluded the public fromthis weekend's

Selwyn Spring Show, restricting it to

exhibitors and competitors.

It is amajor blowafter the association's

150thcelebrationswere postponed last

year.Tosoften the blow,itplansto

livestream some events.

Competitions are being spread over

threedays, instead of asingle show day at

the Ellesmere Showgrounds to reduce the

risks.

Events kick off on Friday withhorse,

sheep, dog trial,wool,and grain and seed

competitions.

Horsecompetitionswill continue on

Saturday, along withClydesdales, donkeys,

dairyand beef cattle,goats, poultry,wood

chopping, dog trialsand highland dancing.

On Sunday the horseswill be joined at the

showgrounds by pet lambs and alpacas.

Visas extended for workers

An estimated9000 migrants working in

New Zealand's primary industries and

theirfamilies could benefitfrom the

government's announced one­off,

simplified pathway to residence,

Agriculture and Rural Communities

Minister Damien O'Connor says.

''This is agreat stepthat willprovide

certaintyfor hard­working migrants, their

families, their employers and our rural

communities.''

Immigration Minister KrisFaafoi last

week announcedthe new 2021Resident

Visa,anarrangement that couldsee up to

165,000 migrantsgrantedresidence.

Immigration New Zealand has published

eligibility criteria that will be relevant to

many migrants currentlyworking on farms.

''Acrossrural New Zealandmigrants are

demonstratingtheir value to our economy

and particularlyduring these Covid­19

times,'' Mr O'Connor say.

''We needtomake sure we showhow we

valuethese peopleand in doing so retain

them.

''Covid­19has greatly disrupted the

movementofpeopleacrossborders. Our

focusnow is to move through this process

as quickly and fairlyaspossible.''

Visa holders canalso include their

partners and dependents in their

application.

Applications for the 2021 Resident Visa

will be open in two phases ­onDecember

1this year andMarch1next year.

The announcement follows theapproval

for quarantinefree travelfor horticultural

workersfrom Samoa,Tonga and Vanuatu

to assistgrowers in fillinglabour shortages.

Mr O'Connorsays whilethe

announcementhelps to relieveworkforce

pressure,hebelieves the primary

industries still need to stay focusedontheir

long­termstrategiesfor developing people.

''Immigration is one way to source

people, but we also need to keep up the

good work that's been done over the past12

months or so to attract Kiwis intolifeonthe

land or our supply chains,and of course

retain them.

''Wherever you go in modern economies

around the world,the most valuedresource

is people and it's no different for our

primary sector. Acrossour primary

industries we are experiencing very good

growth in export revenuesand having great

people will be key to our trade­led recovery

from Covid­19,'' Mr O'Connor says.

Dairy award entries open

Entries are open for the revamped 2022

New Zealand Dairy Industry Awards

programme.

Changeshave been made to all three

categories, the share farmer, dairy

manager and dairy trainee of the year, after

months of consultation, awardsgeneral

manager Robin Congdon says.

''The share farmer, dairy manager and

dairy trainee categorieshave been futureproofed

to ensure the awardsprogramme

provides the best platform for all entrants

to learn, connect and grow. This can be

seen in the changes to judginginthe dairy

trainee category, with askills day providing

an opportunity to learn and not just be

judged.''

The dairy managerentry conditions have

changedincluding removing the minimum

time spent on aNew Zealand farm in

relationtovisa restrictions.

Merit awards''now reflect the evolving

New Zealand dairy industry'', with the

powerplay droppedand the emerging

talentaward replacing the encouragement

award, Mr Congdonsays.

Other merit awardsinclude the people

and engagementleadership award,

environment and sustainability award

replacing the leadershipaward and the

pasture and feed managementaward

replacing the feed managementaward.

The Share Farmer category has also

been under the microscopewith changes

including an easierentry process,

lessening the work load of judges who are

all volunteers and to ensurethe category is

still fit for purpose.

The national awardsdinnerwill return

to Christchurch for the first time since 2008,

with Te Pae, the Christchurch Convention

Centre, hosting the event May 14, 2022.

Entriescan be made via

dairyindustryawards.co.nz.

RangioraToyota

2016 HiluxSR5 4x4

•2.8L Turbo Diesel Auto

•Sat Nav

•Cruise Control

WAS$46,995

NOW $ 45,995

2019 LandCruiserPrado VX

•2.8L Turbo Diesel, Facelift

• Leather, Safety Sense

•Only31,300kms

$

82,995

2014 Highlander GX AWD

•3.5LPetrolV6

•7-seater, Camera

• Bluetooth, Towbar

$

31,995

2016 Holden Trailblazer

Colorado 7

•2.8L Turbo Diesel 4WD

•Leather,7-seater

• 63,800km

$

44,99595

2019 GX Rav4

•2.0L PetrolAuto, Satnav

• Safety Sense, Camera,

•Only8,850kms

S f S C $

39,995

995

2013Toyota AlphardSC

•2.4LPetrolAuto, 7-Seater

•DualElectricDoors

•25,250kms

•2.8L Turbo Diesel, Leather

$

36,995 •18"Alloys

$

42,995

$

41,995

$ $

•SportsBar &Tonneau.

60,995

34,995

Percival Street,Rangiora • Ph (03) 313-8186any time • www.rangiora.toyota.co.nz

Signature

CLASS

2016 HiluxSR5Limited2WD

2018NissanNavaraRX4x4

•2.3LTurbo Diesel Manual

•Alloys, Bluetooth

•Only 58,100kms

2018 HiluxSR5 Cruiser

•2.7LTurboDiesel,leather

•18" alloys,Tonneau

•Only 37,250km

2018 HiluxSExtra Cab

•2.8L Turbo Diesel Manual

•2WD,Camera

•Only 50,100kms

FINANCE &INSURANCE AVAILABLE

2416810
---
RUNOUT

OUTLANDER LS 2.4L 2WD

$32,990+ORC *

The 7 seater Mitsubishi Outlander

brings everything you would need in a

family SUV: safety, technolo ogy, comfort,

unrivaled economy and that all important

space, plus a 10 Year Powertrain Warranty † .

Call 03 379 0588 or visit

christchurchmitsubish hi.co.nz

RRP WAS $41,9

90 +ORC

*Price listed is for Outlander LS 2.4L 2wd and excludes on road costs of $650 which includes registration, WoF and a full tank of fuel. Available while stocks last.

†

Visit mmnz.co.nz for full Diamond Advantage warranty conditions.

RANGIORA MITSUBISHI

321 High Street, Rangiora | 03 941 3175 | rangioramitsubishi.co.nz

RANGIORA NISSAN, 321 High Street, Rangiora

Ph: 03 941 3175

www.rangioranissan.co.nz

rangioranissan.co.nz
---
FARM FOCUS ADVERTORIAL

32 North Canterbury News, October 14, 2021

Putting Kiwi farmers in the driving seat

Back in 1981, three Wairarapa

farmers decided to create a

system for farmers to improve

the way they manage their

farming business.

At that time, record­keeping

was very much about looking

back, using accounting

methodology.

The company founders

wanted to be able to look ahead,

to plan for the next season.

This radical approach proved

to be highly successful.

Forty years later this

business, now known as Farm

Focus, is still going strong.

Key to the company's success,

is that its specialised software

meets farmers' specific

management accounting

requirements, but also makes it

easy to transfer transactions

into tax­focused accounting

systems used by accountants.

Chief executive Brian Eccles

has been involved with the

company from the early days,

and says that while software

has changed massively over the

40 years, the successful formula

established all those years ago

still holds true.

Managing cashflow through

great planning was important

then and continues to be vital.

''Running afarm is full of

uncertainty,'' says Brian. ''That

can come from weather, pricing

changes or awide range of on

and off farm regulations.

''Plans help you manage

adversity because you can

quickly pivot when the plan

isn't quite working.''

Technology is constantly

evolving and the company

continues to invest in major

upgrades to ensure the product

is relevant in the modern

world.

It is currently supporting

customers to move from its

previous application,

Cashmanager RURAL, to its

new cloud­based application,

Farm Focus.

''Not everyone loves change''

says Brian,''but once customers

begin to see the value of

investing in the new they never

look back.''

Customers moving across to

the new platform, such as

Hawkes Bay farmer Caroline

Smith, notice the

improvements.

"Cashmanager RURAL was a

great package in its day but

farming practices and

requirements have changed

greatly over the years.

''Focus's automated

technology makes budgeting

much easier which has

definitely helped cut down time

spent in the office.''

Caroline says the ability to

Farm Focus ... Brian Eccles is keen to support kiwi farmers.

budget three or four years

ahead has been especially

helpful during Covid and

drought events.

''It's way easier to look ahead.

It has given us confidence in

our planning and shows we can

weather the storm''

Brian says that while the

world is full of generic

accounting systems designed

for city businesses, asystem

like Farm Focus, uniquely

designed to meet the special

needs of farmers, is extremely

rare.

''What might be ideal for an

accountant might be entirely

unsuitable for afarmer.

Software like ours that can

drive improved management

can increase revenue

massively. Potential savings in

accountancy costs are minor by

comparison'' says Brian.

In addition to marking 40

PHOTO: SUPPLIED

years in business this year,

Farm Focus is also celebrating

its recent win in the Cyber Gold

category at the Wellington Gold

Awards.

''This award really belongs to

our customers as we wouldn't

be where we are without their

support. Helping New Zealand

farmers to stay at the top of

their game and retain their

number one spot in the world is

what drives us!'' he says.

Happy

birthday

to us!

We're celebrating that we've

been successfully supporting

New Zealand farmers for 40 years.

Here's our 40th birthday gift to

new customers.

Go to farmfocus.co.nz/birthday-offer/

to redeem your goodies!

Farm Focus: Financial management

software for New Zealand Farmers.

Promo code: BIRTHDAY

Offer valid while stocks last.

Call 0800 888 080

New customers

receive FREE

3months

subscription to

award-winning

Farm Focus

+

Our first 100

new customers

receive the

Farm Focus wet

weather jacket.

RRP $450*

And

receive aFREE

$160 Allbirds

shoe voucher

*Does not apply to existing Rural or Farm Focus customers

*Terms &conditions apply
---
North CanterburyNews

PROPERTY

The Home YouDeserve!

60 Oakwood Drive, Rangiora

Set in aprestigious location in the popular northwest area of Rangiora, this executive styled family home utilises the

section superbly and offers aready-made solution for busy families and empty nesters alike.

Presented to ahigh standard this home offers an open plan kitchen/dining area which is positioned perfectly to enable

interactive entertaining whether you are inside or out; and there is agenerous living area which can be conveniently closed

off if required. Bedrooms are all doubles with built-in robes. The master bedroom, with walk-thrurobe and ensuite, offers

adults aprivate space through double sliders onto achoice of patio to enjoy their first coffee in the morning sun –anideal

getaway.

Further convenience is offered with aprivate and dedicated office space, just off the entrance foyer -aperfect option for

those working from home. Otherhighlights are aseparate laundry, security system and internal access carpeted garaging.

Outside, the easy-care gardens complement the home perfectly, creating apeaceful setting that's ideal for entertaining

family and friends or relaxing after alongweek.

Our sellers are firmly committed to their next project so don't miss this opportunity on auction day. Call now for further

information or visit harcourts.co.nz/RG9535 to download the property documents.

Auction

Wednesday 27 October, 2:00pm

at Russley Golf Club

(unless sold prior)

4 1 2 2 1 2

Open Home: Sun 17 Oct

2:00pm -2:30pm

Karen Ward

021 221 7027

03 313 6158

karen.ward@harcourts.co.nz

View online @harcourtsfourseasons.co.nz

ID# RG9535

Four Seasons Realty 2017 Ltd

Licensed Agent REAA 2008

Four SeasonsRealty

2422256
---
THEHARCOURTS

difference

Youcan be confidentyou'reworking withthe best.

Whether you're buying, selling, renting or looking foraproperty manager,

it'sthe people that make allthe difference. Whenyou workwithHarcourts,

you'reworking withpeoplethatconsistently deliveraward-winning levels

of serviceyearafteryear.

9 4

years

years

No.1

VotedNZ'sMostTrusted

Real Estate Brand

Reader's Digest

QualityService Awardwinner

Toprealestate brand

in Nielsen Online Ratings

The difference that is Harcourts.

When it comes time to choose arealestate company, start withthe one that hasbeen

votedNew Zealand'sMostTrustedRealEstate Brand foralmost adecade andhas won

the Reader's Digest Quality ServiceAward four yearsinarow. It's atestament to the

quality of theservice you'llreceiveand theexpertiseofthe peopleyou'll be entrusting

withyourproperty.You'llalso have industryleading technologyand NewZealand's

most visited real estate company website, harcourts.co.nz, behind you.

Real

2013-2021

Estate Agencies

2021

2021

-

-

2018

2018

• Voted by New Zealanders

• Voted by New Zealanders

★

★

2021 ★

2021 ★

Real Estate Sales

•

•

2018

2018

-

-

Contact us today

0800 7891011 | harcourtsfourseasons.co.nz

*Moreunique visitsthan any other real estate group,Nielsen Online Ratings, March -May 2021

HarcourtsGroup LtdLicensed REAA 2008
---
Rangiora Toyota

Wins for Southbrook, Sefton

Leeston­Southbridge gotits

new country cricket campaign

off to awinning start on

Saturday after afine century

from batter Brayden Hill.

Southbrook and Sefton also

notched their first wins of the

CRV AmbreedCountry

Premier One Day 2021/22

competition at the weekend.

At Leeston Park, the home

side batted first against

Cheviot and knocked up a

domineering 268/4 in its

allotted 45 overs, with opener

Hill setting up the innings,

and ultimately the victory,

with his classy 104 off just 127

balls.

Canterbury Kings star Will

Williams, also opening the

batting,chipped in with afine

65, while fellow Canterbury

contracted player Harry

Chamberlain slapped37off 23

balls, andex­Dutch

international Tim Gruijters

struck 32 off 21.

The Cheviot chase was

anchored aroundopener

Ryan Ellis who made a

composed 66 runs off 118

balls, while others played

aggressively around him.

AngusSidey smashed a

quickfire 73 and Scott Burnett

gave the Magpies late hope

with somelustyblows before

the teamwas all out in the

42nd over, falling 27 runs

short.

Josh Simpson was chief

destroyer,picking up afivewicket

bag for the combined

side.

After atough loss to Cheviot

lastweekend,Southbrook got

its first win of the season,

defending apaltry 127 runs

awayatWeedons.

Southbrook'sfirst innings

never got going and it was all

out in the 35th over.

Canterbury left­arm wristspinnerBlake

Coburn did the

mostdamage, claiming four

wickets.

But Weedons never

challenged the total, with

Southbrook'sstrong bowling

line­upripping through the

batters.

Pacebowlers Luan Blom

and George Gunnknocked off

the powerfultop order and

Weedons never recovered to

be all out for adisappointing

88.

Oxford­Rangiora suffered

its secondstraight losswith a

crushing eight­wicket loss to

Sefton at MainPowerOval.

Batting first, the Oxford­

Rangiora Vikings wereall out

for asub­par 126runs.

Onlythe Waghorn brothers

Lukeand Jake showed any

realresistance in a

disappointing battingeffort.

Sefton barely brokeasweat

in thechase, withCanterbury

Country player Chris Warner

making 45, and talented Seals

recruit AmandepArora

stroking acarefree unbeaten

39 for an eight­wicket win.

Darfieldmade it two wins

fromtwo gameswith asolid

six­wicket home win against

Ohoka.

Ohoka was rolledfor 143 in

36 overs, with Daniel Lyons

top­scoring with 46.

Zak and Liam Foulkes

snared five wickets between

them. Zak Foulkes then

steered Darfieldhome with a

superb60not out to claimthe

comfortable win and cement

the team at the top of the

table.

Lincoln had the bye.

Short scorecards:

Leeston­Southbridge 268/4

(B Hill 104, WWilliams 65, H

Chamberlain 37, TGruijters

32no; HFitzpatrick 2/52) beat

Cheviot 241(ASidey 73, R

Ellis 66, SBurnett 35, H

Fitzpatrick22; JSimpson

5/42, SChamberlain 2/39).

Southbrook 127 (G Mowat

23, LBlom 22, HThornley 20;

BCoburn 4/20, SClarke 3/21)

beatWeedons88(GGunn

3/26, LBlom 2/23, SStewart

2/23).

Oxford­Rangiora 126 (L

Waghorn 45, JWaghorn26; M

Campbell4/16, MLaffey2/13,

TWaller 2/20) losttoSefton

128/2 (C Warner 45, AArora

39no, MSmith22).

Ohoka 143 (D Lyons46, W

Hamilton24; RHughes3/14, L

Foulkes 3/32, ZFoulkes 2/20)

losttoDarfield 144/4 (Z

Foulkes 60no, RHughes 29, B

Innes 21no).

Percival St, Rangiora

(03) 313-8186

www.rangiora.toyota.co.nz

Proudly supportingsport

in North Canterbury

Charity golf for trust

The inaugural North

Canterbury Wine Region

Charity Golf Day willbeheld

on November 26 at the

Pegasus Golf and Sports

Club.

The event willshowcase

the local wine region, with

additional exposure of Made

North Canterbury artisan

produce.

The Charity Golf Day will

aid the North Canterbury

Rural Support Trust.

The North Canterbury

regionishome to more than

90 vineyards from Banks

Peninsula, the Christchurch

region, to the Waipara and

Waikari valleys.

Most of themare

independently owned by a

close­knit community of

local families.

Concentrated and

expressive winesare grown,

particularly Pinot Noir,

Chardonnayand Riesling.

Teams willbelimited to 88

­22teams of 4players­at the

event on Friday, November

26.

The North Canterbury

Wine Region willbe

represented by personalities

from within the wine

industry, both fromalocal

andnational perspective.

The North Canterbury

Rural SupportTrust helps

localsintough times.

The Trust is part of a

nationwide network

supporting farmersand

their families.

It has access to networks,

services and government

fundingand can help people

navigate the financial and

personal challengespeople

face, or assistduring

climatic adverse eventslike

drought, flood, or heavy

snow.

Free and confidential

assistanceisavailable

throughthe Trust's Area

representatives and

facilitators.

The NorthCanterbury

Rural SupportTrust is a

charitabletrust that

encompasses the five

district councils of

Kaikoura, Hurunui,

Waimakariri, Selwyn and

Christchurch, including

Banks Peninsula.

Harcourts Four Seasons

has invested theirsupport

into the event as major

sponsor.

Principal officer James

Twiss says it is great to

supportthe golf day which

will showcasethe North

CanterburyWine Region

and the ''fantastic wines

from our region'', and to

supportthe trust gavethe

companygreat satisfaction.

''We recognise the vital

work undertaken by the

trust.

''Hopefully thiseventcan

help with the awareness

within our rural community

that its OK to ask for help.''

From theWaimakariri River

in thesouth to Kekerengu

in thenorth, theNorth

Canterbury News

hasgot it covered.

Reaching

48,000

readers

every week
---
What's happening in your

community…

All info onchanges to Council services and facilities can be found at waimakariri.govt.nz/covid19

School Holidays at the Pools

With the school holidays entering their second week

alot of parents will be looking for something to do

with their families. We'd love to see you visit our

pools inKaiapoi and Rangiora. However atAlert

Level 2here are afew things you need to know.

• We're strongly recommending making abooking

to visit the poolstohelp us manage demand while

maintaining two metre distancing requirements.

When you book you'll be provided with your own

area of the pool to enjoy with your bubble

• Weask all pool users to arrive and leave intheir

togs so we can limit the number of people using

the changing rooms

• Customers will need to maintain physical

distancing of 2m at all times

• Please be ready to scan in when you arrive.

• Weask all customers over the age of 12 to wear

amask unless in the water

• Wewon't be running the inflatables and the

family spa at Dudley Aquatic Centre is not

available during level two.

Super Saturday –Get Vaccinated!

Want to try an E-Scooter?

If you've alwayswanted totryriding an e-scooter,

you'll soonhavethechance at upcominge-scooter

communitytraining sessions in Kaiapoi and Rangiora.

From the start of November, up to 400 pink

Flamingo e-scooters will available for hire across

Rangiora, Kaiapoi, Woodend and Pegasus as part

of asix-month, Council-approved trial.

The free training sessions will be run by Flamingo

staff and cover how to use the Flamingo App to

unlock the scooters, how toride e-scooters safely

and parking correctly.

• Rangiora –Saturday 30 October, 10am-1pm

Rangiora Service Centre Carpark

• Kaiapoi –Sunday 31 October, 10am-1pm

Charles Street 'Park and Ride' Site (next to

New World).

Find out more about the training sessions and the

e-scooter trial at waimakariri.govt.nz/scooters

Have you signed up for

the Waimakariri District

Council Newsletter?

Keep your

recycling

loose.

Recycling and organics

should be loose in

the bin, not in bags.

Plastic bags belong

in the rubbish. That

includes compostable

or biodegradable bags

or packaging.

—

Find out more

collection tips at

rethinkrubbish.co.nz

If you're part ofthe 20% ofpeople who have not

yet had aCovid-19 vaccination, now's your chance!

It's going to be super easy to get vaccinated on our

national day of action, Super Saturday -16October.

Summer is just eight weeks away and everyone is

being encouraged to have their first vaccine now

so they can get both doses and enjoy everything

aclassic Kiwi summer has to offer, in time for the

holiday season.

There are plenty of vaccination clinics throughout

the Waimakariri. Check out bookmyvaccine.co.nz to

find aclinic near you.

Vaccine clinics all across the country will be open

for extended hours.

To join visit:

waimakariri.govt.nz/subscribe

ABOUT SPEED LIMITS

IN AND AROUND OUR TOWNS

Waimakariri District Council have reviewed

speed limits inand around the main towns in

the District and are proposing some changes.

We are proposing these changes foranumber of reasons

and are asking the community for their feedback.

Jump online to find out where we are proposing

changes and tell us what you think.

Or you can pop into any service centre topick up

information and afeedback form. Let us know

what you think before 5pm on Monday 18 October.

NEEDFUNDING

FORA

COMMUNITY

PROJECT?

Your Community Board can support

your project with grant funding.

Application forms and grant criteria are available

online or from any Council Service Centre. For more

information about funding visit the Council website.

Find out more at

waimakariri.govt.nz/communitygrants

rethinkrubbish.co.nz

Find out more at waimakariri.govt.nz/letstalk
---
Weavers ... Sisters Jen Sinnott and Olivia Hislop, from

Nelson, taking part in abasket weaving workshop hosted by

Tamar Guse in Hanmer Springs recently, and organised by

Music and Arts Hanmer Springs.

PHOTO: GRUM FRITH

Hanmer arts school

workshops popular

Four workshops,held

duringan''arts school''

weekend in Hanmer

Springs, haveproved ahit

with those attending.

The workshops, which

were heldrecently, were

organised by Music and

Arts Hanmer Springs'

owner Grum Frith.

The aim of Grum's

organisation is to make

Hanmer Springs acentre

for excellence of musical,

visual and related art

forms.

Workshops for soap

making, basket weaving,

upholstery and harmonica

for beginners, were held

during the weekend.

Everyone who attended

was really happy, Grum

said.

Opposites attract

By SHELLEY TOPP

Two artists, who spent 12

monthspreparing for an

exhibition of their paintings,

had to cancel the opening due

to Covid­19 restrictions.

Kaiapoi'sRuby Whitty and

Woodend's Joanne

McDougall have 27 paintings

in theirexhibition, Opposites

Attract,atthe Art on the Quay

Gallery in the Kaiapoi

Library.

''It was very disappointing

not to be abletohold an

opening for our exhibition

but we had no option,'' Ruby

says.

Joannesays it was abit of a

letdown not to be able to

celebrate all our hard work.

They chose the name of

their exhibition because of

the starkdifferenceinthe

styleoftheir paintings.

''Ruby and Iboth have

different styles,which

complementeach other, so

we decided to call the

exhibition Opposites' Attract,''

Joanne says.

''Joanne's work is beautiful

florals and birds.Mine is

plumbers and pipes,'' Ruby

says.

''I go from one style to

another.''

Ruby has beenpainting

sinceshe was achild and

gainsinspiration for her work

from many items and places,

including nature, glass,fruit,

flowers, landscapes,

buildingsand historical

landmarks.

''I am alwayswilling to try

something new,goina

different direction and Ihave

recentlyproduced a

collection of unusual abstract

works called Industrial Chaos,

inspired from childhood

memoriesofmybrother's

profession as atool maker,''

she says.

''This has led me to even

moreabstract works, whichI

am enjoying very much,but I

still love to paint landscapes

and stilllife.''

This is their first joint

exhibition.

``Ruby and Ihave been

paintingfor avery long time,

and have accumulated alot of

work,'' Joanne says.

''Many exhibitions only

accept new work, so once a

work is shownlocallyit

becomes adead painting, no

matter how gooditis, or how

much work has gone intoit.

''Havingaprivate

exhibition together allowsus

to show older workthat we

are proud of, as well as new

work,'' she says.

Opposites' Attract willbeon

show at the gallery until

October 27. Examples of Ruby

and Joanne's artwork can also

be seen on their websites at

rubywhittyart.wordpress.com

and Pegasusart.co.nz. Joanne,

who is also achildren's book

author, has some of her books

on display at the exhibition,

including her latest

publication, JustImagine: A

Drawing Book For Children.

Woodend

Rugby Club

AGM 2021

22/11/21 6.30pm

Woodend

Rugby Club

Gladstone Park

Woodend

Come and join

our hard working

committee with our

continually growing

2426446

Club.

All welcome.

Any questions

please ring Phil

Kennett (president)

027 717 2569

FALCONS &

COMMODORES

WANTED

Suitable for

dismantling or repairs

Ph 313 7216

2412522

Property Wanted

2421782

½PRICE

DOG FOOD

MEAT2U.NZ

313 0022

2424357

Cars Wanted

ANY old cars, anything pre

1990, unfinished Hot Rods,

Classic Cars. Please call

027 258 8366.

CASH 4CARS

and 4WD'S

Phone

Automotive

Parts

03 313 7216

CARS, vans, 4WD's

wanted for dismantling or

repair. Phone 027 258

8366.

Cars Wanted

FORD Falcon &Fairlane

1960 to 2000 car &ute, sw

wanted. Ph027 271 8716.

LOOKING TO BUY

PRIVATELY

2-3 bdrm house

Rangiora &

Surrounds.

Pre approved first

home buyer.

Anything considered.

Ph Adele

027 314 5869

Pets

BICHON HOMESTAY

for smaller dogs. We look

after your dog in our home.

"No kennels". Phone today

03 314 6110.

Motorcycles

SOUTH PACIFIC Motorcycle

services, local family

business based in Mandeville.

Repairs, servicing,

WOF etc for all road bikes,

classic bikes, farm bikes &

more. Collection service

available. Ph03312 0066

office@motorbiketours.co.nz

www.motorbiketours.co.nz

Public Notices

NEWS &CLASSIFIED

North Canterbury News, October 14, 2021

37

The Waitaha Primary Health Organisation (Waitaha) is seeking applications torepresent the Hurunui District on its

Board.

The appointment: Is for athree-year term. Applicants will be suitably qualified and have agood appreciation of

the rural health environment, preferably in the health sector.

Background: Waitaha Primary Health, (previously called the Rural Canterbury Primary Health Organisation) was

renamed Waitaha in 2019.

Waitaha promotes itself on its website asproviding and supporting health services in Canterbury's rural and urban

communities. They work closely with general practices and other community based health providers to deliver

exceptional health outcomes for the people in the region, including those with the greatest need.

Waitaha's stated goal is to ensure that everyone intheir communities has the ability to enjoy their best life with

good health and wellbeing. People, whānau and the community are at the heart of everything they do.

Administration: Waitaha operates as acharitable company and trust. It has agovernance board of eight

members representing various interests. Each Board member contributes according to their background and all

report back to their representative groups on Waitaha activities. They are also available to the public as alink to

ensure relevant health issues are brought forward to Waitaha. The Board holds monthly meetings, usually the first

Wednesday ofeach month in Christchurch. Board members are paid $500 per meeting plus travel costs.

To apply: Applications will be shortlisted by aHurunui District Council appointed panel, successful applicants will

then be nominated bythe Council to Waitaha Primary Health Organisation Board for their consideration and

appointment.

Please write outlining your relevant experience with your CV

Email applications to jo.retallick@hurunui.govt.nz

For further information, go to waitaha.health.nz.

Wanted

HURUNUI COMMUNITY REPRESENTATIVE FOR

WAITAHA PRIMARY HEALTH ORGANISATION BOARD

Applications close on Sunday 24 October 2021

+2425352

Kaiapoi Christadelphians

"The Key ofknowledge..." (Luke 11:52)

THE FALLEN ANGEL MYTH

Does the Bible teach of fallen

sinful angels? What does it say

of their characteristics?

Most mainstream Christian churches teach of

a spiritual being/beings who challenge God's

authority in God's domain-the heavens. In Isaiah 45

the Bible states that God dwells alone, with no other

god beside him. He holds all power and authority.

So, who is the real adversary toGod's ways and

authority? It is averysimpleand surprising answer,

one that shows that God has been working through

the ages with man, and that ALL challenges will

come to nothing. For heisthe supreme creator,

who is in touch with everyminute detail concerning

his handiwork.

ALL WELCOME

DVD presentation -Sunday 7pm 17 th October

Kaiapoi Community Centre -Sewell Street

FOR INFORMATION -PHONE 03352 5453

bibletruthandprophecy.com

For Lease

LAND FOR LEASE

Kaiapoi MR 873 Sec 7D2

Applications are invited for

agrazing lease of 5.7230

hectares available

1Jan 2022 situated on

Rangiora Woodend Road.

Ph: 04 474 4672 or email:

robic@tetumupaeroa.co.nz

for information pack.

Applications close

22 October 2021.

2423811

Educational

TUITION available. Primary

and secondary up to

NCEA level 3. In centre

(Rangiora) or interactive

online from your home.

Each student onanindividually

tailored programme.

Kip McGrath Rangiora has

been serving the local community

for 30 +years. Give

us acall (03 313 3638) or

book your free assessment

2426147

online https://www.kipmcgrath.

co.nz/rangiora

MILITARYEXERCISE

Exercise BravoRua

21-22October2021

Thegeneralpublic is to be advised thataNew

Zealand Army Exercise will be conductedinthe

Oxford Forest area over the period 21-22 Oct2021.

Theexercise will involveupto40personnel of Bravo

Company, 2nd/1st Battalion, RoyalNew Zealand

InfantryRegimentfromBurnham Military Camp.

Training will involvesoldiers conducting foot patrols

and vehicle movementinthe vicinity of Oxford Forest.

Blankrounds and pyrotechnics will be used from

10am 21st Octuntil 1pm 22nd October.The exercise

will also involvethe movementoftroops andvehicles

by dayand night. Soldiers will be wearing uniforms,

packs and carrying weapons.

TheNew ZealandArmytakesfirerisk seriously and

will ensure firemitigation is present.

Formoreinformation pleasecontact:

LT Joshua Royalon027 624 5757

Farming Notices

HUNTERS Looking for

hunting, father & son,

experienced hunters new to

North Canterbury. Keen on

anything from pigs, deer,

goats & hares. Please ph

027 636 3710.

Health &Beauty

MENZ MEDICAL OFFER:

Vasectomy Scalpel-less

Technique $499; Sexual

Health: Erectile Dysfunction,

Premature Ejaculation;

Warrant of Fitness:

Full Medical for Men. —

Ph. 03-981-8181 or 0800-

4-MALES, 912 Colombo

St, Christchurch, www.menz

medical.com www.vasectomy.co.nz

EYRETON HALL

ASSN

AGM

Wednesday 20 th

October

Cnr Mandeville and

South Eyre Roads

7pm

More locals needed

and welcomed.

2426304

SEFTON PUBLIC

HALL SOCIETY INC

Annual General Meeting

to be held at the Hall

Wednesday, 27October

2021 at 7.30 p.m.

All welcome 2426151
---
CLASSIFIED

38 North Canterbury News, October 14, 2021

Inwards Goods /Storeperson

• Mon –Fri up to 40 hours.

• Mustbephysicallyfitand strong.

• Will be required to lift and carry heavy products all day.

• Work as part of ateam.

• Beable to think proactively.

• Work hard and smart.

• Mustbecustomer focused.

• Forkliftlicence wouldhelp.

• Musthavea"Can do" attitude

Situations Vacant

SUMMER IS COMING …AND WE NEED YOUR HELP

We have extended our retail showroom and enlarged our drive thru, and now we need you!

We are seeking applications from outgoing, friendly and enthusiastic people to join our team and havethe following

SeasonalFixed Term positions available:

Retail Sales and Retail Sales Support

Team Members

• Weekend work required

• Upto40hours

• Mustbecustomer focused

• Working inside and outside

• Mustbephysicallyfitand strong

• Will be required to climb ladders and use lifting

equipment

• Will be required to pick, carry,assemble and deliver

heavy products

• Work as part of ateam

• Beable to think proactively

• Work hard and smart

Garden Products Team Member

• Weekend work required

• Upto40hours

• Mustbecustomer focused

• Working inside and outside

• Mustbephysicallyfitand strong

• Will be required to climb ladders and use lifting

equipment

• Work as part of ateam

• Beable to think proactively

• Work hard and smart

Customer Service Checkout Team

• Weekend work required.

• Upto40hours.

• Mustbecustomer focused.

• Mustbephysicallyfitand strong.

• Will be required to collect trolleys.

• Will be required to assist customers with purchases to

their vehicles.

• Work as part of ateam.

• Beable to think proactively.

• Work hard and smart.

• Able to take aturnonany ofthe various roles in these

positions

• Confident to act as our "greeter"

McAlpines have an active drug &alcohol policyinplace, apre-employment drug test and medical will be required

If any of these positions sound like you, send your application and CV to:

Seasonal Fixed Term Roles

McAlpines Mitre 10 Mega

PO Box 1003

Rangiora 7440

or email applications@mcalpines.co.nz

PLEASE SPECIFY WHICHPOSITION YOU ARE APPLYING FOR

SITUATIONS VACANT

RECEPTIONIST(Full Time)

An opportunity has arisen for aFull Time

Receptionist / Administration role at our

AccountancyPractice in Rangiora.

The role is a full-time position with the

standard hours being 8.30am to 5.00pm

Monday to Friday. Ideally the applicant will

live locallyand be part of thelocal Community.

The successful applicant will have experience

in a reception type role that has included

dealingwiththe public andtyping. In addition

to this some tax administration and orsome

basic accounting experience would be of

considerablebenefit.

We are looking for aperson with anoutgoing

and friendly attitude that works well aspart

of ateam and is prepared tolend ahand

were ever needed alongside their core role as

receptionist.

If this sounds of interest to you, please send

your CV to:

GeoffWhite

Prosser Quirke Limited

PO Box4

RANGIORA 7440

Email: geoff@prosser-quirke.co.nz

Applications closeon29thOctober 2021

if therolehas notbeenfilled prior.

For Sale

6 X 200 LITRE steel

drums. Ideal for incinerators,

$15 each. Phone 027

440 1230.

TRULUX glasshouse,

new, 1800x1200. Please

phone 03 310 7638.

Livestock

2425366

FRIESIAN Hereford

Cross Calves for sale. Well

bred calves with nice

markings, 10 days old.

Mid-Canterbury. Please

phone 027 507 7030 or 027

431 0053.

HOMEKILL & Wild

Game meat processing. Ph

313 0022. www.meat2u.nz.

2425365

NORTH CANTERBURY

2421767

CASUAL TEMP LEGAL

SECRETARY POSITION

We areseeking acasualtemptocover leavefor

ourlegalsecretaries andreceptionistinour

office in Rangiora.

The role requires competency in Dictaphone

typingwithaccuracyand speed.Italso

requires confidence andprofessionalism in

answering thephonesand liaisingwithclients.

Previous legalexperience wouldbepreferred

andthe abilitytobecalled in on short notice

is essential.

Please emailyourCVto

jane@helmores-law.co.nz

Wanted To Buy

BUYING estate type old

china, crystal, collectables,

vases. Ph 027 350 3963, or

313 1878.

$$$

Amalgamated Scrap Metal

Ltd. Specialists in farm

machineryand farm clean

ups, old vehicles etc.

100% locally owned.

Ph 0800 030 712 or

027 695 0480.

2312759

Gardening

A+ GARDEN hedges cut

to perfection. Tree &arbor

work. Also spraying. Free

quotes. Ph 021 111 4322.

Garage Sales

RANGIORA Golding

Ave, Saturday 16th October,

8am. Combined

houselots, furniture, junior

Meccano, small appliances,

baby gear and clothes, kids

bikes and kitchenware.

Trade&Services

A PAINTER WITH

PASSION! Local painter

with 30 years of quality and

integrity in all aspects of

painting. Phone Mike on

021 0903 8546.

ABEL &Prestige Chimney

Cleaning. Nth Cant owned

& operated. Covering all

areas from Waimak to Hanmer.

Professional, guaranteed,

service. Firebox

repairs, carry most parts. Ph

0800 661 244.

Local Democracy

Reporter

-NorthCanterbury

Jobtype: Fixed term–24months

Location: Rangiora

Closingdate:October29, 2021

Are you an outstanding reporter looking for anew challenge and wanting

to serve your community?

Allied Press, with the supportofRNZ and NZ On Air's PublicInterest

Journalism Fund,ishiring ajournalisttojoin Local Democracy Reportingin

2022 and2023 from the North CanterburyNews office in Rangiora.

Youwillbecoveringlocal authoritiesand otherpublicly-funded

organisations, but also going out and talking to thepeopleaffected by

theseorganisations'decisions, sharing their stories, andcomingupwith

your own stories on similar topics.

Your focuswill be providinggreat publicinterestjournalism coveragedaily

throughoutthe NorthCanterbury region including Waimakariri, Hurunui

and Kaikōura. This is amulti-media role so experienceinvideo,audio and

photography would be an advantage.

Youwillreport to Allied Press'North Canterbury bureau chief. Youwill

receive extra training and support from RNZ, and your work will be made

available at the same time to all of the programme'smedia partners,

including RNZ.

This could be ajunior,intermediate or senior role dependingonthe

successful candidate.Weare looking for someone with as many of the

following qualitiesaspossible.You don't need allofthese to apply,but you

do needtohave at leasttwo years'reporting experience (although in some

caseswemay also consider exceptionalapplicants with only one year's

experience).

•Able to spotastrongstory and makeitcome alive for your audience

•Able to meet the highest standards of accuracy,fairness and balance

•UnderstandingofTeTiritioWaitangi

•Someknowledge of local government

•Excellent writing skills

Thisisafull-timerole for afixedterm(throughto31December2023).

Assistance withrelocation costs may be considered.

Applications close October29, 2021.

Please submit your CV along withyour cover letter and worksamplesto

recruitment@alliedpress.co.nz

Visit RNZ'swebsite for more

informationabout the LDR service:

Thursday,August2,2018 | Issue 808 | www.ncnews.co.nz

https://www.rnz.co.nz/news/ldr

AFFORDABLE concrete

cutting with quality and

removal work. Free quotes.

No job too small. Ph 027

442 2219, Fax 03 359 6052

or A/H 03 359 4605.

ALL TREE SERVICES,

arbour work, pruning, tree

removal. Affordable &

friendly service. Telephone

021 111 4322.

BRIAN'S Tree Services.

Tree felling, topping,

shaping, firewood cut, rubbish

removed, stump grinding,

branch chipping.

Affordable rates. Phone 03

327 5505 or 021 124 4894.

ARBORIST qualified.

Copper Beech Tree

Services. Tree removal,

pruning, height reduction,

hedge trimming, shaping,

tree planting, firewood.

Free quotes. Contact Angus

Edwards 027 259 6741

copperbeechtreeservices@gmail.com

CHIMNEY SWEEPS

Time to service your fire.

Accumulation of soot seriously

affects performance.

Latest rotary brush technology.

Free moisture check

on wood. Safety inspection.

All work insured and guaranteed.

From $70 single

story. 0800 SWEEPME or

021 0277 1927. Visit

www.sweepnz.co.nz.

DIRTY TILES &Grout?

Professional tile cleaning,

tiled shower restoration,

mouldy silcone, shower

glass & we can even

recolour your old grout!

For all your tile and grout

issues call Grout Pro for a

free, no obligation quote.

Ph Darryl 0800 882 772.

DRESSMAKING Bev's

Sew Good Services. For all

your alterations, repairs,

dressmaking, curtains.

Phone 327 5535.

Trade &Services

GUTTER cleaning summer

special. No obligation

free quote! Spouting repairs

/ replacement / cleaning.

Call 0508 SPOUTING.

Log Fires

Pellet Fires

Heat Pumps

Sales

Service

Installations

Free Quotes

03 343 1651

472 Blenheim Rd

www.heatstore.co.nz

METAL WORX. Flashing,

Sheetmetal Fabrication,

Wrought Iron,

Welding, Custom Trailers,

General Metalwork. No job

too big or too small. Ph 021

265 5428 or 03 314 6908.

Find us on facebook/

Glenmark Metal Worx.

glenmarkmetalworx.ltd@gmail.com.

PAINT & wallpaper

services. Wayne Bryant,

exterior, interior. Qualified

tradesman. Free quotes. Ph

313 5337 or 027 654 4568.

PAINTER. Qualified local

professional, Int / Ext,

roofs, wallpaper. Call or

text Corban 027 846 5035.

POWER TOOLS repairs,

parts &sales for over 40

years. All main brands serviced.

Grossman Trade

Tools, 23 Watts Road,

Christchurch. Ph 389 9230.

RANGIORA Rubbish

Removal and RRR skips.

Wheelie bins any frequency

and skips from 1.5 cube to

9cube. Skips and wheelie

bins for any use, rubbish,

greenwaste, building sites

or just cleanups. Give us a

phone call 313 6957 or for

skips 021 313 255.

SCREEN PRINTING.

For all your printing

requirements. T-shirts,

Hoodies, Hi-Vis vests and

polos, Overalls, Caps etc.

Please phone Heather 03

313 0261 or email heather.

norstar@gmail.com.

ANTHONY SYMONDS

Forall your painting &

plastering requirements

Local with 30 years

experience

All workmanship

Guaranteed.

Phone 021 344 023

2220615

WINDOW TINTING

tintawindow

advanced film solutions

99% uv block

fade protection

heat control

reduce glare

25 Years Experience

privacy films

frosting designs

non-darkening films

Workmanship Guaranteed

Lifetime Warranties on Most Films

UV

block

Trade&Services

SUMMERFIELD

FENCING

IN YOUR AREA NOW.

Lifestyle or farm, sheep, cattle,

horse, all types of animals.

Fences, yards, sheds, arenas,

shelters, runs.

30+ years contract fencing.

Steve is available to help with

your design &planning.

Ph office03312 4747

SEPTIC TANK

CLEANING

Bill's Liquid

Waste

Blair Tavendale

Ph 03 314 9371

0275 379-694

Pride &Quality Painting

&Decorating Services

20 yrs exp, fast and friendly

service. For all your painting

needs, phone: Martin 310

6187 or 021 128 9867

027 216 0000

PAINTERS

Reg Tradesman

Interior,exterior.

North Canterbury Painters

specialising in decorating for

over 65 at adiscount rate.

Free quotes.

Covering Nth Canty,Oxford,

Kaiapoi, Rangiora, Amberley.

Rob 03 327 7899

or 027 432 3520 2227597

Paving

Patio &Pathways

-New or Existing

Free Quotes

–Competitive Pricing

Blair Gibson

027 699 5815 03 313 7933

REMOVALISTS

Movemen Ltd

2Men &agood sized truck.

From $150 plus GST per hour.

Kaiapoi based.

Call Gerard

027 668 3636

movemen.co.nz

VALUATION -

Specialising in North Canterbury.

Contact Geoff at

Maxwell Valuation. Phone

03 310 8541 or email

geoff@maxval.co.nz.

Free Quotes Canterbury and Districts

03 365 3653 0800 368 468

2091848

SHEARER. Hap's Farm &

Lifestyle Services. Shearing,

crutching, drenching,

tailing, feet trimming &

health check. — Ph. 03-

423-3713 or 021-267-4025.

2362002

2401953

You dump it...

Blair pumps it...

LANDSCAPES

2225862

2253902
---
Trusted Trades &

Professional Services

Guide

To book your spaceinthis guide,phoneAmanda Keys 313 2840 or email amanda.keys@ncnews.co.nz

Appliance Repairs

Butchery

Chiropractic Services

Construction &Concrete

•REGISTERED TECHNICIAN

•AUTHORISEDLOCAL SERVICE

F&P, Bosch, Smeg,

Ariston,LG, Classique,Haier,

Samsung andmore....

"For best results be sure to useauthorised service"

NORTHCANTERBURY APPLIANCESERVICES

Rangiora: 03 313 4420 Kaiapoi: 03 327 3810

2332343v2

OxfordButchery

Shane and Leanne Frahm

We cankill&process yourstock

FourGenerations of Frahms

since 1957

Ph 312 4205

Oxford

Number one

old-fashioned bacon

&ham curing.

A/H 312 4709

WE ARE OPEN, WEARE AESSENTIAL SERVICE

2227889v2

Dr Jess Ross

ACC RegisteredDrChiropractic

Monday &Thursday |03313 0350

Injury, accidents and maintenance

Libi McKinnon Physiotherapy

privatephysio@xtra.co.nz

027 868 2574

ACC Registered Provider | Tuesday&Friday

Select Health

51 Ashley Street, Rangiora

2344089v2

All Construction & Concrete Work

•Driveways, patios &paths

•Bridges and Culverts

•Floors, foundations

•Sheds and buildings

•Dairy Sheds, Herd homes

•Silage pits, effluent ponds

•Excavation and cartage

•Precast concrete

•Insulated panels

Daryl Power

027 230 9401

concretepower@scorch.co.nz

www.concretepower.co.nz

2273277

Allan Pethig

For all your electrical needs. Residential &Commercial

Phone 03 313 7144

027 432 1534

Fax 03 313 2144

rgrantelectrical@gmail.com

PO Box 69, Rangiora

Electrician

Glass &Windscreens

UNDER NEW

MANAGEMENT

2420841

2269236

Engineering

For your Engineering needs

187d Ohoka Road, Kaiapoi

Phone 03 327 5246 |027 495 2821

toppeng@xtra.co.nz

▪ Painting ▪ Gardening

▪ Fencing ▪ Lawn mowing

▪ All General Maintenance

Performed to the highest

standard by a straight up,

honest, Handy Guy

No job too small!

Flat hourly rate, no hidden surprises!

THE

HANDY

GUY!

Handyman

Call Guy "The Handy Guy" Now

0275 040 658

AMPLIFY YOUR

BUSINESS

AND BE THE

NAME THEY

REMEMBER

FIRST

Advertise with

us and get

noticed

today!

Phone us today on 03 314 8335 or email

sales@ncnews.co.nz to find out how we can help!

Quarry Supplies

QUARRY SUPPLIES

2426159

●CAP 65 ● CAP 40

●CAP 20 ● Pit Run

●Large Soakpit Boulders

●Crusher Dust

●Screened Sand

●Horse Arena Sand

Dean Hurley0274 336 993

hurleyexcavation@xtra.co.nz

2064 Tram Road

SPRING

If it stands still

long enough we

will paint it

•17metre spray

booth

•FullPaint &Panel

Service

•Insurance Work

Panel &Paint

•Fullcoachbuilding service, fabricating

doors,lockers, windows, tanks

•Painting Motorhomes, Caravans, Boats,

Trucks,Tractors&Cars

Now moved to 8Seven Mile Drive, Belfast

Phone (03) 323 4115

www.autobodyrepairs.co.nz

2404153

Landscaping

For all your landscaping needs

All Landscaping, Retaining Walls (Engineered and

Non-Engineered), Timber Fences, Landscape Structures

and more...Lifestyle Block, Rural and Residential.

Phone Jeremy 021 169 9394

www.blackhill.co.nz

www.facebook.com/blackhillltd

2372616v2

Scrap Metal

CASH PAID FOR SCRAP

•Car Bodies •Scrap Steel•Specialists in Farm

Machinery•All non Ferrous

MAINLAND

METALS LTD

Ph (03)338 7000

Mike0274 818544 •Robbie0274818 027

Locally owned and operated

Attract newcustomers, increase sales

and profits by advertising in the North

CanterburyNews.

Deliver your message right

intothe home where

buying decisions are

made.

Contact us todaytofind

out howwecan help you.

1902273

CAP 65

CAP 40

CAP 20

Shingle

SHINGLE SUPPLIES

Quarry Prices

DRAINAGE CHIP

from $40 per cube

from $23 per cube

from $25 per cube

from $30 per cube

all +gst

Plus all excavation and truck hire

house excavations, driveways, subdivisions

CONTRACTING

Ph: KEN 027 201 3302

Email: stress@xtra.co.nz

2009594

Phone 03 314 8335

Email info@ncnews.co.nz

Office 14 AshleyStreet,

Rangiora

Visit

www.ncnews.co.nz

or www.starnews.co.nz
---
Arthur BurkeLtd

Trusted in NorthCanterbury since1935

2017 Mazda BT-50 GSX

2019 Holden Colorado LTZ

2016Mazda CX-5GSX

4x4, Automatic,66,035km,Tow Bar,Tuff Deck,

Tonneau Cover

4x2, 6spdAuto, 37,500km's,Deck liner,Tonneau

cover, Towbar,1NZ Owner

2.5Ltr, 4wd,6Speed Automatic, 73,500km,

Bluetooth,Cruise Control, Sat Nav

$45,995 $41,995 $29,995

2017 Nissan Qashqai Ti

2.0P, 54,850km's, Towbar,Sunroof, Leather,

Reversing Camera

2012 Mitsubishi ASXSport

2.0P, Automatic, 83,048km's, 4WDSelect, Reversing

Camera, Cruise Control

2017 Holden Barina LT

1.6L, 6Speed Auto,73,000km,Airbags,Alloys,

Leather&HeatedSeats, NZ New, Reverse Camera

2015 Subaru Impreza G4

2.0 Ltr, AWD, 110,000km, ClimateControl,

Radar Cruise Control

$28,995

$17,995

WAS$14,995

NOW

$12,995

WAS$13,995

NOW

$12,995

WHY WAIT?

DRIVE AWAY TODAY

MAZDA

BT-50 IN

STOCK NOW

BOOK ATEST DRIVE

ALL-NEW

BT-50

NOW AVAILABLE

FROM

ARTHUR BURKE

MAZDA

3YEARS

5YEARS

5YEARS

100,000KM

FREESERVICING

UNLIMITED KM

WARRANTY

UNLIMITED KM

ROADSIDE ASSISTANCE

5YEARS

100,000 KM

FREESERVICING

UNLIMITEDKM

WARRANTY

UNLIMITED KM

ROADSIDE ASSISTANCE

Mazda2, Mazda6, MX-5, CX-3, CX-5, CX-8 &CX-9

Mazda3 &CX-30

2418825

Sales: Tim 03 3140135 |Service: Michael 03 3140131

MarkhamStreet,Amberley

www.arthurburke.co.nz

ARTHUR BURKELTD

Established 1935