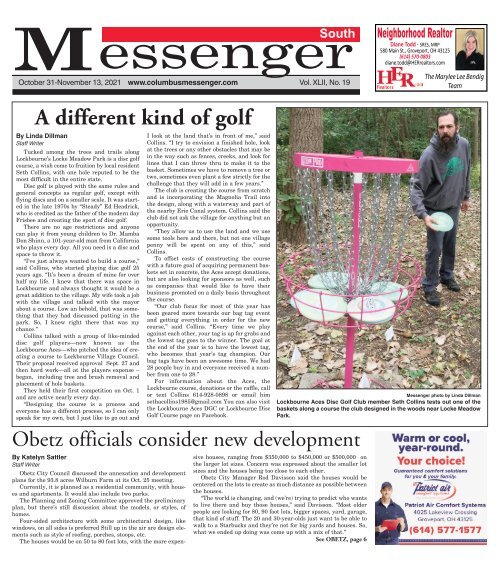 South Messenger - October 31st, 2021
You also want an ePaper? Increase the reach of your titles
YUMPU automatically turns print PDFs into web optimized ePapers that Google loves.
Messenger

South

October 31-November 13, 2021 www.columbusmessenger.com Vol. XLII, No. 19

Neighborhood Realtor

Diane Todd - SRES, MRP

580 Main St., Groveport, OH 43125

(614) 570-0803

diane.todd@HERrealtors.com

The Marylee Lee Bendig

Team

A different kind of golf

By Linda Dillman

Staff Writer

Tucked among the trees and trails along

Lockbourne's Locke Meadow Park is a disc golf

course, a wish come to fruition by local resident

Seth Collins, with one hole reputed to be the

most difficult in the entire state.

Disc golf is played with the same rules and

general concepts as regular golf, except with

flying discs and on a smaller scale. It was started

in the late 1970s by "Steady" Ed Headrick,

who is credited as the father of the modern day

Frisbee and creating the sport of disc golf.

There are no age restrictions and anyone

can play it from young children to Dr. Mamba

Don Shinn, a 101-year-old man from California

who plays every day. All you need is a disc and

space to throw it.

"I've just always wanted to build a course,"

said Collins, who started playing disc golf 25

years ago. "It's been a dream of mine for over

half my life. I knew that there was space in

Lockbourne and always thought it would be a

great addition to the village. My wife took a job

with the village and talked with the mayor

about a course. Low an behold, that was something

that they had discussed putting in the

park. So, I knew right there that was my

chance."

Collins talked with a group of like-minded

disc golf players–now known as the

Lockbourne Aces–who pitched the idea of creating

a course to Lockbourne Village Council.

Their proposal received approval Sept. 27 and

then hard work–all at the players expense —

began, including tree and brush removal and

placement of hole baskets.

They held their first competition on Oct. 1

and are active nearly every day.

"Designing the course is a process and

everyone has a different process, so I can only

speak for my own, but I just like to go out and

I look at the land that's in front of me," said

Collins. "I try to envision a finished hole, look

at the trees or any other obstacles that may be

in the way such as fences, creeks, and look for

lines that I can throw thru to make it to the

basket. Sometimes we have to remove a tree or

two, sometimes even plant a few strictly for the

challenge that they will add in a few years."

The club is creating the course from scratch

and is incorporating the Magnolia Trail into

the design, along with a waterway and part of

the nearby Erie Canal system. Collins said the

club did not ask the village for anything but an

opportunity.

"They allow us to use the land and we use

some tools here and there, but not one village

penny will be spent on any of this," said

Collins.

To offset costs of constructing the course

with a future goal of acquiring permanent baskets

set in concrete, the Aces accept donations,

but are also looking for sponsors as well, such

as companies that would like to have their

business promoted on a daily basis throughout

the course.

"Our club focus for most of this year has

been geared more towards our bag tag event

and getting everything in order for the new

course," said Collins. "Every time we play

against each other, your tag is up for grabs and

the lowest tag goes to the winner. The goal at

the end of the year is to have the lowest tag,

who becomes that year's tag champion. Our

bag tags have been an awesome time. We had

28 people buy in and everyone received a number

from one to 28."

For information about the Aces, the

Lockbourne course, donations or the raffle, call

or text Collins 614-928-0898 or email him

sethacollins1985@gmail.com You can also visit

the Lockbourne Aces DGC or Lockbourne Disc

Golf Course page on Facebook.

Obetz officials consider new development

Messenger photo by Linda Dillman

Lockbourne Aces Disc Golf Club member Seth Collins tests out one of the

baskets along a course the club designed in the woods near Locke Meadow

Park.

By Katelyn Sattler

Staff Writer

Obetz City Council discussed the annexation and development

plans for the 93.8 acres Wilburn Farm at its Oct. 25 meeting.

Currently, it is planned as a residential community, with houses

and apartments. It would also include two parks.

The Planning and Zoning Committee approved the preliminary

plan, but there's still discussion about the models, or styles, of

homes.

Four-sided architecture with some architectural design, like

windows, on all sides is preferred Still up in the air are design elements

such as style of roofing, porches, stoops, etc.

The houses would be on 50 to 80 foot lots, with the more expensive

houses, ranging from $350,000 to $450,000 or $500,000 on

the larger lot sizes. Concern was expressed about the smaller lot

sizes and the houses being too close to each other.

Obetz City Manager Rod Davisson said the houses would be

centered on the lots to create as much distance as possible between

the houses.

"The world is changing, and (we're) trying to predict who wants

to live there and buy those houses," said Davisson. "Most older

people are looking for 80, 90 foot lots, bigger spaces, yard, garage,

that kind of stuff. The 20 and 30-year-olds just want to be able to

walk to a Starbucks and they're not for big yards and houses. So,

what we ended up doing was come up with a mix of that."

See OBETZ, page 6
---
PAGE 2 - MESSENGER - October 31, 2021

To advertise in the Messenger, call

Doug Henry at 614-272-5422.

www.columbusmessenger.com

YEAR-ROUND

CLOG-FREE GUARANTEE

A FREE ESTIMATE

15 10 5

YOUR ENTIRE

PURCHASE *

% % %

OFF + OFF + OFF

Serving Your Community

Malek &

ATTORNEYS AT LAW Malek

Proudly Announcing

Adding New Attorneys

To Serve You!

WORKERS'

COMPENSATION

PERSONAL INJURY

WRONGFUL DEATH

SLIP & FALL INJURY

DOG BITE INJURY

SENIOR & MILITARY

DISCOUNTS

| Promo Number: 285

Since 1972

1-855-995-2490

TO THE FIRST

50 CALLERS! **

Prepare for unexpected

power outages with a

Generac home standby

generator

REQUEST A FREE QUOTE!

844-334-8353

FREE

7-Year Extended Warranty*

A $695 Value!

Limited Time Offer - Call for Details

Special Financing Available

Subject to Credit Approval

*To qualify, consumers must request a quote, purchase,

install and activate the generator with a participating dealer.

Call for a full list of terms and conditions.

Douglas, Ed, Jim

and Kip Malek

"Hablamos Español"

FREE Initial Consultation

www.maleklawfirm.com

614-444-7440

1227 S. High St., Columbus, OH 43206

A plane takes off on Rickenbacker's improved runway.

Rickenbacker's improved runway

opens amid global supply chain crunch

The more than 12,000 foot primary runway at

Rickenbacker International Airport is open after

completing upgrades that will better serve the

expanded operations of the world's largest freighter

aircraft, such as the Boeing 747-8F regularly flown

by Cathay Pacific, Cargolux and other air carriers.

Multiple phases of Federal Aviation

Administration grant funding paid for the improvements

that included asphalt resurfacing to an

advanced aircraft classification; construction of 40

foot shoulders and expanded blast pads;

elocation/replacement of airfield navigational aids;

and updated lighting and signage.

The improvements will aid growth over the next

two decades, maximize efficiency of aircraft ground

movement, and strengthen the Columbus Region's

global connectivity.

According to Rickenbacker Airport officials, the

improved runway opens at a time when supply chain

disruptions have impacted the entire freight industry.

As one of the world's only cargo-focused airports,

Rickenbacker is a critical part of the supply chain as

ocean backlogs, overseas production issues and rising

ocean shipping costs are driving many companies

to turn to airfreight.

The airport has an annual economic impact of

$2.5 billion and over 15,000 jobs in Ohio.

Dog license renewal period extended

Franklin County Auditor Michael Stinziano

announced that the 2022 dog license renewal period

has been extended by two months from Jan. 31 to

March 31 in an effort to increase the level of licensing

in the county.

The temporary extension comes after the Franklin

County Board of Commissioners approved a resolution

making the change in a vote on Oct. 12. This initiative

is a continuation of the pilot project initiated by

Stinziano in coordination with the commissioners in

2019.

The extension will only apply to the 2022 dog

license renewal period beginning Dec. 1, 2021 and ending

March 31, 2022, after which the office will examine

the effectiveness of the extended renewal period in

increasing licensing.

"As your Franklin County Auditor, my goal is to

license as many dogs as possible," said Stinziano.

"With this licensing deadline extension, the auditor's

office is providing pet owners with more time to license

their dogs."

The auditor's office will continue to expand the

opportunities for dog owners to purchase licenses,

including through the auditor's mobile office, the

Franklin County Dog Shelter and Adoption Center,

and at various community events.

In addition to being required by state law, dog

licensing ensures that a dog has been vaccinated

against rabies, which is required in Franklin County.

It also ensures any lost dog is returned quickly to their

owner. License fees help support the Franklin County

Dog Shelter and Adoption Center.

One-year, three-year and permanent dog licenses

can be purchased without penalty beginning Dec. 1.

Licenses can be purchased online at

doglicense.franklincountyohio.gov, or at the auditor's

office license counter, 373 S. High St., 21st floor in

downtown Columbus. The counter is open Monday

through Friday, from 8 a.m. to 4 p.m.
---
www.columbusmessenger.com

American Rescue Plan webpage

The Franklin County Commissioners

have launched a new webpage where residents

can track how the county uses funds

from the American Rescue Plan (ARP) to

help the community recover from the pandemic.

The site, located online at

Recovery.FranklinCountyOhio.gov provides

information about the ARP, what it

means for Franklin County, a graph of

expenditures so far, and links to information

about the individual expenditures.

The commissioners have already allocated

more than $26 million for recovery.

"Our community will be feeling the

effects of the pandemic for years to come,"

said board president Kevin Boyce. "We got

lots of input from our residents about how

we can best use this money to help them

and their families, and this webpage represents

an unprecedented level of transparency

in how we're going to use this

funding so that they can see in real-time

what we're doing to help them recover."

The American Rescue Plan was passed

by Congress and signed into law by

President Joe Biden to help Americans

who are suffering from the ongoing effects

of the COVID-19 pandemic. It includes

significant federal resources to support a

strong public health response and vaccination

strategy, provide direct assistance to

families, and deliver resources to local governments

to use in their own communities.

Franklin County will be receiving $256

million over the next two years. Other

parts of the ARP provided resources for

schools, healthcare providers, public

health agencies, and small businesses.

"The American Rescue Plan is important

legislation and provides significant

resources to help our residents recover, so

we're really glad to be able to get those out

into the community and working for

Franklin County families right away," said

commissioner John O'Grady. "The new

site provides important information and

resources, as well as a window into our

funding priorities."

The commissioners held a public hearing

and solicited written testimony from

the community to learn about the challenges

residents have faced over the past

18 months and how they think this funding

can best be used to aid in recovery. Video

of that hearing and text of the written testimony

can be found on the commissioners'

new webpage along with federally mandated

reports on ARP spending and a link for

residents to continue to submit ideas for

recovery funding.

"Too many Franklin County families

were already struggling before the pandemic,

and the pandemic only intensified

these difficulties," said commissioner Erica

Crawley. "The funding through the

American Rescue Plan is a lifeline to our

county, our government and our community

partners. It will funnel desperately

needed resources to help our community

recover and deal with the impacts of the

ongoing pandemic. We will ensure the

funding helps the most marginalized members

of our community, who were harmed

most by the pandemic."

An update to the commissioners'

American Rescue Plan webpage is already

planned, and will connect residents in need

directly to the resources that the commissioners

have funded with ARP dollars.

Additional information is available at

Recovery.FranklinCountyOhio.gov.

Heating assistance plan

The AEP Ohio Neighbor to Neighbor

Program is now accepting applications for

utility assistance grants for the 2021-22

winter heating season.

Through a partnership between AEP

Ohio and Dollar Energy Fund, the

Neighbor to Neighbor Program supports

families in need with a grant applied

directly to their AEP Ohio account to prevent

disconnection of, or to restore their

electric service. Heating assistance is

available once per program year on a firstcome,

first-served basis. Eligible account

holders may apply through April 30, 2022,

while funds are available.

"We're committed to providing assistance

to those who may be struggling to

make ends meet whether it is due to job

loss or unexpected expenses," said Brian

Billing, energy efficiency consumer programs

manager for AEP Ohio.

Since AEP Ohio and Dollar Energy

Fund launched the Neighbor to Neighbor

Program in May 2009, more than $15.6

million in assistance has been granted to

more than 65,000 Ohio households.

To apply, customers may contact one of

the AEP Ohio Neighbor to Neighbor

Program's network of more than 120 Ohio

community-based organizations. To qualify,

an applicant's total gross household

income must be at or below 300 percent of

the Federal Poverty Income Guidelines.

For example, a family of four earning up

to $79,500 per year is income-eligible for

the program. Households must have made

payments to AEP Ohio totaling at least $75

in the three months prior to applying for a

grant and owe a minimum of $50 on their

AEP Ohio bill. Full eligibility guidelines

and application instructions can be found

at AEPOhio.com/helpaneighbor.

The AEP Ohio Neighbor to Neighbor

Program is funded by public contributions

that are matched dollar-for-dollar by AEP

Ohio. Utility customers may make a contribution

through their monthly AEP Ohio bill.

Donations also can be made online at

www.AEPOhio.com.

Every donation to the Neighbor to

Neighbor Program is used to assist eligible

families residing in Ohio. Every dollar donated

to the Neighbor to Neighbor Program will

be matched by AEP Ohio.

For information visit dollarenergy.org.

October 31, 2021 - MESSENGER - PAGE 3

"BEST NEW YEARS PARTY IN TOWN"

17 th Annual

Mike Albert

and

The Big E. Band

Per Couple Prices

Overnight Package - $319

Party Only Packages - $250

Single Overnight - $219

Prices include

Dinner, Drinks, Room, Party favors,

Full Breakfast

Crowne Plaza • 6500 Doubletree Ave. (formerly Marriott North)
---
PAGE 4 - MESSENGER - October 31, 2021

Letters policy

The Messenger welcomes letters to the

editor. Letters cannot be libelous. Letters that

do not have a signature, address, and telephone

number, or are signed with a pseudonym,

will be rejected. PLEASE BE BRIEF

AND TO THE POINT. The Messenger

reserves the right to edit or refuse publication

of any letter for any reason. Opinions

expressed in the letters are not necessarily

the views of the Messenger.

Mail letters to: Messenger, 3500 Sullivant

Avenue, Columbus, OH 43204; or email eastside@columbusmessenger.com.

eastside

Messenger

(Distribution: 16,822)

Rick Palsgrove................................South Editor

eastside@ columbusmessenger.com

Published every other Sunday by

The Columbus Messenger Co.

3500 Sullivant Ave., Columbus, Ohio 43204-1887

(614) 272-5422

Keep tabs on the news in Canal

Winchester and Hamilton Twp.

Look for South Messenger on

Become a fan!

EMMANUEL LUTHERAN

CHURCH

80 E. Markison Ave., Columbus, OH 43207

elclife.org

SUNDAY WORSHIP SERVICE

8:30 am & 11:00 am

BIBLE CLASS

Adult and Youth (K-5)

9:45 am

*11:00 service includes a radio broadcast

in our parking lot on FM 87.9

Like most women, I like to wear a pop of

color when I am looking or feeling listless.

My chosen preference is a nice red lip to

draw attention away from the worn expression

within and underneath my eyes but

occasionally I will pull out a bright shirt,

jacket, or, in these times, a mask to disguise

what is really going on inside.

The vampiric film "Night Teeth" is a bit

like that too: it covers itself in the world of

bright colors to convey a sense of strength,

energy, and life but really that stylized

flourish acts as a front for a story that is as

dull as a set of wooden choppers.

Like a new day, it begins promisingly

enough by laying out the mythos of this

tale; Since vampires first came to America

hundreds of years ago, they have been

engaged in a war with the humans in Los

Angeles. Many lives were lost and when

vampires began to lose the upper hand

despite all their power, they struck a truce

with regions of the state, especially those of

the Boyle Heights neighborhood who

proved to be the toughest opponents of the

creatures of the night.

This truce has held for more than a century,

largely because the vampires of the

area have to follow three rules: Rule number

one is that vampires cannot let humans

know they exist anymore. Rule number two

is that vampires are not permitted to feed

Be a Part of Our Local Worship Guide

Our Worship Guide is geared toward celebrating faith and helping readers connect

with religious resources in our community. Make sure these readers know

how you can help with a presence in this very special section distributed to more

than 19,000 households in the South area.

Contact us today to secure your spot in our Worship Guide.

614.272.5422 • kathy@columbusmessenger.com

Messenger

South

"Night Teeth" a vampire film that lacks bite

BETHANY LUTHERAN

CHURCH, LCMS

1000 Noe-Bixby Rd.

Columbus, OH 43213

Telephone: 614-866-7755

Traditional Worship Service: 9:00 AM

Sunday School at 10:30 AM

Visit us on Facebook or

visit our website at:

bethanylutheranchurch@weebly.com

on the unwilling. And rule number three is

that the vampires never ever enter Boyle

Heights without permission.

After this intriguing intro, we meet

Victor (Alfie Allen) a centuries old vampire

who is no longer willing to live by those

rules. After failing to garner the support of

his fellow area vampires (this world is run

like "True Blood" where there are head

vampires for specific regions), he takes

matters into his own cold hands by kidnapping

the girlfriend of Jay (Raul Castillo),

the human truce-keeper between the

vamps and the residents of Boyle Heights.

Instead of continuing to focus on the

rapidly boiling tension between Victor and

Jay, both played by actors who have a fun

and magnetic intensity, the film pivots to

Jay's sweet and clueless younger brother

Benny (Jorge Lendeborg Jr.) who accidentally

stumbles into Victor's overarching

plot to destroy the leaders of the vampiric

clans of L.A.

To be clear, Benny's presence is not an

impediment to the story; in fact, the character

and the actor too prove to be a positive

for the film, serving as the audience's

surrogate into the gory underworld as he

tries to do something we all do each day —

work for a paycheck. But it's everything

else that goes along with his portion of the

story that weighs the film down.

For some quick cash, Benny takes over

Jay's main job as a chauffeur for the rich

and dangerous. Jay tells him to keep his

head down, don't ask questions, and survive

the night. His first (and only) clients of

the night are two women, Blaire and Zoe

(played by Debbie Ryan and Lucy Fry,

respectively), who provide him with a list of

five places to go with an order to complete

the task before sunrise.

During the ride to the first attraction of

the night, Blaire and Zoe mess with his

head a bit, asking questions about what he

would do if this was the last night of his

life. Though unnerved by the women, he is

drawn to them too, willing to do their bidding

despite thinking that something is

amiss.

Willow is a sweet 8-

month-old kitten. She is

a loving girl who enjoys

a good belly rub and an

ear scratch. Willow is

great with other cats

and wonderful with children.

She would be a

nice addition to any

family. She is up for

adoption through Friends for Life Animal

Haven.

FYI: fflah.org

Trinity is a shy dog

who is still adjusting to

the county dog shelter.

She is a bit shy and

reserved but once she

pets of the week

At the first stop,

Benny hears screams

coming from the mansion;

at the second, he

finds a bag filled with

money splattered with

blood. At the third, he

realizes that they are

vampires, sent out on

a mission to cause

deadly chaos so Victor

can take over the L.A.

scene. Unfortunately

www.columbusmessenger.com

The Reel Deal

Dedra

Cordle

for Benny, his night just gets worse as his

story starts to revolve around a slow bubbling

romance with Blaire, the least bloodthirsty

of the two vampire women (she's

also the more boring of the dastardly duo,

so there's that).

Upon learning that Victor has his sights

set on Jay, Benny goes along with the vampires

as they wreak havoc across the neon

soaked city, even providing assistance to

them from time to time. His actions, some

puzzling and implausible, provide for some

of the biggest questionable decisions this

film makes, making "Night Teeth" feel as if

it were a first or second draft from writer

Brent Dillon, rather than the final one sent

in before the production started.

With storylines that bounce all over the

place and the abundance of missed opportunities

to showcase characters whose

actors were game for mischief and mayhem,

"Night Teeth" is a disappointing vampiric

film that, sadly, lacks bite. Though

the style of the film provided some flair and

entertainment (shots where the camera

flips slowly upside down was a nice touch),

you couldn't help but think throughout the

viewing that this could have been something

more, something better, than it actually

was.

Grade: C

Dedra Cordle is a Messenger staff writer

and columnist.

is in a loving home, she may relax or she

could need a little time to come out of her

shell. Stop by the Franklin County Dog

Shelter to meet Trinity.

FYI: franklincountydogs.com

Jeremy is a 5-month-old

kitty. He, and his siblings,

were born on a

farm where their mother

was killed in an accident

when they were just 10

days old. Jeremy was

rescued and was bottle

fed but is now doing well

and ready for a forever home. He is great with

other cats and dogs. Adopt Jeremy from

Colony Cats.

FYI: colonycats.org
---
www.columbusmessenger.com

Obetz Historians revive the past

By Katelyn Sattler

Staff Writer

As Obetz blossoms into a city, a group of its citizens

is seeking to preserve the town's history.

Obetz was once known as Obetz Junction and is

named after one of its original settlers, Charles Obetz.

The newly-named Obetz Historians met Oct. 13 at

the Obetz Community Center to discuss how they want

to pass down the town's history to younger generations.

The group shared some stories and began the

process of organizing and brainstorming goals for the

group to pursue.

Joyce Blake was elected president, Jerry Benson

was elected vice president, Obetz Councilwoman

Bonnie Wiley was elected secretary, and the treasurer

position remains open. They hope to vote in a treasurer

at the group's next meeting.

Obetz Historians wants to publish a book about

Obetz's history using memories and photographs from

current residents.

Wiley would like new city employees to know more

about Obetz history:

"We hire people in charge of our parks, but they

don't know our history because we have no dedicated

history," said Wiley.

She wants people "to know where they're from,

what their identity is, and what happened some time

ago so that they can have some idea of keeping that

history."

Benson spoke with Obetz Community Services

Director Stacey Boumis extensively about having a

Founder's Day event in 2028. This would mark 100

years since the Obetz was formed, and Founder's Day

would occur annually thereafter.

Benson suggested putting short history videos

online to attract the interest of young people.

Becki Thacker-Dunn suggested getting high school

seniors involved in the project. She said students get a

tour every year so why not combine it with the history

project and make it more of a community service project?

When Oct. 21, the date the village will become a

city, was mentioned, Blake said, "I mean, it's good, but

it's kind of sad – but on the other hand, that's why

we're doing this."

She feels a village is more personal than a city.

Some suggested displaying photos and artifacts in

the entry area of city hall where residents pay their

utility bills.

Benson also talked about forming a 501(c)(3) nonprofit

for funding purposes. He mentioned it as a way

to get money for their plans, saying "I've done it with

the Historical Society."

He wants to approach the non-profit Big Walnut

Area Community Improvement Corporation.

"They give money for projects and stuff like that,"

he said.

The Obetz Historians would have to submit a letter

of intent and let them know how they would use the

money. Then the BWACIC would then give the Obetz

Historians a donation.

Wiley then said that, if their group disbands, the

money has to go to another nonprofit and Thacker-

Dunn added that at the end of each year, any money

See REVIVE, page 6

Dr. Hobbs

3700 Parsons Ave.

Columbus, OH 43207

ORAL THRUSH

October 31, 2021 - MESSENGER - PAGE 5

columbusmessenger.com

New Patients & Emergencies Always Welcome

(614) 491-5511

www.ScottAKellyDDS.com

If slightly raised, creamy white

sore patches develop in your

mouth or on your tongue, you may

have oral thrush. The patches may

be brushed off when you clean your

teeth. Brushing may make them

sore and they may bleed slightly.

The infection can spread to the roof

of your mouth, to your gums or tonsils,

or into your throat.

Oral thrush tends to occur most

often when your natural resistance

to disease has been weakened by

illness or as a reaction to medication

such as, antibiotics, immunosuppressive

drugs, or corticosteroid

drugs. Many people experience an

outbreak of oral thrush at some

Dr. Kelly

point in their lives. The infection is

most common among babies and

young children and the elderly, although

it can occur at any time in

life. Oral thrush can be painful, but

ordinarily it is not a serious disorder.

Your dentist may prescribe a course

of oral antifungal medication, often

to be taken for 7-10 days. Naturally,

any underlying disorder must be

treated as well.

Prepared as a public service

to promote better dental health.

From the office of:

SCOTT A. KELLY, D.D.S.

Phone 614-491-5511

Grove City Chamber

Member

Are you or a loved one approaching

Medicare Decisions

Soon?

Call me t

Consultatio on $0 Fee

Terri

Curcio 614-460-0601

Sam

me cost,

pric

cing for

polic

cies using my

help!

Local licensed representative, I can mail you carrier(s) information to review before you

make any

decisions. Can enroll

a client without

a face-to-face meeting or schedule a

personal meeting if you prefer.

Do

phone sales rep p, sometimes you need

answers

throughout the year!

OHIO IN. #43449

Offering plans available in Central

Ohio, with top-rated carriers. I

will work for you to

find

the plan that fits your needs and lifestyle.

Or over 65 and still working

AEP for 2022 starts October 15 th though Dec 7 th

Schedule your appointment today for AEP!
---
PAGE 6 - MESSENGER - October 31, 2021

REVIVE

Continued from page 5

still in the bank has to be earmarked for

something. Benson suggested hiring a consultant

to give them structure on how they

need to put all this together.

Benson would like to put the chronology

of all the mayors and council people in the

book, and then "put everyone that lives in

Obetz in the book, because we're all part of

history this hundred year anniversary so

everybody will be in there."

"I know it sounds like a lot, but there's

OBETZ

Continued from page 1

www.columbusmessenger.com

only about 5,000 or so residents," said

Benson. "And that could be maybe three or

(more) pages. I don't know if we put them

all in the book, then everybody gets recognition

for living here because that's what it

is. It's all about the book. Now that we're

here, we're all historians together."

The next meeting will be Nov. 9, at 1

p.m. They're hoping to be able to meet

again at the Senior Center, 1650 Obetz

Avenue.

Resident Jerry Benson wants to see

some of the apartments be condominiums.

"The reason is that people who buy condos

stay, and people that rent, trash the

place and are gone in a year," said Benson.

Mayor Angela Kirk said she had similar

concerns, but they've taken those types of

issues into consideration.

"I was not a fan of apartments either,

but these apartments are one of the very

high end we've worked on," said Kirk.

Councilwoman Bonnie Wiley asked the

developer to put in "Watch For Children"

signs around the development.

The preliminary plan was approved

with the understanding that the developers

will come back for final approval before

breaking ground in the spring.

Other news

•Davisson also informed council that

new EPA orders concerning the ongoing

issues with Mason's Sand & Gravel are

coming.

It appears the city will be receiving a

new plan with improvements on wheel

washing and channeling.

Davisson said, "It looks like it's going to

be a lot of improvements."

•Benson reminded everyone that the

next meeting of the Obetz Historians will

be Nov. 9 at 1 p.m.

Obetz Village Council

The Obetz Council is made up of six

elected officials who are elected at-large

and serving staggered four-year terms

under the rules of the Charter of the

Village of Obetz. Council meets the second

and fourth Mondays of each month at 6

p.m. in the Council Chambers at 4175

Alum Creek Drive, Obetz, to review and

pass legislation and hear concerns from the

residents. Call (614) 491-1080.

PAID ADVERTISING

Sussi will fight for us

As an Emmy-Award winning Investigative

and Consumer reporter on TV for nearly 30 years,

Tom Sussi fought for us.

Sussi exposed corrupt politicians, public officials,

and crooked contractors. Sussi exposed

Lockbourne Council

Lockbourne Village Council meets the

second and fourth Mondays of each month

at 7 p.m. Council meets in-person at the

Lockbourne Historical Hall at 206 Vause

St., Lockbourne. The public may join the

meeting virtually through Microsoft

Teams. To join the meeting, go to the village

website at www.lockbourneohio.us

and click on the link to the meeting.

heartless animal abusers. And Sussi warned us

about restaurants with dangerous violations.

And when elected to Columbus City Council,

Sussi will fight for us. Vote Tom Sussi on Nov. 2

for Columbus City Council.
---
www.columbusmessenger.com

October 31, 2021 - MESSENGER - PAGE 7
---
PAGE 8 - MESSENGER - October 31, 2021

www.columbusmessenger.com
---
www.columbusmessenger.com

October 31, 2021 - MESSENGER - PAGE 9

The genius of the old Warner Brothers' cartoons

The best of the Warner Brothers cartoons

created in the late 1940s and into the

1950s - featuring Bugs Bunny and assorted

other well known characters - are pure

genius both in the quality of the animation

and in the writing.

This is the era when the studio refined

its cartoon offerings with improved animation

and better storylines that did not rely

on the outrageous or the offensive.

The animation pays close attention to

tiny details, such as when after Bugs takes

a big bite of carrot his cheeks puff out a bit

as he chews it. He does not gulp the carrot,

he takes time to chew the chunks of carrot

and savor them. This is high pop cultural

art.

The drawing and animating of these

cartoons flows smoothly and the colors are

rich and vibrant. Plus the accompanying

music to the cartoons fits the action to near

perfection.

But I think it is in the writing where

these cartoons truly shine with quick

quips, painful puns, sly sarcasm, and servings

of slapstick.

While the jokes and one

liners come rapidly, the

writers and directors of

these Warner Brothers' classic gems also

knew how to let a joke take time to play out

and breathe for maximum comedic effect.

One of my favorite examples of this is in

the Bugs Bunny classic from 1949, "Rabbit

Hood," directed by Charles M. Jones with

story by Michael Maltese.

The cartoon plays off the fabled story of

Robin Hood and pits Bugs Bunny against

the Sheriff of Nottingham. The feature

includes lots of fast paced humor and wonderfully

crafted scenes (as well as a clever

cameo by Errol Flynn as Robin Hood from

the 1938 film, "The Adventures of Robin

Hood." But it also has an extended joke

tucked into the cartoon that really makes it

for me.

In the scene, the Sheriff of Nottingham

is chasing Bugs and they come upon the

Royal Garden of the king.

The Sheriff is appalled that Bugs is

Editor's Notebook

Rick

Palsgrove

standing on "royal

ground" which leads

to a back and forth

about this ground

being better than

that ground.

It prompts Bugs to

go into character as a

fast talking real

estate salesman who

tricks the Sheriff into

"buying" the land

where the Royal

Garden stands so the

Sheriff can build a six

room Tudor dream

home upon it. With

the real estate "deal"

completed, the

Sheriff starts building his house on top of

the Royal Garden.

One gets the sense that much, much

time has lapsed between the Sheriff falling

for Bugs' trick and his actual construction

work on the house because the structure is

CLASSIFIED ADS

half completed when the Sheriff pauses

and looks slowly around at the house he

has been building on top of the Royal

Garden.

It's then he realizes he has been duped,

which comically enrages him.

The humor comes from the slow pace of

the Sheriff surveying the scene of the halfbuilt

house and slowly coming to the conclusion

he's been had.

The whole scene plays out for nearly a

minute and a half, which is a long segment

in a cartoon with a running time of only

seven minutes and 55 seconds.

The segment proves to me that the

Warner Brothers' cartoon writers, while

fond of quick jokes, also had a high appreciation

for letting a joke take its own time

in building to the punch line.

Magnificent stuff.

Rick Palsgrove is managing editor of the

Messenger Newspapers

Deadlines: Groveport and West editions, Wednesdays at 5 p.m., • South/Canal Winchester, Grove City, Madison editions, Tuesdays at 5 p.m.

All editions by phone, Tuesdays at 5 p.m. • Service Directory, Tuesdays at 5 p.m.

xInformation

The unconscious, subconscious or reactive

mind underlies and enslaves Man.

It's the source of your nightmares,

unreasonable fears, upsets and any insecurity.

GET RID OF YOUR REACTIVE MIND.

BUY AND READ

DIANETICS

The Modern Science of Mental Health

by L. Ron Hubbard - Price: $25

Call (614) 221-5024 or come to

1266 Dublin Road, Columbus, Ohio 43215

Information

ASSOCIATION ADS

AMERICAN & FOREIGN

CLASSIC CARS AND

MOTORCYCLES

WANTED. $$PAYING

CA$H$$ Corvettes,

Mustangs, Jaguars, Austin

Healeys, Broncos,

Blazers, Ram Chargers,

AMX, and Triumphs

KRMiller1965@yahoo.com

717-577-8206

ASSOCIATION ADS

Update your home with

beautiful new blinds &

shades. Free in-home

estimates make it

convenient to shop from

home. Professional

installation. Top quality -

Made in the USA. Free

consultation: 877-212-

7578. Ask about our

specials!

ASSOCIATION ADS

Replace your roof with the

best lookng and longest

lasting material! Steel

from Erie Metal Roofs!

Three styles and multiple

colors available.

Guaranteed to last a

lifetime! Limited Time

Offer - $500 Discount +

Additional 10% off install

(for military, health

workers & 1st responders)

Call Erie Metal Roofs: 1-

855-338-4807

Don't let the stairs limit

your mobility! Discover

the ideal solution for

anyone who struggles on

the stairs, is concerned

about a fall or wants to

regain access to their

entire home. Call

AmeriGlide today! 1-844-

317-5246

Stroke & Cardiovascular

disease are leading

causes of death according

the AHA. Screenings can

provide peace of mind or

early detection! Call Life

Line Screening to

schedule a screening.

Special offer 5 screenings

for $149.. 1-833-549-4540

Stroke & Cardiovascular

disease are leading

causes of death according

the American Heart

Association. Screenings

can provide peace of mind

or early detection! Call

Life Line Screening to

schedule your screening.

Special offer - 5

screenings for $149. 1-

866-518-8391

ASSOCIATION ADS

READER

ADVISORY

The National Trade Association

we belong to has

purchased the following

classifieds. Determining

the value of their service

or product is advised by

this publication. In order

to avoid misunderstandings,

some advertisers do

not offer "employment"

but rather supply the

readers with manuals, directories

and other materials

designed to help

their clients establish mail

order selling and other

businesses at home. Under

NO circumstance

should you send any

money in advance or give

the client your checking,

license ID or credit card

numbers. Also beware of

ads that claim to guarantee

loans regardless of

credit and note that if a

credit repair company

does business only over

the phone it's illegal to request

any money before

delivering its service. All

funds are based in US

dollars. Toll Free numbers

may or may not

reach Canada. Please

check with the Better

Business Bureau 614-

486-6336 or the Ohio Attorney

General's Consumer

Protection Section

614-466-4986 for more

information on the company

you are seeking to

do business with.

xCraft Shows

ADVERTISE

Your Holiday Craft Show Bazaar or Bake Sale!

Call Kathy 272-5422 For More Info

Craft Shows
---
PAGE 10 - MESSENGER - October 31, 2021

www.columbusmessenger.com

CLASSIFIED ADS

Deadlines: Groveport and West editions, Wednesdays at 5 p.m., • South/Canal Winchester, Grove City, Madison editions, Tuesdays at 5 p.m.

All editions by phone, Tuesdays at 5 p.m. • Service Directory, Tuesdays at 5 p.m.

xEmployment

COME SUBSTITUTE TEACH AT

HAMILTON SCHOOLS!

• Make $130 per day

• Earn a $500 bonus for every 45 days worked in our district this year

• Work with helpful & collaborative Teachers, Administrators,

and Staff

• For instructions on what steps to take to become a substitute

teacher, please visit:

www.escco.org/stepstobecomeasubstitute

DO YOU NEED

SEASONAL EMPLOYEES?

Call KATHY to ADVERTISE

and reach over 35,000 homes in the

South/Canal Winchester & Groveport Messengers

614-272-5422

kathy@columbusmessenger.com

ASSOCIATION ADS

Internet &WIFI Starts at

$49 Call us Today to Get

Started. Find High-Speed

Internet with Fiber Optic

Technology No Credit

Check, No SSN Required.

Call us Today 866-396-

0515

Connect with us:

Phone: 614-49-8044 x 1202

Address: 775 Rathmell Rd, Columbus, OH 43207

Online: HamiltonRangers.org

ASSOCIATION ADS

Long Distance moving.

Call for a free quote from

America's Most Trusted

Interstate Movers. Let us

take the stress out of

moving! Speak to a

relocation specialist! Call:

888-721-2194

ASSOCIATION ADS

ASSOCIATION ADS

Donate Your Car To

Veterans Today! Help and

Support our Veterans.

Fast - FREE pick up.

100% tax deductible. Call

1-800-245-0398

Wesley Financial Group,

LLC Timeshare Cancellation

Experts Over

$50,000,000 in timeshare

debt & fees cancelled in

2019. Get free

informational package &

learn how to get rid of

your timeshare! Free

consultations. Over 450

positive reviews. 888-965-

0363

Pest Control

Find Pest Control Experts

Near You! Don't let

pests overtake your

home. Protect your loved

ones! Call today to find

great deals on Pest

Control Services - 833-

872-0012

Life Alert. One press of a

button sends help fast

24/7! At home and on

the go. Mobile Pendant

with GPS. Free first aid

kit (with subscription).

877-537-8817 Free brochure

BE YOUR OWN BOSS!

INDEPENDENT

CONTRACTORS

WANTED

If you have a reliable

car and would like to

earn extra money,

then why not deliver?

• Deliver 1 or 2 days a week

• Flexible delivery hours

• Work close to home - often

in or near your neighborhood

CONTACT US

1-888-837-4342

www.thebag.com

• Deliver 7 days a week

• Delivery before dawn

• Work close to home - often

in or near your neighborhood

CONTACT US

614-461-8585

www.dispatch.com/delivery

ASSOCIATION ADS

Train online to do medical

biling! Become a Medical

Office Professional at CTI!

Get trained & certified to

work in months! 888-572-

6790. The Mission,

Program Information and

Tuition is located at

CareerTechnical.edu/cons

umer-information. (M-F 8-

6 ET.

HOME BREAK-INS take

less than 60 SECONDS.

Don't wait! Protect your

family, your home, your

assets NOW for as little as

70¢ a day! Call 866-409-

0308

DENTAL INSURANCE

from Physicians Mutual

Insurance Company.

Coverage for 350 plus

procedures. Real dental

insurance - NOT just a

discount plan. Do not wait!

Call now! Get your FREE

Dental Information Kit with

all the details! 1-877-553-

1891

www.dental50plus.com/

macnet#6258

Elminate gutter cleaning

forever! LeafFilter, the most

advanced debris-blocking

protection. Schedule

Free LeafFilter Estimate

today. 15% off Entire

Purchase. 10% Senior &

Military Discounts. Call 1-

855-995-2490

SELL YOUR ANTIQUE

OR CLASSIC CAR.

Advertise with us. You

choose where you want

to advertise. 800-450-

6631 visit macnetonline.

com for details.

New authors wanted!

Page Publishing will help

self-publish your book.

Free author submission

kit! Limited offer! 866-

951-7214

Become a Published

Author. We want to Read

Your Book! Dorrance

Publishing Trusted by

Authors Since 1920 Book

manuscript submissions

currently being reviewed.

Comprehensive Services:

Consultation, Production,

Promotion and Distribution.

Call for Your Free Author's

Guide 1-866-482-1576 or

visit http://dorranceinfo.

com/macnet

Employment

HLSD is hiring Substitutes for our

Classified Staff! Jobs include:

Bus Driver - $15/hour

Cooks - $10.50/hour

Custodian - $12.50/hour

Educational Aides - $11.50/hour

Come work with helpful & collaborative

Teachers, Administrators, and Staff!

For more information on becoming a Classified

Substitute, please visit our employment page at

www.hamilton-local.k12.oh.us/Employment

ASSOCIATION ADS

AT&T Internet. Starting

at $40/month w/12-mo

agmt. 1 TB of data/mo.

Ask how to bundle &

SAVE! Geo & svc restrictions

apply. 1-888-796-

8850

HughesNet Satellite Internet

- Finally, no hard

data limits! Call today for

speeds up to 25mbps as

low as $59.99/mo! $75

gift card, terms apply. 1-

844-863-4478

VIAGRA and CIALIS

USERS! 50 Generic pills

SPECIAL $99.00 FREE

Shipping! 100% guaranteed.

24/7 CALL NOW!

888-445-5928 Hablamos

Espanol

Attention oxygen therapy

users! Inogen One G4 is

capable of full 24/7 oxygen

delivery. Only 2.8

pounds. Free info kit.

Call 877-929-9587

The Generac PWRcell, a

solar plus battery storage

system. SAVE money,

reduce your reliance on

the grid, prepare for power

outages and power

your home. Full installation

services available. $0

Down Financing Option.

Request a FREE, no obligation,

quote today. Call

1-855-900-2894

ASSOCIATION ADS

DISH TV $64.99 FOR 190

Channels + $14.95 High

Speed Internet. Free Installation,

Smart HD DVR

Included, Free Voice Remote.

Some restrictions

apply. Promo expires

1/21/22. 1-855-270-5098

Looking for assisted living,

memory care, or

independent living? A

Place for Mom simplifies

the process of finding

senior living at no cost to

your family. Call 1-833-

910-1576 today!

DISH TV $64.99 190

Channels + $14.95 high

speed internet. FREE installation,

Smart HD DVR

included. Free Voice Remote.

Some Restrictions

apply. Promo Expires

1/21/22. 1-833-872-2545

HEARING AIDS!! Bogo

free! High-quality rechargeable

Nano hearing

aids priced 90% less

than competitors. Nearly

invisible! 45-day money

back guarantee! 833-

669-5806

Donate your car to kids!

Fast free pickup running

or not - 24 hour response.

Maximum tax

donation. Help find missing

kids! 877-831-1448

Directv Now. No Satellite.

$40/mo 65 Channels.

Stream news, live

events, sports & on demand

titles. No contract/

commitment. 1-866-825-

6523

ASSOCIATION ADS

DENTAL INSURANCE-

Physicians Mutual Insurance

Company. Covers

350 procedures. Real

insurance - not a discount

plan. Get your free

dental Info kit! 1-888-

623-3036 . www.dental50plus.com/58

#6258

IMPORTANT

NOTICE

The following states: CA,

CT, FL, IA, IL, IN, KY,

LA, MD, ME, MI, MN,

NE, NC, NH, OH, OK,

SC, SD, TX, VT and WA

requires seller of certain

business opportunities to

register with each state

before selling. Call to

verify lawful registration

before you buy.

Eliminate gutter cleaning

forever! LeafFilter, the

most advanced debrisblocking

gutter protection.

Schedule a FREE LeafFilter

estimate today. 15% off

Entire Purchase. 10% Senior

& Military Discounts.

Call 1-855-791-1626

GENERAC Standby Generators

provide backup

power during utility power

outages, so your home

and family stay safe and

comfortable. Prepare

now. Free 7-year extended

warranty ($695 value!).

Request a free

quote today! Call for additional

terms and conditions.

1-855-465-7624
---
www.columbusmessenger.com

It

xCome & Get It!

.

COME AND GET IT

Deadlines are Tuesdays by 5 pm.

Call For Publication Schedule 614-272-5422

Need to Get Rid of Something Fast - Advertise It Here For FREE!

FREE Garden Straw for gardens or bedding. Call for appointment for pickup.

Circle S Farms, 9015 London-Groveport Road, Grove City, 43123

Grove City - 614-878-7980

Sandbox Full of Sand; Small Bookcase - Fair Condition.

MB - Columbus - 614-308-1064

WOOD from two trees that we cut down two years ago. FREE.

Call me and let me know when you canp ick it up.

TH - Canal Winchester - 614-949-8963

Come and Get It! is a bi-weekly column that offers readers an opportunity to pass

along surplus building materials, furniture, electronic equipment, crafts, supplies,

appliances, plants or household goods to anybody who will come and get them - as

long as they're FREE. NO PETS! Just send us a brief note describing what you want to

get rid of, along with your name, address and phone number. Nonprofit organizations

are welcome to submit requests for donations of items.

Send information to The Columbus Messenger, Attention: Come and Get It, 3500

Sullivant Ave., Columbus, OH43204. Deadline is Tuesdays by 5 pm for following

Mondays publication. Messenger Newspapers is not responsible for any

complications that may occur. Please contact us when items are gone. 272-5422

Come & Get It!

xInformation

SCIENTOLOGY CAN HELP YOU

We can give you

1. A higher IQ to handle your problems

2. Higher awareness to get a better job

3. More energy to make more money

4. Better health to breast life

5. Better morale to handle upsets

6. Less despair

7. More life

8. More years to live

Come to our free introductory workshop:

Monday-Friday at 7pm; Saturday & Sunday 2pm.

1266 Dublin Road,Columbus, Ohio 43215

Information

ASSOCIATION ADS

ENJOY 100% guaranteed,

delivered-to-the-door Omaha

Steaks! Get 8 FREE Filet

Mignon Burgers! Order the

Delightful Gift this holiday

season - ONLY $99.99 CALL

1-888-409-0645 and mention

code 65658LQY or visit

www.omahasteaks.com/

thegift1107

Thinking about installing

a new shower? American

Standard makes it

easy. FREE design consulation.

Enjoy your

shower again! Call 1-

833-769-0995 today to

see how you can save

$1,000 on installation, or

visit www.newshowerdeal.com/mac

ASSOCIATION ADS

Attention: If you or aloved

one worked around the

pesticide Roundup

(glyphosate) for at least 2

years and has been diagnosed

with non-Hodgkin's

lymphoma, you may be

entitled to compensation.

855-341-5793

Wants to purchase minerals

and other oil and gas

interests. Send details to

P.O. Box 13557, Denver,

CO. 80201

Looking for auto insurance?

Find great deals

on the right auto insurance

to suit your needs.

Call today for a free

quote! 866-924-2397

ASSOCIATION ADS

GENERAC Standby

Generators provide

backup power during

power outages, so your

home & family stay safe &

comfortable. Prepare now.

FREE 7-yr extended

warranty $695 value!

Request a free quote

today. Call for terms &

conditions. 1-844-334-

8353

Protect your home w/home

security monitored by

ADT. Starting at $27.99/

mo. Get free equipment

bundle including keypad,

motion sensor, wireless

door & windows sensors.

833-719-1073

HEARING AIDS!!

Buyone/get one FREE!

Nearly invisible, fully rechargeable

IN-EAR

NANO hearing aids

priced thousands less

than competitors! 45-day

trial! Call1-877-436-0234

Want Faster & Affordable

Internet? Get internet

service today with

Earthlink. Best internet &

WiFi Plans. Call us Today

to Get Started. Ask

about our specials! 866-

396-0515

NEED IRS RELIEF

$10K-$125K+ Get Fresh

Start or Forgiveness.

Call 1-844-431-4716

Monday through Friday

7am-5pm PST

READY TO BUY, SELL

OR RENT YOUR

VACATION HOME OR

HUNTING CAMP?

Advertise it here and in

neighboring publications.

We can help you. Contact

MACnet MEDIA @

800-450-6631 or visit our

site at MACnetOnline.

com

ASSOCIATION ADS

BATH & SHOWER UP-

DATES in as little as

ONE DAY! Affordable

prices - No payments for

18 months! Lifetime warranty

& professional installs.

Senior & Military

Discounts available. Call

855-761-1725

VIAGRA & CIALIS! 60

pills for $99. 100 pills for

$150 FREE shipping.

Money back guaranteed!

1-844-596-4376

The Generac PWRcell

solar plus battery storage

system. Save money,

reduce reliance on

grid, prepare for outages

& power your home. Full

installation services. $0

down financing option.

Request free no obligation

quote. Call 1-855-

270-3785

HughesNet - Finally, superfast

internet no matter

where you live. 25 Mbps

just $59.99/mo! Unlimited

Data is Here. Stream

Video. Bundle TV &

Internet. Free Installation.

Call 866-499-0141

Looking for assisted living,

memory care, or

independent living? A

Place for Mom simplifies

the process of finding

senior living at no cost to

your family. Call 1-833-

386-1995 today!

The bathroom of your

dreams for as little as

$149/month! BCI Bath &

Shower. Many options

available. Quality

materials & professional

installation. Senior &

Military Discounts

Available. Limited Time

Offer - FREE virtual inhome

consultation now

and SAVE 15%! Call

Today! 1-877-540-2780

HELP WANTED

Seeking experienced

painters/carp. Must have

own transportation. If

interested, call Dan @

614-595-0773

PETS

Kittens & Young Grown

Kittens - 614-829-2905

WANT TO BUY

BUYING VINYL RECORDS.

LPs and 45s - 1950-80s

Rock, Pop, Jazz, Soul.

614-831-0383

We Buy Cars & Trucks

$300-$3000.614-308-2626

We Buy Junk Cars &

Trucks. Highest Prices

Paid. 614-395-8775

WANTS TO Purchase

minerals and other oil &

gas interests. Send details

to: P.O. Box 13557,

Denver, CO 80201

WE BUY JUNK CARS

Call anytime 614-774-6797

VACATION RENTALS

Englewood, Florida

Palm Manor Resort

Within minutes of white

sand Gulf beaches,

world famous Tarpon

fishing, golf courses, restaurants/shopping,

Bush

Gardens. 2 BR 2 BA

condos with all ammenities,

weekly/monthly, visit

www.palmmanor.com

or call 1-800-848-8141

October 31, 2021 - MADISON MESSENGER - PAGE 11

xClassified Services

BLACKTOP

SANTIAGO'S

Sealcoating & Services LLC

Quality Materials Used

FALL IS HERE!

Driveway Seal & Repair!

Top Seal Cracks!

Residential & Commercial

Mulching, Edging & Clean-ups

"Ask for whatever you need."

BBB Accredited-Fully Insured

Call or text for Free Est.

614-649-1200

AGM OHIO

ROOFING &

SEALCOATING

Free Estimates

Cell 614-512-1699

CARPET SALES

11/7

A/M

CARPET CLEANING

CARPET CLEANING

Any 5 areas ONLY $75

Home Powerwash $99-$200

614-805-1084

Specializing in Pet Odors

CARPET

Gray Saxony

540 sq.ft. & 6 lb

Pad & Normal Installation

Only $999.00

Phone or text Ray

740-927-3504

CLEANING

HOUSECLEANING &

ORGANIZING

614-829-2905

Looking for Mrs. Clean?

For excellent cleaning serv

at reas. rates w/great refs,

dependable. 10% Senior

Disc. Free Est. Gwen

614-226-5229

CONCRETE

ALL-CITY CUSTOM

CONCRETE

All Types Concrete Work

New or Tear Out-Replace

39 Yrs. Exp.

(614) 207-5430

Owner is On The Job!

AJ's Concrete,

Masonry

Good Work - Fair Prices

Block Foundations

Driveways • Sidewalks

Epoxy/Overlay Floors

Bonded-Ins. • Free Ests.

614-419-9932

EDDIE MOORE

CONSTRUCTION

Quality Concrete Work

Lt. Hauling & Room Add.,

Block Work & Excavation

Stamp Patios,

Bsmt. Wall Restoration

35 Yrs Exp - Lic & Ins.

Free Ests. 614-871-3834

12/5 A/M

11/21 A

CONCRETE

www.hastingsnsons.com

Driveways & Extensions

Patio & Walkways,

Porches & Steps,

Garage/Basement Floors

Hot Tub/Shed Pads,

Stamped/colored concrete

Sealing of new &

existing concrete.

FREE ESTIMATES

Contact Adam

614-756-1754

hastingsandsons.

columbus@gmail.com

Buckeye City

Concrete & Excavating

* Concrete * Foundations

* Waterlines * Drains

*Catch Basins

614-749-2167

buckeyecityconcreteand

excavating@yahoo.com

ERRAND SERVICE

WILL RUN ERRANDS

Groceries, Prescriptions,

etc. Dependable with

great refs at reasonable

rates. 10% sr. disc. Free

Est. Gwen 614-226-5229

GUTTERS

Bates & Sons

GUTTER CLEANING

5 ★ Google Reviews

614-586-3417

HAULING

DEAN'S HAULING

614-276-1958

HEATING

HEATING

Complete System Clean & Check

$49.95

Free Carbon

Monoxide Testing

Gas-Oil-Electric Heat/Pumps

All Makes • All Models

45 yrs exp. • Sr. Discount

614-351-9025

HOME

IMPROVEMENTS

SINCE 1973

Phil Bolon Contr.

Windows & Siding

Decks, Kitchens, Baths

Room Additions,

Flooring, Roofing

Bsmt Waterproofing

Deal With Small Non-Pressure Co.

47 Yrs. Exp. - Refs. Avail.

Lic.-Bond-Ins.

11/21

A/M

Free Est. - Financing Avail.

Member BBB Of Cent. OH

O.C.I.E.B. ID #24273

614-419-3977

or 614-863-9912

10/24 A/M

11/21 A

HOME

IMPROVEMENTS

KLAUSMAN HOME

IMPROVEMENT

Siding-Windows-

Doors-Roofing-Soffit-

Fascia-Gutters-Trim

Earn FREE Seamless

Gutters with Siding Over

1000 Sq. Ft.

FREE Shutters with

Soffit & Trim

EPA Certified

Member of BBB

Financing Available

Over 20 yrs exp. • Free Est.

Licensed-Bonded-Insured

Owner & Operator

James 614-419-7500

C&JHandyman

Services LLC

Minor Plumbing

& Electric

Install Hot Water Tanks,

Dishwashers & Disposals

Also Fencing &

Interior/Exterior Painting

Free Est. ~ 18 Yrs. Exp.

CDC/EPA Approved Guidelines

614-284-2100

LAWN CARE

The Lawn Barber

Cut, Trim, Blow away

Hedge Trimming, Edging

Garden Tilling

614-935-1466

LET US MAINTAIN

YOUR LAWN & GARDEN

FOR YOU

Summer, Spring,

Winter or Fall

WE DO IT ALL!!!!

Lawn Cuts, Edging,

Trees & Shrubs, Garden,

Mulching, Hauling,

Garden Pond &

Home Maint.

Free Ests. Low Rates

$20 & Up

Kevin - 614-905-3117

MOVING

Aaron Allen

Moving

Local Moving since 1956

Bonded and Insured

614-299-6683

614-263-0649

Celebrating

over 60 yrs

in business

PAINTING

A Job Well Done Again

A lic. General Contractor

Some Skilled Services

Incl: Painting • Stucco,

Repair•Carpentry•Exterior

Drainage & Home Maint.

Call Today! 614-235-1819

Classified Services

10/10 A

11/7 A

10/24 A&M

PLASTERING

DRYW

YWALL &

PLASTER

11/7

A&M

REPAIR

AIR

Textured Ceilings

614-551-6963

Residential/Commercial

BIA

PLUMBING

MYERS

PLUMBING

Exp. Expert Plumbing

New Work & Fast Repairs

Lic. - Permit Available

Water • Sewer • Gas

614-633-9694

All About Drains & Plumb.

Will snake any sm drain

$145. 614-778-2584

CHRIS'

PLUMBING

"Plumbing & Drain Professional

That You Can Count On"

24 Hrs., 7 Days/Week

No Overtime Charges

24 Yrs. Exp. in Plumbing &

Drain Cleaning Field

Call For A Free Phone Estimate

$100.00 For Any Small Drain

614-622-4482

30% OFF with AD

POWERWASHING

Bates & Sons

Soft Wash & Powerwash

5 ★ Google Reviews

614-586-3417

MRS. POWERWASH

Any house wash $149+tax

Single deck $69+tax

2 Tier deck $99+tax

Best Wash in Town

Over 45,000 washes

Ashley 614-771-3892

ROOFING

Robinson roofing & repairs

30 yrs. exp. Lifetime Cols.

resident. Lic./bonded/Ins.

Reas rates. Member of

BBB. Dennis Robinson

614-330-3087, 732-3100

SEWING MACHINE

REPAIR

REPAIR all makes 24 hr.

service. Clean, oil, adjust

in your home. $49.95 all

work gtd. 614-890-5296

TREE SERVICES

BURNS TREE SERVICE

Trimming, Removal &

Stump Grinding.

614-584-2164

Brewer & Sons Tree Service

• Tree Removal

• Tree Trimming 11/21

A&M

• Stump Grinding

• Bucket Truck Services

Best Prices • Same Day Service

614-878-2568

11/7 A&M

11/7 A

10/24 A&M
---
PAGE 12 - MESSENGER - October 31, 2021

www.columbusmessenger.com

FRES RESH

QUALITYM UALITYME EATS ATS...

ENGLISH STEAKS

3453 Parsons Av

ve

614-491-4221

Open Daily 8:30 am – 9:00 pm

$

LB. 5 49

STIR FRY STRIPS

O

C

FOR

ER OCE

HOOD GR

ORH

R

EIGHB

I

YE

YEA

Y

YOUR

NE

N

ARS •

R

LIKE US ON

FACEBOOK AT

"KELLY LYS MARKET

"

$

R LB. 6 99

YOUR UR

NEIGHBORHOOD HOOD

GROCER ER

SERVING

G

THE HE

SOUTHSIDE SI

DE

FOR F

OR

76 YEARS!

!

Always Av

vailable:

Check Cashing

Food Stamps • WIC • Money Orders

All Ohio Lottery Games

Utility Payments •

Post

tage Stamps

$ 29 90

U.S.D.A.

CHOICE

Top

Qua

ali

ity

(L

LES

SSESE ER

QUA

ANTI

ITIE ES

$3

3.49 PE ER

LB.)

USD DA

CHO OICE

BEEF

(SOLD IN 10-LB. PKG.)

F

FRESH

B RESH

PKG.

GROUND BEEF

ONELESS S

ENGLISH ROAST

$ 4 99

LB.

U.S.D.A.

CHOICE

Top

Qua

ali

ity

$ 5 99

USD DA

CHOI

ICE

BEEF

FRESH BON

ELESS

( S OLD IN 10-LB. AV

VG. PKG.)

TOP SIRLOIN

STEAK

LB.

P AO

SSORT

TED

ORK CHOPS

FROZEN 5-9-LB. AV

VG.)

$

21 90

(

PKG.

$

1 9

TURKEY

9

W HOLE

BREAST

LB.

( 31-40-CT.)

COOKED OR $ WHOLEY

8 99 C 16-OZ

URLY

.

Y'S

RAW

SHRIM

16-OZ.

$

4 99

BBQ POR

K

EA.

GROCE ROCER ERYSPECIAL RYSPECIALS S...

P

HALF LITER BTLS.

ALL AV VAILABLE VA

ARIETIES

P

6-PA

EPSI

ACK

PR

ODUCTS

4 1

2 -LB. PKG.

S MOKED

GEORGIA BOY

SAUSAGE

XL SIZE – ALL AV

VAILABLE FLAV

VORS

C

T

DORITO

ORTILLA

S

CHIPS

2 6

4 /$

12 /$

6

– OR

$3.

.49 EA

ACH

16-OZ.

SELECTED VA

ARIETIES

2/ $ 4

16-OZ.

SELECTED VA

ARIETIES

ZESTA

SA

ALT

TINES

2/ $ 6

C FRESH

4-OZ. MANY FLAV

VORS!

JJ'S LUNCHBO

X PIES

2/ $ 1

FR

RESH

HPROD DU

UCE.

..

CRISP

GREEN

CABBAGE

AUTUM MN

KIN

NG

OR

HOLIDAY

SEEDLESS

GRAPES

69 ¢

$

LB.

199

LB.

4.25-4.5-OZ.

ALL FLAV

VO

P RS

UNCLE RAY

Y'S POTA

ATO CHI

4/ $ 5

C

F RISP

RESH

A G F

S

R

PA E ARAGUS

E

N

O

N

RAN

AV

E

L

GES

2 6 H

$ 2 99

LB.

P

A

H

3-LB.

PP

ON

B

E A YCRISP

G

LES OR

4-LB.

B

E

AG

$

3 99

EA.

16-OZ.

FRENC

CH

ONIO ON

DIP

OR

SMITH'S

SOUR CREAM

2/ $

4

48-OZ.

ALL FLA AV

VORS

DEAN'S I

CE CREAM

2/ $

$

10

$ 4 99

9

9

A

O

EA.

$

2 99

R IGINAL OR ITA

ALIAN

RMOUR

MEAT

TBALLS

14-OZ

$

3 SUCKERPUNCH 99

24-OZ. JAR

PICKLES

EA.

– OR

$3.

.49 EA

ACH

C 32-OZ.

ALL FLAV

VORS LIQUID

A

2F O FEE-MATE CREAMER

2/ $ 7

HY-

-TOP SALAD DRESSING

2

M 4-39-

O Z. SELECTED VARIETIES CREAM

$ 6 99

DEL

ELI LIFR F

RE ESH SH.

H ..

DELI FRESH

HONEY OR

VIRGINIA

HAM

COLBY OR

COLBY JACK

CHEESE

.

HALF LITER BTLS.

ALL AV VAILABLE VARIETIES

ARIE CALLENDER'S PIES

$ 4 99

LB.

$ 699

LB.

6-PA

C

ACK

OKE PROD

U CTS

4 2

/$ 12

2 VA

ARIETIE S

52 H

9-OZ. 3 VA

ARIETIES

CARO

LINA

TURKE

BREAS

Y

T

READY TO

SERVE

E!

WONDEROAS

ST

ROTISSERIE

CHICKENS

– OR

$3.

.49 EA

ACH

DONALD DUCK ORANG

2/ $ 6

4

B 1-OZ.

LUE BONNET SPREAD

2/ $ 7

$ 5 99

Prices Effective Monday, November 1 thru Saturday, November 13, 2021 • Quantity Rights Reserved

• We Reserve the Right

to Correct Pricing Errors.

D ELI FRESH

2/ $ 1

LB.

C2

– OR

$6.

.49 EA

ACH

C