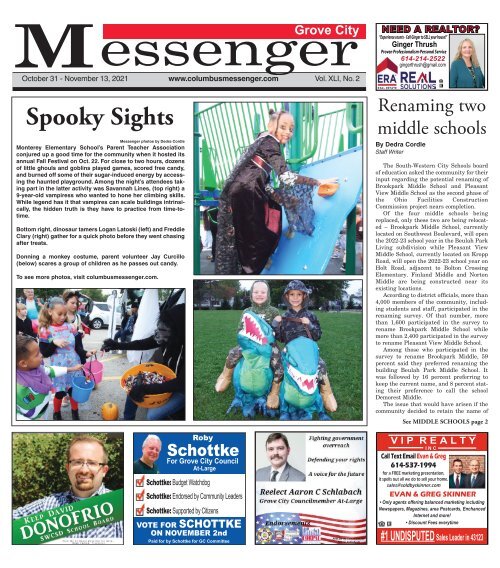 Grove City Messenger - October 31st, 2021
Create successful ePaper yourself
Turn your PDF publications into a flip-book with our unique Google optimized e-Paper software.
Messenger

Grove City

October 31 - November 13, 2021 www.columbusmessenger.com Vol. XLI, No. 2

NEED A REALTOR?

REALTOR?

Ginger Thrush

Call Proven Professionalism-Personal Ginger Thrush Service

614-214-2522

"Experience counts - Call Ginger to SELL your house!"

gingerthrush@gmail.com

Spooky Sights

Messenger photos by Dedra Cordle

Monterey Elementary School's Parent Teacher Association

conjured up a good time for the community when it hosted its

annual Fall Festival on Oct. 22. For close to two hours, dozens

of little ghouls and goblins played games, scored free candy,

and burned off some of their sugar-induced energy by accessing

the haunted playground. Among the night's attendees taking

part in the latter activity was Savannah Lines, (top right) a

9-year-old vampiress who wanted to hone her climbing skills.

While legend has it that vampires can scale buildings intrinsically,

the hidden truth is they have to practice from time-totime.

Bottom right, dinosaur tamers Logan Latoski (left) and Freddie

Clary (right) gather for a quick photo before they went chasing

after treats.

Donning a monkey costume, parent volunteer Jay Curcillo

(below) scares a group of children as he passes out candy.

To see more photos, visit columbusmessenger.com.

Roby

Schottke

For Grove City Council

At-Large

Schottke: Budget Watchdog

Schottke: Endorsed by Community Leaders

Schottke: Supported by Citizens

VOTE FOR SCHOTTKE

ON NOVEMBER 2nd

Paid for by Schottke for GC Committee

Renaming two

middle schools

By Dedra Cordle

Staff Writer

The South-Western City Schools board

of education asked the community for their

input regarding the potential renaming of

Brookpark Middle School and Pleasant

View Middle School as the second phase of

the Ohio Facilities Construction

Commission project nears completion.

Of the four middle schools being

replaced, only these two are being relocated

— Brookpark Middle School, currently

located on Southwest Boulevard, will open

the 2022-23 school year in the Beulah Park

Living subdivision while Pleasant View

Middle School, currently located on Kropp

Road, will open the 2022-23 school year on

Holt Road, adjacent to Bolton Crossing

Elementary. Finland Middle and Norton

Middle are being constructed near its

existing locations.

According to district officials, more than

4,000 members of the community, including

students and staff, participated in the

renaming survey. Of that number, more

than 1,600 participated in the survey to

rename Brookpark Middle School while

more than 2,400 participated in the survey

to rename Pleasant View Middle School.

Among those who participated in the

survey to rename Brookpark Middle, 59

percent said they preferred renaming the

building Beulah Park Middle School. It

was followed by 16 percent preferring to

keep the current name, and 8 percent stating

their preference to call the school

Demorest Middle.

The issue that would have arisen if the

community decided to retain the name of

See MIDDLE SCHOOLS page 2

V I P R E A L T Y

I N C

Call Text Email Evan & Greg

614-537-1994

for a FREE marketing presentation,

it spells out all we do to sell your home.

sales@soldbyskinner.com

EVAN & GREG SKINNER

COMMERCIAL, INDUSTRIAL, HIGH QUALITY RESIDENTIAL

• Only agents offering balanced marketing including

Newspapers, Magazines, area Postcards, Enchanced

Internet and more!

• Discount Fees everytime

#1 UNDISPUTED Sales Leader in 43123
---
PAGE 2 - GROVE CITY MESSENGER - October 31, 2021

Prepare for unexpected

power outages with a

Generac home standby

generator

FREE

C.M.T

MOWER REPAIRS

614-875-5830

6446 HARRISBURG PIKE, ORIENT, OHIO 43146

Pick-up and Delivery

"We have the lowest price in town!"

REQUEST A FREE QUOTE!

844-334-8353

7-Year Extended Warranty*

A $695 Value!

Limited Time Offer - Call for Details

Special Financing Available

Subject to Credit Approval

A FREE ESTIMATE

15 10 5

YOUR ENTIRE

PURCHASE *

% % %

OFF + OFF + OFF

*To qualify, consumers must request a quote, purchase,

install and activate the generator with a participating dealer.

Call for a full list of terms and conditions.

SENIOR & MILITARY

DISCOUNTS

| Promo Number: 285

Serving Your Community

Since 1972

YEAR-ROUND

CLOG-FREE GUARANTEE

1-855-995-2490

TO THE FIRST

50 CALLERS! **

Election Day lunch

The Grove City Community Club will host an

Election Day lunch from 11 a.m. to 2 p.m. Nov. 2 at

3397 Civic Club Drive.

Mattress fundraiser to

benefit WHS band and orchestra

The Westland High School band and orchestra will

be hosting its eighth annual Mattress Fundraiser from

MIDDLE SCHOOLS

Continued from page 1

Brookpark Middle, said Superintendent Dr. Bill Wise,

would be confusion as there are no plans to demolish

the building on Southwest Boulevard.

"It would not make sense to have two Brookpark

Middle Schools," he said during the Oct. 25 board of

education meeting where the survey results were

unveiled. "There would be confusion over the new one

versus the old one."

He also mentioned the agreement that was reached

between the district and the city of Grove City in 2019

regarding the use of the site. Under the terms of that

agreement, the city purchased land in the Beulah Park

Living subdivision for the construction of the new middle

school in exchange for the use of the building on

Southwest Boulevard. The district will retain 20 percent

usage of the building for educational purposes, if

needed. The city has yet to determine how it will utilize

the space.

news and notes

www.columbusmessenger.com

10 a.m. to 4 p.m. Nov. 13 at the high school, 146

Galloway Road in Galloway.

There will be 26 different mattress styles on display

in all sizes for customers to try, priced below retail.

Adjustable power bases, pillows, bed frames, and mattress

protectors will be available. The Westland High

School band and orchestra will benefit from every purchase.

For additional information, email

kevin.krinsky@cfsbeds.com, call (614) 599-9858, or

visit bit.ly/beds4westland21.

Among those who participated in the survey to

rename Pleasant View Middle School, 58 percent said

they preferred to keep the name as is. It was followed

by 22 percent preferring the name Pleasant Crossing

Middle, and 14 percent stating their preference to call

the school Pleasant View Crossing.

No members of the board expressed any objection to

the survey results. Lee Schreiner said he liked that

Brookpark and Beulah Park have the same acronyms.

"I think it is fitting that it's in Beulah, and we're

keeping the 'Park' aspect of it," he said.

The board intends to make a final recommendation

at its meeting in November.

Wise said the next step in the process is the determination

of school colors and mascots at the new

Beulah Park Middle School. He added that the decision

will be student-driven. He expects the results to

be unveiled in late February.

Malek &

ATTORNEYS AT LAW Malek

Proudly Announcing

Adding New Attorneys

To Serve You!

WORKERS'

COMPENSATION

PERSONAL INJURY

WRONGFUL DEATH

SLIP & FALL INJURY

DOG BITE INJURY

Douglas, Ed, Jim

and Kip Malek

"Hablamos Español"

FREE Initial Consultation

www.maleklawfirm.com

614-444-7440

1227 S. High St., Columbus, OH 43206

"Ghosts in the Machine"

The Central Crossing High School Theatre Department will perform "Ghosts in the Machine" on Nov. 5 at

7 p.m., Nov. 6 at 1 and 7 p.m., and on Nov. 7 at 1 p.m. Here, senior theater students rehearse for the performance.

Tickets are $7 and can be purchased at the door.
---
www.columbusmessenger.com

October 31, 2021 - GROVE CITY MESSENGER - PAGE 3

Welcome to 1142 Carnoustie Circle

Welcome to 1142 Carnoustie Circle, located in prestigious Pinnacle. Situated on the 10th hole directly on the golf course and

across the street from a large community park, outstanding vistas! Nearly all hard surface luxury flooring. Baths feature

upgraded quartz counter tops. Chefs dream granite kitchen which also offers newer black stainless appliance package as

well as upgraded 42'' cherry cordovan cabinets. Panoramic Sun Room overlooks the course. Private vaulted owner suite.

Large bath with custom tile shower, soaking tub and dual sinks. Vaulted Great Room which also overlooks the golf course.

Upstairs is a large bonus room, two bedrooms and a hall bath with another custom tile shower. Home was designed with

extra closet space. All new windows and blinds. New roof..Do not wait! $429,900 MLS #221041677

Evan &

Greg

SKINNER

UNDISPUTED #1 IN 43123

614-537-1994 sales@soldbyskinner.com

COMMERCIAL, INDUSTRIAL, HIGH QUALITY RESIDENTIAL
---
PAGE 4 - GROVE CITY MESSENGER - October 31, 2021

www.columbusmessenger.com

HEADING SOUTH THIS WINTER?

Let Us Watch Over Your Home

"Worry Free"

PRIVATE HOME MANAGEMENT LLC.

Adjust Climate Controls

Check for Frozen or Broken Pipes

Power Outages

Coordinate Contractors

Check Buildings & Grounds

We do the little things!

Jody Decker 614-592-2474

jodedeck@yahoo.com

Showcasing the bands

Messenger photos by Pat Donahue

All 217 members of the Grove City High School Marching Band took the field on Oct. 19 when the school

hosted a marching band showcase for the community. Here, the band members march to their fight song

in front of a packed house. The high school bands from the South-Western City Schools District all performed

at the showcase.

Grove City

Messenger

The Central Crossing High School Marching Band took the field for their performance of

"Dreamspective."
---
www.columbusmessenger.com

By Andrea Cordle

Grove City Editor

The city of Grove City is planning to repair the

Demorest Road corridor, but officials will need to

acquire property to do so.

At the Oct. 18 meeting, Grove City Council passed

legislation authorizing the appropriation of property

and easements from multiple properties for the road

improvement project.

According to Stephen Smith, the city's law director,

this legislation includes 35 properties, though some of

the land is already city-owned. Smith said the city is

negotiating with 25 property owners. He said thus far,

six have signed contracts with the city and he expects

a few more in the coming days. Ten property owners

have yet to settle with the city.

"I feel like we've done everything we can to work

this out," said Smith. "I'm going to continue to negotiate

until the last possible minute to try to get this done

amicably."

According to Smith, there are a few property owners

who do not wish to sell their land to the city. He

believes the city will have to use eminent domain to

obtain the property.

Eminent domain is a legal term for the government's

power to take private property and change it to

public use, according to the Ohio Attorney General.

Cities can take private land for public roads, sidewalks,

bike paths, or multi-use trails. The municipalities

are required to pay the property owner fair market

value.

The City Beat

City needs property for road project

Smith said Grove City has a quick-take power.

"This is a law that will not allow one property owner

to hold up a city project," said Smith.

The law director said most property owners are

excited about the road project, but others fear that the

road is going to take up too much of their front yard.

He said the project is adding about six feet of pavement

on each side of the road.

The project will include full pavement reconstruction

of existing roadway, an additional center turn

lane, a multi-use trail and sidewalk with ADA

(Americans with Disabilities) compliant curb ramps,

and replacement of existing storm sewer with a curb

and gutter system.

Earlier this month, city council approved funding

for the first phase of Demorest Road improvements.

Council voted to appropriate about $5.6 million from

the city's capital improvement fund for Demorest Road

improvements. This cost includes the land acquisitions.

The legislation passed allows the city's law director

to file for eminent domain in court. The court process

would then negotiate a price with the property owners

who did not settle with the city.

The only council member to vote against the ordinance

was Aaron Schlabach.

"I do believe Demorest Road needs widened but I

have a problem with eminent domain," he said.

Smith said he does not want to file a lawsuit, but

said in some cases, it is necessary.

"It's not for lack of effort," said Smith. "We are taking

every step we can not to go down that road."

October 31, 2021 - GROVE CITY MESSENGER - PAGE 5

around town

Blood drives in Grove City

The American Red Cross will host several blood drives in Grove

City. The drives include:

• Grove City Kingston Center, Nov. 3 from 1 to 7 p.m.

• The Naz, Nov. 13 from 9 a.m. to 2 p.m.

• Grove City YMCA, Nov. 16 from 1 to 7 p.m.

• Vineyard Christian Fellowship, Nov. 18 from 1 to 7 p.m.

• Grove City United Methodist Church, Nov. 20 from 8 a.m. to

2 p.m.

To schedule an appointment, call 1-800-448-3543 or visit

www.redcrossblood.org.

Leaf Collection

The city of Grove City offers residential leaf collection beginning

Monday, Oct. 18. Each of the city's four defined areas is

scheduled two collection weeks through Friday, Dec. 17. Crews

travel each street once during the designated week.

Prior to 7 a.m. the Monday of the designated collection week,

homeowners should rake only leaves to the grassy area between

the street and sidewalk, or to the edge of the lawn, if there is no

sidewalk. The service equipment works efficiently on leaves, but

is easily damaged by branches, twigs, grass clippings, rocks and

other debris. Leaf piles will not kill grass, although temporary

fading may occur.

Do not rake or blow leaves into the street, as this can cause

storm sewer blockages and parking issues. Vehicles should not be

parked in front of, or on top of, leaves during scheduled collection

weeks.

Planned collection dates may change due to weather conditions

and when the leaves fall. The leaf collection map and schedule is

posted on the city website at GroveCityOhio.gov. For more information,

call the Grove City Service Department at 614-277-1100.

Moses-Mouser Eye Care

Dr. Joshua Morris is a board-certified Optometrist

who grew up in Bellville, Ohio. He

completed his undergraduate degree at the

University of Akron, where he graduated

magna cum laude with honors.

Dr. Morris attended The Ohio State University

College of Optometry and graduated cum laude with honors to receive

his Doctor of Optometry Degree in May 2019. After completing his

studies, he was awarded the "Primary Vision Care Clinical Excellence

Award", in 2019.

Dr. Morris is a member of the American Optometric Association, the

Ohio Optometric Association, and The Ohio State Alumni Association.

He is excited to practice full scope optometry, diagnosing and treating

a variety of ocular disorders and diseases in patients of all ages, but has

a special interest in contact lenses and ocular disease.

On a personal note, Dr. Morris and his wife Tess, enjoy spending time

with their family, friends, and their Bernese Mountain dog Maverick,

cheering on The Ohio State Buckeyes, trying new foods, and exploring

Columbus breweries.

Q: How often should someone with diabetes

get an eye exam?

A: Someone with diabetes should see an eye care professional at least

once a year for a comprehensive dilated eye exam.

Q: How can diabetes affect my vision?

A: Over time, diabetes damages small blood vessels throughout the body,

including the retina. Diabetic retinopathy occurs when these tiny blood

vessels leak blood and other fluids. This causes the retinal tissue to swell,

resulting in cloudy or blurred vision. The condition usually affects both

eyes. The longer a person has diabetes, the more likely they will develop

diabetic retinopathy. If left untreated, diabetic retinopathy can cause

blindness. (AOA)

Symptoms include: seeing spots or "floaters", blurred vision, and difficulty

seeing at night.

Schedule your diabetic eye exam today

with Dr. Morris.

1600 Gateway Circle, Grove City, OH 43123 614-963-3820
---
PAGE 6 - GROVE CITY MESSENGER - October 31, 2021

"BEST NEW YEARS PARTY IN TOWN"

Register NOW For Our

WINTER

SESSION

17 th Annual

Mike Albert

and

The Big E. Band

Per Couple Prices

Overnight Package - $319

Party Only Packages - $250

Single Overnight - $219

Prices include

Dinner, Drinks, Room, Party favors,

Full Breakfast

Crowne Plaza • 6500 Doubletree Ave. (formerly Marriott North)

Classes start the week of November 28th

REGISTRATION HOURS: Monday thru Thursday 4:30p till 8:00p

2330 International Street, Columbus 43228

(1/2 mile west of I-270 off Roberts Road)

614-529-8828 www.fliptastic.com

The City Beat

By Andrea Cordle

Grove City Editor

Flooding in certain parts of Grove City

have been a problem for many residents

and city leaders are reviewing ways to alleviate

the water issues.

At the Oct. 18 meeting, Grove City

Council listened to a stormwater evaluation

presentation from engineers at

EMH&T. Mike Keller, with the firm, said

they studied neighborhoods in the older

Grove City area, west of Hoover Road, as

well as areas within the Grove City Creek

and West Water Run watersheds.

"This is where the majority of the flooding

is reported," said Keller.

Keller said flooding is common in older,

urban areas because the storm sewers

were constructed in the 1960s or earlier.

According to the engineer's report, there

have been more than 30 significant rain

events over the past 15 years in the study

area. In March of 2020, more than four

inches of rain fell in just over 24 hours. In

May 2020, more than three inches fell in 32

hours, and in July of the same year, 2.8

inches of rain came down in one hour.

"We've had three pretty significant rain

events in the past few years," said Keller.

Just a few months ago, downtown

streets were flooded from a quick, heavy

rain event.

Engineers have proposed a few

stormwater improvement projects. One

such project would be to replace 1,037 linear

feet of 12-inch to 18-inch storm sewer

lines with 18 to 24-inch storm sewer lines

around Security and La Rosa drives near

Columbus Street. Engineers have reported

www.columbusmessenger.com

Water study presented to council

S.A.L.T. at Evans Center

The Grove City Division of Police host

Seniors and Law Enforcement Together

meetings at 1 p.m. the second Tuesday of

each month at the Evans Center, 4330

Dudley Ave. Adults of all ages are welcome.

For additional information on crime prevention

programs visit police.grovecityohio.gov

or call 614-277-1765.

The Grove City Geographic Information

System (GIS) team recently received a Best

Practices Award at the Ohio GIS

Conference. The Ohio Geographically

Referenced Information Program (OGRIP),

a state agency serving as a geographic data

coordinating body for state and local governments,

presents the Best Practices

Award annually.

The award recognizes Ohio organizations

that implement GIS in a manner consistent

with OGRIP's goals, examples

involve providing data to multiple users,

facilitating data sharing among multiple

groups and demonstrating use of GIS as a

decision-making tool.

around town

flooding in this area resulting from sewer

capacity limitations. This proposed sewer

replacement would run around $1.2 million.

The Kingston Avenue area also sees

urban flooding from limited sewer capacity.

The EMH&T report suggests replacing

the 30-inch storm sewer with a 36-inch

storm sewer. This would cost approximately

$300,000.

Stormwater improvements east of

Haughn Road, at Sawyer Court, were also

recommended. Engineers proposed a new

sewer outlet and stream improvements.

This project would involve easement acquisition

and would run the city around

$400,000. That cost does not include land

acquisitions.

"We see the problem," said councilman

Randy Holt. "Now, we have options and

possible solutions."

Since 2000, the city has made over $13

million in investments into the sanitary

and stormwater systems. Last year, the

city appropriated $200,000 for a sewer

backup protection program that helps

property owners with water in their basement.

This program brings older properties

into city code compliance and/or provides

additional protection from flooding in basements.

In the spring of 2020, nearly 100

residents requested assistance from the

program after water was reported in their

basement.

According to Keller, the engineers will

now take comments and concerns from

council members and city officials before

moving forward with a draft report.

For more information on water management,

visit grovecityohio.gov.

Council meeting

Grove City Council will meet Nov. 1 at

7 p.m. in Council Chambers, City Hall,

4035 Broadway, Grove City. Caucus is at

6:30 p.m. Visit the Grove City Council web

page to download the agendas and minutes.

Can't make the meeting, watch live

on the city website.

City receives 'best practices' award

The award recognizes the Grove City

GIS team, led by GIS Administrator Nick

Soltes, for creating and maintaining all

types of digital geographical data for multiple

internal and external applications

including viewing property parcels, refuse

collection and other city services data

through mapping applications available on

the city's website.

"Grove City's creative GIS team continues

to excel, converting complicated GIS

data to user-friendly mapping services,"

said Mayor Richard "Ike" Stage.

For more information regarding Grove

City's GIS applications, visit

GroveCityOhio.gov/gis-mapping/.
---
www.columbusmessenger.com

Neighbor to Neighbor program

can help with heating costs

The AEP Ohio Neighbor to Neighbor Program is now accepting

applications for utility assistance grants for the 2021-22 winter

heating season.

Through a partnership between AEP Ohio and Dollar Energy

Fund, the Neighbor to Neighbor Program supports families in

need with a grant applied directly to their AEP Ohio account to

prevent disconnection of, or to restore their electric service.

Heating assistance is available once per program year on a firstcome,

first-served basis. Eligible account holders may apply

through April 30, 2022, while funds are available.

"We're committed to providing assistance to those who may be

struggling to make ends meet whether it is due to job loss or unexpected

expenses," said Brian Billing, energy efficiency consumer

programs manager for AEP Ohio. "Through this heating program,

we can help to ensure our customers, especially the elderly and

those with health problems, can maintain their electric service

during the cold winter months."

Since AEP Ohio and Dollar Energy Fund launched the

Neighbor to Neighbor Program in May 2009, more than $15.6 million

in assistance has been granted to more than 65,000 Ohio

households.

To apply, customers may contact one of the AEP Ohio Neighbor

to Neighbor Program's network of more than 120 Ohio community-based

organizations. To qualify, an applicant's total gross

household income must be at or below 300 percent of the Federal

Poverty Income Guidelines. For example, a family of four earning

up to $79,500 per year is income-eligible for the program.

Households must have made payments to AEP Ohio totaling at

least $75 in the three months prior to applying for a grant and owe

a minimum of $50 on their AEP Ohio bill. Full eligibility guidelines

and application instructions can be found at

AEPOhio.com/helpaneighbor.

Pictorial Past

October 31, 2021 - GROVE CITY MESSENGER - PAGE 7

Pictured here are employees of Grove City's Beulah Park from 1936. Notice the uniforms with bow ties

and the sign that reads "Only Horseman Having Horse in Next Race Allowed in Paddock." In the 1930s

and 1940s Beulah Park was known to have as many as 11,000 people attend a single race. At the Gove

City Welcome Center and Museum, there is a display of photos and artifacts from days gone by from the

track, featuring winning circle pictures of owners, trainers, jockeys, and the thoroughbred racing horses.

The museum is located at 3378 Park St. in Grove City and is open Tuesday from 10 a.m. to 8 p.m. and

Wednesday through Friday from 10 a.m. to 4 p.m.

Grove City Chamber

Member

Are you or a loved one approaching

Medicare Decisions

Soon?

Call me t

Consultatio on $0 Fee

Terri

Curcio 614-460-0601

Sam

me cost,

pric

cing for

polic

cies using my

help!

Local licensed representative, I can mail you carrier(s) information to review before you

make any

decisions. Can enroll

a client without

a face-to-face meeting or schedule a

personal meeting if you prefer.

Do

phone sales re p, sometimes you need

answers

throughout the year!

OHIO IN. #43449

Offering plans available in Central

Ohio, with top-rated carriers. I

will work for you to

find

the plan that fits your needs and lifestyle.

Or over 65 and still working

AEP for 2022 starts October 15 th though Dec 7 th

Schedule your appointment today for AEP!
---
PAGE 8 - GROVE CITY MESSENGER - October 31, 2021

www.columbusmessenger.com

Hallmarks of Inauguration Day

Every four years, citizens of the United States have

the opportunity to vote for the highest office in the

country - the President of the United States.

American presidents are limited to two four-year

terms. Franklin Delano Roosevelt is the only president

to ever serve more than two terms. The 22nd

Amendment to the United States Constitution says a

person can only be elected president twice. That

amendment was approved by Congress on March 21,

1947, and was ratified by the states on Feb. 27, 1951.

After a candidate is elected president and the

results are certified by Congress on Jan. 6, the public

eagerly awaits the Presidential Inauguration, which

occurs on Jan. 20 at noon. This ceremony marks the

start of a new four-year term. It takes place even if the

incumbent is reelected. The only time the inauguration

will not occur on Jan. 20 is if that date falls on a

Sunday. In such instances, the oath of office is taken

privately and then in a public ceremony the following

day.

Since the 1981 inauguration of President Ronald

Reagan, the ceremony has taken place at the west

front of the United States Capitol building facing the

National Mall. The only constitutional requirement for

the inauguration is the president takes his oath of

office. The remainder of the proceedings are about tradition,

but they are not a requirement.

Traditionally, the outgoing president takes part in

the ceremony.

The president will give an inaugural address after

being sworn in. Parades also occur after the inauguration,

and a lavish Inauguration Ball is held in honor of

the new president.

The inauguration of President Joe Biden on Jan. 20,

2021 was a memorable event after such a whirlwind

campaign season and election day. It may call to mind

some other iconic moments in inaugural history.

• Ulysses S. Grant requested live birds at his inaugural

ball. The day was very cold and the birds ended

up freezing to death.

• At the inauguration of Herbert Hoover, outgoing

First Lady Grace Coolidge and incoming First Lady

Lou Henry Hoover got lost in the Capitol building and

delayed the ceremony for 30 minutes.

• Lyndon Johnson took the oath aboard Air Force

One after the assassination of President John F.

Kennedy in 1963. The judge administering the oath

was a woman, and she was the first and only female

judge to swear in a U.S. President.

• When Barack Obama was sworn in, he became

the first African American individual to take the office.

PAID ADVERTISING

Mark Sigrist for Grove City Council

"Mark deals with adversity and differing opinions respectfully without

compromising his core beliefs or being divisive in his approach. He is deeply

committed to the Grove City community. Mark's vision, energy and passion

will make him a great Councilperson for Grove City."

Bob Brizendine

Work Colleague/ GCHS 1979 Classmate

"Few others are more community- minded than this incredible man. He

founded the Grove City Community Turkey Wattle 5K raising over $140,000

through this event. This run/walk/bike ride includes all ages and abilities."

John Hampson

Retired GCHS Teacher and Counselor

Former Grove City Council at Large Member

"Matt Barnes of NBC 4 and I have co-emceed The Wattle for 10 years. I

have been honored to be in the presence of this incredible community leader,

always going all in with intense passion and commitment. I recommend

Mark for Grove City Council at Large."

Amy Tague

Thanksgiving Wattle Emcee /Columbus Marathon Emcee/

Successful Central Ohio Businesswoman

"Mark was a great teammate and collaborator with both Japanese and

US management. He will bring a fresh spirit and great value to the Grove

City Council. I strongly endorse him for Grove City Council at Large."

Hidenobu Iwata

Retired Honda of America Manufacturing President
---
www.columbusmessenger.com

October 31, 2021 - GROVE CITY MESSENGER - PAGE 9

These are not endorsements

The Messenger newspapers would like to

clarify that the candidates and issues featured

in this advertising section are published as

paid political advertisements. These are NOT

endorsements for the candidates and issues;

the Columbus Messenger Company does not

do any political endorsements.

!"#$#%&'($)*+$,*+-./0$)%1.2.'(

!"#!$%&'!$()*+%,-.*/!#34$53667!+)&!&.01#!2(3!43(51!$%&'!2.-%,%1#6789$:;!

---
PAGE 10 - GROVE CITY MESSENGER - October 31, 2021

Pet Corner

Pets of the week

Willow is a sweet 8-

month-old kitten. She

is a loving girl who

enjoys a good belly

rub and an ear

scratch. Willow is

great with other cats

and wonderful with

children. She would

be a nice addition to

any family. She is up for adoption through

Friends for Life Animal Haven.

FYI: fflah.org

Heidi is a 3-year-old

pit bull mix. She is the

sweetest girl who is

an absolute love bug.

She is more than

happy to cuddle with

you on the couch all

day and just wants to

be around her people.

Heidi also has an

active side and loves playing at the dog park

and fetching her favorite rope toy. She has

shown positive interest in other dogs and has

been learning leash manners. Adopt her from

the county shelter.

FYI: franklincountydogs.com

These furry friends are available

for adoption at local

rescues and shelters

Clever is one of the

best girls at the shelter.

She has been

working hard to lose

weight and the medical

staff said she is

doing really well. She

is housebroken and

very sweet. Clever

loves to roll around in

the grass or snow and get all of the loving and

snuggles you have to offer. She is an older gal

looking for a home to spend her golden years

in. Adopt Clever from the county shelter.

FYI: franklincountydogs.com

Jeremy is a 5-monthold

kitty. He, and his

siblings, were born

on a farm where their

mother was killed in

an accident when

they were just 10

days old. Jeremy was

rescued and was bottle

fed but is now

doing well and ready

for a forever home. He is great with other cats

and dogs. Adopt Jeremy from Colony Cats.

FYI: colonycats.org

Green Park plan proposed

The Solid Waste Authority of Central

Ohio (SWACO) has filed a rezoning application

with the city of Grove City to develop

350 acres of land into a Green Economy

Business Park to attract more green businesses,

jobs and revenue to central Ohio.

According to SWACO, based upon models

around the country and the economic

momentum behind recycled materials, the

site could create 2,000 to 3,500 manufacturing

jobs at good wages, producing

between $1.6 million and $4.2 million in

local tax revenues and between $350 million

and $500 million in capital investment.

The Green Economy Business Park

would use research, technology and

advanced manufacturing to bring together

the sustainable materials management

supply chain creating a sustainability destination

for businesses and workforce

alike.

"This is a growing sector of the economy

that must be accelerated," said SWACO

Executive Director Ty Marsh. "I believe

this community has an opportunity to

attract and support even more businesses,

jobs and investment around recycling and

sustainability. That's why we are confident

the time is right time for a Green Economy

Business Park in central Ohio."

With more recyclable material available

and more companies making higher valued

products out of that material, there is a

rapidly emerging opportunity to protect

the environment in a way that also grows

the economy.

"By establishing a Green Economy

Business Park, SWACO is clearly moving

ahead of the traditional model of commercial

and industrial development," said Jim

Schimmer, director of Franklin County

Economic Development and Planning.

"The ability to retain, attract and grow

companies with strong sustainability commitments

is critical to attracting the jobs of

the future."

The greenfield property, owned by

SWACO, is located in Grove City across

from the Franklin County Sanitary

Landfill, a half-mile from I-71 and minutes

from downtown Columbus. The site has

existing gas, power, water, sewer and fiber

utilities. The site is currently zoned for

industrial use, however, SWACO is seeking

a zoning modification that would allow

for more modern use of the site and which

is aligned with SWACO's goal to leverage

the waste stream for greater economic

opportunity.

The Green Economy Business Park is

one of several economic activities underway

by SWACO. In addition, the company

is working with Rev1 and has formed public-private

partnerships to turn gas from

landfills it owns into renewable energy

sources for central Ohioans.

A decision on the rezoning application is

expected in December.

Benefitting Buddy Ball

The Grove City Firecracker 5K group presented a check to the Buddy Ball board on

Oct. 21 at the Pinnacle Banquet Center. The check for over $18,000 will go toward

improvements needed for the field. The funds were raised through the Firecracker

5K event which was held in July. Next year's event will be held July 4 at the Pinnacle

Golf Club. Sign up at runsignup.com/Race/Register/?raceId=81339.
---
www.columbusmessenger.com

Opinion Page

Surfing is one of my favorite hobbies

Never in my wildest dreams did I think I'd be such

a good surfer, especially in my golden years with a

bionic hip. But here I am, surfing most every day now

and thoroughly enjoying it. Now before you start

laughing as you picture this falling apart, knobbykneed,

old man yelling woo-hoos at the top of his lungs

as he tries to keep his balance while riding his surfboard

atop a monster whitecap wave generated by a

fountain in the center of a local retention pond, let me

quickly relieve us all from that scary sci-fi image.

Words can have many meanings and they often take

on new ones over time. Such is the case of surfing. The

closest I've ever gotten and will ever get to the traditional

surfing image we oldsters envision is pulling out

my old vinyl Beach Boys album and playing, Surfer

Girl, Surfin' U.S.A or Catch a Wave. I'm talking about

the newer surfing, i.e., snooping. That surfing is simply

sitting safely in front of the desk computer, banging

away on the keyboard and snooping the Internet.

It's physically going nowhere but mentally going anywhere

and everywhere with my eyes and mind with a

simple stroke on the keyboard.

It can be great entertainment as it gets your brain

neurons firing away with informative thoughts, maybe

bringing back long-departed memories that are sometimes

sad, often funny, and occasionally downright

shocking as you update your memories with the more

recent surfing results you find. Surfing is basically

easy and free, assuming you have some patience and

free time.

Much of my Internet surfing is repetitive in nature.

Each day I check the news headlines from various

sources. That lasts until I get too ticked off or

depressed, and that doesn't take long these days. Then

I check the sport's scores and find what pitcher blew if

for the Indians this time, then how the Browns blew

another game they should have won. Next, I take a

deep breath, make sure my aspirin and Tums are nearby,

then look at the finance and stock market results.

I never try to rationalize them anymore as they usually

defy all common sense and expectations of any reality.

I spend lots of time surfing the horse racing world,

my favorite hobby. I scan the racing news and enter

picks for the many free daily handicapping challenge

contests I play in. Maybe today will be the day I move

up in the standings.

There's one surfing I've really grown to appreciate

more as the years roll by. With all the dog walking I do

I find my mind wandering as I plod along. Sometimes

I think about the future. More frequently, I look back

in time recalling my life's situations, where and when

I was, what I was doing. My ever-mounting question is

what became of the people I knew that touched my life.

Out of it comes new internet surfing, i.e., snooping.

The farther back in time your search goes, the more

difficult surfing becomes because the computer era

hadn't even begun. Your findings may be sparse or

non-existent. But more importantly, when you're in

your seventies, you must prepare yourself for the

harsh reality of life's circles. When you start hitting

the keyboard looking for people you knew many years

ago, the odds are high you'll quite often find nothing

more than an obit.

But sometimes a pleasant surprise awaits. Recent

surfing found an old family friend of my parents. Our

families had been quite close. I hadn't seen him in over

50 years, so I expected the worst. But there he was, living

in the same home. I saw his wife had passed on,

but he was turning 98. I sent him a nice letter,

Guest Column

Dave Burton

attempting to update the many years, and birthday

greetings.

I was surprised when he called me on his birthday.

We talked for some time. We both chuckled as we

recalled our combined family trip to the North Pole to

see Santa. We kids weren't dummies. We knew it wasn't

the North Pole, it was a place called Santa's Land

in Putney, Vermont. It was one of Santa's satellite production

facilities and luckily Santa had flown in on his

sleigh for a meeting. And that picture I still have of us

with Santa and Rudolph, well, that wasn't Rudolph,

they couldn't fool me. It was Comet. The call made it a

special day for both of us. I promised to call him on his

100th birthday.

Most of my teachers have passed but surfing leads

to some insight and interesting fill-in data I wish I'd

known when they were teaching me. Maybe I would

have shown more respect and attentiveness. There was

my choir teacher: Served in the Navy during the

Korean conflict, an accomplished pianist and composer

and active and respected in theater and musicals on

Broadway. Another keystroke and there was my gym

teacher: He had his doctorate, was a standout athlete

with many awards, played baseball in the St. Louis

Cardinal organization, became director of athletics in

the large city school system after I'd graduated.

I found one of my old high school chums. We used to

travel into the big city to see Ranger hockey games at

the old Madison Square Garden. He was always in the

advanced high school classes, and I wasn't surprised to

see he'd become a lawyer in a prestigious law firm near

Times Square in New York City.

It was fun surfing on my old college buddies. Sadly,

but the reality of life, more than a few have passed

away. I was surprised and disheartened to see a fraternity

brother I'd seen not too many years ago at a football

game up at Akron, when Syracuse visited and

played, had passed on. I found several articles detailing

how instrumental another fraternity brother's

efforts have been in successfully cleaning up the once

beautiful, but now plagued with longstanding pollution,

lake that the city of Syracuse borders, Lake

Onondaga. Another very close classmate, who was in

ROTC with me, went on to become a Major General in

the Air Force with accolades galore.

One of my summer jobs in high school was doing

landscaping work at a beautiful estate. I really liked

the owner, but barely got to know him. A few keystrokes

and I found he passed away in 2013 in Austria.

He'd graduated Summa Cum laude from Princeton

and was a Navy carrier pilot in WW2. He worked for

an investment company in New York City, then

became a key financial assistant for the President at

the White House. Only by surfing years later did I

learn all this. I now wish I could have talked more with

him.

So many people pass into and out of our lives during

our lifetime. Some impact us more than others, some

not at all. Sadly, we too often don't even realize the

extent until years later. Surfing the web gives us a

chance to go back in time and gain those answers and

a better understanding of our encounters and how they

may have influenced our lives.

Dave Burton is a guest columnist for the Columbus

Messenger Newspapers. He lives in Grove City.

October 31, 2021 - GROVE CITY MESSENGER - PAGE 11

Home Buyers

Guide

NEW LISTING

2352 Boston Mills Drive, Grove City, OH 43123 MLS NO. 221041646

2,502 sq. ft. ranch w/3 BRs, laundry room, great room, kitchen w/eating

area & 2 full BAs on the 1st floor. Finished lower level with rec room, full

bath, possible 4th bedroom, playroom/den & storage rooms. Large deck,

firepit and privacy fence.

Terri Ehmann

HER, REALTORS ®

Pam Brown

614-975-9462

Direct: (614) 216-7977

terri.ehmann@herrealtors.com

herrealtors.com/TerriEhmann

Thinking about

selling your home?

Call An Experienced Realtor!

42 Years of "Service with a Smile"

GREAT SELLING MARKET!

3656 Broadway Grove City, OH 43123

614.871.1000

www.era.com

ONLY

$

37

Next Edition: November 14

Deadline: November 9

Contact Doug Henry:

614-272-5422

doughenry@columbusmessenger.com
---
PAGE 12 - GROVE CITY MESSENGER - October 31, 2021

Government Focus

www.columbusmessenger.com

Tracking county rescue plan funds

The Franklin County Commissioners have

launched a new webpage where residents can track

how the county uses funds from the American Rescue

Plan (ARP) to help the community recover from the

pandemic.

The site, Recovery.FranklinCountyOhio.gov provides

information about the ARP, what it means for

Franklin County, a graph of expenditures so far, and

links to information about the individual expenditures.

The commissioners have already allocated more than

$26 million for recovery.

"Our community will be feeling the effects of the

pandemic for years to come," said board president

Kevin Boyce. "We got lots of input from our residents

about how we can best use this money to help them

and their families, and this webpage represents an

unprecedented level of transparency in how we're

going to use this funding so that they can see in realtime

what we're doing to help them recover."

The American Rescue Plan was passed by Congress

and signed into law by President Joe Biden to help

Americans who are suffering from the ongoing effects

of the COVID-19 pandemic. It includes significant federal

resources to support a strong public health

response and vaccination strategy, provide direct

assistance to families, and deliver resources to local

governments to use in their own communities.

Franklin County will be receiving $256 million over

the next two years. Other parts of the ARP provided

resources for schools, healthcare providers, public

health agencies, and small businesses.

"The American Rescue Plan is important legislation

and provides significant resources to help our residents

recover, so we're really glad to be able to get

those out into the community and working for

Franklin County families right away," said commissioner

John O'Grady. "The new site provides important

information and resources, as well as a window

into our funding priorities."

The commissioners held a public hearing and

solicited written testimony from the community to

learn about the challenges residents have faced over

the past 18 months and how they think this funding

can best be used to aid in recovery. Video of that hearing

and text of the written testimony can be found on

the commissioners' new webpage along with federally

mandated reports on ARP spending and a link for residents

to continue to submit ideas for recovery funding.

"Too many Franklin County families were already

struggling before the pandemic, and the pandemic only

intensified these difficulties," said commissioner Erica

Crawley. "The funding through the American Rescue

Plan is a lifeline to our county, our government and our

community partners. It will funnel desperately needed

resources to help our community recover and deal with

the impacts of the ongoing pandemic. We will ensure

the funding helps the most marginalized members of

our community, who were harmed most by the pandemic."

An update to the commissioners' American Rescue

Plan webpage is already planned, and will connect residents

in need directly to the resources that the commissioners

have funded with ARP dollars.

Additional information is available at

Recovery.FranklinCountyOhio.gov.

CLASSIFIED ADS

Deadlines: Groveport and West editions, Wednesdays at 5 p.m., • South/Canal Winchester, Grove City, Madison editions, Tuesdays at 5 p.m.

All editions by phone, Tuesdays at 5 p.m. • Service Directory, Tuesdays at 5 p.m.

INFORMATION

FALL INTO

A NEW HAIR STYLE!!

Come See Me At

My New Location!

Call Marilyn Weaver

For An Appt.

For a New Haircut/Color

614-348-6670

Relax Wellness

3663 Broadway

Grove City

Have Something

To Sell?

Need To Rent

That Property?

Try The

Messenger!

For Info On Placing

An Ad Call

614-272-5422

ASSOCIATION ADS

Long Distance moving.

Call for a free quote from

America's Most Trusted

Interstate Movers. Let us

take the stress out of

moving! Speak to a

relocation specialist! Call:

888-721-2194

Looking for assisted living,

memory care, or

independent living? A

Place for Mom simplifies

the process of finding

senior living at no cost to

your family. Call 1-833-

386-1995 today!

Protect your home w/home

security monitored by

ADT. Starting at $27.99/

mo. Get free equipment

bundle including keypad,

motion sensor, wireless

door & windows sensors.

833-719-1073

Donate your car to kids!

Fast free pickup running

or not - 24 hour response.

Maximum tax

donation. Help find missing

kids! 877-831-1448

ASSOCIATION ADS

VIAGRA & CIALIS! 60

pills for $99. 100 pills for

$150 FREE shipping.

Money back guaranteed!

1-844-596-4376

GENERAC Standby Generators

provide backup

power during utility power

outages, so your home

and family stay safe and

comfortable. Prepare

now. Free 7-year extended

warranty ($695 value!).

Request a free

quote today! Call for additional

terms and conditions.

1-855-465-7624

New authors wanted!

Page Publishing will help

self-publish your book.

Free author submission

kit! Limited offer! 866-

951-7214

xInformation

The unconscious, subconscious or reactive

mind underlies and enslaves Man.

It's the source of your nightmares,

unreasonable fears, upsets and any insecurity.

GET RID OF YOUR REACTIVE MIND.

BUY AND READ

DIANETICS

The Modern Science of Mental Health

by L. Ron Hubbard - Price: $25

Call (614) 221-5024 or come to

1266 Dublin Road, Columbus, Ohio 43215

Information
---
www.columbusmessenger.com

October 31, 2021 - GROVE CITY MESSENGER - PAGE 13

CLASSIFIED ADS

Deadlines: Groveport and West editions, Wednesdays at 5 p.m., • South/Canal Winchester, Grove City, Madison editions, Tuesdays at 5 p.m.

All editions by phone, Tuesdays at 5 p.m. • Service Directory, Tuesdays at 5 p.m.

xCraft Shows

ADVERTISE

Your Holiday

Craft Show

Bazaar or

Bake Sale!

Call Kathy at

614-272-5422

CRAFT SHOWS

VALLEYVIEW

NEW LIFE CHUCH

CRAFT SHOW

November 6th, 9am-4pm

2450 Valleyview Dr.

Contact Sarah for more info

614-623-0080

Craft Shows

ASSOCIATION ADS

ENJOY 100% guaranteed,

delivered-to-the-door Omaha

Steaks! Get 8 FREE Filet

Mignon Burgers! Order the

Delightful Gift this holiday

season - ONLY $99.99 CALL

1-888-409-0645 and mention

code 65658LQY or visit

www.omahasteaks.com/

thegift1107

The bathroom of your

dreams for as little as

$149/month! BCI Bath &

Shower. Many options

available. Quality

materials & professional

installation. Senior &

Military Discounts

Available. Limited Time

Offer - FREE virtual inhome

consultation now

and SAVE 15%! Call

Today! 1-877-540-2780

SELL YOUR ANTIQUE

OR CLASSIC CAR.

Advertise with us. You

choose where you want

to advertise. 800-450-

6631 visit macnetonline.

com for details.

Replace your roof with the

best lookng and longest

lasting material! Steel

from Erie Metal Roofs!

Three styles and multiple

colors available.

Guaranteed to last a

lifetime! Limited Time

Offer - $500 Discount +

Additional 10% off install

(for military, health

workers & 1st responders)

Call Erie Metal Roofs: 1-

855-338-4807

ASSOCIATION ADS

Stroke & Cardiovascular

disease are leading

causes of death according

the AHA. Screenings can

provide peace of mind or

early detection! Call Life

Line Screening to

schedule a screening.

Special offer 5 screenings

for $149.. 1-833-549-4540

HughesNet - Finally, superfast

internet no matter

where you live. 25 Mbps

just $59.99/mo! Unlimited

Data is Here. Stream

Video. Bundle TV &

Internet. Free Installation.

Call 866-499-0141

Donate Your Car To

Veterans Today! Help and

Support our Veterans.

Fast - FREE pick up.

100% tax deductible. Call

1-800-245-0398

HOME BREAK-INS take

less than 60 SECONDS.

Don't wait! Protect your

family, your home, your

assets NOW for as little as

70¢ a day! Call 866-409-

0308

Stroke & Cardiovascular

disease are leading

causes of death according

the American Heart

Association. Screenings

can provide peace of mind

or early detection! Call

Life Line Screening to

schedule your screening.

Special offer - 5

screenings for $149. 1-

866-518-8391

ASSOCIATION ADS

Internet &WIFI Starts at

$49 Call us Today to Get

Started. Find High-Speed

Internet with Fiber Optic

Technology No Credit

Check, No SSN Required.

Call us Today 866-396-

0515

AMERICAN & FOREIGN

CLASSIC CARS AND

MOTORCYCLES

WANTED. $$PAYING

CA$H$$ Corvettes,

Mustangs, Jaguars, Austin

Healeys, Broncos,

Blazers, Ram Chargers,

AMX, and Triumphs

KRMiller1965@yahoo.com

717-577-8206

Update your home with

beautiful new blinds &

shades. Free in-home

estimates make it

convenient to shop from

home. Professional

installation. Top quality -

Made in the USA. Free

consultation: 877-212-

7578. Ask about our

specials!

Looking for assisted living,

memory care, or

independent living? A

Place for Mom simplifies

the process of finding

senior living at no cost to

your family. Call 1-833-

910-1576 today!

ASSOCIATION ADS

Become a Published

Author. We want to Read

Your Book! Dorrance

Publishing Trusted by

Authors Since 1920 Book

manuscript submissions

currently being reviewed.

Comprehensive Services:

Consultation, Production,

Promotion and Distribution.

Call for Your Free Author's

Guide 1-866-482-1576 or

visit http://dorranceinfo.

com/macnet

DISH TV $64.99 FOR 190

Channels + $14.95 High

Speed Internet. Free Installation,

Smart HD DVR

Included, Free Voice Remote.

Some restrictions

apply. Promo expires

1/21/22. 1-855-270-5098

Thinking about installing

a new shower? American

Standard makes it

easy. FREE design consulation.

Enjoy your

shower again! Call 1-

833-769-0995 today to

see how you can save

$1,000 on installation, or

visit www.newshowerdeal.com/mac

Wesley Financial Group,

LLC Timeshare Cancellation

Experts Over

$50,000,000 in timeshare

debt & fees cancelled in

2019. Get free

informational package &

learn how to get rid of

your timeshare! Free

consultations. Over 450

positive reviews. 888-965-

0363

ASSOCIATION ADS

DENTAL INSURANCE

from Physicians Mutual

Insurance Company.

Coverage for 350 plus

procedures. Real dental

insurance - NOT just a

discount plan. Do not wait!

Call now! Get your FREE

Dental Information Kit with

all the details! 1-877-553-

1891

www.dental50plus.com/

macnet#6258

NEED IRS RELIEF

$10K-$125K+ Get Fresh

Start or Forgiveness.

Call 1-844-431-4716

Monday through Friday

7am-5pm PST

Pest Control

Find Pest Control Experts

Near You! Don't let

pests overtake your

home. Protect your loved

ones! Call today to find

great deals on Pest

Control Services - 833-

872-0012

replace ad

HughesNet Satellite Internet

- Finally, no hard

data limits! Call today for

speeds up to 25mbps as

low as $59.99/mo! $75

gift card, terms apply. 1-

844-863-4478

ASSOCIATION ADS

Train online to do medical

biling! Become a Medical

Office Professional at CTI!

Get trained & certified to

work in months! 888-572-

6790. The Mission,

Program Information and

Tuition is located at

CareerTechnical.edu/cons

umer-information. (M-F 8-

6 ET.

Directv Now. No Satellite.

$40/mo 65 Channels.

Stream news, live

events, sports & on demand

titles. No contract/

commitment. 1-866-825-

6523

Wants to purchase minerals

and other oil and gas

interests. Send details to

P.O. Box 13557, Denver,

CO. 80201

DENTAL INSURANCE-

Physicians Mutual Insurance

Company. Covers

350 procedures. Real

insurance - not a discount

plan. Get your free

dental Info kit! 1-888-

623-3036 . www.dental50plus.com/58

#6258

The Generac PWRcell, a

solar plus battery storage

system. SAVE money,

reduce your reliance on

the grid, prepare for power

outages and power

your home. Full installation

services available. $0

Down Financing Option.

Request a FREE, no obligation,

quote today. Call

1-855-900-2894

ASSOCIATION ADS

Want Faster & Affordable

Internet? Get internet

service today with

Earthlink. Best internet &

WiFi Plans. Call us Today

to Get Started. Ask

about our specials! 866-

396-0515

HEARING AIDS!!

Buyone/get one FREE!

Nearly invisible, fully rechargeable

IN-EAR

NANO hearing aids

priced thousands less

than competitors! 45-day

trial! Call1-877-436-0234

The Generac PWRcell

solar plus battery storage

system. Save money,

reduce reliance on

grid, prepare for outages

& power your home. Full

installation services. $0

down financing option.

Request free no obligation

quote. Call 1-855-

270-3785

AT&T Internet. Starting

at $40/month w/12-mo

agmt. 1 TB of data/mo.

Ask how to bundle &

SAVE! Geo & svc restrictions

apply. 1-888-796-

8850

ASSOCIATION ADS

Eliminate gutter cleaning

forever! LeafFilter, the

most advanced debrisblocking

gutter protection.

Schedule a FREE LeafFilter

estimate today. 15% off

Entire Purchase. 10% Senior

& Military Discounts.

Call 1-855-791-1626

Attention oxygen therapy

users! Inogen One G4 is

capable of full 24/7 oxygen

delivery. Only 2.8

pounds. Free info kit.

Call 877-929-9587

HEARING AIDS!! Bogo

free! High-quality rechargeable

Nano hearing

aids priced 90% less

than competitors. Nearly

invisible! 45-day money

back guarantee! 833-

669-5806

DISH TV $64.99 190

Channels + $14.95 high

speed internet. FREE installation,

Smart HD DVR

included. Free Voice Remote.

Some Restrictions

apply. Promo Expires

1/21/22. 1-833-872-2545

GENERAC Standby

Generators provide

backup power during

power outages, so your

home & family stay safe &

comfortable. Prepare now.

FREE 7-yr extended

warranty $695 value!

Request a free quote

today. Call for terms &

conditions. 1-844-334-

8353
---
PAGE 14 - GROVE CITY MESSENGER - October 31, 2021

www.columbusmessenger.com

xEmployment

OPEN INTERVIEWS

ON WEDNESDAYS 10AM-1PM

UP TO $ 19.00/HR + NO MANDATORY OT

$

2000 SIGN ON BONUS + INCENTIVE OPPORTUNITIES

1568 Georgesville Rd. Columbus 43228

APPLY PRIOR @ JOBS.MSCDIRECT.COM

Applicants must sucessfully pass a background check and drug screen.

Equal Opportunity Employer: Minority, female, veteran, individuals with disabilities, sexual orientation/gender identity.

DO YOU NEED

SEASONAL EMPLOYEES?

Call KATHY to ADVERTISE

and reach over 30,000 homes in the

Westside & Grove City Messengers

614-272-5422

kathy@columbusmessenger.com

WANTED

• Retail Sales • Back-Up Cooks

• Dishwashers • Servers • Grill

• Host/Hostess

You Can Work 29+ Hrs. Based on

Your Availability & Performance

Immediate Full/Part-time Openings

We Offer:

• Weekly Pay

• Paid Training

• No Tip Sharing

• Paid Vacation

• Employee Meal Discount

• Position/Salary Advancement Plan

• Discount Purchase Plan

Apply online at crackerbarrel.com/careers for

Grove City Location 614-871-1444

REPORTER

WANTED

Part-time Reporter wanted to cover

community meetings in the evenings and

write various feature and news stories.

Photography experience helpful.

Please send a resume and

three writing samples to:

Rick Palsgrove, Managing Editor,

Columbus Messenger Newspapers,

3500 Sullivant Ave.,

Columbus OH 43204 or email

southeast@columbusmessenger.com

No Phone Calls!

ASSOCIATION ADS

BATH & SHOWER UP-

DATES in as little as

ONE DAY! Affordable

prices - No payments for

18 months! Lifetime warranty

& professional installs.

Senior & Military

Discounts available. Call

855-761-1725

Looking for auto insurance?

Find great deals

on the right auto insurance

to suit your needs.

Call today for a free

quote! 866-924-2397

Life Alert. One press of a

button sends help fast

24/7! At home and on

the go. Mobile Pendant

with GPS. Free first aid

kit (with subscription).

877-537-8817 Free brochure

READY TO BUY, SELL

OR RENT YOUR

VACATION HOME OR

HUNTING CAMP?

Advertise it here and in

neighboring publications.

We can help you. Contact

MACnet MEDIA @

800-450-6631 or visit our

site at MACnetOnline.

com

ASSOCIATION ADS

IMPORTANT

NOTICE

The following states: CA,

CT, FL, IA, IL, IN, KY,

LA, MD, ME, MI, MN,

NE, NC, NH, OH, OK,

SC, SD, TX, VT and WA

requires seller of certain

business opportunities to

register with each state

before selling. Call to

verify lawful registration

before you buy.

VIAGRA and CIALIS

USERS! 50 Generic pills

SPECIAL $99.00 FREE

Shipping! 100% guaranteed.

24/7 CALL NOW!

888-445-5928 Hablamos

Espanol

Attention: If you or aloved

one worked around the

pesticide Roundup

(glyphosate) for at least 2

years and has been diagnosed

with non-Hodgkin's

lymphoma, you may be

entitled to compensation.

855-341-5793

Employment

COOK

The South-Western City School District announces a

competitive exam for COOK. Nature of work and

qualifications include high school diploma or equivalent,

knowledge of proper food preparation, serving procedures

and ability to operate the equipment in a school

lunchroom, and some heavy lifting. This is a 9-month position

working 3 to 6 hours per day. Position starts at $16.13/hr.

Applicants are required to request a SWSCD-Grove City Civil

Service application by emailing carrie.rausch@swcsd.us starting

November 1st, 2021. The fully completed application must be

returned via fax, email or postal mail by November 12th by 4:45 PM.

A competitive written exam will be given on

Saturday, December 4th at 8:30 A.M.

EOE

ASSOCIATION ADS

Elminate gutter cleaning

forever! LeafFilter, the most

advanced debris-blocking

protection. Schedule

Free LeafFilter Estimate

today. 15% off Entire

Purchase. 10% Senior &

Military Discounts. Call 1-

855-995-2490

READER

ADVISORY

The National Trade Association

we belong to has

purchased the following

classifieds. Determining

the value of their service

or product is advised by

this publication. In order

to avoid misunderstandings,

some advertisers do

not offer "employment"

but rather supply the

readers with manuals, directories

and other materials

designed to help

their clients establish mail

order selling and other

businesses at home. Under

NO circumstance

should you send any

money in advance or give

the client your checking,

license ID or credit card

numbers. Also beware of

ads that claim to guarantee

loans regardless of

credit and note that if a

credit repair company

does business only over

the phone it's illegal to request

any money before

delivering its service. All

funds are based in US

dollars. Toll Free numbers

may or may not

reach Canada. Please

check with the Better

Business Bureau 614-

486-6336 or the Ohio Attorney

General's Consumer

Protection Section

614-466-4986 for more

information on the company

you are seeking to

do business with.

BE YOUR OWN BOSS!

INDEPENDENT

CONTRACTORS

WANTED

If you have a reliable car and would like to

earn extra money, then why not deliver?

• Deliver 1 or 2 days a week

• Flexible delivery hours

• Work close to home - often in or

near your neighborhood

CONTACT US

1-888-837-4342

www.thebag.com

CHILD CARE

OFFERED

Depend. Quality Child care

in loving hm. Exp. Mom, n-

smkr, hot meals, sncks,

playroom, fncd yd. Reas.

rates. Laurie at 853-2472

HELP WANTED

Kings Kids Daycare in

Grove City is hiring fun,

loving teachers for PT&

FT shifts. Pleaes email

sarragc@outlook.com or

call 614-539-0349.

Seeking experienced

painters/carp. Must have

own transportation. If

interested, call Dan @

614-595-0773

Personal Homecare Aide

Wanted in Grove City,

Friday-8 hrs & Sat-Sun - 5

hrs each. Call 248-802-

3335

MISC. FOR SALE

Charcoal Grill & Smoker,

brand new w/cover-$200;

4'x8' Pool Table, World of

Leisure, 3 piece slate top 1"

thick, all accessories incl -

$750. 614-272-5400

• Deliver 7 days a week

• Delivery before dawn

• Work close to home - often in or

near your neighborhood

CONTACT US

614-461-8585

www.dispatch.com/delivery

WANT TO BUY

BUYING VINYL RECORDS.

LPs and 45s - 1950-80s

Rock, Pop, Jazz, Soul.

614-831-0383

We Buy Cars & Trucks

$300-$3000.614-308-2626

We Buy Junk Cars &

Trucks. Highest Prices

Paid. 614-395-8775

WANTS TO Purchase

minerals and other oil &

gas interests. Send details

to: P.O. Box 13557,

Denver, CO 80201

WE BUY JUNK CARS

Call anytime 614-774-6797

ANTIQUES

WANTED

Victrolas, Watches,

Clocks, Bookcases

Antiques, Furn.

Jeff 614-262-0676

or 614-783-2629

RENTALS

3 BDRM CONDO for rent

Security, pool, a/c, appls.

$1195/mo. Call

614-557-8883

LAMPLIGHTER

SENIOR VILLAGE

Beautiful 2 BR w/carport

Ages 55 and over

$720.00/month

Only 1 left so Act Now!

614-991-6121
---
www.columbusmessenger.com

xCome & Get It!

October 31, 2021 -GROVE CITY MESSENGER - PAGE 15

xClassified Services

.

COME AND GET IT

Deadlines are Tuesdays by 5 pm.

Call For Publication Schedule 614-272-5422

Need to Get Rid of Something Fast - Advertise It Here For FREE!

FREE Garden Straw for gardens or bedding. Call for appointment for pickup.

Circle S Farms, 9015 London-Groveport Road, Grove City, 43123

Grove City - 614-878-7980

Sandbox Full of Sand; Small Bookcase - Fair Condition.

MB - Columbus - 614-308-1064

WOOD from two trees that we cut down two years ago. FREE.

Call me and let me know when you canp ick it up.

TH - Canal Winchester - 614-949-8963

Come and Get It! is a bi-weekly column that offers readers an opportunity to pass

along surplus building materials, furniture, electronic equipment, crafts, supplies,

appliances, plants or household goods to anybody who will come and get them - as

long as they're FREE. NO PETS! Just send us a brief note describing what you want to

get rid of, along with your name, address and phone number. Nonprofit organizations

are welcome to submit requests for donations of items.

Send information to The Columbus Messenger, Attention: Come and Get It, 3500

Sullivant Ave., Columbus, OH43204. Deadline is Tuesdays by 5 pm for following

Mondays publication. Messenger Newspapers is not responsible for any

complications that may occur. Please contact us when items are gone. 272-5422

Come & Get It!

xFocus on Rentals

WEDGEWOOD

VILLAGE

1, 2 and 3 BR Apts.

Rent Based on Income.

Call 614-272-2800 or visit us

at 777 Wedgewood Dr.

TTY/TDD 711

EQUAL HOUSING OPPORTUNITIES

Rentals

Information

SCIENTOLOGY CAN HELP YOU

We can give you

1. A higher IQ to handle your problems

2. Higher awareness to get a better job

3. More energy to make more money

4. Better health to breast life

5. Better morale to handle upsets

6. Less despair

7. More life

8. More years to live

Come to our free introductory workshop:

Monday-Friday at 7pm; Saturday & Sunday 2pm.

1266 Dublin Road,Columbus, Ohio 43215

DO YOU NEED

TO RENT THAT

APAR

ARTMENT?

Call Kathy

At The

Messenger

To Advertise

Your

Apartment

Community

272-5422

VACATION RENTALS

Englewood, Florida

Palm Manor Resort

Within minutes of white

sand Gulf beaches,

world famous Tarpon

fishing, golf courses, restaurants/shopping,

Bush

Gardens. 2 BR 2 BA

condos with all ammenities,

weekly/monthly, visit

www.palmmanor.com

or call 1-800-848-8141

BLACKTOP

AGM OHIO

ROOFING &

SEALCOATING

Free Estimates

Cell 614-512-1699

SANTIAGO'S

Sealcoating & Services LLC

Quality Materials Used

FALL IS HERE!

Driveway Seal & Repair!

Top Seal Cracks!

Residential & Commercial

Mulching, Edging & Clean-ups

"Ask for whatever you need."

BBB Accredited-Fully Insured

Call or text for Free Est.

614-649-1200

CARPET CLEANING

INFORMATION

INFORMATION

11/7

A/M

CARPET CLEANING

Any 5 areas ONLY $75

Home Powerwash- $99-$200

614-805-1084

Specializing in Pet Odors

CARPET SALES

CARPET

Gray Saxony

540 sq.ft. & 6 lb

Pad & Normal Installation

Only $999.00

Phone or text Ray

740-927-3504

FOR ONLY

$74.00

You Can Reach

Over 42,000 Homes

In Our

West & Grove City

Areas

For Info Call

272-5422

12/5 A/M

CONCRETE

EDDIE MOORE

CONSTRUCTION

Quality Concrete Work

Lt. Hauling & Room Add.,

Block Work & Excavation

Stamp Patios,

Bsmt. Wall Restoration

35 Yrs Exp - Lic & Ins.

Free Ests. 614-871-3834

Buckeye City

Concrete & Excavating

* Concrete * Foundations

* Waterlines * Drains

*Catch Basins

614-749-2167

buckeyecityconcreteand

excavating@yahoo.com

ALL-CITY CUSTOM

CONCRETE

All Types Concrete Work

New or Tear Out-Replace

39 Yrs. Exp.

(614) 207-5430

Owner is On The Job!

AJ's Concrete,

Masonry

Good Work - Fair Prices

Block Foundations

Driveways • Sidewalks

Epoxy/Overlay Floors

Bonded-Ins. • Free Ests.

614-419-9932

www.hastingsnsons.com

Driveways & Extensions

Patio & Walkways,

Porches & Steps,

Garage/Basement Floors

Hot Tub/Shed Pads,

Stamped/colored concrete

Sealing of new &

existing concrete.

FREE ESTIMATES

Contact Adam

614-756-1754

hastingsandsons.

columbus@gmail.com

FLOORING

• Tile • Hardwood

• Laminate • Vinyl

11/7

614-806-6050

SW

Sales • Installation • Free Est.

INFORMATION

LOOK TO

THE PROFESSIONALS

IN OUR

SERVICE DIRECTORY

For Service

"That Is Out Of This World"

10/24 A/M

11/21 A

FENCING

EAZY FENCE

Chain Link - Wood

No Job Too Big or Small

All Repairs ~ Free Est.

Insured. 614-670-2292

GUTTERS

Bates & Sons

GUTTER CLEANING

5 ★ Google Reviews

614-586-3417

HAULING

DEAN'S HAULING

614-276-1958

HEATING

HEATING

Complete System Clean & Check

$49.95

Free Carbon

Monoxide Testing

Gas-Oil-Electric Heat/Pumps

All Makes • All Models

45 yrs exp. • Sr. Discount

614-351-9025

HOME

IMPROVEMENTS

KLAUSMAN HOME

IMPROVEMENT

Siding-Windows-

Doors-Roofing-Soffit-

Fascia-Gutters-Trim

Earn FREE Seamless

Gutters with Siding Over

1000 Sq. Ft.

FREE Shutters with

Soffit & Trim

EPA Certified

Member of BBB

Financing Available

Over 20 yrs exp. • Free Est.

Licensed-Bonded-Insured

Owner & Operator

James 614-419-7500

C&JHandyman

Services LLC

Minor Plumbing

& Electric

Install Hot Water Tanks,

Dishwashers & Disposals

Also Fencing &

Interior/Exterior Painting

Free Est. ~ 18 Yrs. Exp.

CDC/EPA Approved Guidelines

614-284-2100

SINCE 1973

Phil Bolon Contr.

Windows & Siding

Decks, Kitchens, Baths

Room Additions,

Flooring, Roofing

Bsmt Waterproofing

Deal With Small Non-Pressure Co.

47 Yrs. Exp. - Refs. Avail.

Lic.-Bond-Ins.

Free Est. - Financing Avail.

Member BBB Of Cent. OH

O.C.I.E.B. ID #24273

614-419-3977

or 614-863-9912

HOME

IMPROVEMENTS

SLAGLE

HOME REMODELING

Baths, Kitchen,

Plumbing and Electrical.

All your Handyman needs

No Job too Big or Small

Over 30 Yrs. Exp. Lic.-Bond-Ins.

Jerry

614-332-3320

The Lawn Barber

Cut, Trim, Blow away

Hedge Trimming, Edging

Garden Tilling

614-935-1466

LET US MAINTAIN

YOUR LAWN & GARDEN

FOR YOU

Summer, Spring,

Winter or Fall

WE DO IT ALL!!!!

Lawn Cuts, Edging,

Trees & Shrubs, Garden,

Mulching, Hauling,

Garden Pond &

Home Maint.

Free Ests. Low Rates

$20 & Up

Kevin - 614-905-3117

MOVING

Aaron Allen

Moving

Local Moving since 1956

Bonded and Insured

614-299-6683

614-263-0649

Celebrating

over 60 yrs

in business

PAINTING

A Job Well Done Again

A lic. General Contractor

Some Skilled Services

Incl: Painting • Stucco,

Repair•Carpentry•Exterior

Drainage & Home Maint.

Call Today! 614-235-1819

PLASTERING

DRYW

YWALL &

PLASTER

11/7

A&M

REPAIR

Textured Ceilings

614-551-6963

Residential/Commercial

BIA

Classified Services

11/21 A

10/10 A

11/21

A/M

11/7 A

HOME

REMODELING

LAWN CARE

10/24

SW/W

HANDYMAN

All Phases of Construction

Carpentry, Drywall,

Painting & More

614-218-5400

SOWERS LAW N CARE

Mowing-mulching-trimming

Fall cleanup-614-397-0566

10/24 A&M

PLUMBING

MYERS

PLUMBING

Exp. Expert Plumbing

New Work & Fast Repairs

Lic. - Permit Available

Water • Sewer • Gas

614-633-9694

All About Drains & Plumb.

Will snake any sm drain

$145. 614-778-2584

CHRIS'

PLUMBING

"Plumbing & Drain Professional

That You Can Count On"

24 Hrs., 7 Days/Week

No Overtime Charges

24 Yrs. Exp. in Plumbing &

Drain Cleaning Field

Call For A Free Phone Estimate

$100.00 For Any Small Drain

614-622-4482

30% OFF with AD

POWERWASHING

Bates & Sons

Soft Wash & Powerwash

5 ★ Google Reviews

614-586-3417

MRS. POWERWASH

Any house wash $149+tax

Single deck $69+tax

2 Tier deck $99+tax

Best Wash in Town

Over 45,000 washes

Ashley 614-771-3892

ROOFING

Robinson roofing & repairs

30 yrs. exp. Lifetime Cols.

resident. Lic./bonded/Ins.

Reas rates. Member of

BBB. Dennis Robinson

614-330-3087, 732-3100

SEWING MACHINE

REPAIR

REPAIR all makes 24 hr.

service. Clean, oil, adjust

in your home. $49.95 all

work gtd. 614-890-5296

TREE SERVICES

Arborists Rn

Tree Experts LLC.

For all your

trimming needs.

•Removals,

•Trimming,

•Pruning,

•Thinning,

•Stump Grinding

Give us a call today!

614-483-3204

BURNS TREE SERVICE

Trimming, Removal &

Stump Grinding.

614-584-2164

Brewer & Sons Tree Service

• Tree Removal

• Tree Trimming 11/21

A&M

• Stump Grinding

• Bucket Truck Services

Best Prices • Same Day Service

614-878-2568

11/7 A&M

11/7 A

10/24 A&M
---
PAGE 16 - GROVE CITY MESSENGER - October 31, 2021

Follow the

Messenger on Facebook

JEFFREY P. COMPTON

ATTORNEY AT LAW

General Practice

Personal Injury • Domestic

Probate • Wills

Power of Attorney

Healthcare Documents

FREE CONSULT & PARKING

614-875-7233 Fax: 929-474-9475

1665 London-Groveport Rd., Grove City

www.jeffreypcompton.com

Email: jcompton@jeffreypcompton.com

Looking for a small,

friendly church experience? Try

First Presbyterian Church

of Grove City

4227 Broadway, Grove City

In-person Worship 10 a.m.

Services will continue on

Facebook Live at 10 a.m. as well

www.fpcgc.org

Grove City

Messenger

Like most women, I like to wear a pop of

color when I am looking or feeling listless.

My chosen preference is a nice red lip to

draw attention away from the worn expression

within and underneath my eyes but

occasionally I will pull out a bright shirt,

jacket, or, in these times, a mask to disguise

what is really going on inside.

The vampiric film "Night Teeth" is a bit

like that too: it covers itself in the world of

bright colors to convey a sense of strength,

energy, and life but really that stylized

flourish acts as a front for a story that is as

dull as a set of wooden choppers.

Bring in this Ad

and your first Beer, Cider, Wine,

Seltzer and a few select Bourbons is

only $ 4

4057 Broadway, Grove City, OH 43123

(Corner of Broadway and Grove City Rd.)

(614) 954-2337

Hours: Sun.-Thursday 1pm-11pm

Friday-Saturday 1pm-1am

EMMANUEL LUTHERAN

CHURCH

80 E. Markison Ave., Columbus, OH 43207

elclife.org

SUNDAY WORSHIP SERVICE

8:30 am & 11:00 am

BIBLE CLASS

Adult and Youth (K-5)

9:45 am

*11:00 service includes a radio broadcast

in our parking lot on FM 87.9

Be a Part of Our Local Worship Guide

Our Worship Guide is geared toward celebrating faith and helping reader connect with religious

resources in our community. Make sure these readers know how you can help with a presence in

this very special section distributed to more than 22,000 households in the Grove City area.

Contact us today to secure your spot in our Worship Guide.

614.272.5422 • kathy@columbusmessenger.com

Like a new day, it begins promisingly

enough by laying out the mythos of this

tale; Since vampires first came to America

hundreds of years ago, they have been

engaged in a war with the humans in Los

Angeles. Many lives were lost and when

vampires began to lose the upper hand

despite all their power, they struck a truce

with regions of the state, especially those of

the Boyle Heights neighborhood who

proved to be the toughest opponents of the

creatures of the night.

This truce has held for more than a century,

largely because the vampires of the

area have to follow three rules: Rule number

one is that vampires cannot let humans

know they exist anymore. Rule number two

is that vampires are not permitted to feed

on the unwilling. And rule number three is

that the vampires never ever enter Boyle

Heights without permission.

After this intriguing intro, we meet

Victor (Alfie Allen) a centuries old vampire

who is no longer willing to live by those

rules. After failing to garner the support of

his fellow area vampires (this world is run

like "True Blood" where there are head

vampires for specific regions), he takes

matters into his own cold hands by kidnapping

the girlfriend of Jay (Raul Castillo),

the human truce-keeper between the

vamps and the residents of Boyle Heights.

Instead of continuing to focus on the

rapidly boiling tension between Victor and

Jay, both played by actors who have a fun

and magnetic intensity, the film pivots to

Jay's sweet and clueless younger brother

Benny (Jorge Lendeborg Jr.) who accidentally

stumbles into Victor's overarching

plot to destroy the leaders of the vampiric

clans of L.A.

To be clear, Benny's presence is not an

impediment to the story; in fact, the character

and the actor too prove to be a positive

for the film, serving as the audience's

surrogate into the gory underworld as he

tries to do something we all do each day —

work for a paycheck. But it's everything

else that goes along with his portion of the

story that weighs the film down.

For some quick cash, Benny takes over

Jay's main job as a chauffeur for the rich

and dangerous. Jay tells him to keep his

head down, don't ask questions, and survive

the night. His first (and only) clients of

the night are two women, Blaire and Zoe

(played by Debbie Ryan and Lucy Fry,

respectively), who provide him with a list of

five places to go with an order to complete

the task before sunrise.

During the ride to the first attraction of

the night, Blaire and Zoe mess with his

head a bit, asking questions about what he

would do if this was the last night of his

life. Though unnerved by the women, he is

drawn to them too, willing to do their bidding

despite thinking that something is

amiss.

At the first stop,

Benny hears

screams coming

from the mansion;

at the second, he

finds a bag filled

with money splattered

with blood. At

the third, he realizes that they are vampires,

sent out on a mission to cause deadly

chaos so Victor can take over the L.A.

scene. Unfortunately for Benny, his night

just gets worse as his story starts to revolve

around a slow bubbling romance with

Blaire, the least blood-thirsty of the two

vampire women (she's also the more boring

of the dastardly duo, so there's that).

Upon learning that Victor has his sights

set on Jay, Benny goes along with the vampires

as they wreak havoc across the neon

soaked city, even providing assistance to

them from time to time. His actions, some

puzzling and implausible, provide for some

of the biggest questionable decisions this

film makes, making "Night Teeth" feel as if

it were a first or second draft from writer

Brent Dillon, rather than the final one sent

in before the production started.

With storylines that bounce all over the

place and the abundance of missed opportunities

to showcase characters whose

actors were game for mischief and mayhem,

"Night Teeth" is a disappointing vampiric

film that, sadly, lacks bite. Though

the style of the film provided some flair and

entertainment (shots where the camera

flips slowly upside down was a nice touch),

you couldn't help but think throughout the

viewing that this could have been something

more, something better, than it actually

was.

Grade: C

www.columbusmessenger.com

In Entertainment

"Night Teeth" a vampire film that lacks bite

The Reel Deal

Dedra Cordle

Dedra Cordle is a Messenger staff writer

and columnist.

southwest

Messenger

(Distribution: 22,500)

Andrea Cordle...................................Grove City Editor

southwest@ columbusmessenger.com

Published every other Sunday by the

The Columbus Messenger Co.

3500 Sullivant Ave., Columbus, Ohio 43204

(614) 272-5422

The Columbus Messenger Co. reserves the right to edit, reject or cancel

any advertisement or editorial copy at any time. The company is not

responsible for checking accuracy of items submitted for publication.

Errors in advertising copy must be called to the attention of the company

after first insertion and prior to a second insertion of the same advertising

copy.