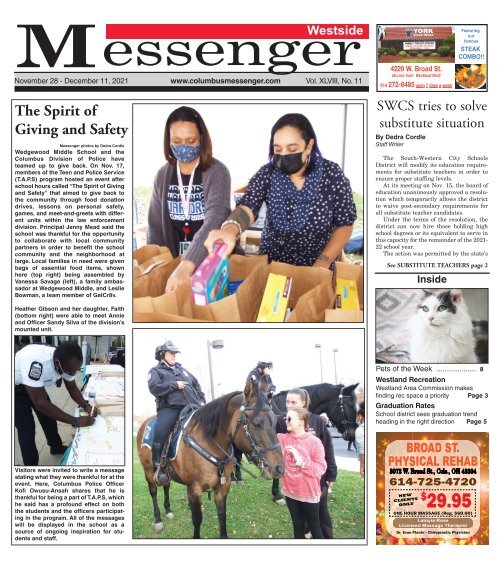 Westside Messenger - November 28th, 2021
You also want an ePaper? Increase the reach of your titles
YUMPU automatically turns print PDFs into web optimized ePapers that Google loves.
Messenger

Westside

November 28 - December 11, 2021 www.columbusmessenger.com Vol. XLVIII, No. 11

4220 W. Broad St.

(Across from Westland Mall)

614 272-6485 open 7 days a week

Featuring

our

famous

STEAK

COMBO!!

The Spirit of

Giving and Safety

Messenger photos by Dedra Cordle

Wedgewood Middle School and the

Columbus Division of Police have

teamed up to give back. On Nov. 17,

members of the Teen and Police Service

(T.A.P.S) program hosted an event after

school hours called "The Spirit of Giving

and Safety" that aimed to give back to

the community through food donation

drives, lessons on personal safety,

games, and meet-and-greets with different

units within the law enforcement

division. Principal Jenny Mead said the

school was thankful for the opportunity

to collaborate with local community

partners in order to benefit the school

community and the neighborhood at

large. Local families in need were given

bags of essential food items, shown

here (top right) being assembled by

Vanessa Savage (left), a family ambassador

at Wedgewood Middle, and Leslie

Bowman, a team member of GetCr8v.

SWCS tries to solve

substitute situation

By Dedra Cordle

Staff Writer

The South-Western City Schools

District will modify its education requirements

for substitute teachers in order to

ensure proper staffing levels.

At its meeting on Nov. 15, the board of

education unanimously approved a resolution

which temporarily allows the district

to waive post-secondary requirements for

all substitute teacher candidates.

Under the terms of the resolution, the

district can now hire those holding high

school degrees or its equivalent to serve in

this capacity for the remainder of the 2021-

22 school year.

The action was permitted by the state's

See SUBSTITUTE TEACHERS page 2

Inside

Heather Gibson and her daughter, Faith

(bottom right) were able to meet Annie

and Officer Sandy Silva of the division's

mounted unit.

Pets of the Week ................... 8

Westland Recreation

Westland Area Commission makes

finding rec space a priority Page 3

Graduation Rates

School district sees graduation trend

heading in the right direction Page 5

Visitors were invited to write a message

stating what they were thankful for at the

event. Here, Columbus Police Officer

Kofi Owusu-Ansah shares that he is

thankful for being a part of T.A.P.S, which

he said has a profound effect on both

the students and the officers participating

in the program. All of the messages

will be displayed in the school as a

source of ongoing inspiration for students

and staff.

BROAD ST.

PHYSICAL REHAB

3072 W. Broad St., Cols., OH 43204

614-725-4720

NEW

CLIENTS

ONLY

$

29.95

ONE HOUR MASSAGE (Reg. $60.00)

Latoyia Rose

Licensed Massage Therapist

Dr. Evan Plante - Chiropractic Physician
---
PAGE 2 - WESTSIDE MESSENGER - November 28, 2021

Franklin County Auditor Michael Stinziano announced

that the auditor's office is refunding $5 million to schools,

libraries, municipalities, and agencies this December.

Prepare for unexpected

power outages with a

Generac home standby

generator

REQUEST A FREE QUOTE!

866-643-0438

FREE

7-Year Extended Warranty*

A $695 Value!

Limited Time Offer - Call for Details

A FREE ESTIMATE

15 10 5

YOUR ENTIRE

PURCHASE *

% % %

OFF + OFF + OFF

Serving Your Community

Malek &

ATTORNEYS AT LAW Malek

Proudly Announcing

Adding New Attorneys

To Serve You!

WORKERS'

COMPENSATION

PERSONAL INJURY

WRONGFUL DEATH

SLIP & FALL INJURY

DOG BITE INJURY

SENIOR & MILITARY

DISCOUNTS

| Promo Number: 285

Since 1972

YEAR-ROUND

CLOG-FREE GUARANTEE

1-855-595-2102

TO THE FIRST

50 CALLERS! **

Douglas, Ed, Jim

and Kip Malek

"Hablamos Español"

FREE Initial Consultation

www.maleklawfirm.com

614-444-7440

1227 S. High St., Columbus, OH 43206

A majority of the money — more than $3.2 million — is

going to school districts across the county. In addition,

Franklin County cities and villages will get $392,195,

townships will get $255,362, libraries will get

$131,272, and county agencies will get $932,525.

Columbus City Schools will get the largest

refund of all the entities, at $1.1 million. Other

school districts receiving large refunds are Dublin

City Schools at $308,477, Hilliard City Schools

with $302,599, South-Western Schools at $254,027,

Worthington City Schools at $240,376, Westerville

City Schools with $197,284, and Upper Arlington

City Schools at $183,478.

"I am happy to be able to refund this needed

money back to our schools, our libraries and our

www.columbusmessenger.com

Schools and municipalities receive refund from county auditor

Special Financing Available

Subject to Credit Approval

*To qualify, consumers must request a quote, purchase,

install and activate the generator with a participating dealer.

Call for a full list of terms and conditions.

CML to close on Sundays

Due to a staffing shortage, Columbus Metropolitan

Library (CML) will close all 23 of its locations on

Sundays through at least Jan. 9, 2022.

Fully staffed, CML employs approximately 870 full

and part-time staff members. CML's current staffing

count is 711, meaning there are nearly 160 unfilled

positions, stretching the capacity of current staff.

CML leaders, in tandem with its board of trustees,

will reassess staffing levels in the coming weeks and

months to determine whether the Sunday closure will

extend beyond Jan. 9.

SUBSTITUTE TEACHERS

Continued from page 1

legislative body which last month gave its approval for

boards of education to modify post-secondary requirements,

thus allowing more hiring flexibility as its pertains

to substitute teaching staffing levels. Senate Bill

1 was passed by emergency declaration, making this

temporary modification to state law go into effect

immediately.

District officials say while this move may seem like

a bold choice, bold action was needed in order to

increase its substitute teacher numbers.

"It has been a real challenge for us to not only

attract but to maintain proper substitute teacher

staffing levels," said Dr. Jamie Lusher, the district'

deputy superintendent in an interview after the meeting.

"Every school district across the state is experiencing

this shortage and what we are now doing is competing

against each other to hire staff.

"We believe by taking this action, it will help the

district increase staffing levels so we can continue to

offer uninterrupted education for our students and our

staff."

While the district will waive post-secondary

requirements for substitute teacher candidates, it will

maintain its "rigorous" vetting process while conducting

interviews for the potential candidates.

"They will still have to pass all of the background

checks we conduct," said Lusher.

In addition to the background checks, the candidates

will have to obtain a non-renewable temporary

substitute teaching license through the state board of

education. The district can provide assistance with

that step, if needed.

Lusher said the district will also be looking for candidates

who have experience working with children

(though it is not an excluding factor) and people who

have "high moral character."

"We want candidates who have integrity, who have

a history of giving back to the community."

municipalities and ultimately to our students and taxpayers,"

Stinziano said. "By being fiscally responsible, your

auditor's office is able to return this money to organizations

that directly support our residents with needed services."

Among cities and villages, Columbus received the

largest refund, at $180,927, followed by Dublin at $30,467

and Westerville at $27,628. Among libraries, the

Columbus Metropolitan Library will receive the largest

refund at $93,138, followed by the Worthington Public

Library at $14,587 and the Westerville Public Library at

$5,406.

The money that is being refunded is collected as

required by state law to pay for real estate reappraisals

and triennial updates.

news and notes

Digital library resources remain available 24/7 at

columbuslibrary.org, including eBooks, eAudiobooks,

magazines, movies and music, plus research and learning

tools.

For more information, visit columbuslibrary.org.

Fee for police footage

The Franklin Township Police Department will now

charge a $5 fee for public record requests involving

police body camera footage. Officials said extracting

the body camera footage is very time-consuming and

the township could benefit from the revenue.

She said the district has been reaching out to local

child care agencies and churches to aid in the recruitment

of potential candidates.

According to Lusher, the district had to take this

unprecedented action as it prepares for the upcoming

season that often sees the highest number of call-outs

due to illnesses.

"We have to prepare as best as we can for staffing

shortages," she said.

She said substitute teaching staffing levels within

the district have always met the 80 percent threshold

but that number has severely declined with the introduction

of COVID-19 last year.

"We never had an issue pre-COVID reaching that

level but now we sometimes struggle to get to that percentage."

She said the staff at each building has had to get

creative on occasion due to substitute teaching staffing

shortages, but added the district needs to do more to

ensure that education is not negatively impacted by

the lack.

"I do believe the action that was approved by the

board will help us increase those levels," Lusher said.

This is not the only action the board has undertaken

recently to attract substitute teacher candidates. At

its meeting on Sept. 27, the board unanimously

approved an increase of the daily substitute teaching

rates of $155 for retired SWCS teachers, $145 for sub

pool substitute teachers, and $130 for day-to-day substitute

teachers. The board also approved lump sum

payments of $500, $750, and $1,000 for substitute

teachers after working at the district for 50 days, 100

days, and 150 days, respectively.

Lusher said those incentives will be rolled over for

the new crop of candidates who apply to be a substitute

teacher in the district.

For more information on how to apply, visit the district's

website at swcsd.us.
---
www.columbusmessenger.com

Community Focus

Rec center is priority for Westland Commission

By Hannah Poling

Staff Writer

At the monthly meeting, the Westland

Area Commission discussed the need for

recreation space on the westside.

The parks and recreation committee

met earlier in the month to present potential

sites, which could be suitable for a

recreation center. The city of Columbus

Recreation and Parks Department, as well

as the Parks and Recreation Capital and

Strategic Planning Team, attended the

meeting to hear the presentation.

"The West Broad Street property (6145

West Broad St.) is the lowest hanging fruit.

They were really excited about the location

at 5300 Crosswinds Drive and the population

it would serve," said commissioner

Janet Cahill.

The committee was tasked with several

items that they need to accomplish to get

the process started. The four parks that are

currently established on the westside need

to be surveyed for what needs to be

replaced, improved, and what vandalism

and damage has occurred. Another thing

requested, is for the committee to compile a

list of all of the programs and activities

that they would like to put in place.

Blood drives

The American Red Cross will host a

blood drive from 9 a.m. to 3 p.m. Dec. 10 at

the Prairie Township Community Center,

5955 West Broad St. and from 11 a.m. to 4

p.m. Dec. 12 at Columbia Heights United

Methodist Church, 775 Galloway Road. To

schedule an appointment, call 1-800-448-

3543 or visit www.redcrossblood.org.

Santa' s Mailbox

Santa's Mailbox will be located at the

Prairie Township Community Center from

Nov. 26 through Dec. 17. Children who

hand deliver their letters to Santa's care in

his special mailbox receive a reply from

community events

Cahill plans to do a survey and break

down the programs and activities desired

by different age groups of people and create

a list. The committee plans to have both

reports together for their next meeting on

Dec. 1 at 6 p.m. Both teams will be returning

to the committee meeting in February

to see the progress that has been made.

Cahill plans on giving them all of the

upgrades needed so that they can be

included in the January budget for next

year.

"I want to start pushing for outdoor

recreation on current facilities while we

wait for the recreation center," said Cahill.

In other news, the Westland Area

Commission committee chairs were selected

for the 2022-2024 term. Mike McKay

will remain the chair of the zoning committee,

Nancy Day-Achauer will remain chair

of the public health and safety committee,

and Ashley Hoye will remain the chair of

the community relations committee. New

commissioner Lori Balough will be taking

the position of chair of the education committee,

and Janet Cahill will become the

chair of the parks and recreation committee.

Jeff Tanner will be replacing Bill

Steimer as chair of the planning development

committee.

Santa. To guarantee delivery, include the

child's full name, complete address with

zip code and postage. For additional information,

visit prairietownship.org.

Breakfast at the Lodge

to benefit Special Olympics

The Westgate Masonic Lodge #623 is

preparing breakfasts once a month to benefit

the Special Olympics. The public is

invited to have breakfast the second

Saturday of each month at 2925 West

Broad St. Adults eat for a donation of $6,

children age 3 and above pay $3. Serving is

from 9 a.m. to noon.

Assistance available for property tax

According to Franklin County Auditor

Michael Stinziano, the Property Tax

Assistance Program (PTAP) will accept

applications from low-income elderly

homeowners who need help paying their

2021 first half property taxes.

The PTAP provides emergency one-time

property tax assistance to low-income

homeowners age 60 or older and is a nonprofit

entity funded solely through donations.

The auditor's office has administered

the program since November 2019.

"PTAP plays a crucial role by helping

our elderly homeowners on fixed incomes

keep their homes despite rising home values,"

Stinziano said. "I encourage anyone

who qualifies and needs assistance to

apply to the program."

PTAP applications are reviewed by a

board that includes the Franklin County

auditor's office, Franklin County treasurer's

office, Franklin County Office on

Aging, and Central Ohio Area Agency on

Aging. Applications are due by Dec. 20.

Information about the program and an

application can be found on the auditor's

office website. For additional information

and questions, residents may call 614-525-

3243.

Pol Panos, reference librarian at the

Westland Area Library, attended the commission

to introduce himself. Panos will be

taking over Denise Southworth's position

of library representative starting in 2022

for the Westland Area Commission.

According to commissioner Scott Taylor,

there will be no full commission meeting in

December and beginning in January 2022,

the commission meetings will start being

held at Auto Boutique, 1800 Georgesville

Square Drive in Columbus.

November 28, 2021 - WESTSIDE MESSENGER - PAGE 3

We're looking for Production Team Members to

join our Columbus, OH team!

$5,000 Starting Bonus for Qualified Candidates

Starting pay: $21.50/HR

"BEST NEW YEARS PARTY IN TOWN"

Apply online: ardentmillscareers.com

Ardent Mills is an Equal Opportunity Employer

17 th Annual

Mike Albert

and

The Big E. Band

Per Couple Prices

Overnight Package - $319

Party Only Packages - $250

Single Overnight - $219

We are the BEST community newspaper!

Need advertising? Call 614-272-5422

today.

JEFFREY P. COMPTON

ATTORNEY AT LAW

General Practice

Personal Injury • Domestic

Probate • Wills

Power of Attorney

Healthcare Documents

FREE CONSULT & PARKING

614-875-7233 Fax: 929-474-9475

1665 London-Groveport Rd., Grove City

www.jeffreypcompton.com

Email: jcompton@jeffreypcompton.com

Prices include

Dinner, Drinks, Room, Party favors,

Full Breakfast

Crowne Plaza • 6500 Doubletree Ave. (formerly Marriott North)
---
PAGE 4 - WESTSIDE MESSENGER - November 28, 2021

44 S. Oakley, Columbus MLS# 221015300

3 Bd., 2 Ba., 2 Story, Full Bsmnt, 2 Car Garage. New plumbing, electric, mechanicals, paint,

AC, Furnace, Windows, Siding, Roof, gutters, downspouts. Being SOLD AS IS. Agent Owned.

LIST YOUR

CHRISTMAS WEEK SERVICES

ON OUR CHRISTMAS CHURCH PAGE

in The Westside or

Grove City Messengers

The page will print in

our December 12th issue.

The deadline for this year's Christmas Church Page

is Friday, December 3rd at 2:00 pm.

Call Kathy

for More

Information

614-272-5422

kathy@columbus

messenger.com

ANTHONY MARCINO Realtor ®

4535 W. Dublin-Granville Rd..Dublin, OH 43017

anthonymarcino@cbintouch.com

C: 614-330-2520

operated by a subsidary of NRT LLC

AREA

CHRISTMAS

WORSHIP

SERVICES

Groveport Zion Lutheran Church

6014 Groveport Rd., Groveport 43125

614-836-5611

Pastor Matthew Cox

SAMPLE

Christmas Eve Candlelight Service at 7:00 pm

Christmas Day Service at 10:00 am

Communion celebrated at both services

In Education

By Dedra Cordle

Staff Writer

Officials say the financial outlook of the South-

Western City Schools District is stable despite indicators

that suggest it could soon enter into deficit spending.

According to Treasurer Hugh Garside, the district's

expenditures will likely begin to surpass its revenue at

the end of fiscal year 2023. He told the board of education

at its meeting in November that the widening

trend is predicted to grow throughout the duration of

the five-year forecast.

He said that while there is always cause for concern

when a district's expenditures begin to outpace its revenue,

what will help stabilize the district's finances is

the positive cash balance that is also predicated

throughout fiscal year 2026.

"An important thing to note is we have a target cash

balance of anywhere between three to six months of

operating expenses," Garside said. "That means if we

didn't bring any more revenue in, we could operate our

district for three to six months and that would put us

in a comfortable place."

He said the current forecast puts the district on a

positive cash balance of five to ten months instead of

three to six.

"We are in that sweet spot of where we want to be,"

he said. "We feel comfortable with where we are in our

cash balances and we want to maintain that."

The biggest expense of the district comes from personnel

services, which consist of salaries and wages for

its administrators, educators and support staff.

Salaries are projected to grow at an annual rate of 5.43

percent through fiscal year 2026 and benefits are projected

to grow at an annual rate of 6.52 percent

throughout that time frame. The district has agreements

in place with the South-Western Education

Association and the South-Western Administrator's

Association through June 2022. They are currently in

negotiations with members of the Ohio Association of

Public School Employees.

Purchased services expenditures, which represent

15.7 percent of total expenditures are projected to

decrease by roughly 3.44 percent annually. This is due

to the recent enactment of the Fair School Funding

Plan which funds only district educated enrollment.

Garside said the passage of this bill will reduce the district's

tuition costs for open enrollment, community

schools, STEM, and scholarships by roughly $18 million.

Supplies and materials are projected to increase at

an annual rate of 3.66 percent. Garside said the district

has to keep up with the latest technology and that

Chromebooks constantly need to be replaced. It is estimated

the district will spend between $1.8 and $2.7

million annually to implement its technology replacement

cycle.

The cost of fuel is also covered under the supplies

www.columbusmessenger.com

Financial forecast stable in SWCS

Canned food drive-thru

Grove City High School will host a canned food

drive-thru from 9:30 a.m. to 12:30 p.m. Dec. 4 at 4665

Hoover Road. Community members are invited to

bring their canned goods and non-perishable food

items to the school. Students will take donations from

the vehicle.

community events

and materials category. While the district did spend 21

percent less in fuel related expenses during the first

year of the COVID-19 pandemic, Garside expects those

numbers will tick up again. Fuel makes up roughly

one-fifth of the overall supplies and materials budget.

Every 30 cent increase in the price per gallon of fuel

represents roughly $130,000 in increased cost annually.

According to projections in the forecast, the district's

expenditures will be $273.59 million in 2022,

$284.4 million in 2023, $297.6 million in 2024, $311

million in 2025, and $325.5 million in 2026.

The district's revenue is projected to grow but at a

slower pace. Garside said the district maintains a

healthy revenue stream from residential and commercial

property taxes and they have made wise investments

in allowable stocks. He said the district is likely

to receive more state funding through the Fair School

Funding Plan but those figures were not fully factored

into the forecast.

"It (funding through the FSFP) is only in the budget

for two years and it's not fully phased in yet," said

Garside. "It is supposed to be phased in over a six-year

period."

He said the district has to continue to be champions

of this plan as he believes it could be a good way to

fund the schools. Under the plan, the state has

removed South-Western City's designation as a capped

district, meaning they can receive additional funds as

they are considered a growing district.

The district receives roughly 56 percent of its overall

revenue through the state. The district could

receive upward of $151.4 million in state aid should

the plan be fully funded. Garside said those dollars

would dramatically change the outlook of the projected

revenue but he wanted to err on the side of caution and

leave it out of the forecast beyond the current and next

fiscal years.

Real estate property tax revenue accounts for 36.2

percent of the district's total revenue; it is projected to

rise at an annual rate of 0.81 percent through fiscal

year 2026. Garside said the district is fortunate to

have "strong property values" and that new construction

will continue to bolster the tax duplicate going forward.

According to the projections in the forecast, the district's

revenue will be $265.6 million in 2022, $275.8

million in 2023, $279.5 million in 2024, $282 million in

2025 and $286.8 million in 2026.

In light of the news that the district's revenue is

projected to be eclipsed by its expenditures soon, board

member David Donofrio asked whether that meant the

district will be looking to place a levy on the ballot in

the future.

Superintendent Dr. Bill Wise said they see no need

to do so unless there is a huge decrease in enrollment

numbers or something catastrophic happens with the

economy.

"At that point anything is up for grabs but I think

we're in good shape for the meantime," said Wise.

Santa's Swinging Spaghetti Supper

The Grove City High School Jazz Band will host

Santa's Swinging Spaghetti Supper from 6:30 to 8:30

p.m. Dec. 9 at 4665 Hoover Road. Tickets are $15. To

purchase advance tickets or for more information,

email sssupper@gchsbands.org.
---
www.columbusmessenger.com November 28, 2021 - WESTSIDE MESSENGER - PAGE 5

Graduation rates on the rise in local school district

By Dedra Cordle

Staff Writer

Produce giveaway

The Hilltop YMCA hosts a fresh produce

giveaway the third Wednesday of each

month from 4 to 6 p.m. at 2879 Valleyview

Drive in Columbus. For more information,

call the YMCA at 614-276-8224.

community events

The overall graduation rate continues to

trend upward in the South-Western City

Schools District.

According to Dr. Brian Bowser, the district's

assistant superintendent of curriculum,

early data shows that 88.41 percent of

the students in the class of 2021 have graduated,

up slightly from the 87.5 percent of

the class from the years prior.

"That is an all-time high for this district,"

he reported at a recent board of education

meeting.

He later added that while that figure is

lower than where the district would like to

be, the continued growth from years past is

a positive indicator of the progress that is

being made.

Dr. Erik Shuey, the district' executive

director of high schools, said the positive

trend can be partially attributed to intervention

programs that are designed to help

students who are struggling academically.

"We have implemented credit recovery

programs which allows the student to

make up for lost credits and we have student

support liaisons to help those students

along the way," he said.

Shuey also said that technology has

played a vital role in helping the district

find students who are falling behind, using

that data to help them "where they are at"

so they can provide resources to assist

them along the way to educational recovery.

"We are able to find, in real-time, who

needs help and how we can provide it to

them," he said. "That is a wonderful tool for

us to use."

He also added that each high school has

career readiness advisors with I Know I

Can who can provide additional resources

and intervention when needed.

While the district is celebrating an alltime

high for its graduation rate, officials

said more has to be done to raise the overall

rates and percentages at individual

schools.

According to the 2020-21 data pulled

from the Ohio Department of Education's

school report card website, Central

Crossing graduated 90.3 percent of its

class, Grove City graduated 90.8 percent,

Franklin Heights graduated 83.1 percent,

and Westland graduated 84.4 percent.

When asked about the lower percentage

of graduates at Franklin Heights and

Westland, Shuey said these schools have

different demographics and needs than

their counterparts across the city. He mentioned

that Westland has the highest percentage

of students who identify as English

Language Learners, which can sometimes

contribute to learning gaps. Shuey said the

district continues to work on narrowing

both those learning gaps and the graduation

rate gap between the four high schools.

Future graduating classes were also discussed

at the board meeting, specifically

the changes they will see with graduation

requirements on the horizon.

The class of 2022 will continue on its

current course, while there will be variations

for the class of 2023 and beyond.

For its part, the district will require 21

credits to graduate. Students will also be

required to take a half-credit course in

financial literacy, which is mandated by

the state. Bowser said the district has

already been offering financial literacy

courses, but they plan to provide "more

robust" implementation components for its

students.

The state is allowing several pathways

with its long-term graduation requirements.

In addition to the district's standard

credits, the state will also require

future graduates to demonstrate competency

on the state's tests, meaning they would

have to score a minimum of 684 on Algebra

I and English Language Arts II.

Should students be unable to demonstrate

competency with those tests, they

can choose an alternative pathway toward

graduation with a remediation free score

on the ACT or SAT, military enlistment, or

college credit plus and career readiness

programs.

Another graduation pathway allowable

by the state is a demonstration of readiness

via state and locally defined diploma seals.

Under the requirements, students will

have to earn two seals — it could either be

two state seals or one state seal and one

locally defined seal. According to Shuey, it

cannot be two locally defined seals.

The state defined seals are:

OhioMeansJobs readiness, biliteracy, an

industry recognized credential, a college

ready seal, or military enlistment.

Additional seals include science, honors

diploma, technology, and citizenship.

The locally defined seals are community

service, fine and performing arts, and student

engagement. To earn a community

service seal, the class of 2025 and beyond

will have to complete 80 hours of community

service, or 20 hours per year. The class of

2023 and 2024 can also receive this seal

with prorated hours of 40 hours and 60

hours, respectively. Shuey said the seal

will have to be completed with an approved

charitable organization, which is preferably

located and registered as a non-profit

Free lunch at UHMC

The United Hilltop Methodist Church

will host a free community lunch every

Friday from 11 a.m. to 1 p.m. The church is

located at 99 S. Highland Ave.

in the state.

To earn a fine and performing arts seal,

students must earn at least two credits of

approved fine arts electives in one or more

of the following disciplines: visual arts,

dance, drama/theater, music or media arts

during high school. A seal can also be

earned by participating in two full seasons

of a board approved fine and performing

arts extracurricular activity or two drama

or musical performances. Additional

allowances include receiving an excellent

or superior rating in an Ohio Music

Education Association solo and/or ensemble

event; an art submission of any local,

state, or national art show that receives an

award or special commendation; or participate

in a minimum of two performances

WESTGATE UNITED

METHODIST CHURCH

61 S. Powell Ave., Columbus,OH 43204

614-274-4271

Come - Let's Worship Together!

Worship Service 9:00 a.m.

Sunday School 10:00 a.m.

Visit Our Facebook Page for our

Livestream Worship

www.spreaker.com - Kevin Orr Show

or Kevinsreflections.blogspot.com

westgateumc@sbcglobal.net

GLENWOOD UM CHURCH

2833 Valleyview Dr.

(Corner of Valleyview & Hague Ave.)

(614) 274-8469

Pastor Leo A. Cunningham

Join us for In-Person Sunday Worship at

10:45 a.m. or Join us for

Online Worship at Glenwood UMC YouTube

http://tinyurl.com/GlenwoodUMC

And be inspired every Monday at 10:00 am

when "Chapel Guy" (Pastor Leo) shares

stories for the Children.

(drama or musical anytime over four

years), serving in the capacity of cast member,

tech crew or stage crew.

To earn a student engagement seal, students

must have at least 40 hours of documented

participation in board approved

extracurricular activities during high

school or 20 hours for students who transfer

to the district for their senior year.

Eligible activities include interscholastic

sports, marching band, cheerleading,

JROTC, show choir, student government,

or seal eligible school clubs.

Bowser said while changes will be coming

to the state's graduation requirements,

he believes the district can continue its

upward trend of improving its graduation

rate.

HOGE MEMORIAL

PRESBYTERIAN CHURCH

2930 W. Broad St., Columbus, Ohio 43204

Sundays at 10:30 a.m.

In Person Worship

Live Streaming Sunday Worship Service

at 10:30 a.m. on Hoge Facebook Page

Worship & Free Meal

Saturdays at 5:00 p.m.

www.hogemempresby.org

Please visit the

Westside Church

of your choice.

List your Worship

Services here.

For info. call 614-272-5422

Be a Part of Our Local Worship Guide

Our upcoming Worship Guide is geared toward celebrating faith and helping readers connect with

religious resources in our community. Make sure these readers know how you can help with a presence in

this very special section distributed to more than 25,000 households in the Westside area.

Contact us today to secure your spot in our Worship Guide.

614.272.5422 • kathy@columbusmessenger.com

Messenger

Westside
---
PAGE 6 - WESTSIDE MESSENGER - November 28, 2021

e Messenger newspaper's

delivery process is changing

Home delivery of your Westside Messenger newspaper is

changing in December.

As of our Nov. 28 edition, you will receive your Westside

Messenger newspaper free in the The Bag delivered in certain

areas to your home on Thursdays.

If you are a paid subscriber to the Sunday Columbus Dispatch,

you will continue to receive your Westside Messenger with your

Sunday Dispatch.

The Westside Messenger will also be available for pick-up at no

cost at numerous locations around the community.

Paid subscriptions are available if you would like to have the

Westside Messenger mailed directly to your home. Paid subscriptions

cost $52 for 26 issues. Mail your subscription check, payable

to Columbus Messenger, to 3500 Sullivant Avenue, Columbus,

OH 43204.

For all of those who have already purchased a paid subscription,

you will start receiving your notice that your subscription

will be concluding well in advance of the expiration date. We sincerely

thank you for being a paid subscriber and for the very many

of you who have made voluntary payments over these many years

we greatly appreciate your support as well.

Readers and advertisers can always access our e-editions on

our website, which is constantly showing a growing following. We

have many likes on Facebook and Twitter social media as well

with a growing number of readers liking us and the following on

particular stories is amazing. We thank and salute our e-edition

readers as well!

The Westside Messenger staff appreciates our loyal readers

and advertisers and we will continue to bring you the best in local

news coverage, feature stories, and photos.

We enjoy being part of the community.

Hilltop

History &

Heritage

This photo features (from

left to right) Nancy Wilson,

Roger Germany, and

Clarence Potts on April 10,

1971. Nancy Wilson, the

jazz and pop singer/stylist

and 1954 graduate of West

High School, had given a

performance at Veterans

Memorial benefitting the

Hilltop Civic Council. At the

time, Roger Germany was

executive director of the

organization and Clarence

Potts was the board president.

Wilson's career

spanned five decades, in

which she earned both

Emmy and Grammy awards.

She died in 2018. If you

have a photo to share, contact

Stacy Berndsen-

Campbell at stacyberndsen12@gmail.com.

www.columbusmessenger.com

Hilltop Library - 511 S. Hague Ave.

United Dairy Farmers - Hague & Sullivant Ave.

BP Gas Station - Hague & Sullivant Ave.

Alex Carry-Out - Binns & Sullivant Ave.

Shifflet Auto Care - 3374 Sullivant Ave.

Dollar General - Kingsford & Sullivant Ave.

Dollar General - Georgesville & Atlanta

M & S Carryout - Georgesville & Atlanta

United Dairy Farmers - Georgesville & Parkwick by Freeway

Thorton's Gas Station - Georgesville Rd. & Norton Rd.

Shell Gas Station - Georgesville Rd. & Norton Rd.

Kroger - Georgesville Square

Turkey Hill - Georgesville Rd. & Clime Rd.

United Dairy Farmers - Clime & Demorest Rd.

Walgreens - Clime & Demorest Rd.

Messenger

Westside

BEST COMMUNITY NEWSPAPER on the Westside

Pick-Up At These Locations:

Certifed Gas Station - Briggs & Demorest

Kroger - Eakin & Harrisburg Pike

Speedway Gas Station - Eakin & Harrisburg Pike

Heartland Bank - Great Western Shopping Center

BP Gas Station - Wilson Rd. & Lowell

Speedway Gas Station - Wilson Rd. & Lowell

Certified Gas Station - Broad St. & Orel

Walgreens - Hague & Broad St.

Circle K Gas Station - Georgesville Rd. & Industrial Mile Rd.

Marathon Gas Station - Georgesville Rd. & Industrial Mile Rd.

La Plaza Tapatta - Georgesville Rd. & Hollywood

BP Gas Station - Georgesville Rd. & Broad St.

Westland Library - Lincoln Village Plaza

Giant Eagle - Lincoln Village Plaza

Thorton's Gas Station - 4990 W. Broad St.

READ US ONLINE: www.columbusmessenger.com

Walgreens- Broad St. & Galloway Rd.

Kroger - Broad St. & Galloway Rd.

Aldi Store - Broad St. & Westwood

CVS Drug Store - Norton Rd. & Hall Rd.

United Dairy Farmers - Norton Rd. & Hall Rd.

Circle K Gas Station - Norton Rd. & Hall Rd.

Dollar General - Norton Rd. & Hall Rd.

Marathon Gas Station - Broad St. & Murry Hill Rd.

Speedway Gas Station - Broad St. & Murry Hill Rd.

Dollar Tree - Broad St. & Murry Hill Rd.

Speedway Gas Station - Broad St. & Freeway

Sheetz Gas Station - Westland Mall

Speedway Gas Station - Broad St. & Wilson Rd.

Kroger - Consumer Square Shopping Center

Franklin Township Business Office - 2193 Frank Rd.
---
www.columbusmessenger.com

In Entertainment

Too much fan service in film

The definition of fan service is material in a work of

fiction which is intentionally added to please the audience

— in particular, a certain sector of said audience.

While all creators are guilty of succumbing to the

demand of fan service from time to time, some go

above and beyond the occasional throwing of the bone,

much to the detriment of their own product.

The issue that arises when creators blatantly pander

to a small crowd within a larger crowd is they run

the risk of alienating those who may not be as enamored

or well-versed in the references, call-backs, and

hidden eggs tucked away for a select few to enjoy.

Some artists are talented enough to thread that fine

line, creating a nice balance that makes both sides feel

good about what they have read or watched. Most,

however, are not.

Writer and director Jason Reitman is a great example

of an artist who is talented enough to thread fine

lines, especially when he is bringing the divisive work

of screenwriter Diablo Cody to life as he did with the

underappreciated classics "Tully" and "Young Adult."

While there is no doubt in my mind of his skill as a storyteller,

I do have to admit it was a bit of a head

scratcher when he was initially hired to bring the

"Ghostbusters" franchise back from the dead.

For some background, Jason Reitman is the son of

Ivan Reitman, the original director and co-creator of

the 1984 supernatural comedy which became a globally

beloved phenomenon and a staple in the pop culture

lexicon. Much of his childhood was shaped by his

father's experience working within this world and that

does not exactly give him a high level of objectivity

when it comes to fixing some issues found in the first

two films.

After thinking the decision over for a bit, I realized

why the studio chose him out of everyone else to revive

the franchise — fan service via last name recognition.

In 2016, this franchise and the creators behind it

took a massive beating when a rebooted version dared

to not only be comprised of four women to the busters

of ghosts but to not show the appropriate level of reverence

needed for a cultural icon.

Much of the criticism levied its way was absurd and

disheartening but the voices were affecting, making

the studio shy away from bold choices and cling to the

familiar.

And that is, in essence, what "Ghostbusters:

Afterlife" is; something different, but familiar, like

finding an old, favored sweater of yours at the store

but in a new color. While Jason Reitman and co-writer

Gil Kenan (of the re-booted "Poltergeist", if that

inspires confidence) try to infuse the story with some

new ideas, it is ultimately a re-telling of the original

story but sprinkled with heaps of fan service.

The film begins promisingly enough with a man

being chased through the plains by an entity of

unknown origin. Though shadows cover his face and

body, we know he is the great Dr. Egon Spengler who

has seemingly lost his mind somewhere between New

York City and his ramshackle farm in Oklahoma. In

the aftermath of this event, he sacrifices his life as the

creature comes near, making sure it stays locked up in

a ghost trap, hopefully never to be seen again.

The film then switches from this cramped but

sprawling farmhouse to a cramped and decidedly not

sprawling apartment where we find mom Callie

(Carrie Coon), teen son Trevor

(Finn Wolfhard), and precocious

tween Phoebe (Mckenna Grace)

getting evicted. As luck would

have it, the family has just

inherited the homestead of

Callie's estranged father

though the film often plays coy

with their relation to Egon for much longer than is

cute.

Once there, they begin to suspect that strange

things are afoot both within the creepy home and within

the community of Summerville. For starters,

Phoebe's chessboard comes alive at night, earthquakes

keep rippling across the land, and growling noises are

heard coming from the abandoned selenium mine once

owned by the demon-friendly developer Ivo Shandor

(J.K. Simmons in a cameo role).

Though Callie would prefer to stay oblivious to the

goings-on — after all, she has a massive home restoration

project to do — the siblings set out to unlock the

secrets of the town with the help of local teen Lucky

(Celeste O'Connor), child podcaster Podcast (Logan

Kim) and lackadaisical teacher Gary Grooberson

(played to perfection by Paul Rudd).

Had this film decided to solely focus on this unusual

group of people as they fought ghosts hell-bent on overtaking

the world, it may have turned out a little bit

better. But where it starts to go off the rails is in the

latter half of the film when they discover all of the

known ghostbusting gadgets and review grainy

footage of the exploits of the original GB's — their

actions long forgotten in the annals of history.

While most fans of the original films may love all

the eggs thrown their way, it begins to bog down the

entire film as it has to stop every three minutes to do

close ups of the equipment, peek-throughs of known

ghosts, and tease the appearance of the living original

Ghostbusters. (Harold Ramis, who played Egon

Spengler in the original films, died in 2014.)

As I said before about fan service, there is a balance

to be had but there is none to be found in

"Ghostbusters: Afterlife." It tilts heavily in the retread

arena, hitting all the plots and points of the original

movie despite the new and younger cast. Sometimes it

feels as if the studio was pulling it back into more

familiar territory, still reeling, perhaps, from the

booming voices of angry fans lingering like a specter.

Overall, this film is a miss of the proton stream but

that doesn't mean it doesn't have some merit; it features

some great practical effects, has strong acting

from the cast (Rudd and Grace in particular), and it

has moments of humor though it does not fully

embrace its own history of silliness. It's just not that

memorable, which isn't always a bad thing.

Grade: C

The Reel Deal

Dedra Cordle

Dedra Cordle is a Messenger staff writer and

columnist.

November 28, 2021 - WESTSIDE MESSENGER - PAGE 7
---
PAGE 8 -- WESTSIDE MESSENGER - November - 28, 28, 2021 2021

PT gives update on complex

By Amanda Ensinger

Staff Writer

Prairie Township is contemplating the future of its sports complex

and recently held a special meeting on the matter.

At the meeting, Prairie Township Administrator Rob Peters

started by giving some background on the property.

"The 111 acres was purchased in 2013 by the Prairie Township

trustees for $600,000," Peter said. "Under $3 million in grants

were received for development of the park and $1.6 million was

allocated to the park by the township. The Galloway Baseball

Club has donated $790,000 to date, which has helped to expedite

building more fields, including high school and youth diamonds

with turf infields that are under construction now."

Residents provided feedback on improvements and revisions

they would like to see to the park, including the need for turning

lanes on Galloway Road. Residents also asked about drainage, as

well as plans for the remaining fields on the property.

"There will be drainage installed," said Dave McAninch, service

director for the township. "The Galloway Baseball Club also plans

to convert the remaining four fields to turf over the next two

years."

Leadership also said there are no plans to purchase acreage for

sale next to the complex.

Pets of the week

Apollo is a sweet 9-month-old girl who loves

to spend time with her human. She needs a lot

of company to make her feel loved. You will

know when she is happy because she will

drool on you. Apollo loves to play chase and

wrestle with kittens and young cats. She tends

to cuddle with any feline that lets her in her

current home. She is good with cats, dogs,

adults, and older children. Younger children

unknown. Must have a companion animal or

stay at home person. Apollo is up for adoption

through Friends for Life Animal Haven.

FYI: fflah.org

Baybee is a beautiful, petite girl with large

inquiring eyes and the sweetest meow. She is

about 6 years old. Baybee is one of 15 cats

surrendered to Colony Cats after their owner

passed away. Baybee is so deserving of a

second chance. She is spayed, microchipped,

FL/FIV tested and up to date on vaccines.

FYI: colonycats.org

These furry friends are

available for adoption at

local rescues and shelters

www.columbusmessenger.com

Pumpkin is an 8-

year-old mixed

breed. He is a shy

dog who is still

adjusting to being in

the shelter. At the

shelter, he has been

quiet and reserved.

Once settled in a new home, he may relax

and become more social, or he may need a

little more time and patience to come out of

his shell. Pumpkin is up for adoption at the

Franklin County Dog Shelter.

FYI: franklincountydogs.com

Alden is a 3-year-old

mixed breed. He is a

naturally playful, curious,

and trusting

canine. Alden would

love someone who

could take him out for

daily walks and give

him a job. He also enjoys just hanging out and

cuddling on the couch. Alden is eager to

please and waiting for his forever home.

Adopt him from the county shelter.

FYI: franklincountydogs.com

CLASSIFIED ADS

Deadlines: Groveport and West editions, Wednesdays at 5 p.m., • South/Canal Winchester, Grove City, Madison editions, Tuesdays at 5 p.m.

All editions by phone, Tuesdays at 5 p.m. • Service Directory, Tuesdays at 5 p.m.

xCraft Shows

Craft Shows

CRAFT SHOWS

WESTLAND BAND

BOOSTERS

HOLIDAY BAZAAR

Galloway Kroger

Parking Lot

Dec. 4 & 5, 11 & 12

Sat. 10am-5pm

Sun. 12pm-5pm

Gnomes, Evergreen Swags

Holiday Decor,

Basket Raffles & more

Christmas trees

unavailable this year

INFORMATION

FALL INTO

A NEW HAIR STYLE!!

Come See Me At

My New Location!

Call Marilyn Weaver

For An Appt.

For a New Haircut/Color

614-348-6670

Relax Wellness

3663 Broadway

Grove City

ASSOCIATION ADS

LONG DISTANCE MOVING:

Call Today for a FREE

QUOTE from America's Most

Trusted Interstate Movers.

Let us take the stress out of

moving! Call now to speak to

one of our Quality Relocation

Specialists: 844-436-0873

Don't let the stairs limit

your mobility! Discover

the ideal solution for

anyone who struggles on

the stairs, is concerned

about a fall or wants to

regain access to their

entire home. Call

AmeriGlide today! 1-844-

317-5246

ENJOY 100% guaranteed,

delivered-to-the-door Omaha

Steaks! Get 8 FREE Filet

Mignon Burgers! Order the

Delightful Gift this holiday

season - ONLY $99.99 CALL

1-888-409-0645 and mention

code 65658LQY or visit

www.omahasteaks.com/

thegift1107

ASSOCIATION ADS

Business Owners.

Eliminate credit card

processing fees 100%,

pass on a legal 4% noncash

charge to the

customer. Chain stores

welcome. 337-849-8083

Long Distance moving.

Call for a free quote from

America's Most Trusted

Interstate Movers. Let us

take the stress out of

moving! Speak to a

relocation specialist! Call:

888-721-2194

Stop worrying! SilverBills

eliminates the stress &

hassle of bill pmts.

Household

bills

guaranteed to be paid on

time as long as

appropriate funds are

available. No computer

necessary. Free trial/

custom quote 1-855-703-

0555

HughesNet - Finally, superfast

internet no matter

where you live. 25 Mbps

just $59.99/mo! Unlimited

Data is Here. Stream

Video. Bundle TV &

Internet. Free Installation.

Call 866-499-0141

Looking for assisted living,

memory care, or

independent living? A

Place for Mom simplifies

the process of finding

senior living at no cost to

your family. Call 1-833-

910-1576 today!

!!OLD GUITARS WANT-

ED!! GIBSON, FENDER,

MARTIN, Etc. 1930's to

1980's. TOP DOLLAR

PAID. CALL TOLL FREE

1-866-433-8277

xEmployment

PART-TIME

DELIVERY PEOPLE

NEEDED!

Looking for delivery people

to deliver our

Messenger Newspapers

to store locations 2 times per

month. Approx. 2 hour delivery time.

GREAT PAY - GREAT HOURS

CONTACT: DOUG HENRY

doughenry@

columbusmessenger.com

Employment
---
www.columbusmessenger.com

November 28, 2021 - WESTSIDE MESSENGER - PAGE 9

CLASSIFIED ADS

Deadlines: Groveport and West editions, Wednesdays at 5 p.m., • South/Canal Winchester, Grove City, Madison editions, Tuesdays at 5 p.m.

All editions by phone, Tuesdays at 5 p.m. • Service Directory, Tuesdays at 5 p.m.

xEmployment

OPEN INTERVIEWS

ON WEDNESDAYS 10AM-1PM

UP TO $ 19.00/HR + NO MANDATORY OT

$

2000 SIGN ON BONUS + INCENTIVE OPPORTUNITIES

1568 Georgesville Rd. Columbus 43228

APPLY PRIOR @ JOBS.MSCDIRECT.COM

Applicants must sucessfully pass a background check and drug screen.

Equal Opportunity Employer: Minority, female, veteran, individuals with disabilities, sexual orientation/gender identity.

WANTED

• Host/Hostess

• Retail Sales • Back-Up Cooks

• Dishwashers • Servers • Grill

You Can Work 29+ Hrs. Based on

Your Availability & Performance

Immediate Full/Part-time Openings

We Offer:

• Weekly Pay

• Paid Training

• No Tip Sharing

• Paid Vacation

• Employee Meal Discount

• Position/Salary Advancement Plan

• Discount Purchase Plan

Apply online at crackerbarrel.com/careers for

Grove City Location 614-871-1444

ASSOCIATION ADS

Become a Published

Author. We want to Read

Your Book! Dorrance

Publishing Trusted by

Authors Since 1920 Book

manuscript submissions

currently being reviewed.

Comprehensive Services:

Consultation, Production,

Promotion and Distribution.

Call for Your Free Author's

Guide 1-866-482-1576 or

visit http://dorranceinfo.

com/macnet

Replace your roof with the

best lookng and longest

lasting material! Steel

from Erie Metal Roofs!

Three styles and multiple

colors available.

Guaranteed to last a

lifetime! Limited Time

Offer - $500 Discount +

Additional 10% off install

(for military, health

workers & 1st responders)

Call Erie Metal Roofs: 1-

855-338-4807

DO YOU HAVE

A POSITION

TO FILL?

ADVERTISE IT!

Call

Kathy

At The

Columbus

Messenger

For Rates

272-5422

BETTY'S

Elderly Care

Has An Opening for

Part-Time Experienced Caregiver

Transportation, Drug Test & Refs. Required.

Call: 614-777-5850

ASSOCIATION ADS

Stroke & Cardiovascular

disease are leading

causes of death according

the American Heart

Association. Screenings

can provide peace of mind

or early detection! Call

Life Line Screening to

schedule your screening.

Special offer - 5

screenings for $149. 1-

866-518-8391

Donate Your Car To

Veterans Today! Help and

Support our Veterans.

Fast - FREE pick up.

100% tax deductible. Call

1-800-245-0398

ASSOCIATION ADS

Looking for assisted living,

memory care, or

independent living? A

Place for Mom simplifies

the process of finding

senior living at no cost to

your family. Call 1-833-

386-1995 today!

Elminate gutter cleaning

forever! LeafFilter, the most

advanced debris-blocking

gutter protection. Schedule

Free LeafFilter Estimate

today. 15% off Entire

Purchase. 10% Senior &

Military Discounts. Call 1-

855-995-2490

Employment

$600.00

MONTHLY BONUS

POTENTIAL

NOW HIRING

All Shifts

Apply in person or online at

3301 Toy Rd., Groveport, OH

skfoodgroup.com

Starting Pay $15.00 up to $30.00
---
PAGE 10 - WESTSIDE MESSENGER - November 28, 2021

xPublic Notices

www.columbusmessenger.com

xAdult Care

PRAIRIE TOWNSHIP

BOARD OF ZONING APPEALS

PUBLIC HEARING NOTIFICATION

December 14, 2021 at 7:00 P.M., at the

Prairie Township Hall, 23 Maple Dr.

Variance Application No. 664-VA-21 – Parcel No. 240-004015, 4766 W Broad Street,

Columbus, Ohio 43228. To grant a Variance from the provisions of Section 1809 (Signs);

to permit the tenant to install a sign with a logo that is greater in size than permitted by

the Zoning Resolution in the West Broad Street Corridor Overlay District.

Variance Application No. 665-VA-21 – Parcel No. 240-006552, 240-006552 Alton Road,

Galloway, Ohio 43119. To grant a Variance from the provisions of Sections 820 (Rural

District) and 930 Table 2 (Dimensional Requirements); to permit the owner to split an

existing parcel into two newly created parcels with less lot area and road frontage than

required by the Zoning Resolution in the Rural District.

Variance Application No. 666-VA-21 – Parcel No. 241-000890, 7809 Feder Road,

Galloway, Ohio 43119. To grant a Variance from the provisions of Section 937 (Height

Limitation Exceptions); to permit the owner to construct an accessory structure with

greater height than permitted by the Zoning Resolution in the SER (Suburban Estate

Residential) District.

PRAIRIE TOWNSHIP

BOARD

APPOINTMENTS

The Prairie Township Board of Trustees is

accepting letters of interest from residents for

board appointments on the Prairie Township

Board of Zoning Appeals and the Prairie

Township Zoning Commission. Volunteers

must live in the Township.

Submit letters of interested to:

Prairie Township Commercial Building

& Zoning Department

25 Maple Drive, Columbus, Ohio 43228

No later than December 3, 2021

ASSOCIATION ADS

Internet &WIFI Starts at

$49 Call us Today to Get

Started. Find High-Speed

Internet with Fiber Optic

Technology No Credit

Check, No SSN Required.

Call us Today 866-396-

0515

HOME BREAK-INS take

less than 60 SECONDS.

Don't wait! Protect your

family, your home, your

assets NOW for as little as

70¢ a day! Call 866-409-

0308

AMERICAN & FOREIGN

CLASSIC CARS AND

MOTORCYCLES

WANTED. $$PAYING

CA$H$$ Corvettes,

Mustangs, Jaguars, Austin

Healeys, Broncos,

Blazers, Ram Chargers,

AMX, and Triumphs

KRMiller1965@yahoo.com

717-577-8206

ASSOCIATION ADS

Wants to purchase minerals

and other oil and gas

interests. Send details to

P.O. Box 13557, Denver,

CO. 80201

Update your home with

beautiful new blinds &

shades. Free in-home

estimates make it

convenient to shop from

home. Professional

installation. Top quality -

Made in the USA. Free

consultation: 877-212-

7578. Ask about our

specials!

Looking for auto insurance?

Find great deals

on the right auto insurance

to suit your needs.

Call today for a free

quote! 866-924-2397

IMPORTANT

NOTICE

The following states: CA,

CT, FL, IA, IL, IN, KY,

LA, MD, ME, MI, MN,

NE, NC, NH, OH, OK,

SC, SD, TX, VT and WA

requires seller of certain

business opportunities to

register with each state

before selling. Call to

verify lawful registration

before you buy.

ASSOCIATION ADS

Donate your car to kids!

Fast free pickup running

or not - 24 hour response.

Maximum tax

donation. Help find missing

kids! 877-831-1448

DENTAL INSURANCE

from Physicians Mutual

Insurance Company.

Coverage for 350 plus

procedures. Real dental

insurance - NOT just a

discount plan. Do not wait!

Call now! Get your FREE

Dental Information Kit with

all the details! 1-877-553-

1891

www.dental50plus.com/

macnet#6258

DISH TV $64.99 190

Channels + $14.95 high

speed internet. FREE installation,

Smart HD DVR

included. Free Voice Remote.

Some Restrictions

apply. Promo Expires

1/21/22. 1-833-872-2545

Wesley Financial Group,

LLC Timeshare Cancellation

Experts Over

$50,000,000 in timeshare

debt & fees cancelled in

2019. Get free

informational package &

learn how to get rid of

your timeshare! Free

consultations. Over 450

positive reviews. 888-965-

0363

The Generac PWRcell, a

solar plus battery storage

system. SAVE money,

reduce your reliance on

the grid, prepare for power

outages and power

your home. Full installation

services available. $0

Down Financing Option.

Request a FREE, no obligation,

quote today. Call

1-855-900-2894

Public Notices

Southwest Public Libraries

seeks a qualified candidate to fill a

vacancy on the Board of Trustees.

The term expires on December 31, 2027.

A trustee must be at lest 18 years old

and a resident of the

South-Western City School District.

All library trustees serve without

compensation. Interested candidates

should submit resumes and cover

letters by Dec. 15, 2021 to:

Library Director Board Candidate Search

Southwest Public Libraries

3959 Broadway Grove City, Ohio 43123

ASSOCIATION ADS

SELL YOUR ANTIQUE

OR CLASSIC CAR.

Advertise with us. You

choose where you want

to advertise. 800-450-

6631 visit macnetonline.

com for details.

New authors wanted!

Page Publishing will help

self-publish your book.

Free author submission

kit! Limited offer! 866-

951-7214

The bathroom of your

dreams for as little as

$149/month! BCI Bath &

Shower. Many options

available. Quality

materials & professional

installation. Senior &

Military Discounts

Available. Limited Time

Offer - FREE virtual inhome

consultation now

and SAVE 15%! Call

Today! 1-877-540-2780

Pest Control

Find Pest Control Experts

Near You! Don't let

pests overtake your

home. Protect your loved

ones! Call today to find

great deals on Pest

Control Services - 833-

872-0012

BATH & SHOWER UP-

DATES in as little as

ONE DAY! Affordable

prices - No payments for

18 months! Lifetime warranty

& professional installs.

Senior & Military

Discounts available. Call

855-761-1725

The Generac PWRcell

solar plus battery storage

system. Save money,

reduce reliance on

grid, prepare for outages

& power your home. Full

installation services. $0

down financing option.

Request free no obligation

quote. Call 1-855-

270-3785

HughesNet Satellite Internet

- Finally, no hard

data limits! Call today for

speeds up to 25mbps as

low as $59.99/mo! $75

gift card, terms apply. 1-

844-863-4478

ASSOCIATION ADS

DISH TV $64.99 FOR 190

Channels + $14.95 High

Speed Internet. Free Installation,

Smart HD DVR

Included, Free Voice Remote.

Some restrictions

apply. Promo expires

1/21/22. 1-855-270-5098

Want Faster & Affordable

Internet? Get internet

service today with

Earthlink. Best internet &

WiFi Plans. Call us Today

to Get Started. Ask

about our specials! 866-

396-0515

Eliminate gutter cleaning

forever! LeafFilter, the

most advanced debrisblocking

gutter protection.

Schedule a FREE LeafFilter

estimate today. 15% off

Entire Purchase. 10% Senior

& Military Discounts.

Call 1-855-791-1626

HEARING AIDS!! Bogo

free! High-quality rechargeable

Nano hearing

aids priced 90% less

than competitors. Nearly

invisible! 45-day money

back guarantee! 833-

669-5806

Directv Now. No Satellite.

$40/mo 65 Channels.

Stream news, live

events, sports & on demand

titles. No contract/

commitment. 1-866-825-

6523

Life Alert. One press of a

button sends help fast

24/7! At home and on

the go. Mobile Pendant

with GPS. Free first aid

kit (with subscription).

877-537-8817 Free brochure

NEED IRS RELIEF

$10K-$125K+ Get Fresh

Start or Forgiveness.

Call 1-844-431-4716

Monday through Friday

7am-5pm PST

HEARING AIDS!!

Buyone/get one FREE!

Nearly invisible, fully rechargeable

IN-EAR

NANO hearing aids

priced thousands less

than competitors! 45-day

trial! Call1-877-436-0234

advertise

YOUR

ADULT

CARE

SERVICES

Call Kathy

at The

Messenger

For More Info

614-272-5422

ASSOCIATION ADS

Train online to do medical

biling! Become a Medical

Office Professional at CTI!

Get trained & certified to

work in months! 888-572-

6790. The Mission,

Program Information and

Tuition is located at

CareerTechnical.edu/cons

umer-information. (M-F 8-

6 ET.

DENTAL INSURANCE-

Physicians Mutual Insurance

Company. Covers

350 procedures. Real

insurance - not a discount

plan. Get your free

dental Info kit! 1-888-

623-3036 . www.dental50plus.com/58

#6258

GENERAC Standby

Generators provide

backup power during

power outages, so your

home & family stay safe &

comfortable. Prepare now.

FREE 7-yr extended

warranty $695 value!

Request a free quote

today. Call for terms &

conditions. 1-844-334-

8353

Stroke & Cardiovascular

disease are leading

causes of death according

the AHA. Screenings can

provide peace of mind or

early detection! Call Life

Line Screening to

schedule a screening.

Special offer 5 screenings

for $149.. 1-833-549-4540

Thinking about installing

a new shower? American

Standard makes it

easy. FREE design consulation.

Enjoy your

shower again! Call 1-

833-769-0995 today to

see how you can save

$1,000 on installation, or

visit www.newshowerdeal.com/mac

Windsong is committed to providing

high quality, loving care, and affordable

home care services to our clients. With our

assistance, clients can lead

dignified and independent lives in the

comfort of their own home.

Individual needs are carefully assessed,

understood, and met through the selective

assignment of quality, trustworthy and

compassionate service-oriented personnel.

Give us a call today for a free in-home

assessment or visit our website at

www.windsongseniorcare.com

614-820-5000

Adult Care

ASSOCIATION ADS

VIAGRA & CIALIS! 60

pills for $99. 100 pills for

$150 FREE shipping.

Money back guaranteed!

1-844-596-4376

Attention oxygen therapy

users! Inogen One G4 is

capable of full 24/7 oxygen

delivery. Only 2.8

pounds. Free info kit.

Call 877-929-9587

Protect your home w/home

security monitored by

ADT. Starting at $27.99/

mo. Get free equipment

bundle including keypad,

motion sensor, wireless

door & windows sensors.

833-719-1073

Attention: If you or aloved

one worked around the

pesticide Roundup

(glyphosate) for at least 2

years and has been diagnosed

with non-Hodgkin's

lymphoma, you may be

entitled to compensation.

855-341-5793

READY TO BUY, SELL

OR RENT YOUR

VACATION HOME OR

HUNTING CAMP?

Advertise it here and in

neighboring publications.

We can help you. Contact

MACnet MEDIA @

800-450-6631 or visit our

site at MACnetOnline.

com

AT&T Internet. Starting

at $40/month w/12-mo

agmt. 1 TB of data/mo.

Ask how to bundle &

SAVE! Geo & svc restrictions

apply. 1-888-796-

8850

VIAGRA and CIALIS

USERS! 50 Generic pills

SPECIAL $99.00 FREE

Shipping! 100% guaranteed.

24/7 CALL NOW!

888-445-5928 Hablamos

Espanol

ASSOCIATION ADS

READER

ADVISORY

The National Trade Association

we belong to has

purchased the following

classifieds. Determining

the value of their service

or product is advised by

this publication. In order

to avoid misunderstandings,

some advertisers do

not offer "employment"

but rather supply the

readers with manuals, directories

and other materials

designed to help

their clients establish mail

order selling and other

businesses at home. Under

NO circumstance

should you send any

money in advance or give

the client your checking,

license ID or credit card

numbers. Also beware of

ads that claim to guarantee

loans regardless of

credit and note that if a

credit repair company

does business only over

the phone it's illegal to request

any money before

delivering its service. All

funds are based in US

dollars. Toll Free numbers

may or may not

reach Canada. Please

check with the Better

Business Bureau 614-

486-6336 or the Ohio Attorney

General's Consumer

Protection Section

614-466-4986 for more

information on the company

you are seeking to

do business with.
---
www.columbusmessenger.com

e

xCome & Get It!

November 28, 2021 - WESTSIDE MESSENGER - PAGE 11

xClassified Services

.

COME AND GET IT

Deadlines are Tuesdays by 5 pm.

Call For Publication Schedule 614-272-5422

Need to Get Rid of Something Fast - Advertise It Here For FREE!

FREE Garden Straw for gardens or bedding. Call for appointment for pickup.

Circle S Farms, 9015 London-Groveport Road, Grove City, 43123

Grove City - 614-878-7980

WOOD from two trees that we cut down two years ago. FREE.

Call me and let me know when you canp ick it up.

TH - Canal Winchester - 614-949-8963

Come and Get It! is a bi-weekly column that offers readers an opportunity to pass

along surplus building materials, furniture, electronic equipment, crafts, supplies,

appliances, plants or household goods to anybody who will come and get them - as

long as they're FREE. NO PETS! Just send us a brief note describing what you want to

get rid of, along with your name, address and phone number. Nonprofit organizations

are welcome to submit requests for donations of items.

Send information to The Columbus Messenger, Attention: Come and Get It, 3500

Sullivant Ave., Columbus, OH43204. Deadline is Tuesdays by 5 pm for following

Mondays publication. Messenger Newspapers is not responsible for any

complications that may occur. Please contact us when items are gone. 272-5422

Come & Get It!

xFocus on Rentals

WEDGEWOOD

VILLAGE

1, 2 and 3 BR Apts.

Rent Based on Income.

Call 614-272-2800 or visit us

at 777 Wedgewood Dr.

TTY/TDD 711

EQUAL HOUSING OPPORTUNITIES

Rentals

ASSOCIATION ADS

GENERAC Standby Generators

provide backup

power during utility power

outages, so your home

and family stay safe and

comfortable. Prepare

now. Free 7-year extended

warranty ($695 value!).

Request a free

quote today! Call for additional

terms and conditions.

1-855-465-7624

CHILD CARE

OFFERED

Depend. Quality Child care

in loving hm. Exp. Mom, n-

smkr, hot meals, sncks,

playroom, fncd yd. Reas.

rates. Laurie at 853-2472

PETS

Shih Tzu male puppy,

brindle, shots, healthy,

neutered. 10 mo. old.

$500. 614-483-2277

WANT TO BUY

Looking for someone who

makes grave blankets.

614-389-6664

WE BUY JUNK CARS

Call anytime 614-774-6797

BUYING Old Metal Signs,

Avertising Pictures, Art

Glass Lamps, Lawn

Ornaments, Brass &Cast

Iron Items. 614-539-5980

DVD's, CD's, Toys,

Costume Jewelry,

Misc Items. 614-557-3536

WANT TO BUY

CASH PAID for Ohio

State and old sports

items, records, postcards,

old photos, jewelry & more

614-477-5590

BUYING VINYL RECORDS.

LPs and 45s - 1950-80s

Rock, Pop, Jazz, Soul.

614-831-0383

We Buy Cars & Trucks

$300-$3000.614-308-2626

WANTS TO Purchase

minerals and other oil &

gas interests. Send details

to: P.O. Box 13557,

Denver, CO 80201

We Buy Junk Cars &

Trucks. Highest Prices

Paid. 614-395-8775

ANTIQUES

WANTED

Victrolas, Watches,

Clocks, Bookcases

Antiques, Furn.

Jeff 614-262-0676

or 614-783-2629

MISCELLANEOUS

FOR SALE

Wire dog cage 19"x30"-$25;

Warm hand tied throws,

make great Christmas Gifts

- $30-$48. 614-483-2277.

See throws at Canaan Land

Craft Show Dec. 4.

RENTALS

Eakin-1 Br Apt, crpt, appls.

No Pets 614-560-3050

1/3/4 BR homes-fncd yd,

bsmt.$600-$1200

614-530-8097

VACATION RENTALS

Englewood, Florida

Palm Manor Resort

Within minutes of white

sand Gulf beaches,

world famous Tarpon

fishing, golf courses, restaurants/shopping,

Bush

Gardens. 2 BR 2 BA

condos with all ammenities,

weekly/monthly, visit

www.palmmanor.com

or call 1-800-848-8141

CARPET CLEANING

CARPET CLEANING

Any 5 areas ONLY $75

Home Powerwash-$99-$200

614-805-1084

Specializing in Pet Odors

CARPET SALES

CARPET

Gray Saxony

540 sq.ft. & 6 lb

Pad & Normal Installation

Only $999.00

Phone or text Ray

740-927-3504

CONCRETE

EDDIE MOORE

CONSTRUCTION

Quality Concrete Work

Lt. Hauling & Room Add.,

Block Work & Excavation

Stamp Patios,

Bsmt. Wall Restoration

35 Yrs Exp - Lic & Ins.

Free Ests. 614-871-3834

ALL-CITY CUSTOM

CONCRETE

All Types Concrete Work

New or Tear Out-Replace

39 Yrs. Exp.

(614) 207-5430

Owner is On The Job!

AJ's Concrete,

Masonry

Good Work - Fair Prices

Block Foundations

Driveways • Sidewalks

Epoxy/Overlay Floors

Bonded-Ins. • Free Ests.

614-419-9932

www.hastingsnsons.com

Driveways & Extensions

Patio & Walkways,

Porches & Steps,

Garage/Basement Floors

Hot Tub/Shed Pads,

Stamped/colored concrete

Sealing of new &

existing concrete.

FREE ESTIMATES

Contact Adam

614-756-1754

hastingsandsons.

columbus@gmail.com

INFORMATION

EARLY

DEADLINES

Classified Advertising

For West, Grove City,

Groveport,

South/Canal Winchester

For Dec. 26, 2021 Papers

Deadline: Friday, Dec. 18, 2021- 2pm

12/5 A/M

12/19 A

FENCING

EAZY FENCE

Chain Link - Wood

No Job Too Big or Small

All Repairs ~ Free Est.

Insured. 614-670-2292

GUTTERS

Bates & Sons

GUTTER CLEANING

5 ★ Google Reviews

614-586-3417

HAULING

DEAN'S HAULING

614-276-1958

JUNK REMOVAL

& MORE

HOARDING

&

DEMOLITION

10% off for Senior Citizens

Free Estimates

Mike Redding

614-352-0442

Zane's Dumpster Rentals

4 days - $300.00

to drop off & haul away

$25 extra/day over 4 days

Tires - $10.00 each

No Hazardous Materials

Contact Zane Tabor

on Facebook or

Call 614-254-1131

HEATING

HEATING

Complete System Clean & Check

$49.95

Free Carbon

Monoxide Testing

Gas-Oil-Electric Heat/Pumps

All Makes • All Models

45 yrs exp. • Sr. Discount

614-351-9025

INFORMATION

12/5

W/GCM

12/19 A

LANDSCAPING

LANDSCAPING

(614) 407-5214

www.OnyxLandscapingllc.com

Full Service Lawn Care -

FALL CLEANUP SPECIAL

Free Estimates - We Match Quotes

Start with trust and you will always be satisfied

HOME

IMPROVEMENTS

KLAUSMAN HOME

IMPROVEMENT

Siding-Windows-

Doors-Roofing-Soffit-

Fascia-Gutters-Trim

Earn FREE Seamless

Gutters with Siding Over

1000 Sq. Ft.

FREE Shutters with

Soffit & Trim

EPA Certified

Member of BBB

Financing Available

Over 20 yrs exp. • Free Est.

Licensed-Bonded-Insured

Owner & Operator

James 614-419-7500

C&JHandyman

Services LLC

Minor Plumbing

& Electric

Install Hot Water Tanks,

Dishwashers & Disposals

Also Fencing &

Interior/Exterior Painting

Free Est. ~ 18 Yrs. Exp.

CDC/EPA Approved Guidelines

614-284-2100

SINCE 1973

Phil Bolon Contr.

Windows & Siding

Decks, Kitchens, Baths

Room Additions,

Flooring, Roofing

Bsmt Waterproofing

Deal With Small Non-Pressure Co.

47 Yrs. Exp. - Refs. Avail.

Lic.-Bond-Ins.

Free Est. - Financing Avail.

Member BBB Of Cent. OH

O.C.I.E.B. ID #24273

614-419-3977

or 614-863-9912

SLAGLE

HOME REMODELING

Baths, Kitchen,

Plumbing and Electrical.

All your Handyman needs

No Job too Big or Small

Over 30 Yrs. Exp. Lic.-Bond-Ins.

Jerry

614-332-3320

LAWN CARE

The Lawn Barber

Cut, Trim, Blow away

Hedge Trimming, Edging

Garden Tilling

614-935-1466

LET US MAINTAIN

YOUR LAWN & GARDEN

FOR YOU

Summer, Spring,

Winter or Fall

WE DO IT ALL!!!!

Lawn Cuts, Edging,

Trees & Shrubs, Garden,

Mulching, Hauling,

Garden Pond &

Home Maint.

Free Ests. Low Rates

$20 & Up

Kevin - 614-905-3117

MOVING

Aaron Allen

Moving

Local Moving since 1956

Bonded and Insured

614-299-6683

614-263-0649

Celebrating

over 60 yrs

in business

A Job Well Done Again

A lic. General Contractor

Some Skilled Services

Incl: Painting • Stucco,

Repair•Carpentry•Exterior

Drainage & Home Maint.

Call Today! 614-235-1819

Classified Services

12/5 A

12/19

A/M

11/7 A

12/12

SW/W

HOME

REMODELING

HANDYMAN

All Phases of Construction

Carpentry, Drywall,

Painting & More

614-282-5400

12/19 A&M

PLASTERING

Plaster & Stucco

NEW AND

REPAIR

Established 1917

Geo. F. Neff & Co.

614-274-5629

DRYW

YWALL &

PLASTER

11/7

A&M

REPAIR

Textured Ceilings

614-551-6963

Residential/Commercial

BIA

PLUMBING

MYERS

PLUMBING

Exp. Expert Plumbing

New Work & Fast Repairs

Lic. - Permit Available

Water • Sewer • Gas

614-633-9694

All About Drains & Plumb.

Will snake any sm drain

$145. 614-778-2584

CHRIS'

REPLACE AD

PLUMBING

"Plumbing & Drain Professional

That You Can Count On"

24 Hrs., 7 Days/Week

No Overtime Charges

24 Yrs. Exp. in Plumbing &

Drain Cleaning Field

Call For A Free Phone Estimate

$100.00 For Any Small Drain

614-622-4482

30% OFF with AD

POWER WASHING

Bates & Sons

Soft Wash & Powerwash

5 ★ Google Reviews

614-586-3417

ROOFING

Robinson roofing & repairs

30 yrs. exp. Lifetime Cols.

resident. Lic./bonded/Ins.

Reas rates. Member of

BBB. Dennis Robinson

614-330-3087, 732-3100

PAINTING

SEWING MACHINE

PAINTING

REPAIR

614-980-3622 REPAIR all makes 24 hr.

INFORMATION

ONLY

$50.00

For This Ad In Our

West & Grove City

For Info Call

272-5422

service. Clean, oil, adjust

in your home. $49.95 all

work gtd. 614-890-5296

TREE SERVICES

BURNS TREE SERVICE

Trimming, Removal &

Stump Grinding.

614-584-2164

Brewer & Sons Tree Service

• Tree Removal

• Tree Trimming 11/21

A&M

• Stump Grinding

• Bucket Truck Services

Best Prices • Same Day Service

614-878-2568

12/19 A&M

12/5 A
---
PAGE 12 - WESTSIDE MESSENGER - November 28, 2021

www.columbusmessenger.com

HOLIDAY HAPPINESS

The holidays should be a time for celebration, not

stress. Enjoy your holidays even more with a Holiday

Helper Loan that offers an affordable solution for your

travel and shopping enjoyment.

*6.99% fixed rate *11.73% APR

*Up to $1,800 availability

*Easy to budget fixed payment

*12 month repayment term

*$49 reduced processing fee

Apply Now!

This special offer ends at Noon on December 24th.

Visit Us At

100 Main Street, GROVEPORT

1660 Georgesville Square, GROVE CITY

2164 Hilliard Rome Road, HILLIARD

7610 E. Main Street, REYNOLDSBURG

614-836-0100 www.firstcu.com

Open to everyone in Franklin, Fairfield, Delaware, Madison, Morrow,

Licking, Pickaway and Union Counties All Loans On Approved Credit. No other

discounts apply. Other rates and terms may be available. Payment example based on a credit score of 720 or

higher with all other credit qualifications met: $1,800 Holiday Loan at 6.99% rate with a 12-month

repayment term and $49 processing fee, would have an 11.73% APR and a monthly payment of $160.40.

$5.00 minimum deposit to open a Membership Share Account. Federally insured by NCUA.