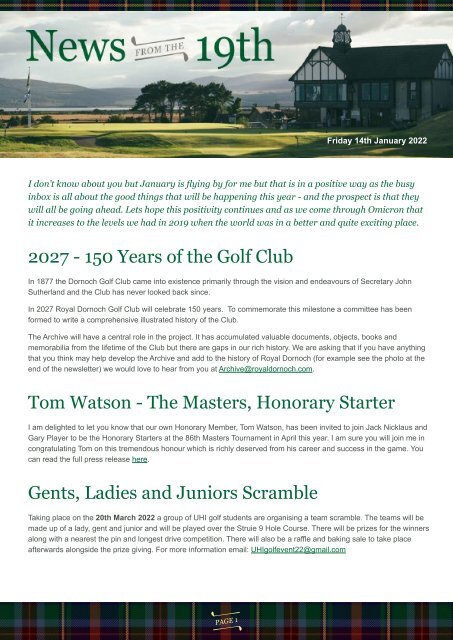 Members Weekly Newsletter 14-01-22
Create successful ePaper yourself
Turn your PDF publications into a flip-book with our unique Google optimized e-Paper software.
Friday 14th January 2022

I don't know about you but January is flying by for me but that is in a positive way as the busy

inbox is all about the good things that will be happening this year - and the prospect is that they

will all be going ahead. Lets hope this positivity continues and as we come through Omicron that

it increases to the levels we had in 2019 when the world was in a better and quite exciting place.

2027 - 150 Years of the Golf Club

In 1877 the Dornoch Golf Club came into existence primarily through the vision and endeavours of Secretary John

Sutherland and the Club has never looked back since.

In 2027 Royal Dornoch Golf Club will celebrate 150 years. To commemorate this milestone a committee has been

formed to write a comprehensive illustrated history of the Club.

The Archive will have a central role in the project. It has accumulated valuable documents, objects, books and

memorabilia from the lifetime of the Club but there are gaps in our rich history. We are asking that if you have anything

that you think may help develop the Archive and add to the history of Royal Dornoch (for example see the photo at the

end of the newsletter) we would love to hear from you at Archive@royaldornoch.com.

Tom Watson - The Masters, Honorary Starter

I am delighted to let you know that our own Honorary Member, Tom Watson, has been invited to join Jack Nicklaus and

Gary Player to be the Honorary Starters at the 86th Masters Tournament in April this year. I am sure you will join me in

congratulating Tom on this tremendous honour which is richly deserved from his career and success in the game. You

can read the full press release here.

Gents, Ladies and Juniors Scramble

Taking place on the 20th March 2022 a group of UHI golf students are organising a team scramble. The teams will be

made up of a lady, gent and junior and will be played over the Struie 9 Hole Course. There will be prizes for the winners

along with a nearest the pin and longest drive competition. There will also be a raffle and baking sale to take place

afterwards alongside the prize giving. For more information email: UHIgolfevent22@gmail.com

PAGE 1
---
We're Hiring!

With the prospect of a very busy season ahead then we need to add to the team so that we ensure we can look after

all the members, guests and visitors that will coming to Dornoch this year.

We have positions available in all departments and would be delighted to hear from anyone, or if you know of anyone,

who may be interested in joining us for a full time, part time or seasonal position.

Currently we are looking for team members at all levels in the kitchen and front of house - namely Sous Chef, Chef de

Partie and Kitchen Porters; Front of House Team Leader, Supervisors and Team Members. There are job roles in Golf

Operations and Pro Shop to look after Meet & Greet, Starting, Ranger, Halfway House and Retail. On the golf courses

we are looking for labourers. In the office we have two admin positions available.

If you would like to find out more information whether for yourself or on behalf of someone else please contact the

office on RDGC@royaldornoch.com

Tee Times in 2022

The Council of Management have decided that no further visitor bookings will be taken for the period 1st January 2022

to 31 December 2022 (please note that this is an amendment on the previous published dates). This means that all

available visitor tee times in this period can now be booked by members. If you wish to do this please contact the office

on bookings@royaldornoch.com

Covid 19

Please remember you MUST still book a tee time, check in with the Pro Shop and start from the 1st hole as Track and

Trace remains mandatory for everyone.

Signing in is still mandatory in the Clubhouse and you can do this using the NHS Scotland App or by writing your name,

phone number and time of arrival on the sheets provided. Please remember to CHECK OUT/SIGN OUT when you

leave the Clubhouse.

Within the clubhouse try and use a one way system of up the main stairs and down the back stairs and it is

recommended that there are no more than 3 households seated at a table with at least 1 metre between tables.

Pro Shop

The Pro Shop hours for January will be from the first tee time to 4pm 7 days a week but may close earlier due to

weather or playing numbers. Contact them on 01862 811924 or email proshop@royaldornoch.com.

Office Hours

For January the office opening hours will be 8.30am to 5.00pm Monday to Friday. It is still closed to visitors so please

contact them on 01862 810219 or bookings@royaldornoch.com

PAGE 2
---
Clubhouse Bar & Catering

Bar - 10am to 6pm Sunday to Thursday and 10am to 8pm on Friday and Saturday.

Catering - Closed Monday and Tuesday; 10am to 4pm Wednesday, Thursday & Sunday; 10am to 6pm on Friday and

Saturday.

Please note that the clubhouse may close earlier than these times if there are no customers.

Upcoming Club Events

• Mon 10th to Fri 28th Jan - Championship Course CLOSED

• Sat 15th Jan - Whisky Stableford (Struie)

• Sun 16th Jan - Sunday Roast

• Tues 18th Jan - Seniors Roll Up (Struie)

• Thurs 20th Jan - Pro's Stableford (Struie)

• Fri 21st Jan - Pizza Night

• Sat 22nd Jan - Whisky Stableford (Struie)

• Sun 23rd Jan - Sunday Roast

• Tues 25th Jan - Seniors Roll Up (Struie)

• Thurs 27th Jan - Pro's Stableford (Struie)

• Sat 29th Jan - Whisky Stableford

• Sun 30th Jan - Sunday Roast

PAGE 3
---
Golf Courses

With a cold frosty start to the week the team carried on with clearing and burning bushes to the right of the 15th on the

Championship Course and we also continued with strimming out smaller bushes throughout the course. The frost did

lift in the middle of the week and so it was back onto the turfing of pathways. The paths from the 13th green to the 14th

tee and from the 7th green to the 8th tees have both been completed. The monobloc path at the red tee on the 1st

has been removed and will be replaced with turf and then rubber matting installed for the grass to grow through. The

Struie Course greens have been rolled and sprayed with Iron Sulphate. We are also screening sand for topdressing the

Championship Course fairways.

Play from Mats - When you see a mat on a teeing ground then you MUST use this for your tee shot.

Bunkers - We have reinstated the Preferred Lie local rule for the time being.

Rakes - Please put rakes in the CENTRE of the bunker once you have exited and finished raking - see below.

Pitchmarks - Please repair your own and any others that you see.

Thanks for reading.

Happy Golfing!

Neil D. Hampton, General Manager

Stay safe. Protect others. Save lives.