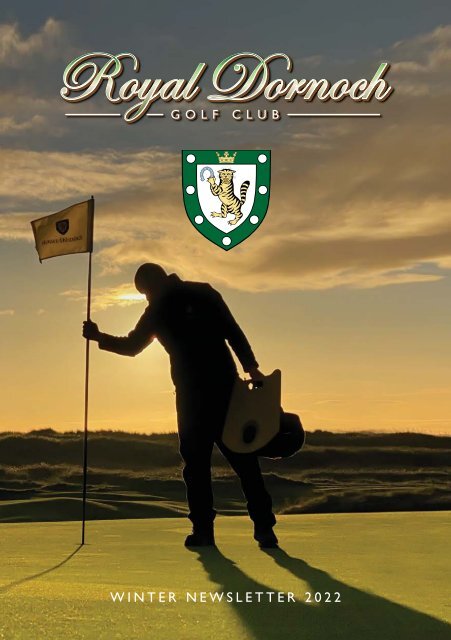 Winter Newsletter 2022 FINAL for WEB
Create successful ePaper yourself
Turn your PDF publications into a flip-book with our unique Google optimized e-Paper software.
WINTER NEWSLETTER 2022
---
2
---
Captain's Report

A Happy New Year to all our members and your families. Thank

you all for your loyal support since the World has had to deal

with Covid and as we continue to live with this deadly virus.

Royal Dornoch has done remarkably well and I frequently thank

our staff for the manner in which they have managed the extra

stress and pressures.

This newsletter updates you since the 2020 and 2021 Annual

General Meetings we held in October with minutes from both

included. It was a relief to confirm the appointments for those

working under the "elect" title until you, our members had your say.

When Rob Murray was Captain, and since I assumed the day to

Willie MacKay

day responsibilities in August 2020, we have worked with Neil

to give our managers more responsibility to link with Convenors producing agendas, minutes and

produce reports for Council of Management meetings. This is working well.

It has been a busy few months making progress in a number of areas which you will read of in the

Convenors reports. You will be updated about our salary review and setting our 2022 annual subscription

fees. You will read of how well our Retail has fared even with less footfall than normal but with more online

shopping activity. Those that managed to play this year will have first-hand knowledge of the quality

of our golf courses.

Our governance and running of our Golf Club relies on members volunteering. Since the October

AGMs, our Council of Management have co-opted Colin MacKay for his fourth spell on Council and

he will lead as Junior Convenor. Also, Robert (Bob) Grant joins Match & Handicap for his first term

on Council. Both will serve until our August 2022 AGM when I shall ask you to confirm their

appointments.

Wilma Murray leads our Greens subcommittee with another recent appointment, Ken Mackenzie joining

our Marketing team. Gordon Davies who has started his second term on Council is our House Convenor

where he is joined by Fiona MacDonald and Philip Prince. Our detailed Organisational Chart can be

viewed on our website https://rdgcmembers.freetime-online.co.uk/ftp/rdgcmembers.freetimeonline.co.uk/1169.pdf

Thanks are due to members that have served us well. Derek MacDougall and Eileen MacRae gave their

time to House and Matt McBride served on both House and Finance subcommittees. Ed Hodge, our PR

& Media Consultant moves from working freelance to a new position within the golf industry. Ed has

promoted our brand well and grown our social media well beyond our ambitious target. Thank you all.

3
---
Thanks are due to Council member, John

McMurray, for leading the small group that

produced a substantial New Members Welcome

Pack. This will add to the friendly welcome new

members receive and support their induction tour.

Across all departments we have recruitment as a

number one priority. 2022 is going to be very busy

with members and visitors. You already know from

Neil's newsletter that we have instigated a

moratorium on admitting Struie members in 2022

with the last intake approved. Also, to create more

playing time for members, we will not accept any

new visitor bookings. If we have tee times cancelled

these will become available for members, but

always at the back of our mind must be Covid and

possible travel restrictions.

Since October, our IT & Website subgroup have

worked tirelessly to select our new information

management system and our choice is to work with

Northstar Technologies. We are confident that our

choice meets the needs across our different

departments and will provide members with a

modern efficient system for booking, payments

and a new members website that highlights Royal

Dornoch's brand.

The subgroup considering our Intellectual

Property have reviewed draft trademarks and

copyright template agreements with our lawyer

who advises we should now wait until we decide

on which form of incorporation is best suited for

Royal Dornoch members. A private members club

is not recognised legally for Intellectual Property

contracts. More information will be issued to

members, but the decision for change to our

governance model will be at the 2022 AGM for

members to vote on.

You will have had the opportunity to complete a

member's survey and as you read this newsletter

we will have analysed the results ready for our

January Council meeting. We will provide you

with feedback.

Our membership spans a massive cross-section of

ages and locations and viewing the demographics

will allow our Council of Management, Convenors

and Managers to best use the information. We are

4
---
also excited that our new booking system will allow

us to survey visitors and in time departments can

issue specific surveys to not only gather data but

to use follow-up surveys to measure levels of

satisfaction.

Reflecting on the past year we have several

members that are no longer with us and our

thoughts are with their families. Locally we have

lost fine loyal members that gave so much to Royal

Dornoch. I pay tribute to Adrian Bagott, Michael

Carr, Len Seatter and George Carr and give thanks

for their contribution over many years to Royal

Dornoch and the Dornoch Community.

The pandemic as we know has delayed the start of

our new clubhouse. We are in a strong position

with an anticipated significant operating surplus

for season 2022-23. Royal Dornoch is a golfing

destination that will remain a bucket-list course.

permissions. Highland Council have begun the

process to build the replacement tennis court at

the Dornoch School Campus.

Throughout this continued period of Covid and

dealing with the uncertainty and the many hours

of extra work required, Neil and Claire have burnt

the midnight oil too often. They are totally

dedicated and my thanks to both and on behalf of

Council and our members.

Let's look forward to 2022 with fun on our golf

courses and good Highland "craic" in the

clubhouse. I wish you all good health and please

continue to take care.

Willie MacKay

Captain

We shall trigger the planning permission for the

Road Access Project early in the season and by also

starting the work for the car park area for the new

clubhouse this "locks-in" both planning

5
---
From The General Manager's Office

Well who would have thought that we would be

talking about continued restrictions as more

variants of Covid circulate the world. Difficult times

for everyone but with vaccination and booster

programmes working well we may be able to look

forward to a year when the word "normal" may

actually be used.

We did taste a little of that from mid August

onwards when international travel opened again

and quite a number of you went through the testing

and paperwork process to get to Dornoch. Everyone

at the club was delighted you made that effort and

gave us a reminder of what a golfing season should

be filled with.

As you now know the 2022 season is looking to be

a very busy one and so we all have our fingers

crossed that it all happens as planned.

In last year's winter newsletter I reported on how

the golf courses had benefitted from less play and

were in excellent condition. That has been the case

once again and to such an extent that even our

Course Manager Eoin Riddell was heard to say that

he thought it was "quite good". If you have ever

been in the company of a greenkeeper, especially

one in charge, then you will know that this is very

high praise indeed!

Apart from a couple of events at the very start of the

year we did manage a full season of club and open

events. Andrew Skinner has reported on some of

the main events in his report and thankfully the new

restrictions didn't come into place before we could

have the annual prize giving – something that was

missed from last year. It was great to see all the prize

winners getting presented with their trophies and

enjoying a little moment in the limelight. Special

mention to Chris Mailley on his club championship

success and equalling the record of wins – I know

he will be trying to create a new record this year but

is there anyone to stop him? The same goes for Chris

in the Carnegie Shield when he picked up his 6th

title and as he said in his speech he is looking for

more and I am sure he is eyeing up the great Jimmy

Miller's record of 10 wins.

Also many congratulations to Caitlin Boa who

defended her ladies club championship title. Are we

seeing a changing of the guard in the ladies?

Whatever happens, it seems that you need to have

a first name starting with a "C" if you really want to

have a chance of winning!

There was one early season event which we did

manage to rearrange and that was our match against

Nairn. This was well worth the effort as Royal

Dornoch had its biggest win for many years – and

we don't beat them very often!

Talking of rearranging things we were allowed to

have gatherings so did manage to hold the AGM,

although only in October. Such was the excitement

at this prospect we did it twice in the same night so

the 2020 and 2021 meetings were both finally

completed and you can read the minutes at the end

of the newsletter.

What that means is that Willie MacKay is now

confirmed as our club captain and David Bell the

vice. They have been undertaking these duties over

the past year without having the official approval

from the membership so it was good to get that

finalised.

It also means that Rob Murray is now officially out

of the chair and can relax as the immediate past

captain.

6
---
The 2020 AGM also approved the appointments of

Adrian Bagott, John Gow and Daniel Holden while

the 2021 AGM saw Gordon Davies, Ken MacKenzie

and Wilma Murray start their 3 year terms on the

Council, Gordon for the second time.

As you know very sadly Adrian passed away this year

and once again we pay tribute to the great man that

he was and the wonderful support he gave to the

club. Daniel Holden also took a step back from the

Council due to increased work commitments and

so there were two vacancies to fill. Colin MacKay

and Robert Grant were co-opted by the Council and

will have their names put forward for the official

approval of the members at the AGM in August of

this year.

This time last year it looked like we would be hosting

the Mens Home Internationals but once again Covid

intervened to take that away from us. However, it was

at that point the R&A decided to rationalise how

they run and manage events and asked us if they

could also use our Struie Course for the Senior

Amateur Championship and that way have both the

men and the women compete at the same venue at

the same time. We were delighted with this

recognition of just how good the Struie Course is and

were only too happy to put that into place.

I think this is an opportune time to talk more about

the Struie Course and urge you all to spend a little

more of your time playing it. The challenge of the

course is a contrast to that of the Championship

Course with narrower fairways, smaller greens and

a few less undulations (and bunkers!). The feedback

we have received has been just how well conditioned

it is now and how well the ball rolls, quickly, over

the greens. With the Championship Course being

so busy why not take that as your cue to get to know

"the Struie" a little better.

7
---
While the proposed new clubhouse is still a little

in the future we will be proceeding with widening

the access road to the car park. This necessitates the

removal of the tennis court and thus creating a few

more parking spaces. The club will be building a

new multi use games area at the school to make up

for the loss of the tennis court.

The only other construction project that we will be

considering is the new tees for the 8th hole on the

Championship Course. These were part of the 7th

hole project and were delayed as part of the cost

saving measures implemented by the club. At the

end of this season, under the guidance of Tom

Mackenzie our architect, the exact position for the

tees will be defined and once we are confident there

are no safety issues will commence their

construction and the realignment of the fairway.

Once complete it will give a much more panoramic

view from all parts of the hole.

As always I like to conclude by thanking those who

have helped the club in various ways during the year.

The Council of Management are all volunteers who

give of their time to help run the club at the strategic

level. All of them would not have thought that they

would be required to make such tough financial

8
---
decisions at the beginning of 2021 and the impact

they would have. Thankfully, it all seems to have

worked out and I thank them all for their

contribution in those and the many other

discussions and decisions that we have had this year.

Secondly, and probably most importantly in 2021,

is the team of staff who have remained with us and

shown great commitment and resilience when asked

to do more with less while keeping a smile on their

face. I am delighted that the club has recognised

their contribution and will be putting a little more

in their pockets from now on.

Finally, as always, my thanks to you our members.

Without you we don't have a reason to be here and

the countless messages of support that you have sent

to us throughout 2021 is hugely appreciated by the

whole team and knowing you are there does make

getting out of bed just that little bit easier. I will try

and thank you in person when I see you at the club

this year.

Neil Hampton

General Manager

9
---
Finance Convenor's Report

When I reported to members in the Annual

Report, issued in July 2021, we remained

uncertain as to how the remainder of the season

would unfold in terms of visitor numbers and

when, or indeed if, we would see any international

visitors in 2021. As we all know this has a major

impact on our income streams and our financial

plan for 2021/22 was set up on a cautious basis to

ensure that, in the worst case, the full year

outcome to 31st March 2022 would be close to a

break-even position with our cash reserves

preserved.

I am pleased to report that for the six months to

30th September 2021, the "front nine" in our

financial year, we are ahead of budget and the

outlook for the full year is looking positive.

Key Points to Note:

Income

• I have previously reported unprecedented

subscription renewal levels in 2021. However,

the anticipated negative impact on Entrance

Fees has been offset by a continuing steady

stream of new member applications for the

Struie. Overall, taking Annual Subscriptions

and Entrance Fees together, we will be close to

our budgeted figure.

• Visitor Green Fees – the budgeted visitor

numbers for 21/22 was set at 3,700. For those

of you fortunate enough to be around the

Club in the late summer you will have noted

a marked increase in visitors from August

onwards with the gradual return of

international travel. It is pleasing to report

that by the end of September we have seen

more than 4,000 visitor rounds played and

have therefore already passed our Visitor

Green Fee target for the full year. October

continued to be busy.

• Both Bar & Catering and the Pro Shop have

benefited from the increased footfall from

visitors and have traded well ahead of budget

for the first half of the year with both areas

generating strong gross margins.

Expenditure

• Costs have been tightly controlled across all

areas of the operation and at the six month

point are broadly in line with budgeted levels.

• One exception to this is on Course

Expenditure where Council of Management

approved during the year additional, un-

10
---
udgeted, expenditure of approximately £43k

on "Fertiliser, Turf & Seeds" across both

courses to take on board recommendations

from the R&A that the Club sought ahead of

next year's Senior Amateur Championships.

• The second half of the year obviously sees

traditionally low levels of income with

expenditure rolling on. We will see some

slippage to budgeted labour costs in the final

quarter, the three months to 31st March 2021,

as we attempt to ensure we have the

appropriate staffing levels in place for next

Spring with a view to returning service levels

to those expected by our members and visitors.

• Forward visitor bookings for 2022 are very

strong and currently stand at more than

11,000 rounds.

Subscriptions

Council of management has approved an increase

to membership subscriptions for 2022/23 in

accordance with the Club rules and current

inflationary pressures. The increase in the full

subscription will be £40 with other categories

increasing by the same percentage.

Cash Position

• Total bank balances at the end of September

sit at just short of £5.9m which is

approximately £400k up from our last year

end.

• Included in this are approximately £1.2m of

green fee deposits held, up by approximately

£220k from our last year end.

Summary

To sum up, the first half of the year has gone

slightly better than planned financially. Should

things continue to trend as we expect, we are on

target to deliver a surplus for the full year.

This does not happen by accident and great credit

is due to our management team, heads of

department and all their teams for continuing to

deliver during uncertain times.

John Gow

Finance Convenor

11
---
Match & Handicap Report

With Covid still around and having an influence

to some extent it was great that we were still able to

complete our full complement of club

competitions. The most notable win was by Chris

Mailley who won the Club Championship for the

7th time equalling Stuart Shaw's record.

The biggest challenges of the year were

implementing the new world handicapping system

along with our new competition software. As we

had no access to the clubhouse earlier in the season

we had to rely on the Scottish Golf App but

unfortunately with very mixed results and can I

thank the members for their patience with this.

When the clubhouse re-opened we were able to use

the tablet in the hall which was a bit easier than the

App. For 2022 we will be changing our competition

software from Scottish Golf to Golf Genius and so

fingers crossed that will be a smooth transition.

Also new for 2022 will be a new Struie knockout

competition which will be a pairs better ball. You

may choose your own partner or we can pair you

up with someone if not. More information about

this will be announced later. As it's looking like

being a very busy season, and Championship

Course tee times may be difficult to acquire, we

have decided to spread-out the knockout rounds

and give members a longer period of time to

complete matches. The main advice here, as always,

is to arrange your tie as soon as possible.

The new world handicapping system kicked into

full swing with the most frustrating element being

all the golf union systems not able to share

handicap information which made setting up and

running competitions a bit of challenge particularly

for our open comps.

With regards to our open events these proved once

again very popular with most of them being

oversubscribed. We did however lose the Junior

Open and the Struie Mixed Foursomes due to

restrictions early in the season. Hopefully we will

have a full complement back for 2022. As

restrictions eased it was great to have that buzz back

in the clubhouse during the Carnegie Shield which

was won again by Chris Mailley, his 6th title.

12
---
Some of our team matches fell by the wayside but

we were able to reschedule the Nairn match in

October which we won. In 2022 we will welcome

our friends from Raleigh CC and the Country

Club of North Carolina for matches.

Well done to our lads for winning the Dornoch

Firth League at Invergordon. We were unable to

field a team for the Northern Counties cup at

Peterhead which was won by Brora. We host both

these events this year.

Other external events we will host this coming year

is the Paul Lawrie Tartan Pro Tour in April, the

HGL Pro Am and the World Hickory Open, both

in October, and most notably the Men's & Ladies

Senior Amateur Championships from 5th to 8th

July.

Can I personally thank all the members and staff

for all your support last year and I look forward in

seeing you all during 2022.

Andrew Skinner

Head PGA Professional

13
---
Greens Convenor's Report

This is my first Winter Newsletter report as Greens

Convenor and I would like to say what an honour

and privilege it is to hold the position at Royal

Dornoch. I am aware that I am following in the

footsteps of extremely efficient and experienced

Convenors and sadly as many of you know our

previous Convenor passed away in October this

year and our love and thoughts go to his wife Mags

along with his family and friends. Adrian was a

larger than life Yorkshireman who was truly

passionate about Royal Dornoch Golf Club and

completed at least 3 stints on Council as Greens

Convenor. Adrian and his expertise will be greatly

missed at Dornoch.

The weather has been really mild lately which

meant the green keepers were still cutting grass

which is unusual in late November. However, as I

write, Winter has arrived with a vengeance after a

really mild but wet Autumn and has finally hit the

courses with frost, snow, wind and rain. It hasn't

been the best week to be working outdoors but as

normal Eoin and the team have persevered to get

things done. The Winter programme is well under

way and with hopefully some kind weather we will

see the benefits for the start of the season.

On the Championship Course the team have

completed the bunker revetting on the 10th and

started the ones on the top of the hill on the 17th.

The greens have been micro tined which is done to

relieve compaction and help the water percolate

through the surface as quickly as possible so when

the snow melts this should help dry out the surfaces

quicker. Following the tining they were then rolled

to smooth the surfaces for play. The team continue

to turf weak or any worn areas on fairways. The

revetting on the bank of the 8th tee is in the process

of being done.

On the Struie Course they continue to aerate the

greens with the Air2G2 air injection machine. This

breaks up the soil profile under the surface giving

the roots of the grass plant room to grow in the air

pockets it makes. The turfing of weak areas on the

greens surrounds also continues.

After a few stormy days the coastal erosion fencing

on the 10th hole of the Struie Course took a

battering so the team has replaced the damaged

sections, built up the bank with sand and planted

Marrum grass to help stabilise it. With the snow

covering the course they also turned their attention to

areas of bushes that needed to be removed or cut back.

They have also started removing all the bushes in the

dunes on the sea side of the course and trimming sides

of pathways.

Work has also been done on the Struie Course for the

R&A Senior Amateur Championships in July next

year. The grass has been coming back onto fairways

and tees and now Eoin, Scott and team are hoping for

a good Spring to help with growth. The enlarging of

the 18th white tee has been finished with our own

team completing the work and installing the irrigation.

All of the Greens Committee completed a course walk

on 6th December which was very beneficial and

enjoyable to see at first hand all the work that is being

done.

We have had confirmation of passing the GEO

certification in June 2021 which confirms that Royal

Dornoch Golf Club has successfully achieved GEO

Certified© status for its outstanding work to foster

nature, conserve resources and support the

community. GEO Certified© is the most respected

certification for golf, based on a credibly and

transparently developed modern and sustainable

standard of best practice.

14
---
Many thanks to Eoin and Scott for keeping our

members updated with regular course reports on

the Royal Dornoch Members Facebook page.

Eoin and Scott and our amazing green keeping

team we thank you for all the hard work you do,

early in the morning when most of us are still in

bed, working throughout the seasons in sunshine,

rain, wind and snow, preparing two superb courses

for us to enjoy. There is no better place to be. We

have so much to be thankful for in these uncertain

times.

Enjoy your winter golf and by the time you read this

I hope you have all had an enjoyable Christmas and

New Year.

Wilma Murray

Greens Convenor

15
---
House Convenor's Report

Looking back on the year of 2021 for my role has

been depressing.

The Food & Beverage team, supported by the

wider staff team, performed well in these most

difficult of times. Those members who visited the

clubhouse during the year will know we had

severely restricted opening times due to the everchanging

restrictions caused by the Covid

pandemic and its variants. We were unable to

move forward with expanding the services

delivered in the halfway house (HWH) to include

hot food such as soup and warm sausage rolls. Our

staff shrunk when we reduced their hours, and we

lost a considerable number of good staff to other

employers. The overall outcome was a backward

step in what the staff team had achieved in

previous years.

Amazingly in this circumstance we achieved our

best F&B score to date in the 59 Club who provide

a mystery shopper service for all departments at

Royal Dornoch. It is also impressive in a time of

trying to reduce costs and waste we hit very high

gross profit margins, helped along with low VAT

rates. In fact, the department has performed

considerably better than budget year to date in

2021/22. Well done Brian and Sue.

Our programme of special social events was

seriously curtailed and those that did happen had

restricted or vastly reduced numbers to about 40%.

Thanks must go to those members who

volunteered to cover a few shifts or two when the

staff members were low in number.

16
---
Sadly, earlier this month Sue Robb decided to

resign to spend more time with her family. We

wish her well and appreciate the journey forward

she has helped us to achieve in the F&B at the

club. I would like to take this opportunity to thank

Sue for all the efforts she has made on behalf of

the club and I for one will miss her professional

contribution.

As I stated in my previous year's report that it

would be my last, I stepped down from the role at

the end of October 2021. Gordon Davies has

picked up the baton and I wish him well and

promise my full support. I look forward under his

leadership to see the reductions of Covid

restrictions, return of being able to eat out at the

club in the evenings, as well as during the day with

a full and varied menu at the 4 Star standard we

provided previously. I know he and the Council of

Management are determined through a

recruitment drive to reinstate the necessary staffing

level of the department to achieve these standards

for the members and visitors within Royal

Dornoch. It is hoped to have new staff appointed

in January 2022 to ensure they are settled in for

the new season.

For those who know me well, I especially look

forward to eating my first hot sausage roll at the

HWH in preparation for scoring 35 in the inward

9 holes. I hope the hot sausage roll will be the

driving force to achieving 35 on the back 9,

because it hasn't happened yet, however it may

take some time to ensure all is in place to achieve

this.

Thanks for your support.

John McMurray

House Convenor 2018 - 2021

17
---
Junior Report

Our junior numbers have been consistent for several

years with 75 attending regularly split as 39 girls and

36 boys. The Minis/Advanced Minis have 18 with

25 attending our Wildcat Section. There are 14 in

B Section with 18 spread across B+ and A Section.

Mini's/Advanced Mini's is for children from four

to eight years of age after which they progress to the

Wildcats where the age range can vary from six until

eleven but most progress to B Section before

finishing Primary School.

18
---
B Section caters for juniors from nine to fourteen,

but the majority move into A Section quickly where

their aim is to become a Junior Championship

member.

Since Easter, our Mini's had weekly sessions with

Professional, Ally McNaughton, supported by

Caitlin Boa, our Ladies 2022 Club Champion, and

David Diracles who is also our B Section

Coordinator.

Play and enjoyment is the focus for these younger

juniors and with non-golf related games including

tag, dodgeball etc. they have great fun. Ally sets fun

challenges after they practised the basics skills and

they also enjoyed a summer camp in July.

Many joined in adult/junior fun events to

experience competition.

The Minis have focussed on chipping, putting and

full swing throughout their basic skill sessions, with

a focus on making sure they get into a good set-up

position to give them the best chance of consistent

contact.

There has been a great uptake for the winter

coaching sessions which runs until Easter when the

summer programme starts. On bad weather days the

clubhouse is used with tennis balls hit into velcro

targets with team challenges and variety the theme.

Twenty two Wildcats had weekly sessions with

coaching shared between our Head Teaching Pro,

Gary Dingwall, and Ally. They played the Academy

Holes regularly in different formats which included

strokeplay, matchplay, texas scramble and one club

challenges.

19
---
The Wildcats had three camps during the season

where they mixed with B Section. This motivated

them and the coaches gauge their readiness for

stepping up a group. This isn't just about reaching

target scores. Maturity and pace of play are

amongst a variety of things that help the coaches

decide when they are ready.

The juniors in B and B+ had a great season of golf.

David Diracles organises the sessions ably support

by several parents who supervise and act as scorers.

Thursdays start with the juniors devouring the

healthy snacks that David suggested we provide as

the children are hungry when they arrive straight

from school.

They love their golf and strong friendships

develop. Club competitions had good entry

numbers but a lesson for 2022 is to space the

weekend trophy competitions across the whole

season. The planned trips to Junior Opens were

enjoyed by those that choose to attend. We

consider playing different courses as a vital part in

their development.

The highlight of our junior season is our Caddies

Cup Day in September. With juniors playing from

age four to eighteen years with the Academy holes,

Struie and Championship Course all in use it is a

big day with the juniors excited and ready to play,

no matter the weather.

The atmosphere in the clubhouse afterwards,

when they enjoy their food and during the Prize

Giving, is electric. The warmth the juniors have for

their friends that win and for runners-up is

Celebrating our long serving staff

Eoin Riddell 35 years at Royal Dornoch

20
---
wonderful to experience. It was a big day for Angus

McFall, who was appointed Junior Captain.

No longer do our junior sessions stop after

Caddies Day. The Thursday and Friday sessions

continue until we run out of daylight when we

then move to weekend sessions. By November we

have evening sessions at our Indoor Swing Room.

The juniors enjoy using Trackman and our indoor

facility has been improved with the gift of an

artificial putting green from the University of the

Highlands who have a new purpose built facility at

their Burghfield Campus.

Each of the swing studio sessions are individually

tailored, allowing each player to advance at their

own pace. A vital element for improvement is

benchmarking to monitor the gains from coaching

sessions. The transfer from winter coaching into

on course play has seen handicaps tumble. They

also have weekend sessions throughout the winter,

weather permitting.

Our older juniors are fine role models for the

younger sections. Some played in regional and

national competitions with Rhianna Mackay

having a well-travelled and successful season.

Our A Section Coordinator, Mark McFall, works

tirelessly to produce weekly draws and instil good

golfing behaviours. A Section had their Friday

competitions and matchplay competitions entered

into the Scottish Golf App so they became familiar

with the new Scottish Golf system.

I am pleased to see Colin Mackay return to our

Council of Management in December and Colin

will take over as Junior Convenor linking with our

Junior Team under the guidance of Gary Dingwall

in conjunction with Ally McNaughton, David

Diracles and Mark McFall our frontline coaching

team.

Our juniors have a pathway from beginner to

playing in national competitions and I am very

grateful for the way that Gary, Ally, David and Mark

have worked as a team and produced a full season

of weekly events, trophy competitions, adult/

junior weekend competitions with all the Covid

restrictions we have to live with

Colin, you are inheriting a slick programme which

I know you will enjoy and support with the

enthusiasm you have for golf and Royal Dornoch.

Donna Sutherland 25 years at Royal Dornoch

21

Willie MacKay

Captain
---
Marketing Report

The marketing team can reflect on a successful year

in 2021. Looking back to the start of the year, Covid

remained a challenge with various restrictions and

guidelines in place. With overseas travel again not

possible for visiting golfers, the focus of the team was

once more on promoting Royal Dornoch to primarily

a UK market and advertising exclusive added

value offers. The Scottish Golf Club Member Rate

proved particularly popular. We also placed greater

emphasis on promoting the Struie Course to encourage

more play, especially among families.

To communicate with visitors more directly to the

club's growing database, a particular highlight of the

year saw the creation of 'Dornoch Days' – a stylish,

modern e-newsletter for the visitor market. Using our

collection of wonderful imagery and storytelling, the

vibrant newsletter has been well received after two issues

were distributed in 2021. Neil's own newsletter

to members every Friday has also been improved in

terms of design and is also proving popular among

the membership.

A focus on striking imagery and strong news stories

has been a theme of the marketing team's work

throughout 2021 and that has translated to further

success on the Club's social media channels. We

were delighted to end the year with over 40,000 social

media followers across the eight Club accounts

– a growth of over 5,000 in 2021. Royal Dornoch's

overall social media numbers are among the best for

any golf club within Great Britain & Ireland.

On 15th December, we also achieved the milestone

success of reaching 10,000 followers on Instagram

and ran a competition to celebrate the landmark.

The main Twitter account now has 17,400 followers,

while the Facebook account has over 7,000. The Pro

Shop are also making good use of social media, with

2,250 people following the Instagram page.

To assist local golfers over the winter months with

updates on whether the courses are open or closed,

a Course Status account is also proving effective on

Twitter. Primarily run by the greenkeeping team, it's

a much better way to communicate with local people

on social media, given a significant number of people

who follow the Club's main Twitter account are

based in the USA.

The year generated various positive news stories,

which were developed and shared by the marketing

team. The team, who meet regularly on Zoom to discuss

monthly plans, were particularly thrilled to see

the Club's NHS offer be well received and generate

significant media coverage. In total, NHS and care

22
---
staff enjoyed 360 rounds at Royal Dornoch during

the summer thanks to our kind offer of free golf on

both courses for their sterling efforts during the

Covid-19 pandemic.

The honorary membership awarded to former Open

champion Paul Lawrie, as well as the Life Membership

awarded to renowned journalist Lorne Rubenstein,

were also strong PR stories that enjoyed media

exposure. The Club also celebrated the 200th anniversary

of the birth of Old Tom Morris in June,

while the announcement that the R&A Women's

and Men's Senior Amateur championships are coming

to Dornoch in July 2022 was also well publicised.

Working with partners is also a key part of the marketing

team's efforts. This year we continued to work

closely with the likes of Links House, Arnold Clark

(BMW-MINI), North Highland College UHI and

other local golf clubs to help keep Royal Dornoch in

the public eye among different audiences. We also

maintained our support for one of Scotland's most

endangered species, the wildcat, after raising a further

£2,840 through the help of members. Back in

2019, we launched a new clothing range for members,

which is an emblem based on the wildcat element

of the full club crest, and we continued that

support in 2021.

The Club also became one of the first golf clubs to

sign up to a new digital tourism organisation – Scotland,

Where Golf Began. This dynamic digital platform

is inspiring golfers near and far to plan an

exciting golf break and make the most of Scotland

on and off the course. It is an industry-led initiative

designed to be the No. 1 resource for golfers looking

to enjoy stay-and-play trips here.

We welcomed some notable visitors ourselves in

November, working with Links House to host two

journalists visits. Steve Carroll from National Club

Golfer magazine came to the Highlands to write

some features on all-year round golf, playing the

Championship course and also teeing up at Brora

and Nairn Dunbar. Gordon Bannerman, a freelancer

based in Perthshire, also visited. Look out for

their feature pieces in the new year.

Lastly, we also enjoyed an incredibly special visitor in

2021… none other than Gary Player, who came to

our links for the first time in July. The legendary

South African did a nice video message regarding his

visit, set up by Neil, which we shared on our social

media platforms. It generated over 78,000 video

views!

Marketing Subcommittee

23
---
Retail Report

After a predictably slow start to the season in the

Pro Shop activity gathered pace during the summer

to finish strongly as we were very happy to welcome

back many non-resident members along with some

international visitors.

Despite the lack of new clothing lines (for obvious

reasons) Brad and the team are delighted with the

way the year developed and are particularly grateful

for the continued strong support from all our

members, both in store and online – which is a

steadily growing part of our operation.

With no new stock to excite customers, the team

focussed on creative promotions to generate interest

and boost sales. This has played a big part in

our retail targets for 2021 being surpassed.

Towards the end of the year we were able to offer

members a pre-order opportunity to purchase a selected

range of Kjus and Glenmuir garments featuring

our unique Wildcat crest which is exclusive

to Royal Dornoch members. This has gone well

and will be something we look to repeat in 2022.

We have significantly reduced our stock levels during

2021 and this has freed up the space to allow

us to plan positively for the spring/summer season

2022. Brad has exciting plans so look out for fresh

designs, colourways and even some alternative

brands arriving for next year.

That said the cupboards aren't entirely bare and

we still have a wide choice in our fantastic bespoke

tartan range. There is good size availability and

Brad and the team are on hand to help you find

that special timeless piece all very competitively

priced. Drop in, call or email to discuss your requirements.

Retail Subcommittee

24
---
President's Report

On reading my Report of last year, I feel I may have

been a little optimistic in hoping that life would

return to normal during 2021. There have been

some aspects which felt more normal but there has

always been the underlying feeling of unease that

Covid was going to be with us for much longer

than previously predicted.

Dornoch has again been very busy for most of the

year with many staycationers choosing to visit the

Highlands. The NC500 route passing close to

Dornoch has contributed to the huge influx of

visitors to the town. The courses have also seen a

large number of bookings beyond our earlier

cautious forecasts.

Despite some variable weather conditions both

courses have been presented in splendid condition

and our green keeping staff are to be congratulated

on all their efforts to maintain them so well. One

only has to visit other courses to appreciate the

high standard and attention to detail we are able

to enjoy here.

All the Club's employees have managed to carry

on regardless of conditions and restrictions

imposed on them so that members and visitors

alike have been able to enjoy their experience of

Royal Dornoch. Their hard work should be very

much appreciated by us all.

We have been able to hold our main Club

competitions this year although some events have

had to be changed. The Men's Home Internationals

was moved by the R & A and played elsewhere but

they are holding their Men's and Women's Senior

Amateur Championships here in 2022 using both

courses. We also have the Men's Scottish Amateur

Championship to look forward to in 2023.

On a personal note I decided to hang up my Rule

Book and retire from competition refereeing with

Scottish Golf. I have been very fortunate in being

given the opportunity to be involved in many

events and to dispense rulings to players some of

whom have become household names on the

European Tour. They have not always been too

enamoured with the rulings given. I think I got

most of them right but like most referees there are

one or two which I might like to be able to revisit!

We were able at last to hold our AGM for 2020

postponed from last year and at the same time

catch up by holding the AGM for 2021. It's not

often that Members will be able to enjoy such a

bargain…2 AGMs for the price of one! I was very

pleased to be re-elected as President. I know it has

been said before but it is a great honour and

privilege to be President of this Club.

I am grateful for the support and assistance of the

Vice Presidents Hamish Macrae, Jim Campbell

and Alan Ramsey here in Dornoch and Woody

Morcott in America. We are happy to continue in

our Roles and to support the Captain and Council

of Management and represent the Club as and

when required.

My New Year's Resolution, from a golfing perspective,

is to work on and improve my game. However like

many such resolutions it seems destined for failure. I

am never enthusiastic about practising. After all why

waste good shots on the practice ground when you

might need them out on the course?

On that note I will wish you all a happy and

healthy 2022 and trust that your golf will live up

to your hopes and expectations.

Gordon Lawson

President

25
---
Ladies Section

After the last eighteen months, I am delighted to

be able to write telling you of the full and varied

programme of events enjoyed by the ladies section

in 2021. As well as a full programme of

competitive golf on both courses we also had a

number of social games when all the ladies could

play together and cement the bonds of friendship

on the course.

We held a combined 2020 and 2021 AGM in

October when we said farewell to Trish Weekes,

Moira Rennie and Fiona Macdonald from

committee and welcomed two new and one

returning committee members in Deborah

Thomassen, Seonaid Gow and Rosemary

Muschamp. Thank you ladies for giving up your

time for the Ladies Section.

What golfing conditions we had in 2021! The

weather was absolutely outstanding, warm and dry

for long stretches with rain arriving just in time to

keep the courses in top links condition, and I can't

remember a season in Dornoch with less wind. In

fact, the only downside to this summer's

conditions is that they provided no excuse for poor

scoring!

26
---
With the fixture list back to normal we continued

with the new shortened format for the Club

Championship which was won for the second year

running by Caitlin Boa who beat Cara Thompson

in a wonderful, high quality final. There was

further evidence of the strength of our juniors

coming through in the Handicap Club

Championship which was won this year by

Rhianna Mackay, beating Norma Fleming in the

final. We moved the Strokeplay Championship to

nearer the end of the season to give it greater

prominence and I won the Scratch element while

Zara Macdonald, another of our juniors, won the

Handicap section. We are so fortunate to have

these talented junior golfers coming through –

long may it continue.

In the Knock-Out Competitions, I won the Sykes

Cup, Lisa Dickenson won the Sutherland Cup,

and Patricia Blair won our new Struie singles

knock out. Fiona Hampton and Irene Hart won

the Barrow Cup and will go forward to represent

us in next year's Daily Mail Foursomes. This year

we were really well represented by Fiona

Macdonald and Theresa Campbell who won

several rounds of this national competition before

27
---
eing beaten by Inverurie, who went on to the

National Finals, so well done to them. At the

North of Scotland Championships in Blairgowrie

Norma Fleming came through a large field to be

crowned Handicap Champion, a fantastic

achievement, really well done.

Throughout the year we have enjoyed some

fabulous fun events on both the Struie and the

Championship courses, playing a variety of

formats, and participation levels have been great.

The Pink Day in particular was a-ma-zing and we

raised a fabulous total of over £2,000 for Breast

Cancer Now while having great fun. Thank you

to everyone who was involved in making that such

a successful event. My Captain's charity for the

year was Cerebral Palsy Scotland and I am

delighted that we raised £1,900 over the year. Next

year we will be fundraising for Maggie's Highland.

Thank you to all members from across the club

who help us support these good causes throughout

the year.

Turning to our Open events, Royal Dornoch ladies

did well again, although perhaps the new

handicapping system allowed more non-home

players to feature in the prizes. The Three Lady

Team was won by a team from Boat of Garten and

Abernethy, but the Royal Dornoch team of Fiona

MacDonald, Theresa Campbell and Patsy Mackay

were runners up. In the next day's Struie Open, I

was runner-up to our winner from Royal

Musselburgh. In the Ladies Open in June the

winner of the scratch event was Eleanor Tunn

from Reay and I was runner up while in the

handicap trophy youth came to the fore with

Hannah Riddell the winner and Zara Macdonald

runner up. In the Senior Open in September

there was a three-way tie at the top of the leader

board but the winner on countback was Jo

Macdonald of Nairn, runner up Judith McCaffery

of Aboyne and third, our own Bel Shepherd.

The Ross Sutherland competition was played at

Brora where our scratch team won the scratch

28
---
trophy. We didn't do quite so well at Reay in the

Caithness Sutherland where, despite some

individually brilliant scores neither of our teams

were in the prizes. However, on both occasions it

was good to meet up with friends from the

competing clubs and to play at different courses.

It was notable that the scratch team from Reay GC

won the scratch trophy over their home course,

and Eleanor Tunn broke her own course record

on the day.

We also enjoyed a full programme of ladies friendly

matches with neighbouring clubs with mixed

results, but of more importance is the fellowship

and fun that these matches provide. I would

encourage all ladies to consider putting themselves

forward for friendly matches in 2022.

The Ladies Annual Dinner in November celebrated

70 years of the Ladies Section at Royal Dornoch

Golf Club and thanks go to Eileen Macrae and

Christine Callingham, the club's archivists, for

putting together a fascinating presentation on the

history of Ladies golf over our Links.

In conclusion, I think it is safe to say that the ladies

section at Royal Dornoch continues to flourish

with new members joining the Struie and several

ladies moving up to Full Championship Course

membership. Participation numbers in all our

events was really high all year and I would

encourage everyone to keep that up next year. If

any visiting members would like to join us in social

or competitive golf when they are in Dornoch in

2022 please let the office know and we will make

sure you are warmly welcomed. The restrictions

imposed in so many areas of life in 2021 made us

appreciate all the more how lucky we are to enjoy

this wonderful, if frustrating, game and in

particular to play at Royal Dornoch and enjoy the

companionship and friendship of fellow members

and visitors. Long may that continue.

Alison Bartlett

Lady Captain

We have successfully coped with the transition to

the World Handicap System, and honourable

mention must go to Andrew Skinner who was

instrumental in helping ladies get the Scottish Golf

App working, demonstrating seemingly endless

patience with some of our less technologically

gifted lady members!

There are so many staff members we have to thank

for all they have done for us through what has been

a difficult year. To Neil and Claire and the office

staff, to Eoin and the greens staff and to Sue and

Brian and all those in the Clubhouse – thank you

for all you do for us as members so that we can just

come and enjoy our golf.

29
---
Senior Section

Sadly, in October, the Senior Section lost its

Captain, Adrian Bagott. Adrian was a very

enthusiastic supporter of the section. He was in

his second term as Captain, a role he took most

seriously, particularly in making visiting teams feel

welcome at Royal Dornoch. On a personal level,

he was most helpful, especially during my first year

as secretary, always willing to offer sound advice. I

can only add that he will be much missed by

everyone.

Thankfully, the effects of Covid on our golf were

much reduced in 2021. At the start of the year our

Tuesday roll-ups were well supported with

members enjoying a variety of formats. We had to

cancel our first three inter-club matches. However,

these were replaced by internal matches featuring

a Captain's v Vice-Captain's, Alphabetical Team

selections and an "International", Scotland v The

Rest of the World. These were enjoyed by

everyone and may well be repeated. (For those

interested Scotland used local knowledge to win

comfortably!)

We managed to play nine inter-club matches,

winning four, drawing one and losing four.

Included in these matches was our inaugural

Senior Invitation Match. This involved a single

home and away fixture over two years against a club

we do not usually play, in this case Blairgowrie. A

total of forty members represented the Seniors this

year and it is most pleasing to welcome the new

players to our matches.

In addition to our regular competitions, this year

we introduced a new competition, a Summer

Eclectic for the Dr. John Trophy, named in honour

of Dr. John Macleod who founded the Senior

Section.

The winners of our competitions are:

W E Skinner Trophy (Scratch) – Stuart Sim

W R MacDonald (Handicap) – Vincent Doyle

Bartlett Cup (Scratch Knockout) –

Derek MacDougall

Paterson Shield (Spring Stableford) –

Alan Latham-Sumner

Barry Watson Quaich (Handicap Knockout –

Hamish Macrae

Dr. John Trophy (Summer Eclectic) –

Alan Latham-Sumner

Senior Summer Trophy – Alan Latham-Sumner

30
---
Another innovation was the Senior Captain's

Charity Stableford which was held in June.

Thanks to the generosity of members, visitors and

those who donated prizes for the raffle we were

able to raise £900 for our nominated charity,

Oversteps. Our thanks go to Derek MacDougall

for his work organising the raffle.

Finally, as I approach the end of my three-year term

as Secretary, I would like to offer my successor,

David Offin, the best of luck. I am sure everyone

will support him in the way they have me.

Roger Boyce

Secretary

Despite the problems faced during the year the

Senior Section has flourished, having a

membership of 64, a significant number of whom

have joined us this year. It is through their

involvement that the Section is able to thrive and

I would like to thank them for their support. I

would also like to thank Andrew Skinner and the

staff in the Pro Shop for all their assistance; also

the office staff.

31
---
Wednesday Seniors (The Geriatrics)

The main event of the year was that we were

allowed back into the bar which is as important to

the Geriatrics as the golf. This was closely followed

by re-instating the Annual Lunch and prize giving.

We are continuing to have a draw for tee times and

for most members paying our match fees by BACS.

A new competition was introduced, the Autumn

Mixed Foursomes, which replaced the annual

match against the ladies. This was a match

between the Lady Captain's team and the

Geriatrics President's team which the Lady

Captain's team won 5 – 3. President John Logan

said that when he took over the group the men

lost their match against the ladies and so his team

have now lost the first playing of this format!

Congratulations to Alison.

Whilst we are enjoying ourselves our donations

(which is the weekly entry fee) have been

accumulating. This year we again raised £1250 for

charity - £500 each to the Dornoch Medical

Practice and the Highland Hospice, and £250 to

the Heritage Society.

Our Annual Luncheon and Competition took

place on Wednesday 29th September and was well

attended as usual. Many thanks to the Chef &

Catering Staff as we were once again well fed and

watered. I also thank the front of house staff for

looking after us throughout the season. Our guests

were: President Gordon Lawson, Captain Willie

MacKay, Lady Captain Alison Bartlett, Assistant

Manager, Claire Riddell, and Head Pro Andrew

Skinner. Alison graciously presented the prizes &

trophies. As usual we all retired mellow and happy.

John S Logan

32
---
Prize winners for the season:

Competition Winner Runner-up

Dave MacKenzie Cup

Not Played

J T Robertson Cup David MacLean Keith Henry

Jim Seatter Rosebowl Sinclair Mckay Gordon Lawson

Macleod Thomson Targes Willie Skinner Graham Davey

Alan Woodstock Keith Stalker

Niall Curry Trophy Jonathon Alford Frank Dewar

Patterson Salver Foursomes Graham Davey Alastair Fleming

Frank Dewar Mike Hemming

Heritage 5 Club Raymond Bremner Keith Henry

John Green Quaich Graham Davey Keith Henry

Peter Monk Trophy Steve Webb Alan Rhind

J N Patterson Quaich Alan Rhind Steve Webb

K W Milne Whisky Jonathon Alford Alan Rhind

Greensomes Ian Irwin Ian Morrison

Archie Forbes Trophy Steve Webb Gordon Lawson

Martin Steeves Trophy Steve Webb Eric Johnston

Autumn Mixed Foursomes

Lady Captain's Team

Qualifying Appearances – 15 For trophies below

Hugh Steele Trophy Vincent Doyle Phil Prince

Overall Winner

Anniversary Trophy 81 & Over A Frank Gerstenberg Sanders MacDonald

Florence Patterson Trophy 76 & Over B John Chambers John Calder

Trowbridge Trophy 70 & Over C Steve Webb Keith Stalker

Bill Smith Trophy 65 & Over D Graham Davey Mark Blair

Twomey Trophy Under 65 E Vincent Doyle Phil Prince

President's Shield (Non-Qualified) F Alex Robertson Graeme Miller

Dingwall Trophy (Most Appearances) Iain Innes Keith Henry

W E Skinner Quaich Highest Average Sinclair McKay 26.58 Steve Webb 26.56

J N Patterson Eclectic Trophy Eclectic Steve Webb 140 Sinclair McKay 138

E H McDonald Painting – Winner of Frank Gerstenberg John Chambers

'Thanks for the Memory' A&B Groups

33
---
Minutes of the Annual General Meeting 2020

Minutes of the 2020 Annual General

Meeting of Royal Dornoch Golf Club

Held in Dornoch Academy on Friday

15th October at 7.30pm

Captain Rob Murray in the Chair

Present: 73 Ordinary Members, 7 Struie/Social

Members

Good evening everyone and welcome to the Royal

Dornoch Golf Club AGM 2020. Tonight, thanks to

Covid, we are going to have to go back in time and

hold our long overdue 2020 AGM then move

forward and hold the 2021 AGM. So a bit of Star

Trek and Back to the Future for us all, strangely very

apt Star Trek was in the news headlines this week!

Before we begin proceedings may I remind

everyone face masks should be worn and please

switch off mobile phones. No fire alarms are

scheduled so should an alarm go off please exit the

building in a calm and orderly fashion.

1. Postponement of the Annual General

Meeting

Due to Covid restrictions beyond the Club's

control, it was not possible to hold the Annual

General Meeting within the time frame stipulated

in the Club Rules. The Council therefore decided

to postpone the Meeting until a later date and now

seeks the retrospective approval of Ordinary

Members of the decision to postpone the Meeting.

Passed unanimously by a show of hands.

2. Meeting Overview

As you know the Annual Report pertinent to this

meeting for the year 2019/20 was published and

sent to members. We received no queries or

comments on these or any items in the agenda so

I will go through the agenda in the order published

and will therefore proceed fairly quickly to the

2021 AGM.

There will be an Open Forum on conclusion of

the 2021 Agenda.

3. Apologies for Absence

43 received prior to the meeting and 6 received at

the meeting.

4. Approval of Minutes

Minutes of Annual General Meeting held on

Friday 16th August 2019 (previously circulated).

Proposed: Tim Lohmann; Seconded: Gary

Bethune

5. Matters Arising from these Minutes

All matters arising have all been attended to, one

of which resulted in a resolution which will be

address under Item 16.

Resolution

To approve retrospectively the decision of the

Council to postpone the Annual General Meeting

of the Club.

6. Captain's Report

It seems so long ago since my last report in the Winter

Newsletter 2020. I had to refer back to my Captain's

Monthly reports to recall what actually happened,

apart from Covid. One notable event was an

34
---
enjoyable Evening with Ronan Rafferty – probably

the last time we all had some social fun in the

clubhouse. Covid hit us and we all had to learn some

new vocabulary such as Furlough and Zoom meetings

were commonplace. We had operational shutdown

of the clubhouse and golf courses. The office had

visitors calling to cancel bookings and asking could

they re-schedule them or get refunds. That meant a

quick decision on policy issues. The office dealt with

an awful lot over a short period of time but did so

admirably. We had to quickly look at the club

finances as we were refunding more cash than was

coming in. Fortunately we had the 3 financial

Musketeers in Tony Bartlett, Matt McBride and

Martin Lynch who crunched numbers to provide us

with a worst case scenario. I'm pleased to report that

reality was to be much better than we initially feared.

Thanks to Tony, Matt and Martin for their efforts.

We completed the design process for the

clubhouse for which I would like to formally record

my thanks to The Projects Team and Mike Ross

and Gordon Davies, in particular, for all their hard

work and professional expertise over the past few

years. More on that subject later.

We renegotiated the Common Good Land Lease

with Highland Council and The Dornoch Area

Community Council so a second Public Consultation

could get underway. More on this later too.

In cutting costs on Marketing and parting company

with our existing external source we brought in Ed

Hodge with an expertise in Social Media marketing,

a cost effective way of keeping Royal Dornoch in

the minds of future travelling golfers. Ed together

with brilliant photography from Matthew Harris,

who also has social media expertise, raised our

worldwide image. Thanks to Cara Thompson our

Marketing Convenor for overseeing the work.

With the Pro Shop closed I was particularly keen

to help the Retail Operation sales get moving and

online. This involved a great deal of time from

Brad and Calum developing the site and

uploading stock onto it. They did a great job so

thanks to them and to all the members who

supported the Club by buying online.

It was a difficult time for staff who were working

under pressure dealing with new challenges but it

was also difficult for those who were furloughed

and wanted to be working at the club. Thanks to

all in very trying times.

7. Election of President

Mr G K Lawson is eligible for re-election, is willing

to serve and is unanimously nominated by the

Council of Management. Seconded by Hamish

Macrae.

8. Election of Vice President

Mr J M Campbell is eligible for re-election, is willing to

serve and is unanimously nominated by the Council

of Management. Seconded by Gordon Lawson.

9. Election of Vice President

Mr S J Morcott is eligible for re-election, is willing

to serve and is unanimously nominated by the

Council of Management. Seconded by Kevin

Matheson.

10. Election of Vice President

Mrs C Murray is eligible for re-election but has

decided not to stand, Alan Ramsey is willing to

serve and is unanimously nominated by the

Council of Management. Seconded by Jim Seatter.

35
---
11. Election of Ordinary Members of Council

The retiring Members are: Mr A M A Bagott, Mr A

D Bartlett and Mr M M B Ross. Mr I P Madeley

resigned for personal reasons before the end of his 3

year term.

Consequently there were a total of 4 vacancies on

the Council.The three due to stand down agreed to

continue on an interim basis with the hope of

holding an AGM in the near future.

In accordance with the Club's Rules 3 members will

be elected for 3 years and 1 member for 2 years. The

places are to be allocated in order of the votes cast.

As this could not take place and we had four

nominations for four places the Council agreed to

appoint Mr A M A Bagott, Mr D Holden, Mr J F

Gow and Mr G M Bethune at the Council of

Management meeting on 2nd November 2020. Mr

G M Bethune is to serve a two year period.

Resolution:

To approve retrospectively the decision of Council

to appoint Mr A M A Bagott, Mr D Holden, Mr J F

Gow and Mr G M Bethune as Members of Council.

Approved by a show of hands.

12. Statement and Adoption of Accounts for

the Year 2019/2020

The Annual Accounts were issued and we received

no questions. It is proposed that the Accounts are

adopted.

Adopted by a show of hands.

13. Election of Auditors

The Council of Management continued to work

with the firm of Mackenzie Kerr and Co, as Club

Auditors.

Approved by a show of hands.

14. Greens Convenor Report

As many of you know Adrian Bagott passed away

earlier this week and our love and thoughts go out

to Margaret (Mags as Adrian fondly referred to

her), his family and friends.

Adrian was a larger than life character and loved

Dornoch and not least Royal Dornoch Golf Club. His

father loved Dornoch too and as you know Adrian

followed suit. Adrian was passionate about the club

and was always willing to do his bit on Council and

particularly his real love as Greens Convenor.

36
---
When Adrian spoke we all listened. He was

basically a quiet Dornoch lad with a Yorkshire

accent!

We will miss your dulcet tones in the clubhouse…

rest in peace our friend, you will be missed.

The Greens Report was issued and we received no

questions. It is proposed that the Greens Report

is adopted.

Adopted by a show of hands.

15. Rule 1 – Update to how juniors progress

through to being a Championship Course

member.

To help clarify the process and provide a stepping

stone process so that juniors gain the relevant

knowledge and ability to cope with the

Championship Course an extra step has been

added to give access to the Championship Course

for Junior Struie members at certain times of the

year at the direction of the Junior Committee.

The Council of Management would then alter

Regulation 5 to provide the detail of the how this

would be administered.

Resolution

In Rule 1 (c)

Delete – A Junior Section Member when they

attain a CoNGU handicap will become a Junior

Struie Member. Depending on further

improvements the Council may at a later date

approve the individual be upgraded to Junior

Championship Membership.

Insert – A Junior Section Member when they

attain a WHS Index will become a Junior Struie

Member. Depending on further improvements the

Council may at a later date approve the individual

be upgraded to Junior Struie Member with

Championship Playing Rights. With further

improvements they will be considered for Junior

Championship Membership.

Approved by a show of hands.

16. At the 2019 AGM a view was expressed that

the Rules of the Club did not adequately provide

for the approval by Members of large value capital

expenditure and borrowings in excess of £500,000

and £250,000 respectively or the subsequent

further approval by Members in the event that

actual values of expenditure or borrowings

exceeded the amounts already approved. Therefore

in order to address these issues the following

amendments to Rules 16(f)and 16(g) are proposed:

Resolution

To amend Rule 16 (f) as follows:

In line 7 before "value" insert "specified" and after

"value" insert "or estimated maximum value". As

shown in RED below.

(f) The Council shall have the power to invest

funds of the Club, up to £500,000 in any one

financial year, in commissioning the building of,

or the purchase or leasing of, any asset, or group

of assets, including heritable or leasehold property,

or after taking appropriate professional advice in

or upon the bonds, debentures or guaranteed,

preferred, ordinary, deferred or common stock or

share of any company, corporation or other body

whatsoever whether registered or incorporated in

the United Kingdom or elsewhere. Where the

Council decides to invest in the foregoing to a

specified value or estimated maximum value that

37
---
exceeds £500,000 in any one financial year, the

power shall not be exercised until approval has

been sanctioned by a majority of not less than twothirds

of the Ordinary Members of the Club

present and entitled to vote and voting thereon at

a General Meeting.

At end of Rule add:

"In the event that the actual value of any particular

contract or project exceeds or is anticipated to

exceed by more than 10% of the value approved by

Ordinary Members, then the Council will be

required to obtain the further approval of a

majority of not less than two thirds of the

Ordinary Members present and entitled to vote

and voting thereon at a General Meeting".

until approval has been sanctioned by a majority

of not less than two-thirds of the Ordinary

Members of the Club present and entitled to vote

and voting thereon at a General Meeting.

At end of Rule add: "In the event that the actual

amount of borrowing, leasing or financing for any

particular contract or project exceeds or is

anticipated to exceed by more than 10% the

amount approved by Ordinary Members, then the

Council will be required to obtain the further

approval of a majority of not less than two thirds

of the Ordinary Members present and entitled to

vote and voting thereon at a General Meeting".

Approved by a show of hands.

Resolution

To amend Rule 16 (g) as follows:

In line 8 after "financing" insert "of a specified

amount or estimated maximum amount". As

shown in RED below.

(g) The whole management and control of all

funds and expenditure of the Club shall be vested

in the Council, who may delegate responsibility for

the day to day transactions to the General

Manager. The Council shall designate by name or

office individuals authorised to sign contracts or

other documents on behalf of the Club (other

than deeds required to be executed by all members

of the Council) or to sign cheques on, or give

instructions relating to, any bank accounts of the

Club. The Council shall have the power to borrow,

lease or obtain other financing to the value of

£250,000 in any one financial year. Where the

Council decides to borrow, lease or obtain other

financing of a specified amount or estimated

maximum amount in excess of £250,000 in any

one financial year the power shall not be exercised

17. Clubhouse Project

As you are all aware Covid 19 has delayed our

plans for the new clubhouse however on a positive

note we have a design and budget approved by the

members which is ready for tender when club

funds permit. The planning permission was

granted in 2019 and in the eyes of The Highland

Council the project is considered to have started

once we break ground in the car park area when

work commences in September 2022 on the road

access, movement of the bowling green and the

current tennis court area disappears. A new tennis

court will be built adjacent to the Dornoch

Academy and this project is in hand with the

Highland Council and Dornoch Area Community

Council.

The Common Good Land Lease was renegotiated,

the Public Consultation went favourably and was

sanctioned at the Sheriff Court last month. The

new lease is currently with the legal representatives

to draw up the final terms ready for signing. Once

38
---
visitor levels, club finances and general economic

conditions are stabilized we can then revisit the

project and move forward with more certainty on

timescales.

18. Election of Captain

Before we move on to this I would just like to say

what an honour and privilege it has been to be

Captain of this great club. Thank you Mr Ramsey,

and others, for giving me the opportunity.

A few of the Past Captain's warned me the time

would pass quickly and I commend them on their

use of understatement. My first year as Captain was

close to the norm but with the added bonus of the

clubhouse project and the common good land

lease. My second year, and again Past Captain's had

said "the second years a breeze you've done it all in

year one so just enjoy the second year it's easy"…

well, Covid put paid to that!

Seriously though year 2 brought different

challenges and the whole world was adjusting to a

very different life. I was fortunate to have a team

of good people around me who gave me

tremendous support. The management structure

we have as a club ensures we have fantastic

expertise in many areas of business. The Sub

committees, Projects Team, Council of

Management provide support and direction for

our Management Team and their staff. I owe a

great deal of gratitude to all these people. The

President, Vice Presidents, Past Captain's and

members have all been very supportive too.

I can't mention everyone by name but I will just

say a few words about some in the front line.

Neil and Claire, as always, are there to help,

support and have a wealth of experience to draw

upon. Eoin and Scotty have a fantastic way with

their team and their efforts speak for themselves.

Sue, Brian and their teams have one of the hardest

39
---
jobs, pleasing us all! Brad, Andrew, Gary and

Calum have to put up with our moans and groans

after a poor round… and look interested! Thank

you all for your tremendous support.

Neil we spent a lot of time together at a fair

number of meetings, outings and seminars… in

fact we probably spent more time in each other's

company than with our wives over the 2 years, I

believe we have achieved a lot and I thank you for

all your help… which leads on nicely to thank my

wife Wilma for putting up with me for two years

when my mind was never far from Royal Dornoch.

Now to the next era and before the formal

proceedings and one person I haven't mentioned

is our Captain Elect, Willie MacKay or as some

people say who … oh you mean Willie Hook.

Willie as Vice Captain you have been a rock always

there to support and always willing to help no matter

what. My sincere thanks for being there for me.

Willie is the original Peter Pan, he has the energy,

drive, passion and enthusiasm of a 20 year old, he

just never stops, incredible for a 50 year old… well

that's what he told me!

Willie was unfortunate to take over the day to day

duties of the Captaincy without the formalities of

an AGM. Due to Covid he missed out on a lot of

the fun part of being Captain, no prize giving's,

social events or matches. He only had the

difficulties Covid has thrown at us all. A clubhouse

without people goes against a naturally social

person. He never complained and got on with it

as only he would. So I hope the next 10 months

or so allows us to return to more normality and he

can let his hair down.

Willie eats, sleeps and breaths Royal Dornoch. You

have done a brilliant job so far and I know you will

do so in the months to come, the club is in good

hands.

In accordance with the Club Rules the Council of

Management unanimously proposes Mr Willie D

M MacKay. Passed unanimously by a show of

hands.

The Captain's badge of office was pinned on Mr

MacKay's lapel by Mr Murray.

Thank you members for approving my nomination

as Captain.

It is an honour and very privileged position in our

Golf Club.

In 2019 I would have spoken in anticipation of the

two years ahead.

We are now 14 months into the two years term so

I can reflect instead of anticipating.

But there is time for this in our second AGM.

Rob, you have served Royal Dornoch as Greens

Convenor and Finance Convenor, two very

important responsibilities that every golf club has

to manage. But delivering a quality golf course to

members and building a very healthy bank balance

is only part of what members enjoy from your

excellent service.

Rob, your father Ken became Club Secretary in

1975 and played a significant role in the

development of Royal Dornoch for many years.

Your Grandfather Alex bravely left Scotland for a

new life in the USA in 1925 as a golf professional.

40
---
Your time as Vice-Captain and Captain, and

establishing the Project Team for our new

clubhouse, will leave a legacy that we shall all enjoy.

Your negotiating skills are the reason why we have

a new lease.

Your "strapline" has always been – it's a team

effort. The Team had and still has a good leader.

Your skill in letting meetings flow during

discussions is an inbuilt quality. Your care for our

staff was tremendous and your focus on our

members equally excellent. At the heart of every

issue was, "will this be good for Royal Dornoch?"

Because of Covid you missed many club

competitions and functions but when you did,

both here and abroad, your time was dedicated to

Royal Dornoch and you grew relationships in so

many ways and places.

Balancing work, the golf club and family needed

resolve and endless commitment. But this was not

a "one person" task. The role that Wilma played

was not just for two years but for many years.

In the Covid pandemic, your positive attitude has

been an example for staff and members to follow.

Members please join me in the traditional manner

to acknowledge Rob Murray's time as Captain.

Rob has done a tremendous job.

The Past Captain's badge was pinned on Mr

Murray's lapel by Mr MacKay.

19. Election of Vice Captain

David Bell has been a member of Royal Dornoch

since a very young junior. His passion for golf is

only surpassed by his passion for Royal Dornoch

and the Dornoch community. David is a wellrecognised

Economist in the UK, Europe and

many other parts of the World and still travels to

lecture.

David has served on Council previously under

Hugh Laughland and Roly Bluck's captaincies.

For several years I have consulted with David

during my work with Scottish Golf about Golf

Tourism economy and other national trends.

His University research into the demographics of

Scotland and his work with the UK Government

and the Scottish Government as well as links with

economists across the World are evidence of how

highly regarded David is held in his field. His

exposure on radio and TV contributes to how he

promotes Royal Dornoch.

David has returned to live in Dornoch. David

knows the importance of Royal Dornoch to the

community.

David's focus will always be what is best for Royal

Dornoch. As Vice-Captain Elect David has been

immediately involved in our Finance

subcommittee, and reviewing our Governance and

Intellectual Property status as well as preparing a

member's survey to be issued after this golf season.

In accordance with the Club Rules the Council of

Management unanimously proposes Professor

David N F Bell CBE. Passed unanimously by a

show of hands.

Thanks to everyone and the Past Captain's for

inviting me. The last time I was on this stage was

when I was appearing in Mid Summer Nights

41
---
Dream as one of the 1st year pupils on the new

stage as it was then. It was my first exposure to

public performance and I have had many more

since which brings back a lot of memories.

I have played golf in Dornoch for around 65 years

and I view the golf course as the Royal Burgh's

major treasure in sporting, cultural and economic

terms. I view our course as being a members course

and that means all members whether they be

Championship Members or Struie Members and

it is important that we understand the views of the

membership. That is why, as Willie has said, we are

hoping to conduct surveys by the end of the year

to gain some views on how the members want to

take the club forward.

I believe however, that there are an immutable set of

values connected with Royal Dornoch and that is the

openness and friendliness of the Club values that I

have found are rarely shared that in some of the

other world renowned courses just as Dornoch is.

work on that issue. John McMurray has done a

huge amount of work on the House which is not

an easy area to deal with so I have to say that I have

been hugely impressed by the effort the Council of

Management have put into the Club really

showing their dedication to the Club and of course

a lot of that is facilitated by Neil, Claire and all the

other staff.

So thank you for your willingness to see me as the

Vice Captain and I look forward to our

conversations and meetings around the future of

Royal Dornoch.

20. The 2019-20 Annual General Meeting is

formally closed and we will now hold the 2020-

21 Annual General meeting.

Closed at 8.06pm

However, we must be prepared to move with the

times and Willie has already mentioned a couple

of areas that have already caught my attention.

One is software and the need to upgrade ours to

the same quality as the courses and we are moving

ahead on that front. Another area is sustainability

and we have been in discussion with the R&A

about cooperation with them on that issue.

Finally, as Willie has said I have already been

working with the Council of Management for

many months and I have been really impressed

with the amount of work that has gone into some

of the various pockets that Willie has mentioned.

Intellectual Property doesn't seem like a real head

turner but it is very, very important. Ian Irwin,

John Gow and Willie have done a great deal of

42
---
Minutes of the Annual General Meeting 2021

Minutes of the 2021 Annual General Meeting

of Royal Dornoch Golf Club

Held in Dornoch Academy on Friday 15th

October at 8.06pm

Captain Willie MacKay in the Chair

Present: 73 Ordinary Members, 7 Struie/Social

Members

1. Meeting Overview

The Agenda will follow in sequence as set out but

note the error of numerically agenda items

jumping from 5 to 10.

2. Apologies for Absence

43 received prior to the meeting and 6 received at

the meeting.

3. Approval of Minutes

Minutes of 2020 Annual General Meeting will be

issued along with the minutes of the 2021 Annual

General Meeting for approval at the 2022 AGM.

4. Matters Arising from these Minutes

As there are no minutes then there are no matters

arising.

5. Captain's Report

My brief update starts with the welcomed return

of Overseas members and visitors. As our Finance

Convenor will tell us 2022 is looking very positive

and very busy.

The biggest project has been choosing a new IT

system that will handle our booking management

system and replace Freetime as well as provide us

with a system where members will have one card

for all transactions for House, Retail and

Competitions. This has been very thorough and

we are close to decision time once we get the final

feedback on timescale and costs.

Our review of Governance is progressing and we

are fortunate to have useful contacts with other

Scottish Golf Clubs that have decided to become

an incorporated body and have worked with

Scottish lawyers. Members will be kept informed

and it will be an AGM proposal if there is a change

to be considered.

Considerable research and development has been

completed looking at our Intellectual Property. We

need to protect Royal Dornoch and this will near

a conclusion when a decision on governance is

ready to share but work is already underway

checking contracts and liabilities.

We are progressing the content for our Members

Survey which will be issued after the golf season

finishes. Results from the feedback will be shared

with members and considered by our

subcommittees and Council of Management to

steer our decision making.

2021 has been a difficult season with considerable

extra work due to Covid and reduced staffing levels.

There is no disguising the fact that at times we have

struggled but we have survived and in much better

shape than many other Golf Clubs of our size.

It is disappointing that the new clubhouse is not

yet started but be absolutely certain that it is just

delayed and will be built.

43
---
I am very grateful for the members that gave of

their time to assist with Starting and other duties,

including competitions. Our staff have been

magnificent. Thank you to the members who

joined Council members on our subcommittees.

Since our first lockdown in March 2020, it has

been non stop for Neil and Claire. Working far too

many hours and too many weekends. The

members owe you both tremendous thanks.

The item numbering has been compromised and

items 6 to 9 have been lost but they had no content.

10. Election of Ordinary Members of Council

On behalf of all members I thank retiring Council

members, Cara Thompson, Kevin Matheson and

Gordon Davies for their three years' service in

attending subcommittee meetings and monthly

Council of Management meetings and their

thoughtful input to the decision making.

The resumes and skill set of the three candidates

have been circulated for you to read.

I am pleased that Gordon Davies is willing to

continue on Council as I have greatly valued his

opinions in discussions. Gordon's contribution to

our new clubhouse project has been immense but

as I have said his input to decision making at

Council has been equally welcomed and important.

Wilma Murray has been on the Greens

subcommittee and has contributed well to the very

important role of maintaining our quality golf

courses. Wilma has many years of experience

serving on Golf Club Committees as you will have

44
---
ead. I have greatly enjoyed working with Wilma

and pleased to have proposed her nomination.

Kenneth MacKenzie I have got to know this year

and I see great enthusiasm to support Royal

Dornoch using his significant experience and

knowledge from both his career and his passion for

golf. Our meetings and golfing time have revealed

a person that listens and then asks and bases

decisions on evidence for the correct outcome.

Council well. I encourage you to vote.

Sandy Fraser has volunteered to oversee the

counting of the votes.

The meeting continued as the votes were counted

and the results announced once this was

completed.

All three nominees received the approval of the

members who voted.

Our Club Rules state that members will be elected

to serve on the Council only on the basis that the

number of members voting in favour of their

appointment exceed those voting against.

You have ballot papers to complete and I propose

to you all that we have three very suitable

candidates with the qualities and skillset to serve

11. Statement and Adoption of Accounts for

the Year 2020/2021

With us just passing the halfway point in the

financial year to 31st March 2022 I wanted to

provide members with a brief update on how the

Club's finances are progressing.

45
---
Income

• Previously reported unprecedented

subscription renewal levels. However, the

anticipated negative impact on Entrance Fees

has been offset by a continuing steady stream

of new member applications for the Struie.

Overall, taking Subs and Entrance Fees

together we will be close to our budgeted

figure.

• Visitor Green Fees – the budgeted visitor

numbers for 21/22 was set at 3,700 (FSC

finger in the air!). You will have noted a

marked increase in visitors from August

onwards with the gradual return of

international travel. Pleased to report that by

the end of September we have seen more than

4,000 visitor rounds played and have therefore

passed our £ cash target for the full year.

October continues to be busy.

• Both Bar & Catering and the Pro Shop have

traded well ahead of budget for the first half

of the year with both areas generating strong

gross margins.

Expenditure

• Costs have been tightly controlled across all

areas of the operation and at the six month

point are broadly in line with budgeted levels.

• Exception to this is on Course Expenditure

where Council approved during the year

additional, un-budgeted, expenditure of

approximately £43k on "Fertiliser, Turf &

Seeds" across both courses to take on board

recommendations from the R&A that the

Club sought ahead of next year's Seniors

Amateur.

• The second half of the year obviously sees

traditionally low levels of income with

expenditure rolling on. We may see some

slippage to budgeted labour costs towards the

end of the final quarter as we make sure we

have the appropriate resource levels in place

for next Spring.

• Forward bookings for 2022 currently stand at

11,000 visitors.

Cash Position

• Total bank balances at the end of September

sit at just short of £5.9m which is

approximately £400k up from our last year

end.

• Included in this are approximately £1.2m of

green fee deposits held, up by approximately

£220k from our last year end.

Summary

To sum up, the first half of the year has gone

slightly better than planned financially. Should

things continue to trend as we expect, we are on

target to deliver the approved full year budget,

which was slightly worse than break-even, or

perhaps even a little better.

The Annual Accounts were issued and we received no

questions. It is proposed that the Accounts are adopted.

Adopted by a show of hands.

12. Election of Auditors

The Council of Management unanimously

proposes that the firm of Mackenzie Kerr and Co.

be re-appointed as Club Auditors. Approved by a

show of hands.

46
---
13. Greens Convenor Report

Members while this official and important item is

included in our AGM we are all aware that we have

lost a member in Adrian Bagott whose heart and

soul went into his work as Greens Convenor and

in all other aspects of Royal Dornoch. Adrian

would not leave a stone unturned to seek out

reasons and put forward solutions and most

certainly ask questions and demand answers and

action.

Our thoughts are with Margaret, Heather, Pru and

Penny and I am certain that the Funeral Service

on Wednesday at 1pm in Dornoch Cathedral will

be a celebration of Adrian Bagott's life and help

the Family as they grieve and try and come to terms

with their loss.

The Greens Report was issued and we received no

questions. It is proposed that the Greens Report

is adopted.

Adopted by a show of hands.

14. Disciplinary Procedure

Council of Management reviewed the Disciplinary

Procedures.

In Rule 21 (a), line 8, after "purpose" insert:

"At their discretion the Council may invite up to

two additional Ordinary Members to join this

meeting if considered appropriate in order to

achieve a suitable composition of those in

attendance".

Delete the last sentence in Rule 21 (a), "Six

members of the Council shall form a quorum for

the purpose of this meeting."

and insert:

"A quorum for the purpose of this meeting shall

be six, comprising either members of the Council

or a combination of members of the Council and

any additional Ordinary Members invited".

Approved by a show of hands.

Criteria for Royal Dornoch Life and Honorary

Membership agreed by Council of Management.

Recommendation to Council:

To be appointed a Honorary Member of Royal

Dornoch Golf Club, an individual would have to

have made outstanding contributions to the game

of golf (playing, developing, administering, writing

or commentating) at World level and to show

ongoing commitment to the aims and objectives

of Royal Dornoch Golf Club and to furthering its

international reputation.

The criteria for the Life Member wording only

differs in one aspect and that is we look for an

excellent contribution.

To be appointed a Life Member of Royal Dornoch

Golf Club, an individual would have to have made

excellent contributions to the game of golf

(playing, developing, administering, writing or

commentating) at world level and to show ongoing

commitment to the aims and objectives of Royal

Dornoch Golf Club and to furthering its

international reputation.

15. Honorary Membership

Born in Aberdeen Paul turned professional in

1986 and joined the European Tour in 1992 with

his first win in 1996 – the Catalan Open.

47
---
Lawrie's career was transformed in 1999 when he

won the Open Championship at Carnoustie.

He has had 3 Top 10 finishes in the European

Order of Merit

Twice a Member of Ryder Cup Team in 1999 and

2012

8 European Wins

Teams:

Represented Scotland 4 times in the World Cup

3 times in the Seve Trophy Royal Trophy 2010

In 1990 Lawrie won the Denis Lovell, Assistants

Championship at Royal Dornoch and 29 years

later won Scottish Seniors Open in 2019.

His other recognition within golf:

1999 Honorary Membership of European Tour

2000 Awarded MBE in New Year's Honours List

2013 Awarded OBE in Birthday Honours List for

contribution to the development of junior golf

2016 Vice-Captain Ryder Cup Team at Hazeltine

2020 Captain Junior Ryder Cup Team

Contribution to Golf Development in Scotland

2001 the Paul Lawrie Foundation was created.

Initially supported and developed interest in the

game of golf for under 18's. Paul Lawrie Flag Days

became popular and supported with clubs

receiving equipment to spread the competitions

across the North East Area. This Foundation soon

moved to include Stableford, Match Play, Stroke

Play events and more recently the Paul Lawrie Jug

Event which we have staged.

48
---
The Foundation expanded its reach to support

hockey and football development. Further support

for golf saw support for amateurs making the

transition into a career on the Professional circuit.

Ritchie Ramsey, David Law and several others

benefited from financial support from the

Foundation as well as advice from Lawrie and

more recently Hannah McCook when she joined

the Ladies European Tour.

In 2018 the Foundation expanded to support golf

development in Highland as well as Grampian.

Service/support to Royal Dornoch.

In 2013, Paul helped launch the PhD for Wade

Cormack which was sponsored by the Club to

research golf and sporting activities in the

Highland area in the 1600 – 1800's.

In 2016 Paul Lawrie played with Sandy Lyle along

with our juniors as we celebrated 400 Years of Golf

at Dornoch.

In February 2019 Paul gave freely of his time to

entertain us with a Q&A session in the clubhouse.

In 2020, Lawrie officially opened the new 7th hole

on the Championship Course which gave us

valuable video footage to use on social media as

well as material for golf publications.

Paul Lawrie loves coming to Dornoch and

promotes our golf course and Golf Club. He will

be a reliable ambassador for Royal Dornoch and I

ask for your support for the Council of

Management's proposal. Council of Management

proposes Honorary Membership for Mr Paul

Lawrie MBE OBE.

Unanimously approved by a show of hands.

16. Life Membership

Lorne Rubenstein has been a golf journalist for

over 35 years. His writings have appeared in golf

magazines, newspapers and on websites around the

world. He has written or co-written 14 books,

working with such notable golfers as Tiger Woods,

Nick Price, and Moe Norman.

In 2018 his career was recognized and honoured

as the recipient of the USPGA Lifetime

Achievement Award in Journalism. The press

release for that award includes the following:

• Lorne Rubenstein is a four-time award-winner

for the Golf Writers Association of America;

• He won the 1985 Canada National Magazine

Award;.

• He was inducted into the Ontario Golf Hall

of Fame in 2006 and the Canadian Golf Hall

of Fame in 2007

• Lorne received the PGA of Canada's

Distinguished Service Award (2013)

He has been a tireless supporter of the Royal

Dornoch since becoming a member. His book, A

Season in Dornoch, did as much to promote and

raise the visibility of our golf course and golf club

as Herbert Warren Wind's writings did over 50

years ago.

A Season in Dornoch was the catalyst that brought

so many golfers to Dornoch and from this our

World Rankings improved as more overseas

visitors spread the word about our unique

traditional links Championship Course.

Council of Management proposes Life

Membership for Mr Lorne Rubenstein

Unanimously approved by a show of hands.

49
---
The meeting closed at 20.29 and the Open Forum

was opened for question from the floor for the

Council of Management to consider.

Denis Albutt – Quite a number of clubs now allow

professionals to play in club competitions. Some

have restrictions on which competitions. Why is

the Council of Management against professionals,

who are members with WHS handicaps, playing

in any club competitions?

Christine Callingham – Given the recent events

will the Club be putting together a catastrophic

events policy? Does the annual subscription

revenue cover the running costs of the Club?

Rusty Adamson – It is already extremely difficult

to get members tee times in 2022 so will there be

increased provision made?

Carol MacKay – Concerns over the quality of

service in the clubhouse as it does not compare to

the quality of the course and how this is going to

be addressed in the future if we are going to have

a new facility.

Transparency on the complaints that people make

and the surveys that will be undertaken on how

the information and results that are gathered will

be relayed to members.

Concerned greatly that there is no capacity within

the management or employees of the club for the

running of the junior section, there is no

communication or vision and there is a scrambled

and panicked approach to providing lessons.

Phil Prince – When I was an employee in the Pro

Shop, I participated in a team training where we

were urged to do our bit to make the

guest/member's daily experience a memorable/

great one.

• not if the half way house is shut during open

and medal competition play

• not if you can't support social activity beyond

8 pm in the clubhouse

The club restaurant should be front of mind when

any member and/or guest is looking to dine out

locally. It isn't if it's not open and the quality

experience is not good enough today (my opinion)

when it is open.

All above things in my opinion should be

addressed before restarting the major new

clubhouse project.

Tim Lohmann – Should the Duke of York remain

as an Honorary Member?

Carol MacKay – Why did the Northern Counties

Cup team not receive funding this year?

The meeting closed at 8.45pm

Best wishes to all members as we look forward to

the 2022 golf season.

Royal Dornoch Staff and

Council of Management.

Mark Grant – The resolution of the AGM in 2019

that was passed to build the clubhouse, do we need

to go back to members to cancel that resolution?

50
---
51